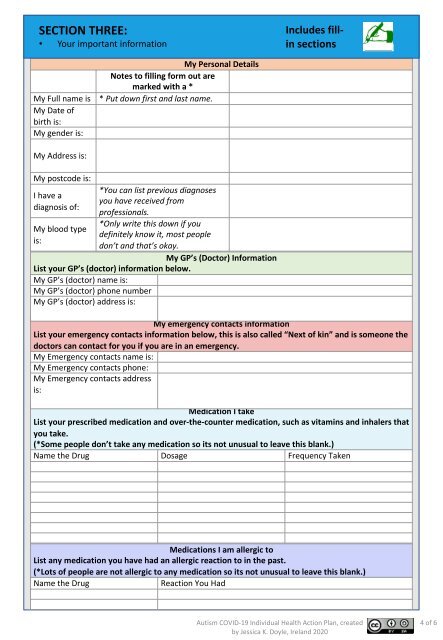 FILL-IN VERSION WITH SPACES FOR TYPING AND IMAGES Universal 2.0 Autism COVID-19 Individual Health Action Plan
FILL-IN VERSION WITH SPACES FOR TYPING AND IMAGES Autism COVID-19 Individual Health Action Plan Universal 2.0 Format In order to fill-in you need to download the file as a pdf and read with adobe reader or in your browser on a computer or laptop. Contents: SECTION ONE: Do I have any Symptom's of COVID-19 Am I in a priority group? My notes SECTION TWO: How I can contact my GP (Doctor) Who and How I contact people if I need help SECTION THREE: Your important information SECTION FOUR: How I communicate SECTION FIVE: Emergency Bag checklist in case I need to go to the hospital. Note. I am more than happy to make any specific Individual alteration as needed., e.g., specific visuals added or changed in graphics. please contact if needed. Contact Email: doylej30@tcd.ie Twitter: @JesscaDoyle Linkedin: linkedin.com/in/jessicakdoyle
FILL-IN VERSION WITH SPACES FOR TYPING AND IMAGES
Autism COVID-19 Individual Health Action Plan
Universal 2.0 Format

In order to fill-in you need to download the file as a pdf and read with adobe reader or in your browser on a computer or laptop.
Contents:
SECTION ONE:
Do I have any Symptom's of COVID-19
Am I in a priority group?
My notes

SECTION TWO:
How I can contact my GP (Doctor)
Who and How I contact people if I need help

SECTION THREE:
Your important information

SECTION FOUR:
How I communicate

SECTION FIVE:
Emergency Bag checklist in case
I need to go to the hospital.

Note. I am more than happy to make any specific Individual alteration as needed., e.g., specific visuals added or changed in graphics. please contact if needed.

Contact
Email: doylej30@tcd.ie
Twitter: @JesscaDoyle
Linkedin: linkedin.com/in/jessicakdoyle
SHOW MORE
SHOW LESS
Create successful ePaper yourself
Turn your PDF publications into a flip-book with our unique Google optimized e-Paper software.
SECTION THREE:

• Your important information

Includes fillin

sections

___________

My Full name is

My Date of

birth is:

My gender is:

My Personal Details

Notes to filling form out are

marked with a *

* Put down first and last name.

My Address is:

My postcode is:

I have a

diagnosis of:

My blood type

is:

*You can list previous diagnoses

you have received from

professionals.

*Only write this down if you

definitely know it, most people

don't and that's okay.

My GP's (Doctor) Information

List your GP's (doctor) information below.

My GP's (doctor) name is:

My GP's (doctor) phone number

My GP's (doctor) address is:

My emergency contacts information

List your emergency contacts information below, this is also called "Next of kin" and is someone the

doctors can contact for you if you are in an emergency.

My Emergency contacts name is:

My Emergency contacts phone:

My Emergency contacts address

is:

Medication I take

List your prescribed medication and over-the-counter medication, such as vitamins and inhalers that

you take.

(*Some people don't take any medication so its not unusual to leave this blank.)

Name the Drug Dosage Frequency Taken

Medications I am allergic to

List any medication you have had an allergic reaction to in the past.

(*Lots of people are not allergic to any medication so its not unusual to leave this blank.)

Name the Drug

Reaction You Had

Autism COVID-19 Individual Health Action Plan, created

by Jessica K. Doyle, Ireland 2020

4 of 6