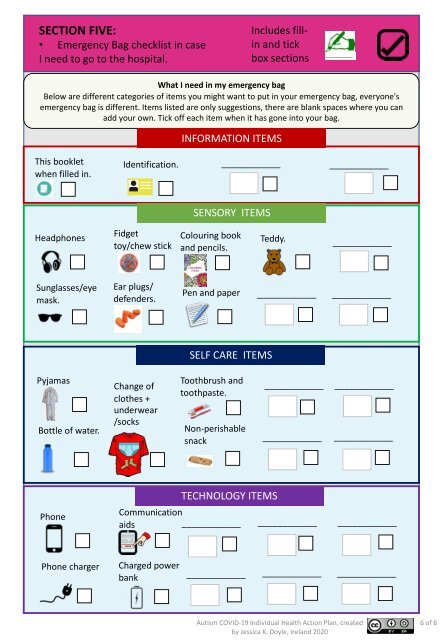 FILL-IN VERSION WITH SPACES FOR TYPING AND IMAGES Universal 2.0 Autism COVID-19 Individual Health Action Plan
FILL-IN VERSION WITH SPACES FOR TYPING AND IMAGES Autism COVID-19 Individual Health Action Plan Universal 2.0 Format In order to fill-in you need to download the file as a pdf and read with adobe reader or in your browser on a computer or laptop. Contents: SECTION ONE: Do I have any Symptom's of COVID-19 Am I in a priority group? My notes SECTION TWO: How I can contact my GP (Doctor) Who and How I contact people if I need help SECTION THREE: Your important information SECTION FOUR: How I communicate SECTION FIVE: Emergency Bag checklist in case I need to go to the hospital. Note. I am more than happy to make any specific Individual alteration as needed., e.g., specific visuals added or changed in graphics. please contact if needed. Contact Email: doylej30@tcd.ie Twitter: @JesscaDoyle Linkedin: linkedin.com/in/jessicakdoyle
FILL-IN VERSION WITH SPACES FOR TYPING AND IMAGES
Autism COVID-19 Individual Health Action Plan
Universal 2.0 Format

In order to fill-in you need to download the file as a pdf and read with adobe reader or in your browser on a computer or laptop.
Contents:
SECTION ONE:
Do I have any Symptom's of COVID-19
Am I in a priority group?
My notes

SECTION TWO:
How I can contact my GP (Doctor)
Who and How I contact people if I need help

SECTION THREE:
Your important information

SECTION FOUR:
How I communicate

SECTION FIVE:
Emergency Bag checklist in case
I need to go to the hospital.

Note. I am more than happy to make any specific Individual alteration as needed., e.g., specific visuals added or changed in graphics. please contact if needed.

Contact
Email: doylej30@tcd.ie
Twitter: @JesscaDoyle
Linkedin: linkedin.com/in/jessicakdoyle
SHOW MORE
SHOW LESS
Create successful ePaper yourself
Turn your PDF publications into a flip-book with our unique Google optimized e-Paper software.
SECTION FIVE:

• Emergency Bag checklist in case

I need to go to the hospital.

Includes fillin

and tick

box sections

___________

What I need in my emergency bag

Below are different categories of items you might want to put in your emergency bag, everyone's

emergency bag is different. Items listed are only suggestions, there are blank spaces where you can

add your own. Tick off each item when it has gone into your bag.

INFORMATION ITEMS

This booklet

when filled in.

Identification.

____________

____________

SENSORY ITEMS

Headphones

Fidget

toy/chew stick

Colouring book

and pencils.

Teddy.

____________

Sunglasses/eye

mask.

Ear plugs/

defenders.

Pen and paper

____________

____________

SELF CARE ITEMS

Pyjamas

Bottle of water.

Change of

clothes +

underwear

/socks

Toothbrush and

toothpaste.

Non-perishable

snack

____________

____________

____________

____________

Phone

TECHNOLOGY ITEMS

Communication

aids ____________ ____________

____________

Phone charger

Charged power

bank

____________

____________

____________

Autism COVID-19 Individual Health Action Plan, created

by Jessica K. Doyle, Ireland 2020

6 of 6