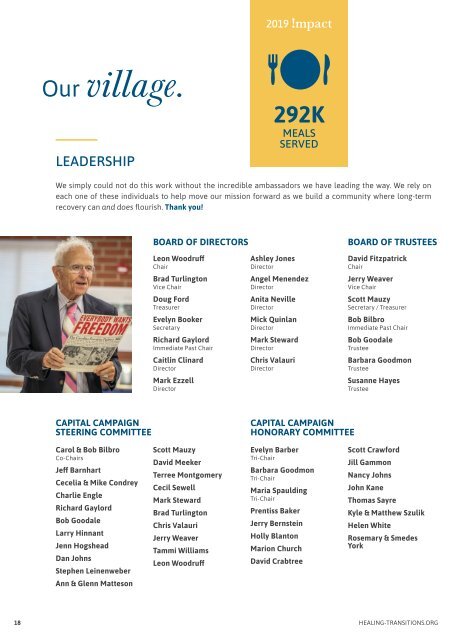 Healing Transitions 2019 Annual Report We believe that all people struggling with addiction (especially the homeless, uninsured and underserved) deserve services on demand – as many times as it takes – to find recovery. And we never turn away anyone who's seeking help.

BECAUSE recovery can't wait.
2019 !mpact

Our village.

LEADERSHIP

292K

MEALS

SERVED

We simply could not do this work without the incredible ambassadors we have leading the way. We rely on

each one of these individuals to help move our mission forward as we build a community where long-term

recovery can and does flourish. Thank you!

BOARD OF DIRECTORS

Leon Woodruff

Chair

Brad Turlington

Vice Chair

Doug Ford

Treasurer

Evelyn Booker

Secretary

Richard Gaylord

Immediate Past Chair

Caitlin Clinard

Director

Mark Ezzell

Director

Ashley Jones

Director

Angel Menendez

Director

Anita Neville

Director

Mick Quinlan

Director

Mark Steward

Director

Chris Valauri

Director

BOARD OF TRUSTEES

David Fitzpatrick

Chair

Jerry Weaver

Vice Chair

Scott Mauzy

Secretary / Treasurer

Bob Bilbro

Immediate Past Chair

Bob Goodale

Trustee

Barbara Goodmon

Trustee

Susanne Hayes

Trustee

CAPITAL CAMPAIGN

STEERING COMMITTEE

CAPITAL CAMPAIGN

HONORARY COMMITTEE

Carol & Bob Bilbro

Co-Chairs

Jeff Barnhart

Cecelia & Mike Condrey

Charlie Engle

Richard Gaylord

Bob Goodale

Larry Hinnant

Jenn Hogshead

Dan Johns

Stephen Leinenweber

Scott Mauzy

David Meeker

Terree Montgomery

Cecil Sewell

Mark Steward

Brad Turlington

Chris Valauri

Jerry Weaver

Tammi Williams

Leon Woodruff

Evelyn Barber

Tri-Chair

Barbara Goodmon

Tri-Chair

Maria Spaulding

Tri-Chair

Prentiss Baker

Jerry Bernstein

Holly Blanton

Marion Church

David Crabtree

Scott Crawford

Jill Gammon

Nancy Johns

John Kane

Thomas Sayre

Kyle & Matthew Szulik

Helen White

Rosemary & Smedes

York

Ann & Glenn Matteson

18

HEALING-TRANSITIONS.ORG
More magazines by this user