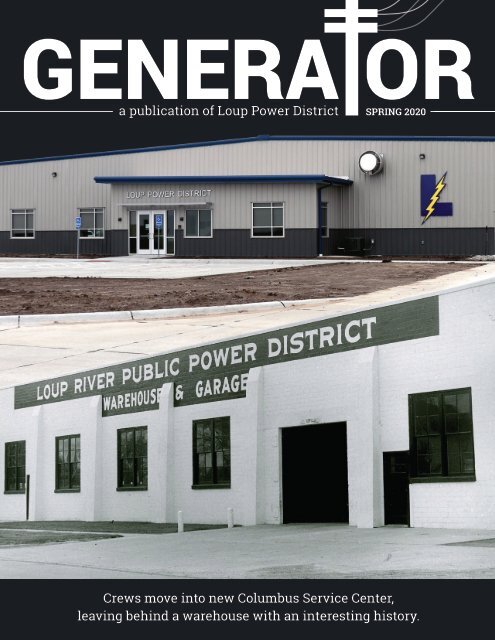 Spring 2020 Generator
A look inside Loup Power District's new Columbus Service Center.
A look inside Loup Power District's new Columbus Service Center.
SHOW MORE
SHOW LESS
You also want an ePaper? Increase the reach of your titles
YUMPU automatically turns print PDFs into web optimized ePapers that Google loves.
GENERA OR

a publication of Loup Power District SPRING 2020

Crews move into new Columbus Service Center,

leaving behind a warehouse with an interesting history.
---
BOARD

OF DIRECTORS

Chris Langemeier

Chairman

Ross Knott

First Vice Chairman

Alan Drozd

Second Vice Chairman

Steve Heesacker

Secretary

Dick Tooley

Treasurer

Rich Aerni

Robert Cerv

Jim Donoghue

Mike Fleming

Larry Zach

EXECUTIVE STAFF

Neal Suess

President/ CEO

Walt Williams

Vice President,

Accounting & Finance/CFO

Todd Duren

Vice President,

Corporate Services

Ron Ziola

Vice President, Engineering

Dan Hellbusch

Vice President, Operations

The Loup Generator is

published quarterly as a

service for Loup employees,

families, friends and

associates.

For feedback, story ideas

and submissions, contact:

Stacy Wemhoff

Communications Coordinator

402-562-5711

swemhoff@loup.com

Easy spring DIY projects

to help you save money

MAKE THE MOST OF YOUR WATER HEATER

Winter weather can have a big impact on your energy bills,

hitting your pockets a little harder than you would like. Spring

is the perfect time to tackle a few DIY efficiency projects for

your home. The good news: You don't have to be an energy

expert to do this!

There are several easy ways to save energy. If you're willing to

take a hands-on approach, here are three projects you can do

now to start saving.

Let's start with one of the easiest projects: insulating your water heater. Insulating a

water heater can save 7 to 16 percent annually on your water heating bills. It should also

be noted that if your water heater is new, it is likely already insulated. However, if your

water heater is warm to the touch, it needs additional insulation.

You can purchase a pre-cut jacket or blanket for about $20. You'll also need two people

for this project. Before you start, turn off the water heater. Wrap the blanket around

the water heater and tape it to temporarily keep it in place. If necessary, use a marker

to note the areas where the controls are so you can cut them out. Once the blanket is

positioned correctly, tape it permanently in place, then turn the water heater back on.

If you have an electric water heater, do not set the thermostat above 130 degrees, which

can cause overheating.

SEAL AIR LEAKS WITH CAULK

The average American family spends $2,000 annually on energy bills. Unfortunately,

much of that money is wasted through air leaks in the home. Applying caulk around

windows, doors, electrical wiring and plumbing can save energy and money. There are

many different types of caulking compounds available, but the most popular choice is

silicone. Silicone caulk is waterproof, flexible and won't shrink or crack.

Before applying new caulk, clean and remove any old caulk or paint with a putty knife,

screwdriver, brush or solvent. The area should be dry before you apply the new caulk.

Apply the caulk in one continuous stream, and make sure it sticks to both sides of the

crack or seam. Afterwards, use a putty knife to smooth out the caulk, then wipe the

surface with a dry cloth.

WEATHER STRIP EXTERIOR DOORS

One of the best ways to seal air leaks is to weather strip exterior doors, which can keep

out drafts and help you control energy costs. Weather stripping materials vary, but you

can ask your local hardware or home store for assistance if you're unsure about the

supplies you need.

When choosing weather stripping materials, make sure it can withstand temperature

changes, friction and the general "wear and tear" for the location of the door. Keep in

mind, you will need separate materials for the door sweep (at the bottom of the door)

and the top and sides.

Before applying the new weather stripping, clean the moulding with water and soap,

then let the area dry completely. Measure each side of the door, then cut the weather

stripping to fit each section. Make sure the weather stripping fits snugly against both

surfaces so it compresses when the door is closed.

2 GENERATOR
---
PRESIDENT'S MESSAGE

Another difficult spring in Nebraska

What a difference a year makes!

Or does it?

As I write this article, last year

at this exact same time we were

dealing with the devastating effects

of the mid-March 2019 storm which

damaged a significant portion of the

Loup Power Canal, as well as District

facilities in Columbus, St. Edward, and

several other locations.

This year, we are dealing with

the fallout of the coronavirus and

its effects on events around the

world, country, state, and our local

communities. Each event has taken its

own toll on the District, yet both have

been devastating.

With regard to damage from last

year's storm, electrical system repairs

have been completed and are back to

normal. There are some areas that will

need additional work, but all areas that

need electricity have service.

The repairs on the Loup Power canal

system in and around the Headworks

area continue. All of the breaches

have been repaired to allow more

normal operation of the canal and the

hydroelectric power plants in Monroe

and Columbus.

There continues to be some water

flow restrictions based on continuing

repair work, but these should be minor

in nature, until some more significant

repair work is required.

One big repair issue outstanding

is the repair to the wing wall at the

intake structure. This wing wall was

significantly damaged as a result of the

storm and the District has just recently

been able to determine if the damage

was repairable, or if a new plan of

attack was warranted.

The District filed plans with the

Federal Energy Regulatory Commission

(FERC) regarding a new plan for the

replacement of the wing wall and FERC

approved that plan.

Additionally, the District continues

to work with Federal Emergency

Management Agency (FEMA) officials

on the entirety of the repairs to make

sure all paperwork for reimbursement

is being submitted properly and

timely.

Working with both FERC and

FEMA are slow processes, so it may

be another 12 to 18 months before

everything associated with the Loup

Power Canal and hydroelectric system

is back to normal operation.

With respect to the coronavirus,

there have been significant changes

to world we live in since this became

a pandemic. Events around the

world have been either postponed or

cancelled to help alleviate its potential

spread around the United States.

That being said, the District is

exercising caution with regard to this

also. We are following the Center for

Disease Control guidelines for our

employees and limited access to our

offices from outside individuals in

order to keep the spread of this disease

to a minimum.

There has been much discussion

about the spread of the coronavirus

throughout the United States. Some

of this may just be excess hype and

rumor. However, the District must

remain diligent about any further

spread of the coronavirus and the

protection of our employees to

maintain electric service to all of our

customers.

The District understands these

disruptions will affect people in

different ways, and they are difficult at

best to deal with. They also change our

lives from what we consider normal.

With that being said, the District

will work hard to make sure you see

little, if any disruption to electric

service and other services you expect

from the District.

by NEAL SUESS

President/CEO

SPRING 2020 3
---
Going all electric: Columbus

man enjoying new Tesla Model 3

Chris Nelson is an F-150 guy.

However, the performance, luxury, and features of his new Tesla Model 3 have made him a believer in

electric vehicles. "It's quiet, it's lightning quick, and it handles like a European sports car," he said.

Nelson, a Columbus realtor, said he became interested in electric vehicles after talking to a client from Los

Angeles who raved about his new Model 3.

Then Nelson found out about a $4,500 incentive for customers who purchase a new electric vehicle and

install a ChargePoint charger.

That was enough to prompt him to hit the road for Kansas City to test drive the Model 3 for himself. He

arrived early on a Friday morning last fall. The Tesla rep gave him a few pointers and handed over the keys.

Well, the key card —there is no actual key.

Nelson put on about 50 miles around town. He immediately enjoyed the experience. It was fun. Kind of like

driving a fast golf cart.

Not one to make an impulse buy, he left to get some lunch and mull things over. He went back to the Tesla

Store and drove the car another 20 miles or so. That's all it took. He was hooked.

"I went back in and ordered one," he said.

Four months later, Nelson doesn't regret his choice. "I absolutely love it."

He drives it back and forth to work and says it's a great option for commuters. With

a range of about 320 miles, it also gets drivers back and forth from Omaha and

Lincoln — something that Nelson finds essential for drivers in Eastern Nebraska.

Omaha, Lincoln, and Grand Island all

have Supercharging stations where

drivers can charge up in 3o

minutes or less.

4 GENERATOR
---
Nelson charges his vehicle every night using the ChargePoint he installed in his

garage. He figures his energy cost is about 3 cents per mile compared to about

12 cents for a conventional gas car.

There is very little maintenance on an EV. In fact, Nelson said there's only one

container to fill in his car's "frunk" (front trunk) and that's for windshield

washer fluid.

Electric vehicles are zippy, too. The Model 3 can get to 60 miles per hour in as

little as 3.2 seconds and has a top speed of up to 162 mph.

With all these features and benefits, Nelson is pretty sure more consumers will

gravitate toward electric vehicles — especially as their driving range increases

and the major manufacturers expand into trucks and SUVs.

"I see a tremendous future for electric vehicles," he said.

Above left: Chris Nelson installed a ChargePoint station in his garage. He uses it to charge his all-electric Tesla Model 3 each

night. The ChargePoint station works with almost all electric vehicles. Nelson uses an adapter to charge his Tesla.

Above right: Chris Nelson shows off the car's features to Chad Pinkelman, NPPD Sustainable Strategies Consultant.

Incentives reduce EV costs

The upfront cost of electric vehicles (EVs) is considered the main obstacle to many potential consumers.

Loup Power District, Nebraska Public Power District (NPPD), Nebraska Community Energy Alliance (NCEA), and the

Nebraska Environmental Trust (NET) have partnered to create programs that help reduce the purchase price of EVs.

$4,500 | EV & CHARGER

$500 | CHARGING STATION $200 | PRE-WIRING

$4,000 incentive for the purchase

or lease of a new battery electric

vehicle

$500 incentive for the installation

of a residential ChargePoint 32-

amp,

WI-FI-enabled vehicle charging

station

(Charging station must also be

$500 incentive for the installation

of a residential ChargePoint 32-amp,

WI-FI-enabled vehicle charging station

$200 incentive for in home pre-wiring

for the future installation of an electric

vehicle charging station

www

LEARN MORE:

bit.ly/EWLoup | publicpowered.com | bit.ly/Loup-Fall2019

SPRING 2020 5
---
New Columbus Service Center

benefits employees & customers

Spacious and bright.

That's how many Loup employees describe the new

Columbus Service Center along Lost Creek Parkway north

of town.

"This is something to be proud of," said

Chief Storekeeper Dave Rosno.

The Columbus-based hydro and

operations crew moved to the new

building in January. The move was

primarily prompted by the construction of

the 12th Avenue viaduct.

"After several discussions with the City,

the District decided it was better to move

its entire service center to a new location,

rather than try to coexist as the City

constructs the viaduct," said President/

CEO Neal Suess.

Loup budgeted $5.5 million for the 54,540-square-foot

building, paid for with cash reserves.

One major benefit of the new location is its proximity

to the District's hydro facilities, including the canal and

powerhouse.

Equipment Operator Steve Ziemba said it's much easier

to get to those hydro locations now that he doesn't have

to take large equipment like dump trucks and semis

through Columbus.

"It's a quick trip now," he said.

It is also easy for linemen to get to all locations in and

around Columbus from the Parkway location.

"The response time is the same or faster," said

Arborist Foreman Trent Konwinski.

Columbus Division Superintendent Dale Gasper said

another advantage of the new building is simply more

space.

"We're not backing vehicles into truck bays or

squeezing four pickups in an area where three should

normally go," he said.

Konwinski said the District's service trucks have long

pull-out trays. Linemen could not restock their trucks

inside because there wasn't enough room between trucks.

They had to do so outside, often in rain or snow. That's

no longer the case in the spacious new garage.

The building also features a large meeting room that

facilitates better communication among

the operations

This is

something

to be

proud of.

crews.

Gasper said the three line foremen would come to his

office each morning at the old service center to discuss

plans for the day. The foremen would

then go to the truck bay to meet with

their crews individually for the morning

tailgate.

Now, all operations employees can

gather in the meeting room for one

tailgate. This ensures all employees know

the day's plan.

The extra space is especially evident in

the wide, open storeroom.

"The pallet racking allows me to put a

lot more inventory in the air and less on

the ground," Rosno said.

A wire reel rack also utilizes vertical

space and increases efficiency when used in conjunction

with a wire winder — both new additions to the

department.

"It takes the guesswork out of putting wire out on the

service job," Rosno said. "If the guys come in and ask for

100 feet, that counter is spot on and it gives us 100 feet of

wire."

Previously, he used a small scale and weighed wire

based on feet per pound. That often meant heavy reels.

Rosno said this added accuracy means lighter reels and

added safety for the employees who lift them.

More space means more inventory — such as crossarm

braces — can be stored inside rather than sitting out in

the elements.

He can also order equipment at greater quantities

which usually means a better price per item, saving

money in the long run.

Having the extra inventory is also beneficial following

storms.

"Our customers are relying on Loup for 24/7 power.

Obviously Mother Nature gets in the way of that," Rosno

said. "We need to have the materials here to get the guys

back in business."

The new shop area has a large mezzanine for extra

storage. Another benefit for the department is an

upgraded

6 GENERATOR
---
air handling system that automatically exhausts carbon

monoxide and welding fumes. In the old building,

employees had to manually put hoses over the exhaust

and turn on the system.

The building also allowed the District to implement

new technology including large wall monitors that show

outages at a glance and can also be used for everyday

planning.

Meter/Maintenance Superintendent Tim Ramaekers

said those monitors allow employees to more easily

discuss District plans since they aren't huddled around a

small computer screen. Employees previously used large

paper maps.

The District began installing new meters last year and

that project is expected to be complete this year.

These meters transmit electricity usage data to the

District and compares it to the daily temperature —

information that can be beneficial to customers with

unusually high bills.

The meters also alert Loup when there is an outage.

"We're going to know that people are out of power as

soon as they do," Gasper said.

This makes prioritizing storm repair work much easier

— employees can look for clusters of meters that are out

and work on those areas first.

"This technology is pretty amazing," Ramaekers said.

The building has a larger locker room. Ziemba said the

larger lockers work great for storing boots and chaps.

"It's nice to have that extra space," he said.

Gasper said the building holds the main District

storeroom. The shop personnel maintain all District

vehicles and the meeting room can be used by all

employees.

"This building isn't just for the guys working out of

it," he said. "It's for the whole District."

Top left: Chief Storekeeper David Rosno winds wire from a new

vertical reel rack.

Above (top to bottom): The shop area features a large mezzanine

for additional storage; the new garage has lot of room for linemen

to park and stock trucks; a spacious meeting room.

SPRING 2020 7
---
National Youth Administration

built original Loup warehouse

In 1941, Loup Power District was a young hydropower

company focused on selling to both private and public

power companies throughout Nebraska.

It had been generating power for about four years since

completion of the canal and powerhouses — a project

funded by a $7.3 million loan and grant from the Public

Works Administration.

In May that year, Loup moved its

offices into the new "Public Power

Building" at the corner of 23rd Avenue

and 20th Street in Columbus. It shared

the building with Consumers Public

Power District, and the Nebraska Public

Power System.

At the same time, construction

on a new warehouse and garage was

underway at 12th Avenue and 14th Street

in Columbus. The workers were in the National Youth

Administration — a New Deal agency designed to provide

work and education for young men and women between

the ages of 16 and 25.

They finished the building later that year.

In 1967, Loup and Consumers Public Power District

signed a realignment agreement. Loup began managing

Consumers' retail customers in Nance, Boone, Platte, and

Colfax Counties and withdrew from statewide generation

and transmission. In return, Consumers replaced Loup

as the partner of the Platte Valley Public Power and

Irrigation District in operating the Nebraska Public Power

System.

Loup was about to provide retail power service for the

first time in its history.

On Jan. 1, 1970, Nebraska Public Power District formed

through the merger of Consumers Public Power District,

Platte Valley Public Power and Irrigation District, and the

Nebraska Public Power System.

These two events led to the creation of Loup as it is

today with both hydropower generation and retail power

service.

For a few years following this realignment, Loup's

hydro crew continued working out of the original

warehouse. The retail employees worked out of a service

building on 11th Street and 27th Avenue in Columbus.

That would change in late 1973, when the retail

employees joined the hydro crew at the warehouse.

"Loup's Warehouse will never be the

same! Workmen wielding hammers, saws

and paint brushes are in the process of

converting the structure into the District's

new Service Center. When complete, the

project will bring Loup's retail and hydro

operations under one roof for the first

time . . .

The two-part project, costing an estimated $167,000, is

scheduled for completion in December of this year.

The first part of involves the remodeling of the existing

structure, totaling about 23,200 square feet. Part of the

building formerly occupied by Nebraska Public Power

District equipment has been recently vacated, making more

room available for Loup's operation.

Second, two additions, totaling about 3,000 square feet, will

be built onto the west side of the building. The first addition

will house the transformer shop and the second, the line

truck garage which will provide parking for four trucks. An

attached canopy will provide shelter for four additional

vehicles . . .

The project is expected to result in improved coordination

between the retail and hydro operations. Meanwhile, Shop

Superintendent Ralph Kopetzky admits that while the hydro

personnel are inconvenienced by the construction, they

are looking forward to working in the modern, improved

facilities.

— Loup Power District Generator, March 1973

Below: Space was at a premium in the old Columbus Service Center — especially when it came to trucks and equipment.

8 GENERATOR
---
Construction was started this week on the $35,000 garage,

storehouse and machine shop of the Loup River Public Power

district located at Twelfth avenue and Fourteenth street.

Fifteen NYA youths are assigned to clearing and leveling the site,

and excavation for the basement under the office addition is

underway.

Work on the project was started two months ago with 15 youths

manufacturing concrete tile in the plant of the Glur Cement Works.

Verne D. Gorman, NYA area supervisor, said today approximately

32,000 of the 45,000 tiles required have been made to date, and

that three weeks more will see the completion of that portion

of the project. At that time, the 15 youths will be transferred to

outside building construction. Concrete tile manufacturing is being

supervised by Harry Spilde.

Cost records on the tile show they are being turned out at a cost of

four and a half cents each, which figure includes all expenses on

part of both the NYA and the Loup district, Gorman said. The tile is

being made at the rate of 1,000 per day.

Building construction will be under supervision of Henry Seidel.

The main building will have an overall measurement of 204 by 100

feet. Attached to it, facing the Twelfth avenue side, will be another

section, 61 by 20 feet, planned for the office and meeting room.

The building proper will contain the transmission garage, 102 by

50 feet; the main garage, 85 by 50 feet; repair shop for cars and

trucks, 25 by 17, a machine shop, 85 by 50; store room, 102 by 50,

and several smaller rooms.

—Columbus Telegram

March 29, 1941

Top to bottom: a truck in the original service center;

former Meter/Maintenance employees Bob Goodman

and Frank Laska; former Shop & Transportation

Superintendent Bob Dush.

SPRING 2020 9
---
Having an open fire is often a key and

enjoyable part of camping. The smell

of woodsmoke and the pop and hiss of

burning wood in a campfire brightens any

night out in the woods, mountains,

or beach.

However, you want to make sure you

control your fire, and not the other way

around!

Know the local rules

Each park has its own rules on where and

when you can have a campfire. Ask at the

visitor center or contact the park before

you visit so you know any relevant rules.

Know the fire conditions

Has it been windy and dry lately? That

might mean campfires are banned, or that

other special rules or restrictions are in

effect. Again, contact the park when you

arrive or shortly before you visit to find out

if there is a burn ban or other weatherrelated

rules you need to know.

Kinds of Fires

Not all campfires are the same! For some

people, the idea of a campfire is two logs

quietly burning in a fire ring, while for

others, the same word means a four-foot

tall blazing pile of wood and brush.

Different parks allow different sizes and

types of fires. Don't assume a bonfire is

going to be ok in a busy campground full

of kids, RVs, and trees. Ask at the visitor

center or find the campground host to see

if specific areas are set aside for fires, and

if there are rules on the size of your blaze.

Making a fire

Before starting your campfire, take a

look around your campsite to make sure

your tent, gear, and any other flammable

objects are at least 15 feet away and

upwind of the firepit.

• Buying or using local kindling/wood

Kindling and wood should be

purchased near the campground (or

collected from the area if the rules

permit doing that). Bringing wood from

far away might also bring along pests

that will potentially invade and cause

problems in their new environment.

• Constructing your fire

There are many ways to arrange your

firewood before you start burning.

Fire needs air to grow, so don't just

stack your wood in a dense pile. One

way to start is by laying larger pieces of

wood in a cross-hatch pattern, making

a small tower. Then, place plenty of

kindling (e.g. dried leaves, small twigs,

etc.) and firestarter (such as shredded

paper) in the gaps between the wood.

Also remember that bark doesn't

burn as well as the rest of the wood,

so chopping your wood into thinner

pieces, to expose more of the interior,

will get your fire going faster.

Use matches or a lighter on your

firestarter to ignite it. The firestarter

should then catch your kindling on fire,

which should eventually catch your

larger pieces of wood on fire.

• Using accelerants

An accelerant is an extremely

flammable liquid or mixture, like

lighter fluid, that is used to speed up

starting a fire. Use only lighter fluid to

start a campfire. Never use any other

accelerants, like gasoline, as this can

be very dangerous. Also, do not squirt

lighter fluid onto embers or open

flames, as this may lead to a quick flare

up and cause skin burns.

• Keep the fire burning

Your fire might burn quite quickly if your

firewood is extremely dry. Wetter wood

will burn slower, but you don't want it

too wet or it won't catch fire. Wet wood

will smoke way more than dry wood.

If you have extra firewood, keep it

stacked upwind of your fire, so that a

sudden breeze won't light all the rest of

your wood on fire. Keep the fire small

so it stays under control.

10 GENERATOR

Learn more about our parks at loup.com
---
Once you have the fire burning

You want to think about safety before

starting a fire and you should keep it in

mind while the fire is going, too.

Toast marshmallows, not hands

Depending on the size of your fire and how

windy it is, you might be able to sit right by

it or you might have to stand several feet

away.

Remember that synthetic clothing melts

when it gets hot. If you plan on cooking on

the fire, make sure you have cooking tools

that are long enough so you have a safe

distance between you and the fire. Look

for cooking tools with insulated handles to

avoid burns.

Watch children and pets around campfires

It almost goes without saying, but if you're

camping with kids or pets, keep an eye on

them. Young children who haven't been

around a campfire before might not be

cautious about running near it.

Preparing for Emergencies

Never leave a campfire unattended and

always keep water nearby. You might have

a sudden need to put it out or the wind

might pick up and push your fire out of the

ring. Know what steps to take if someone is

burned.

Putting out your fire

If your campfire is too hot to touch, don't

leave or go to sleep. Whitish or gray coals

can retain heat for hours flare up if the wind

starts gusting. Spread out the coals as best

you can even if there are no open flames.

If you have water available

Be sure to douse your fire and coals with

plenty of water at the end of the evening.

If you have no water

In a pinch, use sand and dirt. However,

don't simply kick sand or dirt on your fire

— sometimes that can insulate the coals,

keeping them hot even longer than if they

remained exposed. Spread the coals out

with a poker or other device, and then

continually stir dirt and sand among them

until they extinguish.

Source: National Park Service

LOUP PARKS STATUS — 402-562-5709

Call before visiting — the parks close periodically

for maintenance and District operations.

Loup Power District's five parks and recreation areas canvas 77 acres

and 1,100 acres of water.

The parks were originally developed as a byproduct of Loup's canal

system. Over the years, the District continued to develop and maintain

them as a service to the communities and customers we serve.

The parks are open from May 1 to November 1, weather permitting.

Each park features water and picnic areas.

There are plenty of recreational opportunities at all five parks. Visitors

can boat, swim, camp, fish, bike, hike, picnic and more.

Electrical hookups are free although visitors are limited to seven days per

month. Reservations are not accepted.

Note: Headworks Park remains closed due to damage from the March 2019 storm.

SPRING 2020 11
---
employee notes

BRAD MORTON

Hydro Superintendent

30 Years

Brad Morton joined Loup in 1990 as Second Assistant Plant Operator at the Columbus

Powerhouse. He was promoted to First Assistant Plant Operator in 1991 and then

became Plant Operator. In 1993, he was named Monroe Powerhouse Chief Operator. He

was promoted to Assistant Hydro Superintendent in 2011 and the following year he was

promoted to his current position of Hydro Superintendent.

As Hydro Superintendent, Morton is responsible for the general operation and

maintenance of the District's hydro system from the Genoa Headworks to the Columbus

Tailrace. The hydro system includes generating facilities at Columbus and Monroe, a

diversion and dredging operation at the Genoa Headworks, a 35-mile canal system, and

recreational facilities at five parks and two lakes.

Morton is a graduate of Pierce High School. He earned an Associate of Applied Science

Degree in Electrical Technology from Northeast Community College in Norfolk and a

Supervisory Management Certificate from Central Community College in Columbus. Brad

and his wife, Janet, have three children — Scott, Ryan, and Megan.

Promotion

DREW GRAHAM

Monroe Powerhouse

Chief Operator

Drew Graham has been promoted to Monroe

Powerhouse Chief Operator at Loup Power

District.

In his new role, Graham is responsible for

the operation, monitoring, and maintenance of

the Monroe Powerhouse including generators,

auxiliaries, substation, and structures.

Graham is a native of Silver Creek and

graduated from Twin River High School. He

earned a degree in Heating Ventilation and Air

Conditioning/Refrigeration from Northeast

Community College.

He and his wife, Jordan, live in Monroe.

Promotion

ARIC ALT

Engineering Technician

Aric Alt has been promoted to Engineering Technician.

He joined Loup in 2009 as a temporary part-time

Drafting Technician. In 2011, he became a full-time

Drafting Technician II in the Engineering Department.

In his new role as Engineering Technician, Alt works

on substation design. He coordinates the construction

and inspection of District projects, orders materials to

ensure they meet Loup's specifications, and assists with

engineering projects throughout the District. Other duties

include designing distribution and transmission lines and

surveying.

Alt is a graduate of Shelby Public High School and has an

Associate of Applied Science degree in Drafting Technology

from Central Community College in Columbus.

12 GENERATOR
---
DAVE ROSNO

Chief Storekeeper

20 Years

Dave Rosno joined Loup in 2000 as a Maintenance Man at the Genoa Headworks. In

2005, he was promoted to Equipment Operator at the Genoa Headworks. He was promoted

to Plant Operator at the Columbus Powerhouse in 2010 and transferred to the position of

Storekeeper I in 2016. Later that year he was promoted to Chief Storekeeper.

As Chief Storekeeper, Rosno's duties include purchasing and storing materials and stock

for District projects across its multi-county service area. These materials include power

poles, connectors, wire, and any items that Loup needs for day-to-day operations.

Rosno graduated from Genoa High School and attended Central Community College. He

and his wife, Jeri, have two children — Mercedes and Megan. They also have a grandson,

Bentley, and a granddaughter, Brynlee.

Promotion + 1 Year

JESSE HOFFMEISTER

Equipment Operator

Jesse Hoffmeister passed the Equipment

Operator test and was promoted in February.

Hoffmeister is a member of the crew

responsible for the operation and maintenance of

the dredge that removes sand and sediment from

the settling basin of the Loup Canal. He also helps

maintain the District's equipment and facilities

including Headworks Park.

Hoffmeister is a graduate of St. Edward High

School.

He joined Loup Power District in 2019 as

Maintenance Man at the Genoa Headworks. He

and his wife, Haylee, have two sons — Mason and

Ryker.

1 Year

JEREMY MOORE

Columbus Plant Operator

Jeremy Moore of Columbus joined Loup Power District

as a Plant Operator at the Columbus Powerhouse in 2019.

As a plant operator, Moore monitors and controls the

three generation units at Columbus and remotely controls

the Monroe Powerhouse. He also works closely with the

Genoa Headworks to divert maximum Loup River water

into the District canal system for power plant generation.

Moore's other duties include coordinating generation

with NPPD's control center in Doniphan and monitoring

Loup's 115 kV and 34.5 kV subtransmission system.

Moore is a graduate of Cedar Rapids High School. He

and his wife, Carri, have three sons — Talon, Parker, and

Barrett.

SPRING 2020 13
---
employee notes

JIM SHANLE

Shop & Transportation Superintendent

Retired

Shop and Transportation Superintendent Jim Shanle is retiring from Loup Power District

after 28 years of service.

He joined Loup in 1992 as an Engineering Technician II in the Engineering Department

at the Columbus General Office. He was promoted to Engineering Technician in 1996 and

became Senior Engineering Technician in 2008. In 2012, Shanle was promoted to Shop and

Transportation Superintendent and stayed in that role until his retirement.

As Shop and Transportation Superintendent, Shanle provided leadership, supervision,

and guidance to all shop personnel responsible for inspecting, maintaining, and repairing

District vehicles and associated equipment. He also advised management on standards and

specifications for vehicle purchases for the District's fleet.

Shanle is a graduate of Lakeview High School and earned an Associate of Applied Science

degree in Diesel Technology from Northeast Community College in Norfolk and an Associate

of Applied Science degree in Electrical-Mechanical from Southeast Community College in

Milford. He and his wife, Carrie, have three children: Jesse, Chantel, and Justin.

Transfer

JOE NOYD

Powerhouse Maintenance

Technician

Joe Noyd of Shelby was recently

named Loup Power District's

Powerhouse Maintenance Technician.

In this role, Noyd will monitor

and maintain the District's hydro

equipment, generators and facilities.

He will also fill in as a Plant Operator

when needed.

Noyd joined Loup in 2013 as a

Plant Operator at the Columbus

Powerhouse.

A native of Schuyler, Noyd earned

an Associate of Applied Science

Degree in Building Construction from

Southeast Community College in

Milford, Nebraska.

Noyd and his wife, Amanda, have

two children — son, Nolan, and

daughter, Reeyce.

14 GENERATOR

Welcome

TROY DREIFURST

Utilityman

Troy Dreifurst has joined Loup

Power District as a Utilityman

based out of the Columbus Service

Center.

Dreifurst's duties include

servicing the District's rental

water heaters, delivering

interoffice mail, and assisting on

other projects as needed.

Dreifurst previously worked at

Culligan Water. He is a graduate of

Lakeview High School. He and his

wife, Denise, have three children

— Brock, Ashton, and Lexi.

5 Years

ADAM BABL

Journeyman Lineman

Adam Babl of Norfolk

joined Loup Power District as

a Journeyman Lineman on the

Albion Line Crew in 2015.

As a Journeyman Lineman,

Babl is a member of the line

crew that is responsible for

the construction, operation,

and maintenance of Loup's

electrical transmission and

distribution system in the

Albion Division.

Babl is a native of Norfolk

and a graduate of Norfolk High

School. He earned an Associate

of Applied Science Degree in

Utility Line from Northeast

Community College in Norfolk.

Babl has one son, Brantlee,

and a daughter, Blayr.
---
MARK HANEL

Shop & Transportation Superintendent

Mark Hanel was promoted to Shop & Transportation Superintendent in March.

In this new role, he provides leadership, supervision, and guidance to all shop

personnel. His team is responsible for inspecting, maintaining, and repairing District

vehicles and equipment. He also advises management on standards and specifications for

vehicle purchases for the District's fleet.

Hanel joined Loup in 2011 as Automotive/Equipment Mechanic for the Shop and

Transportation Department at the Columbus Service Center. In 2017, he transferred to

Machinist/Welder and stayed in that position until this promotion.

Hanel is a native of Clarkson and earned an Associates of Applied Science Degree in

Automotive Technology from Northeast Community College in Norfolk.

He and his wife, Rhonda, have three children: Carter, Chloe, and Grant.

Promotion

Transfer

NATALIE SHARMAN

Customer Service Representative

Natalie Sharman transferred to a Full-Time Customer

Service Representative at Loup Power District's

Fullerton office.

Sharman joined Loup as a part-time CSR in the St.

Edward office. In 2019, she was promoted to a full-time

CSR serving both the Fullerton and Albion offices. With

this transfer, she will work full-time in Fullerton.

As a Customer Service Representative, Sharman's

responsibilities include greeting customers; processing

payments; setting up, transferring, or closing service;

taking service calls; and preparing reports.

Sharman is a native of Cambridge and a graduate of

Cambridge High School. She attended the University of

Nebraska–Kearney studying business and marketing.

Sharman and her husband, Les, are the parents of

two children, Braden and Kinzie. They also own Sharmz

Auto Body in Fullerton.

Promotion

LANCE FERRIS

Canal Foreman

Lance Ferris has been promoted to Canal Foreman

at Loup Power District.

As Canal Foreman, Ferris' primary responsibility

is overseeing canal-related projects from the railroad

siphon east of Genoa to the tailrace area southeast of

Columbus. His crew also assists with substation and

construction work throughout the District.

Ferris joined Loup in 1982 as a Maintenance Man

at the Genoa Headworks. In 1985, he was promoted

to Assistant Dredge Operator. The following year,

his title changed to Equipment Operator. He was

promoted to Dredge Operator in 1988. In 2015, Ferris

transferred to Equipment Operator at the Columbus

Service Center and remained in that position until

this promotion.

Ferris and his wife, Teresa, have seven children

and 17 grandchildren. They live in Monroe.

SPRING 2020 15
---
WHAT'S ON

THAT POLE?

This illustration shows the basic equipment found on an electric utility pole.

The equipment varies according to the location and the service it provides.

PRIMARY WIRES

Primary wires carry 7,200 volts of

electricity from a substation. That voltage is

60 times higher than the voltage that runs

through your home's electrical outlets!

SURGE ARRESTORS

These protect the transformer

from lightning strikes.

NEUTRAL WIRE

The neutral wire acts as a line

back to the substation and is tied

to the ground, balancing the

electricity on the system.

INSULATORS

Insulators prevent

energized wires from

contacting each other

or the pole.

SECONDARY SERVICE DROP

Carries 120/240-volts of electricity to

consumers' homes. It has two "hot" wires from

the transformer and a bare "neutral" wire that's

connected to the ground wire on the pole.

GROUND WIRE

The ground wire connects to the

neutral wire to complete the circuit

inside the transformer. It also directs

electricity from lightning safely into

the earth.

TELEPHONE, CABLE

TV, AND FIBER WIRES

These are typically the

lowest wires on the pole.

NEVER NAIL POSTERS OR

OTHER ITEMS TO UTILITY

POLES. THESE CREATE A

SAFETY HAZARD FOR

LINEWORKERS.

16 GENERATOR

Original illustration by Erin Binkley
---
County payments total

more than $2 million

Loup Power District recently delivered

its inside revenue payments and the

second half of the 2019 "in-lieuof-tax"

payment to the counties

it serves. This is a benefit of being

served by a locally controlled, notfor-profit

utility.

Like other businesses, Loup Power

District pays sales tax, gasoline taxes,

motor vehicle license fees and permit

fees.

The "in-lieu-of-tax" payments are

made to service area counties in lieu

of occupation, personal property and

real estate taxes.

County treasurers will distribute the

funds to the various taxing bodies in

each county.

Total in-lieu-of-tax payments:

Platte — $9,713.77

Boone — $5,078.34

Nance — $6,445.84

Colfax — $240.48

Madison — $359.27

Total — $21,837.70

The District is also required to make

additional payments to the counties

to guarantee they receive 5 percent of

the inside revenues from the various

towns in their areas subject to the in

lieu-of-tax payments.

Additional payments to the counties:

Madison — $38,895.57

Platte — $1,657,861.79

Nance — $126,051.65

Colfax — $116,412.96

Boone — $194,948.52

Total — $2,134,170.49

Communities receive

lease payments

Loup officials presented lease payment checks to area

communities in February and March. Each of these communities

owns their electric distribution systems. These payments

compensate them for the use of those systems.

Communities use the funds for a variety of public projects.

Primrose — $2,869.63

St. Edward — $34,250.77

Humphrey — $35,429.93

Cornlea — $3,139.79

Monroe — $20,763.15

Tarnov — $2,396.04

Platte Center — $18,572.89

Petersburg — $18,608.02

Columbus — $828,706.47

Genoa — $20,784.04

Creston — $5,333.10

Second Half of 2019

Albion — $88,743.32

Fourth Quarter of 2019

Cedar Rapids — $29,869.37

Richland — $5,027.33

Belgrade — $6,245.43

Fullerton — $59,118.10

Duncan — $29,764.98

Howells — $34,995.92

Clarkson — $35,848.57

Lindsay — $42,764.30

Leigh — $14,238.08

Newman Grove — $16,536.98

Loup renews

community

memberships

Loup Power District renewed its

membership in Community Clubs and

Chambers of Commerce in towns throughout

its service area.

Checks totaling $30,651 were presented to

communities in Boone, Colfax, Nance, Platte,

and Madison counties. Payment amounts are

based on the 2019 gross revenues inside each

community.

Albion Chamber — $1,556

Cedar Rapids Community Club — $519

Clarkson Commercial Club — $598

Columbus Area Chamber — $21,365

Fullerton Chamber — $1,091

Genoa Chamber — $771

Howells Community Club — $627

Humphrey Community Club — $665

Lindsay Community Club — $1,457

Leigh Community Club —$439

Newman Grove Community Club — $596

Petersburg Community Club — $293

Primrose Community Club — $100

St. Edward Community Club — $574

SPRING 2020 17
---
18
---
energy-saving

9TIPS

Visit

loup.com

for more

energy tips

Although the official date for Earth Day is April

22, public power utilities celebrate Earth Day

every day of the year.

Nebraska is the only state in the nation where

every electric utility is a public power partner.

Therefore, you can be certain your local utility has your best interests in mind.

People served by communities, cooperatives and power districts have more

control over their local utility. That means all benefits produced by public power —

including affordable, reliable and sustainable energy, better service and a focus on

local goals — stay local.

This commitment extends past the electric meter and into homes and businesses

by providing assistance in making the most efficient use of the primary product public

power provides — electricity!

1

INSTALL

2

INSULATE

3

SET

4

CHECK

5

SCHEDULE

AND USE CEILING FANS. You should be able to

adjust your thermostat up four degrees and experience

the same comfort as you would have with only the air

conditioner.

EVERYWHERE HEAT IS LOST. This includes

hot water pipes, air ducts, attic, basement, windows and

doors.

THE THERMOSTAT AS HIGH AS POSSIBLE TO

WHERE YOU ARE STILL COMFORTABLE. By turning your

thermostat back 10° to 15° for eight hours, you can save

5 to 15 percent a year on your heating bill.

THE AIR CONDITIONER FILTER AND CHANGE IT

IF NECESSARY. Filters should be changed every 30–90

days. We recommend using HEPA (high efficiency

particulate air) filters, setting calendar reminders and

writing the date on the filter when you replace it.

ANNUAL AIR CONDITIONING

MAINTENANCE TUNE-UP to help reduce repairs and

keep your system operating at peak efficiency. What you

spend on the tune-up you'll make back on your energy

bill. If your unit is older than 15 years and often breaks

down, consider replacement.

6

DO

7

KEEP

8

BLOCK

9

KEEP

NOT RUN YOUR HEATING OR AIR CONDITIONING

WHILE YOU ARE AWAY from home. Either schedule the

times you are gone with a programmable thermostat

or remember to turn it off before you leave the house.

With a programmable thermostat, you can set the

desired temperature 30 minutes before you arrive so

the desired temperature is reached by the time you get

back.

THE THERMOSTAT AWAY FROM HEAT SOURCES

including the sun, candles, lamps and appliances.

Temperature misreading by the thermostat can cause

your air conditioner to work longer than necessary.

DRAFTS FROM DOORS AND WINDOWS by using

caulk, door sweeps and thresholds.

DRAPES AND BLINDS CLOSED DURING THE DAY

in the summer to reduce the amount of solar heat gain.

Consider installing solar screens, insulating drapes, and

planting trees outside of sun-facing windows for more

protection against the sun's rays.

Open drapes and blinds during sunny winter days to

take advantage of solar heat gain. Once the sun no

longer shines in, close drapes and blinds to help retain

heat in your home.

SPRING 2020 19
---
2404 15th Street | PO Box 988

Columbus, NE 68602-0988

Tree Planting

GUIDE

10' 20' 30' 40' 50' 60' 70'

STOP

NO TREE ZONE

No trees within

25' of power lines

CAUTION

SMALL TREE ZONE

Plant trees less than 25'

in height/spread

at least 25' from

power lines

CAUTION

MEDIUM TREE ZONE

Plant trees 25'–40' in

height/spread at least

40' from overhead

power lines

GO

LARGE TREE ZONE

Plant trees larger than 40'

in height/spread at least

60' from overhead

power lines