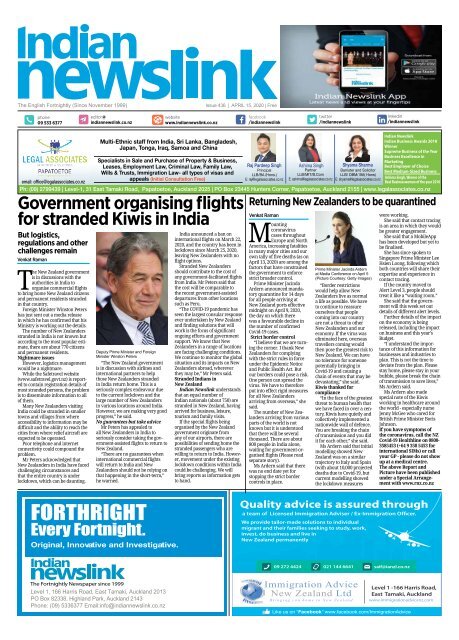 INL Digital Edition April 15, 2020
Create successful ePaper yourself
Turn your PDF publications into a flip-book with our unique Google optimized e-Paper software.
The English Fortnightly (Since November 1999)

Issue 436 | APRIL 15, 2020 | Free

phone

09 533 6377

editor@

indiannewslink.co.nz

website

www.indiannewslink.co.nz

facebook

/indiannewslink

twitter

/indiannewslink

linkedin

/indiannewslink

Multi-Ethnic staff from India, Sri Lanka, Bangladesh,

Japan, Tonga, Iraq, Samoa and China

Specialists in Sale and Purchase of Property & Business,

Leases, Employment Law, Criminal Law, Family Law,

Wills & Trusts, Immigration Law- all types of visas and

appeals (Initial Consultation Free)

Raj Pardeep Singh

Principal

LLB/BA (Hons.)

E: raj@legalassociates.co.nz

Partner

LLB/MIT/B.Com

E: ashima@legalassociates.co.nz

Shyama Sharma

Barrister and Solicitor

LLB/ DBM/ BA( Hons)

E: shyama@legalassociates.co.nz

Indian Newslink

Indian Business Awards 2018

Winner

Supreme Business of the Year

Business Excellence in

Marketing

Best Employer of Choice

Best Medium-Sized Business

Ashima Singh, Winner of the

Best Businesswoman of the year 2016

email: office@legalassociates.co.nz

Ph: (09) 2799439 | Level-1, 31 East Tamaki Road, Papatoetoe, Auckland 2025 | PO Box 23445 Hunters Corner, Papatoetoe, Auckland 2155 | www.legalassociates.co.nz

Government organising flights

for stranded Kiwis in India

But logistics,

regulations and other

challenges remain

Venkat Raman

The New Zealand government

is in discussions with the

authorities in India to

organise commercial flights

to bring home New Zealand citizens

and permanent residents stranded

in that country.

Foreign Minister Winston Peters

has just sent out a media release

in which he has confirmed that his

Ministry is working out the details.

The number of New Zealanders

stranded in India is not known but

according to the most popular estimate,

there are about 770 citizens

and permanent residents.

Nightmare issues

However, logistics management

would be a nightmare.

While the Safetravel website

(www.safetravel.govt.nz) is reported

to contain registration details of

most stranded persons, the problem

is to disseminate information to all

of them.

Many New Zealanders visiting

India could be stranded in smaller

towns and villages from where

accessibility to information may be

difficult and the ability to reach the

cities from where relief aircraft are

expected to be operated.

Poor telephone and internet

connectivity could compound the

problem.

Mr Peters acknowledged that

New Zealanders in India have faced

challenging circumstances and

that the entire country is under

lockdown, which can be daunting.

Deputy Prime Minister and Foreign

Minister Winston Peters

"The New Zealand government

is in discussion with airlines and

international partners to help

those New Zealanders stranded

in India return home. This is a

seriously complex endeavour due

to the current lockdown and the

large number of New Zealanders

in various locations around India.

However, we are making very good

progress," he said.

No guarantees but take advice

Mr Peters has appealed to

all New Zealanders in India to

seriously consider taking the government-assisted

flights to return to

New Zealand.

"There are no guarantees when

international commercial flights

will return to India and New

Zealanders should not be relying on

that happening in the short-term,"

he warned.

India announced a ban on

international flights on March 22,

2020, and the country has been in

lockdown since March 25, 2020,

leaving New Zealanders with no

flight options.

Stranded New Zealanders

should contribute to the cost of

any government-facilitated flights

from India. Mr Peters said that

the cost will be comparable to

the recent government-assisted

departures from other locations

such as Peru.

"The COVID-19 pandemic has

seen the largest consular response

ever undertaken by New Zealand

and finding solutions that will

work is the focus of significant

ongoing efforts and government

support. We know that New

Zealanders in a range of locations

are facing challenging conditions.

We continue to monitor the global

situation and its impacts on New

Zealanders abroad, wherever

they may be," Mr Peters said.

Stranded Indians in

New Zealand

Indian Newslink understands

that an equal number of

Indian nationals (about 750) are

stranded in New Zealand, having

arrived for business, leisure,

tourism and family visits.

If the special flights being

organised by the New Zealand

government originate from

any of our airports, there are

possibilities of sending home the

stranded passengers who are

willing to return to India. However,

movement under the existing

lockdown conditions within India

could be challenging. We will

bring reports as information gets

to hand.

Returning New Zealanders to be quarantined

Venkat Raman

Mounting

coronavirus

cases throughout

Europe and North

America, increasing fatalities

in many major cities and our

own tally of five deaths (as on

April 13, 2020) are among the

factors that have constrained

the government to enforce

strict broader control.

Prime Minister Jacinda

Ardern announced mandatory

quarantine for 14 days

for all people arriving at

New Zealand ports effective

midnight on April 9, 2020,

the day on which there

was a favourable decline in

the number of confirmed

Covid-19 cases.

Strict border control

"I believe that we are turning

the corner. I thank New

Zealanders for complying

with the strict rules in force

under the Epidemic Notice

and Public Health Act. But

our borders could pose a risk.

One person can spread the

virus. We have to therefore

put into effect rigid measures

for all New Zealanders

arriving from overseas," she

said.

The number of New Zealanders

arriving from various

parts of the world is not

known but it is understood

that there will be several

thousand. There are about

800 people in India alone,

waiting for government-organised

flights (Please read

separate story).

Ms Ardern said that there

was no end date yet for

stopping the strict border

controls in place.

Prime Minister Jacinda Ardern

at Media Conference on April 5

(Picture Courtesy: Getty Images)

"Border restrictions

would help allow New

Zealanders live as normal

a life as possible. We have

to continue to reassure

ourselves that people

coming into our country

are not a threat to other

New Zealanders and our

economy. If the virus was

eliminated here, overseas

travellers coming would

then pose the greatest risk to

New Zealand. We can have

no tolerance for someone

potentially bringing in

Covid-19 and causing a

chain of events that may be

devastating," she said.

Kiwis thanked for

compliance

"In the face of the greatest

threat to human health that

we have faced in over a century,

Kiwis have quietly and

collectively implemented a

nationwide wall of defence.

You are breaking the chain

of transmission and you did

it for each other," she said.

Ms Ardern said that initial

modelling showed New

Zealand was on a similar

trajectory to Italy and Spain

(with about 10,000 projected

deaths due to Covid-19, but

current modelling showed

the lockdown measures

were working.

She said that contact tracing

is an area in which they would

be greater engagement.

She said that a MobileApp

has been developed but yet to

be finalised.

She has since spoken to

Singapore Prime Minister Lee

Hsien Loong, following which

both countries will share their

expertise and experience in

contact tracing.

If the country moved to

Alert Level 3, people should

treat it like a "waiting room."

She said that the government

will this week set out

details of different alert levels.

Further details of the impact

on the economy is being

released, including the impact

on business and this year's

Budget.

"I understand the importance

of this information for

businesses and industries to

plan. This is not the time to

deviate from the plan. Please

stay home, please stay in your

bubble, please break the chain

of transmission to save lives,"

Ms Ardern said.

Ms Ardern also made

special note of the Kiwis

working in healthcare around

the world - especially nurse

Jenny McGee who cared for

British Prime Minister Boris

Johnson.

If you have symptoms of

the coronavirus, call the NZ

Covid-19 Healthline on 0800-

3585453 (+64 9 358 5453 for

international SIMs) or call

your GP - please do not show

up at a medical centre.

The above Report and

Picture have been published

under a Special Arrangement

with www.rnz.co.nz

FORTHRIGHT

Every Fortnight.

Original, Innovative and Investigative.

Qualityadviceisassured through

ateam of Licensed Immigration Adviser /Ex-Immigration Officer.

We provide tailor-made solutions to individual

migrant and their families seeking to study,work,

invest,dobusiness and livein

NewZealand permanently

09 272 4424 021 144 6641 saif@ianzl.co.nz

The Fortnightly Newspaper since 1999

Level 1, 166 Harris Road, East Tamaki, Auckland 2013

PO Box 82338, Highland Park, Auckland 2143

Phone: (09) 5336377 Email:info@indiannewslink.co.nz

Level1-166 Harris Road,

East Tamaki, Auckland

www.immigrationadvicenz.com

Like us on "Facebook"

www.facebook.com/ImmigrationAdvice
---
02

APRIL 15, 2020

Homelink

Bill on voting rights to offenders should be scrapped

Fast-tracking an erroneous

Bill is beyond reason

Manish Tanna

It has been in the news that the government

is considering to fast track the Electoral

(Registration of Sentenced Prisoners)

Amendment Bill in the coming weeks.

This move is an incomprehensible move

during a global health crisis of unprecedented

dimensions.

JUST

SERVICES

- First Home/Investment Property Loans

- Refinance/Top-up/Business/Commercial Loans

- Life/Trauma/Medical Insurance

- TPD/Mortgage/Income Protection

- Business/Commercial Insurance

- Small to Medium Business Tax Returns

- Rental Property Returns/LTC Setup

- Equipment Finance/Car & Truck Loans

HEAD OFFICE

35 Morningside Drive, St. Lukes

Mt. Albert, Auckland

Ph: 09 846 9934, Fax: 09-846 9936

ONE

BRANCH OFFICE

Level 1/203 Great South Road

Manurewa

Auckland

www.professionalfinancial.co.nz | Email: info@pfsl.co.nz

PLACE

FOR ALL FINANCIAL SERVICES YOU NEED

Mortgage Brokers Insurance Brokers Accountants Asset Finance Brokers

Professional Financial Solutions provides the best advice on all financial matters

FOR YOUR BUSINESS & LIABILITY INSURANCE

Call or make an appointment for

FREE QUOTE to review your current insurance

Contact Ram P: 09-846 9934 | E: info@aimassociates.co.nz

Ram Vashist

M: 021 401 535

It is a move that stems from dubious

intentions of giving rights to people who have

violated laws, while denying the nation a

reasonable opportunity to scrutinise the Bill in

the public forum.

Timing of the Bill

Covid-19 is a crisis that has dwarfed all the

global issues for the last few months.

At the moment, the only problem that is

concerning humanity is how to combat this

pandemic.

Many countries, including New Zealand, are

in lockdown.

At a time when all non-essential travel is

banned, public gatherings are restricted, most

avenues for a healthy exchange of opinions

in groups are severely limited, an attempt

Ravi Mehta

M: 021 181 0076

Rohit Takyar

M: 021 172 8962

Alpana Gupta

M: 021 159 3453

PROFESSIONAL

FINANCIAL

SOLUTIONS GROUP

Professional Financial Solutions Ltd.

Aim Associates Ltd.

to fast track a Bill is being

made, which has no urgency

whatsoever.

Even after the Alert Level-4

lockdown is over, there is a

real chance of an economic

recession.

The current restrictions will

leave many Kiwis without a

livelihood, and they will be focusing

on real issues like food

for their whanau, job security,

paying rent and supporting

their community.

The only reason that any

government would even think

of bringing in such legislation

at this time, would be that

their priorities are totally

mixed up.

At a time when it is feared

that more than 100,000

law-abiding, tax-paying, New

Zealanders will need additional

government support, there

is no reason to bring this Bill,

which will affect less than

11,000 convicts serving time in

correctional facilities.

Background to the Bill

In 1993, the New Zealand

Parliament unanimously

voted to ban voting for

convicts serving sentences of

three years or longer. In 2010,

the scope was increased to all

convicts.

I understand that the High

Court and Supreme Court

have subsequently ruled

that the required majority to

make such a change was not

met, and hence the law was

violating the Bill of Rights.

This Government had more

than fourteen months to

rectify the error by presenting

the same Bill of 2010 and

get it passed through the

Parliament.

Instead, the Government

has chosen to pass a Bill

allowing prisoners to vote.

I have genuine concerns

about the intent of the

proposed law change.

Crime and Punishment

In our country, a person is

sent to the correctional facilities

only for serious offending

as most convictions result

in fines and/or community

service.

I quote from a Ministry

of Justice: "Adults convicted

in 2017 were most likely to

receive a monetary sentence

(33%; 21,190 adults) or a

community work sentence

(22%; 14,171 adults) as their

most serious sentence. 13%

of convicted adults received

an imprisonment sentence,

19% other types of community

sentences, 6% 'other' types

of sentences, and 5% had no

sentence recorded."

This clearly shows that

imprisonment is reserved for

severe offences like assault,

rape, murder and the like.

These convicts have violated

the civil rights of their victims

and traumatised their families,

in some cases even snatching

their loved ones forever.

Detestable provisions

Morally and logically, the

provisions of this Bill are detestable

as it gives those who

have violated human rights,

broken the constitutional provisions,

and have scant respect

for humanity an equal footing

as the law-abiding majority.

Logically, there could be

a time when convicts could

influence the legislation in

Parliament, as those who have

completed their sentence

do not necessarily become

law-abiding citizens, given

the high rate of re-offending

prevalent in our country.

This Bill should be opposed

at all levels and a ground swell

should force the government

to pass the 2010 amendment

appropriately so that the voice

of reason doesn't get drowned

in the over-enthusiastic din of

liberal and pseudo-inclusive

rhetoric that dominates the

narrative in media and public

life in present age.

Manish Tanna is Deputy

Chair of the National Party's

Manukau East Electorate

Editor's Note: Justice Minister

Andrew Little introduced

the Bill to Parliament on

February 25, 2020. It passed

the first reading on March

18, 2020 and Parliament

referred the Bill to the

Justice Select Committee

with its report due on

June 24, 2020. This Select

Committee comprises eight

Members of Parliament,

four each from the Labour

Party and National Party.

Public submissions are now

open- until April 24, 2020.

Kanwaljit Singh Bakshi

National List MPbased

in

Manukau East

Contact

A

P

F

E

1/131 Kolmar Road, Papatoetoe, Auckland

09 278 9302

09 278 2143

bakshi.mp@parliament.govt.nz

facebook.com/bakshiks

@bakshiks

bakshi.co.nz

Funded by the Parliamentary Service. Authorised by Kanwaljit Singh Bakshi MP, 1/131 Kolmar Road, Papatoetoe.
---
APRIL 15, 2020

Homelink

Debate rages over exiting Level 4 as Covid-19 cases fall

But many urge caution to

avoid the second wave

Venkat Raman

The number of new

Coronavirus cases fell

to 17 (of which only

eight were confirmed)

as per reports at 1 pm on April

14, 2020 prompting calls from

several quarters to pull out

of Alert 4 but Prime Minister

Jacinda Ardern said that the

lockdown will run its full

course until April 22, 2020.

"We are working with

various officials and experts

and I hope to make an

announcement as to where

we stand on Monday, April

20, 2020. Now is not the time

to squander the good work

that every one has put over the

last 20 days," she said speaking

to reporters at the Beehive

Theatre following the remotely

held weekly Cabinet meeting.

Media performance

questioned

However, the lengths to

which freedom of speech

can extend is being heard on

talkback shows across the

country.

"Denmark is moving out of

lockdown, why can't we?" one

talkback host asked Ms Ardern.

But the facts are otherwise.

The Danish government has

announced that children up

to 12 years of age can return

to school two days after Easter

and that some employees

can return to work but under

strict conditions. The country's

borders are however closed.

Parents are already

resisting, saying that they do

not want children to become

experiments.

Another expert said, "Since

doctors and nurses can wear

masks and other gear and

work together with patients,

we should also be allowed to

work in our offices."

There is increasing opinion

that some of our media

commentators and media

companies are irresponsible

and scare-mongering.

People and government

Opinion Polls suggest that

a majority of New Zealanders

support Ms Ardern and her

government.

"We are breaking the chain,

but this is not the time to take

the leg off the pedal. We are

studying a number of scenarios

of the post Covid-19 period.

Meanwhile, the government

will announce further

financial incentives for small

and medium companies. We

are also aware of the hardship

caused to our large media

companies. We are talking to

them," she said.

New Zealand recorded four

deaths on Monday, April 13,

2020, taking the total number

of the virus fatalities to nine.

The number of people who

have recovered was placed

at 628.

"This is a reminder of how

much worse the spread and

death toll would have been

had we not taken the action to

break the chain of infection,"

Ms Ardern said.

She said there had been

1452 breaches of the level 4

rules, and Police had made

169 prosecutions.

Cash pay out to Students

Ms Ardern said that many

students will be able to borrow

an additional amount of

$1000 on their student loan to

tide them over the difficulties

they may be facing in the

current situation.

"The increase to the student

loan amount available is part

of a wider support package

for tertiary students who may be struggling

during the Covid-19 pandemic," she said.

Full-time students will be able to borrow

up to $2000, up from the current $1000, for

course-related costs. The government will

continue support payments for students unable

to study on-line for up to eight weeks.

It will also change the rules so no-one will

be disadvantaged if they have to abandon

their study this year because of Covid-19, for

example under the fees free scheme.

Certainty in education

Education Minister Chris Hipkins said

that the government wanted to give

students as much certainty as possible so

that they can continue to engage in their

education.

"They will be supported adequately until

such time that tertiary education providers

● First Home

● Investment Property

● Residential or Commercial

● Building / Extending / Renovating

● Re-Finance/ Restructure

● Buying an Apartment

● Low Deposit

● Self Employed

● Business Loan

● Property Development

For all your home loan and insurance needs talk to us...

Rakesh Bansal Era Bansal Manisha Kumar Jatinder Singh

021 030 8135 021 066 7598

021 154 4327

info@kiwimortgages.net.nz era@kiwimortgages.net.nz

Jatinder@kiwimortgages.net.nz

Ex-Banker for years

Ex-Banker for years

Toll Free:

0508 33 22 11

M:021 030 8135

09 903 3602

116b,Cavendish Drive, Manukau City E:info@kiwimortgages.net.nz | w:www.kiwimortgages.net.nz

03

can put in place alternative ways of delivering

teaching and learning," he said.

The initiative will allow students who

cannot access their courses online to receive

their student loan payments as normal

throughout the four-week lockdown period,

and for up to four weeks thereafter.

"This flexibility is already available for

student living allowances," Mr Hipkins said.

Domestic students enrolled in full-time

tertiary study can access these supports

from April 15, 2020. The total cost of the

package is $133 million.

Mr Hipkins said that the student loan

changes are being financed from the

Covid-19 Response and Recovery Fund and

the fees related changes can be met from

existing budgets.

Contact us for FREE

consultation

Accounting and Taxes

● Are you up-to-date with your end of year

accounts and tax returns?

● Are you paying the right amount of tax?

● Are you growing the value of business?

● Is your business struggling to make profit?

● Have you priced your products or

services correctly?

Chartered Accountants

● Is your charge-out rate too low or too high?

● Do you need any cash flow finance or

working capital finance?

● Are you spending too much time on

paper work rather than focusing on running

your business?

●Do you have proper accounting software?

WE WILL PROVIDE THE RIGHT SOLUTIONS AT A VERY REASONABLE PRICE!

● End of year Accounting

● Income Tax & GST Returns

● Book-Keeping & Financial Accounts

● Small Business/Rental Property Accounts

● LTC & Trust Accounts

● Tax Advisory

● Business Valuation and Due Diligence

● MYOB & Xero Software Accounting

NewZealand Immigration Specialists with 30 years of experience

Competent, proven

immigration service since 1988

●Serving the immigrant community since 1988

●Upfront in-depth appraisal. We accept only cases

which are highly likely to be successful

●Telephone enquiries /obligation free advice

●Network of professional subject matter experts,

such as Commercial Lawyers, Accountants and

Business Consultants to work on Business Visa applications

●Strong portfolio of successful applications

●Strong New Zealand community connections

●Skilled Migration ●Family Migration ●Business Visa

●Special Direction Applications

●Appeal to IPT, CFP (Client Complaints to INZ), S.61 and

Ministerial Requests for consideration

Call us now for afree initial appraisal of your immigration application

(Appointment essential for personal consultations)

Mukesh Arora

FCCA (UK) CA (NZ)

Macro Accounting and & Tax Advsors

Principal: Harjeet SGolian

B.A. (Aust) LL.B (NZ)

Licenced Immigration Adviser -Member NZAMI -since 1993

Contact Mukesh Arora

Macro Accounting & Tax Advisors Limited

116 B, Cavendish Drive, Manukau, Auckland 2104

0800-825599 | Mobile 0211-290810

Email: mukesh@macroaccounting.co.nz

www.macroaccounting.co.nz

Level 1, 3Campbell Road, Royal Oak, Auckland

Phone: (09) 6241204 Mobile: 021 624120

E: golian@golian.co.nz W: www.golian.co.nz
---
04

APRIL 15, 2020

Homelink

Call to bring

back Kiwis

stranded in India

Gerry Brownlee

New Zealanders who are

currently still stranded in India

will need assistance trying to

return home.

We have Kiwis who are in India who

are running the risk of being without

medication, money and being evicted

from hotels.

Increasing crime in India

India has had growing unrest since

issue of their curfew. There has been an

increase in crime and violence which is

making an already worrying situation

that much worse.

The Government has announced a

mercy flight from Peru but with over

3000 Kiwis currently spread over Asia,

only having one flight will not solve the

problem for people stranded in India.

Ministry of Foreign Affairs and Trade

has issued the advice to 'shelter in place.'

This advice provides no practical help.

I would encourage MFAT to look at every

possibility for bringing Kiwis home.

Our responsibility should not just stop

at those within New Zealand but extend

to include those who are desperately

trying to return back to their families

and loved ones.

Jerry Brownlee is a Member of Parliament

on National List and the Party's

Foreign Affairs Spokesperson. He lives

in Christchurch. Please read related

reports in this Digital Edition.

Embattled

Health Minister demoted

Dr David Clark loses Associate

Finance Minister

portfolio

Prime Minister

Jacinda Ardern has proved yet

again that she is a tough boss

by demoting Health Minister Dr

David Clark to the bottom rank

of her Cabinet, after the latter

revealed that he had breached

the 'Stay at Home' rule more

than once.

"In normal circumstances,

I would have sacked him. But

we are in the midst of fighting

Covid-19. He is the Minister

of Health and hence is an

important part of our efforts.

For that reason and that reason

alone, he will maintain this role.

However, he has to pay a price.

Therefore, as of today, I have

stripped him of the Associate

Finance Minister portfolio and

demoted him in the cabinet

ranking," she told a media

conference in Wellington.

New Associate Finance

Minister

She said that she has handed

over the Associate Finance

portfolio to Attorney General

and Trade and Export Minister

David Clark.

Dr Clark was under fire

for having driven about two

kilometres from his house in

Dunedin and going on a bicycle

as a part of his exercise.

Since then, there have been

rising public criticism and

demands on Ms Ardern to sack

him.

Initially, she reprimanded him

Prime Minister Jacinda Arden with Health Minister Dr David

Clark (Photo for Getty Images by Hagen Hopkins

and told the media having done so on

Sunday.

However, he told the Prime Minister

yesterday (Monday) that on the first

weekend of Alert 4, he drove with his

family about 20 kilometres from his

house in Dunedin to Doctor's Point

Beach for a walk. That admission was

clearly inadmissible.

Leading by example

Ms Ardern leads by example and

does not tolerate any of her ministers

going against any of the laws in force,

especially those relating to Covid-19.

"I expect better, and so does New

Zealand," she said.

Dr Clark said that he realised his

responsibility to follow the rules and

set an example.

"At a time when we are asking New

Zealanders to make historic sacrifices I

have let the team down. I have been an

idiot, and I understand why people will

be angry with me. I have apologised

to the Prime Minister for my lack of

judgement and offered her my resignation,"

he said.- Venkat Raman

Help disabled with essential

supplies

Paula Tesoriero

It is tough for all of us during

lockdown trying to get food

when our fridge is looking

bare.

For many people who cannot

leave their homes at all, it is

proving to be an extra challenge.

Supermarkets have reserved

online delivery slots for priority

shoppers – people who can't shop

in person because of disability, or

because they need to stay home to

protect themselves or others from

infection.

These priority slots are quickly

taken up, which means at risk

people need to find others to

do their shopping, or ask for

emergency food deliveries

Some people who can't be left

at home alone are waiting for

lengthy periods in vehicles in

supermarket carparks while their

support workers shop.

In the worst-case scenario,

it may mean people are going

hungry till they can get help.

Other options

For many of us, we have other

options. We can afford to order

deliveries from specialty or

smaller suppliers, or we are able

to safely visit the supermarket in

person.

If you can free up your online

supermarket shopping slot for

your neighbours who most need

Image by Clker-Free-Vector-Images from

Pixabay

them, please do so.

For some people who would

benefit from online shopping it

may be just too difficult to tackle

anyway. Not all of us are computer

savvy or have access to the

technology. So, they might have to

visit the supermarket.

It is not a great experience

having to queue at any time, but

for a lot of people it can be extra

hard, and even scary. It is helpful

when stores offer quiet hours or

special checkouts for older people

and people with sensory issues.

Our shopping experience often

depends on how we treat each

other. If someone is anxious or

confused, stay kind and patient.

We do not know what is really

going on for each other, but we

are all in this together.

Information about support

available:

https://www.msd.govt.nz/

about-msd-and-our-work/newsroom/2020/covid-19/where-to-gofor-services-and-support.html

Paula Tesoriero is Disability

Rights Commissioner at the

Wellington based Human Rights

Commission.

Smart money choices made simple.

We'll help you find the sweetest mortgage deal whether it's your first home or

investment property, and arrange the best insurance to suit your needs.

Mortgage services

Home loans

Construction loans

Refinances and restructures

Top ups & debt consolidation

Commercial & Business loans

Insurance

Life, Trauma

Medical/Health

General

Business

Income Protection

Call us today

0800 21 22 23

Level 1, 3/53 Cavendish Drive

Manukau
---
APRIL 15, 2020

Clarification on weddings and civil unions

The following

Statement was issued

by Jeff Montgomery,

Registrar-General of

Births, Deaths and Marriages,

Department of Internal

Affairs, Wellington.

Te Tari Taiwhenua,

Department of Internal

Affairs is aware of questions

about weddings during the

COVID-19 lockdown and

would like you to be aware

of the following information.

First and foremost, the

Registrar-General does not

encourage nor condone

marriage ceremonies taking

place during the lockdown.

All New Zealanders must

comply with Ministry of

Health guidance about

events and gatherings

during the COVID-19

lockdown: https://covid19.

govt.nz/communities/

gatherings-and-events/

Approval for weddings and

civil unions

Marriage licences are

issued by the Registrar-General.

A recent article in

the media implied that the

Registrar-General has the

power to give permission for

ceremonies to go ahead or

determine whether they are

essential. This is not the case.

The Registrar-General's

role is to issue licences

where the couple meet the

legal requirements, to register

celebrants and to register

marriages and civil unions

that have been legally solemnised.

The Registrar-General

does not approve or decline

individual ceremonies.

To be clear, 'permissions'

and 'exemptions' are not

something that the Registrar-General

has authority to

issue.

It is up to the couple and

the celebrant to use their

judgement as to whether the

marriage is essential and

should proceed.

Advice for couples

To repeat, the Registrar-General

does not

encourage nor condone

marriage ceremonies taking

place during the lockdown.

He acknowledges that

cancelling and postponing

wedding ceremonies is deeply

disappointing for many

couples and their families.

If a couple believes, for

whatever reason, that their

marriage will go ahead, the

Registrar-General advises

that they only use a celebrant

in their bubble or who lives

very close by (for example,

across the street) and follow

every aspect of the Ministry

of Health distancing and sanitising

guidelines. There are

more than 10,000 celebrants

in New Zealand so a local

celebrant should be possible.

In such cases, it must

only be attended by the

couple, their two witnesses

and the celebrant. Physical

distancing, protective

equipment and COVID-19

hygiene requirements should

be used.

Advice for celebrants

The Registrar-General

strongly advises celebrants

to carefully consider any request

to conduct a marriage

and whether it is the

right thing to do at

this time, taking into

account the Ministry of

Health's guidance.

Celebrants need

to be aware that this

is not an essential

service. They cannot

justify their travel with the

need to perform a marriage,

even if it's for someone who

may not have long to live.

No celebrant is obliged to

conduct a ceremony.

Advice about 'virtual'

weddings

Under the Marriage Act,

a marriage cannot occur

virtually and the couple,

celebrant and witnesses must

be physically present in the

same place. The marriage

licence application and

return of the signed papers

can be done online.

How to get a refund for a

marriage licence

The Registrar-General's

team is offering refunds to

those who are not able to use

the marriage licence within

three months of getting it

because of COVID-19.

Simply email bdm.nz@dia.

govt.nz for a refund.

Homelink

05
---
06

APRIL 15, 2020

Educationlink

Oceania University medical graduates shine in Melbourne

Venkat Raman

Fifteen students of the Oceania University

of Medicine (OUM) qualified to enter the

medical profession following their recent

graduation in Australia.

The ceremony, held in Melbourne on March

7, 2020, was attended among others, by OUM

Founder-Chairman Taffy Gould, Vice-Chancellor

Dr Viali Lameko, Deputy Vice-Chancellor

Dr Randell Brown, Dean (Asia Pacific) Dr

Chellaraj Benjamin, Dean (Australia) Dr Meshach

Kirubakaran, Director of Faculty Affairs Dr Paula

Diamante, BBJ Marketing Owner Joe Korac,

members of the faculty, members of the families

of graduates and students from the region.

New Stars of OUM

Julian Lai, Adefunke Liz Nnadigwe and

Peyman Zarkandi received the Dean's Medal for

Academic Excellence.

Graduates from Australia included Dr

Adefunke Nnadigwe, Dr Colin Marriott, Dr Daliya

Sari, Dr Duc Nguyen, Dr Esther Oluyide, Dr Julian

Lai, Dr Kevin Reid, Dr Matthew Stewart, Dr

Mikaiel Yosouf Mohmand, Dr Mohamad Yosouf

Mohmand and Dr Tri Ngo.

Dr Neghabian and Dr Zarkandi received their

degrees in absentia.

Dr Noor Al Rawe and Dr Martin Stonehouse

were graduates from New Zealand and South

Africa.

Speaking at the graduation ceremony, Ms

Gould said that Distance Learning in the field

of medicine is yet a largely untested enterprise

but was pleased that OUM has been able to

evince the interests of doctors in the US, Canada,

Australia and New Zealand.

The graduates lauded the vision of Ms Gould

and express their gratitude to Mr Korac and

academic advisers for their support.

Excellence and flexibility

In an earlier interview with Indian Newslink,

Ms Gould said that OUM has a record of 150

medical graduates who are now rendering

medical services around the world.

"There are no restrictions on the number of

students that the University can take but we

follow a strict entry procedure since we aim to

ensure that doctors of high calibre and expertise

go out to serve the world. The ability to manage

and cater to varied time zones, the success of the

graduation programme and the comparative

cost advantage are factors that work in favour of

OUM," she said.

A Samoan-Chartered Medical School, it is a

partnership between the Samoan Government

and e-Medical Education, a Florida-based

company.

The OUM curriculum is divided into two

phases, namely Preclinical and Clinical, offered

respectively as Distance Learning and hands-on

learning in a clinical setting at regional teaching

hospitals.

Because of its remote location and to

encourage students from other parts of the world

to pursue medicine, the University developed

an online curriculum and began to receive

applications from all over the world.

About Taffy Gould

A philanthropist, Ms Gould established OUM

in 2002 to address primarily the problem of

shortage of qualified medical professionals in

the South Pacific and later extended it other

countries where paucity of human capital eludes

timely healthcare service delivery.

Speaking to a hall full of family, friends,

faculty, and students, each graduate expressed

thanks to

OUM currently has 239 students from 10

countries and 122 graduates undergoing

post-graduate training or practicing medicine

in six countries. Seven OUM graduates are

practicing medicine at Tupua Tamasese Meaole

Hospital (TTM), the University's primary teaching

facility located in Apia, Samoa.

Many OUM students continue to work

and earn an income during the two years of

preclinical studies. During this time, students will

spend an average of 40-50 hours per week on

their studies. OUM essentially becomes a second

full-time job, and some students seek flexible

work schedules during this time.

An alumni's impressions

Jennifer Allen of the Class of 2012 said, " A few

Priyanca

Radhakrishnan

Labour List MP based in Maungakiekie

Maungakiekie Office

09 622 2660

priyanca@parliament.govt.nz

Level 1 Crighton House,

100 Neilson St, Onehunga

(entrance via Galway St)

| | priyancanzlp

OUM Founder-Chairman Taffy Gould

Taffy Gould and Dr Chellaraj

Benjamin with Noor Al Rawe,

a graduate from New Zealand

things got me through the rough

patches at OUM: recognising

quality time with children over

quantity, learning that laundry

and dirty dishes could wait,

New mental health initiative to reduce Covid-19 stress

Mental Health Support to fight

Coronavirus begins

Supplied Content

The New Zealand government has rolled

out a new mental health initiative to help

people look after their mental health during

COVID-19 crisis.

Health Minister Dr David Clark said that

COVID-19 has brought a lot of uncertainty into the

lives of people ant that many will be feeling some

level of distress or worry about the future.

The following is a Statement issued by him.

We want people to know that they are not alone,

and many Kiwis will be feeling this way.

This is completely normal and the messages in

the campaign launched today tell us that it is okay

not to feel all right, all of the time.

One initiative launched today was the Getting

through together campaign which shares ways to

help Kiwis cope with the stress of COVID-19.

All Right? Campaign

The campaign has been developed by 'All Right?'

who produced the world-leading disaster-recovery

programme following the Canterbury earthquakes,

in partnership with the Mental Health Foundation.

Getting through together also includes tools

for parents, dubbed Sparklers at Home, which

provides support for parents to talk with their

primary-school aged children about their own

mental health and wellbeing.

The original Sparklers initiative has been

hugely successful at supporting and promoting

OUM Asia Pacific Dean Dr Chellaraj Benjamin

that asking for help was OK, and

that being at one sporting event

could be just as rewarding as

being at all of them…If becoming

a doctor is something you have

always wanted to do, then enrol

at OUM and do it. The faculty

and staff will support you and

do everything they can to make

sure you become a doctor."

Comparative benefits

Dr Benjamin, a Radiation

Oncologist and President of

Auckland Indian Medical Society,

said that the total cost of the

five-course course would be US$

140,000, far less compared to the

fees charged by Universities in

Australia (about US$ 255,000).

In the US, the cost per year for

a non-resident student could be

about US$ 150,000.

He said that Science graduates

would be eligible to apply for

admission to OUM, which is a

fully accredited Medical School

worldwide.

"It is recognised by the World

Health Organisation (WHO)

and the Indian Medical Council.

Students from this University

are eligible to take AMC Part I

and II and NZREX examination

after they complete their medical

course," Dr Benjamin said.

Students interested in enrolment

from India and any part

of the world can email him at

chelleraj.benjamin@oum.edu.ws

(Pictures Supplied)

George Scott (94) Video Shot

the wellbeing of young Cantabrians following the

Canterbury earthquakes, so I am pleased to see that

this has been extended to help all Kiwi parents with

their Tamariki.

It is important to remember that a lot of the

usual places people might go to for support, like

your doctor, are still available. It might just be a

phone call or an online video link instead.

Impact on health workers

I am also critically aware of the impact that

COVID-19 is having on our frontline health

workers. Many of the employers provide mental

health support for their staff, and the Government

is looking at what additional support is needed for

our health workforce.

Further supports are being finalised and will be

announced this week.

This includes telephone support as well as app

and online resources and supports.

Specific information and mental health support

campaigns are also being designed for Māori,

Pacific, older people, people with chronic health

conditions or compromised immunity and new

mothers.

Choose

New Zealand's

most trusted

paint brand!

For quality paint, colour and advice, come in to your local Resene ColorShop today!

Authorised by Priyanca Radhakrishnan

Labour List MP, 100 Neilson St, Onehunga

0800 RESENE (737 363)

www.resene.co.nz
---
APRIL 15, 2020

Businesslink

07

Living at

Alert Level 4

Thank you for sticking to the rules

and staying home

It will save lives in your community

It's important that you stay in your local area.

You can only drive to the supermarket

nearest to you

If you do leave your house, keep a 2-metre distance from

people who are not part of your household. If an area is

crowded, go home. Don't stop and chat.

Why those aged 70+ need to stay home

The 70+, and those with pre-existing conditions, are the most

at-risk of developing serious complications after contracting

the virus. Staying home could literally save lives.

Make sure you shop safe

Be kind to others. Only touch what you want to buy. Keep a

2-metre distance, and use EFTPOS or a debit or credit card

if you can, not cash. When you get home, wipe down goods

with a soapy clean towel, then dry.

Wash your hands

Washing with soap

for 20 seconds, then

drying, kills the virus.

Stay home

At Alert Level 4 you

can only go out for

exercise or to access

essential services.

Cough or sneeze

into your elbow

This catches the

droplets and stops

the virus being spread

by your hands.

Be kind

Check-in on the

70+ living alone.

Got questions?

Find the answers faster at Covid19.govt.nz
---
08

APRIL 15, 2020

Viewlink

The English Fortnightly (Since November 1999)

ISSUE 436 | APRIL 15, 2020

The challenge of economic

pandemonium

As Covid-19 continues its

unabated onslaught on

every country, throwing

economies out of gear. People

are falling out of jobs, companies

are going out of business,

debts are mounting and worst

of all thousands of people are

succumbing to the disease.

New Zealand is clearly

leading the charge with early

and stern action, promulgating

the Epidemic Notice and the

Public Health Act and all the

restrictions that go with Alert

Level 4.

As we wrote this piece,

Finance Minister Grant Robertson

said that he would be

announcing further measures

on April 16, 2020- steps that

would offer relief to Small and

Medium Enterprises.

Relief to the media is also

under consideration.

As International Monetary

Fund Managing Director Kristalina

Georgieva said, world

economy will take one of its

worst hits since the Depression

of the 1930s.

Bleak outlook for all

More than 170 countries

are expected to experience

negative per capita income

growth this year.

As she mentioned, the bleak

outlook applies to advanced

and developing economies

alike. This crisis knows no

boundaries. Everybody hurts.

Given the necessary containment

measures to slow the

spread of the virus, the world

economy is taking a substantial

hit. This is especially true for

retail, hospitality, transport,

and tourism. In most countries,

the majority of workers are either

self-employed or employed

by small and medium-sized

enterprises. These businesses

and workers are especially

exposed.

More relief to

New Zealanders

And just as the health crisis

hits vulnerable people hardest,

the economic crisis is expected

to hit vulnerable countries

hardest.

New Zealand appears to be

well-positioned to handle the

crisis. As Mr Robertson said,

further financial relief will be

available to almost sectors of

the economy, perhaps another

$12 billion or more and yet

keep the debt under 20% of the

GDP, which compares favourably

with the OECD average of

70%.

Together, we will fight the

challenges of the pandemic

and emerge on the other side

stronger.

The fear of the unknown

compounds behaviour

The global economy is on

the precipice, perpetuating

gloom, uncertainty,

fear, agony, anxiety- everything

fact that comes with darkness.

Coronavirus or Covid-19 seems

to have taken over the world,

attempting to uproot humanity.

Most of the world- save for a

country or two – is in lockdown

mode, with everyone except

those providing or accessing

essential services asked to

remain in the safety of their

home bubbles.

The pandemic needs unity

of the entire world. There is no

reason for countries, regions or

communities that remain open

to do so. There is nothing they

can achieve anyway.

New times of troubles should

promote introspection.

Covid-19 will redefine

humanity, rearrange priorities

and create a new world order.

Predictions are always

perceived with scepticism

because it is natural for the

human mind to embrace the

past and ignore the future, the

unknown.

Challenges on many fronts

However, as people spend

more time indoors, in the

confines of their house, there

are opportunities to reflect on

realities. As the Santa Fe (New

Mexico) based American Institute

of Vedic Studies said, we

are in a time of great challenges

in terms of ecology, technology

and societal changes.

"While there is no end of the

world in sight, at the same time

the negative karmas of our

civilisation out of balance must

begin to manifest, until we deal

with them in a responsible

manner. For this the wisdom of

Vedic knowledge systems, notably

Yoga, Vedanta, Ayurveda

and Vedic astrology remains

crucial," it said.

We may see turbulence,

uncertainty, and confusion

before a clear light emerges for

humanity. One could call this

upcoming period in the twenty-first

century a "New Time of

Troubles" – an extended period

of obstacles during which we

are gradually forced to change

the values of our civilisation

that is getting ever more

removed from both nature and

the Divine Self within us.

Indian Newslink is published by Indian Newslink Limited from its offices located at Level 1,

Number 166, Harris Road, East Tamaki, Auckland 2013. All material appearing here and on our

web editions are the copyright of Indian Newslink and reproduction in full or part in any medium

is prohibited. Indian Newslink and its management and staff do not accept any responsibility for

the claims made in advertisements. Managing Director & Publisher: Jacob Mannothra;

Editor & General Manager: Venkat Raman; Production Manager: Mahes Perera; Financial

Controller: Uma Venkatram CA; Phone: (09) 5336377 Email: info@indiannewslink.co.nz

Websites: www.indiannewslink.co.nz; www.inliba.com; www.inlisa.com

Masterclass in crisis leadership from Jacinda Ardern

Suze Wilson

Imagine, if you can, what it is like to

make decisions on which the lives

of tens of thousands of other people

depend. If you get things wrong, or

delay deciding, they die.

Your decisions affect the livelihoods

of hundreds of thousands of people,

resulting in huge economic disruption,

mass layoffs and business closures.

Imagine you must act quickly, without

having complete certainty your decisions

will achieve what you hope.

Now imagine that turning your

decisions into effective action depends

on winning the support of millions of

people.

Enforcement and compliance

Yes, you do have enforcement

capacity at your disposal. But success or

failure hinges on getting most people to

choose to follow your leadership – even

though it demands sudden, unsettling,

unprecedented changes to their daily

lives.

This is the harsh reality that political

leaders around the world have faced

in responding to Covid-19. As someone

who researches and teaches leadership,

and has also worked in senior public

sector roles under both National and

Labour-led governments, I would argue

that New Zealand's Prime Minister

Jacinda Ardern is giving most Western

politicians a masterclass in crisis

leadership.

Three communication skills every

leader needs

When it comes to assessing New

Zealand's public health response, we

should all be listening to epidemiologists

like Professor Michael Baker.

On Friday, April 3, 2020, Baker

said that New Zealand had the "most

decisive and strongest lockdown in

the world at the moment" and that

New Zealand is "a huge standout as

the only Western country that's got an

elimination goal" for Covid-19.

Effective communication

But how can we assess Ardern's

leadership in making such difficult

decisions?

A good place to start is with American

professors Jacqueline and Milton Mayfield's

research into effective leadership

communication.

The Mayfields' research-based model

highlights "direction-giving," "meaning-making"

and "empathy" as the

three key things leaders must address to

motivate followers to give their best.

Being a public motivator is essential

for leaders – but it is often done poorly.

We are in extraordinary times,

calling rightly for extraordinary

measures.

Although our vision of

the future is obscured by the "bubbles"

we are confined in, we need to continually

look beyond the pandemic, beyond

self-isolation, and consider what the

political and cultural changes we make

now will mean on the other side of this

thing.

There will be some things to hold on to,

and some to let go.

We must hold onto our renewed sense

of solidarity, re-grasp our freedoms,

and take up an expanded vision of the

"essentials" of life.

Precious solidarity

Our solidarity is precious. The

Government has called on us to "Unite

Against Covid-19," and on the whole,

we have. Denied the usual community

coming-together that binds us in times

of crisis, there is still a strong sense that

"we're in this together."

We have sacrificed much of the social

interaction with others that makes life

worth living, staying home for the sake

of the vulnerable, one another, and the

common good.

This is worth holding on to.

The research shows that direction-giving

is typically over-used, while the

other two elements are under-used.

Ardern's response to Covid-19 uses all

three approaches.

In directing New Zealanders to "stay

home to save lives," she simultaneously

offers meaning and purpose to what we

are being asked to do.

In freely acknowledging the challenges

we face in staying home – from

disrupted family and work lives, to

people unable to attend loved ones'

funerals – she shows empathy about

what is being asked of us.

The March 23, 2020 Press conference

announcement of New Zealand's

lockdown is a clear example of Ardern's

skilful approach, comprising a carefully

crafted speech, followed by extensive

time for media questions.

The contrast in Boris Johnson

In contrast, British Prime Minister

Boris Johnson pre-recorded his March

24 lockdown announcement, offering

no chance for questions from the

media, while framing the situation as an

"instruction" from government, coupled

with a strong emphasis on enforcement

measures. Ardern's approach also

strongly reflects what well-known

Harvard leadership scholar Professor

Ronald Heifetz has long argued is vital –

but also rare and difficult to accomplish

– when leading people through change.

Ardern has used daily televised briefings

and regular Facebook live sessions

to clearly frame the key questions and

issues requiring attention.

Also consistent with Heifetz's

teachings, she has regulated distress by

developing a transparent framework

for decision-making – the government's

alert level framework – allowing people

to make sense of what is happening and

why.

Four Level Alert

Importantly, that four-level alert

framework was released and explained

early, two days before a full lockdown

was announced, in contrast with the

But as time goes on, we must regain

our grasp on our freedoms and way of life

taken away over this period. Our political

response has been in the spirit of political

philosopher Thomas Hobbes, who argued

centuries ago that while freedom is good,

security is better, and we need a strong

state to ensure the latter.

I think that the Government made the

right call to go big on this, but they must

resist the temptation hold onto all that

power.

Risk of getting accustomed

And we, the people, need to keep them

to account.

There is a risk we could become

accustomed to, and even embrace the restrictions

to our freedom that we couldn't

have imagined before to ensure our

safety. Swiftly-enacted legislative changes

made in times of crisis can be difficult to

pare back under "normal" conditions.

I am not suggesting that lockdown

will become business-as-usual, but more

subtle challenges will arise. Take our

tightened borders, for example.

To stop the spread, it makes sense to

maintain these for now; the process of

opening them again will be fraught but

very important to our ongoing place in

the world.

Or public spending. With at least $16

billion being spent on keeping us and our

jobs safe, fiscally, spending will need to

be reined in. There may be another rainy

day soon.

prevarication and sometimes

confusing messages

from leaders in countries

such as Australia and the

UK.

Persuading many to act

for the collective good.

The work of another

leadership scholar, British

Professor Keith Grint,

also sheds light on Ardern's

leadership approach during

this crisis.

Wide public support

For Grint, leadership involves

persuading the collective to take responsibility

for collective problems. Much of

the prime minister's public commentary

has been dedicated to exactly that – and

it has been overwhelmingly effective, at

least so far, with a recent poll showing

80% support for the government's

response to COVID-19.

Grint also argues that when dealing

with "wicked problems" – which are

complex, contentious and cannot be easily

resolved – leaders must ask difficult

questions that disrupt established ways

of thinking and acting.

It is clear this has happened in

New Zealand, as shown in the suite of

initiatives the government has taken to

respond to the pandemic, including its

decision to move to a national lockdown

relatively fast compared to many –

though not all – countries.

A fool's errand

Of course, not everything has been

perfect in New Zealand's or Ardern's

Covid-19 response. Ongoing, independent

scrutiny of the government's

response is essential.

But as my own research has argued,

expecting perfection of leaders, especially

in such difficult circumstances, is a

fool's errand.

It is never possible. Nor should

we allow the "perfect" to become the

enemy of the "good" when speed and

enormous complexity are such significant

features of the decision-making

context.

Whether you are comparing Ardern's

performance against other Western

leaders or assessing her efforts using

researchers' measures of leadership

excellence, as a New Zealander, I think

that there is much to be grateful for in

how she is leading us through this crisis.

Suze Wilson Senior Lecturer,

Executive Development at Massey

University based in Palmerston

North. The above article and video

links have been published under

Creative Common Licence.

Freedom is good but safety is better to contain Covid-19

Kieran Madden

Culturally, we also need to let go of

the short-sighted distinction between

"essential" and "non-essential" work.

Hospitality, the arts, sports, and

charities, for example, are all essential to

the growth and character of a flourishing

nation but have been deemed non-essential

during a lockdown. It will be all

too easy to allow this shock to shape our

attitude towards different types of work

after this.

Changing language

This may seem indirect, but the

language we use is important.

Director General of Health Dr Ashley

Bloomfield shifted the language from

"social distancing" to "physical distancing,"

acknowledging how the initial

term undermined how critical social

connection would be for our wellbeing,

for example.

Likewise, let us inspect our use of

"essential" for certain roles at this time

to make sure these situational categories

don't shift our appreciation for people's

talents and contribution to society in the

long term.

It is hard to see beyond our present

crisis, but we must look to the horizon.

The real "new normal" is up to us all.

Let us ensure it includes a stronger

community spirit, a limited government,

and a renewed value of the richness of

life that goes beyond mere survival.

Kieran Madden is Research Manager at

the Auckland based Maxim Institute.
---
APRIL 15, 2020

Businesslink

09

The vital link between people and solutions

The Link2 Group brings the power and expertise of trained staff for your benefit

Contract Logistic Services

Picking, Packing, Labelling,

Sorting, Recycling,

Assembling, Transporting

Offsite work including

Reworking, Packaging

Warehousing Distribution

Innovative Agency

dedicated to Industrial and

Technical Sectors

Founded by Manasa Sirigiri and managed by Indra Sirigiri as Chairman & Managing Director, the Link2 Group of Companies employs more than

400 staff with 50 different customers across Auckland. As well as providing personnel onsite and at its own facilities, the Group offers

wide-ranging services that enable customers to optimise their productivity and efficiency.

Awards and Achievements

Indian Newslink Business Awards

● Supreme Business 2016

● Best Employer of the Year 2016

● Business Excellence in Customer Service 2015 & 2016

● Best Young Entrepreneur of the Year 2013 & 2016

● Business Excellence in Health & Safety 2018

● 20th Anniversary Commemoration Award for Business Ethics and Compliance 2019

Westpac Awards

● Supreme Business Excellence 2018

● Best of the Best Employer of the Year 2018

● Employer of the Year 2018

● Excellence in Strategy & Planning 2017 (South)

Manasa (extreme right) and Indra Sirigiri, Directors, Link2 Group, with Leader of the

Opposition Simon Bridges and Fiji Attorney General Aiyaz Sayed-Khaiyum after receiving

the Indian Newslink 20th Anniversary Special Commemoration Award for Business

Excellence in Ethics & Compliance at the Twelfth Annual Indian Newslink Indian

Business Awards on November 25, 2019.

Indra Sirigiri, Chairman & Managing Director, Link 2 Group (Winner of the Supreme Business of the Year Award) with

(from left) Manasa Sirigiri, the then Prime Minister John Key, BNZ Chairman Doug McKay, the then BNZ Managing

Director Anthony Healy, Rahul and Jaya Sirigiri at the Ninth Annual Indian Newslink Indian Business Awards held on

November 28, 2016

FLEXIBLE PERSONNEL

RECRUITMENT

SOLUTIONS

Career Opportunities:

We have multiple Casual/Fulltime/Part time jobs in following areas for:

● General warehousing (pick-packing, labelling, sorting, rework)

● Forklift/Reach hoist/Stock pickers drivers

● Container devanning

47 Allens Road, East Tamaki, Auckland 2013 ● P O Box 217206 Botany Junction, Auckland 2164 ● Phone (09) 2724700 Fax: (09) 2724699

Email: office@link2services.com ● Website: www.link2group.com ● www.lin2services.com ● www.link2solutions.co.nz ● www.stirlingrecruit.co.nz
---
10

APRIL 15, 2020

Businesslink

Safe Harbour for directors, debt

postponement for businesses

Grant Robertson and Kris Faafoi

The government will be introducing

legislation to make changes to the

Companies Act to help companies

facing insolvency due to COVID-19 to

remain viable and keep New Zealanders in

jobs.

The temporary changes include (a) Giving

directors of companies facing significant

liquidity problems because of COVID-19 a

'safe harbour' from insolvency duties under

the Companies Act,

enabling businesses affected by COVID-19

to place existing debts into hibernation until

they are able to start trading normally again

(b) allowing the use of electronic signatures

where necessary due to COVID-19 restrictions

(c) giving the Registrar of Companies the

power to temporarily extend deadlines imposed

on companies, incorporated societies,

charitable trusts and other entities under

legislation, and (d) giving temporary relief

for entities that are unable to comply with

requirements in their constitutions or rules

because of COVID-19.

Certainty to businesses

These measures will support the Government's

work to cushion the economic impact

for New Zealand and to support businesses

and protect jobs and incomes.

We are announcing these decisions now to

give businesses certainty that these measures

are being worked through. We will be asking

Parliament to agree to make some of these

changes retrospective. While they will help

increase certainty and provide practical assistance

to business owners and directors, the

changes must not be seen as a workaround

for obligations to creditors and the responsibility

of directors to act in good faith.

Not a free ride

We want to emphasise that these changes

will not mean that directors are free to

disregard the consequences of their actions

for the next six months. Other protections

in the Companies Act, such as those

addressing serious breaches of the duty to

act in good faith and punishing those who

dishonestly incur debts, will remain in

place.

The changes would help retain jobs

and support the New Zealand economy to

recover as quickly as possible.

We know that, whether real or perceived,

the threat of a director being held personally

liable for a company's solvency problems

will likely make them inclined to advise

closing down a business.

A 'safe harbour' will help them keep

trading, rather than prematurely closing

up, which will minimise disruption to the

economy as much as possible.

Business debt hibernation

The proposed move to place existing

debts into hibernation, to be known as a

Business Debt Hibernation (BDH), would

only happen with the agreement of 50% of

a business's creditors.

Going into a BDH will give businesses the

space to talk to their creditors about prioritising

paying some debts, and deferring

others for six months.

It is inevitable that some businesses

are going to have to go into liquidation.

However these measures provide an

accessible and pragmatic means of helping

some businesses to weather the storm in a

way that does as little harm as possible to

creditors' interests.

We urge businesses to talk to their creditors

and banks, and also reminded them

that the government had a Wage Subsidy

scheme in place as well as a Business Finance

Guarantee Scheme, which can offer

loans up to $500,000 over three years.

For more information, please visit www.

companiesoffice.govt.nz

Post-Covid-19 Tourism Plan on the cards

Venkat Raman

Arguably, Tourism is the

worst hit sector since the

world was gripped by

Covid-19 and New Zealand

closing its borders. Other countries

have followed suit, virtually

stopping all international travel.

Most airlines have grounded

their aircraft fleet and have started

laying off staff.

New Zealand earns more than

$41 billion annually (about $112

million every day) from tourism

and the industry accounts for more

than 230,000 direct employment

and another 164.000 people

indirect jobs.

Thousands of other establishments

depend on Tourism, all of

which have shutdown now.

Capital injection needed

The world economy will

eventually recover, some sectors

immediately while others will take

time.

Among those that will need

careful nursing and injection of

capital is Tourism.

Tourism Minister Kelvin Davis

said that the government, industry

and business are working together

to develop a plan on how tourism

will operate in a post-COVID-19

world.

'Tourism New Zealand' will lead

the charge, he said.

"A post-COVID tourism industry

will play an important role in New

Zealand's economic recovery, but it

will be different to the one that we

are accustomed. There will be new

challenges, new opportunities and

a new way of working," he said.

Mr Davis said that Tourism New

Zealand with lead the recovery

plan with the Ministry of Business,

Innovation and Employment, the

Department of Conservation and

industry stakeholders, to reima-

Tourism Minister Kelvin Davis

gine the way we govern Tourism,

how we market domestically and

internationally, the target audience,

and how we manage visitors

when they arrive on our shores.

Opportunity to revisit

"We have an opportunity to rethink

the entire way we approach

tourism to ensure that it will make

New Zealand a more sustainable

place, enrich the lives of all our

people and deliver a sector which

is financially self-sustaining

in the longer term. Given that

international travel is likely to

be heavily restricted for some

time, and features of our tourism

industry such as cruise ships are

currently banned, this will need to

be a phased approach, looking at

how we can focus on and promote

domestic tourism in the short

term and how we can target an

international offering," he said.

Mr Davis said that he expected

the advice over the next two

weeks.

Discussion with stakeholders

Tourism New Zealand Chief

Executive Stephen England-Hall

regarded the current crisis

as an opportunity to listen to

communities and design the future

of tourism in New Zealand so that

it benefits New Zealand and New

Zealanders.

"We will be working with key

partners to ask questions, listen,

and create something we can

all be proud of, something that

genuinely gives back more than it

takes to Aotearoa and plays a key

role in our economic success," Mr

England-Hall said.

Tourism is $41 billion industry (Breath-taking Milford Sound Tourism New Zealand

As part of planning for a restart,

Mr Davis said that he and Conservation

Minister Eugenie Sage have

agreed to review the International

Visitor Conservation and Tourism

Levy (IVL) Investment Plan.

Mr Davis said that this plan was

prepared at a different time, for a

different future.

We are now looking at what

aspects of the plan remain fit

for purpose, and how the IVL

can be best used to help rebuild

the tourism industry as part of a

restart package. This has been an

immensely challenging situation

for our tourism industry," he said.

YOUR SUCCESS PARTNER

• Stock Management

• Print & Hold

• In House Design

• Online Ordering System

Commercial

printing

service

at its best!

Your one stop SIGNAGE and PRINT shop

Wide Format Digital Printing Specialist

• Footpath Sign

• Pullup Banner

•AFrame

• Vinyl Stickers

• Cor e

• Acm

• Banners

• Canvas

Ph (09) 263 8854

14C Ryan Place, Manukau City

Email: info@irissigns.co.nz

Website: www.irissigns.co.nz

PH: (09) 262 4550

42D Lambie Drive, Manukau City

Email:sales@merc.co.nz | Website:www.merc.co.nz
---
APRIL 15, 2020

Businesslink

11

SmartPayroll has

IRD's compulsory

Pay Day filing

sorted.

EASY TO

SET UP

FREE

TRAINING!

From 1 April 2019, it is compulsory to file your PAYE returns

each time you run a pay rather than once a month*

SmartPayroll takes the headache out of IRD changes. For new

Pay Day filing, PAYE is automatically calculated and filed online.

Simple. Done.

DON'T DELAY GET YOUR COMPANY SORTED TODAY

Don't leave it until the last minute,

sign up this year and beat the New Year rush

www.smartpayroll.co.nz / Phone 0800 10 10 38

*Check out our website to find out more www.smartpayroll.co.nz/payday-reporting-changes
---
12

APRIL 15, 2020

Businesslink

Coronavirus precipitates Bauer's decision to quit

Mark Jennings and Tim Murphy

The decisions by German media

giant Bauer to shut its New

Zealand magazine operation

and NZME's axing of Radio

Sport have been precipitated by the

coronavirus.

But the closures are also due to the

deeper problems of the local media

industry.

The sudden announcement that

Bauer, one of the world's biggest

media companies, is pulling out

of New Zealand and closing iconic

magazines like The Listener, North

and South and Woman's Day if it

can't sell them, sent a jolt through the

media Industry.

Radio Sport closure

For industry observers, the

decision was not a major surprise but

the speed and suddenness of it was.

The news media has been waiting for

the dominoes to start falling. First to

go was Radio Sport.

Its owner, NZME, has been under

sustained pressure for some time.

With no sport events to cover,

advertising collapsing and 25 staff on

the payroll, the station had no chance

of returning to profitability for years,

or possibly ever, given that it was

already struggling pre-virus.

Bauer's different

Bauer's decision is different. The

privately owned German company's

annual revenue last year was roughly

$4.2 billion. It boasts that every

second German reads one of its

magazines. It sold 433 million issues

in Germany alone last year and owns

600 titles worldwide.

It has a huge radio operation with

100 stations in Europe and 24 million

listeners tuning in every day. In the

UK it has 80 stations and a number of

TV music channels.

If any media company can withstand

the ravages of coronavirus it is

Bauer Media.

The decision to get out of New

Zealand was most likely made some

time ago. All its magazines had

been suspended by a Government

edict that periodicals could not be

deemed 'essential services' during the

lockdown.

It is understood the likely revenue

outlook for its Property Press real

estate publications, even with a relaxation

of lockdown, was particularly

keenly felt within the business.

Wage subsidy refusal

The fact Bauer decided not to

avail itself of the Government's wage

subsidy was a further indicator that

its decision was swayed by ongoing

industry pressures. The virus just

brought the decision forward.

It couldn't see much hope for

magazines in a small scale market

when traditional advertising is on

what seems to be a never-ending

downward path.

Big international companies have

better options than New Zealand.

The Bauer decision stunned

loyal readers of its magazines but

it also seems to have woken up

another group who have been partly

responsible for the demise of local

media – advertisers.

Government focus needed

In a media release entitled

'Bauer is the Canary Down the Media

Coalmine,' the Association of New

Zealand Advertisers (ANZA) urged

Broadcasting, Communications

and Digital Media Minister Kris

Faafoi to broaden the focus of the

recently established review of the

Government-owned media assets,

Radio New Zealand and TVNZ, to that

of New Zealand media more widely.

"There is the very real risk that

the future of media in this country

is a mix of only existing government

owned assets, global online platforms

and a small number of niche news

offerings. We believe this would be

an unacceptable outcome for New

Zealand. Without diverse media,

there are obvious risks for society,

democracy as well as the economy

as we work toward a post-Covid

recovery," Chief Executive Lindsay

Mouat said.

Free tax ride on digital platform

The New Zealand media's biggest

problem, of course, is that advertisers

who use digital platforms now spend

somewhere between 80% and 90% of

their money with Facebook, Google

and other social media companies.

These US companies have very few

New Zealand employees, produce no

news content and pay very little tax.

Newsroom asked Mouat if he

supported the idea of a revenue tax

on the US giants' local income which

could, in part at least, be used to

support the local news media.

"The suggestion of revenue tax

seems to be moving slowly. Fundamentally,

we would struggle to do it

alone, but the OECD, from what I see,

is moving ponderously. And there

is the ever present threat of reprisal

from (US President) Trump. So, while

at face value it could be the solution,

it is probleamatic for a small state.

"I wish I had the solution. I am

not personally a fan of StuffMe,

[the combining of Stuff and NZME

through either a takeover or merger]

because I prefer the idea of plurality,

and Bauer's magazine dominance

suggests this isn't a solution. But I

think the government could buy

some time through the use of NZ

on Air or similar tools to keep the

sector at least breathing, while

bigger work is taken on, using the

beginning of the PwC work in a

broader context."

PwC Advisory

Advisory firm PwC is working

on a business plan for a new

public broadcaster that would see

the operations of TVNZ and RNZ

combined into a single entity.

One obvious solution to the

current crisis would be for local

advertisers to direct more of their

spend towards local privately

owned media, instead of Facebook

and Google. Would ANZA recommend

that to its members?

Mouat said that he "was not able

to comment on that today."

Facebook and Google may be

more cost effective and offer a

more targeted approach to customers

but there is precedent for local

advertisers taking a wider view.

In the past 30 years, individual

advertisers have, on numerous

occasions, "over invested" in TV3 to

retain competition in the television

market.

Television advertising

While all local media will be

looking for advertisers to recognise

the social benefit in supporting the

producers of news and current

affairs, TV3 will be hoping the

New Term-Lending Facility to help businesses

Venkat Raman

Reserve Bank of New Zealand

(RBNZ) has introduced a

longer-term funding scheme

for commercial banks as a

part of its support to the Business

Finance Scheme announced by the

government last fortnight.

RBNZ Governor Adrian Orr said

that the new Term-Lending facility

(TLF) will help promote lending to

businesses in New Zealand.

The TLF is similar to the recently

announced, Term Auction Facility

(TAF), and both provide liquidity to

the banking system, he said.

Access to money

Mr Orr said that the new facility

will ensure access to funding for

banks at low interest rates for up

to three years duration, which

is longer than the Bank's other

liquidity facilities.

"We are working in-step with

the government and the country's

banks to provide the economic

support that is crucially needed

Reserve Bank of New Zealand Governor

Adrian Orr (INL File Photo)

during this uncertain time. New

Zealand's financial system remains

sound, with strong capital and

liquidity buffers. We are confident

that the financial system is well

placed to respond to the impacts of

coronavirus," he said.

Assistant Governor and General

Manager (Economics, Financial

Assistant Governor and General Manager

Christian Hawkesby (RBNZ Photo)

Markets and Banking) Christian

Hawkesby said that RBNZ is currently

engaging with banks on the

operational details of the scheme,

aimed at launching the first TLF

operation in May.

Mitigating effects

"As previously announced, the

Reserve Bank's Monetary Policy

RBNZ Deputy Governor Geoff Bascand

(INL File Photo)

Committee has worked to mitigate

the severe economic effects of COV-

ID-19 by reducing the Official Cash

Rate and implementing a Large

Scale Asset Purchase programme,

he said.

"In addition, RBNZ has deferred

the start of increased capital

requirements and is delaying

historic support it has enjoyed in the

past quickly resurfaces.

Television, which these days

carries a lot of ads for retailers and

manufacturers of FMCG (fast moving

consumer goods), is being hit hard by

the impact of Covid-19.

In Australia, Network Ten, the

country's third-ranked free-to-air

television broadcaster will be run by

a skeleton staff after the Easter long

weekend as it temporarily closes

down other operations to reduce

cost, according to a report in The

Australian newspaper.

To date, MediaWorks' highly

profitable radio operation has

subsidised its television arm, which

loses millions every year.

Radio advertising down

Industry sources with a good

knowledge of the radio market say

that advertising is down 40% for

the major stations and up to 70%

for regional stations. This will be

seriously impacting the cashflows

of MediaWorks and NZME, the

country's other big radio operator.

Additionally, MediaWorks' recently

acquired out-of-home (billboard)

advertising business will also be

suffering badly. Another industry

source described the out-of-home

market as "temporarily dead."

MediaWorks has responded by

asking all staff to take a 15% pay

cut but more radical action, or

government help, will be required

if Three is to avoid being the next

domino to fall.

Beyond Three, other local media

businesses have been troubled, with

NZME this week adding to its Radio

Sport closure with a round of cuts to

editorial and external columnists for

the New Zealand Herald, including

a plan to almost halve its number of

sports journalists.

Stuff Ltd owner, Nine Entertainment

of Australia, which has tried

and failed to sell the New Zealand

operations, this week announced

plans to take A$260 million of costs

out of its business.

It would be fanciful if the Stuff subsidiary

was immune from stringent

reductions and possible masthead

and staff cuts.

Across the Tasman, Rupert

Murdoch's News Corporation has

ended the print publication of 60

community newspapers, moving

them first online and reviewing

operations further.

Mark Jennings and Tim Murphy

are Co-Founders and Co-Editors of

Newsroom based in Auckland. The

above article has been published

under a Special Agreement.

planned regulatory initiatives, to

allow banks to focus on lending to

their clients during the disruption

of COVID-19," he said.

Do dividend pay-out

Deputy Governor and General

Manager (Financial Stability) Geoff

Bascand said that RBNZ has agreed

with banks that there will be no

payment of dividends on ordinary

shares during the current health

crisis.

"We have also agreed with the

banks that they should not redeem

Non-Common Equity Tier 1 capital

requirements. This is to support

the stability of the financial system

during this period of economic

uncertainty. The restrictions take

effect from today under revised

Conditions of Registration issued to

all locally-incorporated banks. They

will remain in place until further

notice, with the aim of relaxing

them when the economic outlook

has sufficiently recovered," he said.
---
APRIL 15, 2020

Businesslink

NZME-Stuff merger now becomes life-saving necessity

Tim Murphy

Inside, the pressure building on the

government to step in and save

news media businesses before it

is too late.

For months, some parts of the news

media have been sending out SOS

messages publicly and in intense lobbying

in the shadows of bureaucracy

for urgent Government financial and

regulatory help to keep them alive.

The notable biggies

The most notable were

MediaWorks, which raised the

possible closure of its Three Television

Network, and New Zealand Herald

publisher NZME and its rival Stuff

Ltd, which were pushing hard for a

dispensation from government for a

previously legally rejected merger of

their operations.

Government agencies and ministers

heard the noise, and the New Zealand

First Party was an early adopter of

the StuffMe II merger argument. But,

with their own plans for a restructure

of the two Government-owned broadcasters,

TVNZ and RNZ, stalled by a

reticent Cabinet, the powers-that-be

did not seem to know how to respond

to the urgent private media pleas.

The Covid-19 pandemic and economic

collapse has changed all that.

Will the two media giants be allowed to merge? (RNZ Image)

As with other industries stricken by

the sudden suspension of operations

and evaporation of customers and

revenue, some of the bigger private

media players are on their knees.

The perilous state of their books

and the possibility of insolvency and,

as with the closure of Bauer Media's

magazines, disappearance of jobs and

media voices, has put the Government

response on extreme alert.

Urgent matters supersede promise

Increasingly, the indications from

the Minister of Finance Grant Robertson

last week that some 'medium-term'

measures to assist the industry were

being contemplated are now overtaken

by a need for something urgent within

Inland Revenue to waive penalties,

interest for businesses

Venkat Raman

The New Zealand

Inland Revenue

Department has said

that it will write-off

any penalties and interest for

businesses that are unable to

pay taxes on time due to the

impact of COVID-19.

"Don't worry about

contacting us right now. Get

in touch with us when you

can," a notification said.

The Department said that

its officials are working to

provide essential services

for business and individual

customers. Payments, including

Working for Families

customers, will still be made.

"We would like employers

to continue to file their

returns as normal so that

we can help to make correct

payments to people. This

would help IRD to work our

the right amounts for people

and helps the Government

continue to respond to what

is happening in the economy,"

the notification said.

Contacting IRD during the

lockdown

The frontline services

of IRD have been closed,

phone services are limited

and hence the most effective

way of accessing services or

seeking information would

be online (www.ird.govt.nz)

through MyIR.

"IRD is still working on all

critical matters related to tax

entitlements and payment

obligations. We know these

are matters causing real

stress and uncertainty and

we are working urgently to

provide as much certainty as

quickly as we can. Please use

our online services to contact

us – preferably through your

myIR account on our www.

ird.govt.nz/covid-19

Ministry of Social Development

(MSD) is responsible

for the administration of the

wage subsidy.

For more information,

please contact www.

workandincome.govt.nz/

covid19support

Wage Subsidies

The Department has

tax-related guidance for

employers about the wage

subsidies.

As Finance Minister Grant

Robertson has emphasised,

employers must pass on

the wage subsidies to the

employees for whom these

have been disbursed and

any breach will be treated

as fraud.

All deductions (such as

PAYE, KiwiSaver and child

support) should be made as

normal.

If the total wage (the

subsidy plus the employer

funded pay) amounts to the

same wages as previously,

the pay and deductions on

their payslip should be the

same.

Employers won't be liable

for income tax or GST on the

subsidy received from MSD

and will not be entitled to

an income tax deduction for

wages paid out of the wage

subsidy.

Payment Options

The notification said that

IRD would understand if a

business is unable to pay

its taxes on time due to the

impact of Covid-19.

"Get in touch with us

when you can and we will

write-off any penalties and

interest," it said.

If a business can pay, there

are several options - with

internet banking or using

myIR are the easiest.

Businesses can also make

credit card or debit card

payments over the phone or

set up direct debit payments

through their myIR account.

For further details on

alternative ways to pay your

tax see: https://www.ird.govt.

nz/managing-my-tax/make-apayment/ways-of-paying

Westpac Branches

Only some Westpac

branches will be open one

day a week, on a Wednesday,

during the COVID-19

lockdown. Customers who

can pay their tax bill at their

local Westpac branch will

be unable to do so until they

can visit a branch on its open

day.

https://www.westpac.

co.nz/who-we-are/covid-19/

branches-and-atms/

Instalment arrangements

IRD is enabling more

flexibility and lowering the

threshold for instalment

arrangements set up in

myIR. The new minimum

repayment rates are:

Weekly $20 (previously $50);

Fortnightly $40 (previously

$100); Monthly $80 (previously

$200).

"We recognise this is a

concerning time for tax

agents and customers and

we want to support you

wherever we can through

any current audits or

disputes. We know that you

are under a lot of pressure

and uncertainty currently,

and we want to work with

you on a case by case basis.

This may be by delaying

the progress of an audit or

dispute for a period," the

notification said.

IRD has decided to extend

the timeframe for filing Basic

Compliance Packages (BCPs).

The new due date is June

30, 2020. Please forward

questions on this to bcp@ird.

govt.nz

weeks.

We could, as early as next week,

learn of immediate measures the state

can take to relieve cost and divert

revenues to media companies. No one

measure would help all the entities,

broadcasters and print/digital, big or

small, in the same way. So a menu of

interventions could follow.

There is understood to be a firming

view among industry insiders that

a green light for changes to the

Commerce Act or an instruction to the

Commerce Commission to make media

mergers achievable - thus preventing

the possible demise of one or both of

NZME or Stuff - is winning favour.

Whether that translates to approval

for such a drastic and politically tricky

measure by the Cabinet is another

thing.

Plurality and diversity

Previous rejections of the StuffMe

proposal were firmly based on

concerns about the plurality of

media voices, diversity and a risk to

democracy of narrowing ownership

of all major newspapers and both the

country's biggest news websites to

one entity, owned predominantly by

Australian fund managers.

Officialdom seems to have been

spooked that a real risk to NZME

and Stuff has firmed - and a merger,

however politically unappealing, is the

only answer.

The two companies had worked

out, as far back as Friday, March 13,

before the extreme effects of Covid-19

had been felt and before a nationwide

lockdown was on the horizon, terms

for NZME to buy the Stuff operations

off Nine Entertainment of Australia.

It was decided even then to communicate

to anyone who would listen

that a deal for the two companies

was the equivalent of a life or death

requirement.

No one would question that the

companies are both in a worse

position now.

NZME closed its Radio Sport station

and has laid off half its Herald sports

desk, invited voluntary redundancies,

enforced mandatory leave for staff

and made company-wide cuts.

The publications of both companies

13

are bereft of print advertising,

other than for their own products and

services and the Government Covid-19

campaign.

Exploring funding options

Both NZME and MediaWorks have

talked of exploring funding from the

multi-billion dollar state wage subsidy

scheme. Stuff's position has not been

made public.

Possibly complicating the path

ahead for one of the industry players

under pressure is that its top boss

is understood to have recently

applied for leading executive roles in

Australia, including at that country's

biggest outdoor advertising company,

Ooh Media.

If the Government has to move fast,

ahead of any commitment to change

the Commerce Act, it is unlikely it

would take equity stakes in private

media companies to shore them up

to prevent failure. But it could offer

bailout loans in the way it did for Air

New Zealand.

The immediate measures, when

they come, will aim to keep the businesses

running while a longer-term

strategy for public and private media

and how they are funded is completed.

The Government took its time

picking up on the media SOS. Is it now

on a rescue mission or one to recover

the corporate bodies?

Tim Murphy is Co-Founder and

Co-Editor of Newsroom. The above

article has been published under a

Special Arrangement.

Essential Workers Leave Scheme launched

Staff Reporter

The government has

launched a new Leave

Scheme to protect

essential workers from

loss of income if they take leave

to comply with public health

regulations.

Workplace Relations and

Safety Iain Minister Lees-Galloway

and Social Development

Minister Carmel Sepuloni

announced the Scheme in Wellington

today as a part of the

efforts to mitigate the adverse

effects of Covid-19.

They noted that while a

number of essential businesses

continue to operate under the

current lockdown conditions,

many are facing a significant

loss of business.

Wage Subsidy applied

"This scheme is for them and

allows them to pay those workers

who need to take leave due

to the COVID-19 Public Health

guidance at the same rates as

the Wage Subsidy Scheme of

$585.80 per week for fulltime

workers and $350.00 per week

for part-time workers," they

said.

Mr Lees-Galloway said that

that the government is ensuring

that essential workers have the

ability to take leave, and do not

feel pressured to come to work

if they are vulnerable, sick or

otherwise unable to work.

"The Essential Workers Leave

Scheme will enable them to

self-isolate and continue to

receive an income in these

circumstances. It scheme

supports those who are unable

to work from home and need

to self-isolate, or are at higher

risk of becoming sick with

COVID-19, or have a higher risk

person in their bubble," he said.

Not all workers in essential

businesses will be in this

position, but for those who are,

it is a significant problem. For

some workers this could be for

the duration of the lockdown.

Mr Lees-Galloway said that

the government is ensuring that

communities are supported as

people stay at home to stop the

spread of COVID-19.

Focus on three groups

Ms Sepuloni said that the

Scheme, which will become

effective at 12 pm on Monday,

April 6, 2020, will be administered

by her Ministry.

"The Scheme will focus on

three groups of essential businesses

workers and employers

will be eligible to apply for

those employees under the

scheme," she said.

They will include (a) Workers

who are self-isolating in

accordance with public health

guidance because they have

contracted the virus or have

come into contact with someone

who has contracted the virus

(or have a dependent they

need to care for who is sick or

self-isolating) (b) Those deemed

at higher risk if they contract

COVID-19, in accordance with

public health guidance and as

such should self-isolate for the

duration of the lockdown (and

potentially longer) and (c) Those

who have household members

who are deemed at higher risk

if they contract COVID-19, in

accordance with public health

and as such should self-isolate

for the duration of the lockdown

(and potentially longer) to

reduce the risk of transmitting

the virus to that household

member.

Ms Sepuloni said that officials

are preparing guidance to support

employers and employees

to discuss what it means to be at

higher risk.

This guidance will be made

available online before the

scheme goes live on Monday,

she said.

The payment process

"Payments will be four-weekly

with the option for essential

businesses to re-apply for those

same workers after four-weeks,

or make further applications

for additional workers who

are eligible at any time, while

the scheme remains open," Ms

Sepuloni said.

Mr Lees-Galloway said that

employers accessing the scheme

should pay workers at either

their usual weekly income before

COVID-19, if this is less than

the relevant rate provided; or a

minimum of the full leave rate,

if the workers' usual income

before COVID-19 exceeds the

relevant rate, and in that case

also make best endeavours to

pay at least 80 percent of the

workers' usual income before

COVID-19. Employees who are

on other forms of paid leave

should be paid at their usual

full rates of pay.

"The scheme will be available

for at least the period while the

nation is at Alert Level 4 public

health restrictions and Ministers

will review the Scheme

after eight weeks to consider

uptake and future needs," Mr

Lees-Galloway said.
---
14

APRIL 15, 2020

Communitylink

Safe, orderly exit plan for stranded foreign nationals

Venkat Raman

The New Zealand government is

working out a 'Safe Travel Plan'

for foreign nationals stranded

in the country but the challenge

is to work with foreign governments,

civil aviation authorities and others to

administer an orderly plan.

It would be even more critical to

ensure that Covid-19 is not spread

further by spate of travel.

The challenge and problem

Deputy Prime Minister and Foreign

Minister Winston Peters said that

while the government's priority

continues to be public health and fight

against the spread of the coronavirus,

it is also recognised that not all foreign

nationals have the resources to self-isolate

and many of them may want to

return to their home countries.

The exact number of foreign nationals

wanting to go home is not known

but it could be 'tens of thousands,' as

Mr Peters said.

The New Zealand government has

extended all temporary visas that

have expired or due to expire until

September 30, 2020.

Mt Peters said that the government

has developed a seriously detailed

plan for the exit of foreign nationals,

without endangering the lives of

others," Mr Peters said.

The Managed Exit Plan

Foreign nationals returning home

will be considered to be engaging in

'essential travel,' and therefore able to

travel domestically (whether by air or

land) when they have a confirmed and

scheduled international flight out of

New Zealand, subject to requirements

which will be set out on www.covid19.

govt.nz

Foreign governments will be

allowed to organise charter flights to

repatriate their citizens, but only if

they can satisfy New Zealand health

requirements.

Commercial capacity between New

Zealand and Europe will be increased,

by New Zealand approving a second

daily flight between Doha to Auckland

by Qatar Airways.

It is expected that the first foreign

government-organised charter flight,

operated by Air New Zealand, could

leave New Zealand as early as Friday

evening. Commercial options continue

to be available to stranded foreign

nationals.

Reducing the impact

Mr Peters said the public health

and economic considerations of New

Zealand and New Zealanders were

paramount in the decision to facilitate

the managed exit of stranded foreign

nationals.

"We are conscious that returning

foreign nationals to their home

countries will reduce the potential

pressure on health services in New

Zealand, and reduce the risk of welfare

issues developing for those people who

are stranded and unable to afford to

be here much longer."

Mr Peters emphasised that

travel restrictions associated with Alert

Level 4 would continue to apply for

all foreign nationals, except for those

travelling to leave the country.

"If you do not have a confirmed

international ticket, then you must

stay in self-isolation. Stay put and

continue to follow Alert Level 4

guidelines and maintain your bubble.

New Zealanders returning home from

overseas will continue to be subject

to strict screening and self-isolation

requirements; and domestic travel by

New Zealanders will continue to be

reserved for essential workers only.

Air New Zealand charters

"Given that Air New Zealand intends

to fly charter flights from New Zealand

to Europe for European governments,

we will explore the extent to which

New Zealanders can return in the

planes on the way back. All passengers

will also be required to complete any

health requirements as necessary at

their airport of departure," Mr Peters

said.

Who cannot go

Foreign nationals seeking to leave

New Zealand will not be allowed to

leave self-isolation to travel if they

are at risk of Covid-19. This includes

anyone who (a) Has been diagnosed

with Covid-19 (b) Has symptoms consistent

with Covid-19 (d) Is waiting for

COVID-19 results (d) Is a close contact

of a suspected/probable/confirmed

case of COVID-19 or (e ) Has travelled

internationally in past 14 days.

Further details are available at

www.covid19.govt.nz.

Foreign nationals should contact

their Embassy or High Commission for

further advice.

2000 years on, the mystery of an ancient Bell remains unsolved

But this masterpiece rings

the glory of Tamil Language

Anbunirai Jayaseelan

An enduring mystery lingers

in New Zealand.

Many have attempted to

unravel the intricacies of

this mystery but in vain.

The mystery started in 1836 when

William Colenso, a young Christian

Missionary visited a remote

Maori village near Whangarei in

Northland.

He was also an able Botanist, an

expert in Printing technology and

popular in political circles.

By the time he retired, many plant

species were named after him.

He was also one of the distinguished

witnesses to the famed

Treaty of Waitangi.

In 1836, he was 26 years old and

energetic. He met people from all

strata of the society, especially the

marginalised, in the pursuit of

representing their cause for better

living standards.

Vessel for potatoes

He was the first European to

set foot in the village, where he

saw a Maori woman using, which

looked like a metal vessel, to cook

potatoes. This indeed was a strange

sight. Maori were not known for

metallurgy at that time.

Colenso enquired as to what that

metal vessel was. The answers

he received were vague but good

enough to instill in him that this

metal vessel was used for several

generations.

On close examination, he found

that it was actually the top portion

of a Bell, made of bronze.

The villagers told him that many

generations ago, at least seven or

more, there was a fierce storm

that uprooted a huge tree. Hiding

beneath its roots was this Bell.

It has since been used to cook

potatoes and kumara.

The Bell had lost the lip portion

possibly due to constant cooking in

fire for numerous generations. The

stronger top portion was all that

remained.

While the Maori narration of inci-

Theories abound but origin remains a mystery-The

Bell donated by William Colenso

dents was straightforward, Colenso

knew that there was much more to

be learnt. The fact that this Bell was

discovered buried under a tree in

itself warranted further study.

The Maori had the custom of

burying the possessions of an accomplished

man after his death and

planting a sapling over it. Instances

such as these have been recorded all

across New Zealand.

This is the principle of protecting

the Mauri (life force) of an object.

It is a bit like hiding a sacred

talisman. Since this Bell was found

under a tree, it would only mean

this object was revered by Maori at

some point in time.

Inscription on the Bell

There was an inscription on the

Bell that appeared like writing.

Colenso had no clue as to what

that could be or the language the

inscription. He was determined to

find out.

In order to trace the origin and

the owner of the Bell, he had to

acquire it first. He arranged for a

large iron pot to be handed over to

the Maori community of that village

in exchange for the Bell.

After a few years and interactions

with linguistic scholars in different

parts of the world the writing

became clear to him.

The inscription was in Tamil. Not

how Tamil is written today, but in an

ancient form. The writing confirmed

it was a ship's Bell.

The English translation of the inscription

goes like this, "Mohaideen

Bakhsh's ship's Bell" (or) "Bell of the

Ship of Mohaideen Bakhsh."

How did a ship's Bell with Tamil

writing get to New Zealand?

Colenso was intrigued and was

thirsty for answers.

About Tamil Language

Medieval Tamil, markedly different to the

modern version

Tamil is the oldest and the first of

the six Original (no foreign phrases)

in the world. The other five are

Sanskrit, Greek, Latin, Hebrew and

Chinese.

There are more than 70 million

Tamil-speaking people residing

in 50 countries, rich in heritage,

culture, language and literature. In

many cases, their unity has been

consolidated by struggle, suffering

and aspiration for a brighter future

for their successive generations.

Tamil is spoken in the South Indian

State of Tamil Nadu, Puducherry,

Sri Lanka, Singapore, Malaysia,

Mauritius, Seychelles and in many

other countries.

They have been known to be

seafarers from ancient times.

Was there an unrecorded meeting

between Tamil seafarers and the

Maori long before Europeans

arrived on the scene?

Abel Tasman is credited as being

the first European to have sighted

New Zealand in 1642. However, he

did not come on to the shores of

Aotearoa due to Maori aggression

and sailed away to Tonga.

After 127 years, it was James Cook

and his men in 1769 who are credited

with being the first Europeans on

New Zealand soil.

Who was Mohaideen Baksh?

Although no one has been able

to trace this person, it is clear

that around the 13th, 14th, 15th

centuries and even later, wealthy

traders based in Nagapattinam, a

port city in the South Indian State of

Tamil Nadu were sailing their ships

for trade purposes to ports in the

Middle East (to the west of India)

and to several islands up to Lombok

(next to Bali) to the East of India.

However, there is no known

historical account of Tamil seafarers

to New Zealand.

There have been many theories

propounded so far and one such is

from Robert Langdon.

An expert in Pacific manuscripts,

Langdon wrote in his book 'The

Lost Caravel' (published in 1975)

stating that the Bell may have

been a gift from Indian traders to

their Spanish counterparts who

are known to have had brisk trade

relations with the Tamils in South

India.

The Bell must have been first taken

to Spain and then found its way

on another ship that eventually

made landfall in Wellington around

1570-1580.

From there, it is anybody's guess

as to how the Bell found its way

under a huge tree in Northland.

Langdon criticised

However, Brett Hilder an

Australian photographer and

traveler called Langdon's theory

'utterly farfetched'. He attributed

the arrival of the 'Tamil Bell' to New

Zealand to a derelict ship.

Derelict ships, also known as

'Ghost' or 'Phantom Ships,' are

abandoned vessels left to the mercy

of the mighty ocean waves.

In his article titled, 'The story of

the Tamil Bell,' that appeared in

a publication, Hilder said, "Most

stretches of coast are littered

with driftwood from damaged or

wrecked ships, including hundreds

of vessels which have gone missing

through the centuries without a

trace and without any survivors to

tell the tale."

Could one of Mohaideen Baksh's

ships have met the same fate?

Could it have been attacked and

plundered by sea pirates? Could the

abandoned ship then have drifted

all the way to the coast of New

Zealand to be discovered by the

Maori?

The drift to Australian coast

Hilder provided an example in

the article.

"Someone in the Koscivsko, a ship

of the Aberdeen White Star Line,

threw a bottle overboard in Cape

Horn, Chile on March 30, 1890. For

2½ years it drifted on the ocean,

carried by currents until it was

recovered on the Australian coast

near Portland, Victoria in October

1892. It has been calculated that

to cover the distance of 9585 miles

(15425.5 kilometers) in 934 days,

the bottle drifted about 10.3 miles

(16.5 kilometers) each day."

Is this what happened to one of

Mohaideen Baksh's ships? Did it

drift all the way to New Zealand

bringing the Bell along? Or could it

be simply a case of theft from the

ship when it was plundered, and

the Bell changed hands several

times until it reached New Zealand?

The writing in Tamil

Although no thermoluminescence

dating technique (to determine

the age of metal) has been

employed thus far to determine the

time it was made, there are other

clues with which we can attempt

to determine this – the Tamil

inscription itself.

The way Tamil is written today is

very different to the writing found

on the Bell.

Tamil is broadly classified into

three categories. Old, Middle and

Modern styles of writing.

Old Tamil may have been in use

as early as the 6th Century BC up to

8th Century AD.

Middle Tamil was in use from the

8th Century AD until about the 13th

Century AD after which, modern

Tamil came into vogue.

Where does the writing on the

Tamil Bell fit? Experts say that

the inscriptions carry the traits of

Middle Tamil (between 8 AD and 13

AD). This does not in any way prove

that the Bell reached New Zealand

as early as this period. However,

it only adds on to the mystery and

intrigue.

Now in Te Papa Wellington

The Bell in the possession of the

Museum of New Zealand (Te Papa

Tongarewa) in Wellington, since it

was bequeathed by Colenso in 1899,

the year of his death.

Was the Bell brought to the

shores of New Zealand by a ghost

ship or by a non-European traveller

who simply happened to have

possession of it or was the truth

something very different altogether?

Was an Indian connection

played out on the shores of New

Zealand long before the Europeans

arrived in New Zealand only to be

forgotten by time? ¬¬¬¬¬¬

We may never know the answer

to these questions but this mystery

with all its intrigue continues.

Anbunirai (Anbu) Jayaseelan is

an IT professional based in Auckland.

He was a film journalist for

many years in his native Tamil

Nadu, India.
---
APRIL 15, 2020

Communitylink

Lockdown releases homegrown talent among siblings

A virtual music and dance

concert extolling Hindu

Goddess 'Sharada'

Venkat Raman

The fact that younger members

of our communities are

rich with innovative ideas,

promoting simultaneously our

cultural and traditional values was

demonstrated last week by two pairs

of two siblings from the safety of

their homes in East Auckland.

Anuradha (Anusha) Suresh,

a multi-talented young woman

conceptualised a quartet to present

the octet of 'Sharada Bhujangam,' a

composition of Adi Shankaracharya

in praise of Goddess Sharada in

Sringeri (one of the four main centres

established by him).

The Slokam is set in Ragamalika,

Adi Talam.

In conjunction with her sister

Vindhyavasini Suresh on the Veena,

she enlisted the proficiency of family

friend Seyorn Arunagirinathan on

the Violin, while his sister Arudshii

Arunagirinathan agreed to illustrate

the Slokam in Bharata Natyam

format.

Vasantha Navarathri Festival

The original plan was to render

one verse on each of first eight nights

of 'Vasantha Navarathri,' (a Springevent,

also called, 'Chaitra Festival),

extolling the virtues and qualifies of

Goddess Shakti (Durga) and invoking

Her Blessings) from March 25, 2020

and release the final, combined

version on April 2, 2020.

But the government declared

Alert 4 effective from 1159 pm on

March 25, 2020, locking down New

Zealanders and their families in their

own bubbles for four weeks.

Not to be outdone, Anusha

guided the team, which included her

younger sister Vindhyavasini Suresh

to handle videography and editing,

to work independently in their

respective homes.

And the result is now reverberating

the corridors of homes (and perhaps

at workplaces rendering essential

services) throughout the world.

Interludes and challenges

As well as directing the renditions,

editing and coordinating the synchronisation

of vocal, instrumental

and dance aspects of the production,

Anusha composed interludes to the

original score of R K Shriramkumar

(of the Rudrapatna family in Karnataka),

an accomplished Violinist who

Maiden YouTube video kindles teenage musical talent

And parents' creativity

brings in the clone of

Bharati Sonu

Venkat Raman

Family bubble is perhaps one of

the 'positive' aspects of Covid-19,

making the best of which is

Auckland based teenager Bharati

Sonu.

A talented singer, she is the

chip-of-the-old block in creativity and

professional presentation.

She is the granddaughter of veteran

film director K S Sethu Madhavan

(who has more than 60 films in Hindi,

Tamil and Telugu to his credit) and

daughter of Auckland based Sonu

Kumar and Shoba Sonu, both of who

are well-known for their creative films,

photography and more.

Songs and medleys at the best

Bharati perhaps has her share of

engaging in chats on her mobile phone

but for the best part, she gives vent to

her song-writing and singing talent. We

have heard her presenting a judicious

mix of full length and medley of Eng-

Anuradha (Anusha) Suresh

has accompanied many renowned

singers including M S Subbulakshmi.

The young artistes had their

own challenges- minor and major

meltdowns as they called themsynchronisation

of individual music

tracks, overlaying the video, hard

drive crashing, and Vindhya losing all

her University work.

But as it is often said, in ventures,

troubles add spice to efforts, making

results sweeter.

Says Bavani CT Suresh, Anusha's

mother: "The music is set to a five

beat rhythmic cycle and the children

had to be careful with the eduppus

(starting points), a difficult job even if

all were performing simultaneously

but when single tracks have to be put

together, it was mammoth task. Some

verses started a single beat before,

and the pedantic percussionist was

very alert to this. Mixing of tracks

had to be done so that one did not

overpower the other."

"The beauty of endeavour is that

the project was done successfully

during lockdown, in two separate

homes harnessing the strength and

versatility of the internet, a single

laptop, a single mic, and some non

commercial music software. The

four young adults used valuable

lockdown time very effectively. They

came together, virtually, to produce

a powerful piece at a time when the

world needs healing," she added.

Bharati Sonukumar with her 'Clone' (Picture Supplied)

lish, Hindi, Tamil and other language

songs much to the delight of her loving

audience at a number of shows in New

Zealand.

She saw a novel opportunity during

the lockdown.

She released her maiden YouTube

presentation yesterday.

It is a musical mashup of songs 'Say

you wont's let go,' by English singer and

Vindhyavasini Suresh

Arudshii Arunagirinathan

Anuradha (Anusha) Suresh

The Star of the 'Sharada Bhujangam'

of the lockdown season in

Auckland is Anuradha Suresh, popularly

known as Anusha. She is at once

a Carnatic Musician, Bharata Natyam

Dancer and a qualified Pharmacist

and as we know now, a Producer,

Director, Editor and Coordinator.

Anusha was introduced to

music by Niranjani Kulaveerasingam

(Kuala Lumpur), and continued at

the Temple of Fine Arts under Usha

Ramachandran and Vijayalakshmi

Arumugam. Upon migrating to New

Zealand, she came under the tutelage

of Yamini Ramesh, a disciple of

Madirimangalam Ramachandran and

Lalgudi G Jayaraman.

Anusha has completed her Diploma

in Carnatic Vocal Music from the

University of Madras and earned the

title of 'Gana Visharad' from New

Zealand Carnatic Music Society.

Currently, she is undergoing

advanced training under Lalgudi

Padmavathi Ananthagopalan.

Anusha is also a trained Bharatha

Natyam dancer. She presented her

Arangetram under the aegis of the

Temple of Fine Arts, Malaysia and

was awarded the title of Nrithyanjali

in 2011. She performs regularly in

community events and has been

the lead dancer in many dance

productions.

Blessed with a mellifluous voice,

song writer James Arthur and 'Ente

Kannil Ninakkai,' from 'Bangalore

Days,' a 2014 Malayalam film.

Visual treat

Beginning with the lyrics, 'I met you

in the dark, you lit me up, You made me

feel as though I was enough,' Bharati

deftly transcends her voice to the lilting

Malayalam song and quickly joined by

her clone. From here on, it is a visual

Seyorn Arunagirinathan

Anusha also performs at Carnatic

Music converts and Bharatha Natyam

performances held New Zealand, Sri

Lanka, Singapore and Malaysia.

She was invited to perform at the

Chinna Melam Dance Festival in

Thanjavur, Tamil Nadu in 2019.

A Pharmacist by profession,

Anusha conducts Carnatic Vocal

Music and Bharatha Natyam classes

on behalf of the Temple of Fine Arts,

Malaysia.

Vindhyavasini Suresh

Vindhyavasini Suresh was introduced

to the Veena by her mother

Bavani CT Suresh and then came

under the tutelage of Vijayalakshmi

Arumugam, a disciple of Lalgudi

Ananthagopalan at the Temple of

Fine Arts in Kuala Lumpur. She is

now on advanced training under

Lalgudi Padmavathi Ananthagopalan.

Vindhya has completed her Diploma

in Carnatic Music (Veena) from

the University of Madras and the

New Zealand Carnatic Music Society.

She carries the mantle of Temple of

Fine Arts by assisting her mother in

conducting Veena classes.

She is at present a freelance

Vainika, a volunteer swim coach for

Special Olympics and is studying to be

an Occupational Therapist.

Arudshii Arunagirinathan

With a strong proclivity towards

Hindu culture and Tamil language,

Arudshii Arunagirinathan began her

treat, proving the mastery of her

parents in the audio-visual art.

If you are reminded of Aishwarya

Rai doing a video double in her

maiden Tamil film 'Jeans' (1998)-

picturised over the song 'Kannuodu

Kaanbadhalam,' you could be stirring

memories, and arguably wanting to see

the film again on the same YouTube

channel.

Back to Bharati, her rendition proves

that she is maturing as a singer and

presenter and equally important,

shares the creative penchant of her

parents.

Impressive lineage

Born and raised in a family of film

professionals, she was initiated into

music and theatre at a young age, while

her modelling assignments began when

she was just a year old.

Bharati has been the Brand Ambassador,

performer and singer in the

children's exclusive DVD "Sweet Values"

by Choco Lait Kidz, an online resource

(established by Sonu and Shoba) to

instill and inculcate values and likeskills

in children through education,

entertainment and information.

"Bharati feels that she can add value

by integrating cultures through music.

15

journey in Bharatha Natyam when she

was five years of age, under the tutelage

of Renuka Ketheesan (Director &

Principal of Sai Natyalaya in Auckland)

and continued in Abu Dhabi under

the tutelage of Lakshmi Viswanath

(Director & Principal of Laasyapriya

Academy of Natyam) for 11 years. She

is currently under the guidance of

Anuradha Ramkumar (Director & Principal

of Nrithyabhinaya in Auckland).

Arudshii is also a talented vocalist

and started learning Carnatic Music

when she was seven years old from

Sita Raghu (also an accomplished Violinist)

in Abu Dhabi and from Dr Usha

Prasad (former Principal, Bharadwaj

School of Music of Bengaluru, now

living in Chennai).

Arudshii has performed in various

solo and group renditions in the United

Arab Emirates, United Kingdom, Sri

Lanka and New Zealand and has won

in the Sangeet Samrat Competition,

UAE. She is qualified in Piano (Grade 8)

from the Associate Board of The Royal

Schools of Music (UK) and is adept at

swimming, tennis and netball.

In her late teens, Arudshii is

pursuing her second year for qualify

for Bachelor of Medicine and Bachelor

of Surgery at University of Auckland.

Seyorn Arunagirinathan

Seyorn began his musical journey

in Carnatic Violin at the age of eight

under the guidance of Sita Raghu from

Abu Dhabi. He honed his skills under

the direct guidance of A Kanyakumari

and Embar S Kannan. He currently

receives advanced training from VV

Ravi.

An accompanist and a soloist, he

has performed in several countries

including the United Arab Emirates, Sri

Lanka and New Zealand.

He was awarded the title of 'Sangeet

Samrat' for junior and senior categories

at competitions organised in the

United Arab Emirates.

Seyorn has also completed ABRSM

Western Piano Grade 7 and Diploma in

Western flute with distinction, making

him an Associate of the Royal Schools

of Music in London. He has performed

many solos on piano and flute and is a

member of his school orchestra.

Apart from concert platforms, Seyorn,

who is in Year 12 at Botany Downs

Secondary College in Auckland, is an

avid sportsman. He is a member of the

first XI football team at his college and

plays football for the under 17 Fencibles

Conference team and badminton

for the College Rifles Badminton club.

Website:

https://www.anushasuresh.com;

https://www.youtube.com/

watch?v=H_AQUSqLNjw

With her move to New Zealand, she has

been involved in creating and performing

mashups on several occasions and

prestigious community events. This has

been a great source of motivation and

encouragement," Sonu and Shoba said.

Versatile artiste

As well as writing and singing,

Bharati's expertise extends to playing

the Guitar, the performance arts and

filmmaking. Pursuing her degree

course in Communication Studies (with

a focus on Screen Production) at AUT,

she evinces interest, understandably, in

Photography and Film production.

"The first YouTube is a unique visualisation

with her cloned counterpart.

Bharati has rendered this in her own

style and looks forward in bringing out

a series of videos and carving an edge

in the music and film Industry," Sonu

and Shoba said.

Being a kiwi Indian, she owes much

to New Zealand for all the support and

encouragement.

Sonu and Shoba Kumar can be

reached on ss@shobsonu.com Phone:

+64-27-3217668 (0273217668)

Video link: https://www.youtube.com/

watch?v=M4IyWiN3lYo
---
16

APRIL 15, 2020

Communitylink

Tamils look for prosperity as New 'Sarvari' Year begins

And Malayalis mark

Vishu with Vishukkani

Venkat Raman

For the first time in history

perhaps, millions of Tamil-speaking

people throughout

the world will mark their

New Year day within their bubble

in their homes greeting family and

friends over social platforms and

various other audio and visual

formats.

As per Tamil literature and

religion, this year is called, 'Sarvari,'

following a 60-year cycle.

New Year brings with its new

hopes, new connections and new

relationships, all of which this year,

would be from a distance, thanks

to Covid-19, which has kept people

physically apart, but brought them

closer emotionally and in spirit.

Beginning of new hope

The month of 'Chithirai' begins

today, April 14 and with it Tamil

New Year's Day.

This is an occasion for celebration

for Tamilians all over the world.

Greetings of 'Puthandu

Vazthukal,' (Happy New Year) are

exchanged with fervour.

Hindus believe that it was on

this day that Lord Brahma (The

Creator), started creation.

The day begins with viewing

the 'kanni' (the auspicious sight)

at dawn, in the expectation that

the New Year would bring with it

added progress and prosperity.

It is considered auspicious to

wear new clothes on this day.

Among the other auspicious

items are gold and silver jewellery,

betel leaves, nuts, fruits and

vegetables, flowers, raw rice and

coconuts.

Piety and Fun

Except this year, generally, most

Hindus would visit Temples and

pray for peace, good health and

happiness, after which some elders

read the Panchangam (almanac) to

determine the year ahead.

They would perform their

prayers from the confines of their

homes and perhaps use social platforms

such as Facebook to perform

virtual community prayers.

Houses would wear a colourful

look with 'Kolam' (Rangoli) on the

threshold, while the main entrance

would be decked with mango

leaves.

A grand Car Festival is held at

Tiruvadamarudur near Kumbakonam

every year on New Year's Day.

The 'Marriage Ceremony' of

Goddess Meenakshi (Parvathi) to

Lord Sundareswarar (Shiva) is

celebrated as 'Chithirai Festival' on

New Year's Day in some parts of

Tamil Nadu.

The highlight of the Festival is

the 'Maanga Pachadi' (a dish made

of raw mangoes, jaggery and neem

flowers), which is at the same time

sweet, sour and bitter.

This signifies various aspects of

life.

New Tamil Films

It is customary for the Tamil film

industry to release new films on

the New Year's Day. Film stars are

worshipped almost with religious

fervour (with a few actors enjoying

the status of deities in special

temples built for them) and the fans

of leading actors look forward to

the new releases of their 'masters.'

Over the past 50 years, the Tamil

Vishukkani with traditional food at the home of Shoba and Sonu Kumar in Auckland today. In the

reflection of the mirror is their daughter Bharati (Picture Supplied)

theatre has also become popular.

Tamilians consider their

New Year's Day as a symbolic

representation of good times ahead

and with the state economy booming,

there is a sense of achievement.

Vishu and Vishukkani

For Malayalis in Kerala and

other parts of the world, and for

the people of Tulu Nadu region in

Karnataka, the day is marked as

'Vishu.' It is the first day of 'Medam,'

the ninth month in the Solar

Calendar followed in Kerala and

hence falls in April in the Gregorian

Calendar.

'Vishu,' from 'Vishuva,' means

equal and in the context of the

Festival, connotes the completion

of the Spring Equinox. Vishu is

notable for its solemnity and the

general lack of pomp but is marked

by family time, preparing colourful

auspicious items and viewing these

as the first thing on the 'Vishu Day,'

also known as 'Vishukkani.'

Malayalis seek to view the

golden blossoms of the Indian

laburnum ('Kani Konna'), money or

silver items, cloth (Pattu), Mirror,

Rice and other harvest products.

Traditionally, the day also attracts

fireworks by children and a special

meal.

The Deities in Vishukkani

include an Image of Lord Vishnu,

His Avatar Lord Krishna, and in

some houses Lord Ayyappan and

Lord Guruvayurappan. People also

visit the Temples at Guruvayur and

Kulathupuzha to have a Dharshan

of Bala Sastha (Lord Ayappa) on

this day.

This year however, all Temples

are closed in view of the national

lockdown in India.

Property

Finance

Specialists

Single house

builds

Terrace &

Multi unit

Developments

Subdivisions

Commercial

property

Residential

Investment

Property

NZ$2B+

Funds lent since

inception

1500 +

Loans Settled

Loans from

$200,000

to $25

million

When all other lenders offer you are hurdles, we will get your development off the ground by placing

greater emphasis on the practical and business merits of your funding application. Since 2004, ASAP

Finance has been providing innovative and competitive property funding solutions to investors,

developers and home builders and is recognized as a leading property finance provider in New Zealand.

To find out about our funding solutions, please contact:

Parash Sarma - Client Services Director Mob: 021 864 730 Email: parash@asapfinance.co.nz