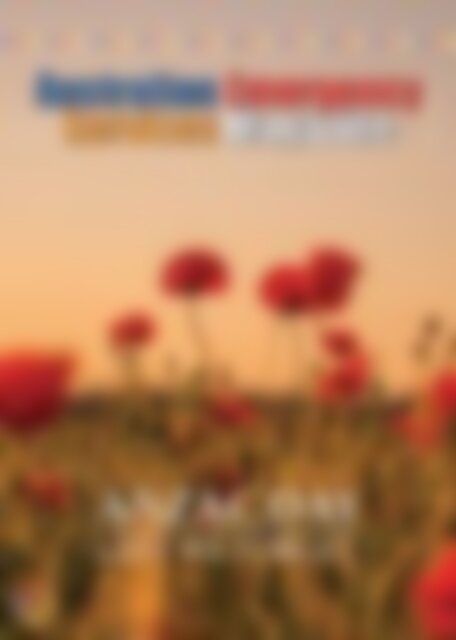 AESM Vol 18-Issue 2 2020
The latest Australian Emergency Services Magazine. The latest in news from the emergency services sector and emergency management. Regular columns from Associate Professor Erin Cotter-Smith, Dr Michael Eburn and Paramedic Tammie Bullard. Anzac Day Issue, Tributes and In Memoriam, Coronavirus impacts and vaccine news. Supporting emergency service workers after a national crisis, In the Spotlight and the latest travel adventure in Emergency Breaks.
The latest Australian Emergency Services Magazine. The latest in news from the emergency services sector and emergency management. Regular columns from Associate Professor Erin Cotter-Smith, Dr Michael Eburn and Paramedic Tammie Bullard. Anzac Day Issue, Tributes and In Memoriam, Coronavirus impacts and vaccine news. Supporting emergency service workers after a national crisis, In the Spotlight and the latest travel adventure in Emergency Breaks.
SHOW MORE
SHOW LESS
Create successful ePaper yourself
Turn your PDF publications into a flip-book with our unique Google optimized e-Paper software.
VOL 18: Isssue 2, 2020

ANZAC DAY

LEST WE FORGET
---
We've got your back.

Emergency Services Health is a not-for-profit

health fund that exists to enhance the physical

and mental health and wellbeing of Australia's

emergency services community.

We do this by providing health insurance products,

support, information and services designed

exclusively for the needs of our members.
---
We treat our members like colleagues.

That's because they are.

Fire Response &

Recovery Sector

State Emergency

Response &

Recovery Sector

We're rallying for

everybody working and

volunteering to protect

our communities.

Ambulance & Medical

Response & Recovery

Sector

Water Response &

Recovery Sector

Why Choose Us?

Our simple products are

tailored to the lifelong needs

of our members.

We provide top quality cover, and

will stand beside our members

when they need us most.

Our approach is personal;

we care about our members.

We're run for the benefit

of members. We're a true

not-for-profit. We're not

driven by corporate investors

or overseas owners demanding

shareholder dividends.

Who Can Join?

Emergency Services Health is open to people across Australia who were

or are employed (including volunteering) in emergency services, and their

families. Our focus on the emergency services community means we make

sure we provide the most relevant products and best quality service for the

lifelong health and wellbeing of our members.

For more information:

PHONE

1300 703 703

EMAIL

enquiries@eshealth.com.au

VISIT

eshealth.com.au

Emergency Services Health Pty Ltd ABN 98 131 093 877
---
FEATURE

CONTENTS

FEATURE

Where are we with

a Coronavirus

Vaccine

"

ANZAC DAY

IT'S TIME TO

SERVE THOSE

WHO HAVE

SERVED

Nearly 1 in

5 serving Australian

Defence Force (ADF)

personnel were

estimated to have

sought help for stressrelated,

emotional,

mental health or

family problems over

a 12 month period

21

"

A closer look at the

structure of the

coronavirus and the

development of a

potential vaccine.

11

FEATURE

Helping Emergency

Service Workers

Recover after a

National Crisis

The impact of trauma

on Emergency Service

Workers after the recent

bushfire season

Pandemic Drones

- Useful or the

beginning of a police

state?

From delivering medical

supplies, to helping keep

people indoors – drones can

do a lot in a pandemic, so

what is the downside?

33

25

In Memoriam

A tribute to WW2 veteran

Arnold William Forrester.

Arnold sadly passed away

this year. He was the last

member of the 39th Infantry

Battalion of the Kokoda Track

campaign.

The Great War

WW 1

An examination of The Great

War, WW1. How it began

and the impact it has had

on world politics and within

the hearts and minds of

Australian ideology.

27

17

www.ausemergencyservices.com.au
---
THE REGULARS

• Editor's Note

4

• Recent Events

Boosting Paramedic Recruits on the Frontline

Time to prepare for Bushfire season 2020

NSW Junior Lifesaver of the Year Awards

• Emergency Law with Dr Michael Eburn

• Let's Talk Mental Health with A/Prof Erin Cotter- Smith

• The Good, The Bad & The Ugly Paramedic

• In the Spotlight - Dawn Hartog Toolangi FIre Brigade

• Emergency Breaks - Mornington Peninsula, Victoria

5

6

7

9

15

31

37

39

DOWNLOAD THE

AESM APP

Stay connected and up

to date on all the latest

emergency services news

on the website PLUS have

access to the magazine via

our dedicated App on both

Apple IOS and Google

Android platforms

LET'S TALK MENTAL HEALTH

Associate Professor Erin Cotter-Smith

Course Coordinator of the School of

Medical and Health Sciences, Edith Cowan

University. Research Consultant at The

Code 9 Foundation. Well-Being Team Co-

Lead, The Australian Red Cross.

EMERGENCY LAW

Dr Michael Eburn - PHD, Barrister

and leading expert in law relating to

emergency management & emergency

services.

THE GOOD, THE BAD &

THE UGLY PARAMEDIC

Tammie Bullard is a paramedic and

sessional lecturer based in Western

Australia. Author of The Good, The Bad

& The Ugly Paramedic

MAGAZINE CONTACTS

Editorial Content

press@ausemergencyservices.com.au

Advertising Enquiries

advertise@ausemergencyservices.com.au

Distribution Enquiries

distribution@ausemergencyservices.com.au

POSTAL ADDRESS:

Suite 112, Locked Bag 1

ROBINA TC, QLD 4230

IN THE SPOTLIGHT

EMERGENCY BREAKS

Each edition features a

profile on a person, team,

partnership, squad or unit

to showcase their unique

contribution to the Emergency

Services industry.

Explore local surrounds, or

new places that are only a

short plane trip or drive away,

so you can maximise every

minute of those days when

your name doesn't appear

next to a call sign on the roster

Scan Me

to download the AESM App

www.ausemergencyservices.com.au
---
Is your organisation ready to cope with a

mission critical emergency incident?

Incidents such as bushfires, natural disasters or emergency mission tactical scenarios require

public safety agencies to have the right communications technologies in place before these

emergencies hit.

The Simoco SRB250 is a rapid deployment repeater that is designed to provide radio coverage to

a critical incident, emergency situation or extends existing Public Safety systems, either analogue

or APCO Digital P25. It provides deployable "on demand" coverage for vehicle and portable radio

users in VHF or UHF.

Quick and rapid

deployment

Ruggedised pelican

device

Enhanced battery

operations

Link radio

capability into GRN

Integration with

other digital

operators/systems

Deployable by

non-technical staff

Contact us

inquiry.aus@simocowirelesssolutions.com

+61 1300 363 607

www.simocowirelesssolutions.com

www.thepapermillfood.com

THE PAPER MILL IS WESTERN SYDNEY'S BEST NEW FOOD DESTINATION

The Paper Mill has something for everyone, and serves breakfast, lunch and dinner.

With four eating options all under one roof, we suit any occasion, budget or appetite.

@thepapermillfood | hello@thepapermillfood.com | 02 8742 4033

3

www.ausemergencyservices.com.au
---
EDITOR'S NOTE

Welcome to the latest edition of the Australian

Emergency Services Magazine.

Since our last edition the world as we know it has

completely changed and no one is sure that it will ever

be the same again. We have been collectively thrust

into a new world of social distancing and quarantine

that has been challenging and eye-opening. The panic

buying, pandemic chaos caught most of us off guard

and we have certainly all understood the value of our

family, friends and freedom like never before.

Our frontline workers and emergency services have

once again been called on to bear the physical, mental

and emotional toll of this latest crisis. So what can

we do? We can be there for each other. Support

our communities by staying home, keep our nurses,

paramedics and doctors safe by staying at home.

Reach out if you know someone who is struggling and

be there as a shoulder to lean on or to point them in

the right direction for support and help.

This health crisis is a double edged sword, not only

threatening our health, but the economic toll on

the country has been likened to that of the great

depression. We have also been affected by this,

however we are determined to stay present and

continue to provide quality content and information for

our dedicated readers and followers.

We wish you and your family good health in these

difficult times.

Bianca Peterson

Editor in Chief

www.ausemergencyservices.com.au

DISCLAIMER

The Australian Emergency Services Magazine

is a community educational resource

publication and does not promote itself

as a charity or fund raising institution, nor

solicit on behalf of charities and is no way

financially supported by or associated with

any government or similar institution.

Distribution of the publication is Bi-Monthly

and is circulated via a database of interested

parties, including business, subscribers,

advertisers, volunteer emergency

organistations, and council libraries. A

print and digital magazine is distributed to a

targeted database in each State & Territory.

Every effort is made to ensure that material

presented in the Australian Emergency

Services Magazine was correct at the time of

printing and is published in good faith, no

responsibility or liability will be accepted by

Boothbook Media.

The views and opinions expressed are

not necessarily those of Boothbook

Media and its employees. The content of

any advertising or promotional material

contained within the Australian Emergency

Services Magazine is not necessarily an

endorsement by Boothbook Media.

Published by Boothbook Media

ABN:72 605 987 031

BOOTHBOOK MEDIA

DIGITAL MEDIA & MARKETING

WANT TO CONTRIBUTE?

We are always looking for new

and relevant content that

our readers will enjoy. If you

would like to be featured in

the magazine there are many

options. You may have a story

you would like to share, or

perhaps be featured in our "In

the Spotlight" regular column.

Please submit all articles or

expressions of interest to the

Editor for consideration at:

press@ausemergencyservices.

com.au

Articles should be no more than

1000 words and be relevant

to the content within the

Australian Emergency Services

Magazine.

www.ausemergencyservices.com.au 4
---
RECENT EVENTS

BOOSTING PARAMEDIC

RECRUITS ON

CORONAVIRUS FRONTLINE

The Victorian Government will fasttrack

the recruitment of 120 extra

paramedics to boost the frontline of

Victoria's coronavirus response and

help ensure all Victorians get the health

support they need when they need it.

Minister for Ambulance Services Jenny

Mikakos said the new paramedics

would be brought forward from the

next financial year, to hit the ground

from next month. She stated, "We will

need our paramedics more than ever

over the coming months, but we don't

want to have a situation where they

have to choose between coronavirus

cases and other serious conditions

such as heart-attacks and strokes."

"These new recruits will help us deal

with increased demand on our health

system, while ensuring all Victorians

continue to receive the lifesaving care

they deserve."

This means Ambulance Victoria will

have the resources it needs to respond

to the coronavirus pandemic and flu

season, while still providing the very

best care to all Victorians, no matter

what their condition is.

The boost will also increase capacity in

Ambulance Victoria's specialist areas

including the secondary triage service,

where expert nurses and paramedics

assess and provide advice to less

serious cases.

Ambulance Victoria has started the

selection process and is aiming to

recruit 60 staff in May and June.

Seriously ill patients who need

transport to access appropriate

medical care – particularly those in

regional areas – will also benefit from

additional resources for Ambulance

Victoria's Adult Retrieval Victoria.

The patient transport service will

expand its 24-hour telephone advice

service to provide round-the-clock

telehealth, regional clinical support, coordination

and critical care retrieval for

the next six months.

The expansion means extra patient

transport officers, administrative

support officers, medical consultants,

medical coordinators and critical care

registered nurses so patients are fully

supported.

The Victorian Government has invested

a record $1 billion to deliver more

paramedics, more vehicles and more

stations. This includes a big $299

million boost in the Victorian Budget

2019/20.

The latest data shows Victoria's

ambulances transported a massive

78,820 code 1 emergency patients

in the three months to the end of

December – 4,513 more than a year

earlier.

Despite this massive increase, our

dedicated paramedics reached 82.5

per cent of Code 1 cases across the

state within the benchmark 15 minutes,

with an average response time of 11

minutes and 29 seconds.

5

www.ausemergencyservices.com.au
---
RECENT EVENTS

Queensland Fire and Emergency

Services (QFES) is asking residents

to get a head start on this

year's bushfire season by using time

at home to prepare their properties.

QFES Commissioner Greg Leach

urged the community to be proactive

in the wake of a severe 2019 bushfire

season, which burnt more than 7.7

million hectares of land and destroyed

49 houses, 68 sheds and five

commercial buildings.

"The impact of the prolonged and

heightened 2019 bushfire season

should prompt residents to spend

time now preparing," Mr Leach said.

"All Queenslanders will remember

the intense bushfire season the state

experienced last year and how it

affected them.

"An adequately prepared property

can help reduce the severity of a

bushfire, which is why everyone in

QFES - USE THIS TIME AT

HOME TO PREPARE FOR

BUSHFIRE SEASON 2020

rural and urban areas need to take

simple steps now to prepare their

properties.

"Residents can remove leaves and

leaf litter, clear gutters, trim overhanging

branches and keep lawns

short to prevent bush and grass fires

from starting and spreading on their

property."

Mr Leach encouraged residents to

reach out to their local Rural Fire

Service brigade if they needed assistance.

"Residents can contact their local

rural fire brigade and fire wardens for

advice, assistance and ideas on how

to prepare their individual properties,"

he said.

"We will be working to minimise the

bushfire risk, but bushfire prevention

is a community effort.

"QFES is asking, 'what will you be

doing to prepare for a bushfire'?

Mr Leach said maintaining a Bushfire

Survival Plan was a great way to be

prepared and could be completed by

visiting the Rural Fire Service website.

"A well-thought-out plan could make

all the difference once bushfire season

is underway," he said.

"This is because a plan should clearly

state what action will be taken if a

bushfire is in the area.

"Combined with property preparation,

a bushfire survival plan is an

effective measure individuals and

families can take ahead of this year's

bushfire season."

People can visit ruralfire.qld.gov.au

for more information on preparing

for bushfire season and completing a

Bushfire Survival Plan.

www.ausemergencyservices.com.au 6
---
RECENT EVENTS

NSW JUNIOR SURF LIFESAVERS

OF THE YEAR ANNOUNCED

The 2020 NSW Junior Lifesavers of

the Year (JLOTY) have been decided.

For the first time in its 32-year

history, the process for the selection

of the prestigious awards for 13

and 14-year old lifesavers has

been completed online due to the

COVID-19 pandemic.

Despite not being able to attend the

annual camp, the young leaders have

spent time working on their digital

presentation and interview skills.

Many have also been carrying

out tasks to assist their clubs and

communities where they can, during

the COVID-19 crisis. Everything

from engaging the younger Nippers

in online activities to helping their

club management teams with

scanning and even helping with club

presentations.

Surf Life Saving NSW Director of

Membership Kerry Clancy said

it's fantastic to see the youngest

lifesavers in the movement step up at

this time.

"Each year the calibre of our finalists

is raised. This year is no exception

and each have been outstanding with

the move to digital interviews," said

Clancy.

"I commend each one of our 22

finalists from right across the state

and I encourage them to continue to

be strong and enthusiastic leaders in

their clubs and branches," she said.

This year's presentation was hosted

on Thursday 16 April by Australian

Olympic rowing hopeful and Indoor

Rowing World Record holder Georgie

Rowe from Collaroy SLSC. Just

days after breaking the world half

marathon record, Georgie said she

was honoured to present the two

2020 NSW Junior Surf Lifesavers of

the Year with their awards.

"To have the courage and

perseverance to come this far in this

award process is an amazing feat,"

said Rowe. "They have each shown

to be valuable members of their club

and great representatives of both

their clubs and branches through

their volunteering and lifesaving skills.

"Some of them have been involved in

their clubs since they were six-years

old and the passion they have is so

inspiring," she said. "They want to

develop some amazing projects to

help make Surf Life Saving stronger

into the future. They all have the

world at their feet and I can't wait to

see where their passion takes them."

The 2020 NSW Female Junior

Lifesaver of the Year is Chloe Carr

from Bungan Beach SLSC on Sydney's

Northern Beaches.

Chloe is a virtual newcomer to Surf

Life Saving, but in her 12 months of

being a member she has achieved

her SRC (Surf Rescue Certificate),

substituted on patrols with members

she hadn't met, if nothing else but

7

www.ausemergencyservices.com.au
---
RECENT EVENTS

Female Junior Lifesaver of the Year Chloe

Carr from Bungan Beach SLSC

to expand her knowledge and patrol

experience.

Chloe has goals and direction that will

not only take her further in Surf Life

Saving, but she has shown that she is

driven to take what she has learnt on

the beach and convert those skills to

help her in all areas of her life.

Chloe is not afraid to admit that

obtaining her SRC and participating

in the JLOTY program has boosted

her confidence, taught her how to

work in a team and even become a

better water person. Through the

JLOTY program Chloe has shown that

everyone can have a voice.

Chloe would like to encourage more

people within her community to

participate in Surf Life Saving because

she believes that learning about the

beach and her community opened

her eyes to the world and all its

possibilities.

The 2020 NSW Male Junior Lifesaver

of the Year is Kale Puata from North

Avoca SLSC on the Central Coast.

Kale has enjoyed many different

areas of Surf Life Saving since starting

as a six-year-old. The highlight for him

was being part of the Surf Life Saving

Central Coast Rookie Program.

After gaining his SRC (Surf Rescue

Certificate) he has been involved

in leadership camps, fundraising

and he also loves competing and

representing his club.

Kale would love to see a Rookie

Buddy program set up within Surf

Life Saving to help build member

confidence and experience.

The panel said Kale was very earnest

in all his responses and were

impressed with his commitment to

continue to develop as a leader in his

club and community.

This is the first time both Bungan

Beach and North Avoca lifesavers

have taken out the Junior Lifesaver of

the Year award.

Surf Life Saving NSW President

George Shales said he was thrilled

with the calibre of the finalists.

"I'm extremely proud of our 22

remarkable young lifesavers, who

Male Junior Lifesaver of the Year Kale

Puata from North Avoca SLSC

are no doubt leading the way with an

amazing team of like-minded clubmates.

Their energy is just what we

need at this time and I encourage

each of them to maintain their

positive attitude and continue their

great work into the next season.

"Congratulations to Kale and Chloe

on being named our 2020 Junior

Lifesavers of the Year. You join a long

list of highly successful and inspiring

previous winners. There are great

things ahead for you. Make the most

of every opportunity," said Shales.

With thanks to NSW Surf Life Saving for

this article and accompanying images.

Kadia

is an Occupational

Therapy practice supporting

the Eastern Suburbs of Melbourne.

We are dedicated to helping our clients

0400 121 513

accomplish their goals in living with a disability

daniel@kadia.com.au

because everyone deserves a chance to create. 5 Foulds Ct, Montrose Vic 3765

www.ausemergencyservices.com.au 8
---
AUSTRALIAN EMERGENCY LAW with Dr Michael Eburn

A DISCUSSION ON

THE LAW THAT

APPLIES TO OR

AFFECTS AUSTRALIA'S

EMERGENCY SERVICES

AND EMERGENCY

MANAGEMENT

REFUSING A

PARAMEDIC

ACCESS DUE TO

COVID-19 FEARS

March 28, 2020

PHD

Barrister

Leading expert in Law

relating to Emergency

Management & Emergency

Services

Follow Michael Eburn

Facebook- facebook.com/

EburnM/

Twitter - @EburnM

For his latest articles on

Emergency Law go to:

www.emergencylaw.wordpress.com

Today's correspondent is a

paramedic who

… received a Signal 1 job (that's the

Victorian code for lights, sirens, urgent

response) to one of the major nursing

homes for a reported stroke patient.

On arrival at the facility, the

receptionist was unaware of why we

were there (pretty common, not a

problem). She then asked us to read

and sign a full A4 page document

with questions relating to COVID-19

inclusion criteria; have we travelled

overseas recently, have we interacted

with other people who have been

overseas recently etc.

She then insisted we submit to a

tympanic temperature test.

My partner returned a reading of 37.3

and was refused entry to the facility.

I advised the receptionist that the

normal temperature range is anywhere

between 36.5 and 37.5 degrees Celsius.

She replied that her instructions were

that nobody with a temperature over

37.2 would be permitted entry and

the recently contracted security guard

next to her desk would see those

instructions were carried out.

We were both stunned.

A paramedic employed by a

jurisdictional ambulance service is

being refused access to a patient that

on-site nurses had deemed to require

urgent care and transport.

My question to you is; is that legal?

The question 'is that legal' raises

so many issues because there

are so many relationships at play.

The operator of the facility has a

duty to try to minimise the risk of

COVID-19 to residents and staff,

they also have a duty to ensure that

residents get the medical care they

need. Victoria ambulance also owes

various duties to everyone involved.

The receptionist and the security

guard have obligations to obey the

directions of their employer and

you cannot expect them to know

whether 37.5o is or is not safe if

they've been told no-one above 37.2

o is to come in. And you may think

that's an unreasonable and arbitrary

line but all lines are arbitrary and

we don't know who came up with

the 37.2 line or on what basis, but

if it is a nursing home one might at

least expect that medical advice was

considered.

With all those variables the only

question I'm going to answer is

'is it legal to exclude a paramedic

employed by Victoria ambulance'?
---
The Ambulance Services Act

1986 (Vic) does not give any

statutory authority to allow

Victoria Ambulance to insist on, or

force entry (compare that to the

Ambulance Services Act 1991 (Qld)

s 38 'Powers of authorised officers').

There is therefore no offence in

refusing paramedics entry. (There

may be relevant offences and

obligations under nursing home

licensing legislation regarding the

proprietor's obligations to residents

but that is about the proprietor's

duties to the patients and that is

beyond the scope of this blog).

The common law of necessity

would suggest that paramedics

can force entry – see Paramedics

forcing entry to premises (March

25, 2014). The response has to be

proportionate however and here

they were not refusing entry to

Ambulance Victoria or to everyone,

just to one person. The other

paramedic, my correspondent could

go in and assess the patient and

other paramedics may have been

allowed in. Using force to push past

the receptionist and security guard

would not only inflame the situation

and risk injury, it may also have been

unreasonable in the circumstances.

The Ambulance Services Act 1986

(Vic) s 39B says:

At the request of an operational staff

member providing care or treatment

to a patient or attempting to provide

care or treatment to a patient,

a police officer is authorised to

remove any person who interferes

or may interfere, by his or her

presence or otherwise, with the

provision of care or treatment.

Police could have been called and

they could have 'removed' the

receptionist and security guard but

whether they would have done so is

another question.

Imagine a paramedic turned up,

untidy, obviously dirty uniform,

unclean hands dirt with obvious dirt

under the fingernails etc and strong

body odour suggesting that they

hadn't had a shower for some time.

I don't think anyone would think it

would be unreasonable for a health

facility to say 'you're not coming in

here'. In COVID-19 times the health

risk is not so obvious but if there are

indicia (in this case a temperature

over 37.2o ) why would the right to

refuse be any different?

Things are legal unless there is a

law that says they are not. The

Ambulance Services Act 1986 (Vic)

does not say that an occupier has to

allow access to the paramedics, and

in this case they were not refusing

access to Ambulance Victoria just

one paramedic. And if one were to

consider their duty to their residents

one cannot say that refusing

access to this one paramedic was

unreasonable where the institution

had determined an indicium for

access. Whilst that decision may

have created an increased risk

to one patient (ie they would be

assessed by one, rather than two

paramedics) it also reduced another

risk to all the residents (the risk of

introducing COVID-19). It would no

doubt be subject to a lot of expert

evidence before anyone could

determine whether the decision was

or was not a reasonable response to

the competing risks.

Conclusion

Given that they were not refusing

access to Ambulance Victoria, and

they were not refusing access for no

reason I cannot see that the action

was prohibited or unlawful. It was

not a breach of any provision of the

Ambulance Services Act 1986 (Vic).

The issue is not however 'was the

action legal?' but 'was the indicia

reasonable?' and that's a question

for clinicians.

This article originally appeared on the

blog Australian Emergency Law (https://

emergencylaw.wordpress.com/) and is reproduced

with the permission of the author.

As a blog post it represents the author's opinion

based on the law at the time it was written. The

blog, or this article, is not legal advice and cannot be

relied upon to determine any person's legal position.

How the law applies to any specific situation or

event depends on all the circumstances.

If you need to determine legal rights and obligations

with respect to any event that has happened, or

some action that is proposed, you must consult

a lawyer for advice based on the particular

circumstances. Trade unions, professional

indemnity insurers and community legal centres can

all be a source for initial legal advice.

www.ausemergencyservices.com.au 10
---
WHERE ARE WE AT WITH

DEVELOPING A VACCINE

FOR CORONAVIRUS?

SARS-CoV-2, the virus that causes

COVID-19, is changing how we live.

With a rapid increase in cases, we

are now isolating in our homes to

"flatten the curve".

However, it will be nearly impossible

to eradicate the virus simultaneously

all around the world. And when we

do emerge from isolation, the virus

could potentially re-establish itself.

Our best chance to keep it in check

in the future will be to develop a

vaccine.

Australia's CSIRO has just begun

testing two new vaccine candidates.

These are just two of many potential

vaccines that scientists are working

on around the world.

VACCINE DESIGN BASICS

All vaccines must contain two

components:

• the adjuvant, a molecule that

acts as a "danger signal" to

activate your immune system

• the antigen, a unique molecule

that acts as a "target" for the

immune response to the virus.

The adjuvant must be mixed with

the antigen to activate an immune

response. But you can't induce any

old immune response – you must

trigger the right type of response for

the infection you're targeting.

Researchers divide immune

responses broadly into those that

make:

• antibodies, which bind to the

surface of viruses to prevent

infection of cells

• T cells, which kill cells that have

become infected with the virus.

Adjuvants and antigens are selected

to induce antibody and/or T cell

responses to ensure we have the

right kind of immune response

against the right target.

The ideal vaccine would be safe,

easy to administer, simple and

cheap to manufacture, and provide

long-term protection against

COVID-19. This protection would,

hopefully, completely prevent

infection with SARS-CoV-2.

But, to begin with, we'd even be

happy with a vaccine that could

reduce the amount of virus

generated during a typical infection.

If an infected person is making less

virus, they are less likely to infect

others. Less virus could also reduce

the amount of damage caused by an

infection in the patient.

KNOW YOUR ENEMY

To design an effective vaccine for

SARS-CoV-2, we need to understand

the virus.

The genetic sequence of SARS-

CoV-2 is very similar to two other

coronaviruses – 79% identical to

the original SARS (severe acute

respiratory syndrome) from 2003,

and around 50% identical to MERS

(Middle East respiratory syndrome)

from 2012.

Researchers working on SARS and

MERS vaccines are now providing

critical basic information on vaccines

that may work for SARS-CoV-2.
---
KYLIE QUINN

Vice-Chancellor's Research Fellow,

School of Health and Biomedical Sciences,

RMIT University

DAMIAN PURCELL

Professor of virology and theme leader

for viral infectious diseases,

The Peter Doherty Institute for

Infection and Immunity

This article was first published on "The Conversation"
---
We know COVID-19 patients who

develop severe disease have low

numbers of T cells, but we don't have

clear evidence of whether T cells can

protect against COVID-19.

We know some experimental vaccine

designs for MERS and SARS can make

disease symptoms worse in animals,

but we don't know whether this would

happen with SARS-CoV-2.

The basic components of a vaccine include the adjuvant and the antigen.

Since there are still a lot of

unknowns, we have to cover all

bases. Fortunately, dozens of vaccine

designs are now advancing towards

clinical testing.

Other researchers working on viral

vaccines for dengue, Zika, hepatitis C,

HIV and influenza are also pivoting to

use their knowledge for SARS-CoV-2.

The SARS-CoV-2 virus uses ribonucleic

acid (RNA) as its genetic material.

This is usually associated with high

mutation rates, which can be a

problem for vaccines, as viruses can

mutate their antigens to evade the

immune response. Fortunately, SARS-

CoV-2 seems to have a moderate rate

of mutation to date, meaning it should

be susceptible to a vaccine.

The SARS-CoV-2 viral particle is

covered by "spike" proteins. This spike

protein binds to a molecule on the

surface of lung cells called the human

angiotensin-converting enzyme 2

(ACE2).

THERE'S A LOT WE STILL DON'T

KNOW

Importantly, for SARS-CoV-2 vaccines,

we don't yet know what type of

immune response is needed.

We know patients who recover from

COVID-19 can produce antibodies,

but we don't know what kind of

antibodies.

VACCINES IN THE PIPELINE

Vaccine development during a

pandemic happens at a global scale

and is underway in several countries,

including Australia.

The first vaccine to make it into

clinical trials in mid-March is a lipidencapsulated

mRNA vaccine. For this

vaccine, a short piece of the genetic

material from the virus (mRNA) is

There's a lot of spike protein on the

outside of the virus, making it a prime

target for our immune response. So

most researchers have focused on

the spike protein as an antigen for

SARS-CoV-2.

The spike protein may be a good target for a potential vaccine.

Insurance Services Pty Ltd

www.irecon.com.au

Irecon offers the backing of one of Australasia's biggest General Insurance Brokers.

Our knowledge of the local insurance industry is second to none and our experience in handling

insurance for many thousands of customers enables us to provide dependable advice you can always trust.

Unit 4 / 31 Cawdor Rd, Camden, NSW, 2570 customercare@irecon.com.au 02 4655 4311

13

www.ausemergencyservices.com.au
---
coated with an oily layer (lipid).

The lipid helps the mRNA get inside a

person's muscle cells, and the mRNA

provides a blueprint to make the

spike protein the antigen (target).

The mRNA itself acts as an adjuvant

(danger signal).

This vaccine is now being given to

volunteers in a phase I clinical trial in

Seattle.

The main advantage of this vaccine

is that it can be manufactured very

quickly. The DNA sequence of SARS-

CoV-2 used to design this vaccine

was first published in January and

the vaccine was ready for trials in

mid-March, which is an incredibly tight

turnaround for a vaccine.

But this type of vaccine has not been

widely used in humans and we don't

know if it will induce robust immune

responses. While modest immunity

would be better than no immunity,

we may need additional, more potent

vaccines in the longer term.

Another type of vaccine researchers

are exploring is called a subunit

vaccine. In a subunit vaccine, the spike

protein is used as the antigen (target),

mixed with an adjuvant (danger signal)

to activate the immune system. The

shape of the spike protein must be

highly consistent to generate a robust

immune response.

A team at the University of

Queensland is using a "molecular

clamp", which is a short piece of

protein that holds a larger protein in

the correct shape. They are working

together with CSIRO, which is now

producing large quantities of this

clamped antigen and is beginning

testing of this and other vaccines.

We're moving through the vaccine pipeline quickly to develop a vaccine for COVID-19.

There are also newer approaches,

such as "viral vector" vaccines.

Scientists make a viral vector by taking

genetic material from SARS-CoV-2

and inserting it into a harmless virus.

When this is given to a person, the

docile viral vector can't cause any

disease but it looks like a vicious virus

to the immune system, and so it can

generate robust immune responses.

These vaccines were rolled out rapidly

for the Ebola epidemic in West Africa

in 2014 and in Congo in 2018/19 with

promising results.

They're on their way for SARS-CoV-2,

with CSIRO beginning to test a viral

vector called ChAdOx1.

Finally, researchers are trialling a

vaccine called "BCG". This vaccine

was developed 112 years ago for

tuberculosis, but it seems to also

provide general health benefits.

Infants vaccinated with BCG had

better overall survival and fewer viral

respiratory infections in conditions

with higher mortality and more

circulating infections.

We don't know how a tuberculosis

vaccine can protect against unrelated

viruses but researchers at a number

of institutions, including the Murdoch

Children's Research Institute, are

preparing to trial the BCG vaccine

in health-care workers to see if it

reduces COVID-19 infections or

disease severity.

MOVING AT AN UNPRECEDENTED

SPEED

Vaccine development is usually a long

process involving both pre-clinical and

clinical testing. For example, it took

more than 15 years for Professor Ian

Frazer and his team to develop and

license the human papillomavirus

(HPV) vaccine.

In stark contrast, experts have

estimated a vaccine for SARS-

Cov-2 may take 12-18 months. A

huge international infrastructure is

mobilising to develop a vaccine at an

unprecedented speed.

However, safety will always be

paramount with vaccines, so

researchers are accelerating but not

skipping clinical trials. Now we eagerly

await the initial results.

www.ausemergencyservices.com.au 14
---
Lets Talk Mental

Health

with Associate Professor

Erin Cotter-Smith

MENTAL HEALTH ON THE FRONTLINES OF THE

COVID-19 PANDEMIC:

The risk of "moral injury"

As millions of people are currently

staying at home around the world

to minimise the transmission of

COVID-19, essential frontline workers

are doing the exact opposite. They

go to work and put themselves at

risk of exposure to help protect their

communities.

Figures reported in The Lancet

indicate that more than 3300 healthcare

workers in China had been

infected as of early March. In Italy,

around 20% of responding healthcare

workers have been infected.

Frontline workers have been

describing physical and mental

exhaustion after making difficult triage

decisions and dealing with the pain of

losing patients and colleagues – all in

the ever-present threat of exposure

and infection.

And as the pandemic continues,

access to personal protective

equipment (PPE) decreases, with

personnel in some facilities treating

patients with limited access to gloves,

masks and gowns.

15

www.ausemergencyservices.com.au
---
Impossible decisions

The COVID-19 pandemic will likely

put essential frontline workers in an

unprecedented predicament, forcing

them to make impossible decisions

around how best to allocate scant

resources to equally needy patients,

how to balance the needs of the

community with their own physical

and mental health care needs, and

how to align their duty to patients

with their duty to their families.

Making these decisions will likely

impact their mental health and

could result in the development of

what we call moral injury.

The emergence of "moral injury"

The term moral injury emerged

from work with military veterans

to describe the psychological

consequences of bearing witness to

the aftermath of human suffering

and failing to prevent distressing

outcomes.

The idea helps conceptualise the

ways in which a person's sense of

self and the world is disrupted by

a betrayal of their sense of "what's

right". During a pandemic, they may

be forced to make decisions that go

against their usual standards and

moral code, resulting in negative

thoughts about themselves or

others (e.g. "I am a terrible person"

or "the decisions we made cost a

life").

Those who develop moral injuries

are likely to experience feelings of

guilt and shame, which can result

in social isolation and emotional

numbing.

While moral injury is not a clinical

mental health condition, if left

unaddressed, these moral injuries

can go on to contribute to the

development of conditions like

depression, anxiety, post-traumatic

stress disorder (PTSD) and even

suicidal ideation.

Writing in a new analysis piece in

The BMJ Professor Neil Greenberg

and co-authors applied the concept

of moral injury to COVID-19 frontline

workers.

They outlined the relevance and

value of the concept as a framework

to help understand the mental

health challenges faced by frontline

workers - suggesting that these

types of moral injuries would

inadvertently result from their

actions - or lack of - which violate

their moral or ethical code.

It is likely that during the COVID-19

pandemic many frontline workers

will encounter situations where they

have to make difficult decisions,

where they have to withhold

potentially life-saving care because

there are not enough resources to

go around.

Some will encounter situations

where instead of being able to say

to a grieving relative "we did all we

could" - they will only be able to say,

"we did the best we could with the

resources we had available" – and

that won't be enough.

That is the seed of a moral injury. It

will hurt, and perhaps hurt for a long

time, unless we now start to prepare

and support frontline workers who

will have to face this challenge.

What can we do to mitigate these

moral injuries?

So how can we help protect those

on the frontlines from moral injury?

Preparedness is key. Everyone on

the frontlines needs to be aware of

the moral dilemmas that they are

likely to face.

Professor Neil Greenberg said that

there is a real and pressing need

to acknowledge the mental health

challenges that healthcare workers

will face over the coming months in

order that the right support is made

available to them in a timely fashion.

Social support will be useful in

the management of psychological

distress but where shame is an

element of the distress, social

contact and asking for help will

often be avoided. Those on the

frontlines should therefore be

actively encouraged to talk about

their experiences within the safety

of groups who have had to make

similarly difficult decisions.

Furthermore, essential frontline

workers should be adequately

prepared to face the moral

dilemmas that will be associated

with the pandemic, meaning they

Associate Professor

Erin Cotter-Smith

PhD, MPH, MClinEpi

Course Coordinator

Edith Cowan University

Research Consultant

The Code 9 Foundation

need to provided with a full and

realistic assessment of what they will

likely face – and the decisions they

may need to make.

Leaders should help make sense

of morally challenging decisions

through active discussion and

by encouraging the use of peer

support programs. It is also integral

that leaders are aware that no one

on the frontlines is invulnerable to

moral injury - even the most resilient

team members may become

overwhelmed.

There is a need to ensure that all

those providing vital functions on

the frontlines of this pandemic are

supported through any difficult

decision-making processes.

And after the pandemic is over…

We will need to take the time to

reflect on - and learn from - the

extraordinarily difficult experiences

of frontline workers the world over

in order to create a meaningful,

rather than traumatic, narrative.

www.ausemergencyservices.com.au 16
---
GROWTH THROUGH TRAUMA

HOW EMERGENCY

SERVICE WORKERS

CAN RECOVER AND

MOVE FORWARD IN

THE AFTERMATH OF A

NATIONAL CRISIS

It's been a challenging start to

the year for many people – but

for Australians, the current

COVID-19 crisis is not the first we've

faced this year. Indeed, Australia's

recent bushfire crisis has made

history as one of the largest and

most catastrophic natural disasters

on record. Garnering worldwide

attention, the fires ravaged homes,

wildlife, and millions of acres of

Australian bushland, leaving behind

little more than blackened debris. At

the peak of the crisis, smoke clouds

were even visible from space. But

despite the widespread destruction,

not all of the damage inflicted has

been as clear to see. For emergency

service workers suffering posttraumatic

stress and anxiety, it's the

invisible bruises that are often the

most difficult to heal.

In an interview with a major

newspaper, former Fire and Rescue

NSW Commissioner Greg Mullins

voiced concerns about the welfare

of firefighters in the heart of the

crisis, reporting many were traveling

long distances to work 12-hour

shifts in gruelling conditions with

"nothing left in the tank". The same

could be said for the hundreds of

SES workers and paramedics, who

no doubt faced equally horrific

scenes rescuing and treating

distressed residents. Indeed, it is

likely the same reality currently

facing the hundreds of thousands

of healthcare workers fighting to

contain the Coronavirus.

Emergency service workers play an

integral and indispensable role in

our community, and in the midst of

Stuart Taylor

CEO and

Co-founder

of Springfox

For over a decade, Stuart has engaged and

inspired with his workshops, keynotes and

conference presentations to more than 20,000

people globally with measurable impact

achieved across many organisations.

His early career included periods of rapid

advancement within organisations as diverse

as the Royal Australian Air Force, KPMG,

and Heinz, developing his broad experience

in aerospace engineering, IT, finance and

psychology.

A potentially devastating diagnosis of brain

cancer in 2002 led Stuart on a personal

journey back to physical, cognitive,

emotional and spiritual health. The

experience gave Stuart a unique appreciation

of the tangible benefits of the practices that

helped him overcome a 2.5-year prognosis

and demanding cancer treatments.

Stuart became a strong advocate for

incorporating cultural practices into the

Australian workplace to nurture wellbeing

through the body, heart, mind and spirit.

Stuart formalised this resolve in 2003,

founding The Resilience Institute in Australia

- now Springfox.

Stuart's broadened perspective and empathybased

approach enables him to identify

challenges and customise effective strategies

for clients seeking optimal organisational

performance. Stuart's ultimate purpose is

helping people and organisations, typically

through leadership and senior teams, shift

into a more compassionate space in order to

reach sustainable high performance.

www.springfox.com
---
a crisis, it can be all too easy for these

everyday heroes to disregard their

own well-being. This is something we

witnessed during the recent bushfire

crisis, and something we're seeing

again now as COVID-19 sweeps

across the globe. Yet despite the

stress and high stakes of working

on the frontline in the heat of the

moment, it's typically in the months

following an event that emotional and

mental trauma is most acute.

The consequences of trauma are

significant for anyone, but for

emergency service workers in

particular, there's often a lot more

on the line. On a professional

level, the impact of trauma can

lead to impaired performance,

slower reaction times, and difficulty

communicating or making decisions.

This can also extend outside the

workplace leading to strained

relationships, anxiety, withdrawal,

sleep difficulties and depression.

Knowing how to recognise, recover

from and move forward after trauma

is a vital part of looking after our

health and well-being, especially

for those in a line of work that so

frequently encounters chaos and

distress.

RECOGNISE & RECUPERATE

Not everyone will feel diminished by a

traumatic event, but many will – and

it's important to be able to recognise

even the more subtle symptoms, as

well as those that may be developing

months after. For firefighters and

emergency service workers, this may

already be a reality; for healthcare

workers currently dealing with an

influx of virus cases, this is likely

around the corner. Mood changes

like increased agitation, irritability or

hostility and feelings of hopelessness,

guilt or self-depreciation are key

indicators of emotional trauma. You

may also experience a loss of interest

or pleasure in previously enjoyed

activities and may feel a sense of

detachment from those around you.

The first step in recovering from

trauma is to be patient and allow

yourself time to recuperate. The

nature of emergency service work is

undeniably demanding but carrying

on with the job while suffering

emotional trauma will only worsen

mental ill-health in the long term.

Especially in the aftermath of a crisis,

taking adequate time off to rest

and restore yourself mentally and

physically is vital. Surround yourself

with trusted friends and family

who can provide non-judgemental

support and seek professional

help from a qualified counsellor if

you're struggling to process your

thoughts and feelings. Talking

about traumatic experiences can

be extremely confronting but it also

plays a significant role in recovery

and growth.

REPLACE PERFECTIONISM WITH

PERSPECTIVE

Emergency service work presents a

challenge unlike any other profession.

In complex and unpredictable

environments, police, firefighters and

paramedics typically have little to no

control – circumstances can change

rapidly, and there is often a high risk

of injury or death. This puts immense

pressure on those providing aid,

where the inability to achieve a

desired outcome can lead to a sense

of guilt or failure.

This is where emergency service

workers must seek perspective,

especially when recovering from

trauma. For those who dedicate

their lives to helping others, it will

often feel natural to operate from

a place of sympathy or over-caring,

where there is an unrealistic desire

to solve every problem. Yet in highrisk

situations where very little can

be controlled, this is simply not

possible. In order to both nurture

positive mental health and achieve

optimal performance, emergency

service workers must shift to

operate from a place of compassion,

rather than sympathy. Springfox

defines operating with compassion
---
as managing factors within your

control and assisting to the best of

your ability, while recognising your

limitations. Particularly for those

dealing with trauma, this shift in

perspective is critical in lifting the

burden of responsibility and paving

the way for recovery.

BUILD RESILIENCE TO PREVENT

FUTURE TRAUMA

The saying goes that time heals all

wounds, yet in many cases this is only

a half truth. Months after the worst of

the bushfires have been contained,

exhaustion and physical injuries will

likely be beginning to heal – but when

it comes to emotional trauma, there

is more that must be done in order to

fully recover from and prevent further

damage.

Building mental and physical

resilience is the first and arguably

most important step in this process.

Our recent Global Resilience Report

found that proactively investing in

resilience reduces symptoms of

distress and physical vulnerability by

up to 30%. As well as seeking comfort

from loved ones and professional

support from a qualified counsellor,

trauma recovery requires a conscious

shift in thinking or perspective. Rather

than focusing on failings or situations

beyond your control, remind yourself

of your strengths and consider

the positive impact your work has

enabled you to contribute. This shift

in thinking will allow you to reframe

your experiences and your role

at work more broadly, providing a

means to construct a positive ending

to an otherwise negative story.

Bolster these cognitive efforts by

implementing practical daily habits to

aid recovery and support overall wellbeing.

Prioritise rest and sleep and

aim for a solid 7-8 hours per night,

and consume a nourishing, balanced

diet to ensure your mind and body

are receiving essential nutrients.

Make time wherever possible for at

least 30 minutes of physical exercise

a day, even if this is simply an evening

walk after dinner. These seemingly

insignificant habits play a crucial role

in enabling well-being by forming,

in effect, a preventative scaffolding

to support us in times of trauma.

Without this structure to support us,

we are particularly vulnerable to the

emotional impact of a crisis.

Growing through a traumatic

experience can be a challenging

process, but it is one worth pursuing.

It's a process that begins with

recognition and recovery and ends

with an enhanced mindset and a

greater sense of purpose. For the

men and women who dedicate their

lives to serving others, trauma is an

unfortunate but inevitable part of

the job – but through taking time to

pause, reframe and prioritise wellbeing,

emergency service workers

can better equip themselves for the

next time duty calls.

Stuart Taylor - CEO & CoFounder of Springfox

Traumatic Stress Clinic

Sydney Australia

()

02 8627 3314

@

www.ausemergencyservices.com.au 20
---
ANZAC DAY 2020

Lest We Forget
---
NOW IS THE TIME TO

HONOUR AND SERVE

THOSE WHO HAVE

SERVED US

With Anzac Day fast approaching, it's time to not only thank the brave veterans

who have nobly served this country, but to also ensure that our country is

serving them in return.

Words: Jess LeFanu

The Department of Veterans'

Affairs (DVA) and The Australian

Institute of Health and Welfare

(AIHW) have recently established

a 4-year strategic partnership that

seeks to create a comprehensive

profile of the health and welfare of

Australia's veteran population. From

2017 to 2021, the two groups look

to determine how the needs of

veterans differ from those of

the general population.

It seems the mental health

of our former defence

members is of the greatest

concern. With a report from

the AIHW recording that

2010, nearly 1 in

5 serving Australian

Defence Force (ADF)

personnel were estimated

to have sought help for

stress-related, emotional,

mental health or family

problems over a 12 month period, it's no

wonder the health and welfare of these

individuals is in need of closer attention.

More recently, the National Hospital

in Morbidity Database found that anxiety

disorders, which includes Post Traumatic

Stress Disorder (PTSD), were the most

common reason for Department of

Defence-funded hospitalisations for

men aged 18-54 in 2015-16. The

same was recorded for DVA-funded

hospitalisations during that time for
---
men aged 55 and over, highlighting a

worrying trend in the wellbeing of our

veterans.

Unfortunately, the breakdown of

mental health can lead to other more

troubling circumstances. According

to findings from the Homelessness

Amongst Australian Veterans research

project released last year, almost

5,800 defence veterans experienced

homelessness in a 12 month period,

indicating a far bigger issue than what

has previously been suggested.

The research project aptly

determined that defence

veterans are more likely to

be homeless than other

people in the Australian

community. With the

homelessness rate for the

general population

sitting at 1.9 percent,

researchers were

surprised to

calculate a

percentage

of 5.3 among

veterans who have

recently left the ADF.

These significant figures tend to

suggest a lack of adequate policies

in place for our veterans. However,

the DVA and Department of Defence

currently offer a housing assistance

program with the sole aim of

supporting individuals in maintaining

housing and avoiding homelessness

through a variety of services including

rent assistance and social housing

options.

Remarkably, a report from the AIHW

in 2017-2018 showed the ex-serving

defense members' use of these

homelessness services was actually

lower than that of the Australian

population - 1.1% compared with 3.4%

- suggesting that the issue may lie with

veterans being reluctant to ask for

assistance in the first place.

Yet another concerning trend

among the ex-military men of our

country is their rate of imprisonment.

According to an Australian prison audit

conducted in South Australia last year,

ex-service members are imprisoned

twice as often as men in the general

Australian population.

Unfortunately, the lack of support

for the mental health issues affecting

these individuals is then worsened

when they are incarcerated because

the Department of Veterans Affairs no

longer provides assistance.

Without proper support networks

and rehabilitation services in place

for the mental wellbeing of these

imprisoned ex-servicemen, there

is a real possibility of remaining in

the detrimental cycle of offending

and reoffending or even more dire

consequences.

Perhaps the greatest concern within

the Australian Defence Force and

the wider Australian community is

about suicide among serving and exserving

ADF personnel, with ex-serving

members, in particular, facing an

increased risk. Alarmingly, the suicide

rate for ex-servicemen is nearly 20%

higher than the national average, with

ex-servicewomen twice as likely to take

their own lives compared with other

Australian women.

Additional data from the Australian

Institute of Health and Welfare

suggests that ex-serving men aged

between 18-29 have a higher

suicide rate when compared

with Australian men of the

same age. The same AIHW

report also recorded 419

suicides from 2001-2017

in serving, reserve

and ex-serving

Australian Defence

Force personnel

who have served

since 2001,

encouraging the

government to

introduce further suicide

prevention and mental

health support services for both

personnel and their families.

The Federal Minister for Veterans

and Defence Personnel Darren

Chester described the deaths within

the veteran community as 'tragic.'

He added, "The only acceptable

number [of suicides] is zero. There

are improvements being made...but I

know more can be done to ensure we

are supporting our veterans and their

families now and into the future."

Earlier this year, Prime Minister Scott

Morrison made the announcement

that Australia will set up an

independent body to investigate

military veteran suicides. Backed by

At Melbourne Machinery Hire

we supply dry hire machinery fit for your needs.

Wet hire options subject to availability.

SHORT TERM AND LONG TERM HIRE AVAILABLE.

PLEASE CONTACT TONY ON 0422 715 038 FOR PRICING.

info@melbournemachineryhire.com

0422 715 038

23

www.ausemergencyservices.com.au
---
$40 million of government funding,

the body will be led by a permanent

commissioner who will explore and

recommend ways to boost mental

health within Australia's armed forces.

A Veteran Family Advocate will also

be appointed to represent the views

of veterans and their families, shape

policy and advocate for changes to

current veteran services and benefits

on offer.

The Department of Veterans' Affairs

estimated, as of 30 June 2018, that

there were 641,000 living Australian

veterans who have ever served in the

ADF. For current serving members,

the Department of Defence provides

health care that covers a range of

services including primary health care,

dental care, mental health services,

hospital care, rehabilitation and

specialist services.

For those that have transitioned to

civilian life, health care services are

available under the same conditions

that apply to everyday Australians,

including Medicare and private sector

services. However, veterans may also

be entitled to a range of support

provided and funded by the DVA. This

support consists of health and welfare

services that include counselling in

addition to medical, pharmaceutical

and specialist services.

Additional support is also available

to assist with the transition from

military to civilian life and covers career

counseling, financial information,

employment and interview skills,

training and education, and more.

These vital services, along with

others supported by the DVA and

Department of Defence, look to be

improved through the independent

body promised by the Prime Minister.

The high rate of homeless and

imprisoned veterans, along with a

disturbing spike in the suicide rate of

ex-members, seems to highlight the

challenges some veterans may face

transitioning from military service back

to civilian life. It has been suggested

that certain aspects of military service

can make it challenging to maintain

relationships and social support once

they leave the defence force, which

is why it is essential that our veterans

receive appropriate resources.

Thankfully, the Australian government

seems to be taking a step in the right

direction in regards to veteran services

as they bring to light the issues

affecting our ADF personnel. As Prime

Minister Morrison said in a statement,

"Those veterans and all serving men

and women protect our community

and our freedoms. It is our duty to do

the same for them."

If you or someone you know needs

help, contact Lifeline on 13 11 14

or visit lifeline.com.au for additional

resources.

Open Arms Veterans & Families

Counselling provides mental health

and wellbeing support for current and

ex-serving Australian Defence Force

personnel and their families. Visit

openarms.gov.au or phone 1800 011

046 for assistance.

info@silverspade.com.au

CANADA BAY NSW 2046

www.silverspade.com.au 0410 101 011

www.ausemergencyservices.com.au 24
---
In Memoriam

ARNOLD FORRESTER

Words: Jess LeFanu

Images: Australian War Museum
---
Born in Daylesford on the 25th

of August 1919, Arnold William

Forrester spent his early childhood

moving between rural mining

towns in country Victoria. As the

Great Depression began crippling

the country, 10-year-old Arnold

went to live in Melbourne with his

great aunt. There, he continued his

schooling until turning fourteen and

going to work at the Preston Hosiery

Factory.

When WWII began in 1939, the

factory became a reserved industry

and took on numerous government

contracts. Shifting its focus from the

production of stockings, the Preston

Hosiery started making thousands

of long wool socks for enlisted

soldiers overseas.

Over the next two years, the war

intensified in the Pacific and Arnold

was called up to join the army just

a couple months after his 21st

birthday. Shortly after receiving the

call-up notice by mail, he joined the

57/60th Battalion and spent only a

few days "country bush training" in

Seymour, VIC before being informed

that a special unit was being

created.

Ten men from Arnold's battalion

were required for the new unit

being sent to Bacchus Marsh and

when no volunteers emerged,

names were simply drawn from

a hat. The tenth name selected

belonged to an eighteen year old

boy with a widowed mother back at

home. When the poor lad became

emotional over being chosen, the

decision was made to redraw.

Arnold Forrester was the next name

pulled from that hat, thus propelling

him into the now infamous 39th

Infantry Battalion.

Approximately ten weeks from

the time Arnold initially joined

the 57/60th, it was time for him

to set sail out of Woolloomooloo.

With no proper training for the

jungle conditions he would soon

experience and only "a bit" of

rifle shooting on the range, he

boarded the Aquitania as one of two

thousand soldiers from the 53rd

and 39th Battalions on their way to

Papua New Guinea.

Arnold Forrester was a company

runner during the battles against

the Japanese on the Kokoda Track

in 1942. The 39th Battalion spent

nine days traversing through rain

and thick mud, crawling on hands

and knees to make it over the almost

vertical peaks of the dense jungle

terrain. Walking for eight hours a day

and enduring intensely cold nights,

these brave soldiers became an

integral part of the Battle of Isurava.

It was while withdrawing from

this particular battle that Arnold

Forrester became instilled in

Australian war history as part of the

infamous photo by award-winning

war cinematographer, Damien Parer.

The image captures Arnold and five

other men from his battalion smiling

and carrying rifles as their shoes sink

deep in the muddy Kokoda Track.

In a 2004 interview for the

Australians at War Film Archive, Mr.

Forrester spoke about not recalling

the day the photo was taken. He

said, "I don't know anything about

it. I don't remember. We were just

happy to be relieved and getting

out."

After the war ended, Arnold headed

back to country Victoria and worked

briefly for the Forestry Commission

before spending 28 years at the

largest fish hatchery in the state.

On his 60th birthday in 1979, he

was awarded a Queen's Medal for

his long and faithful service. Invited

to Government House for the

presentation, he stood beside fellow

medal recipients Ron Barassi and

Stirling Moss.

Mr. Forrester relocated to Townsville

in his later years, but remained

friends with all the men featured in

the iconic war photo. They gathered

once a year for dinners held by the

Kokoda Track Foundation and also

at reunions for the 39th Infantry

Battalion.

Over the years, Arnold attended

numerous Anzac Day celebrations

including one memorable service

back on Papua New Guinean soil.

Gathered at dawn, onlookers watched

as a group of present day soldiers

were brought over on a barge to

recreate the beach landing that

took place all those years ago. Mr.

Forrester said to the Australian at

War Film Archive about the service,

"It's all very, you know, it brings back

memories."

A veteran through and through,

Arnold Forrester was outraged in

2011 when the decision was made

to ban WWII Diggers from marching

in the Townsville Anzac Day parade.

Presented with the option of riding in

a restored military vehicle so as not to

slow down proceedings, the then 91

year old told the Townsville Bulletin,

"It is a march all said and done and in

my book, we should be able to march

if we are able. We won't hold up

proceedings."

Still going strong, Mr. Forrester

celebrated his 100th birthday in

August 2019 surrounded by friends

and family. He was proud to have

received letters from Prime Minister

Scott Morrison and Queen Elizabeth

II on the day. His daughter, Margaret

Pavlovic, told 7NEWS Townsville, "He's

the most incredible person for his

age, still got his faculties and still has

a sense of humour."

Arnold William Forrester passed away

in February of this year and was the

last surviving veteran of the wellknown

Kokoda Track photograph

that has been printed in history

textbooks and proudly displayed in

war memorials. He was a celebrated

WWII soldier who bravely fought for

his country and will be remembered

by many this Anzac Day and into the

future.
---
THE GREAT WAR

WW1

An examination of how and why this event

unfolded, its impact at the time, and its relevance

to politics today.

Romain Fathi

Lecturer, History, Flinders University
---
In October 1918, a young man was

temporarily blinded on the Western

Front and evacuated to hospital.

For four long years, he had served in

the German Army alongside 11 million

men.

Whether his blindness came from a gas

attack or a sudden bout of nerves is

still being debated. But it is clear that,

like hundreds of millions of people

at the time, his wartime experience

shaped the rest of his life.

This was during the first world war –

the foundational event of the violent

20th century – and that young man

was Adolf Hitler.

WHAT HAPPENED?

Sparked in the Balkans as a result of

European nationalism and imperial

rivalries, the first world war raged from

July 1914 to November 1918. It pitted

the 48 million soldiers of the Allies –

led by the French, British and Russian

empires – against the 26 million

soldiers of the Central Powers – led by

the German, Austro-Hungarian and

Ottoman empires, who lost the war.

It was a truly global conflict fought on

battlefields across the world, but also

on the home front – in people's living

rooms, fields and factories.

THE IMPACT OF THE GREAT WAR

Over four long years, the world

collapsed in what was then the largest

industrial war ever fought. The conflict

left over 10 million soldiers and 6

million civilians dead.

Over 20 million men were wounded

– both physically and mentally –

rendering them unable to resume

civilian life. What's more, the war

facilitated the spreading of the Spanish

flu pandemic, which killed at least 50

million people in 1918-19.

AND FOR WHAT?

The Allies' "victory" in 1918 did not

result in a safer and better world, and

the first world war failed to become

the "war to end all wars".

Conflict raged on in the Middle East

and colonial outposts right through the

1920s. For many, war did not stop with

the Armistice of November 11, 1918.

In fact, given the scale of devastation

across Europe, it is not clear who won

what.
---
"Winners" and "losers" alike

lost population, resources and

infrastructure. Yes, there were marginal

gains here and there for some, but

most countries came out of the

bloodshed crippled financially. Some

were politically crippled, too.

Perhaps one clear winner did emerge

from the conflict, however: the United

States.

The US sold materials and lent money

to the Allies during the war and,

as a result, amassed gold reserves

that underpinned its post-war

global economic dominance, while

other countries were gripped in an

inflationary spiral.

To a lesser extent, Japan, too, benefited

from the conflict. Fighting on the same

side as the Allies fuelled the country's

militarisation and imperial ambitions in

Asia.

Another outcome of the war was

the disintegration of the centuriesold

Austro-Hungarian, Russian and

Ottoman empires, alongside the more

recently-formed German empire,

forever transforming the world's

political landscape.

The first world war also prompted

the Russian Revolution, which further

altered the course of the 20th century.

The "winners" were not immune from

turbulence, either. France and Britain

were confronted to various challenges

in the colonies that had supported

them throughout the conflict, in

Africa or in India for instance. Local

populations demanded more autonomy

and at times even rebelled against their

colonial masters.

The new world that emerged from this

global conflict was one filled with hope,

but riven by unrest, revolutions and

ethnic conflicts.

A chaplain reads the burial service beside the grave of a fallen Australian in a cemetery in a wood.

A series of peace treaties, the most

memorable one being the Treaty of

Versailles of June 1919, endeavoured

to secure and build a global peace,

laying the basis for new international

institutions such as the League of

Nations. Its role was to prevent future

wars through conflict resolution and

diplomacy. But the treaty also required

the demilitarisation of Germany,

demanded that Germany acknowledge

its responsibility for causing the war,

and inflicted severe war reparations on

the country.

The end of the fighting also brought

more challenges. Tens of millions of

soldiers were demobilised and returned

home, prompting issues related to

public health, unemployment and

domestic violence. Hitler, for example,

returned to Munich with no family, no

career prospects and no place to stay.

He would resent the Treaty of Versailles

his whole life, and claim that Germany

was not defeated on the battlefield, but

stabbed in the back by internal enemies

– the Jews, the left and the republicans.

But let it not be said that the first

world war caused the second, nor that

it made Hitler who he subsequently

became. In the late 1920s, Germany

was doing pretty well under the Weimar

Republic – so well that this period was

dubbed "the Golden Age". Pacifism

was a strong bipartisan force in 1930s

France, Britain and Belgium. Another

future was entirely possible.

CONTEMPORARY RELEVANCE

Yet, in the inter-wars years, the

repercussions of the first world war

remained omnipresent.

Old empires had left a vacuum for

new states like Poland, Yugoslavia

and Czechoslovakia to form, and the

borders of those new states were soon

contested.

Even the 1929 financial crash was partly

related to the first world war. This was

because states accumulated debt to

finance the conflict, and their debt

increased even more as they continued

Deco

Sand

Ballast

Road Base

Rocks

Jenkins Quarries

Sand, Soil & Gravel Supplies

29

www.ausemergencyservices.com.au
---
orrowing to pay war reparations after

the war had ended. This contributed to

global inflation and financial insecurity,

two factors of the 1929 crash. The first

world war – or rather, its consequences

– seemed endless.

And it is those consequences which

undeniably created some of the

conditions which set the second global

conflict ablaze. Not least through

armament, such as tanks, military

aviation, submarines, chemical weapons

– all of which became weapons of

choice during the first world war and

played a crucial role in the second.

But the second world war had its own

intrinsic causes not directly related

to the first world war. These included

the development of new totalitarian

ideologies, mass media, anti-Semitism,

and the failures of the League of

Nations as well as liberal democracies

to oppose dangerous regimes.

Interestingly, some historical actors and

historians believe that the two world

wars cannot be separated, and form, in

fact, a Thirty Years' War.

Certainly, the repercussions of the

first world war are still being felt

today. Intergenerational grief and

family history spurs hundreds of

thousands of people to engage in digital

commemorations or commemorative

tourism at former battlefields.

The land, too, remains deeply affected.

In Belgium and France, for instance,

war-time explosive devices continue

to kill people, and will still be found for

hundreds of years to come.

to the first world war. The Middle East

is a case in point. Decisions taken

during and after the war laid the basis

for ongoing conflicts due to contested

boundaries and spheres of influences

in the region.

The end of the war was not the victory

the Allies claimed it was. But politicians

and military leaders had to justify the

dead and the enormous sacrifices

they had demanded from their people.

Thinking back, the most chilling part of

the vain bloodbath is that the citizens of

the belligerent nations did support the

war and its sacrifices for years, some

until the breaking point of revolt.

The first world war was a turning point

in history as it irremediably altered

political, economic, social and cultural

life around the globe. First world war

studies remain one of the most active

fields of historical research today

precisely because of the relevance of

the conflict throughout the 20th and

21st centuries.

Understanding the first world war is

thus an exercise in comprehending

the depth of human commitment to

destruction, violence and resilience at

a scale never experienced before 1914.

But it also reminds us of the fragility of

peace, and of our duty as citizens to

remain vigilant of nationalism.

This article was first published on "The Conversation"

In some places, the soil is so

contaminated by chemical agents from

the first world war that nothing has

grown there since.

Finally, much of the geopolitical

struggles of modern times date back

A group of soldiers standing below a parapet with sandbags after being damaged by enemy shells.

_

www.ausemergencyservices.com.au 30
---
The Good, The Bad & The Ugly

PARAMEDIC

Tammie Bullard is a paramedic and sessional lecturer based

in Western Australia. Author of The Good, The Bad & The Ugly

Paramedic - A pain free approach to best patient care and

professionalism.

FRONTLINE EMPATHY IS A

TWO-WAY STREET

Empathy may be a confusing and

contrary word but it is one with great

value, particularly in providing a buffer

against professional burnout and in

building positive relationships with

patients. As one of those "soft skills"

integral to the paramedic's toolkit, it

is encouraging to see how widely its

importance is increasingly promoted in

training, service delivery, leadership and

culture.

Confusion arises, for the most part,

around the definition itself. Amongst

similar concepts of sympathy,

compassion, mimpathy, compathy,

unipathy and transpathy, each holds

different meaning to the individual.

For simplicity's sake, a broad

overview of empathy may be that of

understanding how another may feel in

any given situation. Whilst compassion

and sympathy are often used

interchangeably, they are considered

less developed, more reactive

counterparts to the higher level of skill

involved in being empathetic.

In the current climate, paramedics are

feeling both the warmth of widespread

empathy, for the role we are playing in

pandemia, and the contrasting cold of

its absence. Unintentional though this

may be, the chill occurs when we are

feared as potential contaminants, or

dismissed, as we have no central hub

to safely contain ourselves within, or

forge solidarity against the danger of the

outside world.

Never before has it been more obvious

that maintaining empathy must not be

forgotten or taken for granted. It's a twoway

street whether we're in the midst

of a pandemic or stepping through the

routine of everyday life.

With the mutual co-operation of

experienced, empathetic road users,

both directions can flow in synchronicity.

Keeping to our expected paths,

indicating intentions, acknowledging

courteous behaviour with thanks and

resisting the urge to yell aggressively

demonstrate our understanding.

Respecting and following directions

or signs, exercising patience when

deviations arise and slowing down to

give way when necessary make our

empathetic approach to the situation

obvious.

So how does this apply to prehospital

roles?

PATIENTS

We became paramedics with the aim of

caring for patients during emergencies.

Attempting to briefly understand their

situation and how they may feel, can

help us to deliver the best type of care.

It might be "just another call for chest

pain" but labelling it such may render

us blind to their needs and decrease

patient satisfaction. In return, anger and

complaints become more likely with a

possible compromise to our physical,

professional and psychological safety.

BYSTANDERS

Passers-by don't sign up for

emergencies they unexpectedly find

themselves involved in. They stop to

assist out of kindness or for a myriad of

other reasons. An empathetic approach

to enlisting their help, or moving them

along, may gain reciprocal attention and

co-operation more easily whilst reducing

unnecessary frustration. Theirs as well

as our own!

COLLEAGUES

We wear the same uniform, but we're

not necessarily the same people. Whilst

it's easy to assume that someone

may be better or worse off, based

on what little we know, unless we are

intimately connected, the reality is that

we have no idea. Maintaining empathy

for colleagues, without preconceived

opinion, may help to create unity and

decrease work-based stress, whilst oneupmanship

and pity contests only widen

any divide.

SUPPORT STAFF

No matter our understanding of the

other's roles, frontline and support staff

work in vastly different environments.

The nature of emergency services is that

interaction between the two is limited,

or non-existent, therefore throwaway

comments regarding perceived

demands, habits and attitudes to

work quickly become inflammatory.

Particularly as they are most often

delivered by third parties interacting

between both areas. Bi-directional

empathy may be integral in avoiding

resentment and increasing mutual

respect, when the ability to build inperson

relationships, cannot exist.

31

www.ausemergencyservices.com.au
---
THE ORGANISATIONS WE WORK FOR

Whilst more difficult to adopt,

embracing this approach may benefit

morale, motivation and mindset.

Every ambulance service is made up

of a group of humans surrounded

by infrastructure. That's it. If we

aim to understand and therefore

empathise with how any service, as

a whole, aims to fulfil its purpose,

we gain clearer individual direction

and reduced exposure to the stress

caused by confusion or overwhelm.

We may find ways of working with

others to make this happen. We may

realise that, individually, we do not

fit the organisation's overarching

aims and begin seeking alternative

career pathways. We may strive for a

leadership role in which we can attempt

to promote positive change. We may

simply free ourselves from the shackles

of frustration by taking the "personal"

out of the "entity" with an empathetic

overview of that entity's goal, potentially

increasing our professional longevity.

INTERPROFESSIONAL SERVICE

PROVIDERS

Interactions with police, firefighters,

other emergency services, nurses,

doctors, patient care assistants,

nursing home staff, roadside recovery

technicians and multiple other

personnel are largely based on

presumption. If we can empathise with

the challenges they face, we may gain a

better understanding of their situation.

In exercising such an approach, it may

encourage similar empathy towards the

challenges we face ourselves, thereby

improving rapport.

THE PARAMEDIC PROFESSION

Overall, paramedicine garners a positive

response, but it is not something to

be taken for granted. We continually

step over the line from our territory,

into that of others, quite literally. Most

professions work at their place of

business, where patients and customers

step in, then step out. Whilst visiting,

they form an opinion of that profession,

before leaving and returning to their

own domain. Paramedics, however,

enter the domain of others for every

single call. Appearance, body language,

demeanour, words and actions

are the only tools we have to

create an impression. No

infrastructure, ambient music,

soothing smells or reception

staff to engender

positivity. If we can

use empathy and seek

to understand how

patients, families and

bystanders may perceive

our arrival and on-scene

interaction, for each call,

we are instantly equipped

with greater potential

to proceed safely and

effectively.

OUR LOVED ONES

Those that keep the home fires burning

need us to be ourselves when we are

not in uniform. If families greet us with

problems similar to three patients

we've encountered today, this does

not make them the fourth. The clock

has to re-set so that we can listen,

understand, validate and support

them. When they mention stressors

which seem trivial after the enormity of

what we've experienced during recent

shifts, we absolutely must empathise,

or risk losing meaningful connection

with others, should we dismiss their

concerns. Maintaining empathy for

those we care most deeply about, may

be vital in preventing their reluctance to

interact with us over time.

OURSELVES

We must, at all costs, maintain individual

wellbeing otherwise, as with primary

surveys, we are of no use to others

when we put ourselves in danger.

Self-empathy is pivotal in maintaining

the boundaries that each of us must

uphold, in order to feel physically and

psychologically safe.

Ultimately, during each shift, we have a

choice in whether we stick to our side of

the empathy street or not.

We can choose to travel on the opposite

side, where we continually run into

obstacles along the way until we are

left wondering why all of the other road

users are frustrated with us. Would it be

fair to still expect to bask in praise and

attention for the paramedic profession,

despite our lack of empathy and

understanding for others?

Alternatively, we can harness and

enhance this skill for the benefit

of ourselves, our families, patients,

colleagues, external associates,

organisations and the paramedic

profession. It does require some extra

effort, without doubt, but we may then

feel more deserving of the reciprocal

empathy and compassion from those

on the other side of our two-way street.

References

1. Cuff, B. M. P., Brown, S. J., Taylor, L. & Howat, D. J. (2014).

Empathy: a review of the concept. Emotion Review, 0(0), 1-10.

DOI:10.1177/1754073914558466

2. Williams, B., Lau, R., Thornton, E. & Olney, L. S. (2017). The relationship

between empathy and burnout – lessons for paramedics:

a scoping review. Psychology Research and Behavior Management,

10, 329-337. DOI:10.2147/PRBM.S145810

3. Jeffrey, D. (2016). Empathy, sympathy and compassion in healthcare:

Is there a problem? Is there a difference? Does it matter?

Journal of the Royal Society of Medicine 2016, 109(12), 446-452.

DOI:10.1177/0141076816680120

4. Soler-Gonzalez, J., San-Martin, M., Delgado-Bolton, R. & Vivanco,

L. (2017). Human connections and their roles in the occupational

well-being of healthcare professionals: a study on loneliness and

empathy. Frontiers in Psychology, 8. DOI:10.3389/fpsyg.2017.01475

5. Cameron, C. D. & Inzlicht, M. (2019). Empathy choice in

physicians and non-physicians. British Journal of Psychology.

DOI:10.1111/bjso.12342

6. Gilliam, D. A. & Rayburn, S. W. (2016). Propensity for reciprocity

among frontline employees. Journal of Services Marketing, 30(3),

290-301. DOI:10.1108/JSM-05/2015-0194

7. Schaddelee, M., Turner, S. & Gill, L. (2019). Keeping it real in

changing times: pragmatic strategies to sustain empathy. Scope

(Flexible Learning), 4. DOI:10.34074/scop.5004006

To see more about "The Good, The Bad & The Ugly Paramedic", head to

www.gbuparamedic.com or follow GBU Paramedic on social media

@gbuparamedic

@gbuparamedic

@gbuparamedic

Tammie Bullard

www.ausemergencyservices.com.au 32
---
'PANDEMIC DRONES':

USEFUL FOR ENFORCING

SOCIAL DISTANCING, OR FOR

CREATING A POLICE STATE?

Michael Richardson

Senior Research Fellow, UNSW

People in Western Australia

may soon see more than

birds in the sky, as the state's

police force has announced plans

to deploy drones to enforce social

distancing. The drones will visit

parks, beaches and cafe strips,

ensuring people comply with the

most recent round of gathering

rules.

As COVID-19 restrictions tighten

around the world, governments are

harnessing the potential of drones.

From delivering medical supplies,

to helping keep people indoors –

drones can do a lot in a pandemic.

Since the outbreak began, China

has used drones to deliver medical

supplies and food, disinfect villages,

and even provide lighting to build

a hospital in Wuhan in nine days.

Drone medical deliveries have cut

transit times, reduced the strain

on health personnel and enabled

contactless handovers, reducing the

risk of infection.

It's clear drones are helping combat

COVID-19, as governments use

them to control and monitor.

But these measures may be difficult

to rollback once the pandemic

passes. And safeguards will be

needed to prevent unwanted

surveillance in the future.

DRONE USE: CLEVER, QUIRKY AND

SOMETIMES CONCERNING

With cities on lockdown, drones

have shown uncanny images of

emptied urban landscapes from

Wuhan and metros across the

globe.

Social distancing has inspired some

quirky uses by individuals, including

walking the dog and asking for a

date.

But the main game has been about

control. China is using drones

to enforce quarantine rules and

deter gatherings that violate social

distancing rules.

One viral video showed a drone

scolding an elderly woman for not

wearing a mask. In some cases,

traffic police and municipal officials

used drones fitted with speakers to

order people home and break up

mahjong games.
---
Flying at high altitudes, drones

can help police and other officials

monitor large areas to identify those

violating restrictions. Similar tactics

are being used in Madrid and Nice,

with talk of deployment in many

other places.

A DEFENCE FOR THE 'GOOD

DRONE'?

There are huge advantages in

sending drones into disaster zones

such as bushfires, or remote

landscapes for search and rescue.

Pilots can safely stream crucial

vision from a drone's optical and

thermal cameras.

But while "good drones" can be

valuable in disaster, they have been

criticised for giving drone warfare

an ethical veneer by association

with humanitarian work. Some have

even argued that using drones at

all risks tainting relief work, because

militaries have played a major role

in developing drone technologies

that are also responsible for

humanitarian tragedies.

Like all technologies, the question

with drones should be about

how they are used. For instance,

inspecting the breached nuclear

reactor at Fukushima with drones is

sensible. But embedding systems of

control that can be turned against

civilians is its own disaster in the

making.

NORMALISING SURVEILLANCE

With high definition and infrared

images streamed to command

stations, China's drones may be able

to use facial recognition to identify

specific individuals using its Social

Credit System, and fine them for

indiscretions.

This level of social control may be

appealing in a pandemic that could

cost millions of lives. But it could

also have chilling effects on social

and political life.

Surveillance tools typically work best

for social control when people know

they are being watched. Even in

liberal societies, people might think

twice about joining climate or racial

justice protests if they know they'll

be recorded by a drone overhead.

Feeling like you're constantly being

watched can can create a kind of

atmospheric anxiety, particularly

for marginalised groups that are

already closely monitored because

of their religion or welfare status.

Putting more drones in the sky

raises concerns about trust, privacy,

data protection and ownership. In

a crisis, those questions are often

ignored. This was clear after 9/11,

DODGER'S CAR CLEANING SERVICE

Your car clean & shiny

Sunbury, Victoria 3429

0407 317 716

35

www.ausemergencyservices.com.au
---
when the world learnt the lessons of

surveillance systems and draconian

national security laws.

THE IMPACT WOULD HIT HOME

Police in the west are already

deploying drones for various

purposes, including at sporting

events in Australia. Our defence

force is buying Reaper MQ-9B

drones because they are cleared for

use in civilian airspace.

We might be fine with delivery

drones in Canberra, or disaster

drones ferrying urgent medical

supplies, but how would we feel if

they were indistinguishable from

drones piloted by police, the military

or private security companies?

A team at the University of South

Australia is currently designing a

"pandemic" drone to detect virus

symptoms such as fever and

coughing from a distance. Valuable

as that is now, this tool could easily

be used to intrusively manage the

public's health after the crisis is over.

It can be difficult to see the long

term impacts of choices made in an

emergency. But now is the best time

for policymakers to set limits on how

drones an be used in public space.

They need to write sunset clauses

into new laws so that surveillance

and control systems are rolled back

once the pandemic eases, and

create accountability mechanisms to

ensure oversight.

This article was first published on "The Conversation"

Depco Drilling is committed to providing and

promoting a zero harm work environment.

We build on three pillars to accomplish this goal:

Accountability, innovation and support.

www.depco.com.au

32 Chappell St, Rockhampton, QLD 4701 | info@depco.com.au | 07 4928 1133 | 0427 281 134

www.ausemergencyservices.com.au 36
---
IN THE SPOTLIGHT

In each edition the Australian Emergency Services Magazine we feature a

profile on a person, team, partnership, squad or unit to showcase their

unique contribution to the emergency services industry. If you would like to

be featured or know someone who deserves some recognition get in touch

with our team.

From her earliest days at university

studying education, the Captain of

Toolangi Fire Brigade Dawn Hartog

knew she wanted to be on the

ground, working with communities.

She didn't want to just be deskbound.

Then, in the way of all things,

on the ski slopes in America, she met

an Aussie bloke and found herself at

CFA as a Community Development

Coordinator. Today she is a member

of the CFA Board, works full time for

DELWP, as well as working at the

State Control Centre during incidents

and emergencies, on CFA's District 12

Planning Committee and captaining

her home CFA brigade at Toolangi.

"I've been so lucky to work on tangible

examples, to see the principles

of emergency information and

fire safety communicated better

through our communities. It has

been hugely gratifying to work in

a career I love, that provides job

satisfaction whilst doing my part to

keep our communities safe, to keep

our beautiful Victoria safe", Captain

Hartog said.

DAWN HARTOG

TOOLANGI FIRE BRIGADE

On Sunday 8 March 2019, the world celebrated International

Women's Day. This year the CFA wanted to pay tribute to women

involved in the organisation, inspired by women and inspiring

others. With this year's theme 'An equal world is an enabled world'

we sat down with one of our Board Members Dawn Hartog.

"I've been inspired along the way

by so many of the women I've

worked with, that have empowered,

mentored and shaped who I am,

and the way I now support my

(contemporary) peers."

As a former resident of Kinglake,

Captain Hartog's toughest challenges,

and most inspiring moments,

came during Black Saturday as the

coordinator of a group of residents

through their community fireguard

group.

37

www.ausemergencyservices.com.au
---
"Everyone put into action what we

had learned, from the lead up, to

the support after. It brought home

several ground truths for me. We

were very lucky to come out of it

with no significant losses. I attribute

this to the bonding together, the

camaraderie we had, the knowledge

that we had each other's backs. I felt

a deep sense of responsibility for

everyone's safety."

During this summer, Captain Hartog's

own brigade, Toolangi, was lucky not

to have any fires close to home. So,

they went to help New South Wales

and north-east Victoria instead.

"We were proud to support the

efforts during those prolonged fires.

To be deployed and be part of the

fires – whether through the State

Control Centre or rotation through

the ranks – to be part of the fight,

with boots on the ground meant a

lot."

The style of leadership that most

inspires Captain Hartog is one that

empowers strong women into

leadership positions. Last year she

was elected onto the CFA Board for

the first time.

"I am so proud to be on the Board

of an organisation I have previously

worked many years for, and an

organisation that I love. I'm proud to

join some pretty incredible women

on the Board. I have always drawn

my strength and inspiration from my

peers. They shape and inspire me on

a daily basis," she says.

"On the ground, I actually wish that

I joined a brigade 10 years before I

finally did. Toolangi Fire Brigade is

an amazing group of people. The

camaraderie is uplifting. People roll

out the door as a team, we know our

lives are in each other's hands. All of

us are simply there to try and do our

best."

What Captain Hartog loves most

about her brigade is it is a true

microcosm of her community.

Many junior members, both male

and female, go on to have careers

or volunteer in fire management.

Several of the members and office

holders of the brigade are mums. A

few of these ladies joined as a result

of their children. Now she's hoping

her own next generation – her

daughter – will be inspired to join the

CFA.

"It's not mandatory or completely

expected obviously… but I do hope

so!"

With thanks to the Victorian CFA for this article

contribution.

www.ausemergencyservices.com.au 38
---
TRAVEL

Even though we can't travel at the moment, there will be a time that we can. When

that time comes it will be important to get out there and support our domestic

tourist destinations. Now is the time to dream and plan your next holiday!

EMERGENCY

Breaks

Words: Brooke Turnbull

When we think about all the things we want to do on a short break away,

and there are many, we might often first think of a big city. Australian

capital cities are all great options for an exciting and quick break.

However, sometimes it pays to consider a location that's away from it all.

A place to relax, restore and rejuvenate.

39

www.ausemergencyservices.com.au
---
For a short break like this, we would

recommend you look no further

than the Mornington Peninsula. It's

got everything you could possibly

want or need, and you'll find a huge

amount to do. Whether you're

traveling by yourself, looking for a

romantic getaway or a break with the

kids, check out our top things to do

and places to stay in the Mornington

Peninsula and treat yourself.

Location:

The Mornington Peninsula is

located about 1 hour South East

of Melbourne. If you're flying into

Melbourne, we would recommend

hiring a car so you have the freedom

to travel around the area and visit

the amazing places it has to offer.

However, if you're short on time but

still want to visit, consider a day tour

from Melbourne.

Things to do:

The Mornington Peninsula has

an abundance of interesting and

exciting things to do and see. If you

are thinking of doing a day tour,

as your time is limited, check out

Acacia Luxury Private Tours. Acacia's

tour guide will pick you up from

your Melbourne hotel and ferry you

wherever you wish to go in a luxury,

air-conditioned sedan.

The best part about Acacia's Tours is

that you have full control of your own

itinerary. Simply tell your guide what

it is you enjoy, and they'll organise a

personal, friendly and exciting tour

for you and your guests. Sightsee the

peninsula in absolute style.

Obviously, we couldn't go to the

Mornington Peninsula and not

explore the wineries and Autumn is

the perfect time to do so.

We don't know about you, but we

love wineries and at the top of our list

is Rare Hare. Delicious food, spunky

and tasty wines, not to mention the

vista at Willow Creek all combines

to make a fantastic visit…if you can

remember it, that is.

Rare Hare is, of course, not the

only winery around, there are

plenty of winery tours you can

take advantage of to enjoy a full

day of drinking, eating and making

merry with whomever you choose.

For an excellent winery tour

recommendation, we'd go with

Mornington Peninsula Designated

Wine Tours. They'll take you where

you want to go and keep you safe

while doing so.

If touring is off the agenda and

you're wishing to explore in your own

time you'll have plenty to keep you

occupied when you visit.

The Peninsula Hot Springs is one of

the top places to visit in the area.

With a spa menu to dive right on

into and wellness packages to suit

everyone, you can relax and unwind

in one of the most unique parts of

Australia.

The Peninsula Hot Springs have

created a space where you can

reconnect within or as a couple.

Experience the bliss of thermal,

natural underwater springs that

run from underground and are

harnessed into pools and private

baths. You can enjoy the springs

in the bath house, which is family

friendly so you can bring the kids, and

starts from $35 per adult.

Or indulge in the Spa Dreaming

Centre, this is adults only and starts

from $110 per person. Finally

there are the private baths starting

from $175 per person, a space to

experience on your own or with a

loved one. Peninsula Hot Springs

also offers spa treatments that start

from $215 for the Unwind package.

This gives you all access to the

springs as well as your choice of a 60

minute treatment.

After your immersive hot springs

experience, the Peninsula Hot

Springs also have divine dining

on offer that can be served in the

Bath House Cafe or Spa Dreaming

Centre Cafe. Grazing platter menus

start from $60 per person. If you're

looking for a relaxing getaway or to

reconnect as a couple, the Peninsula

Hot Springs is the place to go.

If exploring is right up your alley, get

lost in Australia's oldest hedge maze

at the Ashcombe Maze and Lavender

gardens. The stunning gardens and

maze are a destination that you wont

want to miss, and neither will the

kids.

Standing at over 3 metres high and

2 metres thick, you can explore the

maze and try to find the four mosaic

flags hidden within. Once you've

conquered the maze, check out the

lavender labyrinth and find yourself

gazing out over the stunning hues

www.ausemergencyservices.com.au 40
---
of blues and purples that cover a variety of different

lavender types.

If you're looking for something with a little more

adrenaline, head over to the Enchanted Adventure

Garden for a tree surfing adventure or to fly through

the air on their zip line. With mazes, tube slides, canopy

walks and enchanted sculptures there's something for

everyone to do at the Enchanted Adventure Garden.

The Big Zip is our recommendation, flying on 2 different

zip lines over 300 metres of gardens and the Enchanted

Lake! Sure to get your blood pumping after relaxing in

the hot springs all day.

Peninsula Hot Springs

Finally, we can't take you on an adventure to the

Mornington Peninsula and not recommend you head

to the beach. Sorrento Beach, St Andrews Beach and

Fingal are but a few of the gorgeous and clear waters

of the Mornington Peninsula to take a dive into (at least

if you're not travelling in the Victorian winter). Bring

your paddle board or hire one from Peninsula Stand

Up Paddle and get amongst it. Or, if you prefer a more

gentle break, set up your beach umbrella and sit back

while enjoying a good book.

Places to stay:

As is our want, we're giving you a range of places to stay,

from budget to luxury and we wouldn't have it any other

way. Whether you're looking for a family friendly place

or a cosy romantic space for two, you've got plenty of

options around the area.

For a romantic and rustic feel with all the modern and

luxurious amenities you expect, the Woodman Estate

is perfect for couples looking to escape for a few

nights to unwind and connect. With a wide range of

accommodation options for your budget, you can have

your pick. Garden view rooms start from $299 per night

and Spa Suites are available from $699 per night.

Dining room at The Rare Hare WInery

If your budget allows, we recommend splurging for the

Lakeside Chalet, penthouse style accommodation that

includes a private deck over the water's edge, a spa bath

and an open fire, perfect for curling up with a glass of

wine and your special person. The Lakeside Chalet's

start from $950 per night. The hotel offers free wifi and

Gibb Group is a dynamic Australian

property developer and asset

manager, specialising in industrial

logistics property, suburban office

and business park space.

Asset Management Development Investment

Level 3, 162 Collins Street, Melbourne VIC 3000

admin@gibbgroup.com.au

0402 825 825

www.gibbgroup.com.au

41

www.ausemergencyservices.com.au
---
has an onsite restaurant that offers delicious dining in a

beautiful setting. There are also a number of activities on

offer from the hotel ranging from walking tours to water

sport facilities, or for an extra cost, take a Woodman

Estate cooking class and enjoy your fare with a glass of

wine!

If you're travelling as a family and looking for a more

budget friendly, but no less exciting, place to stay

the Kanasta Caravan Park is exceptional. With clean,

spacious and inviting, fully self-contained cabins, starting

from $150 per night, this is the perfect place for families

to holiday in the area together, without getting under

each other's feet.

In addition to the cabins, Kanasta also offers a point of

difference with their Retro Glamping Caravans. These

Caravans are permanent fixtures of the park and are

all beautifully maintained and affectionately named. If

you're travelling on a budget but still want to get bang

for your buck, we highly recommend these caravans.

Starting from $120 per night, you don't lose out in price,

and you can still stay in retro luxury. Activities wise,

Kanasta offers a brilliant children's playground, table

tennis and a games room with arcade games. The park

is a short walk down to Rye Beach and the foreshore,

that offers a variety of dining options and activities.

Lakeside Chalets at Woodman Estate

A visit to the Mornington Peninsula is definitely one for

the bucket list. An array of options for whatever style of

holiday suits you; quiet and immersive or action packed,

this place has it all. Autumn is the perfect time to visit as

the seasons change. The weather cools, the leaves fall

and there are plenty of local events that kick off as the

grape harvest time begins.

Enjoy your break!

Editor's note: Even though we can't travel at the

moment, there will be a time that we can. When that

time comes it will be important to get out there and

support our domestic tourist destinations. Now is the

time to dream and plan your next holiday!

Retro Glamping at Kanasta Caravan Park

Rare and Beautiful, Gemstones

and Crystals, Exhibition and Sales

www.ausemergencyservices.com.au 42
---
In an emergency, call Triple Zero (000)

To contact the police, fire or ambulance in an emergency, call

Triple Zero (000) from any telephone in Australia. Calls are free.

When to call Triple Zero (000)

You should only call Triple Zero (000) in life

threatening or time critical situations when

an urgent response is required from police,

fire or ambulance.

What will happen when I call

Triple Zero (000)?

The operator will ask you which emergency

service you require—police, fire or ambulance

—and will connect you. The operator may also

ask where you are calling from.

What if I have difficulty speaking English?

If you have difficulty speaking English, you

can ask for an interpreter once you have been

transferred to the emergency service you

requested. You will not have to pay for the

interpreter.

When you call Triple Zero (000), stay calm,

stay on the line and clearly answer the

operator's questions.

www.triplezero.gov.au
---
Simple steps to help

stop the spread.

Cough or sneeze

into your arm

Use a tissue

Bin the tissue

Wash your hands

Together we can help stop

the spread and stay healthy.

For more information about Coronavirus

(COVID-19) visit health.gov.au

Authorised by the Australian Government, Canberra
---
ARE THEY

TRIPLE OK?

We're always there to help.

Let's make sure we help each other and ask R U OK?

ruok.org.au/triple-ok