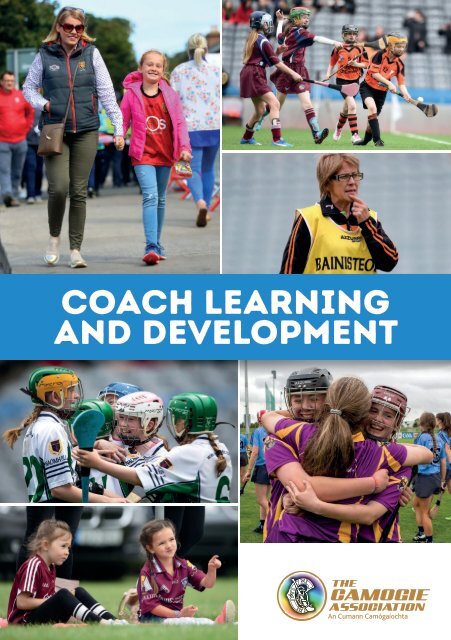 Coach Learning and Development Booklet 2020
Camogie Coach Learning & Development Booklet
Camogie Coach Learning & Development Booklet
SHOW MORE
SHOW LESS
Create successful ePaper yourself
Turn your PDF publications into a flip-book with our unique Google optimized e-Paper software.
Coach Learning

and Development
---
Coach Learning and Development 1

Contents

The Coaching Bubble Podcast 3

Camogie Coaching Corner

Inspire to play, empower to stay 6

The Grip and Swing 8

The power of habits 10

The future is now 12

The balancing act of coaching 14

Scoring is the name of the game 16

Coaching

Coach Education & Continuous Learning 18

Ditch the Drills 20

"Let them Play" 22

Performance Anaylsis

Performance Anaylsis Hand Notation 24

Performance Indicators 27

What is Performance Analysis? 29

Sports Psychology

Performance Sport Psychology Mindset 32

Coaching the Mental Game - Motivation 35

The Mental Game 37
---
2 Coach Learning and Development

Follow

@BubbleCoaching

Over

25,000

listens

12 hours of

conversation

for coach learning and

development

Available on:
---
Coach Learning and Development 3

The Coaching Bubble Podcast

The idea for the podcast started as a

conversation. The dialogue revolved around

how to get high quality, relevant information

to coaches. How could we get those nuggets

of wisdom from the top coaches, and the

top coach educators, to the coaches on the

ground? Is there a way to simplify these

messages so that even the least experienced

coaches could take away some learnings?

Through these discussions, the Coaching

Bubble podcast was born.

What makes the Coaching Bubble different

to other podcasts is that we try to make

everything relatable to grass roots coaches.

The host of the show, Stephen Behan, has

plenty of experience as a coach himself.

Stephen was a Games Promotion Officer for

Dublin GAA for nearly a decade, has a MSc

in Coaching and Exercise Science, and has

recently completed his PhD in Dublin City

University. His area of research revolves

around physical literacy, which is defined is the

motivation, confidence, physical competence,

knowledge and understanding to value

and take responsibility for engagement

in physical activities for life.

The guests have varied across the two

seasons, with representatives from GAA,

camogie, LGFA, hockey, soccer, martial arts,

rugby, athletics, and more. We also had

experts in the areas of performance analysis,

strength and conditioning, coaching science,

and authors. We are hoping that this broad

range of sports and expertise will expose our

listeners to a wide array of knowledge and

experiences that they may be able to relate

in some way to their own coaching. Despite

the wide range of guests, it is remarkable how

many of these stories are so similar. It seems,

as with many things in life, that mastering

Stephen Behan – Host of The Coaching Bubble Podcast

the basics is a foundation that many of the

top coaches build upon. Another topic that

is raised during almost every episode, is the

power of self-reflection. As we write this, we

think on our own experiences producing the

podcast and reflect on ways we can improve

for season 3.

The main aim of the show is to help people

along their coaching journey, be they just

starting out with kids, or working with older

age groups, or even those that are trying to

take the next step into a high performing

environment. We hope we have achieved that

up to now, and we look forward to bringing

you more high-quality guests in the future.

What started as a conversation, has resulted

in the Coaching Bubble podcast, which has

now two complete seasons available, free of

charge, to anyone who wants to learn. We

look forward to bringing you a third season

in 2020.

We would like to take this opportunity to

thank our host Stephen Behan and all of

our quests who give up their time freely to

be on the show.
---
4 Coach Learning and Development

podcast Guest Speakers

Paudie Butler Coach Educator and Former National GAA Hurling Director chats

about the steps of development for the person and the skills and talks passionately

about releasing the potential in every person.

Mary O'Connor current CEO of the Federation of Irish Sport and former Cork

ladies Dual star and holder of 12 All Ireland Medals. Mary chats about her experiences

of been part of one of the most successful sports teams of all time and the influence

her coaches have had on her life.

Sean Boylan Meath GAA Legend and The 4 time All Ireland winning manager

gives some wonderful insights and story's throughout his journey during his 23 years

at the helm of Meath Football. A must listen for all coaches of all sports.

Dr Dave Passmore Coach Educator & Lecturer in Coaching Science & Education

in Dublin City University chats about his own Coaching Philosophy and The Story of

Irish Hockey before World Cup Finals.

Matthew Wilkie Head of Coach Development at Irish Rugby Football Union

(IRFU) chats about the process for developing coaches and the importance of the

Coach/Athlete relationship

Nora Stapleton Women's and Girls Rugby Development Manager with the IRFU

and former member of Ireland XVs squad and Donegal Ladies Football star talks

about mastering the Fundamental skills and the Importance of developing your club.

Dr. Seamus Kelly is a College Lecturer in the UCD School of Public Health,

Physiotherapy and Sports Science. Seamus talks about the importance of

organisational structure, reflective practice, and how the power of a coach's core

beliefs can impact on a team.

Ciaran Deely current London Senior Football manager and Sports Scientist with

QPR FC Academy discusses coaching in both amateur and professional sports and

gives some excellent practical tips for your coaching practice.

Owen Mooney National Coach & Sport Dev. Coordinator with Special Olympics

chats about building relationships, developing coaches & the importance of learning

from others
---
Coach Learning and Development 5

Ger O'Connor Dublin GAA Coaching & Games Manager chats about the

importance of Coach Development within clubs and coaches been open to learning.

Shane Keegan former League of Ireland Manager with Galway United and

Wexford Youths talks about Player Development on and off the field and shares

insightful thoughts on over coming set backs as a professional football manager.

Denise Martin Lecturer in Sports Performance Analysis in the Technological

University Dublin. Denise outlines how all coaches can bring the elements of

performance analysis to their coaching process and the Importance of Feedback and

how it is delivered

Niamh Buffini Performance Operations Manager with Paralympics Ireland

and Ireland's Highest ranking female Taekwondo athlete gives insights to the key

components for delivery in High Performance Sport and outlines the importance of

developing a culture within clubs.

Paul Kilgannon is a teacher, Coach, Sports Coach Educator and author of

Coaching Children in Sport – The Carver Framework. Paul gives insights to The Carver

Framework, outlines the importance of working together as a Coaching team, and how

he believes coaching is all about relationships

David Herity 5 Time All Ireland Winner with Kilkenny chats about life under Brian

Cody. His transition from Player to Coach while working with Dublin Camogie and the

importance of Empowering Players.

Liam Moggan The Coaches Coach talks about his own coaching journey, the

importance of planning and reflection and coaching the person and not the sport.

Colin Griffin two-time Irish Olympian & strength and conditioning coach. Colin

chats about how he is using his own experience as an athlete into his coaching style

and on bridging the gap from academic research to practical application in a realworld

setting.
---
6 Coach Learning and Development

Camogie Coaching Corner

By Peter Casey

Inspire to play,

empower to stay

People form a lot of their opinions from

the world of professional sports. They

often become fascinated with the idea of

finding the next Rory McIlroy, Tiger Woods,

Lionel Messi, Angela Downey and Gemma

O'Connor. In my job – coaching in primary

schools - we are often asked "who the next

superstar is going to be?" or "I bet you can

really spot the talented children". The truth is

that there is no way of predicting the future.

Not alone is it a wasted exercise it is also a

dangerous exercise. It leads to two things –

elitism and exclusion.

A lot of papers and books have been written

on the idea of nature versus nurture. While

some can argue the point that good genetics

are important, most articles suggest that

opportunity is far more important. When we

coach we shouldn't discriminate between

children. The primary school curriculum

states that all activities must involve 100%

of the children 100% of the time. This

enables every child to participate in all

classes including Physical Education, where

they play and learn. In a Primary school all

children should get an equal opportunity.

That could happen but there are always

ways of causing exclusion – competitions,

teams, captains etc.

The things that cause exclusion to happen

are usually really worthwhile activities that

also cause so much good to happen. They

often reward effort and hard work, promote

practice and devotion to improvement

and help a group of children to feel part of

something special. In small schools, a team

can often consist of everyone in 5 th and 6 th

class. That can be a really special where

everyone is needed. However in larger

schools, a team may only consist of a tiny

percentage of the class. A lot of children

are omitted because they are perceived not

good enough.

Fear plays a big role in the growth of elitism.

People are often afraid that their talented

players won't develop properly if they are

allowed to play with the "not so good ones".

Somehow, they feel it would be better to

group these best players together so that

they might improve at a faster rate. There is

a logic in that opinion especially for a sport

like Gymnastics where they peak around

16 years of age. Camogie players should

still be improving in their mid to late 20's so

there shouldn't be a hurry. So many other

sports plan their futures around the goal

of winning an Olympic medal. They set up

high performance training programmes for

an elite few in the hope that it may result in

some success. Their values are based on

winning.

The mission statement of the Camogie

Association is "To provide opportunities

to enjoy and play Camogie asa vibrant
---
Coach Learning and Development 7

part of the Gaelic Games Family." One

of the main values of the Association is to

"maximise participation". We are an amateur

organisation. We don't need to find the

next superstar because that isn't part of our

values system. Of all the children who join

a GAA club an average 10% of those go on

to play on their clubs first team. Of that 10%,

3% play senior inter county. It is a very small

number and it will continue to be. If our main

focus is on senior inter county, we exclude

the vast majority of players. However when

we commit ourselves to the development

of the games in every school and club and

endeavour to provide a games programme

for all people who wish to play then we will

fill our pitches the games will be healthier as

a result.

Camogie has huge potential for growth

and while there are vibrant Camogie areas,

there are also vast regions where little or no

hurling or camogie is played. It doesn't have

to remain that way. In Co. Clare where I work

a couple of new clubs like Kilkee/Belaha

have established. While it is everyones

dream in these clubs that one day they

would become like Slaughtneil or Milford,

there is a far bigger story being told because

of the opportunity young children get from

the existence of the club.

Young people need to belong more today

than ever before in the worlds history. There

is so much emphasis on the need to be

famous in youth culture. Many teenagers

don't care what they are famous for as

long as they are noticed. Most sporting

organisations only target the most talented

players. In the USA nearly all people give

up sport –American football, basketball,

baseball, ice hockey- when they fail to reach

a high level. The Camogie Association can

offer an opportunity to all young people to

belong, to be part of a group and to gain

recognition by wearing the colours of a club

or school. Many clubs are playing their part

in reducing exclusion by fielding extra teams

in competitions. The youth of today need

more of these outlets where they can feel

comfortable playing without the pressure of

having to be at the highest standard.

The Swedish Football Association have come

up with the slogan "as many as possible for

as long as possible". They, according to the

head of one of their regions, have taken the

decision to abolish their "district elite" teams.

"When we took this decision for the sake of

the children, it was a very easy decision. Our

mission is not to exclude children and young

people". They discovered that bringing

players into elite squads at an early age

wasn't always beneficial for that player. The

same often applies to the GAA. Making a

big deal about a 13 or 14 year old boy or girl,

who still has a long way to go – physically,

mentally and socially is a dangerous

exercise. These players shouldn't be put up

on a pedestal. We cannot predict what the

future will hold for them.

Player develop at different rates.

Development is non-linear. That is why

we see so many players emerging in their

20's who may have missed out on county

minor or county under 21. Kilkenny's Shane

Prendergast got his first start in the 2015 All-

Ireland final at the age of 29. Unfortunately

many others have setbacks along the way,

predict their own future and drop out from

Sport completely. That is a choice that they

are entitled to make. However as coaches

we have a duty to minimise dropout by

promoting inclusion wherever possible.
---
8 Coach Learning and Development

The Grip and Swing

As the fastest field sport played by females

in the world, Camogie can be an extremely

challenging game to master. According to

the learning.gaa.ie it is estimated that there

are over 170 skills in hurling and camogie.

As a coach it can be very daunting to get

around to teaching multiple skills. In every

squad (even inter county senior) one of the

biggest challenges is to deal with players

with varying levels of skill profiency and

athletic prowess. Often in coaching courses

we get asked what is the best way of dealing

with such a group.

Very often coaches believe that theirs is the

only team that has a gulf between its strongest

and weakest players. Thankfully the wider

GAA family is making huge efforts to be far

more inclusive than in the past - even though

we still have a long way to go – and coaches

want to be able to improve their weakest

players while still challenging the strongest

players. We would all love to develop our

players to their potential in the hope that one

day some of them could play like Carrie Dolan,

Aoife Donohue, Ann Dalton, Sarah Dervan

and the other Galway and Kilkenny players

who performed in Croke Park in the recent

league final.

When trying to help coaches deal with their

dilemma often as tutors we have to share

our own experiences. One of the best things

I ever learned is that development is nonlinear.

We like to think of things in terms

of linear improvement but development

is more a mishmash. Players develop at

different rates and most likely your best

players now will not be the best in the

future and your weakest now could one day

be your strongest. However to be one of

the strongest in the future there are a few

essential skills that players need, or else it

will be very difficult for them to master the

other skills.
---
Coach Learning and Development 9

The essential skills are often referred to as

the basics or the basic skills and it really is an

unfortunate term. Referring to them as basic

demeans them in a sense with the result that

coaches often fail to give them the care they

require. The essential skills in hurling are the

grip and the swing and if we get them right

we will have loads of boys and girls able to

play hurling and camogie but if we neglect

these skills then it will be a struggle. The first

few months of a child's hurling or camogie

career is a really important time.

If all under 6 coaches said that by the end of

the year, all players will grip and swing the

hurley correctly, they will have done most

of their job. I'm in the fortunate position of

coaching my club under 6's every Sunday

morning. One of the first things we do 3 or 4

times in every session is to sing the new song

we are learning, sung to the air of Baby Shark.

Hurley hand doo doo doo doo doo doo

Hurley hand doo doo doo doo doo doo

Hurley hand doo doo doo doo doo doo

Hurley hand!

Catching hand doo doo doo doo doo doo

Catching hand doo doo doo doo doo doo

Catching hand doo doo doo doo doo doo

Catching hand!

C shaped swing doo doo doo doo doo doo

C shaped swing doo doo doo doo doo doo

C shaped swing doo doo doo doo doo doo

C shaped swing!

All children raise their dominant hand while

singing the first verse, their non-dominant

hand for the second verse (which was learned

in week 3) and swing a very short hurley with

one hand for verse 3 (learned in week 6).

The grip and swing are the skills that enable

all other skills to happen. Striking from the

hand, rising, hooking, blocking, first touch

are all much easier to teach and learn when

players have learned a good grip and swing.

By taking our time with the grip and swing

and learning the 6 main points about the skill

we can keep our group together far more

easily and children are active agents in their

own learning. Rome wasn't built a day but

with careful repetition over the first while,

young children should develop good habits

that will stand to them over a long period of

time.

The other major factor that effects a child

learning the grip and swing is the size

and weight of the hurley used. It is quite

difficult to buy a hurley suitable for under

6's and unfortunately the ones sold in most

supermarkets are much too long, thick and

heavy. Most of the well known hurley makers

however sell suitable child hurleys. The

Camogie Association recently published a

really useful guide for sizing a hurley correctly.

In my experience this is the maximum size

that children should use.

Children who are very tall for their age could

go up a size and children who are shorter

should go down a size but the main advise is

that it is better to go for a shorter hurley when

learning the grip and swing.

There are great strikers in our games now like

Patrick Horgan, Aaron Gillane, Joe Canning,

Chloe Morey, Denise Gaule and Gemma

O'Connor. While they all have their individual

differences they also have a lot of similarities.

In order to be a good striker you need to have a

good swing. Learning the hurley hand and its

positions, the catching hand and its positions

and a c-shaped swing and what that looks

like over the first year of a child's camogie

career can give them a better chance of also

becoming a good striker and hurler.
---
10 Coach Learning and Development

The power of habits

I am your constant companion.

I am your greatest helper or heaviest burden.

I will push you onward or drag you down to

failure. I am completely at your command.

Half of the things you do you might as well

turn over to me and I will do them - quickly

and correctly.

I am easily managed - you must be firm with

me.

Show me exactly how you want something

done and after a few lessons, I will do it

automatically.

I am the servant of great people, and alas, of

all failures as well.

Those who are great, I have made great.

Those who are failures, I have made failures.

I am not a machine though I work with the

precision of a machine plus the intelligence

of a person.

You may run me for profit or run me for ruin -

it makes no difference to me.

Take me, train me, be firm with me, and I will

place the world at your feet.

Be easy with me and I will destroy you.

Who am I? I am Habit".

This poem teaches us the power of habits.

Everything we do is learned. From the way

we stand and sit to the way we walk and talk,

to how we run, jump, kick, strike, look, listen.

The way we react to success and failure. Most

people are distinguishable by their habits. We

can recognise most singers on the radio by

their voice, even when they sing a brand new

song. We can recognise individual hurlers

and camogie players by the way they carry

themselves on a field. Even if they get a new

hairstyle or wear a different helmet they are

distinguishable by their own unique style and

while some people can copy them, they can

never be them.

One of the biggest coaching tasks is to help

players form good habits. We get our best

chance to do this when players are young.

In order to help players form good habits we

need to have good knowledge of technical,

physical and the mental habits that players

require to perform well. We help players

identify what their habits are and why they

may need to break old habits or form new

ones. Our bad habits are generally what let

us down when we come under pressure.

As coaches we should be aware of our own

habits and how we can change them when

the need arises.

William Wordsworth said that "habits rule the

unreflecting herd". We often hear that we are

creatures of habit and that when we come

under pressure we revert to type. That means

we do the thing we have done previously.

Great coaches can help players to replace

harmful and wasteful habit's with effective

habits. So what are the harmful habits and

what can we do to replace them? The most

harmful habit in the world today is the idea

that we are helpless. Martin Seligman the

great American psychologist has coined

the phrase "learned helplessness". Learned

helplessness is when we get put off by

early failures in our lives and we believe that

there is nothing we can do when faced with

challenges in the future.
---
Coach Learning and Development 11

The ancient Chinese philosopher Lao Tzu

said that our thoughts become our words,

our words become our actions and then our

actions become our habits. What we think

and how we think is vital to the formation of

habits. Henry Ford said "Whether you think

you can, or you think you can't – you're right,"

If a child thinks that they will never be able to

master a skill of hurling, then they won't be

able to master it. If they think they can they

will. If a coach thinks a child will never be any

good, it is likely that message will transmit to

the child and the coach will be proven right.

If a community believes that their area will

never be good at camogie or hurling, it will be

impossible for the games to thrive. However

if a few people could think that their club

could produce good hurlers, start saying

it and then put it into action by organising

training sessions, communicating with

others in the parish and beyond, attending

coaching courses and teaching good habits

to children then hurling and camogie should

succeed.

I recently had the pleasure of sitting down

with a successful rugby coach in the hope

of developing my own coaching. The thing

that struck me very early in the conversation

was that he was the complete opposite of

helpless. He didn't utter a negative word.

He only spoke about instilling belief in

players and fellow coaches, making training

an enjoyable and hardworking place and

avoiding outdated practices that are not

relevant to the game the players play.

In the GAA family we can easily be in a state

of learned helplessness. We can believe

that we are powerless and unable to fend

for ourselves. We can live in the illusion that

other people are to blame for our failures.

Everyone can get it from the administrators in

Croke Park, to the county boards, the media,

referees and umpires. Many of us devote a

huge amount of time to blaming things that

are way beyond our control. We often hear

people complaining that "the coach doesn't

like me, he never picks me", "the referee is

biased" and "everyone hates us". Very often

children receive feedback in their homes

and communities that they are hard done by.

This leads to learned helplessness. The child

grows up with an excuse for everything.

The opposite of learned helplessness

is resilience. Resilience is a great habit.

Resilience means that when bad stuff

happens I can cope. A referee can make a

mistake and we can still win. A coach may

decide not to pick me and I can use it as a

learning opportunity. Resilient people do not

need to be served. Coaches should do their

utmost to help players learn resilience. This

might start by always getting them to put out

and pick up cones, count balls before and

after training and provide opportunities for

them to deal with success and small failures.

Coaches can have a huge impact on the lives

of people in a community. The interaction

between coaches and players can help these

people to develop lifelong skills that they can

use in all walks of life. The biggest skill we

can teach our players is resilience. We teach

them resilience by empowering them. We

empower them by giving away some of our

power. We teach them that we trust them to

make decisions, to cope under pressure and

not alone to survive but to flourish.

The final word to the coach I met recently -

"sport doesn't build character, it tests it".
---
12 Coach Learning and Development

The future is now

Your children are not your children.

They are the sons and daughters of Life's

longing for itself.

They come through you but not from you,

And though they are with you yet they

belong not to you.

Kahill Gibrain – On Children

As parents and coaches the future is

always in our minds. We spend a lot of time

worrying and wondering about life down the

road. We fill our minds with questions and

concerns like, how will our children turn out?

Will they be ok? What school will we send

them to? Where will they go to College? As

coaches many of our thoughts are filled with

hoping our players will be good at hurling

and Camogie that we'll win championships

and that our players will play for the county.

Thinking about the future is important but

sometimes it causes us to lose sight of

what's happening in front our eyes at the

moment. We are blessed to have children

and it is so easy to take them for granted but

it would be hard to envisage any vibrancy

in a community without children. Some of

the most committed GAA parents often find

it very difficult to encourage their children

to play hurling and Camogie. Even with

all their persuasive skills and bribery ideas

their children refuse point blank to play. It

must be very distressing for a parent who

has dreamed of big days in Croke Park

and Thurles cheering on their sons and

daughters to have to cope with a 6 or 7 year

old child who won't even join the local club.

In the past children were owned by adults.

Parents, teachers, priests and coaches often

felt that they were superior to children and

children had to do as they were told. Old

sayings like "children should be seen and

not heard" and "an empty vessel makes the

most sound" come to mind. It's easy to judge

other parents and say that they should make

their children play sport. If that doesn't work

then a clip around the ear or a kick in the

backside would sort it all out. All that kind of

advice was commonplace in many parishes
---
Coach Learning and Development 13

in a different time. However this type of

talk also led to abuse where children were

frightened to speak out. Thankfully children

are seen and also heard in most places now.

It is very healthy that children can now tell

their parents "yes I'd like to go there" and "no

I don't feel like doing that".

There is a great book that I sometimes use

called How to talk so kids will listen and listen

so kids will talk. It deals with the fundamental

connection between how children feel and

how they behave. It states "When children

feel right, they'll behave right. How do we

help them to feel right? By accepting their

feelings?" The book deals with the problem

that parents don't usually accept their

children's feelings. For example "You don't

really feel that way" "You're only saying that

because you're tired", "There's no reason to

be upset". In a GAA coaching context we

could sometimes say "you couldn't be bored

this is exciting" "you're not cold it's very hot"

and "you don't hate Camogie, you love it".

The big lesson is that we should never deny

children's rights to express their feelings

even if it means they disagree with us or tell

us what we don't wish to hear.

Giving children a voice and allowing them

to be part of the decision making process

in a house or a team is really good for their

development. It also causes us to see things

from their point of view and it helps us develop

good communication skills where we can get

our point of view across. Instead of telling our

children that they have to go training and

they don't have a choice it is better to reason

with them. "I'd really like if you joined the

GAA club because Gaelic games are such a

healthy pastime where you get to play with

your friends. I can tell that you're worried that

you mightn't be good enough but I'm sure

you'll be fine and I'll have a word with your

coach so he won't do stuff that's too hard. I'll

also stay close by so if you need a break you

can come over to me". If after saying all that

they are still adamant they don't want to play

we should respect that right. When they go of

their own free will they develop a greater love

of the game.

Children provide adults with fantastic

entertainment when they play sports. Some

of the best sporting memories I have were

of small matches I played as a child and

underage games where I was a coach.

These games may seem really insignificant

in the greater scheme of things but there

was nothing small or insignificant about the

effort the children gave or the satisfaction

that the parents derived from these games.

Sometimes we get so caught up in the future

that we fail to see the brilliance or beauty of

our children as they are at the moment. We

keep thinking it'll be great next year when

he's bigger and stronger. A parent once said

"when my child was 3 I couldn't wait for him

to be six and when he was 6 I wished he was

12. When he was 12 I wished he was 16 and

now that he's 16 I wish he was three"

Sometimes we dream about reaching the

Holy Grail but there is no Holy Grail. The

players who win the All-Ireland final have

to play with their clubs a couple of weeks

later and the following year they are back

training and preparing as though they never

won anything. There is great vibrancy in

many club and county underage structures

at present and we have never had as many

people playing our games or seen the games

at such a high standard. The work of a GAA

or camogie club never stops though. In 10

years' time these clubs will still need people

to start off their under 6's and 8's. Even if

clubs are struggling there is always a chance

of a fresh start with the 6's. The key is to try

to stay in the moment.
---
14 Coach Learning and Development

The balancing act of

coaching

"A coach is a person who builds competencies

by assisting and challenging players and self

to achieve full potential"

I first saw a similar version of the above

quote at a GAA coaching conference back

in 2004 presented by Pat Daly. 15 years later

and it plays such a huge part in my coaching

life. Part of our coaching roles includes

teaching hurling and camogie in primary

schools. Every single child has unknown

potential. As a coach we can suppress

or release that potential by our thoughts,

words, actions and behaviours. Our main job

is to build competencies. Once we develop

competencies, then we can gain a degree

of confidence and with every competency

comes higher levels of confidence.

Think about the small child like a smart

phone. When the phone is new, in the box

and the battery isn't charged there is very

little it can do but it has lots of potential. Once

it is charged then it is capable of so much. In

primary schools and also in our club sessions

we can charge the children by getting their

hearts beating faster and their lungs moving

during aerobic exercise. Competencies are

like Apps on a smartphone. A phone can't

do much without apps. If I get a new phone,

the first apps I get are the social media ones.

Then I feel my phone can function. Every time

I install a new app I have more confidence

in my phone. Instead of facebook, twitter

and snapchat we can install apps to small

children like the grip, running and agility

skills. Mainly this is done through assisting.

Assisting happens when we provide a

really clear demonstration of a pretty easy

skill and give children ample opportunity

to practice and learn it. Apps are grown in

children when connections are made in the

brain. The connections that are needed for

reading, writing and maths are the same that

are needed for rising, catching and soloing.

Like the teacher in the classroom they are

taught by assisting or challenging.

Children need lots of assistance in the first

few years of sport. It is estimated that 20%

of young children survive in a competitive

environment. If we play a 10 a side match at

under 6 or under 8 training, only 4 children

will benefit from it. 80% is a huge failure rate

and one that most clubs can ill afford to allow

happen. However once children develop a

range of athletic and skill competencies they

can be gradually introduced to small sided

games.
---
Coach Learning and Development 15

As children get older, getting the balance

right between assistance and challenge is

a key coaching skill. If we go for too much

challenge we can cause incompetence,

anxiety and resistance in players whereas

if we assist too much we can still cause

incompetence and boredom and very often

players resent this form of approach. There

is a term used when the level of challenge

set by a coach matches the level of skill

of the players. This often causes players

to achieve "flow". It is called the zone of

proximal learning.

The zone of proximal learning or the zone

of proximal development occurs when a

challenge is pitched just on the outer reach

of a person's current ability. It is a little

outside what a child can currently do and

often it requires the help of a coach. Most of

us probably used this model unknowingly as

children. If we tried to get a certain number

of roll rises in 30 seconds and then tried to

beat our score next time we were in this

zone. If we tried to strike a ball through a

small target or take a ball hit at pace on first

touch or tried to get a certain amount of ball

strikes off a wall in a time we were on the

zone of proximal learning.

Using this coaching model can really help

increase the level of effort and concentration

from players. It also causes a level of

excitement and is guaranteed to increase the

speed at which players play. It helps players

to think about mastery rather than winning,

which they have no control over. Most video

games use the zone of proximal learning to

engage their audience. They start off playing

and they aren't able to get very far, then

they get competent at a certain level until

the challenge increases and the process

continues. American game designer, Raph

Koster says "Fun from games arises out of

mastery. It arises out of comprehension. It is

the act of solving puzzles that makes games

fun. In other words, with games, learning is

the drug".

The assistance and challenge coaching

model can be used from nursery children all

the way up to county seniors. While county

seniors will require the highest level of

challenge, there are many occasions when

they also need assistance. Like a professional

golfer trying to tweak or restructure their

swing or putting stroke, very often a top

class camogie player or hurler often needs

to develop a higher level of competency in a

skill. This is not a time for challenge. This is

a time for clear demonstration, explanation,

observation and feedback. Very often the

coach has to admit they don't have the

answers but together with the player they

will work it out and reflect on progress or

lack of. Once the new skill is learned then

the coach and player can increase the

challenge.

Like other areas of coaching, getting the

balance between assisting a challenging is

vital to the environment. When right balances

are struck between skill development and

games, instruction and action, winning

and mastery, praise and encouragement,

patience and honesty and participation

and excellence a very special bond can be

formed in a team or coaching environment.

When coaches reflect in the aftermath of

training sessions and games, little tweaks

can be made to maintain that balance.
---
16 Coach Learning and Development

Scoring is the name of

the game

"I'm sure we're not going to get everything our

own way in certain games and we may not

hit 30 points on any given day, but that's our

target every day."

Darragh Egan, Tipperary hurling coach.

There was a time in the mid 2000's when the

Cork senior hurling team scored an average

of 20 points in every big game. They won

the All Irelands in 2004 and 2005 and they

were pretty satisfied that 20 points would be

enough to win them games. When Clare won

the 1995 All Ireland final the final score was

1-13 to 2-8. Today in championship hurling

that could easily be a half time score. In the

recent Leinster final, Kilkenny led Wexford 0-15

to 0-14 at the half way mark. Wexford had 9

scorers in the game and Kilkenny had 8. In the

Munster final between Limerick and Tipperary,

Limerick hit 1-11 in the first half and 1-15 in the

second period. They had 8 scorers in total

while the defeated Tipperary had 9. On any

given day a team who wins a championship

game will likely need at least two players to

score 4 points from play while their free takers

will have to have a 90% success rate from

inside their range. The score required to win a

match is constantly increasing.

In Camogie we're seeing similar trends. In

recent championship matches, Waterford

scored 2-14 against Tipperary but still lost

the game. In a 60 minute game that would

seem a very good total to hit and up to very

recently should be enough to win most

games. However the climate is changing as

in the hurling championship and scoring is a

big currency. Limerick hit 1-18 in their victory

against Wexford while Kilkenny scored 2-17

against Offaly. Cork have scored 3-19 and 2-20

in their victories over Clare and Tipperary.

So what does this mean for Camogie coaches

and coach developers?

There are a whole range of facets required to

be a high scoring team. A really high degree

of technical proficiency in a range of skills is

a must. Brian Cody always said that a good

first touch buys you time. Most players need a
---
Coach Learning and Development 17

certain amount of time and space to score and if

possession can be gained directly by a catch or

after a good first touch, the player has a better

chance of having that time and space. Some

players are good strikers from their favourite

side which is a great start but players who

are able to score from right or left have more

options available to them. Habits that cause

slowness are always punished by the good

teams and all players need to have days when

they learn that their habits need to change in

order to be a more effective player. Being able

to swing inside the body and to shorten the grip

when space is reduced is vital to being a high

scorer like Beth Carton, Niamh Mulcahy, Cait

Devane, Ann Dalton and Denise Gaule.

Team play and decision making are two other

essential elements to scoring. Very often when

players are in possession there is a very low

possibility of scoring and a player needs to get

the ball to a team mate in a better position.

Kilkenny's mantra under Brian Cody is always

that the player in the best position gets the ball.

This requires players to get to scoring positions

before they gain possession and an awareness

of team mates by the player in possession. Cian

Lynch is the most consummate team players. In

2018 he assisted in so many of Limericks scores.

One of the biggest challenges facing coaches

is to overcome the psychological barriers to

scoring. Frequently we see players practicing

shooting from outside their range and they

end up in a constant pattern of missing scores.

Coaches are often tempted to do the same

thing. They set up scoring drills and activities

in locations on their pitch where many players

are unable to score from. The biggest negative

factor about this type of set up is that players

become accustomed to missing scores with

no consequences and if this is allowed to go

unnoticed or uncorrected, players will freely

miss scoring opportunities in matches and

believe it is ok. A far better outcome would be

where coaches set up scoring challenges

from a range where players should score from

and where a winner is rewarded and players

strive to be good scorers. Some players will

still miss due to the pressure of the challenge

and that is where coaches can intervene.

Golf psychologists tell us that players should

experience successes in every practice. A lot

of top golfers spend hours practicing putting

from inside 3 feet. Hurlers and camogie players

would gain a lot more confidence scoring

from inside 25 metres than missing from

65. Dave Alred who was Johnny Wilkinsons

kicking coach and is now coach to 2018 Open

Champion Francesco Molinairi as well as the

Queensland Rugby team has a number of

really interesting online videos and podcasts

about how he coaches kicking and putting.

There is probably a real need for teams at the

highest level to engage a striking coach and at

lower levels a need for our coaches to develop

their coaching of striking as well as all the

other roles they have to carry out.

Players can make huge strides when they

are given the right instruction and coaching

or allowed to be free in themselves. Graeme

Mulcahy from Limerick is one player who has

transformed his game to now be a consistent

high scorer for his team. It would be very

interesting to learn what changes he has

made to his training and practice in recent

years. One thing is for certain. It is better to

practice scoring than to practice shooting.

Peter Casey Coach Developer
---
18 Coach Learning and Development

COACHiNG

Coach Education &

Continuous Learning

It is that time of the year where teams have

put their plans in place for 2018 and hopefully

a long season ahead. It is the time of good

intentions and the best of ideas for what will

unfold in the coming months before letting

the excitement unfold over the summer.

We lay out the best of plans and have great

intentions but do we always follow them

through to their culmination. We often hit

stumbling blocks along the way and by god

the stumbling blocks come in many forms.

"Improvise, Adapt, Overcome" is a much

lauded mantra of the US Marines. Coaching

and managing teams is very much a case of

this. Over the course of the next few months,

things will not always go as planned and you

will be presented with problems that need

addressing. As a coach or manager you

will need to be able to deal with situations

differently to how you previously dealt with

them and the same problem dealt with the

same way could equally result in a different

outcome.

A mentor who is continuously looking

to improve is likely to be best placed in

dealing with the varying issues that present

themselves in the coming months. Here are

a few small ideas that could be beneficial to

you in the next twelve months and could be

the small percentages that we often hear are

the difference between winning and losing.

1 Formal Coach Education. While we all

think we have a good understanding of

what is required to be a successful coach

or manager, there are so many elements

and the Camogie coaching pathway

By Paul O'Brien

provides the framework to get a solid

understanding of the many aspects that

are required to be a highly functional

coach or manager.

2 Keep a diary. It might sound very basic

but it will help you in looking back at

how things went during the year in

training sessions or dealing with players.

Be critical of yourself in it and challenge

yourself on the smallest issues, thus

allowing for their frequency to be

reduced as the year progresses.

3 Read a book. There are many great

sports books and other books out there

that can help you in the functioning

of your set up. They don't have to be

camogie or even GAA books. Look into

other arenas to see how things that are

working there can be transferred into

the meeting rooms, dressing rooms or

Camogie fields to enable you to improve.
---
Coach Learning and Development 19

4 Coaching workshops. Get to one or

more of these, they are becoming far more

frequent and are often poorly attended.

I know the Camogie association are

looking to run a number of these during

the year, with some great and varied

topics which looking at the tutors will

be excellent. There are also many others

being run on the hurling side of things

that can be easily transferable.

5 Watching Games. Many times we

watch sport we often disengage and just

watch for the pieces of brilliance or the

moments of suspense and drama. There

is often way more in watching a football,

rugby or basketball match that can be

transferable to our own code and can

give us the chance to make a gain in a

certain area by using a technique that

has been successful in another sport, as

primarily a lot of invasion team sports

can learn massively of the thoughts of

coaches in other codes.

6 Training sessions. If you can endeavour

to go and coach another age group in the

club or do a session for a friend in another

club. There are certain differences within

each team dynamic and being able to

appreciate and understand these are

critical to making subtle adjustments

within your own team.

7 Mentor Reviews. These are often

undertaken at the end of the year and are

often shaped by the outcome of the last

game of the season. Can you do them

more regularly and at stages in the year

when real substance can be taken from

them? They can be invaluable if done in

an open and honest format.

8 Coach mentoring. You would be

surprised at the willingness of coaches

within your club or even outside to come

and assess what you are doing and give

honest feedback on what they felt went

well or not in a given match or training

session. An open dialogue here is critical

and massive learning can take place.

So while at times we may just look to drive

forward with our own ideas and personal

views despite evidence that suggests it may

not always be the best course of action. We

are not dealing with the myriad of problems

and struggles that the US Marines are

dealing with but we can always look to use

their mantra. "Improvise, Adapt, Overcome."
---
20 Coach Learning and Development

Ditch the Drills

A quick google search for the definition of

the term "drill" comes up with the following;

1. 'Instruction or training in military exercises'

2. 'Intensive instruction or training in

something, typically by means of repeated

exercises'

3. 'A rehearsal of the procedure to be

followed in an emergency'

Now for years the language around training

has been about drills, drills, drills. I do not see

why a GAA field in the country needs to be

doing anything with the above definitions.

Camogie is an expressive, free and exciting

game. We do not want to completely curb the

creativity of our sport, we want to be able to

allow our players to fully express themselves

and showcase their craft and skill.

Drills do not help to build creativity and they

actually curtail decision making capabilities

as the decision making process is removed

from them as the coach (I use that term

loosely in this instance) is making all of the

decisions for them with the regimented

exercise. We need a situation where

exercises are laid out and at various stages

in an exercise that the player is faced with a

choice to make and she chooses one or the

other, it might even be that she is faced with

a myriad of choices and decides to go with

one that leads her down a specific path.

Drills look nice and they can appear slick,

as the skills are being performed in a format

which is uncontested and is purely about skill

execution. Many coaches pride themselves on

elaborate drills which are like choreographed

ballet sets but this isn't camogie, camogie is

about making mistakes and recovering from

them. As a coach if you are comfortable in

your own skin and you believe in what you

are doing, don't be fooled by flashy drills, be

comfortable with mistakes galore occurring
---
Coach Learning and Development 21

in your training session and phases of play

breaking down, with the players ending up

learning something different to what you

originally intended.

You are probably tired of hearing about the

requirement for games based training and

that drills are outdated. I would provide the

following as a possible manner in which to

approach a training session which will cater

for the skills of the game and any amount of

games based activities.

• Warm Up – Ball based, ball to a player,

focus on exploration of the skills and trying

new things, multiple touches and warming

the body for the game of camogie (10 mins)

• Game – Limited rules just playing the

game, small sided with possibly two games

going ahead, which means four teams,

so opportunity for three different games

playing each of the other teams. (10 mins)

• Skill Performance Exercise – based

on the way the game goes give players

the chance to try out a skill they did not

perform well in the game. (10 mins)

• Game – with a condition which tries to get

the skill that was originally lacking to be

performed better. (10 mins)

• Skill Performance Exercise – what was

lacking the second time around in the

game is focused on here. (10 mins)

• Game – The game is played again and

hopefully the two areas which where

focused on in the skill performance

exercises have seen improvement. (10 mins)

That is a simple way of running a session but

it does require you to be able to think on your

feet and set up a skill performance exercise in

limited time based on what is not going well in

the game situations.

You may well feel uncomfortable with this

manner of a training session as it puts yourself

out there for ridicule if you make up an exercise

on the spot and it doesn't work as intended.

DON'T WORRY!!!! In a society where we are

often tricked by the flashy new edition or the

automated activities, we are starting to put

ourselves out there less in terms of creativity

and taking a chance. The training field should

be place where you feel comfortable to try

things and provide a way for girls to try things

in an environment that welcomes mistakes

and cherishes them. We can't do this with

drills which are, 'Intensive instruction or training

in something, typically by means of repeated

exercises'
---
22 Coach Learning and Development

"Let them Play"

Remembering back to my primary school

days, I cannot remember much of the

specific Irish, English or Maths classes. I do

remember after school hurling in the yard,

lunch time hurling in the field, indoor hurling

with a holey sliotar in the hall and then

games we played at yard time that were of

our own creation, playing with a half crushed

drinks can or whatever was available to

spark our imagination. That activity was all

supervised by an adult but they allowed

activity to flourish without interfering and

putting adult constraints on them.

Kids play out on the road with not an adult

in sight and they make up their own games,

create rules, break rules and change the

rules. They laugh, they smile and they have

fun playing the likes of heads & volleys,

kerbs, kick the can, World Cup. Whatever

the game, they play it, enjoy it, get better

and learn. The point is that kids want to play

and do activities which bring them joy by

allowing them to explore their imagination

and become something more than they

might appear.

Now this isn't the case in every camogie

session throughout the country but I've

often watched "coaches" deliver sessions

that could conceivably be completed by

robots, following instructions as laid out by

the "coach". Go to point A and do activity

X, then move to point B and do activity Y.

Why are some coaches trying to quench

the imagination of children by making them
---
Coach Learning and Development 23

with a chaotic yet comfortable environment

which allows them to develop their various

skills; camogie specific skills and game sense

skills. How do you do this? Can you just "let

them play", set out games which allow them

to use their capabilities to solve problems

and scenarios. When they are struggling to

deal with a scenario you need to point them

in the right direction but allow them to steer

themselves. Do not overburden them with

adult language and restrictions.

follow dull instructions to conduct pointless

drills, drills to improve skills in a manner

that may never be transferable to a game

situation.

Kids want to play, so why not let them play.

Run your session in a manner that allows

children to have fun and play. Allow them

to carry out the skills of the game, the many

wonderful skills of our great game. Girls are

coming to camogie training for a number

of reasons, two of the key ones are to enjoy

the game of camogie and to play with their

friends. So let them do that. Do activities with

the girls that allow them to have fun.

Many of you are saying that if they just play

games they will not improve as players

and their skills will not develop. But here is

where your role as a coach is important. The

real duties of a coach is to enable the girls

to improve as players so they can don the

club colours and pit themselves against their

counterparts from other parts of the county

or country. The coach needs to create an

environment where the girls are challenged

Can you be a coach who understands when

to give exact directions to the destination

and when you can allow the girl to get lost

and try a number of different routes to get

to the destination? Can you assist them by

identifying the problems in skill execution or

making game decisions, then know how to

impart this knowledge. And if you need to

say nothing, then say nothing because the

girls will play on their own without you. Let

them do it, just "let them play".

Paul O'Brien DCU GAA Academy

Head of Gaelic Games
---
24 Coach Learning and Development

Performance Anaylsis

By Tomas Mount

Performance Anaylsis

Hand Notation

In this week's article I am going to go through

the process of creating a basic match day

hand notation template which any member

of a management team can use. The

template I am going to create will be easy to

change and adapt to any team's philosophy.

The main areas that will be tracked with this

template are:

• Puck Outs

• Team Shooting

• Player Shooting

• Foul Counts

• Turnovers

I am going to use Microsoft Publisher to

create this template but there are many

other alternatives available to people. To

add to the ease of use of the templates, it will

only require the user to have a 4 colour pen

and a clipboard for the users convenience.

Puck Outs

From my experience of working with teams,

it is beneficial to know the count of both

teams puck outs, which players are winning

puck outs and finally, the areas where puck

outs are being won or lost. For these reason

I have added a two simple pitches for both

the home team and away team.

Each pitch will be used to mark the data

separately from each team. When marking

the puck outs I use red for the home team

and black for the away team. I use a tick to

notate a win on the location a puck out is won

and if the home team lost a puck out I use

an X to notate a loss again on the location its

lost. When marking the puck outs I also put

the number of the player the puck out was

intended for beside the X. This allows me to

see if there are trends developing on who the

opposition are aiming for from puck outs and

also who is winning puck outs for my team.

There is also a box underneath both teams

puck out maps to notate if a team goes short

from puck outs. If a team goes short a tick is

added to the count box and if possession is

retained to the oppositions half, a tick goes into

the retained box. Some coaches define a short

puck out as going to the full back line whereas

other coaches define it by how far a puck out

goes in metres. Make sure to clarify what the

management is looking for before analysing

the short puck out. In the finished template

there is also a table for the user to complete

at half time so that it is easy to read how each

team have fared in the first half from puck outs.

Team Shooting

To analyse team shooting during a game I

am going to look at the location from which

shots are occurring and also how many times

teams are having shots within a goal scoring

area. Similarly to the puck out section of the

template, I have added two separate pitches to

look at each team individually. There is a white

circle added to the pitch which would indicate

a goal scoring area.
---
Coach Learning and Development 25

Shots colour key

From play From Frees Goal

This can be adjusted depending on defensive

set ups. Out of 54 All-Ireland and League

finals, 81% of the games were decided by the

team who scored more goals. This is why we

have incorporated how many goal scoring

opportunities teams are having.

I notate each shot, whether it was from play

or a free, by using different colours. If a shot

is from a free I use a green pen. If a shot is

from play then I use blue to notate it and if

there is a goal I use red. If a point from play

is scored it is notated by using a blue tick. A

wide is notated by a blue X on the location of

the shot. A green tick notates a point from a

free and green X notates a wide from a free.

By notating the location and outcome of the

shot, it allows management to see where

their team or the opposition are finding

success.

Individual Shooting

During a game it can be beneficial to see

who is having an accurate day in front of

the goal. To examine this, there is a box

added which the user can add in the players

number who had the shot and the outcome

of the shot.

This should be done using the same colour

coding system as the team shooting so

that management can see if the free taker

is having a good day. If a player had a shot

from play their number should be noted in

blue and the outcome being a tick for a point

and X for a wide. Similarly if it's a shot for

a goal, mark in red the players number and

the outcome of the shot. If it's a goal, use a

red tick and if it's saved or goes wide, use

a red X. There are several benefits of data

like this being available to coaches. Firstly,

when it comes to substitutes, management

might be thinking of taking off a player who

has not been involved in the game but when

they look at the stats they could have 2

points out of 2 shots so instead of taking her

off she might be moved to a position to have

a greater impact on the game. Secondly,

an opposition forward could have scored 3

points so it might be an opportunity to swap

their marker. In some cases when tracking

opposition shooting I have looked at who

the score is coming from. However, I have

found this to be tricky when play crosses

over and the date isn't always reliable when

you look over it with the DVD hence why I

have moved away from that.

Home players shooting

Away players shooting
---
26 Coach Learning and Development

Turnovers

An area which coaches place importance on

in games is turnovers. Within this template it

looks at how teams are being turned over in

possession. The 5 types of turnovers which

are analysed using this template are:

• Forced turnovers

• From passes during play

• Passes from frees

• Fouls on the ball

• Short shots

By tracking these turnovers, coaches can

see how much pressure their team is

applying to the opposition by looking at the

forced turnovers and how many times the

opposition are being turned over from passes

in play. Coaches can also have an indication

on how they're using the ball if the turnover

count from passes during play is high. By

using a table it allows for a direct comparison

of both teams during any period of the game.

Some coaches might want turnovers tracked

by location on the field and again this can be

easily amended in this template

Foul Count

The last area this template looks at is foul

count. Coaches put a huge emphasis on not

conceding fouls inside the scoring area. This

template looks at how many fouls team are

conceding inside and outside this area. This

is just a simple box in which the user puts in

a tick to notate that a free has been conceded

inside or outside the scoring zone. This allows

coaches to have information on how many

frees they are conceding available at all times.

By using the foul count and forced turnover

information, it can also provide coaches with

an indication if their style of play is effective.

If a team is playing a running game and they

are not winning and fouls and have a high

forced turnover rate, then coaches may get

an indication that this is style is not working

for them on this given day.

Conclusion

This is just a simple template I have used in

the past which I find easy to use and gives

management information on areas of the

game which they feel important. It's important

when designing a template that it is based

on the ethos and philosophy of the team. If

anyone has any question about this template

or would like any help designing a template do

not hesitate to contact me at Tomasmount@

hotmail.com. In the next article, we will explore

how this template can be used to automate a

match report in Microsoft excel.
---
Coach Learning and Development 27

ohy

Performance

Indicators

This week's article will focus on the foundation

of all analysis-Performance indicators. Many

coaches use these by setting targets for

players/ teams to achieve in a performance,

an example of which would be a coach asking

for 1 hook and block from each player. Within

this article I will discuss the process I have used

to select performance indicators with teams I

have worked with. Firstly a key performance

indicator (KPI) is a quantifiable measure used

to evaluate the success of a team. In my opinion

it is hugely important that the KPIs monitored

reflect the ethos of the team and the coach. If

the KPIs reflect the team and manager I feel

that all parties interact more with and gain

knowledge from the process.

Rebecca Delee

Selecting KPIs

There are many ways to decide what KPIs

are monitored. In some cases the coach will

have KPIs which they believe are important

to the way their teams play, whereas in other

cases, KPIs will be developed as a coach or

manager might not be familiar to the analysis

process. The latter is the process we are going

to discuss today. I am going to go through

what I do when I meet a management team

who are new to the process of performance

analysis and setting KPIs.

Step 1

The first step I take is to shadow the

management team and listen to what

they're saying to each other and the players.

From these interactions you will usually

find a couple of things which always are

repeated so I take them as the principles

of the management and team and start to

work on developing KPIs from there. Asking

questions during this period is hugely

beneficial as you can really gauge what is

important to management and you can really

learn to give more depth to your analysis.

Step 2

Step 2 consists of drawing up operational

definitions. After getting an idea of what's

important to management I would then draw

up operational definitions and give them to

the management so I can see if my definition

of an action is the same as their definition, for

example is my definition of a block the same

as the management's definition of a block.

Operational definitions are the definitions

you use for your KPIs. An example of an

operational definition is as follows:

Shot

Any strike that ends with

a point, goal, wide, short

to keeper, hit the post or is

saved
---
28 Coach Learning and Development

Rob Carroll, Denise Martin, Colm Clear and

Johnny Bradley have wrote operational

definitions for hurling and football which can

be used to guide people when defining their

own operational definitions.

Step 3

Step 3 involves working with the players

themselves and getting the players take on

the performance indicators.

Players involvement

If players are involved in the process of

creating there KPIs it can give them the

opportunity to take ownership of the

performance. It also can help players

understand the game plan the management

want to implement with them.

There are many advantages of players taking

ownership of the performance indicators

especially that it can allow a team to

evaluate their performance based on facts.

Coaches I have been involved with have

based team debriefs around the players

performance indicators which creates great

dialogue and discussion between players

and management. In the past I have created

simple charts in Microsoft excel with teams

KPIs from games and used them in debriefs.

Players can see where they can directly

improve or where they have improved.

During the debriefs, video footage can really

emphasis the KPIs and can aid the players

development, for an example if a team has

chance conversion rate as a KPI and they are

have a relatively low chance conversion rate

after a performance the video can help to see

if their striking let them or was if it was shot

selection that let them. It can be really useful

to mix both the performance indicators and

video together to help the players develop.

Key Performance Indicators in

Camogie

Since I started conducting analyses in

Camogie I have used both simple and

complex performance indicators. The simple

indicators I would have used are:

• Chance Conversion Rate (amounts

scores/ amount of shots)

• Puck outs won and lost

• Foul counts

• Possession

The more complex indicators would usually

be specific to each team so in a case where

usage of the ball is important a team might

look at:

• The areas where the ball was lost

• Pass sequences (which pass was turned

over)

• The retention % from frees inside a team

owns half

• Direction of the pass

Conclusion

As I said earlier it is important to have each

teams own performance indicators. There

is very little to gain from using the example

above of analysing pass sequences if the

team in question is looking to get quick ball

into forwards. Each team is unique and I

believe that each team should set their KPIs

based on their system of play and ethos and

not use a KPI because another team are

using it. Use KPIs specific to your team. What

we are trying to get from KPIs is a way of

measuring what is specific to the team we are

involved with. If anyone has any questions on

how to measure any aspect of performance

let it be shooting or puck outs etc. drop me an

email and we can bounce ideas off each other

on how it might be done. Hope you enjoyed

reading this. tomasmount@hotmail.com
---
Coach Learning and Development 29

What is Performance

Analysis?

Performance analysis is a relatively new area

of sports science which is being utilised.

Although sport notational analysis dates

back to dancing early in the 19th century, the

concept didn't kick off until the early 2000's

in GAA when Armagh won the All Ireland

utilising hand notation systems. Since

this many developments have occurred

in performance analysis. "Stats" are now

being databased giving managers more

information on their own team. Analysis

has seen a major shift from the use of hand

notations to predominately computerised

software such as Dartfish, Sportscode and

my personal favourite, Nacsport.

Performance analysis can be used to

analyse various aspects of sports ranging

from basic details such as puck outs to

intricate data such as expected points per

game per player. One of my favourite things

about Performance Analysis is that it can

be utilised by every type of coach, from the

underage camogie coach in the local club to

the senior camogie manager looking to win

an All-Ireland. Throughout my upcoming

articles I will show how Performance

Analysis can be utilised by all camogie

managers by going into greater detail on

all hand notation systems (paper stats) and

computerised systems.

How Performance Analysis can

impact camogie?

Performance analysis is part of the

coaching process (see figure 1). After each

game, whether it is done subliminally or

deliberately, coaches analyse games. In

some cases this analysis is done by replaying

key events of the games or how an individual

player performed. In a study carried out by

Franks and Miller (1986) it was observed that

experienced coaches can only accurately

recall events 59.2% of time. This is where

performance analysis can aid the camogie

coaches of all experience. Performance

analysis can help fill the gap and enable

coaches to give accurate feedback to

players. As seen in the coaching process,

analysis plays a key role in the process but

how camogie coaches fully utilise it?

The first step is to decide how much data

you are going to track. As a coach do you

want all the information and stats recorded

and presented to the management and

the players or do you only want the key

performance indicators (KPI's) relayed? I

have found the latter way to work best in my

experience, but as an analyst I still record

as much data possible so I can investigate

emerging trends. This allows management

to give clear and concise feedback to players

regarding familiar KPI's with the prospect of

the players taking ownership of their KPI's.

The best advice I can give any coach in

regards to analysis and feedback is to

get games recorded. Even though it may

appear that I am stating the obvious, I only

experienced two opposition teams recording
---
30 Coach Learning and Development

games his year. Video can give

players very good feedback as

they get to see the events for

themselves. There have been

several times when I have sat

down with athletes and shown

them clips of various aspects

of their performance. Through

viewing their video clips, the

athletes have been able to

identify areas for enhancement

and skill development in their

own personal performance.

For teams who can't get games

recorded there is many other

ways that information on the

game can be recorded, which can

aid coaches feedback. Simple

hand notation templates can

record many events/ stats from

camogie games which can give

coaches precise and informative

information about an aspect

or area of a team or individuals

performance. Underneath is a

simple hand notation template

which records the outcome of

the shots in a game. It is a very

basic example of a hand notation

template but it still provides a

coach with accurate feedback to

give to his players.

By changing the style of our hand

notation template we can record

much more information about

shooting. For example if you use

a pitch to notate a team's shots,

we can notate the location of the

shot, the outcome of the shot

and who had the shot. This can

give coaches some very good

tactical data as well as feedback

for players. For example we see

Team A Shots

Team B Shots

shot, the outcome of the shot and who had the shot. This can give coaches some very good tactical

data as well as feedback for players. For example we see player 12 scored 3 points from the left side

but had 3 wides from the right side. This can be good tactical information for the coach but also can

provide good feedback for the player and give her an area to focus on during training. By using the

pitch map to record shots it gives us the previous data as before with some added player specific

data. The great thing about this template is that it is easy to use and easy to interpreted

By changing the style of our hand notation template we can record much more information about

shooting. For example if you use a pitch to notate a team's shots, we can notate the location of the

By changing the style of our hand notation template we can record much more information about

shooting. For example if you use a pitch to notate a team's shots, we can notate the location of the

I understand there is a cost related to recording games but when you have the video, the options

available to you are endless. Programmes, such as Windows Movie maker which is free, allow you to

cut clips and make separate videos (be warned it can be time consuming) which are great for

providing players with feedback . Also Nacsport have a basic package which will allow you to record

.
---
Coach Learning and Development 31

Athlete

Performs

• This could be training or

competition

Analysis

• This can be undertook

at any stage

Evaluation

• Interpetion and

decison making

Feedback

• This should be

correct, approrpriate

and positive

Figure 1 Coaching Process

Planning

• Based on

information

and in line

with goals

player 12 scored 3 points from the left side

but had 3 wides from the right side. This can

be good tactical information for the coach

but also can provide good feedback for

the player and give her an area to focus on

during training. By using the pitch map to

record shots it gives us the previous data as

before with some added player specific data.

The great thing about this template is that it

is easy to use and easy to interpreted.

I understand there is a cost related to

recording games but when you have the

video, the options available to you are endless.

Programmes, such as Windows Movie maker

which is free, allow you to cut clips and make

separate videos (be warned it can be time

consuming) which are great for providing

players with feedback. Also Nacsport have a

basic package which will allow you to record

25 actions a game, make presentations of

these actions and create dashboards which

are very handy if you are going to track the

same performance indicators each game,

so there is value for money to be had with

analysis software.

Tomas Mount Westmeath

Camogie Analysis
---
32 Coach Learning and Development

Sports Psychology

Performance Sport

Psychology Mindset

Use Mindset to Develop your Players

and Yourself

As a coach you work with a variety of

players who are all different and unique

in their own ways. Over time you notice

patterns, similarities and differences in

players outlooks on developing their own

skills and talent. In teams you work with you

can identify: the talented player who can't be

coached, the player who has talent but lacks

the confidence to fulfil that talent, the player

who works really hard to try to improve

By Paul Ahern

their skills and abilities. Understanding each

players mindset towards their own growth

and development will enable you to coach

and facilitate them to develop as players and

a team. A tool which can help you do this

effectively is understanding their mindset.

Mindset has been defined as the view you

adopt for yourself about yourself. It can

determine whether you become the person,

player or coach you want to be and whether

you accomplish it. This simple belief can

determine these outcomes. Carol Dweck in

her book "Mindset" identifies two types of

mindset Growth Mindset and Fixed Mindset.

Fixed mindset is the belief that your qualities
---
Coach Learning and Development 33

are carved in stone and ensures that

you either believe you can't develop your

qualities or don't want to look deficient in

your qualities. Growth Mindset is based on

the belief that your basic qualities are things

you cultivate through your efforts, it is the

belief that everyone can change and grow

through application and experience.

In sport this can be understood by looking

at how a player's beliefs and motivations

translate into how they deal with situations

and can be summarised as:

Developing a Growth Mindset for

your Players

Clearly, having players who have a growth

mindset is ideal in any team as it allows

them to be coached and develop their

skills and gameplay. Ultimately, cultivating

and developing a growth mindset in our

players will enable us as coaches to help

players to achieve their potential. Observing

players and listening to what they say can

highlight their mindset and allow you to

understand them. This can help you figure

out how best to coach and develop them.

Successful players have a growth mindset

and continuously seek to improve. Coaching

players in a manner to enable a growth

mindset can allow you to build their ability

to put effort into working hard to improve.

Practical steps you could consider using to

develop a growth mindset in your players:

• Ask Questions of your players which will

develop a Growth Mindset

- What did you learn from today's

performance?

- What steps did you take to make you

successful today?

- What are some different things you

could have done in the game?

- How did you keep going when things

got tough?

- What can you learn from the opposition

today?

• Provide them with feedback which will

develop a Growth Mindset

- This will be a challenging skill/tactic to

learn but I believe you can master it.

- You haven't got it yet, but you will if you

keep working & thinking about it.

- I really appreciated your effort today.

- Its ok to take risks that's how we learn.

- Getting better takes time and I see you

improving.

Developing a Growth Mindset for

yourself

As Coaches we should seek to develop and

emphasise a growth mindset for our players

however, we should also consider ourselves

and our own mindset. As a coach do I have

a fixed or growth mindset? Do I believe I am

perfectly formed as a coach or do I believe

I need to continue develop my capabilities?

Therefore, assessing your own mindset and

asking yourself questions such as:

• As a coach can I change how effectively

I coach?

• As a coach can I do things differently to

achieve different results with my players?
---
34 Coach Learning and Development

• Do I always have to coach "my way"

or can I do anything to change that

approach?

If your answer to these questions is yes,

you are on a growth mindset journey, if you

answered no perhaps it is time to reflect on

your beliefs as a coach and how you can

develop. Some practical steps you can take

to develop a growth mindset for yourself

include:

• Actively reflect on your actions as a coach

and consider how you can improve, what

you could learn more about, what impact

you have had.

• Observe other coaches and ask yourself

what I can learn from their approach,

what could I use from their approach.

• Ask other coaches you work with for

feedback and suggestions, open yourself

to the thoughts and ideas of others.

• Consider your own development as a

coach as a journey and that every training

session or game is an opportunity for you

to learn.

Developing a growth mindset will enable

you to continuously develop as a coach

whilst developing the right qualities in your

players to enable them to succeed.

Mindset behaviours in sport

FIXED mindset Players

GROWTH mindset Players

Believe…

Motivation…

Effort Focus

Challenges

Set backs

Negative

feedback

Ownership

As a result…

..talent is something you are born

with and you have it or you don't.

…showing off (or hiding) your

ability.

Expect things to come easily

because you have talent

Avoid challenges you struggle with

because you don't want to look

less talented.

See setbacks as a confirmation

that there are some things you will

never be good at.

Ignore useful negative feedback

and keep the focus on what you

are good at.

If things don't work out..it's not your

fault.

…can plateau early and under

achieve.

..talent is a process of learning and isn't

set in stone.

..learning how to develop your ability.

Feel anything is possible IF you can

understand where to focus your effort

Embrace challenges as a chance to

learn even if you can't achieve them

YET.

See setbacks as part of the learning

process and NOT as a way of defining

ability.

Learn from criticism and use it to

understand how to improve.

Understand you need to drive things.

…maximise your potential.
---
Coach Learning and Development 35

Coaching the Mental

Game - Motivation

Reflection

January and February are interesting months

for Camogie players, the start of a new season

• What happened

full of hope for success followed by preseason

training. Many of us make New Year's

• Evaluation

• Analysis

resolutions and as

• Conclusion

coaches develop goals for

our team for the year ahead, however it can

be a struggle to get motivated to start training

and maintaining that motivation through-out

the year can be challenging. As a coach you

have a lot of responsibilities from planning

and executing training to making decisions in

a game. However, being able to create the

right environment for players to be motivated

to give of their best is the lynchpin to success.

So, what is motivation and how can you as a

coach create a motivational environment and

develop the motivation of your players. We

all may have experienced the motivational

approach involving the highly emotionally

charged dressing room speech accompanied

by banging hurls of tables and lots of shouting.

Whilst that approach can certainly get the

adrenaline flowing and create an instant

emotional response in players, motivation and

motivating players goes beyond this simplistic

view. Motivation is the inner force players have

that energises them to direct their behaviour

in a certain way and direction. Simply put, it

starts a player's engine to enable them to train

and play, providing the ongoing momentum

to continue to put effort into their Camogie.

Motivation is different for different players,

needs to be understood, should be continually

developed and nurtured with individual players

and teams throughout the season.

There are many theories which explain

different types of motivation which players

may have including: winning, gaining

recognition, winning awards, continuously

improving, playing for enjoyment and being

part of a team. Studies have found that players

can have three main types of motivation

(Amotivation, Extrinsic and Intrinsic) with

research suggesting that intrinsic motivation

is the most powerful and sustainable type

for a player in the long term. Therefore, as

a coach enabling players to discover and

develop their intrinsic motivation can have

the most impact on performance over the

course of a season. Intrinsic Motivation can

be developed by focussing on three elements.

1. Competence – improving a player's skills

and abilities to play the game, which will

improve their performance.

2. Autonomy – allowing players to have an

influence or some control on team matters

enables them to feel more responsibility

and control over their development,

ultimately being more self-motivated.

3. Relatedness – building relationships

amongst the team and creating a sense

of togetherness through teambuilding

can enhance the personal connection

between players and increase a player's

personal commitment.

Ultimately motivation influences players in a

continuous cycle.

As a coach you are seeking to build intrinsic

motivation and whilst theoretically this can
---
36 Coach Learning and Development

sound complex however, building several key

principles and practices into your coaching

approach can enable you to create a motivating

environment.

1. Build relationships with your players through

communication, listening and observing.

Use your relationship to understand your

players, what are they interested in, what

is important to them, what they like. Use

this information to figure out how best to

communicate and relate to them.

2. Enable them to create their own team and

individual goals (for Goal-setting tips see

last month's article), this can help create

autonomy. Goals themselves motivate

players to achieve them. Be challenge

oriented, set challenging but reachable

goals and provide feedback on progress

throughout the season.

3. Build players competence in Camogie

through a focus on skills development, if

they become more skilful they will become

more motivated to put more effort in.

4. Use teambuilding to build a cohesive team

environment and relatedness where all

players feel part of the group.

5. Provide positive feedback both information

and rewards (praise) to players regularly.

6. Relate effort to performance, players will

only increase effort if they believe it will

actually improve performance.

7. Reflect personally on your interactions and

what impact you are having on a player.

Adjust your style with individual players

and the team.

The proper time to work on motivation is not

just before a game but in every interaction, you

have with a player and the team. Build these

principles and actions into your coaching

approach. A good team motivator will seek to

know their players and develop their coaching

style to motivate. Ask yourself regularly are

the things I do motivating or demotivating for

players? Challenge yourself to adapt to the

needs of the players and the team.

Ultimately motivation is a very personal

thing for each player but the more you can

consciously think about how you are creating

a training environment that is motivational

and interact with players in a way that enables

them to develop their motivation you can have

significant impact.

Satisfaction

if the player feels

more satisfied it

motivates them to put

more effort in and the

cycle continues

Effort

how much

effort a player

will put into

training and

games

Outcomes

such as being a

better player, better

team or achieving

better results

Performance

increased effort should

result in performance

improvements such as

skills, fitness and game

performance
---
Coach Learning and Development 37

The Mental Game

"Goal Setting"

Mentally preparing yourself and your team

is becoming a key role of any coach in

camogie. It is particularly relevant as one

season finishes and another season another

looms large on the horizon with the fastapproaching

New Year. As a coach, you

begin to dream of a successful season

ahead, you can imagine that moment in

late summer when your team puts together

that perfect performance to finally win the

championship. But how do we move from

hopes and dreams to the reality of training

a squad of camogie players in a soft mucky

field under lights as the rain falls in January.

This requires some soul-searching, asking

some fundamental questions of yourself and

the team. What do we want to achieve? How

do we want to achieve it? How will we know

we are getting there? These basic questions

should be a fundamental part of a team's

start to the season. Mentally planning the

season ahead requires a focus, honesty and

discipline to move from dreams to reality. An

under-rated part of mentally preparing a team

is goal setting with the focus of preparing

them mentally for the season ahead. Effective

goal setting and planning can help guide your

coaching and enable your players to keep

sight of what they should focus on. We are all

familiar with the concept of goal setting and

probably use it in some form in our daily lives,

however moving from the goal of "winning

the championship" to a more focussed and

controlled approach to goal setting will help

coaches and teams perform.

Goal-setting can help motivate as it directs

coaches and players effort and energy to
---
38 Coach Learning and Development

John Tuohy

focus on the things that will contribute to

performance. Goals have been found to

improve sporting performance by up to a

third. The greatest effects found when goals

were moderately difficult, were focussed

on an outcome combined with elements of

performance and were self-set by the players

themselves. Goals enhance performance by

directing attention towards relevant actions,

help elicit effort and commitment from

players, boost self-confidence, enhance team

cohesion, help players break large problems

into smaller components and develop action

plans. Goals help you sustain your focus

and have a sense of achievement whilst,

reminding players what they are striving for

collectively (especially when championship

is a long time away). Achievement of goals

(no matter how small) has been shown to

develop self-confidence so realistic goal

setting can also improve the confidence of

your players and team.

So, what does effective goal setting look

like? How should you approach this with

your team?

1. Plan a training session with team

foucssed on discussing and developing

goals for the coming season. You should

try to facilitate and structure the session

bearing in mind that it is better if the goals

are developed by the players themselves,

enabling them to take ownership of the

goals and become more committed to

them.

2. Look to structure your goals positively on

three sequential levels:

a. Outcome Goal – based on the result

or outcome of a specific event for

example: "win the league, reach

championship semi-final".

b. Performance Goals – what standards

do you want to attain in a game for

example: "win 60% of your own

puckouts, score more than 10 points

from play, concede less than five frees

in scoring zone".

c. Process Goals – these are the goals

you focus on in every training session

which enable you to achieve your
---
Coach Learning and Development 39

performance goals such as: "practice

shooting in every training session,

players attend 80% of training sessions,

work on first touch in every training

session, practice 30 puck-outs in every

session"

Write these goals down to re-enforce your and

the team's commitment to working on them.

3. Use these to plan your seasons training

around specific "process and performance

goals", review progress in games with

performance goals and enable players to

set their own individual goals for their own

performance and development.

4. Goals should be Specific, Measurable,

Achievable, Relevant and Timebound,

using this SMART logic will ensure the

goals you develop are meaningful.

5. Regularly review goals and progress

towards attaining them, this will enable you

to keep everyone focussed and provide

opportunity for review or modification

based on progress, ensuring they stay

current and relevant.

6. Encourage players to create their own

individual goals, these can include all

elements of the game such as: position,

skills, conditioning, behaviour, mental

preparation. Emphasise that they should be

within their reach, relevant and attainable.

7. Review every training session and match to

ensure that it has been focussed on making

progress towards your performance and

process goals. Exceptional players immerse

themselves in process goals, guiding their

training. Use goals and progress to provide

constructive feedback to your team.

8. Be creative to keep goals top of mind and

in focus for example: posters in dressing

room, customised wristbands.

9. Celebrate the attainment of goals, provide

positive re-enforcement and feedback to

players on their progress.

Remember goals relate to performance

and progress not an individual's self-worth,

not achieving a goal does not mean you

are a failure, you just haven't got there yet.

Using goals to develop a growth mindset as

highlighted in "Mindset" by Carol Dweck will

enable players to find success in learning

and improving their camogie skills through

continually seeking to achieve their goals.

Those who develop a growth mindset were

found to thrive during challenging times and

continually develop and progress.

You may not achieve an outcome goal such

as winning the championship, only one team

can do this, however making sustainable

progress towards achieving performance

and process goals will enable you to focus

on building capability, skills, motivation and

confidence in your players which can support

their development as players over the long

term and enable them to remain committed to

camogie in the long term. The most successful

players are known to be goal setters, goalsetting

is a fundamental psychological skill

that you can help your team and players to

develop, to maximise their potential.

Paul Ahern Sports and Performance

Psychologist, www.p2yp.ie
---
Notes

____________________________________________

____________________________________________

____________________________________________

____________________________________________

____________________________________________

____________________________________________

____________________________________________

____________________________________________

____________________________________________

____________________________________________

____________________________________________

____________________________________________

____________________________________________

____________________________________________

____________________________________________

____________________________________________

____________________________________________

____________________________________________

____________________________________________

____________________________________________

____________________________________________
---
CHOOSING THE CORRECT

HURLEY SIZE

Choosing the correct size hurley will increase

a player's success at mastering the skills of

the game. A shorter, lighter hurley is especially

recommended for children and those new to the game.

HOW TO MEASURE THE CORRECT SIZE:

• Player stands nice and relaxed with their hands down by their sides.

• The distance from the ground to their wrist is the correct length.

• Player should be able to hold the hurley at the top and

the hurley should be just touching the ground.

• If a player is between sizes it is still better to

have the hurley too small rather than too big.

TOP TIP!

With the correct

size, your finger

should align

with/touch the

player's wrist

bone.

Place

your finger

horizontally

just underneath

the

grip as

shown.

WHAT ABOUT THE WEIGHT?

Players should hold hurl in their dominant

hand and be able to make ever increasing

larger circles for 30 seconds comfortably.

Then this is correct weight.
---
Niall Williams

Coach Education and

Development Coordinator

087-6235855