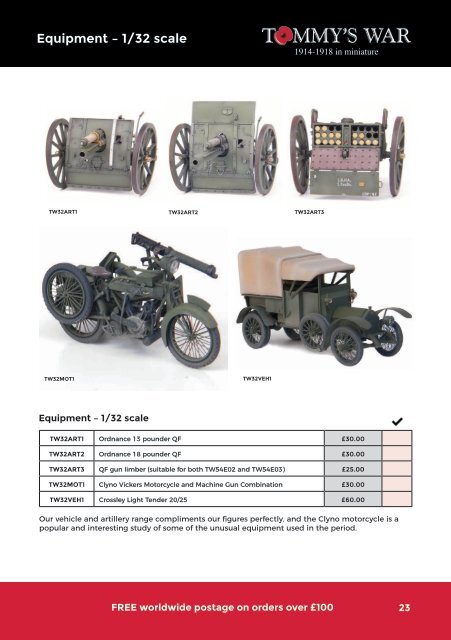 Tommy's War catalogue 2019-2020
The Tommy's War catalogue details the full product range of the finest and most comprehensive model figures of World War One ever produced. This 48 page catalogue lists the range of figures available.
Equipment – 1/32 scale

1914-1918 in miniature

TW32ART1 TW32ART2 TW32ART3

TW32MOT1

TW32VEH1

Equipment – 1/32 scale

TW32ART1 Ordnance 13 pounder QF £30.00

TW32ART2 Ordnance 18 pounder QF £30.00

TW32ART3 QF gun limber (suitable for both TW54E02 and TW54E03) £25.00

TW32MOT1 Clyno Vickers Motorcycle and Machine Gun Combination £30.00

TW32VEH1 Crossley Light Tender 20/25 £60.00

Our vehicle and artillery range compliments our figures perfectly, and the Clyno motorcycle is a

popular and interesting study of some of the unusual equipment used in the period.

FREE worldwide postage on orders over £100 23
More magazines by this user