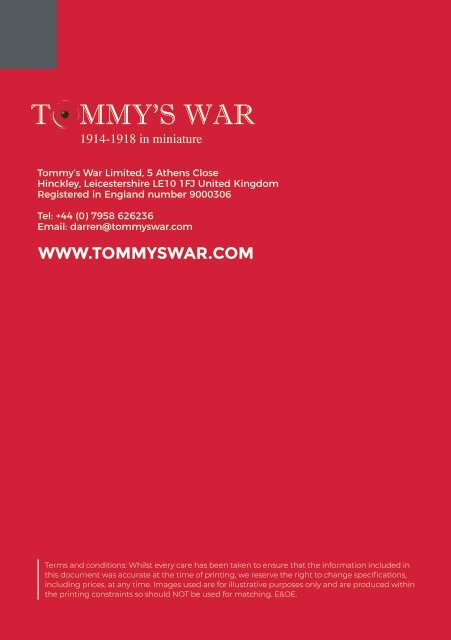 Tommy's War catalogue 2019-2020
The Tommy's War catalogue details the full product range of the finest and most comprehensive model figures of World War One ever produced. This 48 page catalogue lists the range of figures available.
T MMY'S WAR

1914-1918 in miniature

Tommy's War Limited, 5 Athens Close

Hinckley, Leicestershire LE10 1FJ United Kingdom

Registered in England number 9000306

Tel: +44 (0) 7958 626236

Email: darren@tommyswar.com

WWW.TOMMYSWAR.COM

Terms and conditions: Whilst every care has been taken to ensure that the information included in

this document was accurate at the time of printing, we reserve the right to change specifications,

including prices, at any time. Images used are for illustrative purposes only and are produced within

the printing constraints so should NOT be used for matching. E&OE.
More magazines by this user