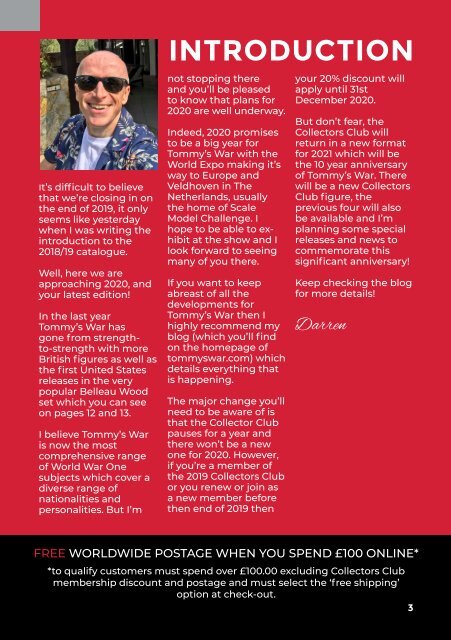 Tommy's War catalogue 2019-2020
The Tommy's War catalogue details the full product range of the finest and most comprehensive model figures of World War One ever produced. This 48 page catalogue lists the range of figures available.
It's difficult to believe

that we're closing in on

the end of 2019, it only

seems like yesterday

when I was writing the

introduction to the

2018/19 catalogue.

Well, here we are

approaching 2020, and

your latest edition!

In the last year

Tommy's War has

gone from strengthto-strength

with more

British figures as well as

the first United States

releases in the very

popular Belleau Wood

set which you can see

on pages 12 and 13.

I believe Tommy's War

is now the most

comprehensive range

of World War One

subjects which cover a

diverse range of

nationalities and

personalities. But I'm

INTRODUCTION

not stopping there

and you'll be pleased

to know that plans for

2020 are well underway.

Indeed, 2020 promises

to be a big year for

Tommy's War with the

World Expo making it's

way to Europe and

Veldhoven in The

Netherlands, usually

the home of Scale

Model Challenge. I

hope to be able to exhibit

at the show and I

look forward to seeing

many of you there.

If you want to keep

abreast of all the

developments for

Tommy's War then I

highly recommend my

blog (which you'll find

on the homepage of

tommyswar.com) which

details everything that

is happening.

The major change you'll

need to be aware of is

that the Collector Club

pauses for a year and

there won't be a new

one for 2020. However,

if you're a member of

the 2019 Collectors Club

or you renew or join as

a new member before

then end of 2019 then

your 20% discount will

apply until 31st

December 2020.

But don't fear, the

Collectors Club will

return in a new format

for 2021 which will be

the 10 year anniversary

of Tommy's War. There

will be a new Collectors

Club figure, the

previous four will also

be available and I'm

planning some special

releases and news to

commemorate this

significant anniversary!

Keep checking the blog

for more details!

Darren

FREE WORLDWIDE POSTAGE WHEN YOU SPEND £100 ONLINE*

*to qualify customers must spend over £100.00 excluding Collectors Club

membership discount and postage and must select the 'free shipping'

option at check-out.

3
More magazines by this user