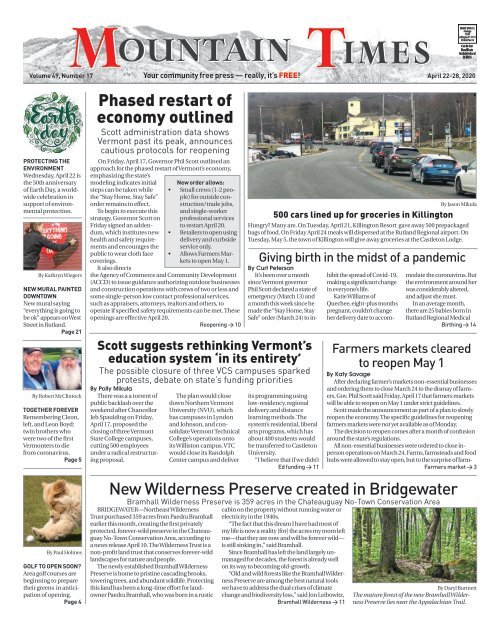 Mountain Times – Volume 49, Number 17 – April 22-28, 2020
Create successful ePaper yourself
Turn your PDF publications into a flip-book with our unique Google optimized e-Paper software.
Mou nta i n Ti m e s

Volume 49, Number 17 Your community free press — really, it's FREE! April 22-28, 2020

PROTECTING THE

ENVIRONMENT

Wednesday, April 22 is

the 50th anniversary

of Earth Day, a worldwide

celebration in

support of environmental

protection.

By Kathryn Wiegers

NEW MURAL PAINTED

DOWNTOWN

New mural saying

"everything is going to

be ok" appears on West

Street in Rutland.

Page 21

By Robert McClintock

TOGETHER FOREVER

Remembering Cleon,

left, and Leon Boyd:

twin brothers who

were two of the first

Vermonters to die

from coronavirus.

Page 5

By Paul Holmes

GOLF TO OPEN SOON?

Area golf courses are

beginning to prepare

their greens in anticipation

of opening.

Page 4

Phased restart of

economy outlined

Scott administration data shows

Vermont past its peak, announces

cautious protocols for reopening

On Friday, April 17, Governor Phil Scott outlined an

approach for the phased restart of Vermont's economy,

emphasizing the state's

modeling indicates initial

steps can be taken while

the "Stay Home, Stay Safe"

order remains in effect.

To begin to execute this

strategy, Governor Scott on

Friday signed an addendum,

which institutes new

health and safety requirements

and encourages the

public to wear cloth face

coverings.

It also directs

New order allows:

• Small crews (1-2 people)

for outside construction/trade

jobs,

and single-worker

professional services

to restart April 20.

• Retailers to open using

delivery and curbside

service only.

• Allows Farmers Markets

to open May 1.

the Agency of Commerce and Community Development

(ACCD) to issue guidance authorizing outdoor businesses

and construction operations with crews of two or less and

some single-person low contact professional services,

such as appraisers, attorneys, realtors and others, to

operate if specified safety requirements can be met. These

openings are effective April 20.

Scott suggests rethinking Vermont's

education system 'in its entirety'

The possible closure of three VCS campuses sparked

protests, debate on state's funding priorities

By Polly Mikula

There was a a torrent of

public backlash over the

weekend after Chancellor

Jeb Spaulding on Friday,

April 17, proposed the

closing of three Vermont

State College campuses,

cutting 500 employees

under a radical restructuring

proposal.

The plan would close

down Northern Vermont

University (NVU), which

has campuses in Lyndon

and Johnson, and consolidate

Vermont Technical

College's operations onto

its Williston campus. VTC

would close its Randolph

Center campus and deliver

BRIDGEWATER—Northeast Wilderness

Trust purchased 359 acres from Paedra Bramhall

earlier this month, creating the first privately

protected, forever-wild preserve in the Chateauguay

No-Town Conservation Area, according to

a news release April 10. The Wilderness Trust is a

non-profit land trust that conserves forever-wild

landscapes for nature and people.

The newly established Bramhall Wilderness

Preserve is home to pristine cascading brooks,

towering trees, and abundant wildlife. Protecting

this land has been a long-time effort for landowner

Paedra Bramhall, who was born in a rustic

Reopening > 10

500 cars lined up for groceries in Killington

Giving birth in the midst of a pandemic

its programming using

low-residency, regional

delivery and distance

learning methods. The

system's residential, liberal

arts programs, which has

about 400 students would

be transferred to Castleton

University.

"I believe that if we didn't

Ed funding > 11

New Wilderness Preserve created in Bridgewater

Bramhall Wilderness Preserve is 359 acres in the Chateauguay No-Town Conservation Area

cabin on the property without running water or

electricity in the 1940s.

"The fact that this dream I have had most of

my life is now a reality [for] the acres my mom left

me—that they are now and will be forever wild—

is still sinking in," said Bramhall.

Since Bramhall has left the land largely unmanaged

for decades, the forest is already well

on its way to becoming old-growth.

"Old and wild forests like the Bramhall Wilderness

Preserve are among the best natural tools

we have to address the dual crises of climate

change and biodiversity loss," said Jon Leibowitz,

Bramhall Wilderness > 11

By Jason Mikula

Hungry? Many are. On Tuesday, April 21, Killington Resort gave away 500 prepackaged

bags of food. On Friday April 24 meals will dispersed at the Rutland Regional airport. On

Tuesday, May 5, the town of Killington will give away groceries at the Castleton Lodge.

By Curt Peterson

It's been over a month

since Vermont governor

Phil Scott declared a state of

emergency (March 13) and

a month this week since he

made the "Stay Home, Stay

Safe" order (March 24) to inhibit

the spread of Covid-19,

making a significant change

in everyone's life.

Katie Williams of

Quechee, eight-plus months

pregnant, couldn't change

her delivery date to accommodate

the coronavirus. But

the environment around her

was considerably altered,

and adjust she must.

In an average month,

there are 25 babies born in

Rutland Regional Medical

Birthing > 14

Farmers markets cleared

to reopen May 1

By Katy Savage

After declaring farmer's markets non-essential businesses

and ordering them to close March 24 to the dismay of farmers,

Gov. Phil Scott said Friday, April 17 that farmers markets

will be able to reopen on May 1 under strict guidelines.

Scott made the announcement as part of a plan to slowly

reopen the economy. The specific guidelines for reopening

farmers markets were not yet available as of Monday.

The decision to reopen comes after a month of confusion

around the state's regulations.

All non-essential businesses were ordered to close inperson

operations on March 24. Farms, farmsteads and food

hubs were allowed to stay open, but to the surprise of farm-

Farmers market > 3

By Daryl Burtnett

The mature forest of the new Bramhall Wilderness

Preserve lies near the Appalachian Trail.
---
2 • The Mountain Times • April 22-28, 2020

Flags to fly half-staff on the 19th of every

month in 2020 to honor victims of Covid-19

On April 17, Governor

Phil Scott announced a

flag lowering procedure

to honor Vermonters who

have died due to Covid-19,

making the following statement:

"This Sunday, April 19,

marks one month since

Solid Waste Transfer Station

Location: 2981 River Road (Behind Town Garage)

Phone Number: (802) 422-4499

SAT.& MON. (8 A.M.- 4 P.M.)

Collection & transfer of solid waste deposited by residents and property owners of

the Town. (Windshield sticker & punch card needed) Recycling Center for residents

and property owners of the Town. (Free with windshield sticker) If you need to

dispose of solid waste outside the normal operating hours of the Transfer Station

or have construction & demolition debris or other non-acceptable waste, residents

and property owners of Killington can go to the Rutland County Solid Waste District

Transfer Station & Drop-off Center located on Gleason Road in Rutland.

The Meadows staff has been working hard to

guide our residents through this difficult time.

Please give us a call at

802-775-3300 if our

assisted living community

can benefit you or a loved one.

Vermont's first two fatalities

as a result of Covid-19. In

honor of all the Vermonters

we have lost to this terrible

disease, I am ordering the

U.S. and Vermont state

flags to fly at half-staff on

the 19th of every month for

the remainder of 2020.

Summer hours began Sat., April 4, 2020.

We are still here for you, too.

"As we continue to confront

this public health crisis,

it is important for each

of us to remember those

who are no longer with us

and the friends and family

who cared for them. We will

get through this by staying

united as Vermonters."

240 Gables Place, Rutland, VT

www.themeadowsvt.com

25 years of trusted care

Lookout cooks for seniors

through coronavirus

Restaurant is closed, but owner continues to serve weekly lunch

By Katy Savage

The Lookout Tavern in Killington is

closed, but co-owner Joy Black is still

cooking meals.

Black has made a weekly full-course

meal for seniors in Killington for at least

10 years and even

though restaurants

were forced to close

on March 17 due to

Covid-19 concerns,

Black hasn't stopped

the tradition.

A group of about

25 seniors are handed

meals through

their car windows at the Lookout Tavern

every Tuesday at 1 p.m.

"It's like waiting at a bank drive

through," said Gerrie Russell, who leads

the Killington Active Seniors group.

Health officials have said people over

age 65 and those with severe health conditions

are the most vulnerable population

affected by the Covid-19 virus.

Russell said the weekly meals allows the

seniors to send notes to each other from

their cars and gives them time to interact

with each other.

"Being able to see each other and

wave has been a gift to us," Russell said.

Rutland-Southern Vermont Regional

Airport to receive $69,000 of state's

$9 million airport aid package

U.S. Secretary of Transportation

Elaine L. Chao

announced Tuesday, April

14, that the U.S. Department

of Transportation's

(DOT) Federal Aviation

Administration (FAA) will

award $9,000,115 in airport

aid to 10 airports in

Vermont to help respond

to the Covid-19 public

health emergency. This

historic grant funding is

part of the newly created

Coronavirus Aid,

Relief, and Economic Security

(CARES) Act Airport

Grant Program, an effort

to provide unprecedented

and immediate relief to

American families, workers,

and businesses.

Of that $69,000 will

go to Rutland-Southern

Vermont Regional Airport.

"This $10 billion in

emergency resources will

help fund the continued

operations of our nation's

airports during this crisis

and save workers' jobs,"

said U.S. Transportation

Secretary Chao.

"Being able to see

each other and wave

has been a gift to us,"

Russell said... "Few

of us cook anymore."

This funding will

support continuing

operations and replace

lost revenue resulting

from the sharp decline

in passenger traffic and

other airport business due

to the Covid-19 public

health emergency. The

funds are available for airport

capital expenditures,

airport operating expenses

including payroll and

utilities, and airport debt

payments.

"Thank you to the dedicated

men and women

from the FAA's Office of

Airports for creating an

entirely new program in

record time to assist airport

sponsors in desperate

need of these funds,"

said FAA Administrator

Steve Dickson.

The FAA encourages

airport sponsors to spend

the grant funds immediately

to help minimize

any adverse impact from

the current public health

emergency. Airport sponsors

should work with

The seniors also don't have to take the

extra risk of going to the grocery store as

often.

"Few of us cook anymore," Russell

said.

The meals include

a main course of some

type of comfort food

with salad and desert.

On April 21, the seniors

were served beef

burritos with pasta

salad and desert. Russell

said the amount of

food is usually enough

for two meals.

"She's a godsend," Russell said.

Under normal circumstances, Black

would cook and serves the seniors lunch

inside the restaurant as it's otherwise

closed to the public for lunch that day.

Black starts making the meals on Monday

and finishes them on Tuesday.

"My wife loves it," Joy Black's husband

Phil said. "We think the world of the

whole group. It's a hearty bunch to be a

senior citizen in Vermont."

Phil said Joy gets a lot of it too. "She

looks forward to it," Phil said. "We're just

happy to take care of them."

their local FAA Office

of Airports field office

on the application and

grant-agreement process.

The CARES Act also

provides funds to increase

the federal share to

100% for grants awarded

under the fiscal year

2020 appropriations for

Airport Improvement

Program (AIP) and Supplemental

Discretionary

grants. Under normal

circumstances, AIP grant

recipients contribute a

matching percentage of

the project costs. Providing

this additional

funding and eliminating

the local share will allow

critical safety and capacity

projects to continue

as planned regardless of

airport sponsors' current

financial circumstances.

The FAA will use a

streamlined application

and grant-agreement

process to make this

funding immediately

available for critical airport

needs.
---
The Mountain Times • April 22-28, 2020 • 3

Killington Resort collaborates with Vermont Dairy Farms on grocery

giveaway benefiting agricultural operations and local community

Killington Resort purchased 700 blocks of local cheese, 350 gallons of local milk to include in grocery packages

KILLINGTON—Killington Resort announced Friday,

April 17, that it would be hosting a Community Grocery

Giveaway Tuesday, April 21 from 11 a.m. to 1 p.m. The

giveaway is part of Killington Resort's Play Forever commitment

to protect the environment, inspire participation,

and pledge to support the local community.

"When we realized farmers were having to dump their

fresh milk because demand was low with schools and

restaurants closed, we saw an opportunity to support

them and the greater community," said Mike Solimano,

president and general manager of Killington Resort. "We

feel fortunate to be able to assist and help our farmers

and local community during these hard-hitting times."

Despite the short notice, Killington community

members, employees of local Killington businesses,

and employees of Killington resort rushed to receive

the food from Snowshed Base Lodge Tuesday from 11

a.m. to 1 p.m. The resort gave away 500 of the available

700 prepackaged grocery bags of food and provisions

such as meats, vegetables, Thomas Dairy milk, Vermont

Farmstead cheese, eggs, produce, and breads.

The line of cars stretched nearly half way down Killington

Road. But all who showed up in need received a

bag of the groceries. The remaining 200 bags will go to

Killingtontown's grocery giveaway next Tuesday, May 20.

"Killington has been such a huge part of our community

throughout the many generations that Thomas

Dairy has been the local dairy. The World Cup boost, and

tourism in general, continues to fuel so many local businesses

immensely," said Abbey Thomas, fifth generation

co-owner of Thomas Dairy. "Partnering with Killington

on the Grocery Giveaway is a win-win, as we are supporting

local farming families with a surplus of milk. At

the same time, Thomas Dairy is proudly helping to get

the freshest milk available into the homes of Killington

residents."

"When Vermont Farmstead Cheese heard about the

Killington Grocery Giveaway, we were on board right

away," said Kent Underwood, president and COW (chief

operating worker) of Vermont Farmstead. "I can't imagine

a more important time than now for our communities

to come together and focus our energy on something

positive to help those who need it."

Following recommendations from the Center for Disease

Control and Prevention (CDC), drivers remained in

their car an dcare packages were put into the trunks. This

is the second free grocery giveaway provided by Killington

Resort; the first one was for resort employees held

over two days in mid-March.

By Jason Mikula

Mike Solimano, Killington Resort president and CEO, caries a bag of prepared groceries to the truck of a car.

Town of Killington to continue grocery giveaway, Tuesday, May 5

The Town of Killington, Killington

Resort, and Castleton University's

School of Resort Management will

host a grocery giveaway on Tuesday,

May 5, 2020.

This project is an extension of a

GoFundMe page set up by Killington

resident Pamela Martin. At the time

of publication on Tuesday,

$9,845 had been raised,

$5,000 of which will help

stem food insecurity in Killington

and the surrounding

areas.

Killington Select Board

member Jim Haff reached

out to Castleton University

and Killington Resort to

brainstorm ways to support area

communities. Using funds raised

through the Killington Strong Go-

FundMe page, the Town of Killington

will work with Killington Resort to

purchase food at bulk rates.

"We are extending the value of

each dollar donated," said Jim Haff.

"Because of the relationships the

Resort has built with local farmers,

we are able to purchase two to

three times the food we would on

our own. Plus, they are working with

local farmers to help alleviate their

surplus."

The value per bag was well over

$100, Haff said.

The grocery giveaway organized

"Because of the relationships the

Resort has built with local farmers,

we are able to purchase two to three

times the food we would on our

own," said Jim Haff.

by the town of Killington will occur

at Castleton Lodge in Killington,

formerly the Butternut Inn, at 63

Weathervane Drive, in Killington.

All residents and employees local to

Killington and the surrounding area

are welcome. Please check Facebook.

com/onekillington for additional

information about pickup times.

This effort is made possible because

of the generous donations of

many individuals. "Clearly there's a

need and we need all the support we

can," said Haff. "Plesae be as generous

as you are able it you're in a position

to donate at this time."

For those wishing to donate to

this effort, please make checks out to

Town of Killington with "Killington

Relief Fund" in the

memo line. Send checks to

Town of Killington, PO Box

429, Killington, VT 05751.

Food pantry

The Sherburne United

Church of Christ, also

known as the Little White

Church, located at 4173

Route 4 in Killington, has a food

pantry with non-perishable foods

that is continuing to provide support

for families in need. The pantry has

nonperishable food, paper goods,

cleaning supplies and gift cards. For

those in need, reach out to Nan Salamon

at 802-422-9244 or Ron Willis

at 802-422-3843 to schedule a time to

visit the pantry.

>

Farmers market: May 1 they will reopen, but under restrictions. Social distancing measures will still have to be followed per guidance from the state

from page 1

ers, farmers markets were excluded from that group.

Northeast Organic Farming Association Policy Director

Maddie Kempner said farmers markets in at least 19 other

states, including New York and Massachusetts, have been

allowed to stay open despite social distancing guidelines

regarding Covid-19.

"There was hope Vermont, being a champion of local

food, would do the same," she said. "It was somewhat surprising.

This is all new to us."

At one point, farmers' markets in Vermont were told

they could not operate, even without in-person contact,

despite other non-essential businesses being able to operate

through online and curbside pickup sales. Farmers'

markets were later told they could open with permission

from the state.

"The communication has been really confusing around

all this," Kempner said. She said it's been challenging for

farmers that rely on the markets to reach their customers.

The Vermont Farmers' Market and Vermont Farmers'

Food Center in Rutland is one of nine winter farmers' markets

and one of the largest in the state.

"I was sorely disappointed, as were many people, that

they closed the markets down," said Greg Cox, the owner of

Boardman Hill Farm in West Rutland. Cox served as a board

member of the Vermont Farmers' Market for 30 years and

is president of the Vermont Farmers' Food Center. "Every

market in the state was left to their own devices to figure out

what we're supposed to do."

Cox said the farmer's market was informed by the state

they had to close, after initially receiving permission to

operate. "They showed very little leadership," Cox said. "As

far as agriculture and farmers' markets, they dropped the

ball — they got it wrong."

Cox said the state's decision have hurt Vermont's farmfriendly

reputation. "Vermont has this reputation built on

the back of grassroots effort. It's like the local food capital of

the country," Cox said. "The first hiccup comes along and

they throw us overboard."

He said there are benefits to local food.

"People aren't handling it as much," Cox said. "A lot of it is

organic. A lot of it comes from 20 miles a way at most."

Vermont Farmers' Food Center started curbside pickup

three weeks ago, but sales have dropped from $32,000 a

week to $4,500, Cox said. "That's income the producers

will never get back," he added.

Cox said the market took precautions similar to the

grocery stores. One-way traffic in the aisles and six-foot

markers were put in place to encourage social distancing.

"The Rutland market really went out of the way to put in

place protocols to keep people safe," Cox said.

Kempner was hopeful Vermont officials would lift

restrictions on selling seeds and plant inserts for home

gardens. She also hoped the May 1 guidelines would enable

customers at farmers markets to use Supplemental Nutrition

Assistance Program (SNAP) benefits—something they

can't do through online ordering.

Vermont Farmers' Market President Paul Horton anticipated

it would be a long time before the market would be

able to operate like usual.

"Nobody knows, not even the governor," he said.
---
4 • The Mountain Times • April 22-28, 2020

By Paul Holmes

Preseason games

Golden retrievers Maggie and Willow (puppy) took part in the excitement about the (eventual) opening of the golf season at Green Mountain National Golf Course in Killington.

Preparations are expected to begin soon to get the course ready for an opening "late April or early May" according to gmngc.com.

Rutland Subaru Shares

the Love with RRMC

Presents hospital with $23,867.31 check

RUTLAND—Rutland Subaru continues to share the

love. Recently, they presented Rutland Regional Medical

Center with proceeds from the 2019 Subaru Share the

Love® event in support of the Enhancing our Culture of

Care campaign. Rutland Subaru was one of many retailers

participating in the event nationwide.

"For the third consecutive year, Rutland Subaru selected

Rutland Regional Medical Center as the beneficiary of its

local Share the Love event," said Stephan Maeder, owner

of Rutland Subaru. "This year, proceeds raised will support

the Enhancing our Culture of Care campaign for necessary

renovations to the Psychiatric Inpatient Unit at Rutland Regional.

As part of the Share the Love event, Subaru donated

$250 for every new Subaru sold between Nov. 15, 2019 and

Jan. 2, 2020. We are proud to present Rutland Regional with

a check totaling $23,867.31 in support of this important

initiative right here in our community."

Rutland Regional Medical Center has a long history of

caring for patients in need of inpatient psychiatric services.

As one of only five inpatient psychiatric units in Vermont,

they provide short term, acute psychiatric care to adults

who are experiencing a mental health crisis.

For info. visit, rrmc.org/ways-to-give/fundraising.

Birth announcement:

Are out-of-staters, fleeing the virus,

coming to Central Vermont?

By Curt Peterson

Some Vermonters imagine a vast

influx of out-of-staters bringing the

dreaded coronavirus into our state.

Governor Scott has shut down shortterm

rentals and regular lodgings

until June 15, but second-home owners

fleeing New York, in particular,

but New Jersey and Southern New

England as well, are allegedly here in

droves to escape the virus.

But that assumption is largely

based on a logical deduction rather

than evidence.

Indeed, the statistics would indicate

Rutland and Windsor counties

are a pretty safe place to be during the

pandemic.

As of April 20, Rutland County

(population 58,000) registered

43 confirmed cases of Covid-19

(7/10,000), and Windsor County

(population 55,000) has 37 confirmed

cases (7/10,000). Two have died in

Windsor County, one in Rutland

County.

Statewide, 38 virus patients have

died, 12,726 Vermonters have been

tested, and 812 cases have been confirmed

(about 13/10,000).

New York City (population of

8.4 million) alone has 129,788

(04/19/20) confirmed Covid-19 cases

(154/10,000) and 10,022 deaths.

But are fears of infected "carpetbaggers"

bringing the virus to our

relatively safe, resource-limited

regions justified?

Suspicion the virus may be

imported from harder-hit states

inspired Governor Scott to post state

employees at the borders counting

out-of-state license plates.

Stephanie Brackin, media relations/Covid-19

joint information

center information management

officer, provided the Mountain Times

with the border statistics: Between

April 1 and April 12, 290,071 Vermont

vehicles have entered the state and

280,827 out-of-state vehicles have

entered the state— in other words,

about half (50.8%) of the vehicles

crossing the borders had Vermont

plates, and about half (49.2%) were

registered out-of-state.

"We are seeing approximately 53%

less overall traffic into and within

Vermont. Much of this data comes

from Roadway Weather Information

Systems (RWIS), the automated

data collection," Brackin reported.

Additionally, she said, "We are seeing

at least a 60% decline in reportable

crashes in the same time frame."

The governor has required that

everyone entering Vermont from "hot

spot" locations to self-quarantine

for 14 days once here – this includes

Vermonters as well as out-of-staters.

Brackin said the state posts information

"everywhere" to inform local

and visiting public of the regulations

and recommendations, "including

road signs, public service announcements

… on radio and television,

posts across state government social

media pages, and comprehensive

information on state websites."

As of April 13 the Vermont Department

of Health reported 40 confirmed

Covid-19 cases were patients

from other states – out of 748, or

about 5.3%.

"The Health Department reports

A daughter, Belle Elizabeth LaVigne, was born on

March 26 at Rutland Regional Medical Center, to Kelsey

and Christopher LaVigne of Killington. Mobility > 13
---
The Mountain Times • April 22-28, 2020 • 5

Twin brothers felled by Covid-19

made a 'quiet yet big mark'

By Kevin O'Connor/VTDigger

Twin brothers Cleon and Leon

Boyd followed each other seemingly

everywhere, from their births 64 years

ago at the old Putnam Memorial Hospital

in Bennington to their frequent

arrivals at Deerfield Valley coffee

counters such as Dot's in Wilmington.

"I never regretted seeing them walk

in the door," recalled Laura Sibilia, a

former waitress turned state representative

for several towns on the

Bennington-Windham County border.

"Just fun-loving guys who always

came in with a good attitude and kept

you laughing."

Perhaps that's why family and

friends can't believe — yet can believe

— the two died just six days apart

this month from complications of

Covid-19.

"They were born together, they did

everything together, and they died

together," said Leon's high school

sweetheart and wife of 40 years, Pam.

Cleon was born several minutes

earlier than Leon on March 13, 1956.

"Cleon always made sure he

told Leon," Pam said. "They'd fight

together, then they'd be hugging each

other."

The twins grew up on their family's

Wilmington farm with brother Bucky

and sisters Theresa, Carol and Tammy.

Both attended local elementary and

high schools, then worked as equipment

operators for several excavating

and construction companies. Following

in the tracks of their late father,

they also groomed area ski trails.

"The best is when you get a good

storm with a little bit of sticky snow

and it's packing good,"

Cleon said of such

deep-of-night work

in a Mount Snow promotional

video. "The

moon's starting to set,

you get to the summit

and look down to the

valley and see the sun

come up and say, 'Wow,

look at all the people who are

missing this.'"

When he wasn't working,

Cleon would ride his Honda

Gold Wing motorcycle to the

family deer camp or sugarhouse.

Leon, for his part,

liked hunting, fishing and

snowmobiling. Together,

they sang tunes like the folk

classic "Good Old Mountain

Dew," the comical "The Battle

of New Orleans" and the Ray

Charles and Willie Nelson

duet "Seven Spanish Angels"

at weddings and other public

socials.

"Everybody asks me,

'When are you going to retire?'"

Cleon said in the Mount

Snow video. "Nah, you'll find

By Robert McClintock

Twin brothers Cleon, left, and Leon Boyd were two of the first Vermonters to die

from complications of the novel coronavirus.

me dead in the snowcat or I'll be up on

the mountain mowing, one way or the

other."

Instead, Cleon, Leon and seven

other family members learned just

before winter turned to spring they

were among the first Vermonters to

show symptoms of Covid-19.

"We all contracted it at the sugarhouse,"

Pam believes. "We're very

close."

"In my mind, Dad could have gotten

it anywhere," said Cleon's daughter,

Meghan. "I kept telling him, 'Wash

your hands,' but he's an old stubborn

Vermonter."

"The moon's starting to set, you get to the

summit and look down to the valley and

see the sun come up and say, 'Wow, look at

all the people who are missing this,'" said

Cleon of grooming at Mount Snow.

Submitted

Twin brothers Leon, holding microphone, and Cleon

Boyd often sang at weddings and other public socials.

As everyone else recovered, Cleon

died at Southwestern Vermont Medical

Center in Bennington on April 3. Leon

followed 6 days later at Cheshire Medical

Center in Keene, New Hampshire.

The twins are survived by their

mother, other brother and three

sisters. Cleon's obituary names two

sons, two daughters, six grandchildren

and three great-grandchildren. Leon's

obituary notes his wife and their son

and daughter.

"You both were the kindest, most

genuine, loving men I've ever had

the pleasure of knowing," one friend

posted on Facebook. "They were both

always full of positivity

and laughs. Good

advice and smiles.

Warmth and love. We

are all going to miss you

both so much."

Family and friends

lowered flags to

half-staff the past

two weekends before

climbing into cars, fire and

highway trucks, police cruisers,

motorcycles and tractors

to drive through the region in

a pair of processions. Cleon's,

which came on Palm Sunday,

included his snow groomer.

Leon's, which followed on

Easter, featured the roadside

mower he drove for the town.

"I have never seen so

many cars," said Sibilia.

"There are some people

who make a quiet yet big

mark. For me, they were very

similar in temperament and

love of family, singing and

Vermont. They touched and

brightened so many lives."

Beginning and ending with

each other's.

Mou nta i n Ti m e s

is a community newspaper covering Central

Vermont that aims to engage and inform as well as

empower community members to have a voice.

Katy Savage

Julia Purdy

Curt Peterson

Cal Garrison

Buy Sell Trade

MID-STATE GUNS LLC

Table of contents

Local news................................................................. 2

State news.................................................................. 4

Opinion...................................................................... 8

News briefs.............................................................. 12

Puzzles..................................................................... 15

Silver Linings........................................................... 16

Food Matters............................................................ 20

Pets........................................................................... 22

Mother of the Skye................................................... 23

Columns................................................................... 24

Classifieds................................................................ 28

Service Directory..................................................... 29

Real Estate................................................................ 31

Polly Lynn-Mikula .............................. Editor & Co-Publisher

Jason Mikula .......................... Sales Manager & Co-Publisher

Lindsey Rogers ...................................... Sales Representative

Krista Johnston............................................Graphic Designer

Brooke Geery........................................ Front Office Manager

Dom Cioffi

Mary Ellen Shaw

Paul Holmes

Merisa Sherman

Flag photo by Richard Podlesney

976 VT Rt. 12S

Randolph, VT 05060

midstateguns@myfairpoint.net

©The Mountain Times 2020

The Mountain Times • P.O. Box 183

Killington, VT 05751 • (802) 422-2399

Email: editor@mountaintimes.info

mountaintimes.info

Ray & Carol Burke

Tel 802.728.3100

Fax 802.728.4300

Dave Hoffenberg

Ed Larson

Vivian Finck

Nate Lucas
---
6 • The Mountain Times • April 22-28, 2020

SBA approves $853 million to Vt. small businesses

The U.S. Small Business Administration has approved

more than $853 million in loans to 4,896 Vermont

businesses, U.S. Senator Patrick Leahy announced on

Wednesday, April 15. The assistance comes from the

Paycheck Protection Program that was created as part of

the CARES Act Congress passed in late March.

Leahy, the Vice Chair of the Senate Appropriations

Committee, had a leading role in crafting the three emergency

Covid-19 bills.

The Paycheck Protection Program is designed to

provide cash-flow assistance through 100% federally

guaranteed loans to employers who maintain their payroll

during this emergency. If employers maintain their

payroll, eight weeks of the loan will be forgiven, which

would help workers remain employed, as well as help

affected small businesses and the economy snap-back

quicker after the crisis.

While originally, loans were to be made available

starting April 3 through June 30, 2020, the program ran

out of money on Thursday, April 16. There had been $349

billion allotted for the program. Lawmakers are now

working on bill to add $250 billion to the program.

For more information visit sba.gov.

Courtesy SBA

Top: dollars awarded by loan size

categories. Bottom: number of

loans and amounts by state.

Vermont Foodbank and

Vermont National Guard

to provide meals to

people facing hunger

On Friday, April 24, they will be at Rutland

Southern Vermont Regional Airport

The Vermont Foodbank and Vermont National Guard

will distribute food to those in need at five different areas of

Vermont beginning on Wednesday, April 22. These points of

distribution will help ease demand on food shelves around

that state that have seen a surge in demand.

The National Guard will set up and operate Points of

Distribution (PODs) at state airports in Swanton, North

Clarendon, Newport, Bennington, and North Springfield

on separate days over the next two weeks. Those in need of

food can go to these locations on the appointed days and

receive a seven-day supply of Meals Ready-to-Eat (MRE) for

each member of their household.

"The Vermont Foodbank has seen a 30 to 100% increase

in the number of people in need of food assistance due to

Covid-19. This is straining the capacity of the charitable

food system and these points of distribution will help get

additional meals to people while taking some pressure off

our network of food shelves and meal sites," Vermont Foodbank

CEO, John Sayles said.

Those who are ill, have been advised to quarantine, or

lack transportation can send a friend or relative to pick up

meals for them. Those picking up food can come to the location

nearest to them, open their trunk, and the appropriate

amount of food will be loaded by members of the Guard.

Local dates and locations (9 a.m. - 6 p.m. each day):

• Friday, April 24, Rutland Southern Vermont Regional

Airport, 1002 Airport Road, North Clarendon

• Monday, April 27, Hartness State Airport, 15 Airport

Road, North Springfield
---
The Mountain Times • April 22-28, 2020 • 7

Something to write home about

By Sen. Dick

McCormack

Closing state colleges? This issue is still in play, and what I

write on April 18 may be outdated by press time. But the basic

frame of the discussion is likely to persist. If we approach the

question as pure book keeping, as supply and demand analysis,

a case can be made for closing three state colleges. Enrollment

is off, expenses outstrip funding, the taxpayers are unwilling to

pay more than they already pay.

But on the other hand, an economic case can be made for

keeping colleges open. Closing would cause unemployment,

undermine local businesses, remove an incentive for young

people to come to Vermont and spend their flatland dollars,

and remove an incentive for young Vermonters to get their educations,

and pay their tuition here. These state colleges allow local students to commute,

for many the only economically viable way to go to college.

Johnson, Lyndon, and VTC are essential parts of their communities. They're local

resources; meeting places, artistic and intellectual venues. In many ways closing these

institutions could hollow these communities out.

McCormack > 26

Clarkson > 26

Two weeks ago Governor Scott indicated

that as circumstances

allowed us to ease the "Stay

Home Stay Safe" restrictions,

that he would do so,

but only a quarter turn of

the spigot at a time. This

past Friday, April 17, we saw

the first of those turns. Beginning

Monday, April 20,

his latest order authorizes

A turn of the spigot

By Rep. Jim

Harrison

Submitted

outdoor businesses and

construction operations

with crews of two or fewer

to reopen. Additionally

some single-person lowcontact

professional services, such as

appraisers, attorneys, realtors and others,

can operate if specified safety requirements

can be met.

This follows data that indicates Vermont

is beyond the peak with the growth

rate of number of new cases

down to under 4%. The governor

also announced we can expect

farmers' markets to open on May

1, with certain measures in place

to be defined by the Agency of

Agriculture. The RestartVT Team

will also evaluate how to reopen

outdoor recreation, retail,

restaurants and bars, travel and

other activities, focusing on the

conditions needed to prevent

further Covid-19 outbreaks.

The latest order also requires

that employees must wear nonmedical

cloth face coverings (bandana,

scarf, or nonmedical mask, etc.) over

their nose and mouth when in the presence

of others.

The Chancellor of the Vermont State

Harrison > 26

Remote voting,updates from the House

By Zachariah Ralph, Rep. WDR-1 Hartland, Windsor, and West Windsor

This weekend truly felt of weeks, and we just comprehensive look at

like spring had arrived and finished our trainings the current situation, and

that summer will come for meeting and voting we avoided being "pornbombed"

presently. I personally am remotely. With 150 legislators

on Zoom meet-

looking forward to the arrival

calling in we had to ings before they became

of morel mushrooms make sure that everyone password protected.

and planting my seedlings still had a voice while

VSC closures

in my garden. A lot has maintaining some sort of I received many emails

been changing on the order. We should begin from folks about the announcement

governance front, too. voting on legislation this

to vote on

Remote voting week. This all took a bit closing three of the State

The Legislature has longer than I would have College (VSC) campuses.

been working remotely liked, but at least this way This was very alarming

over the last couple we are able to have a more news. The VSC system pro

Ralph > 26
---
Opinion

8 • The Mountain Times • April 22-28, 2020

OP-ED

Trump's pandemic

failure: a missed

opportunity

By Dr. Alon Ben-Meir

For a man who is a self-absorbed, power hungry narcissist

who wants to be recognized as one of the greatest

presidents of the United States while desperately trying

to be reelected, Trump failed miserably to rise to the

occasion precipitated by the unfortunate advent and

spread of the coronavirus. Instead of minimizing the

ominous danger of the virus and ignoring the warning

of top scientists about the prospective disastrous

consequences it could unleash, he could have mobilized

from the onset of this pandemic every national resource

to tackle the virus head on. This includes the military,

the National Guard, and thousands of companies and

medical institutions to produce critical equipment and

testing on a national scale, and creating an aggressive

national program to fight this virus as a war on all fronts.

Had he done that, he could have realized just about

everything he wanted. In fact, he would have been able

to emerge from this tragic outbreak as a hero. The public

Trump wants to present himself as

the savior of the economy, knowing

that short of a significantly

improved economic outlook in the

immediate future, his reelection

prospects will be dim at best.

would have forgiven him for his incessant lies, deliberate

misleading statements, idiosyncrasies, and corruption. I

also believe that Trump would have been able to handily

beat any prospective Democratic nominee, including

Joe Biden, come November.

The question is, why didn't Trump pursue this logical

course of action? There are a number of reasons that

explain his bizarre behavior, albeit none should have

obscured the gravity of the situation—if he only wasn't

so immersed with himself. From his vantage point,

everything starts first and foremost with what can serve

his personal interests.

From the onset, Trump sought to disassociate himself

from the outbreak of the virus by denying that he failed

to prepare the country for such epidemic, when in fact

he greatly contributed to the country's unpreparedness.

In the spring of 2018, he dismantled the team in charge

of responding to pandemics, including the departure of

its head, Rear Adm. Timothy Ziemer. In addition, he cut

funding for the CDC and continues to push for reducing

U.S. funding of the World Health Organization. Moreover,

he seems to be unwilling to embrace testing on a

national scale because he does not want to show that

the number of those infected is exponentially increasing,

leaving the country more vulnerable that it has ever

been.

Trump's concern with the economy was first and

foremost in his mind. As he sees it, the continuing

economic boom was central to his reelection campaign,

and he rebuffed anything that could adversely impact

the health of the economy. Thus, he had to minimize

the dire implications of the coronavirus, even though

he knew about the virus early in January and dismissed

the scientific evidence suggesting that the impact of the

virus would be catastrophic if the country was not fully

mobilized to deal with the epidemic.

As customary for Trump, he never takes responsibility

for anything that turns sour, but he rushes in and relishes

Leadership> 9

LETTERS

Understanding

public vs. private

Dear Editor,

From Ayn Rand to

Ronald Reagan, America's

conservative heroes have

preached "public is bad,

private is good." Yet public

means "accessible to or

shared by all members of

the community," while

private means "intended

for or restricted to the use

of a particular person,

group, or class." We're

paying a great price for

that now that we face a

truly "public" health crisis.

For years, we have cut

the very programs that

could help us the most

now. The Trust for America's

Health reports that

the budget for the Centers

for Disease Control failed

Public means

"accessible to

or shared by

all members

of the

community."

to keep up with inflation

and federal funding to

help states and localities

prepare for emergencies

were reduced by 35%.

Public vs. private> 9

Prison should

not be a Covid-19

death sentence

Dear Editor,

Covid-19 is impacting

families all across

Vermont and the nation.

We have known from the

beginning that group

living settings are particularly

susceptible to rapid

infection. We have seen in

other countries and states

that the outcome of not

taking strong preventative

measures in prisons is a

spike in cases of infection.

We have also seen effective

examples of precautions

being taken in other

countries, as well as this

country in states such as

New Jersey and California.

Vermont has not

followed these effective

and preventive measures

despite multiple requests

from ACLU Vermont and

Vermonters For Criminal

Justice Reform.

Unfortunately, the

concerns outlined by

these organizations have

become the reality in

Vermont and may well

get worse. At Northwest

State Correctional Facility,

32 incarcerated persons

and 16 staff members

have tested positive for

Covid-19, and that number

may increase by the

Prison> 13

Isolation day

Dear Editor,

I felt like an imaginary,

old fashioned Italian

woman today. I decided it

was time to pack away the

big, heavy down comforter

as deep winter is over in

Vermont. So, I filled my big

bath tub with lots of soap,

Glass in

hand (plastic)

I started

stomping.

bleach and hot water.

Then I submerged the

queen sized white comforter

into the tub to soak,

not realizing how heavy

it would be once it was

totally wet. I soaked it for

an hour and struggled and

slipped trying to carry it

to the washer. I lay on the

floor on top of this giant

drooling blob of feathers

contemplating how could

I get it wrung out and into

the washer to spin dry.

I remembered there is

always a way!

I poured a glass of red

wine, took off my socks

and sneakers, rolled up

my jeans and stepped

into the tub. Glass in hand

(plastic) I started stomping.

It was the only way to

Isolation> 9

Bail out Main

Street, not Wall

Street

Dear Editor,

First, a little history:

2008 saw the worst financial

crisis in this country

since the Great Depression.

In response to the

economic devastation,

congress enacted the

Troubled Asset Relief Program

to bail out America's

big banks, to the tune of

$700 billion. Today, with

the coronavirus pandemic

hitting small businesses

harder than anybody else,

it is Main Street, not Wall

Street that needs the bail

out.

Small businesses are the

backbone of this country.

In Vermont they make

up 99% of our businesses

and before this crisis,

employed almost 60%

of the state's workforce.

Covid-19 has brought us to

our knees. We are not going

to survive this pandemic

without further government

action. Congress's

initial attempts to help

support small businesses

were designed to essentially

put the small business

economy on life support.

Hopefully it will provide

some short-term relief

to some. However, even

that is unclear with the

Main Street> 12
---
The Mountain Times • April 22-28, 2020 OPINION • 9

CAPITOL QUOTES

On Trump's latest immigration ban...

"In light of the attack from the

Invisible Enemy, as well as the need

to protect the jobs of our GREAT

American Citizens, I will be signing

an Executive Order to temporarily

suspend immigration into the United

States!"

Tweeted President Donald Trump, April 20.

"Does the President realize that his

attempt to distract from his response

to the Covid-19 pandemic by shutting

down legal immigration would shut our

doors to many of the VERY healthcare

professionals who are caring for our sick?

Stop doing policy and government by

tweets!

Said Sen. Patrick Leahy (D-VT)

"From the beginning Trump has flailed

about seeking someone to blame for

his own failure. Obama. Governors.

China. Speaker Pelosi. People of Asian

descent. Immigration has nearly

stopped and the US has far more cases

than any other country. This is just

xenophobic scapegoating."

Said Rep. Don Beyer (D-VA)

"As our country battles the pandemic,

as workers put their lives on the line, the

President attacks immigrants & blames

others for his own failures. The order

I'd like to see tonight? Testing. Instead

he twists "the buck stops here" into "the

buck stops anywhere but here."

Said Sen. Amy Klobachaur (D-MN)

>

Leadership: With a bit less narcissism, Trump could have looked good

from page 8

taking credit for anything good, perceived this tragic infliction could have been

or real, like the record-breaking stock prevented had his administration been

market or the lowest unemployment better prepared, and had Trump himself

rate in a generation which, in fact, was acted in good faith. Instead, he sought to

largely precipitated by Obama's economic push unproven and under-tested pharmaceuticals

recovery plans. In this case, he put blame

in the hopes that they would

for the lack of essential medical supplies prove beneficial, so that he could present

squarely on the Obama administration,

it to the nation as another sign of his great

and various governors who were success in handling the pandemic.

told that they are on their own: not only The problem with Trump though is his

because it was convenient, but because obsession with himself, which blinds him

it would also distinguish himself from from seeing the larger picture. Trump's

the "failings" of his predecessor whom he ignorance prevented him from realizing

intensely disliked.

Being totally consumed

by his reelection campaign

is an understatement. For

Trump, nothing else matters.

He was determined to treat

Covid-19 as a side distraction

and not allow the rapid spread

of the virus to interfere in his

reelection efforts. Having

finally realized the severity of

the pandemic, as the number

of deaths and those infected

rose exponentially, Trump was quick

to capitalize on it by conducting a daily

press conference, which has become a

replacement for his campaign rallies.

Finally, Trump was quick to take

full credit for the passage of the largest

economic stimulus bill, to the tune of

$2.2 trillion. For him, the bill is essential

in order to keep unemployment—which

has exploded in recent weeks—as low as

possible and allow the stock market to

regain some of its substantial losses. To

be sure, Trump wants to present himself

as the savior of the economy, knowing

that short of a significantly improved

economic outlook in the immediate

future, his reelection prospects will be

dim at best.

While Trump was focusing on what

serves his personal interests, Covid-19

was claiming the lives of tens of thousands

of Americans and infecting

hundreds of thousands more. Much of

from page 8

squeeze all the water out

of the comforter so I could

lift it into the washing

machine. I stomped till my

glass was empty! I sipped

slowly of course since I was

sure if it took two glasses I

would have ended up on

my fanny in the bottom of

Assuming responsibility and

rising to the occasion... he could

have emerged from this historic

pandemic a truly decisive, strong,

and visionary leader—attributes

that have only eluded him when

they were at his very grasp.

the tub sloshing with the

soggy comforter.

It had a final wringing

out in the washer and then

a spin in the dryer drying

out. My second small glass

of wine was for managing

to pack away a clean,

white, down comforter

that one can engender a breakthrough

from a breakdown. Had he been honest

with himself and with the American

public, he could have simply admitted

that the country was unprepared and

that he will fight this deadly virus with all

of America's might. He could have also

offered assistance to other countries in

need, restoring some of America's global

leadership.

Indeed, assuming responsibility and

rising to the occasion to right the wrongs

would have put Trump in a completely

different light. He could have emerged

from this historic pandemic a truly decisive,

strong, and visionary leader—attributes

that have only eluded him when

they were at his very grasp.

Dr. Alon Ben-Meir is a professor of

international relations at the Center for

Global Affairs at NYU. He teaches courses

on international negotiation and Middle

Eastern studies.

Isolation: Boredom breeds motivation for yearly chores

>

from page 8

What happens when

a "public health crisis"

strikes a country that

has no "public health

plan?" There is no system

to assess the spread of

disease, to ensure we have

the necessary supplies,

to allocate the supplies

we do have. Instead of a

public system manned by

experienced people, the

crisis must be managed

by whoever happens to

be at the top of the heap

at the moment the crisis

arrives. The response will

be delayed and its effectiveness

will depend on the

competence of that person

to rest until next winter.

Whew!

This is what happens

when I get bored from being

isolated in the mountains

where there are days

when yearly tasks must be

accomplished.

Jane Tanner, Killington

Public vs. private: We have cut the programs that could help now

>

at the top of the heap.

Which brings us to

Donald John Trump, the

man in charge. The man

who recently asked reporters

"Did you know I was

No. 1 on Facebook?" That,

not surprisingly, is a very

"private" concern.

Lee Russ, Bennington
---
10 • OPINION

The Mountain Times • April 22-28, 2020

>

Reopening: Governor Scott, ACCD outline protocols for the first phase of reopening Vermont's economy. More to be announced each Friday.

from page 1

The state's latest modeling, presented Friday, shows ACCD provides clarification on

the growth rate in new Covid-19 cases has averaged below

Phase 1 of business reopenings

4% for the last 12 days, the rate at which cases double has

slowed dramatically, and the number of people requiring "In the days and weeks to come we will work to restart

hospitalizations remains stable.

Vermont's economy in the wake of Covid-19. As we move

"We're seeing some promising results and continue forward, businesses and employees must understand

to trend below even the best-case scenarios predicted that how they work is essential to resuming and maintaining

in recent forecasting," said Governor Scott. "This is all a

business operations. Preventing outbreaks and

result of the hard work and sacrifice of Vermonters across limiting the spread of Covid-19 is the only way to avoid

the state, and I can't thank you enough."

future business and social disruption," wrote Lindsay

"These forecasts show we can continue to slow the Kurrle, Secretary Vermont Agency of Commerce & Community

number of new Covid-19 cases if we continue to stay

Development (ACCD), April 17 in the organi-

vigilant, meaning staying home, avoiding large gatherings,

zations guidance memo. "The success of this phased

staying 6 feet away from others, using a cloth face restart will depend in large part on the ability of employzations

covering when in public and washing our hands," added ers and employees to adhere to the public health, safety,

the governor. "But what these trends also show is that with and social distancing measures essential to limiting the

the right precautions, we can take small steps to get more spread of illness."

Vermonters back to work and avoid a spike in cases that Business operations deemed "essential" may continue

would put lives at risk."

to operate under pre-existing guidance with the

Governor Scott outlined a measured, phased approach addition of the mandatory health and safety requirements

to reopen the economy — balancing the need to improve

for all business operations listed below.

overall social and economic wellbeing with the need to Phase 1 goes into effect on April 20 for industries and

prevent a resurgence of Covid-19 outbreaks.

businesses that can comply with the following:

The order, and a corresponding guidance memo from 1.1 Outdoor businesses & construction operations

ACCD (below), detail specific measures for those businesses

• Those who exclusively or largely work outdoors

authorized to reopen to ensure continued social

(such as civil engineering, site work, exterior

distancing. Applying these measures, it also clarifies guidance

construction, skilled trades, public works, energy

to allow more retail operations to operate through

and utility work, mining, forestry, environmental

phone-in or online ordering, and curbside pickup or

monitoring, landscaping, painting, tree work,

delivery.

parks maintenance, delivery work, etc.) may

The governor also outlined five principles, developed

resume operations with a maximum of two total

in collaboration with the Vermont Department of Health,

workers per location/job.

the State Emergency Operations Center (SEOC), ACCD • Interior construction may occur in unoccupied

and others, which will guide the state's Restart Vermont

structures, adhering to social distancing standards,

planning and decision-making process. They are:

with no more than two workers maintain-

1. Keep our eyes on the data: The administration

ing social distance between them whenever

will continue to be guided by data and modeling,

possible.

and track any changes to case trends, infection • Supporting services that were not previously

and death rates.

deemed essential may resume operations with

2. Maintain health care readiness: The administration

the minimum number of employees necessary to

will continue monitoring and maintaining

support curbside pick-up and delivery services;

the state stockpile and distribution of personal

adherence to the mandatory health and safety

protective equipment (PPE) and testing materials

requirements and compliance with 1.2 below

to ensure it continues meeting the needs of the

required.

healthcare system and workers. Additionally, the 1.2 Retail operations (clarifying existing guidance)

state will continue to monitor available beds and • Retailers, including those that operate in an

ventilators, and make purchases as necessary, to

outdoor setting, may conduct limited operations

ensure capacity to treat Covid-19 patients.

such as curbside pick-up, delivery services, and

3. Increase testing and tracing: The state currently

warehouse or distribution operations in support

has a robust testing approach but will continue to

of curbside, or delivery.

work to make testing more widely available and • All orders must occur over the phone or online;

strengthen the epidemiology and contact tracing

no in-store transactions are allowed at this time.

rapid response teams.

• Only the minimum number of employees necessary

4. Work Smarter & Work Safer: ACCD's RestartVT

to support curbside pick-up and delivery

Team will work with the Health Department and

services are allowed at any one store, site, or

the SEOC to help businesses develop "Covid-19

location.

Operations Plans," which will include sector strategies

for phased opening, including worker and

customer protections, and training and monitoring

procedures.

5. Play Smarter, Play Safer: The RestartVT Team will

also evaluate how to reopen outdoor recreation,

retail, restaurants and bars, travel and other activities,

focusing on the conditions needed to prevent

Covid-19 outbreaks.

"Preventing outbreaks and limiting the spread of Covid-19

is the only way to avoid future business and social

disruption," said Commerce Secretary Lindsay Kurrle in

her memo to Vermont businesses. "The success of this

phased restart will depend in large part on the ability of

employers and employees to adhere to the public health,

safety and social distancing measures essential to limiting

the spread of illness."

The administration will continue to update the public

on the RestartVT planning process as details and next

Submitted

steps are determined.

Professional services with 1-2 people can reopen, too.

Submitted

Construction crews of 1-2 went back to work April 20.

1.3 Low or no contact professional services

• Services operating with a single worker (such as

appraisers, realtors, municipal clerks, attorneys,

property managers, pet care operators, and

others) may operate if they can comply with the

mandatory health and safety requirements listed

above, with no more than two persons (service

provider and client) present at one time.

Mandatory health and safety requirements

All businesses must follow Vermont Department of

Health and CDC guidelines:

• Employees shall not report to, or be allowed to

remain at, work or job site if sick or symptomatic

(with fever, cough, and/or shortness of breath).

• All employees must observe strict social distancing

of 6 feet while on the job.

• Employees must wear non-medical cloth face

coverings (bandanna, scarf, or non-medical

mask, etc.) over their nose and mouth when

in the presence of others. In the case of retail

cashiers, a translucent shield or "sneeze guard" is

acceptable in lieu of a mask.

• Employees must have easy and frequent access

to soap and water or hand sanitizer during duration

of work, and handwashing or hand sanitization

should be required before entering, and

leaving, job sites. All common spaces and equipment,

including bathrooms, frequently touched

surfaces and doors, tools and equipment, and

vehicles must be cleaned and disinfected at the

beginning, middle and end of each shift and prior

to transfer from one person to another.

• No more than two people shall occupy one vehicle

when conducting work.

General public mask use

Customers, and the public in general, is encouraged

to wear cloth face coverings any time they are

interacting with others from outside their household.

If your business or circumstance does not meet these

criteria, additional guidance will be forthcoming. For

additional clarification, please visit the ACCD Sector

Guidance Page.
---
The Mountain Times • April 22-28, 2020 • 11

Ed funding: State must decide priorities

>

from page 1

make a tough decision, it was very likely that the Vermont

State Colleges, which is a single corporation, would not be

able to continue," Chancellor Jeb Spaulding said Friday.

Saturday, after hearing the proposal, faculty at NVU

issued a no confidence vote in the chancellor, and in a

separate letter to trustees called Spaulding's recommendations

a "shortsighted massacre with lasting and irrevocable

consequences."

On Sunday afternoon, Gov. Phil Scott weighed in as well.

The governor said while he did not support "adopting the

current plan as proposed or asking taxpayers to bailout a

system that is no longer financially viable," he believed a

third way was possible. "I'm calling on the Legislature to

begin work immediately on a statewide plan to rethink,

reform and strengthen the education system in ways that

are fair and equitable to every student, every community

and every taxpayer," Scott said in a statement.

Trustees for the Vermont State Colleges met Monday,

but postponed a decision on Spaulding's restructuring

proposal for at least a week to allow for further debate and

discussion.

Whether Spaulding's plan is ultimately adopted or not, it

is likely to reignite a debate about funding for public higher

education — and public education writ large. Vermont

perennially ranks at the bottom nationally in state support

for its colleges, forcing the schools to rely on student tuition

and fees for over 80% of their revenues.

On Monday, April 20, at a press conference, Governor

Scott said the plight of "Vermont State Colleges is just the tip

of the iceberg," and that tough budgetary choices "would

affect K-12, too, down the road."

"There's going to be a lot of need," he continued, listing

hospitals, K-12 schools and municipalities as just a few of

those that are also going to face budgetary shortfalls and

warned of even more difficult decisions that lawmakers

are going to have to make in the coming months. "There

is not an infinite amount of money… We're going to have

to prioritize… I think it's time that we rethink our public

education system in its entirety."

The state of Vermont spends over $1.8 billion on K-12

education, plus about $100 million for higher education

each year, Scott said, Monday.

But this year, the state will face a shortfall in projected

collections to cover those costs. According to the Joint Fiscal

Office's latest projection, "the Education Fund deficit for FY

2021 could be as high as $150 million. The deficit in the Education

Fund is caused mainly by a decrease in consumption

tax revenues," wrote Sue Ceglowski, executive director for

the Vermont School Board Association, in a letter ot the

board April 20.

The VSC faced a $4.2 million deficit prior to the pandemic

and additional losses of about $10 million because of

it, Spauding said.

"If we better coordinate, we could have a better system

with less money… This maybe is the opportunity to get creative

and develop the best education system we can. We're

small, unique, and we can be nimble, if we think outside the

box we can get a better product for kids in the end. For the

full spectrum of students from early education through to

higher ed."

Xander Landen and Lola Duffort/VTDigger contributed

to this report.

By Glenn Russell/VTDigger

The VSC campus of Northern Vermont University-Lyndon

in Lyndonville, one school proposed to close.

By Shelby Perry, Northeast Wilderness Trust

There are nearly two miles of cascading tributaries of the Ottauquechee River on the Bramhall Wilderness Preserve.

>

Bramhall Wilderness: Northeast Wilderness Trust purchased 359 acres in Bridgewater

from page 1

executive director of the

Wilderness Trust. "They are

remarkably effective at storing

vast amounts of carbon,

and they offer habitats to a

wide array of species that

will need space to move

and adapt as the climate

becomes hotter and more

unpredictable."

The Preserve lies just

south of the Appalachian

Trail as it winds its way

down from the Green

Mountains to the Connecticut

River. Nearly two miles

of waterways, including

the North Branch of the

Ottauquechee River and

two smaller tributaries,

tumble through the steep

hills of the Preserve. Dense

hemlocks shade the water,

creating prime habitat for

native brook trout.

Northeast Wilderness

Trust is working with the

Vermont River Conservancy

(VRC) and the Vermont

Housing & Conservation

Board (VHCB) on the permanent

conservation of the

land. VRC and VHCB will

co-hold forever-wild legal

protections on the preserve.

"We are excited to

partner with Northeast Wilderness

Trust for the sake of

public access to the rivers in

the beautiful Bramhall Preserve,"

said Lydia Menendez

Parker, asst. director of

VRC. "Low-impact recreational

access paths from

the parking pull-out will

support those adventurers

looking for a place to dip in

the cool, refreshing waters

and cast a line."

VHCB played a key role

in in protecting the land

with a $160,000 grant.

Gus Seelig, executive

director of VHCB, said:

"Situated as it is in the

center of 60,000 acres of

managed forestland in

federal, state, municipal

and private ownership,

this core block of land will

remain forever wild and

provide permanent public

access for swimming,

hunting, fishing, and hiking.

The Bramhall Wilderness

Preserve will create a

unique learning laboratory

for scientists, naturalists,

and educators to compare

natural processes over time

to the managed forestland

surrounding it, helping

community members

and visitors to better

understand the ecological

benefits of old forest."

Last semester, Woodstock

High School ran a wilderness

studies class about

nature, conservation, and

wildlands. The students

spent two field days on the

preserve for experiential

outdoor learning.

"It is vital that students

take time in school to

develop their personal

relationship with nature,

wilderness, and society,"

said Sophie Leggett, a student

who served as teaching

assistant for the class.

"Moreover, we are lucky to

be working with the Northeast

Wilderness Trust to

have a deep and meaningful

educational experience

with local wilderness. Using

the Bramhall Preserve

"The fact that this dream I have had

most of my life is now a reality [for]

the acres my mom left me—that they

are now and will be forever wild—is

still sinking in," said Bramhall.

as a lens for more global

thinking, this class is a step

in developing personal and

cultural values surrounding

wilderness."

The Wilderness Trust

prohibits timber harvest,

vehicles, trapping, mining,

agriculture, subdivision,

and development on all

forever-wild properties.

"Paedra has allowed nature

to take charge on this

land for decades and we

will continue that legacy,"

said Shelby Perry, stewardship

director of Northeast

Wilderness Trust. "From

this day forward, the forest

will always continue to

grow old and wild per her

wishes, providing diverse

wildlife habitat and storing

carbon indefinitely."

The new Bramhall Wilderness

Preserve is part of

the Wilderness Trust's Wild

Carbon initiative. Through

this program, the new

Preserve will be aggregated

with other Wilderness

Trust properties across

four states. The goal of the

program is to sell carbon

credits from the combined

properties to generate

funds for future wilderness

conservation.

"We are far from living

in a carbon-neutral

world," explained Sophie

Ehrhardt, the wildlands

partnership coordinator

for Northeast Wilderness

Trust. "This carbon project

will provide an original

model for other organizations

who want to preserve

land. This program creates

income from carbon

storage rather than timber

harvest."

The Wilderness Trust's

first Wild Carbon sale was

completed in 2016 on two

of its preserves in Maine.

"Funding to protect wild

places is scarce,"Ehrhardt

added, "so carbon credits

are a creative way to build a

wilder future."

Although enough funds

were raised to buy and create

the Bramhall Preserve,

the Wilderness Trust is still

working to raise $204,000

to secure the long-term

stewardship and care of

the property.

For more information,

visit newildernesstrust.

org/bramhall or call 802-

224-1000.
---
12 • The Mountain Times • April 22-28, 2020

State issues $1,200 checks to 8,384 claimants with

unresolved unemployment claims

By Elizabeth Hewitt/VTDigger

Vermont's Department of Labor said that it cleared tens

of thousands of backlogged unemployment insurance

claims over the weekend. The state also made good on its

promise Monday, April 20, to send checks of $1,200 to the

remaining 8,384 Vermonters who still haven't been able to

resolve problems with their claims — over $10 million.

At the deadline, the state had processed nearly 32,000

claims that had been backlogged. Those claimants will

now be able to file a weekly claim and start collecting their

benefits through the program, according the Department

of Labor.

For the 8,384 people whose claims problems were not

fixed over the weekend, Gov. Phil Scott directed the treasurer's

office to send $1,200 checks, covering two weeks'

worth of federal benefits that started the week of March 29.

Scott had set a Saturday night deadline for the DOL to

get through the backlog of tens of thousands of claims.

Approximately 80,000 people have filed for unemployment

insurance since Scott closed non-essential businesses in

late March to limit the spread of the coronavirus. Last week,

many thousands still hadn't been able to get through on the

online or phone system.

In previous recessions, the typical number of claimants

had topped out at between 3,000 and 4,000.

Both Scott and DOL Interim Commissioner Michael

Harrington have apologized for the delays.

The checks "serve as an initial installment" for claimants,

the department said in the press release. People who

receive them likely are owed more under the program, and

they will eventually receive the full amount over the coming

weeks, the DOL said.

Harrington said that the federal regulations governing

the unemployment insurance program, was a barrier to

By Mike Dougherty/VTDigger

Michael Harrington, interim commissioner of the Department

of Labor, discusses the state's backlog of unemployment

claims at a press briefing on April 17.

quickly resolving claims problems. Harrington also blamed

chronic problems with the DOL's decades-old claims processing

mainframe computer system.

Harrington said Friday the state is adding 50 people from

other state agencies to handle calls, while Maximus, the

Virginia-based vendor, is bringing on 50 new agents and

will have 20 people on standby. Then the state will have

more than 150 people answering phones and 250 working

on claims.

The governor's Saturday deadline did not apply to new

claims arriving through the federal government's Pandemic

Unemployment Assistance program, which is designed for

self-employed or independent contractors. The department

will launch that program by the end of this week.

State ramps up contact-tracing teams to contain Covid-19

By Elizabeth Gribkoff/VTDigger

As Vermont reports a slowdown in

the number of new Covid-19 cases,

officials say the Department of Health

will have 48 people by the end of the

week tracking down individuals who

may have been exposed to the novel

coronavirus.

Public health experts say the epidemiological

detective work known

as contact-tracing can help slow the

spread in places like Vermont that

have lower case counts. And it will

play a key role nationwide as states

ponder when to safely start lifting

social distancing measures, with CDC

director Robert Redfield saying last

week that "very aggressive" contacttracing

would be needed to prevent

new outbreaks.

Vermont Health Commissioner

Mark Levine said even as the

state considers measures like serological

testing to determine who could be

immune to the virus, the focus "at this

stage of the virus" is on containment.

Serological testing for antibodies in

the blood might, one day, prove that a

person has been exposed to the virus

and now has immunity, but those

tests are at least months away from

being validated and widely accessible,

Levine said at the press conference,

Monday, April 20. "And a vaccine is

widely cited as being 12-18 months

away." Without those tools, testing and

contact-tracing are currently the only

proven methods to box in the virus as

the economy slowly begins to open.

Daniel Daltry, program chief of the

HIV, STD and Hepatitis C program

for the state health department, said

the department has pulled in people

from the drug and alcohol and environmental

health divisions, as well

as district nurses, to ramp up health

surveillance capacity.

When someone tests positive for

Covid-19 in Vermont, a DOH contact

tracer will first reach out to that

person's doctor to go over the patient's

history and strategies to prevent

exposure to health care professionals.

The contact tracer will then call the

patient, first going over how they're

feeling before asking about the onset

of their symptoms and who else they

might have exposed.

The aim is to find out everyone who

the infected person had prolonged

enough contact within the 48 hours

before the onset of symptoms to put

them at "medium to high risk" for

contracting Covid-19, he said. Daltry

said the department bases that risk

assessment off CDC guidelines, adding

that "you really have to sit down

and talk with somebody to find out

the particulars of the exchange or

situation."

Health department contact tracers

will then call those potentially infected

individuals to coach them on what to

look out for, how to isolate, and how to

get tested if they develop symptoms.

Daltry said the department continually

evaluates whether they have

adequate staff to conduct contacttracing,

with the goal of interviewing

people within 24 hours of their positive

Covid-19 test result coming back.

"We've taken some incredible steps

here early on to try and cross-train in

order to do as much contact-tracing as

possible," said Scott on Monday. The

Vermont Department of Health has

a list of 40 law enforcement officers

from around the state who can help

with their coronavirus response efforts;

around 10 have been drawn on

so far to help with travel monitoring

and outbreak response, said Vermont

State Police spokesperson Adam

Silverman earlier this week.

Dr. Joshua White, chief medical

officer at Gifford Medical Center in

Randolph, said that ideally, the U.S.

would track down everyone who's

been in contact with someone who

tested positive for Covid-19 and get

them tested to "put an end to any

sort of chain of transmission." White

added that contact-tracing is critical

for Vermont to quash outbreaks that

will inevitably pop up until a vaccine is

developed.

Main Street: Focus on small businesses

>

from page 8

programs being massively

underfunded and the

money that does exist being

mired in bureaucratic

delays. In fact, the White

House announced that the

Payroll Protection Program

– the program designed for

small businesses to retain

their employees – is out

of money. Unfortunately,

these programs will not

help the majority of small

businesses as they aren't

workable for most and

exclude many businesses

in need.

Last month, workers

filed for unemployment in

previously inconceivable

numbers. Mass unemployment

will devastate

our economy for decades

to come, cause unnecessary

suffering and further

endanger lives.

But this bleak future is

not inevitable. By restoring

and maintaining Main

Street jobs, Congress can

avert mass unemployment

and refocus our disaster

response on the pandemic.

We need added and

expansive federal action to

protect Main Street jobs,

workers, and businesses

while they hibernate

and/or adapt to save lives

during the pandemic.

Small businesses need

grants, not loans. We need

expanded and immediate

cash flow to be able to

keep our businesses going.

And our workers need improved

unemployment insurance,

income support,

and safety protections.

I want to be clear that

Vermont's Congressmen

get this. Senator

Leahy, Senator Sanders

and Congressman Welch

understand the importance

of small businesses

and the struggles we face.

I am confident that they

are doing everything in

their power to advocate

for main street businesses

and workers. Sadly, I am

not as confident about

many of their colleagues in

DC who seem to be more

beholden to large corporations

than to their own

constituents. Legislators

who seem more concerned

about protecting

their future campaign

contributions than their

hometown businesses.

This letter is for them.

Our small business

economy faces extinction

without direct subsidies to

Covid-19 impacted businesses.

Tens of millions of

jobs are at stake — along

with people's health care,

sick leave, retirement, and

other important benefits

that are needed now more

than ever. It is not an

exaggeration to say that

the vast majority of small

businesses will not survive

without the right government

action. It is time for

Congress to take action to

help the American people,

not just American corporations

and campaign

coffers.

Eliza Cain, Middlesex

Submitted

Randy George and Eliza Cain are the owners of Red

Hen Baking Co. in Middlesex, Vermont.
---
The Mountain Times • April 22-28, 2020 • 13

Prison: State leaders urge state to protect its most vulnerable in prisons and to release those who are not dangerous to the community or need medical help

>

from page 8

time this is published. In

addition, black and brown

people across the country

are disproportionately

impacted by Covid-19.

Vermont is in the top five

states for racial disparities

in our prison system,

meaning that lack of

action increases that impact

for black and brown

individuals and communities

in our own state.

Now that an outbreak

of Covid-19 has begun

in our prison system, we

request that reactive and

preventative measures be

taken to protect incarcerated

individuals, as well

as Corrections officers

and staff. These groups

of individuals deserve

the same protection that

we would offer any other

Vermonters in this time,

but particularly anyone

who has had a high risk

of exposure. In a public

health crisis, protecting

the health and safety of

an at-risk population

means protecting the

health and safety of all

Vermonters.

We ask Governor Scott

and the Department of

Corrections (DOC) to immediately

put into place

the following measures:

1. Test everyone at all

facilities, Corrections

as well as all

group homes. We

know that there are

false negatives and

sometimes more

than one test will be

necessary. We also

know that the spread

happens through

asymptomatic

people. This means

that the spread can

happen undetected

until there is widespread

exposure. A

single positive case is

often too late to begin

testing.

2. Do complete testing

at all congregant living

situations across

the state.

3. Ensure that people

infected with Covid-19

will not be put

in "isolation" usually

reserved for punishment.

This is causing

people to hide

symptoms out of fear.

In addition to this being

an inappropriate

placement for people

who are sick, this will

increase the spread

due to a fear of transparency

for those in

Corrections.

4. Release people who

are:

• Solely being held for

lack of ability to post

bail.

• Are in prison on an

interrupt, meaning a

furlough, probation

or parole violation

that did not go before

a judge,or are there

only at the DOC's

discretion.

• Being held for lack of

residence (approved

shelter or housing).

• Anyone who has

reached their minimum

or is within 6

months of meeting

their minimum

or past their

minimum,unless

there is specific, not

theoretical evidence

presented that they

are a continued

threat of violence to

the community.

• Anyone that DOC has

discretion to release,

unless there is specific,

not theoretical

evidence presented

that they are a continued

threat of violence

to the community.

• Anyone that is medically

high risk, unless

there is specific, not

theoretical evidence

presented that they

are a continued

threat of violence to

the community.

• If they are medically

high risk and

are also a high risk of

violence, then they

Now that an outbreak of Covid-19

has begun in our prison system, we

request that reactive preventative

measures be taken...

should be kept in a

safe, humane setting

while incarcerated.

The DOC must be

transparent about its

decision-making process.

Families, advocates,

lawyers, and incarcerated

individuals must know

this criteria so that they

or their advocates know if

a person fits the criteria.

Families across Vermont

are concerned about their

loved ones and deserve

the opportunity to advocate

for them..

We appreciate the

measures taken in Vermont

and understand the

complexities of this pandemic.

In order to protect

incarcerated individuals,

Corrections officers, staff,

and the greater community,

the above precautions

must be taken. During

these uncertain times, it

is essential to the health

and safety of Vermonters

that the available

science of the spread of

the disease be used to

protect all individuals.

We, the undersigned, hold

equal to other Vermonters

the individuals in Corrections,

Corrections officers,

and Corrections staff at

risk, and ask that they be

treated as such.

Sincerely,

Brenda Siegel, candidate

for Lieutenant

Governor

Kesha Ram, candidate

for Chittenden County

Senate

Representative Kevin

(Coach) Christie, Windsor

4-2

Representative Mari

Cordes RN, Addison 4

>

Mobility: Outsiders are not flooding Vt.

from page 4

the cumulative number of people who have tested positive

for Covid-19 by county of residence. Non-residents

who test positive in Vermont while visiting or seeking care

are included in the county where they were identified,"

Brackin explained.

While we know that as of April 18, Rutland County had

42 confirmed cases and Windsor County had 34, whether

or not all of those cases were residents of Vermont would

not be disclosed. Rutland Regional Medical Center's Marketing

and Public Relations Communications Specialist

Peg Bolgioni declined to say how many of their Covid-19

patients are out-of-state residents, citing HIPPA privacy

regulations, and Dartmouth-Hitchcock Medical Center

doesn't have information that shows how many of their

Covid-19 patients are from neither New Hampshire nor

Vermont, according to Rick Adams, DHMC senior director

of strategic communications and marketing.

Mt. Ascutney Hospital and Health Center did not respond

to our request for patient demographics in time for

our deadline. But we anticipate a similar reply.

On April 8, Jess Carson, research assistant professor

at UNH Carsey School of Public Policy, published a short

study on the subject of Covid-19 incidence in rural vs.

urban environments called "Rural Areas with Seasonal

Homes Hit Hard by Covid-19."

In it she wrote: "In the nation's 199 rural counties where

seasonal housing accounts for 25% or more of all housing

units, average cases per 100,000 are more than twice

as high as in other rural counties and 15% higher than in

urban areas as of April 5."

Interpolating an attached graph, the seasonal dwelling-heavy

counties averaged almost 7/10,000, while other

rural counties a little more than 3/10,000.

This, compared with Rutland and Windsor County

figures, would indicate we are about where Carson predicts

us to be. We have twice the national case rate as rural

counties with few seasonal homes, but New York City,

from which many out-of-state isolaters are thought to

come, has 18 times the rate our region has.
---
14 • NEWS BRIEFS

The Mountain Times • April 22-28, 2020

RNRCD announces spring trout stocking

RUTLAND—The Rutland Natural

Resources Conservation District (RNRCD)

announced April 16 that it will once again

offer its spring trout stocking program that

includes 6- to 8-inch and 10- to 12-inch

rainbow and brook trout. Private owners

may purchase fish to stock their own ponds.

Hy on A Hill Trout Farm will bring its

fish tank truck filled with the 6- to 8-inch

rainbow and brook trout to the Conservation

District office at 170 South Main St.

in Rutland on Saturday, May 16, between

12:30-1:30 p.m. where those interested can

pick up trout and bring them home. The 10-

to 12-inch rainbow and brook trout will be

delivered May 16 later in the day.

>

Six- to 8-inch rainbow trout are $2.80

each, 6- to 8-inch brook trout are $2.80

each, 10- to 12-inch rainbow trout are $4.75

each, 10- to 12-inch brook trout are $4.75

each. A 20-pound bag fish food is $30 per

bag and a 40-pound bag fish food is $45

per bag. Note: minimum orders of (25) are

required for 6- to 8-inch and a minimum of

50 is required for all 10- to 12-inch fish.Prepaid

orders will be taken until May 13, 2020.

For more information or an order form

please contact Nanci McGuire at the Conservation

District office at 802-775-8034 ext.

17 or visit vacd.org/conservation-districts/

rutland where you can print off an order

form.

Courtesy of Woodstock Terrace

Singing the blues away

Executive Director Eric Fritz of Woodstock Terrace sings to residents at the facility.

State takes additional precautions to

protect Vermonters' drinking water

With all the sacrifices Vermonters are

making to keep themselves and others

healthy during the Covid-19 pandemic, the

Department of Environmental Conservation

(DEC) is taking extra steps to ensure

that no one has to wonder if their water is

safe to drink, according to an April 10 news

release.

DEC is working with drinking water

system operators, providing guidance and

support for disinfection procedures to keep

drinking water safe and free of pathogens.

Covid-19 is not transmitted through drinking

water, however, it is important to make

sure drinking water is free of other pathogens

that can cause illness.

"For people who have or are at risk for

Covid-19, it's important to make sure their

immune systems are not further compromised

due to other pathogens that may

be present in drinking water," said DEC

Drinking Water and Groundwater Protection

Division Assistant Director Ellen Parr

Doering. "Vermont's public drinking water

systems are designed to deliver safe drinking

water. Especially during times of crisis

like the pandemic, we are doing everything

we can to protect the public health. Disinfecting

systems will safeguard drinking

water. These are extra steps we are taking.

Residents can and should continue to use

and drink water from the tap as usual."

The department requires all community

and public water systems to disinfect

their water. Disinfecting, rather than

more frequent testing, provides another

layer of protection for Vermonters in case

essential water system operators become

ill, a concern when many water systems in

Vermont only have a single operator.

Water is disinfected through a process

called chlorination where chlorine

is added to the water in low doses to kill

pathogens that can affect human health.

This process can also occur using ultraviolet

disinfection. There is no additional

testing at the tap required as a result of

disinfection.

For private wells, no extra precautions

are advised in response to the Covid-19

pandemic. The Health Department

recommends bacteria testing once a year.

For instructions on how to test your well,

go to healthvermont.gov/environment/

drinking-water.

The requirement for public water systems

to provide continuous disinfection

will stand until the end of the governor's

emergency declaration. Currently that is

anticipated to be May 15, 2020, however,

it may be extended as necessary. Drinking

water operations are an essential function

during this declared state of emergency,

and water system operators continue to

do all the required testing to ensure public

water remains safe.

nurses serving the town of

Hartland, and provides doula

services to other mothers

through Well Maiden Doula

and Healing Services.

A doula assists a mother

before, during and/or after birth with

personal, physical, emotional and informational

support.

Well Maiden's Sarah Allen and midwife

Meghan Sperry of Art of Birth Midwifery

in Randolph were already planning to

provide pre-natal, birthing and postpartum

care as Katie gave birth, so they

volunteered to self-quarantine for two

weeks before the baby was due. This

would allow them accompany Katie if a

trip to the hospital became necessary.

Katie and Duncan, and Katie's 8-yearold

daughter Lila quarantined as well.

Skye Landis Pogue came into the world

on March 27, weighing 10 lbs., 4 oz.

"I had a close personal relationship

with my midwife and my doula," Katie

said, "And it was a beautiful, successful

home birth."

But two hours later Katie hemorrhaged.

She, Skye and the team rushed

to the Dartmouth-Hitchcock Medical

Center Emergency Room. Sperry, a certi-

Birthing: Hartland couple navigate birth, first at home on their farm and then at Dartmouth Medical Center, in the midst of the Covid-19 pandemic

from page 1

Center. That would not stop this month fied practical midwife and certified nurse

despite the shut-down.

midwife, is licensed to prescribe and

Though some did alter their plans. carry medications and had been able to

Katie and Duncan Pogue, her partner, stanch the hemorrhage right away.

had made an informed decision to have a Katie said she already felt "dreamy"

home-birth at home on their farm — Katie

from giving birth, and found it surreal to

is one of two

community

"I experienced a wonderful blend of

the medical and home birth cultural

narratives," Katie said.

be met by 6 people wearing protective

suits and masks sprouting tubes, taking

her temperature remotely from six feet

away.

"I learned a lot," she said. "I experienced

a wonderful blend of the medical

and home birth cultural narratives."

But the anti-bleeding medication

had inspired a fever. Doctors worried

Katie and Skye might become septic.

The infant was breathing fast. Could he

have become infected in the uterus? they

worried.

DHMC protocol suggested Katie and

Skye should be separated during their

stay at the hospital, that x-Rays and antibiotics

were called-for, but she and her

home-birth team successfully advocated

to keep them together and to avoid tests

and injections.

The urgency abated, and everyone

returned to the farm to heal and recover,

albeit in strict two-week quarantine

again.

"It's been three weeks now," Katie

said, "and I've been grieving the loss of

my anticipated healing and restorative

experience with relatives and friends

around me."

Katie's and Duncan's families are fairly

close by, but during the quarantine

period they couldn't visit.

Now the quarantine is over and

their careful visits are comforting.

"Birth, like death, should be a

rite of passage witnessed by the

village," she said. "In normal times people

would come into the home, cook, clean,

give physical comfort. That was missing.

I couldn't access that support from 'my

village.'"

Because schools are closed, Katie has

also been providing home-schooling for

Lila. During quarantine she and Duncan

planted greens and herbs in solitude.

"I can't imagine what having a baby

under these conditions would be like for

a 17-year-old having her first child. Everyone

who is pregnant is scared. Providers

are scared, too. It's a confusing time for

everyone," Katie reflected. "In this situation

we have to learn to trust each other in

a whole new way."

Midwife Meghan Sperry told the

Mountain Times that she and her partner

have assisted in seven births during the

state of emergency, and have received

an additional 30 inquiries about their

services.

Even in a pandemic, life goes on.

By Sarah Allen, doula

Katie Williams with her newborn, Skye.

By Sarah Allen, doula

Newborn, Skye, resting on father Duncan

Pogue's chest.
---
The Mountain Times • April 22-28, 2020 PUZZLES • 15

WORDPLAY

'Words & Verse' Word Search: Find the words hidden vertically, horizontally, diagonally and backwards.

ALLITERATION

ALLUSION

ANAPEST

ANAPHORA

ASSONANCE

CAESURA

COUPLET

EMPHASIS

CROSSWORD PUZZLE

Solutions > 28

CLUES ACROSS

1. Revolutions per

minute

4. Hymns

10. Brew

11. Did not

acknowledge

12. Atomic #77

14. Partly digested

food

15. Not one

16. Lesotho capital

18. Copyreading

22. Living organism

that feeds on

organic matter

23. One's biological

father

24. An aggregate of

molecules

26. Equally

27. Khoikhoi people

28. Jump in figure

skating

30. Lantern

31. TV network

34. Georges __,

French philosopher

36. Sharp, shrill

bark

37. Albanian

monetary units

39. Launched

Apollo

40. One who

graduated

41. Exist

42. Passed by

48. Very unpleasant

smell

50. Graduates

51. Seedless raisin

52. Self-protection

53. Clue

54. Life-savers

55. Ingest too much

56. Misrepresented

58. Small Eurasian

deer

59. Most mocking

60. Soviet Socialist

Republic

CLUES DOWN

1. Flower cluster

2. A form

3. Inner organ

regions

4. Local law

enforcement

5. A citizen of

END

ENJAMBMENT

EPIGRAPH

FOOT

IAMB

LINES

METER

METRICAL

Senegal

6. Positively

charged electrodes

7. Connects

granules

8. Business

practice

9. The Mount

Rushmore State

12. Leader

13. Hindu queen

17. Proofreading

mark

19. European

country

20. Greek

mythological

nymph

21. Grandfather

25. Clears

29. Amount of time

31. Mollusks

POETRY

PUNCTUATION

QUOTE

REPEAT

RHYME

SYLLABLES

VERSE

WRITING

32. German

municipality

33. Body part

35. City of Angels

hoopsters

38. Suffocate

41. Pleasing to the

eye

43. Poplar trees

(Spanish)

44. Ship officer

45. Individual

investment account

(abbr.)

46. Prefix meaning

within

47. Ceased to live

49. Day by day

56. Not color

57. Condition of

withdrawal (abbr.)

Guess Who?

SUDOKU

Solutions > 28

How to Play

Each block is divided by its own matrix

of nine cells. The rule for solving Sudoku

puzzles are very simple. Each row,

column and block, must contain one of

the numbers from "1" to "9". No number

may appear more than once in any row,

column, or block. When you've filled the

entire grid the puzzle is solved.

made you look.

imagine what space

can do for you.

Mounta in Times

802.422.2399 • mountaintimes.info
---
theSilverLining

16 • The Mountain Times • April 22-28, 2020

This week's infusion of hope and positivity.

Submitted

Author and local physician published a novel about a young doctor who is profoundly affected by her 12-year-old cancer patient. The cover art is by local painter Peter Huntoon.

Local physician publishes book, 'The Intern'

By Brooke Geery

Peter Hogenkamp's first officially published novel, "The Intern," hit shelves on

Tuesday, April 13, an accomplishment nearly 20 years in the making. The Rutlandbased

physician actually began the project as a sort of promotional tool for another

book he'd written called "Absolution," on the story-sharing site Wattpadd.

"The idea of writing about an interaction I had had during my pediatric rotation

(20 years earlier) had been kicking around in my head, and I figured Wattpad would

be a good way of getting it out of my head and onto (virtual) paper," Hogenkamp

said.

"The Intern" tells the story of Maggie Johnson, a 27-year-old fledgling doctor,

whose encounter with a terminally ill 12-year-old

cancer patient has a profound effect on her life. The

characters are based on Hogenkamp's own experiences,

though it is a work of fiction.

"I wrote it serially, one chapter at a time, publishing

each chapter as I wrote it. After a few months,

the story really took off, and I ended up with almost

60,000 readers. When my agent heard about how

popular it was, she had me take it down and revise

it for her to sell. But we could never come to an agreement about the story should

end, and I parted ways with my agent, wrote it the way I wanted, and sold it to a

publisher on my own."

Though the story takes place in Spanish Harlem, fellow Vermonters will recognize

the influence of the Green Mountain State in the story.

"I am a very proud Vermonter, so I always throw in a Vermont reference or two;

in this case, Maggie drinks Green Mountain Coffee, just like I do, and her grandparents

have a second home on Lake Champlain. There is also a scene from 'The

Intern' which takes place at a camp in the mountains, which is based on a friend's

There is a scene from 'The Intern' which

takes place at a camp in the mountains,

which is based on a friend's camp in

Shrewsbury.

camp in Shrewsbury, but I had to use the Catskills as the location because of its

proximity to Spanish Harlem," Hogenkamp said.

The book's cover art will also be recognizable to many. It was created by Vermont

artist Peter Huntoon.

In addition to "The Intern," Hogenkamp has two more books on the horizon.

"Absolution" (Bookouture/Hachette UK, October 2020) and "Doubt" (Bookouture/

Hachette UK March 2021), both of which are contracted and ready to to be published.

"Except for the fact that 'Doubt' exists only as an outline at this point in time –

Yikes!" Hogenkamp admitted.

Alongside his medical and writing careers, Hogenkamp

is also the creator, producer and host of

Your Health Matters, a health information program,

which airs on cable television, streams on YouTube

and sounds off on podcast. Needless to say, he is a

busy guy.

"When I started writing 15 years ago, I woke up

every weekday morning at 4:30 a.m. (because I had

read that John Grisham started this way) to write my first manuscript. That lasted

for almost two years; one day I slept in (to 6:30 a.m.) and that was the end of that,"

he said. "Now, I write mostly on weekends and my days off from the office. The

podcast and the TV show are more recent happenings, as I have more time these

days, with all four of my children either away at school or graduated and (sort-of)

on their own."

"The Intern" is available now wherever books are sold. For more information

on Hogenkamp, visit peterhogenkampbooks.com and his personal blog, phogenkampvt.blogspot.com.
---
The Mountain Times • April 22-28, 2020 THE SILVER LINING • 17

Connecting kids

and books during

Covid-19

By Duncan McDougall, executive director, Children's

Literacy Foundation

As a result of the Covid-19 pandemic, schools, afterschool

programs, and most public libraries are closed,

and millions of U.S. children are now sheltering at home.

A significant portion of these kids, particularly those from

low-income homes where books are more likely to be

scarce, suddenly find themselves stranded in what educators

term a "book desert."

Tragically, at a time when children need stimulating

entertainment the most, they lack an opportunity to be inspired

and transported by the power of a great book. Even

worse, the dearth of high-quality reading material means

many children will return to school this September having

fallen far behind in their reading skills, and children from

low-income families are likely to lag the most.

But "necessity is the mother of invention," and many

caring people have devised new ways to connect kids to

books in this socially distanced world. I'm the executive director

of the Children's Literacy Foundation (CLiF), a nonprofit

that nurtures a love of reading and writing among

low-income kids, at-risk, and rural children throughout

New Hampshire and Vermont. Our work allows us to witness

many creative efforts to make books accessible. Here

are just a few examples.

Hanging out at the library: As you might expect, the staff

at the public library in Springfield, Vermont, are passionate

about making books available throughout their community.

Unfortunately, the library is closed due to social

distancing. Undeterred, every day the librarians now put a

few dozen grab bags on their railing, 6 feet apart. Each bag

has two books and a DVD with reading levels marked on

the outside of the bag. To be safe, bags cannot be opened

or returned. One by one people walk along the path, excitedly

pick one of the bags, and get a fun surprise when they

get home.

Feeding body and mind: To ensure kids still have access

to nourishing lunches while schools are closed, many

schools are using their kitchens to cook meals, and their

buses to distribute the food directly to students' homes.

In Bartlett, New Hampshire, school staff members have

been including children's books with the deliveries of food,

thereby feeding young bodies and minds at the same time.

Young faces now peek out living room windows waiting to

see what treasure the bus will bring them today.

Door to door service: In many small towns, the public

library is the principal source of books for the community,

and the local librarian has a personal connection with

most of the town's families and kids. Wardsboro, Vermont is

a rural community with 853 residents. The librarian, wearing

a mask and gloves, is now depositing bags with new

books on the doorsteps of local families so they can still

enjoy some reading time together.

From behind bars: Prisons are one of the dozens of

venues where CLiF offers our free programs. Each year we

teach hundreds of inmates how to share books successfully

with their children and grandchildren. Shortly after the

coronavirus arrived, we worked with prison staff across the

"Twin States" to gather requests from inmates about new

books they would like to send to their kids. CLiF donated

the new books, and last week we mailed some 350 packages

with new titles to children who are now more connected

to a beloved family member through the power of a book.

In this strange and disturbing time, books can be a safe

harbor for kids, and a friend when they're alone. They

can also provide stimulation for young minds, and help

children maintain their reading skills so they can be ready

when schools reopen. I hope these examples inspire you

to safely and creatively do all you can to get books into the

hands of the children you love. They need them now, more

than ever.

The health benefits of gardening

By Gordon Clark, UVM Extension master gardener

As we endure the current coronavirus

pandemic, precautions need to

be taken in all activities outside our

homes. But during such a difficult

time, we also should be aware of the

singularly profound health benefits of

gardening.

Many people work in community

gardens, where new rules of operation

are being formulated for this spring,

but such guidelines should not prevent

us from enjoying our gardens, at

home or elsewhere. Of course, no one

needs to tell a New Englander about

the benefits of being outside after a

long winter, but science is

filling in the how and why.

Fresh air: Studies have

shown that fresh air is good

for cleaning the lungs,

improving circulation and

providing greater energy

and vitality. Increased oxygen

intake helps boost brain levels of

serotonin, a neurotransmitter nicknamed

the "happy chemical" because

it combats anxiety and depression and

helps maintain a healthy emotional

state and general well-being.

Sunlight: While there are obvious

risks to too much unprotected exposure,

moderate amounts of sunlight

bring many benefits. For starters, the

UV rays in sunlight are known to kill

and suppress germs and bacteria.

(Experts say it's not strong enough to

kill the coronavirus, but the overall

disinfectant effect is still a

good one.)

Upon exposure to sunlight,

the skin metabolizes

Vitamin D, the only major vitamin

produced in this way.

Vitamin D is essential for numerous

body functions, and

sunlight has been shown to

lower blood pressure and

improve bone strength and

brain functioning.

Not surprisingly, sunlight

also provokes the brain to produce

serotonin, which is why sunlight is an

effective anti-depressant and treatment

for Seasonal Affective Disorder.

(Its relative absence in winter is the

primary cause of SAD.)

Soil: This is where it gets really magical.

Any gardener can tell you that

the health of a garden and its plants is

bound up in the diverse abundance

of microbial life in the soil. Some microbes

are bad (pathogens), but most

are either benign or, in fact, necessary

for increasing nutrient uptake by

plants, decomposing organic matter,

Recent studies demonstrate

that soil microbes such as

Mycobacterium vaccae can act as

anti-depressants.

controlling disease and numerous

other basic soil functions.

But what if the microbes that make

for healthy soil also promote the

health of humans who work in it?

We know that exposure to soil

microbes, particularly in childhood,

helps to build a more robust immune

system and resistance to asthma and

allergies. Recent studies demonstrate

that soil microbes such as Mycobacterium

vaccae can act as antidepressants

as well, activating groups

of neurons responsible for producing,

Submitted

you guessed it, our friend, serotonin.

Physical activity: Gardening and

landscaping activities provide moderate

to vigorous physical activity,

particularly when most of the work

is performed using hand tools. It's a

form of stealth exercise in which you

are lifting, squatting, pushing, pulling

and stepping without even realizing

it. Gardening provides healthenhancing,

weight-bearing exercise

that increases caloric expenditure,

builds strong muscles and bones and

supports balance and endurance.

It gets even better. That's because

gardening gives you the

opportunity to grow food.

Awesome, fresh food. Nothing

maintains your immune

system and general

health and energy like fresh

fruits and vegetables, which

are most nutritious right

after harvest.

In addition, kids and adults are

more likely to eat fruits and vegetables

tended with their own hands.

Gardeners can control how their food

is grown, often resulting in no or less

herbicide and pesticide use.

These are challenging times, and

it is more important than ever to stay

healthy. One of the healthiest things

you can do is to grow food in your

own garden. So be careful. Stay safe.

But by all means, get your gardening

on!
---
18 • THE SILVER LINING

The Mountain Times • April 22-28, 2020

State give guidance on how to recreate safely during pandemic

The governor's "Stay Home, Stay Safe" addendum to the emergency declaration

still allows us to enjoy Vermont's outdoors while staying close to home. We thank the

public for their cooperation and understanding during the Covid-19 public health

emergency. Keeping trails, parks, and other public outdoor spaces open for appropriate

public use is challenging with limited staffing and all state and municipal agencies

are doing their best to balance the requirements of the governor's "Stay Home,

Stay Safe" order with Vermonters' need for exercise and stress relief. We want folks to

have healthy, close-to-home options and – in part – the public's behavior will determine

if that remains possible and prudent.

Here are tips to recreate locally and stay safe outdoors during this public health

emergency:

• Recreate locally: walk on your street or a local wood lot as opposed to hopping

in the car to visit a favorite spot. If you must drive someplace, please limit

the distance from home to 10 miles, and only drive with members of your

household. You can find information on local spots on Trailfinder.info and

vtfishandwildlife.gov.

• Respect mud season conditions: some trails may be closed as is common this

time of year. Mud season closures will be updated regularly onTrailfinder.info.

Please consult Trailfinder.info prior to starting your hike. For general guidance,

see vtstateparks.com/hiking.html#mudSeasonHiking

• Access state lands: currently, state lands (state parks, forests and wildlife

management areas) remain open and accessible to the public for outdoor

recreation, although most facilities like restrooms are currently closed and

not being sanitized. Some roads and trails are gated this time of year and

closed to all but foot traffic. The Long Trail System on state lands is currently

closed. Visit Green Mountain Club for more information and updates.

Other trail closures may be necessary in the future. Please check Trailfinder.

info often for updates.

• We do ask that you practice commonsense behaviors including honoring all

signage, treating public areas with respect and giving people space at gathering

points like parking areas and scenic overlooks, for example. Visitation and use

will be monitored, with closures possible based on overcrowding or additional

orders from health agencies. If a parking lot is full, or too many people are

gathered at a location, please find an alternative place to recreate.

• Off-season (now through official opening) camping in Vermont state parks

has been suspended as a result of the governor's executive order that went into

GROCERY

MEATS AND SEAFOOD

beer and wine

DELICATESSEN

BAKERY PIZZA CATERING

Breakfast, Lunch & Dinner To Go

Hours: OPEN 7 DAYS A WEEK

7 a.m. - 7 p.m.

2023 KILLINGTON ROAD

802-422-7736 • Deli 422-7594 • ATM

Please check our FB page @KillingtonMarket

& Website for our daily specials.

www.killingtonmarket.com

• Visit mountaintimes.info

WE'RE HERE

TO HELP!

FOR COVID-19 UPDATES

ALL

STOCKED

UP!

• Sign up for our e-newsletter

• Follow us on Facebook

MOUNTA IN TIMES

OMS hosts

virtual 5K

Sunday, April 26—

LUDLOW—Okemo

Mountain School is

partnering with the

Ludlow Police Department

to raise money for

local families who are in

need of food during the

Covid-19 crisis. This pandemic

has caused much

turmoil all over the world,

but we are also seeing it in

our local community with

the loss of jobs, especially

surrounding the hospitality

business, which is so

important to Ludlow.

The money raised is

going to the immediate

need for food and supplies

for our local families

and will be distributed

by the Ludlow Police

Department.

There are two ways to

participate.

Option 1: Sign up online

to run or walk a 5K by

April 26. You may complete

the 5K in your own

backyard or around your

neighborhood; however,

effect on March 25, 2020 at 5 p.m.

• Minimize risk to others: Go out only if you're feeling healthy, have not been

exposed to someone who has tested positive for Covid-19, and/or have not

recently traveled from a location with a CDC-issued travel advisory.

• Engage in low-risk activities: Now is not the time to try something extreme and

end up in the hospital, taxing an already overburdened health care system.

• Don't crowd: Stay at least 6 feet away from others when in a public setting,

including the outdoors. Outdoor crowding isn't any better than indoor

crowding. Just because you're outside doesn't mean it's safe unless you are

continuing to practice appropriate social distancing, good personal hygiene,

and avoid touching your face until you can wash your hands. This includes

finding an alternative place to recreate if the area you choose is already

crowded.

• Practice good hygiene: Wash hands often with soap and warm water for 20

seconds. If those aren't available, use a hand sanitizer containing at least 60%

alcohol. Avoid surfaces that are touched often, such as doorknobs, handrails,

and playground equipment.

• Please leash your dog! They are members of your household and need to keep

their social distance as well (most standard leashes are 6 feet in length).

Here are some more ideas for at-home activities:

• Explore more recreation opportunities: You can keep up to date on fishing

and hunting opportunities through the Vermont Fish and Wildlife website or

Facebook page, and you can purchase hunting or fishing licenses online. You

can also join the Vermont State Parks Venture Vermont Outdoor Challenge,

which provides additional ideas for outdoor activities and is a great way for

kids to learn about their environment.

• Keep up to date on Vermont state parks: At this point, Vermont state parks

are planning to be fully operational later this spring and early summer. Some

modifications to programs and services may be expected to ensure the safety

and health of park visitors and staff. Check the website vtstateparks.blogspot.

com/2020/03/vermont-state-parks-covid-19-updates.html for regular

updates as this is likely to continue to change.

For more information on Covid-19 and related guidelines, visit:

healthvermont.gov/response/infectious-disease/2019-novel-coronavirus

For information on wildlife based recreational opportunities, visit:

vtfishandwildlife.com.

we would love to see pictures,

videos, screenshots

of your route, etc. You

may email these to Ashley

Belcher, abelcher@okemomountainschool.org.

If you would like to get

competitive with your 5K,

join the race on Strava.

The runner with the

fastest time will win a

prize. To join the Okemo

Mountain School Strava

group to track your run

visit strava.com/clubs/

okemo-mountainschool-617597

Option 2: You may

make a direct donation

to support the families in

need. We are also asking

our runners and walkers

to recruit family members

and friends to make

donations in their honor.

The participant that

raises the most money

will win a prize.

Sign up at cognito-

forms.com/Okemo-

MountainSchool1/VirtualBackyard5K.

Submitted

Tour de Slate rides on, and

needs your support

The Tour de Slate is a bicycle ride that raises funds

for Teen Challenge Vt. The rides are centered around

Middletown Springs and the neighboring towns. Tour de

Slate 2020 is still scheduled for Aug. 1; however, they need

your help.

Due to Covid-19, they have done very little commercial

fund raising towards their $31,135.30 goal. Just under

$1,000 was raised before the virus changed everything.

That $1,000 has already been given to Teen Challenge, as

their fund raising also ceased.

"Even when the shut down ends, how can we possibly

reach out to commercial businesses and ask for support

when many of them, especially many of the local small

entities, will be on financial life support? Short answer -

we can't!" event director Stan Achey said.

In the past the majority of raised funds have come

from the commercial sponsors. In order to regain a portion

of that money, a larger base of riders is needed. So

please, do what ever you can to promote the ride however

and wherever you can. Please contact info@tourdeslate.

org if you'd like promotional material to use in that regard.

Also, and this is in the "be a good neighbor" department,

please, as best you can support the tour's previous

sponsors with your own personal business. Thank you so

very much for understanding and for your help.
---
The Mountain Times • April 22-28, 2020 THE SILVER LINING • 19

Courtesy VTF&W

Vermont Fish and Wildlife is asking drivers to slow down and be cautious when traveling

at night in early spring or to take alternate routes to avoid driving near ponds and

wetlands where salamanders and frogs are crossing during their breeding season.

Slow down, big nights ahead

One of Vermont's great wildlife

migrations is happening right now,

and it's taking place right at our feet.

Biologists call it "a big night" on cool,

wet evenings in early spring when

thousands of frogs and salamanders

migrate from their woodland wintering

areas to vernal pools, ponds and

wetlands to breed.

Their travel often takes

them across busy roadways

where they can

be killed by cars.

Vermont Fish and

Wildlife is asking

drivers to slow

down and be

cautious when

traveling at night

in early spring or

to take alternate

routes to avoid

driving near ponds

and wetlands where

salamanders and frogs are

crossing during their breeding

season.

"One of the benefits of checking out

amphibian road crossings," said Fish

and Wildlife herpetologist Luke Groff,

"is that you can see many individuals

and species in a short period and

small area, and some species may not

be seen the rest of the year. The spotted

and blue-spotted salamanders,

for example, belong to a group called

the 'mole salamanders,' because after

breeding, they retreat underground or

under logs or stumps, and are rarely

seen until next spring."

Road crossings are also a great way

to see rare or otherwise hard-to-find

species, which biologists rely on for data

collection. For example, the four-toed

salamander is rare in Vermont, and its

distribution is not well understood.

This information

is used by Fish and

Wildlife, the Agency of

Transportation and

other conservation

partners to assess

the need for wildlife

passages and

barriers in road

construction plans

that allow all wildlife,

not just frogs and

salamanders, to more

safely cross roadways.

Groff is encouraging

Vermonters to report amphibian

road crossings. They can report

them through the Vermont Reptile and

Amphibian Atlas website at vtherpatlas.

org.

Vermonters who wish to contribute

to the Fish and Wildlife Department's

work to help frogs and salamanders

can donate to the Nongame Wildlife

Fund on their state income tax form or

directly at vtfishandwildlife.com.

Till I Die holds #onekillington

T-shirt design contest

KILLINGTON—

Whether you live,

work, play, or aspire to

be here, you are all part

of #onekillington and

Till I Die is calling on

you now to help keep

positivity alive during

these difficult times.

They are excited to

announce a design

contest, open to anyone

and everyone, to

create a Killingtoninspired

T-shirt design.

In recognition

of all that our local

businesses mean to

us, proceeds from

shirt sales will support

those hit hardest in

the local community.

The rules are simple. The design

must reflect the Killington region in

some capacity— mountain lifestyle,

outdoor adventures, community

events, etc. Submit

your design

to ryan@tillidie.

com by April 30.

Four finalists will

be announced on

May 1 and the winner

will be voted

on via Instagram

over the first week

of May.

The winner will

have their artwork

printed on the

unbelievably-rad

Till I Die fundraiser

T-shirt for the world

to see! Anyone who

submits a design will

be entered in a drawing

for a $50 gift card and all finalists

win a Till I Die swag pack.

We are and always will be

#onekillington.

Vermont students invited to

participate in drawing contest

SPRINGFIELD— If you could choose

your very favorite thing to do outside in

Vermont, what would it be? This can be

any time of year. Imagine some of your

favorite things to do outside: building

a snow fort, picking berries, riding

your bike, swimming, taking a hike, or

anything you enjoy either by yourself or

with friends and family.

Gallery at the VAULT invites students,

ages 6-12, to make drawings of their

favorite things to do outdoors in Vermont.

Maybe you'd like to make a list of

favorites (any season) and then choose

one to draw that would be a good page

for other kids to color in a coloring

book. The artwork will be exhibited at

Gallery at the VAULT and some of those

drawings will be chosen for a Vermont

coloring book.

Students may enter one black and

white original drawing to be considered

for a Vermont Outdoors coloring book.

The contest is open to all students who

live in Vermont who are at least 6 years

old by June 1, 2020 and no older than 12

by June 1, 2020. The drawing should be

vertical and 8.5 by 11 inches (copy paper

size). All work must be original and

done by the artist: not traced, copied or

even partially done by another person.

Please include the following information

with the drawing: Child's name,

town, date of birth, and title of drawing.

Also, please include parent or guardian's

name, address, phone number,

and email. Mail your drawings to Gallery

at the VAULT, 68 Main St., Springfield

VT 05156 by June 1, 2020. At least

twelve entries will be chosen and a cash

prize of $10 each will be given. You may

get to see your drawing in a Vermont

coloring book!

Questions? Contact dkemble@

vermontel.net or call 802-324-9465. For

information about Gallery at the VAULT,

a Vermont State Craft Center, visit galleryvault.org.

Monday, April 27 —WOODSTOCK—'Tis the season

for spring cleaning at Billings Farm & Museum! Join

in online at Billings Farm at Home during the

week of April 27 – May 1 to learn about the

spring cleaning that goes on around the

farm today, and some of the ways people

who lived in the past would have done their

cleaning.

Visit Billings Farm at Home online daily

for videos, kid-friendly activities, recipes and

information from our archives. Find cleaning

ideas using non-toxic cleaning products such as

vinegar. Learn how they keep the cows and stalls clean

It's spring cleaning time at Billings Farm

Apr.

27

and see how laundry was done in 1890. Try soap carving

and see if you can identify 1890s cleaning objects in

"Guess the Artifact!"

It's all good clean fun!

The Billings Farm & Museum is owned and

operated by The Woodstock Foundation Inc.,

a charitable non-profit institution. Billings

Farm & Museum is committed to providing

educational opportunities and experiences

to visitors, whether here in Woodstock, or at

home wherever you are throughonline resources

at Billings Farm at Home. Visit billingsfarm.org,

and find us on Facebook and Instagram.

Courtesy of Billings Farms
---
Food Matters

20 • The Mountain Times • April 22-28, 2020

Speakeasy Cafe serving up lattes of love

Vermont

Gift Shop

(802) 773-2738

Breakfast • Lunch • Dinner

LARGEST SELECTION OF ICE CREAM TREATS!

GIFT CERTIFICATES AVAILABLE!

Celebrating our 74th year!

Open Daily 6:30 a.m.

Specials

Daily

Mountain View Bison

Friday, April 24 at 8 a.m.—RUTLAND— Speakeasy

Cafe is hosting a pop-up event to benefit the good

people over at BROC! Friday, April 24, they're going to

fire up the espresso machine and jump onto Instagram

live for a couple hours. If you've been jonesing for a

Speakeasy latte, Friday morning at 8 a.m. is your chance

to get one. They'll be doing carhop service, broadcasting

live, and collecting money for BROC's community food

shelf. Put it on your calendar, wake the neighbors, put on

some pants, and come and get it!

Speakeasy Cafe is located at 67 Center St. in Rutland.

For more information visit facebook.com/speakeasycafe.

Submitted

Mountain View Bison

238 Stratton Road

No. Clarendon, VT 05759

Tom Hubbard, owner

PH: 802.342.0429

Email: thubb12@gmail.com

RAISED AND HARVESTED IN RUTLAND, VERMONT

Mid-way up

Killington Access Rd.

vermontsushi.com

802.422.4241

MEALS TO GO-GO

TAKE OUT

& DELIVERY

11AM - 10PM DAILY

It's tIme to pay It

forward.

Support your local bars and

restaurants, and we'll reimburse

you $5 per order.* Budweiser

1. Order take-out or delivery

(we suggest ordering a few Buds!)

2. Upload a picture of your receipt to

www.mybeerrebate.com/#/AB-2040

3. Receive $5 via rebate*

Budweiser.com

farrelldistributing.com

Vermont Arts Council provides Covid-19

emergency relief funding to artists

Wednesday, April 22—RAN-

DOLPH—Randolph is hosting

a community pop–up exhibit

celebrating the 50th anniversary of

Earth Day in a manner that reflects

our pandemic lives in 2020, starting

on April 22. This outdoor drive-by

or walk–by exhibit is designed to

be safe to participate in and view as

we celebrate our stewardship of the

Earth and our collective responsibility

to take care of each other and

the creatures in our world.

The pop-up exhibit, "Spread Art

-Sow Hope-Dig In" will be installed

in front of Chandler Gallery at 71

N. Main St. in Randolph and reflect

the power of the arts to focus our

attention and raise our spirits as

we reflect and react to the world

this spring. It is open to all creative

spirits in the area following a few

common sense rules. Many of the

submissions will come from area

MONTPELIER—The New England Foundation for

the Arts (NEFA) has awarded $47,000 to the Vermont Arts

Council to support emergency relief for Vermont artists hit

hard by the economic impact of Covid-19.

The funding is part of $282,000 in emergency relief from

NEFA to be divided equally among the six New England

state art agencies in Connecticut, Maine, Massachusetts,

New Hampshire, Rhode Island, and Vermont.

The funds will supplement the VAC's Rapid Response

Artist Relief Fund, which was established March 24 to

provide grants of up to $500 to artists who are experiencing

financial hardship due to the loss of a job or cancellation of

concerts, festivals, theatrical performances and other arts

events because of Covid-19.

Private donations to the fund are also accepted and can

be made at vermontartscouncil.org/get-involved/giving.

In one week after the fund opened, the VAC received 183

requests for emergency relief funding from artists across

Vermont. Thus far, the VAC has awarded 164 grants totaling

$64,435 to artists.

The crisis has significantly affected individual artists

in Vermont, many of whom are self-employed. Arts and

culture are vital anchors for many of Vermont's communities,

providing more than 40,000 creative-sector jobs and

comprising 9.3% of all employment in Vermont, higher

than the national average.

"We were floored by the number of applications we received

and the breadth and depth of the financial losses

already incurred. From touring musicians who have

lost all gigs for the foreseeable future to teaching artists

whose residencies have been canceled this semester,

Vermont's working artists are hurting. These artists are

vital to the identity, the cultural fabric, and the economy

of our state," said Vermont Arts Council Executive Director

Karen Mittelman.

While applications temporarily closed in order to process

requests and ramp up fundraising efforts, the application

will re-open for a new round of funding requests

on April 22. Guidelines and the application are posted

at vermontartscouncil.org/rapid-response-artist-relief.

The VAC board of directors seeded the establishment

of the Rapid Response Artist Relief Fund on March 31

with $95,000. Nearly $2,000 in private donations have

been made to the fund.

The Rapid Response Artist Relief Fund is the first of

several relief efforts aimed at strengthening the capacity

of Vermont's arts and culture sector to survive the

economic impact of Covid-19 and to help Vermont

communities recover and heal in the months ahead.

Other funding will come from a new Arts Recovery Fund

philanthropic partnership between the Vermont Arts

Council and the Vermont Community Foundation as

well as from the National Endowment for the Arts CARES

Act funds.

Chandler hosts community-wide, pandemic-safe art show

students who have been creating diverse

art projects as part of a project

"After The Storm… Rainbows" as

part of a global response by young

people to the Covid-19 pandemic.

Other community submissions

can reflect creative responses to our

time of social isolation for common

good and concerns about the Earth.

The set up for the exhibit will begin

Tuesday evening April 21 (and

be finished by 9 a.m. Wednesday,

April 22) and will be taken down

Sunday April 26 (depending on

weather.) It will follow guidelines

for safe and minimal interactions.

The gallery is asking people to

consider materials that can be displayed

outside and are reflective

of a reduce and recycle ethos. To

follow health precautions they ask

that people set-up and take down

their own work, wear masks or face

coverings, maintain social distancing

when viewing the exhibit, and

not touch work on display.

This exhibit will be archived

by the White River Craft Center

as part of its revised Earth Day

activities. Artists can submit additional

Earth Day work to director

Jessica Wilkinson for inclusion in

the online project. More creative

projects are being encouraged and

supported by The Arts Bus through

its free Kits for Kids project being

distributed now by its director,

Genny Albert.

This project was initiated by

community art enablers at The

White River Craft Center, The

Arts Bus, Chandler Art Gallery

and the Randolph Elementary

School. Please expand on the idea

in creative ways and join us in this

celebration of community, 50 years

of Earth Day, and the depictions of

hope by local artists and children.
---
The Mountain Times • April 22-28, 2020 • 21

RUTLAND

CO-OP

grocery

I

household goods

77 Wales St

produce

health and beauty

VTF&W photos by John Hall

Vermont hunters who take a turkey this spring are required to report it electronically within 48 hours through Vermont

Fish and Wildlife's website.

VTF&W asks successful hunters to

report their turkey online

A successful hunter in Vermont's April 25-26 Youth

Turkey Weekend and the May 1-31 spring turkey season

must, by law, report their turkey within 48 hours to the

Vermont Fish and Wildlife Department. In the past, this

could be done at a local reporting station. This year,

because of Covid-19 precautions, hunters are required

to report their turkey electronically through the department's

website vtfishandwildlife.

com.

"Online reporting has been

used successfully in other states,"

said turkey biologist Chris

Bernier. "It is convenient for

the hunter, and the information

collected has proven to be just

as valuable for monitoring and

managing wild turkey populations.

Most important now, we

need to offer this online reporting

option because of Covid-19 and

our responsibility to promote appropriate

social distancing practices."

The information needed to report turkeys online

is the same as what has been traditionally collected at

check stations including license, tag and contact information,

harvest details, and biological measurements.

There are a few things hunters can do in advance to

make submitting a report easier such as having their

Conservation ID Number handy (located on their

license), knowing what town and wildlife management

unit the bird was harvested in, and completing all

the necessary measurements such as beard and spur

Brattleboro Dispatch – 802-257-7101

Middlesex Dispatch – 802-229-9191

New Haven Dispatch – 802-388-4919

Royalton Dispatch – 802-234-9933

Rutland Dispatch – 802-773-9101

Shaftsbury Dispatch – 802-442-5421

St. Albans Dispatch – 802-524-5993

St. Johnsbury Dispatch – 802-748-3111

Westminster Dispatch – 802-722-4600

Williston Dispatch – 802-878-7111

lengths, and weight. Although not required, the department

also requests that hunters use the online reporting

tool to upload a digital photo showing the bird's beard

and properly tagged leg. Hunters who provide a valid

email address will receive a confirmation email when

they successfully submit a turkey harvest report using

this new online reporting tool.

The department encourages

anyone who experiences problems

reporting through the online

tool to contact a local state police

dispatcher to be connected with

a state game warden for harvest

reporting assistance. Regional

dispatch numbers are listed

below.

The Vermont Fish and Wildlife

Department urges hunters to

hunt only if they are healthy, hunt

close to home, travel and go out

alone or with a family member

you are already in close contact with. If you do hunt

with someone you do not already live with, take separate

vehicles to your hunting location and make sure

to maintain at least 6 feet between both of you. Only

share a hunting blind with someone you have been in

continuous close contact with for the past two weeks,

and be sure to carry hand sanitizer and avoid touching

your face. Remember to wash your mouth calls after

handling, request landowner permission by phone, and

maintain appropriate social distancing from others

while afield.

Open Wed.-Sun.

2 - 8 p.m.

This

Week's

Specials

Wednesday's

2 for 1 Burger

Night

Thursday

20% off Night

Add a craft beer

to your order for

$2.50

Friday

Fish n' Chips

Special Night

Saturday

Burger &

Prime Rib

Night

including

Vegetarian Burger

Sunday

Pasta Night

Our award winning

Mac n' Cheese,

Lobster

or Shrimp or

Chicken Parmesan

or Pork Belly

Mac n' Cheese

And yes you can get Casey's

Amazing burgers / Draft Take-out Beer

Take-Out Plow Car Smash

any night Wed thru Sunday.

By Kathryn Wiegers

By Kathryn Wiegers

Spreading some love, new mural in Downtown Rutland

Muralist Kathryn Wiegers paints a new mural next to the giraffes on West Street, downtown Rutland. "Everything

is going to be ok" floats above this cuddling duo.
---
22 • PETS

The Mountain Times • April 22-28, 2020

Humane societies update their adoption,

sheltering procedures

Rutland County Humane Society

Update from the Rutland County Humane

Society

We wanted to touch base and let you

know how things are going at RCHS

during these times. A big shout out to

everyone who has offered to be foster

parents for RCHS! We currently have 99

animals in foster

care! That's amazing.

At the shelter on

Stevens Road in Pittsford,

we only have 24

animals. What an amazing

feeling. We do have

room for stray animals,

but please call ahead.

We also have room

for owner surrenders,

especially as a result of

COVID 19. Please call

us so we can discuss

your specific needs. We

are here 7 days a week,

Allay, 10-year-old, spayed female.

Husky mix, at RCHS.

LILLY

Hi! My name's Lilly and I'm a 3-year-old spayed

PitBull Mix. I've had a couple of homes in my short life,

and I'm thinking it's time that I finally settled down! I'm

a pretty smart girl, I like dogs but I can't live with cats.

This pet is available for adoption at

Lucy Mackenzie Humane Society

4832 VT-44, Windsor, VT • (802) 484-5829

*(By appointment only at this time.) Tues. - Sat. 12-4p.m.

& Thurs. 12-7p.m. • lucymac.org

from 8 a.m. – 4 p.m. But

the Adoption Center remains

closed for adoptions.

With so many animals in foster care,

we have none up for adoption at this time.

We will let everyone know when the

Adoption Center is open again. We continue

to have strict cleaning protocols in

place and are social distancing and wearing

masks. We are accepting donations of

towels, blankets, sheets, comforters

and items for the

animals. Please leave

them in the donation

bin outside the front

door of the Adoption

Center. Knowing our

community is there

for us, during these

challenging times, and

always, means a lot to

us. We couldn't do what

we do without you.

Rutland County Humane

Society is located

at 765 Stevens Road

in Pittsford. For more

information call (802)

483-6700 or visit rchsvt.

org.

Plan for your pets in case

of emergency illness

While it's not fun to

imagine us getting sick, the

Rutland County Humane

Society (RCHS) thinks it's

important to plan for it

and our pets, just in case.

Gather your family around

and put a plan together to

ensure your animals will be

well cared for in the event

of an emergency. First,

know the facts. According

to the CDC, there is no

evidence that people can

get Covid-19 from pets.

The best place for them is

at home, with their loved

ones, if possible. Second,

consider if you do get sick

and can no longer care

for your pets. Think about

who can step in and take

care of them until you're

well enough to do it. Third,

prepare a supply kit so it's

ready to go in case you

need to use it. Consider

including the name and

contact information for

the person (and, perhaps

a backup) who will be taking

care of your animals.

Include their food, treats,

bed, collar (with id tags!),

leash, bowls and anything

else that will make them

feel at home. Also include

a crate, veterinary records,

medications and prescriptions

and daily instructions.

Planning for an

emergency will be worth it

if you ever need to use it.

Vermont alcohol sales rise

sharply during pandemic

Submitted

By Anne Wallace Allen/VTDigger

When it comes to liquor purchases made in the first weeks of quarantine, Vermonters

went for quantity over quality, buying more 1.75-liter bottles of inexpensive brands, and

less of the artisanal spirits that have defined their purchasing habits in the past.

Liquor sales from state stores increased by 14% in March over the same month last year,

said Patrick Delaney, commissioner of the Vermont Department of Liquor and Lottery.

That's an increase of about 4,500 cases.

"I would categorize their interest to be perhaps in more of a value-priced brand versus

premium brands," said Delaney, adding that the move away from premium brands is happening

nationally, not just in Vermont.

"People are moving away from the super-fancy stuff," he said. He added that he doesn't

think people are necessarily drinking more; they're just stocking up on liquor the way

they've been stocking up on staple foods and items like toilet paper.

"In some sense people are also applying the same type of perspective when they are

purchasing distilled spirits as well," he said.

Online alcohol sales have also risen nearly 250%.

Jokes and reports about drinking at home are common now on social media – mostly

because there aren't many other places than home that people can drink. Gov. Phil

Scott closed all of Vermont's bars and restaurants March 17 as he sought to limit the spread

of the novel coronavirus. Through other actions, the state has closed all non-essential businesses,

limited social gatherings to less than 10 people, and repeatedly urged Vermonters to

stay at home as much as possible.

While counselors aren't reporting an increase in alcohol-related problems yet, according

to Cortney Donohue Slobodnjak, a counselor in Chester and president of the Vermont

Mental Health Counselors Association, alcohol can be used and abused as self-medication

during times of stress and family conflict. But Slobodnjak added that alcohol abuse tends to

reveal itself over time, not suddenly. Slobodnjak said it's reasonable to expect alcohol abuse

could increase in the stress of the pandemic, when people are confined to their homes.

"Partners who are struggling with their own emotions during all of this will begin to

notice (because we are unable to hide from each other in our homes) some of the more

concerning things that come with prolonged alcohol use," she said. "At that point, some of

these addictive personality traits may cause some interpersonal conflict and strife and possibly

create more concerning actions."

The U.S. Centers for Disease Control and Prevention also warns that the stress of the

pandemic and the quarantine can worsen chronic mental health conditions and increase

the use of alcohol, tobacco, and other drugs.

Vermont has 76 state liquor stores, although the managers of three chose to stop operating

their stores until the governor lifts the "stay home/stay safe" executive order, now slated

to end May 15. One of those closed is in Killington. Revenues from those state stores go into

the general fund; last year they yielded $29 million, said Delaney.

Liquor store revenues were rising at a rapid clip even before the governor closed down

most businesses and confined most Vermonters to their homes. Delaney said liquor sales

have been growing at an average of 3% per month over the last few years as Vermont does

a better job of competing against New Hampshire's state liquor stores. Because it's his job

to maximize those revenues, Delaney was sorry to see the bars and restaurants closed in

March. Those proprietors all buy their liquor from state-owned stores.

"The business seems to be rather robust, even in the tragic absence of the on-premise

licenses," he said. "Quite honestly, the [Vermont] department in the past several years has

done a much better job of competing with the state of New Hampshire and servicing our

customers better to encourage them to shop locally. That's an ongoing endeavor."
---
The Mountain Times • April 22-28, 2020 MOTHER OF THE SKYE • 23

Aries

March 21 - April 20

You can't rush things. As much as it

would feel better to get your show

on the road, it will take time. It would be

good if you could trust the fact that whatever

you're involved in has a life of its

own and none of this is beholden to your

impatience. What to do while you wait?

I see huge needs for reflection; clean up

your own back yard. Old habits, along with

whatever it is that you do to delude yourself,

could use an overhaul. Your relationships

with others include behaviors that

make it easy for you to do what's expedient

at the expense of whatever it takes to be

100% honest.

Taurus

April 21 - May 20

You get an A+ when it comes to making

adjustments. The way you've handled

yourself in the last six months has made it

possible for who you really are to come

out from behind the door. Other people's

expectations, along with the weight of the

past, are less of an issue these days. As a result

your work and/or your creative energy

are soaring into new areas of thought and

expression. Stay the course and be open to

the ways in which the light you shine awakens

and heals everything you touch. This is

a magical time. Don't let anyone tell you to

keep a lid on it.

Gemini

May 21 - June 20

You can't put the cart before the horse.

Your dream date won't show up until

you make a few adjustments. Start by realizing

that you are terminally attracted to

the last thing you need and go from there.

It might also help you to figure out that you

think that love means putting up with anything;

it does not. I see opportunities to shift

your relationship M.O. showing up in the

form of people who want to engage. None

of these liaisons need to last forever. They

are here to give you a chance to observe

yourself, and shift away from habits that

keep you tied to the same old thing.

Cancer

June 21 - July 20

The rug just got pulled out from underneath

your security blanket. Now that

it's gone, your biggest fears are on the loud

speaker. That's OK. It's at times like this

that we put our money where our mouth

is – or not. You profess to believe that everything

is subject to the power of Spirit. In

this moment of total insecurity, here you sit,

noticing how hard it is to trust that concept

when the platitudes fizzle. It's time to get

real enough to realize that what makes us

special is what we are able to pull up from

within when the dreamcatcher unravels and

the going gets rough.

Leo

July 21 - August 20

You don't really have to do anything

but keep up the good work. Things

have gotten to the point where the lesson

revolves around knowing that it all comes

from you. Being in the habit of expecting

the Angel of Answers or the White Knight

to show up and rescue you from every dilemma,

it's time to roll up your sleeves and

get the piece that understands that whatever

you're looking for lives inside you. The

relationship scene looks like it's full of potential.

If there are decisions to make, don't

hesitate to jump right in, or cut the cord;

either way, trust your gut.

Virgo

August 21 - September 20

In the center of a maelstrom it is impossible

to remain objective to what is happening.

Having just been torn asunder,

you're lost in space. All of your usual tricks

aren't working and the ones who used to

help you sort out this stuff are nowhere in

sight. If this seems like it's more than you

can handle, buck up. It's in these moments

where we feel totally abandoned that we

begin to find out what we're connected to,

and what sustains us. Give yourself space

and time to re-center yourself in the place

that is invincible and totally clear about

where to go when the going gets rough.

Libra

September 21 - October 20

You have it all sewn up in ways that

defy analysis. Never the one to get

thrown off guard, even in the midst of the

tough stuff, you maintain your balance. Internally?

Yes, of course, it's another story.

And right now I would put money on idea

that you're freaking out inside. Keep doing

whatever it takes to project the impression

that you're cool as a cucumber. Underneath

all of that, things are in a tailspin and the

deeper part of you needs help, or at least a

little guidance on the subject of what to do

about ourselves when it's easier to pretend

than it is to fall apart at the seams.

Scorpio

October 21 - November 20

You just graduated from a huge test with

flying colors; congratulations! People

with base line intentions have been sniffing

around, doing whatever it takes to get you

to bow to their will. At first glance all of this

looked like the answer to a prayer. On second

thought you realized that what showed

up to seduce you was actually an insult!

In the course of setting things straight you

woke up to the fact that you are too smart

to be taken in by those who prey on your

weak spots. If what got lost in the shuffle

ever mattered, guess what? It doesn't matter

now and you're OK without it!

Copyright - Cal Garrison: 2020: ©

Sagittarius

November 21 - December 20

What's right in your face is the gap

between your ideals and your ability

to embody them. It's one thing to say

you believe this and that, and quite another

to have every fiber of your being reflect it.

This has to be hitting home for you in a big

way. As deep rooted issues that may only

have been addressed in your mind rise to

the surface, it becomes imperative to look

them in the eye. Your tendency to turn everything

into water off a duck's back works

in your favor more often than not. At times

like this it works better to get serious, just

long enough to face the truth.

Capricorn

December 21 - January 20

Lots of things are at a standstill. Yet

again, you feel as if everything is starting

over. Halfway between the thought that

you are getting nowhere, and the need to

summon up enough momentum to get back

on the ball, you are stuck at the place where

fixed ideas interfere with infinite possibilities.

Stretch your boundaries. Get over

needing to do things by the book. This goes

for your work and your relationships. As

far as the latter goes, eradicate the need to

please people and watch and see who sticks

around when you get down to the business

of being yourself.

Aquarius

January 21 - February 20

In the course of having to rearrange more

than a few things, you have opened your

eyes to the fact that others may not be who

they're cracked up to be. Pay attention

to the way they play their hand over the

next few weeks. Their true colors will get

fleshed out one way or another. If things fly

south, know that it's not your fault that you

gave them more credit than they deserved.

It's both a blessing and a curse that you assume

that everyone comes from the same

level of integrity that operates within you.

Your biggest lesson lies in realizing that

this is not always the case.

Pisces

February 21 - March 20

The vultures are circling around, eyeing

up your situation and waiting to swoop

in and take advantage. If you're aware of

this, you're better off. If you're clueless

about it, God bless you. The vulture analogy

may be too extreme. If so, then it's

about putting out more than your share of

time and energy while others reap the benefits.

Any way you slice it buffing up on your

hard ball tactics and knowing enough to say

No instead of Yes is where it's at right now.

Lose the need to be overly kind. You've got

too much to lose. Wake up and see people

for what they're worth.

What it means to

love and be loved

By Cal Garrison

This week's Horoscopes are coming out under the light

of an Aries Moon. The Sun entered Taurus on April 19,

which puts us in the last hours of the "Old Moon." This

means we will be wrapping things up, dealing with elements

of endings and completion, until the Moon turns

"New" at 10:26 p.m. on April 22.

In all of my readings, for the last couple of weeks, the

burning question of the day has revolved around the whole

concept of relationships. It seems like all of us are hogtied

to strict notions about what it means to love and be loved.

We've talked about this before, but because this issue appears

to be universal, I thought it might be good to use an

example from this week's round of clients to examine it in a

little more depth.

With the Covid-19 routine forcing so many of us into

solitary confinement with our mates, who knows? What I

have to say might turn out to be useful.

This one comes from a session with a woman in her

Horoscopes > 30

Karen Dalury

3744 River Rd. Killington, VT

802-770-4101

KillingtonYoga.com

@KillingtonYoga

Live classes via Zoom.

Online Schedule for next

week, starting April 6.

Monday 8:15 - 9:15 am Vinyasa

Tuesday 5:30 - 6:30 pm Basics

Thursday 5:00 - 6:00 pm Vinyasa

Friday 10:00 - 11:00 am Basics

Healing at Heart

Programs & Services:

• Habit Change Coaching

• Individual and Group

• Clear the Kitchen

• On Your Trail

Susan Mandel • Certified Health Coach • 802.353.9609

healingatheart.com • fab50healthcoach@gmail.com

RUTLAND'S PREMIERE

YOGA & PILATES STUDIO

Mother of the Skye

Mother of the Skye has 40 years of experience as an astrologer and tarot consultant. She may be reached by email to cal.garrison@gmail.com

22 WALES STREET, RUTLAND, VERMONT

Go online to see our full schedule:

@trueyogavt

trueyogavermont.com
---
Columns

24 • The Mountain Times • April 22-28, 2020

Tree flowers color the hills

I love that time in spring when the

hills around my house change from

gray and brown to shades of yellow,

green, and red. The trees have not yet

leafed out, so what's painting the

forests these wonderful colors?

The answer: most of our northern

hardwood trees are flowering.

It begins

with the familiar

fuzzballs of

pussy willows,

blooming when

there may still be snow

on the ground. Put cuttings

of these shrubby willows in

The Outside

Story

By Olivia Box

a vase of water, and the soft,

gray flowers will often produce

yellow pollen. Red maples

are another early bloomer; in

wetlands where they dominate,

their plentiful, swollen red buds

If you are looking for something different

to do with the free time you may have

right now why not try growing plants

from seed?

I have been doing this

for about 30 years and it's a

great way to obtain exactly

what you want for flowers

or veggies. There are some

very high-tech ways to

accomplish this as well as

some simple ways. It's always

best to start off with an easy

method and move up as your

knowledge and skills grow.

The basics you will need

Looking

Forward

By Mary Ellen Shaw

are especially striking. These open into dainty red and

yellow flowers, giving swamps a reddish hue. As spring

progresses, willows and aspens follow, with long, dangling

catkins composed of many tiny flowers. Then, as

the weather warms, serviceberry, birch, beech, sugar

maple, and other trees come into bloom, and forests

erupt with color.

"One of my favorite things in spring is to look out at

our beautiful hills and mountains, and easily pick out

stands of different tree species from miles away," said

Aaron Marcus, assistant botanist with the Vermont

Department of Fish and Wildlife. "Spring is when their

colors, shapes, and textures are the most distinctive at a

distance. And I can look down at our river valleys and do

the same for stands of floodplain forest trees."

The function of all tree flowers is sexual reproduction.

Biologist and author Bernd Heinrich, in his book

"Trees in my Forest," describes pollen blowing off male

catkins "like yellow puffs of smoke." The usually small,

inconspicuous female flowers have sticky stigmas that

help catch pollen. When a pollen grain lands on a female

flower, it quickly grows a tube into the flower's ovary.

Sperm descend through the tube to fertilize the eggs,

which will eventually develop into seeds. According to

Heinrich, the female flower chemically recognizes the

proper pollen, and only permits the growth of pollen

tubes from the same species.

The flowers of most of our native hardwoods don't

look like garden flowers or even the blossoms of fruit

or ornamental trees. Many hardwood trees, such as

birches, cottonwoods, and oaks, have catkins, designed

for wind pollination. These trees improve their reproductive

odds by producing enormous amounts

of pollen. One cluster of birch catkins, for example,

may contain 10 million grains of pollen. Many of

these trees flower and shed their pollen before leaf-out,

an adaptation that ensures that leaves won't interfere

with the dispersal or capture of pollen.

Tree flowers come in a variety of shapes and sizes.

Sugar maple flowers look like clusters of tiny hanging

bells. Beeches suspend globes of flowers from long

stems. In some tree species, male and female flowers

are on the same tree, while others keep different sexes

on separate trees. Some, like apple trees, have "perfect"

flowers, with male and female parts on the same flower.

Unlike trees that use wind pollination, apples – and

others, like basswood, cherry, black locust, and tulip

trees – rely on insects or hummingbirds to transport

pollen from male to female flower. For this reason, these

trees tend to put their energy into display, rather than

mass production. They produce less pollen, but package

it in fragrant, showy blossoms that attract pollinators.

They typically bloom later, after leaves are out, when

pollinators are more abundant. Each flower's shape,

color, scent, and nectar reward are tailored to its specific

pollinators. Animal-assisted pollination works well

for tree species that are not as abundant and are more

widely-spaced in a forest.

This spring, when trees turn red or yellow-green,

get outside and take a close look at the wide variety of

incredible tree flowers. Bring a hand lens to magnify the

details. Connecting with nature and exploring its intricacies

can provide solace in difficult times.

Susan Shea is a naturalist, writer, and conservationist

who lives in Brookfield, Vermont. The illustration for this

column was drawn by Adelaide Tyrol. The Outside Story

is assigned and edited by Northern Woodlands magazine

and sponsored by the Wellborn Ecology Fund of New

Hampshire Charitable Foundation: nhcf.org.

Growing plants from seed

are: seed starting mix, a container and

sufficient daylight. You can even grow

seeds in an empty yogurt container.

Punch several small holes in the

bottom. If you do this from the

inside it provides better drainage

than punching from the

outside. Add your seed starting

mix and leave about a halfinch

of space at the top.

Read the seed packet for the

proper planting depth, which

is usually just under the dirt's

surface. Place 3 or 4 seeds in

the container as not all seeds

are apt to germinate. Put your

container on a plate or tray to catch the

excess water. Water gently or use a mister.

The container can be covered loosely

with cling-wrap which creates a greenhouse

effect and helps to keep the soil

from drying out. It's best to avoid direct

sun at the beginning but a nice bright

window is perfect. Gradually give the

container some direct exposure to the

sun. When the plants are ready to go outside,

they need to be "hardened off." This

means about 10 days of gradual exposure

to sun and wind. They should be placed

in a protected outdoor area to start. I usually

limit my plants to an hour or two of

outdoor time for the first couple of days.

Your emergency

fund: how much is

enough?

It is not difficult to understand that with the Covid-19

crisis, we all should know the value of having an established

emergency cash fund. Beyond this crisis, have you

ever had one of those months? The water heater stops

heating, the dishwasher stops

washing, and your family ends

up on a first-name basis with the

nurse at urgent care. Then, as

you're driving to work, you see

smoke coming from under your

hood.

Bad things happen to the best

Money

Matters

By Kevin Theissen

of us, and sometimes it seems like

they come in waves. That's when

an emergency cash fund can

come in handy.

A 2019 Bankrate survey found

that 28% of Americans had no

emergency savings. Another 25% of respondents said

that the cash they had on hand would last less than three

months in a financial crisis.

25% of respondents said that

the cash they had on hand would

last less than three months in a

financial crisis.

How much money?

How large should an emergency fund be? There is no

"one-size-fits-all" answer. The ideal amount may depend

on your financial situation and lifestyle. For example, if

you own a home or have dependents, you may be more

likely to face financial emergencies. And if a job loss affects

your income, you may need emergency funds for

months.

Coming up with cash

If saving several months of income seems unreasonable,

don't despair. Start with a more-modest goal, such

as saving $1,000, and build your savings a bit at a time.

Consider setting up automatic monthly transfers into the

fund.

Once your savings begin to build, you may be tempted

to use the money in the account for something other than

an emergency. Try to avoid that. Instead, budget and prepare

separately for bigger expenses you know are coming.

Where do I put it?

Many people open traditional savings accounts to hold

Money matters > 25

Once the danger of a frost has passed

your plants will be ready for the garden!

I have a different method for starting

tomato seeds. I use a small-cell greenhouse

that holds peat pellets. Each pellet

comes with netting and contains the

proper potting mix. Just pour some warm

water over the netting and it expands.

A small hole in the center allows you to

place your seeds inside. Once they start

growing and the plants are too tall for the

netting I place each one in a small pot

filled with seed starting mix. Tomatoes

grow quite quickly so you will probably

need to transfer them to a larger pot

before hardening them off.

Looking forward > 30
---
The Mountain Times • April 22-28, 2020 COLUMNS • 25

At some point during my early teenage

years, I decided that basketball was going

to be my thing. I don't remember there

being an epiphany or single moment when

this dawned on me. Rather, the sport slowly

enveloped my attention until it was the

most important part of my life.

The irony is that I almost gave the sport

up in 8th grade out

of disinterest. Thankfully,

my mother

persuaded me to play,

telling me that if I

didn't, I would have to

run indoor track (and

that sounded worse).

I played that middle

The Movie

Diary

By Dom Cioffi

school season and did

well and then attended

a couple of summer

basketball camps where

my skillset jumped along

with my height. That was when the activity

started becoming an obsession.

Any free time I had was spent thinking, reading,

watching, or playing basketball. I was fixated

with players' stats and league standings. If

I had a project due in class, I found a way to rope

basketball into it just to make it more exciting

for myself.

My friend group switched during this period

as I discovered other like-minded kids who were

equally obsessed. We congregated at the local rec

center on weekends to play and persuaded adults

we knew to let us borrow keys to available gyms (back

when that didn't get you arrested).

When we got to our junior and senior years and

started attending parties, my group was the ones in

the driveway shooting around or in the living room

watching the game on the television.

We must have been onto something because that

extended group of kids (who were split between two

local high schools) ended up facing each other in the

state championship during our senior year. Unfortunately,

my team came out on the losing end, but we

sent a thrill though our city that winter as our skills

and athleticism were on full display.

My love of the game was so deep that I decided to

forgo my freshman year of college so I could play a

post graduate year of basketball at a prep school. The

idea was that one more year of practice would give me

a better chance at playing in college.

Everything was going

Having a Ball

Watching him drain a

3-pointer or make a post

move for an easy layup

brings me a sense of joy

that few things have in my

lifetime.

according to plan until midway

through the season I

sustained a back injury that

basically hobbled me for six

months. I tried to walk-on

as a freshman in college, but

reinjured myself in the same

spot, promptly ending my

dreams.

I rehabbed for months and

slowly worked my way back

to playing, albeit in men's leagues on weeknights and

weekends. While the stakes were not as high and the

crowds were dramatically smaller, the desire to win

and play never diminished. The game was my physical

and competitive outlet; something I didn't just

want to play, but had to play.

I also started coaching and found that position

to be just as rewarding. I realized that all those years

of studying and dissecting the game could come in

handy in terms of steering a team to victory. In fact,

some of my fondest memories of success in basketball

have actually come from coaching teams rather

than playing on teams.

And then my son came into the picture. Before he

could even walk, I had him tossing beanbags into a

wicker basket. As the years passed, I bought him every

size ball and hoop so he could practice.

I never pressured him to play the sport I loved, but

I definitely nudged him in that direction. I used to tell

him, "You can play soccer, but I won't be able to help

you. If you play basketball, I can make you good."

For the most part, he bought into this idea, and

through a lot of practice in the yard and countless

fights about the right and wrong way to do things, he's

established himself as a very good basketball player.

And now I can say that my most thrilling memories

involving this sport have been witnessing my son

doing things in games that we worked on in our yard.

Watching him drain a 3-pointer or make a post move

for an easy layup brings me

a sense of joy that few things

have in my lifetime.

So, when I heard that

ESPN was releasing a 10-part

documentary on Michael

Jordan, arguably the greatest

player in the history of the

NBA, I knew it was something

my son and I would

have to watch together. I love

to influence him with material

that inspires and ignites passion, and no one did

that better than Air Jordan.

The first two episodes were aired this past Sunday

with two more being premiered each Sunday for the

next four weeks. I can only account for the first two

hours, but if the rest of the documentary follows suit,

this will turn out to be an award-winning project that

anyone could enjoy – athlete or not.

A promising "A" for "The Last Dance."

Got a question or comment for Dom? You can email

him at moviediary@att.net.

Money matters: Funds for an emergency

>

from page 24

emergency funds. They typically offer modest rates of

return. A certificate of deposit (CD) may provide slightly

higher returns, but your money will be locked away until

the CD matures, and that could take several months to

several years.

The Federal Deposit Insurance Corporation (FDIC)

insures bank accounts and certificates of deposit up to

$250,000 per depositor, per institution, in principal and

interest. CDs are time deposits offered by banks, thrift

institutions, and credit unions. While CDs offer a slightly

higher return than a traditional bank savings account,

they also may require a higher deposit amount. If you sell

before the CD reaches maturity, you may be subject to

penalties.

Others turn to money market accounts or money

market funds in emergencies. While money market accounts

are savings accounts, money market funds are

considered low-risk securities. Money market funds are

not backed by any government institution, which means

they can lose money. Depending on your particular goals

and the amount you have saved, some combination of

lower-risk investments may be your best choice.

The only thing you can know about unexpected expenses

is that they're coming. Having an emergency fund

may help to alleviate stress and worry that can come with

them. If you lack emergency savings now, consider taking

steps to create a cushion for the future.

Kevin Theissen is the principal owner of HWC Financial

in Ludlow.

Flowers

are everyday

occasions!

200 Main St.

Poultney

802.287.4094

Delivery Available

Arrangement by

Emily Stockwell

Wedding Flowers ♦ House Plants

Secure 24-hour ordering online:

everydayflowersvt.com

Please call or

check us out

online for this

week's movie

offerings.

Movie Hotline: 877-789-6684

WWW.FLAGSHIPCINEMAS.COM
---
26 • COLUMNS

The Mountain Times • April 22-28, 2020

McCormack:

>

from page 7

But the question is more than economic.

Education is a social function.

A people educate its young. People

who run naked through the woods,

hunting their food with sharp sticks,

teach the next generation how to run

naked through the woods and hunt

food with sharp sticks. Of course,

the hunting with sticks analogy is

strained in America in 2020- computers,

complex science, complex everything,

but the principle remains.

And education is more than job

training. We're a republic, and we

need citizens educated in our founding

and defining institutions. We are

inheritors of thousands of years of

civilization, and we owe it to future

generations to pass that heritage

on. Maintaining a society is often a

financial loser.

That's the easy part. Saving our

state colleges will cost money. The

state raises money through taxes.

People don't like taxes. Many things

have changed over my years in the

Senate. But the single most constant

message from the people, year in and

year out, has been this: "Taxes are too

high!" "You idiots in Montpelier are

driving people out of state with your

out of control spending!" If we want

to keep our state colleges open we

must embrace the whole picture, (1)

do it, (2) pay for it, and (3) raise the

taxes necessary to pay for it.

>

Colleges, Jeb Spaulding,

also announced

last Friday a proposal

to close down three

campuses and eliminate

up to 500 positions due

to declining enrollment

and financial losses. The

proposal was met with

shock and dismay from

many areas of the state,

especially where the

campuses are located

(Johnson, Lyndon and

Randolph). The VSC

Board of Trustees met

Monday, April 20, to

discuss the proposal,

but was not expected to

take action (at least as of

this writing). Governor

Scott expressed concern

over the proposal, but

was unwilling to endorse

higher taxes to bail out

the state college system.

Public comments on

the proposal can be

posted at surveymonkey.

com/r/J8BRV5Z.

A review of the status

of the state's K-12 Education

Fund last Thursday,

April 16, by the Senate

Finance and Education

Committees, projected

The legislature's fiscal analysts estimated previous

projections of statewide education property tax

increases of 5-6 cents per hundred could balloon to 25

cents … [which] equates to $500 on a $200,000 home.

to 25 cents based on collective

locally approved

school budgets at last

month's Town Meeting.

(This could change if the

federal government provides

additional funds

for lost revenue or school

budgets are reduced

over what was approved

by voters.) An increase of

25 cents equates to $500

on a $200,000 home.

Another area garnering

a lot of attention

these days is the unprecedented

backlog of

unemployment claims

at the VT Dept. of Labor.

Many Vermonters have

Harrison: Legislative review from the House. A lot is changing while meetings continue remotely

from page 7

a deficit of $150 million been trying unsuccessfully

Vermont unemploy-

in the coming year. The

for a month to put ment laws, employees

Legislature's fiscal analysts

in a claim. Understand-

who refuse to return to

estimated previous ably, many are frustrat-

work will lose their UI

projections of statewide ed, angry and scared, as benefit.

education property tax they do not know when In the coming week,

increases of 5-6 cents per they will receive benefits. self-employed and independent

hundred could balloon In response, on Fri-

contractors

day, the governor made

the unprecedented

announcement that the

state would issue checks

to those still not able to

get their claim processed

by this past weekend,

and worry about settling

up later.

Some employers

who have tried to

rehire employees report

difficulty with some

employees preferring to

stay unemployed due

to the extra $600 per

week Uncle Sam has

promised to contribute

to their weekly claim.

But be aware that under

may be eligible for unemployment

benefits.

Normally, self-employed

(who do not pay into the

unemployment fund)

are not eligible for its

benefits. However, this

provision was added

as part of the federal

stimulus packaged that

Vermont is now working

to implement.

In addition to what

some private employers

are offering in premium

pay, the Vermont Senate

may consider a proposal

to give additional pay to

essential workers during

the Covid-19 pandemic.

Those being considered

eligible for the benefit

include grocery store

workers, pharmacy

workers, janitors, trash

collectors, child care

providers, and assisted

living and nursing home

caregivers. It is not clear

where the money for

extra pay would come

from.

In closing, let's hope

that the number of

Covid cases continues

to decline and the spigot

can turn again soon.

Call 211 for additional

information on Covid-19

and assistance

options or visit: healthvermont.gov/covid19.

In the meantime, I

will do my best to keep

you informed via email

updates (to sign up visit

eepurl.com/gbxzuz)

or my Facebook page

(facebook.com/harrisonforvermont).

Jim Harrison is the

state representative for

Bridgewater, Chittenden,

Killington and Mendon.

He can be reached at JHarrison@leg.state.vt.us.

YES, WE'RE OPEN!

Auto Repair & Service

Concierge Auto Service

* Zero Point of Contact:

Pick up, repair, drop off, wipe down

KillingtonAuto.com

During these most difficult times in our community, we understand people

are making sacrifices and people are out of work and are unsure of the

future. As an essential business, we have limited staff but are willing to

take care of your auto needs. We can pick up your vehicle, repair it and

leave it back at your house. Payment can be made via the phone. Your

health is our main concern so we are making these essentials changes

and we are offering our services with zero contact with our customers.

2825 Killington Road, Killington, VT, 05751

802-422-3434

>

Ralph: House of Representatives adapt to "new normal"

from page 7

vides affordable higher education to our as a result the Legislature will continue

most rural parts of the state, and over 500 to meet until Aug/Sept. You can see the

good union jobs. The loss of these institutions

entire April 14, 2020 fiscal note on this

to our state would be incalculable. website. ljfo.vermont.gov/assets/Sub-

I am pleased to say that pressure from jects/General-Updates/5974c1f31b/

many individuals, the General Assembly, GENERAL-347645-v3-April_14_update.

and the governor was successful in getting

pdf

the VSC board to postpone their vote The Paycheck Protection Program (PPP)

until next week. I support the Legislature We learned on Friday that the federal

providing gap funding to the VSCs to keep Paycheck Protection Program, which

them operational for the next year, but the authorized up to $349 billion in forgivable

underlying fiscal and enrollment challenges

loans to small businesses to pay their

facing these institutions needs to employees during the Covid-19 crisis,

be addressed to guarantee the long-term has run out of funds. Vermont had over

viability of these essential institutions. 4,000 applying to the program and was

Budget

approved for $853 million. Vermont is

The pandemic has put a strain on ranked third per capita in funds approved.

many people's pocket books. Vermont has

not been immune from these impacts. We anticipate that Congress will approve

Here is a fiscal note from our Joint Fiscal

another round of funding for this

Office in regards to our state revenues. program this week. Small businesses who

"Our revenue expectations have would like to apply for this forgivable loan

remained relatively constant for the past should start gathering information and

two weeks […] For now, if deferred taxes payroll documents for the application

are allocated to the fiscal year they were now.

due, the FY 2020 shortfalls from the January

You can apply through any existing

estimates are:

Small Business Administration (SBA)

• General Fund down $61 million lender or through any federally insured

• Education Fund down $150 million depository institution, federally insured

• Transportation Fund down $40 credit union, and Farm Credit System

million"

institution that is participating. Visit

Given the uncertainties of federal sba.gov for a list of SBA lenders.

funds and available revenues, as well as Zachariah Ralph is a state representative

the still developing pandemic it is likely

for Hartland, Windsor, and West

that the full Fiscal Year 2021 budget cannot

Windsor. He can be reached at Zralph@leg.

be completed until Aug/Sept, and so

state.vt.us.
---
The Mountain Times • April 22-28, 2020 COLUMNS • 27

By Merisa Sherman

Experiencing a sunset on Colton Pond in Killington is just the thing to make the world feel hopeful again.

Seeking out the beauty

It has been cold.

Not that wonderful

"let's go skiing" kind

of cold but the kind

of cold that gets you

way down deep in

your spine. A spinechilling

cold that you

never seem to get

away from. My mom

would tell me to turn

the heat up, but I'm

the kind of girl who'd

rather snuggle under

15 blankets than move the heat

dial one degree. Cold is one thing,

but cold and grey really takes

some kind of extra motivation to

face the day.

Blankets and an iPad really

make it easy for someone to forget

about life completely, just scrolling

through endless news reports

that make you want to snuggle

deeper under the covers, maybe

even grab that old teddy bear and

hide away from the world that

we read about. It seems like such

a scary place right now that the

imaginary world in my electronic

devices seems better and better.

My eyes hurt from all the blue

screens and my mind is racing

when I get into bed at night, anxious

for what will happen while

I'm sleeping.

I was having one of those days

this week, where I'm constantly

moving things about — I think

Livin' the

Dream

By Merisa

Sherman

I have reorganized my

house about three times

so far — just so that I am

in control of something.

Anything. I can control

where things are in my

house even if I don't know

what day it is. Anyway,

this was one of those days

where I just want to settle

in with a good book and

escape from the world

when I noticed a blue sky

that had finally started

to break through the clouds. I

stopped and just stared for a

while, lured like a sailor to a siren

call.

Looking over at my comfy

couch, draped in blankets with

my book waiting for me, I so just

wanted to crawl away but that

gorgeous blue sky kept growing,

the clouds vanishing into thin air

and I get like a

window opening

on the world. But

a different world,

one of peace and

without fear and

the anxiety of

a possible touch. I couldn't keep

sitting here while the sun set on

another day. It was 6:55 p.m. with

a 7:38 p.m. sunset. I could totally

make this happen.

Grabbing my life jacket, paddle

and emergency dry bag, I threw on

some (okay, a lot of) clothes and

almost ran out the door. As quickly

as I could, I hauled my canoe out

of the barn and strapped her to the

car. They're new straps and so stiff

that it makes the loading process

just that much more difficult, giving

me time to doubt my decision

for this last minute adventure. But

my fingers were quicker than my

decision making process and the

boat was loaded before I could

change my mind.

A quick drive to the boat launch

and I could feel all the anxiety just

leaving my body. Just a few strokes

with my paddle and already I

began to feel hope for the future

of the world. The sun was just

about to set and the mountains

were becoming mere shadows of

themselves, the trees losing their

individuality in the darkness.

The glow from the setting sun lay

behind them, a beautiful warming

Just a few strokes with my

paddle and already I began to feel

hope for the future of the world.

glow. It wasn't one of those stopyou-dead-in-your-tracks

sunsets

full of vibrant pinks and purples.

It was just a simple sunset. So

perfect in its simplicity that you

couldn't help but breathe it all in

and remember just how beautiful

Vermont can be.

Good news, bad

news regarding

school district

finances

By Curt Peterson

Finance and Operations Director Mike Concessi

reported to Windsor Central Unified School District

Finance Committee members via Zoom Monday night,

April 20, that dire threats of looming deficits have not

proven accurate.

Concessi and his assistants have invested many

months "cleaning up" the district's accounting records

for 2018 through 2020. On March 4, auditor Ron Smith

of RHR Smith & Co. had predicted an unanticipated

final FY2019 deficit between $200,000-$900,000 might

be lurking in the shadows.

Discussions were promised as to how the shortfall

might be remedied over time, or by assessing the member

towns.

According to Concessi, by using surpluses from participating

local school boards earlier than planned, the

FY2019 bottom line has revealed no deficit.

Much of the deficit problem was also solved by collecting

overdue tuition payments from other districts

going back to 2016, he said.

Expenses for FY2020 were overestimated as well,

which, Concessi said will probably result in a deficitfree

balance going into the current FY2021 budget. He

indicated "scrubbing the books" is in process.

The Windsor Central Supervisory Union, which has

persisted as the umbrella entity with its own budget,

will be disappearing in FY2022, as Barnard Academy,

which has participated only for Middle and High

School, has voted to join the consolidated group July 1.

"This alone will make accounting in the future far

more simple," Concessi said.

The FY2020 books are almost completed and ready

for the auditor – Concessi is hoping to have a detailed

report of the FY2020 figures for a Financial Committee

meeting prior to the next Board Meeting on May 11.

Some expenses in the FY2021 budget have been

reduced significantly by the Covid-19 inspired shutdown

– athletic teams, bus routes and other costs have

been eliminated or diminished, Concessi acknowledged.

Superintendent Mary Beth Banios said the state

Education Fund, used to finance school districts,

may be facing a shortfall of $60 million after receiving

hoped-for $30 million in federal assistance. One suggestion

has been to delay signing contracts with some

district employees until the actual financial situation is

known, as lay-offs might be unavoidable.

Concessi joins Banios leaving July 1

Although no official announcement has been made,

remarks by Concessi during his presentation indicated

he is leaving his position.

"Leaving a clean set of books for whoever takes this

job," "… for whoever is sitting in this chair in July", and

"… my final X number of weeks here" were clear indications.

Pamela Fraser (Barnard), Board vice-chair, told the

Mountain Times that Concessi told members about a

week or two ago that he got a job closer to his home in

Barre.

"[Mike] is here until June 30," Board chair Bryce

Sammel wrote to the Mountain Times. "[The committee]

laid out a pretty quick timeline to hire a replacement

(if there's a great candidate)."

Concessi did not respond to inquiries about his

departure in time to meet publishing deadline.

His resignation closely follows Banios's – she is leaving

June 30 to take a position in the Hamilton-Wenham

School District in Massachusetts.
---
Classifieds

28 • The Mountain Times • April 22-28, 2020

RENTALS

BRIDGEWATER 1BD

Apartment. Check out 744

Blanchard Road on Zillow

or Contact Ellen 802-281-

0615 or Ellenquinn55@

comcast.net

APT FOR Rent Furnished 1

Bedroom $1000, 2 Bedroom

$1200, Private Entrance 7

miles to Rutland Medical

Center. Beautiful neighborhood.

Photos upon request.

Utilities wifi trash removal all

included. No smoking, Pets

ok (802)770-8786

RUTLAND CITY beautifully

appointed upgraded 4 rm/

1 bdrm. Convenient City

location. $1250 mo. incls

heat, hw, trash. 1st,last,

security. References. 802-

770-8007.

REAL ESTATE

ERA MOUNTAIN

Real Estate, 1913

US Rt. 4, Killington—

killingtonvermontrealestate.

com or call one of our real

estate experts for all of your

real estate needs including

Short Term & Long Term

Rentals & Sales. 802-775-

0340.

KILLINGTON PICO

REALTY Our Realtors have

special training in buyer

representation to ensure a

positive buying experience.

Looking to sell? Our unique

marketing plan features your

very own website. 802-422-

3600, KillingtonPicoRealty.

com 2814 Killington Rd.,

Killington. (next to Choices

Restaurant).

KILLINGTON VALLEY

REAL ESTATE Specializing

in the Killington region

for Sales and Listings for

Homes, Condos & Land

as well as Winter seasonal

rentals. Call, email or stop

in. We are the red farm house

located next to the Wobbly

Barn. PO Box 236, 2281

Killington Rd., Killington.

802-422-3610, bret@

killingtonvalleyrealestate.

com.

PEAK PROPERTY

GROUP at KW Vermont.

VTproperties.net. 802-

353-1604. Marni@

peakpropertyrealestate.

com. Specializing in homes/

condos/land/commercial/

investments. Representing

sellers & buyers all over

Central Vt.

THE PERFORMANCE

GROUP real estate 1810

Killington Rd., Killington.

802-422-3244 or 800-338-

3735, vthomes.com, email

info@vthomes.com. As the

name implies "We perform

for you!"

PRESTIGE REAL ESTATE

of Killington, 2922 Killington

Rd., Killington. Specializing

in the listing & sales of

Killington Condos, Homes,

& Land. Call 802-422-3923.

prestigekillington.com.

SKI COUNTRY REAL

ESTATE, 335 Killington Rd.,

Killington. 802-775-5111.

SkiCountryRealEstate.com –

8 agents servicing: Killington,

Bridgewater, Mendon,

Pittsfield, Plymouth,

Stockbridge, Woodstock

areas.Sales & Winter

Seasonal Rentals. Open

Monday-Saturday: 10 am – 4

pm. Sunday by appointment.

FOR SALE

CARGO TRAILER- 7x16,

7000lb cargo capacity white

trailer. Great condition, no

rust. $4000 obo. 503-708-

8922

2017 TOYOTA

HIGHLANDER Hybrid

for sale. Great condition!

$28,000 or best offer. Call

Brooke 971-801-5788

FREE

FREE REMOVAL of scrap

metal & car batteries. Matty,

802-353-5617.

FREE PLANTS with

Services. jeff@hgvtpro.

com 802-882-7077

SERVICES

BEAUREGARD PAINTING,

30 years experience, 802-

436-1337.

WANTED

HIGHEST PRICES PAID

- Back home in Vermont

and hope to see new and

returning customers for the

purchase, sale and qualified

appraisal of coins, currency,

stamps, precious metals

in any form, old and high

quality watches and time

pieces, sports and historical

items. Free estimates. No

obligation. Member ANA,

APS, NAWCC, New England

Appraisers Association.

Royal Barnard 802-775-

0085.

EMPLOYMENT

ALPINE BIKE WORKS in

Killington Vermont is seeking

full and part time bicycle

technicians. We are a full

service bicycle shop at the

base of Killington Bike Park

specializing in mountain and

gravel bikes and stock a

large inventory of bikes, parts

and accessories. We offer a

great working environment

with a friendly atmosphere.

Work includes all types

of services, including

bicycle suspension, drive

train, wheels, tires and

brakes. Compensation

relative to experience.

Thinking of relocating?

We can help! Please

send resume to info@

alpinebikeworks.com for

consideration.

EQUAL

HOUSING

OPPORTUNITY

All real estate and rentals

advertising in this newspaper

is subject to the Federal

Fair Housing Act of 1968

as amended which makes

it illegal to advertise "any

preference, limitation or

discrimination based on

race, color, religion, sex,

handicap, family status,

national origin, sexual

orientation, or persons

receiving public assistance,

or an intention to make such

preferences, limitation or

discrimination."

This newspaper will not

knowingly accept any

advertisement which

is in violation of the law.

Our readers are hereby

informed that all dwellings

advertised in this newspaper

are available on an equal

opportunity basis. If you feel

you've been discrimination

against, call HUD toll-free at

1-800-669-9777.

Want to

submit a

classified?

Email classifieds@

mountaintimes.info or call

802-422-2399. Rates are 50

cents per word, per week;

free ads are free.

>

PUZZLES on page 15

CROSSWORD PUZZLE

SUDOKU

For All Your Home and

Commercial Petroleum Needs

746-8018 • 1-800-281-8018

Route 100, Pittsfield, VT 05762 • cvoil.com
---
Service Directory

The Mountain Times • April 22-28, 2020 • 29

SERVICE DIRECTORY

GIVE A CALL OR RENT YOUR STORAGE

UNIT ONLINE TODAY!

1723 KILLINGTON ROAD, KILLINGTON, VT

#1 RENTAL AND MANAGEMENT OFFICE

IN KILLINGTON FOR 45+ YEARS

— Cabinets

— Countertops

— Flooring

WATER WELLS

PUMPS

COMPLETE

WATER SYSTEMS

HYDRO FRACKING

GEOTHERMAL

East Poultney, VT 05741

802-287-4016

parkerwaterwells.com

Kitchen and Bath

Design, LLC

— Hardware

— Plumbing Fixtures

— Installation

Kelly & Nick | 802.855.8113

125 Valley View Drive, Mendon, Vermont

kndesigns125@gmail.com

Professional Service, Professional Results

For All Your Plumbing & Heating Needs

Specializing in Home Efficiency & Comfort

24 Hour Emergency Service

(802) 353-0125

WASHBURN & WILSON

AGENCY, INC.

144 Main St. • P.O. Box 77 • Bethel, VT 05032

Providing Insurance for your Home, Auto or Business

Short Term Rentals • High Value Homes

Free Insurance Quotes

Call Mel or Matt 802-234-5188

www.washburnandwilson.com

Renovations, Additions & New Construction

Vision

(802) 342-6026

www.VisionBuildersVt.com

FREE ESTIMATES • FULLY INSURED

ALL CALLS RETURNED

ERIC SCHAMBACH • 36 Years Experience

• Structural

Repairs

• Preventative

Maintenance

• Siding

• Framing

• Decks

- INCREASED RENTAL REVENUE

- PROPERTY MANAGEMENT SERVICES

PRIVATE HOMES AND CONDOS, ASSOCIATIONS

- CONCIERGE SERVICES

FOR OWNERS WHO RENT THEMSELVES

- STEAM CARPET AND UPHOLSTERY CLEANING

KILLINGTONGROUP.COM

KILLINGTON ROAD - (802) 422-2300

RED DUCK

REFUSE RECYCLE

Weekly • Bi-Weekly • Seasonal • Year-Round

802-422-2230

Reliable Service Since 1980

candido electric

residential & light commercial • licensed & insured

office: 802.772.7221

cell: 802.353.8177

frank candido rutland/killington

candidoelectric@yahoo.com

we help you see the light!

DisasterRecoveryInc.com

Fully insured and certified

PITTSFORD, VERMONT

Water Wind Mold Fire

Flood Recovery • Smoke Odor

Elimination • Carpet Cleaning

Mold Remediation • Maid Cleaning

Services • Total Restoration

24 Hour Service

Don't just restore...RECOVER!

Clifford Funeral Home

2 Washington Street • Rutland, VT 05701

(802) 773-3010

Gary H. Clifford • James J. Clifford

coronavirus disinfecting

cleaning and sanitizing using

cdc recommended procedures

businesses * rentals * homes

802-287-1120

www.simplycleanvt.com

ISLAND SHADING SYSTEMS

SHADES ~ BLINDS

WINDOW TINTING

Since 1998

BLOCK ISLAND

KILLINGTON • STRATTON

islandshading.com

islandshade@hughes.net

802-747-8248

Susan Malone Hunnewell

Full Service Vape Shop

Humidified Premium Cigars • Hand Blown Glass Pipes

Hookahs & Shisha Roll Your Own Tobacco & Supplies

CBD Products • Smoking Accessories

131 Strongs Avenue Rutland, VT

(802) 775-2552

Call For Shuttle Schedule

Like us on

Facebook!
---
30 • SERVICE DIRECTORY

The Mountain Times • April 22-28, 2020

Horoscopes: Questions about finding true love — the fairy tale variety—are common. The answers lies in expectations and in understanding ourselves

>

from page 23

mid-40s who wanted to know if she would

ever find true love. She told me that she had

been in a number of relationships, but none

of them worked out because she had a hard

time figuring out how to create intimacy

and have enough space to be herself with

another person, at the same time. She had

also been told by another astrologer that

she would never find love, and that it would

be best to forget about

relationships and focus

on her career.

Looking at her charts,

her Cancer Moon told

me that this gal had spent

many lifetimes being in what I call "traditional

relationships." This means that she

had graduated, with honors, from the business

of being married, having kids, being a

parent, having a family, and remaining tied

to another human being until the end of her

days. As the hallmark of the past, the Moon

in Cancer indicated that her spirit had gotten

as much as it could out of that particular

aspect of human experience.

This condition is hard for the average

person to wrap their mind around. Why?

Because we are conditioned to believe that

our main purpose for living revolves around

mating and breeding. Those activities are

part of the human experience, but they do

not define, nor do they justify it. Still, this gal

had Libra Rising, which gave me pause to

look around and see why, if all of the above

held true, the penultimate relationship sign

would be sitting on her point of purpose.

In a nutshell, she had basically OD'd on

relationships in previous lives, but, with the

Libra ascendant, there appeared to be a few

loose ends in that department, i.e., things

that needed to get straightened out in this

life. When Libra is rising it means that the

individual has come back to learn how to

create conscious and equal relationships

with others. Conscious and equal means

Whether we find true love or not hinges entirely

upon the extent to which we are able to reckon

with the truth about ourselves.

that what we want for whoever we're with,

is whatever they want for themselves. For

this construct to work, the dynamic has to

go both ways.

This sounds easy enough but what

we tend to overlook is that it is bound to

include things that may not be to our liking;

as in: if your partner needs to be with

someone else for a period of time, you have

to find a way to make room for that. Or if

you need to split for India to sit at the feet of

the Master and not be around for five years,

your partner has to figure out how to be OK

with that.

We tend to think of Libra Rising as all

sweetness and light, but it is a tough road.

No one finds their way on this path until

time and experience teach them what it's

all about. At 45, this gal is just scratching

the surface. To help her understand how to

go deeper, I had to explain to her that love

is not what we think it is — and it definitely

has little to do with the happy couple under

the arbor of lily-of-the-valley that is perched

on top of the wedding cake. Everyone's experience

of love is unique to them and their

circumstances. How we get to it is colored

by what we thought we had to do to get love

from our parents.

As far as that goes – oy vey! I don't care

who I am talking with, pretty

much everyone had to tie

themselves up in knots to

get love from their parents.

And it's what we learn from

that, that we carry out into

the world as adults and use to get love from

whoever shows up to stand in for them. In

this particular case, the woman in question

grew up with a controlling mother who

was domineering, and a father who went

to work and came home to be nagged by

his wife. Her parents are still together. But

her father, as she put it, "has been totally

destroyed by her mother." Were it not for the

fact that he has had a mistress for 25 years

he would be dead by now. All of this showed

up in her charts: between a Pluto-Moon

square, and a complex series of squares that

included one between Saturn and Lilith,

it was obvious that Mom was the Dragon

Lady, and Dad had a girlfriend.

So what this woman learned about how

to get love got twisted up in issues that

entrained her to co-depend with Mom no

matter what (Pluto square Moon, Moon

square Arachne, Moon opposite Toro,

Moon square Vesta) and fostered huge

needs to rescue her father, (Siva square

Saturn) keep his secret, (Saturn square

Lilith/Pluto) and protect him from being

destroyed (ditto). If what I said earlier holds

true, was this gal well-equipped to approach

her primary relationships with men

from a balanced place? She was born and

bred to believe that love equals enabling.

The atmosphere in the home was saturated

with themes of infidelity, and because she

was required her to sell off her individuality

to win approval from a tyrannical mother,

her love life was sprinkled with an inability

to find intimacy and independence in the

same bed. With this much dirty laundry

stuffed in her hope chest of romantic

expectations, her relationships yielded

nothing but disappointment.

And yet, here she was, at 45, stuck on the

fairy tale, asking me if she would ever find

true love. This question comes up again

and again. The stories are all different,

but the question is the same. And what it

comes down to is, even though we are led

to believe that true love grows on trees, the

truth is, all of us have to plow through the

wreckage of our primary issues before we

can climb high enough to access it. Whether

we are successful when it comes to that is

never a sure thing. The woman in question

was at a point where she had a good chance

of getting it right; her progressions indicated

that her current affair just might work

out. But these things are never guaranteed

because everything hinges on our ability to

reckon with our "stuff."

If the question is always the same, so is

the answer. No matter who we are, or how

the story goes, whether we find true love

or not hinges entirely upon the extent to

which we are able to reckon with the truth

about ourselves. Let me leave you with that,

wish you the ability to come to terms with

your primary issues in a way that allows you

to establish a balanced relationship with

your life, and invite you to take what you

can from this week's 'scopes.

Looking forward: The basics of growing plants from seed

>

from page 24

I use an east and a south window for

growing. My handy husband, Peter,

devised a way for shelves to be placed

inside the windows. He attached a vertical

board to the sides of the wooden

window frame and drilled holes in the

board to accommodate brackets. This

allows the shelves, which are boards

cut to the width of the window, to be

adjusted to different heights as the

plants grow. Our 1938 house has large

windows which allow me to grow quite a

few plants.

Your seedlings may not be ready for

planting until shortly after Memorial

Day because of a cooler than usual April

but they will soon be growing strong

once the warm days arrive.

So hold onto that empty yogurt cup

and try growing your favorite outdoor

plants. It will keep you busy and when

the plants are ready to start their new

life in the outdoor soil, maybe we can

start living our own lives like we used

to. I am more ready for that. How about

you?

Submitted
---
The Mountain Times • April 22-28, 2020 REAL ESTATE • 31

Grow Your Life in Killington

KILLINGTON VALLEY REAL ESTATE

Bret Williamson, Broker, Owner

Celebrating

30 years!

802.775.5111 • 335 Killington Rd. • Killington, VT 05751

FALL LINE CONDO - SKI HOME & SHUTTLE OUT

• 3BR/3BA beautifully renovated

• End Unit. Panoramic Views!

• New granite, stainless appliances

• Cherry cabinets. Gas fireplace

• On-site: indoor pool

• Furnished & equipped: $299K

MTN GREEN - BLDG 1

THE LODGES - SKI IN & OUT

• 1-LVL 3BR/3BA, Furnished &

equipped, Wash/Dryer, patio

• Gas fplc, gas range, gas heat

• Mud-entry w/ cubbies+bench

• Double vanity, jet tub,

• Common: Indr pool

• End unit, $439K

KILLINGTON CTR INN & SUITES

72 658 Windrift Tanglewood Ridge Road, Drive, Killington Killington $ 575,000 $459,000

This Great unique, private Killington 3 bdrm , location, 3 bath, custom modern stone home, work situated throughout

on the a exterior, wooded heated lot garage, overlooking VT castings nearby wood Pico stove, Mountain hot tub,

Ski open area, floor offers plan and unexpected a large living privacy room with and valley stunning views from the

mountain wall of windows. views.

4552 Prior VT Drive, Route Killington 107, Stockbridge $1,200,000$129,000

Many Exquisitely opportunities detailed Tudor for this style home located in a private minutes 20 acre to I-89

and Killington 20 min location. drive to Spacious Killington. gourmet Excellent kitchen, rental arched history, doorways,

recently high end fixtures, renovated carefully improvements crafted trim and including moldings a new throughout.

standing Truly unique seam property. metal roof, windows, doors, and more.

Mountain 298 Prior Drive, Green, Killington Killington $ 1,2000,000 $149,500

2-bedroom, This 4934 square 2-bath foot, corner exquisitely unit Mtn Green detailed building Tudor 1. Sold style furnished,

home updated is in a class appliances, by itself. outdoor A five pool bedroom views, shuttle home, route &

wood surrounded burning by fireplace. the grandeur Cable, internet, of the plowing, green mountains. refuse removal

and shuttle service included in quarterly fee.

Cricket Hill, $

Lodges, Killington $459,000 555,000

Ski-in, This 4-bedroom, ski-out from this 4-bath 3-bedroom, home with 3-bath inground furnished pool top floor is a

Lodges ten minute unit with drive trail from views Killington of Bear Mountain. Resort with Owners stunning enjoy all

the views Sunrise of Pico amenities Mountain. including The spa, competitively pool, hot tub priced and gym. home,

is being sold furnished.

View all properties @killingtonvalleyrealestate.com

Office 802-422-3610 ext 206 Cell 802-236-1092 bret@killingtonvalleyrealestate.com

NOTE TO READERS:

The Mountain Times is closing its office to the public as of March 18, 2020.

We will continue to cover local news in print as well as online, through

social media and via our newsletter (sign up at mountaintimes.info).

You can also reach us at 422-2399 or editor@mountaintimes.info.

• Shuttle Service

• Furnished & equipped

• OnSite: In&Outdr Pools,

• Whirlpl, Laundry area

• 1BR @ $129K

MTN GREEN – MAIN BLDG (#3)

• 2BR/2BA w/lockout $162K

• STUDIO: $95K

• 1BR Bldg 3! $126K - 150K

• Onsite: Indoor & Outdoor Pools,

Whirlpl, Restaurant, Ski & Gift

Shops, Pilate Studio, Racquetball/basketball;

Shuttle Bus

KILLINGTON GATEWAY- TOP/END UNIT

• furnished & equipped

• gas heat & fplc, tiled kitch &BA flrs

• Cath ceiling w/ sky lt, open flr plan

• Cherry kitchen cabinets, AC

• Covered deck, private ski locker

• 1 BR/1BA: $81K; 2BR/1BA, $125K

JUST OFF KILLINGTON RD

• 4 Oversized BR's, 2.5BA,

4,227 sq.ft.

• 10 person hot tub, laundry room

• Llarge deck & bar room

• Furnished & equipped $599K

• Completely Renovated 2BR/3BA

w/one LOCK-OFF unit

• Stone-faced gas f/plc, W/Dryer

• Tiled floor to ceiling shower

• Outdr Pool. Short walk to shuttle &

to restaurant. Furnished $222K

KILLINGTON TRAIL VIEWS

• 6BR/3BA , 2 acres,

2,600 sq.ft.

• Walk-out lower level

• Detached storage garage

• New septic system

• Furnished & equipped

• $379K

MOUNTAINSIDE DEVELOPMT HOME

• 3 en-suite bedrooms + 4 ½-baths

• Living Rm floor to ceiling stone fplace

• Family gameroom w/ fireplace

• Chef's kitchen,sauna, whirlpl tub

• 3 extra separately deeded lots incl.

• www.109mountainsidedrive.org

• $995K

WINTER VIEWS OF SUPERSTAR!

• On cul-de-sac, great LOCATION!

• 4BR, 2.5BA 3,470 sf, a/conditioning

• Ctl vac, chef's kitch, butler's pantry

• Cedar closet, office, master suite

• 3 car garage, storage, screened porch

• Deck, unfinished basemt,++

$789,500

We sincerely thank local businesses, towns, organizations and individuals for helping

us to cover the news as well as support those efforts financially. As more businesses

close and people are laid off, community support will be more important than ever

for the health of our organization and for all of our neighbors.

To support local journalism, visit mountaintimes.info

Lenore

Bianchi

'tricia

Carter

Meghan

Charlebois

Merisa

Sherman

Pat

Linnemayr

Chris

Bianchi

Katie

McFadden

Over 140 Years Experience in the Killington Region REALTOR

Michelle

Lord

Kerry

Dismuke

MULTIPLE LISTING SERVICE

MLS

®

PEAK

PROPERTY

G R O U P

AT

802.353.1604

VTPROPERTIES.NET

IDEAL PROPERTIES CLOSE TO

KILLINGTON, OKEMO OR WOODSTOCK!

HOMES | CONDOS | LAND

COMMERCIAL INVESTMENT

PRIME DEVELOPMENT OPP

W/7 LOTS FOR HOME SITES

OR TOWNHOMES OF 8 UNITS!

BASE OF THE KILLINGTON RD!

ONE OF THE BEST SPOTS

IN KILLINGTON!

Retail Property 17 acres consists of a

main building w/11,440 sq. ft. on 3 levels

w/elevator. Direct to xcountry trails.

Immediate access to 20 miles of MTN

bike trails on Base Camp

& Sherburne Trails! $1,350,000

RARE OPPORTUNITY! ULTIMATE RETREAT! Ideal Short Term Rental

Property! 27+ acres w/amazing views abutting National Forest Land,

2 spring fed swimming ponds, gazebo w/power & end of road location.

Special property has a main farmhouse, 3 level barn, guest house, an

enchanting seasonal cottage, 3 car detached garage & so much more!

$699K

Marni Rieger

802.353.1604

Tucker A. Lange

303.818.8068

Marni@PeakPropertyRealEstate.com

59 Central Street, Woodstock VT

505 Killington Road, Killington VT

FIRST TIME ON MARKET! SPECIAL GEM!

Minutes to Killington or Okemo. Fabulous Robert

Carl Williams designed home sleeps 18. 4 Ensuites.

Excellent short term rental potential. Being sold

totally furnished. Move in & enjoy! $674,900

STRONG RENTAL INVESTMENT & BUSINESS

OPP CLOSE TO KILLINGTON, SUGARBUSH

& MIDDLEBURY SNOWBOWL! 7 unit property

located in the center of the village in Rochester.

Building is 7,216 sq ft. Main level is a local landmark

& home to the Rochester Café (45 person licensed

restaurant) & Country Store. 3 rental apts onsite,

one which is used as Airbnb. 2 rentable open studio

units. Last unit is rented cold storage space. All the

real estate & business $549,900

ONE OF A KIND PROPERTY MINUTES TO PICO

OR KILLINGTON. Post & Beam home 4bed/ 4 bath

w/ 2 car garage. 2 bed/1 bath apt to rent out for extra

income. 3 level barn, outbuilding w/ heat. Inground

pool & cabana to enjoy in summer months. So close

to skiing & Rutland. Come see. $389,900
---
32 • The Mountain Times • April 22-28, 2020

RRMC Strong