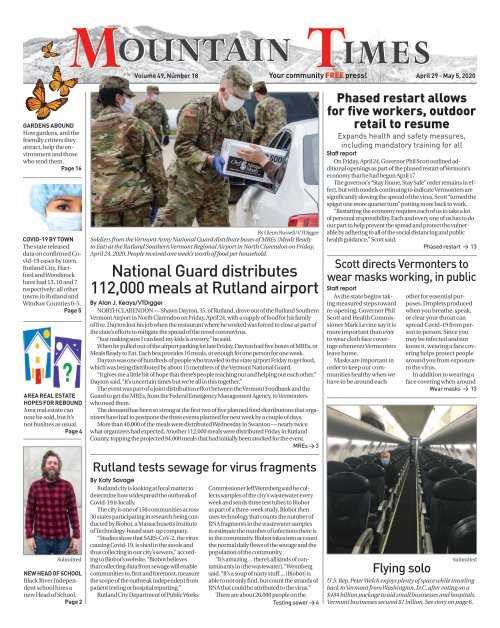 Mountain Times- Volume 49, Number 18 - April 29 - May 5, 2020
Create successful ePaper yourself
Turn your PDF publications into a flip-book with our unique Google optimized e-Paper software.
Mou nta i n Ti m e s

Volume 49, Number 18 Your community FREE press! April 29 - May 5, 2020

GARDENS ABOUND

How gardens, and the

friendly critters they

attract, help the environment

and those

who tend them.

Page 16

COVID-19 BY TOWN

The state released

data on confirmed Covid-19

cases by town.

Rutland City, Hartford

and Woodstock

have had 13, 10 and 7

respectively; all other

towns in Rutland and

Windsor Counties 0-5.

Page 5

AREA REAL ESTATE

HOPES FOR REBOUND

Area real estate can

now be sold, but it's

not busines as usual.

Page 4

Submitted

NEW HEAD OF SCHOOL

Black River Independent

school hires a

new Head of School.

Page 2

By Glenn Russell/VTDigger

Soldiers from the Vermont Army National Guard distribute boxes of MREs (Meals Ready

to Eat) at the Rutland Southern Vermont Regional Airport in North Clarendon on Friday,

April 24, 2020. People received one week's worth of food per household.

National Guard distributes

112,000 meals at Rutland airport

By Alan J. Keays/VTDigger

NORTH CLARENDON — Shawn Dayton, 35, of Rutland, drove out of the Rutland Southern

Vermont Airport in North Clarendon on Friday, April 24, with a supply of food for his family

of five. Dayton lost his job when the restaurant where he worked was forced to close as part of

the state's efforts to mitigate the spread of the novel coronavirus.

"Just making sure I can feed my kids is a worry," he said.

When he pulled out of the airport parking lot late Friday, Dayton had five boxes of MREs, or

Meals Ready to Eat. Each box provides 16 meals, or enough for one person for one week.

Dayton was one of hundreds of people who traveled to the state airport Friday to get food,

which was being distributed by about 15 members of the Vermont National Guard.

"It gives me a little bit of hope that there's people reaching out and helping out each other,"

Dayton said. "It's uncertain times but we're all in this together."

The event was part of a joint distribution effort between the Vermont Foodbank and the

Guard to get the MREs, from the Federal Emergency Management Agency, to Vermonters

who need them.

The demand has been so strong at the first two of five planned food distributions that organizers

have had to postpone the three events planned for next week by a couple of days.

More than 40,000 of the meals were distributed Wednesday in Swanton — nearly twice

what organizers had expected. Another 112,000 meals were distributed Friday in Rutland

County, topping the projected 94,000 meals that had initially been stocked for the event.

MREs > 3

Rutland tests sewage for virus fragments

By Katy Savage

Rutland city is looking at fecal matter to

determine how widespread the outbreak of

Covid-19 is locally.

The city is one of 150 communities across

30 states participating in research being conducted

by Biobot, a Massachusetts Institute

of Technology-based start-up company.

"Studies show that SARS-CoV-2, the virus

causing Covid-19, is shed in the stools and

thus collecting in our city's sewers," according

to Biobot's website. "Biobot believes

that collecting data from sewage will enable

communities to, first and foremost, measure

the scope of the outbreak independent from

patient testing or hospital reporting."

Rutland City Department of Public Works

Commissioner Jeff Wennberg said he collects

samples of the city's wastewater every

week and sends three test tubes to Biobot

as part of a three-week study. Biobot then

uses technology that counts the number of

RNA fragments in the wastewater samples

to estimate the number of infections there is

in the community. Biobot takes into account

the normal daily flows of the sewage and the

population of the community.

"It's amazing… there's all kinds of contaminants

in (the wastewater)," Wennberg

said. "It's a soup of nasty stuff.... [Biobot] is

able to not only find, but count the strands of

RNA that could be attributed to the virus."

There are about 20,000 people on the

Testing sewer > 4

Phased restart allows

for five workers, outdoor

retail to resume

Expands health and safety measures,

including mandatory training for all

Staff report

On Friday, April 24, Governor Phil Scott outlined additional

openings as part of the phased restart of Vermont's

economy that he had begun April 17

The governor's "Stay Home, Stay Safe" order remains in effect,

but with models continuing to indicate Vermonters are

significantly slowing the spread of the virus, Scott "turned the

spigot one more quarter turn" putting more back to work.

"Restarting the economy requires each of us to take a lot

of personal responsibility. Each and every one of us has to do

our part to help prevent the spread and protect the vulnerable

by adhering to all of the social distancing and public

health guidance," Scott said.

Phased restart > 13

Scott directs Vermonters to

wear masks working, in public

Staff report

As the state begins taking

measured steps toward

re-opening, Governor Phil

Scott and Health Commissioner

Mark Levine say it is

more important than ever

to wear cloth face coverings

whenever Vermonters

leave home.

Masks are important in

order to keep our communities

healthy when we

have to be around each

Flying solo

other for essential purposes.

Droplets produced

when you breathe, speak,

or clear your throat can

spread Covid-19 from person

to person. Since you

may be infected and not

know it, wearing a face covering

helps protect people

around you from exposure

to the virus.

In addition to wearing a

face covering when around

Wear masks > 13

Submitted

U.S. Rep. Peter Welch enjoys plenty of space while traveling

back to Vermont from Washington, D.C. after voting on a

$484 billion package to aid small businesses and hospitals.

Vermont businesses secured $1 billion. See story on page 6.
---
2 • The Mountain Times • April 29 - May 5, 2020

Black River Independent

School hires Head of School

LUDLOW—The Black River Independent

School Committee has hired

Andrew Lapham Fersch to be their inaugural

Head of School for the 2020/2021

academic year. Prior to joining Black

River, Fersch—a 10 year teaching

veteran of public

schools—founded

and ran an independent

school in

New Hampshire

(the Penn Program)

for several years.

As a teacher and

educational leader,

Fersch has been

regularly recognized

for his innovative

and progressive

educational

methods, aiming

to integrate school

and community to

help foster meaningful

opportunities

for children to

realize both their own potential and that

of the communities of which they are a

part.

Outside of teaching, Fersch is an avid

outdoorsman who has cycled across the

country twice, run several trail marathons,

thru-hiked the Appalachian and

Long trails, and enjoyed countless hours

of slow, quiet time in the beautiful New

England outdoors. A registered yoga

teacher working towards completing

his 500-hour certification, Fersch also

has integrated yoga, meditation, and

mindfulness into

his work for years.

Finally, and quite

importantly, he is a

grateful husband,

a father-to-be, a

brother, and son.

He is enthusiastic

and grateful

to be given the

opportunity to be

the inaugural Head

of School at Black

River Independent

School. The

mission and vision

of the committee

closely aligns with

his educational

beliefs and philosophy.

The opportunity to work together

with the community of Ludlow to build

an independent school is incredibly

inspiring to Fersch, both professionally

and personally.

For more information visit our website

blackriveris.org.

The Meadows staff has been working hard to

guide our residents through this difficult time.

Please give us a call at

802-775-3300 if our

assisted living community

can benefit you or a loved one.

Submitted

Andrew Lapham Fersch

We are still here for you, too.

240 Gables Place, Rutland, VT

www.themeadowsvt.com

25 years of trusted care

By Shawn Good, VTF&W

Sugar Hill Reservoir (a.k.a. Goshen Dam) remains open for recreation but will not be

stocked with trout this season as water levels will be reduced for improvements.

State will increase trout stocking

for anglers in Chittenden, Pittsford,

Leicester and Dorset this summer

Safety enhancement work on Goshen Dam re-routes fish to other

waterways, recreation continues on Sugar Hill Reservoir

GOSHEN—The Vermont Fish and

Wildlife Department announced April 21

that trout originally planned for stocking

at Sugar Hill Reservoir, also known as

Goshen Dam, in Goshen will be added

to other area waterways for anglers. The

shift is being made to ensure there are

plenty of opportunities to get out and

enjoy Vermont's waterways, while safety

enhancements are made to the Goshen

dam.

Recreation, like swimming, will still

be open at Sugar Hill Reservoir while the

water level is reduced so Green Mountain

Power, which owns and operates the

dam, can safely make improvements.

"Goshen Dam has always been a

popular place for anglers. The yearling

and trophy-sized brook trout we stock

there attract anglers from all over the

area," said Vermont Fish and Wildlife

Department fisheries biologist Shawn

Good. "It's in a beautiful setting in the

Green Mountain National Forest, and

the fishing platform and access facilities

Green Mountain Power and the National

Forest provide and maintain make it a

great fishing destination."

The reservoir was slated to receive an

April stocking of 1,350 yearling brook

trout averaging 9 inches and 450 twoyear

old "Trophy Brook Trout" averaging

13 inches in length, according to Good.

The trout are being reallocated to Lefferts

Pond in Chittenden, Smith Pond in Pittsford,

Silver Lake in Leicester, and Prentiss

Pond in Dorset.

Good said the 58-acre waterbody is

expected to be maintained at a low water

level for the rest of the year, reducing the

maximum depth of the reservoir to only

about 10 feet and the total surface area to

around 18 acres.

"We believe that this year, the trout

will be better utilized elsewhere, because

with the planned lowering of water levels,

we felt trout wouldn't survive well," said

Good. "We're glad these fish will provide

anglers with increased opportunities at

other area waterways."

U.S. Forest Service biologist Jeremy

Mears said local anglers can still find

plenty of fishing opportunities in the

area's national forest.

"There are still many places for anglers

to enjoy fishing on the National Forest.

Stream fishing for native brook trout is

abundant throughout the area, and there

also are opportunities for shore fishing

at Chittenden Reservoir, Blueberry Lake,

or Silver Lake. Please be sure to check the

Green Mountain National Forest website

(fs.usda.gov/main/gmfl/home) for

updates before you go."

"As warm spring weather arrives, it is

important for Vermonters to know that

Governor Scott's current "Stay Home,

Stay Safe Order" exempts outdoor

recreational activities, provided they are

done while taking certain precautions,"

added Good. "Fishing and other outdoor

activities are essential for our mental and

physical health and well-being."

For more information visit vtfishandwildlife.com/fish/fishing-opportunities.

Submitted

A woman catches a trout early this season.
---
The Mountain Times • April 29 - May 5, 2020 • 3

MREs: National Guard distributed meals at Rutland's airport, Friday

>

from page 1

John Sayles, CEO of the Vermont Foodbank,

said with the skyrocketing number

of people out of work because of business

closures related to efforts to contain the

virus, there has been a dramatic increase

in the number of Vermonters who are food

insecure. Interim Department of Labor

Commissioner Mike Harrington said

Friday, April 24, that the state's unemployment

rate, which was about 2.4% when

the pandemic closed jobs in March, is now

fluctuating at between 20% and 23%.

"We knew we were going to need a big

infusion of resources," Sayles said of the

idea to seek out the MREs.

"We want to make sure that people

have at least a week's worth of meals," he

said. "Keep in mind, too, that this is likely

supplemental to what people have in their

families. It may help stretch what people

have in their pantries."

The Guard, Sayles said, stepped forward

and offered to assist with the distribution,

using their vehicles to truck the pallets of

meals around the state, along with soldiers

to staff the five events. Each truckload carries

cardboard boxes packed with about

27,000 meals.

Sayles projected more than 300,000

meals will be handed out in total around

Vermont.

"With each event it seems to be growing

as more people learn about it," he said.

Three other distribution events that had

been set for earlier this week in Springfield,

Bennington and Newport, have been

pushed back two days each to allow organizers

to replenish the MRE supplies.

The MREs come from a FEMA distribution

center in Franklin, Massachusetts,

according to Sayles.

At the airport in North Clarendon on

Friday, organizers anticipated that demand

would be high, and had already bumped

up the meals on hand to 94,080, or about

140 pallets, Sgt. Caleb Lewis of the Vermont

National Guard said Friday morning.

By late afternoon, organizers had to

resupply the Rutland County site with even

more MREs. With one hour still to go late

Friday afternoon organizers were expecting

to hand out 7,000 boxes of food. And with

each box containing 16 meals, that's a total

of 112,000 meals.

Every packaged meal includes a variety

of food products, including pastas and

chili. In addition to an entree, the packages

contain a side dish, crackers, dessert, candy,

and a beverage mix, like coffee, as well as

the flameless ration heater, a pouch of

water, and utensils.

A line of vehicles stretched more than

half a mile down Airport Road before the

event started at 9 a.m. Friday. By 10:30 a.m.,

the traffic on the road had cleared and a

steady stream of vehicles were pulling into

the airport parking lot, where drivers were

funneled by lines of orange cones.

The soldiers, all wearing masks, worked

to keep a 6-foot distance from each other

and the people in their cars.

Motorists didn't get out of their vehicles.

They popped open doors, trunks, and

hatchbacks for Guard members to load up

the boxes of food.

Each person was able to get one box of

food for each member of their family. They

could also pick up a box for others.

"Some people are picking up for their

neighbors, some people are picking up

for their parents," Lewis, of the Vermont

National Guard, said.

Sayles said he is encouraging people

who are newly food insecure due to a

recent job loss to make sure they seek out

all available resources, including benefits

through 3SquaresVT — the state's arm of

the federal Supplemental Nutrition Assistance

Program.

Also, children under 18 can get meals

through their local schools, which can be

picked up at specific sites or, in some cases,

are delivered.

Josh White, 41, of Poultney, said he

learned of the event Friday in Rutland

County through word of mouth.

"My good friend from the military told

me to come and get some food," said White,

adding his supply had been running low.

White, who described himself as a seasonal

worker, said he is currently out of work.

"Everything is tight," he said.

A woman who was driving out of the

airport Friday with a box of food said she

was thankful not just for the food, but that

she was able to stay socially distanced from

others.

"I'm 74 years old, it's saving me from

having to go into the grocery store," said

the woman, who only identified herself

as Emily. "Now I don't have to risk my life

shopping."

By Glenn Russell/VTDigger

Hundreds of cars line up as soldiers from the Vermont Army National Guard distribute

boxes of MREs (Meals Ready to Eat) at the Rutland Southern Vermont Regional Airport

in North Clarendon on Friday, April 24. People received one week's worth of food per

household.

Submitted

Gudelis, who owns The Garlic in Killington, is closed but cooks dinners for those in need.

Killington chef cooks free

dinners for students, families

By Katy Savage

Chef Bryan Gudelis doesn't have any customers, but he hasn't stopped cooking.

Gudelis, who owns The Garlic, an Italian restaurant on Killington Road in Killington,

has been cooking free meals for Killington Elementary School students and their families

since mid-March.

Gudelis makes anything from baked ziti to shepherd's pie and beef stew. The meals

are large enough to feed a family of five.

"I saw an opportunity where I could help some people," Gudelis said.

After his restaurant was required to close to the public in March under the state's

guidelines to limit the spread of Covid-19, Gudelis reached out to the Killington Pico

Area Association to see what he could do.

"At the beginning I needed people to feed and I didn't know where to go," said Gudelis.

"[I said], find me a program, get me involved somewhere and I'll take care of the rest."

Gudelis, who has owned the Garlic for about seven years, is using leftover inventory

from his restaurant to provide the free meals. He also ordered fresh produce to make

garden salads with homemade dressing everyday to go with the main entree.

Gudelis said he makes 20-30 family-size meals a day. It takes about three hours for

him to prepare the meals before people pick up the food at his restaurant Monday

through Thursday from 4-5 p.m. Gudelis delivers the meals to people in their cars.

"A lot of the people we deal with from the elementary school are on the reduced or

Garlic > 6

School finance guru to leave July 1

By Curt Peterson

Finance and Operations

Manager Mike Concessi is

leaving his post at Windsor

Central Unified School

District after June 30. He

started the job on Sept. 9,

2019, meaning he will have

worked 10 months in the

position.

Concessi will start in a

similar position in Danville

for Caledonia Central

Supervisory Union (CCSU),

a consolidation of students

from Barnet, Cabot, Danville,

Peacham, Twinfield,

Walden and Waterford.

"[The CCSU] combined

budgets are more

than 3 times the size of

[WCUSD's]," Concessi told

the Mountain Times, "$65

million versus $20 million."

There are also personal

reasons for the move – Danville

is 30 miles closer to his

home than Woodstock. He

and his wife Edda and three

sons, 12, 14 and 16, live in

Orange.

His most terrifying commute?

"Ironically it was one of

the first big storms in November.

About half the trip

was white-out conditions –

I had to not only go slow, but

was 'white-knuckling' that

steering wheel. Definitely

NOT fun," he said. "I did a

lot of praying on that ride."

He's been coaching

youth baseball in the greater

Barre area since 2012,

and says working closer to

home will allow him to do

more coaching.

Concessi, 47, was hired

when Richard Seaman left

WCUSD for a similar position

with SAU 6 headquartered

in Claremont, where

he lives and where he had

served as school board

chair at one time. Seaman

had been with WCUSD

for five years, according to

Superintendent Mary Beth

Banios.

School consolidation

under ACT 46 was a challenging

transition for many

districts in Vermont. Concessi

took the reins from

Seaman near the end of

the process. Since Barnard

voters approved merging

their elementary school

into the new district, the

next budget (FY21) will

be the first single-budget

financial plan for the seven

towns participating in the

WCUSD – Barnard, Bridgewater,

Killington, Plymouth,

Pomfret, Reading and

Woodstock. Barnard will be

merged July 1.

According to Concessi,

consolidating finances

wasn't as simple as it might

have been.

"This job probably aged

me at least 5 years from the

stress," he said. "I could

probably fill an entire news

column with the mess [we]

have been able to clean in

the past six months alone."

He said his major

accomplishment is a

"ground-up" budget for

FY2021 that

Concessi > 22
---
4 • The Mountain Times • April 29 - May 5, 2020

Real Estate transactions are now allowed in Vermont

But it's not business as usual

By Karen D. Lorentz

The real estate business, which had

been booming along nicely in the Rutland

Region, came to a halt in mid-March — as it

did throughout Vermont — as a result of the

coronavirus pandemic and "all in-person

real-estate transactions" being suspended

by an executive order from Governor Phil

Scott.

As one of only four states that had

deemed real estate services "non essential,"

real estate agents could only conduct business

according to strict guidelines set by the

state.

That meant staying and working from

home, noted real estate agent Glenda Silber

of Green Mountain Realty in Rutland. She

said she could answer client questions (by

phone, email) and refer them to already

existing listings on MLS but not could not

list, show, visit, or take photos of a property

someone wanted to list. There was a $2,500

fine if you broke any of the rules and that

included removing a for-sale sign on a

property that had sold, she said, adding she

hadn't experienced anyone taking "a house

sight unseen."

But doing business changed as of April

20 with a relaxation of rules governing

some previously designated non-essential

services.

Silber noted that agents can now visit a

home to take photos, gather information

to list it, and show it as long as there are no

more than two people in the home at the

same time. A couple must visit with her

individually so showings will take a little

longer now. Additionally, each must wear a

mask and gloves, social distancing must be

observed, and any surfaces touched must

be cleaned.

It is a step forward but not business as

usual, Silber said, adding that anyone coming

from out of state must self-quarantine

for 14 days before being shown a property.

(That includes Vermont residents who had

been traveling.) Since hotels, motels, and

inns are closed — except for some that are

open to persons deemed essential such as

EMTs, nurses, and doctors — she said that

precludes showings to out-of-staters until

that order affecting accommodations is

lifted and therefore that market will "slow

drastically." Lodging establishments can

begin accepting reservations starting June

15.

Silber added that real estate business

had been moving toward virtual showings

Solid Waste Transfer Station

Location: 2981 River Road (Behind Town Garage)

Phone Number: (802) 422-4499

SAT.& MON. (8 A.M.- 4 P.M.)

Collection & transfer of solid waste deposited by residents and property owners of

the Town. (Windshield sticker & punch card needed) Recycling Center for residents

and property owners of the Town. (Free with windshield sticker) If you need to

dispose of solid waste outside the normal operating hours of the Transfer Station

or have construction & demolition debris or other non-acceptable waste, residents

and property owners of Killington can go to the Rutland County Solid Waste District

Transfer Station & Drop-off Center located on Gleason Road in Rutland.

Summer hours began Sat., April 4, 2020.

for some time now and that people have

been previewing properties by pictures

accompanying listings. Those that do have

their "footwork" done and they have "ruled

out some looking trips, reducing their selections

to five or six versus a dozen or two

properties as before." However, she still believes

people will want to see a property so

they know more about it when an inspector

notes problem spots, stating, "They will

know what the inspector is talking about."

Heidi Bomogen, co-owner of Prestige

Real Estate in Killington, said that until the

March order business had been very good

in Killington. But once the order came

down, it shut down business completely

because Prestige has a vacation/second

homeowner market. She expects business

to continue to be slow until out-of-staters

can come to Vermont without the quarantine

restriction to look at properties.

Citing the uncertainty of that date, she

said that mid-April to June is typically a slow

time for real estate in Killington anyway,

noting that 2019 was exceptional with no

slowdown.

With the easing of restrictions, however,

she said she can now go in to video a

property and that she had had one showing

for a woman who had been in Killington

for the past month but that she could not

honor other out-of-stater requests due to

the restrictions in place.

Bomogen noted having received three

inquiries about seeing land which she said

was unusual.

She said that some prior contracts did

close during the past month but that two

"Rural demand is much stronger right now than

urban demand... there seems to be a profound,

psychological change among consumers who

are looking for houses," said Kelman.

contracts were cancelled due to the coronavirus

and that one included a negotiated

loss on the deposit.

She also delisted three properties while

they could not be shown, noting the advisability

of not having them "age" while the

market was shut down and the ability to

relist them when it reopens. She did have

one condo under agreement without an

in-person inspection because the buyer

had seen its pictures and was familiar with a

similar one.

Bomogen noted closing delays for

financing reasons that require a building inspection

and appraisals but doesn't foresee

a difference in the way business is done,

agreeing with Silber that people have been

doing MLS tours for years now but that 90-

95% of buyers still want to see and "feel" a

property before buying it.

Kyle Kershner, broker/owner of Killington

Pico Realty, said that he had been

"recommending sellers hold off temporarily"

under the original restrictions because

the only way to list a new property was if all

the preparatory work had been done prior

to the Covid-19 crisis.

>

"While interest in properties is considerably

lower than it was in February and early

March, when we were at the height of a

record-breaking real estate run," Kershner

said he had listed a "moderately priced

home with exceptional views" and had

received a sight-unseen offer for it already.

The offer was contingent on the buyers seeing

the home in-person which was "untenable

for the seller. The property went under

contract as soon as the governor issued

Addendum 10 [April 20] to the Stay Home

order, which allowed showings under limited

conditions."

Asked about the role of technology now,

Kershner said, "The technologies we've

been using, e.g. digital signature programs,

online marketing, etc. are essential under

the current conditions. New technologies

that allow for virtual showings, such as

Zoom or FaceTime, are helpful for buyers

who are out of state and not permitted to

travel to Vermont, but there are very few

buyers who will actually take the leap and

buy a property without physically seeing it

in person."

He also noted seeing "a pronounced increase

in the number of views of our video

presentations in recent weeks."

Lenore Bianchi, principal broker of Ski

Country Real Estate in Killington, wrote in

an email that, "In March we saw good activity

until the shut down. Once that happened

we were not able to conduct business and

although we continued to receive calls from

people out of state, we had to explain that

by the governor's executive order we were

not able to show any property. Just this

weekend we received an offer to purchase a

property even though the buyers could only

look at the exterior of the property.

"For the properties that we had under

contract at the time of the shut down, we

have seen some buyers want to withdraw

and some buyers want to make sure that

the seller can't withdraw from the contract.

Real estate > 14

Testing sewer: For strands of RNA attributed to Covid-19

from page 1

wastewater system in Rutland, Wennberg

said. The study costs $1,080.

"I'm quite comfortable that the information

will be worth every penny," Wennberg

said.

There were a total of 862 Covid-19 cases

in Vermont as of Tuesday, April 28, according

to the Vermont Department of Health,

with 13 cases in Rutland city and 44 in

Rutland County. While the state now says

it has enough tests, they are limited only to

those displaying symptoms. In contrast,

the sewer tests can measure the health of

the entire community and can help predict

outbreaks before they happen.

"What this does is give another useful

piece of information to the policy makers,"

Wennberg said.

Wennberg heard about Biobot from a

Vermont Department of Agriculture email.

"We looked into and said, 'yeah we want

to (participate),'" he said.

Wennberg applied to the study online,

answering a series of questions about the

community. He was initially turned down

for the study, but then approved.

"We fit something their study needed,"

he said.

Wennberg said he's already received

partial test results back, but declined to

comment or share them yet. "We don't want

to raise alarms or hopes unrealistically until

we have all the results."

He expected all three sets of results

would be complete in the next 2-3 weeks.

Some preliminary results from other

towns show the outbreak is far more

widespread than expected. Emily O'Brien,

a spokesperson for Biobot, declined to say

where the other test locations were, but

said the company hopes to test more than

10,000 sewer facilities in the near future.

"It's brand new,"Wennberg said.

Biobot also has similar technology to

measure traces of drugs in sewers to the

opioid epidemic.
---
The Mountain Times • April 29 - May 5, 2020 • 5

Buy Sell Trade

MID-STATE GUNS LLC

976 VT Rt. 12S

Randolph, VT 05060

midstateguns@myfairpoint.net

Ray & Carol Burke

Tel 802.728.3100

Fax 802.728.4300

Table of contents

Local news................................................................. 2

State news.................................................................. 4

Opinion...................................................................... 8

News briefs.............................................................. 12

Puzzles..................................................................... 15

Silver Linings........................................................... 16

Food Matters............................................................ 20

Pets........................................................................... 22

Mother of the Skye................................................... 23

Columns................................................................... 24

Classifieds................................................................ 28

Service Directory..................................................... 29

Real Estate................................................................ 31

Mou nta i n Ti m e s

State releases map of Vermonters who

have tested positive for Covid-19 by town

Staff report

The state of Vermont released new data on Monday, April 27, showing the number of coronavirus cases by the cities

and towns in which patients reside. The data reflects lab-confirmed cases of Covid-19 among Vermont residents

only. Residents of a long-term care facility or inmates at a correctional facility are reflected in the town of their facility

when they were tested.

In compliance with both federal and Vermont law, to prevent disclosure of an individual's protected health information,

a range is used for towns that have fewer than six cases—which is the vast majority of the towns in Vermont.

But the newly released data does show 29 cities and towns that have had at least six cases of Covid-19. Agency of Human

Services Secretary Mike Smith said he had consulted with the Department of Health to figure out the best way

to publish the data without identifying anyone. "I've been very careful with this, in what we're doing and how we're

reporting," Smith said. "I don't want to put a scarlet letter on people."

The data shows Burlington to have the highest number of cases, 157, and a case rate nearly three times the state

average. Essex and Swanton were next on the list with 47 and 44 cases, respectively.

Four other Chittenden County towns followed close behind: Colchester, South Burlington, Milton and Williston.

In Rutland and Windsor counties, Rutland City had 13, Hartford had 10 and Woodstock had 7. The other 49 towns

between the two counties had 0-5 cases. Rutland County as a whole had 44 cases, while Windsor County had 40.

As of Tuesday, April 28, there have been 862 confirmed cases statewide.

There have been outbreaks of cases at several facilities where elderly residents live, including two in Burlington,

Burlington Health and Rehab and Birchwood Terrace, but none thus far in Rutland or Windsor Counties. Strict protocols

for visitation remain in place to protect these populations.

This map was updated on April 27 to reflect new cases. The map is updated weekly at healthvermont.gov.

is a community newspaper covering Central

Vermont that aims to engage and inform as well as

empower community members to have a voice.

Polly Lynn-Mikula .............................. Editor & Co-Publisher

Jason Mikula .......................... Sales Manager & Co-Publisher

Lindsey Rogers ...................................... Sales Representative

Krista Johnston............................................Graphic Designer

Brooke Geery........................................ Front Office Manager

Katy Savage

Julia Purdy

Curt Peterson

Cal Garrison

Dom Cioffi

Mary Ellen Shaw

Paul Holmes

Merisa Sherman

Flag photo by Richard Podlesney

©The Mountain Times 2020

The Mountain Times • P.O. Box 183

Killington, VT 05751 • (802) 422-2399

Email: editor@mountaintimes.info

mountaintimes.info

Dave Hoffenberg

Ed Larson

Vivian Finck

Nate Lucas
---
6 • The Mountain Times • April 29 - May 5, 2020

As new volunteers pour in, Vermont's Medical

Reserve Corps awaits marching orders

About 280 people have joined the

Medical Reserve Corps... Another 800

await approval via background checks.

By Erin Petenko/VTDigger

Gov. Phil Scott made an impassioned plea for Vermonters

with medical skills to volunteer to help the state's health

care system: "I am asking every Vermonter to dig deep and

find a way to give more in this incredibly challenging time,"

he said on March 31.

Just a few weeks later, hundreds of Vermonters have been

added to the state's main organization that handles medical

volunteers, according to the Department of Health. About

280 people have joined

the Medical Reserve Corps

(MRC), compared to their

665 members prior to the

start of the crisis. Another

800 await approval via

background checks.

"It's been a tidal wave," said Derek Pitts, the state coordinator

of MRC.

But the state now predicts it has enough surge capacity

to handle the peak of Covid-19 cases. And as volunteers of

varying backgrounds and training levels join the Corps,

local units are in a holding pattern, waiting for hospitals or

state officials to direct them to where they're needed.

Helen Wilson, head of the MRC unit for the Northeast

Kingdom, is part of one such unit. The organization has

had 62 new people complete the process to join the MRC,

including doctors, nurse practitioners and EMTs.

The organization also needs regular people to help with

coordinating the MRC response. She learned that when

coordinating the local volunteers for the bird flu pandemic

and had to set up large immunization centers at schools.

"It's not just nurses, we need anyone," she said. "There's a

lot of stuff that needs to be done: Paperwork, getting things

set up, getting things knocked down."

MRC units are not just active during emergencies, she

said.

Heather Rigney, head of an MRC unit in the Upper

Valley, said the Corps has done a variety of health and

non-health-related outreach in the past, including making

toiletry kits for people who are homeless and staffing

medical tents at road races.

Complicating the response is that many of the existing

MRC volunteers are retired or older Vermonters, putting

them in the high-risk category that would normally lead

people to stay at home, Pitts said.

MRC is far from alone in that problem. Meals on

Wheels, another volunteer-heavy organization that delivers

meals to older Vermonters, is itself staffed largely by retirees

who may need to step down to protect themselves.

As they accept new volunteers, local unit coordinators

are considering how their mission could be adapted to fit

the needs of the current crisis. Wilson said she'd be interested

in seeing what agencies need help, whether that's

with first responders or even Meals on Wheels.

Rigney said while it's still theoretical at this point, she

could envision MRC volunteers being written into surge

plans as a resource for the

entire community.

"Maybe having MRC

representation on your

local homeless sheltering

team perhaps, so if they

ever need medical volunteer

support, it's easier to get a foot in the door," she said.

One existing plan for MRC usage has not been needed

— yet. MRC volunteers are trained to help with "Point of

Distribution" plans, when the state needs to administer

medicine or a vaccine to large numbers of people. Several

local MRCs had training exercises for the possibility just

last summer.

MRC can't help with creating such a distribution center

right now, but "if one is created that's viable, we'll probably

see MRC involved," Rigney said.

Wilson said in the meantime, they've been fielding

calls from people with questions about the virus. While

she's been involved in emergency preparedness for a long

time, Wilson said this crisis has been an adjustment.

"We were thinking of a hurricane or a flood," she said.

"This one really threw us a curveball."

But her advice for this pandemic is the same as many

other emergencies: Make sure you have a "go bag" in your

house with medicine, chargers and other things you'd

need if you had to leave quickly.

Rigney said Vermonters tend to think of emergencies in

terms of winter weather phenomena. "I think now we've

learned a lesson," she said. "And the idea is to not let that

stagnate."

She said Vermonters should know that MRC is still accepting

volunteers through its website. The state also has

a volunteer portal for medical and non-medical volunteers.

"It's not just medical people — we love people who

have financial or logistics knowledge, translators, we've

had a few chaplains or clergy," she said. "It's a little bit of

everybody."

Stimulus checks are off

limits to debt collectors,

creditors, and banks

Vermont Attorney

General T.J. Donovan is

putting debt collectors,

creditors, and financial

institutions on notice

that, in Vermont, federal

stimulus money is protected

from garnishment

or collection. According

to the directive issued

April 21 by the Attorney

General, payments

authorized by the federal

government's Coronavirus

Aid, Relief, and Economic

Security (CARES)

Act, are exempt from

garnishment or collection

under Vermont law.

The Attorney General

is also urging the banking

community to voluntarily

suspend collection

activity for overdrafts

or other administrative

fees that could otherwise

jeopardize the receipt,

reallocation, and circulation

of stimulus monies

issued to Vermonters as

a result of the Covid-19

public health emergency.

The directive instructs:

"CARES Act

payments are to be

preserved to meet the

immediate basic needs

of all families at a time

of extreme economic

dislocation: food, rent/

mortgage, and utility

needs all must be

met… The CARES Act

payments were designed

and intended to go into

the pockets of Americans

and then ripple through

the economy as they

are spent at the grocery

store, to keep roofs over

heads, or to keep the

lights on.

We are all in this

together. Each of us –

government, financial

institutions, and individual

Vermonters – must

do our part to help the

recovery."

The CARES Act was

signed into law on March

27, 2020. Under the

Act, individuals earning

$75,000 or less will

receive $1,200 and joint

filers earning $150,000

will receive $2,400, with

families who have children

under 17 receiving

an additional $500 per

child.

On April 13, 2020, Attorney

General Donovan

joined a bipartisan group

of attorneys general

in calling on the federal

government to issue

guidance to the banking

industry and creditors

directing that emergency

stimulus payments issued

through the CARES

Act be designated "benefit

payments" thereby

excluding them from

threat of garnishment.

Vermonters who

experience garnishment

may file a complaint with

the Vermont Attorney

General's Consumer

Assistance Program at

ago.vermont.gov/cap/

consumer-complaint.

>

Garlic: Cooking food for families in need

from page 3

free breakfast or lunch

program," he said.

About 26% of students

at Killington Elementary

School receive free or

reduced lunch, according

to data from the Vermont

Department of Education.

While school buildings

are closed for the rest

of the school year and

students are learning remotely

due to the coronavirus,

school districts are

required to provide daily

meals to students that

need it. Windsor Central

Supervisory Union

has been delivering one

breakfast and one lunch

to students who receive

free and reduced meals

each day of the school

week.

KES Principal Mary

Guggenberger said Gudelis

is helping to fill any

food-related gaps.

"Bryan…reached out to

the Killington community

and offered to cook meals

for anyone in need, many

of whom are KES families,"

Guggenberger said.

Gudelis' restaurant is

usually open everyday

year-round. He has a

couple of staff members

at his restaurant help

prepare the meals.

"We're hanging in there

and looking forward to

getting everything up and

running again," he said.

Welch helps to secure $484 billion for

small businesses and hospitals

Rep. Peter Welch took a quick trip

to Washington, D.C. April 23 to vote

for the latest Covid-19 pandemic relief

legislation. The House passed the $484

billion package with an overwhelming

388-5 bipartisan vote, which

replenishes funds for the Paycheck

Protection Program, increases aid

for hospitals caring for the sick, and

expands nationwide testing capacity.

Nearly 7,000 Vermont businesses

have now been approved for over $1

billion in loans through the Paycheck

Protection Program, the third highest

per capita rate in the country.

"It was critical to pass this legislation

to restart the small businesses

assistance programs, which help our

Vermont businesses during their time

Nearly 7,000 Vermont businesses have now been approved

for over $1 billion in loans through the Paycheck Protection

Program, the third highest per capita rate in the country.

of need," said Welch. "I am pleased

that we were also able to provide

important aid for our hospitals

struggling on the front lines of the

pandemic response. More work must

be done, but this was an important

stopgap to help Vermonters cope

with this disease that continues to

devastate our communities."

The Paycheck Protection Program

and Health Care Enhancement

Act (H.R. 266) provides:

$310 billion for the Small Business

Administration's

(SBA) Paycheck Protection

Program.

$60 billion for SBA Economic

Injury Disaster

Loans (EIDL).

$75 billion for hospitals and

healthcare providers.

$25 billion for increased testing

capacity.

The Senate passed the bill earlier

this week and the president signed it

into law, April 24.
---
The Mountain Times • April 29 - May 5, 2020 • 7

This past Friday, April 24, Governor Scott turned the spigot ever so slightly or as

Stewart Ledbetter said on "Vermont This Week" (the Friday evening PBS program for

political junkies), "He took baby steps."

Vermont continues to show a slowing of new cases. However, as Scott pointed out,

neighboring states like Massachusetts and New York... continue to have a high number

of Covid positives (and deaths) and we need to remind

ourselves that they can easily spill over here. His approach to

reopening is much like our newest grandson, learn to walk

(and slowly at that) before you run.

The latest adjustments to the governor's emergency order

include:

Allowing outdoor businesses, construction operations

and recreation maintenance work to operate with a maximum

of five total workers per location (up from two).

By Rep. Jim

Harrison

More money becomes available,

payment deadlines extended

Thankfully as a result of Vermonters

adopting "Stay Home, Stay Safe" and

practicing public health safety measures

— social distancing, wearing face masks

and gloves — the

spread of the

novel coronavirus

has slowed significantly

in Vermont.

The growth rate

in new Covid-19

cases is lower

and the number

of people in the

hospital is stable.

These results enable

the governor

to gingerly begin

By Sen. Alison

Clarkson

to open the spigot of our economy. As restrictions

are eased, I urge people to follow

public health safety practices — because if

infections spike, we could overwhelm our

health care system and have to close back

down again. The successful reopening of

Vermont's economy rests with us.

For those of you dealing with the frustrations

of a Department of Labor overwhelmed

by over 70,000 Unemployment

Insurance claim applications, I applaud

your patience. By this time I hope that your

claims have been accepted, that the issues

which may have complicated your application

have been resolved and that benefit

checks have begun to arrive. It has been an

anxious time for many Vermonters — and it

was terrible to have it exacerbated by DOL's

30 year old main frame and understaffing.

Now, with over 200 people working in their

call center and a new IT vendor helping to

facilitate the new influx to UI of 40-50,000

self employed and independent contractors

— we expect the claimant experience

will be much improved.

Last Friday, people who are self employed

or independent contractors were

Baby steps…

Manufacturing and distribution operations, and interior

construction of uninhabited structures, may resume operations

with a maximum of five employees in one location, if

they are low-density and ensure employees are always 6 feet

apart.

Outdoor retail space (garden centers) can allow in-person shopping with a maximum

of 10 total people.

Farmers Markets may open May 1 with strict alterations that focus on food distribution

and prevent congregating. Additional guidance will be provided by the Agency of

Harrison > 22

finally able to file the application for Pandemic

Unemployment Assistance (the $600

federal enhancement) on line. Benefits will

be retro-active to March 15. To calculate

their benefit, self-employed claimants

have to upload their 2019 tax return. If

they haven't yet filed their returns, they are

eligible for the minimum UI benefit ($191)

plus the $600 enhanced PUA, for a total

of $791/week. Once their tax returns are

uploaded, the department will review and

adjust their benefits.

Last week, the Senate Economic Development

Committee voted to allow the

presumption of compensability of Covid-19

related claims for Workers Compensation

during the emergency period for certain

frontline workers. This will make Worker's

Comp more available to workers who get

Covid-19. To be covered, workers will have

to have had a heightened risk of infection.

And while the claims will be rebuttable, the

presumption will be that the disease was

contracted on the job.

Our Senate Government Operations

Committee passed a bill which would, in

response to the Covid-19 crisis, temporarily

empower local legislative bodies to: 1) extend

the deadline for payment of property

taxes; 2) reduce or waive penalties, interest,

and fees for late payment of property taxes;

and 3) adjust the municipal tax rate for the

calendar year 2020. This is intended to give

towns flexibility in dealing with one of the

biggest financial obligations most Vermonters

face. Provision 1 and 2 cover both

state-wide education and municipal property

tax. However, an equally important

issue we still need to address is the penalty

towns pay to the state if their education

fund payments are short or late.

Clarkson can be reached by email aclarkson@leg.state.vt.us

or by phone at 457-4627.

For more information on the Vermont Legislature

visit legislature.vermont.gov.
---
Opinion

8 • The Mountain Times • April 29 - May 5, 2020

OP-ED

Silver lining

By Lisa Loomis, The Valley Reporter

In the midst of this time of self-isolation and social distancing

during Covid-19 our lives have changed in so many

ways that it's hard to keep up.

A lot of these changes have been difficult and scary and

painful. But at least one change in how Vermont conducts

itself has been good and that has been the way Vermont's

elected leaders communicate with us.

With his three-times-a-week press conference, Governor

Phil Scott and his cabinet have been providing unparalleled

access to the information they are using to guide their

decisions.

Governor Scott and Health Commissioner Mark Levine

are standing at the podium for 90 minutes to two hours

three times a week fielding calls from print, broadcast and

digital journalists from all over the state. Oftentimes other

cabinet members are present either in person or by phone.

By demonstrating such willingness to answer every

single question from every corner of the state, Scott and

his team are providing all journalists with a vast amount of

information that they disseminate to their communities,

improving all Vermonters' awareness and information during

this pandemic.

And that's a good thing. Far too often, only a handful of

media outlets cover press conferences. Now that journalists

are encouraged to call in versus attend in person, participation

is much more extensive and inclusive and this will

change how newsgathering takes place in Vermont going

forward.

It helps all of us to hear the concerns and questions

asked by reporters from other parts of the state. It gives all of

us a fuller picture of what is happening and what is important

during this challenging time.

Clearly the governor and his cabinet and staff have an

enormous amount on their plates, yet, following the governor's

example, they are taking the time to respond to every

question they are asked.

Compare these extremely informative and useful press

conferences with what is happening at the national level

where journalists are berated and scolded and talked over.

We're lucky here in Vermont that getting critical information

to the public is such a high priority for the Scott

administration.

That's a real silver lining.

Lisa Loomis is the editor of The Valley Reporter in Waitsfield.

Why not Medicare for All?

By Richard Slusky

The coronavirus pandemic has brought to light the

many fractures in the U.S. health care system, particularly

the inadequate access that many low- and middle-income

people have to health care services when they are most

needed, and their dependence on employer-sponsored

health care plans. Perhaps it's time to reconsider the concept

of universal coverage for all Americans under "Medicare

for All."

Unfortunately, the mention of Medicare for All brings

forth a firestorm of objections from the hospitals, the insurance

industry, conservative Republicans, and lobbyists

determined to protect their own self interests. They argue

that Medicare for All costs too much, will result in millions

of Americans losing their private health insurance coverage,

will add trillions to the national debt, will result in tax

increases for the middle class, and will bankrupt hospitals

and hospital health systems. Here are some responses to

these arguments that you might want to consider before

dismissing Medicare for All.

The cost is too high

It is true that growth in national health care expenditures

continues to exceed inflation, and total health care costs,

if left unchecked, are on track to far exceed $30 trillion over

Providing health > 11

LETTERS

Is the VSC system

the first of many

dominoes to fall?

Dear Editor,

Closing NVU-Lyndon,

NVU-Johnson, and Vermont

Technical College's

(VTC) Randolph campus

would migrate Vermont's

higher educational

engine to the Champlain

Valley. The Burlington

metropolitan area already

exerts economic and

political dominance over

the rest of the state. Depriving

Vermonters of access to

educational and cultural

resources in this manner

would be unfair and inequitable.

The Vermont State College

(VSC) system deserves

to maintain its autonomy

and identity independent

of the Burlington-based

University of Vermont. The

free exchange of ideas and

speech has fallen under

attack on American college

campuses. VSC can and

should meet the real and

unmet need for intellectual

diversity in higher education.

We will attract intellectually

curious young people

from across the nation by

positioning our institutions

as bastions of free speech.

We should offer select

trade specialties on each

campus and strive to make

VSC > 13

Fill out the Census form, the state

relies on your response for funding

42% ...puts

us near the

bottom of the

list nationally.

'Grave Message' by Pat Bagley, The Salt Lake Tribune, Utah

Dear Editor,

The League of Women

Voters urges everyone to

participate in the 2020 Census,

now underway.

The U.S. Constitution

requires the federal government

count everyone living

in the country every 10

years. Every

household

should

complete

a Census

form (either

online, by

mail, or by

phone) by Oct. 31, 2020.

Participating in the Census

is our right and responsibility.

Census data shape the

future of our community.

Census data determine our

political power, representation

in Congress, and

funding for education,

transportation, healthcare,

and so much more. Key federal

programs rely on data

and allocations derived

from the Census, including:

Medicaid, Medicare Part B,

SNAP, Highway Planning

and Construction, Section

8, Title I Grants, Special

Education Grants, CHIP,

and Head Start. Census data

are also used for apportionment

of Congressional and

legislative seats, determining

who represents you.

Your privacy is protected.

Under the law, Census

data can only be used for

statistical purposes. Personal

information cannot

be disclosed for 72 years;

Census Bureau staff who

share personal

information

are

subject to

a $250,000

fine and/

or up to five

years in

federal prison.

Recent reports show that

Vermont has one of the lowest

US Census responses

rates in the country. [Gov.

Scott said last week that

only 108,000 Vermont

households, about 42%

had completed the survey,

which puts us near the

bottom of the list nationally.

152,000 homes have not yet

filled out the form.]

You can go 2020census.

gov and fill out your Census

form in a matter of minutes.

An accurate count is essential

for allocating government

resources and allocating

legislative seats. Fill out

the Census form today!

Catherine Rader,

League of Women Voters of

Vermont

I love Rutland

Dear Editor,

With many people isolating

at home to benefit public

safety, and uncertainty

the only certainty these

days, it's been inspiring to

see how Rutland County has

responded to the Covid-19

pandemic.

From hanging up lights

and rainbows to making

masks and putting out signs

encouraging people to wash

their hands, stay one cow

apart, and thank medical

and other essential workers,

local residents have

responded to Covid-19 the

same way they responded to

the Nor'icane and Tropical

Storm Irene: With empathy,

compassion and positivity.

Reese Stoutes, the

7-year-old who has drawn

hundreds of rainbows,

and the Rutland Facebook

group that aims to "Light

up the World" gave hope

and purpose to thousands

of people. Thousands

more are encouraging and

educating others by posting

I Love Rutland signs from

Brandon to Pawlet, and

everywhere in between.

As co-founder of I Love

Rutland with Awesome

Graphics' Mike Napolitano,

I loved his idea to print and

distribute the signs. We figured

1,000 would make a big

impression, help combat

Rutland > 9
---
The Mountain Times • April 29 - May 5, 2020 OPINION • 9

CAPITOL QUOTES

On President Trump's idea to inject

Covid-19 patients with disinfectant...

"So I asked Bill [Bryan] a question some

of you are thinking of if you're into

that world, which I find to be pretty

interesting. So, supposing we hit the

body with a tremendous, whether it's

ultraviolet or just very powerful light, and I think

you said, that hasn't been checked but you're

gonna test it. And then I said, supposing it brought

the light inside the body, which you can either do

either through the skin or some other way, and I

think you said you're gonna test that too, sounds

interesting. And I then I see the disinfectant, where

it knocks it out in one minute, and is there a way

you can do something like that by injection inside,

or almost a cleaning. Because you see it gets in the

lungs, and it does a tremendous number on the

lungs. So it'd be interesting to check that. So you're

going to have to use medical doctors, but it sounds

interesting to me, so we'll see. But the whole

concept of the light, the way it goes in one minute,

that's pretty powerful."

Said President Donald Trump

"Please don't poison yourself because Donald

Trump thinks it could be a good idea."

Said Hillary Clinton

"When misinformation comes out, or you just

say something that pops in your head, it does

send a wrong message. We had hundreds of calls

come into our emergency hotline at our health

department asking if it was right to ingest Clorox

or alcohol cleaning products — whether that was

going to help them fight the virus."

Said Maryland Governor Larry Hogan

COMMENTARY

Castleton University is ready to meet

community and workforce needs

By Dr. Karen M. Scolforo, president of Castleton University

You may have seen the recent news

coverage regarding the challenges faced

by the Vermont State Colleges System

(VSCS), many of which were highlighted

last summer in the VSCS

white paper, Securing

the Future of the

Vermont State Colleges,

and exacerbated by the

novel coronavirus global

pandemic this spring.

While Castleton

University is not immune to the challenges

faced by institutions in the VSCS

and around the country, our long-standing

reputation as a historic, liberal arts

university with a strong commitment to

pre-professional studies holds firm. We

haven't achieved this status alone. Our

CCV is ready to help rebuild Vermont

By Joyce Judy, president of Community College of Vermont

The Vermont State Colleges System is

weathering the roughest days of its 60-year

history. The potential changes facing

our sister institutions are painful and the

challenges are real. While the Community

College of Vermont (CCV) is not immune

to these challenges, we are fundamentally

unique, financially stable, and poised

to help rebuild Vermont in the wake of

Covid-19.

With our statewide presence and unyielding

commitment to access, CCV is the

second-largest college in Vermont. We serve

more than 10,000 students each year at 12

locations and online. Those students go on

to bachelor's degree programs throughout

the VSC, at UVM, and beyond, and into

high-demand jobs that grow Vermont's

economy.

When CCV was founded in 1970, we were

seen as a bold experiment. Rather than

asking rural Vermont to come to a college

campus, CCV would bring college to rural

Vermont. In other words, we would meet

students where they were. This concept is

at the core of our work. We meet students

>

Our educational

and community

partnerships help

to strengthen us.

educational and community partnerships

help to strengthen us, keep us in tune with

the needs of employers, and create a strong

foundation of mutual benefit that will propel

us all into a successful

future. This ensures that

our graduates have the

relevant soft and technical

skills to be successful in

their chosen careers.

Among the partnerships

we are most proud of

is with Community College of Vermont. As

one of CCV's strongest partners, we offer its

graduates the access and affordability they

need to continue their studies, stack credentials,

and complete a baccalaureate degree.

We do this through 2+2 pathway plans,

allowing for a seamless transition into more

CU > 13

where they are, not just geographically, but

also financially, academically, and as individuals.

As we respond to the disruptions

caused by Covid-19, we will maintain focus

on this idea. We are here to help Vermonters

get back on their feet.

CCV has always been adaptive, resilient,

and relevant. We pioneered online learning

in Vermont nearly 25 years ago, and today

we offer hundreds of online courses each

semester. We have robust transfer agreements

with four-year programs, giving

students a springboard to their academic

futures. We have built lasting partnerships

with businesses throughout the state designed

to help employers meet their workforce

needs, from childcare to healthcare to

manufacturing.

CCV's decentralized, non-residential

model means that 95% of Vermont households

are within 25 miles of a CCV classroom.

We provide students with resources

in their local communities. Our suite of

online options draws from the best of both

worlds: one-on-one, local advising paired

with a high-quality academic experience.

CCV > 11

any sense of complacency

around safety, give people

an opportunity to be part

of something meaningful,

and share some positive

messages with the community

they care about.

To say the response

was overwhelming would

be an understatement.

Anonymous donors

stepped up to pay for the

signs, and Casella Waste

Systems quickly delivered

a brand-new steel con-

Rutland: Hope, strength, grit and a positive outlook for the future.

from page 8

tainer to hold them. The

first 1,000 were claimed

within a few hours. The

same thing happened with

a second printing of 1,000.

A third batch lasted slightly

longer, but within a few

days, those signs were also

dotting the front lawns

of businesses and homes

throughout the county.

Rainbows, Christmas

lights, and signs, might

seem like small actions

given the big challenges

we face in the days and

months ahead, but they all

signal something important

in Rutland County

residents: Hope, strength,

grit, and a positive outlook

for the future. Those are

attributes we will no doubt

need, and are among the

reasons I love Rutland.

Steve Costello,

Rutland Town

Steve Costello is a vice

president at Green Mountain

Power
---
10 • OPINION

The Mountain Times • April 29 - May 5, 2020

Mountain Times Half page 2.19.qxp 2/14/19 10:24 AM Page 1

Service You Can See. Experts You Can Trust.SM

†Based on a survey of over

250,000 Valvoline Instant Oil

Change customers annually.

COUPON

$

10 OFF

ANY FAST,

FULL-SERVICE

OIL CHANGE *

*With this coupon. Includes up to 5 qts. any Valvoline motor oil, std. filter, lube & maintenance check.

May not be combined with other same-service offers or discounts. Expires

05/15/2020

open

7 days

RUTLAND 60 U.S. Rte. 7 (near Kinney Subaru) 773-0677

✃
---
The Mountain Times • April 29 - May 5, 2020 • 11

OPINION

'Disinfectant Trump!' By Emad Hajjaj, Alaraby Aljadeed newspaper , London

'Trump and disinfectant' By Arcadio Esquivel, Costa Rica

Providing health: Why not Medicare for All? Re-think it

>

from page 8

the next 10 years. Despite these national

expenditures on health care, the United

States is the only industrialized country in

the world that does not provide universal

health care coverage to its citizens; over

65% of bankruptcies in the U.S. are related

to medical costs; and the United States

ranks last on some of the most important

measures of health care quality, including

maternal mortality and life expectancy.

Medicare for All offers the opportunity to

guarantee universal coverage to all Americans,

increase benefits, and eliminate

deductibles and copayments. It could also

significantly reduce

costs by centralizing

the provider payment

system, establishing

a nationwide fee

schedule, reducing

administrative costs

and the cost of pharmaceuticals,

and

eliminate the billions

of dollars in profits

that the insurance industry takes out of the

health care system every year.

Millions of Americans will lose their private

health insurance coverage

Yes, millions of Americans will lose their

private health insurance, but, instead,

will be covered under the Medicare for

All program. Employer-based health care

plans often come at the cost of reduced

wages, ever-increasing cost sharing, and are

dependent upon continued employment.

On the other hand, Medicare for All would

offer guaranteed coverage, better benefits,

and would reduce or eliminate copayments

and deductibles.

Unlike most private insurance plans,

Medicare does not place limitations on

physician choice; does not require prior approval

for referrals or testing; and would reimburse

providers for all services according

to a national fee schedule, based on the cost

of services provided, not on the negotiating

leverage of hospitals and for-profit health

care systems.

The deficit will increase, as will

taxes on the middle class

Medicare for All would put the United

States in line with every other industrialized

nation in the world by guaranteeing

universal health care coverage. However, it

will require that the federal government assume

the responsibility of funding over 60%

of our health care system now being funded

Winston Churchill once

said, "Americans can

be counted on to do the

right thing – after trying

everything else."

by states, insurance companies, and individuals.

In order to pay for that transfer of

costs, the federal government will need to

establish Medicare for All premiums and/or

raise taxes on almost all Americans, including

those in the middle class. However, the

cost of these premiums and taxes would

be offset by the elimination of premium

payments and out-of-pocket expenses currently

being paid to private insurers.

It will be up to Congress to structure

these premiums and taxes so that the net

cost to lower- and middle-class Americans

would be less than they are paying now

in private insurance

premiums.

Payments to hospitals

will not be sufficient

Medicare pays

hospitals, on average,

about 85% of costs

for the services they

render. Medicaid

pays less. In order to

offset these shortfalls

in payments, a recent Rand study noted

that "commercial insurers pay 167% of the

Medicare rate for hospital services and

125% of the Medicare rate for physician

services." Rand estimates that "the all-payer

average rate under the Medicare for All plan

in 2019 would be 124% of current Medicare

rates for hospital payments and 107% of

current Medicare rates for physician payments."

Although payments under Medicare for

All would need to be higher than the rates

that Medicare currently pays, establishing

a national fee schedule, with regional

exceptions, under Medicare for All could

save costs by eliminating variations in payments,

and establishing a payment system

based on cost and value, not the negotiating

leverage of the hospitals and large health

care systems. A national fee schedule would

also pave the way toward a payment system

based on the value of services provided, not

the volume.

It has taken me a long time to get to this

place, but, as Winston Churchill once said,

"Americans can be counted on to do the

right thing – after trying everything else."

Perhaps this is the time to do the right thing.

Richard Slusky, of South Burlington, was

the CEO of Mt. Ascutney Hospital in Windsor

1982-2010, and was director of payment

reform for the Green Mountain Care Board

until 2016. He now owns Slusky Consulting.

By Curt Peterson

>

CCV: Continues to partner with employers, state to respond to Covid-19

from page 9

We help students who are new to online learning achieve success.

Despite minimal state support over the past three decades, CCV continues to offer the

most affordable tuition in Vermont. 65% of our students graduate with zero debt. We have

long championed the idea that education beyond high school is a necessity for all, not a

privilege for some. In as little as one semester, students can earn valuable credentials at

CCV that translate to higher wages and greater stability. We will continue to work with partners

and employers across the state to meet developing needs in response to Covid-19.

As we prepare to re-open and rebuild our economy, CCV is ready with the education and

training Vermonters will need. Our statewide presence means that we are deeply rooted

in Vermont's communities. We work alongside our neighbors, students, and businesses

to improve the quality and viability of life in our Green Mountain State. As we all face

unexpected and unprecedented change, CCV is proud to serve as Vermont's community

college. We've helped prepare Vermonters for a better future for more than 50 years. That

remains our priority today.
---
12 • The Mountain Times • April 29 - May 5, 2020

Wanted

Persons or Person

$5,000 Reward

• No questions asked! •

CONGRATULATIONS -

You have successfully broken into my

property in North Chittenden.

◆ ◆ ◆

The following items are in your possession:

Honda 250 dirt bike – New in 2004 – Never ridden

John Deere 825i Gator – Olive/black

John Deere 625 Gator – Olive/black

Rhino commercial pull behind mower

– custom modified

One of a kind Multi Quip Plate Compactor

Honda Wheel-mounted Generator

Red Sears Horizontal Air Compressor w/red hose

Black Sears Vertical Air Compressor

Black Husky Vertical Air Compressor

To get more information on reward

or to return property PLEASE

call Royal Churchill @ 928-697-3763

Churchill
---
The Mountain Times • April 29 - May 5, 2020 • 13

Phased restart: Slightly more opens

>

from page 1

The governor's most recent order directs any entity currently

operating, or soon to be opened, to implement specified

physical distancing, health, and sanitation measures,

including requiring employees to wear face coverings. It

also requires all employers to provide, and all employees to

complete, training on these health and safety requirements

by May 4. VOSHA training was released Monday, April 27.

If able to comply with the outlined safety measures, the

Governor's order allows the following operations to reopen:

• Outdoor businesses, construction operations and

recreation maintenance work may operate with a

maximum of five total workers per location.

• Manufacturing and distribution operations, and

interior construction of uninhabited structures,

may resume operations with a maximum of five

employees in one location, if they are low-density

and ensure employees are always 6 feet apart.

• Outdoor retail space, previously restricted to

curbside or delivery service, can allow in-person

shopping with a maximum of 10 total people.

• Farmers markets may open May 1 with strict alterations

that focus on food distribution and prevent

congregating. They must meet the same health and

safety requirements of all other operations and are

directed to use a pre-order/pick-up model whenever

possible. Local municipalities must approve

reopening. Additional guidance is provided by the

Agency of Agriculture.

Corresponding guidance from the Agency of Commerce

and Community Development makes clear that workers

from out of state must still quarantine for 14 days upon arrival

and lodging properties are to remain closed until June

15, except those exempted to host essential workers.

CU: Castleton is well adapted and positioned to help, educate

>

from page 9

than 20 of our undergraduate programs.

We have even more 2+2 pathways in the

works. We also help to make the transition

to Castleton affordable by waiving application

fees and offering a tuition match for

CCV graduates. We are proud of the work

we do with our sister school to provide a

holistic, transformative educational experience,

and we are looking ahead to an even

stronger partnership as we work to increase

Castleton's presence on CCV campuses.

As our region and nation recover from

the Covid-19 pandemic, our community

partnerships will help us serve our students

in ways that matter to them now and in

the future. This year, I formed a Rutland

advisory group to help inform my decisions

and further understand how we can

best serve the region. This group of strong,

notable community leaders has been

invaluable in their insight and counsel, and

include folks from business and industry,

the Legislature, education, and economic

development, among others. Additionally,

we have built a strong partnership

with Mike Solimano of Killington Resort

and opened a Killington campus to pair

with our Resort and Hospitality Management

program. This partnership affords

our students paid, hands-on work experience

at Killington and a strong, residential

academic program. Additionally, Tom

Dee, president and CEO of Southwestern

Vermont Health Care, has identified Castleton

and its nursing program as SVHC's

preferred partner. With this partnership,

the medical center has committed to offering

employment to students and paying

back tuition debt.

Castleton is rising to the challenges of the

future as we remain committed to affordable,

high-quality, and student-centered

educational opportunities that are truly

transformational. Our success is fueled by

nimbleness and adapting to the needs of

students and employers. We have seen two

years of enrollment growth, and, this past

fall, we admitted the largest incoming class

in the university's history. We have continued

to serve as a stabilizing force in higher

education for our region and beyond,

and we are committed to being there for

students in need, such as those who suffered

painful college closings and sought

refuge at Castleton. We pride ourselves on

our culture of respect and compassion, our

pursuit of excellence, and our dedication

to our Vermont communities. This is The

Castleton Way.

In conclusion, Castleton is well-positioned

and prepared to serve students in

both traditional and evolving ways well

into the future. Even through these difficult

times of change, trust that Castleton will be

here, for the benefit of Vermont and for the

benefit of all.

>

VSC: save them

from page 8

these programs the best in

the nation.

We are in this predicament

for three reasons.

First, declining student

enrollments follow the

general abandonment of

Vermont by middle class

families. The lack of upwardly

mobile careers, punishing

taxes, heavy-handed regulations

contribute to this.

Second, decades of

financial malpractice characterized

by spending billions

on first-in-the-nation

projects (e.g. OneCare VT's

All-Payer), which fail.

Third, the state does not

equitably fund our public

educational institutions (K-

12 to post-secondary).

Unless Vermonters elect

leaders who will correct

these systemic wrongs and

implement policies of proeconomic

growth, the VSC

system will be the first of

many dominoes to fall.

Meg Hansen,

Manchester

Hansen is a candidate for

lieutenant governor.

Wear masks: Now required in public

>

from page 1

others in public, we still need to stay at least 6 feet away

from others, practice good hand hygiene and follow the

state's "Stay Home, Stay Safe" guidance, according to a

April 23 news release from the state.

"When we're all taking these essential precautions,

we're all a little safer," said Levine. "Wearing a face covering

can take some getting used to, but this will be the new

normal for some time. So, help protect your loved ones

and your fellow Vermonters by wearing a face covering

and knowing how to do so properly."

"Face coverings are here to stay," Levine reiterated

again on Monday, April 27, during a press conference.

The cloth face coverings recommended are not surgical

masks or N95 respirators. These types of masks are

critical supplies that must be reserved for health care

workers and first responders.

For businesses in operation now, employees must

wear non-medical cloth face coverings (bandanna, scarf,

or non-medical mask, etc.) over their nose and mouth

when in the presence of others, according to new guidelines

from the Agency of Commerce and Community

Development.

All face coverings should include multiple layers of

fabric and allow for breathing without restriction. Face

covering also must be worn properly to be effective and

avoid the spread of germs. Consider the following:

• Wash your hands before putting it on.

• Be sure your mouth and nose are covered.

• Hook loops around your ears or tie it snugly.

• Do not touch the mask or pull it down in public.

• Keep it on until you get home.

• Remove the mask without touching your eyes,

nose or mouth, then wash your hands immediately.

• Wash the mask and make sure it's completely dry

before using again. Have a few on hand so you

can rotate for washing.

For more information visit healthvermont.gov/Covid19.
---
14 • NEWS BRIEFS

The Mountain Times • April 29 - May 5, 2020

State approves additional plans to refund auto insurance

premiums, saving Vermonters over $14 million

Governor Phil Scott and Department of Financial

Regulation (DFR) Commissioner Michael Pieciak announced

April 22 that more than 40 additional auto insurance

companies have filed plans to return premiums

or reduce their rates for Vermont policyholders. DFR has

moved quickly to approve these plans, which amount to

over $14.6 million in savings

for Vermonters to date.

All Vermont-based auto

insurance companies,

along with most major

out-of-state insurers, have

developed refund plans

for Vermonters, which

combined, represent approximately 90% of all personal

auto policies in Vermont. Each of these insurers has seen

a reduction in claims as Vermonters do their part to stay

home to comply with the Governor's "Stay Home, Stay

Safe" directive.

"I'm grateful the insurance industry is acknowledging

the reduced risk of auto claims as a result of the 'Stay

Vermonters can expect to receive

a credit on their auto insurance

statement, a refund check or a

reduced rate when renewing.

Home, Stay Safe' order," said Governor Scott. "These

reduced rates provide additional relief at a critical time

for many Vermonters, and I appreciate the Department

of Financial Regulation's ongoing work with industries

to help save Vermonters money."

The premium savings will vary depending on the

company; however, most

Vermonters can expect to

receive a credit on their

auto insurance statement,

a refund check or a reduced

rate when renewing their

policy. At this time, most

relief will be in the range of

15-20% for a period of two or three months.

Two Vermont-based insurers, Vermont Mutual and

the Cooperative Insurance Company, will also provide

auto-insurance customers with the choice to donate

their refund to one of several charities assisting with

local Covid-19 relief efforts. A third Vermont-based

insurer, Union Mutual, has partnered with local businesses

to provide food for the homeless, as well as for

medical workers and nursing home staff members in

Vermont.

"I really appreciate these insurers stepping-up to

provide premium relief during this challenging time,"

said Commissioner Pieciak. "I am particularly pleased

that our Vermont-based insurers established these

innovative pay-it-forward options for worthy charities

confronting the Covid-19 crisis."

Commissioner Pieciak continues to encourage

insurance companies to determine whether Vermonters

are overpaying and promptly file a plan with DFR if

that is the case. For a list of insurance companies with

DFR-approved premium savings plans, please visit dfr.

vermont.gov/document/dfr-approves-several-insurerplans-refund-auto-insurance-premiums.

DFR's approval also provides flexibility to further reduce

premiums if similar driving habits continue. As the

pandemic evolves, DFR will continue to monitor insurers'

experience and finances to ensure that Vermonters'

rates are not excessive compared to changing risks.

Real estate: Industry looks to rebound as restrictions lift

>

from page 4

We are working to adjust to the executive

orders from the governor and to make sure

our agents, buyers and sellers will feel safe.

We are currently open by appointment only

and hope to move to a more open situation

in the near future."

Expectations for future

While second quarter sales activity is

down and there is still uncertainty as to

when restrictions like social distancing

and wearing masks might be lifted, agents

expect sales will pick up. They also foresee

a possible surge of interest among out-ofstaters

once hotel restrictions are lifted and

people can stay here without quarantining

for 14 days.

Silber said she expects to see a surge

in interest among out-of-staters in

Rutland Region properties, noting that

"immediately after 9-11" she had "three

clients from New York purchase homes"

in the area. Some will move to Vermont

permanently because they are able to work

remotely and because we have airports in

Rutland and Burlington for the necessary

occasional business trip, she said. She also

noted a need for internet and cell service,

stating that she foresees it continuing to be

a requirement.

Bomogen also commented on the

definite uptick in demand for Killington

properties after 9-11 and feels something

similar may occur in the future. But asked

about potential hurdles to that, she noted

a new uncertainty due to the pandemic

causing a loss in investments and jobs.

Some may not have the discretionary

income for a vacation home as a result,

but if things improve, that interest could

potentially be seen over a longer period of

time, she opined.

Still the idea of Vermont being perceived

as a safe haven seems realistic to her, and

she also thinks there could be a slow down

of people traveling to western ski resorts

due to a reluctance to be in congested

airports or ride on airplanes for a while.

That could bring more business as

Killington is a drive market, she noted.

Kershner also foresees an increase in

interest among out-of-staters. People

perceive Vermont to be a "safe haven" due

its rural nature. "Without question, we

are seeing interest in Vermont properties

now from buyers in the densely populated

metropolitan areas of the northeast," he

said.

"A key consideration for those buyers

is internet connectivity. With so many

employees working from home today,

many seem to be experiencing the

epiphany that they could just as readily

work from the safety and serenity of a

Vermont home as they can from their urban

locations. But broadband, high-speed

internet infrastructure is imperative for that

dream to become a reality," he noted.

"Some newspaper articles are saying

city dwellers want to move to more rural

areas, so that should mean buyers will

come," agreed Bianchi.

According to a recent report in the Wall

Street Journal and comments made on

CNBC's "Closing Bell," there is more interest

in rural than urban properties now. "We

have seen that people are more interested

in that house at the foot of the mountains

by the lake," said Glenn Kelman, CEO of the

national real estate brokerage Redfin, on

CNBC's "Closing Bell."

He reported that "Rural demand is much

stronger right now than urban demand,

and that's a flip from where it's been for

the longest time, where everybody wanted

to live in the city. We'll see how it comes

back, but there seems to be a profound,

psychological change among consumers

who are looking for houses."

Citing so many unknowns and

uncertainties about changes to come,

these agents noted that it's impossible to

predict a return to "normal" for real estate

transactions, but they are optimistic that the

needs of people for selling and buying can

be met and that this region will continue to

see keen interest among out-of-staters.

Killington Food Shelf is fully stocked

The Killington Food Shelf, located at the Little White Church, is fully stocked with

non-perishables, paper products, and pet food. If you or someone you know is in need

you can contact Nan Salamon at 422-9244 or Ron Willis at 422-3843 to schedule a time

to visit. You do not have to be affiliated with the church to take advantage of the food

pantry. It was started during recover from Hurricane Irene and continues to meet the

needs of people who are going through tough times and need a bit of assistance. We

can put a bag of groceries together for you or let you know what is available and you

can tell us what you can use. We are here and happy to help!

Asking for help isn't

easy. But these times are

unlike anything our community

has ever seen.

That's why the Woodstock

Area Relief Fund

(WARF) has made getting

money for household

necessities as simple as

possible.

The Woodstock Community

has a long history

of coming together

during tough times.

And that's what WARF is

about: neighbors helping

neighbors. "So even if

you've never asked for

Courtesy of WARF

help before, you can feel

comfortable reaching out

to us," WARF stated.

More than 160 neighbors

and 50 friends from

other states have contributed

over $215,000 so far

to help those in the Windsor

Central Supervisory

Union. All the money will

go toward grants of up to

$1,000 for those needing

help with rent, groceries,

and other household

expenses. Thus far, WARF

has assisted over 70

families.

For those in need,

With

$215,000

so far ...

WARF has

assisted

over 70

families.

Woodstock Area Relief Fund can help

area residents in need

simply fill out a form at

woodstockcommunitytrust.com/covid-19.

Then a WARF volunteer

will verify your information

and point you toward

resources that may

be helpful. WARF has

received almost 100 applications

for assistance

from Barnard, Bridgewater,

Killington, Pomfret,

Plymouth, Reading, and

Woodstock and has funds

to help many more.

For more information

visit woodstockcommunitytrust.com/covid-19.
---
The Mountain Times • April 29 - May 5, 2020 PUZZLES • 15

WORDPLAY

'Yard Care' Word Search: Find the words hidden vertically, horizontally, diagonally and backwards.

ACIDIC

AERATE

ALKALINE

AMENDMENTS

BEAUTIFY

BLADE

CARBON

COMPOST

CROSSWORD PUZZLE

Solutions > 28

CLUES ACROSS

1. Curved

symmetrical

structure

5. One's partner in

marriage

11. Male admirer

12. Spend in a

period of dormancy

16. Popular Easter

meal

17. Doc

18. Bearing a heavy

load

19. Gratitude

24. The Mount

Rushmore State

25. Driving

26. Girl

27. British thermal

unit

28. Makes a

mistake

29. A defined length

of time

30. Lions do it

31. Large quantities

33. Become less

intense

34. Famed

peninsula

38. Emerges

39. Rare Hawaiian

geese

40. Dance style

43. Drove

44. Measures speed

of an engine (abbr.)

45. Yankee hero

Bucky

49. Midway

between west and

northwest

50. Monetary unit of

Samoa

51. Makes clothing

53. Spielberg's alien

54. Agreeable to the

taste

56. Injury treatment

protocol

58. Cools your

house

59. Imaginary line

60. New convert

63. Some do it to

their windows

64. Wore away

65. Work units

CLUES DOWN

1. Remove body

tissue

2. Harvester

3. Roadside living

quarters

4. Excessive selfconfidence

5. Lapp

6. Bicycled

7. Entrance to a

passage

8. Western U.S.

state

9. Grain towers

10. "Westworld"

actress __ Rachel

Wood

13. Commercial

14. One who left

a will

15. Makes it through

DEADHEAD

FERTILIZE

GREEN

LANDSCAPE

LEAVES

MATTER

MOW

MULCH

20. Within (prefix)

21. Sea patrol

(abbr.)

22. Cigarettes

(slang)

23. A doctrine

27. Constrictor

snakes

29. Atomic #73

30. Baseball stat

31. Female sibling

32. A soft gray metal

(abbr.)

33. Southern

constellation

34. Belgian city

35. Go in again

36. In a different,

more positive way

37. A place for

sleeping

38. Blood type

40. Syrian news

agency (abbr.)

ORGANIC

PEAT

PLANTINGS

PRUNE

SHRUB

SOIL

TILL

WATER

41. A salt or ester of

acetic acid

42. Millihenry

44. Populous Israeli

city __ Aviv

45. Widen

46. Magical potion

47. Acknowledging

48. Private romantic

rendezvous

50. Cavalry sword

51. Terabyte

52. Artificial

intelligence

54. Bullfighting

maneuver

55. Breezed

through

57. Santa says it

three times

61. __ and behold

62. 36 inches

(abbr.)

Guess Who?

SUDOKU

Solutions > 28

How to Play

Each block is divided by its own matrix

of nine cells. The rule for solving Sudoku

puzzles are very simple. Each row,

column and block, must contain one of

the numbers from "1" to "9". No number

may appear more than once in any row,

column, or block. When you've filled the

entire grid the puzzle is solved.

made you look.

imagine what space

can do for you.

Mounta in Times

802.422.2399 • mountaintimes.info
---
theSilverLining

16 • The Mountain Times • April 29 - May 5, 2020

This week's infusion of hope and positivity.

A monarch butterfly feeds on the nectar of a purple coneflower.

Spending time with 'friends' in the garden

By Bonnie Kirn Donahue

Spending time planning your vegetable garden and thinking about what food

you will produce is an excellent way to find some stability in these unsettling times.

While growing our own food is an asset, as well as a source of comfort and enjoyment,

I'd like to propose that we also consider providing food and habitat to

other creatures that rely on our gardens – the birds, bees, butterflies and the

seemingly endless variety of insects that visit us each year.

Why think about these small living things in our gardens? There are many

scientific reasons to reassess these relationships and consider many of

these visitors as friends.

By being strategic with the plants we select, we can attract beneficial

insects to the garden that will actively protect our plants from the

more mischievous ones. Planting annuals such as sweet alyssum

(Lobularia maritime) and yellow marigold (Tagetes patula 'Little

HeroYellow') makes a garden more appealing to the beneficial insects

that prey on common garden pests.

Native perennials will provide habitat for bees and butterflies that

have the incredible responsibility of pollinating the flowers and crops that

provide us with visual and physical nourishment. Try planting one of my

favorites, the purple coneflower (Echinacea purpurea). This long-lasting bloomer

can be started from seed or purchased from most greenhouses.

Its serrated, dark green, ovate leaves offer a lovely, lush texture to the early

summer garden. When the pink petals and bright orange flower heads emerge

in mid-summer, butterflies and insects are drawn like magnets to this attractive

native plant, taking turns perching on each pointy orange cone head and sucking

its nectar. Leaving the seed heads up in the winter will bring winter birds to your

garden as well.

Easy-to-grow native shrubs provide year-round interest to people, birds and insects

alike. Red-twig dogwood (Cornus sericea) has incredible red-hued stems that

By Bonnie Kirn Donahue

Submitted

A monarch caterpillar chews on butterfly weed, a native species of milkweed.

look fantastic in the late winter when planted in groups or individually. Though not

overly ornamental, birds and insects are attracted to the shrub's flowers and fruit.

Winterberry (Ilex verticillata) produces amazing bright-red berries that birds

love (though toxic to humans). The inconspicuous flowers are attractive to honey

bees. Both shrubs grow well in full sun to part shade and can tolerate a range of

soil types.

Native plants have a long co-evolutionary history with pollinators,

so select true native plants, and ideally not the cultivars,

when landscaping to ensure that you are providing the most

benefit. It's also important to work toward

constant and overlapping flowering of

native plants to accommodate the most

diversity of pollinators. Check with your

local greenhouse or nursery for recommendations

for your area and growing conditions.

By inviting more beneficial birds and insects

into our gardens to protect and pollinate them, we will

be rewarded with endless hours of entertainment in the

form of buzzing, swooping, chirping and

hopping. As the earth warms, these natural

visitors are friends that we can safely

welcome into our lives.

For more information, visit the University

of Vermont Extension Master Gardener gardening

resources web page at go.uvm.edu/gardenresources

and click on "Pollinators."

Bonnie Kirn Donahue is a UVM extension master

gardener and landscape designer from central Vermont.
---
The Mountain Times • April 29 - May 5, 2020 THE SILVER LINING • 17

Billings Farm & Museum celebrates

Pollinator Week online

May 4–8 — WOODSTOCK—Spring is here and our

friends, the pollinators, are too! Join Billings Farm at

Home online as they celebrate Pollinator Week, May 4 –

8, 2020. Learn about native pollinators and the vital role

they play in our food supply.

Where would we "bee" without our pollinators?

On Wednesday, May 6, at 1 p.m., get your

pollinator questions answered by museum

educators as they host their Facebook

Live series, "Ask Billings Farm Live." What

do you want to know about pollinators?

What can you do to support bees, bats,

butterflies and birds?

Visit Billings Farm at Home all week for videos,

kid-friendly activities, recipes and pollinator information.

Did you know bees need water too? Learn how to

make a simple bee bath for your garden. What did it take

for Billings Farm to be certified as a "bee-friendly" farm?

Find out! Make a "fairy garden" and a yarn-wrapped bee

craft.

Love bees, but don't have kids? Even if you do, enjoy

Courtesy of Billings Farm & Museum

our Pollinator Happy Hour with daily recipes using

pollinator-generated ingredients for cocktails, mocktails

as well as herbal teas to make and enjoy at home.

Make Billings Farm at Home your online resource

for bringing the farm, history, and

events home. Find fun crafts and delicious

farm recipes to make, and activities to

download and do at home. Meet the animals

and learn about life on the dairy

farm through their online videos. Connect

with them at: billingsfarm.org/

billings-farm-at-home, Facebook: facebook.com/BillingsFarmMuseum,

and

Instagram: @BillingsFarmMuseum.

The Billings Farm & Museum is owned

and operated by The Woodstock Foundation Inc., a

charitable non-profit institution. Billings Farm & Museum

is committed to providing educational opportunities

and experiences to our visitors, whether here

in Woodstock, Vermont or at home wherever you are

through our online resources at Billings Farm at Home.

Courtesy of the Vt. Urban and Community Forestry Program

Rutland Blooms

plants trees

Members of Rutland Blooms recently planted trees

along the city's roadways as part of a beautification

project. The Vermont Urban and Community Forestry

Program has recognized the Rutland group as a 2020

Vermont Tree Steward Award winner with the Volunteer

Group Award.

Courtesy VINS

VINS Night Sky video

series explores the

constellations

QUECHEE—Join VINS Science Educator Michelle Amato

on a night sky adventure. Available on the VINS Youtube

and Facebook pages, this latest video will teach you about a

few constellations you can find in the night sky during this

time of year and how to find them. She'll go over some tools

you can use and learn how to create your own constellation,

including the story behind it!

Download the Create Your Own Constellation activity

page here at vinsweb.org/video-investigation-stargazing.

For questions and comments, contact education@

vinsweb.org.

Lattes of Love raises

$2,600 for BROC

RUTLAND—On Friday, April 24, the crew at Speakeasy

Cafe in Rutland was whipping up lattes for a cause,

namely the BROC community food shelf. In addition

to crafting coffee, the baristas took to Instagram Live to

inform and entertain all morning.

All told, they raised over $2,600 in two hours! The

money will benefit local families in need by providing

food security in these trying times. If you missed the

event but would still like to donate, you may do so at

broc.org.

Courtesy of Speakeasy Cafe

Vermont Curators

Group goes virtual with

Vermont Art Online

Staying at home doesn't

mean that you can't keep

exploring Vermont's

creative sector! Visitors

to VermontArtOnline.

org can virtually enter

twenty-nine museums

and galleries across the

state, with more coming

online each day. Interact

with exhibitions, click on

objects to learn more, or

try art-at-home activities

great for students, parents,

educators, and the general

public.

Vermont Art Online

was created by Sarah

Briggs and Sarah Laursen

of Middlebury College

Museum of Art in

Submitted

partnership with the

Vermont Curators Group,

in response to the closure

of the state's museums

and galleries due to the

Covid-19 pandemic.

Generous support to

make it possible has been

provided by Vermont

Arts Council, Vermont

Humanities Council, the

Fleming Museum of Art,

and the Middlebury College

Museum of Art.

For more virtual art,

culture, and learning

resources from curators

around Vermont, be sure

to follow @Vermont-

CuratorsGroup on Facebook

or Instagram.
---
18 • The Mountain Times • April 29 - May 5, 2020

Fletcher Memorial Library

refreshes offerings

LUDLOW—The staff at Fletcher Memorial

Library is trying to be creative in offering

you items to read, listen to or watch. On

nice days from 10 a.m.-2 p.m. (at least)

they will have a book cart outside the rear

entrance with bagged books, audio books

and movies. Please take and enjoy. They do

not want these items back.

Librarians have been diligently working

to inventory and weed the adult collection.

Many items had not circulated in excess

of five years. The shelves were crowded

and a number of books in non-circulating

condition. Now the shelves are refreshed,

dusted, and ready to peruse. Sacha, the

youth librarian, has been working remotely

from home posting on social media, reading

stories (found on the youth web page)

posting links for kids and families, researching

new books and working on some kind of

a summer program offering.

In addition, we have been researching titles

for days and weeks. Two orders for adult

books and two orders for adult audio books

have been submitted and 31 new large print

books have been received. Displays have

been refreshed and much work in the cloud

has been done in the catalog.

The library remains closed until May 15

following Governor Scott's Stay at Home

and non-essential workers order, but they

are available if you have questions. Please

take time to go to fmlnews.org and look

around. There are many offerings, all free!

Click the menu tab in the top left and check

out the tabs: downloadable audio and

e-books, Ancestry Research, web courses,

Youth page with a lot on it and more.

When the library does reopen, we will be

using the rear entrance only. Patrons will be

asked to leave their returns in the air lock,

wear masks and use the provided hand

sanitizer before entering the inner door

and practice social distancing, assuming

the order is still in place. As well, our book

shelves will be closed to the public.

Please visit the web page and then to

the "catalog" tab where you may peruse

your favorite authors and sign in as a

library patron and you may make lists

of titles you would like to read once they

may open and the catalog will be fully

functional. You will be able to place holds

on items. As always you may call and we

happy to do it for you!

Fletcher Memorial Library is located at

88 Main St. in Ludlow. For more info call

802-228-8921.

Castleton announces online

summer session, lower tuition

CASTLETON—Castleton University

will deliver its upcoming summer

session online, allowing students to

continue their studies from the comfort

of their homes.

Castleton's summer session courses

run in an accelerated format, ranging

from three to eight weeks. Summer

Session One runs May 18-June 26, and

Session Two is July 6-Aug. 14.

Current students can register for

courses online through the student portal.

CU also welcomes students who are

attending other colleges and universities

and nonmatriculated students to

take part in its summer session.

Castleton is offering a special tuition

rate for undergraduate Summer 2020

courses of $350 per credit, which reflects

a 27% reduction (excluding courses in

the nursing program).

"The Covid-19 crisis has created new

challenges for nearly everyone, including

our students and their families,"

said Maurice Ouimet, dean of enrollment.

"We want to make it as easy as

possible for our students to maintain

their academic progress or get ahead

of the game this summer. Offering our

summer courses online and the reduced

tuition are steps to help ensure our

students can continue their academic

plan."

On-campus housing will not be available

to students this summer due to the

uncertainty of restrictions that may remain

in place as a result of the Covid-19

pandemic.

Advantages to summer course at CU

• Save money by utilizing our

reduced rate for Summer 2020

• Stay on track to complete your

degree early or on time

• Focus your efforts on a particularly

difficult course

• Reduce your course load in

future semesters

• Avoid a learning gap.

For more information visit castleton.

edu.

Courtesy of Ludlow Rotary

Dolly Parton's Imagination Library mails free books to children from birth to Pre-K.

Free books can help toddlers

cope with the coronavirus

School closings, stay home orders,

social distancing and other aspects of

the coronavirus pandemic have brought

Vermont families back together. Our

youngest children now need more things

to do at home than ever before. The Dolly

Parton Imagination Library can help

preschool children cope with the "new

normal."

Dolly Parton's Imagination Library is

a book gifting program that mails free,

high-quality books to children from birth

until they begin school, no matter their

family's income. Dolly Parton was inspired

to start this program by her father's

inability to read and

write.

After launching

in 1995, the program

grew quickly.

At first, books were only distributed to

children living in the Tennessee county

where she grew up. So far, over 134 million

of these free books had been mailed to

children living in the United States, Canada,

United Kingdom, Australia and the

Republic of Ireland. Imagine the excitement

the currently-registered 1,551,000

children feel receiving these gifts.

Since 2012, the Ludlow Rotary has

made this Imagination Library program

a reality in Mt. Holly, Ludlow, Plymouth

and Cavendish. With the help of local

educators, a large proportion of children

residing in our area are now registered to

receive these books.

CHITTENDEN—The

Chittenden Public

Library is holding an

Inspirations of Spring

Photo Contest. Grab your

cameras and look for

Spring! We want to see

what Spring looks like

near your home. Literal,

humorous, beautiful or

ironic! We can't wait to

see what you come up

with. The Grand Prize

Register your child for

free books today.

The Imagination Library program

mails a new, age-appropriate book into

the homes of children every month.

Dolly's Imagination Library is designed

to inspire the love of reading in children

by spending time with family and friends

sharing these wonderful books together.

The signature book of the program, "The

Little Engine That Could," is recognized

by most parents. Dolly Parton understands

that reading is the key to a strong

education, and that a child's imagination

is the center of his or her dreams and

creativity. By combining the two, this

program inspires children to dream more,

learn more, care

more, and be more.

Registration

cards can be requested

from, and

mailed back to, the Ludlow Rotary, PO Box

216, Ludlow, VT 05149. The privacy of the

children is strictly honored. The books

are addressed and mailed directly to the

children, much to their delight. The mailings

start about six weeks after the date of

registration.

Researchers have concluded that children

that participate in this type of program

get a real boost in their performance

– doing much better in kindergarten and

throughout their academic career. We

think this investment in our children is

more than worth the cost.

For information visit ludlowrotary.

com.

Chittenden Public Library

holds spring photo contest

winner will receive a new

book of their choice.

This contest is open

to all abilities, from total

beginners to seasoned

photographers. Participants

must be 18 years or

older.

You may submit up to

3 "inspirations of spring"

photos by Friday, May 1.

Email your photo(s) as a

"jpeg" to Erin at chittendenpl@gmail.com

with

"Photo Contest" as subject.

Please include your

name, contact information,

where the photo

was taken and a brief

description, if applicable.

The Chittenden Public

Library is located at 223

Chittenden Road in

Chittenden. For more

information visit chittendenpubliclibrary.com.
---
The Mountain Times • April 29 - May 5, 2020 THE SILVER LINING • 19

The Vermont Community

Foundation gives millions

to vulnerable Vermonters

$10,000 was recently granted to VNA &

Hospice of the Southwest Region

The VNA & Hospice

of the Southwest Region

(VNAHSR) has received a

$10,000 grant from the VT

Covid-19 Response Fund

of the Vermont Community

Foundation. The grant

will be used to help the

agency adapt to the changing

realities of providing

home health care and hospice

during an epidemic.

"We are honored that

the Vermont Community

Foundation recognizes

the unique value and

position that home health

and hospice care provides

to our community," said

Ron Cioffi, RN, CEO of

the VNAHSR. "Our staff

is on the front lines of the

Covid-19 crisis providing

essential services to our

patients every day Gifts

like this from the Covid-19

Response Fund will help us

address the overwhelming

issues presented by caring

for communities in crisis."

Support from this grant

and other donations from

the community will be used

to help the agency meet the

ongoing needs of personal

protective equipment and

critical supplies to treat Covid

positive patients safely

and support virtual visits.

The Vermont Community

Foundation (VCF) has

established the VT Covid-19

Response Fund to support

nonprofits that are

particularly equipped to address

community impacts

of the spread of Covid-19 in

Vermont.

Working with state,

federal, municipal, public

health, and nonprofit

leadership, the Community

Foundation provides flexible

resources to nonprofits

working to address the most

immediate public health

and economic impacts of

the disease, focusing on

vulnerable populations and

the service providers that

support them.

There will be emergency

response, but there will also

be longer term recovery.

Philanthropy has a role to

play in both.

Grants will be made in

multiple phases on a rolling

basis, depending on the

fundraising dollars that are

received.

In Phase One, VCF

extended capacity and

support the infrastructure

of nonprofits positioned

to meet the basic human

needs of our most vulnerable

populations, specifically

elders, and families

compelled to stay at home

by illness, school, childcare

and work closures. This

ranged from visiting nurses

to Meals on Wheels, and

from food pantries to program

supports for socially

distanced and isolated individuals.

The Foundation

began distribution of Phase

One grants on March 25.

Phase Two is dependent

on state and federal support

that becomes available

and will focus primarily on

economic and social strategies

for those adversely

affected.

During the week of April

13, VCF distributed the

second round of grants

from both the VT Covid-19

Response Fund and the

Community Foundation's

own discretionary grants

budget, totaling $529,000.

Through these channels,

approximately $1.16 million

was distributed since

the Fund was established

on March 13. As of April 15,

donations to the VT Covid-19

Response Fund have

reached $3.2 million.

Community Foundation

grants have ranged

from $500 to $25,000 and

have been made directly to

organizations serving vulnerable

populations as well

as to partner organizations

that are making sub-grants

to their network members.

The second round of

grants focused on shelters

serving families and

domestic violence survivors,

food pantries and

food shelves, as well as

home health and visiting

nurse agencies. A small

number of grants have also

been made to organizations

working on language

translation, coordination

of community organizing

efforts, and training for end

of life counseling.

For more information,

visit VTCovid19repsonse.

org.

By Brian Tortora and Daniela Goncalves

Vermont Adaptive Charity Ride is a major annual fundraiser for the organization, this year it will be a virtual ride.

Vermont Adaptive Charity Ride goes virtual,

includes a live stream celebration June 20

U.S. Freestyle Ski Team members Hannah Soar and Alex Lewis on board to

ride 2,000 miles as a team with Killington Mountain School alumni

KILLINGTON— The 10th annual Vermont Adaptive

Charity Ride presented by Long Trail Brewing has

gone virtual this year due to the Covid-19 outbreak. The

event raises critical money for Vermont Adaptive Ski and

Sports' year-round adaptive sports programs, athletes

and adaptive sports equipment. It normally brings more

than 1,000 people to the Killington region in June each

year.

As part of this year's virtual event, U.S. Freestyle Ski

Team members Hannah Soar and Alex Lewis, plus three

more alumni from the Killington Mountain School, will

bike 100 miles this coming Saturday and collectively have

pledged to ride an overall goal of 2,000 miles by June

20 in an effort to raise funds and support

Vermont Adaptive's programs and mission.

"I am super excited to get involved with

Vermont Adaptive," said Soar, who grew

up skiing and training at Killington Resort.

"I found it amazing how many ways this

organization can help get people with

various disabilities out on the hill. Now

that I have some time off due to the

Coronavirus pandemic, I thought it would

be a great time to get involved and show my

support. My friends and I joined together to plan a 100-

mile bike ride in support of Vermont Adaptive for April 25,

we are super excited to support this amazing non-profit."

Now through June 20, participants are encouraged to

set a personal goal and then ride a road or mountain bike,

as well as walk, run, roll, join virtual exercise classes, ride

horseback ride or any other active event while still social

distancing. Weekly contests and prizes, plus fundraising

incentives are in place to help motivate and incentivize

participants to be active for an important cause. The goal

for 2020 is to raise $300,000.

"Vermont Adaptive serves a vulnerable population

that is stuck inside right now," said Jeff Alexander, director

of strategic partnerships and the director of the event.

"Our community will need us more than ever and will

need to get outside and play. We anticipate an increase

in programming demand due to the fact that our

participants and the people we serve may be isolated

and not outdoors. So, for those in a position to help, we

hope they will register for this year's Virtual Vermont

Adaptive Charity Ride. The support and fundraising

will help more than ever now as we prepare to return to

our important adaptive sports programs as soon as we

can."

To culminate the Virtual Vermont Adaptive Charity

Ride, event organizers will host a full day of Facebook

Live streamed music from local and regional artists,

raffles, adaptive athlete interviews, interactive activities,

and lots of prizes on Saturday, June 20, the date of

the original on-site event. Through participant fundraising

and dedicated sponsors, the event has grown

to be Vermont Adaptive's largest fundraising

event to support the organization's annual

operating budget, participant scholarships,

lessons, expensive adaptive equipment,

and more.

"We are happy to bring a new and

exciting way to celebrate the 10th annual

fundraising event while keeping

the community we love healthy and

safe, and continuing to raise the funds

critical to our adaptive sports programming,"

said Alexander. "We will be unable to join together

physically at Long Trail Brewery but we are determined

to celebrate this event with a cool virtual ride party on

June 20. We have lots of fun things planned, and the

road back to play starts now."

Traditionally, the event includes a large silent auction,

which also will be online this year and include

many items from local and regional businesses.

Registration is $40/person with a $150 minimum

fundraising requirement. Participants who raise $150

or more will receive a Participant Appreciation Package

with event tee, pint glass and more. This year, the

first 500 people to raise their minimum fundraising of

$150 also will receive a Killington Ticket Voucher valid

for one day of skiing or riding during the 2020-21 ski

season or one day of mountain biking during the 2020

summer season. (Not valid during peak dates and subject

to resort operating schedule.)

To learn more and to register, visit charityride.vermontadaptive.org.
---
Food Matters

20 • The Mountain Times • April 29 - May 5, 2020

MEALS TO GO-GO

TAKE OUT

& DELIVERY

11AM - 10PM DAILY

Mid-way up

Killington Access Rd.

vermontsushi.com

802.422.4241

Open Wed.-Sun.

2 - 8 p.m.

This

Week's

Specials

Wednesday

2 for 1 Burger

Night

Thursday

20% off Night

Add a craft beer to

your order for $2.50

Friday

Fish n' Chips

Special Night

Saturday

Casey's Special

Steak Dinner

$25

with baked potato and

vegetable

New York Sirloin /

Filet Mignon / Grilled

Marinated Flank Steak

Sunday

Pasta Night

Our award winning Mac

n' Cheese, Lobster

or Shrimp or Chicken

Parmesan

or Pork Belly

Mac n' Cheese

And yes you can get Casey's

Amazing burgers / Draft Take-out Beer

Take-Out Plow Car Smash

any night Wednesday thru Sunday.

Courtesy of VTF&W

Danielle McAree with a nice 29 ½-inch walleye she caught last year while trolling off South Hero in Lake Champlain.

Vermont walleye fishing season opens

RUTLAND

CO-OP

grocery

I

household goods

77 Wales St

produce

health and beauty

The Vermont walleye fishing season will open on

Saturday, May 2, marking the return of some of the best

walleye fishing in New England.

Revered by many as one of the best tasting fish in

freshwater, the walleye is Vermont's official warm-water

fish. Excellent spring walleye fishing opportunities are

available in several lakes and rivers across the state,

including Lake Champlain and its tributaries – the Missisquoi,

Lamoille and Winooski rivers and Otter Creek. In

the Northeast Kingdom, Salem Lake and Island Pond

also have walleye populations that are on the rebound

thanks to stocking by the Vermont Fish and Wildlife

Department.

A trio of additional waters – Lake Carmi, Chittenden

Reservoir and the Connecticut River, also offer quality

walleye fishing.

Veteran walleye anglers employ a variety of techniques,

but one of the simplest and most effective

methods is to slowly troll a nightcrawler harness near the

bottom. Most nightcrawler harnesses include a rotating

blade ahead of two hooks, where the worm is secured.

The blade produces a fish-attracting flash and vibration.

Shore-based anglers can catch walleyes on nightcrawlers

or live minnows or by casting crankbaits or hard jerk

baits. Walleyes are generally more active at night, so fishing

in the dark is often more effective.

As a reminder to anglers, there is no open season on

sauger, a close cousin to the walleye. Once abundant

in southern Lake Champlain, sauger still appear there

rarely. If caught while fishing for other fish, sauger must

be immediately released.

Anglers can read about current fishing regulations in

the 2020 Vermont fishing guide and regulations, available

free from Vermont license agents. To purchase a

fishing license or learn more about fishing in Vermont,

visit vtfishandwildlife.com.

Vermonters are encouraged to get outside to enjoy

fishing provided they can do so while meeting social distancing

and other guidelines. In addition, to the greatest

extent possible, outdoor activities should take place as

close to home as possible to minimize travel and potential

risk of exposure to Covid-19. Please use good judgement

to keep yourself and others safe and reduce the

spread of the coronavirus. For information about staying

safe while enjoying outdoor activities, check vtfishandwildlife.com/outdoor-recreation-and-covid-19.

Mountain View Bison

238 Stratton Road

No. Clarendon, VT 05759

Tom Hubbard, owner

PH: 802.342.0429

Email: thubb12@gmail.com

Mountain View Bison

RAISED AND HARVESTED IN RUTLAND, VERMONT
---
The Mountain Times • April 29 - May 5, 2020 • 21

Vermont Arts Council, Vermont

Humanities to aid arts and humanities

organizations with Covid-19 relief

Arts and humanities organizations

in Vermont facing hardship

due to the Covid-19 pandemic can

now apply for emergency relief

funding through a new partnership

between the Vermont Arts Council

and Vermont Humanities.

The new Covid-19 Cultural Relief

Grant Program is seeded

with more than $700,000

from the National

Endowment for the Arts

(NEA) and the National

Endowment for the Humanities

(NEH) through the Coronavirus

Aid, Relief, and Economic

Security (CARES) Act of 2020.

Grant awards are based on organization

size:

• Annual operating budgets of

up to $200,000: $5,000.

• Annual operating budgets

between $200,000 and

$750,000: $7,500

• Annual operating budget

By Gerrie Russell

A group of Killington seniors missing their Sunday

champagne brunches held one anyway Covid-19

style. Wearing masks, standing six feet apart, Judy

Evans, Jean Carvil, Kay Johnson and Gerrie Russell

enjoyed champagne, oranges, apples, cheese, crackers

and dip outside on the deck. Even the threat of a

winter weather advisory didn't cancel the event or

dampen their spirits. Lesson learned....where there's

a will, there's a way.

larger than $750,000: $10,000

Awards may be made by the

Vermont Arts Council, Vermont

Humanities, or both. The grants do

not require a match.

Applications will be evaluated

based on demonstrated need rather

than on a polished application. A

Vermont's arts and culture sector

provides more than 40,000 jobs annually

and comprises 9.3% of all employment.

diverse range of organizations of

different disciplines, geographic

locations, and backgrounds are

encouraged to apply.

The CARES Act funding to the

NEA and NEH was secured through

the leadership efforts of Senator

Patrick Leahy and Congressman

Peter Welch.

"Our congressional delegation

is a great champion for Vermont's

creative economy and cultural

landscape," said Vermont Humanities

Executive Director Christopher

Kaufman Ilstrup. "They know that

Vermont's artists and cultural workers

are deeply embedded in and

essential to our state's fabric. We are

proud to be working with them to

help Vermont's cultural

sector weather this

storm."

Vermont's arts and

culture sector provides

more than 40,000 jobs

annually and comprises 9.3% of all

employment in Vermont, higher

than the national average.

Applications will be accepted until

May 31 or until all available funds

have been distributed. The application

takes about 30 minutes.

For more information visit vermontartscouncil.org/culturalrelief

or vermonthumanities.org/

c19-grants.

Killington to host third grocery giveaway

Tuesday, May 5, 3-7 p.m.—KILLINGTON—The Killington community will be hosting

its third grocery giveaway. The Town of Killington, Killington Resort, and Castleton

University's School of Resort Management, will host a grocery giveaway on Tuesday,

May 5, from 3-7 p.m. at Castleton Lodge, at 63 Weathervane Drive.

Killington Select Board member Jim Haff said, "Because of the relationships the

Resort has built with local farmers, we are able to purchase two to three times the food

we would on our own. Plus, they are working with local farmers to help alleviate their

surplus." The value per bag was well over $100, Haff said.

All residents and employees local to the Killington area are welcome.

Senior solutions: enjoying a champaign brunch

By Polly Mikula

Vermont

Gift Shop

(802) 773-2738

Breakfast • Lunch • Dinner

LARGEST SELECTION OF ICE CREAM TREATS!

GIFT CERTIFICATES AVAILABLE!

Celebrating our 74th year!

Open Daily 6:30 a.m.

GROCERY

MEATS AND SEAFOOD

beer and wine

DELICATESSEN

BAKERY PIZZA CATERING

OPEN 7 DAYS A WEEK

7 a.m. - 7 p.m.

2023 KILLINGTON ROAD

802-422-7736

WE'RE HERE

TO HELP!

ALL

STOCKED

UP!

Daily Specials & new "Dinners to Go"

posted on @KillingtonMarket

& our website. Order by 2 p.m.

Call Deli 802-422-7594

Any special requests are always welcome.

www.killingtonmarket.com

Specials

Daily

ATM

Take-Out Convenience:

Breakfast, Lunch & Dinners TO GO

Flowers

are everyday

occasions!

200 Main St.

Poultney

802.287.4094

Delivery Available

Arrangement by

Emily Stockwell

Wedding Flowers ♦ House Plants

Secure 24-hour ordering online:

everydayflowersvt.com

By Gerrie Russell

Judy Evans, Jean Carvil, Kay Johnson and Gerrie Russell

toasting at their Sunday champagne brunch.

By Gerrie Russell

Champagne, oranges, apples, cheese, crackers and dip

outside on the deck
---
22 • PETS

The Mountain Times • April 29 - May 5, 2020

Redeemable bottles and

cans help the animals!

Did you know that you

can drop off your redeemable

bottles and cans at

the Rutland County

Humane Society

(RCHS) and help the

animals? Thanks

to generous folks

in our community,

we have a

dry and secure

shed for supporters

to drop

off redeemable

bottles and

cans. GE volunteers

and four

handy RCHS

volunteers

made it a reality

for us. The shed

is located at the

CANDACE

back of the shelter on Stevens

Road in Pittsford. If

it's more convenient you

can drop the bottles

and cans at Green

Mountain Bottle

Redemption in

the Howe Center

in Rutland. Just

let them know

they're for

RCHS! Those

nickels all add

up so please

drop off your

redeemables!

If you have any

questions please

call RCHS at

483-6700. The

animals say

"thanks."

I'm a 3-year-old spayed female. I came to Lucy

Mackenzie after I was found outside living with many

other cats. I promise it will be in the most cutest and

adorable way possible! So, if you think I sound like

someone you'd like in your life, then why not make an

appointment to meet me today? Who knows, I may just

be the cat for you!

This pet is available for adoption at

Lucy Mackenzie Humane Society

4832 VT-44, Windsor, VT • (802) 484-5829

*(By appointment only at this time.) Tues. - Sat. 12-4p.m.

& Thurs. 12-7p.m. • lucymac.org

>

Harrison: Legislative review of bills passed through virtual sessions in the House

from page 7

Agriculture.

The Vermont Occupational Safety and Health

Agency (VOSHA) has developed training and other

materials to inform Vermonters on appropriate

safety measures necessary to return to work amid the

Covid-19 pandemic. All businesses and non-profit

and government entities in operation must complete

and document mandatory health and safety training

by May 4, 2020. Training materials can be found by

visiting labor.vermont.gov/VOSHA.

After several weeks of committees meeting via

Zoom, the full House met and voted remotely last

week to advance some Covid related bills. Bills

approved included H.340, which allows the Treasurer

to borrow from

various state

funds to pay bills

during the Covid

emergency; S.114,

which contains

several judicial

related measures,

including allowing

defendants to appear in court remotely; and S.341,

the sharing of tax information with the Dept of Labor

to verify income for the new self-employed assistance

program.

Extra pay to essential workers

Senate committees have been crafting a bill to

provide extra pay to essential workers, utilizing some

of Vermont's federal Covid funds. The program,

promoted by Senate leader (and candidate for

lieut. governor), Tim Ashe, would provide monthly

payments to those earning less than $25/hour.

Payments could equal $1,000 to those working over

108 hours per month and $600 to those who work

between 34 and 108 hours per month. The estimated

price tag for the three monthly grants is $90 million.

Defining who is covered could become a major

sticking point. Farm workers, while essential, are not

included. Volunteers helping out at Meals on Wheels

or at the hospital, may not be covered. A number

of private employers have provided temporary

premiums in pay to certain employees who must work

during the pandemic. The Senate proposal would be

in addition.

VSC

What to do about the financial woes of the Vermont

State Colleges remains an open question. Following

widespread criticism, Chancellor Spaulding withdrew

his proposal to shut down three of the campuses after

projections indicated VSC would run out of money

in the coming months. Legislators are looking at the

possible use of bridge funding for VSC with federal

>

All businesses and non-profit and

government entities in operation must

complete and document mandatory health

and safety training by May 4, 2020.

Covid funds, but longer term plans may prove elusive.

Auto premiums returned

The Department of Financial Regulation (DFR)

announced that more than 40 auto insurance

companies have filed plans to return premiums or

reduce their rates for Vermont policyholders due to

decreased driving during the pandemic. The companies

account for about 90% of the auto policies in Vermont.

At this time, most relief will be in the range of 15-20%

for a period of two or three months. Overall savings are

close to $15 million.

DFR also announced Vermont would be part of

a multi-state initiative to secure student loan relief

options for thousands of Vermonters with privately

held student loans.

Borrowers in need

of assistance,

including VSAC

borrowers, should

immediately

contact their

student loan

servicer or lender to

identify the options appropriate to their circumstances.

PUA program for self-employed

The long awaited Pandemic Unemployment

Assistance Program for self-employed was launched

in Vermont late last week. However, issues on getting

claims processed remain. The federally funded

assistance is for independent contractors and other

self-employed who do not contribute or qualify for

traditional unemployment insurance program for

employees. As of last Friday morning, nearly 6,000 had

already filed claims for the PUA.

If approved for PUA, claimants must continue to

file weekly claims for each week they are unemployed

and wish to receive benefits. Failure to do so will result

in delayed payment. Eligible PUA claimants will be

able to file and receive past benefits, dating back to the

week of March 15, 2020. Weekly benefit amounts will be

determined by 2019 earnings. More information can be

found at: labor.vermont.gov.

Support local news

In closing, let's remember that during this

unprecedented time of business closures, please

consider supporting our media outlets, such as our free

weekly papers like the Mountain Times, mountaintimes.

info, or online publications like VTDigger.com and

Front Porch Forum. All have seen significant declines in

advertising revenue due to closings. We all depend on

them for sharing news and information.

Jim Harrison is a state representative for Bridgewater,

Chittenden, Killington and Mendon. He can be reached at

JHarrison@leg.state.vt.us.

Concessi: Finance guru to leave WCSU school district July 1 after 10 months on the job

from page 3

will make accounting during the year, and auditing fronted with WCSU cash for Barnard and WCUSD,

at the end, much easier. Previously there were three collecting $115,000 in overdue tuition due from other

budgets to reconcile – Barnard Academy, the old

districts, identifying $500,000 in unaccounted revenue,

umbrella organization WCSU, and the WCUSD

"clawing back" from the Agency of Education $340,000

consolidated budgets.

in erroneously paid education taxes, and harvesting

Knowing exactly where it all stands financially on $50,000 in overlooked grant opportunities helped

July 1, when the new year begins, is crucial for the new Concessi and his crew mitigate a feared worst-case

district. Accomplishing that goal and making corrections deficit of as much as $900,000 going into FY2020, he

and adjustments, Concessi said, has taken his "team" said.

months of research, journal entries and reconciliations. Ironically, reduced expenses due to closing the

"My right hand gals – Julie Stevens/accounts payable, schools in response to the pandemic will help keep

and Jane Flynn/accounting and grants manager, were FY2020 from ending in the red.

completely dedicated to this cause," he said. "Honorable According to an email "Update" from the district

mention should also go to Sarah Walker and Linda office, "The hiring process for a new director is

Loprete, Joe Rigoli, Gretchen Czaja, Rayna Bishop and underway. The Finance Committee, Central Office

the entire [special education] team – Sherry Sousa, Shelly leadership, direct reports, and the full WCSU Board will

Parker and Kelly Keough."

all be part of the process of selecting the next person to

Re-allocation of $1 million in medical expenses take on [Concessi's] critical role."
---
The Mountain Times • April 29 - May 5, 2020 MOTHER OF THE SKYE • 23

Aries

March 21 - April 20

At a certain point you are going to say,

"Enough of this." How long will it

take? I can't tell you, but you know as well

as I do that you don't want to get stuck here.

For the next few weeks, instead of talking

about it, it would be good if you could start

moving in a new direction. You've gotten

too comfortable; there's no external pressure,

and no one to give you a kick in the

butt. It's hard to say this, but your fire's

gone out. For someone who feels better

about everything when there's a new frontier

to cover, it's time to pick yourself up

and figure out what it will take to get going.

Leo

July 21 - August 20

From what I can see your current situation

is one of those Karmic tests, in

which you get to find out what's real and

what isn't. If this feels like a dream come

true, before too long, changes in the way

people behave will start to ring up the need

to see things for what they are, instead of

seeing what you want to see. As you wipe

the dew off your rose colored glasses you

will become aware of the fact that others

are only OK with you and your stuff as

long as you adhere to certain guidelines.

The minute you start being true to yourself,

their tune could change in a heartbeat.

Copyright - Cal Garrison: 2020: ©

Sagittarius

November 21 - December 20

Stop barking up the wrong tree. You

keep shooting for something that you

believe matters more than anything. It's

time to back off and look at what it gets

you. This is surfacing in your work, and in

your relationships. In your case it is really

important to steer clear of people and situations

in which your energy gets overridden

by lesser beings. At a crossroads, what I see

is that it's time to get off the treadmill and

actualize your truer gifts. Don't get stuck

on "Showcase #1." Let's hope you know

better because what's behind the curtain

holds the key to a whole new ballgame.

The rise of

short tempers

This week's Horoscopes are coming out under the

light of a Gemini Moon that will turn Void-of-Course

then enter Cancer.

The business of being in quarantine has been a

mixed bag for me. I have definitely enjoyed the peace

and quiet and the long afternoon naps in the sun, but

I noticed that I wasn't as "Namaste" as I thought I was,

when I was out doing errands a couple of days ago. A

woman went into a fit of road rage because I pulled out

in front of her with about 200 yards to spare. It's not my

style to let things like this get to me, but when she started

Horoscopes > 30

Taurus

April 21 - May 20

Sometimes things are too tangled up to

see clearly. With too much running at

cross purposes, and not enough time away

from the treadmill to make sense of it all,

you've got more than your share of confusion.

Part of you wonders, "Why me?" In

the same breath you shove that question

under the rug, because the deeper part of

you wants to be on top of it. This is one of

those times when part of the cure involves

accepting the fact that you are at a total loss.

Reaching out for help is never a bad idea,

but when things get like this, it's an inside

job, and the answers lie within.

Gemini

May 21 - June 20

No matter what you do it seems like

people just don't get it. The lines of

communication are down and whoever's

on the other end is on a completely different

bandwidth. Getting through to them

isn't in the cards at the moment. Agreeing

to disagree, and figuring out how to co-exist

with close others who can't meet you in

the middle, brings up so many questions. Is

it possible to remain close to people whose

world view is diametrically opposed to

yours? Situations like this call for a good

sense of humor and the ability to focus on

what you do have in common.

Virgo

August 21 - September 20

The feeling that you're stranded between

the past and whatever the future holds

is huge. Your deepest fear could be that

you'll remain in this state forever. This

could be what happens right before the butterfly

emerges from the cocoon, but who

knows? What if this is it? What if it stays

this way till Hell freezes over? At times like

this keeping it simple is where it's at. Tell

the Nazi in your head to pipe down, and

keep worry and fear at bay. The Zen Masters

have a lot to teach us when life gets like

this; chop wood, carry water, and patiently

wait on the will of Heaven.

Libra

September 21 - October 20

Learning how to let go of what you think

matters more than anything is a trick

that few of us are able to master until we're

old enough to know how to get around it.

You're in a situation that looks like you'd

be better off giving it up. The idea that you

need anything this badly is a sure sign that

you don't. It's hard to believe that in the act

of releasing our attachments we begin to

connect with what's real. If this is meant to

endure it will continue. No attempt to force

things to go your way will go as far as the

ability give it all up to whatever is in everyone's

highest good.

Capricorn

December 21 - January 20

Amen, Hail Mary, and thank God; you

are free at last! New directions? Yours

have not arrived yet, but the latest clue to

whatever that's about is waiting under the

light of the next Full Moon. Keep your

eyes open and your attention centered on

the present. This is no time to be dwelling

on the past, or obsessing about the future.

Your sense of safety and security is in your

hands, and it is in this moment that you are

birthing whatever the future holds. Getting

on the ball plays a part in this. Yes, work is

where it's at, but joy is the operative word.

Make sure you include it in your efforts.

Aquarius

January 21 - February 20

The back-to-the-wall syndrome could be

playing out on a lot of different levels

for you guys. Some of you are working

your tail off; others are being pressured by

less physical forces. The image of being

boxed in by demands is being softened by

aspects that make it easier for you to take

them on. As the month unfolds you need to

focus on staying centered. There's so much

that could take you off course or challenge

your sense of confidence that you've got to

find an anchor or the switch to the internal

mechanism that reinforces the sense that

you can do it all.

133 East Mountain Road, Killington, VT • trailswithinpilates.com

Karen Dalury

3744 River Rd. Killington, VT

802-770-4101

KillingtonYoga.com

@KillingtonYoga

Live classes via Zoom.

Online Schedule for next

week, starting April 6.

Monday 8:15 - 9:15 am Vinyasa

Tuesday 5:30 - 6:30 pm Basics

Thursday 5:00 - 6:00 pm Vinyasa

Friday 10:00 - 11:00 am Basics

Healing at Heart

Programs & Services:

• Habit Change Coaching

• Individual and Group

• Clear the Kitchen

• On Your Trail

Cancer

June 21 - July 20

One step forward, two steps back is

what it feels like. If you're impatient

keep in mind that nothing goes in a straight

line. These delays give you a chance to

fine tune whatever's getting a move on. In

some cases, money's a bit of a problem,

but, you've been here before and you know

what to do. Part of what's being tested right

now is whether you're willing to pour your

heart and soul into things even when the

financial rewards are slim. Slight setbacks

with others have to do with not seeing eyeto-eye.

Getting around that issue is no big

deal; don't make it into one.

Scorpio

October 21 - November 20

The call to get involved with people and

things that appear to be right up your

alley could be a mistake. I understand why

you might want to do this, but sometimes,

"safety in numbers" and "two heads are

better than one" doesn't apply. Past experiences

should be enough to remind you

that you're better off relying on yourself at

times like this. Think it over carefully. And

while you're at it look at side issues that involve

the need to bring projects that you've

already started up to speed. Multiplying

your options won't bring the desired result.

Get yourself back to center.

Pisces

February 21 - March 20

The stuff you're wading through now is

what's left of things that never got settled.

Between the remnants of whatever got

glossed over, and problems with knowing

who to trust, you're learning some hard lessons

in what happens when we stop paying

attention. Your situation could use heavier

doses of truth and a little more soul searching

on the part of those who keep telling

you one thing and doing something else.

You've got a huge story on your hands.

Waking up to the reality of what it's all

about is bound to get even more intense

before it makes you stronger.

Susan Mandel • Certified Health Coach • 802.353.9609

healingatheart.com • fab50healthcoach@gmail.com

RUTLAND'S PREMIERE

YOGA & PILATES STUDIO

Mother of the Skye

Mother of the Skye has 40 years of experience as an astrologer and tarot consultant. She may be reached by email to cal.garrison@gmail.com

22 WALES STREET, RUTLAND, VERMONT

Go online to see our full schedule:

@trueyogavt

trueyogavermont.com
---
Columns

24 • The Mountain Times • April 29 - May 5, 2020

Animal tails and the tales they tell

By Michael J. Caduto

Anyone who has shared a home with a dog or a

cat has learned something about the silent language

of tails. Wild and domesticated animals

may use tails for everything from communication

to courtship,

balance to

locomotion,

and defense to

swatting flies.

Tails can range

from short to

long and be furry,

The Outside

Story

By Olivia Box

feathered, or naked.

A dog's easy tail

wag expresses friendliness,

while a tucked tail

shows subservience. Fear

or aggression is a tail curled

Let the rain kiss you.

Let the rain beat upon your head with

silver liquid drops.

Let the rain sing you a lullaby.

- Langston Hughes

The rain would announce its arrival by the

pitter patter of drops on the roof. A random

drop here and there until they would find

their rhythm. Sometimes it would just be

a gentle shower, and you could still hear

the baseball game coming through over

the radio. Other times, it would become so

deafeningly loud and dominating that it

would block the airwaves, turning the game

to static. The two sounds would battle each

Playing in the rain

Livin' the

Dream

By Merisa

Sherman

down. A high and tense tail signals alpha status; best to

"high-tail it out of there." On the other hand, a cat says

hello by holding its tail straight up. A tail of fear is puffed

up and held erect (think Halloween cat). Sleeping cats

move their tails when dreaming. A friendly cat rubbing

against your leg is using scent from glands at the base

of its tail to mark you as its property. Most owners can

relate to this typical cattitude.

Wild felids (like bobcats and lynx), and canids (like

foxes and coyotes), also have scent glands on the upper

surface of their tails. The same muscles that cause fur to

stand erect squeeze an odoriferous protein compound

onto the surface of the skin. Animals use this scent to

communicate information from territory boundaries

to readiness to mate. These glands are the source, for

example, of the musky odor red and gray foxes leave in

the woods during mating season.

Many other animals use their tails to communicate

in other ways. Everyone knows to run when a skunk

raises its tail to warn of an impending spray, and that a

rattlesnake's ominous tail rattle portends a venomous

bite. Foxes and white-tailed deer use their tails to signal

danger; a deer's brown tail flashes its white underside as

an alert. Beavers announce a threat with a loud tail slap

on the water's surface – and they store fat reserves in

their tails for winter.

Other tails serve functions beyond communication,

too. A raccoon's banding acts as camouflage by breaking

up the long visual profile of its tail. The long, bushy tails

of foxes and gray squirrels enable these winter-active

critters to curl up and wrap themselves in a cozy, insulating

blanket. Chipmunks, however,

sleep most of the winter in a state of

torpor, hiding deep in their burrows

10 to 30 feet below ground.

Their cute, 3- to 5-inch tails

are not luxuriantly furred

and don't play a crucial

role as insulation.

Some tails serve as

a kind of fifth limb.

Foxes use their tails

for balance when

running and as

a counterbalance

when pouncing on

prey. Whales, otters, and

fish undulate their tails

for propulsion. Prehensile

tails, such as those found on

monkeys, opossums, and pangolins (scaly relatives of

anteaters), enable animals to grasp branches and hang

from trees. The opossum's tail may be naked and rough

so that it can get a good grip.

Lacking a tail appendage, birds employ tail feathers

for everything from aerial maneuvering to elaborate

courtship rituals, such as the luxuriant fantail display of

the wild turkey. The extra stiff tail feathers of woodpeckers

act as a prop that keeps them upright when perched

vertically on a tree trunk.

Although we humans have lost our tails, the coccyx

– or "tailbone" – remains. A vestigial tail at the end of

our spine, the coccyx is composed of three to five fused

vertebrae and helps us to stay upright when seated.

But why are the tails of some wild animals, such as the

bobcat and lynx, barely there? Scientists postulate that

ancestral bobcats experienced a genetic anomaly during

evolution that persisted through time, even though

it didn't hold any particular survival value. Or perhaps

this solitary predator simply doesn't need a long tail for

nuanced communication.

Tails reveal something of the inner worlds of animals,

and yet much about their furry flicks and silent sinuosity

remains shrouded in mystery.

Michael J. Caduto is an author, ecologist, and storyteller

who lives in Reading, Vermont. The illustration for this

column was drawn by Adelaide Tyrol. The Outside Story

is assigned and edited by Northern Woodlands magazine

and sponsored by the Wellborn Ecology Fund of New

Hampshire Charitable Foundation: nhcf.org.

other until finally my dad would admit defeat, turn off

the game and head over to his stack of books.

He would grab his glasses and the newest

dragon novel, probably something by Anne

McCafferty that he would have finished by

the end of the storm.

I would climb up the ladder into my lofted

bedroom, a hidden escape built into the trellis

by my dad. It was more of a crawl space,

with a mattress on the floor over a carpet

remnant and all my childhood books and

memories stacked everywhere in between

the open studs. You couldn't stand up, in fact,

I loved to let my feet rest on the rafters while

I was lying in bed — a true version of dancing

on the ceiling. But when it rained, I was

Livin' the dream > 25

Your definition of

risk changes in

retirement

During your accumulation years, you may have categorized

your risk as "conservative," "moderate," or "aggressive"

and that guided how your portfolio was built.

Maybe you concerned yourself with finding the "bestperforming

funds," even though

you knew past performance does

not guarantee future results.

What occurs with many retirees

is a change in mindset—it's

less about finding the "best-performing

fund" and more about

consistent performance. It may

Money

Matters

By Kevin Theissen

be less about a risk continuum—

that stretches from conservative

to aggressive—and more about

balancing the objectives of maximizing

your income and sustaining

it for a lifetime.

You may even find yourself willing to forego return

potential for steady income.

A change in your mindset may drive changes in

how you shape your portfolio and the investments you

choose to fill it.

Let's examine how this might look at an individual

level.

Still believe

During your working years, you understood the shortterm

volatility of the stock market but accepted it for its

growth potential over longer time periods. You're now in

retirement and still believe in that concept. In fact, you

know stocks remain important to your financial strategy

over a 30-year or more retirement period.

But you've also come to understand that withdrawals

from your investment portfolio have the potential to

accelerate the depletion of your assets when investment

values are declining. How you define your risk tolerance

may not have changed, but you understand the new risks

A change in your mindset may

drive changes in how you shape

your portfolio

introduced by retirement. Consequently, it's not so much

about managing your exposure to stocks, but considering

new strategies that adapt to this new landscape.

Shift the risk?

For instance, it may mean that you hold more cash

than you ever did when you were earning a paycheck. It

also may mean that you may be suggested to buy investment

products that shift the risk of market uncertainty to

another party, such as an insurance company. Salespeople

often pitch annuities to retirees for just that reason.

However, buyer beware!

The guarantees of an annuity contract depend on

the issuing company's claims-paying ability. Annuities

have contract limitations, high fees, and charges,

including account and administrative fees, underlying

investment management fees, mortality and expense

fees, and charges for optional benefits. Most annuities

have surrender fees that are usually highest if you take

out the money in the initial years of the annuity contract.

Withdrawals and income payments are taxed as ordinary

income. If a withdrawal is made prior to age 59½, a 10%

federal income tax penalty may apply (unless an exception

applies).

The march of time affords us ever-changing perspectives

on life, and that is never more true than during

retirement.

Kevin Theissen is the owner of HWC Financial in

Ludlow.
---
The Mountain Times • April 29 - May 5, 2020 COLUMNS • 25

Nearly 10 years ago, in September of 2011, I wrote a

review for the film "Contagion," which is highlighted below.

The film was an interesting composite of what might happen

during a modern-day pandemic. I remember enjoying

the film and also appreciating how realistic the plot seemed

even though I believed the scenario to be highly unlikely.

Last week, I watched the film again (for obvious reasons).

After it was over, I dug out my old

review and read through it. I was

struck by how forward thinking my

germ concerns really were (I just

wished I had purchased some of

the stock I mentioned). Here's an

excerpt:

No one likes to get sick, but I

really don't like to get sick. In fact,

The Movie

Diary

By Dom Cioffi

Down with disease

I despise sickness so much that

when I do come down with an

illness, I spend most of my time ruminating

on where I contracted it.

No sooner do I feel the tickle of

a sore throat or the swelling of my

nasal passages than I begin to backtrack in my mind. Did I

pick up a stray virus when I shook hands with that guy at the

basketball game? Did I inadvertently touch an infected keyboard

when I visited the library? Wasn't the woman at the

check-out counter coughing when I was buying groceries?

I may come up with 15 or 20 possibilities before I finally

narrow it down to a prime suspect. And then, when I've got

someone in my crosshairs, I spend countless hours berating

them in my mind for not practicing good social hygiene

(and God forbid it's a family member or close friend because

then I actually hit them with the accusation).

My wife often ends up dealing with the brunt of this lowlevel

dementia. Not only does she have to deal with a sick

husband, but she also has to listen to my endless diatribes

about who infected me and how the transfer of viral pathogens

took place.

"Just accept that you're sick and deal with it," she usually

berates me in frustration.

But I can't seem to do it. I can't seem to stop analyzing

the scenarios. In my mind, I always feel that if I gain an immense

backlog of knowledge, I can protect myself against

future infections.

And just when I think I've got it figured out, just when I

think I have a defense system in place that will protect me

against a future viral invasion, Bam! I'm sick again.

This problem came to the forefront several years when

I contracted the mother of all "common" colds. I had it all:

headache, dizziness, stomachache – you name the pain

and I was experiencing it. Things got so bad at one point

that I actually told my wife that I needed to go the emergency

room (something I had never done).

While lying in my hospital

bed, writhing in pain, I vowed

to do whatever I had to in order

to avoid this happening again.

In other words, I was prepared

to live inside a plastic bubble

if it meant staying healthy and

avoiding the pain associated

with sickness.

This ordeal also happened to coincide with the birth of

my son, which only compounded my phobias. Now, anyone

who came within close proximity of my child also faced

a verbal tongue lashing about sanitary practices.

I put hand sanitizer in every corner of my house, in my

office, and in our cars. Hell, I would have bathed in the stuff

if they sold it in vat quantities. And I'm not ashamed to

admit that I even researched Purell on the internet with the

intent of buying their stock if available.

I even went so far as to stop touching my face with my

hands, opting instead to use my shoulder or stray knuckle.

I literally came up with countless ways to open doors without

ever touching the knobs or handles.

I was prepared to live inside

a plastic bubble if it meant

staying healthy and avoiding the

pain associated with sickness.

And then guess what happened? I got sick and so did my

son. In fact, every time he picked up something, I usually

had it within a few days.

But what really got me was that my wife never got sick.

Here's a woman that grabs every doorknob in sight and

picks lettuce out of her teeth after dragging her hand down

a public railing. We live in the same house, eat the same

food, engage in the same extracurricular activities and she

never acquires an illness. And I mean, never.

There was only one big difference in our lifestyles: she

was a runner and I wasn't. And while that didn't seem like

an Achilles heel to me, I was willing to give it a shot.

So, I started running. At first it was a mile or two and then

it worked up into four or five. Before I knew it, I was running

races and clocking my times and distances.

And wouldn't you know it… I stopped getting sick.

Seriously, I haven't had anything other than a sniffle in

years. Maybe it's luck or maybe exhaustive exercise actually

heightens your immune system. Whatever the case, I'm

sticking with it in case the big pandemic ever arrives.

Of course, my worst fears were realized this past week

when I went to review "Contagion," the film from Steven

Soderbergh that imagines modern day society in the throes

of a pandemic. "Contagion" hosts a slew of familiar faces

including Gwyneth Paltrow,

Matt Damon and Laurence

Fishburne. The story is about

the determination of Patient

Zero – the first individual infected

with a highly contagious

disease – and the subsequent

outbreak that circles the globe.

Hollywood loves a good outbreak movie, having many

successes over the years with films like "28 Days Later,"

"The Happening," "Quarantine," and "The Andromeda

Strain."

"Contagion" is a viable addition to this genre in that its

realistic approach lends itself to immense believability.

There are no aliens or devious scientists, just nature working

its way through the world with catastrophic results.

Check this one out if you're in the mood to see the world

go on a viral lockdown. You won't walk out in awe, but you

will have enjoyed questioning how you might react in a

similar situation. An infectious "B" for "Contagion."

Got a question or comment for Dom? You can email him

at moviediary@att.net.

>

Livin' the dream: Rain dancing

from page 24

so close to the apex of the roof that I felt as if the rain was

surrounding me on all sides, almost like I was part of the

rain rather than hiding from it. I would hunker down

with my teddy bear and let the rain sing me to sleep.

As I got just a bit older, the rain became a playground.

Or rather, it could make anything into a playground. One

year, there was so much rain that the local baseball field

flooded and a bunch of kids went swimming around the

bases in our clothes. Our little bellies might have been

rubbing against the grass in the outfield as we swam for

the ball, but there was just enough rain for a group of

10-year-olds to make memories that would last a lifetime.

In my mind, we were in that flooded field for hours,

laughing and finding new and creative ways to explore.

Should we get our fishing poles or have swimming races?

Rain is fun and meant to be played in. Not just the dainty

splash of a stolen jump into a puddle while your parents

weren't looking but a full on embrace of the mud like a

happy dog off its leash.

Even now, a good rainstorm lures me outside to play. I

might even be heard to say I prefer skiing on waterlogged

cream cheese in the rain to a bluebird day that's 25

degrees and perfectly groomed. A friend recently shared

a facebook photo of a group of us, all standing in our rain

gear at the bottom of the Superstar Quad many Aprils

ago. It was the only lift running ... and we were the only

ones there. Like I always do, I am belting out Gene Kelly's

signature song at the top of my lungs with one lyric

change because I am SKIING in the rain. My goggles are

merely a fashion accessory and my smile is so big that I

am drinking the rain directly from the sky as I tilt my face

upward. I am a kid again, playing on that ball field, dancing

down the ski trail without a care in the world.

"We can wear our ski pants!"a girlfriend of mine just

texted, in a completely unnecessary attempt to convince

me to go for a walk in the pouring rain this afternoon. I've

been waiting for her text.

Please call or

check us out

online for this

week's movie

offerings.

Movie Hotline: 877-789-6684

WWW.FLAGSHIPCINEMAS.COM

By Tricia Noelle
---
26 • The Mountain Times • April 29 - May 5, 2020

Electric fencing offers protection against chicken predation

"We have had a dramatic increase this

spring in the number of complaints

about bears, foxes, raccoons, fisher,

coyotes, skunks, and bobcats preying

on chickens," said Batchelder.

Keeping a small flock of chickens at

home to provide eggs and meat has become

increasingly popular as people stay home

during the pandemic, but many first-time

small-scale poultry farmers are discovering

that several species of wildlife like the taste

of chicken as much as we do.

The Vermont Fish and Wildlife Department

urges poultry owners to use electric

fencing and follow other precautions to

protect their birds from predation.

"We have had a dramatic increase this

spring in the number of complaints about

bears, foxes, raccoons, fisher, coyotes,

skunks, and bobcats preying on chickens,"

said Col. Jason Batchelder, Vermont's chief

game warden. "Many of the calls are coming

from people who are new at keeping

chickens and who do not provide sufficient

protection for their birds."

In Underhill, state game warden Jeremy

Schmid has responded to several calls

regarding a bear breaking into four chicken

coops, destroying three of them and killing

dozens of chickens as well as ducks, guinea

fowl and peacocks.

"Once I received these calls and responded

to several complaints, I provided

advice about several deterrent options

that would be effective for this bear," said

Warden Schmid. "Our goal is to get homeowners

educated on non-lethal options

and deterrents. When these

options are implemented,

we tend to see a significant

decrease in bear incidents.

These homeowners

took a strong initiative for

non-lethal measures, and it

has now been a week with

no complaints on this bear

damaging coops and killing

poultry."

Protecting free-ranging chickens is

impossible, so Col. Batchelder urges people

to keep their birds contained inside electric

net fencing and to make sure any wire

fencing is secure. Use of one-quarter-inch

hardware cloth, especially along the bottom

of an enclosure will block most small

predators. Weasels can get through a oneinch

opening. The electric netting, however,

is good extra protection even outside the

wire netting – especially against black bears

which are strong enough to break into most

unprotected chicken coops. Several types

of electric net fencing are available. The netting

is portable and can easily be used with

moveable chicken pens.

VTF&W photo by John Hall

Vermont Fish & Wildlife urges poultry owners to use electric fencing and follow other

precautions to protect their birds from predation.

Here are additional tips to help keep

your chickens safe:

• Apply bacon grease or peanut

butter to a spot on the electric

fencing as an added deterrent.

• Cover the tops of pens with

wire or plastic netting to guard

against attacks from avian and

MAKE FIRST TRACKS

climbing predators.

• Bury galvanized hardware

cloth or netting 12 inches deep

around the perimeter of the pen

to prevent access by digging

predators.

• A motion-activated light to illuminate

the coop after dark will

discourage some predators. Motion-activated

alarms also can

deter them.

• Store poultry feed in a secure

indoor location in tight contain-

LIVE SIX PEAKS

ers, and only feed poultry the

amount that can be consumed

in one feeding.

YES, WE'RE OPEN!

Auto Repair & Service

Concierge Auto Service

MAKE FIRST TRACKS

LIVE SIX PEAKS

* Zero Point of Contact:

Pick up, repair, drop off, wipe down

KillingtonAuto.com

During these most difficult times in our community, we understand people

are making sacrifices and people are out of work and are unsure of the

future. As an essential business, we have limited staff but are willing to

take care of your auto needs. We can pick up your vehicle, repair it and

leave it back at your house. Payment can be made via the phone. Your

health is our main concern so we are making these essentials changes

and we are offering our services with zero contact with our customers.

2825 Killington Road, Killington, VT, 05751

802-422-3434

LIVEKILLINGTON.COM

A Development by

LIVEKILLINGTON.COM
---
The Mountain Times • April 29 - May 5, 2020 • 27

Growing Works of Art contest celebrates trees

Burlington—A total of 210 Vermont students from 15 schools and five home school

families demonstrated their creativity through artwork and stories about trees for

the Growing Works of Art contest, sponsored by the Vermont Urban and Community

Forestry Program (VT UCF) as part of its

Arbor Day activities.

The theme of this year's contest was

"Trees are superheroes." Elementary

and middle school students were asked

to create a drawing and story about why

trees are important to them and were

encouraged to share favorite memories.

The theme of this

year's contest

was "Trees are

superheroes."

Entries were judged on creativity and originality (50 %) and how well the students

communicated their tree story (50 %). In many schools, teachers incorporated the

contest into their English, science or art curriculum.

One winner was selected from each grade and received a Vermont State Park punch

pass. The top entries are featured online at go.uvm.edu/growingart.

Winners:

• Kindergarten: Levi Woodward, Upper Valley Haven Afterschool Program, White

River Junction

• First Grade: Thea Lenihan, Rochester Elementary School, Rochester

• Second Grade: Hale Marcotte, Fletcher Elementary School, Cambridge

• Third Grade (tie): Leo Maiello, The Mountain School at Winhall, Bondville, and

Rowan Lawrence, home school student, Tunbridge. Rowan is a two-time winner,

also placing first in competition two years ago when in first grade.

• Fourth Grade: Porter McDonnell, Rochester Elementary School, Rochester

• Fifth Grade: Ziva Baker, Mater Christi School, Burlington; Ziva also had the top

entry for her grade in both first and third grade.

• Sixth Grade: Sean Early, Mater Christi School, Burlington

• Seventh Grade: no entries

• Eighth Grade: Lydia Beaulieu, Mater Christi School, Burlington

VT UCF is a partnership between University of Vermont Extension and the Vermont

Department of Forests, Parks and Recreation. For more info visit vtcommunityforestry.org.

Students winners recognized in Rutland and Windsor Counties

Courtesy of the Vermont

Urban and Community

Forestry Program

Kindergarten student Levi

Woodward's entry was

among the winners in

the Growing Works of Art

contest, sponsored by the

Vermont Urban and Community

Forestry Program.

Levi attends the Upper

Valley Haven Afterschool

Program in White River

Junction.

"Rainbow Tree''

"This is my rainbow tree!

It is special because it's

awesome and colorful. If

I could, it would be cotton

candy flavored. It's the

best tree that I can think

of! Trees are important

because they are a part of

nature and give us air to

breathe." - Levi

Courtesy of the Vermont

Urban and Community

Forestry Program

Tunbridge homeschooler

Rowan Lawrence tied for

first place in the Third

Grade division in the

Vermont Urban and Community

Forestry Program's

Growing Works of Art

contest.

"It was my sister's first

birthday. We went to a

nursery to get her a willow

tree. Her name is Willow.

We brought it home, got it

out of the trunk and took

it to a wet, sandy place.

We broke up the roots,

and planted it. My whole

family held hands around

the tree and sang 'Happy

Birthday.' My sister was

happy." - Rowan

Courtesy of the Vermont

Urban and Community

Forestry Program

The drawing and essay by

Thea Lenihan, Rochester Elementary

School, was judged

the best among all First Grade

entries in the Growing Works

of Art contest, sponsored by

the Vermont Urban and Community

Forestry Program.

"Trees are very pretty. They

give us oxygen. If we didn't

have trees, we wouldn't have

life. I have pine trees at my

house. We have a fort in one

tree with a little doorway.

That tree is very special to me."

- Thea

Courtesy of the Vermont

Urban and Community

Forestry Program

The winning entry in the

Vermont Urban and Community

Forestry Program's

Growing Works of Art contest

for Grade 4 was submitted

by Porter McDonnell, who

attends Rochester Elementary

School.

"I love the maple trees"

"I am writing about how

maple trees are my superheroes.

Maple trees in the fall

stand gleaming in the woods

and it calms my body. Red,

yellow, orange, and brown sitting

up, up, up in the crown.

Wind whistling through the

trees, goodbye, goodbye now it

is time to leave." - Porter
---
Classifieds

28 • The Mountain Times • April 29 - May 5, 2020

RENTALS

APT FOR RENT Furnished

1 Bedroom $1000, 2

Bedroom $1200, Private

Entrance, 7 miles to Rutland

Medical Center. Beautiful

neighborhood. Photos upon

request. Utilities wifi trash

removal all included. No

smoking, Pets ok ‪(802)770-

8786

RUTLAND CITY beautifully

appointed upgraded 4 rm/

1 bdrm. Convenient City

location. $1250 mo. includes

heat, hw, trash. 1st, last,

security. References. 802-

770-8007.

PITTSFIELD APARTMENT

for rent. Cozy 1 bedroom,

furnished apartment with 3/4

bath, kitchen and living room.

Ideal for one person. No

pets. No laundry. Available

June 1. $650/month includes

heat and hot water. Call Lisa

802-558-3278.

REAL ESTATE

ERA MOUNTAIN

Real Estate, 1913

US Rt. 4, Killington—

killingtonvermontrealestate.

com or call one of our real

estate experts for all of your

real estate needs including

Short Term & Long Term

Rentals & Sales. 802-775-

0340.

KILLINGTON PICO

REALTY Our Realtors have

special training in buyer

representation to ensure a

positive buying experience.

Looking to sell? Our unique

marketing plan features your

very own website. 802-422-

3600, KillingtonPicoRealty.

com 2814 Killington Rd.,

Killington. (next to Choices

Restaurant).

KILLINGTON VALLEY

REAL ESTATE Specializing

in the Killington region

for Sales and Listings for

Homes, Condos & Land

as well as Winter seasonal

rentals. Call, email or stop

in. We are the red farm house

located next to the Wobbly

Barn. PO Box 236, 2281

Killington Rd., Killington.

802-422-3610, bret@

killingtonvalleyrealestate.

com.

PEAK PROPERTY

GROUP at KW Vermont.

VTproperties.net. 802-

353-1604. Marni@

peakpropertyrealestate.

com. Specializing in homes/

condos/land/commercial/

investments. Representing

sellers & buyers all over

Central Vt.

THE PERFORMANCE

GROUP real estate 1810

Killington Rd., Killington.

802-422-3244 or 800-338-

3735, vthomes.com, email

info@vthomes.com. As the

name implies "We perform

for you!"

PRESTIGE REAL ESTATE

of Killington, 2922 Killington

Rd., Killington. Specializing

in the listing & sales of

Killington Condos, Homes,

& Land. Call 802-422-3923.

prestigekillington.com.

SKI COUNTRY REAL

ESTATE, 335 Killington Rd.,

Killington. 802-775-5111.

SkiCountryRealEstate.com –

8 agents servicing: Killington,

Bridgewater, Mendon,

Pittsfield, Plymouth,

Stockbridge, Woodstock

areas.Sales & Winter

Seasonal Rentals. Open

Monday-Saturday: 10 am – 4

pm. Sunday by appointment.

FOR SALE

PERENNIALS $3. –Hale

Hollow Road, Bridgewater

Corners, 1 mile off 100A

802-672-3335

CARGO TRAILER- 7x16,

7000lb cargo capacity white

trailer. Great condition, no

rust. $4000 obo. 503-708-

8922

2017 TOYOTA

HIGHLANDER Hybrid

for sale. Great condition!

$28,000 or best offer. Call

Brooke 971-801-5788

FREE

FREE REMOVAL of scrap

metal & car batteries. Matty,

802-353-5617.

FREE PLANTS with

Services. jeff@hgvtpro.

com 802-882-7077

SERVICES

BEAUREGARD PAINTING,

30 years experience, 802-

436-1337.

WANTED

HIGHEST PRICES PAID

- Back home in Vermont

and hope to see new and

returning customers for the

purchase, sale and qualified

appraisal of coins, currency,

stamps, precious metals

in any form, old and high

quality watches and time

pieces, sports and historical

items. Free estimates. No

obligation. Member ANA,

APS, NAWCC, New England

Appraisers Association.

Royal Barnard 802-775-

0085.

EMPLOYMENT

ALPINE BIKE WORKS in

Killington Vermont is seeking

full and part time bicycle

technicians. We are a full

service bicycle shop at the

base of Killington Bike Park

specializing in mountain and

gravel bikes and stock a

large inventory of bikes, parts

and accessories. We offer a

great working environment

with a friendly atmosphere.

Work includes all types

of services, including

bicycle suspension, drive

train, wheels, tires and

brakes. Compensation

relative to experience.

Thinking of relocating?

We can help! Please

send resume to info@

alpinebikeworks.com for

consideration.

NANNY. PART-TIME nanny

to watch one child during

the week, we are located in

Killington. Reach james_

mangion@yahoo.com if you

are interested.

EQUAL

HOUSING

OPPORTUNITY

All real estate and rentals

advertising in this newspaper

is subject to the Federal

Fair Housing Act of 1968

as amended which makes

it illegal to advertise "any

preference, limitation or

discrimination based on

race, color, religion, sex,

handicap, family status,

national origin, sexual

orientation, or persons

receiving public assistance,

or an intention to make such

preferences, limitation or

discrimination."

This newspaper will not

knowingly accept any

advertisement which

is in violation of the law.

Our readers are hereby

informed that all dwellings

advertised in this newspaper

are available on an equal

opportunity basis. If you feel

you've been discrimination

against, call HUD toll-free at

1-800-669-9777.

Want to

submit a

classified?

Email classifieds@

mountaintimes.info or call

802-422-2399. Rates are 50

cents per word, per week;

free ads are free.

>

PUZZLES on page 15

CROSSWORD PUZZLE

SUDOKU

For All Your Home and

Commercial Petroleum Needs

746-8018 • 1-800-281-8018

Route 100, Pittsfield, VT 05762 • cvoil.com
---
Service Directory

The Mountain Times • April 29 - May 5, 2020 • 29

SERVICE DIRECTORY

GIVE A CALL OR RENT YOUR STORAGE

UNIT ONLINE TODAY!

1723 KILLINGTON ROAD, KILLINGTON, VT

#1 RENTAL AND MANAGEMENT OFFICE

IN KILLINGTON FOR 45+ YEARS

— Cabinets

— Countertops

— Flooring

WATER WELLS

PUMPS

COMPLETE

WATER SYSTEMS

HYDRO FRACKING

GEOTHERMAL

East Poultney, VT 05741

802-287-4016

parkerwaterwells.com

Kitchen and Bath

Design, LLC

— Hardware

— Plumbing Fixtures

— Installation

Kelly & Nick | 802.855.8113

125 Valley View Drive, Mendon, Vermont

kndesigns125@gmail.com

Professional Service, Professional Results

For All Your Plumbing & Heating Needs

Specializing in Home Efficiency & Comfort

24 Hour Emergency Service

(802) 353-0125

WASHBURN & WILSON

AGENCY, INC.

144 Main St. • P.O. Box 77 • Bethel, VT 05032

Providing Insurance for your Home, Auto or Business

Short Term Rentals • High Value Homes

Free Insurance Quotes

Call Mel or Matt 802-234-5188

www.washburnandwilson.com

Renovations, Additions & New Construction

Vision

(802) 342-6026

www.VisionBuildersVt.com

FREE ESTIMATES • FULLY INSURED

ALL CALLS RETURNED

ERIC SCHAMBACH • 36 Years Experience

• Structural

Repairs

• Preventative

Maintenance

• Siding

• Framing

• Decks

- INCREASED RENTAL REVENUE

- PROPERTY MANAGEMENT SERVICES

PRIVATE HOMES AND CONDOS, ASSOCIATIONS

- CONCIERGE SERVICES

FOR OWNERS WHO RENT THEMSELVES

- STEAM CARPET AND UPHOLSTERY CLEANING

KILLINGTONGROUP.COM

KILLINGTON ROAD - (802) 422-2300

RED DUCK

REFUSE RECYCLE

Weekly • Bi-Weekly • Seasonal • Year-Round

802-422-2230

Reliable Service Since 1980

candido electric

residential & light commercial • licensed & insured

office: 802.772.7221

cell: 802.353.8177

frank candido rutland/killington

candidoelectric@yahoo.com

we help you see the light!

DisasterRecoveryInc.com

Fully insured and certified

PITTSFORD, VERMONT

Water Wind Mold Fire

Flood Recovery • Smoke Odor

Elimination • Carpet Cleaning

Mold Remediation • Maid Cleaning

Services • Total Restoration

24 Hour Service

Don't just restore...RECOVER!

Clifford Funeral Home

2 Washington Street • Rutland, VT 05701

(802) 773-3010

Gary H. Clifford • James J. Clifford

coronavirus disinfecting

cleaning and sanitizing using

cdc recommended procedures

businesses * rentals * homes

802-287-1120

www.simplycleanvt.com

ISLAND SHADING SYSTEMS

SHADES ~ BLINDS

WINDOW TINTING

Since 1998

BLOCK ISLAND

KILLINGTON • STRATTON

islandshading.com

islandshade@hughes.net

802-747-8248

Susan Malone Hunnewell

Full Service Vape Shop

Humidified Premium Cigars • Hand Blown Glass Pipes

Hookahs & Shisha Roll Your Own Tobacco & Supplies

CBD Products • Smoking Accessories

131 Strongs Avenue Rutland, VT

(802) 775-2552

Call For Shuttle Schedule

Like us on

Facebook!
---
30 • SERVICE DIRECTORY

The Mountain Times • April 29 - May 5, 2020

>

Horoscopes: The "As-Above-So-Below" axiom is always in play, so keep your eyes open, pay attention to the truth of your experience

from page 23

leaning on her horn I got so pissed off,

just to make a point, I slowed down to a

crawl, took a quick look in the rear-view

mirror, and when she got close enough to

see me, I flipped her the bird. There you

go: a month's worth of meditation and

self-reflection went right up in smoke.

It might have had something to do with

the fact that transiting Mars, the planet

that among other things, governs anger,

happened to be opposing my natal Pluto

(Mars on steroids), and the asteroid Toro

(macho displays, aggression) in the Third

House (traffic).

Prior to this I noticed that I was experiencing

waves of deep sadness, the kind

of stuff that keeps you awake at night,

ruminating on what's left of the past. This

grief followed me around during the day,

too. I had a hard time working I felt so sad.

I kept thinking it had something to do with

being cooped up for too long, until I realized

I couldn't blame these feelings on the

quarantine; they were too intense.

Whenever things get like this I get out

my horoscope to see if the stars can shed

any light on what's going on. Looking at my

transits, I saw that Orpheus, the asteroid of

grief and sadness, was sitting right on top

of my Aries Moon. At the most mundane

level of interpretation, the Moon is our

feelings. With Orpheus perched on my

feeling center, is it any wonder that I felt

sad? When I progressed my horoscope, I

cracked up laughing, because my progressed

Scorpio Moon had been all over

my progressed Orpheus for over a month.

This was an unusual double whammy

that explained why I had been feeling so

damned depressed. It took three days for

Orpheus to drift over my Moon and the

grief that had been so overwhelming, blew

away right along with it.

This is why I say to people: "Whatever's

going on right in front of your nose will

be reflected in the horoscope every time,

because the 'As Above, So Below' axiom

always applies." To show you what I am

getting at, let me use an example from one

of the charts that I looked at last week. This

one belongs to a young woman who is

smack in the middle of a huge turnaround.

Her request for a session was preceded by

the following message:

"Lately I feel so heavy and lost. I either

don't sleep well, or I sleep far too much.

I feel a shift that isn't scary but leaves me

feeling overly exposed. I'm a full-time

caregiver at work and at home. I'm overwhelmed

and have pangs of heavy guilt

often. I love that people want to talk to me

and I feel comfortable doing so. I also hate

it at times because I don't have the answers

nor do I know how to help them. I am so

consumed in my pool of life issues it's like

a weight pushing me deeper in the water.

I notice that I've become angrier, and

short-tempered with my family, I dislike

that most as I feel icky when I'm that way.

I'm scared to make the wrong move on

the chessboard of life that involves more

than just my own. I feel a knocking at the

door. I can sense and feel that. As badly

as I wish to open it, fear stops my hands

at the knob. I feel like the new me and the

old me are colliding and I don't know who

to trust. Things, moments, words spark

me and I know they're right but I don't

know what they mean, or are meant for.

I'm looking for some guidance, outside of

conversations with friends/family, outside

of journaling and chewing this same old

cud by myself in a field alone. I reach out to

As badly as I wish to open it, fear stops my hands at the

knob. I feel like the new me and the old me are colliding.

you for help. Since reading your pages this

last year I feel at home in a way that I don't

other places."

Looking at her charts, the first thing I

notice is that she was born with a Moon/

Siwa conjunction. This means a lot of

things. Its primary meaning involves the

idea that in regularly timed cycles she will

have the rug pulled out from under the

fabric of her life. For X number of years she

will go along living in a reality structure

that provides her with a sense of safety and

security, until boom, all of a sudden, everything

it represents will start to crumble.

In those moments when things fall apart,

she will undergo feelings of being lost, disoriented,

and confused. At the moment,

transiting Pluto sits at the midpoint of

her natal Neptune, and her Siwa/Moon

conjunction. Under this influence it

should be considered perfectly normal

for her to be experiencing, "A shift that

isn't scary but leaves me feeling overly

exposed." If she wasn't feeling totally at

odds with herself, she would be missing

the point!!! Right now her awareness of

her meltdown is a clear sign that she is

right on the ball!!

What also sticks out is the fact that she

has an Aquarius Moon. People who are

born under this influence are not from

this planet. Their souls come from a much

higher level of consciousness. Because of

this, Aquarius Moon people have a real

hard time adjusting to the baseness, or

the coarseness, and the superficiality that

permeates the 3rd dimension. They have

no idea how to adjust, or fit in when the

"vibe" is this low. It takes them a long time

to figure out how to bring who they really

are into manifestation. She is basically a

stranger in a strange land who needs to

find a way to be OK with that.

Sometimes Aquarius Moon types go

to great lengths to try to be like everyone

else. In this case, with her Scorpio Sun at

the midpoint between Venus, (The "let me

see how cooperative I can be" planet), and

Hebe (The cosmic "waitress" or co-dependent)

it's obvious that this gal is totally into

being and doing whatever other people

expect her to be and do. Hence: "I am a full

time caregiver for work and home. I love

it that people want to talk to me and am

comfortable to do so. I also hate it because

I don't have answers or know how to help…

I've become angrier, short-tempered with

my family…I feel icky when I am that way".

Do you see the connection? She has the

people pleaser thing going on, big-time.

A secondary aspect between Hebe and

Siva tells me that her further growth and

spiritual evolution rely heavily upon "the

eradication of the need to please."

At the moment she's getting angry

because it's time for who she really is to

bust through her "nicest woman on the

planet" routine and come out from behind

the door. When she says, "I feel like the new

me and the old me are colliding" it's a clear

sign that she's 100% in touch with herself.

Why do I say this? Because she's approaching

her Uranus opposition, a major transit

that happens anywhere between age 38

and 44. This transit forms the back bone

for the expression "Life begins at 40." It

turns people's lives upside down because

it's where they either wake up to their

purpose for living, or they fall asleep next

to their illusions and turn into a "Muggle."

The fact that she says, "I feel a knocking

on the door…as badly as I wish to open it,

fear stops my hand at the knob." Oh baby!

Her words indicate that her soul is right on

target. Believe me when I tell you, it matters

what she does right now. Her free will

has to summon up the courage to make

changes that will challenge everything she

thinks she is.

To add to all of this, transiting Uranus

is opposing her natal Sun-Venus conjunction,

and transiting Saturn is squaring the

same points. She says, "I'm scared to make

the wrong move on the chessboard of

life" – anyone would feel this way when the

most change oriented planet in the solar

system is whacking her primary relationships,

her values (Venus) and her whole

sense of identity (the Sun). The fact that

Saturn (the status-quo, the sense of duty,

her worst fears, and her sense of guilt) is T-

boning the same issues tells me, that she's

giving herself a real hard time at a point in

her life where it would be an insult to God

if she chose to let anything interfere with

whatever it takes to figure out who she

really is.

This woman's chart has way more to it,

but maybe this is enough for you to get the

picture. She is approaching changes that

will alter absolutely everything. Her feelings

are symptoms. If she heeds them, they

will lead her to unlock her purpose. When

I say the "As-Above-So-Below" axiom is always

in play, I mean that if you just keep

your eyes open, pay attention to the truth

of your experience, and let whatever's going

on be whatever it is, instead of making

it wrong, or trying to change it, it gives you

a chance to be transformed by it. Life is

always showing us the way. It's totally OK

to get pissed off. It's just as OK to feel grief

stricken, or lost, or confused, or afraid - as

long as you know how to go deep enough

inside yourself to transmute those feelings

from dark to light, instead of suppressing,

wallowing, or getting stuck in them. Let me

leave you with that and invite you to take

what you can from this week's 'scopes.
---
The Mountain Times • April 29 - May 5, 2020 REAL ESTATE • 31

Grow Your Life in Killington

KILLINGTON VALLEY REAL ESTATE

Bret Williamson, Broker, Owner

Celebrating

30 years!

802.775.5111 • 335 Killington Rd. • Killington, VT 05751

FALL LINE CONDO - SKI HOME & SHUTTLE OUT

• 3BR/3BA beautifully renovated

• End Unit. Panoramic Views!

• New granite, stainless appliances

• Cherry cabinets. Gas fireplace

• On-site: indoor pool

• Furnished & equipped: $299K

MTN GREEN - BLDG 1

THE LODGES - SKI IN & OUT

• 1-LVL 3BR/3BA, Furnished &

equipped, Wash/Dryer, patio

• Gas fplc, gas range, gas heat

• Mud-entry w/ cubbies+bench

• Double vanity, jet tub,

• Common: Indr pool

• End unit, $439K

KILLINGTON CTR INN & SUITES

72 658 Windrift Tanglewood Ridge Road, Drive, Killington Killington $ 575,000 $459,000

This Great unique, private Killington 3 bdrm , location, 3 bath, custom modern stone home, work situated throughout

on the a exterior, wooded heated lot garage, overlooking VT castings nearby wood Pico stove, Mountain hot tub,

Ski open area, floor offers plan and unexpected a large living privacy room with and valley stunning views from the

mountain wall of windows. views.

4552 Prior VT Drive, Route Killington 107, Stockbridge $1,200,000$129,000

Many Exquisitely opportunities detailed Tudor for this style home located in a private minutes 20 acre to I-89

and Killington 20 min location. drive to Spacious Killington. gourmet Excellent kitchen, rental arched history, doorways,

recently high end fixtures, renovated carefully improvements crafted trim and including moldings a new throughout.

standing Truly unique seam property. metal roof, windows, doors, and more.

Mountain 298 Prior Drive, Green, Killington Killington $ 1,2000,000 $149,500

2-bedroom, This 4934 square 2-bath foot, corner exquisitely unit Mtn Green detailed building Tudor 1. Sold style furnished,

home updated is in a class appliances, by itself. outdoor A five pool bedroom views, shuttle home, route &

wood surrounded burning by fireplace. the grandeur Cable, internet, of the plowing, green mountains. refuse removal

and shuttle service included in quarterly fee.

Cricket Hill, $

Lodges, Killington $459,000 555,000

Ski-in, This 4-bedroom, ski-out from this 4-bath 3-bedroom, home with 3-bath inground furnished pool top floor is a

Lodges ten minute unit with drive trail from views Killington of Bear Mountain. Resort with Owners stunning enjoy all

the views Sunrise of Pico amenities Mountain. including The spa, competitively pool, hot tub priced and gym. home,

is being sold furnished.

View all properties @killingtonvalleyrealestate.com

Office 802-422-3610 ext 206 Cell 802-236-1092 bret@killingtonvalleyrealestate.com

NOTE TO READERS:

The Mountain Times is closing its office to the public as of March 18, 2020.

We will continue to cover local news in print as well as online, through

social media and via our newsletter (sign up at mountaintimes.info).

You can also reach us at 422-2399 or editor@mountaintimes.info.

• Shuttle Service

• Furnished & equipped

• OnSite: In&Outdr Pools,

• Whirlpl, Laundry area

• 1BR @ $129K

MTN GREEN – MAIN BLDG (#3)

• 2BR/2BA w/lockout $162K

• STUDIO: $95K

• 1BR Bldg 3! $126K - 150K

• Onsite: Indoor & Outdoor Pools,

Whirlpl, Restaurant, Ski & Gift

Shops, Pilate Studio, Racquetball/basketball;

Shuttle Bus

KILLINGTON GATEWAY- TOP/END UNIT

• furnished & equipped

• gas heat & fplc, tiled kitch &BA flrs

• Cath ceiling w/ sky lt, open flr plan

• Cherry kitchen cabinets, AC

• Covered deck, private ski locker

• 1 BR/1BA: $81K; 2BR/1BA, $125K

JUST OFF KILLINGTON RD

• 4 Oversized BR's, 2.5BA,

4,227 sq.ft.

• 10 person hot tub, laundry room

• Llarge deck & bar room

• Furnished & equipped $599K

• Completely Renovated 2BR/3BA

w/one LOCK-OFF unit

• Stone-faced gas f/plc, W/Dryer

• Tiled floor to ceiling shower

• Outdr Pool. Short walk to shuttle &

to restaurant. Furnished $222K

KILLINGTON TRAIL VIEWS

• 6BR/3BA , 2 acres,

2,600 sq.ft.

• Walk-out lower level

• Detached storage garage

• New septic system

• Furnished & equipped

• $379K

MOUNTAINSIDE DEVELOPMT HOME

• 3 en-suite bedrooms + 4 ½-baths

• Living Rm floor to ceiling stone fplace

• Family gameroom w/ fireplace

• Chef's kitchen,sauna, whirlpl tub

• 3 extra separately deeded lots incl.

• www.109mountainsidedrive.org

• $995K

WINTER VIEWS OF SUPERSTAR!

• On cul-de-sac, great LOCATION!

• 4BR, 2.5BA 3,470 sf, a/conditioning

• Ctl vac, chef's kitch, butler's pantry

• Cedar closet, office, master suite

• 3 car garage, storage, screened porch

• Deck, unfinished basemt,++

$789,500

We sincerely thank local businesses, towns, organizations and individuals for helping

us to cover the news as well as support those efforts financially. As more businesses

close and people are laid off, community support will be more important than ever

for the health of our organization and for all of our neighbors.

To support local journalism, visit mountaintimes.info

Lenore

Bianchi

'tricia

Carter

Meghan

Charlebois

Merisa

Sherman

Pat

Linnemayr

Chris

Bianchi

Katie

McFadden

Over 140 Years Experience in the Killington Region REALTOR

Michelle

Lord

Kerry

Dismuke

MULTIPLE LISTING SERVICE

MLS

®

PEAK

PROPERTY

G R O U P

AT

802.353.1604

VTPROPERTIES.NET

IDEAL PROPERTIES CLOSE TO

KILLINGTON, OKEMO OR WOODSTOCK!

HOMES | CONDOS | LAND

COMMERCIAL INVESTMENT

PRIME DEVELOPMENT OPP

W/7 LOTS FOR HOME SITES

OR TOWNHOMES OF 8 UNITS!

BASE OF THE KILLINGTON RD!

ONE OF THE BEST SPOTS

IN KILLINGTON!

Retail Property 17 acres consists of a

main building w/11,440 sq. ft. on 3 levels

w/elevator. Direct to xcountry trails.

Immediate access to 20 miles of MTN

bike trails on Base Camp

& Sherburne Trails! $1,350,000

RARE OPPORTUNITY! ULTIMATE RETREAT! Ideal Short Term Rental

Property! 27+ acres w/amazing views abutting National Forest Land,

2 spring fed swimming ponds, gazebo w/power & end of road location.

Special property has a main farmhouse, 3 level barn, guest house, an

enchanting seasonal cottage, 3 car detached garage & so much more!

$699K

Marni Rieger

802.353.1604

Tucker A. Lange

303.818.8068

Marni@PeakPropertyRealEstate.com

59 Central Street, Woodstock VT

505 Killington Road, Killington VT

FIRST TIME ON MARKET! SPECIAL GEM!

Minutes to Killington or Okemo. Fabulous Robert

Carl Williams designed home sleeps 18. 4 Ensuites.

Excellent short term rental potential. Being sold

totally furnished. Move in & enjoy! $674,900

STRONG RENTAL INVESTMENT & BUSINESS

OPP CLOSE TO KILLINGTON, SUGARBUSH

& MIDDLEBURY SNOWBOWL! 7 unit property

located in the center of the village in Rochester.

Building is 7,216 sq ft. Main level is a local landmark

& home to the Rochester Café (45 person licensed

restaurant) & Country Store. 3 rental apts onsite,

one which is used as Airbnb. 2 rentable open studio

units. Last unit is rented cold storage space. All the

real estate & business $549,900

ONE OF A KIND PROPERTY MINUTES TO PICO

OR KILLINGTON. Post & Beam home 4bed/ 4 bath

w/ 2 car garage. 2 bed/1 bath apt to rent out for extra

income. 3 level barn, outbuilding w/ heat. Inground

pool & cabana to enjoy in summer months. So close

to skiing & Rutland. Come see. $389,900
---
32 • The Mountain Times • April 29 - May 5, 2020

RRMC Strong