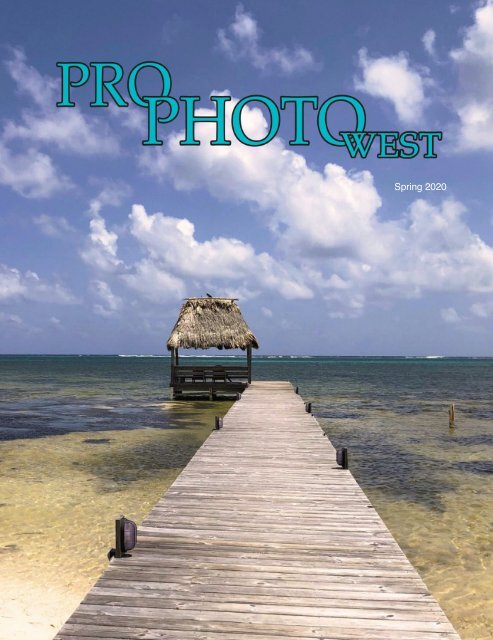 Pro Photo West Spring 2020
A quarterly Magazine for Professional Photographers of California, by Professional Photographers!
A quarterly Magazine for Professional Photographers of California, by Professional Photographers!
SHOW MORE
SHOW LESS
You also want an ePaper? Increase the reach of your titles
YUMPU automatically turns print PDFs into web optimized ePapers that Google loves.
Spring 2020
---
INSIDE THIS ISSUE

6

6

Staying Local

4

Meet Your Executive Team

8

President's

Message

Sheltering in Paradise

10 20

Creative Styling

Professional Photographers of California
---
SPRING 2020

Gadget Guy

From the Smoker

18 31

32

Meet your Affiliates

28 Photoshop - Zero to Sixty 34

Machu Picchu

www.prophotoca.com Spring 2020
---
2019 OFFICERS

PRESIDENT

Diane Costello, M.Photog.Cr, CPP

M-PPC, S-PPC

president@ppconline.com

FIRST VICE PRESIDENT

Jim Trapp, M.Photog.Cr, CPP

S-PPC

firstvp@ppconline.com

SECOND VICE PRESIDENT

Larry Skibiski, M.Photog.CR., CPP

Professional Photographers of California, Inc. is a non-profit, 501(c)6

trade association of professional photographers, employees, suppliers

and others allied to the profession. Professional Photographers of

California offers a variety of opportunities and benefits to its Members and

is one of the largest state affiliates of Professional Photographers of

America. Pro Photo West is the official publication of Professional

Photographers of California and is published quarterly for the purpose of

keeping Members informed of photographic information, news and

activities of the state. Subscription is included with Member dues.

Articles, with or without photographs, are welcome for review for inclusion

in this publication. However the Editor reserves the right to edit and use

articles on a space-available basis. Materials will not be returned unless a

postage paid envelope is provided. Letters and contributions must include

Name, email and phone number. Send all communication, articles or

advertising to the Editor. Articles appearing in Pro Photo West reflect the

opinions of the writer. They do not necessarily represent those of the

Editor or Professional Photographers of California. Permission to reprint

contents of this magazine is granted to similar photographic publications,

provided the author, Professional Photographers of California and Pro

Photo West are credited as the source.

secondvp@ppconline.com

SECRETARY

Michelle Pennings

secretary@ppconline.com

TREASURER

Robin Swanson, M.Photog.Cr, CPP,

F-PPC, S-PPC, CPA, CGMA

treasurer@ppconline.com

CHAIRMAN OF THE BOARD

Pete Rezac, M.Photog.Cr, CPP,

M-PPC, S-PPC

cob@ppconline.com

STAFF

EXECUTIVE

ADMINISTRATOR

Mel Carll, S-PPC

exec_admin@ppconline.com

DIRECTOR,

WEST COAST SCHOOL

David LaNeve, CPP

director@westcoastschool.com

4

Professional Photographers of California
---
www.prophotoca.com Spring 2020 5
---
Staying Local

John Grusd, M.Photog., M-PPC

One of the great truisms about photographers, especially those who specialize in landscapes and

nature, is that they always think they have to go somewhere else to create terrific photographs. In

unfamiliar locations we see masterpieces around every corner but the places we experience every

day don't even register on our creative radar. I don't know how many times I've seen a unique

image of my hometown taken by a visitor! Why didn't I think of that? What is it about our own home

bases that make us so blasé?

Maybe we have an opportunity in these times of "Social Distancing" to change that. We can

possibly take advantage of this extra time to work on our skills, clean our equipment, learn

something new and otherwise get everything ready for the future when we can safely go out again.

Take nature photography for example. I live in the city of Los Angeles, California. Perhaps you have

heard of it. This megalopolis probably doesn't offer much in the way of nature photography. Right?

What got me thinking about this was my morning walks with my dog. With nearly everybody staying

home and there being almost no noise from automobile traffic, I noticed something different. Birds!

Lots of birds! Hundreds of them! Maybe thousands! Every morning my neighborhood sounds like a

gigantic aviary!

It got me rethinking about what kinds of wildlife I've seen within a few blocks of my house, not to

mention in my own backyard. I already mentioned the birds. I see many hummers, songbirds and

woodpeckers. Birds of prey like owls, falcons and hawks are ever present. I've even seen a Golden

Eagle! LA, like most of the places where each of us live, is on a major migration route. The passing

of the weeks bring a constant change in the variety of species. Waterfowl such as ducks and geese

are always around and there are too many shore birds to mention.

I regularly see other animals as well. There are squirrels, of course, and possums, skunks, bats,

raccoons and the ubiquitous coyotes. I've even seen the occasional bobcat and numerous families

of mule deer. For those of you who are a bit delicate, I won't list the creepy crawlies that are

fantastic for macro or the biggest rattlesnake I have ever seen, just a few miles from my house!

My point is, all we have to do is stop, look and listen to notice the photographable nature around us.

There is plenty of it wherever you live! (Don't forget Spring flowers and other flora!) The internet and

apps are fantastic for researching animal behaviors and identifying species. They're also great for

picking up the photographic techniques that will yield fantastic results with practice. And you can do

all of this while diligently keeping your social distances! Don't despair that you can't travel like you

planned. You can turn these difficult times into a windfall of learning and opportunity!

The Peregrine Falcon in the image below was photographed within the city limits of Los Angeles,

not a 20 minute drive from downtown (where Peregrines also live). It was raining hard and I only

spent a short while photographing but hopefully this is a new beginning of a local nature

photography adventure for me!

6
---
I hope you stay safe and healthy and make the most of these uncertain times. Keep your camera

handy and ready to shoot! You never know what will wander into your own backyard or

neighborhood!

I'll see you all out there…Eventually! – JG

Spring 2020

7
---
President's Message

Wow, this year took quite an unexpected turn…I feel as though I am living a movie I may

have seen when I was younger. This is and has been a very challenging time for so many of

us.

PPC has beein trying to stay up-to-date with all of the information flying around regarding

financial help and had found that PPA is at the forefront of collecting and passing along this

information which at times seemed to be changing by the hour. We are making sure to pass

the latest and most accurate information along to you. A huge "Thank You!", to Mel Carll for

keeping on top of this and making sure it is posted in both the PPC and PPC Affiliates

Facebook pages for you to access easily.

Also, as you have probably heard, West Coast School has been cancelled for 2020. It was an extremely difficult

decision to make but we are already finalizing plans for 2021 and it will be better than ever! Stay tuned for more

information.

In light of everything going on out there, this may be a reset that so many of us needed. I know I have kept myself

busy learning about all sorts of things that I have wanted to know but didn't have the time. And, sometimes I just

don't even know where to start because I have too much time. It's OK!

These are unprecedented and strange times so please remember to be kind, to yourself and those around you!

Take time to play, It is so very good for your soul!

Diane

ON THE COVER

"Afternoon Seat" by Sharol Lobel

See page 10 for the full story!

8
---
A Huge Thank You to Our Sponsors!

Your Support is Greatly Appreciated!

Spring 2020

9
---
Sheltering in Place …

In Paradise!

Sharon Lobel,

M.Photog., CR, M-PPC

Little did I know that my scuba diving photography trip

would turn into my own version of "Survivor"!

Leaving Los Angeles on March 17th for a ten-day trip to

Ambergris Caye, Belize to dive the Mesoamerican barrier

reef (the second largest coral reef in the world) and the

famous Blue Hole, I ended up facing the pandemic outbreak

that was occurring around the world!

Taking everything into consideration and weighing all

the risks, I decided to weather the storm in place and

stay on the Island. I thought, geez, how long could this

last…they will have it resolved in no time! With no

cases of the COVID-19 present on the Island or

mainland, I felt extremely safe but still a little worried!

What if there was an outbreak? How reliable were the

doctors and the hospital? How fast could the government

react to containing the spread of the virus on such a

small Island?

Spring 2020
---
Without much more thought, I gathered my dive gear to catch the next boat for a morning dive. Upon preparing

for the dive I soon hear these words, "Oh, by the way, the resort is closing and everyone has to be out of here by

Monday!" Of course, my reaction was, "What the f*@#!!!! In two days???" I tried not to think about it at the

moment because I was about to flip off of a boat and dive under 80 feet of water!

Well, my mental anxiety kicked in upon my ascent to the surface and once I hit the surface… so did my

breakfast! If you know what I mean! Yuck! I made my way up the swim steps and into the boat and soon we

were back on land! Everything was racing through my brain including this decision to stay on the island.

Flights were being cancelled and the borders were closing. I could only think about how I was going to find a

place to live in such a short time!
---
So, I did what I do best…started asking people about rentals. I called a friend who had spent a lot of time in

Belize and talked to everybody I saw and later started walking the beach to find a place to live. I had rented a

golf cart to get around, so I was stopping at every for-rent sign I saw. I met with a realtor and she showed me a

few options, then I had lunch at a local beach restaurant called "Rum Dog" and the owner's friend was in real

estate, so he put us in touch with each another. My very frustrating day soon came to an end and it was a bust!

Making my way back to the resort with a case of super anxiety, I quickly took a seat at the pool bar. Sitting

next to me was the dive master and he asked if I found anything and then he suggested a few places to look the

following day. I only had one more day to look or else it was camping on the beach!

The next day a decision had to be made! Keep looking or take one of the places that I had already seen. I

decided to keep looking. Awakened early and determined to find something, I sort of questioned myself…Did

I make the wrong decision? I thought to myself that even a shack on the beach will do at this point. I felt a bit

overwhelmed but, hey…it's an adventure and I am adventurous! I am going to make the best of it! Who

doesn't dream of being stranded on an Island?!

Off I went, stopping at every location between the resort and town as I was making enquiries of a place to live.

I continued to hear everyone saying the same thing, "We are shutting down! There are no rentals!" I could not

believe it! It's an open market on this island and there are hundreds of empty condos and houses! I cannot be

the only person looking for a place to rent or the only tourist who decided to stay on the island! I was so

desperate I even asked the grounds caretaker that was racking the sand at one resort. Low and behold, as I was

walking back to the golf cart the caretaker said, "Hey, my friend Pedro is the caretaker at this house up the

beach. Here is his cell number. He can help you out." The caretaker said it is not too far from here, it is called

"Still Waters", just keep walking up the beach and you will see the sign.

I started walking up the beach and saw nothing. Stopped and asked a few people and they said I have no idea

where it is. Well, duh! I had the guys number, so I made the call. A nice gentle voice answered the phone and I

told him who I was, and he said, "Oh yes, my friend called and said you were coming." I described where I

was, and he said you are not too far, and I will meet you down on the beach.

And there it was! OMG! The beach house of all beach houses! My expectations were a Hemmingway fishing
---
shack but after arriving, I found myself standing in front of a small two-story beach front villa. This is it! After

taking a quick tour of the house and a phone call to the owner, all I could do was hope we had a deal! Now

back to the resort with a better outlook on my decision to stay, I felt I was going to be okay.

The last day at the resort had arrived. My security blanket was being dismantled! The staff was at my door

early to make sure I was packing and ready to leave by noon. Geez! I still had no place to go and bingo! The

phone rang! It was the owner of the house and it was a done deal. The beach house was a GO! YIPPIE!

Suddenly, I was ready to leave the resort and embark on a new adventure! The resort was amazing in offering

some food and water to get me by for a few days. So, packing up the golf cart with luggage, dive gear, camera

gear, a crate of eggs, meat, fish, bread and water…a new chapter in my life had just begun! Now it is "Gucci

Survivor" at its best! LOL!

I quickly found myself more comfortable with my surroundings around the house, the beach and about town,

but a new task came with each day! As the virus was rapidly spreading in the US and especially California, I

too was facing my own crisis on the island as we had our first outbreak which lead to more people testing
---
positive. They were soon placed in quarantine and isolated from the rest of the islanders. Franticly a new wave

of anxiety kicked in when I heard the local markets and vegetable stands were closing indefinitely. I did not

have enough food to last a week and made a quick reaction to go to town and follow the herds and stock up!

Now that the "beach sand" has settled, I am happy with my decision to shelter in place in Paradise! Even

though our beaches are open, who would have thought the Caribbean Sea would be closed! No diving, no

fishing or swimming in the ocean. It is extremely hard on the locals as they depend on fishing and on tourism

for survival. We are all faced with some sort of difficulty!

Making the most of my time, I am learning more about the Belizean and Island culture, which is fascinating.

The Ambergris Caye (pronounced "key") Island is one of more than 200 islands. It is just over a mile wide and

runs for 25 miles along the barrier reef. The only town is San Pedro which has a very relaxed ambiance.

Cooking has always been an enjoyment for me, so I'm learning all sorts of ways to cook with fresh coconuts

that either fall in the yard or I pick up on my walks. Husking a coconut is not an easy task either! I'm also

finding out that by not being able to go to the market as often as I did, it is a treat to stroll down the aisles of the

local markets and vegetable stands!

Spring 2020
---
One of the highlights of my day is watching all the wildlife venture out of the jungle from

the side of the house into the yard. It is a bird watcher's feast to see Yellow Crowned

Night Herons, Ospreys, Azure-crowned Hummingbirds, Acorn Woodpeckers, Great

Kiskadees, Frigates, Pelicans and Egrets to just name a few species. Then you walk into

the bedroom and a beautiful owl butterfly has landed on your patio screen door. And on

top of that, there is the cutest family of ringtail racoons that drink right from the swimming

pool several times a day. One day I heard a lot of splashing and one of them had fallen in.

It had to be rescued! Each day from sunrise to sunset brings a new memory!

When the sunny day fades into the night I get extremely excited to sit out on the deck with

a glass of wine and stare endlessly into the night sky of a thousand eyes! Thank goodness

for my Sky View app on my phone as it has helped me identify so many stars, planets and

constellations! I will be an expert on the tropical sky when this is all over!

As a nature, landscape, wildlife, surf, ocean and travel photographer or matter of fact - any type of

photographer, the world seems a bit out of reach right now. I understand more than ever that it is the time to get

inspired while we are all "sheltering in place" by being productive, getting creative, organizing our photos or

learning a new photo program. But it is also important to keep our photography and travel dreams intact and

our bucket list full!

I only came on my trip with my dive camera, my Nikon D500 and one 18-200 lens, an intervalometer, one ND

filter and 2 batteries. It's amazing what you can do with only what you have. Remember…this was only a 10-

day trip!

16
---
I've been on the Island for 42 plus days now and

I don't know when I will return to California.

While I'm regrouping and reinventing myself, I

know the future will be totally different. How

we work and travel will never be the same.

Don't hate me when I say it's a hard decision to

either walk left or right on the beach or just hang

out under a coconut tree and watch the beautiful

clouds drift over the turquoise waters. It's also

worrisome not only to be concerned about

myself but for my family and friends. It's the

fear of the unknown.

We all thirst for too much time on our hands and

when we have it… well, do we really know what

to do with it? Since I only have my laptop with

me and not my backup drives, I will continue to

follow my passion with my camera in hand and

make the most of this new and exciting situation

creating new images!

I would love to hear from you so, if you would

like to reach out and chat, I'm available on

What's App, 818-802-7597 or via my email,

ShutterBugSharon@aol.com. Let's flatten the

curve and quickly move forward! Wear a mask,

do social distancing and be safe!

17
---
Gadget Guy

by Larry Skibiski M.Photog.CR., CPP

There are a multitude of options currently available for wireless

"tethering" of our cameras to phones, pads, and computers. Many

cameras have either built in wireless, or optional proprietary,

external modules to perform image transfers. There are also a

number of manufacturers who have products with which to

accomplish wireless tethering. These include offerings from Vello,

Tether Tools, and the most popular since 2012, CamRanger. The

focus of this article will be the latest version of CamRanger, which

is CamRanger 2.

Many of you may own the original CamRanger, or, you might have seen one being used by an instructor

at a workshop or seminar. My own success rate using the original CamRanger, as well as those

instructors I have observed at several workshops or seminars, was limited. Sometimes it worked great,

and other times not. However, it may not always have been the fault of the CamRanger unit, because

among other things, operator error was often a factor when the unit was not correctly set up with the

CamRanger application in the receiving hardware. Other things which affect performance include going

beyond the range of the CamRanger, cameras or computers going into sleep mode, and interference

from other devices nearby transmitting on the same frequency.

I found myself frustrated trying to achieve an expected 100 percent success rate using the original

CamRanger, so I was pleased to learn that CamRanger had developed a new version of their flagship

product named CamRanger 2. Some of the things that make the CamRanger 2 new and different are the

form factor, the battery, more supported cameras, additional camera mounting options, five times faster

image transfers, dual band Wi-Fi, three times the range, an onboard SD card slot, and all new upgraded

software features.

Physically, the CamRanger 2 is noticeably larger than the old version. The battery too is now larger and

provides up to 5 hours of stated usage. Nikon, Canon, Fuji, and Sony cameras are all supported;

however, you should check the CamRanger website for a full list of which models are supported.

Mounting options now include a ¼ inch 20 screw mount, a hot shoe mount, and my personal favorite, an

Arca Swiss compatible quick release clamp (I use this for secure mounting to the vertical arm of my L-

bracket). The dual band Wi-Fi has options for either 2.4 GHz for extended range, or 5 GHz for faster

transfer speeds. CamRanger 2 has two available applications; one for the camera control/ saving and

editing, the other for Client viewing.

In a studio setting the fastest image transfers are usually accomplished by hard wire tethering directly to

a computer. However, wired tethering is not without its negatives and is definitely not a solution for all

photographers.

18

Spring 2020
---
Who can benefit from tethering their camera wirelessly?

• Photographers who need remote control of a camera mounted in a difficult, not easily accessible

position.

• Studio Photographers needing to see a full-sized preview on a calibrated monitor to check focus,

composition, color, etc.

• Photographers needing immediate downloading of images to a hard drive.

• Photographers needing immediate collaborative feedback from clients, assistants, and art

directors.

• Sports Photographers needing FTP transfer to clients.

• Wedding and Event Photographers creating live slide shows for guest viewing.

• Pole Photographers (not necessarily Photographers of Polish descent. Actually, Pole

Photographers are the ones who create aerial images by boldly putting thousands of dollars of camera

and lenses on top of flimsy, hand-held poles).

• Photo workshop instructors. (Note to instructors: Please stop trying to show off your amazing

workshop images on that tiny LCD on the back of your camera! It just doesn't ever work!)

You will most likely come up with your own ideas as how to incorporate CamRanger 2 tethering into your

own workflow. I often shoot youth baseball action images of my grandson's team. My idea for a use of

the CamRanger 2 was that I would shoot images at his games and allow parents of the players to view

images live on their devices using the CamRanger Client application as they sat in the bleachers. It

would be kind of like an "instant replay", but with still images instead of video.

Well that was my big plan, but my CamRanger 2 arrived just in time for the Covid-19 isolation orders to

take effect. All sports activities have been halted. But I still plan to try my plan once life returns to some

semblance of normal, or whatever the new normal will be.

This article is but a brief overview of the CamRanger 2. I have only covered a handful of the many

features and specifications. I hope that I have sparked in you an interest to explore more about the

device and perhaps even add one to your own collection of photography gadgets. Take care, be safe,

stay healthy!

(For the full list of features and specifications please review the website at https://camranger.com. For a

side by side comparison of the CamRanger 2 vs. CamRanger Mini vs. CamRanger click here.

19
---
20
---
Creative Styling

Using What You Have

Michelle Norris Pennings, CPP

As a photographer I am constantly thinking about how can I create images that have impact. Of course,

I want my images to be technically good. I think about what kind of lighting am I going to use to create a

particular kind of feeling. Or maybe I know the expression I want to extract from my model and I need to

create the right lighting to enhance it. And what kind of pose do I want for my model? I think these are

questions we all ask ourselves when creating images with impact.

Well, I like to take it a step further and add creative styling to the mix. Now this can sometimes make me

feel overwhelmed. Do you ever feel like you don't have enough money to rent or create an elaborate

costume? Or do you see other photographer's images and think how did they do that? Well, call it trash

to treasure or crap to creative or whatever you want. It doesn't have to be that hard.

I have done simple things to create style. A black tank top and jacket shirt with protective knee pads on

the shoulders.

Black trash bags wrapped and taped can look

very glamorous.

Spring 2020

21
---
For my image of Lydia in Blue, I had just picked up these silk flowers at a garage sale for 50 cents. I

went to my dress closet to look for a dress that would match. I have a closet of old dresses that friends

have given me. I did that by creating a post on Facebook asking if anyone had old prom or bridesmaids

dresses they wanted to get rid of. I ended up with a whole closet full.

I found a dress with the perfect colors. The problem was Lydia is about a size 8 and the dress was a

size 18! No worries, I made it work.

I started with the dress upside down. I had Lydia step into the bodice and I pulled the skirt up over her

shoulders, starting in the back, pulling, and stapling. Yes you heard it, stapling. Just be careful not to

staple your models skin. You can do all kinds of things with tape and a stapler. Remember, your model

doesn't have to really wear it to the prom, she just has to wear in a photo. You can fake a lot of things

for an image.

22
---
I created a leprechaun image when I first started my photography journey. I made leprechaun's shoes

with old tap shoes and a couple toilet paper rolls. I used brown duct tape and wrapped the shoes so

they looked like long pointy toed shoes. I cut off the buckles from an old purse for shoe decor and

attached velcro under the duct tape straps.

The belts, well I couldn't find kids belts so I used regular adult size belts. I cut them down the back and

sewed them together on the sewing machine so they were smaller. But you can use duct tape and

staples. I used the fabric from old curtains to make ascots. I cut them up and wrapped it around their

necks and tied it like a scarf.

I bought the jackets at the thrift store. I first tried dying them with fabric dye but that didn't work. So, I

resorted to spray paint. Then I washed them because I didn't want the children to be breathing toxic

spray paint fumes. The spray-painted fabric actually washed pretty well. It was a little stiff. But the smell

was gone.

The knickers were sweat pants I cut off and used puffy paint to make a textured brocade pattern.

So you see, you can take little things you have around the house and repurpose them. Staple them, paint

them, go crazy! I can't wait to see what you do with all those empty toilet paper rolls, cellophane or the

stuffing out of old pillows.

Spring 2020 23
---
Stuck at Home Photo Contest

Smart Marketing

by Larry Skibiski

24
---
Thank you all so much for submitting what you have been up to and to Larry Skibiski for capturing

the true essence of Smart Marketing in these unprecidented times.

25
---
Afternoon Seat

by Sharon Lobel

by Kimerly Olker

26
---
y Dan Holmes

by Michael Collins

27
---
Photoshop - Zero to Sixty

Michael Collins, M. Photog., CR., CPP, M-PPC,

S-PPC, BA-PPA, F-PPC

In this first edition of "Photoshop – Zero to Sixty" we are going to work on the layout of our desktop/

workspace. It may seem simple but there are a couple of things you can do to make your life in Photoshop

easier.

The first thing you want to do is landscape the heck out of it. Only keep the panels and tools you really

need and use on your desktop and the rest are hidden away. "But I might use that tool someday…." Don't

be a hoarder. Keep only what you need and hide the rest! If you haven't used it in six months will, you in

the next six? I would rather have space for my image I am working on than a whole bunch of garbage on

the screen.

Me personally, I like History, Actions and Layers on the right side attached to each other. I have Brushes,

Brush Settings and Properties minimized but ready to go. I use these all of the time. But make it so that

YOU are happy with it. Some people like to have their toolbar on the right side next to the Layer etc.

Panels. Me? It doesn't matter as I pretty much use keyboard shortcuts for all of the tools as it saves me

time.

28
---
Once your desktop is how you like it, save the Workspace as your own. Go to Window to Workspace to

"New Workspace". Title it with your name or other way to remember it and save it. You can always save

it as "Collins Workspace" so you remember what a great guy he is.

Next go to preferences, the keyboard shortcut is Cmd/

Ctrl K. Cmd for Mac and Ctrl for PC. The first thing to

do is go to "Interface" and pick the shade you want your

workspace to be. I like the medium shade of grey but

this is all personal taste. Next to the Color Theme is

Highlight color. I chose blue as it stands out more

especially in the Layers Panel. You can keep the

default color of Gray or you can also pick Grey as your

color. So, which is it Grey or Gray??

Spring 2020 29
---
One more thing before you start getting up and running, Photoshop default in the layers panel is to have

small Thumbnails. I am in the ancient category so I like mine a little bigger. All you have to do is click on

the dropdown icon which looks like a stack of four pancakes in the upper right corner of the Layers

Panel. Go almost to the bottom and click on "Panel Options". Pick the size of the icon you would like to

have. Thumbnail Contents, click on entire document.

And there you have it - you're ready to rock and roll.

30
---
FROM THE SMOKER……..

by Mel Carll, S-PPC, BA-PPC

Let's make some Homemade Berry Curd!

During this Stay-at-Home order I thought it would

be a great time to try something new. I love a

good curd, whether it be lemon, berry or

raspberry. I just love the texture and the flavor it

gives. So on one of my trips to the market,

strawberries and raspberries were both looking

really good, and even better, on sale.

So now, the adventure begins. I am going to make

a Berry Curd for the first time EVER!!! It's either

going to be epic or worst case, an epic fail.

So here are the instructions I did, while somewhat

following a recipe, and somewhat changing it for

my own tastes:

1. I placed a cup of fresh raspberries in the

food processor until basically smooth.

Then I pressed it through a fine mesh

strainer into a bowl, and discard the seeds

when I was done.

2. I then took a cup of chopped strawberries

and did the same thing. Into the food

processor, and then pressed through the

strainer, again discarding the seeds.

3. In a saucepan, I mixed 1/2 cup sugar and 1

Tbsp of cornstarch. Then I whisked in 3

large egg yolks and the berry puree until all

of this was blended in the pan.

4. Next I added 2 tbsp of butter, and cooked this over a medium heat, whisking constantly, until the mixture

was just thick enough to coat a spoon, but also using a thermometer and letting the mixture reach a temp

of 170 degrees.

5. Once there, I added a tsp of vanilla extract and mixed well, but making sure not to boil.

6. Once done, remove the pan from the heat.

7. Now transfer the mixture to a bowl, and let it cool slightly.

8. Press some plastic wrap onto the surface, and refrigerate until cold.

9. After chilling, it is ready to serve, or transfer to a glass jar for storage in the fridge.

This mixture was amazing. I will be making this again soon. If was amazing on a English muffin. But even more

amazing over a warm brownie.

Enjoy………

Spring 2020

31
---
A F F I L I A T E S H I G H L I G H T S

CIPPA - Channel Islands Professional Photographers

Larry Skibiski

President

www.cippa.org

Dan Holms

Vice President

GCPPA - Gold Coast Professional Photographers

Michael Collins

President

goldcoastppa.info

Scott Clark

Vice President

IEPPV - Inland Empire Professional Photographers

Nick Seth-Smith

President

ieppv.com

David Schulman

Vice President

PPLAC - Professional Photographers of Los Angeles County

Eleanor Gray

President

pplac.org

Roy Patience

Vice President

PPWC - Professional Photographers of Wine Country

Norah Burrows

President

ppwc-online.org

Karna Roa

Vice President

32
---
PPOC - Professional Photographers of Orange County

John Aranas

President

ppoc.org

Duane Murphy

1st Vice President

PPSDC - Professional Photographers of San Diego County

Janet Bark

President

ppsdc.com

Antoine Didienne

Vice President

PPSV - Professional Photographers of Sacramento Valley

Kimberly Olker

President

ppsv.org

Suzanne Hambleton

Vice President

PPSCV - Professional Photographers of Santa Clara Valley

Roberto Gonzalez

President

Jim Skintauy

Vice President

https://www.ppscv.net

Spring 2020

33
---
Machu Picchu

A Dream Come True

In the late 1950's while living in Miami, Florida, I recall anxiously waiting for mom's friends to share

their stories of their weekend escapes to Cuba's night clubs; the Las Vegas of those days. Mom and her

friends, from the Colombian and Peruvian Consulates, loved to travel. It was their stories of their trip to

Peru that ignited my passion for travel. That trip to Peru was full of excitement, adventure, and wonder,

especially for a child. However, as for many, school, work, and helping at home took precedence, so

travelling around the world had to wait until my 40's. So for my 65 birthday in 2019 I finally landed in Peru.

The excitement was overwhelming as I retraced mom's steps with my husband, William, savoring Peru's

culinary world, and embracing its famous city, Machu Picchu.

Peru is located in western South America, bordered on the North by Ecuador and Colombia (my

native country); the East by Brazil; Southeast/South by Bolivia and Chile; and the West by the Pacific

Ocean. It is rich in seafood and enjoys arid plains of the Pacific coastal region in the west to the peaks of

the Andes mountains. To ensure our excursion was comprehensive we booked through Marriott / G-

Adventures National Geographic Journeys. The outcome was amazing, the tour was simply perfect!

Los Angeles, CA to Lima, Peru. We arrived two days before the start of our tour to experience the

city on our own. Our hotel "Antigua Miraflores" was formerly the mansion of a prestigious Peruvian family,

the decor was stunning, and it was perfectly located close to Lima's best restaurants, ocean board-walk,

and must see sights.

We celebrated my birthday at 'La Rosa

Nautica' a gourmet restaurant with an exquisite menu

and expansive ocean views. We visited the "Centro

Cultural Ricardo Palma" and saw the breathtaking

Black & White "Homo Urbanus Europeanus" exhibit of

French photographer Jean-Marc Caracci whose work

is inspired by Henri Cartier Bresson, Elliot Erwitt and

Raymond Depardon, and influenced by American

Painter Edward Hopper.

Heeding recommendations, we took 1 camera

each; William carried his Nikon D750 with the Nikon

50mm and 28-300mm lenses. I carried my Nikon D810

with my 14-24mm and 24-120mm lenses; extra

batteries, SD Cards, etc. We traveled light knowing up

front that this tour was all about walking, climbing, and

hiking. Yes, this trip was quite an endurance test and

one we prepared for at the gym! We walked between

9,000-19,200 steps per day. And it was all worth it!

Drink plenty of water, stay hydrated, take hiking shoes,

and wear layers. You will need them.

Ana Montgomery, BSBA, CPP

34
---
Our 8-day travels included Lima to Cusco,

Urubamba, Aguas Calientes, Cusco, back to Lima then

home to Los Angeles. The tour officially started on

Sunday when we met the balance of our group of 7

couples plus the local guide, Mauricio who was

exemplary as a leader and a true historian. We were a

small group of Americans, Canadians, and Australians

who got along beautifully the entire trip. That evening

we enjoyed a wonderful city tour of Lima and a delicious

seafood dinner at a local restaurant.

On Monday morning we flew to Cusco where we

toured the Urubamba Valley also known as the 'Sacred

Valley.' There we toured the Moray Ruins known for its

archeological ruins of extensive works of terracing and

irrigation, and the Maras Salt Mines where salt

evaporation ponds are situated at an altitude of 3,380

meters above sea level. Although I was experiencing

these cultural wonders with my own eyes, I was still in

disbelief. I couldn't fathom the engineering and

architectural wonders created without modern

technology.

This particular evening we ate a traditional

"Pachamanca Dinner" at the 'Inkalicious Restaurant',

located walking distance from our hotel, Villa

Urubamba.

The servers were always dressed in beautiful

traditional colorful handwoven clothes.

Spring 2020

35
---
And, as a side note, our hotel looked very

much like a traditional Colombian Finca 'Hacienda'

surrounded by green plush gardens. Each morning's

breakfast included a variety of local grains, Quiwicha

Pop, Quinua Pop, freshly baked breads, eggs, and

fruit yogurts. The service was impeccable and truly

memorable.

Once again on the road we toured the Pisac

Ruins, Ollantaytambo Ruins, and enjoyed a

fabulous meal at the 'Parwa Community

Restaurant'. Peru is known as the largest potato

grower in the world with over 4,000 varieties of

native potatoes varying in size, texture and colors.

While at Ollantaytambo we enjoyed a detailed

explanation of the traditions of planting and

harvesting the vast variety of potatoes in the region.

We also enjoyed a colorful demonstration of

how wool is spun, tinted with nature's different plants

to produce consistently gorgeous colors then woven

into works of art by the Inca women.

On the following day, after a 30 minute

train ride we arrived in Aguas Calientes and stayed

at Taypikala Hotel Machu Picchu. The staff at the

hotel was warm and welcoming, the rooms were

perfect, and each morning there was a lovely buffet

with more than you can eat. It was perfectly located

near shops with a variety of handmade articles for

the home, amazing restaurants, and the bus that

takes you up a very steep, narrow and winding road.

The bus drivers go up and down all day long from

the bottom of the mountain to the top where Machu

Picchu is actually located. Those drivers are true

masters of the wheel as many of us only held our

breath in fear with every curve – afraid to look out

the window down the 10,000 ft precipice;

nevertheless, we made it safely each time we went

up and down.

Machu Picchu was breathtaking, inspirational and more than I could have imagined. You felt the

presence of the Gods, the energy of its history, the power of its warriers, and the glory of its beauty. It

indeed was a trip that was full of wonder, excitement and new 'lifelong' friends. Thanks mom for your

stories, I finally made it here.

The tour continued with other city sights and shows like at the Planetarium, several performances, and

equestrian shows. But it was this moment that brought it all together for me. To witness such beauty

from up high, and to share it with my husband and our new 'Aussie' friends Sue and Colin Newman,

was truly a dream come true.

36
---
Photo by Colin Newman

Saying goodbye to Peru was truly fun too!

Written By: Ana Montgomery

Photos by: Ana Montgomery & Colin Newman

Photo by Colin Newman

37
---
West Coast School is a Professional Photographers of America (PPA) Affiliate School founded in

1956 and is considered to be one of the top five photographic institutions in the country! West

Coast School is a non-profit organization operated by the Professional Photographers of California

and offers an amazing week of hands-on Professional Imaging Creativity, Photography, Business

Developement and FUN!

Instructors are Internationally recognized and share the same goal of helping you with the growth

of your photography business. Each year, nationally acclaimed working professionals celebrate

the craft of photography by sharing their knowledge and expertise with their students. Hands-on

participation is emphasized as students learn the latest techniques from a successful professional.

West Coast School offers an outstanding lineup of instructors and a full schedule of special events.

Our commitment has been to teach attendees practical, real-world skill that can be used to build a

satisfying and prosperous career in professional photography.

Due to the COVID-19 pandemic, West Coast School has been cancelled for 2020. It was an extremely

difficult decision to make but we are already finalizing plans for 2021 and it will be better than ever!

Stay tuned for more information.

The Professional Photographers of California proudly presents the

West Coast School of Photography at the University of San Diego,

June 6-13, 2021.

http://www.westcoastschool.com/

Are You ready to register?

REGISTER NOW!

Winter 2019
---
SAVE

THE

DATE

June 6 - 13, 2021