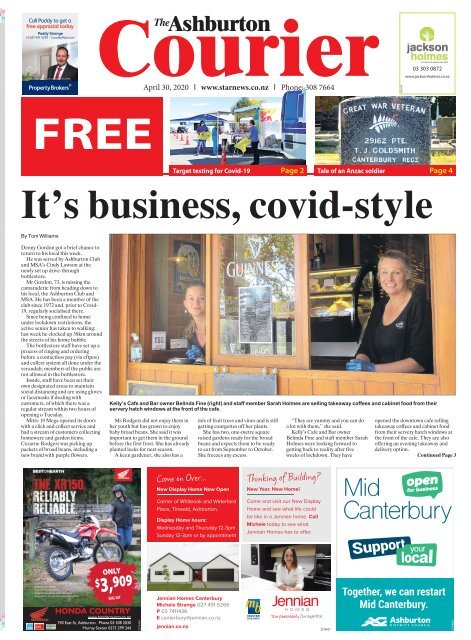 Ashburton Courier: April 30, 2020
You also want an ePaper? Increase the reach of your titles
YUMPU automatically turns print PDFs into web optimized ePapers that Google loves.
Call Paddy to get a

free apprasialtoday

Paddy Strange

M 027 491 5259 | E paddy@pb.co.nz

03 303 0872

Property Brokers LtdLicensedREAA 2008

April30, 2020 l www.starnews.co.nz l Phone:308 7664

2245242

www.jacksonholmes.co.nz

FREE

Target testing forCovid-19

Page 2

Tale of an Anzac soldier

Page 4

It's business, covid­style

By Toni Williams

Denny Gordon got abrief chance to

return to his local this week.

He was served by Ashburton Club

and MSA's Cindy Lawson at the

newly set up drive­through

bottlestore.

Mr Gordon, 73, is missing the

camaraderie from heading down to

his local, the Ashburton Club and

MSA. He has been amember of the

club since 1972 and, prior to Covid­

19, regularly socialised there.

Since being confined tohome

under lockdown restrictions, the

active senior has taken to walking;

last week he clockedup38km around

the streets of his home bubble.

The bottlestore staff have set up a

process of ringing and ordering

before acontactless pay (via eftpos)

and collect system all done under the

verandah; members of the public are

not allowed in the bottlestore.

Inside, staff have been set their

own designated areas to maintain

social distancing and are using gloves

or facemasks if dealing with

customers, of which there was a

regular stream withintwo hours of

opening oTuesday.

Mitre 10 Mega opened its doors

with aclick and collect service and

had astream of customers collecting

homeware and garden items.

Cezarne Rodgers was picking up

packets of broad beans, including a

new brand with purple flowers.

Kelly's Cafe and Bar owner Belinda Fine (right) and staff member Sarah Holmes are selling takeaway coffees and cabinet food from their

servery hatch windows at the frontofthe cafe.

Ms Rodgers did notenjoy themin

her youth but has grown to enjoy

baby broad beans. She said it was

important to get them in the ground

before the first frost. She has already

planted leeks for next season.

Akeen gardener, she also has a

mix of fruit trees and vines and is still

getting courgettes off her plants.

She has two, one­metre square

raisedgardens ready for the broad

beansand expects them to be ready

to eat from September to October.

She freezes any excess.

''They are yummyand you can do

alot with them,'' she said.

Kelly's Cafe andBar owner

Belinda Fine and staffmember Sarah

Holmeswere looking forward to

getting back to reality after five

weeksoflockdown. They have

openedthe downtowncafe selling

takeaway coffees and cabinet food

from their servery hatch windows at

the front of the cafe. Theyare also

offering an evening takeaway and

delivery option.

Continued Page 3

ONLY

$3,909

EXCL GST

HONDA COUNTRY

www.hondacountry.co.nz

740 East St, Ashburton. Phone 03 308 2030

Murray Sexton 0273 299 244

2272469

2270527

2274062
---
Page 2, Ashburton's The Courier, Thursday April 30, 2020

Local news at www.starnews.co.nz

BUSINESS OWNERS

Build customers,

sales and profits

with us ...

Over 16,065

copies delivered to

EVERYhome,farm,

RD and lifestyle

blocks in

MidCanterbury

news

Linda Clarke

Editor

308 7664

linda.clarke@ashburtoncourier.co.nz

Reporters

Mick Jensen

mick.jensen@ashburtoncourier.co.nz

Toni Williams

toni.williams@alliedpress.co.nz

advertising

Jann Thompson

Sales Manager

308 7664

027 587 6351

jann.thompson@ashburtoncourier.co.nz

Roselle Fuaso

Sales Account Manager

308 7664

021 197 8297

roselle@ashburtoncourier.co.nz

Karen Gane

Sales Account Manager

308 7664

021 510 804

karen.gane@ashburtoncourier.co.nz

getintouch

Editorial

linda.clarke@ashburtoncourier.co.nz

Advertising

info@ashburtoncourier.co.nz

Production

murray.thompson@ashburtoncourier.co.nz

Accounts

accounts@alliedpress.co.nz

Distribution/Deliveries

leonie.marsden@ashburtoncourier.co.nz

Office

office@ashburtoncourier.co.nz

03 308 7664

199 Burnett Street,Ashburton

www.ashburtoncourier.co.nz

2253088

Target testing planned

By Linda Clarke

Health authorities swabbed 24

people for Covid­19 at amobile

testing centre in Ashburton last

weekend and more testing of

target groups is planned in

Rakaia on Saturday to check the

disease is not undetected in Mid

Canterbury.

Last weekend's tests returned

negative results and just three

cases of the virus have been

recorded in the district since the

pandemic began.

Ashburton's communitybased

assessment centre at

Ashburton Hospital has tested

more than 400 people since it

was set up.

Dr Sarah Clarke said it was

important for people with

symptoms to be tested and wider

community testing results would

help provide the data that would

inform government decisions

about restrictions going forward.

People with arunny nose,

cough, sore throat or other

respiratory symptoms were

encouraged to head along to the

Hampstead Rugby Club grounds

on Saturday. Cars began lining

up before the 1pm start and

people were swabbed by

members of aspecialist team of

clinicians organised by the

Canterbury Primary Response

Group.

Dr Clarke said the low

number seeking testing may be

because of less sickness in the

community in general because of

the lockdown, or because Kiwis

were fobbing off mild symptoms

as acase of the sniffles.

''We really do want to try and

capture everyone who has

symptoms, even if they do not

Clinicians set up their mobile testing station at the Hampstead Rugby Club last weekend.

think they are at risk of Covid­

19,'' she said.

People should see their doctor

or ring Healthline for advice.

The targetted testing was

aimed at those who might not do

either of those options.

''People found it reassuring to

have had atest done,'' Dr Clarke

said.

After pressure from

Ashburton mayor Neil Brown

and Rangitata MP Andrew

Falloon, the Canterbury District

Health Board now breaks down

Covid­19 figures for the

Canterbury region.

As as Tuesday April 28, there

were three cases in Ashburton,

13 in Selwyn, 17 in Waimakariri,

four in Kaikoura and three in

Hurunui. There were 122 cases

in Christchurch city and the

combined number of cases for

the Canterbury DHB area was

162.

Mr Brown said Mid

Canterbury people needed to

keep practising good hygiene

and physical distancing even as

the alert levels began to ease.

The country moved from Alert

Level 4to3onTuesday and

government will review its

decision on May 11 about

further de­escalation.

Mr Brown said he and Mr

Falloon had until last week not

been privvy to any data about the

virus in the Ashburton District.

''I sought the information

from the Ministry of Health in an

effort to help our community

appreciate just how important it

is that we are all following the

lockdown rules, and continue to

do what the Government asks of

us.''

He said people should not

become complacent about their

health and the health of others.

Ashburton senior sergeant

We are OPEN foreverything youneed!

Andit'ssimple ...

Just check out ourwebsiteand order online...

contactless pick up ordeliveryavailable.

Or call us on 308 8309 oremail

ashburton@paperplus.co.nz to placeyour order.

Thank you for supporting ourlocally owned store.

212 East Street,Ashburton. Phone 308 8309

Leigh Jenkins said while the

overwhelming majority of Mid

Canterbury people had been

sticking to the lockdown rules, a

small number of breaches had

been recorded since March 26;

nationally there were 5857

breaches of the Civil Defence

Emergency and Health Acts.

''At Alert Level 3there are

still restrictions and we need to

continue sticking to the rules.

That means staying at home as

much as possible, limiting any

travel and sticking to your

household bubble.''

He said police would continue

to be highly visible in

communities and on roads to

maintain public safety, security

and order. They would take an

education­first approach and not

hesitate to take enforcement

action, either through warnings

or arrests, for any serious or

persistent breaches.

Shutdown losses mount for council

Four weeks in Alert Level 4

lockdownhas cost the

Ashburton District Council

$570,00 in lost revenue.

The EA NetworksCentre has

been closed sinceMarch 26 with

lost revenue of $200,000, while

building inspection fees are

down$80,000, the resource

recovery park is down$50,000,

rent on commercial property is

down$27,000, and an expected

dividend of $100,000 fromACL

will not be paid.

Council had saved $140,000 by

reduced expenditure at EA

Networks Centre($40,000) and

no staff training ($100,000).

The figures areinareport

about the financialimplications

of Covid­19tobediscussed by

district councillorstoday. The

losses will increase if council

operations cannot resume

promptly.

Business supportgroup

managerPaul Brake said the net

costof$430,000was not

considered to be amajor impact,

givencouncil's total revenue

budget for the yearof$68.6

millionand balance sheet equity

of $760m.

While work had beenable to

continue in someareaswith staff

workingfrom home,therewere

areas of activitiesthat havenot

continued,hesaid.Demand for

some council serviceshad

reduced, negatively impacting

revenue.

Ratesincome wouldbe

unaffected, otherthan perhaps a

slower receiptofratesincome

thannormal.

The EA Networks Centre,

museum and library and

council's administrationbuilding

remain closed to customers in

Alert Level 3. Parksstaff are

able to mow and tidy open

spaces, and somebuilding

inspectionsare allowed.

TheAshburton Resource

Recovery Park is openthough

some waste recovery services

continuetobeimpacted.

Kerbside recycling and glass

collection has returned to

normal.

TheCivil Defence team has

movedback into the main

building afteroperating from

council chambers.

2273399 2263080
---
Local news at www.starnews.co.nz Ashburton's The Courier, Thursday April 30, 2020, Page 3

Covid­19 changes local business scene

From Page 1

Paper Plus Ashburton staff,

including Libby Mason and Barrine

Ross, were helping people with their

purchasing needs including

stationery, reading materials and

postal supplies from orders placed

online or by phone. As aPost Shop

agency, staff were also helping

people pay their bills (with cash) and

to post mail.

UK visitor Charlie Beaumont was

among the steady stream of visitors

to the Ashburton Resource Recovery

Park, keen to dispose of waste and

recycling.

Mr Beaumont arrived in New

Zealand with wife Briony in January

on atrip to visit family and celebrate

their grandchild's first birthday. They

were due to head home to Kent on

April 14.

However, since going into

lockdown with daughter Kate, her

husband James and grandchildren,

aged one and three, on adairy farm

at Lowcliffe, the Beaumonts are

resigned to being here, for now.

They will help the young family

move to their new dairy farm

position on Moving Day.

Mr Beaumont, aretired Youth

Justice Worker, did not have the

urgency of work to return to the UK

so was enjoying spending time with

family.

Visitors to the recovery park were

being logged by staff at the entrance

in case authorities needed to trace

park users in the event of any Covid­

19 transmission.

Denny Gordon with Ashburton Club and MSA's Cindy Lawson at the

newly set up drive-through bottlestore.

Mitre 10 Mega's Sandra Ireland (left) is the face of the new click and

collect service for gardening enthusiast Cezarne Rodgers.

Right: Paper Plus Ashburton

staff Libby Mason (left) and

Barrine Ross help customer

Joffre Senados.

UK visitor Charlie Beaumont, pictured with Ashburton Resource

Recovery Park's Sally Michelle, was among the steady stream of

visitors keen to dispose of their waste and recycling.

ARE AVAILABLE FORSALES

PHONE AND COLLECT

Just phone

308 9019 or 027 367 3970

to arrange contactless collection or delivery

•All items we stock areavailable for purchase

• No customers areallowed in our store,

therefore please just phone or email us and we will take care of you.

Phone 308 9019 or email jacky@smithandchurch.co.nz

308 9019 or

027 367 3970

ALOCAL BUSINESS TAKING CARE OF ITSLOCAL COMMUNITY

Available 9am to 5pm week days.

2273299
---
Page 4, Ashburton's The Courier, Thursday April 30, 2020

Local news at www.starnews.co.nz

Morethan aname on aheadstone

Twenty­six­year­old Thomas

Joseph Goldsmith was farming at

Lauriston, near Ashburton, when

he enlisted to fight for his new

home country.

Born at Braddan, in the Isle of

Man on December 18, 1889,

Thomas had made his way to New

Zealand and settled in Mid

Canterbury.

At 6­foot tall, with aframe of

around 80kg (176lbs), Thomas, who

had passed the Fourth Educational

Standard or equivalent at the time

of enlisting, had brown hair, grey

eyes and aslight stammer in his

speech.

He was single and with no

dependants when stirred to duty by

joining the infantry of the New

Zealand Expeditionary Force on

June 28, 1916.

His next of kin when he enlisted

was his friend, C. Goodwin, of

Clovelly Farm at Lauriston, New

Zealand.

Private TJGoldsmith, 29162 was

assigned to the 2nd Canterbury

Infantry Battalion.

The Canterbury Infantry

Regiment was one of four regional

infantry groups (the others were

Auckland, Wellington and Otago)

and served on the Western Front

from 1916 until 1918.

This was where Thomas was

headed when he embarked with

other 18th Reinforcements, and

12th and 9th New Zealand Rifle

Brigade, on the Tofua from

Wellington on October 11, 1916.

Two and ahalf months later,

having spent Christmas Day on

board the troopship with thousands

of other soldiers, he disembarked at

The tale of Anzac Private Thomas Goldsmith

Ashburton RSA vice-president Allan Johnstone lays awreath for Anzac Day 2020.

Plymouth, in the south west of

England, on December 29 and

marched into Sling Camp for

training on the same day.

It was two days before New

Year's Eve.

He was there for just over a

month before moving on to France

and the first battle of his life.

Thomas arrived at camp in

Staples, France and amonth later

was led into the field of battle; it was

March 3, 1917.

Soldiers on the Western Front

fought the war living in trenches

which were long, narrow ditches dug

into the ground.

The trenches were muddy and

smelly with food scraps, overflowing

toilets and the bodies of deceased

soldiers which attracted rats. There

was also lice, brought in on frogs

when the trenches flooded,

attaching to clothing and causing

the men to itch and suffer from

trench fever (which lice spread).

Three­and­a­half months after

first arriving in the trenches,

Thomassuffered from about of

diarrhoea so severe he had to be

treated twice by fieldambulance.

He went on to do Western­

European service throughout 1917

and 1918, was woundedmultiple

times in action, including an

accidental injury in July 1917 and

was also disciplined at leasttwice;

oncefor being missinginactionfor

45 minutesonNew Year's Day

1918.

Thomas served his country for

three yearsand 159 days,which

included two years and 345 days

posted overseas.

He was eventually discharged

The recently-cleaned headstone

of Private Thomas Goldsmith, in

the Ashburton Cemetery.

from service on December 3, 1919

as no longer being physically fit

becauseofwounds received in

action.

He was awardedthe British War

Medal on November 21, 1921, and

the Victory Medal on May 16, 1922.

It is not known what Thomas' life

was like returning to New Zealand

after the war, but he died at

Burnham, on November 19, 1950.

He is buried alongside other

Anzac soldiers at Ashburton

Cemetery.

Lockdown bubbles shower Carlyn with love

Despite the tough financial times

many people are finding

themselves in due to the Covid­

19 situation, an Ashburton

family rallying to reach an

$87,000 target for unfunded

cancer drugs is reeling by the

outpouring of love and support it

is receiving.

Family of Ashburton woman

25­year­old Carlyn Reed began a

Givealittle fundraising page on

Anzac Day (April 25) to help

raise funds for immune therapy

treatment she needs to help save

her life.

Since the age of 14, the former

Ashburton College pupil has

courageously been fighting

Hodgkin's Lymphoma. Over the

years, despite numerous

chemotherapy treatments,

radiation and astem cell

transplant, the cancer keeps

returning.

With no public treatment

options left, Carlyn's only hope

for acure rests with aNew

Zealand Government­approved,

Carlyn Reed and her family are fundraising for unfunded

cancer drugs.

but unfunded drug, called

Pembrozlizumab.

Family member Julia Dohmen

said aquote from St George's

Hospital in Christchurch for

Carlyn's immune therapy

treatment and care costs was

received on April 24 and the

family set to work to create a

fundraising page to support

Carlyn's cause.

"Within the first 12 hours,

$30,050 had been raised which

just blew everyone away.

"Carlyn, her mum and siblings

were in their respective house

bubbles staying in touch virtually

watching the donations flow in

and reading the many messages

of support.

"There were lots of tears,

happy tears. It just shows the

power of the people in times like

these," she said.

Mrs Dohmen said that by the

end of day two, the fundraising

total had reached $41,000 –just

shy of the halfway mark.

It had reached $50,000

yesterday.

"We still have awee way to go,

but are heartened by the

outpouring of love and

generosity from people in their

bubbles both here in New

Zealand, and even from across

the ditch in Australia. It gives us

ahuge amount of hope that this

target is totally possible," she

said.

People can read more about

Carlyn's story and donate to her

cause via the Givealittle website

–Help Carlyn kick cancer to the

curb, at https://givealittle.co.nz/

cause/help­carlyn­kick­cancerto­the­curb­dollar87000

www.auricelectrical.co.nz

• Domestic electrical services

• New house wiring

• House rewiring &maintenance

SUPPLIERS AND INSTALLERS OF LEADING BRANDS

• TV &Datawiring

• Solar installation

• HeatPumps

Call todayfor an obligation free quote

0800287 423

2269129

Be crime savvy

Police are reminding

people to keep their

property and valuables

secure, even if they are at

home.

With more people

returning to work, it is

timely for areminder

about keeping property

safe because burglars are

still active.

Doors and windowsleft

open provide aperfect

opportunity for thieves to

snatch items without being

detected and valuables

should be out of sight from

passers­by. People

workinginthe garden or

away from the front door,

should makesure doors

are locked.

Remember to lock your

car, even in the driveway.
---
Local news at www.starnews.co.nz Ashburton's The Courier, Thursday April 30, 2020, Page 5

Student armyready to roll

By Linda Clarke

Canterbury University student

Alyce Lysaght is helping the

Student Volunteer Army set up a

delivery service for older people in

her home town, Ashburton.

Alyce, 20, is in her third year of

aBachelor of Engineering degree,

specialising in natural resources

and global humanitarian, and has

been among student volunteers

grocery shopping and delivering

prescriptions for over 65s and

medically­vulnerable people in

Christchurch.

Now the SVA has teamed up

with New World Ashburton and

Alyce said the army has students

on the ground here ready to roll.

"It has been awesome to see

many familiar names from

Ashburton in the volunteering

pool already. However, we are

always in need of more, so I

encourage anyone who has acar

to sign up. You don't have to be a

student."

Alyce spent her last summer

holidays working with the

Ashburton District Council on

projects that included

communicating with retailers

about the CBD beautification

work.

She returned to Christchurch at

the start of the year to continue

the third of four years engineering

study. She is also studying Te Reo

Maori at Te Wananga oAotearoa.

"It's definitely busy, yet exciting

times. I've been at my flat over

lockdown, which has been alot of

fun."

In Christchurch, the SVA

launched its nationwide

volunteering response on March

19 and since then thousands of

volunteers, including interviewers

Ashburton's Alyce Lysaght is helping from the Student Volunteer Army's delivery service to the

town.

and organisers had been working

hard to enable those who should

be staying at home, to stay at

home.

The army constructed an online

grocery store that can be used with

any New World in the country.

Volunteers collect the groceries

and deliver them to customers

within 48 hours, though it's often

the next morning. Payments are

done online, with a$6delivery fee.

The SVA also operates a

pharmaceutical delivery service.

Alyce said it was more than a

delivery service with volunteers

sharing smiles and much­needed

conversation.

"We've had alot of stories from

people who have been on

lockdown by themselves so to see

avolunteer walk up their

driveway, and drop their groceries

at the door with agreat big smile

has totally made their day."

One volunteer in Dunedin

knew it was their customer's 80th

birthday so they made an effort to

deliver her acard along with her

favourite chocolates, sussed out by

the call centre operator. "Another

customer made afelt love heart

with the letters SVA embroidered

to give to the volunteer on their

next delivery."

Alyce, who has been on the

SVA executive since 2018, said it

was important to genuinely do

good in these uncertain times.

"This volunteering response is

so much more than just adelivery

service. It's about having that

connection and providing help for

those who need it. It really was a

no­brainer to give what Icould

during this time as SVA gives

volunteers all the tools needed to

help in acommunity."

Customers can safely place an

order by visiting www.sva.org.nz

(or calling 0800 005 902), and

order their shopping, paying via

credit card.

As well at the support of New

World, Hyundai has provided

some vehicles and ZEnergy is

providing free petrol.

Dentists face backlog, PPE battle

By Linda Clarke

Dentists have had to cancel

hundreds of appointments and are

warning their costs might rise

when they are eventually able to

get back to work, because of the

huge demand for personal

protective equipment (PPE).

Sourcing special gowns, face

shields, masks and hydrogen

peroxide­based mouthwash has

been abig challenge for

Ashburton practice Dentistry on

Parkside and principal dentist

Arun Velusamy said the cost had

increased 10­20 times, with

upfront payments on ordering.

The New Zealand Dental

Association agrees there is ahuge

supply and demand issue and

patients could pay $80 more for

PPE before treatment even starts.

The equipment is in demand

globally by health organisations

fighting Covid­19.

Dental practices were closed in

Alert Level 4, except for

emergencies, and remain closed in

Alert Level 3.

Dr Velusamy said Parkside

dentists had been doing phone

consultations and prescriptions at

no cost to help patients and seeing

dental emergencies, which

included patients with pain,

swelling and ACC injuries.

''We have been working with

skeleton staff and following all the

protocols as advised by the

Ministry of Health and dental

council.''

Emergency patients cover all

age groups, from people in rest

Dentistry on Parkside principal dentist Arun Velusamy (right)

and dental assistant Samantha Collins have been on deck for

emergency patients during lockdown.

homes to children, the medically

compromised and essential

workers.

The practice had to cancel

several hundred appointments

before lockdown began on March

26.

Patients were contacted by

email and will have to be

rebooked when the country moves

to alert level 2.

''We are keeping an active track

of our patients who have been

moved due to lockdown and we

will contact them by phone or

email to organise their

appointments. We had people

contacting us and they were quite

understanding.''

Dentists have not yet seen

guidelines for operating at Alert

Level 2. ''But it is highly likely that

we will be able to do more

procedures than what we are

doing right now in level 3and 4.''

He said his team was like a

second family and it was sad not

seeing them at work.

The impact of Covid­19 had

been severe and would take

months or years to recover, he

said.

''We have applied for the wage

subsidy for all our staff and

remained open for dental

emergencies throughout level 4

and 3. Being locally owned, we

have remained available at this

difficult time for our local

community.''

The national dental association

says dentists had been shut out of

providing important oral health

care, unlike doctors and

pharmacists who were still able to

work and receive some income

during the lockdown.

Chief executive Dr David Crum

said dentistry had been largely

ignored by government, who

provided almost no funding for

adult dental care.

"Last year the New Zealand

government spent over $18 billion

on health care, $3745 for every

man, woman and child in New

Zealand. But less than one half of

one per cent was spent by the

Government on oral health," he

said.

"The reality is that if you are an

adult New Zealander, you will be

expected to pay for your own

dental care and the PPE to

provide this safely with limited

exceptions.''

Health services

Mid Canterbury medical practices are

continuing to operate mostly virtually in

Alert Level 3and they still want to hear from

peoplewho are ill, for any reason.

SpokespersonDrEmma Andrew said GPs

and health services were essentially

operatingasthey did in lockdown, though

therewere afew changes.

Physiotherapists will do most of their work

virtually but are still able to see acute

conditions in person.

Dentists are available only for urgent care.

Pharmaciescontinue to issue medication

on amonthly basis.This does not necessarily

mean you need monthlyrenewal of scripts

from your local doctor–please check with

your pharmacist first.

She said many people were wonderingif

they needed to have aCovid­19swab done,

before they returned to work. Thisisonly the

case if you haveany symptoms of a

respiratorytract infection ie any of: runny

nose,sore throat,sneezing, cough, lossof

sense of smell, shortness of breath, fever.

''If you do have any of these symptoms

please contactyour local GP or Healthline.''

Schools quiet

Mid Canterbury schools have seen justa

trickle of students returntothe classroom

underthe new Alert Level 3restrictions.

Hampstead School principal Peter

Melrose said he had 13 students back onsite.

The way schoolswere required to operate

at the moment ''was not particularly

appealing'' and the situationwas far from

normal in the classroom.

His schoolhad beenbusy staying

connectedonline, and pupils were very

active on class dojos.

Like otherschools,Hampstead is required

to manage school bubbles of no more than

10 students.

Off limitsare schoolplaygrounds and

sports equipment,while there are shorter

breaks, strictdistancingrules and registers

to maintain.

Schools spoken to by Ashburton Courier

show returning studentnumbers of 20 at

AshburtonIntermediate,10atNetherby, 10

at Rakaia, zero at Longbeach, 25 at Borough

School, 9atMount Hutt College,20at

Allenton School and 13 at Ashburton

ChristianSchool.

Hampstead School pupil Adam Overend

received ahome learning pack last week.

Crash inquiries

The police serious crashunit is

investigatingtwo crashesinMid Canterbury

last Sunday night, 24 hours before the

country moved to AlertLevel 3.

Emergency services were called to a

single­vehicle crash on the ArundelRakaia

GorgeRoad, Mayfield, about 11.15pm­one

personwas reported to have beenseriously

injured.The seriouscrash unit examined the

sceneand inquiriesinto the circumstances of

the crash are ongoing.

Therewas also acrash involving atanker

and anothervehicle about11.20pm on the

Rakaia Highway(SH1) near Coplands

Road.One person was reported to have

been seriously injured. The serious crash

unit attended and examined the scene, and

inquiriesare ongoing.
---
Page 6, Ashburton's The Courier, Thursday April 30, 2020

Local news at www.starnews.co.nz

Duck­shooter Dave backs favourite spot

By Mick Jensen

The opening day of the duck

shooting season may be

delayed because of coronavirus

restrictions, but Dave

Thomson is ready and will

take aim from an irrigation

pond at Lowcliffe.

Dave's been shooting ducks

for five decades and first

picked up his father's 1901

steel barrelled hammer gun as

ateenager in Dunedin.

He still has the gun and, like

the weapon of choice for many

duck shooters, it's a12gauge.

''It's asingle shot and the

barrel is 7cm longer than my

current gun and it weighs alot

more.

''It's made by Harrington &

Richardson and Iused for a

couple of years.

''These days it's more of a

family heirloom, has little

value, but Ikeep it for sentimental

reasons.''

Dave will be joined by

former Lauriston School principal

John Bockett on the first

day of the new season.

The pair have enjoyed the

annual catch up many times

over the past 40 years and will

Mid/South CanterburyContinuous Spouting

Dave Thomson (right) with duck shooting mate John

Bockett with ahaul from the opening morning of the

season five years ago.

Spend a couple of hours

every Thursday delivering the

Ashburton Courier and Realty in

the Ashburton urban area.

Enjoy the fresh air, stay fit and

reap the health benefits!

Phone Leonie todayon308 7664

to get startedoremail

leonie.marsden@ashburtoncourier.co.nz

2264292

TM

TM

TM

TM

Askabout our large capacityspouting for

commercial and farmbuildings

Residential –fascia, gutter and downpipes

Snowprotection our specialty

Stay fit &earn $$$

at the same time

head to a regular spot at

Lowcliffe, afarm belonging to

one of the pupils Dave taught

during his time as the principal

of Lowcliffe School.

Dave is also akeen rabbit

and hare shooter and enjoys

the social side of the hunt and

The Original

Spouting Specialists

Serving

Mid/South

Canterbury

for over

26 years

Your new spouting proudly installed by

Craig or Josh

John Tull ...providingoutstandingservice,

afterinstallation care and pricing requirements!

Phone him on 021 288 8290

Email: john@canterburycontinuous.co.nz

www.continuous.co.nz Freephone 0800 50 1993

2263153

Dave with the gun he first

used for duck shooting

more than 50 years ago.

getting outdoors with mates.

He also enjoys cooking up the

spoils of his hunting trips.

''I've got four mates I do

various types of shooting of

with, and Iknow when Igoout

with them I'm going to be

safe.''

For anumber of years in the

1980s there was a sizeable

social gathering of duck

shooters at the Lowcliffe Hall.

Town versus country duck

dinners were held and when

numbers dropped off, the

venue moved to Murphy's, the

small hall at the Rangitata

River mouth.

''They ground to a halt

when there was only afew of

the older shooters left,'' said

Dave.

Dave has used aselection of

guns for bagging ducks over

the years, including adouble

barrelled, side­by­side shotgun.

''I didn't bag any more

ducks with that gun, but Idid

use twice as much ammo.''

Later he used a double

barrelled over­under shotgun,

with the sight located on the

top barrel, and both barrels

pointing more directly at the

target.

With alaw change in 2004,

shooters like Dave were

forced to use non­toxic shot

when hunting waterfowl

within 200 metres of open

water.

'I didn't want to go down

the road of modifying the

choke on my gun, so opted to

buy apump action shotgun.

''I didn't get on with it and

it only lasted one season.''

His current gun is a semi

automatic and he considers

himself to be an ''average

shot''.

He still prefers the old lead

shot, he says.

''I my experience the steel

shots are faster than lead, but

if you shoot at close range you

go right through the duck, and

if you shoot from long range

there is now always enough

killing power.''

Like most duck shooters

Dave will enjoy the opening

weekend of the new season,

and then will shoot probably

only shoot three or four more

times more over the three

month season.

The game bird season

will open on the second Saturday

following the introduction

of Alert Level 2, except if that

date falls on May 30. Based on

current Government projections,

opening day will be mid­

May or early June. Because of

the late start, the season will

also be extended.

Rakaia embraces new school norm

Seventy chromebooks and more

school work packshave been

despatched to the homes of Rakaia

School students to enable them to

continue learning at home.

Principal Mark Ellis said a

number of his188 pupilsalready

had devicesand some of the new

ones would be shared by studentsin

the same bubble.

He had six children at the school

on Wednesday and learning was

being managed in two school

bubbles to begin work.

Now's the time to shop local

It's hard to thinkofmany clear

silverliningsfrom the cloud of

Covid­19. For some of us it might

be spending extra time with family.

Time to read, to garden, to take up

anew hobby.

But any positives palein

comparison to the disastrous

impacts of the virus.

New Zealanders have losttheir

lives.Many others have had their

healthaffected, not just in other

parts of the country, but herein

Ashburton.

Longerterm, the economic

impactwill be unprecedented.

Since the lockdown was

announced,I've spokento

countlesslocals who've lost their

jobs through no fault of their own.

The Government'swage subsidy

package, similar to the scheme I

helpedput in place after the

Kaikoura earthquakes when

working in government,has paid

out well in excess of $10 billionto

support the wages of 1.6 million

New Zealanders.

Apart fromafew issues like

some employers not applying for

their employees, the schemehas

workedwell. The challenge is what

happens next, whenthat subsidy

for most employees runs out in

seven weeks.

When businesses,although

open, don'thave the revenue

He and his staff were running a

roster to look after children at

school and all would continue to

support distance learning.

Mr Ellis said he had been

impressed by the way his teachers

had adapted to the current

situation. He was also very grateful

for the support of theschool

families, the board of trustees and

the wider Rakaia community.

All school families had been

spoken to during lockdown and

communication continued to be

Rangitata MP Andrew Falloon

neededtopay their staff, let alone

themselves.

Much of that we herein

Ashburtoncannot control. Billions

are being borrowed,and billions

more will be needed for

government to continue to help

keep people in work.

What we can controliswhere we

shop. For along timeour local

retailershave beencompetingwith

an ever­growing surfeit of online

sellers. If anything, Covid­19has

the potential to grow that

challenge,asmore people have

good.

''The two words I've been using a

lot lately are connectiveness and

engagement.

''Theysum up how we have all

adapted and managed during these

tough times of isolation.''

Mr Ellis said some opportunities

had presentedthemselves to

educationalists and society during

the lockdown and online learning

could be taken back toschools and

further developed when normal

schooling resumed.

becomeused to shopping online.

As the name would suggest,

disruptivetechnologies,both good

and bad, thrive on rapid changes in

behaviour.

Under Covid­19 Alert Level3

many of our local cafes and

restaurantsare once again able to

open, albeit only for contactless

delivery or pick­up fromphone or

onlineorders. Hospitality is likely

to be one of the hardest hit

industries,and they too will need

our support.

This is not some plea to return

to aFortress New Zealand.We

must continue to trade with the

world,and once again it will be

farmers and the ruraleconomy

helping to pull New Zealand

through.

But we can choose to support

the local bookstore. Clothingand

footwear retailers. IT, design,and

other professional services.

Butchers, bakers, and, if we have

any, candlestick makers.

The Ashburton District Council

has launched agreat website

(https://midcanopenforbiz.nz),

enabling businessestoregister,

and locals to see what's on offer.

Let's makeShop Localasmall

positive we can take out of all of

this.
---
Local news at www.starnews.co.nz Ashburton's The Courier, Thursday April 30, 2020, Page 7

We're open for business

at www.mitre10.co.nz with our full

online range (contactless click & collect

and home delivery options) or by calling

our 'personal shoppers' at local stores.

Everything you need

now back online.

Contactless shopping

with click and collect

from Tuesday.

Or choose

contactless home

delivery.

*From28th April 2020 at Level3restrictions.

Mitre10MEGA ASHBURTON West Street,Ashburton PHONE 03 308 5119
---
Page 8, Ashburton's The Courier, Thursday April 30, 2020

Local news at www.starnews.co.nz

SHOP FROM HOME...

Order NOW

Deliveryorcollection

Don't forget Mother'sDay

Preorders preferred.

We can deliver bouquets and gift baskets

foryou locally and nationally.

Visit out websiteoremail us nowtoplace your order.

All orders arenon contactdeliveryor

non contactcollection if youprefer.

Flowers

&Balloons

190 East Street, Ashburton • Phone 308 8945

www.flowersand balloons.co.nz

enquiries@flowersandballoons.co.nz

Kitchens

Laundries

and all Shelving

We areavailablebyemail adrian@kitchenexpress.co.nz ,

Phone 0272607450and our website kitchenexpress.co.nz

We canarrange anddosite

measures andquotes by agreement.

>>

The Renovation Experts

606 East St, Ashburton P: 307 7131

www.kitchenexpress.co.nz

Farmhouse Boutique

Weddings andEvents

Deliveringcontactless Mother'sDay love

on Sunday 10th May

Preordersessential.Phone 027 697 0483

www.farmhouseboutique.com

OPENFOR YOUAND

YOUR PETS!

MondaytoFriday9am-5pm

Saturday9am-4pm

We can also do home deliveries foryou.

Just phone the shop for orders.

027 312 5756 l 99 Archibald Street,Tinwald

2274344

Phone (03) 307 8996

2273557

2148717

2273697

www.fusiongallery.co.nz

15% off online orders

duringlevel 3

(use discount code FUSION15)

Freegiftwrapping

Free contactlessdeliverywithintownboundary

Contactless collection available

214 East Street

Ashburton

Ph 308 5955

YES, WE AREOPEN!

Plants must be pre-ordered and

collectedcontactless.

Phone 308 9950 or

Rodneyon027 475 3798

Approavailable.

2273916

Grahams Road,

Tinwald

(1kmfrommain highway)

While our doors may not be open, we can

still put our gorgeous shoes on your feet.

Orders can be made via phone,emailorour websitewith an

added bonus of 20%OFF STOREWIDE

All orderswill be contactlessdeliveredtoyour door.

Moana 0274626676 l Carolyn 0276088246

info@steppingout.co.nz l www.steppingout.co.nz

We offer the following:

• Gutter and DownpipeCleaning

• Weed Spraying

• Moss,Mould and Lichen Spraying

• Spider Proofing

• Gorse and BroomSpraying

• FenceLine Spraying

• Chimney/Flue Cleaning

• Heat Pump Service

Call Allan on 027 209 5026 an let us know howwecan help

Email: aapsl2017@gmail.com

2273890

2273381 2273662

ALL OUR PRODUCTS

NOWAVAILABLE

•Picks ups available 10am-1pm

weekdays at

Tancred Street end of Arcade.

Installation and Servicing of:

•Heatpumps •Electrical Appliances

•DairyRefrigeration •Ventilation

•Refrigeration

We have procedures in placetokeep staff

and clients safeasper COVID-19

guidelines and requirements.

JUST WHAT

YOUNEED

• Freecontactless delivery

within town boundary

Phone 308 1815 or

email h2k11@xtra.co.nz

Phone 308 7182

On Call 021 597 517

211/D Alford Forest Rd,Ashburton

admin@stewartandholland.co.nz

www.stewartandholland.co.nz

Supermarket hours

9am to 7pm everyday

Post Services NOW AVAILABLE

Excluding Vehicle Licensing and Bill Payment

Mon-Fri: 9am to 5pm ,Sat: 9am to 12noon

2273832

Youmay also shop at the comfort of your own home

SHOP ONLINE

tinwald.store.supervalue.co.nz

113 Archibald Street Tinwald. Phone 3087446

Show your LOVE this

Mother'sDay with

stunning flowers,

soaps, scarves

andgifts.

Orders strongly

recommended

"Openeveryday...earlytill late"

77 Racecourse Road,Ashburton 027 313 0615

#weloveflowers Tone'e H-Ashburton

2274139

2274119

2273542
---
How to keep

your bubble safe

at Alert Level 3

Keeping your bubble small is the bestway to keep the people in

your household protected. It helps keep other people safe too.

Because the morecontact you have withother people, the more

opportunity the virus has to spread.

Keeping itsmall meansrestricting yourbubble to your

immediate household,and maybe extending it asmall amount

if youneed to –perhaps by oneortwo peoplemaximum.

This could mean reconnecting with closefamily,bringing in

acaregiver,orsupporting an isolated person.

Information about keepingyour

bubble small:

Areneighboursallowed to mergebubbles?

Not forsocial reasons. Unfortunately, we allneed tosay 'no' to a

beer withthe neighbour until COVID-19isunder control. Youcan,

however,support someone who is isolated andneedshelp.

CanIvisit my family if they arespreadout

across more than oneother bubble?

Youcan't join multiple family bubbles together. The waytostay

safe is to limityour exposuretootherpeopleasmuchaspossible,

includingfamily members. As mentioned, you can visit someone

whoisisolated or needs help. However, you should make sure

you're theonlyone joining their bubble.

Canour flatextend ourbubbletoanother flat?

At Alert Level3thisisnot allowed. Itwould open up the potential

forthe virus to spread.Remember,the morepeopleinyourbubble,

the greater the risk.

Imoved into my parent's housefor the

lockdown.Can Inow returntomyflat?

Youcan return to yourflat,but youmust only move once,

and in one direction (i.e. youcan't live across two properties

or return to yourparent's place multiple times).

CanIvisit my girlfriend,boyfriend or partner

at AlertLevel 3?

It is okay to re-unite with your partner if youwereseparatedduring

Alert Level4,aslongastheyare livingin the same region as you.

CanIextend my bubble to includeaperson

that's in adifferentsuburborregion?

Extending your bubble to someone in anothersuburbisokay.

However, youcannotiftheyare in anotherregion.

Am Iallowedtoextend my bubble to someone

Imet on Tinder?

At Alert Level 3, youcannot extendyour bubble forpurely

social reasons.

Howbig can our bubblesbetostill stay safe?

Keeping yourbubbleexclusiveisthe best waytokeep those in

your household protected.This is especially importantif anyone

in yourhouseholdis elderlyorhas amedical condition.

Howdobubbles work withsharedcustody

arrangements?

Children can move between bubbles to spend time with

bothparents. But only travel whereyou needtoand keep travel

to aminimum.

CanIleave abubbleifI'm unsafe?

Ifthe situationinyour bubble is unsafe you can leaveyour bubble

immediately,and seek help.Ifpossible, ask atrusted neighbour

orfriend forhelp, thencallPolice on 111 orWomen'sRefuge.

Thank youdeliverydrivers

We really appreciate youworkingsohardoverthe last fewweeks to providethe essentials.

And thanksfor stayingvigilant and keeping a2-metre distance when youleaveusour

packages and deliveries now thatwe're in AlertLevel 3. Your actionsare protectingusall!

Gotquestions?

Find the answersfaster at Covid19.govt.nz
---
Page 10, Ashburton's The Courier, Thursday April 30, 2020

Local news at www.starnews.co.nz

DEATHS

Family Notices

IN MEMORIAL

Business boost for locals

CRUM, Terry Frank: On

April 17, 2020 at Radius

Millstream, Ashburton.

Aged 80 years. Dearly

loved husband of June.

Loved father of Katherine

English and father in law

of Gregor Munro, and

father of Jonathan. Loved

grandfather of Georgie,

and Josephine English.

Brother of June, Michael,

and Sue. Messages to the

Crum family, POBox 472,

Ashburton7740.

A private burial has taken

place.

Paterson's

Ashburton

FDANZ

03 307 7433

HENDERSON, Lionel Bryce

3/1/1963 : Passed away

suddenly in Rakaia, Mid

Canterbury on April 23,

2020 aged 57 years.

Much loved son of Athol

and Kathleen (Kaye)

Henderson (both deceased),

and loved only brother of

Jo,(Blenheim).

"Your sporting accolades and

memories will always have a

special placeinmyheart."

Dearly loved grandson of

Mary Bogle (deceased),

loved nephew of

Michael and Janice

Bogle (Blenheim), Neil

and Valda Henderson

(Blenheim), Darcey and

Betty Henderson (Levin)

(both deceased), and Owen

Henderson (Wellington)

(deceased). Abig thank you

to the Rakaia River Motor

Camp and the Rakaia Police

for their compassion and

supportatthis difficult time.

Messages can be sent to:

The Henderson family, 4

Brookfield Place, Blenheim.

A private cremation has

been held and acelebration

of Lionel's life will be held

for family and friends at a

laterdate.

0800 2MEMORY

027 637 1229

Family

Notices

Inquiries phone

Jann or Karen

on 308 7664

or call into

199 Burnett Street.

DOODY, Paul: 2years have

slipped by

We miss your banter and your

cheekygrin

Youare thought of everyday

Miss yousomuch

Remembered with love

forever

Your loving family

Birth notices listed by

parents will continue

to be free in the Family

Notices column. The

initial death notice

lodged by a funeral

director will be listed

without charge. There

will be asmall charge

of $15 for subsequent

notices related to the

same death, up to a

maximum of 35 words

and on aper-line basis

after that. The same

low charges apply to

other family notices,

such as engagements,

acknowledgements,

in memoriam notices

and anniversaries.

Supporting the

community

96 Tancred Street,

Ashburton.

Phone 307 8317

Family owned,

locally owned

LREA2008

MCRE

Aperfect venue for

Functions,

Funerals

and

Weddings.

Trott's Garden

371RacecourseRoad, Ashburton

www.trotts.co.nz |Email: info@trotts.co.nz

22 MooreStreet,

Ashburton

0800 2636679

2258775

2262527

Local businesses have rushed to

advertise their state of play on a

new and free Mid Canterbury

Open for Business online

directory.

The directory was created by

the Ashburton District Council

as part of getting the local

economy rolling after the Covid­

19 lockdown and in the past

week just over 160 businesses

have signed up.

The website

midcanopenforbiz.nz is for

businesses and shoppers and has

been designed as an easy­to­use,

one­stop shop for businesses to

advise their opening hours, what

they're offering and deals or

promotions and even job

vacancies.

Listings are welcome from all

businesses and service providers,

from restaurants, retailers and

tradies to social services.

Mayor Neil Brown said the

nation's Covid­19 response had

brought much of the district's

Support

offer to

migrants

The Hakatere Multi

Cultural Council

(formerly Mid Canterbury

Newcomers

Network) and Mid

Canterbury Migrant

Centre, through funding

from MSD, will provide

essential support such

as ethnically relevant

food items, nappies and

heating supplies to

migrants who are not

qualified for support

from Work and Income.

Migrants in need should

email adi.avnit@safer

midcanterbury.org.nz.

business sector to astandstill,

but many were eager to reopen.

Council's economic

development manager Bevan

Rickerby said the directory was

designed to be helpful during the

recovery phase but would remain

relevant post­Covid.

It also helped local people

shop and buy local, he said.

''Everyone in the community

can put their business up and

show what position they are in

with Alert Level 3. It is aroad

sign back to business.''

Lists had been appearing on

social media of local businesses

trading at Alert Level 3and

council hopes these businesses

will also enter their details on the

midcanopenforbiz.nz directory.

District councillors were

briefed on the directory recently

and Cr John Falloon said the

idea and design team should be

congratulated. It was a

pragmatic solution to the issue.

Council communications

Mayor Neil Brown

manager Ruben Garcia said

local businesses were raring to

reopen and the directory was a

central tool that was easy to

access.

He hoped the images and

resources also on the website

would be widely shared so Mid

Canterbury could create abrand

and help generate avibe for

Dressed up on bin day

The residents of aculde­sac

in Ashburton's

Braebrook subdivision

have been injecting

some colour into their

lockdown days by

dressing up for all to

see when they collect

their rubbish bins from

the kerb.

Simon Chisnall and

his wife Lyndall

started the fun two

weeks ago, when

Simon dressed up as a

Star Wars pilot and

Lyndall as aneon stick

figure that glowed in

the dark; last week

teacher Alice Czerski

and her two children

dressed as Where's

Wally when they collected

their wheelie

bin on Tuesday.

Alice said the 12

households on Goldrich

Grove had set up a

Facebook page before

lockdown and were

using it to share afew

laughs, as well as checking

in on each other.

Those dressing up

Goldrich Grove resident Simon Chisnall

adopted aStar Wars themetobring in his

wheelie bin.

business.

The website is friendly and

inviting, with colour­coded

categories, descriptions of the

businesses and links to their

websites or social media pages.

Business owners who have not

yet been contacted by the council

are invited to register their

business for the directory by

visiting midcanopenforbiz.nz

and clicking Get On Board at the

top right hand corner of the

page.

Mr Brown said that the

website would help residents

find what is and isn't available in

the district, as the Covid­19 alert

levels may continue to place

restrictions on what businesses

are allowed to provide and how

they provide it.

''There is no textbook for what

we are facing right now as a

nation, but our best hope is to

continue supporting one another

and being united as acommunity

to get our district through.''

Tick for advisory group

Ahigh­level advisorygroup that

will help lead economic recovery in

the Ashburton Districtpost­Covid

will be established by the

Ashburton District Council.

Councillors, except two, voted

for the economic recovery advisory

group to be set up quickly.

Council's economic

development manager Bevan

Rickerby said the group, led by

Mayor NeilBrown, would include

representatives of all the different

business sectors in the community.

Members, expectedtoprovide a

high­level and informative insight

into their different fields, would be

shoulder­tapped.

Mr Rickerby said as the

pandemic moved to its next stage,

council would need to assist and

support businesses and help them

return to capacity over the next few

alerted the group when

they planned to collect

their wheelie bin so

everyone could head

outside for agiggle.

Alice said a fitness

trail had also been chalked

out on the cul­desac

as further entertainment.

Residents had found

aspecial way to bond in

otherwise difficult

times, she said.

Where's Wally, twice, as

another wheelie bin is

collected.

The Lagmhor School

teacher is also sharing

snippets of cul­de­sac

life with her country

students on social

media.

''It's good for them to

see something different

and we are giving them

a little view of town

life.''

years.

Cr Rodger Letham said he was

not in favour of the advisory group,

despite its good intentions.

''All Ican see in this is more

meetings, morereports and

everything going roundand round

in acircle.

''I think council can do far more

for our ratepayers by making the

business environment as friendly

and as easy­to­operate as possible.''

That meantgood infrastructure

and local and central government

staying out of people'slives as

much as possible, he said.

Cr John Falloon agreed with

him, but the two were in the

minority. The mayor and seven

other councillors gavethe advisory

group the thumbs up.

Cr Carolyn Cameron said

council was already in the

Exercise

help for

seniors

ACC is helping bring an

exercise programme for

over 65­year­olds to television

screens around New

Zealand as part of anew

collaboration with TVNZ

and partners across the

health sector.

Hosted by former Silver

Fern Bernice Mene, the

Saturday morning show

Healthy For Life screens

on May 2at9am, and has

been designed to help

older people work on their

strength and balance, as

well as providing tips on

staying safe in the home,

keeping your brain active,

keeping up social links

with friendships, and

healthy eating.

ACC's head of injury

prevention Isaac Carlson

says around the age of 65

there is an increased risk

of injury from falling, but

maintaining strength and

balance can help keep

them mobile and prevent

injuries from falls.

wellbeing and environment space

and people in its community

needed help finding away forward

in anew world.

Cr Angus McKay said councils of

the past had led initiatives that

were good for the communityand

this was no different.

Former mayor Donna Favelhad

led an advisory groupon

Mycoplasma bovis and that group

had been able to have apolitical

presence and highlight issues in the

district, he said.

''I think this committee will be

the same. It will be the horsepower

of the leaders of this district to go

out and get things done for this

district.''

Cr Diane Rawlinsonwas also in

favour of the advisory group,saying

it gave agood chance tolead the

community's leaders.
---
Local news at www.starnews.co.nz Ashburton's The Courier, Thursday April 30, 2020, Page 11

Available Lockdown

Takeaway/Pick-Up

FOOD

College principal Ross Preece at the school gates on Tuesday.

Eleven students

back at AshColl

Ashburton College opened its doors

on Wednesday to just 11 of its 550

Year 9and 10 students.

The students will work in two

school bubbles during Level 3restrictions.

Principal Ross Preece said parents

had heeded the message that only

those who absolutely needed to

attend school should do so.

Students were at school because of

their parents' work, or if they did not

have access to online learning.

School staff had completed aproperty

inspection, done necessary maintenance

and had cleaned prior to the

reopening.

He, his senior management team

and some middle management staff

would be at school to help supervise

pupils, but no regular teaching staff

would be present.

Teachers would continue to teach

at home through distance learning.

Mr Preece said the school had its

role to play in supporting the country

get back on its feet and the economy

moving.

He said there had been challenges

over the last few days, but the college

was open to support school families.

The work students were doing at

school was no different from their

peers working from home.

Face to face classes operated with

appropriate social distancing

measures.

Mr Preece said asystem had been

established to record onsite attendance

and a contact tracing register

had also been set up.

There was no canteen, no drinking

fountains and all students were bringing

their own lunch and drink.

Where possible, students also

brought their own devices for the six

hour school day.

Mr Preece said hand sanitiser was

provided at the entry to classrooms

and in bathrooms, and break times

were staggered.

To support contact tracing,

students were required to sit in the

same place each day.

Registers identified which children

were in each teaching space and

recorded when and who they had

contact with during the day.

Church services on Zoom

By Mick Jensen

TheLakeHouse is excitedtointroduce

to Ashburton...Smoke

Aslowsmoked American BBQ menu

DeliverytoAshburton – Order online or pick up

Available WednesdaytoFriday5.30-9pm and

Saturdayand Sunday11.30am-3pm

www.lakehouselakehood.co.nz

302 6064

2273283

TheLakeHouse is offering deliveries and

pick ups of its delicious gourmet meals

Baked Salmon Fillet,PorkBelly,

Lamb Shanks

to name afew

Also available is a Heatand Eat later menu AND

an online Wine and Beer list

Delivering to Ashburtonand beyond.

Order online at www.lakehouselakehood.co.nz

or call 302 6064

2273221

We are

OPEN!

Your favouriteBaristamade

coffee&Cabinetfood

Allavailable from 9am-2pm

Pick-up from the

alleyway door

See yousoon!

Phone 307 5899 or text0275449 524

Somerset House,Ground Floor,

161 Burnett Street,Ashburton

WE AREOPEN!

Limited range of food available -

Pies, bread, filled rolls, hot cross buns, coffee and

frozen options also available.

We are taking orders by email

at simsbakery@xtra.co.nz

Youcan pay on pick-up bypaywave or

pay online if you prefer.

Youcan pick your order upfrom the shop front,

you cannot enter the shop

Looking forward to seeing all our lovely customers!

Reduced hours during Level 3: 6am -2pm

Main South Rd, Tinwald, Ph: 308 5774

2273706

2273540

There are good numbers

signing into twice weekly

Zoom church services run

by Michael and Mary­Jo

Holdaway.

The pair are taking

online services at7pm on

Wednesdays and 10am on

Sundaysand have up to 30

parishioners joining them

via Zoom.

The couple only began

joint ministry duties in the

Anglican parishes in

Rakaia and Methven afew

months ago and moved

into the vicarage inMethven

the day before lockdown

was introduced.

Mary­Jo, who is a

deacon, said Zoom sessions

had been well

received and online numbers

at some sessions were

not too far off actual

church attendance.

They had also been bolstered

by worshippers

from St Stephen's Church

in Ashburton.

She said parishioners

spoken to had expressed a

strong desire to continue

to practice their faith during

the tough times of

Michael and Mary-Jo Holdaway

isolation, albeit remotely.

The Holdaways have

alsobeen keepingintouch

with parishioners on their

rollthrough regular phone

contact.

On daily walks around

Methventheyhad shareda

smile, a wave and a distance

chat with others.

Newsletters have also

been sent out via email.

Mary­Jo said she

believed some good things

would emerge from the

lockdown.

People had been

encouraged to be kinderto

one another, families had

been able to spend more

time together and good

old­fashioned community

spirit had returned.

Mary­Jo said the Government

had generally

dealt with the pandemic

very well.

She saidatoughcallhad

been made not allow

priests andministers to say

the last rites and tobeat

the bedside of dying

people, which did not sit

well with everyone.

She said she expected

physical church services to

return under Level 2

restrictions, although the

rules would meanthe need

for social distancing, strict

hygiene and small congregation

numbers.

OPEN

5pm -7:30pm

foryour phone orders.

Only pick-up available.

Just visit our Facebook page forour menu

TheSpeight'sAle House Ashburton

@speightsalehouseashburton

Ring (03)3085980 foryourorders.

CnrofCass &Burnett Streets,Ashburton

2273800
---
Page 12, Ashburton's The Courier, Thursday April 30, 2020

Local news at www.starnews.co.nz

KEEPING YOUGOING

Freight variety drives Elgin

Working in the local freight industry is

interesting and varied due to the diverse

range of businesses in Mid Canterbury.

Freight deliveries between Ashburton

and Christchurch are avital cog in the

operation of local businesses.

No two days are ever the same for

Elgin Transport owner/driver, Nigiel

Harvey.

Continually striving to provide an

efficient freight solution,small business

Elgin Transport offers same day delivery

to its loyal customers. Sameday delivery

meaning if it gets on the truck in

Christchurch, it getsdelivered to

Ashburton the same day.

Pickups are often booked in advance

by phoning Nigiel, so you get to talk

directly to the driver as he knows how

much space he has left on the load.

Elgin Transport operates an Iveco

truck with and extremely workable deck

configuration that can hold up to 9.1

metres in length.

Nigiel has his dangerous goods licence

and his forklift licence so he can self load

when allowable.

The average day starts off around

6.30am and usually the drop­offs are

delivered and the southbound load is

heading for Ashburton around noon.

Rolleston freight has grownwith the

development of the Izone Southern

Business Hub, as has the client base in

the Leeston/ Southbridge area.

Elgin Transportoffers same day service.

Ageneral freight load can comprise of

timber, steel, pallets, 1000L pods, drums,

wool, bulk bags, coils, pipe work for

galvanising etc.

Frequent requests are oftentopick up

furniture but clearly it is not idealtobe

freighted with someofthe othergeneral

freight.

Nigiel and Susan Harvey welcome the

opportunitytowork with your business

in providing your freight solution to and

from Christchurch.

Separate teams

keep power on

EA Networks has split its

faults response team over two

sites to reduce the chance of

critical workers being

affected by Covid­19.

The response teams are

working out of EA Networks'

primary site at the Ashburton

Business Estate and another

back­up base in the industrial

area on Range Street. They

were spread at three sites

during Alert Level 4, but had

since downgraded the

number sites.

The company says

electricity supply is critical

and physically separated

parts of its business to reduce

the chance of potential

Covid­19 spread among

essential fault response

personnel.

Chief executive Roger

Sutton said the company had

moved swiftly to develop new

ways of working to reduce the

chance of spread of any

infection across the team

should astaff member

become infected. "Our fault

response teams never stand

down so we acted very

EA Networks boss Roger

Sutton.

quickly to make sure they are

as safe as they can be. The

company has ceased all nonessential

work and is

currently prioritising

responding to faults on the

network. We are doing what

we can to reduce the chance

of Covid­19 spread within

our business. Physical

separation of our people and

obsessive hygiene standards

can only help."

NEUMANNS TYRES –OPEN FOR BUSINESS

abiding by level 3conditions

Proud to be MidCanterbury's

locally owned and

operated tyre provider

197 Wills Street,Ashburton l www.neumannstyres.co.nz l Phone 03 308 6737 (24 hrs –after hours call out applies)

2274240
---
Local news at www.starnews.co.nz Ashburton's The Courier, Thursday April 30, 2020, Page 13

KEEPING YOUGOING

Wareings: major movers

PWL (Philip Wareing Limited) is a

family­owned business that has been

offering premier transport solutions

for more than 40 years. The

company premises, in Methven, is

between the major ports of

Christchurch and Timaru, and has a

24­hour unmanned weighbridge,

storage and coolstore facilities as

well as aZtruckstop on site.

Founder Philip Wareing used his

agricultural knowledge to build up

the company from aspraying

business using one truck, to owning

four additional transport businesses

South Island­wide with ability to

cart straw, baleage, logs, or freight

with acombined modern fleet of

more than 200 trucks.

Now with the added guidance of

sons Mark and Simon Wareing, the

company offers clients a

professionally tailored service in

blower trucks, bulkcartage,

container cartage, daily freightrun,

fertiliser spreading, generalcartage,

logging, firewood log sales, spraying

and stocktransport.

"We operate with careand

professionalism by ensuring our

modern fleet and our drivers are of

the highest possible standard. Philip

Wareing Ltd is known for its

modern fleet which is extremely well

maintained due to our own

workshop with full­timeengineers

and mechanics.

"We have an extensive rangeof

flat deck units including 40' semitrailers,

truck and trailers and

curtainsider units, for carting any

products you may need to move.

"We havethe capability to cart

fieldbins from your paddock to

coolstore or direct to market."

There is also store warehousing

with six purpose­built,

temperature­controlled

coolstores on siteatMethven and

Ashburton able to store more

than 10,000 field bins or up to

7000 tonnesofgrain all year

round.

All inquiries most welcome.

Ag­Serve here to serve

the rural community

The team at Ag­Serve

wish that all our farming

community and our

suppliers stay safe over

these trying times. We

would like to thank

everyone for the support

received from suppliers

who have supplied parts

so that we can complete

essential breakdown

services to our farming

community to keep them

going.

Ag­Serve are alocally

owned and operated

company serving the rural

community in

Canterbury.

Doug, Tomo and their

team have been

specialising in all things

rural for many years,

thanks to the support of

their customers, many of

whom have been with

them from the beginning.

They offer on­farm

service and repairs, and

can custom­build

products for you to make

the job easier.

They also stock arange

of products instore and

offer nationwide delivery.

Ag­Serve know their

products with team

members who specialise

in what they do and know

how to meet their clients'

needs.

Their on­farm

knowledge and expertise

ranges from repairs and

maintenance on rotary

boomirrigation, dairy

sheds, gates, rails and

augers, to custom­made

trailers for wood,

livestock, motorbikes or

general use along with

custom­made ute decks

and hard lids.They also

repair and maintain

silage wagons.

Ag­Serveoffer general

engineering,trailer

repairs and maintenance,

alloy and stainless steel

welding, dairy meal

feeder repairs, blow line

installation and sell wire

rope and splicing, with

chains and bearings.

Theirteam can get you

the right product for the

job and the assistance

you need, when you need

it, with their on­call

emergency repairservice

­just give themacall on

03 308 5903.

They can have

someone at your

property any day of the

week.

With over the counter

salesoron­farm

assistance, Ag­Serve

really do haveyou

covered.

Stay safe, stay strong.

Ag-Serve offers onfarm

or in-workshop

repairs and

maintenance by its

team of specialist

workers.

Phone 308 5903 weekdays l Email: agserve@xtra.co.nz

On call 7days:Doug: 027 282 2245, Matt (Tomo): 021 518 538

15 Malcolm McDowell Avenue, Ashburton

Your freightconnection

between Ashburton

and Christchurch!

Dairyshed yard work including topand backing gates

Rotaryboom irrigatorrepairs and service, including

wirerope &splicing

Mainline installation and repairs

Anyother general engineering/fabrication requirements

Bale feeder –calf feeders Standardorcustom-made

General freightcartage

•9.1m curtainsider • Tail lift

•Dangerous goods • Locally owned and operated

•Freightconnection between Ashburtonand Christchurch

Proud to

support

local

business

Nigiel &Susan Harvey

PhoneNigiel 0274856 759 l After hours 03 308 1192

Emailoffice@elgintransport.co.nz

NO JOB TOOBIG OR TOOSMALL - SIZE,STRENGTH & VERSATILITY FOR OVER 40 YEARS

•Bulk Grain Storage

•Container Cartage

•Firewood Supplies

•Hay &Straw Cartage

•AgriculturalSpraying

•Lime&Super

•Spreading

•Precision Nitrogen Sowing

•Log Cartage

•Shingle Supplies

•Swinglifting

•Grain Cartage

•SiloStorage

•Cool Storage

•Stock Cartage

MethventoChristchurch –Daily Freight Supplies MethventoAshburton–Daily Freight Supplies

ISO Accredited

LINE ROAD METHVEN • philipwareingltd@xtra.co.nz • philipwareing.co.nz –TEL 302 8616

2270942

2274144

2273294
---
Page 14, Ashburton's The Courier, Thursday April 30, 2020

Local news at www.starnews.co.nz

KEEPING YOUGOING

Martin Bennett Hydraulics

With three fully­equipped service vans,

experienced technicians and a24/7 oncall

service,Martin Bennett Hydraulics

Ltd is set up to provide aquality and

efficient hose and hydraulic system

repair service across Mid Canterbury

and beyond.

The Martin BennettHydraulics Ltd

team of owner Justin Bennett and Nigel

Wright, have invaluable experience in

the hydraulics industry, from running

workshops to hydraulic service vans.

Nigel served in the Royal Air Force,

and then at Martin Hydraulics building

motors and piston pumps, andconcrete

pumps. Justin completed his time as a

fitter turner at Burnetts Transport

They are experienced in hydraulics

and mechanical trades.

Under the Martin Group, Martin

Bennett Hydraulics Ltd directly import

hydraulic hoses, fittings and components

from top European manufacturer

Walvoil and I.M.M. hose company so

there are no middleman or franchise

fees, and the savings are passed on to the

WE AREOPEN

AshburtonUHireisopenfor business from 7.30 am April 28, 2020

and staying within Level3protcol and procedures

Our

call outs

continue

24/7

•Sales,installation and serviceofall

hydraulic components

•Inhouse repairs of cylinders,pumps

and hydraulic motors

•I.M.M hose and fittingsavailable

SPOOL VALVES FROM WALVOIL

Ashburton'sleading supplier of Walvoil

hydraulic products andcomponents.

Keep positiveand staysafe

Open 7

Days

customer.

Machinery can be fixed on­site, or in

the Moore Street, Ashburton workshop.

The workshop has full engineering

facilities. There is also back up support

from Martin Hydraulics, in

Christchurch.

Martin Bennett Hydraulics Ltd has a

retail shop which sells lifting equipment,

includingsynthetic slings and other

components for high tensile lifting such

as lever blocks and chain blocks,

shackles, chainsand strops.

Hydraulic hoses, fittings and

components are also available.

Martin Bennett Hydraulics Ltd also

sells wire ropes, from three millimetres

to 8mm, for many uses including post

drivers, sheep ramps, augers and

winches.

Justin and Nigel can also design,

manufacture and install hydraulic

systems. The business is amember of the

Ruralco and Farmlands card schemes.

Now, our callouts continue 24/7. Just

call Justin at 027 530 1272.

Please phone first as open hours mayvary

MID CANTERBURY'S

HYDRAULIC SPECIALISTS

PARTSYOU CAN TRUST WITH

ASERVICE TO KEEP YOUGOING

QUALITYON-CALL SERVICE AVAILABLE

•Wirerope

588East Street,Ashburton

Telephone/Fax 03 3088061

info@ashburtonuhire.co.nz

www.ashburtonuhire.co.nz

•Synthetic slings

•High tensile bowshackles

and chain

•Lifting equipment

LOCALLYOWNED

AND OPERATED

Call Justin Bennett 027 530 1272

or 027 530 1275

Shop 24/7 03 308 9778

104 MooreStreet,Ashburton

justin@martinbennett.co.nz

2274243

2272652

Crews have CBD focus

Construction crews working on the

CBD streetscape renewal project

are backonthe job.

Tru­Line Civil workershad to

stopwhenthe countrywent into

Alert Level 4lockdown in March

but resumedthis week, along with

other Mid Canterburybusinesses

abletowork safelyatAlertLevel 3.

The Christchurch­basedcivil

engineering companywas awarded

the $15 million project in January

and will be responsible for

replacing and upgrading the

CBD's three waters infrastructure,

constructing new road and

footpath surfaces andinstalling

new landscape features.

The Ashburton DistrictCouncil

was expecting the work to taketwo

years.

Council said the construction

teamhad putinalot of workto

ensure staff would be abletowork

safely following the Governmentset

protocolsfor workingatAlert

Level 3.

The initial work will be

stormwaterpipeline installationon

CassStreet, wastewaterpipeline

installation on Tancred Street

Planning as usual

for Bookarama

The long­running

Ashburton Rotary

fundraiser Bookarama is

still on the cards to go

ahead at the end of

September.

Rotary president Don

McLeod said members

had chewedover whether

to hold the annual event

at aZoom meeting on

Tuesday and it was ''a

probable yes''.

It was still afew months

away, but with Boulevard

Day still on the cards on

September 28 ,the plan

was to work towards

things happening as usual.

Mr McLeod said the

Findingyournew groove

For the first time in five weeks, Isat

down and tuned into my Netflix fix,

Shameless. Don't judge me: it's

easy viewing and I'm only up to

season three.

Ithink I've found my new groove

and making time for the Gallagher

family's dramas means my own are

in check.

Like most others, I've gone

through arange of emotions since

our superb leader Jacinda Ardern

sent us into Alert Level 4. I've been

anxious, fearful, angry, happy, sad,

tired and now optimistic.

We've been able to keep

producing aweekly newspaper and

that has meant an essential work

bubble and ahome bubble.

There's only been ahandful of us

in our big office, but we have

operated on mutual trust and

respect, with ajoint focus on giving

aplatform for our community's

stories and messages.

I've heard Jann, our advertising

manager, on the phone to clients.

Not to sell ads, but to just see how

they are.

Our stories have been chosen to

share important information about

Covid­19 and encouraging

messages from our district's

Askeleton crew from Tru-Line Civil, including commercial

manager Grant Johnston, Shannon Penny and Zac Bull, get the

CBD streetscape renewal project site ready for the full

contingent of workers.

(between Cass andEast),rain

garden construction on CassStreet

(eastern side) and thenew

watermain pipeline hookup on

Tancred Street/Cass Street (the

pipeline wasinstalled priorto

club had avenue to sort

books and other items,

and had booked the

sports hall on Tancred

Street for the six day sale.

He said the call for

donations of books,

games, puzzles and other

items would likelybe

made in June.

Bookarama has raised

well over $1million for

Ashburton Rotary over

its 40 year history and

relies on alot of

organised man hours

from club members.

Profits are given back

to the community

throughdonations.

Ashburton Courier comment -Linda Clarke

leaders, but also to inspire and

entertain others stuck at home

riding out lockdown.

There are still good things

happening in our community.

We've had some great

conversations with people over the

past five weeks and they are keen to

return to work, school and sport –

but the virus is still astorm to be

weathered.

This week we have dropped to

Alert Level 3and we will soon

hopefully be at Alert Level 2. The

relief is obvious on the faces Ipass

on my daily walks with Perry.

In our own household, we are

pleased to have expanded our

bubble to include my Dad (who is

itching to re­connect with his old

mates at the Tinwald Tavern) and

Perry's parents (who also miss their

social outings) –it's been tough on

older people and their confidence

may be dented, so the rest of us

need to be patient.

Our two sons have their own

bubbles. Kieran is in Christchurch

and back teaching this week (he is

pleased to be seeing his kids again).

lockdown).

The constructioncompany said

it would work hard to getbackon

track and minimisethe impactof

the project businesses emerged

fromthe lockdown period.

Trust grants

In its latest funding

round theCommunity

Trust of Mid &South

Canterburyhas approved

grants totalling $142,360

to 26 organisations.

They include

Ashburton District

Neighbourhood Support

Inc.($8000 for

operational expenses),

Ashburton Parents

Centre ($10,000to

providefree childbirth

education and other

classes) and the

Ashburton Youth Café

Charitable Trust ($8500),

which runs BASE Youth

Centre.

TheYouthInstitute of

Ashburton District

receives $9000 for the

after­school adventurebased

physical training

programme Cactus,

which has run for 12

years. Mid Canterbury

Hockey ($5000), Mid

Canterbury Cricket

($5000) and Rakaia

Netball Club ($1500)all

received support for

ongoing maintenance

and running costs.

Thereisalso $8000 for

the Willowby Hall

Society to fund anew

heatpump.

South Canterbury

StrokeClubreceived

$3000, Anxiety New

Zealand Trust$4000and

SC Hospice $10,000.

Gareth is in Spain. Long sigh.

He has been in strict lockdown

for six weeks but will be able to go

outside for daily exercise on May 2,

hopefully.

Around our office, we are all

expanding our bubbles and pleased

to be in closer contact with the

people we love. Pleased to all be

finding anew groove in asituation

for which there is no manual.

Our next priority will be helping

our community groups, clubs and

businesses reform or restart.

We all have skin in this game and

our district, as awhole, is better

placed than others –don't take that

for granted.

And as we recover, local matters.

We will all be thinking carefully

about how we spend our time and

our money. Make it count.

We are grateful to those

supermarkets, dairies and service

stations who acted as pickup points

for our paper. If you missed us, our

digital copies are all online at www.

ashburtoncourier.co.nz (click the

digital edition tab at the top).
---
Local news at www.starnews.co.nz Ashburton's The Courier, Thursday April 30, 2020, Page 15

Spartans still planning for school rugby

Michael Hennings in the new Mid

Canterbury Spartans First XV

playing strip.

The Ashburton College and Mount

Hutt combined first XV rugby team

had hoped to be unveiling its new

playing strip this week and

introducing Fijian school boy

Michael Hennings to the local rugby

community.

But the players are, like everyone

else in the country, waiting for Covid­

19 restrictions to ease.

Their pre­season had begun on a

high note and the schoolboy group

had put in huge hours on fitness

preparing for the prestigious first XV

Crusader competition. While gutted

their momentum has been

interrupted, the players and coaches

Shane Enright and James Roderick

are still hoping for some sort of rugby

season.

Michael, ahead student at Marist

College in Fiji, was to be apart of the

Mid Canterbury combined side's

2020 rebuilding season.

He arrived in the country mid­

March and is living with the

Roderick family in Methven,

attending Mt Hutt College.

In Suva, the athletic backrow

forward was apivotal player for

Marist College and had captained

school rugby teams to various

championship titles. He was a

member of the Rugby Academy of

Fiji and earlier this year performed

with distinction at the World Schools

7s tournament in Auckland.

Michael had not been here long

when things began changing rapidly

with the Covid­19 situation. It was

agreed by Michael's family, Mount

Hutt College, the Roderick family

and the first XV's management team

that it would be best for him to stay

on in Methven even though rugby

could be limited this year.

Michael has been keeping fit and

working on skills with his host

brother Alex, 16, who is also in the

combined squad.

''At the moment I'm just looking

forward to getting back on the field

and doing what Ilove with the boys

and also it would be agood exposure

for me playing in adifferent

environment and meeting new

people.''

He hoped to put his leadership and

communication skills to good use,

and show off his talent at the

breakdown and in loose play.

Off the field, he likes to mix with

friends and play basketball.

At school, Michael's favourite

subject is agriculture and he wants to

be afarmer. ''I'm hoping Ican get an

opportunity to further my knowledge

on the agricultural sector and to

make it aprofession.''

Arriving aweek before lockdown,

he attended Mount Hutt College

briefly and is now learning online.

He keeps in regular touch with his

family of six back in Fiji.

The Mid Canterbury combined

players have been set continued

fitness programmes while in

lockdown so they are ready to roll

once restrictions ease to allow

contact training and games.

Parents centre takes play, classes online for families

By Mick Jensen

AshburtonParents Centreisdoing

its bit to support parents and

preschoolers during lockdown. It is

running regularonline sessions and

encouraging parentstoshare their

ideas and experiences.

Mondaymorning playgroupshave

gone online,anew Fridayafternoon

session has beenadded to bring

children and parents together and

education classes will soon start

online.

Ashburton Parents Centrecopresident

ClaireTappinsaid the

focus has been aroundsupporting

parents and tamariki through

isolation.

Half of the usualfour to 10 family

groups who attended the Monday

playgroup were attending via Zoom,

whilehalf of the dozenfamilies who

enjoyed Wednesday afternoon

musicsessionswere logging in and

enjoying things through Google

Live.

''We added an extra Friday

session online because we decided it

was too longtogobetween sessions.

''Theuptake fromfamilieshas

been goodand the feedback is all

positive.''

Ms Tappin said online sessions

included play with building blocks

and other activities.

Ascavenger hunt was planned,

whichwould see childrenrace off to

collect every day itemsfrom around

the house and then bring them back

to showoff in frontofthe screen.

''We found out early on that it is

important for the childrento

interact and be active. They werea

bit camerashy at first, but not for

too long.''

She said generallychildren were

happyathome playing, but it was

also important to focus on the

wellbeingand sanityofparentsand

to offer themsupportaswell.

''We've started an online catchup

evening for parentsonWednesdays.

''When the kids are in bed,

parents can connect via Zoomand

sharetheir thoughts and talkabout

how they are handling thingsin

lockdown.''

One of those joining in was a

former member, who now lived in

the UK.

Talking could help parentsbetter

dealwith the current situation, said

Ms Tappin.

Parents centre members have also

beensharing play ideas and advice

via the centre's Facebook page.

''It's about doing the simple things

and passing the timeathome as a

family and in afun way.

''Itmight be playing in the sand

pit,playing in mud or building a

dinosaur park, there are lots of

options.''

Classes for new parents called

Babyand You will startonMay 7

and childbirtheducation classes

begin on May 13.

Right: Familiescoming together

at aparents' centre Zoom session.
---
Page 16, Ashburton's The Courier, Thursday April 30, 2020

Local news at www.starnews.co.nz

Rural&Lifestyle

Strict controls in place

for June 1­Moving Day

Moving Day will go ahead as planned

this year, but with strict controls to help

prevent the spread of Covid­19.

On June 1each year, the first day of

the dairy season, alarge number of dairy

farming families, sharemilkers, contract

milkers and employees move to new

farms to commence new employment

and milking contracts. This movement

of people, their possessions, livestock

and machinery is known as 'Moving

Day'.

Agriculture minister Damien

O'Connor said it was ''a critical part of

the dairy industry –anindustry that

contributes over $18 billion dollars a

year in exports to our economy and

provides jobs for around 46,000 people

in our rural communities.''

''It's also an industry that will play a

critical roleinNew Zealand's economic

recovery after Covid­19,soitwas vital

2272480

that Moving Day went ahead. Since the

AlertLevel 4lockdown wasannounced,

and dairy farming was deemed an

essential service, the Governmenthas

been committedtofinding away to

enable it to proceed.

''The Government has been working

with sector leaders from organisations

includingDairyNZ, Fonterra, Federated

Farmers and FMG to find solutions

whichwork for thoseinthe sector and

protect the economy without

jeopardising anyone's health and safety.

MPI then worked with the Ministryof

Health and MBIE and found solutions

that allow Moving Day to proceedunder

any alert level.''

Activities needed to be restricted to

just those that were absolutely necessary

and any movement around New

Zealand must ensure people's ''bubbles''

were maintained.

Water purifiers

Home &Office–Underbench and Benchtop

Reduction of nitrates and

heavy metals •Giardia safe

•Asbestos safe

ARTHUR

CATES

LIMITED

26 McNALLYSTREET,

RIVERSIDE INDUSTRIAL

PARK,ASHBURTON

TEL 308 5397

www.arthurcates.co.nz

Canine separation anxiety

As dog owners return to work

followingthe Covid­19 lockdown

restrictions there is ahigh

chancepet dogs willexperience

separation anxiety, says Vetlife

managing director Dr Adrian

Campbell.

It follows afterpets havebeen

home withtheirowners for such

along time during lockdown.

''The best way to prepare for

this is to take somewalkswithout

your dog so they spendtime

alone without you. Also, try to

keep your routines flexible so

pets don't get used to anew

routine during lockdown.''

Animalhealth and welfare

have beenapriority for Vetlife

staff,which as an essential

service remainedopen during

the Covid­19 lockdown,

practising stricthygiene and

physical distancingprocesses.

Many of their cases were

managed with virtual

consultations via the telephone

or internet.Insituations where

this was not possible, there were

very strict protocols to ensure

staff maintain physical distance.

It includedbriefing clients

over the phone as to what safe

actions suit theiranimal prior to

an appointment.

Dr Campbell said during these

uncertain times, there could be

Some of Vetlife's staff who share abubble: (from left) Kristyn

(with Ginger the cat), Alice and Courteney (with Gizmo the

bird).

some extra anxiety aroundthe

wellbeingofanimals.

He said for safety all pet

consultations and procedures or

testswere done with a

veterinarian team (veterinarian

and vet nurse)inPPE; with

communications mostly done via

telephone while the ownerwaits

in theircar.

''Allemergencies are seen and

treated as needed to ensure

animal welfare. Any collections

(by pet owners or farmers) are

prearranged so the stock can be

placed at the front door, to

ensure physical distancingis

maintained.''

He said the Vetlife farming

team, which was working as a

separate unit to the pet team,

had aseparate area as a

collection point.

Farmcalls are still madefor

animal health; but with avet

techniciantoprovide added

physicaldistancing from farm

workers.

Volunteers care for centre's cats

Cats and kittens at the Mid Canterbury Animal

Welfare Centre are being fed and their cages cleaned

as usual by volunteers under strict social distancing

rules during lockdown.

Volunteers work alone and are rostered on for

either morning or afternoon stints at the centre.

Centre manager Rallou Keeley said because she was

over 70, she was not quite as hands on as usual and

worked aSaturday shift.

''The group of volunteers we have here are doing a

great job and love doing their bit.

''We're normally asociable crowd, but we're not

living in normal times at the moment, so volunteers are

getting the work done and getting out again.''

Mrs Keeley said the centre had seven kittens, all

tabbies, and about 20 ''geriatric''or barn cats to look

after.

Unfortunately not too many barn cats had been

rehoused this year, but they lived happily together in

their own area at the back of the facility.

The kittens were made afuss of by volunteers each

day and enjoyed abit of time out of their cages.

The centre had to dip into its own funds to buy food

during this difficult time and was fortunate to have

those funds, she said.

''The cats are happy and so are the volunteers, so life

Rallou Keeley at the Mid Canterbury Animal

Welfare Centre.

is not too bad,'' said Mrs Keeley.

The Mid Canterbury Animal Welfare Centre will

remain closed to the public during Alert Level3

restrictions.

Kittens and barn cats will be are available when

normality returns and the centre is allowed to open as

usual.

Too much focus on rail: councillor

The Ashburton District Council has

taken extra time to thinkabout

feedback on national roadand rail

plans while it navigatesaCovid­19

landscape.

At least one councillor, Stuart

Wilson, thinksthereistoo much

emphasis on rail for Aucklandand

Wellington and toolittleon

improving transport options for the

agriculture sector that economists

say will lead New Zealand's

recovery in the next few years.

Council staff had drafted

submissionsonadraft New Zealand

rail plan and adraft Government

Policy Statement on Land

Transport.

Therail plan is along­term vision

for anational rail network, enabling

increasingvolumes of freight to be

moved off roads and on to rail. It

alsoproposes urban rail services for

Auckland and Wellington.

Theland transport policy sets

strategic priorities and the

Ashburton council supported

improvingfreight connections and a

multi­modal transport network

(including road, rail, air and coastal

shipping) thatincreased theregion's

resilience to natural disasters and

ensured efficient freight

movements.

2270996

NewZealand's rail network is in

managed decline and has suffered

fromunder­investmentover the

years. The challenges ahead are

planning and funding arail network

for thefuture.

Cr Wilson said he had

reservationsabout both plans

council wassubmitting on. ''They

talkasif rail willbethe be­alland

end­all.''

He saidhewould object to road

usercharges subsiding rail

infrastructure and thatrailneeded

to stand on its own feet.

Submissions close on both

documents on May 11.
---
Local news at www.starnews.co.nz Ashburton's The Courier, Thursday April 30, 2020, Page 17

Tribute for

soldiers

By Toni Williams

RSA Ashburton president

Merv Brenton and vicepresident

Allan Johnstone paid

tribute to the fallen this week at

special post­Anzac ceremony at

the Ashburton Cenotaph.

The men, along with

Ashburton mayor Neil Brown

and Ashburton Cadet Unit's

major Cezarne Rodgers, laid a

wreath at the base of the town's

war memorial on Tuesday as

the country came out of Covid­

19 lockdown and reduced to

Alert Level 3.

They were joined by cornet

Ashburton Cadet Unit's major Cezarne Rodgers, RSA Ashburton vice-president Allan

Johnstone, president Merv Brenton and Ashburton mayor Neil Brown pay respect at the

Ashburton Cenotaph.

player Jim Lischner playing

The Last Post and watched by a

few onlookers in their own

bubbles, including district

council chief executive officer

Hamish Riach.

Their tributes joined others

already laid around the base of

the cenotaph or pinned to the

scaffolding fence still erected

from work being done on the

14­metre structure prior to

lockdown.

Anzac Day tributes around

the district included colourful

drawings, painted stones or

giant garden poppies made of

metal, plastic, fabric or tissue

and drinking straws attached to

front fences, as well as poppy

posters and poppies on letter

boxes.

The day was commemorated

nationwide by people standing

in their bubbles together to

remember and honour

personnel who have served

New Zealand.

The Stand At Dawn

campaign, created as an

alternative to public gatherings

due to Covid­19 restrictions,

saw people gather at their

driveways, front doors, yards

and living rooms for amoment

to remember them.

Around the district The Last

Post rang out around the

streets, either played by

talented musicians or

recordings, and was joined by

the odd bagpiper, or two.

The Ashburton community remembered the fallen

Anzacs with anumber of tributes put up at the

front of properties as amark of respect.

Show of respect

Anzac Day 2020 was marked at the Hinds Domain with poppies and crosses.

The poppies were made by Kiri Gibson and her grandchildren Willow and

Lincoln Thomas while Hinds Lions Club Anzac Day co-ordinator Ian Jones

placed the white crosses.

Collage shows MHC unity

The prefect leadership

team at Mount Hutt College

has collaborated to

make a collage to pay

respect to the country's

fallen Anzac heroes.

College head girl

Grace Bleach said the

school, and especially its

leaders and prefects, was

usually involved in the

Methven Anzac parade,

which for obvious reasons

did not happen this year.

The collage showed

photos of the leadership

team, each holding a

short message.

''It was away to show

how united our school is,

despite not being

together.

''It was important to us

that even though this happened

so many years ago,

that people know that the

younger generations are

still so appreciative of

what those brave people

did for us.''

Image Credit: thespinoff.co.nz,@SIOUXSIEW,@XTOTL

Source: WHO,CDC -CC-BY-SA

My officesinAshburtonand Timaru

arecloseddue to COVID-19.

For any assistance you can still contact me

by ringing 03 308 7510 or email me directly at:

andrew.falloon@parliament.govt.nz

Anyone with symptoms of COVID-19 should phone

their doctor or Healthline on 0800 3585453

Authorised by Andrew Falloon MP,

139Stafford Street,Timaru.

Andrew Falloon,

MP forRangitata

For thelatest info:

who.int, health.govt.nz
---
Page 18, Ashburton's The Courier, Thursday April 30, 2020

Local news at www.starnews.co.nz

ART ATHOME

The Ashburton ArtGallery teamare bringing art to youwhile our buildingistemporarily closed. This piece may befamiliar to you, as this is a

study for what would become the Trusttum Window,the stained-glass windowabove the main entranceinthe Ashburton Art Gallery and

HeritageCentre. The windowisone of only twopieces ofthe AAGcollection that is visible for youtosee during your neighbourhood walks.

Twenty years ago, the Ashburton Art Gallery Committee commissionedCanterbury-based Philip Trusttumtocreate awindowdesign for the

building on Baring Squarewherethe Gallery usedtolive. In response, Trusttum createdthis fifteen-panel design with stylised lettering which

reads ASHBURTON est 1876 -can you see it?

If you'relooking for ideas and activitiestokeep busy throughout this time,visit us on Facebook orour website: www.ashburtonartgallery.org.nz

Image: Philip Trusttum, Canvas Study II, acrylic on canvas, 2001, 1800mm (w) x2560mm (h). Collection of Ashburton Art Gallery.
---
Local news at www.starnews.co.nz Ashburton's The Courier, Thursday April 30, 2020, Page 19

New clothing exchange

District newcomer Jo­Alta

Myburgh was in the process

of launching a clothing

exchange programme in

Ashburton before the lockdown

kicked­in.

The South African­born

mother of two already has a

big assortment of clothes

aimed at newborns through

to six­year­olds and wants to

spread the word about the

initiative.

''I had actually managed

to pass on some items to one

person before lockdown and

Ican't wait for things to get

back to normal, so more

people can get involved with

the clothing exchange.''

Mrs Myburgh said a big

stash of clothing had been

donated by amother of five

and she also had abassinet,

toys and books that people

could take.

''It is afree exchange. The

idea is that people make an

appointment and we have a

chat and they take what they

need. As their children grow,

they can come back and

exchange previous items for

new items.''

Mrs Myburgh will run the

exchange from her home

and is supported in the

initiative by Tinwald's New

Life Church and friends

made through the church.

''My family has been made

to feel welcome in Ashburton

since we first arrived

here. We didn't have too

much with us to start with,

and people were generous

with supporting us while our

things were shipped over.

Jo-Alta Myburgh with children Adriaan, almost 3, and

Emily, 18 months, in front of some of the storage bins

for the new clothing exchange.

''I've already made some

good friends and thought the

clothing exchange was a

good way for me to give back

and to do something for my

new community.''

Mrs Myburgh said the

clothing exchange idea had

happened quite quickly and

she was still developing it,

while at the same time looking

after her two children,

who were both under three.

A Facebook page called

Baby Go Round was being

developed and she had also

spoken to single parent support

group Birthright about

the clothing exchange and

wanted more groups to know

about it.

Mrs Myburgh came to

New Zealand in August 2019

with husband Wouter, who is

an agronomist and works for

Wholesale Seeds in Tinwald.

She can be contacted on 027

309 1241.

Youth service in fifth year

By Mick Jensen

Ashburton's 24­7Youth

Work programme is now in

its fifth year and continues to

offersupport to students

through amentoring

approach.

The programme has been

running at Ashburton

Intermediate since 2016,at

Ashburton College since

2017 and it started at

Ashburton Christian School

in term three last year.

It is apresence­based

mentoring initiative that uses

youthworkerstoconnect

with studentsfor aset

number of hoursofsupport

each week.

Five mentors, who are fully

trained and are not seen as

parents, teachers or peers,

but as role models, work with

students,said local team

leader Lisa Anderson.

She said the mentorswere

looked up to and related well to

students.

''Right now, and in the midst

of lockdown,the youthbrokers

are busy connecting with one

another and discussing ways to

stay presentinthe lives of

students when we are confined

to our homes and schoolsare

closed.

''Most have contact with

some students,but it can be

challenging to connect with

younger students who either

don'thave cellphones or aren't

on social media.''

Mrs Anderson said it was a

''privilege''towork with youth

in the communityand in the

school environment.

Ashburton 24-7 youth brokers Brad Raukawa, Ruby

Bowman, team leader Lisa Anderson and Cornelius

Grobler. (Photo supplied)

''We do feel the weight of not

beingable to connect with

students and staff as easily and

as freelyaswedid before

lockdown.''

Mrs Anderson said the

programme was grateful for the

support of the community,

whichhas provided financially

to the success of 24­7.

The programme was funded

by churches (25 per cent),

schools (25 per cent) and the

community(50 per cent).

The 24­7YouthWork

programme originated in

Christchurchover 20 years ago

and is based on arelationship

builtupbetween alocal school

and church.

YouthworkerRuby

Bowman, who worksatboth

AshburtonIntermediateand

AshburtonCollege,says her

role is very rewarding.

''I just love it. I've being

doingitfor five years now and

although at times it can be

challenging, so many positive

outcomes emerge.''

She said through relationship

building students would open

up on issuesthey had to deal

with at home and were affecting

theirlives.

Support was offered by the

youthbrokersand also through

in­house counsellors at college,

and by senior staff at

intermediate.

Mrs Bowman saidshe was

keeping in touch with someof

her students throughsocial

mediaduring lockdownand

couldn't wait to get back to

work.

Anyone wanting to find out

more or able to support the

24­7 Youth Workprogramme

financially can contact Lisa

Anderson at admin@mcyouth.

org.nz.

Keep connected

Digital

editions

available on

your screen

24/7

www.starmedia.kiwi/digital-editions
---
Page 20, Ashburton's The Courier, Thursday April 30, 2020

Local news at www.starnews.co.nz
---
Local news at www.starnews.co.nz Ashburton's The Courier, Thursday April 30, 2020, Page 21

Scan the QR code

using the camera

on your phone to

view our current

listings in 3D!

view anyofour properties fromthe comfort of

your home in 3D...becauseyou can!

Trevor Hurley Real Estate Ltd LREA 2008 -MREINZ

133 Belt Rd (W691)

•Whatafind!

•Permanentmaterial three bedroom homeinsoughtafter

Allentonlocation

•Decentsizesection with room to add value.

•Currently tenantedat$340 per week,with greattenants who

wouldlike to stay.

OffersOver$289,000

3 1 1

PRICE ADJUSTMENT

16 CountryPlace (W687)

•Sought afterlocation in Coniston

•Open planconcept

•Seamless indoor outdoor flow, captures all daysun

•Manicured and established gardens

$PBN BIR $699,000 -$749,000

Viewing By Appointment

4 2 2

InvestmentOpportunity

(W694)

•Four units situatedonthe Westside

•Currently managed by our rental department.

•All properties up to current rental compliance.

•Weeklymarket rent $860 per week combined

•Large 1359m² section mayhavefuturepotential.

•inspectionwelcome

Offers Over $675,000 4 4 4

From 10% Deposit $280pw (Conditions apply)

GreatEntry LevelHome

(W688)

•Hidden affordable gem offering plenty of scope

•Freshly painted

•Renovatedbathroom

•Fantastic entrylevel home or investment

•Westside location

OffersOver$259,000

3 1 2

Desirable Townhouse

(W689)

•Modernised townhouse in very soughtafter Westside location

•Verywell insulatedwith superbheating options

•Security doors,flyscreensand qualitycarpet throughout.

•Two bedrooms,(large master bedroom) plus office/utilityroom

off loungeentrance.

$PBNBIR $$275,000 -$285,000

2 1 1

98 George Street (T300)

•Great property forafirsthomebuyer orinvestor

•Open planliving. Updatedinsulation.

•Private entertainers deck

•Easy caresection, fully fenced and off street parking

•Situated on the WestsideofTinwald in aquiet street

PriceByNegotiation

3 1 0

Leading theway in

3D Marketing for

thelast 3years ......

andit's still

FREE!

With us there are

NO packages....

everything

FREE!

FREE - 3D marketing

FREE - Full 3D virtual tour

FREE - All advertising for the lifetime

of the listing

FREE - 2D interior & exterior photos

FREE - 360 Exterior Photos

FREE - 2D image slideshow

FREE - Room labels and feature tags

FREE - Floorplans

Why would you go anywhere else?

*conditions apply

Proud supporters of the HeartFoundation of NewZealand! Wedonate from everypropertysold!

Trevor Hurley

0275 435 799

Tracey Henderson

027 405 8064

Manu Otene

022 308 6885

Linda Cuthbertson

0274087965

Stephen Watson

027 433 9695

Julie Srhoy

021 354 885

Deborah Roberts

0210752180
---
Page 22, Ashburton's The Courier, Thursday April 30, 2020

Local news at www.starnews.co.nz

What's your home worth?

Find out for FREE

Quick,easy,confidential

Just email ashburton.nz@raywhite.com

and asalespersonwill be in touch to

virtually appraiseyour home

MidCanterburyReal Estate Ltd–Licensed REAA 2008

2271313
---
Local news at www.starnews.co.nz Ashburton's The Courier, Thursday April 30, 2020, Page 23

RayWhite knowhow to get you

the best price foryourproperty.

39a Cox Street, Ashburton

114 Bowen Street, Rakaia

98 Pages Road, Ashburton

73 Northpark Road, Ashburton

Brand newhome where plentyofthought and

consideration has been put into the design of this

stylish townhouse. From the momentyou walk in it

is immediatelyevident the care &attention todetail.

ForSale

Price onapplication

Email:

jarrod.ross@raywhite.com

Jarrod Ross

027 259 4644

rwashburton.co.nz/AHB22546

Mid Canterbury Real Estate Limited LICENSED (REAA 2008)

Fully serviced ready to build on. Jennian Homes in

associationwith Ray White Real Estate (MC) proudly

present another great HOUSE AND LAND package

that's been structured and designed foryou!!

ForSale

$130,000

Email:

mike.grant@raywhite.com

Mike Grant ncre

021 272 0202

rwashburton.co.nz/AHB22563

Mid Canterbury Real Estate Limited LICENSED (REAA 2008)

Make your dreams and memories here.

Room forthe whole family with 4large bedrooms,

Very tidy and open plan living

Easy care garden and room forthe motorhome

ForSale

$570,000

Email:

lynne.bridge@raywhite.com

Lynne Bridge

027 410 6216

rwashburton.co.nz/AHB22698

Mid Canterbury Real Estate Limited LICENSED (REAA 2008)

Aprivate sheltered setting with afour bedroom plus

office family home sitting on 1.000ha of land only

five minutes' drive fromAshburton town centre that

has subdivision potential.

ForSale

$749,000

Email:

bruce.mcpherson@raywhite.com

BruceMcPherson

027 438 4250

rwashburton.co.nz/AHB22733

Mid Canterbury Real Estate Limited LICENSED (REAA 2008)

119a Racecourse Road, Ashburton

109 Walnut Avenue, Ashburton

48/1236 River Road, Ashburton

14 Williamson Place, Ashburton

3double bedrooms &aspacious office or 4th single

bedroom. Masterensuite, main bathroom has aspa

bath, vanityand tiled shower. Gas Log fire and two

heat pumps. Large Double Garage.1983m2 section.

ForSale

By negotiation

Email:

chrissy.milne@raywhite.com

ChrissyMilne

027 290 6606

rwashburton.co.nz/AHB22588

Mid Canterbury Real Estate Limited LICENSED (REAA 2008)

6bedrooms, 2bathrooms &2living areas all retaining

the original character of the home, your high

expectations will be comfortably met with quality

yet subtle upgrades including amodern kitchen.

ForSale

Price onapplication

Email:

armand.vandereik@raywhite.com

rwashburton.co.nz/AHB22659

Mid Canterbury Real Estate Limited LICENSED (REAA 2008)

Armand vander Eik

021 597 527

Twoample Bedrooms. Fabulous familyfriendly open

plan kitchen/dining/living area. Bathroom complete

with toilet/shower/vanity/bathroom heater.Recently

painted inside and out. Afree standing log fire.

ForSale

$110,000

Email:

kim.miller@raywhite.com

Kim Miller

027 236 8627

rwashburton.co.nz/AHB22650

Mid Canterbury Real Estate Limited LICENSED (REAA 2008)

This home features agood sized lounge and dining

area. Off the lounge, the conservatory is an absolute

sun trap during both winterand summer and adds

on that little bit of extra space, with aheat pump.

ForSale

$280,000

Email:

jill.quaid@raywhite.com

Jill Quaid

027 437 6755

rwashburton.co.nz/AHB22711

Mid Canterbury Real Estate Limited LICENSED (REAA 2008)

119 William Street, Ashburton

65 Northpark Road, Ashburton

11 Charlesworth Drive, Ashburton

Cawton Grove, Tinwald

Ready to move in, this lovely warm and comfortable

corner townhouse unit iscentrally located for ease

to town.You will enjoycooking up astorm in this

spacious modern kitchen that has been updated.

ForSale

Price bynegotiation

Email:

lynne.bridge@raywhite.com

Lynne Bridge

027 410 6216

rwashburton.co.nz/AHB22709

Mid CanterburyReal Estate Limited LICENSED (REAA 2008)

5Bedrooms, 3bathrooms plus office,Entertainers

kitchen/dining/living. Separate media room/lounge.

Indoor swimming pool.10 car garaging plus 3bay

shed. Picturesque propertyof1.17 hectares.

ForSale

By Negotiation

Email:

bruce.mcpherson@raywhite.com

BruceMcPherson

027 438 4250

rwashburton.co.nz/AHB22682

Mid Canterbury Real Estate Limited LICENSED (REAA 2008)

Open plan Kitchen, Dining &Living plus Butlers

Pantry. Separate formal lounge with gas fire. Four

double bedrooms plus office, 2Ensuites plus main

bathroom with separate toilet. 3Car Garaging.

ForSale

$565,000

Email:

cheryl.fowler@raywhite.com

Cheryl Fowler

027 461 2614

rwashburton.co.nz/AHB22611

Mid CanterburyReal Estate Limited LICENSED (REAA 2008)

Cawton Grove is aprestigious new residential

subdivision located on Tarbottons Road West side

Tinwald just ashort drive into the town centre.

Quality open spaces and outstanding facilities.

ForSale

from $157,000

Email:

jarrod.ross@raywhite.com

Jarrod Ross

027 259 4644

rwashburton.co.nz/AHB21092

Mid Canterbury Real Estate Limited LICENSED (REAA 2008)

2Mackie Street, Methven

Appealing three bedroom home. Modern country

style kitchen with sunny dining and living with large

doors opening out to decking /entertainment area.

Masteren-suite and newfamilybathroom.

ForSale

$420,000

Email:

shirley.fitzgerald@raywhite.com

ShirleyFitzgerald

027 220 1528

rwashburton.co.nz/AHB22730

Mid Canterbury Real Estate Limited LICENSED (REAA 2008)

23 South Belt, Methven

Three bedroom Keith Haylocated on arear 849m2

section.Two year old kitchen with new appliances.

Open plan sunny living with new gas fire, heat pump

&HRV to keep you cosy. Separate double garage.

ForSale

$349,000

Email:

margaret.feiss@raywhite.com

Margaret Feiss

021 751 009

rwashburton.co.nz/AHB22722

Mid Canterbury Real Estate Limited LICENSED (REAA 2008)

With Covid-19 changing to level3

Salespeople will be undertakingprivate

viewings in accordance with safe viewing

practises.

Please contactthe salesperson directlyto

arrangeyourviewing.

Mid Canterbury Real Estate Limited REAA 2008

View our listings online at: rwashashburton.co.nz

Jill Quaid

Manager

027 437 6755

RichardQuaid

Sales Consultant

027 454 4745

Kim Miller

Sales Consultant

027 236 8627

ChrissyMilne

Sales Consultant

027 290 6606

Margaret Feiss

Sales Consultant

021 751 009

ShirleyFitzgerald

Sales Consultant

027 220 1528

Mark Totty

Sales Consultant

021 664 113

Cheryl Fowler

Sales Consultant

027 461 2614

Armand vander Eik

Sales Consultant

021 597 527

Lynne Bridge

Sales Consultant

027 410 6216

Mike Grant ncre

Sales Consultant

021 272 0202

Denise McPherson

Sales Consultant

027 242 7677

BruceMcPherson

Sales Consultant

027 438 4250

Justin Waddell

Sales Consultant

027 437 1111

Jarrod Ross

Sales Consultant

027 259 4644

RogerBurdett

SalesConsultant

021 224 4214

96 TancredStreet, Ashburton 03 307 8317 Main Road,Tinwald 03 307 8317

rwashburton.co.nz

36 McMillan Street,Methven 03 303 3032
---
Page 24, Ashburton's The Courier, Thursday April 30, 2020

Local news at www.starnews.co.nz

trusted

trades &services

2020 GUIDE

Need storage?

we CAN STORE it!

Convenient, affordable

self storage solution

Phone 307 0213

•185 Alford Forest Road •behind

2269145

FREE LEGAL HELP

Help in person by appointment

Thursday9.15am -1.45pm

Ph 0508 CANLAW

(0508 226 529) to makean

appointment.

Help by phone Infoline

03 371 3819 or 0508 226 529

215 Tancred Street,Ashburton

2269173

L O GO

DESIGN

FROM

ONLY

$

150

PLUS

GST

P 03 308 7298

E mark@dpi.co.nz

dpi embroidme ashburton

2269204

PROFESSIONAL

PORTRAIT AND

COMMERCIAL

PHOTOGRAPHER

Lubes WOF

Allmechanical repairs

Interior and Exterior Painting

Interior Plastering

Wallpapering

PICTURE FRAMING

GALLERY &STUDIO NOW OPEN

179WEST STREET

027310 6521

emmily@emmilyharmer.co.nz

www.emmilyharmer.co.nz

2269275

TRIANGLE

GARAGE LTD

Victoria Street,

TheTriangle,Ashburton

Phone: (03) 308 6772

2270694

2266285

RESIDENTIAL &

COMMERCIAL SPECIALISTS

Phone Quentin andPhil on

027 282 8908 or 027 2828909

2269116

• Annual Accounts

• Tax Returns

• GST Returns

• CertifiedXeroAdvisor

Andrea Matthews

027415 9880

2256447

FOR ALL YOUR

ADVERTISING

REQUIREMENTS,

GIVE

Jann, Roselle or

Karenacall on

3087664

PETER TAYLOR

B

S

UILDER

LTD

FOR ALL YOUR BUILDING REQUIREMENTS

• New homes • Alterations • Light commercial • Farm buildings

• General maintenance • Paths • Tiling

Fully qualified licensed building practitioner

No job toosmall! Phone Peteron:

308 7133 or 027 220 8257

taylorbuilt@xtra.co.nz

2269389

Ashb

hbut

rton,R Rolles

leston

ton&Ch

Chrit

ist chu rch

•Paving •Irrigation •Lawns

•Planting •Fences •Pergolas

•Water features •Outdoor fires

•Raised planters •Decks

•Stonework•Brick &blockwork

•Artificial grass and more...

Email –Aaron@theoutdoorspace.co.nz

Phone0800 688 365 /021 542 402

www.theoutdoorspace.co.nz

2273646

GREAT

RATES

NewPCs

and Laptops

forsale

FOR ALL YOUR T-SHIRT PRINTING

NEEDS, phone Gasolo!

Clothing Brands Design

T-ShirtPrinting

Andmore...

9Hugh Street,Ashburton7700

027 953 5099

gasolos122007@gmail.com

LIV E

T O

PRINTED

-

HEAT PRESS &

SCREEN PRINTING

GASOLOSTSHIRT

BY

HAND

IN

GARAGE,

CANTERBURY

S E R V E

O T H E R S

2270719

Need help with BOOKKEEPING or

ADMINISTRATIONSUPPORT?

Youdidn'tgointobusiness to do the

books, butwedid!

Let'shaveachatovercoffee andsee howIcan help

Silvia Haddock 027 2169478

silvia@bradleyrural.co.nz l solutionsbusiness.co.nz

2270727

PC Repairs, Set-up and Tutoring

Icome to youday or evening!

•PCRepairs/Sales •Networks/Servers

•Firewalls/Security •Spyware Clean-up •Training

20 YearsExperience Microso Cerfied Professional

NETWORKS FIREWALLS AND PCS LTD

Robin Johnstone 67 Aitken Street, Ashburton

P: 03 308 1440 C: 027 768 4058

robinbj@xtra.co.nz

2270730

4WD Diesel &ElectricScissorlifts

Rough terrain and electric lifts available

On site collection or deliveryavailable

Nowat6Range 403 West Street St,Riverside

PO Box 60, Ashburton 7740

Phone: 03 308 8155

Mobile: 0273 529909

Email:sales@nee.kiwi.nz

2269383

2269398

GetListed ..... Get Sold

Get 3D Marketing ....It's FREE!

308 6173
---
Local news at www.starnews.co.nz Ashburton's The Courier, Thursday April 30, 2020, Page 25

trusted

trades &services

2020 GUIDE

We offer the following:

• Gutter and DownpipeCleaning • Weed Spraying

• Moss,Mould andLichen Spraying • Spider Proofing

• Gorse and BroomSpraying • FenceLineSpraying

• Chimney/Flue Cleaning $75 • Heat Pump Service$90

MENTION THIS AD WHEN BOOKING FOR A10% DISCOUNT

ON GUTTER AND DOWNPIPE CLEANING

Call Allan on 027 209 5026 an let us know howwecan help

2269050

ashburtoncranes2015@gmail.com

2269089

Diamond Painters and

Decorators Ltd

Qualityinterior and exterior

painting and decorating

• Wall papering • Airlessspraying

• Water blasting • Residential and small commercial

• Roof painting • Freenoobligation quotes

Gutterguardinstallation and gutter cleaning

Phone Duncan 027 370 2453 l Jeanette 027 318 5055

email: diamondpaintersdecorators@gmail.com

2269138

2269284

•

•

•

•New builds •Renovations

•All types of engineering

•Small or large projects

Rob021 124 4268 l Sam022 5428927

email: robsue@hotmail.com

ALL THINGS CANVAS &PVC

*Awnings/Shadesails/Dropblinds*Auto seat covers &repairs

*Hay &bin covers *PVC covers &repairs

*Ute tonneau covers *Furniture upholsteryrepairs

*Commercial

PHONE TRAVIS HOWDEN 027 922 4544

2269312

Forall your tyre requirements,

see the localexperts

•Wheel alignments

•Wheel balancing

197 Wills Street,Ashburton l www.neumannstyres.co.nz

Phone 03 308 6737 (24 hrs –after hours call out applies)

2269381

VISIT OUR STORE AND GET A

TREATFOR YOUR PET

Always in stock:

• Birdaccessories,food &treats

• Rabbitand guinea pig food,bedding &treats

• Cat accessories,collars &treats

• Dog collars,leads,toys, accessories &treats

• Aquarian accessories &food

• Dog crates &cat crates

• Raw,fresh &frozenpet food

• All sorts of dried products

EVERYDAY

SPECIAL

Dog

Rolls

HAVE CASH

FOR PETFOOD

COWS AND

UNWANTED

STOCK

2for

$

12

(3kgeach)

"Come andsee our friendlystaffin-store today"

Phone (03) 307 8996

027 312 5756 l 99 Archibald Street,Tinwald

WILSONS

WINDSCREENS

2270712

WE WELCOME ZEK

FROM WINSTONES

TO JOIN OUR TEAM

We areyour one stop glass shop for

AUTO and HOUSE

REPAIR or REPLACE 152 Wills Street,

"Your placeorours"

2270728

Ashburton

Ph.308 8485

Solar powerwhenyou need it most

We are experts at installing solar

power systems for motorhomes.

• SOLAR PANELS • BATTERIES • DC MANAGEMENT

• CAMERAS • TV SATELLITE • PUMPS • REFRIGERATION

AAA

Solar

&SUN POWERPLUS

South Island

4McGregorLaneAshburton

03 307 4777 -027 4423103

ashsolarpower@xtra.co.nz

aasolarsouthisland.co.nz

We service and repair all makes and models

of sewing machines and overlockers

Your local Bernina

service team

John Robbie Rachel

2270714

OPEN 7DAYS9.30am -4.30pm

Main South Road, Tinwald Ashburton | Phone 307 6277

www.anniesquilts.co.nz

2270698

What's my

property worth?

"it's freetofind out"
---
Page 26, Ashburton's The Courier, Thursday April 30, 2020

CROSSWORD

ENTERTAINMENT

BUSINESS OWNERS

Build customers,sales and

profits,with us ...

Over 16,065 copies delivered everyThursday

PRINT, ONLINE ANDMOBILE 24/7

QUICK PUZZLE NO. 8564

ACROSS

1. Bag (4)

7. Ring (9)

8. Metal (4)

9. Period (4)

10. Submissive (4)

11. Jollity (4)

14. Implacable (10)

16. Famous (10)

19. Vow(4)

22. Fricassee (4)

24. Rotate (4)

25. Space (4)

26. Resentful (9)

27. Repair (4)

DOWN

1. Smart (5)

2. Hag (5)

3. Disclose (6)

4. Nationality (6)

5. False (4)

6. Ceaseless (9)

12. Philanderer (9)

13. Language (4)

15. Board game (4)

17. Plump (6)

18. Crowd (6)

20. Love (5)

21. Sticky(5)

23. Caprice (4)

CRYPTIC PUZZLE NO. 8564

ACROSS

1. With "Nonsense!" shot off (4). 7, Tell one something

illuminating about? (9). 8. Want to put "Previouslyknown

as Day"(4). 9. Do you try to see him as an equal?(4). 10.

Play, orwhat stopped it? (4). 11. He's brought back arecently

issued disc (4). 14. Where the travelling actors were?

(2,3,5). 16. Raved about the new diets publicised (10).

19. Chances are it'srun with alittle soda(4). 22. She is, at

heart, charming but scatty (4). 24. The animal centrespoken

of (4). 25. About through (4). 26. Meet on the trip

over (3,6). 27. Unhappy in the shade(4).

DOWN

1. Turn on beat music (5). 2. He has away with awoman

(5). 3. Set on getting smart accommodation (6).4.Araging

and terrible fire gutted the cottage (6). 5.Leaves the

fish (4). 6. Observing to be flushed and angry (6,3). 12.

Diverting the underflow is great (9). 13. The school returned

the money (4). 15. Flap with aname and nothing

more on it (2-2). 17. Non-U wear? (1-5). 18. Make it clear

there's alock on the second (6). 20. Don't cook like an

angel? (5). 21. Man-made material! (5). 23. Lamentably

recited by agirl (4).

SUDOKU

MEDIUM No. 5218

5 3 2

8 5 2

1 3 8 9

8 4 7 2

6 5 8 1

2 4 5 6

7 1 3

2 4 1

Solution to previous Sudoku

Howto

solve

Sudoku!

Fill the grid

so thatevery

rowand every

3x3 square

contains the

digitals 1to9

2 4 8 7 5 1 9 6 3

1 3 6 9 4 2 5 7 8

5 9 7 3 6 8 4 1 2

6 8 4 2 1 3 7 5 9

7 5 3 6 8 9 2 4 1

9 1 2 5 7 4 3 8 6

4 6 9 8 3 7 1 2 5

8 2 1 4 9 5 6 3 7

3 7 5 1 2 6 8 9 4

Solution to previous crossword

QUICK PUZZLE NO. 8563 -SOLUTIONS

Across -7,Thoroughfare. 8, Static. 9, Shanty. 10, Chutney.

12, Pinch. 15, Stool. 16, Cunning. 18, Rubber. 20,

Steppe. 22, Lincolnshire.

Down -1,Chitchat. 2, Brat. 3, Lurcher.4,Chase. 5, Vacation.

6, Vent. 11, Trombone. 13, Conspire. 14, Cuisine.

17, Crook. 19, Ugly.21, Echo.

CRYPTIC PUZZLE NO. 8563 -SOLUTIONS

Across -7,Dispense with. 8, Cat-nip. 9, Spa-red. 10, Premium.

12, F-ie-ry. 15, Hedge. 16, Co-nsu-me. 18,

Strain. 20, No-ting. 22, Gets under way.

Down -1,Disagree. 2, Spin. 3, Snap-s up. 4, Tense. 5,

Vitamins (anag.). 6, Shoe (shoo). 11,M-I-grant-s. 13, Rumania-n.

14, Torn-AD-o.17, Snout (anag.). 19, Tog-a. 21,

To-re.

ContactJann Thompson 03 308 7664 jann.thompson@ashburtoncourier.co.nz

BUILDING and property

solutions. For your complete

alteration or renovation.

We project manage

the whole process. Home

and small commercial.

Qualified tradesmen.

Phone Kiwi Building &

Maintenance Ltd. Gary 308

4798, 027 207 1478 or

Cawte 027 418 7955.

CARPET cleaning -Powerful

equipment & fast drying.

Upholstery, mats and rugs.

Experienced owner/operator.

Phone John Cameron

at Supersucker 027 435

1042 or 308 1677.

CHIMNEY sweep - For a

professional service call

Dan McKerrow Chimney

Sweep and Repairs on 021

118 7580.

COMPUTER problems? For

prompt reliable computer

servicing and laser engraving

contact Kelvin, KJB

Systems Ltd, 4 Ascot

Place, Ashburton. Phone

308 8989. SuperGold discount

card accepted.

CONCRETE pavers direct to

you - Best prices, many

sizes, textures and colours

- Paveco, 13 Robinson

Street, Industrial Estate.

TRADE &SERVICES

COMPUTER repairs, sales,

training, setup -wireless -

networks, spyware cleanup.

On-site day or evening.

LOW FEES. Call Robin

Johnstone, Networks

Firewalls & PC's Ltd, 308

1440 or 027 768 4058.

DENTURES; Dr Peter

Rumping repairs existing

dentures and also provides

new dentures. Phone 027

220 9997.

ENGINEERING repairs, fabrication,

farm equipment

service and maintenance,

W.O.F. repairs, machining

and welding. Odd jobs a

speciality. Mobile workshop.

Can collect. Phone

Malcolm 027 475 4241.

FLY control and spider

proofing. For all domestic

and industrial pest control

needs phone AJ Kerr at

Ashburton Pest Control on

03 308 8147 or 027 432

5447.

FURNITURE removals -For

all your household removal

needs call Nudges Furniture

Removals, phone 027

224 0609.

GARDENING, mowing, PAINTING

pruning, fertilising, projects

or general spruce ups? Call

Andrew at Spruce Gardens

to get the job done right.

027 765 2899 or 03 307 1693.

sprucegardens@xtra.co.nz

GUTTER cleaning. Book in a

clean now and tell me when

you want the job done. You

may have trees around.

Call Allan 027 209 5026.

HYDRAULICS; Martin

Bennett -Onsite hydraulic

hose repair service 24/7.

Stockists of Aero Quip

hoses &fittings, Commercial

hydraulics, Dynacool,

Spool valves etc., MP Filtri,

Walvoil. Call Justin on 308

9778.

LEGAL work -Phone Peter

Ragg (Ashburton Law) for

house sales, purchases

and refinances. Will call at

home evenings for wills,

enduring powers of

attorney. Phone 308 0327.

PAINTER for all your painting

needs. No job too small,

inside or outside. Professional

friendly service.

Phone Pete 03 308 1672 or

027 200 1619.

wallpapering,

plastering - No job too

small. Interior, exterior.

Professional, prompt, competitive

service. Phone

Tony Sivier at Paint It Ashburton

on 021 878 794 or

307 7289.

PLASTERING

&COATINGS

Rockcote. Waterproofing.

Texture/Specialist

Coatings.

The Finishing Company

03 307 8870 2272464

PLUMBING, drainlaying,

blocked drains. Phone

Lindsay at Doaky's Plumbing

on 027 555 5575 or 308

1248 (Master Plumbers &

Drainlayers).

SUN Control Window Tinting:

Privacy, UV, glare, heat

control for homes -offices -

and cars. Phone Craig

Rogers 307 6347, member

of Master Tinters NZ.

TRADE &SERVICES

TINT-A-WINDOW, fade, UV

block, glare, heat control,

safety, security, privacy,

frosting films, solar protective

window films. Free

quotes, 20 years local service.

Phone 0800 368 468

now, Bill Breukelaar, www.

tintawindow.co.nz

TV Reception Specialists for

all your digital freeview

installations and repairs,

TV wall mounting, Smart

TV set-up, home theatre

installation. Call John at

Ashburton TV &Audio Ltd

03 308 7332 or 027 277

1062.

WINDSCREENS and house

glass. Qualified flat glass

glazier now in-house. Anything

glass, give us acall.

Your place or ours. Wilson

Windscreens, 152 Wills

Street, Ashburton. Phone

03 308 8485.

WHAT better place for a

public notice than Ashburton's

The Courier! Simply

clip the form for a run-on

advert like this or telephone

us on 308 7664 if you

require adisplay advertisement.

PETS

Mobile

groomer now

servicing

Ashburton

Call nowtobooka

pamper foryour pooch

Ph 0800454 654

2270691

SITUATIONS VACANT

Local news at www.starnews.co.nz

HEALTH &BEAUTY

URGENT CARE CLINIC

WEEKEND DUTYDOCTORS

IN THE EVENT OF AN EMERGENCYPHONE 111

Forall other medicalassistanceoutsideofnormal

hours please phone your generalpracticeteam, 24/7,

to speak with ahealth professionalwho will giveyou

free healthadviceonwhattodoorwheretogoifyou

need urgentcare.

If youdon't have aregular general practice, call any

GP team 24/7 forfreetelephone health advice.

All non-residents and visa holders please bring your

passporttoyour surgeryappointment.

New Zealanders'tobring some form of ID.

TheAshburtonDutyPractice for ...

Saturday2nd May is

MooreStreet Medical Centre, MooreStreet.

Consultations will be by appointmentonly.

To make an appointmentcall your regular GP 24/7.

Sunday3rd May is

AshburtonHealth First,308 Havelock Street.

Consultations will be by appointmentonly.

To make an appointmentcall your regular GP 24/7.

Methven and Rakaia: Formedical attention on the

weekend and public holidays please telephone

MethvenMedical Centre on 03 302 8105

or Rakaia Medical Centre on 03 303 5002.

Details foraccessingthe afterhours services will be on the

answer phone.

PHARMACIES

Wises Pharmacy,CountdownComplex,

East Street will be open on ...

Saturday from 9.00am until 1.00pm

Sunday from 10.00am until 1.00pm

At Geraldine: TheGeraldine Pharmacywill be open

normal trading hours during the week,and on

Saturdaymorning from 9.30am to 12.30pm.

Closed Sundays and Public Holidays

Forfree24hour Telephone Health Advice

Phone the healthline on 0800 611 116

Broughttoyouby

CountdownComplex, East Street, Ashburton

Phone: 03 308 6733 Fax: 03 308 6755

WE'LL HELP YOUR BUSINESS STAND OUT!

DELIVERYPEOPLE

wanted

to deliver the AshburtonCourier

and Realtyevery Thursdayinthe

Ashburtonurban area.

Over

16,065

copies every

week

Call in and see us at 199 Burnett St, Ashburton, or phone Jann, Roselle or

Karenon(03) 308 7664 or email: office@ashburtoncourier.co.nz

Phone Leonie on

308 7664 or email

leonie.marsden@ashburtoncourier.co.nz

2264293
---
Local news at www.starnews.co.nz Ashburton's The Courier, Thursday April 30, 2020, Page 27

SITUATIONS VACANT

PUBLIC NOTICE

Citizens AdviceBureau (CAB)

MidCanterbury–Co-ordinator

(20 hours perweek) (RE-ADVERTISED)

This excingnew posion will be part of establishing anew Cizens Advice Bureau

(CAB) service forthe people of Mid Canterbury, to be based at Community House Mid

Canterbury.

Once the CAB has been established, the Co-ordinatorwillberesponsible forthe day

to daymanagementofthe CABservice in accordance with CAB NZ requirements,

meeng the needs of clients through managing and supporng aneffecvevolunteer

workforce.

Keyelements of the role include:

• Working with CABNZ and the Community House to establishthe CAB–

volunteer recruitmentand training; set up of physical premises; developmentof

administrave, financial and health and safety processes; promoon of the new

service; reporngtofunders and governancebodies; seekingfunding

• Once established, daytoday operaon of the CAB,including volunteer

recruitment, supporngvolunteer teams to provide trainingand mentoring;

providing administraon, finance and planning; maintaining service quality;

reporng; seeking funding; promoon of the service

Experienceand skillssoughtfor the role are:

• Leadership; role modelling the aims and values of the CAB

• Clientfocussed –ensuring the service provided is welcoming and

non-judgemental

• Demonstratesahighlevel of empathy, confidenality,and professionalism

• Experience managing and mentoring volunteersand fostering asense of team

• Administrave and financial experience

• Excellentverbal and wrien skills, including data analysis and report wring

• Able to plan andorganiseown work and use me effecvely

• Experience in promoon

• Presentaon skills

• Cultural awareness

Afull Posion Profile, applicaon form and further informaon about the role is

available by contacng John Driscoll, Manager, Community House Mid Canterbury,

supervisor@communityhousemc.co.nz; phone 03 308 1237

To apply, please provide your CV,cover leerand completedapplicaon form via email

to supervisor@communityhousemc.co.nz

Applicaonsclose5pm on Mondaythe 18th of May2020.

CASUAL STORE PERSON

Ashburton

Luisetti Seeds is asignificant provider of grain and

seedboth nationallyand internationally.

Opportunityhas arisenforaCasualStore Person at

ourAshburtonsite.

Keyresponsibilitieswill include:

• Assistingwith theintake anddispatchfunctions

includinggeneralyardduties

• Operating modern seed cleaning, treating and

mixing plants

• Opportunity to progress into a peramanent

positionfor the rightapplicant

You will have aproven history of: reliability and

punctuality, efficient time management skills,

working solo and inateam environment, being a

self-starter, able towork toadeadline, attention

to detail, working well under pressure and an

enthusiastic manner.

A willingness to work extended hours when

required and a friendly customer focused

personality would be desirable. Seed cleaning

experience, knowledge of agriculture and forklift

licencewould be an advantage but is not essential.

On sitetraining will be provided.

Remuneration to reflect the applicants experience

and ability.

Applications should detail recent relevant

experience, qualifications and references.

Applications will be treated and viewed in

confidence. Please apply to:

Luisetti Seeds Ltd

PO Box77

Rangiora7440

Attention: KarenVan Staden

or admin@luisettiseeds.co.nz

HOME SERVICES

ROOF COATINGS: All roof

types, specializing in

Decramastic and Long Run

Iron, Coloursteel etc, steep

roofs not a problem. —

Spraymaster 027-433-7780.

2273653

HIRE

SCISSORLIFTS for hire.

4WD and slab lifts available

for daily or weekly hire.

Pickup or delivery. Phone

North End Engineering 308

8155 for abooking.

2273732

AUTOMOTIVE SERVICES

PANELBEATING and spray

painting of cars, trucks,

buses, horse floats &

motorhomes, caravans,

trailers, farm machinery, jet

boats. Light engineering

and aluminium welding.

Bus &Truck Bodyworks, 17

Range Street, Ashburton.

Phone 307 0378.

FRUIT &PRODUCE

POTATOES, Nadine &Agria

$2 per kilo. Phone 308

3195 or 027 531 9103. 81

Elizabeth Street.

SELL

PEA STRAW Conventional

Bales $5 per bale Medium

Square Pea Straw, barley

straw and linseed bales for

Sale $40 a bale delivery

$10 per bale. Ph

02040233792

LPG

REFILLS

Small LPG cylinders

Off Street Parking

Available

Arthur Cates Ltd

26 McNally Street

Ph 308 5397

Riverside Industrial Estate

LPG REFILLS

9kg cylinders

$27.50

Askabout our

deliveryservice

Anysizecylinderfilled

17 Grey St,Ashburton

Phone 307 2707

2270636

2270677

BLACKLOWS AT LEVEL 3

OPEN FOR ESSENTIAL SERVICE

Peter Blacklow

Please phone Peter Blacklow 027 436 7990 or

email peter@blacklows.co.nz

Theentireteam at Blacklows look forwardtothe announcement

of Level2when they can open their doors and operatewithin the

new Covid 19 safetyguidelines of trade.

Don't forgetMother'sDay

Preorders preferred.

We can deliver bouquets and gift baskets foryou locally and nationally.

Visit out websiteoremail us nowtoplace your order.

All orders arenon contactdeliveryornon contactcollection if youprefer.

Flowers

&Balloons

190 East Street, Ashburton • Phone 308 8945

www.flowersand balloons.co.nz • enquiries@flowersandballoons.co.nz

Scholarship

The Ashburton Plains Rotary Club iscurrently awarding

$1,000 Tertiary Education scholarships for students in the

Mid Canterbury area. You must be under 25 and be

completing your second year oftertiary education in2020.

For further information and to apply goto

www.plainsrotary.org.nz/tertiary-scholarship

HospiceMid Canterbury

Dealing with alife limiting illness?

We can supportyou and

your family to make

everyday count.

Allservices arefree.

Phone 307 8387 or 027 227 8387 email manager@hospicemc.nz

www.hospicemc.nz facebook hospicemidcanterbury

EDUCATIONAL

Forkliftand Dangerous GoodsCourses

NZTAApproved Course Provider,MITO&Competenz Assessor

Classes 2&4,Endorsements F&D

ForkliftF&OSH, Saturdays and other days as requested

Dangerous Goods Course,½day Mondaymornings

CommunityHouse,Ashburtonoryour work place

Forfurther information

Phone Christine 027 245 2563

2262322

2269305

ASHBURTON

2274225

2272546

FOR LEASE

AWESOME office space for

lease, rent or hire. Park like

setting. Indoor and outdoor

areas. North-west town

boundary. Must view.

Phone 027 475 4241.

RENT ME!

Ideal as an extra

bedroomoroffice.

Fully insulatedand

double glazed forwarmth.

Threeconvenientsizes:

Standard3.6m x2.4m,

Large 4.2m x2.4m

Xtra-large 4.8m x2.4m.

Visit our displaycabin

418WestStreet or callfor a

freebrochure.

www.justcabins.co.nz

2262540

LIVESTOCK

GARDEN SUPPLIES

Ashburton

Plains Rotary

0800 58 78 22

STORAGE available, Ashburton.

Self storage, variety

of sizes. Phone Rainbow

Storage 03 307 0401.

STORAGE: Secure self storage

units available long or

short term at Ashburton

Storage Facilities. Contact

us on 027 436 2636 or www.

ashburtonstoragefacilities.co.nz

CHICKENS /HY-LINE

BROWN PULLETS FOR SALE

ORDER NOW!

Hy-Line Pullets for only $26 each.

*Pick-up and Delivery Available

Contact Gordon /Rosie at 03 308 3783

Youmay also email trott.family@yahoo.co.nz

DELIVERED

$

6.00

per bale

PEASTRAW

and LINSEED STRAW

Small bales

2273857

Phone or txt Alisdair 027 410 6882

Ian 027 432 0438; Murray 307 0353

2272994
---
Page 28, Ashburton's The Courier, Thursday April 30, 2020

Local news at www.starnews.co.nz

QUALITY

USED VEHICLES

@

AFFORDABLE

PRICES

WARRANTIES AA APPRAISED FINANCE BIGGEST YARD BEST SELECTION TRADE-INS

2012 NISSAN SYLPHY

AUTO,PETROL,ABS,

AIR CON, 1800 CC,

29,200 KMS

2007 TOYOTA BLADE G

ABS,AIR CON, BODY

KIT,REAR SPOILER,2400 CC,

70,500 KMS

2008 MAZDADEMIO SPORT

5DOOR,ABS,CLIMATE

CONTROL,BODYKIT,

1500 CC,19,800 KMS

JUST

ARRIVED

JUST

ARRIVED

$11,995 $10,995 $11,495

JUST

ARRIVED

DAIHATSU

1999 DAIHATSUTERIOS SUV, manual,petrol,4x4, 5door,central locking,

rear spoiler,1300cc, 159,788 kms...........................................................$3,995

HONDA

2006 HONDAINSPIRE,alloys,cruise control, reverse camera, 2wheel

drive, 3000 cc,57,000 kms..................................................................... $9,995

2013 HONDACR-V 24G, auto5door,ABS, cruise control, alloys,tow bar,

66,000 kms, 2400cc...................................................................................$22,995

2004 HONDACR-V ZX, auto, petrol,5door,SUV,ABS, rear spoiler,78,100

kms, 2400cc.....................................................................................................$9,995

2007 HONDAELYSION PRESTAGESZ, auto, petrol,8seater, 5door,ABS,

foglights,105,000 kms, 3500cc........................................................... $11,995

2007 HONDASTEPWAGON G, 5door,8seater, ABS, air con, rear spoiler,

95,000 kms, 2000cc......................................................................................$7,995

MITSUBISHI

2010 MITSUBISHI GALLANT FORTIS SPORT,5door,ABS, air con, CD

changer,climate control, 97,400 kms, 1800cc....................................$9,995

MAZDA

2009 MAZDADEMIO SPORT, 1500cc, ABS, air con, climate control, rear

spoiler,70,500kms.....................................................................................$10,995

2008 MAZDAAXELA15C, ABS, body kit, spoiler,air con, 34,600 kms,

1500cc...............................................................................................................$8,995

2008 MAZDADEMIO SPORT, 5door,ABS, climate control, air con, body kit,

19,800 kms, 1500cc.................................................................................. $11,495

NISSAN

2006 NISSANBLUEBIRDSYLPHY20S, 4door,ABS, air con, climate control,

11,800 kms, 2000cc......................................................................................$9,995

2006 NISSANCUBE15M, 5door,petrol,air con, ABS, CD changer,42,300

kms, 1500cc.....................................................................................................$7,495

2008 NISSANNOTE15X, auto, 5door,air con, climate control, petrol,14,800

kms, 1500cc, ready to go............................................................................$8,995

2012 NISSAN SYLPHY, 4door,auto, petrol,ABS, air con, 29,200 kms,

1800cc............................................................................................................$11,995

2005 NISSAN TIIDA18G, 5door,petrol,ABS, air con, rear spoiler,60,500

kms, 1800cc.....................................................................................................$8,995

2014 NISSAN LATIO B, auto, idling stop,twin air bags,ABS, 4door,petrol,

air con, 31,100kms........................................................................................$9,995

2006 NISSAN BLUEBIRD, 2L, sedan, wine red, twin air bags,

ABS................................................................................................................... $9,995

2001 NISSAN CUBE, 1300 cc,5door,auto, 136,000 kms........................$3,495

2007 NISSAN SKYLINE 350 GT,3500 cc,auto, paddle shift, 18in alloys,

76,000 kms...................................................................................................$11,995

SUBARU

2008 SUBARUIMPREZA 15S, 5door,petrol,ABS, air con, rear spoiler, .........

78,200 kms, 1500cc......................................................................................$8,995

2005 SUBARULEGACY OUTBACK, petrol,6air bags,ABS, air con, cruise

control, foglights,rearspoiler,3000 cc ................................................$6,995

2005 SUBARUFORESTER 2.0X, 5door,4x4, ABS, air con, petrol,82,500 kms,

2000cc...............................................................................................................$8,995

SUZUKI

2007 SUZUKISWIFT 1.5 XS, 5door,6air bags,ABS, air con, body kit, rear

spoiler,49,500 kms, 1500cc.......................................................................$9,995

2007 SUZUKISX4 XG, 5door,petrol,ABS, air con, climate control, rear

spoiler,roof rails,alloys,97,200 kms, 1500 cc.....................................$8,495

2007 SUZUKISWIFT 1.5XS,1500cc, white, auto, body kit, air con, 68,000

kms.....................................................................................................................$9,995

TOYOTA

2007 TOYOTA PRIUS STOURING, hybrid,alloys,reverse camera, air con,

rear spoiler,ABS, 1500cc,36,000 kms................................................ $9,995

2006 TOYOTA RACTIS GL, 1500cc, ABS, cruise control, air con, rear spoiler,

63,400kms .......................................................................................................$8,495

2007 TOYOTA BLADEG,5door,ABS, air con, body kit, rear spoiler,push

button start, 70,500 kms, 2400cc.........................................................$10,995

2009 TOYOTA ESTIMA HYBRID X4WD, 5door,8seater, Abs, air con, auto,

rear spoiler,cruise control, 133,450 kms, 2400cc...........................$14,995

2013 TOYOTA PRIUS L, 5door,ABS, air con, petrol,parking sensors,rear

spoiler,auto, 71,810 kms, 1800cc.........................................................$16,995

2012 TOYOTA RACTIS G, 5door,petrol,ABS, air con, rear spoiler,cruise

control, 45,400 kms, 1500cc...................................................................$11,995

1999 TOYOTA RAV4,3door,petrol,ABS, air con, rear spoiler,

1800cc...............................................................................................................$7,995

2006 TOYOTA RUSH G, 5door,petrol,ABS, air con, climate control, rear

spoiler,59,500 kms, 1500cc....................................................................$11,995

2008 TOYOTA WISHXLIMITED, 5door,petrol,ABS, air con, auto, climate

control, 72,500 kms, 1800cc......................................................................$9,995

2004 TOYOTA FUNCARGO,1300cc, auto, air con, rear spoiler,

148,000 kms....................................................................................................$4,495

2005 SUBARUFORESTER 2.0X

4X4,ABS,AIR

CON, PETROL,

2000 CC,

82,500 KMS

2005 NISSANTIIDA18G

ABS,AIR CON, REAR

SPOILER,1800 CC,

60,500 KMS

2012 TOYOTA RACTIS G

5DOOR,ABS,AIR

CON, CRUISE CONTROL,

1500 CC,

JUST

ARRIVED

$8,995 $8,995

$11,995

AUTOSLTD &RENTALS

JUST

ARRIVED

Ph: 308 1396

Sellingnicecarstonicepeople!

470 West Street,

Ashburton

A/H Keith Drummond

0274 367 646

JUST

ARRIVED

ENQUIRE NOW

-about our range of rental vehicles

Family,Sports,School or Social Trips

We have 8, 10 &12seaterminivansavailable.

Cars and3trucks forsmall orbig loads also available.

2269047