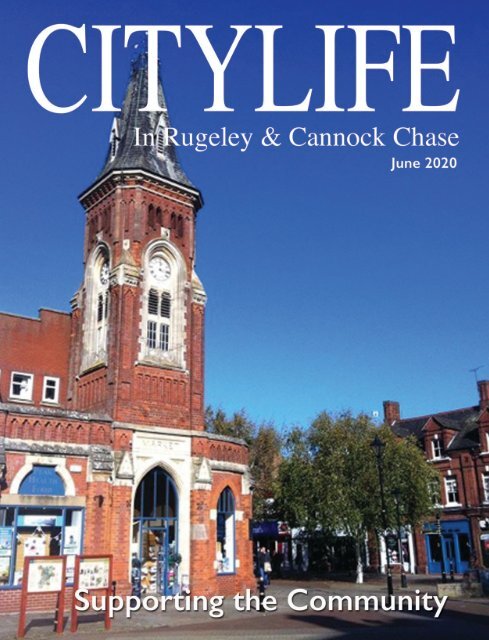 Citylife in Rugeley and Cannock Chase June 2020
June is definitely bursting out all over in our June 2020 edition! We've got our usual mix of local news, features, history, reviews and recipes - we're all over Rugeley and Cannock Chase!
June is definitely bursting out all over in our June 2020 edition! We've got our usual mix of local news, features, history, reviews and recipes - we're all over Rugeley and Cannock Chase!
SHOW MORE
SHOW LESS
Create successful ePaper yourself
Turn your PDF publications into a flip-book with our unique Google optimized e-Paper software.
J HOWELL &

DAUGHTERS

FUNERAL DIRECTORS LICHFIELD

LICHFIELD'S LONGEST ESTABLISHED INDEPENDENT,

FAMILY RUN FUNERAL DIRECTORS.

SECOND GENERATION BUSINESS HERE TO ASSIST YOU

AND YOUR FAMILY.

24 hours a day

We are proud to be Lichfield's longest established family run funeral directors offering a wide range of

choices to suit all requirements. Horse drawn hearse, non religious ceremonies, floral tributes and

memorials are but a few of the services we offer.

Pre-paid funeral plans are also available.

For a truly personal service please call

01543 255776

Private Chapel of Rest 116 Netherstowe,

Lichfield, Staffs. WS13 6TS
---
3
---
Welcome to

CITYLIFE

Welcome to CITYLIFE in Rugeley & Cannock Chase, a

monthly magazine bringing you our pick of the area's news,

events and stories. Each month CITYLIFE in Rugeley &

Cannock Chase is delivered to 11,000 businesses and

homes in Rugeley, Cannock Chase, Heath Hayes,

Ravenhill, Etchinghill, Slitting Mill, Armitage,

Handsacre, Colton, Hamstall Ridware, completely

free of charge; bringing you the best that the area has

to offer.

Each issue features heritage stories exploring the rich

history of our area, plus competitions, interviews and the

latest in fashion and style.

Got a story or charity event you want to share with our

readership? Think you've snapped an image that captures

the spirit of the region? We want to hear from you!

CITYLIFE Contacts

Editor - Kristen Lackajis 07885 380632

kristencitylife@gmail.com

Features - Jono Oates 07785 757201 jonocitylife@gmail.com

Advertising -

Steve Brown 07740 166497 stevebrowncitylife@gmail.com

Rebecca Hill 07970 513144 rebeccahillcitylife@gmail.com

Inside...

7 Citylife's Cutest Pet

Send in your pet pics and we'll pick our

favourites!

.............................

10 Ha-has & Murder!

Jono Oates looks at the history of Ingestre Hall

.............................

12 Tastes of the Season

Sweet Treats from chef Simon Smith

.............................

20 Beneath the Surface

Blithfield Reservoir uncovered with Kate Gomez

.............................

31 The Origin of Batesway

By The Landor Society

Production - Helen Smith 07967 154187

helencitylife@gmail.com

Citylife In Lichfield Ltd

PO Box 7126 LICHFIELD WS14 4JS

CITYLIFE in Lichfield and CITYLIFE in Rugeley magazines

are not connected to any other publication or publisher, and are

wholly owned by CITYLIFE in Lichfield Ltd.

Citylife In Lichfield

www.citylifeinlichfieldltd.co.uk

Citylife in Lichfield Ltd does not endorse any business or organisation

appearing in these pages, and the publication of any advertisement,

editorial, event listing or advertising editorial does not constitute an

endorsement by Citylife in Lichfield Ltd.

Your Local Magazine
---
My Month in

Parliament

By Amanda Milling MP

Over the past two months

we've all had to make huge

changes to our everyday lives.

We've been working from

home, practicing social

distancing, only going out for

exercise or trips to the

supermarket and some of you

have been teaching from the kitchen table.

I want to thank all of you for the huge changes you've

made because it's these efforts that have helped protect

our NHS and save lives.

Despite us being apart, our community has

continued to thrive. An army of volunteers and

community groups continue to get vital supplies to the

vulnerable. Each Thursday our clapping for all the NHS

and health care heroes echoes louder and louder from

streets across Cannock Chase and Rugeley. We even

marked the 75th anniversary of VE day by flying flags

from our homes to remember the courage and sacrifice

of men and women in the Second World War.

We recognise how tough it has been on you and that

is why the Prime Minister has made changes to allow

you, while following social distancing, to meet up with

one person provided you remain 2m apart, exercise

more, play sports with members of your own

household, sit in the sun in the local park and drive to

other destinations.

These are welcome changes, but we must proceed

with caution, we've come a long way in the fight against

the virus and we can't stop now.

Everyone has a role to play in continuing to control

the virus by staying alert and following the rules. You can

return to work if it's not possible for you to work from

home, if not we must stay at home as much as possible

and work from home if we can, limit contact with

others, keep our distance when we go out, wash our

hands and self-isolate if we or if someone in our

household has symptoms.

By doing this we can keep the rate of infection and

the number of new cases down.

If we stay alert and follow the rules, in the coming

weeks, we will slowly be able to start getting life back

on track. If we do that now, some aspects of our lives

could start heading back to normal with schools and

shops beginning to return to normal in the months

ahead.

I will continue working with the NHS Trust, Police,

Staffordshire County Council and Cannock Chase

District Council to ensure that new changes are

implemented and any issues that arise are tackled.

We can control the virus if we all stay alert. As always,

if you need to contact me for help with any issues or

concerns please do get in touch on

amanda.milling.mp@parliament.uk or visit

www.amandamilling.com/contact.

5
---
LOCAL NEWS

6

The Hive's Charity

Walk Postponed

Throw back to a pre-lockdown training hike, where

friends Jessica Davanzo, Sean Bird, Michelle

Haycox, Kelly Weatherer, Pat Cannon, Phil Grigg

were building up to the big day! Photo thanks to

Katy Buxton of Dark Light Photography.

The Hive is a friendly, informal networking

group created by local business owners in the

Rugeley area and is as much about building

community as it is about gaining business.

Attendees enjoy the relaxed, welcoming vibe to

events and have been delighted at the growing

number of collaborations taking place. Friends

through the group planned a 20 Mile Charity

Hike on Cannock Chase in support of the

Midlands Air Ambulance Charity on May 23rd

and aim to raise £2,500 enough to fund a single

life saving mission. This trek is sure to prove a

challenge for participants, but all it will be worth

the reward for such a noble cause. Amongst

those taking on the challenge are participants

have never been hiking, others over coming

serious accidents and illnesses and at least one

who cannot read a map! Though lockdown

means a postponement of this trek, the group

are still pushing to raise crucial funds for the

charity and are currently holding bi-weekly

meetings virtually through Zoom. For further

details on the Hive or how to donate, please

check out www.thehive-rugeley.uk.

.......................................................................................

Sign Up for 30 Days

Wild Challenge

Staffordshire Wildlife Trust are encouraging

people to sign up for a month-long challenge to

go wild during June.

There are just a few weeks left to sign up for

this year's annual 30 Days Wild challenge, which

takes place during the whole of June.

Staffordshire Wildlife Trust is inviting individuals,

groups and families to take part in this year's 30

Days Wild campaign.

Last year, over 2,000 people from the county

signed up to take part in 30 Days Wild and

people can now sign up for their free pack of

ideas by visiting www.staffswildlife.org.uk/30DaysWild

Now in its sixth year, 30 Days Wild encourages

everyone to enjoy nature in our gardens

through daily Random Acts of Wildness;

listening to bird song, gazing at butterflies,

growing borage for bees and much more.

Evidence shows that taking part can also make

us happier and healthier.

This year's challenge will be based around what

people can do in their homes, gardens and

during their daily walk in their neighbourhoods

to comply with Government guidance on the

coronavirus pandemic.

Research from the University of Derby has

shown that spending time in nature is good for

you, for fitness, mental health and wellbeing.

Jon Owen, Press and Social Media, said: "30 Days

Wild is a much-loved challenge and it's set to be

an exciting month for everyone taking part.

"Last year, we were delighted 2,000 people

signed up to take part and we want that figure

to be even higher this year.

"The coronavirus pandemic means we're having

to rethink how we ask people to take part in

this year's 30 Days Wild, but there's dozens of

activities to do in homes, gardens and during a

walk.

"We are all in need of something to focus on

and to engage with nature as much as we can

during this time, and 30 Days Wild gives us the

opportunity to do just that."

To find out more and to sign up for your free

pack, visit www.staffswildlife.org.uk/30DaysWild.

.......................................................................................

Running to Support

Lives

Selfies from the runners

On Sunday 19th April, more than 90 runners

from Chasewater Running Club took part in an

Ultra Marathon relay, around their local streets

and gardens, in aid of the charity 'Our Blue

Light'. The virtual baton was passed by each

runner who posted a selfie after completing

their leg of the relay.

Adhering to government guidelines and

restrictions, each runner ran for 15 minutes,

along a route that was close to home, or even

laps of their garden.

The relay took place between 07.30am and

8pm, with many of the 15 minute slots being

occupied by two or even three runners, who

each took part from their homes.

In just over 12 hours, the runners covered

128.5 miles, equivalent to almost five full

marathons. In total, the virtual relay raised an

incredible £1,815 for the charity, which

supports the mental health and well-being of

emergency service and essential workers.

.......................................................................................

Local Lad Runs

for NHS

Instead of the dreaded end of Primary School

tests, a local Rugeley lad had his mind, and legs,

set on raising funds for the NHS.

Eleven-year-old Otto Homer, decided to help

raise funds to help the NHS during the current

Covid-19 pandemic. He set up a make-shift

donation box outside his house which filled up

rapidly with donations from residents of his

Etchinghill street and passers-by.

On Saturday 9th May Otto, who attends

Lichfield Cathedral School, ran up and down his

street for one hour, non-stop, cheered on by his

family and neighbours, raising more than £250!

Every year, pupils from Lichfield Cathedral

School in Years 5 and 6, as part of the school's

Ethical Leadership Programme, are encouraged

to develop a social responsibility where acts of

kindness are an everyday normality. This year

pupils were challenged to come up with their

own unique ways of raising funds.

From doing jobs round the house, to

sponsored events and bake sales! To find out

more and donate, please visit

www.justgiving.com/fundraising/y5and6charityd

ay. All money goes directly to the NHS

charities.
---
Looking for

Citylife's

Cutest Pet

of the month

...........................

Think your dog is adorable or your cat is

the cutest? Does your rabbit have real

character or your hamster have model

looks? We're looking for the Citylife's Cutest

Pet of the month, and we want to see your

pictures of your dogs, cats, rabbits, hamsters,

pigs, horses, snakes – anything goes!

Every month we'll pick our

selection of the cutest pets and

we'll show them here in Citylife

online magazine.

Rugeley Remembers

on VE Day

Asmall ceremony, in accordance with the

Government's social distancing guidelines, took

place at Rugeley cenotaph at 11am on Friday 8th May

2020 to remember the fallen on VE Day.

To get the ball rolling, here are

our pets at Citylife magazines –

Stan the Border Terrier and Tui the

New Zealand Huntaway, Border

Collie cross.

Send your pet pics to

jonocitylife@gmail.com

with your name and the

name of your pet.

7
---
LOCAL NEWS

8

Inspired Leisure

Centre News

Inspired Cannock

Chase, the group

which runs Chase

Leisure Centre and

Rugeley Leisure

Centre, has built a

new website called

Home Health Hub,

with information

and videos to help

people stay healthy at home during lockdown.

The site features exercises, as well as games and

challenges to do with kids, plus food and weight

management tips.

Visit the site at https://homehealthhub.org/.

The Inspired Group is also running an online

survey until Sunday 17th May in order to to

gauge pre-lockdown, during and post-lockdown

participation in fitness.

The information provided will help Inspired

understand if the temporary closure has

changed people's attitude and participation in

sport exercise and fitness activities. All

responses are anonymous.

Take part here:

www.surveymonkey.co.uk/r/N8F6QQP.

.......................................................................................

Council Supports Local

School Initiative

Rugeley Town Council donated £5,000 to local

secondary school, The Hart School, to help

manufacture face shields - a key element of PPE

in the fight against COVID-19.

Impressed by the staff's initiative, Town

Councillors agreed to contribute a donation of

council funds to the school

All Care Homes, GP surgeries and district

Nurses in Rugeley have been provided with the

face shields. Rugeley residents working at

Birmingham's Children's Hospital, Good Hope,

Walsall Manor, New Cross Hospital, Stoke

Royal and County and others have also received

face Shields, and staff in local business are

among the recipients of these important pieces

of PPE.

The school continue to receive requests for

PPE and currently has a target to produce

25,000 shields. Part of the donation will support

the school in taking the product into industry

for mass production.

.......................................................................................

Kindness on a

Local Level

The fallout of the

current COVID-19

situation has struck

some people bitterly

hard - leaving them in

dire straits. However,

volunteers from

Brereton Million, led

by support worker, Sue

Merriman, have

established a

productive team who conduct acts of kindness

for their neighbours on a daily basis.

The results of their neighbourly door-to-door

check up on residents to offer helps and

support found older residents stuck at home

with empty cupboards and unaware that help

was available; families whose free school meal

vouchers hadn't arrived and didn't know how to

get them; parents whose jobs or businesses no

longer provided for basic family needs; and

young families stuck indoors with anxiety and

mental health problems arising.

Brereton Million has left food parcels on

doorsteps, distributed crafting packs, and

collated mental health resources, amongst

other tasks.

Brereton Million's well-established

comprehensive website has a new COVID-19

dedicated page with useful information, guides,

advice and forms to apply for assistance or

packs.

Visit www.breretonmillion.co.uk/residentssupport-group

for further details.

.......................................................................................

VE Day in Rugeley

Lots of families dressed up their houses, and

themselves, to celebrate VE Day 75 on 8 May.

The Kettle Family, including Landor Society

secretary Marion Kettle, were dressed for the

occasion, and Jane Bond sang a selection of

wartime classics to keep the whole street

entertained!

.......................................................................................

Council Reopens

Car Parks

Car parks

serving parks and

open spaces and

tennis courts

managed by

Cannock Chase

Council will be

r e - o p e n i n g

during the

course of Thursday 14th May.

This follows the latest Government guidance

that the public can now travel to sites and take

unlimited exercise, as long as they follow social

distancing guidance.

During Thursday 14th May the Council reopened

its car parks, which either serve or are

close to its main parks, open spaces and tennis

courts.

Car parks at Cannock Park, Hednesford Park,

Heath Hayes Park, Ravenhill Park, Elmore Park,

The Stadium and Castle Ring and tennis courts

at Hednesford Park, Cannock Park and Heath

Hayes Park will re-open through the course of

Thursday.

Councillor Christine Mitchell, Portfolio Leader

for Culture and Sport said "We would ask that

residents use the facilities in the District

responsibly and follow government guidance on

social distancing and to stay alert at all times.

Residents should also be mindful that toilets,

cafes, play areas and outdoor gyms will remain

closed."

The car park at Mill Green Nature Reserve is

currently being used by the contractor who is

undertaking works for the new designer outlet

village and will remain closed until all works

have been completed.

Currently the Golf Course at Cannock Park

will remain closed until appropriate safety and

operating arrangements can be put in place. We

are working with our partner, Inspiring healthy

lifestyles, and providing appropriate social

distancing, safety and booking arrangements can

be put in place; it is planned that the golf course

will re-open on a limited basis from Saturday

23rd May. This will enable IHL to test the new

social distancing rules and booking systems

before the course opens fully.

Further updates available at

www.cannockchasedc.gov.uk.
---
9
---
Ha-has and

Murder at

Ingestre Hall!

By Jono Oates

.................................

Situated about four miles from Stafford, Ingestre

Hall has a history dating back to the 12th century

and it was the ancestral home of two of the most

powerful Staffordshire families, the Chetwynds and

the Talbots.

The land was part of the Baronry of Stafford which

was granted by William the Conqueror to Robert de

Stafford. In the 12th century, at the time of King

Henry II, the manor belonged to Ivo de Mutton, and

when Isabel de Mutton married Sir Philip Chetwynd

in the 13th century, the estate became home to the

Chetwynd family.

'happened' to pass by the scene, claiming to be on a

deer hunting expedition, despite the fact that deer

had not been spotted in the area for years. Although

it was clear that Stanley had been responsible for the

murder of his rival, he was never brought to trial or

punished.

Sir Walter Chetwynd arranged for the original hall

to be built in 1613 in the Jacobean style. Walter's

grandson (also Walter) was a noted 17th century

antiquarian and, under his ownership during the

1670s, a church was built alongside the hall, which was

reputedly designed by Sir Christopher Wren.

In 1549 a feud erupted between Sir William

Chetwynd and Sir Humphrey Stanley, the Sheriff of

Stafford, who were both royal courtiers. Sir

Humphrey was jealous of William's standing at Court

and set a trap to eliminate his rival. He lured William

out of Ingestre with a forged letter, asking him to

attend a meeting early one morning at Stafford. On

the way to Stafford, with just his son and two servants

to accompany him, Sir William's party was set upon at

Tixall Heath by twenty heavily-armed men and Sir

William was killed. It was said that Sir Humphrey then

In 1748 Catherine Chetwynd married the

Honourable John Talbot, a British judge, who inherited

the estate though his wife, becoming John Chetwynd-

Talbot. The famous landscaper, Lancelot 'Capability'

Brown laid out the plans for the formal grounds, and

gardens in 1756, including his signature piece, a ha-ha.

During the 1830s an Orangery was built close to

the hall. It was originally believed to have been

designed by the architect brothers James and Samuel

Wyatt, but is now believed to have been taken from

10
---
the Wyatt's plans of the Orangery at

Blithfield Hall, which had been copied by

Henry Ward, a Stafford planning officer.

In 1856 the 3rd Earl Talbot, Henry

Chetwynd-Talbot, became the 18th Earl of

Shrewsbury, after a lengthy inheritance

battle in the House of Lords.

The original hall was more or less

destroyed in 1882 when a fire swept

through it, many valuable paintings and

antiques were lost, and the hall was then

rebuilt, in the same Jacobean style as the

original build.

The 21st Earl of Shrewsbury sold the

estate in 1959 and it is now a combination

of business ventures. Part of the hall is

owned by Sandwell Metropolitan Borough

Council who run a Residential Arts Centre

and the Orangery is an event venue.

*Please note that Ingestre Hall and the

Orangery are both currently closed during

the Covid-19 pandemic.

Sources: www.ingestreorangery.co.uk;

www.tixall-ingestre-andrews.me.uk/ingestre;

www.thepeerage.com.

11
---
Tastes of the Season

Sweet Treats!

By Simon Smith

Well here we are still in lockdown and the

world is baking. Even with a catering business

I'm still struggling to get flour and light

muscavado sugar which makes life difficult. We

are having to learn to adapt as in the war

years but sometimes that can give us better

skills and a chance to experiment. The setback

is that baking is more of a science than

savoury cookery which is much more forgiving

as far as quantities, ingredients and

temperatures are concerned.

As most children are still currently at home,

I'm giving a couple of easy recipes that the

children can join in with and develop their

skills in the kitchen.

Baklava

200gms butter

100gms pistachios

100gms macadamia nuts

50gms walnuts

50gms pecan nuts

3tbsp honey

1 x pack filo pastry

Pinch cinnamon

Method

Melt the butter either in a microwave or a pan.

Take a sheet of filo, lay it on a baking sheet and

brush with the butter. Lay another on the top

and brush again. Repeat until you have 5

sheets.

Chop the nuts or whizz in a food processor

but only until chopped not blitzed. Mix with

Grazing Platters

Delivered Locally

.....................

the honey and

cinnamon. Put this

mix onto the filo

pastry and roll like

a sausage roll.

Bake in a

preheated oven at

180 for 15

minutes or until

the pastry is

golden. When cold slice and serve. For a bit of

added luxury I serve with mascarpone and

pomegranate seeds.

Jam Roly Poly

This is a long time favourite and one I had to

make for a dinner in the trenches at

Whittington for the officer's mess.

200gms self-raising flour

100gms shredded suet

1tbsp caster sugar

150ml milk

7tbsp raspberry jam

Pinch salt

Method

Mix the flour, suet and salt together in a bowl.

Add the milk and knead together. Put on a

floured surface and gently knead for a further

3 minutes. Roll into a rectangle and put onto

some baking parchment on a baking tray.

Spread with the jam and roll up like a Swiss

roll. Turn so the joint seam is at the bottom to

hold it together. Bake in a preheated oven at

180 for 35 minutes. Serve with custard.

Simon Smith runs a catering business from his

production kitchen in Lichfield, providing bespoke

private dinners plus wedding, corporate and event

catering. Simon also undertakes cookery

demonstrations around the country and with local

businesses such as Arthur Price and Tippers. During

the summer months Simon works for private clients

both on superyachts and in villas in St Tropez and

Europe. If you are looking for catering or a day of

cookery skills go to www.simonsmith-chef.com

*Please take extra care when preparing and

handling hot foodstuffs. Go to www.food.gov.uk for

further details.

I am now delivering grazing platters consisting of 10 different

tapas style items at £15 per head, payable via contactless card

payment.

To see the full menu, look at my Facebook page (Simon Smith

Chef) or email me at simonsmith57@icloud.com.

In the meantime stay safe.

12
---
Advertising Feature

A Green Sweep

................................

Friendly and dedicated is our ultimate cleaning mantra. From domestic to

commercial cleaning, at Green Sweep we only use natural products and

provide a highly-trained, fully-vetted team, armed with that "can do"

attitude.
---
Kid's Craft

Step 5

Corner

By Jill Hayward

................

During lockdown, many of you will be

home-schooling your children (challenging in

itself!) but what do you do when faced with

the question: "What can I make?"

Step 1

Using just a few stock craft items that you

may have lurking in a cupboard, you can keep

your little ones entertained for hours!

Follow our step by step instructions to

make something easy and fun using only

things you might find around the house and

items usually included in store bought craft

kits. You may need a bottle of PVA craft glue

for securing ends and fixing.

14

Ring-a-Rosie Window Hanger

You will need:

• Plain paper, card or a cereal box

• Scissors

• Paper clips, sticky tape or glue

• String or wool

• Pens, pencils or crayons for colouring

• Pom poms or foam shapes for decoration

Step 1

On plain paper draw around a plate and cut

out the circle. Fold in half, then into quarters

and then again, one more time, until it looks

like a slice of pizza. Now using a pencil draw a

simple outline of a figure, make sure they are

linked at the hands but not at the feet.

Step 2

Carefully cut around the shapes (this is a bit

fiddly so probably needs a grown up to do

this), then gently unfold until you have a chain

of people in a circle. Decorate by drawing on

faces and clothes. Put to one side.

Step 3

Take a strip of card (I have used the inside

of a cereal box). Cut the strip so that it is of

slightly greater depth than the dolls (I have

had to join two together to give a long

enough piece). Decorate by colouring the top

half blue and the bottom green, don't worry

about being too careful. Use foam shapes or

sequins to make trees and flowers.

Step 2

Step 3

Step 4

Step 4

Carefully make a tube of the card and insert

it into the ring, gradually opening it until it fits.

Trim off the excess and fix the tube together

(don't worry if you break the ring you can

always glue them back together and no one

will know). Use paper clips to hold it while

the glue dries. Fix the dolls to the background

with dabs of glue.

Step 5

Place three paper clips on the top edge of

the card, knot a piece of string to each clip

and bring them to the middle. Thread the

strings through a bead or two and adjust so

that the whole piece hangs straight. Tie the

pieces of string to secure them and use them

to suspend your Ring-a-Rosie hanger. Give it a

spin and watch your little people dance

around the ring!

Jill Hayward is an artist and illustrator. For

more information on her work go to her

Facebook page Jilly Ink Illustrations.

*Please remember that small beads can

form a hazard to very small children, so this

activity is not recommended for children

under three and close supervision is

recommended during the entire task. Please

take extra care when using scissors. Craft

activity is undertaken at your own risk.
---
Win our Rainbow Pendant

whilst raising money for the NHS

*Nominate your NHS Hero or Keyworker*

...............................................................

Here at Allen Brown

Jewellery we are really

grateful for people who

work for the NHS and

keyworkers during this difficult

time. We would like to give our

thanks to those who are

providing vital services and

therefore are giving NHS and

keyworkers the opportunity to

win our Rainbow Pendant. Designed and made in our onsite

workshop, it is an 18ct white gold sapphire pendant. Set with

1.44ct of red, orange, yellow, green and blue sapphires.

We are asking you to nominate your NHS Hero or keyworker.

You can do this via our social media pages either on Facebook or

instagram by tagging in your nominee to our charity post along

with a reason why they deserve to win. You can also email us

website@allenbrownjewellery.co.uk with your nomination.

When you nominate if you would like to donate to our

fundraising page we are raising money for NHS Charities Together.

This national campaign, endorsed by NHS England, acknowledges

and supports all NHS staff and volunteers who are looking after

those affected by coronavirus. It would be really appreciated to

help show our support for this worthwhile cause.

Visit our JustGiving page to donate

www.justgiving.com/fundraising/allenbrownrainbow

The winner will be chosen at random from all people who

have been nominated on Monday 1st June 2020.

Many thanks and stay safe

The Allen Brown Jewellery Team

*Please note*

Whilst the gallery is closed, Allen will be using this time to

work on new designs for the gallery. For enquiries on any

current orders, or information on new commissions/remodelling

or repairs please call us on 01543 481 948

We also have a new online shop where some of our

pieces can be purchased. Visit our online shop via

www.allenbrownjewellery.co.uk

15
---
Advertising Feature

Rooms with a View

..............................................

Office garden rooms – are they set to become the new norm?

Merging nature and the workplace has been hailed in recent years for

maximising productivity and boosting workers' mental health.

So much so, that bringing the outside indoors into large office spaces is a

tactic that has been used effectively by huge brands such as Amazon, Microsoft

and Timberland.

Now, this alternative way of working has crept out of normal workplace

settings and is on the rise after being deployed in gardens around the country

too.

Garden rooms are now being increasingly used by remote and flexible

workers to slash commuting costs and improve work-life balance by moving

workspaces out of domestic environments and into natural outdoor oases

instead.

Garden rooms are helping launch self-employed ventures

They're also proving a huge hit with the self-employed, who are using them

to launch independent ventures, ranging from salami-making to glass blowing,

have the potential to boost property values, and have also started to feature

on property shows like Location, Location, Location.

The current pandemic has also demonstrated how easy it is for employees

to work from home, and how quickly it could become an unforeseen necessity

in the future for extended periods of time.

In fact, some lockdown surveys are even going so far as to suggest that huge

numbers of people are hoping they'll be able to work from home more in the

future.

So, could garden rooms become the new norm? Is it something on your wish

list?

If so, Roundpeg Outdoor Buildings, a new local business, could make your

dream for a better work-life balance, less travelling time and reduced financial

outlay, a reality – and swiftly.

New Roundpeg venture creates bespoke buildings for outdoor offices

It was after 30 years working in the industry, that two friends Sallyann Smith,

54, and Adam Timmis, of Rugeley, made the brave leap to go it alone and set up

Roundpeg, an independent manufacturer of garden buildings, with the goal of

creating a more bespoke, personal offer.

It's a perfect working relationship with Sally focused on customer services

while Adam is hands-on creating buildings to meet customers' bespoke

requirements.

While the UK went into lockdown just a few weeks after its launch, the firm

has still been receiving orders for garden buildings and has been able to fulfil

them following social distancing rules.

And it may soon be able to expand. So, why do they think outdoor garden

buildings are becoming so popular? And do think their popularity will continue

to rise?

16

Helping redress the work-life

balance

Director Adam, aged 36, who

boasts 15 years of experience in his field, said: "Garden offices have become

increasingly more fashionable in recent years as a new, alternative, better way

of working, as people try to redress their work-life balance.

"The benefits of getting back to nature have been extensively documented

with proximity to natural light, natural views and better air quality all helping

improve mental health and well-being as well as productivity.

"Multi-national companies have seen the benefit of creating botanical spaces

for employees and it's perfect for the self-employed to keep costs down and

profits up too.

"With a garden room there's no need to worry about converting a room of

your home, or spending hours in traffic or racing to get onto public transport

to get to and from jobs."

The father-of-two added: "Life is fast-paced and busy. To make the hard work

worthwhile I think we all appreciate, now more than ever, the importance of

spending quality time with family and friends.

"So, what better than at the end of the working day to just close your garden

office behind you and take that short walk into the house to relax with those

we care for."

Garden rooms are more than just offices – some are gyms and bars

In fact, Adam's wife Donna is just one of the many people to launch a new

business, Metamorphosis Nail and Beauty salon, from a garden room after 10

years of working in a salon in Armitage.

Other customers, from across the West Midlands, including Rugeley,

Birmingham, Burton, Uttoxeter, and further afield, have created hobby rooms,

bars and gyms in their garden rooms to enjoy more of what they love without

leaving their homes.

Fellow director, mother-of-two Sallyann revealed that while lockdown had

made the launch harder, expansion could be on the cards if business growth

continues, including creating new local jobs.

She said: "We're now getting more and more orders and are starting to think

about looking for staff."

Roundpeg Outdoor Buildings' manufacturing base is in Fauld, near Barton-

Under-Needwood, just a 15 minute drive from Lichfield. It offers high-quality,

as well as eco-friendly, bespoke garden rooms, as well as standard sized timber

outbuildings and sheds too.

For more visit: www.roundpegoutdoorbuildings.co.uk, find them on

Facebook, Instagram, call 07377 633735 or email

hello@roundpegoutdoorbuildings.co.uk
---
Rugeley & District Lions Club

By Peter Fielding

.....................

We continue to look at ways in which we can help the

community during these trying times.

production of Face Masks for local surgeries, Care Homes and

local hospitals.

Our presentation of Mary Queen of Scots had to be postponed

and will now hopefully be held on 27th October. Those who

have already bought tickets can use them for the changed date.

Anyone who cannot attend the amended date can return their

tickets to Instaprint for a full refund.

The Fashion Show and Proms Night have been postponed and

new dates will be arranged as soon as possible.

In the meantime we have been looking to see how we can

support local organisations helping the Community. Substantial

donations have been made to Stafford Women's Aid and

Pathway Project who deal with domestic abuse in our area,

having seen incidents rise during the lockdown. A donation was

also made to the Rugeley Foodbank.

We were lucky to be able to obtain a grant of £1000 from Lions

International Foundation to help The Hart School in their

Finally we heard of a local group working to provide scrubs for

local NHS called 'Scrubs for Stoke' and we have been pleased

to provide material direct to the Rugeley group headed by Coordinator

Karen Shepherd to ensure that nurses living in

Rugeley and Doctors' Surgeries in the area have received

Scrubs immediately. In addition, Scrubs have been made to be

divided between Stafford and North Staffs Hospitals.

Members have also been producing scrub bags for local

hospitals and one member is busy sewing scrubs.

If you have any questions or want more details about Rugeley

& District Lions Club please contact us on e-mail

randdlions@hotmail.com or via Facebook.

In the meantime we hope that you will all stay at home and

keep safe.

17
---
Boats on Blithfield Reservoir

Aerial view of Blithfield Sailing Club

The History of Blithfield Sailing Club

..................................................................

This year, Blithfield Sailing Club

celebrates its 50th

Anniversary of sailing on

Blithfield Reservoir, near Rugeley.

Commodore Anthony Kurcaba tells

us more about the club and its

origins.

Blithfield Sailing Club is one of

several users of Blithfield Reservoir, a

beautiful 790-acre manmade lake set in

the rolling hills of Blithe Valley,

between Rugeley and Abbots Bromley.

The other users being Blithfield

Anglers, Staffordshire's premier trout

fishery, West Midlands Bird Club and

there are also Permissive Walks

around part of the northern area of

the lake. The Reservoir is divided into

roughly two equal areas separated by

the causeway road bridge and B5013

which runs along it from Rugeley to

Abbots Bromley.

The origins of Blithfield Sailing Club

can be traced back to a meeting in

Rugeley public house on Wednesday,

15th February 1967. This meeting had

been called to form a group to

negotiate for permission to sail at

Blithfield. From this meeting the

Mercian Yacht Club, forerunner to

Blithfield Sailing Club, was formed and

following lengthy negotiations,

approval in principle was received in

March 1969. Further meetings to

complete the details were held and on

24th September 1969, Blithfield Sailing

Club was formally constituted, with

Cal Hall serving as its first

Commodore. Then the lengthy

procedures of applying for grant aid,

preparing plans for the Clubhouse,

raising money from prospective

members until finally all the hopes

were realised with the building and

equipping of the Clubhouse. The

building commenced on 31st March

1971 and was handed over to the Club

on 1st January 1972. Boats actually

took to the water for the first time on

4th March 1972 and the official

opening was on Saturday 20th May

1972 by the late Julian Ward Snow,

Lord Burntwood, former MP of

Lichfield and Tamworth. Organised

racing commenced with the autumn

racing series.

The original classes of boats in 1972

were Fireball, GP 14, Merlin Rocket,

and OK. Today, the main classes are

Merlin Rocket and Laser followed by

RS 200/400, Osprey, Phantom, Solo

and Supernova, and for those who do

not want to get their feet wet, the

Flying Fifteen.

In April 1996, the Club became a

Royal Yachting Association (RYA)

recognised training establishment.

Today the training section, under its

Principal of Training Tim Male, and his

team of RYA qualified instructors,

teaches approximately 20-25 local

juniors per year, from the ages of 7 to

17 throughout the spring and summer

months and also organises Beginners

and Improvers Adult sailing courses in

the spring and autumn, which are

available to both members and also

non-members. The club has an

extensive range of training and club

boats which new members can hire at

minimal cost to hone their new skills,

whilst contemplating a suitable boat to

purchase for themselves.

On 24th May 2000, Sport England

awarded the Club a grant from the

Lottery Development Fund to extend

the existing Clubhouse facilities to the

superb facilities available for members

18
---
Junior members participating in RYA training course

Clubhouse wet area and bar

today. These comprise large changing

rooms, a wet area for sailors, a

separate dry area for spectators and

visitors with an outside veranda and a

superbly equipped kitchen/galley with

licenced bar (5) (6) serving hot & cold

beverages and food and are used for

all its training courses, sailing racing

open events and social events.

On the sailing side Blithfield has

hosted many Midlands area

championships for numerous dinghy

sailing classes over the years, primarily

due to its superb expanse of open

water and good winds and the

preponderance of a pool of top

sailors. One of its recent notable

sailing successes has been one of its

youngest sailors, Lydia Barber who

succeeded in winning the prestigious

RYA Regional Youth sailing award in

2019, aged only 17. Lydia received her

award from double Olympic medallist

and RYA Director of Racing, Ian

Walker, at the RYA Dinghy Show in

London in March 2019.

During the winter months when a

lot of clubs close down due to the

inclement weather, Blithfield hosts the

Blithfield Barrel, the premier winter

sailing series, a gruelling eight race

allcomers handicap event spaced over

four months from November to

February. Originally devised in 1985 by

the then Commodore Allan Cooper,

by the proclamation of a challenge, in

the form of a medieval scroll sent to

all Midland clubs to send their best

boats and knights to a historic jousting

challenge on the waters of Blithfield

Reservoir against Blithfields best

sailors, which was answered in similar

style. The event now sees competitors

from all over the country and the

2012/13 season saw a record number

of entries, with 97 boats registering

for the challenge to win the coveted

Barrel. Rumour has it that the first

Barrel event did actually present the

proud winners with a Barrel of locally

brewed beer, but no one at the club

can actually substantiate this fact!

Blithfield is a Community Amateur

Sports Club, a not for profit

organisation run entirely by its

volunteer members for the benefit of

its membership in the pursuit of sailing

and windsurfing. The club is open for

membership to the whole community

from all walks of life and without any

discrimination. Membership is

available from the ages of 7 to 107, for

family, single, cadet, junior/youth and

also non sailing house members, who

simply want to enjoy the atmosphere

and the beautiful surroundings. For

those who do not want to get their

feet wet, the club runs a radio

controlled model yacht sailing/racing

section based on DragonForce 65cm

model yachts.

Blithfield is open all year round on

selected days during the week and its

members are a hardy lot and do not

neglect any opportunity to sail no

matter what the weather, even with

icebergs in the water but sometimes

old Jack Frost does have the last word

as in the great freeze of 2010.

*The Blithfield Sailing Club emblem

on its flag, the "Bagot Goat" is used by

kind permission of the late Nancy

Lady Bagot.

**Extracts about the history of

Blithfield Reservoir are used with kind

permission from South Staffordshire

Water Plc.

Winner of RYA Regional Youth Sailing

award 2019, Lydia Barber

19
---
Blithfield Reservoir was opened by the

Queen Mother in October 1953. Work

had commenced in 1947 after being

delayed by the Second World War and in the

six years it took to complete, almost 500

people were employed in its construction.

Around one third of the labour force came

from a unit of the Polish Re-Settlement Corp

who were based at a nearby camp. Others

lived on-site and each day buses would arrive

with labourers from Rugeley, Lichfield and the

Potteries.

The reservoir was created by damming the

River Blithe and forcing the water into the

adjacent valley, flooding around 790 acres of

farmland. Trees, walls and other structures

were submerged including Kitty Fisher's

Bridge which, according to local folklore,

takes its name from a local woman who met

with a tragic end. During periods of drought,

such as the summer of 1976 when the

reservoir was only 37% full, the water level is

sometimes low enough to reveal surviving

tree stumps and stonework, including the

foundations of Blithfield Mill.

The South Staffordshire Waterworks

Company, as it was previously known,

purchased the majority of the land for the

reservoir from the Bagot family, along with

their ancestral home Blithfield Hall which had

fallen into disrepair. The hall, dating back to

the 14th century, was later bought back by

the 6th Baron, Caryl Bagot, who renovated it

along with his wife Nancy. In 1961, Lady Bagot

was able to buy the freehold from the family

trust, to ensure that she could continue to

restore Blithfield, even after her husband had

died, something she continued to do until her

own death in February 2014. The hall and the

Bagot family have a long standing connection

with the Abbots Bromley Horn Dance and

each year, it is performed on the lawn in front

of the house.

Alongside the hall is the church of St

Leonard which was originally constructed in

the 13th century and contains the tombs and

monuments of several members of the Bagot

20

Beneath

the Surface

at Blithfield

By Kate Gomez

................

Blithfield Church

Blithfield Reservoir

Horn Dance Blithfield Hall

family. Outside, in a niche on the south wall of

the church, is an effigy of a priest. Although

well worn by the elements, there are still

traces of paint which once decorated the

tomb, along with some interesting graffiti

carved into the stonework. The churchyard

also has the remains of a medieval cross, with

a Victorian shaft and head sitting on top of

the original steps and socket stone.

Somewhere in the vicinity of the hall and

church, there was once a medieval village too,

believed to have been deserted by the 1500s.

There are no above ground remains, but just

Medieval cross at Blithfield Church

Blithfield Reservoir

Priest effigy at Blithfield Church

as at the reservoir, traces of the past may lie

hidden beneath the surface.

Sources:

www.lichfieldcivicsociety.org.uk/reports/95

06_Reservoir_Visit.htm

www.south-staffswater.co.uk/media/2070/the-history-ofblithfield-reservoir.pdf

www.crsbi.ac.uk

www.heritagegateway.org.uk
---
Your

Garden

in June

By Byron Lewis

.................................

Where do I begin?! The sunniest Spring for years, and we're in the

middle of a global pandemic and people are staying at home and

hopefully in the garden.

Here at the garden centre, it's definitely been a testing time. We closed

the doors at the end of March and then went straight into selling

everything for home delivery - we're certainly not set up for this and the

main shop looks more like an Amazon warehouse!

As I write this, we've made more than 1000 deliveries of compost,

manure, plants, canes, you name it and we've delivered it to the people

of Lichfield and surrounding areas. Rest assured, as soon as we are

allowed to open we will - all with safe social distancing in mind of course.

Our plant area had just had a refurbishment which none of our

customers have seen yet - it's made the place feel a lot bigger and there

is plenty of room to move about.

The sunny weather has got many people into their gardens - some for

the first time, and we hope to see these new 'green fingers' in the garden

centre when we can open again (as well as all our regulars!). However,

nature does not stop for Coronavirus, and May traditionally signals the

start of the summer patio plant season - the garden centre is full of

traditional favourites like Marigolds, Lobelia and dozens more. Cottage

Garden plants are looking good and Fresh Herbs are now ready. For

more details on everything we have see our Social Media channels on

Facebook and Instagram where you'll find videos about our favourite

plants.

Vegetable growing has hit a new high because of the pandemic, and

now is the time to either sow seed or plant out ready germinated

seedlings into the garden. For quick growing crops, try salad vegetables

such as Spring Onion, Radish and Beetroot. May is a great time to set

Runner Bean seeds - make sure you build your climbing frame for them

before you sow, as they can reach up to 8ft tall! And don't forget lots of

vegetables can be grown in window boxes or large pots too.

Turning to lawns, it's time to give a weed and feed product to your

lawn - many of our customers had lawns which turned to dust after last

summer. Feeding will help new growth, but if your lawn is thin you can

also re-seed. Use multi-purpose lawn seed, which is generally hard

wearing and mix it with compost, then sprinkle evenly over the thin area.

A word of caution - water the lawn BEFORE sowing, as you can end up

washing all the seed into one area causing thick patches. Also protect the

seed for a few weeks from the birds by getting some netting over the

area.

Finally please stay safe and we look forward to welcoming everyone

back to the Garden Centre as soon as we possibly can!

Byron Lewis runs Lichfield Garden Centre at

Curborough Countryside Centre, Watery Lane,

Lichfield. Tel : 01543 254306 or visit

www.lichfieldgardencentre.co.uk.
---
Feeling 'In

The Mood'

.............................

Our feature writer, Jono Oates, tells us how

the lockdown has affected him and how he

has noticed a change for the best in the way that

people behave and act.

The weather has been so glorious since the

lockdown started that is appears as though we have

had the perfect English summer already…were it not

for the fact that we are in the middle of the current

crisis. Normally on such bright, sunny Spring days I

would be out in Lichfield all day – taking photos,

looking for local history, chatting to people I know and

sitting outside a café with an iced Americano, while the

day drifts hazily by.

But now my daily outings are curtailed – I am limited

to one hour and a half exercise walk a day. I ask you…

just an hour and a half to explore every historical

treasure that Lichfield has to offer…it's just

impossible!

So I've developed a new routine…I spend my

morning working out my route and what I'm looking

for, so that it is more like a military operation…'Walk

800 metres in a northerly direction…halt…

photograph a church grave headstone…turn to the

west for a view of the cathedral spires…wait for it…

wait for it…Snap!...now yomp 1,500 metres to Stowe

Pool…etc, etc'.

There is, however, a code of conduct that is being

applied. If I see someone move across to the other

side of the road for me, I hold my hand up to them and

smile or say thank you. The person then does the same

back to me and, for a fleeting moment, we share a

moment of connection and mutual respect. If I do go

to the shops I wait patiently in a queue until it is my

turn and, as the last customer comes out, I stand well

back and wait till they are clear before going in.

These small courteous and respectful gestures are

easy to follow, take up little time and could easily be

applied post Covid-19. Perhaps, once the restrictions

are finally lifted, we will go back to barging through

shop doors as fast as we can, not waiting for people to

pass in the street, trying to get everywhere as quickly

as possible at the expense of everyone else.

I am quite enjoying the calmer, more relaxed lifestyle

and also the little shows of respect and kindness

displayed on my daily walks. With less road and air

traffic noise, fewer people around and the glorious

weather, these signs of respect and acknowledgment

have perhaps taken us back in time, to the Britain of

the 1940s and 50s and that, to my mind, is no bad thing.

Will it continue after the restrictions have been

lifted…we will have to wait and see…but for now I'm

content being 'In the Mood'.

*This article is dedicated to the memories of Robert Hill

and Susan Lackajis.

Normally when I meet people on my walks I'd stop

and chat, or they'd ask me what I was photographing

and why. But on my Covid-19 restricted walks if I see

someone coming now, I dive in to the middle of the

road (only if it's safe of course!), or get up close to a

nearby wall and scurry on by. If I spot friends we stop

briefly and yell, making ridiculous hand and arm

gestures to communicate what we are trying to say,

with the inevitable misunderstandings and quizzical

looks…'Did he just say he was taking photos of an old

toilet…?'.

22
---
Advertising Feature

Solving Your Work-from-Home Internet Woes

By Neil Fletcher

Your internet used to meet your needs. You

could check social media and stream a TV show

whenever you wanted without trouble. Now,

since working from home, you're finding your

internet service more frustrating: it's too slow

when you want to send and receive large work

files, or erratic when you take part in video

meetings. Here's help.

Blame your service provider

Ah, the familiar pastime – blaming someone

else. The problem could be with your provider.

Yes, it's a good idea to keep your expenses low,

and that budget internet provider may not have

been a problem in the past. But internet service

providers (ISPs) may save money by buying less

bandwidth. Bandwidth impacts the data transfer

rate, which makes a difference to downloads and

connectivity. ISPs might also oversell their

capabilities, betting that everyone won't be

online at the same time. Yet, now, everyone is!

Switching to a higher-quality ISP can help

address your connectivity concerns. It's a good

idea to find out what kind of connectivity they're

offering, too.

Some people are fortunate to live in places

with full-fiber connections. This new technology

uses fiberoptic cable to send more data, more

quickly. Other people have to rely on providers

using copper cables. Copper cables are old

school and designed to carry call data as

electrical pulses. The further your internet signals

travel, the more your signal strength falters.

If poor wired infrastructure to your home is

the issue, swap instead to point-to-point Wi-fi,

4G, or 5G. For instance, for Wi-fi, you'd install a

Wi-fi dish on your roof pointing to a nearby

wireless provider. With a 4G connection, you'd

be using cell phone towers. 5G is the same, but

you'll find it faster if its available.

Redundancy is another way to go. Your existing

wired connection may be fine most of the time,

but you'll have a backup in place. You can roll

over to the 4G option if the wired internet goes

down.

Sorry, the problem's at your end

It's possible the root of your internet

problems is right there in your home or

neighborhood. You are no longer the only person

using your internet connection. You could be

trying to download something on one computer

while your partner is taking a video call. Maybe

you also have kids online in an online classroom

or looking for a supply llama in Fortnite.

Even if you're only trying to watch Netflix, just

as you used to, you might notice you're lagging

more than before. There are probably more

neighbors on their Wi-Fi, too, which can result in

congestion in your area.

If you can switch to a 5 GHz connection, do so.

The speed will improve. Plus, you'll find you're

not in competition with as many others, as many

home Wi-Fi setups are on the 2.4 GHz

frequency.

There's a solution out there

The solution to your work-from-home

internet woes will vary. It depends on your

location, what's around, and the internet service

options available.

You don't have to troubleshoot your

internet on your own. There's no one-sizefits-all

solution, but our tech experts can help

find the right fit for your needs. Contact us

today 01889 579990.

23
---
Cannock Women's Institute

By Jill Gooch

..................................................................

Sue clipping the dog

Angela gardening

Elaine reading

Meena sewing

Members are being creative and

industrious during 'Lock Down' as

they keep themselves busy.

Patterns and ideas have been shared as

they craft scrubs, scrubs' bags, headbands,

ear protectors, paired hearts for patients

and relatives who cannot be together, and

baby clothes and blankets for the

Premature Baby Unit.

Our Facebook thread 'Be like Margaret…'

continues with: 'Be like Sue'… clipping her

dog's coat; Angela gardening; Elaine reading

new publication Amazing Grace from another

W.I. member Kim Nash; and Meena who has

nearly worn out her sewing machine with the

amount of PPE's she has made.

President Di has been keeping in touch with

members through the tried and trusted

telephone, setting up a Buddy Pyramid for the

committee to share the telephoning duties.

This has been particularly successful in

addressing a National W.I. campaign

'Alleviating loneliness'. Through this personal

contact we have found out far more about

each other's personal lives and offered

support to those who are finding it difficult

coping with isolating, illness, or partner's

illness.

Our weekly committee virtual catch up on

24

Meena's rainbow of ear protectors

Zoom with six of us, has now developed into

a virtual coffee and chat room that this week

saw seventeen of us all trying to talk at once

- hilarious! The biggest achievement was

getting Dorrie on Zoom, at 84 she is our

oldest participant - which proves it's never

too late to learn!

As women we continue to be great

communicators, finding ways through

adversity to innovate, smile, help others, and

keep occupied in a positive way.

Our W.I. meetings are on the second

Thursday of the month, 10.30am, at St Luke's

Church Centre, Cannock. Visitors are always

welcome to come and join us for

refreshments and a chat- but not for a while

– wait for the 'all clear'! Follow us on

Jenny modelling scrubs

Facebook for updates. You are

also welcome to join by Zoom -

please get in touch!

Cannock Women's Institute

Further information email:

cannockwi@gmail.com and

www.thewi.org.uk/staffordshire

www.facebook.com/oakleafstlukes
---
Animal Rescue

Volunteers

.........................

What do you do when a group of friends who love

animals want to help rescue and rehome those in

need, but don't have any facility to take them in?

We didn't let that stop us and we decided to support the

small and local rescue groups who do have facilities instead.

We are all volunteers and give our time for free, we take no

money from the funds raised, just the pleasure to know we

have helped an animal in some way.

During 2019 we decided to hold fundraising events local to

Lichfield and donate the money to the rescue groups that

we felt needed it the most. We raised and donated over

£4,000 in our first year and had great plans to beat that

figure during 2020, but then everyone's world changed and

we could no longer hold fundraising events. Coronavirus has

had such a devastating impact on everyone and, sadly, the

sick, abandoned, homeless and injured animals are suffering

too. However, we couldn't let the lack of events stop us

helping them.

So what do we do now?

We collect donations of pet food, treats, litter and bedding

for the rescues that we support and deliver to them

(following social distancing rules) as often as we can. We still

collect money for them too and distribute it between the

groups.

We are also looking at ways we can raise funds online for

all of the groups during the remainder of the year by selling

new items that have very kindly been donated to us. Please

see our Facebook page (Animal Rescue Volunteers) over the

next few weeks to find out more about this.

These are the 18 sanctuaries and rescues we are currently

supporting. They all have their own Facebook pages which

tell you about the wonderful work they do for homeless

animals. These people are amazing, please support them:

Peppers Pet Rescue

Little Paws Cat Haven

Linjoy Wildlife Sanctuary and Rescue Midlands

Tracy's Cats Kitty Rescue

Coulsons Family Rescue

Broken Souls Rescue

Harley's Hounds

Rugeley Cats Society

Rugeley Welfare for Dogs

West Midlands Hedgehog Rescue

The Donkey Sanctuary

Broadmeadow Guinea Pig Rescue and Sanctuary

Tamworth Hedgehog and Bird Rescue

Stray Cat Rescue Team West Midlands

Greyhound Trust Hall Green

British Hen Welfare Trust

The Humane Research Trust

Humane Society International

25
---
Churchdale,

Wolseley Road, Rugeley

By Peter J Everall

.........................

When the modern National Insurance scheme started in 1948

some odd quarters were chosen as local offices (from necessity

- they were stringent times) but one which was pleasingly

memorable was the Rugeley office at Churchdale.

Churchdale was a delightful old Georgian house which had seen better times.

It cried out for some gentle tlc. The main room downstairs was heated by an

antiquated coke stove; the others by uneconomic coal fires in old cast –iron

grates; the toilets were antediluvian; the roof leaked. It had belonged to the

titled Littleton family, as witness the cattle trough on nearby Wolseley road,

("presented by the Revd the Honble C. J. Littleton of Churchdale, 1909"), but

by 1960 it was owned by an MP, leased to the Ministry of Works, and the lease

was running out. Soon, its grounds would be part of a large housing enterprise.

The demolish – and – burn philosophy of the 1960's was rushing in.

On a frantic day in 1961 (Lady Day – the very day the lease expired) we

moved to an excellent new Vic Hallam building in Sandy Lane (a journey from

quasi- rural to unremitting urban) and said farewell to the house which had

been our work place, to the fine stables and other out buildings, the

unexplored timber summer – house which probably contributed to one of the

many bonfires (not just in Rugeley but all over England) which then burned on

building sites. And farewell to the remaining grounds into which cattle from

the adjoining farm would sometimes wander and peer curiously at us through

the windows.

Today Churchdale would be protected as a listed building. Not so in 1961.

But begone dull care!

This tale has a pleasing postscript. Someone who has a house with a canal

at the bottom of his garden (on part of the old Churchdale land, perhaps?) has

his holiday- hire narrowboat berthed on the Trent & Mersey there. She is called

the 'Churchdale'. When not abroad, and but a short walk from the canal bridge

on Station road, she may be seen, tied up at home.

May God bless all who journey in her.

Churchdale canal boat

26

ChurchDale House

Rugeley Church from Church Dale

Cattle trough, Wolseley Road
---
Connecting with Nature During Lockdown

By Nicola Lynes

.................................................

It's been said too often now – these are strange times. From

winter flooding to record breaking April sunshine, followed by

a huge temperature drop and frosts in May, my poor potatoes

have suffered this week!

Oh, and the nationwide lockdown due to COVID19, of course.

At Transforming the Trent Valley Landscape Partnership

Scheme (funded by the National Lottery Heritage Fund) we have

had to cancel all of our face to face events for the foreseeable

future. For a scheme which is based around encouraging people

to join us outside, learn about and connect with nature through

play, guided walks and activities, this has obviously meant a big

shift in the way we work. Working from home rather than out

on nature reserves meeting people has been tough, but we've

come up with lots of ways to continue to explore nature and

help our own wellbeing from our homes and local areas.

A few activities that you can get involved in:

Lockdown Bioblitz!

Join us live on Twitter (@thetrentvalley) every Wednesday to

discover what is in your garden or on your daily walk, and help

us to record what species share our landscape in the Trent Valley.

There is a different theme each week to help you explore nature

in a variety of ways in your local patch.

GetWild TV with Staffordshire Wildlife Trust

Our Wildchild Officer will be leading nature crafts in our 'after

school club' each Tuesday at 3.30pm, broadcast through our

Facebook page (@thetrentvalley)

Tales of the Riverbank

We're collecting memories of the Trent Valley through written

words. Can you write a poem, a short story, a memory of an

event you experienced along the river Trent, Dove or Tame and

share it with us? Perhaps you could tell us about your favourite

places to visit, or what games you used to play as a child within

the rivery valleys. Have you had any exciting wildlife encounters

in the landscape? We'd love to hear from you! Send your

contributions by email to

Nicola.lynes@supportstaffordshire.org.uk or post them to

Transforming the Trent Valley, 19 Lower Brook Street, Rugeley,

WS15 2BZ.

5 Ways to Wellbeing

Above all, we want you to look after yourselves during this

difficult time. Not everyone has a garden, but we can all open a

window at home and listen to birdsong, or watch the clouds and

feel the wind on our cheeks. We can all take a couple of minutes

to ourselves to sit with no distractions, and allow our minds to

wander. For more tips on wellbeing during lockdown and how

you can benefit from a connection with nature, we have

interviews on our Youtube channel (Transforming the Trent

Valley) with our Transforming Lives Officer.

For more information on any of the above, look on our

website www.thetrentvalley.org.uk, or you can call us on 07837

127165 for a chat with our Community Engagement Officer.

We hope to see you all outside on the riverbanks soon.

27
---
Week 7, Day Number - No Idea

By Jo 'Crunch Cream' Howell

.................................................................

It's funny how the

unusual can

quickly become the

norm isn't it?

Where the thought

of doing my teams

appraisals online

filled me with

horror no more

than a few weeks

(ok months) ago,

now it feels

perfectly ok to have

serious career

c o n v e r s a t i o n s

across the medium

of technology. Little do we know but habits are

being formed and what was the norm, will soon

feel unusual – although I will do a happy dance

when my favourite coffee shop reopens.

So, what have I learnt or discovered this week?

1: Technology Is My Friend

Obviously I can't see my family so we have

downloaded zoom – an app I am familiar with, my

Dad not so – and every evening we connect, share

our day and I spin the camera round to show him the

dog, who is normally asleep and blissfully unaware of

what's going on.

And tonight, I have joined an online Zumba class

(again via zoom) and whilst I have no doubt I will

regret it in the morning, there was something wildly

liberating about dancing in my kitchen whilst my fish

pie cooked and the dog looked on with mild

amusement.

2: Virtual Slimming Class

Last time I lamented about the copious amounts of

biscuits being consumed (the crunch creams didn't

make it to the weekend by the way) and how I

started to realise I would be rolling out of my house

when the lockdown is lifted. But then my Slimming

World Consultant cheerfully announced she would

be running the normal group, at the normal time on

a Saturday morning – only this time via (guess which

app?!) yep, zoom. Dam blast. I could no longer eat

myself into a biscuit coma – I needed to 'weigh in'

each week, be accountable and not be the only

person who gains a stone during lockdown.

3: The nights are lighter, the dog's legs are

shorter

We would normally rejoice the clocks going

forward – goodbye winter, hello spring – but last

week I felt very underwhelmed by the extra hour.

Looking at the lighter nights from the comfort of my

settee doesn't have quite the same appeal as sitting

in a pub garden. However, me and the four legged

one are enjoying a very long walk each evening and

we swop and change our route each time – more for

me than her, I hasten to add. Understandably she's

exhausted by this new super long walk and my only

companion in the house, spends most of the evening

snoring.

So, as we float into Week 8 of homeworking, I'm

looking forward to more dancing in the kitchen, a

virtual coffee and cake with friends and taking the

four legged one on more hourly adventures each

evening. Oh, and I'm definitely not looking forward to

my virtual sliming class or my real 'weigh in'. Pray for

me!

28
---
Grant Enables Trust to Educate

from the Armchair

...................................

As a result of the coronavirus pandemic and

resulting school closures, Staffordshire Wildlife

Trust has had to rethink its Formal Learning

programmes to continue engaging with schools in

Staffordshire.

Thanks to the grant of £3000 provided by The

Community Foundation for Staffordshire, SWT will soon

be ready to launch its Virtually Wild programme. This aims

to provide a wealth of content on how to carry out a

range of outdoor learning activities in school settings,

with children of key workers who are still attending.

The Trust's Learning team is busy putting together the

content, which will launch for schools in this month.

Being outdoors is proven to aid people's mental health

and wellbeing, therefore it will be of great help to both

adults and children in a school setting to find ways to

learn, appreciate nature and have fun outdoors in these

very challenging circumstances. Time outside will give

children the chance to play, learn, get valuable exercise

and build up mental and physical resilience.

Vicky Broad, from the Trust's People Engagement team,

said: "When lockdown was announced, we wanted to

ensure we could still provide a way for school

communities to access our activities and engage with

nature.

"Our Virtually Wild idea came about as a result and it

will soon be ready to launch, aided by the grant we've

received from The Community Foundation for

Staffordshire.

"It is tailored for use in schools by teachers and

teaching assistants, and will give them the confidence and

knowledge to get the children learning outside. All

activities use resources that will generally be available in a

school setting, and that can be used in a variety of

locations, whether the school has lots of green space or

not.

Steve Adams, CEO of The Community Foundation for

Staffordshire said: "I am delighted that such an imaginative

idea could be supported via the Coronavirus Response

Fund which has so far distributed over £300,000 across

the county."

Teachers will be contacted by email when the resources

are ready to launch. For more information visit

www.staffs-wildlife.org.uk.

For funding opportunities during Coronavirus contact

the Community Foundation for Staffordshire on 01785

339540 or office@staffsfoundation.org.uk.

Staffordshire Wildlife Centre, Wolseley Bridge, Rugeley (Credit Steve Turner)

29
---
SI Cannock & District

...............................

Rugeley Women's

Institute

By Margaret Bennett

.........................

Members of SI Cannock holding their first Zoom meeting

During the pandemic when so many are struggling

to cope with lockdown and social distancing,

financial difficulties, and the dangers involved in

the caring for others, SI Cannock is trying to find new

ways to help the community and to keep in touch with

club members.

The group is also carrying on its work by collecting

hand and face creams which are to be used by staff in

hospitals and care homes who are suffering sore faces

and hands from constant washing and wearing masks.

Anyone who has any unopened face or hand creams can

leave them in the box in the driveway of 52 Hatherton

Road, Cannock.

The club officers remain the same this year with Trish

Smith remaining as club President and Jackie Prince is

President Elect. Trish's motto for the coming year is

particularly apt for the present situation, as is "We

Make a Living By What We Get, But A Life By What We

Give."

Women's Aid remains President Trish's chosen charity

as the club is particularly concerned about the rise in

Domestic Violence. Anyone needing help or advice

about domestic abuse please ring the 24 hour

confidential Helpline number 0300 330 5959.

The next SI Cannock Zoom meeting is on 19th May

and details can be found on the website and Facebook.

In addition the club has instigated a buddy system so

that even those members who cannot join in the online

meetings has someone they know who will ring to

check that they are coping.

Please follow all of Cannock Soroptimist activities at

www.sigbi.org/cannock-and-district or on Facebook at

www.facebook.com/SICannock.

Members of Rugeley WI at their regular Zoom meeting

Everyone seems to be doing their best during the

coronavirus lockdown to keep motivated and safe, but

it is difficult for people who are perhaps living on their

own or just missing friends and their regular group meetings

to remain positive during this difficult period in our lives.

Obviously for safety reasons our monthly WI meetings have

been suspended for the time being.

Rugeley WI committee decided that it would be a good

idea to keep in touch with members via 'Zoom' for those

who are computer minded. Thanks to WI member Barbara

who is familiar with 'Zoom', we have had a number of

meetings via this method. Some of us were totally unfamiliar

with the technology but after cameras facing the wrong way

and microphones not switched on Barbara eventually sorted

the group out!

Members were glad to see one another on their screens.

It was very reassuring to find that everyone present was well

and just making the best of life. Mostly, members said that

they were either gardening, decorating, reading or baking;

no-one was bored, which was lovely to hear.

Barbara will continue to set up meetings during the

coronavirus crisis and hopefully more people from Rugeley

WI will join us on our Wednesday 3pm meetings.

Keep safe everyone.

30
---
The Origin of the Name Batesway

By Harry Thornton

a member of the Landor (local history) Society

.........................................................

It has been suggested that the name Batesway is derived from the name Beaters Way dating from the time when

'Beating the Bounds' took place periodically as parishioners walked in procession around the boundary of their

respective parishes to ensure knowledge of it was fixed in the minds of each generation, small boys being reputedly

beaten at significant points, such as changes of direction, to concentrate their minds. In fact part of the boundary

between parishes of Armitage and Longdon still follows Batesway.

As the name Batesway doesn't appear on old maps and documents until Victorian Times, when 'Beating the Bounds' had mostly

been discontinued as maps began showing parish boundaries, the name more likely describes the way to five fields at its southwest

end which are respectively named on the 1842 Longdon Parish Tithe Map as Big Bate, Little Bate, Sidelong Bate, Hilly Bate

and Crabtree Bate. However, a document showing the valuation of the same five fields in 17981 shows their names ending in

Beach2 instead of Bate, for example Big Beach, Little Beach, etc.

1. Fields valuation of 1798 at Staffs Record Office ref: D240/E/F/8/41

2. The name Beach, or more often Byrche or Birch, is apparently derived from the Old English 'bryce'

meaning newly cultivated land.

31
---
Soroptimists'

Appeal for Hand

Cream

.........................

People's generosity and kindness has

continued as shown by the collection of

hand and face creams by Cannock

Soroptimists. Following the overwhelming

support during the first week of their collection,

Soroptimists have extended the collection and

now have boxes in Lower Road, Hednesford;

Stoney Lea Road, Cannock and Woodstock

Drive, Cannock, as well as Hatherton Road,

Cannock

Soroptimists are acutely aware that Care Homes

are bearing a large burden of tackling this virus &

wanted to provide help to them as well as to front

line hospital staff. It appeared that staff at care

homes were also experiencing soreness and chafing

of the skin from wearing PPE and would benefit

from having creams readily available. This became to

focus for the collection and at the end of another

week when friends and neighbours put their

sanitised, unopened creams into the boxes,

Soroptimists were delighted to have enough to

donate to the care homes.

Soroptimists are continuing to collect donations

of creams at all four addresses and hope to deliver

soon to the Renal and Oncology departments at

Cannock Hospital. They are working alongside

Cannock WI who also make scrubs, washbags,

headbands and hearts as well as donating creams. As

soon as there are sufficient donations Soroptimists

will begin to replenish stocks at all venues.

32

Further details are on the club's website

www.sigbi.org/cannock-and-district or their

Facebook page www.facebook.com/SICannock.
---
33
---
Advertising Feature

An Introduction to

Roasting Meat on the BBQ

............................................................

This Beer Can Chicken recipe is perfect if you're

wanting something new to try on the barbecue!

Serves: 4 Prep: 15 minutes BBQ: 1 – 1.5 hours

Method: Charcoal roast / gas roast

Ingredients

For the rub:

• 1 tsp dry mustard

• 1 tsp granulated onion

• 1 tsp paprika

• 1 tsp sea salt

• ½ tsp granulated garlic

• ½ tsp ground coriander

• ½ tsp ground cumin

• ½ tsp ground black pepper

• 1 whole chicken

• 2 tsp vegetable oil

• 1 can (450g) beer

Accessories:

Either:

• Weber Original Poultry Roaster

• Weber GBS Poultry Roaster

• Weber Style Poultry Infusion Roaster

• Weber Original Instant Read Thermometer

Method:

1. To make the rub: In a small bowl combine the rub

ingredients.

2. Remove and discard the neck, giblets, and any

excess fat from the chicken. Rinse the chicken, inside

and out, and pat dry with paper towels. Lightly cover

the chicken with the vegetable oil and season, inside

and out, with the rub.

3. Open the beer can and pour off half of the beer.

Pour the rest of the beer into the middle cavity of a

Weber Style Poultry Infusion Roaster or Weber GBS

Poultry Roaster. Alternatively, place the beer can in

the centre of the Weber Original Poultry Roaster

and place the chicken on top. Transfer the bird to

the grill, keeping the poultry roaster upright.

4. Grill over In-direct Medium heat, using a Weber®

Original Instant Read Thermometer, until the

internal temperature reaches 76ºC in the breast and

82ºC in the thickest part of the thigh, 1¼ to 1½

hours.

5. Wearing barbecue mitts, carefully remove the

chicken and the can from the grill, being careful not

to spill the beer – it will be hot. Let the chicken rest

for about 10 minutes before lifting it from the

can/poultry roaster. Discard the beer. Cut the

chicken into serving pieces. Serve warm.

All Weber products featured on

this page can be purchased at

www.pavingplace.co.uk (part of the

Tippers group).

34
---
35