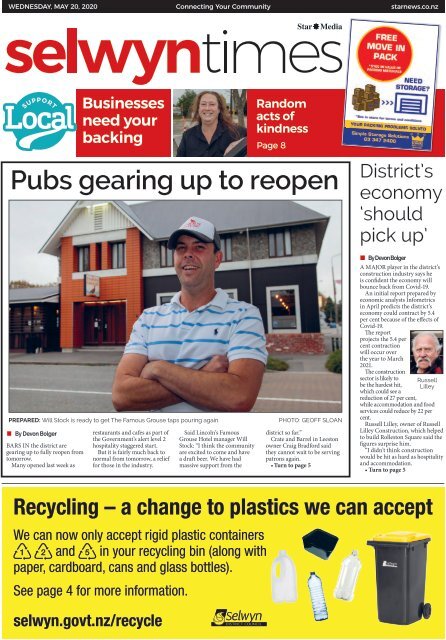 Selwyn Times: May 20, 2020
You also want an ePaper? Increase the reach of your titles
YUMPU automatically turns print PDFs into web optimized ePapers that Google loves.
WEDNESDAY, MAY 20, 2020

Connecting Your Community

starnews.co.nz

Businesses

need your

backing

Random

acts of

kindness

Page 8

Pubs gearing up to reopen

District's

economy

'should

pick up'

PREPARED: Will Stock is ready to get The Famous Grouse taps pouring again.

• By Devon Bolger

BARS IN the district are

gearing up to fully reopen from

tomorrow.

Many opened last week as

restaurants and cafes as part of

the Government's alert level 2

hospitality staggered start.

But it is fairly much back to

normal from tomorrow, a relief

for those in the industry.

Said Lincoln's Famous

Grouse Hotel manager Will

Stock: "I think the community

are excited to come and have

a draft beer. We have had

massive support from the

PHOTO: GEOFF SLOAN

district so far."

Crate and Barrel in Leeston

owner Craig Bradford said

they cannot wait to be serving

patrons again.

• Turn to page 5

• By Devon Bolger

A MAJOR player in the district's

construction industry says he

is confident the economy will

bounce back from Covid-19.

An initial report prepared by

economic analysts Infometrics

in April predicts the district's

economy could contract by 5.4

per cent because of the effects of

Covid-19.

The report

projects the 5.4 per

cent contraction

will occur over

the year to March

2021.

The construction

sector is likely to

be the hardest hit,

which could see a

reduction of 27 per cent,

Russell

Lilley

while accommodation and food

services could reduce by 22 per

cent.

Russell Lilley, owner of Russell

Lilley Construction, which helped

to build Rolleston Square said the

figures surprise him.

"I didn't think construction

would be hit as hard as hospitality

and accommodation.

• Turn to page 5

Recycling – a change to plastics we can accept

We can now only accept rigid plastic containers

1 2 and 5 in your recycling bin (along with

paper, cardboard, cans and glass bottles).

See page 4 for more information.

selwyn.govt.nz/recycle
---
2 Wednesday May 20 2020

Latest Canterbury news at starnews.co.nz

SELWYN TIMES

from the editor's desk

GENERAL INQUIRIES Ph 379 7100

CLASSIFIED ADVERTISING Ph 379 1100

Star Media, a division of Allied Press Ltd

PO Box 1467, Christchurch

starmedia.kiwi

BARS AND hotels can

finally reopen as bars

and hotels tomorrow (see

page 1).

The past week has seen

many become overnight

restaurants and cafes to

comply with Government

regulations.

Why bars and hotels

could not have operated

the same way with social

distancing and table service

as they will have to from

tomorrow is anyone's guess.

I'm sure many publicans

would have even been

happy with restricted hours

in order to get people back

in the doors and sidelined

staff working again.

And it will possibly

mean driveway drinks like

Golfie's will be a thing of

the past – in winter anyway.

– Barry Clarke

NEWS

Devon Bolger

Ph: 021 914 742

devon.bolger@starmedia.kiwi

ADVERTISING

Lynette Evans

Ph: 364 7434

lynette.evans@starmedia.kiwi

sport

New Zealand Cricket contract

Former Lincoln pace bowler Kyle Jamieson has been offered a national

contract after his player of the match performances against India during

the summer series.

Page 11

The best-read local newspaper,

delivered to 20,622 homes

every week.

Ladbrooks • Tai Tapu • Leeston • Lincoln

Southbridge • Prebbleton • Halswell

Rolleston • Templeton • Burnham • Kirwee

West Melton • Darfield • Arthur's Pass

tasty bites

Sweet treats

Condensed milk is the basis for the sugar rush treats your kids

will want when the arrive home after school. Try baking our

delicious rocky road fudge and strawberry slice. ​

Page 14

MEARES WILLIAMS

LAWYERS

10 Years in Selwyn

Richard Gray

Kate Warren

Anita Molloy-Roberts

Belinda Ferguson

Emma-Jane Moore

W: www.meareswilliams.co.nz

T: (03) 374 2547

E: reception

@meareswilliams.co.nz

ROLLESTON OFFICE

78 Rolleston Drive, Rolleston

Offices also located at:

43 Gerald Street, Lincoln

225 Papanui Road, Christchurch

PROSTATE CANCER

SUPPORT GROUP

There will be a Support group

ZOOM meeting on 27 May at

19.00 (starting by 19.30pm).

Intended participants will need to text or phone

contact Coordinator Chris for the zoom link.

A support group

operating in Selwyn

for men and their

families who are living

with a diagnosis

and treatment for

Prostate Cancer.

Co-ordinators Chris & Dianne Ward

Phone: 027 437 1254 Email: selwyn@prostate.org.nz

For more information call 0800 477 678

Organised by the Prostate Cancer Foundation of New Zealand

www.prostate.org.nz
---
SELWYN TIMES Latest Canterbury news at starnews.co.nz

Wednesday May 20 2020 3

News

Quarry appeal period extended

• By Devon Bolger

AN OPPONENT of the

controversial quarry near

Weedons has managed to have

the time to appeal against it

extended.

Fulton Hogan was last month

given permission to develop the

170ha quarry between Dawsons,

Jones, Maddisons and Curraghs

Rds.

But a resident who lives near

where the quarry will go has

successfully applied to the

Environment Court to have the

appeal deadline extended to

June 29 because of the impact of

Covid-19.

The appeal time limit had

originally been scheduled to

expire on Monday.

The resident, who didn't want to

be named, told the Selwyn Times

he plans to use his own money

and seek donations from the community

to fund the appeal.

BATTLE: Submitters will now be able to appeal the decision

to allow the Roydon Quarry near Templeton to go ahead until

June 29. ​

Individuals or groups who

made submissions during the

resource consent process are

able to appeal the decision.

Residents in the area are

gravely concerned about

the health, noise, and environmental

impacts the developments

will bring.

The quarry could open in

2022, producing more than half

a million tonnes of gravel a year

over the next 40 years.

Environment Canterbury

received 329 public submissions

against the proposed quarry out

of a total of 430.

The submissions came from

a wide scope of residents and

businesses.

Meanwhile, the Christchurch

City Council, which submitted

against the quarry, has decided

not to pursue an appeal.

This was after studying the

commissioners' decision and

seeking a further independent

expert and legal advice.

The submission was made

through the Waipuna/Halswell-

Hornby-Riccarton Community

Board on behalf of the city

council.

The decision not to appeal

was made in the confidential

segment of the city council

meeting last Thursday to ensure

the legal advice obtained could

be discussed by elected members

in detail.

Weedons

Residents Association

member

Simon Moore

made an individual

submission

opposing

Simon Moore

the quarry.

He said

he would

financially support an appeal if

needed.

Mr Moore said the city

council's decision not to make an

appeal was very disappointing.

"It's just a matter of roll over

and let it happen I guess. What

can I say? They don't think it's

worth fighting a battle for their

people at Templeton.''

He said the people of

Templeton will remember the

decision of the city council.

In Brief

ANNUAL PLAN SUBMISSIONS

A total of 80 submissions have

been made on the district

council's Annual Plan. Sixty

people have also weighed

in on the plan via an online

survey. A district council

spokesman said it is a higher

number of submissions than

would generally be expected at

this stage of the process. They

have not yet undertaken any

analysis of the topics covered in

the submissions. A key item in

the consultation is the proposal

to review the rate increases

proposed for 2020/21. Public

consultation will close on

Friday.

HUSKY RESCUE FUNDS

Donations to help Husky Rescue

NZ during the Covid-19 crisis

have begun to dry up meaning

it may have to downsize. The

charity, which is based in

Rolleston, is aiming to fundraise

$32,000 a month to cover the

cost of caring for its dogs.

Founder Michelle Attwood

said they received $27,000 in

donations last month but have

only raised about $7000 so far

this month. To help Husky

Rescue NZ, text HUSKY to 833

to make an instant $3 donation.

Or donate online at givealittle.

co.nz/org/huskyrescuenz

Keep your bubble local

and switch to your local

Selwyn Audiologist

We are open at Level 2 and excited to open our bubble!

For the month of May, we're extending great offers on

rechargeable products. Call us to book your appointment!

The revolution

in heat pumps

is here now!

The revolution in heat pumps is here now!

Say hello to Fujitsu's latest lifestyle range

HEAT PUMPS FROM $1999 inc GST INSTALLED!

The Fujitsu e3series

The brilliant

heat pumps from Fujitsu

e1 : efficiency

e2 : environment

e3 : economy

Website: www.pshc.co.nz

Finance available

FREE consultation from your local

Accredited Heat Pump Expert

Phone today: 03 381 6950

INSERT DEALER DETAILS HERE

NEW ZEALAND'S FAVOURITE AIR ®

Conditions apply

Fujitsu's Catechin Filters are

approved by the Asthma and

Respiratory Foundation NZ's

Sensitive Choice ® programme.

Email: info@pshc.co.nz

Call 03 390 2332

brenna@sincockhearing.nz

sincockhearing.nz

Local Selwyn Audiology

Selwyn Auto

ALL YOUR MOTORING NEEDS

› WOF's › Diagnostics

› Repairs › Servicing

› Batteries › Tyres

› Courtesy Cars Available

Now Open &

Fully Staffed

Phone 329 5841 | 132 Leeston Road, Springston

www.selwynauto.com | office@selwynauto.com
---
4 Wednesday May 20 2020

Latest Canterbury news at starnews.co.nz

SELWYN TIMES

Recycling –

a change to plastics we can accept

We can now only accept rigid plastic containers 1 2 and 5 in your

recycling bin (along with the paper, cardboard, cans and glass bottles).

Containers must be empty, rinsed clean and the lids placed in the rubbish.

You can usually find the

plastic number on or near

the bottom of the container.

Accepted items

Some examples include:

· Condiment and spread jars

(mayonnaise, peanut butter, jam)

· Juice, soft drink and water bottles

· Clear meat trays

· Fruit and vegetable punnets

· Milk bottles

· Personal care bottles (shampoo, shower gel)

· Tubs (margarine, ice cream, large

yogurt containers)

Not accepted

Some examples include:

· Plastic types 3 4 6 and 7

· All soft plastic, plastic film or

plastic wrap (frozen and fresh

vegetable bags, courier bags, chip

packets, bread bags, pet food

bags, cracker and sushi trays)

· Plastic strapping

· Hose, tubing, PVC pipe

· Polystyrene

· Toothpaste tubes and

toothbrushes

· Laminated pouches (cat food,

sauce, coffee pouches)

· Hazardous chemical containers

(antifreeze, pesticides) – these

empty containers must go in your

rubbish bin

· Plastic items that aren't containers

(buckets, washing baskets, toys)

Unsure about an item? Email: solid.waste@selwyn.govt.nz

selwyn.govt.nz/recycle
---
SELWYN TIMES Latest Canterbury news at starnews.co.nz

Wednesday May 20 2020 5

News

BUY A PAMS LaRGE Hot

Cooked CHICKEN

+ COCA COLA

1.5L for only

$

14 49

CONFIDENT: Low interest rates will mean the construction industry in the

district will bounce back according to major building company owner

Russell Lilley.

PHOTO: GEOFF SLOAN

Employment expected

to decline by 2100 jobs

• From page 1

"We have a bit of work

to do at the moment. It

should begin to pick up

even more now in level 2,"

he said.

Mr Lilley said he is not

worried at all about the

future of construction in

the district.

"The interest rates are

so low at the moment, of

course things will bounce

back. You would be crazy

not to build right now.

"I am 70-years-old, I

have been through a lot

of stuff, I have never been

through a pandemic but

I've been through times

when interest rates were 28

per cent. That was in the

80s."

The Infometrics report

shows transport, postal

and warehousing activities

could fall by 16 per cent.

Professional, scientific

and technical services

would be reduced by eight

per cent, while retail and

wholesale trade would fall

by six per cent.

Consumer spending and

traffic volumes were down

substantially during the

lockdown.

Around 56 per cent of

Gaming, TAB will be operating

• From page 1

"We can't get enough of

it. We will have a register

for when

people

come in

and we will

seat them

straight

away," he

said.

Gaming

Craig

Bradford

machines

and TAB

facilities

will also be able to operate

in hotels across the district.

New rules mean patrons

the workforce was able

to work under the level 4

lockdown, and the analysts

expected 78 per cent of

Selwyn's workforce was

able to work during level 3.

Employment in Selwyn

is expected to decline by

2100 jobs in the year to

March 2021, a drop of

8.6 per cent – but lower

than the forecast national

decline of 9.8 per cent.

Job losses are expected at

all skill levels.

The loss of jobs means

the overall unemployment

rate in Selwyn is forecast

to rise from 2.3 per cent in

the March 2020 quarter, to

7.1 per cent in March 2021.

This compares to the

forecast national unemployment

rate of 9 per cent.

Selwyn's house prices

are also expected to follow

the national trend,

and decline 10.8 per cent

between December 2019

must be seated and will be

served at their tables.

Darfield Hotel owner Ray

O'Connell said things have

been going well he was

looking forward to being

fully open.

"It will be good to

have the bar back open.

The gaming lounge and

TAB will be available

tomorrow," he said.

Coalgate Tavern coowner

Steve Joy said they

have been open for dine-in

purposes but will be

back to business as usual

tomorrow.

and December 2021, before

gradually recovering.

Looking ahead, the report

suggests that primary

sector exports are expected

to hold up and food product

manufacturing will

expand slightly, supporting

the district's longer-term

recovery.

Selwyn Mayor Sam

Broughton the district

council has a central part

to play in the district's

recovery.

"One of the key things

we can do is maintain

a steady programme of

infrastructure projects that

support local communities,

along with the essential

services that our residents

rely on every day.

"We're also talking with

community and business

leaders about what the

future looks like, and how

we can work together to

build a stronger Selwyn."

•The full Infometrics

report, Economic

Impacts of Covid-19 on

the Selwyn Economy, is

available on the Selwyn

District Council website

atwww.selwyn.govt.nz/

services/business/oureconomy

Two Fat Possums

director Murray

Hickman said they

have been preparing for

reopening.

"We are mostly just

getting our systems in

place such as building our

stocks up. Making sure all

our electronic terminals

and things in the back

office are working correctly

and of course some

cleaning.

"We are very excited

to open. It'll be nice to

get back into the normal

things," he said.

Meadow Fresh Yoghurt

6 Pack (excludes Thick &

Creamy and Divine Desserts)

NEW

PRODUCT

Pams Fresh Carrots

1.5kg or Parsnips

500g Prepack Product

of New Zealand

$

3 99 ea

Cadbury

Chocolate

Block 150-190g

$

2 99

Pams Finest Cookies

300g

AVAILABLE AT

SELECTED

STORES

$

3 69 ea

Monteith's Ale

ea 6 Pack 330ml Bottles

$

13 99

ea

$

2 99 Fresh NZ Quality

Mark Prime Beef Mince

pk 500g

$

7 99

ea

LUCKY LOCALS COMING SOON

www.foursquare.co.nz

facebook.com/FourSquareNZ

Specials available South Island only from Monday 18th May until Sunday 31st May

2019 or while stocks last. Wine and beer available at stores with an off licence.

Wine and beer purchases restricted to persons aged 18 years old and over.

SEE INSTORE

FOR DETAILS

1ST JUNE
---
6 Wednesday May 20 2020

Latest Canterbury news at starnews.co.nz

SELWYN TIMES

News

Council chief recognised with award

• By Devon Bolger

THE DISTRICT council's chief

executive David Ward has been

commended for his work in

local government.

He received the president's

award for distinguished

contribution to the Society

of Local Government

Managers.

Mr Ward said he is proud

and honoured to have

received the award.

Said a society

spokesman: "David

is a long-term and

significant supporter

of SOLGM. He has

been a member since

2003 and has been

heavily involved in two SOLGM

working parties spanning more

than 15 years,'' he said.

David Ward ​

Mr Ward joined the

finance working party

in 2004 and became

chairman in 2009, a

position he retained

until 2017.

THe spokesman said

Mr Ward is also a strong

supporter and mentor

to the young leaders that report

to him.

"He has supported them to

attend the executive leaders

programme and several

have gone on become chief

executives.

"In Selwyn, David established

a young leaders group, which

is co-chaired by two different

young leaders each year. Under

his direction they establish a

speaker programme for their

monthly meetings which

includes both internal and

external speakers. They have

a framework of learning from

others and learning from

themselves."

Mr Ward was appointed

as the district council chief

executive in 2013. His contract

was recently extended until

2023.

Before his current position he

was the chief executive of the

Horowhenua District Council.

A sheepish

baabble

These two in Lincoln

have been keeping

cosy as the weather

gets cooler.

PHOTO: NAOKO

CLARKE

Sites under evaluation for

second Rolleston high school

• By Devon Bolger

PLANNING FOR a second high

school in Rolleston has taken

another step forward.

Work is ongoing to acquire

land for the school and the Ministry

of Education is currently

evaluating a number of sites.

Engagement with other local

schools and the community has

been delayed due to Covid-19,

but is expected to get this under

way at the beginning of term 3

in July.

A Ministry of Education

spokeswoman said they are

unable to provide detail on the

sites being considered at this

stage.

"So as not to prejudice or

disadvantage our ability to carry

out commercial negotiation."

The ministry has previously

been in discussions with

Rolleston College about the new

school.

The Ministry of Education

funds land purchases through

its capital budget.

The ministry's Canterbury

National Education Growth

Plan 2030 predicts Rolleston

College could reach its capacity

of 1800 students by 2027/28.

Meanwhile, the establishment

board of trustees for the new

Rolleston East School has been

appointed.

"The board will oversee the

development and construction

of the year 1-8 school at Acland

Park," the spokeswoman said.

BACKYARD CRITTERS

Mike Bowie is an ecologist who specialises in

entomology (insects and other invertebrates).

Each week he introduces a new species found

in his backyard at Lincoln. His column aims

to raise public awareness of biodiversity,

the variety of living things around us. Check out the full list

of invertebrates found at www.inaturalist.org/projects/

backyard-biodiversity-bugs-in-my-lincoln-section

Spiders that spend

entire life in a tunnel

TRAPDOOR spiders (Cantuaria

species) are large (20-30mm

long) arachnids, of which there

are more than 40 endemic

species in New Zealand.

THese spiders are characterised

by a serrated comb used for

digging. They live in a hole in the

ground about 10mm in diameter

and 15-30cm deep.

Contrary to its name, not all

species have trapdoors on their

holes. Those species that do have

hinged trapdoors have a highly

camouflaged, circular silk lid

woven with debris from the

ground.

Cantuaria spend their entire

life in their tunnel apart from

when mature males leave to seek

a mate in winter. Prey that come

too close to the hole entrance

are snaffled and pulled back into

their tunnel for consumption.

Lincoln Univesity PhD student

Victoria Smith used beetles

tethered to cotton thread to

entice trapdoor spiders out of

their holes for a study. Trapdoor

spiders can be parasitised by

pompilid wasps that specialise

in attacking larger spiders.

These wasps sting and paralyse

the spider, drag it back to a nest

where they then lay an egg in it.

THe wasp larva will develop

inside the paralysed spider,

finally killing it when it eats its

vital organs. Trapdoor spiders

are also parasitised by large

nematodes (round worms).

THese nematodes brainwash

the spider to find water, where

the nematodes emerge to

complete their lifecycle.

Although this usually occurs

in natural waterbodies, I know

of one case in Lincoln where a

trapdoor spider and nematode

was found in a water bowl left for

pets.

powered by

people

Tania McDonald

Registered Legal Executive

Your local expert in Residential

Property, Wills, Powers of

Attorney and Estate Planning

E: tania.mcdonald@saunders.co.nz

HEAT PUMP

SALE NOW ON!

Amazin' autumn Specials!!

67%

SubSidy

Warmer KiWi HomeS

Programme

*Eligibility criteria apply

• We will offer you the best quality brands and

option of heat pump for your home/business

• Providing Heat Pump solutions for over 18 years to Cantabrians

• We personally guarantee all our products & installs for 5 years

(providing annual maintenance has been completed)

Phone us today for your free consultation & quote

41A SHAKESPEARE RD, WALTHAM

PHONE 03 366 0525

www.enviromaster.co.nz

"A local team for local people"
---
SELWYN TIMES Latest Canterbury news at starnews.co.nz

Wednesday May 20 2020 7

Rolleston College

Enrolments 2021

Our mission is to empower our learners to transform their lives, communities and futures.

Whakamanatia ngā ākonga kia pikia ngā taumata o nāianei, o ngā tau kei te heke mai, ā-tangata, ā-hapori hoki.

Principal's Message:

In 2017, Rolleston College became the first new

secondary school to open in the South Island for

more than 50 years. Four years after welcoming its

first cohort of 220 Year 9 students, we now have

a roll of over 950 students across Years 9 – 12.

At Rolleston College, we create a culture where

every learner can stand and succeed as the unique

individual that they are. Our school values enhance

learner's opportunities to live our school values

as they Develop Self, Build Communities and

Transform Futures. Rolleston College has been

designed to be modern and future-focused with a

physical design which reflects our vision for studentcentred,

personalised teaching and learning. State of

the art facilities paired with a solid record of NCEA

achievement makes Rolleston College the obvious

choice for your child's secondary education.

Rachel Skelton, Principal

Our Learning

At Rolleston College we have top class facilities and

an exciting and diverse academic programme that

meets the needs of the individual learner.

The curriculum framework is designed to ensure that

the delivery of learning is innovative, learner centred,

skills relevant and cover all aspects of the New

Zealand Curriculum (NZC, 2007).

The Learning Vehicles:

Ako - learners meet with their learning coach to

monitor their progress, develop their personalised

inquiry programme and develop their individual

literacy and numeracy programme as well as their

health and wellbeing programme.

Connected - this is a multidisciplinary approach

to skill and knowledge development and allows

for an authentic context of learning in the areas of

mathematics, science, social science and English.

Selected - learners choose from a range of enrichment

options - from technology, to music, forensic science

to sports specific and all that lies in between.

Senior School:

In the senior years, learners will continue their

journey in advanced learning environments that

will prepare learners for academic success and

achievement. The Rolleston College Curriculum aims

at enabling learners to gain an idea of their passions

and purpose in life. Learners will work towards

NZQA certified qualifications (NCEA).

Wellbeing:

Rolleston College is one of many New Zealand

schools to implement the Ministry of Education

Positive Behaviour for Learner School Wide

Framework. At our school this framework has been

adapted to work within the context of our school

and our learners. The purpose of Positive Behaviour

for Learning-School Wide (referred to as Ready to

Learn at Rolleston College) is to ensure the Rolleston

Spirit is flourishing within our school. The staff have a

strong belief that learners need to be Ready to Learn

and Ready to Flourish. As part of our wellbeing

programme we have a strong emphasis on our 'Check

and Connect' programme.

Check & Connect

Our School Values

The qualities that make up the Rolleston Spirit

identify the key values and dispositions that are

important for our learners to develop during their

time at Rolleston College. They focus on developing

the individual learner's awareness of self, community

and future.

Developing the Rolleston Spirit will equip learners to...

The Rolleston Spirit

Check and Connect:

This is a way of connecting with our learners on a

daily basis and in all learning vehicles. There are a

variety of ways that Check and Connect can operate

- with the essential outcome being that all learners

know that they have staff who care, are ready to help,

and work together to create a flourishing learning

environment. The learners can use and practice

the tools from their kete, just as you would use and

practice numerical skills.

C.A.S.E (Culture, Arts, Sport, Education Outside

the Classroom)

Co-curricular activities are an important part of

life in Rolleston College and the wider community.

We provide a wide range of sports and physical

activities as well as a wide range of arts related and

cultural opportunities.

Enrolment Information

Enrolments are now open for 2021

for all those within our school zone.

Online enrolment forms can be

found on our website under the

Enrolments Tab'.

The deadline for enrolments for

Canterbury Secondary Schools is

the 31st July

phone. 03 595 2490 email. admin@rollestoncollege.nz

He kākano i ruia mai i Rangiātea

The Seed will not be lost.
---
8 Wednesday May 20 2020

Latest Canterbury news at starnews.co.nz

Our People

SELWYN TIMES

Natasha Oliver

Providing families with random acts of kindness

Natasha Oliver has been

managing donations for

struggling families at

Christmas for three years.

The Rakaia resident

speaks to Devon Bolger

about her work with

the Selwyn Kindness

Initiatives group and her

passion for helping those

in need

How did the idea for the

group begin?

Just over three years ago I

wanted to have a box made up

for everything in it that people

could have for Christmas

Day. I was thinking roast

meat, vegetables, decorations,

Christmas trees and presents.

I thought about how I could

start it and went around to a

few local businesses and put the

word out. I didn't have much of

anything at that point and it is

quite hard to get things started

when people don't know who

you are. I managed to get the

vegetables from Healthy Harvest,

about $5000 worth of Christmas

decorations from The Warehouse

and we got brand new presents

from within the community.

My garage was full of stuff and

there were plenty of trips to

The Warehouse to pick up the

decorations. I was thinking well

what do I do now? How do we

get the word out to those people

that don't have anything? I found

that process quite tricky but I

decided to ask for nominations

of people to give them to. I found

that people would nominate

people who really didn't need

it and want to use it more of a

thank you or sympathy gift and

that was hard because I wanted

to make sure the boxes went to

families who had nothing. It

was still really nice and we got

some great feedback such as we

would drop a box off to a school

and it would go to a family who

needed it within that school

community. My family and I did

that off our own backs. We spent

two days delivering and it took

HELPING HAND: Natasha Oliver, of Rakaia, spends her free time bringing joy to struggling

families in Rolleston.

us quite a while. The following

year I knew I was going to need

a team and that's when I started

the group. We had about 40

volunteers collecting food for

about three months the first

year and the second year we had

about 30-something. There was

a period a couple of years ago

where I asked volunteers to come

forward who had time to give

such as lawn mowing and home

cooking, things like that. We

had that running for about three

months and matched them with

people in need.

What community work has

the group done most recently?

I had some Easter buckets

from New World in the North

Island in my possession and

I knew there are obviously

going to be some children in

the community missing out on

Easter this year because of their

family's financial situation. I

pulled the buckets out, contacted

Rainbow Confectionery through

a friend of mine who sent

down some Easter eggs and

then Covid-19 happened and

we had to hold off. I thought

we would add some colouring

and things so the kids would

have something to do. We have

just been waiting for them to

hand out and I dropped them

off last week all sanitised and

everything. I anonymously

dropped off two buckets to a

family in Rolleston and found

out later that night the kids

thought the Easter bunny had

been released out of lockdown

so he could deliver the eggs for

them. I like to jump and run so

people don't know where the

goodies have come from because

some people didn't want people

to know they had nominated

them. We were lucky enough

to have all of the boxes for food

collections donated by Storage

King Rolleston for Christmas

last year. We now drop off all of

the food to the Ellesmere Food

Bank because they cover quite

a wide area around the district

and they know who does really

need it.

Why did you choose

Rolleston as the base for the

initiative?

Rolleston is our go-to in

terms of shopping, petrol and

everything. We think it is a

good metropolitan area for the

initiative. I don't want to get too

big and try to cover too much,

we are just trying to do what we

can.

What is next for the group?

We are always looking for

volunteers. I am trying to get a

team together to meet up soon,

hopefully in the next couple of

months. I have only so many

ideas, whereas a team would

have many more than I. I am

wanting to start getting prepared

for Christmas this year. I am so

thankful for the people who have

been a part of these initiatives for

the last three years.

The group is heading into its

fourth year now, what keeps

you going?

Knowing there are people out

there much worse off than I. I am

grateful for what I have, I want

to pay it back. I just sort of do

what I can. I was a single mum 20

years ago and I know how hard

it is for some families. Christmas

is my favourite time of the year

and I hate the idea of going away,

•To register your interest in

volunteering or donating, join the

Selwyn Kindness Initiatives group

on Facebook.

sitting there on Christmas Day

and having everything we need

knowing there are families out

there who have nothing. I just

can't deal with that. It probably

has a lot to do with the fact that I

have empathy and I absorb all the

wrongdoings of the world and I

mourn for all of the sad things.

What do you do for work?

At the moment I am working

at Little India Restaurant in

Rolleston. I have been working

there since late last year. I have

been in hospitality for eight

years. I trained as a teacher and

then jumped into hospitality

after the February 22, 2011,

earthquake and haven't looked

back. Another avenue I am

wanting to follow is supporting

hospitality businesses. I know

a lot of them are closing down

now which is sad. I haven't quite

worked out how to follow that

path but we will see.

Could you tell me a bit about

your family?

I am married to a soldier based

at Burnham Military Camp. I

have two children and they are

21 and 23.

New Dance Studio

Opening in Rolleston

Offering classes in Ballet, Contemporary and Jazz

for all ages and abilities. Specialising in Royal Academy

of Dance Ballet with a fully registered teacher.

OPEN DAY Saturday May 23, 10am - 2pm

For more information visit our website at

www.auroradancestudio.co.nz

or email: shannon@auroradancestudio.co.nz

2/25 Illinois Drive, Izone, Rolleston
---
SELWYN TIMES Latest Canterbury news at starnews.co.nz

Wednesday May 20 2020 9

Fresh, local products

to your door

A collaboration of two Darfield-based businesses

has taken Selwyn by storm. When Johnny Fresh

Darfield and Greendale Butchery decided to

work together to supply the district with a

unique delivery service, Fresh on Wheels, the two

businesses never dreamed they would receive

such a huge demand for their service and have

such a positive impact on people's lives, especially

during the Covid-19 lockdown period.

Johnny Fresh Darfield manager Mel Tapa says the

fresh produce and meat delivery service became a

lifeline for people living in isolation.

"People really looked forward to seeing the drivers;

kids waved to them from their windows and made

signs to welcome us. It was a real highlight

of our day, knowing we were helping

people who relied on us."

Fresh on Wheels is the

brainchild of Greendale

Butchery owners Bronwyn

and Matt Dering and

Johnny Fresh Darfield

owner John Heasley and

manager, Mel. Bronwyn

and Mel got together in

late November 2019 to

work out how the service

would operate and soon

got it off the ground, the

operation streamlined

as their experience and

knowledge grew. The service

now delivers to around 300

customers across the Selwyn District

and is steadily growing.

Both businesses pride themselves on offering

fresh, local, quality products. Bronwyn says

Greendale Butchery is a boutique, family owned

and operated business with a small team, creating

award winning smallgoods, bacon and ham.

Johnny Fresh Darfield, says Mel, is a green grocer

that focusses on supplying quality fruit and

vegetables, ordered daily to keep their produce

fresh for their customers.

Fresh on Wheels meat and produce packs can be

ordered on a weekly basis on their Facebook page,

where customers can view variations of meat and

produce packs.

"The new packs, with photos and an order form,

are launched every Sunday night," says Mel. "We

vary the packs each week and try to co-ordinate

the meat and vegetables so people can create

meals that work together."

The packs are affordable and family-sized

with a range of purchasing options

including meat, vegetables, and

fruit; meat and vegetables;

vegetables and fruit; meat,

fruit or vegetables only, along

with top ups and add ons.

Deliveries are Tuesday to

Friday – with Kirwee and

West Melton on Tuesdays;

Rolleston and Burnham

on Wednesdays; and

Prebbleton and Lincoln on

Thursdays. Areas local to

Darfield including Hororata,

Sheffield, Waddington,

Springfield and Oxford work on

a click and collect basis.

The Fresh on Wheels team is excited

about their service and looks forward to

providing Selwyn communities with a professional

service supplying local, fresh products.

If you would like to place an order and join their

online community, visit their Facebook page:

Fresh on Wheels.

Fresh on Wheels: Bronwyn Dering of Greendale

Butchery and Mel Tapa of Johnny Fresh Darfield with an

example of a full meat, vegetable and fruit pack offered

by their home delivery service, Fresh on Wheels.
---
10 Wednesday May 20 2020

Latest Canterbury news at starnews.co.nz

SELWYN TIMES

WELCOME BACK!

Shop our complete range in-store

Keep 2m distance

Contactless payments are preferred

OR

Shop online at mitre10.co.nz with

CLICK &

COLLECT

CONTACTLESS

HOME

DELIVERY

CONTACTLESS

Mitre 10 MEGA HORNBY

Phone: 03 349 8497

Email: smiths@mitre10.co.nz

Address: 370 Main South Road

Terms and contitions apply.

HORNBY
---
SELWYN TIMES Latest Canterbury news at starnews.co.nz

Wednesday May 20 2020 11

Former Lincoln bowler Jamieson

offered national cricket contract

• By Jacob Page

FORMER LINCOLN and

Canterbury Country cricketer

Kyle Jamieson has been offered a

New Zealand Cricket contract for

the upcoming season.

The 25-year-old, who moved

back to Auckland last season after

five years with Canterbury Country,

burst onto the international

stage this summer with player of

the match performances in his

debut home ODI and test series

against highly-rated India.

He is one of three new contracted

players, with Wellington

batsman Devon Conway and

Central Districts spinner Ajaz

Patel also on the list.

Auckland batsman Jeet Raval

SPORT

and Colin Munro have missed

out along with Canterbury spinner

Todd Astle.

Selection manager, Gavin

Larsen said Jamieson deserved

the accolade.

"Kyle's performances against

the might of India were nothing

short of outstanding and at 25

years of age he's certainly got a big

future," he said.

As part of the formal contracting

procedure, the New Zealand

Cricket Players Association was

consulted and it expressed satisfaction

the process, as outlined

in the master agreement, was

adhered to.

Players offered central

contracts for 2020-21 – Tom

Blundell, Trent Boult, Devon

Conway, Colin de Grandhomme,

Lockie Ferguson, Martin Guptill,

Matt Henry, Kyle Jamieson, Tom

Latham, Henry Nicholls, James

Neesham, Ajaz Patel, Mitchell

Santner, Ish Sodhi, Tim Southee,

Ross Taylor, Neil Wagner, BJ

Watling, Kane Williamson, Will

Young.

The White Ferns contract

offers are set to be released in the

coming week.

DESERVED: Former Lincoln pace bowler Kyle Jamieson made

his Black Caps debut last season and has now been offered a

national contract.

PHOTO: GETTY IMAGES

Ransley second

and 20 points

clear of third

PREBBLETON'S Jaden Ransley

sits in outright second with three

rounds remaining of the eSport

Cup virtual motorsport series.

Round eight tomorrow night is

at Silverstone, the home of British

racing.

Ransley, 18, had a consistent

seventh round last week.

After a self-confessed "shocker"

during qualifying where he

managed 12th on the Oran Park

track near Sydney, he managed

sixth and third to remain well in

contention for the title.

"We had a bit of a shocker in

qualifying so we were on the

back foot from there but we

had good momentum and good

speed throughout the night

which helped," he said.

"We now have a 20-point

buffer to third which is great

with three rounds to go."

Ransley said the two races did

not always go smoothly but he

managed to avoid major issues.

"In turn one of race two I

got taken out but only suffered

minor damage so I could keep

going.

"Keeping out of trouble, especially

on a track like that which

is small and tight is the way to

go.

"I'm learning from the other

tracks not to be so aggressive on

the first few laps and to just let

things unfold in front of me," he

said.

OPEN DAYS AT

WOODCROFT ESTATE

Friday and Saturday, 22nd & 23rd May, 10am to 2pm

Come and visit a retirement lifestyle village that gives its

residents their capital gain upon resale.

You will find Woodcroft Estate at 34 Kendon Drive in

Rolleston's Levi Park. Call to set a time so we can comply with

Level 2 guidelines and keep you safe.

03 421 7796 or 021 292 1141

www.woodcroftestate.co.nz
---
12

Wednesday May 20 2020

Latest Canterbury news at starnews.co.nz

Selwyn Times

Council services and facilities

reopen under Level 2

Welcome back! Most Council services and facilities are back to normal under COVID-19 Alert

Level 2 conditions, but with some restrictions or reduced services.

The Council's Rolleston offices, including AA services, are open Monday to Friday, 8.30am–5pm.

Selwyn libraries have also reopened – initially with reduced hours. Darfield and Leeston Library

and Service Centre will be open from 10am–4pm Monday to Saturday, while Lincoln Library and

Service Centre and Rolleston Library will be open from 10am–4pm Monday to Sunday. Most

library programmes will not be operating, but online programmes and e-resources will continue to

be available.

Selwyn Aquatic Centre is open for adult lane swimming, aqua jogging, modified aqua fitness,

higher level Learn to Swim programmes, and squad swimming from 6am–9pm Monday to Friday

and 8am–8pm Saturday and Sunday.

Community and recreation centres are open with reduced hours, and fitness programmes are

gradually resuming.

Parks, reserves, playgrounds and sports areas are open, but users are reminded to practice

safe distancing. The Foster Park Playground and Rolleston Skate Park will remain closed until at

least 25 May because of public health requirements. The limits on gathering numbers, along with

requirements for contact tracing and cleaning, mean it is not possible to open them at present.

People using playground equipment are encouraged to wash or sanitise their hands before and

after use.

Building consents processing and building inspections will resume as normal.

Dog microchipping clinics have restarted using a booking system. If your dog is registered with

the Council you can book for an appointment in Rolleston to have it microchipped for free by

visiting selwyn.govt.nz/bookmcclinic.

Customers planning to visit our offices or service centres are asked to note the following health

and safety requirements:

· Numbers of people entering the building may be limited to help manage safe distancing

· All visitors must sign-in on entry for contact tracing purposes

Please also consider delaying your visit to the Council offices for a few days, especially for nonurgent

enquiries, while staff settle in to new systems and routines.

People can also use online services or contact us by phone, 0800 SELWYN (735996) or email

contactus@selwyn.govt.nz or via the Council website or on the Snap Send Solve app.

ON THE

ROADS

On the roads

Tennyson Street is closed from 43 Tennyson Street to the Rolleston Police Station

due to the Rolleston Town Centre infrastructure upgrade and from 96 Tennyson

Street to the Lowes Road intersection for three weeks. The closure is to allow for

the renewal of a section of the sewer main that runs along the centre of Tennyson

Street. A detour will be in place via Michelangelo Drive for vehicles heading

south along Tennyson Street. Lowes Road will be open to two way traffic west of

Tennyson Street and one way eastbound, east of Tennyson Street.

Jones Road will be closed to the north and south of the roundabout until 29 May to allow important

sealing work to get the road through the winter and to reduce. A detour is in place.

One lane of Trents Road is closed heading south east away from Springs Road while upgrades are

made to the sewer system. Traffic management is in place. Culvert construction is taking place on

Malvern Hills Road. Traffic management is in place.

Here's the plan

...have your say

There's still time to have your say on the Annual Plan.

Consultation closes at 5pm, Friday 22 May. You can

find out more and make a submission by visiting our

YourSay Selwyn site selwyn.govt.nz/annualplan20

Selwyn well placed to recover

from pandemic impacts

Selwyn's diverse economy and strong agricultural base are likely to

reduce the impact of COVID-19 on the district's economy, a report

by economic analysts Infometrics shows.

The report, prepared in April, projects Selwyn's economy will

contract by about 5.4 percent over the year to March 2021.

Employment is expected to decline by 2,100 jobs or by 8.6 percent

– lower than the forecast national decline of 9.8 percent.

The overall unemployment rate is forecast to rise to 7.1 percent in

March 2021, compared to 9 percent nationally. House prices are

also expected to decline 10.8 percent between December 2019 and

December 2021, before gradually recovering.

Primary sector exports are expected to hold up and food product

manufacturing will expand slightly, supporting the district's longerterm

recovery.

Selwyn Mayor Sam Broughton says many households and

businesses in Selwyn have been hard hit by this pandemic, but

there are positives too.

"It will take time for us to recover, but because we are less exposed

to the international tourism market we're better off than many other

parts of the country.

"It's clear the construction boom will take a hit – but we know

Selwyn offers a great lifestyle and affordable housing options that

will remain attractive to many families.

"Another real strength in Selwyn is our agricultural sector – and

it's encouraging to see that primary exports and food production

are forecast to remain stable. I hope we'll see employment

opportunities open up in those sectors too."

The Council has a central part to play in the recovery, he says. "One

of the key things we can do is maintain a steady programme of

infrastructure projects that support local communities, along with

the essential services our residents rely on.

"We're also talking with community and business leaders about

what the future looks like, and how we can work together to build a

stronger Selwyn. That will include things like making the most of our

rural character and strong local networks, finding ways to support

local businesses and encouraging locals and visitors to explore our

outstanding natural environment."

The full Infometrics report is available on the Council website.

Selwyn...

If you need help,

reach out

Key contacts for support

· Urgent Welfare Support 0800 SELWYN (0800 735 996)

Assistance for emergency food, household goods and services

or other welfare-type requests

· Healthline 0800 358 5453

· Accommodation 0508 754 163

· Financial support 0800 779 997

· Need to talk 1737 (call or text)

Or visit www.allright.org.nz for tips on getting through together

Council Call

Selwyn District Council

Norman Kirk Drive, Rolleston

Ph 0800 SELWYN (735 996)

Rolleston Library

Rolleston Drive, Rolleston

Ph 347 2880

Darfield Library & Service Centre

1 South Terrace, Darfield

Ph 318 8338 or 347 2780

CC200520
---
Selwyn Times Wednesday May 20 2020

Latest Canterbury news at starnews.co.nz

13

Selwyn

Community

Fund

Selwyn Community Fund

closes 31 May

The fund is available for Selwyn-based

community groups looking to run a project,

event or initiative in the Selwyn district.

Apply now at

selwyn.govt.nz/selwyncommunityfund

Selwyn Open – ahead of the game

As part of our Selwyn Open campaign we're profiling some of the many excellent businesses local to

you. You can find these businesses on the Selwyn Business Directory at selwyn.govt.nz/directory

This week we talk to Andrew and Priscilla Foster from Magnitude Sports Rolleston.

As we reach the point where we can return to our favourite games, Selwyn's only sports store

Magnitude Sports is re-opening its doors.

The store first opened its doors in February last year in Faringdon, later moving to a bigger store in

Rolleston's town centre.

During Alert Levels 4 and 3, they kept going with online orders, product deliveries, contactless pickups,

advice over the phone and social media competitions with prizes.

With the number of sports clubs and events in Selwyn, the couple felt there was a need for a sports

store in Selwyn, saving residents a drive into Christchurch city.

"There's no one else in Selwyn doing what we're doing. We've got some pretty cool products that will

save people from going into town to get them," Andrew said.

The store offers everything from fishing to footwear, home fitness gear and even sometimes motocross

products, all supplied from New Zealand wholesalers, except for some overseas clothing brands.

"We try to keep it as local as we can."

And if there's anything they don't have, Andrew says they are happy to order stock in.

The Fosters have lived in Selwyn for 14 years and,

with their children Jacob and Libby, are involved

with local rugby, netball and football clubs. Living

locally helps them keep up with local needs. They

pride themselves on customer service and advice

that can sometimes get lost in bigger stores,

Andrew says.

The store also supports the community by donating

prizes to raffles and collaborating with sports clubs

and local schools.

"We're just local people trying to get our business up

and running. We want to thrive and get bigger so we

can help out the community."

Be road safety aware – think small

As we get back to moving around under Alert Level 2 this week we're asking people to think small and

look out for our children on the roads.

Over 10,000 children go to school in Selwyn – that's nearly 20% of our population – and many are on

the move, heading back to school this week.

Selwyn School Road Safety Coordinator Stephanie Hautler is encouraging everyone to keep their eyes

peeled for our young people heading back to school by foot and on wheels.

For those heading to school here are some travel safety tips:

· Be bright and be seen. Ask your school for a safety vest.

· Tackle the routes together, talking about sneaky driveways and blind corners.

· Get out and active together to reduce the chaos at the school gate.

· Wear your helmets – this goes for caregivers too… young people are watching you!

We're heading

back to school

Please watch

out for us

Enjoying culture and community

Continuing our series celebrating the Faces of Selwyn.

Visit selwyn.govt.nz/facesofselwyn for the full story.

warm, late-summer evening, early this year international students

from Lincoln University's Master of Science in Food Innovation meet

at a house near Lincoln's Liffey stream.

Their host, toxicology Professor Ravi Gooneratne, interrupts the

chattering with a big smile to thank everyone for coming.

It is a privilege to work with young people from different countries

and cultures, he says. Originally from Sri Lanka, he says he can

relate to these students after studying for his PhD in Australia and

teaching in Canada before moving to Lincoln.

"I treat them as my sons and daughters to a large extent. I invite

them to my place about twice a year and we have an evening where

they bring their cultural dishes so we get a chance to taste all the

different dishes from different countries."

Ravi, his wife and their two young children moved to Lincoln in 1988

after six years at the University of Saskatchewan, where winters

reach -40 degrees Celsius.

The neighbours in Lincoln were very friendly, helping him settle. He

joined the Lincoln Rotary club in 1994, becoming president in 2005.

"We have really enjoyed our stay in New Zealand and we have met a

lot of friends. The Lincoln community is fantastic."

He's even kept the same hairdresser from when he first arrived.

"I've been paying the 1988 rates, even now she hasn't increased the

amount she charges," he laughs.

Every so often he visits the local Buddhist temple, gathering with

friends from the Sri Lankan community. He also continues to travel,

visiting family in Sri Lanka each year and working as a professor at

two Universities in China; Guangdong and Jiangnan.

In 2018 he was awarded a key to the city of Zhanjiang for

his outstanding contribution to its economic, cultural, social,

educational and international relations.

Supporting Selwyn businesses

with digital smarts

The Council is kick-starting a Selwyn Gets Digital webinar series

which focuses on supporting Selwyn businesses to get the most out

of going online.

The series is being run by various Kiwi specialists including Yellow

Design, Mint Design and Rushton Marketing and will support

businesses to enhance their online presence and techniques and

get maximum benefit from digital marketing.

The series will cover tips for online purchasing, advice for digital

marketing in a COVID-19 world and help on making the most of

Facebook and social media advertising.

Online purchasing and eCommerce

Tuesday 19 May 1.30–2.30pm

Beginner's Digital Marketing in a COVID-19 World

Tuesday 26 May 10–11am

Facebook for Business (Beginners)

Tuesday 2 June 10–11am

Social Media Advertising

Thursday 4 June 10–11am

Register now: selwyn.govt.nz/getdigital

Meetings

Council meeting

Wednesday 27 May 2pm, at Council Chambers, Rolleston.

Leeston Library & Service Centre

19 Messines Street, Leeston

Ph 347 2871

Lincoln Library & Service Centre

Gerald Street, Lincoln

Ph 347 2876

0800 SELWYN

www.selwyn.govt.nz

SelwynDistrictCouncil
---
14 Wednesday May 20 2020

Latest Canterbury news at starnews.co.nz

SELWYN TIMES

Tasty Bites

Sweet treats using condensed milk

Consensed milk is milk

that has had 60 per cent

of its water evaporated

away. The thickened milk

then has sugar added

to make it the perfect

ingredient for decadent

baking and desserts

Five ingredient rocky road

fudge

32 servings

Ingredients

2 395g cans sweetened condensed

milk

130g salted honey-roasted

peanuts

140g pink and white marshmallows

(about 2cm each)

350g block milk chocolate,

chopped

Directions

Grease an 18cm x 28cm slice

pan. Line base and sides with

baking paper, extending paper

2cm above edges of pan.

Place white chocolate and

half the condensed milk in a

microwave-safe bowl. Microwave

on high for 1min 30sec, stirring

every 30sec, or until melted

and smooth. Add peanuts and

marshmallows. Stir to combine.

Pour mixture into prepared pan.

Smooth surface. Refrigerate.

Meanwhile, place the remaining

condensed milk and the milk

chocolate in a microwave-safe

bowl. Microwave on high for

1min 30sec, stirring every 30sec,

or until melted and smooth.

Carefully spoon mixture over

white chocolate layer and gently

smooth surface. Refrigerate for

4hr or until firm. Serve.

Strawberry and condensed

milk slice

15 servings

Ingredients

190g plain flour

100g cold butter, chopped

80g pure icing sugar, sifted

1 ½ tbsp iced water

An independent school

education is a precious

gift and it doesn't have

to break the bank

At St Michael's, we have been

nurturing the children of our city

for 169 years. Our small classes and

traditional education offer your child

outstanding specialist and individual

attention. With twenty pupils per

year – and twenty desks! – every child

has a sense of identity and place at St

Michael's.

Extension programmes begin in

Year 5 in English and Mathematics,

challenging your child to achieve to

the best of their abilities. Specialist

Science in our dedicated lab is wide

ranging from the traditional to the

experimental. Lessons are wide

ranging too, as pupils frequently visit

our extended campus: the gardens,

library, museum…

St Michael's is at the heart of the city,

and at the heart of St Michael's are

the essential values of Christian faith

and good citizenship. Building on this

foundation, our wider curriculums

in History, Geography, languages, RE

and Art teach good citizenship in a

global context.

St Michael's children are wellrounded,

participating in sport, music

and drama in and out of school.

Over half our pupils play at least one

musical instrument, and sing in one

of our three choirs. Stage Band and

Orchestra offer your child key first

steps in ensemble performance.

At the senior level, Parare, our Y7&8

programme, advances education

outside the box, from financial literacy

to outdoor ed, leadership challenges to

new sports, art and technologies.

If these opportunities suit your child,

who will be in Year 6, 7 or 8 in 2021,

enrol for Scholarship Day, 25 May

(Alert Levels permitting.) There are

tests in reading, writing and maths;

auditions for those who play or sing;

a chance to tour the school and meet

the other pupils.

To enrol for a scholarship or

to arrange a tour, contact

Mrs Bec Hitchcock:

registrar@saintmichaels.co.nz;

T: 379 9790.

255g desiccated coconut, plus 2

tbsp, extra

40g self-raising flour

395g can sweetened condensed

milk

2 eggs, lightly whisked

2 tbsp shredded coconut

250g fresh strawberries, hulled,

thinly sliced

Icing

1 tbsp pure icing sugar, sifted

½ tsp butter, room temperature

2 tsp milk

Directions

Preheat oven to 180 deg C (160

deg C fan forced). Grease the base

and sides of a shallow 3cm-deep,

20 x 30cm slice pan and line with

baking paper, allowing the paper

to overhang the long sides.

Place plain flour, butter and

½ cup icing sugar in a food

processor and process until

mixture resembles fine crumbs.

Gradually add the iced water

and process until the mixture

comes together in a ball (you

may not need all the water). Press

mixture evenly over the base of

the prepared pan. Use a fork to

prick the base all over. Bake for

15-20min or until light golden.

Set aside to cool.

Meanwhile, combine desiccated

coconut and self-raising flour

in a large bowl. Add condensed

milk and egg. Stir until combined.

Spread evenly over base. Mix

the shredded coconut and extra

St Michael's is

pleased to offer

academic, music and

choral scholarships

for 2021 for pupils in

Years 5, 6 & 7

Contact us for

application and

audition details.

desiccated coconut in a bowl

then scatter over slice mixture.

Arrange strawberry on top.

Bake for 30min or until firm

and golden. Set aside in pan for

10min to cool slightly. Lift out

of pan onto a wire rack to cool

completely.

To make the icing, combine

icing sugar, butter and enough of

the milk in a small bowl to form

a thick paste. Place the bowl over

a saucepan of simmering water

(make sure bowl doesn't touch the

water) and stir until mixture thins.

Spoon icing into a sealable

plastic bag and snip off one

corner. Drizzle over the slice.

Set aside until set then cut into

pieces.

St Michael's

Your school at the heart

of the city since 1851

SCHOLARSHIP DAY

Monday 25 May

registrar@saintmichaels.co.nz

www.saintmichaels.school.nz 249 Durham Street 379 9790
---
SELWYN TIMES Latest Canterbury news at starnews.co.nz

Wednesday May 20 2020 15

Your Favourite

Restaurants, PHARMACY Cafés

FITNESS

Pubs & Liquor Outlets

GIFTS &

HOMEWARE

HEALTH &

BEAUTY

direct to your door, dine in or takeaway

Your guide to Selwyn's delicious food options and hospitality supplies

SUPPORT LOCAL!

NOW OPEN

FOOD SERVICES FASHION

welcome to the famous grouse hotel

open 7 days • ORDERS FROM 4PM • DELIVERIES 5PM - 8.30PM • Menu at famousgrousehotel.co.nz

RESTAURANT OPEN

EXCITING NEW

FOR DINING - ONLINE

RETAILERS

TAKEAWAYS AND

DELIVERIES

OPENING SOON

Monday - Thursday from 4pm

Friday, Saturday, Sunday from Midday

Restaurant bookings essential,

entry off William St

2 Gerald Street, Lincoln • P: 03 325 2408

5

Be Safe &

Keep Others Safe

The team @ Veenuz are happy to re-open the kitchen, adhering to all the new safety and

social distancing practices for delivering food safely.

Phone 03 344 5554. Shop 3, 575 Springs Road, Prebbleton

WEST MELTON TAVERN (Westy)

IS NOW ABLE TO OFFER YOU FISH & CHIPS/

PIZZA TAKEAWAYS AND TAKEAWAY MEALS

Check our Facebook page for menu options - WEST MELTON TAVERN

Please phone your order through to 03 347 8460

We will ring you when your order is ready to pick up at the door of the restaurant.

Restaurant

now open for

dining

NOW

OPEN

FOR

TAKEAWAYS

Orders can be made by phone, walk in (with enough distancing in place) and through Facebook messenger.

Online ordering through the website www.veenuzindian.co.nz will commence Tuesday.

Customers will be given a specific time for pickup. Delivery of orders are mainly handled by UBER and we can also deliver

(local) in certain cases if we have sufficient staffing. The delivery facility will not be guaranteed for every order and will be

the sole discretion of the management.

Paywave will be available for payment.

OPEN FROM 3PM TIL 8PM EACH NIgHT

We can also do takeaway phone orders for alcohol

from the bottle store! Phone us on 03 347 8460.

1147 West Coast Road, West Melton

Open for

dining &

takeaway

orders

17 West Belt Lincoln

Please book your table or www.thelaboratory.co.nz

order

17

your

West

takeaways

Belt Lincoln

on 325 3006.

NOW OPEN

Takeaway Pizza & Beer

17 West Belt Lincoln

Takeaway Pizza & Beer

IS this Just what you've ALL been missing??

17 West Belt Lincoln

IS this Just what you've ALL been missing??

NOw AVAILABLe FOR TAKEAWAY 4pm-8pm Tues-SUN

Order by TEXT

Contactless Pick-up and Pay

NOw AVAILABLe FOR TAKEAWAY 4pm-8pm Tues-SUN

Order by TEXT

Contactless Pick-up and Pay

See our website or Facebook for full menu and details

www.thelaboratory.co.nz

See our website or Facebook for full menu and details

5

We're

∞ Coffee Culture

∞ Corianders

∞ Hachi Hachi

∞ Hell Pizza

∞ Lazeez Mediterranean

∞ Robert Harris

∞ St Pierre's Sushi

∞ Subway

Back

Individual store trading hours and click 'n' collect services

may vary – contact the store or check their website or

Facebook page for details.

rollestonsquare.co.nz
---
16 Wednesday May 20 2020

Latest Canterbury news at starnews.co.nz

SELWYN RURAL LIFE

SELWYN TIMES

Govt helps primary sector

prepare for future droughts

A new $500,000 fund will help farmers

and growers prepare their businesses to

recover from drought as the economy gets

moving again, according to Agriculture

Minister Damien O'Connor.

The fund provides advisory services

that usually cost $5000 to equip rural

businesses with professional and technical

advice to help them recover from and

better prepare for future drought.

"As we rebuild the economy following

the effects of a global pandemic, we

have an opportunity to build back better

than before and factor in resilience for

our productive primary sector," Damien

O'Connor said.

"So far this year the Government has

invested $17 million to help droughtstricken

regions recover from what many

are saying is the worst drought in living

memory. It has affected all of the North

Island and a good portion of the South.

"Although there has been a bit of rain

relief recently, it takes steady rain at the

right time to get grass growing again. The

flow-on effects of water shortages and low

feed availability take a long time to fully

recover from and some farmers will be

dealing with the effects of this drought for

a year or more.

"One of the unusual consequences of the

drought has already started to be noticed

by consumers – that being the paler colour

of our butter.

"As the saying goes 'you are what

you eat'. The same goes for cows. New

Zealand's unique pasture-based farming

system gives our butter a wonderful yellow

colour. The shortage of grass and reliance

on supplementary feed has meant our

butter has started to turn white. A return

to yellow will maintain our competitive

advantage in our export markets.

"We know that, with climate change, we

can expect more acute weather events so

it's important we help farmers and growers

get their businesses ready for future

drought.

"Key to recovery is making good

decisions, based on sound advice. The

purpose of this new fund is to ensure our

farmers and growers can tap into this

advice.

"The fund will address the longer-term

issues but there are also ongoing, acute

issues that need to be addressed with

urgency. Access to feed is the biggest

acute issue so two feed coordinators are

in place as of today, one in the North

Island and another in the South, to make

Firewood & Coal

Coal

20 kg bags or

500kg bulk bags

Firewood

Pick up or deliver

(delivery charges apply)

Free delivery to Darfield township when

3 cubic metres or more is ordered.

Landscape Products

Now Available!

• Forest Mulch

• Bark Mulch

• Bark Nuggets (10/20mm)

• Premium Organic Compost

• Screened Soil

• Landscape Rocks

• Paparoa Red Rock available in 3 grades

• Railway Sleepers (2.1 Lengths)

• Kindling Wood

• Unscreened Bark

Delivery fees apply.

417 Creyke Road,

Darfield

Phone 03 975 4502

Eftpos now available

Open Monday to Friday 6am-6pm, Saturday 8am-1pm or after hours by appointment

sure available feed gets from where it is to

where it's most needed.

"The primary sector has shown time and

again it has the strength, resilience and

ability to recover from tough times and

come back stronger than ever. I have every

faith that – with this support – they'll get

through this too.''

The fund will be managed by the

Ministry for Primary Industries and will

pay for recovery advisory services of up to

$5000 (excl GST) for selected applications

in drought-affected regions.

Funding can be used for a range of

advisory services and drought-related

advice, like:

Strategic planning and the development

of farm business plans

Practical, on-the-ground advice and

support like land management and

sustainable management techniques

Technical advice on soil and pastures,

animal production, and feed budgeting.

To be eligible for this fund:

The farm is located in one of the 2020

drought affected regions or districts

including Selwyn

The business has been negatively affected

Mon-Fri 7am-5pm

Sat 8am-12pm (WOFs only)

by the 2020 drought

50% of the farmer's income, in a normal

year, is earned from this farming business

The fund is open for applications

between 11 May and 12 June 2020.

TANDEM AXLED

GALVANISED TRAILER

Fully galvanised, tandem axled transporter trailer, fitted with electric brakes, hand winch, side lights,

spare wheel and rear side stands for smooth loading.

SPECIFICATIONS

Deck dimensions (L x W) (mm): 4000 x 1900

Drawbar (mm): 1500

Deck height (mm): 460

Wheel rim: 13 inch

Tyre: 175/80D13

Net weight (kg): 580

Max. carrying capacity (kg): 1600

Winch capacity (kg): 900

3 TRUCKS

3 CARS

3 LUBES

3 SERVICING

3 FLEET WORK

3 BOATS

3 DIESEL INJECTOR &

PUMP SERVICING

3 ENGINE TUNING

Tuatara Machinery Ltd • 291 Weedons Ross Road

Tel. 03 347 4956 • Mob. 0274 770 070

www.tuataramachinery.co.nz

3 BRAKES

3 MAXXIS TYRES

3 WHEEL

ALIGNMENTS

3 BATTERIES

3 WOFs

3 CAMBELTS

AND MUCH MORE!

PRICE: $5,500.00 GST inclusive

839 Jones Road, Rolleston P.O. Box 16 Rolleston

Phone Simon on 347 7110 or Mobile 027 272 9213
---
SELWYN TIMES Latest Canterbury news at starnews.co.nz

Wednesday May 20 2020 17

New tech career in less than a year

Tech is big and getting bigger. The technology sector boomed

in 2019, cementing its position as one of our largest export

earners according to the latest annual TIN (Technology

Investment Network) Report. The number of people employed

by the technology sector increased by 7.9 per cent last year

to 51,569, and Canterbury's tech revenue alone grew by 10.3

per cent. It has never been a better time to add tech to your

skill set and start your journey into NZ's fastest growing sector.

The future is tech. Be part of it.

When it comes to the world of tech, the employment

opportunities are virtually limitless. SIGNAL's SHIFT

programme was created to help you explore, experience

and embrace those opportunities, adding to your

qualifications and expanding your earning potential in this

vibrant, fast-paced sector.

SHIFT fast-tracks your tech learning with an industryfocused

one-year programme, that not only boosts your

skills, but gives you practical industry experience and an

industry network to help you move into tech.

Quick. Smart. Relevant.

SHIFT is an innovative industry-driven programme for

those who are seeking a new career path, who may or may

not have a tech background. Open to degree holders in

any discipline, SHIFT learners have come from diverse

backgrounds such as medicine, philosophy, sociology,

commerce, geography, marketing, engineering and

humanities.

And if you already have a tech related degree, you can

expand your expertise by focusing on a new area and

gaining valuable industry skills and connections.

A unique learning experience.

Using immersive studio-based learning and real-world

industry experience, SHIFT produces graduates with a

solid base of core tech skills, as well as the communication

and collaborative skills required in the tech industry.

SHIFT enables you to meet and work with local tech

employers. You will complete group projects with tech

mentors, and also gain experience via a 200-hour

placement within industry. This allows you to add value to

your host and to showcase your capabilities.

Opportunities.

Tech roles exist in nearly every area, from aviation to zoology,

and career possibilities are extensive. During SHIFT you

can focus on software design and development, business

analysis, data science, web design, project management,

user experience design, technical writing, service delivery,

and the list goes on.

Diversity is important in the tech sector. The best designed

products incorporate many viewpoints to meet customer

requirements. Tech firms are actively recruiting to increase

gender and ethnic diversity across their employees, and

can sometimes offer flexible hours and remote working

opportunities.

SHIFT starts July 2020 and limited partial

scholarships are also available.

To find out more about what tech career

opportunities exist and adding tech to your

current skills, join us online at one of our

Virtual Tech Careers Sessions. Register through

signal.ac.nz/shift or call us on 0800 99 00 24.

growth in Canterbury's

10.3% * tech revenue in 2019.

*2019 Technology Investment Network Report

"I went from zero programming skills to

full-time software engineer in less than

one year; SHIFT helped me achieve

what I thought was just a dream!"

- Teo Bucutea, 2019 SHIFT Graduate

GRaduate programme

Join us online for a

Virtual Tech

Careers Session

Tues 19 May: 4pm-4.45pm

Thur 21 May: 12pm-12.45pm

Book at signal.ac.nz/shift

SIGNAL ICT Grad School

EPIC Innovation Centre

76/106 Manchester Street

Christchurch

0800 990 024

info@signal.ac.nz

signal.ac.nz/shift

The

future

is tech.

Be part

of it.

ICT GRADUATE SCHOOL
---
18 Wednesday May 20 2020

Latest Canterbury news at starnews.co.nz

HOME PROFESSIONALS

SELWYN TIMES

Businesses continue to

cater for their

communities

Supporting local has never been more important than now as businesses

move into level two and re-open their doors and services to the public.

The Selwyn district offers a diverse range of businesses and industry;

support local and help our communities thrive…

Gumleaf

Extend the life of your spouting

Gumleaf Gutter Guard is an effective way

of preventing leaf litter from gathering in

your spouting and can also protect tank

water from being contaminated, ensuring

the safety and quality of the water supply.

Snow can also damage spouting and

the Gutter Guard protects the spouting

by spreading the load. Quotes can be

provided within 24 hours and installation

on an average sized house takes a few

days. To discuss your requirements with

Gumleaf Gutter Guard, phone 0800 486

532 or email rohan@gumleaf.co.nz.

Canterbury

Timber & Hardware

Timber Wood Fuel Pellets

20kg Bag for $12.50

Call in today for your free quote!

NEW ENTRANCE: 167 Manion Road, Rolleston

Jason Pester P 03 347 7465 F 03 347 7032 E jason@cthl.co.nz

Mon-Fri: 7am-5pm Saturday: 8am-12pm

Canterbury

C T H Timber & Hardware

GARAGE DOORS

We are here

The Genuine

Custom Made Garage

Door Professionals

0800 661 366

info@custommade.co.nz

Auckland • Christchurch • Wanaka

www.custommade.co.nz

Canterbury Timber and Hardware

Timber to your door

Canterbury Timber and Hardware

provides landscaping and rural timber

including NZ Pine, Oregon and

Macrocarpa, along with imported

sustainable timber and composite timber

products. For the rural farmer or lifestyle

block owner, they supply fencing materials

including posts, wire and netting, gates

and hardware and electric fencing

products with daily deliveries. Canterbury

Timber and Hardware also offers

personalised pick and pack service and

can quote your project, or feel free to call

them on 03 347 7465 for advice. Their

site at 167 Manions Road, Weedons, is

wheelchair and disability friendly.

Custommade

Increase your home's value

Custom Made Garage Doors designs

and builds high quality garage doors and

is New Zealand's leading architectural

garage door company. All their innovative

door designs and their workmanship are

fully guaranteed along with their -the-shelf

sectionals and tilt and roller doors. If your

garage door needs repairs, spare parts or

servicing, Custom Made Garage Doors

can help. Their experienced team is happy

to discuss a garage door solution that

will best satisfy your budget, individual

requirements and home aesthetics.

Call Custom Made Garage Doors Ltd

today on 0800 661366 or visit www.

custommade.co.nz.

STOP BIRDS

hail, leaves, snow & vermin from

blocking & damaging your spouting

Quality materials: BHP Colorbond steel mesh with unique patented louvre

will even keep out pine needles. Will not rust or sag with age or load.

10 year warranty, range of colours.

Proven in Australia & New Zealand over the last 15 years.

FOR SAFE, PURE DRINKING WATER

FROM YOUR ROOF.

NOW AVAILABLE: STAINLESS STEEL MICO MESH

Call Rohan anytime Mon-Sat for a

no-obligation assessment & quote

03 982 8850 0800 486532 www.gumleaf.co.nz
---
SELWYN TIMES Latest Canterbury news at starnews.co.nz

Wednesday May 20 2020 19

HOME PROFESSIONALS

Businesses continue to

cater for their communities

Juice Electrical

Look local for electrical needs

Locally owned and operated and based in Rolleston,

Juice Electrical has been servicing the Selwyn district for

over 14 years with Greg Horton and his team of qualified

master electricians dedicated to the local community –

and with no service vehicle charge for Rolleston. Juice

Electrical can help with all your electrical needs providing

a professional and timely service whether it is residential,

commercial or industrial, indoors or outdoors. Look out

for the brightly coloured Juice Electrical vans as they

work hard to look after the Selwyn district's electrical

needs. Call Greg and the team at 03 379 6644.

Heatstore

Putting the heat on for winter

Heatstore in Blenheim Road stocks the "best of the

best" log and pellet fire options available in New Zealand.

Heatstore supplies and installs a huge range of heating

options including log and pellet burning fires exclusive

to the company. They are also an accredited provider

to both the ECan Healthier Homes loan and the EECA

Warmer Kiwi Homes grant schemes. Heatstore has an

excellent selection of fires on display at 472 Blenheim

Road and is open 9am to 5pm Monday to Friday and

10am to 1pm on Saturdays. To find out more visit

heatstore.co.nz.

Generation Homes

Building on time and on budget

Building on time and on budget is guaranteed when

you choose Generation Homes. The team is treats

everyone with respect including suppliers, contractors

and of course, the clients with ongoing communication

including frequent meetings, updates and walkthroughs.

Once the site is excavated, every home is built in 18

weeks. All up it is a six to seven month process that

includes drawing the plans and going through the council

consenting process. The Generation Homes show home,

at 2 Reuben Avenue in Branthwaite, is open from 12pm

until 4pm, Wednesday to Sunday.

Our Services

"Exclusive"

Blaze King ULEB Wood Fires

• House Re-Wiring

• Garden Lighting

• New Builds

• Mitsubishi Heat Pumps

• Office Re-Fits

• Internet & Telephone

• TV Aerials

• Spa Pool Installation

• Industrial Installation

• Electrical Safety

Certificates

03 379 6644

Mobile 021 22 77 275

Web juiceelectrical.co.nz

Email greg@aelectrical.co.nz

PO Box 7778,

Sydenham,

Christchurch 8240

Pellet and Wood Fire Specialists

472 Blenheim Road

Sockburn

Phone: 03 343 1651

Open 8:30am - 5pm

Sat 10am - 1pm

www.heatstore.co.nz

opeN By

AppoINtMeNtS

IN ALL tHree

LoCAtIoNS

Our friendly team

are here to help

SHow HoMeS

Halswell Commons

19 Holmes Hanover Lane

(Off Halswell Road)

Copper Ridge

1 Albert Wills Ave, Halswell

(Off Halswell Junction Road)

Branthwaite

2 Reuben Avenue, Rolleston

(Off Lincoln Rolleston Road)

www.generation.co.nz/christchurch

MAKING BUILDING easy

Generation Homes Christchurch
---
20 Wednesday May 20 2020

Latest Canterbury news at starnews.co.nz

HOME PROFESSIONALS

SELWYN TIMES

Businesses continue to

cater for their communities

Sharon Crofts

Beautiful gardens create appeal

Sharon from Sharon Crofts Landscape

Design can add the professional touch

to your garden or outdoor area and

create the finishing touches to the curb

appeal of your property. Sharon covers all

aspects of landscape design from initial

site consultation to design concepts and

planting proposals so homeowners can

implement themselves or you can use

her team of experienced and professional

contractors. Whatever the size of your

landscape project, give Sharon a call at

Sharon Crofts Landscape Design on 03

329 6229.

Lagoon Pools

Perfect time for that new pool

Winter is the ideal time to get your new

pool installed with Lagoon Pools and they

can also include lighting and fountains to

make the best of your new asset. Lagoon

Pools installs pools in sizes to suit both

large and small sections, ranging from

three metres to 12 metres in length with

a variety of widths, colours and shapes.

Lagoon Pools is the Leisure Pools dealer

for the South Island. Call Lagoon Pools

at 0800 927 282 or 03 349 2160 or visit

their website www.lagoonpools.co.nz for

more details.

Pumps and Filters

Looking after your pump and filter

needs

Pumps & Filters can look after all

pump and filter needs including design,

manufacture, installation, maintenance

and repairs. They supply and install tanks

in a range of colours and sized from 425

to 30,000 litres and tank pads to meet

manufacturer specifications along with

new pumps fitted to the tanks. The Pumps

and Filters team also test water and install

water filtration and purification systems.

Their showroom is at 551 Halswell

Junction Road, phone them on 03 423

1925 or 0800 478 633, email chch@

pumps-filters.co.nz or visit www.pumpsfilters.co.nz.

Outdoor Space

Everything for your outdoors

Winter is a great time for landscaping

with minimum interruption. The

Outdoor Space can provide paving,

irrigation, lawns including artificial grass,

planting, fencing, water features, pergolas,

outdoor fires, raised planters, decks,

stone walls and pillars, brick and block

laying, vegetable gardens - and lighting.

Their range of stones, bark, timber and

pavers can be viewed at their office at 211

Wards Road in Rolleston. Or, with staff in

Rolleston, Christchurch and Ashburton,

they can bring the samples directly to

your door. For more information or to

view some of their projects, visit www.

theoutdoorspace.co.nz.

Sharon CroftS

LandSCape d e S ign

• Consultations • Design Concepts • Planting Plans

For the Outdoor Space

of your Dreams...

Paving, Irrigation, Lawns, Planting,

Fences, Pergolas, Water-features,

Outdoor fires, Raised Vege beds,

Decks, Artificial grass & more...

P. 329 6229

M. 0274 311 558

s-crofts@xtra.co.nz

www.sharoncrofts.co.nz

Call Aaron & the team today!

Phone: 03 347 4422 or 021 542 402

Email: Aaron@theoutdoorspace.co.nz

www.theoutdoorspace.co.nz

Lagoon

Pools

03 349 2160

0800 92 72 82

Canterbury Ltd

• Quotations for water system designs and water testing

• Pipes, valves, fittings sales

• Filtration supply and installation

• Pump service, repairs and maintenance

• Bore flush and development

• Bore pump sales, servicing and maintenance

• We also sell, service and repair most pump

brands including sewage pumps

551 Halswell Junction Road

0800 GRUNDFOS / 0800 478 633

For sales and service or

after hours service call

Jason 021 649 944

or Mike 021 560 044

www.pumps-filters.co.nz
---
SELWYN TIMES Latest Canterbury news at starnews.co.nz

Wednesday May 20 2020 21

HOME PROFESSIONALS

Businesses continue to

cater for their communities

Freeman Irrigation

Home irrigation technology saves

time and money

Upgrade your watering system to some

of the latest cost effective and easy to

use automated options with Freeman

Irrigation. With automated WiFi

sprinklers can be connected to weather

station forecasts so if rain is expected the

amount of water is reduced. Automatic

systems save water by irrigation at

the correct time of day, minimising

evaporation and being able to operate

your system remotely also means you

can adjust the flow at any time to suit the

conditions. Freeman Irrigation provides

installation and maintenance. Email

phil@freemanirrigation.co.nz or call

0800 22 33 92.

Canterbury Lawns

Hydroseeding specialists

Canterbury Lawns specialises in

hydroseeding, creating that perfect lawn

within two to six weeks for your home

or commercial property. They also install

roll-out instant lawns using top quality

and local sourced products. Landscaping

is another part of the Canterbury Lawns

service, whether you need garden

preparation, site clearing, retaining walls,

paving or paths. They not only work

close to home on residential properties

but also specialise in commercial and

larger-scale work. For more information

phone Zac at Canterbury Lawns on 027

456 7777 or visit their website at www.

canterburylawns.co.nz.

Southern Woods

Go to place for local plants

The Southern Woods Garden Centre

is the go to place for a huge selection of

every kind of flowering plant, bush or

tree waiting to find a home at your place.

Most of them are grown on site and

looked after by the team of 40 dedicated

staff. Southern Woods provides on-site

consultations and design landscape

plans or take in your plans and they can

help with planting inspiration. There is

plenty of parking at Southern Woods

on the corner of Main South Road and

Robinsons Road. Call them on 0800 800

352 or visit www.southernwoods.co.nz.

Town & Country Gates

Gate or fencing solutions for your

home

When it comes to custom-made gates

and fencing, Town & Country Gates

has the experience to help you choose

the perfect gate or fencing solution for

your home. A Canterbury-based familyoperated

business, the team at Town &

Country Gates pride themselves with

their workmanship producing high

quality customised gates and fencing to

ensure you get a product built to last. The

company offers a free measure and quote

and a full installation service. To check

out their products and services visit

www.townandcountry.co.nz

HydRoSEEdINg, INStaNt

LawNS aNd LaNdSCaPINg

• Locally owned &

operated

• Residential &

commercial lawns

• Hydroseeding

• Instant roll out lawn

• Full lawn preparations

• Site clearing

• Erosion and dust

control

• Irrigation

• Posthole boring

• Landscaping

• No job too small

Call us today to discuss all your lawn

and landscaping requirements

Phone 347 4000 or 027 456 7777

Email zac@canterburylawns.co.nz

www.canterburylawns.co.nz

Looking for a

few plants

post-lockdown?

See Southern Woods for all

your tree & shrub needs.

We've got plenty of options for customers looking

to plant post-lockdown. Email Southern Woods for

great advice, contact free garden consultations and

online ordering anytime.

• Driveway gates • Pedestrian gates

• Sliding gates • Swing gates

• Louvered gates • T & G gates

• Aluminium frames with timber infill

No obligation

free measure

& quote

• Fencing aluminium or timber

• Full gate automation systems

• Keypads • Video intercom

- New Zealand Natives - Specimen Trees

Landscaping Plants - Ornamentals - Premium Tools

- Expert Advice - Delivery Nationwide

Stay safe, be kind, sort your garden.

1002 Robinsons Rd, between Templeton & Rolleston 0800 800 352 southernwoods.nz

Ph: 0508 4 gates (0508 442 837) 03 325 4397

E: info@townandcountrygates.co.nz

Town and Country Gates

www.townandcountrygates.nz
---
22 Wednesday May 20 2020

Latest Canterbury news at starnews.co.nz

Hyundai Ioniq ramps

up the EV market

WATCH OUT Toyota

Prius. The car that has

dominated the hybrid

market since its launch has

a serious competitor.

Enter Hyundai's Ioniq – a

trendy hatchback that is

making big inroads into the

electric vehicle market.

Ioniq has been with us for

two or three years now and

is available as an electriconly

vehicle, a traditional

hybrid or, as in the test car's

case, a petrol/electric plugin

hybrid.

Put simply, the latter has

the best of all worlds, you

can treat it as a standard

petrol-powered car and

never bother charging it, or

you can treat it as an electric

vehicle and charge the batteries

using a 230v supply.

My old home isn't compatible

to the drain charging

places on the circuitry, so I'll

never be an electric vehicle

owner, however, I fully support

those who see EVs as

the way of the future.

The Ioniq hybrid has a

four-cylinder engine of

1580cc. It has lowish power

outputs but because it has

the benefit of electric energy

in tandem there is still

sufficient power on hand.

Hyundai claim outputs of

77kW and 147Nm, with another

44.5kW and 170Nm

available through the electric

motor. Drive is channelled

through a six-speed

dual clutch transmission to

the front wheels.

Driving the Ioniq doesn't

need any special technique.

Sure, you do have to have

a different mindset when it

comes to filling up, if you

do use the charging system

frequently you'll want to

develop a system whereas it

just becomes second nature.

Of course, if the batteries

do run low the Ioniq, in this

form, will run happily all of

the time on fossil fuel.

The benefit of all of this

is low fuel use. The Ioniq

hybrid is rated by Hyundai

with a 1.1-litre per 100km

combined cycle average.

That is a bold claim that

can only be achieved under

best possible operating

conditions, however, the

fuel usage readout was

constantly listing around

5l/100km which I thought

was acceptable given many

of my journeys were at city

speeds with a lot of stopstart

driving.

I also took the hybrid on

much the same route as I

would normally use during

an evaluation. A fierce

nor'wester was blowing as

I tackled the roads west,

presenting the Ioniq with a

battle to start with, so that

was a fuel-saving challenge

in the first instance.

• Price

Hyundai Ioniq PHEV,

$53,990

• Dimensions

Length, 4470mm;

width, 1820mm;

height, 1460mm

• Configuration

Four-cylinder, frontwheel-drive,

1580cc,

77kW, 147Nm, sixspeed

dual clutch

automatic.

• Performance

0-100km/h, 10sec

• Fuel usage

1.1l/100km

HYUNDAI IONIQ

PHEV: Part of an

extensive electric

range.

However, the Ioniq

served to prove it travels

much like any 'normal' car,

it cruises happily at the legal

limit and it was also quite

responsive when it came

time to overtake, that manoeuvre

can be completed

in about 6.5sec with a solid

burst of energy through

the mid-range. The Ioniq

PHEV will also launch to

100km/h in around 10sec.

On the subject of figures,

Hyundai claims a 52km

journey on electric power

only. Electric only drive can

be initiated through a pushbutton,

which would be ideal

for the weekday commute.

When the long straights

run out and the Ioniq is

pointed at some tricky corners,

it handles a lot better

than you might expect. Sure,

it's no sports car, and you

could be forgiven for thinking

that with a lot of battery

power it is a heavy vehicle.

At 1500kg, that's far from

the case, and what weight

there is in the batteries sits

low in the floorpan, so there

is a low centre of gravity.

That's always conducive to

respectable handling, and

the Ioniq steers with strong

precision and perfect body

balance.

The Ioniq PHEV lands here

in two specifications, base

model and Elite; the test car

was the entry-level model

which has cloth trim, and that

would be my preference.

If you think that you

are going to be charged a

premium price for the Ioniq

hybrid, then think again. At

$53,990 it fares well against

its competitors, including

those from its partner Kia.

For interest's sake an extra

$6k will buy you into Elite

specification, while a hybrid

without plug-in facility lists

at $46,990. As a guide to

where it sits in the Hyundai

line-up, an Ioniq EV Elite is

priced at $71,990.

The Ioniq is there for

those who don't want a

sport utility vehicle and

who want to distance themselves

for whatever reason

from Prius. The concept of

the later and Ioniq is similar,

they are both liftbacks,

although the Ioniq is a little

more compact at 4.5m.

Nevertheless, it makes good

use of its proportions and

is a comfortable, easy car to

drive and to be in.

Quite clearly, Hyundai

has targeted the hybrid

market as a growth area, the

Ioniq in all forms represents

an environmentallyfriendly

option as to the

way we travel.

Personally, if I had to

go that way in a new car

purchase, the standard

hybrid would probably be

the choice. However, full

marks to Hyundai, having

such an extensive range will

only hold the company in

good stead.

Animals Livestock/

Supplies

WANTED Meadow Hay.

Med Sq. Phone 0274 861

707

Funeral Directors

Non-Service Cremation $1,745

Commital service with cremation $3,950

Chapel service with cremation $6,500

Family burial service from $3,400

Just Funerals, a family owned and

operated company with qualified,

registered and experienced staff.

Phone 0800 804 663 - 24 Hour Availability

Email: info@justfunerals.co.nz

christchurch.justfunerals.co.nz

To Let

RENT ME!

Ideal as an extra

bedroom or office.

no bond required

Select Services

Classifieds

No job to big or small.

Supply carpet, underlay and garage carpet.

Experienced in installing second hand carpet.

Carpet samples.

Free measure and quote!

Call David 0272319931

www.davidfarmercarpetlayer.co.nz

SHELTERBELT TRIMMING

Boundary

Trimming

Call Tony Dempsey

Phone 03 325 3256

Mobile 0274 323 943

Animals Livestock/

Supplies

WANTED Meadow Hay.

Med Sq. Phone 0274 861

707

Fully insulated and double glazed for warmth.

Three convenient sizes from $70 a week:

Standard 3.6m x 2.4m

Large 4.2m x 2.4m | Xtra-large 4.8m x 2.4m

Visit our website

www.justcabins.co.nz

for display cabin locations

www.justcabins.co.nz

Heating

Log Fires

Pellet Fires

Heat Pumps

Sales

Service

Installations

Free Quotes

03 343 1651

472 Blenheim Rd

www.heatstore.co.nz

Select Services

Water Blasting

Steam Cleaning

Industrial

Commercial

Residential

Silos Barns Farm

Machinery etc

Hi level Dust removal

Free Quotes

20 years experience

Contact Gerry

021 740 428

Need a hand?

✤ Lawns & Edges

✤ Landscaping

✤ Gardening

✤ Hedge Trimming

✤ Handyman Jobs

✤ Casual or One Off

Phone Mike Lineton

022 341 8848

Your local

Selwyn District

GARDENER/

HANDYMAN

ADD SOME

COLOUR

TO YOUR ADVERT!

SELWYN TIMES

Personals

Are you a friendly

and well-presented

woman aged

40-70yrs?

You can earn discreet

income without the

organisational hassle,

and afford the things

you desire.

On PA, outings start

as a commercial

proposition - men pay

women a fee for their

time, which could

include a variety of

outings or dinner dates.

There is no emotional

expectation using the

commercial approach

and every person who

joins is preapproved.

Go to the website for

more information

privatearrangements.co.nz

Or call Pam 027 662 1181

Yes guys,

we want you too!

Select Services

Specialising in:

Driveways

Outdoor Areas

Patios, Pathways,

Residential

& Commercial Floors

Professional Advice

Free Quotes

Frank McWatt

03 423 9344

027 274 0342

allwaysconcrete@gmail.com

www.allwaysconcrete.nz

Select Services

CHECK Your shoes and

backpacks for stitching,

patching and zip repairs.

For Prompt attention, drop

them into Cobbler Glenn's

Agent: Magnitude Sports

(next to New World),

Rolleston

CHECK Your shoes and

backpacks for stitching,

patching and zip repairs.

For Prompt attention, drop

them into Cobbler Glenn's

Agent: Magnitude Sports

(next to New World),

Rolleston

Trades & Services
---
SELWYN TIMES Latest Canterbury news at starnews.co.nz

Wednesday May 20 2020 23

Classifieds Contact us today Phone our local team 03 379 1100

Trades & Services

GLAZING

TWISTY GLASS &

GLAZING LTD

• Mirrors • Pet Door Specialists

• Splashbacks • All Broken Windows

THE CAT DOOR MAN

Phone Cushla or Darren Twist

027 352 6225

• Driveways

• Trenching

• Section Clearing

• Demolition

• Tree/Stump Removal

• Truck/Digger Hire

• Post Driving

• Section/Lifestyle Block Development

Trades & Services

• Irrigation • Drainage • Driveways

• Auger Hole Drilling

• Land Clearing & Development

• Culvert Installation • Construction Site Works

• Tree & Hedge Removal • Concrete Breaker

Phone Mike: 027 272 8058 OR 03 324 4323 A/H

g.m.contracting@xtra.co.nz

www.gmcontracting.co.nz

SCRAP METAL

Dominion Trading Co Ltd

Situations Vacant

C O N T R A C T I N G

Phone: 329 7165 or 027 616 1761

Excavations

• Driveways

• Car Parks

• Site Cleaning

• Demolition

• Farm Tracks

• Drain Cleaning

• Stump & Hedge

Removal

• Ashpalt Concrete

Driveways

Over 22 Years Experience

Quality

Workmanship

• Driveways

• Kerb &

Channel

• Garden Edging

Freephone: 0800 081 400

swainskiwikerb@gmail.com

Wide range

oF TruckS

SWAINS

KIWI KERB

(Since 2005)

• Tennis Courts &

Swimming Pools

• Chip Seal Driveways

• Diggers – 2 Ton

up to 20 Ton

• Excavators

• Bobcat & Drilling

• For Posthole &

Fence hole

For a Free Quote

on your next project

Phone Steve on 021 338 247

or 325 7922

Free

QuoTe

landscaping

Landscape

Construction and

Garden Maintenance

You can have your gardens, trees,

shrubs, plants and lawns maintained to look their best

all year round, for a great price.

Residential & Commercial Landscaping

• Maintenance • Pruning • Reconstruction & Rejuvenation

• Rental Property and Commercial Maintenance

• Pre-Sale Tidy-Ups

New Home Landscaping

Lawns • Gardens • Decks • Paving • Water Features

• Quality • Value for money • Experienced • Punctual

• Professional • Flexible • Knowledgeable • Reliable

Call Ross Legg - 027 222 0388

Email ross@revivelandscaping.co.nz

www.revivelandscaping.co.nz

• Scrap metal buyers

• Canterbury owned & operated

• Top prices paid $$$

• Open Saturday morning

Open Mon-Fri 8am – 4.30pm Sat. 8.30am-12.30pm

www.happyscrappy.co.nz

03 343 9993 333 Blenheim Rd

Trades & Services

Lawn mowing

Hedge trimming

Gardening

Weed eating

Spraying

and much more

Call Todd

0212059543

toddmc.greenacres@gmail.com

FOR ALL YOUR

★Garden Clean-ups

★Pruning

★Lawn Mowing

★Garden Maintenance

Call us today for a FREE quote

PH 0800 4 546 546

(0800 4 JIMJIM)

Selwyn

Accounting

Ltd

For all your

Accounting &

Tax Needs

03 741 1783

027 332 8086

brian@

selwynaccounting.co.nz

Trades & Services

BATHROOM TILER

wet area waterproofing,

underfloor heating, soap

boxes, old to new, for best

results, call Devon on 021

375-888 or 03 329 5511

BUILDER

QUALIFIED

Decks, T & G Flooring,

Villa Restoring, New

Homes, Weatherboards.

Free Quotes. Bennet &

Sons Ltd Sam 027 496-

9362 or Tony 027 224-

0374

CARPET

LAYING

Exp. Repairs, uplifting,

relaying, restretching.

Phone John on 0800

003181, 027 240 7416

jflattery@xtra.co.nz

CARPENTER

HANDYMAN

Small Job Specialists,

Carpentry, Repairs,

Decking & Maintenance,

40 years experience, no

job too small, Ph Warren

03 322-1103 or 027 697-

8541

CONCRETE CUTTING

Affordable Concrete

Cutting with Quality, and

removal work. Free quote.

No job to small. Phone 027

442-2219, Fax 359-6052

a/h 359- 4605

Bellamy's

Furniture

Furniture made to

order and restoration

by tradesman with

35yrs experience.

PH Stephen

021 073 2624

Trades & Services

LANDSCAPING

Paving, Lawns, Irrigation,

Decking, Fencing.

Kanga & small digger

services. Check out Squire

Landscaping on facebook.

FREE QUOTES. Ph

Arthur 347-8796, 027

220-7014 Edwin 027 220-

7154

Trades & Services

POWER CABLE

Our Cable or yours,

phone-fibre-water installs,

COC supplied, trenching

and cable locatingservice,

owner operator

FREE quote ph

Gerard 0272379742

RJB PLUMBING

Renovations, New Houses,

Hot Water Cylinders,

Kitchens Bathroom

Upgrades, Laundries,

General Maintenance ,

Water Filters. Phone Mark

0278690026

STUMP GRINDING

Best price guarantee Tony

0275 588 895

TILING

Flooring - Splashbacks -

Wall incl tile removal, reg

master tiler, ph Dave 027

334 4125

Public Notices

MILITARY EXERCISE

Blank Firing

22 May 2020

The general public is to be advised that a New

Zealand Army Exercise will be conducted in the

Selwyn riverbed area on the 22 May 2020.

The exercise will involve up to 20 personnel of

3rd Workshop Company from Burnham Military

Camp.

Training will involve soldiers carrying rifles and

manoeuvring around the Selwyn riverbed in

vehicles and foot.

Blank rounds and pyrotechnics will be used

from 9am until 3pm on Friday 22 May. The

exercise will also involve the movement of

troops and vehicles by day.

The New Zealand Army takes fire risk seriously

and will ensure fire mitigation is present.

For more information please contact:

Paul Fisher on 03 363 0334

Operations Co-ordinator

Our small privately owned trade-based

building supplies store is looking for an

operations co-ordinator.

The successful candidate will be someone

who has the drive and passion to deliver

great customer service whilst getting the job

done.

This role will include co-ordinating stock

control, organising orders for delivery and

collection, co-ordinating our yard and

store staff to achieve set targets, all whilst

jumping in to lend a hand in a variety of

other roles as needed.

Any prior experience in a role similar to this

would be an advantage, as would a current

forklift licence and some building industry

knowledge.

Please submit applications, including a

current CV, by Friday 5th June to

sally@buildlinkselwyn.co.nz

Vehicles Wanted

CAR REMOVALS

$$CASH PAID$$

CARS, VANS, UTES

& 4X4 WANTED

NZ OWNED

AND

OPERATED

FOR

24 YEARS

We use world class vehicle

depollution systems

0800 8200 600

www.pickapart.co.nz
---
24 Wednesday May 20 2020

Latest Canterbury news at starnews.co.nz

SELWYN TIMES

FURNITURE

FINANCE AVAILABLE IN-STORE
---
THe BeST PRoPeRTieS AcRoSS

THe SeLWYn DiSTRicT

INSIDE

PUBLiSHeD eVeRY WeDneSDAY

Week commencing WeDneSDAY, 20TH mAY ,2020

Falcon Good Commercial

Development Opportunity

Once in a blue moon an opportunity presents

itself to own the land, build and then be your

own Landlord! This block of 1,752m2* is made

up of three freehold titles available for sale in

one of the newly established subdivisions in

Rolleston - "Falcon's Landing". Situated minutes

from Rolleston's town centre, Rolleston College,

opposite a playground and right next door a

pre-school, this is a perfect location for your

business and an opportunity not to be missed.

46 Branthwaite Drive, Rolleston

Deadline Sale:

4pm, Wednesday 27th May

(unless sold prior)

Brendan 'Big Red' Shefford

Contact:

Mobile: 027 224 4733

rwtownandlifestyle.co.nz

Listing ID: TLR20785

Town & Lifestyle Real Estate Ltd

Licensed (REAA 2008) - Rolleston

Get the power

of three offices

working for you

Ray White Rolleston,

Lincoln & West Melton

Sales - Property Management - Loan Market

Residential - Lifestyle - Commercial

Lincoln - 03 325 7299

Rolleston - 03 347 9988

West Melton - 03 347 9933

Town & Lifestyle Real Estate Ltd

Licensed (REAA 2008)
---
2
---
3
---
4

Due to continued success as Selwyn's leading

Real Estate team, we need more homes to

satisfy these genuine waiting buyers.

Please, if you can help, call us today!

West Melton/Weedons

Approx 4 hectare lifestyle property

Large modern family home

Price $1M - 1.5M

Contact

Frank Dowle 027 528 0480

frank.dowle@raywhite.com

Lincoln

3 bedrooms

1 - 2 living rooms

2 bathrooms

Price mid $500,000's - $600,000

Contact

Trina Rea 027 424 6901

trina.rea@raywhite.com

Lincoln

4 bedrooms, 2 bathrooms

2 living rooms

Minimum of 200m2 floor area

Price early $600,000's

Contact

Trina Rea 027 424 6901

trina.rea@raywhite.com

Rolleston

3 bedrooms

New or near new home

Section 450m2 - 650m2

Price up to $550,000

Contact

Mandie Ashwell 027 552 4478

mandie.ashwell@raywhite.com

Rolleston

2 bedroom townhouse

Small easy care section

Price up to $400,000

Contact

Leisa Webster 027 722 5537

leisa.webster@raywhite.com

Rolleston

4 bedroom well maintained home

Good living space

Section 650m2 plus

Price $580,000 - $610,000

Contact

Leisa Webster 027 722 5537

leisa.webster@raywhite.com

Rolleston

4 bedrooms, 3 car garaging

Space to park a caravan

Section up to 900m2

Price $590,000 - $640,000

Contact

Leisa Webster 027 722 5537

leisa.webster@raywhite.com

Rolleston

4 bedrooms, Butler's pantry

3 car garaging

Section up to 1000m2

Price $600,000 - $700,000

Contact

Leisa Webster 027 722 5537

leisa.webster@raywhite.com

Rolleston

3-4 bedrooms

Extra garaging or large shed

Section 900m2 - 3000m2

Price $650,000 - $750,000

Contact

Mandie Ashwell 027 552 4478

mandie.ashwell@raywhite.com

Rolleston

5-6 bedrooms

Triple or quad garage

Section 800m2 plus

Price up to $720,000

Contact

Mandie Ashwell 027 552 4478

mandie.ashwell@raywhite.com

Prebbletonn

4+ bedrooms

Section 4000m2 - 2.5 acres

Price $1.4M - $2.2M

Contact

'Big Red' Shefford 027 224 4733

brendan.shefford@raywhite.com

Rolleston

3-4 bedroom well maintained home

Walking distance to shops

Section 700m2 easy care

Price $550,000 - $620,000

Contact

Leisa Webster 027 722 5537

leisa.webster@raywhite.com

West Melton

4+ bedrooms

3 car garaging

Section 1200m2 plus

Price $780,000 - $850,000

Contact

Melanie Elliott 027 635 2643

melanie.elliott@raywhite.com

Kirwee/Darfield

2 bedrooms

Price $300,000 - $400,000

Contact

'Big Red' Shefford 027 224 4733

brendan.shefford@raywhite.com

Rolleston

3 bedrooms

1-2 bathrooms

Price around $415,000

Contact

'Big Red' Shefford 027 224 4733

brendan.shefford@raywhite.com

Rolleston

3 bedrooms

1-2 bathrooms

Price around $440,000

Contact

'Big Red' Shefford 027 224 4733

brendan.shefford@raywhite.com

Lincoln

3 bedrooms, newish home

750m2 section plus

Any price range

Contact

Trina Rea 027 424 6901

trina.rea@raywhite.com

Rolleston

3-4 bedrooms

Must have 3 car garaging

Section up to 750m2

Price low $600,000's

Contact

Nick Booth 027 306 3186

nick.booth@raywhite.com

Rolleston

3-4 bedrooms

1-2 bathrooms

Double garage

Price up to $450,000

Contact

Amanda Cherry 027 340 6955

amanda.cherry@raywhite.com

Rolleston

3+ bedrooms

2 bathrooms

Nice living

Price up to $500,000

Contact

Leisa Webster 027 722 5537

leisa.webster@raywhite.com

Are you considering selling? Do you have a property that matches one of these descriptions?

Contact us now for a no obligation appraisal

If you want to get SOLD, call us TODAY

Ray White Rolleston 347 9988 | Ray White West Melton 347 9933 | Ray White Lincoln 325 7299

rwtownandlifestyle.co.nz

Ray White Town & Lifestyle Real Estate Limited Licensed (REAA 2008)
---
5

NEW LISTING

Hororata 2143 Bealey Road

"Arbourlea" - 72.33 hectares

Location, productivity and a wonderful environment is what sets "Arbourlea" apart from the rest. Situated on the

outskirts of Hororata Village, this wonderful location provides fantastic access to all the things outdoor enthusiasts

dream about - within a short drive to the rivers, lakes and mountains, yet only 40 minutes to Christchurch.

Beautifully established gardens with mature specimen trees surround the extremely attractive home with a wraparound

veranda. With renovations and refurbishments throughout, this fantastic home has large living and

entertaining areas. A vast range of farm buildings, irrigated via Central Plains Irrigation, this very-well-setup, simple

operation is designed for both ease of management and the ability to extract the best out of cashflow. With

excellent soil types and effective use of water within the CPW catchment.

bayleys.co.nz/5512019

4 2 2 1

Deadline Sale (unless sold prior)

12pm, Thu 28 May 2020

3 Deans Ave, Chch

View by appointment

Ben Turner 027 530 1400

ben.turner@bayleys.co.nz

Craig Blackburn 027 489 7225

WHALAN AND PARTNERS LTD, BAYLEYS, LICENSED UNDER THE REA ACT 2008

bayleys.co.nz
---
6

New Zealanders

Zealanders • • by

Voted

Voted

2018-2020 •

★

2018-2020

2018-2020

★

Real Estate Sales

Four Seasons Realty 2017 Ltd | Licensed Agent REAA 2008

Contributor to realestate.co.nz

Your home for local property

harcourts.co.nz
---
7

New Zealanders

Zealanders • • by

Voted

Voted

2018-2020 •

★

2018-2020

2018-2020

★

Real Estate Sales

Selwyn's best value

lifestyle sections!

Sections from 640m 2- 6,000m 2

Priced from only $205,000

Site office open Saturdays & Sundays 12.00 - 2.00pm

1472 Springs Road, Lincoln | South of Lincoln University

For more information:

Natalie McLean

027 943 6413 natalie.mclean@harcourts.co.nz

verdecopark.co.nz

Four Seasons Realty 2017 Ltd | Licensed Agent REAA 2008

Contributor to realestate.co.nz

Your home for local property

harcourts.co.nz
---
8

Zealanders

Zealanders

New • • by

Voted

Voted

2018-2020 •

★

2018-2020

2018-2020

★

Real Estate Sales

Four Seasons Realty 2017 Ltd | Licensed Agent REAA 2008

Contributor to realestate.co.nz

Your home for local property

harcourts.co.nz
---
9

New Zealanders

Zealanders • • by

Voted

Voted

2018-2020 •

★

2018-2020

2018-2020

★

Real Estate Sales

Four Seasons Realty 2017 Ltd | Licensed Agent REAA 2008

Contributor to realestate.co.nz

Your home for local property

harcourts.co.nz
---
10

New Zealanders

Zealanders • • by

Voted

Voted

2018-2020 •

★

2018-2020

2018-2020

★

Real Estate Sales

Four Seasons Realty 2017 Ltd | Licensed Agent REAA 2008

Contributor to realestate.co.nz

Your home for local property

harcourts.co.nz
---
11

Congratulations

to our top 20 sales consultants

Top

Mitch & Mana

02

Sue & Gemma Roberts

Our Top 20 sales consultants exemplify

everything Harcourts Four Seasons

believes in - experience, local knowledge,

professionalism, focus and commitment.

Their efforts in providing for their clients

have brought success after success.

Thank you to all our wonderful clients.

Four Seasons Realty

AWARDS

2019/20

03

Richard & Sue Woerlee

04

Harley Manion

05

Jackie Frame

06

Katie Harrison

07

Jan Green

08

Stevie Golding

09

Lisa Tippen

10

Caine Hopcroft

11

Victoria Thompson

12

Lyn & Nicholas Martin

13

Fergus Spain

14

Glen Young

15

Steve Alfeld

16

Jayne Martin

17

Christine Tallot

18

Gary McNicholl

19

Linda Veitch

20

Nathan Gilbert

Harcourts National & Canterbury End Of Year Awards 2019/20

Mitch & Mana

Harcourts Canterbury 2019/20

3 rd

2 nd

Richard & Sue Woerlee

Sue & Gemma Roberts

3 rd

Rural & Lifestyle

Sales Consultants

Jackie Frame

Harcourts Canterbury 2019/20 Harcourts Canterbury 2019/20 Harcourts Canterbury 2019/20

Client Experience

Individual Award

The Palms

3 rd

5 th Harcourts National 2019/20

2 nd

Harcourts National 2019/20

Sales Consultants

10 th

Total Units

Rural & Lifestyle

Sales Consultants

Top

Rural & Lifestyle

Sales Consultants

13 th Rural & Lifestyle

12 th

Harcourts Canterbury 2019/20

Top

Office - Revenue Per

Sales Consultant

Harcourts National 2019/20

Top

Office - Revenue

Per Sales Consultant

Congratulations

Four Seasons Realty

Your home for local property

0800 789 10 11

Four Seasons Realty 2017 Ltd Licensed Agent REAA 2008
---
12

NEW LISTING

NEW LISTING

Boundary lines are indicative only

Boundary lines are indicative only

Prebbleton 212a Birchs Road

Sheffield Pig Saddle Road

Surplus to requirements - this

will be sold!

Our owners plans have changed, they are no longer

building on this site and immediate possession is

available. This 12ha property is superbly located a few

minutes from Prebbleton, zoned for excellent schools

and has easy access to the motorway for a quick

commute to the city. Two-bedroom double-glazed

cottage, well, driveway, three-bay hayshed and huge

extra-height shed. Equestrian fencing and partially

completed arena. Inner Plains zoning allows potential

subdivision. Offers options and opportunities.

bayleys.co.nz/5512190

2 1 1

Deadline Sale (unless sold prior)

1pm, Wed 10 Jun 2020

View by appointment

Chris Jones 027 220 5043

chris.jones@bayleys.co.nz

Sam Sidey 027 346 3500

sam.sidey@bayleys.co.nz

WHALAN AND PARTNERS LTD, BAYLEYS, LICENSED REAA 2008

Recreation, stunning views

• Located only minutes from the Springfield Village

the gateway to ski-fields, lakes and mountains

• Approximately 130ha, currently the block is part of

a larger property and would generally carry

approximately 100 MA breeding cows

• A great mix of easier contoured lower paddocks

and gullies suitable for trees or regenerating natives

and some higher tussock country

• A fantastic opportunity to own your own hunting

block with a great duck pond already in place

• A solid asset in a great location, close to amenities,

with Darfield only a short drive down the road

bayleys.co.nz/5512160

Deadline Sale (unless sold prior)

12pm, Thu 4 Jun 2020

3 Deans Ave, Chch

View by appointment

Ben Turner 027 530 1400

ben.turner@bayleys.co.nz

Craig Blackburn 027 489 7225

craig.blackburn@bayleys.co.nz

WHALAN AND PARTNERS LTD, BAYLEYS, LICENSED REAA 2008
---
13

Property Brokers Limited Licensed under the Real Estate Agents Act 2008 6 Tennyson Street Rolleston rolleston@pb.co.nz Office 03 929 0306

Country Luxe + Accommodation

A Rare Find BUYERS $305,000+

WEB ID LEU75924

LEESTON

1/14 Mountain View Place

If you are looking for `ease of living` or a `lock-up and

leave` property, then this gem is worth a look. On offer

here is a spacious open plan living/dining and kitchen

area with loads of natural light. There are two generous

bedrooms with built-in robes.And a centrally positioned

bathroom and separate toilet to add to the functionality

of this home.

VIEW By Appointment

WEB ID DFL75733

SHEFFIELD

101 Bulls Road

Exuding classical elegance with contemporary flair

comes a fully renovated family home without compare

in peace, privacy and relaxing panoramic rural outlooks.

If entertaining's a top priority you'll love the huge open

plan kitchen grouped around a socially centred island

with natural flow through dining and lounge where

ambiance is enhanced by a rustic wood burner on a wetback

supported by under-floor heating in tiled zones.

NEW LISTING

DEADLINE SALE

View By Appointment

DEADLINE SALE closes Wednesday 17th June, 2020 at

4.00pm, (unless sold prior)

Amy Jones

Mobile 021 077 9945

amy.jones@pb.co.nz

Shar Simon

Mobile 027 555 0654

shar@pb.co.nz

4

2

2

Penny Dadson-Clausen

Mobile 027 895 5943

Office 03 929 0306

pennyd@pb.co.nz

Noel Lowery

Mobile 027 432 8859

noell@pb.co.nz

So Worth Waiting For $535,000

WEB ID DFU75307

DARFIELD

4 Thornton Street

Only once in a while does a home with such inimitable

style grace the listings and its taken 27 years for this

sunny character-packed honey to present for

acquisition.

• Light-infused kitchen

• Well-connected dining and lounge

• Pioneer wood burner

• Peaceful covered veranda

• Second patio with bbq/pizza oven

• 3 bedrooms / 2 bathrooms

• Raised beds, garden sheds and flower gardens

• Grow tunnel

VIEW By Appointment

Shar Simon

Mobile 027 555 0654

shar@pb.co.nz

2

1

1

3

2

2

pb.co.nz

REAL ESTATE SPECIALISTS

7 Campion Place, Halswell

7 Spencer Close, Rolleston

OFFERS OvER $539,000

Contemporary and Compelling

Ease of living is fundamental in this four-bedroom

family home that enjoys a peaceful cul-de-sac

location.

The kitchen makes a stylish statement with its sleek

cabinetry & striking splashback, and a separate

lounge delivers flexibility & presents a superb

setting for entertaining. A paved patio extends from

both the formal lounge and open plan zone, and

it overlooks the garden, which is extremely lowmaintenance

and fully fenced for peace of mind.

Neighbouring Beaumont Park provides families

with all the space they crave, while the multitude of

amenities in Rolleston are only a short drive away.

Contact Mike today for more information.

OFFERS OvER $499,000

Natural Charm & Complete Comfort!

**Set Sale: all offers to be presented 5pm, 21st May (unless sold prior)**

Striking the perfect balance between form and function, this superb three double bedroom home

showcases space and style within a leafy Halswell setting.

Great presentation and neutral décor is appealing in the sun-lit open plan dining area and lounge which

cleverly interacts with the modern kitchen. A sizeable deck extends off the dining area, & a gate in the

fence leads to the Westlake reserve grounds behind the property - perfect for walks, running or a great

extension to the backyard that someone else looks after!

A cul-de-sac location and reserve boundary promise peace and privacy, with convenience also assured

courtesy of proximity to the countless amenities in Wigram and Halswell. Do not delay - this property

will attract considerable attention. Contact Mike for more information today.

42 Rossington Drive, West Melton

By NEGOtiAtiON

Spectacular Style AND Work From Home!

Undeniable style and substantial proportions unite

at this exceptional family home. With the single level

floor plan totalling 294m² & a 3 car garage with drive

through & separate pedestrian access to the front,

this property has been set up to have an extensive

work-from-home office in part of the garage. It has

had the ducted air conditioning plumbed in, office

lighting & the walls insulated with double glazed

access door and loads of off-street parking.

With a sleek kitchen, 2 separate living rooms, a mix

of open & covered outdoor patios & four bedrooms,

all set on 2100m² this home offers both lifestyle &

sophistication. If you need to house the family &

work from home in a private easy commute distance

to city & have a budget in the 800's, then you need

to contact Mike now for a time to view.

68 Rolleston Drive, Rolleston

0800 645 346

www.oneagencyres.co.nz

Mike Goatley

027 249 5561

Elyse Campbell

021 187 6217

Nicola Curtis

Administrator

Julz Sibbe

Administrator

Real Estate Specialists Ltd Licenced REAA (2008)
---
14

Property Brokers Limited Licensed under the Real Estate Agents Act 2008 6 Tennyson Street Rolleston rolleston@pb.co.nz 03 929 0306

Unique has a new meaning!

NEW LISTING

WIGRAM

99 The Runway

This Family sized home is sure to impress! Showcasing

uncompromised quality and outstanding levels of

comfort, this 3 year old, four-bedroom home strikes the

perfect balance between style and function. Designed

with space, comfort and everyday ease in mind, the

kitchen provides the perfect platform for entertaining

and comes with a large pantry, top of the line Bosch

appliances including a Combination Steamer and oven,

Pyrolytic Oven, dishwasher and a 90cm Multi-zone

Induction Hob. The spacious formal lounge with it's

feature ceiling is the ideal place to put your feet up at

the end of the day, while the light filled dining and living

areas interact effortlessly with the flow through to the

extensive decking, providing you with a covered area,

complete with a gas fire and bar fridge, perfect for

alfresco occasions. Situated in the sought after location

of Wigram, with only a short walk to 'The Landing'

shopping centre, this immaculate home should seriously

be considered.

WEB ID ROU75946

VIEW By Appointment

DEADLINE SALE closes Tuesday 9th June, 2020 at

4.00pm, (unless sold prior)

Tanya Marillier

Mobile 027 383 3844

tanya@pb.co.nz

DEADLINE SALE

4

2

2

Beautiful on Billington!

HALSWELL

12 Billington Drive

Looking chic and ready for its new owners, this 220sqm

home occupies a sunny 550sqm corner section in the

coveted precinct of Country Palms. A large open plan

kitchen over looks the spacious dining / living areas and

flows generously to the outside, private secluded patio.

The separate lounge is ideal for quiet movie nights and

also opens to its own patio. Accommodation is offered

by four bedrooms, complemented with a separate toilet

and two exquisite bathrooms, one of which is the

master ensuite, complete with tiled showers. The master

also benefits from it's own private patio - ideal for an

early morning coffee.

pb.co.nz

The separate laundry and additional storage cupboards

will also ensure that you have enough space for all those

things you'd like to keep out of sight.

Located in this peaceful neighbourhood, the property

benefits from zoning for Halswell School and is a short

drive from the various amenities in and around Halswell

Shopping Centre. Call Tanya today.

NEW LISTING

VIEW By Appointment

WEB ID ROU75876

DEADLINE SALE closes Tuesday 2nd June, 2020 at

4.00pm, (unless sold prior)

Tanya Marillier

Mobile 027 383 3844

tanya@pb.co.nz

DEADLINE SALE

4

2

2
---
15

Property Brokers Limited Licensed under the Real Estate Agents Act 2008 6 Tennyson Street Rolleston rolleston@pb.co.nz 03 929 0306

Smart design and handy location

NEW LISTING

ROLLESTON

116 Broadlands Drive

Stop looking and start living in this beautiful home

which is offered for 1 lucky purchaser to start calling

home!

oven, various lighting options and amazing walk in

pantry are just a few of the details on offer to satisfy the

master chef or entertainer of the family.

VIEW Sunday 24 May 2.00 - 2.30pm

WEB ID ROU75821

BUYERS $659,000+

With stunning street appeal using top quality materials

and finishes, you are going to love the extra features this

striking 4 bedroom home offers. The open plan kitchen

dining living with A framed ceiling offer a point of

difference with its large feature window which soaks up

the afternoon sun.

The stylish kitchen with stone benchtops, 90cm hob and

If space is what you crave, the separate lounge will not

disappoint and offers great outdoor flow to enjoy the

summer evenings.

My vendor is serious to sell and has priced this

accordingly. This is definitely, quality & style at an

attractive price. Viewing will not disappoint. Call Angela

now to set up your inspection.

Angela Hunt

Mobile 021 548 777

angela.hunt@pb.co.nz

4

2

2

More for Less!

$369,000

WEB ID DFU75815

DARFIELD

24 Torlesse Crescent

An address to impress in quiet and private Torlesse

where first-time family buyers can get in the game in a

unique and easy-to-keep A-Frame. Packed with quirky

character over 120 light-filled squares featuring upper

level master bedroom and balcony plus one double and

third double bedroom, bathroom and separate toilet

below. Integration between modern kitchen, dining,

lounge and expansive sunny decking seamlessly unifies

indoor/outdoor living.

VIEW By Appointment

An educated Opportunity

3

1

NEW LISTING

Shar Simon

Mobile 027 555 0654

shar@pb.co.nz

1

Spacious and sunny

BY NEGOTIATION

WEB ID LIU75217

LINCOLN

34 Caulfield Crescent

Our owners decision has been made, they have found

their dream home and are keen to see a Sold sticker.

Built in 2015 this lovely property was designed with

spacious formal and informal living in mind and will

accommodate the whole family both inside and out. The

configuration of the fourth bedroom is positioned

perfectly if you work from home or have a teenager

wanting their own space. Close to playgrounds, schools,

bus stop and an easy walk to Lincoln township.

VIEW By Appointment

WEB ID DFL75263

GLENTUNNEL

275-281 Whitecliffs Road

GUIDELINE PRICE: OFFERS OVER $282,000 PLUS GST

View By Appointment

BY NEGOTIATION

Dawn Pollard

Mobile 022 073 7580

Office 03 595 6954

dawn.pollard@pb.co.nz

Nicola Bray

Mobile 027 755 8846

Office 03 595 6954

nicola.bray@pb.co.nz

4

2

2

The Old Malvern School located in Whitecliffs is now

available to start a new chapter.

Being sold "AS IS WHERE IS" Deadline Sale

• 5800sqm land area in four titles.

• School building with Heritage List as a Category 2

Historic Place

• Separate ablution block

Viewings are by Open to view and by appointment.

Jannetta Thomas

Mobile 021 256 6295

jannetta@pb.co.nz

Gareth Cox

Mobile 021 250 9714

Office 03 975 4506

gareth@pb.co.nz

1

2

pb.co.nz
---
16

M-A

MATSON & ALLAN

REAL ESTATE LIMITED

'The

Selwyn

Experts'

Residential

Lifestyle

Rural Property

Licensed REAA2008

ROLLESTON - 37B Masefield Drive

LIVE IT, LAND BANK IT OR DEVELOP IT

• 4347m 2 (approx.) subdivisible land

• Peter Ray Homes 277m 2 double glazed family home

• Four large double bedrooms, WIR, ensuite, bathroom

and separate toilet

• Spacious open plan kitchen, dining, living and

separate lounge

• Log burner with wetback

• Walk in pantry, study and separate laundry

• Immaculate established four seasons garden

• Double internal access garage with ample parking

options

• North facing aspect

Jo Barrett

021 859 006

jo@marealestate.co.nz

OPEN HOME

NEW LISTING

Open Home: Sun 1.30pm - 2.00pm

Deadline Sale: Closing 3 June 2020 (Unless Sold Prior)

View: www.marealestate.co.nz/MA0718

ROLLESTON

714 East Maddisons Road

PEACE & TRANQUILITY ON 2001M²

• 230m² brick home

• Four double bedrooms, WIR, ensuite, bathroom,

separate toilet

• Office, triple internal access garage with third toilet

• Spacious open plan living and separate lounge

• Log burner, heat pump, double glazing, air exchange

and internal vacuum system

• Four seasons garden

• North facing aspect and parking for six plus vehicles

• West Rolleston and Clearview Primary School Zones

NEW LISTING

Viewing: By Appointment

Price: Neg Over $679,000

View: www.marealestate.co.nz/MA0715

Jo Barrett

021 859 006

jo@marealestate.co.nz

ROLLESTON - 62 Riverstone Drive

RARE FIND – HOME, UNIT AND FOUR

CAR GARAGING

• Superbly constructed in 2018

• Expansive 352m 2 executive home

• Home and one-bedroom unit

• Five double bedrooms

• Large master with ensuite and walk in robe

• Three living areas

• Designated study

• Premium kitchen with quality appliances

• Large butlers pantry

• Separate laundry

• Four car garaging

• Further additional parking for motor home and/or boat

• Desirable and popular location

OPEN HOME

Open Home: Sun 12.30pm - 1.00pm

Price: Neg Over $949,000

View: www.marealestate.co.nz/MA0719

Jackie Derrick

027 636 3576

jackie@marealestate.co.nz

NEW LISTING

ROLLESTON - 12 Frame Crescent

SUPERB FAMILY LIVING ON A

SUBSTANTIAL SECTION

• Substantial family home

• Tw o separate living areas

• Four double bedrooms

• Large master bedroom

• Ensuite and walk in wardrobe

• Versatile study/office

• Well-appointed kitchen/reputable appliances

• Separate laundry

• Fantastic outdoor entertaining area

• Triple car garage

• Additional parking space

• Generous and secure 1486sqm section

• Desirable location

OPEN HOME

Open Home: Sun 2.15pm - 2.45pm

Price: Neg Over $699,000

View: www.marealestate.co.nz/MA0717

Jackie Derrick

027 636 3576

jackie@marealestate.co.nz

NEW LISTING

ROLLESTON - 57 Shadbolt Lane

AS NEW AND SO AFFORDABLE

• A perfect starter package for first home buyers,

investors or retirees

• Built in 2015, this 159m 2 home is set amongst other

quality homes

• Four good sized bedrooms

• Large open plan living

• Outdoor dining on sheltered kwila deck

• Modern kitchen and appliances

• Tw o spacious bathrooms

• Heat pump

• Double carpeted garage

• Fully fenced 610m 2 landscaped garden

• Easy care

Price: Neg Over $520,000

View: www.marealestate.co.nz/MA0720

Cameron McRae

027 7696 696

cameron@marealestate.co.nz

NEW LISTING

ROLLESTON - 2 Lucca Crescent

HIGH QUALITY STARTER

• Built by Generation Homes

• Three bedroom 135m² home

• Complete with modern appliances

• Excellent private outdoor living areas

• Generous 576m² fully fenced and irrigated

northfacing section

• Avoid all the hassles of the building process

and cost over runs

• Well built and extremely well priced home

• Immediate possession available

Price: $495,000

View: www.marealestate.co.nz/MA0684

Andrew Taylor

0274 355 930

andrew@marealestate.co.nz

ROLLESTON - 20 Coles Lane

DYNAMIC IN EVERY WAY

• Energy efficient 268m 2 home

• Four bedrooms

• Tw o living areas

• High standard of fittings and fixtures throughout

• Walk in pantry

• Heat pump powered underfloor water heating

• Solar powered with capacity to feed back to the grid

• 56m 2 of wooden decking

• Three car carpeted garage plus utility room

• 2686m landscaped, irrigated and fenced section

• Sought after Coles Fields subdivision

Vendor considers all offers

View: www.marealestate.co.nz/MA0709

Andrew Taylor

0274 355 930

andrew@marealestate.co.nz

LEESTON - 42 Chervier Street

DESIGNED WITH FAMILY IN MIND

• Modern four bedroom home

• Stylish kitchen with butlers pantry

• Separate study and large attached garage

• Tw o bathrooms including ensuite off master

• Access to patio with sun shade

• 716m 2 fully fenced landscaped section

Price: $519,000

View: www.marealestate.co.nz/MA0694

Stephan Knowler

027 229 9522

stephan@marealestate.co.nz

SOUTHBRIDGE - 12 Lee Street

ONE LOOK AND YOU WILL BE SOLD

• Extensively renovated home

• Three bedrooms with built in robes

• Separate living with gas fire

• Modern kitchen with new appliances

• Attached double garage

• Landscaped 1012m 2 section with studio

Price: $419,000

View: www.marealestate.co.nz/MA0699

Stephan Knowler

027 229 9522

stephan@marealestate.co.nz

WEST MELTON - 478 Hoskyns Road

ROOM FOR THE EXTENDED FAMILY

OR INDEPENDENT FAMILY MEMBER

• 4 Hectares (2 road frontages)

• Main home - Four double bedroom family home

(270m²)

• Second home - Modern Two bedroom

• Established shelter belts and mature garden setting

• Close proximity to the thriving Rolleston Township

and all its amenities

Open Home: Sun 1.00pm – 2.00pm

Price: Neg Over $1,100,000

View: www.marealestate.co.nz/MA702

Chris Flanagan

027 433 4657

chris@marealestate.co.nz

OPEN HOME

ROLLESTON PH: 03 347 9949 LEESTON PH: 03 324 3704 DARFIELD PH: 03 318 8204 www.marealestate.co.nz

Chris Flanagan

027 433 4657

Andrew Taylor

027 435 5930

Jackie Derrick

027 636 3576

Jo Barrett

021 859 006

Stephan Knowler

027 229 9522

Cameron McRae

027 769 6696

Paul Robinson

021 277 2690

Bronwyn van der Pol

022 073 7757