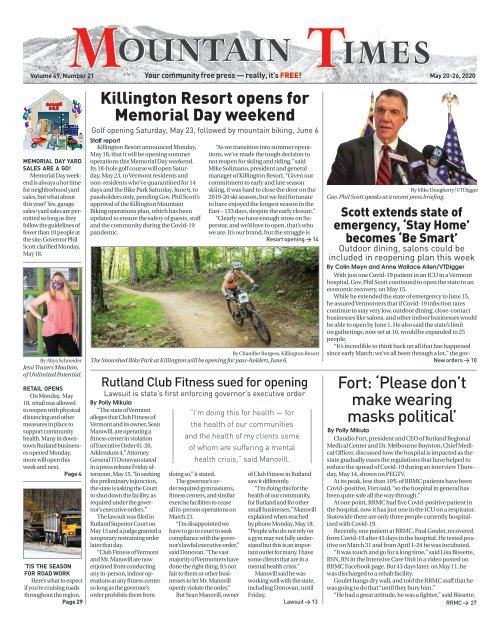 Mountain Times - Volume 49, Number 21 - May 20-26, 2020
Create successful ePaper yourself
Turn your PDF publications into a flip-book with our unique Google optimized e-Paper software.
Mou nta i n Ti m e s

Volume 49, Number 21 Your community free press — really, it's FREE! May 20-26, 2020

MEMORIAL DAY YARD

SALES ARE A GO!

Memorial Day weekend

is always a hot time

for neighborhood yard

sales, but what about

this year? Yes, garage

sales/yard sales are permitted

so long as they

follow the guidelines of

fewer than 10 people at

the site, Governor Phil

Scott clarified Monday,

May 18.

By Aliya Schneider

Jessi Travers Moulton,

of Unlimited Potential.

RETAIL OPENS

On Monday, May

18, retail was allowed

to reopen with physical

distancing and other

measures in place to

support community

health. Many in downtown

Rutland businesses

opened Monday,

more will open this

week and next.

Page 4

'TIS THE SEASON

FOR ROAD WORK

Here's what to expect

if you're cruising roads

throughout the region.

Page 29

Killington Resort opens for

Memorial Day weekend

Golf opening Saturday, May 23, followed by mountain biking, June 6

Staff report

Killington Resort announced Monday,

May 18, that it will be opening summer

operations this Memorial Day weekend.

Its 18-hole golf course will open Saturday,

May 23, to Vermont residents and

non-residents who've quarantined for 14

days and the Bike Park Saturday, June 6, to

passholders only, pending Gov. Phil Scott's

approval of the Killington Mountain

Biking operations plan, which has been

updated to ensure the safety of guests, staff

and the community during the Covid-19

pandemic.

"As we transition into summer operations,

we've made the tough decision to

not reopen for skiing and riding," said

Mike Solimano, president and general

manager of Killington Resort. "Given our

commitment to early and late season

skiing, it was hard to close the door on the

2019-20 ski season, but we feel fortunate

to have enjoyed the longest season in the

East – 133 days, despite the early closure."

"Clearly we have enough snow on Superstar,

and we'd love to open, that's who

we are. It's our brand, but the struggle is

Resort opening > 14

By Chandler Burgess, Killington Resort

The Snowshed Bike Park at Killington will be opening for pass-holders, June 6.

Rutland Club Fitness sued for opening

Lawsuit is state's first enforcing governor's executive order

By Polly Mikula

"The state of Vermont

alleges that Club Fitness of

Vermont and its owner, Sean

Manovill, are operating a

fitness center in violation

of Executive Order 01-20,

Addendum 4," Attorney

General TJ Donovan stated

in a press release Friday afternoon,

May 15. "In seeking

the preliminary injunction,

the state is asking the Court

to shut down the facility, as

required under the governor's

executive orders."

The lawsuit was filed in

Rutland Superior Court on

May 15 and a judge granted a

temporary restraining order

later that day.

"Club Fitness of Vermont

and Mr. Manovill are now

enjoined from conducting

any in-person, indoor operations

at any fitness center

so long as the governor's

order prohibits them from

"I'm doing this for health — for

the health of our communities

and the health of my clients some

of whom are suffering a mental

health crisis," said Manovill.

doing so," it stated.

The governor's order

required gymnasiums,

fitness centers, and similar

exercise facilities to cease

all in-person operations on

March 23.

"I'm disappointed we

have to go to court to seek

compliance with the governor's

lawful executive order,"

said Donovan. "The vast

majority of Vermonters have

done the right thing. It's not

fair to them or other businesses

to let Mr. Manovill

openly violate the order."

But Sean Manovill, owner

of Club Fitness in Rutland

saw it differently.

"I'm doing this for the

health of our community,

for Rutland and for other

small businesses," Manovill

explained when reached

by phone Monday, May 18.

"People who do not rely on

a gym may not fully understand

but this is an important

outlet for many. I have

some clients that are in a

mental health crisis."

Manovill said he was

working well with the state,

including Donovan, until

Friday.

Lawsuit > 13

By Mike Dougherty/VTDigger

Gov. Phil Scott speaks at a recent press briefing.

Scott extends state of

emergency, 'Stay Home'

becomes 'Be Smart'

Outdoor dining, salons could be

included in reopening plan this week

By Colin Meyn and Anne Wallace Allen/VTDigger

With just one Covid-19 patient in an ICU in a Vermont

hospital, Gov. Phil Scott continued to open the state to an

economic recovery, on May 15.

While he extended the state of emergency to June 15,

he assured Vermonters that if Covid-19 infection rates

continue to stay very low, outdoor dining, close-contact

businesses like salons, and other indoor businesses would

be able to open by June 1. He also said the state's limit

on gatherings, now set at 10, would be expanded to 25

people.

"It's incredible to think back on all that has happened

since early March; we've all been through a lot," the gov-

New orders > 10

Fort: 'Please don't

make wearing

masks political'

By Polly Mikula

Claudio Fort, president and CEO of Rutland Regional

Medical Center and Dr. Melbourne Boynton, Chief Medical

Officer, discussed how the hospital is impacted as the

state gradually eases the regulations that have helped to

reduce the spread of Covid-19 during an interview Thursday,

May 14, shown on PEGTV.

At its peak, less than 10% of RRMC patients have been

Covid-positive, Fort said, "so the hospital in general has

been quite safe all the way through."

At one point, RRMC had five Covid-positive patient in

the hospital, now it has just one in the ICU on a respirator.

Statewide there are only three people currently hospitalized

with Covid-19.

Recently, one patient at RRMC, Paul Goulet, recovered

from Covid-19 after 43 days in the hospital. He tested positive

on March 31 and from April 1-24 he was incubated.

"It was touch and go for a long time," said Lisa Bissette,

BSN, RN in the Intensive Care Unit in a video posted on

RRMC Facebook page. But 43 days later, on May 11, he

was discharged to a rehab facility.

Goulet hangs dry wall, and told the RRMC staff that he

was going to do that "until they bury him."

"He had a great attitude, he was a fighter," said Bissette.

RRMC > 27
---
2 • The Mountain Times • May 20-26, 2020

KMS tasks committee with reopening plan

School prepares to reopen with out vaccine, with new protocols

Staff report

Will school reopen in the fall? That is the question

on every parent's mind after two months of homeschooling

with about one more to go before the summer

break.

Tao Smith, Head of School, wrote a letter to Killington

Mountain School families May 15 addressing

this question. His response provides insight to what

many other school communities are likely considering

as they make contingency plans for a variety of

scenarios.

"It is our intent to open our full-term academic

program in late August as scheduled," Smith wrote.

"We are also optimistic that a majority of our on-campus

summer camps can take place as scheduled. How

these events come to pass and with what restrictions

will be the job of our recently-formed school re-opening

task force, which convened two weeks ago."

Smith, who will be leaving his post at KMS in

June to head up Gould Academy in Maine, has been

working closely with incoming Head of School Claire

Kershko and collaborating with the heads of other

major ski academies in the East, participating in

weekly and bi-weekly conference calls to share ideas

and best practices. KMS is also taking guidance from

the Centers for Disease Control and Prevention,

Vermont Dept. of Health and the federal government,

and closely monitoring health and safety agency

guidelines and recommendations.

"I want to be clear that there is a tremendous

amount that still we do not know about this disease,"

Smith cautioned.

"Covid-19 impacts the old and infirmed, as well as

the young and healthy… We have no known cure, and

it will be at least 12-18 months at the earliest before

an effective vaccine will be developed and deliverable

to the world population. For herd immunity to

be effective, 60-70% of the people in the United States

will need to be infected or vaccinated, and scientists

will need to be certain that carrying antibodies provides

a measure of effective immunity. None of these

conditions yet exist, and none will be in place by the

time KMS reopens. Therefore, it will be of the utmost

importance that we develop practices and protocols

around the recommendations from the CDC, state

and federal agencies, and that our families accept

and support the conditions under which students

will be allowed to return. We can anticipate living under

the cloud of this pandemic for at least two years,"

Smith said.

Despite those unknowns, KMS

is still planning to reopen in the

fall, barring state or government

mandated closures— but life will be

different.

"Life at KMS next year will be

far different than what any KMS student has previously

experienced," Smith continued. "Changes will

impact virtually every aspect of KMS life, including

but not limited to arrivals, departures, orientations,

academics, athletics, training, travel, residential life,

transportation, PPE requirements, classroom and

gymnasium density, and myriad other categories."

Meghan Girardi and Claire Kershko are leading

the school reopening subcommittee, which is

charged with exploring how KMS may effectively reopen

and what precautions and procedures will need

to be developed before we can welcome faculty and

students back to campus in any form. With KMS summer

athletic teams competitions beginning as early

as June 20, and its camps, which typically start up in

late June on campus, the committee plans to present

a working draft document on May 31.

"KMS will plan as best we can with all of the resources

at our disposal, but there are no guarantees

when it comes to executing our plan," Smith said.

"The need to remain nimble and able to pivot quickly

as new information and situations come to light

will be paramount for our school and our faculty...

Understanding and embracing this uncertainty will

be required of every family returning to camps this

summer or school next year."

While the school makes plans to conform with

health and safety guidance, protocols and best practices,

Smith also knows that families' comfort levels

may vary — and despite new protocols families may

be wary.

"The fear, unknown and uncertainty are real, and

as this event unfolds and will continue to have a deep

We can anticipate living under the cloud of this

pandemic for at least two years," Smith said.

impact on all of our lives, it is important to remind

ourselves of who we are and what we stand for. KMS

values and the value of a KMS education have never

been more necessary and more important than it is

today. Our core values of adversity, responsibility and

character are embedded in who we are and what we

stand for. They are what makes KMS students stand

out, and will help us to navigate the challenges that

lie ahead," he wrote.

"In times of crisis, the best of humanity presents

itself," Smith continued. "There are some positive

lessons from this spring that we should be mindful

of, such as the value of being home with family and

reconnecting in ways that modern life does not allow.

We have learned more about 'essential' workers

than we previously knew; the invaluable roles that

nurses, grocery clerks, emergency responders, and,

yes, teachers play in our lives. Calculating what is

truly important and meaningful will take on new clarity

and definition in the coming years, and it is our

responsibility to carry these lessons forward into a

new future and for the next generation of leaders and

citizens."
---
The Mountain Times • May 20-26, 2020 • 3

Police report non-suspicious

fire at Hartland mobile home

The Dept. of Public Safety fire and

explosion investigation unit investigated

a fire at 109 Martinsville Road in Hartland,

May 13 just after 8 a.m. The fire was in

a double wide mobile home owned by

Karen Walker with Amanda Walker as a

tenant. The homeowner left the home

around 6:20 a.m. that morning, police

reported. A neighbor noticed smoke coming

from the roof around 8 a.m. and went

to investigate. She found the home full of

smoke when she entered and could see

fire in the kitchen. She exited the home,

closed the door, and called 911.

When the Hartland fire department

arrived, they found fire in the kitchen

extending to the remainder of the home.

They were able to contain the fire to the

kitchen. The kitchen was heavily damaged

by fire. The remainder of the home

had smoke, heat and water damage. There

were no injuries.

Hartland Fire Chief Saunders requested

assistance from the Dept. of Public Safety

fire and explosion investigation unit to

determine the area of origin and the fire

cause. Investigators from the unit arrived

on scene the following morning and

determined that the fire started on the

kitchen counter in the area of a toaster

and coffee maker. The cause will be listed

as undetermined. The fire is not suspicious.

The home had working smoke alarms

and the alarms were sounding when the

neighbor entered the home.

Safety message

The neighbor who noticed the fire and

entered the home to see what was happening

had the presence of mind to close

the door when she left. Closing the door

stopped air from getting to the fire, slowing

the fire spread allowing time for the

fire department to arrive. Closing all doors

on your way out of a burning home will

significantly slow the fire spread.

For more information visit firesafety.

vermont.gov.

Courtesy of Vermont State Police

Fire investigated at camp in

Middletown Springs

On May 16, at 12:51 p.m., the Middletown Springs Fire Dept. responded to 4000 Saw

Mill Hill Road for a report of a structure fire at a remote camp. Upon arrival, firefighters

encountered a fully involved structure fire in the single-story camp. They noted most

of the camp structure had already been consumed by the fire prior to their arrival. They

then began an exterior attack on the fire; however, despite their efforts they were unable

to save the structure from being completely consumed by the fire.

Minor injuries were reported.

As part of his scene assessment, Middletown Springs Fire Chief Joe Castle contacted

the Vermont Dept. of Public Safety fire and explosion investigation unit for assistance in

determining the origin and cause of this fire.

Members of the Fire and Explosion Investigation Unit responded to the scene on

Monday morning, May 18, and initiated an origin and cause investigation. It was determined

the camp was believed to be unoccupied; however, a male identified as Scott Saltis

approached the firefighters from the woods behind the camp, claiming to have sustained

minor injuries from the fire.

Saltis was transported to the Rutland Regional Medical Center and treated for his

injuries. Police reported that it was unclear if Mr. Saltis was staying in the camp or nearby

in the woods, at the time of the fire.

This fire remains under investigation and is considered suspicious.

Anyone with information regarding this incident is asked to contact Det. Sgt. James

Wright at the Shaftsbury Barracks at 802-442-5421 or the Vermont Arson Tip Award Program

(VATAP) hotline at 1-800-32-ARSON (1-800-322-7766). The VATAP will pay up to a

$5,000 reward for information leading to an arrest.

Lodging facilities

reopen with guidelines,

bookings uncertain

By Katy Savage

As Gov. Phil Scott allows Vermont lodging facilities to reopen, inn operators are preparing

for a new normal.

Many summer events that draw thousands of tourists have been postponed or cancelled

this year and many are anticipating reservations will be down significantly as the

guest experience changes drastically.

The Woodstock Inn is taking reservations starting June 16 under its own extensive set

of protocols to keep employees and guests safe. All guests will be required to have their temperatures

checked upon arrival and be asked to complete a health questionnaire. Any guest

with a temperature higher than 100 degrees will be asked to leave the property and won't

be able to check in. Employees will also receive daily temperature checks and guests will be

asked to wear masks in public spaces.

Courtney Lowe, the vice president of marketing and business development at the inn,

said staff members have spent two months preparing the guidelines, which he said are

based on the American Hotel & Lodging Association's protocols.

There will be no in-room housekeeping at the inn, per the protocols, and restaurants

will provide grab-n-go dining options only. Lowe said staff members will be cleaning hightrafficked

areas more aggressively and the inn purchased electrostatic sprayers to disinfect

Inns open > 5

WARF partners with WCSU to

supplement June school lunch

As the Covid-19 crisis continues,

Woodstock Area Relief Fund (WARF) has

received support from many area people

and programs that have stepped up to

help those in need. WARF has been able

to partner with several of them, including

the Windsor County Supervisory Union

(WSCU).

Last week, WSCU asked for help extending

the student meals program until

the end of June. The program was slated

to end in the middle of the month, when

the school year ends. This would have left

200 students without breakfast and lunch

for two weeks, until summer programs

begin on July 1.

"In thinking about how the WCSU

school district could extend our support of

Killington Strong launches

basic necessities relief

The Killington Strong

gofundme has launched

its Relief for Basic Necessities.

A portion of the funds

raised from the relief effort

will go to members of the

Killington Community who

have been strongly affected

financially by the Covid-19

pandemic. The group will

provide grants to help pay

for basic necessities such

as utilities, medicines, rent,

and food.

In order to accommodate

the most people, each

grant will be limited to $350

per household.

The first of the basic

children needing healthy meals daily, my

first thought was WARF," said Sherry Sousa,

director of instructional support services.

"They quickly responded to my need by

offering to fully cover the costs of making

and delivering meals for 200 students

daily. Without WARF's support, it would

not be possible to meet this essential need,

so I am extremely grateful. I know that the

families and children are even more appreciative

of this amazing gift."

WARF's contribution supplements

existing partial funding by USDA to provide

breakfast and lunch daily, Monday

through Friday, to local students who

qualify for free and reduced lunches. The

lunches will be prepared and delivered by

WCSU Nutrition Program staff.

necessities relief funds has

been disbursed to the Killington

Elementary School

Sunny Day Fund.

"We are delighted to have

been able to provide the

KES Sunny Day Fund with

$5,000," said Bonnie Robins,

one of the organizers

of the effort. "These funds

will be distributed to certain

school families to help them

get through these times."

To apply for the relief

funds residents can

email KillingtonFund@

gmail.com or write to Killington

Fund For Covid-19

Relief, PO Box 734, Killington,

VT 05751 to request an

application for a grant.

In the words of gofundme

organizer Pamela Martin,

"'Tears and fears and

feeling proud to say I love

you right out loud' (Judy

Collins)...I feel immense

pride in this community.

I love you Killington, right

out loud. Here I am never

alone. Never."

The group hopes to raise

another $10,000 to continue

the food distributions as

well as assistance for the basic

necessities. For more information

visit gofundme.

com/f/killington-strong.
---
4 • The Mountain Times • May 20-26, 2020

TOWN OF KILLINGTON

SOLID WASTE TRANSFER STATION - UPDATE

FREE BULKY ITEMS DAY - YOU MUST HAVE A STICKER!

• Saturday, May 30, 2020: 8 a.m. - 4 p.m.

• Monday, June 1, 2020 : 8 a.m. - 4 p.m.

Household trash ONLY. NO business' and no building and/or construction materials.

VERMONT GREEN UP DAY - Saturday, May 30, 2020: 8 a.m. - 4 p.m.

Green Up Bags FOR ROADSIDE TRASH ONLY are available at Town Hall and are

free when brought to the Solid Waste Transfer Station. Please DO NOT leave bags on

the side of the road as they must be brought to the Transfer Station on Saturdays or

Mondays between 8 a.m. - 4 p.m. The Town does NOT pick up bags left on the road

side.

Location: 2981 River Road (Behind Town Garage)

Phone Number: (802) 422-4499

Solid Waste Transfer Station

Location: 2981 River Road (Behind Town Garage)

Phone Number: (802) 422-4499

SAT.& MON. (8 A.M.- 4 P.M.)

Collection & transfer of solid waste deposited by residents and property owners of

the Town. (Windshield sticker & punch card needed) Recycling Center for residents

and property owners of the Town. (Free with windshield sticker) If you need to

dispose of solid waste outside the normal operating hours of the Transfer Station

or have construction & demolition debris or other non-acceptable waste, residents

and property owners of Killington can go to the Rutland County Solid Waste District

Transfer Station & Drop-off Center located on Gleason Road in Rutland.

Summer hours began Sat., April 4, 2020.

Retail is now open

Stores in downtown Rutland share precautions they're

taking to ensure safety and compliance

By Aliya Schneider

Under Governor Phil Scott's order, retail

stores in Vermont were allowed to open

their doors on Monday, May 18, but shoppers'

experiences won't look the same as

they did before the pandemic. Scott's goal

is for a "gradual reopening," noting that although

rules will be relaxing, he encourages

people to continue to limit their interactions.

The order requires that employees

wear face masks and that stores keep a limit

to 25% of their legal capacity, or one person

per 200 square feet.

Rutland businesses are now deciding for

themselves when—and how—they plan to

open within the state guidelines. Of those

that opened Monday, many had limited

hours with additional systems in place to

make sure both customer and employee

exposure is minimized.

Grow VT, 38 Wales St., has maintained

consistent business via curbside pickup

and will now be allowing customers inside

one family at a time. Grow VT co-owner

Sabra Notte said that they are cutting their

hours in half so they can clean more thoroughly

now that visitors are able to come inside.

The door will stay closed, and families

are instructed to knock before entering.

Draw Go Games, 9 Evely St., opened its

retail space on Monday, but its game space

will remain closed. Draw Go Games owner

Scott Stearns and manager Zachary Hinckley

explained that customers must wait in a

line outside the store to maintain a six person

limit inside. They noted that "everyone

will be required to wear a mask," but it is a

"learning experience" for everyone, so there

will inevitably be some improvising.

Fruition Fineries at 56 Merchants Row

also opened its doors on Monday, with abbreviated

hours and with private shopping

by appointment as an option. Customers

can still video chat in by appointment

and use curbside pickup. Fruition Fineries

Owner Rebecca Buonadonna expects

a slow start to business as people adjust.

She said she's looking forward to seeing her

"customers' smiling faces... well, their smiling

eyes anyway," adding that "It's nice to be

here and just have the door open."

McNeil & Reedy at 81 Merchants Row

also opened on Monday, and will have hand

sanitizer, gloves, and wipes at the front door

and register. They are asking customers to

wear masks, too.

Unlimited Potential, 146 West St., is

opening Tuesday, May 19, with limited

hours. Shopping will be by appointment

only and limited to one or two people at a

time. Customers can schedule appointments

through the Unlimited Potential

Facebook page. Unlimited Potential Owner

Jessi Travers Moulton is planning the time

slots so she can clean in between customers.

She is wary of letting anyone in with

respiratory issues since she wants to cater

to those who require the most precautions,

"especially because most of my customers

are either pregnant or grandparents," she

said. She expects to enforce mask wearing

for at least the first couple of weeks being

open.

By Aliya Schneider

Fruition Owner Rebecca Buonadonna and

her dog Piggy are glad to be open again.

The Curiosity Shop at 18 Merchants

Row also will open onTuesday, limiting

customers to nine at a time. According to

their Facebook page, they have rearranged

their store to prevent traffic between customers.

They will have hand sanitizer and

discourage gloves unless they are properly

sanitized. Mask wearing will be enforced

for anyone over 2 years old.

Phoenix Books at 2 Center St., which has

been doing call-in curbside pickup orders,

plans to open on the following Tuesday,

May 26, a week later than the lifted restrictions.

Phoenix Books manager Will Notte

said they need more time to ensure they

have the necessary precautions in place

before allowing customers inside. He

explained that they will have disposable

masks available for those who don't have

their own, and the vestibule in front that

normally houses discounted books will

be used as a hand sanitizing station. There

will be three locations throughout the store

where customers can continue to sanitize

as they browse, because it "can't hurt to use

a little hand sanitizer," he said. Additionally,

there will be clear plastic shields at

the cash registers as an additional safety

measure. "It's what felt safe to us," Notte

said. They will have two salespeople and

eight customers at a time in the store,

which is "what felt safe to us," Notte said.

He emphasized that they are planning to

keep their customers informed of their

policies in the friendliest way possible, so

people feel welcome, even if they may be

disappointed with the safety restrictions.

The Vermont Truffle Company also

plans to open next week.

Mountain Music, 5 Center St., is encouraging

customers to continue utilizing

curbside and online shopping options.

They said that they plan to allow limited

in-store shopping but for now customers

should contact them to make an appointment.

The Book Mobile, Haze Glass, Puro's

Coins & Jewelry, Good Stuff, Timco

Jewelers, and Diamonds and More also

opened on Monday. The Party Store opens

Wednesday, and Gamestop will open at

the end of the week.
---
The Mountain Times • May 20-26, 2020 • 5

Police confirm that Christopher G. Louras is

responsible for killing cousin Nicholas Louras

Following laboratory analysis and continued investigation

into the events of Oct. 8, 2019, in Rutland and Salisbury,

the Vermont State Police has determined that Christopher

G. Louras, 33, of Rutland is responsible for the fatal shooting

of his cousin Nicholas Louras.

The confirmation was announced, Tuesday, May 12.

Nicholas Louras, a 34-year-old Rutland resident, was

found deceased along Vermont Route 53, also known as

Lake Dunmore Road, in Salisbury. Police learned of the

discovery of Nicholas Louras' body while investigating the

Police investigates harassment of black

family with out-of-state plates in Hartford

The Vermont State Police is

investigating a bias-related incident

that occurred at noon Friday, May 8,

in Hartford during which a man was

harassed and threatened regarding his

family's presence in Vermont.

The state police received a report

of a hate/bias-motivated incident

from the victim's family. The victim

reported that at about 10 a.m. that day,

he was driving near his residence in

>

officer-involved shooting early Oct. 8, 2019, in Rutland in

which Christopher Louras was killed after firing at the Rutland

City Police Department building and later exchanging

gunfire with officers during a motor-vehicle pursuit

through the city.

Several aspects of the case, including the precise time

line of events, remain under investigation, and police ask

that anyone with information call 802-773-9101. The case

has been reviewed by the Addison County State's Attorney's

Office, and no criminal charges are pending.

Hartford in his vehicle, which has New

York registration plates, when two

unknown vehicles, possibly pickup

trucks, approached him and flagged

him down.

The victim, thinking someone

needed assistance, stopped and spoke

with a white male. The victim, who

is black, was advised that he was not

wanted in Vermont and told to leave.

There were significant racial undertones

to the interaction. The victim,

whose 11-year-old son was with him

in the vehicle at the time, was in fear

for the physical safety of himself and

his son. He was able to verbally deescalate

the situation and drive home.

No physical altercation occurred.

At this time, investigators do not

have descriptions of the vehicles

involved, including make, model,

registration and direction of travel.

Bias > 9

Inns open: With lodging establishments allowed to open May 22, many look to future

from page 3

large areas, including public spaces and guest rooms.

Despite the regulations, Lowe was hopeful guests

wouldn't be deterred from traveling.

"The weekends will probably still have the strongest

demand," Lowe said.

Lowe said most of the summer business, including weddings

and conferences, have been postponed or cancelled,

but he was hopeful that fall business would be busy.

"The fall looks relatively busy for group business at

this point," Lowe said. "As for the leisure business, we are

projecting slow growth, but also have some optimism that

there is pent up demand from the stay at home orders

within our northeast drive market."

Lowe was also optimistic for the 2021

wedding season, which he said is "significantly

ahead" of last year and the year

before, which were both record years for

weddings at the inn.

The Woodstock Inn, the main economic

driving force for Woodstock and surrounding

towns, closed March 16— about a week

before Scott's mandate for lodging facilities

to close to prevent the spread of covid-19.

Scott announced May 15 that inns could start taking bookings

May 22, but only if they follow a set of hefty guidelines.

Check-ins from May 22-June 15 are only for Vermont

residents, under Scott's guidelines, unless those from out

of state sign a document saying they've met a 14-day instate

quarantine requirement. Lodging facilities can only

be filled to 25% capacity and operators must maintain a

full guest log for 30 days, including contact information.

Gatherings of 10 or more people are prohibited and only

one party at a time can use elevators.

Some are still grappling with what the changes will look

like.

Courntey DiFiore, the communications, public relations

and social media manager at Killington Resort,

said staff members were still finalizing lodging details for

reopening the Killington Grand Hotel.

Patty McGrath, the owner of the Inn at Long Trail in Killington,

said she's taking reservations starting June 19, but

she's not sure what protocols the inn will take yet.

"People are

going to want

to stay places

they can trust,"

Vines said.

"We are using a wait-and see-approach to see what others

are doing," she said. "We expect that this is not going to

be a vibrantly busy summer."

McGrath said she was eager to reopen, but concerned.

"I think all of us would love to reopen and get everything

back to normal," she said. "I'm not sure that's realistic and

not sure what normal is going to be looking like."

McGrath said she might not open Rosemary's Restaurant

this year, depending on dining regulations.

Scott extended Vermont's state of emergency until

June 15 as he announced the economy would continue to

reopen in phases. Retail operations were allowed to reopen

starting May 18 under guidelines.

It's still unclear when restaurants will be

able to serve guests again. Some are petitioning

the governor to allow restaurants to

open for outdoor dining as nearby states,

including New Hampshire, have allowed.

While Scott has indicated that outdoor

dining could be included in the next round

of openings as soon as the end of this week,

it hasn't happened as quickly as some had

hoped.

Birch Ridge Inn owner Bill Vines of Killington said he

was uncertain about the future of his inn and restaurant

business.

Vines said the inn is always closed in the month of May

for maintenance, but people usually plan future stays this

time of year. "Normally the month of May we are receiving

1-3 reservations a day for future stays," he said. "There

has been none of that activity so far. At this point in time,

reservations are way down. The general public, as best I

can tell, has not begun the process of making reservations

for leisure travel."

Vines was anticipating a change in guest expectations

this year and in future years.

"People are going to want to stay places they can trust,"

Vines said. "I think guests will pay more attention to

sanitation, much more attention to process. They will want

to stay in properties that focus on that. Exactly how that

all plays out, is going to be a great exercise over the next

couple years."

Mou nta i n Ti m e s

is a community newspaper covering Central

Vermont that aims to engage and inform as well as

empower community members to have a voice.

Katy Savage

Julia Purdy

Curt Peterson

Cal Garrison

Buy Sell Trade

MID-STATE GUNS LLC

Table of contents

Local News................................................................. 2

State News.................................................................. 5

Opinion...................................................................... 8

News Briefs.............................................................. 13

Puzzles..................................................................... 15

Silver Linings........................................................... 16

Food Matters............................................................ 20

Pets........................................................................... 22

Mother of the Skye................................................... 23

Columns................................................................... 24

Classifieds................................................................ 26

Service Directory..................................................... 28

Real Estate................................................................ 30

Polly Lynn-Mikula .............................. Editor & Co-Publisher

Jason Mikula .......................... Sales Manager & Co-Publisher

Lindsey Rogers ...................................... Sales Representative

Krista Johnston............................................Graphic Designer

Brooke Geery........................................ Front Office Manager

Dom Cioffi

Mary Ellen Shaw

Paul Holmes

Merisa Sherman

Flag photo by Richard Podlesney

976 VT Rt. 12S

Randolph, VT 05060

midstateguns@myfairpoint.net

©The Mountain Times 2020

The Mountain Times • P.O. Box 183

Killington, VT 05751 • (802) 422-2399

Email: editor@mountaintimes.info

mountaintimes.info

Ray & Carol Burke

Tel 802.728.3100

Fax 802.728.4300

Dave Hoffenberg

Ed Larson

Vivian Finck

Nate Lucas
---
6 • The Mountain Times • May 20-26, 2020

By Rep. Jim

Harrison

Bruce the Spruce lightens the discussion

This past Friday, the House gave preliminary approval

to H.673, which gives authority to towns to adopt a

shade tree regulation plan. The legislation is only enabling

and was advanced by the agriculture and forestry

committee on a unanimous vote, which usually means

quick passage on the House floor.

While the measure ultimately

passed on a wide margin, it

generated a number of questions

during the remote House session.

A plainspoken colleague from

the Northeast Kingdom, Rep.

Brian Smith, asked questions of

the bill's presenter as to how this

might impact his favorite tree,

Bruce, who is a spruce tree. After

he got his questions answered,

he said "I don't think Bruce the

Spruce thinks much of this bill."

Meanwhile, other representatives

couldn't help sharing tree jokes on Zoom's chat

feature as the discussion wore on, for which members

received a light reprimand by Speaker Johnson for using

the chat tool for other than procedural questions. "What

did the tree do when the local bank closed? It grew a new

branch." "Did the tree falling in the woods make a sound

if the tree warden wasn't there?"

The real significance of H.673 may be a return to

LOCAL PEOPLE.

LOCAL SERVICE.

Home Comfort – All season long!

BEAT THE HEAT!

Get on the schedule for an air conditioning

or Mini Split AC Unit Installation.

0 % Down - 0 % Interest

For up to 36 months

Call us now at 866-326-0535

West Rutland School

2020-2021

Kindergarten Registration

Who:

All children five (5) years old

on or before August 31, 2020

How:

Contact Lisa Harvey at

lisa.harvey@grcsu.org

or call (802)438-2288 for

registration information.

legislation from pre-Covid emergency. What that means

for the coming weeks remains to be seen, but the Senate

has begun reviewing climate change bills and Act 250 reforms.

Bills with any controversy may be difficult at best,

in remote online sessions. Senate Leader Tim Ashe, D/P-

Chittenden, has dubbed it the "turning of the spigot" on

non-Covid-19 legislation.

All this begs the question should the Legislature as

a whole adjourn and just let the budget committees

continue their work and leave other non-essential bills

for another day? Some feel it may be best to save some

of the ongoing expenses of the session given the budget

challenges ahead.

Reopening

This past Friday, Governor Scott extended Vermont's

state of emergency to June 15 with modifications. The

"Stay Home, Stay Safe" order is now the "Be Smart, Stay

Safe" order, further reflecting the new phase we are entering.

The addendum also asks adults 65 and older and

those with underlying medical conditions to continue to

shelter in place to avoid serious illness.

As the key restart metrics continue to support incremental

openings, the "Be Smart, Stay Safe" order also

allows the limited opening of campgrounds, marinas

and lodging facilities. These facilities can open May 22

(June 25 for state parks) for Vermont residents only, or

those who have met the 14-day quarantine requirement,

and will be subject to strict health and safety standards

and guidance from the Agency of Commerce and Community

Development.

Beginning this Monday, May 18,

non-essential retail could reopen

at 25% of their capacity; or one

customer per 200 square feet; or 10

total customers and staff combined,

whichever is greater. Operators must post their

temporary occupancy limit, and which method was

used to determine it, prominently on all entrances. And

while not final, the governor has hinted that additional

restrictions could be lifted soon, including raising the

gathering number to 25 (currently 10).

Vermont continues its positive trends with the virus.

In the past week we went from a projection of Covid

cases doubling every 12 weeks to now doubling every 40

weeks, second best in the country (New Hampshire by

The pandemic, its economic

fallout, and the resulting social and

personal stresses, all

beg for analysis. What's

going on? What are

proper responses? What

mistakes are being

made? What fundamental

problems are

exposed?

I'm grateful for the

informed, insightful,

indeed wise communications

I've been getting

from concerned

citizens. It's

gratifying when

By Sen. Dick

McCormack

constituents

and I agree. It's

a challenging

opportunity for

deepened understanding when we

don't.

Even wrongheaded ideas contribute

to the discussion. To believe in

free speech is to trust that, overall,

good ideas will prevail over

bad ideas in the competitive

"marketplace of

ideas." More harmful than

wrong ideas are right ideas

wrongly applied.

The present Covid

discussion has many examples.

The right to an opinion

I suggest that it's a right

idea that everyone has

an equal right to

an opinion, and an

equal right to argue

"What did the tree do when the local bank closed?

It grew a new branch."

contrast was at a rate of doubling in four weeks). While

there are a number of reasons for the positive trends (rural

nature of state, initial aggressive measures, reduced

visitors, etc.), the numbers should enable additional

parts of the economy to open again.

State budget

The Scott administration has directed various state

agencies to develop budget plans with an 8% reduction

in mind as they get ready to present a first quarter plan

to the Legislature for the first three months of the new

fiscal year beginning July 1. How that will be received by

the appropriations committees and what it might mean

to state services, grants and employees is an open question

at this point.

The current plan is to adopt a three-month budget by

next month and then adjourn until sometime in August,

when there is a better picture of what state revenues will

look like and whether there will be any additional assistance

from Washington for lost revenues. At that point,

the Legislature and governor will craft a budget for the

remaining nine months.

Education tax rates

Everyone seems to agree that a 14% or more education

property tax hike is unpalatable, but solutions

remain elusive. Some want to increase other taxes, like

the sales tax or rooms and meals tax, while others hope

for a federal bailout. The administration has suggested

looking at spending for potential savings.

At a meeting of the House Ways and Means Committee,

Finance Commissioner Adam Greshin put forth a

suggestion that school districts revote their school budgets

for the coming year. He argued that budgets, much

like the state's, were put together last winter in a much

different environment. Needless to say, the suggestion of

starting all over was given a very cool reception.

Jim Harrison represents Bridgewater, Chittenden,

Killington and Mendon in the State House. Sign up for

email updates at eepurl.com/gbxzuz or email him at

JHarrison@leg.state.vt.us.

Right ideas wrongly applied

Rights do not

extend to a right to

be agreed with.

for his/her opinion.

But this right idea

is wrongly applied

when taken to mean

all opinions are equal. Bob Dylan

sang: "You're right from your side

and I'm right from mine." Hippies

believed that "everyone has

their own truth." Popular pseudo

psychology tells us to "trust your

feelings." The rightwing version is

when Fox News claims to be "fair

and balanced" by airing "both sides"

in reporting on climate science.

But this claimed equality of all

opinions equates the proven with

the unproven, or even with the disproven,

making intelligent discernment

impossible. The learned scientific

consensus on global warming,

for example, is not merely a show of

hands among the world's climate

scientists, but a recognition that the

thesis has endured the rigors of the

scientific method and "the thing has

been proven" (QED). Conversely, as

with Covid-19, various nonsensical

claims have been proven wrong.

You can't cure a virus by drinking

bleach. The pandemic is not a

"hoax."

McCormack > 11
---
The Mountain Times • May 20-26, 2020 • 7

Rep. Harrison announces candidacy for re-election

Jim Harrison of Chittenden announced

his candidacy for a new term

as state representative for the Rutland-Windsor

1 district (Bridgewater,

Chittenden, Killington and Mendon)

on May 14. He was first appointed in

2017 by Governor Phil Scott to replace

former Representative Job Tate and

was elected to a new term in 2018.

Harrison, an independentlyminded

Republican, understands

the challenges that Vermont will be

facing. He said, "The Covid-19 crisis

demands that Vermont look at some

things differently. Tough decisions will

be necessary in order to get back on

our feet."

He added, "This is not the time to

walk away, but rather step up to the

Rep. Butch Shaw

announces candidacy

for re-election

Charles "Butch" Shaw

of Pittsford announced

his candidacy for reelection

to a sixth term to

represent the citizens of

Brandon, Pittsford and

Sudbury in the Vermont

House of Representatives

on Monday, May 18.

Butch was first appointed

to the House by former

Governor Jim Douglas in

2009 to represent Rutland

District-6.

Shaw has developed a

reputation in Montpelier

as a legislator that fiercely

represents and protects

his district while understanding

the challenges

of navigating the intricacies

of state government.

The relationships he has

developed with his House

and Senate colleagues

and with the administration

have proven to be a

valuable legislative asset

in pursuit of developing

well thought out legislation.

Shaw serves as vice

chair of the powerful

House committee on corrections

and institutions

where his experience as

a small business owner

has proven extremely

valuable in preparing the

task, which is why I am announcing

my candidacy for a new term."

As a state representative, he has

developed a reputation for being

pragmatic by asking questions and

working to

improve

bills. It will

be this ability

to probe and

understand ramifications that will

serve the state well going forward.

"With public health in mind, we

must work to get our economy moving

again. I believe strongly in fiscal

responsibility and understand the

importance of making investments

for our future. As they say, when given

lemons, it's time to make lemonade,"

Capital Construction and

State bonding budget. He

has also been appointed

by the Speaker of the

House to serve on the influential

joint house and

senate justice oversight

committee where his

negotiating skills prove

useful in developing justice

system policy.

"In this unprecedented

time of public health

and financial insecurity

"In this unprecedented time

of public health and financial

insecurity it is imperative to move

Vermont forward in a safe, healthy

and fiscally responsible manner. I

am up to this task," said Shaw.

it is imperative to move

Vermont forward in a

safe, healthy and fiscally

responsible manner. I am

up to this task and now

announce my candidacy

for re-election for another

term to represent my constituents

in the Brandon,

Pittsford and Sudbury

district," Shaw said.

Shaw and his wife,

Mary, native Vermonters,

have lived in Pittsford

since 1968 and both have

served their community

in many different endeavors.

Shaw has a proven

track record of being a

reliable and responsive

legislator who puts his

constituents and district

first. He is looking forward

to continuing to represent

them in the future.

"This is not the time to

walk away," says Harrison.

said Harrison.

He is known for his frequent updates

and written communications.

He also prides himself on easy access

for district residents.

Harrison

and his wife,

Pat, have lived

in Chittenden

since 2006 and

in Vermont for 35 years. They have two

adult children and four grandsons.

His experience working with small

businesses as the former president of

the Vermont Retail & Grocers Association

and administrator of the Vermont

Specialty Food Association, will continue

to serve the region well and find

solutions going forward.

Courtesy VTF&W

Wildlife biologist Alyssa Bennett is the state's leading

expert on Vermont bats.

Protecting Vermont's

bats from Covid-19

Bats are once again in the headlines, but not for the

reason one might assume — they need help!

There is no evidence at this time that North American

bats can transmit the virus causing Covid-19 to humans,

according to the Vermont Fish and Wildlife Department.

However, there is a very real and growing concern that

humans could transmit the virus to the already vulnerable

population of bats.

As a result, wildlife agencies across the United States and

Canada are enacting safety measures to lessen the possibility

of spreading Covid-19 to local animals, just as many

veterinarians are doing with our pets. This includes temporarily

postponing any activity that involves handling bats.

The goal is protecting our native bats and other vulnerable

wildlife from reverse zoonosis, where infected humans

transmit diseases to animals.

"Vermont is home to nine bat species, five of those are

endangered or threatened," said VTF&W Small Mammal

Biologist Alyssa Bennett. "It's important that we protect our

local bat populations from infectious disease transmission

by admiring them from a safe distance and by staying out of

caves and mines where bats hibernate so we don't disturb

them or potentially expose them to this virus."

TOWN OF KILLINGTON

SHORT-TERM RENTAL

REGISTRATIONS ADOPTED

On May 5, 2020, following eleven months of

discussion, the Selectboard adopted amendments

to the Killington Zoning Bylaws that require

registration of residential units used as Short-

Term Rentals.

A Short-Term Rental is defined in the

bylaw amendments as: "A furnished house,

condominium, or other dwelling room or selfcontained

dwelling unit rented to the transient,

traveling, or vacationing public for a period of

fewer than 30 consecutive days and for more than

14 days per calendar year."

The primary goal of the registration program is

public safety. Short-Term Rentals will be limited

to an occupancy consistent with their wastewater

permit (or grandfathered use) and in compliance

with Vermont's Fire & Building Safety Code (as

applicable).

The Selectboard did agree to a "bonus" of two

occupants per dwelling (a three-bedroom house

could be rented to 8 occupants, for instance)

but this bonus does not apply to condominiums

subject to Vermont Act 250 permits.

WHAT'S NEXT?

The Selectboard will be reviewing the

registration form and fee structure for

short-term rental registrations at a meeting

scheduled for Tuesday, May 26, 2020 at 6:30

PM. The meeting will be open to the public by

videoconference. A link to the videoconference

will be posted on the Town website.

Prior to that meeting, the Selectboard will

interview three short-term rental service

providers in executive session. The service

providers will be asked to provide pricing

and qualifications for address identification,

compliance monitoring, mobile permitting

through an online portal, and a dedicated 24/7

complaint hotline.

An outside service provider is needed to discover

and track all available Town of Killington shortterm

rental ad listings posted on 30+ hosting

sites (Airbnb, HomeAway, Vrbo, Booking.com,

Expedia, FlipKey, Tripping, and 23+ others).

All decisions about approving registrations and

compliance with registrations will be made

locally at the Killington town offices. The outside

service provider will be just that – a data and

service provider.

Short-Term Rental Registration applications will

be available by July 1, 2020 with a deadline for

all active Short-Term Rentals to be registered by

November 1, 2020.

For more information contact Killington Town

Planner & Zoning Administrator Preston Bristow

at planner@killingtontown.com or at 802-422-

3242.
---
Opinion

8 • The Mountain Times • May 20-26, 2020

OP-ED

Democrats must

lead Scott to open

state's economy

By Angelo Lynn

It's time Vermont's Democrats urged Gov. Phil Scott

to open Vermont's economic spigot a bit faster, even

significantly faster. The onus falls on the Democratic

leadership because Scott appears afraid of the political

risks if he makes the call on his own.

Here's the political calculus: If Scott were to lead

the state into an aggressive reopening of the business

community and the state experienced any level of virus

resurgence (which is bound to happen to some degree),

he would be skewered by any Democratic opponent

for committing such a travesty. If he plays it too safe (as

he is now), he will be criticized for keeping the business

community so restricted it kills Vermont's already

fragile economy. It is, going forward, a lose-lose political

scenario.

But it's not just Scott who loses. We all lose if the

economy doesn't rebound quickly enough to prevent

hundreds of small, independent businesses from going

bankrupt or closing.

In the best of Vermont's political traditions, Democratic

leadership would serve the state well if they were

to meet with Scott and outline bolder steps they can take

together to not only prevent a severe economic slump,

but set the stage for an economic revival — all, of course,

with keeping the public health as the priority it has been.

In order to do that we must be able to ensure that any

new outbreaks are contained quickly with testing and

tracing protocols in place (which the state has done) to

ensure we never come close to a crisis level of care at our

hospitals.

Here are a few measures needed to get the ball rolling:

• With Democrats' support, Scott must relax restrictions

on larger construction projects like the rail-bridges

work being done in downtown Middlebury, or the public

safety building in Killington, or the K-1 Base Lodge at

Killington. Projects like this are outdoors, are easy to create

social distancing protocols, and workers can largely

avoid being in contact with the general public. Currently

Open the economy > 10

The bottle bill is a

drag on recycling

By Bob Cappadona

OP-ED

Our economy, culture is

upside down

By Rep. Randall Szott, D-Barnard

Around this time last year, as the legislative session was

ending, I was reflecting on the meaning of politics and the

politics of meaning. I wrote and published my thoughts

and ended on this note, "If we pursue a legislative agenda

committed to putting meaning at the center of our deliberations,

we will have made Vermont more humane, and

maybe restore a bit of hope and possibility in the world." At

that time, I mentioned that we were experiencing a "crisis

of meaning," but now we face a global health crisis as well.

Of course what counts as a crisis, or crisis enough to take

substantive action, is a contested topic. I believe poverty is

a crisis. Inequality is a crisis. The climate is in crisis. The culture

of violence is a crisis. We are in multiple moral crises.

Some argue it is more important

that they be allowed to decide

for themselves what precautions

"Free to Die" by David Fitzsimmons, The Arizona Star, Tucson

LETTERS

Our farms: The root of

our local economy and

community-level recovery

Dear Editor,

Over the last several

weeks, Vermonters have

been thinking a lot about

food—where it comes

from, who harvests it,

how far it travels, what it

costs and how much is

available.

I was not one of those

kids who grew up wondering

where her food came

from. My brothers and I

were born and raised in

Newbury on a diversified

fruit, vegetable and dairy

National Guard and

Foodbank distributes

hundreds of thousands

of meals-ready-to-eat

(MREs) in response to the

emergency needs brought

on by Covid-19, food is

looming in our nation's

consciousness in a way

it has not since the Great

Depression.

As we "flatten the

curve" and "open the

spigot" let us not return

to the approach to food of

farm, where

my family still Let us not return to

to take, if any, and others argue

farms today.

In mid-March, several states gave redemption centers

Growing up, the approach to food

that it must be a collective effort

and retailers the option to temporarily stop accepting

my family sold

of recent decades

bottles and cans. They advised households to stockpile

in order to protect everyone.

produce at our

their water bottles and soda cans for several weeks, or to

farm stand, to

simply toss them in their curbside recycling bins.

While it is unclear how many redemption centers chose

to shut down during the height of Covid-19, one thing is

clear: in a world without redemption centers, bottles and

cans would continue to be recycled.

If you live in a bottle bill state and you have curbside

recycling service, did you know you are paying twice for

recycling? Did you also know that for any deposit-eligible

containers that you do not return for redemption, your

state government keeps the $0.05, such that it essentially

becomes another part of your state tax?

You pay once for the modern curbside service that handles

an extensive list of household recyclables, and again

for the deposit program that applies only to select bottles

and cans. Comprehensive curbside and drop off recycling

programs generally target over 30% of a household's waste

Going back to "normal" would mean returning to a broken

world in which acquiescence to injustice is rebranded as

normal, or at best as "incremental change." I say this not

to be depressing but to urge an honest look at what issues

we mobilize resources around, who we direct them to, and

what the ongoing result is.

This Covid-19 pandemic invites reflection on Vermont's

state motto: "Freedom and Unity." It illustrates a fundamental

tension playing out before our eyes — the tension

between individual liberty and the common good.

Some argue it is more important that they be allowed

to decide for themselves what precautions to take, if any,

and others argue that it must be a collective effort in order

to protect everyone. Like Irene before, this crisis reveals

that the vast majority of Vermonters see that there is

freedom in unity. That is to say, in a time of crisis, we see

stores and restaurants

and at farmers' markets.

Not only did farming

provide a modest income

for our family and food

for the community, but it

also kept us fed and selfreliant.

We stocked the cellar

with potatoes, froze

vegetables, pressed cider,

made jam, butchered pigs,

cows and chickens and

made sure we had enough

to get through the winter.

As the Vermont

recent decades. Instead,

let us take stock of what

we have learned and take

concrete action toward a

healthy and secure future:

First, local farms are

crucial to communitylevel

recovery from the

economic impacts of Covid-19.

As a state, we can

help our economy rebuild

by supporting local, diversified

agriculture.

Second, economic

security and food security

are linked. In order to

Bottle bill > 9 Randall > 11 Farms > 9
---
The Mountain Times • May 20-26, 2020 OPINION • 9

CAPITOL QUOTES

On Trump taking hydroxychloroquine...

"After numerous discussions he and

I had regarding the evidence for and

against the use of hydroxychloroquine,

we concluded the potential benefit from

treatment outweighed the relative risks,"

said Sean Conley the president's physician

Farms: Remembering the value of local food is an asset to keep

>

from page 8

provide for all Vermonters

during a global pandemic,

climate change, or any

other future disrupter to

national supply chains,

we must invest in our local

food system. We can do

this by strengthening a

Vermont-based supply

chain where fresh, healthy,

and safe produce, meat

and dairy can continue to

reach our homes, schools,

stores and restaurants.

Finally, as we gear up

for this growing season

and our markets reopen,

our farmers and workers,

food producers and

distributors deserve our

every support. As Vermonters,

we can commit

to purchasing locally

grown, sourced and prepared

food as much as

possible.

Molly Gray

Sumbitted

Molly Gray is the assistant

attorney general and

a Democratic candidate

for lieutenant governor.

"He's our president and I would rather he

not be taking something that has not been

approved by the scientists, especially in his age

group and in his, shall we say, weight group —

morbidly obese, they say,"

said Speaker of the United States House of

Representatives, Nancy Pelosi

"If you are in a risky population here, and you are

taking this as a preventative treatment ... it will kill

you. I cannot stress enough. This will kill you,"

said Fox News Anchor Neil Cavuto

"A basic question: why is the president taking an

unproven treatment – hydroxychloroquine – while

refusing to take a step proven to reduce risk of

infection – wearing a mask?"

said CNN anchor Jim Sciutto

"It's reckless to tell people he's taking

hydroxychloroquine. All the experts say it does

nothing at best… and at worst it hurts you. I don't

know why he did it,"

said NY Senator Chuck Schumer

>

Bottle bill: Without it recycling would be better off

from page 8

stream, while bottle bills target less than 2%.

The result is an inefficient and wasteful

system that produces more environmental

harm than good.

Progressive reform of these programs

is needed and would create real economic

and environmental value. Covid-19 has

forced us to adjust and implement new behaviors

that benefit the greater good. Many

of those new behaviors will most likely

become part of our "new normal."

Bottle bills should certainly fall into that

category, here's why:

Eliminating bottle bills would direct

valuable plastic and aluminum into curbside

recycling bins, reducing the net cost of

recycling, and delivering substantial reductions

in municipal recycling costs. These

savings could then be invested in a new

wave of recycling and reuse infrastructure

to yield new environmental benefits.

The net result of this change would

reduce the cost of curbside recycling programs.

If the contamination rate of the inbound

recyclables simultaneously dropped

below 5% — due to household compliance

with acceptable materials lists — the cost of

curbside recycling would drop even further.

>

The potential cost savings depending on

the size of the community could be in the

tens or even hundreds of thousands per

year.

Recent challenges ranging from China

restricting its imports of recyclables, to the

Covid-19 pandemic are reminders that we

must always be innovating and developing

better ways to do things. After directing

bottles and cans to curbside recycling, how

could we put redemption spaces to better

and more modern uses? Could they be used

for batteries and electronics? Could they

become collection points for flexible film

plastic? Could they support waste reduction

and reuse initiatives?

Bottle bills attempt to solve a problem

that doesn't exist anymore. They may have

served a purpose in the past when recycling

infrastructure and services were virtually

non-existent. Now, the expense and

redundancy resulting from bottle bills and

the redemption system mean it's time to rethink

this approach. Bottle bills can — and

should — fade away, and recycling will not

only survive, but expand and thrive.

Bob Cappadona is vice president of resource

solutions at Casella Waste Systems, Inc.

Bias: State police investigate hate-speech, say it has no place in Vt

from page 5

Anyone who might have more information is asked to call 802-234-9933.

Vermont is and must continue to be a state where visitors feel welcome, regardless of

who they are, what they look like or where they come from, even during this pandemic,

VSP and the governor have implored. Seasonal residents, the owners of second homes and

guests from beyond our borders remain able to travel to Vermont and live here under current

health and safety requirements. As restrictions related to Covid-19 begin to ease, Vermonters

should be prepared to see more out-of-state visitors, and they deserve the same

expectation of safety and security that Vermont residents have, VSP stated in a news release.

"Hate speech and threats are disturbing, unacceptable and have no place in Vermont.

The Vermont State Police stands ready at all times to help people who are the victims of

crime, including incidents that are perceived as having been motivated by bias or hate, and

to hold offenders accountable," the VSP statement continued.

As Col. Matthew T. Birmingham, VSP director, said: "People in Vermont should not have

to worry about crimes motivated by hate at any time, let alone when our communities

should be pulling together to face an unprecedented situation that affects all of us. Members

of the state police are diligent about responding to all reports of criminal activity and

investigating matters with the urgency they require. Anyone who may have been the victim

of a bias-motivated crime should report the incident so we can pursue it."
---
10 • OPINION

The Mountain Times • May 20-26, 2020

Stuffed with love, community turns out

Rutland's BROC Stuff-A-Cruiser initiative Friday, May 15, raised $5,735 plus a huge variety of food supplies.

Open the economy: Democrats must take the lead to reopen Vermont's economy faster

from page 8

>

the state limits the construction crew

to no more than 10. The contractors

told the Middlebury's Select Board

on Monday that Vermont is the only

state in which they are working that

imposes such tough restrictions on

what, in other states, would be considered

an essential project. They said

they would have 30 workers on the

job at this time, if the restrictions were

loosened.

• Hospitals and Vermont's medical

community did an amazing

job of preparing for and

managing this pandemic. But

cash shortages, caused by preventing

elective surgeries and

many standard visits, bleed

hospitals dry. Those measures

must be relaxed as quickly as

possible. Reports suggest the

state's 14 hospitals are losing

$100 million a month and

that the UVM Medical Center

expects to lose $150 million

this year.

It doesn't take a math whiz to

understand that the longer we delay

reopening our hospitals to near full

operation, we'll quickly accumulate

losses that can't be repaid without

slashing expenses—and that means

cutting staff and services. That weakens

Vermont's medical community

and threatens Vermont's long-term

viability. If the governor won't make

the call to more swiftly open our hospitals,

Democrats should.

• In an equally bold move, Democrats

could encourage the governor

to walk back his comments late last

week when he essentially told outof-staters

not to come to Vermont for

their summer vacations. Summer

tourism in Vermont represents about

a half-billion dollars in revenue, and

it's something that once missed can't

be replaced.

Yes, there is risk in opening Vermont

to beleaguered refugees from

the Northeast's population centers,

so strict protective measures must

be put in place, just as they are being

mandated in Europe, the Caribbean

and states such as Hawaii, Colorado

and others. Many places require

masks in all public spheres, some level

of quarantine upon arrival, temperature

checks and other measures that

help isolate and control the spread

of infection. State testing capabilities

would have to be beefed up even

Americans learned two

things in these two months

of isolation: that we can work

remotely from anywhere with

good internet connections, and

that Vermont and other rural

areas offer a measure of safety.

more, and inns, lodges, and private

homes for rent would be expected to

monitor guests to whatever degree is

appropriate.

But to toss up a figurative wall

to the 5 million summer visitors

Vermont sees in a typical year, would

spell a different kind of doom to many

businesses throughout the state—and

those are jobs and enterprises that

won't come back quickly, once gone.

• Vermont's business community

will also need to promote their reopening

and the new rules of engagement,

but they will struggle for two

reasons: First, we've done a good job

of scaring the bejesus out of folks so

they would stay home and stay safe.

It worked well. But now we not only

have to convince them that it's safe to

go back out into the community, but

we have to educate them about the

new safety precautions put in place.

To that end, a portion of the state's

Courtesy of BROC

$1.25 billion Covid-19 aid package

from the federal government could be

designated to market Vermont's local

economy.

Here's why that's important: The

consumer is responsible for about

70% of the gross domestic product

in Vermont. Remove the consumer

from the economic equation—which

we did with this shutdown—and you

remove the revenue. The revenue,

however, is what pays for our schools,

health care system, police and

law enforcement, affordable

housing, the repair of our roads

and bridges. Everything.

It's imperative that we

stimulate our economy, and

the faster we can do that, safely,

the stronger Vermont will be.

As to setting the stage for

future economic growth, the

world and Americans learned

two things in these two months

of isolation: that we can work

remotely from anywhere with

good internet connections, and that

Vermont and other rural areas offer a

measure of safety, access to the outdoors,

and quality family life that is to

be cherished.

We should market those benefits to

a newly conscious populace, 35 million

of whom are within a half-day's

drive of Vermont.

But the governor can't lead this

charge. Rather, Democrats must take

the lead and bring the governor along.

Why would they? Because Democrats

just might be surprised by the response

of the business community toward

their party if they do. It's not just the

right thing to do for the state's welfare,

but it helps businesses (small and

large) at a time of crisis and real need—

and that won't be soon forgotten.

Angelo Lynn is the editor and

publisher at the Addison Independent,

a sister publication of the Mountain

Times.

New orders: Scott continues to turn spigot

>

from page 1

ernor said at his three-times-a-week press conference,

"Emotions are raw as we methodically reopen."

The state also released guidance on lodging, effective

May 22, covering inns and other lodging operations,

short-term rentals, campground and marinas. Those

businesses "will be able to accept overnight reservations

from people who have met 14-day quarantine requirements,"

said Lindsay Kurrle, the secretary of the Vermont

Agency of Commerce and Community Development.

Vermont residents and those who have been quarantined

will have to fill out a questionnaire affirming that

they have met quarantine requirements, she said.

Lodging operations, with some exceptions, will have

to stay at 25% of capacity, Kurrle said — and operators

will be responsible for making sure there are no more

than 10 people gathered at a time. Lodging operators

will have to keep a guest log for 30 days in case they are

needed as part of contact tracing efforts.

"These requirements are less about where you are

from, and more about where you have been, and who

you have been in contact with," said Kurrle, noting that

Vermont residents who have been out of the state for an

extended time must also meet quarantine requirements.

Michael S. Pieciak, the commissioner of the Vermont

Department of Financial Regulation, said Vermont has

the lowest three-day and seven-day growth rates of

Covid-19 in the country.

At Monday's press conference, May 18, Health Commissioner

Mark Levine warned Vermonters against

complacency, despite the fact that Vermont again

reported zero new cases on Sunday even after administering

700 tests.

Levine noted that Vermont's coronavirus curve has

continued flattening since mid-April, with 940 total confirmed

cases in Vermont and 54 deaths from the virus.

"We continue with minor oscillations at a very low level

of new cases on a daily basis," Levine said.

Both Scott and Levine said that the majority of Vermonters

continue to make the sacrifices necessary to

keep the virus from rebounding, based on geolocation

"Again, when you look at last

week, we're the envy of the nation

in some respects," Scott said. "I

have governors texting me and

saying, 'You give us hope'."

data from mobile phones showing how much people are

moving around and gathering.

And although Scott has cautioned against making

too much out of days with zero new cases — "it doesn't

make for a trend," he said of this Sunday — he has said

the continued low numbers do give him confidence in

making further reopening moves, and show that there is

no need for stricter orders, like requiring people to wear

masks in businesses and public places.

"Again, when you look at last week, we're the envy of

the nation in some respects," Scott said. "I have governors

texting me and saying, 'You give us hope.' So what

we're doing is working. And when we see otherwise we'll

take action."

Upcoming announcements

The Scott administration also previewed some of its

upcoming reopening steps on Monday, as well as an

economic recovery package that it plans to present on

Wednesday, May 20. He declined to discuss the details of

that package, but said it would include support for businesses

across the state that depend on tourism.

Smith, the human services secretary, said next steps

for alternative medicine — such as chiropractors and

massage therapists — would be coming on Friday.

Scott also said he hoped that most businesses would

be able to open to some extent by June 1.
---
The Mountain Times • May 20-26, 2020 • 11

Census Bureau to deliver 2020 Census questionnaires in Vermont

Courtesy of census.gov

Restarting the Update

Leave operation is important

for counties with

a high percentage of

residents do not have mail

delivered to their home.

Above is a list of counties

with the highest UL percentage..

The U.S. Census Bureau, in coordination with federal,

state and local health officials, began to drop off 2020 Census

questionnaire packets at front doors of households in

Vermont on Friday, May 8. This is done in areas where the

majority of households do not receive mail at their physical

address. The Census Bureau began hand-delivering

census materials on March 15, but suspended all fieldwork

for this operation on March 18 due to the Covid-19

pandemic.

Temporary field staff have been trained to observe

all social distancing protocols and will wear official

government-provided personal protective equipment for

their safety and the safety of the public. This operation is

contactless and follows the most current federal health

and safety guidelines.

The Census Bureau will deliver 2020 Census invitations

and paper questionnaires at the front doors of roughly

61,100 households in Vermont. This operation is crucial to

ensure a complete and accurate count of all communities,

which helps guide hundreds of billions of dollars in public

and private sector spending per year.

People are strongly encouraged to respond promptly

to the 2020 Census using the ID number included in the

questionnaire packet. People can respond online, by

phone or by using the paper form in the packet.

For more information, visit census.gov.

Courtesy of census.gov

Self-Response is designed to occur in areas where the majority of housing units have

mail delivered to the physical location of the housing unit. Self-Response is the primary

enumeration methodology for the 2020 Census. Update Leave (UL) is designed to occur

in areas where the majority of housing units either do not have mail delivered to the

physical location of the housing unit, or the mail delivery information for the housing

unit cannot be verified. Update Enumerate (UE) is designed to occur in areas where the

initial visit requires enumerating while updating the address frame.

>

McCormack: Science is real, facts matter, opinions are not all equal

from page 6

A legislator disagreeing with a citizen's

opinion does not deny the citizen warming," "vaccines cause autism"

we hear "the jury is still out on global

the right to an opinion, or the right to or Covid can be cured by this or that

promote an opinion. But those rights unproven method, and to disagree is

do not extend to a "right" to be agreed being dogmatic.

with. I remain unpersuaded that there Such arguments are not calls for

is a God-given right to spread

a deadly virus, or that social

distancing is part of a plot to

destroy freedom. No one is

less free because a legislator

does not buy his/her argument.

The contingency of all science

Another right idea is that all science

requires perpetual skepticism and

open-mindedness and that dogma

is fundamentally unscientific. All accepted

scientific claims are contingent

on proof achieved via the scientific

method. Such proof is always subject

to being revisited and potentially

reconsidered. There were once five

planets, eventually nine, then back

down to eight. I came to the concept of

contingency early. My father, a physics

teacher, started all his answers to

scientific questions with, "the accepted

theory is..." Scientifically, the truth is

like the speed of light, something that

can be approached but not attained.

The wrong application of this right

idea is the nihilistic view that because

scientific understandings are contingent,

they therefore have no actual

truth value, that all claims are equal,

and that to favor the proven over the

disproven is to be dogmatic. Thus,

I don't plan on jumping off

any high cliffs simply because

gravity is "only a theory."

skepticism and open-mindedness.

They are intellectually sloppy.

Scientists who dissent from sciencebased

agreements are free to submit

their alternative hypotheses to the rigors

of the scientific process, to disprove

the accepted science, and to prove

their alternative hypotheses. But until

the dissenters achieve that proof, we

scientific laity, including policy makers,

must rely on the established science.

Yes, all science is "only a theory"

but a theory that enjoys a high level of

discerning confidence.

I don't plan on jumping off any high

cliffs simply because gravity is "only a

theory."

Pseudo science is frustrating. But the

worst of it is that the pseudo science

regarding Covid undermines our ability

as a society to combat a deadly enemy.

Sen. Dick McCormack from Bethel

represents the three-member at-large

Windsor County district in the Vermont

Senate.

>

Randall: Upside down values have caused deeper pain for many

from page 8

our fundamental interdependence much

more clearly. Sadly, as the immediate

threat subsides we begin to retreat back

into individualistic cocoons. Those on

the left tend to withdraw to a laissez-faire

cultural cocoon hesitant to make any

moral judgment about the coarseness of

the entertainment industry or the decline

in religious participation. Those on the

right tend to withdraw to a laissez-faire

economic cocoon hesitant to make any

moral judgment about oppressive working

conditions or the exploitation of human

and natural resources.

The potential silver lining in this pandemic

for me is that it just might reveal to

more folks the fundamentally inequitable

and inadequate structure of our economic

system. There seems to be a spotlight now

on what we value as humans, and what we

value with money. I would argue that those

things ought to be aligned. A parent that

stays home to nurture a sick child should

be rewarded more than a drill operator

extracting oil from the earth. Teachers,

nurses, and eldercare workers ought to

make more money than reality TV stars.

Our economy is upside down. It is often

immoral and we ought to be able to say so.

However, just as our economy is upside

down, so is our culture. This ties directly

to the crisis of meaning I mentioned. The

fundamental, deep, reflective sustenance

of the arts and humanities and of religious

practices is being eclipsed by the capricious,

shallow, and superficial empty calories

of the culture industry. It too is often

immoral and we ought to be able to say so.

In a recent article, former Obama

advisor Gene Sperling argues that the

fundamental metric that ought to be the

measure of an economy is not growth or

GDP, but human dignity. To the degree

that an economic activity increases human

dignity it is good and if it diminishes

human dignity it is bad. I often talk of

a "caring economy," which means real

wealth begins at home, in supportive,

loving relationships and neighborly communities

— not in investment portfolios.

Ultimately, dignity is inextricably linked

with care and both seem a preferred

alternative to mathematical formulas for

evaluating economies. Sperling points out

that a key feature of dignity is the ability to

pursue "potential and purpose." He says

being denied economic purpose links the

50-year-old white factory worker displaced

by a globalized economy with the minority

youth from a dysfunctional school unable

to land a job.

Dignity ought to be at the center of our

cultural life as well. The loss of cultural

potential and purpose can take the form of

denigrating the arts, mocking religious belief,

dismissing rural traditions like hunting

and fishing, or devaluing homemaking.

These are all activities that can nurture our

souls and bring us meaning in a difficult

world. To be denied them is to be denied

dignity and a people without dignity cannot

effectively navigate through crisis, nor

obtain freedom in unity.

Rep. Randall Szott, D-Barnard, is a

member of the House committee on general,

housing, and military affairs.
---
12 • The Mountain Times • May 20-26, 2020

RRMC Strong
---
The Mountain Times • May 20-26, 2020 • 13

>

Lawsuit: State pursues lawsuit against Rutland gym owner Sean Manovill for opening Club Fitness in violation of the governor's executive order

from page 1

"He asked me to hold off until the 15th, so I opened

the 15th," Manovill explained. "I tried to email him

Friday morning, but I was ghosted," he said. "The last

time I heard from Donovan was when I agreed to close

for a week… It was a compromise. He asked me to close

a week and wait until things played out and so I did."

Manovill posted a message on his Facebook page

May 8, saying: "After a long few days, the Attorney

General and I have come up with a compromise that

completes a goal I set out to accomplish. To let health

and wellness shine and be of access to those who need

it!," he wrote. "Club Fitness will be unavailable until May

15th."

"Instead of getting back to my email or calling to

possibly come up with a new compromise, he just went

to the court and filed a lawsuit," Manovill said. "I was

surprised, quite frankly."

According to the press release from the Attorney

General's office: "On May 5, following reports of Club

Fitness being open for business, and after an attempt

to convince Mr. Manovill to comply with the Governor's

executive orders was unsuccessful, the Attorney

General's Office sent Mr. Manovill a cease and desist

letter requesting compliance. Mr. Manovill temporarily

closed the gym following receipt of the letter."

Then "despite warnings from the Attorney General's

Office, Mr. Manovill re-opened Club Fitness of Vermont

on May 15, 2020," Donovan's office reported.

Manovill said he doesn't have legal representation

because he wanted to be able to speak directly with

Donovan to work out a logical path toward reopening,

which they had been doing up until Friday. He said he

spoke to Donovan about five or six times throughout

the previous week as well as others in the administration,

"numerous people numerous times," he said after

listing about four in various departments.

Donovan concurred with Manovill when he spoke

to WCAX on Friday, May 8: "I had a good talk with Sean

yesterday and a couple times this morning and while we

disagree, I can certainly understand where he's coming

from and I respect the fact that he was willing to compromise

and close his business for a week and not go to

court and just wait," Donovan said.

Police entered Club Fitness, May 15, and filed a

report, which became part of

the lawsuit, "an officer observed

patrons exercising without

masks and not staying six feet

from each other. The officer saw

no hand sanitizing stations or

signage advising customers to

wear masks, keep a safe distance,

or clean equipment," Donovan reported.

Manovill said the officer's observations were inaccurate.

Correcting the record, he said, Club Fitness has

plenty of hand sanitizer available throughout the gym

and patrons have done a good job social distancing.

"There have never been more than six people at my

gym at one time and if they're not social distancing it's

because they're in the same family or household, like

boyfriend and girlfriend or brothers or whatever, but

they're already living together so it's ok for them to be

together here, too."

Masks are a bit more complicated at gyms, he explained.

"I'm nobody's parent and there are studies that

show that masks limit your oxygen intake, so it doesn't

always make sense."

Manovill said he understands why some people

would not want to go to a gym right now, but feels that if

gyms and others can follow the state guidance like other

businesses that are permitted to open, they should be

allowed to as well.

"Not everyone feels comfortable coming to the gym,

and I understand and respect that, but I'm comfortable

opening and for those people who need it and

are comfortable coming in and I want to provide that

"He asked me to hold off

until the 15th, so I opened

the 15th," Manovill explained.

service… We are providing a way for folks to stay healthy

— mentally and physically— and we comply with the

10 person rule, cleanliness, and social distancing better

than many others who are allowed to be open," Manovill

said.

Manovill insists that he didn't open "as a publicity

stunt," saying: "If I wanted to I could pack this place and

really send a message, but that's not what I'm trying to

do. I want people to recognize

that… I'm not doing this for any

personal gain. I just know how

important this is… I'm doing

this for health — for the health

of our communities and the

health of my clients some of

whom are suffering a mental health crisis — they need

this outlet!"

"It costs me money to be open," said Manovill. "We

might have 10-15 people tops in our gym per day from

8 a.m.-7 p.m. out of our 600 members… sometimes

there's only three all day. That's not profitable but I'm

doing it anyway, because I know how important this is."

Manovill opened the doors to his gym on May 1, operated

it until May 8, then opened again May 15. He says

if the state plans to fine him the $1,000/day for every day

he was open it will effectively put him out of business.

"With those sorts of fines, plus the legal fees associated,

I just won't make it," he said, noting that he has started a

GoFundMe page to help offset the legal costs.

"I humbly ask for any support, not just monetarily,

but for the precedent we will set for free people making

decisions about their health and well-being for themselves.

The legal help we need is vast, but for what's at

stake, we are willing!" Manovill wrote on gofundme.

com/f/club-fitness-legal-team?

Asked if Club Fitness was currently open, Manovill

said: "I have not opened for business as usual."

Club Fitness opened in 2016 when Manovill moved

back to Vermont to raise his family after living in Florida

for 12 years. He currently has a 4-year-old and an almost

2-year-old.

"I'm invested in this community, I came here to provide

a better life for my family... I'm invested in health,"

he said. "I know teachers who are struggling and need

an outlet, these are the people

who will be teaching my kids!"

Since the incident began,

Manovill said he's received

"so much support" from his

clients, community members,

other health centers and small

businesses reaching out with

encouraging messages. "I have spoken to 100 businesses

that want to do what I've done, so I'm now speaking

for them, too… not every small business has the luxury

of waiting to reopen, many will close if they have to wait

until June 15 when the executive order is over… maybe

now it'll be June 1, which is better, but who knows," he

said.

In addition to the importance of providing a healthful

outlet, Manovill also feels that the executive orders are

being illogically applied.

"It doesn't seem logical to me that people are allowed

to eat greasy foods at a snack bar and go to the liquor

store but they're not able to exercise to protect their

health and wellness," he said.

The governor's orders are also not being enforced, he

said, pointing to people congregating in the parking lots

or out-of-staters with second homes on Lake Bomoseen

not self-quarantining for 14 days upon arrival

as required— so why is the state picking on one small

business to all of a sudden start enforcing the rules? he

asked.

"They want to rely on education, but when I try to

educate them they don't want to hear it," he said.

"Why can Home Depot, Dollar General, Walmart,

"Yes, as a last resort there is

this 'stick'," Scott said. "But

I'd rather deal in carrots."

Village Snack Bar and so many others be open, even if

they are less safe and often draw crowds," he continued,

adding that those businesses have not been sued by the

state despite also violating orders.

"I'm a logic guy and this doesn't make sense," he said.

"It's also a question of fairness, the order is being

inconsistently applied and it's irrational," he added.

At Monday's press conference, May 18, Scott again

defended Donovan's actions,

saying: "It's unfortunate that

it came to this. I know that the

attorney general has bent over

backwards to work with this individual…I

know it was difficult

for the attorney general to come

to this conclusion," he said, adding, "It's important for

us to maintain parity with all in businesses."

Scott's administration reported that there have been

a few other businesses in the state that have been found

out of compliance, but when contacted they have come

back into compliance. This case is an outlier, he said,

confirming that this is the first lawsuit to enforce an

executive order.

"Yes, as a last resort there is this 'stick'," Scott said.

"But I'd rather deal in carrots."

"We're not looking to punish people, we're looking at

getting them to do the right thing," Scott added.

After hearing this, Manovill said: "Sounds like they're

moving in the right direction."

While Governor Scott's Phased Restart Work Safe

Guidance does not yet allow indoor gyms to resume

operation. On Monday, May 18, during his news conference,

he hinted that such announcements could

be coming as soon as the end of this week and that he

hoped most business would be able to resume in some

capacity by June 1, provided they follow state guidance.

Courtesy of Sean Manovill

Club Fitness located at 275 North Main St, in Rutland,

was sued by the state Attorney General T.J. Donovan for

opening in violation of the governor's order.
---
14 • NEWS BRIEFS

The Mountain Times • May 20-26, 2020

>

Resort opening: Killington Resort will open for golf on Saturday, May 23, and mountain biking, June 6. Skiing remains closed for the season.

from page 1

with bringing people in from other states and limiting

crowds. We haven't figured a way that we can do that,"

said Solimano during an interview with Mike Coppinger,

KPAA executive director, May 13.

Solimano went on to list some of the

factors that influenced the resort's skiing and

summer operations decisions in the resort's Drift

newsletter:

"Vermont is currently requiring out-of-state visitors to

observe a strict 14-day quarantine period. Reopening

for skiing operations with no way to practically enforce

this directive, combined with the fact that we are located

within easy driving distance of high-density population

centers which have been greatly impacted by

Covid-19 could put our community at risk.

"Although some western resorts are hoping to reopen,

in most cases they will have multiple lifts to spread

crowds, whereas Killington would only have one.

"The reason we can open golf and mountain biking

instead of skiing is related to the volume of guests we

expect for each activity. On nice days in May in prior years

we have had 1,000 people coming to Killington to ski

and spectate at Superstar, while mountain biking would

typically bring 100 or so guests and golf is, of course,

regulated by tee times. Additionally, opportunities for golf

and mountain biking exist across the Northeast, in our

guests' home states—that's not the case for skiing.

"We believe our energy and focus are best directed at

reopening for summer and planning for the challenges

that Covid-19 could bring to our operations next winter.

Solimano added: "I am excited to welcome 71 folks

to the 100 Day Club who still managed to notch 100 or

more days on snow, as well as congratulate the honorary

inductees—anyone who scanned 70 or more days, in light

of the shortened season."

The resort will continue to closely monitor Covid-19

and follow all local, state and national regulations,

which may require operational adjustments through the

summer. The reopening of Vermont's economy is being

carefully managed by state authorities, and it's of utmost

importance that everyone follow the guidelines and does

their part to reopen safely, the resort stated.

For more details and Killington's Covid-19 safety

policies, visit Killington.com.

Golf

The golf course will remain open daily through Oct.

12 (conditions permitting) with tee times available from 8

a.m.-5 p.m. every 15 minutes. Golf carts must be returned

by 7 p.m.

By Chandler Burgess

A young rider cruises down a mountain bike track on

Snowshed at Killington Resort.

Only advanced tee times with payment are permitted

at this time. Walk-ins are not permitted.

Additionally, the state's "Park, Play & Go Home"

mandate will be enforced – there will be no gathering of

players permitted before, during or after the round.

The golf pro shop will be open with limited services

and will include check-in (only one person from group

should enter the pro shop to check in). At this time retail

items like tees, balls, golf apparel, etc. will not be available

for sale. Pencils and score cards are also not available for

the time being.

Limited grab-n-go snacks and beverages will be made

available, but no outside alcohol is permitted, nor are

water coolers available on the course.

Restrooms on the lower level of the clubhouse are open

but on-course restrooms are not available.

Carts are available to single persons or those in same

household – guests must load their own golf bags in the

cart.

Flagsticks will remain in the hole and should not be

touched or removed for any reason. Bunker rakes, ball

washers, penalty area stakes, and all other touchpoints on

the course have been removed, too. All practice areas are

closed.

Rental clubs and lessons are not available at this time.

Mountain biking

The bike park is slated to open to passholders only on

Saturday and Sunday, June 6-7 and to the general public

on Friday, June 12 (pending approval).

After opening weekend, the bike park is expected

to operate Friday through Sunday for the month of

June from 10 a.m.-5 p.m. with only the Snowshed trails

and Snowshed Express Quad open.

No bike rentals or lessons will be available opening

weekend.

"As is typical this time of year, the upper mountain

trails are still too wet to ride or maintain," wrote Solimano.

"We hope to have the Ramshead and K-1 lifts and trails

ready to open sometime in July; however, we cannot

guarantee that all three lifts will operate seven days a week

this season. We expect to have more details on bike park

and Adventure Center operations in the near future, so

stay tuned."

K-1 base lodge construction delay

Killington Resort is still making progress on the new

K-1 base lodge, even though it did announce that the

completion will be delayed until next year.

As a result of the pandemic, construction was delayed

nearly two months. "Our timeline was so tight that we

were going to barely get open for Thanksgiving, which

was our goal. That was the timeline with knocking the

building down two months ago, so clearly we weren't able

to do that with Covid," Solimano said.

Therefore, the resort chose to keep the existing K-1

lodge up and functional one more season rather than risk

not having a base lodge at all.

"Crews will be doing work through the next couple

of months then will continue with Phase II plan next

spring," he said.

By Brooke Geery

The new K-1 Base Lodge at Killington Resort is being built

in front of the old lodge, which will remain functional for

next season due to Covid-19 delays.

Professional Driveway Solutions

Social

Distancing

The

VT

way

6 ft

7 MAPLE SAP BUCKETS

1 SKI

2.5 HIKING PACKS

PAVING

SEALCOATING

GRAVEL RESTORATION

DRAINAGE

#VTStrong

thedrivewaydoctorsvt.com

(802) 549-4323

For Up-to-Date info. on Covid-19

go to: mountaintimes.info

1.2 MOOSE ANTLERS

MOUNTA IN TIMES
---
The Mountain Times • May 20-26, 2020 PUZZLES • 15

WORDPLAY

'ELECTRICAL' Word Search: Find the words hidden vertically, horizontally, diagonally and backwards.

AMPERE

ARC

BREAKER

CIRCUIT

CODE

CURRENTS

DISTRIBUTION

ELECTRICIAN

CROSSWORD PUZZLE

Solutions > 26

CLUES ACROSS

1. It's now called

Experian

4. You can draw it

7. Very fast aircraft

10. Go quickly

11. Fifth note of a

major scale

12. Biochemical

abbreviation

13. Make

somebody laugh

15. Returned

material

authorization

(abbr.)

16. City in NE

Morocco

19. Colorless gas

21. NE football

player

23. A snake is one

24. Small spot

25. Inform

26. Republic of

Ireland

27. Large statues

30. Documents

about an individual

34. Helps little firms

35. Namibia's

former name

36. Large insects

41. Thirsty

45. A well-defined

track or path

46. One who

utilizes

47. Plant-eating

mammals

50. Not in tip-top

shape

54. Alternate

names

55. A part of a

broadcast serial

56. City in central

Italy

57. LOTR actor

McKellen

59. Trees provide it

60. Men's fashion

accessory

61. Type of screen

62. Snakelike fish

63. Possesses

64. When you aim

to get there

65. Tooth caregiver

CLUES DOWN

1. Hit heavily

2. Italian rice dish

3. Some are

cocktail

4. A citizen of Israel

5. Read-only

memory

6. Passed by

7. Northern diving

ducks

8. References

9. Iranian language

13. Swiss river

ENERGY

EQUIPMENT

FAULT

INTERRUPTER

LOAD

NEUTRAL

OUTLET

POWER

14. Woman

(French)

17. Gov't

department (abbr.)

18. Consumed

20. Ailments

22. Balkan Jewish

appetizer

27. Reciprocal of

a sine

28. Skywalker

mentor __-Wan

29. Resinous

secretion of insects

31. Similar

32. Female sheep

33. Cool!

37. Borders the

Adriatic Sea

38. Flowers

39. It's sometimes

upped

RECEPTACLES

SURGE PROTECTOR

SWITCH

SWITCHES

TRANSFER

VOLTAGE

WATTS

WIRE

40. Immobile

41. Female body

parts

42. Common

request

43. Made a second

thrust

44. Fell into deep

sleep

47. Subway

resident

48. Brew

49. The event of

being born

51. Aspirations

52. Doctor of

Education

53. Punk musician

__ Dee Ramone

58. A subdivision of

a play

Guess Who?

SUDOKU

How to Play

Solutions > 26

Each block is divided by its own matrix of nine cells. The rule for solving Sudoku

puzzles are very simple. Each row, column and block, must contain one

of the numbers from "1" to "9". No number may appear more than once in any

row, column, or block. When you've filled the entire grid the puzzle is solved.

made you look.

imagine what space

can do for you.

Mounta in Times

802.422.2399 • mountaintimes.info
---
theSilverLining

16 • The Mountain Times • May 20-26, 2020

This week's infusion of hope and positivity.

Courtesy of Billings Farm & Museum

Ewe and lamb butt heads in a pasture at Billings Farm in Woodstock. Over Memorial Day weekend the farm will host virtual shearing and discuss the various application for wool.

Billings Farm celebrates Sheep and Wool Week

May 25-29—WOODSTOCK— Enjoy the "shear"

joy of spring during Billings Farm's Sheep and

Wool Week, online May 25-29. It's time for our

sheep to get their annual haircuts! What happens

to the wool after it is sheared? How does the wool

become yarn? Billings will answer those question in

the virtual journey from sheep to scarf.

Watch a professional sheep shearer make quick

work of the wool in an online demonstration.

See border collies expertly herding the

sheep around the farm fields and learn how herding

dogs are trained. Learn how sheep farming in

Vermont dramatically shaped its landscape.

Follow the wool as it is sheared from the sheep,

washed and carded, spun and dyed and then

woven into a beautiful scarf by Billings Farm's fiber

experts. You can be the lucky bidder and win the

handmade scarf in our Sheep to Scarf Auction online

at 32auctions.com/BillingsFarmSheepToScarf.

The auction begins at 9 a.m. on Monday, May 25

and ends at 8 p.m. on Saturday, May 30. Auction

proceeds will support Billings Farm & Museum's

programs. Kids can join the yarn-spun fun by make a

cardboard loom and practice their weaving skills.

Join in the kitchen online with educators as they

demonstrate a recipe for shepherd's pie as part of

their Time Travel Tuesday series and make chocolate

caramel using sheep's milk as part of their Foodie

Friday series.

Make Billings Farm at Home your online

resource for bringing our farm, history, and events

home. Find fun crafts and delicious farm recipes

to make, and activities to download and do at

home. Meet our animals and learn about life on the

dairy farm through online videos. Connect with

them at: billingsfarm.org/billings-farm-at-home,

facebook.com/BillingsFarmMuseum, and instagram.

Looking for an open and locally owned yarn and fiber shop?

Green Mountain Yarn & Fiber's doors

are open as of May 18. To follow state

guidelines and to help keep everyone

safe and healthy, they ask that:

• Everyone must wear a mask

while in the shop.

• Only a few people in the shop

at one time, and everyone must

observe social distance guidelines.

• If you have any symptoms at all,

please stay home.

• No sit-n-knit and no classes for

the time being. It is also going

com/BillingsFarmMuseum.

The Billings Farm & Museum is owned and operated

by The Woodstock Foundation Inc., a charitable

non-profit institution. Billings Farm & Museum is

committed to providing educational opportunities

and experiences to our visitors, whether here in

Woodstock, Vermont or at home wherever you are

through online resources at Billings Farm at Home.

to be nearly impossible to offer

one on one help with projects,

though I will do my best to

answer questions as

well as I can while

maintaining the required

distance.

• The restroom will not be available

to the public at this time.

Green Mountain Yarn & Yarn is

located at 259 Woodstock Ave. in

Rutland.

For more information visit at

greenmountainfibers.com.
---
The Mountain Times • May 20-26, 2020 THE SILVER LINING • 17

Boost landscape curb

appeal in one weekend

By Melinda Myers

Create a front garden that is sure to boost

your mood and welcome visitors all year

round. All you need is one weekend and a

bit of paint, flowers, décor and edging material

to boost your landscape's curb appeal.

Add a splash of color by painting your

front door. Look for colors that complement

your home's siding and the surrounding

landscape. Then add a seasonal wreath or

other door decoration. A wreath of seed

packets in the spring, succulents or silk

flowers in summer, dried materials in fall

and greens in winter add seasonal interest

to your home. Visitors will look forward to

the change of seasons

marked by your door's

décor.

Add a few containers

at the front entrance.

Select a color and size

that complements

your home's size and

architecture style. Reduce

maintenance with selfwatering

containers that

extend the time between

watering. Further your

enjoyment with solarilluminated

planters

powered by the sun to

add a magical glow to the

landscape as the sun sets.

Define planting beds

and create a finished

look with edging. Use a sharp shovel to dig a

V-shaped trench around small garden beds

or employ the help of an edging machine

for larger areas. Fill the trench with mulch to

create a mowing edge and keep weeds out.

Or boost the aesthetic appeal and further

define the space with edging materials. Use

easy-to-install edging material so that it

only requires a few hand tools and minimal

time to install.

Courtesy of Gardener's Supply

Define garden spaces with

decorative garden edging while

keeping unruly plants out of the

lawn and off walkways.

Keep unruly plants out of the lawn or off

walkways while defining the garden space

with decorative garden edging. You can

keep it simple with edge irons that mimic

the edging found in Shakespeare's garden in

Stratford England.

Weed garden beds to improve the overall

appearance and health of garden plants.

Weeds not only compete with your desirable

plants for water and nutrients, but

many are hosts for insect pests and diseases

that can harm your desirable plants.

Once weeded, spread a 1- 3-inch layer

of organic mulch like shredded leaves,

evergreen needles

or woodchips over

the soil surface. The

finer the material, the

thinner the layer of

mulch needed. Organic

mulch helps conserve

moisture, suppress

weeds and improve the

soil as it breaks down.

Select a mulch that is

aesthetically pleasing

and won't overwhelm

the beauty of the plants.

Keep mulch off tree

trunks, shrubs, stems

and crowns of perennial

and annual plants.

Covering stems and

plant crowns can lead

to root rot and other problems that can

negatively impact the plants' health and

longevity.

Freshen existing wood mulch by lightly

tilling or raking, so the darker mulch below

the surface moves to the top. Avoid over

mulching. It is a waste of money and can

be harmful to your plants.

Enjoy the your weekend's efforts, before

tackling those bigger landscape tasks.

Courtesy of Vermont Fish & Wildlife

Fawns rely on camouflage and stillness to remain undetected from predators.

No mistaking it, the fawn is ok

Vermont Department of Fish & Wildlife asks that you

take these facts into consideration

Most deer fawns are born in late May

and the first and second weeks of June!

When people see a small fawn alone, they

often mistakenly assume it is helpless,

lost or needing to be rescued.

Fawns do not attempt to evade predators

during their first few weeks, instead

relying on camouflage and stillness to

remain undetected. During these times,

fawns learn critical survival skills from

their mothers. Bringing a fawn into a human

environment results in separation

from its mother, and it usually results in a

sad ending for the animal.

Here are some facts and tips that will

help you help deer this spring:

1. Deer nurse their young at different

times during the day and often

leave their young alone for long

periods of time. These animals

are not lost. Their mother knows

where they are and will return.

2. Deer normally will not feed or care

for their young when people are

close by.

3. Deer fawns will imprint on humans

and lose their natural fear of

people, which can be essential to

their survival.

4. Keep domestic pets under control

at all times. Dogs often will kill

fawns and other baby animals.

Green Mountain National

NOW OPEN

rates for may

cart fees

9 holes walk $19

9 holes $11

18 holes walk $35

18 holes $22

Gracie's Grill is open

take out window only 11am to 3Pm

Please visit gmngc.com for the

current Playing and clubhouse

guidelines. call the Pro shoP to

book a tee time 802-422-4653

Barrows-Towne Rd, Killington, VT 05751 | (802) 422-4653 | www.gmngc.com
---
18 • THE SILVER LINING

The Mountain Times • May 20-26, 2020

Courtesy of VINS

Walter Opuszynski

QUECHEE— Every school year,

VINS School Programs works with

community schools to identify a

local environmental problem, then

use science and research to solve it.

In the spring, VINS hosts the Science

Symposium at the VINS Nature Center,

where students and teachers from

participating schools gather to share

the work they have been completing in

their communities. This year's research

themes included "Habitat Protectors,"

"Environmental Action and Crime"

and "Community Problem Solvers."

The day typically includes a keynote

speaker, students sharing their work,

hands-on activities led by other area

organizations, as well as time to enjoy

nature and explore the VINS

campus.

This year, due to

COVID-19, the Science

Symposium has taken

a different approach to

meet the needs of teachers

and students as distance

learning continues through

the end of the year. During

the week of May 18-22, we invite

the community to join students and

teachers as we present "Meet a Scientist

or Engineer" on our YouTube page. You

can learn about the impact scientists

and engineers have in our region.

• Wednesday, May 20, 12:30

p.m. – Have you ever wondered

what an entomologist does for a

living? What about a forest pest

education coordinator? Find out

the answer to these questions

and many more!

Judy Rosovsky, Vermont's

state entomologist and plant

regulatory official and Ginger

Nickerson,Vermont's Urban

and Community Forestry

Program, pest control education

Courtesy of VINS

Robin Tindall

VINS presents virtual

science symposium

May

18-22

Courtesy of VINS

Judy Rosovsky

and Ginger Nickerson

coordinator.

• Thursday, May 21, 12:30 p.m. –

Walter Opuszynski will share his

work and why he is passionate

about connecting people in

our region with safe and fun

experiences while they are out in

nature.

Opuszynski, Forest Recreation

Specialist, VT Department of

Forests, Parks and Recreation.

• Friday, May 22, 12:30 p.m. – Join

Robin Tindall, Engineer and

Environmental Stewardship

Manager, Hypertherm and the

team of engineers as they share

what happens on a typical day at

Hypertherm.

VINS is headquartered in

Quechee, at the VINS Nature

Center. When it reopens

following the coronavirus

closure, VINS invites all to

visit and explore the brandnew

Forest Canopy Walk, as

well as the Forest Exhibit,

which captures the sights,

sounds and smells of a natural

forest. Discover how to identify

common trees and investigate the

amazing diversity of mammals, birds,

reptiles and insects that call the forest

home. Also explore the Adventure

Playscape, a natural place for kids with

elements for creative play, fun for all

ages.

When VINS does open, all activities

are included with general admission

to the Nature Center: $17.50 for adults;

$16.50 for seniors 62 and above; $15 for

youth ages 4-17; and free for members

and for children 3 and under. Some

libraries offer in discounted admission.

For more information about VINS

and the variety of exhibits, programs,

and education opportunities offered,

visit vinsweb.org.

Norwich University to host free

virtual education fair

Thursday, May 21 at 1:30 p.m.—NORTHFIELD — Designed to support professionals

in a post-COVID-19 world, Norwich University's College of Graduate and Continuing

Studies (CGCS) is offering six free 45-minute webinar sessions as part of the

Norwich University Online Virtual Education Fair Thursday, May 21, from 1:30 – 5 p.m.

Participants may sign up for more than one of the six webinars, and the webinar series

boasts panelists with years of experience in a range of fields. Topics of the Norwich

University Online Virtual Education Fair include:

• The Post COVID-19 Economy - What Master's Degrees Will be in High Demand

• Moving Out of the Recession - High Demand Jobs Requiring a Bachelor's Degree

• Certificates Employers Demand - How Certificates Can Advance Your Career

• Best Ways to Finance Your Degree - Options for Adult Learners

• Insights into Credit Transfer - How You Can Accelerate Your Degree Goals

• Norwich Alumni Community - How to Help Us Grow During Uncertain Times

To register for one or more of the webinars featured in the Norwich University

Online Virtual Education Fair, please visit: online.norwich.edu/virtualedfair.

"While this time presents unprecedented challenges, Norwich is committed to

providing opportunities for professionals to advance their careers virtually," Vice

President and CGCS Dean Bill Clements said. "With Norwich's over 20-year history

of online teaching, I look forward to utilizing Norwich's strengths in virtual and rigorous

education through this webinar series so that adult learners can foster personal

and professional growth during these uncertain times."

As the pandemic impacts the job market with the possibility of 47 million unemployed

Americans, the Post COVID-19 Economy webinar explores how healthcare,

data analytics, cybersecurity and technology careers will be in demand and how to

enter into these coveted fields with a master's degree.

Highlighted panelists of the Post COVID-19 Economy webinar (1:30-2:15 p.m.)

are Thomas Hyslip, Sc.D, Kari Day, Ph.D., and Ahmed A. Hamed, Ph.D. The webinar

moderator is Associate Dean James Ehrman, Ph.D.

Similarly, a high demand information systems or computer science bachelor's

degree can help those who are unemployed enter into a growing industry. The Moving

Out of the Recession webinar (also 1:30-2:15 p.m.) explores popular bachelor's

programs and the critical skills needed after Covid-19.

Key panelists include Dan Alcorn, MPA, MBA, and Henry Collier, MSMIIT. The

webinar moderator is Associate Dean Mark Parker, Ph.D.

As businesses slowly open back up, the need for stand-out candidates will be

high. In the Certificates Employers Demand webinar (2:30-3:15 p.m.), field experts

from Norwich and MVA Training examine how furloughed employees can earn a

certificate to gain a competitive advantage.

MVA Group Services LLC owner and president Michael Bester and Chief

Commercial Officer Daniel Daoust examine the most needed skills and how

Norwich Pro's® certificates can assist a professional in achieving those skills. MVA

Group Services LLC is a service-disabled, veteran-owned business consulting and

training services company located in El Paso, Texas. The webinar moderator is

Norwich Pro® Project Manager Ashley Lopez, MS, MBA.

Norwich offers a variety of resources to assist with adult learners, both military

and civilian, in understanding financial aid opportunities. The Best Ways to Finance

Your Degree webinar (2:30-3:15 p.m.) will provide students with information on how

to find resources for scholarships, how to best utilize federal loans, how TA, GI Bill®,

and Veteran benefits provide financial support, and how to finance a degree with a

private loan.

The Best Ways to Finance Your Degree will be led by panelists with expertise in

financial aid and military benefits: Sarah Harris, financial aid advisor, and Tara Salt,

admissions advisor. The webinar moderator is CGCS Director of Enrollment Management

Bethany Scalzo.

Now more than ever, it is important to earn a degree in the most cost-effective

manner. The Insights into Credit Transfer webinar (3:30-4:15 p.m.) explores how

students can maximize credit transfer to complete a bachelor's degree in two years

or fewer. Transfer credit experts will discuss how low grades, non-accredited schools

and older credits impact transfer credit potential.

Panelists Andrew Countis and Mark Parker, Ph.D. utilize their years of experience

to shed light on the credit transfer process at CGCS. Scalzo will also be the moderator

for the Insights into Credit Transfer webinar.

Norwich values its alumni community and is proud of their professional achievements.

The Norwich Alumni Community webinar (4:15-5 p.m.) features successful

alumni as they discuss how alumni can help implement referral programs, create

internship opportunities for current students and participate in new business development

efforts.

Alumni and panelists Rick Mullen, Andrew Hird and Kevin Beal will focus on how

alumni can use their professional talents to assist CGCS. The webinar moderator is

Fort Hill Companies LLC Founder and President Bill Lyons.

For more information on the webinar series or lecturers visit: online.norwich.

edu/virtualedfair.
---
The Mountain Times • May 20-26, 2020 THE SILVER LINING • 19

Vermont's turtles on are

on the move this spring, and

the Vermont Fish and Wildlife

department is asking for

the public's help in keeping

them safe. Female turtles

are looking for places to

deposit their eggs, sometimes

choosing to lay them along the

shoulders of roads, which can

bring them into the path of

motor vehicles.

"Turtles often go across

roads as they search for a nest

site," said Luke Groff, Vermont

Fish and Wildlife biologist.

"They are slow-moving

animals, so they have a tough

time making it safely across

the road. Turtles grow slowly

and live a long time, so losing

a mature breeding female

is a huge loss to the turtle

population."

Turtle nesting activity peaks

this time of year, and drivers

are urged to keep an eye out for

turtles on the road – especially

when driving near ponds and

wetlands.

Fish and Wildlife and

partners are working to

collect data on road stretches

Look out for turtles on the roadway

Drivers should be alert, especially near ponds and wetlands

that are hotspots for wildlife

movement, including turtles.

When those sections of road

are upgraded or repaved, the

roads may be altered to protect

the species involved. To that

end, they are working closely

with VTrans, and with Jim

Andrews from the "Vermont

Reptile and Amphibian Atlas,"

among other partners.

Even with these changes,

Andrews notes, the turtles'

best defense is to have friendly

humans avoid them or safely

help them across the roads.

"When you spot a turtle

in the road, you may be able

to help it across. First be sure

you're in a safe spot to stop

and get out of your car, as

human safety comes first,"

said Andrews. "If you're going

to move a turtle off the road,

always move it in the direction

it was traveling. They know

where they're going."

According to Andrews, most

turtles can simply be picked

up and carried across the

road. However, if the turtle

has no colorful lines, spots, or

other markings, it is probably

a snapping turtle, so people

should not get too close to

the animal to avoid being

bitten. Snapping turtles'

necks are nearly as long

as their shells. Instead of

picking them up, people

should push the turtle

across the road with an

object such as a shovel.

Andrews is also asking

paddlers, boaters, and

anglers to report turtle

sightings. The reports help

conservationists keep track

of the status of these species

in order to act if populations

appear to be in decline.

"Sending in a report

is quick and easy," said

Andrews. "Just snap a photo

or two of the turtle, and

submit your observation via

the website or email. We're

constantly impressed with

Vermonters' commitment

to conservation and

willingness to help save

turtles."

Observations can be

submitted to the Vermont

Reptile and Amphibian Atlas

online at vtherpatlas.org.

By George Scribner

Turtles, like this snapping turtle, are out digging their nests and may be on

the shoulders of roads. Drivers are urged to keep an eye out for them and

report any sightings.

Community

garden plots

available in

Rutland

RUTLAND— The

Rutland Recreation

Depart. has openings in

all three of its community

gardens. The gardens

are open to anyone and

each one is unique! The

Northeast gardens have

a range of sizes with trails

right off the gardens. The

Northwest garden is in the

middle of a neighborhood

and has 16 plots available

in four raised beds. The

Northwest garden has only

rainwater collection onsite.

The Southeast gardens

have raised beds.

The fee to rent

ranges from $10 to $40 -

depending on the size of

the plot. Non-residents

add $11 to the fee. A

refundable clean-up

deposit of $10-$25 is

required.

For more information or

to rent a spot contact April

Cioffi at aprilc@rutlandrec.

com or 802-773-1853. You

may also register for your

plot online at Rutlandrec.

com/gardens.

Wanted

Persons or Person

$5,000 Reward

• No questions asked! •

CONGRATULATIONS -

CONGRATULATIONS -

You have successfully broken into my property in N. Chittenden.

You have successfully broken into my

property in North Chittenden.

The following items are in your possession:

Honda 250 dirt bike – New

◆ ◆ ◆

in 2004 – Never ridden

John Deere 825i Gator – Olive/black

The following items are in your possession:

John Deere 625 Gator – Olive/black

Rhino commercial pull behind mower

Honda 250 dirt bike – New in 2004 – Never ridden

John Deere

– custom

825i Gator

modified

– Olive/black

John Deere 625 Gator – Olive/black

Rhino commercial pull behind mower

– custom modified

One of a kind Multi Quip Plate Compactor

One of a kind Multi Quip Plate Compactor

Honda Wheel-mounted Generator

Red Sears Horizontal Air Compressor w/red hose Black

Honda Wheel-mounted Generator

Red Sears Horizontal Air Compressor w/red hose

Black Sears Sears Vertical Air Air Compressor

Black Husky Vertical Air Compressor

Black Husky Vertical Air Compressor

To get more information on reward

or to return property PLEASE

call Royal Churchill @ 928-697-3763

To get more information on reward

or to return property PLEASE

call Royal Churchill @ 928-697-3763

Churchill

Summer Market

is HERE!

from local farms to your table

EVERY SATURDAY

Depot Park, Rutland 9am-2pm

SEASONAL PRODUCE

FLOWERS & VEGGIE STARTS

BAKED TREATS & BREAD

MAPLE & HONEY

MEAT-DAIRY-EGGS

PREPARED FOODS-WINE & SPIRITS

Check our website & social

media for information on how we are

staying safe & updates on the

Wednesday market.

vtfarmersmarket.org
---
Food Matters

20 • The Mountain Times • May 20-26, 2020

Mid-way up

Killington Access Rd.

vermontsushi.com

802.422.4241

MEALS TO GO-GO

TAKE OUT

& DELIVERY

TUES.-SUN.

11AM - 9PM

Village Snack Bar's picnic tables stolen

By Brooke Geery

A summer staple in the Rutland area, the Village

Snack Bar is officially open for the season. Brian and

Mark Fothergill purchased the restaurant earlier this

year, and have been making some changes and improvements,

including ordering 24 brand new, custombuilt

picnic tables for additional seating.

Due to Covid-19, the tables have been sitting idly

behind the building, patiently waiting to be used when

dining restrictions are lifted. On Friday, May 15, snack

bar general manager Bernie Miles noticed four of them

were missing.

He posted about the theft on Facebook, and

garnered a lot of chatter. One person reported seeing

four red picnic tables for sale in Fair Haven, but the tip

did not pan out. As of Monday, the tables had not been

recovered. The remaining tables are now chained.

But, it's not all bad news. In fact, business has been

remarkably good.

"We have been extremely busy, it's hard to believe,"

Miles said. " The challenge is wrapping things up. It's

different than just slapping it on a tray and sending it

out."

In addition to its new seating (though slightly less

than they wanted), the Village Snack Bar is now offering

fresh Carolina seafood, including the most popular

new dish, Bam Bam Shrimp. They also added maple

creemees to the menu. Rutland local Evan O'Rourke is

heading things up in the kitchen.

The Village Snack bar is located at 389 West St. in

Rutland.

Courtesy of Village Snack Bar

Four Village Snack Bar's red picnic tables were stolen last

week prior to them being used this summer.

Open Wed.-Sun.

2 - 8 p.m.

Casey's Caboose

Memorial Day BBQ

Picnic!

BBQ Picnic for 1 - $ 26.00 | BBQ Picnic for 2 - $ 49.00

BBQ Picnic for 4 - $ 95.00

Call ahead to pre - order

802. 422. 3795

• Blueberry Bourbon

BBQ Pork Ribs

• Marinated Key

Lime Teriyaki

Chicken Breast

• Vermont Smoked

& Cured Grilled

Sausage

Sides:

• German Potato

Salad

• Veggie Slaw

• Roasted Spicy

Mexican Corn

• Large Popovers

Dessert:

(choice of )

• Strawberry

Rhubarb Pie

• Key Lime Pie

• Chocolate Cream

Pie

*You can also

buy whole pie!

Killington Farmers Market begins

July 9; vendors wanted

KILLINGTON— The Killington

Farmers' Market is scheduled

to return this summer

to Mission Farm every

Thursday from 3:30 p.m. to

6 p.m. The season will run

from July 9 to September

24.

Max Elles has taken the

lead for promoting, organizing,

and directing the Killington

Full Service Vape Shop

Humidified Premium Cigars • Hand Blown Glass Pipes

Hookahs & Shisha Roll Your Own Tobacco & Supplies

CBD Products • Smoking Accessories

131 Strongs Avenue Rutland, VT

(802) 775-2552

Call For Shuttle Schedule

RUTLAND

CO-OP

grocery

I

household goods

77 Wales St

July

Farmers' Market for summer

2020. Interested vendors

should submit the vendor

application to him. To

be a vendor, you must

be an active producer

growing/raising/

pickling/preparing/

baking/ or creating your

own products. All vendors are

responsible for liability insurance

9

Like us on

Facebook!

produce

health and beauty

and compliance with all health

requirements of the state of Vermont.

To become a vendor, submit

your application to Elles

at killingtonfarmermarket@

gmail.com. For more

information, visit facebook.com/

KillingtonFarmersMarket. Church

of Our Saviour/Mission Farm is

located at 316 Mission Farm Road in

Killington.

Come to our sugarhouse for

the best breakfast around!

After breakfast, check out

our gift shop for all your

souvenir, gift, and maple

syrup needs. We look

forward to your visit!

Take-out only

Serving Breakfast & Lunch

7a.m. - 2p.m. daily

Check out our menu online!

Sugar & Spice Restaurant & Gift Shop

Rt. 4 Mendon, VT

802-773-7832 | www.vtsugarandspice.com
---
The Mountain Times • May 20-26, 2020 FOOD MATTERS • 21

Rotary Club of Rutland

to distribute free masks

Saturday, May 23 at 10 a.m.—RUTLAND—In

response to the public need for personal protective

equipment, the Rotary Club of Rutland has purchased

and plans to distribute free non-surgical masks.

Saturday, May 23, 10 a.m. to 12 p.m. members of the

Rotary Club of Rutland will distribute the free nonsurgical

masks outside Price Chopper and Walmart in

Downtown Rutland. All health and safety measures

including social distancing guidelines will be taken for

proper distribution in accordance with the Department

of Health. Education as to how people use and clean

masks will be provided on-site.

For more information about the Rotary Club of

Rutland, email jeff.g.rotary@gmail.com or visit their

website at rutlandcityrotary.org.

WOODSTOCK—

Calling all kids, adults

and unicorns! Do

snowflakes on thistles

inspire you? Does the first

spring daffodil make you

smile? Show your talent

in paintings, drawings

and photos. If you like it,

Pentangle is sure to love it.

Your creativity is part

of what makes this

community shine!

You create it, they'll

share it. Send in stories,

Flowers

are everyday

occasions!

200 Main St.

Poultney

802.287.4094

Delivery Available

Arrangement by

Emily Stockwell

Courtesy of Pentangle Arts

Join the community at

Pentangle Arts from home

poems, art, drawings,

photos and live short

videos of things that inspire

you. They'll post it weekly

and your work will be part

of their community gallery.

It's fun, it's free and it's the

way we roll during the "new

normal."

Once you've created

your masterpiece, email it

to director@pentanglearts.

org or mail it to: Pentangle

Arts, 31 The Green

Woodstock, VT 05091.

Wedding Flowers ♦ House Plants

Secure 24-hour ordering online:

everydayflowersvt.com

Vermont's moose

hunt auction is open

Vermont's auction for three moose hunting permits

is open until 4:30 p.m. Aug. 12. Bids will be opened and

winners notified on Aug. 13.

The Vermont Fish and Wildlife board authorized a total

of 55 permits for the 2020 moose season. Auction winners

of three of those permits will hunt in Wildlife Management

Unit E in the northeast corner of the state during the

October 1-7 archery season, or in the October 17-22 regular

season.

Bids must be entered with a sealed bid form available

from Vermont Fish and Wildlife.

A minimum bid of $1,500 is required, and winning bids

have typically been at least $4,000 when the number of

"Research has shown that lower

moose densities, like in the rest

of Vermont, support relatively few

winter ticks that do not impact

moose populations," said Fortin.

permits available were higher. Bids do not include the cost

of a hunting license (residents $28, nonresidents $102) or

moose hunting permit fee ($100 for residents and $350 for

nonresidents). Proceeds from the moose hunting permit

auction help fund Vermont Fish and Wildlife educational

programs.

"Moose density in WMU E, where the hunt will occur, is

more than one moose per square mile, significantly higher

than any other part of the state," said Nick Fortin, Vermont

Fish and Wildlife's biologist in charge of the moose project.

"Moose densities greater than one per square mile support

high numbers of winter ticks which negatively impact

moose health and survival."

"Research has shown that lower moose densities, like in

the rest of Vermont, support relatively few winter ticks that

do not impact moose populations," said Fortin. "Reducing

moose density decreases the number of available hosts

which in turn decreases the number of winter ticks on the

landscape. The goal is to improve the health of moose in

WMU E by reducing the impact of winter ticks."

Moose permit bid packets can be obtained by calling

Fish and Wildlife at 802-828-1190 or by emailing Cheri.

Waters@Vermont.gov.

Opening up shop?

Let our readers

KNOW.

Email:jason@mountaintimes.info

Call: 802.422.2399

MOUNTA IN TIMES

Vermont

Gift Shop

GROCERY

MEATS AND SEAFOOD

beer and wine

DELICATESSEN

BAKERY PIZZA CATERING

OPEN 7 DAYS A WEEK

7 a.m. - 7 p.m.

2023 KILLINGTON ROAD

802-422-7736

WE USE

Local & Organic

INGREDIENTS

(802) 773-2738

Breakfast • Lunch • Dinner

LARGEST SELECTION OF ICE CREAM TREATS!

GIFT CERTIFICATES AVAILABLE!

Celebrating our 74th year!

Open Daily 6:30 a.m.

Gluten Free Goodies

Available

Serving Breakfast &

Lunch

Enjoy Fresh Organic Juice

Daily Soup Specials!

We are open Memorial Day weekend

Sat-Monday 7-3.

TAKE OUT ONLY

WE'RE HERE

TO HELP!

ALL

STOCKED

UP!

Daily Specials & new "Dinners to Go"

posted on @KillingtonMarket

& our website. Order by 2 p.m.

Call Deli 802-422-7594

Any special requests are always welcome.

www.killingtonmarket.com

Specials

Daily

ATM

Take-Out Convenience:

Breakfast, Lunch & Dinners TO GO

Call to place your order: 802.422.3865 | sunupbakery.com
---
22 • PETS

The Mountain Times • May 20-26, 2020

JAYDA

Rutland County Humane Society

Auction items are needed for the RCHS "Sit. Stay. At Home" online auction

With virtual becoming the new normal, the Rutland

County Humane Society (RCHS) will be holding on

online auction to raise needed funds for the animals

in our care. The "Sit. Stay. At Home" online auction will

run for two weeks in July and will be fun for everyone.

RCHS is in need of auction items and are looking

for donations. RCHS is hoping to keep it local, to

help some of the local businesses during this difficult

times.

If you have the means, buy a gift card at a local

business and then donate it for the auction! It's a

win-win. Great for the local economy while helping

the animals. Donated items will also be accepted.

Items do not have to brand new but in good condition

with a recommended value of at least $20. If you have

a quality item you would like to donate or have any

questions about the auction, please contact Amelia

at amelia@rchsvt.org or 802.483.9171 ext. 208.

Jayda is a sweet 6-yr-old bulldog mix. She is a funny

goofball that is learning to play ball. She loves to go for

walks and car rides. Jayda adores people, but not other

animal so she has to be the only pet and with a homeowner.

We are open only by appointment. If you want

to meet Jayda give us a call or go online to fill out our dog

application.

This pet is available for adoption at

Springfield Humane Society

401 Skitchewaug Trail, Springfield, VT• (802) 885-3997

*Adoptions will be handled online until further notice.

spfldhumane.org

MARY JANE

I'm a 7-year-old spayed female. I came to Lucy Mackenzie

after my last home was not a perfect match for me .

I'm kind of a complicated cat at heart, but in a good way.

Sometimes I like to be pet (though certainly not held),

and other times I like to be alone. I probably shouldn't

live in a home with younger children or other cats, but I

might do well with a big- or medium-sized dog.

This pet is available for adoption at

Lucy Mackenzie Humane Society

4832 VT-44, Windsor, VT • (802) 484-5829

*(By appointment only at this time.) Tues. - Sat. 12-4p.m.

& Thurs. 12-7p.m. • lucymac.org

Northwoods crew member planting native trees and shrubs along the Stevens River in Barnet, Vermont.

Newly planted trees help keep local rivers and

businesses healthy

POMFRET—This week the Connecticut River

Conservancy (CRC) announced that 6,412 native trees

and shrubs have been planted along 12,500 feet of

riverfront land on 10 different rivers in Vermont and New

Hampshire this spring. The plantings, which are all on

privately owned land, will help reduce erosion, improve

clean water, and increase fish and wildlife habitat in the

Connecticut River watershed.

In addition, these spring plantings have helped

local businesses in these

difficult times – including the

Intervale Conservation Nursery,

New England Wetland Plants,

NorthWoods Stewardship Center,

and Redstart Natural Resource

Management – by injecting $60,000

into the local communities.

"We are so glad for this

opportunity to get back out into

the field after being cooped up for

so long," said Meghann Carter,

conservation science director at

NWSC. "NorthWoods is proud to

work alongside the Connecticut

River Conservancy to help our local

rivers."

The plantings were done in

accordance with each state's

guidance on outdoor work as well

as newly adopted health and safety guidelines for the

planting crews. Ben Machin, a partner at Redstart, noted

that "we greatly appreciate the chance to work with CRC

to get these important restoration projects completed.

Nothing expresses hopefulness like planting trees and

shrubs in the spring."

CRC and these partners planted the trees and shrubs

Submitted

Redstart crew planting Intervale trees at

the Strafford Village Farm, Vermont.

Submitted

in Haverhill, New Hampshire, on Clark Brook; and in

Vermont on Crosby Brook in Dummerston, Saxtons

River in Grafton, Carly Brook in Springfield, the Black

River in Weathersfield, Bloody Brook in Norwich, the

Connecticut River in Bradford, Ompompanoosuc West

Branch in Strafford and Thetford, and Stevens River in

Barnet.

CRC is doing its part to help local economies recover

by accelerating work on the many restoration projects

they have identified over the last

several years. With the right kind

of stimulus funding CRC can

remove eight more dams and do

more than 50 other restoration

projects in the next 24 months.

These projects will funnel

millions of dollars of stimulus

funding to local engineering

firms, nurseries, construction

companies, planting crews and

more.

Since Tropical Storm Irene

ravaged the watershed in

2011, CRC has planted more

than 47,660 native trees and

shrubs along rivers in the fourstate

Connecticut River basin

(New Hampshire, Vermont,

Massachusetts and Connecticut).

CRC collaborates with partners across four states

to protect and advocate for our rivers, to educate and

engage communities. CRC brings people together

to prevent pollution, improve habitat, and promote

enjoyment of rivers and their tributary streams.

Healthy rivers support healthy economies. For more

information visit ctriver.org.
---
The Mountain Times • May 20-26, 2020 MOTHER OF THE SKYE • 23

Aries

March 21 - April 20

So much hinges on the need to lose your

fixed ideas about what needs to happen

next. All of your pictures are based on notions

that come from past life experiences

of having everything work out like a fairy

tale. It isn't what you need this time. Notice

what happens when you make recognition

too important. Needing all of the light

to shine on you, and wanting to suck up

and bask in that warmth is your Achilles

Heel. Try to figure out how to let the light

flow through you. Everything works out

better when you let it pour out and enrich

and enlighten other people's lives.

Taurus

April 21 - May 20

The weight of things leads you to believe

that you're going under. This is what

happens when we're plowing through the

wreckage; we get so overwhelmed it's easy

to forget that the universe is supporting us.

Tough decisions that have left you feeling

like you should have done things differently,

were not in error. It takes time for things

like this to reveal their true purpose, so ease

up; you did the right thing. Lesser beings

are bound to be rattling your cage. Let their

slings and arrow roll off your back, and remind

yourself that all of this is clearing the

path to a better tomorrow.

Gemini

May 21 - June 20

It's mind-blowing to see how you

manage to always come out on top.

As the prospect of more intense forms of

interference looms on the horizon, you'd

do well to stay one step ahead of the game.

Chances are you've already sharpened

your sword and your wits and are well

aware of the odds that are stacked against

you. Play your cards closer to your chest.

Don't broadcast your feelings or fall apart

at the seams. It'll take three more months

for what's blowing in the wind right now to

be replaced by what you conjure up in the

meantime. Fortify the inner stuff and keep

the light on.

Cancer

June 21 - July 20

The codependent urge is huge with you

guys. Having just released yourself

from playing that role in one situation, you

have gone from the frying pan to the fire.

Be aware of the fact that over and over

again, the same old thing will show up

in different clothing to remind us that we

have more work to do. Keep an eye on the

dynamics in all of your relationships. The

need to please, combined with the belief

that whoever you're attached to knows

more about things than you do, is your

downfall. It's time to stop the madness

and get in touch with who you are and

what you want.

Leo

July 21 - August 20

You took the whole hog and ran right

over the top with something that

has gone way out of control. Before the

Solstice rolls around you will have the

short run all figured out but the long run

will suffer if you don't back up and put on

the brakes. Too much of everything, and

too many nearsighted choices will send you

up a creek if you aren't willing to breathe

deep and look at what it's getting you.

When things overflow the Hermetic Axiom

would suggest that you're in too far over

your head to know how to stem the tide

and reverse engineer some of your recent

choices.

Virgo

August 21 - September 20

People mean well; and they appear to

have your best interests in mind – but

they have no idea who you really are or

what you need at this point in your life.

It's time to sit them down and say "Thanks

anyway," you've got yourself covered. On

a certain level, you're on a totally different

bandwidth than most people. With this

in mind it's ridiculous to think you can

structure your life the way other people do.

At the moment the more you are willing

to bust out of the status quo and set a new

standard for whatever it means to be you,

the better it will go, all the way around.

Libra

September 21 - October 20

Instead of milking the past, consider

the virtues of moving on to whatever's

next. If you had a better sense of your own

worth you would realize that whoever lied,

cheated, and/or sold you out, didn't even

deserve to talk to you. Now that they're

gone, take this as a sign that being immersed

in that frequency was holding you up.

Which gets me to another thing: you've got

amazing opportunities brewing, and better

things to do. Get with the program. The

writing's on the wall. It's time to pour your

heart into the sea of changes that are about

to give birth to a whole new life.

Scorpio

October 21 - November 20

Don't be misled by the thought that you

need to remain affiliated with people

and situations that make it seem as if you

need them. There are times when it's best to

fly solo. If fear is what keeps you joined at

the hip it's for sure that this won't work out.

In your shoes I would consider the virtues

of independence and work on the faith

factor. Try putting your money where your

mouth is. With big transits indicating that

you'll fall off the pier if you keep moving in

the same direction, a sharp right or a sharp

left will change the scenery and save you

from the brink of disaster.

Copyright - Cal Garrison: 2020: ©

Sagittarius

November 21 - December 20

The gap between the inner and outer

realities measures the extent to which

we are separated from ourselves. At the

moment having that covered is your

primary concern. Why? Because it's so

easy to fly off in opposite directions and

tear yourself apart. It doesn't matter how

you decide to meet yourself in the middle.

In the crosshairs of life changes that are

here to determine how the rest of it goes,

getting real, and eliminating every form

of pretense, is where it's at. A vision quest

could be just what the doctor ordered. In

lieu of that, enough time alone to gaze at

the stars might do the trick.

Capricorn

December 21 - January 20

There is a huge amount of change

bubbling up from within. Try

rewinding back to the beginning of time

and reflect upon what happened before life

instructed you to turn yourself inside out.

The person who evolved out of that has it

all together; on the outside at least. You are

approaching a bend in the road. There is

pressure to keep your persona intact; your

ego and your security trips seem to depend

on this. I am here to tell you that it is totally

OK to step out of those traces and reclaim

yourself. It's your choice, but trust me – it

does no good to be anything but who you

are.

Aquarius

January 21 - February 20

You have to figure out how to get

around an issue or a person that isn't

going to change. To keep beating your

head against the wall will drive you nuts

until you remember what water can do to

a rock. Pressing the issue has compressed

this conflict into a stand-off. Lay back

and go about your business as if none of

this mattered. The truth is, whoever or

whatever this is about is providing you with

just enough resistance to postpone actions

that you could easily come to regret. Don't

minimize their role in this. In a few months

you could be eternally grateful to them for

holding things up.

Pisces

February 21 - March 20

You want to keep things simple. It's a

good idea but don't make the mistake

of thinking that doing everything yourself

is the way to go. You're at a point where a

little help would be worth whatever it costs

you. For many of you this could translate

as, you want to get by without needing to

depend on the system or upon others whose

support comes with too many strings

attached. Don't complicate everything you

have on your plate with some misbegotten

urge to be a super-hero, and don't assume

that others are here to take advantage of the

fact that you need them.

A deeper dive

into the dark

By Cal Garrison, a.k.a. Mother of the Skye

This week's Horoscopes are coming out under the light

of an Aries Moon, on the eve of the Sun's entrance into

Gemini. By the time Wednesday rolls around, the light and

airy energy that permeates the matrix when the Sun's in the

sign of the Twins will pave the way for a Gemini New Moon

on Friday. Before things get too light and airy, let's take one

last dip into the deep end of the pool.

A few weeks ago I mentioned a horoscope that was the

most difficult chart I have ever seen. Since I brought it up

I have received requests from many readers, begging me

to talk about what I saw in this chart. In the last few weeks I

have gotten close to 100 messages with the same request.

Because there seemed to be such an interest in it, I got

permission from the woman whose life this involves to

share a bit of her story with you. I am including excerpts

from it here, so that those of you who wrote to me wanting

to know about it, can get a feel for how intense some

people's lives really are. What follows is a transcript of

an email I wrote to her when she asked me to help her

understand a few things. If you're not in the mood for the

hard stuff, skip on to your weekly forecast (left).

"OK, where to start? Please understand that I am using

the aspects to examine correspondences and draw conclusions

based on how certain bodies interact. These are my

interpretations – it's what I have to work with. Nothing that I

am about to write is absolute – but it is the best I can do with

that I know and what I see. I will list things, and record the

aspects that led me to draw each conclusion.

Lucifer square Siva

"Satanic/Luciferian forces have been/are your undoing.

It is through the forces of darkness that you learn your

Horoscopes > 30

Karen Dalury

3744 River Rd. Killington, VT

802-770-4101

KillingtonYoga.com

@KillingtonYoga

Live classes via Zoom.

Online Schedule for next

week, starting April 6.

Monday 8:15 - 9:15 am Vinyasa

Tuesday 5:30 - 6:30 pm Basics

Thursday 5:00 - 6:00 pm Vinyasa

Friday 10:00 - 11:00 am Basics

RUTLAND'S PREMIERE

YOGA & PILATES STUDIO

Mother of the Skye

Mother of the Skye has 40 years of experience as an astrologer and tarot consultant. She may be reached by email to cal.garrison@gmail.com

22 WALES STREET, RUTLAND, VERMONT

Go online to see our full schedule:

@trueyogavt

trueyogavermont.com
---
Columns

24 • The Mountain Times • May 20-26, 2020

Bats emerge from hibernacula

As spring arrives, so do… bats. Like many

other naturalists, I spend lots of time during this season

looking for migrating salamanders and blossoming

bloodroot. I've never thought much about what bats

are doing this time of year. It turns out these flying

mammals, who retreated into hibernation

back in the fall, are emerging from April

through May, as the weather grows

consistently warmer and insects again fill

the air.

During summer, bats spend their waking

hours – generally during twilight and dark

– foraging for food. They hunt on the wing,

using echolocation to nab tiny insects, from

agricultural and forest pests to mosquitoes.

Bats eat up to half their body weight daily

and consume literally millions of insects

each summer. As winter sets in and insects

become scarce, six of the nine bat species

in New England seek out hibernacula: caves, mines,

rock crevices, even our attics and barns. Many bats are

susceptible to white nose syndrome during hibernation,

when they share space with hundreds or even many

thousands of bats of various species.

Like other hibernators, including black bears,

bats enter a sleep-heavy torpor state. A bat's body

temperature may drop to near freezing, and its heart

rate decreases from a rate of 200-300 beats per minute

to as low as 10 beats per minute. During hibernation, a

bat cycles through periods of torpor lasting from days

to weeks. This is interrupted by brief periods of arousal,

during which a bat's temperature rises back to normal

for a few hours.

While occasional emergence from torpor is normal,

however, researchers believe white nose syndrome

causes disruption to hibernation cycles, leading

Flowers give pleasure not only to the one who plants

them but also to those who view

them.

I learned that firsthand recently

on a couple of occasions. A young

local artist, Carrie Pill, asked if she

could paint one of my gardens. It

is near the city sidewalk making it

highly visible to anyone passing by.

Of course, I said, "Yes"! A few days

later Carrie arrived with her easel Looking

and paints. She stationed herself Forward

near the sidewalk and worked By Mary Ellen Shaw

on her creation for about three

hours. I got to see the painting as it progressed. The finished

The Outside

Story

By Olivia Box

affected bats to prematurely expend precious energy

reserves they need to survive the winter. First identified

in a cave near Albany, New York, in 2007, white nose

syndrome has expanded to bat colonies in nearly half

of U.S. states and parts of Canada. This fungal disease

spreads easily and has decimated bat populations in the

Northern Hemisphere.

Because the fungus can remain in a cave even after

bats are gone, it is transmissable between colonies.

The fungus grows on the skin of bats and it makes them

more likely to wake early and erratically. As they burn

through their fat reserves, bats can starve and die. All

six cave bats living in New England are now state-level

or federally endangered. Populations of the little brown

bat and northern long eared bat have declined 90% due

in large part to white nose syndrome.

Bats that are able to survive white nose syndrome

during hibernation may recover during the summer,

when high temperatures kill the fungus. According

to Katherine Ineson, a PhD candidate and wildlife

biologist at the University of New Hampshire who

studies white nose syndrome in the Northeast, "The

fungus damages their wings. But unless the damage is

extreme, the bats are able to clear the infection and heal

their wings within several weeks of emerging

from hibernation."

Female bats generally leave hibernacula

earlier than males, who emerge shortly after

and aren't involved in raising pups. During

spring and summer, female bats gather in

maternal colonies, congregating in trees,

attics, or barns. Summer colony size varies

by species and location. Little brown bat

colonies may number in the thousands,

while other colonies, particularly bats that

roost in trees, typically contain fewer than

100 bats.

Although bats from most species mate

in the fall, females are able to store sperm and delay

fertilization until spring. Each female typically gives

birth to a single pup. Pups are able to fly when they are

about a month old, but continue to use the maternal

roost as they learn to forage on their own.

I have yet to see a bat silhouette moving quickly

across a dusky sky this spring, but I've added them to

my list of things to look for during this season. Their

presence – while so fleeting in the night –is a welcome

one.

Olivia Box is a freelance writer and a graduate student

at the University of Vermont, studying forests threatened

by climate change and invasive pests. The illustration for

this column was drawn by Adelaide Tyrol. The Outside

Story is assigned and edited by Northern Woodlands

magazine and sponsored by the Wellborn Ecology Fund

of New Hampshire Charitable Foundation: nhcf.org.

product is now hanging in our home as I feel that's where it

belongs!

Carrie thanked me for the inspiration that came to her

each time she walked or rode past the garden.

Another experience with a stranger enjoying this same

garden came when I was sitting tucked away behind a

nearby fence reading my book. I heard some young voices

and then that of an adult male telling the children to walk

carefully down to the hyacinths, which are just a few feet

from the sidewalk, and smell them. My first reaction was

one of surprise because most men would have no idea what

that flower is. My husband wouldn't have a clue and he has

watched me plant gardens for 45 years! With youngsters

being schooled from home these days their experience with

my flowers could qualify as a lesson in botany. They learned

Life as we know it has changed dramatically during 2020.

As the coronavirus spread across the United States, cities

and states issued shelter-in-place

orders to slow the spread of the

coronavirus and prevent healthcare

facilities from being overwhelmed

by critically ill patients.

In May, when states started

to reopen, Americans began to

return to work with eagerness and

Money

Matters

By Kevin Theissen

The pleasure of flowers

Life and finances in

a pandemic world

trepidation. Many were happy

to leave isolation and reconnect

with friends and colleagues at a

safe social distance. However, they

were also concerned about being

exposed to the coronavirus.

American workplaces tend to feature shared workspaces,

shared desks, shared equipment, and shared bathrooms.

We share a lot at work. Since no one wants to share

SARS-CoV-2, the virus that causes Covid-19, companies

have been encouraged to adopt new policies and procedures

that will protect workers.

Implementing workplace social protections

The Centers for Disease Control and Prevention (CDC)

and the Department of Labor (DOL) have issued guidance

for employers who are preparing for employees to return

to work. Both recommend businesses develop infectious

disease preparedness plans. Sound plans will identify

where and how employees may be exposed to the virus and

then take steps to prevent exposure. The guidance issued

recommends:

• Organizing flexible worksites and work hours to

ensure social distancing

• Discouraging sharing of offices, desks, work tools,

and/or equipment

• Implementing routine deep cleaning and sanitization

of workspaces

• Providing personal protective equipment when

people work in close proximity

• Requiring workers to wear masks

• Making hand sanitizer readily available in many

locations

• Establishing and encouraging handwashing breaks

• Creating isolation areas for employees who show

symptoms

Embracing new approaches to work

Some employers may encourage some employees to

continue to work from home because they have discovered

it improved productivity. For instance, 53,000 employees

of the Social Security Administration have been working

from home. Statistics show the agency has been processing

claims for new benefits and appeals at a faster pace than

Money matters > 27

firsthand the name of the flower and its scent. Maybe some

future gardeners were born that day!

I purposely placed the hyacinths close to the sidewalk

as they have a lovely fragrance and I wanted passersby to

enjoy that experience. Apparently my theory is working!

There have been numerous people who have pulled

out their cell phones and snapped pictures of this garden

from the sidewalk. My guess is that when they look at their

photos they will see a sign of peace and hope in this topsyturvy

world. The garden is about 50 feet long with yellow

daffodils and pink, purple and blue hyacinths providing a

sea of color. With this spring's cool weather these flowers

lasted longer than usual.

As I age I wonder if it's worth the effort to plant 100 or

more bulbs every fall. I don't think I will have any doubts

Looking forward > 27
---
The Mountain Times • May 20-26, 2020 COLUMNS • 25

As the lockdown continues for most Americans,

my son is growing increasingly irritated

by his inability to socialize with friends. Most

parents understand the need for social distancing,

but the kids are having

a much harder time

since they live their lives

believing they are bulletproof

from sickness.

As I noted in past

columns, I've allowed the

return of the Xbox into

our home. I removed it

The Movie

Diary

By Dom Cioffi

Breaking the rules

from our lives a couple

years ago because

it was becoming an

overwhelming distraction

and I was genuinely

concerned about its effects on my child. So far, the

decision to revisit has been positive since my son

readily agrees to get a long list of chores/activities

completed before he is allowed access.

However, online gaming with friends only fills

a certain amount of social bandwidth. The fact

remains that my son is an only child and since

there are no other children in our home, he is

aching for some in-person time with his buddies

to laugh and hang out.

In lieu of this, I have encouraged him to stay

active, knowing that physical activity is the best

prescription for the doldrums. I tried getting

him to run with me, but he looked at that as a

punishment. He eventually tried running on his

own but found it "ridiculously boring."

Finally, I pushed him to go on some bike rides. He

initially resisted but then agreed when I promised him

more Xbox time (shocker).

I made a mistake years ago when I bought my son

a Razor scooter for his birthday. Previously, he had a

nice bike but disassociated himself from it once he

learned that the battery-powered scooter provided

excessive speeds with zero effort. Eventually, I gave

the bike away because all it did was collect dust in the

corner.

However, last summer he decided he wanted to

weight train at a local gym so in order to get there and

back, he needed his own transportation, thus a new

bike was in order.

His first few forays during the lockdown were

through the neighborhood, but eventually he began

to strike out into farther directions. I began to notice

the excitement in his voice upon returning as he

told me where he went and what he saw. He was

becoming genuinely

adventurous and the

effects were wholly

positive.

Before long he was

telling me about places

he biked to that were

10 to 12 miles away.

The combination of

this newfound sense

of independence coupled with immense physical

exertion had me feeling great about his journeys

through the community.

And then one day he came home with little to say. I

inquired into the day's adventure, but he was cryptic

and brief. I also noticed that he didn't seem as visibly

worked over. Normally, after these long bike rides, he

would return home sweaty and disheveled, but on

this day he look exactly like he did when he left.

I didn't think much of it until I noticed the same

thing occurring on the next several rides. When I

mentioned that he didn't appear to be working up

The combination of this newfound sense

of independence coupled with immense

physical exertion had me feeling

great about his journeys through the

community.

much of a sweat, he downplayed the idea, assuring

me that "it wasn't hot enough to get sweaty."

My intuition got the better of me so on the next

occasion that he went out, I decided to clandestinely

follow him. I was careful to stay at a safe distance as I

watched him exit our neighborhood and head out.

Before long, he neared a local park that is only a

mile or so from our house. However, instead of riding

by, he made his way into the park. I followed suit and

parked behind some bushes out of site. My mind was

racing with possibilities as I made my way around the

corner, wondering what he was up to.

As I turned the corner, I saw my son running onto

the empty field towards two other boys. One threw a

football to my son before they all gathered together.

The laughing and excitement in their young voices

was palpable. Part of me wanted to chastise them

for breaking the rules, but I couldn't. I smiled and

watched them for a bit and then headed home.

We're in weird times currently, but we can't lose

sight of what makes us

human.

In this week's

feature, "The Wrong

Missy" (a new

selection from Adam

Sandler's production

deal with Netflix), we

meet a young woman

who barely qualifies as

human.

David Spade and Lauren Lapkus star as an unlikely

couple who sojourn to Hawaii for a business retreat.

While there, all manner of mayhem unfolds.

If you're looking for a lockdown comedic escape

(in the vein of every other Adam Sandler movie

you've watched), this one could do the trick. It's not

a top-shelf selection, but it's got enough ridiculous

moments to divert your attention.

An unhinged "C+" for "The Wrong Missy."

Got a question or comment for Dom? You can

email him at moviediary@att.net.

Courtesy of Mark Bragg

Bragg skis the "headwall" of this backyard in May.

Moondoggie:

first descent

It is an absolutely gorgeous Saturday morning in May.

The daffodils, pansies and just mowed lawn are now

covered with 4-6 inches of dense marshmallow snow and

the sky is a stunningly bright blue. There atop the neverbefore-skied

headwall, stands extreme skier and Pittsfield

resident, Mark Bragg, prepping for one of the biggest

ski moments of his life. You can hear the constant wind

behind the camera as the videographer stands waiting,

empathetically nervous for this first descent. She watches

as the dedicated skier — more commonly known as

Moondoggie — assesses the situation from above.

"I've seen pictures of this before, but I didn't think it

was this steep," we hear from

the top of the head wall. "Uh,

I'm a little nervous, but we're

gonna give you, uh, the crowd

something to cheer about today.

So wish me luck." Shaking with

anticipation, Moondoggie kicks

the dense, sticky snow from the

bottoms of his boots and clicks

Livin' the

Dream

By Merisa

Sherman

into his bindings and turns his

skis toward what might be called

the fall line, while making the final

adjustments to his goggles. The

announcer remarks on the crazy

conditions for a day in May and

returns our focus to the uniqueness of the moment. We

wait, holding our collective breath for the drop in ....

And as Moondoggie launches Scot Schmidt style

into the first turn, the videographer pans out and we see

that this moment is not a famed, untracked headwall in

Alaska, but a simple sloped section of his backyard that

no one would ever have thought of skiing — until now.

Stunned, you can't help stare as you watch Moondoggie

pull some of the best hop turns ever before seen during

a pandemic. And then, yes, you join his daughter and

videographer, Remy, in giggling as he acknowledges the

crowd at the end. It's absolute perfection.

"I think the whole idea was it would have been a

great day on the hill with the fresh snow on a Saturday,"

Moondoggie explained. "So I wasn't going to miss out

on the opportunity to enjoy some great spring skiing

and conquer an old fear of skiing the headwall in the

backyard."

The Killington ski instructor is no stranger to

Livin' the dream > 29
---
Classifieds

WANT TO SUBMIT A CLASSIFIED?

26 • Email classifieds@mountaintimes.info or call 802-422-2399.

Rates are 50 cents per word, per week; free ads are free.

The Mountain Times • May 20-26, 2020

RENTALS

APT FOR RENT Furnished

1 Bedroom $1000, 2

Bedroom $1200, Private

Entrance, 7 miles to Rutland

Medical Center. Beautiful

neighborhood. Photos upon

request. Utilities wifi trash

removal all included. No

smoking, Pets ok ‪(802)770-

8786‬

PITTSFIELD APARTMENT

for rent. Cozy 1 bedroom,

furnished apartment with 3/4

bath, kitchen and living room.

Ideal for one person. No

pets. No laundry. Available

June 1. $650/month includes

heat and hot water. Call Lisa

802-558-3278.

REAL ESTATE

ERA MOUNTAIN

Real Estate, 1913

US Rt. 4, Killington—

killingtonvermontrealestate.

com or call one of our real

estate experts for all of your

real estate needs including

Short Term & Long Term

Rentals & Sales. 802-775-

0340.

KILLINGTON PICO

REALTY Our Realtors have

special training in buyer

representation to ensure a

positive buying experience.

Looking to sell? Our unique

marketing plan features your

very own website. 802-422-

3600, KillingtonPicoRealty.

com 2814 Killington Rd.,

Killington. (next to Choices

Restaurant).

PRESTIGE REAL ESTATE

of Killington, 2922 Killington

Rd., Killington. Specializing

in the listing & sales of

Killington Condos, Homes,

& Land. Call 802-422-3923.

prestigekillington.com.

>

PUZZLES on page 15

KILLINGTON VALLEY

REAL ESTATE Specializing

in the Killington region

for Sales and Listings for

Homes, Condos & Land

as well as Winter seasonal

rentals. Call, email or stop

in. We are the red farm house

located next to the Wobbly

Barn. PO Box 236, 2281

Killington Rd., Killington.

802-422-3610, bret@

killingtonvalleyrealestate.

com.

PEAK PROPERTY

GROUP at KW Vermont.

VTproperties.net. 802-

353-1604. Marni@

peakpropertyrealestate.

com. Specializing in homes/

condos/land/commercial/

investments. Representing

sellers & buyers all over

Central Vt.

THE PERFORMANCE

GROUP real estate 1810

Killington Rd., Killington.

802-422-3244 or 800-338-

3735, vthomes.com, email

info@vthomes.com. As the

name implies "We perform

for you!"

SKI COUNTRY REAL

ESTATE, 335 Killington Rd.,

Killington. 802-775-5111.

SkiCountryRealEstate.com –

8 agents servicing: Killington,

Bridgewater, Mendon,

Pittsfield, Plymouth,

Stockbridge, Woodstock

areas.Sales & Winter

Seasonal Rentals. Open

Monday-Saturday: 10 am – 4

pm. Sunday by appointment.

FOR SALE

PERENNIALS $3. –Hale

Hollow Road, Bridgewater

Corners, 1 mile off 100A

802-672-3335

CARGO TRAILER- 7x16,

7000lb cargo capacity white

trailer. Great condition, no

rust. $4000 obo. 503-708-

8922

CROSSWORD PUZZLE

2017 TOYOTA

HIGHLANDER Hybrid for

sale. Tow hitch, roof rack.

75k miles. Great condition!

$28,000 or best offer. Call

Brooke 971-801-5788

FREE

FREE REMOVAL of scrap

metal & car batteries. Matty,

802-353-5617.

FREE PLANTS with

Services. jeff@hgvtpro.

com 802-882-7077

FREE MAGIC CHEF 154 can

beverage cooler. Powers up

& controls light up, however,

the compressor will not kick

in! Might be a easy fix for a

trained coolant expert. Call

422-5499.

SERVICES

BEAUREGARD PAINTING,

30 years experience, 802-

436-1337.

POWER WASHING

SPECIALISTS. Call Jeff at

First Impressions, 802-558-

4609.

WANTED

HIGHEST PRICES PAID

- Back home in Vermont

and hope to see new and

returning customers for the

purchase, sale and qualified

appraisal of coins, currency,

stamps, precious metals

in any form, old and high

quality watches and time

pieces, sports and historical

items. Free estimates. No

obligation. Member ANA,

APS, NAWCC, New England

Appraisers Association.

Royal Barnard 802-775-

0085.

SUDOKU

$10,000 REWARD for leads

to arrest and conviction

for theft from home on

Bridgewater Hill. For details

call 212-727-2227

EMPLOYMENT

HOUSEKEEPER - Must

have a license and reliable

car. Experience a plus

but will train. Weekends

may be required. Full time

position. Please call 802-

422-2300 or email gail@

thekillingtongroup.

com. The Cleaning Crew, 10

West Park Road, Killington.

FULL-TIME Live in Caretaker.

Private apartment. Inquire at

killingtonskier@hotmail.com.

References required.

EQUAL

HOUSING

OPPORTUNITY

All real estate and rentals

advertising in this newspaper

is subject to the Federal

Fair Housing Act of 1968

as amended which makes

it illegal to advertise "any

preference, limitation or

discrimination based on race,

color, religion, sex, handicap,

family status, national origin,

sexual orientation, or persons

receiving public assistance,

or an intention to make

such preferences, limitation

or discrimination." This

newspaper will not knowingly

accept any advertisement

which is in violation of the

law. Our readers are hereby

informed that all dwellings

advertised in this newspaper

are available on an equal

opportunity basis. If you feel

you've been discrimination

against, call HUD toll-free at

1-800-669-9777.

Help Wanted

Local retail hardware and

lumberyard seeks full time help.

Experience in the trades helpful but not

necessary. Must have experience in

retail sales. Attention to detail and good

communication skills are essential.

Please send inquiries to:

sshaw@goodrolumber.com

EXECUTIVE DIRECTOR

The Housing Trust of Rutland County (HTRC) is

seeking a dynamic and experienced leader to guide

this respected organization to its next level of growth

and development. HTRC's mission is to transform

buildings into quality affordable housing and more,

and to develop relationships to cultivate communities

that thrive. Primary responsibilities will include providing

oversight of day-to-day operations for $45 million

in real estate assets, a $1.3 million annual budget,

and a staff of 16, as well as working with a committed

Board of Directors to develop the strategic direction for

the organization.

The Executive Director position encompasses

a wide variety of duties related to real estate development,

community relations, strategic planning,

financial management and fundraising and revenue

generation. The Director will be expected to ensure

the financial strength of the organization, position

the organization for appropriate growth, and seek

opportunities to strengthen impact. Multiple years

of progressive, senior level management experience

required; nonprofit experience preferred. The successful

candidate will have excellent interpersonal,

management, and analytical skills, experience working

with an active board of directors, as well as the

ability to manage and prioritize competing needs in a

complex organization.

Interested candidates should submit materials via

email to executivesearch@housingrutland.org Only

electronic submissions will be considered. Please

provide a cover letter, including salary requirements,

as well as a current resume, a work-related writing

sample, and three references with contact information.

Only complete applications will be considered.

Applications will be accepted until June 12th, 2020, although

candidates are strongly encouraged to submit

material as soon as possible.

Housing Trust of Rutland County is an Equal Opportunity

and Affirmative Action Employer and actively

seeks a diverse pool of candidates for this

position.
---
The Mountain Times • May 20-26, 2020 CLASSIFIEDS • 27

>

Money matters: Uncertain times

from page 24

they did before, reported NPR.

It's a discovery that didn't surprise Stanford professor of

economics Nicholas Bloom. In 2015, a paper he published

in the Quarterly Journal of Economics reported working

from home – four days at home and one day in the office

each week – improved productivity among call center

employees by 13%. Workers made more calls per minute,

took fewer breaks, and experienced fewer sick days over a

nine-month period. Having one day in the office each week

was essential. It gave people time to refocus, re-energize,

and share ideas, reported Stanford News.

Evolving attitudes toward money and finances

While returning to work may relieve some of the financial

stress and anxiety associated with Covid-19, the variety

of emotions sparked by a sharp market downturn and

economic recession are not going to disappear. Financial

turmoil rightfully raises concerns about current financial

security and future financial goals.

Right now, you should be reviewing financial plans,

assessing budgets and savings goals, helping to identify

investment opportunities, and taking other steps to help

restore your sense of confidence and control. Although you

may have the urge to panic, you need to caution against it.

People and markets are resilient. This is not a time to throw

caution to the wind. It's a time to take measure of the challenges

ahead and choose a path through them.

We can't be certain how long Covid-19 will last. In early

May the Milliken Institute reported 111 vaccines were in

development across the world and 197 treatments for Covid-19

are being considered, including a number of drugs

that may have originally been approved for other purposes.

As effective treatments and vaccines become available, the

threat posed by the virus should hopefully diminish.

Kevin Theissen is the owner of HWC Financial in Ludlow.

Looking forward: Pleasureful flowers

from page 24

this October when I recall the pleasure that the flowers

brought to so many people this spring…right when we all

needed it!

Just about everyone will soon be thinking of flowers as

Memorial Day is right around the corner. That seems to

be the official start to the gardening season. This year, in

particular, we could use some brightly colored flowers to

raise our spirits each day. You can accomplish this in either

a small or a large space. Let's look at some small space options

in this column and larger spaces in a future column.

If you want all of the pleasure and practically no work

hanging baskets already filled with flowers will provide instant

color. Your only chore will be watering and occasional

fertilization. If you use a shepherd's hook to hold the hanging

basket it will be easy to change locations if you prefer to

have it in different places as the summer progresses.

Decorative pots or planter boxes are also great options

when you have limited space. It's fun to fill them with the

plants and colors that work best for you. One of my favorites

is calibrachoa. They resemble mini petunias and come

in a variety of colors. Angelonia is also a good choice as it

is available in darker shades such as blue, purple and red

as well as lighter colors like white and pink. If you add a

cascading plant to the arrangement it will soften the look. A

sweet potato vine is an excellent choice. It comes in bright

lime green or if you prefer a darker color it also is available

in brown. Mixing the light colors with darker ones serves as

a highlight to both.

If you have trouble deciding what plants complement

one another, place them beside each other as you browse.

Then step back and the decision will get a whole lot easier.

Check the plant labels to see if they do best in sun or

shade. Also look at the height of the plant when it has matured

as that will guide you with proper placement in the

container.

Stay tuned for some ideas for larger garden areas.

Meanwhile shop safely as you follow the "social distancing"

requirements at local garden centers. Happy planting!

>

>

RRMC: Claudio Fort and Dr. Melbourne Boynton discuss changes, health practices at RRMC

from page 1

"He had an awesome sense of your political persuasions known."

humor and we're going to miss him, Cloth masks decrease the wearer's

but he promised to come back and ability to shed droplets by 70%;

play the banjo, which I'm sure he'll do procedure masks decrease the

because he's a fighter."

wearer's ability to shed them by 99%,

Goulet is among the 820 people, explained Boynton. "If 60% of us wore

thus far, in Vermont that have

the cloth masks (which is about 60%

recovered from Covid-19. As of

as effective as procedural masks) we

Tuesday, May 19, 944 have tested would bring this thing to a halt," he

positive and there have been 54 said.

deaths.

"Even me talking loud sends out

"The low volume of cases was small droplets that have potential

not predetermined and it's not just to carry virus," Boynton said. "Cloth

because we're tucked up in Vermont," masks protects me moderately but it

said Fort pointing to the state's

protects you a lot," he explained.

border with New York (the epicenter "I have not had the gumption to

of the outbreak in the U.S.) and tell someone to wear a mask in, say,

Massachusetts as well as the busy the grocery story," Boynton admitted,

ski season at Killington in March adding that he feels it's best to assume

that brings thousands of tourist to that some people "haven't had the

the region. "There is a lot of cross opportunity to learn the importance

pollination here during that time," of masks, yet. As people learn, they'll

Fort said.

do it. It's a smart thing, its an easy

He said the state's quick and

proactive social distancing guidelines

had a significant effect on slowing

the viral spread. "But the threat is still

out there," Fort cautioned, imploring

viewers to remain vigilant as they

settle into a new normal. "At RRMC,

this is new normal for a while. We're thing, but not everybody knows or

putting together a plan for how to understands that yet," he said.

operate over the next 18 months." "Wearing masks and physical

"In the beginning," Boynton said, distancing will be here to stay,"

"we were not prepared for the worst Fort added. "This is a long term

case scenario, but we're ready now." challenge… We're not used to this,

Even if the region experiences we're used to short term gratification,

a future outbreak, RRMC is now but there is no quick way out of this.

ready, he said citing negative

We're not going to recover overnight,

pressure rooms that help keep

this is going to be a long haul."

the virus from circulating in the

"In Vermont we have a better

air, enough personal protective chance of doing this," Fort continued.

equipment (PPE), screening, testing "We work together and are less

and tracing protocols in place, and enamored by glitz and glamour. We

communications with other hospitals care about our neighbors and our

for mutual aid, if needed.

communities and genuinely want to

"It's unlikely at this stage that we protect each other."

would get to a crisis level of care," he Fort, however, acknowledged

said.

that compliance with public health

However, the supply chain is recommendations, like wearing a

still fragile, he said, and RRMC is mask, will not be 100%. "Assume

not wasting any PPE. Sterilization people are acting out of a place of

procedures remain in place for N95 good intentions," he recommended

masks to reuse them, he added. to viewers. "Assume everyone is

Masks

trying to do the right thing and have

Fort said the governor's

patience with each other… It's going

recommendations, orders and

to be a long haul."

policies are based in science with

Boyton also acknowledged that

strong evidence and data. "The "maybe we're overdoing it," when

governor and Doctor Levine aren't it comes to some behaviors, like

making things up," he said.

sterilizing groceries. "For surfaces you

Governor Phil Scott, Health

can clean, please do," he said, "But

Commissioner Mark Levine and you can handle groceries and open

public health experts worldwide packages, just wash hands after and

know that wearing a face covering don't touch your face."

helps to reduce the spread of the virus Scientific data says that less than

in a community.

6% of Covid-19 cases have been

"We'll be in this for a long time, transmitted from surface to hand to

folks, so please do the right thing and face, Boynton said. "So use common

listen to medical community and sense and practice good hygiene and

protect others. We need to do this you'll probably be fine."

together," he said.

Not feeling well, get a test!

"Wearing a mask or not wearing If you're not feeling well for any

a mask is not a political statement," reason, call your health care provider

Fort said. "Please don't politicize this. and discuss your symptoms, both

There are many other ways to make men said multiple times.

"We're tough people, we're

Vermonters, we typically don't let

a cold hold us back, but this is a

different time," said Fort. "Call out of

work and get screened by your doctor.

As tough as it is to miss a day of work,

it's important to do the right thing…

Even cold-like symptoms that usually

wouldn't hold us back, could infect

entire workplace and shut it down.

Pay attention to early signs and be

overly cautious."

Boynton said a fever doesn't usually

show up until later, and doesn't always

show up, so all symptoms should be

taken seriously.

"If you have symptoms seek care,

you will be tested," Boynton said.

"Qualifications for qualifying for a

tests have been reduced, those with

even minor symptoms that may be

associated with a cold can now get

tested. We have plenty of testing

Some people "haven't had the opportunity to learn the

importance of masks, yet. As people learn, they'll do

it. It's a smart thing, its an easy thing," said Boynton.

capacity," he said.

"If you test positive for Covid-19,

the state will then contact trace, but

folks should not be afraid of that. The

state will help you be a hero to help

bring an end to the spread, you will

not be vilified."

Ramping back up

"We're starting to ramp back up,"

said Fort of the operations at RRMC.

Friday, May 8, hospitals were

permitted to resume elective surgical

procedures.

"Right now we're doing outpatient

surgery only," said Boynton. "Mostly

athletes that have had injuries or

hernias — elective things that could

wait, but ones where the patient can

get home the same day… Routine

colonoscopy or monogram or other

important screening procedures

are available, too… this is not a

time to put off important screening

procedures," he said.

As a result of the restriction on

elective procedures, "We are backed

up," Boynton acknowledged,

explaining that the hospital is reprioritizing

and reshuffling the queue

pushing younger healthier patients

to the back to give more urgent

procedures the priority.

Patients should not be afraid of

getting an infection by visiting the

hospital, Fort said. "Infection control

procedures is not new to us," he said.

"Don't put off coming to hospital

for care for any reason, including if

you fear that you can't afford it," Fort

added. "If you lost insurance don't let

that prevent you from coming to get

care. Our financial councils will work

with you. I know it's hard for proud

Vermonters to do, but please come in

it's our mission to serve you regardless

of ability to pay."
---
SERVICE DIRECTORY

Service Directory

28 • The Mountain Times • May 20-26, 2020

candido electric

residential & light commercial • licensed & insured

GIVE A CALL OR RENT YOUR STORAGE

UNIT ONLINE TODAY!

1723 KILLINGTON ROAD, KILLINGTON, VT

office: 802.772.7221

cell: 802.353.8177

frank candido rutland/killington

candidoelectric@yahoo.com

we help you see the light!

— Cabinets

— Countertops

— Flooring

WATER WELLS

PUMPS

COMPLETE

WATER SYSTEMS

HYDRO FRACKING

GEOTHERMAL

East Poultney, VT 05741

802-287-4016

parkerwaterwells.com

Kitchen and Bath

Design, LLC

— Hardware

— Plumbing Fixtures

— Installation

Kelly & Nick | 802.855.8113

125 Valley View Drive, Mendon, Vermont

kndesigns125@gmail.com

Professional Service, Professional Results

For All Your Plumbing & Heating Needs

Specializing in Home Efficiency & Comfort

24 Hour Emergency Service

(802) 353-0125

WASHBURN & WILSON

AGENCY, INC.

144 Main St. • P.O. Box 77 • Bethel, VT 05032

Providing Insurance for your Home, Auto or Business

Short Term Rentals • High Value Homes

Free Insurance Quotes

Call Mel or Matt 802-234-5188

www.washburnandwilson.com

DisasterRecoveryInc.com

PITTSFORD, VERMONT

Renovations, Additions & New Construction

Vision

(802) 342-6026

www.VisionBuildersVt.com

FREE ESTIMATES • FULLY INSURED

ALL CALLS RETURNED

ERIC SCHAMBACH • 36 Years Experience

• Structural

Repairs

• Preventative

Maintenance

• Siding

• Framing

• Decks

For All Your Home and

Commercial Petroleum Needs

Fully insured and certified

Water Wind Mold Fire

Flood Recovery • Smoke Odor

Elimination • Carpet Cleaning

Mold Remediation • Maid Cleaning

Services • Total Restoration

24 Hour Service

Don't just restore...RECOVER!

Clifford Funeral Home

2 Washington Street • Rutland, VT 05701

(802) 773-3010

Gary H. Clifford • James J. Clifford

coronavirus disinfecting

cleaning and sanitizing using

cdc recommended procedures

businesses * rentals * homes

802-287-1120

www.simplycleanvt.com

746-8018 • 1-800-281-8018

Route 100, Pittsfield, VT 05762 • cvoil.com

Follow Us!

The Mountain Times

@themountaintimes

@MtTimes
---
The Mountain Times • May 20-26, 2020 SERVICE DIRECTORY • 29

New Woodstock school project plows

ahead with Phase I study

By Curt Peterson

Leigh Sherwood and Lisa Picor from Lavalee

Brensinger Architects (LBA) presented the Windsor

Central Unified Union School District Board Zoom

meeting with the results of "Phase I" of the proposal

for a new middle/high school on the current campus

in Woodstock on Monday, May 11. Cost estimates for

the project approximate $68 million, to be financed

through a bond issue requiring voter approval.

In Phase I LBA was to perform three tasks:

Determine the appropriate building size, design for

efficient learning and function, and assess whether the

building can be placed on the proposed site.

The district had raised donations to cover the

$130,000 Phase I price tag.

Close proximity to the Ottauquechee River and

any ice flow or flooding issues for the new school

were in the "professionals'" wheelhouse, the New

Build Committee said, and they were confident any

challenges were being met.

The Agency of Natural Resources river corridor map

shows probable future river paths dissect the proposed

site. The Dept. of Environmental Conservation River

Corridor Easement Program responded to Tropical

Storm Irene's devastation of structures, roads and

bridges, prohibiting new development within corridor

areas.

In January board member Jim Haff from Killington,

and Killington's Town Manager, Chet Hagenbarth,

had asked about water supply, flood plain restrictions,

and storm water retention and treatment. Sherwood

said these issues were yet to be resolved, but would be

included in Phase I.

Sherwood explained the results of testing by Civil

Engineering Associates of So. Burlington. David

Marshall, CEA partner and 1980 alum of Woodstock

Union High School, participated in the presentation.

River corridor and flood plain issues resulted in

major changes in the project. To qualify for possible

exemption necessary to build on the site, the new

162,000 square foot school must have the same

footprint as the existing school, necessitating a twostory

structure instead of the original one-story plan.

If the existing school didn't occupy the site prior to

the River Corridor Easement Program, siting the new

school at this location would be prohibited.

The building site was also moved to avoid the flood

plain.

Core samples, Sherwood said, indicate ground

beneath the proposed site is well-suited for

construction.

The football field in the flood plain may have a

"grandfather" exemption, but a proposed new track

may face regulatory opposition.

District Buildings and Grounds Manager Joe Rigoli

told the Mountain Times Woodstock Aqueduct Co.

assured him they have adequate water supplies for the

proposed new school.

Asked if a second floor would require any additional

expense, Rigoli said, "Depending upon the height/

type/size of fire suppression system additional

pressure might be needed. An engineer would need to

answer that."

Ground covered by impermeable surfaces and

structures don't absorb possible contaminated storm

water, or "runoff," which, without mitigation, would

find its way into the water table and the river.

Haff asked how Phase I addressed run-off. Marshall

said no specific designs had been created, but he is

confident mitigation could be accomplished using

retention ponds and treatment, but acknowledged

that there could be significant costs involved.

Board member Ben Ford, from Woodstock, told the

Mountain Times, "I don't have a sense of the range of

the potential costs [of mitigating run-off], so couldn't

tell you whether they are potentially significant or

not."

"The retention ponds can't be in the flood zone

or the river corridor," Haff told the Mountain Times.

"They said this would be addressed in Phase II."

Governor Phil Scott cited a possible General Fund

revenue shortfall of between $300 and $500 million

and a possible Education Fund shortfall of $173

million during his press conference on May 17, which

could affect taxes in a time of record unemployment.

When asked how he expects voters will react to

a large bond issue in the post-Covid-19 pandemic

economy in the seven participating district towns,

Ford said: "If either the state or individual districts

are able to spread the impact of the shortfall out over

a repayment period, it would ameliorate the nearterm

impacts to taxpayers," he said. "We'll also need

to see whether economic stimulus funding might be

leveraged to help offset either impacts to taxpayers or

project costs."

Road work is underway in mid-Vermont

This list includes the current road

construction projects happening

throughout Central Vermont.

Most crews will cease work on

the afternoon of Friday, May 22 in

observance of Memorial Day.

Activities will resume on Tuesday,

May 26. Please remember to drive

safely in all work zones. Lives

depend on it.

• I-91 Hartland – A bridge

replacement along Depot

Rd. over I-91 is underway.

Motorists can expect lane

reductions Northbound and

Southbound, with reduced

speeds enforced in the work

zone.

• Bethel – The bridge

replacement project along

VT 12 is up and running.

Motorists should expect

minimal delays as crews move

equipment around the jobsite.

• Castleton – Ledge removal

activities along VT 30. A

temporary traffic signal will

now manage alternating

one-way traffic. Expect minor

delays.

• Cavendish – Weathersfield – A

road reclaim project continues

along VT 131 with underdrain

and paving activities.

Motorists will now encounter

a temporary traffic signal

between Lindberg Dr. and

Brook Rd. Plan on one-way

alternating traffic with slight

delays.

• Fair Haven – Paving activities

along VT 22A. Motorists

will encounter one-way

alternating traffic and some

minor delays.

• Pittsford – US 7 is under

reconstruction. One truck lane

will be closed Southbound,

but two-way traffic will be

maintained. Short stoppages

of traffic may occur to move

equipment/materials in and

out of the construction zone.

• West Rutland – Paving

operations along VT 4A, with

signal work at the intersection

of BUS 4 and VT 4A. Motorists

can expect one-way

alternating traffic along VT 4A,

with a speed and Westbound

lane reduction in the area

of the railroad crossing near

Price Chopper Plaza.

#1 RENTAL AND MANAGEMENT OFFICE

IN KILLINGTON FOR 45+ YEARS

- INCREASED RENTAL REVENUE

- PROPERTY MANAGEMENT SERVICES

PRIVATE HOMES AND CONDOS, ASSOCIATIONS

- CONCIERGE SERVICES

FOR OWNERS WHO RENT THEMSELVES

- STEAM CARPET AND UPHOLSTERY CLEANING

KILLINGTONGROUP.COM

KILLINGTON ROAD - (802) 422-2300

RED DUCK

REFUSE RECYCLE

Weekly • Bi-Weekly • Seasonal • Year-Round

802-422-2230

Reliable Service Since 1980

Livin' the dream: Moondoggie adventure

>

from page 25

overcoming a challenge

and achieving greatness:

Bragg is a cancer survivor

and a "Piney." His father,

Don Bragg, is the 1960

Olympic pole vault

champion and later

established a summer

camp for boys in the

Pine Barrens of New

Jersey, where his Olympic

roommate Muhammad Ali

was a frequent visitor and

guest coach — for boxing.

Killington area

folk might recognize

Moondoggie for his

role in the not-so wildly

acclaimed but massive

local favorite ski adventure

film, "Icebreaker," starring

Sean Astin. In it, you

can watch Moondoggie

shredding through the

woods of Killington with

a machine gun in his

hands, chasing down the

local ski patrol to prevent

them finding the nuclear

weapon. Seriously though

— does a ski resume get

any better than that? A ski

instructor, extreme skier

and a ski movie stunt man?

Since he moved to the

Killington area in 1985,

Moondoggie has been

"I wasn't going to miss out on the

opportunity to enjoy some great

spring skiing: ... the headwall in the

backyard," said Bragg.

known for his fun loving

smile and positive attitude,

enjoying everything that

Vermont has to offer

and making it his life. In

summer, Bragg transforms

into his alter ego — the

Kayak King — and rents

kayaks on Kent Pond.

You can hear the pride

in his voice as he describes

the pond to his guests,

pointing out the bald eagle

overhead and the loons

nesting on the island. He

sees the beauty in the small

things and finds joy in what

other people might not.

How else do you think he

ended up skiing his lawn on

a snowy day in May?
---
30 • REAL ESTATE

The Mountain Times • May 20-26, 2020

>

Horoscopes: This woman's life, experience and celetrial chart could make her the authority on what it takes to "Send the Devil Back to Hell"

from page 23

hardest lessons. In these areas you are

destroyed, or brought down to nothing,

and reborn. The midpoint of this aspect is

the ascending/descending axis (7 Virgo/7

Pisces). This means that these dark forces

play out in your everyday reality. It also

means that ultimately having to reckon

with these things will teach you a lot

about healing. Not many people have the

opportunity to go down this road. Yes, it is

intense, dark, and dangerous, but none of

us is ever given more than we can handle.

Your situation is teaching you about things

that at this point are coming to the surface

all over the planet. What you gather through

direct experience will gift you with the

knowledge and the ability to help many

people.

Dionysus, Circe, Sisyphus, Arachne,

Vulcanus, Eros, Persephone conjunct

South Node in 11, squaring Pluto, opposing

Ophelia: It's hard to know what to make of

this cluster of bodies on the South Node,

but let me see if I can get the gist of it. The

South Node is the past life inlet. It shows

me what kind of energy permeated your

previous life conditions. I see Dionysus;

this is an indication that there is addiction/

excess, in your background. Taken to the

limit? It indicates that you may have been

connected to the cult of Dionysus (look it

up) in a previous incarnation. In a nutshell,

the Dionysian cults were involved with

excess, addiction, alcohol, cannibalism,

orgiastic sex, pedophilia, and human

sacrifice. These practices go back a long way.

The fact that the South Node is in Cancer

implies that you were raised in this cult,

(i.e. your parents were into it) and you

were probably roped in against your will,

and victimized by it. With Eros involved in

the aspect pattern, the erotic component

gets showcased, confirming pictures of

sexual abuse. It could even be that you

were trafficked by people who enslaved

you, sexually: with Persephone part of the

picture this is a possibility.

The fact that the South

Node is in the 11th House

implies that you had to go

along with the program

either because you were

born into it, or because there

was no escape, and your survival depended

on your ability to play along.

The square to Ophelia suggests that

there was an over-exposure to sex at an age

when you were too young to be sexually

active – and that it drove you crazy. It may

have even driven you to suicide.

Moon conjunct Vesta

We could entertain the idea that you

might have been a willing participant or

a ring-leader in these activities, but the

Moon-Vesta conjunction implies that you

were 'sacrificed by your mother,' meaning,

groomed for these activities by her, or sold

into slavery by her. This theme carries over

into this life, meaning that your wellbeing

has always played second fiddle to

whatever your mother's issues involved.

Borasisi conjunct Lucifer and Hidalgo,

opposite Demeter, Atlantis, Osiris, and

Eurydice – all square Siwa, Tisiphone,

Uranus, Poseidon, and Cupido: Borasisi is

the lowest, darkest form of deceit; Lucifer is

Satan. In a conjunction? If you can add 2 + 2

this is about as low as you can go – very dark

energy. Conjunct Hidalgo? Hidalgo is that

about which we cannot speak; unspeakable

things. This could imply that the dark

unspeakable things have a dash of voo doo.

It's quite obvious that your mother treated

Not many people have the opportunity to see

what lies 'Down past the bottom' ...It takes a

highly enlightened soul to make that journey.

you like an object.

With Osiris involved in the pattern?

Osiris is a death indicator – as well as an

indicator of resurrection and rebirth. In

my conversations with you, you have

mentioned that the hellish stuff with your

kids began around the time that their father

was murdered. Interestingly, Eurydice is

here too. Among other things, Eurydice has

direct ties to Orpheus (the God of death),

and to Hades (The Lord of Hell). Eurydice's

presence in the aspect pattern adds more

weight to the darkness that is already too

much to bear in your chart.

Transiting Hades conjunct the

South Node – Dionysus stellium – this

conjunction is an indication that all of the

darkness from the past is being dredged

up and released. In the process, all Hell is

breaking loose. The chaos and fear and all of

the negative spiritual energy that is shaking

up your family, stems from the presence of

Hades on the Tribal Axis. Hades has a slow

rate of motion.

You need to make peace with the idea

that simple solutions won't work here –

liberation could be a long time coming."

I could go on with this interpretation

but this is enough for now. In 50 years as

a working astrologer I have never seen

anything like it.

Not many people have the

opportunity to see what lies

'Down past the bottom.' Few

of us get to bear witness to the

unspeakable. It takes a highly

enlightened soul to make that

journey: one has to be incredibly strong,

physically, mentally, emotionally, and

spiritually to survive the trip.

We are living at a time when the deepest

dregs of the heart of darkness are leaking

to the surface. The woman in question is

a warrior spirit whose direct experience

with unspeakable, unimaginable things is

providing her with a school of hard knocks

degree that will bless her with enough

knowledge about these things to work with

and heal the legions of souls whose lives

have been destroyed by them. Within three

years, if she makes it through the gauntlet,

eats her karma, and keeps the faith, I

am pretty sure that she will become an

authority on the subject of what happens

when it's time to know exactly what it takes

to "Send the Devil Back to Hell." Let me

leave you with that and invite you to take

what you can from this week's 'scopes.

Real Estate, Real People, REAL

RESULTS

ALISONM C CULLOUGHREALESTATE.COM

29 Center Street, Suite 1 • Downtown Rutland, VT • 802.747.8822

Alison

McCullough

Real Estate

Our Approach

Governor Phil Scott

signed an addendum

to Executive Order

01-20 that institutes

new health and safety

requirement and

provides guidance

to some singleperson

low contact

professional services,

such as Realtors®, to

operate if specified

safety requirements

can be met. The new

order took effect on

Monday, April 20.

Our office will

follow the Vermont

Department of

Health and CDC

guidelines.
---
The Mountain Times • May 20-26, 2020 REAL ESTATE • 31

Grow Your Life in Killington

KILLINGTON VALLEY REAL ESTATE

Bret Williamson, Broker, Owner

Celebrating

30 years!

802.775.5111 • 335 Killington Rd. • Killington, VT 05751

FALL LINE CONDO - SKI HOME & SHUTTLE OUT

• 3BR/3BA beautifully renovated

• End Unit. Panoramic Views!

• New granite, stainless appliances

• Cherry cabinets. Gas fireplace

• On-site: indoor pool

• Furnished & equipped: $299K

MTN GREEN - BLDG 1

THE LODGES - SKI IN & OUT

• 1-LVL 3BR/3BA, Furnished &

equipped, Wash/Dryer, patio

• Gas fplc, gas range, gas heat

• Mud-entry w/ cubbies+bench

• Double vanity, jet tub,

• Common: Indr pool

• End unit, $439K

KILLINGTON CTR INN & SUITES

72 658 Windrift Tanglewood Ridge Road, Drive, Killington Killington $ 575,000 $459,000

This Great unique, private Killington 3 bdrm , location, 3 bath, custom modern stone home, work situated throughout

on the a exterior, wooded heated lot garage, overlooking VT castings nearby wood Pico stove, Mountain hot tub,

Ski open area, floor offers plan and unexpected a large living privacy room with and valley stunning views from the

mountain wall of windows. views.

4552 Prior VT Drive, Route Killington 107, Stockbridge $1,200,000$129,000

Many Exquisitely opportunities detailed Tudor for this style home located in a private minutes 20 acre to I-89

and Killington 20 min location. drive to Spacious Killington. gourmet Excellent kitchen, rental arched history, doorways,

recently high end fixtures, renovated carefully improvements crafted trim and including moldings a new throughout.

standing Truly unique seam property. metal roof, windows, doors, and more.

Mountain 298 Prior Drive, Green, Killington Killington $ 1,2000,000 $149,500

2-bedroom, This 4934 square 2-bath foot, corner exquisitely unit Mtn Green detailed building Tudor 1. Sold style furnished,

home updated is in a class appliances, by itself. outdoor A five pool bedroom views, shuttle home, route &

wood surrounded burning by fireplace. the grandeur Cable, internet, of the plowing, green mountains. refuse removal

and shuttle service included in quarterly fee.

Cricket Hill, $

Lodges, Killington $459,000 555,000

Ski-in, This 4-bedroom, ski-out from this 4-bath 3-bedroom, home with 3-bath inground furnished pool top floor is a

Lodges ten minute unit with drive trail from views Killington of Bear Mountain. Resort with Owners stunning enjoy all

the views Sunrise of Pico amenities Mountain. including The spa, competitively pool, hot tub priced and gym. home,

is being sold furnished.

View all properties @killingtonvalleyrealestate.com

Office 802-422-3610 ext 206 Cell 802-236-1092 bret@killingtonvalleyrealestate.com

NOTE TO READERS:

The Mountain Times is closing its office to the public as of March 18, 2020.

We will continue to cover local news in print as well as online, through

social media and via our newsletter (sign up at mountaintimes.info).

You can also reach us at 422-2399 or editor@mountaintimes.info.

• Shuttle Service

• Furnished & equipped

• OnSite: In&Outdr Pools,

• Whirlpl, Laundry area

• 1BR @ $129K

MTN GREEN – MAIN BLDG (#3)

• 2BR/2BA w/lockout $162K

• STUDIO: $95K

• 1BR Bldg 3! $126K - 150K

• Onsite: Indoor & Outdoor Pools,

Whirlpl, Restaurant, Ski & Gift

Shops, Pilate Studio, Racquetball/basketball;

Shuttle Bus

KILLINGTON GATEWAY- TOP/END UNIT

• furnished & equipped

• gas heat & fplc, tiled kitch &BA flrs

• Cath ceiling w/ sky lt, open flr plan

• Cherry kitchen cabinets, AC

• Covered deck, private ski locker

• 1 BR/1BA: $81K; 2BR/1BA, $125K

JUST OFF KILLINGTON RD

• 4 Oversized BR's, 2.5BA,

4,227 sq.ft.

• 10 person hot tub, laundry room

• Llarge deck & bar room

• Furnished & equipped $599K

• Completely Renovated 2BR/3BA

w/one LOCK-OFF unit

• Stone-faced gas f/plc, W/Dryer

• Tiled floor to ceiling shower

• Outdr Pool. Short walk to shuttle &

to restaurant. Furnished $222K

KILLINGTON TRAIL VIEWS

• 6BR/3BA , 2 acres,

2,600 sq.ft.

• Walk-out lower level

• Detached storage garage

• New septic system

• Furnished & equipped

• $379K

MOUNTAINSIDE DEVELOPMT HOME

• 3 en-suite bedrooms + 4 ½-baths

• Living Rm floor to ceiling stone fplace

• Family gameroom w/ fireplace

• Chef's kitchen,sauna, whirlpl tub

• 3 extra separately deeded lots incl.

• www.109mountainsidedrive.org

• $995K

WINTER VIEWS OF SUPERSTAR!

• On cul-de-sac, great LOCATION!

• 4BR, 2.5BA 3,470 sf, a/conditioning

• Ctl vac, chef's kitch, butler's pantry

• Cedar closet, office, master suite

• 3 car garage, storage, screened porch

• Deck, unfinished basemt,++

$789,500

We sincerely thank local businesses, towns, organizations and individuals for helping

us to cover the news as well as support those efforts financially. As more businesses

close and people are laid off, community support will be more important than ever

for the health of our organization and for all of our neighbors.

To support local journalism, visit mountaintimes.info

Lenore

Bianchi

'tricia

Carter

Meghan

Charlebois

Merisa

Sherman

Pat

Linnemayr

Chris

Bianchi

Katie

McFadden

Over 140 Years Experience in the Killington Region REALTOR

Michelle

Lord

Kerry

Dismuke

MULTIPLE LISTING SERVICE

MLS

®

PEAK

PROPERTY

G R O U P

AT

802.353.1604

VTPROPERTIES.NET

IDEAL PROPERTIES CLOSE TO

KILLINGTON, OKEMO OR WOODSTOCK!

HOMES | CONDOS | LAND

COMMERCIAL INVESTMENT

PRIME DEVELOPMENT OPP

W/7 LOTS FOR HOME SITES

OR TOWNHOMES OF 8 UNITS!

BASE OF THE KILLINGTON RD!

ONE OF THE BEST SPOTS

IN KILLINGTON!

Retail Property 17 acres consists of a

main building w/11,440 sq. ft. on 3 levels

w/elevator. Direct to xcountry trails.

Immediate access to 20 miles of MTN

bike trails on Base Camp

& Sherburne Trails! $1,350,000

RARE OPPORTUNITY! ULTIMATE RETREAT! Ideal Short Term Rental

Property! 27+ acres w/amazing views abutting National Forest Land,

2 spring fed swimming ponds, gazebo w/power & end of road location.

Special property has a main farmhouse, 3 level barn, guest house, an

enchanting seasonal cottage, 3 car detached garage & so much more!

$699K

Marni Rieger

802.353.1604

Tucker A. Lange

303.818.8068

Marni@PeakPropertyRealEstate.com

59 Central Street, Woodstock VT

505 Killington Road, Killington VT

STRONG RENTAL INVESTMENT & BUSINESS

OPP CLOSE TO KILLINGTON, SUGARBUSH

& MIDDLEBURY SNOWBOWL! 7 unit property

located in the center of the village in Rochester.

Building is 7,216 sq ft. Main level is a local landmark

& home to the Rochester Café (45 person licensed

restaurant) & Country Store. 3 rental apts onsite,

one which is used as Airbnb. 2 rentable open studio

units. Last unit is rented cold storage space. All the

real estate & business $549,900

ONE OF A KIND PROPERTY MINUTES TO PICO

OR KILLINGTON. Post & Beam home 4bed/ 4 bath

w/ 2 car garage. 2 bed/1 bath apt to rent out for extra

income. 3 level barn, outbuilding w/ heat. Inground

pool & cabana to enjoy in summer months. So close

to skiing & Rutland. Come see. $389,900

STRONG INVESTMENT! Beautiful Mountain

Green! Main building ,Top floor, 2 Level Turn key

Condo. Totally renovated, new appliances, granite

counters, Tigerwood flooring, nicely furnished.

Walk to World Class Killington Resort. Great rental

history! $224,900
---
32 • The Mountain Times • May 20-26, 2020

MORE coahes, MORE skills, MORE camps,

MORE Beast.

YOUTH SUMMER DOWNHILL BIKE CAMPS at Killington resort. An unforgettable

summer experience, kids will progress their mountain bike skills while enjoying all the

Green Mountains and Killington Resort have to offer. Our downhill mountain bike camps

are available as a three or five-day camp. Camps are open to kids ages 7-17 years old.

Camp dates available from JULY 6- AUGUST 14.

LEARN MORE AT KILLINGTON.COM/BIKEPARK