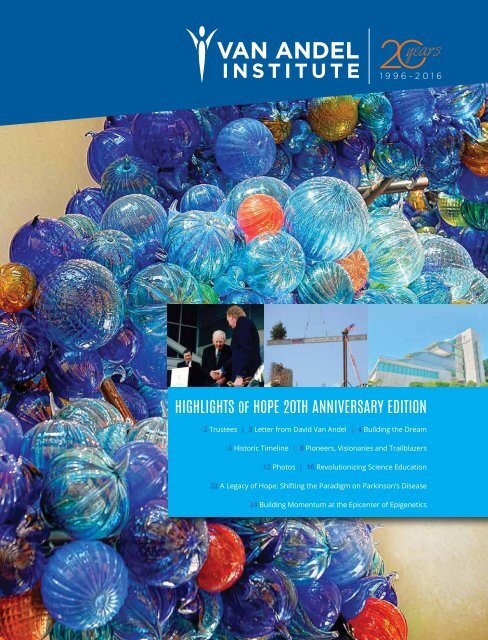 20th Anniversary Highlights of Hope
You also want an ePaper? Increase the reach of your titles
YUMPU automatically turns print PDFs into web optimized ePapers that Google loves.
HIGHLIGHTS OF HOPE 20TH ANNIVERSARY EDITION

2 Trustees | 3 Letter from David Van Andel | 4 Building the Dream

6 Historic Timeline | 8 Pioneers, Visionaries and Trailblazers

12 Photos | 16 Revolutionizing Science Education

22 A Legacy of Hope: Shifting the Paradigm on Parkinson's Disease

24 Building Momentum at the Epicenter of Epigenetics
---
INSTITUTE TRUSTEES

Van Andel Institute Board of Trustees

David Van Andel, Chairman and Chief Executive Officer, Van Andel Institute

John Kennedy, President and Chief Executive Officer, Autocam Medical

Mark Meijer, President, Life E.M.S. Ambulance

Van Andel Research Institute Board of Trustees

David Van Andel, Chairman and Chief Executive Officer, Van Andel Institute

Tom R. DeMeester, M.D., Professor and Chairman Emeritus, Department of Surgery,

Keck School of Medicine, University of Southern California

James B. Fahner, M.D., Chief of Hematology and Oncology, Helen DeVos Children's Hospital

Michelle Le Beau, Ph.D., Professor of Medicine, Section of Hematology/Oncology; Director,

University of Chicago Comprehensive Cancer Center; Director, Cancer Cytogenetics

Laboratory, University of Chicago

George Vande Woude, Ph.D., Distinguished Scientific Fellow, Founding Research Director,

Van Andel Research Institute

Ralph Weichselbaum, M.D., Chairman, Department of Radiation; Head, Ludwig Center for

Metastasis Research, University of Chicago

Max Wicha, M.D., Distinguished Professor of Oncology, Department of Internal Medicine;

Founding Director, University of Michigan Comprehensive Cancer Center

Van Andel Education Institute Board of Trustees

David Van Andel, Chairman and Chief Executive Officer, Van Andel Institute

James E. Bultman, Ed.D., Former President, Hope College

Donald W. Maine, Former President, Davenport University

Juan R. Olivarez, Ph.D., President, Aquinas College

Gordon L. Van Harn, Ph.D., Emeritus Provost and Professor of Biology, Calvin College

2 | VAN ANDEL INSTITUTE HIGHLIGHTS OF HOPE
---
LETTER FROM DAVID VAN ANDEL

Dear Friends,

Twenty years have passed since Van Andel Institute was founded for the betterment of

mankind and the improvement of the human condition through biomedical research and

science education.

In the ensuing two decades, we have accomplished much, perhaps more than we even

dared to dream at the beginning. This 20 th anniversary issue of Highlights of Hope provides

a small snapshot of the Institute's history and accomplishments.

Much of the support that has allowed us to carry out this vital work comes from you, and

for this we owe you profound gratitude. Your generosity has enabled us to recruit giants

in the world of biomedical research, like Dr. George Vande Woude and Dr. Peter Jones, to

come to Grand Rapids and make this city their home.

It has been my privilege to work with an incredible group of people who have provided

direction for the research taking place in the Institute's labs and in collaborative projects

in laboratories and clinical sites throughout the world. These talented individuals have

created a critical mass of biomedical research in the areas of cancer, neurodegenerative

disease, and most recently, in the growing field of epigenetics.

In addition to our work in biomedical research, we remain committed to science education

that leverages vibrant new technologies and uses these tools in the service of knowledge,

mentorship and discovery. Our devotion and passion for science education comes from

an understanding that the many discoveries of the future will be uncovered by the

students of today.

As I look back, I am gratified by how far we've come in these two decades, and I am even

more excited by the future and the impact we can have 20 years from now when we

celebrate Van Andel Institute's 40 th anniversary.

I recall my father saying early on that to become a world-class research institute would

require building the dream a step at a time—meticulously putting one stone upon another.

I have no doubt that he would be proud of the many stones we have placed on the

foundation of his dream.

Working together, one step at a time, we will continue to build an Institute that serves

humanity and makes powerful, lasting contributions to human health.

Warmly,

DAVID VAN ANDEL

David Van Andel

Chairman and CEO

VAN ANDEL INSTITUTE HIGHLIGHTS OF HOPE | 3
---
OUR HISTORY

Building the Dream—One Step at a Time

Van Andel Institute is located in the

heart of downtown Grand Rapids,

Michigan, at the south end of Belknap

Hill, a historic neighborhood and wellknown

landmark that has long attracted

people to its magnificent views of

the Grand River, its breathtaking

panoramas and its beautiful sunsets.

Amway Co-Founder Jay Van Andel's dream

was to transform this area in the city's

center into a hub for scientific discovery

and human health. His vision was to

build an independent institute that would

embrace novel approaches to biomedical

research and science education, and

develop a network of collaborations

with organizations stretching from West

Michigan to every corner of the world. The

Van Andel family believed the Institute

could serve as a guiding light of hope and

bring about scientific discoveries that

would benefit future generations.

Defining the Mission

The initial stages of the Institute's formation

were organized by a group of talented

advisors that included Dr. Luis Tomatis,

an esteemed Grand Rapids-based

cardiothoracic surgeon who shared the

Van Andel family's passion for human

health and community enrichment. He

helped recruit top-tier scientific talent to

form the Institute's first Board of Scientific

Advisors and appoint Nobel Laureate

Dr. Michael Brown as the board's

first chairman.

Phase I—Breaking Ground and

Creating a Legacy

Van Andel Institute could have been built

anywhere in the world, and there were

many who suggested other locations closer

to traditional centers of research or major

universities, but Jay Van Andel chose Grand

Rapids because it was his community, the

place that he called home. It was where

his family had roots, and it was the place

where Jay and his wife, Betty, raised their

children. They thought it was important

to give back to the community that had

given them a life of hope and happiness.

Van Andel felt strongly that the Institute

should be built in the heart of Grand

Rapids so that it could serve as a beacon

of innovation and a catalyst for economic

growth and revitalization for the city on the

Grand River.

"When my father first had the idea to create

an independent biomedical research facility

in his hometown, there were many people

who thought it was not feasible or doable

in a city without a built-in support system

for this kind of work," Van Andel Institute

Chairman and CEO David Van Andel said.

"I really believe it's a testament to the

founders of this Institute that they were

able to see beyond the ordinary and build

something that transforms the dynamic of

a city and inspires greatness in others."

In the latter half of the 20 th century, Grand

Rapids was a town shaken by a changing

post-industrial economy, and it was in

many ways a city struggling for a lifeline.

Although it was once a champion of

industrial manufacturing and commerce, in

1996 the city was in need of dreamers, bold

ideas and people who were not afraid to

build a new way forward.

David Van Andel appointed architect

James P. Gray to serve as project manager

for the construction of the Institute and,

together with a team of advisors, Van Andel

and Gray scoured over proposals from

architectural design firms in the

The Institute's mission was refined with

input from numerous scientific experts

from a wide variety of research centers

in the United States. Their insight helped

create an institute encompassing

innovative biomedical research

and science education, and laid the

groundwork for scientific collaborations

that would have a lasting impact on

human health.

JAY VAN ANDEL

BETTY VAN ANDEL

4 | VAN ANDEL INSTITUTE HIGHLIGHTS OF HOPE
---
United States, the United Kingdom,

Germany, South Korea and Japan. In

their search, New York-based, Uruguayan

architect Raphael Viñoly's work stood above

the rest, and his initial concept for the

Institute captured the imagination of the

Van Andels and their team of advisors.

"There are few places on this planet

that you could do what we've done

here, and it happened because of the

community spirit...This community

warmly welcomed this initiative, even if

they were surprised by the scope of the

vision. Twenty years ago, the phrase 'life

sciences corridor' was a completely new

concept in this city, but now it's one

of the most vital sources of economic

growth and development for the region."

– David Van Andel

Viñoly's impressive portfolio of awardwinning

designs includes the Tokyo

International Forum and the Kimmel Center

for the Performing Arts in Philadelphia.

In his concept, Viñoly used Grand Rapids'

topography and the Grand River as

inspiration to design an iconic building that

is striking in its modernity and respectful

of its surroundings. Viñoly's design for

the Institute did not look like any other

structure in West Michigan, and its bold

forms and dramatic, sculptural lines

signified that a new day had come for the

city of Grand Rapids.

CONTINUED ON PG 6 >

ARCHITECT RAPHAEL VIÑOLY UNVEILING THE MODEL OF VAI TO DAVID VAN ANDEL

AND DR. LUIS TOMATIS AT THE AMWAY GRAND PLAZA HOTEL IN 1997.

All five members of the first Van Andel Research Institute

Board of Scientific Advisors were esteemed scientists who

were or became Nobel Laureates. They included:

Michael Brown, M.D. – Chairman

Director, Jonsson Center of Molecular Genetics

The University of Texas Southwest Medical Center at Dallas

Nobel Prize for Physiology or Medicine 1985

Richard Axel, M.D.

Professor of Neurosciences

Columbia University

Nobel Prize for Physiology or Medicine 2004

Joseph Goldstein, M.D.

Chairman, Department of Molecular Genetics

The University of Texas Southwest Medical Center at Dallas

Nobel Prize for Physiology or Medicine 1985

Daniel Nathans, M.D.

Professor, Molecular Biology and Genetics

Johns Hopkins University

Senior Investigator, Howard Hughes Medical Institute

Nobel Prize for Physiology or Medicine 1978

Phillip A. Sharp, Ph.D.

Professor of Biology

Massachussetts Institute of Technology

Nobel Prize for Physiology or Medicine 1993

VAN ANDEL INSTITUTE HIGHLIGHTS OF HOPE | 5
---
OUR HISTORY

(LEFT TO RIGHT) CASEY WONDERGEM,

GOVERNOR JOHN ENGLER, VAI FOUNDER JAY

VAN ANDEL, PRESIDENT GERALD R. FORD AND

VAI CHAIRMAN AND CEO DAVID VAN ANDEL

CONTINUED FROM PG 5 >

The design for Phase I of the Institute

was architect Raphael Viñoly's first

research facility, but in the

intervening years he has gone on

to design for Princeton University,

Howard Hughes Medical Institute

and several other notable

research facilities.

The Birth of the Medical Mile

On May 20, 1998, the Van Andel family,

along with the mayor of Grand Rapids,

advisors and friends, broke ground on

the building site and began the process

of making the dream a concrete reality.

This event set off a domino effect of

development and economic growth that

would invigorate the city.

Following the initial phases of the Institute's

construction, then-Michigan Governor

John Engler signed the Michigan Life

Sciences Corridor legislation, a $1 billion

biotechnology initiative, into law in the

Institute's lobby. This initiative created a

collaborative web between the Institute,

the University of Michigan in Ann Arbor,

Michigan State University in East Lansing

and Wayne State University in Detroit.

Phase I of the Institute initiated the

expansion of the life science industry in

West Michigan and promoted a new

economy based on the pursuit of excellence

in human health. Due in large part to the

Van Andel family's vision, the district that

houses Van Andel Institute, located along

Michigan Street and adjacent to Belknap

Hill, has come to be known as the "Medical

Mile." Today, the Medical Mile serves as an

important driver for economic development

and vitality in the region.

"Here at VAI, the world's greatest

medical detectives will unlock the

secrets of molecular and cell

biology, genetics and other life

sciences. All because of Jay and

Betty Van Andel's belief and their

willingness to act on that belief."

– President Gerald R. Ford

1996

Jay and Betty Van Andel found

Van Andel Institute (VAI).

David Van Andel becomes Chairman and CEO.

1997

VAEI hosts first Van Andel Educators

Institute, a national symposium for school

principals and superintendents.

Dr. Luis Tomatis appointed first

President of Van Andel Institute.

Dr. Gordon Van Wylen

appointed first Director of

Van Andel Education Institute (VAEI).

6 | VAN ANDEL INSTITUTE HIGHLIGHTS OF HOPE
---
Two Decades of Sustained Growth on the Medical Mile

Since Van Andel Institute broke ground in 1998, it has

spurred vital economic growth in Grand Rapids and

more than $2 billion worth of research and health care

infrastructure along the city's Medical Mile, including:

2000: Grand Rapids Community College Calkins Science Center

2003: Grand Valley State University Cook-DeVos Center for

Health Sciences

2004: Spectrum Health Meijer Heart Center

2008: Spectrum Health Lemmen-Holton Cancer Pavilion

2008: Mid Towne Village Women's Health Center

2009: Mercy Health Hauenstein Neuroscience Center

2009: Van Andel Institute Phase II

2010: Michigan State University College of Human Medicine

Secchia Center

2011: Spectrum Health Helen DeVos Children's Hospital

2011: The RDV/Christman Michigan Street Development

(TOP) GRAND RAPIDS, BEFORE VAN ANDEL INSTITUTE WAS BUILT;

(BOTTOM) TODAY'S MEDICAL MILE.

Opening in late 2017: Michigan State University's

Grand Rapids Research Center

1999

Respected cancer scientist and National Cancer Institute Administrator

Dr. George Vande Woude, joins as Research Director of Van Andel Research

Institute (VARI). Research begins in temporary laboratory space at Butterworth

Hospital in Grand Rapids.

1998

Groundbreaking ceremony for VAI's facilities

in downtown Grand Rapids, Michigan.

VAI helps to establish Grand Rapids' Medical Mile—a

health sciences and medical corridor that serves as a source

for innovative biomedical research, cutting-edge clinical

care and economic growth in West Michigan.

VAN ANDEL INSTITUTE HIGHLIGHTS OF HOPE | 7
---
OUR HISTORY

PIONEERS, VISIONARIES AND TRAILBLAZERS

When Van Andel Research Institute's

(VARI) Founding Research Director

Dr. George Vande Woude first came

to Grand Rapids to discuss leading

the Institute's research program, the

building was still under construction.

He was one of a handful of scientists

who vied for the opportunity to create

something revolutionary in a midsized

city in Michigan. Building a research

institute without support from existing

institutions or a university was something

that was almost unheard of in the world

of biomedical research, but Vande Woude

had developed a reputation as a scientist

who forged his own path.

Vande Woude met with representatives

from the Institute including the Institute's

first president, Dr. Luis Tomatis. Tomatis

led early efforts to recruit scientists

and advisors, and scout a research

director who would be able to shape the

Institute's strategic vision and embrace the

uncertainty of a new endeavor. Tomatis'

passion for his work and enthusiasm for

the Institute fostered important early

relationships with scientific pioneers,

visionary thinkers and trailblazers in

the field of biomedical research.

Together, We Will Make History

Vande Woude doesn't think of himself

as a pioneer, but his contributions to

cancer research are undeniably impressive.

A towering figure in the world of genomic

cancer research, Vande Woude spent

eight years at the U.S. Department of

Agriculture's Plum Island Animal Disease

Center and then served as director

of the Basic Research Program at the

National Cancer Institute's (NCI) Frederick

Cancer Research and Development

Center, and as director for the Division

of Basic Sciences.

During his 40-year tenure at the NCI,

Vande Woude explored the exciting

world of genomic cancer research

in order to better understand what

causes cancer at the molecular level.

His impressive list of achievements

includes discovering the human MET

oncogene and proto-oncogene. These

discoveries revolutionized how cancer

was viewed and led to the development

of novel targeted cancer therapies.

Vande Woude made a point to recruit

bright, young people who were doing

adventurous work in basic and

translational cancer research. One

of these young scientists was

Dr. Bart Williams, now director of VARI's

Center for Cancer and Cell Biology.

"It was an incredible opportunity to build

something with one of the pioneers in

cancer research and design a biomedical

research program from scratch," Williams

said. "The experience was very 'handson'

– building something incredible where

nothing had previously existed. In that

process, there was a lot of energy

and enthusiasm."

Under David Van Andel's leadership,

Vande Woude guided these young

scientists and stimulated a dynamic

workplace that sparked a chain reaction of

2000

Phase I of VAI's construction is completed.

VARI holds its first scientific symposium.

2001

VAI creates signature special event Hope on the Hill

to recognize donors and their charitable gifts to the

Institute.

Scientific seminar series established, later

renamed in memory of Dr. Han-Mo Koo,

a VARI scientist who died of cancer in 2004.

Dr. Gordon Van Harn

appointed Director of VAEI.

8 | VAN ANDEL INSTITUTE HIGHLIGHTS OF HOPE
---
VAN ANDEL RESEARCH INSTITUTE'S

FOUNDING RESEARCH DIRECTOR

DR. GEORGE VANDE WOUDE.

growth and collaboration within

the Institute. A natural leader and

passionate mentor, Vande Woude created

an environment that was both supportive

and aspirational.

"George is a very detailed, hands-on kind

of person, and his management style

was important in creating the Institute

and laying its solid scientific foundations,"

Williams said. "He was instrumental in

getting other scientists to think about

coming here, doing cutting-edge research,

and building a research institute in

Grand Rapids."

Joined by his wife and lifelong supporter

Dot, Vande Woude brought scientists from

around the country to a city tucked away

in West Michigan, helping to shape the

Institute's destiny for the next two decades.

A mentor's mentor, Vande Woude's

exuberant love of science and passion

for the continuum of discovery remain

cornerstones of the Institute's approach

to biomedical research and science

education. His ability to nurture the

careers of top-tier scientists provided a

bedrock for the Institute's initial research

CONTINUED ON PG 10 >

2003

VARI hosts first undergraduate interns in its laboratories.

2004

2004 sees the passing of Van Andel Institute

Founders Jay and Betty Van Andel.

VAN ANDEL INSTITUTE HIGHLIGHTS OF HOPE | 9
---
OUR HISTORY

CONTINUED FROM PG 9 >

programs and provided the necessary

momentum for growth and success.

"If you love people and have the ability

to help them do great things, then you're

really living the dream," Vande Woude said.

On the day Vande Woude signed his

contract, Institute Founder Jay Van Andel

held Vande Woude's arm and said,

"Together, we will make history."

"If you love people and have

the ability to help them do

great things, then you're really

living the dream."

- Dr. George Vande Woude

(LEFT TO RIGHT) DR. BART WILLIAMS,

DR. CRAIG WEBB AND DR. ART ALBERTS AT

THE PHASE I GRAND OPENING.

2006

Dale Chihuly, a world-renowned glass

sculptor, unveils Life, commissioned in

2004 by Jay Van Andel in memory of

Betty Van Andel. The sculpture hangs in

VAI's lobby.

Carol Van Andel introduces the

inaugural Couture for a Cure fashion

event held to benefit VAI.

VAEI begins its inaugural Out-of-School-Time Cohort Program.

2005

Van Andel Institute Graduate School (VAIGS) founded

and receives charter from the State of Michigan to

confer master's and Ph.D. degrees.

VAI signs agreement with Michigan

State University to support the

creation of a medical school in

downtown Grand Rapids.

Dr. Steven J. Triezenberg appointed

Dean of Van Andel Institute

Graduate School.

10 | VAN ANDEL INSTITUTE HIGHLIGHTS OF HOPE
---
Trailblazing Trustees—Peter Cook and

Ralph Hauenstein

The Institute began as the dream of the

Van Andel family. Through the support of

other West Michigan community leaders

and philanthropists like Peter Cook and

Ralph Hauenstein, this dream helped

transform the region.

"Because of Peter Cook and Ralph

Hauenstein's careful guidance, Van Andel

Institute has grown not only in size but in

stature in the scientific community, and

served as a catalyst for the transformation

of a community, a region and an economy,"

David Van Andel said.

Both men shared a unique vision for their

city and understood that the Institute

would shift the economic trajectory of

Grand Rapids and be a force for change.

Their wisdom, business experience and

community connections helped guide the

Institute in its beginning and provided a

sturdy philanthropic course for the future.

After years of service, the two men were

awarded emeritus status on Van Andel

Institute's Board of Trustees in 2008,

and they continued to serve with distinction

throughout their lives. Cook passed away in

2010 and Hauenstein in 2016, but both men

left behind impressive legacies that live on in

the Institute's mission and the thriving city they

helped redefine.

VAN ANDEL INSTITUTE'S

FIRST TRUSTEES, PETER COOK

AND RALPH HAUENSTEIN.

2007

VAEI launches Science on Saturday program.

VAEI hosts first West Michigan Regional

Undergraduate Science Research Conference

for students and professors.

First students enter Van Andel Institute Graduate School.

Groundbreaking ceremony for Phase II building expansion.

VARI and the Shanghai Institute of Materia Medica (SIMM) establish the VARI/SIMM

Center for Drug Discovery in Shanghai, China.

2008

Child authors of the book

Kid's Cancer Stories visit with

more than 100 VAI employees

for a book signing.

VAN ANDEL INSTITUTE HIGHLIGHTS OF HOPE | 11
---
EVENTS

(STARTING AT THE TOP, LEFT TO RIGHT) COUTURE FOR A CURE 10 TH

ANNIVERSARY; CAROL VAN ANDEL AND SARAH ROLLMAN WITH THE

FIRST ANGEL OF EXCELLENCE AWARD RECIPIENTS, CHRISTINE BOELKINS

AND VICKY LUDEMA; FOUR FOREST HILLS CENTRAL HIGH SCHOOL

STUDENTS RAISED $100,000 OVER FOUR YEARS AND DONATED THE

FUNDS TO VAI IN 2013; CAROL VAN ANDEL SPEAKS AT THE 2016 ART OF

FASHION AND RESEARCH EVENT; MARANDA ADDRESSES THE CROWD

AT THE 2015 CONVERSATION ABOUT DEPRESSION

HOSTED BY CAROL VAN ANDEL.

12 | VAN ANDEL INSTITUTE HIGHLIGHTS OF HOPE
---
(STARTING AT THE TOP, LEFT TO RIGHT) THE FORTE TENORS

PERFORM AT THE 15 TH ANNUAL HOPE ON THE HILL GALA;

DAVID VAN ANDEL BLOWS OUT THE CANDLES DURING HIS

BIRTHDAY AND VAI'S 5 TH ANNIVERSARY CELEBRATION; JBOARD

CO-CHAIR RACHEL MRAZ SPEAKS AT THE 2012 AROUND THE

WORLD EVENT; RALPH HAUENSTEIN DANCES AT THE HOPE ON

THE HILL GALA IN 2010; 2012 PURPLE COMMUNITY HOCKEY

GAME WITH THE GRAND RAPIDS GRIFFINS.

VAN ANDEL INSTITUTE HIGHLIGHTS OF HOPE | 13
---
A MILESTONE

Phase II

Groundbreaking

Van Andel Institute broke ground on its

Phase II expansion April 11, 2007.

Phase II continued the vision of architect

Raphael Viñoly and provided Institute

scientists and operations staff with

beautifully designed lab and office spaces

where they could continue to develop new

and exciting research initiatives into cancer

and neurodegenerative diseases.

Grand Opening

On Dec. 8, 2009, Van Andel Institute cut

the ribbon on its eight-story, $178 million,

240,000-square-foot Phase II expansion.

The expanded facility generated both

economic and scientific opportunities by

nearly tripling research space and creating

the potential to support a $125 million

annual research operation.

(TOP) DAVID VAN ANDEL AT THE

PHASE II GROUNDBREAKING CEREMONY.

(RIGHT) ARCHITECT RAPHAEL VIÑOLY PRESENTS

DAVID VAN ANDEL WITH THE PHASE II MODEL.

DAVID VAN ANDEL LEAVES A HEARTFELT MESSAGE FOR HIS PARENTS, JAY AND BETTY

VAN ANDEL, ON THE FINAL BEAM AT THE PHASE II TOPPING OFF CEREMONY.

14 | VAN ANDEL INSTITUTE HIGHLIGHTS OF HOPE
---
(TOP) DAVID AND CAROL VAN ANDEL ARE PRESENTED WITH A PAINTING OF THE INSTITUTE AT THE PHASE II GRAND OPENING CELEBRATION;

(LEFT) DAVID VAN ANDEL ADDRESSES THE CROWD AT THE PHASE II RIBBON CUTTING CEREMONY; (RIGHT) PHASE II RIBBON CUTTING;

(BOTTOM RIGHT) THE FINAL BEAM IS ADDED TO THE BUILDING AT THE PHASE II TOPPING OFF CEREMONY.

VAN ANDEL INSTITUTE HIGHLIGHTS OF HOPE | 15
---
SCIENCE EDUCATION

REVOLUTIONIZING SCIENCE EDUCATION

Biomedical research and science

education are the pillars on which

Van Andel Institute is built. After all,

the life-changing scientific breakthroughs

of tomorrow will be discovered by the

students of today.

Van Andel Institute (VAI) Co-Founder

Betty Van Andel was a life-long educator

and a fervent believer in the power of

knowledge to shape lives. In the early

planning stages of the Institute, Van Andel

was intent on including education as an

integral part of the Institute's mission.

David Van Andel, chairman and CEO of

VAI, views the Education Institute as the

fulfillment of his mother's dream.

"Her vision was to create an institution

that would shape educational excellence

and thereby inspire hope and enrich lives,"

Van Andel said. "She realized that access

to science education is one of the most

powerful gifts you can give a person and

one of the best investments you can make

in the future."

In 1996, former President of Hope

College and former Dean of the School of

Engineering at the University of Michigan

Dr. Gordon Van Wylen joined Van Andel

Education Institute's (VAEI) Board of

Trustees and agreed to help shape the

mission of the Education Institute. A man

of immense scientific knowledge, education

experience and integrity, Van Wylen's

expertise was instrumental in defining the

early goals of VAEI.

Van Wylen and the Board of Trustees

decided that to have a significant

impact on science education, the

Institute must first address key issues

regarding the needs of students and

teachers. Working with educators

and scientific experts, Van Wylen

organized the first Van Andel Educators

Institute in 1997. This meeting

2009

Phase II of VAI construction completed.

VAI hosts first Origins of Cancer

symposium, which brings together experts

from across the U.S. and U.K.

2010

David and Carol Van Andel rededicate the newly

renovated Crescent Park.

Purple Community, Van Andel Institute's grassroots

community awareness and fundraising program,

is established.

Dr. Jeff Trent appointed VARI President and

Research Director.

16 | VAN ANDEL INSTITUTE HIGHLIGHTS OF HOPE
---
DR. GORDON VAN WYLEN

VAN ANDEL EDUCATORS INSTITUTE, 1997

brought educators and scientists together

to discuss issues in science education and

ways in which the Institute could effect

positive change.

In 1998, Van Wylen also assisted in

founding the Van Andel Educational

Technology School, which was a technology

focused program for urban elementary

schools in the Grand Rapids Public

School system.

These efforts were the first steps toward

designing the Institute's educational

philosophy, which embraces inquiry-based

learning, proactive teacher training and

innovative technologies.

Thinking and Acting Like a Scientist

In the years following the founding of VAEI,

influential experts in scientific research

and academia worked diligently to shape

the inquiry-based philosophy of the

Institute's science education and teacher

development programs.

The hallmark of VAEI's inquiry-based

education philosophy is that students learn

science best not just by memorization,

but by actually doing science. Based on

the scientific method of observation,

measurement, experimentation, and

the formulation and testing of results,

VAEI's methods provide students with a

meaningful, engaging learning experience

and a sound understanding of scientific

principles. Under the guidance of talented

educators like Marcia Bishop, Dr. Gordon

Van Harn and Dr. Steven J. Triezenberg,

VAEI's programs have grown to include

the Field Experience, High School Journal

Club, Out-of-School-Time Cohort Program,

Science on Saturday and NexGen Inquiry ®

(VAEI's web-based education platform).

2011

VAIGS launches

partnership with

the United Negro

College Fund.

2012

CONTINUED ON PG 18 >

Dr. Patrik Brundin appointed the Jay Van Andel

Endowed Chair in Parkinson's Research and works

to build the Center for Neurodegenerative Science.

VAEI begins High School Journal Club,

creating an inquiry-based science

education program for high school

students in West Michigan.

VAEI expands its professional development resources with QPOE 2

®

curriculum

products and Partners in Science program for teachers.

VAI hosts first international Grand Challenges in Parkinson's Disease symposium

for hundreds of Parkinson's scientists, clinicians and patient advocates.

VAN ANDEL INSTITUTE HIGHLIGHTS OF HOPE | 17
---
SCIENCE EDUCATION

It's All About Inquiry!

Van Andel Education Institute

encourages both students and teachers

to think and act like scientists. Instead

of focusing on memorization, inquiry-based

learning allows students to learn by asking

questions and testing hypotheses. The

Institute's inquiry-based model centers on

three dimensions: habits of mind, a sociallyand

language-rich environment and the

QPOE 2

®

investigation organizer. QPOE 2

highlights the scientific process of asking

a question, making a prediction, collecting

data through observation, developing an

explanation and ongoing evaluation to

refine and improve the process.

From the Founding Into the Future –

NexGen Inquiry ®

In the late 1990s, when the founders

envisioned an institute that would have the

potential to revolutionize science education

and inspire generations of students, the

internet was a curious new technology.

Today, the Institute harnesses the power of

web-based connectivity in the form of

NexGen Inquiry—a powerful web-based

science education platform that provides an

opportunity for interactive learning in

K–12 classrooms worldwide.

The platform, accessible to anyone with

an internet connection, was designed by

education experts with the goal of

bringing the Institute's inquiry-based

education philosophy to an unlimited

audience. NexGen Inquiry provides a

solid foundation for the Next Generation

Science Standards (NGSS) and gives

teachers accessible tools to help their

students develop important 21 st century

skills and a life-long love of science.

Jim Nicolette, associate director of

Van Andel Education Institute, believes that

the Institute's future in science education

is dependent on the ability to scale-up the

inquiry-based science education model

in order to reach more teachers

and students.

"The model we've worked to develop is truly

golden, and now we have to introduce it to

a larger audience," Nicolette said.

"Betty Van Andel and the Van Andel family's

original intent was to change the way

science is taught at the national level. Today

we are really in a place to realize this bold

idea and help educate more students than

ever before."

2012

CONTINUED FROM PG 17 >

2013

Dr. George Vande Woude and Dr. Peter Jones named as Fellows of the American Association

for Cancer Research Academy.

First students graduate from VAIGS.

VAIGS receives initial accreditation from Higher Learning Commission.

VAI and area partners collaborate to

create a world-class biorepository

following the Program for Biospecimen

Science's accreditation by the College

of American Pathologists.

Dr. Peter Jones appointed Van Andel Research Institute's

Chief Scientific Officer. VARI commits to becoming a global

epigenetics research hub.

VAI launches Pathway of Hope, a multifaceted initiative to study

tuberous sclerosis complex (TSC).

18 | VAN ANDEL INSTITUTE HIGHLIGHTS OF HOPE
---
Dr. Gordon Van Harn –

a Legacy of Learning

Dr. Gordon Van Harn was one of the early

leaders who shaped the destiny of

Van Andel Education Institute (VAEI).

FORMER VAN ANDEL EDUCATION INSTITUTE

DIRECTOR DR. GORDON VAN HARN.

Following a stellar academic career that

included serving for more than 30 years

as a faculty member in Calvin College's

Biology Department, where he taught

physiology, undertook muscle and

cardiovascular research, and served as

provost and academic dean for the natural

sciences, Van Harn became an active

member of the Institute's leadership.

Van Harn joined the VAEI Board of Trustees in

2000 and served with distinction as director

of VAEI from 2001 to 2009. Under his

leadership, Van Andel Education Institute

expanded its programs across new

spectrums of learning, including Van Andel

Institute Graduate School, which offers a

doctoral program in cellular and molecular

biology. Van Harn defined the scope of

VAIGS, secured its charter from the State

of Michigan to confer degrees and enlisted

an excellent board of directors to guide its

development. In addition to VAIGS, Van Harn's

endless passion, creativity and planning

helped found VAEI's Science Academy, which

focuses on K–12 science education.

2014

VAI partners with Spectrum Health's Frederik Meijer Heart & Vascular Institute in an effort to stimulate regenerative medicine for heart

disease. The joint effort was made possible by a significant donation from the Richard and Helen DeVos Foundation.

VARI establishes the Van Andel Research Institute-Stand Up To Cancer Epigenetics Dream Team to foster epigenetics research

collaborations and move promising therapies into clinical trials.

VARI and U.K.-based research charity The Cure Parkinson's Trust collaborate on the Linked Clinical

Trials initiative. This effort aims to repurpose medications that have already been approved for use,

and significantly reduce the time and cost required to bring new and more effective therapies

to market.

Dr. George Vande Woude receives the Fellowship Award in Biological Science from the American

Association for the Advancement of Science.

VAN ANDEL INSTITUTE HIGHLIGHTS OF HOPE | 19
---
SCIENCE EDUCATION

Our Students Are Scientists—Van Andel Institute Graduate School

Higher education and biomedical

research have a symbiotic relationship.

It is not unusual for a research institute

to be connected to a place of higher

learning, but Van Andel Institute

Graduate School (VAIGS) represents a

new way of viewing this paradigm.

When the Graduate School was founded

in 2005, its curriculum and structure were

based on the innovation and creativity

taking place in the Institute's research labs.

Built on the concept of former Van Andel

Education Institute (VAEI) President Gordon

Van Harn, VAIGS was designed to function

in tandem with the Institute's biomedical

research programs and nurture the next

generation of great scientists.

"To have a research institute within a large

university is not that uncommon,"

Dr. Steven J. Triezenberg, dean of the

Graduate School and director of VAEI from

2009 to 2015, said. "Many universities that

are primarily education institutions will

have a research institute in one area or

another, but here at the Institute we have

flipped that model."

Instead of research programs being

informed by a university's structure

and organizational model, the Institute

developed a graduate school informed by

its leading-edge biomedical research.

"One of the unique things about Van Andel

Institute Graduate School is that we don't

just encourage our students to be effective

scientists, we encourage them also to be

effective biological research leaders who

are able to run their own research groups,

interact effectively within their institution

and collaborate proactively with their

peers," Triezenberg said.

Solving Real-World Problems

Since VAIGS' founding, the school has

developed an innovative framework

and curriculum that gives students the

opportunity to spend the majority of their

time working in the Institute's labs where

they can apply their knowledge toward

solving real-world problems.

"Our graduate students are integral

members of the laboratory," Triezenberg

said. "They work with the senior scientists,

with the postdocs, with the lab managers

and with the research technicians in order

to design projects, carry out and interpret

experiments, and present their work at

national and international conferences.

They're fully fledged professional scientists

and regarded as such at the Institute."

In 2013, the Institute was fully accredited by

the Higher Learning Commission. It currently

has 10 graduates of the Ph.D. and master's

programs, and 20 new students enrolled.

"We expect the school will grow as the

Research Institute grows," said Triezenberg.

"In the next few years, our graduates will

fill high-level positions in academia and

the private sector, and I think we will start

to see the impact we are having on the

scientific community."

A Continuum of Knowledge

The integration of scientific research

with education, beginning with VAEI, has

rendered some incredible results.

"We know that the future scientific experts

are the curious students of today, and

2015 Purple Community hosts its first annual Purple Community 5K.

VARI scientist Dr. Gerd Pfeifer named a Fellow of the American Association for the Advancement of Science.

Winterfest, VAI's signature special event benefiting Parkinson's disease research, raised $1,000,000 since

its inception in 2005.

Country and pop music star Sheryl Crow performs at the Hope and Denim event in Nashville, Tennessee, to

raise funds for cancer and neurodegenerative disease research at VAI.

Launch of NexGen Inquiry ® , VAEI's web-based science education platform.

VARI scientists Drs. Peter Jones, Stephen Baylin and Stefan Jovinge play key roles in

discoveries that were hailed as notable advances of 2015 by Nature Medicine.

Research!America's Geoffrey Beene Builders of Science Award presented to

David Van Andel and Dr. George Vande Woude.

His Majesty King Willem-Alexander and her Majesty Queen Máxima of the Netherlands

visit the Institute.

20 | VAN ANDEL INSTITUTE HIGHLIGHTS OF HOPE
---
sometimes their journey begins in the

Education Institute, which brings grade

school students into a laboratory-style

environment that gives them an idea

of what it means to think and act like a

scientist," Triezenberg said. "Some of the

first students in the VAEI program are now

college students interning in the Institute's

laboratories. So, for the first time, we

are seeing students we worked with

from the beginning of their educational

development mature into young scientists

with a passion for research and the desire

to advance human health."

The Institute's full spectrum of science

education, from VAEI on through the

research-focused Graduate School, creates

a continuum of knowledge that can carry

a student's passion for learning into an

undeniably bright and promising future.

2016

Van Andel Research Institute-Stand Up To Cancer Epigenetics Dream Team begins

clinical trials on promising new therapies for cancer.

Terra Tarango appointed VAEI Director and Education Officer.

Dr. Peter Jones elected into the National Academy of Sciences.

Center for Neurodegenerative Science adds new focus on neuroepigenetics.

VARI significantly expands its structural biology capabilities with the establishment of a Cryo-EM Core, a suite of powerful electron

microscopes that can image minuscule molecules that are vital in health and disease. VARI also recruits three exceptional

scientists to augment the Institute's existing structural biology expertise.

VAN ANDEL INSTITUTE HIGHLIGHTS OF HOPE | 21
---
PARKINSON'S

PLEASE ADD A BANNER TO THIS PAGE

A LEGACY OF HOPE: SHIFTING THE

PARADIGM ON PARKINSON'S DISEASE

A couple of years after the Institute was

founded, Jay Van Andel's autobiography,

An Enterprising Life, hit bookshelves

across the nation. In it, he detailed his

hope for the then fledgling biomedical

research and science education institute

he and his wife Betty had founded on a

hill in Grand Rapids. At the core of his

hopeful words was a specific call to find

new ways to treat the two most common

neurodegenerative diseases—Parkinson's,

with which he had been recently diagnosed,

and Alzheimer's, with which Betty had been

diagnosed many years earlier.

As the Institute grew, his words remained

a constant inspiration for the work

ahead. By 2012, it was time. The Institute

had the facilities. It had the resources.

It just needed the right person to lead

the charge against neurodegenerative

diseases.

Direct from Sweden

In 2011, Institute CEO David Van Andel

found the leader who would shape VARI's

Center for Neurodegenerative Science.

Dr. Patrik Brundin was renowned in the

world of neuroscience, a pioneering

scientist and clinician who had been part

of truly groundbreaking work in the field

of Parkinson's research and treatment.

Those first conversations between

Van Andel and Brundin in Grand Rapids

held glimpses of a bright future, but were

also firmly rooted in the memories of their

fathers. Jay Van Andel, David's father and

the founder of the Institute, had passed

away in 2004 from complications related

to a long battle with Parkinson's. Brundin's

father also had fought the disease and

served as the driving inspiration behind

his son's passion for finding a cure.

"I'm driven by my father's memory every

day," Brundin said. "Seven to 10 million

people worldwide have Parkinson's. That's

seven to 10 million mothers, fathers,

brothers, sisters and friends. And that's

seven to 10 million reasons to do this work."

By the time he left Michigan to return to

Sweden, Brundin was convinced—Grand

Rapids was the place he needed to be.

(PRINCIPAL INVESTIGATORS, LEFT TO RIGHT) DRS. JEREMY VAN RAAMSDONK, JIYAN MA,

PATRIK BRUNDIN, DARREN MOORE AND LENA BRUNDIN.

A New Mission

When Brundin officially arrived at

the Institute in 2012, he wasted no

time establishing the Center for

Neurodegenerative Science as

well as Grand Challenges in Parkinson's

Disease, an annual symposium designed

to highlight cutting-edge science and bring

together the scientific, medical and patient

communities. The first symposium was a

small affair but, like the Center itself, was

poised to grow significantly in size

and scope.

22 | VAN ANDEL INSTITUTE HIGHLIGHTS OF HOPE
---
By early 2016, just a few short years after

its creation, the Center was growing rapidly,

having eight exceptional, established

investigators and rising talent. In much the

same way, the field of Parkinson's research

also hit an inflection point, one bolstered

by scientific discoveries and a dedicated

community of people with Parkinson's and

their advocates.

Answering the Call

Two years earlier, a crowd of more than

325 people—scientists, clinicians, students,

people with Parkinson's and advocates—sat

in awed silence in the Institute's Tomatis

Auditorium during Grand Challenges. On

stage, Tom Isaacs, co-founder of the U.K.

research charity The Cure Parkinson's Trust

and one of the community's most influential

and well-respected voices, gave a powerful

speech outlining the unmet needs of the

Parkinson's community: more definitive

diagnosis, improved care and therapies that

change the course of the disease.

"We're constantly learning

something new—the pace is

absolutely astounding," Brundin

said. "Each discovery is another

step closer to a future in which

Parkinson's no longer robs people

of their golden years. There's a

big shift coming—we can

see it on the horizon."

"Our sense of urgency is intense," Isaacs

said. "I think the world of Parkinson's is on

the verge of a seismic shift for the better."

His speech came at an auspicious

time. For more than 50 years, treating

Parkinson's looked more or less the

same and had focused on mitigating

symptoms rather than addressing the

actual underlying causes of the disease.

But science has been far from idle during

this time; in fact, it has been booming.

The Right Place, the Right Time

More is known about Parkinson's now than

THE CURE PARKINSON'S TRUST CO-FOUNDER, TOM ISAACS, ADDRESSES THE

CROWD AT THE 2014 GRAND CHALLENGES IN PARKINSON'S DISEASE SYMPOSIUM.

ever before. Once thought to be strictly a

movement disorder, scientists have learned

that it can include a host of non-motor

symptoms such as depression, loss of

sense of smell and cognitive impairment.

And they've learned how it spreads from

cell to cell in the brain, slowly killing neurons

that produce dopamine, a chemical

required for smooth movement.

These findings and other insights into

the underpinnings of Parkinson's didn't

happen in a vacuum; rather, they required

a multidisciplinary and collaborative

approach, both of which are at the heart

of the Center's philosophy. By recruiting

exceptional scientists from across the

spectrum of Parkinson's research, from

genetics and epigenetics to pathology to

therapeutic development, VARI is building

a critical mass of expertise, ensuring

a scientifically strong and innovative

environment. The benefits of this work are

broad, often spilling over to inform research

on other neurodegenerative diseases such

as Alzheimer's and multiple system atrophy.

At the same time, VARI scientists reach

beyond Grand Rapids to collaborate with

colleagues around the world, delving

deeper into the mechanisms behind

Parkinson's in an effort to translate their

findings into new ways of definitively

diagnosing the disease, slowing or stopping

progress, and repairing the damage. Their

ultimate goal is to improve the quality of life

for people with Parkinson's. They're getting

closer; together with The Cure Parkinson's

Trust, VARI is finding new uses for existing

drugs approved to treat other diseases

that may also treat Parkinson's. Some of

these efforts have already made it into the

crucial clinical trial phase, and others are

well on their way.

The Center and its efforts to move therapies

to the clinic continue to grow—plans call for

the recruitment of a neurologist to establish

VARI-supported clinical trials where Jay and

Betty Van Andel's dream began, in Grand

Rapids. With every step, their vision—the

Institute's vision—to positively impact

human health is becoming a reality.

"We're constantly learning something

new—the pace is absolutely astounding,"

Brundin said. "Each discovery is another

step closer to a future in which Parkinson's

no longer robs people of their golden years.

There's a big shift coming—we can see it on

the horizon."

VAN ANDEL INSTITUTE HIGHLIGHTS OF HOPE | 23
---
EPIGENETICS

DR. PETER JONES AND DAVID VAN ANDEL ON STAGE

AT DR. JONES' PRESS CONFERENCE IN 2014.

BUILDING MOMENTUM AT THE EPICENTER OF EPIGENETICS

The first time Dr. Peter Jones saw

Dale Chihuly's glass sculpture, Life,

suspended in the Institute's lobby, he

was inspired. In it, he saw something

others did not.

Tucked in amongst the ocean-blue glass

orbs of its six-foot-tall helix were red

spheres reminiscent of the way chemical

marks that help control genes attach to

DNA. It immediately resonated with

Jones, who is a superstar in epigenetics,

a burgeoning field that holds untold

promise for finding new ways to treat

cancer, Parkinson's and other diseases.

Jones took it as a sign—epigenetics was

in the Institute's DNA. It just needed to

be expressed.

Charting a New Course

In 2014, Jones packed up 37 years of

research and moved from Los Angeles to

Grand Rapids to become the Institute's

chief scientific officer. He had spent much

of those four decades at the University

of Southern California, where he led the

university's Norris Comprehensive Cancer

Center and helped revolutionize the

understanding of how our genes work.

A renowned scientist and leader, Jones

could see the potential and the promise,

not only to put Van Andel Research Institute

on the map, but most importantly, to

save lives through innovative research,

strong collaborations and cutting-edge

clinical trials.

"It was a rare chance to do something

really special," Jones said. "Thanks to the

exceptional generosity of the Van Andel

family and the outstanding scientific

foundations built by Dr. George Vande

Woude, the Institute was in a position that

few organizations are lucky enough to

experience. So we set our goals high. When

people say Van Andel Research Institute,

we want them to say epigenetics, and when

people say epigenetics, we want them to

say Van Andel Research Institute."

A Matter of Identity

Every cell in the body has almost the exact

same DNA, yet the cells that comprise us

are vastly different. What causes a brain cell

to be a brain cell? Or a muscle cell to be a

muscle cell?

The answer is epigenetics.

Literally meaning "above genetics,"

epigenetics overlays the genetic code and

determines when genes should be switched

"on" or "off," ultimately affecting cell type

and function. And, like genetics, when

epigenetic processes go awry—when genes

are inappropriately turned off or on—the

result can be disease, such as cancer or

a myriad of other illnesses. Epigenetics is

24 | VAN ANDEL INSTITUTE HIGHLIGHTS OF HOPE
---
(PRINCIPAL INVESTIGATORS, LEFT TO RIGHT) DRS. SCOTT ROTHBART,

PETER JONES, HUI SHEN, PETER LAIRD, GERD PFEIFER, PIROSKA SZABÓ,

STEFAN JOVINGE AND STEVEN J. TRIEZENBERG.

a growing field that presents an excellent

opportunity for treating some of the biggest

threats to human health.

Jones knew epigenetics was one area where

the Institute could truly become the best of

the best. When he arrived in Grand Rapids,

he set the Institute on an ambitious new

course—to become a world-renowned

hub for epigenetics research and in doing

so, to find new ways to better treat cancer,

Parkinson's and other diseases.

"Patients don't have the time to wait and

neither do we," Jones said. "We have the

opportunity to make a real difference in

people's lives."

There hasn't been much waiting since

Jones arrived in 2014. The number of

faculty has grown dramatically from 23

to 33 investigators, many with a focus on

epigenetics. Reflecting the rise of Big Data,

VARI has massively upgraded its computing

power and technological capabilities to

support large-scale genomic, epigenomic

and structural studies aimed at unraveling

the molecular underpinnings of health and

"Patients don't have the time to

wait and neither do we. We have the

opportunity to make a real difference

in people's lives."

- Dr. Peter Jones

CONTINUED ON PG 26 >

VAN ANDEL INSTITUTE HIGHLIGHTS OF HOPE | 25
---
EPIGENETICS

CONTINUED FROM PG 25 >

disease. It is also now home to a

Cryo-EM Core, a suite of high-powered

electron microscopes that can determine

the structure of minute molecules

1/10,000 th the width of a human hair.

Perhaps most exciting, the Institute is

supporting clinical trials across the U.S.

and abroad in the hope of moving new

therapies into clinical practice.

Further Together

Before new drugs are used in patients

they must run the gauntlet of clinical trials,

which are complex, costly and rigorously

conducted studies designed to ensure a

drug's efficacy and safety. These trials also

require a tremendous amount of support

and time. Jones and his team knew this

obstacle presented an opportunity to have

an immediate impact.

They also knew that joining forces with some

of the most influential and well-respected

cancer research, medical and philanthropic

organizations in the U.S. and abroad would

strengthen and streamline their efforts.

So, on a fall day in 2014, leading scientists

and clinicians from these organizations,

along with representatives from Stand Up To

Cancer, the American Association for Cancer

Research and industry, met at the Institute

with one goal—to compete against cancer

rather than each other.

One of the results was the Van Andel

Research Institute–Stand Up To Cancer

Epigenetics Dream Team, a multiinstitutional

effort to move epigenetic

combination therapies into clinical trials

and, ultimately, to patients. It was built on

Stand Up To Cancer's paradigm-shifting

Dream Team model, which focuses on

supporting cutting-edge research by

collaborative teams.

The first trial under the team's auspices

was launched in 2016 and focused on

a promising combination therapy for

VARI IS HOME TO THREE FELLOWS OF THE

AMERICAN ASSOCIATION FOR CANCER RESEARCH ACADEMY; DR. PETER JONES, VARI'S CHIEF SCIENTIFIC OFFICER

AND CO-LEADER OF THE VARI-SU2C EPIGENETICS DREAM TEAM; DR. GEORGE VANDE WOUDE, VARI'S FOUNDING

RESEARCH DIRECTOR; AND DR. STEPHEN BAYLIN, CO-LEADER OF THE VARI-SU2C EPIGENETICS DREAM TEAM.

26 | VAN ANDEL INSTITUTE HIGHLIGHTS OF HOPE
---
AN UP-CLOSE LOOK AT DALE CHIHULY'S SCULPTURE, LIFE,

INSTALLED IN THE INSTITUTE'S LOBBY.

metastatic colorectal cancer. Multiple

trials are in the pipeline to investigate

new therapies for other cancers such

as myelodysplastic syndrome and acute

myeloid leukemia.

"Collaborations like this are important—

they harness resources and expertise that

go beyond any one organization," Jones

said. "It's impossible for one place to have

all of the experts and the best of everything.

By joining forces, we can have an impact

not only here, but globally. We can do so

much more."

Forward Momentum

What started in Grand Rapids is now

moving far beyond the city's boundaries,

a revolution reflected in the scientific

discoveries shaping tomorrow's lifechanging

therapies. The Institute has always

"When people say Van Andel Research

Institute, we want them to say

epigenetics, and when people say

epigenetics, we want them to say

Van Andel Research Institute.

- Dr. Peter Jones

been and will continue to be a connector,

a way to bring people and organizations

together in the pursuit of a common goal,

one outlined by Jay and Betty Van Andel in

the earliest days of VAI—improving health

and impacting lives. The ability to weave

together the expertise and resources of

many is more important now than ever

before; scientific fields and new technology

have become increasingly specialized, and

going it alone is no longer an option.

As the Institute has grown so has the city,

especially the Medical Mile that now crowns

Belknap Hill. At the same time, science

and medicine have been in the midst of

unprecedented discoveries, ever refining

the understanding of life's most intricate

mechanisms.

The last 20 years have laid the foundation

for the Institute's future—one that is

predicated on translating hope into

discovery and discovery into impact.

VAN ANDEL INSTITUTE HIGHLIGHTS OF HOPE | 27
---
LEAVING A LEGACY

Including Van Andel Institute (VAI) in your estate plans is a great way to make a lasting

impact on biomedical research and science education that will benefit generations to

come. Donors who include VAI in their estate plans are invited to join the Society of Hope

and receive recognition in our annual report.

Here are a few planning strategies that can help you provide for your heirs and leave

your legacy:

BEQUESTS

A bequest made through your will or trust is one of the most common ways to provide

from your estate for heirs and favorite charities. You can make a bequest of a dollar

amount, specific asset or percentage of your estate.

"Van Andel Institute has some of

the sharpest biomedical research

minds in the country, and they

can't do their work unless we help

them acquire the tools to perform

this groundbreaking research."

– Steve Grill, planned giving donor

BENEFICIARY DESIGNATIONS

By completing a simple form, you can designate heirs and charities as the beneficiary of

retirement plans, financial accounts and life insurance policies.

GIVE IT TWICE TRUST

You can set up a special charitable remainder trust that will pay income to your heirs and

then leave the remaining principle to a charity.

333 BOSTWICK AVE NE

GRAND RAPIDS, MI 49503

WWW.VAI.ORG

For more information about gift planning, please

contact Patrick Placzkowski at 616.234.5030 or

Teresa Reid at 616.234.5040.