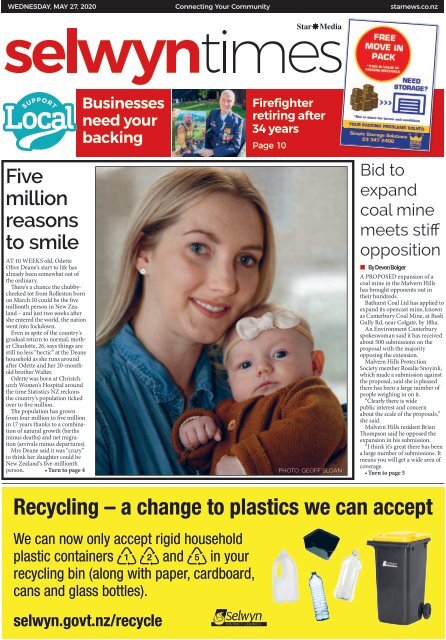 Selwyn Times: May 27, 2020
You also want an ePaper? Increase the reach of your titles
YUMPU automatically turns print PDFs into web optimized ePapers that Google loves.
WEDNESDAY, MAY 27, 2020

Connecting Your Community

starnews.co.nz

Five

million

reasons

to smile

AT 10 WEEKS old, Odette

Olive Deane's start to life has

already been somewhat out of

the ordinary.

There's a chance the chubbycheeked

tot from Rolleston born

on March 10 could be the five

millionth person in New Zealand

– and just two weeks after

she entered the world, the nation

went into lockdown.

Even in spite of the country's

gradual return to normal, mother

Charlotte, 26, says things are

still no less "hectic" at the Deane

household as she runs around

after Odette and her 20-monthold

brother Walter.

Odette was born at Christchurch

Women's Hospital around

the time Statistics NZ reckons

the country's population ticked

over to five million.

The population has grown

from four million to five million

in 17 years thanks to a combination

of natural growth (births

minus deaths) and net migration

(arrivals minus departures).

Mrs Deane said it was "crazy"

to think her daughter could be

New Zealand's five-millionth

person. • Turn to page 4

Businesses

need your

backing

Firefighter

retiring after

34 years

Page 10

PHOTO: GEOFF SLOAN

Bid to

expand

coal mine

meets stiff

opposition

• By Devon Bolger

A PROPOSED expansion of a

coal mine in the Malvern Hills

has brought opponents out in

their hundreds.

Bathurst Coal Ltd has applied to

expand its opencast mine, known

as Canterbury Coal Mine, at Bush

Gully Rd, near Colgate, by 18ha.

An Environment Canterbury

spokeswoman said it has received

about 500 submissions on the

proposal with the majority

opposing the extension.

Malvern Hills Protection

Society member Rosalie Snoyink,

which made a submission against

the proposal, said she is pleased

there has been a large number of

people weighing in on it.

"Clearly there is wide

public interest and concern

about the scale of the proposals,"

she said.

Malvern Hills resident Brian

Thompson said he opposed the

expansion in his submission.

"I think it's great there has been

a large number of submissions. It

means you will get a wide area of

coverage.

• Turn to page 5

Recycling – a change to plastics we can accept

We can now only accept rigid household

plastic containers 1 2 and 5 in your

recycling bin (along with paper, cardboard,

cans and glass bottles).

selwyn.govt.nz/recycle
---
2 Wednesday May 27 2020

Latest Canterbury news at starnews.co.nz

SELWYN TIMES

from the editor's desk

GENERAL INQUIRIES Ph 379 7100

CLASSIFIED ADVERTISING Ph 379 1100

Star Media, a division of Allied Press Ltd

PO Box 1467, Christchurch

starmedia.kiwi

TIME WILL tell whether

the hundreds of people

objecting to a bid to expand

an open cast coal mine will

be successful.

About 500 submissions

have been received over

Bathurst Coal Ltd's plan for

an 18ha expansion in the

Malvern Hills (see page 1).

Most of the submissions

are against the plan.

But that won't be an indication

the objectors will be

able to stop the expansion

when it goes to a hearing.

The Fulton Hogan quarry

near Weedons is a classic

example of that.

The quarry was given the

green light even though

there was huge opposition

to it.

An appeal against the

decision will cost a lot of

money.

Those fighting the

coalmine plan should start

saving their pennies.

– Barry Clarke

NEWS

Devon Bolger

Ph: 021 914 742

devon.bolger@starmedia.kiwi

ADVERTISING

Lynette Evans

Ph: 364 7434

lynette.evans@starmedia.kiwi

news

Family finds brother after 49 years

Greendale resident Phil Radford was adopted as a baby and never knew

his birth family until he got a call from his long-lost sister in the United

Kingdom.

Page 4

The best-read local newspaper,

delivered to 20,622 homes

every week.

Ladbrooks • Tai Tapu • Leeston • Lincoln

Southbridge • Prebbleton • Halswell

Rolleston • Templeton • Burnham • Kirwee

West Melton • Darfield • Arthur's Pass

tasty bites

Quick and easy fried rice

Versatile rice can be used as a side dish or main meal. Try our

tasty fried version which is loaded with vegetables and can be

transformed by adding other protein . ​

Page 16

Firewood & Coal

Coal

20 kg bags or

500kg bulk bags

Firewood

Pick up or deliver

(delivery charges apply)

Free delivery to Darfield township when

3 cubic metres or more is ordered.

Landscape Products

Now Available!

• Forest Mulch

• Bark Mulch

• Bark Nuggets (10/20mm)

• Premium Organic Compost

• Screened Soil

• Landscape Rocks

• Paparoa Red Rock available in 3 grades

• Railway Sleepers (2.1 Lengths)

• Kindling Wood

• Unscreened Bark

Delivery fees apply.

417 Creyke Road,

Darfield

Phone 03 975 4502

Eftpos now available

Open Monday to Friday 6am-6pm, Saturday 8am-1pm or after hours by appointment

5 Warning Signs of Spinal Stress!

André Grob,

Dr of Chiropractic,

has had over

15 years

experience of

specialty spinal

care in Australia

and New Zealand.

A healthy spine is vital to

your wellbeing.

Specialist spinal therapy

at Southern Chiropractic

consists of:

• Manual manipulative therapy

• Soft tissue Massage

• Low level Laser therapy

• Exercise and postural

education

Telephone 322 1432

www.southernchiropractic.co.nz

Email dre.nik@xtra.co.nz

SCIATIC PAIN

Southern Chiropractic Ltd

NEW PREMISES

Unit 4, 3 Kennedys Bush Road, Halswell

(Down the drive beside Pringle Homes offices)

HEADACHES

NECK PAIN

AND TENSION

MID BACK PAIN

AND TENSION

LOW BACK PAIN

FOR BETTER SPINAL HEALTH

ACT NOW… RING 322-1432

Halswell Jct Road

Halswell

Road

Kennedys

Bush Road

3 Kennedys

Bush Road

Sparks Road
---
SELWYN TIMES Latest Canterbury news at starnews.co.nz

Wednesday May 27 2020 3

News

Supermarket plans modified

THE PLANS for a Countdown

supermarket in Lincoln have

been modified in response to

feedback from the community.

Lincoln Developments Ltd

has applied to build and operate

a 3063m 2 supermarket in

the Flemington subdivision on

Birchs Rd, Lincoln, between

7am and 10pm seven days a

week.

Flemington developer Shane

Kennedy said he has spoken

with some people who have

expressed opposition to the

proposal and their feedback has

been used to improve it.

"We've significantly improved

the external design of the

building to reduce the visual

scale and improve the external

appearance, added more trees

to the car park and the street

frontage, as well as a low stone

wall with post and rail fencing.

We have added landscaping and

trees to the loading dock screening,

and reduced the height of

street signage.

"The car park layout has also

been changed and we can now

include two dedicated drivethrough

car parks for customers

with click and collect orders,"

he said.

Mr Kennedy said he is pleased

they have been able to make

the changes and is confident

the outcome will be better for

residents.

The new supermarket is expected

to create around between

70 to 90 new jobs.

"These will be a mixture of

full and part-time positions.

•HAVE YOUR SAY: Are

you happy with the

modifications to the

plans for a Countdown

supermarket in Lincoln?

Email your views to devon.

bolger@starmedia.kiwi

The café is likely to require

another five staff. These new

positions will make a significant

contribution to the Lincoln

community."

The district council has

publicly notified the resource

consent application meaning

people can have their say on the

development.

The submission period ended

MODIFIED:

The revised

plans for a

Countdown

supermarket

in Lincoln

includes more

trees and

a reduced

height of

street signage. ​

on Tuesday this week.

"The new Countdown will be

a vital part of this popular development

and it could be opening

its doors to shoppers late 2021 or

early 2022.

"The resource consent process

isn't a public vote, but I

encourage local residents who

support the project to make a

submission to the council," Mr

Kennedy said.

In March, Selwyn Times

reported a group of Flemington

residents opposed the proposed

location for the supermarket.

•For more information

about the proposal go to

www.flemington.co.nz/

supermarket/

In Brief

CRASH INJURES THREE

Three people were injured, one

seriously, in a crash on State

Highway 1 in Bankside on

Thursday. The three-vehicle

crash on Main South Rd was

reported at 2.15pm. A St John

spokesman said one patient was

taken to Christchurch Hospital

by helicopter. Two other

people were transported to

hospital by ambulance. A Fire

and Emergency New Zealand

spokesman said four fire crews

from Rakaia and Dunsandel

were sent to the scene. He said

one of the vehicles clipped a

truck following the collision.

Two of the vehicles were

"extensively damaged."

DOGS END POLICE PURSUIT

A 20-year-old man has been

charged after a police pursuit

near Dunsandel on Sunday

morning. The man failed to stop

for police on State Highway 1 at

about 10.20am. Senior Sergeant

Dean Harker said the pursuit

was abandoned and the vehicle

was located on Tennyson St near

Rolleston School a short time

later. The man was then tracked

by police dogs and was found in

the vicinity of Jones Rd. Senior

Sergeant Harker said he is facing

a number of charges.

MEARES WILLIAMS

LAWYERS

10 Years in Selwyn

At The Laboratory

17 West Belt

Lincoln

Socially

Distanced

Seating

Cheap Tuesdays $10 Any Film, Any Time

Buy your tickets online

or from the bar

apollo.thelaboratory.co.nz

Book to Dine at the

Lab before or after

325 3006

ROLLESTON OFFICE

78 Rolleston Drive, Rolleston

Richard Gray

Kate Warren

Anita Molloy-Roberts

Belinda Ferguson

Emma-Jane Moore

W: www.meareswilliams.co.nz

T: (03) 374 2547

E: reception

@meareswilliams.co.nz

Offices also located at:

43 Gerald Street, Lincoln

225 Papanui Road, Christchurch

French Drama UK Feel Good #MeToo Drama Jane Austen Comedy Award Winning Family Fun

Tuesday, 26 May 2020

Thursday, 28 May 2020

Saturday, 30 May 2020

11:00 AM Emma

PG 11:20 AM Emma

PG 11:00 AM Les Misérables R13

1:25 PM Little Women

G 1:45 PM Jojo Rabbit

M 1:00 PM Jumanji: The Next Level PG

4:00 PM 1917

R13 4:00 PM The Assistant M 3:20 PM Little Women

G

6:10 PM Jojo Rabbit

M 6:00 PM All at Sea

M 6:00 PM The Assistant M

8:15 PM All at Sea

M 7:50 PM Les Misérables R13 7:50 PM Private Hire

Wednesday, 27 May 2020

Friday, 29 May 2020

Sunday, 31 May 2020

10:30 AM Mums &Bubs Emma PG 11:20 AM Emma

PG 11:00 AM Jumanji: The Next Level PG

12:50 PM Little Women

G 1:50 PM All at Sea

M 1:20 PM Jojo Rabbit

M

3:20 PM Emma

PG 3:45 PM Jumanji: The Next Level PG 3:25 PM All at Sea

M

5:45 PM All at Sea

M 6:05 PM Les Misérables R13 5:10 PM Les Misérables R13

7:40 PM The Gentlemen R16 8:05 PM The Assistant M 7:10 PM The Assistant M
---
4

Wednesday May 27 2020

News

Latest Canterbury news at starnews.co.nz

SELWYN TIMES

Family tracks down long-lost brother

• By Devon Bolger

PHIL RADFORD had no idea

his life would change with just

one Facebook message.

Mr Radford, 49, who was

adopted at five-weeks-old, received

a message from a woman

specialising in reconnecting

people – it said he had a sister in

the United Kingdom wanting to

contact him.

"I wasn't sure if it was a windup

or something. I opened the

message and the thing that made

me think it was real is when I

was five-weeks-old I was adopted

and she had mentioned my birth

name Chris James Dooks.

"I was a bit stunned but

thought why not? Let's reconnect

and it just sort of went from

there. I ended up talking to my

sister about half an hour later,"

Mr Radford said.

His sister, Becca Main, lives

in York and helped connect him

with his birth mother, also in

York, within a matter of hours.

"It turns out I have got two sisters,

three nieces, two nephews,

a couple of uncles and about five

or six cousins I never knew.

"It has been absolutely amazing.

When it first happened I

wasn't actually very emotional

about it, I was just numb but now

it has started to kick in. I never

• From page 1

Mrs Deane had gone into labour

while having lunch at Burnham

Military Camp, where her soldier

husband Oliver is based. "I started

feeling pains, like a rubber band

flicking, and then it all happened."

Oliver drove her to hospital and

was there for the birth of their

"very big" 4.3kg baby.

Stats NZ's population insights

senior manager Brooke Theyers

said the precise date when we hit

five million also isn't available yet

but it's estimated that at March

31 had a resident population of

5,002,100.

Theyers said while the five

million mark could have been

reached by a newborn baby, it was

STUNNED: Phil Radford was adopted as a baby and never knew his birth family until he got a

call from his long-lost sister in the United Kingdom.

PHOTO: GEOFF SLOAN ​

could have expected this."

He has also spoken directly

with his other sister Nic Dooks

and brother-in-law John Main.

Mr Radford is a member of

the Greendale Golf Club and is

currently living at the site in a

Odette born during lockdown

more likely to be a migrant arriving

on a plane.

Escalating numbers of Covid-19

cases in early March made Mrs

Deane "a bit more paranoid" than

normal preparing for birth.

But she had been reassured by

research showing babies and children

were less likely to catch the

disease and likely to have milder

symptoms.

Mrs Deane said the first weeks

of maternity leave required even

more isolating than normal. She

was only able to have one week of

home midwife visits, and feeding

the baby proved hard without

help from a lactation consultant

but she said both went "above and

beyond" to help her.

GET CONNECTED WITH

Scorch Broadband

campervan.

He is doing some work on the

clubrooms as a thank you for

letting him stay on the grounds

temporarily.

Mr Radford was raised by his

two loving adoptive parents and

THE ICONIC Hororata pie has

made its way to Christchurch

for the first time.

Made Espresso Bar on Cashel

St, Stat Espresso at Forte Health

and the Kookery Nook Bakery

in Harewood are now offering

the item on their menus.

Hororata Community Trust

executive officer Cindy Driscoll

said it is a positive move for the

community.

"The Hororata pie has been

feeding local legends for years

whether it is after a ski, on the

farm, in a tractor, or at one of

Hororata's famous events.

"It's not just the memories the

pie invokes, it's the taste and

quality ingredients that ensure

was an only child. He moved to

New Zealand from Bradford in

the United Kingdom in 2006.

"My adoptive parents passed

away at quite a young age so that

was quite hard for me. They were

truly amazing. I only really had

the legend status remains,'' she

said.

When the historic Hororata

Hotel was damaged in the

September 4, 2010, earthquake

no one wanted to see the iconic

pie become just a memory," Ms

Driscoll said.

"Fortunately for Canterbury,

REUNITED: Phil Radford's

sister Becca Main (left) who

first contacted him alongside

his mother Rosie Wall and

other sister Nic Dooks.

my cousins on my dad's side and

they're all very happy for me."

He hopes to visit his birth

family in the United Kingdom

sometime next year.

"There is a definite bond there.

It is like we have never been

apart, it is crazy. The sister who

found me and I have become

quite close very quickly.

"My mum just wanted to know

I had gone to a good home. She

had thought about it for 49 years.

I told her my adoptive parents

were fantastic and if they were

still alive I'm sure they would

want to meet her as well," he said.

Hororata pie outlets now in Chch

The revolution

in heat pumps

is here now!

The Fujitsu e3series

The brilliant

heat pumps from Fujitsu

e1 : efficiency

e2 : environment

e3 : economy

Mrs Hutton's legendary Hororata

pie recipe was acquired

by locals and in an act of true

philanthropy, they have passed

this local taonga to the Hororata

Community Trust to benefit the

community."

The Hororata Community

Trust, best known for the

Hororata Highland Games and

Hororata Night Glow, is focused

on helping to improve and promote

the township.

The profits from the pies sold

will go back in to the community.

The Hororata pie is available

locally at GASHororata,

Glentunnel Store and the

Hororata Café.

The revolution in heat pumps is here now!

Say hello to Fujitsu's latest lifestyle range

HEAT PUMPS FROM $1999 inc GST INSTALLED!

Conditions apply

Website: www.pshc.co.nz

Finance available

NEW ZEALAND'S FAVOURITE AIR ®

Fujitsu's Catechin Filters are

approved by the Asthma and

Respiratory Foundation NZ's

Sensitive Choice ® programme.

0800 726 724

www.scorch.co.nz

FREE consultation from your local

Accredited Heat Pump Expert

Phone today: 03 381 6950

INSERT DEALER DETAILS HERE

Email: info@pshc.co.nz
---
SELWYN TIMES Latest Canterbury news at starnews.co.nz

Wednesday May 27 2020 5

Leeston flooding

bypass progressing

• By Devon Bolger

WORK ON protecting

Leeston from a one-in-

100-year rainfall event

will continue in spring.

The design for the

upgrade of the Volkman

Rd drain has been

completed.

The work is stage three

of the wider Leeston flood

bypass project.

A district council

spokesman said work has

been delayed due to the

Covid-19 lockdown.

• From page 1

"This proposal will have

a big impact on the peace

and quiet of our property

which was one of the main

factors in us buying it," he

said.

Bathurst Coal Ltd did not

respond to questions from

the Selwyn Times.

The ECan spokeswoman

said a date for a hearing

is yet to be set but it is

required to be held within

75 days of the close of

submissions, meaning

it will be no later than

September 2.

Mr Thompson said he

plans on speaking to his

submission at the hearing.

Forest and Bird also submitted

against the expansion

of the mine.

A spokeswoman said

they are concerned about

the ecological and environmental

impacts.

"Freshwater

contamination in the

already stressed Selwyn

Waikirikiri catchment, and

the loss of native species

and habitat, especially

wetlands.

"Construction on stage

three is expected to begin

on-site in spring this year,

the exact starting date is

weather dependant," he

said.

A $1.7 million budget

was set aside for the

project with $1.2 million

still remaining.

It is expected to be fully

complete by 2023. There

are two more stages in

the project following the

completion of stage three.

Stage one involved

•HAVE YOUR SAY:

Do you support the

expansion of the

Bathurst coal mine

in the Malvern Hills?

Email your views

to devon.bolger@

starmedia.kiwi

"We are not surprised at

the number of submissions.

We have had concerns

about the expansion of

Bathurst's Malvern Hills

coal mine for some time,''

she said.

ECan and the district

council received an application

to increase the

contractors upgrading

a drain to release water

from the wetlands on

Country Lane.

The drain passes

through Ellesmere

Community Hospital

land to Manse Rd

and the High St drain

between Manse Rd

and the Ellesmere A&P

Showgrounds culverts.

Stage two of works

involved the drain along

Manse Rd to High St

being upgraded.

'Big impact on peace and quiet'

For the coming

Autumn and Winter

Seasons.

See our Website

or Facebook page

for our fantastic

selections

CONCERNS: About 500

submissions have been

received after a proposal

to expand the Bathurst

coal mine in the Malvern

Hills was put forward.

opencast mine earlier this

year.

The site is currently 52ha,

of which 38ha is mined,

and owner Bathurst Coal is

seeking retrospective land

use consent for existing

and future earthworks.

Production at the site is

currently 95,000 tonnes

of coal per annum, which

is sold for industrial and

commercial use.

Klouds – for total foot comfort

BUY A PAMS LaRGE Hot

Cooked CHICKEN

+ COCA COLA

1.5L for only

Meadow Fresh Yoghurt

6 Pack (excludes Thick &

Creamy and Divine Desserts)

NEW

PRODUCT

Pams Fresh Carrots

1.5kg or Parsnips

500g Prepack Product

of New Zealand

$

3 99 ea

Cadbury

Chocolate

Block 150-190g

$

2 99

Pams Finest Cookies

300g

$

14 49

AVAILABLE AT

SELECTED

STORES

$

3 69 ea

Monteith's Ale

ea 6 Pack 330ml Bottles

$

13 99

ea

$

2 99 Fresh NZ Quality

Mark Prime Beef Mince

pk 500g

$

7 99

ea

LUCKY LOCALS COMING SOON

www.foursquare.co.nz

SEE INSTORE

FOR DETAILS

1ST JUNE

facebook.com/FourSquareNZ

Fashionable • Functional • Footwear

Unit 3, 355 Riccarton Rd, Upper Riccarton

P. (03) 929 0927 E. info@theshoeroom.co.nz

www.theshoeroom.co.nz

Specials available South Island only from Monday 18th May until Sunday 31st May

2019 or while stocks last. Wine and beer available at stores with an off licence.

Wine and beer purchases restricted to persons aged 18 years old and over.
---
Advert: FCST2705

Newspaper: Selwyn Times

6 Wednesday May 27 2020

Latest Canterbury news at starnews.co.nz

News

SELWYN TIMES

Owned & Operated by Locals

25 th – 31 st May 2020

Fresh NZ Pork Leg Roast

(Excludes Free Range)

Fresh NZ Chicken Drumsticks

$

6 90

kg

$

3 80

kg

Loose Satsuma

Seedless

Mandarins

Nestlé Chocolate Block

140-200g

Montana

Classics

750ml

$

9 00

ea

2 for

$

5 00

$

5 00

kg

$

3 50

pk

Meadows White, Brown or Sliced

Button Mushrooms 200-250g

$

25 00

pk

$

19 00

pk

Corona Extra or Ligera

12 x 355ml Bottles

Speight's Gold Medal Ale

or Summit Ultra

12 x 330ml Bottles

PROGRESS: Demolition on the Kirwee Tavern is set to start this week and

discussions have begun on rebuilding it.

PHOTO: GEOFF SLOAN ​

Work to demolish Kirwee

Tavern starts this week

• By Devon Bolger

THE KIRWEE Tavern is

set to be demolished to

make way for a new pub.

Licensee Steve Evans

said preparation work

for the demolition was

expected to get under way

this week following a site

meeting with the builders

and demolition contractors.

The tavern was almost

completely destroyed

when a fire broke out on

Christmas Eve last year.

About 60 firefighters

were needed from across

Canterbury to tackle the

blaze.

The cause of the fire was

found to be an electrical

fault due to old wiring, Mr

Evans said.

"Full demolition, all

going to plan, will be completed

within two weeks

thereafter,'' Mr Evans said.

He said negotiations

have started with the

insurance company for a

rebuild of the tavern.

"Quite a few items have

been marked to be incorporated

into the 'New

New entrant

Eleanor Hulme started at Lincoln

Primary School last Monday. She

joins her siblings Vanessa, 8, Lorna,

10, and Owen, 11. ​

GUTTED: An electrical fault was responsible for the

blaze which destroyed the tavern.

Wee.' I will keep

you updated in due

course."

In December last year

the Selwyn District

Licensing Committee

released its decision to

unanimously refuse the

renewal of the on and

off-liquor licences held by

Evansbury​Holdings Ltd,

SCHOOLS

of which Mr Evans is sole

director.

In January, Mr Evans

appealed the decision to

decline the renewal of the

licences.

A spokeswoman for the

Alcohol Regulatory and

Licensing Authority said a

hearing date for the appeal

is yet to be set.

leeston

78 High Street, Leeston.

03 324 3788 FreshChoiceNZ

Our opening hours may have changed due to COVID-19.

Check FreshChoice.co.nz for up to date info.

Prices apply from Monday 25th May to Sunday 31st May 2020, or while stocks last. Limits may apply.

OWNED &

OPERATED BY

LOCALS

FCST2705

Has your child recently started

school recently? Send your photos

to devon.bolger@starmedia.kiwi
---
SELWYN TIMES Latest Canterbury news at starnews.co.nz

Wednesday May 27 2020 7

News

Tyre fire could help residents

battling waste facility expansion

• By Devon Bolger

PREBBLETON residents

fighting against a proposed

expansion of a nearby waste

facility plan on using the tyre

fire in Rolleston last week to aid

their argument.

The blaze started about

4.25pm on May 17 at the Diggalink

yard on Weedons Rd due

to a flare-up of hot ash. It spread

to a large pile of tyres near State

Highway 1.

Waste Management

Ltd's

proposal for

the expansion

of its facility

at 305 Marshs

Rd also includes

a tyre

processing

Judy

Sachdeva

plant.

Judy Sachdeva,

who is

a part of the group of residents

fighting the proposal, said the

fire in Rolleston is very concerning

for them.

"There are two main problems

with tyre stockpiles, The first is

vermin infestation because rats

EVIDENCE: A tyre fire in Rolleston last week could help

Prebbleton residents fighting against a proposed waste facility

expansion nearby. ​

and other animals love living

there and the other is the risk of

fire," she said.

Ms Sachdeva said they plan

on using the fire in Rolleston as

evidence at the resource consent

hearing.

A LOBSTER exporting

company with a facility in

Rolleston says the industry

is now bouncing back

financially.

Fiordland Lobster

Company's general

manager of sales Andrew

Harvey says the company

took a seven-figure hit

because of the shutdown.

The company has an

export facility in Rolleston

that processes 600

tonnes a year.

The holding tanks in

the facility were full when live

exports to China suddenly

stopped. As a result, a lot of

"The fumes from it are also

not good. People in Rolleston

were told to close their windows.

We live very close to the facility

on Marshs Rd and we are downwind

in an easterly."

An Environment Canterbury

the lobsters were sold into the

domestic market.

"People were getting exportgrade

lobsters at domestic prices

and that went surprisingly well,"

Harvey says.

Only a small quantity

of the total catch

normally sells locally

because China pays a

premium.

A high-end restaurant

in Shanghai can charge

up to $400/kg for a

Fiordland lobster.

As lockdown

restrictions have eased in China

and people edge back into

normal life, air freight to the

•HAVE YOUR SAY: Do you

oppose or support the

expansion of the Waste

Management facility on

Marshs Rd? Email your views

to devon.bolger@starmedia.

kiwi

spokeswoman said no date has

yet been set, but it is likely to be

in late July or early August.

Waste Management Ltd has

applied to expand its current site

and operate the waste treatment

plant at 305 Marshs Rd.

Resource consent was granted

for the proposed plant by the

Christchurch City Council in

December 2018.

ECan also granted three consents

for the plant's construction

and discharge of stormwater in

March 2019.

The consent application currently

with ECan is only for

activities resulting in discharge

to air.

It ran a limited notified

consent process, which meant

only people within 500m of the

proposed facility had a chance to

have their say.

Optimistic future for lobster company

CONFIDENT: A lobster

exporting company is now

bouncing back financially.

Andrew

Harvey

country has resumed so the

company is quietly optimistic

the market for New Zealand

rock lobsters will return but

Mr Harvey says the industry is

monitoring whether China will

be affected by a second wave of

infections.

"Probably the biggest thing we

are watching is if Covid is really

under control in China and restaurants

don't have to be closed

down again.

"If they don't, then we are

coming through."

New Zealand's live lobster

industry is worth around $320

million annually, much of it sold

to China.

New science

building for

Lincoln Uni

LINCOLN University is set to

get a new science facility after

a $5 million boost from the

Government.

Acting vice-chancellor Professor

Bruce McKenzie said they

are welcoming ministerial

endorsement of their business

case for the construction of the

new facility.

"The endorsement demonstrates

the government's confidence

in Lincoln University,

and means we can continue

our campus development programme,"

he said.

Education Minister Chris

Hipkins and Finance Minister

Grant Robertson confirmed

their endorsement for the business

case, releasing $5 million in

funding to progress the project

to the next stage.

Lincoln can now go to market

to tender for a construction

contractor.

Known as Science North, the

new facility will replace existing

earthquake-damaged buildings.

"Lincoln University has always

been a chief driver of innovation

in the land-based sector,

particularly in the food and fibre

sectors, and our new science

facilities will position us to take

an even more prominent role

in developing solutions for the

world's most pressing environmental

challenges,'' he said.

Science North is a part of a

wider campus development

programme for the university

that has already seen the launch

of new student social spaces,

landscaping projects and a series

of smaller general projects across

campus.
---
8 Wednesday May 27 2020

Latest Canterbury news at starnews.co.nz

SELWYN TIMES

News

Ellesmere Lions back

distributing pea straw

VOLUNTEER: Ellesmere

Lions members (from left

to right), Dave Adams, Don

Lemon and Ray Henderson

happy to be delivering pea

straw to the community

again. ​

BACKYARD CRITTERS

Mike Bowie is

an ecologist

who specialises

in entomology

(insects and

other invertebrates). Each week he

introduces a new species found in

his backyard at Lincoln. His column

aims to raise public awareness of

biodiversity, the variety of living

things around us. Check out the full

list of invertebrates found at www.

inaturalist.org/projects/backyardbiodiversity-bugs-in-my-lincolnsection

THE ELLESMERE Lions are

back out delivering pea straw

bales used for fundraising

after not being able to due to

Covid-19.

A spokesman said the backlog

of over 1000 bales was cleared in

a few days with members pleased

to be out and about.

"Ellesmere Lions pea straw

fundraising effort has grown

over recent years, this year we

have baled and carted 15,000

standard bales and 800 medium

square bales for delivery

throughout the Selwyn and

Ellesmere area.

"This is a true community

effort with the straw donated by

local farmers and a team of lions

baling and carting the bales to

sheds made available from another

group of farmers," he said.

The straw carting evenings saw

A MOTH commonly attracted

to light over the summer months

is the self-introduced Australian

pug moth (Chloroclystis filata).

THis moth has a 25mm

wingspan, and a variable brown

colouration, sometimes with a

large white patch in the middle

of its forewing.

It also has a notched margin

on the hindwing which helps

distinguish it from other similar

moths.

Arriving in New Zealand

•Order your pea straw

available in either standard

bales or medium squares

by phoning Alex Hayward at

324 4094

turnouts of 20-30 members and

big numbers of bales were shifted

in a short time.

Members enjoy the evening

occasions with a barbecue to

reward their efforts, the spokesman

said.

"Deliveries are carried out by

a keen group of members who

run their vehicles at their own

expense."

The income generated by

the fundraising is used by the

Ellesmere Lions to assist many

community organisations and

individuals who are in need of

support.

Australian moth is attracted to summer light

in 1960, it is now distributed

throughout the country. It is also

found in the south-eastern parts

of Australia and on Norfolk

Island.

THis moth species lives in

open areas such as gardens,

parks, wasteland and coastal

areas.

Larvae feed on a large diversity

of flowers, including acacias,

kanuka, hebe, groundsels,

ragwort, gorse and some legume

species.

Rolleston College year 12

students take on the wild

STUDENTS ARE being pushed

to their limits in two new

outdoor education classes at

Rolleston College.

The 35 year 12 students who

signed up for the Challenge the

Limits course have been preparing

to take part in a high and low

ropes course at The Groynes in

term three.

Said teacher Thomas Arps:

"The learners will be exposed

to some challenging situations

while on this course and will

have to lean on each other in

order to get through them.

"They will develop a range

of interpersonal skills while on

the course and will set some

goals to achieve on the two-day

adventure."

Throughout the year students

have experienced day tramps

and camping including a hike up

Mt Herbert.

The Man v Wild course is

another new option for year 12

CHALLENGE: Rolleston

College year 12 students in

their Man v Wild class which

is one of two new outdoor

education classes this year. ​

students this year.

The students tested their survival

skills around Arthur's Pass

recently.

Said teacher Kevin Hoy: "They

built shelters at base camp using

axes and tree saws and some

students took up the challenge to

sleep under the stars.''

!

Our new store Miss Bond is now open!

Next generation clothing for women

who love style and individuality.

MONDAY TO SATURDAY

9am - 5pm

SUNDAY

10am - 4pm

AvonheadShoppingCentre

www.avonhead.co.nz

Cnr Withells Rd & Merrin St

Avonhead
---
SELWYN TIMES Latest Canterbury news at starnews.co.nz

Wednesday May 27 2020 9

WELCOME BACK!

Shop our complete range in-store

Keep 2m distance

Contactless payments are preferred

OR

Shop online at mitre10.co.nz with

CLICK &

COLLECT

CONTACTLESS

HOME

DELIVERY

CONTACTLESS

Mitre 10 MEGA HORNBY

Phone: 03 349 8497

Email: smiths@mitre10.co.nz

Address: 370 Main South Road

Terms and contitions apply.

HORNBY
---
10 Wednesday May 27 2020

Latest Canterbury news at starnews.co.nz

Our People

SELWYN TIMES

Robin Ashby

Hanging up fire helmet after 34 years

Robin Ashby is retiring

from firefighting after

34 years. The Rolleston

resident speaks

to reporter Devon

Bolger about his time

volunteering with the

Dunsandel and Rolleston

fire stations

How did you get started out

firefighting?

I started in 1986. I had bought

a house in Dunsandel where my

wife lived at the time and was

asked to join the fire brigade.

It was just a thing where if you

lived there and worked close

by you got asked. I did 25 years

there at Dunsandel. I got my gold

star award for 25 years of service.

I became the senior officer of

the brigade after about five years

which was unusual really for

someone so young but it just

happened to me. I went on to

become the chief fire officer.

What kept you going for 34

years?

After all that time, I think it

is just a habit. Throughout those

years I just enjoyed training

people and getting the best out

of them. A lot of people join up

and don't have a lot of confidence

but after a few months and

a bit of training, they have

really blossomed. That is what

encourages me to carry on and

of course helping the community

too.

Why do you think people

should get into volunteer

firefighting?

It is an opportunity to get

some self-confidence. A lot of

people think they can't do it but

with the encouragement of our

people, they get a lot of love and

support. It is not just firefighting,

there is also a lot of competitions

such as the combat and drivers'

challenges. We do a lot of school

visits and plenty of organisations

visit the station so there are all

these other activities you can get

involved in. I had the privilege

from 2010-2018 to be on the

New Zealand Fire national

health and safety committee

representing volunteers. I got a

lot of opportunities to explore

different things and I have been

to fire conferences all over the

country.

Have there been any standout

moments for you?

Responding to the CTV

building during the Canterbury

earthquake really stayed in my

mind. I don't really know how

to describe it, you didn't want to

be there but you were there so it

was good to help out. I did three

different shifts there on the fire

truck. One of my highlights has

to be in 2007 when I was selected

to go to Hobart in Australia for

an Australasian fire conference,

that was a bit of a milestone for

me. In 1991 I was selected by the

Rural Fire Research Group for a

scholarship in Dunedin. I spent

about two weeks in a paid station

there. I did more calls in two

weeks there than I did all year in

Dunsandel.

Do you have any plans for

your retirement?

I don't actually have a lot

of spare time because I am

the secretary/treasurer of the

Mid Canterbury Fire Brigades

Sub Association. I am a life

member and a past president

of the association as well. I am

also a trustee for Canterbury

Provincial Fire Brigades

Association. I still have my

hand in the pie so to speak.

Unfortunately, I am not going to

see a lot of my friends who I have

met from all over the country

DEDICATION:

Robin Ashby

has stepped

down from

fighting fires

after 34 years.

He is seen

above at the

Woolston

Training

Centre in

2006.

but thank God for Facebook.

Could you tell me about the

Mid-Canterbury Fire Brigades

Sub Association?

They have a committee that

supports the staff and they run

the competitions such as the

combat challenge and things.

The original drivers' challenge

was started by them here in

1996. They also host the

provincial drivers' challenge.

Unfortunately, this year we

haven't been able to have our

drivers' challenge but that's

what they do – help to provide

activities for the members of the

association.

What is your go-to karaoke

song?

It would have to be Matchbox

Twenty – I'm not Crazy.

Do you have a favourite

sports player or team?

That is easy, my favourite team

is the Crusaders. My favourite

sports player, well I can't say me,

so I guess it is definitely Richie

McCaw. He is an incredible

ambassador for sport.

Do you have any hobbies or

skills outside of firefighting?

I enjoy playing golf. I am a

member of The Rock Rolleston's

golf section and we meet to play

once a month. I'm quite tied

up with that. I also play in the

fire brigade golf tournaments,

provincial and South Island.

I have played rugby for the

Canterbury Fire Brigade between

1990-95 as well.

When did you move to

Rolleston and what do you like

about it?

I moved in 2011. It was a

great destination coming from

Dunsandel because there are

heaps of services available. I

got the opportunity to change

my occupation, I was in the

meat industry for 34 years

and all of a sudden I started

getting into truck driving so

Rolleston is good as it is quite

close to Christchurch. I have

a special-needs daughter and

it gives her the opportunity to

travel into Christchurch for work

experience and things like that

due to public transport whereas

there is no public transport for

Dunsandel. It really gave us a lot

of opportunities and being able

to see it grow the way it has is

just amazing.

Could you tell me a bit about

your family?

I have been married to my

wife Diane since 1983. I have

two adult daughters, Mandy is

34 and she works at a pharmacy

in Hamilton and there is Kylie

who has special-needs. She is

not physically handicapped,

she has dyspraxia so a learning

disability. She volunteers at a

doggy daycare in Christchurch

for three days a week. She goes

to activities such as the Selwyn

Launch Group. She has a busy

life.

BE PART OF A CARING COMMUNITY

WITHIN A SAFE & SECURE vIllAGE

100%

Capital gain

to the resident

Phone. 03 421 7796 | Email. sales@woodcroftestate.co.nz

WOODCROFT WAY, KENDON DRIVE, ROLLESTON, CANTERBURY

WOODCROFT ESTATE

Lifestyle Village

• On call village sales representative available during the week for visitors

and residents support

• Phone for viewing or enquiries 021 292 1141

• Initial weekly fee of $75 includes rates, insurance, window washing,

all gardening, repairs & maintenance

• Gated community and monitored emergency call button in each villa

• Two & three bedroom villas with single or double garage from $425,000

• Pavilion being built now

• 100% capital gain to the resident

INvEST IN YOUR RETIREMENT AND REAP THE REWARDS IN ROllESTON
---
SELWYN TIMES Latest Canterbury news at starnews.co.nz

Wednesday May 27 2020 11

ADVERTORIAL

Classic Builders

unshaken and

here to stay

Covid 19 is doing little to thwart

Classic Builders plans to continue

to build a presence in the greater

Christchurch area.

This week the company – which

set up shop in Christchurch 12

months ago – will go ahead as

planned and open its first Canterbury

showhome.

Classic Builders Christchurch

regional manager Dave Fahey says

the interest shown in the Classic

Builders brand in Christchurch over

the last 12 months provided added

incentive to establish the showhome,

which is in Acland Park, Rolleston.

"We have design and build projects

and house and land packages under

way and have had great feedback,"

Dave says.

Part of the last year had involved

putting together teams of subcontractors

and suppliers and introducing

the Classic Builders brand to a second

South Island city. The 23-year-old

business is New Zealand's second-biggest

residential building company,

with a strong presence in the North

Island and with a Queenstown office

too.

"Classic Builders is a company with

heritage. Having been in the game

so long, the company has weathered

recessions before. We will survive the

Covid-19 challenges ahead too," Dave

says.

Dave and his young family have

moved from the Queenstown office to

set up the base in his city of birth. A

builder by trade and former Burnside

High School student, Dave moved up

the ranks within the company from

builder to construction manager to

regional manager. It is Dave whom

visitors to the new showhome will

meet. People choosing to do business

with Classic Builders in the greater

Christchurch area will deal with Dave

from the start to finish of a project as

part of a "very personalised service".

Dave says his Selwyn-based branch

services not only Christchurch, but its

surrounds – such as Ashburton and

Rangiora.

"Just hit us up to see how far we

spread, and feel free to brainstorm

with our designers too.

"Classic Builders is very much an

option for people still looking to build

– and we offer complimentary plans

with no obligation to go ahead and

build."

The company deals in both house

and land packages and design and

build projects with its scope covering

entry level first home and land packages

through to architectural builds.

For those looking for ideas, Classic

Builders has a range of plans and they

can be modified.

Meanwhile, the showhome, which

will open on Wednesday, is called The

Craigieburn as a nod to the nearby

ranges which can be viewed from the

house. Located on a corner site, it features

a combination of white plaster

and natural cedar, with a large portico

gracing the front. It is a three-bedroom,

two-bathroom home with two

living areas and a double garage.

The showhome will be open for viewing

between 11am and 3pm Wednesday

to Friday, during the same time period

on Sunday, and by appointment. Dave

can be reached on dave.fahey@classicbuilders.co.nz

or on 021 196 1480.
---
12

Wednesday May 27 2020

Latest Canterbury news at starnews.co.nz

Selwyn Times

Indoor Courts

taking shape

Fitness classes and AA open

online booking

People wanting to get back to their fitness classes or get a drivers

licence will be able to book online.

A booking system has been launched for fitness and recreation

classes at Lincoln Event Centre, Rolleston Community Centre and

West Melton Community and Recreation Centre. While the booking

system for the AA will be available from today, Wednesday 27 May.

For the fitness classes, health requirements including social

distancing mean classes have had to be limited to a maximum of 10

people at a time. The booking system allows people to secure a spot

in a class from 10am the day before. The number of slots available for

each class is shown along with a guide on the new health and safety

regulations such as bringing a towel and a drink bottle.

For the AA, customers will be able to book up to seven days in

advance for any available slots. Customers will need to bring all

relevant documentation to their appointment. If you are unsure what

you need to bring, please visit the NZTA website or phone us on

0800 SELWYN (735 996).

To book online:

· For Rolleston Community Centre visit selwyn.govt.nz/classesrcc

· For Lincoln Event Centre visit selwyn.govt.nz/classeslec

· For West Melton Community and Recreation Centre visit

selwyn.govt.nz/classeswmcrc

· For AA visit portal.selwyn.govt.nz/bookAA/

The Foster Park Indoor Courts have moved a step closer to being indoors with the first framing for

the roof now in place.

The framework for the roof of the main courts was installed late last week.

Council Major Projects Manager John Reid says progress on the courts is moving along steadily

since work was able to restart under Alert Level 3 and the courts are on track to be completed

around April 2021, around one month behind the original schedule due to the Level 4 lockdown.

The indoor court facility includes eight courts, along with a 240 metre indoor walking track on the

mezzanine level and will serve sports teams from across the district.

Tennyson Street has also been reopened from 96 Tennyson Street to the Lowes Road intersection

as work progresses on the Tennyson Street and Lowes Road intersection upgrade. Work, as

part of this project, to install new sewer and water mains on Tennyson Street has almost been

complete. Work on new footpaths and drainage improvements is also underway, with the project

expected to be completed by the end of July, depending on the weather.

The Selwyn Aquatic Centre is aiming to reopen its Hydrotherapy and Learn to Swim pools from

Tuesday 2 June thanks to the work that was able to be completed under Level 3. Manager Active

Selwyn James Richmond says the centre is hoping to have the leisure pool open the following

week, depending on the health guidelines in place.

Work is also progressing on the Selwyn Health Hub, with ground works underway for the foundations.

Council working with community on new future

As we move into the post-lockdown environment the Council has been working with our community to

support the district into the new world we're living in.

Council Chief Executive David Ward says it is apparent we're moving to a new normal and the Council

is asking what this will look like and how we get there in the best possible shape.

During lockdown the Council has done everything in its power to keep services you rely on going, and

respond to the immediate needs of our community.

The focus is now on working out how we can help Selwyn emerge from this crisis economically strong,

socially connected, environmentally well positioned and culturally enriched. This is not going to be an

easy or quick process, Mr Ward says.

Firstly, the Council needs to understand the pandemic's impact in each of these areas to try to work out

what the future might hold and help us measure our progress. To find this information we decided to

talk to the grass roots of our community.

"We recently called together a group of more than 80 leaders, influencers and community representatives

in a series of meetings. There was an abundance of valuable feedback. We are now taking stock of what

was said and combining it with other information and advice. Last week we also concluded the public

consultation for our draft annual plan and are busy evaluating the community's thoughts on our proposals.

All this information will help us co-ordinate the best possible recovery for Selwyn.

"We don't have a silver bullet or a huge slush fund, but what we do

have is a growing database of understanding that our experienced

Council team will use as a handrail as we navigate the uncertain

waters of the future. We cannot do this alone and we recognise the

part many other organisations, charities, community groups and

volunteers have to play in recovery.

"Some recovery action has already started, such as our buy local

campaign and our digital signposting of businesses to support

schemes. I look forward to sharing more of our recovery initiative

and plans as they emerge."

New COVID-19 updates

app launched

A new app will help Selwyn residents keep up with the latest

pandemic information and details on Council services and facilities.

The Council has launched the Selwyn Updates app to help

residents with easy access to the latest information and to stay up

to date with future changes and initiatives. The app can be found at

covid-19.selwyn.govt.nz.

Council Group Manager Communication and Customers Stephen

Hill says during the pandemic there has been a constant stream of

changes to how Council services are operating during the different

alert levels. "We've worked hard to keep people informed about

what's open and what's changed – through our website, social

media and local news outlets," he says.

"Along with most other organisations we've had to adapt the way

we work – including developing new online services and changes to

the way we interact with customers.

"This new app will be another

useful tool to help people

keep up with these changes

and the best ways to access

our services and find out what

facilities are open, or what

support is available."

The app can be download to

any smartphone or device by

visiting the site and clicking

the download link on the right

of the url on Android, or on

Apple by selecting 'share' and

'add to home screen'.

Council Call

Selwyn District Council

Norman Kirk Drive, Rolleston

Ph 0800 SELWYN (735 996)

Rolleston Library

Rolleston Drive, Rolleston

Ph 347 2880

Darfield Library & Service Centre

1 South Terrace, Darfield

Ph 318 8338 or 347 2780

CC270520
---
Selwyn Times Wednesday May 27 2020

Latest Canterbury news at starnews.co.nz

13

Notices

ALCOHOL NOTICES

Apex Gift Boxes Limited has applied for the renewal of an off licence. Objections are open until 11 June.

For more information go to selwyn.govt.nz/alcoholnotices.

Meetings

Public Forums: Council, Community Board and local committee meetings are open to the public. Time is

available at the start of meetings for people to speak on matters of concern. Please notify Therese Davel or

Bernadette Ryan if you wish to speak at the Council meeting at least five days before the meeting.

Township, Hall and Reserve Committees: To list or make changes to meeting details, email meeting.

changes@selwyn.govt.nz or phone 347 2800 or 318 8338 by 9am Wednesday the week before publication.

COUNCIL & COMMUNITY BOARD

Council

Wed 27 May 1pm Rolleston

Council offices

Audit & Risk Subcommittee

Wed 10 June 9.30am Rolleston

Council offices

Council

Wed 10 June 1pm Rolleston

Council offices

Draft Annual Plan

Submission Hearings

Tue 2 June 9.30am to approx.

6pm Rolleston Council offices

Final stages of Leeston to Doyleston

cycleway under way

Wed 3 June 9.15am–5pm

Rolleston Council offices

Please note we will be observing

social distancing rules and may

have to limit numbers of the

public in the room at any one

time. Admittance of speakers will

take precedence.

Work on the final stages of the Leeston to Doyleston cycleway is under way and progressing well.

The Council was able to complete the necessary land purchases and site access agreements for the

final route over the Alert Level 4 lockdown period. It has also agreed a contract with Leeston based

Johnston Excavating and Drainage to continue working on the cycleway.

The company had recently completed stage one of the cycleway, building sections at either end from

Leeston township to the Leeston Heritage Park and installing a bridge and starting the cycleway at the

Doyleston end.

The agreements happening over the lockdown period meant that Johnston's was able to start work as

soon as possible under Level 3 conditions, Council Transportation Asset Manager Andrew Mazey says.

"We also appreciate the cooperation of the adjoining landowners to help us get the works underway as

soon as possible at this challenging time."

Key drainage work has been completed, which will reduce delays from bad weather, he says. Despite

the lockdown period the Council and Johnston's are working hard to finish the cycleway as close as

possible to the original goal of having it completed before winter, Andrew says.

The Council was pleased that it was able to confirm the work with a Selwyn based contractor, providing

a local business and its employees with certainty of work in spite of the impacts of the pandemic.

Although the cycleway has been planned for a long time, the construction came at a good timing to

support the increased focus on getting active as well, he says.

"With the emphasis on people walking and cycling and getting out more this will add better value in that

regard and support people to continue that into the future."

Playground maintenance

Safety maintenance is being carried out on some playgrounds in Rolleston and Lincoln between now

and the end of June, replacing the softfall. This is necessary to keep the playgrounds up to safety

standards and requires each playground to be closed while the softfall is removed and replaced. Most

sites will take around five days to complete. The playgrounds are:

Rolleston – Othello Drive, Hamlet Reserve, Parakura Reserve and Goulds Green. Lincoln – McGrath

Drive, Poulter Road, Pentire Parade and Southfield Drive.

Directory launches job

search support

The job search in Selwyn just got easier with the Council adding

a free option for businesses to advertise vacancies in the Selwyn

Business Directory.

The Council has added a Selwyn Vacancies page where businesses

can advertise their vacancies. The page at selwyn.govt.nz/directory

also allows people on the job hunt to search for Selwyn businesses

with vacancies and search for jobs in their preferred field.

The job vacancy page is part of the Council's ongoing efforts to

support Selwyn businesses and the community, especially following

the impacts of the COVID-19 pandemic.

The directory has also been upgraded to allow businesses to advise

customers about their online sales platform and let people know if

they are able to deliver.

Businesses can update their pages now by logging in or registering

for the directory at selwyn.govt.nz/directory.

Selwyn Open –

One of country's biggest

mechanics back in full ignition

As part of our Selwyn Open campaign we're profiling some of the many

excellent businesses local to you. You can find these businesses on the

Selwyn Business Directory at selwyn.govt.nz/directory

This week we talk to Lisa and Nigel Fleck from Selwyn Auto and

Jones Road Auto.

During lockdown, many cars sat in garages collecting dust. Now

as we all head back on the roads, it's time to make sure they are

running and road safe.

Selwyn Auto and Jones Road Auto have put their foot back on the

gas. After servicing essential worker cars during Alert Level 4, along

with appointment only WOFs in Level 3 their usual 'WOF while you

wait' at Jones Road Auto has resumed, but people must wait in

their cars until they reach the front of the queue.

Car lovers Nigel and Lisa Fleck started Jones Road Auto's engine

in 2012, with Selwyn Auto opening four years later for Lincoln and

Springston customers.

Their business has grown rapidly, from two to 15 local staff

members, providing over a thousand WOFs to Selwyn customers

a month. The business was recently recognised by Auto Super

Shoppes as one of New Zealand's biggest automotive stores.

"It's nice to be nationally recognised, especially when we are like a

little old mum and dad business from Rolleston. We never expected

it, it just kind of organically happened and I think it's definitely

because of our local community."

Lisa is thrilled to see her customers returning and grateful to them for

consciously choosing to shop local. Being a part of the community is

something Lisa admires most about working in Selwyn.

"On a personal level for Nigel and I, it's the satisfaction of being a

part of a community and we are really proud to be a part of it."

The store gets involved with the Selwyn Motor Fest and provides

sponsorships to local schools, sports clubs and community groups,

including Rolleston Rugby Club and Waikirikiri Hockey.

"We try and give back as much as we can, those are the people

who support us so it's really nice to support them back."

ON THE

ROADS

On the roads

Tennyson Street is closed from 43 Tennyson Street to the Rolleston Police Station

due to the Rolleston Town Centre infrastructure upgrade. Due to the Lowes Road

and Tennyson Street intersection upgrade, Lowes Road is one way on both sides

of the intersection, with lanes open for traffic heading away from the intersection,

but not towards it. A stop/go system and speed restrictions are also in place on

Tennyson Street.

Jones Road will be closed to the north and south of the roundabout until 29 May to allow important

sealing work to get the road through the winter and to reduce. A detour is in place.

Leeston Library & Service Centre

19 Messines Street, Leeston

Ph 347 2871

Lincoln Library & Service Centre

Gerald Street, Lincoln

Ph 347 2876

0800 SELWYN

www.selwyn.govt.nz

SelwynDistrictCouncil
---
14 Wednesday May 27 2020

Latest Canterbury news at starnews.co.nz

SELWYN TIMES

News

Community events

If you would like your event

to feature in the Selwyn

Times email devon.bolger@

starmedia.kiwi with details

before 5pm on Wednesday

Lincoln Farmers and Craft

Market

Saturday, 10am-1pm

The market is back up and running

again with some restrictions.

The organisers recommend people

only attend if they are going to

shop and no seating or tables will

be provided to minimise contact.

No tastings or samples will be on

offer. If you are ill please do not

attend.

Gerald St

Market@254

Saturday, 9.30am-1pm

New and old stallholders

welcome. Some changes include

there can only be 100 people in

the market at once. Someone will

be keeping track of this and if

capacity is reached, it will then

move to one-in, one-out.

254 Lawford Rd, West Melton

Rolleston Farmers Market

Sunday, 9am-12.30pm

Most stalls in the market are

back up and running. A great

range of veges, meats, honey,

flowers, cheeses, coffee will be

on offer plus an Oamaru stone

carver will be showing his wares.

96 Rolleston Drive

Journey to raise funds for Cure Kids

• By Bea Gooding

ROLLESTON resident Josh

Thompson and his friends will

be embarking on a two-day,

1000km journey later this year

raising at least $1000 towards

children's mental health.

Avis Budget Cure Kids 1000

tasks teams with sourcing and

decorating cars valued under

$1000, travel on a pre-planned

route in Canterbury and

complete challenges along the

way this September.

Last year at least 10 teams

collectively raised $32,000,

with all funds distributed

to Cure Kid's research for

children and adolescent mental

health.

Mr Thompson teamed up

with friends Sam and Rachael

Butterworth, of Christchurch,

for the initiative driving a

1984 Volkswagen Golf which

resembles a German police

car.

"I was helping out last year

and found it quite fun. I didn't

take part but this year we've

actually made the plan to get

involved and get the car done

up," Mr Thompson.

"I'm a massive European

car fan, especially Volkswagen.

I've always wanted one and

it happened to work out, we

got one from Dunedin within

budget and did something

different as there's not many

around in this colour."

Mr Thompson said the event

was likely to turn a few heads

while teams were out and about,

which was a chance to raise

awareness for "a really good

charity."

This year's route was yet to

• Donations can be made

at https://avisbudget1000.

everydayhero.com/nz/

team-euro-nuts

be revealed, but previous

journeys included an overnight

stay at Hanmer Springs,

stopping off at schools and

iconic Canterbury landscapes

to complete challenges such

TEAM: Josh

Thompson

with Rachael

and Sam

Butterworth

and their

daughter

Emily, 2,

with the

Volkswagen

Golf 'police

car'.

PHOTO:

GEOFF

SLOAN

as sack and egg and spoon

races.

The decision to hold a nonracing

charity rally was inspired

by Avis Budget's automotive

background providing rental car

services.

Said Mr Thompson: "This

year, we're hoping to have the

most themed vehicle, but we'll

see what happens there."

Get a step ahead ...

on your track maintenance

Talk to your experienced team today

about creating the ideal footing surface.

0800 303 980 • WWW.PALMERRESOURCES.CO.NZ
---
p $9.99

SELWYN TIMES Latest Canterbury news at starnews.co.nz

Wednesday May 27 2020 15

Football boss keen to get players on the field

• By Jacob Page

SELWYN UNITED director of

football Chris Brown is hopeful

of getting football back on the

pitch some time in June.

Many of the club's senior

players trained in small groups

for the first time last week in the

hope the season will begin next

month.

"We'll get the guys training

with the right social distancing

requirements and just get them

using a ball again and getting

some kilometres through the

legs.

"Playing football in your back

garden gets boring after a while

so it'll be great to have them

Chris Brown

back."

He said the ultimate decision

on playing matches will come

from New Zealand Football and

then Mainland Football.

"It's all just a waiting game,"

Brown said.

"The actual planning has been

put on hold from our end until

we get some firm information

but we are hopeful of starting in

June for the (Mainland Premier)

league but that's all dependent

on how level two goes.''

He said the players have had

training sessions designed for

them over the period of level 4

and level 3.

"We sent the players an eightweek

workout plan but we also

tried to keep in contact with

everyone, we had a quiz night

over Zoom, we just tried to get

creative with it."

Brown said he had fluctuating

emotions around the lack of

sport over the past two months.

"There have been moments

where I had wished we could just

get back out on to a pitch and get

that social aspect back of being

in a team sport," he said.

"But equally, I have family in

England and things haven't been

going so well over there plus you

factor in the fact people's businesses

are struggling so it's best

we do our bit and stay home.

"As a director of football,

there's no one you can turn to

and ask what to do in this situation,

you just try to do what

you think is right and adapt as

needed."

Brown said a potentially shortened

Mainland Premier League

season won't change how he uses

his players

"We will follow the club

model of continuing to push

youth players and I can't see us

changing the way we do things

just because there may be less

games on the schedule," he said.

Ransley needs podiums to

win virtual car racing title

SPORT

• By Jacob Page

PREBBLETON'S Jaden Ransley

will need to be near perfect

tomorrow night in Imola, Italy,

if he wants to win the eSport

Cup virtual car racing title.

The penultimate round has

Ransley in second and in need

of podium finishes.

The 18-year-old was taken

out at turn three of both races

at Silverstone last week but

recovered to earn enough points

to maintain second overall with

two rounds remaining.

"It means the last two rounds

will have to be perfect.

"We qualified in fourth

and we felt we had the speed

to push for a top spot so to get

taken out in both races was

frustrating.

"I'd put a lot of time in during

the past week to prepare for the

race but these things happen,"

Ransley said.

He said the standard of the

competition had improved

BATTLE: Jaden Ransley had no luck at Silverstone during

round eight of the Esports Cup.

greatly over the past eight

weeks.

"At the beginning it was a

bit of fun and a laugh, especially

the first night but that has

changed," he said.

"The credibility of the series

has really taken off and people

are putting in a lot of preparation

time before races so the

standard is improving and it's

been a battle at times."

He said it will be his first

time racing on the Italian track

tomorrow night but he knew

his formula three car had good

speed.

"It's another new track for me

so it'll be fun and hopefully the

results go our way."

Darfield rider has sights on

world champs in Austria

• By Jacob Page

DARFIELD cross-country

mountain biker Ethan Rose is still

expected to make an impact on

the international stage this year.

The 17-year-old, year 12

Darfield High School student,

has set his sights on the rescheduled

world mountain bike

championships which are set to

be in Austria in from October 5

to 11.

"That's the focus at the moment

and I'm hoping to get

some racing in so I can get more

(ranking points) so I can get a

better starting position," he said.

Ethan won the Oceania under-19

title and then the National

age-group title in Dunedin in

January and then added the North

Island under-19 title in Palmerston

North the following month.

He was set to compete in California

in March and then race in

Australia on the way home but

that schedule was dashed due to

the coronavirus pandemic.

"I had some really strong

results at the start of the year

and was looking forward to

testing myself in America but

everything got cancelled and it's

become pretty bad over there so

I'm not sure when I'll get to go

back," he said.

PEDAL READY: National

and Oceania under-19 cross

country mountain bike

champion Ethan Rose has his

sights set on Austria.

Ethan is part of the National

Mountain Bike Hub aimed at

promoting talented under-19

and under-23 riders through

training camps and national and

international race opportunities.

"There's been a few training

sessions through Zoom which

has kept us all connected so,

hopefully, we'll be able to race

soon."

He said his main focus was his

school work and NCEA studies

because he knows later in the

year he may have to represent

New Zealand again on the

international stage.

RENT ME!

Ideal as an extra

bedroom or office.

no bond required

Fully insulated and double glazed for warmth.

Three convenient sizes from $70 a week:

Standard 3.6m x 2.4m

Large 4.2m x 2.4m | Xtra-large 4.8m x 2.4m

Visit our website

www.justcabins.co.nz

for display cabin locations

www.justcabins.co.nz

CAR REMOVALS

$$CASH PAID$$

CARS, VANS, UTES

& 4X4 WANTED

NZ OWNED

AND

OPERATED

FOR

24 YEARS

We use world class vehicle

depollution systems

0800 8200 600

www.pickapart.co.nz

50

Birthday Deal

Get 1 year of

Rugby News for $50

(save 54% rrp)

Offer valid till May 31st 2020

OUR 50TH BIRTHDAY SPECIAL ISSUE: 1970-2020

APRIL I MAY 2020

RICHIE

McCAW

greateSt all

blaCk oF the

rugby newS era

rugby newS taleS

The inside sTories

from The mag

SuPer rugby 2020

The sTory so far

ROAD TO TOKYO

niall Williams and

scoTT curry

9 416770 121295

50

YEARS

OF RugbY

NEWS

+

• Craig DowD:

SaCking SarrieS iS

TOO HARSH

• wellington FC: the

AxEMEn HIT THE 150

• Duane Monkley:

where iS he now?

• tribute to the

great MiChael

JOnES

BE IN TO WIN

your share of

$10K IN PRIZES!

SUBSCRIBE AT RUGBYNEWS.CO.NZ // FREEPHONE 0800 77 77 10
---
16 Wednesday May 27 2020

Latest Canterbury news at starnews.co.nz

SELWYN TIMES

Tasty Bites

Quick and easy fried rice

• By Ian Knott

Quick, easy and versatile,

fried rice can be used

as a side dish or main

meal. This tasty version is

loaded with vegetables

and can be transformed

into something even

greater by adding your

favourite protein

The best fried rice

4-6 servings

Ingredients

3 tbsp butter, divided

2 eggs, whisked

2 medium carrots, peeled and

diced

1 small white onion, diced

½ cup frozen peas

3 cloves garlic, minced

salt and black pepper

4 cups cooked and chilled rice

3 green onions, thinly sliced

3-4 tbsp soy sauce, or more to

taste

2 tsp oyster sauce (optional)

½ tsp toasted sesame oil

Directions

Heat ½ tbsp of butter in a large

sauté pan over medium-high

heat until melted. Add egg, and

cook until scrambled, stirring

occasionally. Remove egg, and

transfer to a separate plate.

Add an additional 1 tbsp of

butter to the pan and heat until

melted. Add carrots, onion, peas,

garlic, and season with a generous

pinch of salt and pepper. Sauté

for about 5min or until the onion

and carrots are soft. Increase heat

to high, add in the remaining

½ tbsp of butter, and stir until

melted. Immediately add the

rice, green onions, soy sauce and

oyster sauce (if using), and stir

until combined. Continue stirring

for an additional 3min to fry the

rice. Then add in the eggs and stir

to combine. Remove from heat,

and stir in the sesame oil until

combined. Taste and season with

extra soy sauce, if needed.

Serve immediately, or

refrigerate in a sealed container

for up to 3 days.

Top tips

It's important to use cold,

cooked rice. So plan ahead and

have some prepared. Warm rice

doesn't tend to fry well when it

hits the hot pan and becomes

soggy, sticky clumps.

If you haven't planned ahead,

just cook up a fresh batch of rice,

spread it out as thinly as possible

on a backing tray and put it in the

fridge for 30min (or freezer for

10-15min).

Use a high heat. This will help

brown the rice and vegetables,

and prevent the rice from

steaming in the pan. Don't leave it

sitting too long though. Nobody

wants burnt fried rice.

Feel like a

game of golf?

Come see us

at Ellesmere

Golf Club

The course is a 'Country

Gem' in park-like terrain,

and offers fun for

beginners and some

challenges for the experts,

with lots of variety.

Green Fees are only $25 per

round and it's an uncrowded,

friendly course, only 25

minutes from Rolleston.

256 Feredays Road

www.ellesmeregolf.co.nz
---
SELWYN TIMES Latest Canterbury news at starnews.co.nz

Wednesday May 27 2020 17

UP

TO

A RIGHT ROYAL

Now from

$1849

Serenity S

Queen Size Mattress & Base

Now from

$3019

Swisstek Ultra

Queen Size Mattress & Base

BEDS R US CHRISTCHURCH

166 Moorhouse Ave, (Next To Noel Leeming)

Ph: 03 379 5110

Now

$2239

Design Mobel Renew

Queen Size Mattress & Base

Now

$3399

Chiro HDX

Queen Size Mattress & Base

Swisstek Elite

Swisstek's proven 7-zone

independent pocket spring system

allows for targeted support where

you need it most.

Features bamboo fibres which are

naturally breathable with a soft

luxurious feel.

Now

$2499

Queen Mattress & Base

Other Sizes & Models Available In-store!
---
18 Wednesday May 27 2020

Latest Canterbury news at starnews.co.nz

SELWYN TIMES

Sell Out!

E-Bikes

Due to COVID-19, a large shipment of E-Bikes and E-Scooters arrived late.

Prices valid until Monday 5pm * . All in-store stock must go!

Great on-road commuter and trail riding bikes.

40+ km/hr!

Max Speed Assist of the ERIDER Xtrail Advanced.

was $1999 was $1999

was $1999

was $3195

$1599

$1599

$1699

$2599

ERIDER City Wave Plus 26″

ERIDER Summit Plus 26″

ERIDER Trail Tracker

ERIDER Xtrail Advanced

Motor

Battery

Max Speed Assist

Available Colours

250W

36V 10.4Ah

32 km/hr

Motor

Battery

Max Speed Assist

Available Colours

250W

36V 10.4Ah

32 km/hr

Motor

Battery

Max Speed Assist

Available Colours

500W

48V 10.4Ah

35 km/hr

Motor

Battery

Max Speed Assist

Available Colours

250W

36V 14Ah

40+ km/hr

E-Scooters

Get around quicker in your daily commuter.

Sold out!

Backorder only.

was $649

was $2095

$1095

$549

$1899

$699

ERIDER 3.0

Gotrax GXL Commuter V2

Kugoo G3 Booster

Kugoo S3 Pro

Motor

Battery

Max Speed Assist

Available Colours

500W

48V 13Ah

40 – 45 km/hr

Motor

Battery

Max Speed Assist

Available Colours

250W

36V 5.2Ah

25 km/hr

Motor

Battery

Max Speed Assist

Available Colours

2 x 800W

48V 17.5Ah

55 km/hr

Motor

Battery

Max Speed Assist

Available Colours

350W

36V 7.5Ah

25 – 28 km/hr

Sold out!

Backorder only.

was $1999

was $2199

was $1395

$799

$1599

$1699

$1199

Kugoo M2 Pro

Inokim Light 2

Inokim Quick 3+

Zukboard City V2

Motor

Battery

Max Speed Assist

Available Colours

350W

36V 7.5Ah

30 km/hr

Motor

Battery

Max Speed Assist

Available Colours

350W

36V 10.4Ah

35 km/hr

Motor

Battery

Max Speed Assist

Available Colours

450W

48V 13Ah

30 km/hr

Motor

Battery

Max Speed Assist

Available Colours

350W

36V 10.5Ah

30 km/hr

Electric Rider is New Zealand's specialist importer of

top quality electric bikes, scooters and skateboards.

Prices valid until Monday 5pm! *

455 Blenheim Road. Inside the old Target building

corner of Blenheim Road and Curletts Road.

phone 0800 360 720 sales@electricrider.co.nz

*Prices valid until Monday 1st June 5pm, while stocks last.
---
SELWYN TIMES Latest Canterbury news at starnews.co.nz

Wednesday May 27 2020 19

Gardening

For spring flavour get some herbs growing

IT'S NOT TOO early to be

thinking about your spring

garden, especially your herb

garden, but be wary of frosts.

There's really no comparison

between the flavour of fresh and

dried herbs. And though most

supermarkets now sell the fresh

plants, it's often cheaper and more

convenient to grow your own.

It's a good idea to plant herbs

close to the kitchen — the further

away they are, the less likely you

are to pick them, especially in

rainy weather.

Most of the cooking herbs like

a warm place in the sun, though

mint will grow in a damp shady

spot. If you don't have much

space, stick to those herbs you

know you'll use in cooking.

Consider growing them in pots,

or plant herbs in the flower garden

— most are quite decorative.

Fresh coriander is an important

ingredient in many Thai

and Indian dishes and now's the

time for planting the seeds of this

annual herb.

Coriander plants are taprooted

and don't transplant well,

so sow seeds where you want the

plants to grow and thin out when

necessary.

The seeds are slow to germinate,

so don't give up on them too soon.

Plants bought ready-grown from

the garden centre tend to quickly

run to seed.

Don't try substituting ground

coriander seeds for the fresh leaves

as the flavours are quite different.

Some varieties of chives die

down in the winter, while others

stay green the whole year through.

If rust is a problem, cut the

clumps back and wait for fresh

rust-free growth. If that doesn't

work, it may be best to plant some

new bulbs in a different spot.

Clumps need to be divided and

replanted every few years in any

case or the chives get overcrowded

and loose their vigour.

Garlic chives have a stronger

flavour than regular chives and the

flowers are white and starry rather

than pom-pom shaped. The plants

grow more slowly and the leaves

stand up to cooking a bit better.

Garlic chives are popular in

Asian dishes — try adding them

to stir-fries at the last minute for

an authentic flavour, or add them

to spring roll fillings and omelettes.

Parsley comes in two forms– the

curly-leaved variety and flat or

broad-leaved parsley, often known

as Italian parsley.

The latter is currently more

trendy but at a pinch you can

usually substitute one for the

other.

INGREDIENTS:

Try planting

coriander in pots,

once settled it

doesn't like being

transplanted.

Parsley (below)

is a suitable

companion plant.

Canterbury

Timber & Hardware

Timber Wood Fuel Pellets

20kg Bag for $12.50

Call in today for your free quote!

NEW ENTRANCE: 167 Manion Road, Rolleston

Jason Pester P 03 347 7465 F 03 347 7032 E jason@cthl.co.nz

Mon-Fri: 7am-5pm Saturday: 8am-12pm

Canterbury

C T H Timber & Hardware

We are here

BACK TO WORK OFFER

Support your local landscapers,

and receive 30% off all trees and shrubs!!

The team at Evergreen are back creating outdoor spaces

and we want to transform yours!

To add value to the project and your property we want to offer you

30% off all trees and shrubs planted in your garden.

WANTED

TO BUY

Do you have these in

your garden?

Burtonii

(Old Fashioned Freesias)

• Heritage Variety only!

• Approx 20-30cm Height

Contact Alistair 021 0777893

Call us today for a free quote

and turn your desired lockdown landscape into life!

Check out our website and Facebook page to see what we're capable of!

Phone 03 349 2929 Mobile 027 359 9877 Email jeremyw@egn.co.nz

Web www.egn.co.nz Address 60 Ivey Road, Templeton
---
20

Wednesday May 27 2020

Latest Canterbury news at starnews.co.nz

SELWYN TIMES

PETS & PAWS

ome alone

It's been nine weeks since New Zealand Give some thought to your pets

officially went into lockdown due to

COVID-19. We've been confined to our During a time of uncertainty and for

homes with family and pets for 24/7, but some, outright fear, pets have provided

now we're all heading back to work, the emotional support and kept us company.

kids are back at school and we're all trying They've given us an excuse to escape the

to get back into some kind of routine and house each day; helped keep the kids

'new normal'.

amused; 'video-bombed' Zoom meetings;

and provided daily comfort when PM

Jacinda Ardern addressed the public.

During these weeks, pets have been there

for us through the ups and downs of the

pandemic.

Preparing pets for life after

lockdown

As we head back to work, it's not

surprising that our pets (especially dogs)

might now show signs of insecurity,

separation anxiety or even depression

from loneliness. Dogs, in particular,

develop close relationships through time

spent with their owners; therefore, sudden

separation creates a challenge – how to

help the dog cope without the attention of

its owner and get back into some kind of

pre-lockdown routine.

5 tips to help your pet survive

their day without you

1. Keep to a schedule of feeding,

exercise, toileting, rest and one-to-one

time – Animals like routine, any major

changes to their routine can cause

stress. Reduce this by sticking to their

usual pre-lockdown routine if possible.

2. Give them some alone time – Allow

pets to have some time without your

attention. Let them spend time outside,

in another room, or in their run without

you or other members of the family.

3. Help them settle at home alone – Leave

out treats, keep the radio on and use

plug in synthetic pheromones to help

keep pets calm while you are at work.

4. Engage help – If you are concerned

about your pet being left at home

while you head back to work full time,

consider asking a family member, friend

or neighbour to call in and check your

pet. They may be able to spend some

time with your pet to help break up the

monotony of a long working day.

5. Seek professional advice – if your

pet needs additional help for stressful

behaviour, contact your local vet,

animal trainer or behaviourist.

For more information on how to help

your pet cope while you head back to

work, visit https://www.spca.nz/

advice-and-welfare.

Source: SPCA New Zealand

FOR ALL YOUR FARRIER SUPPLIES,

HOOF CARE PRODUCTS & ADVICE

SEE US FIRST!

Stockists of Mustad, Heller Rasps, Kelato

Products and Worlds Best Hoof Oil.

We are the specialists in shoes

and tools to get the job done!

Email order throughout the South Island

Open Monday to Friday 8am – 4pm

Cnr Main South Road and

4 Dawsons Road, Templeton

Phone – 03 348 7272

Email – rodger@austinsfarriersupplies.co.nz

We are

• Mobile

• Prompt

We provide

• Caring

• Reliable

• Full grooming and clipping

• Wash/dry

• Nail trimming

Your local professional

groomers, Jill & Sophie are

available now to book your

dog/s in for a pampering at

your own home.

FREE MEASURES

& QUOTES

FOR A HUGE RANGE OF

PET DOORS TO SUIT

YOUR NEEDS

Zac Johnston Owner/Glazier

027 349 7023

zac@crystalglass.co.nz

Manufacturers of

Fine Natural Pet Food

Variety of 10kg

Mixes

for cats

and dogs

$45-$55

Call now to seCure your appointment!

0800 454 654

www.jimsdogwash.co.nz

Certified SureFlap

supplier and installer

Phone (03) 347 0626

Shop 4, 855 Jones Road, Rolleston (opposite Redpaths)

Hours: Mon-Tue 9am-5pm, Wed-Fri 9am-5.30pm, Sat 10am-1pm

GET A PAW IN THE DOOR!

...And let Selwyn pet lovers know

about your pet business!

CALL Lynette TODAY to discuss your

business advertising options!

DDI: 03 364 7434 Mobile: 021 222 7831 Email: Lynette.Evans@starmedia.kiwi
---
SELWYN TIMES Latest Canterbury news at starnews.co.nz

Wednesday May 27 2020 21

MOTORCARE PROFESSIONALS

Vehicle care post lockdown

Motor vehicles need to be driven so issues

are likely to arise when they sit idle. With

vehicles shut in their garages during the

Coronavirus lockdown and with winter on

the horizon, it is worth giving your vehicle

a check over and even booking it in for a

service.

Below are some pointers for prepping

your motor vehicle:

• If you have had trouble starting your

vehicle, a new battery might be needed.

It may be at the end of its life if it is

five years or older. To ascertain if you do

need a new one, pop into one of Selwyn's

automotive centres and ask them to test

the battery.

• The anti-freeze coolant fluid in your

radiator will likely need replacing if two

to three years has passed or the vehicle

has travelled around 50,000 kilometres,

since the coolant was last replaced.

Coolant helps prevent the water in the

Help keep our roads safer

vehicle's cooling system from freezing

and the radiator and engine from

corroding. If a top-up is all that is

needed, be sure to use the correct type

of coolant for your vehicle and fill to the

correct level.

• Assess the stopping power of your

brakes and also ensure the tyres have

sufficient pressure and tread to grip the

road, rather than slide on slippery

surfaces or when the brakes are applied.

• Check the headlights, tail lights

and indicator. Replace any weak or

non-functioning bulbs and make any

adjustments where needed.

• Examine the condition of the wiper

blades, replacing these if they do not

provide good visibility.

• Top up the windscreen washer container

so you can keep your windows clean for

clear visibility.

• Test the air conditioning system and

heating function so your vehicle is a

comfortable temperature when driving

and the windscreen can be effectively

demisted on foggy or frosty mornings.

• Check when the Warrant of Fitness or

Certificate of Fitness and your Driver's

Licence are due for renewal. NZTA has

granted extensions for those which have

expired since the beginning of 2020.

They will advise you when your WOF or

COF is due so visit their website to check

they have your correct details.

• Book your vehicle in for a check-up or

service, especially if it has been a while

since it was last serviced.

When heading out on the road, take a

little more care. Be mindful of the extra

hazards of winter time driving, like wet

or icy roads and sun strike due to the

later sunrises and sunsets. Remember to

maintain a safe following distance so you

Tyres need sufficient tread to grip the road

Watch out for cyclists

can stop in time, such as when the vehicle

in front stops suddenly and signal early so

those following have time to react. Watch

out also for motorcyclists and cyclists,

giving them a wide berth.

Taking care and affording others on the

road some basic courtesy, will help keep

our roads safer this winter.

www.windscreensolutions.co.nz

ALL INSURANCE REPAIRS & REPLACEMENTS WELCOME

• Windscreen Repairs and Replacement,

replacing cracked or damaged

windscreens to the highest standard.

• We offer superior quality workmanship

for all Truck, Van, Bus, Motorhome, Car

windscreen repairs and replacement.

CANTERBURY BASED MOBILE WINDSCREEN SOLUTIONS

"For all your Bus, Truck, Motor Home, Car, Windscreen Repairs & Screen Replacements"

Phone: 021 399 917

• We can arrange all insurance work to make

the repair or installation as easy as possible

for our clients.

• If you are unsure what you need call us

today for some expert advice for the best

solution for your vehicle.

Email: info@windscreensolutions.co.nz

Jones Road auto

ALL YOUR

MOTORING NEEDS

› While You Wait WOF's

› Courtesy Cars

› Diagnostics

› Repairs › Servicing

› Batteries › Tyres

WE HAvE MOvED 131 IPORT Drive

(Cnr Hoskyns & IPORT drive)

Phone 347 4020 | www.jonesroadauto.co.nz

3 TRUCKS

3 CARS

3 LUBES

3 SERVICING

3 FLEET WORK

3 BOATS

3 DIESEL INJECTOR &

PUMP SERVICING

3 ENGINE TUNING

Mon-Fri 7am-5pm

Sat 8am-12pm (WOFs only)

3 BRAKES

3 MAXXIS TYRES

3 WHEEL

ALIGNMENTS

3 BATTERIES

3 WOFs

3 CAMBELTS

AND MUCH MORE!

839 Jones Road, Rolleston P.O. Box 16 Rolleston

Phone Simon on 347 7110 or Mobile 027 272 9213

95 Gasson Street, Sydenham, Christchurch 8140, NZ | www.carlights.co.nz
---
22 Wednesday May 27 2020

Latest Canterbury news at starnews.co.nz

Many options in GLC

Mercedes-Benz range

MERCEDES-Benz has

a huge range of sport

utility vehicles. That is

no surprise, the market

is demanding cars that

cater for many roles –

family transport as well as

practicality.

The most popular SUV

in the luxury car maker's

range is the GLC and, not

surprisingly, it is available

in a series which accounts

for eight variants. There

is a petrol-electric hybrid

model, a plug-in EV, and

those with the choice of

four, six or eight-cylinder

engines; there's even a twowheel-drive

model.

However, most incorporate

the 4Matic system

which sends drive to each

corner.

It must also be noted that

the GLC is a series which

incorporates coupe-type

models as well as the traditional

SUV.

The entire GLC range has

just had a bit of a refresh,

there's been a styling

change, and buyers now

have the choice of varying

suspension types, depending

on how the vehicle will

be used, and the surfaces

it is likely to travel on, on a

daily basis.

The range spans prices

from $87,600 to $187,400.

The vehicle this evaluation

focuses on is GLC 300,

a mid-range SUV which

lists at $102,500 in standard

form.

The 300 effectively replaces

the 250 from a year

or two back. Put simply,

the four-cylinder turbocharged

petrol engine has

had a power and torque

increase, up from 155kW

and 350Nm to 190kW and

370Nm.

The increase doesn't affect

the silent and smooth

operation of the 2-litre, four

cylinder unit. It is a highperforming

engine but it

does everything without

making a fuss, it searches

the rev band well but works

fluidly through the midrange,

maximum torque

arrives at 1800rpm and

spreads to 4000rpm, and

with peak power arriving

at just 5800rpm there is no

drop-off in performance.

A lot of that is also garnered

through the seamless

flow of gearing courtesy

of a nine-speed automatic

transmission.

This engine is a powerhouse

through the whole

acceleration process, it

will cut out a standstill to

100km/h time of 6.1sec,

and will make 120km/h

from 80km/h in 3.8sec.

Steering wheel-mounted

paddle shifters will assist

the driver if he/she decides

to take control over the acceleration

process.

MERCEDES-BENZ GLC 300: Boost in power for 2020.

It wouldn't be a worldclass

engine unless you

get the benefits of thrifty

fuel usage, and that is certainly

the case in the 300.

It is rated by Mercedes-

Benz with an 8.1-litre per

100km combined cycle

average.

These figures are all quite

remarkable for a vehicle

which weighs in a little

tubby at 1804kg, but the

point is that the engineering

which is coming out of

European factories at the

moment is at the forefront

of technology, and the

GLC is just one example of

performance and economy

all rolled into one.

• Price – Mercedes-

Benz GLC 300,

$102,500

• Dimensions –

Length, 4656mm;

width, 1890mm;

height, 1639mm

• Configuration

– Four-cylinder,

four-wheel-drive,

1991cc, 190kW,

370Nm, nine-speed

automatic.

• Performance –

0-100km/h, 6.1sec

• Fuel usage –

8.1l/100km

Time was a little against

me on the day I went testing

and I didn't venture

as far as I would normally

travel in an evaluation car.

However, on the roads west

heading home through

Burnham and Lincoln I got

a thorough understanding

of the GLC's behaviour on

the seal, and I enjoyed its

nimble and agile nature

given that it is a mid-size

SUV.

Riding on huge 20in Pirelli

rubber, there is positive

steering feel and unyielding

grip, while the suspension

settings are a mixture of

what is required to keep

gravitational movement

contained in a corner, along

with the ability to absorb

the ruts and bumps which

make up as fair hunk of

Canterbury's roads.

As you would expect

from Mercedes-Benz, the

GLC is full of luxury appointments,

it has the kit

to make you feel you have

bought a lot of car, and it

is intensely comfortable to

ride in, even for five occupants.

One of the standout

features is the voice recognition

operating system

which takes command over

many of the in-cabin functions.

By opening with "hey

Mercedes'' you can instruct

the vehicle to do many of

the adjustments you would

normally do by hand. This

could well be seen as a

safety device allowing the

driver's hands to remain on

the steering wheel and to

keep concentration on the

road ahead.

Safety has been at the

forefront of Mercedes-

Benz's manufacturing

operation for as long as

I can remember, and the

company's entire range has

a high ingredient of builtin-safety

features. The GLC

is brimming with all the

electronic functions which

are not far from offering

autonomous operation.

Some of them I could do

without, but the automotive

world is demanding vehicles

intervene on their own

accord if collisions seem

imminent and Mercedes-

Benz has answered that

call.

The GLC is just another

example of what make

Mercedes-Benz so desirable

as a manufacturer. The

company has recognised

that buyers want plenty

of choice and the GLC

coupe and SUV options are

extensive.

Personally, I'd be opting

for the 63 S, just the

thought of that thundering

V8 under the bonnet is

enough to make my heart

race.

Animals Livestock/

Supplies

Animals Livestock/

Supplies

WANTED. LUCERNE WANTED. LUCERNE

OR MEADOW HAY. .

Ph 0274 713054

OR MEADOW HAY. .

Ph 0274 713054

Classic Cars & Motorcycles

Towing

For safe, damage free

car transportation

call Ashley's Tow Taxi

Special care for special cars

ASHLEY'S TOW TAXI

Breakdown & Relocation

0800 TOW TAXI • 0800 869 8294

Macrocarpa Sleepers

200x100

Ideal for

landscaping

1-5m

We cut to

length

Phone

SUPPLIES LIMITED 021 325 661

653 21 Ellesmere Manion Road, Road, Rolleston Lincoln

www.macrocarpasupplies.co.nz

www.macrocarpasupplies.co.nz

Funeral Directors

Non-Service Cremation $2,000

Commital service with cremation $3,950

Chapel service with cremation $6,500

Family burial service from $3,400

Just Funerals, a family owned and

operated company with qualified,

registered and experienced staff.

Phone 0800 804 663 - 24 Hour Availability

Email: info@justfunerals.co.nz

christchurch.justfunerals.co.nz

Gardening

& Supplies

ellesmere

lions

Pea straw

now available

DELIVERING NOW

Small bales $6

Medium squares

(equivalent of

10 small bales)

$50

Contact

alex Hayward

03 324 4094

Firewood

Heating

Log Fires

Pellet Fires

Heat Pumps

Sales

Service

Installations

Free Quotes

03 343 1651

472 Blenheim Rd

www.heatstore.co.nz

Classifieds

Select Services

DRIVEWAYS

HARRIS

BULLDOZING LIMITED

Need a hand?

✤ Lawns & Edges

✤ Landscaping

✤ Gardening

✤ Hedge Trimming

✤ Handyman Jobs

✤ Casual or One Off

Phone Mike Lineton

022 341 8848

Your local

Selwyn District

GARDENER/

HANDYMAN

Water Blasting

Steam Cleaning

Industrial

Commercial

Residential

Silos Barns Farm

Machinery etc

Hi level Dust removal

Free Quotes

20 years experience

Contact Gerry

021 740 428

SELWYN TIMES

• Driveways

• Car Parks

• Lifestyle Blocks

• Site Clearing

& General

Earthmoving

Mark 021 345 571

or Paul 021 705 996

Email harrisbull@xtra.co.nz

www.harrisbulldozing.co.nz

All Work Guaranteed

Please phone for a free quote

Specialising in:

Driveways

Outdoor Areas

Patios, Pathways,

Residential

& Commercial Floors

Professional Advice

Free Quotes

Frank McWatt

03 423 9344

027 274 0342

allwaysconcrete@gmail.com

www.allwaysconcrete.nz

Select Services

SCHOOL Shoes worn

out? Extend their life with

new heels, back linings,

stitching and patching.

Drop them into Cobbler

Glenn's Agent: Magnitude

Sports, Unit 6, 92

Rolleston Drive, Rolleston

SCHOOL Shoes worn

out? Extend their life with

new heels, back linings,

stitching and patching.

Drop them into Cobbler

Glenn's Agent: Magnitude

Sports, Unit 6, 92

Rolleston Drive, Rolleston

SHELTERBELT TRIMMING

Boundary

Trimming

Call Tony Dempsey

Phone 03 325 3256

Mobile 0274 323 943
---
SELWYN TIMES Latest Canterbury news at starnews.co.nz

Wednesday May 27 2020 23

Classifieds Contact us today Phone our local team 03 379 1100

• Driveways

• Trenching

• Section Clearing

• Demolition

• Tree/Stump Removal

• Truck/Digger Hire

• Post Driving

• Section/Lifestyle Block Development

C O N T R A C T I N G

Phone: 329 7165 or 027 616 1761

Driveways

SWAINS

KIWI KERB

(Since 2005)

Over 22 Years Experience

Quality

Workmanship

• Driveways

• Kerb &

Channel

• Garden Edging

Freephone: 0800 081 400

swainskiwikerb@gmail.com

Trades Public & Notice Services

• Irrigation • Drainage • Driveways • Auger Hole Drilling • Land Clearing & Development

• Culvert Installation • Construction Site Works • Tree & Hedge Removal • Concrete Breaker

DECORATORS

New Paint • Repaints

Wallpapering • Fences

Feature Walls

Floor & Roof Painting

Spray Painting

Light Commercial

Restoring Timber

* Finance available (T's & C's apply)

Selwyn based but service the whole of Canterbury

www.andertondecorators.co.nz

www.facebook.com/andertondecorators

027 724 6846 027 PAINTIN

Excavations

• Driveways

• Car Parks

• Site Cleaning

• Demolition

• Farm Tracks

• Drain Cleaning

• Stump & Hedge

Removal

• Ashpalt Concrete

Wide range

oF TruckS

• Tennis Courts &

Swimming Pools

• Chip Seal Driveways

• Diggers – 2 Ton

up to 20 Ton

• Excavators

• Bobcat & Drilling

• For Posthole &

Fence hole

For a Free Quote

on your next project

Phone Steve on 021 338 247

or 325 7922

Phone Mike: 027 272 8058 OR 03 324 4323 A/H

g.m.contracting@xtra.co.nz www.gmcontracting.co.nz

Free

QuoTe

GARAGE DOORS

The Genuine

Custom Made Garage

Door Professionals

0800 661 366

info@custommade.co.nz

Auckland, Christchurch, Wanaka

www.custommade.co.nz

landscaping

Landscape

Construction and

Garden Maintenance

You can have your gardens, trees,

shrubs, plants and lawns maintained to look their best

all year round, for a great price.

Residential & Commercial Landscaping

• Maintenance • Pruning • Reconstruction & Rejuvenation

• Rental Property and Commercial Maintenance

• Pre-Sale Tidy-Ups

New Home Landscaping

Lawns • Gardens • Decks • Paving • Water Features

• Quality • Value for money • Experienced • Punctual

• Professional • Flexible • Knowledgeable • Reliable

Call Ross Legg - 027 222 0388

Email ross@revivelandscaping.co.nz

www.revivelandscaping.co.nz

Trades & Services

FOR ALL YOUR

★Garden Clean-ups

★Pruning

★Lawn Mowing

★Garden Maintenance

Call us today for a FREE quote

PH 0800 4 546 546

(0800 4 JIMJIM)

Trades & Services

Selwyn

Accounting

Ltd

For all your

Accounting &

Tax Needs

03 741 1783

027 332 8086

brian@

selwynaccounting.co.nz

HARBOURSIDE

FIRES

CHIMNEY

SWEEPING

Logburners –

Pellet – ULEB

Installations

Maintenance

Bird Protection

Phone Duane

027 428 9026

328 9990

Keeping the home

fires burning

Trades & Services

UDI PAINTING &

DECORATING

For all painting and

decorating services.

Fully Qualified

• Interior &

Exterior Painting

• Wallpapering

• Plastering

• Roof Painting

Quality Services

FREE QUOTES

Contact Udi Aale

Ph. 021 074 2075

Trades & Services

BATHROOm TILER

wet area waterproofing,

underfloor heating, soap

boxes, old to new, for best

results, call Devon on 021

375-888 or 03 329 5511

BUILDER QUALIFIED

Decks, T & G Flooring,

Villa Restoring, New

Homes, Weatherboards.

Free Quotes. Bennet &

Sons Ltd Sam 027 496-

9362 or Tony 027 224-

0374

CARPET LAYING

Exp. Repairs, uplifting,

relaying, restretching.

Phone John on 0800

003181, 027 240 7416

jflattery@xtra.co.nz

CARPENTER

HANDYmAN

- Small Job Specialists,

Carpentry, Repairs,

Decking & Maintenance,

40 years experience, no

job too small, Ph Warren

03 322-1103 or 027 697-

8541

Situations Vacant

DRIVETECH LTD

"TRAINING TOMORROWS DRIVERS TODAY"

HEAVY TRAFFIC

Class 2, 3, 4 & 5 Vehicle Recovery, Wheels,

Tracks, Rollers & Dangerous Goods.

FORKLIFT enDORseMenT (F & OsH)

FORKLIFT (aTTaCHMenTs) u/sTD

InTeResT FRee TIMe PayMenTs

(Terms and conditions apply)

CAR DRIVING LESSONS

Beginners/Restricted/Full

Our dual controlled car or your own car

• Pre employment assessments

• H&s Driver assessments

• advanced Driver Training

Courses in Christchurch, Invercargill, Cromwell

& Mosgiel daily. Other areas by arrangement.

8 Jipcho Road, Wigram, Christchurch

FREEPHONE 0508 2 DRIVE (37483) or 03 348 8481

info@drivetech.co.nz / www.drivetech.co.nz

Operations Co-ordinator

Our small privately owned trade-based

building supplies store is looking for an

operations co-ordinator.

The successful candidate will be someone

who has the drive and passion to deliver

great customer service whilst getting the job

done.

This role will include co-ordinating stock

control, organising orders for delivery and

collection, co-ordinating our yard and

store staff to achieve set targets, all whilst

jumping in to lend a hand in a variety of

other roles as needed.

Any prior experience in a role similar to this

would be an advantage, as would a current

forklift licence and some building industry

knowledge.

Please submit applications, including a

current CV, by Friday 5th June to

sally@buildlinkselwyn.co.nz

Discontinuance of a stockwater race

Paparua Scheme

The Selwyn District Council advises its intention to discontinue the following

Paparua stock water races:

· 920m section of the Blakes Road water race; and

· 2700m section of the Marshs Road water race,

These closures are considered to be of low significance and do not alter the

intended level of service of the overall water race schemes.

Detailed information including location maps can be found on the Selwyn

District Council website www.selwyn.govt.nz/wrclosure or can be viewed at

Council offices in Rolleston.

For more information or to make a submission, please contact;

Selwyn District Council, Surface Water Operations Engineer, phone 0800

SELWYN (735 996) or email waterraces@selwyn.govt.nz.

selwyn.govt.nz

Trades & Services

CONCRETE CUTTING

Affordable Concrete

Cutting with Quality, and

removal work. Free quote.

No job to small. Phone 027

442-2219, Fax 359-6052

a/h 359- 4605

Bellamy's

Furniture

Furniture made to

order and restoration

by tradesman with

35yrs experience.

PH Stephen

021 073 2624

Trades & Services

LANDSCAPING

Paving, Lawns, Irrigation,

Decking, Fencing.

Kanga & small digger

services. Check out Squire

Landscaping on facebook.

FREE QUOTES. Ph

Arthur 347-8796, 027

220-7014 Edwin 027 220-

7154

POWER CABLE

Our Cable or yours,

phone-fibre-water installs,

COC supplied, trenching

and cable locatingservice,

owner operator

FREE quote ph

Gerard 0272379742

RJB PLUmBING

Renovations, New Houses,

Hot Water Cylinders,

Kitchens Bathroom

Upgrades, Laundries,

General Maintenance ,

Water Filters. Phone Mark

0278690026

STUmP GRINDING

Best price guarantee Tony

0275 588 895

TILING

Flooring - Splashbacks -

Wall incl tile removal, reg

master tiler, ph Dave 027

334 4125

WINDOW CLEANING

Brown & White Ltd.

Family owned since 2001.

Ph Paul 027 229 3534

Bellamy's

Furniture

Furniture made to

order and restoration

by tradesman with

35yrs experience.

PH Stephen

021 073 2624

Public Notice
---
24 Wednesday May 27 2020

Latest Canterbury news at starnews.co.nz

SELWYN TIMES

FURNITURE

FINANCE AVAILABLE IN-STORE
---
RESIDENTIAL SECTIONS, BIG RANGE, CANTERBURY WIDE

WE ARE OPEN

NEW SECTIONS RELEASED

SHOW HOME VILLAGE

NOW OPEN
---
NOW AVAILABLE | 6TH RELEASE

Sections Now Available / 6th Release

Yoursection.nz are pleased to announce it's 6th release of available sections

within Falcon's Landing.

Sections range in size from 430m 2 to 990m 2 with pricing starting from $167,500.

Contact one of the team at yoursection.nz to find out more.

Or follow us on Facebook and Instagram.
---
SHOW HOME VILLAGE NOW OPEN

EXCITING

HOMES

OPEN TO

VIEW

Show Home Village Now Open

We are expecting more enquiries than ever before so visit one of

our showhome partners to find your own nest at Falcon's Landing.
---
fast facts about

FALCON'S LANDING

Distance/time from Christchurch CBD:

25km, 30 minutes by car, 43 minutes by bus.

Time expected to be significantly less when

new southern corridor is open.

15 minutes walk from Falcon's Landing to

Rolleston township.

Falcon's Landing zoned schools:

Rolleston Christian School

Clearview Primary School

Rolleston College

Lemonwood Grove School

Medical Facilities:

Rolleston Medical Centre

Rolleston Central Health

Recreation:

Within Rolleston there are multiple reserves

and community centres, skate parks, sports

fields, new shops, cafes and restaurants,

with a new social-recreational area

under development.

IZONE BUSINESS HUB

MOTORWAY TO CHRISTCHURCH >

ROLLESTON

RESERVE

ROLLESTON COMMUNITY

CENTRE & LIBRARY

BROOKSIDE

PARK

SELWYN

AQUATIC

CENTRE

CLEARVIEW

SCHOOL

FOSTER PARK

INLAND PORT

RETAIL CENTRE

ROLLESTON

COLLEGE

ROLLESTON

CHRISTIAN

SCHOOL

LINCOLN ROLLESTON ROAD

contact details

Show Home

Village Hours

OPEN Wednesday to Sunday

12pm - 4pm or by appointment

For information call 03 741 1340 or

email enquiries@yoursection.nz
---
THe BeST PRoPeRTieS AcRoSS

THe SeLWYn DiSTRicT

INSIDE

PUBLiSHeD eVeRY WeDneSDAY

Week commencing WeDneSDAY, 20TH mAY ,2020

Falcon Good Commercial

Development Opportunity

Once in a blue moon an opportunity presents

itself to own the land, build and then be your

own Landlord! This block of 1,752m2* is made

up of three freehold titles available for sale in

one of the newly established subdivisions in

Rolleston - "Falcon's Landing". Situated minutes

from Rolleston's town centre, Rolleston College,

opposite a playground and right next door a

pre-school, this is a perfect location for your

business and an opportunity not to be missed.

46 Branthwaite Drive, Rolleston

Deadline Sale:

4pm, Wednesday 27th May

(unless sold prior)

Brendan 'Big Red' Shefford

Contact:

Mobile: 027 224 4733

rwtownandlifestyle.co.nz

Listing ID: TLR20785

Town & Lifestyle Real Estate Ltd

Licensed (REAA 2008) - Rolleston

Get the power

of three offices

working for you

Ray White Rolleston,

Lincoln & West Melton

Sales - Property Management - Loan Market

Residential - Lifestyle - Commercial

Lincoln - 03 325 7299

Rolleston - 03 347 9988

West Melton - 03 347 9933

Town & Lifestyle Real Estate Ltd

Licensed (REAA 2008)
---
2
---
3
---
4

Due to continued success as Selwyn's leading

Real Estate team, we need more homes to

satisfy these genuine waiting buyers.

Please, if you can help, call us today!

West Melton/Weedons

Approx 4 hectare lifestyle property

Large modern family home

Price $1M - 1.5M

Contact

Frank Dowle 027 528 0480

frank.dowle@raywhite.com

Lincoln

3 bedrooms

1 - 2 living rooms

2 bathrooms

Price mid $500,000's - $600,000

Contact

Trina Rea 027 424 6901

trina.rea@raywhite.com

Lincoln

4 bedrooms, 2 bathrooms

2 living rooms

Minimum of 200m2 floor area

Price early $600,000's

Contact

Trina Rea 027 424 6901

trina.rea@raywhite.com

Rolleston

3 bedrooms

New or near new home

Section 450m2 - 650m2

Price up to $550,000

Contact

Mandie Ashwell 027 552 4478

mandie.ashwell@raywhite.com

Rolleston

2 bedroom townhouse

Small easy care section

Price up to $400,000

Contact

Leisa Webster 027 722 5537

leisa.webster@raywhite.com

Rolleston

4 bedroom well maintained home

Good living space

Section 650m2 plus

Price $580,000 - $610,000

Contact

Leisa Webster 027 722 5537

leisa.webster@raywhite.com

Rolleston

4 bedrooms, 3 car garaging

Space to park a caravan

Section up to 900m2

Price $590,000 - $640,000

Contact

Leisa Webster 027 722 5537

leisa.webster@raywhite.com

Rolleston

4 bedrooms, Butler's pantry

3 car garaging

Section up to 1000m2

Price $600,000 - $700,000

Contact

Leisa Webster 027 722 5537

leisa.webster@raywhite.com

Rolleston

3-4 bedrooms

Extra garaging or large shed

Section 900m2 - 3000m2

Price $650,000 - $750,000

Contact

Mandie Ashwell 027 552 4478

mandie.ashwell@raywhite.com

Rolleston

5-6 bedrooms

Triple or quad garage

Section 800m2 plus

Price up to $720,000

Contact

Mandie Ashwell 027 552 4478

mandie.ashwell@raywhite.com

Prebbletonn

4+ bedrooms

Section 4000m2 - 2.5 acres

Price $1.4M - $2.2M

Contact

'Big Red' Shefford 027 224 4733

brendan.shefford@raywhite.com

Rolleston

3-4 bedroom well maintained home

Walking distance to shops

Section 700m2 easy care

Price $550,000 - $620,000

Contact

Leisa Webster 027 722 5537

leisa.webster@raywhite.com

West Melton

4+ bedrooms

3 car garaging

Section 1200m2 plus

Price $780,000 - $850,000

Contact

Melanie Elliott 027 635 2643

melanie.elliott@raywhite.com

Kirwee/Darfield

2 bedrooms

Price $300,000 - $400,000

Contact

'Big Red' Shefford 027 224 4733

brendan.shefford@raywhite.com

Rolleston

3 bedrooms

1-2 bathrooms

Price around $415,000

Contact

'Big Red' Shefford 027 224 4733

brendan.shefford@raywhite.com

Rolleston

3 bedrooms

1-2 bathrooms

Price around $440,000

Contact

'Big Red' Shefford 027 224 4733

brendan.shefford@raywhite.com

Lincoln

3 bedrooms, newish home

750m2 section plus

Any price range

Contact

Trina Rea 027 424 6901

trina.rea@raywhite.com

Rolleston

3-4 bedrooms

Must have 3 car garaging

Section up to 750m2

Price low $600,000's

Contact

Nick Booth 027 306 3186

nick.booth@raywhite.com

Rolleston

3-4 bedrooms

1-2 bathrooms

Double garage

Price up to $450,000

Contact

Amanda Cherry 027 340 6955

amanda.cherry@raywhite.com

Rolleston

3+ bedrooms

2 bathrooms

Nice living

Price up to $500,000

Contact

Leisa Webster 027 722 5537

leisa.webster@raywhite.com

Are you considering selling? Do you have a property that matches one of these descriptions?

Contact us now for a no obligation appraisal

If you want to get SOLD, call us TODAY

Ray White Rolleston 347 9988 | Ray White West Melton 347 9933 | Ray White Lincoln 325 7299

rwtownandlifestyle.co.nz

Ray White Town & Lifestyle Real Estate Limited Licensed (REAA 2008)
---
5

NEW LISTING

Hororata 2143 Bealey Road

"Arbourlea" - 72.33 hectares

Location, productivity and a wonderful environment is what sets "Arbourlea" apart from the rest. Situated on the

outskirts of Hororata Village, this wonderful location provides fantastic access to all the things outdoor enthusiasts

dream about - within a short drive to the rivers, lakes and mountains, yet only 40 minutes to Christchurch.

Beautifully established gardens with mature specimen trees surround the extremely attractive home with a wraparound

veranda. With renovations and refurbishments throughout, this fantastic home has large living and

entertaining areas. A vast range of farm buildings, irrigated via Central Plains Irrigation, this very-well-setup, simple

operation is designed for both ease of management and the ability to extract the best out of cashflow. With

excellent soil types and effective use of water within the CPW catchment.

bayleys.co.nz/5512019

4 2 2 1

Deadline Sale (unless sold prior)

12pm, Thu 28 May 2020

3 Deans Ave, Chch

View by appointment

Ben Turner 027 530 1400

ben.turner@bayleys.co.nz

Craig Blackburn 027 489 7225

WHALAN AND PARTNERS LTD, BAYLEYS, LICENSED UNDER THE REA ACT 2008

bayleys.co.nz
---
6

New Zealanders

Zealanders • • by

Voted

Voted

2018-2020 •

★

2018-2020

2018-2020

★

Real Estate Sales

Four Seasons Realty 2017 Ltd | Licensed Agent REAA 2008

Contributor to realestate.co.nz

Your home for local property

harcourts.co.nz
---
7

New Zealanders

Zealanders • • by

Voted

Voted

2018-2020 •

★

2018-2020

2018-2020

★

Real Estate Sales

Selwyn's best value

lifestyle sections!

Sections from 640m 2- 6,000m 2

Priced from only $205,000

Site office open Saturdays & Sundays 12.00 - 2.00pm

1472 Springs Road, Lincoln | South of Lincoln University

For more information:

Natalie McLean

027 943 6413 natalie.mclean@harcourts.co.nz

verdecopark.co.nz

Four Seasons Realty 2017 Ltd | Licensed Agent REAA 2008

Contributor to realestate.co.nz

Your home for local property

harcourts.co.nz
---
8

Zealanders

Zealanders

New • • by

Voted

Voted

2018-2020 •

★

2018-2020

2018-2020

★

Real Estate Sales

Four Seasons Realty 2017 Ltd | Licensed Agent REAA 2008

Contributor to realestate.co.nz

Your home for local property

harcourts.co.nz
---
9

New Zealanders

Zealanders • • by

Voted

Voted

2018-2020 •

★

2018-2020

2018-2020

★

Real Estate Sales

Four Seasons Realty 2017 Ltd | Licensed Agent REAA 2008

Contributor to realestate.co.nz

Your home for local property

harcourts.co.nz
---
10

New Zealanders

Zealanders • • by

Voted

Voted

2018-2020 •

★

2018-2020

2018-2020

★

Real Estate Sales

Four Seasons Realty 2017 Ltd | Licensed Agent REAA 2008

Contributor to realestate.co.nz

Your home for local property

harcourts.co.nz
---
11

Congratulations

to our top 20 sales consultants

Top

Mitch & Mana

02

Sue & Gemma Roberts

Our Top 20 sales consultants exemplify

everything Harcourts Four Seasons

believes in - experience, local knowledge,

professionalism, focus and commitment.

Their efforts in providing for their clients

have brought success after success.

Thank you to all our wonderful clients.

Four Seasons Realty

AWARDS

2019/20

03

Richard & Sue Woerlee

04

Harley Manion

05

Jackie Frame

06

Katie Harrison

07

Jan Green

08

Stevie Golding

09

Lisa Tippen

10

Caine Hopcroft

11

Victoria Thompson

12

Lyn & Nicholas Martin

13

Fergus Spain

14

Glen Young

15

Steve Alfeld

16

Jayne Martin

17

Christine Tallot

18

Gary McNicholl

19

Linda Veitch

20

Nathan Gilbert

Harcourts National & Canterbury End Of Year Awards 2019/20

Mitch & Mana

Harcourts Canterbury 2019/20

3 rd

2 nd

Richard & Sue Woerlee

Sue & Gemma Roberts

3 rd

Rural & Lifestyle

Sales Consultants

Jackie Frame

Harcourts Canterbury 2019/20 Harcourts Canterbury 2019/20 Harcourts Canterbury 2019/20

Client Experience

Individual Award

The Palms

3 rd

5 th Harcourts National 2019/20

2 nd

Harcourts National 2019/20

Sales Consultants

10 th

Total Units

Rural & Lifestyle

Sales Consultants

Top

Rural & Lifestyle

Sales Consultants

13 th Rural & Lifestyle

12 th

Harcourts Canterbury 2019/20

Top

Office - Revenue Per

Sales Consultant

Harcourts National 2019/20

Top

Office - Revenue

Per Sales Consultant

Congratulations

Four Seasons Realty

Your home for local property

0800 789 10 11

Four Seasons Realty 2017 Ltd Licensed Agent REAA 2008
---
12

NEW LISTING

NEW LISTING

Boundary lines are indicative only

Boundary lines are indicative only

Prebbleton 212a Birchs Road

Sheffield Pig Saddle Road

Surplus to requirements - this

will be sold!

Our owners plans have changed, they are no longer

building on this site and immediate possession is

available. This 12ha property is superbly located a few

minutes from Prebbleton, zoned for excellent schools

and has easy access to the motorway for a quick

commute to the city. Two-bedroom double-glazed

cottage, well, driveway, three-bay hayshed and huge

extra-height shed. Equestrian fencing and partially

completed arena. Inner Plains zoning allows potential

subdivision. Offers options and opportunities.

bayleys.co.nz/5512190

2 1 1

Deadline Sale (unless sold prior)

1pm, Wed 10 Jun 2020

View by appointment

Chris Jones 027 220 5043

chris.jones@bayleys.co.nz

Sam Sidey 027 346 3500

sam.sidey@bayleys.co.nz

WHALAN AND PARTNERS LTD, BAYLEYS, LICENSED REAA 2008

Recreation, stunning views

• Located only minutes from the Springfield Village

the gateway to ski-fields, lakes and mountains

• Approximately 130ha, currently the block is part of

a larger property and would generally carry

approximately 100 MA breeding cows

• A great mix of easier contoured lower paddocks

and gullies suitable for trees or regenerating natives

and some higher tussock country

• A fantastic opportunity to own your own hunting

block with a great duck pond already in place

• A solid asset in a great location, close to amenities,

with Darfield only a short drive down the road

bayleys.co.nz/5512160

Deadline Sale (unless sold prior)

12pm, Thu 4 Jun 2020

3 Deans Ave, Chch

View by appointment

Ben Turner 027 530 1400

ben.turner@bayleys.co.nz

Craig Blackburn 027 489 7225

craig.blackburn@bayleys.co.nz

WHALAN AND PARTNERS LTD, BAYLEYS, LICENSED REAA 2008
---
13

Property Brokers Limited Licensed under the Real Estate Agents Act 2008 6 Tennyson Street Rolleston rolleston@pb.co.nz Office 03 929 0306

Country Luxe + Accommodation

A Rare Find BUYERS $305,000+

WEB ID LEU75924

LEESTON

1/14 Mountain View Place

If you are looking for `ease of living` or a `lock-up and

leave` property, then this gem is worth a look. On offer

here is a spacious open plan living/dining and kitchen

area with loads of natural light. There are two generous

bedrooms with built-in robes.And a centrally positioned

bathroom and separate toilet to add to the functionality

of this home.

VIEW By Appointment

WEB ID DFL75733

SHEFFIELD

101 Bulls Road

Exuding classical elegance with contemporary flair

comes a fully renovated family home without compare

in peace, privacy and relaxing panoramic rural outlooks.

If entertaining's a top priority you'll love the huge open

plan kitchen grouped around a socially centred island

with natural flow through dining and lounge where

ambiance is enhanced by a rustic wood burner on a wetback

supported by under-floor heating in tiled zones.

NEW LISTING

DEADLINE SALE

View By Appointment

DEADLINE SALE closes Wednesday 17th June, 2020 at

4.00pm, (unless sold prior)

Amy Jones

Mobile 021 077 9945

amy.jones@pb.co.nz

Shar Simon

Mobile 027 555 0654

shar@pb.co.nz

4

2

2

Penny Dadson-Clausen

Mobile 027 895 5943

Office 03 929 0306

pennyd@pb.co.nz

Noel Lowery

Mobile 027 432 8859

noell@pb.co.nz

So Worth Waiting For $535,000

WEB ID DFU75307

DARFIELD

4 Thornton Street

Only once in a while does a home with such inimitable

style grace the listings and its taken 27 years for this

sunny character-packed honey to present for

acquisition.

• Light-infused kitchen

• Well-connected dining and lounge

• Pioneer wood burner

• Peaceful covered veranda

• Second patio with bbq/pizza oven

• 3 bedrooms / 2 bathrooms

• Raised beds, garden sheds and flower gardens

• Grow tunnel

VIEW By Appointment

Shar Simon

Mobile 027 555 0654

shar@pb.co.nz

2

1

1

3

2

2

pb.co.nz

REAL ESTATE SPECIALISTS

7 Campion Place, Halswell

7 Spencer Close, Rolleston

OFFERS OvER $539,000

Contemporary and Compelling

Ease of living is fundamental in this four-bedroom

family home that enjoys a peaceful cul-de-sac

location.

The kitchen makes a stylish statement with its sleek

cabinetry & striking splashback, and a separate

lounge delivers flexibility & presents a superb

setting for entertaining. A paved patio extends from

both the formal lounge and open plan zone, and

it overlooks the garden, which is extremely lowmaintenance

and fully fenced for peace of mind.

Neighbouring Beaumont Park provides families

with all the space they crave, while the multitude of

amenities in Rolleston are only a short drive away.

Contact Mike today for more information.

OFFERS OvER $499,000

Natural Charm & Complete Comfort!

**Set Sale: all offers to be presented 5pm, 21st May (unless sold prior)**

Striking the perfect balance between form and function, this superb three double bedroom home

showcases space and style within a leafy Halswell setting.

Great presentation and neutral décor is appealing in the sun-lit open plan dining area and lounge which

cleverly interacts with the modern kitchen. A sizeable deck extends off the dining area, & a gate in the

fence leads to the Westlake reserve grounds behind the property - perfect for walks, running or a great

extension to the backyard that someone else looks after!

A cul-de-sac location and reserve boundary promise peace and privacy, with convenience also assured

courtesy of proximity to the countless amenities in Wigram and Halswell. Do not delay - this property

will attract considerable attention. Contact Mike for more information today.

42 Rossington Drive, West Melton

By NEGOtiAtiON

Spectacular Style AND Work From Home!

Undeniable style and substantial proportions unite

at this exceptional family home. With the single level

floor plan totalling 294m² & a 3 car garage with drive

through & separate pedestrian access to the front,

this property has been set up to have an extensive

work-from-home office in part of the garage. It has

had the ducted air conditioning plumbed in, office

lighting & the walls insulated with double glazed

access door and loads of off-street parking.

With a sleek kitchen, 2 separate living rooms, a mix

of open & covered outdoor patios & four bedrooms,

all set on 2100m² this home offers both lifestyle &

sophistication. If you need to house the family &

work from home in a private easy commute distance

to city & have a budget in the 800's, then you need

to contact Mike now for a time to view.

68 Rolleston Drive, Rolleston

0800 645 346

www.oneagencyres.co.nz

Mike Goatley

027 249 5561

Elyse Campbell

021 187 6217

Nicola Curtis

Administrator

Julz Sibbe

Administrator

Real Estate Specialists Ltd Licenced REAA (2008)
---
14

Property Brokers Limited Licensed under the Real Estate Agents Act 2008 6 Tennyson Street Rolleston rolleston@pb.co.nz 03 929 0306

Unique has a new meaning!

NEW LISTING

WIGRAM

99 The Runway

This Family sized home is sure to impress! Showcasing

uncompromised quality and outstanding levels of

comfort, this 3 year old, four-bedroom home strikes the

perfect balance between style and function. Designed

with space, comfort and everyday ease in mind, the

kitchen provides the perfect platform for entertaining

and comes with a large pantry, top of the line Bosch

appliances including a Combination Steamer and oven,

Pyrolytic Oven, dishwasher and a 90cm Multi-zone

Induction Hob. The spacious formal lounge with it's

feature ceiling is the ideal place to put your feet up at

the end of the day, while the light filled dining and living

areas interact effortlessly with the flow through to the

extensive decking, providing you with a covered area,

complete with a gas fire and bar fridge, perfect for

alfresco occasions. Situated in the sought after location

of Wigram, with only a short walk to 'The Landing'

shopping centre, this immaculate home should seriously

be considered.

WEB ID ROU75946

VIEW By Appointment

DEADLINE SALE closes Tuesday 9th June, 2020 at

4.00pm, (unless sold prior)

Tanya Marillier

Mobile 027 383 3844

tanya@pb.co.nz

DEADLINE SALE

4

2

2

Beautiful on Billington!

HALSWELL

12 Billington Drive

Looking chic and ready for its new owners, this 220sqm

home occupies a sunny 550sqm corner section in the

coveted precinct of Country Palms. A large open plan

kitchen over looks the spacious dining / living areas and

flows generously to the outside, private secluded patio.

The separate lounge is ideal for quiet movie nights and

also opens to its own patio. Accommodation is offered

by four bedrooms, complemented with a separate toilet

and two exquisite bathrooms, one of which is the

master ensuite, complete with tiled showers. The master

also benefits from it's own private patio - ideal for an

early morning coffee.

pb.co.nz

The separate laundry and additional storage cupboards

will also ensure that you have enough space for all those

things you'd like to keep out of sight.

Located in this peaceful neighbourhood, the property

benefits from zoning for Halswell School and is a short

drive from the various amenities in and around Halswell

Shopping Centre. Call Tanya today.

NEW LISTING

VIEW By Appointment

WEB ID ROU75876

DEADLINE SALE closes Tuesday 2nd June, 2020 at

4.00pm, (unless sold prior)

Tanya Marillier

Mobile 027 383 3844

tanya@pb.co.nz

DEADLINE SALE

4

2

2
---
15

Property Brokers Limited Licensed under the Real Estate Agents Act 2008 6 Tennyson Street Rolleston rolleston@pb.co.nz 03 929 0306

Smart design and handy location

NEW LISTING

ROLLESTON

116 Broadlands Drive

Stop looking and start living in this beautiful home

which is offered for 1 lucky purchaser to start calling

home!

oven, various lighting options and amazing walk in

pantry are just a few of the details on offer to satisfy the

master chef or entertainer of the family.

VIEW Sunday 24 May 2.00 - 2.30pm

WEB ID ROU75821

BUYERS $659,000+

With stunning street appeal using top quality materials

and finishes, you are going to love the extra features this

striking 4 bedroom home offers. The open plan kitchen

dining living with A framed ceiling offer a point of

difference with its large feature window which soaks up

the afternoon sun.

The stylish kitchen with stone benchtops, 90cm hob and

If space is what you crave, the separate lounge will not

disappoint and offers great outdoor flow to enjoy the

summer evenings.

My vendor is serious to sell and has priced this

accordingly. This is definitely, quality & style at an

attractive price. Viewing will not disappoint. Call Angela

now to set up your inspection.

Angela Hunt

Mobile 021 548 777

angela.hunt@pb.co.nz

4

2

2

More for Less!

$369,000

WEB ID DFU75815

DARFIELD

24 Torlesse Crescent

An address to impress in quiet and private Torlesse

where first-time family buyers can get in the game in a

unique and easy-to-keep A-Frame. Packed with quirky

character over 120 light-filled squares featuring upper

level master bedroom and balcony plus one double and

third double bedroom, bathroom and separate toilet

below. Integration between modern kitchen, dining,

lounge and expansive sunny decking seamlessly unifies

indoor/outdoor living.

VIEW By Appointment

An educated Opportunity

3

1

NEW LISTING

Shar Simon

Mobile 027 555 0654

shar@pb.co.nz

1

Spacious and sunny

BY NEGOTIATION

WEB ID LIU75217

LINCOLN

34 Caulfield Crescent

Our owners decision has been made, they have found

their dream home and are keen to see a Sold sticker.

Built in 2015 this lovely property was designed with

spacious formal and informal living in mind and will

accommodate the whole family both inside and out. The

configuration of the fourth bedroom is positioned

perfectly if you work from home or have a teenager

wanting their own space. Close to playgrounds, schools,

bus stop and an easy walk to Lincoln township.

VIEW By Appointment

WEB ID DFL75263

GLENTUNNEL

275-281 Whitecliffs Road

GUIDELINE PRICE: OFFERS OVER $282,000 PLUS GST

View By Appointment

BY NEGOTIATION

Dawn Pollard

Mobile 022 073 7580

Office 03 595 6954

dawn.pollard@pb.co.nz

Nicola Bray

Mobile 027 755 8846

Office 03 595 6954

nicola.bray@pb.co.nz

4

2

2

The Old Malvern School located in Whitecliffs is now

available to start a new chapter.

Being sold "AS IS WHERE IS" Deadline Sale

• 5800sqm land area in four titles.

• School building with Heritage List as a Category 2

Historic Place

• Separate ablution block

Viewings are by Open to view and by appointment.

Jannetta Thomas

Mobile 021 256 6295

jannetta@pb.co.nz

Gareth Cox

Mobile 021 250 9714

Office 03 975 4506

gareth@pb.co.nz

1

2

pb.co.nz
---
16

M-A

MATSON & ALLAN

REAL ESTATE LIMITED

'The

Selwyn

Experts'

Residential

Lifestyle

Rural Property

Licensed REAA2008

ROLLESTON - 37B Masefield Drive

LIVE IT, LAND BANK IT OR DEVELOP IT

• 4347m 2 (approx.) subdivisible land

• Peter Ray Homes 277m 2 double glazed family home

• Four large double bedrooms, WIR, ensuite, bathroom

and separate toilet

• Spacious open plan kitchen, dining, living and

separate lounge

• Log burner with wetback

• Walk in pantry, study and separate laundry

• Immaculate established four seasons garden

• Double internal access garage with ample parking

options

• North facing aspect

Jo Barrett

021 859 006

jo@marealestate.co.nz

OPEN HOME

NEW LISTING

Open Home: Sun 1.30pm - 2.00pm

Deadline Sale: Closing 3 June 2020 (Unless Sold Prior)

View: www.marealestate.co.nz/MA0718

ROLLESTON

714 East Maddisons Road

PEACE & TRANQUILITY ON 2001M²

• 230m² brick home

• Four double bedrooms, WIR, ensuite, bathroom,

separate toilet

• Office, triple internal access garage with third toilet

• Spacious open plan living and separate lounge

• Log burner, heat pump, double glazing, air exchange

and internal vacuum system

• Four seasons garden

• North facing aspect and parking for six plus vehicles

• West Rolleston and Clearview Primary School Zones

NEW LISTING

Viewing: By Appointment

Price: Neg Over $679,000

View: www.marealestate.co.nz/MA0715

Jo Barrett

021 859 006

jo@marealestate.co.nz

ROLLESTON - 62 Riverstone Drive

RARE FIND – HOME, UNIT AND FOUR

CAR GARAGING

• Superbly constructed in 2018

• Expansive 352m 2 executive home

• Home and one-bedroom unit

• Five double bedrooms

• Large master with ensuite and walk in robe

• Three living areas

• Designated study

• Premium kitchen with quality appliances

• Large butlers pantry

• Separate laundry

• Four car garaging

• Further additional parking for motor home and/or boat

• Desirable and popular location

OPEN HOME

Open Home: Sun 12.30pm - 1.00pm

Price: Neg Over $949,000

View: www.marealestate.co.nz/MA0719

Jackie Derrick

027 636 3576

jackie@marealestate.co.nz

NEW LISTING

ROLLESTON - 12 Frame Crescent

SUPERB FAMILY LIVING ON A

SUBSTANTIAL SECTION

• Substantial family home

• Tw o separate living areas

• Four double bedrooms

• Large master bedroom

• Ensuite and walk in wardrobe

• Versatile study/office

• Well-appointed kitchen/reputable appliances

• Separate laundry

• Fantastic outdoor entertaining area

• Triple car garage

• Additional parking space

• Generous and secure 1486sqm section

• Desirable location

OPEN HOME

Open Home: Sun 2.15pm - 2.45pm

Price: Neg Over $699,000

View: www.marealestate.co.nz/MA0717

Jackie Derrick

027 636 3576

jackie@marealestate.co.nz

NEW LISTING

ROLLESTON - 57 Shadbolt Lane

AS NEW AND SO AFFORDABLE

• A perfect starter package for first home buyers,

investors or retirees

• Built in 2015, this 159m 2 home is set amongst other

quality homes

• Four good sized bedrooms

• Large open plan living

• Outdoor dining on sheltered kwila deck

• Modern kitchen and appliances

• Tw o spacious bathrooms

• Heat pump

• Double carpeted garage

• Fully fenced 610m 2 landscaped garden

• Easy care

Price: Neg Over $520,000

View: www.marealestate.co.nz/MA0720

Cameron McRae

027 7696 696

cameron@marealestate.co.nz

NEW LISTING

ROLLESTON - 2 Lucca Crescent

HIGH QUALITY STARTER

• Built by Generation Homes

• Three bedroom 135m² home

• Complete with modern appliances

• Excellent private outdoor living areas

• Generous 576m² fully fenced and irrigated

northfacing section

• Avoid all the hassles of the building process

and cost over runs

• Well built and extremely well priced home

• Immediate possession available

Price: $495,000

View: www.marealestate.co.nz/MA0684

Andrew Taylor

0274 355 930

andrew@marealestate.co.nz

ROLLESTON - 20 Coles Lane

DYNAMIC IN EVERY WAY

• Energy efficient 268m 2 home

• Four bedrooms

• Tw o living areas

• High standard of fittings and fixtures throughout

• Walk in pantry

• Heat pump powered underfloor water heating

• Solar powered with capacity to feed back to the grid

• 56m 2 of wooden decking

• Three car carpeted garage plus utility room

• 2686m landscaped, irrigated and fenced section

• Sought after Coles Fields subdivision

Vendor considers all offers

View: www.marealestate.co.nz/MA0709

Andrew Taylor

0274 355 930

andrew@marealestate.co.nz

LEESTON - 42 Chervier Street

DESIGNED WITH FAMILY IN MIND

• Modern four bedroom home

• Stylish kitchen with butlers pantry

• Separate study and large attached garage

• Tw o bathrooms including ensuite off master

• Access to patio with sun shade

• 716m 2 fully fenced landscaped section

Price: $519,000

View: www.marealestate.co.nz/MA0694

Stephan Knowler

027 229 9522

stephan@marealestate.co.nz

SOUTHBRIDGE - 12 Lee Street

ONE LOOK AND YOU WILL BE SOLD

• Extensively renovated home

• Three bedrooms with built in robes

• Separate living with gas fire

• Modern kitchen with new appliances

• Attached double garage

• Landscaped 1012m 2 section with studio

Price: $419,000

View: www.marealestate.co.nz/MA0699

Stephan Knowler

027 229 9522

stephan@marealestate.co.nz

WEST MELTON - 478 Hoskyns Road

ROOM FOR THE EXTENDED FAMILY

OR INDEPENDENT FAMILY MEMBER

• 4 Hectares (2 road frontages)

• Main home - Four double bedroom family home

(270m²)

• Second home - Modern Two bedroom

• Established shelter belts and mature garden setting

• Close proximity to the thriving Rolleston Township

and all its amenities

Open Home: Sun 1.00pm – 2.00pm

Price: Neg Over $1,100,000

View: www.marealestate.co.nz/MA702

Chris Flanagan

027 433 4657

chris@marealestate.co.nz

OPEN HOME

ROLLESTON PH: 03 347 9949 LEESTON PH: 03 324 3704 DARFIELD PH: 03 318 8204 www.marealestate.co.nz

Chris Flanagan

027 433 4657

Andrew Taylor

027 435 5930

Jackie Derrick

027 636 3576

Jo Barrett

021 859 006

Stephan Knowler

027 229 9522

Cameron McRae

027 769 6696

Paul Robinson

021 277 2690

Bronwyn van der Pol

022 073 7757