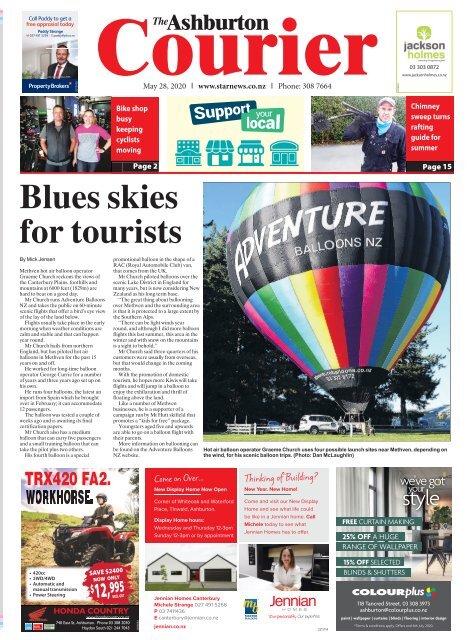 Ashburton Courier: May 28, 2020
Create successful ePaper yourself
Turn your PDF publications into a flip-book with our unique Google optimized e-Paper software.
Call Paddy to get a

free apprasial today

Paddy Strange

M 027 4915259 | E paddy@pb.co.nz

03 3030872

Property Brokers LtdLicensed REAA 2008

www.jacksonholmes.co.nz

2275100

May 28, 2020 l www.starnews.co.nz l Phone:308 7664

2274743

Bikeshop

busy

keeping

cyclists

moving

Chimney

sweep turns

rafting

guide for

summer

Page 2

Page 15

Blues skies

for tourists

By Mick Jensen

Methven hot air balloon operator

Graeme Church reckons the views of

the Canterbury Plains, foothills and

mountains at 6000 feet (1829m) are

hard to beat on agood day.

Mr Church runsAdventure Balloons

NZ and takesthe public on 60­minute

scenic flights that offer abird's eye view

of the lay of the land below.

Flights usually take place in the early

morning when weather conditions are

calm and stable and that can happen

year round.

Mr Church hails fromnorthern

England, but has piloted hotair

balloons in Methvenfor the past 15

years on andoff.

He worked for long­time balloon

operator George Currie for anumber

ofyears and three years ago set up on

his own.

He runs four balloons, the latest an

import from Spain whichhebrought

over in February;itcan accommodate

12 passengers.

The balloon wastested acouple of

weeks ago and is awaiting its final

certification papers.

Mr Church also has amedium

balloon that can carry five passengers

and asmalltraining balloon thatcan

take the pilot plus two others.

His fourth balloon is aspecial

TRX420 FA2.

WORKHORSE.

promotional ballooninthe shapeofa

RAC (Royal AutomobileClub) van,

that comes from the UK.

Mr Church piloted balloons over the

scenic LakeDistrict in England for

many years, but is now considering New

Zealand as his long term base.

''Thegreat thing about ballooning

over Methven and the surrounding area

is that it is protected to alarge extent by

the Southern Alps.

''There can be light windsyear

round, and althoughIdid more balloon

flights this last summer, this area in the

winter and withsnowonthe mountains

is asight to behold.''

Mr Church saidthree­quarters of his

customers wereusually from overseas,

but that would change in the coming

months.

Withthe promotion of domestic

tourism, he hopes moreKiwis will take

flights and will jump in aballoon to

enjoy theexhilaration and thrill of

floating above the land.

Like anumber of Methven

businesses, he is asupporter of a

campaign run by Mt Hutt skifieldthat

promotes a''kids for free'' package.

Youngsters aged five and upwards

are able to go on aballoon flight with

their parents.

Moreinformationonballooning can

be found on the Adventure Balloons

NZ website.

Hot air balloon operator Graeme Church uses four possible launch sites near Methven, depending on

the wind, for his scenic balloon trips. (Photo: Dan McLaughlin)

FREE CURTAIN MAKING

25% OFF AHUGE

RANGE OF WALLPAPER

•420cc

•2WD/4WD

•Automatic and

manual transmission

•Power Steering

SAVE $2400

$12,995

NOW ONLY

EXCL GST

HONDA COUNTRY

www.hondacountry.co.nz

740 East St, Ashburton. Phone 03 308 2030

Haydon South 021 244 7043

2280052

2272755

15% OFF SELECTED

BLINDS&SHUTTERS

118 Tancred Street, 03 308 3973

ashburton@colourplus.co.nz

paint |wallpaper |curtains |blinds |flooring |interior design

*Terms &conditions apply.Offers end 6th July 2020.

*
---
Page 2, Ashburton's The Courier, Thursday May 28, 2020

BUSINESS OWNERS

Build customers,

sales and profits

with us ...

Local news at www.starnews.co.nz

Cyclingenjoys new wave

By Mick Jensen

Over 16,065

copies delivered to

EVERYhome,farm,

RD and lifestyle

blocks in

MidCanterbury

news

Linda Clarke

Editor

308 7664

linda.clarke@ashburtoncourier.co.nz

Reporters

Mick Jensen

mick.jensen@ashburtoncourier.co.nz

Toni Williams

toni.williams@alliedpress.co.nz

advertising

Jann Thompson

Sales Manager

308 7664

027 587 6351

jann.thompson@ashburtoncourier.co.nz

Karen Gane

Sales Account Manager

308 7664

021 510 804

karen.gane@ashburtoncourier.co.nz

getintouch

Editorial

linda.clarke@ashburtoncourier.co.nz

Advertising

info@ashburtoncourier.co.nz

Production

murray.thompson@ashburtoncourier.co.nz

Accounts

accounts@alliedpress.co.nz

Distribution/Deliveries

jann.thompson@ashburtoncourier.co.nz

Office

office@ashburtoncourier.co.nz

03 308 7664

199 Burnett Street,Ashburton

www.ashburtoncourier.co.nz

2275021

It's been awhirlwind few

months for Ashburton bike

shop owners Paul and Monique

Brake, who are currently riding

awave of cycling resurgence.

The couple, who run Stoked

Cycles on Burnett Street, began

operating in mid­February, but

five weeks later were forced to

shut up shop because of the

Covid­19 lockdown.

The business reopened for

contactless click and collect

bike maintenance under level 3

and since level 2has been flat

out with bike servicing and

sales.

Extra staff have been

employed to meet servicing

demand and some long days

have been put in by the Brakes.

Paul Brake said alot of

people had rediscovered alove

of biking during lockdown, or

had enjoyed the time off to get

on their bikes.

Families and people of all

ages had jumped into the

saddle to get exercise and to

keep their sanity.

''We're flat out right now,

but Idoexpect things to calm

Stoked Cycles owners Paul and Monique Brake.

down abit soon.

''From abusiness point of

view, it's been great for us, but

it's gone from having no work

to having more than we can

handle at times.''

He said up to 40 bikes had

been lined up for servicing and

repair work in recent days.

He and his team were

catching up with the backlog.

Monique Brake said new

bike sales had also been brisk.

Electric bikes and children's

bikes had been big sellers

lately.

Mrs Brake said her husband

had been packing in regular

13­hour days and working

weekends to meet demand.

The couple's three children

had been cared for by willing

grandparents on anumber of

occasions over the past few

diesel, dust, men &machine

by Kevin Freeman

212 East Street,Ashburton. Phone 308 8309

weeks. ''We're grateful for the

support of family and friends

and we're also grateful to the

customers who have been

understanding at this very busy

time.''

The Brakes are looking

forward to getting out on their

bikes as afamily when things

calm down abit, but for now,

they're happy with the decision

to buy their own business.

Ashburton show goes on, for now

Ashburton A&P secretary

Lucille Brown

By Toni Williams

Organisers of the Ashburton

A&P Show will plough ahead,

planning for an annual show but

keeping the budget in mind.

There is plenty of support for

the two­day event to go ahead as

usual on October 30 and 31, but

that will centre on government

restrictions around Covid­19.

Members confirmed their

backing at the association's

annual general meeting this

week and duly elected Peter

Stewart to the president's role,

with Victor Schikker as senior

vice­president.

Ray Colville continues as

show patron.

Association secretary Lucille

Brown said those present were

keen for organisers to proceed

but keep costs low so if it was

cancelled there would be little,

or no financial loss.

Aworst case scenario will see

the show cancelled, but sections

could be held as stand­alone

events.

"Every section of the A&P

association has their own

committee and their own

meetings," she said, and that

could make events easier to

manage.

"They were all very keen."

The annual show attracts

several thousand visitors.

It's avery enthusiastic

committee with new members

coming through, she said.

"It was lovely to see."

There were also presentations

to association stalwarts Lynette

Lovett, Marion Brown and

David Butterick.

Mrs Lovett was awarded an

honorary life membership,

following numerous roles on the

committee including as

president and with the home

industries pavilion.

Mrs Brown has retired after

many decades involvement with

the home industries pavilion.

And Mr Butterick was

presented with an engraved

silver salver for his role as

immediate past president.

Kevin Freeman's Diesel,Dust,Men &Machine is awell

researched and well written ode to the men and the

machines "thatbuilt the earth dams,canals,lakes

and structures forwhich we areindebted as we go

about our daily lives." Thebook covers the vehicles

and contractors who made the Hydrodams and

canals of the South Island in the 60s,70s and 80s.

Filled with pictures and information, Freeman captures

an importantpartofour NZ'shistory.

NOWBACKINSTOCK!

Only

$

59 .99

2280337
---
Local news at www.starnews.co.nz Ashburton's The Courier, Thursday May 28, 2020, Page 3

WI member Dianne Carter, with Ashburton Hospital maternity unit manager Julie Dockrill and WI members

Yvonne Lister and president Mavis Wilkins holding some of the donated woollen goods.

Winter woollies

knittedwithlove

By Toni Williams

Scores of baby blankets, singlets, hats

and booties have been lovingly

knitted by the ladies of the Women's

Institute for infants in the Ashburton

Hospital maternity unit.

Wool garments for infants are

regularly knitted by the Mid

Canterbury Federation of WI

members, but this was the largest

blanket drop with around 35

donated.

It was helped by members who

picked up their knitting needles

during lockdown.

Ashburton Hospital maternity unit

manager Julie Dockrill, who received

the donation this week, welcomed

the wool items.

She said the babies and their

families keep each of the donated

items they are given, which if

purchased could be quite costly.

The knitted goods helped bring

the community together and gave the

newborns valuable wool garments

from ladies with life experience.

There are around 140 births at the

unit ayear; this can swell up to 300

babies and mothers annually if they

return to the unit from birthing in

Christchurch.

She said natural products were

always better to use than polar fleece

to keep babies warm.

The brightly coloured blankets

were also ideal for cots, pepe pods

and car seats and as it was breathable

helped support safe sleeping.

The WI members are keen to hear

from people who may have excess

wool able to be used for more knitted

goods.

HEAT PUMP SALE

INTEREST FREE

TERMS AVAILABLE

Smoking ban

protects kids

By Toni Williams

World Smokefree Day

2020 is about becoming

smokefree, says Stop

Smoking practitioner Gina

Straker.

Ms Straker works for

Waitaha Primary Health

and Te Ha Waitaha and

helps people in Ashburton

in their journey to

becoming smokefree.

Ms Straker said

becoming smokefree was a

big step, but "one of the

best decisions you will ever

make".

Stopping smoking can

be hard and there is no

magic cure, however there

is plenty of support to help

you, she said.

The annual day is

celebrated globally on May

31 and comes as

government officials, just

this week, passed abill to

make smoking in cars with

children an offence.

Police will be able to

issue people breaching the

law with on­the­spot fines

of $50.

It is expected to benefit

thousands of children who

will have healthier lungs as

aresult.

Associate Minister of

Health Jenny Salesa said

the law makes it an offence

to smoke in amotor

vehicle carrying anyone

under 18.

''We're doing this

because children are

especially vulnerable to

the harmful effects of

second­hand smoke due to

their smaller lungs, higher

respiratory rate and more

immature immune

systems.

"We know that secondhand

smoke can

accumulate in vehicles,

even with the windows

down.

''That presents an

unacceptable risk to kids

who never asked to be

exposed to second­smoke,

and deserve afighting

chance at alife of healthy,

clean lungs,'' she said.

New Zealand will join

Australia, Finland, the

UK, most Canadian

provinces and some US

states, in banning smoking

in cars with kids. This

progressive new legislation

continues work towards

New Zealand's

aspirational goal of

Smokefree 2025.

World Smokefree Day

encourages people to take

control and become

smokefree, or support

others to take the steps to

become smokefree.

Support in the district

can include working with a

stop smoking practitioner

who can double the chance

of success by offering

access to additional help,

such as free­Nicotine

replacement (patches,

gum and Lozenges) and

free­GP consultations for

Varenicline (Champix).

HEAT PUMP FROM ONLY $1297

* WEEKLYPAYMENTS

Prompt Installation!

BY YOUR TRUSTED LOCALPROFESSIONALS

Smith &Church will come to your home,measureandadvise

youonthebest sizeheat pump.

We'll also provide an obligation-freequote.

Talk to your local heatpump expertsJacky or Dean.

"Wejustmakeiteasy for you"

FROM $8.79

FREE QUOTES

EXPERIENCE

AND ADVICE

FREE IN-HOME

CONSULTATION

IMMEDIATE

INSTALLATION

Phone today 308 9019

PROMPT INSTALLATION

ION

*EXCLUDES INSTALLATION.

T&C'S APPLY.12MONTHS

INTEREST FREE AVAILABLE.

IMMEDIATE DELIVERY

DISHWASHER

was$899

$

595

$4.20

weekly

NOWONLY

• 13placesettings,good family size

• 6cleaning programmes,clean a

varietyofdishes

• Delaystartoption, set to startwhen

it suits you

• 850 H, 598 W,

598 D

FRONT LOAD

WASHER

was$1099

$

798

$5.51

weekly

NOWONLY

• 7.5kg,good washing size

• 1200 max. spin speed,less drying

time

• 16washprogrammes,wash alarge

varietyofitems

• 845H, 595 W, 598

D600

DRYER

SENSOR

was$999

$

647

$4.56

weekly

NOWONLY

• 7kg,large drying capacity

• Sensor drying,saves time and wear

• Rear venting,blowmoist air outside

if needed

• 846 H, 595 W, 598,

D530

RANGE

was$1299

$

897

$6.18

weekly

NOWONLY

• 3cooking functions,easy to use

• Powerpointonrightsize, plug in

your kettle/toaster etc.

• Storage drawer,spacetoput extra

things

• 1145 H, 600 W,

598 D610

2279715
---
Page 4, Ashburton's The Courier, Thursday May 28, 2020

Local news at www.starnews.co.nz

Aviation buffs soar again

Letter to the editor Zealand to carry on!

In winter frost and

Cheers farmers. summer heat, our

Potatoes give us chips. farmers work all day and

Carrots give us super night, so New Zealanders

vision. Goats give us can eat!

cheese. Pigs give us Cheers farmers, thanks

By Linda Clarke

breakfast. Strawberries for all your effort during

give us jam. Farmers give lockdown. We really

us food!

appreciate all the work

Even though the you do!

coronavirus caused

From Archie Nijjar

havoc, you stayed strong and Fletcher Haugh,

and still gave us the

Year 7students at St

goods we needed for New Joseph's School

• Additions and Renovations • All types of maintenance

• Commercial and Farm buildings • New Housing

2281001

The Ashburton Aviation

Museum is looking forward to

welcoming visitors and members

back now gathering numbers

have been lifted to 100.

The museum houses its

collection in two hangars at the

Ashburton Airport and pride of

place is aHarrier jump jet used

in the Falkland's war.

The museum has been shut

since early March because of

Covid­19 and its members have

not met for fear of catching and

spreading the virus.

But from tomorrow, they will

be able to resume their

workshop gatherings on

Wednesdays and Saturdays, and

the museum will be able to open

again daily from 1­3pm.

President Warren Janett said

up to 25 members at atime

attended the workshops, which

were about maintaining and

improving their collection of

aviation items and socialising.

Members had missed their

regular catch­ups, he said.

The museum also uses

another hangar for restoration.

It currently houses an English

plane built in 1945 and which

turned up on Kiwi shores three

years later.

The Chrislea Super Ace is a

recreational plane, built to

compete against the likes of the

Piper Cubs.

Ashburton Aviation Museum president Warren Janett is keen to see visitors again.

Mr Janett said the museum

collection included 28 planes

and attracted up to 10 people a

day. When bad weather closed

Mt Hutt to skiers, many of them

make their way down the plains

to check out planes and aviation

equipment of bygone eras.

Some pay for the chance to fly

in the museum's flight simulator,

which provides arealistic flight

experience for would­be pilots.

The software includes realistic

flight scenery and the pilot and

co­pilot see the world from

above just as apilot would.

The operator can adjust the

flying experience to show snow

in the winter. The simulator uses

the controls of an ATR aircraft

used in provincial New Zealand.

Mr Janett said it had been very

popular.

The aviation museum is

planning an open day to

celebrate the end of Covid­19

restrictions.

Cheers as MSA members return

By Mick Jensen

ForSama

Reviewed byRowena Hart

Apersonal story isthis movie filmed by aDoctor

and his family living and working in Aleppo during

the 2016 warinSyria.

During the lockdown Iswapped books with friends

and was lucky toread, Syria's Secret Library -a

Town Under Seige by Mike Thomson. Our local

friends travelled in Syriain2015the year beforethe

war and saw the beautiful cities in their full glory

not knowing that almost everywhere would be

destroyed not long afterthey left.

We hear about these countries on the news but

until you read more from the people living there

youreally don't realise whatitislike.

In this case the citywas Aleppo and it wasbombed

and shelled relentlessly until the last few people

lefttherewereevacuatedtosafer places.

The doctors wife was a photographer and she

filmed the situation including very graphic footage

of the people caught inthe chaos. Itisatruly

miraculous job she did.

They even managed to have twobabies during that

time ...amazing.

Afilm worthwatching.

bookings ph 307 1230

www.regentcinema.co.nz

2280015

Regulars are back enjoying a

beer and ayarn with mates at

the Ashburton Club and MSA.

Bars like the MSA reopened

last week after an eight­week

shutdown due to Covid­19.

There was abuzz in the air

and asteady stream of members

heading through the door for

post­work drinks late last Friday

afternoon when the Ashburton

Courier paid avisit.

MSA president Murray

Campbell greeted most by first

name as they signed in and

found atable to sit at.

Unlike previous times, the

bar has to provide table service

for now and numbers are

limited to amaximum of 100.

Enjoying afavourite ale on a

table of four were drinking

mates Guildford Lane, Trevor

Robertson, Malcolm

McCormick and Tony Inwood.

Collectively they share

around 150 years of MSA

membership.

Catching up for ayarn and abeer at the MSA on Friday were (from left) Guildford Lane, Trevor

Robertson, Malcolm McCormick and Tony Inwood.

Guildford Lane said he had

missed his regular trips to the

MSA and the camaraderie he

enjoyed there.

The beer and atmosphere at

the venue were both good and

he had been amember for

around 45 years.

''It took me eight years to get

balloted in, but Iwouldn't drink

anywhere else.''

The MSA has taken on two

extra staff members to manage

the current table service

requirement.

Avideo running on one of the

screens shows in virtual reality

how the venue will look after the

current big refurbishment

project has been completed.

Mr Campbell said the project

has been delayed but work is

well under way again. He said

the new­look MSA would

feature three ground floor

restaurants and combined

seating for 200 people.

There was also aretractable

roofplanned and billiardsand

conference rooms would be

relocatedupstairs.

Mr Campbell said it was

great to see the venue back

operating and goodtosee the

smiles and hearthe banter of

members.

Ecan rate rise disgraceful, says councillor

Environment Canterbury

(ECan) hashalved its proposed

rate rise of 9.8 per cent but Mid

Canterbury councillor Ian

Mackenzie said the regional

authority should have tried

harder to lower rates even more.

Cr Mackenzie was one of five

mainly rural councillors to vote

against anew proposed rate rise

of 4per cent.

He believes this will be

difficult for ratepayers as they

struggle with the economic

fallout of Covid­19.

He said ECan staffhad

worked hard on a2.3 per cent

rise option that would have seen

no existingprogrammes cut and

some cash reservesused.

But after along and tense

debate,city councillors

(supported by one South

Canterbury councillor and one

from Rangiora) pushed for more

spending on climate change

engagement, anew coastal plan

and atree plantingprogramme

and public transport.

Cr Mackenzie said the 4per

cent rise, that will be officially

voted on next month as part of

the annualplan process, would

see small decreases for urban

people in Mid Canterbury and

small increases for rural folk in

the district.

But it would mean double

digit increases for ratepayers at

Rangiora, Leeston and Darfield.

He said it was adisgraceful

decision, given the economic

uncertainty caused by the

pandemic and the stressmany

people are under now.

''We argued that it didn't

make sense at atimeofcrisis and

significant hardship for ECanto

raise any more money than

absolutely necessary."

Cr Mackenzie said council

should have shown more

empathy with their ratepayers.

''There are people who have

lost their business or their job.

They have come out of lockdown

stunned and the last thing they

need is to get the message that

the regional council doesn't care.

''I would have thought the

prudent decision was to keep

rates as low as possible and

review our options in six months

time.''
---
New World owner/operator Jeremy Rooney and initial donations for the

Unlock 'n' Restock foodbank drive.

Food stocks pile

in for community

By Toni Williams

Donations of food items for the district's

foodbanks are steadily streaming in as

word of the Unlock 'n' Restock spreads.

Businesses, individuals and schools

have got behind the foodbank booster

organised by Property Brokers

Ashburton.

New World owner/operator Jeremy

Rooney said donations for the Unlock

'n' Restock were slow to start but

gradually picking up.

Some items had already been

collected by the realtors, including New

World's own donation of items.

Mr Rooney said staff at the

supermarket had been worked through

some nerve­racking conditions in the

past few months.

The supermarket employs 182 staff, in

full­time and part­time positions, so no

additional staff were employed over the

lockdown.

They had worked some long days, he

said.

"They have been amazing. I'm super

proud of them."

And there is light at the end of the

tunnel as alert levels drop and

restrictions eased around gathering

numbers.

The supermarket's stock levels were

also back at to anormal level.

Mr Rooney said the supermarket's

hours would remain 8am to 8pm until

June 8, and then revert to 9pm closing.

He said the entry process at the door,

with astaff member on duty, will remain

for now as areminder for two metre

physical distancing in store.

It would be reviewed as government

gathering restrictions eased even more.

He appreciated times were tough for

some people in the community and was

keen to support the foodbank drive.

"As we're locally owned it's awesome

to be able to give back to the community

we live in," he said.

Asentiment echoed by the Dorie

School community.

Senior pupils at the school were also

thinking of their community when they

dropped off asizeable food donation at

the realtors earlier this week in support

of the food drive.

The student council organised a

school mufti day which called for nonperishable

food items as the payment.

Covid­19 has impacted on many in the

community and foodbanks, traditionally

busy in winter, are happy for the help.

Food donations can be dropped off at

Property Brokers Ashburton, Tinwald

Supervalue, Netherby Four Square and

New World Ashburton until June 5.

NZ needs strong farmers

Nationwide attention post­Covid­19

lockdown is now turningtoeconomic

recovery, or at least slowing the freefall,

says Mid Canterbury arable farmer

David Clark.

''We need to understand what we can

do well as anation, what we can do

better and what we can do to extract

more value in order to earn the foreign

exchange that is so desperately needed

for the economic prosperity of this

country.''

Mr Clark, whowas unchallenged for

the role as provincial president during

voting at Federated Farmers Mid

Canterbury's annual general meeting,

said the closing of the borders to tourists

for an extended period is the equivalent

to foot and mouth disease.

''The ensuring (and justified in my

view) lockdown during level 4has dealt

acrushing blow to countless retail,

hospitality and service sector businesses.

''We have heard of 1000 redundancies

at Fletchers and afurther 1300 at Air

New Zealand, this will only increase as

the wage subsidies come to an end and

business owners confront reality that

their market may not returnfor some

time,'' he said, in his president's report.

''More than ever, New Zealand needs

astrong, vibrantand economically,

environmentally and socially sustainable

Primary Production Sector.''

He said borrowing ''seemingly

limitless billions of dollars from offshore

to recyclewithin our economy on some

grand­scale socialwelfare experiment is

not apathway to long term sustainable

economy''.

It would be betterachieved by

producinggoods and services to sell to

the rest of the world.

''As the agricultural sector we were

fortunate to be able to operate our farms

pretty much as usual with only some

inconvenience.''

He said more draconian restrictions

could have severely limited the ability to

harvest crops, establish new crops and

undertake many time criticalfarm tasks.

He was thankful for how well farmers

were supported by our associated

industries and service firms over the

period.

More rural news, page 23.

Get

$

13 90

kg

$

1 50

ea

$

1 80

ea

HeartlandChips

150g

(ExcludesCrafted)

Free Delivery

Foralimited time

when youspend $75

or more online *

FreshNZPorkLoinChops

(ExcludesFreeRange)

NZHassAvocados

Use coupon code:

TOMYDOOR

Shoponline at SuperValue.co.nz or downloadthe SuperValue app

*Offer valid foralimited time only -$75 mustresemble astandardorder,and not consist of only

tobacco and/oralcohol,visit your online store via SuperValue.co.nz for furtherTerms&Conditions.

Owned &operated

$

10 90

kg

$

2 30

ea

Coca-Cola,Fanta,

Lift,L&Por

Sprite 1.5L

$

34 00

pk

DB ExportGold

or Tui

24x330mlBottles

FreshNZSkin-OnChicken

BreastFillet

SuperValue Tinwald, SuperValue Methven

by locals Forinspiration visit SuperValue.co.nz |

PricesapplyfromMonday25thMaytoSunday31stMay2020,orwhile stockslast.

OuropeninghoursmayhavechangedduetoCOVID-19. CheckSuperValue.co.nzforuptodateinfo.

SVAC2805

Please drink

responsibly
---
Page 6, Ashburton's The Courier, Thursday May 28, 2020

Local news at www.starnews.co.nz

Extra duties for Falloon

Laundry Dreams

Your dream laundryis

easiertoachievethan

you think!

Our highlyexperienced

teamishappytowork

withyou on your

renovation or new build.

The Renovation Experts

HonAmy Adams

MP forSelwyn

Workinghardfor ourcommunities

Check my websiteifyou would

liketosign up formynewsletter

andfor details of when Iwill be

in your area: amyadams.co.nz

Contactme

03 3440418

selwynoffice@parliament.govt.nz

Talk to

us now!

Free Quote

BOOK NOW

606 East St, Ashburton P: 307 7131

www.kitchenexpress.co.nz

9am-5pm Mon-Fri 9.30am-12.30pm Sat

>>

2280063

Rangitata MP Andrew Falloon

will be the spokesperson for

biosecurity in arevamped

National Party line­up

announced this week by new

leader Todd Muller.

Mr Falloon is also the

associate spokesperson for

agriculture and associate

spokesperson for transport.

He said all three areas were

important parts of the post­covid

economic recovery.

Mr Muller announced Selwyn

MP Amy Adams had put her

retirement from politics on hold

to be the Covid­19 recovery

spokesperson. Nikki Kaye is the

deputy leader.

Mr Muller has been aregular

visitor to Mid Canterbury to talk

through agriculture issues with

the district's farming community.

Mr Falloon, afirst­term

Member of Parliament, said he

was pleased the new leader had

been confident to hand him the

biosecurity portfolio.

''As we've seen in recent

months, New Zealand's place in

the world affords us anumber of

natural advantages. To maintain

that advantage requires eternal

vigilance to keep out invasive

pests and threats to our

economic and environmental

wellbeing.

''In recent years I've worked

Rangitata MP Andrew Falloon and new National leader Todd

Muller.

with local farmers hard hit by

Mycoplasma bovis, an issue that

sits within the biosecurity

portfolio.''

Mr Falloon said he would

continue to lobby government

for the best outcomes for

farmers and communities across

the country.

He said he would also work

with National's transport

spokesperson Chris Bishop to

ensure the South Island got afair

share of infrastructure funding,

instead of afocus on Auckland.

''Infrastructure projects are an

important way that government

can stimulate the economy in the

short term, while also removing

handbrakes to our economic

growth in the longer term.

''Chris and Iare yet to work

out my specific delegation, but

naturally Ihave abig interest in

provincial roading and coastal

shipping. The aviation sector is

another big one with huge

challenges ahead of them. Air

New Zealand is avital part of

keeping Kiwis connected with

the world, but that can't come at

the neglect of serving smaller

centres.''

Mr Falloon said the new

leader had an excellent business

pedigree and work ethic.

He had known him since

before he was an MP, when he

worked at Fonterra.

''In times of crisis he is cool,

calm and collected, exactly what

we need as we move to alonger

term recovery and look to mend

ashattered economy.''

Mr Muller says New

Zealanders need the experience

and management skills of his

party to come through the worst

economic crisis since the end of

the World War 2.

He will be spokesperson for

small business and national

security, while Ms Kaye will have

the education and sport and

recreation portfolios.

Hamilton East MP David

Bennett is the party's agriculture

spokesperson, aportfolio

previous held by the new leader.

Mrs Adams has Covid­19

recovery, while Judith Collins

has economic development and

regional development. Paul

Goldsmith has finance, Gerry

Brownlee has foreign affairs,

Michael Woodhouse health,

Louise Upston social

development, Scott Simpson

environment, Todd McClay

trade and tourism, and Chris

Bishop infrastructure and

transport.

Former deputy Paula Bennett

is the spokesperson for drug

reform and women. Former

leader Simon Bridges says he will

contest the Tauranga electorate

at the election.

AuthorisedbyAmy Adams

MP,829 Main SouthRoad,

Templeton, Christchurch.

Ashburton

June 11, 12, 15 &16

July 9, 10, 13 &14

Radiator Repairs

We areexpertatrepairing all types of

automotiveradiators – FAST

2280994

Work plan for dirty creek

No­one is pointing fingers, but

both town and rural people could

be blamed for the poor water

quality in Carters Creek.

The Tinwald creek discharges

into Lake Hood and has high

ecoli, nutrient and sediment

levels. Its water quality has been

aproblem for 20 years.

Areport to the Ashburton

Water Zone Committee this

week said poor water quality

could be the result of

contamination by household

septic tanks, the Ashburton

District Council's sewage

oxidation ponds and livestock not

fenced from the waterway.

The creek has now been

proposed as arehabilitation

project that could involve both

town and country and help grow

people's knowledge of water

issues.

Environment Canterbury's

Lachie Ashton walked the stream

in January and has been keeping

an eye on water quality tests from

six sites collected since August

2018. The highest ecoli counts

ARTHUR

CATES

LIMITED

26 McNALLYSTREET,

RIVERSIDE INDUSTRIAL

PARK,ASHBURTON

TEL 308 5397

www.arthurcates.co.nz

2280061

were at Grove

Farm Road and

Boundary Road;

the creek starts

west of Tinwald

and runs sort of

parallel with the

Ashburton River

until it veers off

and discharges

into Lake Hood.

The creek is

spring fed but also

takes stormwater.

Water quality

readings have

been better since the water has

discharged into the new lake

extension, but lake management

is keen for contamination to be

cleared up the issue at its source.

It could cause algae blooms in

the lake.

Expensive faecal source

tracking at Grove Farm Road

showed contamination was most

likely from sheep, cows and birds.

At Boundary Road, human

faecal sources were detected.

Ashburton District Council

Lachie Ashton

staff are helping in

the investigation of

contamination

sources to see if

wastewater oxidation

ponds off Wilkins

Road and sewage

pipelines are

contributing.

Mr Ashton said the

stream walk found

stock not fenced from

the creek, as legally

required. Some

lifestyle block owners

need education.

The potential project has

already captured the attention of

the Hinds Districts Lions Club,

who are able to co­ordinate and

help improve the waterway with

fencing and riparian planting to

prevent creek banks eroding.

Zone committee member

Chris Allen suggested afive­year

timeline allowing contamination

sources to be identified and dealt

with, and community groups to

be involved with fencing and

planting the creek.

Staff hit the books

ThreeAshburton DistrictCouncil

building accreditation staffare

goingback to schooltomeet new

regulations that theymust now have

adegreeordiplomatodothe job

they have been successfully doing.

The newruleshave been brought

in since councilwas last audited as a

BuildingConsent Authority in 2018

­when all threestaff members were

compliant.

Theymustnow study 25 hours a

week for three years, at acost of

$12,000 each, to achieve the

required paperwork.

Building services manager

MichaelWong said it was

disappointingthe staff were no

longer considered compliant,

despite their relevant trades

experience or qualifications.

They now needed adegree or

diploma in construction, surveying

or architecture, he toldcouncillors

whenpresenting the result of the

2020 audit.

Failuretoaddress non­compliant

issuesraised in the audit could result

in council losingits accreditation.

Mr Wong said the three staff were

now enrolled in asuitable course,

whichthe audit bodysaw as meeting

compliance.

He said the new rules wereabout

making the industry more

professional, but accreditation staff

needed morethan theoretical

knowledge.

Lichen sprayed

Fulton Hoganhas just started

spraying footpaths around the

district for lichen. ''We do not

spraylichen during summer

whenthe pores are closed and

lichengoes into hibernation,''

said service delivery group

manager Neil McCann. He

said Fulton Hogan would carry

out afull lichenspray

programme in Ashburton,

Tinwald, Hinds, Mayfield,

Rakaiaand Methven. Grey

Power has beencorresponding

with council about footpathsit

thinks are dangerous and

slipperywhen wetbecause of

the lichen. The groupsays

lichenand loose stonechips

are an ongoing issuefor its

elderly members and they

have been complainingfor

several years about the stateof

footpaths in town.

No ACT yet

The ACTparty has

announced the namesof

candidatesstanding in 49 of

the 65 generalelectorates, but

thereis no candidate for

Rangitata yet. Aspokesperson

at ACThead office said there

was no announcementofa

Rangitata candidate, but there

couldbeinthe near future.

Tom Corbett stood for ACTin

Rangitata in 2011, 2014 and

2017,polling280, 429and 262

votesateach respective

election. Rangitata National

MP Andrew Falloon polled

19,994 votesin2017, with

Labour's Jo Luxton second

with 13,663.

Fatal crash

One persondied following a

serious crash on Maronan

Roadon Tuesday evening.

The two­vehicle crash between

Kennels and Lillsroads, was

reported at 6.10pm;diversions

wereinplace.
---
Local news at www.starnews.co.nz Ashburton's The Courier, Thursday May 28, 2020, Page 7

LONG

WEEKEND

PROJECTS

SORTED

Raptor Naturals

were $9.99each

now

$

5

No MSG. All vegan ingredients.

Herb SpiceRub Range

Delicious range of freshly ground and batch-blended in NZ. Great foreverydaycooking

and the BBQ.Nonuts,sesame,dairy, eg or soy. No preservatives,artificial flavours or colours.

348280-348289

each

30 %

off

Kitchen &Bathroom

TILES

was$89.98 each

now

50

now

10

$ $

Taurus Garden

Compost Bin

400 LitreBlack

Ready to assemble.

Manufactured in NZ

from recycled

polypropylene.

Topopening foreasy

accessibility

each

235403 307385

was$12.98 each

Tui

Sheep Pellets

8kgBag

Conditions soil and

encourages earthworm

activity.

Provides aslowrelease of

nitrogen.

100% weed free.

98

each

was$139 each

now

$

119 each

Jobmate

26ccPetrol

Line Trimmer

Lightweight, easy to use,

twostroke trimmer

with air cooling engine.

420mm cutting width.

2.0mm line diameter.

290156

was$5.49 each

now

$

4each

MiniatureFlowering

Cyclamen

10cm pot.

Variety of colours.

216024

Productavailable at all Mitre10MEGAstores. At Mitre10stores

productmay be either in stock or available by order.

Mitre10MEGA ASHBURTON

West Street, Ashburton

PHONE 03 308 5119

Offervalid Thursday28th Maytill Sunday31st May2020.

HURRYONLYWHILE STOCKS LAST!

Terms &conditions apply.

OPENING HOURS

Monday-Friday7am till 6pm

Saturday8am -6pm

Sunday&Public Holidays 8am -5pm
---
Page 8, Ashburton's The Courier, Thursday May 28, 2020

Local news at www.starnews.co.nz

Atop walk with unbeatable views

By Mick Jensen

Canterburyhas plentyofhiking tracks

and scenic walks,but some of the best

scenery around can be found on the

Peak Hillroute near Lake Coleridge.

The Department of Conservation

(DOC) maintained track offers

sweeping views of the lakeand the

majesty of the high country.

DOC classes the track as expert,

simplybecause the walk is exposedand

suddenchangesofweatherare not

uncommon.

But on acalm,clear, balmy day the

walk is agem and theeffort of the climb

versusthe reward of the views make it

areal winner.

Peak Hillisaccessed off Algidus

Road, which can be picked up 5km

beforeLake Coleridge Village, or by

going through the village and up the

gravelroad andturning left to follow

signs.

From asignedparkingarea off

Algidus Roadthere is amarked

easement over private land and thena

clearly markedroute to the summit.

It's prettymuch straight into agrunty

climb,but the views grow witheach

strideand after 30­45 minutes walkers

are rewarded with theimpressive sight

of the easternend of LakeColeridge.

From the fenceline the track

continues to climband follows anarrow

ridge forawhile.

The reward of theascent comes with

expansiveviews across the western arm

of Lake Coleridge and out towards the

headwaters of the Rakaia and

Wilberforce rivers.

The braidedriver system, steep

mountains and splendour of the high

country are laid bare before you.

The top of the climb is marked with

Mid Canterbury hiking friends Murray Thompson, Mandy Hurst and Jude O'Connor climb the steep first section of the Peak Hill track.

astacked stone cairn and the flattish

plateau has plentyofroom to escape

fellow walkersand to take in the peace

and solitude.

I've done the walkonanumber of

occasions andInever tire of the natural

scenery.

Sometimes there havebeen just a

couple of otherwalkersonthe track

and afew morethan that on other

occasions.

But,onthe first weekend of level2

restrictions, my Sunday hike to the top

withthreehiking buddies was also

shared with an estimated80plus

others.

It was agloriousweather day with

verylittle windand clearblueskies and

everyone wantedataste of freedom

andtheirfreshair fix.

PeakHillisaknown gem and awalk

enjoyedbyyoung and old.

While somewere puffing hard, and

others sweating off aboozy party the

night before, agroupoffit, enthusiastic

teenagerswere running down after a

similarrapidscramble to the top.

The track takesmost people

between two andthree hours to the

top.The descent takesalittleless time,

but can be hard on the knees.

Pick agood day, take acamera and

the rightgear and tick off one of New

Zealand's best shortwalks from your

bucketlist.

We'd love to hear aboutyour favourite

walkorride in our patch.Please getin

touch withLinda.

Clarke@ashburtoncourier.co.nz
---
Topping up the food

of our native birds

It's that timeofyear

again: almostwinter

and native birds' food

suppliesmay need abit

of atop­up.

Many townand

country gardens have

plants thatattract

native birds,which is

the bestway to support

them.Putting outfood

suitable for their

particulardietary

requirementscan also

help.Nectar feeders,

suchassilver eyes,

bellbirds andtuis,love

fruitand sugar water;

silver eyes alsolike fat.

Insect feeders such

as fantailsand grey

warblersare harder to

please –the bestway to

ensuretheyhave

plenty of insects to eat

in winteristoavoid

using insectidesinthe

garden,leavingleaf

litter that mayharbour

insectsand having

flowering plants that

attract insectsall year

round.

Don'thave abird

feeder fullofseeds if

you'rehoping to

attract nativebirds.

Seedsand grain attract

sparrows; breadisalso

unsuitable fornectar

and insecteaters as it is

madefrom grain. Milk

can'tbedigestedby

birdsand honey is best

avoidedasit can

Nature Matters, with Mary Ralston

Fruit and sugar water can help native birds

survive through the winter (Photo: George

Hobson)

attractbeesand spread

bee diseases. Cooked

oatsorporridge

shouldn'tbefed to

birds as it can harden

around thebeak and

cause aproblem.

So, fornectar

feeders,stick to fruit or

sugar water andfor

silvereyes,fat in awire

or string holder

suspended froma

branch or porch.Fruit,

suchashalfanappleor

orange, can be nailed

to aboardplaced on a

picnictable. For

insect­eaters, keep

your gardeninsectfriendlywith

plenty of

year­roundfoliage,

fruit andflowers that

will be home to insects.

Sugar water can be

made by dissolving half

acup of sugar in four

cups of warmwater

(this is asugartowater

ratio of 1:8). Anything

highermay attract bees

andwasps or start to

ferment.And of course,

havingacat­free

garden is important.

Otherpredators such

as rats and stoats also

pose athreat.

Ski packages offered to

boost Methven tourism

By Linda Clarke

Long weekend ski packages aimed at

people in Wellington and other New

Zealand cities are being promoted far

and wide to attract domestic tourists to

Methven.

Experience Mid Canterbury (EMC)

has been among the first tourism

promoters out of the gates post­covid

and is already pushing videos of scenic

Methven and Mid Canterbury on You

Tube and social media.

Afour­month campaign is under

way to encourage Kiwis to shop, eat,

stay and play in Mid Canterbury.

EMC manager Bruce Moffat said

one video post on Facebook had

reached 8500 people, with 2500 people

clicking the link to watch the video to

the end.

He said the domestic tourism market

would be slow to grow as people were

cautious about venturing too far from

home. ''People are still unsure if it is

safe to travel around New Zealand. It

will take time.''

Even the coming Queen's Birthday

weekend was not expected to generate

crowds.

Mt Hutt skifield is due to open on

June 12 and more people were

expected to be travelling around

Canterbury by then.

''As Air New Zealand lifts its

capacity, we will start seeing people

from Wellington in particular coming

down to spend afew days skiing. It is

not all glum and we are looking on the

positive side.''

Mr Moffat said EMC would

continue to be pro­active and

Bruce Moffat.

pragmatic about promoting the district

and encouraging visitors to spend their

money here.

MBIE estimates showed visitor

spend in the district from April 2019 to

the end of March was $188 million,

down $3m in the last month because of

Covid­19. About one­third of that was

from international visitors.

EMC is also part of awider regional

campaign encouraging people to travel

to Christchurch and Canterbury.

EMC's marketing strategy is aligned

to the country's alert levels with two

scenarios at alert level 0, 12­15 months

away. The first is limited international

markets with EMC focusing on

domestic and trans­Tasman markets

and the second is business as usual,

with avaccine in place.

BUYAPAMS LaRGE Hot

Cooked CHICKEN

+ COCA COLA

1.5L for only

Meadow FreshYoghurt

6Pack(excludes Thick&

Creamy and Divine Desserts)

NEW

PRODUCT

Pams FreshCarrotss C o s 1.5kgk

or Parsnips 500gPrepack

Product of NewZealand

$

3 99 ea

Cadbury Chocolate

Block 150-190g

$

2 99 ea

$ 2 99 pk

Pams Finest Cookies

300g

Monteith's'

Ale

6Pack 330ml Bottles

Fresh NZ Quality Mark

Prime BeefMince 500g

LUCKYLOCALS COMING SOON

www.foursquare.co.nz

$

14 49

AVAILABLE AT

SELECTED

STORES

$

3 69

ea

$

13 99 ea

$ 7 99 ea

SEEINSTORE

FORDETAILS

ISTJUNE

facebook.com/FourSquareNZ

Specials availableSouthIslandonly from Monday18th May until Sunday 31stMay

2019 or whilestockslast. Wine and beer available at stores withanoff licence.

Wine and beerpurchases restrictedtopersonsaged18years old and over.
---
Page 10, Ashburton's The Courier, Thursday May 28, 2020

Local news at www.starnews.co.nz

ENGAGEMENT

Family Notices

DEATHS

Pass the popcorn please!

MOORE- THOMAS: Lyndon

and Jo, Murray and Shirley

along with their extended

families are absolutely

delighted toannounce the

engagement of Sarah and

Toby.

HEWSON, Valerie Marguerite

(nee Ranson), Sadly and

unexpectedly passed away

at Ashburton Hospital on

May 24, 2020, aged 85

years. Dearly loved wife

of the late Alan Hewson,

loved mother and mother

in law ofSharon and Gary,

Gene and Melanie, Wayne,

and the late Phillip. Nana

to Craig, Mitchell and his

wife Ana, Courtenay, and

Ethan, and a very much

beloved sister. Messages

to the Hewson family c/-

P O Box 472, Ashburton

7740. Aspecial thanks to

Coldstream Lifecare who

cared for Val over the past

months.

DEATHS

Supporting the

community

96 Tancred Street,

Ashburton.

Phone 307 8317

Your support has

been greatly appreciated. A

private family service for Val

will be held.

Paterson's

Ashburton

FDANZ

03 3077433

MacPHERSON: Ian Robert

(Bob): After a short

illness Bob passed away

at Ashburton Hospital

on Tuesday 19th May

2020. Loving and loved

husband of Rosalie for

57 years dearly loved

father and father in law of

Margaret Macpherson and

Chris Robertson, Pauline

and Paul Watkin, Andrew

and partner Christine and

Chris and Kate. Adored

Grandfather of Georgia,

Andrew and Ella; Caleb

and Caro, Jacob and

Hannah and Rebekah;

Beth and Shawn Beamish

and Matthew; Rob and

Gus and their Mum,

Emma. Messages to the

Macpherson family c/-

P.O. Box 472, Ashburton.

Bob has been privately

cremated and laid to rest at

AshburtonCemetery.

Paterson's

Ashburton

FDANZ

03 3077433

LREA2008

MCRE

WELSH, John: Passed away

peacefully on Sunday 24th

May 2020 at Ashburton

Hospital, aged 78 years.

Dearly loved husband

of Noelene, loved and

respected brother in law of

Gavin and Shona Prebble

and Kevin and Lorraine

Hartnett. Beloved uncle of

all his nephews and nieces

and their families. Messages

to the Welsh family c/- P

O Box 472, Ashburton

7740. Special thanks to the

doctors and nurses of Ward

1 Ashburton Hospital for

their extraordinary care of

John. At Johns request a

private service has been

held.

Paterson's

Ashburton

FDANZ

03 307 7433

ACKNOWLEDGEMENT

HARNETT, Anthony

Francis (Tony): Marie and

family sincerely thank

everyone for their kindness

and support following the

passing of Tony, a much

loved husband, father

and grandad. We are very

grateful for the phone calls,

visits, cards, and flowers

that were received. Thank

you also to those who

attended Tony's Requiem

Mass. A special thanks to

Father Denis Nolan for

his love and care for our

family. Special thanks to

the staff of Tuarangi Home,

Ashburton for their care of

Tony and for the way you

also included all our family.

Please accept this as a

personal acknowledgement

from our family.

Aperfect venue for

Functions,

Funerals

and

Weddings.

Trott's Garden

371RacecourseRoad, Ashburton

www.trotts.co.nz |Email: info@trotts.co.nz

Family owned,

locally owned

22 MooreStreet,

Ashburton

0800 2636679

2258775

2262527

By Toni Williams

Kevin Stewart and Lynn Arthur

returned to work from

lockdown to astore full of

murder, mayhem and romance.

There was also some actionpacked

fighting, comedy and a

few musical numbers.

It's no real surprise, they

work at United Video ­

Ashburton's last remaining

video rental store.

Kevin, who has owned the

store for 21 years, says

reopening was agreat chance

to reconnect with their

members, many of who missed

coming in­store having achat

and selecting amovie.

The duo was keen to see a

return of members who may

have taken to online streaming

sites or television's on demand

platforms over lockdown.

"We are slowly building up a

return (of people) to dvd hire,"

Kevin says.

The store reopened at Alert

Level 3after athorough clean

including shelves, cases and

dvds. It was like an autumn

spring­clean, Kevin says.

The post­lockdown clean

proved agood time to sort

through surplus dvds and

games and there is now an

extensive range available for

sale.

United Video's Lynn Arthur and Kevin Stewart are surrounded by murder, action-packed

adventure and romantic comedy.

Lynn says dvds and cases are

also cleaned down as they

return from hire.

She has worked in the store

for 19 years and says prior to

lockdown some members took

up the store's offer to hire bulk

movies and games to keep them

entertained.

It's now time to return them,

she says with asmile.

Over lockdown Lynn

watched the romantic comedy

movie Last Christmas and

caught up on the ending of

Game of Thrones.

She also took up baking

(along with the rest of the

country), sorted the garden and

cleaned out her house, which

was aprelude to the cleaning of

the store.

In stark contrast, Kevin took

home afew new release movies

but did not watch any. In an

effort to stop going stir crazy

inside, he took up walking the

streets for up to an hour and a

half each day.

He also works ANZCO

security, which as an essential

service kept him busy too.

Farmers supply mince

to local foodbanks

By Toni Williams

Meat the Need founders

Siobhan O'Malley and

Wayne Langford have

helped supply four

months' worth of meat to

37 foodbanks across the

South Island, including

Ashburton, in just six

weeks.

It's all thanks to the

generosity of Meat the Need

donors and an idea which was

put into action.

Siobhan, who has previously

farmed in Mid Canterbury with

husband Chris, said Wayne

came up with the concept and

the two of them ironed out the

details before calling on the

rural community to lend ahand.

''He dropped off some meat

to his local foodbank and found

out how long it would last," she

said.

"He worked out that if you

could scale the supply across the

country, this was aquantity that

might actually be able to be

supplied by farmers. So

together we came up with aplan

to make it happen."

The duo pitched the idea of a

charitable nationwide supply

chain and Silver Fern Farms got

in behind.

Siobhan said their

involvement was an enormous

boost, ''as we could accept

cattle, deer and sheep for

donation from anywhere in NZ

from launch, which was huge".

They have used arural

network of hidden talents,

including adairy farmer from

Northland who did the

branding and afarmer's

daughter who made the launch

video, with support from

industry bodies like Beef

+LambNZ and DairyNZ, to

spread the word.

"The response has been

immediate, wholehearted

support in most cases," she said.

"We had farmers donating

through our website within the

first 24 hours of launch, which

we were very grateful for.

"In the first month,

approximately 125 animals were

donated, and we are just getting

started."

She said 100 per cent of

farmer donations went to

foodbanks as mince, with

sponsorship and public

donations sought to cover lean

running costs.

Mince was the preferred

choice of foodbanks as it was

versatile for families, easier to

store and cook, and could feed

multiple people from one pack,

she said.

The duo met while on an

industry board for dairy that

gives feedback to Primary ITO.

Living just an hour away from

each other, at Tasman and

Golden Bay respectively,

allowed them to meet and share

ideas on projects.

"We both shared an interest

in NZ farming on social media

(he runs YOLOFarmer and I

run Pukeko Pastures) so we had

some good chats."

Siobhan would like to see

Meat the Need grow, not only

with ongoing donations from

farmers supplying highly

nutritious export quality protein

to foodbanks for in need

families across New Zealand,

but also to include other

primary sector products using a

similar framework to red meat.

"For instance, I'd love to talk

to Synlait about their farmers

donating milk and them

supplying baby formula, or

Westland Milk Products or

Fonterra supplying UHT milk,"

she said.

Donating meat, or money, to

Meat the Need can be done via

the website www.meattheneed.

org or through your Silver Fern

Farms representative.

Kevin says Covid­19 had

disrupted film production

globally, which would have a

flow­on effect with new

releases to the video market.

In March when the country

went to into lockdown new

releases included movies such

as 1917, Jumanji, Star Wars,

The Grudge and Dr Dolittle

which are still in now, two

months later.

But it's agood time to catch

up on some movie viewing with

amix of new releases and real

classics in store.

Dementia

support

Adementia support group in

Ashburton will have its first

meeting next month.

The support group is being

organised by Princes Court

manager Lorraine Bryan and is

aimed at helping families

dealing withdementia and

telling them about care options

that are available.

The first meeting will be at

the Grace Presbyterian Church

Hall, opposite Princes Court, on

Princes Street on Thursday

June 11. It will run from 1.30pm

until 3pm.

Lorraine said the group

would run on the second

Thursday of each month.

Princes Courthas 35

dementia beds,but the number

of people with dementia is

increasing.

She said fear of the unknown

stopped many families affected

by dementiafrom seeking help.

People often waited too long.

Some avoided asking for help

because they feared they would

lose their homesand their

savings payingfor dementia

care.

She said lockdown had been

tough for caregivers in the

community, who were unable to

access respite care. Many had

questions that could be

answered at the support group

meeting.

Those planning to attend

should contact Princes Courton

308 0302, for catering purposes.
---
Local news at www.starnews.co.nz Ashburton's The Courier, Thursday May 28, 2020, Page 11

Hot pools work to start

Full­scale groundworks on the

Methven hot pools will begin

soon and the project is expected

to be ready by next winter.

The $15 million Opuke Thermal

Pools and Spa project will be

built on land near the Methven

Trotting Club and will offer three

very separate experiences; affordable

family bathing, adult exclusive

bathing, and high quality spa

therapies.

The project, which has a$7.5m

loan from the Government's Provincial

Growth Fund (PGF), will

be the first of its kind in New

Zealand to be heated by solar

power and produce no emissions.

Project steering team member

James McKenzie said a lot of

work had taken place in recent

weeks to lock down pricing and to

make the detailed design features

fit into the budget.

The budget was tight, but the

project retained the vision of the

Opuke hot pools and he was

excited to be involved with it.

Exploratory ground works had

begun in January and the main

contractors were expected on site

next month, when foundation

work would begin.

''The building consent has now

Labour List MP Jo Luxton, Regional Development Minister

Shane Jones and James McKenzie in front of the Blue Pub when

the Provincial Growth Fund loan was announced in February

last year.

SAVE

come through from Ashburton

council, so it's full steam ahead.''

Construction was expected to

take around one year, but by

summer the shell of the complex

would be obvious, he said.

Solar panels and heat pumps

would be ordered later and landscaping

would begin.

Mr McKenzie said project

investors had spoken with PGF

staff recently and araft of conditions

relating to the funding had

been ticked off.

The first tranche of PGF funds,

around $1m, had been spent on

the detailed design work, but the

bulk would go on the build.

An economic benefit study

estimates that the project will

create 120 jobs both directly and

indirectly, and will add an estimated

$162m to the local economy

over 10 years.

Support for migrants

Hakatere Multi Cultural Council has beenproviding

support for struggling migrants duringlockdown.

Around 25 migrants have been given supermarket

vouchersfor local shops,aswell as someheating

supplies.

Most of the migrants are on temporary work visas,

whichhave strict conditions attached.

Hakatere Multi Cultural Council co­ordinator Adi

Avnitsaid somemigrantshad faced times of hardship

over the last two months.

Thosewho had lost theirjobs were struggling to pay

their rent, bills and food.

Eightofthe 25 helpedhad cometothe district to

work in Methven, but winter jobshad been delayed.

He said migrants on temporary work visas were not

entitled to claim support from Winz, and theirvisas

were job specific.

If theylost their jobs, they needed to apply for a

new visa to be able to secureadifferent job.

Immigration NZ had beenclosed for aperiod

during lockdown and for some migrants that had

meantdelays in getting new visas,said Mr Avnit.

The migrants receivinghelp hailedfrom adozen

countries, includingthe UK, Czech Republic, Fiji,

Ireland, India, Jordan,the Philippines, Nigeria and

France.

Mr Avnit said those receiving help had been very

appreciative.

Funding for the migrant support has come from the

Covid­19 Community Awareness and Preparedness

GrantFund, which has distributed $4.8 million

nationally.

Dog fees rise

Dog registration feesare

about to be notified by the

Ashburton District

Council and poochownerswill

find they have

risen by 2.2 per cent,in

linewith othercouncil fees

and charges.

Dogcontrol fees

charged under the Dog

Control Act must legally

be notified amonthbefore

theyare due to be

collected.

Thecost of registering a

arural dog risesfrom $54

to $55 while an unneutered

urban dogwill go

from$83 to $85; de­sexed

dogsrise from $54 to $55.

Menacing and

dangerous dogscost more

to register and there is a

late feeof$42 for urban

dogs and$28 for rural

dogs.

Impounded dogs will

incuracost of $84 for the

firstoffence and $208for

the second, plusadaily

sustenance fee.

The cost of acallout to

attending wanderingstock

will jump from$54 to

$120,bringing the callout

fee in line with other

councils.

Dog registration fees

will begin to be collected

on July 1.

Adi Avnit with boxes of donated hygiene

products from Waitaha Primary Health that he will

pass on to migrants being supported.

Mr Avnit said he still had some funds left, and if

there was still aneed when those funds had gone,he

would look at seekingmore support.

Migrants in need of supportshouldcall/text 027 220

8791 or emailtoadi.avnit@safermidcanterbury.org.

nz.

35%

to

up

to

on selected carpet, tiles

and laminate flooring

New date for Pink Caravan

Anew date has been set for Mid

Cantabrians to visit the Breast Cancer

Foundation NZ's Pink Caravan and

learn about breast cancer and breast

health.

The caravan will be parked in the

Countdown car park, on the corner of

East and Peter Streets, on Friday, June

5, between 10am and 2.30pm.

The caravan, named Pinkie, was due

to arrive prior to lockdown as part of a

South Island wide tour.

Pink Caravan manager Emilie

Petitdemange said the three­month tour

had to come to ahalt during the Covid­

LEARN TO PLAY GOLF

BEGINNERS

GROUP

(up to 10 people)

Starts 5th June

10:30am to

12:00pm

No equipment

needed.

Cost $20

per person

per week.

Mid/South CanterburyContinuous Spouting

TM

TM

TM

TM

Contact

Matt Davis NZPEA

Golf Professional

AshburtonGolf Club

Askabout our large capacityspouting for

commercial and farmbuildings

Residential –fascia, gutter and downpipes

Snowprotection our specialty

19 lockdown but now at Alert Level 2

the team was excited to be back on the

road visiting communities.

"Breast cancer hasn't stopped for

Covid­19 and now, more than ever, it's

crucial to spread the message about

breast health. Our breast nurses are

trained professionals who can give

expert advice about symptoms,

treatments, support groups and postsurgery

options,'' she said.

Almost 400 people are diagnosed with

breast cancer each year in the

Canterbury District Health Board

region, and more than 70 die.

Burnett Street,Ashburton l Phone (03) 308 5269 l www.redmonds.co.nz

ONE ON ONE

PROFESSIONAL

COACHING

$50 - ½hour

$80 - 1hour

$135 - 3lesson

package

$215 - 5lesson

package

$399 - 10lesson

package

027 212 3931

03 308 9380

segagolf01@gmail.com

The Original

Spouting Specialists

Serving

Mid/South

Canterbury

for over

26 years

Your new spouting proudly installed by

Craig or Josh

John Tull ...providingoutstandingservice,

afterinstallation care and pricing requirements!

Phone him on 021 288 8290

Email: john@canterburycontinuous.co.nz

www.continuous.co.nz Freephone 0800 50 1993

2281208

2263153

2280319
---
Page 12, Ashburton's The Courier, Thursday May 28, 2020

Local news at www.starnews.co.nz

Ashburton College

Individual Excellence in aSupportive Learning Environment

News

Issue 15

28 May 2020

Message From ThePrincipal

Appreciation

As we emerge from the COVID-19 Level 3and

4 restrictions there are some really important

people Iwish to acknowledgeand thank.

Firstly, toour parents and caregivers. Well done

on your collective wisdom. All ofusworry about

our children's and grandchilden's safety, and our

parentbody,enmasse,hasdemonstratedsupport,

careand awillingness to support our nation-wide

requirements. This included adherencetothe Level3guidelines of not

sending their childrentoschool, unlessitwas unavoidable.

Nowthatweare at Level2the vast majority of our parents have chosen

to send their children back to school and on the first day that all our

students could attend,weweredelighted with ahigh overall attendance

rate.

DistanceLearning

My thanks also go to our parents for doing the best job they could

in supporting their child's distance learning. All of us have had the

experience of trying to help students with work when wedonot know

the answer. I really appreciated the level of support onoffer toour

students.

StudentBody

Secondly, to our student body. Thank you for doing the best job you

could in trying circumstances. Many of you have been busy getting to

grips with continuous online learning and have missed the ability to ask

questions and get instant feedback. All of us are committed to ensuring

thatwesupportyou on your academic pathwayinto the future.

Iwould also like to acknowledge our Student Executive who did a

brilliant job of providing an online presence tosupport our student

body. Our student leaders, inparticular, need tobeacknowledged

because they epitomised the notion that intough times the tough get

going. If youhave nothad achance to view their 'Welcome Back Under

Level2'video thencheck it out on our Facebook page, or on the College

website (Latest News).

College Staff

Thirdly,toour Collegestaff. They have doneanamazing job of keeping

the work flowing, organising our school under the various alert levels,

preparing for our return under Level 2,supporting our students and

theirfamilies,aswell as their own. In manycases our staff were having

to juggle their parental or 'bubble'challenges whilst, atthe same time,

carrying out their responsibilities forAshburton College.

Going Forward

Going forward, our priority is, firstly, our Year 13 students, particularly

thosewho areaimingfor UniversityEntranceand/or NCEA Level3.Our

focus is on supporting these students asthey have the least amount

of time available to achieve their long-term goals. However, focused

supportwill be available to all students.

Iamsure all of us will remember the last eight weeks in many different

ways, but also now looking to the future, and with anawareness of

the implications of Level 4shutdown for many regarding employment

goingforward.

Many thanks.

Ross Preece

Principal •Tumuaki

Staff Welcome

Sophie Noreen

Teacher of English

Internal Appointments

Susie Stewart

Teacher of Science

Porsha Coley –Porsha will be knowntofamilies and students as aLearning

SupportAssistant. In order to take up teacher training Porsha resigned from

this position. However, she has,this year,been appointedtoteacher release

hours in the StudentLearning SupportUnit under her Limited Authorityto

Teach status.

HarmonyHodges –HarmonyisemployedasaLearning SupportAssistant

and, inMarch, transferred tocontinue this work in the Student Learning

SupportUnit,asopposed to working in mainstream classrooms.

AshColl Values

Achieve Quality ShowPride HaveRespect

The most important thing we do is growyoung people.

Information

Post-COVID Information and Dates

As the term restarts and adjustments are made to timeframes due

to the COVID-19 Lockdown period we will be able to advise various

arrangements and dates.

This is the information we have to date,

but theremay be morechanges which we will pass on

as we receiveupdatedinformation from various Governmentagencies.

Some currentchanges are:

Year 13 Students –are required to remain on campus for interval,

lunch times and study periods. They are able to study inthe Library

(staff supervised). This process will be reviewed later in the term and,

depending on our nationalstatus and advice, could change.

Progress Reports-TermTwo Dates:

These will beemailed to families by Friday 05June, Friday 19June and

Friday 03July; and families can also access them through the parent

portal log-on.

No Teacher Only Day–

The Teacher Only Day scheduled for Friday 29May is not now taking

place.

NCEAExamDates –

NZQA has advised that the end-of-year examination dates have been

pushed back bytwelve days, to allow for some additional preparation

time.

Therefore, NCEAExamsnow startonMonday16November

and finish on Wednesday09December.

Theexam timetable will be available to students via College.

Thank You: First Mufti Dayfor 2020 –For

Mosque Attack First Responders,raised $970

On Monday 16March College held its first mufti day ofthe year, toraise

awareness of and funding for the first responders (St John Ambulance,

Canterbury) of the 15 March2019 Mosque attack.

The theme was'Colour Your Day', with students wearing bright clothing to

recognise the anniversaryofone of New Zealand'sdarkestdays.

It wasdecided tohave donations go to St John Ambulance as it is run and

staffed by people who arepassionate about serving their communities and

caring for fellow New Zealanders, and Christchurch members were in the

challenging position of beingfirst responders.

Abig thank you goes toall who contributed,

resultinginjust over$970 being raised for donation.

Your supportwas appreciated.

Phoenix Magazine 2019

An update forthose who have ordered and

paid forthe PhoenixMagazine.

This time, the magazine covers Term Four of 2018

and all of 2019. From here forward it will cover the

full year and be delivered/available forcollection by

familiesinTermOne of the followingyear.

Naturally there have been some delays to this

production.

However–all who have paid will receivetheir copy

–this is scheduled forthe firsthalfofTermThree.

Familieswill be advised accordinglyrecollection or

delivery.

Furtherorders canstill be taken-$25 percopy

To order:Please contactthe CollegeOffice -308 4193,

or info@ashcoll.school.nz

Storage Units Available forStudentDevices

We remindstudents andparents/caregivers thatthere is device storage

available forstudents.

Is your electronic deviceweighingon your mind andyourbag?

Tiredofcarrying aroundyour devicebetween classes?

Worriedabout your devicegetting damaged during breaktimes?

Wanting somewheresecure to store your device?

TheCollege Libraryhas storage lockers available

to put devices in at anytime during the day.

TheLibraryhas padlocks which can be loaned to students,

or students canbring their own.

Access to storage lockers is available from before school

until 3:30pmevery day.

Formoreinformation:goto the Libraryand talk to the staff there.

Events

StudentExecutiveLeadersare Leaders Still

When in Lockdown

Informationprovided by Head Girl PoppyKilworth with Student Executiveinput

During the

isolation period

the College's

fifteen-member

Student

Executive

Committee was

still working

hard, which was

challenging due

to the factthat

they couldn't

come together

to organise

events.

TheExecutive

worked around

this by still

meeting every

Tuesdaymorning at 8:30am, but on aGoogle-meet virtual meeting.Here

they organised futureevents, discussed current events and talked about

whatcould be done to stayconnectedwith our school.

These discussions ledtothe Exec coming up with

dailycontent to post on the Instagram,including:

Motivational Monday, TLCTuesday, Workout Wednesday,

Tiktok Thursday and FundayFriday.

Instagramisasocial media platformrun by Head Girl PoppyKilworth and

Deputy Head Girl Maria Costas, and followed largely by the Ashburton

College Studentbody.

By posting daily on instagramthe Executivewas able to spread inspiration,

stay involved and have some fun with students during the quarantine.

Many students took part inthese daily posts/challenges which was super

rewarding forthe Exec.

At Dawn on AnzacDay

On Anzac Daymanyofthe students walked to the end of their driveway,at

6:00am, fortheir momentofsilenceinrespectofthe ANZACs.

International Days of Celebration

Alongside this, also posted were some international days of celebration

that were felt to be appropriate. Ian Teves, Head of the Environment

and Canteen Committee, createdsomestunning visual artworktoshow

appreciation forInternational Nurse Day, Earth Dayand OrangeJuiceDay.

FutureExciting Events

Excitingeventswereplanned ahead: including sendingout baking to local

businesses thathad to work during lockdown, and a24-hour Bike Challenge

to raise funds forthe Salvation Army who areoncall 24/7. This is planned to

take placelaterinthe term.

As hard as these unprecedented times were,the Exec stayed strong

anddid its best to stay focusedonimproving the school.

Nonetheless theysaid: 'weare happytosee the back of

COVID-19 andbeback at school!'
---
Local news at www.starnews.co.nz Ashburton's The Courier, Thursday May 28, 2020, Page 13

Ashburton College

Individual Excellence in aSupportive Learning Environment

News

Operating theatre can also be

used as infection control room

Congratulations

This is Language –NuttyTilez Winners in Oceania TopTen

In German classes,teacher TomKitchen and students use an online learning tool called 'This is

Language' forvocabulary, grammar and various other language learning aspects.

As with last year our College students of German took partinthe annual'This is Language'Nutty

Tilez competition, wherestudents playagainst other students in real time,recalling vocabulary

they have learned.

Foreach correctanswer,astudentgets apointinasquareintheir colour.Students win by either

knocking out the other players (filling the entiresquarewith their colour), or by having the most

amountofcolour in the squareatthe end of twominutes. Studentsonly have fivelives and lose

alifebyspelling awordwrongly.

Thecompetition ranoverthe weekend of 06-08 Marchwith aqualifying round on Friday, where

students had to reach acertain level aftertwentyfour hours to qualify forthe finalround which

ranoverSaturdayand Sunday.

Excellent Results

College students placed extremely well with eightfinishing within the TopTen in Oceania, and

gaining all of the topthree placings as well.

The College students were in the Australasian competition, competing against students from

New Zealand,Australia, Hong Kong and Singapore.

The eight College students and their Top Ten placings were – Tamaki Nishioka (1st),

Brendan Fleming (2nd), Riley Campbell (3rd), Mao Nishioka (5th), Angela Ciora (7th),

Olivia Lill (8th), Marlese Schoonderbeek (9th), Aidan Soal (10th).

Blogcomments from the topthreeplace-getters are:

1st placed TamakiNishioka(Year 12) said:

'I prepared forthe NuttyTilez competition in class.The competition wasverytime-consuming

and Ineeded focus to pass each level in time which was kind of stressful, but overall Ithink it

wasworth it'.

2nd placed Brendan Fleming (Year 13) said:

'The toughest thing was how long it took to get to the final level. Istarted when there were

about seven or eighthours leftsoIspentabout six of the following eighthours doing it,which

wasextremely draining'.

3rdplaced -Riley Campbell (Year 10) said:

'I just saw the competition and decided Iwanted totry to win it. So-Itried, but other people

knew moreGerman than me but Iended up getting thirdsoIam still happyabout that'.

Anew operating theatre at

Ashburton Hospital can be

turned into anegativepressure

infectioncontrol room to treat

any Covid­19patients in a

serious condition.

The theatre's recovery room

has also beenrepurposed in the

pandemictoinvestigate and

manage suspected Covid­19

patients, keepingthem separate

fromthe restofthe hospital.

The operating theatre and

recovery rooms were built in

2017when the Ashburton

community gave $8.7 million for

hospital improvements and

construction of the new 1040

square metre acuteassessment

unitand day procedure theatre.

Advance Ashburton Community

Foundation gave$1.5m, with

other funds from the Mackenzie

Charitable Trust, the Lion

Foundation, the Ashburton

Licensing Trust and the Trevor

Wilson CharitableTrust.

The unit and operating

theatrehave been well used

since then, and now are part of

the hospital'sresponse to Covid­

19.

Rural health specialist and

consultant physician at

Ashburton Hospital Steve

Withingtonsaid the operating

theatrehad provedextremely

useful in an unexpected way

during the hospital's pandemic

preparedness planning.

He said while potential for the

virustospread could be

prevented through the use of

personal protectiveequipment,

some treatments like the use of

ventilators could make the virus

aerosolise. Staff caring for these

patients needed ahigher level of

protection and contaminatedair

couldspreadtolarge areas

unless contained.

The hospital'smaintenance

team had reversed the normal

positivepressure in the

operatingtheatretocreate a

negative pressure environment,

whichkept Covid­19 bugs in.

He said thishad made the

theatre avery suitableplace for

control of infection and

The acute assessment unit, below, Dr Steve Withington,

consultant physician at Ashburton Hospital.

minimising risk of crossinfection,

as potentiallycontaminated

air was not

allowed to escapetoother parts

of the hospital. The air was

containedand exhaustedsafely.

''This then allows

management of sick Covid­19

patients, whenand if they

present, to be managed

effectively and safely without

increasing risk to staff and other

patients.''

The restofthe acute

assessment unit had beenable to

function normally and safely for

people with non­covidproblems.

Dr Withington said

repurposingthe new theatre and

unit,plus pre­screeningoutside

the facility meant patients were

safely navigated to the right care.

Most other rural hospitals do

not have negative pressure

roomsand those communities

were worried about how to

manage if amajor cluster arose

in theirarea.

''We are very grateful to the

Ashburtoncommunityfor the

donations that enable us to

provide the excellent standard of

clinical care locally.''

This had translated into good

energy as staff plannedfor the

pandemic,rather than

frustration at what was not

available.

''The response to Covid­19

boughttogether or hospital and

primary care community,

everyone from the cleaners and

administrationteams through to

the nursing and medical

workforces. Collectively they

had apowerfulresourcetowork

with and we are all truly grateful

for this facility, and the training

resources that the community

has supported us with so that we,

the health community,may

support you.''

(Pictured above,lefttoright): Thetop three place-getters Brendan Fleming,TamakiNishiokaand

Riley Campbell.

Coming Events

While many external events have been cancelled or postponed, there are anumber of

curriculum-relatedactivities still able to takeplace, plus some additional relevant dates.

Anyalterations will be advised as soon as knowntothe relevant groups.

June

01 Queen's BirthdayWeekend Public Holiday

03 Year13 Ara Instituteliaison visit (Zoom meeting)

04 PostponementDay,College Duathlon, AshburtonMountain Bike track

05 AgricultureAcademy, Group 1, Farmbike Day, AshburtonShowgrounds

08 AgricultureAcademy, Group 2, Farmbike Day, AshburtonShowgrounds

09 Agriculture1and 2Farmbike Day, AshburtonShowgrounds

17 Year 13 UniversityofOtago Liaison visit (Zoom meeting)

22 Agriculture2,Farmbike Day, AshburtonShowgrounds

30 Agriculture3,Farmbike Day, AshburtonShowgrounds

Term Dates2020 –Terms Two, Threeand startofTerm Four

Term Two

- Friday 03 July

Term Three - Monday20July -Friday25September

Term Four - Monday12October (final days to be confirmed)

AshColl Way

Valuing our volunteers

Rangitata MP Andrew Falloon

I'm toldthis is my secondtolast

columninthis newspaper before

the election,and so beforeIput

pentopaper for the final time

aheadofSeptember 19 Idohave a

big thank you to make.

When Iwas first elected nearly

threeyearsago Imade apoint of

visitingasmany of our local

community and voluntarygroups

as Icould.

Growing up in Ashburton I'd

dealtwith anumberofthem, but it

was only when Isat down to put a

list together that Icould see just

how much we rely on theminthe

district.

From health and welfare groups

to A&P showcommittees,local

sports clubs to seniors, newcomers

groups to budgetadvisory services.

All of which rely in some way on

the goodwillofvolunteers or the

generosity of our community.

Like alot of us many of our

community and voluntary groups

have been impacted by Covid­19.

Demand for services has

increased, at the same time that

some volunteershave

understandably become less

available,and fundraising has

becomemore challenging with the

cancellation of events.

That'saproblem. We're so wellservedbythese

wonderful groups

that Iwould struggle to imaginea

world without them. It's no

exaggeration to say that for some

in our community they are the

difference between life and death,

the difference between ahealthy

or painful life,the difference

between ahot meal or noneatall.

The good news is that as a

community we can adapt. We're

small enough that innovative ideas

by committedpeople can makea

real difference. Last week's

73­kilometre bike ride by Tony

Todd on his 73rdbirthdayisa

great example, raising around

$10,000 that Hospice Mid

Canterbury might otherwise

struggletofind.

Others likeour local Rotary

have been continuing to meet by

Zoom, using technologythat I'm

sure just afew years ago would

have presented difficulties.

For all of them the sameistrue.

While some may be larger than

others, better funded, or like so

manyrun on the smell of an oily

rag,attheir very heart they have

people. Any organisation is only as

goodasthose who serve it.

In timesofcrisis it is often our

community groupsand volunteers

at the frontline who bear the

brunt, yet conversely those who

alsosufferthe most.

My thanks is to you.For coming

early and staying late. For

volunteering that extra hour, for

going that extramile.
---
Page 14, Ashburton's The Courier, Thursday May 28, 2020

Todd'stally passes $10,000

At 26, Mathew Jack decided to 'return

to school'. "I'd been working for 11

years and felt the need for achange

to challenge myself both mentally and

physically," he says.

Mathew wanted to get into heavy

automotive engineering so enrolled

for an eight-month programme at

Ara Institute of Canterbury's Timaru

campus.

Mathew says it was a big change

'starting from the start' again but he

got greatsupport.

"It was always enjoyable, especially

at the most challenging of times

when you really had to rely on what

you'd learnt to complete atask. Ihad

no prior experience inthis field and

it was sometimes difficult, but very

Tony Todd raisedmore than $10,700 for

Hospice Mid Canterbury last week, by

biking 73km around Ashburton onhis

73rd birthday and donations are still

trickling in.

The mammoth ride included around

25 cycling friends, biking in groups, with

stalwarts Paul Wylie and Kenny Johnston

and cycling newcomer John Catherwood,

and Lions Club of Ashburton

members. Lions members raised $1150

for their own cycling efforts, sponsored

by their organisation at $2 per km each

of them rode.

Mr Todd said a spa and a stretch

following the ride, along with rehydration

followed the ride. He was grateful

for the support by the community.

Diesel mechanic loveshis newcareer

rewarding when Ifound the solutions."

Mathew's been in the trade for four

years now. He works at Smallbone

in Ashburton where he's an Isuzu

master technician (the top level) and

has been promoted to the role of

foreman/manager. His sights are now

set on testing his skills against Isuzu

mechanics from other countries, ata

competition in Japan.

Mathew says the excellent training he

received at Ara prepared him well for

his career."It set me up to excel inan

exciting and demanding career, and

I'mreally grateful forthat."

To find out about trades programmes

at Ara, including partial online

and distance delivery options, visit

ara.ac.nz.

2281319

Local news at www.starnews.co.nz

Noel Lowe Pakeke Lions Club president and Ashburton station manager and paramedic Heather

Keele with the new television. Photo Sharon Duthie, advanced paramedic.

SmartTVfor training

The Pakeke Lions Club has used

some of the profits of its recent

charity market garage sale to buy

a60inch smart television for St

John Ashburton for cadet

training activities.

Pakeke Lions Club president

Noel Lowe presented the

television recently and it will be

used to screen operations

training videos and podcasts.

''We were pleased to donate to

such aworthy local cause,'' Mr

Lowe said. ''The club wishes to

acknowledge Smith &Church

Electrical 100% for giving their

generous support in the purchase

too.''

St John station manager

Heather Keele said it will make

training alot easier being able to

go online to view training

methods with podcasts and the

internet.

Training is essential to keep

trainees and staff up to date on

new equipment and methods.

Podcasts already viewed already

showed how to load an automatic

stretcher into an ambulance.

Rose

Ara graduate

Now'sthe time to build an awesome career.

If you'dliketoearngood moneyand potentially be your ownboss,

Arahas the tradescourses to makeitareality. Options include

construction, furniture andjoinery, electrical, plumbing,painting

and decorating, automotiveand engineeringtrades. You'll learn

from inspirational mentors in real-life learning environments

and you'll graduate work-ready.

Courses start inTimaru this July*.

Apply nowatara.ac.nz

*Depending on AlertLevel, coursesmay be provided partially

online or by distancelearning.
---
Local news at www.starnews.co.nz Ashburton's The Courier, Thursday May 28, 2020, Page 15

Preparing for Winter

2281015

Rafting guide and seasonal chimney sweep Dan McKerrow.

Rafting guide Dan is also

your chimney sweep man

By Mick Jensen

Dan McKerrow splits his working year

into halves. He worksasaprofessional

rafting guide during the warmer months

and in autumn and winter he'sachimney

sweep.

Dan's rafted on some of the world's top

white water, includingonrivers in the

USA, Australia, Japan and Chile,but for

the past11years he's pliedhis trade on the

Rangitata.

He's been afreelance guide for the past

four yearsand loves the thrill and freedom

that rafting brings.

No longerfollowing the raftingseason

around the world, he combines his passion

with the solid and practical job of a

seasonal chimney sweep.

''Therafting usually keepsmebusy

from the end of October through to

March, and thenthe chimney sweeping

kicksinfor afew months after that.

''A rafting mate put me on to chimney

sweeping and I've been doingitaround

Mid Canterbury and Geraldine for the last

eightyears.''

Christchurch raised, Dan has beena

rafting guide for over 20 years and also

teaches rafting for the Greymouth

Polytechnic.

Outside of work he's akeen hunter,

snowboarder, free diverand spear

fisherman.

He lived in Japan for six years and

immersed himself in the culture of that

country.

Whileheexpects his chimney sweeping

business to come through the Covid­19

lockdown relativelyunscathed, he knows

the same won't be the casefor his rafting

business.

With threequarters of his clients

coming from overseas,heknows therewill

• Domestic electrical services

• New house wiring

• House rewiring &maintenance

be abig drop off in visitors for awhile

because of the pandemic, but he has

alternative plans.

He planstotake his rafting skillstothe

WestCoast and around the South Island

for awhileand will freelance with Eco

Rafting, abusiness that takes people out

intothe New Zealand wildernessfor

multiple day expeditions that offer ataste

of bush craft, camping, pestcontrol and

rafting adventure.

He will work alongside The Kiwi

Bushman, Josh James, awell­known

huntingand outdoor adventure

personality, who has built up astrong

following through his adventure videos.

He is hoping domestictourism will

flourish and thathecan capture asliceof

the market.

''It's acase of havingtoreinvent myself

withthe rafting for awhile and seeing

where it goes.''

SUPPLIERS AND INSTALLERS OF LEADING BRANDS

• TV &Datawiring

• Solar installation

• HeatPumps

Optimum 2020

winter collection

available in-store

and online now

Seeour Optimum winterrange of premium

merino tops, dressesand pants.

Pictured:Optimum Edge to Edge Cardigan.

Find us just 1Kmoff Hwy 1atRangitata on

Hwy 79.Open 7days9am to 5pm,

Ph 0508 504006 thetinshed.co.nz

www.auricelectrical.co.nz

Call todayfor an obligation free quote

0800287 423

2278488

15 Tin 2020 Snow
---
Page 16, Ashburton's The Courier, Thursday May 28, 2020

Local news at www.starnews.co.nz

Preparing for Winter

Extra funds for insulation, heating

An extra 9000 Kiwi homes will be

eligible for government'sinsulation

and heatingprogramme due to a

$56m funding boost, says Energy

and Resources MinisterMegan

Woods.

The Covid­19 Response and

Recovery Fund was set up to

ensurethe additional New Zealand

houseswill be Warmer Kiwi Homes

through the programme.

"Insulation and heating helps to

prevent respiratory illness,and the

WarmerKiwi Homes programme

protects the most vulnerable

peopleinour communities,''she

said.

"Over 20,000 insulationand

heating retrofits have alreadybeen

delivered since Warmer Kiwi

Homes was launched in July2018

and (the) announcement will

ensuremore low income people

will get achancetohave awarmer,

drier,healthier home."

"The existing programme

already covers two­thirds of the

cost of insulationand/orheating

retrofits, but we knowthat coming

up with the restofthe money to get

retrofits done, is still out of reach

for many low­incomepeople and

families.

"That's why we are increasing

the grant proportion available for

low­income households from 67

per cent to 90 per centofthe costs

of an insulationand/or heating

retrofit to deliveranestimated

9,000 additional retrofits.

"We're alsoproud of the

significant third­partyfunding that

has been leveraged through the

programmetodate. With the

Government now meeting90per

centofthe cost,weexpect that topups

fromthird­party community

organisations will makeretrofits

freeofcharge to many applicants.

The Warmer KiwiHomes

programmeispart of Labour's

Confidence and Supply Agreement

withthe GreenParty.

Greens' Housing spokesman

Marama Davidson said ensuring

low­income people are not shut out

of well insulated homes with good,

efficientheating sources is vital.

"By insulating homesand

providingefficient heating systems,

we're helping to ensure that no­one

is forced to live in acold, damp

home, whichweknow leads to poor

health outcomes.

"Investing in qualityinsulation

and efficient systems is awin for

Insulating homes and providingefficient heating systemshelps prevent poor health.

people, the planet, and the

economy. This investmenthas long

been advocated for by the Greens."

The Warmer Kiwi Homes will

also provide jobsand is goodfor

the New Zealand economy with 90

companies, employing more than

1300 contractors acrosstheir

businesses, to deliver Warmer Kiwi

Homes.

The funding will provide

confidence in the viability of this

important sectoraswerecover

from the impact of Covid­19.

More than 90 per cent of the

insulationproducts installed

throughWarmer Kiwi Homes are

manufactured in New Zealand.

ends 17/7/2020Lening criteria, $50 Annual Account Fee, $55. Establishment or $35 advance fee, T&C's apply.

*Promo

ˆOffer

ends30/6/2020, T&C's apply.See www.flooringxtra.co.nz fordetails.

2279721
---
Local news at www.starnews.co.nz Ashburton's The Courier, Thursday May 28, 2020, Page 17

Preparing for Winter

Getting through the winter season

There are manythings

householderscan do to help

themselves cope withthe cold of

the winterseason,which officially

starts on Monday.

If you planahead for the

unexpectedly cold, or themost

extremeweatherconditions,life

may be moreendurable when

things are at theirworst;this

includes makingsure you have

adequateinsurance to cover your

property.

Keeping informed on the

weather forecast may be a

nationalpast­time but it does

help, especially if you are

considering travel,ormakingsure

you have the right suppliesinthe

house.

Heading into the colder annual

season consider what you may

needathome to survive the harsh

reality of winter; woodburner/

electrical heating source, layering

clothingtostay warm,food and

water.

But thereare also extra things

to considersuch as ensuring the

gas barbecue bottleisfull before

winter forpeace of mind; it can be

usedfor cooking.

If snowispredicted,itmightbe

helpful to movethe equipment

into the garage or under a

verandah, whereyou can get

Layering is the best way to keep warm.

access to it should you need to use

the barbecue for cooking the

familymeals. But make surethere

is adequateventilationifusingit

for cookinginanenclosedspace.

Keepasnow shovel handy if

snowispredicted to low levels;it

may soundvery northern

hemisphere but this simplepiece

of equipmentmightbethe only

means by which you canget to

yourfirewoodsupplyorto clear

the driveway.

Keepingagood supply of

batteries to fit portable radios will

enable you to keep in touch

through localradiobroadcasts

and keepyou informed.

In the eventofasevere

snowstorm or an earthquake, civil

emergency messages willlet you

knowwhat is going on and what

action, if any, you needtotake.

But in apower outagethe

household should haveaready

supply of torches which should

alsohave fresh batteries.

Everyone should know where they

can be found,along with the

candles and matches.

In these events acellphones can

be alifeline but it needs power. So

amobile phone car­charger is

alwaysgood for peaceofmind.

And if you have apay as you go

deal, it would be agood idea to

top up the creditwith abit extra

overthe winterperiod.

Something many of us take for

granted is asupply of clean

drinking water. There are no

guaranteesofwater supplyinthe

event of adisaster so make sure

you have at least aweek's supply

based on three litres of water per

personper day.

This amount should be the

minimum keptinstorage,whether

in bottles with sealed lids or larger

storage tanks. By rationingitout

there should be enough for

drinking purposes even if showers

and baths have to be forfeitedfor

the duration.

Peoplewho relyonwell water

for the householdwill know that

when the powergoes off, so does

the watersupply.

That not only means nothing

comingout of the taps but no

flushing of the toilet either.

Keeping containers of water

storedfor loo flushing and hand

washing is part of the preparation

for the unexpected.

One thing to consider is a

generator which can be a

lifesaver, however, there are

guidelines that need to be

followed. Householdersshould

not expectageneratortorun the

household as per normal, however

a5kVA generator willgenerally

supplythe basicneeds of a

household by running different

appliances at differenttimes.

Curtains, blinds help keep the heat in

Having the right curtains and blinds

can keep your home warm and

comfortable.

It's afinding from Consumer NZ

who say installing well­fitted curtains

and blinds will go along way towards

keeping heat inside your home.

Awell­insulated home can lose

about 45 percent of heat through its

windows. That drops to 30 percent

for an uninsulated home (but that's

only because more heat disappears

through the roof and walls).

The right window covering will

stop nearly two­thirds of that heat

from going out the window.

Honeycomb blinds were the star

performer ­they retained more than

60 percent of the heat lost through a

bare window. Air is agood insulator,

as long as it's not moving, and the

honeycomb structure creates alarge,

still air gap between the cold

windowpane and the warm inside air.

If you prefer curtains you are

better to select heavy and long.

Consumer NZ testing showed

heavy lined curtains are better than

the coated thermal­backed types

and, for the best result, you should fit

them down to the floor instead of

stopping them at the sill.

It's was essential they were fitted

properly ­close to the window and

within the frame and will minimal

gaps at the top, bottom and at the

sides.

Honeycomb blinds topped our

test, but we found roman blinds and

roller blinds were effective as well, as

long as they were fitted correctly.

Even venetians worked ­but keep

those slats closed.

The findings say regardless of

personal preference or budget, any

curtains and blinds are better than

nothing.

If you've got any uncovered

windows, put up something.

Consumer NZ also investigated a

few cheap 'hacks' to improve your

curtains for winter such as hanging a

blanket behind curtains or rolling up

atowel and placing it on top of the

curtain rail.

To make the best use of your

curtains and blinds, Consumer NZ

advises people keep them open

during the day over winter to make

the most of the sun. Close them as

soon as the sun sets to trap as much

heat as possible. You should also fix

any draughts in the windows which

can be detected by using alit candle.
---
Page 18, Ashburton's The Courier, Thursday May 28, 2020

Local news at www.starnews.co.nz

Preparing for Winter

Be energy wise around your home

There are simple ways to avoid

wasting energy in the home,

according to EECA.

EECA spokesperson Dr Marcos

Pelenur says it's important to stay

warm as the weather coolsbut it's

also important not to spend more

money on energy billsthan is

needed.

It's about beingpreparedand

knowing where energy costs can be

saved throughout your home.

Dr Pelenur says reducing

unnecessaryuse of hot water will

save you money and free up more

cash for heatingover the winter.

"For exampleuse the cold water

wash cycle when you washclothes,

unless you haveanespecially dirty

load. Modern washing machines

and detergents clean well using cold

water. Ahot water wash can use 10

times more electricity than acold

wash."

Cutting down the long showers

will also savemoney, Dr Pelenur

says.

"Reducing yourshower time just

abit couldsave up to $900 ayear for

afamily of four.A15minute

shower costs about$1­a5minute

shower costs about33c."

If you own adishwasher, wait

untilit's full loaded to run it –and

put it on 'eco'wash settingif

available, Mr Pelenur says.

"And if you rinsedishes before

loading the dishwater, use cold

water," Dr Pelenursays.

Othertop saving tips include;

Checking to see if you are still on

the best power dealtosuit the needs

of the peopleinyour home.

Dry clothes outsideorina

clothes dryer that is vented to the

outside –avoid indoor airing racks

or clothes dryers that ventinto your

house. The moisture in the clothes

will end up in your home, makingit

damp.

Avoidunflued gas heaters which

release toxic fumes and make your

housedamp. Cheap portable

electricheaters are safer and cost

less to run.

If you have aheated towelrail,

only use it when needed. Aheated

towelrail left on 24/7 can costyou

$170 per year to run. You can buy

timers for towel rails thatcome on

automatically at certain times of the

day.

If you have asecond fridge you

aren't using, it couldcost you $200

It's important to stay warm but don't spend more money on energy than you need.

ayear to run if it's an old, inefficient

model.

If you are working from home,

you may not have the luxury of

choosing where to siteyour work

space, but if you can, use asmall

space that'seasy to heat on its own.

Moveyour desk to aposition that

gets good naturallight.

Make your home

warmer this winter.

90% off

insulation and

heaters.

Find out if you are eligible

for a Government grant.

AWarmer Kiwi Homes Government grant could save you 90% off the cost of ceiling and

underfloor insulation –and heaters –and give you awarm and comfortable home this winter.

To be eligible you'll need to:

•bethe homeowner (owner-occupier)

of ahome built before 2008

AND either:

•beliving in an area identified

as lower-income, or

•have aCommunity Services Card

Also, tobeeligible for aheater, you must not

have an existing fixed heater inthe main living

areas, such as aheat pump or wood burner.

The heater grant is capped at $3,000 incl GST.

Call 0800 749782 or visit

www.warmerkiwihomes.govt.nz

to use the checklist tosee if you are eligible.

Aservice provider will then be in touch to

provide an assessment and quote.
---
Local news at www.starnews.co.nz Ashburton's The Courier, Thursday May 28, 2020, Page 19

Preparing for Winter

Preparing for your winter driving

Many areas nationwide have

alreadyhad ataste of winter, with

driversfacing many challengesin

snow, ice and rain.

If you'renot prepared, driving in

the wintercan be hard.

It doesn't need to be though and

good vehiclepreparation,

knowledge and driving techniques

will help make sure you get to

wherever it is you're going.

Winter is atime of extremes.

It's atime when any problems or

weaknessesinyour vehicle will

show up, usually at the worst

possible time. Is your vehicle

approaching the time for its next

scheduled service? If so, don't put

it off.

Book yourvehicle in for aprewinter

check with your local MTA

member business.

The experts know what to look

for oil and anti­freeze levels, wiper

blades,filtersand batterycondition

among otherthings. By doing this

you'll have peace of mind in

knowingthat your vehicleisready

for winter. Your battery can be the

key. If your car isn't starting as

easily as usual, get your battery

checked.

In winter we tend to use

electrically based accessories and

systemsalot more­lights,air

conditioners,foglamps, interior

lights.They can all place extra

strain on your car's electrical

system and if your battery is not in

top condition, it may let you down.

All the control you haveis

delivered throughfour palm­sized

patchesofrubber where the tyres

meet the road.

Make sure yourtyres are

properly inflated. Over­inflation

Use aproper windscreen scraper or de-icer to remove ice from your

vehicle.

can reduce the gripping action of

tyresbecausethe tread will not

meet the roadsurface as it was

designed to do.

If the tread depth of your tyres is

getting low, it may be worthhaving

them replaced, eventhoughthey

have more than the minimum tread

depthof1.5mm. If possible, tyres

should be replaced before the tread

depthdropstothe minimum.

Checkthe manufacturerswear

indicator mark on yourtyres to see

if they need replacing. All tyres

have tread wearindicators,which

are small bars of rubber found

between the tread blocks of the

tyre.

When the tread is worn flush

with the tread wear indicators, the

tyre has reached its wear limitand

mustbereplaced as it no longer

provides sufficientgrip.

If you're going to be driving in

the snow, makesure you have the

correctchains and snowtyres (if

fitted) ­itisnow law that whenyou

use snow tyres, all four must be

snowtyres.

Winter often means reduced

visibility, so you need to allow

additional time for every trip.

Before you hit the road make

sureyou can see out of every

window and mirror.Use aproper

windscreen scraper or de­icer to

remove ice from yourvehicle.

Don't use warm water; it may cause

yourwindscreen to crack.

Yourair­conditioningsystem is

yourfriend.Many people only

associate it with staying cool during

ECan offeringheatingsubsidy

Environment Canterbury can financially help home

owners replace old log burners with new, cleaner forms

of heating, but have astrict eligibility criteria.

They understand replacing old burners can be costly

and urge anyone struggling to contact them on 0800

329 276.

There are subsidies in different areas but people

living in Ashburton, Christchurch, Timaru, Kaiapoi

and Rangiora can be eligible if burners needs

replacing, are the owner/occupier of the house and

have acurrent Community Services Care; Health

referrals in conjunction with proof of alow income are

also useful.

People wanting to check their eligibility can contact

either Community Energy Action Charitable Trust or

EnergySmart (depending on where you live).

They confirm eligibility, book ahome energy check

to assess your needs, then apply for the ECan subsidy

on your behalf, which can be up to $5000 and used for

anew heating appliance (wood burner or aheat pump)

­and its installation ­toreplace your old wood burner.

People with tenanted properties are not eligible but

could look at other options such as Healthier Homes

Canterbury, bank loans or interest free purchasing.

the summer months, but it's equally

vital for ensuring good visibility

duringthe colder months. Get your

systemchecked, and allow it time

to work properly.

Look out for vulnerable road

users likecyclists and runners, they

may be especially hardtosee along

dimly lit roads.

Make surepeople can see you.

Ensureyour lights are all working

properly and are correctly

adjusted. Get them on early and

turn them off late; you may choose

to keep them on at all times.

Remember to keep them dipped

when travelling in foggyconditions;

blasting them on to full only results

in the lightbeing reflectedstraight

back at you, making visibility even

harder.

The sun is low in the sky for most

of wintersobepreparedfor

sunstrike. It'sespecially important

to keep your front and rear screens

clean.

Bridgesand overpassesice over

faster than normal roads. The

shadowsfrom large trees, buildings

and mountains can cause isolated

icy spots.Black ice is often very

difficult to detect, so be especially

vigilant after very cold, settled

nights.

Don't expect otherdrivers to be

as well prepared, allowplenty of

room betweenyou and your fellow

motorists. Givethem evenmore

when the weather is poor, double

the two second rule and give

yourself four seconds.

When accelerating, push the

accelerator pedal gently. If you do

sense wheelspin,ease back on the

pedal immediatelyuntil you feel

the tyres grip again. Apply the

same principle when braking.

Brake gentlyatfirstthen increase

the pedal pressure progressively.

You can brakequite hard as long as

the applicationissmooth. If your

vehicle is fittedwith ABS and/or a

stability control system,make sure

you know what this can do for you.

Get experience of your vehicle's

capabilities and how it reacts,

before you get stuck.

Avoiddriving in heavy snowif

you can, but if you haveto, do it

slowly. Avoid braking suddenly;

brakegently and progressively

rather thanjust stamping on the

pedal.

Climbing and descending hills in

snow needs alot of care and

attention. Climb hillsinthe highest

possible gear.Reducing your

engine'srevs will maximise the

chances of traction and minimise

the chance of spinning yourwheels.

Similarly, descend hills veryslowly,

putting your vehicle in alow gear

before starting the descent.

It makes sense to have afirstaid

kit and fire extinguisher in the car,

but there are other thingsyou

should consider for the colder

months too, not just toolsfor

changing atyre. Atorch, amat or

covertoprotect you fromthe

ground shouldyou need to change

atyre, adisposableraincoat or

poncho and protective gloves are

all helpful. Amulti­tool or Swiss

Army type knife can be handytoo.

An emergencyreflectivetriangle

and ahigh visibility vestcan be the

difference between someone

spotting you stranded on the side of

the road and colliding with you.

Source MTA.

GRANTS

AVAILABLE

FOR UP TO $3,000 *

OFF THE COST OF WOOD/PELLETFIRES

*Conditions apply

Keep your air clean this winter. ..

Install aheatpump!

• Extremely energy efficient

• Instant, convenientheat

• Clean air

• Safe, quiet &low maintenance

We areleaders in installation &serviceand stockall major brands.

Talk to us NOW foryour free quote.

Major suppliers of

• Ductedsystemavailable

• Nopermit required

• 5year warranty

heatpumps

ARE YOU

ELIGIBLE?

CONTACTLASER TODAY

Approvedsupplier for this grant in the Ashburtonand South Canterburyareas

Phone 308 7182

On Call 021 597 517

211/D Alford Forest Rd,

Ashburton

SHOWROOM HOURS:

Monday-Friday8am -5.30pm

Laser Electrical

Ashburton

726 East Street

03 308 2106

Laser Electrical

Geraldine

17 Peel Street

03 693 9399

2277100

www.laserelectrical.co.nz l 0800 LASER 4U(0800 527 374)

2281160
---
Advertisement

Newowner forHondaCountry Ashburton

Honda CountryAshburtonhas anew owner but it is business as

usual,saysnew dealer principal Haydon South.

After27years at the helm, long-time owners Brendanand

Michelle Price, and Murray Sexton have decided the time was

righttohand over thereins.

Haydon and the team areexcited forthe opportunitytocontinuethe

well-established servicethe trio have grown.

Haydon, wifeKerina and toddler Reed areinthe process of relocating

from Timaru toAshburton.

With abackground in engineering and apassionate Honda rider

himself sincehis preschool years,Haydonmadethe shiftto

Timaru Honda four years ago and learned the ins and outs of the

Honda brand.

"Honda is agreat brand to be apartofand we feel privileged to

be able tosupply it toour customers," he says.

TheHonda Countryteam is made up of 11 staff;Michelle,who

will continue in the parts department, Murray in serviceand

Haydon in sales. Thereare twoveryexperienced mechanics

taking careofthe on-farmservicing and ahighly skilled team

carrying out serviceand repairs in the workshop.

Haydon says Brendan, Murray and Michelle have built greatrelationships

and provided an outstanding servicefor all of Honda

Country'scustomers over the years and he is looking forwardto

following on in their footsteps.

He says thereisagreatrange of Honda motorcycles in the modernshowroom

and workshop on East Street.

Thereare farmbikes to suit everyjob,ortackle anyterrain from

riding the hills at the back of the High CountryStation to bringing

the cowsintothe shed formilking

Honda has agreat range of farmATV's,two wheel bikes and

Pioneer UTV's.

Andfor off-road enthusiasts thereisadirt biketosuit all riding

levels from first timers to seasoned adventureriders.

Theon-farmservicewith its dedicatedduo will continue to

make surefarmbikes get the maintenancetheyneed without

the inconvenienceofbringing them to town.

Honda Country's newdealer principal Haydon South with long-time owners Michelle Price, Murray Sexton and Brendan

Pricesay it's business as usual.

"Wehaveafully stocked shop of Honda parts and accessories as

well as all your essentials forkeeping your bike (and its rider) in

topcondition. Therewill also be arange of Honda powerequipmentsuch

as generators and pumps forcamping or on-farm

use," Haydon says.

"Wecontinue to carry afull range of Honda motorcycles,parts

and accessories and offer an experienced workshop service. We

have acommitment to excellenceinsales and serviceand take

pride in the professionalism and experienceofour staff.

"Weare excited to continue and build new relationships with all

new and existing customers in the Ashburtondistrict."

TRX420 FA2

420cc, Automatic transmission, 2WD/4WD,Power steering

$12,995 plus gst SAVE $2300

TRX420 FM1

420cc, Manual transmission, 2WD/4WD

$11,995 plus gst

TRX500 FA6

500cc, Auto,high/lowratio,2wd/4wd, diff lock,p/steering

$15,995 plus gst SAVE $1400

XR150L

$3,995 plus gst

Nowstocking Honda Power Equipment

EU22I generator,WB20XTwater pump

Honda Country

740EastStreet, Ashburton

Ph 03 308 2030•Mobile 021 244 7043 • www.hondacountry.co.nz

2279677
---
Local news at www.starnews.co.nz Ashburton's The Courier, Thursday May 28, 2020, Page 21

HAVE

YOU

MET

MOLLY?

come find her at...
---
Page 22, Ashburton's The Courier, Thursday May 28, 2020

Local news at www.starnews.co.nz

Duck shooters happy

Dave Thomson with dog

Chockie and some of the

ducks shot over the weekend.

Duck shootersaround the district

enjoyed the delayed start of the new

game bird huntingseason at the

weekend.

Coronavirus meant the season

started three weeks later than usual

and for regularshooterslike

Ashburtonrural realestate agent

Dave Thomson and hisretired

school principal mate John Bockett,

it was achance for acatch­upand

the opportunity to getafewbirds

for dinner.

The pairshotataLowcliffe farm

pond and bagged 17 birdson

Saturdayand 13 on Sunday.

Mr Thomson said some of the

birdshave already been eatenand

enjoyed by familyand friends.

The duckshooting weekend was

asocial thingfor himasmuch as it

was asport.

He said more shootersonthe

opening weekend meant morebirds

were movingaround and were

potential targets.

''Theyseemedtobeflying higher

this year, but it was agrand couple

of days all the same.''

Fish and Game officers in the

Central South Island region

reported most hunters were

satisfied with bags of 2­10mallards

and paradise shelduck eachby

lunchtime.

Rangers in the Timaru district

said theywere disappointed to

encounter asmall numberof

individuals huntingwithout a

licence.

Nationally, thousandsofhunters

headedout beforedawn on

Saturday to start the season.

Fish and Game chief executive

MartinTaylor said many regions

benefited from ''ducktourism'' as

hunters travelled to and supported

regional economies.

Sporting codes preparing for start

Local sporting codes can now move forward with

training and new winter competitions after the

government'sdecision to liftthe mass gathering limit to

100 from tomorrow.

Football, hockey, netball, rugby and basketball

competitionsare planning to restart, with some codes

still workingout the finaldetailswith national and

regional governing bodies.

Football will kick off locally on June 13, with

travelling teams back aweek earlier thanthat.

Mid Canterbury Netball is still waiting for final

confirmation from Netball New Zealand as to when

training and playing can begin and will update clubs this

week throughits Facebook page.

The Mid Canterbury Hockey turf is also reopening

this week, withgames starting on June 12.

BasketballMid Canterbury president Wayne

Rodgers said his sportwas still working on the logistics

of anew season.

Therestill needed to be meetings,discussion and

advice from Basketball New Zealand.

Mr Rodgers encouraged players to start practising,

but warned rep competitions might still be someway off.

Some tournaments had alreadybeen cancelled, he

said,and while the basketballcommunity was raring to

go, there were still venue issues to be worked out.

Mid Canterbury Rugby Union chiefexecutive Ian

Patterson said senior rugby was set to kick off on June

20 and junior rugby soon after that.

Clubswould resume training this week, said Mr

Patterson,and any updates wouldbeposted on the

union's Facebook page.

Competitive squashstarted up again this week

around the district.

Football season set

to kick off in June

By Mick Jensen

Adelayed football

season has now been

given the green light to

kick off next monthand

Mid Canterbury United

Football president Neil

Simons could not be

happier.

Travelling teams start

their campaign on June

6, while local leagues

start on June 13.

Progress needed to

continue to be made to

eliminate Covid­19, said

Mr Simons, but now

players, officials and

supporters hadstarting

dates to work towards.

The return of the

beautiful game was good

news for footballers of

all ages and for everyone

involved.

Prior to lockdown

some170 players had

registeredand that was

now expected to rise

with confirmation that

football was goingto

happen this season.

Mr Simons said

MainlandFootball had

indicatedits season

would now continue well

into September, while

local leagues would run

for longer because of the

delayed start.

The five­a­side

competitions, First Kicks

(4­6 year olds) and Fun

Kicks (7­8 year olds),

would run for four weeks

before and then four

weeks after the July

school holidays. The

Super League(9­10 year

olds), Championship

(11­12 year olds) and

Premiership (13­14 year

olds)leagueswould run

for four weeks before the

holidays and for nine

further weeks

afterwards.

Pitches will be marked

and goal posts and nets

will go up in Ashburton

Domainover Queen's

Birthday weekend.

Mr Simons said there

would be apush in

schoolsthis week to get

morenumbers involved.

There was alink to

registrations on the

revampedmcfootball.co.

nz website and updates

on the Mid Canterbury

United Football Club

Facebook page, which

had kept footballers

informed of the football

situation during

lockdown.

Thank youfor

your part in keeping

our communitysafe

Club news

Ashburton Golf Club

Ashburton 9holers wereback in

action last week with 23 playersdusting

off their clubs and playing in groups of

four, following all the rulesunder

Covid­19 Alert Level 2.

First overall, with anet score of 32

was Bev Blair. Bev won aNetherby

Pharmacy Voucher.

Runner­up, withascore of 33, was

MaryBuckland, winningaclub

voucher.

Topnet scorefor the men was 35 by

PeterGreening, who alsowon aclub

voucher.

One Smithand Church gobbler­

Muriel Morgan.

The group plays againtoday (May

28), and the clubrooms willbeopen

with catering for lunch.Wewill play

stableford, Heather Smith Trophy

Round2.The new computerised

scorecard system makes it so easy to

scorestablefordsnow.

There'sstill alot of challenges ahead of us. Local

businesses need our support to recover. Some in our

community willbeleftfeeling vulnerable or isolated

and it's important we look out forone another.

As we've movedthrough this difficult time it's been

aprivilege toserve youasyour local MP. Ifyou, your

neighbour, friends or family need help, please get in touch.

Andrew Falloon

MP for Rangitata

03 308 7510

andrew.falloon@parliament.govt.nz

81 Harrison Street,Ashburton

Stay fit &earn $$$

at the same time

Spend a couple of hours

every Thursday delivering the

Ashburton Courier and Realty in

the Ashburton urban area.

Enjoy the fresh air, stay fit and

reap the health benefits!

Phone Jann todayon308 7664

to get startedoremail

jann.thompson@ashburtoncourier.co.nz

Authorised by Andrew Falloon MP,

139 Stafford St, Timaru.

2264292
---
Local news at www.starnews.co.nz Ashburton's The Courier, Thursday May 28, 2020, Page 23

Rural&Lifestyle

O'Malleys return to dairy dream

By ToniWilliams

Meat the Need co­founder Siobhan

O'Malley is a10­year convert to dairy

farming.

She, along with husband

Christopher, only decided to go dairy

farming after returning from their

Irish OE, back in 2009.

Siobhan may have been green to

living arural lifestyle then but has

been afast learner, working on

multiple farming opportunities

Canterbury­wide and making some

wonderful rural connections.

"I grew up in Christchurch and had

no connection to farming at all. I

never stepped foot on to afarm until

Imet Christopher."

The couple went sharemilking for

the first time in 2011­12, and have

worked on farms in Darfield,

Oamaru, Grey Valley and Mid

Canterbury. The past 18 months they

have been running ahop garden and

beef operation in Tasman.

It's afar cry from the Latin

Language and Classical Studies she

studied at university before teaching

secondary school English.

They have three children, Finnian,

8, Aisling, 6, and Ruairi, 3, and this

weekend will return to a50­50

sharemilking operation milking 400

cows, this time near Hokitika, on the

West Coast.

Siobhan says they have moved

eight times on Moving Day since

2009, and afew times in between.

In Mid Canterbury the couple had

a50­50 sharemilking job working for

Graham Brooker on Thompsons

Track in Lauriston, from 2015 to

2018.

Milking 500 cows for the first two

years, the operation grew when they

leased neighbouring land and by

their final year they were milking

600.

"Our first year as 50­50

sharemilkers was (on adifferent

farm) at Thompsons Track and that

was the year the pay­out went to

$3.90!

"We also worked very hard to

Meat the

Need cofounder

Siobhan

O'Malley

and her

family

are

heading

back to

dairy

farming.

attract and retain good staff

members, as that can be achallenge,"

she said.

But the district did give them a

chance to be close to family in

Christchurch and learn from those

around them.

"We learned so much just looking

over the fence at arable, potatoes,

drystock and seed operations.

"Our son also enjoyed being at

Lauriston School that took him

skiing every week in the winter!

"A great community of farmers

around us, many of whom are still

our friends.

She still misses the banking team

from ANZ who gave good advice

during some difficult pay­out years

and Ashburton's great facilities, such

as the EA Network Centre pool.

Over the years Siobhan has been

involved with Federated Farmers

and Dairy Women's Network

(DWN).

"The Mid Canterbury DWN is

very strong and has been offering

some great events recently that Iwish

Icould have attended, but was abit

far away," she jokes.

She says being amember of the

organisations gives afeeling of being

connected to other people facing

similar challenges in their businesses

and lives.

"You can share ideas and solutions

and also just have empathy from the

people in the same boat. But abig

aspect to organisations like Feds is

the information that gets passed

along about upcoming policy

changes and the repercussions of

those, as well as being avoice for

farmers with the decision­makers in

Wellington, and Ithink this is going

to be more and more important," she

says.

The decision to take abreak from

dairy farming and explore other

options took them to Tasman, where

alot of Siobhan's extended family

live.

They gave growing hops atry but

have missed dairy farming.

As acouple, Siobhan and

Christopher have along term goal to

buy their own dairy farm and the

West Coast has always been on their

radar.

"We started talking about missing

dairying before Christmas (in 2019),

but thought we should do another

year at hops just to really give it a

good go and see two full annual

cycles to harvest through.

"But when we both went to the

West Coast to be judges for New

Zealand Dairy Industry Awards in

February …weboth came home

fizzing, and realised that we love

dairy farming so why wait to go back

to it. The kids are also thrilled to be

headed back to dairy," she said.

"We decided if we were going back

dairy farming at all we should head to

where we want to be long term and

join the community.

"As it happens, Kokatahi (in

Westland) is where Christopher's

grandfather got afarm in the ballot

after WWII.

''Christopher grew up visiting the

area alot and his uncle's family still

farm there."

They are looking forward to

learning how to farm successfully

where the irrigation falls out of the

sky and is measured in metres!

"It will be different from our

farming systems in Mid Canterbury,

so we need to go and learn from the

neighbours and the high performing

farmers in the district.

Siobhan said it was abit like

starting out again.

Pandemic overtakes freshwater concerns

Arable farmer David Clark

Two new faces have been elected to

Federated Farmers Mid Canterbury

provincial team.

Dairy farmers Rebecca Miller

and Nick Giera have taken on the

roles of sharemilkers section chair

and dairy vice­chair respectively.

The duo will join existing section

leaders, including David Clark

(provincial president), Chris Ford

(dairy chair), Joanne Burke (arable)

and David Acland (vice­president

and meat and wool chair)

representing farmers in the district.

The positions were confirmed at

the organisation's annual general

meeting carried out online via

Zoom last week.

Mr Clark, re­elected unopposed,

said in his president's report that

when he came into the role 12

months ago Mycoplasma Bovis

(Mbovis), freshwater regulations

and climate change were topics of

the day and carried imminent

threats or impositions upon

agriculture. ''As aresult of aglobal

pandemic of coronavirus, it seems

events have overtaken themselves

and the issues of ayear ago appear

almost irrelevant.

He praised the PGF funding of

nearly $1 million for the Hekeao

Hinds Water Enhancement Trust's

managed aquifer recharge, but had

ongoing concerns around Overseer

and potentially tight levels of feed

reserves that would need careful

planning and feed budgeting.

He also spoke of Federated

Farmers' continued involvement in

the Ashburton District Mbovis

Advisory Group, keeping up to date

with information from key industry

members on the progress of the

response, and sharing details of

cases where process was thought to

be failing.

''I acknowledge that while the

overall goal might be beneficial in

the long term for the greater

industry, the stress, disruption and

financial toll on individual families

and businesses is significant.''

He said submissions on the

Essential Freshwater Regulations

caused alot of concern within

Federated Farmers, among the

farming community and out in the

business sector once the impact of

the proposed regulations became

apparent.

Five hundred people attended a

public meeting in Ashburton to

show support for Federated

Farmers.

''Such astrong show of

endorsement from our farming

community was immensely

powerful.''

Mr Clark also took part in the

Winter Grazing Strategy Group

which had anational and regional

focus and aimed to help farmers

struggling to formulate grazing

plans in risk catchments.

Covid challenges for co­op

Fonterra hasreported asharp lift

in its earningsfor the firstnine

months of its financial year and has

set amilk price for the coming year

of $5.40­$6.90per kg of milksolids.

The co­op said it will contribute

about$11 billion to the New

Zealand economy through milk

price for the year. Its advancerate

schedule has been set off the midpointof$6.15/kg.

The forecast for the current

season is at the lower end of a

previously advisedrange, at

$7.10­$7.30/kg.

ChiefexecutiveMiles Hurrell

said thatdespite Covid­19

challenges, the co­operative's total

groupnormalisedearnings before

interest andtax (EBIT)for the nine

months to April 30 was

$815million,anincrease of $301m

on this time last year.

The co­op's earnings forecast for

the current yeartoJuly has

remained at 15­25cents ashareand

Hurrell said he was confidentthe

result would be at the upper end of

the range.

However,the impacts of the

Covid­19 pandemic would be

keenly felt over thefourthquarter.

Fonterra has been re­organising

its operations sincereporting a

$605mloss in the pastfinancial

year.

''Thework doneover the last

year to strengthen our balance

sheet, and the co­op'sability to

respond quickly hashelpedus

manage the Covid­19 situation over

the last few months,'' Mr Hurrell

said.

The co­op was drawingonits

global supply chain and diverse

product and customerbase to

minimise disruptions for our

customers and our business.

''Covid­19has affected virtually

everycountry, marketand

industry.''
---
Page 24, Ashburton's The Courier, Thursday May 28, 2020

Local news at www.starnews.co.nz

Outdoor pantry set up at Community House

An outdoor pantry has been set up at

Community House Mid Canterbury to pass on

surplus fruit and vegetables to people who

need it.

Timber donated by Bunnings Ashburton has

been crafted in heavy duty pantry shelving by

volunteers from the MenzShed.

The pantry is already receiving food

donations.

Community House Mid Canterbury

manager John Driscoll said people wanting to

drop off surplus items could do so day or night,

and those needing them could take them away

and use them.

The pantry was bolted to the wall and its

operation would be self­regulating, he said.

The pantry is located to the right of the main

entrance to Community House, which is at 44

Cass Street.

Photo: At the opening of the outdoor pantry

are Mary Banks from Bunnings Ashburton,

Ashburton MenzShed member Jim

Armstrong, Community House Mid

Canterbury manager John Driscoll and

SEEDS (sharing everyday experiences and

drawing on skills) programme co­ordinator

Marie McAnulty.

Scootertrack proving awinner

An extended scooter track at

Hampstead School is proving

abig hit with students.

The track features rolling

humps and abank.

Ramps can be brought out

to further test scooter and bike

skills.

Work on the track was

completed under level 3

restrictions and the project has

been funded the school board

of trustees.

School principal Peter

Melrose said the track was

already awinner with students

of all ages.

Students used their own

scooter and bikes and also

borrowed from asupply store

at school that had been

donated or purchased by the

PTA.

The new track had been

''flat out'' since opening and

complimented other outdoors

areas at the school.

It kept students active and

helped with both balance and

co­ordination, he said.

On the new scooter track extension are (from left) Alex

Cojocaru, Ella Rose Blampied and Emily Hodzelmans.

Youth conference positives

AshburtonChristian School student Gianna

Butler has takenplenty of positives away from

the recentAotearoa Youth Declaration

conference she attended online.

At the two­weekconference the Year10

studenthelped developayouth perspective

on publicpolicy.

''I learned lots about how to correctly

debateand theneedtoback up opinionswith

facts ­they were the most valuable things that

Iwill takeawayfromthe conference.''

She hasalsobroadenedher knowledgeon

how areas of government and parliament

function andparticularly enjoyed thedaily

crisisworkshop, whendecisions needed to be

madeand participants hadtothink outsideof

the box.

Gianna alsolearnedhow to write

statementsand format themfor the best

result.

Students worked in targetedgroups to

createpolicysolutions on abroadrangeof

problems, witheach teamworking towards its

own final declarationtopic.

''Our final statementfor rights and

freedomshad threesections ­gun rights,

freedom of speech andprivacy rights.

''I wasput in charge of the gunrights

section andwediscussedthe safety

precautions and whether there should be

Gianna Butler.

more.

''We alsodiscussed the current agelimitof

owning agun and what couldchange.''

Thegroupproposed threenew policies:

establishing acentral firearm registration that

registersfirearmstotheir owners andrecords

publicand private firearm sales; alearner

firearm licence for people between theage of

16­18which doesnot allow the ownership or

purchase of firearmsand only allowsthe use

of firearmsunder thesupervisionofafull

firearm licenceowner; andthe introduction

of compulsory mental andphysicalhealth

examsinordertoattain afirearmlicence.

TIME FORATIMARU

ACTIVEESCAPE

• Abundantwalking tracks

• Easybikehire

• Fabulous food –dine in or delivered

• Sunsetdrinks on the BayHill

• CentralSouth Island holidaylocation

PLAN NOW:

DISTRICT
---
Local news at www.starnews.co.nz Ashburton's The Courier, Thursday May 28, 2020, Page 25

trusted

trades &services

2020 GUIDE

Lubes WOF

Allmechanical repairs

TRIANGLE

GARAGE LTD

Victoria Street,

TheTriangle,Ashburton

Phone: (03) 308 6772

2275885

GODSELL

BRICKLAYING

•Houses

•Feature Walls

•Fences

•Blocklaying

Chris Godsell

027 274 2533

AH 308 7117

godsell@xtra.co.nz

2271246

L O GO

DESIGN

FROM

ONLY

$

150

PLUS

GST

P 03 308 7298

E mark@dpi.co.nz

dpi embroidme ashburton

2269204

FREE LEGAL HELP

Help in person by appointment

Thursday9.15am -1.45pm

Ph 0508 CANLAW

(0508 226 529) to makean

appointment.

Help by phone Infoline

03 371 3819 or 0508 226 529

215 Tancred Street,Ashburton

2269173

PROFESSIONAL

PORTRAIT AND

COMMERCIAL

PHOTOGRAPHER

PICTURE FRAMING

GALLERY &STUDIO NOW OPEN

179WEST STREET

027310 6521

emmily@emmilyharmer.co.nz

www.emmilyharmer.co.nz

2269275

Need storage?

we CAN STORE it!

Convenient, affordable

self storage solution

Phone 307 0213

•185 Alford Forest Road •behind

2269145

RESIDENTIAL &

COMMERCIAL SPECIALISTS

Phone Quentin andPhil on

027 282 8908 or 027 2828909

Interior and Exterior Painting

Interior Plastering

Wallpapering

2269116

• Annual Accounts

• Tax Returns

• GST Returns

• CertifiedXeroAdvisor

Andrea Matthews

027415 9880

2256447

2266285

Do youneed an assistant but don't have

time to hire one?

Do you have office admin that youjust don't have the time for?

Iamproficient in the following andmore

Data Entry and Processing

Time management

Virtual Assistant

Customer Support

CRM updates

Order Processing

Google Suite

Email Handling

Microsoft Excel, Word, Outlook and Powerpoint

Hourly rate $30/hour

RW

FREELANCER

027 226 1428

rachelwpowell@outlook.com

We service and repair all makes and models

of sewing machines and overlockers

Your local Bernina

service team

John Robbie Rachel

OPEN 7DAYS9.30am -4.30pm

Main South Road, Tinwald Ashburton | Phone 307 6277

www.anniesquilts.co.nz

2275890

We offer the following:

• Gutter and DownpipeCleaning • Weed Spraying

• Moss,Mould andLichen Spraying • Spider Proofing

• Gorse and BroomSpraying • FenceLineSpraying

• Chimney/Flue Cleaning $75 • Heat Pump Service$90

MENTION THIS AD WHEN BOOKING FOR A10% DISCOUNT

ON GUTTER AND DOWNPIPE CLEANING

Call Allan on 027 209 5026 an let us know howwecan help

GREAT

RATES

NewPCs

and Laptops

forsale

2269050

WILSONS

WINDSCREENS

WE WELCOME ZEK

FROM WINSTONES

TO JOIN OUR TEAM

We areyour one stop glass shop for

AUTO and HOUSE

REPAIR or REPLACE 152 Wills Street,

"Your placeorours"

2275942

Ashb

hbut

rton,R Rolles

leston

ton&Ch

Chrit

ist chu rch

•Paving •Irrigation •Lawns

•Planting •Fences •Pergolas

•Water features •Outdoor fires

•Raised planters •Decks

•Stonework•Brick &blockwork

•Artificial grass and more...

Email –Aaron@theoutdoorspace.co.nz

Phone0800 688 365 /021 542 402

www.theoutdoorspace.co.nz

2273646

Ashburton

Ph.308 8485

2269284

•

•

•

•New builds •Renovations

•All types of engineering

•Small or large projects

Rob021 124 4268 l Sam022 5428927

email: robsue@hotmail.com

Forall your tyre requirements,

see the localexperts

•Wheel alignments

•Wheel balancing

197 Wills Street,Ashburton l www.neumannstyres.co.nz

Phone 03 308 6737 (24 hrs –after hours call out applies)

2269381

PC Repairs, Set-up and Tutoring

Icome to youday or evening!

•PCRepairs/Sales •Networks/Servers

•Firewalls/Security •Spyware Clean-up •Training

20 YearsExperience Microso Cerfied Professional

NETWORKS FIREWALLS AND PCS LTD

Robin Johnstone 67 Aitken Street, Ashburton

P: 03 308 1440 C: 027 768 4058

robinbj@xtra.co.nz

2275948

ashburtoncranes2015@gmail.com

2269089

Diamond Painters and

Decorators Ltd

Qualityinteriorand exterior

painting and decorating

• Wall papering • Airlessspraying

• Water blasting • Residential and small commercial

• Roof painting • Freenoobligation quotes

Gutterguardinstallation and gutter cleaning

Phone Duncan 027 370 2453 l Jeanette 027 318 5055

email: diamondpaintersdecorators@gmail.com

2269138
---
Page 26, Ashburton's The Courier, Thursday May 28, 2020

Local news at www.starnews.co.nz

trusted

trades &services

2020 GUIDE

"we clean to a

standard,

not aprice"

UNDER NEWAshburton

OWNERSHIP

Same exceptional CleaningServices

level of service

&quality cleaning

• regular full house cleans

• one off spring cleans

• farm houses

• builders cleans

•

100% LOCAL

03 307 2656

www.ashburtoncleaning.co.nz

2280970

Solar powerwhenyou need it most

We are experts at installing solar

power systems for motorhomes.

• SOLAR PANELS • BATTERIES • DC MANAGEMENT

• CAMERAS • TV SATELLITE • PUMPS • REFRIGERATION

AAA

Solar

&SUN POWERPLUS

South Island

4McGregorLaneAshburton

03 307 4777 -027 4423103

ashsolarpower@xtra.co.nz

aasolarsouthisland.co.nz

2275926

Free

Quotes

Spraying for the removal of

Lichen and Moss on

driveways, paths and roofs

John Moses 027 5898706

2274547

4WD Diesel &ElectricScissorlifts

Rough terrain and electric lifts available

On site collection or deliveryavailable

Nowat6Range 403 West Street St,Riverside

PO Box 60, Ashburton 7740

Phone: 03 308 8155

Mobile: 0273 529909

Email:sales@nee.kiwi.nz

2269383

PETER TAYLOR

B

S

UILDER

LTD

FOR ALL YOUR BUILDING REQUIREMENTS

• New homes • Alterations • Light commercial • Farm buildings

• General maintenance • Paths • Tiling

Fully qualified licensed building practitioner

No job toosmall! Phone Peteron:

308 7133 or 027 220 8257

taylorbuilt@xtra.co.nz

2269389

Astute Maintenance

Elite Service –Astute Prices

Handyman Services

Decks

Sheds

Renovations

Building

Rubbish Clearing

Fences

Repairs

Pergolas

PlanterBoxes

Raised Vege Gardens

Tiling

Call Vaughan 021 242 6419

Email: sales@astutemaintenance.co.nz

2275114

2269398

VISIT OUR STORE AND GET A

TREATFOR YOUR PET

Always in stock:

• Birdaccessories,food &treats

• Rabbitand guinea pig food,bedding &treats

• Cat accessories,collars &treats

• Dog collars,leads,toys, accessories &treats

• Aquarian accessories &food

• Dog crates &cat crates

• Raw,fresh &frozenpet food

• All sorts of dried products

EVERYDAY

SPECIAL

Dog

Rolls

HAVE CASH

FOR PETFOOD

COWS AND

UNWANTED

STOCK

2for

$

12

(3kgeach)

"Come andsee our friendlystaffin-store today"

115 Archibald Street,Tinwald,Ashburton

Phone /Fax: (03) 307 2354

Email tincanup@xtra.co.nz www.tinwaldcanvas.co.nz

ALL THINGS CANVAS &PVC

*Awnings/Shadesails/Dropblinds*Auto seat covers &repairs

*Hay &bin covers *PVC covers &repairs

*Ute tonneau covers *Furnitureupholsteryrepairs

*Commercial

PHONE TRAVIS HOWDEN 027 922 4544

FOR ALL YOUR T-SHIRT PRINTING

NEEDS, phone Gasolo!

Clothing Brands Design

T-ShirtPrinting

Andmore...

LIV E

T O

PRINTED

-

HEAT PRESS &

SCREEN PRINTING

GASOLOSTSHIRT

BY

HAND

IN

GARAGE,

CANTERBURY

S E R V E

2269312

O T H E R S

2275887

2275895

NEATGARDENS

Does your garden need monthly

maintenancetokeep it tidy and

looking good through the seasons?

Or perhaps just need aone off tidy

or pruning completed?

We can help!

Allgarden wasteremoved

ContactCAROLYN Phone: 027 2675403 or 3082333

Email: cccolt@xtra.co.nz

Need help with BOOKKEEPING or

ADMINISTRATIONSUPPORT?

Youdidn'tgointobusiness to do the

books, butwedid!

Let'shaveachatovercoffee andsee howIcan help

2275927

Phone (03) 307 8996

027 312 5756 l 99 Archibald Street,Tinwald

2275946

9Hugh Street,Ashburton7700

027 953 5099

gasolos122007@gmail.com

2275930

Silvia Haddock 027 2169478

silvia@bradleyrural.co.nz l solutionsbusiness.co.nz

2275938

GetListed ..... Get Sold

Get 3D Marketing ....It's FREE!

308 6173
---
Local news at www.starnews.co.nz Ashburton's The Courier, Thursday May 28, 2020, Page 27

NEWLISTING

open

homes

view anyofour properties fromthe comfort of

your home in 3D...because youcan!

49 Tucker St (W699)

•Spacious family home

•Bathroomplus

separate shower

•HRV,log burner

•Superb outdoorliving

with large sunnydeck

•Potential to addvalue

•All offers considered

after2pm,3June2020

$PBN BIR

$315,000-$335,000

OpenSat 30 May,

10.00 -10.30am

3 1 2

10 Argyle Pl (W698)

•Magnificent home in

sought afterlocation

•Large formal lounge,

open planlivingareas

•Master with ensuite

•Threedouble

bedroomsplusoffice

•1294m² section

$PBN BIR

$550,000 -$580,000

Open Sat30May,

1.00 -1.30pm

NEWLISTING

From 10% Deposit $280pw (Conditions apply)

Trevor Hurley Real Estate Ltd LREA 2008 -MREINZ

76 Thomson St (T303)

Warm permanent

material 3bedroom

home with log burner

&heatpump.

Compliantwith the

current residential

tenancyact and

tenants who want

to staysoperfect for

your next investment

option, or 1st home

buyers.

Allovers considered by

2pm 10th June 2020

Offers Over $299 ,000

3 1 1

PerfectInvestment

(T302)

•Great property fora

firsthomebuyeror

investor

•Open plan living.

•Private entertainers

deck

•Easy caresection

•Situated on the

WestsideofTinwald

inaquiet street

PriceByNegotiation

4 2 2

54 CridlandSt, Rakaia

(R067)

•Wellmaintainedbrick

homeoneasy care

section

•Close to all amenities

•Easycommuteto

Christchurch and

Ashburton.

•Vendorsayssell!!!

OffersOver$299,000

OpenSat 30 May,

10.30 -11.00am

2 1 1

121 PagesRd (W697)

•Large 270m² home

in agreat Westside

location

•Recently paintedand

re-carpeted

•Spacious living areas

•Bigger than average

conservatory

•EnsuiteplusJack &Jill

bathroom

Offers Over $495,000

Open Sat30May,

11.00 -11.30am

4 2 2

101Trevors Rd (E668)

•Lovely threebedroom

brick home with

pleasantrural outlook

•Sunnyliving area with

outdoor living

•Spacious family sized

section

•Ampleparking with

garage and carport

•Bonus of buying

double glazed

Offers Over $299,000

Open Sat30May,

12.00 -12.30pm

3 1 2

3D marketing works!!

Evenduring lockdown we were busy with sales!

Thanks to all our vendors &purchasers for

being so patient!

Thinking of Selling?

We have buyers looking forproperties in all areas.

Call us todayfor your FREE

no-obligation appraisal!

308 6173

3 2 2

Proud supporters of the HeartFoundation of NewZealand! Wedonate from everypropertysold!

SOLD

SOLD

SOLD

SOLD

SOLD

3 1 0

Investment

Opportunity (W694)

•Four units situated

on theWestside

•All properties up

to current rental

compliance.

•Weekly market

rent $860 perweek

combined

•Large 1359m²

section mayhave

future potential.

•Inspectionwelcome

Offers Over $675,000

4 4 0

Sun Drenched! (E696)

•Open plan kitchen/

dining,perfect for

entertaining

•Heatpump to keep

youwarminwinter&

cool in summer

•Double glazed

•Securefencing

forchildren, low

maintenancesection

•Threegarden sheds

Offers Over $399,000

3 2 2

SOLD

UNDER

SOLD

SOLD

SOLD

SOLD

OFFER

UNDER

OFFER

UNDER

OFFER

UNDER

OFFER

UNDER

OFFER

Trevor Hurley

0275 435 799

Tracey Henderson

027 405 8064

Manu Otene

022 308 6885

Linda Cuthbertson

0274087965

Stephen Watson

027 433 9695

Julie Srhoy

021 354 885

Deborah Roberts

0210752180
---
Page 28, Ashburton's The Courier, Thursday May 28, 2020

Local news at www.starnews.co.nz

SATURDAY 30TH MAY

98 Pages Road, Ashburton 10:00-10:30am 4 2 2 AHB22698

14 Williamson Place, Ashburton 10:00-10:30am 2 1 1 AHB22711

6Reddecliffe Crescent, Ashburton 10:30-11:00am 3 1 1 AHB22757

7Beach Road, Ashburton 10:30-11:00am 4 1 2 AHB22696

46 Catherine Street, Tinwald 10:45-11:15am 2 1 1 AHB22711

95 Cameron Street, Ashburton 11:00-11:30am 5 2 2 AHB22716

8Ascot Place, Ashburton 11:15-11:45am 3 1 1 AHB22712

119 William Street,Ashburton 11:15-11:45am 2 1 1 AHB22709

119a Racecourse Road, Ashburton 11:30-12:00pm 4 2 2 AHB22588

2Mackie Street, Methven 11:30-12:00pm 3 2 2 AHB22730

19 Whiteoak Grove,Tinwald 11:30-12:00pm 4 2 2 AHB22718

109 Walnut Avenue, Ashburton 12:00-12:30pm 6 2 3 AHB22659

18B Aitken Street,Ashburton 12:00-12:30pm 3 1 2 AHB22750

11 Charlesworth Dve, Ashburton 12:30-1:00pm 4 3 3 AHB22611

12 Charles Street,Ashburton 1:15-1:45pm 4 1 1 AHB22540

157 Wilkins Road, Tinwald 1:30-2:30pm 4 2 6 AHB22748

SUNDAY31STMAY

NO OPEN HOMES TODAY

12 Charles Street, Ashburton

Where else can you get afourbedroom home in

Allenton forthis price, the vendors have lowered their

price expectations and this property is set tosell !!

This lovely permanent material four bedroom home

proudly sits in the sought afterAllenton area ona

927sqm section. If your looking foragreat family or

first home inagreat location, then this is amust see.

With possible subdivision potential, this property

also makes agreat investment option with plenty of

opportunity to add value.

ForSale

Offers over $335,000

View

Saturday1:15pm -1:45pm

4 1 1

Mark Totty

021 664 113

rwashburton.co.nz/AHB22540

Mid Canterbury Real Estate Limited LICENSED (REAA2008)

Open Home

98 Pages Road, Ashburton

Seeking afamily wanting space, and easy care living. Room

for the toys and motorhome and afriendly neighbourhood

that you can turn the key and go away without worry.This

home is not just abeautiful property, but ahome that is

everlasting forafamily or downsizing from the country.

rwashburton.co.nz/AHB22698

Mid Canterbury Real Estate Limited LICENSED (REAA 2008)

ForSale

$570,000

View

Saturday10:00- 10:30am

4 2 2

Lynne Bridge

027 410 6216

4

Open Home

7McElrea Place, Ashburton

3 1 2

46 Catherine Street, Tinwald

3 1 2

*Privateviewings ONLY -Saturday&Sundayatthis point

*3bedrooms plus conservatory

*Open plan kitchen, dining, sunken lounge

*Separate laundry, toilet &family sized bathroom

*Single internal access garage

ForSale

$372,000

View

by private appointment

Kim Miller

027 236 8627

An outstanding opportunitywith oodles of value for

this family sized home. Functional layout with open plan

Kitchen, dining, family room and asecond generously proportioned

sun-room which could be amedia room/office if

you'reworking from home orafourth bedroom ifneeded.

ForSale

$339,000

View

Saturday10:45 -11:15am

ChrissyMilne

027 290 6606

rwashburton.co.nz/AHB22732

Mid Canterbury Real Estate Limited LICENSED (REAA 2008)

rwashburton.co.nz/AHB22758

Mid Canterbury Real Estate Limited LICENSED (REAA 2008)

Jill Quaid

Manager

027 437 6755

RichardQuaid

Sales Consultant

027 454 4745

Kim Miller

Sales Consultant

027 236 8627

ChrissyMilne

Sales Consultant

027 290 6606

Margaret Feiss

Sales Consultant

021 751 009

ShirleyFitzgerald

Sales Consultant

027 220 1528

Denise McPherson

Sales Consultant

027 242 7677

Cheryl Fowler

Sales Consultant

027 461 2614

Armand vander Eik

Sales Consultant

021 597 527

Lynne Bridge

Sales Consultant

027 410 6216

Mike Grant ncre

Sales Consultant

021 272 0202

Mark Totty

Sales Consultant

021 664 113

BruceMcPherson

Sales Consultant

027 438 4250

Justin Waddell

Sales Consultant

027 437 1111

Jarrod Ross

Sales Consultant

027 259 4644

RogerBurdett

Sales Consultant

021 224 4214

96 TancredStreet, Ashburton 03 307 8317 Main Road,Tinwald 03 307 8317

rwashburton.co.nz

36 McMillan Street,Methven 03 303 3032
---
Local news at www.starnews.co.nz Ashburton's The Courier, Thursday May 28, 2020, Page 29

Country on track to

eradicate Mbovis

New Zealand's world­first plan to

eradicate the cattle disease

Mycoplasma bovis is on track

according to latest technical data, says

Agriculture and Biosecurity Minister

Damien O'Connor.

"Two years ago the Government,

DairyNZ and Beef+Lamb New

Zealand and industry partners made a

bold decision to go hard and commit

to a10­year, $880 million programme

to eradicate Mbovis to protect our

most important sector and the

economy.

"Recent events have shown what an

important moment this decision was

for our economy.

Labour MP Jo Luxton praised the

efforts around eradication as the

decision made two years ago to take

the eradication route was not taken

lightly.

''It is through the combined efforts

of farmers, MPI, the industry and the

Minister that we are getting closer to

eliminating the disease," Mrs Luxton

said.

"Many Mid Canterbury farmers

were affected greatly by Mbovis and

the mental health of our farmers due

to the culling of animals they had

raised was agreat concern for me.

''I know that groups such as the

Rural Support Trust have played a

huge role in helping our farming

families locally. There are currently

nine active cases of Mbovis in

Canterbury, we know that the fight

against this disease is not yet over.

However we are on the right track,"

she said.

Mr O'Connor said had government

thrown up their hands and said 'it's

too hard' and left this disease to run

rampant, he was not sure the dairy

and beef sectors would have been

able to weather the economic storm

of Covid­19 and the challenges of

drought conditions as well as they

have.

"Beef and dairy export prices have

held up. In fact, there was record

demand for our meat. In March total

red meat monthly exports topped $1

billion for the first time. This shows

that these sectors are well­placed to

lead us out of this economic crisis,'' he

said.

"As we have with our response to

Covid­19, this government showed

leadership, made atough decision

Damien O'Connor.

and have managed this eradication

effort with discipline and focus,

because we knew we were doing it for

the economic and social good of the

country.

"We've also shown, again, that

we're able to do what others countries

have not in terms of disease

eradication efforts. That's something

our farming community should be

really proud of. I'm certainly very

proud of them.

"One key measure of success, the

Estimated Dissemination Rate

(EDR), shows strongly that we have

Mbovis firmly in our sights. If the

EDR is greater than one, then the

disease is growing. If it's below one,

we're shrinking the disease.

"The EDR is now at 0.4, which is

down from over two at the start of the

outbreak, so we are looking harder to

find fewer infected animals. This tells

us that Mbovis is not endemic in our

national herd.

"We currently have 17 active

properties and 232 that have been

cleared of the disease. We've culled

154,788 cattle.''

Mr O'Connor said the priority over

the next 12­18 months continues to be

finding and eliminating the disease.

"This 'delimiting' phase is expected

to end in 2021. After that,

background surveillance testing will

continue for around seven years.

"We will get another technical

advisory group report in the coming

months, but two years into a10­year

effort, I'm pleased by the progress

made."

Lamb shank voted

favourite lamb cut

The humble lamb shank was voted

New Zealand's favourite lamb cut in

celebration of national lamb day.

Lamb shanks beat out lamb legs in a

special poll to mark the occasion,

which commemorates the day in 1882

when the first shipment of frozen sheep

meat arrived in the UK aboard the

Dunedin.

The ship left Port Chalmers with

5000 carcasses on February 15 that

year ­itwas the start of what is amultibillion

dollar industry.

Beef+Lamb New Zealand CEO

Rod Slater, abutcher by trade, said the

lamb shank hasn't always been held in

such high regard.

"In my day, the shank was given

away as dog tucker but over the years

its popularity has grown so much that it

is now New Zealand's favourite lamb

cut. It's quite the turn around."

The rise in popularity of the shank

can be attributed to chefs and

restaurants who have profiled the cut

on their menus.

Lamb shanks have been voted as

New Zealand's favourite lamb cut.

CROSSWORD

ENTERTAINMENT

BUSINESS OWNERS

Build customers,sales and

profits,with us ...

Over 16,065 copies delivered everyThursday

PRINT, ONLINEAND MOBILE24/7

QUICKPUZZLE NO.8568

ACROSS

6. Bird (7-4)

7. Peruse(4)

8. Reduce the price

(4,4)

9. Cold (6)

10. Urge (6)

12. Soak up (6)

15. Ordinary(6)

17. Average (8)

19. Foray (4)

20. Ill-timed (11)

DOWN

1. Garment (8)

2. Charged (6)

3. Deviate(6)

4. Fat (4)

5. Pin (6)

6. Missile (5)

11. Funny (8)

13. Summary (6)

14. Get away (6)

15. Fruit (6)

16. Tree (5)

18. Metal (4)

CRYPTIC PUZZLE NO. 8568

ACROSS

6. Give refuge to those madtoget it? (5,6). 7. The proper

rose to have with it wouldbeyellow (4). 8. Whatthe green

fee amounts to? (5,3). 9. Stopped when the cold got better

(6). 10. Young at heart, perhaps, but lacking in refinement

(6). 12. Remember that she got locked inside (6). 15. A

dry, hill area (6). 17. I'm sorry dad is against modern

changes (6,2). 19. Ice at the footofthe tree? (4). 20. Is he

very inquisitive about the meter? (5,6).

DOWN

1. Getting, in the market, some strange animal (8). 2.

Looked terribly dear,bythe way (6). 3. Suppose the fool

bird comes back? (6). 4. Wassorry for,but left penniless?

(4). 5. Understanding there's carved ham outside, attack

it! (6). 6. Foolishly,goes right into the plant (5). 11.What

Diamond Lil had for tea? (4-4). 13. Ileanout and point at

her (6). 14. Adin heard that irritates one (6). 15. Notice

the tool has an up and down motion (6). 16. He has now

turned up again (5). 18. Alittle bit of panache (4).

SUDOKU

VERYEASY

Solution to previous Sudoku

Howto

solve

Sudoku!

Fill the grid

so thatevery

rowand every

3x3 square

contains the

digitals 1to9

Solution to previous crossword

ContactJann Thompson 03 308 7664 jann.thompson@ashburtoncourier.co.nz

Email: kennyslawnsandgardens@gmail.com

For all your regular or one off lawns and

edges, weed whacking, gardening,

pruning, spouting clean,

waterblasting and rubbish removal.

Call Kenny or Marc on 027 2060 503

ALTERATIONS. Sewing,

mending and trouser hemming,

curtain alterations

and curtain making. Call

Michelle on 027 352 7248.

ADVERTISEMENT makeover!

From before to after.

You'll notice the difference

with The Courier, 308 7664.

TRADE &SERVICES

2275940

CARPET cleaning -Powerful

equipment & fast drying.

Upholstery, mats and rugs.

Experienced owner/operator.

Phone John Cameron

at Supersucker 027 435

1042 or 308 1677.

No.5221

4 2 8

6 7 1 9

7 9 5 3

4 5 1 6 3

7 6 8 2

2 8 7 1 5

3 8 5 7

5 3 1 8

4 1 3

4 3 7 5 6 1 8 9 2

8 6 2 7 9 4 5 3 1

5 9 1 8 3 2 6 4 7

6 2 4 9 5 3 1 7 8

1 5 8 4 7 6 9 2 3

9 7 3 1 2 8 4 5 6

7 4 6 3 8 9 2 1 5

2 1 5 6 4 7 3 8 9

3 8 9 2 1 5 7 6 4

QUICK PUZZLE NO. 8567 -SOLUTIONS

Across -6,Appreciate. 8, Apex. 9, Bias. 10, Alert. 11,

Hock. 12, Penetrate. 16, Economise. 20, Tail. 22, Alien.

23, Aver.24, Scar.25, Capitulate.

Down -1,Sprite. 2, Prosper.3,Eclair.4,Latent. 5, Heath.

7, Beach. 13, Ado. 14, Amiable. 15, Match. 17, Chirpy.

18, Ninety.19, Sleuth. 21, Larch.

CRYPTIC PUZZLE NO. 8567 -SOLUTIONS

Across -6,Sigh no more. 8, A-n(I)ne. 9, S-tye. 10, Ta-lon.

11,Tick. 12, Great news (anag.). 16,A-ban-done-d. 20,

Shed. 22, R-emit. 23, Peal (peel). 24, Ta-X-I. 25, Leave

alone.

Down -1,Bit-ter(ror). 2, Cheetah (anag.). 3, Cotton(to).

4, Hollow. 5,Me-ant. 7, Knock. 13, Er-a. 14, Com-pil-e.

15, Ch-E-at. 17, Be-MO-an. 18, Netted. 19, Elain-E. 21,

Dr-ill.

FACTORY SPRAY LACQUER

A NEW LOOK

that lasts!

Existing kitchens, doors,

furniture &appliances

The Finishing Company

03 307 8870 2275858

BUILDING and property

solutions. For your complete

alteration or renovation.

We project manage

the whole process. Home

and small commercial.

Qualified tradesmen.

Phone Kiwi Building &

Maintenance Ltd. Gary 308

4798, 027 207 1478 or

Cawte 027 418 7955.

CHARLIE'S Blind Cleaning

Service -same day service

and repairs. Charlie can

supply new blinds and

tracks, will hang drapes.

Phone 03 307 1936 or 020

4169 0342.

CHIMNEY sweep - For a

professional service call

Dan McKerrow Chimney

Sweep and Repairs on 021

118 7580.

COMPUTER problems? For

prompt reliable computer

servicing and laser engraving

contact Kelvin, KJB

Systems Ltd, 4 Ascot

Place, Ashburton. Phone

308 8989. SuperGold discount

card accepted.

COMPUTER repairs, sales,

training, setup -wireless -

networks, spyware cleanup.

On-site day or evening.

LOW FEES. Call Robin

Johnstone, Networks

Firewalls & PC's Ltd, 308

1440 or 027 768 4058.

CONCRETE Services –

Driveways, paths, patios,

mowing edging. Decorative

Concrete specialist 30

years servicing Canterbury.

Free quotes. No job too big

or small. Phone Paul 021

152 1966.
---
TRADE &SERVICES

CONCRETE pavers direct to

you - Best prices, many

sizes, textures and colours

- Paveco, 13 Robinson

Street, Industrial Estate.

ENGINEERING repairs, fabrication,

farm equipment

service and maintenance,

WOF repairs, machining

and welding. Odd jobs a

speciality. Mobile workshop.

Can collect. Phone

Malcolm 027 475 4241

FLY control and spider

proofing. For all domestic

and industrial pest control

needs phone AJ Kerr at

Ashburton Pest Control on

03 308 8147 or 027 432

5447.

FURNITURE removals -For

all your household removal

needs, call Nudges Furniture

Removals. Phone 027

224 0609.

GARDENING, mowing,

pruning, fertilising, projects

or general spruce ups? Call

Andrew at Spruce Gardens

to get the job done right.

027 765 2899 or 03 307 1693.

sprucegardens@xtra.co.nz

GUTTER cleaning. Book in a

clean now and tell me when

you want the job done. You

may have trees around.

Call Allan 027 209 5026.

PAINTER for all your painting

needs. No job too small,

inside or outside. Professional

friendly service.

Phone Pete 03 308 1672 or

027 200 1619.

PAINTING wallpapering,

plastering - No job too

small. Interior, exterior.

Professional, prompt, competitive

service. Phone

Tony Sivier at Paint It Ashburton

on 021 878 794 or

307 7289.

PLUMBER. Repair or

replace. Taps, shower

mixers, hot water cylinders,

basins, tubs, toilets, vanity

units, leaking pipes. Call

Pete Young, experienced

plumber 027 280 0889/307

7582.

TINT-A-WINDOW, fade, UV

block, glare, heat control,

safety, security, privacy,

frosting films, solar protective

window films. Free

quotes, 20 years local service.

Phone 0800 368 468

now, Bill Breukelaar, www.

tintawindow.co.nz

TV Reception Specialists for

all your digital freeview

installations and repairs,

TV wall mounting, Smart

TV set-up, home theatre

installation. Call John at

Ashburton TV &Audio Ltd

03 308 7332 or 027 277

1062.

WINDSCREENS and house

glass. Qualified flat glass

glazier now in-house. Anything

glass, give us acall.

Your place or ours. Wilson

Windscreens, 152 Wills

Street, Ashburton. Phone

03 308 8485.

GARDEN SUPPLIES

PEASTRAW, small bales.

Delivered Ashburton. $5.50

each; ex paddock $4.50

each. Phone/text 027 434

0442.

Ashburton

Plains Rotary

GARDEN SUPPLIES

PEASTRAW FOR SALE

$3.00 per bale or

$60 per 21 bales

(bound as one big bale)

Clean of weeds,but

have afew peas

in them.

Pick up Winchmore

Saturday30May

10am-12pm

ContactMandy

027 221 3889

MUSHROOM COMPOST

Nowisthe time to dig in our topqualitymushroom

compost to your vegetable garden. Ideal to replenish nutrients

used by previous crops and improvethe soil structure.

It also adds beneficial micro-organisms to thetired soil.

$50 per cubic metreor$10 bag.

Freedelivery within town boundary.

Open 6daysaweek at our Tinwald yard,

208 Maronan Road. Phone 021 129 8936 or 03 308 3331

DELIVERED

$

6.00

per bale

PEASTRAW

and LINSEED STRAW

Small bales

Phone or txt Alisdair 027 410 6882

Ian 027 432 0438; Murray 307 0353

2272994

PROPERTIES FOR SALE

6WATERFORDPLACE,$579,000

BRAND NEWHOME

3 2 2 2 811m 2

OPENHOME

Sat&Sun –11.00am-11.45am

RAFFLE RESULTS

Allenton

CroquetClub

1st Wilson

2nd Lily Wills

3rd Lois Kirkwood

Apologies forthe delay

in the drawing

of this raffle as aresult

of Covid 19.

Thank youall for

your support

PETS

Mobile

groomer now

servicing

Ashburton

Call nowtobooka

pamper foryour pooch

Ph 0800454 654

2281483

2275884

2278621

2277443

SELL

2278862

LPG REFILLS

9kg cylinders

$27.50

Askabout our

deliveryservice

Anysizecylinderfilled

17 Grey St,Ashburton

Phone 307 2707

LPG

REFILLS

Small LPG cylinders

Off Street Parking

Available

Arthur Cates Ltd

26 McNally Street

Ph 308 5397

Riverside Industrial Estate

2274771

2274731

ALUMINIUM windows,

second hand house lot, any

interest? 027 587 1754.

LAWNMOWER, Husqvarna

LT125 ride-on, 6speed, 42

inch cut. Phone 027 434

0442.

METAL, heavy etc. Free

light-grade metal in-yard

dumping 9am-5pm weekdays.

Ashburton Scrap

Metal Recyclers, 117 Alford

Forest Road (behind

Placemakers). Phone 03

308 8033 or 027 249 6625.

FIND money in your bank

account each week if you

become adelivery person.

The Courier 308 7664.

SITUATIONS VACANT

CLEARING SALES

EDUCATIONAL

Forkliftand Dangerous GoodsCourses

NZTAApproved Course Provider,MITO&Competenz Assessor

Classes 2&4,Endorsements F&D

ForkliftF&OSH, Saturdays and other days as requested

Dangerous Goods Course,½day Mondaymornings

CommunityHouse,Ashburtonoryour work place

Forfurther information

Phone Christine 027 245 2563

DELIVERYPEOPLE

wanted

to deliver the AshburtonCourier

and Realtyevery Thursdayinthe

Ashburtonurban area.

Phone Jann on

308 7664 or email

jann.thompson@ashburtoncourier.co.nz

2279768

2269305

2264293

SITUATIONS VACANT

ThreePositions

OneFulltime &Two Part-time

Checkout Supervisor -Fulltime

This Checkout Supervisor position is full-time,

40 hours per week with aTuesday–Saturday

roster acombination of early and late shifts.

Thesuccessful applicantwill requirethe

following skills:

• Must be customer focused

• Abilitytomanage staff and lead by example

• Motivatedand positiveattitude

• Previous experiencewould be preferred.

Checkout Operator–PermanentPart-time

This position is for8.5 hours on aSaturday

9am –6pm.

Thesuccessful applicantwill requirethe

following skills:

• Customer focused

• Reliable

• Positive attitude

Cleaner –PermanentPart-time

This position is for2hours 8am–10amona

Sunday; Mondayand Friday 6hours

(9am –3pm).

Thesuccessful applicantwill requirethe

following skills:

• Cleaning needs to be ahigh standardand

experiencepreferred

• Reliable

• Must be physically fit

If youthink youare the person we arelooking

forplease email your covering letter and C.V.

stating which position youare applying forto:

HR.Ashburton@mitre10.co.nz

Applications close on

Wednesday 3rdJune 2020.

ASHBURTON COLLEGE

'Individual ExcellenceinaSupportive

Learning Environment'

Examination Centre Manager

We areseeking an Examination Centre Managerto

run the NCEA andNZScholarship

examinations in 2020.

Thesmooth and successful running of an exam

centre is important for all students participating

in these examinations.

Theposition requires youtocompleteanonline

training programme and attend aone-day training

session with NZQA in August. Therewill be an

additional training dayinSeptemberfor managing

digital exams. The position requires youto

completeanumber of administrativetasks to plan

and preparefor theexams. You must be available

to work forthe entireexam period (Monday16

November to Wednesday9December 2020).

Ahigh leveloforganisational skills with great

attention to detail,strength in following processes

precisely, confidenceleading people of all ages

and proficiencyinusing acomputer areessential

qualities forthis role.

Remuneration is set by NZQA.

Applicationsclose noon,Friday12June 2020

Information package enquiries andapplications

please contact

Jodee Ross,Principal's Secretary

Phone (03) 308 4193 ext809

Email: rj@ashcoll.school.nz

Exciting opportunity

in newDispensary

DispensaryTechnician (or currently training)

required in anew Dispensarytobelocated

within the Eastfield Health Building which is

nearing completion on Tancred Street.

This is afull time position.

Please send aone page CV to

smwise@xtra.co.nz by 5th June 2020.

Confidentialityisassured.

Tancred Street Dispensary

SteveWise

CommunityPharmacist

2281247

2280308

2280907
---
SITUATIONS VACANT

Operations Co-ordinator

Our small privately owned trade-basedbuilding

supplies storeislooking foranoperations coordinator.

The successful candidate will be someone

who has the driveand passiontodeliver great

customerservice whilstgetting the job done.

This role will include co-ordinating stock control,

organising ordersfor deliveryand collection, coordinating

our yard and store staff to achieve set

targets, all whilstjumping in to lendahand in a

variety of other roles as needed.

Anyprior experience in arole similar to this

would be an advantage,aswouldacurrentforklift

licence and somebuilding industryknowledge.

Please submit applications, including acurrentCV,

by Friday 5th June to sally@buildlinkselwyn.co.nz

HEALTH &BEAUTY

URGENT CARE CLINIC

WEEKEND DUTYDOCTORS

IN THE EVENT OF AN EMERGENCYPHONE 111

Forall other medicalassistanceoutsideofnormal

hours please phone your generalpracticeteam, 24/7,

to speak with ahealth professionalwho will giveyou

free healthadviceonwhattodoorwheretogoifyou

need urgentcare.

If youdon't have aregular general practice, call any

GP team 24/7 forfreetelephone health advice.

All non-residents and visa holders please bring your

passporttoyour surgeryappointment.

New Zealanders'tobring some form of ID.

TheAshburtonDutyPractice for ...

Saturday30th May is

Sealey Street Medical Practice, Sealy Street.

Consultations will be by appointmentonly.

To make an appointmentcall your regular GP 24/7.

Sunday31st May is

MooreStreet Medical Centre, MooreStreet

Consultations will be by appointmentonly.

To make an appointmentcall your regular GP 24/7.

Monday1st June is

Tinwald Medical Centre,33Archibald Street.

Consultations will be by appointmentonly.

To make an appointmentcall your regular GP 24/7.

Methven and Rakaia: Formedical attention on the

weekend and public holidays please telephone

MethvenMedical Centre on 03 302 8105

or Rakaia Medical Centre on 03 303 5002.

Details foraccessing the afterhours services will be

on the answer phone.

PHARMACIES

Wises Pharmacy,CountdownComplex,

East Street will be open on ...

Saturday from 9.00am until 1.00pm

Sunday from 10.00am until 1.00pm

At Geraldine: TheGeraldine Pharmacywill be open

normal trading hours during the week,and on

Saturdaymorning from 9.30am to 12.30pm.

Closed Sundays and Public Holidays

Forfree24hour Telephone Health Advice

Phone the healthline on 0800 611 116

Broughttoyouby

CountdownComplex, East Street, Ashburton

Phone: 03 308 6733 Fax: 03 308 6755

DebraCurtin

Chiropractor

03 308 9516

www.ashburtonchiropractic.co.nz

16,065 COPIES EVERYWEEK

2280808

1278047

Peter Blacklow

PETE'S

PICK

Full rangeofengineering supplies and accessories forall your repairs

&maintenance. Kerrick hot &cold waterblasters&industrial vacuum cleaners.

Essetiwelders &accessories. Stockists and distributors of TrailerEquipment.

Locally owned &operated family business for 67 years

ASHBURTON

South Street, Ashburton PHONE (03) 308-3147

Email office@blacklows.co.nz FREEPHONE 0800 452 522

FOR LEASE

RENT ME!

Ideal as an extra

bedroomoroffice.

Fully insulatedand

double glazed forwarmth.

Threeconvenientsizes:

Standard3.6m x2.4m,

Large 4.2m x2.4m

Xtra-large 4.8m x2.4m.

Visit our displaycabin

418WestStreet or callfor a

freebrochure.

www.justcabins.co.nz

2262540

0800 58 78 22

LOOKING for the best way to

spend your advertising dollar?

Think The Courier.

PUBLIC NOTICE

Call in atalk to the people who know ...

HospiceMid Canterbury

We can supportyou and

your family to make

everyday count.

Allservices arefree.

BONUS HELMET

HURRY ONLY WHILE

STOCKS LAST

XCEL-ARC

NEW! VIPER SYNERGIC

MIG120 XA MIG120V-SP

One knob control.

Easy operation forbeginners.

Small,compact, portable.

$312.17+GST

Dealing with alife limiting illness?

Phone 307 8387 or 027 227 8387 email manager@hospicemc.nz

www.hospicemc.nz facebook hospicemidcanterbury

FOR LEASE

AWESOME office space for

lease, rent or hire. Park like

setting. Indoor and outdoor

areas. North west town

boundary. Must view.

Phone 0274 754 241

STORAGE available, Ashburton.

Self storage, variety

of sizes. Phone Rainbow

Storage 03 307 0401.

STORAGE: Secure self storage

units available long or

short term at Ashburton

Storage Facilities. Contact

us on 027 436 2636 or www.

ashburtonstoragefacilities.co.nz

2262322

HOME SERVICES

ROOF COATINGS: All roof

types, specializing in

Decramastic and Long Run

Iron, Coloursteel etc, steep

roofs not a problem. —

Spraymaster 027-433-7780.

WHAT better place for a

public notice than Ashburton's

The Courier! Simply

clip the form for a run-on

advert like this or telephone

us on 308 7664 if you

require adisplay advertisement.

AGM, Rakaia Search and

Rescue, 7:30pm 22 June at

Rakaia HQ. General meeting

7:00pm.

HIRE

SCISSORLIFTS for hire.

4WD and slab lifts available

for daily or weekly hire.

Pickup or delivery. Phone

North End Engineering 308

8155 for abooking.

ADVERTISING space available

in the next issue of The

Courier Newspaper. Call us

today 308 7664.

Thur 28th &Fri 29th

10.00 AllatSea

10.10 IStill Believe

12.00 TheLastFull Measure

12.30 TheAssistant

2.20 Call of the Wild

2.30 ForSama

4.40 IStill Believe

5.00 AllatSea

7.00 TheLastFull Measure

7.15 TheAssistant

Sat30th, Sun31st

&Mon 1st

10.00 Call of the Wild

10.15 TheBig Trip

12.00 ForSama

12.20 Sonic

2.00

2.30

3.50

4.50

5.45

7.15

7.40

10.45

11.00

12.50

1.00

2.50

3.05

4.50

5.15

7.00

7.30

TheBig Trip

TheLastFull Measure

TheAssistant

IStill Believe

AllatSea

TheLastFull Measure

TheAssistant

Tue2nd &Wed 3rd

IStill Believe

AllatSea

TheLastFull Measure

TheAssistant

DarkWaters

AllatSea

ForSama

IStill Believe

TheLastFull Measure

TheAssistant

NO COMPS

TheAssistant,

TheLast Full Measure

M

M

M

M

PG

RP16

M

M

M

M

PG

PG

RP16

PG

PG

M

M

M

M

M

M

M

M

M

M

M

M

RP16

LAKEWAY NURSERY

QUEEN'S BIRTHDAY

SALE

SUPER

SPECIALS

AMAZING

NEWSTOCK

AVAILABLE

OPEN ALL

L WEEKEND

SATURDAY, SUNDAY,

MONDAY

10am -3pm

Phone 308 9950

Grahams Road,Tinwald

(1kmfrommain highway)

3x6-month-old

Tabbycatsready for

homes now.

Barn cats available.

Manythanksfor the food donations.

They arealways greatly appreciated.

Tuesday-Saturday

9:30am -noon

Phone 308 4432 or

027 332 9286

TALK to us today about ways

you can improve your business.

Professional, reliable

service with a smile. The

Courier 308 7664.

M

M

M

2281230

Kindly sponsored by

180216

2280287

ARE you looking for a

flatmate, somewhere to

rent or a boarder? What

better place to advertise

than The Courier.
---
Page 32, Ashburton's The Courier, Thursday May 28, 2020

Local news at www.starnews.co.nz

QUALITY

USED VEHICLES

@

AFFORDABLE

PRICES

WARRANTIES AA APPRAISED FINANCE BIGGEST YARD BEST SELECTION TRADE-INS

2006 HONDAINSPIRE AVANZARE

3000 CC,4DOOR,

ABS, AIR CON, CRUISE

CONTROL,CLIMATE

CONTROL 57,500 KMS

2008 SUBARUIMPREZA 15S

1500 CC,ABS,AIR CON, REAR

SPOILER, 78,200 KMS

2007 TOYOTA PRIUSSTOURING

SELECTION

1500CC,ABS,AIR CON,

CLIMATECONTROL,REAR

SPOILER, 36,000 KMS

$9,995

DAIHATSU

1999 DAIHATSUTERIOS SUV, manual,petrol,4x4, 5door,central locking,

rear spoiler,1300cc, 159,788 kms...........................................................$3,995

HONDA

2006 HONDAINSPIREAVANZARE, 3000 cc,4door, abs,air con, cruise

control, climate control57,500 kms................................................... $9,995

2006 HONDAINSPIRE,alloys,cruise control, reverse camera, 2wheel

drive, 3000 cc,57,000 kms..................................................................... $9,995

2013 HONDACR-V 24G, auto5door,ABS, cruise control, alloys,tow bar,

66,000 kms, 2400cc...................................................................................$22,995

2004 HONDACR-V ZX, auto, petrol,5door,SUV,ABS, rear spoiler,78,100

kms, 2400cc.....................................................................................................$9,995

2007 HONDAELYSION PRESTAGESZ, auto, petrol,7seater, 5door,ABS,

foglights,105,000 kms, 3500cc, alloys,cruise control, newstyres,and

loaded........................................................................................................... $11,995

2007 HONDASTEPWAGON G, 5door,8seater, ABS, air con, rear spoiler,

95,000 kms, 2000cc......................................................................................$7,995

MITSUBISHI

2010 MITSUBISHI GALLANT FORTIS SPORT,5door,ABS, air con, CD

changer,climate control, 97,400 kms, 1800cc....................................$9,995

MAZDA

2009 MAZDADEMIO SPORT, 1500cc, ABS, air con, climate control, rear

spoiler,70,500kms.....................................................................................$10,995

2008 MAZDADEMIO SPORT, 5door,ABS, climate control, air con, body kit,

19,800 kms, 1500cc.................................................................................. $11,495

$8,995

NISSAN

2008 NISSANMICRA, 5speed,twin air bags,5door,ABS< 96,000kms..........

$3,995

2006 NISSANBLUEBIRDSYLPHY20S, 4door,ABS, air con, climate control,

11,800 kms, 2000cc......................................................................................$9,995

2006 NISSANCUBE15M, 5door,petrol,air con, ABS, CD changer,42,300

kms, 1500cc.....................................................................................................$7,495

2008 NISSANNOTE15X, auto, 5door,air con, climate control, petrol,14,800

kms, 1500cc, ready to go.............................................................................. SOLD

2014 NISSANLATIO B, auto, idling stop,twin air bags,ABS, 4door,petrol,

air con, 31,100kms........................................................................................$9,995

2006 NISSAN BLUEBIRD SYLPHY, 2L, sedan, wine red, twin air bags,

ABS, 60,000kms ........................................................................................... $9,995

2001 NISSANCUBE, 1300 cc,5door,auto, 136,000 kms........................$3,495

2007 NISSAN SKYLINE 350 GT,3500 cc,auto, paddle shift, 18in alloys,

76,000 kms...................................................................................................$11,995

SUBARU

2008 SUBARUIMPREZA 15S, 5door,petrol,ABS, air con, rear spoiler, .........

78,200 kms, 1500cc......................................................................................$8,995

2005 SUBARUFORESTER 2.0X, 5door,4x4, ABS, air con, petrol,82,500 kms,

2000cc................................................................................................................. SOLD

SUZUKI

2007 SUZUKI SWIFT 1.5 XS, Auto,body kit, air con, 1500cc,

49,500kms .................................................................................................. $9,995

$10,995

2007 SUZUKISX4 XG, 5door,petrol,ABS, air con, climate control, rear

spoiler,roof rails,alloys,97,200 kms, 1500 cc.....................................$8,495

2007 SUZUKISWIFT 1.5XS,1500cc, white, auto, body kit, air con, 68,000

kms.....................................................................................................................$9,995

TOYOTA

2007 TOYOTA PRIUS STOURING SELECTION, 1500cc,ABS, air con,

climate control, rear spoiler, 36,000 kms........................................$10,995

2007 TOYOTA PRIUS STOURING, hybrid,alloys,reverse camera, air con,

rear spoiler,ABS, 1500cc,36,000 kms................................................ $9,995

2007 TOYOTA BLADEG,5door,ABS, air con, body kit, rear spoiler,push

button start, 70,500 kms, 2400cc.........................................................$10,995

2009 TOYOTA ESTIMA HYBRID X4WD, 5door,8seater, ABS, air con, auto,

rear spoiler,cruise control, 133,450 kms, 2400cc, alloys..............$14,995

2013 TOYOTA PRIUS L, 5door,ABS, air con, petrol,parking sensors,rear

spoiler,auto, 71,810 kms, 1800cc.........................................................$16,995

2012 TOYOTA RACTIS G, 5door,petrol,ABS, air con, rear spoiler,cruise

control, 45,400 kms, 1500cc...................................................................$11,995

1999 TOYOTA RAV4,3door,petrol,ABS, air con, rear spoiler,

1800cc...............................................................................................................$7,995

2006 TOYOTA RUSH G, 5door,petrol,ABS, air con, climate control, rear

spoiler,59,500 kms, 1500cc....................................................................$11,995

2008 TOYOTA WISHXLIMITED, 5door,petrol,ABS, air con, auto, climate

control, 72,500 kms, 1800cc......................................................................$9,995

2007 HONDAELYSION

3500CC,AUTO,

PETROL,8SEATER,7

DOOR,ABS,ALLOYS,

CRUISECONTROL,

NEWTYRES

AND

LOADED

2008 NISSANMICRA

1200CC,ABS,5SPEED,

2AIR BAGS,5DOOR,

96,000KMS

2009 TOYOTA ESTIMAHYBRID X4WD

ABS,AIR CON, AUTO

DOOR, CRUISE CONTROL,

ALLOYS, 2400CC,

8SEATER,

CRUISE

CONTROL

$11,995

$3,995

$14,995

Ph: 308 1396

Sellingnicecarstonicepeople!

ENQUIRE NOW

-about our range of rental vehicles

AUTOSLTD &RENTALS

470 West Street,

Ashburton

A/H Keith Drummond

0274 367 646

Family,Sports,School or Social Trips

We have 8, 10 &12seaterminivansavailable.

Cars and3trucks forsmall orbig loads also available.

2276694