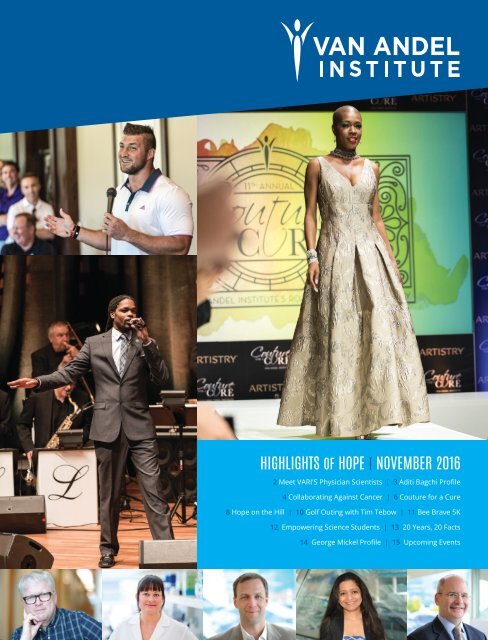 2016 Fall/Winter Highlights of Hope
Create successful ePaper yourself
Turn your PDF publications into a flip-book with our unique Google optimized e-Paper software.
HIGHLIGHTS OF HOPE | NOVEMBER 2016

2 Meet VARI'S Physician Scientists | 3 Aditi Bagchi Profile

4 Collaborating Against Cancer | 6 Couture for a Cure

8 Hope on the Hill | 10 Golf Outing with Tim Tebow | 11 Bee Brave 5K

12 Empowering Science Students | 13 20 Years, 20 Facts

14 George Mickel Profile | 15 Upcoming Events
---
RESEARCH

THE BEST OF BOTH WORLDS:

MEET VARI'S PHYSICIAN-SCIENTISTS

What is the best part of being a physicianscientist?

Q

Lena Brundin, M.D., Ph.D.

Associate Professor, Center for Neurodegenerative Science,

Van Andel Research Institute;

Collaborating Researcher, Pine Rest Christian

Mental Health Services

Patrick Grohar, M.D., Ph.D.

Associate Professor, Center for Cancer and Cell Biology,

Van Andel Research Institute;

Pediatric Oncologist, Spectrum Health

Helen DeVos Children's Hospital

Stefan Jovinge, M.D., Ph.D.

Professor, Center for Epigenetics, Van Andel Research Institute;

Director, DeVos Cardiovascular Research Program (a joint effort

between VARI and Spectrum Health);

Medical Director of Research, Frederik Meijer Heart &

Vascular Institute, Spectrum Health

Matthew Steensma, M.D.

Assistant Professor, Center for Cancer and Cell Biology,

Van Andel Research Institute;

Orthopedic Surgeon, Spectrum Health

MS: There are many wonderful aspects of being a

physician-scientist, as well as unique challenges. What

I really like about physician-scientist work is the ability

to see the "entire picture," from bedside to bench

and back. In my opinion, it's the best way to develop a

comprehensive understanding of a complex disease

like sarcoma. When you do translational research as

a clinician, you acquire a deep understanding of the

genetics or molecular biology of disease. It's a great

reminder of the invisible battle going on inside of a

patient. It can also be incredibly frustrating because it

takes a lot of time to implement promising research

findings, or your project simply fails. These frustrations

are inherent to all medical research, but as a physicianscientist

you always want to see the impact of your

research. In many ways, our success is defined by how

we improve the lives of our patients through research.

The job is very motivating, not only for myself but also for

our lab members, who really appreciate the context of

their work.

SJ: In my case as a critical care cardiologist, I see very sick

patients, sometimes in a hopeless condition. To be part

of the cutting edge to generate new technologies and

treatments gives me a lot of inspiration and energy to

move things forward.

LB: The best part is that I am able to do true translational

research. I observe symptoms in patients that generate

ideas and hypotheses that I then can test directly in

my own laboratory. It is very fulfilling to be able to

work like that. It is great to work with the full spectrum

of research—to enroll patients in our clinical studies

working directly with several hospitals in Grand Rapids; to

evaluate the patient's symptoms; collect blood and tissue

samples; and then work on these samples in my own

laboratory, put together the results, and finally interpret

them, often together with our skilled biostatisticians

at VARI.

PG: Being a physician-scientist is the best of both worlds.

I enjoy working directly with patients and making a

2 | VAN ANDEL INSTITUTE HIGHLIGHTS OF HOPE
---
difference in their care, while also using

the tools available to me as a scientist to

investigate questions that arise in the clinic.

Although the approaches may be different,

they're completely complementary and

they have the same goal—to help patients

fight these devastating cancers.

Q

How does your clinical experience

inform your research? How does your

research inform your clinical work?

MS: Practicing medicine allows you to

identify gaps in care that only research can

fill. Conducting research on a disease that

you frequently see in the clinic gives you

a platform to apply your research findings

toward the betterment of your patients.

SJ: My clinical experience gives me

inspiration to drive my mission and leads to

ideas either from direct experience or from

the results we retrieve from our clinical

research. Our basic research inspires me

as a clinician by knowing the possibilities—

it opens my eyes to see opportunities to

find new treatments for patients. In the

lab, we see future treatments, which is very

inspirational.

LB: As a researcher, I don't think anything

can be more motivating than personally

meeting the patients who you are trying to

find a cure for. Preclinical researchers also

reach out to and meet with patients, but as

a clinical researcher, you are lucky enough

to get that motivation on a daily basis.

My research has established that many

patients with depression and suicidal

ideation have high levels of inflammation in

the blood. Now I am trying to spread that

knowledge back to the clinic. It is important

because inflammation in these patients

could potentially be treated, and the

patients might benefit from this in terms of

fewer symptoms of depression, according

to our hypothesis. I am writing reviews and

clinical guidelines on this topic, informing

the clinical community of the risk of

psychiatric symptoms during inflammatory

conditions. I am also planning treatment

studies together with hospitals in Grand

Rapids in the near future, where we hope

to treat depressive patients with

anti-inflammatory agents to reduce

their symptoms.

PG: The lab and the clinic are two sides of

the same coin. Ultimately, everything we

do in the lab is focused on finding better

ways to help patients. At the same time,

our experiences working directly with

patients in the clinic give us important

insight that we can then investigate in the

lab. On a more personal level, working with

patients is a strong motivator to identify the

problems and the shortcomings in current

therapeutic approaches and to try to solve

these problems through our research. The

reverse is also true—the lab gives us the

tools to develop new treatment strategies

and bring them to patients in a scientifically

rigorous way.

BREAKING DOWN THE WALLS BETWEEN THE LAB AND CLINIC

Van Andel Institute Graduate School

Pediatric Hematology/Oncology

Fellowship-Ph.D. Program

As a physician working with children at

Spectrum Health Helen DeVos Children's

Hospital, pediatric oncology fellow

Dr. Aditi Bagchi discovered she sometimes

has more questions than answers.

"We often treat children who are critically

ill," Bagchi said. "It's very difficult to have

to explain to their parents that we have

limited knowledge about their disease.

I wanted to be able to answer the

unknown questions and also help develop

improved treatments for children with lifethreatening

illnesses. Getting involved with

basic and translational research provides

that opportunity."

The Pediatric Hematology/Oncology

Fellowship-Ph.D. program at Van Andel

Institute Graduate School offers physicians

the opportunity to earn a Ph.D. while

continuing to practice medicine. Unlike the

traditional physician-scientist degree track,

which requires two years of medical school,

four years of a Ph.D. program, and then an

additional two years of medical school, the

Institute's fellowship program provides a

less linear approach to a doctoral degree.

"We have designed my doctoral program

around my specialization in pediatric

oncology," Bagchi said. "The program

is especially meaningful because of its

relevance to the children I treat. I more

deeply understand the molecular basis and

mechanisms of disease, which will help me

break down the walls between the lab and

the clinic."

Balancing the program's demanding

requirements while working as a full-time

physician is not easy, but the rewards

are life-changing, both for Bagchi and

the children she treats.

"My life's goal is to minimize the existing

gap between bench and bedside; I believe

the education and training I am getting

DR. ADITI BAGCHI

through this dual program will help me

design more scientifically accurate clinical

trials that will impact ailing children across

the globe," Bagchi said. "The Institute's

fellowship program is innovative. Its impact

on my ability to help my patients

is incredible."

For information on Van Andel Institute

Graduate School visit vaigs.vai.org.

VAN ANDEL INSTITUTE HIGHLIGHTS OF HOPE | 3
---
EVENTS

COLLABORATING AGAINST CANCER

When Trina Taylor hit the runway for

the 11 th annual Couture for a Cure, the

crowd rose to its feet in applause.

"I always take in a deep breath of air right

before I take my first step because in

my mind I'm carrying all of those women

that are dealing with the same things I

am—being bald, living with cancer. For me

it's empowering," Taylor said. "Instead of

walking the runway, I was taking a bow and

in that bow, I was saying 'thank you.'"

In 2012, Taylor was diagnosed with

metastatic colon cancer. She's been

fighting hard ever since, undergoing

numerous rounds of chemotherapy and

becoming a well-known advocate in the

patient community. Taylor is also a fashion

model, and has recently walked in runway

shows in Paris and New York. However,

despite her best efforts and those

of her doctors, her cancer continued to

recur and eventually became resistant

to traditional treatments.

Then, a year ago, everything changed.

Trina's physician, Dr. Nilofer Azad,

suggested she enroll in a Van Andel

Research Institute–Stand Up To Cancer

(VARI-SU2C) Epigenetics Dream Team

clinical trial at Johns Hopkins University

for a new combination treatment aimed

at reprogramming cancer cells to better

respond to chemotherapy. So far, it's

working "beautifully," Azad said.

"The importance of a clinical trial is that

it gives so many people hope, hope for

what's next," Taylor said. "For me, it's very

emotional when it comes to clinical trials

because everything that I do as far as my

cancer journey is wrapped around being

able to see my son's eyes."

TRINA TAYLOR WALKS THE RUNWAY AT

COUTURE FOR A CURE.

Taylor's story embodies not only the impact

of research and clinical trials, but also of

collaboration. Following the paradigmshifting

framework of Stand Up To Cancer,

4 | VAN ANDEL INSTITUTE HIGHLIGHTS OF HOPE
---
"Trina is an absolutely amazing,

strong woman and is a poignant

reminder of why supporting

scientific research and, in

particular, clinical trials is so

very important."

- Carol Van Andel

the VARI–SU2C Epigenetics Dream

Team brings together leading scientists,

physicians and pharmaceutical companies

with one goal—to compete against cancer

rather than against each other.

Bringing Together Fashion and Science

More than 11 years ago, another sort

of collaboration got underway, one that

combined a love of high fashion with

the generosity of the West Michigan

community. Spearheaded by Carol

Van Andel and supported by a dedicated

group of community and business

partners, the Institute hosted the inaugural

Couture for a Cure at Leigh's in East Grand

Rapids in 2006. That first event, which

has been sponsored by Amway since its

inception, laid the foundation for what has

now become West Michigan's premiere

fashion event, and has featured some of

fashion's most sought-after up-and-coming

designers.

"Couture for a Cure was born out of a love

for fashion and a determination to use it to

positively impact human health,"

Van Andel said. "We are fortunate to be

part of a community that so generously

supports our efforts to eradicate cancer,

Parkinson's disease and other conditions

that steal the lives of our loved ones."

This year, models walked the longest

runway in Couture for a Cure's history,

sporting the latest trends in suiting, evening

wear and street style from Leigh's and the

fall limited edition collection from ARTISTRY.

The show closed with a preview of New

York-based designer Wes Gordon's spring

2017 collection, which meshes timeless

sophistication with a youthful edge. His

designs have been worn by First Lady

Michelle Obama and A-list celebrities

including Katy Perry, Emma Watson,

Miranda Kerr and Gwyneth Paltrow.

Make Memories on Purpose

More than just a celebration of fashion,

Couture for a Cure has come to represent

the impact that a community can have

on research.

"This year's Couture for a Cure was

particularly special and we hope that it

not only entertained, but also inspired,"

Van Andel said. "Trina is an absolutely

amazing, strong woman and is a poignant

reminder of why supporting scientific

research and, in particular, clinical trials is

so very important."

By sharing her story, Taylor hopes to

encourage others who are fighting cancer.

She serves a patient ambassador at Johns

Hopkins, reminding people to stay hopeful

and to be open to the idea of clinical trials.

Throughout all of her efforts, her slogan,

"make memories on purpose" shines

through. Its message is simple,

but powerful.

"Think about what you can do to make

a memory today," Taylor said. "Don't let

cancer steal your joy. Keep on living."

(TOP) CAROL AND DAVID VAN ANDEL WITH

TRINA TAYLOR; (BOTTOM) DESIGNER

WES GORDON WALKS THE RUNWAY.

From the lab to the clinic: Van Andel Research Institute–

Stand Up To Cancer Epigenetics Dream Team

The VARI–SU2C Epigenetics Dream Team fosters collaboration between several

of the world's most respected research and clinical organizations in an effort

to translate scientific discoveries into new standards of patient care. Its goal

is to get new and more effective cancer therapies to patients faster. The team

currently supports two clinical trials—one in metastatic colorectal cancer

and one in the blood cancers myelodysplastic syndrome and acute myeloid

leukemia—and has several others in development.

VAN ANDEL INSTITUTE HIGHLIGHTS OF HOPE | 5
---
EVENTS: COUTURE FOR A CURE

(STARTING AT THE TOP, LEFT TO RIGHT) ARTISTRY BEAUTY BAR; REBECCA WIERDA, WES GORDON AND CAROL VAN ANDEL; MODELS WALKING THE RUNWAY;

CAROL VAN ANDEL SPEAKING; TRINA TAYLOR AND DR. PETER JONES; CANDACE MATTHEWS OF AMWAY WELCOMING ATTENDEES; COUTURE FOR A CURE AUDIENCE.

6 | VAN ANDEL INSTITUTE HIGHLIGHTS OF HOPE
---
THANK YOU TO OUR GENEROUS SPONSORS

TITLE SPONSOR

Amway

PRESENTING SPONSOR

Leigh's

VIP PARTY SPONSORS

David & Carol Van Andel Family Foundation

Lighthouse Insurance Group Inc.

VINTAGE SPONSORS

Chuck & Christine Boelkins

CWD Real Estate Investment

Mercy Health

Regal Financial Group LLC

Tom & Brenda Rinks

Steve & Amy Van Andel Foundation

West Michigan Woman Magazine

Greg & Meg Willit

RUNWAY SPONSORS

Channel 95.7 & 100.5 The River

(Townsquare Media)

Cynthia Kay & Company

Eileen DeVries Family Foundation

Jana Hall

Paul & Sheryl Haverkate

Jandernoa Foundation

Lake Michigan Credit Union

Joe & Amanda Lanser

Luxeire

McAlvey & Merchant Associates

Todd Wenzel Automotive

IN-KIND SPONSORS

Amway

Amway Grand Plaza Hotel

ARTISTRY

Blue Water Technologies

Wes Gordon

Leigh's

M.C.L. by Matthew Campbell

Laurenza

Modern Day Floral

The Crown Jewel Spa & Salon

XS Energy Drink

RESTAURANT SPONSORS

CitySén Lounge

Divani

Eurest

Twisted Rooster

HAIR STYLIST SPONSOR

The Crown Jewel Spa & Salon

VAN ANDEL INSTITUTE HIGHLIGHTS OF HOPE | 7
---
EVENTS: HOPE ON THE HILL

(STARTING AT THE TOP, LEFT TO RIGHT) LANDAU EUGENE MURPHY JR. WITH CAROL AND DAVID VAN ANDEL; DAVE AND CAROL RICE;

LANDAU EUGENE MURPHY JR. PERFORMING; ANNE AND JOHN ZIMMERMAN; DAVID VAN ANDEL SPEAKING.

8 | VAN ANDEL INSTITUTE HIGHLIGHTS OF HOPE
---
THANK YOU FOR CELEBRATING OUR 20 TH ANNIVERSARY!

TITLE SPONSOR

Fifth Third Private Bank

ENTERTAINMENT SPONSOR

The Veldheer, Long, Mackay & Bernecker

Group of Merrill Lynch

VIP PARTY SPONSORS

Amway

David & Carol Van Andel Family Foundation

Fred L. Hansen Corp.

John & Nancy Kennedy

Jamie Mills & Jim Nichols

Lighthouse Insurance Group Inc.

Meijer

West Michigan Woman Magazine

DIAMOND SPONSOR

Jandernoa Foundation

PLATINUM SPONSORS

Chuck & Christine Boelkins

Czech Asset Management

Ferris State University/Kendall College

of Art & Design

Dan & Magee Gordon

Howard Miller

Pitsch Companies

The Richard & Helen DeVos Foundation

GOLD SPONSORS

Carnevale

Channel 95.7 & 100.5 The River

(Townsquare Media)

Cumulus Broadcasting

Granger Group

Huizenga Group

iHeartMedia – B93

Lake Michigan Credit Union

Stephen Klotz Family Foundation

Warner Norcross & Judd LLP

Wolverine Worldwide

Women's Lifestyle Magazine

SILVER SPONSORS

David & Jill Bielema

Colliers International

Davenport University

The Douglas & Maria DeVos Foundation

Grand Valley State University

Gary & Vicky Ludema

McAlvey Merchant & Associates

Mercy Health

Norris, Perne & French, LLP

Peter C. & Emajean Cook Foundation

Preusser Jewelers

Rowerdink Inc.

Rob & Susan Stafford

Taconic Charitable Foundation

Williams Kitchen & Bath

BRONZE SPONSORS

Aon

BDO USA, LLP

Matt & Shari Berger

Buist Electric

Jerry & Suzanne Callahan

Calvin College

Cancer & Hematology Centers of

Western Michigan, P.C.

Custer, Inc.

Deloitte

DK Security

Eenhoorn, LLC

Ellis Parking

Ferris Coffee & Nut Co.

First National Bank

Grand Rapids Community College

Martin & Peggy Greydanus

The I.C.N. Foundation

Craig & Debra Kinney

Al & Robin Koop

Ray & Jeannine Lanning

Macatawa Bank

Metro Health

Michigan State University College of

Human Medicine

MLive Media Group

Pioneer Construction

Priority Health

Rockford Construction

SecurAlarm Systems

Steelcase

Truscott Rossman

Dave & Beth Van Portfliet

VanEerden Food Service

Russell & Christine Visner

Wells Fargo

Greg & Meg Willit

Jim & Jane Zwiers

RESTAURANT SPONSORS

Amway Grand Plaza Hotel

The Chop House

CitySén Lounge

Divani

Eurest (VAI Cafe)

FOODesign by Chef Brech

The Kitchen by Wolfgang Puck

Leo's

Reserve

Slows Bar•B•Q

Wheelhouse

IN-KIND SPONSORS

Bluewater Technologies

Brothers Leather Supply

Cascade Rental

The Crown Jewel Spa & Salon

FireKeepers Casino Hotel

Founders Brewing Co.

Gray Skies Distillery

Hotel Walloon

Ice Sculptures Ltd.

Little River Casino & Resort

Long Road Distillers

Modern Day Floral

New Holland Brewing

Preusser Jewelers

XS Energy Drink

(LEFT TO RIGHT) THERESE ROWERDINK AND KATIE OOSTEMA;

KAREN AND JERRY DEBLAAY WITH LANDAU EUGENE MURPHY JR.; TONY GATES AND MARANDA.

VAN ANDEL INSTITUTE HIGHLIGHTS OF HOPE | 9
---
EVENTS

VAN ANDEL INSTITUTE GOLF OUTING 2016

Van Andel Institute's ninth annual Golf

Outing brought dozens of donors and

friends of the Institute together for a

day of golf, philanthropy and hope.

Special guest Tim Tebow toured the

Institute on the day of the event and had

the opportunity to visit with David and

Carol Van Andel, as well as Associate

Director of Research Dr. Patrik Brundin.

During the event, Tebow spoke powerfully

about his personal faith, and his interest in

Parkinson's disease research.

"It was extremely inspiring to visit the

Institute, meet David and Carol

Van Andel and Dr. Brundin, and learn

about the Institute's innovative approaches

to Parkinson's research," Tebow said. "It's

always a good feeling to support people

who are trying to make the world a better,

more hopeful place."

Sponsorships for the Golf Outing were at

an all-time high, led by Merrill Lynch, which

has served as the event's Title Sponsor for

seven years.

"The Institute's mission is very important

to Merrill Lynch," said Tim Long, managing

director and global institutional consultant

for Merrill Lynch, and VAI Board of

Governors co-chair. "We are proud to be a

part of the Institute's effort to fight cancer,

Parkinson's and other diseases."

Next year's Golf Outing is scheduled for

Monday, Sept. 18, 2017, at Wuskowhan

Players Club in West Olive, Michigan. This

annual event sells out every year, but you

can reserve your foursome or sponsorship

now by contacting Sarah Rollman at

sarah.rollman@vai.org.

"It was extremely inspiring to

visit the Institute, meet David and

Carol Van Andel and Dr. Brundin,

and learn about the Institute's

innovative approaches to

Parkinson's research. It's always

a good feeling to support people

who are trying to make the world a

better, more hopeful place."

- Tim Tebow

THANK YOU TO

OUR SUPPORTIVE

SPONSORS

TITLE SPONSOR

The Veldheer, Long, Mackay & Bernecker

Group of Merrill Lynch

DINNER SPONSOR

Lighthouse Insurance Group

RECEPTION SPONSOR

US BANK

LUNCH SPONSORS

Dan & Lou Ann Gaydou

John & Nancy Kennedy

GOLF CART SPONSORS

Belwith Products

Eileen DeVries Family Foundation

Grand Rapids Christian Schools

Priority Health

Rowerdink Inc.

The Sharpe Collection

Thomas & Mary Stuit

Townsquare Media

Dave & Beth Van Portfliet

Brian & Lori Vander Baan

Wells Fargo Bank

PRIZE SPONSOR

Steve & Kathryn Bandstra

CONTRIBUTING SPONSOR

Standard Lumber

(TOP) DR. PATRIK BRUNDIN, TIM TEBOW,

CAROL AND DAVID VAN ANDEL;

(BOTTOM) TIM LONG, TIMOTHY MYERS,

STEVE SPOELHOF AND PHIL VOGELSANG.

(LEFT) ALEX MCNAMARA AND TIM TEBOW.

TEE SPONSORS

Berends, Hendricks & Stuit

Insurance Agency

Crystal Clean Auto Detailing

Foot & Ankle Specialists

Life EMS

Michigan State University

College of Human Medicine

10 | VAN ANDEL INSTITUTE HIGHLIGHTS OF HOPE
---
(LEFT) RACE DIRECTOR PAT RINGNALDA AND FRIENDS AT THE 5K.

THE 2016 BEE BRAVE 5K

Hundreds of West Michigan runners

and walkers laced up their shoes and

brought incredible energy to the ninth

annual Bee Brave 5K on Oct. 8. As

always, 100 percent of the proceeds

from the event go directly to the labs

at Van Andel Institute (VAI) to support

breast cancer research.

"The Bee Brave 5K has supported the fight

against breast cancer since its inception,

and has not only been an incredible

financial success, but has formed an

unshakable sense of community among

participants," said Ringnalda. "I found this

same powerful sense of togetherness at a

Purple Community event last year and felt

compelled to translate the funds raised

into local dollars that benefit breast cancer

research at Van Andel Institute, right here

in West Michigan."

A celebration of brave women and families

affected by cancer, the Bee Brave 5K

included music, door prizes, an award

ceremony—and most importantly, a sense

of comradery that comes from sharing

an important goal. This annual event is a

memorable event that serves as a source

of strength for participants long after

race day.

RUNNERS AT THE NINTH ANNUAL BEE BRAVE 5K.

VAN ANDEL INSTITUTE HIGHLIGHTS OF HOPE | 11
---
EDUCATION

EMPOWERING SCIENCE STUDENTS

Lowell High School biology teacher

Heather DeJonge wants to help students

see science through a new lens. As

part of Van Andel Education Institute's

(VAEI) Partners in Science program, she

discovered how to harness their natural

curiosity and actively engage them in

the learning process.

"For too long, learning has been a passive

experience filled with lectures and

memorization," DeJonge said. "Students

are far more interested when they develop

their own questions and research possible

answers. My goal is to put them in the

driver's seat right away."

Over the past two years, DeJonge has

participated in several professional

development programs offered by VAEI,

including spending her summers working

in Dr. Jeremy Van Raamsdonk's lab at

Van Andel Research Institute investigating

the mechanisms of aging, and the role of

"With Van Andel Education

Institute's help, we are changing

how science is taught and learned

and, I believe, creating a generation

of self-sufficient learners."

- Heather DeJonge

aging in Parkinson's disease.

Last fall, DeJonge started an after-school

research club based on experiments

she conducted in Van Raamsdonk's lab.

Her students gained an entirely new

perspective on science.

"Most science classes already have the

instructions for lab experiments laid out,

and we usually know the outcome," said

Brianna Roest, a junior at Lowell. "The

exciting part of Research Club is that we

make our own instructions, compare data

and learn through trial and error, all while

relying on other students to figure out

next steps."

DeJonge finds it especially rewarding to see

her students take more ownership over

their projects.

"They not only learn the importance of

teamwork, but have become personally

vested in their research," DeJonge said.

"Students are checking on their projects

throughout the school day —not just

during class."

Last spring, Research Club culminated

with a unique opportunity for students to

present their results to scientists in

Van Raamsdonk's laboratory. This year,

students are collecting data that Van

Raamsdonk's lab will use in future research.

"Coming face-to-face with real science

opened my mind, especially after our indepth

work throughout the school year,"

said Hunter Krzysik, a junior at Lowell. "The

whole experience made me much more

interested in choosing science as a career

and showed me how ongoing collaboration

is an important part of scientific discovery."

Following a successful first year, the Lowell

Board of Education decided to expand

Research Club into three additional classes

for the 2016-2017 school year.

Looking forward, DeJonge is confident her

work with the Institute will continue to open

even more avenues for her students to

learn and grow.

"With Van Andel Education Institute's help,

we are changing how science is taught and

learned and, I believe, creating a generation

of self-sufficient learners," DeJonge said.

"It's an incredible experience. My students

inspire me every day."

HEATHER DEJONGE WITH HER STUDENTS AT LOWELL HIGH SCHOOL.

12 | VAN ANDEL INSTITUTE HIGHLIGHTS OF HOPE
---
20 YEARS, 20 FACTS

Since 2001, the Institute has provided

14 more than 300 students with summer

internships. This year, VAI hosted 38 interns

who represented 19 different educational

institutions during the two summer

sessions.

In honor of Van Andel Institute's 20 th

anniversary, we're sharing 20 facts

about the Institute. We hope you learn

something new!

1

VAI is home to over 360 employees

representing more than 29 countries.

2

Since Van Andel Institute broke ground

in 1998, it has spurred vital economic

growth in Grand Rapids, including more

than $2 billion worth of research and

heath care infrastructure along the city's

Medical Mile.

3

Dale Chihuly's sculpture, Life, was

unveiled in 2005 and hangs in the

Institute's lobby. The sculpture was

commissioned by Jay Van Andel in 2004

in memory of Betty Van Andel.

4

Three of VARI's faculty are fellows of

the American Association for Cancer

Research Academy:

• Dr. Peter Jones

• Dr. Stephen Baylin

• Dr. George Vande Woude

5

VARI's Founding Research Director

Dr. George Vande Woude and current

Chief Scientific Officer Dr. Peter Jones are

members of the National Academy

of Sciences.

6

VARI is home to three fellows of

the American Association for the

Advancements of Science:

• Dr. Gerd Pfeifer

• Dr. Peter Jones

• Dr. George Vande Woude

7

VARI's Biorepository is accredited by

the College of American Pathologists

and provides biospecimen and biobanking

services for several National Institutes of

Health-funded projects.

8

All five members of the Research

Institute's first Board of Scientific

Advisors were esteemed scientists who

were or became Nobel Laureates.

• Michael Brown, M.D.

• Richard Axel, M.D.

• Joseph Goldstein, M.D.

• Daniel Nathans, M.D.

• Phillip A. Sharp, Ph.D.

9

VARI currently has 33 principal

investigators.

VARI scientists Drs. Peter Jones,

10 Stephen Baylin and Stefan Jovinge

played key roles in discoveries that were

hailed as notable advances of 2015 by

Nature Medicine.

Since its founding, VARI investigators

11 have published more than 1,000

peer-reviewed articles.

VARI is part of two large, international

12 collaborations aimed at moving

promising therapies into clinical trials—the

Van Andel Research Institute-Stand Up To

Cancer Epigenetics Dream Team and the

VARI-Cure Parkinson's Trust Linked Clinical

Trials initiative.

100% of Van Andel Institute Graduate

13 School doctoral graduates have gone

into postdoctoral fellowships or industry

positions, as of October 2016.

VAEI has worked with more than

15 3,600 students and 2,500 teachers

since 1996.

The Education Institute's staff of 15

16 share their space with more than

65 organisms such as bearded dragons,

geckos, turtles and salamanders.

From 2011 to 2016, VAEI increased

17 the number of teachers participating

in face-to-face professional development

by 2,240%, reaching more than 1,100 so far

in 2016!

This year, 750 students (and counting)

18 have participated in a VAEI program,

compared to 275 in 2011.

The staff at VAEI has a combined

19 total of 244 years of professional

experience in the education industry.

20

Purple Community hosts more than

120 events per year, organized

by individuals, schools, teams and

organizations who raise more than

$300,000 annually for Van Andel Institute.

VAN ANDEL INSTITUTE HIGHLIGHTS OF HOPE | 13
---
PHILANTHROPY

A DONOR'S STORY: ANYTHING IS POSSIBLE—

R. GEORGE MICKEL

"Van Andel Institute is something

I am very proud to be involved with,

because its mission represents

faith, hope and knowledge that lead

to the end goal of improving the

health and well-being of humanity."

- R. George Mickel

received from those who gave of their time

and treasure when he was growing up.

Van Andel Institute Board of Governors

member and philanthropist R. George

Mickel isn't subtle when he talks about

Van Andel Institute. Mickel believes

passionately that the Institute has an

undeniably important role to play in the

future of human health and that it is an

incredible gift to humanity.

"Only through research and education can

humanity advance toward a better future,"

Mickel said. "I really believe that Van Andel

Institute and its work on cancer and other

diseases and its dedication to science

education is a gift to future generations."

Philanthropy for Mickel is not merely an act

of generosity or goodwill, it is a way of life.

As a young boy growing up in Toledo,

Ohio, during the Great Depression, Mickel

witnessed the devastation of poverty on his

neighborhood. He also had the opportunity

to take part in the Boys and Girls Club,

where he received mentoring and learned

how to be part of a community. He later

became a camp counselor and helped

R. GEORGE MICKEL

children who, like Mickel, grew up without

much money or many opportunities.

"It was a place for poor kids coming out of

the Depression. I was a camp counselor

and helped other kids like myself. I enjoyed

it immensely," Mickel said. "The experience

gave me a sense of the beauty of humanity

and the importance of helping others."

Mickel went on to serve in the U.S. Army

Air Force during World War II and pursue a

successful career with the Federal Reserve

Bank of Chicago. After retiring, Mickel

reflected on the generosity and kindness

he was shown as a young boy in Ohio.

In what Mickel calls the "autumn of his

life," he joined the Grand Rapids Police

Department as a senior volunteer, became

an active member of numerous boards,

including the Boys and Girls Club, and

began his philanthropic work with Van

Andel Institute. Even though he had

experienced great success, he recognized

that his accomplishments were made

possible because of the guidance he

"What we do and what we are thankful for

really defines the moral fiber of our lives,"

Mickel said. "Volunteering and being active

in my community brought me back to

where I come from, gave me a strong sense

of purpose and taught me a lot about

honor, integrity and personal values."

Today, a man wise with experience, it's

not prestige or material possessions that

Mickel values–it's optimism, spiritual faith

and the joy of giving back. One of Mickel's

favorite sayings is "anything is possible."

As a member of the Institute's Board of

Governors and a committed donor, Mickel

is confident that his contributions and

relationship with Van Andel Institute will

help educate the next generation of great

scientists and lead to the next discovery

that could change the way cancer or

neurodegenerative diseases are treated.

"Van Andel Institute is something I am

very proud to be involved with, because

its mission represents faith, hope and

knowledge that lead to the end goal of

improving the health and well-being of

humanity," Mickel said. "I have always

believed that if we use the abilities and

experiences God gives us to do good in

the world, anything is possible."

14 | VAN ANDEL INSTITUTE HIGHLIGHTS OF HOPE
---
MARK YOUR CALENDARS FOR 2017!

February 23, 2017

March 2, 2017

March 9, 2017

September 18, 2017

October 12, 2017

Hope

ON THE HILL GALA

October 26, 2017

Our events sell out fast—make sure you reserve your tickets today! For questions

about tickets or sponsorship, contact Sarah Rollman at Sarah.Rollman@vai.org.

VAN ANDEL INSTITUTE HIGHLIGHTS OF HOPE | 15
---
PHILANTHROPY

GIVE THE GIFT OF HOPE

This holiday season, you can honor or remember

a loved one while supporting cancer and

neurodegenerative disease research in a special way

- by making a gift to Van Andel Institute.

When you make your gift of $25 or more by

Dec. 31, 2016, you will receive a special edition

Van Andel Institute "Hope" ornament to display in

honor of your loved one. Your generous gift, no matter

what amount, will work to improve the health and

enhance the lives of current and future generations.

On behalf of all of us at Van Andel Institute, and the

many families who will be helped because of you, thank

you for caring to make a difference!

Reduce your taxes with

an IRA gift.

Did you know that you can reduce your

taxes by making a gift from your IRA to Van

Andel Institute? An IRA rollover is a simple

and easy way for you to help us fulfill our

mission.

For more information contact

Patrik Placzkowski at 616.234.5030.

333 BOSTWICK AVE NE

GRAND RAPIDS, MI 49503

WWW.VAI.ORG

Will you consider a gift to help us continue in our fight against cancer and other diseases that affect more of our loved ones every day?

Your response is requested by Dec. 31, 2016

Donate today at vai.org/give

Is all of your information correct? If not, please call 616-234-5552.

Please send me my "Hope" ornament in honor or memory of:

_____________________________________________________________________________

Name____________________________________________________________

Organization_____________________________________________________

Street____________________________________________________________

City____________________________________ State_________ Zip________

Phone____________________________________________________________

Email_____________________________________________________________

Enclosed is my contribution of:

$250 $100 $50 Other $_____________________

Check* Visa MasterCard AmEx Discover

Credit Card Number_____________________________________________________

Expires____________________________________ V-code______________________

Signature_________________________________________________________________

Please repeat my gift monthly. (Credit card and email required)

I have included Van Andel Institute in my estate plans.

I would like more information about including Van Andel Institute

in my estate plans.

* Please make payable to Van Andel Institute.