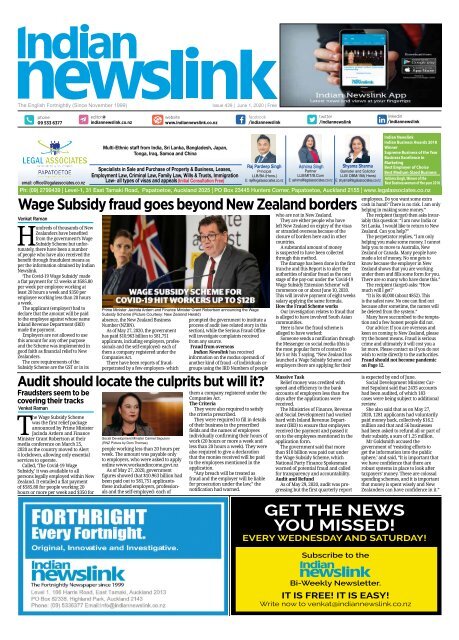 June 1 2020 INL Digital Edition
You also want an ePaper? Increase the reach of your titles
YUMPU automatically turns print PDFs into web optimized ePapers that Google loves.
The English Fortnightly (Since November 1999)

Issue 439 | June 1, 2020 | Free

phone

09 533 6377

editor@

indiannewslink.co.nz

website

www.indiannewslink.co.nz

facebook

/indiannewslink

twitter

/indiannewslink

linkedin

/indiannewslink

Multi-Ethnic staff from India, Sri Lanka, Bangladesh, Japan,

Tonga, Iraq, Samoa and China

Specialists in Sale and Purchase of Property & Business, Leases,

Employment Law, Criminal Law, Family Law, Wills & Trusts, Immigration

Law- all types of visas and appeals (Initial Consultation Free)

Raj Pardeep Singh

Principal

LLB/BA (Hons.)

E: raj@legalassociates.co.nz

Partner

LLB/MIT/B.Com

E: ashima@legalassociates.co.nz

Shyama Sharma

Barrister and Solicitor

LLB/ DBM/ BA( Hons)

E: shyama@legalassociates.co.nz

Indian Newslink

Indian Business Awards 2018

Winner

Supreme Business of the Year

Business Excellence in

Marketing

Best Employer of Choice

Best Medium-Sized Business

Ashima Singh, Winner of the

Best Businesswoman of the year 2016

email: office@legalassociates.co.nz

Ph: (09) 2799439 | Level-1, 31 East Tamaki Road, Papatoetoe, Auckland 2025 | PO Box 23445 Hunters Corner, Papatoetoe, Auckland 2155 | www.legalassociates.co.nz

Wage Subsidy fraud goes beyond New Zealand borders

Venkat Raman

Hundreds of thousands of New

Zealanders have benefited

from the government's Wage

Subsidy Scheme but unfortunately,

there have been a number

of people who have also received the

benefit through fraudulent means as

per the information obtained by Indian

Newslink.

'The Covid-19 Wage Subsidy' made

a flat payment for 12 weeks at $585.80

per week per employee working at

least 20 hours a week and $350 per

employee working less than 20 hours

a week.

The applicant (employer) had to

declare that the amount will be paid

to the employee against whose name

Inland Revenue Department (IRD)

made the payment.

Employers are not allowed to use

this amount for any other purpose

and the Scheme was implemented in

good faith as financial relief to New

Zealanders.

The core requirements of the

Subsidy Scheme are the GST or in its

Prime Minister Jacinda Ardern and Finance Minister Grant Robertson announcing the Wage

Subsidy Scheme (Picture Courtesy: New Zealand Herald)

absence, the New Zealand Business

Number (NZBN).

As of May 27, 2020, the government

has paid $10.963 billion to 581,751

applicants, including employers, professionals

and the self-employed- each of

them a company registered under the

Companies Act.

There have been reports of fraudperpetrated

by a few employers- which

prompted the government to institute a

process of audit (see related story in this

section), while the Serious Fraud Office

will investigate complaints received

from any source.

Fraud from overseas

Indian Newslink has received

information on the modus operandi of

another kind of fraud –of individuals or

groups using the IRD Numbers of people

Audit should locate the culprits but will it?

Fraudsters seem to be

covering their tracks

Venkat Raman

The Wage Subsidy Scheme

was the first relief package

announced by Prime Minister

Jacinda Ardern and Finance

Minister Grant Robertson at their

media conference on March 25,

2020 as the country moved to Alert

4 lockdown, allowing only essential

services to operate.

Called, 'The Covid-19 Wage

Subsidy,' it was available to all

persons legally employed within New

Zealand. It entailed a flat payment

of $585.80 for people working 20

hours or more per week and $350 for

Social Development Minister Carmel Sepuloni

(RNZ Picture by Dom Thomas)

people working less than 20 hours per

week. The amount was payable only

to employers, who were asked to apply

online www.workandincome.govt.nz

As of May 27, 2020, government

figures showed that $10.963 billion had

been paid out to 581,751 applicantsthese

included employers, professionals

and the self-employed- each of

them a company registered under the

Companies Act.

The Criteria

They were also required to satisfy

the criteria prescribed.

They were required to fill in details

of their business in the prescribed

fields and the names of employees

individually confirming their hours of

work (20 hours or more a week and

less than 20 hours a week). They were

also required to give a declaration

that the monies received will be paid

to the employees mentioned in the

application.

"Any breach will be treated as

fraud and the employer will be liable

for prosecution under the law," the

notification had warned.

who are not in New Zealand.

They are either people who have

left New Zealand on expiry of the visas

or stranded overseas because of the

closure of borders here and in other

countries.

A substantial amount of money

is suspected to have been collected

through this method.

The damage has been done in the first

tranche and this Report is to alert the

authorities of similar fraud as the next

stage of the pay-out under the 'Covid-19

Wage Subsidy Extension Scheme' will

commence on or about June 10, 2020.

This will involve payment of eight weeks

salary applying the same formula.

How the Fraud Scheme works

Our investigation relates to fraud that

is alleged to have involved South Asian

communities.

Here is how the fraud scheme is

alleged to have worked:

Someone sends a notification through

the Messenger on social media (this is

the most popular form of contact) to

Mr S or Ms T saying, "New Zealand has

launched a Wage Subsidy Scheme and

employers there are applying for their

Massive Task

Relief money was credited with

speed and efficiency to the bank

accounts of employers less than five

days after the applications were

received.

The Ministries of Finance, Revenue

and Social Development had worked

hard with Inland Revenue Department

(IRD) to ensure that employers

received the payment and passed it

on to the employees mentioned in the

application form.

The government said that more

than $10 billion was paid out under

the Wage Subsidy Scheme, which

National Party Finance Spokesman

warned of potential fraud and called

for transparency and accountability.

Audit and Refund

As of May 29, 2020, audit was progressing

but the first quarterly report

GET THE NEWS

YOUMISSED!

EVERYWEDNESDAY AND SATURDAY!

Subscribe to the

employees. Do you want some extra

cash in hand? There is no risk. I am only

helping in making some money."

The recipient (target) then asks invariably

this question: "I am now India or

Sri Lanka. I would like to return to New

Zealand. Can you help?"

The perpetrator replies, "I am only

helping you make some money. I cannot

help you to move to Australia, New

Zealand or Canada. Many people have

made a lot of money. No one gets to

know because the employer in New

Zealand shows that you are working

under them and fills some form for you.

There are so many who have done this."

The recipient (target) asks: "How

much will I get?'

"It is Rs 40,000 (about $852). This

is the safest now. No one can find out

because after sometime, the names will

be deleted from the system."

Many have succumbed to the temptation

and a few honest people did not.

Our advice: If you are overseas and

keen on coming to New Zealand, please

try the honest means. Fraud is serious

crime and ultimately it will cost you a

lot more. Please contact us if you do not

wish to write directly to the authorities.

Fraud should not become pandemic

on Page 12.

is expected by end of June.

Social Development Minister Carmel

Sepuloni said that 2435 accounts

had been audited, of which 183

cases were being subject to additional

review.

She also said that as on May 27,

2020, 1281 applicants had voluntarily

paid money back, collectively $16.2

million and that and 56 businesses

had been asked to refund all or part of

their subsidy, a sum of 1.25 million.

Mr Goldsmith accused the

government of 'resisting efforts to

get the information into the public

sphere,' and said, "It is important that

we have confidence that there are

robust systems in place to look after

taxpayers' money. These are colossal

spending schemes, and it is important

that money is spent wisely and New

Zealanders can have confidence in it."

Bi-WeeklyNewsletter.

IT IS FREE! IT IS EASY!

Write nowtovenkat@indiannewslink.co.nz
---
02

JUNE 1, 2020

Homelink

Jobless New Zealanders to get financial relief

Venkat Raman

New Zealand citizens and

permanent residents

losing jobs because of

the economic downturn

caused by Covid-19 can expect

financial relief from the government.

People who were in full-time

employment will be entitled to

tax-free payment of $490 per week

for 12 weeks from June 8, 2020.

Those who were in part-time

jobs will receive $250 per week for

12 weeks.

Global economic shock

Estimated to cost $570 million

to the national exchequer, the

Scheme incorporates $1.2 billion

of payments offset by $635 million

of Saved Benefit Payments, with

small administrative costs.

Finance Minister Grant

Robertson said that the initiative

symbolises additional support for

New Zealanders affected by what

he called, '1-in-100 year Global

Economic Shock.'

He said that it was time to have

in place an Employment Insurance

Scheme to support businesses

and employees as New Zealand

rebuilds the economy during the

post-Covid-19 era.

He said the forthcoming payments

will help New Zealanders to

find new jobs or re-train.

Ensuring jobs

"The Government's priority is

making sure people are in work

and able to find new work if their

job has been impacted by Covid.

That is why we made $1.6 billion

investment in the Budget to help

people re-train. The Budget also

invested to create practical jobs

for New Zealanders through

environmental work, construction

and infrastructure. This payment

will help Kiwis as they make these

transitions," he said.

Reiterating his earlier warning

that the government will not be

able to 'save every job and every

business,' Mr Robertson said that

a global economic crisis is at hand

and that it may get worse.

The government is investing to

cushion the blow on households

and businesses to make sure that

the economy is in the best position

to respond, recover and rebuild,

he said.

Mr Robertson said that the

'Covid-19 Income Relief Payment'

is similar to the 'Job Loss Cover

Payment' introduced by the

National-led government following

the Canterbury Earthquakes in

February 2011 and to the 'Restart

Package' for people who lost their

jobs during the Global Financial

Crisis 2008 and 2009.

"We know that these schemes

reduced the impact on people

who lost their jobs due to those

shocks. They show how important

it is for people to have a safety net

to support themselves and their

families as they look for new work

or retrain," he said.

Unemployment Insurance

Mr Robertson said that the idea

of Unemployment Insurance was

mooted by BusinessNZ and the

Council of Trade Unions and that

the 'Future of Work Ministers

Group' has commissioned the

work with various ministries and

agencies.

"As we move from the respond

and recover phases of our

Covid response, and towards

rebuilding the economy, we have

an opportunity to reset some of

the foundations of the safety net

for working New Zealanders.

Around the world, there are many

examples of countries that created

strong systems to cushion the blow

of job loss through both income

protection and retraining. These

schemes ensure workers do not

suffer large income drops if they

are made redundant through no

fault of their own, and save on

redundancy costs for businesses

going through restructuring," he

said.

Bolstering employment support

Social Development Minister

Carmel Sepuloni said that New

Zealand is in a better position than

many other countries because of

early action.

"We went hard and early to put

support in place through the Wage

Subsidy Scheme. Internationally,

countries are facing increased

unemployment due to Covid-19

and New Zealand is not immune.

As a response to this, the Ministry

of Social Development will not

only be delivering the Covid-19

Income Relief Payment but also

significantly bolstered employment

support. People with partners, who

are still working, may be eligible

for this payment, as long as their

partner is earning under $2000 per

week," she said.

The requirements

Receipt of the payment comes

with expectations from the

Government, and responsibilities.

People who receive the Covid

payment will be required to (a) Be

available for, and actively seeking,

suitable work opportunities while

they receive the payment (b) Take

appropriate steps towards gaining

new employment; and (c) Identify

and take opportunities for employment,

re-deployment and training.

Students – New Zealand citizens

or permanent residents – who have

lost part-time work as a result of

Covid-19 may also be eligible for

the part-time rate.

This fits with the Government's

intention for COVID response

spending to be targeted, temporary

and timely. It will be funded from

the COVID Response and Recovery

Fund.

Strong balance sheet

Mr Robertson said that New Zealand

is in a good position to use the

government's strong balance sheet

to invest to create jobs and support

the private sector to cushion the

blow of Covid-19 on households

and businesses.

"International Credit Ratings

Agency Moody's reaffirmed our

world-leading AAA rating. Moody's

said the investments made in the

Budget were affordable and that

New Zealand would continue to

have some of the lowest debt and

interest costs in the developed

world due to our careful management

of the Government books.

We are now taking the next step

in our plan to respond, recover

and rebuild the economy," Mr

Robertson said.

Kanwaljit Singh Bakshi

National List MPbased

in

Manukau East

Contact

A

P

F

E

1/131 Kolmar Road, Papatoetoe, Auckland

09 278 9302

09 278 2143

bakshi.mp@parliament.govt.nz

facebook.com/bakshiks

@bakshiks

bakshi.co.nz

Funded by the Parliamentary Service. Authorised by Kanwaljit Singh Bakshi MP, 1/131 Kolmar Road, Papatoetoe.
---
JUNE 1, 2020

Todd Muller and his Caucus team sans Bridges

Bakshi gets Ethnic

Communities, Parmar keeps

Research, Science and

Innovation

Venkat Raman

Newly elected

National Party

Leader Todd Muller

has announced his

Shadow Cabinet line-up with

a few surprise shuffling,

seemingly in a good position

for the general election on

September 19, 2020 but conspicuous

by his absence is

his just deposed predecessor

Simon Bridges.

He has chosen the

portfolio of Small Business

for himself, emphasising the

importance of this sector in

the New Zealand economy

and has allocated Education

to his Deputy Nikki Kaye,

a post she held during the

National Party's tenure in the

government. She also gets

Sports and Recreation.

Word has it that Mr

Bridged had asked for

Foreign Affairs, which Mr

Muller declined.

He is reported to have

offered Justice portfolio to

the former Leader.

But Mr Bridges later announced

that he will contest

as the Party's candidate in

Tauranga and help National

win in the ensuing election.

Mr Muller will also handle

National Security, traditionally

held by the Party Leader.

Amy Adams surprises

A surprise inclusion in

Number 3 Position is Amy

Todd Muller Kanwaljit Singh Bakshi Dr Parmjeet Pamar Melissa Lee

Adams who has entrusted

with the newly-created portfolio

of Covid-19 Recovery. Ms

Adams had earlier indicated

that she would retire from

Parliament this year but the

new responsibility may see

her revising her decision.

Judith Collins has received

a promotion in the new lineup.

She becomes the Shadow

Attorney General in addition

to the important posts of Economic

Development, Regional

Development and Pike River

Recovery.

Paul Goldsmith retains his

role as Finance Spokesperson

for National but down on

the List to Number 5 (from

Number 3 earlier). He is a List

MP from Epsom but his entry

to the next Parliament will be

assured with a safe position

on the List.

Bakshi and Parmar

The National Party is yet to

announce its List ranking for

Election 2020 which may not

be the same as Mr Muller's

List announced today.

National two MPs of

Indian origin- Kanwaljit

Singh Bakshi and Dr Parmjeet

Parmar have also received

appropriate portfolios.

Mr Bakshi moves up to

handle Ethnic Communities

(from his earlier Internal

Affairs), while Dr Parmar

retains her existing portfolios

of Research, Science and

Innovation.

Melissa Lee retains her

Broadcasting, Communication

and Digital Media; and

gets additional charge of Data

and Cyber Security.

The entire Shadow Cabinet,

in alphabetical order following

the Leader and his Deputy

can be found in this Report.

The sovereign debt rhetoric

Mr Muller said that New

Zealand is perhaps facing

the toughest time that almost

anyone alive can remember.

"We are borrowing tens of

billions of dollars to get us

through this crisis. There is

only one team that can spend

it competently and well, and

that is my National Party

team," he said.

But most governments borrow

during times of crises.

During John Key' s

National Government,

debt as a percentage of

GDP went from 9.1% in

● First Home

● Investment Property

● Residential or Commercial

● Building / Extending / Renovating

● Re-Finance/ Restructure

Homelink

● Buying an Apartment

● Low Deposit

● Self Employed

● Business Loan

● Property Development

For all your home loan and insurance needs talk to us...

info@kiwimortgages.net.nz

Ex-Banker for years

era@kiwimortgages.net.nz

Ex-Banker for years

2009 to 24.6% in 2016. The

Global Financial Crisis (GFC)

and the Christchurch earthquakes

put huge financial

pressure on his government.

In real terms, government

debt rose from $30 billion in

2010 to $50 billion in 2011

and to $70 billon over the

next three years.

Helen Clark's fifth Labour

Government reduced debt

from 22.6% of GDP in

2000 to 5.5% in 2008. That

Government went from a

$386 million deficit in 2001

to a $2.8 billion surplus in

2008.

Rakesh Bansal Era Bansal Manisha Kumar Jatinder Singh

021 030 8135 021 066 7598

021 154 4327

Jatinder@kiwimortgages.net.nz

Toll Free:

0508 33 22 11

M:021 030 8135

09 903 3602

116b,Cavendish Drive, Manukau City E:info@kiwimortgages.net.nz | w:www.kiwimortgages.net.nz

03

But Ms Clark did not

face any major national or

international adversities

during her nine-year tenure

as the Prime Minister,

except to bail out Air New

Zealand with $1 billion cash

injection in 2011.

Mr Muller said that he

was pleased that Ms Adams

had agreed to be the Minister

for Covid-19 Recovery in

his government.

"Amy is tough and tested

and will play a key role in

getting you, your family and

your community through

this," he said.

Contact us for FREE

consultation

Are you looking

to Buy or Sell

a Business?

Shaun Khanna has a business, sales and marketing

experience of more than 25 years and is a specialist in

selling businesses such as Service Stations, Lotto Stores,

Dairies, Supermarkets and Liquor Stores. He also has vast

exposure in the hospitality sector. Shaun has sold many

businesses and has helped hundreds of buyers and sellers

of petrol stations and convenience stores throughout New

Zealand. Shaun understands both sides of the transaction

from the perspective of both the buyer and the seller as he

is a former successful business owner as he had owned

and successfully run a big BP Service Station & thoroughly

understands how it works.

Shaun offers the degree of professional service that

effectively brings business buyers and sellers together to

experience successful and desirable outcomes. Shaun

has a nationwide network of contacts and a track record

of success, receiving many referrals from satisfied buyers

and sellers.

For a confidential, no obligation discussion about the sale

of your business please give me a call on 029 770 9767 or

send an email to shaunk@abcbusiness.co.nz

2017

SALESPERSON

OF THE YEAR

RUNNER-UP

2017

MOST DYNAMIC

HI-VIZ VIDEO

LISTER

2015/2016

LISTER

OF THE YEAR

Shaun Khanna

029 770 9767

shaunk@abcbusiness.co.nz

Stay Home. Stay Safe. Stay in touch.

2014

SALESPERSON

OF THE YEAR

RUNNER-UP

2013

RISING

STAR

NewZealand Immigration Specialists with 30 years of experience

Competent, proven

immigration service since 1988

●Serving the immigrant community since 1988

●Upfront in-depth appraisal. We accept only cases

which are highly likely to be successful

●Telephone enquiries /obligation free advice

●Network of professional subject matter experts,

such as Commercial Lawyers, Accountants and

Business Consultants to work on Business Visa applications

●Strong portfolio of successful applications

●Strong New Zealand community connections

●Skilled Migration ●Family Migration ●Business Visa

●Special Direction Applications

●Appeal to IPT, CFP (Client Complaints to INZ), S.61 and

Ministerial Requests for consideration

Call us now for afree initial appraisal of your immigration application

(Appointment essential for personal consultations)

Principal: Harjeet SGolian

B.A. (Aust) LL.B (NZ)

Licenced Immigration Adviser -Member NZAMI -since 1993

029 770 9767

www.businessesforsale.co.nz

Licensed REAA 2008

Level 1, 3Campbell Road, Royal Oak, Auckland

Phone: (09) 6241204 Mobile: 021 624120

E: golian@golian.co.nz W: www.golian.co.nz
---
04

JUNE 1, 2020

Homelink

Electoral reforms must ban foreign funding

Jami-Lee Ross

We are happy to announce

the first policy on Democracy

of the Advance NZ

Party.

The Party's membership continues

to grow.

Our democracy is precious and must

be protected for future generations.

That is why Advance NZ's Democracy

Policy proposes implement significant

electoral reforms to protect our

democracy, reduce our foreign security

risks, and provide greater transparency

around electoral funding.

We will increase citizen participation

in democratic outcomes, and

give the people back the right to veto

law changes where Parliament gets it

wrong.

As the large political parties have

become more reliant on fundraising

from foreign sources, our democracy

has been eroded.

The Proposals

The proposals of our Democracy

Policy include (a) Electoral Reform

to restrict candidacy for Parliament

to candidates with a minimum of 10

years citizenship (b) Hold a new Referendum

on the MMP electoral system

at the 2023 Election (c) Remove the

foreign funding loophole by banning

all corporate donations, and only allow

for donations from people who are

eligible to vote (d) Greater funding

transparency with all donations over

$500 disclosed (e) Reform the Citizens

Initiated Referendum Act to make it

easier to initiate referendums and

make CIR binding with the support of

two-thirds of voters (f) Implement Veto

Referendums where voters can initiate

a referendum to veto a law when

Parliament gets it wrong (g) Lower the

CIR threshold to initiate a referendum

to 5% of eligible voters (h) Require

the PM to certify that all ministerial

appointments pose no risk to New

Zealand's security; and (i) Establish

a Royal Commission to recommend

an entrenched written constitution,

subject to voter approval.

Citizenship scrutiny

I have seen first hand the corrosive

effect foreign influence can have

within our democracy.

The Party that I was once involved

in put a former spy trainer for a

foreign military intelligence agency on

the fast track to Parliament.

It was discovered several years later

that the MP did not disclose their links

to foreign military intelligence when

becoming a New Zealand citizen.

It was all quickly swept under the

carpet because of that person's ability

to raise large amounts of money for

the political party.

Advance NZ's Democracy Policy

would not allow that situation to

happen ever again.

Appeal to quicken payments to small businesses

Staff Reporter

Government Ministers have

asked large private enterprises

to adopt prompt payment

practices in line with the state

sector, as a way to improve cashflow

for small businesses.

Ministers of Finance, Small Business,

Commerce and Consumer Affairs have

written to more than 40 significant

enterprises and banking industry

representatives to request they join

efforts to support small and medium

enterprises (SMEs).

Ten-day cycle

The letter from Ministers has been

Ministers Stuart Nash (Small Business)

Grant Robertson (Finance) and Kris Faafoi

(Commerce & Consumer Affairs)

sent to a cross-section of significant

New Zealand enterprises, most of

which are among the top 50 NZX

Companies.

"We want 95% of invoices paid

within 10 working days. Once the

impact of Covid-19 arrived on our

shores in March 2020, we directed all

government agencies to bring forward

the prompt payment target with

immediate effect," Finance Minister

Grant Robertson said.

Described improved payment

terms as a priority, he said that paying

suppliers faster is an important way

to unlock cashflow and productivity

benefits.

"This will support ongoing business

sustainability and growth. Large

employers are already doing a lot

to support their people and smaller

businesses through the impacts of

Covid-19. I know many are trying

to improve their payment terms.

Together with government, these

Cleansing fundraisers

We will clean up the political

fundraising laws that provide foreign

entities a wide open door to funnel

tainted money into our electoral

system.

Constitutional reform is also needed

to take some of the power out of the

hands of politicians, and genuinely

give it back in the people.

Advance NZ's membership has

grown fast since the first call for

membership less than two weeks ago.

Within the first week of opening our

online membership website at www.

advancenz.org.nz we had over 150

people joining.

Building membership

We will spend the next five weeks

building membership to be able to

register as a political party. We will also

continue recruiting candidates and

finalising policies ahead of the election.

Advance NZ has an advantage over

other minor parties attempting to

establish.

businesses can help protect jobs," Mr

Robertson said.

Critical for recovery

Small Business Minister Stuart

Nash said that cashflow is central to

recovery of our SMEs.

"The government has already

stepped up to take a lead by requiring

core departments to pay promptly.

Late payments impede recovery and

force business owners to resort to

personal savings. Prompt payment

terms are another plank in our plan

that responds to the immediate impact

of Covid-19. Our government support

package is also getting cash out the

door to SMEs through interest-free

loans, a $3 billion tax refund package,

Advance NZ is a new Party with

the most realistic chance of gaining

election this year.

No political party under MMP has

been successful in gaining election

without being led by a current or

former electorate MP.

"The 5% threshold is usually too

high of a bar for new parties to cross.

As an incumbent electorate MP

with a strong base in Botany, voters

can have confidence that a vote for

Advance NZ is not a wasted vote.

I applaud the enthusiasm of parties

like TOP, New Conservatives and Sustainable

NZ, but the reality is they are

walking a well-worn path to electoral

failure.

Voters unhappy with the current

offering of parties have in Advance NZ

a party that stands a higher chance of

succeeding.

Jami-Lee Ross is elected member

of Parliament from Botany, East

Auckland. He recently established

'Advance NZ,' a new political party.

The full Advance NZ Democracy

Policy can be found here.

and Wage Subsidy," he said.

Support packages

Commerce and Consumer Affairs

Minister Kris Faafoi said that the

request for action on late payment

practices accompanies other initiatives

to help businesses respond and

recover to the impacts of Covid-19.

"We have had to move fast. Support

takes many forms and a significant

package of relief for those with liquidity

problems has already been outlined

through changes to the Companies Act

around debt hibernation and 'safe harbour'

arrangements for directors who

want to keep trading. All New Zealand

businesses must be given a chance to

share the economic recovery," he said.

Smart money choices made simple.

We'll help you find the sweetest mortgage deal whether it's your first home or

investment property, and arrange the best insurance to suit your needs.

Mortgage services

Home loans

Construction loans

Refinances and restructures

Top ups & debt consolidation

Commercial & Business loans

Insurance

Life, Trauma

Medical/Health

General

Business

Income Protection

Call us today

0800 21 22 23

Level 1, 3/53 Cavendish Drive

Manukau
---
JUNE 1, 2020

Tough decisions as revenue

drops but spending rises

Phil Goff

On May 29, 2020, Auckland

Council opened

public consultation on

its Emergency Budget,

which responds to the financial

crisis caused by Covid-19.

Covid-19 has had a dramatic

impact on the world, including

our Nation and City.

While strong management

of the infection has saved lives

in our country, the lockdown

and the international recession

caused by coronavirus is severely

impacting our job market and

the revenue Auckland Council

needs to provide services for

Aucklanders and invest in our

city.

Serious revenue shortage

We estimate that the fall in

revenue will be more than half

a billion dollars in the coming

financial year. The dividends

from council-owned shares in

assets like Auckland Airport

have been slashed; revenue from

our venues, pools and facilities

such as a the zoo and Museum

of Transport and Technology

was reduced to nothing during

lockdown, and huge losses have

been sustained from the loss

of public transport fares and

parking.

With the slowdown in the

economy, Council revenue

will also suffer from reduced

development contributions and

council regulatory functions.

On top of this, we have budgeted

$65 million to help people

who need rates postponements

because they are suffering financial

hardship due to COVID-19.

Services at risk

The loss of revenue, the largest

in our City's history, puts at risk

the services that the Council

provides to Aucklanders, and our

ability to invest in much-needed

infrastructure for transport,

housing and the environment.

With loss of revenue, we also

need to reduce our spending.

The law requires that we

balance our budget, although

there is flexibility to do this over

a couple of years rather than in

one budget.

We are, however, conscious

of our responsibility to manage

our finances prudently and not

just increase debt that could

jeopardise our credit rating, raise

the cost of borrowing and put

a much larger debt on future

generations.

Debt should be constrained to

finance infrastructure and not to

cover operational expenses.

Major changes coming

This means we will have to

make tough decisions. Services

that are less important will need

to be reduced and some investment

in infrastructure will need

to be deferred. Staff salaries will

be affected, and the council will

have to reduce staff numbers.

Over the last three years, the

Council has made efficiency and

value for money savings.

However, in the post-Covid

environment, further, and larger,

cuts in spending are necessary

and will inevitably reduce

what Auckland Council and its

organisations are able to do.

In all of this, we are working

hard to ensure that important

services needed and valued

by Aucklanders continue to be

delivered.

We are also striving to retain

as high a level of investment in

infrastructure as we are able.

Aucklanders need this investment

to tackle long-standing

problems such as housing

shortages, traffic congestion and

to improve the quality of our

environment.

The investment is also

important to create jobs at a time

of growing unemployment and

to stimulate economic recovery.

Future is bright

The challenge we face is great.

However, we are determined to

continue our progress towards

a better and more inclusive

community and to deal with

long-term problems such as

climate change.

During the health crisis caused

by Covid-19, we showed what

this City and our country could

achieve by working together.

Just as we were successful in

breaking the chain of Covid-19

transmission during the lockdown,

by working together we

can recover from the recession

and achieve a stronger and

better Auckland.

Please visit Akhaveyoursay.

nz/emergency-budget to find

out more about the Emergency

Budget and to share your

feedback.

Phil Goff is Mayor of Auckland.

He writes a regular column in

Indian Newslink.

Homelink

05

MIT GRADS ARE READY

We shape the future, we make connections, we bring ideas to life, and we make a difference.

At MIT we learn by doing, and we graduate with the practical skills employers need.

Together we can make things happen.

Come join us, where the best makers are made.

Start in July. Apply now | manukau.ac.nz

MKT245_5g3
---
06

JUNE 1, 2020

Educationlink

Casual staff worst hit by Massey University lay off

Ruth Hill

Staff on casual contracts at

Massey University Science

faculties have had their jobs

axed with immediate effect as

the institution desperately tries to

cut costs.

The University is refusing to say

how many people are affected.

However, the Tertiary Education

Union warned that the move would

be financially devastating for many

individuals, add massively to the

workload of permanent staff and

downgrade the quality of education

generally.

In a memorandum to senior

staff on Monday, March 25, 2020

(obtained by RNZ), Pro Vice -Chancellor,

College of Sciences, Ray Geor

said that the loss of revenue from

fee-paying international students

would have "a large negative

impact" for the whole University.

"You will also be aware that

the College of Sciences was not in

a good position to begin with at

the start of 2020, with our College

facing significant projected deficits

this year. We have no store of

savings on which to draw to cover

ourselves in an emergency such as

Covid-19," he said.

Casual wage jobs cut

Following a meeting of the

College Executive on May 21, 2020,

Professor Geor said that he had

taken the decision to cut all expenditure

on casual wages for academic,

technical and professional services

with immediate effect.

The Tertiary Education Union

estimates up to 1200 people are

on casual or fixed-term contracts

Massey University (Facebook Photo)

across the whole university.

Political officer Sandra Grey said

that many were Postgraduate or

PhD students who were already

'just scraping by.'

"Some of the fixed-term and casuals

are people for whom this is the

only contract they could get, so this

is their permanent work. That will

affect their families, their ability to

pay rent or mortgage and buy food.

This is fundamentally their only

source of income in many cases,"

she said.

No Consultation

Massey Organiser Heather Warren

said that lack of consultation

or advance warning meant there

was no time to get alternative

arrangements in place.

"It is really disappointing

that they would just slash all of

them without considering the

implications for those fulfilling the

work, and without considering the

implications for those permanent

staff who will be drastically impacted.

It would negatively impact on

undergraduates too," she said.

Ms Warren said that it has an

impact, not only on teaching but

also on students who have to interact

with staff who do not have the

support and resources they would

normally have.

Staff on casual contracts at

universities do most of the vital

academic grunt-work: running

tutorials, supervising labs and

marking assessments.

Reducing 'unnecessary work'

In his Memorandum, Professor

Geor said to avoid overworking

permanent staff, the faculty would

have to reduce 'unnecessary work,'

re-design assessments, shift more

online and potentially cut some

courses with low enrolments. He

signalled permanent staff may need

to muck in with "low-level tasks"

like cleaning and animal care.

"Though staff are not likely to

be happy to be asked to share out

these tasks, if everyone helps, it

should not prove onerous for any

individual staff member," he said.

Ms Grey said that permanent

staff were already under pressure.

"We cannot get away with not

marking work, we cannot get away

with not providing lab support or

tutorial support. So, what is going to

happen is that a whole lot of staff,

who are already overworked and

tired but have permanent jobs, are

going to have to pick up the slack.

That will impact on their health and

wellbeing as well," she said.

Ms Grey said that It was 'particularly

unfair,' given that Universities

had been guaranteed government

funding for the rest of the year.

Export education not

compensated

However, universities are not

being compensated for the lost revenue

from international fee-paying

students, who are worth about $5

billion a year to the economy.

Ms Grey said that previous

governments slashed funding for

tertiary institutions over the years

and forced them to rely on this

money.

"Basically, trying to use international

students as cash cows to

prop up our local provision. And

it's really problematic at this time

because you see this massacre

of casuals. That is a position that

have been put in by policy, but our

institutions need to step up and do

better," she said.

Ms Warren agreed that the cuts

highlighted the problems with

funding for the whole tertiary

sector.

"Universities have no certainty

of funding; so it suits them to have

all these people on fixed term and

casual contracts. And it is mainly

women, young people Māori,

emerging academics who are most

vulnerable and in these really

precarious positions," she said.

No-one from Massey was

available for interview, nor could

the University confirm how many

staff were affected nor which

departments in which they worked.

In a written statement, a University

spokesperson said that Massey

was focused on making sure it

remained "financially sustainable"

post Covid-19.

"To help alleviate the current

financial situation, we have made

the difficult decision to cease

expenditure on casual staff in some

areas of the University. We are

working with staff and exploring

options, and we have had feedback

internally that our people are

willing to pitch in and help ensure

Massey University makes its way

through this new and challenging

environment in the best shape

possible," the spokesperson said.

Ruth Hill is a Reporter at Radio

New Zealand. The above Report

and Picture have been published

under a Special Arrangement

with www.rnz.co.nz

Priyanca

Radhakrishnan

Labour List MP based in Maungakiekie

Maungakiekie Office

09 622 2660

priyanca@parliament.govt.nz

Level 1 Crighton House,

100 Neilson St, Onehunga

(entrance via Galway St)

| | priyancanzlp

Design & Construction

Our team can offer you:

House design and

land subdivision

To build your dream house

with an affordable price

A Fixed price contract with

no hidden cost

Built on time, in months

not years

Reliable professional team

and customer based service

10 Year Master

Build warranty

Authorised by Priyanca Radhakrishnan

Labour List MP, 100 Neilson St, Onehunga
---
JUNE 1, 2020

Even as he prepared to

battle for his position as the

Leader of National Party at an

emergency Caucus meeting in

Wellington on Friday, May 21, 2020,

Simon Bridges suffered another

blow at the One News Colmar Brunton

Poll.

It placed him at 6% as the

preferred Prime Minister, down by

5% from the previous Poll.

He subsequently lost his leadership

role to fellow MP Todd Muller,

who chose former Minister Nikki

Kaye as his new Deputy. A related

story appears under Homelink.

Jacinda Ardern record high

Jacinda Ardern reached 63% as

the preferred Prime Minister, up by

21 percentage points from the previous

Poll, the highest ever. Judith

Collins (National) remained at 3%,

while Winston Peters (New Zealand

First) lost two percentage points to

New Zealand's

largest furniture and

homewares retailer

Nido opened its doors

to the public on Saturday, May

30 2020.

With its extensive range of

solutions for various industries,

businesses and homes, the

advent of Nido will be a major

boost to Auckland's economy

and the country's employment

sector.

Located in West Auckland,

close to the Motorways, the

new Store occupies 27,000 sq

metres of land and floor area

and cost $60 million to build.

It carries more than 10,000

product lines, arguably the

most extensive retail store in

New Zealand.

Nido is 100% New Zealand-owned

company and will

create 180 new jobs.

Managing Director Vinod

Kumar, who has more than

four decades of experience in

related wholesale and retail

business, said that hundreds of

containers of products arrived

New Zealand in the months

prior to Covid-19, which meant

that there was no interruption

in supply lines.

"We will a wide range of

items as we open the store

tomorrow," he said.

International sourcing

Nido is a dream project for

Mr Kumar, who faced several

challenges over the past nine

or more years. This included

extensive research, compliance

and other issues.

With his penchant to

offer the most extensive and

unparalled choice of products,

Mr Kumar and his team have

sourced products from various

parts of New Zealand, United

States of America and Europe,

making it the largest retail

operation in the country.

"We will eventually offer

online shopping functionality

through our website and provide

nationwide distribution

for our products shortly, Mr

Kumar said.

He said that apart from

substantial financial invest-

Businesslink

Another Opinion Poll brings bad news for National

One News Colmar Brunton

respondents elevate

Jacinda Ardern to 63%

Venkat Raman

Venkat Raman

Jacinda Ardern and Simon Bridges (RNZ/Getty Images)

reach 1% rating.

The Colmar Bruton Poll involved

1003 voters over landline and mobile

phones between May 16, to May 20,

2020- days after the government

announced its Budget 2020.

The maximum sampling error is

approximately ±3.1%-points at the

95% confidence level.

The data has been weighted to align

with Stats NZ population counts for

age, gender, region, ethnic identification

and mobile or landline access.

Ms Ardern, who polled the highest

in the 25-year history of One News

Colmar Brunton Poll, had 51% rating

on April 15, 2019, a month after the

Christchurch Massacre. Her compassionate

response to the terrorist

attack, unheard of in New Zealand,

catapulted her to the world stage and

her handling of the Covid-19 health

crisis has enhanced her image.

Second blow for Bridges

This is a second blow for Mr Bridges

and National Party this week.

On Monday, (May 18, 2020), the

latest Newshub Reid-Research Poll

gave Labour Party 56.5% rating (up

by 14 percent points over its previous

For quality paint, colour and advice, come in to your local Resene ColorShop today!

0800 RESENE (737 363)

www.resene.co.nz

poll), while National was at 30.6%,

losing 12.7 percentage points. The

Green Party was marginally above

the 5% threshold while New Zealand

First dropped to 2.7%, compared to

the previous poll.

The Colmar Brunton Poll has

again pushed Mr Bridges to negative

territory to -40 (from the previous

-22%), while Ms Ardern was high at

76%. About 86% of the respondents

said that they approved the way Ms

Ardern's performance as the Prime

Minister, up from 62% in October

2019.

Those who did not like her style

of functioning, dropped to 10% from

29% in the previous poll.

Supporters on both sides

"The groups of people who were

more likely than average (86) to

approve of how Ms Ardern was

handling her job were Labour Party

supporters, people with an annual

household income of $30,001 to

$70,000, and women aged 55 and

over. Those more likely than average

(10%) to disapprove were National

Party supporters (28%), people living

in Taranaki or Manawatu-Wanganui

(18%) and men aged over 55 (16%),"

Choose

New Zealand's

most trusted

paint brand!

07

the Colmar Brunton report said.

When asked if they approved or

disapproved of the way Mr Bridges

was handling his job as Leader of the

National Party, 22% of those polled

approved and 63% disapproved. This

was compared to 29% approving last

October and 51% disapproving.

New Zealanders of Asian Zealander

origin, men aged 55 and National

Party supporters were among those

who approved Mr Bridges as a

Leader.

Those who did not approve Mr

Bridges were households with an annual

income of more than $150,000,

women aged 55 and over and New

Zealand Europeans.

Todd Muller, National's Member

of Parliament from Bay of Plenty is

to challenge Mr Bridges' leadership

at the Party's Caucus meeting in

Wellington tomorrow. He has chosen

Central Auckland MP Nikki Kaye as

his Deputy.

National MPs will cast their vote

in a secret ballot. The winner would

need 28 seats. At the time of reporting,

there were only two candidates

for the Leader's position.

New Zealand's largest retailer opens in Auckland

Nido at 158 Central Park

Drive, Henderson

A new Name and Chapter in Retailing Some members of the Nido Team. Managing Director Vinod Kumar is standing in the Centre Products for home and office from Nido

ment, Nido has taken in nine

years of research into the

most innovative retail models

considered in various parts of

the world.

"Nido offers 80 exclusive

brands and feature more than

100 display rooms. These will

be continuously updated. This

store will open a new chapter

in retailing in New Zealand,"

he said.

Boosting consumer

confidence

First Retail Group Managing

Director Chris Wilkinson said

that the opening of Nido will

boost retail confidence and

help reinvigorate the category

amongst Kiwi consumers.

"People have been focused

on their home environment

for the past eight weeks, and

we know that during the lockdown,

the businesses in these

categories have done very well

selling their essential items.

These types of Stores will be

the first destinations Kiwis

head to once we come out of

lockdown as many of them

will have identified projects

they want to get started," he

said.

Mr Wilkinson said that

along with home makeovers,

businesses will also be looking

to offerings like Nido as we

transition to a new way of

working post-Covid-19.

Significant change

"We are going to see a

significant change in people's

workplaces and more of us

will be working from home,

and hence business owners

are also going to need to

reconsider commercial environments

and office solutions,

so we expect to see growth

here too," he said.

Mr Wilkinson said that

increasingly, New Zealanders

are looking for shopping solutions

that are bought together

under one roof.

"We expect customers to

travel from the Waikato and

Bay of Plenty to purchase

from the Store. I think that it

is inspirational for the New

Zealand market, the products

have been carefully curated

to focus on what New Zealand

consumers like and want,

they have a universal appeal

but underpinning that is an

answer to a Kiwi demand

for products which have

convenience and value," Mr

Wilkinson said.

Mr Kumar said that the

new Store will cater to a wide

range of budgets and tastes

and New Zealanders will

be able to access the latest

products, technology and

global design trends all under

one roof.

"The scale of our Store is

hard to comprehend until

you are in it, but to give some

indication, we are able to

accommodate a full-size

three-bedroom show-home

inside. This has been homestaged

by our team of interior

designers," he said.

About Vinod Kumar

Born in Fiji, Vinod Kumar

graduated in Civil Engineering

from the University of Auckland

in 1975 and launched

his career at Fletcher

Construction. After becoming

a Permanent Resident in 1987,

he brought his family from Fiji

and built his first family home

in Blockhouse Bay, Auckland.

Despite the recession in 1989,

he established his first retail

business with Mitre 10 in Henderson.

The venture expanded

rapidly and he continued to

invest in the business.

Mr Kumar won in several

categories of the Indian

Newslink Indian Business

Awards, including the 'Supreme

Business of the Year Award'

in its launch year in 2008 and

again in 2013. At each of the

acceptance speeches, he advocated

for better facilitation of

investors and businesspersons,

asking the government of the

day and commercial banks

for appropriate policies and

incentives.

He was also voted twice 'New

Zealand Retailer of the Year.'

Nido Business Division

The Company's Commercial

Division Nido@work will

also carry thousands of

European and locally sourced

commercial furniture products

targeting business from SMEs

to large-scale corporates and

government departments.

Mr Kumar is excited about

the opening of Nido and looks

forward to the opening of the

secone phase of opening following

the lifting of all Covid-19

restrictions.

"More product lines,

including large furniture and

room settings will also be made

available in the coming weeks

as lockdown restrictions are

lifted and parking spaces for

more than 600 vehicles. The

first stage of recruitment has

been completed with a further

90 roles to be advertised later

in the year," Mr Kumar said.
---
08

JUNE 1, 2020

Businesslink

Loss Carry Back Scheme offers relief to businesses

But the Covid-19 measure

needs professional advice

Saurav Wadhwa

From April 15, 2020, almost

all entities, including trusts,

companies, sole traders and

partnerships can carry back the

anticipated losses to avail tax refund.

The Scheme is another measure

taken by the government to assist

struggling New Zealand businesses

to deal with economic impact of

Covid-19.

The 'Covid-19 Response (Taxation

and Other Regulatory Urgent Measures)

Bill' has been enacted.

What is Loss Carry Back

Under current rules when you make

a profit you pay tax on the profit.

When you make a loss, that loss is

carried forward to offset against future

income subject to loss continuity

rules. The government has introduced

The Government's budget

unveiled on May 14, 2020

was almost overshadowed

by a raft of Covid-19 emergency

bailout packages released in

the weeks earlier.

What are its main features that

will be a real benefit to Kiwi families,

or where did it drop the ball

and what should it have delivered

to help the average household?

The global economic shock

caused by the Covid-19 pandemic

presents challenges not seen here

since the Great Depression, but

there is a clear path through.

Rebuild better

The Government's economic

response to this pandemic has

Temporary Section IZ8 in the Income

Tax Act 2007 to offset losses in the

current and prior year of tax return.

It means that if your business is

anticipating loss in 2020-2021 tax year,

then you can use this loss in year 2019-

2020 tax return.

The Scheme

The Scheme uses pair of years

–'Taxable Income Year' and 'Net Loss

Year.'

You must also have had taxable

income in the previous year, namely,

the 'Taxable Income Year.'

Losses would only be carried back

for one year.

It means (a) Losses from the 2019-

2020 year could be carried back to the

2018–19 year; and (b) Losses from the

2020-2021 year could be carried back

to the 2019-2020 year.

An example

For example: A tourism operator in

Rotorua filed a tax return for the year

2018-2019. Profit for that year was

$100,000 tax paid on this was $28,000

(28%). Now, for 2019-2020 year they

incurred a loss of $100,000. This loss

will be carried back to the filed tax

been swift and decisive. Our plan

is to respond, recover, and rebuild

better.

That means fighting the virus

and keeping people in work, cautiously

opening up the economy

again, and growing jobs that pay

well by supporting businesses and

communities that will sustain our

future.

Going hard and going early has

put us in a good position. Now

is the time to start rebooting our

economy while keeping New

Zealanders safe.

Budget 2020 is about rebuilding

together.

The Government is determined

to get business moving and the

books back into the black.

Although priorities for Budget

2020 had to change in response to

Covid-19, the principles underlying

decision-making did not. The

Government has always put the

wellbeing of New Zealanders and

return of 2018-2019 by amending the

return. The amendment will result

into a tax refund of $28,000. When

2019-2020 tax return is filed, it must

show a loss of $100,000.

If the same tourism operator, anticipating

low visitors in the region incurs

a loss in 2020-2021 of $120,000, and a

provisional tax of $30,000 is paid for

the 2019-2020 year. An amendment to

re-estimate of provisional tax can be

submitted to receive a refund $30,000.

The above example shows how taxpayers

would be able to claim a refund

for a loss carry-back by re-estimating

provisional tax (where the 2019-2020

is the taxable income year) or amending

their tax return (where 2018–19 is

the taxable income year).

The details

The proposed provision also extends

to shareholder-employees of a company

who may have paid provisional tax.

The Scheme is not intended for

individuals. A majority of individuals

are taxed through the PAYE system

and are subject to auto-calculation

(qualifying individuals). They do not

have losses and hence would not be

their families first. In the Covid

environment, that means jobs.

The $50 billion Fund

The centrepiece of Budget 2020

is the $50 billion COVID-19 Response

and Recovery Fund, which

will protect existing jobs, create

new ones, and provide support for

workers to retrain and businesses

to survive.

We are making certain trades

training and apprenticeships

free, delivering 8,000 new public

houses, and extending the food

in schools programme to up to

200,000 children.

In doing so, we are also creating

and protecting jobs up and down

the country.

We are extending the Wage

Subsidy Scheme for the firms most

affected, backing Kiwi exporters,

encouraging entrepreneurship,

and helping small businesses

thrive in the digital economy.

Again, in doing so, we're creating

affected by this measure.

However, those that operate

businesses through partnerships,

limited partnerships, and look-through

companies would be able to benefit.

The scheme is not available for

residential rental losses.

Taxpayers who have ringfenced

rental losses would also not be able to

carry back losses.

Multi-rate Portfolio Investment

Entities (PIEs) (most unit trusts and

KiwiSaver funds) may not carry back

losses. They (including KiwiSaver)

have tax cash-out for losses so already

benefit from immediate tax relief for

losses.

Companies imputation account

must be in credit to obtain a refund

of income tax of at least the amount

of the refund at the end of the most

recently ended tax year.

Overestimates and interest

If the loss carry-back is overestimated,

resulting in tax to be paid later,

standard use of money interest would

apply in the normal way.

The taxpayer cannot use the remission

of interest provisions in section

Scary future overtaking sympathy for the government

Peter Dunne

Recent public opinion polls have

revealed some very interesting,

if somewhat contradictory,

insights into New Zealanders'

current thinking about the Covid19

crisis and the national response.

The most recent 1News Colmar

Brunton poll reported that 92%

of those surveyed considered that

the government "had responded

appropriately to the coronavirus

outbreak" – up from 62% when the

same question had been asked in

February.

To a second question, 86% rated

the "government's response to the

economic impacts of the coronavirus

outbreak" as good or better.

Financial hardships

Yet, at virtually the same time, the

Commission for Financial Capability

was reporting its own survey data

showing that already one in ten

households had missed a mortgage

or rent payment because of the

Covid19 emergency, and that 34% of

households had already experienced

some financial difficulty, and a further

nearly 40% felt on the brink of doing

so.

A similar recent survey by Research

New Zealand reported that 75% of

respondents were concerned about

Jacinda Ardern: Ever-increasing stature (RNZ

Picture by Dom Thomas)

the impact the crisis was having on

their children.

That survey also reported that

there have been significant increases

in the level of concern about losing

one's job (67%), being able to pay the

mortgage (59%) and being able to pay

the rent (61%).

Worrying trends in New Zealand

So, while at a more global level,

New Zealanders are happy with the

way the government has responded

to date, they are becoming increasingly

concerned about the longer terms

impacts on their families, the future

of their jobs, and their capacity to

meet their weekly outgoings.

And evidence is mounting every

day of the serious impact on employment

and business – this week alone

has seen Air New Zealand confirm

1300 job losses, the Millennium and

Copthorne Hotels chain say over

900 of its jobs are at risk, and the

long-established southern department

store H&J Smith foreshadow around

175 potential job losses as it looks to

downsize to survive.

Taxi company Green Cabs has gone

into liquidation, costing 160 jobs.

SMEs hit

As more and more small to

medium sized businesses resume

after the lockdowns, the more likely

it is that these numbers will escalate

considerably as the stark reality of

how difficult business and trading

conditions are going to become hits

home.

Moreover, for the first time since

probably the 1930s Depression, the

job losses and business failures will

start to hit those who have never previously

had reason to even consider

such a possibility would affect them.

Treasury estimates that unemployment

will peak at 9.8% by September

this year, and start to fall back after

that have been dismissed as "wildly

optimistic" by analysts such as Infometrics,

with most other commentators

predicting unemployment to rise

to well above 10% by September and

fall only slowly after that.

Jobseekers benefit

Already, the numbers on the Jobseeker

benefit have risen around 27%

to just over 184,000 in just five weeks

between the move to Alert Level 4

from late March and the beginning

of May.

The government's announcement

this week of a new temporary tax-free

payment to help those who have lost

their jobs because of Covid19 confirms

its recognition of the severity of

the situation we are now facing.

The worry for the government now

must be that at some point not too

far away, the two apparently contradictory

strands of public opinion will

crossover.

Public concern about the social and

economic impact of Covid19, already

sharply on the rise, will overtake support

for the approach the government

has taken so far.

Political distancing begins

Throw in a general election in just

over three months and it becomes

especially challenging.

Already the Greens and New Zealand

First, the government's support

partners, both polling below the 5%

threshold in the most recent Colmar

Brunton Poll, are starting to actively

distance themselves from the Labour

Party, just in case.

The Greens have been critical of

this week's emergency relief package

as introducing a two tier welfare

system, too narrowly focused on what

they describe as the middle classes,

while New Zealand First has taken

more direct aim at the Prime Minister

claiming somewhat incongruously

that she agrees with them that the

country is taking too long to move to

Alert Level 1.

Budget 2020 boosts confidence amidst global gloom

Priyanca Radhakrishnan

and protecting jobs up and down

the country.

Jobs provide more than just an

income.

They can provide a sense of

purpose, belonging and direction.

Full impact unknown

We do not yet know what the

full impact of COVID-19 will be, but

we know people will lose jobs and

businesses will fail.

That is why the government

moved so quickly to soften the

economic blow to businesses. And

that is why we prioritised jobs in

Budget 2020.

Now, projections show that

unemployment could potentially

be back at current levels in just

two years, and our economy can

be growing again as early as next

year.

That rainy day the Government

was saving for has well and truly

arrived.

We can now use the strength

183ABAB of the Tax Administration

Act 1994. The loss carry-back must

ultimately be supported by a net loss

shown on a tax return filed for the loss

year.

If the tax return for the loss year is

not filed, the loss carry-back deduction

could be disallowed.

If the taxpayer owes a debt on other

tax types, Inland Revenue will not

apply any of the refund arising from

the loss carry-back to satisfy tax debts.

Anti-avoidance provision is inserted

in the Bill.

This would apply where a share

in a company has been subject to

an arrangement which allows a loss

company to meet the requirements of

the new section IZ8 and the purpose

of that arrangement is to defeat the

intent of section IZ8.

Saurav Wadhwa is a Chartered

Accountant and a Tax Specialist. He is

the Managing Director of the Auckland

based firm IBBZ Accounting Limited.

He can be reached on 027-5555458.

Email: saurav@ibbz.co.nz; website:

www.ibbz.co.nz

Neither of these reactions is about

policy – both are much more about

struggling smaller parties sensing that

public disgruntlement will rise and

stellar support for the government fall

as more and more households and

businesses are directly impacted.

Quite understandably, they want to

be on the right side of public opinion

when the crossover occurs.

Rising stature of PM

Labour's response has to be built

around the ever-increasing stature of

the Prime Minister, as it hopes to be

able to keep enough wind in its sails

to hold an increasingly fracturing

government on course in the lead-up

to the election and maintain the

momentum it has established so far.

It cannot afford to be side-tracked

by crew members scrapping openly

on the foredeck about which sails

to hoist for the run home, while

the previously wallowing National

Party has started to look for more

favourable airs.

The uncertainty of this and the

contradictions in public opinion,

and where they might all head, have

added even more to the fascination

of what is already shaping up as New

Zealand's most dramatic and unusual

election ever.

Peter Dunne was a Minister of the

Crown under Labour and National-led

governments from November

1999 to September 2017. He lives in

Wellington.

of our economic position to carry

the load while households and

businesses find their feet again.

We united as a team of five

million to eliminate Covid-19, and

now we will work together to save

jobs. Because the wellbeing of our

people depends on it.

Priyanca Radhakrishnan is

a Member of Parliament on

Labour List and Parliamentary

Private Secretary to the Minister

for Ethnic Communities.
---
JUNE 1, 2020

Businesslink

09

Eid

Mubarak

From the Ethnic Communities Team

Hon. Jenny Salesa

MP for Manukau East

Minister for Ethnic Communities

Priyanca Radhakrishnan

Labour List MP based

in Maungakiekie

Private Secretary to the Minister

for Ethnic Communities

Labour Ethnic Communities Team:

ethnic_communities_labour@parliament.govt.nz

09 622 2557

Authorised by Priyanca Radhakrishnan MP, Parliament Buildings, Wellington
---
10

JUNE 1, 2020

Businesslink

Demand for migrant labour declines with new realities

The same holds good for

international students

Dileepa Fonseka

Our population has outgrown its

infrastructure for a decade and

some see a Covid-19 building

spree as a chance to catch up, but

others worry about over-building just as

migration stalls.

New Zealand's population hit five

million in March 2020 as Kiwis returned

home in their thousands, adding to

massive growth from migration in the

last decade.

Our population growth has been

the fastest in the OECD and the only

comparable period is the 1870s, when

British migrant workers flooded into

the country, lifting the population from

around 240,000 to 400,000 over the

decade.

New arrivals boost population

The latest population boom was similarly

driven by new arrivals, but was not

accompanied by the new narrow-gauge

railway lines and heavy Government

borrowing that came with the last.

A yawning gap between infrastructure

investment and population growth

emerged.

Civil construction investment, the kind

needed to build roads and other forms

of infrastructure, has consistently been

outstripped by population growth since

2014.

The under-investment led to gridlocked

cities, high land prices and large

wealth gaps. Those with housing assets

experienced soaring capital gains while

those without suffered steep rent hikes.

Successive governments kept the

economy humming with migrant labour,

but fended off calls to stem the flow by

not regularising the immigration status of

hundreds of thousands of people.

A queue of migrants "in limbo" formed

who could be easily replaced if they

complained about the wait. Investment

in infrastructure was hampered by

self-imposed Budget Responsibility Rules

and a local Government funding system

saw Councillors who wanted to invest

more voted out because they borrowed

too much or raised rates.

AUT Emeritus Professor Richard

Bedford said that there was no easy way

out under the old system, but there was

now.

"One thing that the Covid-19 crisis

allows the Government to do, in a way

that it would find extremely difficult to

do in any other context, is to really look

very, very hard at immigration policy

settings when it decides to open the

border," he said.

Hello boomers

National Institute of Demographic and

Economic Analysis Director Francis Collins

said that the tide had turned against

immigration even before the pandemic.

Covid-19 would likely permanently

Source: Brad Olsen/Infometrics

dim the global appetite for migration.

Markets like international education

might shrink permanently with students

less likely to risk the complications of

overseas travel.

The same for people who once decided

to go on working holidays.

Much of New Zealand's population

boom in recent years came from people

shifting over from temporary visas, such

as a student visa, to permanent residency

status.

"It is simply inconceivable to see how

lots of people are going to move to a place

like New Zealand, which is planning to

have border quarantines, to the extent that

was happening five or ten years before

that. If that (a decrease in migration)

happens, then many of our predictions

around ongoing growth from five million

up to six million need to be revised back,"

Collins said.

"I think we can expect that getting six

million will take a lot longer than would

have been anticipated," he said.

Depleting role of migration

Bedford said that the 19th century was

the last time migration played such a large

role in the growth of our population.

For most of the 20th century

immigration only made up 20% of population

growth, but in the last five years,

migration's contribution had risen to an

"exceptional" 50%.

"I don't expect that to continue. I don't

think the New Zealand public or the Government

or anybody wants the population

to just keep growing incredibly rapidly."

Kiwi boomers may come back

Despite the major role migration once

played there was no evidence population

growth will completely reverse in a

post-Covid world.

Older returning baby boomers may

take the place of new migrants: the other

side of a "massive" outflow of young New

Zealanders during the 1970s.

"A lot of them stayed away and interestingly

quite a lot of Kiwis who are living

overseas now are exploring possibilities

and options of coming home and that's

evident in the statistics on returning New

Zealanders," Bedford said.

"It reflects the fact that New Zealand

actually is not a bad place to live. Especially

if you have made money overseas.

You can afford to buy a nice property in

New Zealand. You have got assets that can

support you. You are a citizen [so] you are

entitled to everything in New Zealand,"

he said.

Reversal of Trans-Tasman flows

Collins said the most likely group of New

Zealanders who could return were 212,590

people aged 15-35 who had migrated to

Australia over the last 10 years.

With Australia's economy likely to

contract, many would be out of work

and Kiwis tended to return home during

recessions across the ditch.

However, no hard-data existed on the

number of older people further afield in

Europe or North America who might also

want to come back.

Population data overall had been

problematic even before the Covid-19 crisis

hit, he said. The most fully-processed information

came from the 2013 census which

took place before the large immigration

inflows came through.

Our future growth trajectory had

changed. Some regions could be in danger

of experiencing population decline, but

overall our country would continue to

grow.

Less migrants, less exploitation

Fertility could also drop as people put off

having children while economic conditions

worsened.

Bedford said the likely decline in

international travel gave Government

a political opportunity to turn off the

immigration tap in a way it had not before.

Both National and the Labour-NZ First

coalition had run economies that were

increasingly dependent on a temporary

migrant workers.

"The moment you start playing with

your immigration policy settings in a

normal, pre-Covid situation, you are likely

to get accused of discriminating against

particular groups or trying to pick certain

types of groups that you want as migrants

and other groups that you don't want."

University of Waikato Environmental

Planning Professor Iain White and

Infometrics Economist Brad Olsen have

differing views on arriving too late or

getting there too early.

For Olsen, we are way behind on all

types of infrastructure - roads, water, and

transport.

Gold plated infrastructure already?

White was more cautious. He asked:

after Covid-19, would New Zealand want

people to move around the country as

regularly? Will employees get a new 'right

to work from home' that would take the

sting out of our transport infrastructure

needs?

"It is actually not efficient to bring

infrastructure forward because you've

got a gold-plated service before the users

are there to warrant that. New Zealand

(should) think about what it wants to be

then pick and design the infrastructure

that enables that to happen. Rather than

just see infrastructure as separate from a

houses are built by hands,

homes are created by designers

space designers ltd

architectural designer

our strengths

member of ADNZ-recognised professional body

well equipped & established with good reputation

overall personal service technical competency &

professional experience.

Email: info@sdlimited.co.nz

Website: www.spacedesignersltd.co.nz

178 A Pakuranga Road, Pakuranga, Auckland 2010

Phone : 09 577 2172 / 021 687162

We need more house (Newsroom by Photo by Lynn Grieveson)

vision for New Zealand," he said.

Some infrastructure was overdue.

White put investment in rail,

cycleways and public transport in

that category. Other parts of it were

needed to accommodate future

growth. Recently, infrastructure

work had also been brought forward

to generate jobs.

Infrastructure for growth like

water reservoirs had been planned

on a 25-year timescale.

Covid-19 would have changed

that trajectory for a few years, but

investments in things like that would

still be needed, he said.

White said that a move to people

working from home meant other

parts of transport investment, like

roading, could be up for debate.

'Beware white elephants'

With population forecasts in flux

the country could be left with "white

elephants" like unneeded four-lane

highways and convention centres.

Olsen said that we were behind on

most types of infrastructure and the

dangers of bringing things online too

soon were outweighed by the perils

of not having enough.

"You have got to remember that a

lot of our infrastructure gaps that we

currently have (are there) because

we haven't even equipped ourselves

for the current population we've got.

We are still possibly five years below

where we need to be," he said.

KiwiBuild 2.0

Olsen said that one category of

infrastructure that would be needed,

regardless of where our population

projections fell: Housing.

And the economic conditions

brought on by Covid-19 meant

Government would have to take a

leading role in providing it.

The construction market is already

showing signs of winding down in

response to the economic downturn.

Stuff goes 'Staff'

with $1 sale

Stuff Chief Executive Sinead

Boucher has purchased

Stuff from its Australian

owners Nine Entertainment

for $1.

The Chief Executive was

returning the company to New

Zealand ownership, with the sale

expected to be completed by May

31, 2020.

"Our plan is to transition the

ownership of Stuff to give staff

a direct stake in the business as

shareholders. Local ownership

will bring many benefits to our

staff, our customers and indeed

to all Kiwis, as we take advantage

of opportunities to invest in and

grow the business," she said.

Printing plant retained

Nine will retain ownership of

Stuff's Petone printing plant site

and lease it back to the media

company. And Stuff will receive a

percentage of the proceeds of its

sale of Stuff Fibre to Vocus.

"As a result of the successful

completion of the Stuff Fibre sale

on May 20, 2020, Nine will receive

25% of those proceeds before

completion of the Stuff sale, plus

up to a further 75% over the

subsequent 36 months, depending

Last week, Fletcher Building announced

it would cut 10% of its workforce on the

back of a 30% drop in building consents.

A similar contraction during the Global

Financial Crisis was responsible for the

undersupply of housing years later.

When economic conditions were uncertain

builders and construction firms

were less likely to take on new projects

because they were not sure what price

they would get at the end of it, Olsen said.

That was why Government intervention

was needed, perhaps through a

'KiwiBuild 2.0' scheme, he said.

Things had changed since KiwiBuild

famously flopped.

The issue then was that the

Government had competed for the same

construction and land resources that

the private sector had. It meant that the

scheme effectively added little extra to

the market because those houses would

have been built even if the state had not

jumped in.

The plan might be worth revisiting

now that the construction sector has a

much better relationship with Government

and is facing shrinking demand.

Gross undersupply

Olsen said that even a recently

announced plan for the Government to

build 8000 homes would result in a gross

undersupply of housing.

The government would need to build

9400 houses in two years just so it could

house the backlog from 2014-2015. And

that assumed the social housing register

waitlist did not increase in that time.

"If the private funding has dried up,

is there the ability for the Government

to essentially do what KiwiBuild was

always designed to and directly build

homes itself?"

Failing that the Government could

open up its chequebook and take on

the financial risk of a large residential

building boom.

Collins said that we had to learn the

lesson from the past two decades and

invest in providing a stable environment

for people who came here. That meant

matching arrivals to infrastructure and

stable residency rights.

"[In the last decade] as the population

grew, there wasn't a plan to invest more

per person or plan to make sure that that

population growth was taken care of,"

he said.

"Maybe Covid provides an opportunity

to catch-up."

Dileepa Fonseka is a Political Reporter

for Newsroom based in Wellington.

The above has been published under a

Special Agreement.

Sinead Boucher, Chief Executive, Stuff

(Photo Supplied to RNZ)

on the Stuff business' ability to

raise funding," Nine said in a

statement to the Australian stock

exchange.

The spat with NZME

NZME had announced earlier

this month it wanted to buy Stuff

for $1 and asked the government

to pass legislation allowing it

to skirt the need for Commerce

Commission approval.

Nine Entertainment insisted

no such deal had been agreed

and negotiations with NZME

were already over, and the spat

ended up in the High Court with

NZME denied an injunction

against the Nine.

Stuff employees were last

month asked to take a 12-week

pay cut because of the impact of

the Covid-19 crisis.

-Published under a Special

Agreement with www.rnz.co.nz
---
JUNE 1, 2020

Businesslink

11

From free shipping to loyalty points, you will LoveMy Makeup!

Step into any big shopping mall

in New Zealand and you will be

mesmerised by large makeup

and cosmetics shops, with

glamorous displays and salespeople.

The glitz and glamour of course

come at a price, often top dollar that

stretches the credit cards to their

limits.

We as Kiwis have been paying

premium prices for our cosmetics for

a long time and are used to it by now.

But in this time of unprecedented

uncertainty, would you really want to

pay top dollar?

Enter LoveMy Makeup, an online

makeup, beauty, cosmetics, and skincare

specialist store that offers big

brands at very reasonable prices.

Stronger online presence

LoveMy Makeup NZ has been operating

for over eight years and had

several physical stores in Auckland

(St Lukes, Sylvia Park, Queen Street),

Hamilton and Christchurch.

With ever increasing rents and

costs, the LoveMy Makeup management

team made a decision last

year to close all physical stores and

operate as an online store only. The

main reason for the move online was

to keep costs lower and pass on the

savings to customers.

There are several large overseas

cosmetics and makeup corporations

(Australian, French, American)

that have dominated the market

for a long time, resulting in Kiwi

customers paying premium prices,

often a lot more than you would pay

overseas.

LoveMy Makeup offers a welcome

point of difference to these overseas

giants, namely quality products at

reasonable prices.

Essentials through the crisis

The Covid-19 crisis was something

unexpected for all of us but thankfully

the LoveMy Makeup online store

was fully operational for a number

of years before this pandemic, which

allowed customers to continue

getting their essentials during the

lockdown and as we all got ready to

go back to work.

From their warehouse in Auckland,

LoveMy Makeup offer a large

range of makeup, beauty,

cosmetics and skincare products

from well known brands including

L A Girl, Maybelline, L'Oréal, OPI,

Essie, Crème Shop, Ultra3, SHE,

Revlon, Collection, Designer Brands,

NYX Professional Makeup Rimmel,

Max Factor, Sally Hansen, Milani,

Manicare, Mita, Swisspers, Glam,

Lucas Papaw, Dr Lewinn's and many

more.

Extensive Range

The range of products at the Love-

My makeup online store includes

Makeup/Cosmetics products like

Lipsticks, Nail Polish, Mascara, Foundation,

Concealer, Eyeliner, Makeup

brushes, Palettes and Blush

Skincare products like Age-defying

Facemasks, Cleansers, Micellar Water

Hand Care products like Hand Sanitiser,

Soap, Bath Gels

Gift Sets including Pamper packs,

Bath sets, Nail care kits

Haircare products including Accessories,

Brushes, Oils, Sprays

The other real standout point

is their always-on FREE shipping

throughout New Zealand for orders

over $35. One of the challenges of Online

Shopping is the cost of shipping,

which sometimes dilutes the cheaper

prices that can be found online.

The FREE shipping for orders over

$35 at LoveMy Makeup takes care of

that and keeps the overall cost of your

shopping down.

VIP Loyalty Points

LoveMy Makeup also offer VIP

Loyalty points, which is something

that we have all grown to expect

from our shopping. With their VIP

Points programme, you earn points

for every dollar you spend at LoveMy

Makeup. As you accumulate VIP

points, you can redeem them for

a choice of rewards, mostly as discounts

on your next purchase.

So, when you add up the savings

you already get from their low prices

with the savings from VIP points, its

like they are almost giving products

away!

They also recently started a Beauty

Blog (https://www.lovemymakeup.

co.nz/blogs/lovemy-makeup-blog),

which is an interesting read about

the latest in the beauty and cosmetics

world, the trends, the cool products

and the How-To videos and steps.

A good recent article is about the 8

Hottest trends found at

https://www.lovemymakeup.co.nz/

blogs/lovemy-makeup-blog/8-hottest-makeup-beauty-cosmeti

c s-skincare-trends-with-lovemy-makeup-nzcustomers

LoveMy Makeup is one of those

Kiwi companies that take pride in

their excellent customer service and

speedy delivery.

With a wide range of top brand

products, reasonable prices, a VIP

Loyalty programme and an attractive

website, you have got to love LoveMy

Makeup!!

online@lovemy.co.nz; Website www.lovemymakuep.co.nz

Your Online Store for all Makeup, Cosmetics, Beauty and Skincare needs

LoveMyINL

(Terms and Conditions Apply)

www.lovemymakuep.co.nz

LoveMy Makeup is your trusted online store for all your makeup, beauty, cosmetics

& skincare needs. We have been operating since 2012 and stock top brands like LA

Girl, Maybelline, L'Oreal, OPI, Essie, Creme Shop, Ulta3, SHE, Revlon, Collection,

Designer Brands, NYX Professional Makeup Rimmel, Max Factor, Sally Hansen, Milani,

Manicare, Mita, Swisspers, Glam, Lucas Papaw, Dr Lewinn's & many more. We offer

FREE delivery anywhere in NZ for orders over $35. With every purchase, you also earn

VIP Loyalty points, which can be used to get further discounts on your next order.

With fast delivery and amazing service you can shop with confidence knowing that

all your beauty goods are shipped directly from our warehouse in Auckland, New

Zealand. 100% NZ owned and operated, LoveMy Makeup is THE online makeup &

beauty store to get cheap makeup, makeup deals & makeup clearance on top brands.

online@lovemy.co.nz; Website www.lovemymakuep.co.nz
---
12

JUNE 1, 2020

Viewlink

The English Fortnightly (Since November 1999)

ISSUE 439 | JUNE 1, 2020

Fraud should not become pandemic

It has never given us

pleasure to report crime

news- but report we do

because that is our job.

Our front page story in this

issue makes sad reading.

As we wrote this, more than

six million people around

the world had contracted the

novel Coronavirus, about

370,000 people had died and

millions of men and women

had lost their livelihood and

continued to be sacred of the

unknown future.

Faced by economic calamities

wrought by Covid-19,

governments around the

world are providing cash relief

to people so that there could

be some form of normality.

Financial reliefs

Billions of dollars of taxpayers

money have been poured

into economies and people's

bank accounts. New Zealand

alone has paid out thus far

almost $11 billion. All of these

are borrowed money and

sometime or the other, hard

working people must help in

paying back.

It is therefore utterly criminal

that some people would

resort to fraud to enrich their

own coffers.

The Economist quoted Bruce

Dorris, Head of the Association

of Certified Fraud Examiners

as saying that the effects of

Covid-19 look like "a perfect

storm for fraud."

Graft engenders

As he mentioned, fraud may

engender everything from iffy

accounting to stimulus-linked

scams as thousands of firms,

including bogus applicants,

hustle for help.

One fraud investigator

points to private-equity-owned

firms as potential targets.

"There are lots of them,

they are highly leveraged

and they may not qualify for

bail-outs because they have

deep-pocketed sponsors," Mr

Dorris said.

That increases the temptation

to resort to unseemly

practices. The ebbing tide

is likely to reveal plenty of

corporate nudity. That will not

stop some businesses from

taking up naturism.

SFO investigates

The Serious Fraud Office

in New Zealand is working

with other government

departments to prevent

Covid-19 relief funds from

being defrauded.

The SFO is providing guidance

to ensure counter-fraud

measures across government

are aligned to international

best practice in terms of the

provision of emergency relief

and associated services. The

agency has established an

Advisory made up of fraud

experts within agencies to

support the government's Covid-19

counter-fraud response.

Better to remain Alert at all times

New Zealand became

the envy of the

Western world as

the country lowered

its lockdown regulations

to Alert Two (from May 14,

2020), which has allowed most

businesses to reopen.

There is a sigh of relief as

entrepreneurs plan their

future and as people return to

their jobs.

There will inevitably job

losses but as a few have said,

they will find alternate employment

or start something of

their own.

New Zealand are known for

their innovative and sporting

spirit.

Impatient politicians

There have been angry

calls on talkback shows on

radio, and postings on social

media over the government's

decision to retain social

distancing norms and have

new regulations at bars and

restaurants. Opposition Parties-

National and ACT – have

also shown their impatience,

quoting job losses, businesses

going under and the general

gloom and doom.

Politicians on the opposing

side and people in general

must hold the government to

account but in times of war,

they should exercise restraint

and consider the larger

interest of the country.

The world is in a state of

war with Covid-19 pandemic.

Wrong references

It is wrong to quote

countries that have opened

up their economy or never

closed it as examples for New

Zealand to open up. Most of

these countries, which relaxed

rules, have had a surge in the

number of cases and deaths.

New Zealand cannot at any

time take such a risk.

As Prime Minister Jacinda

Ardern and Director General

of Health Dr Ashley Bloomfield

have repeated said, "We

should not squander the gains

that we have made over the

past few weeks. We went hard

and we went early and all of

us together have done well.

This is not the time to take

hasty decisions."

Indian Newslink is published by Indian Newslink Limited from its offices located at 299A Riddel Road,

Glendowie, Auckland 1071. All material appearing here and on our web editions are the copyright

of Indian Newslink and reproduction in full or part in any medium is prohibited. Indian Newslink and

its management and staff do not accept any responsibility for the claims made in advertisements.

Managing Director & Publisher: Jacob Mannothra; Editor & General Manager: Venkat Raman;

Production Manager: Mahes Perera; Accountant: Uma Venkatram CA;

Phone: (09) 5336377 Email: info@indiannewslink.co.nz

Websites: www.indiannewslink.co.nz; www.inliba.com; www.inlisa.com

India needs one law for all

Dr Sudesh Wasoori

People with extremist views hide

behind the guise of 'Secularism'

or 'Human Rights' or 'freedom

of speech 'in countries where

people are allowed to exercise their

rights.

That is now the trend around the

world.

Officially, India is a 'Secular' nation.

It has no official state religion,

although they should have opted for

one when India became independent

in 1947. Even thereafter, they decided

not to do so, unlike countries like Pakistan,

Bangladesh, United Kingdom, Sri

Lanka and Sweden, to mention a few.

It is a well-established fact that India

has had a rich history of tolerance

towards people of other religions -

Jews, Christians and Muslims who

have sought 'shelter' or a safer haven

away from persecutions from different

countries.

Laws and religions

Is it secular to have different laws

for different religions in a secular

country?

I always question myself what is

Secularism and its ethos, but every

time I failed to understand.

In my view, the thought of Secularism

is to have a liberal and equal society

but in today's world, the whole idea

is compromised and overshadowed

by appeasement politics and mostly

misused by extremists.

Secularism has always inspired

modern India In practice, unlike the

notions in the Western world.

In terms of law, Muslim Indians

have Sharia-based Muslim Personal

Law, while Hindus, Christians, Sikhs

and other Indians live under common

law.

Equality of Law violated

The applicable code of law in

modern India is unequal.

India's personal laws on matters

such as marriage, divorce, inheritance,

alimony varies with an individual's

religion. One cannot deny that India's

acceptance of Sharia and religious

laws violates the principle of Equality

before the law.

If these influences were not curbed,

there is a danger that it could creep

into what we consider to be common

laws for the sake of the greater good

of communities against inequalities

and the rights of humanity and what

Secularism is supposed to represent.

Therefore the larger question is, if

India is a secular nation, why are there

parallel bodies which stand against

the ethos of Secularism such as the

following?

All India Muslim Personal

Law Board

The All India Muslim Personal Law

Board is a private body constituted in

1973 to protect Muslim personal laws.

Their primarily focus is to defend

the Sharia laws from any law or

legislation that they consider infringes

on them. It is a recorded fact that their

Board has also objected to the Right

of Children for Free and Compulsory

Education Act, 2009 as they believe it

will infringe on the Madrasa System

of Education. It has also supported

child marriage and opposes the Child

Marriage Restraint Act.

The Board also presents itself as

the leading body of Muslim opinion

in India, a role for which it has been

criticised.

Central Waqf Council

Central Waqf Council is an Indian

statutory body established in 1964

under Waqf Act 1954 for advising it

on matters pertaining to working of

the State Waqf Boards and proper

administration of the Waqfs in the

country.

Waqf is a permanent dedication of

movable or immovable properties for

religious, pious or charitable purposes

as recognized by Muslim Law, given by

philanthropists. They have acquired

land by applying all corrupt practices

and by virtue of that they now have

the biggest land banks in the country

while the so called secular governments

were busy in appeasing them.

These practices are full of scams

on a bigger scale like that of The

Karnataka Waqf Board Land, which

concerns alleged misappropriation

of ₹2000 billion (US$ 28 billion) in

Indian property funds, made public by

a report submitted by the Karnataka

State Minorities Commission in 2012.

I failed to understand why no one

has filed a petition against those

draconian laws, in order to put a

complete full stop on these unconstitutional

practices. (Not vouch for if the

petitions has been filed in the past).

Uniform Civil Code

Uniform civil code is the ongoing

point of debate regarding the mandate

of the Indian Constitution to replace

personal laws based on the scriptures

and customs of each major religious

community in India with a common

set of rules governing every citizen.

The demand for a Uniform Civil

Code was first put forward by women

activists early in 20th Century, with the

objective of women's rights, Equality

and Secularism.

Till Independence in 1947, a few law

reforms were passed to improve the

condition of women, especially Hindu

widows.

In 1956, the Indian Parliament

passed the Hindu Code Bill amidst

significant opposition.

After the passing of the Hindu

Code bill, the personal laws in India

had two major areas of application:

the common Indian citizens and the

Muslim community, whose laws were

kept away from any reforms

Why has the Uniform Civil Code

not adopted even after 73 years of

independence?

So, I leave the question to the

intellectuals to contemplate the

question of why it has taken so long

for the Uniform Civil Code to be

embedded in a society that espouses

to Secularism and yet allows these

religious roots that do not benefit the

fundamental rights of certain sectors

of the community?

That appears to allow these anti-Secularism

or common law expectations

to go unchecked.

Moving forward, will we determine

the legacy for future generations? Is

it not toward fundamental human

rights? Is it not toward giving a liberal

voice to the vulnerable in our communities

such as women and children?

Do we not have an obligation, under

Secularism to fight for that?

By doing so, we will not only protect

equality in India but also lead a path

for the rest of the world where such

things are unchecked but soon will get

out of control.

Taiwan offers help to Hongkongers

Sourced Content

Taiwan President Tsai Ing-wen

has asked her Cabinet Ministers

to prepare an Action Plan as

soon to assist the people of Hong

Kong keen to move to Taiwan.

"Our commitment to caring for the

people of Hong Kong will not change,

no matter what adjustments we make

to our system," she said.

The Taiwanese government is also

facilitating Hongkongers who are

interested in seeking employment and

residency in the country.

Ms Tsai posted these comments on

her official Facebook and Twitter accounts

following the return of protests

in Hong Kong over a planned move by

China to impose a National Security

Law on the region, which was a British

Colony until 1997.

Worrying developments

Taiwan is among the growing list

of countries to extend sympathy and

support to Hongkongers. The US and

UK have already expressed similar

moves.

Expressing concern over the developments

in Hong Kong, Ms Tsai said that

the government and people of Taiwan

fully support the desire of Hongkongers

for freedom and human rights.

"A democratic and free Hong Kong is

key to regional peace and stability," Ms

Tsai said.

The Taiwanese government has

welcomed people from Hong Kong for

many years, she said, and added that

more than 5000 Hongkongers applied

for residency in Taiwan in 2019, an

Picture from 'Taiwan Today'

increase of 41% over the previous year.

Ms Tsai called on China to keep its

promise that Hong Kong would enjoy

a high degree of autonomy and its way

of life would remain unchanged for 50

years following the end of UK rule in

1997.

She also urged Beijing to halt the controversial

National Security legislation

and resume peaceful dialogue with

Hong Kong society.

The problem in Hong Kong

Hong Kong was handed back to

China from British control in 1997,

but under a unique agreement - a

mini-constitution called the Basic

Law and a so-called "one country, two

systems" principle.

As the BBC mentioned, the

statutes are supposed to protect certain

freedoms for Hong Kong: freedom of

assembly and speech, an independent

judiciary and some democratic

rights - freedoms that no other part of

mainland China has.

"Under the same agreement, Hong

Kong had to enact is own national security

law - this was set out in Article 23

of the Basic Law. But its unpopularity

means it has never been done - the

government tried in 2003 but had to

back down after protests."

Then, last year, protests over an

extradition law turned violent and

evolved into a broader anti-China and

pro-democracy movement.

China does not want to see that

happen again.

Why are people in Hong Kong afraid?

As the law has not even been drafted

yet, it is hard to be concrete, but essentially

people in Hong Kong fear the loss

of these freedoms.

BBC News says: "China expert Willy

Lam is concerned the law could see

people punished for criticising Beijing

- as happens in mainland China. People

believe this will affect free speech and

their right to protest. In China, this

would be seen as subversion. Some

pro-democracy activists, such as Joshua

Wong, have been lobbying foreign

governments to help their cause. Such

campaigning could be a crime in the

future."

Hong Kong University Legal Scholar

Professor Johannes Chan said that

many are also afraid Hong Kong's

judicial system will become like that of

China.

"Almost all trials involving national

security are conducted behind closed

doors. It [is] never clear what exactly

the allegations and the evidence are,

and the term national security is

so vague that it could cover almost

anything," he said.

People worry that a threat to Hong

Kong's liberties could affect its attractiveness

as a business and economic

powerhouse.
---
JUNE 1, 2020

Businesslink

13

A vital link between people, solutions and expertise.

The skills you require and people who can do it.

www.link2services.com
---
14

JUNE 1, 2020

Businesslink

Welcome to the new normal retail experience

Jessica Vredenburg and Megan Phillips

So, you finally hit the shops and

cafes after weeks of lockdown.

After disinfecting your hands,

following the arrows around

the shop or to your table, taking care

to avoid others where possible and,

in some cases, providing your contact

tracing details – how enjoyable was the

experience, really?

Welcome Relief

The return to shopping and eating

out has certainly come as welcome relief

in those countries lucky enough to

be opening up. The malls are open! You

can book your favourite restaurant!

Goodbye home cooking, hello table

service!

And for the retail and hospitality industries,

among the hardest hit during

the COVID-19 pandemic, the return to

trading couldn't come fast enough.

The return to normal trading,

however, could still be a way off.

The new economic reality will have a

profound impact on retail. Some of the

routines developed during lockdown,

such as cooking and baking at home

or foregoing daily takeaway coffees,

may continue post-pandemic if money

is tight.

Changing experience

As well as public spacing, tracing

Major shopping malls such as Botany Town

Centre in Auckland face the post-Covid-19

challenge (INL File Picture)

and hygiene rules, customers may also

notice an absence of certain favourite

experiential elements.

Is a trip to Mecca Cosmetics as

enjoyable when you can't sample the

products?

Will Peter Alexander still smell like a

cosy bedroom or the disinfectant used

to clean the store?

Our senses play a major role in how

much we enjoy retail experiences.

Retailers have long employed the art

of store atmospherics to encourage us

to stay and spend.

Atmospherics – such as scent, music,

touch, temperature and crowding – all

help create an engaging sensory

experience for shoppers and patrons.

Research suggests customers will stay

longer, spend more, feel better, and be

more satisfied in a retail environment

they find pleasing to their senses.

The new Covid-19 environment has

changed all that.

Will shoppers now prefer a reassuring

freshly cleaned smell?

The Hyatt Hotel chain's "seamless"

scent (evocative of home and comfort)

2Sylvia Park (Auckland) attracts millions of

shoppers every year

(Picture Courtesy: Newshub)

was an integral part of its brand experience.

But the rival Hilton chain has

just announced its CleanStay initiative

in partnership with the manufacturer

of Lysol disinfectant.

Noise down, hands off

In New Zealand, tips on how to stay

safe under its Covid-19 alert level 2

include restaurants and bars turning

down the music volume. Raised voices,

it seems, generate a wider "moist

breath zone" that may increase viral

spread.

Reduced sound levels might help

anxious consumers relax, but what

will the atmosphere be like in a

painfully quiet pub or restaurant? It

could influence customer perceptions

of the establishment, which in turn

affect financial returns.

Studies have found people bought

more drinks in a bar when the music

was louder than usual.

Retail guidelines in New Zealand

recommend consumers only touch

and try on merchandise they intend to

buy. In the US, no touch retailing seems

increasingly likely.

Such measures confound conventional

retail theory, which suggests

that the more consumers touch, sort

through, sample and try on, the more

they buy.

The removal of testers for products

such as cosmetics, for example,

significantly changes the shopping

experience.

Stay away from people

Retailers in countries entering

winter will also need to think quite

literally about the atmosphere in their

stores. Warmer temperatures tend to

create a relaxing environment that

encourages shoppers to linger. And

physical warmth can even enhance the

perceived value of products.

But poorly ventilated or air-conditioned

indoor spaces have been

identified as potential hot spots for the

spread of Covid-19.

Will warmer stores subconsciously

affect the way shoppers react?

Restaurateurs and retailers will be

hoping not.

Paradoxically, the advice to keep our

distance in public can lead to perceived

crowding – a psychological state based

on the number of individuals in a store,

the extent of social interactions and

the configuration of merchandise and

fixtures.

Higher levels of perceived crowding

can lead to less positive emotions and

decreased satisfaction.

Shoppers may simply choose not to

enter.

If they do, they might feel on edge or

Digital giants hurt New Zealand media, taxpayers

Victoria Plekhanova

The New Zealand government's

recently announced $50 million

subsidy package to support

local media was necessary and

urgent, even if it came too late to save

the Bauer magazine titles from closing.

But the injection of government cash

did not address the underlying cause

of the decline of New Zealand's media,

which predates the Covid-19 pandemic.

While the internet has created new

opportunities for media and audiences

alike, these have come at a price.

Traditional media organisations now

compete with giant digital platforms,

not only for the attention of readers,

but also for the advertising revenue

that was once their lifeblood.

Adding insult to injury, the digital

platforms compete for audiences'

attention partly by distributing the

news content that was first created

and published by those now-struggling

media organisations.

This not only damages the media

and public discourse; it is harmful to

taxpayers.

Digital Service Tax essential

A carefully designed Digital Service

Tax (DST) could redress the balance

and help level the playing field for the

New Zealand media. Such a tax would

compensate New Zealand for revenue

lost by its failure to tax the profits of

non-resident tech giants operating in its

territory.

Rules forcing the likes of Google and

Facebook to compensate the creators of

the media content they carry – as has

been introduced in Australia – could

also be helpful. Both options could be

applied quickly if there was the political

will.

The Taxation challenge

The New Zealand market for internet

advertising services is dominated

by two multinationals – Google and

Facebook. Unlike the local media, these

giants do not pay income tax in New

Google: This corporate giant is a part of

everyone's daily life

Zealand proportional to their local

advertising revenues.

In 2015, Google, Facebook and

Amazon accounted for 69% of digital

advertisement revenues outside China.

By 2018, their share had risen to

86%. But this growing share of global

advertisement revenue is not matched

by the income tax these firms pay in

New Zealand.

Due to the complex way the digital

giants report their finances, New

Zealanders are left guessing how much

advertisement revenue they generate.

And yet, just across the Tasman, the

Australian Competition and Consumer

Commission (ACCC), the equivalent of

the New Zealand Commerce Commission,

has forced Google and Facebook

to disclose their Australian targeted

advertisement revenue for 2018.

Huge advertisement revenue

The ACCC estimates Google

generated around A$ 3.7 billion (NZ$

3.9 billion) from advertisements placed

on its own search pages and on third

parties' websites.

Facebook's advertisement revenue

was around A$ 1.7 billion (NZ$ 1.8

billion).

Based on this data and the similarities

between Australia and New

Zealand, it is reasonable to conclude

that in 2018 Google might have earned

about 720 million in New Zealand,

and Facebook about $349 million from

targeted advertising only.

A disproportionately small tax take

Changes to reporting standards

[made in 2014] mean Facebook is not

required to file financial Statements in

New Zealand, so its 2018 tax bill is not

public information. In 2018 Google NZ

Ltd (an entity of Alphabet group) paid

income tax of $398,341, about 0.055%

Digital platforms attract more advertising

(Shutterstock)

of the estimated gross ad revenue

"extracted" from the New Zealand

market.

In Australia, Google paid income

tax A$ 26.5 million in 2018 (already

a minimal amount), meaning that

Google New Zealand paid 66.5 times

less income tax than its Australian

equivalent for the same period. Given

the New Zealand economy is about a

seventh the size of Australia's, this is an

extremely wide disparity.

Conflict with USA

New Zealand has been reluctant to

unilaterally adopt a DST, possibly to

avoid conflict with the US.

However, with many OECD

members introducing a DST, including

France, Italy and the United Kingdom,

further delay is difficult to justify.

The more countries that put a DST in

place the more costly it will become for

the US to retaliate.

The New Zealand government has

said it prefers "an internationally

agreed solution through the OECD" to

the tax challenges of digitalisation.

The OECD has agreed to find a

"solution" by the end of 2020.

With rising tensions between

Europe and the US over taxing highly

digitalised multinational businesses,

that timeframe is looking increasingly

unrealistic.

California headquarters of Google

and parent company Alphabet - a

corporate structure with immense tax

benefits. www.shutterstock.com

Delayed process

The Covid-19 pandemic has further

slowed the process.

The delay favours the tech giants

but not New Zealand and the other

countries where they operate and pay

little tax. These countries need to move

quickly to stop the erosion of their tax

bases.

New Zealand is unlikely to move

without Australia on board, but Australia

now seems more interested in other

mechanisms to correct its relationship

with the global tech giants.

The ACCC is developing a mandatory

code of competitive conduct that will

require Google and Facebook to pay

news media for the use of their content.

There are similar developments in

France.

Such codes target anti-competitive

conduct, whereas a DST involves

compensation for the loss in revenue

caused by outdated international tax

even overwhelmed if they are trying to

keep a safe distance from others. When

personal space is invaded or when personal

space zones are relatively large, it

can lead to intolerance or even leaving.

The customer is always right

Ultimately, if retailers and hospitality

service providers want customers to

return in greater numbers the goal will

be to minimise the perceived risks of

infection.

Emotionally taxing environments can

negatively affect consumer behaviour,

so managing the emotional component

of the retail or dining experience

becomes an even more crucial part of

the overall value offered.

Adapting so-called "retail theatre" to

include sanitation, hygiene, and keeping

consumers calm will create a new kind

of psychological comfort for the Covid-19

age. But how far will some go to give

themselves an edge over competitors?

From pool noodles, mannequins

and glass boxes to inner tubes, will

these innovative adaptations draw in

the crowds or make people run in the

opposite direction?

How readily customers become

comfortable with the etiquette of

post-pandemic shopping will dictate

how effectively retail and hospitality can

provide that vital sense of well-being.

In time, the words "retail" and

"therapy" may again sit comfortably in

the same sentence.

Jessica Vredenburg, and Megan Phillips

are Senior Lecturers (Assistant

Professors) respectively in Marketing

and Retailing at Auckland University

of Technology. The above article

has been published under Creative

Commons Licence.

rules. To some extent, a DST is a charge

for the dominant market position of

multinational digital services firms.

The ACCC's code is not a substitute for

a Digital Services Tax, but New Zealand

could do worse than consider a similar

scheme. In the end, both a DST and

enforcing payment for content will be

necessary if New Zealand wants its local

media to survive, let alone thrive - and

not just at the expense of taxpayers.

Victoria Plekhanova is Lecturer at the

Albany Campus of Massey University

in Auckland. The above article and

pictures have been published under

Creative Commons Licence.

Potential citizens warned against

scam and rogue website

Venkat Raman

A

rising scam aimed at

fleecing people applying

for Citizenship of New

Zealand

has prompted the

Internal Affairs

Department to issue

a warning.

Jeff Montgomery,

General Manager

(Services and Access)

at Internal Affairs

said that applicants

should ensure that

they are applying on

the official website,

which is secure and

the only official

online application platform for the

purpose.

The official website is www.govt.

nz/apply-for-nz-citizenship

"When dealing with identity

information, it is important that

people are diligent and mindful

of potential scams. Citizenship

applications contain personal

information so make sure that you

are on the official website. As online

services become increasingly

popular, we work hard to make

sure people have access to safe

and secure services, whenever and

wherever they want," he said.

Mr Montgomery said that the

'Secure Citizenship by Grant

Service' makes the process easier.

Contact for clarifications

"If you are using any

of the Department's

online services, such as

applying for Citizenship

by grant, renewing or

applying for a passport

or ordering Birth,

Marriage and Death

Certificates, make sure

that you are on a govt.

nz website," he said.

Those not clear of

the authenticity of the

website have been

advised to contact the

Department of Internal Affairs on

Freephone: 0800225151 (Within

New Zealand); +64-4-4620651

(outside NZ)

Email: For Citizenship Applications:

citizenship@dia.govt.nz;

For questions about citizenship

by descent or getting proof of

citizenship status: staykiwi@dia.

govt.nz

Passport Services: www.

passports.govt.nz;

For Births, Deaths and Marriages,

including Certificate Orders:

www.govt.nz/organisations/

births-deaths-and-marriages
---
JUNE 1, 2020

New Zealand Prime Minister

Jacinda Ardern has won

global admiration for her

personal style.

But how will Kiwis judge her

government's performance at the

ballot-box in September?

A major factor in that decision

will be how well Budget 2020 is

received – and how well it achieves

its stated aim of "responding,

recovering and rebuilding" after

Covid-19.

If Ardern, who was recently

judged "the most effective leader

on the planet" gets dumped in the

Coronavirus fallout, then what are

the chances for Donald, Boris or

Scott?

Late last year, Finance Minister

Grant Robertson would have been

expecting that May 2020 would see

an optimistic Well-being Budget

Mark 2.

Increasing public debt

Instead, it has turned into his

"rainy day Budget", as he abandons

a conservative net public debt

target of 20% of GDP. Debt is now

projected to rise to 53.6% by 2023,

as the government borrows to

invest in jobs and runs deficits until

at least 2024.

But Budgets are political, not just

technical, documents.

With New Zealand's general election

still scheduled for September

19, 2020, the question remains the

same: pandemic or no pandemic,

will this Budget help Labour win a

second term in office?

International observers were

entranced by Ardern's leadership

after the March 2019 terrorist

attack in Christchurch. But, while

support for her and her Party

surged, this was only temporary.

By December, the centre-right

National Party was polling at levels

that would see them form the next

government.

Then the pandemic hit, and New

Zealand went into strict lockdown

in late March.

Temporary popularity

A leaked poll a month later put

Labour on 55%, boosted by popular

trust in the government's decisive

response to Covid-19.

But, like last year's post-

Christchurch surge, we should not

assume this one will last either.

The economic crunch could

flatten support for Ardern's government

by the time the election draws

near. Budget 2020 is therefore

critical to the maintenance of

public confidence in the present

government's stewardship at a time

of deep uncertainty.

Business confidence, which

had dropped in late 2017 simply

because Labour took office, understandably

"plummeted" in April

while the country was in lockdown.

It is harder for governments to

win elections when the economy

is tanking, even if the cause of the

recession has arisen offshore. A

sitting government can claim credit

for the bounce-back when it comes

if they have led a credible plan.

Rising employment

But the projections are bad, as

they would be regardless of who

is in government. Crucially, unemployment

is forecast to peak at 9.8%

in September this year, right on

time for the election.

So, is Robertson's fiscal injection

going where it is most needed?

New spending targets public

health, housing and trades training,

and the worst-affected industries

and regions reliant on international

tourism.

But the opposition will attack

Labour on its priorities.

Assuming that Covid-19 cases

continue to decline, and without a

deadly second wave, by the election

public attention will have turned

from disease control towards the

genuine pain caused by unemployment,

bankruptcies and reduced

incomes.

Labour will need to maintain

New Zealanders' confidence that

it is doing the best for economic

recovery, especially in supporting

businesses, while also keeping the

virus out of the community.

Two schools of thought

Among the electorate, however,

there may be two schools of thought

about the desirability of change to a

centre-right government led by the

National Party.

First, there is an old refrain in

New Zealand that National is the

Party of sound economic management,

while Labour is a spendthrift.

This belief is not consistent with

historical evidence. Principles

of fiscal discipline are now well

embedded in New Zealand. Both

major parties are now fiscally

conservative, but not inflexibly so.

For example, National prudently

ran deficits to support recovery

after the global financial crisis.

But this is about political perception,

not fiscal performance.

National leader Simon Bridges

was whistling the Party chorus

well before Budget day. And in his

post-Budget speech he zeroed in on

government borrowing amounting

to $80,000 per household, and the

burden on future generations to

repay it:

"That's equivalent to a second

mortgage on every house."

If such scepticism about Labour's

economic management prevails

at the ballot-box, we could see a

change of government.

Jacinda Ardern may be firstname-only

popular overseas,

but under New Zealand's finely

balanced proportional system, she

only just won a coalition majority at

Businesslinkl

British newspapers pull out of Audit Bureau of Circulations

Free titles are worst hit

by Covid-19

Sourced Content

National newspapers in the

United Kingdom do not no

longer have to make their

print circulations public

through auditors ABC from today,

which means we may never get the full

picture of the impact of coronavirus on

newspaper sales.

News UK, Publisher of the Sun and

Times titles, has opted to make its circulation

figures private – only agencies

who have signed a confidentiality

agreement can see them.

It is the only major news publisher to

have chosen this approach so far.

The monthly news-brand report will

no longer be published, bringing an

end to open competition between the

national newspapers as they jostled for

position in the most-read rankings.

Constant decline seen

The monthly ABC reports have

Source: Press Gazette, London

shown paid-for print circulation to be in

a state of constant decline for a number

of years now, reflecting the shift

towards digital by readers which has

disrupted the traditional news model.

UK national newspaper sales have

fallen by nearly two-thirds over the

last two decades, according to recent

analysis of ABC data by Press Gazette.

ABC said that the change in reporting

"addresses publisher concerns that

monthly ABC circulation reports

provide a stimulus to write a negative

narrative of circulation decline."

It will also allow newspapers to take

control of their own sales narrative,

ABC Chief Executive Simon Redlich told

Press Gazette.

He said that the concern among

publishers was the monthly circulation

data "hampers them" in talking about

their own approach.

"If their brand is focused on a

particular strategy, it makes it more

difficult for them to get that story

across," he said.

Not a key metric

The Telegraph pulled out of ABC

reporting at the start of this year

saying it was no longer a "key metric."

Publishers are increasingly looking

to subscriptions and other metrics to

measure success in the digital age.

News UK has said that it is focusing

on the total brand reach figure provided

by audience measurement company

PamCo, which replaced the National

Readership Survey in 2018.

PamCo publishes quarterly and

includes audiences on all platforms:

phone, tablet, desktop and print. The

Sun had the highest total monthly

brand reach of any UK newsbrand in

2019.

Those newspapers that continue

Madras High Court throws out case against journalists

The Wire Staff

Dismissing eight-year-old

criminal complaints filed

against a slew of Editors by

the Tamil Nadu government,

the Madras High Court said on May 19,

2020 that the State should have higher

tolerance for criticism and should not

be "impulsive" in its compulsion to

launch prosecution.

According to LiveLaw, the complaints

were lodged in 2012 alleging

"criminal defamation against States"

by then Chief Minister J Jayalalithaa

against Editors like N Ram, Former

Editor-In-Chief of The Hindu , Nakeeran

Gopal and Siddharth Varadarajan,

then Editor of The Hindu and now

Founder-Editor of The Wire India.

Core ingredient missing

Giving an Order in favour of

the writ petitions challenging the

constitutionality of the complaints,

the Order said that the core ingredient

Established on June 26, 1862, the Madras High Court

is one of the oldest High Courts in India

required for prosecution through a

public prosecutor under Section 199(2)

of the Criminal Procedure Code (CrPC),

namely 'Defamation of the State,' is

missing.

The Public Prosecutor had filed the

complaints before the sessions Courts

under the above section of the CrPC,

which laid the special procedure for

offences of defamation against State

and constitutional functionaries.

"The State should not be impulsive

like an ordinary citizen in defamation

matters and invoke Section 199(2) CrPC

to throttle democracy," noted Justice

Abdul Quddhose in his judgment.

He wrote that the Criminal Defamation

Law cannot be misused as a tool to

"settle scores."

"A public servant/constitutional

functionary must be able to face criticism.

As public servants/constitutional

functionaries, they owe a solemn duty

to the people. The State cannot use

criminal defamation cases to throttle

democracy," stated the Order.

State is parent

Justice Quddhose said that the

attitude of the State towards defamation

"must also be the same as their

tolerance level towards its citizens in so

far as defamation is concerned must be

akin to that of parents."

Describing the State as akin to a

"parent" for all citizens, the Order staid

that while it is normal for some parents

to face "vituperative insults" form their

children, the mother and father do not

easily disown them.

The Court noted that from the year

2012 to 2020, a total of 226 cases under

Section 199(2) of CrPC were pending in

various sessions Courts, irrespective of

Political Party in power in Tamil Nadu.

"Due to the mechanical filing of complaints

under section 199(2) CrPC, the

Sessions Courts are sometimes clogged

with those matters due to reckless

filing without application of mind and

sometimes vindictively. This menace

will have to be curbed and nipped in

the bud."

The Order stated that Sessions Judges

should exercise higher level of scrutiny

with respect to criminal defamation

complaints by the State.

Independence required

Justice Quddhose also said that the

sessions will have "to independently

apply its judicial mind and assess the

materials and only if it is satisfied take

cognisance of the complaint".

On the role of the public prosecutor,

the Court said that a senior government

lawyer should not be to act like a "post

15

to make their circulations public will

reveal data for the five weeks from

March 23, 2020, when the lockdown

began in the UK, although this will not

include year-on-year comparisons.

Last year, Newsquest, which

publishes a number of local weekly

and regional daily titles, including The

Herald in Scotland, pulled all of them

out of ABC auditing.

Redlich said ABC set a standard

for the industry and continued to be

relevant, adding that there is still "a lot

of interest in our data."

Free titles worst hit

The final UK national newsbrand

ABC report covered the period to 23

March and showed print sales were

largely holding up during the early

stages of the coronavirus outbreak in

the UK.

Free titles have been among the

worst hit by the crisis, with City AM

suspending its print and digital editions,

while the Evening Standard has halved

its circulation and Metro has dropped

close to 1m copies.

office".

"The role is very special because in

those matters, the public prosecutor

plays a dual role both as a person

representing the public servant/constitutional

functionary as well as a public

prosecutor. Therefore, the cardinal

principles mentioned supra will have

to be strictly adhered to by the public

prosecutor…."

The Judge also called on the media to

exercise self-regulation.

"The newspaper is a great power, but

just as an unchained torrent of water

submerges the whole countryside

and devastates crops, even so an

uncontrolled pen serves but to destroy.

If the control is from without, it proves

more poisonous than want of control. It

can be profitable only when exercised

from within."

The above article, which appeared in

'The Wire,' (thewire.in) Web Edition

has been reproduced here with the

permission of Siddharth Varadarajan,

a Founding Editor.

Budget response will determine Labour's election prospects

Grant Duncan

the previous election.

An alternative school of thought

is that during economic recovery,

it is unwise to dump a sitting government,

provided they are doing

basically the right things.

Do not change horses in midstream,

especially when the stream

is running rough.

In late April, 87% of Kiwis

approved of the government's

response to the pandemic.

If "the team of five million" gets

behind Labour's economic recovery

plan as it did for the disease-control

plan, then Ardern could form

another government after the

election.

But a lot could go wrong in the

meantime.

Budget 2020 is just one risky step

on a rocky political path ahead.

Grant Duncan is Associate

Professor, School of People,

Environment and Planning at

Massey University based in

Auckland. The above article has

been published under Creative

Commons Licence.

GET THE NEWS

YOUMISSED!

EVERYWEDNESDAY AND SATURDAY!

Subscribe to the

Bi-WeeklyNewsletter.

IT IS FREE! IT IS EASY!

Write nowtovenkat@indiannewslink.co.nz
---
16

JUNE 1, 2020

The Covid-19 pandemic and the

lockdowns that have been put

in place globally have led to

what many have termed the

second epidemic –escalation of family

violence.

In New Zealand, Police statistics

show 20% spike in cases.

As the Police have acknowledged,

the real figure is likely to be higher.

This is generally the case since many

do not report the violence that they are

experiencing.

Service providers agree that figures

are even less likely to reflect reality

in lockdown since those who are

constantly monitored by their abuser

struggle to access help.

Covid-19 heightens risk

Dr Sripriya Somasekhar, whose

doctoral thesis is on Indian Women

and Domestic Violence says, "Covid-19

has heightened the risks for those

most vulnerable to family violence

especially women and child from our

ethnic-minority communities. Various

ethnic service providers have noted

a spike in family violence during the

lockdown. This was expected looking

at global trends of family violence

during lockdown and knowing unique

barriers ethnic women face in seeking

help. There was escalated violence in

some cases owing to unemployment.

Ethnic women who live in a joint family

set up would find it harder under the

situations of lockdown to ring for help.

Although we see a spike, we will only

be able to learn from thus situation in a

few months' time when we see themes

and patterns of abuse and help-seeking

emerging".

Even at the start of New Zealand's

response to Covid19, our government

knew that we were likely to see an

increase in family violence.

That is why Family Violence Support

Services were specifically included

as essential social services and

were allowed to continue to operate

throughout the lockdown.

The fast-tracked Immigration

Bill passed its final

hearings in Parliament

on Friday, May 15, 2020.

About 350,000 people are

in New Zealand on temporary

visas and more than two-thirds

of those are on work visas.

Some have lost their jobs and

been unable to start new ones,

others are overseas and worried

whether their visas - and jobs

- will still exist when the border

re-opens.

Minister's assurance

In an email to stakeholders,

Immigration New Zealand (INZ)

said that the Minister of Immigration

had assured the migrant

community in New Zealand that

the government would not use

the powers in the Act to take

away any existing visa rights.

It can now impose, vary or

cancel conditions for groups

of temporary entry-class visa

holders, extend expiry dates and

stop some people offshore from

making applications.

"These changes could include

amending visa conditions for

groups of people such as what

region they can work in, or

extending visa expiry dates for

groups of people. The new powers

cannot be used to change

conditions if that change would

materially disadvantage the

class of visa holders concerned,"

an INZ notification said.

Communitylink

The pandemic of family violence warrants heightened alert

Priyanca Radhakrishnan

Funding in Budget 2020

To support the sector further and

in an ongoing effort to end family and

sexual violence, the government recently

announced a significant funding

package as part of Budget 2020.

The funding package of $202 million

is to enable victims/survivors of family

violence access the support that they

need and to help perpetrators stop

inflicting family violence.

The funding also supports victims

of non-fatal strangulation to access

the medical and forensic services they

need in order to deal with the resultant

trauma and to gather the evidence

needed to prosecute offenders.

The funding boost builds on the

support provided through the 2019

Wellbeing Budget.

Long-term approach

The Coalition government is serious

about ending the scourge that is family

and sexual violence and has therefore

adopted a long-term, multi-year,

cross-agency approach to address it.

That is why our Government

created the position of Parliamentary

Under-Secretary focused on addressing

family and sexual violence.

I understand this is the first time we

have had such a position in the New

Zealand government.

Under-Secretary Janet Logie leads

the government's work on the design

of an integrated and responsive

family violence system, engagement

with the sector, responses to the

Law Commission report on justice

responses to victims of sexual violence,

and implementation of new family

violence law.

Family and sexual violence cuts

across ethnicity, socio-economic status,

educational background and every

other classification that serves to divide

us.

It is, however, a gendered issue.

While most men do not inflict violence

against women, the evidence tells

us that in cases of family and sexual

violence, women are more often the

victims and men are more often the

offenders.

Transformative thinking

There is a significant body of

evidence that support this, including a

series of reports by the Family Violence

New Immigration rules take effect

Gill Bonnett

"It is an effective safeguard

because it means that the Minister

would not be able to use the

powers in a way that materially

deprives visa holders of existing

visa rights (eg work rights)."

Pragmatic Solution

The legislation was a

pragmatic solution to challenges

it faced, it said.

"Several hundred thousand

people on temporary entry

class visas are in New Zealand

at present - too many to easily

deal with on an individual

basis when the system is so

disrupted," INZ said.

Law Society Immigration And

Refugee Committee Convenor

Mark Williams was among those

who made submissions to the

Epidemic Response Committee

on the Bill.

Safeguards implemented

He said that safeguards recommended

by Select Committee

MPs were incorporated into the

Bill.

"The Bill in its previous form,

we and other industry participants

had concerns around the

potential purpose it could be

used for - and the wide ranging,

very powerful discretion it gave

to the minister to essentially

Death Review Committee (FVDRC).

The FVDRC is an independent body

that reviews and advises the Health

Quality & Safety Commission on how to

reduce the number of family violence

deaths.

In earlier reports the FVDRC

presented transformative thinking to

better reflect the reality of women's

experiences of intimate partner

violence.

They called for an integrated system

response that understand the gendered

pattern of harm and was able to keep

women and children safe.

Previous reports have repeatedly

concluded that to realise safety for

women and children, we need to

better understand and interrupt the

pathways men are on that lead them to

perpetrate violence.

The most recent Sixth FVDRC

report attempts to understand the

life trajectory of the men involved in

family violence deaths from their birth

to the death event.

This is important because we can

analyse how we reduce men's violence

while concurrently working with

women and children to keep them safe.

Prior to entering Parliament, I

worked as a Policy Analyst with the

Ministry for Women's Affairs (now

Ministry for Women).

Preventative measures

My research included exploring

primary prevention approaches, focused

on stopping family violence from

occurring by promoting respectful,

non-violent relationships.

International evidence indicates that

promising interventions focused on

changing behaviours that were rooted

in often deep-seated gendered roles,

norms and stereotypes.

This includes challenging social

norms around masculinity and femininity

that are often guised as cultural

norms, whether that is the culture of

particular groups, like sports clubs or

specific ethnic or religious groups.

The FVDRC's Sixth Report offers

some lessons on how this may be

achieved. There are also some lessons

in the Sixth Report for our South Asian

communities.

The Report tells us that 14% of men

who used violence in intimate partner

make law, without going through

the normal process. That has

now been somewhat modified

and balanced with the Select

Committee hearings," Mr Williams

said.

The legislation was designed

to bring efficiencies to the

system to quickly resolve delays

and uncertainties, he said.

"With the additional

safeguards that have been built

into it, there is now a view that

those powers can only really be

exercised without material detriment

to the migrants concerned.

I think it will clarify a lot of the

questions or uncertainty about

what's happening with (visa)

processing. There has been a

lack of information flowing and

those questions around people,

can they come in - 'I have got a

visa expiring offshore and have

got to get in in the next three

weeks when is that going to

happen?'

"I think the powers bestowed

on the Minister will help answer

a lot of those questions and help

reset or extend a lot of those

entry times, so it should give far

more certainty to some people

and ease some of the stress on

those visa holders," Mr Williams

said.

Gill Bonnett is Immigration

Reporter at Radio New Zealand.

The above Report and

Picture have been published

under a Special Arrangement

with www.rnz.co.nz

deaths between 2009 and 2017 were

of South Asian origin (this includes

Indo-Fijian men given cultural and

religious commonalities).

This is the third most frequently

recorded ethnic grouping after Pakeha

and Maori communities.

Yet, Asian women, including South

Asian women, report violence at a lower

rate than other women living in New

Zealand.

The Report outlines barriers that Asian

women face in accessing support.

The immigration threat

These include a lack of understanding

of the legal protections available, isolation,

language barriers and in the case

of migrant women, I would add, their

Immigration status. Immigration is often

used as a tool to control women and

prevent them from accessing support.

In my experience working in the

family violence intervention sector,

particularly with women from ethnic

minority communities, our communities

often choose not to talk about issues

like family violence. And being from an

ethnic minority community myself, I can

understand why.

Most of us have experienced

discrimination in some form – whether it

is institutionalised or casual racism. The

last thing we want is to acknowledge that

some of the uglier issues that exist in all

communities, also exist in ours.

We do not want to risk being further

marginalised and told to "go back home."

And so there is a tendency to turn a

blind eye.

The Report acknowledges this and

clarifies that the section on ethnic immigrant

communities and family violence

is not included to fuel racist attitudes, but

instead to highlight the need to further

understand intimate partner violence in

ethnic migrant communities and address

it.

Structural changes

It is clear, that we need structural

change at various levels if we are to see

a reduction in, and eventually an end to,

family violence. The report supports this

view and highlights the need to address

racism, the impacts of colonisation and

structural inequities so that everyone

can access justice, secure housing, health

care and education.

The Report also emphasises that we all

have a role to play in this - government,

agencies families and our wider

communities.

It is an interesting Report that

provides valuable insights.

One of them is around community

mobilisation, or the idea of stimulating

action among community members to

change deep-rooted social norms.

As stated in the Report, "the

aspirational target is for community

accountability, where communities are

in a position to address men's use of

violence and hold them accountable

for their actions while supporting

women and children to be safe."

Communities exist where people

gather – at work, sports clubs, schools,

places of worship, towns- or where

they have a common identity such as

ethnicity.

They are places where people with

common interests, beliefs or activities

interact. Communities in turn, play

an important role in shaping people's

attitudes, identities and roles.

Understanding the dynamics

I strongly believe that our communities

need to ensure that those in

positions of authority have a sound

understanding of the dynamics of

family violence so that they can work

with women and children to be safe

and hold offenders to account.

It is also important that we are able

to identify protective factors that are

intrinsic to our cultures and religious

beliefs that can be drawn on to

strengthen relationships, because those

exist too.

I want to emphasise that we all have

a role to play in ending the scourge

that is family and sexual violence. It

is also time that we adopt a mature

multiculturalism so that we can discuss

these issues collectively without fear of

further marginalisation.

We all have a role to play in that too.

Priyanca Radhakrishnan is Member of

Parliament on Labour List from Maungakiekie

and is Parliamentary Private

Secretary to the Minister for Ethnic

Communities. As well as leading and

contributing to the efforts concerted

to address family violence, she is a

strong advocate of social equality and

uplifting the lot of the poor and the

under-privileged.

Primary Health Care nurses reject pay increase offer

"The government continues to undervalue our work"

Supplied Content

After prolonged negotiations,

Primary Health

Care nurses have voted

down a final offer from

employers of 2.5% and 2% pay

increases over two years.

The New Zealand Nurses

Organisation (NZNO) has been

negotiating the Primary Health

Care Multi-Employer Collective

Agreement (PHC MECA) since

November last year.

The MECA covers more than

3400 nurses, receptionists and

administrators across more than

500 practices and accident or

medical centres.

A NZNO notification said that

despite approaches to the Health

Minister, the Ministry of Health

and DHB officials by NZNO and

organisations such as the New

Zealand Medical Association,

Green Cross Limited and General

Practice NZ, the additional funding

needed to achieve pay parity

with DHB nurses has not been

forthcoming.

Employers' final offer

NZNO Industrial Adviser Chris

Wilson said that in March this

year, employers gave their final

offer based on what they say they

can currently afford, but it was

clearly insufficient.

"We have advocated strongly

for an offer that would put primary

Health Care nurses on a salary

par with their DHB counterparts,

but this offer falls woefully short

and accordingly our members

have voted it down. An experienced

nurse covered by the PHC

MECA is currently paid 10.6%

less than their DHB colleague

with the same qualifications and

experience. This disparity can

and must be fixed, and it really

comes down to funding and

political will," she said.

Work undervalued

Ms Wilson said that despite

the advocacy of NZNO and

widespread recognition of their

valuable work, especially on the

frontline against Covid-19, the

government continues to undervalue

the work of PHC nurses

and the sector by not funding the

gap that will secure pay parity.

It is time to this recognition

and praise were matched by pay,

she said.

"There was a post-Budget

pledge of more funding to Early

Childhood Centres in recognition

that they were undervalued

and of their importance in the

recovery from Covid-19. That is

a great outcome

for them and it

shows that the

government

is capable of

addressing

pay inequities.

There are clear

parallels here to

primary health

care and we would like to see

a similar solution found," Ms

Wilson said.

Fight of human capital

Earlier this year NZNO

surveyed its members covered

by the PHC MECA and 70% of

respondents said that they were

considering leaving the sector

because of higher pay elsewhere.

Many nurse leaders said in the

survey that they are struggling to

recruit new nurses or keep the

ones they already have.

"These nurses provide expert

care and advice which often

reduces hospital admissions.

Fewer nurses will mean these

services become less available

and more expensive. Not only is

the pay inequality an injustice, it

ultimately costs the system more

in the long-term. We cannot let

this go on," Ms Wilson said.

NZNO will resume negotiations

as soon as possible in an

endeavour to reach a proposed

collective agreement that values

Primary Health Care workers'

contribution to delivering a

quality service at the frontline of

health.
---
JUNE 1, 2020

The leaders of New Zealand's

ethnic communities have

appealed to New Zealanders

to stand by them on the face

of unprecedented racist online and

on land attacks since the advent of

Covid-19.

This is a scary time for all of

us but some New Zealanders are

being abused and blamed for the

pandemic simply because of our

ethnicity.

We are calling on everyday people

to stand with us against racism.

Massive increase

The New Zealand Human Rights

Commission and the New Zealand

Police have raised serious concerns

over the increase in race-related

complaints during the Covid-19

lockdown.

The New Zealand Human Rights

Commission has reported a 600%

increase in race-based concerns on

social media platforms.

Aotearoa is a strong, Treaty-based

multicultural nation, built on the

manaakitanga that continues to be

shown by tangata whenua to all

other New Zealanders.

That is the heritage of all

non-Maori New Zealanders. In

order to honour that heritage, we

ask everyone to find the courage

to challenge any behaviour in your

physical or online community that

reflects racism in any shape or

form.

Threats to safety

Like so many Kiwis, we are doing

all we can to keep our country safe

from Covid-19 but sadly some of us

are facing threats to our own safety

during lockdown."

It was not just Asian Kiwis who

were facing abuse.

Māori New Zealanders are

also facing abuse, whether while

guarding ancestral lands or just

living peacefully in their home in

Ponsonby.

It is not OK. Give nothing to

racism!

All citizens of New Zealand have

to be vigilant and maintain a zero

tolerance of individuals and groups

in Aotearoa who relentlessly seize

any opportunity to promote their

ill-founded racist values through

their social networks, in public and

in our communities.

Bias and ignorance

This racist behaviour in New

Zealand stems from bias, ignorance

and our tolerance of intergenerational

and systemic racism and

it is concerning that our national

systems and processes are still

unable to eliminate such acts and

behaviours in our society.

An appeal is made that clear,

unequivocal communication by

the government is now urgently

required to ensure that New Zealand's

expectorations of the World

Health Organisation, China, the USA

and other international players to

be transparent with the spread of

Covid-19, does not contradict with

our national drive to stamp out

racism in New Zealand.

Urgent steps need to be put in

place to ensure that this international

stand by New Zealand, as

a global citizen, is not allowed to

Communitylink

Former Race Relations Chief's empathy for Judith Collins

"Ethnic communities

want to be treated as

equals- nothing special"

Venkat Raman

New Zealand can profess

to be a multicultural

nation and governments

can talk of inclusiveness

and 'all-embracing polices and

programmes,' we may all rise

to occasions and express our

solidarity, but deep-rooted in our

social fabric are undercurrents of

racism.

Former Race Relations Conciliator

Gregory Fortuin has often

been at the receiving-end of racist

remarks, even while heading an

office that says, 'Give nothing to

racism.'

Mr Fortuin is a friend of Indian

Newslink and is known to this

Reporter for more than 20 years.

He has been a victim of racist

remarks and chides even in his native

South Africa during Apartheid,

and here in New Zealand from

time to time.

He therefore sympathises with

victims of racism, the latest being

National MP and former Ethnic

Communities and Police Minister

Judith Collins.

"No one should be superficially

judged on the colour of their skin

Gregory Fortuin

(Photo Courtesy: Salvation Army)

and ethnicity," he said.

The Judith Collins Episode

According to a Radio New Zealand

Report, tensions flared over

race relations again on Wednesday

(May 27, 2020) in Parliament with

Ms Collins saying that she was

"sick of being demonised" for her

ethnicity.

Her Party has been under fire

for not having any Maori in its top

12 line-up under the leadership of

Todd Muller. "Is something wrong

being White?" she asked reporters

earlier in the day and took a

swipe at Labour MP Tamati Coffey

who was asking questions on the

Treaty of Waitangi Partnership and

government procurement issues

during a Select Committee meeting

on Finance and Expenditure

Committee.

"Oh, Jesus, stupid questions," Ms

Collins said.

Labour MP Deborah Russell

retorted, "A White Girl comment;

crikey."

"Oh, No," replied Ms Collins. "It

is actually someone who is utterly

sick of being demonised for my

ethnicity; thank you very much."

Trauma of verbal attack

No one would disagree that

racist comments, directed by

someone or the other, against

some community or the other, are

repeatedly heard throughout New

Zealand ever so often.

Mr Fortuin, who is also National

Director (Education & Employment)

of Salvation Army, said that

the trauma and demonisation for

many people in New Zealand was

the "daily degradation of being

a lesser human being than your

fellow white country men and

woman."

"I understand why many fairskinned

coloureds had themselves

legally reclassified as 'White' in

order to live as First Class citizens.

However, I am proud of who I am,

created equal in the eyes of God;

all I wanted was to be judged on

the content of my character and

my ability to make a difference,"

he said.

Christchurch Massacre

A devout Christian, Mr Fortuin

was among those on the frontline

to manage the aftermath of the

Christchurch Massacre of March

15, 2019.

"We have just remembered

how a so-called lone wolf

white-supremist defiled Mosques

and slaughtered 51 peace-loving

Muslims and maimed 50 more in

their sacred places of worship.

During Covid-19 lockdown, we

have experienced unprecedented

racist attacks with the Human

Rights Commission reporting

a 600% increase in race-based

concerns," he said.

Mr Fortuin is also pained by the

tongue-bashing of Maori by some

people.

"The systemic racism, especially

with regard to Tangata Whenua

being over-represented in all the

negative statistics (unemployment,

poverty, imprisonment, homelessness

and so on) and nowhere to

be found in the upper echelons

of state and private enterprises is

stark for all to see," he said.

'While Equal

"I am sure that the millions of

slaves wrenched from the African

continent and degraded as chattels

of their white masters in America,

Rampant racist remarks worry community leaders

Pancha Narayanan

Public Holiday to remember New Zealand Land Wars

17

Britain and the Caribbean wished

they were white-equal. I am sure

that those who were lynched or

hung from trees and Church rafters

wished they were white-equal,"

Mr Fortuin said.

Stating that racism continues

to thrive, he said, "Don't tell me

that was in the past when under

Make America Great Again, young

black men are still being gunned

down by white supremist whilst

out jogging or murdered by white

policemen kneeling on their necks.

I am sure that George Floyd wished

he was white-equal."

"Ethnic communities do

not want tokenism or special

treatment; we simply want to be

treated as equals and live in an

inclusive society. We do not wish

to question or demonise anybody's

'Whiteness.' We should all be able

to celebrate who we are without

fear or favour.

"What is painfully disturbing

in 2020 is the continued blatant

discrimination; exclusion and

the implication that we are not

good enough to be around the top

tables. What gives me hope is the

knowledge that New Zealanders

are better than this," Mr Fortuin

said.

translate to an escalation of racist

behaviour and practices within our

own borders.

We ask MP from all parties to

take a lead by involving Maori and

ethnic community representatives

in all decision-making processes in

this matter, to ensure that we stamp

out racism in New Zealand.

Let us make headway by rowing

together, let us keep at it.

Let us shift the trajectory of the

Waka (Aotearoa/New Zealand) towards

a Treaty-based Multicultural

Society.

He waka eke noa: We are all in

this together. Let us act like it, New

Zealand

Giving Nothing to Racism.

Pancha Narayanan is National

President, Multicultural New

Zealand based in Wellington.

Email President@mnz.org.nz

Meng Foon

Race Relations Commissioner

Meng Foon has asked

the Prime Minister to mark

the New Zealand Land

Wars with a public holiday.

Following is a Statement issued

by him.

I was excited at the prospect

that New Zealand may hold public

holidays as a response to Covid-19

and I believe it is the right time to

mark these historical events.

The New Zealand Wars are not

currently marked with an official

public holiday.

Understanding history

I have emailed the Prime Minister

to explain that our national

and local histories are paramount.

Kennett Watkins' romanticised painting of the death of Gustavus von Tempsky during a battle

against Tītokowaru at Te Ngutu-o-te-Manu, 1868 (Photo from New Zealand History)

Understanding the history creates

a better-informed citizenry.

I have lobbied Ministers to set in

place legislation to so that the New

Zealand Wars move from a local

event to a public holiday. This is

what iwi have long called for.

A 'New Zealand Wars' public

holiday will serve as a memorial

day just as ANZAC Day is, to pause

and remember the events of the

1800s including the many battles

where Māori lives were lost, were

incarcerated, and land confiscated.

I believe strongly in the need to

teach our children to have a sound

understanding of the past, and

prepare them for a future built on

the confidence this knowledge will

bring about their history.

Complimenting factor

The public holiday will complement

increased teaching of our history

in schools from 2022 including

first encounters, early colonial

history, the Treaty of Waitangi,

colonisation, immigration, and the

New Zealand Wars.

About Ngā Pakanga o Aotearoa

Armed conflict between Māori

and the Crown began in 1845 in Te

Tai Tokerau and continued until

the 1870s with Te Kooti, before

moving to a time of alienation

through the Native Land Court that

was established in 1865.

Te Pūtake o te Riri is currently

set aside on October 28 each year

to mark the Wars, established

under the then Minister of Māori

Affairs Te Ururoa Flavell.

As partners with the Ministry of

Cultural and Heritage, iwi share

the task of hosting these annual

land war events and wānanga.

This year, Waikato iwi are hosting

Te Pūtake o te Riri.

Of the existing 10 public

holidays, Waitangi Day is the only

public holiday which includes

a focus on the relationship with

Māori.

Meng Foon is Race Relations

Commissioner based in

Wellington.
---
18

JUNE 1, 2020

Eid Al Fitr Special

Patience at Mosques will help all to pray this Eid Al Fitr

Dr Mustafa Farouk

Assalaamu Alaikum

wa Rahmatullahi wa

Barkatuhu.

All thanks and praises

are due to Allah SWT for enabling

us to witness the end of Ramadan

2020.

This year, we have fasted under

different levels of the Lockdown

due to the coronavirus pandemic.

I thank you very much individually,

and New Zealand collectively,

for demonstrating the spirit of

Ramadan in your patience, sacrifices,

charities and for complying

to the requirements set by the

Government.

By the Grace of Allah, together

with your cooperation and the

proactive and knowledge-based

approach of our government, we

have witnessed several days during

this month of Ramadan when

our beautiful country recorded

zero new cases of coronavirus.

We pray to Allah for this trend

to hold and for our country, and

the rest of the world, to defeat

this virus and bring an end to the

pandemic.

Markets and Mosques

In Islam, we are taught that the

An inner view of the Prophet's Mosque in Madinah

best places are the Mosques, and

the worst places are the markets.

However, currently, our

circumstances seem to be flipped;

where the markets are open, but

our Mosques remain closed due to

the number restrictions imposed

on religious congregations.

This situation requires extra

patience on our part and the hope

that our Mosques and places of

worship will soon open. For this

to happen, we must continue to

pray for Allah's Protection and to

strictly adhere to our government

requirements for this period.

Kindness and Charity

During this month of Ramadan,

we have also witnessed many

examples of unprecedented

acts of kindness and charity. Our

community and other faith and

non-faith groups shared provisions

and offered monetary support to

vulnerable persons and other victims

of the coronavirus lockdowns

regardless of their faith views.

This spirit of comradery and togetherness

should not end with the

month of Ramadan or coronavirus

but should be nurtured and kept

alive for all times.

We must acknowledge that we are

fortunate here in New Zealand, and

we should not forget to reach out to

the many overseas—those who fasted

under all sorts of challenges and

those, who may not be Muslims, but

are forced by their circumstances to

fast almost every day of the year due

to lack of food.

I wish you all Happy Eid Al Fitr.

May Allah SWT Accept our

worship, Forgive us our sins, Grant

us all Jannatul-firdaws.

May Allah SWT Grant our country

and its people peace, prosperity and

happiness and extend it to all of

humanity.

Eid Mubarak.

Dr Mustafa M Farouk is President

of the Federation of Islamic

Associations based in Wellington.

He lives in Hamilton.

Greetings from Us

Venkat Raman

The Wellington-based

Federation of Islamic

Associations of New Zealand

(FIANZ) announced

that the Eid Moon was sighted

on the evening of May 23, 2020

and hence Sunday, May 24,

2020, will be the first day of Eid

Al Fitr.

Covid-19 subdues festivities

Celebrations this year was

subdued in most parts of the

world because of the Covid-19

lockdown restriction still in

force.

Although New Zealand had

moved down in its alert level,

but restrictions were in place

for large gatherings.

However, Muslims were able

to get together in groups of

ten persons each at Mosques

but maintain the two-meter

distance between groups.

The Federation of Islamic

Associations of New Zealand

(FIANZ) issued an advisory on

Eid Prayers and the rules to be

observed.

The Holy Month of Ramadan

is one of the most important

and interesting periods in the

Islamic Calendar. In many parts

of the Islamic world, Muslims

turn day into night and night

into day during this period. This

is a time to realise the pinch

of hunger and thirst, suffering

and poverty and the pleasure of

sharing and giving.

Peace and Harmony

Eid Al Fitr, which marks the

end of Ramadan, is an occasion

for Muslims to greet people of all

faiths and pledge to work with

them for a world that is assured

of peace, harmony, progress, and

prosperity.

We are confident that New

Zealander Muslims will continue

to preach and practice tolerance,

respect other religions and

most important of all, have a

true sense of belonging to the

country and its people. And this

year, they will observe the rules

in force, as they have always

done.

We extend our sincere

greetings to our advertisers,

readers and well-wishers in New

Zealand and rest of the world

on the occasion of the end of

the Holy Month of Ramadan

followed by Eid Al Fitr.

Festive spirit brings joy and fraternal bond

Venkat Raman

Hundreds of thousands of

Muslims celebrated Eid

Al Fitr in New Zealand on

May 24, 2020, marking the

end of the Holy Month of Ramadan.

But festivities were subdued this

year because of social distancing

and restrictions on the number of

people (ten per group) at Mosques

and other public places.

The Muslim community displayed

remarkable sense of responsibility

and restraint, and marked

Eid festivities in accordance with

the restrictions in force.

Following the Eid prayers at

Mosques, men, women and children,

donning new clothes, greeted

each other and exchanged gifts

and sweets, again, maintaining the

social distancing norms.

It was also a day for offering

food, clothing and alms to the poor

as per the teachings and traditions

of Islam.

Unity in thought and action

The spirit of oneness and solidarity

was evident as Non-Muslims

joined in the celebrations, greetings

their Muslim brothers and sisters.

According to the Holy Quran,

a month of fasting from dawn to

dusk and total abstinence from

worldly pleasures purifies the body

and soul.

It may have been a cold and

overcast day in some parts of

New Zealand but the depressing

weather did not dampen the spirit

of Eid Al Fitr.

"Let there be peace and May God

keep you and your family happy

and prosperous," were the words

that emanated from all of them, as

if on a cue.

But then, such is the spirit

of Islam that fraternal feelings

transcend religious beliefs and

vicissitudes. Social status and

income levels hardly enter the

equation and the mood is one of

gaiety and fun.

Universal significance

As usual, family lunches and

File Photo (2010) of Muslims offering

Eid Prayer

dinners were among the activities

that characterised the First Day of

Eid with each group no more than

ten. It is a matter of gratification

that the growing Muslim population

in New Zealand has adhered to the

traditional values of Islam.

Eid-Al-Fitr may seem on the surface

to be of religious significance to

Muslims only but the Festival offers

opportunities for people of different

backgrounds to come together. It

symbolises understanding, tolerance

and togetherness which are

catalyst for peace and harmony.

The importance of Eid Al Fitr

is underscored by the fact that

it is celebrated in New Zealand's

Parliament, indicating the growing

respect of politicians for interfaith.

In the US, UK, Canada, Europe, and

several parts of Asia, where Muslims

are in minority, the respective

Presidents or Prime Ministers mark

the end of the Holy Month of Ramadan

with their Muslim colleagues

and members of the community.

Great combination

Muslims have a rich history of

celebrating festivals, each of which

is a combination of religious and social

factors and on such a score, Eid

Al Fitr marked a special occasion in

the Islamic calendar.

Special prayers, decoration of

homes and offices with colourful

lights, distribution of special food

and sweets mark the three day

festivities in the Arab world. The

The Kaaba in Mecca witnesses millions of

Muslims during Eid but not this year

celebrations included recitation

of the Holy Quran and poetry in

the praise of Allah and Prophet

Mohammed.

Since Muslims make up a rich

tapestry of many nations and languages,

these are recited in the local

language besides the traditional

Arabic for Quranic recitations.

True Eid festivities

When Prophet Mohammed

migrated from Makkah to Madinah,

the people of Madinah observe two

major festivals.

When the Prophet asked the

Ansaar (the Muslims of Madinah)

about it, they replied saying that

before Islam they used to have

carnivals on those two joyous days.

The Prophet told them: "Instead of

those two days, Allah has appointed

two other days which are better, the

days of Eid Al Fitr and Eid Al Adha

(Hadith)."

Eid Al Fitr is celebrated on the

first day of Shaw'waal, at the end of

Ramadan.

Shaw'waal is the 10th month in

the Islamic calendar.

Eid Al Fitr is a very joyous day;

it is a true Thanksgiving Day for

the men and women of faith. On

this day, Muslims show their real

joy for the health, strength, and

the opportunities of life, which

Allah has given them to fulfill their

obligation of fasting and other good

deeds during the blessed month of

Ramadan.

Eid Al Adha is celebrated on the

tenth day of Zdilhijjah, the 12th

and the last month of the Islamic

calendar. It is also very joyous

day; it is a feast of self-sacrifice,

commitment, and obedience to

Allah. It commemorates the great

act of obedience to Allah by Prophet

Ibrahim in showing his willingness

to sacrifice his son Ismael. Allah

accepted his sacrifice and replaced

Prophet Ismael with a lamb.

Although Haj has no relation with

the Eid Al Adha the five-day-long

ritual of Haj is also done during

this month culminating with Ninth

Zdilhijjah.

Many rituals of Haj are

enactment of the struggle of the

family Ibrahim, specially his second

wife Hajirah and her son Prophet

Ismael.

Sky Tower lights up for Eid Al Fitr

Staff Reporter

Sky Tower, a world famous

landmark of Auckland,

was lit up for two nights

as Muslims marked Eid

Al Fitr, following the end of the

Holy Month of Ramadan.

The Tower, owned by SkyCity

Hotels Group, turned Green and

White, symbolising Islam on

Sunday, May 24, and Monday,

May 25, 2020.

Muslims in New Zealand

celebrated three days of Eid Al

Fitr from Sunday, May 24, 2020.

Chairperson of New Zealand

Eid Day Trust, Javed Dadabhai

was excited about the opportunity

for the Muslim community.

Covid-19 rules honoured

"Eid Al Fitr is regarded as a

time to celebrate, with Muslims

gathering with their friends and

family to show gratitude toward

God following the previous

month of reflection. In keeping

with public health requirements

due to Covid-19, faith-based

gatherings are currently limited

to ten people. As such, Eid Al Fitr

will be celebrated differently this

year," he said.

Mr Dadabhai said that his

community was appreciative of

the gesture by SkyCity to help

collectively celebrate Eid through

Auckland's iconic Sky Tower in Green.

one of New Zealand's most iconic

attractions.

SkyCity Hotels Group General

Manager Brad Burnett said, "We

are a multicultural nation and

we hope that by lighting the

Sky Tower for Eid will help our

Muslim community feel closer

together while physically apart,"

he said.

About Sky Tower

The Sky Tower is the tallest

free-standing structure in the

Southern Hemisphere.

SkyCity lights the Sky Tower

for charities or community initiatives

that the company supports

financially to mark national

holidays, milestones or other

celebrations or events, or as a

symbol of respect or solidarity.
---
JUNE 1, 2020

Entertainmentlink

19
---
20

JUNE 1, 2020

Covid-19 restrictions have

seen scores of restaurants

around the country close

their doors for good.

While the wage subsidy had

helped some, it did nothing to

help pay commercial rents, and

with little or no money coming

in, shutting up shop had been the

reality for many.

One Christchurch restaurateur

is bucking the trend, forging ahead

with the opening of his Indian

restaurant, despite the new normal.

All he was asking for was a little

help with the rent.

Tanveer Jahangir's Top In Town

Restaurant was due to open on

March 15, 2020.

Having sold his home and

businesses in Brisbane and moved

his wife and five children to

Christchurch. He was all in, excited

about starting a new life in New

Zealand and anxious to see some

money coming in from his new

venture.

Then came Covid-19.

"It was all set up to go. We had

flyers printed and distributed and

our website... [then] our country

went into the lockdown."

Everything was harder to do in

lockdown, let alone trying to hire

staff to work at a new restaurant.

Visa changes

Some of the chefs he was looking

to employ needed their work visas

changed, allowing them to switch

employer, but delays at Immigration

New Zealand meant they were

still not able to man his kitchen.

"I went into too much of a depression,

sleepless nights, thinking

of how the business will be after

this Covid 19."

Entertainmentlink

Veteran Restauranteur to open Top in Town in Christchurch

Conan Young

Tanveer Jahangir

In the meantime, he continued to

pay rent on a restaurant that after

two long months he was still not

able to open.

"If my landlord listens to this

and (agrees to) waive this in a good

faith (way) in the long run it will

help for the owner and for me as

well...because without any income

coming through I am almost dried

up now...I am here to create more

jobs and bring something different

to the community."

Determination succeeds

Despite everything, Jahangir was

determined to get his restaurant

open.

New rules banning buffets, due to

the risk of spreading Covid-19, were

brought in shortly after he had

installed expensive bain-maries.

The answer: glass screens shielding

the food from behind which wait

staff would do the serving instead.

Part of the move here was to

support his brother, fellow restaurateur

and Mosque shooting victim

Ahmed Jahangir.

As a Muslim, Tanveer had

no misgivings about moving to

Christchurch despite last year's

shootings and wanted to pay it back

to the health workers who helped

his brother, once the restaurant

was up and going.

Open invitation

"When the Mosque shooting

happened I flew from Australia

to Christchurch and stood in the

hospital for 12 days, and the job

they have done, I cannot explain,

from my heart, it is a tremendous

job they have done. As a gesture, I

cannot do much, but on my opening

day, I want to invite each and every

health worker from Christchurch

or wherever to come and enjoy free

lunch and dinner on that particular

day. It will be from our heart," he

said.

The invite was also open to the

Police Officers who helped out

that day, who he said had helped

Muslims in Christchurch to feel safe

again.

On the day Checkpoint visited,

things were looking up.

Tanveer had just received an

email saying Immigration were

prioritising sorting the paper work

for his chefs. He said that all going

well, he would have the restaurant

open in two weeks.

A couple of Bengalis get to

International Film Festivals

Auckland productions 'Amigo' and 'Belladona' for Rome and Istanbul

Venkat Raman

Imagine being grounded for two

years as a result of Covid-19

lockdown.

Again imagine that you are

alone- no one around for conversation

except 'Amigo,' an Artificial Device,

with perhaps equal intelligence

challenging a human.

How would life be in solitude with

a machine?

That form the core of 'Amigo,' a film

shot entirely in Auckland- entirely on

mobile- and entirely during the lockdown

Alert 4 period in New Zealand.

The film has been produced by

Euphoria Entertainment, a South

Asian Performing Arts Group.

Media Representative Preeta

Vyas said that 'Amigo' won the 'Best

Lockdown-themed Short Film' at

the 'Shoestring Film Challenge 2020'

under the 'Best Short film short on a

mobile phone.'

"This achievement has qualified

'Amigo 1.0' to enter the Istanbul Film

Festival 2020. Directed by Anirban

Datta, with Swastika Ganguly in the

lead role, the film reflects the Indian

culture (in Bengali) in New Zealand,"

she said.

'Belladona,' another achiever

Ms Vyas said that the South Asia

Performing Arts Group registered

another achievement recently.

Its 'Belladona,' has been selected for

presentation at the Rome Prisma Independent

Film Awards and Istanbul

Film Awards 2020.

"The film has been nominated for

'Best Narrative,' 'Best Foreign Film,'

'Best Debutant Director' and 'Best

Actress' Awards. 'Belladona' is a psychological

thriller based on an urban

Swastika Ganguly in Amigo (Screenshot)

legend surrounding the mystical

foothills of the majestic Himalayas in

Northern India," she said.

Directed by Anirban Datta, the film

features Swastika Ganguly in the titular

role, Bikram Banerjee in another

lead role, Rishabh Kapoor, Raj Singh,

Devadatt Manohar Paranjape, James

Duncan, Saswata Ray and Vijayendra

Bose.

About Shoestring

Born out of an ambitious Fringe

production, the Shoestring Theatre

Challenge focuses on the lighter aspects

of a show- bringing the artistic

talents of people.

As the intro says, "The fun aspect

takes priority over the stressful

parts of production (worrying about

venues, budgets and filling seats). Our

secondary aim is accessibility; anyone

who wants, can come together, make

their own One-Act play in a month for

$20 and exhibit at a free, one-nightly

only event. The audience could be

their family and friends."

Launched in 2010, the Shoestring

Theatre Challenge has been held in

Wellington and Auckland.

"Amigo is among a few Firsts: This

is the first Shoestring Challenge for

film, First time online and first time

going national."

Property

Finance

Specialists

Single house

builds

Terrace &

Multi unit

Developments

Subdivisions

Commercial

property

Residential

Investment

Property

NZ$2B+

Funds lent since

inception

1500 +

Loans Settled

Loans from

$200,000

to $25

million

When all other lenders offer you are hurdles, we will get your development off the ground by placing

greater emphasis on the practical and business merits of your funding application. Since 2004, ASAP

Finance has been providing innovative and competitive property funding solutions to investors,

developers and home builders and is recognized as a leading property finance provider in New Zealand.

To find out about our funding solutions, please contact:

Parash Sarma - Client Services Director Mob: 021 864 730 Email: parash@asapfinance.co.nz