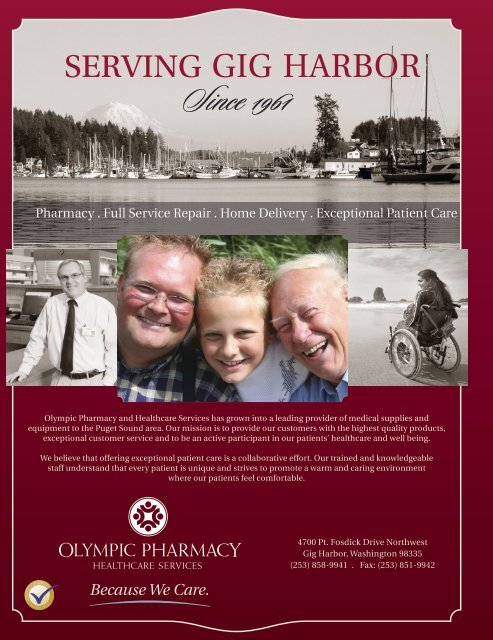 June 2020 Gig Harbor Living Local
June 2020 Gig Harbor Living Local
SERVING GIG HARBOR

Pharmacy . Full Service Repair . Home Delivery . Exceptional Patient Care

Olympic Pharmacy and Healthcare Services has grown into a leading provider of medical supplies and

equipment to the Puget Sound area. Our mission is to provide our customers with the highest quality products,

exceptional customer service and to be an active participant in our patients' healthcare and well being.

We believe that offering exceptional patient care is a collaborative effort. Our trained and knowledgeable

staff understand that every patient is unique and strives to promote a warm and caring environment

where our patients feel comfortable.

Because We Care.

4700 Pt. Fosdick Drive Northwest

Gig Harbor, Washington 98335

(253) 858-9941 . Fax: (253) 851-9942

GigHarborLivingLocal.com

2
More magazines by this user