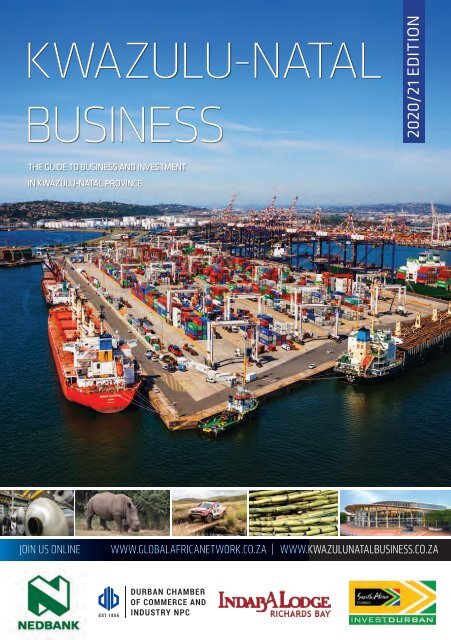 KwaZulu-Natal Business 2020-21 edition
The 2020/21 edition of KwaZulu-Natal Business is the 12th issue of this unique publication that, since its launch in 2008, has established itself as the premier business and investment guide for the KwaZulu-Natal Province. In addition to the regular articles providing insight into each of the key economic sectors of the province, there is a special feature on the vital role played by ports in the province, from the coal exported from Richards Bay to the new cruise liner terminal addition to the Port of Durban. The 10th anniversary of the 2010 FIFA World Cup coincides with the birthday of the Moses Mabhida Stadium, an iconic design that has become a standard feature on the KwaZulu-Natal sporting and events calendar. Likewise the Durban ICC which continues to burnish the province's reputation as meetings and convention centre.
The 2020/21 edition of KwaZulu-Natal Business is the 12th issue of this unique publication that, since its launch in 2008, has established itself as the premier business and investment guide for the KwaZulu-Natal Province.

In addition to the regular articles providing insight into each of the key economic sectors of the province, there is a special feature on the vital role played by ports in the province, from the coal exported from Richards Bay to the new cruise liner terminal addition to the Port of Durban. The 10th anniversary of the 2010 FIFA World Cup coincides with the birthday of the Moses Mabhida Stadium, an iconic design that has become a standard feature on the KwaZulu-Natal sporting and events calendar. Likewise the Durban ICC which continues to burnish the province's reputation as meetings and convention centre.
SHOW MORE
SHOW LESS
Create successful ePaper yourself
Turn your PDF publications into a flip-book with our unique Google optimized e-Paper software.
KWAZULU-NATAL

BUSINESS

2020/21 EDITION

THE GUIDE TO BUSINESS AND INVESTMENT

IN KWAZULU-NATAL PROVINCE

JOIN US ONLINE WWW.GLOBALAFRICANETWORK.CO.ZA |

WWW.KWAZULUNATALBUSINESS.CO.ZA

EST 1856

DURBAN CHAMBER

OF COMMERCE AND

INDUSTRY NPC
---
1

0

1

1

0

1

1

0

1

BUY LOCAL

INVEST LOCAL

0

11

1

1

0

1

0

11

0

11

1

1

0

1

0

11

0

11

1

1

0

1

0

11

Let's come together and heal as a nation.

Let's focus on Renewing, Restoring and Rebuilding

successful partnerships and investment opportunities so we

can get back to promoting our city as the ideal destination

for business and pleasure to the rest of the world.

Your support coupled with our world-class infrastructure,

innovative business environment and ever evolving

investment opportunities, means we can get back to

'connecting continents' in no time.

1

1

0

1

0

11

1

1

0

1

1

1

0

1

0

11

0

11

Tel: +27 31 311 4227

Email: invest@durban.gov.za

web: invest.durban

1
---
0

0

11

1

0

1

0

11

0

0

11

1

0

1

0

11

The city of

Durban (eThekwini

Municipality) is South

Africa's second most

important economic

region

01

1

0

11

01

1

1

0

1

0

11

1

01

1

0

11

01

1

1

0

1

0

11

1

Extensive first-world

road, rail, sea and air

0

01

00

1

001

11

0

0

01

0

11

0

11

00

1 0

01

1

0

3

0

11

1

0

1

0

11

1

1

0

1

0

11

1

0

3

0

11

1

0

1

0

11

1

1

0

1

0

11

Dube

TradePort

and King

Shaka

International 1

Airport - 60-

year Master

Plan - driving

growth of

aerotropolis,

or airport

city

001

11

01

00

Rated in top 5

'Quality of Living'

cities in Africa and

Middle East by

Mercer Consulting in

2015

Named one of the

New 7 Wonders Cities

by the Swiss-based

New 7 Wonders

Foundation in 2014

1

01

00

1

0

01

00

1
---
E S T 1856

E S T 1856

E S T 1856

DURBAN CHAMBER

DURBAN CHAMBER

OF COMMERCE AND

OF DURBAN COMMERCE CHAMBER AND

INDUSTRY NPC

INDUSTRY OF COMMERCE NPC AND

INDUSTRY NPC

#InBusinessForABetterWorld

2

#InBusinessForABetterWorld
---
WHO WE ARE AND WHAT

WE ARE ABOUT

WHO WE ARE AND WHAT

WE ARE ABOUT

The Durban Chamber of Commerce and Industry was established in 1856 and is

one of the oldest and largest metropolitan chambers in Africa. As a business-based

and member-focused The Durban Chamber organisation, of Commerce we and work Industry to protect was established and promote in 1856 the interests and is

of the one eThekwini of the oldest business and largest community metropolitan and to chambers facilitate in and Africa. promote As a business-based

economic growth

in the and region member-focused in partnership organisation, with key stakeholders.

we work to protect and promote the interests

of the eThekwini business community and to facilitate and promote economic growth

in the region in partnership with key stakeholders.

VISION

VISION

In Business for a Better World

To be In recognised Business for as a Better a world-class World business chamber and a united voice of

business To be in recognised the eThekwini as a world-class Municipal area business and chamber beyond. and a united voice of

business in the eThekwini Municipal area and beyond.

MISSION

MISSION

To contribute towards creating a conducive economic and business environment

in the To eThekwini contribute Municipal towards creating area and a conducive beyond, as economic well as and providing business services environment

specifically in the eThekwini relevant Municipal to small and area large and beyond, businesses as well operating as providing in the services region.

specifically relevant to small and large businesses operating in the region.

AN AN ORGANISATION ORGANISATION OF OF GROWTH

The Durban

The Durban

Chamber

Chamber

represents

represents

leading

leading

multi-nationals,

multi-nationals,

large

large corporates,

corporates,

small,

small,

medium medium and and micro-sized micro-sized enterprises enterprises (SMMEs) (SMMEs) and and start-ups in promoting inclusive inclusive

and sustainable and sustainable economic economic growth growth and and development in in eThekwini and beyond.

Join Join the Durban the Durban Chamber and and take take advantage of of our exclusive member benefits

and and business-focused services to to grow your business.

ADVOCATING ADVOCATING AND AND

INFLUENCING

INFLUENCING

POLICY

POLICY

DECISIONS THAT AFFECT THE

DECISIONS THAT AFFECT THE

INTERESTS OF BUSINESS

INTERESTS OF BUSINESS

Legislation and By-laws

Legislation and By-laws

Business Regulations

Business

Marketing

Regulations

Analysis and Research

Marketing Analysis and Research

OFFERING OFFERING BUSINESS BUSINESS

SUPPORT SERVICES

SUPPORT SERVICES

AND ADVICE

AND ADVICE

Business and Personal Credit Reports

Business and Personal Credit Reports

Networking Opportunities

Networking

Company

Opportunities

Registration

Company Workshops Registration and Seminars

Workshops Business and Consultation Seminars

Business Consultation

PROVIDING BUSINESS

INFORMATION RELEVANT

INFORMATION RELEVANT

TO BUSINESS

TO BUSINESS

Durban Chamber Online Newsletter

Durban Chamber Online Newsletter

Dispute Resolution

Dispute

Policy Focus

Resolution

Weekly Update

Policy Focus Weekly Update

Chamber Square, Lion Match,

Office Park, 892 Umgeni Road

Chamber Square, Lion Match,

Durban, 4001

Office Park, 892 Umgeni Road

Durban, 4001

www.durbanchamber.co.za

3

www.durbanchamber.co.za

+27 31 335 1000

+27 31 335 1000
---
Excellent service in

your time of need

matters to us.

Metropolitan has been awarded the leader classification for the

fourth year in a row by the South African Customer Satisfaction

Index (SACSI). Furthermore, we have also been recognised

by Ask Afrika as the 2019 Industry Winner in their

Orange Index for Service Excellence.

For your trust and continued partnership in

helping us achieve what matters to you,

we say thank you!

Find out more at

metropolitan.co.za

Winner of multiple awards for

service excellence.

2016

2017

2018

2019

2018

2019

Metropolitan is part of Momentum Metropolitan Life Limited, an authorised
---
financial services (FSP 44673) and registered credit provider (NCRCP173).

23595/E BLACK RIVER F.C.
---
Petroleum Agency SA is a key

player in a vital sector

South Africa's oil and gas exploration and

production sector an excellent investment

As stated in the National Development Plan (NDP), the

government's intention is to "enable exploratory drilling

to identify economically recoverable coal seam and

shale gas reserves, while environmental investigations

will continue to ascertain whether sustainable

exploitation of these resources is possible.

"If gas reserves are proven and environmental concerns

alleviated, then development of these resources and

gas-to power projects should be fast-tracked."

The plan also calls for the need to incorporate a greater

share of gas in South Africa's energy mix, through

importing liquefied natural gas (LNG), using shale gas if

reserves prove commercial, and developing infrastructure

for the import of LNG, mainly for power production,

over the short to medium term.

Petroleum Agency SA plays an important role in developing

South Africa's gas market by attracting qualified

and competent companies to explore for gas in the

country, as well as monitoring and regulating their

activities. In addition to ensuring operators always

comply with the law, a major area of focus is increasing

the inclusion of historically disadvantaged South

African-owned entities in the upstream industry. South

Africa needs large discoveries of indigenous gas as well

as fair access to opportunities and social licence to

develop a healthy gas market.

Currently, natural gas supplies about just 3% of South

Africa's primary energy. A significant challenge facing

the development of a major gas market in South Africa

is the extreme dominance of coal as a primary energy

source, and industry's historic reliance on coalgenerated

electricity.

A lack of extensive gas transport and reticulation

infrastructure goes hand in hand with this, while

other challenges include uncertainty about volumes of

indigenous gas available to industry; security of supply;

switching and conversion costs; gas pricing; and negativity

around the ongoing use of fossil fuels. End users

require certainty before committing, while explorers

look for a guaranteed market.

On a more positive note, opportunities for gas lie in the

realisation of South Africa's NDP and the Integrated

Resource Plan (IRP). Both call for indigenous hydrocarbons

– conventional and unconventional – and

independent power production to play an increasing

role in the nation's energy mix.

The national power utility also intends to replace coalfired

power stations with gas-fired counterparts, in line

with the vision of the NDP. The advent of gas-fired power

stations will represent a ready, indigenous market for

operators that make discoveries of gas in South Africa,

ensuring it will be far easier to monetise smaller discoveries

that may otherwise have remained undeveloped.

As custodian, Petroleum Agency SA ensures that

companies applying for gas rights are vetted to make

sure they are financially qualified and technically

capable. Applicants also need to have a good track

record in terms of oil and gas exploration activity, as

well as regard for the environment. This applies to both

local and foreign companies. Oil and gas exploration

requires enormous capital outlay and can represent

a risk to workers, communities and the environment.

Applicants are therefore required to prove their capabilities

and safety record and must carry insurance for

environmental rehabilitation.
---
Driving South Africa's emerging gas sector while ensuring a well-regulated

and responsible environment is a key mandate of Petroleum Agency SA, as is

assisting operators with monetising smaller discoveries that may otherwise

remain undeveloped, through advertising these opportunities to potential partners.

OUR VISION

A diverse upstream industry

contributing to energy security

through sustainable growth in

exploration and development

of oil and gas.

OUR MISSION

To promote, facilitate and regulate

exploration and sustainable develop-

ment of oil and gas contributing

to energy security in South Africa.

SOCIAL AND LABOUR PLANS

In addition, all planned activities can only be carried

out after completion of an environmental impact

assessment and under an approved environmental

management plan, after consultation with the public

as well as interested and affected parties. Explorers

are also required to contribute to skills development

through the agency's Upstream Training Trust.

Oil and gas exploration in South Africa is regulated

in terms of the Mineral and Petroleum Resources

Development Act (MPRDA) of 2002, which stipulates

that applicants for production rights are required to

submit social and labour plans (SLPs) to assist in

transforming the industry, promoting employment and

advancing social and economic welfare in South Africa.

Applicants must develop and implement, where

applicable, comprehensive SLPs that cover human

resources-development programmes, community

development, housing and living conditions, and

employment equity.

In addition to the MPRDA, other acts also regulate

the sector – including the National Environmental

Management Act, the Royalties Act, the Mining Titles

Registration Act and the National Water Act. These

acts and regulations have served the upstream industry

well and are all in line with international standards.

Minister of Mineral Resources Gwede Mantashe and

President Cyril Ramaphosa have recently stated that

oil and gas exploration and production activities should

have their own standalone legislation, separate from

that applicable to hard mineral mining. This legislation

is being drafted and the agency is part of the team at

the Department of Mineral Resources working on it.

In today's world, oil and gas remain the most critical of

energy resources, and Petroleum Agency SA is in full

support of those entering the South African oil and gas

exploration and production industries. The Agency is

fully committed to ensuring that our government and

policy-makers sustain the sector for the benefit

of all involved and will do everything in its power

to advance the industry.

ABOUT PETROLEUM AGENCY SA

Petroleum Agency SA was established in 1999 by Ministerial directive and is

mandated through the Mineral and Petroleum Resources Development

Act, 2002 (Act No.28 of 2002) together with the National Environmental

Management Act, 1998 (Act No.107 of 1998). These Acts provide for

Petroleum Agency SA to evaluate and promote oil and gas potential

exploration and production activities in South Africa, to regulate oil and gas

exploration and the production industry and to archive all geotechnical data

produced through oil and gas exploration. The Agency acts as an advisor to

the government on issues regarding oil and gas exploration and production

and carries out special projects at the request of the Minister.
---
CONTENTS

CONTENTS

KwaZulu-Natal Business 2020/21 Edition

Foreword 10

A unique guide to business and investment in KwaZulu-Natal.

Special features

Regional overview of KwaZulu-Natal 12

Manufacturers are investing and export volumes are on the rise.

KwaZulu-Natal's ports are shaping up 18

Construction of the Durban Cruise Terminal got underway in 2019.

Economic sectors

Agriculture 26

Sugar 28

Forestry and paper 29

Mining 32

Engineering 33

Oil and gas 34

Construction and property 35

Tourism 36

Manufacturing 40

Automotive 41

Energy 42

Water 43

Banking and financial services 44

Education and training 45

ABOUT THE COVER: The Port of Durban

handles containers, automotive imports

and exports, break-bulk and agricultural

commodities. Transnet reported that the

port handled 2.96-million twenty-foot

equivalent units (TEUs) in 2018. The

figure of 487 000 vehicles handled

by the port in the same year was the

highest since 2013. Photo: Transnet

KWAZULU-NATAL BUSINESS 2020/21

8
---
Africa Biomass Company

Your caring family trading as world leaders in the wood chipping industry.

WP CHIPPER HIRE & SALES trading

as Africa Biomass Company (ABC)

is a wood chipping company that

provides wood recycling services,

supplying biomass according to specification.

ABC is one of the best go-to wood chipper

equipment sales and services agents.

Wood chipper services

• Agricultural: orchard / vineyard recycling and

mulch spreading

• Biomass for generation

Company

of heat or electricity

Slogan

• Site clearing and preparation

Buy your own Bandit wood chipper

or hire us to deal with your biomass

Bandit the only logical choice for wood chippers in

Africa, which are now fitted on SABS-approved trailers.

ABC understands wood recycling

With a comprehensive understanding of the operational

challenges of wood recycling in South Africa,

Company

ABC has established state-of-the-art Slogan facilities to service,

repair and rebuild wood chipper equipment of

any brand and size. ABC's facilities are operated by a

remarkable team of very experienced and suitably

qualified engineers, technicians and artisans.

An equally remarkable team of field-service

technicians deliver repairs, maintenance and parts

A small selection of Bandit wood chippers (from left to right): Model 75XP Engine; Model 65XP PTO

and the Intimidator 12XPC.

• River rehabilitation in riparian zones

to clients' sites to optimise uptime and efficiency.

Africa Biomass Company is the authorised dealer Become an owner of a Bandit chipper

• Workshop, field services, parts and spares For more information on the Bandit, see page 27.

for Bandit Industries in Southern Africa.

All existing and new customers are welcome

• Operator training services: SETA-certified

ABC has built up a substantial fleet of Bandit to contact us if they want to become the

• Manufacturing workshop wood chippers for use by the company The most as part experienced

owner of the top-class range of Bandit

of our wood recycling services, but ABC also

biomass producer equipment. in Bandit Africa Industries have delivered

offers a whole range of Bandit wood chippers successful recycling solutions to basically

The X-factor in wood chippers to clients who want to invest in the Bandit range. every corner of the planet.

Bandit chippers are designed Dimensional with quality, wood chips are produced by the removal

ABC is the authorised dealer for Bandit production wood and chippers longevity in mind. of alien Hand-fed invasive A trees commitment in riparian to zones, support previously

chippers are mounted on custom-built, SABSapproved

trailers. Owning a Bandit wood Africa Biomass Company is fully equipped

in Africa. Bandit combines first-world technology and deemed as impossible. ABC, however, now has

experience with third-world functionality. chipper will always This makes put you in the front knowledge seat of and and stocked technology to service and to get repair the any job Bandit

reliable wood chipping operations.

machine anywhere in South Africa. We own

done. These wood chips are then used

In many cases, the Bandit wood chipper sets a fully-equipped parts warehouse (650m²),

the benchmark for other brands in the wood in agri-industrial manufacturing applications department as as well a greener

alternative services to ensure to coal that for parts either are always heat readily or

as field

chipping industry. We are ready to supply the

right Bandit wood chipping solution with advice available and our own, as well as our clients'

electricity production.

and aftercare to your doorstep. All existing and Bandit wood chippers are not out of commission

new customers are welcome to contact us to longer than they have to be.

become the owner of Bandit equipment. Geographical www.abc.co.za footprint

ABC is located in Worcester (Western

Cape), Kirkwood (Eastern Cape),

Nelspruit (Mpumalanga) and Upington

(Northern Cape).

We operate in all nine provinces in

South Africa and also across the

borders into Sub-Saharan Africa, including

Namibia, Botswana, Zimbabwe,

Mozambique, Zambia, Malawi,

Tanzania, Kenya and Nigeria. ■

9 WESTERN CAPE BUSINESS 2020

www.abc.co.za
---
FOREWORD

KwaZulu-Natal Business

A unique guide to business and investment in KwaZulu-Natal.

Credits

Publisher: Chris Whales

Publishing director:

Robert Arendse

Editor: John Young

Managing director: Clive During

Online editor: Christoff Scholtz

Art director: Brent Meder

Designer: Simon Lewis

Production: Lizel Olivier

Ad sales: Gavin van der Merwe,

Sam Oliver, Jeremy Petersen

Gabriel Venter, Vanessa Wallace,

Themba Khumalo, Shiko Diala

and Sandile Koni.

Administration & accounts:

Charlene Steynberg

and Natalie Koopman

Distribution & circulation

manager: Edward MacDonald

Printing: FA Print

The 2020/21 edition of KwaZulu-Natal Business is the 12th

issue of this highly successful publication that, since its

launch in 2008, has established itself as the premier business

and investment guide for the KwaZulu-Natal Province.

In addition to the regular articles providing insight into each of the

key economic sectors of the province, there is a special feature on the

vital role played by ports in the province, from the coal exported from

Richards Bay to the new cruise liner terminal addition to the Port of

Durban. The 10th anniversary of the 2010 FIFA World Cup coincides

with the birthday of the Moses Mabhida Stadium, an iconic design that

has become a standard feature on the KwaZulu-Natal sporting and

events calendar. Likewise the Durban ICC which continues to burnish

the province's reputation as meetings and convention centre.

To complement the extensive local, national and international

distribution of the print edition, the full content can also be viewed

online at www.kwazulunatalbusiness.co.za. Updated information on

KwaZulu-Natal is also available through our monthly e-newsletter,

which you can subscribe to online at www.gan.co.za, in addition

to our complementary business-to-business titles that cover all

nine provinces, our flagship South African Business title and the

new addition to our list of publications, African Business, which was

launched in 2020. ■

Chris Whales

Publisher, Global Africa Network Media | Email: chris@gan.co.za

DISTRIBUTION

KwaZulu-Natal Business is distributed internationally on

outgoing and incoming trade missions, through trade and

investment agencies; to foreign offices in South Africa's

main trading partners around the world; at top national

and international events; through the offices of foreign

representatives in South Africa; as well as nationally and

regionally via chambers of commerce, tourism offices, airport

lounges, provincial government departments, municipalities

and companies.

Member of the Audit Bureau

of Circulations

PUBLISHED BY

Global Africa Network Media (Pty) Ltd

Company Registration No: 2004/004982/07

Directors: Clive During, Chris Whales

Physical address: 28 Main Road, Rondebosch 7700

Postal address: PO Box 292, Newlands 7701

Tel: +27 21 657 6200 | Fax: +27 21 674 6943

Email: info@gan.co.za | Website: www.gan.co.za

ISSN 1995-1310

COPYRIGHT | KwaZulu-Natal Business is an independent publication

published by Global Africa Network Media (Pty) Ltd. Full copyright to the

publication vests with Global Africa Network Media (Pty) Ltd. No part

of the publication may be reproduced in any form without the written

permission of Global Africa Network Media (Pty) Ltd.

PHOTO CREDITS | Bell Equipment, Bidvest, Enterprise iLembe, eThekwini

Municipality, Hulamin, Illovo Sugar, iStock, KZN Department of Education,

Mondi, Moses Mabhida Stadium/Kevin Sawyer, MSC Cruises, RBM Mines,

KWAZULU-NATAL BUSINESS 2020/21

10

Transnet National Port Authority, Umgeni Water, WK Construction.

DISCLAIMER | While the publisher, Global Africa Network Media (Pty)

Ltd, has used all reasonable efforts to ensure that the information

contained in KwaZulu-Natal Business is accurate and up-to-date,

the publishers make no representations as to the accuracy, quality,

timeliness, or completeness of the information. Global Africa Network

will not accept responsibility for any loss or damage suffered as a result

of the use of or any reliance placed on such information.
---
Hi There! We're going DIGITAL

Webinar

e-Learning

Virtual Events

CIGFARO

HERE FOR YOU!

POST

@

@

CONTACT US www.cigfaro.co.za

082 895 8077

CONTACT US

11 KWAZULU-NATAL BUSINESS 2020/21
---
SPECIAL FEATURE

A regional overview

of KwaZulu-Natal

By John Young

Manufacturers are investing in the province and export volumes are on

the rise as the province's two main ports upgrade and expand.

Almost a third of South Africa's

manufactured exports are produced in

KwaZulu-Natal. A number of domestic

and international manufacturers are

either buying into the province or building new

facilities in order to export finished goods.

The Mara Group's R1-billion investment in

a smartphone factory at the Dube TradePort

is the latest in a string of inward investments

that KwaZulu-Natal has received. This includes

expenditure of more than R1.2-billion by Arçelik,

the Turkish owner of Defy, at the company's three

South African plants (two of which are in the

province) and R4.5-billion by Nyanza Light Metal in

a titanium dioxide pigment plant at Richards Bay.

The Special Economic Zones (SEZs) at Richards

Bay and King Shaka International Airport (the

Dube TradePort) are key components of the

strategy of attracting investors to the province.

Dube TradePort attracted R7-billion between

2012 and 2019 and the same amount is expected

to accompany the development of Phase 1A

and Phase 1F of the Richards Bay Industrial

Development Zone (RBIDZ).

Two investors in 2019 were edible oils

manufacturer Wilmar Processing SA, which is

investing more than R1-billion in a plant, and

Elegant Afro Line, which will spend about R900-

million on its chemicals plant.

There are plans to establish a clothing and

textiles SEZ in the province to build on the

province's established strength in the sector and

an automotive supplier park will be in operation

by 2021. Toyota and Bell Equipment play a big

KWAZULU-NATAL BUSINESS 2020/21

12
---
SPECIAL FEATURE

role in the automotive sector while the Engen Oil

Refinery is a strategic asset.

The province's existing infrastructure, good soils

and fine weather provide a solid base for future

growth. KwaZulu-Natal already has significant

capacity in heavy and light manufacturing, agriprocessing

and mineral beneficiation, all of which

is supported by South Africa's two busiest ports

(Richards Bay and Durban), the country's busiest

highway (the N3), a modern international airport

and pipelines that carry liquids of all types to and

from the economic powerhouse of the country

around Johannesburg in the interior.

Sappi's dissolving pulp mill at Umkomaas

south of Durban (below) is one of the province's

most significant industrial sites as it produces huge

quantities of a material that is used in viscose staple

fibre, which in turn is used in clothing and textiles.

Together with production volumes from Sappi's

mill in neighbouring Mpumalanga province, the

company is the world's largest manufacturer of

dissolving pulp. Sugar, tourism and forestry and

paper are other important sectors driving growth

and employment in KwaZulu-Natal.

In his 2020 State of the Province address,

Premier Sihle Zikalala listed the sectors which are to

be targeted for investment in the future. These are:

• Aloe processing

• Bio-ethanol

• Renewable energy

• Fish processing

• Innovation hubs

• Oceans Economy.

KwaZulu-Natal has a long coastline that stretches

from Port Edward in the south to the iSimangaliso

Wetland Park in the north. The province's contact

with the sea has brought obvious benefits: fishing,

fine beaches enjoyed by millions of tourists and

two great ports.

These ports export vast quantities of minerals

(mostly through Richards Bay) and manufactured

goods (Durban) and serve as an important conduit

13 KWAZULU-NATAL BUSINESS 2020/21
---
SPECIAL FEATURE

for imports of all sorts. The Richards Bay Coal

Terminal exports massive quantities of coal while

the Port of Durban is the busiest port in Africa.

However, planners want to massively increase

the economic benefits that the ocean can bring.

An Oceans Economy Review Workshop has come

up with a range of sub-sectors that can help grow

the provincial economy and invite foreign direct

investment:

• Marine transport and manufacturing

• Offshore oil and gas exploration

• Aquaculture

• Marine protection and ocean governance

• Small harbours

• Coastal and marine tourism.

Strategies to grow the Oceans Economy dovetail

with ongoing projects to boost the capacity of the

province's ports and to explore for gas and oil in

the Indian Ocean. If oil rigs were to start visiting

the KZN coastline on a regular basis, the shiprepair

industry would grow exponentially.

The Oceans Economy is one of the focus areas

that has been chosen by national government

to be part of Operation Phakisa, a focused, goaldriven

attempt to jump-start a specific economic

sector. Overall, Phakisa intends creating a million

jobs by 2033 and injecting R177-billion into

national GDP.

The decision to build a cruise-ship terminal

at the Port of Durban is a good example of the

kind of decision that is in line with an "Oceans

Economy" approach.

Geography

The mixed topography of the province allows

for varied agriculture, animal husbandry and

horticulture. The lowland area along the Indian

Ocean coastline is made up of subtropical

thickets and Afromontane forest. High humidity

is experienced, especially in the far north, and this

is a summer rainfall area. The centrally-located

Midlands is on a grassland plateau among rolling

hills. Temperatures generally get colder in the far

west and northern reaches of the province.

The mountainous area in the west – the

Drakensberg – comprises solid walls of basalt and

is the source of the region's many strongly running

rivers. Regular and heavy winter snowfalls support

tourist enterprises. The Lubombo mountains in the

north are granite formations that run in parallel.

Regions

KwaZulu-Natal has 10 district municipalities and

a metropolitan municipality, the most of any

province in South Africa. In economic terms, the

province offers diverse opportunities.

Southern region

This area is the province's most populous. The

city of Durban has experienced booms in sectors

such as automotive, ICT, film and call centres.

The promenade now reaches all the way to the

KWAZULU-NATAL BUSINESS 2020/21

14
---
SPECIAL FEATURE

harbour and the Point development will benefit.

Major investments are taking place at the Port of

Durban with the current centrepiece being the

Convention

Durban Cruise

Centre

Terminal.

Complex,

The Container

which

Terminal

hosts the

is

annual also undergoing Tourism Indaba. an extensive overhaul.

The Durban's province's conference climate lends facilities itself are to well every utilised, kind of

outdoor but many pursuit opportunities and its excellent still exist beaches in chemicals are always

popular. and industrial Big sports chemicals, events are food regularly and beverages, hosted in

KwaZulu-Natal, infrastructure development which has become and tourism. something Further of

a south, home plans to mass-participation are in place to upgrade events such Margate's as the

Comrades airport and Marathon Port Shepstone's and the Dusi beachfront. Canoe race. The

province has excellent game and nature reserves.

Western Isimangaliso region Wetland Park is a World Heritage Site

and helps to fund 80 small businesses associated

with Also its known business as as the a tourist Midlands, site. this is a fertile

agricultural The building region of the which King hosts Shaka the International popular

Airport

annual

to

Royal

the north

Show.

of

It

Durban

produces

allows

sugar

tourists

cane,

to

fruit,

get

animal products, forestry and dairy products.

to superb beaches and game farms very quickly,

Pietermaritzburg is the provincial capital and

and the airport has its own industrial development

home to a major aluminium producer along with

zone, the Dube TradePort. New international direct

several manufacturing concerns, including textiles,

flights

furniture,

have

leather

been

goods

announced;

and food.

4.5-million

The city has

passengers

good

transport

passed

links

through

along

the

the

airport

N3 national

in 2014/15,

highway,

almost

300 excellent 000 of whom schools were and foreign a lively visitors arts or tourists scene. (ACSA). The

Midlands Meander is a popular tourist destination.

Geography

Eastern region

The Although mixed topography most of this of area the province is very rural, allows Richards for varied

Bay agriculture, is one of animal the country's husbandry industrial and horticulture. hotspots

The because lowland of area its coal along terminal, the Indian port Ocean and aluminium coastline

is smelters. made up The of subtropical Richards Bay thickets Industrial and Development

Afromontane

Forest. Zone High (RBIDZ) humidity is a major is experienced, economic node especially in itself in

the and far with north, the and possibility this is a summer of a power rainfall plant area. being The

centrally built, the located RBIDZ Midlands could become is on a an grassland energy hub. plateau

Mining

among

is an

rolling

important

hills.

sector

Temperatures

in this region.

generally

SPECIAL FEATURE

get colder in the far west and northern reaches of

the province. The other major urban

The mountainous centre area is in Empangeni the west which – the

Drakensberg – comprises has solid several walls educational

of basalt and

is the source of the region's institutions. many strongly The running King

rivers. Regular and heavy Shaka winter International

snowfalls support

tourist enterprises. The Airport Lubombo is adjacent Mountains to in the the

north are granite formations Dube TradePort, that run in a parallel. Special

Economic Zone (SEZ) which

is attracting investors.

Regions

Northern region

KwaZulu-Natal has 11 district municipalities, the

The economic powerhouse is Newcastle in the

most of any province in South Africa and, in economic

north-west: coal mining, steel processing and

manufacturing

terms, the province

are major

offers

activities.

diverse

Some

opportunities.

old coal

Southern

mines are being

region

reopened by new coal companies

to cater for the country's power stations' demand

This for the area fuel. is the Game province's farms, most trout populous. fishing and The hiking city of

Durban are part has of an experienced attractive package booms in for sectors tourists, such and as

automotive, Zululand is ICT, a popular film and destination call centres. for Major cultural investments

experiences. are taking The place region at the is rich Port in of Anglo-Boer Durban and

there War history a possibility which that includes the old battle airport sites south such of as the

city Islandlwana could become and Rorke's another Drift. port, ■ if the money can be

Standerton

N5

LESOTHO

Vrede

Free State

Harrismith

Volksrust

Newcastle

Glencoe

N11

Paulpietersburg

Utrecht

Dundee

Vryheid

uLundi

Pongola

Nongoma

Hlabisa

Mtubatuba

Ladysmith

R74

Melmoth

Bergville

N3 Colenso

eMpangeni

R74

Winterton

Kranskop

Estcourt

Greytown

Gingindlovu

Mooi River

R33

Stanger Darnall

Howick

N2

Tongaat

Ballito

PIETERMARITZBURG

N3

uMhlanga

Underberg

Pinetown

DRAKENSBERG

Kokstad

N2

N17

Bethal

Eastern Cape

Ermelo

Mpumalanga

iXopo

Harding

N17

KWAZULU-NATAL PROVINCE

N3

N11

R56

Piet Retief

R34

R33

uMzinto

N2

R33

R68

Hibberdene

uMtentweni

Port Shepstone

Margate

Southbroom

Port Edward

N2

R34

DURBAN

aManzimtoti

uMkomaas

SWAZILAND

R69

R65

R66

INDIAN OCEAN

Mkuze

N2

Hluhluwe

Richards Bay

Motorway

Main Road

Railway

MOZAMBIQUE

St Lucia

N

KWAZULU-NATAL BUSINESS 2016/17

14 15 KWAZULU-NATAL BUSINESS 2020/21
---
SPECIAL FEATURE

KwaZulu-Natal's ports are shaping

up to receive more ships

Construction of the Durban Cruise Terminal got underway in 2019.

MSC Orchestra arrives in Durban on maiden visit. Image: MSC Cruises

The KwaZulu Cruise Terminal (KCT)

consortium has won the contract from

Transnet National Ports Authority (TNPA)

to finance, build and run the new Durban

Cruise Terminal. The terminal is expected to start

functioning for the 2020/21 cruise season.

Within the Port of Durban there are a number

of specialised facilities. One of the busiest is the

Container Terminal and that is the subject of a

large upgrading project. The Port of Richards

Bay, the link to the world for South Africa's coal

exporters, is constantly adding to its facilities, the

latest being a floating dock, for which approval has

been given to be constructed within the port.

The cruise terminal is an important step

forward for Durban and fits in well with the

larger project that links the port to the upgraded

southern end of the promenade, the Durban Point

Waterfront. A joint venture between MSC Cruises

SA and Africa Armada Consortium, KCT will spend

about R220-million on the financing' construction'

maintenance and operation of the cruise terminal

for a 25-year concession period. Construction

began in 2019.

The cruise terminal will cover a 32 000m² area

that will cater for two ships and at least 5 000

passengers. A ship with 2 000 passengers is worth

in the region of R2-million per day for the host city.

The number of annual passengers is expected

to grow from the current 200 000 to more than

700 000 by 2040. Durban's hosting of 60 ships

per annum is expected to rise to 150 or more.

South Africa attracts 0.5% of the world's cruiseship

market which comprises about 15.4-million

passengers annually.

MSC Musica uses Durban as her base port

and is joined by MSC Opera during the summer

months, sailing from Durban to Mozambique and

KWAZULU-NATAL BUSINESS 2020/21

18
---
SPECIAL FEATURE

other destinations in the Indian Ocean. A popular

offering is the "Tour to Nowhere" cruise. In 2019

MSC Orchestra made its first visit to Durban.

Container terminal

Several projects are underway within the Port of

Durban to increase capacity. Transnet National

Ports Authority (TNPA) and Transnet Port Terminals

(TPT) are combining to upgrade infrastructure

and buy new equipment to improve efficiencies

at the Ro-Ro terminal (vehicles and break bulk)

and Maydon Wharf (mixed cargo and agriculture)

but the biggest project is at the Durban Container

Terminal (DCT).

DCT has a capacity of 3.6-million TEUs (twentyfoot

equivalent units) and the current project aims

to extend that beyond five-million TEUs. The Brics

New Development Bank has approved a loan of

$200-million for the DCT expansion project.

Drydock

Durban's drydock complex is undergoing a series

of refurbishments and upgrades. The R48-million

35m outer caisson was the first project to be

completed and now it's the turn for the inner

caisson and drive system to be fixed, at a cost of

R61.5-million. Two Durban companies, Lodemann

(Managing Contractor) and Channel Construction

(Design and Build), are responsible for the project,

which will ensure the sustainability of the shiprepair

sector within the port.

TNPA states that the multiplier effect in the

marine sector creates five jobs for every direct

job. The drydock project created direct jobs for 29

skilled employees.

Richards Bay

The Richards Bay Coal Terminal (RBCT) is the key

component of the port on the northern coast

of KwaZulu-Natal but the port's managers and

associated Special Economic Zone (SEZ) are looking

to diversify beyond the other types of freight

which also form part of the port's key mandate.

Chief among the diverse offerings being

looked at are alternative energy generation and

opportunities in the gas sector. A feasibility study

is being done on a gas-to-power plant and a large

new liquid petroleum gas import and storage

terminal was recently built for Petredec by Bidvest

Tank Terminals.

Ship repair is another option which will open

up other opportunities in marine manufacturing.

TNPA has approved in principle the

construction of a floating dock near the existing

Small Craft quay. TNPA will have to create new

onshore infrastructure and do some dredging

before it can call for tenders from the private sector

to build the dock, which would be able to handle

large and ultra-large cargo vessels (Capesize).

Richards Bay is a deepwater port. Among its

13 berths are terminals that handle dry-bulk ores,

minerals and break-bulk cargo.

The quay of the Richards Bay Coal Terminal

(RBCT) is 2.2km long with six berths and four shiploaders.

The 276ha site contains a stockyard that

can store 8.2-million tons while the terminal itself

has a design capacity of 91-million tons per year.

More than 900 ships visit RBCT every year. ■

Drydock construction. Image: Transnet

19 KWAZULU-NATAL BUSINESS 2020/21
---
ADVERTORIAL

see money differently

MONEY EXPERTS BRING

21ST CENTURY BANKING

TO ALL COMMUNITIES

At the heart of Nedbank's business strategy is its belief that

its sustainability depends on its ability to integrate into the

communities in which it operates.

Siphamandla Ndhlovu, Provincial

General Manager for Retail and

Business Banking in KwaZulu-Natal

(KZN), explains: 'Nedbank has continued to

deliver on its brand promise, which is to use

our financial expertise to do good for

individuals, families, businesses and

communities in which we operate. Our

client-centred strategy has enabled us to

reach out to our individual and business

clients in time of need during the Covid-19

national lockdown.'

The Nedbank Contact Centre and advanced

digital innovation, including the awardwinning

Nedbank Money app, enabled the

bank to continue serving clients in the

comfort of their homes. Ndhlovu says that

for small- and medium-business clients,

Nedbank continues to deliver end-to-end

solutions through a dedicated business

manager. 'Our business managers are

supported by a team of experts across the

bank to deliver seamless banking solutions.

Our bigger-picture business approach

ensures that we are able to take a holistic

view of the business by understanding the

vision, cashflow cycle, and transactional and

capital expenditure needs of the business.

'…we made donations to

Doctors on Call and the Aurum

Institute to help kickstart

Covid-19 projects …

'

As a responsible corporate citizen, Nedbank

in KZN has sought partnerships with

businesses in the province to respond to the

Covid-19 challenges. 'Over and above the

broad Covid-19 relief measures that all

commercial banks committed to, among

other initiatives we made donations to

Doctors on Call and the Aurum Institute to

help kickstart Covid-19 projects that have

benefitted our communities immensely. We

also continue to participate in the

discussions with local government to

support local economic recovery initiatives,'

Ndhlovu says.

If you are interested in taking your business

to its next level or need information about

Nedbank's specialised service offering,

please call Siphamandla Ndhlovu on

+27 83 637 8552, sendanemailto

SiphamandlaN@Nedbank.co.za or visit

www.nedbank.co.za.
---
ADVERTORIAL

see money differently

SOLUTIONS FOR SMALL BUSINESS

AIMED AT CREATING JOBS AND

GROWING THE ECONOMY

Nedbank's Provincial Manager of Retail Relationship Banking

for KwaZulu-Natal, Melanie Reddy, explains how Nedbank is

committed to partnering with businesses for growth.

'

Small businesses are the mainstay of

the economy and Nedbank provides

small-business owners with support

that goes beyond banking,' she says.

'Covid-19 has dealt entrepreneurs a major

blow and, naturally, they are overwhelmed

and anxious about the future of their

businesses. Since the lockdown many small

businesses have had no income, but

mounting operational expenses, and some

did not qualify for traditional funding nor

certain relief aids available. Nedbank is

proud to be involved in various ways to help

mitigate the economic impact of the crisis

on this vital sector.'

Through the launch of the South African

Future Trust (SAFT), established by Nicky

and Jonathan Oppenheimer, Nedbank

helped facilitate the distribution of loans to

small businesses on behalf of the SAFT. The

main aim of the SAFT is to keep companies

in business and protect jobs to fast-track

South Africa's economic recovery after the

pandemic by extending direct financial

support to employees of South African

small and medium-sized enterprises (SMEs)

at risk of losing their jobs. In addition,

BackaBusiness is an innovative and relevant

'

Nedbank helped facilitate

the distribution of loans to

small businesses on behalf

of the SAFT.

'

way in which Nedbank is helping small

businesses during this challenging time. It

offers an opportunity for people to show

their support for small businesses to ensure

their survival. Loyal customers, family and

friends, and society at large can join the

movement to pay now and redeem a reward

from the business owner once trading resumes.

'Beyond this Covid-19 relief, our experts are

available to provide all the support you

need,' says Reddy. Initiatives such as

SimplyBiz.co.za, The Essential Guide for

Small-business Owners, business registration

services and free small-business seminars

are all geared to support SMEs.

If you wish to tap into our small-business

expertise to reach your business goals,

please call Melanie Reddy on

+27 10 223 2823, sendanemailto

MelanieR@nedbank.co.za or visit

www.nedbank.co.za/business.
---
ADVERTORIAL

see money differently

NEDBANK BUSINESS BANKING

AIMS TO SUPPORT ALL

BUSINESS SECTORS

Matthew Moore, Nedbank's Provincial Business Banking

Manager for KwaZulu-Natal, says that his team are specialists

in commercial industries, agriculture and the public sector.

'

At Nedbank Business Banking we

believe that you need a flexible,

resilient financial partner who not

only understands your circumstances and

aspirations, but also provides you with

relevant solutions and a banking experience

that is hassle-free, allowing you to

concentrate on what's most important to

you – running your business,' says Moore.

Our bigger-picture banking approach

enables us not only to provide you with the

banking solutions you need, but also to give

you a holistic view of how our products are

connected to create a framework that

yields maximum impact across every facet

of your business and beyond. We know that

success in business is about partnerships,

and that is why we put the building of deep,

lasting, value-adding relationships at the

centre of everything we do. This means your

goals are our goals, your vision is our vision,

and your success is our success – while you

rely on our additional support that is most

needed in times of change and uncertainty.

In the agricultural sector particularly,

Nedbank understands that if the various

challenges it faces are not addressed, it will

threaten economic growth, food security,

'… Nedbank has developed

innovative funding solutions

designed to support

farmers …

'

employment and investment. 'By using our

financial expertise to do good, we partner

with our agricultural clients to contribute to

a growing, competitive, transformed and

climate-resilient agricultural sector.'

To this end Nedbank has developed

innovative funding solutions designed to

support farmers with sustainable farming

interventions, ranging from water efficiency

mechanisms and cutting-edge irrigation to

renewable-energy financing. Moore says

that Nedbank's leadership position in

renewable-energy finance is helping many

farmers and agribusinesses to benefit from

cleaner, more reliable and affordable power

generation than the national grid can provide.

If you are interested in taking your business

to the next level, please contact

Matthew Moore on +27 84 240 6799, send an

email to Matthewmo@nedbank.co.za or visit

www.nedbank.co.za/business.
---
ADVERTORIAL

see money differently

NEDBANK BUSINESS BANKING

HELPS PUBLIC SECTOR SEE

MONEY DIFFERENTLY

Nedbank is committed to delivering easy and innovative

banking solutions to government, municipalities and

state-owned enterprises throughout South Africa.

Sithembiso Cele, Nedbank's Provincial

Manager for the Public Sector in

KwaZulu-Natal, says that given the

strategic importance of the public sector to

the economy and the country at large,

Nedbank has a dedicated public sector

team to provide financial solutions that

enable the broader mandate of service

delivery. 'We understand that the various

spheres of government and their agencies

face unique challenges, and are ready and

able to draw on the bank's innovative,

seamless and hassle-free products to help

build a greater nation.'

But the bank's role goes beyond providing

banking solutions to these vital entities. As

money experts who do good, Nedbank

strives to empower the people behind the

public sector. 'We help them save time by

providing onsite help from our dedicated

teams and through our market-leading

Nedbank Money app and other digital

solutions. We also help them save money

through our preferential banking solutions

and our award-winning Financial Fitness and

Consumer Education Programme. The

programme helps them manage their

money better by providing budgeting and

'

Nedbank strives to empower

the people behind the public

sector.

'

money management training, equipping

their staff members to deal with everyday

money management challenges better.'

With the exclusive benefits available to

municipal staff members who bank with

Nedbank, savings of more than R2 000 a

year in fees alone are made possible. These

staff members also enjoy free personal

card delivery and pay no initiation fees,

benefit from the Greenbacks Programme,

get free basic travel insurance and an

additional 20% discount on top-up travel

insurance, twelve airport lounge visits a

year and a free wills consultation and

drafting service.

To find out more about how Nedbank can

partner with your organisation togrowa

greater South Africa, please contact

Sithembiso Cele on +27 83 647 2486, send

an email to SithembisoC@nedbank.co.za or

visit www.nedbank.co.za/business.

Nedbank Ltd Reg No 1951/000009/06. Authorised financial

services and registered credit provider (NCRCP16).

SPO5997
---
OVERVIEW

KEY SECTORS

Overviews of the main economic sectors of KwaZulu-Natal

Agriculture 26

Sugar 28

Foresty and paper 29

Mining 32

Engineering 33

Oil and gas 34

Construction and property 35

Tourism 36

Manufacturing 40

Automotive 41

Energy 42

Water 43

Banking and financial services 44

Education and training 45

KWAZULU-NATAL BUSINESS 2020/21

24
---
OVERVIEW

Port of Richards Bay

Pic: Transnet National Ports Authority

25 KWAZULU-NATAL BUSINESS 2020/21
---
OVERVIEW

Agriculture

Small-scale farmers are set to benefit from the value chain.

Sector Insight

South Africa gets 18% of its

milk from KwaZulu-Natal.

In 2018 a summit was held to draw up an Agricultural Development

Masterplan for the province. The plan includes priorities such as the

expansion of irrigable land, improving market access for producers

and adding value to agricultural products before they reach local

and international markets.

The Provincial Government of KwaZulu-Natal wants to use

government's buying power to develop agricultural value chains for

the benefit of new and small-scale farmers and producers. A pilot

programme is running in three districts and the eThekwini metro.

A group of women farmers from uMkhanyakude supply Enterprise

iLembe with 1 000 crates of tomatoes as part of the project.

Enterprise iLembe is the development arm of the iLembe District

Municipality and is looking for investors to further develop an agriprocessing

hub near the King Shaka International Airport and Dube

TradePort. Among the new lines of agricultural produce being

investigated is cannabis. A Cannabis Investor Protocol has been

launched and a unit established at the Moses Kotane Institute to assist

entrepreneurs and cultivators.

There are only 16 farmers in

all of South Africa doing what

Ross Lowe does on his farm in

Richmond, which is to cultivate

golden kiwifruit. He believes that

the particular strain of kiwifruit

he has chosen is the best in

terms of taste and yield and he

has awards to prove it. Typically

for the modern KwaZulu-Natal

farmer, he also intends to

increase his export volumes.

So-called superfoods have

potential to grow the agricultural

sector via greatly increased

exports: these include avocados,

pecans and dates. Another

possibility is macadamia nuts

(already a thriving sector in other

parts of the country) and in new

areas such as cannabis and the

farming of rabbits.

The National Department of

Rural Development and Land

Reform (DRDLR) has launched

an Agri-parks programme to

support small-scale farmers

and to boost other businesses

related to agriculture such

as abattoirs and transport

operators. KwaZulu-Natal is one

of four provinces where pilot

projects have been carried out.

The plan is to have an Agripark

in each of South Africa's

44 district municipalities with

farmers owning at least 70% of

the venture.

KWAZULU-NATAL BUSINESS 2020/21

26
---
OVERVIEW

BANDIT – EXPERIENCE THE BEST OF BOTH WORLDS

First-world technology and quality combined SABS-approved roadworthy trailers built at Africa

with African simplicity. The main woodchipper Biomass Company in Worcester, South Africa.

unit is manufactured by Bandit Industries, Inc. Engine-powered woodchippers are fitted

with 35-plus years' experience with Tier 3, South African standard, diesel or

in innovation and international petrol engines, depending on the woodchippers'

research. These units specification or clients' preference. Electric and PTO

are shipped to options are also available in various Bandit models.

South Africa The add-ons are specifically handpicked to give

where they are you the best set-up and will provide you with a

fitted onto well-balanced woodchipper that will outperform

most other chippers in Africa.

www.abc.co.za

There are three components

to the fully realised Agri-park

concept:

• Farmer Production Support

Unit: links farmer with

markets, collection and shortterm

storage, local processing

and mechanisation.

• Agri-hub: equipment-hire,

processing, packaging,

logistics and training.

• Rural Urban Market Centre:

contract-based links to local

and international markets,

long-term storage and

market intelligence.

Agriculture is the focus of a

wide-ranging initiative in the

Ulundi district. A grouping called

ULUMA has been formed which

aims to help farmers, SMMEs

and co-operatives to benefit in

a holistic way from the produce

they farm. The Zululand District

Farmers Association, several

other NGOs and Standard Bank

are working together with

the Mangosuthu University

of Technology (MUT) and the

Innovation and Technology

Business Incubator (Invotech)

to expose farmers to new issues

and techniques.

Agricultural assets

Of KwaZulu-Natal's 6.5-million hectares of agricultural land, 18%

is arable and the balance is suitable for the rearing of livestock. The

province's forests occur mostly in the southern and northern edges of

the province. The coastal areas lend themselves to sugar production

and fruit, with subtropical fruits doing particularly well in the north.

KwaZulu-Natal produces 7% of South Africa's citrus fruit. The Coastal

Farmers Co-operative represents 1 400 farmers. TWK is a R6-billion

operation that originated in forestry (as Transvaal Wattlegrowers

Co-operative) but which is now a diverse agricultural company with

seven operating divisions. It has 19 trade outlets in the province and 21

in Swaziland and Mpumalanga.

Beef originates mainly in the Highveld and Midlands areas, with

dairy production being undertaken in the Midlands and south.

The province produces 18% of South Africa's milk. KwaZulu-Natal's

subsistence farmers hold 1.5-million cattle, which represents 55% of

the provincial beef herd, and their goat herds account for 74% of the

province's stock. The Midlands is also home to some of the country's

finest racehorse stud farms. The area around Camperdown is one of

the country's most important areas for pig farming. Vegetables grow

well in most areas, and some maize is grown in the north-west. Nuts

such as pecan and macadamia thrive. KwaZulu-Natal has two colleges

offering higher qualifications in agriculture, Cedara in the Midlands and

the Owen Sitole College of Agriculture near Empangeni. ■

Online Resources

Fresh Produce Exporters Forum: www.fpef.co.za

KwaZulu-Natal Agricultural Union: www.kwanalu.co.za

KZN Dept of Agriculture & Rural Development: www.kzndard.gov.za

Milk Producers Organisation: www.mpo.co.za

National Dept of Agriculture, Forestry & Fisheries: www.daff.gov.za

Royal Agricultural Society of Natal: www.royalshow.co.za

27 KWAZULU-NATAL BUSINESS 2020/21
---
OVERVIEW

Sugar

Tongaat Hulett is undergoing massive restructuring.

In June 2019 share trading in Tongaat Hulett was suspended. Many

accounting irregularities came to light and the upshot was that

the company was forced to restructure to pay off huge debts.

This comes at a time when the sugar industry is described in

Engineering News as being "in the intensive care unit" by the Executive

Director of the South African Sugar Association (SASA).

Sales into the Southern African Customs Union (SACU) have

markedly declined in recent years but under a SACU protocol, Eswatini

will sell about 500 000 tons to South Africa, free of any duty.

Among the measures taken by Tongaat Hulett are the sale of its

starch business to Barloworld (for R5.3-billion) and sale of 5.18% of the

company's shares to Evanstan Investments, which now becomes one

of the company's biggest investors.

KwaZulu-Natal is South Africa's biggest sugar producer. Most

of South Africa's 14 sugar mills are in KwaZulu-Natal, as are the

headquarters of the biggest companies. The industry employs 65 000

directly and indirect employment is estimated at 350 000. About 40%

of local production is exported. The SACGA represents in the region

of 23 000 growers (including 651 small-scale farmers) who produce

around 20-million tons of cane. In the 2019/20 season, about two-million

tons of saleable sugar was produced. A new industry structure, allowing

Online Resources

South African Cane Growers' Association: www.sacanegrowers.co.za

South African Sugar Association: www.sasa.org.za

South African Sugar Technologists Association: www.sasta.co.za

Sugar Milling Research Institute: www.smri.org

Sector Insight

South Africa will receive

half-a-million tons of dutyfree

Eswatini sugar.

for multiple grower associations,

has been agreed to by the

SACGA, the Department of Trade,

Industry and Competition (dtic)

and the relevant parliamentary

portfolio committee. Neither of

the Big Two companies relies

exclusively on South African

sugar earnings: Tongaat Hulett

has a big property portfolio and

Illovo draws most of its profit

from operations elsewhere in

Africa. Diversification is vital for

the future of sugar producers

and power generation will be an

important part of that.

Illovo and Tongaat Hulett are

the major operators of sugar mills.

Other millers are Gledhow, ULC,

Umfolozi and Tsb (which has a

further two mills in Mpumalanga).

Illovo has four mills, three sugarcane

estates, four sugar factories,

a refinery and three downstream

operations that make products

such as furfural, furfuryl alcohol,

ethyl alcohol and lactulose.

The four mills run by Tongaat

Hulett are located on the North

Coast while the central refinery

is in Durban and the animal-feed

plant, Voermol, is near Tongaat.

The Sugar Terminal at Maydon

Wharf, Durban, serves 11 mills

and can store more than half-amillion

tons of sugar. It also has a

molasses mixing plant. ■

KWAZULU-NATAL BUSINESS 2020/21

28
---
Forestry and paper

Mondi and Sappi are global giants.

OVERVIEW

Sector Insight

Mondi's primary listing has

moved to London.

The Mondi Group, which has distinct KwaZulu-Natal roots, has

grown into an international behemoth with 26 000 employees

and operations in more than 30 countries. In 2019

Mondi announced that its primary listing will from now on be

in London and the JSE will carry the company's secondary listing. The

company, whose forestry operations are shown here, will spend more

than R8-billion on its South African operations in the period to 2023.

Mondi's Merebank Mill produces a range of office paper products

including the well-known brand, Mondi Rotatrim. Uncoated woodfree

reels are manufactured for the South African and Sub-Saharan African

markets. At Richards Bay, eucalyptus fibre is used to make a premiergrade

bleached hardwood pulp and a white top kraft linerboard is also

produced. Major investments at Richards Bay have not only increased

the number of products being made, but improved air quality, reduced

water consumption and reduced the amount of solid waste produced

on the site.

The export of about one-million tons of dissolving wood pulp

earned Sappi the winner's trophy in the "Large Exporter" category

at the KZN Exporter of the Year Awards in 2019. Approximately 220

TEU equivalent containers (20-foot containers) of Sappi products pass

through the Durban Port every day.

The long-running awards ceremony is hosted by the Durban

Chamber of Commerce. Sappi was also a winner at the first KwaZulu-

Natal Investor Awards, a Trade and Investment KZN (TIKZN) event. On

that occasion Sappi won the category "Investor operating in KZN with

a Global Footprint."

Sappi has a considerable global footprint:19 production facilities

on three continents (of which five are in Southern Africa) and 12 800

employees in over 35 countries.

Sappi's Stanger Mill is

situated close to sugar fields

from which it takes bagasse

(dry sugar cane pulp) for use in

its production processes. Typek

office paper is made at this

mill, which has the capacity to

produce 80 000 tons of paper

and 30 000 tons of tissue.

At the company's Tugela Mill

up to 200 000 tons per annum

of containerboard (corrugating

medium) can be manufactured

from recycled and virgin fibre.

It also produces 25 000 tons of

lignosulphonate in powder form

and 35 000 tons per annum of

liquid product.

A big focus for Sappi is

dissolving wood pulp which

is sold as a raw material to

converters around the world

who produce from it a range

of products such as textiles,

cellophane wrap and pharmaceuticals.

The giant Sappi Saiccor

mill 50km south of Durban is

the world's biggest manufacturer

of dissolving wood pulp.

The mill's capacity is being

increased to 890 000 tons via

a multi-year investment project

called Project Vulindlela.

A total of R7.7-billion has been

allocated to the project which

will result in more than 2 000

construction jobs and about 120

full-time jobs.

29 KWAZULU-NATAL BUSINESS 2020/21
---
OVERVIEW

EXTENDED PRODUCER RESPONSIBILITY MAKES THE CIRCULAR ECONOMY BIGGER AND BETTER

By paying their dues towards an extended Pulp for rayon, sponges, and cellophane. Many

producer responsibility (EPR) programme, paper of these products are recyclable, which means

manufacturers, importers and brand owners can they can be diverted from landfill and made into

extend their producer responsibility beyond their new products. Process waste is used to make

own factories and their customers' hands. compost, biochar and fertiliser for the agricultural

Pulp and paper products are made from sector and the young seedlings that

sustainably farmed trees. Certified to international are destined to replace

forestry standards, South Africa's plantations are harvested trees.

the source of thousands of everyday products.

Copy paper. Newspapers. Tissue. Packaging. www.fibrecircle.co.za

Nampak produces crêpe

paper at Verulam and Rafalo

produces tissue paper. SA Paper

Mills is another paper producer.

Mpact's upgrade of its

Felixton mill has increased capacity

and improved efficiency.

The project cost R765-million

and takes overall production

up to 215 000 tons and a

lightweight container-board

option has been included in the

product lines. This is in response

to market demand for lighter

packaging. Mpact has plastics

and paper operations, with the

paper section divided into three

divisions: paper manufacturing,

corrugated and converted paper

products and recycling.

Timber

The National Department

of Agriculture, Forestry and

Fisheries reports that South

Africa has a shortage of sawn

timber. TWK has announced that

it wants to buy 11 000 hectares

of forest land to support its

woodchip sales and timber

exports. TWK, which listed on

ZAR X in 2017, runs a woodchip

production and export facility

in Richards Bay, with an annual

capacity of 900 000 tons of woodchips. Two kinds of woodchip are

produced: Acacia mearnsii and mixed eucalyptus. Exports are primarily

to pulp and paper producers in India, China and Japan. Demand for

woodchips was exceptionally high in the first half of 2019, but this led

to an oversupply and a dip in prices in the second half of the year.

The KwaZulu-Natal provincial government's strategy of creating

Industrial Economic Hubs (IEHs) includes the development and

expansion of wood processing in the Harry Gwala District Municipality.

Timber plantations are found in five parts of the province: northern

KwaZulu-Natal, Midlands, southern KwaZulu-Natal, Zululand and

Maputaland. Close to half-a-million hectares – 38.5% of the land in

South Africa devoted to forestry – is allocated to timber plantations.

Of this area, 70% is devoted to hardwoods and the balance to pine, the

only softwood grown in large quantities in South Africa.

The percentage of privately-owned forest land is 93.4%. Merensky

has plantations in the Dargle forest while Sappi and Mondi have

holdings across the province, and in other parts of South Africa.

The Merensky Group operates one softwood sawmill and a

panel-processing plant in Kokstad that is geared to manufacture

according to customers' needs in any sector. Export is done through

the Port of Durban.

NCT Forestry Co-op Limited is a timber-marketing entity with 1 800

shareholding members, representing a total area of 300 000ha. R&B

Timber Group has three pole treatment plants and is headquartered in

Harding. Natal Forest Products, a Richmond-based company, is part of

the R&B Group. Flaxton Treated Timbers operates out of Ixopo. ■

Online Resources

Forestry South Africa: www.forestry.co.za

KwaZulu-Natal Department of Agriculture and Rural Development:

www.kzndard.gov.za

Paper Manufacturers of South Africa: www.thepaperstory.co.za

South African Institute of Forestry: www.saif.org.za

Technical Association of the Pulp and Paper Industry of South Africa:

www.tappi.org

KWAZULU-NATAL BUSINESS 2020/21

30
---
PRODUCER RESPONSIBILITY ORGANISATION

Is your brand going

to the dump?

Take responsibility for

your product's end-of-life.

Paper and paper packaging producers pay

voluntary extended producer responsibility fees.

Be part of the solution. Join Fibre Circle.

www.fibrecircle.co.za

• PAPER • BOXES • BAGS • BEVERAGE CARTONS • LABELS • PAPER CUPS • CARTONS • SACK KRAFT •
---
OVERVIEW

Mining

Titanium dioxide is made from minerals mined in northern KwaZulu-Natal.

The crisis affecting South Africa's power utility, Eskom, is causing

South32, the Australian owners of the Hillside aluminium

smelter, to rethink their operations there. Some analysts

have suggested that part of the reason that Eskom is in crisis

is the bad pricing arrangements that were signed with the previous

owners of the smelter. If the advantageous rates that used to apply

are not repeated when the price is negotiated again in 2020, the

business model will have to change. In 2019 about 400 workers took

early retirement or voluntary retrenchment packages.

Images: RBM Mines

Most of the product from the smelter (high-quality primary

aluminium ingot) is exported but some liquid metal form is sent to

Isizinda Aluminium which supplies Hulamin, a company that has had

a rolling mill in Pietermaritzburg since 1949. Hulamin is the only major

aluminium rolling operator in the region and it makes rolled products

and extrusions.

Other processing facilities in the province include the steel plant

owned by ArcelorMittal in Newcastle and Safa Steel's metal-coating

factory in Cato Manor. RBM mines the minerals sands of the northern

KwaZulu-Natal coast and operates out of Richards Bay. The main

products of the RBM mine are zircon, rutile, titania slag, titanium

dioxide feedstock and high-purity iron.

Tata Steel KZN's high-carbon ferrochrome plant at Richards Bay

went into business rescue and then liquidation before being bought

by Luxembourg-based Traxys Africa in the middle of 2016, after a

court ruled in its favour. Traxys has chrome mines in Mpumalanga and

Limpopo provinces. Tata Steel did not have its own mines.

Online Resources

Geological Sciences, University of KZN: www.geology.ukzn.ac.za

Minerals Council South Africa: www.mineralscouncil.org.za

National Department of Mineral Resources: www.dmr.gov.za

Sector Insight

The Hillside aluminium

smelter is grappling with

electricity issues.

The KZN Sands mineral

sands operation comprises a

central processing complex in

Empangeni and the Fairbreeze

Mine. Expenditure over several

years (which started in 2016) is

expected to rise to R5-billion

as it expands. Tronox, which is

listed on the New York Stock

Exchange, is the major shareholder

in KZN Sands.

Some of the coalfields of

the province have been revived.

Petmin's Somkhele Anthracite

Mine, north of Richards Bay,

has one of the biggest reserves of

open-pit anthracite in South Africa,

with measured and indicated

reserves of more than 51-million

tons across its four areas.

Finnish company Metso is

spending about R53-million on

building a second furnace at its

Isithebe foundry in the iLembe

District Municipality. This is in

response to increased demand

for large crusher wear parts. The

KwaZulu-Natal foundry is one of

five foundries the company runs

on four continents. ■

KWAZULU-NATAL BUSINESS 2020/21

32
---
Engineering

The engineering sector needs a reliable supply of steel.

One of the largest independent wire manufacturers in the

country, Hendok Group, is steadily increasing its exports to

other African countries. With more than 1 000 employees

at the factory in the Phoenix Industrial Park in Durban, the

company makes a wide variety of wires and is the country's biggest

producer of nails. ArcelorMittalSA is Africa's biggest steelmaker and it

has a plant at Newcastle, but tough times in the steel business have

meant that the company has shut down some of its facilities. The first

to be shuttered was Saldanha in the Western Cape and an analysis of

the profitability of other centres is underway.

Western Aqueduct project. Image: WK Construction

Marine repair and engineering form a significant sector in the

province, with established companies such as EBH South Africa

offering comprehensive services at the ports of Durban and Richards

Bay. Both ports are expanding and will continue to attract engineers.

Dormac, which is headquartered in the Bayhead area of the Port

of Durban, is best known for its marine engineering but it offers

specialised services to the sugar industry and provides machinery for

industrial giants like Toyota and Defy.

A big project that has created a lot of work for engineers is the multiyear

Western Aqueduct project to bring fresh water to greater Durban.

The Western Aqueduct Joint Venture comprising three companies,

Knight Piésold Consulting, Naidu Consulting and Royal Haskoning

DHV, acted as agents for eThekwini Water and Sanitation. Stefanutti

Online Resources

Consulting Engineers South Africa: www.cesa.co.za

Engineering Council of South Africa: www.ecsa.co.za

Southern African Institute for Industrial Engineering: www.saiie.co.za

South African Wire Association: www.sawa.co.za

OVERVIEW

Sector Insight

The School of Engineering

at UKZN offers great variety.

Stocks Pipelines played a big role,

and there were opportunities

for excellence and innovations

in areas such as break-pressure

tanks which were designed by

Royal Haskoning DHV and built

by ICON Construction.

All of the province's biggest

industries require sophisticated

engineering skills: aluminium

smelters in Richards Bay and

steel works in Newcastle,

Richards Bay and Cato Ridge.

There are also chemicals and

plastics production plants, and

large automotive works.

The Transnet Engineering

(TE) plant in the Port of Durban

houses six business units and

has 3 555 employees. The Coach

unit upgrades coaches and the

Auxiliary business is the main

supplier of rail wagon tarpaulins

to Transnet Freight Rail. The Port

Equipment Maintenance unit

and units specialising in wheels

and locomotive overhaul are

other entities.

The School of Engineering

at the University of KwaZulu-

Natal offers a variety of degree

options, ranging from undergraduate

qualifications to

doctorates. The School offers

eight areas of specialisation including

Bioresources, Electronic

and Computer Engineering and

Land Surveying. ■

33 KWAZULU-NATAL BUSINESS 2020/21
---
OVERVIEW

Oil and gas

A huge LPG storage facility has been built at Richards Bay.

The supply of liquid petroleum gas (LPG) is set to be made easier

and more reliable with the erection of the 22 600-ton

Mounded LPG Facility at Richards Bay. Bidvest Tank Terminals

has constructed the R1-billion storage facility for Petredec,

which trades, transports and distributes LPG and other commodities.

South Africa's annual consumption of LPG, currently at 400 000 tons,

is expected to rise to 600 000 tons. If a private partner can be found,

a liquid natural gas (LNG) plant will produce 2 000MW at Richards Bay.

This forms part of national government's allocation of 3 126MW to

natural gas in its medium-term energy policy to 2030.

The world's four largest

LPG storage tanks at the

Bidvest Tank Terminals

site in Richards Bay.

Image: Bidvest

The National Department of Mineral Resources and Energy (DMRE)

decided in 2016 that one of the first two gas-to-power plants to be

constructed under the Independent Power Producer Procurement

Programme would be allocated to Richards Bay. This has the potential

to turn the Richards Bay Industrial Development Zone (RBIDZ) into an

energy hub. The fact that neighbouring Mozambique has significant

offshore deposits is a factor in this ambition. To produce its allocation

of 2 000MW, the plant would have to use a million tons a year of LNG.

An indication of the scale of activity in Mozambique came in 2019

when Anadarko Petroleum, a US company, signed off on a $20-billion

project to build an LNG plant. The projected spin-offs for the South

African economy are estimated to top R7-billion.

Online Resources

National Energy Regulator of South Africa: www.nersa.org.za

Petroleum Agency SA: www.petroleumagencysa.com

South African National Energy Association: www.sanea.org.za

South African Petroleum Industry Association: www.sapia.co.za

Sector Insight

Italian company Eni is

looking for hydrocarbons.

Eni, one of the world's biggest

energy companies, has an

agreement with Sasol Petroleum

International to explore for

hydrocarbons off the coast of

KwaZulu-Natal.

The regulator and promoter

of oil and gas exploration in South

Africa, Petroleum Agency South

Africa, has awarded coalbedmethane-gas

exploration rights

in KwaZulu-Natal to NT Energy

Africa, which has a partnership

with the Central Energy Fund.

These awards are for onshore

exploration. The Petroleum

Agency SA is an agency of the

National Department of Energy.

Getting fuel to the province

of Gauteng is the key mission of

the new multi-purpose pipeline

(NMPP). Refined products such

as jet fuel, sulphur diesel and

both kinds of octane petrol

are carried. The infrastructure

of Transnet Pipelines is said

to reduce the number of fuel

tankers on South African roads

by about 60%.

KwaZulu-Natal is home to

two major oil refineries and is

the first link in the pipeline chain

that links Gauteng province, the

industrial heartland of South

Africa, with vital fuels. The Port

of Durban handles 80% of South

Africa's fuel imports. KwaZulu-

Natal is thus a key player in the

country's oil and gas industry. ■

KWAZULU-NATAL BUSINESS 2020/21

34
---
Construction and property

OVERVIEW

Durban's beachfront promenade now extends from the harbour to Blue Lagoon.

A

private company is tackling urban regeneration in Durban, one

building at a time. Serial property investor Jonny Friedman

of Urban Lime has carefully selected certain precincts with

potential for a mix of uses, including offices and accommodation.

Pioneer Place, Durban Club Chambers, 320 Pixley and Florida Road

are among their investments. Friedman is also invested in converted

warehouses in London and various Cape Town properties.

This private initiative chimes with a public programme that aims

to make Durban's inner city "Africa's leading, most vibrant, liveable,

walkable City Centre". This is the Inner City Local Area Plan (LAP)

for Durban. Developed for the eThekwini Municipality by a Joint

Venture called IPPU, which comprises Iliso, TPI, PMSA, UrbanEcon

including Cox Architecture, Urban Solutions, Urban Earth, Jo Lees

and Joe Kitching. A major milestone was reached in November 2019

when the beachfront promenade extension reached the harbour.

This means that residents anywhere in the city can now step onto the

promenade, from the harbour in the south to Blue Lagoon in the north.

The project began in early 2018 and cost R400-million.

The Point Waterfront Development (directly behind the latest

extension to the promenade) is a major project that is transforming

what was an under-utilised and somewhat rundown part of the city

into a vibrant, multi-use precinct. Some projections put the total

potential investment value of the project at R40-billion and the

number of permanent jobs to be created at 6 750. It offers a mix of

office space, retail shops, residential dwellings and leisure options. The

55ha site has already seen significant investment.

A cruise terminal in the harbour backing on to the Point has been

approved, while other major projects in the inner city include the

Warwick Junction transport interchange and the Centrum Government

Precinct which will formalise the relationship between buildings such

as the International Convention Centre and a related hotel, the library,

council chambers and the redevelopment of Gugu Dlamini Park.

According to the organisers of the 2019 KZN Construction Expo,

infrastructure will attract more than R200-billion in investment over

seven years and R35-billion will be spent over 15 years at the Port

Waterfront development. The King Shaka International Airport and

Dube TradePort are also attracting property investments.

Online Resources

Construction Industry Development Board: www.cidb.org.za

Master Builders Association KwaZulu-Natal: www.mba-kzn.co.za

SA Estate Agency Affairs Board: www.eaab.org.za

SA Institute of Valuers: www.saiv.org.za

Sector Insight

Durban could become the

continent's most liveable city.

Two new industrial parks

are being developed: Cornubia

is part of a larger project near

Umhlanga and Clairwood in

Durban South will offer more

than 300 000m² of A-grade

industrial space. Tongaat

Hulett Developments (THD)

launched the nTshongweni

Urban Development on either

side of the busy N3 highway

west of the city in 2018. The

Cornubia project covers 1 300ha

about 7km from the airport

and encompasses indust-rial,

commercial, residential sections.

The southern part of the project

will cater for 24 000 homes,

industrial development and

more than one-million square

metres of commercial floor

space, all complemented by

public open spaces (430ha) and

social and community facilities.

KwaZulu-Natal has a number

of brick companies and four

cement factories. Three of these

are run by NPC at Simuma,

Durban and Newcastle, and

the company has a further six

sites for concrete and two for

aggregate. NPC is part of the

Intercement group. Lafarge

has several aggregate quarries

and eight Readymix plants

around the province. The

company's grinding operation

in Richards Bay closed in 2017. ■

35 KWAZULU-NATAL BUSINESS 2020/21
---
OVERVIEW

Tourism

Hotel groups are investing in new properties and refurbishment.

Moses Mabhida Stadium. Image: Kevin Sawyer

A

dventures don't come more hair-raising than throwing yourself

into the void above a sports stadium, but that's what

thousands of visitors to the Moses Mabhida Stadium have

been doing for a decade.

The SkyCar, a funicular trip over the top of the roof, is under repair

but bungy-jumping is still very popular, as is the "Adventure Walk" on

the south side of the stadium. The 56 000-capacity stadium is home

to a professional soccer team and forms part of a sporting precinct

that includes the province's professional rugby franchise, the Kings Park

Stadium, and has greatly increased KwaZulu-Natal's ability to host big

events such as the Fact Durban Rocks and the Monster Jam.

The other major events asset in the province's largest city is the

Durban International Convention Centre (Durban ICC). A major

international football conference was due to be held at the venue in

March 2020, with the FIFA secretary-general slated to speak. However,

the global health scare related to the Covid-19 virus saw that event

(and many others) postponed or cancelled.

The 2019 Africa's Travel Indaba attracted 342 first-time buyers out

of a total of 1 663 buyers from more than 80 countries, cementing the

event as a major date on the tourism industry's calendar.

The meetings, incentives, conference and exhibition sector (MICE)

is a priority sector for the provincial government. The Convention

Bureau has booked dozens of events and conferences since 2012,

bringing more than R3-billion into the provincial economy. More

than 7 000 delegates are annually attracted to Africa's Travel Indaba

Sector Insight

Moses Mabhida Stadium

has become an iconic

symbol of KwaZulu-Natal.

to exhibit South Africa's assets

to international tour operators.

The city has secured the Indaba

until 2022.

A number of new initiatives

are expanding options for visitors.

These include the creation

of a new Cruise Terminal (dealt

with separately in this journal),

the development of caves at

Ngodini and Ndumo, and the

upgrading of the Mandela

Capture Site near Howick.

Another potential growth

area is health tourism. Upwards

of seven-million people travel the

world annually for procedures,

and South Africa is well placed

to receive a percentage of this

KWAZULU-NATAL BUSINESS 2020/21

36
---
OVERVIEW

market. Richards Bay has hosted

a conference on issues such as

investment, training and the

development of products for this

growing sector. The combined

contribution of retail and tourism

to provincial GDP is 14%.

Hotels

Research by Tourism KwaZulu-

Natal shows that the coastal

province consistently has the best

hotel occupancies in the country.

Tsogo Sun spent R1.6-billion

on refurbishing its Suncoast

complex on Durban's Golden

Mile. Suncoast Casino Hotels &

Entertainment covers a huge

area and offers a wide variety of

entertainment options.

The recent upgrade included

the addition of seven new

restaurants, new retail outlets, a

new theatre and an event venue,

and increased space at the casino.

More underground parking was

created and the whole complex

was given a fresh look.

Tsogo Sun has four other

hotels on the Golden Mile and

six hotels in Durban with a

further four in nearby Umhlanga,

where one of the group's most

luxurious hotels, the 89-room

Beverly Hills, is located. A "megahotel"

was created with the

amalgamation of the Southern

Sun North Beach and Southern

Sun Elangeni hotels.

Premier Hotels & Resorts will

spend about R420-million on

two new hotels at Umhlanga.

Currently under construction,

the hotel complex is located

alongside the Gateway Theatre

of Shopping next to Umhlanga

Ridge. The four-star Premier

Hotel will have 130 rooms while the three-star Splendid Inn by Premier

will be equipped with 64 bedrooms. The group has hotels and resorts

in six provinces.

A new Radisson Blu Hotel will open in Umhlanga Rocks as part

of the ambitious R3-billion Oceans Umhlanga development. Some

construction work has been halted because of problems experienced

by construction companies, but it seems that the hotel and the

shopping mall sections of the planned complex are going ahead.

A 207-room Hilton Garden Inn planned to be operating at

Umhlanga Arch in 2020. Hilton Durban acquired a new owner in

2018 when Bin Otaiba Hotels bought it, together with four hotels in

Johannesburg, Port Elizabeth and Cape Town.

The upgrading of the Point area between the beach and the Port

of Durban has resulted in major investments. The Docklands Hotel at

the Durban Waterfront is a four-star Signature development that cost

about R100-million to develop.

The Royal Hotel in the heart of Durban is one of eight Three Cities

Group hotels in the province. The Golden Horse Casino Hotel is a Three

Cities property, and the Group administers the International Hotel

School in Westville that is also hosts the Christine Martin School of

Food and Wine.

Drakensberg Amphitheatre.

IFA Hotels & Resorts runs several luxury properties including the

Zimbali Coastal Resort and Zimbali Lakes Resort. Signature Life Hotels

has 13 properties and Gooderson Leisure has a varied portfolio.

Sibaya Casino and Entertainment Kingdom, a Sun International

property, is north of Durban between Umdloti and Umhlanga. The

casinos in Newcastle (Century City), Empangeni (Tusk Umfolozi

Casino) and Pietermaritzburg (Golden Horse Casino) are run by

Century Casinos Newcastle, Peermont Global and Akani Msunduzi

Management respectively. ■

Online Resources

Durban International Convention Centre: www.icc.co.za

Ezemvelo KZN Wildlife: www.kznwildlife.com

Moses Mabhida Stadium: www.mmstadium.com

Tourism KwaZulu-Natal: www.zulu.org.za

37 KWAZULU-NATAL BUSINESS 2020/21
---
OVERVIEW

Manufacturing

New factories are being built at Dube TradePort and Cornubia.

A

new plant to make washing machines has created 75 jobs

at the Durban plant of white-goods manufacturer Defy. The

R121-million investment is part of a R1.2-billion investment

programme which Turkish company Arçelik Global has been

following since it bought Defy in 2011. The company has another

plant in at Ezakheni (near Ladysmith) and one in the Eastern Cape.

Indian generic drug manufacturer Cipla is to build a new facility

at Dube TradePort to complement its existing factory in Durban.

LG Electronics South Africa has opened a R21-million factory and

distribution centre in Cornubia, north of Durban.

Expansion of production normally heralds an uptick in the

economy. Unfortunately, the fact that more aluminium products are

going to be made by Hulamin's extrusion facility in Pietermaritzburg

reflects the fact that the company has closed one of factories in

another province. The company believes its restructuring is working

well, and its beverage business is doing well. Hulamin also makes rolled

products (pictured) at Edendale, Pietermaritzburg and at Camps Drift.

The manufacturing sector contributes 17.7% to the provincial

Gross Domestic Product (GDP) of KwaZulu-Natal. The strongest export

sectors are base-metals (32% including aluminium), mineral products

such as ores, vehicles and chemical products.

New opportunities in the Blue economy (ship-building and

maintenance, oil-rig repair and servicing) and the Green economy (solar

panel manufacture, solar, biogas and wind energy plant construction,

management and maintenance, heating and cooling devices) are set

to grow in KwaZulu-Natal with the allocation of geographical hubs to

support these sectors, and the introduction of policies and incentives

designed to make them competitive.

The Richards Bay Industrial Development Zone has been identified

as an area that can attract investment in both of these sectors while the

Port of Durban already has a strong boat-building and maintenance

sector. The nine-tug contract put out by Transnet National Ports

Authority (TNPA) is worth R1.4-billion and was won by Durban-based

Southern African Shipyards Durban. iLembe District Municipality is

intended as the renewable energy hub of the province, with renewable

energy components manufacturing as a key subsector.

Online Resources

Aluminium Federation of South Africa: www.afsa.org.za

Chemical and Allied Industries' Association: www.caia.co.za

Enterprise iLembe: www.enterpriseilembe.org.za

Manufacturing Circle: www. manufacturingcircle.co.za

Plastics SA: www.plasticsinfo.co.za

Sector Insight

Defy is hiring.

There are 219 clothing

companies in the province.

Textile manufacturer Africa

Bespoke Apparel launched

its R81-million factory in

Verulam, while Canvas and Tent

Manufacturing has more than

400 employees in Ladysmith.

Carpet manufactur-ers Belgotex

Floorcoverings and Ulster Carpets

have facilities in Pietermaritzburg

and Durban respectively, while

Böhler Uddeholm produces

tooling materials and welding

consumables in Pinetown.

The chemicals and petrochemicals

subsector makes up

17% of the province's manufacturing

output, with industrial

chemicals accounting for nearly

a third. Two large oil refineries

and a sophisticated sugar milling

and refining industry underpin

the provincial chemical manufacturing.

Steel and aluminium

are other heavy manufacturing

products. Sappi Saiccor's

Umkomaas plant is the world's

biggest producer of specialised

cellulose, with production edging

upwards every year towards full

capacity of more than 800 000

tons per annum. KwaZulu-Natal

produces nearly a third of South

Africa's plastic requirements.

Nampak has several packaging

facilities in the province and

Mpact's Pinetown facility

specialises in FMCG containers. ■

KWAZULU-NATAL BUSINESS 2020/21

40
---
Automotive

Toyota is to spend R2.4-billion on a new vehicle line.

In a year in which South Africa's total

vehicle exports topped 350 000, it was

perhaps not surprising that Durban's Car

Terminal boasted a record of putting

more than 500 000 fully-built-up units (FBUs)

through the port in 2018/19. The figure includes

FBUs that are not motor vehicles and

includes vehicle imports.

Toyota's popular Fortuner is exported at a

rate of about 150 per month. The company's

plant, just a few kilometres south of the

harbour at Prospecton, is to receive a R2.4

billion investment injection in order to produce

a new passenger vehicle from the end of 2020. The Toyota Hybrid

Synergy Drive vehicle will be produced as a variant. Toyota sells about

a quarter of the vehicles sold in South Africa, and accounts for the same

proportion of export volumes. The company's total investment of R4.2-

billion between 2019 and 2021 includes other manufacturing projects

and a huge increase in warehousing capabilities.

The other large-scale original equipment manufacturer in the

province is Bell Equipment. Between the Toyota plant and the Richards

Bay facility of heavy-equipment manufacturer Bell Equipment,

upwards of 11 000 people are employed. In 2019 Bell won the

"Major Contributor to Innovation and Technological Advancement

in KZN" award and the "Exporter of the Year" award. Exports to more

than 80 countries make up about 40% of the company's turnover

and local content of those exports is at 70%. Bell is best known for

its heavy equipment which is primarily used in the mining and

construction sectors.

Another manufacturer of earthmoving equipment is Dezzi, with

18 offices and branches. In 2018 AIH Logistics started assembling

Mahindra and Bolero bakkies from kits imported from India on a 5

000m² site at Dube TradePort. The Mathe Group's tyre recycling plant

at Hammars-dale has increased capacity to 150 000 used truck tyres

per year and should exceed 200 000 soon, while Powerstar assembles

Online Resources

Automotive Industry Development Centre: www.aidc.co.za

Durban Automotive Cluster: www.dbnautocluster.org.za

National Association of Automobile Manufacturers of South Africa

(NAAMSA): www.naamsa.co.za

National Association of Automotive Component and Allied

Manufacturers (NAACAM): www.naacam.co.za

Sector Insight

Bell Equipment is

scooping awards.

OVERVIEW

Image: Bell Equipment

trucks in Pietermaritzburg on a

site formerly used by Super

Group. KwaZulu-Natal's substantial

automotive components

sector includes large manufacturers

such as GUD Filters, while

39 companies (with 17 000

employees) are members of the

Durban Automotive Cluster.

Trade and Investment

KwaZulu-Natal estimates that

the province's component

automotive manufacturers

enjoy a combined turnover

approaching R10-billion.

The Behr Group has an

air-conditioning and cooling

systems factory in Durban.

Ramsay Engineering supplies

cross-car beams for BMW and

Ford. Funding was received from

the Industrial Development

Corporation (IDC) to buy new

tool-making technology to make

this possible. ■

41 KWAZULU-NATAL BUSINESS 2020/21
---
OVERVIEW

Energy

The sugar industry is ready to sell excess power.

Sugar plant. Image: Illovo Sugar

South Africa's shortage of reliable electricity supply came into

sharp focus in 2019. The country's sugar industry, which is particularly

strong in KwaZulu-Natal, says it generates far more

power than it needs but national government is hesitating in

allowing companies to sell to the grid.

Encouraging signs were given that government was moving in

this direction in the President's State of the Nation Address and in

remarks made by the Minister of Minerals Resources and Energy at the

Investing in African Mining Indaba in February 2020, but no licences or

concrete proposals were immediately forthcoming.

The managing director

of Illovo Sugar SA, Mamongae

Mahlare, told the Sunday

Times in March that the sugar

industry is in real need of

some other source of income

to offset tough times. Selling

energy to the grid (and

investigating biofuel and

bio-energy) are "key" to the

sector's future, she told the

newspaper. At the company's

Eswatini mill, Ubombo, it has

a commercial supply agreement

with the Eswatini

Electricity Company.

The province's other

sugar giant, Tongaat Hulett, produces between 12MW and 14MW of

power at its mills and believes that the national sugar industry could

generate between 700MW and 900MW.

A 17MW biomass project represents the province's only approved

project in terms of the national Renewable Energy Independent Power

Producer Procurement Programme (REIPPPP).

An open cycle gas turbine plant at Shakaskraal in the iLembe

District Municipality can be converted to gas-fired technology, a

method which energy planners are encouraging. The 670MW plant

came on stream in 2017. Its project company, Avon Peaking Power,

Online Resources

National Department of Energy: www.energy.gov.za

National Energy Regulator: www.nersa.org.za

South African National Energy Development Institute:

www.sanedi.org.za

Sector Insight

Richards Bay hopes to

attract LNG investors.

is jointly owned by a community

trust, Mitsui (Japan), Legend

Power Solutions (South Africa)

and ENGIE of France.

As part of the provincial

government's strategy to

boost regional development,

the iLembe District has been

named as an Industrial

Economic Hub (IEH) for the

renewable energy sector.

Khanyisa Projects has set

up 26 biodigesters which

produce gas for cooking at

Ndwedwe in the iLembe District.

The project forms part of the

Working for Energy programme

of the South African National

Energy Development Institute

(SANEDI) which promotes the

use of sustainable clean energy

in rural areas.

The Richards Bay Industrial

Development Zone (RBIDZ)

has been named as the site for

2 000MW liquefied natural gas

(LNG) plant in terms of national

government's gas-to-power

plan. RBIDZ is also the site of a

new biomass plant.

Biomass technology is at the

centre of the conversion scheme

of South African Breweries at

its Prospecton plant south of

Durban. Methane-gas emissions

from a nearby effluent plant are

piped to the plant where they

are converted to electricity. ■

KWAZULU-NATAL BUSINESS 2020/21

42
---
Water

Two new dams are under construction.

Two new dams will add 800-million litres of water per day

to the available supply in KwaZulu-Natal. As part of the lower

uMkhomazi bulk water scheme, utility Umgeni Water

will spend about R26-billion on the Smithfield Dam and

R2.4-billion on the Ngwadini Dam.

Umgeni Water currently supplies more than 400m³ of potable

water to its six large municipal customers: eThekwini Metropolitan

Municipality, iLembe District Municipality, Sisonke District Municipality,

Umgungundlovu District Municipality, Ugu District Municipality

and Msunduzi Local Municipality. The company has five dams, 10

waterworks, five water-treatment plants and two waste-water works.

Large parts of the northern part of the province are served by

Mhlathuze Water. The utility has assets valued at more than R3-billion

and its area of supply covers 37 000m².

Clearing pit toilets in remote rural areas and on steep inclines

presents an engineering challenge. In response to a Water Research

Commission project on the subject, Partners in Development, a

Pietermaritzburg-based engineering and project management

company, has developed the eVac pit-emptying machine. It's

lightweight, mobile and has strong sucking power.

New technology has been installed at the Verulam Wastewater

Treatment Works of the eThekwini Municipality. Murray & Roberts

Water and its European technology partner, Organica Water, has

installed an environmentally-friendly system that uses 30% less energy

and produces 30% less sludge.

Richards Bay has installed a 10-container desalination plant next to

the municipal water-treatment plant at Alkanstrand. The first mobile

sea-water purification unit in South Africa, it comprises 10 containers

and is located adjacent to the water-treatment plant at Alkantstrand. It

can deliver 10 megalitres of drinking water. However, the high cost of

electricity means that the unit is used sparingly. Solar energy is being

investigated as a possible alternative.

In 2018 JG Afrika delivered a R72-million desalination plant to

South32's Hillside aluminium smelter in the same town.

The area north of the Durban central business district is

one of the fastest-growing urban areas in South Africa, with a

Online Resources

Mhlathuze Water: www.mhlathuze.co.za

National Department of Water and Sanitation: www.dwa.gov.za

Partners in Development: www.pid.co.za

Umgeni Water: www.umgeni.co.za

Water Research Commission: www.wrc.org.za

OVERVIEW

Sector Insight

Pietermaritzburg engineers

are tackling pit toilet

clearance.

number of large office and

accommodation projects going

ahead simultaneously. This is

a welcome development for

the economy, but the new

buildings also create pressure on

infrastructure.

Image: Umgeni Water

The multi-year, R250-

million Northern Aqueduct

Augmentation project was

initiated in 2014 and the fifth

phase of the project is underway.

This will provide water for

Durban North, Umhlanga,

Newlands, KwaMashu, Phoenix

and Cornubia.

Nedbank sponsors the

clearing of alien vegetation in

the country's water-catchment

areas, including in KwaZulu-

Natal. The Nedbank sponsorship

of the WWF's Water Balance

Programme has seen water

flowing more freely in the

Umgeni catchment area. ■

43 KWAZULU-NATAL BUSINESS 2020/21
---
OVERVIEW

Banking and financial services

The Port of Durban will expand with a loan from the new Brics bank.

The Brics New Development Bank has made a $200-million loan

for the expansion of the container terminal in Durban. The

busy port is currently stretched beyond capacity and waiting

time for trucks can be extremely long.

Activist groups in Durban's southern suburbs are opposing the

loan and the expansion, saying that further development will increase

pollution in the area and lead to even more dangerous traffic congestion.

Up the coast at Richards Bay, the World Bank's International Finance

Corporation (IFC) has committed $2-million to a feasibility study on the

construction of a liquefied natural gas (LNG) storage and regasification

terminal. The study's costs are shared with Transnet and a private investor

will be sought if the feasibility study is positive.

Durban Container Terminal.

Image: Transnet

In 2017 Tyme Digital received a licence to run a bank. By early

2019, TymeBank was available in 500 Pick n Pay and Boxer stores and

more than 50 000 customers had an account. Tyme stands for Take

Your Money Everywhere; the bank does not have a branch network.

African Rainbow Capital began as the venture's BEE partner but in 2018

bought out the Commonwealth Bank of Australia.

Second to market among the country's new banks was Discovery

Bank, which officially launched in March 2019. Discovery Bank will apply

the behavioural model it uses in its health business to reward good

financial behaviour. The Discovery group is already a giant on the JSE

with a market value of R83-billion and access to millions of customers.

Online Resources

Association for Savings & Investment South Africa: www.asisa.org.za

Financial Sector Conduct Authority: www.fsca.co.za

Insurance Institute of South Africa (KwaZulu-Natal): www.iikzn.co.za

South African Institute for Chartered Accountants: www.saica.co.za

Sector Insight

The International Finance

Corporation is investigating

energy options.

Three state entities

are merging to create the

new Human Settlements

Development Bank: the National

Housing Finance Corporation,

the Housing Loan Fund and the

National Urban Reconstruction

and Housing Agency.

The focus will be on financing

housing for poorer households

and for large state-funded

housing projects. Part of the

drive is to integrate cities better

and to combat the legacy of

the spatial divide that apartheid

left behind. Private sector

investment will be required.

The Chartered Institute of

Government Finance, Audit and

Risk Officers (Cigfaro) advises

institutions, trains its members in

public finance and promotes the

interests of professionals in the

public sector. It also develops

and assesses qualifications and

advises tertiary institutions on

the requirements for courses.

The South African Institute

for Chartered Accountants

International provides training

in financial reporting standards

for SMMEs while the Insurance

Institute of KwaZulu-Natal

(IISA) holds regular education

workshops. The institute's

mentorship programme is run in

association with the Musifunde

Training Centre. ■

KWAZULU-NATAL BUSINESS 2020/21

44
---
Education and training

Maths and science is in focus.

AMaths and Science School of Excellence is due to open in

2020 at La Mercy, north of Durban. The long-planned project

(pictured) on the site of a closed primary school is back

on track and is part of a wider provincial programme that

includes a Special School for Autism (2020) and two Schools of Excellence

scheduled to be started in 2021; for Agriculture

in Umgungundlovu and Maritime studies in Umlazi.

KwaZulu-Natal has 2.8-million school pupils,

many of whom are in rural areas. Transport is

provided to 350 schools, covering 59 000 pupils, and

2 400 bicycles have been made available under the

Shovakalula programme.

There are two universities and two universities

of technology in KwaZulu-Natal, and the national

distance university, the University of South Africa

(Unisa), has a presence in five locations. USB

Executive Development offers business courses

for executives. The University of KwaZulu-Natal has opened a new

Chemistry Postgraduate Research Facility at the School of Chemistry

and Physics in Pietermaritzburg.

The Durban University of Technology (DUT) has six faculties

operating in seven campuses in Durban and in the Midlands. DUT is

well known for its outstanding graphic-design school and offers one

of only two chiropractic programmes in South Africa. The University

of Zululand offers diploma and degree courses on two campuses at

Empangeni and Richards Bay.

The unbundling from the successful Curro group of a separate

tertiary entity which listed on the JSE as Stadio Holdings is a good

indicator of the growth of the private sector in education. Stadio

currently has three institutions: Southern Business School, AFDA (the

School for the Creative Economy) and the Embury Institute for Higher

Education which has a campus in Musgrave, Durban.

There are seven schools in KwaZulu-Natal operating under Curro

brands. Advtech, the other big private company in the sector, already

has 27 tertiary campuses nationally, in addition to its 78 schools

operating under a variety of labels. Advtech operates 10 educational sites

in KwaZulu-Natal.

Online Resources

KwaZulu-Natal Department of Education: www.kzneducation.gov.za

National Department of Higher Education and Training:

www.dhet.gov.za

National Research Foundation: www.nrf.ac.za

Training

OVERVIEW

Sector Insight

Majuba TVET College is a

new Centre of Specialisation

for boiler-making.

Image: KZN Dept of Education

KwaZulu-Natal has nine Technical

and Vocational Education

and Training (TVET) Colleges with

a total enrolment around 80 000.

Coastal KZN TVET College gives

students practical experience

through facilities such as the

Nongalo Industrial Park. The

college hosts the Samsung

Engineering Academy, a Tooling

Centre of Excellence and

a manufacturing plant for

sanitary towels. The college has

several sites on the South Coast

and caters for 15 400 students.

Majuba TVET College has recently

been appointed as a Centre of

Specialisation for boiler-making.

The Mnambithi TVFET College is

located in the Battlefields Route

tourism area and offers National

Diploma courses in tourism and

other qualifications. A satellite

campus operates at Estcourt. ■

45 KWAZULU-NATAL BUSINESS 2020/21
---
Your employees'

financial life goals

matter to you.

Partnering with them

to achieve that,

matters to us.

To find out more about our

market leading workplace offering

CONTACT MARKETACCESS@METROPOLITAN.CO.ZA

Find out more at

metropolitan.co.za

Winner of multiple awards for

service excellence.

2016

2017

2018

2019

2018

2019

Metropolitan is part of Momentum Metropolitan Life Limited, an authorised
---
financial services (FSP 44673) and registered credit provider (NCRCP173).

23595/E BLACK RIVER F.C.
---
INDEX

INDEX

Africa Biomass Company …....................................................................................................................................9, 27

Citiq Prepaid............................................................................................................................................................................IBC

Chartered Institute of Finance Audit and Risk Officers (CIGFARO)..................................................... 11

Durban Chamber of Commerce and Industry ................................................................................................... 2

Durban International Convention Centre (Durban ICC) ..................................................................... OBC

Fibre Circle ........................................................................................................................................................................ 30, 31

Indaba Lodge, Richards Bay........................................................................................................................................... 38

Invest Durban ........................................................................................................................................................................IFC

Metropolitan.......................................................................................................................................................................4, 46

Nedbank .............................................................................................................................................................................20-23

Petroleum Agency South Africa ................................................................................................................................... 6

Transnet Pipelines ................................................................................................................................................................ 16

KWAZULU-NATAL BUSINESS 2020/21

48
---
AFRICA'S SMARTEST

CONVENTION CENTRE

The Durban ICC has always aimed

to position itself as "Africa's Leading

Convention Centre" but having

invested in the latest, cutting-edge

meeting technology, the centre is

re-inventing itself as the continent's

leading high-tech convention

centre. "Without moving away from

our existing market positioning

we are adding this competitive

edge and aiming to also be

recognised as "Africa's Smartest

Convention Centre", said Durban

ICC Chief Executive Officer, Lindiwe

Rakharebe.

The Centre is offering a range of innovative

solutions such as Hybrid events, Livestreaming,

Video-on-Demand, and Remotepresentation

events. For the uninitiated, a

Hybrid Event is simply the combination of a

traditional face-to-face event with an online

component, which extends the reach of

the conference to a wider audience using

technology like live-streaming.

The best part is that companies are taking

advantage of this kind of event solution even

during the lockdown by using the technology

on offer and not having to wait until live

events fully start up again. Some are even

able to reach much larger audiences by

taking their events online than they would

have with their traditional live event.

The virtual events offer a range of benefits, for instance, the

digital delegate can:

• Get all the content of the live event from the comfort and safety of

their homes

• Watch the speakers via the video feed and view any presentations

via the picture in picture mode

• Engage remotely with the event in real time via the event's chat or

social media channels

• Share the content with others in their organisation directly without

having to repeat it themselves second-hand to their colleagues

• Choose to consume the event content at a later time if that suits

their schedule

• View selected elements from the event programme which pertain to

their area of interest.

While this is just the latest addition to

the ever-evolving range of tech offerings

available at the Durban ICC, as the Centre

has always taken pride in being on the

leading edge of the latest developments in

this space. The Durban ICC hosted its own

live-stream event in September 2019 and

has subsequently run several successful

events of this kind for its clients. "There is

no shortage of new innovations out there,

but it's our job to incorporate the meaningful

ones which make our clients' lives easier

into the Durban ICC customer experience",

added Scott Langley, Durban ICC's Director

of Marketing, Sales and Events.

The Durban ICC boasts the country's fastest

convention centre Wi-Fi network and that

which is able to support the most concurrent

users. It was also the first centre in the

country to offer indoor Google Maps and to

incorporate the 'whatthreewords' navigation

system into their complex. The Centre has

also invested heavily in its massive video

screens and interactive digital totems in the

past year.

No wonder it is also being recognised as

Africa's Smartest Convention Centre.