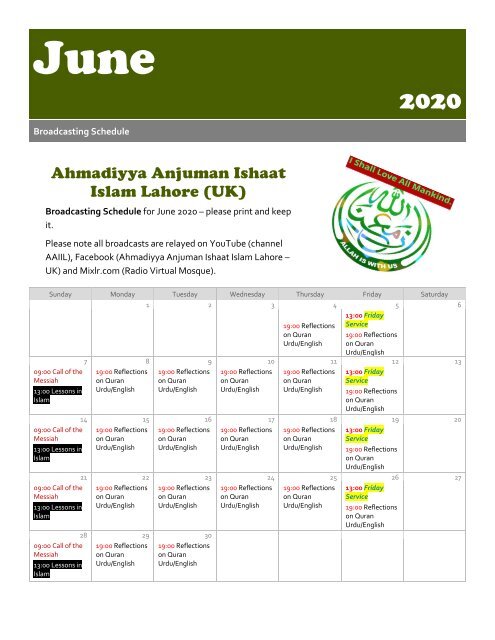 Broadcasting Schedule June 2020
A schedule of our broadcasts for June 2020
A schedule of our broadcasts for June 2020
SHOW MORE
SHOW LESS
Do you know the secret to free website traffic?
Use this trick to increase the number of new potential customers.
June

2020

Broadcasting Schedule

Ahmadiyya Anjuman Ishaat

Islam Lahore (UK)

Broadcasting Schedule for June 2020 – please print and keep

it.

Please note all broadcasts are relayed on YouTube (channel

AAIIL), Facebook (Ahmadiyya Anjuman Ishaat Islam Lahore –

UK) and Mixlr.com (Radio Virtual Mosque).

Sunday Monday Tuesday Wednesday Thursday Friday Saturday

1 2 3 4 5 6

13:00 Friday

19:00 Reflections

on Quran

Urdu/English

Service

19:00 Reflections

on Quran

Urdu/English

7 8 9 10 11 12 13

09:00 Call of the

Messiah

13:00 Lessons in

Islam

09:00 Call of the

Messiah

13:00 Lessons in

Islam

09:00 Call of the

Messiah

13:00 Lessons in

Islam

09:00 Call of the

Messiah

13:00 Lessons in

Islam

19:00 Reflections

on Quran

Urdu/English

19:00 Reflections

on Quran

Urdu/English

19:00 Reflections

on Quran

Urdu/English

19:00 Reflections

on Quran

Urdu/English

13:00 Friday

Service

19:00 Reflections

on Quran

Urdu/English

14 15 16 17 18 19 20

19:00 Reflections

on Quran

Urdu/English

19:00 Reflections

on Quran

Urdu/English

19:00 Reflections

on Quran

Urdu/English

19:00 Reflections

on Quran

Urdu/English

13:00 Friday

Service

19:00 Reflections

on Quran

Urdu/English

21 22 23 24 25 26 27

19:00 Reflections

on Quran

Urdu/English

19:00 Reflections

on Quran

Urdu/English

28 29 30

19:00 Reflections

on Quran

Urdu/English

19:00 Reflections

on Quran

Urdu/English

19:00 Reflections

on Quran

Urdu/English

19:00 Reflections

on Quran

Urdu/English

13:00 Friday

Service

19:00 Reflections

on Quran

Urdu/English