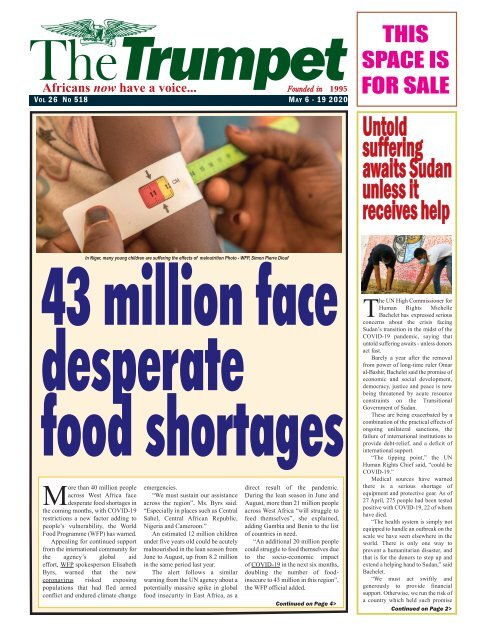 The Trumpet Newspaper Issue 518 (May 6 - 19 2020)
43 million face desperate food shortages
43 million face desperate food shortages
SHOW MORE
SHOW LESS
You also want an ePaper? Increase the reach of your titles
YUMPU automatically turns print PDFs into web optimized ePapers that Google loves.
TheTrumpet

Africans now have a voice... Founded in 1995

V O L 26 N O 518 M AY 6 - 19 2020

THIS

SPACE IS

FOR SALE

Untold

suffering

awaits Sudan

unless it

receives help

In Niger, many young children are suffering the effects of malnutrition Photo - WFP, Simon Pierre Diouf

43 million face

desperate

food shortages

More than 40 million people

across West Africa face

desperate food shortages in

the coming months, with COVID-19

restrictions a new factor adding to

people's vulnerability, the World

Food Programme (WFP) has warned.

Appealing for continued support

from the international community for

the agency's global aid

effort, WFP spokesperson Elisabeth

Byrs, warned that the new

coronavirus risked exposing

populations that had fled armed

conflict and endured climate change

emergencies.

"We must sustain our assistance

across the region", Ms. Byrs said.

"Especially in places such as Central

Sahel, Central African Republic,

Nigeria and Cameroon."

An estimated 12 million children

under five years old could be acutely

malnourished in the lean season from

June to August, up from 8.2 million

in the same period last year.

The alert follows a similar

warning from the UN agency about a

potentially massive spike in global

food insecurity in East Africa, as a

direct result of the pandemic.

During the lean season in June and

August, more than 21 million people

across West Africa "will struggle to

feed themselves", she explained,

adding Gambia and Benin to the list

of countries in need.

"An additional 20 million people

could struggle to feed themselves due

to the socio-economic impact

of COVID-19 in the next six months,

doubling the number of foodinsecure

to 43 million in this region",

the WFP official added.

Continued on Page 4>

The UN High Commissioner for

Human Rights Michelle

Bachelet has expressed serious

concerns about the crisis facing

Sudan's transition in the midst of the

COVID-19 pandemic, saying that

untold suffering awaits - unless donors

act fast.

Barely a year after the removal

from power of long-time ruler Omar

al-Bashir, Bachelet said the promise of

economic and social development,

democracy, justice and peace is now

being threatened by acute resource

constraints on the Transitional

Government of Sudan.

These are being exacerbated by a

combination of the practical effects of

ongoing unilateral sanctions, the

failure of international institutions to

provide debt-relief, and a deficit of

international support.

"The tipping point," the UN

Human Rights Chief said, "could be

COVID-19."

Medical sources have warned

there is a serious shortage of

equipment and protective gear. As of

27 April, 275 people had been tested

positive with COVID-19, 22 of whom

have died.

"The health system is simply not

equipped to handle an outbreak on the

scale we have seen elsewhere in the

world. There is only one way to

prevent a humanitarian disaster, and

that is for the donors to step up and

extend a helping hand to Sudan," said

Bachelet.

"We must act swiftly and

generously to provide financial

support. Otherwise, we run the risk of

a country which held such promise

Continued on Page 2>
---
Page2 TheTrumpet MAY 6 - 19 2020

News

Double tragedy as nurse

loses husband and son

- from COVID-19 related illness, and stabbing respectively

London's Metropolitan Police

detectives continue to appeal for

information following the fatal

stabbing of 24-year-old Marketing

graduate - David Gomoh in Newham.

The Southbank University graduate

was stabbed to death at around 22:25hrs

on Sunday, 26 April, just seconds after

leaving his home.

The attack took place in Freemasons

Road, E16 near the junction with Kerry

Close - in London's east end.

David's family were already reeling

from tragedy, following the recent

unexpected death of David's father from

a COVID-19 related illness.

His father's funeral was to be

tomorrow.

David, like his mother who is a nurse,

worked for the NHS and was a key

worker helping to keep NHS staff

supplied with essential equipment.

David was talking on the phone to a

female friend when he was stabbed and

was not involved in any argument.

Nothing in David's background gives

any reason for why he was singled out

and this, along with other evidence,

suggests David was murdered in a totally

unprovoked attack.

Detective Inspector Tony Kirk of the

Metropolitan Police Specialist Crime

Command said. "David's family are

going through unimaginable torment.

Within days his mother has seen the death

of her husband and son; his sister has lost

her brother and father, both are now

heartbroken.

"David was a young man who had

worked hard to put himself through

university and, like his mother, worked

hard for the community in the NHS. At

this time we believe the only thing David

did to be murdered was walk down a

street. He was apparently approached by

a group of men wearing masks and

stabbed multiple times in a ferocious

assault.

"I have no doubt this was a planned

attack that singled out David because he

happened to be in that area. David and his

mother, who have done so much to help

the community, now need the public to

come forward and tell us what they know.

If you have any information, please think

of this young man and the suffering of his

family and call us. If you don't want to

give your name, call Crimestoppers, but

do make that call. David's family deserve

both answers and justice."

Police believe those involved left the

scene in a stolen Silver Dodge Caliber

that was abandoned at about 22:30hrs in

Lincloln Road, E13 after driving through

the no entry sign from Cumberland Road.

This car had been stolen in Dagenham

on Thursday, 16 April and was on cloned

plates when it was recovered.

Police want to speak to anyone who

was in the area or anyone who

remembers seeing this car, whether

before or after the attack.

In particular, anyone who has dash

cam footage, or CCTV of the area around

where the car was dumped, should

contact detectives.

Detectives from the Met's Specialist

Crime Command (Homicide) are

standing by to take your call.

There have been no arrests at this

time.

Any witnesses or anyone with any

information is asked to call detectives at

the incident room on 0208 345 3985.

You can also contact via 101 or

Twitter @MetCC. Please quote CAD

8371/26APR.

To give information anonymously

contact Crimestoppers on 0800 555 111

or online at crimestoppers-uk.org.

++ Do you know about someone who

is carrying a knife or is involved in

violence? If you have information that

David Gomoh - Killed

could help keep your community safe,

but don't want to speak to police, please

contact the independent charity

Crimestoppers on 0800 555 111. They do

not ask your name and cannot trace your

call or I.P address.

Any young people who has

information about violence or knife

crime, can visit www.fearless.org where

they can pass on information

anonymously – your I.P address will not

be traced. Fearless is part of the

Crimestoppers charity, and is also

independent of the police.

Untold suffering awaits Sudan unless

it receives help

Continued from Page 1<

relapsing back into political instability and

potential conflict."

In a letter to the UN Secretary-General

on 8 April 2020, Sudan's Prime Minister

Abdalla Hamdok acknowledged that

COVID-19 poses profound challenges to

his country's health system, economy, and

society as a whole, and he sought financial

and other technical support to tackle the

pandemic.

Of Sudan's population of 43 million

people, nearly 2 million remain internally

displaced as a result of conflicts in Darfur,

South Kordofan, and Blue Nile State. Most

face dire conditions, living in camps or

settlements, unable to meet their basic

needs. Sudan also hosts more than 1.1

million refugees and migrants.

Even before the arrival of COVID-19,

many Sudanese were battling to make ends

meet due to high unemployment, soaring

inflation, and lack of social protection and

safety nets. These issues have been

compounded by the effects of Sudan still

being on the US list of States sponsoring

terrorism. In addition, Sudan is currently

among the countries not eligible to access

the US$50-billion Trust Fund of the

International Monetary Fund and World

Bank to assist countries to fight COVID-

19.

Separately, the UN Secretary-General

has urged the international community to

do all it can to support the country in its

transition, and during this time of serious

need.

"The only way Sudan will ever be able

to break out of this cycle of poverty and

desperation is to be freed from the

impediments of sanctions imposed at the

time of the previous government. This

would enable Sudan to attract investment

for its much-needed economic reforms, and

to fully access funds of the international

financial institutions," said Bachelet.

"Inequality, and economic and social

grievances, were the main triggers of

Sudan's revolution last year. If these and

other root causes are not addressed as a

matter of priority, Sudan's successful

transition to achieving a durable peace

remains distant."

Do you have land in Nigeria that you want to develop?

We (www.ukuldacoop.org) are a UK-based Nigeria-Mass-Housing-cum-

Infrastructure-Development-Focused Cooperative.

Do you have land with "C of O" in a good location in Nigeria that you want to

develop? We may be the "JV" (Joint Venture)

Funding and Technical partners you need.

Contact us: +44 (0) 7956 675412

info@ukuldacoop.org / www.ukuldacoop.org
---
MAY 6 - 19 2020 TheTrumpet

Page3
---
Page4

TheTrumpet

TheTrumpet Group

Tel: 020 8522 6600

Field: 07956 385 604

E-mail:

info@the-trumpet.com

TheTrumpetTeam

PUBLISHER / EDITOR-IN-CHIEF:

'Femi Okutubo

CONTRIBUTORS:

Moji Idowu, Ayo Odumade,

Steve Mulindwa

SPECIAL PROJECTS:

Odafe Atogun

John-Brown Adegunsoye (Abuja)

DESIGN:

Xandydesigns@gmail.com

ATLANTA BUREAU CHIEF:

Uko-Bendi Udo

3695 F Cascade Road #2140 Atlanta,

GA 30331 USA

Tel: +1 404 889 3613

E-mail: uudo1@hotmail.com

BOARD OF CONSULTANTS

CHAIRMAN:

Pastor Kolade Adebayo-Oke

MEMBERS:

Tunde Ajasa-Alashe

Allison Shoyombo, Peter Osuhon

TheTrumpet (ISSN: 1477-3392)

is published in London fortnightly

Advertising:

020 8522 6600

THINKING

OF

WRITING

A BUSINESS

PLAN?

MAY 6 - 19 2020

We can help you develop a

professional business plan

from only £250.

For more information, contact us

at 07402792146 or email us at:

tolu.oyewole@consultant.com

Highest forced displacement in Africa

Highlighting people's vulnerabilities,

Babar Baloch from the UN High

Commissioner for Refugees (UNHCR),

described West and Central Africa as

"one of largest displacement situations

in Africa…we are talking about 5.6

million internally displaced people,

more than 1.3 million refugees and 1.6

million stateless."

The UN refugee agency has

repeatedly called for greater support for

increasing numbers of people forced to

flee for their lives amid renewed conflict

in West Africa's turbulent Sahel and

Lake Chad region.

Burkina Faso has also witnessed

massive displacement - of more than

838,000 people since January 2019 – a

figure which keeps climbing with each

passing day.

In recent weeks, the agency said that

armed groups had targeted thousands of

Malian refugees sheltering in camps

near the border of Burkina Faso and

Mali.

The agency condemned attacks on 2

May on Malian refugees in Burkina

Faso – "reportedly by the country's

security forces", in Mentao refugee

camp in which at least 32 people were

injured.

The camp is located in Burkina

Faso's volatile Sahel region close to the

border with Mali and hosts some 6,500

refugees, UNHCR said in a statement.

For WFP the priority continues to be

the most vulnerable individuals.

Hand-to-mouth existence

They include "the urban poor - who

live hand-to-mouth – (who) are most at

risk", Ms. Byrs said, highlighting how

COVID-19 travel restrictions had

compromised the transport of supplies

and the functioning of open-air markets

that serve most people, resulting in price

increases in some countries.

Movement restrictions could also

affect farmers as the planting season

approaches, WFP said in a statement,

warning that "an inadequate response"

News

43 million face desperate

food shortages

Continued from Page 1<

to current needs "would put the future

well-being of millions of people in the

region at stake, particularly women and

young children".

It could also lead to civil unrest in

parts of a region already challenged by

insecurity and violent extremism, the

agency said, before adding that it was

seeking to overcome challenges in

partnership with the authorities.

A significant problem is the halt in

school meal distribution, which has

affected 18 million pupils supported

through Government-led programmes

and 2.2 million schoolchildren in WFPsupported

schools.

"When Governments have had to

close schools and stop (serving) school

meals, we have worked with them," said

Ms. Byrs. "We are working with them,

to organize distribution points for the

most vulnerable families who can take

food rations so that they aren't

penalized, as schools have been forced

to shut, in line with confinement

measures."

She added: "We have put in place

monitoring and evaluation systems to

help us to target the most at-risk

populations, and we do that with

partners, with Governments of course,

and the international humanitarian

community, in the largest sense of the

term."

WFP urgently requires an additional

$574 million to provide crucial

assistance for the next six months in

West Africa. These requirements are

likely to increase in the coming weeks

as the impact of COVID-19 is fully

analysed.

Bubble In Christ Music Band

For your Music band with

classic rendition for all

occasions, with traditional,

contemporary African

international and Gospel filled

with professional decent

Presentation.

More Musicians, Singers,

Instrumentalists, handy men,

Music directors band coordinators,

Audio and/or video

technicians, Drivers,

Marketing Personnel are

welcome.

Contact: Olugbenga on

07438 264613

CHERUBIM & SERAPHIM MOVEMENT CHURCH

Amazing Grace District -London Branch 2

God's Promises

never fail:

* Before they call I

will answer; while

they are still

speaking I will hear

(Isaiah 65: 24)

Elisabeth Byrs

WEEKLY DELIVERANCE SERVICE

Deliverance: Every Wednesday

Time: 6.30pm – 7pm (Individual Prayer & Counselling)

Midweek Church Service: 7pm – 9pm

Venue: Orange Room, Albany Theatre, Douglas Way,

London SE8 4AG

Other Service: Sunday Thanks giving 11am – 1.30pm

* He will call upon me and I

will answer him: I will be

with him in trouble, I will

deliver him and honour him

(Psalm 91: 15)

For further information, contact - Church Secretary: S/M/I/I (Dr) I Oni-Owoyemi 07788 745231 Or

Church Elders: S/A T Owoyemi 07956 996689 or / M/S/A W Ojomo 07939 836499 or / Apostle T Gbolasere 07484 243990

Email: amazinggracebranch2@gmail.com
---
MAY 6 - 19 2020 TheTrumpet

Page5
---
Page6 TheTrumpet MAY 6 - 19 2020
---
News

MAY 6 - 19 2020

TheTrumpet

World Bank approves $40m to provide

income support to South Sudan households

Page7

A$40 million grant from the World

Bank's International

Development Association will

fund a two and half years Project to

provide income support to nearly 430,000

low income South Sudanese. The Project

will be implemented by the United

Nations Office for Project Services

(UNOPS) in South Sudan.

UNOPS will deliver the South Sudan

Safety Net Project (SSSNP), in

partnership with the Ministry of

Agriculture and Food Security, Ministry

of Gender and Social Welfare and the

Ministry of Finance and Planning to

ensure that low income and vulnerable

people are provided with reliable access

to income opportunities and temporary

employment.

"I am very pleased that South Sudan

is receiving additional funding which will

be used to build on the achievements of

previous safety net projects while scaling

up the provision of predictable and

reliable cash transfers to vulnerable South

Sudanese," said Hon. Josephine Joseph

Lagu, Minister of Agriculture and Food

Security. "This will not only improve

food security for thousands of people, but

it will also increase their resilience to

economic and climate-related crises or

shocks," she added.

The Project comes at the

unprecedented time of the COVID-19

pandemic. In order to adapt the Project to

the COVID-19 context and address rising

socio-economic vulnerability, the project

will rapidly roll-out immediate 'direct

income support' and respond to the

economic impact of COVID-19 on the

lives of the vulnerable communities.

"In the first phase, the SSSNP will

scale up direct income support in Juba

County to provide rapid cash transfers to

address emerging vulnerabilities amidst

COVID 19 outbreak. As the COVID 19

situation subsides, cash transfers will be

expanded in all the other nine project

locations across the country," said Husam

Abudagga, World Bank Country

Manager for South Sudan speaking at

virtual project debrief meeting attended

by the Minister of Agriculture and Food

Security, and the Under Secretary of the

Ministry of the Ministry of Agriculture

and Food Security, the World Bank team,

and UNOPS representatives.

Peter Mutoredzanwa, the Country

Representative of UNOPS in South

Sudan reiterated that: "UNOPS

continues to work closely with the World

Bank, the Government of South Sudan

and other key partners to deliver essential

social services, improve living conditions

and enhance social development." He

further added that " The project will

address immediate consumption gaps by

scaling up cash transfers to poor and

vulnerable households by facilitating

improved and more frequent meals."

The Project will provide income

security to the most vulnerable

households – including households with

people with extreme vulnerabilities, such

as persons with disabilities, the elderly,

expectant women and those living with

HIV/AIDS amongst others.

Claims of death of COVID-19 vaccine

volunteer - Elisa Granato, are false

By 'Femi Okutubo

Claims about the death of Europe's

first human volunteer in the trial

of a potential COVID-19 vaccine

- Elisa Granato, are false.

Elisa Granato

Oxford-based Granato is one of two

volunteers injected earlier in the week

with this trial vaccine. She is a Post-

Doctoral Researcher studying Bacterial

Interactions and how they evolved, and

currently works with Prof. Kevin Foster

at the University of Oxford.

In a tweet, Granato said: "Nothing

like waking up to a fake article on your

death... I'm doing fine everyone. Please

don't share the article in question, we

don't want to give them attention / clicks.

Have a cute cat instead!"

Over 800 people have been recruited

for the study - which will see half

receiving the COVID-19 vaccine, and the

other half receiving a control vaccine

which protects against Meningitis but not

Coronavirus.

The design of the trial means

volunteers will not know which vaccine

they have received, although doctors will.

The vaccine was developed in under

three months by a team at Oxford

University. Sarah Gilbert, Vaccinology

Professor at the Jenner Institute, led the

pre-clinical research.

The vaccine is made from a weakened

version of a common cold virus (known

as an adenovirus) from chimpanzees that

has been modified so it cannot grow in

humans.

Elisa Granato

MoneyGram offers NHS heroes 20% discount

International Money Transfer

company - MoneyGram has

announced 20% off all send fees for

staff of the United Kingdom's National

Health Service (NHS). The offer is

available either online or at Post Office

and Tesco locations across the UK. NHS

staff just need to bring their NHS ID and

quote 'NHSHERO' when sending money

at a location.

Tesco is also offering early opening

hours on Tuesday's, Thursday's (8am –

9am) and Sunday's (9am – 10am) so

NHS staff can combine their grocery

shopping and money transfer in one visit,

making things a little easier.

Richard Meredith, Head of UK Key

Partnerships at MoneyGram, said "We

are proud to be supporting our NHS staff

in these difficult times and are working

closely with our long-term partners to

make money transfer a little easier."

The NHS offer is live on the

MoneyGram app, online and in store

from 20 th April 2020 and is valid until

30 th June 2020.

MoneyGram offers quick and

affordable transfer of money to family

and friends in more than 200 countries

and territories, with over 70 countries

now digitally enabled.
---
Page8 TheTrumpet MAY 6 - 19 2020

Reunion

Race to reunite a family during the

COVID-19 pandemic

They have been separated for four years

because of the conflict in North-eastern

Nigeria. Had they ever imagined that a

global pandemic might postpone their

reunion? For Alia* and her daughter, who

both bear the mental scars of being separated,

it was already too long. Too violent. Too

traumatic.

As the number of confirmed cases

increases steadily each week, the Nigerian

authorities have stepped up preventive

measures to curb the spread of the disease,

imposing a lockdown in several States.

In Borno State, the epicentre of the

conflict in the North-East, a grim scenario

weighs heavily on many minds; the spread of

the virus in the overstretched and

overcrowded camps, where social distancing

and access to clean water are far from granted.

"We got the address of the mother", Safiya

says, after talking to traditional leaders

gathered in the shade.

Safiya works for the International

Committee for the Red Cross, which helps

reunite family members separated during the

armed conflict, together with the Nigerian Red

Cross Society. Under a scorching sun, Safiya

follows one of the leaders to the mother's

house, walking past a Mosque riddled with

Aicha's grandmother's rug

bullets and the rubble of buildings destroyed

during a flare-up of violence. It's a painful

reminder that the conflict has not slowed

down to allow the virus to run its course.

The good news has spread throughout the

neighbourhood. Aicha* is alive. Everyone

stops what they were doing. The women

Race to reunite Aicha

seated under the tree have suddenly found a

more exciting topic to talk about. Aicha's

grandmother stands up from her blue rug in

the corridor, where a few onions, leaves for

soup and nuts lay.

A sense of relief and happiness fills the tiny

courtyard where neighbours and relatives

stand side by side. Aicha's picture goes from

hand to hand as if they can't believe it.

"It's her... Yes, it's her... No doubt it's her",

a group of women says, while staring at the

teenager's face.

The lively grandmother thanks God over

and over for bringing her granddaughter back.

Amid the brouhaha, a frail woman stands. Her

voice has not yet been heard. She has neither

a smile nor tears on her face. Her silence says

a lot, probably more than the commotion

surrounding her.

"The mother nearly lost her mind after

what happened to her daughter," a neighbour

whispers.

"When will Aicha come back?" a relative

asks.

Safiya pauses, thinking of the recent

restrictions of movements that could put the

reunification on hold for months.

"Within a month," she tells the family.

"When they asked about her return, I had

Coronavirus in mind and the challenges we

might face in the future to move with the

helicopter," Safiya later explains. "I didn't

want to raise expectations, but I knew that we

would try our best to make it happen. As soon

as we came back to the office, I launched the

process of the reunification."

Thousands of parents like Alia are still

searching for their children who have gone

missing during the conflict that has raged on

for more than 10 years.

In the meantime, more COVID-19 cases have

been confirmed nationwide, prompting the

authorities to go further with the restrictions

of movement. In Borno State, where only half

of its roughly 700 health facilities still

function, authorities and humanitarian

organizations are trying to coordinate their

response.

How long will Safiya and her team be able

to travel and reunite people? No one knows.

The following week, they finally travel by

helicopter to the town where Aicha had found

refuge a few months ago. Temperature checks,

hand sanitizers, and no handshakes are

precautions being taken to avoid the spread of

the virus.

Once they arrived, Safiya looks at the file.

It says that Aicha is 18. She looks 15, or even

less, wrapped in a purple-tinted veil. She

shows the picture of the family to Aicha.

Despite the flow of emotions, she

immediately recognizes the members of her

family in a picture.

Safiya explains to the caregiver how and

when the reunion will happen. Aicha, seated

with the woman who looked after her for

months, listens keenly without interrupting.

Her dark eyes wander as if she is still

processing what is happening.

A few moments later, she speaks with her

uncle using a satellite phone provided by the

ICRC team, and suddenly everything

becomes real. Both sides are now convinced

that they will be reunited. It's just a matter of

time.

"Let's try to make it...We don't know

whether we will be able to travel next

week...", several members of the team keep

saying, a few days before the reunification.

COVID-19 has added uncertainties in an

already unpredictable region.

A smile spreads across Aicha's face before

she boards the helicopter. She carries her

breakfast of mashed potatoes and a few

belongings in a black backpack. Throughout

the trip, she remains calm and gazes over the

arid landscape from the window of the

helicopter. On the way to her house by car, she

tries to connect the dots after four years. She

recognizes the main road, then the police

station on the right and the crossroads that

leads to her home.

A hot wind is blowing through the

corridor of the house as Aicha rushes in. A

scream is heard. Aicha's mother has found her

voice and her tears.

"I won't cry", says the grandmother while

taking Aicha's hands. "If I start crying,

everyone's going to cry."

* The names have been changed.

Credits: International Committee of the

Red Cross (ICRC).
---
Policing

MAY 6 - 19 2020

TheTrumpet

Page9

COVID-19 lockdown - 'I've learnt

so much in just three weeks'

- PC Yanique Bailey

When Yanique Bailey first

applied to join the

Metropolitan Police Service in

2017, she thought she knew most of the

challenges she would face.

What she didn't expect was a London

with far fewer people on the streets and

having to remind herself to stand two

metres away from her new colleagues

whenever possible.

"It's obviously not what we thought

things would look like when we came out

of training school," she said.

"At the moment, we don't really

know any different – this is the only

London we have policed! But it's a

learning curve for everyone, not just us.

"We are really trying our best to make

sure the public follow the rules and

guidelines and are only leaving the house

when necessary, and so far most people

I've spoken to have been very

understanding and co-operative.

"In reality, a lot of what we are doing

is exactly what we trained for and what

we will always do – talking to the public

and engaging with them – and I already

feel like I've learnt so much in just three

weeks."

Like Yanique, just over 300 recruits

joined their new command units last

month and have now spent almost a

month out in their communities,

supervised by some of the Met's most

experienced officers.

Earlier this year, two probationers on

Health

street duties were on patrol with three

experienced constables on Great West

Road in Hounslow when a passenger in a

taxi came to their attention.

The officers signalled for the vehicle

to stop and detained the passenger as he

attempted to make off on foot.

Following a search, he was found to

be in possession of a firearm and a

quantity of cash and drugs - and was

arrested.

Commander Helen Millichap, said:

"There is no denying that the London our

newest officers are now policing looks

very different to what they would have

expected when they applied for the job,

but it is clear that our recruits are playing

a more vital role than ever in keeping our

PC Yanique Bailey

communities safe.

"I know they are extremely proud to

be doing their bit in maintaining our

visibility on the streets, engaging with the

public and responding to calls for

assistance where necessary."

"We've been through more difficult

times; we shall overcome this"

– midwife at COVID-19 frontline

By Arlene Alano

profession that has

historically always placed

"In a

patients' needs first, the degree

of sacrifice being demanded of us now is

unprecedented," says midwife Justine

Mangwi.

With the first cases of the new

coronavirus disease (COVID-19) having

been confirmed in South Sudan in early

April, he is concerned about protecting

mothers and their newborns from being

infected both in their communities and in

the health facility.

Expectant mothers are already

expressing a preference to deliver at

home instead of at a hospital as they are

aware of the risk of contracting COVID-

19 when they leave their homes. This

worries him, as home delivery increases

the risk of maternal death or injury.

"I tell them that switching their birth

plan could be dangerous. A home birth

environment is just as susceptible to the

spread of the coronavirus," Mr. Mangwi

points out. "Pandemic or no pandemic,

the hospital has a team and the equipment

available to save lives in case of

pregnancy or childbirth complications."

The midwife has a reason to be

concerned. South Sudan has a maternal

mortality ratio of 789 deaths per 100,000

Midwife Justine Mangwi counsels a new mother on

caring for her newborn, at Juba Teaching

Hospital, South Sudan.

(Photo - UNFPA, Bruno Feder)

live births – one of the highest in the

world. One of the contributing factors to

the country's high maternal death rate is

low skilled birth attendance. Only 15 per

cent of women deliver with the assistance

of a trained birth attendant, such as a

midwife.

Until early April, South Sudan had

remained COVID-19 free. The virus now

adds to the many already existing factors

that could cause pregnancy and childbirth

complications.

UNFPA, the United Nations

Population Fund, is working with the

Ministry of Health to put in place

measures to ensure that maternal health

and other sexual and reproductive health

services are safeguarded to prevent

deaths and illnesses, especially among

pregnant and breastfeeding women and

their newborns.

Measures are also being put in place

to protect frontline health workers,

including midwives. The plan includes

recruiting additional midwives to support

the anticipated surge in demand for health

care.

Mr. Mangwi is one of 26 midwives

who have been deployed by UNFPA to

various hospitals under the Strengthening

Midwifery Services Project to provide

sexual and reproductive health services,

as well as mentor midwifery students at

Health Science Institutes. The project,

supported by the governments of Canada

and Sweden, seeks to fill the huge need

for skilled health personnel.

At independence from Sudan in 2011,

the country had only eight qualified

midwives. Since the launch of the

midwifery project in 2012, the number of

trained midwives has grown to more than

800 today.

Mr. Mangwi has been preparing for

his critical role in the COVID-19

response. He has completed online

training courses and is participating in

virtual meetings on the World Health

Organization (WHO) protocols on

COVID-19 for health workers. At Torit

Hospital, where he works, he is part of

the Rapid Response Team taking on the

role of a risk communicator.

Yet, more needs to be done. The

government should provide vital

equipment, such as ventilators, for the

hospitals as well as personal protective

equipment for the frontline health

workers. Those at the frontline will be

more motivated and confident when they

have the skills they need and feel that

they are supported, he asserts.

"This situation calls for everyone to

show commitment to help prevent our

country from being wiped out by this

merciless pandemic. Now, it is the turn of

health workers to fight the coronavirus

war for our country," he says.

Mr. Mangwi maintains a mindset of

resilience as he stands ready to serve at

the frontlines of the COVID-19 response.

"We have been through difficult times

and I believe we shall overcome this. I

pray each day for good health and a long

life so I can tell some of my stories to my

children."
---
Page10 TheTrumpet MAY 6 - 19 2020

Health

'Let's fight this together,' urges

Nigerian COVID-19 survivor

Salihu Umar

Thirty-five-year old Salihu Umar

was diagnosed with COVID-19

after returning from a six-day trip

to London in March 2020. Although

asymptomatic, he tested positive and

underwent treatment. Having recovered

and back with his family in the Nigerian

capital Abuja, the father of three stresses

the importance of getting tested

especially after having travelled to an

area affected by the virus.

"I initially did not show any

symptoms. Knowing fully well about the

guidelines for people who travelled to

high risk areas like the UK, I self-isolated

for a day and decided to get in touch with

the Nigeria Centre for Disease Control

(NCDC) to take the COVID-19 test to be

on the safe side.

Health officials showed up … they

promised to get back to me the next day

or later that same day. It however took

three days to get a response from them.

(Days later) I got a call from a doctor

who introduced herself as an NCDC

official. She broke the unfortunate news

that my result turned out positive. She

added that they need to take another

sample to rerun the test for confirmation.

I could not believe her as I was not

showing any symptoms. At some point,I

felt it was a mistake, but I couldn't do

anything to prove them wrong as that's

the only place that runs the tests.

In a few minutes, NCDC officials

picked me from my house to

Gwagwalada Isolation Centre. Upon

arrival, I was examined by a doctor and

placed on some medications.The doctors

gave me some counselling and assured

me of their commitment to making sure

we make it out of the isolation centre

healthy. The doctor added that even

though I was asymptomatic, I still

needed to commence treatment as soon

as possible.

I had mixed feelings, especially

knowing that the disease has no cure and

the number of people the virus kills every

day.

It was quite depressing, being

confined in a facility away from family

and friends. It was the first time I was in

that kind of situation. I was always (up

and about) and suddenly I couldn't

move. From face timing (online chatting)

with my family to tweeting and linking

up with friends to sending emails. There

was no time my kids missed me for one

day. We were always connected.

A week into my isolation, another

sample was taken to see how I was

progressing. Unfortunately, it still came

back positive. At that point I was losing

hope for survival. The doctors assured

me of my progress, saying I was doing

well…

Lo and behold, another sample was

taken on the twelfth day of isolation and

it came out negative. Another one was

taken after a few days and was still

negative. I was free to go but was

advised to self-isolate for one more week

to ensure full recuperation and

completion of the drugs which I did and

Let's fight COVID-19 together

finally finish without showing any more

symptoms. That was the last time I heard

from NCDC.

I'm so grateful to the NCDC, World

Health Organization and all the doctors

and the nurses in Nigeria who risked

their lives to save my life.

For those battling COVID-19, I want

you to know that this disease is not a

death sentence. Never succumb to fear.

As for other people hiding their travel

history and symptoms for fear of social

stigma, you can do better. Let us fight

this together. Do the necessary. Go get

tested."

STALLIONS AIR

It pays to Advertise in

The Trumpet Call

020 8522 6600 or

email: adverts@thetrumpet.com

Ipanema Travel Ltd

AFRICA FLIGHTS

SPECIALISTS

LAGOS fr £477

(2 Bags)

020 7580 5999

07979 861 455

Call AMIT / ALEX

73 WELLS ST, W1T 3QG

All Fares Seasonal

ATOL 9179
---
Energy

MAY 6 - 19 2020 TheTrumpet Page11

Should Africa consider the nuclear

energy route?

By African Energy Chamber

Despite its advancements over the

years particularly in the oil, gas

and power industries, it is no

secret that Africa is still plagued with the

very real issue of inefficient energy supply.

Recording nearly 600 million people with

no access to electricity, the question of

what it will take to eliminate poverty in

Africa is prevalent now more than ever.

While the continent has enjoyed great

achievements in oil and gas developments

and seen the launch of numerous

successful renewable energy programmes,

bringing online large scale world-class

projects, it still has not managed to close

the power gap as it hedges forward with its

goal of sustainable energy mixes. So,

what's next for Africa?

With rising populations and high

electricity costs, African countries are

investing in various sources for electricity

generation but, one remains largely

unimplemented and, not without reason.

Nuclear energy and Africa

Nuclear energy is widely unexplored

on the continent with South Africa

remaining the only country with a

commercialised nuclear power plant.

Egypt is home to one of the oldest nuclear

power programmes. Launched in 1954, the

programme is responsible for the 4.8 GW

El Dabaa nuclear power plant, currently in

the construction phase. The project will be

developed by, Russian State Atomic

Energy Corporation (ROSATOM) - the

biggest nuclear power player in Africa

having concluded Memoranda of

Understanding with Kenya, Nigeria,

Sudan, Zambia and Uganda.

Kenya's first nuclear reactor is set for

completion in 2027 while Uganda's 2019

Inter-Governmental Agreement with

ROSATOM to help develop nuclear

infrastructure remains in place.

Though it has not made any

announcements in regards to

implementing nuclear in its energy mix,

earlier this year, Senegal shared its

readiness for nuclear energy, through its

Integrated Nuclear Security Support Plan

(INSSP) developed alongside the

International Atomic Energy Agency

(IAEA).

"Before the INSSP, we did not consider

nuclear security to be a problem that

affected our country, as we do not have a

nuclear power programme. In cooperation

with the International Atomic Energy

Agency, we are working to assess our

threats," said Ndèye Arame Boye Faye,

Director General of Senegal's regulatory

body, the Radiation Protection and Nuclear

Safety Authority. "Since working with the

IAEA, we have also reassessed our

priorities and capabilities and enhanced

our competencies in the field of nuclear

security," he told the agency.

The challenges of nuclear energy

Nuclear energy is one of the more

attractive options when considering a

clean, reliable and cost-effective energy

source. But, it does not come without its

challenges.

For instance, it could take years for a

country anywhere in the world to initiate a

nuclear power programme and,

infrastructure development could not come

any sooner than 10 -15 years. Simply put,

the nuclear route requires a lot of patience

and dedication – especially in Africa where

a number of countries are working towards

development.

According to Miliko Kovachev, Head

of the International Atomic Energy

Agency's Nuclear Infrastructure

Development Section: "A successful

nuclear power programme requires broad

political and popular support and a

national commitment of at least 100

years."

100 years, a commitment that would

not address Africa's pressing power needs

in the near term, especially with Sub-

Saharan Africa's population set to double

over the next 30 years.

But, there is an alternative solution. Small

scale nuclear reactors.

Defined by the World Nuclear

Association as reactors that are generally

300MWe equivalent or less, small scale

nuclear reactors are designed with modular

technology using module factory

fabrication, pursuing economies of series

production and short construction times,

making them one of the more practical

Should Africa consider nuclear energy

solutions for African countries.

Another major hurdle of nuclear

energy is financing. Due to its high cost of

implementation, African countries looking

at nuclear energy could be deterred. "But,

there are financing mechanisms like, for

instance, from export agencies of vendor

countries. Tapping into a reliable, carbonfree

supply of energy when vendors are

offering to fund it can make sense for

several countries in Africa," said

Kovachev.

American entrepreneurial firms that

understand Africa are likely to succeed.

IP3 International, a firm founded by retired

Navy Rear Admiral Michael Hewitt,

retired Army General John Keane, and

Robert McFarlane, a former national

security adviser to President Ronald

Reagan is likely to make a strong play with

an innovative approach that puts Africans

at the foundation of it and also driven by

local empowerment.

All these challenges are not ones that

cannot be overcome and, Africa is ready to

take them on."Platforms such as the

International Framework for Nuclear

Energy Cooperation and IP3 International

are essential in opening the dialogue on the

right approaches for Africa," said NJ Ayuk,

Executive Chairman of the African Energy

Chamber. "Because nuclear energy is still

a foreign concept to many African

economies, we need to take our lessons

from the rest of the world and, participate

in the conversations on nuclear efficiency,

safety and security ensuring that when the

time comes for us to move forward with

nuclear, we have laid the foundation."

Nuclear energy and the climate

change debate

As the climate change debate continues

and the global community seeks cleaner

energy sources, the shift towards nuclear

power for African countries would mean

that they are able to reduce their carbon

emissions as expressed under the Paris

Agreement.

"African economic growth, job

creation, and improved quality of life

depend on affordable, abundant energy,

nuclear-powered energy is clean, reliable

and affordable" said Ayuk. "It is a

workable solution for Africa. Of course, it

will take a lot of time, hard work and it will

be challenging but, we need to look at

alternative energy solutions. Our

populations are rising and the gap is

widening, we need to address the power

issue and, we need to be open to doing it

through exploring different routes," he

added.

In advancing nuclear power

programmes, the African Energy Chamber

encourages governments to show strong

political will and create enabling

environments for nuclear to take its place

in our energy mixes. In getting started,

African countries need to push forward

with the programmes, put in place policies

and regulations and, take lessons from the

rest of China and Russia. If we are to close

the power gap, we need to act now. Energy

is the backbone of our development.
---
Page12 TheTrumpet MAY 6 - 19 2020

Earn money as a Trumpet Ambassador

campaign.

Sale of Banner Adverts, 'Highlights' and

Mail-shots our in Email Newsletters.

With rates ranging from £100 to £500 per

insertion, we pay Ambassadors a 15%

Commission.

Sale of Advertising on our Social Media

channels.

With rates ranging between £100 to £200

per channel per post, we pay a 15%

Commission.

Sale of Sponsorship, Advertising,

Exhibition spaces and Tickets for GAB

Awards and Trumpet Connect.

With most products and services ranging

between £100 and £20,000, we pay a 15%

Commission.

Engagement Status

Our freelance Ambassadors run their own

business, work from their own home or

office, and choose the amount of time

they devote to the programme. They work

towards the amount they want to earn.

They choose their legal status in terms of

whether they operate as a Self-Employed

individual or a Limited Company or any

other appropriate status depending on the

country they operate, but we suggest you

take professional advice on this.

Ambassadors are fully responsible for

ensuring their tax affairs and other related

issues fulfil the legal requirements of their

country of operation.

Incentives

From time to time, to incentivise our

Ambassadors, we may run special

promotions, or reward achievements,

milestones and introduction of other

Ambassadors to the programme through

cash or advert credits.

About Us

Trumpet Media Group is an

international media organisation with

various media products, services and

events targeting Africa, Africans and Friends

of Africa in the Diaspora and on the

Continent.

Its first media venture - Trumpet Newspaper

started 23 years ago - in 1995, closely

followed by the founding of the prestigious

Gathering of Africa's Best (GAB) Awards in

1999. There are a number of other niche

products, services and events - with plans to

grow our portfolio over the coming months

and years.

Sales Ambassadors

Our planned future growth has given rise to

the need to take on talented and ambitious

Sales Ambassadors who share our vision of:

promoting the positive image of Africa and

Africans, and are able to sell some (or all) of

our growing number of products and services

on a freelance basis.

Products and Services

We are introducing our portfolio of products,

services, and events below on to the Trumpet

Ambassadors Programme (TAP) in phases.

Print Newspapers: The Trumpet Newspaper

and Trumpet Ghana Newspaper.

Website: www.TrumpetMediaGroup.com

Email Newsletters: Trumpet Newsbreaker,

Trumpet Kenya, Trumpet Nigeria, Trumpet

Sierra Leone, Trumpet Gambia, Trumpet

Ghana

Social Media: Facebook, Twitter, Instagram,

Pinterest, LinkedIn, Google+ and WhatsApp.

Events: GAB Awards and Trumpet Connect.

The Opportunities

Opportunities to earn revenue through

Commissions are currently available by

way of:

Sale of Subscriptions to any (or both) of

our Print Newspapers.

With Annual Subscriptions starting from

£60, we pay a 10% Commission.

Distribution and Sales of bulk copies our

Newspapers.

We pay a 35% Commission - split between

the Ambassador and the Sales Outlet.

(Outlets will usually take between 15%

and 25% depending on its type and your

negotiating skills.)

Ambassadors may choose to sell directly

to their clientele or at events and keep the

entire 35% Commission.

Sale of Advertising Spaces in our Print

Newspapers.

With most Advert Spaces ranging from

£80 to £4500 per edition, we pay a 15%

Commission. You receive a Commission

on all editions in the campaign in line

with the Client's payment - for example, if

an advertiser books and pays for six

editions, you get a Commission on all six

editions.

Sale of Banner Adverts on Website

With Banner Adverts ranging between

£50 and £200 per week, we pay a 15%

Commission for the length of the

Payments

Commission Payments to Ambassadors

are made by the 15th day of the month

following payment of Clients - For

example, Commission on Clients'

payments in January will be paid by 15th

February.

Distribution and Sales of bulk copies of

Newspapers (4.3) are excluded from the

payment arrangement above (7.1).

An Ambassador buys and pays for bulk

copies in advance at a discounted rate

with the TAP Commission deducted upfront.

For example, if an Ambassador

orders bulk copies worth £100 in advance,

the Ambassador only pays us £65

(deducting the 35% Commission upfront).

We operate a No-Returns policy on

Newspaper Sales.

Joining the Programme

It currently costs £100 per annum to join

the Trumpet Ambassadors Programme

(TAP).

Introductory Offer - Join the programme

by 31 August 2018 and accumulate sales

of at least £1000 across any or all of our

products by 30 September 2018; and we

will reward you with 100 TAP Points

worth £100 - which you can spend on any

of our opportunities (4.2) - (4.8).

To join the programme, please request the

Trumpet Ambassadors Programme Form

and via email: info@the-trumpet.com
---
GAB Awards

Faces at GAB Awards

MAY 6 - 19 2020

TheTrumpet

Page13
---
Page14 TheTrumpet MAY 6 - 19 2020

Sport

Sarah Essam, Stoke City's Egyptian queen

By FIFA.com

Sarah Essam hit the headlines in 2017

after becoming the first Egyptian and

Arab woman to play in the FA Women's

Premier League. The gifted player more

recently earned public acclaim on her

return to Egypt after responding strongly

to domestic criticism and praising the

health measures taken by the Egyptian

authorities in combating the COVID-19

pandemic. In doing so, she showed that

living abroad has in no way diminished

her love of Egypt.

While in quarantine in Cairo, where she

recently celebrated her 21st birthday, the

first Egyptian woman to play

professionally in Europe opened her

heart up to FIFA.com, talking, among

other things, about her bourgeoning

career and how she ended up playing in

England.

Challenge and choice

Asked about the genesis of her football

journey, Essam said, "Growing up, I'd

play football with my brother. I was the

only girl among a group of boys taking

part in kickabouts. I liked football even

though I was very good at basketball, but

I naturally like a challenge and so I didn't

hesitate to opt for football over all other

sports.

"Over time I gained more skills in

competing with boys until I became even

better than them. It was a beautiful

feeling to get the boys' recognition of my

football ability, especially in a society

that has always considered football a

'boys' game'. I faced some resistance

from my family who initially thought

football wouldn't be the right

environment for me."

Sarah continued to tread that difficult

path and decided to join the Wadi Degla

club, where she was soon promoted to the

first team. She then received a call-up to

the Egyptian national team, who were

preparing for the 2016 CAF Africa Cup

of Nations. "I felt everything was going

well. I'd get up at five in the morning to

start training in order to be physically and

technically prepared, but I was shocked

when I was omitted from the final squad

list for the tournament."

The first steps

However, Sarah did not give up,

believing her efforts would ultimately

pay off. Two years later, she packed her

bags and decided to accompany her sister

to England in order to look for trials with

English clubs. "I knocked on every door

Sarah Essam

Sarah Essam

and ended up having trials with several

different clubs, until finally I signed for

Stoke City in 2017 in what was the best

moment of my career. I was very happy

to reach a point where I could show my

potential."

Despite the enormous differences

between life in Egypt and England, Sarah

knew that adapting to her new

surroundings would be a prerequisite for

success.

"I knew it was going to be difficult, but I

was psychologically and mentally

motivated to make this major transition. I

have to admit that this quick adaptation

wouldn't have been possible without the

help I got from my team-mates. They

supported me in training and games.

They're not only team-mates, but also

close friends with whom I stay in touch

when I'm in Cairo."

Essam is enjoying her experience in

England, where the excitement of the

Women's Super League reminds her of

the thrilling Premier League action she

Sarah Essam

used to watch on TV growing up in

Egypt. "Yes, the women's game has come

on remarkably in recent years. All the

players know that many fans are

watching them and expect to see quality

on the pitch. I think we work very hard

and demonstrate our great abilities in

games, which in turn motivates fans to

come out and support us."

Ambitions and dreams

Once professional, players have to

dedicate most of their time to football.

But Sarah, who made enormous

sacrifices for the game and her club, has

not abandoned her academic goals. "I've

put a lot of effort into football, but I never

gave up on my university studies. I'm

studying civil engineering in England

despite many people telling me it'd be

difficult to reconcile football and college.

I decided to take up the challenge and I

continue to do my best on both fronts. I

want to serve my country by playing

professionally, and I also want to earn a

college degree for my future."

"My day starts early. I prepare my meals

for the whole day at six in the morning

and then take the train to university,

which is located in another city. From

there I then go on to Stoke. I usually have

breakfast on the train, where I also study.

I've decided to devote my life to my

passions. Even on holidays, I'm not on

my sofa watching TV, but rather

exercising to stay in good shape. I don't

think of this as a sacrifice, as I'm doing

what I love."

Reaping what you sow

A year after the move to the UK, Essam's

hard work began to pay dividends,

including being given the 2018 Arab

Woman of the Year: Achievement in Sport

award by the London Arabia

Organisation.

"I'm very proud to have won the award,

especially since I'm the first Egyptian to

receive this honour. My performances

drew attention from many individuals

and institutions. I even got an offer from

the BBC to provide commentary on the

Continued on Page 16>
---
MAY 6 - 19 2020

TheTrumpet

Page15

We are recruiting:

Independent Sales Consultants

Trumpet Media Group - an

international media

organisation targeting Africa,

Africans and Friends of Africa

in the Diaspora and on the

Continent was founded 24

years ago - in 1995.

Our growth has given rise to the need to engage the services

of self-employed Independent Sales Consultants and

organisations to sell some (or all) of our growing number of

products and services on a Commission-only basis.

The Opportunities

Opportunities to earn revenue through Commissions are

currently available by way of:

· Sale of Subscriptions to our Print Newspapers.

· Distribution and Sales of bulk copies our Newspapers.

· Sale of Advertising Spaces in our Print Newspapers.

· Sale of Banner Adverts on Website.

· Sale of Banner Adverts, 'Highlights' and Mail-shots in Email

Newsletters.

· Sale of Advertising posts on our Social Media channels.

· Sale of Sponsorship, Advertising, Exhibition spaces and

Tickets for GAB Awards and other events.

To apply, please email: info@the-trumpet.com
---
Page16 TheTrumpet MAY 6 - 19 2020

Sport

Kabore's century ambition

By FIFA.com

It would be fair to say that the green

jersey of Burkina Faso holds no secrets

for Charles Kabore. With 94

appearances to his name, he is the mostcapped

player in the country's history.

Over a 14-year international career, he

has seen almost everything with 'Les

Etalons' (The Stallions), having

participated in five CAF Africa Cups of

Nations, including the 2013 final. The one

notable omission, however, is a FIFA

World Cup appearance, which the player

admits he is unlikely to ever realise.

"For teams of the calibre of Burkina

Faso, the chance to qualify might only

present itself once every 20 years. And I

didn't manage to seize that chance when it

presented itself to me," the defensive

midfielder told FIFA.com, referring to the

agonising defeat on the away-goals rule to

Algeria in a play-off for Brazil 2014.

"That remains a huge regret, as that was

my chance and I don't see myself getting

Charles Kabore

a child, I watched every game my country

played. Today, I still relish the chance to be

in contention and would love to participate

in a sixth Africa Cup in 2021."

The Captain's ambition is

understandable, given that it was precisely

in Africa's premier competition that he

enjoyed his finest moments with 'Les

Etalons'.

"CAN 2013 is certainly one of my best

memories," Kabore said. "We didn't have

an extraordinary team that year, but we

made up for it with our immense solidarity.

Contesting a continental final with that

group was really beautiful! I also

remember our great performance at CAN

2017, where we finished third while

playing with style."

These two performances remain the

country's finest to date. Suffice to say, then,

that Kabore, the leader of that generation

of players, is already assured his place in

the annals of Burkinabe football. Who is to

say, though, that he will not acquire even

greater legendary status in the months

ahead?

"No Burkina Faso player has ever won

100 caps," he said. "It's a goal that appeals

to me and one I'll do everything possible

to achieve."

Sarah Essam, Stoke

City's Egyptian queen

another one. That said, I'm very hopeful

for the future of the national team."

In their quest to reach Qatar 2022, the

team will once again be facing Algeria, as

well as Niger and Djibouti during the

second round of African qualifying.

According to the player, however, those are

fixtures that are unlikely to feature him.

"Burkina Faso must turn over a new

page," he said. "The players of my

generation have had their day and have

represented the country well. A beautiful

new generation is coming through, and

they must be given their chance.

"There are a good number of talented

young Burkinabe players coming through

in different places. Besides Bertrand Traore

Charles Kabore

(Lyon), there is Lassina Traore (Ajax) and

Edmond Tapsoba (Bayer Leverkusen), to

name just a few. They can get us to a World

Cup – I'm convinced of it.

"In principle, it will be without me,

because I'm not expecting to feature in the

qualifiers. I haven't given up on

representing the team, though!"

While the player is still performing to a

high level with Russian heavyweights

Dynamo Moscow, the club he joined in

2019 after six seasons with Krasnodar, it is

with the national team that he admits to

having had his keenest emotions. And, at

32, he intends to experience a few more.

"Pulling on that jersey has always been

a dream of mine – first chasing it and then

savouring it afterwards," Kabore said. "As

Continued on Page 14>

2018 CAF Award ceremony that saw

Mohamed Salah win the best African

player prize. I was also part of the

commentary team for the 2019 Africa

Cup of Nations staged in Egypt. These

experiences make me more confident

to continue working in a variety of

fields."

2019 could hardly have been better for

the young Egyptian, as she scored 12

times in 12 games to become Stoke's

top scorer. "Just playing in England

would've been a great first step in the

career I aspire for, but becoming my

team and the league's top scorer is

huge and will motivate me to keep

working hard."

"I also hope to capitalise on these

accomplishments and experiences and

pass them to the other players in

Egypt. Hard work over a long period

will bring us success, and I hope my

team-mates and I can realise the

ultimate feat of getting Egypt to the

FIFA Women's World Cup."

Birthday to remember

Even though Essam's 21st birthday

came while she was in quarantine, she

still had cause to celebrate. "I wasn't

expecting anything on the day as I was

isolated in my hotel room. I thought

I'd celebrate it with the family when

all this is over, especially since they

sent me some birthday cards.

"However, I heard a knock on my door

and when I opened it, I saw a group of

employees carrying a cake in the shape

of a football pitch. There was also a

gift of training equipment to use in the

room. I was so happy that I don't think

I'll ever forget that experience."

The Egyptian Queen

Asked about her nickname and an

Instagram photo she shared of herself

posing with a large outdoor

chessboard, Essam explained: "Mo

Salah and I moved to England in the

same year – we even signed for

Liverpool and Stoke during the same

month.

"After Liverpool's Mo chant became

very popular, the Stoke fans started a

similar one for me that goes, 'Oh

Sarah, the Egyptian queen'. They

considered me the female version of

Mo, which is great. Nothing beats

being called 'the Egyptian queen'."

TheTrumpet is published in London fortnightly by Trumpet

Tel: 020 8522 6600 Field: 07956 385 604 E-mail: info@the-trumpet.com (ISSN: 1477-3392)