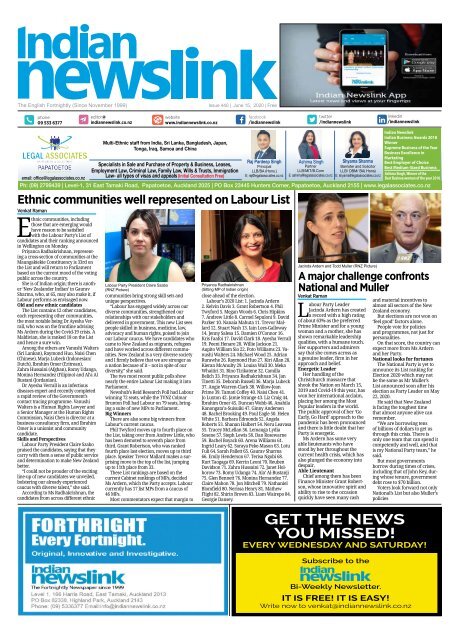 INL Digital Edition June 15 2020
You also want an ePaper? Increase the reach of your titles
YUMPU automatically turns print PDFs into web optimized ePapers that Google loves.
The English Fortnightly (Since November 1999)

Issue 440 | June 15, 2020 | Free

phone

09 533 6377

editor@

indiannewslink.co.nz

website

www.indiannewslink.co.nz

facebook

/indiannewslink

twitter

/indiannewslink

linkedin

/indiannewslink

Multi-Ethnic staff from India, Sri Lanka, Bangladesh, Japan,

Tonga, Iraq, Samoa and China

Specialists in Sale and Purchase of Property & Business, Leases,

Employment Law, Criminal Law, Family Law, Wills & Trusts, Immigration

Law- all types of visas and appeals (Initial Consultation Free)

Raj Pardeep Singh

Principal

LLB/BA (Hons.)

E: raj@legalassociates.co.nz

Partner

LLB/MIT/B.Com

E: ashima@legalassociates.co.nz

Shyama Sharma

Barrister and Solicitor

LLB/ DBM/ BA( Hons)

E: shyama@legalassociates.co.nz

Indian Newslink

Indian Business Awards 2018

Winner

Supreme Business of the Year

Business Excellence in

Marketing

Best Employer of Choice

Best Medium-Sized Business

Ashima Singh, Winner of the

Best Businesswoman of the year 2016

email: office@legalassociates.co.nz

Ph: (09) 2799439 | Level-1, 31 East Tamaki Road, Papatoetoe, Auckland 2025 | PO Box 23445 Hunters Corner, Papatoetoe, Auckland 2155 | www.legalassociates.co.nz

Ethnic communities well represented on Labour List

Venkat Raman

Ethnic communities, including

those that are emerging would

have reason to be satisfied

with the Labour Party's List of

candidates and their ranking announced

in Wellington on Monday.

Priyanca Radhakrishnan, representing

a cross-section of communities at the

Maungakiekie Constituency is 33rd on

the List and will return to Parliament

based on the current mood of the voting

public across the country.

She is of Indian origin; there is another

'New Zealander Indian' in Gaurav

Sharma, who, at 65, may also make it, if

Labour performs as envisaged now.

Old and new ethnic candidates

The List contains 12 other candidates,

each representing other communities,

the most notable being Dr Ayesha Verrall,

who was on the frontline advising

Ms Ardern during the Covid-19 crisis. A

Maldivian, she is ranked 18 on the List

and hence a sure win.

Among the others are Vanushi Walters

(Sri Lankan), Raymond Huo, Naisi Chen

(Chinese), Marja Lubeck (Indonesian/

Dutch), Ibrahim Omer (Eritrean),

Zahra Hussaini (Afghan), Romy Udanga,

Monina Hernandez (Filipino) and Al'a Al

Bustani (Jordanian).

Dr Ayesha Verrall is an infectious

diseases expert and recently completed

a rapid review of the Government's

contact tracing programme. Vanushi

Walters is a Human Rights Lawyer and

a Senior Manager at the Human Rights

Commission, Naisi Chen is director at a

business consultancy firm, and Ibrahim

Omer is a unionist and community

candidate.

Skills and Perspectives

Labour Party President Claire Szabo

praised the candidates, saying that they

carry with them a sense of public service

and determination to make New Zealand

better.

"I could not be prouder of the exciting

line-up of new candidates we unveiled,

bolstering our already experienced

caucus with diverse talent," she said.

According to Ms Radhakrishnan, the

candidates from across different ethnic

Labour Party President Claire Szabo

(RNZ Picture)

communities bring strong skill sets and

unique perspectives.

"Labour has engaged widely across our

diverse communities, strengthened our

relationships with our stakeholders and

delivered in government. This new List sees

people skilled in business, medicine, law,

advocacy and human rights, poised to join

our Labour caucus. We have candidates who

came to New Zealand as migrants, refugees

and have worked across different communities.

New Zealand is a very diverse society

and I firmly believe that we are stronger as

a nation because of it – not in spite of our

diversity," she said.

The two most recent public polls show

nearly the entire Labour List making it into

Parliament.

Newshub's Reid Research Poll had Labour

winning 72 seats, while the TVNZ Colmar

Brunton Poll had Labour on 79 seats, bringing

a suite of new MPs to Parliament.

Big Winners

There are also some big winners from

Labour's current caucus.

Phil Twyford moves up to fourth place on

the List, taking over from Andrew Little, who

has been demoted to seventh place from

third. Grant Robertson, who was ranked

fourth place last election, moves up to third

place. Speaker Trevor Mallard makes a surprising

move to the top of the list, jumping

up to 11th place from 33.

These List rankings are based on the

current Cabinet rankings of MPs, decided

Ms Ardern, which the Party accepts. Labour

currently has 17 list MPs from a caucus of

46 MPs.

Most commentators expect that margin to

Priyanca Radhakrishnan

(Sitting MP of Indian origin)

close ahead of the election.

Labour's 2020 List: 1. Jacinda Ardern

2. Kelvin Davis 3. Grant Robertson 4. Phil

Twyford 5. Megan Woods 6. Chris Hipkins

7. Andrew Little 8. Carmel Sepuloni 9. David

Parker 10. Nanaia Mahuta 11. Trevor Mallard

12. Stuart Nash 13. Iain Lees-Galloway

14. Jenny Salesa 15. Damien O'Connor 16.

Kris Faafoi 17. David Clark 18. Ayesha Verrall

19. Peeni Henare 20. Willie Jackson 21.

Aupito William Sio 22. Poto Williams 23. Vanushi

Walters 24. Michael Wood 25. Adrian

Rurawhe 26. Raymond Huo 27. Kiri Allan 28.

Kieran McAnulty 29. Louisa Wall 30. Meka

Whaitiri 31. Rino Tirikatene 32. Camilla

Belich 33. Priyanca Radhakrishnan 34. Jan

Tinetti 35. Deborah Russell 36. Marja Lubeck

37. Angie Warren-Clark 38. Willow-Jean

Prime 39. Tamati Coffey 40. Naisi Chen 41.

Jo Luxton 42. Jamie Strange 43. Liz Craig 44.

Ibrahim Omer 45. Duncan Webb 46. Anahila

Kanongata'a-Suisuiki 47. Ginny Andersen

48. Rachel Brooking 49. Paul Eagle 50. Helen

White 51. Barbara Edmonds 52. Angela

Roberts 53. Shanan Halbert 54. Neru Leavasa

55. Tracey McLellan 56. Lemauga Lydia

Sosene 57. Steph Lewis 58. Dan Rosewarne

59. Rachel Boyack 60. Arena Williams 61.

Ingrid Leary 62. Soraya Peke-Mason 63. Lotu

Fuli 64. Sarah Pallett 65. Gaurav Sharma

66. Emily Henderson 67. Terisa Ngobi 68.

Kurt Taogaga 69. Kerrin Leoni 70. Reuben

Davidson 71. Zahra Hussaini 72. Janet Holborow

73. Romy Udanga 74. Ala' Al-Bustanji

75. Glen Bennett 76. Monina Hernandez 77.

Claire Mahon 78. Jon Mitchell 79. Nathaniel

Blomfield 80. Nerissa Henry 81. Mathew

Flight 82. Shirin Brown 83. Liam Wairepo 84.

Georgie Dansey.

Jacinda Ardern and Todd Muller (RNZ Picture)

A major challenge confronts

National and Muller

Venkat Raman

Labour Party Leader

Jacinda Ardern has created

a record with a high rating

of about 63% as the preferred

Prime Minister and for a young

woman and a mother, she has

shown remarkable leadership

qualities, with a humane touch.

Her supporters and admirers

say that she comes across as

a genuine leader, firm in her

approach and belief.

Energetic Leader

Her handling of the

Christchurch massacre that

shook the Nation on March 15,

2019 and Covid-19 this year, has

won her international acclaim,

placing her among the Most

Popular leaders in the world.

The public approval of her 'Go

Early, Go Hard' approach to the

pandemic has been pronounced

and there is little doubt that her

Party is energetic.

Ms Ardern has some very

able lieutenants who have

stood by her throughout the

current health crisis, which has

also plunged the economy into

despair.

Able Lieutenant

Chief among them has been

Finance Minister Grant Robertson,

whose innovative spirit and

ability to rise to the occasion

quickly have seen many cash

GET THE NEWS

YOUMISSED!

EVERYWEDNESDAY AND SATURDAY!

Subscribe to the

and material incentives to

almost all sectors of the New

Zealand economy.

But elections are not won on

'feel good' factors alone.

People vote for policies

and programmes, not just for

personalities.

On that score, the country can

expect more from Ms Ardern

and her Party.

National looks for fortunes

The National Party is yet to

announce its List ranking for

Election 2020 which may not

be the same as Mr Muller's

List announced soon after his

election as Party Leader on May

22, 2020.

He said that New Zealand

is facing the toughest time

that almost anyone alive can

remember.

"We are borrowing tens

of billions of dollars to get us

through this crisis. There is

only one team that can spend it

competently and well, and that

is my National Party team," he

said.

But most governments

borrow during times of crises,

including that of John Key, during

whose tenure, government

debt rose to $70 billion.

Voters look forward not only

National's List but also Muller's

policies

Bi-WeeklyNewsletter.

IT IS FREE! IT IS EASY!

Write nowtovenkat@indiannewslink.co.nz
---
02

JUNE 15, 2020

Homelink

Hold you breath on Air India commencing regular flights

Venkat Raman

Less than four hours after

the first Air India special

flight landed at Auckland

International Airport on

June 6, 2020 carrying 233 people

from India, there was speculation

in some sections of the media that

it signalled the move for a regular

service between the two countries.

A splendid thought, a much-desired

direct airlink, but hold your

breath, the possibility is remote.

At least for now.

With Air India up for disinvestment

by the government and with

Air New Zealand operating on a

much smaller scale with hundreds

of its international flights cancelled,

the chance of a new route

eventuating would take a length of

time, if at all.

New Zealand is free of Covid-19

for now but the rest of the world

continues under its grip.

International travel is expected

to remain depressed for at least the

next two or three years compelling

almost all airlines to layoff thousands

of pilots, flight attendants

and other staff.

Further, neither Air India nor

Air New Zealand has expressed

any such desire or plan thus far.

Other regular operators are

just beginning to recommence

their services and resumption of

pre-Covid-19 services is still some

time away.

Emotional moment

However, none of the above can

take away the significance of the

Air India service that landed in

Auckland last week (the last flight

of Air India was on April 30, 2016,

The first Air India repatriation flight landing in Auckland on June

6, 2020 (Picture by Richard Maher, Airfield Operations Officer,

Auckland International Airport)

Passengers to Auckland checking in at Delhi International Airport

(Pictures by Dev Bhardwaj)

Passengers inside the Air India special service to Auckland

carrying the then President Pranab Mukherjee).

It was an emotional moment for 233

people who arrived from India at the Auckland

International Airport (on June 6, 2020), thanks

to the efforts of the Indian and New Zealand

governments and their respective diplomatic

missions in New Delhi and Wellington.

The special flight, operated by Air India,

landed at 1104 am, about 30 minutes earlier

than schedule. Most of the passengers on board

were New Zealand citizens and permanent

residents, who were stranded

in India for the past at least

three months under Covid-19

lockdown conditions imposed

by both countries.

The service was a part of

'Vande Bharat Mission' of the

Indian government, which

has thus far repatriated more

than 45,000 Indians from all

around the world. In its third

phase, 70 flights are scheduled

to cities in the US and Canada,

between June 11 and June 30,

2020.

Passenger numbers

Paramjeet Singh, Second

Secretary at Indian High

Commission in Wellington,

said that there were 212 adults

and 21 infants on the non-stop

flight that arrived in Auckland

on June 6, 2020.

"This service could take

the maximum capacity of the

aircraft since the Bombay

High Court decision to keep

middle seats vacant comes

into effect on Sunday, June 7,

2020. Therefore, the number

of passengers on the outbound

flight to New Delhi-Indian

nationals stranded in New

Zealand, will be limited to

156. These will include 130

passengers in Economy, 20

passengers in Business and six

in First Class cabins," he told

Indian Newslink.

Mr Singh was in Auckland

with India's High Commissioner

Muktesh Pardeshi and

two other officials of the High

Commission from Wellington

to farewell the first batch of

outbound passengers.

A major event

Auckland Airport General

Manager (Aeronautical Commercial)

Scott Tasker, said that

the arrival of the first direct

Air India flight from India was

a much anticipated event.

"Any time we get a first

visit from an airline on a new

route, it is a major event.

Less than a year ago, we led a

delegation of tourism industry

leaders to India and we were

working hard to develop that

market. I believe that we

will see a scheduled direct

flight between India and New

Zealand in the near future,"

he said.

Mr Tasker said that the bond

between the two countries are

strong and hoped that India

will be a key market in the

long-term recovery of New

Zealand's tourism industry.

First outbound flight

The first outbound flight

from Auckland to Delhi by Air

India left at 4 am on Sunday,

June 7, 2020.

The flight was filled to

the allowed capacity of 156

passengers.

As a measure of convenience

to passengers, the cost

of tickets (Economy $2478;

Business $5416; First: $7700) is

being accepted by the Indian

High Commission since Air

India does not have an office

in New Zealand. However, all

tickets must be purchased and

paid for in advance.

Passengers should be at

the Auckland International

Airport at least four hours

in advance to comply with

the check-in and health

procedures.

We however advise people

to visit the Indian High Commission

website or Facebook

page for constant updates.

Schedule of Five more flights

Saturday, June 20, 2020: Auckland-Delhi-Ahmedabad

at 1130 am

(1130 hrs)

Wednesday, June 24, 2020: Auckland-Delhi-Hyderabad-Bengaluru

at 4 am (0400 hrs)

Sunday, June 28, 2020: Auckland-Mumbai

at 4 am (0400 hrs)

Wednesday, July 1, 2020: Auckland-Delhi-Trivandrum,

Chennai

at 4 pm (1600 hrs)

Some requirements

Passengers from New

Zealand will be selected by

the Indian High Commission

based on priorities and

criteria.

The cost of local travel,

accommodation and other

arrangements should be

borne by the passengers.

Terms, conditions, quarantine

regulations, health procedures

in New Zealand and India will

apply to all travellers.

New Zealand citizens and

permanent residents stranded

in India who are keen to

return to this country must

register on the New Zealand

government website www.

safetravel.govt.nz but their

travel will be subject to various

approvals and finalisation

by the New Zealand High

Commission in Delhi.

Kanwaljit Singh Bakshi

National List MPbased

in

Manukau East

Contact

A

P

F

E

1/131 Kolmar Road, Papatoetoe, Auckland

09 278 9302

09 278 2143

bakshi.mp@parliament.govt.nz

facebook.com/bakshiks

@bakshiks

bakshi.co.nz

Funded by the Parliamentary Service. Authorised by Kanwaljit Singh Bakshi MP, 1/131 Kolmar Road, Papatoetoe.
---
JUNE 15, 2020

Plans for return of offshore temporary visa holders

However,

there are many

imponderables and

uncertainties

Venkat Raman

Almost all businesses

are now open in

New Zealand as the

government pushed

down its Alert Level to One

at midnight but the country's

borders are still closed to prevent

any import of Covid-19.

New Zealand became free

of Coronavirus with no new

cases for almost three weeks

and with the recovery of a

lone person who was affected.

There is no one in any hospital

in New Zealand affected by

the Virus.

A short time ago, Director

General Dr Ashely Bloomfield

said that there were no new

cases to report after New Zealand

moved to Alert Level 1.

Prime Minister Jacinda Ardern

said that she performed

a 'little dance to herself' in

solitude (watched only by her

two-year-daughter Neve Te

Aroha Ardern Gayford) after

being assured by the health

officials that New Zealand was

free from Covid-19.

Her Cabinet later decided

unanimously to lower the

Alert Level from 2 to 1,

remove all restrictions on all

gatherings, which would mean

return of business, social,

cultural and sports meetings

filled to capacity. This

weekend would see almost

all sports grounds filled with

players and watchers.

Economic hardships

The world has moved into

recession and New Zealand is

not immune to this hard fact.

Thousands of jobs have

been lost and even the

country's large employers

are laying off workers and

according to National Party,

the country's main opposition

Party, about 1000 persons are

losing jobs every day. This

may be an exaggeration, but is

indicative of the gravity of the

problem.

The government's Wage

Subsidy Extension- essentially

the second tranche- of payment

of eight weeks of pay

will open tomorrow (June 10,

2020) to help employers to

retain jobs.

In addition, several

other cash and tax incentive

schemes are in place thus far,

costing the exchequer more

than $40 billion.

Job losses are inevitable and

as Immigration Minister Iain

Lees-Galloway told Radio New

Zealand this morning,

temporary visa

holders (essentially

migrant workers

and those on student

visas eligible to

work up to 20 hours

a week) would be

hit, perhaps more,

as New Zealand citizens

and permanent

residents rendered

jobless are also in

the market.

"Some immigrants

will have to think

seriously about the long-term

viability of their work situation

as they were filling gaps in the

labour market that may no

longer exist," he said.

The challenge of offshore

workers

There are thousands of

people holding work visas

stranded in many countries

because of the lockdown. Many

of them have spent a decade

or more in New Zealand, have

permanent jobs, pay their

taxes, rent and other hire

purchase agreements and yet

are not allowed to return.

Mr Lees-Galloway said that

he understands their plight

but the way out of this issue is

tricky.

"All those returning home

have to undergo mandatory

quarantine in government-assisted

facilities for 14 days and

there are limitations. We can

take only 200 persons per day

as per the current capacity.

There are at least 10,000 people

waiting to return to New

Zealand and we are working

through a process to allow

their return," he said.

The figures vary;

according to some sources,

there are more than 62,000

people stranded overseas.

This may include New

Zealand citizens and permanent

residents, students

who had gone on holiday

or new students waiting to

commence their scholastic

education in New Zealand.

'Ordinarily Resident' may

come earlier

"We would consider

the 10,000 people as

'Ordinarily Resident in

New Zealand.' We are

● First Home

● Investment Property

● Residential or Commercial

● Building / Extending / Renovating

● Re-Finance/ Restructure

Homelink

● Buying an Apartment

● Low Deposit

● Self Employed

● Business Loan

● Property Development

For all your home loan and insurance needs talk to us...

info@kiwimortgages.net.nz

Ex-Banker for years

era@kiwimortgages.net.nz

Ex-Banker for years

now planning to find ways

of bringing them back to

New Zealand. However,

they should consider their

job situation; whether their

employers would continue

to employ them and how

they will continue if they lose

their jobs," Mr Lees-Galloway

said.

Contrary to what has been

reported in some sections of

the media, migrant workers,

who are legally here, have

received wage subsidies

(given to their employers

against their IRD Numbers),

accommodation and food

during Alert Levels 4 and 3

lockdown- according to Mr

Lees-Galloway.

Rakesh Bansal Era Bansal Manisha Kumar Jatinder Singh

021 030 8135 021 066 7598

021 154 4327

Jatinder@kiwimortgages.net.nz

Toll Free:

0508 33 22 11

M:021 030 8135

09 903 3602

116b,Cavendish Drive, Manukau City E:info@kiwimortgages.net.nz | w:www.kiwimortgages.net.nz

03

Immigration changes

Immigration New Zealand

has already announced

extension of visas that have

expired or due to expire

until October this year and a

number of other changes are

also in place.

Citizens and residents will

no longer need to travel with

their overseas partners and

children in order for them to

return to New Zealand.

Mr Lees-Galloway said that

in terms of a Cabinet decision,

the restriction would

be lifted, although family

members must still apply to

Immigration New Zealand to

enter the country

Contact us for FREE

consultation

Accounting and Taxes

● Are you up-to-date with your end of year

accounts and tax returns?

● Are you paying the right amount of tax?

● Are you growing the value of business?

● Is your business struggling to make profit?

● Have you priced your products or

services correctly?

Chartered Accountants

● Is your charge-out rate too low or too high?

● Do you need any cash flow finance or

working capital finance?

● Are you spending too much time on

paper work rather than focusing on running

your business?

●Do you have proper accounting software?

WE WILL PROVIDE THE RIGHT SOLUTIONS AT A VERY REASONABLE PRICE!

● End of year Accounting

● Income Tax & GST Returns

● Book-Keeping & Financial Accounts

● Small Business/Rental Property Accounts

● LTC & Trust Accounts

● Tax Advisory

● Business Valuation and Due Diligence

● MYOB & Xero Software Accounting

NewZealand Immigration Specialists with 30 years of experience

Competent, proven

immigration service since 1988

●Serving the immigrant community since 1988

●Upfront in-depth appraisal. We accept only cases

which are highly likely to be successful

●Telephone enquiries /obligation free advice

●Network of professional subject matter experts,

such as Commercial Lawyers, Accountants and

Business Consultants to work on Business Visa applications

●Strong portfolio of successful applications

●Strong New Zealand community connections

●Skilled Migration ●Family Migration ●Business Visa

●Special Direction Applications

●Appeal to IPT, CFP (Client Complaints to INZ), S.61 and

Ministerial Requests for consideration

Call us now for afree initial appraisal of your immigration application

(Appointment essential for personal consultations)

Mukesh Arora

FCCA (UK) CA (NZ)

Macro Accounting and & Tax Advsors

Principal: Harjeet SGolian

B.A. (Aust) LL.B (NZ)

Licenced Immigration Adviser -Member NZAMI -since 1993

Contact Mukesh Arora

Macro Accounting & Tax Advisors Limited

116 B, Cavendish Drive, Manukau, Auckland 2104

0800-825599 | Mobile 0211-290810

Email: mukesh@macroaccounting.co.nz

www.macroaccounting.co.nz

Level 1, 3Campbell Road, Royal Oak, Auckland

Phone: (09) 6241204 Mobile: 021 624120

E: golian@golian.co.nz W: www.golian.co.nz
---
04

JUNE 15, 2020

Homelink

Singapore Airlines resumes New Zealand flights

Two weekly services

to Auckland and one

service to Christchurch

Supplied Content

Singapore Airlines (SIA)

resumed its scheduled passenger

services to Auckland

and Christchurch as part of its

minimum connectivity network.

The schedule will be in effect

until July 31, 2020 but subject to

developments.

The re-instatement of

twice-weekly services to Auckland

and once-weekly services to

Christchurch from Tuesday, June

9, 2020, marked the first scheduled

SIA passenger flights to the cities

since the Airline ceased operations

in March following the closure of

New Zealand and Singapore's borders

due to the Covid-19 outbreak.

Small, first step

Singapore Airlines New Zealand

General Manager Kenny Teo said

Singapore Airlines A350-900 (Picture Supplied)

that the reintroduction of flights

to the two cities is a small step towards

re-establishing the Airline's

New Zealand network.

"We are committed to ensuring

New Zealand remains globally

connected in a Covid-safe manner

during these challenging times,

whether it be keeping key trade

channels open or allowing for essential

travel to occur. Throughout

the course of the pandemic we continued

to operate our three-times

weekly freighter services to ensure

essential supplies reached New

Zealand shores and exporters could

continue to send their produce to

markets around the world," he said.

Mr Teo said that the Airlines

announced last week introduction

of five-times weekly cargo-only

passenger flights to Auckland to

help meet increasing demand, and

that from June 9, 2020, two of these

New Zealanders join peaceful protest

Thousands of New Zealanders

joined large numbers of

Americans in protesting

following the killing of

Minneapolis man George Floyd.

In Auckland, Aotea Square

overflowed with people before

thousands marched down Queen

Street towards the US Consulate

building on June 1, 2020.

Organisers said that the aim was

simple: "We want to put pressure on

our government from the local level,

right up to Prime Minister Jacinda

Ardern to publicly condemn the acts

of violence and state-sanctioned

murder against African Americans

Nigerian-Kiwi Mary Adeosun

in the United States."

Death of George Floyd

Protests have been held in

more than 30 cities across the US

and throughout the world after

disturbing video surfaced showing

A section of the protesters

(RNZ Pictures by Mabel Muller)

bystanders pleading with a white

Police Officer kneeling on the neck

of George Floyd, a black man, as he

gasped for breath.

Floyd died during the incident,

the latest in a string of deaths of

flights will operate as passenger

and cargo services, while the other

three will continue as cargo-only.

This move is another small step

in the long journey to returning to

regular operations, he said.

"While borders around the world

remain closed, these flights will

provide important cargo capacity

for import and export between the

cities and our global network, while

allowing those who have an urgent

need to travel, or return home, to

do so. While it is exciting to see

more capacity added to the New

Zealand market, our excitement is

tempered with an understanding

that this is a very small first step in

the return of international travel,"

Mr Teo said.

He agreed that there is still a long

way to go before any meaningful

return of capacity is possible.

Public health, a priority

"Our top priority remains the

health and safety of our customers

and crew, and we will work closely

with the authorities to safeguard

black men and women at the hands

of US police.

Nigerian-Kiwi Mary Adeosun

drove up from Hamilton for the

protest.

She was in tears as she spoke to

our Reporter: "I really feel for my

skin-folk, for the innocent lives

that have been taken... I'm so far

away in this country and I'm seeing

people who look like me dying [in

the US]."

Hobson Hohepa flew his Tino

Rangatiratanga flag high at the

protest: "[Racism] happens here

in our country. It happens to us. It

happens to me. I have had enough."

this in every area of our operations,

ensuring these services are safe and

successful. We continue to monitor

the changing border restrictions

globally and when appropriate,

will make further changes to our

minimum connectivity network,"

Mr Teo said.

Flight schedules

In addition to the New Zealand

services, Singapore Airlines will

resume once weekly operations to

Adelaide and twice-weekly to Melbourne,

three-times weekly services

between Singapore and Sydney

and, pending regulatory approval,

mount a new twice-weekly circular

operation between Singapore-Sydney-Brisbane-Singapore.

Other destinations served as

part of the minimum connectivity

network include, Amsterdam,

Bangkok, Copenhagen, Frankfurt,

Hanoi, Ho Chi Minh, Jakarta, Kuala

Lumpur, London, Los Angeles, Manila,

Narita, Osaka, Seoul, Shanghai

and Zurich.

Ricky Wilkins is an African-American

from Los Angeles, California.

He has been living in New

Zealand for the past seven months.

"I feel loved. Everybody wants to

be us but no one wants to care for

us. It is just amazing to see in Aotearoa

how people are representing

and showing us love."

Organisers reiterated the importance

of a "peaceful, passive and

respectful protest" to the crowd.

"We need to respect the law in

order for the law to listen to us."

Published under a Special Agreement

with www.rnz.co.nz

Smart money choices made simple.

We'll help you find the sweetest mortgage deal whether it's your first home or

investment property, and arrange the best insurance to suit your needs.

Mortgage services

Home loans

Construction loans

Refinances and restructures

Top ups & debt consolidation

Commercial & Business loans

Insurance

Life, Trauma

Medical/Health

General

Business

Income Protection

Call us today

0800 21 22 23

Level 1, 3/53 Cavendish Drive

Manukau
---
JUNE 15, 2020

Let us now rebuild our economy together

Priyanca

Radhakrishnan

We are back at

Alert Level One,

after more than

two months of

Alert Levels 4 and 3 of lockdown,

which led us to where

we are today – Covid-19-free,

with no active cases.

Currently, all restrictions

on gatherings, movement and

work are lifted and life has

resumed a sense of normalcy.

The only restriction that

remains are those on our

borders, which are our main

defence against Covid-19.

Earlier last week, I was a

panellist at a webinar that

brought together MPs from

five different countries, to

talk about the measures their

country has taken to combat

this virus.

It was organised by SocDem

Asia, a network of progressive

social democratic parties,

thinktanks and institutes

that work together to combat

inequality and advocate for

human dignity for all.

There was considerable

interest in New Zealand's

plan.

Timely plan, timely action

We went with a single plan

that had a dual purpose – and

to protect lives and livelihoods.

For the first time in our

history, we closed our borders

to everyone but returning

citizens and permanent

residents; we went early into

a complete lockdown that

allowed us to contain and

then stamp out the virus and

our initial economic response

package was introduced

just 19 days after the first

case – and focused on getting

funding to employers quickly

and easily.

Modelling prior to

lockdown showed that our

number of cases could soar

beyond 4000 and that we

could lose thousands of lives if

we did not take strong action.

As a result of strong leadership

and the commitment of

our team of five million, that

did not happen. The weekend

that our case numbers was

projected to hit 4000, we

were just at about 1000 cases.

Instead, we came out the

other side as quickly and as

safely as we could.

While this is a milestone,

there is more to do. Now,

we go hard on creating and

protecting jobs to rebuild our

economy together and that

is what Budget 2020 was all

about.

Post-Covid challenges

We must remember also

that cases continue to rise

in many other countries. As

such, we are not completely

out of the woods yet.

We have eliminated

transmission of the virus for

now in New Zealand but we

need to realise that we may

see cases coming in again. We

need to manage any that do

come through.

That is why our borders are

going to remain our first line

of defence and our managed

isolation and quarantine at

the border will continue. The

last thing we want to do is to

have to go into higher alert

levels.

To that end, we each have

a responsibility to maintain

good hygiene and to keep a

record of where we go and

who we are with. We can

do this by downloading and

using the New Zealand Covid

Tracer App on our phones

and using it at places we visit

when we are out and about.

This will help the government

to test, contact trace,

isolate and stamp out any

future cases as they arise.

Let us get New Zealand

moving again and focus on

our recovery.

We have had great success

with our health response and

now, our team of five million,

now we go hard on our

economic rebuild.

Priyanca Radhakrishnan is a

Member of Parliament on Labour

List based in Maungakiekie and

Parliamentary Private Secretary to

the Minister for Ethnic

Communities.

Homelink

05

MIT GRADS ARE READY

We shape the future, we make connections, we bring ideas to life, and we make a difference.

At MIT we learn by doing, and we graduate with the practical skills employers need.

Together we can make things happen.

Come join us, where the best makers are made.

Start in July. Apply now | manukau.ac.nz

MKT245_5g3
---
06

JUNE 15, 2020

Electionlink

Battle lines appear as Election 2020 gathers pace

Labour aims majority

mandate, National

hopes for comeback

Venkat Raman

As New Zealanders emerge

(victorious) from Covid-19,

the next big thing that

confronts them is the huge

economic mess that the Virus has

left behind: rising unemployment,

economic recession, public fear over

the uncertain morrow and a host of

other issues. Mounting public debt is

yet another problem, albeit economic

experts say that New Zealand is

well within the norms and our credit

worthiness is higher than many

other OECD countries.

Attention is also turning towards

General Election 2020, which, set

for September 19, 2020, is just about

14 weeks away. Labour has made

major gains with its Leader (Prime

Minister) Jacinda Ardern registering

the highest percentage (63%+) points

as the Preferred Prime Minister. Labour

is seen as a 'do-good, passionate

and genuine government,' proved

so over major crises- the March 15,

2019 Christchurch massacre and

Covid-19 this year.

National, on the other hand, has

suffered serious losses in Opinion

Polls, with internal squabbles and

leadership struggles. Todd Muller,

elected last month as the new Leader,

has a line-up to fight the General

Election, although the National

Party List, with due ranking, is not

expected until mid August,

More than Labour, National

Outsiders may consider that the

battle for the ballot is confined to

two main political parties- Labour

and National but New Zealanders

know that their politics extends

beyond these. We have New Zealand

First and the Green Party, who between

them, can be cabinet-makers,

should voter return a hung Parliament.

National Party, over the past

Jacinda Ardern and Labour: Humane and

persistent on the face of adversity (Photo

Courtesy: Hagen Hopkins for Getty Images)

several years, expressed its aversion

to New Zealand First and the Greens

have been 'far-too left for comfort.'

That leaves the ACT Party, which has

failed to make any impact over the

past three General Elections.

It is common belief that Opinion

Polls are a true reflection of the

mood of the people, although that

reflection has not always been

infallible, at least in the case of New

Zealand First. The Party and its

Leader Winston Peters have been

written off many times in the past as

'gone into wilderness.'

New Zealand First, routed in the

2008 and 2011 Elections, returned

with 11 seats in 2014 and nine seats

in 2017. The Green Party is the only

minor Party that has constantly

been in Parliament for more than

two decades. It had had nine seats in

2008, 14 seats in 2011 and 2014 and

eight seats in 2017.

General Election 2020 would be

the second for Jacinda Ardern as

the Leader of Labour Party, but the

change of scene has been palpable.

She took charge in August 2017,

less than eight weeks before the

General Election, but made a huge

difference. Her Party finished the

electoral race with 46 seats, an

increase of 14 seats over the previous

Election. Much has changed

since then and Labour has jetted

ahead, increasing its popularity, and

enhancing its political fortunes.

Polling Strength

Opinion Polls over the past few

months have consistently shown

Labour in the lead with the National

Todd Muller and National: Too early to judge and

'opposition for its sake' (Twitter Photo)

Party struggling to reach out to the

people with a proper, well-founded

policies and programmes.

It remains to be seen if Todd

Muller and his colleagues could

challenge Labour in incumbency

factor and other issues, the foremost

of which is to deepen the futuristic

vision of the Party and inject young

blood to ensure that the aspirations

of the people are met by revisiting

some thorny issues.

Although Mr Muller is yet to

be tested for the charisma and

friendliness of Sir John Key or that

matter Bill English, the two National

Prime Ministers who grew in their

job, understanding the multifaceted

directions in which the office takes

and how they would be a constant

source of debate and discussion.

Most importantly, New Zealand is a

major player in international politics

and hence the Prime Minister is

the face of the Nation.

That is where Ms Ardern has

scored more than any of her predecessors

in recent memory.

Political Mates

National may not have the luxury

of a popularity wave that swept the

Party to power from 2008, through

to 2014. Nine years in government

always bring with them weariness,

both for the incumbent Party and

for the public. Ideas often run out

of steam and long-standing MPs

announce their intention to quit.

The Party has gone through a few

rounds of leadership challenges, not

seen during the eight years of John

Key holding the reins of the Party

and the government.

Mr Muller has announced that

he and his team would fight hard

to win every party vote to form

a strong and stable government.

However, as most leaders concede,

the MMP system would forces the

two main political parties to work

with others through 'Confidence

and Supply Agreements' that have

worked in the past.

Mr Muller has not ruled out

working with New Zealand First,

although the comfort zone is with

ACT Party, which at the moment is

not going anywhere. New Zealand

First may seem today an unlikely

partner, but Mr Muller will be

prepared to have discussions with

Mr Peters post-election depending

on the makeup of Parliament.

Covid-19 Recovery

Mr Muller is pitching his battle on

economy, jobs and overturning the

adverse effects of Covid-19.

"The story of the next three years

will initially be about a desperate

attempt to protect all our families

from the worst effects of the worst

economic downturn any of us has

ever known – and then it will be

about building a better economy

than we had before," he said,

speaking to his home community in

Te Puna (Bay of Plenty) on June 14,

2020.

According to him, New Zealanders

trust National Governments to come

to power at times of economic crisis

and to steer New Zealand safely

through them.

"However proud we are of how

our Team of Five Million addressed

the health crisis, we cannot risk a

Labour Government being in charge

of the economic and unemployment

crisis ahead," he said.

Attacking Prime Minister Jacinda

Ardern as 'clumsy,' and her ministers

incompetent, Mr Muller said

that he backed his Party to get New

Zealand through the crisis.

"Expect the third wave"

"According to Infometrics,

40,000 jobs were destroyed in the

first wave of the economic and

unemployment crisis in April, to be

followed by another 80,000 in the

second wave before the election. A

third wave is also expected before

Christmas, which Mr Muller fears

will be the worst of all. Around

120,000 families will have lost their

income by the election and it will be

worse by Christmas," he said.

Mr Muller believes that National's

prudent economic management,

its new initiatives like JobStart, will

immediately create the conditions

for tens of thousands of new real,

permanent full-time jobs.

"The practice of the last 20 years

of working groups flying around

before governments get on with

helping New Zealanders is over.

The game is up, because Covid-19

has shown us that the Wellington

bureaucracy can in fact move much

faster when it needs to do so," he

said.

Confronting Issues

Ms Ardern can pitch her Party's

battle on a number of grounds, capitalising

on many of the problems

that New Zealanders encounter, as

a natural cause-and-effect with demand-exceeding-supply

syndrome.

This is true of the current economic

climate.

Ms Ardern has proved her mettle

as a responsible and humane leader

over the past three years.

The Labour Party has since long

suffered the hostility and prejudice

of the mainstream media, leaving

the left-leaning politicians to work

out a strategy to reach the public

directly.

A Party in government is akin to

individuals holding on to their job in

the midst of adversity. The battle for

survival becomes a challenge and

as we have seen in the case of both,

perseverance, and the determination

to succeed often makes dreams

come true.

National picks businesswoman Rima Nakhle for Takanini

Venkat Raman

Voting delegates of the

National Party have chosen

Rima Nakhle as their candidate

to contest from the

newly created Takanini Constituency

in South Auckland.

She defeated three other

candidates at the 'Members-only,

local electorate' selection held on

Saturday, June 13, 2020.

About Te Mahia Community

Village

Born in Sydney, Australia, Ms Nakhle

belongs to the legal profession,

having enrolled as a Barrister and

Solicitor across the Tasman, after

graduating in Law from Western

University of Sydney.

She migrated to New Zealand

eight years ago (2012) following her

marriage

As Executive Manager at Te

Mahia Community Village, a family

businesses based in Takanini, she

is closely associated with the local

communities.

Te Mahia Community Village is a

Boarding House accommodation facility,

providing fully furnished short

term emergency accommodation.

The company website said that the

business is currently in the process

Rima Nakhle, National Party Candidate for

Takanini

of upgradation, with future facilities

to include new playgrounds, landscaping

and new community rooms.

Te Mahia Community Village

works closely with the New Zealand

Police and engages with communities

through Business Association

events, school fundraisers, soup

kitchens, food parcel delivery to the

elderly and presentations on the

positive achievements.

'Exciting New Opportunity'

Ms Nakhle described her selection

as National's candidate as "an

exciting new opportunity."

"Takanini is a growing area with

hard working families who are

trying to get ahead. They, alongside

the rest of New Zealand, are facing

tough economic times, and they

need a National Government to help

guide them through these times.

Only National has the team with the

experience and know how to rebuild

our economy and provide jobs for

the people of Takanini," she said.

She accused the current government

of having 'talking a lot and

promising even more.'

"There is a difference between

delivering messages and being able

to deliver what is promised in those

messages. National can be counted

on to deliver for our families. In the

good times, the government has

struggled to deliver on its promises,

particularly around infrastructure.

We are now facing a serious

economic crisis, and Takanini

needs to have confidence that its

Government can meet the task," Ms

Nakhle said.

A National Party press release said

that she is passionate about local initiatives

and fundraising events and,

sponsoring various sports teams and

local athletes, as she believes sports

play a pivotal role in improving

people's lives.

About Takanini Electorate

Based on population statistics,

each General Electorate in North

Island consists of 64,899 people and

65,458 people for each South Island

General Electorate

The Takanini Electorate is located

in the far South of Auckland on the

edge of the City's built-up area. It

stretches from Wattle Downs in its

Southwest to Mission Heights in the

north.

It was created out of Eastern parts

of Manurewa around Goodwood

Heights and Greenmeadows, a small

part of North-Eastern Hunua around

Mission Heights and a Northern section

of Papakura around Takanini

and Wattle Downs. This was due

to rapid population growth in the

area caused mainly by the outward

expansion of Auckland.[

When the Electoral Commission

reviewed boundary changes and

creation of new electorate in South

Auckland, the name suggested was

Flat Bush.

The public consultation and

submission process brought forth

objections related to the boundary

and name of the Electorate.

Here is one of them:

"I wish to make an objection to

the name of the proposed Flat Bush

Electorate. I also wish to comment

of the proposed boundaries of the

Flat Bush electorate and adjacent

electorates. The Flat Bush electorate

consists of communities that come

from Hunua, Manurewa and

Papakura.

"The largest concentration of

population (32,800) is moved

from Papakura to Flat Bush, but

this coupled with 6400 around

Greenmeadows means that 59%

of the proposed population of the

new seat is broadly aligned with the

south of the new Electorate. While

the proposed boundary change is

accepted, the Commission may wish

to consider changing the name of

the new electorate to better reflect

the balance of communities. It is

recommended that the new seat be

named: "Flat Bush-Takaanini" to

reflect communities of interest.

"The boundaries of the new Electorate

mean an electoral population

that is 2.2% at variance with the

North Island general electorate population

quota, but this is projected

to increase to 8.1% by 2023. Some of

the fastest growing areas of the new

electorate are based on Takaanini

and Flat Bush. Further growth is

also occurring in Wattle Downs,

which reflects the fast-changing

nature of outer suburban Auckland.

On balance, the proposed boundary

is appropriate but a further and

significant consequential change is

likely to be required following the

2023 election."
---
JUNE 15, 2020

Portfolio Career mitigates redundancy risk

'White Paper' cites major

changes in post Covid-19 world

Venkat Raman

FinTech company

Hnry (pronounced

Henry) has released

a White Paper on

New Zealand's independent

earning trends.

This is stated to the first of

its kind in the country.

Covid-19 pandemic and

the resultant lockdown

have changed the landscape

around employment and

ways of working and hence,

independent earning,

freelancing and contracting

have become more

prevalent than ever before

as people look to find new

ways to make income.

The White Paper, titled,

'The Future of Independent

Earning' is the key study into

the trends and emerging

opportunities of independent

earning undertaken.

Major findings

Its main findings include

a move towards dynamic

workplaces which are a

flexible and reactive mix of

both permanent staff and

contractors or freelancers;

the rise of the 'Portfolio

Career, where independent

earners have multiple skills

they can use to generate

income, and the need for

a focus on wellbeing

initiatives for independent

earners, freelancers and

contractors.

Hnry Chief Executive

James Fuller said that New

Hnry Chief Executive James Fuller

(Picture Courtesy: Massey University)

(From 'The Future of Independent Earning' White Paper)

Zealand workplaces are

rapidly discovering the

benefits of having a dynamic

workforce with a mix of traditionally-employed

workers

alongside independent

contractors.

He said that many

organisations were forced

by the Covid-19 pandemic to

reconsider their resourcing

requirements given that remote

working was becoming

the norm.

They subsequently found

that they were able to be

more adaptive, reactive and

productive in a changed

working environment.

Priyanca

Radhakrishnan

Labour List MP based in Maungakiekie

Maungakiekie Office

09 622 2660

priyanca@parliament.govt.nz

Level 1 Crighton House,

100 Neilson St, Onehunga

(entrance via Galway St)

| | priyancanzlp

Bridging skill gaps

"Hiring independent

earners alongside

permanent staff allows

organisations to quickly

bridge skills gaps and

operate more productively

and cost-effectively," Mr

Fuller said.

The White Paper

also found an increase in

Portfolio Careers, where

independent earners have

several skill-sets they can

leverage to earn income. It

found skill diversity as an

approach to finding work,

reduces overall risk for

independent earners and

allows them to pivot more

quickly towards areas of

demand.

"During the pandemic,

when many individuals

(self-employed and

otherwise) found themselves

without work, the

importance of a 'Portfolio

Career' was made clear.

De-risking future income

sources became more critical,

and those individuals

Educationlink

NCEA students get additional credits

for University Entrance

Staff Reporter

Students on the

National Certificate

of Educational

Achievement (NEA)

Curriculum will be able to

earn additional credit qualifying

them to University

Entrance (UE) requirement,

Education Minister Chris

Hipkins has announced.

The move is to offset

the disruption caused by

Covid-19.

He said that students

will receive one Leaning

Recognition Credit for

every five credits that

they get through their

Learning and Assessment

Programme. This will be

subject a maximum of 10

additional credits for NCEA

Level 1 students and up to

a maximum of eight additional

credits for students

at NCEA Levels 2 or 3.

The government has

modified the Certificate

and Course Endorsements

in agreement with New

Zealand universities, Mr

Hipkins said.

Credibility maintained

"This approach also

maintains the credibility

and reputation of NCEA by

basing additional credits

on assessed learning. The

government is moving to

that embraced a 'Portfolio'

approach were able to find

work elsewhere, leveraging

a broad set of their skills to

ensure continued income

during the pandemic," the

White Paper said.

Mitigating employees' risk

Mr Fuller said that having

a single employer was like

"putting all your eggs in one

basket," and effectively tied

individuals' income to the

ongoing sustainability of one

single organisation - a certain

risk if that organisation is

impacted by something like

Covid-19.

"So many 'permanent'

employees were let go during

the pandemic, and they all

had to quickly find other

ways of earning - a Portfolio

Career helps individuals to

reduce the risk, and not be

solely dependent on one

single source of income," he

said.

The wellbeing of independent

earners is also covered

in the report, with the

basic needs of all workers,

permanent or contingent,

being identified as "getting

appropriate compensation,

a well-defined work/life balance,

as well as opportunities

for continued growth and

development throughout

their careers."

Belonging, esteem and

community were identified

as further needs of successful

workers, with the paper concluding

that it is imperative

for government and organisations

to put measures in

place addressing these needs

for everyone, for the good of

society at large.

With 15% to 20% of Kiwis

now earning some form of

income outside of permanent

employment, this is vitally

important, Mr Fuller said.

Holistic approach needed

He said that the government

should support

the needs of individuals,

which are different to

those of 'small business' - a

call backed by the paper's

findings.

According to the White Paper,

the basis for this change

towards a more holistic

approach to employment...

must come from how the

government characterises

self-employed individuals,

being more aware that there

is a big difference between

Education Minister Chris Hipkins (File

Photo)

ensure that students are not

penalised, while preserving

the integrity of our national

qualification. Students can

be confident that an NCEA

attained this year will continue

to open doors to tertiary

study, vocational education

or employment," he said.

"As further recognition of

Covid-19's impact, this year

University Entrance will be

awarded to students who

achieve 12 credits in each of

three University Entrance

Approved Subjects. They

will still need to attain NCEA

Level 3 and meet the literacy

and numeracy requirements

to be awarded UE. This

reduction of two credits per

approved subject recognises

that students may not have

had the same opportunity

07

an 'independent earner' and

'small business.'

Mr Fuller said this means

the government should

implement a shift, with

independent earners' needs

and wellbeing front of

mind rather than assuming

every individual is a small

business.

To date, a majority of

support has been on the

basis that people are small

businesses employing staff

and operating as 'small

companies,' whereas most

'small businesses' are actually

sole traders operating as

individuals.

Promoting self-employment

Hnry, which takes care of

financial administration for

independent earners, has

been in talks with several

government agencies and the

Minister for Small Business

to provide information and

advice on the self-employed

marketplace in New Zealand

and is raising awareness of

the issues and challenges

being faced by independent

earners to ensure they are

treated fairly and in line

with the level of contribution

they make to the country's

economy.

to achieve as in other

years, while continuing to

ensure students are ready to

undertake university study,"

he added.

Course Endorsement

Students will be awarded

a Certificate Endorsement

if they achieve 46 credits at

Merit or Excellence level,

rather than the usual 50.

Similarly, students achieving

12 credits at Merit or Excellence

level in a course – rather

than 14 – will be awarded

a course endorsement.

"In addition to the changes

announced, I have asked

New Zealand Qualifications

Authority (NZQA) and the

Ministry of Education to

consider how schools might

identify and collect evidence

that could be used to

credential the learning and

skills gained by young people

outside of their formal

school programme of learning.

These changes have

been endorsed by my NCEA

Professional Advisory Group,

and I would like to thank

them for their robust advice.

I also recognise the work

Universities New Zealand

and individual universities

have done alongside officials

to develop the changes to

UE," Mr Hipkins said.

Authorised by Priyanca Radhakrishnan

Labour List MP, 100 Neilson St, Onehunga
---
08

JUNE 15, 2020

Fijilink

Former Indian envoy to Fiji passes away in India

His love for Fiji and Fijians is

remembered with respect

Venkat Raman

Ajay Singh, a former High

Commissioner to Fiji who

was active in federal and

state politics in India,

passed away in Agra, India, on

Tuesday, June 9, 2020.

He was 70 years old and according

to available information, died of

heart failure.

Mr Singh was a regular visitor to

New Zealand where he had many

friends and this Reporter had known

for more than 20 years. He was a

jovial, honest and straightforward

person and never minced words to

express his true opinion over people

and issues.

Tribute by Sir Anand Satyanand

Former Governor General Sir

Anand Satyanand described him as

a 'long-standing, warm-hearted and

consistent friend.'

"In the course of life, there are

people who are personable and

who maintain an active interest

in current events and politics of

the day. Ajay Singh, as a writer

and journalist, was one of such

person. He had studied journalism

in New Zealand at the University of

Canterbury in the 1970s and kept in

touch with things here, years after

returning to Fiji and then India," he

said.

Sir Anand said that Mr Singh

made a number of recurring visits to

New Zealand and kept in touch with

a wide group of friends, with whom

he kept in contact.

"The remarkable thing was that

his approach was exactly the same

with regard to Fiji, from which

country he came in the 1970s when

his father was Indian High Commissioner

there. Like his coming to New

Zealand, he returned to Fiji time and

again taking an interest in current

events and the people of the country.

So much so was this the case that

Online education reaches home screens in Fiji

But mVuli Project needs

financial and material

support

Swami Tadananda

The Novel Coronavirus

(Covid-19) has had a huge

impact on the delivery of

education worldwide.

Most First World countries

have used their online education

platforms to continue to deliver

education to students at home.

It seems that online education

will continue to play an important

role in future education programmes.

Ramakrishna Mission piloted its

e-learning programmes in 2010 at

Swami Vivekananda College.

Over time, many other schools

took initiative to develop their ICT

infrastructure.

The digital challenge

However, they all faced the

challenge of developing quality

digital educational content.

To help these schools, Ramakrishna

Mission undertook a

F$250,000 project to develop an

online portal to make available

high-quality curriculum to interested

students, teachers, and schools.

After all, Maths and Sciences

Ajay Singh (Photo Courtesy: Asia-NZ Foundation)

in 2005 he received an assignment himself for

three years to be High Commissioner, a task that

he set about with flair supported by his wife

Shiromani who was born and raised in Fiji," he

said.

Sir Anand said that his comments leave aside

the way Mr Singh functioned in his own country

of birth, India, where he not only plied his career

over time as a journalist with newspapers

and magazines, but as an author of books.

"With a personality that has been mentioned,

politics beckoned for a time and he served as

a Parliamentarian, at state and then federal

levels in the 1980s. In the latter, he received

appointment as a Union Minister for Railways

for a term in the government led by Vishwanath

Pratap Singh.

After this phase he turned to governance and

participated for example on the Council of Delhi

University. His death, at age 70, deprives many

who knew him of a remarkable achiever as well

as a longstanding, warm-hearted and consistent

friend," Sir Anand said.

curriculum are basically the same

in all countries.

These digital contents are

provided to only to complement

the curriculum of the Ministry

of Education. At the same time,

students have the freedom to learn

at their own pace.

The mVuli Services

We are happy to inform that

mVuli – the Fijian online education

project of Ramakrishna Mission is

now fully operational.

You may visit the site at www.

mvuli.org. This has become very

useful in the coronavirus crisis when

students and teachers are not able to

go to schools.

Currently, the mVuli portal has the

following features and services:

Secondary Level Curriculum: High

quality Mathematics, Chemistry,

Physics and Biology courses for

Years 9-13 are available free of

charge to all secondary students and

teachers who have registered on

www.mvuli.org.

By Graeme Waters

Graeme Waters, who served as New Zealand's

High Commissioner to India, Bangladesh, Nepal

and Sri Lanka based in Delhi from August 2004

to 2007 (he was Deputy High Commissioner

there in 1987) said that Mr Singh was a charming,

erudite and thoughtful person who was

equally at ease in India, Fiji or New Zealand.

"He was wonderfully connected, and

could straddle the divide between India's

robust domestic politics and the subtleties of

international diplomacy. He and his late wife

Shiromani were a formidable team, and it was

an honour for my wife Audrey and me to be

counted among their many Kiwi friends," Mr

Waters said.

By Gillian Green

The late Michael Green was New Zealand's

High Commissioner to Fiji during the same

time as Mr Singh. His wife Gillian Green

recalled their times together as 'one of the great

pleasures of the posting.'

"Discussing politics in general and Hindi

mVuli allows parents to can login

and follow the progress of their

children and support their learning

process.

Virtual School: Any school can

apply to register and replicate

itself online in the same way the

teachers, students, subjects are

setup in their school.

Many countries are moving

towards integrating online curriculum

into their education system.

Fiji Mcurriculum Development: Once

their school is registered, the teachers

can easily upload their own teaching

lessons for their students. They can also

collaborate among themselves and

other schools to produce and share

better quality lessons.

Virtual Classrooms: mVuli also offers

Virtual Classroom functionality to

teachers of registered schools to conduct

interactive audio-visual classes for their

students from their homes or schools.

This is very useful in the current

situation.

Case for Primary Level Curriculum

on mVuli: During the

Covid-19 crisis, many schools and

parents requested for the primary

school curriculum. Accordingly,

we negotiated to acquire the full

Primary school curriculum from

our suppliers Learnetic at a special

price of F$100,000.

This is 20% of their original cost of

$500,000!

Apart from the Primary school

Mathematics and Sciences curriculum,

the package includes Year 1-6

Interactive Primary Mathematics

Curriculum based on the renowned

system used in Finland.

With an additional cost of about

$10,000 for integrating the new

Primary School curriculum into the

mVuli platform, the project will cost

F$110,000.

With the inclusion of this Primary

curriculum, mVuli would be able to

offer the whole range of high-quality

online curriculum right from

year 1 to year 13.

Over time, this project will help

improve the quality of education

in Fiji and empower the students,

teachers, and parents.

We wish to leverage the mVuli

platform to expand the scope of

education to include important

areas such as (1) Emotional and

Mental health, (2) Value Education

(3) Spiritual education

Request for support

The mVuli crisis has shown that

Online education will continue to

play a prominent part in education

movies in particular was a shared passion of us, two

couples," she said.

By Ahemad Bhamji

Ahemad Bhamji had known Mr Sigh for more than 50

years, first as a fellow student of Shiromani in Delhi and

later as a family friend. There was not a single visit of Mr

Singh to New Zealand during which Mr Bhamji was not

a host.

"It is hard to find a person like Ajay Singh who had

true feelings and respect for Fiji and Fijians. He played

a crucial role in promoting the welfare of our people all

the time, especially during the first and second coup that

occurred in 1987. He was a great, personal friend and

hence it was heart-breaking to receive a call to say that

he had passed away. I pray Almighty Allah that he soul

rests in peace," he said.

A rare politician

India's Janata Dal United (JDU) Party General Secretary,

said that Mr Singh was a rare politician.

"He was a misfit in politics, he was too much of a

gentleman. He had friendship towards all and malice

towards none," he said.

Mr Singh was a President of the All India Jat Maha

Sammelan and a Minister in the VP Singh Cabinet from

December 7, 1989 to November 10, 1990.

Political pundits in India said that when JDU leaders

Devi Lal and Charan Singh fell out in 1982, Mr Singh

was one person who managed to remain friends with

opposing camps.

Similarly, despite the bitterness between Mr Charan

Singh and Mulayam Singh Yadav, he retained ties with

both. He had friends across the political spectrum, from

Madhu Limaye and George Fernandes to Biju Patnaik,

Karpoori Thakur, Sharad Yadav, Ram Vilas Paswan and

V P Singh.

In 2013, Congress leaders from the Jat community,

Natwar Singh and Bhupinder Singh Hooda , backed him

for the post of President of All India Jat Maha Sammelan.

Illustrious family

Singh was the son of respected civil servant and diplomat

Bhagwan Singh, who was also a shining light of his

community. After serving in Army as Captain, obtained

one of the war-time vacancies in the ICS and became the

first Jat to join the Indian Administrative Service (IAS).

From 2005 to 2007, Ajay Singh was India's High

Commissioner to Fiji, a post held by his father 30 years

earlier. The family has an old association with Fiji,

since Singh's great-grandfather was among the first

indentured labourers from India to be sent by the British

to the Pacific island. His late wife Shiromani grew up in

Fiji, although she was educated in India.

He was working on the history of the Jat community

and also researching his family's links with Fiji at the

time of his death.

in the future. We seek your generous

support to this second phase of the

mVuli project to enable us to provide

a comprehensive online curriculum

to all Fijians.

You may donate online for education

or through GoFundMe.

About mVuli Project

mVuli is Ramakrishna Mission's

global initiative to provide high

quality and holistic education for Fijians

accessible to anyone, anywhere

and anytime at a highly subsidised

and affordable price.

mVuli is an online school for Fiji.

It brings directly to students the

world's most comprehensive digital

K-12 curriculum in Mathematics,

Chemistry, Physics and Biology from

year 9 to year 13. Our youth of today

will compete on the global platform.

We wish to empower them with the

high standard education required

for their success.

mVuli will also support interested

schools with ready made interactive

e-Content for their eLearning in

classrooms. This highly cost effective

online content does away with the

need for developing own content,

servers, IT personnel etc.

Students and parents can

directly access these on their devices

(smartphones, tablets, laptops).

Comprehensive reports to monitor

progress in real-time are available in

students, parents and teachers

Swami Tadananda is the Head of Ramakrishna

Vedanta Centre of Auckland. He

lives in Nadi, Fiji.
---
JUNE 15, 2020

Businesslink

Financial Markets Authority takes ANZ to court

'False and misleading

representation over

credit card insurance

charges'

Supplied Content

The Financial Markets

Authority (FMA) has filed

High Court proceedings

against ANZ Bank New

Zealand (ANZ), alleging that the

Bank charged some customers for

Credit Card Repayment Insurance

(CCRI) policies that offered those

customers no cover.

Two causes of action

The FMA proceedings have two

causes of action. Firstly, that ANZ

issued duplicate CCRI policies to

some customers, which provided

no additional benefits or cover,

and charged premiums on those

policies, during the period April

2014 and November 2019.

Secondly, ANZ issued and failed

to cancel CCRI policies for ineligible

customers, also charging premiums

on those policies, during the period

1 April 2014 – May 2018. These two

issues relate back to at least 2001.

However, the FMA claim reflects

the introduction of the Financial

Markets Conduct Act 2013, which

came into effect from April 2014.

The FMA claims that ANZ

contravened section 22 of the

Financial Markets Conduct Act

by making false and misleading

representations about the cover of

the policies.

The regulator is seeking declarations

of contravention of

the Financial Markets Conduct

Act, pecuniary penalties and

costs.

Duplicate Policy Issue

ANZ first identified the duplicate

policy issue around September

2017 and the ineligible

customers issue was identified

around May 2018. ANZ did

not disclose either issue to the

FMA or Reserve Bank during

their joint conduct and culture

review of New Zealand's retail

banks from May to June 2018.

The review requested that ANZ

disclose "any work underway

to remediate any identified

issues where conduct by your

firm has resulted in detrimental

outcomes for customers."

ANZ first notified the FMA of

both issues in June 2019.

Internal systems failure

FMA General Counsel, Nick

Kynoch said, "While ANZ

has embarked on their own

remediation programme, and

ultimately self-reported this

matter, the case points to a

failure of internal systems and

controls resulting in customer

harm over a significant period

of time. Self-reporting is

expected, and is taken into

account by the FMA when

determining the appropriate

regulatory outcome. In this

instance, we felt it appropriate

to put the matter before the

courts.

"ANZ sold a product that, for

some customers, offered no

benefit."

CCRI is a form of insurance

which covers some or all of a

customer's outstanding credit

card repayments in certain

circumstances, including

in the event of a customer's

bankruptcy, redundancy,

injury, illness or death.

Source: Financial Markets

Authority, Wellington.

Central Government should help

cash-strapped Councils

Julian Wood

Auckland Council is forecasting

a $525 million dollar hole in its

budget as a result of Covid-19.

It is not alone. Across the

country, City and regional Councils are

adjusting their budgets.

Wellington City Council is deciding what

to do with a $70 million dollar shortfall,

Hamilton City is facing a $22 million

dollar drop in non-rates income and the

Northland Regional Council is facing a $4

million shortfall.

Restoring 60% or even 80% of these

funding shortfalls over the coming year

would be a lifeline for the local businesses

who rely on Council contracts.

Range of options

When a local authority is facing a

financial hole it has a range of options.

It can increase its rates and fees, sell

assets, borrow more, cut its current spending

and or decide to defer new planned

projects or maintenance.

Most are likely to employ all these tactics

at the same time. Take the Northland

Regional Council, this $4 million dollar

shortfall will mean $1.2 million will be

cut from its existing budget, roughly

$800,000 of new work delayed, and

another $410,000 saved by not filling

vacant positions.

While local government is facing a

funding crisis across the country, our

central Government is spending up large.

They are promising spending at levels we

have never seen, so much that they are

having to bring forward ideas and ask

the regions for "shovel-ready" projects in

order to stimulate the economy and create

jobs.

All the while, Councils are slashing and

09

burning line items and delaying projects

that were already in motion and in some

cases ready to go.

This mini-austerity over the country, is

like a death of a thousand cuts for smaller

local businesses and service providers.

Central Government War Chest

It should not be a controversial or

surprising idea that central Government

should use some of its $20 billion Covid-19

war chest to plug some of the gaps in

council revenue.

That is not to say that the government

should just hand over all the money

needed to make up the difference; it is

right that Councils should be forced to

examine their spending, eliminate waste

and prioritise work. But if we are to

choose between big central government

spending on projects that will take years

to get going, or topping up budgets to

allow local work that is already underway

to keep going it's time to choose the latter.

Local governments contract smaller

businesses to do all the unsexy stuff that

make our lives better.

They ensure that water flows into our

homes, that waste leaves them, that drains

do not block or are unblocked when they

do.

They contract out the maintenance on

our local roads, ensuring that the lights at

intersections work, that hazard signs are

erected and maintained, that local parks,

pools and public transport keep ticking

over and are safe and up to date.

It is time that the central government

gave control of a small portion of their

war-chest to local government and in

doing so provide a lifeline for the many

small businesses that are in grave danger.

Julian Wood is a Researcher at Maxim Institute

based in Auckland.
---
10

JUNE 15, 2020

Businesslink

New Zealand makes two key diplomatic appointments

David Pine goes to

Delhi; Stephanie Lee to

Hong Kong

Venkat Raman

Two veteran diplomats will

take up two challenging posts

respectively in New Delhi and

Hong Kong as announced by

Foreign Minister Winston Peters on

June 5, 2020.

David Pine, who was until recently

Chair of the 'Trade of All Advisory

Board,' moved to New Delhi as New

Zealand's High Commissioner with

accreditation to Bangladesh, Sri Lanka

and Nepal while Stephanie Lee will go

to Hong Kong as our Consul General.

Special privilege for another

We thought that with the borders

of New Zealand, India and Hong Kong

under Covid-19 lockdown, it may

be a while before they take up their

respective assignments.

However, Mr Pine left Auckland for

Delhi by the Air India special flight carrying

stranded Indians on June 7, 2020

just two days after his appointment was

made public.

David Pine: Quick departure to India (expatgo.com)

Another community newspaper, which

has closer links with the Indian High

Commission, had prior knowledge of his

departure and hence could interview him

at the Auckland International Airport and

carry exclusive pictures of the event.

More of this in due course.

Foreign Minister Winston Peters,

who announced these appointments,

believes that New Zealand's envoys must

be career diplomats and takes personal

interest in key appointments to countries

of importance.

"As New Zealand recovers from

Stephanie Lee to Hong Kong (YouTube)

Covid-19, out diplomatic and trade

networks are more important than even

and hence the government is focused on

placing high-calibre career diplomats in

important offshore positions," he said.

About India and David Pine

David Pine went to India to head our

diplomat mission in Delhi at a time when

there are heightened expectations of a

Free Trade Agreement and direct airlinks

between the two countries. Mr Peters has

said that New Zealand and India should

be 'doing more together,' especially as

Commonwealth countries but Mr Pine

would be aware of the ground

realities.

India is allergic to suggestions of

tariff concessions on agricultural

and diary products and as such talks

on a Free-Trade Agreement have

been stalled for the past 12 years.

There have been Memoranda of

Understanding (MoU) on Defence,

Civil Aviation and Education but

none of these has produced any

tangible results.

Mr Pine is a seasoned diplomat,

having been the Head of the New

Zealand Missions in Malaysia, Brunei

and Philippines and has worked in

other capacities in New York and

Canberra. As the Chair of the 'Trade

for All Advisory Board' since August

2018, he has a deep insight into

global trade, although not specially

on India. The Board does not have

single person of Indian origin.

About Hong Kong and

Stephanie Lee

Hong Kong has been experiencing

mass protests over China's extradition

law and these protests have

often turned violent for the past ten

months and Beijing's recent move to

Medtech Global sells Practice Management System

Acclivis Group and Advent

Partners (Australia) are

the new owners

Venkat Raman

Medtech Global, a leading

medical technology company

of New Zealand, has sold

its Practice Management

System (PMS) to Australasian healthtech

advisory and investment company

Acclivis Group and Advent Partners, a

private Australian investment fund.

Financial details of the transaction

have not been disclosed.

Medtech Global will retain its

advance Practice Management Software

and state-of-the-art solutions used

by General Practitioners, Specialists,

Allied Health worker and health

organisations.

Founder and Executive Chairman

Vino Ramayah said that the sale will

allow him to restructure Medtech Global

to meet the existing and emerging

challenges of the market.

The Sales Process

Acclivis Group and Advent Partners

were advised by Allier Capital during

the sales process.

Cereus Holdings was advised by

KPMG Corporate Finance in Brisbane

and Maddocks during the sale process.

At the time of the sale, patient health

and consumer portal Manage My

Health was spun out of Medtech Global

into Mr Ramayah's investment firm

Cereus Holdings Limited.

Mr Ramayah said that 'Manage

My Health' has 700,000 users in New

Zealand and a growing international

footprint.

The personal health software enables

people to manage their own health and

well-being together with their GP and

other healthcare providers.

"I am a firm believer in the democratisation

of health. I also maintain

strong interest in the development of

cutting edge technologies in health. I

am divesting from the wider business

because it is time for new talent and

leadership and further growth," Mr

Ramayah said.

About Vino Ramayah

Born in Singapore, Mr Ramayah

served as a Commissioned Officer in

the Singapore Armed Forces (National

Service). His educational qualifications

include Bachelor of Laws with Honours

(University of Singapore), Master of

Laws (University of London), and Diploma

in Airspace Law (London School

of Economics). A qualified Solicitor

of the Supreme Court of England and

Singapore, he practiced Corporate and

Commercial Law in many countries

and served as a Director on the boards

Democratising Heath: Vino Ramayah (INL Photo)

of serval multinational companies

(especially in the Aviation industry) in

Asia Pacific.

A visionary with proven management

expertise, Mr Ramayah is

Chairman of Cereus Holdings Limited,

an investment holding company, which

has investments in New Zealand,

Australia, Asia and Europe in health and

bio-informatics, bio and information

technology.

Mr Ramayah was the Guest Speaker

at the Third Indian Newslink Sir Anand

Satyanand Lecture held on July 29,

2013 and Master of Ceremonies at the

Lecture held on August 7, 2017.

About Geoffrey Sayer

Acclivis Group Managing Director

Geoffrey Sayer, who becomes Chief

Executive of Medtech Global, brings to

his new assignment 20 years of experience

as a business builder and industry

leader in the healthcare tech market

across Australia and New Zealand.

He was previously Managing

Director of Toniq, New Zealand's largest

pharmacy software business, which was

sold to Clanwilliam, a group of health

technology companies in 2017.

Mr Sayer, who has a record for

growing businesses, said that the ability

of Medtech Global to adapt to the evolving

needs of customers will drive the

company's future growth and success.

"In these challenging times, new

models of care have arisen. Medtech

has to meet those challenges if we are

to make things easier for our users and

partners," he said.

About Medtech Global

Medtech Global is recognised worldwide

for its innovative leading-edge

software solutions, ability to securely

share data and high level of integrity

and dependability. The Company

enables availability of clinical health

information where and when needed

most.

Its Practice Management Systems are

used by more than 80% of GP practices

New Normal emerges at Level One

Michael Wood

As I write this, New Zealand is several

weeks into Covid-19 Alert Level

2 and the Prime Minister has announced

that Cabinet will consider

whether we can safely move to Level 1 at its

meeting on Monday, June 8, 2020.

Because of the hard work of our team of

five million New Zealand already has some

of the lightest restrictions of the world with

most businesses open, and gatherings of up

to 100 people allowed for various activities

including religious meetings.

Strong position

Going hard and going early has put New

Zealand in a stronger position than most

other countries.

The number of new cases of Covid-19 has

reduced significantly, and any recent new

cases have been directly traced to existing

cases. The last case of unknown source was

in early April, and we have not seen any new

clusters for more than a month.

We can now be assured that there is no

community transmission in New Zealand.

However, this does not mean that we can

relax and risk the recurrence of Covid-19 in

New Zealand.

The virus has a long incubation period and

spreads very quickly if it gets a foothold.

We are aiming to eliminate the virus so

that there are very few cases, and that if they

occur we have the systems in place to quickly

track it down and isolate it.

Elimination Approach

The elimination approach is also the best

economic approach.

By going hard and early we now have

the opportunity to get our economy moving

more quickly than other countries who are

still battling many active cases.

Our Government is committed to job

creation, keeping New Zealanders in work

and supporting key sectors such as tourism

to bump back and getting our economy

moving.

The Budget highlights that commitment.

We are going to address the economy by

staying on top of the virus and by carefully

easing restrictions as we go along based on

expert advice.

and a large number of Specialist and

Allied Health practices in New Zealand,

Australia, USA, UK and India.

The Company's website says,

"Covid-19 has been classified a global

pandemic and we acknowledge that our

clients are the backbone, supporting the

community during this unique time.

We realise that practices resources

are stretched. Please be assured that

providing the highest levels of support

during this time is our priority. We have

expanded capacity in the support area

to cope with increased demand and

are doing our utmost to resolve your

support queries quickly."

About Geoffrey Sayer

Acclivis Group Managing Director

Geoffrey Sayer, who will become Chief

Executive of Medtech Global, brings to

his new assignment 20 years of experience

as a business builder and industry

leader in the healthcare tech market

across Australia and New Zealand.

He was previously Managing Director

We will continue to maintain our

defence against the virus.

Basic hygiene practices

We will maintain our tight border

controls, widespread testing and put in

place gold standard contact tracing. We

will maintain our basic hygiene practices

such as washing hands, physical distancing

and staying home if we are sick.

This is our new normal.

Over the past couple of weeks in Mt

Roskill, it has been good to see New

Zealanders making the most of our new

hard-earned freedom.

Local cafés are visited by locals and

restaurants are open while people are

careful about physical distancing, waiting

outside shops until someone else comes

out and signing on the contact tracing

forms before entering the premises.

When the time is right and based

on sound public health advice, we will

be able to move to Level 1 with further

restrictions lifted.

Many businesses are adopting innovations

like mobile apps for contact tracing

of people who visited their stores.

Covid Tracer

The Government has launched a new

app to help us keep a record of where we

impose tighter security laws on this

former British Colony has sparked

further unrest.

Stephanie Lee takes charge as our

Consul General and would bring to

bear her fine diplomatic skills, given

the importance of mainland China as

New Zealand's largest trading partner.

New Zealand has a Closer Economic

Partnership Agreement with Hong

Kong (China) which came into effect

on January 1, 2011.

There is a travel and safety advisory

for New Zealanders in Hong Kong

and for New Zealanders visiting Hong

Kong. They have been advised to

avoid all protests and demonstrations,

"as even those intended to be peaceful

have the potential to turn violent with

little or no warning."

Mr Peters said that Hong Kong is

an important trade partner and a

significant source of foreign direct

investment for New Zealand.

"Hong Kong and New Zealand have

shared values, open markets and

common law jurisdictions," he said.

Ms Lee has previously served as

New Zealand's Ambassador to ASEAN

in Jakarta, with other postings in New

York and Paris. She has most recently

served as Special Adviser to the Climate

Change Division of the Ministry

of Foreign Affairs and Trade.

of Toniq, New Zealand's largest pharmacy

software business, which was

sold to Clanwilliam, a group of health

technology companies in 2017.

Mr Sayer who has a record for

growing businesses, said that the

ability of Medtech Global to adapt to

the evolving needs of customers will

drive the company's future growth

and success.

"In these challenging times, new

models of care have arisen. Medtech

has to meet those challenges if we are

to make things easier for our users

and partners," he said.

About Acclivis Group

Acclivis Group acquires, manages,

brings together and operates quality

digital health companies that make a

long lasting and positive impact for

the clinicians. The Group strives to

lead in innovation, openness and a

willingness to move forward with an

ecosystem of connected customers,

patients, suppliers, carers and funders

which shapes the financial benefits

for growth and stability.

About Advent Partners

Advent is one of Australia's

leading private investment firms, and

currently has about A$700 million in

funds under management. Since 1984,

Advent has focused on partnering

with businesses to support their

growth ambitions.

Advent support liked-minded

executives and founders, providing

capital, access to their networks and

strategic guidance. Advent has made

over 90 investments and the team has

a combined experience of more than

80 years in principal investing.

have been.

It is the New Zealand Covid Tracer.

This App will help our public health

services identify, trace and isolate cases

and close contacts that will prevent

further spread of the virus.

The App can be downloaded onto your

I-phone or Android on www.tracing.

covid19.govt.nz

When you scan the QR codes displayed

at different businesses and other public

places, you are able to create a secure

digital diary of the places you visit.

When you register your contact details

using this app, public health units are

able to get in touch if necessary. The more

of us who use the App, the better we can

respond to any new case that may pop up

in our community.

It makes that basic wall of defence

against the virus, our new normal, even

stronger.

Again I thank all of you for your contribution

towards eliminating Covid-19

and saving thousands of lives. We are

winning this battle, together.

Michael Wood is Member of Parliament

elected from Mt Roskill and Chief

Government Whip.
---
JUNE 15, 2020

Businesslink

11

A vital link between people, solutions and expertise.

The skills you require and people who can do it.

www.link2services.com
---
12

JUNE 15, 2020

The English Fortnightly (Since November 1999)

ISSUE 440 | JUNE 15, 2020

Viewlink

An unbiased approach to

Election 2020

With the announcement

of its List

carrying the

ranking of candidates

contesting (and a few not

contesting) in the forthcoming

General Election, the Labour

Party has officially signalled

the start of feverish campaign.

We will continue to analyse the

List and offer our commentary

from time to time, as we have

done since we came into being

21 years ago.

There is growing anxiety and

expectation among the existing

and prospective candidates

and supporters of the National

Party as its echelons decide on

their rank and file.

Other two minor parties of

interest- New Zealand First

and the Green Party will also

release their names, while that

of ACT Party is not expected to

carry any surprises.

Dirt and murk

Until six years ago, elections

in New Zealand were fought

on policy issues and electioneering

was intense, but decent

and friendly. The country was

a model for mutual respect

and restraint by the competing

political parties.

But sadly, not anymore.

Almost all politicians in this

country are party to throwing

a fair amount of dirt on each

other. We hope that better

sense will prevail and take

the country back to its tenets

of decency, decorum and

democratic ideals.

Hostile Media

Labour Party, New Zealand

First and the Greens have since

long suffered the hostility and

prejudice of a large section of

the mainstream and ethnic

media, leaving the left-leaning

politicians to work out a strategy

to reach the public directly.

Such a strategy may work with

its Leader (Prime Minister)

Jacinda Ardern who is at the

peak of her popularity.

Although Indian Newslink

and Radio Tarana are the only

Indian media that provide all

parties equal opportunity to

conduct their campaign, these

have limited reach and hence

would not cover the entire

catchment area. It is therefore

imperative that the candidates

contesting under various

banners engage with the

communities in a manner that

would help them to assess the

public mood and align their

strategies appropriately.

We have worked with

Labour and National-led

governments and will continue

to do so.

The dilemma of migrant

workers stranded

overseas

The government

faces one of the

worst dilemmas of all

time: the question of

bringing back migrant workers

stranded overseas. No one

seems to know how many, but

according to indications, there

are at least 30,000 of them,

spread across the globe.

Many of them have lived in

New Zealand for a length of

time, have dwellings of their

own or rented; they have

regular outgoings and most

important of all, have full-time

employment. Arguably, many

of them belong to either essential

services or in professions

that are in short supply.

The challenges

The problem is two-fold:

availability of flights of their

travel to New Zealand and

the adequate and appropriate

quarantine facilities in New

Zealand.

Covid-19 continues to grip

countries, increasing the risk

of travel. Government-organised

quarantine therefore is

imperative but according to

the Immigration Minister, New

Zealand can take no more than

200 persons per day into its

facility.

There is then the risk of

job losses. With thousands of

people losing jobs including

those on temporary visas over

the past three months, people

returning from overseas

should be assured of employment.

The problem is that no

employer under the current

circumstances will be able to

hand out any assurance.

Viable formula needed

The government must work

out a formula with employers

so that migrant workers are

not put into hardships in New

Zealand. They have already

suffered a lot and it would be

untenable to see them undergo

further difficulties.

The Economist has put it

succinctly: "Whether they service

rich, advanced economies

such as that of Singapore, or

perform the menial drudgery

in India, migrant workers are

among the most vulnerable to

any shocks. At times like this

they pay the price for the trait

that some of their employers

most prize: being invisible."

Indian Newslink is published by Indian Newslink Limited from its offices located at 299A Riddel Road,

Glendowie, Auckland 1071. All material appearing here and on our web editions are the copyright

of Indian Newslink and reproduction in full or part in any medium is prohibited. Indian Newslink and

its management and staff do not accept any responsibility for the claims made in advertisements.

Managing Director & Publisher: Jacob Mannothra; Editor & General Manager: Venkat Raman;

Production Manager: Mahes Perera; Accountant: Uma Venkatram CA;

Phone: (09) 5336377 Email: info@indiannewslink.co.nz

Websites: www.indiannewslink.co.nz; www.inliba.com; www.inlisa.com

NZ Police drop Armed Response Teams

Police Commissioner Andrew

Coster announced on Tuesday

(June 9, 2020) that Armed

Response Teams will not be part

of the New Zealand policing model in

the future.

A trial of the teams of Police carrying

firearms were launched in Counties

Manukau, Waikato and Canterbury last

year and ended in April.

Renewed Opposition

In recent days, mass protests across

New Zealand against police brutality

- sparked by the killing of African-American

George Floyd in the US - have

renewed opposition to armed police

and the response teams specifically.

Commissioner Coster said that the

decision to scrap the teams was based

on preliminary findings from the

trial evaluation - which is yet to be

completed - feedback from the public,

and consultation with community

forum groups.

"It is clear to me that these response

teams do not align with the style of policing

that New Zealanders expect. We

have listened carefully to that feedback

and I have made the decision these

teams will not be a part of our policing

model in the future. As part of this, I

want to reiterate that am committed

to New Zealand Police remaining a

generally unarmed police service," he

said.

Valued Relationships

He said that the Police valued their

relationships with the various communities

they served, and this meant

working with them to find solutions that

worked for both.

"How the public feels is important -

we police with the consent of the public,

and that is a privilege."

The trial aimed to have specialist

Police personnel ready to deploy and

support frontline staff in critical or high

risk incidents, Coster said.

"We can only keep New Zealanders

safe if we can keep our staff safe too.

That is why, Police have invested in

the new body armour system, we have

strengthened training, and given our

officers more tools and tactical options,"

Commissioner Coster said.

Tactical capability

Police were looking into "broad

tactical capability" to ensure critical

response options remained fit for

purpose, he said.

The Provincial Growth Fund

is providing $60 million to

Councils and KiwiRail to

create employment for local

workers.

As part of the recent Provincial

Growth Fund (PGF) reset we

announced an allocation of $60

million for road and rail projects

across the country that will focus

on worker redeployment. This is

made up of $27.2 million for local

roading projects, $26 million for rail

projects and nearly $6.8 million for

the Ministry of Social Development

to support workers into training

to take up these jobs. This means

at least 800 New Zealanders most

in need of employment due to the

economic effects of Covid-19 can be

employed into work in their own

communities.

Economic impact of Covid-19

Workers throughout New

Zealand have been significantly impacted

by the economic impacts of

Covid-19. This latest investment is

in addition to the $100 million earmarked

for worker redeployment,

of which $28 million has already

been allocated to Tairawhiti, $6.2

New Zealand Police Commissioner

Andy Coster (NZME Pool Picture)

"We will still complete the evaluation

into ARTs and that will now inform

the wider tactical capability work

programme," Commissioner Coster said.

Any further options arising from

this would undergo consultation with

communities, Coster said.

There had been widespread opposition

to the trials, including a Waitangi

Tribunal claim being filed by justice

advocates arguing the Crown breached

Te Tiriti o Waitangi by failing to work

in partnership with, consult, or even

inform Māori about the trial.

Public sentiments

Last week, Labour Māori Caucus said

they had met with Police Minister Stuart

Nash and made their views opposing

the general arming of the police force

very clear.

"While the decision to deploy the ART

trial was independently made by the

then commissioner of police, and not a

government initiative, we as a caucus

acknowledge the general feeling of

lack of consultation about the trial that

exists - especially within Māori," Labour

Māori Caucus Co-Chair Willie Jackson

said.

A survey on the ARTs found 85% of

participants did not support the trial.

Justice Reform advocate Laura

O'Connell Rapira said that 91% of

people surveyed were less likely to call

the Police in family violence situations if

they knew the police had guns.

ARTs trial 'hobbled from the start'

- Cahill

New Zealand Police Association

President Chris Cahill said that while

million nationally for forestry

workers and $36.7 million to other

regions hard hit by the effects of

Covid-19.

The $27.2 million for roading

projects means work start almost

immediately on improving roads,

cycleways, tree maintenance and

water projects in seven regions.

These are in the Bay of Plenty, the

West Coast, Manawatu-Whanganui,

Wairarapa, Taranaki, top of the

South Island and Waikato.

The $26 million rail investment

means that work can start early

next month on culvert clearing and

drainage improvements on regional

railway lines. KiwiRail will be

working with the Ministry of Social

Development to take on and train

new regional rail workers.

Roading Projects

The package announced today

consists of Roading Projects of

$27.215 million.

Bay of Plenty: $12.55 million for

footpaths, the Motu cycleway extension,

a horse trail, tree and pest removal,

track and park maintenance,

water projects and roading (291

jobs); Manawatu-Whanganui: $5.52

million for roading, cycle trails,

tree removal and firewood supply

(159 jobs); West Coast: $1.9 million

for planting projects in the Buller

district and work on the Greymouth

Reservoir Replacement Project (30

jobs); Wairarapa: $1 million for

tree removal and maintenance on

New Zealand Police Association President

Chris Cahill (Picture from NZPA)

he understood the Commissioner's

decision, it was disappointing that the

positives of the ARTs were now gone.

Lack of consultation alleged

"The initiative was hobbled from the

start because of a lack of consultation

on the concept of ARTs, and no clear

communication on the aim of the trials.

The concept was to provide safer and

wider tactical options to deploy to our

most at-risk communities," Mr Cahill

said.

"If you don't build solid foundations

on issues as potentially volatile as

armed police, you can't possibly hope

to take the community with you, and

that is exactly what has happened in

this case," he said and added that the

unveiled ARTs' vehicles made them look

"pretty sinister," even though everyday

Police patrol cars also contained Glock

pistols and rifles.

The Association's members were

supportive of having the ability to deploy

armed and experienced officers to

critical incidents quickly and efficiently,

he said.

The Association was asking for plans

to address the communities that were

still at risk, such as those with high gun

crime rates, Mr Cahill said.

"I also ask those who have argued

passionately against ARTs to now work

equally as passionately with Police to

expose and reject the proliferation of

illegal firearms in the communities

most at risk," he said.

Published under a Special Agreement with

www.rnz.co.nz

Provincial Growth Fund puts $60 million for new jobs

Shane Jones

high-risk roads (10 jobs); Taranaki:

$1.12 million for road safety (12

jobs); Top of the South: $2.73

million for roading, cycle ways,

drainage clearance, tree clearance

and planting (65 jobs); Waikato:

$2.39 million for cycleways and tree

removal (72 jobs).

Rail Projects

Rail Projects total $26 million.

Projects include drain and culvert

condition surveys, culvert cleaning

and maintenance, vegetation

control and drainage renewals and

improvements.

The work will take place around

rail lines from the Waikato to

Wairarapa, and in Canterbury, West

Coast and Otago-Southland.

The investment will create work

for 200 people, including new rail

trainees, local regional contractors,

and redeployed KiwiRail staff.

Our aim is to put in place

measures to soften the impact on

workers and businesses in some

of the most affected areas, and in

sectors where jobs have been lost

and most in need of support.

The local Councils and KiwiRail

projects are providing vital support

to regional economies as the

PGF refocuses on projects that

will provide immediate jobs, can

start immediately and have high

visibility to boost public confidence

in the economic recovery.

Shane Jones is Regional Economic

Development Minister.
---
JUNE 15, 2020

Government can save New Zealand's dying media

Reckless expansion and

foreign ownership have

harmed the industry

Wayne Hope

How many media analysts

predicted it?

In 2018, Australia's Nine Entertainment

absorbed Fairfax

Media and its New Zealand subsidiary

Stuff. Just under two years later, Chief

Executive Sinead Boucher bought Stuff

from Nine Entertainment for $1.

The bold move saved New Zealand's

largest newspaper publisher and online

news site from uncertainty at best,

closure at worst.

"Behold, Saint Sinead of Stuff,"

wrote one observer, while pointing out

what else would be needed: financial

backing, government subsidies, and

management of internal costs and debt.

Media commentators, public media

lobbyists, journalists, Communications

Minister Kris Faafoi and even Nine

CEO Hugh Marks praised Boucher's

proposals for staff shareholdings and

an editorial independence charter. But

behind these signs of hope the Stuff

initiative was emblematic of a rapidly

disintegrating media system.

Here is the news: layoffs and closures

Covid-19 only accelerated the

collapse.

The national lockdown and forecast

economic contraction have been

commercially disastrous for all private

media organisations.

Redundancies and closures have

gone viral.

In late March, New Zealand Media

Underfunded for years, Radio New Zealand could be part of the solution (Shutterstock)

Abrupt Closure: Bauer Media (RNZ Picture)

and Entertainment (NZME), owner of

the New Zealand Herald (the country's

largest daily paper) and nearly half the

country's commercial radio stations,

closed its sports operation (Radio Sport)

and shed 25 full-time staff.

A week later, German-owned Bauer

Media abruptly closed its New Zealand

branch, folding such venerable current

affairs and popular titles as the Listener,

Woman's Weekly, North & South and

Metro.

A fortnight later, NZME announced

200 more redundancies, 15% of its

workforce.

As Boucher announced her Stuff

buyout, MediaWorks (owner of TV3 and

the rest of New Zealand's commercial

radio stations) shed 130 staff.

Emergency Financial package

Confronted by this unfolding

catastrophe, the government finally

announced a $50 million emergency

package. This included $21 million to

offset TV and radio transmission fees

for six months, $16.5 million to reduce

contributions to the NZ On Air content

funding agency for the financial year,

and $11 million in targeted assistance

for specific media companies.

But the response was late, partial

and narrowly focused. Covid-19 has exposed

a double crisis in New Zealand's

news media that short-term fixes do

little to address.

A crisis over 30 years

For decades, the weakening

sustainability of commercial media has

damaged the viability of news reporting,

journalistic enquiry and national

media coverage.

Meanwhile, underfunded public

broadcasting has long battled to pay

staff, create content and transition

successfully to digital platforms.

These trends can be traced back to

the 1980s.

The restructuring of Radio New Zealand

(RNZ) and Television New Zealand

(TVNZ), the launch and subsequent sale

of TV3, the privatisation of Telecom

(1990) and the abolition of all restrictions

on foreign media ownership

(1991) set the scene for today's crisis.

Transnational media conglomerates

were allowed to colonise the national

media scene.

From 2007, listed and unlisted financial

institutions (banks, hedge funds,

private equity companies) acquired

media holdings as short-term revenue

streams.

Concentration of ownership

intensified.

At the same time, with the rise of

Google and Facebook, television's

advertising share declined from 34% in

1988 to 21% in 2018. Before Covid-19,

digital advertising was worth $1 billion,

about 40% of New Zealand's entire

advertising turnover.

The pandemic's economic shock has

hit ad revenues even harder.

Print media haemorrhage

Print media were already haemorrhaging.

From 2018 to 2019, every

major newspaper lost circulation.

NZME and Stuff continued to lay off

staff, integrate newsrooms, delete print

editions and close regional titles.

Stalling revenues, dashed profit

expectations and fragile share prices

persuaded major players that amalgamation

was the answer.

But this strategy failed. The

Commerce Commission prevented

attempted mergers between Sky TV and

Vodafone, and NZME and Stuff, due to

monopoly fears and the perceived risk

to diversity of information sources.

There is a better way

So what is the answer? Nothing short

of a full-blown news media reconstruction

strategy.

First, the Stuff buyout deserves

government support to complement

Businesslink

13

private sector financial backing. A

funding mechanism designed to foster

public interest journalism at Stuff and

other media organisations should be

established.

Second, a national interest test

for any overseas investment in New

Zealand should apply to transnational

media acquisitions.

As media commentator Gavin Ellis

has observed, Journalism [is] a strategic

asset over which New Zealanders must

have control."

Third, existing government proposals

for a TVNZ-RNZ merger within a new

multi-platform entity need urgent

development. The new organisation

should insulate some of its operation

from commercial pressures. A public

service philosophy for the relevant

stations, channels and platforms should

be clearly stated and enshrined in

legislation.

Digital Services levy

Here, I would include an online

magazine of arts, current affairs and

popular culture to succeed the Listener.

The organisation's board must be

independent and representative, with

informal links to the Māori Television

Service.

Finally, as communications expert

and public media lobbyist Peter Thompson

has proposed, the government

should impose a digital services levy on

the tech giants that have siphoned off

domestic advertising revenue without

investing in local content. This would

help generate the revenue to fund

public interest journalism initiatives.

We know what to do. Now is the time

to reconstruct journalism and public

media in Aotearoa-New Zealand.

Wayne Hope is Professor of Communication

Studies at Auckland University of Technology

(AUT). The above articles and pictures have

been published under Creative Commons,

Licence.

YOUR SUCCESS PARTNER

• Stock Management

• Print & Hold

• In House Design

• Online Ordering System

Commercial

printing

service

at its best!

Your one stop SIGNAGE and PRINT shop

Wide Format Digital Printing Specialist

• Footpath Sign

• Pullup Banner

•AFrame

• Vinyl Stickers

• Cor e

• Acm

• Banners

• Canvas

Ph (09) 263 8854

14C Ryan Place, Manukau City

Email: info@irissigns.co.nz

Website: www.irissigns.co.nz

PH: (09) 262 4550

42D Lambie Drive, Manukau City

Email:sales@merc.co.nz | Website:www.merc.co.nz
---
14

JUNE 15, 2020

Businesslink

Helen Clark speaks out on China and Covid-19

Sam Sachdeva

China's rapid rise on the world

stage hit a stumbling block in the

form of Covid-19.

Newsroom spoke to Helen

Clark about how its handling of the

pandemic will affect its status at home

and abroad, and whether we should be

worried about its response.

With the rest of New Zealand's "team

of five million,' former Prime Minister

Helen Clark has been closely following

the spread of Covid-19 throughout the

world.

Unlike most of us, however, her

experience in foreign affairs and

global politics gives her a greater understanding

of the areas in which we are

ignorant - particularly when it comes to

China, the origin of the virus.

An opaque country

"As always, we are dealing with a

country that Is not transparent, so we

do not know what we do not know,

really."

When, in 2008, Clark's government

approached Chinese officials to share

a whistle-blower's information on the

Sanlu Infant Formula Scandal, she and

her ministers formed the view that the

country was in the dark "because in this

kind of political system, people don't

want to be in a bad light with Beijing so

they do not necessarily report anything

up."

"So I rate it as a real issue. When did

Beijing know (about Covid-19)? Did it

know three weeks before, did it know

two weeks before, did it know a week

before?"

Even when the highest reaches of

Chinese officialdom agreed that there

was a significant public health risk

associated with the virus, it took them

another seven days to institute the

Wuhan lockdown and other public

health measures.

Once China did act, it acted decisively

and authoritatively, she said, but it is

the gaps up to that point that need to be

filled.

Helen Clark: (Photo: Getty Images)

WHO's maligned response

Perhaps unsurprisingly, given her

time with the United Nations, Clark

feels that the much-maligned World

Health Organisation's response has

been unfairly targeted by those "who

basically hate multilateral organisations

anyway".

While it did take some time to confirm

human-to-human transmission,

that was because it lacked the evidence

from China to make such a declaration.

The organisation also received ample

criticism for failing to swiftly label

Covid-19 a pandemic, but Clark said

that the term holds no official meaning

within the WHO lexicon; instead,

countries are meant to sit up and take

notice when it declares a 'Public Health

Emergency of International Concern',

or PHEIC, as it did on January 30, 2020.

In Geneva for global health engagements,

Clark spoke to WHO Director

General Tedros Adhanom Ghebreyesus

at both a private and public event

where he made his feelings clear.

"He said, 'There is a narrow window

of opportunity to avert a pandemic, but

I just don't seem to be being heard'...

"He used the 'pandemic' word, I believe,

because he thought, 'I've got to do

something that's going to jolt people'. It

is not that it had an official meaning or

higher level of action from the WHO - it

does not - but it is a word that when

people hear it, it is like, 'Fire!' "

The WHO may not have criticised

China for its initial response, but nor

does any multilateral organisation

criticise a member state when it lacks

powers of coercion.

The hesitant West

"You have to bite your tongue,

because you have no power to make

states do anything - you can only act

with their cooperation."

The Western world can hardly pat

itself on the back either, Clark said that

with the United States, United Kingdom

and many others doing little if

anything to prepare despite the scenes

playing out in Asia.

"If we're looking for some underlying

issues here about who in the

end had more successful responses, it

was those who were actually closely

watching what the WHO was saying,

but who eventually realised ... that you

had to put the flu pandemic plan in

the bottom drawer and deal with it as

something that we've never dealt with

before."

The SARS reach

Clark was Prime Minister during the

2002-2003 SARS outbreak, and believes

that its relatively limited geographical

spread allowed complacency to set in

about the potential reach of a deadly

virus.

"If we rewrite the record, wouldn't

KiwiSaver works out good in the long, long run

Look for what you will get at 65 this year

Supplied Content

KiwiSaver investors will see how

much money their KiwiSaver

investments could provide at

age 65 when they open their

annual statements this year.

Launching a campaign to help

KiwiSaver members interpret their

statements, Financial Markets Authority

(FMA) Chief Executive Rob Everett

and Retirement Commissioner Jane

Wrightson said that the new information

would help people focus on how

much money they may have when they

retired, and what this would amount to

as a weekly income.

Long-term investment

Mr Everett said that KiwiSaver is a

long term investment proposition and

hence it can be difficult for people to

visualise how much the money they

contribute today will, or could amount

to at retirement.

"To make it easier for people, this

year's statements include a projection

of how much money each KiwiSaver

member may have when they turn 65.

Of course, this is not a guarantee but

is based on some assumptions to be

applied across all member statements.

While some may be pleasantly

surprised at how much they could

potentially have at age 65, others might

want to make some changes to boost

their retirement savings," he said.

Mr Everett said the statements were

arriving when many investors in

balanced or growth funds have seen

a negative fund performance for the

year to March 30, 2020, because of a

sharp downturn in financial markets

associated with Covid-19.

Negative territory

"KiwiSaver is nearly 13 years

old and most investors are used to

seeing their balances head continually

upwards. There has only been one

other time – the Global Financial Crisis

(GFC) a decade ago - when KiwiSaver

balances were impacted this negatively.

Source: Financial Markets Authority

Therefore, this will be unfamiliar

territory for many. After an unusually

long period of growth in asset prices, it

is fair to say KiwiSaver members have

been given a crash course in the risks

and the volatility in investing over the

last few months," he said.

Ms Wrightson said that retirement

may seem a long way off for many, and

that has what made KiwiSaver a long

game.

"KiwiSaver investments in shares

and property can swing up and down,

sometimes dramatically, but historically

deliver better returns over the long term.

Find out which fund is the right one for

you and stick with it – you'll reap the

rewards in years to come," she said.

Information and questions

Important information that you

will find in your statement this year

are (a) Estimated potential retirement

projections as a lump sum and

converted into a weekly income (b)

Contributions (c) Investment gains or

losses (d) Tax paid and (e) Fees paid

in dollars

Those with KiwiSaver account

should take a look at their statement

and ask themselves these questions:

(1) Am I happy with the amount of

money I will have at 65 – does it fit

with what I think I will need in my

retirement? (2) Am I in the right

KiwiSaver fund to deliver what I think

I will need? (3) Am I getting good

value from my KiwiSaver provider

– do their fees seem reasonable, do I

have good access to the information I

need? (4) What would happen to my

projected end balance if I could afford

to contribute more?

Important tips

Remember these important tips:

(a) There are lots of different tools

on the FMA and Sorted websites to

help people (b) For anyone starting

to accumulate sizeable balances and

wanting to plan for their retirement,

we encourage people to seek financial

advice.

Mr Everette said: "We understand

that many people could be struggling

in the current economic conditions,

but always remember that KiwiSaver

is a long-term investment – keeping

contributions going even through

tough times, if at all possible, will have

a big impact on what you get out of it

at 65 and beyond.

The government's recent welfare

package provides an important

12-week bridge for New Zealanders

who find themselves suddenly out of

work because of the Covid recession.

The initiative, however, offers little for our

young people who have not even begun on

the pathways of work.

I am thinking especially of our "Zoomers"

– members of Gen Z preparing to leave school

to pursue work, training, or education in

uncertain times, as well as tertiary who are

graduating into a shrinking job market that is

increasingly hostile to hiring new workers.

First jobs set the scene for a life of work.

In bad times, businesses tend to adopt

a line from the "last in, first out" playbook;

those crucial first rungs on the ladder of

work – graduate roles, internships, entry-level

jobs, casual contracts, apprenticeships, work

placements, and so forth – are the first to go.

Because young people take time up-skilling

and integrating, it is natural that businesses

would look to simply lean on their current

employees more or recruit mature New

Zealanders with established CVs.

Youngsters worst hit

It is increasingly clear that young people

are being hit hard by the recession.

Ministry of Social Development data show

nearly a 50% increase in the number of 18-19

year olds claiming the jobseeker-work-ready

benefit.

Initial indications by ASB are that nearly a

third of all job losses are being shouldered by

those ages 15-29. Worldwide, ILO data shows

1 in 5 young people are now unemployed.

Those still hanging on have precarious or

limited work prospects.

Although we might think of young people

as adaptable, they need work experience to

flourish.

we think that a major difference

between 2003 and now is China's global

connectedness? When I was the Prime

Minister in 2003, it was nothing like

the relationship that the West and the

neighbourhood has with China today.

There were almost no visitors except the

official delegations, the trade connectivity

was far less - you just didn't have a

Chinese middle class that can ... get on a

package tour and go to Paris for a week,

or 10 days in New Zealand," she said.

While China is not entirely to blame

for the spread of the virus, Clark said its

international reputation has nonetheless

suffered.

"That's why you see China's response

is to try and say, 'Well look what we're

doing, we're putting $2 billion up to

the WHO, we're doing this, we're doing

that'."

Genuine debt relief

But there is plenty more for it to

do - most critically, providing genuine

debt relief to the many lower-income

countries to whom it acts as a major

creditor.

"As we have seen in our own country,

if the economy stops for four weeks and

five days, a lot of people get pretty close

to the line. Well, what if you are Sierra

Leone, what if you are Lesotho? People

get thrown into abject poverty," she said.

Clark said it is very much in China's

own interests to write off some debts,

so the economies it relies on for raw

commodities and as export markets do

not collapse.

Then there is the complication of

Great Power rivalry, an already strained

relationship between the US and China

put under further pressure by the

pandemic and its origins.

"The trade war has had a depressing

impact on the global economy; if the

aggro moves into that sort of security

and defence realm, then be afraid, be

very afraid."

That is one of the reasons she holds

concerns about Beijing passing new

national security laws giving it greater

powers to crack down in Hong Kong,

Covid-19 providing a useful smokescreen

while the world is distracted.

Repositioning in a new world

While that may seem a distant problem

to New Zealanders more focused on

when the country will move to Level 1,

Clark said that there are some universal

lessons Kiwis should take on board.

First among those is the need for

greater diversification of export markets

- somewhat ironic given Clark's role in

overseeing New Zealand's free trade

deal with China in 2008.

"Whether it is in the export of goods

or the export of services, whether they

be tourism or education, don't get too

dependent on any one market - you

don't want to be a Mexico as vis a vis the

US right? You have to broaden the base

of everything."

That may seem easier said than

done to companies desperately trying

to recover lost revenue from domestic

shutdowns, but Clark said that the

pandemic could act as a genuinely

transformative moment for countries,

changing everything from environmental

protections to support systems for

the most vulnerable in society.

"Take Singapore, which was regarded

as early success, but its response

somehow forgot it had a million migrant

workers living in not very good conditions

- and whoops, the second wave

went right through the dormitories

where they are."

The inclination to rush back to life as

it was is understandable, but a mistake,

Clark said that, with her eponymous

foundation already speaking to similar

organisations within New Zealand

about how to start a conversation that

rises above the usual partisan politics.

"Regardless of who is in government,

governments need help - public service

capacity is not what it was. And so I

think what will be important at the

political level across parties, is to be

open to ideas and debate about how

New Zealand could be repositioned."

Helen Clark and Washington Post Beijing

bureau chief Anna Fifield discussed

China's role in a post-Covid world in a

webinar June 4.

Sam Sachdeva is Political Editor at

Newsroom. He covers Foreign Affairs, Trade,

Defence and Security Issues. The above article

and picture have been reproduced under a

Special Arrangement.

Welfare Package largely ignores General Z

Rowan Light

Early work experience provides social

networks and cultural capital to build careers.

Without this, our Zoomers face

"scarring" – playing catch up in terms of

salaries, productivity, and security. Young

people are already feeling the anxiety that

comes when these opportunities disappear:

a recent survey found that Gen Zers are

markedly more anxious, less resilient, and

struggling with mental health compared

with older New Zealanders.

Investing in 'Work-Ready'

If we can invest in "shovel-ready"

infrastructure projects like rail and roads,

we can invest in the "infrastructures" of

work for our young people.

To make sure that our Covid response

helps our young people equally, we need to

see new kinds of partnerships that connect

key stakeholders into the lives and needs

of our young people: schools, communities,

and businesses, in tandem with local and

central governments.

I am thinking of local community

partnerships, like the Māori Futures

Collective – Tokona Te Raki, a collaboration

between Te Rūnanga o Ngāi Tahu and the

J R Mckenzie Trust which brings together

private sector, iwi authorities, and the

wider community to help young Māori

pivot to new opportunities in the post-Covid

economy.

Creative, local initiatives

Such initiatives are small, intensive, and

local, making them difficult to replicate

through large government programmes,

but it's precisely the sort of creative, local

thinking we need to be supporting.

We only have a small window of

opportunity to turn the tide before we are

having to deal with the long-term effects

of disengagement from employment, at a

time when our economy is going to need

innovation and responsiveness.

Rowan Light is a Researcher at the Auckland

based Maxim Institute.
---
JUNE 15, 2020

Forest owners riled over proposed legislation

Dileepa Fonseka

A

new Bill has forest owners

fuming, but it could be the tip

of the iceberg for them if New

Zealand First are re-elected to

Government

Forest owners feel blind-sided by a

Bill before Parliament, but more changes

could be coming.

Forestry Minister Shane Jones said that

the owners of forests have not lived up to

their end of a social contract to grow the

domestic wood processing industry.

He signalled that they could expect

harsher treatment next term if New Zealand

First were re-elected to government.

Reversing exemptions

That could start with reversing

forestry's special exemptions under the

Overseas Investment Act, and could see

New Zealand First could join forces with

National after the election to make that

change.

"Is it sustainable to give foreign forestry

investors an exclusive free pass under

the overseas investment criteria? That is

the political question. The National Party

believes that they should no longer have

that privilege," he said.

National Party Forestry spokesman

Hamish Walker said his Party opposed

the Bill and the way it would interfere

in the free trade of logs, but he was

glad Jones appeared to be signalling a

re-think of the Overseas Investment Act

"carve-out."

"If we are lucky enough to govern

post-September 19, we will certainly be

looking at the ridiculous carve-out rules

which incentivise foreign owners to plant

trees, often on productive land," he said.

Unfair trade

A steady tension has been building

between forest owners and Jones over

the shipping of logs to China. Some in

the wood processing sector - who turn

logs into products for the construction

industry and others - have said that log

exports had come at great cost to New

Zealand's own manufacturing industry.

We are China's largest supplier of

logs and supply over a quarter of their

market.

That lucrative trade has not been

a fair one according to advocates for

saw that vision come to life when Jones

introduced the Forests (Regulation of

Log Traders and Forestry Advisers)

Amendment Bill under urgency - catching

forest owners by surprise.

"I think that the Minister is being a

little bit disingenuous when he says that

we are barking at shadows here," Taylor

said.

Opposition MPs pounced on it as having

been introduced without the industry

having seen its contents. Critics included

Todd Muller (pre-leadership change).

"Mr Jones says this has been out in the

field for a number of years, that he has

had close conversations with the forestry

sector," Muller said in Parliament.

"Well, they have not seen it. In fact,

they are only going to get briefed on it

tomorrow....he has the audacity to come

and say that all this now can be discussed,

debated at a select committee, and reported

back in three weeks. That is arrogance

in the extreme, and we are seeing yet

again the fusion between a man with the

particular view on a model—he wants to

see an economic model that he controls

rather than the free market."

While the Bill's title and purpose

of regulating log traders and forestry

advisers seemed relatively tame one a

specific clause - 63ZZC - has attracted the

ire of forestry owners:

"The forestry authority...may set

standards for...sale and purchase

agreements for domestic transactions or

exports; and (iv) other sale and purchase

requirements".

In this part of the Bill, critics have seen

the possibility for the Government to

give domestic wood processors first right

to access the log supply before overseas

buyers can bid for it.

How many logs do we need?

We harvest around 35 million cubic

metres of logs every year. From that,

15 million (42%) is sold on the domestic

market to wood processors (sawmills).

The rest is exported, of which China is

National promises $10,000 to small firms

But they must hire

additional staff

Dr Parmjeet Parmar

All New Zealanders have

had to make sacrifices over

the past few months as the

Covid-19 pandemic tipped

our world upside down.

Our small businesses in particular

have shouldered a significant amount

of the economic pain in order to abide

by the lockdown rules.

At time of writing, with no new

Covid-19 cases for 13 days straight, it is

time for New Zealand to start moving

forward. We need to get on with the job

of rebuilding our economy.

We understand the task the next

Government will have to undertake is

immense and we do not take this lightly.

But we have the team and the experience

to get the job done. In fact we have

already started rolling out our plan to

create jobs and grow the economy.

JobStart Package

Last week we announced our

JobStart package which will provide

a $10,000 cash payment to businesses

that hire additional staff.

It would begin on November 1, 2020

and run for the remaining five months

of the financial year through to 31

March 2021, incentivising up to 50,000

new jobs.

Small business owners who create

jobs will be the heroes of this economic

crisis, in the way that our nurses,

doctors and all five million of us who

stayed home were the heroes of the

health crisis.

JobStart aims to give small business

owners greater confidence to hire new

people.

Thousands of small businesses across

the country were starved of revenue

during the lockdown and many are still

struggling under Level 2 restrictions.

Expect potential shifts in social behaviour

Danielle van Dalen

It is not very often that elderly New

Zealanders attract our attention,

but Covid-19 has seen the plight of

some of our elderly people in the

headlines for weeks.

Early and repeated recognition of

the vulnerability of older people to

the effects of Covid-19 was front and

centre in the government's messaging;

over 70s were told to stay home for

weeks prior to lockdown; some rest

Forestry Minister Shane Jones

wood processors who allege that China

generously subsidises its wood processing

industry allowing them to pay an

artificially high a price for our logs then

process them offshore to on-sell as higher

value products.

Wood Processors struggle

Wood Processors and Manufacturers

Association of New Zealand Chief Executive

Jon Tanner said our wood processors

struggled to match the prices Chinese

buyers could pay and that had led to the

demise of six wood processing facilities in

six months.

Adding fuel to the fire are the geographic

origins of the different industries

involved.

Wood processors employ people

onshore and are an important source

of employment in some rural areas. On

the other hand, a large proportion of our

forests - who profit most from the log

trade - are owned by offshore interests.

Industry analysts and economists are

sceptical of the claims of those wood

processors and Jones.

To them, we are not processing more

logs domestically because our wood

processors do not have the economies of

scale to compete.

One economist said that if we removed

the Chinese market from the equation

our country would simply be left with an

oversupply of logs.

"I will force them to harvest'

As Forest Owners Association President

Phil Taylor tells it, the Bill caused alarm

within his membership because it had

unfolded in a similar way to a warning

Jones had issued to the group's members

shortly before lockdown.

At the meeting, one forest owner told

Jones that if he put in place measures to

restrict the export of logs or their price

owners of forests simply would not

harvest them.

He said that in response, Jones said: "I

will use emergency powers to force them

to harvest."

Caught by surprise

On the evening of May 14, 2020, they

homes received significant media

attention as a result of the clusters of

cases that they have experienced, and

all New Zealand Covid-19 deaths have

been people aged 60 and over.

I can only imagine how difficult this

must be for so many: both for those

people repeatedly being reminded of

their vulnerability to the virus, and

for the families and friends who could

do little more than watch from the

sidelines.

Challenge of solitude

Of course, the challenges for elderly

New Zealanders during this time go

beyond physical health, the separation

and lockdown measures have only

exacerbated the issue of loneliness.

In fact, Lisbeth Nielson, Director of

Forest owners worry a new Bill will hamper the exporting of logs

(Newsroom Photo by Lynn Grieveson)

the Division of Behavioural and Social

Research at the National Institute of

Aging in the United States, has noted

that many "older people are finding

that they are cut off from the types of

activity that bring meaning or purpose

to their life, communal activities, recreational

or exercise or just face-to-face

social interactions that they are used to

having."

Even now, in Level 2, my friends

who regularly visit aged care facilities

have shared stories of family members

deciding who should visit, and

chaplains having to ration their visits

to one person per day, having to make

impossible decisions about who gets

a visit today, and who has to wait for

another 10, 15, or 22 days.

the major customer (consuming approximately

80% of our log exports). Most of

the logs processed here end up exported

as products like paper or medium-density

fibre-board.

The processed goods that are not

exported are largely used for residential

construction.

That market is relatively safe from

overseas competition because regulations

passed after the leaky homes saga meant

timber used for home construction had to

be specially treated to prevent the buildup

of fungus and "Auckland brown rots".

Opponents of the Bill argue that the

fact that most of our logs are exported is

evidence that there is no shortage of logs

for our domestic wood processors.

Price, an issue

However, Wood Processors and Manufacturers

Association Chief Executive

John Tanner said the issue was one of

price. Wood processors had to pay high

prices for products harvested locally -

prices he alleged were higher than those

paid by competitor mills overseas who

had constraints in place on competition.

"What we are trying to do is achieve a

fair price in the market for the raw materials.

When that happens, everything else

behind it can then grow," he said.

Westpac Economist Paul Clark said

that he understood the need to build up

domestic processing capability, especially

in the wake of Covid-19.

"The problem here is the local processing

industry is essentially the second port

of call. The first port of call is the export

market. China is by far our biggest export

market for logs. It creates a dependency

so if they catch a cold we go down as

well," he said.

However, local competitors had higher

processing costs than the big mills in places

like China and Russia. Most of those

mills could operate at that scale because

they had a constant stream of logs and

very generous state subsidies.

Jones admitted that we could never

Cashflow problem intensifies

They are desperate for cash flow and

this payment could alleviate some of

the pressure they are facing while also

supporting growth.

A payment of $10,000 could make an

enormous difference to the hundreds

of thousands of small businesses New

Zealand is home to.

National is committed to saving jobs

and growing our economy.

We will achieve this by leveraging

our country's great strengths which

are our people, our communities, our

natural resources, and our values of

hard work, tenacity, innovation and

aspiration.

Focus on the economy

Our focus is on the economy, but it

is the economy that you live in, your

Exacerbated situation

While Covid-19 has exacerbated

loneliness and highlighted the need to

improve our connections with elderly

New Zealanders, the trend is not new.

Loneliness and its connection to older

New Zealanders was recognised long

before Covid-19 reached our shores.

In 2018, for example, a New Zealand

Herald article reported that "a third of

elderly spend their days alone," while

2019 research from the University of

Otago found that "loneliness and social

isolation can compel elderly people

to enter aged care more than health

issues."

Despite these heart-breaking stories

of loneliness Chief Innovation Officer at

the Australian Centre for Social Innovation

Chris Vanstone suggests that while

the pandemic is "shaping up to be an

Businesslink

15

match that level of state support, but

forest owners and investors could play a

bigger role.

New Zealand First's stand

"We need a situation where foreign

capital is employed in such a way that it

boosts productivity and it leads to the development

of our nation. I don't know of

a single voter who thinks it's a good idea

to expand the profit and loss statement

of foreign investors, but hollow-out our

nation."

"Our Party's never going to agree with

that. Ever."

Director of forestry consulting

company DANA, Dennis Neilson, said

that we had 60 sawmills and three of

them would be able to meet the entirety

of our country's current sawn-timber

requirements.

That was not the evidence that we

needed more domestic wood processing,

but that we already had enough to meet

market demand, he said.

"In fact if they worked a few more

shifts on Saturday morning they'd

oversupply the market. Sending more

logs to mills...it might increase the supply

[but] it won't increase the demand for

wood in New Zealand because it's already

oversupplied," he said.

Boost demand instead

Lifting demand is what Red Stag CEO

Marty Verry believes Jones and the Government

should be focusing on instead.

Their mill has not encountered

problems accessing a supply of logs although

he acknowledged there had been

shortages in other areas like Northland.

Action needed to be taken to counter

the large state subsidies put in place by

China, but those would be better dealt

with by duties and tariffs, he said.

A wood-first procurement policy for

building projects, already green-lit by

the Government, would do a better job

of encouraging more wood processing

onshore.

Also, China had already set itself the

goal of eliminating its dependence on

foreign logs by 2040, Verry said.

In other words, the Bill had been built

for a problem that was beginning to solve

itself.

"The big question is: is there going to

be demand local for wood and what can

the government do to focus its attentions

on that instead of making sure that the

odd sawmill that is short now gets all the

logs it needs?"

Dileepa Fonseka is a Political Reporter

for Newsroom based in Wellington. The

above has been published under a Special

Agreement.

community, your job, your main street,

your marae, your tourism business.

This is the economy in which our

National team is grounded, and the one

that matters most to New Zealand.

We are facing the biggest economic

crisis in a generation. JobStart is one

important part of our plan to get New

Zealand's economic recovery underway.

National has always been the Party

of small business. It is where we come

from. And it is small business, with our

help, that will rebuild New Zealand

after Covid-19.

Dr Parmjeet Parmar is Member of Parliament

on National's List for Mount Roskill and the

Party's Research, Science and Innovation

spokesperson.

awful shared experience," it also brings

opportunities and "potential shifts" in

the way we function as a society.

Simple reflection

In particular, Vanstone points out

that over lockdown, all of us had a

concrete opportunity to experience the

kind of isolation and separation that is

sadly the norm for many older people,

giving us a chance to "reflect on life for

our elders."

I would suggest we have an opportunity

for more than a simple reflection,

and that now might be the time to begin

to build upon and improve the way that

we care for and connect with elderly

New Zealanders for the long term.

Danielle van Dalen is a Researcher at the

Auckland-based Maxim Institute.
---
16

JUNE 15, 2020

Businesslink

Despite restrictions, our record makes us proud

Peter Dunne

Universal public compliance

has been one of the major

reasons why New Zealand has

apparently been so successful

in curbing the spread of the Covid-19.

Fundamentally, people complied

with the restrictions imposed during

Alert Levels 4 and 3 because of an

overwhelming fear of the risk they

could catch the virus.

The clear and decisive rules of engagement

from the government backed

up that fear. With only a few exceptions,

everyone knew where they stood,

what they could and could not do, and

knew the risks of non-compliance.

Team Five Million

The invocation of the idea of "team

of five million" built up a culture of

our all being in this together, and the

individual privations we were all

enduring being an individually small

but overall important part of a wider

national picture.

In an almost wartime atmosphere,

we were encouraged to believe that

The unfortunate events in

the US over the past two

weeks made me to spark

a conversation amongst

friends to discuss their opinion on

the situation.

I was curious to know if they had

ever been a victim of racism (in any

capacity), and if so, how they dealt

with it. We reflected on our past experiences

and all agreed that racism

is a prevalent and on-going issue.

However, there were differing

views on how we can contribute

towards the change.

I will start with myself.

Painful experience

Yes, I have been a victim of racism.

Not just at primary school when

my family moved from India to

New Zealand but also more recently

when I started working in Sydney.

I greeted a Caucasian couple when

they entered the travel agency in

which I was working and asked

them how I could help. They stared

at me from top to bottom and

replied, "No, we don't want to be

helped by you."

As painful as that was to hear, I

knew I had to be professional and so

I guided them to my colleague who

took over. At that moment, I did not

realise it was my skin colour that

brought on that reaction.

I assumed it was because I looked

too junior and inexperienced in

their eyes to help with their enquiry

despite informing them that I was

one of the Assistant Managers in

store.

As their luck would have it, they

were travelling to New Zealand

(which happened to be my area of

expertise), and my colleague asked

me to assist him with the itinerary,

which I did... and the rest is history!

Do I wish I stood up for myself

then? Maybe. I was in a work

environment, and so I had to be

professional, but when I look back,

we were all playing our part towards

the achievement of a greater national

goal, and we all apparently believed it.

Consequently, we accepted a level of

intrusion upon our personal freedoms

that most of us would never ever have

imagined occurring in our lifetimes.

Somewhat more darkly, some even

embraced the notion of snitching on

others whom they felt were not playing

the game. But, in the interests of the

greater good, such concerns were

quickly pushed aside because it was

comparatively easy to go along with

what was happening.

Dissipating spirit

However, those days now seem past

us. That initial spirit has dissipated and

will be difficult to recapture as we start

to think about life beyond Alert Level 2.

In no small part, that is due to the

unexpectedly rapid success in virtually

stamping out Covid-19 in New Zealand,

at least for the time being.

After all, if there are no new cases

being reported, now day after day,

how can there possibly be a crisis to be

concerned about anymore? Or, so the

argument goes.

But a bigger factor is that the urgency

around Covid19 has waned. The absolute

imperative of uniform national

compliance has all but evaporated.

Disturbing trend

When the Prime Minister and the

Director-General of Health – the two

faces of compassionate reassurance but

unflinching authority during Levels 4

and 3 – are photographed conversing

with groups of people, the way we used

to, it is difficult to maintain the line that

for everyone else strict social distancing

rules must continue to apply.

Likewise, when a demonstration of

several thousand people takes place

and the Director-General says it poses

no threat to public health, because we

have no cases occurring, it becomes

very hard to tell business premises that

they still need to regulate the numbers

of people on their sites in the interests

of preventing Covid-19 possible spread.

The issue here is not whether these

things should be occurring – the

government, after all, seems to be

giving clear hints that a move to the

far more relaxed Alert Level 1, when

virtually the only restriction still in

place will be a closed national border,

is maybe barely a week away – but

rather the mixed messages currently

being sent, and the difficulties they are

causing for compliance. Where we once

were united in the pursuit of a common

goal, we now seem to believe we have

achieved that, and are increasingly

The voice to stamp out racism

should be louder, decisive

Discrimination thrives

amidst apathy and

silence

Shreya Paranjape

I wish I had said something in a

polite manner to convey that my

skin colour does not define my

skill level or my knowledge.

Who is an Australian?

My husband was born in India

and moved to Sydney when he

was just over a year old.

He told me that he was once

asked during a conversation,

'How come you don't look

Australian?'

He did not think much of it,

and responded with 'I am an

Indian-Australian,' (two others

in the discussion were asked a

similar question while travelling

overseas).

While the person asking may

have intended it to be an innocuous

question, but it caused a stir

during our conversation.

Why is it okay to ask someone

why they do not look like a

certain nationality? What does

an Australian (or any nationality

for that matter) look like? Is

there a mould by which we are

identified? No. Questions like

these which may be innocent,

highlight the underlying issue.

Misconception and reality

I spent the first 10 years of my

life in India and was exposed

to many TV commercials with

Bollywood celebrities endorsing

fairness creams.

A large population of India

is influenced by the Western

world, and having lighter skin

is perceived as being affluent

or belonging to a higher class

in society, whereas darker skin

is generally looked down upon.

Unfortunately, this misconception

is the harsh reality.

The same celebrities are now

posting pictures, quotes and petition

links in support of anti-racism

which makes me wonder;

what are they doing behind the

scenes to correctly influence

the millions of followers they

have on social media? Will they

continue to endorse fairness

creams going forward? Will

they continue to post relevant

information about charities/

organisations that support these

causes a month from now and

positively influence their followers

or will it die down because it

is a temporary trend?

Blackout Tuesday

Last week, a lot of the people

who I follow on Instagram posted

a black square for 'Blackout

Tuesday,' in support of the Black

Lives Matter movement.

I remember scrolling through

and seeing a number of these

squares and having mixed

feelings.

I was happy knowing that I

had the right type of friends who

supported a movement like this,

but it again made me wonder

what they were doing behind the

scenes to support the cause.

During our discussion, I learnt

that one friend is making an effort

to support local restaurants

and businesses of colour, another

is making an effort to read

relevant literature to gain more

knowledge, while a few others

have donated money towards

various anti- racism causes.

Baby steps forward

All of these might be baby

steps, but they are steps in the

right direction. As unfortunate

and heart- breaking as the

events in the last fortnight have

been, it has opened my eyes and

prompted me to reflect on my

own experiences.

We need to stop turning a

blind eye to such situations and

questions, no matter how big or

small. We need to make a change

in our behaviour, and educate

ourselves and others to the best

of our ability.

My friends and I may not have

been directly disadvantaged

because of our ethnicity or

colour, but that does not make

these situations acceptable.

In today's world, we have access

to various resources as well

as the power of social media and

it is everyone's responsibility to

create awareness and make a

change, now.

As Mahatma Gandhi said. "Be

the change you want to see in

the world."

Shreya Paranjape was born in

India and raised and education

in Christchurch, New Zealand.

She is now employed as a

Corporate Travel Consultant in

London, where she lives with

her husband.

frustrated that we cannot get back to

life as we knew it more quickly.

Covid-19 on the exit

It is probably also a clear indication

that as the numbers of Covid-19 cases

have virtually disappeared the public

interest has started to move on too.

It is now becoming much more

focused on the impact on individual

circumstances – jobs that have disappeared,

the struggle to pay the rent and

the mortgage, the long winter ahead,

and what happens when the wage

subsidies run out. Worrying about

catching Covid19 is increasingly taking

second place to these more immediate

domestic concerns, especially when it

appears that, even at an official level,

things are not being treated as seriously

as they were just a few weeks ago.

While none of this should come as

any great surprise it also shows that the

government's authority on this issue

has now peaked.

As things start to become more

relaxed, the unique authority the government

possessed and demonstrated

so effectively during the lockdowns

will ebb away and New Zealanders'

natural instinct to be less automatically

obedient to every government call will

return.

So too, one hopes, will the genuine

contest of ideas so necessary to a

functioning democracy, especially in

the lead-up to an election.

Normalcy welcome

The mixed messages of recent days

notwithstanding, most New Zealanders

will welcome and take in their stride

the pending return to something

approaching the normality they knew,

albeit with a typically quiet sense of

pride at what they have been able to

achieve.

They will be hoping Covid19 shows

no sign of a significant return during

the coming winter months, as we begin

to reopen our border. So too will the

government and the public health

authorities.

For they know only too well that

the level of sudden public compliance

and acquiescence achieved during

the lockdowns was but a moment in

time – a shocked reaction to what was

happening overseas and the abrupt

arrival of circumstances that no-one

had properly anticipated.

It is unlikely to be achievable to the

same extent even if future circumstances

warrant it.

Peter Dunne was a Minister of the Crown

under Labour and National-led governments

from November 1999 to September 2017. He

lives in Wellington.

Peace marchers in

New Zealand show

BLM solidarity

Sourced Content

Thousands of New Zealanders

marched at Black Lives

Matter rallies in Auckland,

Wellington and Dunedin on

Sunday, June 14, 2020.

Over the past three weeks,

people across the US have been

protesting over the death of

George Floyd, an unarmed black

man in police custody. Since then,

the 'Black Lives Matter' (BLM)

Movement has come to life again

in many countries, with protesters

taking to the streets, demanding an

end to police brutality and racism.

In Dunedin, hundreds of people

gathered at the Otago Museum

reserve to show solidarity with

the movement. They marched

down George Street to the Octagon,

where a rally was held.

The Auckland March

The Auckland march, which

started at Aotea Square, headed

down Queen Street and ended at

the US consulate, where protesters

took a knee and observed a minute

of silence for George Floyd.

The Auckland rally opened with a

karakia at Aotea Square and a mihi

whakatau from Graham Tipene of

Ngāti Whātua, who told the crowd

to "keep it peaceful."

"Our children are here, so let's do

it right and fight for what's right."

There were some counter-protesters,

including who yelled, 'All lives

matter' during speeches, but those

there for the BLM gathering were

told to ignore them, or to take a knee

if they saw them.

Members of the Ethiopian and Somalian

communities addressed the

crowd on the BLM Movement, along

with social justice campaigner Julia

Whaipooti, who talked about the use

of armed police in predominantly

Māori and Pasifika areas.

Not a hashtag or Instagram

"For many of us this is not a new

moment in time, not a hashtag on

Instagram."

Will 'Ilolahia, a founding member

of the Polynesian Panthers, told the

crowd they were "a part of history"

and that pulling down monuments

was a side issue to the greater

problem.

He said that those seeking

change should not be despondent

at the slow rate of transformation.

"Aotearoa and the rest of the

world is going to be changed

by you. Not me, I have done my

time," Ilolahia said and asked the

protesters not to just stand by if

they witnessed racism.

AUT academic Camille Nakhid,

who studied police discrimination

against the African community in

New Zealand, said racism was the

knee on the neck of Māori, Pasifika

and other communities of colour

in New Zealand.

"Everything is talking and thinking

about the murder of george

Floyd in the US and the knee that

was on his neck. But I want to

talk about the knees on our neck,

the Black indigenous people of

colour in Aotearoa. This protest is

because we love who we are. Do

not let them turn our love into hate

against each other," she said.

Wellington Event

Thousands of people gathered

at the Civic Square, Wellington, to

march to Parliament in solidarity

with the Black Lives Matter movement.

The march was organised by a

group of community advocates,

including Guled Mire.

Speakers included City Councillor

Tamatha Paul, who asked the

people of New Zealand to unite

against racism here. A haka was

performed ahead of the march,

and protestors walked down

Lambton Quay yelling "no justice,

no peace."

Mire said, "Rallying and showing

up to stand with our African

brothers and sister is incredibly

important but we also need to acknowledge

what's happening here.

If we are not doing that, it is quite

pointless. We are taking a stand

against racism that manifests here

in Aotearoa. We need to be able to

acknowledge our history. We need

to acknowledge what's happening

to Māori, Pasifika, including the

community that I come from - the

African community."

Published under a Special Agreement

with www.rnz.co.nz
---
JUNE 15, 2020

Dr Arish Chakarvarthi Naresh

Member of the New Zealand Order

of Merit (MNZM)

Dr Arish Naresh has been appointed

as Member of the New Zealand Order

of Merit for services to the community

and Dentistry.

Since moving to New Zealand 13

years ago, Dr Naresh has worked hard

to improve dental hygiene among

members of various communities.

Manager of Dental Services for the

Tairawhiti District Health Board and

former Chief Allied Health Officer for

the Capital and Coast District Health

Board, he initiated the first publicly

funded maternal oral health service

'Hapu Mama Oranga Niho' and

launched the Te Herenga Ora: He Mahi

Kokiri strategy at Capital & Coast District

Health Board. He is Chairperson

of the New Zealand Dental and Oral

Health Therapists' Association and a

Founding Member and President of the

International Oral Health Association,

an international body representing

approximately 100,000 mid-level oral

health practitioners globally.

Dr Naresh founded, helped

establish or supported the Tairawhiti

Multicultural Council, Gisborne Colour

Run for Diversity, Whanganui Festival

of Cultures, Gizzy School Lunches, and

a free lunch scheme for homeless and

underprivileged Gisborne residents.

He has been a board member of

UNICEF New Zealand, Co-Chairperson

of Ship for World Youth New Zealand,

National Vice President of Multicultural

New Zealand, and is a National

Ambassador for White Ribbon New

Zealand.

Communitylink

The Queen honours Mike Bush and other friends on her birthday

Venkat Raman

Former Police Commissioner Mike

Bush (currently on an assignment

with the government) has

been appointed as a Companion

of the New Zealand Order of Merit

(CNZM) by the Queen.

The Queen's Birthday Honours

List, announced on June 1, 2020, also

features six members of the Indian

community for their services in various

fields.

On top of the List are three Dames

and two Knights.

Dames: Distinguished Professor Jane

Elizabeth Harding (Auckland) for services

to Neonatology and Perinatology,

Dr Karen Olive Poutasi (Paraparaumu)

for services to Education and the State

and Aroha Hohipera Reriti-Crofts

(Christchurch) for services to Māori and

the community.

Knights: Professor Robert Bartlett Elliott

(Auckland) for services to Medical

Research and Professor Derek Arana Te

Ahi Lardelli (Gisborne) for services to

Māori Art.

Mike Bush

Mike Bush (officially Michael Dennis

Bush) is decorated officer of the New

Zealand Police and the communities

would welcome his appointment as a

Companion of the New Zealand Order

of Merit, the third highest civilian honour

in the country's Honours System.

This Reporter has worked with him

for more than 15 years and his concern

for safer communities is translated as

'feeling safe' as well.

Challenges in Career

In his Police career spanning more

than four decades, Mr Bush met

several challenges, in each of which he

showed leadership, quick action and

resolution with community partnership.

The murder of Navtej Singh on

June 7, 2008 in Manurewa, Auckland,

the abduction of abduction of Xin Xin

Ma a year later and many other incidents

during his tenure as the District

Commander of Counties Manukau

District Police were issues that needed

solution-based calm approach.

The biggest manmade challenge of

his career occurred on March 15, 2019

in Christchurch.

As the citation accompanying his

appointment as CNZM said, "He led

the Police response to the Mosque

shootings, the most extensive operation

in New Zealand Police's history."

During his six-year tenure as the

Police Commissioner, Mr Bush spearheaded

a new framework focused

on high performance standards and

worked to create a more respectful

and inclusive culture, incorporating

empathy and diversity into the core

values of the Police.

He defined and led the launch of a

Strategy in 2015 supporting how Police

work with ethnic communities and

improved female representation at all

levels of Police.

Prevention First

He began working on the 'Prevention

First Operating Model' as Deputy

Commissioner Operations from 2011

and continued this transformation as

Commissioner.

'Prevention First' contributed to

20% drop in crime between 2010 and

2014, while lifting New Zealander's

confidence in Police.

Mr Bush promoted strategies to

address Māori overrepresentation in

the justice system, including Police's

refreshed Māori strategy Te Huringa o

Te Tai. He has led the Police response

to major natural disasters including

the 2016 Kaikoura earthquake, major

fires in Canterbury and Nelson, and

flooding in Edgecumbe.

He collaborated with other Chiefs

of Police within the Pacific to share

knowledge and taken the lead with

Asian nations on joint trans-national

crime investigations.

Afiff Shah

Afiff Shan, who will receive a

Queen's Service Medal for services to

the Muslim Community and Football is

a respected leader of both. He has been

a friend of Indian Newslink since its

inception and helped in organising our

Soccer Tournaments and Carnivals.

According to the government

Citation, Mr Shah organised a place of

worship for Muslims at a vacant New

Zealand Army barracks at Walters

Road, Takanini in the 1990s.

Following notice that the barracks

would be removed, he initiated the

purchase of a property for a permanent

place of worship with the support

of other members of the Muslim

community.

"This led to the establishment of the

Al Irqa Islamic Trust in 2000 and the

purchase of a property in Takanini. He

has been a member of the South Auckland

Muslim Association for the past 30

years, assisting Muslims on a voluntary

basis, and was Council Chairman of the

Association from 2009 to 2011. He was

Chairman of the Papatoetoe United

Football Club from 1998 to 2000, and

Coach of the club from 1997 to 2000. He

was also the founding President of New

Zealand Fiji Soccer Inc., now known as

New Zealand Fiji Football Association

Inc., from 2006 to 2010. He was instrumental

in establishing the Association.

Mr Shah is a volunteer adviser for the

Pakuranga Citizens Advice Bureau

Immigration Clinic."

Chandu Daji

Queen's Service Medal

Chandubhai Daji, who will receive

a Queen's Service Medal, a veteran of

the Indian community and has been

the President, Trustee and Executive

Member of the Auckland Indian Association

which is marking its centenary

this year.

Mr Daji belongs to a generation

of businesspersons who, apart from

managing their enterprises profitably

but also found time to promote the

sporting talent among people, notably

the young over the years. Experienced

in running a fruits and vegetables

shop for his family for many years, he

established his own company with his

wife Banu as a Partner, dealing in fruits

and vegetables.

Mr Daji's professional interests have

included Auckland Retail Fruiterers

Association, (President and Executive

Officer), Auckland Indian Sports Club

(Executive Committee Member for 33

years), Auckland Hockey Association,

Auckland Cricket Association Board of

control and New Zealand Indian Sports

Association.

He managed the Hockey and Cricket

teams and was the Coordinator of the

first Golden Oldies Hockey Tournament

held in Auckland in 1998. He was also

the Captain of the Social Hockey team

for 25 years, and came to be affectionately

called, 'Skipper.'

As Vice-President, President and

Executive Committee Member of the

Auckland Indian Association, Mr Daji

was instrumental in organising such

important community welfare events

as 'Free Health Expo,' installation of

the statute of Mahatma Gandhi and

publication of a book to commemorate

the Silver Jubilee of the Mahatma

Gandhi Centre.

He is a Charter Member of the

Westhaven Rotary Club and has served

as President and Secretary and chaired

various committees. He is currently

Chairman of the Club's Charitable

Trust.

"I am honoured and privileged," he

said about the QSM.

Maher Angez Singh

We have known Maher Singh for

past 21 years as a woman involved in

several community welfare activities,

especially for the elderly and hence

a Queen's Service Medal for services

to seniors and the community is well

deserved.

She has volunteered in the aged care

sector and the wider community for

the past 20 years.

Mrs Singh has been an Executive

Member of the New Zealand Indian

Senior Citizens Association and the

New Zealand Fijian Senior Citizens

Association since 2000. She was the

Chair of the former from 2007 to 2011

and is the current Chair of later, having

originally been its founder in 2012.

She works with the New Zealand

Police and social support providers to

assist seniors who are victims of elder

abuse. She frequently visits seniors at

their homes, rest homes or in hospital,

as well as organising outings and

monthly meetings.

She voluntarily organises and

implements a lunch delivery service

for low-decile schools in Manukau and

frequently fundraises for vulnerable

families, victims of domestic violence

and other people and groups in need.

She is involved in collecting donations

for the Blind Foundation and has

volunteered to provide catering for a

cricket tournament for blind players.

Ms Singh has been a member of the

Point Chevalier Lions Club, through

which she has been involved with

several community projects.

"I have been involved in community

service since my younger days. This

recognition is very encouraging and

humbling," she said.

17

Pravin Kumar

Queen's Service Medal

Pravin Kumar (who will receive

Queen's Service Medal for services to

the Indian community) does not like

to talk either about his business (Lotus

Foreign Exchange which has branches

in New Zealand, Fiji and Australia) not

about his achievements but mention

about 'Shri Ram Mandir' located in

Henderson, he would become very

vivacious and attentive.

Since its formation in 2011, Shri Ram

Mandir Charitable Trust which owns

and manages the Temple located at 11

Brick Street, Mr Kumar's lifestyle has

undergone a significant change.

The multimillion dollar Temple is

a tribute to his enterprise, hard work

and capability to mobilise finances and

over the past ten years, it has been a

rendezvous for thousands of people

to pray, listen to discourses by visiting

spiritual masters, religious and social

festivals and other events.

The government Citation said, "All

functions at the Mandir are fully

catered and Mr Kumar has assembled

a large team of volunteers who cook,

serve, and clean up. He uses his lifestyle

block in West Auckland to grow

vegetables and provide milk for the

Mandir. He has organised 'Ram-A-Thon

Charity Walk' over the years, raising

funds for a range of organisations.

He played a key role in the creation

of the Waitakere Indian Association,

serving as its Vice President from 2004

to 2008. Mr Kumar was President of

the Waitakere Hindi Language and

Cultural School from 2008 to 2011 and

has been a member of the Waitemata

Police Ethnic Advisory Board since

2017."

Suresh Chunilal Patel

(Photo Courtesy: David Unwin for

Stuff)

Suresh Patel runs his family

business of fruits and vegetables in

Dannevirke, a rural service town in the

Manawatu-Whanganui region of North

Island, established by his grandfather

98 years ago.

"I believe this is the oldest fruits and

vegetables shop in the country. I am

grateful to my wife Nayna and brother

Peter who are involved in the business.

Their support helps me to engage in

community activities including sports

(for which he will receive the Queen's

Gold Medal)," he said.

Mr Patel was the Chairman of the

Dannevirke Chamber of Commerce

on two separate occasions, helping to

prevent it from going into recession

and then driving the growth of the

Association over the past 13 years.

During his time as Chairman from 2013

to 2015 he revitalised the Dannevirke

Christmas Parade, which has grown

over the past five years under his

leadership.

He was the Chairman of Dannevirke

Cricket Association from 2002 to 2010

and President of the Central District

Indian Sports for 14 years from 1996

to 2010. He has been a delegate and

selector with the New Zealand Indian

Sports Association for many years and

has helped to organise various New

Zealand Indian Sports tournaments.

Mr Patel has been a Coach, Referee

and a Member of many sports clubs

and teams across Cricket, Hockey, and

Rugby. He was made an Honorary

Member of the New Zealand Indian

Sports Association in 2012, and Life

Member of the Central District Indian

Sports Club in 2016 and the Dannevirke

Chamber of Commerce in 2017.

"I am overwhelmed by this honour

(QSM). I think collectively for people,"

he said.
---
18

JUNE 15, 2020

Classifiedlink/Communitylink

Process Workers Required

Food Manufacturing Company based in

Manukau requires Process Workers.

Applicants need to work

5 to 6 days in a shift operation.

This is a hand-on-job position and

requires lifting and

handling of food items.

Skill training will be imparted to the

successful applicants.

Applicants should be eligible to

work legally in New Zealand.

Please apply to info.ips2020@gmail.com

Gregory Fortuin

When (US President Donald)

Trump called Mexicans

"Murderers, Rapists, and

Bad Hombres," I cringed.

When he called the neo-Nazis and

white supremacists who marched

in Charlottesville carrying torches

and shouting about racial purity that

ended in the murder of Heather Heyer,

"Good people," I screamed in pain and

anguish.

When Trump called El Salvador,

Haiti and African nations "s***holes,"

my screaming and cringing turned to

anger. When he called athletes taking

Trump's fascist God is not my Jesus

Donald Trump's invocation of George Floyd on June 5, 2020 has been slammed as 'shocking and revolting' The death

of George Floyd has caused riots throughout the US and protests throughout the world (Photos Courtesy: CNN)

a knee "sons of b*****es," I remembered

(former South African President) Nelson

Mandela say; "If you deny me the right

to live out my humanity, you make me

an outlaw."

Contempt for Human Rights

When Trump was caught on tape expressing

his vulgar tendencies towards

women saying, "Grab them by the p***y.

You can do anything. I did try and f***

her. She was married. I moved on her

like a b***h," I despaired at the religious

fraternity who embraced him and made

him their King."

When Trump warned of "letting loose

vicious dogs" as per the slave owners on

fleeing slaves following the protest as

a result of the murder of George Floyd

by the knee of a white Policeman on

his neck, he made it clear that he had

no empathy for the plight of his black

citizens.

He amplified that with his contempt

for human rights statement at Rose Garden

of the White House, giving George

Floyd 20 seconds and fascist vitriol 20

times longer.

No place for looting, arson

I agree with him on one thing: there

is no place for looting, pillaging and

destruction; and I firmly condemned

those elements who have engaged in

behaviours that turned peaceful protests

into riots that dilutes the message of

black oppression.

However, when this spewer of hate

then strolls across the road and poses

with a sacred Bible in front of a Church

for political and narcistic motives, I say,

'Trump's Fascist God is not my Jesus.'

If he has ever bothered to open the

Bible, he would see throughout, and

especially the minor prophets, "That my

God is on the side of the poor and the

marginalised."

If he ever opened the Gospels and

Tribute to Malaysia Vasudevan on Platinum Jubilee

Online event at

https://www.youtube.com/

yugendranvasudevan

Venkat Raman

Had he been alive, Malaysia

Vasudevan would have

received millions of birthday

wishes, felicitations and

requests for rendition of more than

8000 songs that made him the Golden

Voice of South Indian Cinema for almost

50 years.

Although Mr Vasudevan would have

actually been 76 years old on Monday,

June 15, 2020, his Auckland-based son

Yugendran and daughter-in-law Hayma

Malini marked '75 years of Malaysia

Vasudevan' over an online event.

Twenty-four artistes participated

in the Programme held on June 15,

2020 (4pm IST) that can be seen live on

Facebook and on YouTube, bringing the

best of the veteran singer.

https://www.youtube.com/yugendranvasudevan

About Malaysia Vasudevan

An interview with Malaysia

Vasudevan was a delight for journalists

like me, for the man had a unique blend

of humility, friendliness and vivacity,

which were exemplified by his innate

talent to represent almost any hero of

his time in films- that spanned from

1962 to his illness that began to overtake

him in 2003. He battled a number of

health-related challenges until his death

in 2011.

The legendary Malaysia Vasudevan

(YouTube Screenshot)

The Vasudevan Family (from left) Pavithra,

the legend, Yugendran, Hayma, Usha and

Prashanthini

He had his moments of anxiety

and frustration but he seldom raised

his voice- except to match the tone of

the actor on whom a song was being

picturised.

With more than 8000 songs rendered

for a variety of actors, composed by

almost all the frontline names of his

era, Mr Vasudevan was a legend. He

belonged to the class of A M Raja, P B

Srinivas, T M Soundararajan, Sirgazhi

Govindarajan, all of whom were the

icons of Tamil music industry.

Veteran film producer-director A

P Nagarajan added 'Malaysia' to his

name.

World renowned actor Shivaji Ganeshan (second

from right), his wife Kamala (extreme left) and

Malaysia Vasudevan at the wedding reception of

his son Yugendran and Hayma Malini in Chennai

in January 2001.

Yugendran blessed by Super Star Rajnikanth on

his screen debut, with Malaysia Vasudevan

Bridging two States and Nations

Born into a Malayali family- he was the

eighth child of Chathu Nair and Ammalu

Ammai- in Malaysia on June 15, 1944, he

evinced interest in Tamil, Tamil Cinema

and Tamil Performing Arts, thereby

strengthening the bridge between Kerala

and Tamil Nadu and Malaysia and India.

Says Yugendran: The Producer 'Rattha

Pei' was keen on making it a film and had

New Programme addresses homelessness, food shortage

Supplied Content

Two new charitable initiatives

have been launched to help

thousands of Aucklanders coping

with the loss of their homes and

food shortages.

Many of them are facing poverty for

the first time in their lives as a result of

Covid-19.

The Programme will link those in

need with local charities and support

services as well as provide access to a

zero-waste and budget cooking series to

ensure they can provide cost-effective

nutrition for their whanau.

The initiative has been developed by

the 'West Auckland Working Together

Collective' and funded by the Trusts

based in West Auckland.

Easy Choice Family Kai

More than 5000 Easy Choice Family

Kai booklets will be printed to help those

families living in poverty shop to cook

and eat nourishing and affordable food.

Free online video demonstrations will

be hosted by New Zealand Culinary Fare

medal-winning Chef Steve Weston to

show how the recipes can be prepared.

The four seasonal cookbooks contain

four weekly meal plans with five dinner

recipes.

Each recipe is designed to feed a family

of six (two adults and four children

under 10) or four adults.

The budget for ingredients is set at

$60 per week and the books contain

grocery lists, imagery and text to

explain the different food groups and

recommended portion sizes for a

healthy diet.

They also contain shopping tips on

how to save the most money when

making purchases and tricks on how to

use broccoli stalks and butterfly a chicken.

Meals include a wide range, from a

standard roast chicken to nasi goreng, lentil

bolognese and cheese and bacon bread

pudding, all designed to help stretch the

budget further.

West Auckland Together

The second initiative developed by 'West

Auckland Working Together Collective'

will see the printing and distribution of

7000 copies of a homelessness housing and

community resources booklet.

Along with emergency housing resources,

the booklet lists caravan parks and

boarding houses as well as places to find

publicly accessible showers and laundry

facilities and free WiFi at places such

as service stations, and free community

pantries.

Lynette Adams, Sport Waitakere

Chief Executive and Spokesperson for

the 'West Auckland Together Collective,'

said that during the lockdown the group

of community-based organisations was

able to mobilise its workforce working in

partnership to support the community.

brought the cast and crew to India. It

was at this point that decided that his

future was in Chennai. After a long

hiatus and struggle even for a meal, he

was spotted by V Kumar and was given

an opportunity to sing in the movie

'Delhi to Madras.' His career began

with the song 'Paalu Vikkura Pathuma'

picturised on Nagesh in that film."

Hits after hits

Another veritable chance came

through 'Bharatha Vilas,' a 1973 Tamil

film, in which 'Mellisai Mannar' M S

Viswanathan slotted him along with

himself, T M Soundararajan, A L

Raghavan, K Veeramani, P Susheela

and L R Eswari. The song, which speaks

of national unity, was a hit.

"His turning point came when Kunrakkudi

Vaithiyanathan gave him an

opportunity to sing in his composition.

However, his major was with maestro

Ilayaraja. The duo went on to give

numerous hits and there was no turning

back," Yugendran said.

Awards and Citations

Recipient of the prestigious 'Kalaimamani

Award' and many other Tamil

Nadu State awards, the legendary actor

and singer was a man of humility.

He left behind on February 20, 2011,

his wife Usha Vasudevan, their son

Yugendran and daughters Pavithra and

Prashanthini.

Yugendran is a singer, music director

and actor is now settled in New Zealand

with his wife Hayma Malini and their

"In a climate of constrained resources,

working together to help communities

harness the power of collective impact

is a highly effective approach. The

Collective invites sectors to work in

partnership towards a shared goal and

bring sustainable change to the people of

West Auckland," she said.

Joint efforts

Ms Adams said that as a part of the

Collective's Covid-19 response, organisations

worked together to coordinate and

support initiatives underway through

its partners including; food and hygiene

parcel delivery through to ideas on how

to keep whanau active during lockdown.

"While supporting 'West Auckland

Working Together Collective' partners to

deliver these initiatives, we recognised

the value Easy Choice could bring to

support whanau through affordable and

healthy meal planning. Whanau across

Aotearoa are facing financial hardship.

Easy Choice is a free tool which can help

ease some of that pressure when it comes

to meal time," Ms Adams said.

Nutritionally balanced

read the life of Christ, he would have

seen true sacrificial love and a commandment

to "heal the broken hearted,

set the oppressed free and bring good

news to the poor."

Flawed Leader

The question for me as a flawed and

imperfect follower of Christ is how I

channel my outrage into actions of Love

and Grace.

Firstly, I must acknowledge that

anger and rage are normal, but how I

act on it is what should set me apart as

a follower of Christ.

Secondly, I must understand why

I am angry. In context, I must understand

that after 400 years of slavery

and oppression, Black Americans are

tragedy fatigued. This is not just about

the public lynching by a white smirking

policeman with his hands in his pockets

on the neck of a black man.

A human being putting the knee

on the neck of another human being

(handcuffed, faced down, crying for his

dead mother) is a matter for humanity.

It is not just a Black Issue – Humanity,

where am I? Christianity, where am I?

People of faith, where am I? Yes, I see

the many of us responding, knowing

why we are angry.

Grace and compassion

Then I must act with Grace and compassion

as did the good Samaritan to the

Jew who would not normally associate

with him. I must bind the wounds; I must

heal the broken hearts and ensure that

they are cared..

Finally, I must speak truth to power. I

must say to my universal Church family, it

is time we had this wider conversation….

silence is not unity.

How do we heal the broken-hearted

and set the oppressed free without discussing

not just the good Samaritan but

the Priest and the Levite? The religious

and legalistic fraternity who always cross

over to the other-side and walk on by

while the lynching is happening on the

pavement? Or to quote former President

George Bush, (that's right, George Bush):

"This tragedy — in a long series of

similar tragedies — raises a long overdue

question: How do we end systemic racism

in our society? The only way to see

ourselves in a true light is to listen to the

voices of so many who are hurting and

grieving."

Lord please help me, Gregory, to act

justly and to love mercy and to walk humbly

with my God (Micah 6) and yes Lord,

I know that it is hard but that includes

praying for and loving Donald Trump and

his followers.

Gregory Fortuin is National Director (Education

& Employment) of Salvation Army and

former Race Relations Conciliator. He lives in

Wellington. Email: gfortuin@xtra.co.nz

three children. Pavithra is married,

has a son and is settled in Malaysia

and Prashanthini, a playback singer, is

married and lives with her husband and

son in Chennai.

About the Tribute online

Yugendran has brought together

several singers of the Tamil Cinema

industry and other enthusiasts for the

Online Tribute.

Among them rendering live are

Yugendran Vasudevan, Aalaap Raju,

Bhavatharini, Deepan Chakravarthi,

Devan Ekambaram, Haricharan, Hariharasudhan,

Harini, Mukesh, Naveen, Nikhil

Mathew, Pooja, Priyanka, Rajaganapathi,

Ranjith, Roshini, S P B Charan, Sri Ram,

Surmukhi, Tippu, Venkat Prabhu and

Vijay Yesudas.

The Programme included Video

Greetings from Bharathi Raja, Ilayaraja,

Sivakumar, Kamal Hassan, A R Rahman,

S P Balasubrahmanyam, Gangai Amaran,

Radha Ravi, Sathyaraj, S P Sailaja, Chitra,

Mano, Anuradha Sriram, Sirpy, Sarathkumar,

Radhika Sarathkumar, Khushbu

Sundar and Suresh Chakravarthi.

Yugendran collaborated with more

than 30 artistes during the Covid-19 Level

4 Lockdown period to do a cover of A R

Rahman's 'Vellai Pookal song,' which went

viral, with more than one million views.

His other cover with the next generation

singers (children of popular playback

singers) 'Uyirum Neeye' as a Mother's Day

dedication fetching more than 100,000

views.

https://www.youtube.com/yugendranvasudevan

Mr Weston said that all recipes are

nutritionally balanced with healthy

ingredients including vegetables, beans

and whole grains.

"The recipes are wholesome and

hearty with no fuss required to bring a

good quality meal to the family table.

Some of the recipes are particularly generous

which means there are leftovers

which can be frozen or used for lunch the

next day," he said.

Trusts Chief Executive Allan Pollard,

said that there is a rapidly growing

community need for better information

and resources to support those financially

hardest hit by Covid-19.

"Every day we are hearing more and

more about the scale of business closures

and redundancies in the media. At a

community level, this is manifesting as

increased demand for support services,

particularly around the basic needs for

shelter and food. We are immensely

grateful to have the opportunity to

help the organisations on the frontline

supporting those who simply don't have

anywhere else to turn for help," he said.
---
JUNE 15, 2020

Entertainmentlink

19
---
20

JUNE 15, 2020

Entertainmentlink

Taco Bell to open new restaurant in Auckland CBD

At Shortland Street

from June 16, 2020

Staff Reporter

Taco Bell has announced the

opening of its new restaurant

at Shortland Street in the

Central Business District

in Auckland with the promise of a

different dining experience.

The Shortland Street restaurant,

which will open on Tuesday, June

16, 2020, is the second outlet for the

Taco Bell brand.

First look at Taco Bell Restaurant, Shortland

Street, Auckland CBD

Water fetches piles of winners in Dubai Photo Contest

Supplied Content

The Hamdan bin Mohammed

bin Rashid Al Maktoum International

Photography Award

(HIPA) announced winners

of its Ninth season of competition

'Water'.

Australian Photographer Jasmine

Carey won the grand prize of US$

120,000, while Emirati creativity sparkled

with a two-way victory through

photographers Yousef bin Shakar Al

Zaabi and Rashed Al Sumaiti.

Opening Hours

The new restaurant will be open

Saudi photographers Abdullah Alshathri

and Fahad Faraj Abdulhameid

shine in the Mobile Photography

through a double win.

Kuwaiti photographers Fahad Al

Enezi and Talal Al Rabah along with

Iraqi photographer Karrar Hussen

completed the Gulf's visual creativity

in a photographic leap that captured

one third of the ninth season's prizes.

The general winner's scene also

celebrated the Indian lens, which

managed to win five awards in

various categories.

A major human concern

Secretary General Ali bin Thalith

said, "We conclude the Ninth season

of HIPA, 'Water,' man's oldest friend

on the planet. All the inhabitants of

Earth know water, but some fear it.

The relationship of a fisherman with

water is not like that of someone who

does not know how to swim. It is completely

different from the relationship

of the scientific researcher, who is

concerned about the frightening

acceleration of the melting icebergs

from Sunday to Tuesday from 10 am

to 10 pm and from Wednesday to

Saturday from 10 am to midnight.

Shortland Street Taco Bell

forms a part of a wider rollout of

approximately 60 restaurants across

Australia and New Zealand over the

next five years, with more stores

likely to open before Christmas 2020.

Arif Khan, Chief Executive of

Restaurant Brands which operates

Taco Bell in New Zealand, said that

while Covid-19 slowed the spread of

the Tacos brand, liberation from the

virus has enabled the company to

underwater. We watch today how

the creators of the world see water

through their lenses; Water, the major

issue that concerns us all, and touches

our lives and the survival of our

planet."

Mr Thalith praised the excellence

of the Gulf region's photographers

and that winners from UAE, Saudi

Arabia, Kuwait, and Iraq are proof of

their talent and dedication to push

their creative efforts and making their

mark on the International photography

scene.

The Grand Prize

The Grand Prize winner of $120,000

is Jasmine Carey from Australia, for

her photo, documenting an intense

and amazing moment. A mother of a

Humpback Whale sleeps beside her

two-week-old baby, taken in the Kingdom

of Tonga in the South Pacific.

'Water' Awards

François Bogaerts from Belgium

won the first place, followed by

Shantha Kumar Shivam Laila from

India (second), Buchari Muslim Diken

return with enhanced energy.

"Our Taco Bell national roll out

was temporarily slowed but we are

pleased to be back opening restaurants

and serving delicious tacos.

The Shortland Street site will be one

of the first new Taco Bell restaurants

to open, globally for the brand, since

Covid-19 arrived and we could not be

more excited for Kiwi fans," he said.

Record consumption

"In the first month after launching

at The Brickworks, Kiwis had

consumed 18,000 Burritos and a

whopping 40,000 Tacos, with the

most popular item being the world

renowned signature menu item, the

from Indonesia (third), Sourav Das

from India (fourth), and Yousef bin

Shakar Al Zaabi from United Arab

Emirates (fifth).

General Awards

For 'General – Colour' in first place

Fahad Al Enezi from Kuwait, second

Yose Mirza from Indonesia, while

the Emirati photographer Rashed Al

Sumaiti finished in third place.

In the 'General – Black & White', in

first place was Talal Al Rabah from

Crunchy Taco," Mr Khan said.

He said that the brand's flagship

store has served enough burritos

stacked end on end to reach the top

of Auckland's Sky Tower over 140

times.

Taco Bell has also proved a hit with

Restaurant Brands' Shareholders

when it was recently announced

the brand delivered over $700,000

in sales in the first two months of

operation in The Brickworks, New

Lynn.

For Menu, updates and other

information, please visit @tacobellnz

on Facebook and Instagram

Kuwait, followed by Polish photogra-

Mobile Photography Awards

First place went to Apratim Pal from India, followed by Indonesian

photographer Budi Gunawan in second place, then Abdullah Alshathri from

Saudi Arabia in third place, Saudi photographer Fahad Faraj Abdualhameid

in fourth place, and Indian Photographer Navin Kumar in fifth place.

pher Anna Niemiec in second, and

Indian photographer Sujan Sarkar in

third place.

Portfolio Awards

Mexican photographer Christian

Vizl Mac Gregor won first place,

second place was given to Zhoufan

Cui from China, while third place

went to Indonesian AthoUllah,

followed by Karrar Hussen from Iraq

in the fourth place, and finally Italian

photographer Fausto Podavini took

fifth place.

Property

Finance

Specialists

Single house

builds

Terrace &

Multi unit

Developments

Subdivisions

Commercial

property

Residential

Investment

Property

NZ$2B+

Funds lent since

inception

1500 +

Loans Settled

Loans from

$200,000

to $25

million

When all other lenders offer you are hurdles, we will get your development off the ground by placing

greater emphasis on the practical and business merits of your funding application. Since 2004, ASAP

Finance has been providing innovative and competitive property funding solutions to investors,

developers and home builders and is recognized as a leading property finance provider in New Zealand.

To find out about our funding solutions, please contact:

Parash Sarma - Client Services Director Mob: 021 864 730 Email: parash@asapfinance.co.nz