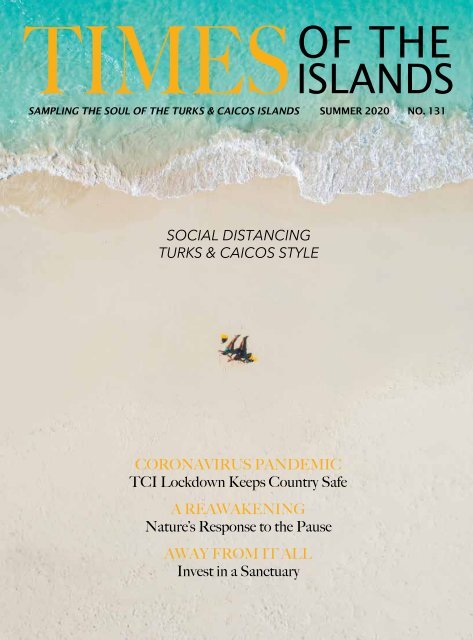 Times of the Islands Summer 2020
Presents the "soul of the Turks & Caicos Islands" with in-depth features about local people, culture, history, environment, businesses, resorts, restaurants and activities.
Presents the "soul of the Turks & Caicos Islands" with in-depth features about local people, culture, history, environment, businesses, resorts, restaurants and activities.
SHOW MORE
SHOW LESS
You also want an ePaper? Increase the reach of your titles
YUMPU automatically turns print PDFs into web optimized ePapers that Google loves.
TIMES

OF THE

ISLANDS

SAMPLING THE SOUL OF THE TURKS & CAICOS ISLANDS SUMMER 2020 NO. 131

SOCIAL DISTANCING

TURKS & CAICOS STYLE

CORONAVIRUS PANDEMIC

TCI Lockdown Keeps Country Safe

A REAWAKENING

Nature's Response to the Pause

AWAY FROM IT ALL

Invest in a Sanctuary
---
For Those Who Seek An

Exceptional Vacation Home & Lifestyle

We Are Available To Help You

Navigate The Real Estate Process

THE FINEST COLLECTION

Condominium | Home & Villa | Land | New Development

649.946.4474 | info@tcsothebysrealty.com | turksandcaicosSIR.com

Venture House, Grace Bay | Resort Locations: Grace Bay Club and The Palms

Each franchise is Independently Owned and Operated.
---
contents

Departments

6 From the Editor

15 Getting to Know

"The Big Boat" — Jeffrey Handfield

By Pastor Bradley Handfield

20 Island Life

A Time to Reflect

By Bernadette Hunt, Turks & Caicos Property

26 Eye on the Sky

Hurricane Season 2020

By Paul Wilkerson ~ Photos By Marta Morton

31 Giving Back

Stewards of the Sea

By Don Stark, Chairman, TCRF

64 Real Estate

Away from it All

By Kathy Borsuk

74 Sanctuary—South Bank Development

By Kathy Borsuk

96 To Do

Staycation

99 About the Islands/TCI Map

103 Subscription Form

104 Where to Stay

106 Dining

108 Classified Ads

Features

36 Works Best Undisturbed

By B Naqqi Manco, TCI Naturalist

58 The Rainbow Effect

By Kelly Currington

77 Lessons from Lockdown

By Kelly Currington, B Naqqi Manco, Don Stark,

Jody Rathgeb, Marta Morton, Dr. Heidi Hertler

TIMES

OF THE

ISLANDS

SAMPLING THE SOUL OF THE TURKS & CAICOS ISLANDS SUMMER 2020 NO. 131

On the Cover

Photographer/videographer Gary James, owner/director

of Provo Pictures, originally shot this image for Wymara

Resorts and Villas. It perfectly captures the natural "social

distancing" available on the Turks & Caicos Islands'

beautiful—and uncrowded—beaches. The country is

scheduled to reopen on July 22 following a four-month

border closure due to COVID-19. For more of Gary's stunning

images, visit provopictures.com.

83

Green Pages

40 As Far As The Eye Can See

By Ben Farmer

44 It's Not Just Dirt, It's Soil!

By Anna Handte-Reinecker

47 National Treasure

By Melissa Heres

53 Hidden in Plain Sight

Story & Photos By Carmen Hoyt

Astrolabe

86 Foodways, Life and Archaeology

Story & Photos By Dr. Andy J. Ciofalo

91 TCI in World War II

By Captain Eric Wiberg

MARTA MORTON–WWW.HARBOURCLUBVILLAS.COM

4 www.timespub.tc
---
TurksAndCaicosProperty.com

Mandalay - Long Bay Beachfront

Mandalay is the most sophisticated expansive villa built on Providenciales and is set on over 200' of

pristine white sandy beach. The 7 bedroom luxury property features award-winning architectural

design capturing the essence of open Caribbean living with a masterful layout that revolves

a ro u n d a s p e c t a c u l a r m u l t i - l eve l p o o l w i t h c e n t r a l l o u n g e , fi re p i t a n d c a s c a d i n g w a t e r f e a t u re s .

US$15,000,000

Bernadette Hunt

Cell ~ 649 231 4029 | Tel ~ 649 941 3361

Bernadette@TurksAndCaicosProperty.com

Bernadette has lived in the Turks and Caicos

Islands for over 21 years and witnessed the

development and transition of the islands

into a significant tourist destination. Based

on independent figures her gross transaction

numbers are unrivalled. Bernadette

has listings on Providenciales, Pine Cay,

Ambergris Cay, North and Middle Caicos

and is delighted to work with sellers and

buyers of homes, condos, commercial real

estate and vacant undeveloped sites.

Villa Skyline - Blue Mountain

Villa Skyline is a 4 bedroom contemporary vacation villa located in the prestigious community of

Blue Mountain on Providenciales' North Shore. The expansive 6,000 sq.ft. hilltop property has been

elegantly designed with modern finishes, stylish decor, and designer furnishings. The entire villa has

been equipped with state of the art electronics and features the most dramatic elevated ocean views.

US$4,500,000

Turks and Caicos Property is the leading

independent real estate firm in the Turks and

Caicos Islands with offices located at Ocean

Club West Resort and Ocean Club West

Plaza on the Grace Bay Road.

Bernadette's reputation and success has been

earned over time through her dedication,

enthusiasm and passion for real estate. Her

personal experience as having practiced law

in the islands for more than 10 years together

with owning and renovating a number of

properties means she is well-placed to advise

her customers and developers on what to

anticipate in the purchasing and construction

process.

Bernadette delights in working in the real

estate industry and her humor and energy

make her a pleasure to work with.

Villa Aquazure - Leeward Beachfront

Villa Aquazure is a beautifully designed beachfront vacation rental villa with a total of 4

bedrooms and is located in the most desirable neighborhood of Leeward on the northeastern

corner of Providenciales. The villa has been impeccably maintained and is currently operated

as one of the best vacation rentals in this area generating income in the high six figures.

Please contact Bernadette if you would like

to find out more about owning real estate in

the Turks & Caicos Islands.

US$3,975,000
---
from the editor

MARTA MORTON–WWW.HARBOURCLUBVILLAS.COM

Longtime contributor Marta Morton shared this image of the wild Sapodilla tree in her yard. She says, "It looked like a bunch of twigs and I

thought it was dying from lack of rain. All of a sudden, after two rain showers, it started to bud and then the sprouts started to turn green."

6 www.timespub.tc

Coming Back to Life

My life turned upside down in late March, just like most of the world's population. With little time to prepare,

I made the agonizing decision to stay put in Turks & Caicos Islands instead of returning to Chicago to help out my

elderly parents and uncle. I had no idea the TCI borders would close for four long months. Thanks to the grace of

God, good neighbors, food delivery and my seniors' inner strength, my dear family members are making it through,

as healthy and comfortable as can be expected during the "shelter in place" order in Illinois. How I thank God for

answering my daily prayers for their protection!

I watched the Islands slowly turn from spring into summer. Some trees and shrubs in the "bush" go barren and

look dead during the dry winter season; it was a blessing—and reminder to me of God's rejuvenating power—to see

the leaves and flowers grow back, inch by inch. As usual, the country's natural beauty soothed my soul and calmed

my anxiety from the flow of fear and uncertainty brought about by the COVID-19 upheaval.

We also made the difficult decision not to print this issue. Instead, you can read and enjoy it online—we'll be

working to share the link with as many as possible—please do the same.

I overflow with gratitude to our contributors, who shared their experiences so honestly; to our advertisers, who

continue to support our publication during these hard times; and to the TCI Government and residents, who acted

with awe-inspiring discipline and dignity to keep the Islands healthy and safe for our visitors to return.

Kathy Borsuk, Editor

timespub@tciway.tc • (649) 431-4788
---
Introducing the Boathouses

The Boathouses at South Bank will be conveniently

located on the marina waterfront with elevated

water views, most with a private dock keeping

your boat close at hand for when the ocean calls.

Cleverly designed to maximize space and light,

each is imbued with a warm, contemporary

aesthetic as a 1, 2 or 3 bedroom layout. Managed

by Grace Bay Resorts, the Boathouses will offer

the perfect balance of community, service, views

and space.

Prices starting from $795,000

Register interest today at livesouthbank.com

Developed by the

Windward Development Company

www.windward.tc

Brand partners:

Managed by:

For more information contact

Nina Siegenthaler at 649.231.0707

Joe Zahm at 649.231.6188

or email: nina@tcsothebysrealty.com
---
TIMES

MANAGING EDITOR

Kathy Borsuk

ADVERTISING MANAGER

Claire Parrish

CONTRIBUTING WRITERS

Kathy Borsuk, Dr. Andy J. Ciofalo, Kelly Currington,

Ben Farmer, Pastor Bradley Handfield, Anna Handte-

Reinecker, Melissa Heres, Dr. Heidi Hertler, Carmen Hoyt,

Bernadette Hunt, B Naqqi Manco, Marta Morton, Dr. Michael

P. Pateman, Jody Rathgeb, Don Stark, Captain Eric Wiberg,

Paul Wilkerson, Candianne Williams.

CONTRIBUTING PHOTOGRAPHERS

Dr. Andy J. Ciofalo, Kelly Currington, Phil Dustan,

David Gallardo–Brilliant Photography, Ben Farmer,

Cynthia Filo, Getty Images–iStock, Anna Handte-Reinecker,

Demitri Harvey, Melissa Heres, Dr. Heidi Hertler,

Carmen Hoyt, Gary James–Provo Pictures, B Naqqi Manco,

Kathleen McNary-Wood, Marta Morton, NOAA,

Beatrix Neuhaus–Beatrix Neuhaus Photography,

Katrina Orthman, Tom Rathgeb, South Bank, Don Stark,

David M. Stone, Turks & Caicos National Museum,

Turks & Caicos Property, Stephanie Wallwork,

Candianne Williams, Wrecksite.eu,

.

CONTRIBUTING ARTISTS

Dwight Outten, Wavey Line Publishing

PRINTING

PF Solutions, Miami, FL

OF THE

ISLANDS

Times of the Islands ISSN 1017-6853 is

published quarterly by Times Publications Ltd.

Copyright © 2020 by Times Publications Ltd. All rights reserved

under Universal and Pan American Copyright Conventions.

No part of this publication may be

reproduced without written permission.

Subscriptions $28/year; $32/year for

non-U.S. mailing addresses

Submissions We welcome submission of articles or photography, but

assume no responsibility for care and return of unsolicited material.

Return postage must accompany material if it is to be returned. In no

event shall any writer or photographer subject this magazine to any

claim for holding fees or damage charges on unsolicited material.

S A V E O V E R 5 0 %

O N Y O U R P O W E R B I L L

W I T H S O L A R E N E R G Y

Call us today for a renewable energy consultation

+1 649 332 1393 or +1 649 431 4242

While every care has been taken in the compilation and reproduction of

information contained herein to ensure correctness, such information is

subject to change without notice. The publisher accepts no

responsibility for such alterations or for typographical or other errors.

Business Office

Times Publications Ltd., P.O. Box 234,

Providenciales, Turks & Caicos Islands, BWI

Tel 649 431 4788

Advertising 649 431 7527

E-mail timespub@tciway.tc

Web www.timespub.tc

www.greenrevolutionltd.com

14 www.timespub.tc
---
getting to know

Local artist Dwight Outten painted this rendition of Jeffrey Handfield's "big boat," the JAS Seaview, whose service changed the course of

Turks & Caicos Islands history.

DWIGHT OUTTEN

"The Big Boat"

Jeffrey Handfield's vision changed the course of TCI history.

By Pastor Bradley Handfield ~ Images Courtesy Handfield Family

Jeffrey Lemond Handfield was a visionary man chosen by his Creator to do something special for his

country, particularly the islands of Providenciales, North Caicos and Middle Caicos.

Times of the Islands Summer 2020 15
---
My father, Jeffrey Handfield, was born in 1930, nine

years before the start of World War II. As a result, his

childhood and adolescent years were very economically

challenging times throughout the world. Even more so for

the Turks & Caicos Islands, which was under direct rule

by the British Government and administered by a British

governor stationed in Jamaica. My father used to talk

of those tough times with vivid imagery. He would say,

"Times were so hard that we used to eat cornmeal that

was so old it was filled with worms, and we used to thank

God for the worms because at least we were eating meat."

This was a result of the long time it took for supplies to

be shipped from Jamaica to the Turks & Caicos Islands.

When my father was a boy, employment in the Caicos

Islands was non-existent. He would say, "The only things

for young men to do in those days were hooking conch

and burning charcoal." People used to depend on the land

and the sea for their survival. The men were avid boatsmen

and the boys dreamt of becoming just like their

fathers.

The dream my father had was that one day he would

own a "big boat," meaning a large Caicos sloop. Boys in

those days didn't have many educational opportunities.

In North Caicos there was only a little primary school in

Bottle Creek, the settlement where my father lived. He

attended the Bottle Creek Primary School until he was

nine years old and in the third grade. (While I am writing

this account, my son is nine years old and the thought

of Dominion ending his education now makes me emotional.)

Once out of school the only thing for young Jeffrey

to do was join his father as a crew on his fishing boat.

At nine years old he had to learn to scull/row the dinghy

boat using a long oar, and hook conchs using a water

glass and a long pole with a hook at the end. Fathers and

their sons would leave North Caicos on Monday morning

and head for South Caicos where they would buy supplies

for three weeks and then go from there to Ambergris

Cay. At Ambergris Cay they would live in huts made from

a local wood called "wattle" and the roof would be made

from palm leaves. There they would stay, fishing and

hooking conchs, then hanging them in the sun to dry.

For three weeks they would do this work and they would

give their product of dried fish and dried conch to the

captain of the large sloops who would take it to Haiti to

be sold at Cap Haitian. Back then, conchs would be sold

in Haiti at a price of one dollar per one hundred conchs.

This was the life of men and boys and this was how my

father began dreaming of having a "big boat" of his own.

Also known as "Baba Jeff," Jeffrey Handfield was a pastor in the

Church of God of Prophecy; considered one of the best divers in the

TCI; and was a loving father, uncle and great-great grandfather.

In order to find more lucrative means of employment,

young men would have to migrate either to the Bahamas

or the United States. As a young adult my father migrated

to the Bahamas as a stowaway on one of the "big boats"

that carried passengers to Nassau. Since my father's

name was not on the manifest as a passenger or crew

member, he had to be smuggled into the Bahamas. This

is my father's account of how that happened: "When the

boat reached Nassau it stopped at Hog Island, (now called

Paradise Island), all the stowaways had to swim to shore

on Hog Island to wait for nightfall. We reached Hog Island

with our clothes soaking wet, the sun was hot and there

was no shade, boats were passing by close to the shore,

16 www.timespub.tc
---
so to hide ourselves we dug holes in the sand and buried

ourselves leaving only our face out so that we could

breathe. We stayed there all day without food or water

until the sun went below the horizon. At night a dinghy

was sent to collect us and bring us to Potter's Cay dock

where we disappeared on the streets of Nassau."

In Nassau there was a large population of Turks &

Caicos Islanders who would help newcomers from TCI

to settle in the Bahamas. Once linked with the TCI connection,

my father made his way to Grand Bahama where

there were many jobs in the pineyard. In Grand Bahama

my father was hired as a saw man and his job was to

operate one of the big saws that cut the pine trees into

lumber.

It was customary in my father's era that once a man

reached a certain age and was able to find a means of

income, that he should marry. My father returned from

the Bahamas at age 21 decked out in fine clothes and his

signature hat at three quarter pitch on his head. He was a

handsome ebony man, who as he put it, "I used to dress

to kill." His sole intention upon returning home was to

find himself a wife.

Courting was different back then. Once a man spotted

the girl that he loved, he would write a letter to the parents

of his prospective bride, asking permission to come

to the family's home to declare his intentions to the girl.

So my father wrote a letter to my grandmother. Normally

the letter would be addressed to the father of the girl, but

my grandfather was deaf and mute and as such he could

not read. The letter would read like this:

"Dear Mrs. Missick, my name is Jeffrey Handfield,

I am from Belmont and my parents are James and

Alrica Handfield. I am writing to you to let you know

that your daughter Alma has caught my attention

and I am deeply in love with her. I am hereby asking

your permission to visit your home so that you can

meet me and I can express my feelings to Alma and

declare my desire to marry her. I write to you with

great expectations of your approval of my request.

Yours sincerely Jeffrey Lemond Handfield."

Ferry Fall 17_Layout 1 8/22/17 12:52 PM Page 1

* *

Jeffrey Handfield and Alma Missick were married on

the June 17, 1952. When a man married he had to have

a house to carry his new bride to. He could not carry her

to his parents' house to live, and back then there were

no rental properties. As such my father had built his little

house in Belmont and he took his bride home to build a

family and a life together. He continued working in the

Bahamas and making regular trips home to spend time

Temporary suspension PROVO NORTH 12.30pm & 1.30pm Sept 1st to Oct 31st

*

Resumes Nov 1st

Times of the Islands Summer 2020 17
---
with his growing family. All along he did not give up his

dream of having his own "big boat."

My father often told us of how he received his vision

for his "big boat" from an angel. All along he only had

a dream, he had no clear vision of this boat he wanted.

But one night after working hard at the sawmill in Pine

Ridge, Grand Bahama, my father fell asleep on the floor

of his cousin's little clapboard house. Suddenly an angel

descended from the ceiling. He stood in front of my father

and said, "Jeffrey, you said you want to build a boat?" My

father replied, "Yes sir." The angel didn't say anything

else, instead he proceeded to make several hand gestures.

He drew a straight line on the floor and wrote the

number 65, he opened his arms and then wrote 18, he

clasped his fingers together and bent his elbows, then

made a sign with his fingers and wrote 2 feet. Once he

made this last sign he disappeared through the ceiling

as suddenly as he had appeared. My father awoke from

this scenario and shared what had just happened with

his cousin who was asleep on the bed. His cousin said

to him, "Jeffery, you just received a vision from the Lord,

you should write down everything the angel showed you

before you forget." My father did exactly that, he wrote

down Hugh final_Layout all that the 1 angel 5/29/17 had 1:15 showed PM Page him. 1 Then he realized

P

E

R

S

HUGH G. O'NEILL

&

ATTORNEYSN

AT

L AW

P.O. Box 267

Hibernian House

1136 Leeward Highway

Providenciales

Turks and Caicos Islands

B.W.I.

Tel 649-946-4514

Fax 649-946-4955

Email hugh.oneill@hgoneillco.tc

C

CO. O

N

F

I

D

E

N

T

I

A

L

that what he had been given were the dimensions and

design for his boat.

Having been given such a clear vision my father was

highly motivated to pursue his dream. He devised a strategy

to have this vision come to fruition. He decided that

he would stay in Grand Bahama and work for two more

years and save as much money as he could. At the end

of the two years he used his savings to purchase all the

materials that he would need to build his boat. He sent

the material home and returned to begin his project.

Upon his return to North Caicos, he immediately solicited

the help of his cousin Gifford Handfield, who was a

professional boatbuilder. He set up the boat in his yard

using local timber. When the boat was framed his cousin

asked him if he was building Noah's ark, because of the

size and design of the boat. But this is where the story

becomes more interesting.

My father had set out to build a sailing sloop which he

would use to take the fishermen's products to Haiti and

bring back produce and other valuables from Haiti to be

sold in North Caicos. However, while the boat was under

construction, Mr. Liam McGuire, a British surveyor, was

about to start constructing the roads in Providenciales,

North Caicos and Middle Caicos. He had run into a huge

problem. He needed to transport oil from South Caicos

to these three islands and he could not find a boat in the

Turks & Caicos Islands that could traverse the shallow

waters of the Caicos Banks loaded with his fuel tanks.

Fortunately, someone told him about the boat that my

father was building and suggested that from the look of

the boat it might be able to do the job.

Liam visited my father in North Caicos to have a look

at his boat. He asked what the draft of the boat was and

was told that the boat could manoeuvre in two feet of

water loaded with cargo. Liam had found the boat that

he was looking for! He negotiated with my father and the

boat was contracted to carry the fuel between the islands

before it was completed.

Another event of significance unfolded surrounding

the hiring of the boat. As I said before, my father had

set out to build a sailing vessel. Now that the boat would

be carrying huge tanks on deck, it was impractical for

sails to be used. Hence a new plan was devised to have

customized engines made for this vessel in England.

Liam undertook this effort and the engine was made in

England to suit the design of my father's vessel.

When my father was finished building the boat in

1968, it was one of the most exciting days of his life. But

there was one problem. The boat had to be launched. It

18 www.timespub.tc
---
was problematic because my father had built it in his yard

about 300 feet from the sea, and 30 feet above sea level.

How would it be done without having the boat break in

half? Back then they had no heavy equipment, no cranes,

only ropes, ramps and come-a-longs. Old fashioned

blocks and tackles.

Boat launches were one of the most festive occasions

in the Islands. All the men were needed to help heave

and pull, the women cooked and served food and drinks,

the children looked on excitedly. The whole community

of North and Middle Caicos came out to help and to have

fun.

On the day of the launch my father was excited and

worried—he had built a huge ramp and put rollers in

place to get the boat moving. He was afraid that the hill

was too high and the boat was too heavy and it might

break apart if it didn't land in the water when it left the

hill. Once the boat started moving quickly on the rollers

there was no stopping her. Either she would land in the

sea and be safe or hit the land and break apart.

Thankfully on that day, after praying and asking God

for guidance and protection, the men began to pull as

they chanted, the boat started moving, picking up speed

Walkin May2017_Layout 1 5/28/17 5:45 PM Page 1

with every pull of the ropes, faster and faster it went as Jeffrey Handfield died in February 2019 at the age of 88, feeling that

his country had not recognized his pioneering contribution.

she hit the slope of the hill. At the brink of the hill she left

the ground and landed safely in the sea. My father went

aboard, stood on the bow, lifted the bottle of champagne

that he held in his hand and smacked it against the bow

of the boat as he declared, "I christen you the AJ and S

Seaview."

The Seaview was taken to South Caicos where Mr.

Totton Seymour installed the engine that had come from

England and thus the AJ and S Seaview became the first

motorized ship built in the Turks & Caicos Islands.

My father took considerable pride in the fact that his

vessel was used to carry the oil from South Caicos to

Providenciales, North Caicos and Middle Caicos so that

the roads in these Islands could be constructed. He felt

that God had chosen him to do something special for his

country.

It is unfortunate that he died in February 2019 at the

age of 88, feeling that his country had not recognized

his pioneering contribution. Perhaps the Turks & Caicos

National Museum should record my father's contribution

to maritime history of the Turks & Caicos Islands. a

Bradley Handfield is pastor of Community Fellowship

Centre Church on Providenciales and founder of

Community Christian Academy.

DISTRIBUTOR DISTRIBUTOR FOR FOR EVINRUDE && MERCURY MERCURY

OUTBOARDS, PURSUIT WORLD CLASS CAT, CAT,

SUNDANCE AND BOSTON WHALER BOATS

Lures and Live Bait

Marine Hardware & Gear

Fishing Gear & Supplies

Marine Paints & Varnish

Marine Batteries

Sebago Docksiders

& Sperry Topsiders Shoes

BLUE

BLUE

HILLS

HILLS

ROAD

ROAD

PROVIDENCIALES

PROVIDENCIALES

TURKS

TURKS

& CAICOS

CAICOS

ISLANDS,

ISLANDS,

B.W.I.

B.W.I.

PHONE: 649-946-4411

FAX: 649-946-4945

Times of the Islands Summer 2020 19
---
island life

If the thought of owning a second home in a beautiful, peaceful, healthful place like the Turks & Caicos Islands appeals to you, consider a

luxury beachfront villa such as Aquazure (opposite page) or Mandalay (above). Both are currently on the market. Villa Aquazure is located in

the exclusive neighborhood of Leeward on the northeastern corner of Providenciales, while Mandalay Villa is newly renovated and sprawls

on Long Bay Beach in Providenciales.

A Time to Reflect

The lockdown brought to light TCI's many positive qualities.

Like many successful businesspeople, I spent much time working, travelling and socializing. Sometimes

I was so busy, I didn't always appreciate my surroundings or lifestyle. TCI's strict lockdown and country

closure to control the Coronavirus pandemic was an opportunity for me, like many others, to have time

to reflect, enjoy life at a slower pace, and count our many blessings, especially the chance to live in the

Turks & Caicos Islands.

By Bernadette Hunt, Broker/Owner, Turks & Caicos Property

Images Courtesy Turks & Caicos Property

Times of the Islands Summer 2020 21
---
GARY JAMES—PROVO PICTURES
---
My son Tim and I were blessed in early December

2019 to have received an invitation from a friend to visit

Verbier, Switzerland and spend New Year's with her and

her family. We jumped so quickly at it we bought tickets

that morning before having our breakfast. We had earlier

in the year visited with her at her residence in France

for Tim's birthday in August. We found that the natural

beauty of both countries had such a profound effect on

us that we wanted to go back again this summer to both

jurisdictions.

On our return to the Turks & Caicos in early January

2020, I read about the Coronavirus online and felt that

this was something that I believed would affect my travel

for the rest of the year. I had plans to go to Miami and

attend a real estate conference in Las Vegas, but something

influenced me to cancel those plans and adjust

my thought process to being on-island for an unusually

extended period for me. I had also planned to return to

my homeland—Ireland—and hope to make that trip later

this year.

I am one of those Irish people who, when I catch a

cold, I get it really bad. Given that January to May is high

season for my real estate business, I didn't want any

interruptions to my business by getting sick so I decided

to simply avoid airline travel for a few months. At that

time in January I never imagined that in two month's time

we, along with the rest of our friends and TCI residents,

would be under lockdown as of March 27. I thought—as

many of us—that this would be a two to three week break

and then we would go back to work.

I looked at the first three weeks as a gift, a complete

break from work and a time to "be" and do small, normal,

routine things like make breakfast, lunch and dinner

and enjoy our lovely home. Believe it or not, I and many

people like me who work full time never really do spend

significant time in our homes. With curfews in place we

exercised in the mornings and evenings and got to see

people on our streets walking who we don't normally see.

Weirdly enough, we can't chat because of social distancing!

Here in the Turks & Caicos, we have been blessed

with a very strong governor in Nigel Dakin and the

amazing Sharlene Cartwright-Robinson as our premier.

Together with agencies like government departments of

Immigration, Police, Health and Customs they managed

this pandemic so well that the number of residents contracting

the virus is the lowest in the Caribbean, with only

one death.

24 www.timespub.tc
---
The food stores that remained open were managed

without incident and shelves were and are still fully

stocked. For visitors who decided to stay in the Turks

& Caicos and wait out lockdown, when some of them

really needed to get back home once the lockdown was

extended into May, our governor, government and the

private air centers assisted with charters back to Europe,

Canada and the US.

As of May 4, many of the restrictions imposed on

us have been lifted and we can now go to the beach—all

while observing social distancing, of course. On June 5,

real estate property showings were allowed, with strict

operating protocols issued by the Ministry of Health.

On July 6 we expect full reopening of the local economy

under established protocols. The country's international

and regional borders are set to reopen on July 22, and all

are eager to welcome the first visitors back.

Recent online commentary regarding the difficulty

of social distancing in airports and the talk of instituting

"health passports" have given me reason to pause.

As I consider these issues and the comments made by

Warren Buffet as he sold his entire holdings in airline

stocks, I wonder if global travel will ever return to what

we were used to? Hopping off one flight and connecting

easily to another flight? I currently have friends who came

to visit for two weeks in March and when lockdown was

approaching, they chose to stay here—one continues with

her university studies online in my apartment.

Just since the beginning of May, I and other TCI brokers

have seen an increase in enquiries for real estate

in the Turks & Caicos Islands—not just from our closest

countries in North America, but also Europe. Transactions

are also happening and some at very significant price

points. I believe people know that the ease and flexibility

to travel that we have all enjoyed in the past will not

return, but one thing so many us have learned is that life

doesn't stop. School and university doesn't stop for students

and selling real estate didn't stop for us brokers in

the Turks & Caicos.

What has happened is that we have all learned to

adjust to the changes. What I and many potential buyers

have learned is that Turks & Caicos doesn't have to be a

place you just visit for a week or two here and there and

then you run back to your office. As so many of you are

now working from home, I am sure you have realized that

this allows you to work from anywhere in the world that

has high speed Internet access.

The Turks & Caicos Islands are a place where you can

spend a significant amount of time once you go through

what may be the tedious exercise of dealing with airports.

So many of my clients who have purchased here have said

to me, "Bernadette, we have been to every country in the

Caribbean and this is the first one that 'spoke to us' and

that is why we are buying."

The Turks & Caicos has a natural beauty second to

none and an infrastructure that is as advanced as the

mainland. From my perspective, I feel that travel for the

next few years will not be as smooth as it once was and

so outside of the Turks & Caicos I believe I have found my

happy places. I know many of my friends and clients who

own here can't wait for the borders to open to come back

and settle into their condos and villas.

I would encourage everyone who wants to improve

the quality of your life by having a second home, whether

it is a 500 square-foot studio in one of our beachfront

resorts or a large villa on the beach (like Mandalay), to

contact me to discuss purchasing a property in the Turks

& Caicos Islands. There is no better time to research

properties, given that many villas and condo buildings

are now vacant—allowing us easy access to take you on

a walk-through on a live video. This is helping my many

clients narrow their list of properties to purchase before

they even return to the island again.

If you are contemplating purchasing a property to

make the "Beautiful by Nature" Turks & Caicos Islands

your temporary or permanent home, I would be delighted

to help with your decision-making process. Without a

doubt I believe the Turks & Caicos will be THE happy

place for you and your family in times of uncertainty. a

Please visit our website at TurksAndCaicosProperty.com

to view all our property listings and learn more about

purchasing real estate in the Turks & Caicos Islands.

See our ad on page 5 opposite Table of Contents.

Times of the Islands Summer 2020 25
---
eye on the sky

A serene sunset over calm seas (opposite page) is a welcome and stark contrast to the stormy weather hurricane season can bring (above).

Hurricane Season 2020

Atlantic region expected to be active.

By Paul Wilkerson ~ Photos By Marta Morton, www. harbourclubvillas.com

Although hurricane season officially starts on June 1, by mid-May Tropical Storm Arthur was already moving

along the Outer Banks of North Carolina. What are we to take away from this early start to the season?

Is it unusual to have named systems in May?

The good news on systems forming before the official start of hurricane season is that, since 2015,

every May has had a named system. In some of those years, Atlantic activity was above normal, while in

other seasons, activity was closer to normal. So early starts don't always mean we will see an overly active

season, but it doesn't mean that it isn't possible.

Times of the Islands Summer 2020 27
---
What is on tap for the 2020 Atlantic Hurricane season?

Currently, all data points to above-normal activity

between June 1 and November 1 this year. The National

Oceanic and Atmospheric Administration (NOAA)

released their official hurricane season forecast on May

21, 2020. An above-normal 2020 Atlantic hurricane season

is expected, according to forecasters with NOAA's

Climate Prediction Center, a division of the National

Weather Service. The outlook predicts a 60% chance of

an above-normal season, a 30% chance of a near-normal

season and only a 10% chance of a below-normal season.

Other government entities, private companies and institutions

of higher learning agree that this year looks to be

above average in terms of tropical activity.

Sea surface temperatures

There are several reasons above-normal activity is

indicated. One of the most important is Sea Surface

Temperatures (SSTs). Typically during the winter months,

systems that move through the United States will penetrate

down into the waters of the Caribbean to some

degree. These systems and the cool air they bring are

responsible for lowering the SSTs in the water around

the Islands. Generally speaking, it takes the majority of

Spring and into the early Summer for these waters to

recover their warmth. As we know, higher sea surface

temperatures act as the fuel for tropical systems, and

are important in sustaining tropical activity over the long

term. Without warm temperatures, tropical activity falters.

This past Winter and currently in late Spring, we

haven't had strong cold pushes into the Caribbean. As a

result, sea surface temperatures are running well above

normal for this time of year—currently temperatures are

what we normally would see into June and early July. This

is one precursor to a possible active season.

Oscillation pattern

Secondly, we look to see what type of oscillation pattern

we may be under—El Niño, La Niña or Neutral. In El Niño

years, tropical activity is traditionally lower, thanks to

increased shear across the Atlantic and Caribbean. Shear

and tropical systems generally do not mix as shear tends

to tear apart systems that try to develop. Remember

that tropical systems do best in areas with weak wind

shear and where high pressure is present. When La

Niña or Neutral conditions are present, the atmospheric

conditions more routinely are favorable for tropical development

and sustainment of tropical systems once they

do develop.

For the Summer of 2020, the projection is for weak

La Niña conditions, or Neutral. This favors above-normal

activity.

NOAA

28 www.timespub.tc
---
Forecasting is a tough business

It is important to remember that while the seasonal

tropics forecast is calling for above-normal activity, it is

completely within the realm of possibility that the season

could not be as active. If El Niño conditions developed

unexpectedly, or there is unforecasted cooling of waters

in the Atlantic, seasonal predictions could very well be

off. Forecasting is a tough business, and many challenges

manifest in different ways. It will not always go according

to what the forecast shows!

Preparing for the season

It is understandable that the people of the Turks & Caicos

Islands continue to be uneasy with hurricane season,

based on the active years of the recent past which culminated

in 2017 with Hurricane Irma significantly impacting

the entire island chain. Many lessons have been learned

in the wake of that hurricane. It is important for island

residents to remember those lessons. Pay attention to

DDME when information is issued. Follow all of your government

officials' recommendations. Get ready ahead of

time should tropical activity threaten you and your home.

This year, keep COVID-19 in mind when revising or

making your plan for how you will shelter and protect

your home, family and pets. Make sure that your family

and friends know what your plan is. It is always good

practice to make sure someone other than immediate

family knows your plan. This could help post-storm, as

others would know where to find you. Planning now will

ensure you are ready should weather threaten.

Lastly, it is important to remember that the odds of

a hurricane making landfall in the TCI are relatively low.

The Islands do experience an occasional system each

year that comes within close-enough reach to increase

rainfall, wave action and erosion on beaches.

It is vitally important that all TCI residents remain vigilant

and alert as we head into the 2020 hurricane season.

With proper knowledge and preparation, Islanders can

continue going about their normal lives with confidence

that should Mother Nature threaten, they have a plan to

be ready! a

Paul Wilkerson is an American meteorologist and tourist

who frequents the Turks & Caicos Islands. Along with

his wife and two daughters, the Wilkersons stay actively

engaged with Islanders throughout the year with his

Facebook page Turks and Caicos Islands Weather Info.

Times of the Islands Summer 2020 29
---
MICHAEL MORTON—WWW.HARBOURCLUBVILLAS.COM
---
giving back

Opposite page: Thanks, in part, to the work of the Turks & Caicos Reef Fund, scenes like this Green turtle tucked into a stand of colorful coral,

taken at The Bight Reef (Coral Gardens), are still to be found in the country's clear waters.

Above: This thriving underwater scene features a colony of Dendrogyra cylindrus coral surrounded by a school of French grunts.

MELISSA HERES

On May 10, 2020, the Turks & Caicos Reef Fund (TCRF) began its eleventh year as the only environmental

advocacy non-profit in the Turks & Caicos Islands. Founded in 2010 by Don Stark and David Stone, TCRF

has worked tirelessly as an advocate for the TCI's environment. Let's look back and reflect on what has

been accomplished over the past decade.

Stewards of the Sea

Ten years of environmental advocacy.

By Don Stark, Co-Founder and Chairman, TCRF

Times of the Islands Summer 2020 31
---
Background

The Turks & Caicos Reef Fund (TCRF) was founded with

a mission of helping to preserve and protect the environment

of the Turks & Caicos Islands through education,

research and advocacy. It started and remains an all-volunteer-run

organization with no paid staff. The co-founders

agreed at the start that they were not in this to make

money, but to put at least 85% of every dollar raised into

specific projects. TCRF exceeded that goal every year for

the past decade and will continue to minimize overhead

and operating costs going forward.

Through March 2020, TCRF has raised a total of over

$1.1 million. All of the funds came via donations from

residents, visitors, local businesses, grants for specific

projects and fundraising events. We receive no funding

from the TCI Government.

Coral Gardens snorkel trail

So, what has the Turks & Caicos Reef Fund done with

all that money to help the TCI environment? Quite a lot.

One of our first big projects was the rehabilitation and

improvement of the Coral Gardens (Bight Reef) underwater

snorkel trail. We removed, cleaned and re-installed all

the trail markers. We replaced the ring of buoys intended

to keep snorkelers away from the shallowest parts of the

reef so they don't get hurt and they don't harm the coral.

We also added beach signage. (Unfortunately, it was lost

to Hurricane Irma, but will be replaced soon.)

Boat moorings

Dive and snorkel boat moorings are another big project

that has been ongoing since 2012. This work, conducted

under a Memorandum of Understanding with the TCI

Government's Department of Environment and Coastal

Resources (DECR), has resulted in the expansion of dive

and snorkel boat moorings around French Cay, West

Caicos, North West Point, Grace Bay and Pine Cay. TCRF

has also been providing mooring supplies to the dive

operators on Grand Turk and Salt Cay to assist them with

the maintenance of their moorings.

This is important as it allows dive and snorkel boat

operators to take guests to the reefs and not have to drop

an anchor—potentially damaging the reef. On average,

this has been one of our most costly projects, consuming

around $30,000/year of our operating budget.

Coral nursery

Coral reefs around the world are endangered and the

reefs around the Turks & Caicos Islands are no exception.

Although TCI reefs are in better shape than the reefs

DAVID M. STONE

TCRF Chairman Don Stark tends to corals in the nursery at a site off North West Point, Providenciales.

32 www.timespub.tc
---
DAVID M. STONE

This TCRF volunteer is surveying a coral reef off East Caicos to help create a map of underwater habitats.

around many islands in the Caribbean, they have also

seen degradation over the past decade. In 2016, TCRF

installed a coral nursery at a site off the coast of North

West Point. We are raising two critically endangered corals,

Acropora cervicornis (Staghorn coral) and Acropora

palmata (Elkhorn coral). These two species were once one

of the primary reef-building corals throughout the tropical

Atlantic and Caribbean, but they were nearly wiped

out in the 1980s by a coral disease. Our goal is to raise

these two species in the nursery and then transplant

them to reefs where they once were abundant.

a labor intensive process where each affected coral head

has to be treated individually. The treatment we are using

is an antibiotic called amoxicillin. (It is often used to treat

ear infections in children.) The antibiotic is incorporated

into a ointment base that was specifically developed for

this purpose, as it minimizes the release of antibiotic into

the sea while increasing penetration into the coral tissue.

Although TCRF is just getting started with the treatment

effort, positive results are already being seen as the antibiotic

appears to be stopping disease progression in

treated coral heads.

Stony Coral Tissue Loss disease

There is a new coral disease that first appeared in the

Turks & Caicos Islands in early 2019 which is called

Stony Coral Tissue Loss Disease (SCTLD). This is a rapidly

spreading and highly lethal disease that affects around

20 species of corals found in the TCI, including all the

brain corals, pillar corals and star corals that are so common

on TCI reefs.

The good news is that the disease is treatable through

East Caicos

East Caicos remains the largest uninhabited island in

the Turks & Caicos Islands, and may be the largest uninhabited

island left in the region. But with talk of starting

development of the island by the TCI Government, it was

important to undertake a formal assessment of the health

of the reefs off its coast.

With funding from the European Union's BEST 2.0

programme, between 2017 and 2018 TCRF conducted a

Times of the Islands Summer 2020 33
---
DAVID GALLARDO

Top: The Turks & Caicos Reef Fund's SCTL Disease Project Manager Alizee Zimmermann treats an infected coral head with an antibiotic

ointment.

Bottom: South Caicos residents discusss potential ecotourism business opportunities.

survey of all the reefs around East Caicos. The result was

the creation of a map of the underwater habitats and a set

of recommendations as to what areas should have protected

status. Those recommendations were developed

based on input from the residents of South Caicos who

frequently use the waters around East Caicos for fishing

and recreation. The protected area recommendations

were submitted to DECR for consideration before any

development begins on East Caicos.

Advocacy

Advocacy has been another major activity for the Turks

& Caicos Reef Fund over the years. One of our biggest

successes was stopping Dolphin Cove from building a

"swim with a captive dolphin" facility on Grand Turk and

KATHLEEN MCNARY WOOD

Ecotourism

Also on South Caicos we worked with interested individuals

on ideas for ecotourism businesses. Since the

unemployment and poverty rates are so high on that

island due to the lack of fishing jobs, it was important to

help find alternative employment opportunities for the

local residents. Ecotourism businesses are ideal since

so many residents know the waters around South and

East Caicos well. At the end of the project, TCRF had

five residents who were interested in starting ecotourism

businesses on South Caicos, and we assisted with

drafting of initial marketing plans. The ideas included two

home-stay opportunities, a bonefishing kayak business,

kayak tours and boat ecotours.

34 www.timespub.tc
---
Providenciales. Another major success was TCRF's lobbying

effort to bring the Environmental Impact Assessment

Reports for new developments in the TCI open to public

scrutiny.

TCRF has also provided input on many other projects

large and small, including input to the UK Government

about environmental issues in the Overseas Territories

and to the TCI Government on a proposed new

Environmental Strategy for the country.

Education

Education has been another important part of TCRF's

work. The organization developed a marine ecology

curriculum for elementary school students that was

submitted to the TCI Department of Education for incorporation

into the curriculum. We have worked with

student groups from British West Indies Collegiate, TCI

Middle School, Maranatha Academy and Provo Primary

on various projects. We have also assisted with various

projects for the School for Field Studies located on South

Caicos.

Looking to the future

There have been many more projects over the years,

far too many to detail in this article. And there are a lot

more projects to be done. The Turks & Caicos Reef Fund

is proud to have been able to contribute significantly

to the protection of the TCI environment over the past

decade. We look forward to continuing to serve the TCI

for another ten years. a

Times of the Islands Summer 2020 35
---
MARTA MORTON—WWW.HARBOURCLUBVILLAS.COM
---
eautiful by nature

Opposite page: A Bahama woodstar hummingbird daintily sips nectar from one of its favorite flowers on the monkey-fiddle plant Euphorbia

tithymaloides.

Above: After the seasonal drought, the trees' revival begins with the display of five-fingers Tabebuia bahamensis, its crepe-paper, baby pink

blossoms cheering up formerly dusty roadsides.

B NAQQI MANCO

Works Best Undisturbed

While we face confounding times, in the bush it's business as usual.

By B Naqqi Manco, TCI Naturalist

I was that kid in the class who, when group projects were assigned, conjured every conceivable reason

to work independently. In a genetic culmination of my mother's "get out of the way so I can get it done

correctly" and my father's unapologetic introversion, I eschewed distractions of all kinds including workmates

and background music. To this day I don't own a radio or television and while I've learned and

adapted to group work, I still tend to carry out my best productivity on my own, undisturbed in silence.

Times of the Islands Summer 2020 37
---
I recognise I'm not the tip of an iceberg in this

approach, but being a botanist sometimes means I'm as

much plant as I am person—and it's in the green cohorts

that I find my kindred spirits. While this year's second

quarter has presented some severe challenges to our

humanity, both obtuse and acute, from financial to emotional

to physical, I dare say not everyone in my circle of

friends has been so impacted.

Throughout the Turks & Caicos Islands' beautiful

bush, the effects of an insidious virus, its travel-assisted

motility, and its unprecedented politicization are all

sharply missed by the trees and shrubs, epiphytes and

porophytes, monocots and dicots and angiosperms and

gymnosperms.

In short, the plants just don't care. They're not on our

timeline, and so they're not bothered. If anything, they

are likely a little relieved that our efforts to bulldoze and

uproot and claim their land have slowed. Even the recent

seasonal drought, which is doubtlessly stressful, did not

see any of our native trees retreating to their couches

in bubbles of binge-watching online series and extreme

snack food experimentation.

The seasonal drought, while varying in severity, generally

strikes from February through May. In most years,

the tail end of the hurricane season's moist air fizzles out

of showers a month past the New Year, and skies become

strikingly clear. Our mile-and-a-half deep foundation of

porous oolitic limestone becomes thirstier and draws

water downward, while a network of root fungi extracts

every bit of the retreating water it can and channels it

into their symbiotic partner trees' roots. The trees transpire

it, losing the water to the wind. Some close their

stomata (the breathing pores on the underside of leaves)

to withhold water. Some forego leaves entirely and jettison

them. The drought-deciduous tropical trees perform

no flamboyant display as temperate deciduous trees do

in autumn—they extract all usable liquids as quickly as

possible and commit an uneventful lingering leaf dump.

Agave plants store up water through the rainy season,

their fleshy leaves loaded and succulent. Many annual

herbs die back completely, throwing down a scattering of

seeds, promising the return of rains in this final gesture.

B NAQQI MANCO

The yellow leaves of the buttonwood tree will drop and help provide cover for the land crabs that "walk" in May. Note the dark flowers that

give the buttonwood its name.

38 www.timespub.tc
---
This year's drought was especially difficult for our

plants, as the temperatures rose earlier than normal

and the sky offered little shade from the intense sun.

Even drought-tolerant, milky-sapped nakedback tree

Euphorbia gymnonota, found only in Turks & Caicos and

the Bahamas, had to sacrifice precious foliage to prevent

desiccation. Bahama woodstar hummingbirds sought

out its nectar, usually a fountainous flow from glandular

flowers, but the flowers were thrown off in an attempt to

supply the long-growing seeds of older flowers with the

resources they needed to form . . . just in case they were

needed for a new generation to replace the old.

The rufous orchid Encyclia rufa has the nerve to

bloom in the height of the drought, its swollen pseudobulbs

bloated with hoarded water in a way that makes them

positively rotund compared to more gracile relatives.

These pot-bellied water bottles supply the plant with

enough sustenance to rocket a spike a metre skyward,

and then to open hundreds of yellow or cream coloured,

yeasty-scented flowers. With no other option for nectar,

the Mizinum wasps that pollinate Encyclia orchids are

given no option but to carry out their task.

Little else blooms, but most plants are busy on the

inside. Along with rationing water and managing leaf

loss, many are constructing microscopic, embryonic new

leaves and flowers. While we see the dry April bush as

dust-whitened, laxly sagging and surrendered, it is preparing

a surprise party.

That party won't be revealed until long after those

first threatening clouds blow by, not even until after the

early season thunderstorms pass. But when the May rains

begin—heavy, large-droplet waves of downpours, warm

at first, and quickly cooling, the ground is given a signal

that passes through the humus, into the symbiotic fungi

and roots, up into the branches, as well as downward into

the soil.

The trees are the first to awaken. Their arousal is

subtle and internal at first. On the other extreme, the

land crabs are called forth like an army, digging upward,

freshly-hardened new exoskeletons prepared to shield

them from yellow-crowned night herons, females with

spongy egg masses ready to lay and tote to the sea.

They're depending on the oncoming drop of old leaves

that did make it through the drought, especially from the

buttonwood trees.

The tree revival begins to appear with the ostentatious

display of five-fingers Tabebuia bahamensis, its

showgirl crepe-paper, baby pink blossoms cheering up

formerly dusty roadsides—the hummingbirds now have

lots to eat. New flushes of lime green and bronzy foliage

jump out of twigs throughout the bush. The rufous

orchid stems push out new divisions, appearing as spikes

from the bases of the plants, swelling into the bulbous

onion-shaped stem and two strappy leaves, as seed pods

swell on the pollinated, now flowerless stalks. Emerald

sprouts of the promised annual herbs carpet bare soil,

each ready to outcompete its neighbour. The Inagua

orchid Encyclia inaguensis snakes its own flower spikes

above its foliage, ready to follow up the rufous orchids'

exhibition. The Mizinum wasps will soon continue their

pollination cycle on this next species. Spangles of Havana

stars vine Jacquemontia havanensis festoon branches

bearing unfurling leaves, and everything rushes to make

and store food, flower and fruit, and complete another

life cycle in this precarious window between the drought

and the most intense storms of the year.

This is business as usual for the plants, which thrive

on the stress of being thrown between dearth and plenty,

calm and chaos, and the onslaught of insects about to

begin gorging themselves on all the new growth, and yes,

even the threat of age-old viruses that can infect them

and thwart their growth. They take it all in stride, silently

and stoically, if not sentiently.

Like most wild things, their lives are a balance of

terrifying events and barely-squeaking-by, fortune and

failure, tension and tenacity. They neither require nor

request assistance; they perform their best left alone to

their own devices, to survive another year and prove their

evolutionary worth by passing on the swiftest survival

traits to their following generations.

As long as we leave them alone—protect them,

admire them from a distance, and not attempt to intervene—they'll

continue to be successfully dedicated to

survival. It's only with interference that they're truly in

danger—the threat of a bulldozer, a machete followed

by a fire, a dangerous pest we've introduced, or a human

plan for the land that doesn't include them. It's then that

survival becomes a challenge with poor odds.

That's why I prefer to see them left alone. I can

identify with the impact of unwelcome distraction. Their

potential destruction reminds me that we, too, are neither

invincible nor immortal. Our survival depends upon our

adaptations, wise use of resources, knowing when to let

go of things we think we cannot live without, giving every

resource we can to upcoming generations, and having

some capacity to work on our own. Or, at the very least,

being able to adapt to being on our own without binging

on online series and plethoric snacks. a

Times of the Islands Summer 2020 39
---
green pages

Newsletter of the Department of Environment & Coastal Resources

Head office: Church Folly, Grand Turk, tel 649 946 2801 • fax 649 946 1895

• Astwood Street, South Caicos, tel 649 946 3306 • fax 946 3710

• National Environmental Centre, Lower Bight Road, Providenciales

Parks Division, tel 649 941 5122 • fax 649 946 4793

Fisheries Division, tel 649 946 4017 • fax 649 946 4793

email environment@gov.tc or dema.tci@gmail.com • web https://www.gov.tc/decr/

ANNA HANDTE-REINECKER

The tentacles of a Giant Caribbean Sea Anemone sway with the current in the shallows off of South Caicos.

As Far as the Eye Can See

When it comes to anemones, there's more than meets the eye.

By Ben Farmer, Waterfront Assistant, The School for Field Studies

Anemones, perhaps the most frequently mispronounced animals in the sea, are fascinating creatures. The

vibrant colors and swaying tentacles characteristic of anemones are staples in the backdrop of tropical

coral reefs and tide pools around the world. While the tropics are where most anemones are found, they

can also be spotted in just about any marine habitat on Earth, from cold-water rocky shorelines to deep

ocean habitats. Anemones are able to populate so many habitats because of their incredible variation,

spanning over 1,000 known species.

40 www.timespub.tc
---
green pages newsletter of the department of environment & coastal resources

What is an anemone?

You may have seen them in the Turks & Caicos Islands

and wondered what makes these animals tick. In a lot of

ways, anemones are similar to corals, and even jellyfish—

they are all grouped into the phylum Cnidaria. Cnidarians

are considered some of the simplest organisms in the animal

kingdom because they lack what we would consider

organs. While you and I have a heart to distribute blood

throughout our bodies and lungs to transfer oxygen into

our blood, cnidarians lack these organs. Ultimately, cnidarians

are made up of just two sets of membranes, or

body parts—the epidermis (similar to our skin) and the

gastrodermis (similar to our stomach). So, if they don't

have gills or lungs, how do cnidarians get their oxygen?

Cnidarians' thin membranes are the key—these membranes

are in constant contact with water and allow

diffusion of oxygen into the body.

incredible acceleration that this event is considered one

of the fastest found in nature. When nematocytes on the

tentacles of a cnidarian are triggered by contact with

another object, such as a small tasty crustacean, they

launch hundreds of hooked barbs into the object and

begin releasing venom. Prey that are unfortunate enough

to be on the receiving end of these barbs are incapacitated

and then eaten by the cnidarian.

In the case of anemones, they have a mouth in the

center of an oral disc, into which their tentacles guide the

food. One species here in the Turks & Caicos Islands is

in fact a voracious eater. The Giant Caribbean Anemone,

Condylactis gigantea, is capable of eating not only crustaceans

and other invertebrates, but even small fish!

Anemone menagerie

Anemones come in countless colors, shapes and sizes,

BEN FARMER

Left: This upside-down jellyfish, genus Cassiopea, rests on the sand. Cassiopea is a cnidarian, the same phylum as anemones.

Right: This stony coral was found during a dive on the wall bordering South Caicos. Corals are cnidarians, the same phylum as anemones.

Simple yet deadly

What really sets cnidarians apart are their potent stinging

cells. If you have ever accidentally stepped on a jellyfish

on the beach or brushed against one underwater, you

may have had first-hand experience with this! These cells,

called nematocytes, are used by cnidarians to capture

their food as well as protect themselves. Nematocytes

stay spring-loaded at all times, ready to fire out with such

but perhaps the Giant Caribbean Anemone is the type

that comes to mind for most people. Even within this

species, however, exists a variety of color morphs. In

Jamaica, the Giant Caribbean Anemone has been spotted

with pink-tipped tentacles in deeper waters, and

green-tipped tentacles in shallower waters. These different

morphs might be linked to genetic differences in

how well the anemone absorbs sunlight. Many anemo-

Times of the Islands Summer 2020 41
---
green pages newsletter of the department of environment & coastal resources

ANNA HANDTE-REINECKER

The mouth of this Giant Caribbean Sea Anemone, partially obscured by tentacles, is located in the center of the oral disc.

nes require the sun to sustain them, however they also

need protection from the irradiation of sunlight. Here at

The School for Field Studies Center for Marine Resource

Studies on South Caicos, we have documented several

color morphs of the Giant Caribbean Anemone. Whether

or not these morphs are genetically distinct awaits to be

seen. In terms of other anemone species typically seen

around South Caicos and the other islands, a common

one is a type of corkscrew anemone. These are often seen

with symbiotic cleaner shrimp, which use the anemone as

both a shelter and a cleaning station.

Symbiosis galore

Part of what makes anemones so fascinating are the several

forms of symbiosis in which they take part. When

most people think of symbiosis, they think of a relationship

between two organisms which benefits both

organisms. However, symbiosis literally means "living

together," and that does not always bode well for both

parties. Types of symbiosis include mutualism (a relationship

where both parties benefit from each other),

The Giant Caribbean Sea Anemone exhibits a range of color morphs;

this one displays purple tentacle tips.

commensalism (one party benefits, the other is neutrally

affected), and parasitism (one party benefits, the other is

negatively affected).

Thankfully for the anemone, it enjoys many mutualistic

forms of symbiosis. Perhaps the most well-known

is the anemone's relationship with the clownfish. As

ANNA HANDTE-REINECKER

42 www.timespub.tc
---
green pages newsletter of the department of environment & coastal resources

A corkscrew anemone and a cleaner shrimp show off a form of symbiosis, where the shrimp uses the anemone for protection.

MELISSA HERES

made famous by "Finding Nemo," the clownfish uses the

anemone for shelter, benefiting because the nematocytes

employed by the anemone keep predators away.

Additionally, the clownfish benefits because it supplements

its regular diet with the anemone's leftovers, as

well as parasites on the anemone's tentacles.

But how does the clownfish avoid injury from the venomous

nematocytes of the anemone? Strangely enough,

the answer lies in the fish's mucus—clownfish have a

protective coating of mucus surrounding their body

which protects them from the anemone's harmful stings.

Meanwhile, the anemone benefits because clownfish are

very territorial and fend off fish which eat anemones, and

also clean the anemone of sand and waste.

While clownfish are not native to the Caribbean,

anemones here have a few other incredible forms of

symbiosis. One is the relationship between the anemone

and the cleaner shrimp. A species of corkscrew anemone,

Bartholomea annulata, is commonly seen in the

Turks & Caicos Islands inhabited by Pederson's cleaner

shrimp, Ancylomenes pedersoni. While it is not clear that

the anemone derives any benefit from the relationship,

the shrimp certainly benefits—a form of commensalism!

Fish know to come to anemone "cleaning stations," where

shrimp get a nice meal by cleaning the fish.

Another symbiosis in which most tropical anemones

take part is one of the most fascinating mutualistic relationships

in nature: that of the zooxanthellae and the

cnidarian. Zooxanthellae, a type of tiny algae, live inside

the anemone's membranes and perform photosynthesis.

The energy produced by photosynthesis is taken up by

the anemone, supplementing its carnivorous diet. The

zooxanthellae in turn benefit by living in a safe environment,

as well as receiving nutrients that they need for

photosynthesis.

Next time you see an anemone, remember there is a

lot more than meets the eye! a

For more information, contact SFS Center Director Heidi

Hertler, PhD at hhertler@fieldstudies.org.

Times of the Islands Summer 2020 43
---
green pages newsletter of the department of environment & coastal resources

GETTY IMAGES/ISTOCK PHOTO

Soil is a complex combination of organic and inorganic matter that supports life as we know it.

It's Not Just Dirt, It's Soil!

Learning to compost on South Caicos.

We often forget to appreciate the soil beneath our feet. Soil, which is a complex combination of organic

and inorganic matter, supports life as we know it. Simply put, without soil, neither plants nor animals

would be able to survive. For this reason, soil availability and quality are tightly linked to food security

around the world.

By Anna Handte-Reinecker, Program Assistant, The School for Field Studies

Center for Marine Resource Studies

44 www.timespub.tc
---
green pages newsletter of the department of environment & coastal resources

Soil basics

To understand what makes up a healthy soil we must

look at its components. There are three major types of

soil particles—clay, silt and sand—differing in the sizes

of the individual particles. Clay contains the smallest

particles, followed by silt and then sand. These size differences

create soils that have varying amounts of space

between each particle; these gaps are called pore spaces.

Pore spaces govern the amount of water, air and nutrients

each soil type can retain. This, in turn, controls the types

of plants and organisms the soil can support. The ratios

of these particles within a soil determine the kind of soil

it is. For example, the soil type called "loam" is made up

of about 80% silt, 50% sand and 15% clay.

Soil is also incredibly important for filtering and

retaining water. It is estimated that 1 cubic meter of certain

soils, when fully saturated, can hold up to 600 liters

of water. This means that even during times of less rainfall,

plants are able to get the water they need from soil.

Furthermore, the water retention of soil can reduce the

amount of flooding in an area.

In addition to particle size, an important element of

soil is microbial presence. A generous number of bacteria

is an integral part of a healthy soil fit to grow a

garden. According to the United States Department of

Agriculture, "A teaspoon of productive soil generally contains

between 100 million and 1 billion bacteria."

Bacteria often get a bad reputation for being dangerous

and causing infections. However, not all bacteria are

detrimental. In fact, many of the antibiotics we use today

are derived from bacteria found in soil. We even have

bacteria that live in our gut and allow us to digest food!

Soil and climate change

Healthy soil is an integral component of regulating global

climate. Global warming is driven by greenhouse gases in

the atmosphere. Greenhouse gases contribute to global

warming as they remain in our atmosphere and reflect

light waves back onto the earth, increasing global temperatures.

According to the US Environmental Protection

Agency, carbon dioxide makes up a whopping 82% of all

greenhouse gas emissions in the US (data from 2017).

Soil is an important "carbon sink," meaning that when

carbon enters the soil through decomposition of organic

material, it remains there for long periods of time. The

only carbon sink that is larger than soil are our oceans.

Soil as a carbon sink is essential because it keeps carbon

out of the atmosphere and reduces global warming

due to greenhouse gases. Today we are facing unprecedented

soil erosion around the world, often due to human

development. As soil erodes, so does one of our essential

defenses against climate change.

How to make soil

So now that we know how important soil is, how can we

make our own, particularly in places where healthy soil

is scarce?

People have invented a way of expediting the natural

processes of decomposition in order to create soil for use

on farms. Composting is the process of fertilizing land

with decaying organic material. Incredibly, scientists have

determined that humans have used "reclaimed organic

matter for farming" since at least the stone age! By now,

there are many different types of composting methods to

accommodate different needs.

People have invented a way of expediting the natural processes of decomposition in order to create soil for use on farms.

GETTY IMAGES/ISTOCK PHOTO

Times of the Islands Summer 2020 45
---
green pages newsletter of the department of environment & coastal resources

ANNA HANDTE-REINECKER

KATRINA ORTHMAN

Students from The School for Field Studies and community members

in South Caicos help with the construction of a hot compost heap.

In the TCI, we see a wide variation in soil quality and

quantity. From lush green Middle Caicos to arid South

Caicos, no two islands are the same. This spring, we

at The School for Field Studies on South Caicos were

determined to cultivate and grow our own garden and

compost. Led by the SFS Environmental Policy Lecturer

Dr. Neil Oculi, students and staff worked to create a type

of compost called a hot compost.

A hot compost is characterized by the heat it produces

as a result of organisms breaking down organic

matter. This type of compost relies heavily on proper

carbon and nitrogen ratios which in turn speeds up the

decomposition of organic materials. To start our hot compost,

we began by making an enclosure that would keep

out any unwanted horses and donkeys. We then began to

collect the materials that would make up the base of our

compost heap.

The four ingredients were nitrogen, carbon, water and

air. Green materials such as grass clippings and coffee

grounds are high in nitrogen, whereas brown materials

such as dead leaves and newspapers are high in carbon.

Our aim was to have a 30:1 carbon to nitrogen ratio in

order to facilitate the fastest possible decomposition of

organic materials. In general, having a 2:1 ratio of green

to brown materials will allow the compost to get close to

that 30:1 carbon to nitrogen ratio.

We layered brown and green materials into a heap

3 feet wide and 3 feet high. Next, toilet paper rolls were

added to allow for aeration. Then, in order to maintain

the compost, we mixed the heap weekly to promote aeration

and watered it every few days to prevent it from

drying out. Both lack of air and water can cause beneficial

organisms and bacteria to die, which we don't want!

If a compost heap is constructed correctly, the heap's

core temperature increases to about 54–60ºC. After a few

weeks we observed that our hot compost had reached

the optimum temperature and was successfully breaking

down the organic materials. The plan is to take this soil

and use it in our garden to grow herbs and vegetables.

Students and staff also worked closely with the

Marjorie Basden High School to begin construction on

a Hügelkutur and community garden. A Hügelkutur is a

different type of compost that consists of a mound with

wood in the center and compostable materials on top. A

benefit to the Hügelkultur is that it requires less water

than the hot compost.

Another great composting option for those with less

space is a vermiculture. To create a personal vermiculture,

all that you need is a large bin with a lid. You will

need to make multiple holes in the bottom, sides and lid

of the bin to allow for drainage and aeration. The next

step is to put a layer of soil or compost at the bottom

of the bin about 5 cm deep. Lastly, you will need to add

500–1,000 worms, which you can either order online or

collect from your yard. After your worms have settled in

for a week, you can add vegetable scraps, newspapers,

leaves and coffee grounds for the worms to eat. You also

want to make sure that your soil stays moist and you

water it regularly. Making these compost heaps were fun

and rewarding projects— be inspired to start your own! a

For more information, contact SFS Center Director Heidi

Hertler, PhD at hhertler@fieldstudies.org.

46 www.timespub.tc
---
green pages newsletter of the department of environment & coastal resources

MELISSA HERES

This is one of the few colonies of Acropora palmata, or elkhorn coral, in the waters surrounding South Caicos.

National Treasure

It's time to appreciate our coral reefs.

By Melissa Heres, Waterfront Assistant, The School for Field Studies

For visitors and residents of the Turks & Caicos Islands, the sea—and particularly the reefs surrounding

the islands—serves as a source of food, a protective barrier from storms and waves, and a symbol of

natural beauty. Sitting on the shoreline, you cannot help but wonder what teems below the horizon, and

how the ocean looked long before we were here.

From the surface, the sea can seem somewhat stagnant, with only tides and storms changing its

behavior. Below the surface, however, we can see that the reefs are changing, in constant flux. Taking a

closer look at what lies below, we begin to realize just how important the oceans and coral reefs are to

our existence.

Times of the Islands Summer 2020 47
---
green pages newsletter of the department of environment & coastal resources

Coral reefs are a conglomeration of many different

types of organisms. The main building blocks are stony

corals. These organisms lay down a skeleton of calcium

carbonate, or limestone, and are covered by a thin layer

of tissue. Within this tissue live zooxanthellae that create

their energy from the sun, a process known as photosynthesis.

The corals provide a home for these zooxanthellae,

and in turn, the coral uses the algae's photosynthetic

waste for energy. Zooxanthellae also provide the corals'

beautiful colors.

Although most corals predominantly get their energy

from zooxanthellae, they can also eat and are actually

carnivorous! At night, they extend their polyps—tentacle-like

structures—and wait to catch zooplankton that

float by.

Early reef monitoring

So where did our modern research of coral reefs

begin? Most research is fairly recent due to the difficulty

of studying a habitat that was, until recently, simply

beyond our reach. The "Aqua-Lung," a demand valve system

that supplied compressed air and was invented by

Jacques Cousteau and Emilie Gagan in 1942, opened the

doors for recreational SCUBA diving, and made studying

marine life more accessible.

Starting in the 1970s, Phil Dustan and John Halas

began monitoring Carysfort Reef off of Key Largo, Florida,

on behalf of the Key Largo National Marine Sanctuary.

In 1975, there was a field of Acropora palmata, or

elkhorn coral, surrounded by fish and a clean blue ocean.

The live coral structure is very rugose—it has a lot of

vertical structure, or nooks and crannies, where fish and

invertebrates can hide. Just 10 years later in 1985, the

reef starts to turn green—much of the once-dominant

elkhorn coral is beginning to die and become overgrown

by algae. In 2004, live coral tissue is scarce to find in

the picture, and mostly dead coral rubble, or skeleton,

remains. In 2014, the rubble is overgrown by algae, the

reef has lost much of its rugosity and is mostly flat. What

happened to that beautiful reef that existed back in the

1970s?

PHIL DUSTAN

From top and opposite page: These images show progression of the

same area of Carysfort Reef off Key Largo, Florida from 1975 to 2014.

The perils of overfishing

This photo set from the Florida Keys isn't unique— many

different factors play a role in most of the Caribbean coral

reefs facing similar challenges. Ever-increasing popula-

48 www.timespub.tc
---
green pages newsletter of the department of environment & coastal resources

Coral bleaching

Coral bleaching events are also stressors that can cause

corals to die. Increased water temperatures and light

intensity can cause the system that turns that light into

energy to break down, leaving an overabundance of reactive

oxygen molecules, which damage the zooxanthellae

and the coral. The zooxanthellae that provide most of

the coral's energy are expelled from the coral, leaving

behind a white tissue. If temperatures remain warm and

don't give the zooxanthellae an opportunity to re-colonize

within the tissue, the corals are likely to die.

Ocean acidification

Ocean acidification is another very real threat for coral

reefs. As humans produce more and more carbon dioxide

as a byproduct of manufacturing, transportation, refrigeration

and cooling, oceans end up absorbing most of it.

When carbon dioxide and water mix, a series of chemical

reactions occur which result in the seawater becoming

more acidic. The problem is that many organisms in the

ocean, from corals to mollusks, rely on limestone, or calcium

carbonate, to build their skeletons or shells. This

increasingly acidic ocean water makes it that much more

difficult for these organisms to build their homes and

skeletons, and can even cause shells to dissolve!

Furthermore, different diseases have become more

prevalent within recent years; Stony Coral Tissue Loss

Disease is a very real, current threat to corals as it causes

the corals' tissue to slough off of the skeleton.

PHIL DUSTAN

BEN FARMER

tions throughout the world increase demand for sources

of protein. For coastal communities, this often means

fishing to sustain their families, which leads to overfishing

if populations of fish species aren't kept in check.

This particularly affects reefs when the herbivorous fish

numbers begin to drop. Without these fishes munching

on algae and controlling their levels, the algae begins to

grow unchecked. Furthermore, in the 1980s, a disease

affecting Diadema antillarum, or the long-spined sea

urchin, began to spread throughout the Caribbean, drastically

decreasing their numbers. Like herbivorous fishes,

these sea urchins also gnaw away at algae. Without these

grazers, algae then begin to smother corals, who need

sunlight to sustain themselves and grow. Without these

grazers, algae can also impede new corals from settling

on rocky areas.

Diadema antillarum, the long-spined sea urchin, was devastated by

a disease outbreak in the 1980s. They, like herbivorous fishes, gnaw

at algae.

Times of the Islands Summer 2020 49
---
green pages newsletter of the department of environment & coastal resources

ANNA HANDTE-REINECKER

This colony of Orbicella annularis is likely hundreds of years old yet is currently being overgrown by algae on the left side and is partially

bleached throughout.

A valuable asset

What would we miss without these coral reefs? Tourism

to areas with coral reefs is estimated to be worth about

$35.8 billion globally every year. Diving on the reefs of

the Turks & Caicos Islands was worth an estimated $8.3

million per year in 2005, with other reef-related tourism

bringing in at least $9.8 million annually. Reefs also provide

a large amount of storm surge protection, and their

rugose shape absorbs much of the shock from storms

and hurricanes. Every year, the estimated value of flood

risk reduction provided by US coral reefs alone is more

than $1.805 billion.

Besides all these facts and figures, however, it is

important to consider future generations. Ultimately, a

dollar amount can't begin to encapsulate the beautiful

natural reefs just outside our doors.

Hope for the future

Despite drastic changes in our reefs, we must remember

that although corals are facing serious problems that

must be acted upon, we also have to regain hope. Hope

that these corals have the opportunity to bounce back

depending upon how we move forward. Countless organizations,

foundations, and researchers worldwide are

working tirelessly to fix our broken system of consumerism

to quell climate change, to study these crucial coral

reef communities, and to raise awareness of these issues.

Locally, the Turks & Caicos Reef Fund, based in

Providenciales, is working on many projects including

reef restoration via offshore coral nurseries and disease

mitigation to stop the spread of Stony Coral Tissue Loss

Disease on individual coral colonies. At The School for

Field Studies Center for Marine Resource Studies on South

Caicos, we invite undergraduate students to study abroad

and research these pressing questions about coral reefs

and study populations of other vital marine life right in

our backyard.

50 www.timespub.tc
---
green pages newsletter of the department of environment & coastal resources

Staff and students at The School for Field Studies have been working hard to monitor local reefs off South Caicos in order to study the prominence

of Stony Coral Tissue Loss Disease, coral bleaching and species composition of corals.

CARMEN HOYT

How can you help?

What steps can you take to help make a positive impact

on these beautiful reefs? Climate change is currently the

biggest threat not only to our coral reefs, but to most of

our islands and the entire globe. Coral bleaching, ocean

acidification and even changing ocean currents ultimately

stem from our changing climate.

Taking this into consideration, a solution might be

living simpler. Try to drive less and bike or walk more in

order to cut back on those carbon emissions and save

money at the same time. Experiment with making and

eating more vegetarian and vegan meals and less red

meat, as carbon emissions from raising and transporting

cows is actually high.

Use the Monterey Bay Aquarium's Seafood Watch

website, seafoodwatch.org, whenever thinking about

purchasing fish at grocery stores or restaurants to see

how sustainable and healthy your choice may be. For

instance, by switching to tuna caught from handlines,

much less bycatch (unintended catches such as sharks,

dolphins, etc.) will occur than those caught by longlines.

Generally, consume less, try to reuse old belongings,

and keep an eye on how many single-use plastics, such as

utensils, straws and packaging, you use. Trying to have a

positive impact on our world and environment can often

seem overwhelming; how can one person make a difference?

But keep in mind that your choices do matter on a

personal level, and you can use your knowledge to educate

others and help them make responsible choices as

well. The world is in your hands! a

For more information, contact SFS Center Director Heidi

Hertler, PhD at hhertler@fieldstudies.org.

Times of the Islands Summer 2020 51
---
green pages newsletter of the department of environment & coastal resources

Ecosystems like Moxy Bush on South Caicos, a floating island of mangrove forest, are truly national treasures.

Hidden in Plain Sight

Taking a closer look at the Islands' trove of natural treasures.

Story & Photos By Carmen Hoyt, Waterfront Assistant, The School for Field Studies,

Center for Marine Resource Studies

What if I told you I knew where to find treasure? After all, the history of the Turks & Caicos Islands is rich

with pirate lore . . . you just have to know where to look.

52 www.timespub.tc
---
green pages newsletter of the department of environment & coastal resources

The ages of exploration and piracy

Let's take a trip back in time. The years spanning 1650

to 1720 were branded the Golden Age of Piracy, but the

story begins before that with its predecessor: the Age

of Exploration. It was during this time that the infamous

Christopher Columbus, an explorer and pirate in some

respect, set sail and made landfall in the Americas.

While the exact location of his arrival is up for debate,

our very own Grand Turk is a contender, along with San

Salvador and Samana Cay in the Bahamas. The resulting

"Columbian Exchange" between Europe and the New

World saw the transmission of peoples, goods and diseases

with detrimental effects on native populations.

As colonies matured, European empires grew powerfully

greedy and trade became a commercial venture.

Spain, the United Kingdom, the Netherlands and France

all established trade routes to the Americas (North,

Central and South) and back from the Caribbean, bringing

any necessary supplies and taking with them salt,

sugar, tobacco and precious metals. If only it were that

simple.

Now enter the Golden Age of Piracy. The transportation

of gold, silver and other items of high value during

this time didn't come without some difficulties, namely

pirates. The various small cays (pronounced "keys") of the

Turks & Caicos Islands harbored disgruntled ex-sailors

and rebellious treasure-seekers alike looking to intercept

vessels destined for Europe, their dreams of revenge and

a lavish lifestyle ignited by the loot they captured.

Amongst the more notable pirates rumored to have

roamed the Caribbean Sea during this time are Anne

Bonny and Captain William Kidd. We can thank Anne

Bonny, one of just a handful of fierce female pirates, and

her preferred island of residence for Parrot Cay's original

name: Pirate Cay. As for Captain William Kidd, rumor has

it his treasure lies somewhere in the Turks & Caicos yet

to be discovered.

No doubt the Turks & Caicos Islands as we know

them today only vaguely resemble their colonial counterparts.

As the economy shifted from salt production to

tourism, investors and developers prepared the Islands to

deliver the quintessential Caribbean escape to American

The Admiral's Aquarium snorkeling site on South Caicos is typically teeming with fish.

Times of the Islands Summer 2020 53
---
green pages newsletter of the department of environment & coastal resources

Beautiful, but deadly, the lionfish (Pterois sp.) is a ruthless pirate in the underwater realm.

and European visitors alike. The high class allure of Grace

Bay, Providenciales was matched by the establishment of

a cruise ship port on Grand Turk in 2006, demonstrating

a new level of accessibility for foreign travelers aside from

the wealthy. Anne Bonny would certainly be surprised to

learn that a Google search of Parrot Cay populates links

for a luxury resort, yet she may be a bit annoyed to learn

she missed Wifi and air conditioning by just a few hundred

years.

As for Captain William Kidd and his infamous treasure,

sorry—I've got nothing for you; I had a different

treasure in mind. Here in the Turks & Caicos, we don't

need maps to find the treasure that is present all around

us. We have vibrant and bustling coral reefs, pristine

meadows of seagrass and floating islands of mangrove

forests all hidden in plain sight.

The treasure of healthy habitats

Ecosystems like these are worth much more than silver

and gold. They protect our shorelines from erosion, serve

as important habitats for commercially significant species

of fish and form the foundation of the tourism industry.

Remember that quintessential Caribbean escape?

The pristine white sand beaches, kayak trips to secluded

islands and world-class SCUBA diving? It's all made possible

by healthy coastal habitats. Such ecosystems are most

important in building a natural resistance to storm events

and boosting island resiliency in the aftermath, and you

can't put a price on peace of mind.

Unfortunately, a new age of piracy is among us.

These ecosystem treasures are under siege from pirates

in the form of invasive species and excessive seaweed

inundations. Perhaps we shall refer to this new age of

21st century plundering as "Biological Piracy."

The poster child of Biological Piracy is none other

than the invasive lionfish (Pterois sp.). Lionfish are venomous

fish native to the Indo-Pacific, and they are easily

identified by their red to black and white stripes and banner-like

fins that protrude on all sides, brandishing up to

18 sharp, venomous defense spines. Their showy appearance

has made them highly desirable in the aquarium

trade: the very origin of their invasive nature.

54 www.timespub.tc
---
green pages newsletter of the department of environment & coastal resources

This close-up of Sargassum clearly shows the small gas bladders that help it float along the ocean's surface.

Since their introduction to the Western hemisphere,

populations of invasive red lionfish (P. volitans) and the

common lionfish (P. miles) have sailed the Gulf Stream

north from Florida, reaching as far as New York and

Bermuda before exploding through the Caribbean and as

far south as Brazil. These two species in particular are

difficult to tell apart and may even breed to form hybrids.

Lionfish are ruthless pirates without a shed of mercy

for their captives. They exhibit a wide range of prey from

small fish to invertebrates, eating and competing with

native fish. Lionfish have been shown to consume as many

as 42 different species, including commercially important

species of grouper as well as species of herbivores, like

parrotfish, responsible for keeping reefs healthy and free

of excess algae. Their stomachs can expand up to 30

times normal volume, and with no natural predators in

their invasive range, lionfish can reproduce without limitations.

Joining the ranks of the lionfish is the lesser-known

Sargassum, a plant-like macroalgae commonly referred

to as a seaweed. Instead of growing in the ground, it

grows small gas bladders to help it float along at the

ocean's surface where it can monopolize sunlight for

photosynthesis. Individuals stick together like Velcro to

form large aggregations, or mats. While these mats can

grow wide spatially and cover a significant surface area,

they can also be very dense, capturing other floating

trash, organisms and debris in their path.

Under normal circumstances, these aggregations

are considered extremely important habitats, rich in biodiversity

and necessary to support fisheries. However,

Sargassum influxes started increasing in 2011, with

2018 being the most extreme year on record. Surface

coverage was triple the average of the previous seven

years. Blooms negatively impacted coastal regions from

the Caribbean to the west coast of Africa, wreaking havoc

by smothering both seagrass beds and coastal tourism.

If seagrasses are robbed of essential sunlight, they

can't photosynthesize, and their ability to support the

islands through sediment stabilization, carbon sequestration

and protection for juvenile fish is compromised. Eight

of the ten most abundantly caught fish species on South

Times of the Islands Summer 2020 55
---
green pages newsletter of the department of environment & coastal resources

The School for Field Studies has started long-term Sargassum collection at a bay on South Caicos to help track the inundations.

Caicos were found to use seagrass beds at some point

during their lifecycle, providing an invaluable service to

the fishing industry. As for tourism, the sight and stench

alone of washed-up Sargassum is enough to drive paying

customers away from any beachfront establishment. In

such large quantities, it makes the water uncomfortable

for recreational use but also expensive to continually be

removed.

While it is still not certain whether or not we will be

able to accurately predict raids of Sargassum blooms, it

is likely that they will continue to rise with consistent artificial

nutrient input. Upwellings provide a natural influx

of nutrients, but human-induced deforestation and fertilizer

use in agriculture allow nutrients in the soil to run

off with rain and enter ocean ecosystems stocked with

Sargassum seeds.

The School for Field Studies' Center for Marine

Resource Studies provides university students with the

opportunity to participate in the research and monitoring

of both lionfish and Sargassum on South Caicos. Teams

of students, faculty, and staff participate in an "Invasive

Species Field Excursion" in which they search for and

remove lionfish while SCUBA diving or snorkeling.

Additionally, students have surveyed the seagrass

beds surrounding the island as a preliminary analysis of

ecosystem health as well as conducted controlled experiments

examining the effects of limited light, excess

nutrients and combined stresses on seagrasses as a

result of Sargassum influxes. We have started long-term

Sargassum collection at a nearby bay to help track these

inundations and assist researchers in exploring trash-totreasure

solutions for the Caribbean communities that

are most affected.

While the Age of Biological Piracy may not share the

same embellished tales of guts and glory as the Golden

Age of Piracy, one thing is for sure: we must protect our

treasure. Lucky for us, lionfish can be served as a tasty

meal. (May I recommend ceviche?) As for Sargassum,

companies in Mexico have experimented in making

paper, cosmetics, bricks and fertilizer. There is even

work being done to investigate developing an alternative

source of fuel from the seaweed.

So, the next time you're asked to go on a treasure

hunt, don't forget to stop and look around. What you're

searching for could be hidden in plain sight. a

For more information, contact SFS Center Director Heidi

Hertler, PhD at hhertler@fieldstudies.org.

56 www.timespub.tc
---
PROVEN IN PROVO

435' on Grace Bay Beach, a perennially acclaimed Caribbean destination.

30 years of construction development and hotel operations success.

A decade of travel industry awards and consistently high guest ratings.

10 years of strong ROI and very satisfied owners.

Where will you invest?

Windsong Resort Residences

Imaginative Phase II Resort Condominiums

Pre-Construction Pricing from $495K to $4.45M

_____________________________

1-649-946-3766 • Toll Free (US/Canada): 1-855-WINDSONG (946-3766)

Stubbs Road, Grace Bay • Providenciales, Turks and Caicos Islands

www.windsongresidences.com • realestate@windsongresort.com
---
BEATRIX NEUHAUS PHOTOGRAPHY

Beatrix Neuhaus is a passionate photographer and world traveler who found her home in the Turks & Caicos Islands. Her images are inspired

by the country's beauty. This photo was captured over Chalk Sound, where she lives and works. She welcomes visitors at her studio by appointment;

please call 649 232 9966 or visit www.beatrixneuhausphotography.com. Beatrix believes, " Images captured in moments of awe, joy of

living and love for all creation can touch our hearts."
---
feature

The Rainbow Effect

By Kelly Currington

The year 2020—a new decade—started off with a bang! There were celebrations, friends and excitement

for the year ahead. Plans were in place for travel and adventures with family and friends; what a magnificent

year it would be! Little did we know that a silent storm was brewing that would impact the course

of the entire world.

Times of the Islands Summer 2020 59
---
The tsunami of COVID-19

COVID-19 was a term unknown to most, but it entered

our lives like a tsunami and instantly altered our terrain.

In what seemed like mere hours, the world went on lockdown

in an attempt to slow the wave of exposure to the

deadly virus as it rampaged across the globe, affecting

millions of people and taking hundreds of thousands of

lives. People scrambled to get back to their respective

countries if they were abroad, many went into an isolating

quarantine, and fear embedded itself in our lives. Fear of

contracting the virus, fear of a loved one contracting the

virus, and fear of the uncertainty of the future. Suddenly,

and without preparation, you could not go see your family

or friends, you could not go out to eat or shop, you

could not do anything that was part of "normal" life as we

had known it. Something new entered our world—social

distancing—a reality of which we had no concept.

Our comfortable, known world was transforming

so quickly that it was difficult to grasp. As businesses

were ordered to lock their doors, the domino effect of

job losses was set in motion. People were instantly without

jobs, without the necessary means to take care of

themselves or their families, and economies appeared to

be in jeopardy of devastating collapse. For the first time

in most of our lives we had no freedom to live without

conscious thought of every action.

I think one of the most notable tragedies was that

families couldn't be together to mourn their loved ones

taken by the virus or any other death; a very lonely reality

had presented itself. We were living in a world we could

never have imagined just a few months earlier.

Constant news footage of the virus, and the staggering

sadness and uncertainty associated with it, saturated

our lives and made it hard to focus on anything else.

But then we started finding ways to exist in this "new"

world with hope and finding good in the little things.

Technology was now the avenue of family dinners,

girls' nights, birthdays, anniversaries and even funerals.

Though it was not the same as physically being together,

it was absolutely better than nothing . . . so we adapted.

CYNTHIA FILO–SILLY CREEK WATERSPORTS

As humans stepped back during the COVID-19 inflicted "pause," the sea and land had the opportunity to take a deep breath. This is

Providenciales' southwest side Nature Reserve, typically accessed to visitors by Silly Creek Watersports (see page 97).

60 www.timespub.tc
---
Our environmental footprint

As humans we have stomped a huge environmental footprint

on the planet, and over the past several decades

that footprint has been heavy and severely detrimental

to Mother Earth's health. We have poisoned her, stripped

her and stolen things we can never give back; enter

COVID-19. Irrespective of any political, medical or religious

beliefs you may have, some good has come from

this unprecedented time.

With almost every aspect of our world on lockdown,

the Earth started to slowly reclaim what we have taken

from her, like a flower at death's door from a violent winter

suddenly showing signs of new life with the onset of

spring. Our footprints were suddenly eliminated and healing

seem to start immediately, with balance beginning to

creep back in.

With airplanes grounded, boats moored and people

not allowed to leave their space or gather, just-like-that

the planet started to breathe again. Evidence was visible

everywhere, and thanks to social media we were reminded

of just how much harm we have inflicted. Without the

noise, fuel and trash pollution created by the life we

(humans) have been living, the scales started to shift.

Signs of life were appearing in places void of it for so

long that we had forgotten it ever existed there. Marine

life was present in places it had not been seen in decades,

wildlife started to roam the residential areas that used to

be their home, and the air quality in places that had been

toxic was now clean. The scales are leveling . . .

TCI lockdown lets nature breathe

I can't help but focus on the place I love most—the Turks

& Caicos Islands—and how this pandemic has affected

the tiny country. This "Beautiful by Nature" paradise is

home to over 40,000 residents and attracts more than a

million visitors every year, creating a strong and viable

economy. Now, the beaches are empty, the sugar-white

sand is undisturbed by humans, and the breathtaking turquoise

water is uncluttered of boats and noise. This will

definitely cause a huge financial strain on the country,

but it will also create a time of necessary change and

healing.

With the country on a strictly-enforced lockdown,

the ripples are affecting the land and the sea. No human

impact means they can breathe . . . deeply.

A constant on my mind has been the health of our

corals, especially the ones affected by Stony Coral Tissue

Loss Disease (SCTLD). After waiting seven months for

Times of the Islands Summer 2020 61
---
TCI Government distributed a daily COVID-19 report, showing how

well the country made it through the pandemic.

permits, the Turks & Caicos Reef Fund (TCRF) was only

able to start treating the corals less than a month before

the lockdown and had done one treatment transect. They

used a low-dose Amoxicillin mixture that is specifically

designed for this treatment method. According to TCRF

Project Manager Alizee Zimmermann, the combined ointment

is designed to expand into the grooves of the coral

along the disease margin and to minimize leaching into

the water. The treatment goes directly onto the coral

where it stays and is absorbed.

Prior to the pandemic, the disease had already spread

to Grand Turk, West Caicos and Providenciales, and the

concern was that with the cooler temperatures of the sea,

and TCRF's inability to continue monitoring and applying

treatments; the disease may be spreading at an alarming

rate. The priority of this type of treatment is to save the

older, bigger colonies, as they have survived for 50–200

years. When the world came to an abrupt and complete

halt, the treatments stopped and the health and/or survival

of the corals was left to fate.

When TCRF divers were finally able to get back in

the water for the first time, they saw very clearly that

SCTLD has continued to spread on the reefs, but there is

some good news as well. One of the corals treated over

two months ago had not been taken by the disease, and

more importantly, had no new lesions. This is such a positive

discovery! With continued and consistent treatment,

there may be a good chance of preserving enough reproductive

tissue on the affected corals for them to continue

to populate the reef. So while the world above is fighting

the pandemic, the aquatic world has been fighting its

own battle in silence; now the treatments can continue in

hopes for a positive prognosis.

The lockdown time did not go to waste. The TCRF and

Ms. Zimmermann put together online, educational video

sessions for those interested in learning how to identify

infected corals and report them. They also learned other

ways to participate with the TCRF and be ocean warriors,

guaranteeing the future of protection and conservation

efforts in TCI.

With the absence of human presence, the overall

effects on the reefs will be positive; a regenerating and

recovering period; a time for them to rest undisturbed.

Another area of recovery that could be positively

affected by this situation is the conch population in the

Turks & Caicos Islands. The Caicos Conch Farm used to

be one of only two productive conch farms in the world,

and the largest worldwide exporter of the mollusk.

Hurricane Irma destroyed the farm, and to date it has not

been rebuilt. Without the farm to help supplement the

population and the over-harvesting of wild conch, natural

reproduction could not replenish them fast enough and

their numbers started to decline to the point of landing

conch on the endangered species list.

Most restaurants in the country serve the tasty white

meat in a number of forms, tourists buy the shells and

recreational operators prepare them for guests as ceviche

on the beach. Now with restaurants closed, no tourists

and boats ordered to stay in port, conch are safe from

human predation and can start to regain their numbers.

As well, natural predators of conch leave when

their food source dwindles, so without the intrusion of

humans, their numbers can make some gains. This is not

only good for them, but good for the creatures that hunt

them. This could mean an increase in population of eagle

rays, nurse sharks and loggerhead turtles in the Turks &

Caicos Islands—all of which attract snorkelers and divers.

More than a million tourists clammer to the TCI each

year. They come to soak up the sun on picturesque fine

sandy beaches, swim in the truly turquoise water and dive

the stunning reefs and dramatic walls. Tourism is the

main source of revenue and the absence of that income

is on everyone's minds.

62 www.timespub.tc
---
Rainbow after the storm

The island community has pulled together during the

pandemic and the government has done an outstanding

job at keeping the people safe. Deciding to completely

close the country for four months was no doubt a difficult

decision, as it severed the economic blood-flow. But with

the TCI Government's goal of protecting the people's

health as the priority, it has worked.

When it is safe, visitors will be itching to return to the

TCI's "Beautiful by Nature" paradise as soon as possible.

While what is normal may look and feel different, we will

adjust and continue to move forward with the TCI Strong

fortitude that has held the country together through

many a storm.

My whole life, I've heard and seen proven the saying,

"A rainbow follows every storm." The COVID-19 storm has

definitely been a rough one, but the rainbow is coming.

Sometimes in life we take things for granted, not

because we are ungrateful, but because normalcy tends

to breed complacency. Losing those things can bring back

into focus how precious they are, and regenerate appreciation.

Being able to go outside, get in your car and drive

to the beach, or a restaurant, or a friend's house, used to

happen without a second thought. Now that those liberties

are no longer available we realize how precious they

are, and how badly we want them back.

There is no question that this pandemic has caused

unprecedented damage across many aspects of life, but I

believe it will also bring about positive change. People are

communicating more, on a level deeper than a quick text;

college kids are back home with their parents and sitting

down to dinner and actually talking; families are making

home-cooked meals together instead of going out. We

realize that it isn't the material things we miss the most,

but people and the togetherness of community.

When have you ever NOT looked at a rainbow? When

have you looked at a rainbow and NOT thought, "It's so

beautiful—must be a sign it's going to be a good day?"

The storm creates the rainbow, the rainbow creates a

magnificent display of natural beauty, and that beauty

instills optimism and hope. I call this the "Rainbow Effect."

The storm has been rough and it isn't over yet, but

the clouds are starting to clear, the damaging winds are

slowing and the light is starting to shine through. My

hope is that we use these lessons to move forward with

a new appreciative direction and outlook and continue to

care for each other and our planet, keeping in mind the

freedoms we lost, and the good that grew from the loss

of those freedoms.

Learning from this difficult time and making the

world a better place will give comfort and purpose, along

with a sense that the lives lost were not in vain.

It is imminent that in the near future the most beautiful

beaches in the world will be speckled with tourists and

locals, boats will head back out to sea and the Islands will

once again be alive with the sounds of human activity, the

enjoyment of life—the rainbow is coming! a

A huge "thank you" to every health care worker, public

service worker, and "essential" person who has worked to

keep the rest of us safe, while putting themselves at risk.

This includes grocery store workers, the folks ensuring

food and supplies get to the country, and even the public

for respecting the new rules and participating unitedly in

the solution.

Times of the Islands Summer 2020 63
---
eal estate

Away from it All

An investment in TCI real estate offers the ultimate in social distancing.

By Kathy Borsuk

I, like many other expatriate residents and TCI citizens, was gifted with a four-month "vacation in paradise,"

thanks to the global COVID-19 pandemic. In a wise move by the Turks & Caicos Islands Government,

the country's borders were closed on March 24, 2020, one day after the first positive case of COVID-19

was recorded here. The last flight from Providenciales International Airport carried off the few remaining

visitors and "lockdown" began.

64 www.timespub.tc
---
The lovely curve of beach stretching along Providenciales' north shore was virtually empty during the country's COVID-19 lockdown.

GARY JAMES–PROVO PICTURES
---
At first, the whole situation was disconcerting.

Curfew was from 8 PM to 5 AM, and the rest of the time

we were supposed to stay sheltered in place, with brief

forays to the grocery stores, water companies, pharmacies

or gas stations (all of which always remained well

stocked), and exercise (walking, running and bicycling)

allowed for several hours in the morning and evening.

Until a loosening of the restrictions in early May, that was

it. Folks were encouraged to work from home, if possible,

but otherwise stay at home. All non-essential businesses

were closed.

After the initial shock, I fell into a comfortable rhythm.

Early mornings on the back porch were a time to read

the Bible and watch the "bush" sprout, bud and flower.

Sunrise was a watercolor of pink-tinged clouds and cool

breezes. Evenings, I explored our neighborhood's nooks

and crannies, inhaled the fragrance of flowers and soaked

in the golden glow of approaching sunset. It was a time of

peace. Early in the lockdown, there were almost no cars

out and birdsong and seagull calls filled the air, while

folks smiled and hailed each other from opposite sides

of the road.

Beaches were closed until early May; once they

reopened, it was a pleasure to swim or walk in the soft

sand along the quiet, empty shoreline. It reminded me of

the Islands two decades ago.

Due to the government's foresight and cautious

approach, and a powerful and concerted National Day of

Prayer, the Turks & Caicos Islands fared well, with only 12

cases of COVID-19 and one death. The whole experience

turned into a welcome respite from my normally hectic

life, in a strange sort of way—except for the days when

we watched too much CNN. It was also quite different

than what my parents and brother and sister were experiencing

in the United States.

Real estate surge

Therefore, I was not surprised when I heard local real

estate agents saying that inquiries into TCI properties

had actually increased during the pandemic. The Turks

& Caicos Islands are and will be a good place to live in

this strange new world. Social distancing comes naturally

here. Privacy and space are still to be had. The sunny

skies, clean air and sparkling sea promote health and

well-being. Natural beauty, along with modern amenities,

are both abundant. And the stable, UK-backed government

has proven worthy to handle a global crisis with

wisdom, caution and grace.

My forays around Providenciales by bicycle and foot

revealed the extensive construction of villas and homes,

both for private and vacation rental use, in nearly every

area of the island, from coastline to interior. It is clear

that business is booming, and will continue to do so, as

an island villa offers the ideal place for a first- or second-home

escape from "civilization," with built-in privacy,

comfort and all the social distancing you want.

Real estate sales and construction have been surging

in the Turks & Caicos Islands for some time, as investors

discover this "jewel" in the Caribbean. In fact, 2019 was

a record year for luxury sales, with the first quarter of

2020 following suit. According to Turks & Caicos Sotheby

International Realty's (TCSIR) most recent market report,

"In times of crisis, markets come back first to quality,

and our market is rich in quality of real estate, in tandem

with a tremendous wealth of talent in our Turks & Caicos

community and passionate private and public sectors to

support and protect it."

The Turks & Caicos Real Estate Association (TCREA)

first quarter MLS figures as of April 6, 2020 showed that

the momentum in sales gained through the last two years

of record sales continued, with 74 sales (residential and

commercial) totaling $65,692,748, for an average price

of $887,740. Single family homes continued to carry the

sales volume at $34,533,250, with 17 sold at an average

price of $2,031,368. Condominium sales remained

steady at $15,753,000, with 17 sold at an average price

of $926,647. Land sales dipped slightly from 2019 first

quarter, totaling $15,406,498, with 40 parcels sold at an

average price of $385,162. However, TCREA reports that

significant land parcel sales are pending.

Interestingly, past and potential purchasers are tapping

into TCI real estate websites with their beautiful

scenes and virtual tours as respite from the pandemic

blues. TCSIR reports that one customer says she "craves

beach more than ever," a simple reminder of the sanctuary

this country represents.

Government support

I don't mean to underplay the impact four months of

closure of all resorts and tourism-related businesses will

have on the TCI economy and the industry's employees.

It has been tough and will continue to be for some time

to come. That's one reason that investors will find a welcoming

environment, with price flexibility a possibility.

Thankfully, the TCI Government early-on implemented

a stimulus package to help "flatten the curve" of

the virus's impact on residents' and small businesses'

pocketbooks. With input from the TCREA Government

66 www.timespub.tc
---
Building Your Vision, Delivering Excellence, and Exceeding Expectations -

Time After Time.

Projetech offers turnkey Construction Management and General Contracting

Services for Residential, Commercial and Hotel & Condominium Projects in the

Turks & Caicos Islands. Our depth of experience is unrivaled and our

commitment to quality shows in the hundreds of projects we've completed in the

Turks & Caicos since our beginnings in 1996.

E S T A B L I SHE D 1 9 9 6

C O N S TRUCTI O N M ANA G E M E N T & S E R V I C E S L T D

PO BOX 659 | PROJECT HOUSE | LEEWARD HIGHWAY | PROVIDENCIALES | TURKS & CAICOS ISLANDS

T: 649.941.3508 | F: 649.941.5824 | INFO@PROJETECH.TC | WWW.PROJETECH.TC |
---
property advisory services

neptune court

valuation & appraisal services p.o. box 1490

quantity surveying

providenciales

development cost consultants turks & caicos islands

project management t: 649 941 3663

developer's representation

inspection reports

e: info@casl.tc

www.constructionadvisoryserviceslimited.com

Liaison Committee, the real estate industry benefited

from three incentives to boost inward investment. They

are currently valid until June 30, 2020.

• 50% reduction in Stamp Duty across all islands

• Waived Custom duties on construction material

• 50% reduction in planning fees

Throughout the border closure and lockdown, both

the TCI Government and people responded with discipline,

diligence and faith. Thanks to the steadfastness

of essential workers in all sectors, there was never a

shortage of food, fuel or medicines. Police checkpoints

at major intersections ensured adherence to the stay-athome

regulations. Residents took to the routine of hand

sanitizing, face masks and social distancing with quiet

dignity and typical good humor.

The two hospitals on Providenciales and Grand Turk

were well prepared for any outbreaks, with protocol and

equipment in place early-on. Quarantine measures were

put in place for folks in contact with suspected cases of

the virus and residents returning from overseas. As well,

the UK Government sent a "Specialized Assistance Team"

of doctors, medical planners, logisticians, security specialists

and planners as back-up.

A new world of opportunity

Besides TCI's blend of exclusivity, privacy, safety and

security, Forbes Realty's Sara Kaufman notes that due

to recent volatility of the stock market, real assets may

become more appealing for investors. At the same time,

now that people have a taste of slower, more peaceful

days, Sara anticipates an increase in retirees and the

search for a lifestyle such as offered on North, Middle and

South Caicos, along with other family islands in the TCI.

Chandra Craigg, real estate agent at ERA Turks &

Caicos, believes that in a world of uncertainty in business,

travel and health, we now have an opportunity for people

to write their own story. In an age of unscripted territory,

real estate will provide opportunities for buyers, sellers

and agents to creatively fulfill their goals. She notes

that certain aspects of the real estate business will be

enhanced, such as digital connectivity through video conference

applications such as ZOOM, followed by increased

verbal communication and one-on-one dialogue. Besides

working remotely from home, many TCREA realtors offer

the latest technology for virtual showings, a tool long in

use in this island nation where the majority of clients are

outside of the country. This allows investors to get into

the market immediately, while COVID-19 stimulus incentives

are still in place.

68 www.timespub.tc
---
Building Your Vision

Creating Reality

Innovation

Design

Performance

Residential

Commercial

Remodeling

Grace Bay Court, Suite101

P.O. Box 762

Grace Bay, Providenciales

Turks & Caicos Islands, BWI

Tel: + (649) 431 2971

www.ho2group.com

Info@ho2group.com
---
COURTESY TURKS & CAICOS PROPERTY

Is it any wonder there is a surge in real estate inquiries in the Turks & Caicos Islands since the COVID-19 pandemic? What better place to

work from home and "social distance"!

Realtors agree—NOW is a good time to step into

the TCI real estate market and secure your safe haven

in paradise. Selections of properties from homes, villas,

condominiums, rental properties and land are available

across the Islands. There are also opportunities for entrepreneurs

to start new business ventures, especially on

the outer islands. This includes B & B operations, ecotourism

sports lodges, boutique hotels, family-run nurseries,

commercial hydroponic orchards . . . use your imagination.

Especially appealing to retirees and folks looking

for a second home are some of the new developments

currently underway, as the construction industry was

allowed to re-start (under regulation and inspection) on

May 11.

New developments underway

In mid-May, construction resumed at the Ritz Carlton

Resort & Residences on Grace Bay, TCI's first 12-story

structure and major five-star international luxury hotel

brand. Walter Gardiner of Regency-Christie's International

Real Estate says the project is still on schedule for a Fall

2021 delivery. He notes, "Our experienced construction

team has completed floors 1 to 12 of the hotel and residence

tower A, with construction of residence tower B

approaching the 10th floor. Also completed are structures

for the casino, spa, ballroom, fine dining restaurant,

beachfront bar and grill, two of the three resort pools and

the parking garages.

The exclusive South Bank project, a low-density, residential

resort and marina development, is located in quiet

Long Bay and ideal as a haven for folks looking for privacy

in a waterfront environment. (See page 74–75 for

more details.) It, too, resumed construction in mid-May

on homes in the Ocean Estate and Lagoon neighborhoods

under careful health and safety restrictions.

Another new project on Providenciales' quiet, less

developed southeast side is The Villas at Turquoise Banks,

set on two acres along the shores of Long Bay Beach.

Designed by award-winning architecture firm RA Shaw

Designs, this gated community of six, three-story luxury

villas was designed to be a sea-centric tropical retreat.

It has a number of technological innovations new to the

Islands, including non-visible solar panels on the roof and

the use of a Tesla Model 3 vehicle. Each villa integrates

the Google Nest system with smart thermostats, outdoor

cameras, interactive doorbell, smart speakers and smoke,

heat and CO detectors, all able to be monitored and controlled

from your phone anywhere in the world.

70 www.timespub.tc
---
TWATIMES_Layout 1 2/16/17 7:49 AM Page 1

Beach Enclave Turks & Caicos' collection enables

homeowners and guests to experience their own private

villa home coupled with the facilities and amenities of a

five-star resort. With locations on Long Bay, North Shore

and Grace Bay—each with a unique personality—all properties

feature private homes ranging in size from three

to seven bedrooms, a private beach area, private pool,

spacious indoor/outdoor living areas, and much more. All

villas are serviced by a dedicated private butler, private

chef, concierge, and resort staff.

The TCI's out islands still remain quite untouched by

development, although they benefit from stable power,

transportation and telecommunications services. Sailrock

is an evolving development on the country's fishing capital

of South Caicos. The project won the "Caribbean's

Leading Luxury Island Resort" at the 2020 World Travel

Awards.

Sailrock Resort opened its doors in January 2017 as

the only five-star resort on South Caicos, bringing a new

level of luxury to the quiet island, without disturbing

the peaceful rhythms which make the island so alluring.

Sailrock includes 33 suites and villas spread over 52 hilltop

and oceanfront acres. Residences are supported by

the Great House, a central hub housing a lounge, ocean-

Serving international & domestic clients in real estate, property development,

mortgages, corporate & commercial matters, immigration, & more.

TEL 649.946.4261 TMW@TMWLAW.TC WWW.TWAMARCELINWOLF.COM

Times of the Islands Summer 2020 71
---
The longest established legal practice

in the Turks & Caicos Islands

Real Estate Investments

& Property Development

Immigration, Residency

& Business Licensing

Company & Commercial Law

Trusts & Estate Planning

Banking & Insurance

1 Caribbean Place, P.O. Box 97

Leeward Highway, Providenciales

Turks & Caicos Islands, BWI

Ph: 649 946 4344 • Fax: 649 946 4564

E-Mail: dempsey@tciway.tc

Cockburn House, P.O. Box 70

Market Street, Grand Turk

Turks & Caicos Islands, BWI

Ph: 649 946 2245 • Fax: 649 946 2758

E-Mail: ffdlawco@tciway.tc

Cays Winter Times 2018_Layout 1 11/14/18 10:30 AM Page 1

CAYS CONSTRUCTION CO LTD

A COMPLETE SERVICE.

Once you have purchased your land

...we take you all the way.

...TO THE KEYS TO YOUR NEW HOME.

We take care of the design,

the building approvals,

the construction management,

and the construction works.

Allow us to design and build your new home.

caysconstruction.com

caysconstruction@aol.com

view deck and upscale restaurant and bar. Travelers

looking for a Caribbean home-away-from-home will find

it in the Private Peninsula Villas in a neighboring 770-acre

enclave with an ecological focus and full access to the

resort amenities.

Back in Providenciales, a new independent hotel,

The Bight by Dream Hotel Group, was launched in early

February 2020. This innovative condo-hotel, designed

for short-term vacation rentals, is located in West Grace

Bay and offers elevated beach views from its ridgetop

location, along with beach access. Joe Zahm, president of

Turks & Caicos Sotheby's International Realty, who is representing

the project, notes that the Dream Hotel Group

gives credibility to US buyers who are familiar with the

brand and acquainted with the level of services and amenities

they offer. They are in partnership with longtime

TCI residents Ryan Jones and Natalie Zaidan of the EA

Group, who say, "We want to recreate the magical Turks &

Caicos experience that people have when they come here

for the first time and never leave. We find that the market

really needs a four-star boutique property with culture,

design, art, experiences and adventure."

Andaz Turks & Caicos Residences, on the 5 1/2 acre

beachfront parcel to the west of Coral Gardens, is taking

shape with site preparation well underway. Expected to

be completed in early 2022, the project will include a

59-key hotel and 74 luxury residences — including nine

penthouses. Andaz is a branch of the "World of Hyatt"

international brand.

Construction also continues on the Oceanfront and

Ridge Cottages and Hilltop Condos at the Rock House

Resort. The stunning location on Providenciales' North

Shore provides breathtaking views for its 39 private cottages

and 4 hillside homes on the 14 acre site. As part

of the Grace Bay Resort's treasure chest of properties,

owners and guests enjoy use of the group's dining and

lounge options, fitness center, spa and tennis courts.

The developers of Wymara Resort have completed

five villas on the dramatic shoreline of Turtle Tail and are

now introducing a second collection of five villas. They

include the signature above water sundecks and stunning

hillside location.

Also by the Wymara developer is the new H2O Life.

Style. Resort., located adjacent to four acres of pristine

parkland on Long Bay Beach, a haven for kiteboarders.

Currently under construction, the project includes

15 exclusive units in one, two and three bedroom condominums

with lock-out suites to maximize rental

opportunities.

72 www.timespub.tc
---
Modern living in the prestigious Leeward neighborhood

is possible at the new Upper East Side Estate. Under

construction are 12 private, luxury villas on almost five

acres of land with gated access and a paved main street.

Three- and four-bedroom options are available, each with

an open deck leading onto a private pool.

With the successful completion of Grace Bay West,

Latitude 22 is launching Karaya Blue. This private residential

development features six luxury villas on three acres,

located in a peaceful setting minutes from Long Bay

beachfront. The signature architecture with glass walls

surrounding the living areas welcomes the outdoor views

in. Pre-construction offerings afford purchasers ability to

tailor the design finishes to their own wishes.

TCREA agents agree that buyers looking for a private

villa in a luxurious neighborhood would best start

their search in the Providenciales areas of Leeward, Long

Bay, Turtle Tail and Chalk Sound. Long accoladed as the

"World's Best Beach," Grace Bay is the place to look for a

condominium. A private island experience can be had at

Amanyara, located on Providenciales' remote northwest

shore or on the exclusive islands of Parrot Cay, Pine Cay,

Ambergris Cay and West Caicos.

At home

Residency status in the Turks & Caicos Islands can take

on a new importance in the "new normal" of global pandemics,

unrest and the desire to isolate. Available is a

homeowner's permit, valid for five years and allowing

recipients and their family members to come and go as

they wish. Purchasers of any home or condominium valued

over $300,000 can apply for the permit to the TCI

Government. These permits do NOT include the right to

work. The government fee is $1,500, plus legal fees.

With a real estate purchase over $1 million, investors

can apply for a Permanent Residence Certificate (PRC),

granting the applicant and spouse the right to reside

in TCI for life. Children can be endorsed until they are

18 years old. The cost is a one-time government fee of

$25,000, plus $1,500 for spouse and $500 per child,

along with legal fees. PRC status can lead to TCI (British

Overseas Territory Citizenship) and, potentially, a British

passport.

Note that foreigners also have the unrestricted right

to purchase property, and there are no real estate taxes.

Turn your attention to the Turks & Caicos Islands as

you look into the uncertain future. For even though the

world has changed, the country's "Beautiful by Nature"

way of life remains the same. a

john redmond associates ltd.

architects & designers

construction consultants

project management

p.o.box 21, providenciales, turks & caicos is.

tel.: 9464440 cell: 2314569 email: redmond@tciway.tc

Times of the Islands Summer 2020 73
---
Sanctuary

South Bank development

recommences construction.

By Kathy Borsuk ~ Images By South Bank

During Turks & Caicos' four-month COVID-19 lockdown,

when borders were closed and residents

encouraged to shelter in place, I, like many others,

took to the roads by foot and bicycle. Especially in

the early weeks when restrictions were more severe,

the early morning and late afternoon "exercise

hours" had people out and about in the fresh air

and sunshine. My forays often took me past South

Bank on the southeastern shore of Providenciales,

on the ocean in Long Bay Hills. Each time I passed,

I thought of the fortunate folk who would soon live

in this peaceful area of natural beauty.

The South Bank residential resort and marina sprawls

over 30 acres, its borders the captivating 2,000 feet of

ironshore just east of the South Bank Marina and 230 feet

of beautiful beach on Long Bay. Here, the ocean shimmers

in deep turquoise tones, occasionally glass-calm, occasionally

rustled by the cooling tradewinds. At the edges

of the day, the lush indigenous vegetation appears burnished

in golden tones that speak of serenity.

Windward Long Bay Ltd., developer of South Bank,

models their projects on creating an exclusive, low-density,

water-based experience and South Bank is no

exception. Each of the various neighborhoods offers residences

featuring a unique relationship with the water

and having their own pools and gardens to create private

spaces within an embracing enclave.

The Ocean Estates encompasses four- to seven-bedroom

beachfront and oceanfront villas facing

the vast Caicos Bank, a protective shallow-water sea at

Providenciales' south flank. Walls of glass, oceanfront

pool decks and courtyard terraces are designed to seamlessly

merge indoor and outdoor spaces. The homes'

signature features are stunning infinity pools, with a

transparent end that seemingly floats above the water.

Three beachfront villas perch on an elevated dune overlooking

the aptly named Long Bay Beach, stretching to the

horizon at the west.

In The Lagoon neighborhood, residents can enjoy

three- to five-bedroom beachfront villas with their

For more information, visit livesouthbank.com. For an

appointment at the Experience Lounge, email contact@

livesouthbank.com. To read more, go to https://www.

timespub.tc/2019/03/water-water-everywhere/.

own pools on a unique

swimming lagoon, with

some properties having

their own boat docks.

At The Launch there

are one- to three-bedroom

townhouses, called

Boathouses because each

has a private rear terrace

with a boat dock suspended

over the water.

Each residence features

generous kitchen and

living/dining areas, handmade

for entertaining family and friends. Homeowners

and their guests can partake of South Bank resort amenities

including watersports, tennis, gym, spa, restaurant

and bar, along with multiple beach access areas. Also

available are in-villa dining and spa treatments, with private

chefs and wellness experts. The entire South Bank

property is security gated.

74 www.timespub.tc
---
Top: This artist's rendering shows the plan for the South Bank residential resort and marina, including each of the various neighborhoods.

Bottom: There are only two Ocean Estate Dune Villas available at South Bank. Their elevated position and expansive frontage ensures

breathtaking views of the Atlantic Ocean across the Caicos Bank.

Earlier this year, the

horizontal infrastructure

works were completed,

including underground

utilities and roads.

Villa construction on

the Ocean Estates and

Lagoon areas also started

and has recommenced

after the COVID-19 lockdown,

following the TCI

Government's cautious

health and safety restrictions.

Residents and visitors (once TCI borders open on

July 22) can learn more at the Experience Lounge located

on-site. It is open for appointment adhering to strict

health protocols.

At the same time, the South Bank Marina is being

fully re-invigorated to deliver service and facilities for

the adventurous South Bank lifestyle. The main dock is

currently under renovation, with a new fuel system and

floating docks with around 60 slips ranging from 20

to 120 feet. South Bank homeowners can enjoy a Boat

Concierge program that allows them to simply call in to

order their boat to the designated launch spot fully maintained,

fueled and provisioned . . . then drop it back off

after their day trip. Conveniently blissful!

In keeping with its nature-oriented lifestyle and corporate

mantra, earlier this year, South Bank Resort & Marina

provided the Turks & Caicos Reef Fund with a dedicated

office and training facility in the recently renovated South

Bank Marina building. It has already been used to train

volunteers in fighting the Stony Coral Tissue Loss Disease

on TCI reefs. Ingo Reckhorn, director of the South Bank

development explained the generous donation, "South

Bank has been crafted as a destination for lovers of the

marine environment. Protecting the wonders above and

below the surface of our beautiful waters is tremendously

important to us and our buyers."

In this uncharted "New World" we live in, it's good to

know there are sanctuaries to be found. a

Times of the Islands Summer 2020 75
---
MARTA MORTON—WWW.HARBOURCLUBVILLAS.COM
---
feature

Opposite page and above: For many of our contributors who spent the spring "hunkering down" in the Turks & Caicos Islands, the country's

natural beauty provided solace and respite from the fear and anxiety of the global pandemic.

GARY JAMES–PROVO PICTURES

Lessons from Lockdown

Times of the Islands contributors share their experiences.

Whether ending up on- or off-island, regular Times of the Islands contributors faced "shelter at home"

requirements due to the global COVID-19 pandemic. We asked them to share their thoughts and experiences

during this major disruption to our usual way of life.

Times of the Islands Summer 2020 77
---
Life and freedom are precious

Story & Photos By Kelly Currington

I am sitting on the sofa at my best friend's house,

looking out the window at a view I have seen hundreds

of times before, but it now looks and feels very different.

Along with the rest of the planet, I am trying to make

sense of and navigate through this new world we are now

faced with . . .

I was on a liveaboard dive boat where I work as a videographer,

100 miles north of the Dominican Republic in

the Silver Bank, swimming with North Atlantic humpback

whales when everything changed in a matter of hours.

We were told the port was going to close and we needed

to return or be shut out, so halfway through our week we

headed back in. As I sat with my sister, we stared out at

the sea and talked about the amazing encounters we had

and the prospects we might have had if the charter had

not been cancelled. We wondered what was waiting for us

back on land. What I was sure of was that the holiday my

sister and I had waited a year for had now been cut short.

She and the rest of the guests boarded flights home

the next day and I caught the last flight back to the United

States from Santiago, Dominican Republic the day before

the United States closed its borders. To say I was anxious

doesn't even begin to describe what I was feeling. Never

before had I even thought about not being able to get

back to the US if I wanted or needed to, but it was now

a matter of urgency or I would not be able to return for

an unforeseen length of time. The sea is my happy place

and where I long to be, but being "stranded" away from

my family was something I could not comprehend.

Once I made it back, the reality of what was happening

started to sink in. Being confined inside and unable

to see family and friends was inconceivable, but here it

was our "new normal." At first it wasn't too bad, almost

like being on vacation without being able to go anywhere

or do anything. Then, with the constant news coverage

of the fear and increased reports of deaths every day,

I started feeling very uneasy and scared—something I

rarely feel. Scared of the virus; scared of my future.

I was very aware of the trickle-down effect of this sudden

and complete lockdown. With no one traveling and all

non-essential businesses shut down, borders closed and

an unemployment rate that was skyrocketing daily, tourism

was going to take a huge hit. I kept asking myself,

"Will I have a job to go back to?" "If not, will I be able to

find a good job in the States?"

Within a couple of weeks the world had changed and I

did not know how to deal with it. No one knew how much I

was struggling because I didn't show it. Instead I decided

to keep a journal about everything that was happening in

my life during this pandemic. Writing gave me an outlet

for my thoughts. It allowed me to visually see anything

good that happened in a time of sadness and fear. It

would be a documented account of this unprecedented

season in our world that my children and grandchildren

could read in the future, and understand how I coped.

Not working or having a purpose each day left me

feeling very useless and nonproductive, with too much

time to think. I decided to try to find temporary work,

doing whatever I could to make enough money to pay the

my few bills and help with food. While ordering groceries

online, which had now become the norm, I realized this

was a viable market. In a world where millions of people

had lost their jobs, I was able to get temporary work helping

others stay safe in their homes by filling those online

grocery orders—a multifaceted blessing.

As divers, my mates and I stayed in touch and shared

our fears about our future. We knew we would be out of

work for a while, some possibly permanently, and the

stress of that was something we all handled differently.

Many of us decided to use this down time to work on

ourselves. I signed up for some online courses and sem-

78 www.timespub.tc
---
e back underwater shooting again. My soul may hurt,

but I am safe.

What I will forever take from this unexpected change

in our world is how precious life and freedom are, and

how quickly they can be taken away. I have cherished the

time this has given me with my family and I treasure the

little things more than ever, holding on to them tightly.

The sound of my granddaughter saying my name is

etched in the recorder of my heart and I listen to it when

I start to feel the stress creeping back in—her precious

voice can calm even the strongest storm.

inars to keep me connected to the diving realm, which I

desperately needed.

I spent a lot of time in my own head, mostly trying to

sort out the stress, fear and anxiety of the uncertainty. I

knew I had to change this or it would get the best of me,

so I made a decision to deliberately direct my thought

process and focus on the good, positive and happy

aspects in my life, and I am aware I have plenty.

I thought about the amazing journey my life has

taken me on and the experiences I have been so blessed

to have had. I thought back to the time before diving,

when I was so phobicly afraid of sharks that I would not

even consider putting my feet in the ocean, and most

certainly would not have gotten on a boat. That's when

the three "E's" entered my world. A decision to take a

Discover Scuba course (Exposure) set me on a path that

changed my life forever. I became a scuba instructor

and spent thousands of hours in the water with sharks

(Experience), changing that unrealistic and media-fed

fear into true love and respect for these creatures. This

inspired a determination to protect them (Education).

Focusing on that journey and all the amazing people who

guided and supported me helped when the anxiety of not

knowing when I will be able to get back to the sea set in.

It helped me stay tuned-in to the blessings in my life.

I thought about how lucky I am that most of my family

are safe and healthy and able to continue life with the

only disruption being social distancing—a small sacrifice.

I thought about how fortunate I am to have family and

friends who are taking care of me during this uncertain

time of waiting. They have given me a safe place to shelter

and they support my goal of returning to the life I

love. They accepted my occasional emotional meltdowns

as I sat with my camera case open, staring at the images,

tears streaming down my face, aching for the day I would

There is beauty in every storm and this pandemic is

no different. Some good has come with humans being

on lockdown. Wildlife has started to reclaim or revisit

places they have been absent from for decades. With the

lack of human interference and the damaging footprints

we leave behind, nature flourished, the air we breathe is

cleaner, and we realize that it is not the material things

we miss the most, but instead it is the time with loved

ones we long for. This gives hope for a better future, but

only if we learn from this situation and make changes to

the way we interact with this planet. Mother Earth needs

balance to survive and I hope we as a species learn to give

back, at the very least, as much as we take. The reality is

that we need the planet—"she" does not need us!

I'm looking forward . . . a

Times of the Islands Summer 2020 79
---
Resplendent silence

By B Naqqi Manco, TCI Naturalist

On a high traffic day on Bellefield Landing Road in

Kew Settlement, North Caicos, we might see a dozen

cars roll by. Dogs lying side-down on the narrow strip

of asphalt are barely bothered to move and aside from

the breeze and the birds, my landlord's firm "Yo!" to the

drivers is all that's heard. It's difficult to conceptualise an

inhabited place quieter than North and Middle Caicos.

The COVID-19 quarantine period of 2020 showed

us a new—ah, old—side of the Turks & Caicos Islands.

The country did indeed wind down. The ferries toting

day-trippers ceased. Flocks of rental cars were corralled

into inactivity. Daily commuters to the docks vanished.

Fume-billowing school buses and dump trucks desisted

from their roars and rumbles. The frequency of the "Yo!"

declined to barely one a week—usually to Her Majesty's

Royal Police.

As streets around the world emptied and bustling

urban centres fell into an eerie, post-apocalyptic stupor,

documentation of peculiar natural events—both factual

and fallacious—began appearing on social media. The

first I remember seeing was a poorly edited photo of

Venice, captioned with a claim that following the dearth

of anthropogenic disturbance and pollution, dolphins

had reinstated themselves in the waterways, frolicking

Flipper-esque along the Canal Grando. A similar meme

appeared with equally image-doctored swans swarming

over the same aquatic routes, then another appeared with

hundreds of photo-replicated pink flamingos.

Eventually the memes began lampooning themselves;

one celebrated the return of blue whales flying through

the now-clear skies of at least three Eastern European

megapolises. Ridiculousness manifested itself into the

claims, and I was asked if the slightly more credible

claims were true. There being no solid evidence, I told

my associates to get-a-hold-of-themselves and brushed

off the memes as products of boredom. But then, the

deer showed up downtown.

A friend of mine shared a video made from a police

dashcam in an urban neighbourhood of Pittsburgh. A family

of deer a dozen strong placidly allowed themselves to

be herded along by the squad car's gentle advance. They

moved forward, ignoring a direct route of escape into

wooded hillsides and made a sharp left onto the main

drag of the town. Looking less like typical deer gripped

in fight-or-flight response and more like a blasé meander

of window-shopping stags, they occasionally glared at

80 www.timespub.tc

the car with an anthromorphised accusatory scowl. They

would not be hurried. As humans no longer had the ability

to execute their myriad daily things-to-do, the does and

bucks opted to see what it was all about. "Surely there

must be something to it if they like doing it so much," I

imagine the deer queried, and "Now that they're out of

the way let's go see what it's all about." Tragically, they

will have missed some of the better points of the tour,

with things like soft pretzel stands and upmarket confectionary

shoppes being shuttered; most likely they'll

have returned to the oak-hickory forests with an apathetic

aftertaste for whatever so obsesses the naked apes.

Meditating on the downtown deer on an afternoon

stroll through my garden, I noticed the first gray kingbirds

of the season had arrived from their winter in

Hispaniola, their sharp trills notably more audible against

the silent backdrop. The return of the Antillean nighthawks

a day later was revealed by their distinct staccato

buzz as they swooped after the season's first mosquitoes.

The scratches of a land crab's legs on a rock and a

curly-tail lizard's telltale dead-leaf-scattering were clear,

but not unusual, sonorities.

But a week later, in the midst of complete lockdown,

an evening promenade around the garden led to a startling

encounter. There, right on the lawn in the open, was

a Key West quail-dove, one of Turks & Caicos Islands'

rarer birds. Inhabiting only the shadowy floor of the tallest

dry tropical forest in southwestern North Caicos, these

mahogany red pigeons are notoriously shy and retiring.

To date none of my colleagues has been able to get a

meaningful photograph of the species, and yet there one

was, its iridescent green and purple neck glossing the low

sunbeams back to me, its distinctive eye stripe concealing

its otherwise obvious focus on looking for insects and

seeds in the grass.

B NAQQI MANCO
---
Key West quail-doves in North Caicos unequivocally

object to people and our preposterous noise—their tolerance

is so low that I've met people who have lived in Kew

Settlement their entire lives and have never seen one. But

since that day, this bird has made its presence in the yard

a habit. Without cars rumbling by and with considerably

less noise, it exposed itself from its clandestine life on

the dark forest floor each late afternoon. Then it brought

a friend. The pair struts about the now all-but-abandoned

back road throughout the day. They're still difficult to

photograph, but I've at least captured one on my camera

that is identifiable.

But I'm not the only one with photographic proof

of this natural takeover. In late May, photos and videos

appeared on social media of one of my familiar

haunts with a nostalgic twist. Twenty years ago, I lived

in Bambarra Settlement, before the causeway linked the

islands of North and Middle Caicos and before the roads

were paved. Day trippers were so rare there was only one

occasionally-functional rental car on the island.

Bambarra Beach, with its expansive sandbar jutting

half a mile towards Pelican Cay, was only ever peopled

by the rare fisherman or rarer winter villa visitor. My peanut-butter-coloured

potcake usually accompanied me,

and unfortunately that's why I never got to see the flamingos

up close.

Flamingos have tolerance toward humans but no time

for canines, and on several occasions, I only arrived in

time to see a flock of roseate Caribbean flamingos wheel

around the sandbar in post-take-off surveillance swoop

before their group's line undulated over the Casuarina

trees back inland toward the protected ponds. Since

Bambarra Beach has become such a popular stop on the

regular tourist route, the flamingos retired the location

from their usual circulation.

But this May some truly impressive flocks of flamingos,

hundreds strong, appeared on the sandbar at

Bambarra Beach. Taking advantage of the unpeopled

beach and low tide smorgasbord, they've settled in daily

to reclaim their former habitat. A flock 194 strong, including

196 recently-fledged first year birds, was enjoying the

sandbar the day I carefully, respectfully (and dog-lessly)

visited. While flamingos may not be festooning the Grand

Canal in Venice, they certainly are reinforcing their prerogative

on one of our most picturesque beaches.

Let me not run from my identity as a cynical curmudgeonly

misanthrope—I indeed hope somehow things

don't go back where flamingos would be expunged from

Bambarra Beach—yet I recognise and honour the unprecedented

difficulty this collapsed-coal-kiln of a year has

thrown at so many people. But the fact that wildlife is

showing us that they need space that we use, and they

only avoid it because we really are nature's most obnoxious

production, should give us a second-guess of how

we comport ourselves going forward.

One of my favourite literary works notes that after

careful restoration of nature, "Then the Lorax and all of

his friends may come back." I'll do what I can to maintain

the silence, but I'll also enjoy its zenith while I can. I'll go

out this evening to greet the not-quite-anatopic Key West

quail-dove, and who knows? Perhaps along the empty

streets I'll catch a glimpse of a Lucayan family. a

DEMITRI HARVEY

Times of the Islands Summer 2020 81
---
DON STARK

Puzzling it out

By Don Stark, Turks & Caicos Reef Fund

I never realized how obsessive I was until the lockdown.

Looking for things to do, we raided a friend's

condo for some jigsaw puzzles. Once I got started, it was

hard to quit. Just one more piece . . .

Add to it, my lovely wife is also obsessive, so there

was competition—who can do the majority and the fastest.

I always did the outside edges to get us started. a

Here or there?

By Jody Rathgeb

Over the years, hurricanes have taught Turks &

Caicos Islanders a thing or two about crisis. As someone

who divides time between North Caicos and Richmond,

Virginia in the U.S., I've also learned this: With a hurricane

imminent, I'd rather be at my island home than worrying

about my friends and property from afar. But the COVID-

19 crisis was something new, and as I stayed at home I

kept wondering: Would I rather be here or there?

There's no doubt that my restrictions in the U.S. were

lighter than those of the Islands, and even before phased

openings, our "rules" were suggestions rather than punishable

requirements. Events were canceled and many

businesses closed, but we had no curfew and could go

outside to exercise at any time of day. We couldn't visit

restaurants, but they were allowed to provide takeout and

delivery. Our liquor stores stayed open, I could have wine

delivered, and the Internet gave us entertainment, communication

and plenty of laughs.

Most importantly for me, I was able to continue my

passion for making mosaic art. The galleries/studios

building where I work was closed to the public, but those

of us with studios were still able to use them. I could get

my exercise walking there, then make art while isolated.

Yet my mind kept drifting to North Caicos. In Whitby,

I'd be doing mosaics on my front porch in consistent

sunshine instead of slogging across a bridge in rain and

wind. And, oh, how I missed the ocean! I knew that those

on island, forbidden to go to the beach, also missed it,

but would at least the sight of it provide compensation?

What a useless question to ask! Here or there wasn't

a choice, so instead of pondering it I put my yearning

into mosaic. I designed a large reef scene and brought it

to life in glass and glass tile. It took more than a month

of steady work, but "Reef Scene" brought here and there

together for me.

My COVID-19 onus has been light. I didn't lose

income (I'm retired) and I had a satisfying activity to carry

me through. But my heart was often in the Islands, and

I followed the lockdown trials of my friends and neighbours

daily. I tend to dislike clichés and trendy sayings,

but this time one has been true: We're in this together,

here and there. Even and especially across international

borders. a

TOM RATHGEB

82 www.timespub.tc
---
Camera to the rescue

Story & Photos By Marta Morton,

Harbour Club Villas

We are grateful and luckier than most as our rental

villas are tucked away on the south side of Providenciales

and already somewhat isolated. Our last guests left early

in mid-March, and so we have the whole of Harbour Club

Villas to ourselves. This meant a larger area that is not

as confined and restricted as some for our self isolation

during these horrific and anxiety filled months.

I've had some good days, but all too many where

panic would escalate as the anxiety threatened to overwhelm

me.

Thankfully, my camera comes to the rescue. I disappear

for a few hours to the pool or marina with my

camera in hand to photograph the flowers and birds.

There's nothing better than to just sit and wait for the

many birds and lizards to drop by the water bowl.

I wonder about tight living quarters confined on a

small sailboat in the marina while self isolating, as some

are doing now. Ports remained closed so even if you

leave, where would you go, and hurricane season is just

around the corner.

There's nothing more calming and soothing than

spending hours enjoying these simple pleasures and photographing

nature's wonders.

My "norm" is found in all the beauty that surrounds

Harbourus, Club:Layout but the "new 1 8/17/16 norm" is 10:16 yet to AM be determined Page 1 as we

watch and wait to see how this will impact our lives and

the future of our tourism-based livelihood.

No matter what happens and as the saying goes,

"Beautiful by Nature TCI" will always hold true. a

Harbour Club Villas

Turtle Tail Drive, Providenciales

Six one-bedroom villas.

Dive operators at our dock.

Bonefishing in the lake.

Fabulous beaches nearby.

Ideal for couples or groups.

Our entertainment during the current dry spell and

quarantine is to take the hose and spray water on all the

foliage and plants. It doesn't take long for the birds to fly

in for a cooling bath, and of course I just snap away.

I love sitting on the hill overlooking the marina to see

the changing moods and colours of the ocean as well as

wandering down to the lake out front.

Trip Advisor

Travellers' Choice

Awards Winner

E: harbourclub@tciway.tc

T: 1 649 941 5748

See our website

for details.

www.HARBOURCLUBVILLAS.com

Times of the Islands Summer 2020 83
---
Quiet without students

Story & Photos By Dr. Heidi Hertler,

SFS Center Director

The School for Field Studies is a US-based study

abroad program. We operate field research stations

around the world and each semester welcome students

to study local environmental issues.

On South Caicos, our program focuses on marine

resource management. Students come to study the coral

reefs and their local and global value. The field is our

classroom and we use tools like SCUBA and snorkel and

underwater photos and videos to collect data.

In early March of this year, our program started

to change quickly! In a matter of days, field trips were

canceled and students recalled to home institutions.

By March 18, all our students had returned home, and

courses moved to an on-line format.

That can be tricky when your program is based on

hands-on learning. Eight staff remained on campus to

deliver the remaining program. This small group formed

a unique household. Although our vehicles and vessels

were quiet, we were not. Our team was able to complete

12 academic credits and a new 3 credit course that

explored and analyzed some of our larger data sets. On

site, we also continue to share sunsets with our students.

South Caicos became a quiet place to live and work.

Inside the center, we shared responsibilities of cooking

and cleaning and completing small projects around

the property. We discovered new ways to exercise and

interact with nature. For me, reconnecting with the environment

was spiritual. When students are here, we focus

on them and research. From our oceanside perch, we

spend hours watching eagle rays swim gracefully, schools

of fish jumping and Frigate birds soaring.

As the Turks & Caicos starts to reopen, we are again

able to dip our feet into the ocean. We look forward to

restarting our research, including a project with the Turks

& Caicos Reef Fund to slow the spread of Stony Coral

Tissue Loss Disease.

What we have learned from this experience is how

flexible and resilient we really are. We are grateful for the

support from our local and global family. We look forward

to our students' return, but similar to the time after

Hurricanes Irma and Maria in 2017, this will be a new

normal for all of us. We wish all our students, colleagues,

and visitors a safe and healthy summer! a

84 www.timespub.tc
---
astrolabe

newsletter of the Turks & Caicos National Museum

front street, p.o. box 188, grand turk, turks & caicos islands, bwi

tel 649 946 2160 • fax 649 946 2160 • email info@tcmuseum.org • web www.tcmuseum.org

These locally made baskets were displayed at the Museum's 2019 "Back in the Day" event, a celebration of the TCI's cultural heritage. They

are also the hoped-for result of Daphne Forbes's basket weaving classes at the Museum's Heritage House.

TURKS & CAICOS NATIONAL MUSEUM

Giving to Protect the Past

Over the last several years, I have spent much time in this space discussing why it is important for

the Museum to expand our operations to Providenciales. However, with the COVID-19 crisis, I want to

stress that the Museum—as we exist now—continues to need public support. Over the last several years

we have expanded our programs to document the past and increase fundraising and community programming.

We need the help of our readers to keep these programs going. Details on the Museum's

reopening and new programming will be provided soon.

In this edition of the Astrolabe, we present two features that uncover fascinating facets of the Islands'

history. Dr. Andy Ciofalo describes new research techniques that help to reveal the types of foods and

beverages prepared by the Lucayans—TCI's first inhabitants. Captain Eric Wiburg continues his series

on the impact World War II had on the Turks & Caicos Islands. This time, he explores the sinking of the

Dutch freighter Luna by a German U-Boat, and the rescue of its shipwrecked sailors by residents of Blue

Hills, Providenciales. a

Dr. Michael P. Pateman, Ph.D., Director, Turks & Caicos National Museum

Times of the Islands Summer 2020 85
---
astrolabe newsletter of the Turks & Caicos National Museum

This area in northwest Providenciales likely looks similar to what the first migrants to this island saw.

Foodways, Life and

Archaeology

How ancient people cooked on Providenciales.

Story & Photos By Dr. Andy J. Ciofalo

Food is a social lubricant, which means it brings us together, gets people talking and is a central point

of gatherings, holidays and life. Do you remember cooking your last meal? The way you sliced, pounded,

boiled or roasted the vegetables damaged small molecules inside them known as carbohydrates (also

called starches). These carbohydrates stick to or become ingrained within your pots, pans and other utensils.

Hundreds or thousands of years from now, future archaeologists will be able to find some of your

leftover food still stuck to your kitchenware: bowls, forks, knives and plates, etc. In essence, this is what is

being done now to unfold and retell stories about the daily lives of the people who lived on Providenciales

in the Turks & Caicos Islands hundreds of years ago.

86 www.timespub.tc
---
astrolabe newsletter of the Turks & Caicos National Museum

Palmetto Junction

Using innovative archaeological

methods for reconstructing ancient

culinary practices, my research

has revealed stories of the original

"Belongers" that have never been

told. Prior to the arrival of Columbus

in 1492, little is known about the

daily lives of the Indigenous Peoples

who lived in the Turks & Caicos

Islands. However, there is some

evidence and it is widely believed

that the TCI functioned as an interaction

sphere and trading hub for

Hispaniola (comprised of modern-day

Haiti and the Dominican

Republic).

Since 2014, I have been carrying

out archaeological fieldwork on

Providenciales. Students and team

members from the University of

Central Florida and Leiden University

in the Netherlands have been working on this area now

known as Palmetto Junction, which is located along a

narrow isthmus on the western end of Providenciales.

Radiocarbon dating of several types of cultural remains

such as charcoal from fires, animal bones and shell have

provided calibrated dates of AD 1391 ± 41 years, which

helps suggest that Palmetto Junction was regularly occupied

for more than 100 years prior to European invasions.

Palmetto Junction is also one of the largest sites discovered

in the Bahama archipelago (The Bahamas + the Turks

& Caicos Islands), covering nearly 20,000 square meters

of activity areas and likely households.

Archaeologists clamor over old trash piles because

of the vast amount of information able to be recovered

about peoples' daily lives and particularly what they ate.

Palmetto Junction is exceptional for the Bahama archipelago

because it has more than 20 middens (trash pits).

From these remains, it appears reef fish and hutia (a type

of rodent) contributed a significant portion of meat prepared

for consumption. Typically, plant remains do not

preserve well in tropical areas because organic remains

decompose quickly in humid and hot soils. However, cutting-edge

methods and techniques allow archaeologists

to reconstruct and hypothesize how plants were used in

Above: University of Central Florida student team members excavate an archaeological unit at

"Palmetto Junction" on Providenciales.

Below: Students screen through excavated dirt looking for artifacts.

Times of the Islands Summer 2020 87
---
astrolabe newsletter of the Turks & Caicos National Museum

These are examples of shell artifacts and fragments of clay griddles analyzed in Dr. Ciofalo's research on "Starchy Foodways."

the past. This is one of the topics from my PhD dissertation

entitled "Starchy Foodways: Surveying Indigenous

Peoples' culinary practices prior to the advent of European

invasions in the Greater Caribbean."

Secrets of starch

Starch is a simple form of a carbohydrate and 98% of

plants produce starch. They are small molecules, which

average in size at roughly half the width of a human hair

follicle (20 microns). Based on their size, shape and a

variety of other characteristics, starches can be identified

to certain botanical taxonomic (scientific classification)

levels and they preserve well in tropical areas.

After recovering artifacts that were possibly used in

ancient kitchens, such as ceramic pots, clay griddles (flat

cooking plates), shell knives, limestone tools and more,

they are delicately scraped with dental picks to dislodge

microbotanical (starch) remains. After weeks of excavation

and lab work in Providenciales, these samples were

brought to the Faculty of Archaeology, Leiden University

in the Netherlands. I use a high-power microscope to

find and identify starches from the samples. Carefully

and tediously, each starch is identified, which reveals the

types of plants that were prepared. Additionally, ancient

cooking methods and other culinary practices such as

grating, grinding and pounding leave visible damages to

some of the starches. The way the starches were damaged

or altered allows me to interpret how people in the

Turks & Caicos Islands prepared their vegetables.

Hot off the griddle

When Europeans first invaded the Americas (AD 1492),

manioc was referred to by the Arawak name yuca and

only the flatbread made from this type of tuber was called

cassava (originally cazabi). The name manioc is derived

from the South American Tupían word maniot, with the

first written record from the 1550s on the coast of Brazil.

Because the Spanish chronicles mentioned cassava bread

so frequently and described its production using clay

griddles, for centuries archaeologists assumed this was

the only function of clay griddles. At the beginning of the

millennium (AD 2002), starch analysis was first applied

in the Caribbean and the researchers discovered that

many other plants, such as maize (corn), sweet potato,

bean and cocoyam were prepared on clay griddles in the

Caribbean. However, manioc was absent from the results

of these initial investigations.

My dissertation discovered that many of the clay griddles

recovered from Providenciales were used to cook

manioc as well as maize and Zamia (also known as coontie,

a poisonous but nutritious plant not currently found

in the Turks & Caicos Islands). The use of zamia, yam,

88 www.timespub.tc
---
astrolabe newsletter of the Turks & Caicos National Museum

Above: These are examples of recovered starch grains viewed with a microscope.

Below: An analysis of this ceramic bowl with weaving impressions revealed that it may have been used to make a fermented (possibly alcoholic)

chocolate beverage that was sweetened with maize (corn) and spiced with chili pepper.

manioc, sweet potato and the

prevalence of recovered maize

offers a narrative that there was

consistent and unrestricted use

of maize as well as a diversity of

root crops used by Indigenous

Caribbean Peoples.

Shells involved

Another significant finding from

this work was based on a comparison

of shell artifact samples

from two sites in the Dominican

Republic and Palmetto Junction.

This case study provides additional

evidence for the use of

exogenous (originating from

outside the research area) plants

in the northern Caribbean and

recognizes culinary practices

according to which certain plants

were pre-cooked before being

processed further using bivalve shells. From the data, it

appears that processing heated plants with shells was

a successful and reinforced culinary practice spanning

these two islands and three sites.

Humanizing with food

This does not imply that all three sites were connected

or interacting, but perhaps they were situated within a

constellation of practice. Interpretations from this data

offer explanations regarding which ways of making food

offered modes of stability in dynamic environments.

Manioc, sweet potato, beans, certain types of yams and

maize were exogenous to the Greater Antilles and the

Bahama archipelago. In addition, they require human

Times of the Islands Summer 2020 89
---
astrolabe newsletter of the Turks & Caicos National Museum

assistance for cultivation. Accordingly, recoveries of

remains of these plants imply mobility and exchange or

ultimately transported landscapes from different areas to

these islands.

The comparison of results has exposed particular

human niche constructions, several exogenous plants

that were mobilized for trade and/or human-adaptation

to these islands. This is a story of people who were constantly

moving around and traveling from island to island

with products for trade and plants to help settle new

locations, in effect humanizing the new environments

creating familiar and consistent forms of food.

Bowls, baskets and Red Bull

One technique used in pottery making was placing unfired

ceramics in baskets. Either this was done because the

clay in the Bahama archipelago is low quality or because

the potters liked the weaving impressions left on the clay

from the baskets. In 2017, a fragment of one of these

pots with two different weaving patterns visible on the

exterior was recovered. From the interior, I took a sample

back to the lab and discovered this bowl was special.

Based on the numerous starches recovered, I interpreted

that this ceramic bowl was used to make a fermented

(possibly alcoholic) chocolate beverage that was sweetened

with maize (corn) and spiced with chili pepper.

Another stunning discovery and new mystery was

a limestone bowl artifact. When I analyzed the sample

recovered from this artifact, the diversity of plant remains

was shocking. There was maize, cocoyam, another type

of yam and bean starches. The diversity of plants that

was processed in this bowl led to the suggestion that this

bowl was used to prepare an energizing drink. Today,

many commercial energy drinks use caffeine, sugarcane

or taurine for their sources of vitality. However, this

ancient energy drink used the carbohydrates of local

plants to provide power to those who consumed it while

living at Palmetto Junction.

Ancestry discovery

Based on collated information, the inhabitants of

Palmetto Junction were likely descendants of migrants

who arrived to the Greater Antilles centuries or millennia

before, eventually inhabiting the Turks & Caicos Islands.

They mastered the production of maize, manioc, sweet

potato, chili pepper, bean, palm, zamia and yam for food

The diversity of plants that was processed within led to the suggestion

that this bowl was used to prepare an energizing drink.

and combined them with other culinary practices rooted

in Antillean traditions of human-plant interrelationships.

Because a majority of the plants identified did not

originate in the Greater Antilles or the Bahama archipelago

and they require human assistance for cultivation,

these plants were likely a significant part of trade and

transported landscapes when brought to Providenciales.

Looking through the window of time

Before beginning this quest, I never imagined the

beauty of looking through the microscope at ancient

plant remains and the ensuing interpretations of human

behaviors. The foodways approach for archaeobotanical

investigations is knowledge I am now able to share with

the world and take an immense pleasure with this responsibility.

Archaeologists reconstruct and tell stories of life-ways

that have been forgotten or never told. The way plants

were modified at Palmetto Junction provides a glimpse

through a window in time into their daily lives. From what

was discovered, these lives were vibrant, dynamic and

highly diverse. The people investigated here were seldom

written about by early Europeans. Thus, to reconstruct

how Indigenous Caribbean Peoples lived was an effort to

valorize their heritage. The more refined descriptions of

past life-ways offer more of the story on how Caribbean

lives were and are culturally diverse, intensive and thriving.

a

90 www.timespub.tc
---
astrolabe newsletter of the Turks & Caicos National Museum

This is a rare photo of the diminutive freighter Fauna. Despite years of effort, the author has been unable to locate photos of any of the

officers or crew, even in the detailed Dutch archives.

WRECKSITE.EU

TCI in World War II

The Fauna, Part I, 1942.

By Captain Eric Wiberg, Boston, MA, eric@ericwiberg.com

What is remarkable about the sinking and the loss of the Fauna off the Turks & Caicos Islands is that

her destination was the TCI, and her survivors spent nearly three weeks essentially circumnavigating the

Islands in a lifeboat and a local sailboat over the course of an impressive 300 miles!

Times of the Islands Summer 2020 91
---
astrolabe newsletter of the Turks & Caicos National Museum

The Fauna was a Dutch 1,272-ton steamship constructed

in 1912 by Rijkee and Company, N.V. of

Rotterdam. Her only owners were the KNSM, or Royal

Dutch Steamship Company, of Amsterdam. By 1942, long

after the Netherlands were overrun by the Germans, the

firm was being operated out of 25 Broadway in New York

City. Her dimensions were 262 feet long, 36 feet wide

and 16 feet deep. A 800-i.h.p. triple-expansion engine

drove a four-bladed propeller which boosted the ship at

9.5 knots.

Fauna was a small ship whose cargo reflected her

size. She carried 5 barrels of gasoline and 15 barrels of

kerosene (presumably for the generators on the small

island of Grand Turk where there was a salt works), and a

full general cargo including matches, cement, machinery

and flour. The 20 barrels of gasoline and kerosene were

stowed on deck. The master was also entrusted by the

British with 22 bags of mail plus 1 bag of registered mail.

A crew of 29 men was under the command of

Captain Jacob den Heyer, a Dutchman. Four of the crew

were British, including a 42-year-old "servant" named

John White; Othniel Dickenson, aged 46, sailor; Ben Eve,

49, sailor' and Sam Sanny, a fireman, 25, of 92 Atlantic

Avenue, Brooklyn, New York. Of the 25 Dutch men on

board, 2 of them were gunners manning a 3-inch gun aft:

Wilhelm Johann Kervezee, aged 29, and Tonnis Bierling,

aged 42. Some of the crew helped man the guns as well.

The Fauna left New York on May 6, 1942 destined for

Grand Turk, followed by a stop in Port au Prince, Haiti,

where she was to deliver some Lend-Lease cargo. The

ship was under orders of the British Naval Control and

took some 11 days to cover roughly 1,300 miles. She was

less than a day from her destination on May 17 when she

was found and intercepted by U-558 under Günther Krech

in the Caicos Passage.

The position of the subsequent attack was 22.00ºN

(or 22.10ºN) by 72.35ºW (or 72.30ºW) which is east of

Mayaguana Island, Bahamas, west of Caicos Island,

and just 10 miles or so north of Northwest Point,

Providenciales, in the Turks & Caicos. The passage is

some 30 miles wide at this point. The Captain described

it as "very narrow (about 10 miles), and . . . not generally

used as a shipping lane or route." This is an unusual

statement given that the Fauna was, according to the

position given, in the Caicos Passage, a deep, wide shipping

channel commonly used to gain access between the

Windward Passage and the open Atlantic Ocean. Captain

den Heyer may simply have been referring to the ship's

proximity to land, which was only 10 miles.

At seven minutes before midnight the men on watch

were no doubt anticipating their eminent relief from

duty. The ship's course was east–northeast and speed

ten knots. It was a clear night with a slight swell and no

wind to speak of. Without the moon, visibility was one to

one-and-a-half miles. There were three lookouts on station,

one on the forecastle up forward, one manning the

gun aft, and a third on the bridge.

Günther Krech began his first patrol into The Bahamas

area aboard the U-558 on May 15. The Fauna was struck

in a channel so narrow—only ten miles wide—that the

survivors supposed that the sub must have been waiting

there for resupply. Krech was tracking the Fauna from

seaward, or the ship's port side to the north. Suddenly a

single torpedo pierced the merchant ship's Number Two

cargo hold, roughly two feet below the water line. The

explosion ignited the cargo of matches stowed there. The

large hole blown in the Fauna's side immediately flooded

the number two and soon after the number one cargo

hold, then the engine and boiler rooms. Hatch covers

from both holds were blown into the air, the radio shack

and the ladder to the bridge were destroyed and the portside

motorboats were knocked clear of the ship. There

was no opportunity to send a radio distress message or

to man and train the guns.

Given the circumstances, the men behaved with

restraint commended by Captain den Heyer, particularly

Third Mate Jan Noordveld, Third Engineer Jan Rab, sailors

Nicholaas Plugge and Maarten de Jong, and Wilhelm

Johann Kervezee, a gunner, who "stayed on board to

see everything clear" and in doing so perished. Soon the

Fauna was listing to starboard at an alarming 26º, then

30º. The men on watch grabbed personal papers and

some cash and made their escape. Within ten minutes, 27

men had leapt into the water or clambered into the only

remaining lifeboat—the one from starboard. Just before

midnight, and only five minutes after the attack, the men

in the water saw U-558 approaching from the starboard

beam. Krech brought the submarine to within three quarters

of a mile, kept it darkened and circled the bow of the

stricken ship. When U-558 made it to the port quarter,

aft of the beam, it switched on its searchlight to help the

men in the water make it to the boat.

92 www.timespub.tc
---
astrolabe newsletter of the Turks & Caicos National Museum

23°N

73°30'W

73°W

72°30'W

72°W

71°30'W

71°W

70°30'W

22°30'N

22°N

21°30'N

21°N

0 25

50

0 25 50

Inagua

Mayaguana

Abraham"s Bay

U-558

inbound

FAUNA

approach

West

Caicos

*

FAUNA sunk

midnight 17 Mar.

FAUNA men 19 Mar.

Middle

Caicos

East

Caicos

FAUNA men

21-27 Mar.

Turks and Caicos

Islands

Grand

Turk

Cockburn Town

This map details the route of the Fauna and location of its sinking in the Turks & Caicos Islands.

Then the sub circled the lifeboat and asked for the

name, tonnage and destination. One officer came down

to the deck to do the questioning, which he did in English.

Den Heyer responded in German, but still there was a

misunderstanding about the spelling of the Fauna, and

the Germans ended up writing "Towa" instead of the correct

name. After this brief interrogation the sub motored

through the wreckage and then set off in a northeasterly

direction, submerging as it did so at five minutes after

midnight, twelve minutes after the attack.

As the lifeboat set about gathering survivors from the

water, Fauna performed a death-roll. A heavy explosion

rocked the ship, on which six men remained—this was

possibly a boiler exploding when the sea water hit it. At

first the ship stayed on course, but then it veered to starboard.

Finally, after roughly 50 minutes, at 43 minutes

past midnight on May 18, the Fauna rolled over to port,

the side with a gaping hole in it, and sank quickly.

The Germans did not attempt to board the blazing

wreck. Of the six men who remained on board, four of

them—Noorduelt, Rab, Plugge, and de Jong—managed

to escape and swim to the lifeboat. Keverzee, of the

Royal Dutch Navy, who had been born in Rotterdam on

August 22, 1912 and was 29 years old, drowned, as did

G. C. van Baardwyk, aged 40, a trimmer from the engine

room. Both men were seen on deck by their crewmates

just before the sinking. Captain den Heyer observed, "It

is believed they went back below, and were trapped."

Once they had collected all 27 survivors, the men set

out for the nearest land. Strictly speaking this would have

been Northwest Point, Providenciales, however winds and

currents pushed the lifeboat west and south. As a result,

they managed to make landfall on the unpopulated island

of West Caicos, at 11:00 AM on Monday, May 18. There

appears to have been a settlement named Yankee Town

near Lake Catherine, but den Heyer and his men "found

no people there."

The same day, the lifeboats set off to the north, and

after 14 miles they rounded Northwest Point and headed

southeast, looking for signs of habitation. While they

were underway, the boats were discovered by two local

fishing boats. Captain Ralph A. Ewing, owner and skipper

Times of the Islands Summer 2020 93
---
astrolabe newsletter of the Turks & Caicos National Museum

island midwife, who was the senior caregiver in the community.

Doris Ewing relates that her "mother and aunts

and other men and women, from North-side, bandaged

them up and fed them." Local historian Sherlin Williams

relates that "The midwife was the only healthcare giver to

be found in each of the three settlements . . . No young

women in the entire island during those days would have

been allowed to be exposed to naked men. Only mature

persons in age bracket of the wives of boat owners,

whose children were already grown, would have been in

direct contact in their condition." a

TO BE CONTINUED . . .

This is an image of boat builder and former Deputy Chief Minister the

late Hilly Arthur Ewing (1930–2020), around the time the Fauna survivors

were rescued after rounding Northwest Point, Providenciales.

Eric Wiberg has operated over 100 yachts, many of them

as captain. A licensed master since 1995, he is qualified

as a maritime lawyer, with a Master's in Marine Affairs, a

year at Oxford and a certificate in screenwriting. He commercially

operated nine tankers from Singapore, worked

for two salvage firms, and was an executive head-hunter,

shipping newspaper salesman and tug-boat fleet marketer.

He has published over a dozen books of nautical

non-fiction. A citizen of US and Sweden who grew up in

the Bahamas, he lives in Boston near son Felix.

Contact: eric@ericwiberg.com.

of the schooner Sister E. (also known as The Sisters), was

the first one back to shore at 1:00 AM on Tuesday, May

19. The local craft, weighing 10 tons and built in Blue

Hills in 1922, was loaded with roughly half of the Fauna

crew.

According to historian Kendall Butler, "the Ewing family

was prominent in High Rock, Blue Hills, Providenciales.

Hilly Arthur Ewing [was a] boat builder." Doris Ewing was

nine years old at the time and remembers her father

Captain William Ewing returning to Blue Hills aboard his

boat The Flirt, with the balance of Fauna's survivors. She

says that "the boats used to go down by Inagua and the

Caicos Passage to look for food and clothes floating in

the sea that came from torpedoed ships." In this instance

the Islanders discovered more than they expected in the

jetsam of war.

The men were found in poor condition—cut up and

bruised—and several of them were naked and covered

in oil. The children were kept at a discrete distance from

them. Captain Ralph enlisted the help of his wife to clean

them up, and they would have enlisted the help of the

94 www.timespub.tc
---
astrolabe newsletter of the Turks & Caicos National Museum

Museum Matters

COVID-19 and the Museum

Like the rest of the world, the Turks & Caicos National

Museum has been adversely affected by the global

pandemic. During this time, we have had to close our

doors along with canceling all of our upcoming fundraising

and community events. However, we have used

this "pause" to plan an expansion of our educational

and outreach programming. Details will be provided in

future editions of the Astrolabe and on the Museum's

website, www.tcmuseum.org.

Although, the TCI Government has announced dates

for the reopening of the country's borders, we are

unable to give a definitive date for the reopening of the

Museum on Providenciales and Grand Turk. a

From top: Students from the Charles Hubert James Primary School

in North Caicos visited the Museum's Grace Bay campus during

Education Week 2020.

Under Daphne Forbes's expert guidance, students at her basket

weaving course learned the traditional art quickly.

Education Week 2020

Annually, the TCI Department of Education celebrates

Education Week during the first week in March. What

resonated with me this year was the theme, "Learning

has no bounds." At that time, we did not realize how

truly relevant that phrase would be on so many levels,

given our current reality of the COVID-19 pandemic.

During Education Week, many of our teachers

brought their students to the Museum's campus in

Grace Bay, Providenciales. We found our Lucayan Kit

to be a great resource in explaining the story of the

Lucayans, first inhabitants of the Islands. Museum

Director Dr. Michael Pateman is one of the persons who

was instrumental in creating this kit—the first of many

educational aids the Museum will be introducing to

highlight aspects of the TCI's history.

Special thanks to Ms. Emily Malcolm and Mrs. Daphne

Forbes for lively tours of the Heritage Homestead, a lifestyle

reminiscent of "Back in the Day" that depicts the

cultural heritage of these Islands. The Museum is proud

to play its role in the education of our youth. a

Keeping tradition alive

We are delighted to have Mrs. Daphne Forbes share her

knowledge of the art of weaving. This traditional craft

is very dear to her and as she teaches the classes, her

passion is most evident. I look forward to seeing the

smile that lights up her face as she teaches. Our summer

campers say the basket weaving class is one of the

highlights of camp.

Before the COVID-19 shutdown, a basket weaving

class was offered at the Museum's Heritage House

in Grace Bay, Providenciales. Some of our visitors in

March who opted to take the class were delighted to

immerse themselves in the traditional art—and they got

the hang of it quickly. One of the students remarked

that although she was not an "artsy" person, that was

not apparent under Mrs. Forbes's patient direction.

Participants enjoyed the class and made their very own

authentic souvenirs. a

Story & Photos By Candianne Williams

Times of the Islands Summer 2020 95
---
to do

STEPHANIE WALLWORK

Staycation

Now is the time to enjoy TCI for yourself!

Compiled by Kathy Borsuk

As we published this magazine (June 17), the Turks & Caicos Islands borders were still closed. We anticipate

the Providenciales International Airport to reopen to international flights on July 22. With the impact

of COVID-19 on TCI's tourist industry still uncertain, we realize local businesses (and residents) must be

creative and flexible.

If you live on-island, why not consider celebrating special occasions such as weddings, graduations

and milestone birthdays and anniversaries here, instead of planning travel abroad? (Utilize proper social

distancing and health protocol, of course.)

At the same time, this is an ideal opportunity for you to try out sporting activities that you may never

have had the time or motivation to pursue. With no tourists around, operators can focus on you! And,

you are doing your part to support and encourage local businesses during these challenging times. Take

a look at the specials submitted to us this month.

96 www.timespub.tc
---
STEPHANIE WALLWORK

AQUA TCI was formed to encompass all the great

dive practices that Stephanie and Bill Wallwork, the

founders, have seen and experienced from diving

around the world. TCI's diverse aquatic wildlife,

clear waters, relaxed diving and chilled lifestyle

provide the ideal location for them to share with

you their passion.

AQUA TCI (the #1 of 145 tours on TripAdvisor)

are pleased to offer the following to residents only

(blackout dates apply):

Free rental equipment for all bookings made by

July 22, 2020 and special offer private charter

prices.

Contact us at www.aquatci.com or at aquatci@

live.com or call (649) 432-2782 for availability and

prices.

Silly Creek Water Sports is the highest ranked private

charter on TripAdvisor.

We are offering a special two-hour private

charter for up to six guests, an opportunity to

explore the remote south- and west-side Nature

Reserve, areas where no one else can take you. We

have two packages: 1) Visit iguanas (Bay Cay location)

and cliff jump, Pirate's Cave and Frenchman's

Creek Estuary or 2) Pirates' Cave, west coast cruise

and snorkel in the west coast Nature Reserve.

Cost: $616 including tax, maximum six

guests, beverages included. As well, we are offering

a resident's discount to our regular private

charters. Offers good until November 15. 2020.

Contact us for details at www.sillycreekwatersports.com

or call (649) 432-9456.

Caicos Adventures is one of the oldest scuba diving

operations, boat and snorkeling tours and charters

operation in Turks & Caicos. They have prospered by

focusing on excellence in quality and service. Since the

early days in Provo, they have explored and discovered

many dive sites. Owner/founder/operator Philippe

"Fifi" Kunz came from a true diving background, growing

up in Cannes in the French Riviera.

From deep sea wall diving to snorkeling, Caicos

Adventures is a perfect dive operation for your scuba

diving experience. Private boat charters are available,

as well.

Fifi is offering a residents' special of 20% OFF

on our tours and activities.

For details, call (649) 941-3346 or email divucrzy@tciway.tc.

For more information visit www.

caicosadventures.com.

Times of the Islands Summer 2020 97
---
As of May 11, local restaurants were able to provide

take-out (and in some instances, delivery) fare. On

July 6, dine-in services will be available, following

health protocols.

Following is a list of some of Providenciales'

restaurants currently offering take-out menus. Call

your favorite eatery to see if they are doing the

same.

You found the one. Now let us help you find the

ring!

Discover Jai's unique collection of engagement

rings and wedding bands. The possibilities

are endless, whether you choose a ring from our

extensive selection or you work with one of our

specialists to design a custom ring that showcases

your own unique style. Choose a setting, perhaps

from Tacori or Hearts on Fire, pick your diamond,

and make it YOURS!

Jai's would love to help you as you select

your ring(s), or create a one-of-a-kind design to

share for generations.

Visit Jai's located in the Regent Village to speak

with one of our specialists to browse engagement

rings, find your wedding bands, or get styling

advice. OR, connect with us online via email at

info@jais.tc.

Angela's Top O the Cove Deli (Bayview Plaza):

946-4694

Big Al's (Saltmills): 941-3797

Kalooki's (Le Vele Plaza): 332-3388

The Patty Place (Le Petit Place): 339-9001

Parallel 23/Sui-Ren (The Palms): 232-3105

Thai Orchid (Regent Village): 946-4491

Lemon Flowers/Sandbox (Regent Village):

232-4109

Le Comptoir Francais (Regent Village): 244-1134

or 946-5299

Hole in the Wall (Downtown): 941-4136

Cocovan (Grace Bay Road): 946-5369

The Terrace on Grace Bay: 339-3777 or 941-7447

Sharkbite Bar & Grill (Turtle Cove): 941-5090

Baci Ristorante (Turtle Cove): 941-3044

Paparazzi (Turtle Cove): 332-2810

Mango Reef (Turtle Cove Marina): 946-8200

Turks Kebab (Alverna's Craft Market): 431-9964

Pizza Pizza (Cinema Plaza): 941-3577

Bun's Burger Bar (Leeward Highway): 431-2867

Remember: Your support can keep

these businesses going!

98 www.timespub.tc
---
about the Islands

Map provided courtesy Wavey Line Publishing. Their navigation charts and decorative and historic maps of the Turks & Caicos Islands, The

Bahamas, and Hispaniola are available in shops throughout the Islands. Visit www.amnautical.com.

Where we are

The Turks & Caicos Islands lie some 575 miles southeast

of Miami — approximately 1 1/2 hours flying time —

with The Bahamas about 30 miles to the northwest and

the Dominican Republic some 100 miles to the southeast.

The country consists of two island groups separated

by the 22-mile wide Columbus Passage. To the west are

the Caicos Islands: West Caicos, Providenciales, North

Caicos, Middle Caicos, East Caicos, and South Caicos. To

the east are the Turks Islands: Grand Turk and Salt Cay.

The Turks & Caicos total 166 square miles of land

area on eight islands and 40 small cays. The country's

population is approximately 43,000.

Getting here

There are international airports on Grand Turk,

Providenciales, and South Caicos, with domestic airports

on all of the islands except East Caicos.

As a result of the COVID-19 pandemic, the country's

borders are scheduled to reopen on July 22, 2020.

Anticipated flights to the Providenciales International

Airport during the summer include: American Airlines

twice daily from Miami and daily from Charlotte; JetBlue

Airways daily service from New York/JFK and from Fort

Lauderdale on Sunday, Tuesday and Friday; Delta Airlines

daily from Atlanta; United Airlines daily from Newark

and from Chicago and Houston on Saturday; WestJet

from Toronto on Saturday; Air Canada from Toronto on

Saturday and from Montreal on Sunday.

Times of the Islands Summer 2020 99
---
British Airways typically travels from London/Gatwick

via Antigua.

Bahamasair and InterCaribbean Airways fly to Nassau,

Bahamas. Flights to: Antigua; Dominica; Cap Haitien

and Port Au Prince, Haiti; Kingston and Montego Bay,

Jamaica; Miami, Florida; Puerto Plata and Santo Domingo,

Dominican Republic; San Juan, Puerto Rico; St. Lucia; St.

Maarten; Santiago, Cuba; and Tortola are typically available

on InterCaribbean Airways, while Caicos Express

travels to Cap Haitien. (Schedules are as anticipated as

of mid-June 2020 and subject to change. Check with the

airlines for most accurate information.)

Inter-island service is provided by InterCaribbean

Airways, Caicos Express Airways and Global Airways. Sea

and air freight services operate from Florida.

Language

English.

Time zone

Eastern Standard Time (EST)/Daylight Savings Time

observed.

Currency

The United States dollar. The Treasury also issues a Turks

& Caicos crown and quarter. Travellers cheques in U.S.

dollars are widely accepted and other currency can be

changed at local banks. American Express, VISA, and

MasterCard are welcomed at many locations.

Climate

The average year-round temperature is 83ºF (28ºC). The

hottest months are September and October, when the

temperature can reach 90 to 95ºF (33 to 35ºC). However,

the consistent easterly trade winds temper the heat and

keep life comfortable.

Casual resort and leisure wear is accepted attire for

daytime; light sweaters or jackets may be necessary on

some breezy evenings. It's wise to wear protective clothing

and a sunhat and use waterproof sunscreen when out

in the tropical sun.

Entry requirements

Passport. A valid onward or return ticket is also required.

Customs formalities

Visitors may bring in duty free for their own use one carton

of cigarettes or cigars, one bottle of liquor or wine,

and some perfume. The importation of all firearms including

those charged with compressed air without prior

approval in writing from the Commissioner of Police is

strictly forbidden. Spear guns, Hawaiian slings, controlled

drugs, and pornography are also illegal.

Returning residents may bring in $400 worth of

merchandise per person duty free. A duty of 10% to

60% is charged on most imported goods along with a

7% customs processing fee and forms a major source of

government revenue.

Transportation

A valid driver's license from home is suitable when renting

vehicles. A government tax of 12% is levied on all

rental contracts. (Insurance is extra.) Driving is on the

left-hand side of the road, with traffic flow controlled by

round-abouts at major junctions. Please don't drink and

drive! Taxis and community cabs are abundant through-

100 www.timespub.tc
---
out the Islands and many resorts offer shuttle service

between popular visitor areas. Scooter, motorcycle, and

bicycle rentals are also available.

Telecommunications

FLOW Ltd. provides land lines and superfast broadband

Internet service. Mobile service is on a LTE 4G network,

including pre- and post-paid cellular phones. Most resorts

and some stores and restaurants offer wireless Internet

connection. Digicel operates mobile networks, with

a full suite of LTE 4G service. FLOW is the local carrier

for CDMA roaming on US networks such as Verizon and

Sprint. North American visitors with GSM cellular handsets

and wireless accounts with AT&T or Cingular can

arrange international roaming.

Electricity

FortisTCI supplies electricity at a frequency of 60HZ,

and either single phase or three phase at one of three

standard voltages for residential or commercial service.

FortisTCI continues to invest in a robust and resilient grid

to ensure the highest level of reliability to customers. The

company is integrating renewable energy into its grid and

provides options for customers to participate in two solar

energy programs.

Departure tax

US $60. It is typically included in your airline ticket cost.

Courier service

Delivery service is provided by FedEx, with offices on

Providenciales and Grand Turk, and DHL. UPS service is

limited to incoming delivery.

Postal service

The Post Office and Philatelic Bureau in Providenciales is

located downtown on Airport Road. In Grand Turk, the

Post Office and Philatelic Bureau are on Church Folly. The

Islands are known for their varied and colorful stamp

issues.

Media

Multi-channel satellite television is received from the U.S.

and Canada and transmitted via cable or over the air.

Local station WIV-TV broadcasts on Channel 4 and Island

EyeTV on Channel 5. People's Television offers 75 digitally

transmitted television stations, along with local news

and talk shows on Channel 8. There are also a number of

local radio stations, magazines, and newspapers.

Food for Thought provides free daily

breakfast to government school students.

A donation of $300 will provide breakfast

to one child for a whole school year.

To donate or learn more please

email info@foodforthoughttci.com

or visit foodforthoughttci.com

Medical services

Food for Thought Foundation Inc. (NP #102)

There are no endemic tropical diseases in TCI. There are

large, modern hospitals on Grand Turk and Providenciales.

Both hospitals offer a full range of services including:

24/7 emergency room, operating theaters, diagnostic

imaging, maternity suites, dialysis suites, blood bank,

physiotherapy, and dentistry.

In addition, several general practitioners operate in

the country, and there is a recompression chamber, along

with a number of private pharmacies.

Immigration

A resident's permit is required to live in the Islands. A

work permit and business license are also required to

work and/or establish a business. These are generally

granted to those offering skills, experience, and qualifications

not widely available on the Islands. Priority is given

to enterprises that will provide employment and training

for T&C Islanders.

Government/Legal system

TCI is a British Crown colony. There is a Queen-appointed

Governor, HE Nigel John Dakin. He presides over an executive

council formed by the elected local government.

Times of the Islands Summer 2020 101
---
Lady Sharlene Cartwright-Robinson is the country's first

woman premier, leading a majority People's Democratic

Movement (PDM) House of Assembly.

The legal system is based upon English Common

Law and administered by a resident Chief Justice, Chief

Magistrate, and Deputy Magistrates. Judges of the Court

of Appeal visit the Islands twice a year and there is a final

Right of Appeal to Her Majesty's Privy Council in London.

Taxes

There are currently no direct taxes on either income

or capital for individuals or companies. There are no

exchange controls. Indirect taxation comprises customs

duties and fees, stamp duty, taxes on accommodations,

restaurants, vehicle rentals, other services and gasoline,

as well as business license fees and departure taxes.

Economy

Historically, TCI's economy relied on the export of salt.

Currently, tourism, the offshore finance industry, and

fishing generate the most private sector income. The

Islands' main exports are lobster and conch. Practically

all consumer goods and foodstuffs are imported.

The Turks & Caicos Islands are recognised as an

important offshore financial centre, offering services

such as company formation, offshore insurance, banking,

trusts, limited partnerships, and limited life companies.

The Financial Services Commission regulates the industry

and spearheads the development of offshore legislation.

People

Citizens of the Turks & Caicos Islands are termed

"Belongers" and are primarily descendants of African

slaves who were brought to the Islands to work in the

salt ponds and cotton plantations. The country's large

expatriate population includes Canadians, Americans,

Brits and Europeans, along with Haitians, Jamaicans,

Dominicans, Bahamians, Indians, and Filipinos.

Churches

Churches are the center of community life and there

are many faiths represented in the Islands including:

Adventist, Anglican, Assembly of God, Baha'i, Baptist,

Catholic, Church of God, Episcopal, Jehovah's Witnesses,

Methodist and Pentecostal. Visitors are always welcome.

Pets

Incoming pets must have an import permit, veterinary

health certificate, vaccination certificate, and lab test

results to be submitted at the port of entry to obtain

clearance from the TCI Department of Agriculture, Animal

Health Services.

National symbols

The National Bird is the Brown pelican (Pelecanus occidentalis).

The National Plant is Island heather (Limonium

bahamense) found nowhere else in the world. The

National Tree is the Caribbean pine (Pinus caribaea var.

bahamensis). The National Costume consists of white cot-

102 www.timespub.tc
---
ton dresses tied at the waist for women and simple shirts

and loose pants for men, with straw hats. Colors representing

the various islands are displayed on the sleeves

and bases. The National Song is "This Land of Ours" by

the late Rev. E.C. Howell, PhD. Peas and Hominy (Grits)

with Dry Conch is revered as symbolic island fare.

Going green

TCI Waste Disposal Services currently offers recycling

services through weekly collection of recyclable aluminum,

glass, and plastic. Single-use plastic bags have been

banned country-wide as of May 1, 2019.

Recreation

Sporting activities are centered around the water. Visitors

can choose from deep-sea, reef, or bonefishing, sailing,

glass-bottom boat and semi-sub excursions, windsurfing,

waterskiing, parasailing, sea kayaking, snorkelling, scuba

diving, kiteboarding, stand up paddleboarding, and

beachcombing. Pristine reefs, abundant marine life, and

excellent visibility make TCI a world-class diving destination.

Tennis and golf—there is an 18 hole championship

course on Providenciales—are also popular.

The Islands are an ecotourist's paradise. Visitors can

enjoy unspoilt wilderness and native flora and fauna in 33

national parks, nature reserves, sanctuaries, and areas of

historical interest. The National Trust provides trail guides

to several hiking trails, as well as guided tours of major

historical sites. There is an excellent national museum on

Grand Turk, with an auxillary branch on Providenciales. A

scheduled ferry and a selection of tour operators make it

easy to take day trips to the outer islands.

Other land-based activities include bicycling, horseback

riding and football (soccer). Personal trainers are

available to motivate you, working out of several fitness

centres. You will also find a variety of spa and body treatment

services.

Nightlife includes local bands playing island music

at bars and restaurants and some nightclubs. There is

a casino on Providenciales, along with many electronic

gaming parlours. Stargazing is extraordinary!

Shoppers will find Caribbean paintings, T-shirts,

sports and beachwear, and locally made handicrafts,

including straw work and conch crafts. Duty free outlets

sell liquor, jewellery, watches, perfume, leather goods,

crystal, china, cameras, electronics, brand-name clothing

and accessories, along with Cuban cigars. a

subscription form

VISIT WWW.TIMESPUB.TC TO VIEW CURRENT ISSUE ON-LINE!

TIMES

OF THE

ISLANDS

SAMPLING THE SOUL OF THE TURKS & CAICOS ISLANDS

One year subscription

$28 U.S. addresses/$32 non-U.S. addresses

Name____________________________________________________________________

Date ____________________

Address__________________________________________________________________

City _____________________________________________________________________

State/Province____________________________________________________________

Country/Postal Code_____________________________________________________

E-mail address (not required)_____________________________________________

r New Subscription r Renewal

r U.S. Cheque/M.O. enclosed

Mail with payment to:

Times Publications Ltd., c/o Kathy Borsuk,

247 Holmes Ave., Clarendon Hills, IL 60514

Please allow 30 to 60 days for delivery of first issue.

Times of the Islands Summer 2020 103
---
where to stay

104 www.timespub.tc
---
where to stay

Times of the Islands Summer 2020 105
---
dining

106 www.timespub.tc
---
dining

Times of the Islands Summer 2020 107
---
classified ads

Caicu Naniki_Caicu Naniki classified 8/9/18 12:05 PM Page 1

R E J O U V E N A N C E

SPA

15% off

Brazilian Waxing

Fast and painless with

the best waxing

technician

649-432-7546

House Call Available

www.rejouvenancespa.com

TC Safari_Layout 1 8/9/18 3:33 PM Page 1

Community Fellowship Centre

A Life-Changing Experience

Sunday Divine Worship 9 AM

Visitors Welcome!

Tel: 649.941.3484 • Web: cfctci.com

Vacation Villa Rentals

Joanne Phillips, Turks & Caicos Safari

www.tcsafari.com

Call: 1-904-491-1415

Email: tcsafari@tcsafari.com

PRIVATE TOURS TO

NORTH & MIDDLE CAICOS &

SOUTH CAICOS.

SWIM LESSONS & SWIM SAFARIS.

STAND-UP-PADDLEBOARD

RENTALS & SALES.

5 STAR TRIP ADVISOR RATING

Stop by Swim & Surf Store at

Caicos Cafe Plaza, Grace Bay.

(649) 432-5000

www.caicunaniki.com

Ocean Breeze_Layout 1 4/8/19 10:34 AM Page

D&Bswift_Layout

1

1 5/8/18 7:24 AM Page 1

Our cleaning solutions are made

from biodegradable materials that

aren't harmful to the environment.

Find our products throughout the

Turks & Caicos Islands.

FOR ALL YOUR

RELIABLE AND

AFFORDABLE

RENTAL NEEDS

Call 244-2526

or 241-5584

649-941-8438 and 649-241-4968

SCOOTER HOUSEHOLD AND BOBS_Layout COMMERCIAL CLEANING 1 8/8/18 PRODUCTS 10:57 AM Page GBC2017_Layout 1 2/16/17 9:10 AM Page 1

autorental@dnbautoparts.com

www.oceanbreezetci.com

We're here to

make your holiday

the island way...

DEPENDABLE VEHICLE HIRE

SERVICE OFFERED:

Provo & North-Middle Caicos

Office: 946-4684

Amos: 441-2667 (after hours)

Yan: 247-6755 (after hours)

Bob: 231-0262 (after hours)

scooterbobs@gmail.com

www.scooterbobstci.com

Grace Bay Road across from Regent Street

Fun Friendly People

Appreciating Your Business!

941-8500

www.gracebaycarrentals.com

108 www.timespub.tc
---
SUSTAINABLE

ENERGY

You Can

Count On

R-NETS: A roadmap for

TCI's energy future

Solar integration

to the FortisTCI grid

We're building partnerships to deliver a more sustainable

energy future for the Turks and Caicos Islands.

With the Resilient National Energy Transition

Strategy (R-NETS) serving as a roadmap, and with

new and ongoing investments in solar energy

generation, solar plus battery pilot project, and

an electric vehicle and charging station project,

FortisTCI is working every day to deliver resilient,

cost-effective and environmentally sustainable

energy, to fuel growth and development.

Solar + battery storage

pilot project

Electric vehicle

pilot project

www.fortistci.com | 649-946-4313 |
---
The Leading Private Bank in the Turks and Caicos Islands

Where values are growing

Wealth Management • Bonds/Fixed Income

Investment Strategies • Foreign Exchange

Stocks/Equities • Precious Metals

Fixed deposits/CD's • International Transfers

Turks & Caicos Banking Company Ltd.

The Regent Village, Unit H102, Grace Bay Road, Providenciales

Tel: +649 941 4994

Email: services@tcbc.tc • www.tcbc.tc

Regulated by the Financial Services Commission, Turks & Caicos Islands