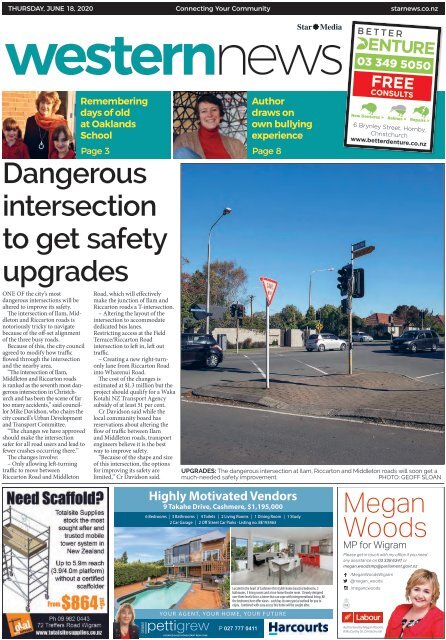 Western News: June 18, 2020
Do you know the secret to free website traffic?
Use this trick to increase the number of new potential customers.
THURSDAY, JUNE 18, 2020

Connecting Your Community

starnews.co.nz

Remembering

days of old

at Oaklands

School

Page 3 Page 8

Author

draws on

own bullying

experience

03 349 5050

free

CONSULTS

New Dentures > Relines > Repairs >

6 Brynley Street, Hornby,

Christchurch

www.betterdenture.co.nz

Dangerous

intersection

to get safety

upgrades

ONE OF the city's most

dangerous intersections will be

altered to improve its safety.

The intersection of Ilam, Middleton

and Riccarton roads is

notoriously tricky to navigate

because of the off-set alignment

of the three busy roads.

Because of this, the city council

agreed to modify how traffic

flowed through the intersection

and the nearby area.

"The intersection of Ilam,

Middleton and Riccarton roads

is ranked as the seventh most dangerous

intersection in Christchurch

and has been the scene of far

too many accidents,'' said councillor

Mike Davidson, who chairs the

city council's Urban Development

and Transport Committee.

"The changes we have approved

should make the intersection

safer for all road users and lead to

fewer crashes occurring there.''

The changes involve:

– Only allowing left-turning

traffic to move between

Riccarton Road and Middleton

Road, which will effectively

make the junction of Ilam and

Riccarton roads a T-intersection.

– Altering the layout of the

intersection to accommodate

dedicated bus lanes.

Restricting access at the Field

Terrace/Riccarton Road

intersection to left in, left out

traffic.

– Creating a new right-turnonly

lane from Riccarton Road

into Wharenui Road.

The cost of the changes is

estimated at $1.3 million but the

project should qualify for a Waka

Kotahi NZ Transport Agency

subsidy of at least 51 per cent.

Cr Davidson said while the

local community board has

reservations about altering the

flow of traffic between Ilam

and Middleton roads, transport

engineers believe it is the best

way to improve safety.

"Because of the shape and size

of this intersection, the options

for improving its safety are

limited,'' Cr Davidson said.

UPGRADES: The dangerous intersection at Ilam, Riccarton and Middleton roads will soon get a

much-needed safety improvement.

PHOTO: GEOFF SLOAN ​

Highly Motivated Vendors

9 Takahe Drive, Cashmere, $1,195,000

6 Bedrooms | 3 Bathrooms | 4 Toilets | 2 Living Rooms | 1 Dining Room | 1 Study

2 Car Garage | 2 Off Street Car Parks - Listing no. BE193463

Megan

Woods

MP for Wigram

Please get in touch with my office if you need

any assistance on 03 338 6347 or

megan.woodsmp@parliament.govt.nz

Located in the heart of Cashmere this stylish home boasts 6 bedrooms, 3

bathrooms, 3 living rooms and a true home theatre room. Cleverly designed

over three levels this is a home that can cope with intergenerational living. All

the bedrooms here offer views - each has its own special outlook for you to

enjoy. Combined with easy access this home will be sought after.

Your agent, Your home, Your future

/MeganWoodsWigram

@megan_woods

/megancwoods

LICENSED SALES CONSULTANT REAA 2008

P 027 777 0411

Authorised by Megan Woods,

8 McCarthy St, Christchurch
---
2 Thursday June 18 2020

Latest Canterbury news at starnews.co.nz

WESTERN NEWS

News

GENERAL INQUIRIES Ph 379 7100

CLASSIFIED ADVERTISING Ph 379 1100

Star Media, a division of Allied Press Ltd

PO Box 1467, Christchurch

starmedia.kiwi

NEWS

Bea Gooding

Ph: 021 911 576

bea.gooding@starmedia.kiwi

ADVERTISING

Alana Powell

Ph: 962 8753

alana.powell@starmedia.kiwi

Your local community news

delivered to 24,894 homes

within The Star each week.

Templeton • Islington • Hei Hei • Broomfield

Halswell • Oaklands • Westlake • Hornby • Ilam

Wigram • Sockburn • Church Corner • Avonhead

Hyde Park • Russley • Riccarton Park • Riccarton

Biodiversity to get a boost

from new wetland

A NEW wetland that will improve the

water quality at the Halswell River is

almost complete.

Since the Covid-19 lockdown,

contractors have been able to complete

the final earthworks for the wetland at

Ahuriri Lagoon which flows into the

Halswell River.

Final works, completed last week,

included the removal of a temporary

earthen dam between the culvert exiting

the wetland and the main channel

of the river.

This connected the wetland with the

river, making it fully operational.

Netting installed to protect plants

from being uprooted by pūkeko before

becoming established is still in place

but will be removed in the coming

weeks.

An Environment Canterbury

spokesman said: "Low rainfall this

year has left low water levels in Ahuriri

Lagoon and flow in the Halswell

River, but when rain returns, the wetland

will be seen in its full glory."

The wetland will work as a natural

filter for the Halswell River which has

degraded water quality.

Water leaves the main branch of the

river and flows through part of the

original channel, passing alongside

the Little River Rail Trail in a section

newly planted with native seedlings,

BOOST: The new wetland constructed near the Halswell River is now

fully operational and ready to increase biodiversity in the area. ​

before entering the top of the wetland.

"There it meanders through an area

containing more than 80,000 aquatic

plants that act as a filter to remove nitrates

and other contaminants, before

rejoining the river."

The Whakaora Te Ahuriri project,

which is being run by the city council,

Selwyn District Council, Environment

Canterbury, Te Rūnanga o Ngāi Tahu

and Department of Conservation

started in July 2018.

The $3.5 million project is funded

by the Government's Freshwater

Improvement Fund, Environment

Canterbury and NIWA.

Timeless Elegance

New Boutique Residential Aged Care | 03 357 9392 | russleyvillage.co.nz
---
WESTERN NEWS Latest Canterbury news at starnews.co.nz

Thursday June 18 2020 3

News

Remembering past times

at Oaklands School

• By Kim Thomas

DIANE CARSON taught at

Oaklands School in its early

years and worked in the long red

'Canterbury' brick classrooms

that housed most of its pupils.

More than 50 years later, Mrs

Carson's granddaughters Emma

and Esther Vincent attend the

school and the two original brick

blocks are being completely

overhauled for a new generation

of learners.

Mrs Carson, who was known

as Mrs Jellyman during her time

at the school, said it was lovely to

see some of the school's history

retained in the form of the red

bricks.

"I have photos of the staff outside

the brick block classrooms

and have good memories of

teaching there. I started in 1966,

which is the year the school

opened, and worked there for five

years," she said.

"During that time there were

about 700 students at the school.

We had classes with 37, 38, 39

children in them each at their

own desk. There were a lot of

children because a lot of people

were moving to the area."

The brick Canterbury blocks

MEMORIES: Former Oaklands School teacher Diane Carson with

her granddaughters Emma (left) and Esther Vincent outside the

original brick block buildings. ​

are being refurbished as part of

the school's $5-million-plus redevelopment.

Principal Margaret Trotter

said refurbishment of the two

Canterbury brick blocks was the

last major construction project of

the school's redevelopment.

The red bricks would be retained

but the rest of the building

would be modern, she said.

The construction of three

new buildings – to house the

administration, a library and

flexible learning space, and an

extended junior school - finished

last year.

"It will be exciting to

finish the last big piece of the

redevelopment puzzle and

enjoy the finished product.

We have been very lucky that

our redevelopment has run to

schedule and look forward to

celebrating the milestone when

it is all complete."

Rotary helps create

community space

ROTARY CLUBS across the city

have joined forces to develop a

dedicated garden and market

space for the community to enjoy.

The overgrown pocket of land

will be developed on the grounds

of disability service provider Hohepa

Canterbury and was made

possible by the Rotary Clubs of

Riccarton, Hornby, Papanui,

Cashmere and Christchurch

Sunrise.

The area became overrun

and unusable following the

earthquakes, therefore Hohepa

Canterbury decided to construct

a pathway and reflection garden –

but was struggling with funding.

Said the Rotary Club of Riccarton

president Greg Cayford:

"We will be sharing with, and

working alongside residents, day

community members, parents

and staff who may choose to

engage with the project.

"This project is highlighting

that there are many connections

already established between Rotary

clubs, individual members

and with Hohepa Canterbury."

Hohepa Canterbury in Cashmere

provides support to 130

special needs children and adults

with an intellectual disability to

live fully engaged lives.

They offer diverse living

options, learning and activity

programs, community participation,

and therapies inspired

by anthroposophy – a holistic

philosophy encompassing the

planet, the people and spiritual

essence.

One of anthroposophy's key

teachings is that physical wellbeing

is enhanced by creating

physical environments for work

and living that provide a positive

experience.

Aside from providing the campus

with a "welcoming, visually

appealing streetscape," the stream

boundary was integral to the wellbeing

of the Hohepa community.

The area's mature trees will

be enhanced by green space and

plantings, providing a natural

area for reflection.

The gathering space will host activities

such as market stalls selling

Hohepa farm goods and seasonal

activities such as carol singing.

"As meetings have been

held between Rotary representatives

and the Hohepa team, it

has become clear that there are

further enhancements we can

develop together as the project

progresses and nears completion,"

said Mr Cayford.

A place to call your own?

Here's a helping hand

You could qualify

for a First Home Grant

of up to $10,000 per person

or a 5% deposit First

Home Loan – or even both.

Find out more at

KaingaOra.govt.nz/firsthome
---
4 Thursday June 18 2020

Latest Canterbury news at starnews.co.nz

WESTERN NEWS

A walk along memory lane

Lions roam amongst cars during the opening of Orana Park Zoo in 1976.

The revolution

in heat pumps

is here now!

The revolution in heat pumps is here now!

Say hello to Fujitsu's latest lifestyle range

HEAT PUMPS FROM $1999 inc GST INSTALLED!

The Fujitsu e3series

The brilliant

heat pumps from Fujitsu

Conditions apply

A pool playing

session at the

Bishopdale

Community

Centre as part

of a holiday

programme in

1976.

Mandy Howie feeds a lion named Angel on the back of a truck

in 1986.

e1 : efficiency

e2 : environment

e3 : economy

Website: www.pshc.co.nz

Finance available

NEW ZEALAND'S FAVOURITE AIR ®

Fujitsu's Catechin Filters are

approved by the Asthma and

Respiratory Foundation NZ's

Sensitive Choice ® programme.

FREE consultation from your local

Accredited Heat Pump Expert

Phone today: 03 381 6950

INSERT DEALER DETAILS HERE

Email: info@pshc.co.nz

FG1441

Christchurch, I need your help finding these homes for my buyers!

CBHS & CGHS ZONE

• $1,200,000 - $1,400,000

• Post-earthquake build or

character home

• 3 / 4 bedroom home

LAND WANTED

• Strowan/Papanui/Merivale/Fendalton/St Albans

• High density development sites

• As is where is houses that can be demolished

for a high-end family homes

CASHMERE

CHARACTER HOME

• $700,000 -

$1,400,000

• 3 / 4

bedrooms

Discover the difference working with the No.1 consultant in Christchurch!

CAMERON BAILEY

Licensed Sales Consultant REAA 2008

PH/TXT 027 555 7079

cameron.bailey@harcourts.co.nz

www.cameronbailey.harcourts.co.nz
---
WESTERN NEWS Latest Canterbury news at starnews.co.nz

Thursday June 18 2020 5

The burnt Spitfire which was vandalised outside the Brevet Club

on Memorial Avenue near Christchurch Airport in 1984.

Canterbury University

students protesting

against the student

loan scheme in 1989.

Retired Douglas Dakotas (DC3s) at Christchurch Airport in 1983.

Rebecca Porton,

a fourth former at

Burnside High School in

1986, looks for her bike

amongst hundreds in

the school bike stands.

Air New Zealand and Qantas aircraft at Christchurch Airport in the

1980s.

For advice and information please

contact my electorate office:

376 4512

porthills.mp@parliament.govt.nz

facebook.com/ruthdyson.labour

twitter.com/ruthdysonmp

PO Box 19661, Christchurch 8241

For everything

AUTO ELECTRIC

CARS • BOATS • TRUCKS

CARAVANS • TRAILERS • 4WDS

ELECTRIC & HYBRID VEHICLES

• Starter Motors

• Alternators

• Central

Locking

• electric

Windows

• ABS & Airbags

• Stereos/

Alarms

• Batteries

• tuneups

• engine

Management

Amazing

Auto USUALLy

AAE Electric SAMe DAy

ServiCe

65 Coleridge St, Sydenham

Phone 03 379 4250

www.amazingautoelectric.co.nz

MUSGROVES LTD

Buyers and Sellers of Recycled and New Building Materials and Joinery

Timber, flooring, doors, windows, kitchens, roofing materials

and many more quality recycled & new products.

Less waste, more purpose.

3 Musgrove Close (off Wigram Road), Christchurch

P: 03 322 7922 E: sales@musgroves.co.nz www.musgroves.co.nz
---
6

Thursday June 18 2020

Latest Canterbury news at starnews.co.nz

WESTERN NEWS

McMaster & Heap

Veterinary practice

A few SPECIALISED services

you may not know about…

1. CHEMOTHERAPY

The past 12 months has seen our Practice treat many

cancer patients with Chemotherapy. We have an

experienced, dedicated team of vets and nurses who

really connect with these patients and their owners.

We see referrals from other Practices and we can

offer sound advice, deliverance of care and ongoing

support for these patients. We often seek the advice

from specialists when formulating the appropriate

plans and drugs to be used.

Kirsty and Mauger sharing the love, after

Mauger was in for chemotherapy to treat

his Mast Cell Tumour.

Chemotherapy in pets is not as aggressive as in

humans, therefore the side effects are less. We aim for

"Quality of Life" versus squeezing every minute out

of living. We do aim for "complete clinical remission"

though. Most tumours are removed initially or

debulked and then chemo is used to reduce the risk of

spread of cancer to other sites. We do not have access

to radiation therapy in Christchurch.

Side effects ( nausea, vomiting, lethargy, fever,

diarrhoea, anorexia) can occur, but are not as severe

as in humans as doses given are lower. We manage

these with medications or reducing the next chemo

drug dosage.

Pets can still enjoy their normal foods and exercise

whilst on chemotherapy. There are a few exceptions

though. If your pet's White Blood cell count gets

too low, then avoid high density dog areas so

disease transmission is low. Raw food diets are not

advised during chemotherapy due to an increased

risk of infection if the pet's immune system comes

compromised. It is thought a premium diet, higher in

protein and fat/lower in carbohydrate are preferred

and fish oil has been talked about.

Pets DON'T lose hair like humans. After surgical clipping,

hair regrowth can be slow but it will grow back.

There is no risk to the owner of a pet receiving

chemotherapy, although pregnant women should not

handle any chemotherapy medications that are to be

given at home.

Our Vet Kirsty does the lion share of Chemotherapy in

the Practice. She has a dedicated, experienced nursing

team and these patients are all typically scheduled

on one day. Blood work is initially done to check they

are fit and healthy for their chemo drugs, then they

are injected slowly via an IV line or given orally. No

sedation drugs are usually required. It is quick, easy

and painless for your pet. Kirsty is really passionate

about helping your pet seek cancer remission whilst

enjoying a full, great quality of life. She is with you

every step of the way, answering your questions,

especially when big decisions need to be made.

2. SURGICAL REFERRALS

We are now able to offer a surgical referral service

thanks to Dr Helen Milner (a registered specialist in

Small Animal Surgery)

coming on board

recently. Helen sees

referral patients from

all over the South

Island where they are

typically booked for a

1 hours consultation,

with surgery then

scheduled if required.

We have built a

dedicated sterile

surgery and theatre

area to cope with this

Dr Helen Milner,

our surgical

specialist.

Open 7 days

Cnr Hoon Hay & Coppell place

phone 338 2534, Fax 339 8624

e. mcmasterandheap@yahoo.co.nz

www.mcmasterheap.co.nz

surgical workload and have purchased the necessary

specialised equipment so that spinal, orthopaedic,

soft tissue, and thoracic surgery can proceed without

a hitch. We also can organise patients to have CT/

MRI scans, prior to surgery, through Pacific Radiology

if necessary. Spinal ( CSF) taps are also carried out if

deemed necessary for spinal/intracranial patients.

Your vet needs to refer your pet to Helen for her expert

opinion and surgical expertise.

3. ENDOSCOPY

This is a great, non invasive service which allows

us vets to have a good look down airways into the

lungs (can even go up nostrils) and down or up the

gastrointestinal tract. We have just purchased a smaller

scope to visualise the urinary system in dogs and can

get into smaller airways.

Catherine and Kirsty seen here manoevering

the endoscope to retrieve the scrunches from

Floyd's stomach.

The patient is required to be under anaesthetic but

the procedure is fast and often effective at getting

a diagnosis, biopsying tissue or retrieving "foreign

bodies" which is most

fun. Recently "Floyd", a 4

month old Labradoodle

was endoscoped late

one afternoon for

eating "scrunchie" hair

ties, with 6 ended up

being retrieved via

the endoscope. Very

satisfying, quick and less

expensive compared to The retrieved scrunchie

exploratory surgery.

4. RESTORATIVE DENTISTRY

Our new vet " Terryne Loney" is an expert in the field

of dentistry, so coupled with vet Olivia who enjoys all

things in the teeth and gum department, we are able

to handle most dental problems and emergencies.

Our state of the

art dental suite

is fully equipped

with 2 dental

stations, allowing

scaling, polishing

and extractions

to be performed

on 2 patients at

the same time.

Digital dental

radiographs are

very important Terryne, our new vet.

when deciding

what teeth need extracting, checking for cancers and

root infections and congenital tooth abnormalities.

We now have the veterinary skills and equipment to

perform restorative dental care including root canal

surgery and offering alternatives to extraction in teeth

that are important to retain.

For any further information on the above services

please don't hesitate to call or message us.

Dr Michele McMaster

McMaster & Heap

News

Funding boost sought for

community organisations

A FINANCIAL boost

to help community

organisations cope with

the challenges of the

Covid-19 crisis is proposed

in the city council's draft

Annual Plan.

The one-off $360,000

boost to the Strengthening

Communities Fund would

be available to community

groups working to

promote well-being across

the sporting, arts, social,

health and environmental

sectors.

The five per cent increase

has been suggested

as a way to acknowledge

the difficulties that community-focused

organisations

could face following

the recent Covid-19 level 4

lockdown, says city council

head of community

support and governance

John Filsell.

"The purpose of the

Strengthening Communities

Fund is to support

organisations that help

make Christchurch a

more caring and enjoyable

place to live. Last year,

for example, the fund

SUPPORT: The city council has proposed a

$360,000 boost to the Strengthening Communities

Fund.

received 951 applications

from community organisations,

and 763 received

a grant.

"We recognise the importance

of their role and

the challenges they are

likely to face in the coming

months, and that's

why we're proposing some

extra funding to help

ensure they're equipped to

deal with those demands."

Many of the traditional

sources of funding for

community groups, such

as Gaming Trust grants,

HOME

LEISURE

Horncastle Arena,

21-23 August 2020

have been affected by

Covid-19.

If the one-off $360,000

boost goes ahead it would

have a 0.07 per cent impact

on rates.

Public consultation on

the draft Annual Plan

opens on Friday and continues

until June 29.

The Strengthening

Communities Fund,

which was set up in 2008,

is a $7.2 million fund

distributed by community

boards and the city

council each year.

Exhibitors

Book now

Don't miss your opportunity to

showcase your business in front of

10,000+ qualified attendees

New exhibitor packages available

lisa.lynch@starmedia.kiwi or 021 800 809
---
WESTERN NEWS Latest Canterbury news at starnews.co.nz

Thursday June 18 2020 7

Shopping is easy at...

WIN A TRIP TO FIJI!

Place your first order for a Care Pack before

30th September 2020 and be in to win a trip for two to Fiji!

MENS SkiNcarE, bodycarE & grooMiNg

with an aromatic blend of masculine spicy undertones

FOR MEN

Hassle-Free Skincare

Sign up today at Health 2000 Avonhead.

For full terms and conditions, visit http://www.health2000.co.nz/win-a-trip-to-fiji_1587.

Now available at...

AVONHEAD SHOPPING CENTRE

Phone: (03) 358 1181 Email: avonhead@health2000.co.nz

Avonhead Mall, Withells Rd/Merrin St, Christchurch, Phone (03) 358-5449

wonderful new books now instore

Our new store Miss Bond is Now Open!

Next generation clothing

for women who love style

and individuality

Avonhead Shopping Centre

Phone 358 8598

MONDAY TO SATURDAY 9am - 5pm

SUNDAY 10am - 4pm

facebook.com/missbondclothing

Know Your Place

by Golriz Ghahraman

The story of a child

refugee who faced her

fears, found her home

and accidentally

made history.

This is Us

New Zealanders in Our

Own Words

by Pete Carter

New Zealand Mysteries

by Scott Bainbridge

New Zealand's history is

peppered with mysterious

tales of otherworldly

beings, strange sightings,

inexplicable disappearances

and unusual crimes

Shop 1, Avonhead Mall

Corner of Merrin Street & Withells Road, Avonhead

Ph: 358 4835 | www.piccadillybooks.co.nz

Tooth and Veil

The life and times

of the New Zealand

dental nurse

by Noel O'Hare
---
8 Thursday June 18 2020

Latest Canterbury news at starnews.co.nz

News

Charity in

need of

donations

• By Bea Gooding

THE BLANKET Bank is in need

of donations following increased

demand due to Covid-19.

The charity has set up a givealittle

page to make up the shortfall

of warm bedding they provided to

vulnerable families across the city.

Due to the pandemic, usual

donations of used bedding was

"much more difficult" to process

therefore monetary donations

were much preferred.

Charity co-ordinator Martha

Baxendell said compared to this

time last year, demand was higher

than normal, reflecting job security

in families.

"We started the givealittle

because we've had fewer donations

over the lockdown that we couldn't

accept and it (donations) was

incredibly low at this time of year,"

she said.

Donations had already been

made, meaning the charity only

had to turn away one person,

instead of many.

The funds will be used to purchase

new blankets, duvet, sheets

and other warm items.

Donations can be made to The

Blanket Bank at: https://givealittle.co.nz/cause/blanket-bank

Author draws on own bullying experience

THE THIRD and final book

in a series about bullying by

Christchurch cartoonist and

writer, Alex Hallatt, is set to hit

bookshops later this month.

Hallatt's inspiration for the

books came from her time at

primary school in England.

"When I was bullied at school,

it was one of the most miserable

periods of my life. I wrote the

books I would have liked to have

read back then. They are stories

that give hope and tools for

standing up to bullying," Hallatt

said.

But bullying is still a problem

in New Zealand schools. A 2019

Education Review Office study

reported that 47 per cent of

primary students had been bullied,

while 61 per cent of primary

students had witnessed bullying

of others.

Hallatt's newest book, FAB

Club 3 - The Big Match, follows

on from Friends Against Bullying

(FAB) Club and FAB Club 2 -

Friends Against Cyberbullying.

The first book's theme was

general bullying at school and

the second book's theme was

online and phone bullying.

For the third book, it was time

for Hallatt to turn her attention

to sport.

"Playing sport can be fun, but

not if you never get picked for

the team. And what if the team

you do get picked for has the

world's worst coach? A coach

who is useless, or worse: a bully,"

the book's description reads.

And not only does it relate to

the subject of bullying among

children; but as all of us have

witnessed recently, some of

the worst bullying comes from

adults who use their positions of

power badly.

"Even if they are lucky enough

WESTERN NEWS

LIFE LESSONS: Alex Hallatt's

third book in a series about

bullying, FAB Club 3 – The Big

Match focuses on sport.

never to have been bullied, most

people would prefer a world in

which the bullies don't come out

on top in the end. The FAB Club

series is that world and one we

can aspire to be in."

To support you and the local community during

this unsettling time Church Corner Nest would like to

help out by giving you some free hours at our centre.

These hours will be available to all current children and

new enrolments for three months in total. Please

contact us by the 1st of September this year if you would

like to take advantage of this offer.

Each week for three months you will be entitled to:

Up to 30 hours of Free Childcare for 3 & 4 year olds

& Up to 20 hours of Free Childcare for 0-3 year olds

You will be able to use a maximum of 6 free hours a day.

We are a small and friendly team and we'd love to hear

from you. Please be in touch if you'd like to know more.
---
WESTERN NEWS Latest Canterbury news at starnews.co.nz

Thursday June 18 2020 9

HOME & HEATING

Ground moisture barrier

under low sub-floor

Now with the colder and wetter weather on

its way, home owners are focusing on ways

to make their homes comfortable, warm

and healthy for their families throughout

winter. Rising damp is an issue that affects

many of our older properties which suffer

from poor, or no, ground moisture barrier.

In Canterbury especially, post-quake, many

people have relocated to homes that suffer

from rising damp which can be associated

with health problems. Independent tests have

shown that up to 40 litres of water can rise

from the ground and enter a house every day,

leading to mildew, mould, condensation and

musty smells. Moulds can produce various

allergic reactions and the frail, elderly and

very young are especially vulnerable.

Canterbury Foam Concrete Ltd is a

locally owned and operated firm. The team

understands the problems caused by rising

damp and are there to help. They will come

to your damp home and pump a lightweight,

flowable foam concrete under your timber

floored home.

While insulation is important, it has been

recognised that it is dampness that is the real

villain in the house. The new Healthy Homes

Standards introduced by the government

effective from the 1st July 2019 now has

a requirement to install ground moisture

barriers, a key element in the armory to fight

moisture in the home.

Dr Larry Bellamy BE (hons) PhD in a

report dated 1988: Foam Concrete Under

Timber Floors: An Energy Analysis assessed

the effects of placing Foam Concrete over

damp soil and had this to say: Condensation

on the underside of a timber floor can occur

where the floor is suspended over damp

ground and the inside air temperature falls

close to the crawl space air temperature.

Much energy is required to vaporize moisture

that penetrates the structure. By avoiding

underfloor condensation, foam concrete can

reduce floor heat losses by up to 90%.

• Canterbury Foam Concrete Ltd can in most

cases, install a Ground Moisture Barrier

under the suspended wooden floor of your

home, even when there is no crawl space.

• BRANZ Appraised; Appraisal Number 961

• Members of the Insulation Association of

New Zealand.

• We offer a free measure and quote in the

Canterbury region with no obligations.

• Assessments can be made in all other

regions by arrangement.

Contact Canterbury Foam Concrete

Ltd now for your free, no obligation quote

and complimentary appraisal of your

underfloor ground moisture barrier needs.

Phone 03 376 4608, 0508FOAMCO or www.

foamconcrete.nz for more information.

Zone Control for your

ducted heat pump

Ducted heat pumps are a highly efficient

way to heat (or cool) your home. The

air from the heat pump is ducted to

several rooms or zones in your house.

Using a zone control system makes your

ducted heat pump even more efficient, by

specifying the amount of heat required

in each area, so not wasting energy to

overheat or overcool any room.

The AirTouch4 zone control system

from Smooth-Air takes ducted heat pump

air zoning to a whole new level of comfort

and energy efficiency.

AirTouch4 - The Ultimate Zone

Control

Have total control of your comfort zone:

AirTouch4 lets everyone enjoy a different

level of conditioned air in the room they

are in.

Save money on the power

bill, without compromising on

comfort, by only running the

heating or cooling where you

need it with Smart Zoning.

Plus with runtime tracking,

energy and airflow management

technology, you can enjoy greater

efficiency and savings from your

family's ducted heat pump.

60

The AirTouch4 can

%

also

connect to Google Home and

Amazon Alexa.

Not every home is designed

equal. Not every room is either.

Temperatures can often fluctuate from

one room to the next because of sunlight,

room activity or other factors.

With AirTouch4's Individual

Temperature Control Technology (ITC),

the AirTouch monitors temperatures

and smartly adjusts airflow as needed

around your home with the aid of multiple

wireless temperature sensors instead of a

single sensor in one location. When some

rooms get too hot or cold, the AirTouch

will adjust airflow to maintain your desired

temperature, without wasting conditioned

air on rooms already comfortable.

Contact Smooth-Air on 0800

SMOOTH or sales@smooth-air.co.nz

for more information on the AirTouch4

zone control.

ATTACK RISING DAMP

Smooth-Air

Ventilation Equipment Suppliers

totrade

retail

Ducted Heatpump zone control

Adapt your home to

YOUR IDEA

OF COMFORT

&

www.airtouch.co.nz

T. 03 376 4608 E info@foamconcrete.nz

W. www.foamconcrete.nz

HEAT PUMP

SALE NOW ON!

Amazin' winter Specials!!

90%

SubSidy

Warmer KiWi HomeS

Programme

*Eligibility criteria apply

• We will offer you the best quality brands and

option of heat pump for your home/business

• Providing Heat Pump solutions for over 18 years to Cantabrians

• We personally guarantee all our products & installs for 5 years

(providing annual maintenance has been completed)

Phone us today for your free consultation & quote

41A SHAKESPEARE RD, WALTHAM

PHONE 03 366 0525

www.enviromaster.co.nz

"A local team for local people"

Adapt your home to

YOUR IDEA

OF COMFORT

OFF

60 23º

% OFF

75 %

80 % 50 %

100 21º

%

60 % OFF

100 %

18º 80 % 50 22º

%

OFF

75 20º

%

Adjust the airflow around your home in 5% increments so everyone enjoys their own comfort zone.

Adjust the airflow around your home in 5% increments so everyone enjoys their own comfort zone.

0800 SMOOTH

(0800 766 684)

sales@smooth-air.co.nz

264 Annex Rd

Riccarton

Christchurch

03 343 6184

SMART

INTEGRATIONS

INTELLIGEN

WITHOUT W

INTELLIG

WASTAGE

WITHOUT

INTELLIGENT

& WITHOUT

Save money on

your power bill

Monday - Friday

7.30am - 5pm

www.smooth-air.co.nz
---
10

Thursday June 18 2020

Latest Canterbury news at starnews.co.nz

WESTERN NEWS

If you want more information about an item or to contact a

seller, visit www.postanote.co.nz and search the ID#

1986 Hyundai Excel

Gothic Tarot Card Reading

Trinity Spread

Leather & Iron Chair

Beautiful Merino Mink Scarf

Mahogany Desk

Wheels & Tyres

$600

ID 34836

$20

ID 34825

$250

ID 33690

$15

ID 29665

$650

ID 33925

$250

ID 34809

Rosewood Bedside

29" Trek Hard Tail

Mountain Bike

Vintage Bedroom Furniture

2004 Porsche 911 Carrera 4S

Oak Bed

Ford 460cu in BB Motor

$150

ID 33684

$600

ID 28145

$750

ID 32749

See Seller

ID 34604

$300

ID 30957

$4,500

ID 34771

Ford Falcon Extracators

4-seater Leather Sofa

Dodge Engine Block

Two Speed Motor Assembly

For Leslie Speaker

2006 Crusader Elddis

Super SIROCCO Caravan

204L oil drum

$400

ID 34770

$450

ID 33677

$300

ID 34767

$120

ID 25497

$35,000

ID 34762

$25

ID _6100

Mid-century Italian Chairs

Motorhome Mobile Home

Tiny Home

Vintage Suitcase

Leather Sofa

Ford 2004 Boss 260

Mens Kakadu

Waxed Canvas Jacket

$750

ID 33699

$90,000

ID 29146

$30

ID 34681

$1,650

ID 33685

$13,500

ID 34752

$60

ID 22892

As New Double Mattress

1993 Nissan Navara D21

The Press

Special Earthquake Edition

Welsh Dresser

Pair of B&W Folding Crates

on Castor Wheels

Pine Vanity

$150

ID 28712

$2,500

ID 34687

$50

ID _4806

$250

ID 34721

$10

ID 34680

$250

ID 34720

Toyota Camry

Rayline Twin Hull Dingy

Queen Anne Style Mahogany

Dining Table & Chairs

Breville Mixer/Blender

Portmerion Pottery

Portable cot

$3,700

ID 32505

$1,500

ID 30862

$250

ID 34678

$55

ID 34646

$45

ID 34648

$80

ID 34645

Pajero/Challenger...

4 Wheels & Tyres

Bluewash Dining Table

Teddy Bears

Drum Top Teak Desk

Ride-on Mower

WW2 Helmet

$490

ID 34644

$350

ID 34583

$8

ID 32102

$650

ID 33697

$1,200

ID 34586

$95

ID 34584

0620h02
---
WESTERN NEWS Latest Canterbury news at starnews.co.nz

Thursday June 18 2020 11

Classifieds Contact us today Phone our local team 03 379 1100

Trades & Services

Trades & Services

Trades & Services

Wanted To Buy

Public Notices

SCRAP METAL

Dominion Trading Co Ltd

• Scrap metal buyers

• Canterbury owned & operated

• Top prices paid $$$

• Open Saturday morning

Open Mon-Fri 8am – 4.30pm Sat. 8.30am-12.30pm

www.happyscrappy.co.nz

03 343 9993 333 Blenheim Rd

WINDOW TINTING

tintawindow

advanced film solutions

99% uv block

fade protection

heat control

reduce glare

25 Years Experience

privacy films

frosting designs

non-darkening films

Workmanship Guaranteed

Lifetime Warranties on Most Films

UV

block

Free Quotes Canterbury and Districts

03 365 3653 0800 368 468

AWSOM ROOFS

24/7

MOSS

TREATMENT

ROOFS $300

• Oamaru StOne

• Driveway

• PathS

• hOuSe

• General exterior

wash Down

• tidy up

Ph: 027 561 4629

Kevin

BATHROOM

Renovations, complete

service from start to finish,

free quotes, ph Dave 027

334 4125

BRICKLAYER

George Lockyer. Over

40 years bricklaying

experience.Uk trained.

Insurance work, EQC

repairs. Heritage

brickwork & stonework

a speciality. No job too

small. Governers Bay.

Home 329 9344. Cell

027 684 4046. E mail

georgelockyer@xtra.co.nz

CARPET LAYING

Exp. Repairs, uplifting,

relaying, restretching.

Phone John on 0800

003181, 027 240 7416

jflattery@xtra.co.nz

ELECTRICIAN

Registered, electrical

installation and repairs,

Gorbie Electrical, ph 021

026 73375 or 03 322 4209

PAINTING

Indoor / Outdoor, over 30

yrs exp, same day quotes,

ph Steve 021 255 7968

ROOFING REPAIRS

Fully qualified, over 40

yrs experience. Ph John

027 432-3822 or 351-

9147 email johnchmill@

outlook.com

SPOUTING

CLEANING

Spouting Unblocked,

Cleaned Out and Flushed

Out. Call Trevor 332 8949

or 021 043 2034

STUMP GRINDING

Best price guarantee Tony

0275 588 895

TILER/CARPENTER

35 years exp, no job

too small. Ph Ross 027

4311440.

TILING

Flooring - Splashbacks -

Wall incl tile removal, reg

master tiler, ph Dave 027

334 4125

T.V. SERVICE

CENTRE

Repairs, tvs, microwaves,

audio amps, soundbars.

.Aerial & satellite

installations, kitsets, 480D

Moorhouse Ave, ph 03 379

1400

VHS VIDEO TAPES

& all camera tapes

converted to DVD or

USB. Video taping

special occasions, www.

grahamsvideo.co.nz ph 03

338-1655

AAA Buying goods

quality furniture, beds,

stoves, washing machines,

fridge freezers. Same day

service. Selwyn Dealers.

Phone 980 5812 or 027

313 8156

TOOLS Garden,

garage, woodworking,

mechanical, engineering,

sawbenches, lathes, cash

buyer, ph 355-2045

Public Notices

ADD SOME

COLOUR

TO YOUR ADVERT!

Proudly supported by Star Media

Are you ready to grow?

Kiwi Gardener is your

practical guide to gardening

in New Zealand.

SUBSCRIBE FROM

$

20

SUBSCRIPTIONS FREEPHONE

0800 77 77 10

WWW.GARDENER.KIWI
---
12 Thursday June 18 2020

Latest Canterbury news at starnews.co.nz

WESTERN NEWS

our largest

fLOOriNG saLe

ever!!

see us in store now

conditions

free NO ObLiGatiON Measure & quOte apply

Nylon

26oz $80.00 per M

36oz $99.90 per M

50oz $119.90 per M

Wool

30oz 2nd $65.00 per M

40oz 1st Grade $119.90 per M

48oz 1st Grade $129.90 per M

Polyprop

• Loop Pile

Only while stocks last!

aMaZing PriCe

NOW $39.90 per M

50oz Polyester

Iowa

• Polyester

• Cut Pile

• Extra Heavy Duty

• 3 Colours

NOW $79.90 per M

Vinyls

• 2m & 3m wide

2M Wide frOM $49.90LM

3M Wide frOM $70.00LM

Garage

Carpet

• 6x6m, Fully Installed.

• Conditions Apply

NOW $999.00

312 Wilsons Road North, Waltham Phone 366 0070

Mon to Fri 8am-5pm and Sat 10am-1pm

Q Card Finance

Available

Check out our website! www.carpetkingdom.co.nz