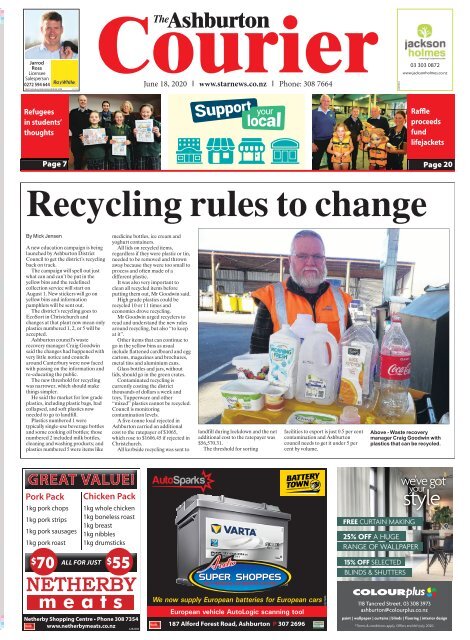 Ashburton Courier: June 18, 2020
You also want an ePaper? Increase the reach of your titles
YUMPU automatically turns print PDFs into web optimized ePapers that Google loves.
Jarrod

Ross

Licensee

Salesperson

0272 594 644

MidCanterburyReal EstateLtd REAA 2008

2271675

June 18, 2020 l www.starnews.co.nz l Phone:308 7664

2281918

03 3030872

www.jacksonholmes.co.nz

Refugees

in students'

thoughts

Raffle

proceeds

fund

lifejackets

Page 7

Page 20

Recycling rules to change

By Mick Jensen

Anew education campaign is being

launched by Ashburton District

Council to get the district's recycling

back on track.

The campaign will spell out just

what can and can't be put in the

yellow bins and the redefined

collection service will start on

August 1. New stickers will go on

yellow bins and information

pamphlets will be sent out.

The district's recycling goes to

EcoSort in Christchurch and

changes at that plant now mean only

plastics numbered 1, 2, or 5will be

accepted.

Ashburton council's waste

recovery manager Craig Goodwin

said the changes had happened with

very little notice and councils

around Canterbury were now faced

with passing on the information and

re­educating the public.

The new threshold for recycling

was narrower, which should make

things simpler.

He said the market for low grade

plastics, including plastic bags, had

collapsed, and soft plastics now

needed to go to landfill.

Plastics numbered 1were

typically single­use beverage bottles

and some cooking oil bottles; those

numbered 2included milk bottles,

cleaning and washing products; and

plastics numbered 5were items like

medicine bottles, ice cream and

yoghurt containers.

All lids on recycled items,

regardless if they were plastic or tin,

needed to be removed and thrown

away because they were too small to

process and often made of a

different plastic.

It was also very important to

clean all recycled items before

putting them out, Mr Goodwin said.

High grade plastics could be

recycled 10 or 11 times and

economics drove recycling.

Mr Goodwin urged recyclers to

read and understand the new rules

around recycling, but also ''to keep

at it''.

Other items that can continue to

go in the yellow bins as usual

include flattened cardboard and egg

cartons, magazines and brochures,

metal tins and aluminium cans.

Glass bottles and jars, without

lids, should go in the green crates.

Contaminated recycling is

currently costing the district

thousands of dollars aweek and

toys, Tupperware and other

''mixed'' plastics cannot be recycled.

Council is monitoring

contamination levels.

Afive­tonne load rejected in

Ashburton carried an additional

cost to the ratepayer of $1065,

which rose to $1606.45 if rejected in

Christchurch.

All kerbside recycling was sent to

landfill during lockdown and the net

additional cost to the ratepayer was

$56,570.31.

The threshold for sorting

facilities to export is just 0.5 per cent

contamination and Ashburton

council needs to get it under 5per

cent by volume.

Above -Waste recovery

manager Craig Goodwin with

plastics that can be recycled.

GREATVALUE!

Pork Pack

Chicken Pack

1kg porkchops 1kgwhole chicken

1kg porkstrips

1kg boneless roast

1kg breast

1kg porksausages

1kg nibbles

1kg porkroast 1kg drumsticks

ALL FORJUST

$70 $55

NETHERBY

meats

Netherby Shopping Centre •Phone 308 7354

www.netherbymeats.co.nz

2282086

NZ'S PREMIUM AUTOMOTIVE CENTRES

We now supply European batteries for European cars

European vehicle AutoLogic scanning tool

187 Alford Forest Road,Ashburton P 307 2696

2227845

FREE CURTAIN MAKING

25% OFF AHUGE

RANGE OF WALLPAPER

15% OFF SELECTED

BLINDS&SHUTTERS

118 Tancred Street, 03 308 3973

ashburton@colourplus.co.nz

paint |wallpaper |curtains |blinds |flooring |interior design

*Terms &conditions apply.Offers end 6th July 2020.

*
---
Page 2, Ashburton's The Courier, Thursday June 18, 2020

Local news at www.starnews.co.nz

BUSINESS OWNERS

Build customers,

sales and profits

with us ...

Over 16,065

copies delivered to

EVERYhome,farm,

RD and lifestyle

blocks in

MidCanterbury

news

Linda Clarke

Editor

308 7664

linda.clarke@ashburtoncourier.co.nz

Reporters

Mick Jensen

mick.jensen@ashburtoncourier.co.nz

Toni Williams

toni.williams@alliedpress.co.nz

advertising

Jann Thompson

Sales Manager

308 7664

027 587 6351

jann.thompson@ashburtoncourier.co.nz

Karen Gane

Sales Account Manager

308 7664

021 510 804

karen.gane@ashburtoncourier.co.nz

getintouch

Editorial

linda.clarke@ashburtoncourier.co.nz

Advertising

info@ashburtoncourier.co.nz

Production

murray.thompson@ashburtoncourier.co.nz

Accounts

accounts@alliedpress.co.nz

Distribution/Deliveries

jann.thompson@ashburtoncourier.co.nz

Office

office@ashburtoncourier.co.nz

03 308 7664

199 Burnett Street,Ashburton

www.ashburtoncourier.co.nz

2275021

Butchers need new blood

By Mick Jensen

Netherby Meats owner Mike

Hanson is keen to take on a

couple of young apprentices and

reckons butchery is acareer

worth pursuing.

Finding apprentices has been

aproblem for Mike and other

butchery owners for anumbers

of years, but with the current

fees­free support for industry

training, he's keener than ever to

employ new blood and to teach

people the business from the

ground up.

Fees­free applies for the first

two years of an apprenticeship

and means adecent saving for

employers.

Competenz training adviser

Rob Prins, who manages

butchery apprentices around the

South Island, said adozen new

apprentices had come on to his

books in the past few weeks.

They didn't necessarily sign on

because of zero fees, but no fees

meant employers were currently

more willing to take on

apprentices.

Supermarkets and home kill

were considered essential

services during lockdown, and

some butchers had been flat out

and worked all the way through,

Mr Prins said.

Butchery was an

Maccas manager Ruth is lovin' it

By Toni Williams

Ashburton's Ruth Brokenshire has earned

her second Restaurant Manager of the Year

title across the McDonald's national

franchise.

The senior restaurant manager, now based

in the Timaru franchise, was one of 16

restaurant managers nationwide to win the

just­finalised accolade for 2019, after

reaching key performance indicators and

bettering them from the preceding year.

Ruth, 29, also earned the title in 2017.

She has been at McDonald's for 13 years,

starting with the Ashburton franchise as a

crew member when she was 17 years old and

working her way up the ranks.

She started under former­restaurant

manager Moe Lamont and was shift manager

at aged 18.

It's been an enjoyable, but challenging

experience, Ruth says.

"I had to grow my people skills in the role.

It's taken five years to get it right,'' she jokes.

She says abig part of that was learning to

tailor her management style to meet the

individual needs of staff, which includes alot

of younger crew. There is acrew of 85 in total

in Ashburton.

Netherby Meats shop assistant Sharleen Rielly and owner Mike Hanson.

''outstanding'' industry to work

in, he said.

Mr Hanson offered online

shopping and delivery through

his business during lockdown

and continues to be very busy

with online, and in­shop sales,

and also with farm kill.

''I know all butchers are in the

same boat and trying to attract

apprentices, but I'm hopeful a

Ruth Brokenshire has won asecond

McDonald's restaurant manager

national title.

wave of new blood is coming into

the profession. It's agood

industry and offers variety.''

Athree to four year

apprenticeship taught all the

skills needed to work in a

butcher's shop. As well as

breaking down big beasts, there

was small goods preparation,

retail work, sausage making and

pork and lamb butchering.

"Everybody is different …and

(instructions) have to be tailored to people

and their needs," she says.

Over the years Ruth has worked under

four other restaurant managers, including

Wendy McHaffie who is now operations

''Just this week we've sent

meat raffle packs valued at

$1000 to Twizel and that side of

things is building again, so

there's another facet of what we

do.''

To become abutcher you need

to complete an apprenticeship

and gain aNew Zealand

Certificate in Trade Butchery

(Level 4).

manager, before taking on the role herself in

2015.

As mum to twin seven­year­old boys, Ruth

says the McDonald's family­friendly flexible

hours, especially as the boys were younger,

allowed her to successfully combine

parenting with her professional duties.

She is not one to turn down achallenge

and likes that every day at work is different.

"It's always changing, it's never the same

…you think you are going to walk in to

something but walk in to something else."

She also enjoys the social side of the

workforce and the fundraising activities done

for Ronald McDonald House. They have

included lip sync events, sausage sizzles,

movie fundraisers, raffles and netball games.

Ruth's success in the role has recently seen

franchise owner Dave Whalley, who has the

Rolleston, Ashburton and newly­acquired

Timaru McDonald's restaurants, promote

her to asenior restaurant manager role

based in Timaru. She commutes daily.

Ruth says she has been tasked with

bringing the Timaru restaurant in to line with

the two others in the stable.

Her first call of duty, after taking on the

role, was to employ more staff; they now

have 85 on their crew too.

2282526
---
Local news at www.starnews.co.nz Ashburton's The Courier, Thursday June 18, 2020, Page 3

Free lunch, fellowship back on at church

By ToniWilliams

Covid­19 may have stretched

resources in some Mid Canterbury

homes but ahot meal and friendship

is back on the menu at Ashburton

Baptist Church.

Lunch this week under the

guidance of George Rendall, in

charge ofthe kitchen and its

14­strong roster of volunteers, was

vegetable soup, spaghetti bolognaise

with carrot cake to finish.

The once­a­week, free offering

which changeseach week, was well

supported before Covid­19, and

organisers are expecting there could

be more interest if people face

hardships or financial pressure in the

coming months.

But they are more than readywith

not just their community lunch, but

with pastoral support, advice or just a

listening ear.

Interim seniorpastor Bill Avenell

said the church offered arange of

Grain store

stays on

heritage list

The Environment Court

has declined an

application by Ashburton

business Redmond Retail

that would remove the

heritage listing of the

former Peter Cates Grain

Store on West Street.

Redmonds owns the

building, which lacks

structural integrity and

has been identified by the

Ashburton District

Council as earthquake

prone. It wants to

demolish the old building,

saying the cost of making

it tenantable is prohibitive

and unrealistic.

The grain store is in two

parts, with the front

curved part valued for its

history and links to the

district's early farming

days.

Redmonds had asked

council to change its

district plan to remove the

heritage listing but that

was opposed by Heritage

NZ and local history

buffs.

The court, in adecision

released on Tuesday, said

the parties in opposition

had awealth of

knowledge about the

history of the building and

its place within the

economic history of Mid

Canterbury. This was

accompanied by astrong

desire to preserve and

protect the building, not

only because of its values

but also because it is one

of adiminishing number

of historic listings in

Ashburton.

The oldest part of the

building was constructed

in September 1878 and it

was used as agoods and

grain store, with the

ground floor converted to

office space in 1865. It has

been listed as ahistoric

building since 1981.

Peter Cates sold the

building to Redmonds in

services including apastoral care

team who were able to help peoplein

arange of needs.

They offered meals, assistedwith

clothing or household items in

emergency situations or just a

friendly face and fellowship.

''We endeavour to cater to the

needs of thecommunity,'' he said.

The family­friendly church, able to

feed people's bellies as well as their

souls, has an open doorpolicy and is

not just restricted to those within the

church.

They promise not to bombard

people with aBible when they walk

in but do offer arange of activities

for people to join, on top of their

regular Sunday service with

fellowship afterwards.

They include aknitting group for

any skill level, amums and bubs/

preschoolers group, youth bible

study forYear 7toYear 13 students,

home connect bible study groups and

aChristianRejoice Group especially

2015. Reports would later

say the cost of bringing

the building up to code

would be around $2.6

million.

Judge Melanie Harland

said the fact that the

heritage listing in the

district plan covered the

entire building had

caused considerable

disquiet to those deciding

the matter, as the

Heritage NZ's listing was

amended in 2018 to relate

only to the original front

of the building.

She said there were

some reasonable uses for

the rear of the building,

but fewer for the front

because significant

changes would

compromise the heritage

values of the building

interior.

"We appreciate this

decision will be agreat

disappointment to

Redmond Retail, which

faces significant costs to

bring the building up to a

standard where it is able

to action the reasonable

uses that we have found

exist under the District

Plan provisions. We hope

that there will be a

solution reached outside

of this process that

recognises this."

The judge said the

award of costs against

Redmonds was not

appropriate but council

and Heritage NZ had 15

days to apply for costs if

they were to do so.

DRYER

• 795mm H, 600mm W, 520mm D

• 4.5kg –compactmodel

• 2heatsettings –dry,normal or

delicate items

• Rear or frontventing –easy to position

Was$699

WINTER

SALE PRICE

$3.43 weekly

Was$999

WINTER

SALE PRICE

$477

RANGE

• 900mm H, 600mm W, 600mm D

• 8cooking functions –cook avarietyofmeals

• 4xEgo elements –solid and reliable

• Storage drawer –convenientfor extratrays

Was$1299

WINTER

SALE PRICE

for peoplewith disabilities. But there

are resthome services and plenty of

social gatherings too.

There is also the Christian­based

Girls' Brigade, run on site, and Boys'

Brigade which is run off site. Both

organisations, for childrenaged five

$6.18 weekly

DISHWASHER

• 850mm H, 596mm W, 625mm D

• 13placesettings –standardsize

• 5wash programmes –wash avariety

of dishes

• 30minutequick wash –fast forlightloads

$5.20 weekly

$748

$898

We arethe onlyAshburtonretailer who services all the

whitewarewesell –buy with confidenceand trust.

to 18 from any denomination, give

children achance to meet others in

the district, doing fun activities and

learning about life skills.

Mr Avenell said the pastoral care

team have people who can cook and

freeze meals for people in stressful

We canoffersame dayprofessional delivery

and installation foryour newpurchase.

PLUS we'lltakeaway your old appliancefor recycling.

DEALS

Ashburton's

SPECIALISTS

Appliance SPECIALISTS

WASHING

MACHINE

• 975mm H, 575mm W, 642mm D

• 6kg –Medium sizewasher

• Soak option –helps clean stains etc.

• 11washprogrammes –wash differentmaterials

Was$1219

WINTER

SALE PRICE

$5.53 weekly

FRIDGE FREEZER

• 1645mm H, 598mm W, 650mm D

• 340 litres (238 fridge /102 freezer)

• Frost free freezer –Nodefrosting needed

• Reversible doors –can be changed foryour

convenience

Was$1299

WINTER

SALE PRICE

$6.84 weekly

$998

$798

• 850mm H, 1300mm W, 700mm D

• Defrost drain system –makes cleaning easier

• 380 litres –Great storage space

• Super freezer option –

helps lock-in freshness

Was$1299

WINTER

SALE PRICE

$6.83 weekly

$997

John Mowatt (left) seeking

fellowship and acatch-up with

mates, gets acuppafrom kitchen

crew George Rendall (front), Barb

Cochrane and Steve Bevin at the

first Baptist Church free lunch

since restrictions eased.

situations whether its those who are

sick or have newborns in the house.

They can also help in times of need

such as losses from ahouse fire or

those seeking financial assistance;

Christians Against Poverty is based

at the church during the week and

can help with budget advice and debt

counselling support.

He said anyone was welcome to

pop in to the office, which is open

five days aweek, whetheritbe

peoplewho are just lonely, those

lookingtojoin agroup or others who

have lost their job and are

considering the next course of action.

CHEST FREEZER

2289194

PROUDLY100%

ASHBURTON OWNED

AND OPERATED
---
Page 4, Ashburton's The Courier, Thursday June 18, 2020

Video workouts

inspire members

There have been big

numbers returning to EA

Networks Centre since

Alert Level 1was

introduced.

In the three weeks since

May 14, there had been 30

new members signing up,

centre manager Steve

Prescott told Ashburton

District councillors at a

recent activity briefing.

None had used the

centre before, but most

had been inspired by the

Les Mills workout videos

featured on television

during the early weeks of

lockdown.

''They've been inspired

and now they're coming

to us to do it themselves,

which is great.''

Both the pool and

stadium numbers were

taking off again and

demand for the gym

meant an extension had

been set up on one of the

stadium courts to comply

with earlier social

distancing rules.

TheTripToGreece

Reviewed byRowena Hart

Funnymen Steve Coogan and Rob Brydon travel

to restaurants, hotels and ancient landmarks in

Greece.

This is the fourth in the series.You may have seen

the others, ATrip To Northern England, Spain and

Italy.

They travel around GreeceinaRange Roverbriefly

visiting some scenic spots, but mainly eating at

various restaurants.The food looked fantastic.

They are both great talkers so they joke and laugh

everywherethey go.

Idon't think they have ascript, they just talk on

about anything and everything.

RobBrydon from Wales did three comedy shows in

NZ last June. All full houses with great reviews. He

also starredinthe hilarious movie "Swimming With

Men".

Do you remember the movie "Philomena"? Steve

Coogan playedthe partofthe journalist alongside

Judy Dench. Agreat watch.

bookings ph 307 1230

www.regentcinema.co.nz

Steve Prescott

The stadium had

opened to limited

activities on May 18 and

casual basketball,

pickleball, futsal and

badminton had returned.

Netball training had

also restarted and

generally things were

starting to get back to

normal, Mr Prescott said.

The large inflatable will

be brought out in the pool

area during the school

holidays and would be

available daily.

It took four hours to

put it up and two hours to

pack it down again.

2281831

THIS WEEK'SSPECIALS

SPECIALS

Local news at www.starnews.co.nz

Frosty start for keen drivers

By ToniWilliams

Motoring enthusiasts lined up for aspeed

fix in the Ashburton Car Club's grass

motorkhana.

It was the first post­lockdown event and

afun day for members, and members of the

public, before the club's annual Levels

Track Day in Timaru this Saturday.

The motorkhana was held at the club's

grounds on Wakelins Road last Sunday.

An attempted break­in over lockdown of

the clubhouse, now being investigated by

the Police, did little to dampen members'

spirits with near­perfect conditions on the

day for members to let off steam.

Ashburton Car Club vice­president

Daniel Tew said 19 drivers signed up on the

day, keen to get behind the wheel and show

their skills on the grass course.

They included amix of car club members

as well as members of the public, some of

whom had come especially for the event

from outside the district. ''We had 19

entries ... which is pretty good.''

The event, run out the back of the

clubrooms, was abasic car course suitable

for drivers aged 12 years and older.

It was afamily­friendly event, but most

taking part were seasoned drivers keen to

blow off the cobwebs on their vehicles.

They included Datsun drivers Brian Taylor

in his rust­orange coloured Datsun, and

Peggy Barrett in her yellow 1977 Datsun

120Y.

Mr Taylor's vehicle is awork in progress

that's been sitting in his garage for the past

15 years but Mrs Barrett's bright yellow

model was bought 11 years ago and is still

in mint condition. She does some of the

Books on

Wheels

Ashburton Public Library staff are

delivering books on wheels to an

extra 21 clients after arecent ring

around.

Staff rang 185 people who had

not been to the library in recent

weeks, but had previously been

regular users, and found there was

new demand for the delivery

service.

Demand for delivery had

dropped prior to lockdown and now

totals around 25.

Books on Wheels began in 2002

as ajoint venture with the Altrusa

Club of Ashburton. Books are

delivered every fortnight to older

readers in the Ashburton urban

area who have access or health

issues which make it difficult for

them to come into the library.

maintenance herself.

''Growing up Ihad trucks instead of

dolls,'' she jokes. It was not her ideal car

but the 1200cc model was affordable at the

time and she has no plans to sell it just yet.

Mr Tew said all vehicles in the

motorkhana needed to be road legal.

Those taking part dated from the '70s

through to the latest model Subarus.

While it was afun event, it tested the

driving skill of each participant as they took

on three courses, three times each to try to

improve their time without penalties.

The event started on athickly­frosted

ground which became more slippery and

tested skills. Drivers started on abasic zig

zag course, before advancing to skids and

donuts and then ending the day with a

mini­race.

Ashburton Public Library librarian Celeste Bennett delivers

books to Ashburton resident George Spencer.

Peggy Barrett (above) has owned her

1977 Datsun 120Y for 11 years. Brian

Taylor (below) driving his rust-orange

Datsun.

CBD in

catch­up

Around eight per cent of the

Ashburton CBD revitilisation

project has been completed

and contractors have been

given afour­week extension

because of time lost due to

Covid­19.

TruLine Civil have

completed the renewal work

of the underground services

on Cass Street, and rain

gardens are being

constructed. Extra crews have

been brought in to help catch

up lost time.

Some 1600m of water,

300m of wastewater and

100m of stormwater pipelines

have been installed on Cass,

Burnett and Tancred streets.

SOL OR TIGER/

TIGER CRYSTAL

330ml Bots 12s

$

22 99

ASHBURTON

MSA

ABSOLUT 1L

$

39 99

SMIRNOFF 1L

$

34 99 $ 61 99 $ 24 99

$

23 99

$ 10 99

266 Havelock Street,Ashburton

Telephone 308 7149

www.ashburtonclub.co.nz

JIM BEAM

1.75L

HOURS

Monday

Tuesday-Saturday

Sunday

CORUBA

7% 250ml Cans 12pk

10:00am -8:00pm

10:00am -9:30pm

10:00am -6:00pm

SMIRNOFF SELTZER

RANGE 5%

250ml Cans 12pk

WOLF BLASS

YELLOW RANGE

SPECIALS AVAILABLE

from June 18

to June 25

WITHER HILLS

WHITES &

ROSE RANGE

$

13 99

2285711
---
Local news at www.starnews.co.nz Ashburton's The Courier, Thursday June 18, 2020, Page 5

Money in the bank for pool upgrade

By Mick Jensen

Carew Peel Forest School has money

in the bank for an upgrade and

refurbishment of its swimming pool,

a pool built by the community in

1943.

Some work on the pool started

prior to lockdown, but with winter

now here, much of the work will

continue in November.

Abig splash is expected when the

new look community asset is

unveiled in early December.

Some $20,000 for the pool project

has been given by Hinds and District

Lions, Mayfield Lions and other

local donations, while ahefty Lotteries

grant of $128,000 was recently

received.

The school pool is large at 25m

long, and also features a toddlers

pool.

It is made of concrete and was

built and paid for by the community.

Construction began in October

1941 and was completed four months

later.

Socials and dances back in the day

were the main source for funding it.

The volunteers who built it used

100 yards of Orari shingle and 14 and

ahalf tons of cement, supported by

reinforcing steel.

Fifteen centimetre thick walls have

ensured the longevity of the pool

over the years, but there are

occasional leaks, paint is peeling and

it's time for an upgrade.

The new look pool will be tackled

in two stages.

It will be cleaned and recoated in

fibreglass in stage one, while anew,

modern filtration system will be

added in stage two. A new pump

shed is also on the cards.

Carew Peel Forest School principal

Sharon Ketter said the project

was huge for the school.

It bucked atrend of schools getting

rid of their pools and would mean a

leak proof and smart new pool for

the children and local community.

The Ministry of Education partially

funded the cost of chemicals for

the pool, and would pay to remove it,

but they didn't fund refurbishments.

''The community has the use of the

pool via apool key system for asmall

cost, which helps pay for minor

maintenance.

''Our children learn to swim in it

on a daily basis over the summer

months and families also have free

use of the barbecue within the pool

area,'' said Mrs Ketter.

Some of Carew Peel Forest School's pupils with principal Sharon Ketter in the drained swimming pool.

Free winter coats on racks at youth centre

Withthe cold weatherstarting to

bite, Ashburton youthcentre BASE

is keentokeep local youngpeople

warm.

The centre has abig stash of

coats, glovesand beanies to pass on

to others for free through its long

runningCoatsFor Kidsproject.

The initiative has passed on

hundreds of coatsover the last 12

years.

Warmgear is available for those

agedfrom zero through to

teenagers.

The stock includes arecent

donation of new coats.

People are invited to get along to

the youth hub at 193 BurnettStreet

to check out the racks.

Coats can be swapped and more

coatdonations are welcome.

Coats can be dropped off at

BASE, AshburtonNew World and

Community HouseMid

Canterbury.

Anyone wanting acoat can visit

BASEonweekdaysbetween 2pm

and 5pm, or can call Jenny (027 265

0963) or Sheree (027296 1305) to

arrange atime.

HYPE Youth Health Centre co-ordinator Sheree Kershaw and Safer Mid Canterbury youth support worker

Jenny Rae with aselection of coats at the youth hub waiting for new owners.

Consent

concerns

Ashburton council is concerned

proposed changes to building

consent exemptions could be

problematic further down the line.

The exemption proposal will

increase the current size limitation

of certain structures, including pole

sheds and hay barns.

Council processed an average of

70 pole shed/hay barn consents

each year, with athird of them

requiring council input to comply

with the building code or District

Plan, said council's strategy &

compliance manager Jane

Donaldson.

She said passing on advice

without aformal mechanism like a

building consent in place could be

problematic for council and have

consequences for others.

Currently aconsent is needed for

pole sheds/hay barns and anyone

could put them up.

With the proposed changes, no

consent is needed, but the

construction must be supervised by

alicensed practitioner. Changes will

take affect in August.

Laundry Dreams

Your dream laundryis

easiertoachievethan

you think!

Our highlyexperienced

teamishappytowork

withyou on your

renovation or new build.

The Renovation Experts

Talk to

us now!

Free Quote

BOOK NOW

606 East St, Ashburton P: 307 7131

www.kitchenexpress.co.nz

9am-5pm Mon-Fri9.30am-12.30pm Sat

>>

2282251

GREAT

RATES

PC Repairs, Set-up and Tutoring

Icome to youday or evening!

NewPCs

and Laptops

forsale

•PCRepairs/Sales •Networks/Servers

•Firewalls/Security •Spyware Clean-up •Training

20 YearsExperience Microso Cerfied Professional

NETWORKS FIREWALLS AND PCS LTD

Robin Johnstone 67 Aitken Street, Ashburton

P: 03 308 1440 C: 027 768 4058

robinbj@xtra.co.nz

2281999

DOCKS

BAR &SEAFOOD GRILL

IS OPEN!

DOCKS is offeringavariety

of fresh fishand seafood dishes

Aspecial lunch offer is available to the Gold Card holders on

Fridays,Saturdays and Sundays 12 pm –2pm.

We look forward to seeing youatDOCKS!

DOCKS Bar &Seafood Grill

90-92 HarrisonStreet,Allenton, Ashburton

(oppositeAllentonShopping Mall). Tel03423 21 66

OPENING HOURS: Tuesday–Thursdayfrom5pm tilllate

(meal servicefrom5pmtill 9pm)

Friday–Sunday from12pmtill late

(meal servicefrom12pmto2pm andfrom5pmtill 9pm)

Monday–closed.

2286598
---
Page 6, Ashburton's The Courier, Thursday June 18, 2020

Local news at www.starnews.co.nz

OAKLEA DEVELOPMENT

Sections Selling Now

12 -896m2

19

1015m2

22

1017m2

SECTIONS AVAILABLE

FROM $151,000!

11 -979m2

107 51 -1036m2

-908m2

10 -1016m2

50 -814m2

9-1026m2

49 -809m2

48 -924m2

47 -922m2

44 -937m2

43 -937m2

55 -793m2

56 -802m2

Located west of Tinwald, with the

main entrance off Melcombe Street,

the Oaklea Development has sections

available to buy now. Our building

partners Jennian Homes and Milestone

Homes can also offer fantastic House &

Land Packages to suit your needs.

40 -940m2

41 -804m2

38 -851m2

57 -736m2

31 -852m2

75 -951m2

Get in touch!

30 -1038m2

Jennian Homes Canterbury

Michele Strange

P 027 491 5266

E michele.strange@jennian.co.nz

jennian.co.nz

Milestone Homes Selwyn &Mid Canterbury

Danny Brown

P 027 722 5525

E danny.brown@milestonehomes.co.nz

www.milestonehomes.co.nz
---
Local news at www.starnews.co.nz Ashburton's The Courier, Thursday June 18, 2020, Page 7

Refugees in limbo; students send love

Netherby School students Anya

Walker and Isabella McCully put

their kind hearts and artistic talent to

good work to design the official

poster for World Refugee Day in

Ashburton.

The Ashburton District Council's

Welcoming Communities

programme and Safer Mid

Canterbury's Refugee Settlement

Support Service put the call out to

creative kids last month and

Netherby School rose to the

challenge.

Anya and Isabella, both age 9, won

for their joint poster while classmate

Ryleigh Martin, 10, was runner­up.

Emily Hodzelmans, 10, of

Hampstead was also runner­up.

The winning posters were chosen

by deputy mayor Liz McMillan and

have been used as the base design for

big posters that will appear around

the district to mark World Refugee

Day on Saturday.

The winning artists received a$100

Warehouse voucher and the runnersup

$30 vouchers each.

Ms McMillan said she chose Anya

and Isabella's poster from the 41

entered because it showed several

prominent town features, including

the town clock and an eye­catching

road sign. It was adifficult choosing

awinner from so many good posters.

Ashburton is still awaiting word on

the arrival of refugees who will make

anew home here.

Refugee settlement support team

leader Kathy Harrington­Watt said it

was likely they would come from

refugee camps in Malaysia or

Pakistan but Covid­19 meant

transport routes and borders had

closed to many. ''They are in limbo.''

Ashburton was still expecting

refugees and the resettlement service

was ready to go once they received

word about when they would arrive.

She told Netherby School students

that the newcomers needed asafe

home and Ashburton could help

them.

''Our responsibility as a

community is to make them feel

welcome, to become friends, to make

them feel happy.''

World Refugee Day was achance

to think about refugees and their

situations.

She said children would be the

most welcoming to Ashburton's

refugees when they arrived.

Above: Children's librarian

Jonathan Nixon (back left),

Welcoming Communities adviser

Janice McKay and refugee

settlement support team leader

Kathy Harrington-Watt with winning

artists (front, from left) Ryleigh

Martin, Anya Walker and Isabella

McCully.

Right: The winning poster by Anya

Walker and Isabella McCully.

Left: Deputy mayor Liz McMillan

with some of the World Refugee Day

posters, that are on display in the

Ashburton Children's Library.

THe aWaRd WiNnErS

ArE HeRe

8Wired iStout

Brewer SorenEriksenisapioneerwhenitcomes

tobig, darkbeers likethisdecadentlygorgeous

Imperial Stout. Chocolate,dates, leather, licorice

andafortified wine intensity. Rich and warming.

Behemoth Me Time

Mosaic HazyIPA

Huge,sweet tropical fruit juicearomas with

flavour that's counteredbyjustenough

astringencyand bitterness to create atight

balance. As one of the judgesnoted:

"I would be very happy if I'dbought that".

Three Boys Wheat

Citrus andcoriander backedupbysome white

pepper makeanintriguingnose.Lightand

spritzyonthe palate with morefloraland

citrus coming through. Complexinits creation,

easytodrink.

ZefferRosé

Cider Sparkles likeaglassofpink diamonds.

Vibrant notes of raspberry,cherry andviolets

deliver arich perfume of aromas. Theflavour

profile is reminiscent of rosé –acoherent blend

of sweet berriesand just-tannic cider notes.

fInD tHe bReW

fOryOu

Open your camera or

QR code app to scan me.

TOp30wInNiNg bReWs

iN-sToRe nOw

Visit newworld.co.nz/Top30 forbeerand food inspiration and lotsmore!
---
Page 8, Ashburton's The Courier, Thursday June 18, 2020

Council meetings

back to normal

The Ashburton District

Council looks set to

resume its normal

schedule of meetingsafter

today, with councillors

expected to suspendthe

Covid­19 response

committee, which has met

weekly since late March

when pandemic

restrictions wereimposed.

Since March 25, council

delegated all of its

decision­making to the

Covid­19 committee.

Councillors met online via

Zoom to hear updates

about essential council

activities.

Councillors are

expected to vote to

reinstate the standing

committees and the

Methven Community

Board today.

Scheduled meetings

would resume on June 29

for the Methven board and

in July for council. The

environmental services,

community services and

infrastructure services

committees are planned to

meet on July7,with bylaw

and policy and audit, risk

and finance on July 9.

Areport for councillors

said the response

committee had done its job

of allowing council to

function through the

pandemic alert levels 4

down to 2. Reinstating the

committees would signal

business as usual and allow

greater community

engagement and

attendance at meetings.

• Additions and Renovations • All types of maintenance

• Commercial and Farm buildings • New Housing

Local news at www.starnews.co.nz

Trail users watch for machines

People walking and riding on

the Ashburton River trail are

being warned to watch out for

machinery and vehicles near

Milton Road.

Contractors working for the

Ashburton District Council are

installing anew and larger

wastewater pipeline under the

river from Milton Road south

to Wilkins Road. The pipe will

connect to anew pump station

being built on Wilkins Road.

The contractors are now

more than halfway across the

river with the new pipe and

people who use the river trail

are being warned to be mindful

of more machinery and

increased traffic in the Milton

Road area.

Work on the $7 million

wastewater upgrade was halted

during lockdown, but is back on

track. Contractors Seipp

Constructions have also begun

the pump station construction.

Chair of council's

infrastructure services

committee Stuart Wilson says

the project is making good

progress and that it will help

support Ashburton's growth for

many years to come.

''Significant infrastructure

upgrades like this are as

important as ever as we look to

support our community and

Pipe progress under the Ashburton River.

encourage growth in the years

ahead. The council is very

pleased to be investing in this

project for the benefit of

residents now and well into the

future.

''The technical skill to install

this pipeline while also keeping

the water flowing and looking

out for the wellbeing of fish and

birds in the area is also

impressive.''

An estimated 900 fish were

rescued from a200m stretch of

the river and relocated under

the supervision of Environment

Canterbury.

Anumber of councillors and

staff visited the construction

site recently to assess progress

and were shown the work

currently happening on the

pump station.

At the end of May,

contractors poured more than

50 cubic metres of concrete to

form the pump station base

which is 10m below ground

level. They have since begun

working on the steel

reinforcement for the walls.

To date, more than 1100m of

sheet piles have been dug into

the riverbed to help control the

flow of water and allow for the

pipeline to be installed. In some

places, the pipe is being laid up

to 6.8m underground.

Service Delivery Group

Manager Neil McCann says

managing the water is one of

the biggest ongoing challenges

for the project.

''Water from the river

surface is one factor, but

controlling the water table

underground is also abig

consideration. There are five

large de­watering pumps

working to keep the water table

below the pipe installation

level.

''This water is then stored in

asettling pond before being

discharged in an

environmentally friendly

manner.''

He said that although the

Covid­19 restrictions over

March and April pushed out

the construction schedule,

extra resource was being

allocated to help get the

programme back on track.

Work began on the project in

November last year and

contractors hope to have it

completed by this December.

Noble Wilde 2020

winter range

in store

Merino-possumknitwearprovidesan

unbeatable mix of warmth andcomfort.

Seeour range ofNoble Wilde premium

mensand womensmerino andmerinopossumsweaters,

tops, jackets andwraps.

Find us just 1Kmoff Hwy 1atRangitata

on Hwy 79. Open 7days9am to 5pm,

Ph 0508 504006 thetinshed.co.nz

18 Tin 2020 Snow

2281757

Longbeach event pays dividends

Organisers of the Ruralco

Longbeach Coastal Challenge

are hoping aresurgence of

people biking over lockdown will

see entries for this year's event

come flooding in.

The challenge is on November

29.

Organising committee chair

Matt Galbraith said the annual

event, run by Longbeach School

and Hinds and District Lions,

had been well­supported in the

past with both groups playing

vital roles in its running.

They provide man­power

across the year and on the day,

including track readiness and

maintenance, health and safety,

registrations, marshalling,

cooking on the barbecue or

towing trailers.

Mr Galbraith said it was a

community event, run by

community people with money

raised benefitting the

community. It also had the

backing of business sponsors

from within the community.

It raised both groups $11,000

each last year.

Ruralco's Jono Pavey, Longbeach School Board of Trustees

chair Toni Durham, Longbeach Coastal Challenge's Matt

Galbraith and Hinds and District Lions president Malcolm

Read following the transfer of proceeds from last year's

Ruralco Longbeach Coastal Challenge.

Longbeach School board of

trustees chair Toni Durham said

the money helped fund teacher

aides and educational support.

She said the support of the

lions and the school's families

was a"very cool partnership"

and the school was grateful.

Hinds and District Lions

president Malcolm Read said

discussion on future projects

would be raised once the group

was able to get together again

post­Covid­19.

The 50­strong members are

not due to formally meet until

July, but planned asocial catchup

this week.

In the past the Lions have

contributed to community

projects such as the Carew Peel

Forest School pool repair work,

but also to projects that benefit

the wider community such as

those undertaken by Maia

Health's Christchurch Hospital

rooftop helipad campaign.

Mr Read said now they were

keen for an event to "restore the

heart in the community".

"We're just looking forward to

getting back together as a

group."

Mr Galbraith said there has

been renewed interest in cycling

which he hoped would see more

people enter this year's event.

The challenge, which includes

run, walk or bike options,

ranging from 5km up to 35km

distances, also gives people a

local event to train toward.

He said 1500 people took part

in the 10­year anniversary event

and "it was busy" but the key was

knowing registration numbers

early and being prepared for the

day. Registrations open on

August 1.

More work needed at Rangitata corner

Anew intersection speed zone

on State Highway 1atRangitata

is aimed at preventing serious

crashes but locals and Rangitata

MP Andrew Falloon say more

work is needed.

Waka Kotahi NZ Transport

Agency has installed electronic

signs that detect when someone

is turning into or out of State

Highway 79 and will temporarily

reduce the speed limit on SH1

from 100km/h to 60km/h.

The electronic signs are part

of apackage of work designed to

make the intersection safer.

Barrier arms were installed in

2019, the road shoulder on SH1

has been widened and an escape

bay installed for traffic caught on

the rail line.

Geraldine and Rangitata

locals campaigned for

improvements and met with Mr

Falloon,who took their

suggestions to the national

roading agency.

They sought to have the

turning bay for southbound

traffic turning on to SH29

lengthened, better and earlier

signage advising motorist of the

turnoff,wideningthe road to

include amerging lane for

northbound traffic turning into

State Highway 1and areduction

in the speed limit throughthe

Rangitata township either side

of the intersection.

"It's positive that anumber of

those requested changes are

under way," Mr Falloon said.

"Lengthening the turning bayis

badly neededaspreviously it has

filled up with just one milk

tanker or two campervans, which

is entirely inadequate when you

consider the trafficvolumes that

turn right southbound.

"A lot of the tourist traffic that

turns right to go to Mt Cook and

Queenstown are following GPS

and turn very late. More and

earlier signage is needed, and

I'm hopeful NZTA will install

that as part of the upgrade."

He said while locals had

campaigned for apermanent

reduction in speed, at least

electronic signs like those in

Burnham wouldsee traffic

slowed when the intersection is

busy.

"At present some northbound

traffic turning on to State

Highway 1does so without

stopping, which has caused

accidents there in the past.''
---
Robert Harris' Sam Chapman shouts Julia Robins aflat white.

1000 coffees shouted

Amateur coffee connoisseur Julia

Robins was one of just over 1000 coffeeloving

customers to pick up a

complimentary flat white coffee from

Robert Harris Ashburton during their

shout the nation event.

The event was part of anationwide

offer by the coffee chain to recognise the

efforts of the community over Alert

Level 4lockdown and subsequent

restrictions to get to level 1.

Robert Harris Ashburton owner Sam

Chapman said the company was

incredibly proud of New Zealanders and

what they had achieved in the fight

against Covid­19.

''If everyone didn't do the right thing

in level four and level three we would

still be closed down so it was nice that

the community got together and was

able to do that,'' he said.

At the Ashburton cafe, four baristas

worked throughout the day to keep the

coffee machine chugging away, backed

up by ateam of 13 working flat out to

serve customers.

''There were some tired feet at the

end of the day, that's for sure,'' Mr

Chapman said.

Afew customers did offer to pay.

''Which was absolutely lovely, but from

my side it was just saying to everyone

thank you very much for doing what you

did.''

He said for all businesses in

Ashburton, from asupport local sort of

view, it's been nice to see people back

out supporting businesses.

Comment by Labour MP Jo Luxton

MP reflects on connections,

achievementsoffirst term

When Ifirst became a

Member of Parliament

after the 2017 General

Election, 2020 seemed a

long way off. Ijumped into

aworld of policy,

procedures and

parliamentarians,

knowing that Ihad three

years to make my stamp

and to advocate for this

region.

There are many

moments to be proud of as

amember of government led by Jacinda

Ardern. Mid Canterbury schools will

receive $3 million for infrastructure

works to build and maintain quality

learning environments for our children.

The Opuke Thermal Pools and Spa

received funding from the Provincial

Growth Fund and is set to open next

year. And of course, Ashburton College

had avisit from Jacinda Ardern to

announce more than $50 million for new

classrooms, and other renovations.

ECE teachers and teacher aides will

have their pay increased after years of

underfunding. We introduced the

Winter Energy Payment, the BestStart

payment for parents with babies,

boosted the incomes of 384,000 families

with the Families Package. We've built

5000 public houses.

This short list of achievements is

something to be proud of.

I'm particularly proud of our response

to the 1­in­100 year global pandemic

that is Covid­19.

Just this past weekend, rugby resumed

all across New Zealand. Southern took

on the Harlequins in Timaru; the

Highlanders took on the Chiefs at

Forsyth Barr –life is beginning to return

to as normal as it can be in the time of

aglobal pandemic. At atime when other

countries are still reporting tens of

thousands of new cases and hundreds of

Covid­related deaths each day, New

Zealand is relatively Covid­free and we

are able to return to cafes, to bars, to

rugby games. We are able to come

MP Jo Luxton

together without social

distancing, and have those

amazing face­to­face

connections that we so

missed.

We are only able to do

this because every New

Zealander stepped up.

Going hard and early

required great sacrifice, and

tragically some lives were

lost. But now Ithink our

team of five million can

reflect on the pretty big

milestone of our achievements.

We cannot take this position for

granted, as there could still be

undetected cases in our communities,

and there are still New Zealanders

returning home from overseas. But I

think we can all be very proud of what

we've achieved, and rightly enjoy our

new freedoms.

We said from the beginning that our

best economic response to Covid­19 was

astrong health response, and the results

speak for themselves. At Alert Level 1,

New Zealand is now if not the most,

then one of the most, open economies in

the world.

None of this happened by accident.

It's all part of the Government's threestep

plan to guide New Zealand through

the global economic shock caused by

Covid­19: respond, recover, and rebuild

better. And we will do it together.

As Isign off on my last column in the

Ashburton Courier before the election,

I'd like to say thank you. Thank you for

your continued support Mid Canterbury

–ithas truly been an honour to be a

Labour Party List MP based here in

Rangitata.

I've enjoyed the connections,

conversations, and the work and help

I've been able to provide to those that

have needed it. That is what I'm most

proud of –helping those that need it.

Because that is why IamanMP–to

help, to make changes, to be avoice. I've

thoroughly enjoyed it, and hope to

continue it after the election also.

PamsFries 1kg

Fresh NZ Quality Mark

Prime Beef Mince 500g

$

2 99 ea

Coca-Cola,

Sprite, Fanta,L&P

1.5 Litre

ANY

2FOR

WEEK

BACK

ShoreS

Mariner

CrumbedC

FishF

Fillets 840g

$

9 49 ea

Pascall

Confectionery

150-180g

$ 4 49

$

1 99 ea

SEEDLESS

EASY

PEEL

IT'S

&E

P

$

7 99 Satsuma Mandarins Loose

ea Product of New Zealand

www.foursquare.co.nz

$

3 99

kg

facebook.com/FourSquareNZ

Specials availableSouthIslandonly from Monday15th Juneuntil Sunday 28th

June 2020 or while stockslast.Wineand beeravailable at stores withanoff

licence.Wineand beer purchases restricted to personsaged 18 years old and over.
---
Page 10, Ashburton's The Courier, Thursday June 18, 2020

Local news at www.starnews.co.nz

Family Notices

Youth back on civic duty

DEATHS

FRANKS, Kevin:

Unexpectedly at Timaru

Hospital on Tuesday, June

9, 2020 aged 70 years.

Belovedhusband of Salmah,

and much loved father of

Adam. Respected brother

of Michael, David, John, and

Greg.

Messages to: c/- The Franks

Family, c/- PO Box 2172,

Washdyke,Timaru 7910.

A Memorial service to

celebrate Kevin's life will be

held at alater date to be

advised.

0800 2MEMORY

027 637 1229

KNIGHT,Peter:

Unexpectedly but

peacefully at Ashburton

Hospital on Friday, June

12, 2020 in his 80th year.

Dearly loved friend and

husband for 56years of Val.

Awesome Dad of Tracey

and the late StuMills, proud

and beloved Grandad of

Annabel (AJ), and Tim, and

friend of PeterGallagher.

A loved brother-in-law of

Charlie and Marj, and older

brother of Roger.

In lieu of flowers donations

to Ashburton St John

Ambulance would be

appreciatedand maybeleft

at the service.

Messages to: c/- The

Knight Family, POBox 6035,

Ashburton7742.

A service to celebrate

Peter'slifehas been held.

0800 2MEMORY

027 637 1229

DEATHS

MARTIN, YvettePatricia:

Passed away peacefully

on Tuesday, June 9, 2020,

aged 57 years. Legendary

mother of Sean, Riki &

Charlotte, Leigh &William,

Kim & Tomo, and beloved

Yaya of Jack, Ava, &Eddie.

Messages to: The Martin

family, c/- PO Box 6035,

Ashburton 7742. In lieu

of flowers donations to

Hospice Mid Canterbury

would be appreciated and

maybeleftatthe service. A

service tocelebrate Yvette's

lifehas been held.

0800 2MEMORY

027 637 1229

IN MEMORIAM

GREENE, Cameron Raymond:

In loving memory of a

dearly loved son, brother

and uncle who passed away

14th June 2019.

Loving youiseasy

We do it everyday

Missing youisaheartache

That never goes away.

~Mum, Dad, Tania, Jaylen

and Kody

Supporting the

community

96 Tancred Street,

Ashburton.

Phone 307 8317

LREA2008

MCRE

Ashburton's global ambassadors

and the Youth Council are

resuming activities in Alert Level

1.

Three ambassadors joined

Ashburton district councillors at

the Hakatere marae last

weekend for Matariki

celebrations and the whole

group is looking forward to a

communications training

workshop on June 27.

The young adults were

appointed this year as global

ambassadors; they support

council by attending community

events and undertake workshops

and training ­the aim is to gain

practical experience in

international relations.

They attended the Holi

Festival of Colours earlier this

year and acitizenship ceremony,

but Covid­19 lockdown curtailed

activities.

Council's Welcoming

Communities adviser Janice

McKay said Simon Pannett,

Mary Beatrice Bernarte and

Jasaiah Claydon­Wade were

among about 100 people at the

Matariki celebrations, where

they got to meet and enjoy the

company of Labour MP Rino

Tirikatene.

The global ambassador

programme is funded by the

office of ethnic communities.

Be safe, be seen

With morning

temperatures dropping

below zero and heavy fog

on the roads, police are

reminding motorists to

de­ice windows on

vehicles and turn

headlights on in the

morning.

Motorists are required

to have headlights on

from 30 minutes prior to

Global ambassadors (back, from left) Mary Beatrice Bernarte, Simon Pannett, and Jasaiah

Claydon-Wade with Ashburton District Councillors (front, from left) deputy mayor Liz McMillan,

Lynette Lovett and Diane Rawlinson.

More professional

development courses are

planned for the group this year,

to repay the voluntary hours they

put into the role.

The Youth Council has also

been busy preparing for two

events. It will run the NZ

Mountain Film Festival on

sunset to 30 minutes

after sunrise.

''We'd also like to

remind motorists to be

mindful that the

automatic light setting

on your car may not be

active in fog, so do not

rely on this function for

the safety of yourself and

others.'' Drivers should

allow more time.

August 1and money raised from

that will help run its annual Bite

Nite, which will be held on

October 2this year at the EA

Networks Centre.

Bite Night is for people aged

12 to 24 years and the event will

run on the outside courts and

inside the stadium. Up to 500

people are expected and tickets

will be sold from the start of

August.

Organisers have signed local

band Wishlistt, with Nikita Hyde

and Simon Christensen, and are

looking for other bands

interested in being part of the

entertainment line­up.

Complete

Local Care

Since 1982

Aperfect venue for

Functions,

Funerals

and

Weddings.

Trott's Garden

371RacecourseRoad, Ashburton

www.trotts.co.nz |Email: info@trotts.co.nz

2258775

At the site of the new defibrillator are (from left) Ashburton Lions

Graham Smith and Rex Whiting, Hampstead School principal Peter

Melrose, Hampstead School teacher Lois Eaton and Ashburton Lions

Club president Roger Paterson.

Donateddefib for

use in Hampstead

The Ashburton Lions Club has

donated an automated external

defibrillator for use in the Hampstead

area.

The locked defib is supplied by St

John and is located near the footpath

outside of Hampstead School.

It can be accessed in an emergency

by calling 111 and the caller will be

told the combination of the lock on it.

The potentially life saving machine

was purchased with some of the

proceeds from the Lions run South

Island Motorhome Show held at the

end of February.

Lions club president Roger

Paterson said there were no publicly

accessible defib on the online

defibrillator app in the Hampstead

area.

The defib was now there in case of

emergency, he said.

All staff at Hampstead School are

first­aid trained.

Family owned,

locally owned

22 MooreStreet,

Ashburton

0800 2636679

2262527

Howe guest speaker

Philip Howe will be guest

speaker at the Ashburton

Museum and Historical

Society's meeting on

Sunday.

He will speak about his

career and the

development of the South

Canterbury Museum, plus

his overseas experiences

visiting museums. The

meeting starts 2pm, at the

Ashburton Art Gallery

and Heritage Centre.
---
Local news at www.starnews.co.nz Ashburton's The Courier, Thursday June 18, 2020, Page 11

Our essential dairy workers stranded

Stranded overseas dairy workers

could mean ashortage of skilled

farm staffinMid Canterbury over

the coming months.

Forty members of the Ashburtonbased

organisation Filipino Dairy

Workers in New Zealand Inc were

waiting to get back into the country,

while 30 to 40 other migrant worker

families wereinthe same situation,

Ashburton council's Welcoming

Communities adviser Janice McKay

told councillors at an activity briefing

last week.

Mayor Neil Brown asked if council

could do anything to help get the

dairy workers back to Mid

Canterbury.

He said it was just six weeks away

from the calving season and a

number of farmershad contracts in

place with workers and some would

not be here to start.

Councillor Angus McKay asked if

it was possible to get new people

trained to fill the worker shortage.

''These people are essential

workers and we really need to get

theminthe country,'' he said.

''If we can get the film people in,

we should be able to get these in.''

Council chief executive Hamish

Riach said the issue of stranded

overseas workerswas anational

problem.

Council had an advocacy role to

play, he said.

Mr Brownintends raising the issue

with other mayorsatamayoral

forum.

Minute books

Ashburton Museum is happyto

take anyunwanted, old minute

booksfrom sportclubsand other

organisations in the district. The

booksare seen as auseful

snapshot of localhistory andwill

go into the community archives.

Contact the museum directly on

307­7890 for furtherinformation.

A&P potential

Raising awareness of elder abuse

Abuse of our elderly folk is hitting

closer to home than people think.

It may be hidden in our

community but Age Concern

Ashburton president Trish Small

says it is out there and this week she

is raising its profile as part of elder

abuse awareness week.

More than three­quarters of

alleged abusers, according to

national figures, are adult children or

grandchildren, and are just as likely

to be female as male.

Mrs Small said abuse could

include financial, psychological or

physical abuse or even neglect.

''There are different concepts of

abuse,'' she said, and anyone

concerned about afamily member,

friend or neighbour could ring Age

Concern for help and advice.

The free phone number (0800

3266865) would put people in direct

contact with Canterbury Age

Concern who had people able to deal

trained to help.

However people could also call the

Ashburton office if they just wanted

to talk to someone about their

concerns.

Age Concern's Elder Abuse

services nationwide received 2500

referrals of older people facing elder

abuse or neglect in the past year.

That's 10 referrals every working

Age Concern's Janet Olds and Trish Small set up astatic display of information on elder abuse

awareness in the Ashburton Arcade.

day; 1919 were confirmed as being

abusive or neglectful situations.

More than half of those abused

were over the age of 75, but while 40

per cent live alone, in two out of five

cases the alleged abuser lived with

the older person.

Elder abuse is an issue that is also

picked up by other agencies such as

health providers, police, lawyers,

banks, iwi and other community

groups.

The different types of abuse over

the past year saw 86 per cent involve

psychological abuse, 50 per cent

financial abuse, 18 per cent physical

abuse 15 per cent neglect and 17 per

cent self­neglect.

Getting back into the swing of things, post­covid

It's been great seeing many of

council's formerly­restricted or

postponed activities resume as

normal these past two weeks. Our

first activity briefings since before the

lockdown was held last Thursday

with councillors and it really

illustrated just how much is going on

right across the council, from

regulatory services, infrastructure

upgrades and maintenance

programmes, right through to

community engagement and business

improvements.

As you might have seen recently,

both the Ashburton CBD

Streetscape Revitalisation and

Ashburton River Crossing and Pump

Station projects are making great

progress, despite the lockdown

pushing their work schedules out

Comment by Hamish Riach, Ashburton District Council CEO

slightly. Upgrades to the Rakaia

Salmon Site are also making

progress.

The old toilets have now finished

deconstruction, and the groundwork

on the new facilities is now well

under way. Some of the new toilet

units have arrived onsite ready to be

installed and the remaining two are

expected to arrive this month. The

new facilities will make areal

difference to Rakaia's popular park

and help to ensure there are

adequate facilities available for

everyone.

In addition to the draft Ashburton

Domain Development Plan that

remains open for feedback, we will

begin consulting on proposed

changes to our Revenue and

Financing Policy and Development

and Financial Contributions Policy

from next week.

The policies set out how council

services and activities are funded and

charged, and in relation to

development contributions, it

prescribes how these contributions

are calculated and paid.

For the Revenue and Financing

Policy, the proposed changes relate

to Elderly Persons Housing,

stockwater and wastewater; while

consideration is being given on

whether or not to increase

development contributions.

We'd really like to hear from you

about what you think of these

proposed changes. You'll have a

chance to learn about the proposals

and provide feedback when

consultation opens at the end of next

week. Go to ashburtondc.govt.nz/

haveyoursay from 26 June. Feedback

will be welcome until July 26.

For dog owners around the

district, next month will be time to reregister

your dog. Renewal forms

have been mailed out to owners this

week, so keep an eye out for yours. If

you don't receive yours, you can still

register your dogs either online

(ashburtondc.govt.nz/

dogregistration) or at the council

office.

All dogs aged three months and

older must be registered each year

and you have until the end of July to

register on time.

With this year's New Zealand

Agricultural Show in

Christchurch cancelled, the

Ashburton A&Pshow will be the

biggest agriculturalshow on the

South Island, says Ashburton

mayor Neil Brown. He says a

bigger and better local show will

draw acrowd from Christchurch

and further afield, and be good for

this district. The Christchurch

show typically attracts 100,000

people each year over three days.

Seminars ahit

Some 55 people from 44

businessesattended arecent

seminar organised to support

localbusinesses and to kick start

economic recovery after

lockdown. The seminar, organised

through Ashburton District

Council, was attended by people

from constructionand contracting

businesses. Council economic

development manager Bevan

Rickerby said it had been very

well received. Feedbackgiven was

that it was very useful, especially

the human resources component.

Aseminar on Monday was run for

thoseinvolvedinhospitality and

retail.

Luxton drops

Local Labour MP Jo Luxton

has moved from 29 to 41 in the

partylist for the 2020general

election. The Mid CanterburybasedMPsaid

she was aproud

member of the Labourcaucus and

said the new list reflected the

depth of talent in candidates this

year.''I am happy withmyplacing

of 41 on the list, and will continue

to keep my focusonthe people of

the Rangitataelectorate. There is

too much to do to focuson

anything else, as we follow up our

health response to Covid­19 with

our economic response and

continue guiding New Zealandto

recovery.''

Two­vehicle crash

Policesay no­one was injured

whentwo vehiclescollided at the

intersection of Middle and Belt

roads on Mondayevening. Fire

crews attended the crash, and

then achimney fire on Turton

Street 30 minutes later.

171ALFORD FOREST ROAD,ASHBURTON

0800 86 22 44

Chippers Generators Compactors Excavators Access Gear MotorVehicles

Trailers Forklifts PortableBuildings Toilets Mowers&More

2286691-18/6-b
---
Page 12, Ashburton's The Courier, Thursday June 18, 2020

Local news at www.starnews.co.nz

Ashburton College

Individual Excellence in aSupportive Learning Environment

News

Issue 14

18 June 2020

DeputyPrincipal Message

Moving Forward

Fortunately, New Zealand has moved toLevel

1ofCOVID-19 and things are gradually moving

towards a'new normal'.

Life at College is looking veryfamiliar with studies

well underway and the gradual reintroduction of

other activities. The main focus continues to be

learning and we are still mindful of minimising

interruptions to that.

Challenges

We acknowledgethatmanyfamilies still facechallenging times and, as

aCollege,weare making everyeffort to ensurethatwestayconnected.

Whilst we pride ourselves on our strong links to families, many of those

links were strengthened through lockdown and we are keen to maintain

and grow those links, thus adding value and benefit to the team

approachofraising fine youngpeople.

Letting Us KnowAtCollege,Including ContactDetails

If you find that circumstances for you and your whānau have changed,

and that these changes may have aneffect on your child at College,

please let us know.

We did find during lockdown, as the delivery ofhard copy work was

taking place, thatthereweremanyinstances when contactdetails were

incorrect.

If youhavemade anychanges to an address,cell phone number or

email,pleaseget in touchwith the College Office andlet them know.

If there areany other areasthatwecan support, pleaseget in touch.

AkoClasses

Our Ako teachers work continually to help oversee the well-being of

their Akostudents,both pastorally andacademically.

We are monitoring progress ofsenior students towards NCEA and

offering guidance, support and tracking to maintain engagement and

self-confidence.

With continued focus onattendance and engagement inlearning, our

studentsshouldstill see agood rateofachievement at NCEA.

TertiaryInstitutions

The tertiary institutions with which we liaise annually are all getting

backintothe swing of things,either by visiting the College or by Zoomtype

meetings.Weare continuallygrowingthe contacts thatwehavein

these areas and are able toaccess an amazing amount ofinformation

thatisrelevant to all areas of further education.

At one time the major focus was around university study, but we see

ahuge shift in thatareaasall formsofcareer pathways aresupported.

This, coupled with the support ofour highly skilled career pathway

team,ensures thatall studentscan get thedetailthey need to map out

their future.

Progress Reports

By nowyou should have had access to twosets of Progress Reportsand

another is due beforethe term ends.

These are asnapshot, that wecapture onafrequent basis, indicating

how your child is progressing. Ifyou have any concerns about this

information, then please contact your child's Ako teacher or class

teacher who will be able to offer clarification.

Senior Students'Ball Committee

On amore social level, the Ball Committee isinfull swing now that we

have anew date forthis annual eventinour sights.

We are hoping that itwill all happen onFriday 07August, barring any

unforeseen happenings getting in theway.Weare keentoconfirmthis

at the endofthe term.Great excitement all round!

SupportStaff

Last week, and specifically on Tuesday 09June, we celebrated the

immense work and dedication of all Support Staff at the College. The

range of duties that this stunning team perform has to be seen to be

understood.

Throughout lockdown the dedication and willingness ofthis team to

'get the job done' wasimpressive.

Without them the College could not operate. From front-of-house,

throughLearning SupportAssistants,maintenanceand security, student

welfare, managing and maintaining the cafeteria, administration,

technical supportand thelike,this team keeps the waka going forward.

Going Forward

We return from unprecedented times, and Iknow that wewill all have

learned something from that, whether it be about yourself, your family

or your job.

We have found alternative ways to achieve some tasks and goals and

confirmed thatfor some things, the oldway wasthe best.

Themessagefrommewould be to continue with anything that changed

in your life that enhanced, connected and strengthened your family.

Maybeitwas sharing amealtogether,taking awalkorjust having time

to enjoyeach other's company.Grabitwith bothhands.

RonCresswell

Deputy Principal •TumuakiTuarua

AshColl Way

Information

Transition Department–EventsUpdate

Liaison visits from tertiary institutions are taking place this term,

either by visits asweare able, orvia Zoom sessions on the following

remaining twodates, during AkotimePeriod 4onWednesdays:

24 June Otago Polytech

01 July Waikato Universityand AUT University

Events

Individual Excellence in aSupportive Learning Environment

OpenEvening

Thursday23July 2020

5:30pm –7:30pm

TheAshColl Way

Quality Pride Respect

Futurestudents,parents/caregivers,whānau

and communitymembers are

warmly invited to attend our OpenEvening.

Aparticular welcome,and encouragementtoattend,

is extended to students who will be in Year 9in2021,

andfamily members

Duringthe evening youwill havethe opportunityto–

• Meet and talk with the Principal, staff and students.

• Hear and see whatthe College can offer your child and family.

• View our facilities,and Innovation and Subjectdisplays.

• Meet with BYOD Retailers -College is aBYODschool

(Bring Your OwnDevice)

• Enjoy asausage sizzle,coffee, tea, juiceinthe staffroom.

To make decisions readyfor Enrolment Week (27-31 July) –

Therewill be information available on:

0 Innovation and Traditional Classes.

0 Option Subjects for2021(Year 9students).

Option subjects: nine subjects to be taken from twelve available:

– Choose at least one from TheArts: Art, Drama, Music.

– Choose at least one from Languages: German, Japanese,

Māori.

– Choose at least three from Technology: Agriculture,

Designand Visual Communication, Digital Information

Technology,Fabric Technology,Food and Nutrition,

HardMaterials Technology.

• Note: all Year 9 students take English, Mathematics,

Physical Education and Health, Science, Social Studies.

• Additionally available: English as an additional language for

students for whom English is asecond language.

Presentationsstart in the College Auditorium

at 5:30pm and6:15pm.

These arefollowedbyguidedtours of the College,

or youmay choose to self-tour by following the signs.

EVERYONE MOSTWELCOME

Congratulations

College RugbyReturns

Enjoyed byagreat crowd, last Saturday, was the excitement and play

of apre-season rugby match held at the College grounds between the

MidCanterburyCombined1st XV (Ashburton and Mt Hutt Collegeplayers)

andTimaru Boys'High School 2nd XV team.

Mid Canterbury spectators were boosted by good numbers from Timaru,

with the pleasure ofbeing able

to playsport againveryevident.

Played in good spirit, with

positive sportsmanship evident,

managementand theteam were

pleased with the performance

and the final score of33-17 to

Mid Canterbury Combined,

after they were down 17-14 athalf-time. The team did well to hold their

opposition scoreless in thesecond half.

Thegame provided avaluable outing beforethe MidCanterburyCombined

team travels to Nelson tomorrow, for the first round ofthe fourteen-team

UC Secondary Schools' Rugby Championship, and an outing which will be

challenging against last year's competition winners.

Events

College CoffeeLab

The Ashburton College Coffee Lab is afocused, quietly purposeful teamlearning

environment. Underthe experiencedtutelageofPauline Blunden,

Year 12 and Year 13 students are learning step-by-step Barista processes.

To the casual observer, this fine art has anumber of complexities to it, let

alonelearninghow to deliveraqualityproduct and service undertime and

customerpressure.

The course, part of the Hospitality Food and Nutrition subject range,

supports studentstodevelop skillssuited to employment in the hospitality

sector, and to evaluating what type of employment they may wish to

pursue. The two-daycourses areanoption forYear 12 and Year 13 students.

ForYear 12 students (at Level 2)the course is about equipment, the coffee

and the beans while, at Level 3(Year 13) after a'refresher' time it is about

groups oftwo-four students learning to run the lab independently. Both

levels undertake atheoryassessment alongsidethe practical assessment.

(Pictured right, left and right):

Ayana Kageyama and Amy Kleber

undertaking theorycomponentwork.

From this, the progression is

preparation for student and

staff customers at intervals and

lunchtimes, Mondays through to

Thursdays, offering coffee ofchoice

or hot chocolate for sale. Year 13

students are required to undertake a

minimum of thirty hours ofcustomer

experience and work in order to

achieve their Level 3 Barista Unit

Standard.

(Pictured left):

Steph Geeson

checking

instructions as she

worksatthe coffee

machine,while

(pictured below)

John Radanand

Evangeline Radan

dispense coffees.

The work, however, is not all about Long Blacks, Flat Whites, Espressos or

Lattes. Inherent in success is their responsibilityfor keepingthe work space

and machines cleanand hygienic,readyfor thenextroundofcustomers.

Aside from growing knowledge, the abilitytoworkeffectively and efficiently

as a team, show self-responsibility, initiative, and being responsive to

customer needsare all an integralpartofthis learning.

The initiative for setting upthe Coffee Lab came from Food and Nutrition

teacher Bev Neutze who, with Scott Haines Deputy Principal atthat time,

prepared the submission to the Board ofTrustees for its establishment

ten-plus years ago. Ithas been operating successfully sincethat time.

Team members on Saturday were – Michael Hennings (Captain),

Alex Barnaby, AidanBennett,Charlie Brown, TaulangiDaniel,Joshua Dunlea,

Benjamin Fakataha, Mark Gabriel, Richmiracle Fuluasou, Shaun Fuluasou,

Pasi Hala, Fononga Lisala, Otto Mareko, Ben Middleton, Thomas Patterson,

Tim Poasa, Alex Roderick, Samuel Ree, Liam Sullivan, Christian Thompson,

Toetu Touli, Isileli Ula.

Coaches are Shane Enright, Jason Rickard, James Roderick; and Manager

NickiWoods.

(Pictured above): Theteams at the end of the game.
---
Local news at www.starnews.co.nz Ashburton's The Courier, Thursday June 18, 2020, Page 13

Ashburton College

Individual Excellence in aSupportive Learning Environment

News

Issue 14

18 June 2020

Congratulations

College Students,Staff and Coaches FeatureAmongst 2020 MidCanterburySportsAwards

Mid Canterbury sporting excellence was again recognised this year, but

online,and congratulations go to the organisers forkeeping this momentum

going and ensuring recognition wasmaintained.

A number from our College community were nominees and award

recipients over the days each sectorwas acknowledged.

As always, weacknowledge the hard work, commitment and focus which

takes students to high levels of success in their chosen fields. The awards

also highlight the national and international capabilities of asignificant

number of MidCantabrians,qualitycoaching and the supportoffamilies.

College Student CategoryWinners

Outstanding JuniorAll-Rounder Athlete

Taylah Burrowes –Karate (pictured below, right):

Having astand-out twelve

months Taylah produced

strong results on the netball

court and, particularly,

in her specialist sport of

Karate. Taylah currently

holds the Australian and

New Zealand National

Secondary Schools' titles

for Kumite Cadets (under

sixteen), and is the New

Zealand Open Champion.

Despite her busy Karate

schedule Taylah still found time to compete inother sports, and provide

supportbyinstructing other athletes.

Outstanding Junior Official,Referee,Umpire

Jacob Gray – HockeyReferee

(Pictured left):

Hockey official

Jacob Gray was

recognised for his

capabilities when

appointedto

refereethe final at

the National Under

15 Premier Hockey

Tournament, the

Johnson Cup at

SecondarySchool

level,and the

National Under 18

Women's Hockey

Tournament.

Outstanding Junior Team

AshburtonCollege SmallboreRifleShooting Team –

Shania Harrison-Lee,Jacob Kilworth (2019 College student),

CharlotteMcKenzie,Emma Smith, Samuel Smith.

A dominant twelve-month period saw this team deliver outstanding

results, including claiming the New Zealand Secondary Schools'Shooting

Championship title, from twenty-five other competing schools. Within

this event the team also produced two individual place-getters in the

competition, and three individual grade champions.

Runners-Up: AshburtonCollege ANetball Team

Members were: Grace Adams, Taylah Burrowes, Samantha Holden,

Poppy Kilworth, Dani McArthur, Ella Pearson, Mia Pearson, Faith Scott,

Emma Stagg, Jasmin Strawbridge, Billie Surridge, Hayley Tallentire. The

teamwas winner of the MidCanterburyPremier Netball competition, fourth

placed finishers at the SouthIslandSecondarySchools'Championships and

thereforequalifying forthe New Zealand SecondarySchools'Championships

(15th placed) and performed with distinction in the Christchurch Supernet

Competition.

2020'MomentinSport'Winner

Angus Jemmett -Cricket

As aYear 11 student Angus (pictured below, batting) was selected into the

Mid CanterburySeniorHawke Cupcricket side,marking thatoccasion with

a more than impressive debut, where hescored acentury. Angus was a

member of the MidCanterburyUnder 17 team and the AshburtonCollege

1st XI team in which he wasthe leading run scorer and leading wicket taker.

Outstanding Junior Sportsperson

Diego Quispe-Kim –Tennis

14-year-old Diego (pictured right), is

enhancing MidCanterburytennis,with his

No 1Age Group New Zealand ranking. A

New Zealand team representative atthe

World Junior Teams' Event in Malaysia,

Diego was also named in the Canterbury

Under 17 side, capping off an impressive

twelvemonths on the court.

Runners-Up:

Sophie Adams (Basketball)

and Shania Harrison-Lee

(SmallboreRifle-Shooting)

Sophie was a member of the National Under 17 Oceania Basketball Team;

a member of the Canterbury Wildcats Women's team, the Waitara Under 19

and the Senior Mid Canterbury Basketball team. Additionally she has had

athletic successes,particularly in Shot Put.

Shania competed overseas at the Oceania Championships, gaining Gold

and Bronze Medals and two new Oceania records, bringing her recordbreaking

total forthe year to four. Shania's trophygains totalled twenty four

for the twelve-month period, she was amember of eleven different New

Zealand teams and is currently ranked at number twoinNew Zealand. Her

record is impeccable, ranking astop individual in Australia, New Zealand

and the United Kingdom.

Outstanding Volunteer Awards

EvaKelly –Basketball

As aYear 9student, despite abusy playing schedule, Eva has also given

back significantly to both netball and basketball off the court. Evacoached

weekly at the MidCanterburyBasketball Academyand wasalso selectedas

Coach and AssistantCoach to MidCanterburyRepresentativesides.

Tessa Thompson –Basketball

2019 Year 13 College student, Tessa had abusy schedule officiating across

the Canterburyregion developing her ownrefereeing,but also encouraged

participation and developmentofplayers through coaching.

Mindy Morrison (former staff member) –Basketball

Mindy was appointed Manager of the Canterbury Wildcats for the 2019-

2020 season, and dedicatedher time to delivering the best supportpossible

for the team, including budgets, uniforms, and travel arrangements. As

Organiser and Floor Manager forMid CanterburyBasketball she is valued as

akey coginkeeping the sportoperating locally and further afield.

Outstanding Senior Sports Team

Luke Martin, College Physical Education and Outdoor Education

teacher, was amember of the trophy-winning Mid Canterbury United

Senior Football team. This team repeated their previous year's winning

performance by again winning the Mainland Football Division One

Competition, collecting the Division One Cup. Theside,impressively,scored

95 goals and conceded only 18 during the season.

College Student,Staffand Coach Nominees

All with significant portfolios and successes to their names, nominees

additional to those outlined above, were –

Outstanding Junior Official,Referee,Umpire Section

CatAnderson (Basketball Refereeing).

Outstanding Junior Sportsperson Section

Kyle Cabangun (Karate); Maddi Lowry (Cycling); Kotiti Patea (Softball);

Mia Pearson, 2019 student (Netball); Riley Sa (Basketball); Hayley Tallentire

(Netball).

Outstanding Senior Sportsperson Section

BrittanyFowler (Equestrian), Logan McCorkindale (Croquet).

Outstanding Coach Section

Kaye Kennedy (College Netball ATeam).

Outstanding Senior Sportsperson

Kimberley Bird(Equestrian); BrittanyFowler (Equestrian).

FormerCollege Student Success

Outstanding Senior Sportsperson

MatthewClough –Multisport

Despite his year being interrupted by abroken leg, Matthew achieved

highly again. Matthew won the World Under 20 Cross Tri Championships,

placing well ahead of his rivals; he placed third inthe New Zealand Men's

Under 25 Xterra Championships and,coming back from injury, placed third

in the two-day Coast-to-Coast Open Men'sDivision.

Term Dates2020 –TermsTwo,Three and startofTerm Four

Term Two

Term Three - Monday20July

- Friday03July

-Friday25September

Term Four - Monday12October -Thursday05November (Year 13)

-Tuesday10November

(Years 11 and 12)

-Thursday03December (Year 10)

-Friday04December (Year 9)

Note: Years 11, 12 and 13 Prize-givings have been re-scheduled to

one week laterthan previously advertised.

Computer Earning Scheme -BYOD

There are numerous opportunities available through Ashburton College,

one of which isascheme whereby students can earn money to purchase

theirown electronic device.

Ashburton College is a BYOD (Bring Your Own Device) School which

encourages all students tohave their own device touse for their school

work. Given the COVID situation we all found ourselves in recently, the

increased value of havingadevicewas highlighted.

Staff member Liz Carrick,AssistantHead of Senior School, Senior Dean and

Teacher-in-Charge of Foundation Studies is instrumental in managing this

programme.

First four successfulfundraisers this year:

(Pictured above, left to right): Proud owners of a computer through

the College fundraising scheme are Christine Tomokino, Alex Gabriel,

TiffanyAgacer and Julianna Apoldo.

Shown are the students busy preparing and ready to sell food to local

Housie players.

The students have just received their laptops from baking they did in

Term One of this year.

Howtobeinvolvedinthe scheme

The scheme involves students baking and selling food at the Hampstead

Rugby and All Sports Club Housie nights, weekly. All Health and Safety

aspects are in place and this opportunity will continue for the remainder

of this year.

Thereare nowopeningsfor morestudents to join this programme.

Thecommitmentincludesmaking sandwiches andbaking forapproximately

twohours onTuesdays afterschool,although othertimescan be negotiated.

Threeweeks of work cangain astudent their ownChrome Book with aOne

Year Warranty,or four weeks total to earnaLaptop. Liz has said thatCollege

should be able to support twenty to thirty students to purchase their own

laptops during this year.

Forfurther information

Interested students -see Ms Carrick at College,oremail ce@ashcoll.school.nz,

and make an appointmenttotalk through the process.

Staff Support

In order to maximise the fundraising monies, by purchasing minimal

ingredients, anumber of staff also support this scheme by providing

groceries required forthe sandwiches and baking.

Coming Events

While manyexternal events have been cancelled or postponed,there

are anumber of curriculum-related activities still able to take place,

plus some additional relevant dates.

Any alterations will be advised to relevant groups, assoon asthese

areknown.

June

19 Year 11 Outdoor Education, Woolshed Creek Tramp

StudentProgress Reports issued by today, to families.

20 Rugby–UC Championship Round 1,

MidCanterburyCombined vNelson College, Nelson

22 AGS2, Year 12 Academy Group 1, Farmbike Day,

AshburtonShowgrounds

26 Summer Blues Assemblies,Auditorium –Year 12 at 12 noon;

Year 13 at 1:00pm.

Recipients and families only –invitations will be sentout.

27 Rugby–UC Championship Round 2, MidCanterburyCombined v

Waimea College, Ashburton

30 AGS3, Year 12 AcademyGroup 1, Farmbike Day,

AshburtonShowgrounds

July

01 Year 12 Physics and Year 12 ScienceRadioactivityDay,

CanterburyUniversity

02 Lip Sync (tobeconfirmed)

03 Last dayofTerm 2

04 Rugby–UC Championship Round 3, MidCanterburyCombined v

Christ's College (Christchurch)

04-19 Studenttermbreak.

20 StartofTerm 3
---
Page 14, Ashburton's The Courier, Thursday June 18, 2020

Local news at www.starnews.co.nz

Altrusa delays

fabric bazaar

Altrusa International of

Ashburton is

postponing this year's

Fabric and Craft Bazaar

because of the possible

affects it may have on

local retailers returning

to trade after weeks of

lockdown.

Event convener

Helen Hooper said the

service club was mindful

of how the forced

shutdown had affected

some businesses and the

decision had been made

to hold the bazaaron

April 10 next year.

The bazaar had run

since 2014 and was very

well supported by the

community.

It was the club's main

fundraiser, last year

netting around $10,000.

Those profits

supported anumber of

projects and initiatives

locally, but would not be

available now.

Mrs Hooper said the

bazaar was usually held

at the end of June and

people had been asking

about it.

''We are very happy

to take donations of

quality fabric, wool and

craft supplies now and

we can store things away

until nextyear.''

Donations can be

picked up or dropped

off by contacting Helen

(308 6088) or Joan (308

7568).

Friendship club catches up

By Mick Jensen

It's been along time between

cups of tea and fellowship, but

members of Mid Canterbury

Ladies Friendship Club are

meeting again.

The club's committee of 11

met face­to­face last week and

for the first time since February

26.

After tea and cake and plenty

of informal banter, the group

talked about the resumption of

regular meetings and possible

future activities and outings.

Adate of July 8has been set

for the group's first full postcovid

gathering.

Mid Canterbury Ladies

Friendship Club president Avis

Kingsland said members had

missed not being able to get

together during lockdown.

They had kept in touch via

telephone, and did hold any

Zoom meetings, but were now

delighted to be able to meet

again.

''It's been great to share a

yarn with the committee and to

be able plan things again. I'm

looking forward to seeing our 80

members next month at our

Enjoying acatch-up and cup of tea at the recent Mid Canterbury Ladies Friendship Club

committee meeting were (from left) Ann McKay, Joy Smith, Avis Kingsland and Val Johnson.

usual venue, the Doris Linton

Lounge at the RSA.''

The club meets at 9.45am on

the second Wednesday of the

month for fun, fellowship and

friendship, and was not about

fundraising.

The first meeting was likely to

include aslot that discussed

experiences during lockdown.

New members were very

much welcome to attend, Mrs

Kingsland said.

Mid Canterbury has five

friendship clubs, two for men

and three for women.

Previously, clubs had the word

Probus in their names.

Students spin out $2k for Sallies

New GrantRounds

2020/2021

Up to $10,000

Feb, April, July, August

Over $10,000

May, October

See website forclosing dates

and to makeanon-line application

www.comtrust.org.nz

To discuss any applications

Phone:

03 687 7360 or 0800672287

Email:

msccomtrust@xtra.co.nz

2251128

Hundreds of kilometres cycled

by the Ashburton College senior

student executive resulted in

donations of cash and food

worth $2000 at the weekend.

Fifteen members of the

student exec rode, in rotation,

two stationary cycles for 24

hours. They were aiming to raise

the profile of essential workers

during Covid­19 lockdown and

collect donations for the

Salvation Army's foodbank.

Deputy head boy Kyle

Cabangun said the group

received plenty of

encouragement from shoppers

when they cycled outside

Countdown North's store on

East Street. With afew hours to

go, students who had been

awake for nearly the entire time

were starting to flag.

But guest cyclists, including

English teacher Michael Clark

and Rangitata MP Andrew

Falloon, provided timely boosts.

Spinning their wheels were (from left) Kyle Cabangun, Henry Chapman, Jonty Small, Maria

Costas, Penny Stilgoe and Michael Clark.

Useyour outdoor living areas all year round

• Warm &dry in winter • Stylish &permanent

• UV protection forsummer • 5year warranty

Call your local installer

BrentPatterson based in Geraldine

CALL FOR A

FREE QUOTE

MID &SOUTH CANTERBURY

Freephone 0800 777 855 l www.archgola.co.nz

2128195

Tamara keeps cleaning for library

Twelve­year­old Tamara

McGrath is volunteering on a

regular basis after enjoying a

tasteofcommunityservice when

working towards agirl guides

badge.

The Year 8Ashburton

IntermediateSchool student

cleans toys at Ashburton Toy

Library once amonth for afew

hours.

She is steadily working her way

through alarge selection offered

through the library.

Tamara doesn't mind getting

her hands dirty.

Some items are cleaned with a

toothbrush and soapy water,

while others are wiped down.

Cleaned items are marked off a

long inventorylist of toys and

dated.

''I enjoyed helping out when I

was doing my guides community

hours, so Ithought why not

continue helping.''

Tamara said she enjoyed

seeing mums and their children

come in and then walking out

with borrowed bags of toys and

games.

She was now aranger in the

guides and said it felt good to give

back to acommunity group.

Left: Tamara McGrath at work cleaning at Ashburton Toy

Library.
---
Local news at www.starnews.co.nz Ashburton's The Courier, Thursday June 18, 2020, Page 15
---
Page 16, Ashburton's The Courier, Thursday June 18, 2020

Local news at www.starnews.co.nz
---
Local news at www.starnews.co.nz Ashburton's The Courier, Thursday June 18, 2020, Page 17
---
Page 18, Ashburton's The Courier, Thursday June 18, 2020

Local news at www.starnews.co.nz
---
Local news at www.starnews.co.nz Ashburton's The Courier, Thursday June 18, 2020, Page 19

21-27

June

2020

Volunteering to help others

JanetOlds volunteers to help others and

helpsorganisations helping others.

But it also lifts her spirits and keeps her

active.

She has been volunteering for five

years.

It's something she started after retiring;

she had acareer as anursefor 24 years

and before thatwas ateacheraide/

clerical assistantather now­adult

childrensschool.

She'salways had jobs helpingpeople.

When sheretired from work, in her late

60s, Janettook sometime to re­adjustto

non­working life, thenwent looking for

something to do to help others.

Volunteering fit her personal needsso

was adoubleblessing.

''Itgives you afeeling of selfsatisfaction,

knowing that you're helping

withothers wellbeing.''

Now days she can be found

volunteeringat206 Club either helping in

the kitchenorinthe hall.

Or helping at St David'sChurch or at

Age Concernwhere she is also a

committeemember.

Janet is also an advocatefor resthome

residents and theirfamilies, helps with

Altrusa footclinicsand is amemberof

the Friendship Club.

Photo: JanetOlds volunteers to help

others but gets alot in return.

Make aheart to show support

Mid Cantabrians are being urged

to make heart art to show

support for the districts

volunteers.

It is part of national volunteer

week which runs from June 21 to

27.

Volunteering Mid &South

Canterbury co­ordinatorDellwyn

Moylansaid the communitywas

fortunate to havesomany

amazing volunteers and they

neededtoknow just how much

they were valued.

''We are asking everyone in

Mid Canterbury to make aheart

or fourormore, placethem in

your windows ­inyour house,

shop or car, place them on your

fence,atree,your letterbox, your

office door or desk, your

classroom walls, draw them on

your fence or footpath,

anywhere,'' she said.

''Let'ssmother Mid

Canterbury withhearts thanking

all the wonderful volunteers in

our community.''

She said the hearts could also

havemessagesofthanks written

on them to volunteers in any area

including youth,elderly,children,

cultural, emergency services,

heritage,sports, arts, safety,

events, health, socialservices,

environment and animals.

''Ourcommunity is fortunate

to have so many amazing

volunteerssolets show our

heartfelt appreciation to them.''

Miss Moylan saidthe

organisation would enjoy seeing

photographs of completed heart

art, which can be emailedto

volmidcant@gmail.com

Anyone wanting aheart

outline can make contact with

VolunteeringMid &South

Canterbury volmidcant@gmail.

com or ph 3081237ext 240.

Stronger when working together

National Volunteer Week 2020

themeistehua otemahi tahi/

the benefit of workingtogether.

It runs from June 21­27.

The Mid Canterbury office of

Volunteering Mid &South

Canterburywanttocelebrate

how communities are stronger

when working together.

Theyhaveseveralways to

show this during National

Volunteer Week2020 and are

usingaheartastheir symbolthis

year because volunteersare the

heartofour community.

New Zealandhas aformal

volunteeringworkforce of 21.5

per cent estimated at $4 billion

per annum, based on 159 million

hours of formal volunteer work.

That's not includinginformal

voluntary work done by

communitymembers.

''We aresofortunate to live in

suchagreat,caring, supportive

andgiving community.

''We have again seen this

during Covid­19 how people just

look out for others and do

things for others.''

National Volunteer Week

honours the collective energies

and mana of allvolunteersin

Aotearoa.

''They growour people,open

minds, open heartsand create

joy.

''Andnomore so than during

their essential contributionto

communitiesbefore, during

Covid­19when our country's

volunteersrallied to keep

communities connected,tohelp

themget well, staywell,and to

answerthe call to uniteand be

kind.''

Volunteering Mid&South

Canterbury arecalling for

peopletomake heart art and,

thanks to theAshburton District

Council, will light up the

Ashburton town clocklit up in

redlightingduring the week.

Theyare alsokeentoshare

storiesinthe media and on

socialmediaoforganisations

working together forthe benefit

of our peopleand our

community.

Andpost­Covid­19are keen

to resume theirVolunteering

Mid &South Canterburyand

HotelAshburtonvolunteer of

themonthseries featured in the

AshburtonCourier, so are

encouraging people and

organisations to get their

nominations in now.

THANKYOU TO ALL OUR

VOLUNTEERSAND DONORS

FORYOURCONTINUED HELP

If youwould liketohelp,

phone Suz Hutchinson 03 2616907

Ashburton

Community House Mid Canterbury

are pleased to support National

Volunteer Week and welcome

enquiries from people wishing to join

the volunteer bank

Phone 308 1237

44 Cass Street

Thanks to all our wonderful

volunteers who are

involved in our many

SaferMid Canterbury

projects

Your continued support

helps change lives

44 Cass Street,Ashburton

If interested in learning about our volunteer

opportunities,please contactuson:

Phone 308 1395

or email info@safermidcanterbury.org.nz

www.safermidcanterbury.org.nz

2286963

2286797

2286783

MID CANTERBURY GROUP

RIDING FOR THE DISABLED

Thank you to

all our valued

volunteers.

New volunteers

always welcome.

Further

enquiries to:

mcriding@outlook.com

2287033

Providing

therapeutic riding

rehabilitation and

horse related

activities for

those who may

benefit in the

Mid Canterbury

area. Trained

instructors and

volunteers hold

sessions on

Tuesday and

Thursday,

8:15am -2:30pm

Ashburton

Learning Centre

Ashburton

Learning Centre

Would liketothank all our volunteers

Without your continued support, our centre could not operate

Ourhomely centre givesstudents awarm, friendly,non-judgemental

and confidential environment.

We requireadults to become volunteer literacyand

numeracytutors.Full training is provided.

FIND OUT MORE BY CONTACTING

CnrPark&Havelock Streets,Ashburton

Phone: 308 5322 Email: adult.literacy@xtra.co.nz

2286874

At the Cancer Society, we know acancer

diagnosis can affectevery aspectofyour

lifeand we areheretohelp youthrough.

If youorsomeone youcareabout has

cancer or if youare interested in

volunteering please contactAnnie.

Cancer Society, MidCanterburyCentre

122 KermodeStreet,Ashburton

Phone 03 307 7691

2287059
---
Page 20, Ashburton's The Courier, Thursday June 18, 2020

Local news at www.starnews.co.nz

Money for youth

centre project

Pictured with some of the new life jackets are (from left) Ashburton Lions Club president Roger

Paterson, Allenton school pupil Zoe Collis, 7, EA Networks Centre assistant manager Richard

Wood, Ashburton Lions playhouse raffle convener Jeff King, and swim school manager Tayla

McAdam with swim demonstrator dummy Timothy.

Swim schoolsupport

Ashburton youthcentre

BASEwill use a

donation of $800 to

kickstartacourtyard

enhancement

programme at its

Burnett Street location.

The donation comes

fromBallance Agri

Nutrients and has been

given after arecent

clean health and safety

record in the cooperative's

upper South

Island region.

The Ashburton

service centre

nominated BASE for

the funds and has

supported other local

causes with similar

donations over the

years.

BASEco­ordinator

Jenny Rae saidthe

youth centre was

grateful for the

donation.

It wouldbeused to

makethe back courtyard

areaatBASE more

appealing.

Further fundraising

was needed, but the

upgrade project would

now be able to add

planter boxes, ashade

Denise Scrivener (left) from Ballance Agri

Nutrients Ashburton hands over acheque for

$800 to BASE co-ordinator Jenny Rae.

sail and other

enhancements to the

courtyard.

Vegetablesgrown in

the planter boxes would

be givenback to the

community, Mrs Rae

said.

She said youth

attending BASEwould

get involved with awall

art project to brighten

the walls in the

courtyard as well.

Proceeds from along­running playhouse raffle run

by Ashburton Lions Club have funded 14 lifejackets

and five new iPods for the aquatic centre at EA

Networks Centre.

The new equipment will be used to support the

Learn To Swim programme and water safety

education run through the centre.

Learn To Swim is abusy school age programme

with seven levels and classes of up to six children.

Swimmers start by gaining confidence in the

water and progress through to afocus on fitness and

refining their technique.

Skiers and snowboarders on Mt Hutt at the weekend.

Big numbers on Mt Hutt

Mt Hutt skifield has enjoyed arecord

opening weekend, with over 7000

people on the mountain between the

opening day Friday and Sunday.

"It was aroller­coaster of aride to

get to opening day. We weren't

expecting the crowds but were

delighted to see everyone out enjoying

the slopes again,'' said Mt Hutt skifield

manager James Mackenzie.

''We know we had guests travel from

around New Zealand especially, a

couple from the Coromandel came

down and agood crowd from the lower

South Island including Queenstown

and Wanaka."

Mt Hutt is open five days aweek in

June and then daily from July 1.

LIM reports bounce back

2284073

Land Information Memorandum (LIM)

reports issued by Ashburton District

Council in April tell the story of the

Covid­19 lockdown.

Just 14 LIMs were produced in April,

down from 85 in the same month in

2019.

Some 78 LIMs were produced in

March and 62 in February.

Numbers have bouncedback abit in

May and 50 were issued.

LIMs give you information about

stormwater or sewage drains, Historic

Places Trust protection, special land

features such as erosion or flooding, any

rates owing on the land and permits,

building consents and other certificates

previously issued by the local council.
---
Local news at www.starnews.co.nz Ashburton's The Courier, Thursday June 18, 2020, Page 21

Coming back

to lifeinour

water zone

The start of winter is usually atime

when we hunker down and while

there's always work to be done, for

many farmers and outdoor types it's

arelatively quiet season.

But after enduring an unforeseen

but necessary nationwide lockdown

over autumn, things are beginning

to pick up again for the Ashburton

Water Zone Committee.

After two months of discussions

held by email, late last month our

May meeting was held over Zoom,

with thanks to the people at the

Ashburton District Council who

helped bring us together through

technology.

It was achance for us to hear

about progress toward protecting

and enhancing the waterways which

are the lifeblood of the Ashburton

region.

Flowing through the heart of our

town is the Hakatere/ Ashburton

River, and the river's water take

consent review process is ongoing.

Some 90 consents to take water ­

either directly or indirectly ­from

the river are affected.

We recognise that implementing

aminimum flow regime in the river

will impact some water users more

than others, and while we

empathise with their situation, we

believe it is necessary to ensure

there is areliable source of water

for the environment, community

By Bill Thomas,

Chair of Ashburton

Water Zone Committee

and consent holders. Environment

Canterbury staff continue to help

those affected work through their

options.

It was also exciting to hear aplan

for Carters Creek. This waterway

originates just upstream of

Tinwald, flowing through the town

and farmland downstream before

reaching Lake Hood.

Testing has shown that

contamination in the water of

Carters Creek is from both urban

and rural sources, so acommunity

effort to rehabilitate this waterway

is agreat opportunity for town and

country to work together.

Our action plan for Carters

Creek includes working with

landowners on stock water access

issues; continuing to identify

contamination sources; and liaising

with ADC, community groups and

individuals on enhancement

projects that meet the biodiversity

objectives.

The Government recently

announced its Action for Healthy

Waterways policy. Implications for

the Ashburton district are not clear

yet, but this topic will be discussed

at our next zone meeting.

Above: The confluence of the

north and south branches of the

Ashburton River, near Melrose

Road.

Right: Ashburton Water Zone

Committee chair Bill Thomas

The Ashburton Water Zone

Committee typically meets on the

fourth Tuesday of the month at the

Ashburton District Council

Chambers.Our next meeting is

scheduled for June 23 and ­Covid­

19 restrictions permitting ­itwill be

open to the public. We encourage

members of the public to attend.

Ashburton Golf Club 9-holers

What abeautiful morning last Thursday

was ­35players gathered, with some of

us in top form as we made our way

around the course. Val Ferrier was

unbeatable, just days after celebrating

her 80th birthday, and Don McLeod's

putting was superb.

The weeks of lockdown and

restrictions disrupted our programme.

(The revised programme is on the club's

website.) Added to this issue, rain on

June 4stopped play that day. Therefore,

last week we played three competitions

in one.

The winners of the round three

matches for Marion Marshall (Net),

Jean Drummond (Putting) and Heather

Smith (Stableford) Trophies were: Val

Ferrier women's best net, 32, and

stableford, 22. Voucher from Flowers

@the Gate by Tone'e. Gavin Johnston

Purpose. Environment.

Partnership.Innovation.

Excellence.

men's Best Net, 34 and stableford, 20.

Voucher from Accountantz.

Men's best putting, Don McLeod (11)

and Women's best putting, Chris

Anderson (13) ­both won Club

Vouchers.

Runners up, winning club vouchers,

were Helen Argyle and Colin Fleming

(net &stableford), and Peter Woods

and Allison Glossop (putting).

Gobblers: Golf balls from Smith &

Church go to Denise O'Halloran, Don

McLeod, Chris Anderson and Alli

Glossop.

Today we'll play round 4ofthe

Marion Marshall Trophy (net) and Jean

Drummond Trophy (Putting),

sponsored by Netherby Pharmacy.

Players arrive at the clubhouse to

register by 9:45am. Tee off at 10am.

Andrew Falloon

MPfor Rangitata

I'm availablethrough

my offices:

AshburtonOffice

81 Harrison Street, Ashburton

03 3087510

rangitatamp@parliament.govt.nz

Timaru Office

139Stafford Street, Timaru

03 6831386

rangitatamp@parliament.govt.nz

Youcan also contactmedirecton:

andrew.falloon@parliament.govt.nz

• DairyNZ accreditedEffluent

Pond Design andConstruction

• Pond Constructionand

Irrigation Development

• Hedgeand Stump Removal

• Farm Conversions

• DairyTracks–

Lime or Gravel

• PumpHire

• Wellsand Galleries

• Bulk Earthworks

• Subdivisions

• Site Works

• Tree Shear

• Transportation

2281254

Authorised by Andrew Falloon MP,

139Stafford St,Timaru.
---
Page 22, Ashburton's The Courier, Thursday June 18, 2020

Local news at www.starnews.co.nz

Rural&Lifestyle

Students primed for ag nationals

Mid Canterbury school children

from Longbeach and Hinds schools

are gearing up for their online

AgriKids grandfinal tomorrow.

It's part of aweek long grand

finalsweek for AgriKids and FMG

JuniorYoung Farmer of the Year

contests;the young farmer

competitors started aseries of

hands­on activities this weekahead

of theirgrandfinal tomorrow. In

the finalAorangi is representedby

two teams, both from Geraldine

High School:Nicole Wakefield

Hart with Hannah White and

James Rowleywith Robert Furrer.

Longbeach School pupils

EdwardPottinger, Tabitha White

and TessMacdonald, Hinds School

pupilsKate Sheppard, Alison

Harbutt and Morgan Harbutt and

Longbeach Schools LiamLash,

Aiden Smollett and Milli Pottinger

will compete against 18 others

AgriKids teamsfrom around the

country.

New Zealand Young Farmers

CEO Lynda Coppersmith said it

had been amammothefforttoturn

the whole Grand Finalinto an

online event.

"The eventsteam,the family of

sponsors and everyone else

involved has put ahuge amountof

work in to completely reformat the

GrandFinal, doingsomething we

have never done before," she said.

"It'sbeen incredible to watch

and Iamsoproud of the team for

putting this together, as wellasall

of the NZ Young Farmers member

volunteers,competitors, teachers

and parents who havehelpedout

alongthe way and have been just as

excited as we are to hostit."

The first task for the FMG

Junior YoungFarm of the Year

competitors was to completea

farmlet challenge with both teams

in each region goinghead to head

at various locations nationwidelast

Saturday.

Overall, Northern Regioncousin

duo from OkaihauCollege, Nick

and Zoe Harrison, took out the

challenge and are currentlytopping

Primary exports up

Primary sector exports are on track

to grow by $1.7 billion on last year

helping underpin New Zealand's

Covid­19 recovery, says agriculture

minister Damien O'Connor.

"Overseas consumers are now

more than ever looking for healthy,

New Zealand­made food. We've

seen that with the sustained

demand for fresh fruit, particularly

in Europe and North America and

the strong demand for red meat in

China," Mr O'Connor said.

"Our farmers and growers are in

astrong position to help us reboot

our economy.

''Along with the sector, the

Government is focused on creating

more demand, pursuing greater

market opportunities to generate

higher export returns and growing

rural communities with new jobs.''

In lieu of the June 2020 edition

of the Situation and Outlook for

Primary Industries (SOPI),

Ministry for Primary Industries

released the Economic Update for

the Primary Industries, showing for

the year­to­date primary industries

export revenue is tracking 4.5 per

cent ($1.7 billion)higher than the

previous year.

Dairy exports were particularly

strong since the start of March, up

$512 million (12 per cent)

compared to the same time last

year.

Chinese meat imports surged in

the second half of 2019. The animal

protein shortage, due to the

African swine fever outbreak in

China, should help support prices

and demand over the next year.

Therewas astrongstart to the

season for apple and kiwifruit

exporters with revenue up $274

million (18 per cent) on last year

since the start of March.

Mr O'Connor said the report

provided asnapshot of how Covid­

19 disrupted New Zealand's

primary industry exports.

the leader's boardout of the 14

teams.

Volunteers from Young

Farmers' Clubshelpedtofacilitate

and judgeeach regional event

where teams had to create a

tumbling composter using abarrel.

They then had untilWednesday

to hand in their innovationprojects

for judging and were giventheir

speech topics for tomorrows final,

which also includes and online

exam and aseries of modules.

The top fivepoint scoring teams

will progress to a'face off'

competition to battle it out in a

Young Farmer of the Year styled

quiz.

The AgriKids teamswill also be

going head to head in an exam,

modulesand completing an agritask.

The top fiveteams will thenhead

into afinal 'race off'.

There willbelive updates online

as well as alive stream of the face

off and awards ceremony through

the Teen Ag Facebook Page.

Farm software tool

Overseer improved

Farmers and growers will now find

it easiertomodel on­farm nutrient

flows after additional

improvementshave been made to

OverseerFM.

OverseerFM, afarm

management softwaretool, allows

users to divide theirproperties into

'blocks' with each block typically

representing areas with similar

physical characteristics and

management practices.

However, anew "Simplify"

function in OverseerFM allows

users to merge blocks with the

same attributes withinasingle

analysis and display on­screen.

Blocks can be grouped together

if they have the sameattributes

such as pasture, crops and fruit or

management activities such as

fertiliser, effluent andanimals.

AgriKids Aorangi regional winners Tabitha White, Tessa Macdonald

and Edward Pottinger, of Longbeach School.

Overseer Ltd chief executive Dr

CarolineRead said the

improvement has been made

followingfeedback from

subscribers.

"Farmers and consultants

regularly told us that the number of

blocks requiredinthe old legacy

softwarewas aproblem. In legacy,

each block could only have one soil

and up to asingleirrigator. In

many cases, this resulted in

analyseswith avery large number

of blocks.''

It was time­consuming and at

times proved difficult to

understand.

"Someofthese blocksare also

very small,and as such, have very

little impact on the results,while

still creatingacostfor maintaining

the analysis.''

Hinds 70th

plough

Ploughman Cliff Begg took out the title

after apoints recount in the Vintage

Open competition of the Hinds

Ploughing Association match at Hinds

on Saturday.

The points error was picked up the

following day and gave him awin over

second­placed Bruce Graham and thirdplaced

Lionel Parnham.

Roger Smith and Dave Allan placed

fourth and fifth respectively.

The ploughing match, the 70th for the

Hinds association, was at the property of

Ian Lowe on Swamp Road and saw 26

ploughers take part in near perfect

conditions on grass soils.

It was aslight frost in the morning

which turnedinto asunny calm day.

Other results went to: Silver Plough

qualifying ­first Ian Woolley, second

Adam Mehrtens; Vintage qualifying ­

first Pearce Watson, second Robert

Weavers; and Horse plough ­first John

Chynoweth and second John Booth.

2244415
---
Local news at www.starnews.co.nz Ashburton's The Courier, Thursday June 18, 2020, Page 23

Property Brokersare

openfor business

and herefor you!

Circles, Bubbles and Water

Over 150years ago our forebears left the Emerald Isles and the Mother Land heading

across the water to the ShakyIsles. Theyleft behind them the povertyand uncertainty

of lifeastheyhad known it formanyhundreds of years and setforwardwith anticipation

and trepidation around the circle known as the globe to Down Under. With pioneering

spirt combining intellectand sharehardwork and determination theybuiltour country

generally around agricultureasweknowit today.

ForSale

Manylanded in good pockets of soil and harbours and in destinations that were akin

to their country on the other side of the world. We hereinCanterbury were fortunate

enough to have amultitude of soil typesthat areonflat land suitable forharvesting

crops. Over the next 100 years New Zealandproduced the meat, fibreand grain and other

produce from these soils.

Fast forward100 years and we have the introduction of the borderdykeirrigation system

during the 1930s whichfacilitated even more production off these flat lands. Fast forward

another 50 years and the 1st well in New Zealand forirrigation wasdrilled in ourown

back yard at Seafield by astutefarmer challenging ideas combinedwith scienceand

again determination to change his land use. The professionals surrounding him, the

thought train out of Lincoln College which he wasanold boyofand the cando attitude

of the drilling crews of the day saw this to asuccessful conclusion.Iwasinvolvedinselling

this farm in the 1990's as this gentleman retired to town.

Thereafterwehave water bubblingupall over the South Island suitable forgrowing all

produce and taking aleadfromthis innovation that we had in our district.Originally 150

years agothe onlywater was at the Rakaia, Ashburton,Hindsand Rangatatarivers and

our County Councilhad implemented 26 creekstofeedthe sheep, we nowhaveprobably

2600 pivot circles to feed the world. Since then other collection methods have poppedup

and manylarge circles nowappear between Wanakaand Cheviot.

94 Thews Road

ForSale

The vegetables and production from our soils and our harnessing the intellectual property

and techniques involved in establishing growing/storing and exporting from our island in

the bottom of the south pacific surrounded by water is nothing but outstandingand it is

attributable to the pioneering spiritthat is in our DNA.

As in the circle of lifesome things don't change as we sentprimary produce to the

Mother Land we nowlook forwardtowhereour markets will be all around the globe over

the next fewyears.

TheCovid bubble and the shakeup which the international markets have enduredwill

makeusagainlook at howand whywedothings in different markets and with different

cultures. Even through Covid lockdown nothing much changed in the evolution of farm

sales in New Zealand. Our mortgaging system and attention to securities which we

inherited from thehomelands has allowedthe Banking system and business to continue

the cash flowthroughout our society via our bubble but in large circles of trust and love.

Property Brokers have been fortunateenough across New Zealand to be transacting

manyofthe rural land sales in the North and South Island. Because of our soil type the

circles and the waterI'm surethat ourdistrictiswell positioned to featureagain over the

next while in manyofthese transactions.

112 Wakanui Road

Auction

We just need to join the dotsand circles, nowweare outofJacinda's Kindylets pop the

bubbles and get this showonthe road.

Robert Harnett

Greg Jopson

027 447 4382

Chris Murdoch

027 434 2545

Rodger Letham

027 433 3436

Paul Cunneen

027 432 3382

Robert Harnett

027 432 3562

185 Chatmos Road

pb.co.nz

Property Brokers Ltd Licensed REAA 2008
---
Page 24, Ashburton's The Courier, Thursday June 18, 2020

Ashburton MSA Petanque Club

Our social days have started up again on

Tuesdays ­last week we had with agood

turn out of 24 ­and this week our

Tuesday social competition started up

again with 22 players taking part and the

rest playing socially.

Over the weekend, we played three

club competitions that had been

deferred because of the lockdown.

Club drawn doubles was won by Ellen

Pithie and Mavis Thompson. Runnersup

were Peter Marriott and Richard

Browne. Third were Francie Osborne

and Johnny Wright. Fourteen other

players took part.

Club men's drawn doubles was won by

Richard Browne and Trevor Nish.

Runners­up were Peter Marriott and

Gary Hogg. Club women's drawn

doubles was won by Ellen Pithie and

Karen Bensdorp. Runners­up were Jan

Araopens up -virtually

With the uncertainty and limitations

that Covid-19 alert levels have

brought to community events, Ara

InstituteofCanterburyhas decided to

switch its normal mid-year open day

to aVirtual Open Week.

Instead of a physical, on-campus

event onasingle day, Ara will host a

week of live Zoom presentations and

sessions that anyone can join from

anywhere.

Participants will be able to attend

information presentations on awide

range of subjects including health,

engineering, ICT, outdoor education,

art and design, early childhood

education and business. They'll

also be able to learn about student

Guilford and Shelagh Field. Third were

Betty King and Johnny Wright.

Our next club games are on July 11

and 12. The next tournament is at the

beginning of August.

Our AGM is Thursday June 25 and we

look forward to agood turnout.

Club drawn doubles from June 13 ­

Winners: Ellen Pithie and Mavis

Thompson. Runners up: Peter Marriott

and Richard Browne. Third: Francie

Osborne and Johnny Wright.

Club women's drawn doubles June 14

­Winners: Ellen Pithie and Karen

Bensdorp. Runners up: Jan Guilford

and Shelagh Field. Third: Betty King

and Johnny Wright.

Club men's drawn doubles ­Winners:

Richard Browne and Trevor Nish.

Runners up: Gary Hogg and Peter

Marriott.

serviceslikepastoralsupport,financial

supportand accommodation.

Participants can also join in on

question and answer sessions with

tutors and students and learn about

the studentexperienceatAra.

Those wanting to visit campus to

explore the facilities and classrooms

can book to joinasmall group tour in

the coming weeks.

Virtual Open Week takes place from

Monday 29 June to Friday 3 July,

with most Zoom presentations and

sessions taking place between 5pm

and 8pm. Afull schedule is available

on Ara'swebsite.

Find out more about Ara's Virtual

Open Week at ara.ac.nz or call

0800 24 24 76.

My patch: Mt Alford

Mt Alford track is afavourite

walk for Rangitata MP Andrew

Falloon.

Car park and access to the

track is from the end of Alford

Forest Settlement Road, just off

Scenic Highway 72, just 30

minutes from Ashburton.

The track is 4.6km in each

direction, which for the return

journey takes him alittle over five

hours with afew stops along the

way.

''The first hour is surrounded

by luscious bush, crossing in and

out of private land and

Department of Conservation

estate. Then comes open

expanse, asteady climb through

grassy areas with terrific views

back over the plains and of

surrounding mountains. The final

hour to the summit is at times a

bit rough and rocky, but you're

rewarded at the end with a

stunning ridgeline walk to the

peak.''

Andrew said amoderate level

of fitness was required.

''Parts weren't easy, and

younger kids might struggle a

little with the final climb to the

summit.''

Dogs are not permitted.

Access easements are closed

from September 20 to October 20

for lambing and calving.

His favourite part of the track?

''The wander through the bush

is anice way to start, and about

half way up the track there is a

MP Andrew Falloon on his favourite walk.

picnic table with aterrific view if

you are looking for an easier and

shorter walk.''

He says the trickiest part of the

track is at the end, rocky terrain

without alot of scrub or grass.

''But take your time and you'll

get there.''

Andrew says there's a

fascinating history behind the

track. ''In 1882 afellow from

Christchurch claimed he'd found

diamonds at Mt Alford.

Unsurprisingly it started abit of a

rush, with prospectors applying

for 20,000 acres of land, and even

Local news at www.starnews.co.nz

asettlement called Diamond

Town of 161 quarter acre sections

planned. It all fell apart when the

testing came back to confirm

what was found was merely

crystal.''

He says the Staveley Store, a

short drive from the track car

park, is agood place to stop for a

treat on the way out. ''Reload on

calories with one of their

excellent lamb sausage rolls.''

We'd love to hear about your

favourite track or ride. Please get in

touch with Linda.

Clarke@ashburtoncourier.co.nz

Discover how to get the skills

you need for the job you want!

At Ara's Virtual Open Week you can join Zoom meets with all our

departments, participate inQ&A sessions with tutors and students,

and book asmall group campus tour.

5pm-8pm, 29 June –3July

Join inat

ara.ac.nz/open-week
---
Local news at www.starnews.co.nz Ashburton's The Courier, Thursday June 18, 2020, Page 25

Spartans have tough first up game

The Mid Canterbury Spartans head

to Nelson tomorrow for atough

initiation into the world of first XV

rugby.

Ashburton College principal

Ross Preece will travel with the side,

which is acombined team of

Ashburton College and Mt Hutt

College players.

Coach Shane Enright said apreseason

warm­up game against a

Timaru Boys' High School side had

been agreat confidence builder last

weekend, but resulted in aknee

injury to newly­named captain

Michael Hennings.

It is likely Hennings will be out

for several weeks, leaving first­five

Sam Ree to lead the team.

Enright said taking on defending

UC Championship winners Nelson

College would be ahuge experience

for his side. Many had played under

16 rugby last year and were stepping

up to first XV rugby as part of a

rebuilding phase for schoolboy

rugby in Mid Canterbury.

Covid­19 stopped the Spartans

from holding atwo­day teambuilding

camp prior to the season

and Enright said the trip to Nelson

would also be great bonding time.

The group will stay at achristian

camp near Wakefield and take on

Nelson, at the school, on Saturday

at 11am. They will return to

Ashburton later that night.

Enright said he was pleased that

the squad had stayed motivated

during lockdown, posting their

individual trainings to encourage

others.

The warm­up game had been a

good hit­out and put their bodies to

the test.

Enright said the coronavirus had

delivered awin in the shape of

Heartland coach Jason Rickard.

Rickard had been set to coach the

Mid Canterbury senior

representative side this season but

the Heartland competition has been

cancelled because of Covid­19.

Rickard had initially agreed to

help the players improve scrum and

lineout skills pre­season, but he is

now on board for the next 13 weeks.

Photo: Pasi Hala scores for the

Mid Canterbury Spartans in their

33­17 win over aTimaru Boys' High

School side.

Home win for Mid Canty senior team

Mid Canterbury United player/coach Luke Martin (in blue and red) goes for

the ball in Saturday's game at Ashburton. (Photo: Doug Bovett)

Local junior football

competitions kicked off

on Saturday and the

district's top team

claimed its first win in

the Canterbury

Championship League.

Afrosty, sunny

morning greeted juniors

on Ashburton Domain

pitches for the start of

age group competitions

featuring boys and girls

aged between four and

14 years.

Atotal of 31 teams

played in domain games

on Saturday, while two

teams travelled up to

Christchurch.

The Mid Canterbury

United Football Club

senior team kicked off at

2.45pm in the domain

and in perfect conditions

played out aclose match

against visitors Burwood.

Burwood took the lead

early in the second half

and looked like they

might get agrip of the

game.

But atimely penalty

levelled the scores and

Mid Canterbury added

two more goals to claim

the victory. One goal

came from awicked and

fortuitous bounce and

another from the penalty

spot.

Mid Canterbury was

beaten 4­1 by FC

Twenty11 in last week's

first game of the season,

while Burwood won 3­2

against Waimak Utd.

Mid Canterbury plays

Universities away this

Saturday.

Cycling results

Mid Canterbury Social

Wheelers, June 13

1st. Alan Johns 32m 53s.

2nd. Rachel Russell 33m 48s.

3rd. Rob Redmond 27m 19s.

4th. Martin Hydes 25m 43s.

5th. Doug Coley 26m 34s.

6th. Nick Grijns25m 44s. 7th.

EmmaHudson 27m 45s. 8th.

Don Sutton 27m 46s. 9th.

Ross Templeton 27m 46s.

10th.Rachel Reid 27m 47s.

11th. Don Morrison 26m

37s. 12th.Sam Barltrop26m

38s. 13th.Kenny Johnston

29m 38s. 14th. Dave

Shurrock 29m 38s. 15th. Ross

Proctor 29m 39s. 16th. Matt

Marshall 25m 50s. 17th. Troy

McDowel 26m 40s. 18th.

Dave Knight 23m 05s F/T.

19th. Tony Ward 23m 05s.

2f/t. 20th.Kevin Opele 23m

06s 3f/t.

21st. Michael Gallagher

24m 36s. 22nd BradHudson

23m 07s.4f/t. 23rd. Rob

Hooper 24m 37s. 24th. Mark

Summerfield 23m 08s 5f/t.

25th.KristineMarriott 24m

43s. 26th.Simon Chapman

24m 44s. 27th. Kerry Clough

31m 50s. 28th. Liz Wylie 31m

50s. 29th.Brent Hudson 31m

51s. 30th.Colin Teahan 30m

20s.

Tinwald Cycling U17

Development, June 14

Opening Day. Open 4km

TimeTrial. 1st. Amwolf

Artz5m 27s. 2nd. Ryan

Gallagher 5m 42s. 3rd.

Austin Earl 5m 53s. 4th. Zoe

Nichols 6m 05s. 5th. Jack

Templeton 6m 07s. 6th.

Konrad Artz 6m 10s. 7th.

Tineke Artz 6m 11s. 8th. Alex

Kenure Blackler 6m 15s. 9th.

Eliza McKenzie 6m 41s.

Second race: TeamsRelay.

Winning Team Amwolf Artz,

Austin Earl,Alex Kenure

Blackler, Eliza McKenzie,

Amwolf Artz.Team Time

29m52sec. Runner­up team

Ryan Gallagher, Zoe

Nichols, Jack Templeton,

Tineke Artz,Konrade Artz.

Team Time 31m 21s.

Sports draws

Rugby

The Mid CanterburyRugbydraw

for Saturday:

Seniors, WattersCup ­Hampstead

vCeltic, 2.15pm, Hampstead 1, K

Faalogo, AMcGirr,MSouthby (also

TravisDurham Trophy). Rakaia v

Southern, 2:30pm, Rakaia1 HGrant,

JO'Connor, GBarr.

Senior B, MichaelDuffMemorial

Trophy ­AllentonvMethven,

2.15pm, Allenton, GJopson.

Collegiate vSouthern, 2.15pm,

Collegiate 1, NForbes,JRobinson, C

Marshall.MtSomers vCeltic,

2.15pm, Mt Somers, CKelland.

Senior Women ­Linwood vCeltic,

TBC.

Pre­season Colts ­Methven/

Rakaia Colts vPrebbleton Rakaia1,

1pm,JO'Connor.

1stXVUCChampionship ­

Nelson College vAshburtonMC

Combined, Nelson, 11am.

Pre­Season Under 13 ­Methven v

Darfield, Methven 1, 11.30am, G

Barr.

Pre­Season Under 18 ­Mid

CanterburyAlps vPrebbleton Rakaia

2, 1pm, PEverest.

Hockey

Mid Canterbury Hockey

Association draw ­19June to 24 June

Grade Dates/TimesTeams

SMALL STICKSDUTY CLUB:

Allenton Friday 19 June

KiwiSticks (Yr 5) 3.45 pm

Methven vAllenton (Turfa)GMuir/

Coach Wakanui Black vTinwald

(Turf b) DLaw/Coach Rakaia (BYE)

4.30pmTinwaldFoothills vWakanui

Blue(Turf a) DLaw/Coach Kiwi

Sticks (Yr6) Tinwald Foothills v

Wakanui (Turf b) GMuir/Coach 5.15

pm CollegiansD&EvAllenton

(Turf a) RKidd/Coach Rakaia v

Tinwald (Turf b) DLaw/Coach 6.00

pm MethvenBlack vMethven

White (Methven) RKidd/Coach

1st GradeWomen 6.50pm

Hampstead vMethven(Wakanui/

Hampstead Blue) 8.00pmWakanuiv

Hampstead Blue (Hampstead/

Methven)

Connetics SSL Div 1Boys Draw

unknown (Umpires supplied)

Connetics SSL Div 2Boys Draw

unknown (Umpires supplied)

SMALL STICKSDUTY CLUB:

Allenton Saturday 20 JuneMini

Sticks 10.15 am Tinwald Foothills v

Hampstead (Turf a) Coaches

Allenton vWakanui (Turf b)

CoachesMethven Yr 4vTinwald

(Turf c) Coaches Methven Yr 3v

Wakanui Blue (Turf d)

SeniorWomen4.50 pm TIM

GeraldinevWakanui Umpires

supplied

SeniorMen 2.40pmOAM Tainui

vWakanui Umpires supplied

Sunday 21 June

2nd Grade Girls1.05 pm TIM WD

Temuka vTinwaldUmpires Supplied

2.55pmTIM WD Craighead2nd XI

vWakanui Umpires Supplied

1st GradeMen 4.00 pm Tinwald

Black vTinwald Orange (Hampstead

Lowcliffe/Wakanui)

5.15pmHampstead Wakanui v

Allenton (Tinwald Black/Tinwald

Orange) 6.30 pm Hampstead

Lowcliffe vWakanui (Hampstead

Wakanui/Allenton)

Tuesday 23 June

KwikSticks (Yrs 7&8) 4.00 pm

Wakanui Blue/CollegiansvWakanui

Black (M WilsonGOates) 5.15 pm

Tinwald Orange vMethven (L Ellis B

Trusler­Clark) 6.30pmTinwald

FoothillsvAllenton (WakanuiSnr

Men x2)

Stay fit &earn $$$

at the same time

Spend a couple of hours

every Thursday delivering the

Ashburton Courier and Realty in

the Ashburton urban area.

Enjoy the fresh air, stay fit and

reap the health benefits!

Phone Jann todayon308 7664

to get startedoremail

jann.thompson@ashburtoncourier.co.nz

2264292
---
Page 26, Ashburton's The Courier, Thursday June 18, 2020

Local news at www.starnews.co.nz

OPEN HOME

Saturday10:30am -11:00am

98 PagesRoad, Allenton

4

2

2

MakingDreamsaReality belowrateable value

Seeking afamily wanting space, and

easycare living. Room forthe toys and

motorhome and friendly neighbours that

you can go away withoutworry.

This home is not just beautiful, but a

home that iseverlasting forafamily

or downsizing from the country. Great

thought and attentionwas placed by the

ownerswhen theydesigned this home,

so that itflowed well, was practical and

up market.

Quality constructed in the mid 90's, this

is avery noticeable home with fabulous

street appeal, large grounds for gardening

or play and sunny outlook from the living

and bedroom areas.

Located inone of Ashburton's desirable

areas, this home has 4good bedrooms,

open plan kitchen, living, lounge and a

large laundryand largedouble garagewith

internal access.

Recently re-carpeted and alot of internal

painting, this home will look great with

your own furniture and decor touches.

A fantastic home for entertaining or

relaxing and ready to move to when you

are.

ForSale

$570,000

Lynne Bridge

027 4106216

lynne.bridge@raywhite.co.nz

RayWhite Ashburton 03 307 8317 96Tancred St, POBox 443, Ashburton 7700, New Zealand rwashburton.co.nz

Mid Canterbury Real Estate Limited Licensed REAA (2008)

rwashburton.co.nz/AHB22698
---
Local news at www.starnews.co.nz Ashburton's The Courier, Thursday June 18, 2020, Page 27

SATURDAY 20TH JUNE

7Beach Road, Ashburton 10:00-10:30am 4 1 2 AHB22696

17 GrayStreet, Hinds 10:00-10:30am 2 1 2 AHB22728

14 Williamson Place, Ashburton 10:00-10:30am 2 1 1 AHB22711

8Ascot Place, Ashburton 10:30-11:00am 3 1 1 AHB22712

98 Pages Road, Ashburton 10:30-11:00am 4 2 2 AHB22698

216/1 Walnut Drive, Ashburton 10:30-11:00am 2 1 1 AHB22799

23 Galbraith Street,Ashburton 10:45-11:15am 3 1 1 AHB22769

19 Whiteoak Grove,Tinwald 11:00-11:30am 4 2 2 AHB22718

18B Aitken Street,Ashburton 11:00-11:30am 3 1 2 AHB22750

6Reddecliffe Crescent, Tinwald 11:15-11:45am 3 1 1 AHB22757

119a Racecourse Road, Ashburton 11:30-12:00pm 4 2 2 AHB22588

94 Spaxton Street, Methven 11:30-12:00pm 4 2 2 AHB22643

12 Charles Street, Ashburton 11:30-12:00pm 4 1 1 AHB22540

109 Walnut Avenue, Ashburton 12:00-12:30pm 6 2 3 AHB22659

11 Charlesworth Dve, Ashburton 12:00-12:30pm 4 3 3 AHB22611

157 Wilkins Road, Tinwald 12:00-12:30pm 4 2 6 AHB22748

79 Main Street, Methven 1:00-1:30pm 2 1 2 AHB22770

33 TorbayAvenue,Lake Hood 1:00-1:30pm 3 2 2 AHB22768

7McElrea Place, Ashburton 3:00-3:30pm 3 1 1 AHB22732

Open Home

19 Whiteoak Grove, Tinwald

4 2 3

SUNDAY21STJUNE

NO OPEN HOMES TODAY

-4Bedrooms

-Master Bedroom with WIR &Ensuite

-Open plan kitchen, dining &lounge

-Designer Kitchen -Butlers Pantry

-3car garaging, loft &extra parking

-Kwila decking &spa

-Beautifully landscaped &fenced

If you are looking for the best of the best, then this is the

home foryou! Beautifully appointed inside and out.

This home has it all plus more!!

ForSale

$700,000

View

Saturday11:00 -11:30am

Cheryl Fowler

027 461 2614

rwashburton.co.nz/AHB22718

Mid Canterbury Real Estate Limited LICENSED (REAA 2008)

Open Home

216/1 Walnut Avenue, Ashburton

3 1 1

View our listings online at: rwashashburton.co.nz

Conveniently positioned within easy walking distance to

shops.This charming twobedroom flatfeelsfar from the city's

hustle. Features double glazing, heat pump and log burner.

Also ceiling and underfloor insulation and is cosy warm. Nicely

fenced off rear court forthe family pet orkiddies playarea.

ForSale

$249,000

View

Saturday10:30 -11:00am

Mike Grant ncre

021 272 0202

4

rwashburton.co.nz/AHB22799

Mid Canterbury Real Estate Limited LICENSED (REAA 2008)

Open Home

33 TorbayAvenue, Lake Hood

119a Racecourse Road, Ashburton

4 2 2

-3 bedrooms, master with ensuite and WIR

-Entertainers kitchen, dining, living area

-Main bathroom with bath

-Separate laundry &toilet

-Double internal carpeted garage

ForSale

$499,000

View

Saturday1:00 -1:30pm

Kim Miller

027 236 8627

Welcoming entrance leading toaSunnylarge open plan

Kitchen/Dining/Living. Flows to sun drenched patio and

private courtyard. Separate formal Loungewith featured

vaulted ceiling. Three double bedrooms and aspacious

office or fourth single bedroom. Large Double Garage.

ForSale

$775,000

View

Saturday11:30 -12:00pm

Chrissy Milne

027 290 6606

rwashburton.co.nz/AHB22748

Mid Canterbury Real Estate Limited LICENSED (REAA 2008)

rwashburton.co.nz/AHB22588

Mid Canterbury Real Estate Limited LICENSED (REAA 2008)

Jill Quaid

Manager

027 437 6755

RichardQuaid

Sales Consultant

027 454 4745

Kim Miller

Sales Consultant

027 236 8627

ChrissyMilne

Sales Consultant

027 290 6606

Margaret Feiss

Sales Consultant

021 751 009

ShirleyFitzgerald

Sales Consultant

027 220 1528

Denise McPherson

Sales Consultant

027 242 7677

Cheryl Fowler

Sales Consultant

027 461 2614

Armand vander Eik

Sales Consultant

021 597 527

Lynne Bridge

Sales Consultant

027 410 6216

Mike Grant ncre

Sales Consultant

021 272 0202

Mark Totty

Sales Consultant

021 664 113

BruceMcPherson

Sales Consultant

027 438 4250

Justin Waddell

Sales Consultant

027 437 1111

Jarrod Ross

Sales Consultant

027 259 4644

RogerBurdett

Sales Consultant

021 224 4214

96 TancredStreet, Ashburton 03 307 8317 Main Road,Tinwald 03 307 8317

rwashburton.co.nz

36 McMillan Street,Methven 03 303 3032
---
Page 28, Ashburton's The Courier, Thursday June 18, 2020

NEWLISTING

open

homes

First Home Buyers From 10%Deposit $310pw (Conditions apply)

First Home Buyers From 10% Deposit $293pw (Conditions apply)

view anyofour properties fromthe comfort of

your home in 3D...because youcan!

103 Forest Dr (M100)

• Don'tmissout on

this

cracker first home or

holidayhome!

•Well positioned for

the sun

•Three bedrooms plus

en suitewith walk in

shower

•Private &secure

$PBN BIR

$370,000 -$400,000

Open Sat20June

11.30 -12.00pm

4 2 2

11 TrentPlace (LH070)

• Substantial,quality

home with stunning

waterfront views

•Welldesigned interior

with walk in pantry

•Superboutdoor

entertaining with

access to private

jetty&canals

$PBN BIR

$719,000 -$739,000

Open Sat20June

12.00 -12.45pm

4 2 2

4Andrew St (W695)

•Modernised open

plan kitchen/dining,

large living area

•French doors into

spacious lounge

•Modern bathroom

with walkin shower

•Large bedrooms,

with French doors &

patios. Spa pool

$PBN BIR

$349,000-$379,000

Open Sat20June,

10.00 -10.30am

4 1 2

10 ArgylePl (W698)

PRICE ADJUSTMENT

First Home Buyers From 10%Deposit $251pw (Conditions apply)

First Home Buyers From 10% Deposit $335pw (Conditions apply)

Local news at www.starnews.co.nz

Trevor Hurley Real Estate Ltd LREA 2008 -MREINZ

47A Aitken St

54 Cridland St

Rakaia (R067)

•Wellmaintained brick

home on easy care

section

•Close to all amenities

•Easy commuteto

Christchurch and

Ashburton.

•Vendor says sell!!!

Offers Over $299,000

Open Sat20June,

10.30 -11.00am

2 1 1

46A EtonSt (E696)

•Openplankitchen/

dining,perfect for

entertaining

•Heatpump to keep

youwarminwinter&

cool in summer

•Double glazed

•Securefencing

forchildren, low

maintenance section

•Three gardensheds

OffersOver$389,000

Open Sat20June

1.00-1.30pm

3 2 2

(E699)

•Modern, large

townhouse

•Extra spacious living

•Indoor outdoor living

paramount

•Quality design&

privacy

SetSale:7July 2020 @

2PMUnlessSold Prior

$PBN BIR

$469,000 -$499,000

Open Sat20June

11.30 -12.00pm

3 2 2

76 Thomson St (T303)

First Home Buyers From 10%Deposit $285pw (Conditions apply)

•Magnificenthome in

soughtafter location

•Large formal lounge,

open plan living areas

•Master with ensuite

•Three double

bedrooms plus office

•1294m² section

$PBN BIR

$550,000 -$580,000

Open Sat20June,

12.15 -12.45pm

4 2 2

50a BeachRd (E664)

•Modern townhouse

•Double glazed, very

sunnyaspect

•Private,fullyfenced

and easycaresection

•Heatpump &gas fire

•Double garage with

internal access

•Veryclose to shops

Offers Over$339,000

Open Sat20June,

11.00 -11.30am

2 1 2

First Home Buyers From 10%Deposit $251pw (Conditions apply)

First Home Buyers From 10% Deposit $201pw (Conditions apply)

Proud supporters of the HeartFoundation of NewZealand! Wedonatefromevery property sold!

•Permanentmaterial

home with log burner

&heatpump.

•Compliantwith the

current residential

tenancyact &tenants

who want to stay

•Warmand sunny

Offers Over $299 ,000

Open Sat20June,

11.30 -12.00pm

3 1 1

98 George St (T302)

•Great property fora

first home buyer or

investor

•Open plan living.

•Private entertainers

deck

•Easy caresection

•Situated on the

Westside of Tinwald

in aquiet street

Viewing By

Appointment

3 1 0

Trevor Hurley

0275 435 799

Tracey Henderson

027 405 8064

Manu Otene

022 308 6885

Linda Cuthbertson

0274087965

Stephen Watson

027 433 9695

Julie Srhoy

021 354 885

Deborah Roberts

0210752180
---
Local news at www.starnews.co.nz Ashburton's The Courier, Thursday June 18, 2020, Page 29

WANTED TO BUY

CARAVAN: Older type NZ

made family caravan. Also

drum set, single snare

drum and accessories.

Anything considered.

Phone 03 308 5193, 027

204 9709

PHOTOGRAPHS

FOR SALE

The Ashburton Car Club's grass motorkhana was agreat chance for drivers to let off some steam.

Have youhad your photo

taken by our reporters?

Order aPhotoToday!

¼Page*

$6

*approx 6x4

A5

$8.50

A4

$16

Ph: 308 7664

199 Burnett St,Ashburton

2279678

SELL

METAL, heavy etc. Free

light-grade metal in-yard

dumping 9am-5pm weekdays.

Ashburton Scrap

Metal Recyclers, 117 Alford

Forest Road (behind

Placemakers). Phone 03

308 8033 or 027 249 6625.

OLDER model Babylock

overlocking sewing

machine. Two thread or

four thread. Offers. Phone

308 4545.

LPG

REFILLS

Small LPG cylinders

Off Street Parking

Available

Arthur Cates Ltd

26 McNally Street

Ph 308 5397

Riverside Industrial Estate

LPG REFILLS

9kg cylinders

$27.50

Askabout our

deliveryservice

Anysizecylinderfilled

2281802

17 Grey St,Ashburton

Phone 307 2707

2281955

Advertising

that works!

Talk to Jann or

Karentodayabout

ways youcan reach

potential customers

or advertising with

thatspecial difference

-professional service

with asmile.

Phone:308 7664

199 Burnett St,Ashburton

PERSONAL

Alone Is No Fun…

Joinourmembersseeking

companionship/love!

Meetvia Personal phone calls not

computer matchups

25+years of matchmaking experience.

City/Ruralmembers of all ages (seniors

welcome!)

Call 0800 315 311

to seewho is waiting to meet you!

www.newbeginningsnetwork.co.nz

2279656

2202068

WHAT better place for a

public notice than Ashburton's

The Courier! Simply

clip the form for a run-on

advert like this or telephone

us on 308 7664 if you

require adisplay advertisement.
---
Page 30, Ashburton's The Courier, Thursday June 18, 2020

CROSSWORD

ENTERTAINMENT

BUSINESS OWNERS

Build customers,sales and

profits,with us ...

Over 16,065 copies delivered everyThursday

PRINT, ONLINE ANDMOBILE 24/7

QUICK PUZZLE NO. 8571

ACROSS

1. Honest (8)

6. Manage (4)

8. Final (4)

9. Adieu (8)

10. Room (5)

11. Smart (6)

13. Stick (6)

15. Powerful (6)

17. Intelligent (6)

19. Dance (5)

22. Opera (2,6)

23. Vegetable (4)

24. Halt (4)

25. Military rank (8)

DOWN

2. Vagrant (5)

3. Thing (7)

4. Present (4)

5. Annoying (8)

6. Cringe (5)

7. Animal (7)

12. Fidgety(8)

14. Inactive (7)

16. Complain (7)

18. Batch (5)

20. Intellect (5)

21. Back (4)

CRYPTIC PUZZLE NO.8571

ACROSS

1. Extracts the tickets, taking plenty of time (8). 6. Tatty

old garment, Eastern, that's the latest fashion (4). 8. He

got the Danes organised, somehow (4). 9. Abit of graft

crooked people go in for (8). 10. To try to tempt your appetite

will he cook with mustard? (5). 11. Answer to

"What's that flask?" (6). 13. Country butter melted, say

(6). 15. Go off orget led off, after the dog (6). 17. As

opposed to something that could be recited (6). 19. It's a

good thing the key's ready (5). 22. Plan to stay out, also

(8). 23. About ahundred an hour in the old days (4). 24. It

keeps acockney neighbour out of your garden: an advantage

(4). 25. How the shakes get progressively better? (8).

DOWN

2. Maintain arogue has nothing to lose (5). 3. Waiting to

work on the car? (7). 4. Atalent for getting something for

nothing? (4). 5.Not atrue reel, it'svery popular in Ireland

(8). 6. Send me right back with it (5). 7. No particular

rank (7). 12. Goes back over one'smisfortunes (8). 14. As

always, the coloured sheath is greatly admired (7). 16.

Answer the person "Wrong number" (7). 18. Money from

Europe, nothing less, changed in India (5). 20. Shine from

what was once aroom, we're told (5). 21. Spend money

on clothes for the baby boy? (4).

SUDOKU

MEDIUM No. 5223

7

6 3 5

2 3 5 8

5 4 9

1 5 8 2

7 6 2

3 6 5 2

1 9 5

4

Solution to previous Sudoku

Howto

solve

Sudoku!

Fill the grid

so thatevery

rowand every

3x3 square

contains the

digitals 1to9

6 2 1 7 8 3 4 9 5

8 9 3 4 5 6 2 1 7

7 4 5 2 9 1 3 8 6

5 1 2 9 8 3 6 7 4

4 8 9 6 7 2 5 3 1

3 7 6 5 1 4 9 2 8

1 6 8 3 4 9 7 5 2

2 3 7 1 6 5 8 4 9

9 5 4 8 2 7 1 6 3

Solution to previous crossword

QUICK PUZZLE NO. 8570 -SOLUTIONS

Across -1,Gash. 7, Voracious. 8, Moon. 9, Flea. 10, Full.

11,Tale.14, Vermicelli.16, Wallfower.19, Lash. 22, Grim.

24, Veal. 25, Pour.26, Oscillate. 27, Idle.

Down -1,Gamut. 2, Stool. 3, Roller.4,Safari. 5, Tiff.6,

Guiltless. 12, Albatross. 13, Evil. 15, Earl. 17, Lovely.18,

Wealth. 20, Avoid. 21, Horse. 23, Mail.

CRYPTIC PUZZLE NO. 8570 -SOLUTIONS

Across -1,He-a-t. 7, Spot-light. 8, T-oga (rev.). 9, Pa-I-r.

10, Nin-E. 11, Drew. 14, Ass-essm-ent. 16, Bad mistake.

19, Tes-s (rev.). 22, Snip. 24, A-jar.25, Les's. 26, Reflected.

27, Edge.

Down -1,Ha-Ted. 2, Angle (anag.). 3, Sprays. 4, Storms.

5, L-I-on. 6, Phoniness. 12, Rem-a-inder.13, W-arm. 15,

Meet. 17, Stan (I)ce. 18, A-bat-Ed. 20, E-me-nd. 21, Sus-

I-e. 23, Pelt.

ContactJann Thompson 03 308 7664 jann.thompson@ashburtoncourier.co.nz

CARPET 2You -For all your

flooring needs. Supplier

and installer of carpet and

vinyl, re-stretch & repair

and carpet cleaning. Phone

Mike Gill on 027 491 4210.

CARPET cleaning. Powerful

equipment and fast drying.

Upholstery, mats and rugs.

Experienced owner/operator.

Phone John Cameron

at Supersucker. 027 435

1042 or 308 1677.

CHIMNEY sweep - For a

professional service call

Dan McKerrow Chimney

Sweep and Repairs on 021

118 7580.

CHIMNEY sweep. It's time to

start thinking about it.

Camera inspection carried

out and full inspection

checklist is left for you. Call

Allan 027 209 5026.

CONCRETE pavers direct to

you - Best prices, many

sizes, textures and colours

- Paveco, 13 Robinson

Street, Industrial Estate.

CONCRETE Services –

Driveways, paths, patios,

mowing edging. Decorative

Concrete specialist 30

years servicing Canterbury.

Free quotes. No job too big

or small. Phone Paul 021

152 1966.

DENTURES; Dr Peter

Rumping repairs existing

dentures and also provides

new dentures. Phone 027

220 9997.

ENGINEERING repairs, fabrication,

farm equipment

service and maintenance,

WOF repairs, machining

and welding. Odd jobs a

specialty. Mobile workshop.

Can collect. Phone

Malcolm 0274 754 241.

FLY control and spider

proofing. For all domestic

and industrial pest control

needs phone AJ Kerr at

Ashburton Pest Control on

03 308 8147 or 027 432

5447.

FIND money in your bank

account each week if you

become adelivery person.

The Courier 308 7664.

SITUATIONS VACANT

CONTRACTOR or similar

wanted for interim contract

work, primarily working with

rustic timbers for sorting,

tidying and sales. Person or

company would be selfsufficient,

have forklift

endorsement and relatively

flexible to accommodate

several days' work when

booked ahead on mutually

agreed days, own work

vehicle required based in

Ashburton Business park.

Please contact Matthew

Kennedy 021305865 or

mkennedy@interlinkltd.

com

TRADE &SERVICES

FURNITURE removals. For

all your household removal

needs - urban, rural, lifestyle,

office relocations -

call Nudges Furniture

Removals, phone 027 224

0609.

GARDENING, mowing,

pruning, fertilising, projects

or general spruce ups? Call

Andrew at Spruce Gardens

to get the job done right.

027 765 2899 or 03 307 1693.

sprucegardens@xtra.co.nz

LEGAL work -Phone Peter

Ragg (Ashburton Law) for

house sales, purchases

and refinances. Will call at

home evenings for wills,

enduring powers of

attorney. Phone 308 0327.

PAINTER for all your painting

needs. No job too small,

inside or outside. Professional

friendly service.

Phone Pete 03 308 1672 or

027 200 1619.

PAINTING wallpapering,

plastering - No job too

small. Interior, exterior.

Professional, prompt, competitive

service. Phone

Tony Sivier at Paint It Ashburton

on 021 878 794 or

307 7289.

PLUMBER. Repair or

replace. Taps, shower

mixers, hot water cylinders,

basins, tubs, toilets, vanity

units, leaking pipes. Call

Pete Young, experienced

plumber 027 280 0889/307

7582.

Local news at www.starnews.co.nz

SITUATIONS VACANT

TINT-A-WINDOW, fade, UV

block, glare, heat control,

safety, security, privacy,

frosting films, solar protective

window films. Free

quotes, 20 years local service.

Phone 0800 368 468

now, Bill Breukelaar, www.

tintawindow.co.nz

TV Reception Specialists for

all your digital freeview

installations and repairs,

TV wall mounting, Smart

TV set-up, home theatre

installation. Call John at

Ashburton TV &Audio Ltd

03 308 7332 or 027 277

1062.

WINDSCREENS and house

glass. Qualified flat glass

glazier now in-house. Anything

glass, give us acall.

Your place or ours. Wilson

Windscreens, 152 Wills

Street, Ashburton. Phone

03 308 8485.

HIRE

SCISSORLIFTS for hire.

4WD and slab lifts available

for daily or weekly hire.

Pickup or delivery. Phone

North End Engineering 308

8155 for abooking.

HOME SERVICES

ROOF COATINGS: All roof

types, specializing in

Decramastic and Long Run

Iron, Coloursteel etc, steep

roofs not a problem. —

Spraymaster 027-433-7780.

2286700

ashburtoncranes2015@gmail.com

Need help with BOOKKEEPINGor

ADMINISTRATIONSUPPORT?

Youdidn'tgointobusiness to do the

books, butwedid!

Let'shaveachatovercoffeeand seehow Ican help

Silvia Haddock 027 2169478

silvia@bradleyrural.co.nz l solutionsbusiness.co.nz

TRADE &SERVICES

2271160

2281993

ACTION SANDBLASTING

LIMITED

FOR: Mobile Sandblasting

Painting

OF: Structural Steel

Trailers

Farm Machinery

Car Parts

Shipping Containers

Concrete, Brick Rendering

Free quotes -Competitive rates

Phone Kurt 027 332 4549 or Neil 0274 362 900

FACTORY SPRAY LACQUER ALTERATIONS. Sewing,

mending and trouser hemming,

curtain alterations

A NEW LOOK and curtain making. Call

that lasts!

Michelle on 027 352 7248.

Existing kitchens, doors,

BUILDING and property

furniture &appliances solutions. For your complete

alteration or renovation.

We project manage

The Finishing Company

03 307 8870 2275858 the whole process. Home

and small commercial.

Qualified tradesmen.

ADVERTISING space available

in the next issue of The Maintenance Ltd. Gary 308

Phone Kiwi Building &

Courier Newspaper. Call us 4798, 027 207 1478 or

today 308 7664.

Cawte 027 418 7955.

2281899

AgriculturalPortfolioAdvisor

Thisfixed-term position will focus on creating relationships,fostering ideas and letting our

district grow and thrive.

Youwill be tasked withIdentifyingand contributing to initiatives which reduceemissions

and increase environmentally sustainable rural sector practices.

We arelooking foraaself starter and practicalminded,strategic thinker who delivers results

through theirability to interactwith people and organisations.

Atertiary qualification coupled with practical experience will see you rewarded with

arolethat will provide challenge, autonomy

and greatsatisfaction.

To find out more about these vacancies

and what the Ashburton District Council

has to offer you-visit our website.

Applications close Wednesday,24June 2020.

www.ashburtondc.govt.nz/careers
---
Local news at www.starnews.co.nz Ashburton's The Courier, Thursday June 18, 2020, Page 31

SITUATIONS VACANT

Lifeguard Roles

We haveboth afull-time and part-timeposition availablenow foranindividual

whois attentiveand canwork well in ateamenvironment.Full training provided.

If youare 16 or older,abletoswim 200mundersix minutes, hold or arewilling

to obtain afirst aid certificate, hold or are willing toobtain aPool Lifeguard

Practising Certificate we would liketohearfromyou please. To find out more

about thisvacancyand whatthe AshburtonDistrict Council hastooffer you–

go to our website.

To findout moreabout this vacancyand

what the Ashburton District Council

hastoofferyou -gotoour website.

Applications close Monday,

29 June 2020.

www.ashburtondc.govt.nz/careers

HerdManager

Permanent-Full time position

We arelooking foraHerdManager to join our dairy farmnear Ashburton.

Duties include, but are not limited to, milking 900-950 cows through a50bale

rotary, assisting with daytoday feed allocation,collecting cows andcalves from

paddocks, tagging and identifying the cows and calves, 2daily milk harvests,

daily hygiene and shed tidiness, help feed calves, animal health and stock

husbandry,weedcontrol,attending to travellingeffluent irrigator, tractorwork

record keeping and general maintenance.

Must have extremely strong skill set with emphasis on Animal Health and

Welfare, Stock Management and regular and seasonal herd management

requirements:

•Calves and cows

•Calf rearing and raising young stock either on or off farm, ensuring their

general health and wellbeing.

•Animal health diagnosis,treatmentand record administration,

•Administrationoftreatmentdrugsandmetabolicsolutionsandvaccinations,

•Lamecow prevention and treatment.

Applicantsmust have acurrent New Zealand drivers licenceorequivalent.

Youneed to have 3years of NZ dairyfarmingexperience.

Applicants must be able topass apre-employment drug test and apolice

securitycheck.

Absolutely no drugs,nosmokers,nocriminal convictions.

Accommodation provided: 2bedroom shared, nopets allowed, nosmoking,

no drugs.

Roster is 6/2 andremuneration by negotiation.

If you meet these criteria, please submit your CV, qualifications, atleast one

referenceand acovering letter with information aboutyoureligibilitytoworkin

NZ to continue your application with us to:basoull@gmail.com

2287002

DELIVERYPEOPLE

wanted

to deliver the AshburtonCourier

and Realtyevery Thursdayinthe

Ashburtonurban area.

Phone Jann on

308 7664 or email

jann.thompson@ashburtoncourier.co.nz

2264293

HOLIDAY ACCOMMODATION

TEKAPOHOLIDAY

THELAKEHOUSE

Stunning Views, sleeps 8,

3bathrooms, wood fire,

heat pumps, off-season

rates,freeWi-Fi. 10 minute

walk to village. Great for

families.

Phone Discover Tekapo

(03)680-6942

RODMANSTAR

New luxury property.

Separate 3bedroom wing

with lounge, kitchen,

2bathrooms &heat

pumps. Plus adjoining

1bedroom unit. Bathroom,

lounge, heat pump,

kitchen. Great views, off

season rates. 10 min walk

to village. Free Wi Fi.

Call Enji (021) 046-9227

FOR LEASE

AWESOME office space for

lease, rent or hire. Park-like

setting. Indoor and outdoor

areas. Northwest town

boundary. Must view.

Phone 0274 754 241.

RENT ME!

Ideal as an extra

bedroomoroffice.

Fully insulatedand

double glazed forwarmth.

Threeconvenientsizes:

Standard3.6m x2.4m,

Large 4.2m x2.4m

Xtra-large 4.8m x2.4m.

Visit our displaycabin

418WestStreet or callfor a

freebrochure.

www.justcabins.co.nz

2262540

0800 58 78 22

STORAGE available, Ashburton.

Self storage, variety

of sizes. Phone Rainbow

Storage 03 307 0401.

STORAGE UNIT and container

for lease. Fire rated

storage unit (7.85 x3.90m)

in secure, alarm monitored

compound, accessible

24/7. Please phone Nicola

at Bradfords 03 308 9039.

STORAGE: Secure self storage

units available long or

short term at Ashburton

Storage Facilities. Contact

us on 027 436 2636 or www.

ashburtonstoragefacilities.co.nz

WE value the service we

provide - The Courier for

advice on how you can

reach potential customers.

Call us today on 308 7664.

GARDEN SUPPLIES

Ashburton

Plains Rotary

BRIDGE Street Nursery has

moved. Now trading as

Paul's Garden Nursery at

101 Harrison Street,

Allenton,

Entrance on Clark Street.

Enquiries phone Paul 027

278 1354. Open 7days.

HEALTH &BEAUTY

URGENT CARE CLINIC

WEEKEND DUTYDOCTORS

IN THE EVENT OF AN EMERGENCYPHONE 111

Forall other medicalassistance outside of normal

hours please phone your generalpracticeteam, 24/7,

to speak withahealth professionalwho will giveyou

free healthadvice on whattodoorwhere to go if you

need urgentcare.

If youdon't have aregular general practice, call any

GP team 24/7 forfreetelephone health advice.

All non-residents and visa holders please bring your

passporttoyour surgeryappointment.

New Zealanders'tobring some form of ID.

TheAshburtonDutyPractice for ...

Saturday20th June is

ThreeRivers Health, 7-11 Allens Road.

Consultations will be by appointmentonly.

To make an appointmentcall your regular GP 24/7.

Sunday21st June is

ThreeRivers Health, 7-11 Allens Road.

Consultations will be by appointmentonly.

To make an appointmentcall your regular GP 24/7.

Methven and Rakaia: Formedical attention on the

weekend and public holidays please telephone

MethvenMedical Centre on 03 302 8105

or Rakaia Medical Centre on 03 303 5002.

Details foraccessing the afterhours services will be

on the answer phone.

PHARMACIES

Wises Pharmacy,CountdownComplex,

East Street will be open on ...

Saturday from 9.00am until 1.00pm

Sunday from 10.00am until 1.00pm

At Geraldine: TheGeraldine Pharmacywill be open

normal trading hours during the week,and on

Saturdaymorning from 9.30am to 12.30pm.

Closed Sundays and Public Holidays

Forfree24hour Telephone Health Advice

Phone the healthline on 0800 611 116

Broughttoyouby

CountdownComplex, East Street, Ashburton

Phone: 03 308 6733 Fax: 03 308 6755

FEMININE Health & Wellness

Coach. Relax, unwind

with massage or Reiki.

Empower with tools for selfhypnosis,

weight management,

anxiety, meditation.

Ph/text 027 282 1585.

FOCUS Optometry – good

honest eyecare, support

local. Phone 307 8988. 65

Tancred Street, Ashburton.

www.nzfocusoptometry.co.

nz

SOAPS, body butters, shampoo

bars. All natural, locally

made. Free delivery in Ashburton

township. Check out

Instagram or Facebook

lambellsoap or phone/text

Lara 021 046 1611

AndreGrob

Chiropractor

Tues 9am-5pm

03 308 9516

www.ashburtonchiropractic.co.nz

DELIVERED

$

6.00

per bale

PEASTRAW

and LINSEED STRAW

Small bales

Phone or txt Ian 027 432 0438;

Alisdair 027 410 6882; Murray 307 0353

2282667

GARDENERS specials.

Sheep manure $5 bag. Pea

Straw $5 bale. Medium

square Linseed Straw $35

Ashburton. bale. Call Alan 027 496

7136 or Ian 027 286 3697

with your order. A Hinds

Lion's project.

2280813

EDUCATIONAL

CJ'S driving school –

Classes 1, 2 & 4,

Endorsements F & D,

Forklift F&OSH, Dangerous

Goods. NZTA

approved course provider.

MITO and Competenz

Assessor. Locally owned.

Phone Christine 0272 452

563.

MEETINGS

Mid Canterbury

Soball

AGM

July 7th, 2020

7pm

Ashburton Club &MSA

Nominaons to President

by June 18th, 2020

2283589

Nau mai haeremai

Hakatere

Māori Wardens'

AGM

22ndJune 2020

at HakatereMarae

starting at

6.30pm

2287005

10.00

10.15

12.00

12.15

1.50

2.30

3.50

4.45

6.00

7.00

7.40

PUBLIC NOTICE

Thur 18th &Fri 19th

10.00 Love Sarah

10.00 TheTriptoGreece

12.00 All at Sea

12.00 Resistance

1.50 Love Sarah

2.10 Titanic

3.50 IStill Believe

5.30 Burden

6.00 AllatSea

7.30 FightClub

7.40 Love Sarah

Sat20th

10.00 TheIncredibles

10.00 TheBig Trip

11.40 AllatSea

12.10 Sonic

1.20 Call of the Wild

2.00 TheBig Trip

3.15 TheTriptoGreece

3.40 Love Sarah

5.15 Burden

5.30 IStill Believe

7.30 Resistance

7.45 Love Sarah

Sun 21st

10.00 TheIncredibles

10.00 TheBig Trip

11.40 AllatSea

12.10 Sonic

1.20 Call of the Wild

2.00 TheBig Trip

3.15 Titanic

3.40 Love Sarah

5.30 IStill Believe

7.30 Resistance

7.45 Love Sarah

Mon22nd&Tues 23rd

Wed24th

10.00

10.15

12.00

12.15

1.50

2.30

3.50

4.45

6.00

7.00

7.40

Love Sarah

TheTriptoGreece

AllatSea

Resistance

Love Sarah

TheLast Full Measure

IStill Believe

Burden

AllatSea

Titanic

Love Sarah

Love Sarah

TheTriptoGreece

AllatSea

Resistance

Love Sarah

TheLast Full Measure

IStill Believe

Burden

AllatSea

FightClub

Love Sarah

NO COMPS

Love Sarah, Resistance,

TheTriptoGreece

M

M

M

PG

M

M

PG

R16

M

R18

M

PG

PG

M

PG

PG

PG

M

M

R16

PG

PG

M

PG

PG

M

PG

PG

PG

M

M

PG

PG

M

M

M

M

PG

M

M

PG

R16

M

M

M

M

M

M

PG

M

M

PG

R16

M

R18

M

ACUPRESSURE

CLINIC

Enhances your

body's own natural

self-healing

Pain relief/Speeds recovery

from illness, injury and surgery.

•Noneedles/safe for all ages

•Good-Health Maintenance

•Affordable/flexible hours

•Home visits on request

Janet Hayes

Ph 308 6951

registered practitioner

Ashburton

Club &MSA

2229804

EXECUTIVE ELECTIONS

Nominations for the positions of:

President, Vice President, 4

Committee,1Trustee,

arenow open and

will be accepted up to

5pm on 2July 2020.

Nomination formsare

available from the

GeneralManager

StuartGeddes

General Manager

2286798

HOSPICE Mid Canterbury.

Dealing with alife limiting

illness? Contact us to see

how we can support you.

Phone 307 8387 or 027 227

8387.

FRUIT &PRODUCE

POTATOES Nadine and

Agria. $2 per kilo. Phone

308 3195 or 027 531 9103.

81 Elizabeth Street.
---
Page 32, Ashburton's The Courier, Thursday June 18, 2020

Local news at www.starnews.co.nz

APPROVED

SERVICE PROVIDER

• Residential electrical

• Home appliance repairs

• Get wifi in the right spot

• Pivot wiring

• Variable Speed Drive (VSD)

• Professional home wiring

• TV&Audio Installation

• Outdoor and ceiling speakers

• Dairy shed maintenance

• Irrigation harmonic filter

• LED downlight replacement

• Air conditioning &ventilation

• Heatpump servicing

• TVwall mounting &installation

(including brackets)

• Distribute TVthroughout

your home

• Homeautomation

• Motorhome &caravan wiring

• Dairy/Farm electrical

• Waterpumps -stock &house

• Generator change overswitches

• Effluent systems

• Motor &pumpcontrol

• Commercial/industrial electrical

• 24/7 breakdown service