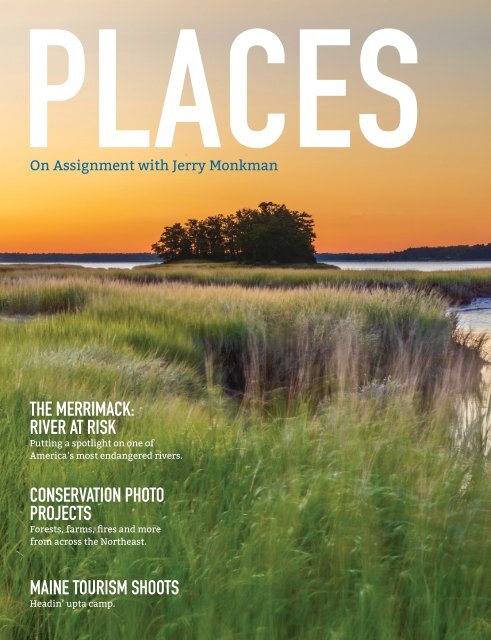 Places Volume 5
On Assignment with conservation photographer Jerry Monkman.
On Assignment with conservation photographer Jerry Monkman.
SHOW MORE
SHOW LESS
You also want an ePaper? Increase the reach of your titles
YUMPU automatically turns print PDFs into web optimized ePapers that Google loves.
PLACES

On Assignment with Jerry Monkman

THE MERRIMACK:

RIVER AT RISK

Putting a spotlight on one of

America's most endangered rivers.

CONSERVATION PHOTO

PROJECTS

Forests, farms, fires and more

from across the Northeast.

MAINE TOURISM SHOOTS

Headin' upta camp.
---
Sunset at Square Lake in Maine's Aroostook County.

2 ECOPHOTOGRAPHY SPRING 2020
---
From Jerry

I was just a week away from sending out this edition of Places when the

Covid-19 pandemic changed all of our lives in so many ways. In my house,

that meant the return of a college freshman and learning how to live

together as a family of four again – a minor change that I'm grateful for! I

hope you and your family are experiencing relatively mild impacts as well.

On the Cover: Dawn breaks in New

Hampshire's Great Bay.

During the last few months, we've all been itching to get out of the house

whenever we get the chance to do it safely. In the best-case scenario that

means being able to walk, run, or hike in a park or forest close to home.

For me, the pandemic has reinforced the need for there to be a variety

of conserved open space in all communities. The majority of my career

has been spent working with non-profits to publicize land conservation

projects throughout the northeastern US, and in these times, I am

even more impressed with the amazing work these organizations have

accomplished over the last three decades. Many of the photos on the

following pages show how this work continues.

Be well, stay safe, and enjoy the outdoors!

-Jerry

Table of Contents

The Merrimack: River at Risk................................................................................4-5

Putting a spotlight on one of America's most endangered rivers.

Conservation Photo Projects............................................................................... 6-21

Forests, farms, fires and more from across the Northeast.

Maine Tourism Shoots........................................................................................22-26

An award-winning "Headin' upta camp" marketing project.

P.O. Box 59, Portsmouth, New Hampshire 03802

603-498-1140

jerry@ecophotography.com

www.ecophotography.com

SUMMER 2020 ECOPHOTOGRAPHY 3
---
Film

NH & MA

The Merrimack:

River at Risk

4 ECOPHOTOGRAPHY SPRING 2020
---
Feature-length documentary to be

released this summer

The Merrimack River is the birthplace

of the industrial revolution

in America. Factories in cities like

Manchester, New Hampshire and

Lowell, Massachusetts were the

largest textile mills in the world in

the 19th century. Like many rivers in

America, the Merrimack was heavily

polluted by the 1960's, but due to the

Clean Water Act, the Merrimack has

been cleaned up considerably since

then. Remarkably, more than 80%

of the Merrimack watershed is still

undeveloped and largely forested,

yet in 2016 the river was named

one of the most endangered rivers

in the US by American Rivers. Since

then, I have been working with the

Society for the Protection of New

Hampshire Forests to produce a

film that tells the Merrimack's

story and explains why the river is

in trouble today. Almost four years

later, we have finished that film –

The Merrimack: River at Risk. The

pandemic has shuttered our plans

for theater screenings for the time

being, but I'm proud to announce

the film's broadcast premier will be

on July 23rd when it will air on New

Hampshire PBS.

https://ecophotography.com/a-new-film-the-merrimack-river-at-risk/

SUMMER 2020 ECOPHOTOGRAPHY 5
---
Conservation

NEW ENGLAND

Conservation Photo

Projects

6 ECOPHOTOGRAPHY SPRING 2020
---
Forests, farms, fires and

more from across the

Northeast

Two and a half years ago, I produced a video for

the Harvard Forest that introduces people to their

conservation vision for the Northeastern US called

"Wildlands and Woodlands." (You can see that

video and others on my site here: https://archive.

ecophotography.com/video.) Their vision makes the

case that we can still conserve 70% of our land as

forests and 7% as farms, while also sustaining vibrant

communities. Forests provide wood products and

jobs, clean the air, and provide clean drinking water.

And it's possible to feed most of the region with that

7% of farmland. Many of the photos I'm asked to shoot

are for forest and farm conservation projects, and I

love visiting and shooting in places that most people

have never seen. Over the next several pages, I share

photos of forests and farms, fires and scientists, and

a little solar power.

SUMMER 2020 ECOPHOTOGRAPHY 7
---
8 ECOPHOTOGRAPHY SPRING 2020
---
Battenkill River sunrise, Shushan, NY.

SUMMER 2020 ECOPHOTOGRAPHY 9
---
Hiking on land conserved by

The Conservation Fund in

southern Vermont.

10 ECOPHOTOGRAPHY SPRING 2020
---
Exploring the newly created Bethel Community Forest in Bethel, Maine.

Forest in western Maine in the path of a proposed transmission line.

SUMMER 2020 ECOPHOTOGRAPHY 11
---
12 ECOPHOTOGRAPHY SPRING 2020
---
Mountain biking on new conservation land in southern New Hampshire.

SUMMER 2020 ECOPHOTOGRAPHY 13
---
Farms

I've shot farm conservation projects across New

England, from northwestern Connecticut to central

Maine. In the last few years, I've been lucky enough

to work close to home for the Southeast Land Trust of

NH on several forest projects as well as some of their

projects conserving local farmland. Many of the farms

are places that I buy veggies from at our local farmer's

market every Saturday in the summer. I love being

asked to work these farms, and I really enjoy being able

to envision the land where my food was grown while

sitting down with family and friends for a meal. And

now these farms will remain farmland in the future.

It's also nice to work on projects where I can sleep in my

own bed at home!

14 ECOPHOTOGRAPHY SPRING 2020
---
Above left: Three women process a

beet harvest in South Hampton, NH.

Above right: A young man feeds

his calves at a dairy farm in New

Hampshire.

Middle and below right: Kinney

Hill Farm in South Hampton, New

Hampshire.

SUMMER 2020 ECOPHOTOGRAPHY 15
---
Women harvest kale in South Hampton, New Hampshire on

land recently conserved by the Southeast Land Trust of NH.

16 ECOPHOTOGRAPHY SPRING 2020
---
SUMMER 2020 ECOPHOTOGRAPHY 17
---
Prescribed Burn

In September, The Nature Conservancy asked me to

photograph a prescribed burn on one of their grassland

preserves in Maine. Grasslands are less common

in Maine than they used to be, not only because of

development, but because they tend to revert to forests

if they aren't burned every few years. This community

provides nesting habitat for several rare ground nesting

grassland birds including the grasshopper sparrow,

upland sandpiper, and short-eared owl. These open

grasslands also provide excellent habitat for a rare

snake, the northern black racer. I was very impressed

with the Nature Conservancy staff's attention to detail

and ability to safely complete this burn exactly as

planned.

18 ECOPHOTOGRAPHY SPRING 2020
---
SUMMER 2020 ECOPHOTOGRAPHY 19
---
Solar Panel

Installations

It was great to have the opportunity

to shoot a couple of solar panel

installations as part of a project for

the Barr Foundation. The industry

is booming, providing excellent

jobs and affordable, carbon-free

electricity that is a key part in our

efforts to stem the effects of climate

change.

20 ECOPHOTOGRAPHY SPRING 2020
---
Manomet

I've had a blast shooting primarily

video projects for Manomet during

the last two years as we work on

telling their story of using science

and partnering with business to

foster a sustainable world. Manomet

applies conservation science to

industries that impact all of us:

forestry, commercial fisheries, and

agriculture. The organization got

its start 50 years ago conducting

bird research and that's still a big

part of their work (and really fun to

shoot!) They have one of the longest

continuously run land bird banding

stations in the world, and they are

leaders in the study of shorebirds

in the western hemisphere (like this

whimbrel being outfitted with a

GPS transmitter in the back seat of

a Toyota.)

SUMMER 2020 ECOPHOTOGRAPHY 21
---
Recreation

MAINE

Maine Tourism

Shoots

Headin' upta camp

Over the course of my 20+ year career, I have been to

so many places in the state of Maine, from Portland and

the south coast near my home in Portsmouth, NH, to the

western mountains and the Appalachian Trail, to one of

my all-time favorite places, Acadia National Park. When

I was asked to shoot in the Deboullie Public Reserve Land,

I was surprised that I had never even heard of the place.

And then once I arrived, I was even more surprised. The

ponds, cliffs, mountains, and forest are classic Maine

wilderness, home to bears and moose, great hiking,

hunting, camping, and paddling, and a classic Maine

wilderness lodge (Red River Camps) to use as a base to

explore it all. My work on this project with Thalo Blue

Destination Marketing, and Aroostook County Tourism

received the 2020 Maine Tourism Marketing and

Promotion Award. A video about the collaboration can

be viewed at: https://vimeo.com/420535493.

22 ECOPHOTOGRAPHY SPRING 2020
---
SUMMER 2020 ECOPHOTOGRAPHY 23
---
24 ECOPHOTOGRAPHY SPRING 2020
---
SUMMER 2020 ECOPHOTOGRAPHY 25
---
26 ECOPHOTOGRAPHY SPRING 2020
---
facebook.com/ecophotography

twitter.com/jerrymonkman

linkedin.com/in/jerrymonkman

instagram.com/jerrymonkman

SUMMER 2020 ECOPHOTOGRAPHY 27
---
P.O. Box 59

Portsmouth, New Hampshire 03802

603-498-1140

jerry@ecophotography.com

www.ecophotography.com