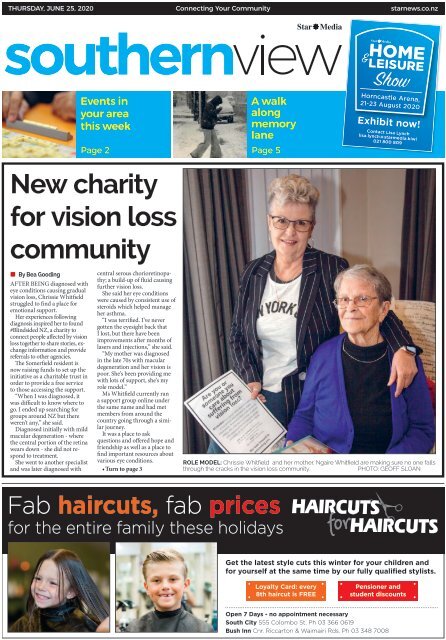 Southern View: June 25, 2020
Create successful ePaper yourself
Turn your PDF publications into a flip-book with our unique Google optimized e-Paper software.
THURSDAY, JUNE 25, 2020

Connecting Your Community

starnews.co.nz

HOME

LEISURE

Events in

your area

this week

Page 2

A walk

along

memory

lane

Page 5

Horncastle Arena,

21-23 August 2020

Exhibit now!

Contact Lisa Lynch

lisa.lynch@starmedia.kiwi

021 800 809

New charity

for vision loss

community

• By Bea Gooding

AFTER BEING diagnosed with

eye conditions causing gradual

vision loss, Chrissie Whitfield

struggled to find a place for

emotional support.

Her experiences following

diagnosis inspired her to found

#Blindsided NZ, a charity to

connect people affected by vision

loss together to share stories, exchange

information and provide

referrals to other agencies.

The Somerfield resident is

now raising funds to set up the

initiative as a charitable trust in

order to provide a free service

to those accessing the support.

"When I was diagnosed, it

was difficult to know where to

go. I ended up searching for

groups around NZ but there

weren't any," she said.

Diagnosed initially with mild

macular degeneration - where

the central portion of the retina

wears down - she did not respond

to treatment.

She went to another specialist

and was later diagnosed with

central serous chorioretinopathy;

a build-up of fluid causing

further vision loss.

She said her eye conditions

were caused by consistent use of

steroids which helped manage

her asthma.

"I was terrified. I've never

gotten the eyesight back that

I lost, but there have been

improvements after months of

lasers and injections," she said.

"My mother was diagnosed

in the late 70s with macular

degeneration and her vision is

poor. She's been providing me

with lots of support, she's my

role model."

Ms Whitfield currently ran

a support group online under

the same name and had met

members from around the

country going through a similar

journey.

It was a place to ask

questions and offered hope and

friendship as well as a place to

find important resources about

various eye conditions.

• Turn to page 3

ROLE MODEL: Chrissie Whitfield and her mother, Ngaire Whitfield are making sure no one falls

through the cracks in the vision loss community.

PHOTO: GEOFF SLOAN

Fab haircuts, fab prices

for the entire family these holidays

Get the latest style cuts this winter for your children and

for yourself at the same time by our fully qualified stylists.

Loyalty Card: every

8th haircut is FREE

Pensioner and

student discounts

Open 7 Days - no appointment necessary

South City 555 Colombo St. Ph 03 366 0619

Bush Inn Cnr. Riccarton & Waimairi Rds. Ph 03 348 7008
---
2 Thursday June 25 2020

Latest Canterbury news at starnews.co.nz

what's on

this week

SOUTHERN VIEW

GENERAL INQUIRIES Ph 379 7100

CLASSIFIED ADVERTISING Ph 379 1100

Star Media, a division of Allied Press Ltd

PO Box 1467, Christchurch

starmedia.kiwi

NEWS

Bea Gooding

Ph: 021 911 576

bea.gooding@starmedia.kiwi

ADVERTISING

Mark Sinclair

Ph: 364 7461

mark.sinclair@starmedia.kiwi

Your local community news

delivered to 21,586 homes

within The Star each week.

Spreydon • Hoon Hay • Hillmorton • Cracroft

Cashmere • St Martins • Somerfield

Sydenham • Addington • Waltham • Opawa

Beckenham • Huntsbury • Woolston

Rummikub Club

Today, 10.00am-12.00pm

Linwood Library

Go and play game of Rummikub,

a tile-based game for two to four

players, combines elements of the

card game rummy and mahjong.

JP clinics

Today, 10.30am-1.30pm and

Tuesday, and 10am-1pm

Spreydon Library today and

Halswell, South and Linwood

libraries on Tuesday

A Justice of the Peace will be available

to members of the community to

witness signatures and documents,

certify document copies, hear oaths,

declarations, affidavits or affirmations

as well as sign citizenship,

sponsorship or rates rebates

applications. This service is free.

Wā Kōrero: Storytimes

Today, 10.00-10.30am at Linwood

Library and 11-11.30am at South

Library and Friday 10.30-11am at

Spreydon Library

Linwood, South and Spreydon libraries

Storytimes is an interactive

programme including books, songs,

rhymes and play. Recommended

for children 2-years-old and up. No

bookings required.

Knit 'n' Yarn

Today, 1-3pm at Te Hāpua: Halswell

Centre and 1.30-3.30pm at South

Library and Wednesday, 10.30am-

12pm at Linwood Library

CSO Music Trails Wednesday from 10.30 to 11.15am, Linwood Library

Go along and see the musicians of the Christchurch Symphony Orchestra

as they travel around the city's libraries for a series of 45min performances

filled with song, dance and storytelling. Catered especially for 2-6 year olds.

This event is free. ​

Halswell, South and Linwood libraries

Take your knitting, crochet, stitching

or any other handcraft and enjoy the

company of others. Share skills and

be inspired.

Mahjong Group

Today, 1.30-4.30pm

Linwood Library

If you are interested in playing

Mahjong, go along whether you are a

beginner or an advanced player.

Scrabble Club

Wednesday, 1.30pm-3.30pm

Te Hāpua: Halswell Centre

If you have a way with words, go

along and play Scrabble with one

of the groups. Some boards will be

provided but feel free to bring your

own.

Creative writing on Sundays

Sunday, 1-3pm

Linwood Library

Writing group leader Jennifer will

work with group members to craft,

create and develop their own stories.

Take some pens or pencils, paper, or a

laptop. This class is free.

Linwood Library Book Club

Monday, 10.45am-12pm

Linwood Library

Go along and join a relaxed and

friendly group of people who meet to

chat informally about any books that

they have read over the past month,

fiction or non-fiction. There is no

charge for this group

Not Just Cards - Social Games

Club

Monday, 2-4pm

South Library

Go along to play Scrabble, Upwords,

Chess and Cards. Free and no

bookings required.

Authentic

Thai Cuisine

Tracey McLellan

for Banks Peninsula

Get in touch:

027 227 3969 /traceymclellanlabour

tracey.mclellan@labour.org.nz @traceymclellan

From

$10

Lunch Special Tuesday - Saturday

Lunch Tuesday – Saturday, 11am to 2pm

Dinner Monday - Sunday, 4.30pm to 9pm

www.labour.org.nz

Authorised by Dianna Lacy, 160 Willis Street, Wellington

HOON HAY THAI RESTAURANT

Open 7 Days • Lunch & Dinner • 9 Coppell Place • Phone 339 0320
---
SOUTHERN VIEW Latest Canterbury news at starnews.co.nz

Thursday June 25 2020 3

News

Housing agency finds ways

to better support community

KĀINGA ORA supported more

than 42,000 people through

wellbeing calls during Covid-19,

prompting the Government

agency to change the way it

works with them.

With workers unable to be

in the community, they fielded

thousands of calls to check up on

those in public housing.

Because of this, they are

working to understand the root

causes impacting people's ability

to live well in their homes, moving

away from a transactional

approach to one focused on being

kind and compassionate

For Shirley, hearing a familiar

voice during lockdown was

enough to help her get through.

"I do spend time alone when I'm

home because, sadly, I don't see

much of my family," she said.

"Hearing a friendly voice on

the phone, simply asking 'How

are you?', was lovely."

She was contacted by her

tenancy manager, Renee, when

Covid-19 meant the Kāinga Ora

team could not spend the time

in their communities as they

ordinarily would.

Other benefits to keeping in

touch more often meant Shirley

let Renee know about a fall that

POSITIVE: Kāinga Ora tenant Shirley, with her tenancy

manager, Renee, benefitting from one of the many changes

the agency is making to better support its community. ​

had affected her mobility.

The agency was able to put

things in motion as lockdown

restrictions ease, arranging for

an occupational therapist to visit

her home to advise on modifications

to make it easier for her to

get around.

Kāinga Ora supports more

than 200,000 people in more than

65,000 homes across the country.

Many have wide-ranging needs,

from financial assistance to mental

health support.

As of June, more than 42,000

people had been spoken with,

3,800 people had received direct

financial support and hundreds

helped with food or medical

needs.

Financial capability training

packages for Kāinga Ora's

customer-facing roles were also

being developed.

Kāinga Ora is making

changes to the way it serves its

tenants later this year, with a

differentiated service response

tailored to individual needs and

to ensure they have timely and

positive engagement with the

organisation.

Vision loss charity

aims to fill a gap

• From page 1

"Some people don't understand

the impact of losing that vision is

on your life, and not being able to

do the things you love anymore,"

she said.

"I'm a strong person, but I

balled my eyes out. I had all these

plans - what did this mean now?"

Her vision for #Blindsided

NZ as a charity was to provide

that same level of support, but

having a charitable status meant

they could apply for funding and

grants.

Having the extra funding

meant that they could also

provide low vision assessments,

coaching and referrals to established

agencies in conjunction

with the emotional support.

Said Ms Whitfield: "Moving

forward, various clinics, DHBs

and agencies across the country

will work with #Blindsided NZ as

a trusted partner to ensure that

clients have end-to-end support

throughout their journey.

"We aim to fill a gap in the vision

loss client pathway from prediagnosis

to supported living and

beyond; we don't want anyone

falling through the cracks."

Chrissie Whitfield

She encouraged people to donate

to the cause because "every

single one of us knows someone

with vision loss."

"If people don't have emotional

support, they can't move forward

and are caught in a life of negativity

and fear."

Donate to #Blindsided NZ at:

https://givealittle.co.nz/cause/

help-blindsided-nz-supportpeople-with-low-vision

Introducing

Mark

Sinclair

Mark lives and works locally, he

is passionate about working with

South Christchurch and Canterbury

businesses offering print and digital

media solutions to help promote their

companies, products, and services in

the local Southern View and Starmedia

publications. He has a longstanding

association with the media industry and

has been with Star Media, a division of

Allied Press, for the last 12 years.

The Southern View is delivered FREE

each Thursday, covering the latest local

news and information, and is delivered

into residential households across South

Christchurch. Digital editions are also

available to view online at

www.starnews.co.nz.

CALL Mark TODAY to discuss how he

can help PROMOTE YOUR BUSINESS

to local readers, or to the entire

Canterbury district.

Case moths ate this rabbit's fur

Elephant in cramped attic store

03 322 4548 | Easy Parking

17 Lillian Street, Halswell

Open Mon-Fri 9.30am - 5.00pm

Saturday 10.00am - 1.00pm

LAYBUY WELCOME

Contact Mark

DDI: 03 3647461

Mobile: 021 913566

Email: Mark.Sinclair@starmedia.kiwi

Rolleston Avenue, Christchurch

Free entry; donations appreciated

www.canterburymuseum.com
---
Advert: FCSV2306 Newspaper: Southern View

4 Thursday June 25 2020

Latest Canterbury news at starnews.co.nz

SOUTHERN VIEW

Shop online at

FreshChoiceYourWay.co.nz

or download the

FreshChoice app

Sanitarium

Weet-Bix

1.2kg

Fresh NZ Beef

Sirloin Steak

$

18 90

kg

Jazz Apple Snackers

1.5kg

$

3 00

bag

$

5 50

ea

Barrington

Open 7am – 10pm, 7 days a week.

barrington.store.freshchoice.co.nz

City Market

Open 7am – 7pm, 7 days a week.

citymarket.store.freshchoice.co.nz

Prices apply from Monday 22nd June to Sunday 28th June 2020, or while stocks last at FreshChoice City Market & Barrington only. Limits may apply.

FreshChoiceNZ

OWNED &

OPERATED BY

LOCALS

FCSV2306
---
SOUTHERN VIEW Latest Canterbury news at starnews.co.nz

Thursday June 25 2020 5

A walk along memory lane

A pedestrian crossing Colombo St, Sydenham, during a heavy snowfall in

the 1970s.

Sydenham Shopping Mall on Colombo St in 1988 with signage for Supervalue

Supermarket, Clothes for Less and Farmers.

From left – Scott Dunn, Nicky Higgins and Christian Higgins from the

Rukahia Air Scouts in front of an RNZAF Boeing 727 in 1984.

Visitors to the 1986 Wigram Wings and Wheels examine a RNZAF A4 Skyhawk.

Radley Mill, the Woolston site of Kaiapoi Textiles Ltd in 1971.

PARENTS

Do you have a son or daughter

interested in horse riding?

✭ Courses every weekend.

✭ 2, 5 & 7 day School Holiday courses.

✭ Private lessons available

Monday to Friday

✭ One day / one night $90 child

✭ Opportunity to compete on our horses.

✭ ½ day lessons and treks available.

For advice and information please

contact my electorate office:

376 4512

porthills.mp@parliament.govt.nz

facebook.com/ruthdyson.labour

twitter.com/ruthdysonmp

PO Box 19661, Christchurch 8241

The revolution

in heat pumps

is here now!

Goods wagons lined up at the Christchurch railway yards in the 1890s. The building

in middle right was part of the former workshops which were built in the 1860s to

service Canterbury Provincial Railway rolling stock.

The revolution in heat pumps is here now!

Say hello to Fujitsu's latest lifestyle range

HEAT PUMPS FROM $1999 inc GST INSTALLED!

The Fujitsu e3series

The brilliant

heat pumps from Fujitsu

e1 : efficiency

e2 : environment

e3 : economy

2020

Conditions apply

Website: www.pshc.co.nz

Finance available

Heat Pumps

NEW ZEALAND'S FAVOURITE AIR ®

Fujitsu's Catechin Filters are

approved by the Asthma and

Respiratory Foundation NZ's

Sensitive Choice ® programme.

2264064

711 Island Rd View Hill, OXFORD 7495

03 312-4309 www.kowhai.co.nz

FREE consultation from your local

Accredited Heat Pump Expert

Phone today: 03 381 6950

INSERT DEALER DETAILS HERE

Email: info@pshc.co.nz
---
6 Thursday June 25 2020

Latest Canterbury news at starnews.co.nz

SOUTHERN VIEW

GREAT WINTER

READS INSTORE

NOW!

NEW RELEASES

Tooth and Veil

the life and times of the new Zealand dental nurse

by noel o'hare

The story of the young women charged with waging war on our nation's

poor teeth. In 1921, when the School Dental Service was established, New

Zealand embarked on a unique social experiment:

improving the terrible state of the nation's teeth. Set up by veterans of the

First World War, the service — focused on 'battling Bertie Germ' —

was run like a military operation and the all-female dental nurses were

treated like foot-soldiers: underpaid, overworked and poorly resourced.

Eventually they rebelled.

In this lively history, Noel O'Hare details the nurses' experiences on the

front line of dental health, and explores what that reveals. about our

society's attitudes to women, work and children's health.

Know Your Place

by Golriz Ghahraman

The story of a child refugee who faced her fears, found her home and

accidentally made history when she was just nine, Golriz Ghahraman

and her parents were forced to flee their home in Iran. After a terrifying and

uncertain journey, they landed in Auckland where they were able to seek

asylum and - ultimately - create a new life.

In this open and intimate account, Ghahraman talks about making a home

in Aotearoa New Zealand, her work as a human rights lawyer, her United

Nations missions, and how she became the first refugee to be elected to the

New Zealand Parliament.

Passionate and unflinching, Know Your Place is a story about breaking

barriers, and the daily challenges of prejudice that shape the lives of women

and minorities. At its heart, it's about overcoming fear, about family, and

about finding a place to belong.

The Splendid and the Vile

a saga of Churchill, Family and defiance during the Blitz

By erik larson

A brilliant account of how Britain's most iconic leader set about unifying

the nation at its most vulnerable moment.

Larson follows Churchill as prime minister through the fraught meetings

and air raids of London's darkest year, and Churchill as family man

into his home, where tensions were just as complicated. Drawing on

once-secret intelligence reports and diaries, The Splendid and the Vile

takes readers back to a time of true leadership, when a leader of strategic

brilliance and perseverance bound a country, and a family, together.

Katipo Joe – Blitzkrieg

by Brian Falkner

Young Joe is living in pre-WWII Berlin, with his British father and NZ

mother, attending school and witnessing the excitement of his friends

who are enthusiastically joining the Hitler Youth Movement. Joe feels

uncomfortable with the growing mistreatment of local Jews, and after the

arrest of his father as a spy, he is forced to escape from Berlin with his

mother. Joe is separated from his mother and evacuated to New Zealand,

and, while war looms in Europe, he is frustrated by his distance from the

action, and his inability to do anything about finding his father. After a

harrowing route back to Europe, Joe attempts to infiltrate the Hitler Youth

movement in Germany while at the same time searching for his mother

and father in wartime Berlin.

One Two Three Four: The Beatles in Time

by Craig Brown

On April 10th 2020, it will be exactly 50 years since Paul McCartney

announced the break-up of the Beatles. At that point, we will be at the

same distance in time from 1970 as 1970 was from 1920, the year Al

Jolson's 'Swanee' was the bestselling record and Gustav Holst composed

The Planets. The Beatles continue to occupy a position unique in popular

culture. They have entered people's minds in a way that did not occur

before, and has not occurred since. Their influence extended way beyond

the realm of music to fashion, politics, class, religion and ethics. Countless

books have doggedly catalogued the minutiae of The Beatles. If you want

to know the make of George Harrison's first car you will always be able to

find the answer (a second hand, two-door, blue Ford Anglia 105E Deluxe,

purchased from Brian Epstein's friend Terry Doran, who worked at a

dealership in Warrington). Before she met John Lennon, who was the only

Beatle Yoko Ono could name, and why? Ringo. Because 'ringo' means

'apple' in Japanese. All very interesting, but there is, as yet, no book about

The Beatles that combines the intriguing minutiae of their day-to-day lives

with broader questions about their effect – complicated and fascinating –

on the world around them, their contemporaries, and generations to come.

MID-YEAR 2020-21 DIARIES

HAVE ARRIVED!

1005 Ferry rd

Ph 384 2063

CLOSED SUNDAY

while stocks last (see instore for terms and conditions)

We Wish

you Well and

hope to see you

all soon!

Barry & kerry
---
SOUTHERN VIEW Latest Canterbury news at starnews.co.nz

Thursday June 25 2020 7

News

Photographer's historic

collection now online

IMAGES OF the early

1900s taken from a

collection of fragile

photographic glass plates

are now in focus on

the Christchurch City

Libraries' digital heritage

site, Canterbury Stories.

More than 700 images

of the city from the

1000-strong collection

are online, with the rest

appearing on the site over

the next few weeks. It is the

first time that the images

are accessible to the public.

Early Antigua Boat

Sheds owner Samuel

Anstey – believed to be

responsible for the glassplate

negatives – bought

the building on the banks

of the Avon River in the

late 1800s, advertising that

he had "70 well-built boats

to choose from" and a

"photographic dark room

for the use of visitors."

Fendalton-based Anstey,

an English surveyor who

arrived New Zealand in

THE FANTAIL is surely

one of the most well

known and loved birds.

Who does not enjoy

watching this tiny bird

with its distinctive fanned

tail, happy chattering and

curiosity causing it to

come within arm's reach?

You may have even been

lucky enough to have seen

a black fantail, which only

make up five per cent of

the fantails. Don't let

them scare you when you

do see one, it really is only

a myth when you hear that

they are harbingers of bad

luck.

Both male and female

share the task of incubating

the eggs but as soon

as they hatch the female

will leave it up to the male

to feed the chicks, as she

will leave to start building

another nest for the next

clutch of eggs.

When the chicks from

the first nest can fend for

themselves the male will

find her and share incubation,

followed by feeding

the chicks and so on and

so on. They can nest up to

four times every season.

Note that the male will

need to feed the chicks

Carolyn

Robertson

1882, soon

built up a

remarkable

photographic

record.

Many

of those

glass plate

negatives

remained

in the space

under the roof of the boat

sheds until the early 1970s,

when Canterbury Public

Library librarian RC Lamb

collected the images from

the then owner of the site,

WS Dini.

City council head of

libraries and information

Carolyn Robertson says

the Anstey Collection

offers a "snapshot of early

Christchurch life, capturing

people, places and

riverside poses."

"Staff are busy digitising

these fragile images, providing

a remarkable portal

to Canterbury's past," Ms

Robertson said.

BIRDS OF THE ESTUARY

Tanya Jenkins is the manager of the Avon-Heathcote Estuary Ihutai

Trust, a non-profit organisation formed in 2002 to protect one of

New Zealand's most important coastal wetlands. Each week she

introduces a new bird found in the estuary. Her column aims to raise

the understanding of the values and uniqueness of the area.

Fantail fragile when cold

DELICATE: The fantail does not cope very well in

harsh winters as, being so small and fragile, they

can not survive harsh frosts.

PHOTO: CLIVE COLLINS

every 10min, so he is kept

super busy doing this feeding

by himself. Those nests

by the way are super-soft,

comfy and cleverly constructed

using moss, rotten

wood fibres, hair, dried

grass and woven together

with cobwebs.

The fantail does not

cope very well in harsh

winters as unfortunately,

being so small and fragile

they can not survive harsh

frosts. For this reason,

don't be surprised if on a

"The striking black and

white photos illustrate the

early 1900s in the city, including

visiting theatrical

companies, families, and

even the Botanic Gardens,

bridges, river rowers and

horse riding in Hagley

Park," she said.

"The images reveal so

much about our relationship

with the city, and,

despite the huge changes,

how our love of the

outdoors – particularly

cycling and being on the

water – has remained.

"It is fascinating to see

so many interactions with

the landscape as the collection

encapsulates the early

social history of Ōtautahi

Christchurch."

To see more, visit the

Christchurch City Libraries

digital heritage site –

Canterbury Stories.

Launched in December

last year, the site provides

access to more than 10,000

items.

frosty day you open your

woodshed

or garage to find fantails

sheltering from the cold.

How can we help the

fantail to thrive? Controlling

rats in your garden as

they are the key predator

of the fantail.

During winter hang or

place a shallow bowl in a

tree with sugary water to

give them extra energy. As

they only eat insects they

will not feed from your

birdseed feeder.

FOCUS ON HEALTH

Cleansed and cured?

Many common health

problems can all be easily

solved with one simple

approach according

to a leading New

Zealand Medical

Herbalist Brett

Elliott. Brett found in

his clinical practice

that most of his clients

have similar common

health complaints and

that it all could be traced

back to digestive disorders. Did you know

up to 50% of the population suffer from

common health conditions like; chronic

constipation, acid reflux, bloating, gas,

ulcers, irritable bowel syndrome, crohn's

disease, coeliac disease, haemorrhoids,

gallstones, cancer, diabetes, high blood

pressure, abdominal weight gain, skin

complaints and many more, these can all

come back to a poor digestive system.

Brett wanted to find a simple solution

everyone could use to support their

bodies natural healing without the side

effects of pharmaceutical medications that

often only ease or cover the symptoms

without healing as well as often having

many side effects. Brett knew everything

in the body depends on the digestive

system working properly and so went

about developing "The Ultimate Herbal

Detox Body Cleanse Program" a simple

to use two week program. It not only

supports the whole digestive system but

also helps cleanse the entire body of toxins

and parasites. The program contains four

different all herb formulas all in capsule

form that need to be taken twice daily.

These capsules can be blended into a

smoothie if you prefer. Colon-aid

is designed to support a healthy

bowel movement, increases the

secretion of gastric juices and

bile and promote appetite and

digestion. Digez-aid soothes

and stimulates healthy digestion

and absorption of vital nutrients.

Sym-lax is a bulking fibre to

cleanse and heal the intestines and

bowels. It also makes you feel less

hungry. Liva-food is the final nutrient

rich formula to support a healthy liver

function. It supports detoxing the body of

toxins and heavy metals.

The program supports the bodies'

organs to do their job. The formulas are

New Zealand made and contain a total

of 24 high potency herbs making it quite

possibly the most comprehensive "do

it yourself " herbal detox body cleanse

program in the world. Brett has refined

the formula over 20 years and has now

sold over 100, 000 kits world-wide. He

regularly receives incredible feedback

from users with many re-doing the

program once or twice yearly.

With toxic overload and many diseases

sky-rockerting now is the time to make a

positive change by cleansing, nourishing

and helping build your body to a better

health.

The Ultimate Herbal Detox and

further information is available from

the Natural Health Advisers and

Medical Herbalists at Marshall's Health

& Natural Therapy, 101 Seaview Road,

New Brighton, Phone: 388-5757. We are

always happy to help!

CLEANSED AND CURED?

Did you know around 50% of

the population suffer from

common health problems

that may be easily

eliminated by restoring

healthy body function?

Knowing this N.Z.

leading medical herbalist

"Brett Elliott" wanted to find

a simple solution everyone

could use. He developed "The

Ultimate Herbal Detox Body Cleanse

Program" to support cleansing the

body of stored waste matter, toxins, parasites & heavy

metals etc. Brett also knew he needed to support the vital

organ function so health could be restored & so included

natural herbs in the program to achieve this. Brett has

refined the program over 20 years & has now sold over

100,000 kits world-wide. He regularly receives incredible feedback from users.

DO YOU SUFFER FROM:

• Constipation • Ulcers

• Acid reflux • High blood sugar

• Bloating & gas • Eczema,

• High blood psoriasis & other

pressure

skin complaints

• Abdominal • Cancer

weight gain • Poor health

SUPER

SPECiAL

Bringing You the Best in Natural Health! MAIL ORDER AVAILABLE

mARShALLS hEALth & NAtURAL thERAPY

CONSULTING - PRESCRIBING - DISPENSING - MANUFACTURING - MEDICAL HERBALISTS

101 SEAVIEW RD, NEW BRIGHTON • PH 03 388 5757 • Email: enquiry@marshallshealthshop.co.nz

- kNowLEDgE mAkES thE DiffERENCE -

ULTIMATE HERBAL

DETOX KITS

ONLY

$148.90

SAVE $51

Book

Only

$

38.90

NOW IS THE TIME TO MAKE A POSITIVE CHANGE BY CLEANSING,

NOURISHING & HELPING BUILD YOUR BODY TO BETTER HEALTH!
---
8

Thursday June 25 2020

Latest Canterbury news at starnews.co.nz

SOUTHERN VIEW

HOME

LEISURE

Horncastle Arena,

21-23 August 2020

Exhibitors

Book now

Don't miss your opportunity to

showcase your business in front of

10,000+ qualified attendees

New exhibitor packages available

lisa.lynch@starmedia.kiwi or 021 800 809
---
© Paul Knight, Knight Ltd. This document and design remain the property of Knight Ltd under the

Copyright Act 1994. This document and design are for consideration and discussion and, therefore,

not for further reproduction. Any breach of Copyright protection may result in legal action.

WESTERN SOUTHERN NEWS VIEW Latest Canterbury news at starnews.co.nz

Thursday [Edition June 25 datE] 2020 27 9

keep it local

and support businesses in your community

Starfish Swimwear - making swimsuits

right here in Christchurch since 1997

The location has changed several times

but they still make their own swimwear

and provide their customers with the great

service they have come to know.

Being very proud of their range of suits

for mature women and those needing

post-surgery suits.

Starfish specialize in chlorine resistant

suits for all ages. This is a must for hydro

therapy or swimming lessons. The rapid

deterioration of swimwear by chlorine or

heated spas is often unknown to people

who spend a lot of money on a suit only to

have it last a couple of months, Sadly they

are not told this at the time of purchase

and it can come a quite a shock when it

deteriorates before their eyes.

Whatever your needs are, you will

find plenty of choice in one piece suits,

tankinis, bikinis and children's swimwear.

Children can sometimes fall between

sizes and can need a longer length while

still needing a smaller suit. These can be

custom made in suits and rash sets.

All the suits are still made on site in

their Colombo Street store. Starfish

are proud to use many local suppliers

including fabrics, label makers and

under wires and have always believed in

supporting local business where possible

as shopping local is important to our

communities.

You will get friendly help and advice

from experienced staff that can help you

make the choice that's right for you and

your needs.

Starfish Swimwear is located at 239C

Colombo Street or phone 379 0009.

New Zealand's Largest

Recycled Clothing Retailer

39 Battersea Street, Sydenham

Open 7 days 10am - 4pm

Locally made

swimwear

since 1997.

The pools are back open and swimming

lessons and Aquacise are back again.

Chlorine resistant swimsuits available

all year round for adults and children.

All made right here in Colombo Street.

239 Colombo Street | 379 0009

Designer Fashion

• Designer Brands

• Family Clothing

• Menswear

• Footwear

• Bric-a-brac

• Books

• Household Goods

• Workman Outdoor Clothing

• See the Retro Section

AND Formal Wear

See Our

HUGE

Selection!

3000

items

arriving

daily!

"Delicious and satisfying!"

For online orders visit:

www.souvlakiking.nz

Souvlaki King

Brand

Black and White

C0 M0 Y0 K100

PANTONE PROCESS BLACK

Black and Grey

C0 M0 Y0 K100

PANTONE PROCESS BLACK

C0 M0 Y0 K80

PANTONE COOL GREY 10C

1 Kennedys Bush Road,

Halswell

Phone 03 322 4888

Open 7 days:

Mon-Thurs 10am-8pm

Fri 10am-9pm

Sat 11am-9pm

Sun 11am-8pm

Organic Butcher

taste the difference

Mention this add

and receive

5% off

Open 8am-6pm Mon-Fri & 8am-2pm Sat

Cnr Tennyson & Colombo Sts | Ph: 332 6148

www.beckenhambutchery.co.nz

Halswell RD

Halswell JUNCTION RD

KNIGHT

signs graphics branding

sPaRKs RD

Colour

C0 M0 Y0 K100

PANTONE PROCESS BLACK

C0 M100 Y100 K0

PANTONE COOL GREY 10C

C0 M100 Y100 K0

PANTONE 1795C

Paul Knight Ma

0272954254

paulknightnz@

Advertising enquiries Mark Sinclair | Ph: 364 7461 | mark.sinclair@starmedia.kiwi
---
10 Thursday June 25 2020

Latest Canterbury news at starnews.co.nz

SOUTHERN VIEW

If you want more information about an item or to contact a

seller, visit www.postanote.co.nz and search the ID#

Electric Toy Car

Bird Netting

Toyota Avensis Touring

Wagon 2.0 Auto

Ford Festiva

NZ-New Suzuki Swift

Heater

$400

ID 34300

$400

ID 32914

$7,999

ID 31664

$1,500

ID 34861

$12,000

ID 34135

$15

ID 34839

Briford Trailer

5 x 4 Galvanised

Welsh Dresser

Fiat 1000 Super

Harrier 3.0 4x4. Four G

Hand Knotted Wool Runners

Nissan Note

$1,350

ID 34380

$250

ID 34721

$9,500

ID 30600

$1,650

ID 31660

$350

ID 33674

$6,000

ID 34110

Toyota Camry

Vintage Suitcase

Ford 460cu in BB Motor

Yard Machine Ride-on Mower

4-wheel E Cycle

1993 Nissan Navara D21

$3,700

ID 32505

$30

ID 34681

$4,500

ID 34771

$1,200

ID 34586

$2,500

ID 34931

$2,500

ID 34687

Ultimate Foot Spa

WANTED: 1990s 4WD Hilux

Netgear N600 + Modem Router

Antique Outdoor Light

Royal Doulton Teapot —

Butter/Cheese Dish

Hot Water Cylinder Wrap

$40

ID 34647

See Buyer

ID 34930

$65

ID 34279

$50

ID 34952

$80

ID 30748

$40

ID 34953

2017 Lawnmaster Chipper Pine Vanity

Festool 16.6v LC45

Battery Charger

Divan Bed (double)

Lounge suite

Neon Tetras (tropical fish)

$900

ID 31997

$250

ID 34720

$50

ID 33296

$50

ID 34722

$150

ID 29633

$1.50 EACH

ID 32625

DVD Racks & Cupboard

Rimu TV/Stereo Cabinet

Toyota Fun Cargo

Canvas Tents

2014 Toyota Hilux

Trek 4500 Road Bike

$10

ID 34429

$115

ID 34665

$4,250

ID 34258

$1,000

ID 34236

$24,500

ID 34186

$150

ID 34132

Chinese Fan Palms

Ford Transit

Vintage Huntley & Palmers

Biscuit Tin!

Gorgeous Wrought Iron Dining

suite

1983 Isuzu Motorhome

Couch & 2 Armchairs

$35

ID 34126

$6,750

ID 34119

$10

ID 34072

$400

ID 34068

$28,000

ID 34046

$50

ID 34040

0620h05
---
SOUTHERN VIEW Latest Canterbury news at starnews.co.nz

Thursday June 25 2020 11

Classifieds Contact us today Phone our local team 03 379 1100

Trades & Services

Trades & Services

Trades & Services

Situations Vacant

Situations Vacant

SCRAP METAL

Dominion Trading Co Ltd

• Scrap metal buyers

• Canterbury owned & operated

• Top prices paid $$$

• Open Saturday morning

Open Mon-Fri 8am – 4.30pm Sat. 8.30am-12.30pm

www.happyscrappy.co.nz

03 343 9993 333 Blenheim Rd

BUILDER

AVAILABLE

LPB, 35 years exp

Extensions,

Renovations,

Bathrooms,

Repairs.

Phone Darrell

0274 955 688

FOR ALL YOUR

★Garden Clean-ups

★Pruning

★Lawn Mowing

★Garden Maintenance

Call us today for a FREE quote

PH 0800 4 546 546

(0800 4 JIMJIM)

Trades & Services

AWSOM ROOFS

24/7

MOSS

TREATMENT

ROOFS $300

• Oamaru StOne

• Driveway

• PathS

• hOuSe

• General exterior

wash Down

• tidy up

Ph: 027 561 4629

Kevin

BRICKLAYER

George Lockyer. Over

40 years bricklaying

experience.Uk trained.

Insurance work, EQC

repairs. Heritage

brickwork & stonework

a speciality. No job too

small. Governers Bay.

Home 329 9344. Cell

027 684 4046. E mail

georgelockyer@xtra.co.nz

CARPET LAYING

Exp. Repairs, uplifting,

relaying, restretching.

Phone John on 0800

003181, 027 240 7416

jflattery@xtra.co.nz

ELECTRICIAN

Prompt & reliable

registered electrician

with 24 years experience

for all residential and

commercial work, new

housing and switch board

replacements. Phone Chris

027 516 0669

PAINTING

Indoor / Outdoor, over 30

yrs exp, same day quotes,

ph Steve 021 255 7968

ROOFING REPAIRS

Fully qualified, over 40

yrs experience. Ph John

027 432-3822 or 351-

9147 email johnchmill@

outlook.com

SPOUTING

CLEANING

Spouting Unblocked,

Cleaned Out and Flushed

Out. Call Trevor 332 8949

or 021 043 2034

STONEMASON, BRICK

& BLOCKLAYER

Earthquake Repairs, Grind

Out & Repoint, River/

Oamaru stone, Schist,

Volcanic Rock, Paving,

all Alterations new & old,

Quality Workmanship,

visit www.featureworks.

co.nz or ph 027 601-3145

STUMP GRINDING

Best price guarantee Tony

0275 588 895

TILER/CARPENTER

35 years exp, no job

too small. Ph Ross 027

4311440.

T.V. SERVICE CENTRE

Repairs, tvs, microwaves,

audio amps, soundbars.

.Aerial & satellite

installations, kitsets, 480D

Moorhouse Ave, ph 03 379

1400

VHS VIDEO TAPES

& all camera tapes

converted to DVD or

USB. Video taping

special occasions, www.

grahamsvideo.co.nz ph 03

338-1655

Wanted To Buy

AAA Buying goods

quality furniture, beds,

stoves, washing machines,

fridge freezers. Same day

service. Selwyn Dealers.

Phone 980 5812 or 027

313 8156

TOOLS Garden,

garage, woodworking,

mechanical, engineering,

sawbenches, lathes, cash

buyer, ph 355-2045

Public Notices

Co-ordinator Role

Care Solutions is currently setting up a new

Supervised Contact service in the Christchurch area.

We are a community based, child focused agency.

Visits are for two hours and venues may vary. This is

an opportunity to be part of an exciting new team.

We require someone who is self-motivated,

administratively organised, able to assess risk,

manage a small team and passionate about children's

rights. If you have these skills you may be the person

we need to co-ordinate this service in Canterbury.

Experience in family harm, drug and alcohol and

mental health will be essential. Strong administrative

skills will be needed to co-ordinate contacts,

summarise and write Court reports and communicate

skills to interact with all parties including, families,

lawyers, social workers and the Court.

This is an opportunity to work from home with hours

growing quickly from part time to full time. Training

and ongoing support will be given.

A Police vetting will be required and

you will need a full drivers licence.

If you are interested please e-mail

Jenny at jenny@caresolutions.co.nz

Public Notice

Would you like an opportunity to

help people in your community?

Care Solutions is currently setting up a new Supervised

Contact service in the Christchurch area and we are

looking for six contact supervisors. We are a community

based, child focused agency. Visits are for two hours and

venues may vary. This is an opportunity to be part of an

exciting new team.

We are looking for a diverse group of supervisors both

male and female. The role provides for a non-day to

day (visiting) parent to have supervised visits with

their children, ensuring that children are safe, while

supporting and providing an opportunity to rebuild the

parent/child relationship.

The role includes supervising the contact (usually

two hours), keeping the child/children safe, following

any safety plan that may be in place, and writing an

observational report after the contact. Three hours is

paid to allow time for separate handovers between

the parents, the contact itself, and writing the report.

Mileage is paid from home to the contact. Note that

most contacts take place during the weekend or after

school hours.

Training and ongoing support will be

given. A Police vetting will be required

and you will need a full drivers licence.

If you are interested please e-mail

Jenny at jenny@caresolutions.co.nz

www.bigbrothersbigsisters.org.nz

We're for

local

VOICES

The new local

news destination

for Cantabrians
---
12 Thursday June 25 2020

Latest Canterbury news at starnews.co.nz

SOUTHERN VIEW

BUY

NOW

DISCOUNTED 2-BEDROOM VILLAS!

Save $30,000*

(were $359,900 - now $329,900)

PLUS! Move in and pay no weekly village fees for 2020.

COMING SPRING 2020

8 new 2-bedroom villas also

at Thorrington Village

STUDIOS / CARE SUITES

*Thorrington Villa Special runs until 31/7/2020

or earlier if all allocated villas sold.

Villa must be under contract by this date.

It's better than we could

have imagined. We've got

a beautiful garden outlook,

fantastic facilities, access to

daily meals, and the Nurse's

Wellbeing Clinic.

What we offer:

• Nestled in the attractive "Beckenham Loop"

• Weekly fees are fixed for life

• Award-winning gardens

• Maximum RVA certification achieved

• Resident day trips & overnight tours

• Free weekly Wellness Clinics

• Nutritious meals available daily in our dining room or delivered to your villa

• Make new friends, feel supported and safe

• We are 100% non-profit & locally owned

• Rest home & dementia care at Thorrington with hospital care available at

Archer Village

• Our full-time care service offers either Standard Rooms with no

additional daily room fee or a Premium Care Suite with additional daily

room fee

51 Birdwood Ave, Beckenham

For inquiries: Sue (Sales Manager)

M: 021 902 626 W: 03 943 6006 E: sue@archer.org.nz www.archer.org.nz

FOUR VILLAS UNDER OFFER

LIMITED VILLAS AVAILABLE