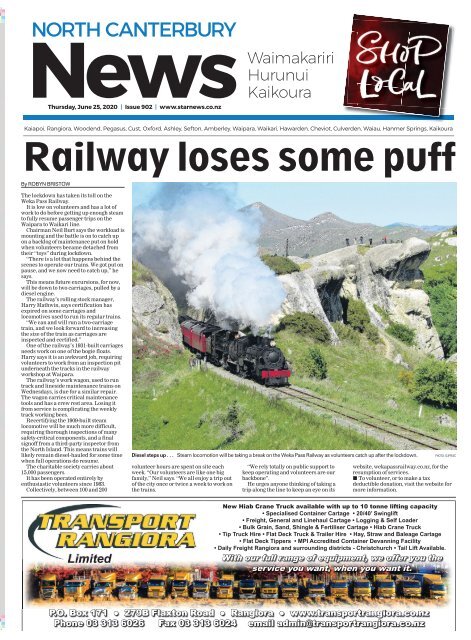 North Canterbury News: June 25, 2020
You also want an ePaper? Increase the reach of your titles
YUMPU automatically turns print PDFs into web optimized ePapers that Google loves.
Thursday,June25, 2020 | Issue902 | www.starnews.co.nz

Railway loses some puff

By ROBYN BRISTOW

The lockdown hastaken its toll on the

Weka PassRailway.

It is low on volunteers and has alot of

work to do before gettingupenough steam

to fully resume passenger tripsonthe

Waipara to Waikari line.

Chairman NeilBurt says the workload is

mounting and the battle is on to catchup

on abacklog of maintenance put on hold

when volunteersbecame detachedfrom

their''toys'' duringlockdown.

"There is alot that happens behindthe

scenes to operate our trains. We got put on

pause,and we now needtocatchup,'' he

says.

This meansfuture excursions, for now,

will be down to two carriages,pulledbya

dieselengine.

The railway's rolling stock manager,

Harry Mathwin, sayscertification has

expired on some carriages and

locomotivesused to run its regular trains.

"We can and will run atwo­carriage

train,and we lookforwardtoincreasing

the sizeofthe train as carriagesare

inspected and certified."

One of the railway's 1931­built carriages

needs work on one of the bogie floats.

Harry saysitisanawkwardjob, requiring

volunteerstowork from an inspectionpit

underneath the tracksinthe railway

workshop at Waipara.

The railway's work wagon,used to run

track and lineside maintenance trainson

Wednesdays, is due for asimilarrepair.

The wagon carries critical maintenance

tools and has acrew rest area. Losing it

from service is complicatingthe weekly

track working bees.

Recertifyingthe 1909­built steam

locomotive will be much more difficult,

requiring thoroughinspections of many

safety­critical components, and afinal

signoff from athird­party inspector from

the North Island. Thismeans trains will

likelyremain diesel­hauledfor some time

when full operations do resume.

The charitable society carriesabout

15,000passengers.

It has been operated entirely by

enthusiastic volunteers since 1983.

Collectively, between 100 and 200

Diesel steps up ... Steamlocomotion will be taking abreak on the Weka Pass Railwayasvolunteerscatch up afterthe lockdown.

volunteer hours are spentonsite each

week. "Ourvolunteers are like one big

family," Neil says. "We all enjoyatripout

of the cityonce or twiceaweek to work on

the trains.

"We rely totally on public support to

keep operating and volunteersare our

backbone".

He urges anyone thinkingoftaking a

trip along the line to keep an eye on its

PHOTO: SUPPLIED

website, wekapassrailway.co.nz, for the

resumptionofservices.

To volunteer, or to make atax

deductible donation,visit thewebsite for

more information.

New Hiab Crane Truck available with up to 10 tonne lifting capacity

•Specialised Container Cartage •20/40' Swinglift

•Freight, General and Linehaul Cartage •Logging &Self Loader

•Bulk Grain, Sand, Shingle &Fertiliser Cartage •Hiab Crane Truck

•Tip Truck Hire •Flat Deck Truck &Trailer Hire •Hay, Straw and Baleage Cartage

•Flat Deck Tippers •MPI Accredited Container Devanning Facility

•Daily Freight Rangiora and surrounding districts -Christchurch •Tail Lift Available.

With our full range of equipment, we offer you the

service you want, when you want it.

P.O. Box 171 ● 279B Flaxton Road ● Rangiora ● www.transportrangiora.co.nz

Phone 03 313 6026 Fax 03313 6024 email admin@transportrangiora.co.nz

Phone 03 313 6026 Fax 03313 6024 email admin@transportrangiora.co.nz

2223892
---
NEWS

2 North Canterbury News, June 25, 2020

There's

neverbeen

abetter

time to

support

local

news

Robyn Bristow

Managing Editor

027 312 1581

robyn.bristow

@ncnews.co.nz

Reporters

Neil Clarkson, David Hill,

Shelley Topp.

advertising

DaynaBurton

Sales Co-ordinator

027 312 0089

dayna.burton

@ncnews.co.nz

Amanda Keys Advertising

027 536 6224

amanda.keys@ncnews.co.nz

Claire Oxnam Advertising

021 560 386

claire.oxnam@ncnews.co.nz

Kerryn Clark Advertising

021 586 138

kerryn.clark@ncnews.co.nz

Joanne Young Advertising

022 019 7665

joanne.young@ncnews.co.nz

getintouch

The

North

Canterbury

News features

local business

and news

everyweek

Editorial

info@ncnews.co.nz

Advertising

sales@ncnews.co.nz

Graphic Design

heather.hood@ncnews.co.nz

Distribution/Deliveries

03 314 8335

Amberley: 03 314 8335

119 Carters Road, Amberley

Rangiora: 03 313 2840

77-83 High Street, Rangiora

Christchurch: 03 364 7460

www.starnews.co.nz

Staff dig deep

to help locals

By ROBYN BRISTOW

Alittle rural storewas a

big asset to aNorth

Canterbury township

during lockdown.

Staffatthe Hawarden

Four Square steppedupto

help getgroceries to town

residents and farmers

during thelockdown, and

localposties alsolent their

support.

Many residentsand

farmerswereunableto

visitthe store to do their

weekly shopduring

lockdown, when people

were urged to stayhome.

So Four Square owner/

manager, Wendy Hodgen,

alongwith herstaff, took

orders and packed up

groceries for those who

couldn'tmakeit

downtown.

Waikari­based

Hawardenpostcontractor

MandyThompson andher

team then collected the

ordersand deliveredthem

to grateful customers.

Last Friday,itwas the

community's turntorepay

thekindness shown.

Long­termlocalresident

RayMiller didaquick

''whip around'' the

communities of Hawarden

andnearby Waikari to

thankthe teamthat

ensuredno­one went

without.

Asmall group gathered

to present themall with a

small gift in appreciation.

Hurunui Mayor Marie

Black thankedthe Four

Squareteamand posties,

sayingtheir unwavering

communityspirit and

support, alongwith a''cando''

attitude,ensured the

communityhad allit

needed during lockdown.

''Thefriendly

communityrelationship is

appreciated,'' shesaid.

ECan lifts its rates take by 4pc

By ROBYN BRISTOW

Environment Canterbury is increasing its

total rates revenue by 4percent for the year

starting July 1. It has also adopted its 2020/21

Annual Plan.

The 4% rates increase is lower than the

9.8% previously mooted in the draft plan.

Savings have been made using cash

reserves and reducing reserve cash buildup

for flood protection and general

activities.

This could mean having to borrow to cover

the cost of unforeseen events, such as

floods.

Lower inflation estimates post­Covid have

also helped reduce the increase.

The 4% refers to the increase in the total

amount received in rates from 2019/20. It

includes 2.3% for inflation, an additional

0.8% for public transport service

improvements, and provision for spending

on priority work programmes for the coastal

environment plan (0.5%), climate

engagement (0.15%) and atree planting and

regeneration initiative (0.25%).

Individual ratepayers pay different rates

depending on the size and location of their

property.

The rates increase is equivalent to about

$6 ayear for an urban Christchurch

property valued at $580,000, and $22 ayear

Support appreciated ... From left, postal staff Toni Douglas and

Katrina Quigley, Four Square staff Rachel Purvis and Diane Nurse, store

owner/manager Wendy Hodgen and Hurunui Mayor Marie Black at last

Friday's presentation.

PHOTO: SUPPLIED

for an urban Rangiora property of $400,000.

Householders in urban properties in

Kaikoura, Hurunui and Ashburton districts

district will see areduction in their rates.

Deputy chairman Peter Scott chaired the

council meeting, and noted the need to

recognise the impact of Covid­19 on the

region, as agreat deal had changed between

the time the council signed off the draft plan

for engagement in February, and its

adoption last week.

''We are acting decisively now to invest in

the future, but we are also tempering the

rate of change in some areas to

accommodate the post­Covid recovery that

the region needs,'' Mr Scott said.

''There has been robust debate around the

council table over the last couple of months

about how much we can continue to press

forward with our longer­term initiatives,

against taking into account the

unprecedented post­Covid economic

climate.

''We have reached the position we have in

large part based on the feedback we had on

the draft plan, and more importantly during

the hearings that we held (online) during

the Covid period, when we heard about what

we should continue to push with urgency,

and what has changed externally that

impacts the ability of the community to

pay.''

The Widest Music Variety

Tune in nowtolistenon104.9 North Canterbury

and103.7 Hanmer Springs andKaikoura

Musicians

to perform

in gallery

Two talented Christchurchbased

chamber musicians

will perform aconcert in the

Rangiora Library'sChamber

Gallery next month.

The concert, by violinist

Jonathan Tanner and pianist

Anna Maksymova, was

initially scheduled for

earlier in the year, but was

postponed becauseof the

Covid­19 lockdown

restrictions.

The concert will begin in

theChamber Gallery at

7.30pm on Thursday, July 9.

Tickets for the

performance are available

from the Rangiora Library

and cost $35 for adults and

$15 for students.

Jonathanundertookhis

musical education in

Christchurch, Wellington

and Bern, Switzerland.

Anna received her musical

education in Ukraine, New

Zealand and Germany.

There's neverbeeneen

abetter time to

support local.

Help our local economy recover in these difficult times

and support our local advertisers by shopping local.

The North CanterburyNews features local businesses

and news everyweek.

If you're abusiness owner and want to

find out how we can help you

-send us an email on info@ncnews.co.nznz
---
NEWS

North Canterbury News, June 25, 2020

3

TAXRETURNS

2095268

National promises bypass

By SHELLEY TOPP

The National Party has

promised to build the Belfast

to Pegasusmotorway,

including the Woodend State

Highway 1bypass, if elected

in September.

The party's transport

spokesman, Chris Bishop, and

Waimakariri's NationalMP

Matt Doocey madethe

announcement at ameeting

in Woodend's OwenStalker

Park last Friday.

The new motorway will

begininBelfast,joining with

the Western Belfast bypass

and the Northern Corridor

motorways and go through to

Pegasus,bypassing Woodend.

''Under National,the

bypass will be apriority,'' Mr

Bishop said.''It is avery

important commitmentwe

are makingasaparty to this

region and the people of

Woodend in particular.

''This new roadwill help

drivejobs and growth in

NorthCanterbury, and help

our economy recoverfrom

Covid­19."

''Northern Christchurch is

experiencingstrong growth,''

he said. ''The Belfast to

Pegasus motorway is acritical

project to support that

growth, reducetraveltimes,

Kaiapoi Lodge

Residential Care

Nursing Home, Hospital and

Respite

Person Centred Care,

Carethat'sbuilt

around you

6Cass Street, Kaiapoi

Ph 03 327 7235

and improve safety.''

Woodend Community

Association presidentMark

Paterson, whoisalso a

Woodend­Sefton Community

Boardmemberand chairman

of the Make StateHighway 1

Safercommittee, said the

commitment was agreat

result for the community.

''TheWoodend community

has beenwaiting 40 years for

asolution to the town's traffic

problems.

''We justhope now that the

National Partywill followup

on their promise to build the

bypass,ifthey become

government, andifthey don't

win the election they will

continuepushing the next

governmenttogoaheadwith

the project. Idon't see it as a

political thing. It just makes

sensetoget it done.''

Acommunity rallywas held

in Woodend last February in

support of the bypass afterthe

Governmentannounced a$12

billion infrastructure

investment programme.

At lastweek's gathering,Mr

Doocey said the projectwas

long overdue but ''today the

people at Woodendand the

widerWaimakariri community

can feel listenedto''.

''Letusremind ourselves

that this project ...isabig

Firewood &Coal

Coal

20 kg bags or 500kg bulk bags

Firewood

Pick up or deliver (delivery charges apply)

Free delivery toDarfield township when

3cubic metres or more is ordered.

Landscape Products

•Forest Mulch

•Bark Mulch

•Bark Nuggets (10/20mm)

•Premium Organic Compost

•Screened Soil

•Landscape Rocks

Dan Gordon

investment into thelocal

region.''

Mr Bishop said aNational

government wouldwant to

start constructiononthe

roadingprojectduringits first

term, with completion

expected within five years.

He acknowledged the work

donebyMrDooceyand the

community,inparticular the

MakeStateHighway 1Safer

committee,for the bypass.

''You have done stirling

workmaking surethat this

issue, thisroad,this project

doesnot go away,'' he said.

''Your drive, your passion,

and your commitment to

makesure that politicians

BIRCHFIELD

Energy &Resources

Bypass promise

... The National

Partysaid on

Friday it will build

the Belfastto

Pegasus

motorway if

elected.

National's

transport

spokesperson,

ChrisBishop, in

the dark suit, and

WaimakaririMP

Matt Doocey,

right, were joined

by supporters for

the

announcement.

PHOTO: SHELLEYTOPP

likemeand Matt listen and

act is extremely impressive.''

Waimakariri MayorDan

Gordon saidhewas pleased

withthe National Party's

commitmenttothe project.

He says the council has

advocated for the Woodend

bypass for two decades,

seekingasafer and more

connected community.

''The community in

Waimakariri,and

particularly Woodend/

Pegasus, haverightly been

veryconcerned about the

needfor safety improvements

and it's wellknownthe

growing traffic demands on

thisroad will eventually

require abypass of

Woodend,'' he says.

While there is aneed to

implementinterim ''stop­gap''

safety improvements

immediately,aspromised,

construction of the bypass is

needed to provide long­term

safety benefits and help

development of the district's

eastern growth node of

Woodend and Pegasus, he

says.

''Importantly, it will also

provideinfrastructure

investment that will help

stimulate the greater

Christchurch economy

following Covid­19.''

•Paparoa Red Rock available in

3grades

•Railway Sleepers (2.1 Lengths)

•Kindling Wood

•Unscreened Bark

Delivery fees apply.

417 Creyke Road, Darfield Eftpos now

Phone 03975 4502 available

Open MondaytoFriday 6am-6pm,

Saturday 8am-1pm or after hours by appointment

2282437

It is not too late to have a

fire installed for winter

Save up to $849 on selected

Metro fires

See our range of

ULEB fires in store

–can be installed

ANYWHERE in

Canterbury.

Debra Jowsey

Karla Kilner

Tax&AccountingT

Consultants

since 1984

Overwhelmed?Confused? With the recent IRD

changes to tax returns, GSTreturnsand pay day

filing A-Plus Accounting is here tohelp.

Give us acall. Friendly,knowledgable staff.

A-Plus Accounting

☎ 03 314 9480

2265130

We can arrange

consent and

installation taking

away Seeusnowtoarrange allofthe you FREE, NO OBLIGATION

hassle. quote to have your log fire fully installed, including

obtaining council consent. FINANCE AVAILBLE.

Call us nowfor a free,

no obligation quote

360 FlaxtonRoad, Rangiora

Ph 03 3135563

www.kingsmowersheating.co.nz

Good old-fashioned service

For all jewelleryrepairs and remakes

•Making of new rings and jewellery

•Remodelling your old ring •Sizings

•Bead and pearl rethreading

•All jewelleryrepairs •Valuations

No job too big or too small

194 Edgeware Road

(Cnr Edgeware Rd &Barbadoes St)

Ph (03) 385 6737

email: hardingsonlne@xtra.co.nz

ADVERTISING

YOUR

BUSINESS?

1914343

Thursday,August2,2018 | Issue 808 | www.ncnews.co.nz

Delivered to more homes

in North Canterbury and

Kaikoura regions than any

other publication.

The best read paper in

North Canterbury!

For contact details see page 2

2281799

2278758
---
NEWS

4 North Canterbury News, June 25, 2020

Group to help with cycle strategy

By SHELLEY TOPP

Agrouphasbeenset up to

provide acommunityvoice

to theWaimakariri District

Council's walkingand

cycling strategyactionplan

update.

The Walkingand Cycling

Reference Group includes a

walkingadvocate, acycling

advocate, and

representativesfroma

range of organisations

within thedistrict, from

community boardand

councilrepresentatives to

the police.

''Collectively, we are

tasked with providing

community input intothe

updating of thecouncil's

Walking and Cycling

Strategy ActionPlan,'' the

council's communications

and engagement manager,

AlistairGray, says.

''The strategyhasavision

that residents choose to

walkand cycle. The

environment is friendly,safe

and accessible for walkers

and cyclists and thisiswhat

we aim to achieve through

our influenceonthe action

plan.''

Keen cyclistSarahLewis,

founder of Waimakariri

Women's MountainBiking

and Walking Groupin 2016,

is representingthe

Rangiora­Ashley

Community Boardinthe

new group.

Her bikingand walking

groupprovidesasafe

❛The strategy has a

vision that residents

choose to walk and

cycle.❜

—Alistair Gray

environment for women

seekingthe companyof

other like­minded women in

afun, social settingwhile

enjoying outdoor exercise.

Sarahco­ordinatesallits

bikingand walking events

and enjoys showing

members where the tracks

are andencouraging them to

return with their families

and friends.

She saysthis involvement

willbeparticularly helpful

in herrole in the reference

group.

She enjoys allthe tracks

on offer in theWaimakariri

and Hurunui districts but, if

she had to choosea

favourite, it would be the

Rakahuri Trailalongside

the Ashley/RakahuriRiver.

''TheRakahuri Trail is a

fun mountain­biketrack

comprisedofseveral

sections thatconnect up

alongthe way, which means

you can ridewhatever

distance youfeellike.

''This particulartrack

offers plenty of variation

including flattrackand the

moretechnically

challenging sections.''

Cycling enthusiast ... Sarah Lewis rides through the Ashley­Rakahuri Regional

Park in Rangiora recently.

PHOTO: SUPPLIED

Doctor

stands in

Kaikoura

General practitioner

Richard McCubbin is again

hitting the campaign trail as

the Green Party candidate

for Kaikoura.

Dr McCubbin, of Waikari,

launched his campaign in

Blenheimlast weekend.

He says he looksforward

to the challenge.

He stood for Kaikoura in

2017,gaining 2417 votes.

He says he believes it is

even more important to

stress the Green's message

aboutsustainability,

climate change, the health

of the country, its people,

the environment, protection

of water, and addressing

issues of socialjusticefor

people and the planet.

Dr McCubbin says the

Greens are asmall party in

the coalition Government,

but have achieved an

''amazing amount''.

''Ourtarget is to be in

coalition with Labour for

another three years.''

Dr McGubbin believes the

landscape and environment

in the Hurunui needs to be

sustained, nurturedand

protected for the longterm.

He continuestowork

part­timeasageneral

practitioner in Amuri,

Rotherham, Cheviot,

Kaikouraand Rangiora.

Is it time to

makethe

move?

Our modern Ballarat Retirement

Village in Rangioraoffers you

companyand security while

living in an active,like-minded

community.

Open home |Sunday28June, 1-3pm

One

bedroom

villa for

$315,000

All our villas have:

•Modern kitchen •Openplanlounge &dining room •Air conditioning/heatpump

•Fisher &Paykelappliances –single dishwasher, cooktop, oven and rangehood

•Access to community lounge,library,gardens and outdoor areas

•24-hour emergencyalarm andon-sitecarehome

Call Andrea on (03) 9748341 | 21Ballarat Road, Rangiora | www.bupa.co.nz/ballarat
---
Volunteers lifeblood of service

By DAVID HILL

Whenever there is afire,

accident or emergency,

volunteers are often first to

answer the call.

In smaller communities,

those first responders are the

local volunteer fire brigade.

North Canterbury's Fire

and Emergency New Zealand

(FENZ) leaders say the

region is well served by fire

volunteers, but some

brigades could always do

with more, especially those

who can be on­call during

weekdays.

The Rangiora Volunteer

Fire Brigade ran asuccessful

recruitment drive this year

and now has awaiting list,

chief fire officer Hamish

Peter says.

''That's why we did the

recruitment campaign. We

are still in the early stages,

but it's really heartening to

see.

''We've still got to go

through police checks and

training, but through the

support of the media and the

public we've attracted some

very high calibre people.''

FENZ North Canterbury

principal fire officer Bruce

Janes says most of his rural

brigades have about 20

volunteers, while his

Marlborough­Kaikoura

counterpart John Foley says

some of his brigades have

found anovel way of ensuring

they are covered.

''One of the issues we are

facing is alot of our brigade

members, if they're working,

it takes them away during the

day,'' Mr Foley says.

''Often, it's the women

staffing the brigades while

the children are at school and

covering the base until the

men come home and there's a

few female chiefs appearing

around the country now.''

The training and support

for volunteers is quite

extensive, meaning

employers can benefit from

having highly skilled

employees, Mr Peter says.

''We are not only training

our people to be good at

what they do, but also

exposing them to anumber of

things which can transfer to

their working life and home

life.''

Employers make abig

contribution in supporting

the volunteers, Mr Janes says.

''Kirwee Garage has three

volunteers, so whenever the

alarm goes off the garage

closes, so we have to be

mindful of that.''

Families also make a

sacrifice whenever

volunteers respond to acall,

Mr Foley says. ''We wish to

thank our volunteers and

their families. When the

siren goes the whole family

wakes up and not just the

firefighter, so they all make a

sacrifice.''

Volunteer firefighters

respond not only to fires, but

to vehicle crashes, medical

emergencies, hazardous

Volunteers valued ... Fire and Emergency New Zealand North

Canterbury principal fire officer Bruce Janes, left, and Rangiora

Volunteer Fire Brigade chief fire officer Hamish Peter say volunteers

are the lifeblood of the fire service.

PHOTO: DAVID HILL

materials spills, weather

events and Civil Defence

emergencies.

To become avolunteer, talk

to the local chief fire officer

or register at

fireandemergency.nz/

volunteering/want­to­join­us/.

Volunteer Week, pages

16 and 17

Virtual

NEWS

North Canterbury News, June 25, 2020

Welcome Our

New Stylist

Rachel

Stanley

Rachel brings with herawealth

of experience having previously

worked in various salons in

North Canterbury

SEFTON

HAIR

553 Upper Sefton Road.

CORCORAN FRENCH

KAIAPOI ART EXPO

ONLINE TILL THE END OF JULY

DOWNLOAD WAIMAK APP TO VIEW ARTWORKS

FROM OVER 40 WAIMAKARIRI ARTISTS

PLUS VOTE FOR THE JOHN RHIND PUBLIC CHOICE

2288239

MASTER BUILDER

LocaltoNorth Canterbury.

arthur@robertsonbuilding.co.nz

www.robertsonbuilding.co.nz

Hours Tuesday to Friday 9.30am –2.30pm

-Cuts &colours for men &women

-online booking at

facebook/seftonhair

or Ph 03 312-9210 for your appt

5

CALL ARTHUR027 245 1601

BARNS/FARM BULDINGS•RIB RAFT FLOOR SYSTEM INSTALLATION

PROJECTMANAGEMENT•ADDITIONS•NEW HOMES

HOME MAINTENANCE•EQC REPAIRS•ALTERATIONS

FREE QUOTES

Rachel's welcome special for new clients only

•Half head foils cut or blow wave $99

or straighten

•Wet cut with Blow wave or straighten $50

Valid till 31 st August 2020

M9-8 T/W 9-5.30 TH 9-8 F9-5.30 S9-2

2021055

Lisa Johnstone

Carol Moffatt Sam Young

Ruby Whitty

Ivan Button
---
OPINION

6 North Canterbury News, June 25, 2020

Building for the future

With Matariki,the Maori New Year, to

be celebrated thisyear on July13, it

makes me considerthe times in which

we live.

In challenging and unsettling times

like these,Iwonder if we can be

inspired by our Maori ancestors when,

in the bleakest of seasons, they focused

on restoration and strengthening

connections with one another.

Members of our wonderful

community team at the HurunuiDistrict

Council have spent the pastfew weeks

strengthening manyconnectionsvia the

conferencing app Zoom to check in and

understandhow theycan support and

work collaboratively with communities

to helpwith theirrecovery.

The team will playacrucial

leadership role in advocacy and

support for businessesand

communities.

Each year we develop in partnership

with our district an annualplan guided

by the overarching longterm plan.

This year our engagement was

somewhat hobbled by Covid­19 and the

uncertainty with the alertlevelsand the

ability to meetinlarge numbers.

However, Iamgratefultocommunity

members who attended our engagement

sessions and also to individuals who

provided written feedback.

We weretruly heartened by the depth

of understandingand support, or

positive feedback, for councillors to

consider.

Being able to settleonanincrease of

3.74% and continue to provide ahigh

level of service for core activities, as

well as reinstate some grants, is avery

measured result in theseuncertain

times.

Currently, the council is seeking

expressions of interestfor the 2020

CommunityService Awards,plus the

Environmentand Heritage awards,

with the ceremony to be hosted later in

the year.Iask that you look aroundyour

communities to find deserving people to

nominate, or projects that fit the

criteria.

Communitymembers are alsoinvited

to provide feedback on the council

speed limitsbylaw and register, along

with the Hanmer Springs design

standards review. Both consultation

documents are on the council website,

hurunui.govt.nz/report/consultations.

Iampleased to announcethe

appointment of Hamish Dobbie to the

role of chief executive for afurther

term.

Iknow that you will join me in

congratulating him on this appointment

and Ilook forward to workingwith

Hamish,the staff,councillors and all

the Hurunui community to make our

district safer, strongerand more

connected than before.

Rates rise pegged to 3.74pc

Rates will increase by an average of

3.74 percent in the Hurunui District for

the 2020­2021 financial year.

The council has pared back its initial

proposal of a5%increase to take into

account the hardship resulting from

Covid­19 restrictions on residents and

businesses.

It will formally adopt its annual plan

today, after approving the draft at last

week's meeting after considering

community feedback.

The council decided to use extra

savings from external interest costs to

lower the increase, allowing it to fund

some awards and grants it had initially

excluded.

These are a$10,000 award for

secondary school achievers, $5200 for

the Hanmer Springs Heritage Trust

and $40,000 for the Hurunui Trails

Trust.

Cost­saving measures include

$455,000 from wages, maintenance,

consultants, grants and awards.

Repayment of $1 million in debt has

been deferred, along with some capital

spending.

Mayor Marie Black says the changes

to the annual plan were made after

careful consideration.

"Councillors considered all feedback

in good faith and reached asensible

position," she said.

The final decisions, she says, reflect

the community and the important

work of the district's volunteers and

youth.

Claire McKay

Environment Canterbury Councillor

Efforts to reverse years

of water degradation

Six months ago,who would have

guessed the situation in whichwenow

find ourselves?

It is pleasing to see that, despite the

lockdown, work to improve our

freshwater has continued.

Threesignificantpieces of work are

particularly relevant to Canterbury.

The Government recently announced

high­levelpolicy for freshwater reform.

Whilethis provides more certainty,the

devilwillbeinthe detail.

Policies will be written intothe

National Policy Statement for

Freshwater management (NPS­FW),

therewill be directives in the National

Environmental Standards (NES),and

therewill be several changes to the

Resource Management Act (RMA).

EnvironmentCanterbury believesthe

region is well placedinseveral policy

areas.

Our plans must be consistentwith the

NPS­FW, so any gapsidentifiedwill

require aplan change.

The NES and RMA will have statutory

force.

SignificantNES provisionswhich are

more stringent than currently required

in Canterbury relatetowinter grazing

consent thresholds,mandatory farm

plansonpastoral or arable properties

larger than 20 ha, and anitrogen cap of

190/kgs/ha of syntheticnitrogen for

pastoral farms.

Many Canterbury farmers are already

well placed to meet thestock exclusion

policy. The council continues to focus on

compliance with plansand consents.

Achieving the more stringentNPS­FW

nitrogen toxicity bottom line of 2.4mg/l

nitrogen will be challenginginsome of

our lowland waterways.

More scientific research is needed

and we know that historicnitrogen will

continuetoappear for many decades.

Budget 2020 has seeninvestment of

more than $700million to support the

primary sectorand create employment

with on­the­ground actionstoimprove

freshwater outcomes.Thereare many

opportunitiestoshare in thisand make

environmental gains.

Winter grazing of livestock on fodder

cropsisacommon practice in

Canterbury, and the potential for

Eyes to the future ... Environment

Canterbury believes the region is well

placed in several policy areas as the

government makes changes around fresh

water, environmental standards and

resource management.

PHOTO:FILE

adverseimpactsonfreshwater, soils and

animal welfare is increased in bad

weather.

Industry groups havebeen proactive

in educating and supporting farmers on

best practice in this area. Environment

Canterbury has worked with industry

groups and,wherenecessary, will carry

out compliance action.

Recently,Bill Bayfield, our chief

executive for nineyears, left to takeup

the role of chief executive of the new

drinkingwater regulator,Taumata

Arowai. This is the first in apackageof

governmentreforms to the regulatory

system whichwill be extended to

improve performance of wastewater

and stormwater.

The governmenthas committedto

infrastructure upgrades thatprovide

employment, safedrinking water and

improvedfreshwater outcomes,

particularly for our urban streams.

No matter where we live, work or play,

our activitieshave an impact on fresh

water. It will takeall of us working

together to turn around decadesof

degradation and restorethe mauri(vital

essence)ofour freshwater.

Property Brokers Limited Licensed under the Real Estate Agents Act 2008 222 High Street Rangiora rangiora@pb.co.nz 03 313 8022

Two dwellings and workshop

OPEN HOME

WEB IDRL76179

EYREWELL FOREST

599 Downs Road

VIEW Sunday 28 Jun 12.00 -1.00pm

This beautifully designed three bedroom, two bathroom

home is near new. One wing contains the master

bedroom with an ensuite and walk in wardrobe.

Another wing has two bedrooms and the main

Maurice Newell

bathroom. There are two living area's with an open

Mobile 027 240 1718

plan kitchen living and aseparate lounge. The

Office 03 310 6471

log-burner has awetback and there isaheat pump as mauricen@pb.co.nz

well. ABelling stove and AEG dishwasher are typical of

the quality of the chattels and fit out. The garage is a

Hamish Anderson

large single with an adjoining separate laundry and

Mobile 027 678 8888

mudroom.

Office 03 310 6471

hamisha@pb.co.nz

Prime location -potential to add value

BUYERS $890,000+

4

3

1

Awinning beginning!

OPEN HOME

WEB ID RU75383

OXFORD

18 Woodside Road

VIEW Sunday 28Jun 12.00 -12.30pm

First home buyers &families looking to establish

themselves on the property ladder will be enthralled by

our feature listing, awell-maintained home close to

Oxford's superb amenities &astunning view! This

delightful home ofmixed age, boasts numerous

improvements that will appeal to buyers. Three

bedrooms are complemented by one bathroom, while

open-plan living areas ensure the ability to host both

intimate gatherings &larger get-togethers. Highlights

Di Moreira

include the new modern kitchen, gas hob &gas hot

Mobile 027 848 8020

water, aheat pump, &wood burner in the living areas.

Office 03 313 8022

di@pb.co.nz

Immaculately presented

NORTH

CANTERBURY

BY NEGOTIATION

3

1

1

McALPINES MITRE 10 MEGA RANGIORA -OCEAN WATCH

This

Week

Sun

Fishing

Guide

Moon

Wind

Swell

Pegasus Bay

Tide Chart

3

2

1

Good

Thursday Friday Saturday Sunday Monday Tuesday Wednesday

Jun 25 Jun 26 Jun 27 Jun 28 Jun 29 Jun 30 Jul 1

Rise 8:01am

Set 5:01pm

Best

Times

3:31am

3:58pm

Rise11:03am

Set 9:00pm

Light SEbecoming

moderate E

Good

Rise 8:01am

Set 5:01pm

Best

Times

4:25am

4:51pm

Rise 11:37am

Set 10:13pm

Moderate Eturning

NE

Good

Rise 8:01am

Set 5:02pm

Best

Times

5:17am

5:42pm

Rise 12:07pm

Set 11:27pm

Moderate NE

easing

Good

Rise 8:01am

Set 5:02pm

Moderate SW

Rise 8:01am

Set 5:03pm

Light SWturning

W

Rise 8:01am

Set 5:03pm

Light Wbecoming

moderate S

Rise 8:01am

Set 5:04pm

3 6 9 NOON 3 6 9 3 6 9 NOON 3 6 9 3 6 9 NOON 3 6 9 3 6 9 NOON 3 6 9 3 6 9 NOON 3 6 9 3 6 9 NOON 3 6 9 3 6 9 NOON 3 6 9

0

Highs Lows Highs Lows Highs Lows Highs Lows Highs Lows Highs Lows Highs Lows

Waimakariri 7:42am 2.2 1:31am 0.5 8:34am 2.3 2:21am 0.5 9:27am 2.3 3:13am 0.5 10:20am 2.3 4:06am 0.5 11:14am 2.4 5:00am 0.5

5:55am 0.4 12:35am 2.4 6:49am 0.4

Mouth

8:03pm 2.4 1:48pm 0.5 8:55pm 2.4 2:39pm 0.5 9:48pm 2.4 3:32pm 0.5 10:42pm 2.4 4:28pm 0.5 11:38pm 2.4 5:26pm 0.5 12:09pm 2.4 6:25pm 0.5 1:07pm 2.4 7:24pm 0.5

Amberley 7:42am 2.2 1:31am 0.5 8:34am 2.3 2:21am 0.5 9:27am 2.3 3:13am 0.5 10:20am 2.3 4:06am 0.5 11:14am 2.4 5:00am 0.5

5:55am 0.4 12:35am 2.4 6:49am 0.4

Beach

8:03pm 2.4 1:48pm 0.5 8:55pm 2.4 2:39pm 0.5 9:48pm 2.4 3:32pm 0.5 10:42pm 2.4 4:28pm 0.5 11:38pm 2.4 5:26pm 0.5 12:09pm 2.4 6:25pm 0.5 1:07pm 2.4 7:24pm 0.5

7:51am 2.2 1:40am 0.5 8:43am 2.3 2:30am 0.5 9:36am 2.3 3:22am 0.5 10:29am 2.3 4:15am 0.5 11:23am 2.4 5:09am 0.5

6:04am 0.4 12:44am 2.4 6:58am 0.4

Motunau 8:12pm 2.4 1:57pm 0.5 9:04pm 2.4 2:48pm 0.5 9:57pm 2.4 3:41pm 0.5 10:51pm 2.4 4:37pm 0.5 11:47pm 2.4 5:35pm 0.5 12:18pm 2.4 6:34pm 0.5 1:16pm 2.4 7:33pm 0.5

7:53am 2.2 1:42am 0.5 8:45am 2.3 2:32am 0.5 9:38am 2.3 3:24am 0.5 10:31am 2.3 4:17am 0.5 11:25am 2.4 5:11am 0.5

6:06am 0.4 12:46am 2.4 7:00am 0.4

Gore Bay 8:14pm 2.4 1:59pm 0.5 9:06pm 2.4 2:50pm 0.5 9:59pm 2.4 3:43pm 0.5 10:53pm 2.4 4:39pm 0.5 11:49pm 2.4 5:37pm 0.5 12:20pm 2.4 6:36pm 0.5 1:18pm 2.4 7:35pm 0.5

7:47am 1.7 1:39am 0.4 8:39am 1.7 2:30am 0.4 9:32am 1.7 3:22am 0.4 10:25am 1.8 4:15am 0.4 11:20am 1.8 5:08am 0.4

6:01am 0.4 12:43am 1.8 6:54am 0.4

Kaikoura 8:07pm 1.9 1:51pm 0.4 9:00pm 1.9 2:43pm 0.4 9:54pm 1.9 3:37pm 0.4 10:50pm 1.8 4:34pm 0.4 11:46pm 1.8 5:32pm 0.4 12:15pm 1.8 6:31pm 0.4 1:12pm 1.9 7:30pm 0.4

*Not for navigational purposes. Wind and swell are based on apoint off Gore Bay. Maori Fishing Guide by Bill Hohepa. www.ofu.co.nz www.tidespy.com Graphic supplied by OceanFun Publishing Ltd.

Best

Times

6:07am

6:32pm

Rise 12:35pm

Fresh SW

E0.8 m E1.2 m E1.5 m E1.4 m E1.3 m E1.2 m SE 1.3 m

Good

Best

Times

6:56am

7:21pm

Set 12:40am

Rise 1:02pm

Good

Best

Times

7:46am

8:12pm

Set 1:53am

Rise 1:29pm

Good

Best

Times

8:38am

9:04pm

Set 3:07am

Rise 1:59pm

2118223

WEB ID RU76320

OXFORD

55 Burnett Street

Positioned in the heart of agrowing community, this

classic 1970's home on873m2 offers quick access to

local amenities. While needing some TLC, this offering

is as versatile asthey come with potential both as a

small family home or an investment property. Both

spacious bedrooms have excellent inbuilt storage and

are complemented by awell-appointed bathroom and a

separate toilet, with an added bonus of an extra room

off the master adding versatility as astudio/storage

area. An open plan dining/kitchen area and separate

lounge benefit from the presence ofawood burner.

pb.co.nz

FINAL NOTICE

DEADLINE SALE

VIEW Sunday 28 Jun 2.15 -2.45pm

DEADLINE SALE closes Tuesday 30th June, 2020 at 5.00pm,

(unless sold prior)

Di Moreira

Mobile 027 848 8020

Office 03 313 8022

di@pb.co.nz

2

1

WEB ID RU76392

OXFORD

22 Kowhai Street

With ahost ofamenities all within walking distance,

this large modern home, on an expansive section, is

perfect for families of all shapes and sizes. Offering an

opportunity to work from home, host extra family and

friends or simply spread out and enjoy the space. Inside,

four bedrooms are accompanied by two modern

bathrooms, including an en-suite and WIR of the

master. The well-appointed kitchen is complemented by

aversatile open-plan living area with expansive

windows. The heat transfer, heat pump and wood

burner provide all year-round comfort and the interior is

freshly painted.

OPEN HOME

DEADLINE SALE

VIEW Sunday 28 Jun 1.30 -2.00pm

DEADLINE SALE closes Tuesday 7th July, 2020 at 5.00pm,

(unless sold prior)

Di Moreira

Mobile 027 848 8020

Office 03 313 8022

di@pb.co.nz

4

2
---
NEWS

8 North Canterbury News, June 25, 2020

Landfill cell construction nears completion

It has taken more than 18

months, teams of 12 and a

100­tonne crane to build

the latest cell in the Kate

Valley Landfill.

The cell will provide

sufficient space at the

Transwaste Canterbury

Ltd owned landfill for 12

to 18 months of waste.

Transwaste chairman

Gill Cox says cells are

developed only as they

are needed to ensure time

and money is not spent

creating storage before it

is required.

''That approach has

worked perfectly for the

past 15 years, even with

the extra demands of the

earthquakes and the

Covid­19 crisis,'' he says.

Mr Cox says Transwaste

has to be prepared for all

situations so waste can be

disposed of quickly and

safely.

The Kate Valley

Landfill was consented in

March 2004 and opened to

receive the first delivery

of waste 15 years ago, in

June 2005.

The development of the

landfill, along with the

general location and

phasing of the cells, was

planned from the day the

facility was consented.

Groundwork for the

cells, including

excavating soil and rocks,

can be significant as

Transwaste aims to

achieve the maximum

Carefully engineered ... The creation of each cell requires

detailed engineering input.

holding capacity for

waste with the minimal

amount of earthworks, Mr

Cox says.

''We make the best use

possible of all the

materials stripped out to

prepare the cell for

receiving waste.''

Topsoil is stockpiled to

use on the final landfill

surface, which is grassed.

Hard rock is stored on

site to line drains and for

other structures. Other

excavated soils are

generally used to

construct what are

referred to as engineered

fills that form the

foundations of all cell

development.

''Balancing the volumes

of excavated soil to match

the requirements of the

engineered fills around

the landfill is important

to reduce costs and

increase efficiencies,'' Mr

Cox says.

Once the foundation

work is completed, the

crane, which reaches an

astonishing 82 metres, is

used to lay the liners,

including a1mm highdensity

polyethylene

(HDPE) liner, ageosynthetic

clay liner and a

second HDPE liner.

Then a500mm

permeable gravel layer is

laid to enable drainage of

leachate (liquid from

decomposing waste),

and to protect the liner

Careful planning ... The liner being laid in the next area of the Kate Valley Landfill being

prepared to take the region's waste.

PHOTOS: SUPPLIED

from damage caused by

sharp objects in the

waste.

Once the cell is filled,

depending upon its size

and location, it might be

temporarily covered, so

more waste can be added

to it later, or capped and

grassed.

Once this new cell

starts receiving waste,

work usually gets under

way preparing the next

cell.

COVID-19 RECOVERY

Got an Idea that will Help our

Community Recover from COVID-19?

We are looking for ideas and feedback on aproposal to help the

community recover inthe wake of COVID-19.

Adraft plan, called 'Waimakariri: Better

than Before', is in development and currently

has six programmes of focus including:

• Playing arole in leadership, advocacy and

providing support for businesses who are

facing adownturn

• Promoting Waimakariri as destination to

bring in outside investment and accelerating

the 'green economy'

• Facilitating investment from the development

and building sector

• Bringing forward planned capital projects

that could stimulate the economy and

provide jobs

• Ensure the wellbeing of all residents

through an increased programme of

community development

• Maximise business survival and enable

new business development.

We want to hear what outcomes and

actions the community would like to see

on these themes.

If you have anidea which you believe

could help Waimakariri recover from the

economic downturn of COVID-19 visit

waimakariri.govt.nz/letstalk and have

your say.

Share your thoughts with us before

5pm, Friday 3July 2020.

waimakariri.govt.nz/letstalk
---
FITNESS •HEALTH •WELLBEING

getbackontrack

WITHPERSONAL TRAINING

"There's no better waytoget your individual strength &fitness

goals backontrack than with the help of aPersonal Trainer."

OurexperiencedteamofPersonal Trainers covers awide range of expertise from weight

loss to nutritiontosport-specific training to pre&post-natal exercise to

competitiveweightlifting and bodybuilding.

We haveTrainers at all four of our communityFitness Centres

readytohelp youwith all your health &fitness needs. Visit us

in Rangiora, R Kaiapoi, Amberley &OxfordFitness Centres.

PT session

start from just

$22 per half

hour

Ricki

Janna

Neil

Mandy

Jesse

Starz

Fraser

Holly

Chris

Jacinda

Clinton

Elsie

To find out

more visit...

www.sportstrust.org.nz

GYM NA TIC

and

TRAM O L NE I

MN

Ts &Csapply. Most classes are45minuteslong. BabySteps andToddler Steps classesinclude aFREEdrink forcaregiver.

To find out moreortobook your placeinany of these classes visit...

www.sportstrust.org.nz

T

S

AS S

P N

ActiveFun in Term 3for Preschoolers,

Home-Schooled &Adults

Build their confidence, coordination, balance, body

awareness and control, and set them up foranactivelife.

In these classes childrenexploremovement

and developkey motor&social skills

relevanttotheir age.

Gymnastics

@RangioraFitness Centre

Baby Steps forunder 2year olds

Tue10:45am • Tue 1pm

Baby Steps PLUS for2-3year olds

Tuesday11:45am

ToddlerSteps for3-5year olds

Tuesday11:45am

First Steps for5-8year olds

Mon3:45pm •Tue 3:45pm •Wed 3:45pm

First Steps PLUS for5-8year olds

Mon4:45pm •Wed 4:45pm

$

80

ALL

CLASSES

JUST per term

Gymnastics &Trampoline

@MEGAStadiumon Edward St

Preschool 2-3 1 /2year olds

Mon9:15am • Thur 9:15am • Fri 1pm

Preschool 3 1 /2-5year olds

Mon10:15am • Thur10:15am

Thur 1pm •Fri 2pm

Home School 5-13 year olds

Thur 12:00pm

Tramp-Nastics forAdults

Wednesdayand/orFriday11:45am

(do1or 2classes eachweek)

It's a SCHOOL HOLIDAY

SPORT

13th -17th July2020

Time: 9am - 3pm

Age:7-13yearolds

$40 /child /dayfor1st &2ndchildren. $35 /child/dayifbooking 3-4 children

from the same family.

Monday-Archery Tag (Open Season), Netball,Frisbee Golf

Tuesday-Basketball,Multi Sports, Trampoline/Gymnastics

Wednesday-ArcheryTag (Battleships),Football,Cricket

Thursday-UltimateFrisbee, Rounders, Trampoline/Gymnastics

Friday - Stone-Age Touch, Hunger Games,Fat MatSplat, Mafia

Run by the North Cante terbury Primary School Sport Coaches

www.sportstrust.org.nz/holiday-programme

Ph: 03 975 5560

-ACULARAR

Join theNorth Canterbury Sport&Recreation Trust's

School Holiday Programme

at the RangioraBorough School Gymnasium.

Book On-line NOW!*

Registrations close 5pm on day before each session.

* Inthe event your child is withdrawn arefund will only be given if the organisers

are notified before Friday 10th July.

2

sessions of

Tramp/Gym +

Archery Tag

mainpowercoaches@sportstrust.org.nz
---
There's never been abetter time...

Come on over...

Visit our stunning NEW Ravenswood Display Home:

2John Raven Lane, Ravenswood, Woodend.

Opening hours:

Saturday and Sunday 12-4pm or by appointment

House and Land Packages available from $499,900!

Exciting packages in the highly sought after development of Ravenswood.

From $538,500

Approximately $520.00 per week.*

Lot 291 Ravenswood, Woodend

From $499,900

Approximately $484.00 per week.*

Lot 326 Ravenswood, Woodend

3 1 2 2 2

3 1 2 2 2

Jennian Homes proudly presents an intelligently designed,

three bedroom home, structured and designed to take all

the hassles out of the process and equipped to fit your

needs without sacrificing style and comfort.

Situated in the highly sought after stage two of

Ravenswood Development, this is afantastic location for

you and your family to enjoy arelaxed lifestyle. Just move

in and start enjoying your brand new Jennian home.

LIVING

DINING

LOUNGE

DINING

BED 2

ENTRY

pantry

KITCHEN

HWC

810

ENSUITE

WIR

LAUNDRY

storage

MASTER BEDROOM

BED 1

DOUBLE GARAGE

GARAGE

wardrobe

BED 3

BATHRM

BEDROOM 3 BEDROOM 2

wardrobe

*Pricing is with a10% deposit and includes Lenders Mortgage Insurance. Bank lending criteria apply.

Jennian Homes Canterbury

212 Main South Road, Hornby

P 03 7411 436

E canterbury@jennian.co.nz

jennian.co.nz

Eric Briggs

P 027 766 3776

Darren Kim

P 027 899 7000
---
NEWS

North Canterbury News, June 25, 2020

11

Device to be aboon for grocery shoppers

PAK'nSAVE is streamlining the shopping experience

with its rollout of SHOP'nGO across the South Island.

The PAK'nSAVE shopping

experienceisset to become

moreconvenient,technologybased,and

seamlessat

RangioraPAK'nSAVE.

PAK'nSAVE Rangiora is one

of 11 SouthIsland stores

rolling out,orhavealready

rolledout, the SHOP'nGO

personalshoppingdevice this

year.

PAK'nSAVE Rangiora goes

live on Monday, July 6.

PAK'nSAVE Rangiora

owner­operator James

Flanagan saysthey are excited

to offer customers the new

innovative devicewhichhelps

thembudget whilethey shop.

''Byscanning theirgrocery

items as theygo, customers

can easily keeptrack of their

budget, all while saving time

at checkout.

''Customers will no longer

have to unpacktheirtrolley,

rather theyjustscanthe

device andpay at one of the

designatedSHOP'nGOselfcheckouts.

''We're confident customers

willadoptthe newtechnology

quickly.''

TheSHOP'nGO barcode

technology gives customers a

moreconvenient and

personalised shopping

solution, speedinguptheir

timespent in store.

PAK'nSAVE's group

manager forFoodstuffs South

Island, Justin Waddell, saysby

leveraging new technologies

whichenable customersto

have amoreseamless

experience in store,the

overallPAK'nSAVEshopping

experience can be refined.

It wastrialledat

PAK'nSAVE Wainoni in 2019,

and thestoreisnow

processing18% of allits sales

through SHOP'nGO.

''Thecustomerfeedback

following theSHOP'nGO trial

at PAK'nSAVE Wainonihas

been verypositive andwe're

excited to offerthe SHOP'nGO

solution at morestoresfor

more customerstouse and

enjoy,"saysMrWaddell.

Thebarcode­scanning tool

allows customerstoscaneach

product which shows a

runningtotal of howmuchthey

have spent, giving them more

control overmonitoring their

budget in store.

SHOP'nGOalso speeds up

thetime spentatcheckout.

Customers simply scan aQR

code on theirSHOP'nGO

screenatthe designated

SHOP'nGO self­checkout

lanes, prompting paymentat

theeftpos terminal.

WithSHOP'nGO, there is no

unloading or loadingof

groceriesontothe conveyor

belt or back into the trolley.

Customers cansimply pack

their groceries intotheir bags

in their trolley as theyshop,

payand go.

To use theSHOP'nGO

devices,customerswill first

needtopick up aSticky Club

cardin­store andregister with

the Sticky Clubloyalty

programme.Once customers

are signedup, they can use

SHOP'nGO at allparticipating

PAK'nSAVE stores.

SHOP'nGO is live in

Christchurch at PAK'nSAVE

Wainoni, Moorhouse and

Northlands,and willrollout to

PAK'nSAVE Hornby and

Riccartonlater this year.

— Promotional content

WIN A$200 GIFT CARD

North CanterburyNews readers

are invited to enter adraw to

win a$200 PAK'nSAVE giftcard

and trythe SHOP'nGOdevice to

show its benefits.

Two lucky readers will be

selected —one to use the device

and one to shop manually —at

PAK'nSAVE on Tuesday, July 7

at 8am,following SHOP'nGO

going live on July6.

Both contestants willhave to

gather$200 worth of groceries,

from the same shoppinglist, and

head to the checkout to pay.

Each will wina$200

PAK'nSAVEgift card.

To enter, send your name,

address and phonenumber to

robyn.bristow@ncnews.co.nz.

Entries closeatnoon on July3.

The two winners mustbe

available at 6am on July 7to

take part.

342 Oxford Road

Fernside

03 313 6465

parts@vallance.co.nz

carl@vallance.co.nz

• CF Moto ATV and UTV

Sales and Service

• ATV and UTV Servicing

• Ride On Mower Service

(Free pick up /drop off

from Oxford to Amberley)

• Tractor Sales /Service

• Tractors sell on behalf of

• Implement Sales and

Service

• Parts and Distribution

• Tools

• Morris Oils and

Lubricants

• Batteries

• Baler servicing

• Super mini Booster

Jump Start Pack

• NZ Couriers agency

Give us acall 03 313 6465

Book now

for your Farm

Machinery

&Ride On

Mower Winter

Servicing

Will save you time and

money, and prevent

mechanical failures in

the busy Season

10% off

labour costs

Great service

guaranteed

Book in now

Vallance Machinery is your one stop shop for Agricultural and Lifestyle Parts, Sales &Servicing.

We have 3mobile Servicing trucks onthe road to keep you going this Season

2287488
---
NEWS

12 North Canterbury News, June 25, 2020

WEEK

Pams Fries 1kg

Fresh NZ Quality

Mark PrimeBeef

Mince 500g

$

2 29 ea

Coca-Cola, C

Sprite, S Fanta,

L

L&P 1.5 Litre

ANY

2FOR

$

7 99

ea

IT'S

BACK

Satsuma Mandarins

Loose Product of

New Zealand

ShoreS

Mariner

CrumbedC

FishF

Fillets

840g8

$

9 49 ea

Pascall

Confectionery

150-180g

$ 4 49 $ 1

99 ea

SEEDLESS

&EASY

PEEL

$ 3 99

kg

Tasty offerings ... Tayla King, of Ohoka, was selling cupcakes, marshmallow pops

and raspberry jam, which she had been busy making, at apast Great Rangiora Kids

Market, part of Kidsfest.

PHOTO: FILE

Kidsfest makes its

triumphant return

By DAVID HILL

KidsFest is back in Waimakariri this

winter.

With the recent move to alert level 1,

KidsFest has sprung back into life for

the July school holidays, with several

events planned in the Waimakariri

District to beat the winter chills.

The Great Rangiora Kids Market is

back at the Rangiora Borough School

on Friday, July 10, from 10.30am to

1pm, giving children the chance to

earn some extra pocket money selling

their wares, or to come home with

some bargains.

Teddy Stays Safe will be back at the

Woodend Community Centre on

Thursday, July 16, from 10.30am to

1pm, with teddy offering tips on how to

stay safe.

Family fun is on offer with family

quiz nights, nature craft evenings, the

great fairy hunt, pool parties and a

pirate mystery trail.

Waimakariri Libraries is hosting

quiz nights for family teams, from July

15 to 17, at the Oxford Town Hall

(Wednesday), Ruataniwha Kaiapoi

Civic Centre (Thursday) and Rangiora

Library (Friday), all from 7pm to

8.30pm.

Nature craft nights will be hosted by

the libraries from July 7to9,at

Oxford, Kaiapoi and Rangiora from

5.30pm, while pool parties will be

hosted on the two Thursday

afternoons at the Kaiapoi Aquatic

Centre (July 9) and Dudley Park

Aquatic Centre (July 16).

Pearson Park, Oxford, and the

Kaiapoi Domain will play host to the

Great Fairy Hunt each day during

KidsFest, while pirates have taken

over all three Waimakariri libraries

with achance to win treasure each day

by completing the pirate trail.

Youngsters (age 3to7)can be

''friends in the wild'' at Pines Beach

Hall on Thursday, July 16, while the

bigger kids (aged 5to13) can enjoy

some ''wild adventures'' at the same

venue the day before.

Other Waimakariri activities during

KidsFest include young writers'

workshops, Sport Suzy's super silly

circus show, roller discos and karate

safety workshops.

To find out more and to make

bookings, visit kidsfest.co.nz.

www.foursquare.co.nz

facebook.com/FourSquareNZ

SpecialsavailableSouthIsland only from Monday15th June until Sunday28th

June2020orwhile stockslast.Wine and beer available at storeswithanoff

licence. Wine andbeerpurchases restrictedtopersonsaged18yearsold andover.

Documentary to screen

Adocumentary celebrating New

Zealand's Arts on Tour programme will

be screened at the Rangiora Town Hall

Cinemas this weekend.

The film, Central to the Soul,was

picked up by the theatre's director,

Jeremy Stewart, after a

recommendation by Ohoka music lover

Christopher Marshall, who received a

Queen's Service Medal this month for

his services to music.

The 58­minute film, which was

released last year and screened at

Christchurch's Lumiere Cinema in

October, is an intimate look at how Arts

on Tour, which delivers live music,

theatre and comedy to New Zealand's

small towns, has influenced the lives of

people in rural Central Otago and the

Queenstown Lakes District.

The film will screen in Rangiora this

Saturday from 4.45pm and on Sunday

from 5pm. Tickets are available at the

theatre.
---
THE ROCKER $369

QUALITY

FURNITURE

Affordable

PRICE TAG

KING

THE MELODY MATTRESS

Continuous spring with pillow top.

$459

QUEEN

DOUBLE

$399

$369

THE TWINS

MID-SLEEPER BUNK

BED IS PERFECT FOR

SIBLINGS OR THE

SOCIAL BUTTERFLY

WHO OFTEN HAS

FRIENDS AROUND.

THE TWINS MIDSLEEPER $1099

THE PEARL BAY

COLLECTION

Equipped with smooth

roller runners and a

range of sizes, perfect for

children's or spare rooms.

$145

$225

$345

3 DRAWER BEDSIDE

4 DRAWER TALLBOY

7 DRAWER TALLBOY

FIND US IN THE OLD TARGET BUILDING

on the corner of Blenheim &Curletts Road, Sockburn.

Finance Offer: Twelve months

payment holiday using qCard

BOTANICAFURNITURE.CO.NZ

0800 268 264

THE ELEANOR 3 SEATER $1399
---
NEWS

14 North Canterbury News, June 25, 2020

Average rates rise

of 1.5pc gets nod

$

5 00

kg

$

1 90

ea

Eta Ripple Cut

Chips150g

FreshNZChicken

Drumsticks

$

4 00

bag

$

3 50

ea

KeriFruit

DrinkorJuice

2.4-3L

22 nd to 28 th June2020

AustralianNavel

Oranges1.5kg

By DAVID HILL

The Waimakariri District Council has

signed off on its latest annual plan,

confirming an average rates rise of

1.5 percent.

The 2020/21 annual plan was approved

at acouncil meeting on Tuesday last

week, with councillors joining with chief

executive Jim Palmer in praising staff

for their efforts in completing the

document two weeks ahead of the June

30 deadline, amid the pressures of

Covid­19.

''This is areport that brings together

nearly 12 months worth of work,'' Mr

Palmer said.

''We were taking submissions and

forming aview and then we had Covid­

19. But, given the timing, it was good that

we had the engagement under way

before the lockdown and we were able to

extend the timeframe and take a

considered position.''

Mr Palmer noted other councils had

signalled they would not meet the June

30 deadline as they struggled with the

implications of Covid­19.

Mayor Dan Gordon said the council

had taken ''a pragmatic approach'' in

keeping the average rates rise down to

1.5%, through rates smoothing and

deferring some capital works projects to

next year's 2021/31 Long Term Plan

(LTP).

''I'm pleased we didn't indicate we

would get to zero percent because

there's implications if you do that, as

other councils are finding out.''

But Mr Gordon said the real work

would begin as the council moved on to

the LTP.

Deputy Mayor Neville Atkinson said

delaying projects was not ideal.

''Next year will be the time to sort

things out and decide what we are going

to do and when we are going to do it, but

we need to make sure that it's realistic.''

Cr Kirstyn Barnett noted the inflation

pressure the council worked with was

estimated at more than 2%, making a

1.5% rates rise agood result.

''This is await­and­see budget,

because we don't know how Covid­19 is

going to impact on New Zealand and

globally, and we don't know what

support there is going to be available

from government, so we need to be

agile.''

Cr Philip Redmond described the

annual plan as a''balanced'' budget, but

he regarded 2021/22 with ''some

trepidation''.

Cr Joan Ward said there was ''a big

opportunity'' with the recovery, as there

were several major projects in the

pipeline where the council could assist

in protecting local jobs.

Cr Paul Williams was the only

councillor who voted against the annual

plan.

''I don't think we did enough out of

gaining more efficiencies. Rates

smoothing, which we have done, affects

the following years. But we do have an

advantage with the LTP coming up.''

$

3 00

ea

$

2 50

ea

Cadbury

ChocolateBlock

150-190g

VEnergyDrink

350ml

SVNCN2506

Team effort ... Members of the Kaiapoi North School enviro group helped other

volunteers plant more than 650 young native trees.

PHOTOS: SHELLEY TOPP

Pupils help with planting day

$

33 00

pk

DBExportGold or Tui

24x330ml Bottles

$

12 90

ea

Pupils from two North Canterbury

primary schools have helped plant

more than 650 native trees in the

Tuhaitara Coastal Park.

The planting day was held at the

Achilles Parade entrance to the park

in the Pines Beach area, near Kaiapoi,

on Tuesday last week.

The children, from Kaiapoi North

School's enviro group, and Amberley

School's year eight leadership class,

were joined by agroup of adult

volunteers who also helped with the

planting.

MudHouse 750ml

(ExcludesPinotNoir,

HomeBlock&WoolShed)

Owned &operated

by locals

SuperValue Mandeville: 1/468 MandevilleRoad,

Ohoka. Ph 312 0000. Open 7Days.

Forinspiration visit SuperValue.co.nz |

Pricesapplyfrom Monday22ndJunetoSunday28thJune2020,orwhilestockslast.

Please drink

responsibly

Park initiative ... Amberley School Year 8students took part in the planting day.
---
VOLUNTEERS WEEK, JUNE 21­27

16 North Canterbury News, June 25, 2020

It'sabout friendship and fun

Mandy and her volunteer Olivia have

been friends for six months. They

thoroughly enjoy meeting and live

close to each other.

The pair often go out for breakfast at

the weekend, go shopping and enjoy a

coffee. During the week they often go

for walks.

During the lockdown, Olivia phoned

Mandy regularly. She dropped off a

box of goodies, including chocolates,

at the front door and put up amessage

with aheart on the front window of

Mandy's house so she could see Olivia

was thinking of her and looking

forward to seeing her again soon.

IHC Volunteering North Canterbury

is looking for more volunteers like

Olivia to share experiences,

friendship and fun. Volunteers can

make ahuge difference to an adult

with an intellectual disability, and the

volunteer can also grow from the

experience.

To enquire, email diana.

shoppee@ihc.org.nz or phone (027)

531 3579 for further information.

HondaForest

CommunityPlanting Days

Come one, come all! Let'srestore native forest to

Kaiapoi'sRegeneration area.

Saturday 27 June, 11 July and 25 July 2020

Start time 10am

Help transform this area...

Great friends ... Mandy and Olivia

together.

PHOTO: SUPPLIED

CABNorth Canterburythanksall

ourvolunteersfor their ongoing

commitment to helpingour community

2171045-13/6-b

The quiz that was ... Last year's inaugural Rangiora High School Leos Club quiz night

proved to be asuccess.

PHOTO: KIRSTYN BARNETT

It'snot aquiz night

Rangiora's young Lions are doing their

bit to support the community, despite

their quiz night being called off.

The Rangiora High School Leos Club

cancelled their planned quiz night on

June 22 because of uncertainty around

the Covid-19 lockdown, but realised

there was still aneed.

''We're trying to do something new. We

were going to have aquiz night, but we

have a'Not aQuiz Night' fundraiser,''

Leos quiz leader Becca Barnett says.

''We decided to cancel because we

didn't know what was going to happen

and when we came out of lockdown we

found we didn't have enough time to

plan it. We didn't want to do it any later

because it gets into exams.''

While the Leos plan to run another

quiz night next year, Satisfy Food

Rescue needs the support now, Becca

says. ''So we have set up aGivealittle

page and we are asking people to donate

what they would have spent on the night

and we will pass it on to Satisfy Food

Rescue.''

Last year's quiz night raised $3000 for

Big Brothers Big Sisters of North

Canterbury. Becca says it is hoped the

total can be matched with the ''Not a

Quiz Night'' appeal. ''It was absolutely

amazing. We were quite shocked.

''We're aiming for $3000 again, but

whatever we get will be very helpful.''

The Rangiora High School Leos Club

has nine active members and aims to

support community events throughout

the year, including helping the Rangiora

Lions beach rubbish pickup from

Pegasus to Woodend last year.

To find out more, email

rangioraleos@gmail.com or go to

givealittle.co.nz and search for Not a

Quiz Night.

VOLUNTEERS

AND COACHES

into this!

Rain or shine. Allagesare welcome!

Regeneration Kaiapoi has partnered with Hondatobring the mighty Kahikateaback to

Kaiapoi. The Honda Forest will surround wetlands and consist of 2hectares of trees.

Location: Charles Street, Kaiapoi (look for the flags)

What to bring: Sturdy footwear, spade, gloves and adrink bottle.

For moreinformation contact Mike Kwant, Community Projects Officer -Greenspace

Phone: 0800 965 468 (0800 WMK GOV)
---
VOLUNTEERS WEEK 21 TO 27 JUNE 2020

North Canterbury News, June 25, 2020

17

Satisfaction from

doing some good

When Don Lyon walked through the

doors of Kaiapoi Community Support 13

years ago, little did he know that he and

his wife, Athalie, would become two of

the centre's longest­serving volunteers.

''We'd just moved to Kaiapoi from

Dunedin to begin our retirement,'' Don

says. ''I went into KCS to find out more

about local services and came out having

signed up to be avolunteer driver,'' he

chuckles. Athalie soon joined Don,

volunteering on reception and in the

centre's food bank.

''The food bank is abig part of what we

do,'' says Athalie, who also volunteers

alongside Don with Meals on Wheels.

''We're all hands­on re­stocking

shelves, making up food parcels,''

Athalie says. ''It takes alot of courage to

come in and ask for afood parcel. It's not

uncommon for someone to hug you, with

tears in their eyes and say thank you. It's

very satisfying to feel like I'm doing

some good. Ithink it's safe to say that

most of our volunteers feel that way.''

Don, aformer engineer with the

Ministry of Works, drives people to

medical appointments and to pick up

shopping. Alot of people have no­one to

help them as they get older, Don says. ''I

enjoy helping them get around. But it's

also about connection, chatting with

people.''

Athalie says it helps to be agood

listener. ''Listening, acup of tea and a

hug can do alot to help someone who's

going through abad patch.''

Athalie and Don are members of a30­

strong volunteer workforce with KCS,

which is one of the services provided by

the Community Wellbeing North

Canterbury Trust.

''We couldn't do half of what we do

without our volunteers,'' KCS coordinator

Louise Griffiths says.

''We receive no government funding

for our food bank or any of the other

services we offer. It's all down to

fundraising, community donations and

the loyalty and dedication of our

volunteers.

''Volunteering isn't for everyone but if

it fits with your lifestyle it can be

Many yearsofservice ... Don Lyon and his

wife,Athalie, findvolunteeringwith Kaiapoi

Community Support to be rewarding.

PHOTO: SUPPLIED

tremendously rewarding,'' Louise says.

''We've got volunteers who are retirees

but it can also suit parents whose

children have started school.

Volunteering can also help you gain

skills and experience for the job market,

if that's of interest to you.''

Keeping busy makes life better,

Athalie adds.

''It sounds like acliche, but that's what

I've found. I'm not someone to sit at

home reading abook all day. Ilike to get

out and do something in the community.

''Volunteering has put me in touch

with what's going on in our community

and how people are doing,'' says Athalie.

''The heartbreak some people go

through; it's been areal eye­opener to

me.''

To ask about volunteering with the

Community Wellbeing North Canterbury

Trust, phone (03) 327 8945 (Kaiapoi) or

(03) 310 6375 (Rangiora).

SATISFYING

VOLUNTEERS

SINCE 2015

satisfyfoodrescue.org.nz

027951 6052

Celebrating National VolunteerWeek

27 –27June2020

Ourcommunities arestronger when we all work together.

2285943

ihc.org.nz/volunteer

We areluckytoliveinsuch agreat Districtwheresomanyindividualsand

organisations voluntarily give their time to the community. Council would like to

acknowledge your contribution to making Waimakaririsuch agreat place to live.

To all the foodbank volunteers,communitydrivers,committee members,emergency

services,fundraisers,environmentchampions,coaches and more–wethank you!

Youcan become avolunteer

Givingyourtimeand skills to help others can beareal boost to your personalwellbeing.

TheVolunteer Directory on council website lists manylocal groups and projects that

would appreciate morevolunteers,see belowfor the link.

Find out moreatwaimakariri.govt.nz/community/community-information

Trust offers transport options

Gettingout andabout to socialise can

makeall thedifferencetovulnerable

peopleinNorthCanterburycommunities,and

theNorth Canterbury

MiniBus Trust helps makethat happen

in the WaimakaririDistrict.

The trust,avolunteer organisation

using volunteer drivers, provides

inexpensive,specialised transport

servicesfor those who don't havethe

ability to transportthemselves,

including the elderly, frail and

disabled.

Running for30years, the service

helps people to socialise, reducing

social isolation and supportingpeople

to engageintheir community.

Its fleetofvans and buses are

availablefor community members and

organisationstohire andsupport those

livinginKaiapoi,Rangiora,Oxfordand

Custtojoinsocial events, run errands

or attend appointments.

''The mandate is to provideaservice

thatisaffordable for the peoplewe

support, so that theycan getout and

about at aminimalcost,"trust

advertisingand publicity manager Greg

Wright says.

"Theservice is accessibleand

affordable,with most of thevehicles

fittedwith wheelchairhoists.'' Hire

prices areheld at $20 for thefirst20km

and 50 cents perkilometre after that.

Thanks to all our volunteers.

Marlborough Kaikoura

Management wants to thank

all its crews, administration

support, and families for their

dedication, professionalism

and support they provide

throughout the year.

Volunteers crucial to RDA

North Canterbury Riding for the

Disabled could not function without the

support of volunteers.

Volunteers includeskilled and

trained coaches, sidewalkers and

leaders.

Volunteers also play an important

role as horse carers,grounds people,

and serving on the committee, giving

their time willingly to support those

who have challenges in life.

''Without them we could not survive,''

chairwoman Lin Bisman says.

''More volunteers and trainee

coachesare always required.''

About 60 volunteers help at present,

with their commitment usually one to

two hours, one session aweek.

Riding days are Tuesday, Thursday

and Saturday, with volunteers choosing

aday that suits. Training is given.

Anyone interested in volunteering

can contact volunteer co­ordinator

Elspeth Gray on (021) 298 3224.

We need Volunteers

Contactyour LocalFireBrigade

or https://fireandemergency.nz/find-a-station
---
NEWS

18 North Canterbury News, June 25, 2020

In brief

Permanent residents

Acentre offering 24/7 rehabilitation at

Mandeville,supporting adults to regain

strengthand confidencebeforegoing home,

is opening its doors to permanent residents.

The North Canterbury Rehabilitation

Centre, whichopened in 2018, has gained

rest­homelevel care certificationand

welcomed its first resident, Shirley Leslie,

on June 6. The centre will also be offering

short stay respite care for people whentheir

usual care packagecannotbeprovided. A

registerednurse is always available and

physiotherapy, occupational therapy,

speech and language therapy, podiatry,

hairdressingand dietary advice is available

on site.

Warm pupils

Waiau schoolpupils will be cosy this winter

thanks to the MainPower Community Fund

and Lott Contracting.Eachpupil has

received anew merino wool jersey. Emma

Duncan,who launched the idea, says the

aim was to teach childrenthe value of

supporting the localeconomy. Many

children came from farms and were

familiar with wool and products made from

it. ''I am sure these new merinojerseyswill

be worn with pride.''

Clarification

The Rural Life pages of the June 11 edition

of the North Canterbury News carried astory

on freshwater issues carrying the byline of

Jamie McFadden, underneathwhich he was

identifiedasthe chairman of the Rural

Advocacy Network. Areader complains that

this piecewas not identified as being an

opinion piece.The paper wishestoclarify

that the piece representedthe opinionofMr

McFadden.

Champion image ... Sandra Fleet's Lost in Thought.

Thinking

on life's

curious

twists

Lost in Thought was the

champion overall image

at the Rangiora

Photographic Society's

portraiture competition.

Sandra Fleet's image

also won the A­grade

title, and received

A­grade honours.

Results were:

Champion image overall:

Lost in Thought,by

Sandra Fleet.

Best in Grades:

AGrade –Lost in

Thought,bySandra

Fleet; BGrade – Portrait

by the Sea,byDavid

Bayley; CGrade –

Looking through the

Rain,byStuart Taylor.

Honours:

AGrade: Lost in Thought;

Carenza,byColleen

Linnell; Beth,byCathy

Price; Grandpa Rooster,

by Cindy Signall.

BGrade: Portrait by the

Sea,byDavid Bayley.

CGrade: Looking

through the Rain,by

Stuart Taylor.

NEW

Community

Features

AT DUDLEY PARK

WAIMAKARIRI YOUTH COUNCIL

The Waimakariri Youth Council want to make the

Dudley Skatepark area amore welcoming and

enjoyable space for everyone to use.

We're looking atadding features tothe area around the skatepark like an

entertainment space, seating and acharging bench. We want to know what

you think about the concepts or what else you would like to see.

Visit waimakariri.govt.nz/letstalk tolook at some of

our ideas and have your say before 20 July 2020.

Find out more at waimakariri.govt.nz
---
NZ'sMostPopular Car

Favourite Dealer.

from your

Toyota Corolla GX/GLX Stylish. Inside&Out.

2017/2018Toyota Corolla GX

Economical 1.8 Litre, Tiptronic Auto

From $16,990 or just $87.38 p/w

LATEST

SHAPE!

2018/2019 Toyota Corolla GX

Facelift 2.0 Litre, Tiptronic Auto, Alloys

From $22,990 or just $117.45 p/w

2017/2018Toyota Corolla GLX

1.8 Litre, Tiptronic Auto, Alloys

From $17,990 or just $92.39 p/w

Safe, economical late model

NZ new hatch. The extremely

reliable Toyota Corolla boasts

an ergonomically friendly

interior making this an excellent

around town runabout or long

range commuter.

Keeps you safe with 5Star ANCAP,7Airbags, ESC, ABS,EBD,

Lane Departure Warning, Frontal Collision Mitigation &ISOFIX.

• Tiptronic Sports Mode

• Cruise Control

• Media Centre with Bluetooth

&CD/USB/AUX

• Reversing Camera

• Auto Headlights

• Air Conditioning

• Trip Computer

PLUS...Includes Balance ofNew Car Warranty!

$16,990

From only

Driveaway

Style. Comfort. Technology.

2019 Kia Cerato LX Superb Driving Hatch.

The sleek, stylish redesigned

Kia Cerato offers sophisticated

good looks coupled with a

well laid out, spacious interior.

Exceptional ride and handling

make this NZ new hatch the

complete package.

Peace ofmind with 5Star ANCAP,6Airbags, ESC, Lane Keep

Assist, Blind Spot Monitoring, Autonomous Emergency Braking.

• 2.0 Litre Tiptronic Auto

• Adaptive Cruise Control

• Apple CarPlay/Android Auto

PLUS...Includes Balance ofNew Car Warranty!

Limited Stock -Don't miss this unique opportunity!

Stadium Cars Rangiora 03 310 7940 | stadiumcars.co.nz

609 Lineside Road, Waimakariri, Rangiora OPEN 7DAYS

*Conditions apply. Not available with any other offer. Finance offer subject to credit and lending criteria. Finance calculation

based on 60 month term. No deposit with an annual fixed interest rate of10.95%, includes an establishment fee of$370.

See our website for full disclosure.

• Reversing Camera

• Alloys/Aero Bodykit

• Traction Control

$22,990

From only

Driveaway

Or from just $117.45 p/w

PLUS... SEE OUR SELECTION OF OVER 100 TOP QUALITY USED CARS

*On road costs may apply to some vehicles
---
Motoring

Guide

Your local motoring professionals

Pebble Beach

Upholstery

2155281

www.pebblebeachupholstery.co.nz

Ph Brent – 027 724 6000

341e Flaxton Road

Southbrook

Rangiora

PETROL&DIESEL

AVAILABLE

COMPLETE AUTOREPAIR SERVICE

WOF

Tune-ups

Lube-Oil changes

Full Diesel Service

Brakes &Clutches

Motor Work

Warranty Work

Light Engineering

Repairs

Ride-on Mowers

Pick up &Delivery

Sell &Sharpen

Horse Clippers &

Sheep Shears

Oils &Automotive Accessories, Postal

Services, Hot Pies, Sandwiches, Rolls,

Groceries and Sweet Treats

For your convenience

Sefton Garage

571 Upper Sefton Road, Sefton

North Canterbury. Ph03312-9713

2259663v1-S

Supporting

local ... Dinah

and Brent

Rainbow, of

Pebble Beach

Upholstery, are

your local

upholsterers

and motor

trimmers.

Old skills to thefore

Supporting localbusinesses is the keyto

success, says BrentRainbow. Brent and

his wife Dinahhave been operatingPebble

Beach UpholsteryatSouthbrook,

Rangiora, since 2014, doingupholstery and

motor­trimming.

''We want to thank people for their

supportover the last six years,'' he says.

''My work is in homes and businesses

throughout North Canterbury, so thankyou

to peopleusing me and the repeat

business Iget is reallygood. We are still

busy evenafterCovid­19.''

Brent says Southbrookbusinessesall

work in well together and he supports local

businesses for suppliesand services where

possible. ''We allhelp each other out.It's

been fantastic. As long as everybody

spends moneywith eachother we will

surviveand the public are supporting us.''

Brent has been in the upholsteryand

textiles trade for 37 years, afterstartingan

apprenticeship as a16­year­old.

''I love the creative side of it andIlike to

see the customer walking out the door with

asmile on theirface. Iget more of akick

out of that thananything else.''

One job he is particularly proudofisthe

upholsterywork at the Ivory Bar in

Rangiora. ''I'mvery proud to have been

partofthe fit­out and thanks to the Ivory

Bar for the opportunity to do it.''

Pebble Beach Upholstery offersanoldfashioned,quality

service, working on

anythingfrom classic cars to antique

furniture, boats, trucks, caravans and

restaurant fitouts.

Atraditionalupholsterer is ''ahandyman

on asewing machine'', Brent says.

''I learned the old way withhand lacing

and stitching. Istartwith one piece of

fabric in the centre and workmyway out

fromthere. Theseare very, veryold skills.''

Brent has worked on awide range of

projects,including multimillion­dollar

yachts,tour boats, rescue boatsand trucks.

''A lot of trucking companies come and

see me and drop off the seats andIrestore

them, and I've restored awholerange of

seats in cars.

''Weare passionateabout top quality.

We are committedtocustomer service and

understanding exactly whatyou want,so

we can bringyour vision to life.''

CallinatPebble Beach Upholstery's

fabric showroomat341e Flaxton Road.

Phone Brent on (027) 724 6000 or go to

pebblebeachupholstery.co.nz.

COME AND SEE

US FOR

• Commercial&

fleet repairs

• Buses, caravans

&motor homes

• Trucks,trailers,

buses &boats

WE ARE

EXPANDING!!!!

Choose usfor all Panel

and Paint Repairs

Still providing our customers with everyday

crash repairs,bumps&scrapestomajor

smashwork

Qualityworkmanship&fastest turnaround

Fleet of courtesycars available

Contact: John Ph 313 6966

639 LinesideRoad, Southbrook

www.ncrcc.co.nz

We Do It All!

Your One Stop Mechanical Shopp

Courtesy Cars, Van, Automatics ti Available

One Stop WOF Shop

All Mechanical Repairsand Servicing, Tyres,

Exhausts,Automatic Transmission Service

Burbidge Automotive

325 Flaxton Rd

Ph 03 313 3344

Ample carparking!

2160919

2190152-22/8

2255010

NEW

CAR?

WARRANTY

SERVICING?

We have the latest Diagnostic Computer

Systems that are compatible with most

Vehicles.

Wheel Alignment and Tyres available

at very Competitive Prices.

No need to commute to

town, we can do it.

We use genuine parts, so your

vehicle is still covered under

warranty!

Call us now to book your service.

77 Ivory Street, Rangiora Ph 313-5802

Mon -Fri 8.00 -5.30 Sat 8.30 -12.30

FOR ALL YOUR LIGHT

AND HEAVY

TRANSPORT REPAIRS

Breakdown &

After Hours

Service

Available

Phone 03 313 6361

0275 200 711

307 Flaxton Road,

RANGIORA

brooktrucks@xtra.co.nz

2162155

NEED TYRES?

• Punctures

• Balancing

• New tyres

• ATV tyres

• Motorbike tyres

(on and off road)

• Barrow tyres

• Mobility scooter tyres

• Bicycle tyres

Give usacall or come

and see us in store!

ARTHUR BURKE LTD

Markham St, Amberley

03 314 0137
---
Rats and hawks take toll on birds

By ROBYN BRISTOW

Ratsand hawks are the

biggest killers of blackfronted

terns and black­billed

gullchicksonthe Ashley

River.

The Ashley­Rakahuri

Rivercaregroup studiedthe

causes of deaths over the past

summer.

The group's investigations

determinedatleast 106 gull

chicks were killed by Norway

rats, and just under 100 young

birds were takenbyharrier

hawks.

Stoats account for only a

few losses,while feralcats

and hedgehogs were not a

problem as the birdswere on

an island with good

surrounding flows of water.

Group member Grant Davey

said, at its peak, there were

more than100 ternsand 4000

gulls —the biggest numbers

since the group was formed in

1999 —present in the river.

It wasn't difficult to find

dead birds, whichwere

mainly just feathers and

bones.

Despite anetworkof

surrounding traps, Norway

rats are alsothought to have

taken the eggs frommore than

half the ternnests, and

probablyeaten several small

chicks.

Another source of bird

deaths were nearby

powerlines, which crossed the

river not far abovethe colony.

Twenty dead gulls were

found dead under the wires,

Predator losses ... Ajuvenile black­billed gull inspects the remains of another young bird killed by

Norway rats.

PHOTO:GRANT DAVEY

and one can only guess at how

many others were injured, or

takenaway by predators

before they could be counted

by groupmembers.

Also found dead under

powerlineswere two Royal

spoonbills."Thesebirds are

not often seen up the river,"

Mr Davey says, "so it was a

great pitytosee them

succumbinthis way."

No terns were located,

probably becausethey fly

lower and slower.

Two dead pied stilts were

found under the lines, and it

is suspected that some

wrybills are similarly killed,

as they fly fast and higher, and

quite oftenatnight.

The groupintends to

increase its predator control

around colonies duringthe

nextbreeding season, and to

inspect under powerlines on a

moreregularbasis.

NEWS

North Canterbury News, June 25, 2020

23

Rosier look to

jobless figures

By DAVID HILL

Waimakariri's unemployment figures

are not as bad as thought.

Thereappears to be some confusion

over jobseeker benefitstatistics in North

Canterbury. Figures quoted in the North

CanterburyNews on June 4, and also

referenced in areport to the

Waimakariri District Council's June 2

meeting, indicated Waimakariri

residents on ajobseeker benefit had

risenfrom 557 at the end of Marchto

more than1200 in May.

But figures recently released by the

Ministry of Social Development(MSD) to

end of May show the number for

Waimakariri was 857, up 10 from the 847

to the end of April.

Rangiora service centremanagerTina

Robinson suggests the confusion may

have arisen from the fact the figure of

1200 was for North Canterburyasa

whole, including Hurunui and Kaikoura.

She alsonotes there is avariation in the

numbers throughout the month,with the

officialfigures giving the totalsatthe

month's end.

The numberofresidents on a

jobseeker benefit to the end of May in

Hurunui was 174 (up from 99 in March)

and in Kaikoura was 66 (up from 29 in

March).

This gives atotal for NorthCanterbury

to the end of May of 1097,which was

more than double the figure of 498 to the

end of May last year.

The proportion of 18 to 64­year­olds in

the Canterburyregion receiving

jobseeker support to the end of Maywas

5percent, which is up 1.7% on May last

year,and is thesecondlowest in the

country.
---
NEWS

North Canterbury News, June 25, 2020

25

Planting days planned

Three community planting days

are planned as Kaiapoi continues

to regenerate.

The WaimakaririDistrict

Council is calling for volunteers to

helpplant trees in the Honda

Forest,established last year in the

Kaiapoi east regeneration area,

now known as NormanKirk Park.

The first of the threeplanting

days willbeheld this Saturday

from 10am,with two more planned

on July11and 25.

The forestwas established in

May lastyear, withformer

Waimakaririmayor David Ayers

and HondaNew Zealand

managing director NobuyaSonoda

joining forces to unveila

commemorative basalt rock.

HondaNew Zealand is again

planning to fly staff down from

Aucklandtojoin with council staff

and local community volunteers.

It is hoped that the mighty

kahikatea willreturntoKaiapoi,

with the park comprising two

hectares of treessurroundedby

wetlands.

Waimakariri District Council

community projects officer Mike

Kwantsaysthe new forest has got

off to ahealthy start.

"Summer presented some

challenges, but overall the plants

are establishing well and looking

very healthy.

''Thestormwaterareahas really

Red zone

regeneration ...

Honda New Zealand

managing director

Nobuya Sonoda,

left, and former

Waimakariri mayor

David Ayers at the

unveiling of the

commemorative

basalt rock at the

first community

planting day at the

Honda Forest last

year.

PHOTO:FILE

takenoff, thereare manydifferent

species of birds livingtherenow.

''Locals are takingsome

beautiful photos and birdwatchers

are delighting in thisnew habitat.''

Community planting dayswill

continue to be held over the next

few years, with the project

expectedtoend in 2023.

Once the forest starts to become

established, it is expected that

walking trackswill be added.

The forest will haveanentrance

on Charles St.

Volunteers are encouraged to

bringsturdyfootwear, aspade,

gloves and adrink bottle.

For more information, contact

Mike Kwant on 0800 965468.

Perfect Motion:How Walking Makes

Us Wiser, by JonoLineen

Afterthe tragic loss of his younger

brother, Lineen experienced

walking's regenerative power firsthand.Grief-stricken

and adrift, he set

off on a2700kmsolo trekacross the

Himalayas.Hewalked for months

untilhis legs achedand feet blistered,

and by the end of the expedition

something had changedinhim. He

was stronger–not justphysically, but

emotionally.

The Testaments, by Margaret Atwood

Margaret Atwood'ssequelpicksup

the story 15 yearsafter Offredstepped

intothe unknown,with the explosive

testaments of three female narrators

fromGilead. ''DearReaders:

Everythingyou've ever asked me

about Gileadand its inner workings is

the inspiration for this book.Well,

almost everything! The other

inspiration is the world we'vebeen

living in,'' Atwood says.

Fake, by Stephanie Wood

In this brilliantlyacuteand broadranging

book,

Wood,an

award-winning writer and journalist,

has written ariveting, important

account of contemporary love,and

the resilience of those who have

witnessed its darkestsides.

These titles are availableinboth

Waimakariri and Hurunui libraries.

Find out more aboutrecent

additions to the library by goingto

the library catalogue at waimakariri.

kotui.org.nz or hurunui.kotui.org.nz,

or contact your locallibrary.

THe aWaRd WiNnErS

ArE HeRe

Garage Project FreshIPA 2020

Juicy peach and apricot on thenose, whichgives

waytoanunderlying floral and herbal pungency

followedbyanicelytart citrus bitterness that

keepsthe sweetflavours in check.

Good George

PassionfruitCider

This lookselegant in theglassand is bursting

withpassionfruit aroma. The mouthfeel isfull

up front with acrispfinishand on the flavour

front,the passionfruit is perfectly integrated

withthe cider.

Kererū NightSpirit

Barrel-Aged Imperial Stout

Warm with layers of raisins, chocolate,sherryand

oaky tannins, it "walks atightrope"saidthe

judges–perfectlybalancing amazing depth of

flavour and spirit heat with agentledrinkability

that fills yoursenses but doesn't overwhelmthem.

ParrotdogFalcon

Packed withlimezestand pine hop aroma and

flavour,and asleek,satisfyingmouthfeel –this is

abeerthatsings andzings,soarsand roars.

Aperfect marriage of stunning flavour,

drinkabilityand satisfaction.

fInD tHe bReW

fOryOu

Open your camera or

QR code app to scan me.

TOp30wInNiNg bReWs

iN-sToRe nOw

Visit newworld.co.nz/Top30 forbeerand food inspiration and lotsmore!
---
Reduce clostridial loss

Clostridial disease is complex, protecting stock doesn't need to be

Farms across NZ lose stock to clostridial disease.

Some lose afew, some afew more than they would like.

Acouple of lambs orcalves, an inlamb ewe or two, or maybe even some cattle.

Reducing clostridial loss starts with protection.

Clostridial protection for New Zealand

Disease

Present in NZ

5in1

protection

Coglavax8

protection

Clostridium tetani

Clostridium chauvoei

Clostridium septicum

Clostridium novyi Type B

Clostridium perfringens Type A

Clostridium perfringens Type B 1

Clostridium perfringens Type C 2 *

Clostridium perfringens Type D

*C.perfringens Type Cispresent inNZbut is yet to be confirmed asthe cause of sudden death as it is overseas.

Coglavax8 8in1 vaccine, protection against more clostridial diseases

For best results adhere toavaccinationa protocol and use the best product for the job.

ONLY AVAILABLE AT YOUR VET

Ceva Animal Health (NZ) Limited. P: 09 972 2853 E: info.nz@ceva.com

Coglavax8 ACVM No. 7528

1. JS Munday,H Bentall,D Aberdein,M Navarro,FA Uzal &S Brown, Death of aneonatal lamb due to Clostridium perfringens type BinNew Zealand, New Zealand Veterinary Journal 2020.

2. West, Dave M., Bruere, A. Neil and Ridley, Anne L. The Sheep, Health, Disease and Production. Auckland: Massey University Press, 4thed., 2018. Print.
---
Fun addition ...

Pupils at Hanmer Springs School enjoy their new playground area.

PHOTO: SUPPLIED

NEWS

North Canterbury News, June 25, 2020

27

Kaiapoi'shistory chronicled

By SHELLEY TOPP

Kaiapoi­Tuahiwi Community Board

deputy chairwoman Jackie Watson has

written and published anew book

about Kaiapoi's history.

AShort History of Kaiapoi is an

extended version of the commentary

Jackie wrote for passengers cruising

aboard the Kaiapoi River Queen and

was the idea of one of the boat's owners,

Kaiapoi developer Jedd Pearce.

Judith and Dennis Andressand lease

the Kaiapoi River Queen from Jedd and

her other owners, Tim Smith, Nick

Harris, Geoff Mehrtens and Mark

Revis.

The pair organise sailing trips along

the Kaiapoi River.

Profits from the sales of Jackie's book

will go to All Together Kaiapoi's

Sculpture Fund to commission apiece

for aproposed Kaiapoi Sculpture Park

on red­zoned land near the river.

The area east of the Coast Guard

North Canterbury building, to the end

of Charles St between the stop bank and

the street, is one area being considered

for the park.

''It is apleasant area of trees and

grass that would serve well as a

sculpture park.

''Kaiapoi has afascinating history as

both as an important centre for pre­

European Maori and the early settlers

who arrived in the early 1800s,'' Jackie

says.

The book has chapters ranging from

pre­European times to the various

industries that made amark on

Kaiapoi

AShort History of Kaiapoi is on sale

for $20 at Blackwells Department store

in Kaiapoi, the Kaiapoi I­site, Kaiapoi

Paper Plus and on board the Kaiapoi

River Queen.

New playground a

community effort

Ahuge community effort from parents,

contractors and businesses has helped

build anew playground area at the

Hanmer Springs School.

The design and planning took about

ayear, with aconcept plan, and living

willow hut, drawn up by Emma from

Woodland Escapes.

This signalled the start of many

other local Hurunui contractors,

builders and businesses getting

involved in the project to create an

area with acreek, rocks, sandpit,

tunnel and slide.

Native plants, seats, pathways and a

bridge add interest.

Home and School helped fundraise

for the project, which was interrupted

by Covid­19 lockdown restrictions.

Finishing touches will now be left

until spring.

Deputy principal Michelle Saric

says all the students love the

playground.

''It has provided many happy hours

of play. It is afantastic asset which has

enhanced our school grounds.

''It has been ahuge project with lots

of generous support from local

contractors.

''So much was donated to us —in

both labour, parts and equipment,

which we really appreciate, as it has

allowed us to do more with the money

which was raised by Home and

School,'' Ms Saric says.

2249138

83 Beach Road,

Kaikoura

WOF | Servicing | Repairs

Tyres | Punctures

State-of-the-art

Wheel Alignment

Suspension | Exhausts

Wipers | InsuranceRepairs

All Makesand Models

Ph 03 319-6009

office@kaikouraautocentre.co.nz

South Island Wide Recovery

Dean Counsell

M:027 577 8555

E:dcarecovery@gmail.com

Work to finish this year

Work to restore Kaikoura's roading

network is on track to be completed by

the end of the year.

The work to make transport networks

around Kaikoura safer and more

resilient after the 2016 earthquake is

due to be completed on December 15,

three years after State Highway 1was

reopened.

The New Zealand Transport Agency

and KiwiRail established the North

Canterbury Transport Infrastructure

Recovery (NCTIR) alliance with four

construction partners to undertake the

recovery of the transport networks.

The alliance has been working in

Kaikoura since December 2016.

In 2017, it reopened vital transport

links, with the main north line opening

in September and SH1 in December.

Since then, the team has been working

to strengthen them for future

generations.

Members have worked more than six

million hours, with the final series of

jobs now under way.

Public information session

Summerset invitesyou to apublic

information session onits proposed plan

change to rezone the site of itsfuture

retirement villageat141 South Belt.

This is an opportunitytospeak with our

development team about the proposed

plan change and gain abetter

understanding of the application.

"Exclusive"

Ravelli ULEB Wood Pellet Fires

Thursday2July

Drop in from 4:30pm -7pm

Saracens RugbyFootballClub

Southbrook Park, 117South Belt.

Theassociated rezoningapplication has

beenlodged with theWaimakariri District Council,

with publicsubmissions closing 5pm, Friday10July.

Pellet and Wood Fire Specialists

472 Blenheim Road

Sockburn

Phone: 03 343 1651

Open 8:30am -5pm

Sat 10am -1pm

www.heatstore.co.nz
---
WINTER FARM MAINTENANCE

28 North Canterbury News, June 25, 2020

2157353

Light &Heavy Transport Repairs &

Onsite Repairs and Maintenance

24 HOUR SERVICE THROUGHOUT NORTH CANTERBURY

Phone 03 313 6361 •0275 200 711

307 Flaxton Road, RANGIORA

brooktrucks@xtra.co.nz

THE

ORIGINAL

NOT THE

35

IMITATOR

EXPERIENCE

YEARS

EARTHWORKS LTD

TheLocal Earthworking Specialists

General Earthmoving

•Subdivision roading •Entranceways

• Driveways

•Excavations

•Horse Arenas •CountryLanes

•Hot bitumen Chip Sealing

•HoleDrilling (200mmto600mmAugers)

Bulk Shingle Supplies

•AP65

•Screened Soil

•RiverShingle

•AP40/AP20

Guaranteed Workmanship&CouncilCompliance

PhoneRobertMcAlister 0274340 315

03 313 2276 Rangiora or 03314 9633 Amberley |Email: darwin99@xtra.co.nz

2287801

2272550

Milking time ... Give some thought to the path cows follow to the milking shed.

PHOTO: FILE

Agood base crucial

to life of farm tracks

Agood farmtrack is constructed in

layers, DairyNZsays.

Whencreating anew farm track,

farmers are advised to form agood

foundation or base layer, with asurface

or wearing layerplaced on top.

The baselayer provides the structural

supportfor the surfacelayer.Ifitisweak,

the surfacelayermay break up and

collapse.

If water can penetrate into the base

layer, it may loseits strength and develop

potholes.

The surfacelayer has two functions,to

provide acomfortable surfacefor cowsto

walkonand to shed water to protectthe

structural integrity of the track.

Eachlayershould be thoroughly

mechanically compacted usingvibrating

rollers. Loose, open layers have much

lessstrength thanwell­consolidated

ones.

Cow traffic does not providean

adequate substitute for mechanical

compaction.

Topsoil and grass are not suitable for

use in the base layer and should be

removed before construction begins.

The baseshouldbemade up of layers,

eachupto150mm deep.

After each150mm layer is laid, it

should be firmly compacted before the

nextisadded.

Whenselecting materials, farmers

should consider whether the moist subsurfacesoil

is asuitable material.

The material dug out to make effluent

ponds or removed fromthe table drains

may be used, provided it is not topsoil.

Gravels, pit metal or rotten rock should

be used,but not river gravel, while soft

clayisunsuitable for use in foundations

unless stabilisedwith othermaterials.

❛Ifwatercan penetrate into

the base layer, it maylose its

strength and develop

potholes.❜

—Dairy NZ

Hydratedlime, evenly spreadand

uniformly incorporated to adepthof

125mm, will allow softclays to become

stable once compacted.

Cement can be used as astabiliser in

base layers. The usual recommendation

is 1% to 4% of the total.

If the material available does not

create asatisfactory foundation, it is

possible to use ageotextile —an

industrial fabric used in earthworks, to

cover the shaped base layer before

adding the surface layer.

Geotextiles allow water to pass

through,but they holdsoil and rock in

place and will prevent the surfacelayer

from being pushed into the foundation

layer, particularly by heavy traffic.

The creationofasatisfactorytrack

surface requirescompaction into ahard,

smooth, wear­resistant layer, with a

minimum of particles that can cut or

bruise feet. It should be 100mmto150mm

deep.

Topsoil and grass can provide asoft

cushioned surfacefor cows to walk on,

but are unable to withstandthe rigours of

frequentuse.

The surfacelayer is usually made from

amixture of fine materials,such as sand,

pumice, limestone, sandstone,

woodchips, smallstones, and clay.

— DairyNZ

2286247v1

•Land Clearing

•Road maintenance/

Construction

•General Cartage

•Driveways/ house

sites

•Tree trimming and

removal

• Excavators from

2to30ton

• Bulldozer -20ton

• Tip trucks from

5to45ton GVM

• Wheel Loaders -

Bucket and forks

• Transporter -can

cart up to 15 ton

We have been Contracting in Canterbury for 35 years

For anoobligation estimate

or quote, contact -

Tony Brand 0274 360 338

Tony Rossiter 0272 080 312

Office 03 313 8224
---
Handy shelter ... Is planting ashelter belt on your list of chores this winter?

Due to ongoing growth

in our business,

Power Farming

welcomes...

Roger Hunter

Parts Manager

0275 071 022

Wool Shed Servicing

PHOTO: FILE

Pick the right plants

Farm maintenance lists should include

some planting, DairyNZ says.

Providing shelter for stock from the

weather is one of the most important

forms of planting on farms.

Grazing livestock are generally well

adapted to the New Zealand climate, but

there are times in the production cycle

when even well­fed animals are

vulnerable to cold, wet and windy

weather.

Carefully designed shelter plantings

have the potential to provide many

benefits to farms.

These include improving livestock

welfare and productivity, young stock

survival and growth, increasing pasture

productivity, improving irrigation

efficiency, reducing wind erosion of

topsoil, providing habitat for wildlife

and creating amore diverse, pleasant

environment.

All animals want to be thermally

comfortable, neither too hot nor too cold.

Newborn calves are highly vulnerable

while still wet and unsuckled because

they have no internal resources.

Heavily pregnant animals and shorn

sheep can also rapidly become stressed

if temperatures fall below critical limits.

Shelter trees reduce wind speed and

alleviate wind chill. Trees can also

provide protection from rain and snow.

Newborn calves can only survive for a

short time in normal New Zealand

conditions unless they are dried and

suckled by their mothers. By reducing

wind chill, shelter buys more time for

newborn livestock to be mothered up.

Dense shelter can reduce wind speed

by up to 90 percent, resulting in abig

difference in the temperature felt.

But many trees available and sold in

New Zealand can be harmful to

companion animals and livestock,

DairyNZ warns.

Before planting, make sure the right

trees are selected. Check with your vet

for advice.

Good site preparation is essential

before beginning any tree planting.

Livestock must be fenced out. Dairy

farmers using electric fencing can keep

belts narrow and lift the bottom wire of

the fence once the trees are established

to allow grazing underneath.

Pre­planting spraying of existing

vegetation makes establishment easier.

Make sure trees are well­planted. Use

individual shelters if pests such as

rabbits are athreat. Maintenance can

include release spraying and replacing

dead trees, which can be required for

several years.

— DairyNZ

WINTER FARM MAINTENANCE

North Canterbury News, June 25, 2020

Amberley Parts Drop off Available

1George Holmes Road, Rolleston

03 349 5975

Monitoring of

grain is wise

Farmers are advisedtomonitor grain

regularly during storage.

Aregularmonitoringand recording

system, perhaps monthly, enables any

changes in the temperature or moisture

content of grain to be identified before a

majorproblem develops. Appropriate

action can then be taken, theFoundation

for Arable Research says.

Insect and pest populations and their

damage are likely to be lessobvious in

the early stages of storage, becoming

more prevalentlater.

It suggests farmersinspectstoresin

the late afternoon, when insects are

more active.Insects will accumulate

near or on the grain surface.

Temperatures in the storagefacility

should be monitored, as anythingabove

21degislikelytofavour insect activity

and above 27deg will almostcertainly

have active insects.

This monitoring can be done through

the useofatemperature probe.Sample

at the same points each time, at the

centre and the sidesofthe silo, just

belowthe surface of the grain.

Monitoring grainmoisture is another

way to detect pests. An increase suggests

insect activity or fungalgrowth. If

temperature or moisturelevels increase,

aerate it withcool,dry air.

In asituation where there is an

increaseintemperature and moisture,

but no visible insects,there is a

likelihood of mite or fungal infestation.

— Foundationfor Arable Research

2288317

Sharpen Up Canterbury Ltd

Clipper Sharpening -Cleaning &Setting Service

Heiniger,Stewart,Oster,Andis, Wahl and more

Small/Med blade sharpening $15.00 +GST

Large blade sharpening $17.00 +GST

Clipper adjust &service $25.00 +GST

Oil 100ml

$11.00 +GST

Sheep &Cattle blades also sharpened

Clippers Repaired &Serviced

Ph: (03) 312 5997 or 022 0541 847

Email: sharpenupcanterbury@gmail.com

Canterbury

RUTBUSTER

29

Excavation &Cartage Ltd

•Auger attachment for Excavator for

post hole boring

•All dairy farm maintenance

•Effluent pond &track construction

•Pivot rut filling

•Tree stump removal •Root raking

•Siteworks -Grader available

•Foundations –Ribraft &Engineered

Gravelraft

•Roading –Culverts -Driveways

•Asphalt, chip sealing, kerbing

•Hardfill -Riverrun, Ap65, Cap40 &

Cap20 •Screened soil

P: 313 3419 M: 027 433 6993

E: hurleyexcavation@xtra.co.nz

We specialise in superior fencing

craftmanship which adds long term value

to your property investment.

Fencing in the greater Canterbury area.

Free Quotes.

• Small & Large

Scale Fencing

• Sheep & Deer

Fencing

• Sheep, Deer &

Cattle Yards

• Dairy

Conversions

• Horse Fencing

• Corrals, Yards &

Arenas

• Post Driving

• Post & Rail Fences

• Entranceways

• Wooden Gates

• Lifestyle Blocks

• Sub-Divisions

• Boundary Fences

• Vineyards

• Chicken Runs

• Sheds

• Animal Runs

Steve is available to help with your

Planning and Design

PHONE: 03 312 4747

MOBILE: 027 312 4747

www.summerfieldfencing.co.nz

summerfieldfencing@xtra.co.nz

the new voice at the end of the parts phone.

Sefton will be assisting Roger and Tony

with parts and orders.

1999714

2282446

2287776

2287515

Accredited Operator 001

Kelvyn Sco

03 3478 970 or 027 312 5613

"for all your wool shed plant servicing, maintenance & upgrades"

• All fill contained in Rut

• Noover flow

• Levelled injust one pass

• Nocompaction required

after filling

• Fill right up to fence line

• Robust heavy-duty

construction

Call Now

ICS FARM MACHINERY0800 641 146

303 Flaxton Road

Rangiora

2287779
---
RURAL LIFE

30 North Canterbury News, June 25, 2020

Gav'ssale helps agrieving farming family

Top price ... Lot 1atthe combined Matariki Herefords and Woodbank Angus on­farm bull

sale at Clarence Valley, Kaikoura, last week sold for $42,000.

PHOTO:SUPPLIED

2276972

HOMEKILL

Butchery &meat

processing

313 0022

MEAT2U.NZ

KAIKOURA RESIDENTS

–NEED ASURVEYOR?

Surveying |Engineering |Planning |Subdivisions

Topographical Surveys |Resource Management

Land Development |Civil Engineering |Project

Management |Building &Construction Setout

Mark O'Connor is available

for free, no obligation

consultations at the PGG

Wrightson Kaikoura office

Wednesday fortnightly.

Appointments required.

PHONE MARK 021 558 100

0800 802 4546 |Email: mark@bonisch.nz

2111416

By DAVID HILL

Kaikoura farmershavethrowntheir

support behind aMarlborough family

after alockdown tragedy.

The Murray family of Matariki

Herefords in the Clarence Valley donated

the proceeds fromthesale ofone of their

bulls at their annual on­farm sale on

Monday, June 16, to the familyof Ward

farmerGavinDowling, who was killedon

thefirst dayoflockdown.

The bull in lot9A, nicknamed ''Gav'',

fetched ahealthy$10,500,JamesMurray

says.

''Gav was afriendand neighbour and he

and Rosie were agoodyoung coupleand

theyhave three young kids. It'sareallysad

story.

''A Givealittle page has been set up and

people have been reallygenerous,sowe

decided to putabullupanditgot agood

response.''

Mr Murray saysthebullsale,combined

withWoodbank Angus, got off to aflying

startwithlot 1sellingfor $42,000 to

Glenbrae Herefordsin Hawkes Bay.

In all,56outof64Hereford bullssoldfor

an averageof$9089.

''It's been oneoftheworstseasonsfor a

longtimewith thedrought,but thebulls

❛It's been one of the worst

seasons for along time with

the drought, but the bulls have

come through really well.❜

—James Murray

have comethrough really well.

''There was ahugecrowdandsomegood

buyingfor everybody, with afewtoppriced

bulls andsomegoodchunkyhill

country bulls.''

His grandfather bought Woodbank farm

in the Clarence Valley in 1900 and it was

later divided up after World War2,with

his uncletakingoverWoodbankand his

fathersetting up Matarikistudin1953.

MrMurray and his son, Jack, farm1400

hectares,withamix ofhillcountry, flats

and 60ha of irrigated land.

They run 560 studHereford cowsand

about200 commercial cows.

The annual sale is combined with

Woodbank Angus, run by hiscousin

JohnnyMurray andhis three sons.

Woodbank sold55Angusbulls outof59

with atopprice of $16,000 and an average

of $8018.

Prices hold up despite challenges

By DIANNA MALCOLM, of MudMedia

The take­home message from last week's

Te Mania Angus annual bull sale at

Parnassus was its solid average.

Te Mania, owned by the Wilding

family, covers 1300 hectares about 32km

south of the Kaikoura Peninsula, on the

Conway Flat.

It is the industry price barometer

among an ongoing nationwide calendar

of nearly 80 bull sales under way

throughout the country.

Last year, Te Mania was the South

Island's top grossing bull sale, tabling

more than $1.4 million at the fall of the

final hammer.

This year's challenges have included

the Covid­19 lockdown, drought in the

North Island, and the reality that Te

Mania was offering 10 more bulls.

The family had braced for the June 17

sale prices to be 10­20 percent softer.

While the top price was down $9000 to

$47,000 (from last year's high of $56,000),

the sale average was tellingly only $904

shy of 2019.

The sale averaged $10,056 for agross

take of more than $1.3 million in front of

atypically big crowd of beef producers

from throughout the country.

In all, 132 of the 142 head offered sold

(with an extra four bulls sold privately in

the paddock afterwards).

The top price of $47,000 was paid by

Tangihau Angus (Gisborne) for Lot 40,

Te Mania 18450.

The second­top price of $40,000 was

paid for lot 101, Te Mania 18449, by

Umbrella Range Angus, from Waikaia in

Southland.

Jeremy Gunton, of Umbrella Range,

said he loved the bull's performance

figures, pedigree and muscling. ''He was

the bull we came for,'' Jeremy said.

Umbrella Range was fresh off its own

annual sale on May 25, which averaged

Top dollar ...

The top price

was $47,000

for Lot 40, Te

Mania 18450.

He was bought

by Gisbornebased

Tangihau

Angus.

PHOTO: DIANNA MALCOLM,

MUDMEDIA

$10,186 for 24 bulls, including two

carrying Te Mania bloodlines.

One of the volume buyers, Ian Russell,

from Northland, bought three head for

an average of $5600. He was moving

through the country in search of 20 bulls.

He said the drawcard for Te Mania

was that the bulls were commercially

farmed, knew how to work, and weren't

too soft.

Te Mania studmaster Will Wilding

said, given the season, the stud was

extremely happy with the result.

Continued Page 32

On the back of recent sales throughout North Canterbury,

we have buyers still looking for the following properties:

• High rainfall sheep and beef property in the Waiau area

• Irrigated support land

• Dryland grazing in the Amuri area, to support ahill

country farm

• Grazing upto 4,500SU in the Omihi area through toCheviot

If you are considering selling, or would like amarket update,

please call Ben Turner inthe strictest confidence.

Ben Turner 027 530 1400

Whalan and Partners Ltd, Bayleys, Licensed under the REA Act

Built to your budget!

-All types of fencing including:

-deer, sheep and cattle yards

-Retaining walls –Timber gates

-Full range of specialised equipment for farm fencing and

lifestyle blocks, offers you the complete land package.

Ashley: 0274 364 776 ah: 314 8541

e: A.Duckworth@xtra.co.nz

www.duckworthfencing.co.nz

Post &Rail Fencing -Looks great &

makes life easy for the Rural Lifestyler!

2272726

LAND CLEARING

SPECIALISTS

Making land productive, fast.

Beaver Mulching's PT300 gets the job done

fast. Noburning or spraying, reduces

erosion, land regenerates quickly.

GORSE-BROOM -SCRUB

TREES &MORE

Contact Murray 021 468 524

www.beavermulching.co.nz
---
RANGIORA MITSUBISHI

321 High Street, Rangiora | 03941 3175 | rangioramitsubishi.co.nz

SALES |SERVICE |FINANCE

10 year /160,000kmPowertrain Warranty(whichever comes

first)(nontransferable). 5year /130,000kmNew Vehicle

Warranty(whichever comesfirst)(nontransferable).

GET BACK

ON THE ROAD

X-TRAIL ST 2WD 7-SEATER

MSP FROM

$

35,990+ORCˆ

NISSAN 150,000 KM'S

5YR FACTORY

WARRANTY

RANGIORA NISSAN, 321 High Street, Rangiora

Ph: 03 941 3175

www.rangioranissan.co.nz

1

.9% APR 3 MONTHS

FIXED FINANCE *

+

DEFERRED PAYMENTS

WITH ZERO DEPOSIT ACROSS THE NAVARA & SUV RANGE

*Finance offer available to approved applicants of Nissan Financial Services only and excludes all lease and some fleet purchasers. Available on new Nissan SUV & Navara vehicles only. 1.9% P.A Fixed

Interest. Interest is charged from the commencement of the loan. Maximum term 36 months. No deposit required. $375 establishment fee, $8.05 PPSR fee, and $10 monthly account keeping fee apply.

Terms and conditions apply. Offer valid from 1 May 2020 to 30 June 2020. Units must be registered by 30 June 2020. Offer cannot be used in conjunction with any other offer. Nissan New Zealand

reserves the right to vary, withdraw or extend this offer. ˆORC up to $995 includes initial 12 month registration & WOF, fuel and vehicle delivery.

rangioranissan.co.nz
---
SPORT

32 North Canterbury News, June 25, 2020

$

18 90

kg

Fresh NZ Beef

SirloinSteak

$

3 00

bag

$

9 50

ea

Jazz Apple

Snackers

1.5kg

WW Mild,

Colby or

Edam

Cheese1kg

Wither Hills

(Excludes Pinot Noir)

or Seifried Estate 750ml

(Excludes Barrel Fermented Chardonnay)

Sanitarium

Weet-Bix 1.2kg

Fresh NZ

Pork Leg

Roast

(Excludes Free Range)

$

5 50

ea

$

6 90

kg

$

15 50

pk

Coca-Cola, L&P or Sprite

18 x330ml Cans

Goal time ... Rangiora Division 1women's player Macy Neale, right, on her way to

scoring the winning goal.

PHOTO: SUPPLIED

Rangiora Division 3

men off to good start

HOCKEY

For the first time in many years,

Rangiora's Division 3men's hockey team

has claimed back­to­back wins to start a

season undefeated.

Two early goals against University

Barbarians last Sunday set the side up

for acomfortable 4­2 victory at

MainPower turf.

Both Rangiora Division 1teams

started their campaigns over the

weekend, with the women scoring early

thanks to Macy Neale. The team was

then able to hold on to that slim

advantage for the rest of the game.

Meanwhile, the Rangiora Division 1

men were resolute against askilled

Southern United team but couldn't take

their chances, eventually losing 2­0.

The Rangiora Hurunui Midweek

women's team also lost 2­0 to its

Southern United counterparts to kick off

their season.

In the first home derby of the season,

Rangiora Allsorts Mid Week men took on

local rivals Hinemoa­Kaiapoi Kauri in

an entertaining fixture where both

teams had several chances to claim the

match, but in the end Rangiora's

stronger defence earned the side a2­1

victory.

In the Platinum grade, both Rangiora's

women's teams had comfortable wins

over their opponents. However, the boys'

Ateam suffered its second defeat of the

season.

Kwik Sticks grade starts this weekend,

with Rangiora fielding two girls and two

boys teams in the grades, with games

played at MainPower turf in Rangiora

every Saturday.

Results

Division 1: Men –Rangiora CBK 0lost

to Southern United Sluggers 2.

Women –Rangiora CBK 1(Macy Neale

1) beat Southern United 0. MVP: Macy

Neale.

Division :Men –Rangiora 4(Kevin

Orchard 2, Logan Benson 1, Steve Kutyn

1) beat University Barbarians 2.

Women –Rangiora 1(Anni Robertson

1) lost to Carlton Redcliffs 5. MVP: Erica

Finlayson.

Mid Week Open: Men –Rangiora

Allsorts 2(Jon Green 1, Brandyn

McGreevy 1) beat Hinemoa­Kaiapoi

Kauri 1.

Women –Rangiora Hurunui 0lost to

Southern United 2.

Platinum Men: Rangiora A1(Loock

Odendaal 1) lost to Harewood 4. MVP:

Giles Witt.

Women: Rangiora A5(Kaylee

McDonald 3, Tilly Dodd 1, Abi Gibbs 1)

beat Waikirikiri Herons 1. MVP: Abi

Allot. Rangiora B4(Amelia Green 1,

Anika Watt 1, Anna Withers 1, Georgyna

Orchard 1) beat Harewood Gold 0.

$

13 00

ea

oxford

Corona Extra

12 x355ml Bottles

52 Main Street,Oxford.

Open 7am–9pm, 7days.

03 3124305 FreshChoiceNZ

$

25 00

pk

OWNED &

OPERATED BY

LOCALS

Prices apply from Monday 22nd June to Sunday 28th June 2020, or while stocks last. Limits may apply.Wine and Beer pricing is below 24.99% discount.

FCNCN2506

Solid prices at Te Mania sale

From Page 30

As always, Te Maniatransformed its sale

into an event.Everyone was excited to exit

lockdown, and they cameready to mingle.

''We justreally thankeveryone for

coming, and especially our buyers,'' Will

said.''We had eight studtransfers, so we

were really happywith that.''

Will said the family's pre­sale pick for

the sale­topper swungbetween the two

top­priced bulls.

The data on Lot 40 (top price)showed

that he was perfectlybalanced and hard to

faultphenotypically, he said.

''He is just areally easy­going, and wellput­together

bull.''

Will said he was alsopleased to notethat

buyers appeared to be taking intoaccount

the data displayed on each bull.

''We've always believed in it, but it's

greatthat our clients are also putting their

buying faith in it.''

Within Te Mania's total was its annual

nod to charity. The proceeds from lot 99A

($14,000) was shared between St John at

Cheviot,and theCheviot Home and

School.

It was welcome news for the school, after

its decision to cancel theParnassus

Cheviot Rip Snorter Pig Hunt,its main

annual fundraiser,because of Covid­19.

The money will be used to re­build its

playground.

Results

Atotal of 132 bulls from the 142 on offer

were sold at an average of $10,056.

Lot 40, $47,000 to Tangihau Angus; Lot

101, $40,000toUmbrella Range; Lot 41,

$26,000 to Cleardale; Lot 39, $19,000 to

RanuiAngus/Ridgewood Farms;Lot 37,

$16,500 to Penvose Angus;Lot 35, $16,000 to

Fossil CreekAngus;Lot 25,$15,000to

Stokman Angus;Lot 31, $13,000 to Haldon

Station.—Results supplied by PGG

Wrightson Genetics
---
SAUNA

at RangioraFitness Centre

EXPERIENCE THE MANY HEALTH

BENEFITSOFSAUNA THISWINTER...

•Improves cardio performance&blood pressure

•Aids recovery afterexercise

•Relaxes muscles &reduces

inflammation

•Increasesyour immunity

•Provides anatural detox JUST

•Relieves stress

•Improves skin health

Sauna is only available during staffed hours. T's &C's apply.

Visit us at 345 FlaxtonRoad

SPORT

North Canterbury News, June 25, 2020

TRY the SAUNA

at the

RANGIORA

FITNESS CENTRE

$ 8

for casual

visitors

33

Defending champions step up

By LINDSAY KERR and

PETER WILLIAMS

It was business as usual for

defending champions

Glenmark­Cheviot when it

started the 2020 North

Canterbury rugby campaign

on Saturday with adecisive

45­21 win against Oxford.

The eagerly anticipated

start to the season resulted in

wins for all visiting sides,

with Saracens, Hurunui and

Kaiapoi also picking up

victories.

So often atitle contender,

the game started badly for

Oxford when the kick­off did

not go the required distance

and the side was immediately

on the back foot.

Glenmark­Cheviot duly

took control and within five

minutes the scene was set

when Alex Robson scored.

Oxford then struck back

and showed it had the

ammunition, particularly in

the forwards, to compete

against its fancied rivals.

Dan Brooker scored after a

maul carried him over the

line and the scores were

locked at seven apiece.

However, it was the

accurate boot of Brook

Retallick that quickly began

to dictate the direction of the

game.

From defensive positions

he was able to quickly turn

the tide into an attacking one

for his side.

His accurate goal kicking

was also afactor.

Before half­time, the wellorganised

visitors ran in

three more converted tries,

along with apenalty. to lead

24­7 at half­time.

Oxford looked abetter unit

in the second half, but it was

Glenmark­Cheviot that

scored first after agaping

hole was found on the blind.

SPORTS RESULTS

RUGBY

Amberley GolfClub

Holland Cup winner: KPepper.

Ladies Par:LRobertson ­4, KRowell ­

6, SWiddowson ­6.

Senior Men Par: RHornblow +1, J

Robertson ­1, DWilliams ­1, SHeslop ­1,

PCumming ­1, GDunlop ­1.

Oxford was next to score,

having kept Glenmark

scoreless for 15 minutes. This

came from adefence

situation, when Nick Inch

seized an intercept 55m out.

Glenmark­Cheviot scored

two more tries, with Oxford

adding some respectability

with its third try when fulltime

beckoned.

Along with Retallick,

second­five­eight Mike

Keane also made abig

contribution to his side's

effort.

He often ran on angles and

was able to pierce gaps in the

Oxford defence.

Scoreboard: Glenmark­

Cheviot 45: Alex Robson,

Jacob Vincent, George Fox

(2), Jordy Gray (2) tries; Brook

Retallick, six conversions

and apenalty. Oxford 21: Dan

Brooker, Nick Inch, Matt

Roberts tries; Angus

Mitchell, three conversions.

Hard­fought win

Saracens won the

Rakahura Shield with ahardearned

22­18 win over Ashley.

Ashley scored two tries to

one, but the boot of Ricky

Allin kept Saracens in the

lead for the duration.

Ashley had the better of the

final exchanges and earned a

deserved bonus point when

the side scored its second try

on full­time.

Brent Hancox, playing out

of position on the side of the

scrum, was Saracens' player

of the day, while front rower

Josh Duckworth was Ashley's.

Scoreboard: Saracens 22:

Jessie Bowring try, Ricky

Allin five penalties and a

conversion. Ashley 18: Josh

Duckworth, Brent Cameron

tries; Anthony Tavendale, a

conversion and penalty, Scott

Barber, apenalty.

Tries galore

Hurunui stormed into its

season with anine try 53­12

rampage against Woodend.

It took Woodend 10 minutes

before it got ahand on the

ball, but this did not halt

Hurunui's charge as the side

went to a36­0 lead at halftime.

Woodend got into the game

in the second half, scoring

two tries.

Scoreboard: Hurunui 53:

Digby Heard, Sam Boyne (4),

Brian Anderson, Andrew

Murdoch (2), Ryan Nesbitt,

tries; Matt Hickey four

conversions. Woodend 12:

Matt Hand and Will Clifford

tries; Clifford aconversion.

Big Kaiapoi win

Kaiapoi and Ohoka

ushered in the post­Covid

rugby season with an

entertaining game. Kaiapoi

won the clash 48­17.

Kaiapoi dominated the

opening stanzas and was

rewarded with atry to

captain Jacob Hurring after

10 minutes.

Ohoka bounced back and

made the most of the running

for the next 20 minutes, with

asole penalty goal kicked by

Patrick McCallum to show for

the side's endeavours.

In the last five minutes of

the half Kaiapoi took the

game by the throat, with

Kimeon Reade and the

mercurial Dante Love both

touching down to take

Kaiapoi's half­time lead out

to 19­3.

The first of two tries to Rob

Samson stretched the side's

lead further straight after

Junior MenPar: MNeale +1, JWigley

­1, DSmith ­1, GSmith ­1.

Waimakariri Women's Golf

LGU and Putting

18 Holes: Silver: NWeavers 69, L

Anderson 77. Bronze A: LSteele 76, L

Scott 79, WMehrtens 79. Bronze B:

half­time, but Ohoka then

embarked on its best form of

the match.

Its lineout was working

particularly well, and put

Kaiapoi under pressure.

Ill­discipline, which cost

Kaiapoi dearly last season,

started to reappear.

When it was penalised hard

on defence, several players

started questioning the

referee and Ohoka's Ryan

McCallum, sensing Kaiapoi

was momentarily

disorganised, took aquick tap

and atry resulted.

Afew minutes later Max

Lines repeated the dose and,

with Patrick McCallum

converting both tries for

Ohoka, Kaiapoi's lead had

been pruned to just nine

points.

To Kaiapoi's credit it

immediately applied the

blowtorch, with Love, Reade

and Samson all scoring their

second tries of the match,

with apenalty try being

thrown in for good measure.

The Kaiapoi backs turned

on ascintillating display.

Without doubt Dante Love

was the star of the show,

cutting through almost at will

especially in the final

quarter.

Ryan Clark tackled his

heart out and excelled up

front for Kaiapoi.

Two players new to the

team this year excelled for

Ohoka.

Prop Bernie Ryan toiled

and his accurate lineout

throwing helped his jumpers

immensely, while No. 10

Patrick McCallum, returning

to the club for which he

played all his junior rugby,

showed he will be abig asset.

He directed play expertly

from the pivot position and

his goal­kicking will be an

added bonus.

JDeans 72, PWoods 77, PRivers 77, V

McKenzie 77.

Putting: N. Weavers26.

9Holes: FNimmo 35, TCraig37, E

Stokes 38, SKing 38, SFarrar 40, J

Stewart 41.

Putting: TCraig 16.

FREE for RangioraFitness Centremembers

NORTH CANTERBURY

RUGBY SUB UNION DRAW

27 th June 2020

LuisettiSeedsLtd Div1North CanterburyCompetition

2.45pmWoodendvAshley,Woodend 1. 2.45pm Glenmark

-Cheviot vHurunui, Omihi 1.2.45pm Kaiapoi vOxford,

Kaiapoi Oval.2.45pm Saracens vOhoka,Southbrook 2.

Mike Greer Homes North Canterbury Ltd Division 2

Trophy

2.30pmAmberley vKaikoura,Amb 1. 1.00pm Woodendv

Ashley, Woodend1.1.00pm Glenmark-CheviotvHurunui,

Omihi 2. 1.00pm Kaiapoi vOxford, Kaiapoi Oval. 1.00pm

SaracensvOhoka,Southbrook2.

Metro Womens Championship

2.30pm Kaiapoi vHSOB, Kaiapoi 2.

Combined Colts Competition-North Section

1.00pm Belfast vAshley,Sheldon 1. 1.15pm Glenmark-

Cheviot vCBHS 2nd XV,Omihi 1.

UoC Championship

2.45pm St Bedes College 1st XV vRangiora HS 1st XV,

St Bedes 1.

ChchMetroU18 -see crfu.co.nz for all draw info

Ellesmere/NorthCant/Mid Cant Combined U18

TBA Waihora vOxford.

Ellesmere/NorthCant/Mid Cant Combined U16

TBA Dunsandel-Irwell -BDI vSaracens.

Metro U16Girls -see crfu.co.nz for all draw info

Mike Greer Homes North Canterbury Ltd North

CanterburyU15 Competition

12.30pm Rangiora HS vHurunui, RHS 1. 12.30pm

Kaiapoi vOxford, Kaiapoi 1.

Metro U14 -see crfu.co.nz for all draw info

Mike Greer Homes North Canterbury Ltd Section 1-

Under13

11:45am Pegasus Bay vAshley, Kaiapoi Oval. 1.00pm

Kaikoura vGlenmark-Cheviot, Kaik 1. 11:45am Hurunui

vOxford, Cul 2. Saracens BYE.

MikeGreer Homes NorthCanterbury LtdSection 2-U12

12:00Hurunui vAmberley,Cul 1. 10:00 Kaiapoi vAshley

Blue,Kai 2. 10:50Kaikoura vAshleyGreen, Kaik 1. 10:00

Ohoka vSaracens, Mand 2. 10:00 Oxford vWoodend,

OxfordOval.

MikeGreer Homes NorthCanterburyLtd U11

10:00 Hurunui vAmberley,Cul 4. 10:00 Kaiapoi vAshley

Blue,Kai 1a.10:00 AshleyGreen vSaracens Red, Lob5a.

10:00 Ohoka vSaracens Blue, Mand 3a.10:00 Oxford Red

vWoodend, Oxford 4a. 11:00 Glenmark-Cheviot vOxford

Black, Omihi 2.

Mike Greer HomesNorth Canterbury Ltd U10

12.10pm Hurunui vAmberley, Cul 3. 12.10pm Kaiapoi

vAshley Blue, Kai 3. 12.10pm Ashley Green vSaracens

Red, Lob3.12:00 KaikouravGlenmark-Cheviot,Kaik1a.

12.10pm Ohoka Red vSaracens Blue, Mand 4.12.10pm

OxfordvWoodend,Oxford jnr 5. Ohoka BlackBYE.

Mike GreerHomes NorthCanterbury Ltd U9

10.00amHurunuivAmberley, Culjnr 3. 10.00am Kaiapoi

Gold vAshley,Kai jnr 3. 11.00am KaiapoiBlue vSaracens

Red, Kai 1b. 10.00am Kaikoura v Glenmark-Cheviot,

Kaik 1b. 10.00am Ohoka Red vSaracens Blue, Mand 4.

10.00am Oxford vWoodend, Oxford jnr 5. Ohoka Black

BYE.

Mike GreerHomes NorthCanterburyLtd U8

11.05amHurunuivAmberley, Culjnr 3. 11.05am Kaiapoi

vAshleyBlue, Kaijnr 3. 11.05am Ashley Green vSaracens

Red, Lob 3.10.00am Kaikoura vGlenmark-Cheviot, Kaik

1a. 11.05am Ohoka Red v Saracens Blue, Mand 4.

11.05am Oxford Red vWoodend, Oxford jnr 5.11.15am

Oxford Black vOhokaBlack,Oxford 4a.

Mike GreerHomes NorthCanterbury LtdU7

10.50am Hurunui Black v Amberley Cul 6. 10.50am

Kaiapoi vAshley Blue Kai 1b. 10.50am Ashley Green

v Saracens Red Lob Jnr 2. 10.50am Hurunui Blue

v Glenmark-Cheviot Cul 7. 10.50am Ohoka Green v

Woodend Mand 7.10.50am Ohoka Red vSaracens Blue

Mand 6. Ohoka Black BYE.

Mike GreerHomes NorthCanterburyLtd U6

10.00am Hurunui Black vAmberley, Cul 6. 10.00am

Hurunui Blue vGlenmark-Cheviot Gold, Cul 7. 10.00am

Ashley Gold vGlenmark-Cheviot Blue,Lob Jnr 2. 10.00am

Ashley Green vOhokaGreen,Lob Jnr 5. 10.00am Ashley

WhitevGlenmark-CheviotBlack, Lob 4a. 10.00am Kaiapoi

vAshley Blue, Kai 1b. 10.00am Ohoka Black vSaracens

Red, Mand 7. 10.00am Ohoka Red vSaracens Blue,

Mand 6. 10.00am Oxford Black vWoodendGreen, Ox 4b.

10.00am Oxford RedvWoodend Black, Ox 4a.

For all draw information visit:

North Canterbury Rugby

2285934
---
NEWS

34 North Canterbury News, June 25, 2020

Youth groups rebound

By DAVID HILL

Waimakariri's youth are back

in action. With manyevents

cancelledbecause of the

Covid­19 lockdown, the

WaiYouth events group is

keen to get some local

activitieshappening.

''We havekicked into gear

with WaiYouth meetings. We

had alot of ideas before the

lockdown, but we've lost a

couple of months so we're

keen to get things happening,''

WaimakaririDistrict

Council youth development

facilitator SamRedmansays.

The first event will be a

''silent rave'' in the Rangiora

Town Hall on July 18, with

tickets now on sale.

The popular ''all night

party'' has beenpostponed

untilSeptember, while the

''centrestage''teen talent

competition will be held in

October.Activities to support

youngpeople sitting exams

will be planned in November

in partnershipwith

Waimakariri Libraries.

A''silent rave'' is adance

partywhere participants are

provided withhead sets

connectedtoasound system,

Sam says.

''Everybody has fun, but it's

mostly silent because

everyone has the music in

theirheadphones. It'sabit of

anovelty, because not

everyone has experienced it

before, but it'saninteresting

idea because you can decide

whether you want to listento

the music and you can control

the volume.''

To speedthe planning

process, WaiYouth has split

intotwo groups, one group

planning the ''silent rave''and

the other startingwork on an

''all night party''.

The WaimakaririYouth

Council continued to meetvia

conferencingapp Zoom

during the lockdown. It will

holdits first face­to­face

meeting on Tuesday, Sam

says.

''The video meetings were

novel to begin with,but aftera

couple of weeks everyone was

overitand wanted to get back

to that human interaction.''

It will also be achancefor

fivenew recruits, including

Sam Redman

... ''We had a

lot of ideas

before the

lockdown, but

we'velost a

couple of

months so

we'rekeen to

get things

happening.''

PHOTO: FILE

three Kaiapoi High School

pupils, to attend theirfirst

meeting, Sam says.

''It's exciting to see young

people ready to be involved

and making adifference in

their community.''

The youthcouncil's Dudley

Parkproject will be top of the

agenda. The Waimakariri

DistrictCouncil allocated

$20,000inlast year's annual

planfor aprojecttocreate a

morefamily friendly spaceat

Rangiora's DudleyPark.

Issues around youth

development,employment

and the role of young people

in the new post­Covid

environment are also likelyto

be discussed overthe coming

months.

The Art and Craft of Costumes

Join SusanPeach foratalk about

how to designand make costumes

at the Amberley LibraryonMonday,

June 29, from 7pm to 8.30pm.

Susan's sewingskills extend from

making simple costumes for

children'splays to elaborate

replicasofhistorical dressesfor

grandoccasions. She will show

Victorian outfits (male and female)

she created for aHeritage Festival,

and discuss whatitwas like for

womenofthat period to wearand

care for suchchallenging clothes.

Cost:1.5 TimeBank Hurunui credits

or donation appreciated.

Registrations: (03)314 3406 or email

tbhlearningexchange@gmail.com.

Guinea pig show

Aguineapig show will be held at 38

Rangiora Woodend Road,

Woodend, on Sunday, July 19. Doors

will open from11amto2pm. Gold

coin entry. Main judging starts at

11am.Publicpets have to be

registered by 11am,with judging at

noon.Cost is $5 an animal. Dress up

your animalwith a''colours of the

rainbow''theme. Animal sales will

also be available. For enquiries,

ring Jenny on (021) 145 7245.

Bridge lessons

Lessons will begin at theRangiora

Bridge Club on Monday, July6,at

7pm. They will run for 11 weeks

with atop New Zealand tutor. The

lessons are free for under­25s and

returners. It is $50 for new learners.

Entries: rangiorabridge@xtra.co.nz

or rangiorabridgeclub.co.nz.

Flax­weaving introduction

Join MariaNoering and Carol

Maxwell for an introduction to

raranga —the craft of Maori flaxweaving

—atCheviotonJuly 4from

10am to 1pm.They will talk about

the tikanga of sustainably

harvestingflax (harakeke) and

guide participants through making

their own putiputi (flower), whichis

agreat waytolearn flax­weaving

basics. Cost:3TimeBank Hurunui

credits or $17. Morning tea

included. Registrations essential:

(03) 314 3406oremail

tbhlearningexchange@gmail.com.

Matariki and Maori navigation

Join Nukuroa and Heidi

Tirikatene­Nash at the Amberley

SchoolHall on Wednesday, July 15,

from 7pm to 8.30pm, for atalk

aroundthe significance of Matariki,

the starsand othernatural systems

that helped in navigating and

wayfinding.Heidiwill share her

journey as crew on the traditionally

designed Waka Haunui,aspart of

the 2019 Tuia250 Flotilla

commemorations. Cost: 1.5

TimeBank Hurunuicredits or koha

appreciated. Registrations: (03)

314 3406, or email

tbhlearningexchange@gmail.com

Berry and currant bushpruning

Gardeners Gary Burgess andLorna

Sandeman will show how to clean

up berry and currantbushes with

the rightthinning and shaping

techniques at Waipara on Sunday,

July 19, from 11am to 1pm.

Participants willbeable to try their

hand at pruning. There willalso be

discussion on the general

maintenanceofberry and currant

beds. Registrations can be made at

(03) 314 3406 or email

tbhlearningexchange@gmail.com
---
Property Brokers Limited Licensed under the Real Estate Agents Act 2008 222 High Street Rangiora rangiora@pb.co.nz 03 313 8022

Two dwellings and workshop

Awinning beginning!

NORTH

CANTERBURY

OPEN HOME

OPEN HOME

WEB IDRL76179

EYREWELL FOREST

599 Downs Road

VIEW Sunday 28 Jun 12.00 -1.00pm

This beautifully designed three bedroom, two bathroom

home is near new. One wing contains the master

bedroom with an ensuite and walk in wardrobe.

Another wing has two bedrooms and the main

Maurice Newell

bathroom. There are two living area's with an open

Mobile 027 240 1718

plan kitchen living and aseparate lounge. The

Office 03 310 6471

log-burner has awetback and there isaheat pump as mauricen@pb.co.nz

well. ABelling stove and AEG dishwasher are typical of

the quality of the chattels and fit out. The garage is a

Hamish Anderson

large single with an adjoining separate laundry and

Mobile 027 678 8888

mudroom.

Office 03 310 6471

hamisha@pb.co.nz

Prime location -potential to add value

BUYERS $890,000+

4

3

1

WEB ID RU75383

OXFORD

18 Woodside Road

First home buyers &families looking to establish

themselves on the property ladder will be enthralled by

our feature listing, awell-maintained home close to

Oxford's superb amenities &astunning view! This

delightful home ofmixed age, boasts numerous

improvements that will appeal to buyers. Three

bedrooms are complemented by one bathroom, while

open-plan living areas ensure the ability to host both

intimate gatherings &larger get-togethers. Highlights

include the new modern kitchen, gas hob &gas hot

water, aheat pump, &wood burner in the living areas.

Immaculately presented

VIEW Sunday 28Jun 12.00 -12.30pm

Di Moreira

Mobile 027 848 8020

Office 03 313 8022

di@pb.co.nz

BY NEGOTIATION

3

1

1

FINAL NOTICE

OPEN HOME

WEB ID RU76320

OXFORD

55 Burnett Street

Positioned in the heart of agrowing community, this

classic 1970's home on873m2 offers quick access to

local amenities. While needing some TLC, this offering

is as versatile asthey come with potential both as a

small family home or an investment property. Both

spacious bedrooms have excellent inbuilt storage and

are complemented by awell-appointed bathroom and a

separate toilet, with an added bonus of an extra room

off the master adding versatility as astudio/storage

area. An open plan dining/kitchen area and separate

lounge benefit from the presence ofawood burner.

pb.co.nz

DEADLINE SALE

VIEW Sunday 28 Jun 2.15 -2.45pm

DEADLINE SALE closes Tuesday 30th June, 2020 at 5.00pm,

(unless sold prior)

Di Moreira

Mobile 027 848 8020

Office 03 313 8022

di@pb.co.nz

2

1

WEB ID RU76392

OXFORD

22 Kowhai Street

With ahost ofamenities all within walking distance,

this large modern home, on an expansive section, is

perfect for families of all shapes and sizes. Offering an

opportunity to work from home, host extra family and

friends or simply spread out and enjoy the space. Inside,

four bedrooms are accompanied by two modern

bathrooms, including an en-suite and WIR of the

master. The well-appointed kitchen is complemented by

aversatile open-plan living area with expansive

windows. The heat transfer, heat pump and wood

burner provide all year-round comfort and the interior is

freshly painted.

DEADLINE SALE

VIEW Sunday 28 Jun 1.30 -2.00pm

DEADLINE SALE closes Tuesday 7th July, 2020 at 5.00pm,

(unless sold prior)

Di Moreira

Mobile 027 848 8020

Office 03 313 8022

di@pb.co.nz

4

2
---
Property Brokers Limited Licensed under the Real Estate Agents Act 2008 222 High Street Rangiora rangiora@pb.co.nz 03 313 8022

Amazing views, amazing value

Wanted: Big Happy Family!

NORTH

CANTERBURY

OPEN HOME

OPEN HOME

WEB ID RL76488

SEFTON

41 Factory Road

If you have been searching for the perfect combination

of location, privacy and modern living, you won't want

to miss this outstanding entry level lifestyle property!

Boasting both expansive farmland and hill views, yet

only minutes from Sefton township and State Highway

1. Perfectly positioned and immaculately presented on

an easy care ten acres, this modern, sunny home

features two bedrooms with the option of athird

bedroom or office and amodern well appointed

bathroom. Enjoy the naturally warm, spacious

open-plan living complemented by amodern kitchen.

VIEW Sunday 28 Jun 1.00 -2.00pm

Leigh Miller

Mobile 021 308 202

Office 03 313 8022

leighm@pb.co.nz

FROM $525,000

3

1

2

WEB ID RU76472

RANGIORA

5Will Place

VIEW Sunday 28 Jun 3.00 -3.30pm

On aquiet cul-de-sac close tothe host of convenient

amenities at Lillybrook, this picturesque home on

862m2 boasts room for the whole family, and is offered

to the market with genuine determination by vendors

whose thoughts have already turned to their next

project. Four bedrooms are complemented by two

bathrooms, with alarge lounge and modern kitchen

ensuring the ability tocater to any occasion. The large

sun-soaked conservatory isanadded bonus, while three Aaron Clark

heat pumps, two DVS systems and underfloor insulation

Mobile 027 873 5121

guarantee year-round comfort.

Office 03 313 8022

aaronc@pb.co.nz

$475,000

4

2

2

Ahome to show and share

WEB ID RU76582

WOODEND

62 Petries Road

Sitting pretty in the heart ofthe highly-desirable Two

Roads subdivision, this generously proportioned,

thoughtfully constructed home was designed with

modern living in mind. Well-constructed and equally

well-maintained by our house-proud owners, this

spacious home is perfect for families ofall shapes and

sizes. Three bedrooms and anoffice (with wardrobe)

are complemented by two bathrooms (ensuite and

walk-in-robe off the master), while open-plan living

areas ensure the ability to host both intimate gatherings

and larger get-togethers.

pb.co.nz

NEW LISTING

VIEW Sunday 28 Jun 12.00 -12.30pm

Aaron Clark

Mobile 027 873 5121

Office 03 313 8022

aaronc@pb.co.nz

BUYERS $519,000+

3+1

2

2

Do youhaveacompetitiveedgeand go

the extra miletowin? Areyou looking

to turn your ambitionintoasuccessful

career? We want to talk to you!

PropertyBrokers areexcitedaboutthe futureand rightnow we

have opportunities foryou to join our sales team workingineither

Hanmer Springs area or Rangioraand surroundingdistrict. We have

outstanding industry-leading trainingand incredible career paths for

the rightapplicant.

If youare usedtocommission basedearnings,ifyou have sales/

customer serviceexperience and areprepared to study towardsalevel

four real estatelicense, then nowisthe perfect time to have achat.

ContactLinda Fogarty Area Manager

M 027 294 4818 | E lindaf@pb.co.nz
---
3Hassall Street, Rangiora

Enquiries Over $499,000

Natural light, atrue delight!

Beautifully designed family-friendly

home in quiet cul-de-sac, this is a

lovely home you must investigate.

Flat 4/10 McAlpine Place, Rangiora

Enquiries Over $285,000

Alittle beauty! NEW LISTING

Ticking all the boxes, this lovely low

maintenance, permanent material, rear

unit is sure to attract interest from a

wide range of potential buyers.

Michelle Facer

Sales Consultant

M 027 307 4530

E michelle.facer@tallpoppy.co.nz

Richard Green

Business Partner

M 0275 364 260

E richard.green@tallpoppy.co.nz

4 1 2 2 177 600

Viewing: Sunday 12:00 -12:30pm

Ref: TPNC8373

tallpoppy.co.nz/homes-for-sale

20 Belmont Avenue, Rangiora

Enquiries Over$850,000

Pedigree Position

Nestled on aprivate, 1240m2 section

in one of the Rangiora's true blue-chip

locations, this expansive home is

offered for sale with genuine

commitment by our motivated owners.

Impressive from the entrance way to

the manicured gardens. Just stunning,

view today...

April Wellington

Sales Consultant

M 027 722 7354

E april.wellington@tallpoppy.co.nz

4 2 2 3 337 1240

Viewing: by appointment

Ref: TPNC7918

tallpoppy.co.nz/homes-for-sale

317 Mount Grey Road, Loburn

By Negotiation

Two for the price of one!

Ideal for large families with teenage

children or elderly relatives, this

substantial parcel of land boasts two

dwellings -amodern home built in

2009, plus aself-contained 'cottage'.

Abevy of intelligent heating solutions,

(including awood furnace) underfloor

heating and gas fire so no reason to be

cold in winter.

April Wellington

Sales Consultant

M 027 722 7354

E april.wellington@tallpoppy.co.nz

5 2 2 2 387 5.020

Viewing: by appointment

Ref: TPNC8360

tallpoppy.co.nz/homes-for-sale

273P Maskells Road, Balcairn

Enquiries Over $720,000

Endless Horizons

Immerse yourself in panoramic

scenery from your very own piece of

paradise, perched upon approximately

6. 9hectares ofland. This feature

property is simply unsurpassed for

location.The elevated section is fully

deer fenced and very private. All the

bells and whistles for modern living in

style. Make it yours.

Michelle Facer

Sales Consultant

M 027 307 4530

E michelle.facer@tallpoppy.co.nz

Richard Green

Business Partner

M 0275 364 260

E richard.green@tallpoppy.co.nz

5Pimlico Place, Rangiora

Enquiries Over $645,000

Superb Family Living, Work from Home

Families and those who simply crave

space will be drawn to this enticing,

expansive home in sought after

Arlington area. Call to view

Michelle Facer

Sales Consultant

M 027 307 4530

E michelle.facer@tallpoppy.co.nz

Richard Green

Business Partner

M 0275 364 260

E richard.green@tallpoppy.co.nz

5Dover Street, Leithfield

Enquiries over $550,000

Luxury Living in Leithfield

It is not often you find anewly built

home standing grandly on aprivate

Sun-soaked and spacious established

easy-care section. Lovely rural

community.

Richard Green

Business Partner

M 0275 364 260

E richard.green@tallpoppy.co.nz

Michelle Facer

Sales Consultant

M 027 307 4530

E michelle.facer@tallpoppy.co.nz

2 1 1 60 1148

Viewing: Sunday 11:00 -11:30am

Ref: TPNC8470

tallpoppy.co.nz/homes-for-sale

5 2 2 2 246 702

Viewing: Sunday 2:00 -2:30pm

Ref: TPNC7911

tallpoppy.co.nz/homes-for-sale

4 1 2 2 186 1021

Viewing: Sunday 1:00 -1:30pm

Ref: TPNC8072

tallpoppy.co.nz/homes-for-sale

2Wineberry Avenue, Amberley

Enquiries Over $495,000

Built To Last -NEW LISTING

Located on aquiet corner section in

Amberley, our feature property is ideal

for families looking for apeaceful

place tocall home, or older couples

searching for the perfect spot to enjoy

the golden years ahead. Fully-fenced,

low maintenance gardens we know this

will tick all of your boxes so treat

yourself toaviewing.

3 1 1 4 155 6.9094

Regine Lenser &Jeff Hill AREINZ Viewing: by appointment

Sales Consultants

M 022 056 1958

Ref: TPNC7899

E regine.jeff@tallpoppy.co.nz

tallpoppy.co.nz/homes-for-sale

Rachael Lay

Sales Consultant

M 027 442 2277

E rachael.lay@tallpoppy.co.nz

4 1 2 2 178 502

Viewing: Sunday 1:00 -1:30pm

Ref: TPNC8366

tallpoppy.co.nz/homes-for-sale

CONTACT SALESPERSON FOR FURTHER INFORMATIONtallpoppy.co.nz

BULSARA T/A TALL POPPY LICENSED UNDER REAA 2008
---
WINTER FARM MAINTENANCE &CLASSIFIEDS

38 North Canterbury News, June 25, 2020

Public Notices

Public Notices

Export time ... ARutbuster being loaded into acontainer by

Rangiora Transport for shipping from Lyttelton to Melbourne,

Australia.

PHOTO: SUPPLIED

Rutbuster fills

in irrigator ruts

Talk to afarmer about his

centre­pivot irrigator and you

will inevitably find yourself

talking about the problems

caused by wheel tracks or

ruts, and irrigators getting

stuck and breaking drive

mechanisms, usually in the

middle of the night.

Wheel ruts have, until now,

been an unavoidable

consequence of operating a

centre­pivot irrigator.

Because the wheels track

along the same path on each

and every revolution, the

ground on this path becomes

slightly depressed and, from

that time, water collects in

the depressions and it

becomes arut.

Over time, this rut becomes

more of aproblem, putting a

strain on the irrigator and

making it more difficult to

drive the wheels.

This inevitably results in

machinery failure and, as

Murphy's Law states, it's

usually at the most

inconvenient moment.

Filling the ruts is only part

of the solution. It needs to be

done well, with the ruts filled

properly, safely and

efficiently.

North Canterbury­based

ICS Farm Machinery makes

the ICS Rutbuster. This

unique piece of machinery is

locally designed and

manufactured by the New

Zealand­owned and operated

company.

It provides asafe, efficient

way of dealing with irrigation

ruts in asingle pass. It needs

only one operator, making it

easier to fill ruts of virtually

any depth. There is no

grading of overflow, as

required by other systems,

and no need to compact after

filling the rut.

The Rutbuster is safe to

operate as the tractor wheels

straddle the rut rather than

driving in it. The Rutbuster

fills to the fence line, resulting

in awell­filled tidy rut.

It is solid and robust,

designed for New Zealand

and Australia's tough

conditions.

They are built by ateam of

dedicated Kiwis —more

specifically, agroup

comprising some of

Canterbury's most skilled

engineers.

The ICS Rutbuster's

popularity has seen the

company expand sales

overseas, with Rutbusters

regularly leaving the country.

The company is enjoying

positive feedback from

Australia, South America and

Egypt.

The Rutbuster comes with a

12 month warranty, as well as

customer choice of colour and

modifications to suit, if

required.

For more information, visit

icsfarmmachinery.com, call

0800 641146, or visit its

Facebook page.

Rangiora High School

Out of Zone Enrolments

The Rangiora High School Board of Trustees has

determined that in 2021 three Year 9places are

available for out of zone enrolment.

Applications for out of zone enrolments close on

Friday 31 July 2020. If the number of out of zone

applications exceeds the number ofplaces being

offered, students will beselected by ballot. If a

ballot is required, it will beheld on 4August 2020.

Parents will be informed of the outcome of the

ballot within threeschool days.

Applications from out of zone students will be

processed in the following order of priority:

(1) students accepted for enrolment in aspecial

programme run bythe school (i.e. mainstream

learning support);

(2) siblings of current students;

(3) siblings of former students;

(4) children of former students;

(5) children of employees at the school;

(6) all other applicants (by ballot if required).

For further information please contact (03) 311

8888 or email enrolments@rangiorahigh.school.nz

KAIAPOI CHRISTADELPHIANS

"The Key of Knowledge .."(Luke 11:52)

"GOOD NEWS"

The Lord Jesus Christ said:

"Blessed are the peace-makers: for they shall be called the

children of GOD. Blessed are they which are persecuted for

righteousness sake: for their's is the kingdom of heaven".

2287057

Matthew 5:9 -10.

ADVERTISING

YOUR

BUSINESS?

1914343

Thursday,August2,2018 | Issue 808 | www.ncnews.co.nz

Delivered to more homes

in North Canterbury and

Kaikoura regions than any

other publication.

The best read paper in

North Canterbury!

For contact details see page 2

Further Notice

of By-Election

Forthe West Ward

Nominations to fillthe extraordinaryvacancy forthe West Ward have been

received from MaryHollowayand Jeffrey Alan Walker.

As nominations have nowclosed andthe number of nominations exceed

the number of vacancies an election will be conducted by postalvotingto

determine the successful candidate.Voting will open on Thursday23July

and close at 12 noon on Friday14August2020.

Enrolmentand Special Voting Arrangements

Residents within the West Ward area who arenot listedonthe final

electoral roll forthis election canenrol by calling 0800367656, visiting

the Electoral CommissionWebsite(www.vote.nz) or obtaining enrolment

forms at Postshopsorthe Hurunui District Counciloffice up to 4pm Thursday

13 August2020.

West Ward ratepayers who liveoutside the West Ward area and who arenot

listedonthe final electoral roll forthiselection canenrol on or before 4pm on

Thursday13August2020 by completing and returning aratepayerenrolment

form, available from the Hurunui District Counciloffice or website.

Special voting facilities forthe by-electionwillbeavailable at the Hurunui

District Council Office, 66 CartersRoad (SH1), Amberleyduring normal office

hoursbetween Thursday23July and 12 noon on Friday14August2020.

AnthonyMorton

Electoral Officer

PO Box3138, Christchurch 8140

www.hurunui.govt.nz 0800 666 928

MEETINGS NOTICE

The following meetings will be held in July 2020.

All meetings will be held in the Council Chambers,

215 High Street, Rangiora, unless otherwise stated.

Waimakariri ZoneCommittee

Monday 6July commencing at 3.30pm.

Council

Tuesday 7Julycommencing at 1pm.

Oxford-Ohoka Community Board

Wednesday8July at 7pm at the West Eyreton Hall,

2Earlys Road, West Eyreton.

(The Public Forum section of the agenda will occur

from 7pm to 7.25pm.)

Rangiora-AshleyCommunity Board

Wednesday8July at 7pm.

Woodend-Sefton Community Board

Monday 13 July at6pm at the Woodend Community

Centre, School Road, Woodend.

Kaiapoi-Tuahiwi Community Board

Monday 20 July at 5pm at the Ruataniwha Kaiapoi

Civic Centre, 176 WilliamsStreet, Kaiapoi.

Audit and Risk Committee

Tuesday 21 July at 9.30am.

Utilities and Roading Committee

Tuesday 21 July at 4pm.

Multi-Sports Facility (Stadium Waimakariri)

Steering Group

Thursday 23 July at 10.15am.

All meetings are open tothe public. Agendas are

available twoworking days prior to meeting.

Agendas and minutes for meetings can be found on

the Council's website:waimakariri.govt.nz.

Sarah Nichols

GOVERNANCE MANAGER

2289208

There's neverbeen abetter time

to support local.

Help our local economy recover in these difficult times and supportour local

advertisers by shopping local.

The North Canterbury News features local businesses and news

everyweek.

If you're abusiness owner and want to find out how we can help you

-send us an email on info@ncnews.co.nz

2287954

RANGIORA Promotions

AGM. Tuesday 30 June ­

5:30pm Drinks/Nibbles ­

6pm start, Rangiora RSA

Club. Nomination forms,

agenda, 2019 minutes and

financial report are available

at www.

rangiorapromotions.co.nz.

RSVP

to

rangiorasecretary@gmail.com

by 26 June.

BALCAIRN public hall,

special re­opening event,

Molly's Remedy, Saturday

11th July 2020 ­8pm. We

welcome back Mary

Dunne, Helen Fahy and

Monica Millar to kickstart

our concert series return!.

Tickets $25 (cash) from:

Sally Mac's, Amberley,

Sefton Garage, Stan's 7

Day Pharmacy, Rangiora.

Or book via www.balcairnhall.

com. Light supper ­Alcohol

free /CDS/ Raffles.

Pets

BICHON HOMESTAY

for smaller dogs. We look

after your dog in our home.

"No kennels". Phone today

03 314 6110.

Wanted To Rent

WANTING house with

grazing /lifestyle property

for horses. We are aprofessional

couple with one

baby. Needs to be pet

friendly. Any area considered.

We have lived on

lifestyle property for 10

plus years so knowledgeable

with managing land.

Landlords are selling so

need to move. Excellent

references can be provided.

Ph Troy on 021 122 1960 or

email troy@atcaccounting.nz.
---
Educational

TUITION available. Primary

and secondary to

NCEA level 3. Math, Literacy

and Science (NCEA).

Each student on an

individually­ tailoured programme.

Kip McGrath

Rangiora has been serving

the local community for 30

years. Give us a call or

book your free assessment

online 03 313 3638 https:/

/www.kipmcgrath.co.nz/rangiora

Cars For Sale

PEUGOT 607 2002

105,000kms, auto, colour

bronze, AC, alloys, fuel

injected, leather, power

windows, sunroof, stereo,

economical, cam replaced,

genuine sale, $6250 ono.

Phone 027 494 8251.

Cars Wanted

CASH 4CARS

and 4WD'S

Phone

Automotive

Parts

03 313 7216

CARS, vans, 4WD's

wanted for dismantling or

repair. Phone 027 258

8366.

CASH / CASH for any

unwanted vehicles, ph 347

9354 or 027 476 2404.

Accountant

Firewood

FIREWOOD bone dry

Macrocarpa firewood $120

per square metre. Delivered

as far North as Amberley.

Ph George 021 0845 3787.

DRY pine cones, no

needles. Pick up 3 mins

from Rangiora, $5 per sack,

purchase 10, receive 11.

Can deliver to Rangiora for

asmall fee. Please phone

027 649 3451.

Livestock

TEXEL ROMNEY cross

ewe hoggets suitable for

breeding /lifestyle blocks.

Phone 021 626 449 or 03

385 4966.

HOMEKILL

Butchery &

meat processing

313 0022

MEAT2U.NZ

2276971

Gardening

GARDEN hedges cut to

perfection. Tree & arbor

work. Also spraying. Free

quotes. Ph 03 312 0668 or

021 111 4322.

TIDY TREES and gardens.

All tree pruning,

felling, hedge trimmingand

general gardening. Telephone

Daniel 027 373 7001

tidytreesandgarden@gmail.com.

ROSE PRUNING, 20

years exp, professional

local service. Ph Rosemary

03 313 6399 or 021 060

1200.

CLASSIFIEDS, TRUSTED TRADES &PROFESSIONAL SERVICES

North Canterbury News, June 25, 2020

Trade&Services

AFFORDABLE concrete

cutting with quality and

removal work. Free quotes.

No job too small. Ph 027

442 2219, Fax 03 359 6052

or A/H 03 359 4605.

ABEL &Prestige Chimney

Cleaning. Nth Cant owned

& operated. Covering all

areas from Waimak to Hanmer.

Professional, guaranteed,

service. Firebox

repairs, carry most parts. Ph

0800 661 244.

BRIAN'S Tree Services.

Tree felling, topping,

shaping, firewood cut, rubbish

removed, stump grinding,

branch chipping.

Affordable rates. Phone 03

327 5505 or 021 124 4894.

CARPENTER / Painter

specialising in alterations &

renovations, repairs &

maintenance, 35 plus years,

experienced licenced

builder. Telephone Trevor

313 5013 or 027 431 1864.

PAINTER & Decorator.

25 + years experience.

Interior /exterior, roofs &

waterblasting. For a free

quote, please ph Steve 03

314 4620 or 027 477 1930.

PAINT & wallpaper

services. Wayne Bryant.

Exterior, interior. Qualified

tradesman. Free quotes. Ph

313 5337 or 027 654 4568.

STONEMASON, Brick

and Blocklayer. Earthquake

repairs, grind out and

repoint, River / Oamaru

stone, Schist, Volcanic

rock, paving, all alterations

new and old. Quality workmanship

guaranteed, visit

www.featureworks.co.nz

or phone 027 601 3145.

Trade&Services

BRICK &blocklaying. All

types of work undertaken,

repairs. Phone Hamish

0272 386 003 or 313 5678.

INSULATION, walls,

ceiling, underfloor. Free

quotes. Covering all of

North Canterbury. Phone

027 727 9162.

BUILDER, decking, veranda's,

concrete and alterations.

LBP. Ph Zatara

Builders 027 727 9162.

BUILDERS father &son

team. Amac Builders are

available to help you with

your building needs. High

standards, low overheads.

No job too small. Check us

out on fb. Amac Builders

Ltd. Ph 027 318 4400.

DIRTY TILES &Grout?

Professional tile cleaning,

tiled shower restorations,

mouldy silicone, shower

glass & we can even

recolour your old grout!

For all your tile and grout

issues call Grout Pro for a

free no obligation quote. Ph

Darryl 0800 882 772.

PAINTER, qualified, local

professional. Int / Ext,

roofs, wallpaper. Call or

text Corban 027 846 5035.

METAL WORX. Flashing,

Sheetmetal Fabrication,

Wrought Iron,

Welding, Custom Trailers,

General Metalwork. No job

too big or too small. Ph 021

265 5428 or 03 314 6908.

Find us on facebook/

Glenmark Metal Worx.

glenmarkmetalworx.ltd@gmail.com.

Appliance Repairs

Trade&Services

SUMMERFIELD

FENCING

IN YOUR AREA NOW.

Lifestyle or farm, sheep, cattle,

horse, all types of animals.

Fences, yards, sheds, arenas,

shelters, runs.

30+ years contract fencing.

Steve is available to help with

your design &planning.

Ph office03312 4747

2091848

Pride &Quality Painting

&Decorating Services

20 yrs exp, fast and friendly

service. For all your painting

needs, phone: Martin 310

6187 or 021 128 9867

ROOFER All roof repairs,

roof painting, water blasting,

moss treatment,

repointing, gutter cleans &

snow straps. And more.

Free quotes. Phone Nathan

027 516 6609.

PAINTER & Decorator.

Semi retired painter. Small

jobs. Ph Peter 03 312 7945

or 027 693 8360.

RANGIORA Rubbish

Removal and RRR skips.

Wheelie bins any frequency

and skips from 1.5 cube to

9cube. Skips and wheelie

bins for any use, rubbish,

greenwaste, building sites

or just cleanups. Give us a

phone call 313 6957 or for

skips 021 313 255.

SCREEN PRINTING.

For all your printing

requirements. T­shirts,

Hoodies, Hi­Vis vests and

polos, Overalls, Caps etc.

Please phone Heather 03

313 0261 or email

heather.norstar@gmail.com.

Builder

Trade&Services

Log Fires

Pellet Fires

Heat Pumps

Sales

Service

Installations

Free Quotes

03 343 1651

472 Blenheim Rd

www.heatstore.co.nz

SEPTIC TANK

CLEANING

Bill's Liquid

Waste

You dump it...

Blair pumps it...

Blair Tavendale

Ph 03 314 9371

0275 379-694

SHEARER. Hap's Farm &

Lifestyle Services. Shearing,

crutching, drenching,

tailing, feet trimming &

health check. Trailer, generator

&mobile handpiece

available. Experienced,

reliable and honest. Ph 03

312 1214 or 021 267 4025.

2225862

2286701

Trade &Services

Butchery

39

Reliable new business based in and

servicing the North Canterbury area.

Here for all your garage door needs!

•Repairs •Servicing

•Installation

Give usacall/email today todiscuss

any garage door issues with our

friendly and professional team.

Dean Sangster

027 225 7445 |03319 8549

dean@summitgaragedoors.co.nz

www.summitgaragedoors.co.nz

ANTHONY SYMONDS

Forall your painting &

plastering requirements

Local with 30 years

experience

All workmanship

Guaranteed.

Phone 021 344 023

2220615

POWER TOOLS repairs,

parts &sales for over 30

years. All main brands serviced.

Grossman Trade

Tools, 31A Watts Road,

Christchurch. Ph 389 9230.

REMOVALISTS

2Men &agood

sized truck.

From $157 per hour

(incl gst).Kaiapoibased.

Call Gerard

027 668 3636

2225244

VALUATION ­

Specialising in North Canterbury.

Contact Geoff at

Maxwell Valuation. Phone

03 310 8541 or email

geoff@maxval.co.nz.

Debra Jowsey &KarlaKilner

Ph 03314 9480

We help with all Taxreturns for the

salary &wage earner,self employed, rental,

business,farm,GST,pay day filing

2287949

•REGISTERED TECHNICIAN

•AUTHORISEDLOCAL SERVICE

F&P, Bosch, Smeg,

ASKO, Ariston, LG,Classique,

Haier, Samsung and more....

"For best resultsbesuretouseauthorised service"

NORTHCANTERBURY APPLIANCE SERVICES

Rangiora: 03 313 4420 Kaiapoi: 03 327 3810

1913020

OxfordButchery

Shane and Leanne Frahm

We cankill&process yourstock

FourGenerations of Frahms

since 1957

Ph 312 4205

Oxford

1680439

Number one

old-fashioned bacon

&ham curing.

A/H 312 4709

Chiropractic Services

Dr Carissa McGregor Chiropractor

Injury, accidents and maintenance

ACC Registered and Accredited

Monday-Thursday | 03 313 0350

Libi McKinnon Physiotherapy

privatephysio@xtra.co.nz

03 0278 686 2574

ACC Registered Provider | Tuesday&Friday

Select Health

51 Ashley Street, Rangiora

2103107

Computer Repairs

Bruce Evans

131 Ohoka Road

Kaiapoi

03 327 3111

021 293 6331

compucare@xtra.co.nz

www.compucare.co.nz

Computer Repairs &upgrades

Prompt professional services

2276525v2

Virus &malware removal

New &UsedPC's4Sale

YOU

COULD

BE

HERE

Construction &Concrete

All Construction & Concrete Work

•Driveways, patios &paths

•Bridges and Culverts

•Floors, foundations

•Sheds and buildings

•Dairy Sheds, Herd homes

•Silage pits, effluent ponds

•Excavation and cartage

•Precast concrete

•Insulated panels

Daryl Power

027 230 9401

concretepower@scorch.co.nz

www.concretepower.co.nz

2273277

2089195v2-4/4-S

Electrician

AARON HARRIS

ELECTRICAL LTD

NEW HOUSES • ALTERATIONS

ELECTRICAL INSPECTIONS • SMART WIRING

SYSTEMS AND MORE...

M: 0275 543 958 E: aaron@ahel.co.nz

2020478

Scaffolding

•Edge protection

•Working platform

Phone

0274 366 901

Plans for pricing

jas.rangiorascaffolding@xtra.co.nz

North Canterbury wide

1783878

Advertise

your business

in our Trades

and Services

Phone

Amanda Keys

on

03 313 2840

Scrap Metal

CASH PAID FOR SCRAP

•Car Bodies •Scrap Steel•Specialists in Farm

Machinery•All non Ferrous

MAINLAND

METALS LTD

Ph (03)338 7000

Mike0274 818544 •Robbie0274818 027

Locally owned and operated

1902273

CAP 65

CAP 40

CAP 20

Shingle

SHINGLE SUPPLIES

Quarry Prices

DRAINAGE CHIP

from $40 per cube

from $23 per cube

from $25 per cube

from $30 per cube

all +gst

Plus all excavation and truck hire

house excavations, driveways, subdivisions

CONTRACTING

Ph: KEN 027 201 3302

Email: stress@xtra.co.nz

2009594
---
RangioraToyota

2010 Toyota Prius S

•1.8LHybridPetrolAuto

•Keyless, Climate Control

•Only78,100km

WAS$17,995

NOW $

14,995

2014 CorollaGX

•1.8Lpetrolauto, Bluetooth

•Cruise control

•Traction &StabilityControl

$

12,995

2010 Toyota Wish

•1.8LPetrol, 7-seater

•Alloys

$

11,995

•Climateair

2016 Toyota Corolla GLX

•1.8L PetrolAuto

•Bluetooth, Reversecamera

•Alloys

NOW

WAS$19,995

$

16,995

Signature

CLASS

S

Ex-Demo 2019 CorollaSXSedan 2013Toyota Prius S

•1.8LHybridPetrol,

•1.8LHybridPetrolAuto

•Satnav,TSS

$ •Keyless

•Only150kms 33,995

•5-doorHatch

$

17,995

Signature

CLASS

2017 HighlanderGXL

•3.5LPetrolAuto, 7Seater

•Satnav,Leather

•Only 28,200kms

WAS$47,995

$

43,995

2007 Toyota CamryGL

•2.4LPetrolAuto

•FM/AM &CDPlayer

•NZnew

$

6,995

2013Toyota Aqua

•1.5LHybrid PetrolAuto

•ParkingSensors

•Bluetooth

WAS$15,995

NOW $

14,995

2012Toyota GT86

•2.0L PetrolAuto

•ClimateAir,Sport Mode

•Only 19,650kms

$

26,995

2017 Corolla GLX

•1.8LPetrolAuto, Alloys

•ReverseCamera

•Done 46,750km

WAS$20,995

$

19,995

2018 Corolla GLX

•1.8LPetrolAuto, Bluetooth

•Done 24,900km, Alloys

•ReverseCamera

WAS$22,995

$

20,995

Signature

CLASS

S

2017 Rav4 GXL

•2.5LPetrolAWD

•Satnav,Bluetooth, TSS

•Only58,750km

$

28,995

2017 RAV4 GLX2WD

•2.0L petrol,auto, Satnav

•ReverseCamera

•Only42,200km

WAS$26,995

NOW $

25,995

2017 RAV4 GXL2WD

•2.0LPetrolAuto, SafetySense

•ReverseCamera

•Only 47,350km

$

27,995

2017 RAV4 GLX2WD

•2.0Lpetrol,Bluetooth

•ReverseCamera

•Only46,960km

$

27,995

2013Rav4 GX

•2.0L PetrolAuto, 2WD

•CruiseControl

•Bluetooth

$

19,995

2016 CamryGL

•2.5Lpetrolauto

•Bluetooth, reversecamera

•Only48,500km

$

20,995

2015CamryAtara S

•2.5LPetrolAuto, Alloys

•Bluetooth, ReverseCamera

•Done 29,100km

$

22,995

2017 RAV4GXL2WD

•2.0L PetrolAuto

•SafetySense,Sat Nav

•ReverseCamera

$

27,995

2018 Highlander Limited

•3.5LPetrol8-speedAuto

•Leather,RearEnt.

•Sunroof

WAS$57,995

NOW $

54,995

2016 PradoVX

•2.8L Turbo Diesel Auto

•7-seater, SatNav

•Leather,Only 28,300km

$

61,995

2015LandCruiser PradoVX

•3.0L turbo diesel,

•7-seater, leather

•360° camera

$

81,995

2015LandCruiser PradoVX

•3.0L TurboDiesel Auto

•7-Seater,Leather, Bluetooth

•ReverseCamera

$

45,9955

2009 LandCruiser 200 Series

•4.5LTurbo-Diesel, V8

•8-seater,Satnav

•ClimateAir

WAS$51,995

NOW $

49,995

2012LandCruiser VX200 Series

•4.5LTwin TurboDiesel Auto

•Leather,Satnav

•Done 95,900km

$

77,995

2018 LandCruiserPrado VX

•2.8L Turbo Diesel Auto

•Facelift Model

•Only13,600km

WAS$69,995

NOW $

67,995

2018 HiluxSR5 Cruiser 4WD

•2.8L Turbo Diesel, auto

•18" alloys, leather

•Satnav,ReverseCamera

$

49,995

$ $ NOW $ •4-door,Satnav

108,995

35,995

7,995

$

•ToyotaSafetySense 46,995

Percival Street,Rangiora • Ph (03) 313-8186 any time • www.rangiora.toyota.co.nz

Signature

CLASS

Ex-Demo LandCruiser VX

•4.5LTwin TurboDiesel

•Leather,Satnav

•Only1,200km

2016 Hiace AWD

•3.0L TurboDiesel

•Auto, 5-Door

•6-Seater

1999Hilux Single Cab

•2.7Lpetrolmanual

•3-seater,flatdeck

•Towbar

WAS$8,995

2019 Ex-Demo Toyota HiaceZX

•2.8L Turbo Diesel Auto

2282995

FINANCE &INSURANCE AVAILABLE