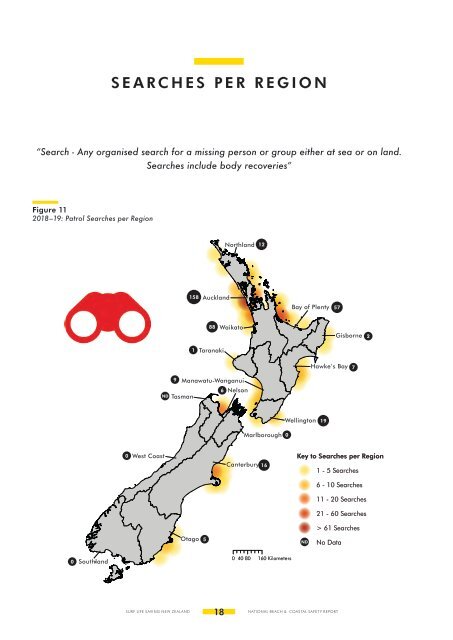 SLSNZ NATIONAL Beach & Coastal Safety Report
New Zealand has one of the highest fatal drowning rates in the OECD1. This report is our way of drawing a line in the sand. We, Surf Life Saving New Zealand, are saying "enough is enough". No more unnecessary deaths from drowning on our beaches and along our coastline.

SEARCHES PER REGION

PREVENTATIVE ACTIONS PER REGION

"Search - Any organised search for a missing person or group either at sea or on land.

Searches include body recoveries"

"Preventative Action - Direct action taken to reduce or eliminate the probability of a

specific rescue, first aid or other reportable incident occuring"

Figure 11

EARCHES

2018–19: Patrol

PER

Searches

REGION

per Region

Figure 12

PREVENTATIVE

2018–19:

ACTIONS

Preventative Actions

PER

per

REGION

Region

Northland

12

Northland 3,787

158

Auckland

Bay of Plenty

57

20,117 Auckland

Bay of Plenty 13,888

88

Waikato

Gisborne

2

34,388 Waikato

Gisborne 2,728

1

Taranaki

12,183

Taranaki

Hawke's Bay

7

Hawke's Bay 3,450

9 Manawatu-Wanganui

6 Nelson

ND Tasman

1,140 Manawatu-Wanganui

58 Nelson

ND Tasman

Wellington

19

Wellington 3,088

Marlborough

0

Marlborough

128

0

West Coast

Canterbury 16

Key to Searches per Region

1 - 5 Searches

0

West Coast

Canterbury 18,134

Key to Preventative Actions per Region

1 - 1,000 Actions

6 - 10 Searches

1,001 - 5,000 Actions

11 - 20 Searches

5,001 - 15,000 Actions

21 - 60 Searches

15,001 - 25,000 Actions

> 61 Searches

> 25,000 Actions

Otago

5

ND

No Data

Otago 5,197

ND

No Data

0

Southland

0 40 80 160 Kilometers

21

Southland

0 40 80 160 Kilometers

SURF LIFE SAVING NEW ZEALAND

18

NATIONAL BEACH & COASTAL SAFETY REPORT

SECTION ONE

19

CAPABILITY
More magazines by this user