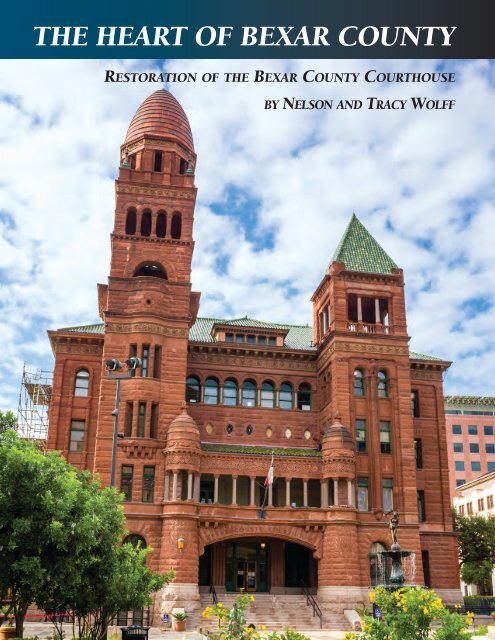 The Heart of Bexar County
Restoration of the Bexar County Courthouse. By Nelson and Tracy Wolff. Published by HPN Books a division of Ledge Media © 2020
Restoration of the Bexar County Courthouse. By Nelson and Tracy Wolff. Published by HPN Books a division of Ledge Media © 2020
SHOW MORE
SHOW LESS
Create successful ePaper yourself
Turn your PDF publications into a flip-book with our unique Google optimized e-Paper software.
THE HEART OF BEXAR COUNTY

RESTORATION OF THE BEXAR COUNTY COURTHOUSE

BY NELSON AND TRACY WOLFF
---
THE HEART OF

BEXAR COUNTY

Restoration of the

Bexar County Courthouse

by Nelson and Tracy Wolff

THE HEART OF BEXAR COUNTY is a publication of The Hidalgo Foundation.

HPNbooks

A division of Ledge Media

San Antonio, Texas
---
First Edition

Copyright © 2020 HPNbooks

All rights reserved. No part of this book may be reproduced in any form or by any means, electronic or mechanical, including photocopying, without permission in writing

from the publisher. All inquiries should be addressed to HPNbooks, 11535 Galm Road, Suite 101, San Antonio, Texas, 78254. Phone (800) 939-5311, www.hpnbooks.com.

ISBN: 978-1-944891-70-1

Library of Congress Card Catalog Number: 2019954563

THE HEART OF BEXAR COUNTY—Restoration of the Bexar County Courthouse

authors:

layout and cover design:

contributing writer for "Sharing the Heritage":

managing editor

Tracy Wolff

Nelson Wolff

Christopher D. Sturdevant

Joe Goodpasture

Loretta Fulton

Ron Lammert

publisher, chief executive officer and president:

vice president:

project manager:

office manager:

production:

HPNbooks

Daphne Fletcher

Rafael Ramirez

Joe Neely

Donna Mata

Colin Hart

Christopher D. Sturdevant

Craig Mitchell

Kristin T. Williamson

2 ✦ T H E H E A R T O F B E X A R C O U N T Y
---
B e x a r C o u n t y C o m m i s s i o n e r C o u r t F 3
---
CONTENTS

FOREWORD ...........................................................................................................7

I. EVOLUTION OF THE CITY HALL AND THE COURTHOUSE .................................8

II.

RESTORATION OF CITY HALL AND THE MUNICIPAL PLAZA BUILDING.................14

III. THE DECLINE OF THE COURTHOUSE ...................................................................18

IV. THE HIDALGO FOUNDATION ................................................................................23

V. THE FIRST PHASE, THE EXTERIOR .......................................................................27

VI. THE CHILDREN'S COURT ............................................................................30

VII.

THE FIRST RESTORED COURTROOM..............................................................34

VIII. THE COURTYARD AND MAIN PLAZA .............................................................37

IX. LADY JUSTICE ...........................................................................................40

X. THE DOUBLE HEIGHT COURTROOM..............................................................45

XI. THE REMOVAL OF THE GONDECK ADDITIONS ...............................................51

XII. BEXAR COUNTY ARCHIVES BUILDING ...........................................................56

XIII. BEXAR COUNTY HERITAGE CENTER ............................................................60

XIV. CONCLUSION ............................................................................................65

4 F T H E H E A R T O F B E X A R C O U N T Y
---
CONTENTS

ABOUT THE AUTHORS ..........................................................................................66

APPENDIX ...........................................................................................................68

A. ARCHITECTS & CONTRACTORS ...............................................................68

B. RESTORATION AWARDS ...........................................................................69

C. HILDALGO FOUNDATION FUNDRAISING ....................................................70

D. BEXAR COUNTY ORGANIZATION CHART ...................................................72

E. HISTORICAL COMMISSION.......................................................................73

UNDERWRITERS ...................................................................................................74

T a b l e o f C o n t e n t s F 5
---
q

Architectural drawing of the Courthouse.

6 F T H E H E A R T O F B E X A R C O U N T Y
---
FOREWORD

For the last 17 years, as a consultant and then director of the Bexar County Heritage Department,

I have devoted a large part of my time to the restoration of our courthouse. I was educated, trained

and prepared for the job, but I could not have succeeded without Nelson and Tracy's tenacity and

determination to meet all challenges to complete the work.

And it was not easy. I was threatened with contempt by a few of the Civil District Judges when

they did not like some of our decisions. Nelson stood up to defend me and pushed the projects

forward. When the projects were concluded, these same judges who previously criticized me

then complimented our work. We have won 23 awards for design, construction, and restoration of

the courthouse.

Together Nelson and Tracy have creative ideas, a can do/why not attitude, a strategic political

barometer; an internal gyroscope that unfailing directs them to do the right thing. It has been an

honor, challenging, and fun working with them. I have been blessed professionally and personally

to be on their team.

We are all our best when our best is expected of us. We gave it our best and have restored San

Antonio's greatest historical structure. For generations to come our citizens of all ages, backgrounds,

and beliefs will be proud of our county's heritage when they come to see this magnificent building

that represents Bexar County.

Betty Bueche, 2018

F o r e w o r d F 7
---
I

E V O L U T I O N O F C I T Y H A L L

A N D T H E C O U R H O U S E

by Tracy Wolff

q

The north side of Main Plaza, 1849,

by former Bexar County

Commissioner W. G. M. Samuel

County and city government offices have always been located in historic civic center buildings in

San Antonio near Plaza De las Islas (Main Plaza). The plaza was formed in 1731, when 19 families

from the Spanish Canary Islands came to San Antonio to create our first city government. They

surrounded the plaza with their homes and in 1734 they laid the corner stone of San Fernando

Cathedral on the west side of the plaza.

Eight years later in 1742, they built Casa Reales as the first permanent governmental structure in

San Antonio. It was a one-story adobe structure with dirt floors located on the southeast corner of

Plaza de las Islas. It was rebuilt in 1779 by Don Jose Antonio Curbelo, Alcalde de Villa San Fernando

de Bexar. In 1783 a jail was built behind it. Both the city and county shared Casa Reales.

8 F T H E H E A R T O F B E X A R C O U N T Y
---
For 108 years, Casa Reales was the scene of

numerous violent actions. They used a whipping

post to punish people. In 1840, a deadly fight

broke out between representatives of the Texas

government and the Comanche nation.

On September 6, 1850 construction started on

a new City-County building in Military Plaza, one

block west of Casa Reales. It was a two-story

masonry building with a hipped roof. A district

courtroom was located on the second floor. It

became known as the "Bat Cave," because a large

colony of bats roosted in the roof rafters and often

disrupted government business. A new jail was

built in the walled yard behind the Bat Cave.

q

Top, left: East Side of Main Plaza

by former Bexar County

Commisioner W. G. M. Samuel,

showing Casa Reales, the first Bexar

County Couthouse.

COURTESY OF BEXAR COUNTY AND THE

WITTE MUSEUM.

Top, right: The French Building—

1859 on Plaza de las Islas and

Dwyer Street.

Left: "The Bat Cave"—1851 on

Military Plaza, Bexar County's second

courthouse, also housed City.

COPIED FROM A STEREOGRAPH BY ALEX V.

LATOURETTE. COURTESY OF THE SAN ANTONIO

CONSERVATION SOCIETY AND THE INSTITUTE OF

TEXAN CULTURES AT THE UNIVERSITY OF TEXAS

AT SAN ANTONIO.

C h a p t e r I F 9
---
q

Above: Bottom, right: The Masonic

Hall, 1872.

Below: 1681 Courthouse Old

Freemasons Building.

In 1868, the city and county moved into the

French building on Dwyer Street at the southeast

corner of Plaza de las Islas. The building once was

the regional headquarters of the Confederacy. The

jail remained next to the Bat Cave.

In 1872, the Commissioners Court decided

to separate from the city and purchased the

three-story Masonic Building on Soledad Street,

one half block from the plaza and just north of

the French Building. It had previously housed

the original Alamo Lodge No. 44 A.F. and A.M.,

the oldest Masonic Lodge in Texas.

In 1878, the county built a new jail on

Cameron Street, a block north of the current

city hall. The two-story limestone structure

1 0 F T H E H E A R T O F B E X A R C O U N T Y
---
housed a wooden scaffold used as the gallows.

In 1911, two stories were added along with

Spanish style Bell Towers. The last hanging

occurred in 1923 when the state took over

executions using an electric chair. In 1926 it

was expanded to five floors. The building still

stands today and has been converted into

a hotel.

Casa Reales, the Bat Cave, the French

building, and the Masonic building have all

been lost to time. The only remaining partial

structure left is the original south wall of Casa

Reales that now stands as part of a building on

the southeast side of the plaza.

In the place of these former seats of local

government, the City of San Antonio built a new

city hall in 1885 and the County built a new

courthouse in 1892. These two historic

buildings are still standing near the plaza and

have been in continuous use ever since.

Bryan Callaghan Jr., who was elected mayor

in 1885, was a shrewd politician. He created a

political machine that demanded loyalty to him

and enabled him to build city hall, expand city

services, modernize the police and fire

departments and build a major sewer system.

Constructed in 1885, the three-story City

Hall is located on Flores Street, just one block

west of Main Plaza. This site is where the

Spaniards in 1718 built the presidio when they

first settled in San Antonio. San Pedro Creek

flows on the back side of City Hall.

City Hall was a small, renaissance revival

jewel of a building with an ornate octagonal

tower and dome with a clock centered on top of

the roof. Alternating round and square turreted

towers were constructed on the four corners of

the building.

q

Above: Cornerstone for the Bexar

County Courthouse.

Below: City Hall, 1892.

C h a p t e r I F 1 1
---
q

Architect's Drawing of the Bexar

County Courthouse.

In the 1920s city officials did significant

damage to the 1885 renaissance revival City

Hall. They removed the tower and octagonal

dome and four turrets tower that set atop

City Hall. They then added a non-descript

fourth floor.

In 1891, the County decided to build a new

courthouse because they had gained substantial

new responsibilities and authority under the

1876 state constitution and needed more space.

The state constitution charged the county with

building a courthouse, maintaining roads and

bridges, administering public welfare programs,

coordinating elections, setting a tax rate, issuing

bonds, and adopting a county budget. A 5-

member Commissioners Court was charged

with managing and setting policy for the county.

With its new responsibilities it was clear that a

new courthouse was needed.

The Commissioners Court purchased land on

the south side of Main Plaza from Joseph Dwyer

and John Kampmann. Architect J. Riley Gordon

and D. E. Laub were chosen by the Court to

design the Courthouse.

The groundbreaking was held on August 4,

1891. County Judge Samuel W. McAllister, laid

the cornerstone on December 17, 1892. Samuel

is the grandfather of Walter W. McAllister who

served as mayor from 1961 to 1971.

In the same year that the corner stone was

laid, Callaghan resigned as mayor and

successfully ran for county judge. For the next

five years from 1892 to 1897 he oversaw the

construction of the four-story Romanesque

1 2 F T H E H E A R T O F B E X A R C O U N T Y
---
Revival Style Courthouse, located just one block

away from city hall.

Unlike city hall, the courthouse was a large

grand building, built with Texas granite and

Pecos red sandstone and red clay roof tiles. The

Bexar County Courthouse included roundedarch

windows and doorways reflecting the

Victorian style. It had carved surfaces and a

Spanish-tiled roof.

The courthouse is entered by ascending

spacious granite steps, with immense granite

columns and bronze lamps on each side, to a

platform floored in marble with granite

balustrades. Two corner towers flank the front of

the Courthouse. The northeast tower is 134-feet

high and topped by a beehive dome and wrapped

in observation decks. The other is a rectangular

shape with an observation deck and a hipped roof.

When it opened on January 27, 1897 the

magnificent structure symbolized the principles

of liberty, justice and independence as well as

the hope and pride of Bexar County. It was the

grandest building in San Antonio, and still is.

Nelson and I believe that historic buildings

embody human thoughts, aspirations and beliefs

that evolve over generations. We are a part of the

buildings as much as the physical structure itself.

We believe our community should be judged by

how we take care of historic buildings, especially

public buildings that define the evolution of our

local governance.

But sadly, over the years, our community has

let time and neglect do significant damage to

both city hall and our courthouse. When Nelson

became mayor in 1991 and then county judge in

2001, we were determined to restore these

neglected historic treasures. The restoration

would remind our citizens of their historical roots

and help them to better determine our future.

Nelson is the first person to serve as both

Mayor and County Judge since Mayor Callaghan

100 years earlier. Nelson also followed in

Callaghan's footsteps when he first led the effort to

restore city hall as well as the historic city

municipal building located on Main Street across

from the west side of Main Plaza.

q

Below: The Bexar County Courthouse

(left) and the San Fernando

Cathedral (right).

C h a p t e r 1 F 1 3
---
II

R E S T O R A T I O N O F C I T Y H A L L A N D T H E

M U N I C I P A L P L A Z A B U I L D I N G

by Nelson Wolff

q

Front view of the San Fernando

Cathedral (left) and the historic

Municipal Plaza Building (right).

The historic Municipal Plaza Building on Main Plaza was originally the Frost Bank Building.

The 12-story building was completed in 1922. It included a grand three-story high bank lobby

with a mezzanine, an ornamental plaster ceiling, cast stone arcades, a marble stairway and Tiffany

lights. In 1973, Frost Bank moved to their newly constructed 22-story tower located a block away

on Houston Street.

Under the leadership of Mayor Henry Cisneros and City Manager Lou Fox the city purchased the

Frost Bank Building in 1986, the year before I became a member of the city council. City offices were

located in the top 10 floors and Luby's Cafeteria continued to occupy the former bank lobby under

a lease agreement that they had with Frost Bank.

I had lunch several times in the cafeteria until it closed in 1989. Luby's left abandoned equipment

and dangling electrical wires strung throughout the facility.

After being elected mayor in 1991, I asked City Manager Alex Briseno and City Architect Tim

Palomera to join me in a walk through the former bank lobby to determine if it could be converted

into a City Council Chamber. The present council chamber was a small cramped, dungeon like space

located in city hall.

1 4 F T H E H E A R T O F B E X A R C O U N T Y
---
While we were dismayed about the condition

of the former bank lobby, we could see how it

could be turned into a stunning council

chamber. I asked Alex to come up with a plan

for the new public space.

Six months after taking office we had a plan

ready for the new chamber. In October 1991 the

City Council gave preliminary approval to the

plan then approved the final drawings along

with funding on a 9-2 vote in November 1992.

Over the next two years as construction and

restoration was underway, I made numerous

trips to observe the exciting transformation.

During one of my surveys of the space, I took

members of the Conservation Society with me.

President Inell Schooler told me they had 24

portraits of former mayors, one of which was

Mayor Bryan Callaghan.

I went with Inell and other conservation

members to a warehouse where the paintings

were stored. They said they would give them to

the city to hang in the hallway leading to the new

Council Chamber and they also would donate

$10,000 to have them restored. Paintings of later

mayors would also be hung in the hallway.

One and a half years after work had begun on

the council chamber, we had a grand opening

on May 19, 1994. The council chamber

included 252 seats, and room for another 200

people in the mezzanine. The original

ornamental ceiling that featured floral

medallions was restored. Damaged cast stone

and marble finishes were repaired, and the

beautiful historic Tiffany lights were rewired

and restored. The historic marble stairway that

had led to the basement was moved and reinstalled

to reach the mezzanine. A small

conference room and as a large meeting room

where city council could have work sessions

were built, as well as offices for staff.

q

View of the mezzanine with restored

ceiling and Tiffany lights inside the

San Antonio City Council Chamber.

C h a p t e r 1 I F 1 5
---
q

San Antonio City Council Chamber.

Hundreds of people attended the grand

opening, many of them standing in the mezzanine

looking down on the city council chamber. Tom

Frost, president of Frost Bank, spoke of the pride

he felt for this historic space. I stated that this

chamber was built for citizens, and hoped they

would all take pride in it. Hundreds of receptions,

task force meetings, and commission meetings in

addition to council meetings would be held in the

chambers over the years.

While work began on the council chambers,

we began addressing the crumbling walls of city

hall. Concurrent with the work on the new

council chamber we began work on a $4 million

restoration of the exterior walls of City Hall. We

also built a media center and conference room

where the old city council chamber was located.

We completed the restoration of the exterior

walls in 1995, before I was term limited out of

office. In 2018, the city began work on restoring

the interior of City Hall.

While restoration work was underway, in

1992 I appointed a seven-member task force,

chaired by June Reedy, to come up with a plan

to revive our historic civic center, from the river

east of the plaza west to El Mercado.

Completed in October 1993, the historic

civic center plan called for a pedestrian

walkway from the river, through the plaza

and City Hall grounds, across San Pedro

Creek to El Mercado. The plan envisioned a

major water element to connect Main Plaza

to the River, a renovation of the plaza,

restoring historic buildings, replacing San

Fernando Rectory, and closing Trevino Street

between City Municipal building and San

Fernando Cathedral.

During my term we closed Trevino Street

and turned it into a plaza connecting the

Cathedral and the Municipal Plaza building.

We bought a parking lot adjacent to the river

across Soledad Street from the plaza that could

eventually be a link to the river. It would be up

to future mayors to build a park entrance to the

river and to restore the plaza. We will visit that

story later.

1 6 F T H E H E A R T O F B E X A R C O U N T Y
---
q

Restored original ornamental ceiling

that featured floral medallions in the

City Council Chamber.

C h a p t e r 1 I F 1 7
---
III

T H E D E C L I N E O F T H E C O U R T H O U S E

by Tracy Wolff

q

Above and opposite page: Before and

after photos showing the exterior

deterioration of the Bexar County

courthouse and the work done to

rapair the damage.

Two historic additions to the courthouse were added in a tasteful manner, keeping true to the

original design of the 1897 courthouse. In 1914, a three-story addition to the south was built and

finished in 1915. In 1926, the 1914 addition was partially removed and rebuilt to include five

stories. A new green S-shaped tile roof was built. Work was completed in 1928.

Both additions kept the same architectural style and materials. It is hard to tell where one addition

began, and another left off. The courthouse now covered one full block, stretching south from Main

Plaza to Nueva Street, and flanked on the east by Soledad Street and on the west by Main Street.

But the Commissioners Court lost their way in 1963 when they authorized the building of a 9,000

square foot windowless second-story addition to the west side of the Courthouse. In 1972, they

compounded their mistake when they added a five-story, 38,000 square foot windowless granite slab

addition on the southwest side of the building. Both additions covered up numerous windows and the

beautiful Pecos sandstone of the courthouse.

1 8 F T H E H E A R T O F B E X A R C O U N T Y
---
C h a p t e r 1 I I F 1 9
---
2 0 F T H E H E A R T O F B E X A R C O U N T Y
---
q

Additional before and after photos

showing the exterior deterioration of

the courthouse and the work done to

rapair the damage.

C h a p t e r I I 1 F 2 1
---
Both designs were ill conceived, misguided,

and architecturally inappropriate. Both violated

the height, material and the historical character

of the courthouse.

Over the years, interior modifications also did

significant harm to historic features of the

courthouse. Ornate ceilings were covered up

with dropped ceiling tiles. Floors were covered

with asbestos tiles. Large arch windows were

partially covered over. In 1967, the original

1897 30-foot high courtroom was divided in half

when a floor was added and another courtroom

was built above it.

In addition to the remodeling mistakes, the

electrical, air conditioning and plumbing

systems were out of date and the exterior walls

and balconies were water damaged and

crumbling. Urban pollution did great harm and

nasty pigeon droppings caused additional

damage. When mixed with rain, it became acid

and ate away at the sandstone. Guano from bats

had accumulated in the towers on both ends of

the courthouse. The basement was damp

because of continuous rainwater that flowed

into the basement.

With misguided additions, poor remodeling

and neglect, the courthouse was in bad shape.

The 1998 National Trust annual list of most

endangered historic resources included the

Bexar County Courthouse, along with other

historic courthouses throughout Texas.

Texas Governor George W. Bush, during his

campaign for re-election in 1998, promised he

would advocate for funding to restore Texas'

historic courthouses. He was re-elected and

fulfilled his promise by setting up a $50 million

fund to be administered by the Texas Historical

Commission. They set up a policy that required

local matching funds and a master plan in order

to be eligible for funding.

In response to the Texas Historical

Commission, Bexar County Judge Cyndi Krier

convinced the Commissioners Court in 1998 to

do an assessment of the courthouse and then

prepare a courthouse master plan. The Court

contracted with 3D/International and they hired

Betty Bueche to do the assessment and develop

the master plan. At the time, Betty was working

in Denver where she had developed a master

plan to restore the Colorado Brown Stone

historic 1890s Social Club.

A San Antonio native, Betty has an

undergraduate degree in fine art and biology

from Incarnate Word College and a Master

of Architecture degree from UT Austin. She

had also been a Conservation Society member

since 1977.

Two years later in January 2000, she

presented the historic preservation plan to the

Commissioners Court. The plan turned out to

be bit more than what the Commissioners Court

bargained for. It was estimated to cost as much

as $59 million.

It was expensive because of the damage and

neglect of the building, as well as misguided

remodeling projects over the years. Three million

people a year come through the courthouse

creating a lot of wear and tear.

The master plan provided for the restoration

of the exterior, ten historic courtrooms and four

corridors that span the length of the

courthouse. It also called for new elevators, a

new air-conditioning system, electrical and

plumbing repairs and upgrading technology.

Two other aspects of the plan proved to be

controversial. One called for the restoration of

the original two-story courtroom that had been

sliced in two in 1967 when a floor was added to

accommodate the 285th District courtroom.

The second proposal was even more

controversial. The plan provided options

for dealing with the 1963 and 1972 additions

to the courthouse that failed to match the

building's original architecture. One option

was to add windows, another to create a

fake façade, and the best was to remove the

two additions. But no one on the court was

willing to undertake that task or even seriously

discuss it.

But there was one element of the plan that

clearly needed to begin as soon as possible—the

exterior of the courthouse was in sad shape.

Pieces of the tiled turrets and towers had

actually fallen off. Scaffolding was installed to

protect the public from further fallen pieces

of stone.

Even though there were reservations about

the plan, the Commissioners Court accepted the

master plan, forwarded it to the Historical

Commission, and applied for a grant to restore

the exterior walls. This is where Nelson and I

came into the picture.

2 2 F T H E H E A R T O F B E X A R C O U N T Y
---
IV

T H E H I D A L G O F O U N D A T I O N

by Tracy Wolff

On May 8, 2001, Nelson was appointed by

the Commissioners Court to become County

Judge after Judge Cyndi Krier stepped down

and accepted an appointment to the University

of Texas-Board of Regents. He was ready to take

on the task of restoring the courthouse.

Nelson first sat down with Betty Bueche, who

had created the courthouse restoration plan. After

going over the information in the plan he quickly

realized that it would take several years to

complete. He would have to commit and run

successfully for re-election several times if he were

to finish the restoration.

He asked me to raise money from the private

sector to help pay for some of the restoration. I

commented that I would consider creating a

foundation to help with the restoration, but

reminded him that my main focus has always been children issues. And so that evening, the Hidalgo

Foundation of Bexar County and its three main goals were born: restoration, children's issues, and education.

I had a long history of supporting children. I had served on the Workforce Commission and chaired

the committee on childcare. When Nelson was mayor, I started the first Library Telethon on KENS5 TV

to benefit the Library Foundation. Over the years the telethon has raised thousands of dollars for the

library. I also helped raise over $5 million for the construction of the new downtown library.

I co-founded "Smart Start" and raised millions of dollars for upgrading childcare centers and

providing additional training for childcare workers. "Smart Start" is now a fund in the San Antonio

Area Foundation.

Nelson informed me that the courthouse had a children's court handling child abuse and neglect cases, but

their space was terribly inadequate. The judges felt the current courtroom could not meet the needs of our

most vulnerable children. Although it was not in the master plan, he suggested that I make it the centerpiece.

q

Above: Tracy Wolff speaking at

the Hidalgo Foundation Gala on

Oct 09, 2014.

.

C h a p t e r 1 V F 2 3
---
2 4 F T H E H E A R T O F B E X A R C O U N T Y

In Nelson's opening remarks to the Court on

May 8, 2001, he said he studied the master plan

and met with Betty and Andres Andujar with 3-

D International. He also mentioned that I would

create a foundation and raise private money for

the restoration of the courthouse with the

County matching 2-1. I like those odds.

Nelson was not afraid to support the most

controversial parts of the plan; the dismantling

of the 1963 and 1972 additions to the

courthouse and the restoration of the original

two-story courtroom. I agreed with him. At the

time, neither one of us realized how

controversial it would be and how long it would

take to accomplish it. Today we know, it took

over 17 years.

Meanwhile I began moving forward with the

necessary paperwork to create the Hidalgo

Foundation. I named the foundation after the

noble title given by the King of Spain to the

Canary Islanders who came to San Antonio in

1731. The Commissioners Court have also

adopted the Hidalgo Certificate as its highest

recognition of a citizen for their contribution to

our county.

The Hidalgo Foundation's first task was to raise

funds for the restoration of the courthouse exterior.
---
q

Opposite page, top: Tracy Wolff at the

opening of BiblioTech South.

Opposite page, bottom: Bexar County

Commissioners Court Hidalgo

Certificate Award.

Above: Donor Board for the Bexar

County Courthouse Restoration,

March 2005.

Left: Tracy Wolff.

.

C h a p t e r 1 V F 2 5
---
2 6 F T H E H E A R T O F B E X A R C O U N T Y
---
V

T H E F I R S T P H A S E , T H E E X T E R I O R

by Tracy Wolff

q

Tracy Wolff climbing to the top of the

courthouse during the exterior

restoration

In 2001, Nelson's first year as county judge, the Commissioners Court received a grant in the amount

of $2.6 million from the Texas Historical Commission to restore the exterior of the courthouse. The

grant was received in response to an application submitted by former County Judge Cyndi Krier.

Betty Bueche was assigned by 3D/International to begin the design work. It took one year to complete

plan. 3/D International then retained Betty to act as the construction manager agent. To supervise the

work, Betty moved into a small construction trailer that we located on the grounds. Bid packages were

C h a p t e r V F 2 7
---
q

Bexar County Courthouse.

submitted for masonry, electrical, painting, and

window restoration.

Work began in February of 2002. After the

scaffolding was installed, Nelson and I climbed

up to the top of the courthouse to view the work

that was in progress. We got to see first-hand

and up-close the damage that had been done

to the Pecos red sandstone, the terra cotta and

the windows.

Almost immediately I was able to raise

$300,000 from the San Antonio Conservation

Society. They were concerned about the historic

courthouse and were glad that it would be

properly restored.

Over the next year, 509 windows were

restored. The chipped-off pieces of sandstone

and terra cotta were repaired, as well as all

the cast-iron railings. The project was

completed in 2002. Texas Construction

Magazine gave us an award of excellence in

the Public Renovation/Restoration category.

Betty Bueche could now see that Nelson and

I were committed to completing the restoration

of the courthouse. So, she accepted an invitation

to come to work for the county full time. Over

the next 16 years, she would play the leading

role in the restoration. We are forever grateful

to Betty.

While I continued successfully over the years to

raise funds for all three goals of the Hidalgo

Foundation, my first major project remained my

priority—raising funds to build the children's court.

2 8 F T H E H E A R T O F B E X A R C O U N T Y
---
q

Texas Historical Commission

historical marker for the Bexar

County Courthouse.

C h a p t e r V F 2 9
---
VI

T H E C H I L D R E N ' S C O U R T

by Tracy Wolff

q

Above: Special room created for

Children's Court.

Right: Children's court Judge

Peter Sakai.

A few days after Nelson's first opening speech

as County Judge in May 2001, we toured the

courthouse with Betty Bueche. On the second

floor-hallway we saw people with children

crowded around the entrance to a very small

room. Walking through the crowd, we entered a

cramped courtroom where child abuse and

neglect cases were heard.

Families with their children, representatives of

social agencies, and officials with Child Protective

Services jammed the small space. Three lawyers sat

at a table—one representing the parents, another

the child, and a third from the Attorney General's

office, representing the state. After hearing

testimony, Associate Judge Peter Sakai would

decide whether to terminate parental rights.

3 0 F T H E H E A R T O F B E X A R C O U N T Y
---
On seeing the conditions of the court, I said,

"This is an awful and very dangerous condition.

You can feel tremendous tension in the air. I'm

appalled, from my work with children, at the

conditions of this court. I will make this court

a priority."

Soon after our tour, Betty and I met with

District Judge John Specia and Associate Judge

Sakai. Judge Specia had hired Sakai in 1995 to

assist with the rising number of abuse and

neglect cases. They had great ideas and we

teamed up with them to begin planning a new

children's court.

Betty later recommended to the Commissioners

Court that the court hire Susan Goltsman,

a leading consultant on children's courts. The

court approved a contract with her. Goltsman

began meeting with constituent groups that

worked with the court on programming and space

needs. While the planning was underway, work on

the exterior continued.

Two months after we began planning, I had

lunch at the Palm restaurant with SBC Senior

Executive Vice President Cassandra Carr. Over

lunch I told her about the Hidalgo Foundation

and the established three goals. Cassandra

suggested that I submit a request to SBC for a

technology grant. I later presented a proposal to

the SBC Foundation for a $3-million grant.

A few weeks later in October at a fundraising

event for John Sharp, candidate for Lt.

Governor, Nelson and I saw SBC chairman Ed

Whitacre. We worked our way over to him and

I said, "Just making sure you know we made a

proposal to your foundation."

He replied, "I know, but I can't give you the

$3 million."

He paused and then said, "But I could give

you $2 million. Let's shake hands on the deal."

We shook hands and that sealed the deal.

Shaking hands on a deal reaches back to times

of honor and respect. Ed Whitacre is the kind of

man who makes big decisions and always

honors them.

As I continued to raise dollars, Betty presented a

report to Commissioner Court and recommended

q

Top: Donor board showing the

contributions to the Children's Court.

Above: Children's Court Judge John

Specia.

C h a p t e r V 1 F 3 1
---
q

Above: Children's court Judge Richard

Garcia.

devoting 10,000 square feet of space for

two full courtrooms, an education and recreational

area for the children, two large conference

rooms, family visitation rooms, offices for

prosecutors and CPS staff, detention cells, and

most important a drug-testing clinic. The report

also recommended installing state-of-the-art

technology, including electronic evidence,

reporting, as well as video conferencing.

Nelson and I then met with District Clerk

Reagan Greer, who graciously agreed to the idea of

moving rows of records off the third floor of the

courthouse, so the children's court complex could

be located there. Commissioners Court approved

the relocation and authorized hiring an architect.

Greer and his staff began moving a massive

number of documents off site. I will always be

grateful to Reagan for his insight and focus on the

importance of children in the greatest need.

Over the next year, architectural plans were

drawn for the Children's Court. We began

construction in 2003 and I made several visits

to watch the courts take shape.

Two years later on January 14, 2005, we

opened the new Child Abuse and Neglect

Courts. The two courtrooms had ample space.

The conference rooms provided space for

families to privately meet with their lawyers.

Across the hallway we built offices for CPS staff,

the district attorney, and related social service

agencies and a special set of prisoner holding

cells that allowed visits between the prisoners

and their children when a judge deemed it

appropriate. Later Judge Sakai added two

additional children court judges, Richard Garcia

and Charles Montemayor.

A special room for children protected them

from the trauma of court proceedings. It was

decorated with furniture designed for children

as well as numerous toys and children books.

Judges could visit with them in this comfortable

surroundings. If a child's testimony was

necessary, it could be transferred by video into

the courtroom. State-of-the-art technology

enabled judges to also use remote video

conferencing with experts or parents.

3 2 F T H E H E A R T O F B E X A R C O U N T Y
---
The project also included restoring historic

courtroom features such as the large arched

windows, historic doors, mission-style tile

floors, and marble wainscoting. In the corridor

near the children's courts, workers removed the

drop ceiling tile, restored the original ceiling,

and uncovered partially hidden windows.

I went one step further. I wanted the

children to be comfortable as soon as they left

the elevator and entered the hallway. I was able

to convince Bruce Bugg Jr., chairman of the

Tobin Endowment, to provide $100,000 for art.

I had the pleasure of working with Linda Pace,

the wonderful creator of Artpace, as she

recommended many great artworks. Artists

Chuck Ramirez, Michael Velliquette, Juan

Miguel Ramos and Elizabeth Ward created 31

pieces of art for the walls along the corridor.

The drug-testing clinic provided weekly

testing for parents who had been addicted to

drugs. Perhaps not surprisingly, more than 80

percent of parents of abused and neglected

children are on drugs.

Building the children's court cost $4.6

million. I raised $2.3 million in private funds

and Nelson had the Commissioners Court

supply the balance.

Martin Gruen, deputy director of the Center

for Legal and Court Technology and the

Courtroom 21 Project at the William and Mary

School of Law, delivered a special award

officially naming our children's courts, "The

Model for the Nation."

Judges now could now make timely and

informed decisions about abused and neglected

children. In many case the parent's mental

health or drug problems are both are so severe

that the children have to be removed from their

parents. They are either placed with relatives or

in foster care.

Though we have completed the improvements

to the courts, I have continued to work with Judge

Sakai. We have established many innovative

programs to help children and their families.

Judge Sakai has continuously studied other

successful programs around our nation. He

discovered one of the most successful programs

in the nation, "The Early Intervention Program"

By adapting the program to the needs

of Bexar County children, we have now created

an early intervention program that focuses

on mothers with infants or toddlers 3 years old

or younger. The program deals with the mental

health needs of the mother, helping her bond

with her child. In 2016, I received a large grant

from the Santikos Foundation, the Baptist

Health Foundation, and Temple Beth-El for

this program.

q

Below: Children's Court artwork by

Michael Velliquette.

C h a p t e r V 1 F 3 3
---
VII

T H E F I R S T R E S T O R E D C O U R T R O O M

by Tracy Wolff

q

The 225th District Court after its

restoration.

While we were building the children's court and restoring the exterior of the courthouse, we

moved ahead with starting our first historic courtroom. On March 21, 2002, one year after Nelson

took office, I held a press conference in Judge John Specia's 225th District Court to announce that

his courtroom would be our first restoration. The Courtroom was packed with judges, Hidalgo

Foundation members, Bexar County Commissioners and staff, and members of the community.

3 4 F T H E H E A R T O F B E X A R C O U N T Y
---
q

Before and after photos of the

73rd District Courtroom.

Over the next two years layers of paint were

stripped away allowing for the original color to

be revealed and restored. We removed the

dropped ceiling and restored the original

decorative plaster details and gold leaf ceiling. A

decorative cork floor was installed.

In addition, state-of-the-art technology was

installed. It included touch screen control panels,

giant plasma TV monitors, videoconferencing,

cameras and microphones. SBC vice president

John Montford had been instrumental in

negotiating the terms of the $2-million-dollar gift

to the Hidalgo Foundation. We used a portion of

the gift for the technology.

We also began work on locating and restoring

the historic furniture. The Hidalgo Foundation

contracted with Casagrande Appraisals to

complete the first ever inventory and appraisal of

all of the historic furniture. Seven hundred pieces

of furniture and artwork in the courthouse were

identified and each one tagged including jury

chairs, benches, tables made of oak and walnut,

and a huge safe built in 1885.

Some pieces of furniture had been damaged and

many had been painted over, hiding the original

C h a p t e r V I 1 F 3 5
---
q

Before and after restoration of the

131st District Courtroom.

beautiful wood. The Hidalgo Foundation raised an

additional $500,000 to restore the furniture.

County Clerk Gerry Rickhoff announced that his

office would put up a matching grant of $250,000.

Two years later in August 2004, we competed

Judge Specia's courtroom and had restored the

historic furniture. The courtroom now looked like

it did when it was originally built. Judge Specia

gave demonstrations of how the new technology

worked. Witnesses could teleconference in and

judges and lawyers would have any information

they needed at their fingertips. It was a big step

forward in the administration of justice.

The following year on March 4, 2005, the

Hidalgo Foundation held its first ever gala in the

courthouse to thank our donors and show them

the work we had completed. We also displayed

numerous historic documents, including the

marriage contract between Jim Bowie and

Ursula Veramendi. Several pieces of restored

historic furniture were also displayed.

As the crowd gathered on the first floor, I gave

a short speech and unveiled a large beautifully

artistic wall board that listed all the major

contributors. I hope the next time you enter the

courthouse you will look at the many names and

foundations listed that contributed to the

courthouse restoration and to the children's

courts. The generosity and support of these

individuals are a testament to the way Texans

honor their past and take care of future

generations. On behalf of the children and adults

that have benefited from the contributions, I

would like to say a heartfelt thank you!

We served food and drinks to hundreds of

people on the first three floors. We also took

them on a tour of the Children's Court and the

restored 225th Court. The event that evening

was a great success, and everyone stayed and

enjoyed seeing the many improvements.

Subsequent to the restoration of Specia's

courtroom, we have restored seven other

courtrooms and the original Court of Appeals

courtroom on the fifth floor. We also added five

new courtrooms. We have also restored four

public corridors leading to the courtrooms in

addition to installing new smoke/alarm

detection, sprinkler systems, HVAC, electrical,

IT and phone systems. The historic stairways

have also been restored and a new fire stair that

expands to the fifth floor was built.

3 6 F T H E H E A R T O F B E X A R C O U N T Y
---
VIII

T H E C O U R T Y A R D A N D M A I N P L A Z A

by Nelson Wolff

q

Courtyard fountain in front of the San Fernando Cathedral.

C h a p t e r V I I 1 F 3 7
---
In 1996 Father David Garcia, beloved former

rector of San Fernando Cathedral, worked with

my successor Mayor Bill Thornton to fund the

design for a park entrance to the river on the

land that we purchased when I was mayor. It

was located across Soledad Street from the

plaza. Mayor Howard Peak, who followed

Thornton in 1997, led the successful bond

campaign to construct the park entrance.

On a bright sunny Sunday afternoon of

October 7, 2001 Tracy and I joined Father

David Garcia and his parishioners to celebrate

the opening of the new park. Father David led

his congregation from San Fernando crossing

Main Street over to Main Plaza and then across

Soledad Street to the new river park entrance.

When they descended the stairs, Tracy and I

along with several other civic and government

leaders greeted them.

It was an environmentally attractive entrance

to the river. In the middle of the park, a stairway

of rough-hewn limestone rose up from the river

with landscaping on both sides. Six water features

were created along with inscriptions explaining

the history of river water use. San Antonio

Express News senior critic Mike Greenberg

described the park as "a place of extraordinary

delight, at once a contemplative evocation of

nature and history and a vibrant urban space."

While we were pleased with the park

entrance, we knew that the restoration of Main

Plaza was a critical component of the 1992

historic civic center plan. Ed Garza, who was

elected mayor a couple of weeks after I became

county judge, wanted to move forward on

revitalizing Main Plaza. He convinced the City

Council to commission the architectural firm of

Lake-Flato to develop a plan for the plaza.

In May of 2003 Mayor Garza unveiled an $8.77

million plan. It provided for stone-paved sidewalks,

a new interactive central fountain, landscaping, 89

new trees, lighting, and new gravel paths. It also

called for enlarging to the plaza by taking in a

portion of Soledad Street and Main Avenue.

I told Garza that if the council moved

forward, I was interested in the county

participating with the city in restoring Main

Plaza because at one time it stretched across to

the courthouse. In the 1960s when Dolorosa

Street was realigned to bisect the plaza, it left us

a small sliver of Main Plaza as our front yard.

I told him I wanted the city to deed the front

yard to the county, allowing us to expand onto a

portion of Soledad and Main Street that was

located on the east and west sides of the

courthouse. I also asked the city to address our

basement flooding problems. I said I would seek

county funds if he was willing to accommodate

our requests. He was willing.

While the City Council liked the plan, they

did not like the high cost of the project. No one

on the council believed enough in the project to

q

Belwo: Courtyard view of Main Plaza.

3 8 F T H E H E A R T O F B E X A R C O U N T Y
---
seek an alternative plan to approve funding.

Mayor Garza abandoned the plan.

While the Plaza plan stalled, Father David

Garcia began renovating San Fernando

Cathedral. The foundation and structure of the

church was stabilized. The altar was moved to

the center of the church to enhance the

experience for Mass. The rectory was replaced

with a new building that housed a museum, gift

shop, and vesting sacristy.

Mayor Garza was succeeded by Phil

Hardberger in 2005, who had a greater vision

for the plaza. He told me he would like to close

all the streets around the plaza and create a

Mexican-style plaza. That meant closing the

east-west streets of Commerce and Dolorosa and

the north- south streets of Main and Soledad.

He asked me to be a partner with him to

make it happen, and I accepted, provided the

county's requests were granted. Since he was

closing Main I asked him to also close the

section of Main Street that ran between our

courthouse and the Justice Center. He agreed to

the stipulations provided we put up $2.5

million. We had a deal.

Out of the four streets he wanted to close,

Main and Soledad were the most important.

Traffic on Main created pollution that was

damaging San Fernando Cathedral. Closing

Soledad would provide Main Plaza with a

connection to the park entrance.

In November 2005 Mayor Harberger went

public with his plan. He announced that Main

Plaza would be expanded with more trees and

grass planted, a tiled fountain would be

installed, along with walkways of crushed

granite and stone. He also revealed his proposal

to close all four streets adjacent to the park.

Closing Commerce and Dolorosa presented a

real traffic flow problem because they were the

major east-west corridors for downtown.

18,000 vehicles a day traveled down Commerce

and 13,800 on Dolorosa, an average of four

times more traffic than Main and Soledad.

After numerous public hearings, Mayor

Hardberger presented his plan before the

Commissioners Court on March 20, 2006. I had

spent the previous weekend calling the

Commissioners to ask them to be positive. I

explained the benefits we would receive from the

plan and that I thought that Hardberger would

eventually back off closing Commerce and

Dolorosa. The Commissioners approved the plan.

Two months later in early May, Hardberger

called me and said, "I have decided to leave

Commerce and Dolorosa open."

I responded, "Brilliant decision."

After Hardberger announced his compromise,

most opposition settled down. On June 8, I

appeared at City Council to testify for the plaza

plan. The council voted 9-2 to support the plan.

On September 20, 2006, the city's Historic and

Design Review Commission voted to approve the

plan 12-1. The following Thursday, the City

Council voted to spend $350,000 to move the bus

stops on Main and Soledad to Flores Street

between Martin and Durango (now Cesar Chavez).

On October 10, San Antonio Public Works

Director Tom Wendorf presented the completed

Plaza plan to the Commissioners Court. The City

would deed us our front lawn, close Main Street

and a portion of Soledad and fix our flooding

problem. The Court supported the plan. I then

persuaded my colleagues to allocate $4 million to

enlarge our front courtyard, re-landscape, install

a historic fountain, and add benches.

With funding approval from the Commissioners

Court and City Council, work got under way in

early 2007. The Drury Hotel, located across the

river from park entrance, agreed to build a

pedestrian footbridge over the river. Also, Bruce

Bugg, president of the Tobin Endowment, pledged

$2 million to build five interactive fountains in

Main Plaza.

In April 2007, we held opening ceremonies

for Main Plaza. Overall the plaza was a great

success, creating walking, livable space in the

heart of our city. With the closing of Main Street,

San Fernando Cathedral was now properly

framed and looked stunning facing the park. The

river park was now connected, and more tourists

began to visit our historic civic center. The City

created the Main Plaza Conservancy to manage

the plaza and plan numerous civic events.

I had the advantage of observing the plaza work

before we made final decisions on our front

courtyard. I eliminated the proposed crushed

granite and devoted all the space to stone paving

and landscaping. We planted mountain laurel

trees, lantana and roses. Most importantly, we

reserved a space in the center of the courtyard for

a very special Greek goddess.

C h a p t e r V I I 1 F 3 9
---
IX

L A D Y J U S T I C E

by Tracy Wolff

q

Below, left: The Lady Justice Fountain

in front of the Bexar Counry

Courthouse.

Below, right: The base of the Lady

Justice fountain.

In early 2002, Betty Bueche and I were searching the historical records of Bexar County when

she showed me a picture of Themis, the goddess of divine law and order standing at the top of a

three-tiered fountain. The base of the fountain included her three daughters Eunomia, Eirene, and

Dike who represent harmony, peace and justice as well as the three seasons, Spring, Summer and

Winter. One holds a garland of flowers, one an urn, and one a cornucopia. (The Greeks did not

recognize autumn.)

Betty said that the Lady Justice fountain had been removed during the 1927 construction of an

addition to the courthouse. No one knew what had happened to it. When I showed the picture of

the statue to Nelson he said, "We have to find the Lady Justice fountain."

4 0 F T H E H E A R T O F B E X A R C O U N T Y
---
q

The Lady Justice fountain.

C h a p t e r 1 X F 4 1
---
q

Top, left: The Lady Justice fountain in

front of the Bexar County Courthouse.

Top, right: Close up view of all sides

of the Ladu Justice fountain base.

We searched all the county's warehouses, but

we could not find the sculpture. I then persuaded

the San Antonio Express-News to write a story

about the missing Lady Justice fountain. Finally,

an employee of the San Antonio Water System

called me and said the fountain was in their

warehouse at the Dos Rios Treatment Plant.

When we retrieved the fountain, Lady Justice

was missing from the top and we were never

ever able to find her. The three goddesses of the

seasons and the base of the fountain required

extensive repairs.

After looking at the fountain, I called Nelson

and said, "We can restore the fountain and

create a new Lady Justice, but we will need to

find a sculptor who appreciates and

understands Greek history."

Nelson replied, "Let's do it."

After consulting with several artists, we chose

sculptor Gilbert Barrera to create our new lady

justice. Gilbert's father, Roy Barrera, Sr., is a

highly respected member of our community and

had also served as Texas Secretary of State.

Gilbert along with his two brothers Roy Jr. and

Bobby became lawyers and partners in their

father's prominent law firm.

Gilbert had been drawn to art at an early age.

He slowly weaned himself away from practicing

law and began pursuing his sculpturing career. I

was impressed with him because he had studied

the classical ancient Greek and Italian

Renaissance periods of art.

After we decided to engage Gilbert, our

friends Ron and Karen Herrmann agreed to

donate $85,000 from the Hermann Family

Foundation to fund the work.

At our first meeting Gilbert showed us a

picture of "Aphrodite of Knidos" a sculpture

created by Praxiteles in the fourth century B.C.

Aphrodite was the Greek goddess of love,

beauty, pleasure and procreation.

Gilbert then told us his research found that

Lady Justice sculptures are based on Praxiteles'

"Aphrodite of Knidos." Even though all Lady

Justice sculptures in front of courthouses are

clothed, he wanted to sculpt her in the nude

form based on Praxiteles sculpture.

Nelson said that when we visited John Paul

Getty's replica of the Villa Dei Papiri in Santa

Monica, California we saw a 350 B.C. carving on a

gold piece showing Aphrodite sitting down with a

scale in her hand weighting justice.

4 2 F T H E H E A R T O F B E X A R C O U N T Y
---
A few months later Karen and Ron Herrmann,

Nelson and I met Gilbert at his studio. We stood

together around the four-foot wax model of Lady

Justice that Gilbert had created.

Gilbert told us that Praxiteles used the

contraposition method: tension vs. relaxation of

the arms and legs that gives a sense of

movement. He said Praxiteles brought romance

to sculpture by capturing the beauty of the

female body using the natural curve of the body,

a sensuous, flowing, graceful female body.

We all agreed that he should move forward

with the sculpture.

Finally, on the night of December 7, 2008

hundreds of people joined us for the unveiling

of Lady Justice and the dedication of the

enlarged front courtyard in front of the Bexar

County Courthouse.

We had created a perfect setting for Lady Justice

in our expanded courtyard, accentuated by

mountain laurel trees, lantana and a garden of

roses. Two elongated benches flanked each side of

Lady Justice. Because it was Christmas time, over

200 poinsettias were placed around the base of the

fountain and on the courthouse steps.

After Nelson gave his welcoming speech, I

spoke and thanked Gilbert for his beautiful

work. I also thanked the Herrmann's and their

family, who were present, for their donation.

Finally, Nelson, Gilbert and I pulled the cover

off the fountain to reveal Aphrodite.

As we slipped off the cover, our goddess

emerged in all her striking beauty in her bronze

colored skin. She stood on a globe above

the restored twelve-foot high cast iron fountain.

In one hand, she had the scales of justice

and in the other a sword, representing the

enforcement of justice. She was blindfolded

representing objectivity. She had a ribbon in a

curvilinear form floating above her head

representing the sky.

q

Above: Nelson and Tracy Wolff during

the unveiling of the Lady Justice

Fountain on December 7, 2008.

Below: Aerial view of the courtyard in

front of the Bexar County Courthouse.

C h a p t e r 1 X F 4 3
---
q

Right: Lady Justice during the

unveiling ceremony on December 7,

2008.

Below: Close up view of the Lady

Justice sculpture.

Barrera had used the sinuous S-curve from the

bun of hair on the back of her head that flowed

around her face and curved behind her shoulder.

She stood with more weight on one leg and the

other leg slightly bent at the knee giving her a

more relaxed view. Her back and arms twisted to

one side of her hips and leg positions.

While she is a certainly a symbol of justice,

she has also inspired love. On Valentine's

Day, Bexar County holds mass wedding

ceremonies on the steps of the Courthouse.

Five different ceremonies are held. Starting at

midnight with a total of some 500 couples

being married. Almost all have their pictures

taken with the Goddess of Love Aphrodite, our

Lady Justice.

Nelson tells me that, on most days when he

leaves the courthouse, he walks through the

courtyard and pays his respects to Lady Justice.

We know she will continue to inspire Love and

Justice for many generations to come.

We bought a painting by Janet Campbell of

Lady Justice standing in front of the Courthouse.

It is a night scene with lights reflecting on the

plaza capturing the beauty of the scene just like

the night we unveiled Lady Justice.

In my office at home hangs a nighttime photo

of a close-up view of Lady Justice framed by the

left tower of the courthouse in the background.

It was a Valentine gift, and written at the bottom

is an endearing note: To Tracy, my Aphrodite.

Love Nelson.

4 4 F T H E H E A R T O F B E X A R C O U N T Y
---
X

T H E D O U B L E H E I G H T C O U R T R O O M

by Nelson Wolff

Completed in 1897 the original Double-height courtroom was magnificent with chandeliers, a

wooden floor, a 25-foot high coffered ceiling, large wood framed windows, and a balcony. The

Commissioners Court later removed the balcony. In 1926, a new ceiling was installed over the

original ornate ceiling and the walls were plastered.

In 1967, the Commissioners Court approved bifurcating the space by adding a floor and dividing

the Double-height courtroom into two courtrooms. The walls in both courtrooms were covered with

paneling and stucco. With the two courtrooms stacked one on top of the other the original

courtroom no longer recognizable.

q

Restored Double height courtroom.

C h a p t e r X F 4 5
---
q

Above and below: Construction of the

Double height courtroom.

A few weeks after I took office in May 2001,

Tracy, Betty and I took a tour of the 285th District

courtroom, located on the top half of the original

courtroom. I climbed up a ladder and removed a

few ceiling tiles and when I shined a flashlight

inside, I saw the original plaster crown moldings

and low-relief-coffering. I knew that at some

point in time, we had to reveal and restore this

beautiful work.

I then went to look at the Presiding courtroom

tucked underneath the floor of the 285th District

courtroom. As I walked around looking at the dark

paneling, two staff members told me not to try to

change the courtroom. I knew where that message

was coming from. Many of the judges did not

embrace change. I also knew that the San Antonio

Bar Association would back up the judges. The

Commissioners Court found it difficult to resist the

political pressure from the Bar and the judges.

So, I had to bide my time. A lot of time;

some 10 years. Meanwhile, we worked on the

restoration projects that were not controversial; the

Children's Court, restoring other courtrooms and

hallways, fixing numerous electrical and plumbing

problems and repairing the outside walls.

In the meantime, Betty began researching the

history of how the original courtroom was used.

She found that it was originally the County

Judge's courtroom as well as where the

Commissioners Court met. The Judges only used

the courtroom for famous criminal and civil trials

that required more space. I now had a reason to

not only restore the courtroom but to also

advocate its use by the Commissioners Court.

Finally, in 2010, nine years after taking

office, I took the first steps toward tackling

the controversial issue. By this time, we had

successfully accomplished numerous restoration

projects in the courthouse. As a result, Tracy

and I had both established credibility with

the Commissioners Court, most of the judges

and the public. I was now in a position to

hopefully overcome the significant opposition of

the judiciary.

Based on research, I suggested that the judges

share the courtroom with the Commissioners

Court. I also wanted to open up the courtroom for

use by the public by allowing civic organizations to

have meetings and evening dinners, much like we

did when we built the City Hall Chambers in 1994.

After I trotted out my proposal, the judges

sent a letter to the Commissioners Court stating

that they unanimously opposed the proposal.

They also started organizing the leadership of the

San Antonio Bar Association to oppose it. Several

lawyers called backing up the judges' position.

I still thought that I could change the

judge's minds about sharing the courtroom,

so I arranged to meet with five judges that

represented all the district civil judges. The

meeting did not go so well. They said they were

not going to share the courtroom with the

Commissioners Court. Sometimes change is

hard to accept even although the judges

whose courtrooms we had restored were proud

of them.

4 6 F T H E H E A R T O F B E X A R C O U N T Y
---
As the custodian of the courthouse it had

always been my policy to accommodate the

wants and the needs of the judges. But now, I

was determined to go even further. Under the

new plan the Commissioners Court would have

sole control of the Double-height courtroom.

In early 2011, I had architectural drawings

for a new Presiding Court to be located on the

first floor of the courthouse. It would take the

place of the original Presiding Court and also

included additional space for a satellite filing

desk for the district clerk as well as a conference

and meeting room for lawyers and their clients.

It included laptop work counters with a wireless

internet system to give attorneys room to work

and prepare their court documents. No longer

would attorneys have to meet with the clients in

the hallways.

I was now able to convince several of the

judges that this plan would work better for

them. Many of the lawyers liked it because of

the private meeting space. They also no longer

would have to take the stairway to the second

floor to enter the existing Presiding Court. But

still some of the judges and lawyers were against

the plan. If you wait for everybody to get on

board the train, it will never leave the station.

On June 5, 2011 the Commissioners Court

approved the plan to restore the Double-height

courtroom for use by the Commissioners Court,

the public, and special trials that required more

space. We also approved the new Presiding Court

and relocating the 285th District Court.

As we proceeded with the construction on the

new Presiding Court on the first floor, Judge

Solomon J. Casseb III made a recommendation to

the Commissioners Court to name the court after

his father, Judge Solomon Casseb, Jr. His father

was the judge who led the effort to create the

Presiding Court system in 1962 and then became

the first presiding judge.

When I was a student at the downtown St.

Mary's Law School from 1963-66, I remember

going to courthouse to see him in action. He

had a commanding presence, was a respected

judge and had received numerous honors as a

judge. He passed away in 2009 at the age of 94.

The Commissioners Court agreed to honor him

and approved the naming.

Judge Casseb III spoke at the grand opening

of the new Presiding Court in October 2012.

Following his speech, we revealed a memorial

plaque naming the court after his father. Almost

all the judges seemed happy with their new

court as well as the lawyers were also very

happy with their new private meeting rooms

While we were working on the new Presiding

court, we developed architectural plans for the

restoration of the Double-height courtroom. We

chose the architectural firm of Fisher-Heck,

experts in historic restoration.

q

Left: Original windows restored.

Below: Reception in the Double

height courtroom.

C h a p t e r X F 4 7
---
With that picture of the original courtroom

we were able to determine the major features of

the space. We also found the serial numbers

from the original chandeliers and traced them to

a St. Louis company that was still in business.

They said they could replicate them.

As construction work began on the courtroom,

we ran across a unique opportunity. Guido

Brothers Construction Company was doing work

on the 1888 downtown Joske's building when

they discovered longleaf pine joists that had been

harvested around the 1880s. They had a rich,

deep, red pine color that was described as an

historic treasure of "organic gold".

Since the wood floors in the courtroom were

installed at about the same time as Joske's we paid

$130,000 for 5,000 square feet of the rare wood

and milled them into flooring for the courtroom.

Because we had agreed to allow the judges to

use the Double-height courtroom for infrequent

larger trials we built a transforming bench from

one that set the five-member commissioners

configuration to a judicial bench that required

boxes for witnesses and court clerk.

We held our grand opening on January 6,

2015. The courtroom was stunning as people

walked around looking at the original features

that were finally revealed and restored. They were

q

Above: Restored entrance to the

Presiding Courtroom.

Below: Restored Presiding Court

Interior.

We were unable to find James Reily Gordon's

original architectural drawings, so we employed

historian Maria Pfeiffer to interview people

who had been in the courtroom before it was

torn asunder. She also found a picture of the

original courtroom.

4 8 F T H E H E A R T O F B E X A R C O U N T Y
---
astounded at the 13 rose windows, replicas of the

famous rose window at Mission San Jose, that

had been covered up with plaster and now were

revealed in all their glory. The original plaster

crown moldings and low-relief coffering was

restored. The large wood framed windows were

now visible stretching 25 feet up to the ceiling.

We rebuilt the balcony and included 75 seats.

We restored the arched outdoor porch that

had been closed in. It now provides a great view

of Lady Justice and Main Plaza. French doors

were reconstructed that connected the courtroom

to the porch.

We also built two adjoining conference

rooms, a jury room, room for audio-visual

equipment, a media office, briefing room, office

q

Opposite page, bottom, right: Restored

spiral staircase from the judge's office

to a loft.

Above: Bexar County Commissioners

Court layout in the Double-height

courtroom.

Left: King Felipe VI veiwing the

Designing America exhibit.

C h a p t e r X F 4 9
---
q

Above: June 17, 2018, King Felipe VI

and Queen Letizia visited Bexar

County Courthouse for the

inauguration of the Designing

America exhibit.

space and restrooms. A spiral staircase from

judge's office to a loft was restored.

We had a special treat when we revealed four

paintings by former County Commissioner and

folk artist William G.M. Samuel. They were

painted around 1850 and were loaned to the

Witte Museum about 70 years ago. Betty and I

met with Marise McDermott, president of the

Witte Museum, to look at the paintings and she

agreed to return them.

They were colorful paintings of San Fernando

Cathedral, La Quinta (the first post office), Casa

Reales (the original site of city and county

government) and other buildings and residences

around Main Plaza. Numerous citizens are

depicted enjoying life around the plaza.

Since our opening many more citizens now

attend our Commissioner Court meetings.

Numerous civic groups have used the courtroom for

government meetings, news conferences, receptions,

breakfasts, luncheons, graduations and symposiums.

In 2016, the Commissioners Court accepted an

award from the San Antonio Conservation Society

for restoration of the Double-height courtroom.

On June 17, 2018 we held a reception in the

restored courtroom for Spanish King Felipe V1 and

Queen Letizia on their official visit to San Antonio to

celebrate our city and county's 300th anniversary.

We also gave them a tour of a major exhibit that

we held on the first floor of the courthouse. It

included documents, maps and pictures of Spain's

explorations and settlements in North America.

5 0 F T H E H E A R T O F B E X A R C O U N T Y
---
XI

T H E R E M O V A L O F T H E G O N D E C K A D D I T I O N S

by Nelson Wolff

q

Left: Gondeck Addition c. 1972.

Below: Gondeck Addition during the

removal process.

It is interesting how the best laid building

plans can sometimes evolve into an architectural

nightmare because of a lack of will. In 1968 the

Commissioners Court started out in the right

direction when they began working on plans for a

proposed 14-story courthouse building. Because

of financial concerns, the plans were abandoned.

Instead of building the new building in January

1970, the Commissioners Court approved a fourstory,

38,000 sq. ft. concrete framed addition on

the southwest corner of the courthouse designed

by the Gondeck Architectural firm. The

windowless granite agglomerate-paneled addition

was finished in early 1972.

Previously in 1963, the Commissioners Court

had authorized the building of a smaller 9,000

C h a p t e r X 1 F 5 1
---
q

Above: Removal of the Gondeck

addition.

Below: A 15-foot metal fence designed

by sculptor George Schroeder, named

"Justitia".

square foot windowless second story addition

to the west side of the Courthouse also designed

by Gondeck.

For the next 40 years much talk took

place about the inappropriate additions. But

nothing happened.

To remove the Gondeck additions, we would

have to develop a plan to relocate employees to

another building. For several years, Commissioner

Paul Elizondo advocated building a new

administrative office building on a parking lot

located across Main Street from the courthouse

and next to the Justice Center that had been built

in 1988. An underground tunnel had been

constructed under Main Street connecting the

Justice Center and the courthouse.

I teamed up with Commissioner Elizondo to

get the support to move forward with the

building. The new building would save $600,000

a year in rental payments that we were paying to

house county employees in other buildings. It

would also provide space for the relocated

employees working in the Gondeck additions.

We approved the construction of a new 10

story, 215,000 square foot building. It would be

the first major vertical construction that the county

had undertaken in 20 years. It would be wrapped

in Pecos red sandstone and granite used in the

original courthouse. It would also include the

latest technology and energy efficiency standards.

Solar panels would be installed, the first building

downtown to do so. We would be the first publicly

owned LEED Silver building in San Antonio.

The offices of the District Clerk, County Clerk,

Auditor, District Attorney, Budget and Economic

Development Departments and other administrative

offices would be housed in the building. The

Commissioners Court would take the top floor. The

District Attorney's offices would be moved from the

Justice Center into the new building, allowing us to

fill that space with eight new criminal courts.

5 2 F T H E H E A R T O F B E X A R C O U N T Y
---
As construction neared completion, we

began work on a 15 foot artist metal fence

designed by sculptor George Schroeder that

would enclose a courtyard between our new

building and the Justice Center. We also built

into the lobby floor and outdoor sidewalks

mosaic designs by Eloise Stoker, a local

renowned artist, to represent the Acequia

Principal that flowed in the past where the

building now stands.

We began moving in December 2010. The

following year Commissioner Kevin Wolff

introduced a resolution to name the building

after Commissioner Paul Elizondo who had

proposed its construction some 20 years earlier.

The Commissioners Court approved the

resolution. It was a well-deserved honor for a

great commissioner and my good friend.

After everyone moved out of the Gondeck

addition, Betty and I went up to the top floor.

Looking down at a small space between the two

buildings she said, "The architect knew that

sometime in the future we would want to take

this addition down. He created this space

between the courthouse and the addition and

used brackets to attach it to the courthouse. By

doing it this way it caused minimal damage to

courthouse. You can see how the original walls

were not damaged."

I replied, "He obviously realized that the

commissioners were making a mistake. When will

you have your structural analysis completed?"

She said, "Soon. It will show the walls

are cracking in both the 1963 and 1970

additions and that the 1972 addition has other

construction flaws."

I replied, "Very good."

One year after the completion of the Paul

Elizondo Tower in November 2011, we took the

first step to demolish the Gondeck additions and

q

Above, left: Demolition of the fivestory

Gondeck addition for the

exterior renovation of the Bexar

County Courthouse.

Below: The Paul Elizondo Building

with the Courthouse on the right of

the Gondeck addition.

C h a p t e r X 1 F 5 3
---
q

Bexar County Courthouse after the

Gondeck had been removed.

reveal the hidden beauty of the courthouse that

had been covered up for over 40 years. We

approved an expenditure of $30,000 to seek a

state grant from the Texas Historical Commission

to pay for a portion of the cost of taking down the

two Gondeck additions.

In January 2012, I appeared before the Texas

Historical Commission. I asked for a $2.5

million grant to remove the Gondeck additions

and I committed the Commissioners Court to

fund the balance of the project. We were later

awarded the grant.

On January 15, 2014, we held a symbolic ropepulling

ceremony. With Tracy standing in the

front, a group of us pulled down a section of the

Gondeck addition. We were off and running with

the demolition.

Slowly, but surely the 1972 and 1963

additions started coming down. As I watched the

removal process each day, the more excited I got

about seeing the condition of the original

windows and courthouse walls. Once I could see

the walls and windows, I was amazed that the

coloring of the walls was the same as the rest of

the courthouse after decades of being unexposed

to the sun and weather. I was reminded that it

had also been subject to the elements for several

decades before the two additions were added and

the color was not distorted.

With the removal of the Gondeck addition,

we were able to expand our south courtyard and

re-landscape. The south side courtyard is now

as beautiful as the front courtyard.

One and half years later on July 14, 2015, we

held a ceremony to reveal the hidden beauty of

the west side of the courthouse. My friend and

outstanding Texas Historical Commission

Chairman John Nau thanked us for returning our

landmark courthouse to its original exterior look.

He went on to say that we have brought back its

grandeur and that we were the most successful of

the state's courthouse preservation projects.

In addition to the state contribution of

$2.5 million, Tracy raised $1.3 million with

the remaining funds contributed by the

Commissioners Court.

With the removal of the Gondeck additions,

the courthouse was still a very large building

consisting of 213,000 square foot. Now our

historic courthouse has been restored to the

original construction of 1892, and the 1914 and

1926 additions are a seamless extension.

5 4 F T H E H E A R T O F B E X A R C O U N T Y
---
q

Above: Tracy Wolff during the

rededication ceremony for the Bexar

County Courthouse on July 14, 2015.

Left: Commissioners Court at the

rededication ceremony for the Bexar

County Courthouse on July 14, 2015.

C h a p t e r X 1 F 5 5
---
XII

T H E B E X A R C O U N T Y A R C H I V E S B U I L D I N G

by Nelson Wolff

q

Bexar County Archives Building.

The Federal Reserve is the central bank system of the United States. It is governed by a seven-member

board appointed by the president and confirmed by the Senate. There are 12 regional Federal banks, whose

shareholders are privately owned banks that fall under the Federal Reserve System. The whole system is

described as an independent entity within the government, having both public and private aspects.

One of the 12 regional banks one is located in Dallas. The Dallas Reserve bank has two branches,

one in San Antonio that was built in 1950. It was built on a site that was originally the Vance House,

a two-story hotel where General Robert E. Lee frequently stayed. It is located at 126 East Nueva,

across from the south end of the courthouse.

It is a sturdy, secured 90,000 square foot, three-story building with a basement and sub-basement

that supposedly could withstand an atomic explosion. In these underground spaces there is a

shooting range, three large vaults, and loading docks where trucks would unload tons of cash.

As our society evolved into a largely cashless and checkless society the Federal Reserve no longer

needed this large building. By 2013, they had reduced their workforce from some 75 employees to

5 6 F T H E H E A R T O F B E X A R C O U N T Y
---
15. They made a decision to sell the building

and relocate their staff to a smaller building.

They called to see if the Commissioners Court

were interested in buying the building and we

said we were.

We wanted the building to house the county's

valuable historic documents. We have numerous

documents including land grants and sales,

mission records, decrees, edits and laws, rebel

properties and post-civil war amnesty oaths, as

well as microfilm of earlier Spanish documents

housed at the Briscoe Center for American

History at the University of Texas at Austin.

The large climate-controlled vaults were

ideal to protect the documents. We also had

room on the first floor to create a display space

and a reading room for citizens who wanted to

do research.

In 2013, we began negotiations to buy the

building that was set on a small city block. They

agreed verbally to sell it to us at market value to

be determined by an outside appraisal. However

later they changed their mind and decided to

choose a developer who would find another

location, build them a new building and buy the

Federal Reserve building.

This was a breach of our verbal agreement.

So, we then decided to start condemnation

proceedings to force a sale to Bexar County. This

did not go over very well with Federal Reserve

officials. They said we had no right to condemn

their property and that they would fight it.

Once we went public with our dispute and

they saw we were serious about condemnation

they finally agreed to sell to us. We finally

reached an agreement on April 8, 2014 to buy

the building based on our original agreement.

We paid the appraised price of $6.5 million.

After we received control of the building an

opportunity came our way to host an exhibit of

Spanish historical documents that tell the story

of the 17th and 18th century Spanish colonial

exploration of the new world and the settlement

of the area that would become Bexar County.

We very much wanted to host the exhibit

because Bexar County's successful effort to have

the missions and the Alamo inscribed as a

UNESCO World Heritage Site in 2015. Our

work began in 2006 when Virginia Nicholas,

Chair of the Bexar County Historical

Commission, first introduced the idea of

applying for inscription. Bexar County

coordinated the National Park Service,

Los Compadres (now known as Mission

Heritage Partners), San Antonio River Authority

and the San Antonio Conservation Society on

the nomination.

On July 5, 2015 we traveled to Bonn,

Germany and were successful before the

UNESCO World Heritage Committee. The

historic Missions and the Alamo were inscribed

as a World Heritage Site, the only one in the

State of Texas.

Betty Bueche traveled to Spain reached an

agreement to borrow documents from the

General Archive of the Indies in Seville, Spain.

She also collected artifacts and documents from

other institutions including maps, official

reports, mission inventories, and religious and

archaeological artifacts.

We built exhibit space on the first floor in

our newly acquired building, located next to the

Bexar County Archives. The successful exhibit

ran from May through September 2016. It was

the first exhibit leading up to the celebration of

our community's 300th anniversary to be held

two years later in 2018.

As we were preparing for the Spanish

historical document exhibit, I read in the San

q

Below: Bexar County Archives

Building vault where the Spanish

Archives were stored.

C h a p t e r X I 1 F 5 7
---
q

Above: Texas A&M-San Antonio

Archives and Special Collections office

at the Bexar County Archives

Building.

Below: Judge Nelson Wolff viewing at

Texas Declaration of Independence

document at the Grand Opening of

the Daughters of the Republic of

Texas exhibit on October 27, 2017.

Antonio Express-News that the city of San

Antonio was turning down an opportunity to

house the Daughters of the Republic of Texas's

Alamo Library collection. When the State of

Texas took over the Alamo, they sought to keep

the Daughters' collection but lost in court. The

Daughters stored the collection in several

warehouses while looking for a permanent home.

The Alamo Library collection was established

by the Daughters on October 12, 1945 and

housed a converted fire station just southeast of

the Alamo. In 1950, a new building was

constructed on the Alamo grounds to house the

collection which held the collection until the

state took over.

The extraordinary collection included

17,000 book titles including genealogy, politics,

art, and natural history associated with Texas. It

also included 450 collections of personal and

family papers, 40,000 photographic images

recording the history of the Alamo and the

people of Texas. Approximately 1,000 pieces of

graphic art, paintings and decorative arts are

among the collections in addition to prints and

posters, periodicals, newspapers, sheet music,

and clipping files. They had more than 1,000

maps dating back to 1597.

The same day that I read about the city's

decision I called attorney Lamont Jefferson, who

represented the Daughters. I said that the

County would be interested in providing a

home for them in the former Federal Reserve

building. He said that they may be interested

and would have someone call me.

Later that same day, Texas A&M—San Antonio

(TAMUSA) President Dr. Cynthia Matson called

me and said they would be curating the Daughters

collection. She was interested in my proposal and

wanted to see the facility. I replied that I would be

5 8 F T H E H E A R T O F B E X A R C O U N T Y
---
leaving town Monday. President Matson said, "I

can be there tomorrow." We then set a time.

After walking through the building with Dr.

Matson and two representatives of Daughters,

they said that their documents and artifacts

would compliment the Bexar County archives.

They also liked our climate control vaults and

the finished-out display space, which were

renovated to the meet the standards of the

American Museum Association. They asked how

much I would charge, and I said a dollar a year

plus utility costs. Matson said she liked the

price and wanted to move forward with a lease.

Three months later on August 8, 2016, we

held a joint press conference in front of the

former Federal Reserve building and announced

that Bexar County and TAMUSA had reached an

agreement to house the collection. Later that

same day, the Commissioners Court approved the

lease of an initial term of two years with three,

one-year options, for 9,937 square feet and

shared space of 1,184 square feet. They would

pay $25,438.72 a year to cover utility expenses.

We held the grand opening on October 27,

2017. President General of the Daughters of the

Republic of Texas Barbara Steven along with

many of their members attended. Leslie

Stapleton, formerly with the Alamo Library,

became the Texas A&M Archives and Special

Collection manager. She gave everyone a tour

of the exhibit. The highlight of the tour was

the signed original Texas Declaration of

Independence from Mexico.

We named the building the "Bexar County

Archives Building" and had the name inscribed

on the front of the building with a lighted sign.

We also created a sign for Texas A&M—San

Antonio and a large banner that advertised the

Daughters of the Republic collection.

The Daughter's collection and Bexar County

archives provide research opportunities for

professional scholars, amateur historians, and

the general public. Our citizens now have the

opportunity to learn how the assimilation of our

unique cultures have come together to build our

great city; to understand our past to prepare

ourselves for our future.

On the second floor, we located the Bexar

County Family Justice Center. They provide

services to assist victims of domestic violence. On

the third floor, we provided space to the San

Antonio Bar Association. Through their outreach

programs the members of the Bar will assist

citizens will legal services. Also, on the third floor

will be located the public defender office that

represent defendants who do not have the

financial resources to defend themselves.

So, all the trauma we went through in

obtaining the building complex was well worth

the effort. The citizens of Bexar County now

have a combination of services located in a

convenient location.

q

Exhibits from the Bexar County

Archives Building

C h a p t e r X I 1 F 5 9
---
XIII

T H E B E X A R H E R I T A G E C E N T E R

by Nelson Wolff

q

Below and on opposite page:

Exhibits from the Bexar County

Heritage Center.

It was exciting to discover that when the Gondeck addition was removed off the west side of the

courthouse, the original front porch and double door entrance to west side of the courthouse were

preserved. The entrance was midway between the north and south entrance to the courthouse and

face a plaza that we created when we closed Main Street.

The west side entrance opened up into 6,500 square feet of vacant space that was not usable as

courtroom. Betty and I started talking about creating a heritage center in the available space. The

purpose would be to educate the public on the role of county government.

Betty employed a local firm, Toxey/McMillan Design Associates to begin planning for the center.

They had designed the Dallas Museum of Natural History, the Austin's Children Museum, The

American Heritage Airpower Museum, and had numerous other clients such as Walt Disney and

Warner Brothers.

Anne Toxey has a Ph.D. in Architectural History from the University of California Berkley, a B.A.

in art history from Sweet Briar College, and a Master of Architecture from the University of Texas.

6 0 F T H E H E A R T O F B E X A R C O U N T Y
---
C h a p t e r X I I 1 F 6 1
---
q

Exhibits from the Bexar County

Heritage Center.

6 2 F T H E H E A R T O F B E X A R C O U N T Y
---
Patrick McMillan has a degree from the

University of California, Los Angeles. They have

been in business together for 20 years.

Together with Toxey and McMillan, Betty

hosted a series of meetings with local elected

county officials and historians. Out of the meetings

came the idea that a series of displays would tell

the history and how Bexar County operated.

But as we talked about her proposal, the

more I realized that citizens would get lost in

the minutiae of the various office functions and

would miss the essence of modern-day Bexar

County, that being the actual projects that we

had built and how they benefited our citizens

and future generations.

Betty and I met with Toxey and McMillan in

their home and office located at 218 Washington

in the King William neighborhood. Their 1917

brick mansion was built by the Gieseckie family.

At one time, Toxey's grandfather owned the home

and lived there.

We were served tea and cookies in their

living room, surrounded by numerous artifacts

that they had collected over the years. As we

began to talk Toxey looked straight into my eyes

and measured each word I was saying. While I

sketched out a vision, she made notes and you

could see her creativity coming alive.

I told her that I wanted most of the heritage

center to focus on major projects that the

county had taken on and completed in the

modern era. Over the last 20 years, the

Commissioners Court have pushed hard to

bring Bexar County into the modern era by

taking on projects that heretofore were never

been considered before such as amateur sports

parks, a performing arts center and the county

arena where the Spurs play.

At the conclusion of our discussion, she said to

give her some time to put a proposal together. She

stated that she would present us with a series

of displays along with interactive computergenerated

programing. She stated that a series of

dioramas, projections, and interactive panels

using the latest technology would capture the

attention of visitors to the museum.

Toxey/McMillian brought us a conceptual

design of the center in February 2016. A circular

information center included television monitors

that broadcasted a greeting from the county

commissioners court. The exhibits start with the

Spanish and Mexican administrations of Texas;

Texas as an independent nation, her statehood,

the post-Civil War era; and into the modern age.

In the modern era, the first exhibit includes a

crime scene investigation that will explain the role

of the District Attorney, Sheriff, and the forensic

lab and Medical Examiner's office. Following is an

exhibit of the new $899 million ten-story Bexar

County Sky Tower hospital and six-story

downtown Clinical and Ambulatory building that

the Commissioners Court Funded in 2008. It

included an architectural drawing of the upcoming

$390 million Women and Children's Hospital that

the Commissioner's Court approved in 2017.

Next is an exhibit of the restoration of the

Bexar County Courthouse funded by

Commissioners Court, the Hidalgo Foundation

and the Texas Historical Commission. There are

exhibits of the Mission Reach of the San Antonio

River and San Pedro Creek that the county

funded. An exhibit of the new County Arena

that is home of the Spurs and Rodeo and the

restored Coliseum. An exhibit of the Tobin

Center for the Performing Arts, the Alameda

Theater, and the Briscoe Western Art Museum,

all of which were partly funded by the county.

Exhibits of the four missions emphasize the

World Heritage designation the county led the

effort to obtain in 2015. Bexar County

Bibliotech, the world's first all-digital public

library, has an interactive site where people can

register to become a patron.

All of the exhibits include a series of

dioramas, projections, and interactive panels,

virtual reality portals, text and computer games

and interactive computer research terminals.

Each diorama will be composed of iconic

images, murals, and artifacts.

During the summer of 2019, we hosted the

Institute of Texan Culture's Summer Teacher

Institute who are focusing on our history and our

role in governing. Teachers from all school

districts participated. They received lesson plans,

take field trips and learn from our Heritage

Center. They will then be able to provide

information to their students that will impress

upon them the importance of local representative

government, the importance of their vote, and

the civic responsibility to one another.

We hosted other interest groups during the

summer and opened the public in August 2019.

C h a p t e r X I I 1 F 6 3
---
q

Right: Northside view of the Bexar

County Courthouse.

6 4 F T H E H E A R T O F B E X A R C O U N T Y
---
XIV

C O N C L U S I O N

Over the last 18 years that I have been county judge, the Commissioners Court and the Hidalgo

Foundation have restored the historic courthouse and created a courthouse complex that will serve

citizens for decades to come. The courthouse complex now includes the historic courthouse, the

Justice Center, the Paul Elizondo Tower, and the Bexar County Archives building.

We encourage you to take a tour of the historic courthouse. Lady Justice will greet you as walk

through the expanded, re-landscaped north front courtyard. Then enter the courthouse walk through

restored hallways and pass beautiful historic windows. Stop by the Children's Court, the new Presiding

Court, and seven restored courtrooms. Don't miss the Double-height restored courtroom. Spend some

time in the Bexar County Heritage Center where you will learn a great deal about Bexar County.

Exit on the south end of the courthouse and enjoy the expanded landscaped courtyard. Then

walk across Nueva Street to the Bexar County Archives building to view the Alamo collection and

look through some of the historic records of Bexar County.

It's a tour you do not want to miss.

Tracy and I want to thank my colleagues on the Commissioners Court for approving the plans and

providing funding for the courthouse restoration. The Bexar County staff, headed by County

Manager David Smith, were instrumental in moving the project forward. The restoration would not

have been possible without the great work and historical knowledge of Betty Bueche.

We would like to thank our staff who have helped us put this book together: Nicole Erfurth,

Monica Ramos, Betty Bueche, Deborah Velasquez, Allen Castro, Thomas Guevara, Eric Maldonaldo

and Jonathan Villarreal. We also appreciate the underwriting law firms who made this book possible.

We would like to also thank all of the contractors and architects who worked on the project as

well the law firms, individuals, foundations, and companies who contributed to the restoration.

The historic courthouse now stands as a monumental testament to our past and a proud symbol

for the future. It has been a great privilege for Tracy and me to have played a role in this

contribution to the citizens of Bexar County.

C h a p t e r X I V F 6 5
---
ABOUT THE

AUTHORS

C O U N T Y

N E L S O N

J U D G E

W. W O L F F

B E X A R C O U N T Y C O M M I S S I O N E R S C O U R T

Nelson William Wolff has represented Bexar

County in various political offices since 1971,

when he was elected to the Texas House of

Representatives. Thereafter, he was elected to

the Texas Senate in 1973, the San Antonio City

Council in 1987, and served as Mayor of San

Antonio from 1991 to 1995. He currently serves

as Bexar County Judge, a position he was

appointed to in 2001 and has since been elected

to five times, most recently in November 2018.

He is only the second person in more than a

century to serve as both Mayor of San Antonio

and Bexar County Judge.

Judge Wolff works to promote and improve

economic and workforce development in Bexar

County. He is an adamant supporter of the

emerging local tech industry and helped form

the Innovation Fund, a $1 million allocation

dedicated to spur jobs and growth in the tech

sector. He also led the development and creation

of BiblioTech, the nation's first all-digital public

library which now serves the community

through three main branches and several kiosks.

The third branch, located in a San Antonio

Housing Authority facility on the eastside of San

Antonio, opened in April 2018.

Judge Wolff also initiated a $415 million

visitor tax-backed bond that aided the

construction of 13 amateur sports facilities, the

Tobin Center for the Fine Arts, improvements to

the AT&T Center, and improvements to the San

Antonio River, including the eight-mile Mission

Reach. River improvements proved vital to the

UNESCO World Heritage designation for the

Spanish colonial missions on San Antonio's

South Side.

Working with Bexar County, the San

Antonio River Authority, and the City of San

Antonio, Judge Wolff encouraged additional

growth and city beautification with the San

Pedro Creek Improvements Project. Phase 1 of

the project opened on May 5, 2018—Bexar

County's 300th birthday. In addition to

boosting economic development, the

improvements project is designed to revitalize

natural habitat and improve flood control. In

conjunction, Judge Wolff also aided in the

continued improvement of HALT (High Water

Alert Lifesaving Technology) and the creation of

BexarFlood.org.

Judge Wolff has focused on improving

county services. County improvements in

highway and flood control infrastructure have

increased during his tenure. Bexar County has

reformed the criminal justice system to help

people with mental health and drug issues.

Bexar County opened the Justice Intake and

Assessment Center in April 2019. Two new

sheriff substations, Northeast and Southwest,

opened in November 2018 and February 2019

respectively. Judge Wolff maintains continued

partnerships with the 26 suburban cities to

ensure all Bexar County citizens are safe and

receive the best possible services.

Judge Wolff and his family built two large

companies—Alamo Enterprises and Sun Harvest

Stores—and sold them both to national companies.

Together, Judge Wolff and his wife Tracy,

President of the Hidalgo Foundation, have six

children and eight grandchildren.

6 6 F T H E H E A R T O F B E X A R C O U N T Y
---
T R A C Y W O L F F

F O U N D E R A N D P R E S I D E N T O F T H E

H I D A L G O F O U N D A T I O N O F B E X A R C O U N T Y

For more than two decades, Tracy Wolff

has served as a community volunteer and

fundraiser, primarily focusing on children and

families issues.

As first Lady of San Antonio, when her

husband was Mayor in the 1990's, she

established a three million dollar fund in the

San Antonio Area Foundation for quality

childcare called "SMART START". She also

raised corporate dollars for the downtown

public Library as it was being built, and helped

to establish the original Children's Museum.

Since 2001, Tracy Wolff, has served as First

Lady of Bexar County, along with her husband,

Bexar County Judge Nelson W. Wolff. In 2002,

Tracy created the Hidalgo Foundation of Bexar

County, a 501C 3 to served three major goals.

GOAL #1: RESTORATION of the Courthouse—

The Hidalgo Foundation was charged with raising

six million dollars towards the restoration of the

Historic Courtrooms.

GOAL #2: CHILDREN—Because of her

commitment to children's issues she added the

creation of the Children Courts. They are now

the model for the Nation.

GOAL #3: EDUCATION—With her husband,

Judge Wolff, they created the Bexar County

BIBLIOTECH the first all-digital public library

in The United States. Free to the residents

of Bexar County, there are three physical

locations, with over 400,000 e-books in

circulation, 86,000 e-books in the BiblioTech

collection, over 425,000 on-site visitors. A

Ride & Read School Bus program was recently

added. There are kiosks located at all the

Military bases, University Health System

Hospital, The Central Jury Room and Wi-Fi in

the VIA bus system. Many educational programs

are offered that support STEM/STREAM and

other opportunities to prepare young people for

college or the workforce.

Over the years, Tracy has received many

awards but outstanding is the International

Recognition of The DIF Monterey Service

Award, for facilitating childcare training with a

sister city & providing medical supplies.

A special honor from the Harvey E. Najim

Foundation was the naming of a Respite Care

Home for Children in her honor. Tracy is also a

member of the Women's Hall of Fame and The

Mother of the Year Award, AVANCE San Antonio.

Tracy is married to Bexar County Judge Nelson

W. Wolff and together they have a family of six

children and eight beautiful grandchildren.

A b o u t T h e A u t h o r s F 6 7
---
APPENDIX A

A R C H I T E C T S

& C O N T R A C T O R S

F O R T H E R E S T O R A T I O N P R O J E C T

3 D I n t e r n a t i o n a l

A l a m o A r c h i t e c t s

A r c h i t e c t u r a S A

F i s h e r H e c k A r c h i t e c t s

R o b e y A r c h i t e c t s

S a l d a n a a n d A s s o c i a t e s

V i t t e t t a

F o r d , P o w e l l , C a r s o n ( B a s e m e n t C o u n t y C l e r k S p a c e )

P i w o n k a S t u r o c k ( G e n e r a t o r R e p l a c e m e n t )

C O N S T R U C T O R S A N D A S S O C I A T E S

J o e r i s

K u n z

M J B o y l e

P u g h C o n s t r u c t o r s

S t o d d a r d C o n s t r u c t i o n

T e b b e n

A l p h a ( B a s e m e n t C o u n t y C l e r k S p a c e )

6 8 F T H E H E A R T O F B E X A R C O U N T Y
---
APPENDIX B

B E X A R C O U N T Y C O U R T H O U S E R E S T O R A T I O N

P R O J E C T

A W A R D S

• 2002 Excellence Award, Texas Construction Magazine, for

Engineering Design of Scaffolding

• 2003 Historic Preservation Award, San Antonio Conservation

Society, Bexar County Courthouse Restoration

• 2003 Excellence Award, Texas Construction Magazine,

Bexar County Exterior Restoration and Interior Life

Safety Improvements

• 2003 Excellence Award, Associated Builders and Contractors,

Bexar County Courthouse Restoration

• 2003 Mayor's Choice Award, SA Chapter of American Institute

of Architects, Exterior Restoration of Bexar County Courthouse

• 2005 Model for the Nation Award, Courtroom 21, School of Law,

College of William and Mary, for Childrens Technology Courts

• 2008 Project of the Year, American Subcontractor Association,

Mission RoadJuvenile Campus Phase 1

• 2010 Bill Sinkin Award - Build Green San Antonio, City of

San Antonio Green Building, WOW on-line tracking/public

reporting of County-wide energy conservation (includes

courthouse - window retrofits for 509 historic windows, and

air conditioning system modifications)

• 2010 Award of Merit, illuminating Engineering Society of

North America, Exterior facade lighting design for historic

Bexar County Courthouse

• 2010 Design Award, American Institute of Architects, Design

of Andy Mireles Juvenile Probation Center

• 2011 Refreshing Ideas Award, San Antonio Water System, Air

conditioning condensation used for restored historic fountain,

Bexar County Courthouse

• 2011 Green IT Award for Commitment to Sustainability, GTC

Southwest Center for Digital Government, WOW on-line

tracking/public reporting of County-wide energy conservation

• 2011 Golden Trowel Award - Honorable Mention, San

Antonio Masonry Contractors Association, Courtyard of Paul

Elizondo Tower

• 2011 Golden Trowel Award - 1st Place, San Antonio Masonry

Contractors Association, Paul Elizondo Tower

• 2012 AGC Report Card - 1st Place, Annual Building Owners

Survey, Associated General Contractors, San Antonio Chapter

• 2015 Commissioners Court Proclamation, for accomplishments

in obtaining World Heritage inscription for the Missions of

San Antonio

• 2016 San Antonio Conservation Society Award, for

restoration of the historic 1897 Double-height courtroom,

Bexar County Courthouse

• 2016 People's Choice Award, for restoration of the historic

Bexar County Courthouse

• 2016 Golden Trowel Awards Superior Design, San Antonio

Masonry Contractors Association, for restoration and

renovation of the Gondeck Removal, Bexar County Courthouse

• 2016 Historic Restoration Award, Preservation Texas

• 2010 Best Practices Award, Texas Association of Counties, Air

conditioning condensation used for restored historic fountain,

Bexar County Courthouse

A p p e n d i x F 6 9
---
APPENDIX C

A R C H I T E C T S

& C O N T R A C T O R S

F O R T H E R E S T O R A T I O N P R O J E C T

C O U R T H O U S E R E S T O R A T I O N F U N D R A I S I N G

HIDALGO FOUNDATION:

• SBC

• McNutt Foundation

• Valero Energy Corporation

• USAA Foundation

• AT&T

• H.E.B.

• Spurs Sports & Entertainment

• San Antonio Conservation Society

• Ron & Karen Herrmann Family Foundation

COUNTY GRANT FUNDING:

• Texas Historic Commission

The public/private partnership between the Hidalgo Foundation and Bexar County has resulted in the Hidalgo Foundation raising

more than $15 million from local and state foundations, philanthropy, and private citizens with the County raising an additional $10

million in matching funds.

A S P E C I A L T H A N K Y O U T O T H E B E X A R C O U N T Y L A W C O M M U N I T Y :

• Akin Gump Strauss Hauer & Feld, LLP

• Bexar County Women's Bar Foundation

• Bracewell & Giuliani

• Bracewell & Patterson, LLP

• Branton & Hall, P.C.

• Bull & Weed, P.C.

• Cox Smith Matthews, Incorporated

• Linebarger Goggan Blair & Sampson, LLP

• Loeffler Tuggey Pauerstein

• Martin, Drought & Torres Incorporated

• Matthews & Branscomb

• McCamish, Socks & Montpas, P.C.

• Judge Ed Minarich

• Prichard, Hawkins & Young, LLP

7 0 F T H E H E A R T O F B E X A R C O U N T Y
---
• Crofts & Callaway, A Professional Corporation

• Curney, Garcia, Farmer, Pickering & House, P.C.

• Davidson & Troilo

• Davis Cedillo & Mendoza, Inc.

• Earl & Brown, PC

• Fullbright and Jaworski

• Haynes and Boone, LLP

• Heard, Linebarger, Graham, Googan, et al.

• Higdon, Hardy and Zuflacht, LLP

• Jackson Walker, LLP.

• Jane Freeman Deyeso, Attorney at Law

• Jenkins & Gilchrist, PC

• Law Offices of Charles S. Frigerio, P.C.

• The Honorable Susan Reed

• Rosenthal, LLP

• Strasburger & Price, LLP

• San Antonio Bar Association

• San Antonio Bar Association Family Law Section

• San Antonio Bar Auxiliary

• San Antonio Chapter of the American Board of Trial Advocates

• San Antonio Young Lawyers.

• Jill Torbet

• Pablo Uresti, Trial Lawyer

• Gilbert Vara, Jr.

• Winstead Secrest & Minick, P.C.

• Women's Law Association at St. Mary's University School of Law

• The Law Offices of Pat Maloney

C O U R T H O U S E R E S T O R A T I O N F U N D R A I S I N G

HIDALGO FOUNDATION:

• Goldsbury Foundation

• Santikos Fund

• San Antonio Area Foundation

• Meadows Foundation

• Harvey E. Najim Family Foundation

• Baptist Health Foundation of San Antonio

• Toyota Motor Manufacturing, Texas, Inc.

• Temple Beth-el

• The Tobin Endowment

COUNTY GRANT FUNDING:

• U.S. Substance Abuse and Mental Health Services Administration

• Texas Department of Family and Protective Services (CPS HOPES)

• Governor's Office

A p p e n d i x F 7 1
---
APPENDIX D

B E X A R C O U N T Y O R G A N I Z A T I O N C H A R T

T I N A S M I T H D E A N

Assistant County Manager

D AV I D M A R Q U E Z

Executive Director

C O M M I S S I O N E R S C O U RT

Economic &

Community Development

M I K E L O Z I T O

Director

D AV I D L. S M I T H

County Manager

Office of Criminal Justice

D A N C U R RY

Director

Facilities Management

T H O M A S G U E VA R A

Chief of Staff to the

County Manager

R E N E E G R E E N

County Engineer

Public Works

L A U R A

C O L E

D i r e c t o r

B i b l i o T e c h

M A R K G A G E R

Chief IT Officer

Infor mation Technology

R E N E E WAT S O N

Director

M O N I C A

R A M O S

Small, Minority & Women

Owned Business Enterprise

P u b l i c I n f o r m a t i o n

O f f i c e r

B E T T Y B U E C H E

Director

Bexar Heritage & Parks Office

K Y L E

C O L E M A N

E m e r g a n c y M a n a g e r

S E T H M CCABE

Director

Budget Department

7 2 F T H E H E A R T O F B E X A R C O U N T Y
---
APPENDIX E

B E X A R C O U N T Y H I S T O R I C A L C O M M I S S I O N

MEMBERS:

• Dr. Felix D. Almaraz, Jr. (Chair)

• Dan Arellano

• Hector J. Cardenas

• Joseph DeLeon

• Angelica Docog

• Alan Ernst

• Dr. Francis X. Galan

• Mickey Killian

• Clinton M. McKenzie

• Sue Ann Pemberton

• Dr. Amy Porter

• Jesus R. "Corky" Rubio

ASSOCIATE MEMBERS:

• Dr. Scott J. Baird

• Dr. David Carlson

• Frank Faulkner

• Jose G. Jimenez

• Brother Edward J. Loch, S.M.

• Dr. Sharon Skrobarcek

• Gary W. Houston

CHAIR EMERITUS:

• Virginia S. Nicholas

A p p e n d i x F 7 3
---
7 4 F T H E H E A R T O F B E X A R C O U N T Y
---
UNDERWRITERS

N e l s o n a n d Tr a c y W o l f f a r e e s p e c i a l l y g r a t e f u l t o t h e l e g a l

p r o f e s s i o n a l s w h o m a d e t h i s b o o k p o s s i b l e a s o u r

f i n a n c i a l u n d e r w r i t e r s .

E a c h u n d e r w r i t e r i s f e a t u r e d i n t h i s s e c t i o n w i t h a p r o f i l e

o f t h e i r l a w f i r m .

U n d e r w r i t e r s F 7 5
---
JTM

CONSULTING,

LLC

Drawing on a long and successful career in

business, law, government and education, John

T. Montford established his own consulting and

lobbying firm, JTM Consulting, LLC, in 2010.

A graduate of the University of Texas–Austin

and the UT law school, Montford's professional

career began as an officer in the U.S. Marine

Corps. Following his active duty tour, Montford

launched his legal career in Lubbock, eventually

winning office as district attorney where he

earned a reputation for being especially tough

on violent offenders.

His success as district attorney propelled

Montford to the Texas Senate, where he served

with distinction for 14 years and was regularly

recognized as one the "Top 10 Best Legislators."

Montford was the driving force behind several

important pieces of legislation critical to the

state. He sponsored 520 bills, including a

statewide water plan, a civil justice reform

package, reform of the "Deceptive Trade

Practices Act," tort reform, insurance reform,

reform of the workers' compensation system,

and bills to support higher education.

In 1996, Montford was selected as the first

chancellor of the Texas Tech University System

in a move that attracted attention because the

university went outside of academia to fill the

position. His successful tenure as chancellor

proved the wisdom of that decision. He elevated

the university's academic standing and

recognition, established records in raising funds,

facilitated $1 billion in new construction and

campus upgrades, and guided the university's

overall growth. Following completion of his

services as chancellor, Montford was named

chancellor emeritus in 2002.

In 2001, Montford was recruited by SBC

Communications to lead the company's

legislative and regulatory affairs in Texas and

twelve other states. Following the merger of SBC

and AT&T, in 2007, he was promoted to

president–western region for the new AT&T,

responsible for states west of the Mississippi. He

became senior vice president, state legislative

affairs for AT&T in 2008.

At AT&T, Montford helped shepherd passage of

landmark legislation, including major regulatory

reform bills enabling telecommunications

companies to compete on a level playing field as

well as enter new markets, such as video services.

In Texas, he led the team that secured passage of

video franchise reform legislation, the first of its

kind in the country. This paved the way for

passage of subsequent video franchise reform in

every other state within AT&T territory for which

he provided oversight.

In 2010, Montford was hired by General

Motors Company as senior advisor for

government relations and global public policy to

help rebuild the new GM. He served as a

member of the GM Executive Committee and

chairman of the board of the General Motors

Foundation in 2010 and 2011. He reorganized

GM Public Policy Teams into four groups—

federal, state, international, and GM Foundation.

This resulted in substantial cost savings, more

accountability, and demonstrable results for each

team. Montford instituted effective legislative

and regulatory teams for Congress and all fifty

states and established signature programs for the

GM Foundation, including the "Buick Achievers"

National Scholarship Program.

In addition to delivering hundreds of speeches

in public life, academia and business, Montford

has written or co-authored several significant

legal books and articles, and written forwards for

books on Texas history. His most recent

publication, Board Games…Straight Talk for New

Directors and Good Governance with co-author Joe

McCool, is a comprehensive work about the

many aspects, responsibilities and challenges of

serving as a member of boards of directors for

"for-profit" publicly listed companies.

Montford has also established himself as an

energetic and successful leader of many nonprofit

business and civic organizations. He

served as 2005 chairman for the Greater San

Antonio Chamber of Commerce, and was

chairman of the board of the San Antonio

Economic Development Foundation in 2006

and 2007. He is former president of the board of

the National Western Art Foundation, for which

he personally secured the lead gift to create the

Dolph and Janey Briscoe National Western Art

Museum in San Antonio. Among many other

accomplishments, Montford served as chair of

the Texas State Parks Advisory Committee from

2006 to 2009.

Montford's spouse, Debbie, attended Texas

Tech University and the University of Texas. She

is an energetic community volunteer, an effective

7 6 F T H E H E A R T O F B E X A R C O U N T Y
---
advocate for the arts, and a philanthropist. She is

a former chair of the Dolph and Janey Briscoe

Western Art Museum Board of Directors and

continues to serve on its advisory board. She was

chair of the board of the San Antonio Symphony

and was appointed by the governor of Texas to

the board of regents of the Texas Tech University

System, and she has also served on the board of

governors for the Cancer Therapy Research

Center in San Antonio. In 2010, Debbie was

honored by the Greater San Antonio Chamber of

Commerce with the Hope Award for

philanthropic fundraising. Presently she serves

on the Texas Humanities Board.

John and Debbie have three children. Mindy

is first assistant district attorney for Travis

County; Melonie started her own fitness and

health business in 2012 after serving with the

law firm of Baker, Botts, LLP; and John Ross,

MD, a board-certified nephrologist, is an

assistant professor at the University of Colorado

Medical School.

G

John T. Montford.

COURTESY OF FRANK CARNAGGIO.

U n d e r w r i t e r s F 7 7
---
G

BRACEWELL,

LLP

From top to bottom:

Richard C. Danysh.

Leslie Selig Byrd.

James P. Plummer.

William T. Avila.

A small law firm that that had a modest

beginning nearly seventy-five years ago is now an

international powerhouse with more than 350

lawyers and offices in New York, Washington,

San Antonio, Hartford, Dallas, and Austin, as well

as overseas offices in London and Dubai.

It all started in November 1945, when two

brothers—Searcy and Fentress Bracewell—just

home from their service in World War II, joined

their father, J. S. Bracewell, and Judge Bert Tunks

to form a new law firm named Bracewell & Tunks.

Searcy Bracewell was elected to the Texas

Senate in 1946, representing Harris County. He

ultimately became the majority leader of the

Senate. The development of the new law firm was

led by Fentress Bracewell.

Harry W. Patterson joined the firm in 1951. In

1966, the firm was renamed Bracewell & Patterson.

It became known as Bracewell LLP in 2016.

From the beginning, the Bracewells understood

that for their firm to succeed they needed to

maintain a relentless focus on professional excellence.

As they dreamed of building a larger law

firm, they also understood that the firm's roots

needed to be deeply embedded in a culture

emphasizing personal relationships and teamwork.

Based on Bracewell's great success as a

statewide and community leader before the war,

the Bracewells believed that a commitment to

public and community service should be a key

component of their firm. This commitment to

professional excellence, to personal relationships

and teamwork, and to public and community

service, remain the firm's cornerstones.

Bracewell's reputation for professional excellence

began in the courtroom. Bracewell was well

known as a fierce and relentless litigator, and the

post-war era saw the firm assume and extend that

reputation. The firm's reputation for professional

excellence grew from insurance defense to labor,

tax, condemnation and business litigation. In the

1960s and early 1970s, the growing Texas economy

began to attract business enterprises from all

over the world, as well as financing from money

center banks. Bracewell's litigation practice evolved

during this period and the firm was involved in a

number of large-scale commercial disputes.

As the energy and financial services sectors

grew dramatically in Texas during the 1970s,

Bracewell's reputation for professional excellence

attracted clients focused on transactional and

7 8 F T H E H E A R T O F B E X A R C O U N T Y
---
commercial matters. This inspired the firm to grow

its transactional practice. In the mid-1970s, the

firm began adding like-minded partners focused

on corporate transactions and bank finance.

Bracewell's reputation in the courtroom was soon

matched by a growing reputation for handling

major M&A transactions and complex financings.

Bracewell's reputation and size grew in

the 1970s and 1980s. The firm's geographic reach

expanded to serve an increasingly diverse client

base. New offices were opened throughout Texas

and in Washington, DC, anchored by long-time

Bracewell partners and new lateral partners.

As the world's economy became increasingly

globalized, Bracewell's partners recognized the

need to distinguish the firm among elite law firms.

This challenge was successfully met by focusing on

the firm's strengths in core industries—energy,

infrastructure, finance and technology–along with

strategic practice areas such as public finance, government

relations, financial restructuring, commercial

litigation, real estate and white-collar defense.

This led to an expansion of the firm's footprint to

include ten offices located in Texas, New York City,

Seattle, Hartford, London, and Dubai.

Bracewell's culture today embodies the original

commitments made by the Bracewells and

the distinguished lawyers who followed them—

professional excellence, personal relationships

and teamwork—and a shared commitment to

public and community service.

Bracewell lawyers have been recognized by

their peers with membership in a number of prestigious

groups, including the American College of

Trial Lawyers, the International Academy of Trial

Lawyers, the American Board of Trial Advocates,

the American College of Bond Counsel, and the

International Insolvency Institute, among others.

In addition, many Bracewell lawyers and practice

groups are recognized by virtually every prestigious

legal ranking organization in the United

States, United Kingdom and the Middle East.

Bracewell partners and other senior lawyers

have served in the U.S. Senate and House of

Representatives and as the governor of Texas, as

ambassadors, and as federal judges. They have also

served as regents of several leading public universities

and as chairpersons of some of the most

important state and municipal regulatory agencies.

The San Antonio office of Bracewell includes

ten lawyers, and the firm is active in the San

Antonio community. The firm hosts a firm-wide

Day of Service in observance of Martin Luther

King, Jr. Day and is also involved in the San

Antonio Food Bank Community Garden.

Bracewell is grounded in a strong and unwavering

commitment to a culture of professional

excellence, teamwork and personal relationships

based on trust among all Bracewell lawyers and

staff. The firm carries this emphasis on teamwork

and transparency into its relationships

with its associates, counsel, staff and—most

importantly—its clients.

G

From top to bottom:

Jane H. Macon.

James H. Kizziar, Jr.

Carey R. Troell.

U n d e r w r i t e r s F 7 9
---
NICHOLAS &

BARRERA, P.C.

For nearly sixty years, a firm founded on a

handshake has provided expert legal assistance

for all individuals, without regard to race,

gender, religion, civic, and/or political affiliation.

This long record of professional service has made

Nicholas & Barrera, P.C. one of the most

successful and respected law firms in Texas.

As experienced trial lawyers, Nicholas &

Barrera represents clients in a wide variety of

litigation matters, including criminal trial

defense, civil litigation, state and federal

criminal appeals, personal injury and wrongful

death, and family/divorce law/custody matters,

wills and probate.

It all began in 1951 when Anthony Nicholas

and Roy R. Barrera, Sr., were assistant district

attorneys with the Bexar County District

Attorney's office under Austin Anderson. After

several years with the D.A.'s office, Roy decided

it was time to open his own office. When he

informed his friend "Nic" of his plans to leave,

Nic suggested he "think of it over for a time

before leaving." Roy replied that Nic had about

ten minutes to think about joining him because

he had already turned in his resignation! On a

handshake, Roy and Anthony became full

partners under the condition that everything

would be split fifty-fifty, all income and

expenses would be shared equally. This

relationship lasted more than fifty years until

Nic's death in 2011. Research reveals this was

the oldest unchanged legal partnership in the

state's history.

By 1968, the partnership was on a firm

footing and Anthony directed the firm while

Roy accepted an appointment from then

Governor John Connally. Roy was named

Secretary of State to fill the unexpired term of

Secretary John Hill, who had vacated the office

to run for governor. To the delight of his wife,

Carmen, Roy and Carmen acted as official hosts

of the world's Visiting Dignitaries to Hemisfair

68, most notably, Prince Rainier, III and Princess

Grace (Kelly) of Monaco.

From its beginnings, Nicholas & Barrera has

been involved in a number of high-profile cases

that have attracted national attention, some of

which have gone all the way to the U.S.

Supreme Court.

Shortly after their departure from the

D.A.'s office, a case Roy had handled as an

assistant D.A. went to the U.S. Supreme Court.

The D.A. asked Roy to defend his position

in the case of Alcorta v. State of Texas and make

the oral argument before the nation's highest

court. In this case, a man had been convicted of

murdering his wife, but claimed it occurred in a

fit of passion. The court held that the

petitioner was denied due process of law and

the case was remanded.

Roy was part of the defense team that tried a

case in state court where, for the first time, a

corporation, rather than an individual, was

charged with murder. In this 1985 case,

documented in the book Death Without Dignity,

the State of Texas charged Autumn Hills

8 0 F T H E H E A R T O F B E X A R C O U N T Y
---
Nursing Home and five of its executives with

the murder of an eighty-seven-year-old woman.

The six-month-long jury trial, one of the longest

in Texas history, resulted from charges that the

nursing home had mistreated and abused its

patients. The book focuses on sixty-four

patients and how they died while in the care of

the facility. In a review of the book, the Houston

Post wrote, "The reader is left to decide if this

was a prosecution or—as the defense insisted—

a persecution. The Autumn Hills Nursing Home

case ended in a mistrial.

Roy also defended Woodrow Collums, an

elderly client, who entered his brother's

nursing home where he lay in a vegetative

state from Alzheimer's' disease and put five

bullets in his head. The 1981 case drew national

attention as a "mercy killing" and focused

attention on the moral dilemma faced by the

relatives of terminally ill people. Cullums

received ten years' probation.

In another notable case in which Roy was

lead counsel and his youngest son, Bobby,

sat as second chair—the so-called "Craig's List

Escort" murder trial—the defendant was found

"not guilty" based on "a long-ago written

statute that provides for the justified 'use of

force' to prevent a theft of property in the

night." Roy and Bobby debated for months prior

to trial the avenue most judicious and

expeditious for the defense of the murder

charge—it was papa's defense theory that hit the

nail on the head.

Roy Barrera, Sr. and his son, Roy Barrera, Jr.,

are on opposite sides of the political spectrum,

but live and work together in complete harmony.

Roy, Sr. is a lifetime Democrat while Roy, Jr. was

appointed to a State District Court bench by

then Governor Bill Clements, a Republican.

Another son, Gilbert E. Barrera, also attended

law school but followed his passion for art and

became a noted sculptor, instead. He was selected

by the Hidalgo Foundation to restore a centuryold

fountain and create a new "Lady Justice" for

the crown of the fountain now installed in front

of the Bexar County Courthouse, the state's

largest and oldest courthouse.

Currently, Nicholas & Barrera includes nine

attorneys who are individual practitioners—sons

Roy R. Barrera, Jr., and Robert J. "Bobby" Barrera,

and grandsons Roy R. Barrera III and Mark

Joseph Barrera, along with Roy Barrera, Sr., make

up the backbone of the office. Roy, Sr., now

ninety-two years old, likes to joke that he could

found a bar association all by himself. Two sons,

5 grandchildren, 3 nephews, a great nephew, and

2 grandsons-in-law all became attorneys.

Also following family work traditions, Roy

Sr.'s youngest daughter, Carmen Alice, a former

Administrative Assistant for then U.S. District

Judge H. F. "Hippo" Garcia, has for the past

nineteen years, worked for her father as a legal

secretary and maintained the family Law

Offices. Nicholas & Barrera is definitely one

dedicated "family affair."

U n d e r w r i t e r s F 8 1
---
DAVIS, CEDILLO

& MENDOZA,

INC.

G

Top: J. Russell Davis.

Middle: Ricardo Cedillo.

Bottom: Ron Mendoza.

The lunch meeting Russell Davis and Ricardo

Cedillo had at El Mirador Restaurant in San

Antonio back in 1986 changed their lives and

was the genesis of a new law firm, Davis &

Cedillo, Inc.

The firm has deep roots in San Antonio. Russell

Davis, a Jefferson High School and University of

Texas (UT) undergrad and Law School graduate;

Cedillo, a product of Holy Cross High School, St.

Mary's and Harvard Law School; and Norman

Davis, also from the UT Law School, and a wellrespected

business lawyer in San Antonio for over

fifty years, were the founding partners.

They left larger firms and knew they wanted

their new law firm to meet their client's needs

with uncompromising quality and integrity.

Even more, they wanted their clients to have

unquestioned value in the work they received.

Also vital was an environment where they

would enjoy coming to work and be proud of

the services the firm provides to its clients.

Today, Davis, Cedillo & Mendoza, Inc.

concentrates its areas of practice around the

strengths of its three name partners, Cedillo in

commercial litigation; Davis in business

transactional matters with an emphasis on real

estate; and Ron Mendoza, in insurance defense.

Mendoza, like Cedillo, is a Holy Cross High

School alumnus, and is a UT undergrad and

Law School graduate as well. He joined the firm

in 1991, after years as a felony prosecutor in the

Bexar County District Attorney's Office,

bringing substantial trial experience to

insurance defense. Additional shareholders of

the firm are Les J. Strieber III, Derick J. Rodgers,

Brian L. Lewis and Brandy C. Peery.

The firm's top-quality real estate clients have

been involved in a number of major

developments in San Antonio. These clients see

DC&MDavis, Cedillo and Medoza as trusted

advisors with a deep understanding of business

issues. The firm's insurance defense practice is

thriving as well, handling complex cases for

some of the top names in the industry.

DC&MDavis, Cedillo & Mendoza enjoys

great success in commercial litigation. Because

of the way its commercial litigation teams are

organized, with lead counsel supported by a

detail-driven team of lawyers and staff,

DC&MDavis, Cedillo & Mendoza can be

devastatingly effective, yet far more economical

8 2 F T H E H E A R T O F B E X A R C O U N T Y
---
than its national competition. Its successes for

national and international clients have been

high profile. Most notable may be the $624-

million verdict for Valores Corporativos, a

Mexican wholesale grocer and distributor

against Wal-Mart and a judgment on behalf of

HouseCanary, Inc. against Title Source, Inc. for

$706 million.

Thirty-Two years after its founding, Davis,

Cedillo & Mendoza, Inc. is still focused on its

original goals. The firm's diversity reflects the

diversity of Bexar County, and its success is

clearly the result of a formula that has worked

very well.

G

Top: Brandon Strey, Courtney Gaines

and Charles Cantu.

Middle: Susan Holt, J. Russell Davis,

Brandy Peery.

Bottom: Derick Rodgers, Les Strieber

and Brian Lewis.

U n d e r w r i t e r s F 8 3
---
LINEBARGER

GOGGAN

BLAIR &

SAMPSON, LLP

Linebarger Goggan Blair & Sampson, LLP is

the largest national law firm that focuses on

collection of government receivables. The firm's

goal is total client satisfaction, which is achieved

by tailoring comprehensive services to the

client's criteria, retaining professional and

courteous legal and collection personnel,

developing and supporting the most advanced

collection technology systems available, and

maintaining personal communication with its

clients and the communities they serve.

The firm's history dates from 1976 when the

State of Texas first allowed cities and school

districts to hire private attorneys to collect taxes

and other receivables. To provide these services,

Chester Young, Larry Calame and Dale Linebarger

established the law firm Young Calame &

Linebarger as a limited liability partnership.

Also instrumental in establishment of the

firm was Oliver S. Heard, who was a founder

and managing partner. An established leader in

advancing the legal profession, Heard brought

more than 20 years experience to the new firm.

He was known as the 'King of Tax Collections in

Texas' and was named one of the 20th century's

top 102 lawyers in a special publication entitled

Legal Legends: A Century of Texas Law and

Lawyers. Heard died in 2000.

The firm's San Antonio roots date from 1980

and the firm of Heard Goggan and Blair. Bexar

County hired the firm in that year, becoming the

first large metropolitan authority in Texas to hire

an outside law firm to collect delinquent ad

valorem taxes. That partnership between the

firm and Bexar County has culminated in one of

the nation's best tax collection programs for a

metropolitan community. The delinquent tax

collection program developed in Bexar County is

now used by more than 1,700 entities across

Texas, including Dallas County, Harris County,

and Tarrant County.

A Fees and Fines Collection program was also

begun in Bexar County in 2006. This collection

program became the basis of a national model

and clients now include the cities of Chicago,

Houston, Philadelphia, Austin, Columbus, and

Fort Worth.

In 2002, the firm changed its name to

Linebarger Goggan Blair & Sampson, LLP.

Several founding partners retired in 2006 and

a new Management Committee, composed of

21 capital partners, assumed leadership.

DeMetris Sampson served as the new MC's

first chair and Clif Douglass of San Antonio

assumed the role in 2007, a position he

continues to hold.

8 4 F T H E H E A R T O F B E X A R C O U N T Y
---
Linebarger Goggan Blair & Sampson

maintains 46 law offices, eight call centers, and

one information technology center located

throughout the nation. The firm is headquartered

in Austin.

From the day the partnership with Bexar

County was established in 1980, the San Antonio

operations—with a combined 292 employees—

has become a centralized component of the firm,

supporting growth and expansion throughout the

United States. Today, in addition to the 62

employees in its downtown San Antonio office,

Linebarger employs more than 160 professional

staff locally at its national informational

technology operation. San Antonio is also home

to a national call center employing more than 70

individuals. These two major offices, along with a

downtown collection operations office, provide a

growing and reliable source of revenue for Bexar

County, the City of San Antonio, and all the local

school districts.

Last year, Linebarger managed more than $10

billion in delinquent government receivables

and generated approximately $1 billion in

revenue for state and local governments. The

firm serves more than 2,500 government entities

in 26 states and has the ability to recover

receivables from delinquent account holders in

every state in the nation. The firm is licensed

and/or authorized to collect in all 50 states,

Puerto Rico, and the U.S. Virgin Islands.

Linebarger's success has garnered numerous

important awards and citations over the

decades. U.S. Conference of Mayors (USCM)

awarded the firm its highest Public Private

Partnership award—the Award for Excellence—

in 2001 for its work with the City of Dallas. The

firm received its second Public-Private

Partnership Award from USCM in 2004, this

time for work with the City of Chicago.

Linebarger received its fourth, and recordbreaking,

Public Private Partnership Award for

Outstanding Achievement in 2010 for its work

with the City of Port Arthur.

The 2018 National Law Journals Women in

Law Scorecard ranked Linebarger number one

in Texas and 15th nationally among the largest

U.S. law firms with the highest percentage of

women lawyers and partners.

Linebarger and its employees support

hundreds of charitable, community and cultural

organizations throughout Bexar County. Some

of the organizations supported over the last five

years include the Bexar County BiblioTech

Digital Library; Bexar County Child Welfare

Board; Bexar County Family Justice Center

Foundation; Hidalgo Foundation; San Antonio

Youth Literacy; Tobin Center; United Way of

San Antonio; as well as the educational

foundations for all of the local school districts.

Nationwide, Linebarger employs more than

1,250 professionals, including more than 100

attorneys, 300 collectors, and 160 IT staff. The

firm continues to expand and grow steadily into

areas where clients require its services.

U n d e r w r i t e r s F 8 5
---
LAW OFFICES

OF SERNA

& SERNA

Growing up in San Antonio, both Baltazar

and Cesar Serna knew from an early age that

they wanted to become lawyers. The brothers

have now worked side-by-side for 27 years and

their law firm has become one of the busiest and

most respected in Bexar County.

The brothers graduated from Thomas Edison

High School in San Antonio and, encouraged by

their parents, decided to enter the law profession.

"Our father worked at the Kelly Air Force Base

but had always wanted to be a lawyer," Baltazar

explains. "He and our mother always encouraged

our interest in law and were very supportive of

our ambitions."

Baltazar Serna received a Bachelor of Arts in

Public Justice degree from St. Mary's University in

1984 and went on to earn his law degree at the

Thurgood Marshall School of Law in Houston. A

practicing attorney for 35 years, Baltazar specializes

in Civil and Criminal litigation, and representation

for municipalities and governmental bodies, which

includes a public affairs practice at the local, state

and federal levels.

Cesar Serna received his B.A. in Criminal

Justice from the University of Texas at San Antonio

and his law degree from the Thurgood Marshall

School of Law. Cesar specializes in civil and

criminal law and also handles family law matters.

The firm of Serna & Serna believes in

focusing on a few specific areas of the law, and

concentrates on providing outstanding legal

advice for each client. The practice focuses on

representing clients in legal matters related to

personal injury, criminal charges, divorces and

municipal law issues.

"We're not a big firm on purpose," says

Baltazar. "When a client hires us, they get us.

We don't turn matters over to some assistant

who does all the work."

Serna & Serna has the experience to help

clients sort out their particular legal issues related

to anything from criminal cases to government

contracts. The firm handles all forms of personal

injury matters, including car and truck accidents,

premises liability and wrongful death. Baltazar

and Cesar Serna understand what their clients are

facing during these difficult times, including the

overwhelming medical bills, time lost at work,

and other financial impacts that make such

accidents more devastating. They do everything

within their power to right these wrongs and help

their clients make the fullest recovery possible.

Since its formation in 1992, Serna & Serna

has defended people throughout South Texas

against a host of different criminal charges,

including domestic violence, DWI and repeat

8 6 F T H E H E A R T O F B E X A R C O U N T Y
---
DWI, theft, white collar crime, traffic violations,

probation revocation, and assault and battery.

The firm also offers warrant information and

bail bond assistance, expungement and motions

for nondisclosure.

In the area of municipal law, Serna & Serna

represents businesses, developers and investors

in legal disputes and matters before city and

county government bodies. Serna & Serna has

represented some of the biggest and most

noteworthy companies in South Texas. The firm's

long list of clients includes the San Antonio Spurs

professional basketball team, Landry's, Bexar

County Government, City of San Antonio, City

Public Service, Brooks Development Authority,

San Antonio Port Authority and the San Antonio

Water System. He represents entities at the local,

state and federal level before the government. For

example, Baltazar was instrumental in helping

the City of San Antonio secure funding from the

federal government for the new federal

courthouse now being built.

Both Baltazar and Cesar are deeply involved in

non-profit organizations such as Rey Feo Consejo,

which helps raise money for high school seniors,

and the Fiesta Commission. Baltazar is presidentelect

of the Fiesta Commission.

Baltazar and his wife, Deborah, have two

children and Cesar and his wife, Jessica, have

one son.

Cesar is an avid outdoorsman and enjoys

hiking and biking in Texas and Colorado. Baltazar

enjoys physical fitness, playing basketball,

attending sports events and spending time with

his family.

When dealing with complex legal issues, it

is imperative that you hire a team of attorneys

that has the experience and knowledge to

represent you in any number of legal disputes.

Serna & Serna has handled countless cases for a

variety of different clients throughout South

Texas. To learn more, check their website at

www.sernaserna.com. Serna & Serna is located at

237 W. Travis Street, Ste 100.

U n d e r w r i t e r s F 8 7
---
G

ESCAMILLA &

PONECK, LLP

Above: Pablo Escamilla.

Right: Douglas Poneck.

Inspired by 1960s activism to improve the

plight of Hispanic students in Edgewood

Independent School District, then the poorest

school district in Texas, Pablo Escamilla delayed

his dream of attending law school and, instead,

ran—and was elected—for the Edgewood

School Board. Pablo's service on the board lasted

a decade and during that time Pablo and the

school district led the fight for Texas school

finance reform. This resulted in Edgewood v.

Kirby, the landmark Texas Supreme Court

litigation that attempted to remedy the historic

inequity of school funding across the state.

Belatedly, Pablo realized his dream of

attending law school and becoming a lawyer.

After a four-year stint with the school law firm

of Schulman, Walheim, Beck and Heidelberg,

Pablo organized his own law firm.

About this same time, Douglas Poneck had

graduated from college and law school in quick

succession and became a first-year associate

with a venerable and long-established San

Antonio law firm. The economic recession of the

early 1990s led to a downsizing of the law firm

and Doug found himself in dire need of a job.

With little experience, but a lot of hunger, Doug

met with Pablo at a friend's suggestion to see if

he might be hiring for his new firm. The two

men hit it off immediately.

Pablo and Doug found they had a lot in

common. They had similar backgrounds and

their fathers worked as civil servants at Kelly Air

Force Base. They also shared a strong belief that

serving others was an important part of being a

lawyer. Both also saw that the San Antonio legal

community was not very diverse, though the

boards of governmental entities serving them

were becoming more so. As a philosophical and

business matter, both understood that the San

Antonio legal community was sorely in need of

minority-owned law firms that represented

these more diverse and progressive

governmental entities.

Although they shared a passion for

representing their community, Pablo was in no

position to hire anyone, having just ventured

out on his own, so Doug started his own office

and took on indigent defendant/criminal court

appointments for $100 per assignment. It wasn't

glamourous work, but it paid the bills. Pablo

was able to refer some cases to Doug, and

impressed at how well he accomplished his

work, Pablo suggested that Doug could save

some money on rent if he moved into his offices.

The relationship grew, and the two lawyers

became partners in November, 1991.

To be sure, Pablo Escamilla and Douglas

Poneck founded Escamilla & Poneck, LLP on

8 8 F T H E H E A R T O F B E X A R C O U N T Y
---
their belief that government clients should

have excellent legal representation if they are

to be effective in fulfilling their mission and

serve the public good. Further, the firm's

lawyers do not simply represent its

governmental clients as a business proposition.

Instead, they work to represent such clients

because if fulfills serving the communities that

have entrusted them.

Since it's founding, Escamilla & Poneck, LLP

has become a dynamic, full-service, 100%

minority-owned law firm with offices in San

Antonio, Austin, Dallas, Fort Worth, Houston,

and Monroe, Louisiana.

Escamilla & Poneck has grown and

diversified in an effort to support various clients

across Texas and Louisiana with responsive inperson

services. It provides a variety of legal

services, including a number of general counsel

services (i.e. services related to the particular

subject areas of the governments represented),

litigation, bond counsel and government

relations before the Texas legislature.

Escamilla & Poneck primarily represents

governmental entities throughout Texas. In

particular, the firm is very experienced in

working with school boards, but also represent

other kinds of boards, including boards of

housing authorities, workforce development

entities, urban renewal agencies, utilities, cities,

counties, special-purpose districts and various

related non-profits.

In short, the firm's greatest strengths are its

breadth and diversity of experience in

representing governmental entities along a

broad spectrum, with an emphasis on legal

services needed to serve those entities. The

firm has also established a highly collaborative

working environment in which attorneys and

staff all participate to provide clients highly

responsive and effective legal service. In the

end, the lawyers of Escamilla & Poneck feel

that governmental entities ultimately serve

the law and the public, their actions should

be transparent and accountable, from top

to bottom.

Escamilla & Poneck has been a leader in

promoting diversity within the Texas legal

community. When Pablo and Doug established

the firm nearly 30 years ago, there were very few

minority owned firms that served governmental

entities. Since then, many of the firms that

provide similar services have added diversity

to their teams of lawyers, and some firms

have even shared ownership with minority

lawyers. The firm may not be as unique in the

industry as it was, but the partners feel that's a

good thing.

U n d e r w r i t e r s F 8 9
---
WATTS

GUERRA, LLP

G

Left: Mikal C. Watts.

Right: Francisco Guerra, IV.

Watts Guerra LLP, headquartered in San

Antonio, is a true nationwide litigation practice.

The firm's trial lawyers handle some of the

largest cases nationwide for catastrophic injury

and death, product liability, commercial

litigation, and mass torts.

Watts Guerra attorneys have taken on and

defeated many of the largest and most powerful

corporations in America, yielding substantial

verdicts and settlements and, more importantly,

greater consumer safety for everyone. Watts

Guerra's record prompted the National Law

Journal to comment, "Watts has established a

record as one of the most effective plaintiffs trail

lawyers in the United States."

Among the many successful cases litigated

was the first trail in the nation challenging the

safety of the drug Levaquin, used to treat a

variety of bacterial infections. The hotly

contested trial included some of the finest

defense lawyers in the nation and both sides

put forth extensive evidence, studies and

expert testimony to prove their cases. The

defense fought hard until closing arguments to

persuade the jury that Levaquin was a safe drug.

Thanks to the efforts of Mikal Watts and others

involved in the trial, the defense arguments fell

on deaf ears. The jury deliberated for less

than two days before awarding $7 million in

actual damages to the plaintiff who had been

injured as a result of his use of Levaquin. The

jury deliberated only a couple more hours

before awarding the injured plaintiff an

additional $1.1 million in punitive damages.

Watts Guerra trial lawyers led the nation in

representing people maimed or killed by

defective Firestone tires and unstable Ford

Explorers. The firm also represented a

pharmaceutical victim whose liver was

destroyed by the diabetes drug Rezulin and won

an award for three clients from Sulzer Medica by

proving that defective hip implants led to

painful extraction and revision surgeries.

Results such as this are common for clients of

Watts Guerra, which employs a team of

seasoned attorneys across cities in Texas and

California. With a main office in the Dominion

in San Antonio and a mass tort office near

the city's medical center, Watts Guerra

boasts one of the larger, more experienced

plaintiff-side lawyer rosters in the country,

with some of the best trial lawyers in their

respective areas of practice. The firm also

maintains offices in Austin, Brownsville,

Corpus Christi, and Odessa, Texas, and Santa

Rosa and Chico, California to provide premier

legal representation.

The lawyers of Watts Guerra have a proven

track record of serious, high-value results

and believe in their ability to win each

case. Because of this, the firm accepts all of

its cases on a contingency fee basis—clients do

not owe anything unless the firm recovers on

their behalf.

9 0 F T H E H E A R T O F B E X A R C O U N T Y
---
The firm is headed by Mikal C. Watts and

Francisco "Frank" Guerra, IV.

A native of Corpus Christi, Watts earned his

undergraduate degree from the University of

Texas in 1987, receiving a bachelor of arts

with high honors after only two years of study.

He then graduated with honors from the

University of Texas School of Law at the age of

twenty-one. After working as a briefing

attorney for the Chief Justice of the Supreme

Court of Texas, Watts became a partner in a

Corpus Christi law firm before establishing his

own firm in 1997.

In 2002, Watts joined forces with Frank

Guerra to form Watts Guerra LLP to handle

catastrophic personal injury, toxic torts, product

liability, automotive defects, refinery negligence,

commercial trucking negligence, medical device,

pharmaceutical and commercial litigation.

Guerra, who serves as managing partner in

the San Antonio office, received his bachelor

of ats from Texas A&M University, where he

served as commander of Squadron 15 and was the

first Hispanic commander of the elite

Ross Volunteer Company. He then

attended the University of Texas School of

Law, where he received his doctor of

jurisprudence. During law school, Guerra

served as Intern to Justice John Cornyn of

the Supreme Court of Texas. He also

served as an Intern to the late professor

Charles Alan Wright, considered the

foremost authority in the U.S. on

Constitutional law and federal procedure.

Guerra has served on the Malpractice,

Premises & Products Pattern Jury

Charge Committee for the State Bar of

Texas. Since joining Watts, he has

litigated, tried and arbitrated cases

throughout the nation.

Watts Guerra is composed of a team of

skilled attorneys with a devotion to personal

attention and a commitment to achieving the

highest levels of service. The firm has strength

in numbers and in talent and the results speak

for themselves. Watts Guerra's resources are

larger than most firms, enabling them to invest

tens of millions of dollars at once to battle the

largest corporations in the world. Watts works

for its clients, employing the best experts and

using the most up-to-date technology available.

The firm even employs full-time pilots to fly

private planes on a moment's notice, enabling its

lawyers to meet quickly with clients and travel

easily to depositions, mediations and trials

across the country.

The lawyers of Watts Guerra LLP have beaten

the largest and most powerful corporations in

America, yielding substantial verdicts and

settlements and more importantly, greater

consumer safety for everyone.

For more information, consult the firm's

website at wattsguerra.com.

U n d e r w r i t e r s F 9 1
---
GUNN, LEE &

CAVE, P.C.

G

Left: Ted Lee.

Right: John C. Cave.

The law firm of Gunn, Lee & Cave has deep

ties to San Antonio and is focused on protecting

proprietary thinking, inventions, works and trade

secrets. Reflecting the company motto, "Your

Ideas Are Our Specialty," each attorney is an

expert in both acquiring and litigating intellectual

property, including post grant proceedings.

Ted Lee, a graduate of Notre Dame Law

School, began his career as a patent agent for the

National Aeronautics and Space Administration,

working on the Saturn Apollo program. Some of

the early patent applications prosecuted by Lee

were used in putting a man on the moon.

Before moving to San Antonio in 1973 and

establishing a private practice, Lee served as a

JAG officer in the U.S. Marine Corps.

On April 1, 1977 Ted Lee and Don Gunn

established the firm of Gunn & Lee. Lee headed

the office in San Antonio and Gunn was in

charge of an office in Houston. The firm, which

has always specialized in intellectual property,

grew rapidly and soon employed about 12

attorneys in each office.

The Houston office closed after Gunn passed

away in 1999. John Cave joined the firm in 2000.

John Cave, a San Antonio native, received a

B.S. degree in mechanical engineering from Texas

A&M University and his law degree from Texas

Tech University. During his engineering career,

Cave assisted in the development of a computer

program to calculate stresses in various

components of an aircraft and was involved in

the design of pumps and gas compressors for

various applications in the oil fields. This

background gave Cave a deep understanding of

the importance of intellectual property.

The firm's reputation got a big boost in the

early 1980s when it was involved in an

intellectual property theft case that attracted

national attention. It began when two

employees of the Pace Picante Sauce company

left and set up a competing company, allegedly

using a picante sauce recipe identical to that

used in the Pace product. Pace sued the

employees for theft of the secret formula for

Pace Picante Sauce. Although all picante sauce

uses the same six basic ingredients, Pace argued

that the way the ingredients were measured and

mixed made their product unique and the

recipe could not be copied.

"We had been trying the case two or three days

and had jars and jars of various picante sauces

lined up in front of the jury when a newspaper

reporter happened by the courtroom," explains

Lee. The reporter asked what was going on and

after I told him, the front page of next day's

edition of the Express-News carried the headline,

"Hot Sauce Case Heats Up." Other papers picked

up the story and for several days the picante

sauce trial was on everybody's lips. Lee recalls

that a sensational murder trial was going on at the

same time, but reporters were leaving the murder

trial to cover the picante sauce war. "When a

juror got sick and missed a day, one of the papers

9 2 F T H E H E A R T O F B E X A R C O U N T Y
---
headlined, 'Juror Can't Stomach Hot Sauce

Case'," Lee recalls.

The two disgruntled employees were found not

to have used the secret Pace recipe. The verdict

made news all across the nation. "It's the best

publicity we could ever have gotten," says Lee.

As an intellectual property law firm, Gunn,

Lee & Cave is involved with patents,

trademarks, copyrights, contracts, and trade

secrets. Each of the firm's attorneys is

experienced in both acquiring and litigating

intellectual property, including post grant

proceedings. Lee points out that it is unusual for

an intellectual property law firm to both

prosecute and litigate cases.

Gunn, Lee & Cave currently has a staff of 16,

including 8 attorneys. In addition to Lee and Cave,

the attorneys include Mike Villarreal, Rob McRae,

Ed Marvin, Jason McKinnie, Nick Guinn, and

Brandon Cook. The firm is located in the Callaghan

Tower at 8023 Vantage Drive in San Antonio.

In addition to supporting numerous civic and

charitable causes, Ted Lee is the creator of the skit

presenting Santa Claus on trial in Federal District

Court each Christmas. The trial is based loosely on

the popular holiday movie, Miracle on 34th Street.

"We started the tradition over twenty-five years ago.

This year my four-year-old grandson will testify for

Santa." Lee explains. "Boy Scouts and Girl Scouts

make up the prosecution team, attempting to prove

that Santa Claus violated a fictitious state statute by

appearing at a public school handing out gifts.

Fourth and fifth-grade elementary school children

make up the jury. An authentic Federal Judge

usually presides over the proceedings."

Lee reports that Santa usually wins the case but,

several years ago, Santa was convicted. The judge

delivered a Solomon-like decision, ruling that Santa

be placed on probation—until after Christmas.

While Bexar County and San Antonio continue

to change, Gunn, Lee & Cave remains a

consistent, reliable source to protect its clients'

creative endeavors. Ted Lee feels the main reason

Gunn, Lee & Cave has been so successful for

more than forty years is the result of "doing good

work for clients and the clients being happy with

our work." Lee says the firm's business comes

from two sources: satisfied customers and

referrals from other law firms familiar with Gunn,

Lee & Cave's reputation.

G

Above: (From left to right) Jason

McKinnie, Ed Marvin, and Rob

McRae.

Below: (From left to right) Mike

Villareal, Brandon Cook, and

Nick Guinn.

U n d e r w r i t e r s F 9 3
---
THOMAS J.

HENRY LAW

Thomas J. Henry Law, PLLC is one of the

nation's leading personal injury firms and is the

largest plaintiff's firm in Texas, employing a

team of more than 150 attorneys and 350

support staff in offices across Texas. In 2019 and

2020, the firm was named one of the nation's

"Best Places to Work" by Glassdoor. This award

is based solely on employee feedback and takes

into account employee satisfaction, career

opportunities, culture and values, and work to

life balance.

For more than 25 years, Thomas J. Henry

Law, PLLC has provided fierce and steadfast

legal representation to injured clients. Over

that time, the firm has built a reputation for

success in a variety of legal disciplines,

including trucking accidents, company vehicle

accidents, workplace injury, mass tort

litigation, product liability, pharmaceutical

litigation, child injury, and wrongful death.

Thomas J. Henry Law, PLLC has litigated

against some of the largest companies in the

world, including Fortune 500 and Fortune 100

companies, and has achieved numerous

record-breaking awards and settlements.

In 2012, the firm secured the #1 Back Injury

Verdict in the Country, as named by the

National Law Journal. The firm was then

featured in the National Law Journal's Top 100

Verdicts list in both 2012 and 2013. Also, in

2013, the firm was recognized by Verdict Search

as achieving the #1 Workplace Injury Verdict for

the Year, and the firm's founder, Thomas J.

Henry, was named one of the Top 100 Trial

Lawyers by National Trial Lawyers.

In 2015, the firm was awarded the

prestigious Litigator Award for outstanding

achievements in auto accident, personal injury,

catastrophic injury, and negligent security

litigation. The firm secured the #1 Texas Car

Accident Verdict for the year, and Legal Leaders

Magazine recognized firm founder Thomas J.

Henry as one of Texas' Top Rated Lawyers. In

2016, Forbes Magazine featured Thomas J.

Henry as a "Leader in Law."

In 2017, TopVerdict.com recognized Thomas

J. Henry Law, PLLC as achieving the #1 Texas

Car Accident Verdict, #1 Texas Bus Accident

Verdict, and #1 Texas Negligent Supervision

Verdict for the year. The firm also achieved the

#1 Worker/Workplace Negligence Verdict as

listed by Texas Lawyer.

In 2018, Lawyers of Distinction added

Thomas J. Henry to their list of the nation's

top lawyers.

In both 2018 and 2019, Thomas J. Henry was

named the "Best Attorney of San Antonio" by

the San Antonio Current, based on public votes.

In 2019, S.A. Scene Magazine named Thomas J.

Henry one of San Antonio's Top Personal Injury

Lawyers. Also, in 2019, Thomas J. Henry was

listed in a Bloomberg Businessweek "Clear

Commitment to Client Satisfaction" Feature

and made Newsweek.com's Premier Law

Firm's listing.

Thomas J. Henry has also been named a

lifetime member of the Multi-Million Dollar

Advocates Forum, a Top 100 Trial Lawyer by the

National Trial Lawyers, and a "Top Birth Injury

Advocate" by Parenting Magazine. He is also a

Lifetime Charter Member of Rue Ratings' Best

Attorneys in America.

9 4 F T H E H E A R T O F B E X A R C O U N T Y
---
In addition to representing injured victims,

Thomas J. Henry is also dedicated to giving

back to the local and global community. The

firm has an active philanthropy program which

supports causes related to poverty, veterans,

national disaster relief, education, animals, and

the arts.

The firm has provided support to numerous

national causes, including the American Cancer

Society, American Heart Association, American

Red Cross, and Special Olympics and also

commits significant support to local, San

Antonio-based charities including the San

Antonio Parks Foundation, the Rey Feo

Scholarship Foundation, SA YES Foundation,

St. Mary's University Alumni Association

Scholarship Program, San Antonio MLK

Foundation, San Antonio River Walk

Association, Elf Louise Christmas Project, San

Antonio Pets Alive (SAPA), Animal Defense

League of Texas, and more.

Throughout the year, the firm sponsors

numerous local little league programs

throughout the San Antonio area and in 2019

launched the viral "Clear the List" campaign to

help San Antonio teachers get much needed

supplies for their classrooms. Every October,

the firm hosts "Bark in the Park," a community

event that raises thousands of dollars for local

pet charities. Each November, the Thomas J.

Henry Turkey Giveaway provides Thanksgiving

turkeys to thousands of families in Texas.

Mr. Henry also consistently contributes to

educational causes. Recently, he made a

substantial donation toward the construction of

a multi-million-dollar tennis facility at Texas

A&M University Corpus Christi. For years, his

iPad giveaway program provided needy students

with computers for school.

In 2019, Thomas J. Henry put on a public

concert for more than 10,000 people in Austin,

Texas to raise money for SAFE Alliance,

Superhero Kids and St. David's Foundation

Community Fund.

Thomas J. Henry also serves the nation's

brightest law students through the Thomas J.

Henry Summer Associate Program—one of the

most competitive and highest payed internships

in the country. The program is dedicated to the

mentoring and development of the next

generation of legal leaders with past participants

hailing from from the Top 10% of their

respective laws schools, including Harvard

School of Law, Columbia School of Law, and

Northwestern Pritzker School of Law.

Since 1993, Thomas J. Henry and his firm

have helped tens of thousands of injured victims

receive justice all the while giving back to the

local community through his many local and

global philanthropic endeavors.

U n d e r w r i t e r s F 9 5
---
$34.95

978-1-944891-70-1

Ë|xHSLJOEy891701zv;:.:%:*:&

Historical Publishing Network