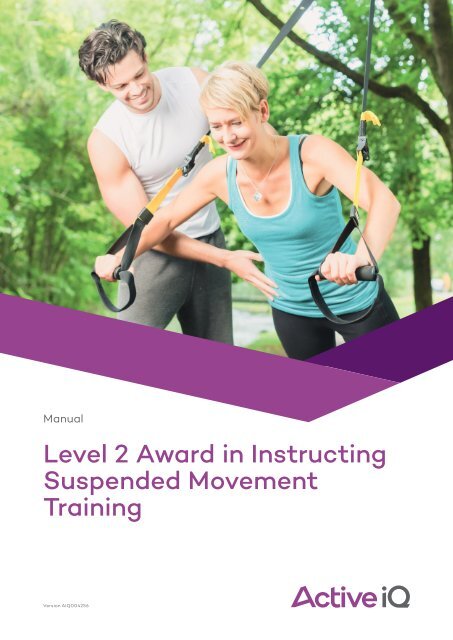 Active IQ Level 2 Award in Instructing Suspended Movement Training (sample manual)
For more information, please visit http://www.activeiq.co.uk/qualifications/level-2/active-iq-level-2-award-in-instructing-suspended-movement-training
For more information, please visit http://www.activeiq.co.uk/qualifications/level-2/active-iq-level-2-award-in-instructing-suspended-movement-training
SHOW MORE
SHOW LESS
You also want an ePaper? Increase the reach of your titles
YUMPU automatically turns print PDFs into web optimized ePapers that Google loves.
Manual

Level 2 Award in Instructing

Suspended Movement

Training

Version AIQ004256
---
Section 2: History of suspended movement training

Suspended physical training has its origins in a number of places including the ancient Incan empire, German

gymnastics and in modern times, the US Navy Seals. Whilst it is primarily the military training origin that has

given rise to the growing interest within the fitness industry today, it is still interesting to be aware of the earlier

history associated with this beneficial training method.

Inca

The earliest references to physical training using

ropes to aid in conditioning and performance can

be found within the ancient Incan civilisation that

dominated the region between the 15th and 16th

centuries. The Incan empire at its peak covered a

vast expanse of land across the west coast of what

is now South America. This empire was divided into

4 regions with its capital at Cuzco, located in the

south of what is now Peru. The most powerful figure

or king of the empire was known as the 'Sapa Inca'

and resided in Cuzco. An important part of governing

such a vast empire was to maintain communications

across the 4 regions in a quick and effective manner.

The Incas set up a system that accomplished this

very effectively. They built up and exploited the

talents of exceptional athletes they referred to as the

'Chasqui' or speed messengers. The young boys that

were selected for lifelong service within the empire's

communications network were required to be able

to run fast, have great all round athletic ability and

strong lung function to cope with the rocky terrain

and very high altitudes that were to be covered. The

routes and roads that were cut through the Andes

were dotted with relay stations where one Chasqui

would pass the message onto another rested Chasqui

who would continue as fast as possible to the next

relay station some 6-9 kilometres away. The speed and physical capabilities or the Chasqui combined with

the ingenious relay system enabled a vital message to be carried as far as 246 miles in a single day. Historical

reports indicate that the Chasqui messenger system enabled the delivery of a message from Quito (northern

Ecuador) to Cuzco (southern Peru), a distance of 1230 miles, in only 5 days.

The technologically advanced Roman Empire, who were renowned for their speed of communication, are

noted to have considered a distance of 100 miles in a single day a very good achievement. The Incan Chasqui

system was by far superior. The system was so effective that the Spanish continued using the Chasqui long

after their occupation of the region. The nature of the steep terrain over the Andes mountain range and great

distances that were covered meant structured training was an essential part of the physical conditioning that

these men had to go through to be part of this team of elite athletes. This included a strategic form of rope

training, devised to complement the needs of this man-powered communication network. The Chasqui were

often required to navigate steep slopes and very difficult, mountainous terrain where ropes would assist them

as they weaved their way through the tropical jungle conditions.

Copyright © 2016 Active IQ Ltd. Not for resale | 5
---
Lower centre of

gravity- relatively

shorter moment arm

Higher centre of gravityrelatively

longer moment arm

Leverage and mechanical advantage

A basic appreciation of the three types of levers and how they can vary the mechanical advantage will help in

understanding the forces that a client will experience when performing different types of suspended movement

training exercises. The three lever types are named simply by the position of the load or resistance in relation

to the point where effort is applied, and the position of the pivot point or fulcrum.

1st position 2nd position 3rd position

First class Load/resistance Fulcrum/pivot Effort applied

Second class Fulcrum/pivot Load/resistance Effort applied

Third class Fulcrum/pivot Effort applied Load/resistance

First class leverage is not a common feature of suspended movement training when considering any exercises

holding the handles of the straps and using gravity and body weight as a resistance. Second and third class

leverage is much more common in this situation. The following diagrams show basic pressing and pulling

exercises and how the leverage varies. This change of leverage also changes the mechanical advantage

towards either greater effort or greater speed. By understanding the mechanical advantage exercises can be

planned that can either exploit this or purposefully work against it.

When the resistance arm is shorter than the effort arm (2nd class lever) this provides a mechanical advantage

that magnifies the effort making the load experienced by the user much lighter. When the resistance arm is

longer than the effort arm (3rd class lever) this creates a mechanical advantage that magnifies the velocity of

movement, but in so doing makes the load experienced by the user feel heavier.

2 nd class levermechanically

in

favour of effort

3 rd class levermechanically

in

favour of velocity

Load

Point of effort

Fulcrum

Fulcrum

Load

Resistance arm

Effort arm

Resistance arm

Effort arm

Copyright © 2016 Active IQ Ltd. Not for resale | 9
---
Section 6: Programme design for suspended movement

training

The exercises contained within this programme are intended to provide a foundation on which to build your

knowledge of suspended movement training. They will naturally lead and progress from one exercise to the

next providing a foundation of fitness and technical ability to perform the proceeding exercise. There is also

guidance on some of the more complex exercises and how to perform similar alternative exercise movements.

The exercises are built into a functional training system of progressive or regressive exercises based on various

movement patterns, body part focus, and the level of complexity. The chosen movement/body patterns are

linked to the most common types of suspended movement training exercises. These patterns are:

• push

• pull

• squat

• lunge/single leg

• core

Many of the exercises will involve movement in all three planes, sagittal, frontal and transverse. When used

effectively these movement/body patterns, combined with the planes of motion, allow the trainer to target the

functional components of human movement in a logical and ordered manner.

Frontal Sagittal Transverse

12 | Copyright © 2016 Active IQ Ltd. Not for resale
---
Advanced Programme Design

When creating more advanced training programmes there are many options available to the fitness professional,

including:

• designing split routines

• progressing the training phase

• manipulating work to rest ratios

• using supersets and giant sets

• following a circuit format

• combining with other training mediums e.g. kettlebell or dumbbells

• increasing the movement complexity

Suspension equipment is also light and versatile enough to be used in outdoor settings such as training in the

park or as part of boot camp type training. This allows for variety and provides additional appeal for suspended

movement training equipment.

Example routine for an advanced client

WARM UP

Exercise Speed Level Duration Notes

CV: Rower 28-35 spm Drag 4-6 5 mins Gradual increase in

intensity

Flexibility: all over body dynamic stretches of 12-15 reps each

MAIN SESSION

Exercise Movement pattern Sets x reps Rest Notes

Chest Press wide

to narrow

Suspended Row

wide to narrow

Suspended press

up with shoulder

walk

Push 3 x 10-12 60-90 sec Each Perform as a

Complex Set

Pull 3 x 10-12 60-90 sec

Push 2 x 10-12 45-60 sec

Jumping Squat Squat 3 x 10-12 60-90 sec Perform as a

Frontal lunging ice 1 leg/lunge 3 x 10-12 60-90 sec superset

skater

Plank Cycling Core 3 x 10-12 60-90 sec Perform as a

Supine Plank Core 3 x 10-12 60-90 sec superset

Cycling

COOL DOWN

Exercise Speed Level Duration Notes

Jog-walk 12-6 kph Run to Walk 5 mins Gradual reduction

in intensity

Flexibility: Full stretching routine to target key muscles utilised within the session

Copyright © 2016 Active IQ Ltd. Not for resale | 15
---
PUSH

Straps

Positioning

Technique

Exercise: Chest Flye

Straps anchored high and set at equal length on each strap from mid

to short

Standard handles attached

Feet neutral and fixed behind the body slightly anterior to the strap

anchor point

Grip handles with arms anterior at shoulder height

• Lean into the straps so that arms take the load

• Move the arms outwards in horizontal extension until the hands

are almost in line with the body

• Chest and body lowered into the flye position keeping the spine

and other joints kept in good alignment

• Drive the arms forward in front of the chest moving the shoulders

through horizontal flexion in a typical 'flye' action

Variations Regressive Progressive

Use a split stance

Vary the arm movements both

higher and lower

20 | Copyright © 2016 Active IQ Ltd. Not for resale
---
PUSH

Straps

Positioning

Technique

Exercise: Suspended dips

Straps anchored high and set at equal length on each strap from mid

to long

Standard handles attached

Straps hanging directly downward with body immediately between

straps

Grip handles beside each hip and lower body until suspended with

body upright and legs out in front with feet on floor

• Lower the body downward by flexing the elbows and extending

the shoulders

• Keep the chest lifted throughout

• Drive upward locking the arms out at the top of each repetition

• Ensure the legs and lower body remain relaxed and serve as a

dead weight

Variations Regressive Progressive

Bend the knees slightly with feet

on the floor to take some load

Lift one leg off the ground

Copyright © 2016 Active IQ Ltd. Not for resale | 23