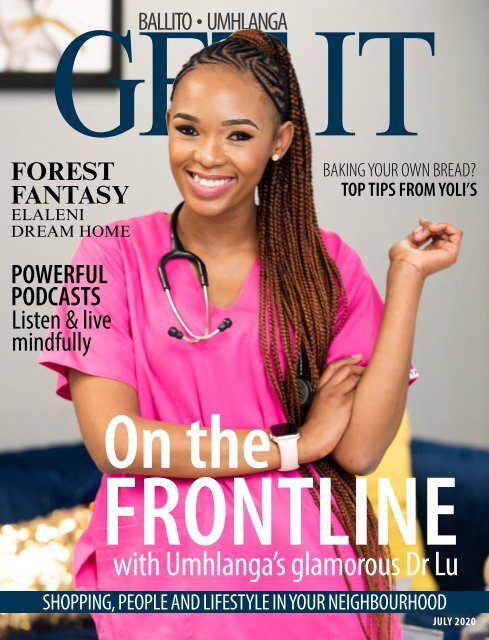 July 2020 - Ballito Umhlanga
Conscious living. Thinking before you speak. Acting with intention. Placing careful thought into the things you do, eat and buy. This month we turn our attention to the art of being mindful. From making small changes like 'meat-free-Mondays' and choosing low or no-alcohol drinks, to listening to positive podcasts that encourage kindness (to yourself and others) and taking time out to care for your body, mind and soul … we are embracing all that is good and healthy.
Conscious living. Thinking before you speak. Acting with intention. Placing careful thought into the things you do, eat and buy. This month we turn our attention to the art of being mindful. From making small changes like 'meat-free-Mondays' and choosing low or no-alcohol drinks, to listening to positive podcasts that encourage kindness (to yourself and others) and taking time out to care for your body, mind and soul … we are embracing all that is good and healthy.
SHOW MORE
SHOW LESS
Create successful ePaper yourself
Turn your PDF publications into a flip-book with our unique Google optimized e-Paper software.
BALLITO • UMHLANGA

FOREST

FANTASY

ELALENI

DREAM HOME

POWERFUL

PODCASTS

Listen & live

mindfully

BAKING YOUR OWN BREAD?

TOP TIPS FROM YOLI'S

On the

FRONTLINE

with Umhlanga's glamorous Dr Lu

SHOPPING, PEOPLE AND LIFESTYLE IN YOUR NEIGHBOURHOOD

JULY 2020
---
13

YEARS

SHAKAS ROCK | FULLY FURNISHED APARTMENT

Set amidst beautiful landscaped gardens with views over the pool area is this

one level spacious home. Just 300 metres from a protected beach.

R3 100 000 4 3 2 243m 2

SIMBITHI | SPECTACULAR – MAGNIFICENT – TRANQUIL

Well located spectacular contemporary home.

5 4.5 2

592m 2

R11 050 000

DUAL MANDATE

BALLITO | STYLISH FAMILY HAVEN

Contemporary and well appointed family townhouse which is pet friendly,

impressive living and entertainment spaces.

R2 350 000 3 2 1 137m 2

Fiona Crago

082 551 2607

fiona@fionacrago.co.za

Janelle Maritz

083 694 6338

janelle@fionacrago.co.za

Jackie Futter

083 326 7958

jackie@fionacrago.co.za

Invest. Intelligently.

032 946 1439 | www.fionacrago.co.za
---
GET IT

Editorial

Phone 032 946 0276

Email leah@getitnc.co.za

Ballito Business Centre • Ballito Drive

Ballito • KwaZulu-Natal

Like our Facebook page:

Get It Magazine Ballito.Umhlanga

Follow us on Twitter: @GetItMagNC

getitmagazine.co.za/ballito-

Follow us on Instagram:

getitmagnc

Editor Leah Shone

leah@getitnc.co.za

Layout and Design

Nicole von Metzinger

ads@northcoastcourier.co.za

Advertising Justine Douglas

justine@getitnc.co.za

082 454 9222

Sales and Online Support Lisa Smith

lisa@getitnc.co.za

GET IT NATIONAL

National Group Editor and National

Sales Kym Argo

082 785 9230

kyma@caxton.co.za

Distribution

20 000 copies monthly

Get It Ballito • Umhlanga is distributed

free of charge in Ballito, Salt Rock, Umhlali,

Umdloti, Umhlanga Rocks, Umhlanga

Ridge and Gateway

Published by The North Coast Courier

Competition rules

The judges' decision is final. Prizes cannot be

transferred or redeemed for cash. Competitions

are not open to the sponsors or Caxton

employees or their families. Get It Magazine

reserves the right to publish the names of

winners, who will be contacted telephonically

and need to collect their prizes from Get it Ballito

branch within 10 days or they will be forfeited.

Prize winners' names are published on our

Facebook page monthly.

CONTENTS

WHY DON'T YOU…

2 Paint, cook, sing or write a book! There is loads to do while tucked

away safely at home this month

WISH LIST

8 Chocolate, wine, books ... these are a few of our favourite things!

PEOPLE

10 Stylish, successful and driven by saving lives. Meet our cover star,

Umhlanga general practitioner and business owner Dr Lu

12 Facing the pandemic with three North Coast frontline workers

22 Moving with passion. Dancer Jenna is shuffling the day away!

22 Young, good looking and ambitious ... Hollywood is beckoning

30 Two local podcasts definitely worth listening to

HEALTH & BEAUTY

16 Live mindfully ... and indulge with these wonderful beauty spoils

18 Must-have essential oils for common ailments

FOOD & DRINK

32 Rise to the occasion and bake your own bread! We've got a few top

tips from Yoli's owner Nicky to get you on the right track ...

38 Wine for all occasions ...

40 Beat the winter blues with the humble beetroot!

HOME DECOR

42 Behold the beautiful forest charm of this Elaleni home

47 Get growing! Time to harvest your own veggies!

TRAVEL

51Anyone up for a wellness road trip ... ?

Cover: Dr Lungile Mhlongo, NUMA Aesthetics

Shot by: Chris Allan Photo, 083 441 3144, www.

chrisallanphoto.co.za

JULY 2020

19910 copies distributed (January - March 2019)

July 2020 Get It • Ballito Umhlanga 01
---
A hot date!

We're still indoors ... but we're having FUN!

Paint. Cook. Sing. So much

fun to be had at home.

If you're artistic and a keen traveller,

why not explore the world with a

paintbrush? Gather the fam and

'Zoom' in for a virtual paint night. Head

over to Yaymaker South Africa on

Facebook and find out how you can

join in on a colourful journey around

the world. It's on every Wednesday

and Friday from 6pm and on Sundays

from 2pm. All art supplies needed

can be ordered and delivered to your

door. Details: Deon on 083-653-7185 or

deon@localyaymaker.com

Remember when tea was just ... well,

tea? Then, hello rooibos. Supertea! It's

not just for sipping ... it's great to cook

with and makes wonderful cocktails.

To show how antioxidant-rich rooibos

can enhance dishes, as well as how

versatile it is, celeb foodies Kamini

Pather (MasterChef SA winner) and

well known pastry chef Sebastian

'Bas' Newman will be experimenting

with the tea over the next few weeks

in a series of videos that will be

posted on the SA Rooibos Council

Facebook page. Details: facebook.com/

rooiboscouncil

Sing the blues, rock around the clock,

take centre stage. It's karaoke time!

Simply download the AirConsole App,

which turns your smartphone into a

mic – and you're all set to sing your

favourite hits. Great, great fun! Details:

airconsole.com/play/apps/karaoke

02 Get It • Ballito Umhlanga July 2020

Just write the book

'I'd love to write a book, but I don't

have time.' Well, now we're spending

more time at home, that excuse no

longer works. Whether you're a rookie

or experienced writer, a storyteller,

influencer, company leader, speaker,

an expert with insight to share, or just

someone who loves putting words on

paper, Sarah Bullen, Kate Emmerson

and Tessa Graham's Write Your Book in

100 Days is going to show you how to

write your story. Its practical, step-bystep

process includes technical writing

tasks alongside heart 'n soul exercises.

Expect easy-to-follow, practical tips and

guidance. R340 (includes courier to

your door).

Details: thewritingroom.co.za

Sebastian Newman
---
Shows we're watching on Netflix this month

If you love your murder mystery

docs, Unsolved Mysteries (S1) will

be up your (dark and deserted) alley.

This 12-part docu-series show uses

re-enactments in a documentary

format to profile real-life mysteries

and unsolved crimes, lost love,

cases involving missing persons and

unexplained paranormal events.

The Old Guard follows a group of

soldiers led by Andy (aka our very own

Charlize Theron). Pack members are

immortal mercenaries who've seen a

lot over the centuries, and now they're

pretty bored with life in general. But

things start to get interesting when

they discover a new immortal is

serving in the US Marines ... and when

their undying existence is captured

on camera by a murky organisation,

events start to spiral out of control.

Reunited by their father's death,

estranged siblings with extraordinary

powers uncover shocking family

secrets – and a looming threat to

humanity. The White Violin, Spaceboy,

The Kraken, The Rumor, The Seance

and The Boy are all coming back for

the second season of The Umbrella

Academy. This quirky superhero

show follows the dysfunctional,

superpowered Hargreeves children

who reunite to solve the mystery of

how their father died.

Cable Girls is returning for a fifth

and final season. The series revolves

around how four young women's lives

change when they start working in the

modern telecommunication company

in Madrid. Every one of them has

distinct difficulties but also has a close

friendship with one of the group.

Based on real incidents – a woman

escaping a cult, a refugee fleeing

with his family, a father trapped in

a dead-end job and a bureaucrat

on the verge of a national scandal.

Inspired by true events, these people

find their lives intertwined in an

immigration detention centre. A

gripping six-part series, Stateless is

not-to-be-missed.

Compiled by: RIALIEN FURSTENBERG

July 2020 Get It • Ballito Umhlanga 03
---
Sensational choices on Showmax

Our pick of what to watch this month kicks off with the brilliant Little Fires Everywhere.

Based on Celeste Ng's bestselling book, it stars the amazing Reese Witherspoon and

Kerry Washington and follows the intertwined fates of the picture-perfect Richardson

family and an enigmatic mother and daughter who disrupt their lives. The story explores

the weight of secrets, the nature of art and identity, the ferocious pull of motherhood,

and the danger in believing that following the rules can avert disaster.

I Know This Much Is True (S1) follows a mentally ill man, Thomas, and his

identical twin brother, Dominick (both played by Mark Ruffalo), who protects

and cares for him no matter the sacrifice. As the story feels so real and handles

matters like paranoid schizophrenia and unconditional, painful love with such

nuance, it might make viewers think it's based on a true story, but it's actually a

work of fiction.

In Little, businesswoman Jordan Sanders has become a bully ... she runs

her own tech company like a dictator and treats her employees very

poorly. Then a child, to whom Jordan's been unspeakably rude,

uses a toy magic wand and wishes for Jordan to be a kid

again to take her down a peg… The wish comes true ¬–

and next morning Jordan wakes up as her 13-year-old

self!

Everyone is guilty of something. Based on characters

created by Erle Stanley Gardner, this drama series

follows the origins of American fiction's most

legendary criminal defence lawyer, Perry Mason

(S1). When the case of the decade breaks down his

door, Mason's relentless pursuit of the truth reveals

a fractured city and, just maybe, a pathway to

redemption for himself.

In crowded, expensive London, a couple

decides to take in a housemate to help pay

the bills ... and find the perfect match they

never knew they needed. Trigonometry is

an unconventional love story about three

people who are made for each other.

In 43 AD, the Roman army –

determined and terrified in equal

measure – returns to crush the

Celtic heart of Britannia, a mysterious

land ruled by warrior

women and powerful druids who

can channel the powerful forces

of the underworld. Or so they say.

Britannia (S1 & S2) may well be

the new drama Game of Thrones

fans have been waiting for.

04 Get It • Ballito Umhlanga July 2020
---
www.chrisallanphoto.co.za

July 2020 Get It • Ballito Umhlanga 05
---
Book club

We're going the 'good-for-you' route this July

All the sparkle ...

none of the alcohol.

This mindful month

we're drinking the

just-launched De Krans

Muscat Nectar Alcohol-Free

Sparkling. With a slight fizz, tropical

flavours and a touch of sweetness,

it's a lovely choice for those who're going

the no-alcohol route. R58.

Reduce, reuse and reconnect in the zero-waste drive to help our planet survive the

onslaught of humankind. Erin Rhoads suggests 365 commonsense ways to contribute

in Waste Not Everyday. Redesign, rethink, refuse (say no), share, repair, compost,

recycle, are among the other steps you can take to cut down wasteful consumption.

From making your own pet food to using cloth nappies, this is essential reading for

anyone serious about the importance of

'going green'. Hardie Grant, R190 • Fans of Marie

Kondo (who've decluttered their homes to

within an inch of their lives) will love this ... an

enjoyable, quirky graphic novel about Chiaki,

a young woman who, using Kondo's advice

and inspiration, transforms her Tokyo home,

work and love life. The Life-changing Manga

of Tidying Up – A Magical Story by Marie

Kondo is a great, entertaining way of learning

(give it to your teenage daughter!). Bluebird

Books For Life, R216 • In today's frenetic, techdriven

world, we've forgotten how to listen

– and no one is listening to us. In You're Not

Listening, Kate Murphy shows how only by

listening properly can we truly connect with

others. It's about curiosity and patience, asking

the right questions the right way. Listening

can transform relationships and working lives,

increase creativity and happiness. It's a skill

that can be learned and perfected. It helps us

to understand and be understood. Penguin

Random House, R320.

06 Get It • Ballito Umhlanga July 2020
---
Quiet Journal is a guided journal

companion to Susan Cain's bestselling

Quiet, a book that changed the

way we see introverts and how

introverts see themselves. This

companion journal will help you

harness your secret strengths, improve

communication at home and at

work, and nurture your best self. It

takes you on the Quiet journey to

becoming a stronger, more confident

person. You'll learn more about

your own temperament through

a self-assessment quiz, which will

teach you to make progress towards

self-awareness, and realise your own

authentic qualities and worth, then

learn how to put that knowledge into

practice. Penguin, Random House, R320.

In At Home With Cannabis, Kelly

McQue gives you everything you need

to know to make and use cannabis

products safely and effectively at home.

She shares her experience in helping

others successfully heal or manage their

conditions, provides tried-and-tested

recipes and includes a basic dosage

guide for treating different health issues.

Penguin Random House, R200.

Meet Om the Yoga Dog, your guide

to all things yoga. With wonderful

illustrations and brilliantly clear stepby-step

instructions, this book by Ira

Trivedi is an enjoyable, simple intro to

yoga and mindfulness for kids (and

their grown-ups). Just lovely! Penguin

Random House, R215.

Also worth reading ...

The magnificent Bill Bryson (if you

haven't read all his books, you're missing

out) has turned his attention away

from the laugh-out-loud exploration

of places he's lived and travelled (our

favourite is Notes from a Small Island)

and from achieving the seemingly

impossible task of making the science

of our world both understandable

and entertaining in A Short History of

Nearly Everything. Now he's exploring

the human body – how it functions

and its remarkable ability to heal

itself. Full of extraordinary facts and

astonishing stories, The Body: a Guide

for Occupants is now out in paperback,

and is a brilliant, often very funny

attempt to understand the miracle of

our physical and neurological make-up.

Penguin, R180.

July 2020 Get It • Ballito Umhlanga 07
---
Wish list

Great food and wine. Close family and friends.

Let's keep things real (and tasty) this July.

Kitchen Queen ... this is me!

'This is me. Not just the curry, maize or seven

colours queen, but the Kitchen Queen.'

From teacher to actress, singer and TV

personality, then on to foodie and social

media influencer, Lucia Mthiyane has had a

colourful life. Now she shares her favourite and

most re-posted recipes – food, she says, that's

'infused with flavour and flair, enthused with

love and light and grace'. Expect dishes ranging

from Zulu chicken to spinach with chorizo to

chocolate brownies with a maize meal twist.

Human & Rousseau, R375.

Guilt-free chocolate

This month we're indulging with a clear

conscience. GD Chocolate is made from natural

ingredients, is free of diary, preservatives, refined

sugars and high-fructose corn syrup. Sweetened

with raw, unadulterated honey, it comes in softcentred

chocolates (called Buttercups) and slabs,

in flavours like ginger, orange and mint. You'll

find them at Wellness Warehouse (including the

online store), selected Spars and health stores

and delis, for around R53 for the slabs,

R20 for the Buttercups.

Organic Pinot Noir

Grounded humans and enlightened

grapes equal honest wines. Which is

what Elgin Ridge Wines is all about.

Known for producing outstanding

certified biodynamic and organic

wines, the latest release – Elgin

CRUNCH! Pinot Noir 2019 –

doesn't disappoint. It's young and

fresh – perfect for all year round

enjoyment. This winter we'll be

drinking it with pasta and rice-based

dishes ... it also goes well (believe it

or not) with goats' cheeses. R125 a

bottle. Details: elginridge.com

08 Get It • Ballito Umhlanga July 2020
---
Eco-friendly wine in a can

There are a few reasons why we're raving about the new

Robertson Single Serve wines. Firstly, they're 200ml, so

they're the perfect serve ... exactly what you want if you're

just after one glass. Secondly, they're packaged in a can,

which makes them very convenient to carry for hiking,

camping, and alfresco get-togethers. Thirdly ... there's a red

and white option. Robertson Winery Sauvignon Blanc

2019 (fresh and dry with generous notes of green apples

and melons) and Merlot 2019 (rich and smooth with

ripe, punchy plum and sweet black cherry flavours and a

velvet finish). Lastly, they tick the eco-friendly box ... the

lightweight packaging significantly reduces the carbon

footprint, they're 100 per cent recyclable (more recyclable

than glass) and can be recycled over and over again. You'll

find them for around R25 each, and can buy them online

at shop.robertsonwinery.co.za.

If you can't go to the wine

farm tasting room...

Let the tasting room come to you.

How genius is this? A full wine tasting room

experience in the comfort of your own

home. Yes, please! The Steenberg @ Home

experience includes a variety of wines in

mixed-case selections and to guide you

through your tasting, brings Cellarmaster

Elunda Basson into your home through video

clips ... clips featuring the cellarmaster and

tasting room ambassadors who'll captivate

you with interesting wine stories and guide

you through the tasting as if you were sitting

in Steenberg's plush tasting lounge or on the

outstretched terrace. Each tasting pack also

includes a luxurious brochure guiding you

through the full Steenberg wine experience

complete with tasting notes, winemaking

information and food pairing suggestions.

There are three different tastings selections.

With a Méthode Cap Classique, a Sauvignon

Blanc, a Rosé and three red wines, the Classic

Tasting Selection is ideal for aspiring wine

enthusiasts and a great snapshot of what

Steenberg has to offer. If bubbles are your

thing, then raise your glass to the Bubbly

Tasting Selection ... this starts with the fresh

and youthful Sparkling Sauvignon Blanc

followed by Steenberg's acclaimed and elegant

Méthode Cap Classique range, including the

flagship prestige cuvée, Lady R. And if you're

looking to splurge, then try the

Flagship Tasting Selection with the blueblooded

Italian Nebbiolo, the Natural Sweet

Semillon and the iconic and intense Catharina

Red Blend being some of the signature

wines representing the best of Steenberg

in this flight. For details and to order, visit

steenbergfarm.com and follow

@SteenbergFarm on Facebook and Instagram.

Stir it up in your kitchen ...

with two of our favourite foodies

If you're a true foodie like us, then food guru Karen Short of By Word of

Mouth's cooking classes will be one of your highlights this month. Karen

will share delicious (and very easy to follow!) recipes, straight from her

farm kitchen to your home. If her veggie cooking class was anything

to go by, then we simply cannot wait for what comes next. Stay tuned

for info regarding the next class by following By Word of Mouth on

Facebook. You'll thank us later! Details: facebook.com/Bywordofmouth.sa

Do you have basic food knowledge, want to hone your skills, extend

your repertoire and learn how easy it is to make simple, delicious food?

Sure you do! So DO NOT miss any of the online cooking courses by

stylish chef Susan Greig. These Zoom courses are not only hugely

informative, but Susan is massively entertaining, too. For July you're

going to cruise the Greek Islands, escape to exotic Morocco, have a

Lebanese feast and get a taste of Thailand. Delicious! Pencil July 5, 12,

19 and 26 into your diary! Details and tickets: susangreig.co.za

July 2020 Get It • Ballito Umhlanga 09
---
Fighting

strong

Text: LEAH SHONE | Photographs: CHRIS ALLAN PHOTO

WATCH NOW

10 Get It • Ballito Umhlanga July 2020
---
Please give us a bit of background about your life and family

I am the youngest in a family of ten children. I am from an area called

Kwangcolosi, just west of Durban and matriculated from Bizimali high school. I

went straight to university where I graduated from the Nelson Mandela School

of Medicine (UKZN) with a bachelor of medicine and surgery. Thereafter I did a

diploma in aesthetic medicine. I did my community service and finally opened

my private general practitioner practice in Stanger in 2017. I am a single mom

and have a five-year-old son who keeps me very busy. When I'm not working I

enjoy spending time with him and my family, and travelling.

Losing her father when

she was just a teenager

was a defining moment

for general practitioner

Dr Lungile Mhlongo (or

Dr Lu, as she's fondly

known). Now the single

mother and owner of two

successful private practices

is on the medical frontline

in the fight against the

worldwide COVID-19

pandemic.

Her flawless skin, slim physique

and exceptionally stylish wardrobe

are deceiving. One could easily be

forgiven for mistaking Dr Lu as a

model rather than a qualified medical

doctor and the founder of Numa

Medical Aesthetics in Umhlanga and

Dr LF Mhlongo surgery in Stanger.

But behind the beaming smile,

glamorous appearance and large

social media following is a woman

who ultimately became a doctor

because she wanted to save lives and

'be the change' she hoped to see in

the world.

Tell us about your journey into the world of medicine and private practice

I wouldn't say I always knew I wanted to be a medical doctor. I made the

decision after my father became very ill and died when I was a teenager. He

had a condition that only one doctor could treat and, on one occasion, when

he became very ill and that doctor wasn't available to help him, I had to stand

by helplessly watching him in pain. He eventually died. My dad's death was a

defining period in my life. Losing someone that close to me helped me see the

dire need for medical practitioners in our country as a whole. I couldn't fathom

the fact that a person could lose their life due to a lack of medical assistance. That

was when I decided to become a doctor - to save lives and actually become the

change I wanted to see in the world. My passion for medicine is still one that is

driven by my love for people and the appreciation of the gift of life that God has

blessed us with.

Your two practices are very different. Please tell us about them and the

services you offer.

I have had a general practitioner practice in Stanger since 2017. Operating as

a family practitioner has been so advantageous to me, because it's allowed

me to serve the community on a greater scale. I have been able to establish

relationships with my patients and am able to follow up on them consistently.

I host weekly wellness days in disadvantaged communities where we visit

schools to do basic health checks and teach children about health in general.

After establishing my practice in Stanger I opened NUMA Medical Aesthetics

in Umhlanga Ridge. We offer non-surgical cosmetic medicine skin care services

to help people achieve natural-looking body and facial rejuvenation. Our

treatments include acne and anti-ageing treatments, weight-loss, lipolysis, IV

drips, mole removal, hair loss and more.

How has being a medical practitioner during a pandemic affected your life?

I think it's important to note that this pandemic affects everyone. Rich or poor,

it doesn't matter who you are. It will require a joint effort from all of us to fight it.

On a personal level it has affected me both as a doctor and as a mother. Working

on the frontline means you face potential contamination with the corona virus

on a daily basis. I haven't been able to see my family, who I need now more than

ever, and they also worry about my safety. Obviously a lot has changed in our

businesses, with all staff wearing masks, shields and protective gowns, clients

being asked screening questions before they come in, mandatory masks and

temperature checks on arrival, social distancing and only a limited number of

services available. We are also doing virtual consultations where possible. I do

think the collateral damage from this virus will be far greater than any of us could

have imagined. Although it only severely affects about 20% of those who get

infected, there is a lot to think about for those who survive. What will life be after

this pandemic? So many things will be (and already have been) so badly affected,

but I remain hopeful that if we stick together we can fight it and beat it in the

end.

Details: NUMA Medical Aesthetics: 031 562 1246, FB: Numasthetics IG:

numasthetics; Dr LF Mhlongo: 032 552 1642 or follow Dr Lu on IG: drlu_

July 2020 Get It • Ballito Umhlanga 11
---
WORKING

THE FRONTLINE

Text: LEAH SHONE

As the numbers continue to rise and our country, province and district head deeper

into the eye of the Covid-19 storm, we take a moment to chat to three people who are

amongst the thousands putting their lives on the line to ensure our safety every day.

12 Get It • Ballito Umhlanga July 2020
---
What exactly is a 'frontline' worker?

Well, in times of disaster, these are

the people who end up working

directly in the line of the danger.

The 'frontline', so to speak, varies

depending on the disaster (in

this instance a global health

pandemic) and depending on the

job they do.

North Coast frontline workers,

specialist physician and

pulmonologist Dr Leon Naidoo,

advanced life support paramedic

Janus van Schalkwyk and SAPS

warrant officer detective Deepa

Naidoo all play vital roles in

ensuring our day-to-day safety

and well-being ... and even more

so in these times.

DETECTIVE WARRANT

OFFICER DEEPA NAIDOO

This month warrant officer Deepa

Naidoo will have completed 30

years of service in the South African

Police Services. Originally from East

London, officer Naidoo joined the

SAPS straight after school. She was

posted in East London for two years

before being transferred to the SAPS

training college in Chatsworth as an

instructor. In 1994 she transferred

to the Umhlali SAPS detectives and,

in 2008, she joined the FCS (Family

Violence, Child Protections and

Sexual Offences) unit. As a detective

warrant officer and investigator

in the FCS officer Naidoo's

duties include attending to and

investigating cases of sexual abuse

within the Umhali policing area.

who don't take any precautions to protect themselves. On a personal level I have

tried to be particularly careful as I have my parents living with me and they are

very vulnerable. My greatest fear is bringing the virus home to my family. At work

social distancing amongst colleagues can be difficult as we sometimes work in

teams when we have serious cases to attend, like the recent murder case of a

6-year-old child.

What are some of the most common misconceptions people have about

the work you do? People often have preconceived ideas about policing and

police members. The work I do is emotionally draining and I deal with trauma

every single day. We all find our own coping mechanisms, but some days are

more difficult than others. I have a very supportive family and they are always

there to cheer me up on bad days. I love my job and I try to make a difference to

each victim that I assist. I always ensure that they know help and counselling is

available when they need it.

Umhlali SAPS Detective

Warrant Officer Deepa Naidoo

How has your job evolved over the

past three months as a frontline

worker during the pandemic?

Like everyone, during this pandemic

we have had to take many

precautions throughout lockdown,

which brought about changes in

our workplace and the manner in

which we work. In my line of work

we have to come into direct contact

with many people every day. This

means having to sanitize my office

or vehicle after each interaction. It's

tedious, but is absolutely necessary

in these times. The lockdown has

also unfortunately caused a major

backlog with investigations and our

court cases.

How you are coping on both a

professional and personal level in

the midst of this pandemic?

The pandemic seems to have

brought about panic to some

people and yet there are others

July 2020 Get It • Ballito Umhlanga 13
---
Specialist pulmonologist and

physician Dr Leon Naidoo

SPECIALIST

PULMONOLOGIST

DR LEON NAIDOO

With private practices at both the

Netcare Alberlito and Mediclinic

Victoria Hospitals, Dr Leon

Naidoo is also the only specialist

pulmonologist/critical care physician

on the North Coast and currently the

lead physician for the joint operational

committee for Covid-19 at the abovementioned

hospitals. He is also part of

the rapid response team for Covid-19

in KZN. "As a specialist physician, I am

trained to diagnose, treat and follow

up a wide array of clinical illnesses in

every field of medicine. My expertise

extends to a sub or super-speciality,

viz Pulmonology and Critical Care

medicine. This means that I was

trained to be an expert in illnesses

affecting the entire respiratory system."

Diseases commonly evaluated and

treated by pulmonologists include

asthma, chronic obstructive lung

disease (COPD/emphysema), lung

cancer, interstitial and occupational

lung diseases, complex lung

and pleural infections including

tuberculosis, pulmonary hypertension,

and cystic fibrosis

Tell us a bit about your role as

a primary specialist involved in

COVID-19 cases? My role as a primary

specialist for COVID-19 begins with

firstly diagnosing a positive case,

assessing the severity of the illness

and then rapidly implementing the

best management plan. We use

local and international guidelines

to assess patients as having mild,

moderate or severe disease. The

mild or asymptomatic cases are

quarantined at home (or now

available government facilities) with

no specific treatment, and asked to

contact their doctors should they feel

worse. The moderate to severe cases

are where the situation becomes

extremely challenging. These are the

patients that we have to decide on

conservative management versus

life support/mechanical ventilation.

As you may well know, to date there

is NO specific treatment or vaccine

for the disease. We hear in the media

about breakthrough drugs that cure

patients; but currently there is no

medication that works universally or

is guaranteed to clear the disease. The

management of the severe cases is

a gargantuan task; involving medical

expertise, bravery and a lot of faith.

How you are coping on both a

professional and personal level in

the midst of this pandemic?

On a professional level, the changes

that have occurred at the various

facilities regarding screening,

admitting practices, theatre,

isolation, etc have changed the

way we practice medicine. We have

had to adapt to this new 'normal'.

Health care professionals all have

to wear PPE (Personal Protective

Equipment) when reviewing every

patient. There are different levels of

PPE depending on the risk of patient

we see. Hand hygiene and masks are

the very bare essentials nowadays.

I can honestly say that I have never

had so many showers per day in

my life. Of course, the economic

ramifications that we have all had

to face during the pandemic, and

particularly the lockdown period has

reached almost every health care

professional as well. We have seen a

significant drop in patient numbers,

both as outpatients and inpatients

and many practices have had to

temporarily shut down as staff

cannot be paid. From a personal

standpoint, the sheer mammoth

task of comprehending a global

respiratory pandemic; and knowing

that as a respiratory specialist

you will be at the forefront and

responsible for so many more lives, is

massively daunting to say the least.

With such limited resources, how

do you weigh the worth of one life

versus another? How do you decide

who gets a ventilator and who does

not? The most difficult personal

issue though is, 'how do I adequately

treat my patients, yet not infect

my family when I get home?' I still

remove my clothing outdoors and

disinfect before I run into a shower,

before my child can see me. There

are days that I cannot go home at

all due to the exposure I have had at

the hospital. This is our new 'normal'

and puts a massive strain on our

personal lives.

(Dr Naidoo shares common

misconceptions about COVID-19.

Read his comprehensive list on

our website.)

CLICK HERE

14 Get It • Ballito Umhlanga July 2020
---
ADVANCED LIFE

SUPPORT PARAMEDIC

JANUS VAN SCHALKWYK

Self-confessed ocean addict and

advanced life support paramedic,

Janus van Schalkwyk is currently the

clinical governance manager for IPSS

Medical Rescue as well as the Cardiac

and Stroke Network manager for

Lenmed Ethekwini Hospital and Heart

Centre. The 34-year-old qualified as a

lifeguard at the age of 17 and was a

working as a rescue swimmer on the

old John Rolf Surf Rescue helicopter

by the time he was 19 years old.

"It was during this time that I met

several paramedics who exposed

me to pre-hospital emergency care.

I was completely hooked from the

first day I worked as a volunteer on

an ambulance." Janus has a bachelor's

degree in emergency medical care

and has worked on both land based

and offshore oil rigs across several

African countries. He is currently

completing his Master's degree in

Emergency Medicine.

Tell us about how your job has

evolved over the past three months

as a frontline emergency worker

during the pandemic.

Pre-COVID-19 I spent a lot of time

going out to communities, doctors,

retirement homes and even other

paramedical services conducting

training and education talks on

identifying risk factors, signs and

symptoms and available interventions

for cardiac diseases and strokes. Over

the last four months, our primary

focus has shifted towards preparing

our staff, our road and aero-medical

operations, and our support services

for the pandemic. Unlike most other

industries that focus on preventing

their employees from coming into

contact with suspected COVID-19

patients, our employees will be

required to treat and manage both

high risk and confirmed COVID-19

patients. Patient safety and the health

of our staff is our primary concern.

We have had to change the way we

operate our services on a daily basis

without compromising patient care.

Everyone knows how uncomfortable

masks are and how difficult they are

IPSS advanced life support

paramedic Janus van Schalkwyk

We have had to change the way we

operate our services on a daily basis

without compromising patient care.

to breath in. Now imagine carrying a heavy patient out of a forest or doing CPR

for 40 minutes while wearing the mask. How do you explain to a patient that

has sustained multiple fractures that they have to wear a mask? These are just

some of the challenges we face daily and that we have had to adapt to.

How are you are coping on both a professional and personal level in the

midst of this pandemic? I have been in this industry for a long time. The

nature of the industry requires you to put yourself in very stressful and difficult

situations. Coping with the stress is challenging initially but the more senior

crews will always be there to debrief, talk to and support junior crews. We have

developed our own coping mechanisms over time, and must use them now

more than ever. Having a partner who understands the industry makes a big

difference as the stress does place a large burden on your relationship.

What are some of the most common misconceptions people have about

the work you do? A common misconception that many people still have

about paramedics is that they are just ambulance drivers. In developed

countries, patients are quickly loaded into an ambulance and rushed off to

a nearby hospital to an awaiting team of specialists. In South Africa, access

to healthcare is in ongoing challenge. Patients that are critically ill or injured

often have to be transported for prolonged periods of time before arriving at

a hospital that is able to provide definitive care. This means that paramedics

sometimes spend hours treating patients before arriving at hospital. Out

of necessity, South Africa has developed an extensive tertiary paramedical

program to deal with this challenge. We now have access to advanced life

support paramedics that can offer the same level of care, medications and

equipment in the pre-hospital environment as what you would see in an

emergency department at most hospitals.

July 2020 Get It • Ballito Umhlanga 15
---
Inner-peace. Hurt-less. Energize-me. We love the names as

much as the product. This Bellabaci Soul Food range of

aromatherapy creams is wonderful. So's the Cape Town

brand ... 'In our Utopia, we'd want a world that smells divine,

silky soft skin for those who want it, healthy happy bodies

for everyone, no exception, and products that simply do

what they promise to do'. Love! R790 from bellabaci.com

Mood enhancers? Yes

please. Biomedcan has three

products we're stocking up

on. MOOD promises to assist

in improving one's mood,

decreasing anxiety, stress,

depression, mood swings

and PMS, without having a

sedative effect. MIND can assist

in improving memory and

concentration, increasing brain

clarity and energy levels and

gives a feeling of upliftment.

There's SLEEP CBD Capsules

... and who doesn't need a

good night's sleep? R459 each.

Details: biomedcan.co.za

Diego dalla Palma Professional, a paraben-free,

dermo-cosmeceutical skincare brand, is new on our beauty radar.

This Dandelion Orange Blossom Jelly Scrub, with a soft gel-texture,

creates a heat sensation when applied to the skin, has sugar

crystals which gently remove keratinized cells and impurities,

improving the transport of oxygen to the cells, leaving your

skin hydrated, radiant and smooth. R520. Details: 021-701-

2900 for your closest stockist.

Real treats at reasonable prices

... we're devotees of the Morlage

& Yorke range and love this

Lemongrass & Verbena scented

Hand & Body Lotion and Hand

Wash, R84.95 each from @Home.

16 Get It • Ballito Umhlanga July 2020

A long soak

in a hot tub

(not too full,

though!) ...

bliss. New in

the Earthsap

range, Wild

Rose & Lavender

Bath Salts,

R79.95 from

wellness

warehouse.com
---
And ... RELAX

Live mindfully. Go for a walk. Practise yoga. Meditate.

And enjoy some me-time with carefully selected products.

All lychee and bergamot,

redcurrant and rose,

freesia and vanilla

(swooningly lovely

scents here), I am Sassy is

a great range for a spoilyourself

session at home.

Priced from R29. Details:

dealz.co.za

Aah, spa! This Clarins Relax Body

Treatment Oil - with 100 per

cent plant extracts - sooths,

replenishes and relaxes, relieving

stress and fatigue. R615 from your

Clarins stockist.

TheraNaka has a range of hydrating,

silky-textured body oils which can be used neat

on the skin, or added to running water into

your bath. Local and lovely, there's this African

Earth Body Oil (safe to use while pregnant)

as well as Peace, Recharge, and Vigour

options. R226 each from theranaka.co.za

We're completely enamoured with the William Dabs range at Checkers, and the new Spa range is heavenly. Great packaging,

brilliant ingredients and products, exceptionally well priced. What's not to love? A body scrub and butter, foaming handwash

and dry oil spray, bath oil and soak ... the full home spa treatment. From R44.99 to R69.99, exclusive to Checkers.

July 2020 Get It • Ballito Umhlanga 17

Compiled by: KYM ARGO.
---
LIVING THE HOLIDAY

HAS NEVER LOOKED

MORE BEAUTIFUL

THE BEST OF SOUTH COAST SPLENDOUR

Located in Scottburgh, KwaZulu-Natal, Renishaw Hills is a mature lifestyle village and true coastal gem

that offers quality, lifestyle, value and community. For us, it's business as usual as we show discerning

buyers around our piece of paradise complete with strict safety and hygiene protocols. If you're ready

to see what all the fuss is about, why not take a drive down the true coast? Enjoy a stroll amongst the

flowering aloes, see our glorious gardens, expansive nature trails, wide-open spaces and find out more

about our low-touch activities. Dreaming of a retirement that feels like a vacation every single day? You

could soon make it a reality from as little as R1.6 million.

Email sales@renishawhills.co.za to book your private tour today or If you'd prefer to stay home, visit our

website www.renishawhills.co.za to browse our virtual tours.

THE START OF A NEW ADVENTURE
---
Essential

wellness

If, like us, you're a fan of essentials oils,

you'll love these must-have oils for

common ailments. Stay healthy!

Compiled by: RIALIEN FURSTENBERG

Eucalyptus

What it's good for:

• Anti-inflammatory • Antioxidant • Increased blood flow • Reduced tension headaches • Cold sores • Easing arthritis

pain • Clearing sinuses

How to use it:

• To alleviate a headache simply roll up a damp, clean cloth and sprinkle with a few drops of eucalyptus oil. Apply to

forehead, focusing on your temples and the back of your neck.

• Added to warm baths, eucalyptus oil's analgesic and anti-inflammatory properties help to rejuvenate stiff and sore

muscles.

• Diffuse five drops for an immune system booster.

• Apply two to three drops to your chest and back of your neck as a cough reliever.

18 Get It • Ballito Umhlanga July 2020

July 2020 Get It • Ballito Umhlanga 19
---
Soil tea tree organic essential

oil, R45 • Ceramic burner

perfect for your favourite

essential oils or soy wax melts,

R130. Both from soil.co.za

Aura Zen Ultrasonic

Diffuser. R1 249 from

yuppiechef.com

Peppermint

What it's good for:

• Headache & migraine relief • Upset stomach

• Reducing fevers • Flavouring hot drinks

• Suppressing appetite • Energy boost

• Getting rid of bad breath

How to use it:

• Dilute and apply to temples, above ears and/ or

back of the neck for headache or migraine relief

• Apply topically to the abdomen or place one drop

under tongue for upset stomach

• Apply along the spine to bring down a fever

• Use a drop of peppermint and a drop of lemon in

water for a mouth rinse

• Use on the bottom of your feet and on your chest

to improve breathing and fight flu infections.

Cinnamon, orange & clove

These three oils are amazing when diffused

together. They make your home smell inviting and

warm and at the same time, they're invigorating

and energising. We all know that the longer winter

lasts, the harder it can be to be positive and upbeat.

What it's good for:

• Energising and uplifting • Baking • Emotional

balance • Dental discomfort

How to use it:

• Diffuse them together to uplift the mood

• Add a few drops, to baking (muffins, cookies,

frosting, etc) to add flavour

• Use clove to relieve tooth pain

Tea tree

What it's good for:

• Itchy skin • Inflammation • Dry skin •

Sore throat • Cold sores • Congestion •

Ear infections

How to use it:

• Breathe easier when you have a cold

with the help of tea tree oil. Place a few

drops of tea tree in a carrier oil (olive,

coconut, almond oil or any other) into

the tub or shower before you get in to

release the oils into the steam.

• Mix a few drops of tea tree oil with

two teaspoons of raw, organic honey

and apply to the pimple using

a cotton pad, then rinse with

water.

• Relieves earaches: Mix 1 drop of

tea tree oil with 1 tsp.

olive oil, drop mixture

into the ear, then

remove by tilting head.

• Relieves asthma when

a few drops are added

to a humidifier.

20 Get It • Ballito Umhlanga July 2020
---
MOVING WITH PASSION

Explosive, expressive, dynamic and and loads of fun. This is how Ballito dancer

Jenna Lee Page describes the form of dance that she is absolutely

passionate about - shuffling.

Text: LEAH SHONE | Photography & Videography: MARY-ANN PALMER

22 Get It • Ballito Umhlanga July 2020
---
You can't help but feel inspired

to move as you watch Jenna Lee

dancing. She shuffles her feet inwards

and outwards, moving her arms up

and down to the rhythm of the music

… and the look on her face is one of

pure joy.

The shuffle dance, or the Melbourne

Shuffle as it's known, is a form of

dance that originated in Australia in

the 1980's. The dance style involves

repeated heal-and-toe movements

and 'running man' type moves. But,

according to Jenna, it is most often

about your personal interpretation.

"This dance style is about each

individual's expression of energy and

how music makes them feel. You

really embody your own unique style,

which is your flow. And that is what I

love about it."

Jenna first discovered the shuffle

dance while she was living and

working in Miami in the USA. Now

she's introducing her skills and sharing

her passion with the North Coast

community by way of dance classes

for adults and children, called Jiving

with Jen.

"I wanted to join a dance crew (like

the one in the movie 'Step Up') since

I was a little kid. While I was living

overseas I did just that. I met a group

of dancers and starting following

my dancing dream. I practised every

day until I had my unique flow and a

deeper understanding of the art."

Jenna, who has a BA degree in

fashion media and marketing, grew

up in Johannesburg. Her family, she

says, mean everything to her. "My

family have always been my greatest

supporters, encouraging me to take

on anything I ever set my heart to."

And now Jenna has her heart set

on teaching and sharing her love

for dance. "This dance style is a real

culture. It makes you feel confident

and is such fun to do as a group. It's

a full body workout and a complete

energy release."

Jenna will be offering classes for both

adults and children. Her classes will

differ depending on age groups and

gender. The adult classes will be a

combination of dance, pilates and

fitness, bringing a unique, functional

and fun style of training.

"My kids programme is designed to

inspire and teach them movement, as

well as enable them to find a healthy

balance in their lives. I teach children

dance steps, choreography, creative

movement and thinking. We also

incorporate pilates for strengthening

and conditioning.

"I have always loved dancing and my

life's dream is to share my energy and

love of movement. I have taken many

different avenues in life, but somehow

every decision has led me right back

to this dream."

Jenna is offering Jiving with Jen

online classes (through Zoom) during

lockdown.

Details: @jivewithjen; www.jivewithjen.

com; jivewithjen9@gmail.com

WATCH NOW

July 2020 Get It • Ballito Umhlanga 23
---
REACHING

FOR HIS

DREAMS

He may be young, but Simbithi's

Tayne de Villiers is also ambitious,

focused and determined to reach

his dreams. We caught up with the

19-year-old model and sportsman.

Text: LEAH SHONE

24 Get It • Ballito Umhlanga July 2020
---
t's the ultimate dream.

But, when someone

tells you they want to

be a famous actor in

Hollywood, it's easy

to dismiss it as a 'pipe

dream'... unattainable and

out of reach.

Somehow though, that's

just not the case when

Tayne tells you this is what he has his

sights set on. Not after seeing all he

has already achieved at such a young

age.

From simply being scouted on

Instagram, Tayne has already had

incredible international exposure and

experience in the modelling world.

Not only has he been featured in a

Roberto Cavalli Vodka campaign and

graced the covers of two magazines

in Los Angeles, but he is also part of a

gallery exhibition that is set to showcase in London, New York and Paris.

His biggest achievement to date, though, Tayne says, is signing a threeyear

contract with WhiteCross Management, which is owned by celebrity

photographer Jim Jordan (who also discovered Tayne on Instagram).

An avid sportsman, former Glenwood Boys High boy Tayne says he was always

very focused on his sport, growing up. He made the under 18 junior Sharks rugby

club, got his SA colours in karate and KZN colours in Taekwondo. "I loved rugby

and cricket at school and even now I would rather go to gym on a Friday night

than go out partying." His current interests include Mixed Martial Arts (MMA) and

boxing, as well as motocross, which he enjoys on the weekend.

After school Tayne studied event management online through UCT and recently

completed a diploma in fitness and nutrition. He is the brand ambassador for

Dranged Fitness clothing and a Nutritech sponsored athlete.

When it comes to modeling Tayne says he definitely prefers photographic work

to ramp modelling. "I tried ramp once and I walked like an injured rugby player,"

he laughs.

Having signed his contract with WhiteCross Management, Tayne says his next

step is to move to Los Angeles (as soon as he is able to travel again), where he

will focus on his ultimate goal of becoming an actor. "I have already met with

producers and directors and acting is definitely where I want to be."

Asked who he looks up to in life, Tayne says it is his mom, Nikki. "I couldn't have

done any of this without her love and support."

July 2020 Get It • Ballito Umhlanga 25
---
Rethinking a sustainable

LIFESTYLE

Reduce. Reuse. Recyle. The new Three Rs. But how seriously do

we really take this? And how can we encourage more people

to instil these rules as a simple habit, rather than a chore?

We got some really useful, practical tips for zero waste that are easy to incorporate into our daily lives from Karen Heron,

founder of Earth Probiotic, who says by thinking about waste before we generate it, we can collectively have a huge impact

on the war on waste. She adds that being conscious of our environmental impact helps with the choices we make, and

therefore the consequences of our actions. Easier said than done? Nope. Not if you start off with these basic tips...

Compiled by KYM ARGO

26 Get It • Ballito Umhlanga July 2020
---
Refuse (say 'no')

This sounds easy but often we're bombarded with packaging we don't want or can't get away from.

However, if we're prepared, this is very much easier. For example, choosing loose fruit and veg which

come almost package-free. Get yourself a mesh bag for this purpose and remember to take it with you

when you head to the shops. Also, always keep a fabric bag in your car to hold your shopping, then

refuse the plastic version offered at the store.

Reduce

Large bags of food produce seem like a bargain and often are ... but only if all the contents are used.

Otherwise, you're throwing away good food and money because there was too much of it. Buy only

what you need. A planned weekly menu is a great way to help you buy only the items required (and

makes for a quick shop). This reduces impulse spending which is often wasteful, especially if produce is

forgotten or goes bad before being used.

Reuse

Most food packaging containers can be used many times over. Use the large yoghurt tubs to freeze

stock, home-made dog food and leftovers. Stick a piece of masking tape on the lid for easy labelling.

They're great for storing beads, buttons and for planting seedlings too.

Repurpose

Restyle clothes you no longer wear and update them to create new items. A baggy shirt that was

once fashionable can be taken in to begin new life as a fitted shirt. Long skirts or dresses that were an

awkward length can be shortened; jeans that mysteriously shrank in length, when lopped off at the hem

will now be very fashionable with the ends unravelling. And the cut-off fabric? Use it to patch up dog

cushions or old toys. A chipped salad bowl can be given drainage holes and become a useful pot plant

holder and old wool or thick string can be knotted, macramé-style, into holding the pot plant.

Recycle

Much, but not all, the packaging we face today can be recycled into another life. Paper waste needs be

kept clean (from food waste), food waste composted, then all the other dry waste (glass, cans and plastic,

once cleaned,) can be added together. Recyclable waste is either picked out of your kerb side bins by

informal waste collectors, or separated at a Waste Recycling Facility. Clothes and household items can be

recycled easily through friends, family and even at the office as there's always someone who can make

use of these items. Hospice gladly takes almost anything and there are many centres and charities that

collect these items, which are sold to raise funds.

Relax

You alone are not going to save the world (even though you want to!). But by your actions you're

changing the people around you. They see you and your passion and it's hard not to want to be you, the

queen of recycling. Share your knowledge, money-saving tips (recycling definitely saves cash) and stay

brave in your convictions

Whip up a feast with Karen Short

Taking recyling seriously

Earth Probiotic was started by Karen and Gavin Heron in 2010 with the express purpose of diverting food waste from

landfill. One hundred per cent of their products are sourced and manufactured in South Africa. All their products are

made from either recycled or upcycled material. Their packaging is recyclable and they're aiming to make it compostable

in the near future. They believe diversity is key to thriving systems, whether they're a business, a garden, a compost heap,

a farm or even a small pond. Everything they sell in their store they use in their home. Earth Probiotic is officially Proudly

South African and helps champion the recycling of all organics through different mechanisms in South Africa.

Details: earthprobiotic.compond.

July 2020 Get It • Ballito Umhlanga 27
---
zero

Aiming

waste

for a

lifestyle

to a second-hand bookstore, the library or a local

school.

Sam and Dom Moleta, owners of one of SA's first

zero waste grocers, The Refillery, spent six years

working in the yacht industry, and saw first-hand

the impact plastic waste has on the oceans. Vowing

to make a difference, they share their tips for a

zero waste lifestyle.

First and foremost, be realistic. 'As the inspiring Bea

Johnson says, we may never reach the zero in Zero

Waste but that doesn't mean we shouldn't try.'

Be a conscious consumer. By simply being aware

that what you buy adds to the world's consumerism

problem, you can have a positive effect.

Ban single-use. Choose to reuse what you have, reinvent

it, repurpose it, refill it and recycle it when it

finally comes to the end of its life. Buy unpackaged

fruit and veg. Only ever use reusable shopping

bags.

Support small businesses that empower people

and grow our economy.

Shop local. Or second-hand. Every single item we

own has a carbon footprint. Reduce that by not

adding shipping. It's even better if it's been used

before and is now finding new life instead of going

to a landfill. Mend things and donate or sell what

you no longer use. You don't have to search far to

find charities looking for donations. Sell stuff on

Facebook Marketplace, Gumtree or at Cash Crusaders

and give someone the opportunity to buy

second-hand. Donate old books and textbooks

KURO-Bo (meaning 'black stick' in Japanese) is the

first 100 per cent plastic-free, scientifically-proven,

natural and biodegradable water filter in Africa. Usable

in any jug or water dispenser you already have,

the activated charcoal attracts positively-charged

toxins and heavy metals, drawing them out of the

water, and depositing beneficial minerals into the

water. It also balances the pH of acidic water. A stick

gives you three-plus months of cleaner, healthier,

better-tasting water with zero waste! R195 for the

sticks, R165 for the coins. Details: kuro-bo.com

28 Get It • Ballito Umhlanga July 2020Z

Watch what you eat. The commercial food industry

is not environmentally friendly so go Flexitarian.

Take part in Meat-Free Mondays, add one

vegan day into your week, or simply cut out beef.

Another eco-tip is to make enough food for leftovers,

which means you don't have to cook a new

meal from scratch every day – hooray to that!

Zero-tox. Chemicals make things expensive, are

packaged in plastic and negatively affect our

health, water supply and the planet. They're also

not necessary. Opt for chemical-free cosmetics

and cleaning products, or make your own out of

common, non-toxic household ingredients.

Be water wise. Share baths, take shorter showers,

invest in a water-saving shower head and flush like

a Capetonian. Use a dish washer instead of hand

washing – but only run it when it's fully packed.

Rinse vegetables in a bowl of water, then use it to

water the garden.

Switch off your lights and unplug all your unused

appliances. The substantial reduction in your

monthly electricity bill will be an added bonus.

Compost. This significantly cuts waste while also

creating a positive product for your garden.

For further inspiration, tips and advice in living a

low-impact life, and to order from the store, click

on therefillery.co.za
---
July 2020 Get It • Ballito Umhlanga 31
---
Listen, learn & live mindfully

Listening to podcasts is a great way to educate and up-skill yourself. We found

two locally-produced podcasts that we believe tie in perfectly with our theme this

month ... mindful living.

We are all multi-tasking in some way

or another at the moment, which

makes listening to podcasts a great

way to incorporate some learning and

growth into everyday life. But what

you listen to is very important and,

while 'multi-taking' may be something

we can't avoid, it is important to find

a way to live with intention and be

consciously aware of the thoughts

going on in your mind.

KINDNESS CAN

WHO IS BEHIND THE PODCAST?

Well-known radio personality and

mother of three Jane Linley-Thomas

and psychologist and author Paul

Bushell started their KindnessCan

movement with the goal of helping

people live with 'intentional kindness'.

KindnessCan is a movement of talks,

workshops and digital content.

"Although kindness is not always easy

or simple, it has the power to change

the world. In so many of the stories

we have covered in their careers, if

there had been more kindness the

circumstances and outcomes would

have been very different. It is therefore

really important that we all get the

tools and practice being kinder in our

lives," says Paul.

WATCH NOW

WHAT CAN PEOPLE EXPECT TO

HEAR?

The podcast was started as a way of

capturing some of the conversations

that Jane and Paul were having every

day with each other over the phone

and in their work with schools and

corporates. Each week, Jane and

Paul pick up on a new topic and talk

through different practical ways that

we can be kinder in those moments.

The show also features guests, who

talk through different moments in

their lives and how kindness played

out.

Radio

personality

Jane Linley-

Thomas and

psychologist

and author Paul

Bushell

Text: LEAH SHONE

WHY IS IT IMPORTANT TO LIVE

WITH INTENTIONAL KINDNESS?

Living with intentional kindness

is important in our current

circumstances. Our worrying brain

wants to keep us alive. In this process,

we can sometimes over simplify,

over catastrophize, polarise and

distort different thoughts, feelings

and behaviours. Being intentional

allows us to take manual control of

our brain's process, and make sure

we settle on thoughts that are true,

fair and useful. This then allows us to

make good choices about how we

respond in different situations. Being

kind doesn't always mean saying yes.

Sometimes being kind means saying

no and making hard choices.

30 Get It • Ballito Umhlanga July 2020
---
HOW CAN WE PRACTICE KIND-

NESS EVERY DAY?

I think gratitude is an important way

of maintaining a good balance in our

minds and lives. You can do this by

keeping a gratitude journal, making

a list (on paper or in your head) of

everyday of things that you feel

grateful for. It is really important to

choose carefully who you surround

yourself with. This sometimes

means limiting your news in-take,

unfollowing people who make you

feel anxious or insecure on social

media and learning to turn some

invitations down.

Details: Find the KindnessCan podcast

on the Apple Podcast app or www.

kindnesscan.co.za

Life coach and speaker Caitlyn de Beer

THE UNPODCAST

WHO IS BEHIND THE PODCAST?

Life coach and speaker Caitlyn de Beer

has an honours in Clinical Psychology,

is a Psychology lecturer and is a results

life coach who has worked with over

400 individual clients. She is also a

mom of two small children. After years

of lecturing and speaking, Caitlyn

says she realised that whilst she loved

writing, her message and story were

often better received when she spoke

them.

WHAT CAN PEOPLE EXPECT TO

HEAR?

I wanted to create a space where

women could journey into knowing

and loving themselves as women

and mothers. I do this by sharing

topics around self management,

motherhood and loving your whole

self. I invite professionals from around

the world to share specifics on their

area of expertise around these topics

too. Each episode is no more than 35

minutes long and the focus is on selfacceptance,

escaping limiting-beliefs

and embracing a life that you love.

PLEASE SHARE SOME ADVICE ON

HOW YOU ARE MANAGING TO LIVE

CONSCIOUSLY IN THE CURRENT

CIRCUMSTANCES?

1. Know yourself: Connecting

with my emotions is one the most

powerful ways I have learnt to live.

Many of us run from, or numb our

emotions in the busy-ness of life.

Moving through the discomfort of

uncomfortable emotions and learning

that they do in fact pass, without

cracking, set me free in more ways

than I could ever say.

2. Be in the now: Being a real gogetter,

an A-type personality and a

future-oriented thinker, I spent much

WATCH NOW

of my life living in the future and in

fact missing the present. A mantra I

often repeat to myself now when I

find myself struggling to be present in

the moment (especially with my kids)

is 'I have nowhere more important to

be than here right now'.

3. Live your life on purpose: There is

no denying that COVID-19 has rocked

our worlds. And, whilst it's taught us

so much, it has brought about loss

too. When we lose jobs, dreams or

hope, it's often easy to lose purpose

too. Dreams may be on hold but your

life still counts right now and an easier

way to find purpose in the now is to

ask ourselves what we have in our

hands. Doing this helps us connect

with our capabilities in the now.

Details: The Unpodcast can be

found on any podcast app (Apple

or Android), Spotify and on: www.

caitlyndebeer.com/podcast/.

July 2020 Get It • Ballito Umhlanga 31
---
RISE

to the occasion

There's something about a slice of freshly baked,

home-made bread, served with a thick pat of

butter, that creates a feeling of comfort and

cosiness. And the very act of making something

with your hands can improve your mental health!

So get baking. We've found some easy recipes

to get you started.

Compiled by: RIALIEN FURSTENBERG

32 Get It • Ballito Umhlanga July 2020
---
Sarah Graham's seed bread

A lovely loaf that's gluten-free and

Banting-friendly

You'll need:

1 cup mixed seeds/ nuts; 1 cup

almond flour; 1 cup coconut flour; 2

cups water (start with 1½ cups and

add more as necessary); 3 Tblsps

psyllium husks (available at Clicks and

health stores); 1 tsp bicarb of soda; ½

cup coconut oil (warmed until liquid);

¼ cup natural yoghurt (or coconut

milk/ extra water); 2 tsp honey (or

alternative healthy natural sweetener);

½ tsp salt

Method:

Preheat oven to 180°C and grease and

line a small/medium-sized loaf tin.

Mix all ingredients together – if it

seems very dry add another ¼ cup

water. It will not be like usual bread, it

will seem quite crumbly and have the

texture of beach sand, which is fine.

Transfer mixture to loaf tin, gently

smooth out the surface using the

back of a spoon and bake for about 30

minutes or until golden.

A great tip is to leave the loaf to cool

to room temperature, remove from

the tin, slice, then freeze in slices and

remove a slice at a time to thaw or

toast just before eating. It's a great

snack with mashed avo or

scrambled egg.

Garlic, cheddar, bacon &

beer bread

Garlic. Cheddar. Bacon. Beer. What more

could you possibly want? Great to serve

at your next braai.

You'll need:

3 cups self-raising flour; ½ cup sugar;

340ml beer; 1 cup grated Cheddar

cheese; ½ cup bacon (chopped); 1

Tblsp garlic powder; 1 tsp parsley; ¼

cup melted butter

Method:

Preheat the oven to 190°C. In a large

bowl, gently stir together the flour,

sugar and beer until combined. Then

gently stir in the cheese, bacon, garlic

powder and parsley. Pour the resulting

batter into a greased loaf tin, then pour

the melted butter on top of the batter.

Cook for 50 minutes to one hour, or

until a skewer inserted into the bread

comes out clean. Let the bread cool for

at least five minutes before serving.

TIP: If you don't allow

your bread enough time

to rise, it will be dense and

chewy after you bake it. Just

be sure to give it plenty of

time to get the lift it needs.

You can tell if the bread has

risen enough when you poke

a knuckle into the dough

and the indentation slowly

springs back.

No-knead bread

No muscles? No problem. Here's a no-knead bread that's easy and delicious.

You'll need:

1 ½ tsp honey; 1 ½ tsp active dry yeast; 1 ¾ cups warm water, divided; 3 ½ cups allpurpose

flour, divided; 1 ½ tsp kosher salt

Method:

Combine honey, yeast, and a ½ cup of the water in a small bowl and stir lightly. Let

stand for 5 minutes. Keep 1½ Tblsps of the flour for later. Place remaining flour in a

large bowl – add salt, whisk to combine, then form a well in the centre. Add yeast

mixture and remaining 1¼ cups water into well and stir until combined. Remove

dough from sides of the bowl and form a ball in the bottom centre of the bowl

(dough will be very sticky and wet). Sprinkle top with reserved flour. Cover bowl

with plastic wrap and place in a warm area. Let rise for two hours.

Preheat oven to 220°C. Remove half the dough and place in a loaf shape on a

lightly greased baking sheet. Repeat with remaining dough, and place five to

seven centimetres apart on the same prepared baking sheet. Bake until golden

and toasted and a hollow sound is heard when tapped – about 22 to 25 minutes.

Let stand for five minutes before serving.

July 2020 Get It • Ballito Umhlanga 33
---
Farmhouse white bread

(Makes two loaves)

You'll need:

5 cups bread flour; 10g instant yeast; 2 tsp

salt; 3 tsp sugar; 1 Tblsp extra virgin olive oil; 2

cups lukewarm water

Method:

Place all the dry ingredients in the bowl of an

electric mixer fitted with a dough hook and

begin mixing on low speed.

Add the oil to the warm water and slowly

add to the flour mixture until well combined.

Knead the dough for about 10 minutes on

low speed until the dough is smooth, elastic

and not sticky to the touch. Place dough in a

clean, lightly oiled bowl, loosely covered with

a kitchen towel and leave in a warm place

for about an hour or until the dough has

doubled in size.

Using your fist, punch down the dough to

expel the air. Lightly knead by hand for a

minute or two until the dough is smooth

again. Divide the dough equally in two.

Shape each half into a log and place into two

lightly greased loaf tins. Once again, cover

with a towel and leave in a warm place for 30

– 40 minutes until doubled in size.

Preheat the oven to 180°C.

Lightly brush loaves with egg wash (one egg

whisked with a dash of milk and a pinch of

salt) and place in preheated oven for 40-50

minutes or until beautifully risen, golden

and sounds hollow when gently tapped

underneath. Remove from tin and allow to

cool on a wire rack.

A great addition to your kitchen library…

In 100 Great Breads by Paul Hollywood, you can discover the nostalgic

smell of milk loaf and rye bread, how to master baguettes and

croissants, and try your hand at some inspiring bakes, including Pane

Toscano with Dolcelatte and Cypriot Easter Bread, as well as sweet

treats such as Honey & Saffron Loaf and Chocolate & Sour Cherry Bread.

R389, Yuppiechef.com

Invest in this:

The Pa Casola has 13 preset

functions and a 13-hour

programmable timer. Simply add

your bread batter before you go to

bed and tuck into delicious, warm

home-made bread when you wake

up. It even allows you to select

your crust setting from light to

medium or dark. Taurus Pa Casola

bread maker, 850W,

R2 999, @Home.

34 Get It • Ballito Umhlanga July 2020
---
WATCH NOW

Tips for Sourdough loaves at home!

Own of our favourite local baking guru's, Yoli's Bakery owner Nicky Cooper, shares

some nuggets of wisdom for baking your one sourdough bread at home …

• Use a scale! You may be fond of

your matching set of measuring cups

and spoons but trust me, your full cup

of flour will undoubtedly be different

to mine and whoever developed

the recipe you are following. For

consistent results invest in a kitchen

scale and look for a recipe in grams.

There are great baking apps available

to convert if your recipe asks for

spoons and cups!

• If you are serious about making

bread and want a nice creamy crumb

with an open structure, like we favour

at Yoli's, you need to work with recipes

with higher hydration percentages,

much easier when you have a small

mixer with a dough hook, really a

worthy investment! Trying to mix wet

dough by hand becomes very tricky

and the temptation to keep adding

flour is a bad idea as this changes the

balance of the recipe.

• Adopt the attitude of low and

slow, to get the best flavour, texture

and health benefits from your loaf,

long slow fermentations at lower

temperatures are best. Besides

this is what makes a sourdough a

sourdough!

• Stretching and folding your

dough while it undergoes its 'bulk

fermentation' is the best way to

ensure strength in the structure of

your gluten to give you that desired

rise and oven spring during baking!

• My best tip for sourdough

enthusiasts who battle to maintain

a culture when they are only baking

once a week, is to use a pure rye

culture, and STORE IT IN THE FRIDGE.

It is the most stable of cultures and

will last you between bakes without

you having to feed and throw away

daily, use a small amount of your

starter to build the larger pre-ferment

the day before you want to make

your sourdough, then top up for

next week, waste not want not,

stoneground flour is expensive!

• Another great tip, use unsweetened

pineapple juice in the first 2 days of

building phase of your culture, the

pineapple juice creates the right PH

balanced environment for the wild

yeast to thrive and a hostile for the

development of harmful bacteria

which can cause your culture to turn

acid too quickly. Details: Yolis Bakery,

The Market, Ballito Lifestyle Centre

July 2020 Get It • Ballito Umhlanga 35
---
JOIN US IN THE MONTH OF JULY FOR

SELFCARE TIPS AND TREATMENTS

July Specials

10 & 11 JULY

20% OFF BOTOX DAY WILL BE HELD AT THE SQUARE

MEDICAL CENTRE WITH DR LEON EHLERS

10% OFF

4th Gen

Dermapen

Treatment

10% OFF

Super Immune

Booster and

Detox

Intravenous Drip

Azelan Acne

Peel with LED

Light Session

ONLY R600

INSTITUTE OF AESTHETIC OPTIONS

Shop 2E & 3E, The Pearls, 4th Floor, 6 Lagoon Drive, Umhlanga Rocks

(e) office@aestheticoptions.co.za | (t) 087 806 8700 | 087 807 8017 | (w) www.aestheticoptions.co.za

36 Get It • Ballito Umhlanga July 2020
---
Delicious takehome

treats

From home-cooked frozen meals to amazing fresh baked rusks and the tastiest curries

you can imagine … these are some of our favourite North Coast takeaway and

delivery foodie businesses.

FULL CREAM CATERING

Full Cream Catering for weekly

delivery on Fridays and have stocked

freezers for anytime collections within

some of the North Coast's well known

estates. Meals vary from R65 to R70

per a serving and come in portions

of two or four. Details: www.fullcream.

catering / WhatsApp to order:

0714276552

BIRYANI BOX

Very few things beat a good curry

and the standards are set very high

when it comes to the quality of

meat, vegetables and spices that are

used at The Biryani Box. Cleanliness,

presentation and taste are their top

priorities. They have professional chefs

with over 30 years in the catering

industry. They specialise in open fire

Indian dishes, Biryani, Curries, Roasts

and Platters Details: 3 Preash Park,

Ballito, KZN / www.biryanibox.co.za /

083 2300 491 / 032 944 2184

DELISH SISTERS

PLATES WITH KATE

Plates with Kate is about the

enjoyment of food and baking. Kate

Armstrong combines her passion for

cooking with her careful attention to

detail to produce health conscious

products...and guilty pleasures. Plates

with Kate showcases growth as what

once started as a personal catering

business is now rolling into packaged

products of her famous goodies, get

your pack of home-made delicious

rusks for R80. Details: @plateswithkate

/ 082 928 5485 / plateswithkate@

gmail.com

Delish Sisters, Rebecca Lund and Kate Arthur have had to get creative, like

many other small business owners during this time. As such, they have

expanded their offering to include delicious, wholesome home meals.

They have a broad offering, from baked goods like biscuits, rusks, cakes

and their signature chocolate brownies, to quiches, dips and dressings,

as well as fresh and freezable meals for the whole family! The menu

changes slightly each week to keep things exciting, and is sent out to

their database every Monday. Details: Feel free to WhatsApp 0835832943

or email info@delishsisters.co.za to get a menu and pricing breakdown.

July 2020 Get It • Ballito Umhlanga 37
---
Thoughtful wine options

From the organic, biodynamic winery Waterkloof, Circle of Life White 2016 is a blend of mostly Sauvignon Blanc,

Chenin Blanc and a touch of Sémillon. Beautiful aromatics of lime and gooseberry. From around R160 a bottle. Details:

waterkloofwines.co.za. • Award-winning Flagstone Free Run Reserve Sauvignon Blanc is all layers of fruit complexity with

aromas of asparagus, green fig, citrus, passion fruit as well as a hint of guava. It's full bodied, complex and classy ... and best

of all, it's vegan! With a limited release of 2100 bottles, you can get if for R220 a bottle from the flagstonewines.com • For

an Almost Zero alcohol wine (0.3 per cent, to be exact), we suggest you stock up on this Van Loveren Family Vineyards

Radiant Red (there's a Wondeful White and Ravishing Rosé, too.) It's made using traditional winemaking methods,

combined with modern de-alcoholisation methods, and you'll find it at your local stores for around R69. • Two exceptional

vegan-friendly options from Bouchard Finlayson are the Missionvale Chardonnay 2017 (with flavours of pineapple and

white pear and a mere hint of toasted hazelnut) and Hannibal 2017, (originally prompted by the classic taste and palate of

Italian varieties, Sangiovese and Nebbiolo. R276 and R331 respectively, from bouchardfinlayson.co.za

38 Get It • Ballito Umhlanga July 2020
---
Drinking responsibly is nothing new. Living mindfully means

you should take a good look at the estates and the wines

you're choosing ... with conservation, organic,

vegan-friendly and low alcohol being

part of your buying decisions.

Delheim is an industry leader in its commitment to conservation and responsible production practices. The farm uses

a bio-natural water management plant that recycles all cellar waste water, takes care to preserve substantial tracts of

mountain fynbos, and promotes bio-diversity. The Delheim Chenin Blanc Wild Ferment is made in one of the most

natural processes – by allowing spontaneous fermentation by indigenous yeast. Around R145 a bottle. Details: delheim.

com • Demonstrating their commitment to a greener, animal-friendly future, Spier was the first winery in the world to

receive Control Union Vegan Standard certification by the accredited certifying body, Control Union. So an excellent

choice for vegans are the Spier Creative Block 2 (a Sauvignon Blanc, Sémillon blend) and the Seaward Chardonnay, two

of the four vegan wines from Spier's vegan range. R110 each from spier.co.za • Mensa winemaker Ben Snyman crafts only

vegan-friendly wines, eschewing the use of any animal products in the cellar. There are two fabulous vegan-friendly wines

– Sauvignon Blanc 2019 is a beautifully balanced wine brimming with citrus and tropical fruit, and Cabernet Sauvignon

2018 has all intense flavours of dark chocolate and blackberry. R80 and R90 from mensawines.com

Compiled by: KYM ARGO. Photographer: MEGAN BRETT.

July 2020 Get It • Ballito Umhlanga 39
---
A lovely spicy Shiraz is a slam

dunk for winter beets

Cooler weather calls for hearty root vegetables

and succulent meat dishes. And those, in turn,

call for a spicy Shiraz. Tokara Chef Carolize

Coetzee has shared the recipe for her flavourful

salt-baked beetroot, which is perfectly paired

with the estate's full-bodied premium Tokara

Shiraz.

Salt-baked beetroot

You'll need:

4 medium sized whole beetroot; 800g coarse

salt; 3 egg whites from extra-large eggs; 500g

cake flour; 250ml water

For the garnish: Raspberries, fennel, toasted

walnuts and celery.

Method:

Preheat the oven to 180°C

Blend the salt and flour together in a food

processor until fine. In a mixer with a dough

hook, mix the flour mixture with the egg whites

and water until a dough is formed.

Wash and dry the unpeeled beetroot.

Roll out the dough until 5mm in thickness. Cut

into big enough pieces and wrap around each

entire beetroot.

Bake for 1 hour, then remove from oven and

cool slightly. Break open the dough and remove

the beetroot. Discard the baked dough.

Peel the beetroot, then rinse and dry with

paper towel. Cool and slice the beetroot thinly.

Garnish with raspberry, fennel, toasted walnuts

and celery.

These

Babylonstoren

Beetroot & Garlic

Salt Flakes add extra

flavour and a pop of

colour to even the

most simple dish.

The beetroot stains

the salt a beautiful

pink colour and

gives it a delicate,

earthy flavour, while

the garlic gives

the mixture some

punch. R70 from

babylonstoren.com

A glass of red. A platter

of cheeses – including a

creamy blue. A bottle of

Woolworths' Beetroot

& Fig Preserve. Life

is good. R52.99 from

Woolies.

This full-bodied

Tokara Shiraz is

available at a cellar

door price of

R125, for online

purchase and

delivery. Details:

tokara.com

Compiled by KYM ARGO

40 Get It • Ballito Umhlanga July 2020
---
BEET

THE MID-WINTER BLUES

Warm beetroot and

butternut winter salad

Butternut. Beet. Goat's cheese. A

marriage made in foodie heaven.

This recipe was generously

shared by a chef at the De Hoop

Collection in the De Hoop

Reserve, just east of Cape Agulhas,

on a visit a year or two ago, and

we've made it again and again

and again. It's a method, more

than a recipe, so we've given no

quantities ... jiggle depending on

how many you're feeding. The

dressing is enough for a salad for

four to six people.

Peel butternut and beets, cut

into large, similar size chunks, toss

lightly in olive oil and roast until

cooked. While roasting, make the

dressing. Into a small bowl, put half

a cup of Mrs Ball's chutney, add a

good shake of chilli flakes, three

generous tablespoons of honey, a

handful of chopped spring onions,

salt and freshly ground black

pepper and enough olive oil to

blend (about quarter of a cup).

Pile some fresh rocket on a plate,

then scatter the warm, baked

butternut and beets over the top.

Pour over the dressing, then top

with dollops of goat's cheese.

Sprinkle with toasted pine nuts.

Top tip: Ring the changes to suit

your taste. Feta works as well as

goat's cheese, roasted walnuts

can replace pine nuts, leave off

the rocket if you want to serve it

as a vegetable side dish instead

of a salad.

Good for you granola. This Raw Goji Berry

& Beetroot Granola has no preservatives

or added sugar, is a great source of

fibre and is made from certified organic

ingredients. R49.99 from Woolworths.

Oh my! The range of fabrics from The Whimsical Duchess is just glorious. Custom

made, printed fabrics in tablecloths, cushion covers, tea towels or sold by the metre

... brilliant for a statement sofa, a bed throw, a picnic blanket. There's natural linen and

cotton canvas, bull denim and mock linen and plush velvet too, with prices per metre

from around R650. This Roots of Magenta is one of our favourites.

Details: thewhimsicalduchess.co.za

July 2020 Get It • Ballito Umhlanga 41
---
Conscious

construction

With cleverly thought out design and

careful planning, the construction of

the Tremearne family's Elaleni home

was cost-effective and sustainable …

and the result is simply magnificent.

Text: LEAH SHONE | Interior Photos: CHRIS ALLAN PHOTO

Homeowners Dane and Morgan

Tremearne laying the first brick.

Photo: Dean Maber

42 Get It • Ballito Umhlanga July 2020
---
The external and verandah

ceilings were made with bamboo

reeds by a Zimbabwean 'rusta'

from Pietermaritzburg who

physically picked the reeds, wove

theme together in panels and

installed them.

It took a dream team of talented

experts to create this forest fantasy

home, which was the first property to

break ground and be completed in

the lush Elaleni Coastal Forest Estate.

Matthew Chaplin of Jemstruct

construction worked closely with his

clients, Dane and Morgan Tremearne

and the other service providers

on this project, including top KZN

architect, Julia Rutherfoord.

"They appointed a really good

architect and Julia did a great job on

the design in terms of positioning,

style and comfort. Her designs are also

very cost affective which is important.

You can have a magnificent design,

but at the end of the day it needs to

be within budget," says Matthew.

Not wanting to add aircons, the clients decided instead

to install extremely classy 'Oyster Box style' fans from

Global Lighting.

July 2020 Get It • Ballito Umhlanga 43
---
Staying within budget was a key

factor in the build process too, he

says, which is why they worked on a

'cost plus management' contract with

their client. "Our clients knew exactly

what they wanted. They paid all the

building costs directly, with our help

getting them the best prices possible."

With a helping hand from friends and

family (Dane's semi-retired dad Roy

cut down the trees that were in foot

print of the build, and they were able

to dump excess soil from the steep

slope on his sister's plot down the

road) the structure went up quickly

and they finished the build in 10

months.

The internal tiles in the shower and bathroom

floors are 25mm thick white terrazzo tiles, giving

the bathrooms a very unique appeal.

44 Get It • Ballito Umhlanga July 2020
---
About Jemstruct

Matthew (pictured here with his children) started Jemstruct five years ago after gaining experience in fast

track commercial projects, learning the trade of ceilings and partitions and working as a site foreman for

a number of top construction companies. He worked on residential builds as well as large construction

projects such as the revamp of Ballito Lifestyle Centre and apartments at Pebble Beach Sibaya. Jemstruct

offers building, renovations, ceilings and partitions and they do both large and small projects.

Details: www.jemstruct.com, 0767076842 Photo: Sam Maber

July 2020 Get It • Ballito Umhlanga 45
---
Hluhluwe Bush Camp is a privately owned

farm with 5 very luxury self

catering/glamping tents, 2 adventure tents

with own outside bathroom and a 4 x 4

camping, overlooking False Bay Park one of

the 11 World Heritage Isimangaliso Wetland

Parks and completely surrounded by

pineapple fields and bush. Also close to the

entrance of Hluhluwe/Imfolozi Park.

"Miracle and wonder" – this is the meaning

of "Isimangaliso". Endless beaches, coastal

forests and the incredible oceanic diversity

offered in Isimangaliso wetland park.

Introducing your new favourite Bush

location at the beautiful Hluhluwe Bush

Camp. Isimangaliso Wetland Park is South

Africa's largest first natural World Heritage

site. It stretches from the St. Lucia Estuary in

the South up to the border of Mozambique,

known also as the Elephant Coast. It

protects 220 km of pristine coastline with a

range of wild and magnificent beaches to

enjoy.

Hluhluwe Bush Camp overlooking the

treasure trove that is False Bay Park in the

Isimangaliso Wetland Park, Hluhluwe Bush

Camp offers 5 enticingly luxurious

self-catering glamping tents, 2 fully

equipped adventure tents and small

intimate camping for only 4 x 4 lovers in the

bush with a braai and an ablution block.

Enjoy tranquillity whilst sitting on the deck

viewing your neighbours – Nyala, Reedbuck,

Duikers and pineapple fields.

Besides the glamping tents, Hluhluwe Bush

Camp has a reception area with a Farmstall

and a pool with sun loungers all

overlooking False Bay Park.

The Farmstall is the number one shop for

fresh, homemade produces like filled

sandwiches, Dutch crispy fries with mayo,

pineapple juice, coffee/cappuccino, mint,

ginger and lemongrass tea, homemade

soup, lettuce and vegetables, breakfast and

bbq packages and all your first need

products like salt, pepper, toilet paper, bbq

wood, firelighters, matches, wine, beer,

water and ice cream.

Trienke Lodewijk Phone: 078 396 9391 | Mobile: 079 107 5273

trienke@hluhluwebushcamp.com | www.hluhluwebushcamp.com
---
GET GROWING...

GARDEN

your own veggies

Growing you own veggies has always been

a great idea, and now more than ever.

Covid-19 has given new impetus to growing our own food. Eating fresh

greens naturally strengthens the immune system and means fewer visits to

the supermarket (reducing the risk of exposure). Plus, it puts food on the

table for minimal cost ... you can satisfy a family's need for vegetables with

a veggie garden the size of a door (1m wide by 3m long). Starting small

makes veggie growing more manageable. Grow veggies in pots or plant

boxes on the balcony, patio or kitchen courtyard. Plant them among flowers

in the garden or make your own veggie patch in a sunny space.

What veggies want ...

• At least six hours of sunshine,

especially in winter. In summer,

morning sun and afternoon

shade is best.

• Fertile, well composted

soil that drains well, or good

quality potting mix with

added compost and controlled

release organic fertilizer for

pot-grown veggies.

• Shelter from draughts or

wind, which dry out or chill

plants.

• A level site, although a slight

slope helps with drainage.

What you need ...

• Buy-in from the family. Ask them what

they'd like to eat. That's what you need

to grow!

• Enough time … to give daily attention

to the food garden, preferably five

minutes a day rather than 15 minutes

once a week. There's a saying: 'In order

to live off a garden you practically have

to live in it'.

• Money to buy seed or seedlings,

compost, (if you don't make your

own), fertilizer, pesticides (organic or

chemical), and tools.

• Basic tools: a spade, fork, rake,

watering can and hose.

Text: ALICE COETZEE

July 2020 Get It • Ballito Umhlanga 47
---
Healthy soil grows healthy veggies

Most garden soils lack the balance of nutrients

required for good growth. For a productive

veggie garden, make healthy soil a priority.

Regularly enrich it by digging in compost

and organic fertilizer, grow green manures

and practice companion planting by pairing

beneficial herbs and veggies, like basil and

tomatoes, thyme and cabbage, oregano and

carrots.

Seed or seedlings?

Sowing from seed is the most affordable way

to garden. A single packet can yield two or

three successive crops, possibly even for the

following year. Most seeds germinate within

seven to 14 days and are ready for thinning

out and transplanting within another three to

four weeks. Root veggies are best sown direct

into the soil, leafy and fruiting veggies into

seed trays.

Seedling packs are for gardeners in a hurry

(like most of us). They're more expensive but if

you miss the sowing window, seedlings allow

you to play catch-up. With seedlings there isn't

the hassle of germination failure, thinning out

or wondering when to transplant. There's also

less chance of overplanting. However, there's

less variety than you'll find in seed packets,

although many heirloom varieties are now

available as seedlings.

Patio veggies ... these are compact varieties

bred for growing in pots, or small spaces,

allowing more plants to fit into less space. The

winter range includes Simply Salad mixes of

leaf lettuce and Asian greens, as well as Kale

Storm, a compact curly-leaved variety and

Wonder Wok, a mix of Asian greens.

For summer there's a wide range of tomatoes,

zucchini Easy Pick, butternut Honeynut,

jalapeno chilli La Bomba, hot and sweet pot

peppers, eggplant Patio Baby and cucumber

Patio Snacker, as well as Simply Herbs

rosemary, oregano and thyme.

Plants are available in pots from garden

centres or seed can be ordered online.

Details: gropak.co.za

48 Get It • Ballito Umhlanga July 2020
---
Tips for container veggies

• Use containers with drainage holes,

and which are also deep and wide

enough to accommodate the roots and

growth of the mature vegetable.

• Use the best possible potting soil,

enriched with compost and topped

with mulch.

• Foliar feed or drench the soil with a

liquid fertilizer at least once a month

because vegetables are heavy feeders.

• Replace the soil every two years.

• Water pots two to three times a week

in winter and every day in summer.

Ready, steady … plant

Winter veggies that can be planted out

as seedlings are kale, tatsoi, mizuna,

pak choi, giant red mustard, Red Frills

mustard, Green in Snow mustard,

cabbage, garden peas, rocket, Swiss

chard and spinach. Protect seedlings

with frost cloth overnight.

Sow summer fruiting crops like

tomatoes, brinjals, sweet peppers,

squash and beans indoors in seed

trays or pots, under warm, controlled

conditions. By the end of September

seedlings will be ready for planting out.

Sowing calendar at a glance

Spring vegetables (August – Sept sowing)

Bush beans, beetroot, carrots, cabbage, lettuce, garden peas, Swiss chard.

Summer vegetables (end Sept – Nov sowing)

Tomatoes, brinjals, bush and runner beans, cucumber, baby marrow, sweet pepper,

chillies, summer squash, sweet corn, pumpkin.

Autumn vegetables (Dec/Jan – March sowing)

Bush and runner beans, broccoli, Brussels sprouts, cabbage, cauliflower, celery,

carrots, beetroot, lettuce, Swiss chard.

Winter vegetables (end Feb – May sowing)

Cabbage, cauliflower, broccoli, cauliflower, Brussels sprouts, broad beans, kale,

lettuce, radish, Swiss chard and spinach.

July 2020 Get It • Ballito Umhlanga 49
---
GET AWAY FROM THE EVERYDAY

The Kwa Zulu Natal Midlands are glorious

at anytime of the year but in winter they

come into their own. Cold nights that give

way to glorious warm days, aloes and wild

dagga stand out against blue skies and pale

gold grasses.

The Hilton Bush Lodge is the perfect

springboard into this fabulous world. Our

attention to detail and understated

elegance makes it ideal for the discerning

business or leisure traveller. Over looking

the Rietspruit and Umngeni Valleys the

private verandas are perfect for relaxing

with a glass of wine, or coffee a good book

and for the birders a pair of binoculars are

a must.

What could be better than going to sleep to

the sound of the waterfall and waking to

the call of the Fish Eagle or a covey of

francolin welcoming in a new day.

We look forward to sharing our piece of

KZN bushveld with you all soon

kate@thehiltonbushlodge.co.za | 033 004

0033 www.thehiltonbushlodge.co.za

52 Get It • Ballito Umhlanga July 2020
---
Take a

WELLNESS

road trip in the Cape

Watching whales, relaxing beach walks

and an outdoor massage. Book us in!

Living mindfully is all about making

well thought-out decisions about

everything ... including – and perhaps

most importantly – about your wellbeing.

And after the last few months

of stress, tension and uncertainty, we

think taking some time out to restore

mind, body and soul is well worth it.

This Wellness Road Trip with Cape

Country Routes, which goes from

Paarl up the South Coast to the De

Hoop Nature Reserve, sounds perfect.

It starts in Paarl, with its range of

cultural and historical attractions, then

continues along the exceptionally

scenic Cape South Coast, where the

indigenous Cape fynbos meets the

cold seas at the southernmost tip of

Africa, and on to the De Hoop Nature

Reserve. This is a natural wonder of

unsurpassed beauty and a favourite

destination for hikers, cyclists, bird

watchers, whale watchers and seekers

of natural beauty.

For enhancing wellness, peace of

mind, calm and tranquillity, spend

one night at the Cascade Country

Manor in Paarl with its beautiful views

of the olive orchards, vineyards and

mountains and indulge in a variety

of treatments at the in-house spa or

relax in the pool area, or take a walk to

the waterfall. Other activities include

wine tastings, wine tours and hiking.

The next night is spent at The

Arniston Spa Hotel, set in one of

the Cape's most exquisite locations

next to an old fishing village,

surrounded by pristine beaches and

nature reserves. Here you can enjoy

panoramic views of the unspoilt

ocean and endless beaches, take

long, relaxing beach walks, visit local

wineries, indulge in soothing in-house

spa treatments, and much more.

Your final two nights will be at the

De Hoop Collection. The De Hoop

Spa is an oasis of calm – one that

offers the ultimate escape with a

variety of revitalising beauty and body

treatments ... think a range of relaxing

massages to soothe the body and

mind, as well as a selection of facials,

manicures, pedicures and grooming

services. Other activities include an

eco river cruise, walks through herds

of eland and bontebok to the ocean,

a visit the Cape vulture colony and

whale-watching (in season).

The Wellness Road Trip Tour costs R4

390 a person sharing, on a bed and

breakfast basis. The rate excludes

all other meals, entrance fees and

activities. Valid until September 30,

2020. Booking is essential, and you'll

need to use the reference CCR 6 Day

when booking.

Details: CCR Central Reservations on 076-

203-8929 (also WhatsApp) or bookings@

capecountryroutes.com

July 2020 Get It • Ballito Umhlanga 51
---
Spoil

July

A spicy, non-alcoholic spirit

Fancy a drink? Thinking something spicy? But you're not wanting

anything alcoholic. Hello Seedlip Spice 94. This aromatic,

non-alcoholic drink is all strong spices (think spice berries and

cardamom) and citrus (lemon and grapefruit peel). Boasting to be

the world's first non-alcoholic beverage spirit, it was developed in

a farm kitchen in the English woods, with a small copper still and

a copy of The Art of Distillation ... a publication written in 1651

which documents remedies used by apothecaries. Sister to the

Seedlip Garden 108 (which captures the essence of the English

countryside, all handpicked peas and hay, rosemary, spearmint

and thyme), and the just-released Seedlip Grove 42 (a mouthful

of citrus deliciousness) here's another bonus ... the spirit has zero

calories, is sugar- and sweetener-free and has no artificial flavours

(perfect for those embracing the spirit of mindful drinking). You'll

find Seedlip in your local bottle store for R229. We're giving away

a bottle ... to stand in line to win, simply visit our Facebook page

(@GetItNationalMagazines), like our post and tag a spice-loving

friend and you'll be in the draw. Entries close July 31.

52 Get It • Ballito Umhlanga July 2020
---
BEYOND LEVEL 1

Grade 8 2022

registrations now open

https://bit.ly/2XkYcXn

These are my number ones. The blazer and tie I wear each day at Michaelhouse.

To you they might seem like simple clothing and adornment. But they are much

more than that. Though they are light, they carry weight. The weight of integrity.

The weight of humility, compassion, courage and understanding. They are my

identity and armour. They give me the courage to learn to discover and to

embrace the opportunities that life will present to me. And when I leave my

school, I will continue to wear them inside of me. My number ones might

appear as a simple blazer and tie - but they are the makings of a man.

Senior boarding school for boys

Balgowan • KwaZulu-Natal • 3275 • South Africa

Telephone +27 33 234 1000

info@michaelhouse.org • www.michaelhouse.org
---
PERFECT ESCAPE

HOTEL & SPA

e: requests@umngazi.co.za | t: +27 (0)47 564 1115/6/8/9

www. u mng azi . c o . z a