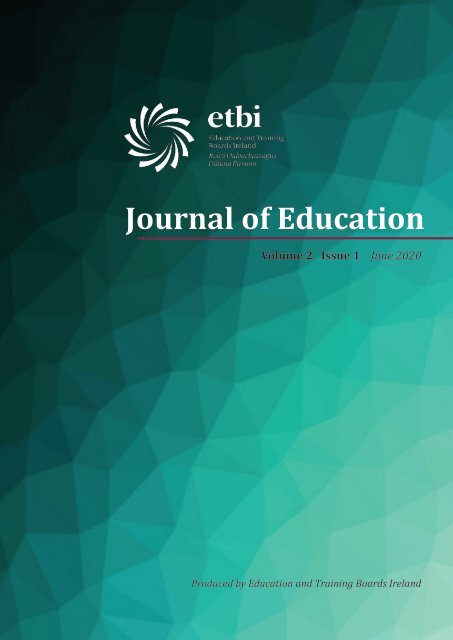 ETBI Journal of Education - Vol 2:1 - June 2020 (Sustainable Development Goals 2015 -2030)
The theme of Volume 2 Issue 1 - Sustainable Development Goals 2015 -2030
The theme of Volume 2 Issue 1 - Sustainable Development Goals 2015 -2030
SHOW MORE
SHOW LESS
You also want an ePaper? Increase the reach of your titles
YUMPU automatically turns print PDFs into web optimized ePapers that Google loves.
Journal of Education

Volume 2 Issue 1 June 2020

Produced by Education and Training Boards Ireland
---
ETBI Journal of Education June 2020

© 2020 Education and Training Boards Ireland.

Education and Training Boards Ireland (ETBI) is a national association established to collectively

represent and promote the interests of the sixteen education and training boards

Published by Education and Training Boards Ireland, Piper's Hill, Kilcullen Road, Naas, Co. Kildare.

This publication may be accessed at www.etbi.ie

PAGE 2
---
ETBI Journal of Education June 2020

Contents

Volume 2 Issue 1 2020

Foreword 5

Michael D. Higgins, President of Ireland

5*S: Space, Surveyors, Students, STEM & the Sustainable Development Goals 9

The 5*S team

Embedding the SDGs in Transition Year, a challenge 15

Dr Gerry Jeffers

Teaching and Learning about all the Sustainable Development Goals 21

Valerie Lewis

The importance of key skills for sustainable development 27

Mella Cusack

Sustainable Development Goals: Our Journey so far 35

Helen O'Connor

The Sustainable Development Goals - A Student's Perspective 39

Jack O'Connor

Author Biographies 44

PAGE 3
---
ETBI Journal of Education June 2020

PAGE 4
---
ETBI Journal of Education June 2020

Foreword

Michael D. Higgins President of Ireland

This current volume of the Education and

Training Boards Ireland Journal focuses

on the importance of the Sustainable

Development Goals from a pedagogical

perspective, with articles on a range of

experiences relating to the goals across the full

gamut of policy dimensions to which they relate.

The Sustainable Development Goals that emanate

from the United Nations' 2030 Agenda are the

blueprint to achieve a more sustainable future for

all, addressing the international contemporary

challenges we face, including those related to

poverty, inequality, climate change, environmental

degradation, prosperity, peace and justice. No

other international organisation surely could have

achieved this tour de force, a moment of global

solidarity and empathy. The strength of the

United Nations lies in the collective commitments

it fosters, such as the 2030 Agenda, and reminds

us of the critical importance of a multilateral

approach to dealing with global challenges.

Such challenges that face the international

community today – interconnected,

interdependent and truly global as they are – are

numerous, and none is more urgent than the

existential threat of climate change.

Climate change is moving so much faster than the

efforts we are expending or enlisting to address it.

NO OTHER INTERNATIONAL

ORGANISATION SURELY COULD

HAVE ACHIEVED THIS TOUR DE

FORCE, A MOMENT OF GLOBAL

SOLIDARITY AND EMPATHY.

Climate action – both mitigation and adaptation

– is essential if we are to achieve the Sustainable

Development Goals. The cost of inaction is

catastrophic, far greater than what it will cost

us to set out on a truly meaningful, corrective

path. With the Paris Agreement, we have both the

framework and the foundations to move forward

on a sustainable path.

The debate on climate action in some respects

has not only provided, and continues to provide,

hope for those of us who place our faith in the

multilateral system. It has been revelatory in

demonstrating how global issues can be inclusive,

how the voices of the small and less powerful can

hold sway and can provide a powerful lead. In

this regard, the role being played by, for example,

Small Island Developing States is exemplary.

But of course the Sustainable Development Goals

go far beyond climate action, reaching across 17

important policy areas. The goals are an urgent

PAGE 5
---
ETBI Journal of Education June 2020

call for action by all countries – developed and

developing – in a global partnership which

recognise that ending poverty must go hand-inhand

with strategies that improve health and

education, reduce inequality, and spur sustainable

economic growth – all the while tackling climate

change and working to preserve our oceans and

forests within a circular economy.

The Goals build on decades of work by countries

under the stewardship of the United Nations,

beginning in 1992 with the Rio Earth Summit.

The agreement of the 2030 Agenda by 193

nation-states in New York in September 2015 was

a significant moral milestone, and a departure for

our planet, representing the shared resolution of

the nations of the world to attempt again through

shared action to end poverty and hunger, combat

inequalities in income and opportunity, to build

peaceful, just and inclusive societies, reverse

environmental degradation and create conditions

for a shared prosperity.

2015 was undoubtedly a moment of hope, one

that proved that, despite the cynicism that too

often mars international relations, the nations of

the world could discern a global common good

and, in doing so, re-dedicate themselves to the

founding principles of the United Nations.

However, the shadows gather. Regrettably,

we have already begun to see many nations

back down from their commitments, including

some of the wealthiest and most powerful.

This is unacceptable, morally outrageous and

irresponsible in the extreme, condemning future

generations to a more hostile and volatile planet,

to yawning inequality and further avoidable

conflict, to regression rather than progression.

WE MUST CONTINUE TO PROMOTE

THE SUSTAINABLE DEVELOPMENT

GOALS, ALLOWING FOR

INCREASED AWARENESS OF THEIR

POTENTIALLY TRANSFORMATIVE

ROLE ON NATIONAL AND

INTERNATIONAL POLICIES.

Our hopes can only be realised if we stay true

to the commitments we made to one another

in the last months of 2015. This will require a

convergence of vision between the institutions

of the United Nations, the Member States,

organisations of regional co-operation and the

World Trade Organisation. It is authenticity of

the word, respect for diversity, gender equality,

equality in all its forms – these are the gifts our

world needs more than ever as we emerge from

the aftermath of the COVID-19 pandemic.

We must continue to promote the Sustainable

Development Goals, allowing for increased

awareness of their potentially transformative

role on national and international policies.

By focusing the content on the Sustainable

Development Goals in this volume, the Education

and Training Journal of Ireland is doing a great

service to the citizens of Ireland, and I hope the

many fine articles that will be published in this

volume receive widespread attention and are the

source of stimulating debate, sharing of ideas and,

ultimately, form the basis for consensus regarding

our shared future.

Michael D. Higgins

President of Ireland

24th June 2020

PAGE 6
---
ETBI Journal of Education June 2020

PAGE 7
---
ETBI Journal of Education June 2020

PAGE 8
---
ETBI Journal of Education June 2020

5*S: Space, Surveyors, Students, STEM & the

Sustainable Development Goals

An SFI Discover Award Project - By the 5*S team

As students become increasingly interested

in and concerned about climate change,

teachers are looking for ways not only to

teach about the UN's Sustainable Development

Goals (SDGs) but to engage with practices that

help to fulfil them. The 5*S project has recently

been created to support teachers to do just that.

The 5*S project was awarded a prestigious

Discover Award from the Science Foundation

Ireland (SFI) in January 2020. As its full title

shows (Space, Surveyors, Students, STEM and

the Sustainable Development Goals) a number

of scientists, surveyors and educators have come

together to share their expertise with teachers

and students in second level schools. The project

aims to promote STEM education and careers to

students, particularly to girls and will support

teachers to make links from the curriculum to

real-world technology and 'big' data sources such

as the Copernicus Satellites from the European

Space Agency. The project will also prioritise

schools in remote and/or disadvantaged areas.

Although the 5*S project was developed prior

to the outbreak of the Covid-19 pandemic, our

preparatory work continues with a view to

providing workshops and mentoring online. The

5*S team will be ready to link with schools in the

coming academic year and we would like to hear

from schools interested in becoming involved.

WITH THE ACCESS TO

INTERNATIONAL SATELLITES,

5*S WILL QUITE LITERALLY TAKE

TEACHERS AND STUDENTS TO

NEW HEIGHTS.

As the past few months have shown, technology

can support social and educational connections

very effectively. With the access to international

satellites, 5*S will quite literally take teachers and

students to new heights. It is a project where you

could say the sky is the target not the limit!

Satellites are often thought of as tools suitable

only for large-area mapping of the environment.

But satellite data informs so much of our daily

lives. It is used in agriculture, forestry, marine

activities and other industries, business, urban

and rural planning, monitoring health and

education and other services provision. Very few

people know how exactly this works and fewer

still understand how the data can be used to

shape new practices that are more sustainable,

kinder to the environment and promote equality.

In other words how can big data help Ireland

meet the commitment to the SDGs?

The overall 5*S project has a number of

PAGE 9
---
ETBI Journal of Education June 2020

dimensions including the development of citizen

science events as well as an augmented reality

app. The project is based in Maynooth University

(MU). Project leader Dr Conor Cahalane from

the Geography Department (MU) is working in

association with colleagues from the Education

Department (MU), the Faculty of Engineering and

the Built Environment at Technological University

(TU) Dublin, the Environmental Systems Research

Institute (Esri) Ireland, Ordnance Survey Ireland

(OSI) and the Society of Chartered Surveyors

of Ireland (SCSI). The first phase of the project

will interest teachers in ETB Schools across

the country. We will be organising a series of

professional development workshops for teachers

and creating a panel of GeoMentors that schools

can link in with to tap into the incredible satellite

imagery and other forms of GIS data and avail

of the scientific expertise to interpret it and

understand how it is applied.

PROFESSIONAL DEVELOPMENT WORKSHOPS

The 5*S team of geographers, scientists, chartered

surveyors, teacher educators and other expert

partners will collaborate to create teacher

professional development materials for schools.

These workshops will be available for teachers

from August 2020 to help tailor content to the

curriculum. In them, interested teachers will

learn how space data, particularly the Copernicus

satellite imagery, can be accessed and used to

help address the SDGs.

Links to learning outcomes of the Junior Cycle

curriculum will also be explored. For example in

Geography satellite data would sit well within

both 'Exploring-' and 'Interacting with Physical

World'. In JC Science the 'Nature of Science'

and 'Earth and Space' strands offer interesting

THE 5*S TEAM OF GEOGRAPHERS,

SCIENTISTS, CHARTERED

SURVEYORS, TEACHER

EDUCATORS AND OTHER EXPERT

PARTNERS WILL COLLABORATE

TO CREATE TEACHER

PROFESSIONAL DEVELOPMENT

MATERIALS FOR SCHOOLS.

potential within all the learning outcomes for

those strands. Further crossovers in Physical

and Biological Worlds are also clear. Teachers of

other subjects such as CSPE as well as Leaving

Certificate Physics, Agricultural Science, Business

Studies, Politics and Society and even History all

include potential for the use of satellite data to

inform classroom discussions and build interest

in the environment around us.

NATIONWIDE REACH OF THE PROJECT

5*S builds on two existing national schoolbased

programmes that teachers may already

be familiar with. A collaboration between Esri

Ireland's award winning, 'ArcGIS for Schools'

programme and the SCSI 'Day in the Life'

recruitment programme offers the opportunity

to combine a national network of volunteers with

an existing data/training infrastructure in Irish

schools. Esri Ireland provided half a billion Euro

of free software and data to schools across Ireland

in 2018 and this software infrastructure is what

enables the 5*S project to be carried out across

the whole country.

PAGE 10
---
ETBI Journal of Education June 2020

The first 5*S GeoMentor cohort – Aideen Croasdell from Esri Ireland introduces the GeoMentor programme to

Eimear McNerney and her 4 th Year BSc Geographic Science students from TU Dublin.

Furthermore Ordnance Survey Ireland, another

5*S partner started work in 2012 in their role on

the United Nations Global Geospatial Information

Management (UN-GGIM) Committee of Experts

to develop Global Fundamental Geospatial Data

Themes. By now, through their work with the

Central Statistics Office, OSI has developed

GeoHive.ie which is a datahub for tracking

Ireland's progress to meeting the SDGS and

enabling evidence-based decision-making for

citizens, business and policy makers. GeoHive

is one of the tools that the GeoMentors in the

5*S project can show and illustrate how to link

it to curricular content and to ask interesting

questions about access to services and resources

in Ireland and therefore probing questions of

equality for different communities in Ireland.

The partnership also includes student teachers

in Maynooth University who will have a role in

co-creating lesson ideas tailored for different

age-groups and who work in schools across the

country.

LINKING WITH A 5*S GEOMENTOR

Teachers can also avail of the expert input

directly to their classrooms of the scientists and

surveyors who use satellite imagery for their daily

practice. In the school-based element of the 5*S

project chartered surveyors and other scientists

will be trained as "GeoMentors" and will make

themselves available to show how school students

and teachers can access and interpret satellite

data.

PAGE 11
---
ETBI Journal of Education June 2020

The GeoMentors in the 5*S project are the

researchers and surveyors who use satellite data

in their studies and day to day work surveying

for developments in primary industries of

agriculture, forestry, marine. They are the experts

who can enthuse the next generation to consider

STEM careers and are ready to bring their

expertise to the classroom and the geographers,

surveyors and scientists of the future.

Ireland is member state of the European Space

Agency (ESA) and researchers, passionate about

the role of satellites for mapping in Ireland make

important research informed decisions relating

to industry, agriculture, roads, urban planning,

housing and many other things that affect our

daily lives. These same scientists are among the

volunteers wo will be available to schools to

demonstrate and discuss how this works and

this project also closely aligns with objectives of

the European Space Education Research Office

Ireland (ESERO Ireland).

The 5*S project has partners among the

Chartered Surveyors across the whole country.

They are ready and willing to share their

expertise with teachers and students. These

GeoMentor volunteers will pair up with a school

that is local to them or via video-conferencing and

will provide insights to classes, directly where

possible or remotely where necessary.

The 5*S project has the goal of reaching

disadvantaged and remote locations or

communities where teachers and students may

have difficulty accessing external supports and

where students may be disadvantaged further

by lack of access to the levels of support that

schools in larger urban areas or that are close

to universities often enjoy. We encourage you to

consider this opportunity to be part of the change

using science and technology to find solutions to

the challenges of climate change.

So if you are a teacher interested in teaching

about Sustainable Development goals and linking

with active practitioners who use precise satellite

data to explain curricular concepts to students

email us at: 5S.Surveyors@mu.ie for more

information. Follow us @5S_Discover on Twitter.

We look forward to hearing from you!

PAGE 12
---
ETBI Journal of Education June 2020

Acknowledgments

This publication has emanated with the financial support of Science Foundation Ireland

under Grant number 19/DP/7171

5*Team

Dr. Conor Cahalane: FSCSI, FRICS: Assistant Professor, Dept of Geography, Maynooth University

Dr. Avril Behan: FSCSI, FRICS Director and Dean of College of Engineering and Built Environment at TU Dublin

Ms. Aideen Croasdell: Engagement Manager, Esri Ireland/ArcGIS for Schools

Mr James Lonergan: Director of Education and Membership, Society of Chartered Surveyors Ireland-

Ms Lorraine McNerney: General Manager, Ordnance Survey Ireland

Ms. Angela Rickard: Assistant Professor, Department of Education, Maynooth University

Dr Zerrin Kucuk: Assistant Professor, Department of Education, Maynooth University

Dr Joe Oyler: Assistant Professor, Department of Education, Maynooth University

Ms Eimear McNerney: FSCSI, FRICS: Assistant Lecturer on BSc in Geographic Science, TU Dublin

Mr Jack Ffrench: Research Assistant, Dept of Geography, Maynooth University

Dr Ronan Foley: Associate Professor, Dept of Geography, Maynooth University

PAGE 13
---
ETBI Journal of Education June 2020

PAGE 14
---
ETBI Journal of Education June 2020

Embedding the SDGs in Transition

Year, a challenge

Dr Gerry Jeffers Education Department, Maynooth University

A CONTEXT

Over the past 70 years, educators –

particularly those engaged in social justice,

civic education, development education

and global citizenship programmes – have often

turned to key United Nations documents for

inspiration and support. From the landmark

Declaration on Human Rights (UN, 1948), through

the Convention on the Rights of the Child (UN,

1989), to the Millennium Development Goals

(MDGs) (UN,2000) and their successor the

Sustainable Development Goals (SDGs) (UN,

2015b), there is a progression of consensus about

how we might live in an increasingly globalised

world. Educators tend to be attracted to these

idealistic frameworks and standards for nurturing

a vision of humanity that is inclusive and just.

They also offer teaching opportunities that are

focused, structured and manageable.

Of course, as so often happens with the human

story, high ideals are met with mediocrity

and failure. When reporting on the MDGs, UN

Secretary General, Ban-Ki Moon, admitted, "Yet

for all the remarkable gains, I am keenly aware

that inequalities persist and that progress has

been uneven" (UN,2015a). That report notes

that "Despite many successes, the poorest and

most vulnerable people are being left behind"

"THE EXTENT TO WHICH THESE

GOALS (THE SDGS) WILL BE

REALISED WILL DEPEND IN NO

SMALL PART ON WHAT HAPPENS

IN TODAY'S CLASSROOMS"

(SCHLEICHER, 2018, P. 227).

(UN, 2015a, p.8). Gender inequality, growing

gaps between rich and poor, climate change

and environmental degradation, and, critically,

conflicts, are identified as urgent issues.

The uneven achievements of the eight MDGs

partially shaped the 17 follow-on SDGs. It's an

understatement to say that the coming decade

will be a critical one for all of us and the planet we

share. Significant progress towards meeting the

SDGs will be critically important. In attempting to

imagine schools of the future, one commentator

asserts that: "The extent to which these goals (the

SDGs) will be realised will depend in no small

part on what happens in today's classrooms"

(Schleicher, 2018, p. 227). However, there is little

unanimity on how the values underpinning the

SDGs might be taught and learned or, critically,

what aspects of traditional schooling might be

jettisoned (e.g. Claxton, 2008; Robinson, 2017).

PAGE 15
---
ETBI Journal of Education June 2020

TRANSITION YEAR

In the Irish secondary school context, Transition

Year is sometimes suggested as an appropriate

curricular space for young people to learn

about the SDGs. After all, "Curriculum content

is a matter for selection and adaptation by

the individual school having regard to these

guidelines and requirements of pupils and the

views of parents" (DE, 1993, p.5). Furthermore,

the SDGs seem to resonate with the "broad

educational experience with a view to the

attainment of an increased maturity" and the

development of "a range of transferable critical

thinking and creative problem solving skills" to

which TY aspires (ibid, p.3).

Furthermore, the Guidelines suggest:

"An aspect of the Transition Year

programme which should not be ignored

by schools is the possibility offered for

interdisciplinary study. An interdisciplinary

approach would help to create that unified

perspective which is lacking in the traditional

compartmentalised teaching of individual

subjects. One might choose a social theme (such

as school life, pop culture, unemployment, use of

energy) which could provide a focus for studying

during the Transition Year (DE, 1993, p.6).

Looking at these guidelines more than a quarter

of a century on, one might reasonably presume

that the SDGs might figure in the updated

examples. But it would be naïve to ignore what

young people have learned previously about the

SDGs. Indeed, this prior knowledge can be a great

asset. TY is indeed an opportunity to crystallise

and deepen what has been learned in primary

school and in Junior Cycle.

THERE IS NO SHORTAGE

OF RATIONAL ARGUMENTS

BEING PUT FORWARD FOR

THE INTEGRATED, INTER-

DISCIPLINARY TEACHING OF THE

SDGS AND RELATED TOPICS.

LIMITED SUCCESS

Persistent research findings related to

development education in schools indicate

that whatever successes there have been are

frequently dependent on 'champion' teachers

(Gleeson, King, O Donnobháin, and O'Driscoll,

2007; Bryan and Bracken, 2011). As noted

elsewhere, these champions frequently also

"express concern for the environment and

invariably have a commitment to the ideals

enshrined in the SDGs" (Jeffers and Quirke-Bolt,

2019, p.111). The evidence suggests that such

'champions' are in a minority in schools.

There is no shortage of rational arguments being

put forward for the integrated, inter-disciplinary

teaching of the SDGs and related topics. For

example, "… teaching for human solidarity, for

global citizenship, sustainable development and

social justice can offer an integrated response to

emerging and urgent local and global ecological,

technological, socio-cultural and political

challenges" (Quirke-Bolt and Jeffers 2018, p.175);

the Irish Aid Development Education Strategy

2017 – 2023 is driven by an overarching vision

of "a sustainable and just world where people

are empowered to overcome poverty and hunger

and fully realise their rights and potential" (Irish

PAGE 16
---
ETBI Journal of Education June 2020

Aid, 2016, p.2); the Education for Sustainable

Development (ESD) Strategy is a further example

of a cross-curricular invitation/challenge. The

ESD approach suggests that inter-disciplinarity is

not simply a transient educational fashion, but an

emerging opportunity to address the knowledge

explosion and the local and global challenges.

Yet, despite such apparent imperatives, many

teachers and schools remain uncertain, hesitating

to grasp the opportunities. This reality deserves

greater interrogation.

As with the MDGs and development education, TY

has also had its share of successes and failures.

'Interdisciplinary work' appears to be one of

the more spectacular areas of failure. "There is

minimal evidence in any of the research of such

approaches" (Jeffers, 2011, p.66). Evidence from

Transition Year evaluations indicates strong

teacher resistance to inter-disciplinary work

(ibid.).

Such resistance is not that surprising if teachers'

initial teacher education experience restricts

itself to traditional subject categories. Of course,

teachers should be qualified subject specialists,

but in the emerging and fast changing world

they also need to be much more open and

flexible to the possibilities offered by crosscurricular

work. Bryan and Bracken in their

survey of teachers' views noted that: "...the vast

majority of participants felt that development

issues occupied a very marginal position within

the formal curriculum, with many identifying

mere superficial treatment of development

issues within their own subject areas" (Bryan

and Bracken,2011,p. 256). They add that: "...

while theoretically there are indeed numerous

'opportunities' to incorporate development

themes and issues across a wide range of subject

areas, there are a host of constraining factors,

which actively work against the likelihood of

these opportunities being realised in practice"

(ibid).

Bourn (2012) describes how many studentteachers

and teachers feel ill-equipped to

incorporate a DE learning perspective into

their subject teaching because of a lack of both

confidence and skills to address the complexity of

development and global themes.

Teachers' professional development in

development education is perhaps more complex

than other elements of professional capacity

building. It requires both reflection and critical

thinking about current development education

issues, coupled with an engagement in a process

of learning that recognises different approaches

and different ways of understanding and looking

at the world (Bourn, 2014).

UBUNTU NETWORK

One attempt to address the complexity of these

issues in initial teacher education is the Ubuntu

Network (www.ubuntu.ie). The network supports

teacher-educators..

"...to embed into their work a living

understanding and commitment to education

for global citizenship, sustainable development

and social justice. As a result, graduate postprimary

teachers entering the workforce can

integrate into their teaching, and into the

schools where they work, perspectives that

encourage active engagement to build a more

just and sustainable world. (Ubuntu, 2016, p. 9)

PAGE 17
---
ETBI Journal of Education June 2020

PRACTICAL ACTION

Thus, if we reflect on the evidence from the

history of development education in Ireland as

well as TY's own history, it is perhaps unrealistic

to expect one teacher, even in a single module, to

engage with all 17 SDGs. For a TY co-ordinator

keen to embed the SDGs in the programme, the

following strategy might be considered:

a. Identify a team of teachers to volunteer to

undertake the task;

b. Recognise the strengths within the emerging

team;

c. Encourage them to inform each other about

dimensions of the SDGs with which they are

familiar; include ecological, socio-cultural,

scientific and technological, and economic aspects

of the SDGs;

d. Facilitate them to decide how best to

incorporate the SDGs into the school's specific TY

programme;

e. Following the guidelines, see this as an

opportunity for 'the use of a wide range of

teaching/learning methodologies and situations'

(DE, 1993, p.8). 'Project work and research' by

individual and small groups on particular SDGs

may be especially appropriate.

f. Devise an innovative form of assessment and

public demonstration of the students' learning.

Finally, TY offers space and opportunity to

develop 'student voice' (Lundy, 2007; 2018)

beyond tokenism. If we pay heed to the emerging

youthful leaders of our time such as Malala

Yousafzai and Greta Thunberg, the urgency and

relevance of the SDGs as a teaching framework in

TY becomes even clearer.

PAGE 18
---
ETBI Journal of Education June 2020

REFERENCES

Bourn, D. (2012) Global Learning and Subject Knowledge, London: Development Education Research Centre,

Institute of Education, University of London (in partnership with the Global Learning Programme).

Bourn, D. (2014) Theory and Practice of Global Learning, London: Development Education Research Centre,

Institute of Education, University of London (in partnership with the Global Learning Programme).

Bryan, A. & Bracken, M. (2011) Learning to Read the World? Teaching and Learning about Global Citizenship

and International Development in Post-Primary Schools, Drumcondra, Dublin: Centre for Human Rights and

Citizenship Education.

Claxton, G. (2008) What's the Point of School? Oxford: Oneworld.

Department of Education (1993) Transition Year Programmes, Guidelines for Schools, Dublin: Department of

Education. Available at https://www.education.ie/en/Schools-Colleges/Information/Curriculum-and-Syllabus/

Transition-Year-/ty_transition_year_school_guidelines.pdf

Gleeson, J.,, King, P., O Donnobháin, D. & O'Driscoll, S. (2007) Development Education in Irish Post-Primary

Schools: Knowledge, Attitudes and Activism, Research Report, Limerick: University of Limerick, Curriculum

Evaluation and Policy Research Unit.

Irish Aid (2016) Irish Aid Development Education Strategy 2017-2023, Dublin: Irish Aid, Department of Foreign

Affairs and Trade.

Jeffers, G. and Quirke-Bolt, N. (2019) 'Teachers' Professional Identities and Development Education'

in Policy and Practice, Vol 29, Belfast: Centre for Global Education. Pps. 163-181. Available at www.

developmenteducationreview.com

Lundy, L. (2018). In defence of tokenism? Implementing children's right to participate in collective decisionmaking.

Childhood, 25(3), pps. 340–354. https://doi.org/10.1177/0907568218777292

Lundy, L (2007) 'Voice' is not enough: Conceptualising Article 12 of the United Nations Convention on the Rights

of the Child. British Educational Research Journal 33(6): pps.927–942. doi.org/10.1080/01411920701657033

Quirke-Bolt, N. and Jeffers, G. (2018) 'Joining the Dots: Connecting Change, Post-Primary Development

PAGE 19
---
ETBI Journal of Education June 2020

Education, Initial Teacher Education and an Inter-Disciplinary Cross-Curricular Context'. Policy and Practice, Vol

27, Belfast: Centre for Global Education. pps. 110-120. Available at www.developmenteducationreview.com

Jeffers, G (2011) The Transition Year Programme in Ireland. Embracing and resisting a curriculum innovation

The Curriculum Journal 22 (1) March 2011, p 61-76 doi-org.jproxy.nuim.ie/10.1080/09585176.2011.550788

Robinson, K. (2017) Out of Our Minds, The Power of Being Creative, Chicester: Capstone.

Schleicher, A (2018) World Class: How to build a 21st Century School System - Strong Performers and Successful

Reformers in Education, Paris: OECD.

Teaching Council (2016) Code of Professional Conduct for Teachers, revised 2nd edition, Maynooth: The Teaching

Council.

Ubuntu Network (2016) Strategic Plan 2016-2020, Limerick: Ubuntu Network. Available at www.ubuntu.ie .

United Nations (2015a) Millennium Development Goals Report, New York: UN.

United Nations (2015b) Sustainable Development Goals, New York: UN, available: https://www.un.org/

sustainabledevelopment/sustainable-development-goals/ (accessed 7 June 2020).

United Nations Environment Programme (2013) Embedding the Environment in Sustainable Development Goals,

New York: UNEP.

United Nations Development Programme (2000) Millennium Development Goals, New York: UNDP.

United Nations (1989) Convention on the Rights of the Child, New York: UN

United Nations (1948) Declaration on Human Rights, New York: UN.

PAGE 20
---
ETBI Journal of Education June 2020

Teaching and Learning about all the

Sustainable Development Goals

Valerie Lewis Education and Training Boards Ireland

The United Nations Sustainable Development

Goals (SDGs) 2015 – 2030, are a pledge to

finish what was started by the Millennium

Development Goals (MDGs) and tackle some

of the more urgent challenges facing the world

today. Crucial debate and discussion provided

us with a range of detailed objectives and targets

aligned to the final 17 Goals, underpinned by a

declared partnership approach to achieve the

2030 agenda. "The interlinkages and integrated

nature of the Sustainable Development Goals

are of crucial importance in ensuring that the

purpose of the new Agenda is realised. If we

realize our ambitions across the full extent of

the Agenda, the lives of all will be profoundly

improved and our world will be transformed

for the better". (United Nations, 2015, p.6).

The objectives and targets also provide an

opportunity for educators to support and develop

the learning and engagement of the students

in their care. By engaging with the breadth of

aspirations aligned to the SDGs and focusing

on the unified nature and impact of all, there is

potential to empower our students, to extend

their effort and input beyond the possibility of

strikes.

Five years in to the fifteen-year SDG plan, much of

the conversation has been dominated by the need

to address climate justice, climate action and the

THE URGENCY FOR ACTION IS

PALPABLE AND REGARDLESS OF

THE OBSERVER OR PARTICIPANT

STANCE, THE MOTIVATION IS

DIFFICULT TO IGNORE.

urgency around climate change issues (SDG 13).

'Eco anxiety' has appeared in our vocabulary

and news reports, briefings, and protest placards

regularly referencing 'catastrophe', 'panic',

'collapse' and a potential finite timeline to save

the planet. Climate strikes and 'Fridays for

Future' have encouraged our students to march

collectively and shout 'this has got to stop', and

many adults in awe of their offspring, have been

both moved and paralysed in equal measure. The

urgency for action is palpable and regardless

of the observer or participant stance, the

motivation is difficult to ignore. But the question

remains, how have the seventeen goals become

concentrated into a focus on one and is this

the best approach to tackle the current climate

emergency?

Two of the overarching principles aligned to

the SDGs the interconnected nature of all 17

Goals and the pledge that "no one will be left

PAGE 21
---
ETBI Journal of Education June 2020

behind" (United Nations, 2015, p.1). The range

and detail of targets aligned to the Goals indicate

the consideration and deliberation given to the

inclusion of each, and the breadth of challenges

addressed. The theme of sustainability is

referenced with regularity and the concept of

interconnection has remained to the fore. In

leaving no one behind the impetus was not

alone in ensuring that all UN Member states

signed up to the commitment of success, but

also to ensure a collaborative approach. This

collective engagement is designed to inspire

shared responsibility and an equal voice, and

much should be made of this tactic when

educating about climate issues in our post

primary classrooms. Far from approaching

issues through a sole climate lens, the principles

of interconnection and inclusion should form the

core of what influences the formal approach to

engagement. It is clear – we must teach about all

the global goals in order to effectively teach about

one.

A comprehensive review of Irish education

has occurred over the last decade, with the

implementation of the new Junior Cycle

curriculum and a review process currently

ongoing for Senior Cycle. While climate justice

and sustainable development education are

not currently listed as subjects in the formal

curriculum, they are included as short courses

and as elements of other mainstream subjects.

This has the potential to allow for engagement

across the student cohort but in practice it means

that these topics are 'everywhere and nowhere'

often resulting in ad hoc attention. Similarly,

where these topics appear to have a 'natural'

home in subjects like Geography or CSPE, there

can be a tendency to assume that this is the only

place they need to be addressed. However, the

concept that teaching and learning about all of

the Sustainable Development Goals should be the

remit of all teachers will not likely be met with

open arms. Nevertheless, the fact that concern

related to a single SDG is raised by the student

cohort suggests that school is the natural place

where more learning about all the SDGs should

happen.

A pivotal and inherent part of the pedagogical

approach to teaching and learning about

the sustainable development goals mush be

underpinned by the necessity to teach about all

the SDGs, across all subjects. Far from being the

remit of the 'champion' teacher or the aligned

subject, the curriculum of the Junior Cycle in

particular, supports all students and teachers

to learn about the interconnected nature of

sustainability issues and their ultimate impact

on climate change. As outlined in a Framework

for Junior Cycle (2015) an overview of each

PAGE 22
---
ETBI Journal of Education June 2020

curriculum subject demonstrates how it is

organised and learning is set out in strands

and learning outcomes. Each subject is also

underpinned by "a focus on key skills, and new

approaches to assessment and reporting" (DES,

2015). When viewed in detail, these learning

outcomes provide both structure and evidence

which offer a conduit for teaching and learning

about the SDGs – in all subjects. Furthermore,

this inclusive approach permeates across social

demographics providing a potential platform for

a more diverse chorus of voices.

One approach might be to engage in a thematic

journey across the curriculum, by utilising

an example that crosses many of the SDG

'boundaries'. Take for example the humble

mobile phone – owned by over 90% of Irish

adults(Deloitte, 2019) and offering the capacity

to connect virtually and access information in

a matter of seconds. What could be learned

about this device that might ultimately address

a breadth of issues across the sustainability

spectrum. Learning outcome 3.9 in Strand 3

of Applied Technology proposes discussing

'the potential of technology to affect society

and the environment', while 3.9 in Engineering

asks students to 'investigate the impact of

mechatronics on the environment and society'.

This provides potential to explore and analyse the

many metal components (over 30) that are part

of the make-up of the modern mobile phone.

Delving further into those metal components

in Strand 3 (Our Economy) - Business Studies

students can 'explain how scarcity of economic

resources results in individuals having to make

choices'. Mining for some of those resources

and its impact on Local indigenous species can

be discussed and analysed further in the CSPE

classroom and also through the Geography

syllabus. Visual Art learning outcomes provide

a starting point for the investigation and

exploration, not only of phone design and the

impact on consumers, but also on the associated

advertising that encourages the upgrading

of devices on a more regular basis than may

be necessary. Learning outcome 8 in English

provides a potential platform to interpret

meaning and compare the impact of the tone,

style and content of that same advertising.

Through Irish Strand 1 (Communicative

Competence) and Modern Foreign Languages

Strand 3, students have an opportunity to debate,

discuss and communicate these issues and

content with relevant audiences and 'evaluate

it for truth and reliability'. The overarching aim

of the Junior Cert science syllabus 'to develop

students' evidence-based understanding' and 'to

gather and evaluate evidence' supports enquiry

through all five strands from both the practical

and ethical aspects of mobile phone development

and also its usage.

There are of course other subjects, short courses

and learning programmes that provide a platform

for further associations on this 'mobile phone'

theme. There is likewise the caution that not

every topic needs to filter across each subject

area in exactly the same way. The conclusion

remains that all subjects currently have the

capacity to allow teaching and learning about

the SDGs already, a capacity which is explicit

and with no additional content requirements.

This tour of the curriculum is also supported

by, and through, the Junior Cycle key skills of

Communicating, Managing Information and

Thinking, Being Creative and Working with

PAGE 23
---
ETBI Journal of Education June 2020

others to name but a few. Additionally, this

approach also provides a space to consider and

discuss some of the anxieties relating to the

future of our planet referenced earlier, in both

formal and informal contexts.

Despite a sense of urgency, there are a number

of inherent challenges in addressing climate

justice as an singular priority, which not only

does a disservice to the strength and impact

of addressing all SDGs, but by default does an

injustice to teaching and learning about climate

issues themselves.

"

Tackling climate change and fostering

sustainable development are two mutually

reinforcing sides of the same coin; sustainable

development cannot be achieved without

climate action. Conversely, many of the SDGs are

addressing the core drivers of climate change"

(www.UN.org, 2020).

When the protesting students return to their

classroom we must ask, of ourselves and them,

what are we doing to 'make this stop' and how are

we truly impacting change?

The key point continues to remain the

interconnected nature and purpose of the 17

Global Goals. The previous mobile phone example

or thematic approach demonstrates potential

engagement with a possible nine goals. and more

importantly the influence through information

or action that can subsequently be borne on

SDG 13 (Climate Change) - the initial driver of

student protest. It can be difficult to challenge

the purpose of a climate focus, particularly when

the impetus is coming from a youth cohort, but

creative placards and strongly held convictions

do not permeate across the entire student

body. A teaching and learning approach that is

underpinned not only by content, but creative

and critical thinking has the potential to engage

all students and not just the protesting few

challenging those students to make full use of a

breadth of information. We can then ask further

key questions. What form does appropriate and

impactiful action take and ultimately what is the

desired effect.

With just ten years to go, a Decade of Action has

commenced which calls for a greater global effort

to deliver the 2030 agreement. In January this

year UN General Secretary, António Guterres,

outlined three overarching areas of concentration

for the Decade of Action – global action, local

action and people action and detailed an ambition

for all people to work collectively (2020). By 2030

our current post primary cohort will all have

the capacity to vote, be participating members

of society and potential policy makers and

implementers – they will be a core component of

that desired global, local and people action. It is

vital therefore that they are equipped with a welldeveloped

and informed sense of the issues that

impact all members of society. It is also important

that these future voters and policy makers consist

of a range of inclusive voices, reflective of all our

classrooms and not just the protesting few.

PAGE 24
---
ETBI Journal of Education June 2020

REFERENCES

Department of Education and Skills (2014) 'Education for Sustainability', The National Strategy on Education for

Sustainable Development in Ireland, 2014-2020 Dublin: Department of Education and Skills

Department of Education and Skills (DES) (2015) A Framework for Junior Cycle Dublin: Department of Education and

Skills.

Deloitte (2019) Global Mobile Consumer Survey 2019: The Irish cut

https://www2.deloitte.com/ie/en/pages/technology-media-and-telecommunications/articles/global-mobile-consumersurvey.html

Guterres, António (2020) Remarks to the General Assembly on the Secretary-General's priorities for 2020 https://www.

un.org/sg/en/content/sg/speeches/2020-01-22/remarks-general-assembly-priorities-for-2020

National Council for Curriculum and Assessment Key Skills of Junior Cycle (2012) Dublin: Department of Education

and Skills

United Nations (2015) Transforming our World: the 2030 Agenda for Sustainable Development. (A/Res/70/1). New York:

United Nations

United Nations (2019) Sustainable Development Goals Report 2019 New York: United Nations

UN.org (2020) The Sustainable Development Agenda https://www.un.org/sustainabledevelopment/developmentagenda/

PAGE 25
---
ETBI Journal of Education June 2020

PAGE 26
---
ETBI Journal of Education June 2020

The importance of key skills for

sustainable development

Mella Cusack Get up and Goals project

Transforming Our World: Agenda 2030,

adopted by the United Nations General

Assembly in September 2015, is a plan of

action for people, planet, prosperity and peace.

It is a global framework to deal with the major

challenges facing humanity and our planet. The

Agenda incorporates seventeen Sustainable

Development Goals to be achieved by the year

2030. These Goals are integrated and indivisible

and balance the three dimensions of sustainable

development: the economic, social and

environmental. Taken together, the seventeen

Goals with 169 targets represent an ambitious

but imperative plan to secure a sustainable,

THE GOALS ARE UNIVERSAL,

MEANING THAT ALL COUNTRIES

AND ALL PEOPLE HAVE A

RESPONSIBILITY TO ACT TO

REALISE THE GOALS, BOTH AT

HOME AND OVERSEAS.

peaceful, prosperous and equitable life for all

people, everywhere, now and in the future

(United Nations, 2015).

In 2017, UNESCO (United Nations

Educational, Scientific and

Cultural Organization) published

a document entitled Education

for Sustainable Development

Goals: Learning Objectives.

This document outlined eight

key competencies relevant for

the Sustainable Development

Goals. These competencies are

an internationally recognised

standard in relation to learner

acquisition of higher order skills,

dispositions and values vis-à-vis

sustainable development.

PAGE 27
---
ETBI Journal of Education June 2020

Key competencies for sustainability

Systems thinking competency: the abilities to recognize

and understand relationships; to analyse complex systems;

to think of how systems are embedded within different

domains and different scales; and to deal with uncertainty.

Anticipatory competency: the abilities to understand

and evaluate multiple futures – possible, probable and

desirable; to create one's own visions for the future;

to apply the precautionary principle; to assess the

consequences of actions; and to deal with risks and

changes.

Normative competency: the abilities to understand

and reflect on the norms and values that underlie one's

actions; and to negotiate sustainability values, principles,

goals, and targets, in a context of conflicts of interests and

trade-offs, uncertain knowledge and contradictions.

Strategic competency: the abilities to collectively

develop and implement innovative actions that further

sustainability at the local level and further afield.

Collaboration competency: the abilities to learn from

others; to understand and respect the needs, perspectives

and actions of others (empathy); to understand, relate to

and be sensitive to others (empathic leadership); to deal

with conflicts in a group; and to facilitate collaborative and

participatory problem solving.

Critical thinking competency: the ability to question

norms, practices and opinions; to reflect on own one's

values, perceptions and actions; and to take a position in

the sustainability discourse.

Self-awareness competency: the ability to reflect on one's

own role in the local community and (global) society; to

continually evaluate and further motivate one's actions;

and to deal with one's feelings and desires.

Integrated problem-solving competency: the overarching

ability to apply different problem-solving frameworks

to complex sustainability problems and develop viable,

inclusive and equitable solution options that promote

sustainable development, integrating the abovementioned

competences.

Figure 2: The eight key competencies for sustainable

development (UNESCO, 2017: 10)

"YOU CAN'T USE UP CREATIVITY.

THE MORE YOU USE, THE MORE

YOU HAVE."

MAYA ANGELOU (1928-2014), AFRICAN AMERICAN

POET, AUTHOR AND CIVIL RIGHTS ACTIVIST

Actioning a recommendation in the National

Strategy for Education for Sustainable

Development (2014-2020), in 2018 the National

Council for Curriculum and Assessment published

a study mapping the eight key competences for

sustainable development onto early childhood to

post-primary curriculum frameworks in Ireland.

The Framework for Junior Cycle (2015) stipulates

that throughout junior cycle, students develop

their proficiency in eight key skills as they

engage with different learning experiences

and assessment approaches from across the

curriculum.

Each key skill is made up of several elements,

(Figure 3) and each element has an associated

set of learning outcomes, which describe what

learners are expected to know and be able to

do. The NCCA (2018) study mapped the eight

key skill elements and their associated learning

outcomes against the UNESCO key competencies

for sustainability, and found that explicit

connections could be made (Figure 4).

It is evident there is comprehensive coverage of

the UNESCO key competencies for sustainability

across the junior cycle key skills 1 . To get a better

sense of how the mapping was carried out, it

is useful to look behind the scenes of what was

presented in the NCCA study. Since the key skill

PAGE 28
---
ETBI Journal of Education June 2020

Being Creative key skill elements of:

• Exploring options and alternatives

• Imagining

• Implementing ideas and taking action

More specifically, these aspects of the key

competencies can be linked to a selection of

learning outcomes (articulated in the student

voice) associated with these three Being Creative

key skill elements. These learning outcomes are

presented below in descending order of relevance

where the key competences are concerned:

Figure 3: The eight key skills of Junior Cycle

of Being Creative was found to be especially

relevant, this is the most obvious skill to take as

an example. However, it is important to point

out, that although the remainder of this article

focuses on Being Creative, there are elements of

creativity in other key skills – not least, Thinking

Creatively and Critically in the key skill of

Managing Information and Thinking. The focus

on the key skill of Being Creative is for illustrative

purposes only.

In terms of the UNESCO key competences, the

abilities that have the potential to be activated

through the junior cycle key skill of Being

Creative are highlighted in Figure 4. These

abilities are, in the main, activated through the

Exploring options and alternatives:

I can…

• take risks and learn from my mistakes and

failures

• seek out different viewpoints and

perspectives and consider them carefully

• imagine different scenarios and predict

different outcomes

• repeat the whole exercise if necessary

• try out different approaches when working

on a task and evaluate what works best

• think through a problem step-by-step

Imagining:

I can…

• take inspiration from the courage and

imagination of others

• imagine ways that I can make a positive

difference in the world

• express my feelings, thoughts and ideas

through movement, writing, music, art,

storytelling, drama and imaginative modes of

expression

Implementing ideas and taking action:

I can…

PAGE 29
---
ETBI Journal of Education June 2020

JC Key Skills

UNESCO key

competency

Managing

myself

Staying

well

Managing

information

& thinking

Being

numerate

Being

creative

Working

with

others

Communicating

Systems Thinking x x x x

Being

literate

Anticipatory x x x x x x

Normative x x x x x x

Strategic x x x x x

Collaboration x x x x x x

Critical thinking x x x x x

Self-awareness x x x x

Integrated problemsolving

x x x

Figure 4: Mapping the UNESCO Key Competencies to the Junior Cycle Key Skills

• see things through to completion

• evaluate different ideas and actions

• test out ideas

So, how does this mapping relate to subject

and short course specifications? Junior cycle

curriculum specifications, both for subjects and

short courses, largely follow the same template.

This template includes an 'Overview: Links'

section which details the links between each

specific subject/short course and the junior cycle

statements of learning and key skills. The key

skill links section highlights examples of key skill

elements addressed in each specification, with

associated examples of student learning activities.

The key skill elements and examples of learning

are not meant to be exhaustive, rather they are

indicative of what is possible. However, because

the template is finite, it is likely that those

involved in curriculum specification production

use this section to flag the most relevant key skill

elements and the most obvious student learning

activities.

In descending order, according to frequency of

mention, the Being Creative key skill elements

mentioned in the key skill links section of junior

cycle specifications (subjects and short courses)

are:

• Exploring options and alternatives

• Learning creatively

• Imagining

• Implementing ideas and taking action

• Stimulating creativity using digital

technology

The Being Creative key skill element that is

PAGE 30
---
̅

̅

̅

ETBI Journal of Education June 2020

most frequently mentioned Exploring Options

and Alternatives appears in nine subject

specifications and three short courses. Learning

Creatively appears in five subjects and one short

course. Imagining appears in three subjects

and two short courses. Implementing Ideas and

Taking Action is mentioned in two subjects and

two short courses. Lastly, Stimulating Creativity

and Using Digital Technology is in two subjects

and one short course. Most subjects/short

courses highlight one element per key skill in the

links section of the specification template, but

there are exceptions, with two subject and one

short course specification flagging more than one

Being Creative element.

This means that the Being Creative key skill

elements that are most conducive to UNESCO's

key competencies for sustainability are broadly

the very key skill elements that are prioritised

in junior cycle specifications. What did the

producers of the specifications envisage that

students would be doing as they put the various

Being Creative key skill elements into practice?

Is it possible to see the UNESCO competencies in

the sample student learning activities detailed in

the Links (key skill) section of the specifications?

In the interests of brevity, below are some

examples of the sample student activities given

for the Being Creative key skill elements in

both subjects and short courses. The focus is

on the Being Creative keys skill elements that

are most relevant from a key competencies of

sustainability perspective.

Exploring options and alternatives

• Geography: Students learn about global

issues such as climate change and explore

mitigation and prevention options.

• Philosophy: Students choose appropriate

problem-solving techniques as they attempt

to solve problems through argument. To do

this they will seek out different viewpoints

and perspectives, imagine different scenarios

and outcomes, and be prepared to change

their mind.

• Visual Art: Students experience and

experiment with visual art processes

such as observing, imagining, making and

investigating through a wide range of media

including digital methods.

Imagining

• Civic, Social and Political Education (CSPE):

Students use their imaginations to:

develop empathetic thinking by

considering issues from different

perspectives

take inspiration from the community

leaders and activists they encounter in

their research and in person

envision ways that they can make a

positive difference in the world.

• English: Students engage frequently with

literary narratives and will compose

imaginative narratives of their own.

• Religious Education: Students will imagine

ways that they can be a force for good in

the world and take inspiration from sharing

stories of people of courage, conviction and

imagination.

PAGE 31
---
ETBI Journal of Education June 2020

Implementing ideas and taking action

• Business Studies: Students will generate

ideas on products/services in a creative

environment and will be empowered to

realise these ideas.

• Coding: Students brainstorm and generate

ideas for design and implementation of

solutions and projects.

• Home Economics: Students apply the design

brief process in the making of a textile item

for the individual or the home.

These sample student activities extracted from

specifications are from a mix of short courses and

subjects. There are short courses and subjects

with explicit sustainable development content

to be learned (education about sustainable

development), as well as encouraging UNESCO

key competencies through associated key

skill elements (education for sustainable

development). There are other short courses and

subjects that where content about sustainable

development may be addressed if the teacher

is so motivated, and the integration of key skills

into learning outcomes are the main driver for

creating opportunities for teachers to employ

active methodologies which in turn have the

potential to contribute to student engagement

with UNESCO key competencies.

CONCLUSION

UNESCO describe the key competencies for

sustainability as 'necessary for all learners

of all ages worldwide' and state that they are

'transversal, multifunctional and contextdependent'

(UNESCO, 2017: 10). While the focus

in this article was on junior cycle level three

and especially on the sample key skill of Being

Creative, there are ample opportunities for key

competency building in level two and level one

priority learning units and short courses.

The experience of the Get up and Goals project

and partner initiatives like ETBI's Take One

programme in recent years has highlighted

huge potential to build the key competencies for

sustainability across the junior cycle programme.

Celebrating what is happening in short courses

and subjects raises awareness of the possibilities

that exist for valuable cross-curricular work and

indeed the need for teachers to be supported to

become familiar with subjects and short courses

beyond their own, both in terms of content

and skills/competencies; and, for appropriate

time to be dedicated to planning to ensure that

teaching, learning and assessment about and for

sustainability is optimised for all students and for

the sake of our world.

Endnotes

1 The UNESCO key competencies for sustainability are

high-level competencies, which assume that learners have a preexisting

set of foundational competencies. It is for this reason that

the competencies cannot be explicitly mapped onto the junior cycle

key skill of Being Literate. However, there are links between the key

competencies and the key skill of Communicating, a higher-order key

skill which builds on Being Literate.

PAGE 32
---
ETBI Journal of Education June 2020

REFERENCES

DES, 2014. National Strategy on Education for Sustainable Development.

https://www.education.ie/en/Publications/Education-Reports/National-Strategy-on-Education-for-Sustainable-Developmentin-Ireland-2014-2020.pdf

DES, 2015a. Framework for junior cycle 2015.

https://www.education.ie/en/Publications/Policy-Reports/Framework-for-Junior-Cycle-2015.pdf

Junior cycle short course and subject specifications:

www.curriculumonline.ie

United Nations, 2015. Transforming our world: the 2030 Agenda for Sustainable Development.

https://sustainabledevelopment.un.org/post2015/transformingourworld

UNESCO, 2017. Education for Sustainable Development Goals: Learning objectives.

http://unesdoc.unesco.org/images/0024/002474/247444e.pdf

PAGE 33
---
ETBI Journal of Education June 2020

PAGE 34
---
ETBI Journal of Education June 2020

Sustainable Development Goals:

Our Journey so far

Helen O'Connor Deputy Principal, Abbey Community College, Waterford

Following an invitation from Kilkenny and

Carlow Education and Training Board (ETB)

Director of Schools, Ms Pauline Egan, to

attend an Education and Training Boards Ireland

(ETBI) training programme, Ms Linda Cummins

and Ms Helen O'Connor from Abbey Community

College travelled to Athlone in October 2019. The

subject matter of the training day was 'Embedding

Sustainable Development Goals in Teaching and

Learning at Junior Cycle'. The launch of TAKE 1,

the ETBI SDG Programme also took place on that

day.

We had arrived in Athlone with open minds and,

as many ETBs were represented by teaching staff

and management, we heard from our colleagues

their experiences of embedding the Sustainable

Development Goals (SDGs) in their schools.

However, it was clear that, like us, the majority of

schools were new to the programme and were in

Athlone to listen, learn and begin their own SDG

journey.

EXPLORING THE BEST WAY FORWARD

On our return to the Abbey we discussed how

best to introduce the SDGs programme into our

curriculum and into school life. In December,

Abbey College participated in ETBI's Take 1 Week.

Being mindful of 'initiative overload' among

staff and students, we reflected upon what we

WE AIM TO EDUCATE IN A

REFLECTIVE WAY, EMPHASISING

THE DEVELOPMENT OF THE

WHOLE PERSON THEREBY

ENABLING OUR STUDENTS TO

PARTICIPATE FULLY IN SOCIETY

AND LIVE FULFILLED LIVES.

were already doing that linked in with the SDGs.

Although the aim of ETBI is to embed the SDGs

in the Junior Cycle curriculum, we also hoped to

highlight them on a whole-school level.

In order to do this, we decided that we would

focus our attention on one SDG and showcase

how it connected to our curricular and cocurricular

activities. Our aim was to integrate one

SDG into school life to encourage student and

staff engagement with this goal and, ultimately,

motivate them to learn more about providing a

sustainable future for all.

Climate change and the environment are high

on students' agendas at present and many

SDGs deal directly with the environment. On

the back of organised protests and student-led

PAGE 35
---
ETBI Journal of Education June 2020

climate campaigns in our school,

we decided not to focuson

an environmental orientated

SDG. We looked instead to our

students and upcoming activities

to see which of the seventeen

SDGs would fit best into our

school life.

JUSTICE GROUP AND HUMAN

TRAFFICKING

Student Voice is of the utmost

importance in Abbey Community

College. According to our mission

statement, we aim to educate in a reflective

way, emphasising the development of the

whole person thereby enabling our students

to participate fully in society and live fulfilled

lives. Students are encouraged and given the

opportunity to voice their opinions and raise

awareness of issues that matter to them whether

they are school-based or at a local, national or

international level.

Abbey Community College has a Justice Group

comprising impassioned students and staff

who work together to raise awareness of issues

that are important to them. It so happened that

this group was organising a talk on the issue

of HumanbTrafficking to be given by Mr Kevin

Hyland, OBE. From Mr Hyland's biography, we

knew he was the author and main negotiator for

the inclusion of UN Sustainable Development

Goal 8.7, providing a specific target for human

trafficking in the 2030 agenda. His visit to our

school drew much online and print media

attention and that gave us an opportunity to

introduce the ETBI's programme and highlight

our chosen SDG.

Inspired by Mr Hyland, we decided to highlight

SDG 8: Decent work and economic growth. As

outlined at the training day in October 2019, one

of the first school-based activities of the TAKE 1

Programme would see ETB teachers across the

country showcase current and new engagement

with the SDGs in their classrooms during One

World Week.

The aim was to teach One Lesson about One

SDG, to One class group over the course of One

week. We informed staff of our chosen SDG:

SDG 8 dealing with employment, economic

growth, decent work and equality, labour rights,

sustainable tourism, access to financial services

and aid.

We were very conscious that the Take 1

programme should not create more work but

highlight what was already being done in our

classes to try and achieve a sustainable future

for us all. Our teachers responded and raised

awareness of the importance and interconnected

nature of the Sustainable Development Goals

within the junior cycle framework.

PAGE 36
---
ETBI Journal of Education June 2020

WELLBEING

The wellbeing of all is at the heart of what we

do at Abbey Community College. We define

Wellbeing as care of the individual in the school to

ensure they are contented, healthy and successful.

Our 'Well Boy, Well Girl' initiative takes place each

day for all students during tutor time, focusing

on one of the six Wellbeing Indicators each week.

During Take 1 week, the 'Connected' indicator

was chosen and a daily reflection related to SDG 8

was delivered to all students thereby enabling the

whole school to access this initiative.

Civic, Social and Political Education (CSPE) is

also an important part of our school's wellbeing

programme within junior cycle enabling students

to connect to situations and take responsibility

for the wellbeing of others.

WOMEN'S SUFFRAGE AND GENDER

INEQUALITIES

instructions outside the classroom door to put

their books on their desks and then take a chair

from the stack at the back of the room. Students

were rewarded for completing this task: boys

got two stickers, girls got one sticker. This led to

a discussion about inequality linking to topics

previously studied such as democracy, equality

and women's right to vote. The students were

then asked to research facts about the gender

pay gap for homework. The following week, they

completed a group activity where they created

legislation against the gender pay gap in Ireland

discussing topical social issues such as childcare

costs. Posters of the students' work were

produced and showcased in the school and on the

school's social media pages.

SDG 8 promotes sustained, inclusive and

sustainable economic growth, full and productive

employment and decent work for all. Ms Dowling

Ms Siobhan Dowling had been

delivering a series of lessons

during CSPE on the women's

suffrage movement to her third

year students. To tie in with

Take 1 week, she decided to link

in with the suffrage movement

and fast forward to today; the

gender pay gap, women's labour

rights, and how a lot of women

end up in informal employment

as a result of childcare costs.

Ms Dowling created a lesson

whereby students experienced

gender inequalities. Before

students came into the

room, she gave them specific

Students explore SDG 8

PAGE 37
---
ETBI Journal of Education June 2020

highlighted this with her students while also

linking in with the junior cycle Statements of

Learning (SOL) and key skills. SOL 11 relates to

students taking action to safeguard and promote

their wellbeing and that of others. This successful

lesson allowed students to use the key skill of

working with others and place a strong focus on

student action giving them an experience of active

citizenship.

BUSINESS STUDIES

The topics studied in junior cycle business studies

are directly linked with SDG 8. Second year

business studies classes conducted by Ms Maria

Dagg and Ms Emma O'Neill were studying the

topic of employment. During Take 1 week, these

classes explored the topics of unemployment and

the rights and responsibilities of employees and

employers. Students were encouraged to come up

with ideas on how they could encourage decent

work for all. Informative posters were designed

and displayed throughout the school.

Ms Dagg and Ms O'Neill highlighted SDG 8 with

their students promoting the need to increase

employment opportunities, particularly for

young people and to advocate for safe and secure

working environments for all. This links with

junior cycle SOL 7 where students value what

it means to be an active citizen, with rights and

responsibilities in local and wider contexts.

posts by students, parents and outside agencies

was visible through these social media platforms.

Our aim to raise awareness of the Sustainable

Development Goals and in particular SDG 8 had

been successful.

Abbey Community College's participation in the

Sustainable Development Goals initiative has

been low-key so far. If the SDGs are to become

embedded in all junior cycle subjects, there is

a need for more resources to become available

to schools in order to map the SDGs to specific

subjects within the junior cycle curriculum. This

is something that ETBI are currently working on.

There is also the need for all ETB schools to come

on board.

OUR JOURNEY CONTINUES

Our hope for our school is to take part in another

Take 1 week, using a different SDG allowing

different subject departments to get involved.

Abbey Community College's Sustainable

Development Goals journey has just begun but

will continue enthusiastically.

AWARENESS THROUGH SOCIAL MEDIA

PLATFORMS

During Take 1 week, Abbey Community College

highlighted all our SDG activities online. Our

website, Facebook page and Twitter account were

updated daily. Positive interaction with these

PAGE 38
---
ETBI Journal of Education June 2020

The Sustainable Development

Goals - A Student's Perspective

Jack O'Connor - United Nations Youth Delegate for Ireland (2019-2020)

This year, 2020 sees the 5-year anniversary

of the UN Sustainable Development

Goals (SDGs). These Goals fall under

the United Nations' Agenda 2030, and 2020

begins the Decade of Action to achieve these

ambitious Goals. The future of the world, and

the achievement of the SDGs, will be shaped by

the youth of today, and I am a firm believer that

the youth must be adequatwely educated on

sustainable development regardless of their life

ambitions to shape a better tomorrow.

A common misconception about sustainable

development, and indeed the SDGs, is that they

are aimed solely towards developing countries.

This could not be further from the truth. The

SDGs touch on every possible element of life

globally; from human rights, to business practices,

to diverse ecosystems. With that said, I find it

crucial that people are afforded the capacity

and education necessary to deliver positive,

sustainable change.

The SDGs provide a pragmatic framework for

creating a better world and is a system that

I have held great interest in since my time as

a student at Desmond College, Co. Limerick.

With the benefit of hindsight, I can see that

receiving my second level education through

an Education and Training Board (ETB) school

provided a strong perspective on the need for

MOYO NUA IS AIMED AT

REVOLUTIONISING THE

AGRICULTURAL PRACTICES OF

DEVELOPING COUNTRIES USING

AN ERGONOMIC SEED PLANTER

FOR SMALLHOLDER FARMERS

sustainable development both globally and

locally. Issues such as reducing inequality and

providing quality education, two core elements

of ETB schools, are engrained in the SDGs, which

provide the opportunity for systematic change

to occur. However, despite the abundance of

resources readily available for the SDGs, coupled

with initiatives and ideas to implement this

development, there tends to be a large divide

in buy-in on these Goals. Perhaps the most

important Goals that have existed globally.

My initial interest in sustainable education and

subsequent work related to the SDGs, started

through a project I entered in the BT Young

Scientist and Technology Exhibition in 2017.

The project, now called Moyo Nua, is aimed

at revolutionising the agricultural practices of

developing countries using an ergonomic seed

planter for smallholder farmers in Malawi,

PAGE 39
---
ETBI Journal of Education June 2020

Not only did we get an opportunity to field test

our product, but also receive feedback from those

same farmers we were hoping to target. A knockon

effect of the potential reduction of labour

intensity meant that the farmers' children could

start going to school. This was a pivotal moment,

the reality that for some children education must

be sacrificed for sustenance.

Jack O'Connor, cofounder of Moyo Nua, poses with the

ergonomic seed planter. MOYO NUA

made from local materials. The planter utilises

simplified agricultural technologies to improve

the health and wellbeing, educational attainment,

and economic prosperity of smallholder farming

communities in Least Developed Countries - one

of the poorest demographics in the world. The

project scooped the Self-Help Africa 'Science for

Development Award, sponsored by Irish Aid.

One of the first benefits of wining the Science for

Development Award afforded me an opportunity

to travel to Malawi to examine and learn how the

planter might be utilised in a developing world

context. The visit to Malawi was a turning point.

After further research, prototyping and testing

following this trip, the project took on an SDG

centric approach as a core premise of its work.

Subsequent developments and opportunities

allowed us to promote the work of Moyo Nua

on a global stage, presenting the project as a

business model in the sustainability sector. One

such presentation led us to enter and win the

World Trade Centers (WTC) 'Peace Through

Trade' competition. "The competition is a unique

opportunity to not only encourage the next

generation of trade and investment changemakers,

but to give them a global platform to

communicate and further develop their ideas,"

(Catherine Lee, Chair of the WTCAF Board of Directors)

The team presented their project onstage at the

WTCA's 2019 General Assembly in Querétaro,

Mexico and subsequently featured in Forbes. We

have now been selected as one of the top projects

to participate in the Hult Prize an SDG business

competition, which challenges students to solve

a pressing social issue around topics such as food

security, water access, energy, and education, with

a top prize of $1 million USD.

Mixing for-profit business creation and activity

with the Sustainable Development Goals not only

incentivises greater collaboration for the Goals,

but also actively works towards raising practical

implementation of sustainable business practices

PAGE 40
---
ETBI Journal of Education June 2020

ESD PROMOTES CRITICAL

THINKING AND GREATER

LEVELS OF EMPATHY AMONGST

LEARNERS, THESE SKILLS ARE

UTTERLY CRUCIAL IN IMPROVING

THE WORLD

to improve a widely ridiculed discipline in terms

of sustainability.

Aligned to my interest in the SDGs and my project

initiatives, I am fortunate enough to be one of

two United Nations Youth Delegates for Ireland,

for the 2019/2020 year. The role allows for the

representation of young people in Ireland, at the

United Nations, and vice versa. It has provided me

with the opportunity to develop my knowledge

of the UN, SDGs and international relations, while

affording me the platform to advocate for the

progression of the SDGs.

The core idea of my work focuses on youth's

role in Agenda 2030 - from helping to make

making young people aware of the SDGs and then

encouraging them to become actively involved

in progressing towards the achievement of the

Goals. One of the key issues that I have discovered

through this advocacy is the lack of young

people's active involvement and awareness of

these Goals, particularly in my own demographic.

While the prevalence of social consciousness

is high amongst this cohort, the specifics of the

Goals are not evident. Despite my own ease of

access in relating to the SDGs, many young people

are unsure as to how they can be effective actors

in achieving Agenda 2030.

With this in my mind, my focus of work is on

empowering young people to participate in the

SDGs; in ways that are relevant, challenging, and

enjoyable for them. This includes engaging in

advocacy, educational attainment, and project

management centered entirely around the SDGs.

Taking an all-encompassing approach to the SDGs

is the best way to ensure that everybody can

effectively play their part in achieving Agenda

2030.

A key way to integrate Education for Sustainable

Development, is to embed the Goals in preexisting

modes of education to show learners how

the SDGs apply to everything that they learn, do

and are part of. I was fortunate enough to play

a small role in the ETBI's TAKE 1 Programme –

Embedding the Sustainable Development Goals

in Teaching and Learning, in ETB post primary

schools. The programme focuses on showing

students how the UN SDGs are integrated into

every subject that they study, and to the wider

world around them. Attending the Take 1 week

of engagement in my alma mater of Desmond

College brought a true sense of reality to ESD.

ESD promotes critical thinking and greater levels

of empathy amongst learners, these skills are

utterly crucial in improving the world from where

it currently is. Seeing students actively engaged

in the science behind climate change, the art of

repurposing, and the policy of the student council

not only demonstrated how relatable the SDGs

are to education, but also how passionate the

students were about every single facet of their

involvement with the SDGs. This engagement

showcased how these students are already

participating in activities that will ultimately feed

in to achieving target 4.7 of SDG 4

PAGE 41
---
ETBI Journal of Education June 2020

"

By 2030 ensure all learners acquire

knowledge and skills needed to promote

sustainable development, including among

others through education for sustainable

development and sustainable lifestyles, human

rights, gender equality, promotion of a culture

of peace and nonviolence, global citizenship,

and appreciation of cultural diversity and

of culture's contribution to sustainable

development. SDG 4 Target 4.7

to education allows people, regardless of

background, to develop their learning to vastly

improve their way of living and impact on those

around them. Fair access cannot stop at standard

education on core subjects, but also must go

beyond the confines of traditional topics to

prepare people to think critically in addressing

their localities, and the world's, most pressing

issues.

The Sustainable Development Goals represent

a global call to action for collaborative efforts

in benefitting the world around us. They are

extremely ambitious and require the input and

active involvement of everyone on the planet to

deliver pragmatic, sustainable change for good.

As is the case with any cause, movement, or

innovation, education plays the most critical role

in attaining this change. A quote from Nelson

Mandela, I often draw upon rings true in this

context "The youth of today, are the leaders of

tomorrow". The need to integrate Education for

Sustainable Development will be the defining

factor in the future of this nation, and the wider

world throughout. Seeing the ETBI's innovative

solutions to SDG integration into education

sparks immense hope, that the future business

leaders, policymakers, tradespeople and more,

are adequately prepared to answer the Global

Goals' call.

Coming from an ETB school education and

culture, I have a perspective not often seen with

other youth delegates from other parts of the

world. Speaking about fair access to quality

education is something that is not just a talking

point or sound bite for me, but an affordance

that I have personally experienced. Fair access

PAGE 42
---
ETBI Journal of Education June 2020

PAGE 43
---
ETBI Journal of Education June 2020

CONTRIBUTORS

An SFI Discover Award Project - By the 5*S team

Science Foundation Ireland (SFI) is the national body promoting applied and basic research in Ireland. SFI

also funds public engagement with science, engineering, technology, and maths (STEM). The SFI Discover

programme is an example of one such outreach funding scheme, designed to enable projects that encourage

people of all ages and from all walks of life to be informed, inspired, and involve in STEM. Partnership

projects are welcomed in Discover applications and in 2019 the SCSI joined with Maynooth University, TU

Dublin, Ordnance Survey Ireland and Esri Ireland on a proposal to showcase satellite mapping to students

Dr Gerry Jeffers Education Department, Maynooth University

As a young teacher Gerry Jeffers spent two years teaching in Kenya, East Africa. This experience and perspective

coloured much of his subsequent work as teacher, guidance counsellor, school leader, national co-ordinator of

the support service for Transition Year, lecturer in the Education Department at Maynooth University and as a

writer. From 2013-2019 Gerry served as chairperson of the Ubuntu Network's (www.ubuntu.ie) management

committee. Recent projects included leading the team that created FairViews, a development education

photopack (www.developmentoptions.ie). His books include Transition Year in Action (Liffey Press, 2015)

and Clear Vision, the Life and Legacy of Noel Clear, Social Justice Champion (Veritas, 2017). He is currently

working, with Nigel Quirke-Bolt, on a project that attempts to capture Images of Learning around the World.

Valerie Lewis Education and Training Boards Ireland

Valerie Lewis is an Educational Policy and Development Officer at Education and Training Boards Ireland.

She advocates for and supports over 250 Post-Primary schools in the ETB sector. She has over twenty years

of experience in the Irish Education arena at post-primary and tertiary level, working across a range of

sectors. In her previous roles Valerie worked in the Public Information and Communication and, Development

Education sections of the Department of Foreign Affairs and Trade, supporting the enhancement of their

education programmes and Strategic Education Partnerships. She also has experience of writing and

designing a range of citizenship education and training materials, both in Ireland and at European level

PAGE 44
---
ETBI Journal of Education June 2020

Mella Cusack Get up and Goals project

Mella Cusack is the Irish coordinator of GET UP AND GOALS! is an international project funded by the European

Union which aims to support the integration of the Sustainable Development Goals in education systems in 12

partner countries. In Ireland, the project is coordinated by A Partnership with Africa, with co-funding from

Irish Aid. In 2018, Mella was commissioned to write the National Council for Curriculum Association (NCCA)

Study of Education for Sustainable Development (ESD) curriculum opportunities from early childhood to senior

cycle, which maps UNESCO's key competencies for sustainability development onto curriculum frameworks.

Helen O'Connor Deputy Principal, Abbey Community College (Kilkenny and Carlow ETB)

Helen began her career in the UK where she completed a PGCE in Geography in the University of Aberystwyth.

She gained invaluable experience while living and teaching in Coventry. Following a year travelling the world

and teaching in Australia, Helen returned to Ireland. She joined Abbey Community College in 2010 as an Irish and

Geography teacher. After completing a Post Graduate Diploma in Educational Leadership with NUI Maynooth,

Helen was appointed Deputy Principal of Abbey Community College in 2017. Helen's interests include school

promotion, enhancing school community links and introducing worthwhile teaching and learning initiatives.

Jack O'Connor - United Nations Youth Delegate for Ireland (2019-2020)

Jack O'Connor is an ETB alumnus, as a past student of Desmond College in Limerick. A current undergraduate student in the

University of Limerick, Jack takes a very keen interest in all facets of sustainable development - through diplomatic work,

business development and innovation, and policy coherence. This interest is showcased across his endeavours; as United

Nations Youth Delegate for Ireland, Founder of Moyo Nua, and advocate for topics including the UN SDG's and mental health.

PAGE 45
---
ETBI Journal of Education June 2020

PAGE 46
---
ETBI Journal of Education June 2020

PAGE 47
---
Journal of Education Produced by Education and Training Boards Ireland

June 2020