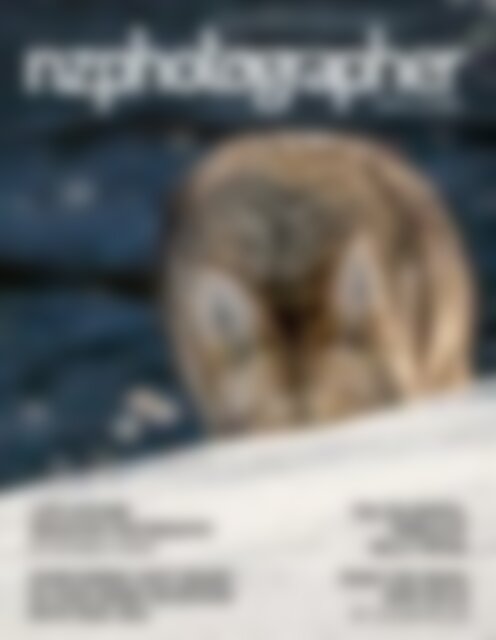 NZPhotographer Issue 33, July 2020
As of December 2022, NZPhotographer magazine is only available when you purchase an annual or monthly subscription via the NZP website. Find out more: www.nzphotographer.nz
As of December 2022, NZPhotographer magazine is only available when you purchase an annual or monthly subscription via the NZP website. Find out more: www.nzphotographer.nz
SHOW MORE
SHOW LESS
You also want an ePaper? Increase the reach of your titles
YUMPU automatically turns print PDFs into web optimized ePapers that Google loves.
ISSUE 33, July 2020

LATE AUTUMN

SEASCAPE PHOTOGRAPHY

BY RICHARD YOUNG

OVERCOMING SELF-DOUBT

IN YOUR WORK INTERVIEW

WITH PAUL REA

THE COLOURFUL

WORLD OF

KELLY VIVIAN

FROM THE ROAD:

NEW DELHI

BY July SUSAN 2020 BLICK1
---
WELCOME TO ISSUE 33 OF

NZ PHOTOGRAPHER MAGAZINE

HELLO EVERYONE,

This month's magazine is full of

travel adventures to inspire you to

get out there with your camera

whether you're more than happy

to stay on home turf for the time

being, or are eagerly anticipating

the re-opening of all borders

around the world post lockdown.

Susan Blick is here to take us on

the road to New Delhi, we travel

to Lake Emma with Brendon

Gilchrist, and hear how Garett

Vincent went off on an adventure

chasing the Endeavour last

November in Behind The Shot. We also enter into the colourful

world of Kelly Vivian to learn how she went from sports

photography to fine art photography and travel the world

with Paul Rea whilst discussing self-doubt in your work and

ways to overcome that.

We're also thinking seasonal photography for those on you

in the Southern hemisphere with Richard Young offering

inspiration for late Autumn photography, and Readers'

Submissions showcasing some of your best Winter shots from

around the world.

Emily Goodwin

Editor NZ Photographer

NZPhotographer Issue 33

June 2020

Cover Photo

Snow Blind by

Lynne Roberts

Publisher:

Foto Lifestyle Ltd

Website:

nzphotographer.nz

Graphic Design:

Maksim Topyrkin

Advertising Enquiries:

Email

hello@nzphotographer.nz

FOLLOW US

OUR CONTRIBUTORS

Brendon Gilchrist

Brendon is the man behind

ESB Photography. He is an

avid tramper who treks

from sea to mountain, and

back again, capturing the

uniqueness of New Zealand's

unforgiving landscape.

Richard Young

Richard is an award-winning

landscape and wildlife

photographer who teaches

photography workshops and

runs photography tours. He is

the founder of New Zealand

Photography Workshops.

© 2020 NZPhotographer Magazine

All rights reserved. Reproduction of any material appearing in this magazine in any form is forbidden without prior

consent of the publisher.

Disclaimer:

Opinions of contributing authors do not necessarily reflect the opinion of the magazine.

2

NZPhotographer
---
CONTENTS

4

6

10

16

22

30

31

38

56

BEHIND THE SHOT

with Garett Vincent

LAKE EMMA

by Brendon Gilchrist

FROM THE ROAD: NEW DELHI

by Susan Blick

THE COLOURFUL WORLD

OF KELLY VIVIAN

INTERVIEW WITH PAUL REA

INSIGHTS FROM

@EXCIO PHOTO COMMUNITY

EXCIO TOP 10

MINI 4 SHOT PORTFOLIO

LATE AUTUMN SEASCAPE PHOTOGRAPHY

by Richard Young

62 PORTFOLIO

BEST READERS' SUBMISSIONS THIS MONTH

MEMBERSHIP

LAKE EMMA

BY BRENDON GILCHRIST

THE COLOURFUL WORLD

OF KELLY VIVIAN

INTERVIEW WITH

PAUL REA

6

16

22

FREE 12$ MONTH 120$ YEAR

• Online issue

• High res PDF download

• Access to all back issues

• Competition entry

($15 per entry)

• Readers gallery ($5 per entry)

• 4x4 gallery submission

• A chance to be featured

in interviews, cover photo,

behind the shot and articles

• Online issue

• High res PDF download

• Access to all back issues

• Competition entry

(1st entry free)

• Readers gallery (1 free entry

per month)

• 4x4 gallery submission

• A chance to be featured

in interviews, cover photo,

behind the shot and articles

• Online issue

• High res PDF download

• Access to all back issues

• Competition entry

(1st entry free)

• Readers gallery (1 free entry

per month)

• 4x4 gallery submission

• A chance to be featured

in interviews, cover photo,

behind the shot and articles

SUBSCRIBE
---
Behind The Shot

with Garett Vincent

GARETT, TELL US ABOUT YOU AND YOUR

JOURNEY WITH PHOTOGRAPHY…

My journey with photography started in late 2016

when I decided to venture out with my cell phone

and explore the local area around Whangarei,

Northland. During my wander, I felt a sense of

connection with nature and the surrounding

environment. Even though I was only using my cell

phone, getting home and viewing the results gave me

the inspiration to capture more as I imagined it would

be a great chance to explore and capture aspects of

the beautiful world we live in, especially being in New

Zealand. I purchased a cheap bridge camera soon

after that, then upgraded to a Nikon DSLR in 2017 and

I have never looked back.

TELL US ABOUT THIS IMAGE…

It was late November 2019 when I heard that the

Endeavour was sailing to N.Z as part of the Tuia 250

year celebrations, a celebration of Captain James

Cook discovering New Zealand. A replica of the 17th

century ship was to navigate N.Z on the exact same

path that was sailed in 1769.

I'd seen this majestic ship on the back of the 50

cent piece all my life and have an interest in

history, especially Aoteroa's history, so I went down

to the port as the ship docked in Whangaerie to

photograph it. There were children with icecreams,

people with hard hats and hi vis vests, and a lot of

vehicles surrounding the ship so I felt that the photos

I'd taken lacked authenticity. I was determined to

capture how it would have looked back in 1769 so

I downloaded a ship tracker on my phone and a

few days later I noticed it was on the move up the

East coast towards the Bay of Islands so I packed up

my photography gear and, racing the fading light

as it was late afternoon, headed off in pursuit of the

Endeavour.

After a few stops and starts from the Endeavour at

various bays along the coast which I picked up via

the ship tracker, I wondered if I'd ever get to see the

seemingly elusive ship as the light was fading fast and

the petrol gauge on my car was running low. Driving

43km on the most winding and nauseating gravel

roads I'd ever driven on in what seemed like the

middle of nowhere my hope was fading as fast as the

light but I finally came to a dead end of the council

road at a settlement called Rawhiti and beautiful Oke

Bay.

As luck would have it, the ship tracker showed that

the Endeavour had stopped on the other side of the

hill in Oke Bay so I made my way up and over the

hill through thick bush and there it was in all its 1769

glory along with the spirit of New Zealand and other

vessels – It was like stepping back into a time warp.

WHAT WERE YOU SHOOTING WITH?

I used my Nikon D7100 DSLR with a 70mm‐210mm

f4: 5.6 nikkor lens to take this shot. The only postprocessing

applied to the photo was a slight touch

of brightness, some sky attention, and a little bit of

sharpening. I photographed it in jpg format to give

it a slight softness which I felt gave more historic

authenticity.

WHAT DID YOU STRUGGLE WITH THE MOST

WHEN TAKING THIS PHOTO?

Because this wasn't the most technical shot and

I wanted to replicate a historic scene, I had to focus

on the composition of the image. That was difficult

because of the rough terrain I encountered on the

cliff face with a lot of foliage present so positioning the

camera was difficult. Add to this, the fact that I was

racing the fading light and had forgotten my tripod

so I was quite frantic to capture the shot as soon as

possible – I didn't want to add much ISO to the image

and create noise in the picture due to wanting to

keep post-processing to a minimum. Had I of grabbed

my tripod before heading out of the door I could

have selected a lower shutter speed to allow more

natural light.

WHY IS THIS SHOT SPECIAL TO YOU?

I've always liked old oil paintings of historic 16th

and 17th century ships on rough seas or docked

in harbours but the fact that this was a part of my

country's founding, of New Zealand's history, it meant

a lot to me personally.

As well as being able to nail the shot I had dreamt

of, without the distractions of modern day life, I also

discovered another beautiful part of Aotearoa I didn't

know existed so it was a win-win adventure.

WHERE CAN WE FIND YOU ONLINE?

albums.excio.io/profile/garett%20vincent

www.instagram.com/

Garett_Vincent_photography

www.facebook.com/

garettscottvincentphotography
---
CHASING ENDEAVOUR

F5, 1/200s, ISO350, 70mm

July 2020 5
---
Lake Emma

by Brendon Gilchrist

6

NZPhotographer
---
LAKE EMMA SUNSET

F9, 70.3s, ISO64

July 2020 7
---
When you find yourself coming out of

Covid‐19 lockdown, what do you do and

where do you go first? I had just brought

a new truck and wanted to get out of

Christchurch to refresh, recharge and test out my

truck on some basic 4 wheel drive roads so I thought

what better place to go than into the Hakatere

Conservation Park with its many lakes.

My target spot was Lake Emma and old Musters Hut

which can be reached via a short mountain bike

ride, a decent walk, or an easy drive over rough

terrain. I chose this place because I knew there

was no reception for phone service and I needed

a break from the reality of the world, even though

it was just a short overnight trip. Added to this we

were in a new moon phase giving me the ideal

opportunity for some astro photography without

light pollution from our friend the moon.

So off we set, Lake Emma is only a 2 hour drive from

Christchurch but as this was my first time as driver

of a 4 wheel drive vehicle on weather dependent

roads we took things slowly, heading off early in the

day.

I had been wanting to come here for several years

as I love the history of this site. The hut was built

between the 1860s‐1890s and is located beside the

beautiful Lake Emma but you are not are allowed to

stay inside due to its heritage so we set up camp in

tents outside.

While we were cooking dinner we were shooting the

sunset, lucky to have a perfect location to keep an

eye on the cooking food while having the ability to

shoot the lake's reflection as well as the beautiful

colours in the sky. The area is well known for fog

drifting in not long after sunset, especially in the

cooler months, so I was hoping this would happen

whilst we were there.

We were shooting some early astro shots, the calm

water allowing a perfect reflection of stars on the

lake when I spotted what seemed to be fog on

the far right. I hoped I could get my dream shot

of the milkyway rising behind the hut before it was

a complete white-out but was more than happy

with shooting the low fog over the lake as it added

mood and drama to the otherwise still scene. With

1 hour to go until the milkyway was in the right

position above the hut, I kept shooting but with

each image I took, there were fewer visible stars so

my disappointment levels were increasing along

with the fog.

It was getting chilly so I got into my sleeping bag,

setting the alarm for 8.30pm. I poked my head

STAR REFLECTION

F2.8, 20s, ISO10000

8

NZPhotographer
---
out of the tent before the alarm went off to find

complete fog, not even the lake was visible despite

us being less than 10 metres from the shore so back

to bed I went, resetting the alarm for 4.30am since

I didn't think the fog had any chance of clearing

earlier.

4.30am came around and I opened the frozen tent

door and looked up to find trillions of stars shining

brightly – it was amazing! I closed the tent door

again and over the next 30 minutes built up the

courage to get out of my warm sleeping bag to

shoot a big panorama of the milkyway arched over

the hut.

Once up and out of the tent I just stood looking in

awe for a few minutes before setting up my camera

for the 40minute photo session – To see this creation

in a completely dark sky was overwhelming, beyond

words, it was almost like I felt a spiritual connection

to the heavens.

This was my first time using my Nikon D850 in a

dark sky area and to say I was impressed is an

understatement. I set the camera close enough

to the hut to be able to photograph in portrait

orientation for easier stitching on the computer

when I got home. Once I had finished this, I had

a look around to see what else I could shoot and

thought why not try the composition I wanted but

with the Milkyway Core rising in it just to see what it

looked like. It looked pretty good, not perfect (I'll

have to revisit for that shot with my sea kayak) but

I was happy enough with what I'd caught on my first

trip post lockdown.

So, photos completed it was time to get back into

the tent and sleeping bag to get warm again.

I slept through sunrise but I wasn't too bothered as

I had captured some epic shots I didn't dream were

going to happen when we arrived and left feeling

ready to face life and the real world once more.

3 TIPS FOR WINTER LAKE PHOTOGRAPHY

• Always look around you – Sometimes, what you

are shooting is good but behind you, something

even better is going on.

• If you're seeking perfect reflections but the wind

is sending ripples along the water, use a long

exposure of 10–20 seconds to blur the water and

get your almost perfect reflection that way.

• A tripod is your best friend for long exposure

shots and you should always remember to use

a cable release to remove that camera shake.

However, if you don't have one, you can make

do by placing your camera on a big rock and

using the timer.

MUSTERS ASTRO

F3.2, 25s, ISO10000

July 2020 9
---
From the Road:

New Delhi

by Susan Blick

10

NZPhotographer
---
Let's be frank, New Delhi isn't a destination in itself

for most travellers nor photographers, but simply

an arrival point for an incredible adventure in

India. They say you haven't travelled until you've

been to India, but I'd go one step further and say

you don't know India until you're well-acquainted

with Delhi. Most people make a beeline for

Connaught Place, the modern financial and

commercial centre, as this area gets the greatest

attention in guidebooks, but in my honest opinion,

from someone who has spent many months over

many years exploring Delhi, that would be a

mistake as there's nowhere less interesting than

Connaught Place.

So where should you go if you've got a few days

stopover in New Delhi?

Firstly, there are a number of areas in the city

where you should focus your photographic

attention, most notably, Old Delhi. Here you'll

find the likes of India's largest mosque the Jama

Masjid, built by the Emperor Shah Jahan who

incidentally also built the Taj Mahal. The Masjid

is open to foreigners every day, but is best

photographed quite early or late in the day when

the light is low and soft. Take a wide angle lens

in order to get the whole building in the frame. A

zoom lens of around 100mm is also useful for more

detailed shots.

Insider's Tip: Once you've entered the complex

there's a very discreet ticket window to the left of

the mosque, where for a little baksheesh you can

buy a second ticket to get you part way up the 40

metre minaret and onto the left side terrace - An

excellent photographic position.

Another place not to miss in Old Delhi is Asia's

largest spice market! Tell your taxi, rickshaw, or

tuk-tuk driver to take you to Chandni Chowk

(the street intersection) or the actual name of

the market, Khari Baoli. Visit early in the morning,

around 8am, and plan to stay a couple of hours

until the stalls start to open. First thing in the

morning, as daily wage earners are lugging heavy

sacks of spices into the market, you'll feel as

though you've travelled back in time. The pungent

smell of chillies and the like will have your sinuses

pumping, so if you're sensitive to these kinds of

things, wear a mask. Mid-way along the street,

there's an alley entrance into Gadodia Market

(Google it!) here you'll find a staircase leading to

a rooftop where you can get an overall view of

the market and the shanty shack homes where

many of the labourers live. Though it has become

an Instagram influencer favourite, the view over

the adjacent Fatehpuri mosque and the whole of

Gadodia is worth a few shots of your own!

Left: It's All A Blur In The Paharganj: F5.6, 8s, ISO200

Above: Jama Masjid: F6.3, 1/320s, ISO800

Khari Baoli Spice Market: F8, 1/320s, ISO1250

July 2020 11
---
STREET TAILOR MENDER

F5.6, 1/200s, ISO1000

Street photography most definitely rules in New Delhi

since the people are some of the friendliest and most

cheerful in India. Engage with them, I usually find a

friendly smile, a simple namaste, or a thumbs up will

help break the ice and then, before I know it, I'm

deep in conversation discussing their family and my

travel plans. Once you've connected with the person

or people, motion the camera their way or ask if it's ok

to take a few shots. Very rarely have I been refused,

and more often than not I've been offered a cup of

chai (tea) and even had the opportunity to pose my

subjects if I felt it was needed. By engaging with local

people your pictures will come alive and through

curiosity and courtesy, you'll make those connections

that will have you reminiscing of your time in India for

many years to come.

In addition, there are also opportunities to practice

some more creative styles using long exposure and

panning techniques. In order to pan a shot, you

should use shutter priority mode and drop your shutter

speed to about a 10th or 15th of a second. Make

sure you have your ISO set to its lowest setting or your

image may be over-exposed. If it's a really sunny day

you might need to use a 3 or 4 stop neutral density

filter. A little secret... I don't carry such a filter, so what

I do is use my graduated filter but drop it down all the

way covering my lens which allows it to function as

a neutral density sufficiently enough to get the shot.

Next, find a road with some tuk-tuk traffic and pan

your camera following your selected tuk-tuk. Align the

speed of your pan with that of the tuk-tuk, keeping

the subject in focus and blurring the background.

A great place in Delhi for the classic hustle and

bustle shot using a long exposure is in the Paharganj

as seen at the start of this article. This is a famous

location in the heart-pumping centre of New Delhi

opposite the New Delhi Railway Station. The street is a

kilometre or two of stalls, markets, hotels, cafes, and

hippy hangouts, all of which offer great street action.

Moreover, there's a tall blue building mid-way along

where at the top sits Krishna's Cafe. Here you can stop

for a soda and a meal and use your tripod to capture

a long exposure of the street below. The colours and

action blend together to give your image the true

feeling of what it's actually like to be consumed by

the manic excitement on the streets of Delhi. Here,

use a 10 stop neutral density filter to slow your shutter

speed right down to around 8 or more seconds to

create the blurred-effect.

12

NZPhotographer
---
MAN ON TRAIN

F4.5, 1/320s, ISO320
---
SIKH TEMPLE GURUDWARA

BANGLA SAHIB

F5.6, 1/60s, ISO100

If the buzz on the street is getting a bit much, take

a tuk-tuk over to the magnificent Sikh temple

Gurudwara Bangla Sahib for some quiet sunset

reflection. This is a most serene location that's free

to enter, however, no tripods are allowed. It's a

lovely place to slow down and take in the beauty of

the temple and its water feature, a sarovar, which

means pond of nectar and was in the past made to

provide clean drinking water for the people. While

there, look for unusual angles to photograph the

temple. Try shooting through the arches of the gallery

that encircle the sarovar, framing the temple and

encompassing more than simply the temple directly

front on. Also, look for reflections of the temple in the

pond.

Another interesting sight-based outing is to visit the

Presidential Palace and India Gate. These are joined

by a long straight grand avenue called the Rajpath.

Visit just prior to sunset for the best light and ask

your driver to drop you at the gates of the palace,

known as Rashtrapati Bhavan. You can't enter, but

after photographing the palace through the gates

it's an easy downhill walk towards India Gate with

many fabulous opportunities to capture the famous

sandstone war memorial. After sunset, the structure

is lit in the colours of the Indian flag and the whole

place comes alive with stallholders and visitors. Bring

your tripod for the best images and a zoom lens with a

wide option.

Naturally in a city the size of New Delhi there are

plenty more photo opportunities to be had, these are

just a few to give you somewhere to start.

GEAR GUIDE:

As always for street photography, a zoom lens works

best. I find the 16-35mm great for crowded markets,

historical sights, and the like whilst for street walks

with no real purpose or focus other than exploration,

I go for the 24-105mm. Both of these lenses cover the

gamut of experiences one is likely to encounter when

shooting street and travel. If there's room in your kit

for a telephoto, it's nice to have access to 200mm

on occasion, however, when you're in the thick of

the action as is so often the case in New Delhi, there

isn't much scope for such a lens so you may choose

to leave it at home or in the hotel room. I never travel

without a tripod nor a set of good quality filters - By

investing in a set of graduated and neutral density

filters you can add more creative elements into your

photography and push your skill set to the next level.

14

NZPhotographer
---
INDIA GATE

F4.5, 1/250s, ISO1000

PRESIDENTIAL ESTATE

F5.6, 1/250s, ISO200
---
16

NZPhotographer
---
The Colourful World

of Kelly Vivian

PURPLE SEAS

F5.6, 1/400s, ISO10000

July 2020 17
---
I am an Aucklander, born and bred and have

been a part of the Auckland photography

scene since 2014, upon purchasing my first

DSLR camera and shooting my first contract

with Basketball NZ.

Initially, sports photography was my thing.

I took pride in getting sharp action shots,

as well as capturing the passion and

determination on the athlete's faces in

unique sports portrait shots. Composition

has always come naturally for me and

shooting sports was a great opportunity to

highlight that aspect of my photography. I

began to grow a following locally, and as

my exposure within associations also grew, I

was lucky enough to cover multiple National

Tournaments around NZ, and multiple

basketball tournaments in both the United

States and Australia.

After I upgraded from a Nikon D3300 to

a Nikon D500 I began to experiment with

different shots, especially long exposures. I

began to notice my style becoming more

aligned with fine art than sports and I began

spending more time off the basketball courts

and out in nature.

Long exposure was always something I

wanted to master as I loved the dreamy water

shots and vibrant light trails I saw in other's

images. So, I researched how to perform

a long exposure, bought a remote shutter

control, learned the correct settings, and

went out and practiced. Once I got my head

around it and began getting the night-time

long exposures I'd dreamed of, I bought an

ND Filter and began to tackle daylight long

exposure, which I found far more challenging.

Sometimes, I still struggle in getting the right

settings for a daytime long exposure without

blowing the image out but I am content with

the quality of the images I am consistently

producing using my ND Filter now.

I also began practicing with the ever-popular

sunset and, as I only shoot in manual mode,

I was able to try many different setting

combinations before settling on one I was

happy with, then as the light changed, I was

able to change with it, to ensure adequate

exposure. I took hundreds of sunset shots from

different angles, and at different beaches,

but I became frustrated as they all looked

flat and more or less the same. It wasn't until I

really learned, and understood the principals

of editing, that my images changed

dramatically and the colours really began to

pop.

BLUE HARBOUR

F20, 20s, ISO100

VECTOR COLOURS

F13, 13s, ISO200

FAN OF LEAVES

F9, 1/1000s, ISO3200

18

NZPhotographer
---
BLOODSTREAM

F7, 1/800s, ISO400

PERFECTLY IMPERFECT

F18, 1/8000s, ISO12800

July 2020 19
---
TIPS FOR TAKING GAME

CHANGING SUNSET SHOTS

When taking a great raw image

of a sunset to work on later in your

post-processing software, the first

thing I would suggest is to position

yourself where you are happy with

the composition of the image in your

viewfinder, note the position of the sun,

any trees or land that is featured, and

the horizon. Consider photography

principals such as the rule of thirds

and try to incorporate them into your

image and also consider your horizon

and ensure it is as straight as you can

get it in camera.

These are simple things to set up

your image and then you can wait

for nature to work her magic. Take

plenty of images, using slightly different

settings and see what differences

there are and which you prefer,

experimentation is fun and can show

you what you like and can replicate in

more images.

My go-to editing program is

Photoshop, the 'black/white levels

tool' and the 'curves tool' being game

changers for me. In post, the first thing

I do is double check the exposure of

the image then I play around with

the curves tool which alters the light

and enhances different parts of the

image. Then I up both the blacks

and whites of the image (sometimes

minimally), where you begin to see

colour changes and the image begins

to look more like my finished product.

I might up the contrast a little and up

the vibrance/brilliance to really get

the colours to pop, although I tend

to stay away from the saturation tool

as you can begin to get into surrealist

photography with over saturation.

I am proud of where photography has

taken me, it has allowed me to travel

extensively and I was lucky enough

to be awarded 1st place in the Non-

Professional; Fine Art/Landscape

category in the 2019 Int'l Photography

Awards, giving me a platform to

showcase NZ, through my eyes, to the

world. I think now, I'd just like to learn

more, experiment more, and keep

fine-tuning my art.

GOLDEN

F20, 1/5000s, ISO10000

SCALDING SUNSET

F18, 1/400s, ISO1250

DRAMATIC ENTRANCE

F20, 1/5000s, ISO10000

albums.excio.io/profile/

kellsphotography
---
Astro Masterclass

Workshop – Mt Cook

4-Day Photography Workshop 15-18th August

Our Astro Masterclass Workshop is based in Twizel within

the Aoraki Mackenzie International Dark Sky Reserve,

the world's second-best area for viewing the night sky.

With highly acclaimed astrophotographer Mark Gee along with

Richard Young as your tutors. Designed to extend your skills

in both Astro and timelapse photography, the workshop

dates have been picked to ensure a new moon and

winter offers the best conditions astrophotography.

During the workshop we will visit New Zealand's

premier astronomical research centre,

the Mount John Observatory, to learn more

about the night sky and photograph

the constellations.

www.photographyworkshops.co.nz

info@photographyworkshops.co.nz

(0064) 21 0845 322

July 2020 21
---
Overcoming Self-Doubt in Your Work

Interview with Paul Rea

Photoshop which gives me heaps of flexibility with

post-processing.

WHAT ARE YOU SHOOTING WITH?

I have a Nikon D850 with a good range of lenses…

Too many actually!

Most of my travel images are with the 28–300mm lens

because it gives a great range of focal length. Now

that sensors have much better performance up the

ISO scale, I think you can use slower lenses with great

results.

PAUL, TELL US ABOUT YOU…

I live in the Wakatipu Basin near Arrowtown with my

wife Heather. Our two children live in Melbourne and

we have 1 granddaughter. I am largely retired but

do have a couple of board positions to keep myself

engaged and up to date in the business world. I play

golf and I am involved with the Arrowtown Creative

Arts Society. Then, of course, I try to fit in a bit of

photography.

HOW DID YOU GET INVOLVED IN

PHOTOGRAPHY AND WHERE HAS THAT

JOURNEY LED YOU?

I was a keen photographer back in the 70's when at

university. I used to load my own film cartridges and

process my own B&W images using the communal

darkroom at Otago University and later with my own

equipment in our blacked-out bathroom. I dropped

any serious photography for a long time until digital

tech began to make it all easier. Now, I'm mostly

shooting landscapes though that has morphed into

broader travel related images including a few candid

portraits and heaps of wildlife. I have taught myself

Lightroom and have also now reached a level with

YOU'VE TRAVELLED TO MANY BEAUTIFUL

PLACES, DOES ONE COUNTRY STAND OUT

ABOVE THE OTHERS FOR YOU?

I thought our trip to South Georgia and Antarctica

was an amazing experience. We had 21 days at sea,

visiting penguins and other wildlife in an environment

of stunning beauty. The scenes felt almost fantasy

as we encountered completely novel vistas and

animal habitats every day. A highlight was visiting a

king penguin colony on the Salisbury Plains on South

Georgia. It was a challenge to capture the sight of

almost half a million penguins in a single shot. I think

the image here has expressed the scene quite well.

I was also blown away by the Galapagos Islands

where you can get so close to wildlife without

disturbing them.

TELL US A LITTLE ABOUT YOUR EXPERIENCE IN

NAMIBIA… HOW DID THAT TRIP MAKE YOU A

BETTER PHOTOGRAPHER?

Having been to Antarctica, I thought I had seen all

the best landscapes, but Namibia has some equally

amazing places. The colours, texture and shapes of

the landscapes in the desert are really fascinating.

However, it is a very difficult task to portray them

in a finished photograph. I am not sure that the

experience made me a better photographer, but

it certainly showed up some shortcomings. My

challenge was in trying get the reality of a huge

vista with contrasting colours and textures into an

interesting image. The usual techniques of composing

with a foreground of interest are difficult when such

foregrounds are scarce. I think if I get another chance

to go there, I will spend more time looking for narrower

captures with a longer lens.

22

NZPhotographer
---
MORNING MEETINGS

F16, 1/200s, ISO320

NAMIB DESERT DUNES

F11, 1/200s, ISO100

July 2020 23
---
Galapagos Marine Iguana

F5.6, 1/750s, ISO400

Namibia Desert Adapted Elephant

F5.6, 1/1000s, ISO450
---
Galapagos Red Rockcrab

F5.6, 1/500s, ISO250

Galapagos Great Blue Heron

F5.6, 1/750s, ISO500
---
FRENCH VILLAGE

F22, 0.8s, ISO31

YOU'VE EXPERIMENTED WITH IMPRESSION

SHOTS RECENTLY, TELL US ABOUT THAT

EXPERIENCE…

I attended an exhibition by a guy called Edgar Moroni

in Uzes, France in June 2019. He had quite a bit of

impressionist work showing and I talked to him about

his technique. I then tried it out myself and really

enjoyed the new style I could achieve by waving my

camera with a slow shutter speed as it allowed me to

interpret a scene differently than capturing the scene

from every angle at its sharpest resolution as I usually

would.

I really wanted to represent the Tango dancers in an

abstract way. The woman with the red dress was a

great subject, but I needed to get a non-distracting

background to make it work well – I think they were

a bit disconcerted by me following them around the

outside of the dance floor waiting for the background

I wanted!

Most of the other attempts I have made have been

townscapes or landscapes. I choose a slow shutter

speed so during the day it needs to be stopped way

down and at the lowest ISO to get a good exposure. It

is a matter of taking heaps of shots while deliberately

moving the camera and then choosing the few

that seem to work. There is a great deal of chance

involved in getting a good image, so I suppose the

creative process is in choosing between the many

shots rather than with the camera.

WHAT CHALLENGES HAVE YOU FACED WITH

PHOTOGRAPHY?

I struggle trying to achieve a personal style in my

photography and with confidence in my work.

I think if I were more confident about what I produce

(something I think every part-time photographer

struggles with) I would commit more time and effort

to the practice of photography which would help me

develop my style – catch 22!

To help boost my confidence I did commit to creating

a joint exhibition at our local museum gallery in

Arrowtown in April 2019. The idea came up after

I had returned from Patagonia and Antarctica and

a photographer colleague had just returned from

Iceland and Norway – we were talking about our

experiences and our work, and decided, with images

from both ends of the earth, an exhibition entitled

"Poles Apart" would be a good idea.

We ended up with a very successful month long

exhibition of about 40 mounted and framed images.

We even had an opening night and sold about half

of the show. Leading up to the exhibition I had major

26

NZPhotographer
---
TANGO DANCERS

F4.5, 2s, ISO200

July 2020 27
---
doubts about my work and I still do to some extent but

I now approach my photography with a little more

confidence. Everyone should make an effort to get

their work in front of others. Either by media like Excio,

Facebook or Flickr, or by contributing printed works to

an exhibition in your area or publications such as this

magazine. It helps build confidence and confidence

allows you to be more creative and productive.

HOW HAS BEING AN EXCIO MEMBER HELPED

YOU?

I don't seem to spend enough time working on my

photography and I think that is because I respond

better to completing a specific project. Therefore,

I really like what Excio are doing to provoke readers

to try new things with their #Good Challenges and

I intend to participate in some of those over the

winter.

WHAT PLANS DO YOU HAVE FOR THE FUTURE,

PHOTOGRAPHY WISE?

I am keen to try some astro photography since I live in

Central Otago with great opportunities for clear skies

with minimal light pollution. It is a bit cold out there at

the moment though!

WHERE CAN WE FIND YOU ONLINE?

albums.excio.io/profile/paul rea

www.facebook.com/PaulReaPhot0s

www.flickr.com/photos/30626191@N00

West Coast

15th - 21st September 2020

7-Day West Coast Wilderness Photo Tour

Join Ken Wright and Shaun Barnett on this exceptional seven-day photography

tour of the South Island's wild west coast. Timed at the end of winter, when

the light is crisp and low, the West Coast Photography Tour offers excellent

opportunities to capture the area's wild beaches, forests and waterfalls, and the

snow-covered Southern Alps.

28

NZPhotographer

www.photographyworkshops.co.nz

info@photographyworkshops.co.nz

021 0845 7322
---
PASSIONATE ABOUT PHOTOGRAPHY?

We have dozens of opportunities for you to showcase your work.

Let's prove that photography is more than selfies, likes or influencers.

PHOTO COMMUNITY

FIND OUT MORE

Photos (left to right): Marina de Wit, Lee Ann Waddell, Haydn Parkes, Kim Free, Paula Vigus, Peter

McIlroy, Pamela Johnstone, Brendon Gilchrist, Lex Rudd.

July 2020 29
---
INSIGHTS FROM

@excio photo community

Although we can only give

you an update in the

magazine once a month on

what has been happening

within the Excio Community, you can

always check the free-to-download

app on your phone to keep up to

date with the newest members

(www.excio.io/membership),

newest collections, and newest

uploads. In June we welcomed more

international members to the Excio

family - from Canada, the US, and

Australia with some of these members

having already published their

collections so go and check them

out!

We want you to think of Excio as a

"photopedia" where you can explore

the world in a visual way, enjoying

the photographs whilst learning

as you read the stories behind

the shots. We have really enjoyed

exploring our planet with members

recently - from an underwater

octopus to coral lichen, landscapes

of Argentina, methane gas bubbles

at Minnewanka, and ice fishing in

Alberta. Of course, you can always

enjoy a discovery tour around New

Zealand as you flick through the

newest collections of places and our

new member Kyle even offers an

exclusive special deal for those of you

who are keen to try and capture the

Footwhistle Glowworm Caves.

Our weekly challenges have

continued too with members

exploring the effects that

photographs have on viewers.

From the colour theory to learning

how to showcase the senses

through photography (textures and

temperatures) there is still much to

learn and discover so if you would

like to add a meaningful touch to the

photos you take and share, you are

more than welcome to join us!

You might have seen the latest 'In

The Spotlight' blog post celebrating

the creativity of our members and

wondered how to get your own

work featured there. Simply check

the events page (www.excio.io/

events) on the Excio website and see

when the deadline is for submitting/

joining. As well as regular scheduled

events we share interviews, photo

reviews, and other content including

our "Learning From The Best" series

in which we randomly select

(surprise!) members who have the

most interesting photos on Excio by

giving a detailed review of what the

photographer has done right so that

others in the community can learn

from them.

We hope you enjoy this month's Top

10 selection on the following pages

and find inspiration from them. To be

in for a chance of having your own

work featured in the Top 10 Excio

Photos just add something new to

your Excio collections on a regular

basis – we know you're all busy but

even uploading 1 new photo each

month is progress in getting your work

recognised and out into the world.

Ana Lyubich

Co-founder of Excio,

Ana's photography

journey started many

years ago with one of the

first Kodak film cameras.

She loves exploring the

unseen macro world

and capturing people's

genuine emotions.

@excionz

www.excio.io

30 NZPhotographer
---
EXCIO TOP 10

JIM GRAYDON

COME IN

Fascinating gallery in old Oamaru. Inside and

out, eyes follow you everywhere.

excio.gallery/jim

KATRINA WEIR

OCTOPUS

Majestic Octopus slowly moving through the

water, The Octopus regulary changes its shape.

excio.gallery/katrina

July 2020

31
---
MELYSSA

FORGET-TURCOTTE

A GENTLE GIANT

Giraffes used to live in most of the open

country of continental Africa. They were

wiped out of Egypt by 2600 BC and from

western and southern Africa in the 20th

century. The largest populations of wild

giraffes now live in Tanzania. The species'

long-term survival is dependent on human

conservation strategies.

excio.gallery/melyssa

ROY CERNOHORSKY

MAGNOLIA

A magnolia which I have just finished

editing. This was taken at Eden gardens.

excio.gallery/heiny

32 NZPhotographer
---
KARL BEVIN

MILK COLLISION

A rebounding droplet of milk colliding

with a 2nd droplet.

excio.gallery/karlbevin

LEANNE SILVER

THINKING ABOUT STUFF

Would love to know what this lemur

was thinking as it sat thoughtfully in

front of the glass. Such gorgeous

animals, and so sad that they

are one of our planet's most

endangered animals

excio.gallery/leanne

July 2020

33
---
DEAN MCLEOD

CUTE

There's nothing more pleasing than sitting in a

gallery viewing great works of art and it's even

better when you have someone to share it with.

excio.gallery/sixtyseven

BRETT BURLEY

CORAL LICHEN

Native to New Zealand, this photo was taken in

Tongariro National Park. Up close, one can truly see

the intricate formations of this lichen and how it got its

name. The brownish tips on this Lichen is the fungals

fruiting body that produces spores.

excio.gallery/brettburley

34 NZPhotographer
---
CARMEN THERRIAULT

HOME IS WHERE YOU PARK IT

This photo was made on the frozen lake Sylvan

in Alberta which is where I live. Ice fishing is a

common winter activity for some in Canada

and ice fishing huts of all shapes, sizes and

styles decorate the landscape for the winter

months. This fishing hut is likely also someone's

summertime camper. With the full moon rising,

I thought this photo was very descriptive of our

winter landscape.

excio.gallery/carmen

CONNULL LANG

BUBBLES AT MINNEWANKA

This lake was created when they built a hydro dam to

supply the town of Banff with power in 1941. In doing

that they flooded another town called Minnewanka

Landing. All the decaying material at the bottom of

the lake releases methane gas which floats up and

gets trapped in the ice as the lake starts to freeze. You

can (if you want) chisel the ice bubbles open and

ignite the gas pockets which burn away with a flash.

excio.gallery/connull

July 2020

35
---
$120 / YEAR or

$12 / MONTH

SUBSCRIPTION BENEFITS:

High res PDF download

Access to all back issues

Competition entry (1st entry free)

Readers gallery (1 free entry per month)

4x4 gallery submission

A chance to be featured in interviews, cover photo,

behind the shot and articles

SUBSCRIBE NOW

36 NZPhotographer
---
Subscribe

today

and

download all back

issues.

www.nzphotographer.nz

www.nzphotographer.nz

July 2020

37
---
Mini 4 Shot Portfolio

Our 4x4 feature showcases 4 mini portfolio's of both

professional and up and coming New Zealand

photographers. The 4 images are linked in some way,

allowing you to get an understanding of what each

photographer is most passionate about capturing.

For a change to get your own 4x4 feature in a future

issue of the magazine, become a subscriber of the

magazine here.

BERNADETTE FASTNEDGE

Portrait of a Single Bloom

DES PITFIELD

Can You See The Light

JO MCCARTHY

Kowloon Streets

SHELLEY HARVEY

Beauty in The Darkness

38

NZPhotographer
---
BERNADETTE FASTNEDGE

40

NZPhotographer
---
I live in west Auckland in a quiet little valley surrounded by

the beauty of nature including farm and domestic animals,

native birds, trees, flowers, and critters. Suffice to say, I

have an abundance of nature's beauty to keep me very

busy. I also photograph people and places, which are

included in many of my portraits. One of my pet passions

is fine art photography, which gives me the freedom to get

as creative with my camera and editing skills, as I like.

www.bfphotography.co.nz

PORTRAIT OF A SINGLE BLOOM

This is a series of floral portraits taken of a single bloom and then edited

using some fine art techniques which I have been experimenting with. I

wanted to focus on one flower only, because I wanted to bring attention

to its form, or as I say, its essence. Therefore, I also desaturated the

colours and deleted the backgrounds. I didn't photograph these flowers

with the intention to edit them as described above instead, the idea

came to me as I was going through the images.

After editing a few more floral portraits, I intend to make some large prints

using fine art paper. I think these will look quite spectacular when also

matted and framed ready to hang on the wall.

July 2020 41
---
DES PITFIELD

44

NZPhotographer
---
Born in England, and after spending some years in Europe, I found

myself in New Zealand where I stayed for 28 years. Photography

was a serious hobby but being a working photographer, only a

dream. Then an opportunity presented itself in Australia and I've

called Melbourne home for the last 10 years. I had a commercial

photography studio for 6 years and ran evening workshops too,

discovering that I enjoyed teaching more than working in the studio.

Now photography is my passion and my

pleasure, rather than a business.

www.despitfieldphotography.com

CAN YOU SEE THE LIGHT?

To me photography is about learning how to really see

light. To see how it touches or lights the subject rather

than just seeing the subject itself.

As photographers, we all have places we want

to visit or that we like to return to. If we can, we

choose the day and the time in the hope of getting

the right light. Sometimes the light is good and we

are inspired but other times it just doesn't happen.

However, occasionally, if we are lucky and looking,

the clouds open or you turn around, and suddenly,

just for a moment, something changes and the light

is truly amazing, lighting up your landscape and

touching an element of your subject in a completely

transformational way.

Seeing the light is what I present to you in my 4 images.

At Princes Bridge in Melbourne I walked under the

bridge, looked back, and saw how the light was

bouncing off the water. At Williamstown Pier, I looked

behind me to find that everything was suddenly sidelit.

In Gippsland, Eastern Victoria, the clouds parted for

a moment after an hour of dull grey drizzle. Then, on a

farm track in Toolamba, after an hour of walking up and

down this farm track looking for scenic spots, the light

changed and it was the scenic spot!

July 2020 45
---
JO MCCARTHY

48

NZPhotographer
---
Starting out in sport photography, I enjoyed the

challenge of capturing action whilst telling a story.

I still do. My recent work though has been more in

the travel and street genres - documenting local

life fits well with my passion for travel. I've also been

enjoying working more with monochrome, I find

that stripping away the colour simplifies the image

and removes some of the distractions.

www.kinenphotography.com

KOWLOON STREETS

Whether it's a city I'm familiar with or a new

destination, wandering with camera-in-hand is

my 'happy place'. I love observing life unfold,

and keeping an eye out for features with which to

frame the scenes that fate may gift me that day.

This set of images are from a far too brief visit to

Hong Kong last November. It was the second time I

had been there, and was a reminder that however

well we know a location, there are always new

things to discover and new ways to see something

familiar.

All four images were taken in the Kowloon district

north of Hong Kong Island. Nathan Road is the

main street which runs north-south through the

Kowloon peninsula, Xiqu Centre is an arts centre

that opened in January 2019, then there's the Tsim

Sha Tsui subway station, and the market streets in

Jordan.

July 2020 49
---
SHELLEY HARVEY

52

NZPhotographer
---
I dreamt of being a photographer from a young age but coming from a time

when schools lacked equipment and darkrooms it was an unreachable goal

back then. However, with a background as a hair and makeup artist, my

recent journey into portrait photography has been easy and exciting and I've

now been creating digitally for 3 years. I went back to high school and sat my

level 2 and 3 in photography achieving excellence and upon completion,

my husband bought me my first DSLR. Not long after, I was introduced to

photographer Scott Fowler who has been a phenomenal mentor.

www.instagram.com/shelleyharvey01

BEAUTY IN THE DARKNESS

These are images that come from deep within my subconscious mind. The beauty in the

darkness suggests a certain turmoil yet holds strength around the main character - They will

survive the torment and pain and remain true to themselves.

The digital darkroom allows me to build on my creative visions. My love for portraiture gives

me a good starting image which I often find too pretty or generic, so using the creative

tools in Photoshop and Nik Software, along with images and textures I have harvested, I

begin to manipulate the images into a story. The creation of my images can take a short

or exceedingly long time to develop, depending on the elements within the scene, the

emotion I wish to evoke, and my state of mind at the time of processing. I never know

exactly how an image will evolve until I have finished it.

When in the zone, I allow my creativity to flow freely without questioning the reason behind

the image as creativity takes courage, and I trust that one day I will understand the

underlying meaning of what I have created.

July 2020 53
---
54

NZPhotographer
---
July 2020 55
---
Late Autumn

Seascape Photography

by Richard Young

56 NZPhotographer
---
July 2020

57
---
"While rocks were photographed, the subject of the sequence is not rocks;

while symbols seem to appear, they are pointers to the significance. The

meaning appears in the space between the images, in the mood they raise in the

beholder." – Minor White

It has been a strange autumn. I have not had as

much time on the road lately, and while I have

enjoyed a break from traveling, I have also missed the

experience of connecting with more wild landscapes.

I live right next to the sea (and am not sure if I could

live too far from it now!) but this section... of coastline

has been built upon and some of its wilderness

suppressed. Even so, the beautiful thing about any

view across the ocean is that it's different every day.

Each day the waves carry a different level of energy

and the expansive sky a different tone, giving the

landscape a different mood. This is what I would

miss if I did not live next to the coast. I feel the need

for a break, time in a more wild landscape – maybe

even some photography – so I pack my VW camper

and drive out to one of my favourite sections of

coastline for a few nights away. As I sit here writing

this, I am looking out across a rugged coastline on

a fine afternoon in late autumn, with the sun low in

the sky and warm on my face. The morning's breeze

has dropped and this coast doesn't feel as wild as it

normally does – on other days, I've struggled to stand

on the beach as mighty southerly waves threatened

my existence, but today the swell has calmed to a

relaxing ebb and flow. The warmth of the afternoon

sun makes it hard to imagine that winter is on its way.

The fur seals that call this landscape home also seem

relaxed today – I watched one floating out by the

rocks for ages. There are no waves for her to surf, and

it looks like she has finished her fishing for the day.

Tonight, I have decided not to head to my favourite

sunset spot (an impressive spine of rock that juts out

into the wild ocean). It feels too dramatic for such a

pleasant day, and it doesn't match the serenity I feel.

Instead, I've settled for the unimpressive section of

coastline right next to where I will camp in my van.

Not traveling for sunset has removed the pressure to

create an image, but as the warm sun starts to drop,

I decide to head on to the beach anyway. It's been

a long time since I have been out shooting, but I am
---
just happy to be here enjoying the moment on such a

nice day.

If I am going to take a photograph, I want it to be

about my experience with the landscape today –

that feeling of the late afternoon sun, the relaxing

ebb and flow of the waves. I have been here many

times, and will return again; why would I need another

image that simply represents the subject? I am happy,

content, and relaxed. This is the feeling I want to

capture and share with the viewer. Maybe this is why

I did not feel the need to travel to one of the more

"impressive" vistas that are just only a few minutes up

the coast. I want to make an image I haven't before,

one that expresses my mood today – can I express

this in my photograph? The air is clear of the dust that

carries down from the dry hills during summer, clear

of the light mist sometimes formed from the spray of

breaking waves. The hills across the bay feel a little

bit closer. As I wander along the beach, I spot a rock

out to sea that looks almost like a hill itself; as I walk

closer, it lines up to the hills on the horizon. The rock's

shape echoes that of the hills, creating a harmony

between the two objects. I reach for the telephoto

lens in my bag to refine the composition and suppress

any surrounding elements of drama along the

coastline. Moving a little higher up the beach allows

for some negative space above the rock, setting it in

balance against the hills. The extra height above the

water allows the light to reflect off its surface just in

front of the rock, offering a little more warmth. I move

about three times – each only a step – and finally,

I am completely happy with how the two objects sit

together. The ripples on the water's surface, gentle as

they are, create tension, so I lengthen my exposure

to make the image feel calmer. I take this one

photograph, and then – feeling no need to search for

further compositions – I walk back along the beach in

the fading light.

Nearly 24 hours later, I sit here trying to break

down and document the experience of last night's

photograph, as I look out at the same rock from

my camp – where I have not moved from all day.

I did not have to consciously consider every step

of the process: my own mood guided that of the

photograph. It was an organic process that arose

from the simple desire to enjoy a fine late autumn day.

When I woke this morning, the crisp air carried the

promise of winter. Although it was another fine

day, the weather is now starting to turn. Sunset is

approaching, and the day feels softer. High clouds

have rolled in across the bay, and the hills look more

distant than they did yesterday. A front coming in

across the Pacific is threatening rain for tomorrow.

Already the sky feels much cooler, and the clouds

are hanging much lower in the sky, carrying a cool

blue tone. The sea is also colder, lacking the warmth

reflected from last night's sky. Perhaps it's not just a

weather front but winter itself that is approaching over
---
the horizon. I thought about heading to yesterday's

rock – how different would it look in tonight's light? But

the rock hadn't been chosen for being a particularly

notable subject; it had been chosen organically to

express my mood. I decided that photographing it

again might dilute last night's experience.

Instead, I start walking in the opposite direction. The

landscape has become much more minimalistic as

the tones of the sky, hills, and sea begin to blend

together as one. After a while, I stop to line up a shot

of a round rock. I study it through the viewfinder, but

decide not to take a picture. It feels too complex

for tonight. The lower contrast inspires me to further

simplify the landscape. A little further up the beach,

I find an area clear of foreground rocks. The scene

suits the mood, and I capture the second photograph

of my trip.

Back at my van, I study today's photograph over a

glass of red wine. I consider processing it – maybe

I should wait until I've had some space from the

experience. But the experience was the goal of the

image. So I proceed, feeling that if I leave it until I get

home, I might forget the mood I was trying to express.

Can I approach my processing expressively to help

convey my feelings to the viewer?

I wake to the sound of waves. A first look out to sea

presents a dark, ominous sky – the landscape holds

more tension this morning. The ocean has gained

back its normal power, and I can see waves hitting

the side rock I shot on the first day. It feels very

different from when I arrived two days ago. I had not

planned to shoot anything this morning. I am quite

happy laying here watching the waves roll in across

the bay while sipping a morning coffee. But then

I notice the wildlife has also woken up. It's a gannet –

the first one I have seen in three days. I watch him

through my binoculars as, dwarfed by the waves, he

turns and dives into the sea. He has become part of

the landscape, making it even more dramatic. His

energetic turns above crashing waves capture the

feeling of this morning. Maybe I will take a photograph

after all. Just as I return to the van, I feel a drop of rain

land on my cheek. It's hard to imagine it was so warm

only two days ago – winter has arrived.

EXPRESSIVE PHOTOGRAPHY – LEARN THE ART OF EXPRESSIVE PHOTOGRAPHY AS PART OF

OUR ONLINE PORTFOLIO & PROCESSING MASTERCLASS. THIS ONLINE COURSE GUIDES YOU

THROUGH THE PROCESS OF CREATING A PHOTOGRAPHY PORTFOLIO WHICH SHOWCASES

YOUR UNIQUE STYLE AND VISION. IT IS A COMPREHENSIVE AND COHESIVE COURSE COVERING

EXPRESSIVE PHOTOGRAPHY AND ADVANCED POST PROCESSING TO DEVELOP YOUR SKILLS

AND EXPAND YOUR CREATIVITY AND PHOTOGRAPHIC KNOWLEDGE. – RICHARD YOUNG
---
BEST

OF 2020

SO FAR

READERS SUBMISSIONS

Submit your favourite photos

taken so far in 2020 by 15 July for

a chance to be featured in the

next issue of NZPhotographer.

Submit at www.nzphotographer.nz
---
PORTFOLIO

BEST READERS' SUBMISSIONS THIS MONTH

'WINTER'

WINTER TARN

F10, 2.5s, ISO100, 10mm

Around Queenstown there are so many opportunities to experience

winter. This was taken on the Remarkable Mountain Range one evening

as the sun was setting and the moon was rising.

Sarah Smith

62

NZPhotographer
---
ICE MAN

F5, 1/50s, ISO64, 35 mm

With sunny skies in Otago there was not much sign of winter apart from

the random ice puddles along the way. This one looked like a face to

me so I snapped my other half to go in the frame. He is calm and patient

so Ice Man fits him nicely. A multiple image combined in camera.

Ann Kilpatrick

July 2020 63
---
ALPINE WAKE UP

An early morning start from Mueller Hut, under the watchful eye of

Aoraki. Views over the Mackenzie Country proved to be a worthy

distraction from the numb toes and tired eyes after a sleepless night

in the hut.

Bianca Bratton

64

NZPhotographer
---
EARLY MORNING IN THE ALPINE

After a dusting of fresh snow the night before, we awoke at Mueller Hut

like children on Christmas to clear skies and the sun casting first light on

the mountains of the Mount Cook National Park. Donning head torches

and puffer jackets, we ventured into the crisp morning air, welcoming in

the first day of winter.

Bianca Bratton

July 2020 65
---
CHANGE OF THE SEASONS

As sure as the seasons change, life after lockdown resumes. The snow

line creeps further down the hills and the trees lose their Autumn leaves,

it is the start of June and Winter is upon us once again.

Bianca Bratton

66

NZPhotographer
---
CHILDREN'S BLISS

The monochrome original photograph was taken in the small village of

Suffolk, UK on a Rolleiflex medium format camera. There was no school

for 3 days so children could enjoy endless play.

Don McLeod

July 2020 67
---
FROZEN

F1.4, 1/125s

With little opportunity to get out and photograph during lockdown, I had

some fun with experimentation. Hydrangeas were put in a container,

immersed in water, and frozen overnight with resulting effects.

Gail Orgias

68

NZPhotographer
---
WINTER SWELLS

Winter at Mount Maunganui and the first big ground swell hits the

coast. A strong offshore wind blows plumes of spray of the tops of

the waves... Magic!

Graham Jones

July 2020 69
---
POUAKAI CIRCUIT REFLECTIVE TARN

I visited Mt Taranaki with friends with the hope of getting clear sky so we

could do some Astro but unfortunately the weather was not the best

when we got there. Mother Nature never disappoints though, when we

reached the trans the sun was setting and a beautiful orange colour

popped while a small cloud was passing the mount. We were able to

see the peak with the snow on top and we were able to capture some

amazing photos.

Isaac Khasawneh

70

NZPhotographer
---
A COLD NEW ZEALAND EVENING

F4, 1/320s, ISO100, 24mm

When I saw this happening before my eyes (after being stood there for

a good hour prior) I knew I had to get the shot of the farmer moving

cattle as the sun set in the background. It was almost too good to be

true! I think it really encapsulates New Zealand life, with the pylons

being a reminder of modernisation in what seems like a prehistoric time

(when you're in New Zealand countryside). This has become one of my

favourite spots as it's only a short drive from my house!

Jack Kingston

July 2020 71
---
A FOGGY MORNING ON KARAPIRO LAKE

F3.2, 1/8000s, ISO100, 24mm

I find myself in a perpetual state of awe living in New Zealand. The four seasons in one

day makes for an ever changing landscape which is constantly stunning. With this

winter photo, I woke up one morning to a blanket of cloud covering everything I could

see. I knew this was a morning to head down to the lake to see what the view was like.

It was only when l got to the waters edge that I saw the shot I wanted to take.

Jack Kingston

72

NZPhotographer
---
WATERFALLS FALL FROM THE CLOUDS

F7.1, 1/200s, ISO400

I remember seeing this the first time I got out of the car on a wet and cold winter

morning in 2018. I instantly knew I had to get my makeshift waterproof camera

cover (a supermarket plastic bag) out and take some photos. Enroute, I kept seeing

cars taking this downward winding road, disappearing into trees and the rainfall, so

I was excited to see what was in store for me when I got to the bottom of the road.

Jack Kingston

July 2020 73
---
MOUNT NGAURUHOE

Driving along the desert road is always a treat with the stunning

vistas and mountains. One winters day, it was very clear and Mount

Ngauruhoe had a dressing of snow.

Jo Wright aka Pixie Rose

74

NZPhotographer
---
MOUNTAIN HEART

The gorgeous Tongariro region with Mount Tongariro one winters day

when the mountain was steaming a little. For me, it was a stunning scene

that looked like a heart.

Jo Wright aka Pixie Rose

July 2020 75
---
SNOW BLIND

In January I did a Winter in Yellowstone photography tour, something I

had always wanted to do. We stoped by a river to watch two coyotes

working the river. One was trying to decide where it should enter the river

from the snowy river bank and it mucked around for 30 minutes or more,

getting reading to jump and then chickening out. Eventually its partner

tired of this and decided to trot along the river towards us. I followed it

with my camera and was pretty happy to get this shot.

Lynne Roberts

76

NZPhotographer
---
GHOST TREES

Another shot taken on the Winter in Yellowstone photography tour.

We left the hotel very early to head up to a spot known to be pretty

spectacular after a cold night. The coldest it got while I was in

Yellowstone was -19 C but on this morning it was probably around -15

to -10 C. We were all rugged up and spent over an hour in this spot

photographing the trees and creeks.

Lynne Roberts

July 2020 77
---
WINTER WONDERLAND

As part of the Winter in Yellowstone photography tour, we had a whole

day to wander around the Old Faithful area with all its wonderful thermal

features. It was nice to see the sun come up and bring a bit of relative

warmth to a -8 C morning.

Lynne Roberts

78

NZPhotographer
---
ALPINE SPIDER

F5.2, 1/30s, ISO125, 59mm

A young man from Hawkes Bay lugged a Spiderman costume to the

Dome in Ruapehu's summit plateau so he could get a photo for his son.

We had perfect camping conditions up there, which was just as well for

Spiderman.

Peter Laurenson

July 2020 79
---
THE DUNES ARE AWASH

F11, 1/500s, ISO180, 110 mm

Big waves hit Wellington's south coast recently and I spent ages

watching them wash into the sand dunes. I like how the colour of the

stormy sea and the grass in the dunes seem to complement each other

and how they are separated by the rope fence.

Peter Maiden

80

NZPhotographer
---
SNOWED IN FOR THE YEAR

Winter in Leavenworth, Washington, USA in 2017.

Sara Petercokeleyson

July 2020 81
---
FROST

Taken in Leavenworth, Washington, USA in 2016.

Sara Petercokeleyson

82

NZPhotographer
---
I'LL CATCH IT!!!

F6.3, 1/1250s, ISO200, 50mm

During the Wanaka Sled Dog Festival held at the Snow Farm in Cardrona,

I was lucky enough to get to photograph many of the dogs. Here I

captured Polar having fun in the snow with my Canon 6D MkII.

Teresa Angell

July 2020 83
---
SNOW FARM CARDRONA

A beautiful winter landscape of the Snow Farm at Cardrona taken with

my Samsung Galaxy S8.

Teresa Angell

84

NZPhotographer
---
LOOKING INTO WINTER

Heading back from the Snow Farm at Cardrona during a snow storm,

we were held up on the road as cars in front became stuck in snow

drifts. I stayed snug and warm in the car capturing the outside conditions

through the window using my phone camera.

Teresa Angell

July 2020 85
---
"ONCE

PHOTOGRAPHY

ENTERS YOUR

BLOODSTREAM, IT

IS LIKE A DISEASE."

– ANONYMOUS

86

NZPhotographer