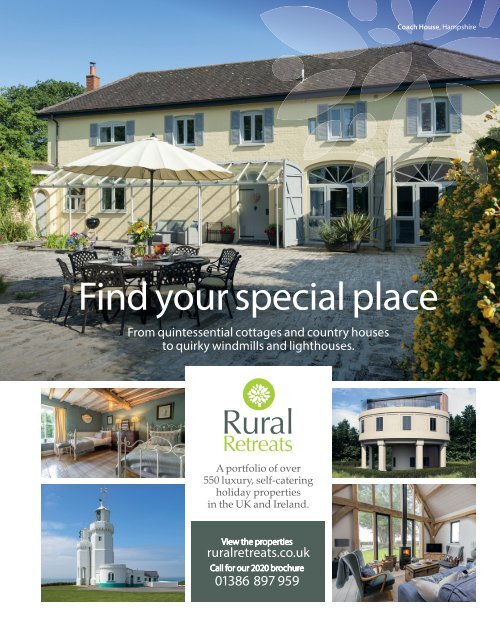 British Travel Journal | Summer 20
As we went to print with our last issue never could we have imagined a world in which travel would be completely stopped in its tracks. Never again will we take for granted our freedom to visit our magnificent cityscapes, captivating coastlines and peaceful countryside. It has been a difficult year for the hospitality and travel sector, but as this issue of British Travel Journal shows many are beginning to reopen, delighted to welcome back visitors and guests once more. We speak to these resilient hoteliers, destination managers, and others in the UK tourism industry about how they have responded to COVID-19. Our Cultural Agenda takes on a new direction, exchanging theatre performances for outdoor art, sculptures and natural wonders. And, in a time when remote locations are being sought after, all you need to know about wild (and nearly wild) camping is covered in our Sustainable Travel series. If camping isn't for you, help is at hand to find the perfect holiday home in our 10 of the Best Self-Catering Properties. If you're dreaming of strolls along the shore, fresh sea air and gently lapping waves, then you will love our coastal specials; Revival of the Beach Hut, England's Coast, Wild Swimming and Secret Islands. Enjoy a taste of Cornwall in our Interview with Rick Stein before heading to the beach workshop of wooden bellyboards in our Meet the Maker: Wave Rider article with Dick Pearce. Finally, thank you to all our subscribers for your support, keeping our spirits high with words of encouragement and understanding the unusual delay in receiving this issue. Together we continued to dream of the extraordinary places we can explore, staying inspired with online and digital features, and hopefully by the time of reading this issue our next great adventures will have become reality.Travel safely, and together we will continue to support our wonderful tourism industry.
Coach House, Hampshire

Find your special place

From quintessential cottages and country houses

to quirky windmills and lighthouses.

A portfolio of over

550 luxury, self-catering

holiday properties

in the UK and Ireland.

View the properties

ruralretreats.co.uk

Call for our 2020 brochure

01386 897 959
More magazines by this user