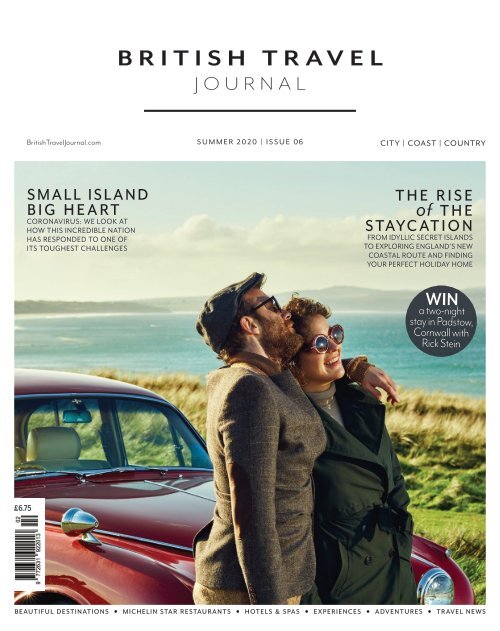 British Travel Journal | Summer 2020
As we went to print with our last issue never could we have imagined a world in which travel would be completely stopped in its tracks. Never again will we take for granted our freedom to visit our magnificent cityscapes, captivating coastlines and peaceful countryside. It has been a difficult year for the hospitality and travel sector, but as this issue of British Travel Journal shows many are beginning to reopen, delighted to welcome back visitors and guests once more. We speak to these resilient hoteliers, destination managers, and others in the UK tourism industry about how they have responded to COVID-19. Our Cultural Agenda takes on a new direction, exchanging theatre performances for outdoor art, sculptures and natural wonders. And, in a time when remote locations are being sought after, all you need to know about wild (and nearly wild) camping is covered in our Sustainable Travel series. If camping isn't for you, help is at hand to find the perfect holiday home in our 10 of the Best Self-Catering Properties. If you're dreaming of strolls along the shore, fresh sea air and gently lapping waves, then you will love our coastal specials; Revival of the Beach Hut, England's Coast, Wild Swimming and Secret Islands. Enjoy a taste of Cornwall in our Interview with Rick Stein before heading to the beach workshop of wooden bellyboards in our Meet the Maker: Wave Rider article with Dick Pearce. Finally, thank you to all our subscribers for your support, keeping our spirits high with words of encouragement and understanding the unusual delay in receiving this issue. Together we continued to dream of the extraordinary places we can explore, staying inspired with online and digital features, and hopefully by the time of reading this issue our next great adventures will have become reality.Travel safely, and together we will continue to support our wonderful tourism industry.
As we went to print with our last issue never could we have imagined a world in which travel would be completely stopped in its tracks. Never again will we take for granted our freedom to visit our magnificent cityscapes, captivating coastlines and peaceful countryside. It has been a difficult year for the hospitality and travel sector, but as this issue of British Travel Journal shows many are beginning to reopen, delighted to welcome back visitors and guests once more. We speak to these resilient hoteliers, destination managers, and others in the UK tourism industry about how they have responded to COVID-19. Our Cultural Agenda takes on a new direction, exchanging theatre performances for outdoor art, sculptures and natural wonders. And, in a time when remote locations are being sought after, all you need to know about wild (and nearly wild) camping is covered in our Sustainable Travel series. If camping isn't for you, help is at hand to find the perfect holiday home in our 10 of the Best Self-Catering Properties. If you're dreaming of strolls along the shore, fresh sea air and gently lapping waves, then you will love our coastal specials; Revival of the Beach Hut, England's Coast, Wild Swimming and Secret Islands. Enjoy a taste of Cornwall in our Interview with Rick Stein before heading to the beach workshop of wooden bellyboards in our Meet the Maker: Wave Rider article with Dick Pearce. Finally, thank you to all our subscribers for your support, keeping our spirits high with words of encouragement and understanding the unusual delay in receiving this issue. Together we continued to dream of the extraordinary places we can explore, staying inspired with online and digital features, and hopefully by the time of reading this issue our next great adventures will have become reality.Travel safely, and together we will continue to support our wonderful tourism industry.
SHOW MORE
SHOW LESS
You also want an ePaper? Increase the reach of your titles
YUMPU automatically turns print PDFs into web optimized ePapers that Google loves.
BRITISH TRAVEL

JOURNAL

BritishTravelJournal.com

SUMMER 2020 | ISSUE 06

CITY | COAST | COUNTRY

small island

big heart

CORONAVIRUS: WE LOOK AT

HOW THIS INCREDIBLE NATION

HAS RESPONDED TO ONE OF

ITS TOUGHEST CHALLENGES

the rise

of the

staycation

FROM IDYLLIC SECRET ISLANDS

TO EXPLORING ENGLAND'S NEW

COASTAL ROUTE AND FINDING

YOUR PERFECT HOLIDAY HOME

WIN

a two-night

stay in Padstow,

Cornwall with

Rick Stein

£6.75

beautiful destinations • michelin star restaurants • hotels & SPAS • experiences • adventures • travel news
---
Escape with Confidence

Re-Opening 4th July 2020

The Lygon Arms, High Street, Broadway WR12 7DU

01386 852255 I www.lygonarmshotel.co.uk
---
THE NEW TR ADITI O N

RESEIGH FOOKS BRAND AND PACKAGING DESIGN CLIENT: NOBLE ISLE STAGE 3 29th June 2011

C O N T R I B U T I O N S

BRITISH TRAVEL

JOURNAL

BritishTravelJournal.com

WELCOME

editors

Editor-in-chief Jessica Way

FEATURES EDITOR Samantha Rutherford

CHIEF SUB-EDITOR Angela Harding

expert contributors

Melanie Abrams

Chantal Borciani

Helen Holmes

Emma Johnson

Adrian Mourby

Emma O'Reilly

Lydia Paleschi

Adrienne Wyper

FRONT COVER IMAGE

St Ives, Cornwall

©VisitBritain/Tomo Brejc

FEATURE CHOICE

Small Island, Big Heart p20

Published by

CONTISTA MEDIA

Mitchell House, Brook Avenue, Warsash,

Southampton, SO31 9HP

MAIN SWITCHBOARD

01489 660680

contistamedia.co.uk

stay in touch

BritishTravelJournal BTravelJournal BritishTravelJournal

stage 3 - B&W detailed logo

Proud to be in partnership with

AS WE WENT TO PRINT with

our last issue never could we have

imagined a world in which travel

would be completely stopped in

its tracks. Never again will we take for granted

our freedom to visit our magnificent cityscapes,

captivating coastlines and peaceful countryside.

It has been a difficult year for the hospitality

and travel sector, but as this issue of British Travel

Journal shows many are beginning to reopen,

delighted to welcome back visitors and guests once more.

We speak to these resilient hoteliers, destination managers, and others in

the UK tourism industry about how they have responded to COVID-19, Small

Island, Big Heart (p20). Our Cultural Agenda (p11) takes on a new direction,

exchanging theatre performances for outdoor art, sculptures and natural

wonders. And, in a time when remote locations are being sought after, all

you need to know about wild (and nearly wild) camping is covered in our

Sustainable Travel series (p34). If camping isn't for you, help is at hand to find

the perfect holiday home in our 10 of the Best Self-Catering Properties (p40).

If you're dreaming of strolls along the shore, fresh sea air and gently

lapping waves, then you will love our coastal specials; Revival of the Beach Hut

(p46), England's Coast (p54), Wild Swimming (p80) and Secret Islands (p58).

Enjoy a taste of Cornwall in our Interview with Rick Stein (p76) before

heading to the beach workshop of wooden bellyboards in our Meet the

Maker: Wave Rider article with Dick Pearce (p70).

Finally, thank you to all our subscribers for your support, keeping

our spirits high with words of encouragement and understanding the

unusual delay in receiving this issue. Together we continued to dream of

the extraordinary places we can explore, staying inspired with online and

digital features, and hopefully by the time of reading this issue our next great

adventures will have become reality.

Travel safely, and together we will continue to support our wonderful

tourism industry. u

Jessica x

Jessica Way

Editor-In-Chief

Contista Media Ltd cannot accept responsibility for

unsolicited submissions, manuscripts and photographs.

While every care is taken prices and details are subject to

change and Contista Media Ltd take no responsibility for

omissions or errors. We reserve the right to publish

and edit any letters. All rights reserved.

PICTURED ABOVE: JESSICA

RUNNING 100K CHALLENGE,

RAISING OVER £300 FOR THE

NHS COVID-19 URGENT APPEAL

BritishTravelJournal.com 3
---
Multi-million pound refurbishment completed in May 2020 Walking distance from many iconic landmarks WTTC Safe Travel Accredited - Covid-19 secure

Strand Palace is surrounded by the best London has to offer.

the

Set

heart

in the

of London,

heart of

the

London,

hotel is

the

mere

hotel

moments

is mere

from

moments

Covent

from

Garden,

Trafalgar

Covent

Square

Garden,

and

Trafalgar

the Thames,

Square

making

and the

it the

Thames,

perfect

making

location

it

for

discovering

the perfect

cultural

location

icons.

for discovering cultural icons.

Experience

The Heart of London

BOOK DIRECT ONLINE AT

www.strandpalacehotel.co.uk

+44 (0)20 7379 4737 | info@strandpalacehotel.co.uk

372 Strand, London WC2R 0JJ

@strandpalace
---
CONTENTS

SUMMER 2020 | ISSUE 06

34

20

11

C O M P E T I T I O N

79

WIN A LUXURY

TWO NIGHT

STAY IN PADSTOW...

Courtesy of Rick Stein we are

offering one lucky winner,

and their guest, two nights'

accommodation at St Petroc's,

a three-course dinner at

The Seafood Restaurant and

a one-day course at Rick

Stein's award-winning Cookery

School in Padstow.

IMAGE (P34) ©VISITBRITAIN/ANDREW PICKETT

JOTTINGS

09

11

TRAVEL NEWS

A look at what's new and travel

noteworthy in the British Isles

CULTURAL AGENDA

Outdoor art, monuments, exhibitions and

museums to visit after lockdown

39 HEALTH

Keep your mind and body feeling well

with our unmissable selection of healthy travel

destinations and gadgets

10 OF THE BEST SELF-

40 CATERING PROPERTIES

Find your perfect holiday home from our

selection of some of the UK's finest properties,

available from self-catering travel specialists

FEATURES

20

SMALL ISLAND, BIG HEART

Discover how this incredible nation has

responded to one of its toughest challenges

STILL WINES RUN DEEP

28 English still wine used to be the poor

relation but it's fast catching up its sparkling sister

SUSTAINABLE TRAVEL

34 In this issue we cover wild (and nearly

wild) camping. Discover remote camping places

doing their utmost to tread lightly on the planet

REVIVAL OF THE BEACH HUT

46 As much part of the great British

seaside as piers and Punch & Judy – we look at

how a simple seaside storage shed became a

covetable coastal property

à

BritishTravelJournal.com 5
---
£6.75

BritishTravelJournal.com

CORONAVIRUS: WE LOOK AT

HOW THIS INCREDIBLE NATION

HAS RESPONDED TO ONE OF

ITS TOUGHEST CHALLENGES

SUMMER 2020 | ISSUE 06

FROM IDYLLIC SECRET ISLANDS AUTUMN 2019 | ISSUE 03

TO EXPLORING ENGLAND'S NEW

COASTAL ROUTE AND FINDING

CITY | COAST | YOUR COUNTRY PERFECT HOLIDAY HOME

EDINBURGH TO THE

CALEDONIAN FOREST

£5.00

CITY | COAST | COUNTRY

BritishTravelJournal.com

AUTUMN FORAGING

HOLIDAYS

CELEBRATES TWO BIG

MILESTONES THIS YEAR

beautiful destinations • michelin star restaurants • hotels & sPas • exPeriences • adventures • travel news

EVENTS ■ IDYLLIC DESTINATIONS ■ MICHELIN STAR RESTAURANTS ■ LUXURY HOTELS ■ NEW EXPERIENCES

54

E D I T O R

L O V E S

The Triumph Trekker GT - the first

E-bicycle to be launched by iconic

British brand, Triumph Motorcycles,

world-famous for making motorcycles.

Priced £2,950

triumphmotorcycles.co.uk

LIFESTYLE

70

MEET THE MAKER:

WAVE RIDER

Beautiful, hand-crafted wooden bellyboards are

being produced at a seaside workshop. We head

for the beach to meet the man behind the board…

INTERVIEW WITH:

76 RICK STEIN

Award-winning chef Rick Stein talks Cornish

beaches, cooking inspiration and becoming

Padstow's biggest attraction

WILD SWIMMING

80 As your senses heighten and your mind

calms, feel the benefits of connecting to nature by

immersing yourself in the outdoors and soaking up

its awe-inspiring beauty

84

STEPPING ON SET

Discover historic houses and wild

landscapes that have inspired directors and

cinematic moments in the UK

70

COASTAL

54

ENGLAND'S COAST

Soon we will be able to lace up

our boots and amble or ramble absolutely

anywhere along the English coastline

SECRET ISLANDS

58 The British Isles has some 6,000

islands to explore – some fully fledged tourist

hotspots, others mere dots in the ocean.

All have a story to tell

VIEW OF THE SEA

94 Multi-award winning Landal Gwel

an Mor resort offers the ultimate in luxury

coastal breaks, providing five star lodges in a

spectacular Cornish location

S U B S C R I B E

52 SUBSCRIBE

TODAY

Receive three issues of

British Travel Journal, and

the ultimate luxury travel

essential from Noble Isle

worth over £20, for just £19!

Luxury

free gift

WORTH OVER

£20!

BRITISH TRAVEL

JOURNAL

small island

big heart

BRITISH TRAVEL

the rise JOURNAL

of the

staycation

take a

journey

WIN

a two-night

stay in Padstow,

Cornwa l with

Rick Stein

taste a

destination

Interview

raymond blanc

WIN

a luxury

short break

for two in

Exeter!

6 BritishTravelJournal.com
---
Coach House, Hampshire

Find your special place

From quintessential cottages and country houses

to quirky windmills and lighthouses.

A portfolio of over

550 luxury, self-catering

holiday properties

in the UK and Ireland.

View the properties

ruralretreats.co.uk

Call for our 2020 brochure

01386 897 959
---
THE GREAT BRITISH ESCAPE!

STOKE PARK

Stoke Park is a luxury 5 AA Red Star Hotel, Spa and Country Club set within 300 acres

of beautiful parkland and offers world-class sporting and leisure facilities.

FACILITIES INCLUDE:

• 49 Bedrooms and Suites

• Award winning Spa

• 27 hole Championship Golf

Course

• David Leadbetter Golf Academy

• 3 Restaurants and Bars, including

Humphry's (3 AA Rosettes)

• 13 Tennis Courts (indoor, grass

and artificial clay)

• 2 Padel Courts

• Indoor Pool

• State-of-the-art Gym with Fitness,

Hot Yoga and Spinning Studios

hosting up to 50 classes per week

• Tinies Kids Club and Crèche

• Games Room

• Playground

Only 30 minutes from London, and a short drive from both Windsor and Heathrow Airport.

For Hotel Reservations please call 01753 717171 or email reservations@stokepark.com

Stoke Park, Park Road, Stoke Poges, Buckinghamshire SL2 4PG | www.stokepark.com
---
TRAVEL NEWS

W H A T ' S N E W

Destinations | Renovations | Launches | Celebrations

GOOD NEWS FOR ENGLISH

SPARKLING WINE

Nyetimber has a new vineyard in Kent.

195,000 vines have been planted, said to

increase production by 220,000 bottles!

A NEW ISLAND JEWEL IN PLYMOUTH SOUND

The historic Drake's Island located just 600m from the Plymouth shoreline is set to be

brought back to life by the new owner, Plymouth-based businessman, Morgan Phillips, who

is developing the island into a luxury (25 bedroom) hotel and spa resort. The six-acre island,

named after Sir Francis Drake, who set sail from the island in 1577 to circumnavigate the globe, will

offer locals and tourists the ​opportunity for their own island adventures, staying in the Grade

II listed former Governor's Island House, exploring hidden tunnels and ​forgotten buildings.

drakes-island.com

THE HEART OF EDINBURGH

Originally built in the 16th century, Abbey

Strand, located at the foot of Edinburgh's historic

Royal Mile, on the doorstep of the Palace of

Holyroodhouse, has re-opened its doors, five

hundred years on! Prices from £199 per night.

lateralcity.com

BRITISH

TRAVEL

JOURNAL

L O V E S

2 0 2 0

NEW L A U N C H

CUMBRIA'S HIDDEN COAST

Work is underway on a new 40-mile coastal

challenge recreational route, stretching along the

Cumbrian coast from Whitehaven to Millom with

adrenalin activities, cycling and art installations.

visitlakedistrict.com

BEACH HOLIDAY IN SUSSEX

For magnificent sea views look no further than a

stay at Skyfall, with its elevated position on the cliffs

of St Leonards-on-Sea, private terrace and hot tub.

Prices start from £1,428 for a three-night stay.

oliverstravels.com

HEARTS & CRAFTS

Cotswolds Hearts &

Crafts Sauternes Cask

Single Malt Whisky is

the distillery's first ever

European Oak Cask

expression. £74.95

cotswolds

distillery.com

BritishTravelJournal.com 9
---
5 JULY 2020 TO

3 JANUARY 2021

GP_MARCH_HALF—1.indd 1 19/02/2020 11:20

COLORADO HIGH

CBD GIN

Taking gin to new heights

A deliciously refreshing citrusy gin, suffused

with 200mg of CBD to deliver a deep sense

of calm and wellbeing.

www.silentpooldistillers.com
---
CULTURAL AGENDA

Outdoor Art | Sculptures | Natural Wonders

Words | Melanie Abrams

WE LOVE

IMAGE CREDITS: © ENGLISH HERITAGE TRUST; VISITSCOTLAND/KENNY LAM; NORTHERN IRELAND TOURIST BOARD; HISTORIC ENGLAND; VISIT BRITAIN;

NATIONAL TRUST IMAGES; SHUTTERSTOCK; THE SINGING RINGING TREE, VISITLANCASHIRE; VISITWILTSHIRE; WALT DISNEY STUDIOS MOTION PICTURES UK

Carrick-a-Rede Rope Bridge

Built by fishermen in 1755, this 20 metre rope

bridge links Northern Ireland's mainland in

Ballintoy to the tiny ancient volcanic island

of Carrick-a-Rede (from the Scottish Gaelic

Carraig-a-Rade meaning The Rock in the Road).

Dolphins, porpoise and even large sharks can be

spotting swimming off the coast, whilst nearby

Rathlin Island has one of Britain's largest

seabird colonies including puffins.

nationaltrust.org.uk/carrick-a-rede

à

For safety during the coronavirus (Covid-19) pandemic, please check Government guidelines and relevant websites before visiting
---
W H A T W E ' R E

D I S C O V E R I N G

Gallos Statue

High on the Cornish cliffs at Tintagel Castle

stands the regal bronze Gallos statue by Rubin

Eynon. (Gallos meaning power in Cornish.)

The tall hooded figure holding a sword is

inspired by the royals associated with this

medieval castle – notably King Arthur, one of

Britain's most famous figures, who, according

to a 12th century writer, was conceived there.

english-heritage.org.uk

The Kelpies

The Scottish lowland town of Falkirk is the

home of The Kelpies, two ginormous horse

head statues. Looming above the Forth

and Clyde canal in The Helix parkland, the

30 metre high Kelpies, which during a paid

tour you can go inside, have become the

world's largest equine statues. Made by

Scottish sculptor, Andy Scott from 36,000

steel pieces, the horses were inspired by the

Clydesdale draught horses used for haulage

along the canal or on land.

thehelix.co.uk

Stonehenge

With its 4,500 year old stone circle,

Stonehenge on Salisbury Plain is one

of world's most famous prehistoric

monuments. On 21 June (the longest day)

the sun rises on the isolated Heel Stone

and sets on the shortest day, linking the

iconic landmark to the stars or to a temple

to sun and moon gods. See how the circle's

creators lived at the reconstructed Neolithic

thatched huts nearby.

english-heritage.org.uk

Giant's Causeway

Volcanic activity many millennia ago

created the hexagonal black basalt

columns at Giant's Causeway on the

Northern Irish north coast of County

Antrim, although legend has it that an Irish

giant, Finn McCool built it as a bridge to

Scotland. Over the years, the columns

have taken on unusual shapes like chimney

stacks or even a giant's boot. Also worth

spotting at this UNESCO World Heritage

Site are the seabirds, crab and rare plants

which live here too.

nationaltrust.org.uk/giants-causeway

12 BritishTravelJournal.com
---
IMAGES LEFT AND ABOVE CLOCKWISE: GALLOS STATUE; GIANT'S CAUSEWAY;

THE BOX PLYMOUTH; GIANT'S CAUSEWAY; STONEHENGE; AND THE KELPIES.

IMAGES BELOW CLOCKWISE: SMEATON'S TOWER; ST LUKE'S INTERIOR AT THE BOX;

FIGUREHEADS AT THE BOX; ELIZABETHAN HOUSE, PLYMOUTH

S P O T L I G H T O N :

P L Y M O U T H

The Box

Plymouth's history merges at The Box.

Redeveloped from the Plymouth Museum

and Art Gallery and Central Library, the

£40 million glass panelled space will

house the city's collections from natural to

maritime history and the region's archive.

Across a new square, St Luke's Church will

display contemporary art.

theboxplymouth.com

Smeaton's Tower

Best known as the legendary place where

Sir Francis Drake played bowls before

sailing to defeat the Spanish Armada in

1588, Plymouth Hoe is also home to the

Grade I listed red and white landmark,

Smeaton's Tower. Walk up its 93 steps for

views over Plymouth Sound and the city.

Originally situated on Eddystone Rocks,

off Cornwall, the lighthouse has been on

the Hoe since 1884. Modelled on the

shape of an oak tree that bent with the

wind, John Smeaton's 1759 tower was a

radical lighthouse design of its day.

plymhearts.org/smeatons-tower

BritishTravelJournal.com 13
---
IMAGES FROM ABOVE CLOCKWISE: HOTEL PORTMEIRION; ST NECTAN'S GLEN;

THE SINGING RINGING TREE; WILTSHIRE'S WHITE HORSES; WHARRAM PERCY

MEDIEVAL VILLAGE; QUARRY AT JUPITER ARTLAND; MAUNSELL SEA FORTS; DARK

HEDGES IN BALLYMONEY; PORTMEIRION VILLAGE; CASTELL DEUDRAETH, A 4-STAR

HOTEL IN PORTMEIRION VILLAGE.

St Nectan's Glen

Don wellies to visit St Nectan's Glen in

the Cornish hamlet of Trethevy, with its

three waterfalls, shallow pool to wade in

and river bank woodland walk. Named

after the eponymous sixth century saint,

the waters at St Nectan's Kieve that

gush through a hole in the rocks are

thought to be healing too. Head to the

wooden café for a light bite or chill out

in a forest retreat.

st-nectansglen.co.uk

Portmeirion Village

Once a backdrop for a cult 1960s

sci-fi television series, The Prisoner, and

the subject of this year's ITV documentary

series, The Village, colourful Portmeirion

Village in North Wales is unique; it

combines a man-made Italianate village,

subtropical forest and sandy Welsh

beaches. Top tips include staying at the

Great Gatsby-style hotel and sampling

local mussels in the neo-Gothic castle's

brasserie.

portmeirion.wales

Wiltshire's White Horses

Explore Wiltshire through its eight

white horses carved into the South

West county's hillsides. Take the oldest

horse designed in 1778. Its Westbury

setting includes an iron age hill fort and

14th century church. Two other horses

overlook the Vale of Pewsey with its

quaint thatched roof cottages, canal and

trout fishery.

visitwiltshire.com

Wharram Percy Medieval Village

Of the 3000 deserted medieval villages

in Britain, Wharram Percy in North

Yorkshire is one of the largest and best

preserved. With remains including

watermills, a pond, church, barn as well

as houses, the site evokes 600 years of

life to 1517.

Based near Malton, the historic

market town is also worth checking out

with its popular monthly food market

and horse racing stables, which have an

open day on 13 September.

english-heritage.org.uk

14 BritishTravelJournal.com
---
The Singing Ringing Tree

Overlooking Burnley in Lancashire is this

three metre tall wind powered, sound

sculpture. Shaped into a windswept tree

by 21 layers of galvanised steel pipes, the

eerie discordant sound is created by the

wind blowing through them. Designed by

architects, Mike Tonkin and Anna Liu, the

eco- artwork won the National Award for

architectural excellence in 2007.

visitlancashire.com

Jupiter Artland

For vibrant, thought-provoking art,

wander through the 120 acre sculpture

park outside Edinburgh. Anish Kapoor's

caged bottomless vortex and Marc

Quinn's tall vibrant orchid, known as

Love Bomb, are among the stellar works.

New for this year are reconstructions

of works by performance art pioneer,

Allan Kaprow including his melting ice

sculpture; as well as the chance to stay

overnight - in the house where artists live

when working on projects.

jupiterartland.org

Maunsell Sea Forts

Take a boat trip from Herne Bay into

the Thames Estuary to see the Second

World War memorial, the Maunsell sea

forts, named after the civil engineer who

designed them, Guy Maunsell. Built

in 1942 to help protect London from

German airstrikes and sea raids, each steel

fort housed weapons and 265 soldiers.

Abandoned in 1958, a few survive.

maunsellseaforts.com

The Dark Hedges

If you are suffering withdrawal symptoms

from cult television hit, Game of

Thrones, head to the fabled Dark

Hedges in Ballymoney, Northern Ireland

- one of the most photographed natural

phenomena and a popular attraction for

tourists from across the world.

For this avenue of gnarled trees was the

setting for Westeros's Kingsroad.

Planted in the 18th century, this avenue

was dubbed one of the world's most

beautiful streets by Architectural Digest.

ccght.org/darkhedges/

Step on set:

The Dark

Hedges'

appearance as

the 'Kingsroad'

in Game

of Thrones

brought

international

fame - for

more cinematic

inspiration

you might

also enjoy our

'Stepping on

Set' article p88

BritishTravelJournal.com 15
---
IMAGES FROM ABOVE CLOCKWISE: FAIRY POOLS ON THE ISLE OF SKYE; HADRIAN'S

WALL; CERNE GIANT CHALK OUTLINE; THE HARDY MONUMENT; ANGEL OF THE

NORTH; SOUND II AT AT WINCHESTER CATHEDRAL; THE MUSEUM OF THE HOME;

FINGAL'S CAVE ON THE UNINHABITED HEBRIDEAN ISLAND OF STAFFA.

Fingal's Cave

Known for its natural acoustics, thanks to its

arched roof and moving waves, the fabled sea cave

retains its ethereal experience. Located on the

uninhabited Hebridean island of Staffa, the 227

foot tall cave with its volcanic-formed columns is

only accessible by boat – either from the mainland

or surrounding islands. Puffins with their colourful

beaks add charm from May to August.

nts.org.uk/visit/places/staffa

Fairy Pools

Visit the clear blue Fairy Pools on the Isle

of Skye, just off the north-west Scottish

coast in the inner Hebrides. The gushing

waterfalls and swirling pools lie in a large

glen at the foot of Scotland's rocky Black

Cullins mountains. Nearby is the rural

village of Carbost, known for its 19th

century Talisker single malt whisky distillery.

visitscotland.com

Hadrian's Wall

Spanning England from east to west from

South Shields near Newcastle to Cumbria's

Maryport is Hadrian's Wall. Built by the

Romans around 122 AD, the wall marked

the northernmost point of its empire. Walk

alongside it to discover ancient forts, turrets

and more, with picturesque views including

Northumberland National Park.

english-heritage.co.uk;

nationaltrust.org.uk

Cerne Giant

Often associated with fertility, the Cerne

Giant is an ancient chalk outline of a naked

man wielding a club carved on Trendle Hill

above Dorset's historic village of Cerne

Abbas. Dating back to early England, the

olde worlde village developed around a 987 AD

Benedictine Abbey whose remains can still be

found near the medieval Church of Saint Mary.

nationaltrust.org.uk/cerne-giant

Hardy Monument

The Hardy Monument commemorates Vice

Admiral Sir Thomas Masterman Hardy,

renowned as the captain of HMS Victory,

Nelson's flagship at the 1805 Battle of

Trafalgar where they defeated Napoleon.

Standing on the summit of the Black Down

in Dorset since 1844, this 22 metre high

monument was also built as a shipping

landmark. Now the climb of 120 interior steps

to the top serves as a spectacular viewing

point across the Dorset countryside and coast

-and The Isle of Wight Needles on a clear day.

nationaltrust.org.uk/hardymonument

16 BritishTravelJournal.com
---
Angel of the North

20 metres high with a 54 metre wing

span, Antony Gormley's Angel of the

North in Gateshead has become one

of Britain's most iconic public artworks.

Located along a main road in and out of

the city, the statue has become a symbol

of the city's identity too. Unveiled in 1998

on the site of former coal pithead baths,

the steel sculpture has remained "a focus

of hope," as the artist said at the time.

newcastlegateshead.com

Dorset County Museum

Dorset's treasures re-emerge following

a museum facelift. Highlights

include its Thomas Hardy collection,

archaeological finds relating to the

county since prehistory and the fearsome

long jaw of a pliosaur, an extinct marine

reptile, dating back 155 million years,

found on the shores near Weymouth.

Nearby visit ruins of a 4th century

Roman Town House – the only fully

exposed one in Britain.

dorsetcountymuseum.org

Sound II at at Winchester Cathedral

Modern and medieval British art collide

as Antony Gormley's contemporary

man, cast out of lead from the artist's

body, stands in contemplation in the

11th century crypt. Best way to see

the sculpture is via a viewing platform

during the rainy season when the crypt

floods – as a tube mechanism through

the body fills the cupped hands with the

rising water.

winchester-cathedral.org.uk

Dove Cottage & Wordsworth Museum

Step back to the 1800s at William

Wordsworth's home in the Lake

District. The cosy homestead, where

the Romantic poet lived with his family

from 1799 to 1808 has had a makeover

for the 250th anniversary of his birth.

Get a taste of how he lived from the

kitchen, open fire living room, and study.

Head next door to the newly expanded

museum – for manuscripts, artworks and

other artefacts.

wordsworth.org.uk

The Museum of the Home

The row of 18th century almshouses has long

been a Shoreditch landmark. Now after a two

year transformation, the Museum of the Home

(formerly the Geffrye Museum) will re-open,

adding a roof garden and café to new galleries.

A 16th century fireplace to Philippe Starck

homeware feature in its collection.

museumofthehome.org.uk

BritishTravelJournal.com 17
---
W H A T W E ' R E

W A T C H I N G ?

The King's Man

16 SEPTEMBER 2020

The sharp-suited Kingsman

intelligence agents return to the

big screen from 18 September.

This time we find out the agency's early

20th century origins as they combat

the world's worst tyrants and criminals.

Directed again by Matthew Vaughn,

the comedy action caper has a new

starry cast including Ralph Fiennes

and Aaron Taylor-Johnson.

20thcenturystudios.com/

movies/the-kings-man

W H A T W E ' R E

L I S T E N I N G T O ?

Women in Music Part III

by Haim

We've been waiting three

years for new pop rock sounds from

the multi-talented Haim sisters, Este,

Danielle and Alana. Now, there are 16

tracks to gorge on in one of the most

anticipated albums of this year. Sassy

song, Summer Girl is timely whilst

Hallelujah's soulful guitar helps us chill

through those long nights. Shot by

multiple Oscar nominee, Paul Thomas

Anderson, the album cover is an extra bonus.

haimtheband.com

W H A T W E ' R E R E A D I N G ?

Foodie Breaks: England, Scotland,

Northern Ireland and Wales

8 SEPTEMBER 2020

Discover a fresh side to Britain and its

food with a new fact-filled guide to

the country's eateries, Foodie Breaks:

England, Scotland, Northern Ireland and

Wales by Richard Mellor, published by

Dog 'n' Bone Books on 8 September.

Whether on a budget or date, the

extensive culinary choices take you from

big cities to a remote fishing hamlet in

Wales. Other hot tips include regional

favourites and best for local produce.

rylandpeters.com

ABOVE: FOODIE BREAKS: ENGLAND,

SCOTLAND, NORTHERN IRELAND AND WALES

IMAGES ABOVE: SCENES FROM

THE KING'S MAN MOVIE AND THE

HAIM SISTERS, ESTE, DANIELLE

AND ALANA. IMAGE BELOW:

WOMEN IN MUSIC PART III BY HAIM

ALBUM COVER SHOT BY MULTIPLE

OSCAR NOMINEE, PAUL THOMAS

ANDERSON

BritishTravelJournal.com 19
---
SMALL

ISLAND

IMAGES: COUPLE ENJOY THE HEADLAND OVERLOOKING

THE WINDSWEPT 20 BritishTravelJournal.com

LANDSCAPE AND THE PORT AND OLD

TOWN OF ST IVES ON THE NORTH CORNISH COASTLINE.

©VISITBRITAIN/TOMO BREJC
---
As Britain prepares to

cautiously open its doors, to

explore new places from a

distance and to think about

a summer holiday at home,

we look at how this incredible

nation has responded to one

of its toughest challenges

Words | Emma Johnson

BIG

HEART

à

BritishTravelJournal.com 21
---
THE CORONAVIRUS CRISIS is predicted to cost

the UK tourism industry at least £22bn in lost

revenue. Domestic tourism has always been

a booming industry for a nation that loves to

explore its beaches, forests, lakes, moors and mountains.

But in the face of a global pandemic, stories about

closures and empty beauty spots make for grim reading.

Tourism is one of the UK's most successful economic

sectors, employing 3.1 million people and supporting

200,000 small businesses and entrepreneurs right

across the country, as well as being the main employer

in many coastal towns and rural communities. For two

months, most of those staff have been furloughed and

the businesses shut. Many businesses with shorter spring

or summer seasons have seen that timeframe radically

reduced, while also considering how to offer their services

or experiences in the light of social distancing and

government safety measures. It has been a lot to consider.

And yet, in the midst of uncertainty came ingenuity,

creativity and a deep and renewed sense of community.

For the British tourism and hospitality industry, this is a

challenge, but not an unassailable one. David Adams,

general manager at the Cary Arms Hotel & Spa in Devon,

explains that uncertainty, on some level, is something

they've always been prepared for. "We get thrown

curveballs all the time in this industry. Yes, this was a

particularly big one, but being a success in hospitality

gives you a lot of practice at being caught off guard and

adjusting to the situation."

BRAND NEW BEACH HUTS AT CARY ARMS & SPA, DEVON

22 BritishTravelJournal.com
---
SUPPORTING EACH OTHER

Across the nation, pubs, bars, hotels, parks, estates and tourist

boards worked to consider the best way to cope through

lockdown, and to support those around them in difficult times.

Across Britain, The National Trust opened all of its carparks

and estate land for free, while the IHG hotel group provided

temporary accommodation for three months for rough sleepers.

In the heart of London, Strand Palace remained open to

house key workers, as well as providing free meals to the NHS.

During the Second World War, Strand Palace's doors remained

open for servicemen who protected this country, "we were

equally humbled to support key workers during the COVID-19

crisis" says Jamie Childs, Marketing Manager at the hotel.

Also in London, the iconic Claridge's hotel offered over 40

free hotel rooms for staff from the nearby St Mary's Hospital in

Paddington, while also delivering daily packed meals to over

500 NHS workers and community support teams. Close by,

The Connaught donated over 200 meals a day to St Patrick's

Church to help feed the homeless and vulnerable. Healthcare

professionals working on the frontline were also offered free food

and accommodation from large hotel brands including Four

Seasons, Hilton and OYO Hotels.

Many hotels chose to recognise the sacrifices of so many with

giveaways and weekend breaks reserved for key workers. Small

Luxury Hotels of the World chose to recognise 500 NHS workers

by giving away two-night stays for use at any of their properties.

Iconic Luxury Hotels, the privately-owned collection of four

classic British hotels - Cliveden House, Chewton Glen, The

Lygon Arms and 11 Cadogan Gardens – recently joined a Mr

& Mrs Smith Crowdfunder campaign to reward NHS and care

home staff with a night away at some of the UK's best boutique

properties, which also includes Dormy House in the Cotswolds,

The Rose in Kent and Limewood in Hampshire, for just £50 each.

Working to help both restaurants and the NHS, Fuel

the Fight is a fantastic not-for-profit grassroots campaign,

which simultaneously feeds NHS workers while supporting

the hospitality industry during COVID-19. Acting as a broker

between restaurants and hospitals, Fuel the Fight uses every

penny raised to buy meals at full retail price from restaurants and

deliver them to local hospitals. "In terms of the restaurants, two

have said they could not have survived without us," says founder

Evelyn Booth-Clibborn. "They had been on the brink of closing.

And, for all the restaurants we have partnered with, Fuel the

Fight has truly been a lifeline enabling them to keep their cash

flow afloat and core staff going." Jackson Boxer, chef at Orasay

who is part of the initiative added: "We are so thrilled to be able

to cook for the local hospital staff at this time. To be able to have

Fuel The Fight help with the cost of this is incredible. We're so

grateful for the donations which have allowed us to do this."

Turning their expertise to something different, gin distilleries

such as Silent Pool, Portobello Road, Harrogate Tipple, Isle of

Harris, Dyfi and Nelsons all turned their expertise to making à

BritishTravelJournal.com 23
---
hand sanitisers and gave them out to key workers and the local

community. Silent Pool, who branded their sanitiser 'The Silent

Treatment', has given away 50 bottles of hand sanitiser a day at

its distillery shop, focusing on the elderly and NHS staff including

nurses, doctors and surgeons, paramedics, a charity for the

homeless and GP surgeries.

Similar creativity could be found on Alderney, where one

business found that they had all the materials and bottles to make

hand sanitiser, while a volunteer support programme, called

Alderney Spirit, worked to provide help and support across the

community where needed, from support at the care home or

hospital to dog walking or meals on wheels for vulnerable or selfisolating

residents.

From big gestures to smaller ones, from landmark hotels

to country pubs, the message from hospitality seemed clear

throughout the country – that despite hard times and uncertainty,

their priority was giving back what they could and helping in some

small way. In Cornwall, catering company Fees Food created

the Cornwall Community Kitchen, fundraising themselves and

donating meals to local food banks and working with small

charities helping those most in need. "Food banks and charities

in Cornwall are seeing unprecedented demand, so we started

Cornwall Community Kitchen to help in any way we can,", said

founder Fee Turner. While in the Cotswolds, village pub The Bell

at Sapperton set up a click and collect service, using their suppliers

to get access to much-needed bread, flour, vegetables, eggs and

milk, and used any excess of food and drink to create emergency

'Survival Bags' of essentials, which they delivered to local

neighbours and the vulnerable elderly community.

LOOKING FORWARD

Now, as the focus turns to reopening and what the rest of the

summer season will look like, it's clear that this characteristic

pragmatism remains. Hope remains that the late summer season

will also push forward into autumn, and discussion about an

additional bank holiday in October have been met with positivity

by the industry. "We are working across the industry and with the

UK Government to save as much of the valuable summer season

as we can and to extend the tourism season into October and

beyond," explains Patricia Yates, CEO of Visit Britain. "And we

have also been talking to destination management organisations

in England about how they coordinate their destinations, coming

out of lockdown."

Working together has been a key feature for organisations that

might previously have worked more on their own agenda. Mark

Hooper, project lead for Visit Shropshire, explained to British Travel

Journal that Covid-19 has changed the way they work, creating closer

ties to other organisations. "During lockdown we became all about

supporting our businesses, and forming closer relationships with our

neighbouring counties and local authority to work together to ensure

Shropshire recovers in the strongest way possible. We have created

partnerships which we will take into the future."

NESSCLIFFE VILLAGE IN SHROPSHIRE, LOCATED NORTH OF THE RIVER SEVERN

DISCOVERING BEAUTY SPOTS

Mark Hooper also explains how a big focus for Visit Shropshire

has been on promoting hidden gems or off-the-beaten track

locations, over the usual tourist hotspots, to try and spread

tourism across the UK and avoid busier areas. "We are aware

that social distancing will need to be in place for a little while

longer once we start to reopen. We are encouraging visitors to

explore Shropshire off the beaten track." It's a great opportunity

for those areas in Britain that are less busy to make a difference

in terms of social distancing and visitor numbers.

In the Cotswolds, the theme across social media has been

one to showcase the beauty of the area, but at the same time,

to reiterate the message that says: "For now, please stay away."

It's a brave message for any business to share, but speaks

volumes about its commitment to safety. Mette Poynton, founder

of tourist guide and membership organisation Cotswolds

Concierge, explains how they have tried to tread the delicate

line between promotion and social responsibility: "We have

made it clear, through our promotion of the Cotswolds during

lockdown, that we will promote the area by encouraging people

to #PlanAVisit. We want people to plan to visit when it is safe

and advised to do so. It is of great importance that the tourism

industry recover, so we see it as our responsibility to do whatever

we can to make this happen, and that includes continuing to

promote all the wonderful things in the Cotswolds."

On the island of Alderney, director of tourism Helene Turner

explains that how promoting the positives while encouraging

people not to visit is a challenge they have risen to. "We are

committed to singing from the rooftops about our lovely little

island and want to keep sharing the Alderney love with everyone

through social media and our website during this difficult time,

when visiting is not advised. Be assured our island community will

be ready and waiting to welcome you with open arms once we

are all able to return to a healthy safe state of normality."

24 BritishTravelJournal.com
---
HOLIDAYS AT HOME

It is clear that the UK will be a main destination for anyone

taking a holiday this year. "This will be the year of domestic

tourism," said Patricia Yates, something that is a really positive

sign for many in the hospitality industry.

At the Cary Arms in Devon, which responded to lockdown

by reassuring guests that refunds and date moves would be met

with no quibbles, the mood is positive. "The next 12 months will

be very different but also very successful," says David Adams.

"The reduction in availability of overseas travel, and particularly

cheap package holidays, will allow guests to really look at

what UK tourism has to offer. There are so many genuine and

amazing businesses in the UK already offering everything a guest

could want from their holiday, now is our chance to shine. The

tricky part is doing that without losing sight of why guests are

coming to stay, to relax and enjoy themselves!"

Rural or seaside areas are seeing particular interest, as Julie

Hastings, marketing director at Hastings Hotels in Northern

Ireland explains. "We have properties in the cities, countryside

and also close to the beach in Northern Ireland and we have

seen an increase in enquiries for bookings at our coastal and

spa properties which are all in very beautiful natural locations."

September and October are looking to be popular and busy

months for many in the industry, while longer stays are also looking

more common. Luxury Cotswold Rentals say they have seen a

sustained rise in enquiries for much longer-term rentals, up to two

and three months, which the company is now calling 'holi-stays'

– and properties with swimming pools and tennis courts the most

popular. "Many of our guests have cancelled European trips and

are looking for somewhere to settle into for the summer months,"

says founder Nigel Stengard-Green. à

BritishTravelJournal.com 25
---
POST-LOCKDOWN LUXURY

It's clear too though, that plenty of changes will need to be

made, and hotels and restaurants have a lot to consider

when looking at how they offer the same levels of quality

and service amidst social distancing measures. Andrew

Stembridge, executive director of Iconic Luxury Hotels, voices

the concerns of many, saying; "There is no doubt that the

reopening of hotels will not be easy. We are developing and

adjusting our comeback plans and re-opening models daily

for all our hotels in order to get through the numerous hurdles

in place."

Patricia Yates suggests that we might start to see the

introduction of a common industry quality mark that

would provide a 'ring of confidence' for tourism businesses,

attractions and destinations as well as reassurance to visitors

that businesses have clear processes in place when restrictions

are lifted. "We can holiday at home again to give reassurance

to the public that it is socially responsible to travel."

At luxury hotel Cliveden House post-pandemic measures

include new cleaning training programmes, changes to their

dining room layout – including a one way system through

the restaurant, as well as extra use of their wonderful Astor

Grill. Previously the stables, the Astor Grill design lends itself

naturally to social distancing with individual booths which

organically limit the space and number of settings. In the spa

there will be an increase in personal training and one-on-one

yoga sessions, while all guest rooms will have in-room tablets

which eliminate many touch points and allow for remote

access.

In Sussex, Goodwood Hospitality Managing Director,

Andrew Coggings explains "With such a high demand for

the temporary Goodwood Farm Shop (a switch from our

wholesale business to a fully-fledged farm shop offering our

home-reared organic meat, cheeses, milk and beer directly

to customers) we are considering making the shop a more

permanent fixture on the estate and offering tours of our

organic farm."

At the Headland Hotel in Cornwall, owners John and

Carolyn Armstrong took advantage of lockdown to refurbish

the indoor pool and changing rooms, and undertake various

maintenance tasks, as well as preparing the hotel for opening

post-Covid by finishing the build of their new Aqua Club,

with six swimming pools and a restaurant, which will provide

takeaway flatbreads from its new pizza oven together with

freshly cooked lobsters and crabs from Newquay Harbour.

The hotel also has 40 self-catering cottages which will allow

people a safe and easy place to holiday. "We have a huge

amount of space within the hotel and ten acres of grounds,

with thirty sunny little dug-outs perfect for social distancing

while safely enjoying Cornish cream teas and watching the

waves," says Carolyn Amstrong. The perfect vision of a

socially-distanced way to holiday.

26 BritishTravelJournal.com
---
DIGITAL FOOTPRINTS

While work is being undertaken to make tourist spots and destinations

safe for visitors, it is likely that many galleries, landmarks, theatres

and museums will have to find new ways to be creative. Luckily, our

increasingly digital world means that some of the most intriguing

places and dramatic performances are all available to us online.

In Alderney, they have set up 'Puffin Cams' which shows the puffins

in their natural habitat on the neighbouring islet of Burhou – a lovely

way to connect with nature, even if you can't get there; while many

gardens across the UK are offering virtual tours around their beautiful

grounds. At Waddesdon Manor, the grand house and gardens are

renowned for their calm beauty and expansive Victorian horticulture

including formal gardens, trees and walks, and you can also explore

all of the Royal Horticultural Society's Wisley garden online, as well

as the gardens of the private residence of Prince Charles and Camilla,

Duchess of Cornwall at Highgrove. The Royal Botanic Gardens at

Kew have created a tour of the top ten sights to see, with guided

commentary from Kew experts along the way - we love the Victorian

glasshouses and Alpine rock garden. And don't miss garden tours

from Hidcote Manor in Gloucestershire, Great Comp in Kent and

Chiswick House in West London.

In Shropshire they've been using the campaign 'Shropshire

from your sofa' - all built around seeing Shropshire virtually; while

in Cornwall you can enjoy a video tour of the beach at St Ives.

Stonehenge, York Minster, Edinburgh Castle and Loch Ness are all

also offering virtual tours, while in London you can soak up such

landmarks as Buckingham Palace, St Paul's Cathedral and even

Abbey Road.

For even more cultural exploits, many theatres across Britain have

started to share their shows online for free, including the Bristol Old

Vic, which is currently featuring its hit musical The Grinning Man

which went on to transfer to the West End. In London, The Globe

recently announced that it will release 40 free titles, including six

mainstage shows and its 2020 one-act version of Macbeth. The

National Theatre is offering Tom Hiddleston's Coriolanus and This

House, and other theatres going online include The Old Vic, The Gate

Theatre and the Southwark Playhouse. In addition, the Chichester

Festival Theatre and Manchester International Theatre have both

moved their planned 2020 festivals online, putting on full shows,

musical performances, talks and Q&As, all for free, while The Royal

Opera House is sharing a selection of past operas and ballets on its

YouTube channel.

Art galleries are getting creative too, with Tate Modern moving

its highly anticipated Andy Warhol retrospective online, where you

can see over 100 of the artist's most iconic works, including his Green

Coca-Cola bottles and his equivocal Ladies and Gentlemen series.

At Tate Britain you can walk through their 12 gallery rooms with work

from the likes of Francis Bacon and John Constable; at The British

Museum you can virtually tour the Great Court and discover the

ancient Egyptian mummies; and at The Natural History Museum,

children can discover the worlds of dinosaurs and dodos, as well as

amazing plants and colourful butterflies. u

BritishTravelJournal.com 27
---
STILL

WINES

RUN

DEEP

English still wine used to be the poor relation

but it's fast catching up its sparkling sister

Words | Adrian Mourby

IN RECENT YEARS British sparkling

wine has taken off so impressively that

French vineyards are now investing in

the productive Sussex countryside. Yet

English still wines have remained at the

Cinderella end of the market, dowdy and

overlooked.

In all fairness the quality of English

still wine has until recently been variable.

In the early, pioneer years (our first

modern vineyards were only planted in

the late 60s and early 70s) there was an

over-reliance on hardy Muller Thurgau

and Bacchus, German grapes which

grew well in English soils and could cope

with the English climate, but produced

still wines with a rather sour taste.

Over the last ten years, however, the

quality of English wines has generally

improved, with French sparkling wine

grapes like Chardonnay, Pinot Noir and

Pinot Meunier proving that they can

thrive in southern England.

Still wines have followed where their

sparkling siblings led with blended wine a

particular success.

Climate change allied with the

work of Plumpton College's new Wine

Research Facility in Sussex has meant

that southern England is beginning to

challenge even its French neighbours for

both still and sparkling wines.

Currently there are over 500

vineyards in England but the output

is still not huge. Many vineyards and

wineries sell by internet and many have

their own restaurants and hotels to

supply so English wines do not have

a major supermarket presence as yet.

But that's a very good reason to go and

visit the vineyards. Here are six still wine

producers who will make you welcome. à

28 BritishTravelJournal.com
---
BritishTravelJournal.com 29
---
1RATHFINNY

WINE ESTATE

ALFRISTON, SUSSEX

In 2010 Mark and Sarah Driver

bought Rathfinny Farm with the

specific intention of growing

grapes for sparkling wine.

Currently the couple have 380,000

vines growing on 227 acres of land

and by 2025 they are aiming for 350

acres. If all goes to plan, Rathfinny

will soon be producing 80,000 cases

of sparkling wine a year, making it

one of England's most significant

wine producers. Mark's ambition is

that "In twenty years' time you will

walk into a bar or restaurant in New

York or Beijing and you'll be asked,

'would you like a glass of Champagne

or a delicious glass of Sussex? I can

recommend the Rathfinny, sir.'"

However Rathfinny also produces

still wines, using the same three

grapes: Pinot Gris, Pinot Blanc and

Chardonnay. These are marketed

under the Cradle Valley label. There

is a blended Cradle Valley White and

a Cradle Valley Rosé which is made

solely from Pinot Noir grapes. Both

still wines are made to the same high

standard. The soil at Rathfinny

helps. The vineyard lies on a

band of well-drained chalk that

forms the Paris Basin, running

up through northern France,

crossing through the Champagne

region and into southern England,

forming the South Downs.

According to Cameron Roucher,

estate manager at Rathfinny (who

moved from New Zealand to be

part of the project), "You couldn't

really ask for a better location than

this for growing grapes."

rathfinnyestate.com

Where to stay

Ockenden Manor

Ockenden Manor is very much a

wine-lovers hotel. It was built in several

stages from Tudor times to the present

day. The hotel offers a number of

Wine Safari packages. Visits to six

local vineyards can be arranged by

the concierge, including to nearby

Rathfinny and Bolney.

hshotels.co.uk/ockenden-manor

WE LOVE

THE CRADLE

VALLEY

The Cradle Valley White is a light

and crispy blend of Pinot Gris and

Pinot Blanc (and just occasionally

Chardonnay) and sells for £21.

YOU MIGHT ALSO

ENJOY...The Bolney Estate

just four miles west of Ockenden

Manor produces a Pinot Noir

that is currently the best-selling

English red. Its Pinot Gris is also

excellent. In 2020 the vineyard is

opening a new restaurant in its

south-facing vineyard.

bolneywineestate.com

30 BritishTravelJournal.com
---
2THREE

CHOIRS

NEWENT,

GLOUCESTERSHIRE

First planted in 1973, the

Three Choirs vineyard

is one of the oldest in England. This

venture was begun by a Gloucestershire

wine merchant who bought a few acres

known as Fairfield Fruit Farm. Record

summer temperatures in 1976 provided

a boost to the fledgling vineyard and

in 1984 it was sold as a going concern

to the Oldacre family. They expanded

the vineyard to 75 acres and renamed

it Three Choirs after England's oldest

choral festival that visits Gloucester

Cathedral every three years. In 2014

the Oldacre family expanded into

Hampshire, purchasing a picturesque

40 acre vineyard in Wickham whose

outbuildings are so attractive it also

doubles as a popular wedding venue.

Current vintages under chief wine maker

Martin Fowke include a whole series

with local geographical names: May

Hill, a medium sweet wine, Ravens Hill,

a deep ruby-coloured red and two dry

whites, Willowbrook and Coleridge Hill.

There is also a blended English Rosé

plus the single varietals, Siegerrebe and

Bacchus. Three Choirs also produces

one sparkling white wine.

Where to stay

Luxury Vineyard Lodges

Since 2000 the vineyard has its own

hotel and restaurant. Guests can also

stay in glass-walled, wooden-framed,

lodges with floor to ceiling windows

overlooking ponds surrounded by vines.

three-choirs-vineyards.co.uk

WE LOVE

THREE

CHOIRS

SIEGERREBE

2017

Three Choirs Siegerrebe

2017 is a vegan-friendly white

wine retailing at £14.95

with subtle hints lychee and

grapefruit on the palate.

3NEW HALL

BOXTED, ESSEX

The CM3 postcode in

Essex has more vineyards

than any other postcode

in Britain. Indeed 80% of

all grapes grown in Essex are sourced

here in the Crouch Valley. With southfacing

slopes, low rainfall and coastal

breezes, the area is protected from frost

and produces some of the best wines in

England. Wine has been cultivated on

the rolling hillsides of Essex since soon

after the Norman Conquest. Indeed it

is believed that wicked King John had

his wine supplied from a site in the

Crouch Valley. In 1969 Bill and Sheila

Greenwood planted Crouch Valley's

first modern vines at New Hall Farm.

Mr Greenwood was a farmer and

realised that the valley's microclimate

offered great potential for viticulture.

850 Reichensteiner vines were

purchased at auction for just 23p each

and hundreds of old railway sleepers

were cut up to create the trellises. In

1971 Mrs Greenwood made the first

wines in her kitchen from German

Reichensteiner, Huxelrebe and Muller

Thurgau grapes. Today under winemaker

Piers Greenwood, New Hall

produces a number of single varietal

wines, Bacchus, Ortega, Huxelrebe,

Muller Thurgau and Chardonnay, as

well as an English rosé blended from

Pinot Noir and two minor grapes.

We love White Hart 2017

Created for their 50th anniversary,

this post-ferment blend of Schonburg

and Chardonnay results in a dry wine with

flavours of pineapple and a soft citrus finish.

newhallwines.co.uk

Where to stay

Wivenhoe House

Stately Wivenhoe House is 20 miles

east of New Hall Wines. In 1816, owner

Major-General Francis Slater Rebow

commissioned John Constable to

commemorate the house on a canvas

that is now displayed at the National

Gallery of Art in Washington, D.C.

The hotel is surrounded by the campus

of Essex University

wivenhoehouse.co.uk

BritishTravelJournal.com 31
---
4LOVELLS

WELLAND,

WORCESTERSHIRE

Cathie and John Rolinson

moved to the village

of Welland below the

Malvern Hills in 2008 having made the

bold decision to establish a vineyard

from scratch. Their first 900 vines were

planted in 2010 and since then they

have added thousands more and taken

management of Tiltridge Vineyard in

Upton on Severn. Now working four

vineyards over 15 acres – all sheltered

by the Malvern Hills, Lovells produces

Chardonnay and Pinot Noir grapes

which are marketed in a series of

wines named after local composer, Sir

Edward Elgar.

"Ours is a story of a hobby that

became more serious," says Cathie.

"It started with an ambition to prove

to friends and family that we could

produce a decent English wine. We

were ably helped along the way by

the expertise of the well-established

Three Choirs Vineyard as well as

several other knowledgeable and kind

souls" Operating out of a delightful

farmhouse and visitor centre, Lovells

now grows Orion, Pinot Noir, Siegerebbe,

Madeleine Angevine and Seyval Blanc

as well as red Rondo grapes. Today

this charming vineyard produces over

12,000 bottles of wine a year, from

sparkling whites and rosés to dry

whites and single varietals. The Elgar

range includes an Elgar Medium Dry,

Sonatina Rosé and two sparklings -

Ysobel Rosé and Elgar Sparkling White.

We love Elgar Medium Dry made

from a blend of Huxelrebe and

Schonburger from the vineyard's

oldest vines. It retails for around £12.50

lovellsvineyard.co.uk

Where to stay

The Cottage in The Woods

The Cottage in The Woods is on the

Malvern Hills just above Lovells and

serves the Elgar wines. It was originally

the dower house for a massive

Victorian estate, Blackmore Park in the

Severn Valley that burned down in 1921.

cottageinthewood.co.uk

32 BritishTravelJournal.com

5DENBIES

WINE

ESTATE

DORKING, SURREY

The hugely productive

Denbies operation almost

didn't happen. In 1984 Adrian White

bought this Surrey estate as his home

but was unsure what to do with the land

so he asked a friend, Professor Richard

Selly (who normally advised on drilling

for oil) to survey the site. Selly worked

out that its chalk soil and well-protected

location were ideal for wine production.

Thirteen varietals were planted as an

experiment in 1986 to see which would

take, and 34 years later, in 2010 Denbies

medium dry Surrey Gold became the

best-selling English white wine.

These days the vineyard produces 10% of

all English wines. Other Denbies' blends

are geographically named: Flint Valley,

Ranmore Hill and Redlands. Single

varietals include Bacchus and Pinot Gris.

Despite a lot of success with its sparkling

wines, 40% of Denbies' output remains

still and it also makes wine for other

companies, like the Albury Vineyard

near Guildford.

Good entry-level wines under £10

helped establish the brand, but the

new Denbies' Vineyard Select range is

exciting critical attention. The visitor

centre with its great central tower and

Disneyfied wine train attracts 350,000

visitors a year. The site is very accessible

and friendly, with locals walking their

dogs. There is also a modern 18 bed

hotel created out of an old farmhouse on

the estate.

Where to stay

Denbies Vineyard Hotel

Denbies Vineyard Hotel has a very

attractive view of the vines from its

dining room. This building was

originally a farmhouse on the original

estate but has been completely

repurposed for visitors.

denbies.co.uk

WE LOVE

RANMORE

HILL 2017

Ranmore Hill 2017 is a

white wine that was a Gold

award-winner at WineGB

2019 in the category of 'Best

Blended Wine'. At £14.95 it is

also very good value.
---
6CHAPEL

DOWN

TENTERDEN, KENT

England's largest

winemaker operates

out of Tenterden in

Kent, making use of the

same chalk landscape that created

the white cliffs of Dover. Pinot Noir,

Chardonnay, Pinot Blanc and Bacchus

thrive in this gentle climate, but

Chapel Down augment their own

grapes with fruit grown by 13 suppliers

from Essex to Hampshire. This wide

range of locations minimises the risks

of crop failure due to frost.

The company was established in 1992

and moved to Tenterden three years

later taking over Rock Lodge Vineyard.

Today winemaker Josh Donaghay-

Spire supplies pillars of the British

establishment like 10 Downing Street,

the Royal Opera House, Covent

Garden, the Barbican and the Royal

Crescent Hotel Bath. The Chapel

Down bottles with their simple black

red and gold labelling are attractive

and easily recognised. The company

is known for its championing of

the Bacchus grape, which they

describe as England's answer

to Sauvignon Blanc. They also

produce an English Rosé as well

as a single varietal Pinot Blanc

and a Chardonnay. There is an

attractive modern visitor centre

at Tenterden built to resemble

a clapboard Kentish barn. The

field next door is planted with

all the major grape varieties so

visitors can see them in situ. The

centre currently attracts over 50,000

visitors a year.

chapeldown.com

Where to stay

Chilston Park Hotel

Chilston Park Hotel is 16 miles north

of Chapel Down. The hotel still has

the feel of a friend's country house at

which you're staying for the weekend.

It also has the world's smallest bar

tucked under the old oak staircase.

handpickedhotels.co.uk

WE LOVE

2018 BACCHUS

The 2018 Bacchus is currently

available for as little as at £10 a bottle.

It's a crisp, refreshing highly aromatic

white wine characterised by hints of

melon and peach

BritishTravelJournal.com 33
---
Nearly Wild Camping

SUSTAINABLE

TRAVEL

What could be more

restorative in challenging

times than sustainable

camping in a beautiful

environment?

Words | Helen Holmes

TOASTING MARSHMALLOWS AT PEGS AND PITCHES CAMPSITE, SUSSEX

WE'VE ALL BEEN confined to

our homes this spring, in what

must be one of the strangest

experiences most of us have ever

had. And if there's one thing about being told

to stay inside – it's that it makes you want to

go outside like never before. The city dwellers

amongst us, in particular, have been craving

countryside, wilderness, open space.

We're also seeing some of the immediate

environmental benefits of reduced travel and

industrial activity – the skies are clearer, the air is

cleaner, and wildlife is thriving. It's unclear right

now what kind of travel plans we're going to be

able to make this summer, but if we are able to

get away, one highly appealing option is to find a

remote spot and pitch a tent.

Actual wild camping – away from campsites

– is technically illegal in most of the UK, unless

you have permission from the landowner. But

there are some amazing campsites which provide

the experience of being immersed in nature,

alongside off-grid facilities, and the security of

knowing that you're allowed to be there.

The remote camping places we've discovered

do their utmost to tread lightly on the planet

– working actively to conserve the local

environment and wildlife whilst also giving

people the opportunity to sleep under the stars at

night and wander through forests, or take to the

water, by day.

34 BritishTravelJournal.com
---
LIVING-ROOM

TREEHOUSES,

MACHYNLLETH,

WALES

As if seeping under canvas wasn't enticing

enough, how about sleeping in a tree?

These are real treehouses, built high in the

forest canopy, on the edge of the Snowdonia

National Park – remote from each other, and

from the outside world. The location is close

to the Centre for Alternative Technology

– one of the world's foremost centres for

research into environmental issues, and

the team who set up the treehouses used

to work there – so their envornmental

credentials are impeccable.

The treehouses themselves are created

by local artisans and designers, from

local, sustainable wood. They have solarpowered

facilities, including fridges and

hot showers, as well as running water

from purified local springs. The site is in

an ancient woodland which is a haven for

flora and fauna, and it's actively managed

by the treehouse team, who have added 10

acres of wildflower meadows to the area.

"We aim to offer guests the opportunity

to live deep in the heart of the natural

environment, high in the trees, in a space

that is both inspiring and far from the

norm," says Mark Bond, one of the team

who set up the site.

living-room.co

à

BritishTravelJournal.com 35
---
ALDERFEN

MARSHES,

NORFOLK

Alderfen Marshes consists of just

four pitches in the Norfolk Broads.

Located in a Site of Special Scientific

Interest, the place is first and foremost

managed as a conservation area – with

the camping provision being very much

secondary to that.

Each pitch is on its own marsh, away

from others, surrounded by reeds,

willows, waterways and wildlife, and

the four pitches are never all occupied

simultaneously – which allows them

to recover between visitors. Campers

can book a canoe alongside their pitch

and use it to explore the remote, tidal

waterways of the marshes.

Campers are also supplied with a

fire bowl, a supply of drinking water, a

wood-fired stove and a clean, off-grid,

private toilet. Stephen Ferrey, who runs

the site, says, "Our goal has been to

manage Alderfen Marshes as an area

of wilderness in which paths disappear

enticingly into the marshes, creating

the feeling that around every corner is

a surprise."

go-moco.co.uk

RUBERSLAW,

HAWICK

In the centre of the Teviotdale Special

Landscape Area in the Scottish

Borders, Ruberslaw offers remote

pitches in pine woods, far from

civilisation. They also have woodlandsited

two-bedroom safari tents –for

campers wanting peace and quiet, but

with a few more comforts. The business

has been designed using sustainable

principles, with measures in place to

minimise the use of electricity and

water, compost waste, and minimise

the site's impact on the beautiful local

environment. They also grow their own

plants and vegetables, so campers can

buy home-grown produce.

ruberslaw.co.uk

BLUEBELL MEADOW AT PEGS AND PITCHES CAMPSITE, SUSSEX

ABOVE: HIDDEN SPRINGS CAMPSITE, EAST SUSSEX ©VISITBRITAIN/ JOANNA HENDERSON. BELOW: RUBERSLAW CAMPSITE, HAWICK

36 BritishTravelJournal.com
---
CYNEFIN,

CARMARTHENSHIRE

Cynefin is a Welsh word that means

'habitat' or 'wild place' – and these 10

pitches set amongst woodland glades

and wild meadows certainly fit the bill.

As well as conventional pitches, the

site includes two bell tents, a tipi, and a

shepherd's hut made from sustainable,

locally sourced and recycled timber.

"Probably the most special thing

about our location," says owner Kay

Griffiths, "is the abundant wildlife, and

our natural wildlife habitats. With no

campers at the moment, the wildlife is

taking over." Regular visitors to the site

include hares, buzzards, pied wagtails

and red kites, and Kay and Judith work

hard to encourage the wildlife and improve

biodiversity at Cynefin, with bird

boxes, dormouse boxes, insect homes,

and a hedgehog house in the woods.

cynefinecocamping.com

HOW TO CAMP

SUSTAINABLY

Leave no trace: Take everything

with you when you go – it should look

as though you've never been there.

Stay close to home: You don't

need to travel a long way to immerse

yourself in nature. Choose a location

that's not too far from where you live –

without a long journey to contend with

your trip will be more relaxing too.

Ditch the car: If you choose a site in

an amazing natural location, make the

most of it – explore your immediate

environment on foot (or by canoe)

rather than driving to attractions

further afield.

Borrow a tent: If you're not already

a seasoned camper, borrow a tent and

equipment from a friend rather than

buying new. Or book into a glamping

site, where the tent and everything else

you need will be provided.

BELL TENT IN THE WOODS OF PEGS AND PITCHES, SUSSEX BEECH ESTATE

PEGS AND PITCHES,

SUSSEX

Pegs and Pitches run two ecologicallyfocused,

off-grid campsites in Sussex.

Beech Estate consists of eight 'wild

glamping' bell tents and 22 pitches, near

Battle; and Wild Boar Wood is a site

with just nine bell tents, near Haywards

Heath. Both campsites are in woodland

settings, in Areas of Outstanding Natural

Beauty. Beech Estate is located on a

2,100 acre private estate, where grass

tracks crisscross the woodland, and

bluebells cover the campsite in spring.

Wild Boar Wood, meanwhile, is host to

22 different species of tree, 26 different

types of birds and a huge variety of

animal and plant life.

"We place the environment at the heart

of our campsites," says Hugh Sandie, of

Pegs and Pitches. "Our campsites are

based on a philosophy of living lightly

on the land, in harmony with nature. We

believe the conservation of trees offers

overwhelming benefits to our landscape

and lives." Both campsites are off-grid

and use minimal, low-level lighting for

facilities, to minimise the impact on the

woodland wildlife and insects.

pegsandpitches.co.uk

BritishTravelJournal.com 37
---
HEALTH

W H A T ' S N E W

Wellbeing | Health | Fitness | Mindfulness

SUPERIOR SEA VIEW SUITE

Cornwall's Talland Bay Hotel has extended part

of the 16th century building to create additional

ocean-fronting rooms, to include a spacious

premier suite with private balcony overlooking

the sub-tropical gardens and out over the bay.

tallandbayhotel.co.uk

TRAVEL DESTINATION FOR TOTAL SECLUSION AND PRIVACY

Enjoy the beauty of Northern Ireland from the comfort of a bespoke Stargazing Forest Dome at

Finn Lough Resort, Enniskillen, a two hour drive from Belfast. The unique back-to-nature domes

resembling giant bubbles offer a complete post-lockdown digital detox with no wifi or TV, allowing

you to escape the noise of the outside world. Relax and dream while watching the water and

wildlife passing by. The cabins are beautifully chic, with a luxurious four-poster bed, waterfall

shower, vintage record player, underfloor heating and telescope - each overlooking the stunning

Lough Erne. Prices from £265 per night including breakfast and complimentary bike hire.

finnlough.com

TOUGH DAY TRIPPER

The Trailhead Pack is super comfy, durable,

and lightweight - perfect for a day hike and

useful beyond the beaten track – doubling as

your trusty everyday bag. £59.99

kathmandu.co.uk

W E L O V E

LIFE'S A BEACH

Situated on a seven mile coastal footpath in West

Sussex, these stylish and cosy Beachcroft Beach

Hut suites make the ideal bolthole with room service

available. Prices from £237 B&B per night.

beachcroftbeachhuts.co.uk

REMOTE ADVENTURES

Experiential travel specialists, Pelorus, and

glamping pioneers, Camp Kerala, have joined

together to offer luxury mobile tented camp

experiences in remote destinations across Britain.

pelorusx.com /campkerala.com

WILDERNESS CHEF

The Ultimate Guide to Cooking Outdoors

The first cookbook from the outdoors legend,

Ray Mears, shows you how to make delicious,

flavoursome food in the open air for a

summer where it is more important than ever.

Published by Bloomsbury, £20

bloomsbury.com

BritishTravelJournal.com 39
---
10of the best

SELF CATERING

PROPERTIES

Words | Emma O'Reilly

40 BritishTravelJournal.com
---
Why risk going on a

plane when there are

amazing self-catering

options on our doorstep?

We bring you some

of the very best…

As a nation, we are blessed

with such a wealth and variety

of scenery, history and culture

that a home turf holiday is

always a delight… and it's

kinder to the environment too.

The sun may not always shine,

it's true, but if you have one of

these dashingly good-looking

holiday homes to hole up in, we

reckon you will feel like you're in

the sweetest place on earth!

D E V O N

THE BOTHY, DARTMOOR

1

This decadently romantic bijoux bolthole has

been really thought out by its interior designer

owner. The main living space has a sofa, woodburner

and king size bed – just the place for breakfast with

dreamy moorland views. For a close-up, search for wild

Dartmoor ponies on any number of exhilarating walks.

The holiday let has a private garden with fire pit and

access to the owner's tennis court – handy if you have a

Devonshire cream tea to work off.

* The Bothy can be booked through Boutique Retreats,

who try to bridge the gap between boutique hotels and

traditional holiday cottages. They have properties all over

the UK and can organise catering and food deliveries.

boutique-retreats.co.uk

BritishTravelJournal.com 41
---
N O R T H U M B E R L A N D

THE BRIDGE BARN

Overlooking the ruins of medieval Warkworth

2 Castle is The Bridge Barn, a small and stylish

property suitable for two adults and two children up to

the age of 12. We love its simple character and charm

and the village location, with walks and rowing boats on

the Coquet River almost from the doorstep, a fabulous

sandy beach an easy walk away, plus all the attractions

and wild beauty of Northumberland accessible by car.

* The Bridge Barn can be booked through Coquet

Cottages - a small team who specialise in luxury, dogfriendly,

cottages in Northumbria and know the area

and the cottages well.

coquetcottages.co.uk

C O T S W O L D S

JASMINE COTTAGE

Cute cottage in the Cotswolds? Yes please!

3 Jasmine Cottage is as quintessential as they get,

with wisteria around the door and a pretty country

style with a French twist. It sleeps three, in one double,

and one adorable single, bedroom. The cottage is in

the sleepy village of Windrush, less of a honeypot than

many others in the Cotswolds, with lovely walks around

the Windrush Valley – it's a two mile ramble to the

National Trust village of Sherbourne.

* Jasmine Cottage can be booked through Cotswold

Hideaways who are a relatively new company

specialising in this appealing patch of England.

cotswoldhideaways.co.uk

42 BritishTravelJournal.com
---
N O R F O L K

SWANTON COTTAGE

The north coast of Norfolk attracts the wellheeled,

drawn by its beautiful beaches and

5

great accommodation. Swanton Cottage is near the

gorgeous Georgian town of Holt as well as some of

the area's best swathes of sand. The house sleeps 12

so is ideal for extended families or a gaggle of friends.

Highlights include the big, sociable kitchen/diner

and, outside, an old glasshouse with table for dining

on summer evenings. A tennis court, five acres of

woodland and a play room will keep kids occupied.

* Swanton Cottage can be booked through Barefoot

Retreats, who specialise in laidback luxury in the north

of Norfolk. Their concierge service supplies not just

the usual restaurant bookings and babysitting but also

cool things like hiring a luxury bell tent for kids in the

garden, a hot tub for the weekend, or in-house cocktail

making classes.

barefootretreats.co.uk

C O R N W A L L

THE CHALET

This county is not short on stellar

4 beaches and The Chalet has dazzling

views over one of the best – Carbis Bay. The

architect designed pad is uber modern, with

two ensuite bedrooms (two king size beds,

one an optional twin), a snazzy kitchen and an

upside-down layout with living area upstairs,

for maximum vista drooling time. Lovely St Ives

is just a one mile stroll along the coast.

* The Chalet can be booked through Cornish

Gems who have over 180 special places to stay

across Cornwall and pride themselves on their

customer service.

cornishgems.com

BritishTravelJournal.com 43
---
D E N B I G H S H I R E

EIRIANFA

You can be sure of a warm welcome in the Welsh

6 hillsides at this divine old farmhouse near Ruthin.

It has a proper country kitchen, with Aga to cook and

warm socks on and cosy living room with wood burner.

Rather unusually, although Eirianfa sleeps just four

people, it has the facilities of many much larger houses,

including a wonderful games barn with hot tub and bar.

Oh, and did we mention that the private garden is 17

acres, complete with lake and rowing boat?

* Eirianfa can be booked through Unique Homestays

who offer magical homes in jaw dropping locations

throughout the UK. They are incredibly fussy about

the homes they market (and inspect every one),

meaning that loyal fans trust them implicitly .

uniquehomestays.com

A B E R D E E N S H I R E

GARDEN ROOMS AT FASQUE CASTLE

Calling all fairytale princesses…. the Garden Rooms at

8 Fasque Castle await you. This tiny turreted pile is cosy

inside, with roaring fires both in the living room and the suitably

grand and girlie bedroom. The estate has acres to roam, with

woodland, resident red deer and a small chapel. Down the

road are beautiful walks beside the River Esk and further afield

the more challenging Cairngorms and Angus Glens, plus

fantastically unspoilt sandy beaches. This part of Scotland gets

its fair share of chilly days – just the excuse to warm up with a

wee dram or two of whisky at the nearby Fettercairn Distillery.

* The Garden Rooms at Fasque Castle can be booked through

Cottages and Castles who have been in business for over 35

years and have 600+ quality Scottish properties on their books

to suit every pocket.

cottages-and-castles.co.uk

C O T S W O L D S

THE BARNHOUSE

This one of a kind barn boasts interiors designed

7 by Kate Moss and is secreted away in the woods.

The design is eclectic and luxurious, with raw silk carpeting,

priceless pieces of art and dramatic furniture statements.

The open plan living and dining spaces look out through a

spectacular wall of glass, with views extending across the

adjacent Bowmoor Lake.

* The Barnhouse is a property on the luxury Lakes by

Yoo estate, bookable directly (thelakesbyyoo.com) or

through Orion Holidays, specialists in self-catering

holiday homes in the heart of the Cotswold Water Park.

The area is beautiful with over 150 lakes spread over 40

square miles covering 14 different Cotswold villages and

a wide range of leisure activities.

orionholidays.com

44 BritishTravelJournal.com
---
D O R S E T

LULWORTH COVE HOUSE

This is self catering with knobs on!

9 Such hedonism doesn't come cheap

but you could spend your whole time

here without budging. Facilities include

a stunning indoor pool, terrace with sea

views, bar, cinema room, games room

and 10 ensuite bedrooms. The house is

essentially a giant thatched cottage, with

a sleek, modern interior. Pretty Lulworth

Cove is minutes away on foot.* Lulworth

Cove House can be booked through The

Wow House Company. They offer large,

extra special houses and can help clients

with catering, entertainment and activities.

thewowhousecompany.com

WHAT TO CHECK BEFORE YOU BOOK…

T H E L A K E D I S T R I C T

ROSE CASTLE COTTAGE

If remote beauty is the new luxury, then Rose

10 Castle Cottage, once owned by Beatrix Potter, is

one opulent place. It sits just above tinkling Tarn Hows,

with not a neighbour in view. This is a low-tech pad for four

people – off grid electricity, no TV, dishwasher, microwave,

or even WiFi, so it's definitely the place to bring teenagers

to cold turkey! But who needs screens when the whole

Lake District is on your doorstep? Tramp in the fells or to

the jetty where you can climb aboard the old Steam Yacht

Gondola for a cruise on Coniston Water.

* Rose Castle Cottage can be booked through National

Trust Holidays.The National Trust restore historic

properties throughout the UK, keeping their unique

character. Money from bookings helps protect them for

future generations.

nationaltrust.org.uk/holidays

• How the company ensure properties are COVID-19

safe. This should at the least involve thorough antibacterial

cleaning but might also include a key safe so that guests don't

have to meet owners or, even better, contactless entry.

• If there is a possibility for an early check-in or late check-out.

• When the low, mid and high seasons are for your property.

• What extras you'll have to pay for.

Ask also whether an end of stay clean is included.

• Compare like with like.

Bear in mind you are likely getting more indoor and outdoor

space for your money and saving money by having a kitchen

to cook in. Also factor in things like parking, extras provided etc.

• The cancellation policy.

Some let you cancel up to the day before your trip, others

might charge a percentage or all costs, depending upon

when you cancel. Check the COVID-19 policy, too. Would

you be refunded if you had to cancel because of it?

BritishTravelJournal.com 45
---
REVIVAL

OF

Colourful 46 BritishTravelJournal.com

beach huts at

Southwold on the Suffolk coast
---
Jaunty, jolly bathing huts line the shore at many

of our favourite seaside resorts, as much part of

the great British seaside as piers and Punch &

Judy – we look at how a simple seaside storage

shed became a covetable coastal property

Words | Adrienne Wyper

THE

BEACH

HUT

à

BritishTravelJournal.com 47
---
LOOKING AT A ROW OF BEACH HUTS, if you

imagine them with wheels, you can see their

past iteration as bathing machines. These were

wheeled contraptions, pulled by horses, or

occasionally humans, designed to convey bathers into the

sea out of sight of those on the shore.

Sea-bathing (and drinking seawater) took off in the

late 18th century for its health benefits. King George III

was instrumental in popularising it and at Weymouth,

Dorset there's a replica of the bathing machine built for

his 1789 visit. The original remained in use until 1916.

The terms 'bathing' and 'dipping' were used rather than

'swimming', as people simply submerged themselves, then

clambered back into the machine.

Into the 1800s, beaches were gender-segregated, with

many men going naked. Later in the century the advent of

the railway and the introduction of paid holidays brought

seaside day trips within everyone's reach.

Mixed-sex bathing began to spread as the 20th

century dawned, influenced in part by European

attitudes.

To maintain standards of public decency, people still

needed somewhere to change, so tents were set up. An

echo of these are Weymouth's hybrid 'wooden tents', first

erected in the 1920s, with wooden frames and canvas

panels.

PICTURED CLOCKWISE FROM ABOVE: WOODEN TENTS AT WEYMOUTH BEACH,

DORSET; REPLICA OF KING GEORGE III'S BATHING MACHINE, WEYMOUTH,

DORSET; PASTEL-COLOURED BEACH HUTS, LYME REGIS, DORSET

(ALL © ADRIENNE WYPER); BOURNEMOUTH BEACH LODGES, BOURNEMOUTH,

DORSET (© BOURNEMOUTH, CHRISTCHURCH & POOLE TOURISM); COLOURFUL

BEACH HUTS AT WELLS-NEXT-THE-SEA. PREVIOUS PAGE © HELEN HOTSON/

SHUTTERSTOCK

48 BritishTravelJournal.com
---
Pictured above: Bathing machines in the early

20th century, Great Yarmouth, Norfolk

The earliest purpose-built beach huts were built in Bournemouth,

Dorset in 1909 for annual renting. Today the town has over

1,900, 500 council-owned, a tenth of the UK total.

In the 1930s the focus moved to sun worshipping. More

beach huts and lidos were built, as beachgoers bared more of

their bodies. After the Second World War, during which British

beaches were closed, beach holidays became more popular:

boom time for the beach hut.

Cheap package holidays in the 1970s drew holidaymakers

abroad, and the humble beach hut fell out of favour. However,

nostalgia for childhood bucket-and-spade holidays, and the

appeal of a pared-back, outdoorsy lifestyle, have attracted a

new generation of beach hutters.

The basic design has remained constant: a wooden box,

often with a verandah and canopy and steps, but terraces of

concrete huts have also been built.

Within this basic uniformity there's plenty of scope for owners

to express themselves, with the name, interior decor and exterior

colour scheme.

All huts are numbered, but many boast names too, with puns

particularly prevalent: Jabba, Vitamin Sea, Salty Groyne, Shore

Thing, Life's a Beach, while others summon up the laidback feel

of life by the sea: Happy Days, Love Shack, Flip Flops…

Some interiors are purely functional, while others are

decorated as lovingly as the owners' homes, often with a retro,

vintage feel or shabby chic look. The seaside theme abounds,

with driftwood accessories, anchor motifs and fishy fabrics.

Such playfulness also extends to the exterior, with most

owners favouring cheerful stripes and bright colours.

Council-owned huts can have a pleasingly coherent palette,

as at Lyme Regis in Dorset, while privately owned huts are a riot

of clashing colours.

Some see their huts as simply a shed to stash kayaks,

paddleboards, fishing rods, wetsuits or swimming kit, while for

others it's a contemplative space for wave-watching, a haven

from the outside world. à

BritishTravelJournal.com 49
---
Perhaps the reason that beach huts are so sought after

now is that demand outstrips supply. They're found all

around the British coast, with most along the south coast.

Local authorities rent theirs out by the year, month, week

or even day. There are often residents-only restrictions

and a waiting list. In some areas, such as Swansea, draws

are run to select the next lucky renter.

According to a 2019 survey, the average rent at

sought-after beauty-spot Mudeford Spit, Christchurch,

Dorset, is £3,816 a month, whereas one in

Whitstable, Kent, will set you back £1,184 a month.

If you'd like to buy one, be aware that sky-high asking

prices have hit the headlines; last summer, five huts went

on sale at Mudeford Spit for £250,000 each. They have

no water or electricity, but – unusually – you are allowed

to sleep overnight, so they're more of a holiday home.

At the other end of the scale, there's currently one for

sale in Felixstowe, Suffolk for £8,000. In addition to the

purchase price, hutters need to budget for insurance,

council tax, licensing fees and maintenance.

Another thing to bear in mind is that beach huts are

difficult to secure, and empty for long periods, leaving

them vulnerable to damage by vandalism (or storms and

high tides), theft, graffiti or arson. Earlier this year, huts at

Weston-super-Mare, Somerset were swept away by high

tides. The Queen's beach hut at Holkham in Norfolk was

burnt down in an arson attack in 2003.

PICTURED ABOVE: BEACH HUTS AT HERNE BAY, KENT © VISIT CANTERBURY BEACH HUTS,

DECKCHAIRS AND WINDBREAK, SOUTHWOLD, SUFFOLK © VISIT BRITAIN

50 BritishTravelJournal.com
---
However, huts can earn their keep; if you own one, it can

usually be rented out for up to £60 a day in spring/summer.

Tempted by a temporary stay? Find huts to hire by the day

at Beach-Huts.com (beach-huts.com) or contact local

authorities. Sleeping in a traditional hut is a rare treat due to

local authority legislation, but lots of coastal accommodation

has the same vibe. Shaldon Beach Hut in south Devon is the

real deal, with high-end finishes and stunning views, from

£130 a night. (quirkyaccom.com/shaldon-beach-hut-1)

There's a trend for hotels and restaurants to open their

own beach huts. In Whitstable, the Hotel Continental

has converted fishermen's huts, from £85 a night

(whitstablefishermanshuts.com). In Devon, spa hotel Cary

Arms offers beach huts on Babbacombe beach, from £269

a night. The luxuriously designed Beach Hut Suites at

The Beachcroft Hotel, Felpham, West Sussex, are right by

the sea, and breakfast is delivered, all from £250 a night.

(beachcroftbeachhuts.co.uk)

PICTURED ABOVE: INTERIOR AND

EXTERIOR OF BEACHCROFT BEACH

HUTS, WEST SUSSEX; ALL OTHER IMAGES

BOURNEMOUTH BEACH HUT

(© BOURNEMOUTH,CHRISTCHURCH &

POOLE TOURISM). MAIN IMAGE: FAMILIES

ENJOYING THE BEACH AT WHITLEY BAY, TYNE

AND WEAR (© SOLSTOCK)

Some enterprising local authorities, such as Bournemouth,

have created a new beach hut/beach house hybrid,

Bournemouth Beach Lodges (bournemouthbeachlodges.

co.uk), one of which is wheelchair-accessible, from £325 for

four nights, and Beach Pods at Boscombe, designed by Wayne

and Gerardine Hemingway.

These modern beachside bases, housed in the Overstrand

building, which is also home to showers, a restaurant, surf

shop and school, cost from £145 a week. You can't stay

overnight, but the pods have electricity, kitchenette and

original artwork.

Whether you buy, rent, hire or borrow, the beach hut is a

stalwart of the great British seaside with no signs of waning in

popularity, enabling us to enjoy being by the sea, whatever the

weather, for generations to come. u

BritishTravelJournal.com 51
---
SUBSCRIBE TO

BRITISH TRAVEL JOURNAL...

AND RECEIVE THE ULTIMATE GETAWAY ESSENTIAL FROM

NOBLE ISLE WORTH OVER £20 - ALL FOR JUST £19!

Luxury

free gift

WORTH OVER

£20!

Return the form opposite or subscribe online britishtraveljournal.com/subscribe
---
£5.00

CITY | COAST | COUNTRY

AUTUMN 2019 | ISSUE 03

CITY | COAST | COUNTRY

BritishTravelJournal.com

£5.00

SUBSCRIBE TODAY!

STRAIGHT

TO YOUR DOOR...

AND NEVER MISS ANOTHER ISSUE

BritishTravelJournal.com

small island

big heart

CORONAVIRUS: WE LOOK AT

HOW THIS INCREDIBLE NATION

HAS RESPONDED TO ONE OF

ITS TOUGHEST CHALLENGES

BRITISH TRAVEL

JOURNAL

SUMMER 2020 | ISSUE 06

CITY | COAST | COUNTRY

the rise

of the

staycation

FROM IDYLLIC SECRET ISLANDS

TO EXPLORING ENGLAND'S NEW

COASTAL ROUTE AND FINDING

YOUR PERFECT HOLIDAY HOME

I WOULD LIKE TO SUBSCRIBE TO BRITISH

TRAVEL JOURNAL STARTING WITH

CURRENT ISSUE SUMMER 2020

NEXT ISSUE AUTUMN/WINTER 2020

1 YEAR £19 2 YEARS £35

POSTAGE OUTSIDE THE UK

1 YEAR £45 2 YEARS £75

I WOULD LIKE A NON-RENEWING SUBSCRIPTION:

1 YEAR £20 2 YEARS £40

POSTAGE OUTSIDE THE UK

1 YEAR £50 2 YEARS £80

BILLING ADDRESS

NAME

ADDRESS

WIN

a two-night

stay in Padstow,

Cornwall with

Rick Stein

POST CODE

EMAIL

£6.75

beautiful destinations • michelin star restaurants • hotels & sPas • exPeriences • adventures • travel news

POSTAL ADDRESS IS SAME AS BILLING ADDRESS

I WOULD LIKE A GIFT SUBSCRIPTION TO BE SENT

TO THE FOLLOWING ADDRESS

NAME

ADDRESS

BRITISH TRAVEL

JOURNAL

WINTER 2019 | ISSUE 04

BritishTravelJournal.com

BRITISH TRAVEL

JOURNAL

CITY | COAST | COUNTRY

stargazing

DISCOVER NEW WORLDS WITH

THE DARK SKIES FESTIVAL

the great

outdoors

BRITAIN'S NATIONAL TRAILS

OFFER SOME OF THE LOVELIEST

COUNTRYSIDE IN THE WORLD

new-age sPas

FROM SOPORIFIC SOOTHING IN

SUBTERRANEAN LABYRINTHS TO ICE

TREATMENTS BY THE OCEAN -

A NEW ERA OF ZEN IS UPON US!

BRITISH TRAVEL

JOURNAL

SPRING 2019 | ISSUE 01

BritishTravelJournal.com

POST CODE

EMAIL

take a

journey

EDINBURGH TO THE

CALEDONIAN FOREST

idyllic destinations • michelin star restaurants • hotels & sPas • exPeriences • adventures • travel news

£5.00

IN THE STARS

GASTRONOMIC DELIGHTS AND A

CONSTELLATION OF MICHELIN STARS

JUST WAITING TO BE EXPLORED

taste a

destination

AUTUMN DREAM FORAGING ESCAPE

DISCOVER HOLIDAYS THE REMARKABLE ISLANDS

AND BREATHTAKING LANDSCAPES

OF ORKNEY AND THE OUTER HEBRIDES

Interview

raymond blanc

CELEBRATES TWO BIG

MILESTONES THIS YEAR

WIN

a luxury

short break

for two in

Exeter!

EVENTS ■ IDYLLIC DESTINATIONS ■ MICHELIN STAR RESTAURANTS ■ LUXURY HOTELS ■ NEW EXPERIENCES

VISA VISA DEBIT MASTERCARD AMEX

CHEQUE (payee Contista Media Ltd) ISSUE NO. (AMEX)

CARD NO.

CSV

SIGNATURE

EXPIRY DATE M M Y Y

DATE D

D

M M

Y

Y

EVENTS ■ IDYLLIC DESTINATIONS ■ MICHELIN STAR RESTAURANTS ■ LUXURY HOTELS ■ NEW EXPERIENCES

OR WHY NOT SUBSCRIBE AS A

GIFT FOR SOMEONE SPECIAL?

#

Return to: Contista Media Ltd, Mitchell House,

Brook Avenue, Warsash, Hampshire, SO31 9HP

* Ts & Cs: Limited time only, while stocks last. Gift is for UK subscriptions only.

Contista Media is compliant with GDPR (General Data Protection Regulations)

Your subscriptions data is only used for the purpose of processing your

subscription. Your email address will only be used in order to contact you

regarding renewing your subscription. We will not pass your details on.
---
ENGLAND'S

COAST

Soon we will be able to lace

up our boots and amble or

ramble absolutely anywhere

along the English coastline

Words | Emma O'Reilly

54 BritishTravelJournal.com

IMAGE: DORSET COAST © BRUCE CUTTS
---
ENGLAND'S BEACHES ARE perfect for long, lazy

summertime sunning, swimming… and strolling!

Soon, the latter will be made even easier, thanks to

the England Coast Path. When completed it will be, at

2,795 miles, the longest coastal walking route on the planet,

wiggling its way around the country's entire coastline.

As a nation, we are already blessed with many rights-ofway.

A huge network of public footpaths plus some 15 longdistance

UK National Trails existed well before this initiative.

The current coastal trails are essentially being improved,

adapted and extended to form one very long continuous

route. Of course, you don't have to do it all (but wow, wouldn't

that be amazing?). Dip in and out, starting and finishing

where you please and getting some seriously healthy sea air

into your lungs in between. Walk for an afternoon, a day, a

weekend or more.

The England Coast Path is a beautiful, ambitious venture.

The idea is to open up the entire coastline to the public, to

boost our health and our connection with nature. It's also

about connecting communities and energising coastal

businesses. It's a monumental task, and hasn't been without

its headaches – having to gain agreements from landowners

and users, highway authorities and others to allow free access

is not easy, not to mention the red tape involved in such a huge

project… It was originally slated to finish this year - delays

have meant that hasn't happened but areas of the path are

underway everywhere and coming to a coast near you!

The signposted (look out for the acorn waymarkers) route

hugs the coastline as much as possible, but in sections has to

snake slightly inland to avoid obstructions, both natural and

manmade. Walkers can enjoy vast sandy beaches, pebbly

coves, soaring clifftops, woodland, moorland, saltmarshes

and mud flats. Seaside villages will provide welcome rest stops

for food and overnight stays. More industrial landscapes and

towns and cities are not excluded either.

It's not just a footpath, however. New rights of way will

mean walkers can access land between the path and the sea

in many places. The England Coast Path is designed to outlast

all of us – if any areas of the path are affected by coastal

erosion in the future, then the path will be permitted to move

further inland.

Tony Juniper, Chair of Natural England who are overseeing

and implementing the project says '"England's wonderful

coastline is a national treasure. Our flagship England Coast

Path is taking people through some of the finest and most

important landscapes in England, opening up access to

historic landmarks, natural wonders and breath-taking

scenery, enabling more visitors to experience, recognise and

value the benefits of our environment."

à

BritishTravelJournal.com 55
---
A VERY ENGLISH ADVENTURE

Open right now and ready to explore,

here are some of England's Coast Path

trails worth walking for…

Portland to Lulworth

This was the first section of the England Coast Path to

open, in time for our 2012 Olympics so that spectators

could have great viewing areas to watch the sailing

events. The 20 mile trail starts on the isle of Portland. It

then passes the 'barrier' beach of Chesil Beach – with

its unique geology it's a popular spot for twitchers, with

nearly 300 bird species, as well as many types of butterfly

and moth. Weymouth Beach is a good stop for sandcastle

building before coming to Nothe Fort, with its dazzling

views over the Jurassic Coast. The trail passes the natural

rock sea arch of Durdle Door, the star of many a postcard,

before finishing up in the perfect cove at Lulworth – treat

yourself to a cream tea at the Boat Shed Café, right on

the beach.

Pictured clockwise from above:

Portland Bill Lighthouse; Pedn Vounder Beach,

Cornwall; and Walking in Cornwall.

56 BritishTravelJournal.com
---
Filey Brigg to Middlesborough

The longest section of the England Coast Path to open so far. At 68

miles long, it skirts the edge of the North York Moors National Park

(look out for minke and humpback whales and dolphins). Carry on

to the jolly seaside resort of Scarborough and the old smuggling

village of Robin Hood's Bay, its labyrinthine streets full of cosy

cottages, pubs and shops. Whitby is next, where the ruined Gothic

abbey provided inspiration for Bram Stoker's Dracula. Staithes is

another gorgeous fishing village on the Path and the route travels up

to clifftops nearby for sublime views over the little red roofed houses

and 18th century harbour. The walk finishes at the starkly beautiful

Tees Transporter Bridge in Middlesbrough.

Skegness to Mablethorpe

The big open skies and vast beaches of the Lincolnshire coastline

have always been a draw for walkers and artists. Now there's

improved access along this 16 mile stretch, particularly with the new

boardwalks near the North Sea Observatory with its natural history

displays, art space and café.

Anderby Creek Cloud Bar (no, you can't buy booze there) is the

world's first dedicated cloud observation platform where you can

lie back and sort our your cirrus from your cumulus. A submarine

forest dating from the Neolithic period is sometimes on view near

Mablethorpe! The remains of this ancient woodland, which once

stretched all the way from Lincolnshire to the mainland of Europe,

can be seen poking up near the shoreline, especially in winter.

Folkestone to Ramsgate

Kent's coast is one of the most varied and historic in the UK, so this

37 mile stretch is a great addition to the England Coast Path. It kicks

off in artsy Folkestone (worth a browse around the creative corner

especially). The rest of the route combines sweeping beaches,

Martello towers and castles, gentrified Deal, with its interesting

historic quarter, ancient Sandwich, and the iconic White Cliffs of

Dover (views right over to France on a clear day). Those wanting to

stretch their legs further could start their walk at Camber, just over

the border in East Sussex and walk the whole 66 miles now open

between there and Ramsgate. Plus an extension from Ramsgate to

Whitstable is coming soon.

South Bents & Amble

A 44 mile tramp through Tyneside and Northumberland gives a

good variety of coastline views, from the riverside area where the

Tyne meets the sea to wild beaches and dunes and seaside resorts.

Fans of the TV series, Vera, will recognise Whitley Bay, Cresswell

and St Mary's Island as regular filming locations. Also along the

route are the Arbeia Roman Fort, which once guarded the main sea

route to Hadrian's Wall, at South Shields, Tynemouth Castle and

Priory and Souter Lighthouse – the world's first to run on electricity.

Blyth Beach is big and sandy and recognisable for its brightly

painted beach huts. u

BritishTravelJournal.com 57
---
SECRET

ISLAN

58 BritishTravelJournal.com
---
DS

The British Isles has

some 6,000 islands

to explore – some

fully fledged tourist

hotspots, others mere

dots in the ocean.

All have a story to tell

Words | Emma O'Reilly

THERE'S SOMETHING SO special about

small islands. Maybe it's that feeling of

escape, of going on an adventure. Perhaps

it's about being enveloped by the sight,

sounds and smells of the sea, which soothe mind,

body and soul.

Islands create close knit communities – something

many of us crave in the modern world. Locals have a

fierce sense of their own identity and are desperate to

protect their land, their way of life and their age old

traditions.

For visitors, life away from the mainland can be

fascinating, quirky and a little old-fashioned, like

stepping back into a more innocent time. The peace

and quiet and lack of cars and big industry means that

wildlife can proliferate and plant life can flourish, often

creating unique biodiversities. Little light pollution

means a nightly star show in the sky. Everything seems

to slow down - which means we can slow down…surely

one of the main benefits of a holiday?

Seafood is always on the menu – and often plucked

from the sea that very morning. A combination of

healthy food, brisk walks and salty swims can definitely

put colour in the cheeks and a smile on your face.

There's no need to jet away to far-flung climes. We

are lucky to have so many special places within the

British Isles, all just a boat or ferry, plane or even a

canoe ride away, just waiting to be explored and easy to

experience in a day, a weekend or longer.

Here are some of our favourites – places where you

can pretty much guarantee some beautiful solitude…

Pictured left and above: Aerial view

of Tresco; View from Eileen Shona

à

à

BritishTravelJournal.com 59
---
New for 2020:

Fly direct with

Penzance Helicopters

Time to be...

in the wilds of island life

28 miles off the Cornish coast, among the

Isles of Scilly archipelago, is an island of empty

beaches, deserted landscapes and endless seascapes.

Rediscover time to be on Tresco this autumn...

TRESCO.CO.UK/AUTUMN • 01720 422849

SPA & WELLNESS • ACCOMMODATION • ABBEY GARDEN • DINING • GALLERY
---
BURGH ISLAND

Devon

Could there be a more glamorous island?

The tiny and privately owned Burgh Island

is famous for its connections with Agatha

Christie, who wrote Evil Under the Sun

and And Then There Were None whilst

staying in the hotel. It still has a vibe that

is pure 1920s Art Deco and every night

is black tie night in the hotel's Grand

Ballroom. Non-residents are not allowed in

unless they have booked lunch, afternoon

tea or dinner. Anyone can, however visit

the 14th centry Pilchard Inn, and take a

walk with a view.

Getting to the island is…. interesting.

When the tide is low, walk across the sand

from Bigbury-on-Sea – it's around 250

metres. Hotel guests get transported in a

hotel Land Rover or, if the sea has closed

in, on the extraordinary 'sea tractor'.

Bigbury-on-Sea is a glorious beach, with

a great little eatery – the Venus Beach

Café - and a water sports centre. Paddle

boarding, water surfing and kite surfing

are all on offer,or it's a great place to just

pootle around rock pools.

Where to stay

In the Burgh Island Hotel, of course. Best

room is Agatha's Beach House. If your

pockets aren't deep enough to stay, an

excellent alternative is the Burgh Island

Causeway apartments on the other side

of the water. That way you can sit on your

balcony and admire views of the island

and hotel…and even sneak across for

dinner!

à

BritishTravelJournal.com 61
---
THE FARNE

ISLANDS

Northumberland

Many of us have heard of Holy Island

(aka Lindisfarne) but less well known

are the Farne Islands, 7.5 miles away as

the boat sails and scattered a couple of

miles off shore near Seahouses. They

are one of the best places in the UK to

see wildlife – Sir David Attenborough's

favourite, in fact! Hop on a boat from

Seahouses harbour to pootle around

them (up to 28 depending on the

height of the tide) whilst seals bob in

the sea and bask on rocks. If you are

lucky you may spot wild dolphins, too.

There are a couple of stops where

you can get off to get up close to

thousands of breeding sea birds in the

late spring and summer, including cute

Puffins, Arctic Terns and Eider Ducks.

On Inner Farne there's a chapel, built

in the 14th century and dedicated to

St Cuthbert, who lived as a hermit and

died here in the 7th century.

Golden Gate Farne Island Tours

also takes visitors to Longstone Island.

It was once home to Grace Darling,

whose father ran the lighthouse, which

visitors can tour. She became a local

heroine in 1838 at the age of 22 when

she rescued passengers from a sinking

paddle steamer.

Where to stay

Coquet Cottages have self catering

accommodation in this area, including

the quirky Gin Gan, sleeping six, near

Seahouses. Interesting fact – a Gin

Gan is another name for structures

once built to house a horse engine –

basically an engine powered by horses

in order to operate machinery (it's

where the term 'horse power' comes

from!). Or there's cosy Curlew cottage

for two in nearby Bamburgh, with its

atmospheric castle and huge sandy

beach.

HERM

Channel Islands

By day, this pocket-sized paradise bustles

when the ferry arrives from Guernsey (they

call it the 'mainland'!) and day trippers

descend to eat, shop and explore.

Those in the know, however, spend their

entire holiday here – and have the place to

themselves once the ferry departs.

Activities tend to be of the spontaneous

variety - crabbing and rock pooling,

kayaking (with 'puffin patrols' from April

until July) and Stand up Paddleboarding.

The whole island is walkable in two hours,

taking in hulking cliffs, rolling fields, wild

flowers, dreamy beaches and a tiny chapel.

The very best thing to do here, however,

is to be inactive. What a pleasure not to feel

the need to visit a castle or a museum, to

be able to stretch out on a perfect stretch of

sand and totally unwind. We love the long

sweep of Shell beach (it really is made up of

millions of tiny shells) and Belvoir Bay's cove

of ice-cream coloured sand – like something

from an Enid Blyton novel.

Where to stay

There are cottages, and a campsite

with views. The White House Hotel is

delightfully old fashioned (croquet, tennis,

no clocks or televisions), there's a pool

for warm days and the food is excellent –

don't miss the oysters, grown just offshore.

62 BritishTravelJournal.com
---
BritishTravelJournal.com 63
---
JURA

Argyll & Bute

Come to this Inner Hebridean island for

untamed Scottish scenery. George Orwell

lived here on and off for years and it's

where he finished writing his novel, 1984.

The island is best known for its whisky,

though. Take a distillery tour, then enjoy a

dram or two of single malt in the local pub,

next door…which is also the only hotel on

the island.

It's possible to bring a car on the ferry

but, with just one main road along the 30

mile length, most places are accessible only

on foot. This is a walkers' paradise. You

are sure to spot red deer, which outnumber

locals by around 30 to 1. There are large

birds too, including golden eagles. The

west coast has incredible beaches, seals

aplenty and, if you're lucky, otters.

Dotted around the island are iron age

forts and ancient standing stones. The

three 'Paps' mountains are a good climb

(Paps is an old Norse word for breasts and

they were named so due to their conical

shape!). From the summits are incredible

view over neighbouring islands and the

Mull of Kintyre.

Where to stay

The Jura Hotel is cosy and welcoming, with

breathtaking harbour views. As well as the

aforementioned pub it has a restaurant

specialising in fish, seafood and venison.

It's in Craighouse, the only proper village.

Most of the local population live here and

it's where you will find Jura's only shop,

school and church.

64 BritishTravelJournal.com
---
FLAT HOLM

Wales

Strategically, Flat Holm, five miles from

Cardiff and Barry, has always held an

enviable position – in the Bristol Channel

with views to the coasts of both Wales and

England. It has led to a varied past as a

smuggler's haunt, isolation hospital for

victims of cholera and the bubonic plague

(the ruins of the building still visible today),

and a fortress in Victorian times as well as the

Second World War. It also received the first

ever radio message across water by Italian

inventor Marconi in 1897. Guided tours tell

more and, on a day trip here, there's also time

to have a drink at Wales' most southerly pub

– The Gull and Leek. The name gives a clue

to the island's most prolific residents – wild

leeks and lesser black-backed gulls. There's

also a lighthouse dating back to 1737. The

light here, once coal powered, is now solar

powered – very eco-friendly!

Where to stay

Most people visit for the day from Mermaid

Quay at Cardiff harbour (50 minute journey),

but dormitory style or camping is available in

the Grade II listed Fog Horn Cottage.

A successful wellness retreat, Sanctuary in

the Sea, was organised by Cardiff Harbour

Authority last summer and is to be repeated

this year. It includes yoga, meditation, Reiki

and vegan food.

à

BritishTravelJournal.com 65
---
TRESCO

Cornwall

Those who visit the Isles of Scilly, 28 miles

off the coast of Cornwall, are usually

seduced into coming back time and again.

You can get there by ferry or small

plane, the Isles of Scilly Skybus, and the

new direct helicopters from Penzance.

Once there it feels a million miles away

from the rest of England.

Tresco is a great choice – with a relaxed,

sophisticated vibe, and plenty to see and

do. Pick of the bunch is the Abbey Garden

with its tropical vegetation and Valhalla

Museum displaying the eerily beautiful

painted figureheads from local shipwrecks.

You'll want to get onto and into the

water. As well as swimming and island

hopping, visitors can sail, hire motor boats

or snorkel with seals.

Where to stay

Tresco Sea Garden Cottages stylishly

sleep between 2 and 10 people, with jolly

interiors and facilities including access to

a swimming pool, tennis court and spa.

Breakfast and dinner is offered for those

in the smaller cottages, served at the Ruin

Beach Café (converted from old gig boat

sheds) nearby. Larger accommodation

is restricted to weekly bookings, with self

catering only.

66 BritishTravelJournal.com
---
EILEAN SHONA

Scotland

Step from the little boat on to Eilean

Shona and you feel as if you are in a

storybook. It's fitting, as this speck

floating in Loch Moidart on Scotland's

west coast was where JM Barrie spent

Summer 1920, writing the script for Peter

Pan. He was accompanied by Michael,

his foster son and inspiration for the boy

who never grew old (tragically Michael

drowned in the Thames a year later so his

vision came true).

It's easy to explore this car-free, ecofriendly,

Neverland-in-miniature. Tramp

through woods filled with pine trees,

encountering Red Squirrels, Red Deer, Pine

Martens and Otters. A circumnavigation

of around 10 miles can easily while away

a morning or longer. Then, picnic on a

white sand beach and swim in turquoise

seas (which could be in the Caribbean but

for the Arctic temperatures) watching out

for Minke Whales, Dolphins and Basking

Sharks.

Celebs love the away-from-it-all feeling

on Eilean Shona. So does Sir Richard

Branson – his sister Vanessa is guardian of

the whole island!

Where to stay

Eilean Shona House is very boho chic, and

it's where the Branson family hole up when

here (JM Barrie stayed, too). When they're

not, it's rented out for up to 20 lucky

people. Elsewhere are 8 cottages sleeping

between 2 and 8 people. Our pick of the

bunch is The Old Schoolhouse.

à

BritishTravelJournal.com 67
---
CONEY ISLAND

County Armagh

The National Trust owns this bijou and

beautiful island in Lough Neagh, largest

lake in the British Isles. Its seven acres are

a nature reserve and an Area of Specific

Scientific Interest, due to its breeding

ducks and wet woodland. It has a rich

history and evidence of humans living

there as early as 8000 BC. St Patrick is

thought to have stayed here, as did the

future King Edward VII with his mistress

Lillie Langry. It was the summer retreat

of both a Viscount and a Baron. Irish

chieftain, Shane O'Neill used the 16th

century round tower as a lookout post and

a place to store his treasures. You can still

see it today, a romantic ruin surrounded

by bluebells in the spring. There's also an

Anglo-Norman motte and a holy well. It's

a fascinating place, totally wild and with

a real 'lost in time' feeling and a little path

cut through the woodland so that you

can explore. Abháinn Cruises are the only

company taking people there – a minimum

of six, so take some friends. Don't forget

your picnic!

Where to stay

It's an easy 35 minute or so drive from

Belfast city centre to the Lockkeeper's

Cottage on the Toome Canal, where the

boat trips leave for Coney Island.

Or why not combine a city and nature

trip? The Fitzwilliam Hotel is five star

fabulous with lovely staff and a popular

bar and it's a short walk from all the city

sights. u

68 BritishTravelJournal.com
---
CHANNEL ISLANDS

Just a stone's throw from the

south coast of England lies the

beautiful island of Alderney. With

no crowds, no queues and no

traffic jams our small island is

looking forward to welcoming you

with open arms once we are all

able to return to a healthy and

safe state of normality.
---
Meet the Maker

W A V E

RIDER

Dick Pearce have been producing

beautiful, hand-crafted wooden

bellyboards at their seaside

workshop in Cornwall for over a

decade. We head for the beach to

meet the man behind the board…

Words | Emma Johnson

The Cornish coastline is renowned the

world over for its expansive white

beaches, aquamarine sea, rugged cliffs,

small coves and quaint harbours. It has

been a surfing destination for decades, but at the

same time retains a quirky, independent vibe that

epitomises slow living, the beauty of the natural

world and taking things easy. If it feels idyllic to

visitors, that's because it is.

In Newquay, on Cornwall's wild Atlantic

coast, Jamie Johnstone is busy in his oceanside

workshop cutting, shaping and bending plywood

to a precise technique that is nearly 100 years

old, and a closely guarded secret. Jamie is

making bellyboards - simple wooden boards, cut

in a narrow shape, with rounded ends and gently

curved tips. The boards are stamped with his

company's playful logo, and painted in bright,

sunny colours. Everything about them speaks

to a passion for surfing, but also a commitment

to timeless quality, heritage, fun and the

unadulterated thrill of being in the ocean and

riding its waves. à

70 BritishTravelJournal.com
---
BritishTravelJournal.com 71
---
72 BritishTravelJournal.com
---
"Fun. Connection to the ocean.

Simplicity," says Jamie. ""These boards

are made to get people in the sea, to

get them surfing, to get them smiling.

What we love about bellyboarding is

the pure and simple fun that you can

have on a piece of plywood. And this is

ultimately what drives the business."

SURF CULTURE

Jamie has been at the helm of Dick

Pearce Bellyboards for a decade, after

he and his business partner Andy

bought the company in 2010 - although

bellyboarding itself has been around for

nearly 100 years.

Bellyboarding – which originated

in Hawaii – arrived in England in the

early twentieth-century. Influenced by

what their Commonwealth comrades

had told them about, British soldiers

returning from the trenches of the

First World War brought back ideas

about the narrow wooden boards we

know today, and they soon became an

intrinsic and much-loved part of British

beach culture.

Charles Pearce, who initially ran

a manufacturing business from a

small workshop in South Molton, was

inspired by the 'surf-riders' he saw on the

local beaches and began to experiment

with making the boards himself. He was

so good at it that, in the years after the

Second World War, Charles Pearce and

Sons' wooden boards became a fixture on

the beaches of the south west.

After Charles died, he passed the

business onto his son Dick, who, born

and raised in Devon, immersed himself

in the surfing culture, and became a

true champion of British bellyboarding.

For fifty years, he stuck to the family's

time-honoured production methods and

materials and he refused to compromise

on quality.

When Dick died, Dick's widow asked

Andy, a long-time friend and surf shop

owner, if we wanted to take over the

business, along with his business partner

Jamie. "There was one catch," explains

Jamie. "The original manufacturing

methods used by Dick's father were a

safely-guarded family secret. Andy had to

commit to buying the business before he

was allowed to see anything of it."

Andy agreed, and the business, along

with the original workshop and beautiful

old wood-working equipment, passed into

Andy and Jamie's careful hands.

WOOD IS GOOD

Dick's commitment to only making wooden

boards, even in the face of competition

from disposable, imported, polystyrene

bodyboards, is something Andy and

Jamie have taken forward with passion.

Beach lovers themselves, the company

is determined to resurrect this wonderful

piece of British heritage, not only for

posterity reasons, but also because of the

environmental impact of disposable boards.

"Since the introduction of cheap foam

boogie boards in the 1980s, there are now

huge problems with these 'disposable'

boards – which break quite easily - getting

dumped at the beach in the summer

holidays and polluting the seas," says Jamie.

"We want to bring the bellyboard back to

its former glory. And it's so satisfying to

see more people taking up riding plywood

again."

Sourcing their wood from sustainablymanaged

forests in Europe, the plywood

the company uses is carbon neutral in its

growth and produces very little wastage.

"It's also incredibly strong, meaning our

boards will last a lifetime," says Jamie.

"Sustainability is incredibly important to

us. Outside of the bellyboards, we try to

outsource all our accessories locally. Our

board bags are made by the sailmakers in

Padstow, and we are working this year on

bags made from old sail cloth."

Continuing to make the boards in the

same way they have always been produced

is central to the brand's success, but

also clearly something Jamie and Andy

are personally passionate about. Their

workshop is now based in Newquay, à

BritishTravelJournal.com 73
---
where all the boards are cut, boiled,

bent, sanded, sprayed and screenprinted,

using an original template

that's been used for over 70 years. The

team also use a lot of hand tools and

original equipment from the Pearce

family, which Andy inherited when he

bought the business. "It's a very dusty

process in the workshop, but we love it,"

says Jamie.

The company also uses the

traditional bending racks that have

been used in board-making for

generations, and have created around

10,000 boards in their time. "They're

rough and ready and all the boards

come out with different bends, but

we like that because it makes them all

individual and gives them their own

character," says Jamie.

BUILT TO LAST

It's clear that for both men, Dick Pearce

& Friends is as much a passion project

as it is a business. Jamie and Andy are

fiercely protective of both the heritage

that has come before them, and

their commitment to promoting and

continuing the culture of bellyboarding

for generations to come.

"The design of boards has remained

the same over 60 years – and we are

stoked to be continuing the tradition

74 BritishTravelJournal.com

and re-introducing people to this form

of wave riding." Passionate surfers

themselves, who learnt to surf using

bellyboards, Jamie explains how the life in

Newquay - both personal and professional

- is tied to the sea. Their workshop is right

in the heart of Newquay, between Fistral

and Towan beaches, and both Jamie and

Andy often nip to the beach for a surf at

lunch or after work to wash off the dust.

"I've got very happy memories of

learning to surf on my grandparents'

bellyboards from the sixties," remembers

Jamie. "The boards are still in the shed to

this day, with the original (faded) logos

on them. Bellyboarding was, for both of

us, where our love for the ocean began.

Our boards are lovingly produced to last

a lifetime, and we hope you'll pass your

board on to the next generation, just like

ours were passed down to us."

Jamie, who lives a few steps away from

Fistral Beach, and surfs nearly every day,

says that for him part of the magic of the

business is being part of a community of

makers and creators who are passionate

about what they do.

"I do find Cornwall an inspirational

place to be. Bellyboarding is the earliest

form of waveriding in Cornwall – it's

great to continue the tradition of making

and riding boards here on our beautiful

beaches."u

BEGINNERS GUIDE TO

BELLYBOARDING

—

"What's good about bellyboarding

is how simple it is. It's just a bent bit

of plywood but it is so fun to use,

and anyone can do it. Whether it's a

little kid or your grandmother." Jamie

Johnstone

—

How to Start: "Just give it a go," says

Jamie. Walk out to waist deep water

and look for clean breaking waves.

Hold Tight: Position your board

facing away from the waves, with

the curve facing upwards, and make

sure you hold your board tightly

against your body as you take-off.

Be Bold: And then, just kick off into

waves, resting your belly on the

board and allowing the wave to

guide you towards the shore.

Timing is Everything: You want to

take-off just as a wave is breaking

behind you.

Keep Practising: "The good thing

about bellyboarding, if someone's

never tried it before, it's fun and easy.

It's a really good alternative to bodyboarding,"

says Jamie. The more you

practise the more you'll improve your

timing and technique.

Adding Extras: "You can take flippers

out to make it a bit more exhilarating,"

says Jamie. And, when you

get more confident, you can catch

bigger waves and tubes.
---
STAYCATION ON DARTMOOR

Visit Bovey Castle for the ultimate staycation with 275

acres of grounds located on Dartmoor National Park

explore nature trails, river walks and activities for families;

make Bovey your holiday destination this summer.

BOVEY CASTLE | DEVON, TQ13 8RE

WWW.BOVEYCASTLE.COM
---
I N T E R V I E W W I T H

RICK

STEIN

Award-winning chef Rick Stein talks Cornish beaches,

cooking inspo and becoming Padstow's biggest attraction

Words | Chantal Borciani

RICK STEIN'S LOVE AFFAIR with

Cornwall began in his childhood

and has helped define his prestigious

culinary career. "My parents had a

house at Trevose Head from the late 1930's so

my memories go back to when I was extremely

tiny in the early 50s; swimming at the beach

below our house which is now where the

lifeboat house is, buckets and spades, blue

and very uncomfortable woollen swimming

costumes," explains Rick.

In 1975, the chef set up a small fish

restaurant on the harbourside in Padstow

with his wife Jill and over the ensuing decades

The Seafood Restaurant won international

acclaim for its boat-fresh fish menu and put

the picturesque Cornish haven on the map like

never before.

The Stein empire in Padstow has certainly

blossomed – a café, deli and gift shop followed

the restaurant, along with a cookery school,

and a hotel and bistro up the lanes at St

Petroc's. Rick's love and skill for cooking fresh

seafood simply yet exquisitely secured book

deals and ever popular TV series. Rick's travel

diaries from around the world have brought

the flavours of the world into UK living rooms

for decades and accompanying cookery books

were – and continue to be – best sellers.

THE CALL OF CORNWALL

Rick and Jill are now divorced but continue to

run the businesses together. They expanded

the Rick Stein dining concept with a small

chain of eponymous restaurants bringing the

fish-focused menus to other parts of the UK,

but Cornwall remains closest to Rick's heart.

"I didn't choose Padstow, Padstow chose

me, it's like when people say, 'things happen

for a reason'. In a weird way I think I couldn't

have ended up anywhere else," Rick says. "I

think the net result of lots of travel is actually to

accentuate the unique qualities of somewhere

like Cornwall rather than to diminish them,

simply because when you've seen it all you start

looking at our own sandy beaches, seafood

and even the smell of seaweed on the rocks at

Harlyn, with greater love."

"I love Padstow for its strong sense of

identity. There are Cornish coastal towns that

seem to exist almost solely for the summer

season, and all but die at the end of October,

but Padstow is very different. There's a yearround

community here, which makes the town

feel very much alive, even in the depths of

winter."

Forty five years after first opening its

doors, The Seafood Restaurant is still one

of Cornwall's top dining spots, overlooking

76 BritishTravelJournal.com
---
The

Seafood

Restaurant,

Padstow

Rick Stein,

Porthleven

Rick Stein

Padstow harbour where Cornish fishing boats

haul in their catch daily. "There are families

that have been fishing out of Padstow for more

generations than they can remember, and it's

a joy to watch the boats come in – it's such

an important part of our heritage," the chef

explains.

"I originally got the idea for a fish

restaurant in Padstow from a long departed

hole in the wall restaurant near the quay in

Falmouth called Mark's Seafood Bar, it was

somewhere where you could go in for mussels

and fish pie but also grilled lobster and Dover

sole and they didn't worry if you wore your

yachting wellies and Cornish smock."

Rick's cookery school, which also overlooks

the Camel Estuary and is mere footsteps from

The Seafood Restaurant, celebrates its 20th

anniversary this year. "The architect who

designed the whole building on South Quay,

which contains the cookery school, pointed out

that there was a rather spectacular space on

the first floor with lovely views over the estuary

to Rock. Jill suggested a cookery school and

my original thought was turn it into a space

to teach our chefs fish cookery away from à

BritishTravelJournal.com 77
---
Padstow,

Cornwall

Salt and

pepper prawns

Rick Stein,

Porthleven

Rick Stein,

Sandbanks

the heat and hurry of the restaurant kitchen. It soon became apparent

though that many of our customers wanted to cook the same dishes as

we did in the restaurant and so it grew."

All the dishes showcased at the school hail from Rick's travels

around the world including an Indian seafood course, courses from his

TV series Secret France, and of course fish and shellfish sessions. Other

day courses include one-dish workshops, children's cookery classes and

tasting evenings.

"I love the cookery school because everyone seems to leave very

happy indeed. I think they have a far greater understanding of what

truly fresh seafood is like plus because we run it in a very relaxed and

informal way they are not intimidated and soon realise they can cook

the dishes as well as us. We also make sure that there's plenty of nice

cold white wine when they are sitting down to eat what they've cooked,

which seems to be rather popular."

THE STEIN EFFECT

Over the past few decades, Cornwall has produced some of Britain's

most revered chefs and many – including Nathan Outlaw, whose Port

Isaac restaurants boast three Michelin stars between them – started out

at The Seafood Restaurant, honing their craft with Rick.

From the use of British produce and seasonal cooking to the

celebration of regionality and Cornwall's place on the gastronomic

map, Rick has paved the way for peers and the popularity of Cornwall

for many. As with many top chefs, dining out is a savoured but rare

treat.

"I'm slightly ashamed to say I don't get out much mainly because

when I'm in Cornwall I have critical meals in any one of our nine places

we have in Cornwall. But I love going to Nathan Outlaw's and Paul

Ainsworth's and I know our staff enjoy eating at places including the

Gurnards Head and St Kew Inn."

78 BritishTravelJournal.com
---
COMPETITION

WIN A LUXURY STAY

Carbis Bay

Beach Lodges

St Petroc's,

Padstow

A keen walker, Rick will also be found

enjoying the staggering scenery

near his Cornish home. His favourite

beaches along the north Cornish

Coast include Harlyn, Trevone, and

St George's Well in the estuary, while

his favourite walking trails begin just

footsteps from his beloved Padstow.

"The Camel Trail is very scenic,

easy walking, both from Padstow to

Wadebridge and then onto Bodmin

with a sneaky stop off at Camel Valley

Winery. Or catch the ferry over to

Rock and walk along Daymer Bay to

Bray Hill and around the back to get

to St Enedoc Church, where Sir John

Betjeman is buried."

From childhood memories on sandy

beaches to his seafood restaurant

that all but revolutionised the dining

scene in the 90s and continues to be

a Cornish calling card, this sunniest

corner of England remains Rick's heart

and soul for good reason.

WHERE TO STAY

Carbis Bay Beach Lodges

A self-catering staycation to rival

long-haul luxury

With mesmeric views of St Ives Bay

and direct access onto the awardwinning

Carbis Bay beach, Carbis Bay

Beach Lodges offer the ultimate in

laid-back luxury. Each Beach Lodge

offers three or four en-suite bedrooms,

a large open-plan living space and

dining room, kitchenette and a private

garden, plus a hot tub overlooking

the soft sands of Carbis Bay. Lodge

guests are afforded a personal guest

host available around the clock to take

care of all requirements before and

during their visit. Guests can also enjoy

the award-winning C Bay Spa, which

boasts a couples treatment room on

stilts above the sands as well as an

outdoor sauna pod, heated outdoor

swimming pool and hydrotherapy pool.

A personal chef, housekeeper

and golf buggy will also be available

seven days a week to ensure a flawless

hospitality experience.

Stay at Steins

The full foodie experience

Guests can stay at one of Rick Stein's

rooms around Padstow, which blend

coastal design with luxury living. From

the elegance of St Edmunds House,

where six rooms enjoy a private garden

with views across the Camel Estuary, to

the contemporary boutique hotel rooms

above The Seafood Restaurant itself or

the self-catering sanctuary of romantic

Bryn Cottage, the accommodation is

some of the finest found in and around

Padstow. Rick's charming bistro in

Padstow, St Petroc's, features low

wooden beams and cosy fireplaces and

its ten rooms offer more stunning coastal

accommodation with some rooms

enjoying picturesque sea views. u

THE PRIZE

British Travel Journal is offering one lucky

winner a one-day course for two at Rick

Stein's award-winning Cookery School in

Padstow, plus two nights' accommodation

at St Petroc's and a three-course dinner at

The Seafood Restaurant.

HOW TO ENTER

Enter online at britishtraveljournal.com/

competitions. Last entries 30 September

2020. Terms and Conditions apply - please

see website for further details.

—

The Cookery School

Celebrating its 20th anniversary this year,

Rick Stein's award winning Cookery School

is perfect for anyone looking to improve

their culinary skills, learn something new or

simply have fun with friends while cooking

and eating amazing food. On each course

guests will enjoy demonstrations from

Rick's friendly team of expert chefs, hands

on cooking demonstrations and of course,

lots of delicious tasters! Throughout the

day, students sit down and enjoy the fruits

of their labour, enjoying all of the dishes

they make accompanied by a glass or two

of good wine. In the afternoon there will

be a further demonstration to learn more

recipes and kitchen techniques.

There are plenty of exciting course

options to choose from including classic

fish and shellfish courses; Indian seafood;

Vegetarian; Italian cooking, 'Secret France'

and a special 20th Anniversary course. u

BritishTravelJournal.com 79
---
The Lowdown

WILD

SWIMMING

As your senses heighten and

your mind calms, feel the

benefits of connecting to nature,

by immersing yourself in the

outdoors and soaking up its

awe-inspiring beauty

Words | Lydia Paleschi

As an island nation with close affinities to the

water there has long been a tradition of wild

swimming in Britain. Wild swimmers take to

nature's open water spaces for an alfresco dip

in all weathers and seasons, freeing themselves

from the confines of indoor exercise spaces and

chlorinated pools. In England and Wales, a 'right

to roam' law means that we are permitted to swim

in most rivers and lakes, whereas in Scotland all

waters are accessible as long as swimmers uphold

the Scottish Outdoor Access Code. In essence, as

long as we respect the environment, each other

and don't trespass, Britain's waterways are an

easily accessible place to experience a fun form of

exercise and a sense of adventure.

It is unsurprising that there has been a surge in

the popularity of wild swimming in recent years, as

people take to the water to reconnect with nature.

I caught up with Lauren Biddulph, who runs

swimming retreats as part of the Salt Sisterhood

based in Cornwall, to learn more about wild

swimming and the benefits of immersing oneself in

the open water.

Lauren starts by clarifying to me that wild

swimming can be in the sea, rivers or any open

80 BritishTravelJournal.com
---
Pictured: Lauren Biddulph,

The Salt Sisterhood

expanse of water, and includes a

range of experiences, from relaxed

river paddles to more adventurous

sea swims, each with their own

benefits. "We like to showcase

the diversity of wild swimming,

so each day of the retreat has a

different theme, reflected in the wild

swimming activity we have planned.

For example, on self-compassion

day we may take a trip to the quiet

Helford River, which is beautiful and

calm, whereas on bravery day we

go rock jumping." Whilst originally

offering wetsuits as part of her

retreats, Lauren tells me that it is

more beneficial to swim without

them. She says she can't encourage

me enough to enter the water in

just a bathing costume. "I initially

hired wetsuits and some people

wore them but they weren't getting

the full experience or benefit. By the

end of the week everyone was out

of the wetsuits and they felt a real

sense of achievement; they said they

got more from the experience when

they were out of their wetsuits and a

greater sense of freedom."

When I asked Lauren why she

began offering wild swimming

retreats, she explained that being in

or near water has immense health

benefits, both mental and physical.

"I used to struggle a lot with anxiety

and depression. I noticed that going

into the sea gave me a sensation of

connectedness and grounding, it

got me out of my head, reminding

me of the bigger picture of what

is and isn't important. When

combined with yoga it helped me to

build a better relationship with my

mind and body and helped me to

overcome my generalised anxiety."

It is this sense of empowerment and

freedom that inspired Lauren to

share the wild swimming experience

with other women. à

BritishTravelJournal.com 81
---
82 BritishTravelJournal.com
---
"There is a physiological response

in the body when we're near water

because life evolved from the water.

You are in something much bigger than

yourself and it can be dangerous, calm,

frightening or relaxing. It's a massive

natural force that leaves you in awe

and puts everything in perspective,

resetting your mind and boosting your

confidence." Lauren reveals that as

well as the benefits of wild swimming

for wellbeing and mental health, there

are also large swathes of research

on its physical benefits. "Aside from

being an excellent form of physical

exercise, increasing overall strength and

fitness, studies show that it also boosts

metabolism, immunity, resilience and

your rate of healing".

For those wishing to embark upon

their own wild swimming experience,

it's as simple as doing a little research

into your local area and heading there

with a towel. Things to be aware of

are ensuring that water is clean and

unpolluted, that there are shallow entry

points and that you know how you are

going to get out. Ensure that you don't

jump into water without knowing it is

deep enough and that for areas which

have a current, you can swim against

the current faster than it can take you.

It's advisable to go with someone else

to spots you are visiting for the first time,

but wild swimming is open to people of

all abilities. This means there should be

nothing holding you back from enjoying

the relaxing sense of weightlessness and

invigorating experience of immersing

yourself in nature.

With thousands of miles of coastline and

a vast network of rivers and estuaries we are

spoilt for choice with waterside locations in

Britain. We've decided to pick out some of

our favourites for you to explore:

Cornwall - The Salt Sisterhood, Helford

Located on the banks of the Helford River,

the Salt Sisterhood offers five-day wild

swimming and yoga retreats for women.

Here, they take a step away from the real

world, immersing themselves in a bubble

of self-care, nature and good food. The

aim is for connection: to nature, other

women and themselves. Retreats take

place in June and September each year.

Scotland - Dores Beach, Loch Ness,

Inverness

Sitting on the east side of Loch Ness, one

of Britain's largest lakes, Dores Beach is

a popular spot for wild swimming and a

great place to start for beginners. With

shallow entry points and a wild swimming

group meeting here every Saturday at

10am you can swim with confidence all

whilst being encouraged by locals. The

waters are cold but calm and the scenery is

second to none. With awe-inspiring views

of the Scottish Highlands and little signs

of civilisation, swimming at Dores you find

yourself in a cocoon of nature.

Wales - Llyn y Fan Fach, Brecon Beacons

A high lake in the shadow of the Black

Mountain, Llyn y Fan Fach sits in a sheltered

bowl with stony, gently shelving sides.

Reaching up to 18 meters in depth, it's the

perfect spot for diving and practicing your

underwater swimming technique. Located

in the Brecon Beacons National Park, Llyn

y Fan Fach is breathtakingly beautiful and

according to legend, the home of a lake

nymph.

Northern Ireland - Cushendun Beach,

County Antrim

Found in the heart of the Glens of Antrim

and not far from the Red Caves where

several Game of Thrones scenes were

filmed, Cushendun is a sandy, rural beach

with views across to the Mull of Kintyre. The

beach slopes gently out to sea, with rivers at

both ends so that you can explore the kelp

fronds. The water here is crystal clear as

long as you don't visit shortly after rainfall

when peat is carried down from the fields.

London - Beckenham Place Park,

Beckenham

Accessible by tube, Beckenham Place Park's

nearest stations are Beckenham Junction

(tram), Beckenham Hill and Ravensbourne

(both Thameslink). London's first

purpose-built swimming lake is available

for swimmers 8 years of age and over.

Surrounded by trees and a grass area to sit

and watch, the sandy banks make for a safe

family fun swim. u

BritishTravelJournal.com 83
---
Author Contribution

STEPPING

ON SET

Discover the historic houses

and wild landscapes that

have inspired directors and

cinematic moments in the UK

Courtesy of | National Trust

National Trust on

Screen by Harvey

Edgington and

Lauren Taylor

is Published by

Pitkin, an imprint

of Pavilion Books.

Priced £9.99

pavilionbooks.com

Pictured

right page:

Ross Poldark

(Aidan

Turner)

and Francis

Poldark (Kyle

Soller) at

Wheal Owles

EACH MONTH, an average of nine

shoots for TV dramas or films are

taking place at National Trust

properties across the UK, managed by

the National Trust Filming and Locations team.

From providing a spectacular ballroom for

next year's big costume drama, to a topsecret

military installation for the next Bond

film - there's never a dull moment.

Occasionally the queries can be a little

bizarre explains Harvey and Lauren, National

Trust location managers, whose favourites

include "from what day will the lambs be

born? to, do we have a hill they can roll a

big cheese down? can we suspend a hot-air

balloon between two huge cranes? and, have

we any antique wooden legs?".

These successful productions will often

lead to a rise in visitors to the properties used.

In addition to this, being in a film or TV series

generates much-needed income for the

location, which can be used for conservation

work. Great Chalfield Manor for example reroofed

its stables thanks to The Other Boleyn

Girl and after Tim Burton's Alice in Wonderland,

Antony in Cornwall saw its visitor numbers

quadruple. Hosting a film can also boost the

local economy, as cast and crew need to be

accommodated, transported and catered for.

We hope you enjoy our selection of film

locations to visit - you could even download the

film and take it with you to stand in the exact

spot where the director placed the camera.

And, as good as these places look on screen,

they are much better experienced in real life. à

84 BritishTravelJournal.com
---
à

BritishTravelJournal.com 85
---
LACOCK VILLAGE

Near Chippenham, Wiltshire

If you've watched any of the most well-loved costume

dramas made over the last few decades such as

Downton Abbey, or a Harry Potter film, then you will

have seen Lacock Village. The village is a firm favourite

with film and television drama crews and makes an

appearance in a major production at least once every

couple of years. Almost entirely owned by the National

Trust, the village's pretty streets of timber-framed

cottages have barely changed in 300 years.

The fact that modern life has barely crept in,

outwardly at least, means there's not much in the way

of 21st-century life to cover up or remove. Crews don't

have to worry about satellite dishes, telegraph poles

or traffic lights. As a popular tourist spot filming only

happens outside school holidays and other busy times.

When it does, it's never small scale.

Visit and experience Lacock Abbey where medieval

rooms and cloister court give a sense of the Abbey's

monastic past. Like Hogwarts, Lacock Abbey was

built with a blend of quirky architectural styles. This

former nunnery is a fascinating site, plus close by is the

Fox Talbot Museum, that records the achievements of

former Lacock resident William Henry Fox Talbot, a big

name in the invention of photography.

Top tip: Start your trip to Lacock with a pause at the

window of the old shop at 2 High Street. In the late

19th-century the building was used as a coffee tavern,

then after the First World War it became a stationers

and in 1966, incorporated the Post Office. It remained

in the same family until it closed in the early 1980's.

Miss Butler, the last resident, arranged the shop window

in the style of early twentieth century displays and

it has been untouched ever since.

86 BritishTravelJournal.com
---
CLIVEDEN

Taplow, Maidenhead, Buckinghamshire

Elegant and striking Cliveden has long attracted the famous

and infamous. Nancy Astor, the first female MP to take up

her seat at Parliament and wife of Cliveden's then owner,

Waldorf Astor, held lavish house parties here in the 1930s;

Winston Churchill, George Bernard Shaw and Charlie Chaplin

were frequent guests.

The 1960s brought the house worldwide fame due to its

part in the Profumo Affair; Christine Keeler first met John

Profumo here while having a dip in the swimming pool. The

house is now a hotel but parts of it are open to visitors.

Set high above the Thames and with far-reaching views,

Cliveden's impressive gardens and majestic woodlands

capture the grandeur of a bygone age.

Follow in the footsteps of dukes, earls and royalty as

you explore the series of gardens, each with its own special

charm. From the formality of the Parterre, with its vibrant

floral displays, to the quirky statuary and topiary in the Long

Garden, the gardens will delight you in every season.

The formal gardens give way to secluded glades, treelined

avenues and picturesque riverside with miles of

woodland walks to discover.

Top tip: Extend your trip with a luxury stay in Cliveden

House, now a stately home turned five-star hotel. Steeped

in over 350 years of history, the rooms and suites are

beautifully decorated in regal style. The hotel offers hot

tub rooms, Mansion House rooms and a separate Spring

Cottage sleeping up to six. Looking for a romantic daytime

activity? Hop into a boat and row serenely across the lake,

while tucking into a picnic basket or sipping champagne,

and from there you can join a guided tour. à

Pictured left: Downton Abbey (2019) Laura

Carmichael (Lady Edith) Harry Hadden-Paton (Bertie

Pelham) and Michelle Dockery (Lady Mary) between

takes; Downton Abbey's Crawley family enjoying the

livestock market. Pictured above: The French Dining

Room, Cliveden House; Sherlock Holmes and a pillow;

Robert Downey Jr. and Jude Law in character as

Holmes and Watson.

BritishTravelJournal.com 87
---
HENRHYD FALLS

Near Coelbren, Brecon Beacons, Powys

The Falls, nestled in the Brecon Beacons,

are the highest in south Wales with a drop

of 27 metres (89 feet). They occur at a

geological fault on the river Nant Llech and

are approached through a densely wooded

valley.

The Dark Knight Rises, starring Christian

Bale, Michael Caine, Anne Hathaway and

Joseph Gordon-Levitt was filmed at the falls

in 2012.

Although the entrance to the 'bat

cave' was at Osterley Park and House,

the director Christopher Nolan wanted

the secret exit to be spectacular and

natural. Henrhyd Falls ticks those boxes but

obviously how spectacular it looks depends

on the weather. The film crew couldn't

risk it looking anything other than a mini

Niagara Falls. It was agreed to allow them

to partially dam the river for several days

in order to build up a reservoir of water to

unleash as the camera rolled. The National

Trust worked with the Environment Agency

and the Countryside Council for Wales to

manage any environmental impact. It was

judged to be no different from having a wet

spell in the summer, hardly unheard of in

Wales. There was also a 'test day' to see if

the desired effect was achievable.

The water was held back by a rig of

sandbags and a timber gate to control

water flow. The crew had to walk their kit

down a steep footpath and construct the

camera on site. On the day a diversion was

placed on the footpath.

Once they were ready and Robin

(Joseph Gordon-Levitt) was in position, the

command was given: further up the river,

the gate was opened and a torrent of water

cascaded down as if in full spate for about

ten minutes. Although the waterfall was

made to look as if it hid a cave entrance

and exit in the film, there is in fact no cave

at Henrhyd – just a hollow behind the Falls.

Usually such small scenes are shot by the

'second unit' (a smaller-sized crew, without

the main director) and the waterfall

could anyway have been enhanced with a

computer, but Christopher Nolan likes to

do it 'old school'.

88 BritishTravelJournal.com
---
Pictured left: Michael

Caine and Christian

Bale in the bat

cave, filming for

The Dark Knight

Rises. Pictured right:

Wolf Hall's King

Henry VIII (Damian

Lewis) on horseback

in Montacute's

parkland; Handheld

cameras

gave the drama a

documentary feel

MONTACUTE HOUSE

Montacute, Somerset

A masterpiece of Elizabethan Renaissance

architecture and design, with towering walls of glass,

glowing ham stone and surrounding garden.

Montacute House was built at the end of the

sixteenth century for Sir Edward Phelips, lawyer and

Speaker of the House of Commons. The Long Gallery

is the longest surviving Elizabethan gallery in England

at 52 metres (170 feet).

Montacute House was the inspiration for Wolf

Hall (2015), an award-winning six-part drama, and

doubled for Tottington Hall, the setting of an annual

giant vegetable competition in the Oscar-winning

Wallace and Gromit film, The Curse of the Were

Rabbit (2005).

Top tip: Visit the important collection of sixteenth

and early seventeenth-century portraits from the National

Portrait Gallery displayed on the middle floor. à

BritishTravelJournal.com 89
---
STOURHEAD

Near Mere, Wiltshire

The world-famous landscape garden at

Stourhead has been delighting visitors for over

250 years. At its centre is a magnificent lake

surrounded by classical temples, mystical grottoes

and rare and exotic trees.

In Pride and Prejudice (2005) a rain-soaked

Darcy makes his first, unsuccessful proposal to

a rain-soaked Lizzie at Stourhead's Temple of

Apollo. Set high above the lake, the dramatic

setting and beauty of the Temple proved perfect

for this intense and romantic scene. So perfect

in fact that the film's director Joe Wright didn't

need Adam Richards, the film's location manager,

to go and look for a setting for this scene as Joe

had always imagined it taking place here. Adam

explained why the Temple was the director's

first and only choice: 'Joe loved the idea of this

emotional scene being played out while sheltering

from the elements. The Temple, with its elevated

position over the gardens below, was the ideal

backdrop.'

Visit to explore the 1,072 hectare (2,650 acre)

Stourhead estate where chalk downs, ancient

woods and farmland are managed for wildlife.

Top tip: Uncover the fascinating history of

Stourhead House with an Italian 'Grand Tour'

adventure and enjoy the unique Regency

library, Chippendale furniture and inspirational

paintings. The Palladian house is set amid 'picnic

perfect' lawns and extensive parkland.

Pictured left and above: The world-famous landscape garden at

Stourhead; Keira Knightley as Lizzie Bennet at the Temple of Apollo.

Pictured below: Botallack's Wheal Crowns building. Pictured right:

Luke Evans as Vlad in Dracula Untold; The world-famous basalt columns

of Giant's Causeway; Matt Smith as Doctor Who at Dyrham Park.

BOTALLACK

On the Tin Coast, near St Just, Cornwall

If there was a National Trust award for the most

used location for one TV series, Botallack would be

sure to win. The buildings here stood in for various

Poldark family mines in all five series of the BBC's hit

adaptation of Winston Graham's novels.

The Wheal Crowns buildings (shown right),

perched on jagged rocks right next to the sea, were

used as Francis Poldark's failing 'Wheal Grambler'

in series one. Botallack is part of the Cornwall and

West Devon Mining Landscape UNESCO World

Heritage Site. The abandoned mines now serve as

a reminder of the area's once prosperous past when

mines stretched out half a mile under the sea bed

and produced thousands of tons of copper and tin

every year.

90 BritishTravelJournal.com
---
DYRHAM PARK

Dyrham, Near Bath, South Gloucestershire

Dyrham Park, a magnificent seventeenth-century

Baroque mansion house, was used as the filming set

for Doctor Who (Series 6, 2011). In the episode 'Night

Terrors', the Doctor, played by Matt Smith, pops in on

a scared eight-year-old boy who is frightened of his

bedroom cupboard. His fear is travelling the universe.

While the Doctor is discussing the case with the boy's

dad, his companions Amy and Rory get caught in a

doll's house occupied by life-size peg dolls.

Dyrham was used as the interiors of the doll's house,

the checked floors and staircase helping to create the

illusion. Trust furniture was removed and simpler, more

worn or 'played with' prop furniture substituted. The

house is heavily Dutch influenced, which was useful as

peg dolls originated in the Netherlands. This episode

was watched by seven million people in the UK alone!

Top tip: The 270-acre (110 hectare) ancient parkland

is full of magnificent trees and breathtaking views

and space for young explorers to run free. Keep the

children on track by ticking off challenges on the 50

things list picked up on entry. à

GIANT'S CAUSEWAY

44 Causeway Road, Bushmills, County Antrim

The world-famous basalt columns are flanked by the wild

North Atlantic ocean. Northern Ireland's only World Heritage

Site, formed sixty million years ago by volcanic eruptions.

The iconic Causeway is one of the busiest visitor sites the

National Trust has. Filming opportunities here are limited

unless you bring a scaled down crew, as in Cold Feet (TV,

1997-), Your Highness (2011), Hellboy II: The Golden Army

(2008) and Dracula Untold (2014).

You can walk to the stones for free, but the National Trust

car park is reserved for those buying tickets for the Visitor

Experience, which includes a guided tour and use of the

audio guides, available in 11 languages.

Flanked by the wild North Atlantic Ocean and a

landscape of dramatic cliffs, for centuries the Giant's

Causeway has inspired artists, stirred scientific debate and

captured the imagination of all who see it.

Top tip: Climb the Shepherd's Steps and hike along the

clifftop trail to get a bird's eye view of the beautiful causeway

coast. Or enjoy the road less travelled capturing the World

Heritage Site on an active five-mile hike along the stunning

cliff-top path with the guided Clifftop Experience.

BritishTravelJournal.com 91
---
01665 710700 coquetcottages.co.uk

V I L L A G E

On the edge of the beautiful English Lake District only 3 miles from Morecambe Bay.

On the Cartmel edge is 'a thimble of the full of jewels', and can be easily found by road or rail.

beautiful For English more information please go to

Lake District cartmelvillage.com

and

only 3 miles from

Follow LA11 6QB for our central visitor car park

Morecambe Bay,

Cartmel can easily

be found by road or

Cartmel

rail.

Follow LA11 6QB for

our central visitor car

park.

WELCOME TO

THE ROSELAND

For full details of Cartmel's charming array of eateries,

shops and pubs, alongside suggestions of exceptional

accommodation, please visit:

PENINSULA

cartmelvillage.com

Here you will also find information on upcoming events

and activities.

A jewel in the crown of Cornwall

and a truly

Designed remarkable

by Ellie Heaven Designs place

www.ellieheaven.com

to take

your holiday

Discover Northumberland this Autumn and

make lasting memories in the finest collection

of award winning family-friendly & petfriendly

holiday homes on the coast

4 Breathtaking views 4 Stunning coastal scenery 4 Safe family beaches 4 A haven for sailing and watersports

Whether you choose a traditional holiday cottage as

a rural retreat, a property in the heart of a village or a

modern property for the height of luxury, one of our

specially selected holiday properties will be the perfect

start to a memorable holiday.

tel: 01326 270900

email: info@portscathoholidays.co.uk

www.portscathoholidays.co.uk

Portscatho Holidays, 3 The Quay, St Mawes, Truro, Cornwall, TR2 5DG
---
WIMPOLE ESTATE

Arrington, Royston, Cambridgeshire

Wimpole Hall is a large country house with wonderful Georgian interiors.

The house, begun in 1640, is surrounded by 1,200 hectares (2,965 acres)

of parkland including a working farm specialising in rare breeds. There are

beautiful pleasure grounds, a walled garden and a folly.

A large imposing estate is exactly what the director ordered for Easy

Virtue (2008) starring Jessica Biel, and Colin Firth. Based on one of

Noël Coward's earlier and less-well-known plays, this is a British-made

romantic comedy set in the thirties. The storyline is about a glamorous

American widow, Larita, who marries a young Englishman, John

Whittaker, on holiday. On their return to England, his mother, played by

Kristin Scott Thomas in fine icy-snob form, takes a dislike to her daughterin-law.

His father, however, takes a shine to her.

Top tip: Visit the mansion at the heart of this estate. Intimate rooms

contrast with beautiful and unexpected Georgian interiors, including

Soane's breathtaking Yellow Drawing Room and wonderful plunge bath.

The fascinating basement corridor offers a glimpse into life below stairs.

Stroll around the colourful parterre garden and wander through the

Pleasure Grounds to the Walled Garden, abundant with fruit, vegetables

and beautiful herbaceous borders. Stride out across the landscape park,

among the rare-breed cattle, through grand avenues, before entering

shaded woodland and emeging into an arable landscape.

PACKWOOD HOUSE

Packwood Lane, Lapworth, Warwickshire

'Richard II' was the first episode in The Hollow

Crown, a seven-part series of Shakespeare's history

plays that transmitted in 2012 and 2016 filmed at

this sixteenth-century manor house.

The series was part of the 2012 Cultural

Olympiad, a programme of cultural events

that accompanied the London Olympic and

Paralympic Games. The cast was stellar, the

opening scene alone featuring Patrick Stewart.

Visit the much-restored Tudor house, park

and gardens and see the culmination by Graham

Baron Ash: salvaged objects and exotic pieces

come together in a Jacobean meets Edwardian

style. Beautiful, homely, warm and welcoming. A

house to dream of, a garden to dream in. u

Pictured left: Larita (Jessica Biel) at the Gothic

Tower set in the Wimpole Estate. Pictured above:

Ben Whishaw as Richard II in The Hollow Crown.

BritishTravelJournal.com 93
---
Review Stay

VIEW OF

THE SEA

Multi-award winning Landal

Gwel an Mor resort offers the

ultimate in luxury coastal breaks,

providing five star lodges in a

spectacular Cornish location

Words | Jessica Way

THE DEMAND FOR self-catering luxury

holidays has risen as we go in search of

extraordinary staycations to make our

first trip post-lockdown extra special.

In a time when it is important to keep a safe

distance from others finding somewhere which

is still relatively undiscovered can make all the

difference to the enjoyment of our time away.

Luxury British resorts in picture-postcard

destinations, offering stylish self-catering lodges,

with activities, restaurants, wellbeing spas and

in-lodge room services seem like a far more

relaxing and hassle-free option than travelling

overseas right now.

Located on the spectacular North Coast

of Cornwall, within easy walking distance of

Portreath Beach, 5-star Gwel an Mor has raised

the bar in this sector, offering home-from-home,

socially distant holiday experiences. And I am

guessing for most, if not all of our readers, this

might even be the first time you have even heard

of Gwel an Mor?

You might well have seen it on screen though.

Set in a historic area of beauty, the resort was

recently chosen by the principal cast of Poldark à

94 BritishTravelJournal.com
---
as their Cornish home during filming,

thanks to its exceptional location.

Gwel an Mor is privately owned by

Cornish businessman Bill Haslam. In

2018 Bill formed a partnership with

Landal GreenParks, adopted their

name, branding and values. Landal

GreenParks originated in Holland

in 1954 and now offers 85 locations

across nine European countries

including the Netherlands, Germany,

Denmark and Austria. In the UK they

have five other locations: Kielder

in Northumberland; Ashbourne

in the Peak District; Dundee in the

Southern Highlands; Matlock in the

Peak District; and newest arrival,

Landal Kenwick Woods, Louth in the

Lincolnshire Wolds.

At Gwel an Mor you have the

luxury of your own secluded private

lodge, state-of-the-art kitchenlounge

area with stylish log burner

and the convenience of the resort's

other facilities, including an indoor

swimming pool and 'The Terrace'

restaurant and bar, on your doorstep.

You're surrounded by sensational

views of the coast, and there's a

dedicated concierge team on hand

to arrange anything from deep

sea fishing, cycling, kite surfing,

coasteering, kayaking to surfing.

The resort is set high on a hill

overlooking the Atlantic Ocean,

with the luxury holiday lodges set

comfortably apart, in landscaped

gardens uniquely designed to blend into

the area of beautiful countryside.

As you would expect there is a range

of accommodation options, from

contemporary Residences, Lakeside

retreats to classic wooden style lodges -

furnished with everything you need. The

private patio in each retreat offers space

for dining and relaxing or simply enjoying

the surrounding countryside, seaviews

or stargazing from the comfort of the

private hot-tub.

Combining the best of a luxury hotel

with the comforts of home, all guests can

enjoy full access to the resort facilities

- and for those that cost extra, prices

are reasonable. The Famous Nine golf

course, for example, the only one of its

kind, is just £13 a round (£10 on Fridays)

- and guaranteed to offer an afternoon of

fun, regardless of your level of ability.

On this 9 hole, Par 3 course you can

'play' holes that pay homage to some

of the most famous holes in golfing

moments, from 'The Golden Bell' at

Augusta to the infamous 17th at St

Andrews with its intimidating 'Road Hole

Bunker', the 17th at Sawgrass, and the

nerve-wracking 'Postage Stamp' from

Royal Troon.

If a peaceful fishing experience is more

to your taste then the resort's two-acre

coarse fishing lake, Clover Lake is stocked

with carp and tench. Alternatively you

can find a more active programme of

challenging and fun sessions for all ages

including archery, body zorbs, sea scooters

and snorkelling.

It is easy to see why Gwel an Mor was

named Best Holiday Village in the Visit

England Awards 2018 - there's even an

on-site wildlife and conservation centre,

Feadon Farm - said to be something no

other holiday resort in the country offers.

As well as conservation work, this

not-for-profit project means guests can

be involved with the resort's wild side,

from learning the art of falconry flying

the resident Harris Hawk and Barn Owl,

stroking resident reindeers, Nadelik and

Lowen, to hand-feeding the foxes. They

also offer an amazing night time walk

using thermal imaging to learn about

animals out and about in the dark.

At the time of printing, BaseCamp was

temporarily closed to help stop the spread

of coronavirus, but with the hope to reopen

safely soon. This centre features a

range of indoor Clip'n'Climb walls along

with soft play and a Costa café.

Close by, the clubhouse features a fully

equipped gym, indoor pool, Jacuzzi, steam

room and sauna with a children's play

area, tennis courts, putting and croquet

positioned in the resort's grounds.

For more grown-up indulgences, The

Wellbeing Spa presents an extensive

96 BritishTravelJournal.com
---
menu of pampering facial, body and

cosmetic treatments designed to relax,

revitalise and rejuvenate using marineinspired

products.

For lovers of the great outdoors, as

well as the organised nature events,

there are many detailed walks for

visitors to explore and with Portreath

being situated on the famous South

West Coast Path, there are 630 miles

of superb coastal walks to discover.

For cyclists, horseriders and

walkers, the Mineral Tramways

Heritage trail is a perfect and traffic

free way to explore the countryside.

Easily accessed from the resort,

the restored 19th Century tramway

route is now a 60KM network of

multi-activity trails allowing guests

to explore Cornwall's rich mining

heritage, with some superb views of

the Atlantic coast along the way.

Landal Gwel an Mor is also the

perfect base to explore the further

delights of Cornwall, with the

county's main arterial route just a

short distance from the resort most

attractions are easy to reach.

Having gained a great reputation

amongst visitors and locals, The

Terrace Restaurant is an informal

bistro-style venue with a locally

sourced menu. With an emphasis on

using the best seasonal ingredients the

south west has to offer, The Terrace

produces an ever-changing menu and

the restaurant even offers a takeaway

service so food can be ordered and

enjoyed in the comfort of your lodge.

Boasting the country's warmest

climate and surrounded by the

stunning scenery of both shoreline

and countryside in one of the UK's

best holiday destinations, you would

be hard-pressed to find a more special

place to stay than Landal Gwel an Mor

luxury resort at Portreath. u

Prices from £599 for a Residence 3

bedroom lodge for a short break which is

either a 3 night weekend stay (Friday to

Monday) or a 4 night midweek (Monday

to Friday). gwelanmor.com

BritishTravelJournal.com 97
---
BRITISH TRAVEL JOURNAL CROSSWORD 06

ACROSS

9 Uncharged particle (7)

10 Insulting (7)

11 People installed in office (9)

12 Body of principles (5)

13 Running fast (2,1,6)

15 The --- Oak, Robin Hood's

legendary Sherwood Forest

refuge (5)

16 Castle protects her badly (11)

20 Basket material (5)

22 The largest county (9)

24 Perfectly clear (5)

25 Covered with small stones (9)

26 Caucasian rug type also

called Soumak (7)

27 Big eater (7)

DOWN

1 Keen to fight fighting (4-3)

2 In the UK, terrain found only in the

Cairngorms (6)

3 Chair with sidepieces (8)

4 The Black Comyn's castle near

Fort William (10)

5 Classic late Spring horserace at Epsom (4)

6 The V&A is one (6)

7 Nocturnal bird, alias the fern owl (8)

8 Electronic opener (7)

14 Fixed ahead of time (10)

16 Anne, Diana or Margaret, perhaps (8)

17 Flipped a coin (6,2)

18 Championship Wirral golf course (7)

19 Ahead (7)

21 Radar aerial covering (6)

23 Small sea-girt spots, like Rockall (6)

25 Kensington ---, thoroughfare to the

Royal Albert Hall (4)

The first correct crossword received will be rewarded with a free gift from

The Travelling Reader. Simply send your completed crossword (or the answers)

with your choice of The Original, The London, or Simply British Tastes box,

(thetravellingreader.com) and your postal address, by post to British Travel

Journal, Mitchell House, Brook Avenue, Warsash, Southampton, Hampshire,

SO31 9HP, or email the answers to crossword@britishtraveljournal.com

Answers will be printed in the Autumn Issue out 4 October

ANSWERS TO CROSSWORD 05 | SPRING 2020

ACROSS: 1 Acetone 5 Embrace 9 Slower 10 Dunvegan 11 Decipher 12 Icicle

13 Takes a seat 15 Gush 16 Talc 19 Tetrahedra 22 Hot rod 24 Orangish

25 Divorcèe 26 Dances 27 Penrhyn 28 Anneals DOWN: 2 Calleva 3 Thwaite

4 North-east 6 Menai 7 Reeking 8 Charles 10 Derwentcote 14 Tea garden

17 Agonize 18 Corrour 20 Eugenie 21 Russell 23 Duchy.

FOR YOUR JOURNEY

Books, apps, travel gadgets and crossword

WE LOVE

COASTAL COMPANION

This book will guide you to 80 of the most

interesting, fun and picturesque seaside spots

our coast has to offer, providing insights into

the history, culture and key features of each

place, where to eat - including the best places

for fish and chips, and where to stay. £11.99.

amazon.co.uk

LIFE ON THE WATER

Getting out on the water is a great way to

avoid crowds and stay safe while enjoying

the mental health benefits of being outdoors.

With this app you can find and book

boat rentals, paddle boats, kayaks locally

to you - all in just a few clicks!

getmyboat.com

CONSCIOUS MIND

Synctuition, a mindfulness app, is

offering their mindfulness and relaxation

app for FREE to everyone in the

country until the end of July 2020 due

to the affect the COVID-19 outbreak

has had on mental health in the UK.

synctuition.com

MATTERHORN METALLIC

Keep stylishly hydrated on the move with

this Chardonnay gold stainless-steel bottle,

new from from on-the-go drinkware brand

Contigo. Double-wall vacuum insulated

technology ensures drinks stay cold for up

to 24 hours or hot for up to 10. £19.95.

amazon.co.uk

98 BritishTravelJournal.com
---
DESIGNED & MADE IN ORKNEY, SCOTLAND

NEW

Bumblebee

COLLECTION

Inspired by summer days in

Sheila's garden, when flowers

are in bloom and bumblebees

are a familiar sound.

Silver jewellery with

vibrant enamel, made for you

in our Orkney workshop.

Each purchase* comes with a

free wildflower seed mix, to help

grow bee-friendly gardens.

*Only available for UK orders.

MADE IN THE UK

ORKNEY | EDINBURGH | GLASGOW

01856 861 203 | sheilafleet.com