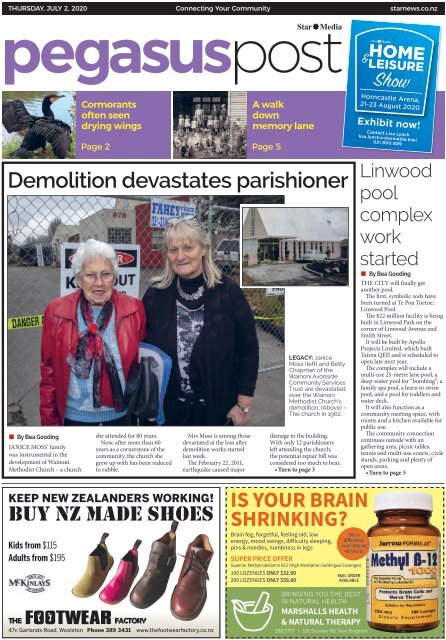 Pegasus Post: July 02, 2020
You also want an ePaper? Increase the reach of your titles
YUMPU automatically turns print PDFs into web optimized ePapers that Google loves.
THURSDAY, JULY 2, 2020

Connecting Your Community

starnews.co.nz

HOME

LEISURE

• By Bea Gooding

JANICE MOSS' family

was instrumental in the

development of Wainoni

Methodist Church – a church

Cormorants

often seen

drying wings

Page 2 Page 5

she attended for 80 years.

Now, after more than 60

years as a cornerstone of the

community, the church she

grew up with has been reduced

to rubble.

Mrs Moss is among those

devastated at the loss after

demolition works started

last week.

THe February 22, 2011,

earthquake caused major

A walk

down

memory lane

Demolition devastates parishioner

LEGACY: Janice

Moss (left) and Betty

Chapman of the

Wainoni Avonside

Community Services

Trust are devastated

over the Wainoni

Methodist Church's

demolition. (Above) –

The church in 1962.

damage to the building.

With only 12 parishioners

left attending the church,

the potential repair bill was

considered too much to bear.

• Turn to page 3

Horncastle Arena,

21-23 August 2020

Exhibit now!

Contact Lisa Lynch

lisa.lynch@starmedia.kiwi

021 800 809

Linwood

pool

complex

work

started

• By Bea Gooding

THE CITY will finally get

another pool.

The first, symbolic sods have

been turned at Te Pou Toetoe:

Linwood Pool.

The $22 million facility is being

built in Linwood Park on the

corner of Linwood Avenue and

Smith Street.

It will be built by Apollo

Projects Limited, which built

Taiora QEII and is scheduled to

open late next year.

The complex will include a

multi-use 25-metre lane pool, a

deep-water pool for "bombing", a

family spa pool, a learn to swim

pool, and a pool for toddlers and

water deck.

It will also function as a

community meeting space, with

rooms and a kitchen available for

public use.

The community connection

continues outside with an

gathering area, picnic tables,

tennis and multi-use courts, cycle

stands, parking and plenty of

open areas.

• Turn to page 5

KeeP New ZealaNders worKiNg!

BUY NZ MADE SHOES

Kids from $115

Adults from $195

is your brain

shrinking?

Brain fog, forgetful, feeling old, low

energy, mood swings, difficulty sleeping,

pins & needles, numbness in legs

super price offer

Superior Methylcobalamin B12 (High Absorption Sublingual Lozenges)

100 LozengeS oNLY $32.90

200 LozengeS oNLY $59.80

see a

difference

in as little as

48 hours!

MAiL orDer

AVAiLABLe

47c Garlands Road, Woolston Phone 389 3431

www.thefootwearfactory.co.nz

Bringing You The BesT

in naTural healTh

MarshaLLs hEaLTh

& naTuraL ThEraPy

388 5757 | 101 seaview rd, new Brighton
---
2 Thursday July 2 2020

Latest Canterbury news at starnews.co.nz

PEGASUS POST

BIRDS OF THE ESTUARY

GENERAL INQUIRIES Ph 379 7100

CLASSIFIED ADVERTISING Ph 379 1100

Star Media, a division of Allied Press Ltd

PO Box 1467, Christchurch

starmedia.kiwi

NEWS

Bea Gooding

Ph: 021 911 576

bea.gooding@starmedia.kiwi

ADVERTISING

Frank Greenslade

Ph: 364 7441

frank.greenslade@starmedia.kiwi

Your local community news

delivered to 17,598 homes

within The Star each week.

Linwood • Avonside • Richmond • Shirley • Bexley

Burwood • Dallington • Wainoni • Bromley

Aranui • Avondale • New Brighton • Northshore

Queenspark • Parklands • South Brighton

Tanya Jenkins is the manager of the Avon-Heathcote Estuary Ihutai Trust, a nonprofit

organisation formed in 2002 to protect one of New Zealand's most important

coastal wetlands. Each week she introduces a new bird found in the estuary. Her column

aims to raise the understanding of the values and uniqueness of the area.

Cormorants constantly dry wings

THE BLACK cormorant/kawau is

one of 12 cormorant species found in

New Zealand, with this one often seen

around the estuary and lower reaches

of our rivers.

We are very lucky to have about

12 to 16 of these black cormorants

making our estuary their home as

there are not that many of them in

New Zealand.

You can spot them sitting along the

estuary edge or perched in trees along

river banks with their wings spread

out.

So why do they do this? Cormorants

dive under water and then use their

webbed feet to propel themselves to

chase their prey.

Now, unlike non-diving birds, their

feathers are not as oily and therefore

not as waterproof, which allows them

to dive in the first place.

It does mean, however, that they

need to "spread their wings and tail

feathers" to dry out and warm up after

each meal, or they would lose their

body temperature and suffer from

hypothermia.

Amazing how nature provides for all

the different needs of different birds.

The cormorants have been observed

eating up to 30 small eels and fish each

RARE: There are only about 12 to 16 black cormorants that have made

the Avon-Heathcote Estuary their home. PHOTO: BRIAN BETTS ​

day. Tough life having to dive, chase

fish, dry out, warm up, dive, chase

fish, warm up, dry out and so on, that

many times each day.

Experts are not sure why the

cormorants choose either trees, shrubs

cliffs or even the ground to nest on

but here around the estuary, it appears

they prefer nesting in trees. Both

male and female will incubate the eggs

and the chick feeding is also a shared

task.

How can we help the cormorant

numbers to thrive? Keep dogs on the

lead when walking along riverbanks

and the estuary edge.

OUR PRICES ARE GOING

CRACKERS

THIS MID-WINTER XMAS

$12.99

EACH

Gordon's

Pink & Soda

4pk bottles

$15.99

EACH

Jim Beam Gold

CC Premium

7% 330ml 6pk cans

$19.99

EACH

Cody's

7% 250ml 12pk (incl zero) &

5% 250ml 15pk cans

$21.99

Cruiser

12pk bottle range

EACH $21.99

EACH

Woodstock

5% bottles & 250ml 7% cans

(incl zero) all 12pks

$23.99

EACH

Jim Beam Gold/

CC Premium

7% 250ml 12pk

DC 8pk all cans

$23.99

EACH

ODD Company

10pk range

Effen Vodka

10pk bottle range

$24.99

EACH

NEW

P RO D U C T

$25.99

E AC H

LONG WHITE CRISP

VODKA / GIN

10pk can range

$30.99

EACH

$10.99

EACH

$12.99

EACH

$13.99

EACH

2 FOR

$19.00

$21.99

EACH

2 FOR

$30.00

$34.99

EACH

$35.99

EACH

$34.99

EACH

$14.99

EACH

Jack Daniels & Cola

12pk 330ml bottles

Jack Daniels Double Jack

10pk 330ml cans

$38.99

EACH

Jim Beam / CC

18pk 330ml 4.8% cans

$39.99

EACH

Taylors Promised Land

range (ex PN & Syrah)

$44.99

EACH

$46.99

EACH

Stoneleigh Marlborough/

Lighter ranges

$48.99

EACH

Lake Chalice/

Grant Burge 5th

Generation ranges

$51.99

EACH

19 Crimes range

$62.99

EACH

Riverstone range

$64.99

EACH

Russian Jack / Leefield

Station / The Ned, PNs

3 FOR

$10.00

Villa Maria Cellar

Selection

(ex PN & Syrah)

$15.99 each

Blackheart 1L

Woodstock 1L

$18.99

EACH

Malibu / Kahlua

1L

$19.99

EACH

Larios Rose / Larios 12

Russian Standard /

Stolen Rum 1L

Jim Beam 1L

CC (including Spiced) 1L

Chatelle 1L

Fireball

Cinnamon

Whisky

700ml

Bombay

Sapphire

1L

Jagermeister 1L / Mt Gay

Eclipse 1L / Titos 750ml

$24.99

EACH

Jameson 1L,

Chivas 12yr 700ml

$24.99

EACH

CC 12yr Old 700ml

Makers Mark 1L

Glenfiddich 12yr

700ml

Haagen Strong

500ml cans

$31.99

EACH

Tuatara

6pk range

$35.99

EACH

NZ Pure

12 pk bottles

$22.99

EACH

Orchard Thieves

12pk range

398 HIGH STREET, RANGIORA

03 313 7207

1275 MAIN NORTH ROAD, BRIDGEND

03 323 8833

585 SPRINGS RD, PREBBLETON

03 349 6031

$22.99

EACH

Tiger / Tiger Crystal

12pk bottles

114 RAILWAY TERRACE, RAKAIA (NEW STORE)

03 302 7973

45 SOUTH TERRACE, DARFIELD

03 317 9499

1147 WEST COAST RD, WEST MELTON

03 347 8460

Carlsberg

15pk bottles

Lion Red, Speights, Waikato

or Summit 15pk bottles

$32.99

Steinlager

18pk bottles

Available from 1st to 31st July 2020 • Specials only available whilst stocks last.

670 MAIN SOUTH RD, ISLINGTON

03 349 7337

69 MAIN ST, FAIRLIE

03 685 8061

118 LE CREN ST, TIMARU

03 684 3566

EACH

21 ALDWINS ROAD, LINWOOD

03 982 1753

9 PARNWELL ST, BURWOOD

03 383 2564

495 PAPANUI RD, PAPANUI

03 260 2380

KEEP CALM

K N O W

Y O U R

I M

L

Heineken

15pk bottles

65 VICTORIA ST, CBD

03 260 1155

I T

100% NZ

OWNED AND

OPERATED

Tui/Export Gold/Extra Low

Carb/ DB Draught

24pk bottles

$39.99

ASK ABOUT

LOYALTY CARD

BENEFITS &

GIFT VOUCHERS

EACH

Export 33

24pk bottles

thirstyliquor.co.nz
---
PEGASUS POST Latest Canterbury news at starnews.co.nz

Thursday July 2 2020 3

News

Club for dementia carers to connect Church

• By Bea Gooding

JEFF BRADLEY met the love of

his life at a food and wine festival

26 years ago. Instantly, he knew

he wanted to marry her.

He and Kathy tied the knot six

weeks later, ushering in years of

"blissful" marriage. But now the

couple are caught in the "long

goodbye".

Mrs Bradley was diagnosed

with dementia about nine

years ago. It was a twist in their

decades-long love story, but Mr

Bradley's love did not falter.

"They called it a 'long goodbye.'

There was a lot of crying, but the

love is pretty strong between us,"

he said.

"We're madly in love with each

other."

Mr Bradley, of Avondale,

remembered the life the pair led

before the dementia diagnosis.

The accomplished clarinet

player would often play around

the world, including in Australia,

Singapore and Hong Kong.

"She [Mrs Bradley] never missed

a gig in 26 years, and I played at

hundreds of gigs," he said.

"Wherever she was, I played

a special number for her, which

was an original and became her

tune."

It started to get tough for the

pair when everyday tasks such as

putting on clothes, going to the

bathroom and cooking became a

JOURNEY: Jeff and Kathy Bradley have been married for 26

years, after they were introduced to each other by a friend.

challenge for Mrs Bradley.

Mr Bradley admitted it had

not been an easy journey. His

own health suffered as the couple

faced their greatest challenge.

"It was getting me down at

some points, it was very hard

on me and I ended up having a

nervous breakdown."

Mrs Bradley now lives in a

home. Before the Covid-19

lockdown, he would visit her

twice a day. Lockdown left him

"completely alone" and unable to

see her.

"I've just gone through 12

weeks of sheer hell living by myself,"

he said.

"I had no other support as all

of my family have passed, aside

SNAP FITNESS NEW BRIgHTON'S

3RD BIRTHDAY

DEALS!

WEDNESDAY 8TH JULY

No joining fee and if bring a friend

to join you get 2 weeks FREE!

Terms and conditions apply, see in club for details.

SAVE

$99

from my niece who visited occasionally."

Mr Bradley knew he would not

be alone in either his experience

of lockdown or in the challenge of

caring for a seriously ill partner.

So, he has started a club for the

partners of those with dementia,

Parkinsons and other serious

illnesses.

It was a struggle to find a group

in Christchurch where he could

connect emotionally with others

who related to his position, he said.

There was a chance his club

was a first for the city, he said.

Everyone had their own story

of coping and loss.

"One lady I spoke to was

devastated and said she just sits at

home and cries.

"A lot of people are in the same

situation."

Mr Bradley said the club will

be "a place to grab a tea or coffee

and meet others, see what they've

gone through and how they're

facing it".

He said he hoped grow the club

beyond Christchurch, to places

such as Auckland, Wellington and

Dunedin, and so create a support

network across New Zealand.

•Nib's Lost Partners Club will

host its first meeting on July

7 at the Sydenham Lounge,

Cashmere Club, from

10.30am, phone Jeff on 388

5903 for more information.

had a rich

history

• From page 1

"I was a bit hurt when the

decision was made, it wasn't an

easy time," Mrs Moss said.

Her family's association

with the Methodist Church in

Canterbury has its roots in the

1800s.

Mrs Moss' great-greatgrandfather

came to Christchurch

from England during the late 1800s.

He owned Avon Park, on

Avonside Drive. A section of this

land was purchased for a Methodist

Church in 1959, and a new church

was opened in July, 1963.

Mrs Moss, 90, attended until

she was 84-years-old.

Without a car, she does not

have the option to attend another

church.

"I just listen to the radio now,"

she said.

Mrs Moss was heavily involved

at Wainoni Community Services

Trust, run by the church, which

has kept her busy in recent years.

It was established in 2001, hosting

lectures from guest speakers such as

local MPs and well-being experts,

as well as exercise groups and

community events.

24/7

ACCESS

Access to over 2,000

locations around the

world 24/7.

jan

feb

mar

Commit to results, not

a contract. Month by

month memberships.

Variety of instructor

driven group classes

that are heaps of fun!

5Kg

10Kg

Weight machines, free

weights, boxing bags and

cardio equipment.

16+

SNAP welcomes

members as young

as 16.

freshen up with a

shower - don't forget

a towel!

Reach your goals with

help from our qualified

personal trainers

SNAP Fitness New Brighton - 185 Bower Avenue

Phone: 021 612 556 | Email: newbrighton@snapfitness.com

Staffed Hours: Mon/Wed/Fri 9am-1pm and 3pm-7pm,

Tue/Thu 9am-5pm, Sat 9am-12pm

www.snapfitness.com/nz/gyms/new-brighton

TRAVIS RD

ANZAC DR RESERVE

QEII PARK

BOWER AVE

KEYES RD
---
R

Perseverance Courage

4 Thursday July 2 2020

Latest Canterbury news at starnews.co.nz

PEGASUS POST

WITH MARY IN FAITH

TĀTOU KO MERE E WHAKAPONO ANA

Why Marian College

Marian College is a Catholic school community with a love of faith,

learning and service for the common good. We are a state-integrated

school for girls, which combines high academic standards, and a

progressive approach to education with a genuine commitment to the

Gospel and our special Catholic character. Marian is a inclusive, family

based school, where we know our students well and work together with

whanau. Year 9 students will be supported by our Year 12 Peer Support

leaders as they begin their high school years.

Students at Marian achieve excellent academic results, consistently

performing above the national levels in New Zealand. Marian has a

wide ranging curriculum delivered by a dedicated and talented staff. Our

graduates are women who have faith and understand the importance of

contributing to society.

For families considering Marian College please enrol by July 31st and

feel free to contact the school for further information and assistance.

Enrolment applications for Year 9 2021

close 31 July 2020.

Please visit our website or contact the team at Marian College

to enrol your daughter for 2021 and beyond.

Marian College 122 Barbadoes St, Christchurch

Phone 03 385 8449 exec@mariancollege.school.nz

www.mariancollege.school.nz

Marian College Vision and Values

Marian College

Campus Update

In 2023, Marian College will

relocate to north west Christchurch

on a purpose built three hectare

campus.

espect

Commitment

Core

Values

The new school is projected to

cost in excess of $20 million and

we are all very excited to be able

to welcome students from the

beginning of February 2023. Year

9 students in 2023 will be seniors

at the new Marian College.

This new site provides Marian

College with a future focussed

and sustainable campus to further

strengthen and grow the Catholic

community in Christchurch.

We welcome prospective families

to be part of our community

and help shape the future of

Marian College.

We look forward to sharing more

of our exciting plans as we travel

on this journey together.

Like and

follow us!

@mariancollegechch

www.mariancollege.school.nz | 03 385 8449 | exec@mariancollege.school.nz
---
PEGASUS POST Latest Canterbury news at starnews.co.nz

Thursday July 2 2020 5

A walk along memory lane

The first tram route in Christchurch to close was the New Brighton line in 1952. The tram left

Cathedral Square driven by Mayor Robert Mafeking Macfarlane. It was decorated with streamers

and placards and a pipe band played on top of the trailer. It reached the New Brighton Post Office

at the same time as the first bus arrived from the city.

Exterior view of the main building at Marian

College, Shirley, in 1987.

Storytime at the Phillipstown Kindergarten

in 1941.

ANTICIPATION: Councillor Yani Johanson (left), long time

community board member Bob Todd, 12-year-old Eve Nuu and

Linwood-Central-Heathcote Community Board chairwoman

Alexandra Davids break ground for the new Linwood Pool.

PHOTO: NEWSLINE ​

'A classic example of

grassroots democracy'

• From page 1

Community members and

members of the Waikura/

Linwood-Central-Heathcote

Community Board last week

gathered on-site for a symbolic

sod-turning.

On the end of one of the shovels

was Bob Todd, a longtime

member of the local community

board and an early supporter

of the push to get swimming

facilities in the Linwood and

Woolston community.

Community Board chairwoman

Alexandra Davids lauded the

development.

"The development of Te Pou

Toetoe has been a classic example

of grassroots democracy in

action, and as work gets underway,

it's an honour to be able to

represent the community and

everyone who's got stuck in to

make this happen.

"It's been exciting to watch this

project start as an aspiration on a

wish list, move steadily through

the Community Board and Council

process, and then finally reach

the point where we're out here

onsite putting tools to the ground."

Your LoCAL

TYrE SPECIALIST

New & Quality Used Second-hand Tyres

Alloy Wheels

Replacement Rims

Puncture Repairs

8c Birmingham Drive,

Middleton

www.jcmdirect.co.nz

343 0099 or 027 22 63 805

Proud to support Hornby Hockey Club
---
6

Thursday July 2 2020

Latest Canterbury news at starnews.co.nz

PEGASUS POST

HOME

LEISURE

Horncastle Arena,

21-23 August 2020

Exhibitors

Book now

Don't miss your opportunity to

showcase your business in front of

10,000+ qualified attendees

New exhibitor packages available

lisa.lynch@starmedia.kiwi or 021 800 809
---
PEGASUS POST Latest Canterbury news at starnews.co.nz

Thursday July 2 2020 7

Classifieds Contact us today Phone our local team 03 379 1100

Collision Repairs

Trades & Services

Trades & Services

Trades & Services

Public Notices

QEII Collision Repairs.

Free Courtesy Cars

(conditions apply),All

Insurance work, Rust

Repairs & Private work.

Spray-painting.

Free pickup & delivery.

Ph. 03 388 5187

Community Events

ALCOHOLICS

ANONYMOUS, If you

want to have a drink that's

your business. If you want

to stop, we can help. Phone

0800 229-6757

Wanted To Buy

TOOLS Garden,

garage, woodworking,

mechanical, engineering,

sawbenches, lathes, cash

buyer, ph 355-2045

Trades & Services

BLOCKED

DRAINS?

• Video inspection

• Waterblasting

• liquid Waste

pH: 03 365 7960

24 hours // 7 days

info@h20jet.co.nz

www.h20jet.co.nz

ROOF REPAIRS

Locally owned & operated with

over 30 years experience.

• Extensions & repair • Roof coating

• Concrete & clay tiles • Butynol

• Malthoid • Asbestos Certified

• Coloursteel • Old iron • Guttering

Phone Dave 981 0278

or 021 223 4200

E: dave@beaumontroofing.co.nz

BEAUMONT ROOFING LTD

SCRAP METAL

Dominion Trading Co Ltd

• Scrap metal buyers

• Canterbury owned & operated

• Top prices paid $$$

• Open Saturday morning

Open Mon-Fri 8am – 4.30pm Sat. 8.30am-12.30pm

www.happyscrappy.co.nz

03 343 9993 333 Blenheim Rd

WINDOW TINTING

tintawindow

advanced film solutions

99% uv block

fade protection

heat control

reduce glare

25 Years Experience

privacy films

frosting designs

non-darkening films

Workmanship Guaranteed

Lifetime Warranties on Most Films

UV

block

Free Quotes Canterbury and Districts

03 365 3653 0800 368 468

Trades & Services

FOR ALL YOUR

★Garden Clean-ups

★Pruning

★Lawn Mowing

★Garden Maintenance

Call us today for a FREE quote

PH 0800 4 546 546

(0800 4 JIMJIM)

BRICKLAYER

George Lockyer. Over

40 years bricklaying

experience.Uk trained.

Insurance work, EQC

repairs. Heritage

brickwork & stonework

a speciality. No job too

small. Governers Bay.

Home 329 9344. Cell

027 684 4046. E mail

georgelockyer@xtra.co.nz

CARPET LAYING

Exp. Repairs, uplifting,

relaying, restretching.

Phone John on 0800

003181, 027 240 7416

jflattery@xtra.co.nz

CARPET LAYING

Exp. Repairs, uplifting,

relaying, restretching.

Phone John on 0800

003181, 027 240 7416

jflattery@xtra.co.nz

ELECTRICIAN

Prompt & reliable

registered electrician

with 24 years experience

for all residential and

commercial work, new

housing and switch board

replacements. Phone Chris

027 516 0669

SPOUTING

CLEANING

Spouting Unblocked,

Cleaned Out and Flushed

Out. Call Trevor 332 8949

or 021 043 2034

SPOUTING

CLEANING

Spouting Unblocked,

Cleaned Out and Flushed

Out. Call Trevor 332 8949

or 021 043 2034

STUMP GRINDING

Best price guarantee Tony

0275 588 895

TILER/CARPENTER

35 years exp, no job

too small. Ph Ross 027

4311440.

TILER/CARPENTER

35 years exp, no job

too small. Ph Ross 027

4311440.

T.V. SERVICE CENTRE

Repairs, tvs, microwaves,

audio amps, soundbars.

.Aerial & satellite

installations, kitsets, 480D

Moorhouse Ave, ph 03 379

1400

VHS VIDEO TAPES

& all camera tapes

converted to DVD or

USB. Video taping

special occasions, www.

grahamsvideo.co.nz ph 03

338-1655

Notifying an enrolment scheme has been

adopted to avoid overcrowding, or the

likelihood of overcrowding, the board of

Christchurch East School has adopted

an enrolment scheme that has been

approved by the Secretary for Education.

Under this scheme, students will be

enrolled if they live within the home zone

described below.

Starting from the intersection of Bealey Ave and Fitzgerald Ave

• South on Fitzgerald Ave to Alexandra St

• East on Alexandra St to Stanmore Rd

• South on Stanmore Rd to Swanns Rd

• East on Swanns Rd to the Otakaro / Avon River

• South along the west bank of the Otakaro / Avon River to Stanmore Rd

• South on Stanmore Rd to Avonside Dr

• East on Avonside Dr to Trent St

• South on Trent St to Armagh St

• West on Armagh St to Stanmore Rd

• South on Stanmore Rd to Gloucester St

• East on Gloucester St to England St

• South on England St to Cashel St

• West on Cashel St to Percy St

• South on Percy St to Tuam St

• West on Tuam St to Nursery Rd

• South on Nursery Rd to Ferry Rd

• South east on Ferry Rd to Moorhouse Ave

• West on the north side only of Moorhouse Ave to Colombo St

• North on Colombo St to Cathedral Square

• North through Cathedral Square to Colombo St

• North on Colombo St to Bealey Ave

• East on Bealey Ave to Fitzgerald Ave, including;

• Manchester St between Bealey Ave and Purchas St

• Bishop Street between Bealey Ave and Purchas St

• Madras Street between Bealey Ave and Purchas St

• Elderwood Lne

• Packe St between Bealey Ave and Purchas St

• Barbadoes St between Bealey Ave and Purchas St

Addresses on both sides of boundary roads are considered in-zone

unless specified otherwise.

The enrolment of out-of-zone students is governed by the provisions of

the Education Act 1989.

The enrolment scheme, which includes a precise description of the home

zone, may be viewed on the school website.

We're for

local

VOICES

The new local

news destination

for Cantabrians
---
8 Thursday July 2 2020

Latest Canterbury news at starnews.co.nz

PEGASUS POST

Go Karting at Christchurch's Premier Indoor Track

school

holiday

special

children's

rides

only $18

each

Visit Supa Karts

Indoor Go Karting Track

for your daily adrenaline

dose, and high octane fun.

• Monday to Friday only. Not

available on the weekends.

• Children between the ages

of 8 and 13 years, and over

1.25 metres tall.

• Also includes adults

driving in children's rides,

and Tandem Karts.

We have something for everyone, whether you

are an expert adrenaline junkie go kart driver,

or just learning to drive. We can help with

team building, corporate events, social

events, stag and hen nights and kids

parties.

We have an excellent fleet of top quality

French engineered and manufactured,

SODI Go Karts. Built for Safety and Speed,

they can really get you around our track fast.

91 Buchan Street, Sydenham | Phone 03 374 9425 | www.supakarts.co.nz | Find us on Facebook

We highly recommend making a booking to avoid disappointment