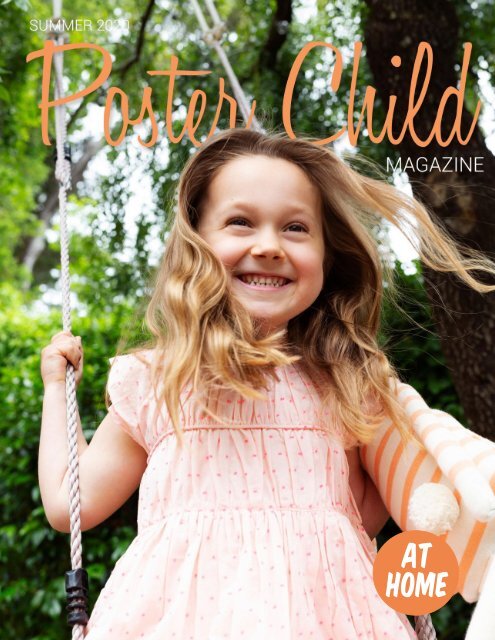 Poster Child Magazine Summer 2020
Our brand new issue of Poster Child Magazine celebrates being healthy and safe AT HOME. Enjoying, fashion and family in quarantine.
Our brand new issue of Poster Child Magazine celebrates being healthy and safe AT HOME. Enjoying, fashion and family in quarantine.
SHOW MORE
SHOW LESS
You also want an ePaper? Increase the reach of your titles
YUMPU automatically turns print PDFs into web optimized ePapers that Google loves.
at

Home
---
42

cover story:

The Magic of Quarantine

7

EDITOR'S NOTE

8

EDITOR'S PICKS

Rebecca's favourite summer

quarantined essentials.

11

ON LOCATION

Learn more about this

issue's cover story!

FASHION

12

FRESH RIGHT NOW

Get e-shopping. Our

favourite trends for a

summer of stay-at-home

fashion fun!

16

MINI STYLISTS

The results are in! We are

announcing the winners of

our recent style contest.

Check out these awesome

reader-submitted looks.

18

DESIGNER Q&A

We chat with designer and

founder Darionne LaQuel about

her adorable collection of luxury

basics in our new Q&A!

24

BRAND SPOTLIGHT

Venture to the English

countryside as we introduce you

to Polkadot England.

26

STAY-AT-HOME

SUMMER MOOD

Alissa Bertrand shares her latest

mini-fashion collection and takes

us on a virtual vacation to Cuba.

TEEN SCENE

28

GET THE LOOK

Instagram's Alara Jale shares

her top accessory picks for the

summer, perfect for teens!

30

MEGAN STOTT

The Little Fires Everywhere star

chats with us about our new

favourite mini-series on Hulu

and Prime Video! Images by Lilly

K Photography.

LIFESTYLE

36

QUALITY QUARANTINE

TIME

Run out of fun quarantine ideas?

We've got 3 ideas for some

quality family time!

46

VITRUAL CLASS BRINGS

KIDS TOGETHER

We chat with Emily Kornya

about her latest project - Kids

virtual photography classes!

Summer 2020
---
40

MANUELA AND HER

ENFANTS SAUVAGES

We visit the remote Spanish

countryside to visit mother of

4, Manuela, and are inspired to

slow down and embrace natural

childhood.

EDITORIALS

42

THE MAGIC OF

QUARANTINE

Photographer Greer Rivera

captures her daughter, Tanzin

enjoying a magical day of makebelief

at home in California.

54

A LOOK INTO

JULIA'S WORLD

Mexico-Based Photographer

Diana Tamayo, with stylist María

Montané, bring the imagination

of her daughter Julia to life as

she spends the day with her best

quarantine friend.

66

VIRTUAL SUMMER

Californian photographer and

mom Tenley Clark transports

her daughter, Lila, on virtual

adventures.

76

BRIGHTER DAYS

Utah-based photographer and

mom, Shannon Weight has us

dreaming of better summer days

at home with her 3 kids.

88

SUMMER STAYCATION

New York stylist Jessica Zindren

got behind the camera again to

capture her daughter's vibrant

summer vacation at home.

98

LITTLE ARTISTS

Photographer Liselotte Habets

photographs little artists where

they feel most at home -

creating in their studio. We

can't wait to share moments

like these with friends again.

110

YOU'LL NEVER FIND A

RAINBOW IF YOU'RE

LOOKING DOWN

We're searching for the daily

rainbow moments in photography

by dad Dave Kennedy with

his daughters at home in Cape

Town, South Africa.

122

LOCK DOWN DRESS UP

UK-based photographer Paul

Thorburn spent the day playing

dress up with his kids and

captured the fun in photos!

132

LA PLANQUE

"Hideaway" is the English

translation of this title, and

that is just what sisters Julie

and Lylou are enjoying in

photography by Laurie Basset.

144

NATURE IS MY HOME

We are ready to explore

the wild with photographer

Shannon Sewell.

152

SIBLINGS

Shot via FaceTime,

photographer André Glukhov

captured these super siblings

at home in London, UK.

MEGAN

STOTT

30

Megan Stott photographed by Lilly K Photography
---
the

poster child Team

EDITOR-IN-CHIEF:

REBECCA POIER

SENIOR FASHION EDITOR:

ERICA STEVENSON

ADVERTISING:

TRACEY LUTH

MARKETING & ADVERTISING ASSOCIATE:

GINNY BRYZGALOVA

INTERNS:

NORA HOGERTY

CARYN SCHULMAN

CONTRIBUTERS

GREER RIVERA, ADRIENNE DORSEY, ALISSA BERTRAND, ALARA

JALE, MEGAN STOTT, LILY K PHOTOGRAPHY, EMILY KORNYA, MARIA

MONTANE, MANUELA FRANJOU, DIANA TAMAYO, DEMET OZGE

AYKAN, TENLEY CLARK, SHANNON WEIGHT, JESSICA ZINDERN,

LISELOTTE HABETS, IRIS MEINDERTSMA, ESTHER STEEN, TENSA,

AOKI & LENA - @HIP4KIDS, DAVE KENNEDY, PAUL THORBURN,

JULIE MERLE OF OPOS AGENCY, LAURIE BASSET OF LABO-OPOS,

EMMANUELLE DELUZE OF OPOS AGENCY, ANITA BUJOLI OF

BACKSTAGE AGENCY, RIKA BITTON , JULIE & LYLOU OF SUGAR

KIDS, SHANNON SEWELL, ANGELA ROBERTSON, CHASE LYNN,

ANDRÉ GLUKHOV, LORENZO, ALESSANDRO & BETTA OF KIDS

LONDON AND B TALENT SCOUT.

SPONSORS, AFFILIATES & PARTNERS

BOON SUPPLY, PLAYTIME TRADESHOWS, COCOVILLAGE,

SMALLABLE, CIAO BELLA, MOUNTAIN BUGGY, ERGOPOUCH,

PEDIPED, GOSILI, STICKY BE, EVERLASTING WARDROBE, GIGGLE,

SAYINGS KIDS, MINI DREAMERS, KODOMO BOSTON, KIDICHIC

ADVERTISING POLICY

POSTER CHILD MAGAZINE INC. ACCEPTS ADVERTISING BASED ON SPACE AVAILABILITY

AND CONSISTENCY WITH ITS MISSION TO INSPIRE A STYLISH CHILDHOOD. POSTER CHILD

MAGAZINE INC. IS NOT RESPONSIBLE FOR THE CONTENT OF THE ADVERTISEMENT, THE

PRODUCTS OFFERED OR THE

VIEWPOINTS EXPRESSED THEREIN.

EDITORIAL NOTE

NO PORTION OF THIS MAGAZINE MAY BE REPRINTED, DUPLICATED OR TRANSMITTED WITHOUT THE WRITTEN

PERMISSION OF THE PUBLISHER. PHOTO OR ARTWORK SUBMISSIONS ARE MADE AT THE RISK OF THE SENDER;

POSTER CHILD MAGAZINE WILL ASSUME NO LIABILITY FOR LOSS OR DAMAGE. OPINIONS EXPRESSED IN POSTER

CHILD MAGAZINE ARE THOSE OF THE AUTHORS AND DO NOT NECESSARILY REFLECT THE VIEWS OF THE

PUBLISHER. POSTER CHILD MAGAZINE DOES NOT ASSUME LIABILITY FOR CONTENT.
---
on the go?

TAKE US WITH YOU

Read Poster Child Magazine on the App. Download today!

posterchildmag.com
---
BOON SUPPLY

Summer

Giveaway!

Win all 8 of these awesome

summer essentials from

Boon Supply.

CONTEST LAUNCHES ON

INSTAGRAM JULY 3RD, 2020
---
the

editor's note

Photograph by Meghan Chute

There is no denying we are living in an unusual

moment in history. This spring, the coronavirus

pandemic kept many of us at home. For the

last few months, it interrupted school, work and

social life. Stay-at-home orders were in place, and

social distancing practices were in full swing. In

some areas, laws prohibited gatherings outside

of families. I'm sure this all sounds familiar; you've

been dealing with it too. With creative teams

unable to work, I was concerned that we wouldn't

be bringing you very many fashion editorials for

the summer issue. On a whim, I asked creatives

from around the world if they would be interested

in creating stories with their kids using the AT

HOME theme.

Except for a few features (shot pre-pandemic), our

summer issue is packed! This season, our pages

offer more editorial stories than we ever have

before and in the largest Poster Child magazine

to date!

What is your best quarentine style?

Connect with us on Instagram at

@posterchildmag and don't forget

to tag us in your pictures!

So, there you have it, the theme behind this season's

issue is AT HOME. We don't usually have an

overarching theme for each season, but it seemed

pretty appropriate under the circumstances. So,

within this issue, you'll find stay-at-home style,

activities and lots of great reading we hope you'll

enjoy.

xo Rebecca Poier

Poster Child Magazine

Editor-in-Chief
---
Editor's Picks

Carrying All with Boon

The Coral Linen Washed Capri Tote from Boon has

quickly become my go-to bag. Boon believes that the

world needs more doers and helps give back with every

product bought. 40% of every purchase made on Boon

goes directly to a cause you care about!

Sleep with ErgoPouch

I've been loving the 2-in-1 design

of this lightweight sleep suit bag for

my youngest! It has been the perfect

sleep solution on warmer evenings.

Hydrating with GoSili

We are so enjoying our tumblers to

keep hyrdated on these warm days!

GoSili products are 100% European

grade silicone. We love that this

company is on a mission to provide

a sustainable alternative to plastic

waste.

Running with PediPed

We've been enjoying a lot of

backyard time and comfortable

footwear is must for long walks

and outdoor play. My daughter

loves the memory foam comfort and

flexible fit and I love the chic style!

/ editor's Picks /

Quarantined Essentials

Just like you, I've been stuck at home

all spring! While it hasn't always been

fun, we have enjoyed discovering some

new products. These are just a few of the

things my kids and I have been loving!

Swimming with Tea Collection

Jumping in the sprinkler and

splashing in our little pool, our

watermelon swim pieces from Tea

Collection are our very fave!

I absolutely love their fit, style and,

importantly, the UPF 40+ protection!

Cuddles with Giggle

We've been spending so much time

couch cuddling these past few months!

Our jammies from Giggle are handsdown

the absolute favourite.

8

Biking with Coco Village

Biking is one of our favourite activities and we can't

wait to teach Liam to ride. I picked up this 2-in-1 bike

for his first birthday from Coco Village. I loved that this

option will grow with him and next summer he'll be

ready for us to convert it to a balance bike!

First Steps with Sticky Be

My baby is learning to walk! I can't

believe the difference in his confidence

wearing these incredibly grippy socks!

Sticky Be Socks are great for kids and

also activities like yoga and pilates!
---
online exclusive

the

coco Village bike Review

www.posterchildmag.com
---
on

location

behind the

scenes

This Summer's cover story is

full of quarantine magic and

fun!

This season we asked photographer

parents to submit editorials shot with

their children at home in quarantine.

California-based photographer Greer

Rivera was up to the challenge with

her 5-year-old daughter, Tanzin.

With a flick of her wand and "The

Magic of Quarantine," Tanzin,

together with her favourite stuffed

pals, enjoys a day of dressup and

make-belief, captured in photos by

her mom!

Flip to page 42 to view the

entire cover story - The Magic of

Quarantine.

on the cover

Photography:

Greer Rivera

@greerrivera

Styling:

This season we wanted

to focus on sustainable

dressing for our cover

feature and partnered

with our friends over at

Everlasting Wardrobe. We

love this kid's rental box

and all the awesome brands

they carry! Everlasting

Wardrobe promptly sent

Tanzin a customized box,

and we styled her looks with

accessories, toys and decor

from Meri Meri!

Subscription Box by Everlasting Wardrobe

get the Story style!
---
e-Shopping

Fresh right now!

Groovy Baby

70's summer vibes bring us peace, love and groovy fashion

that translates seamlessly into a little wardrobe.

Patches on your favourite denim, wide-legged pants,

rainbow tones and flower power accessories are all

favourites this season!

1

CLICK TO SHOP!

3

5

4

7

wear

it with

2

6

VISOR by Billieblush

1. Jumper by Noe and Zoe,

2. Shorts by Monnalisa,

3. Top by Zulu & Zephyr,

4. Shorts by Molo,

5. Shirt by Tiny Cottons,

6. Pants by Molo, 7. Dress

by Stella McCartney Kids

12

HAIR CLIPS by MERI MERI

BAG by Jeune Premier

Sunglasses by Winkniks
---
1

3

5

2

4

6

total Tiers

Tiered styles are trending, boasting both voluminous ruffles and

thoughtful fabric gathering. From multi-levelled pants and skirts

to cute baby rompers, this is a style that can be worn by all. We

especially love tiered dresses; the playful silhouette is youthful,

fun and comfortable enough for kids to wear all day.

CLICK TO SHOP!

1. Dress by Creamie, 2. Skirt by Love Shack Fancy,

3. Dress by Tia Ciabani, 4. Pants by Tocoto

Vintage, 5. Romper by How To Kiss A Frog,

6. Dress by Little Creative Factory

wear

it with

purse by Donsje Amsterdam

HAIR CLIP by Ciao Charlie

bag by Olli Ella

shoes by Novesta

SUNGLASSES by JUNiA
---
e-Shopping

1

2

lightweight & free

Linen is the ideal summer fabric. Light and natural,

your kiddos will be staying comfortable and cool all

summer long in these breezy styles for boys and girls!

CLICK TO SHOP!

5

4

3

1. Dress by Egg New York,

2. Dress by Catimini, 3. Linen

Baby Overall by Les Gamins,

4. Shirt by Tocoto Vintage,

5. Shorts by Lali,

6. Jumpsuit by Il Gufo

5

top

it with

by Omibia

by bonton

by Wander & wonder

by Buho

by babe & tess
---
Fashion

AND THE

POSTER CHILD

MINI STYLISTS

ARE...

3

This season we asked Poster Child readers and

their kids to create their perfect summer looks!

We partnered with 5 awesome kids online retailers and asked our readers

to window shop for their best summer fashion! Well, you guys outdid

yourselves and submitted so many awesome summer outfits! The Poster

Child editors looked at all the submissions and picked our fave five!

1

great in giggle

Check out Zoey's rainbow-tastic outfit from

Giggle! We just love her bright and joyful style.

Products featured: Bow by River and Rosy, Fuchsia T-Strap Shoe by Cienta,

Riley Varsity Jacket and Delilah Dress by Giggle. Available at giggle.com

2

super sayings

Alexandrya's summer swim look i

We love how she paired her swim

with a ruffled skirt for a great

pool & play outfit!

Products featured: Swimsuit by Nessi Byrd, Sunglasses by

Bari Lynn, Ruffled Maxi Skirt by Paper Wings, Sandals

by Mini Melissa. Available at sayingskids.com

16
---
mr mini dreamers

Kingston's tropical vibes look was our fave

Mini Dreamers outfit. He added a mask to

his summer outfit and made it look stylish!

Products featured: T-Shirt by Tiny Whales, Button-up shirt and shorts by Munster Kids,

Sunglasses by Milk & Soda, Mask by Mini Dreamers. Available at MiniDreamers.com

4

kodomo classy

Braxton thought of everything for her

Kodomo outfit! We love the accessories she

picked and how well they complement each

other.

Products featured: Ruffle Shorts by Kids On The Moon, Poppy Top by Simple Kids, Twist

Headband by Gray Label, Sandals by Ancient Greek Sandals, Necklace set by Atsuyo et Akiko

available at kodomoboston.com

kids

s so cute!

suit

5

chic sisters in kidichic

These monochromatic looks from Kidichic are

just perfect for sisters, Victoria & Charlotte.

Black and white fashions are super chic

paired with stylish headbands.

Products featured: Chanel Headband, Isabella Headband, Hadas Cotton

Large Bow Dress, Hadas Ruffle Dress. Available at Kidichicusa.com
---
Designer Q&A

CiaoBella

This sustainable children's brand is redefining baby basics, with luxury

essentials for children that are anything but boring! We chat with designer

and founder Darionne LaQuel about her adorable collection.

Made in New York City, Ciao Bella is the sustainable

luxury children's brand that will have your child

reaching into their closet for more! Designer and

founder Darionne LaQuel is redefining what it

means to dress your kids in basics, putting forth a

brand that has become the top choice for moms

and health-conscious consumers. The brand's ultra

soft organic fabrics and timeless designs make Ciao

Bella's pieces a must have for kids aged 0-5 years.

We were so excited for the opportunity to interview

Darionne and chat about the inspiration behind

her brand and how she has been staying positive

during the COVID-19 health crisis.

What inspired the name of your label?

After travelling the world, I was fascinated and fell in

love with Italian architecture and, of course, fashion.

Between the cultural and social phenomenon, Italian

fashion is the emblem of style with volumes of high

quality, well made with a tweak of chic. Inspired by

this, in 2018, I created Ciao Bella and am delighted

to bring customers alternative luxury basics.

What made you want to design for children?

I knew from a young age that I wanted to work

with children, but in what aspect always was the

question. It wasn't until working at the hospital at

The Cleveland Clinic that I decided I wanted my

focus to be on young children facing illnesses.

18
---
Designer Q&A

20
---
This led to me offering an apparel product that

could help real kids facing challenges like getting

overheated and passing out due to certain

conditions such as postural orthostatic tachycardia

syndrome. For me, this was a condition I battled

with as a child. This is where my relationships

developed with the kids and their families.

Two years later, I became an active Godmother, and

I had to learn to transition from a busy professional

to a playtime mom. In all the time within my

professional career, I never felt so accomplished as

dedicating my time to my precious Goddaughter,

Mia.

So there it was, along with my passion and

dedication, and an aspiration to transition to

motherhood one day, I decided to create a

sustainable children's brand, which soon became a

natural fit.

What is your brand's mission statement or goal?

At Ciao Bella, our goal is to make a change by going

sustainable without sacrificing comfort or style. We

also strive to be the destination for all essentials for

newborns to toddlers. We offer a collection with a

natural touch that makes each child feel good and

look great on any occasion - at home, and anywhere

else they decide to adventure.

What are the motivations or inspirations behind

the designs? Italian elegance with NYC style.

long-lasting softness, enhanced breathability,

superior color retention, and biodegradability.

Ciao Bella is the only children's brand in the USA

that offers this specialized fabric blend.

Besides the environmental factor, our products are

thermal-regulating, which means they will adjust

with your baby's body temperature (less likely to

become overheated). They are hypoallergenic

and anti-bacterial right along with being great for

sensitive skin.

How does your design philosophy change when

creating for boys vs girls?

We try to keep everything as minimal and unisex as

possible in our style designs. But for girls, we add

a classical touch.

What do you have coming up that you are really

excited about? We are really excited about our

upcoming press and campaigns. It seems like many

outlets are noticing what we are doing and our

impact on the industry.

What is your favourite item from the current

collection?

My favorite item in our collection hands downs is

our organic two-piece set. This set is the best go-to

item for comfort and transitional wear; it also has a

stylish vintage feel. Children can wear these sets all

day, every day.

Is there a style decade you are inspired by?

Ciao Bella provides a premium collection of

timeless Children's Luxury Basics. We try not to

focus too much on trends and look more to keep

our primary focus on sustainability factors.

What makes your label stand out in the industry?

While most children's clothing companies use

conventional cotton containing toxins, we have set a

new standard for sustainability and natural comfort.

Our branded fibers offer a range of features,

including botanic origins, sustainable production,

Is it business as usual for Ciao Bella, or has the

current health crisis affected your business?

Over the past several months, the COVID-19

coronavirus outbreak has shaken the global

communities and has caused widespread disruption

to business throughout the world. Therefore,

despite the absence of a clear end-date for the

novel coronavirus pandemic and considerations

of restrictions on all gatherings and reports from

leading healthcare organizations, we have been

forced to make difficult decisions that shifted our

business priorities. We were looking forward to

expanding our brand internationally; however, as
---
Designer Q&A

22
---
the threat of the COVID-19 coronavirus continues to

grow globally, we were unable to host or participate

in the events we had planned in Paris, France, this

summer. We've also faced a slowdown in our US

production. With that said, our main concern is on

the health and safety of our community.

What are you doing to stay positive at home

right now?

I'm in Astoria, New York, trying to find the calm

being in the middle of the epicenter. I'm maintaining

my physical and spiritual practices, meditating in

the morning and before bed. I also travel to East

Hamptons, where I go on occasional walks on the

beach and take time to get away from the hustle n'

bustle of the city.

I'm working with my Ciao Bella team daily, focusing

our efforts, nurturing our community digitally through

e-commerce, Instagram, e-mail communication and

video conferences. Communication, connecting,

collaborating, creativity, community and change

continue to be the driving force for everything that

I do.

More than ever, I see this as a call to action. As

a team, we're trying to figure out how we can

help our healthcare system. Locally we've made

donations to several organizations such as Meals

on Wheels and Second Harvest Food Bank to help

feed families that have been affected. There's no

going back, the world and our life will never be the

same. I truly feel we should all be

taking the time now to reflect,

reset, appreciate nature,

and create the change we

need for our future.

If you love Ciao Bella,

be sure to follow their

designer and founder

on Instragram at

@darionne.laquel

and, visit Ciao Bella's website

to learn more and to shop the whole collection

online: theciaobellacollection.com
---
and spotlight

Making Their Mark: Polkadot England

Elevates Sleep & Loungewear

by Adrienne Dorsey

About 100 miles from London lies a stretch of

picturesque English countryside where Polkadot

England loungewear is made using rare heritage

knitting machines. The women and children's lounge

and sleepwear brand was born in 2008 and quickly

gained a cult following among customers who adore

their super soft and delicate, nostalgic designs. Now

the brand can be found in the Hamptons as well as

on fashion tastemakers including Lily Aldridge and

Danielle Bernstein.

Founders Debra Schoenau and Rachel Doneger, a

mother-daughter duo, came up with the Polkadot

England name after hearing Brian Hyland's classic

1960 tune "Itsy Bitsy Teenie Weenie Yellow Polkadot

Bikini" and tying in where their brand is expertly

made. Together they are a close-knit team whose

personalities and skills compliment each other

nicely as they strategically grow the popular brand.

"My initial idea was to create something

contemporary yet classically feminine, so to me

that meant loungewear that can be worn outside as

everyday essential pieces," said Debra, who began

her career as a buyer for major department stores.

"Customers and friends would make comments like

'this brand is amazing, it should be in everyone's

closet, the pieces are incredibly soft, special and

delicately detailed' so I decided to expand on my

designs."

Polkadot England fills the need for cozy and

attractive clothing women can effortlessly wear

everywhere- no need to change outfits before

leaving the home. Camisoles, turtlenecks, chemises,

shorts, joggers and robes are carefully crafted using

British heritage knitting and the right blend of super

soft materials.

24
---
Debra and Rachel also noticed a demand for

matching mother-daughter and mother-son

clothing and found a way to make coordinating

sets. Sailor stripes and vintage hearts on classic

silhouettes lend a timeless feel to the children's

collection.

Drawing inspiration from beauty in all forms, Debra

translates these images into her designs while

focusing on wearability and helping her devoted

customers feel pretty in Polkadot England's casual

yet elevated offerings. She closely follows readyto-wear

trends and then thoughtfully translates

them to work with the Polkadot England aesthetic.

"Our soft fabrics are unique blends of special

yarns giving rise to garments that our customers

don't want to take off," said Rachel, who is the

CEO of Polkadot England. "Our brand has a

physical presence in the Hamptons, in an amazing

store we own called RELAX."

In addition to their Hamptons location, Polkadot

England is sold at select retailers, including

LoveShackFancy, and online.

In a time of uncertainty amidst the pandemic,

with brick & mortar shops temporarily shuttered,

the brand seamlessly pivoted to focus more

on e-commerce sales. Providing comfort to

families with soft, cute separates they can wear

while staying safe at home and hearing the

positive feedback from customers fuels Polkadot

England to continue. The increased demand for

loungewear has also enabled Polkadot England

to give back to various charitable causes and

employ local freelancers.

Looking ahead to the future, Polkadot England

plans to expand their sizing as well as availability

worldwide. Their devotion to exquisite comfort

and accessible style will remain the same.

Shop their collection online at

www.polkadot-england.com and follow them

on Instagram @polkadot.england to learn more.

pictured above, Rachel and her son Henry
---
Fashion

Stay-at-home

Summer mood:

Cuban cool vibes

Summer often brings many vacation plans. Whether

we were taking family camping trips or travelling

aboard, the opportunity to be submerged in other

cultures and experience new places are favourite

memories of childhood summers. With much of

the world on lockdown and international travels

entirely off-limits, it's safe to stay that most of us

will be spending our summer at home. So, we were

delighted to be virtually transported on vacation

when designer Alissa Bertrand shared her latest

mini-fashion collection with us.

Her story is familiar - Alissa is a creative mom who

designs for her three daughters -however, her

method is unlike any other! All of Alissa's garments

are created almost entirely out of deconstructed

vintage adult clothing, thrift finds and repurposed

fabrics. She blends contemporary and vintage

silhouettes with sustainable and eco-friendly

production; the outcome is genuinely one-of-akind,

bespoke outfits for her girls.

The colours and emotions of Cuba inspired this

summer capsule collection, which a variety of

features dresses and matching separate sets. With

the culture and people flowing through every colour

and flower, mixed prints and style capture a summer

well spent. We couldn't be more excited about this

summer mood. We imagined Alissa's

family vacation Cuban scrapbook

may look something like this!

Be sure to follow along with Alissa

and her daughters on Instagram at

@jabellafleur

26
---
Teen scene

accessorize

AlaraJale

WITH

Accessorizing is arguably the most

fun part of putting together an outfit,

and we love to see kids and teens

personalities shine through with how

they decide to compliment their looks!

This summer, we reached out to Berlin-based

Instagram influencer, Tik-

Toker and model, Alara Jale, to share

her favourite summer accessories.

From hats to shoes and jewellery, Alara

has picked some of the cutest pieces

tweens, and teens will love!

Beach Racket Set by Vilac

CLICK TO SHOP!

sunglasses by CHLOÉ

Pool float by The nice fleet

Sneakers by Converse

hat by SONIA RYKIEL PARIS

28

beach bag by CHLOÉ
---
photograph by Bear & Pine

bucket hat by CHLOÉ

sandals by BIRKENSTOCK

necklace by With Love Darling

hair clip by MILLEDEUX

Bag by dolce & Gabbana

belt by gucci

Sterling Silver Alphabet Stud by Briati

Headband by Tia cibani

Sneakers by Converse

watch by nixon
---
TEEN SCENE

30
---
MeganStott

A quarantined interview with the teen star of our new

favourite web television mini-series Little Fires Everywhere.

remote photography by Lilly K. Photography

After (binge) watching every episode of the

American web TV mini-series Little Fires Everywhere,

we knew that we wanted to chat with one of the

youngest members of the cast, Megan Stott. The

17-year-old actress stars alongside Hollywood

powerhouses Reese Witherspoon and Kerry

Washington in the eight-episode series, based on

the 2017 novel by Celeste Ng of the same name.

Little Fires Everywhere premiered on Hulu in March

and internationally on Prime Video just last month,

and we were blown away by Megan's performance

in the series!

PCM: For those who haven't seen the show yet,

(without any major spoilers), can you describe

Little Fires Everywhere and how your character

fits into the storyline?

Megan: Little Fires Everywhere tells the truths about

motherhood, family and female relationships.

It is a story about how we perceive ourselves

in relation to what is seen by society. I think Izzy

brings to light some of the issues within her own

family. Specifically, her mother Elena's inability to

love her unconditionally but also her other family

relationships. Izzy's exploration of her sexuality

is unacceptable in her inner and outer circle and

doesn't fit into their ideas of female relationships.

Izzy is such a dynamic character. How did you

prepare for this role?

Izzy is such an amazing and dynamic character who

I loved playing. I did a lot of research to make sure

that Izzy's story was portrayed in the most genuine

light possible. I talked to many people who are

a part of the LGBTQ community to try and learn

of their experiences so I could better connect to

that side of Izzy. I interviewed high school kids to

understand some of their hardships better. Music

was also an influence for me and Izzy, making it

easier to connect to Izzy from that point.

What was the most challenging part of this role?

I think the most challenging part about playing

Izzy was the many layers that were going on inside

of her. At times I felt alone like Izzy, but I allowed

it and almost encouraged it because it helped

me to be very in touch with that part of what she

was experiencing. Izzy was very alone in her world

and really had no one she could reach out to and

express these emotions. Mia was a lifeline for her

because she could finally discuss these challenges

and come to accept herself.

In what ways are you similar to your onscreen

persona, Izzy?

I think that my love of the arts and music is something

that Izzy and I have in common. I also think that we

are strong-minded individuals, and we both stand

up for what we believe in. My personal experience

with bullying helped me better understand what

she was going through as well. I have grown so

much through Izzy and have learned so many things

about myself and others. I am so grateful that I was

given this wonderful opportunity.
---
As viewers, we watch Izzy's character unfold; she

goes through a lot in only eight episodes. Is there

anything that you learned from Izzy?

Throughout the series, Izzy becomes more aware of

who she is. She learns to be ok with that and develops

self-acceptance, and in this, she builds confidence.

That confidence has been projected into me. I have

become confident in my work and am making bigger

and bolder choices through acting and everyday life.

There are too many lessons to list that have come from

being a part of this amazing, strong production and

having played Izzy.

This mini-series touches on so many topics, from

sexuality to motherhood, and perhaps most timely,

white privilege and racism. While set in the 90s, it

felt like, at times, these characters were speaking

directly into our present. If there is just one

message you hope audiences take from Little Fires

Everywhere, what would it be?

I think Little Fires Everywhere touches upon some of

the many different layers of privilege, from the simple

to profound. Your different experiences shape your

understanding, and it is very common for people not

to realize the privilege they have benefited from. I

hope viewers come away from this show with a more

conscious awareness of the privilege that exists in our

society. One of the messages that Izzy tries to get

across is that you never know what a person is going

through. You don't know if they are struggling. You

don't know anything about anyone other than yourself.

Speaking of the 90s, we loved seeing all the

throwback styles throughout the show! If you

could keep one outfit from Izzy's closet, what

would it be?

Only one would be a really hard decision. I would

love to keep the outfit that Izzy wanted to wear to the

orchestra; she was so proud of it. It was so sick!! I love

the knee-length Doc Martins and the suit jacket!

Is that the closest to your personal style? How

would you describe your style?

Izzy's style is cool, but not my personal style. Sometimes

I will wear what she would wear now because I feel

comfortable in that too, but I only wear it if I'm feeling

a bit edgy. I have a variety of clothing I wear. I love

a good frilly pastel shirt, but I also love oversized

sweatshirts. I do wear more girly outfits, like dresses,

than Izzy. However, I adore a good pair of Docs!!

If you could write an epilogue for Izzy, what future

would you hope/imagine for her?

I would hope that Izzy finds Mia and talks with her and

is able to have guidance. However, I think that Mia

would eventually send her back to her own mother. I

hope that Izzy and Elena can come to terms with their

differences. I believe people can do better but do not

change, so it will be a matter of how much they can

tolerate. I also hope that the siblings build a more

meaningful existence and that they can come to a

place of understanding Izzy and grow and evolve to be

better people.

What does the future hold for you, do you have

any new projects we can look forward to?

I am in a feature film called "YES DAY" with Netflix

starring Jennifer Garner and Jenna Ortega. I play

LAYLA, who is the best friend of Jenna's character. I

hope that we can all get back to work healthy and safe.

Finally, during these uncertain times, what are you

doing to stay positive?

I have spent time reaching out to friends and checking

in with them. I feel so fortunate to be healthy. Spending

time with my family has been fun, and I am learning

new skills like watercolor. There are so many bike trails

here in Arkansas, so I have taken a lot of bike rides and

go boating on the lake sometimes.

I have been doing some virtual conferencing interviews

regarding Little Fires Everywhere, and that always has

me in a happy mood. I try to live my life as normal as

possible and not be lazy, but of course, sometimes you

have those days!

I spend a lot of my time working on my craft and

reacquainting myself with my goals. I am trying to get

the most out of isolation and hit the ground running

when we are on the other side of this.

Find Megan Stott on Instagram @itsmeganstott

and be sure to watch her in Little Fires Everywhere on

Hulu or Prime Video!

32
---
34
---
Lifestyle

Quality

Quarantine

Time

Time

by Nora Hogerty

at home can get mundane, especially

when you have run out of fun, engaging

activities to activate the whole household!

Not to worry. This doesn't mean you must

stare mindlessly at Netflix all day, plenty of

fun can be had around your home!

PLAY

First up, we have the

oldies but goodies!

These revisited energy

releasers are sure to keep the mind and

body flowing! Whether it be a Bop-It

family competition, a Nancy Drew style

scavenger hunt (Hardy Boys welcome as

well), or a traditional game of Monopoly,

inject life at home with a blast of

energy from the past.

st Frank Playing Cards

Monopoly Junior

36

bop-it by hasbro
---
Create

Next, it's time to

pull at the creativity

strings and break

out crafts for the whole family! Tie-Dye is a

classic summer activity; did you know the

process can be made more eco-friendly

and kid-friendly by using food scraps?

Natural fabric dyeing using Avocado pits and

skins (gives a salmon pink color), is a fun and

sustainable way to add some color to your life.

Here's how to do it:

1. Ensure the dye sticks to your fabric, combine four parts

water with one part vinegar, then boil your soon- to- be dyed

garment in this mixture for an hour.

2. Enjoy the food behind the peel, then chop up the peel and add this

and the pit to a second pot of salted boiling water. After letting that simmer

for an hour, turn off the heat and you are ready to dye!

3. Add in your damp fabric, and wait until the next morning to check on your masterpiece.

This process can be replicated with onion skins (gives a buttery yellow color), black beans

(gives a light blue color), and turmeric (gives a golden yellow color)!

Pirate tee by boboli

Princess costume by Meri Meri

Tea Party Set by Janod

Imagine

Finally, bring out the

dress-up box! Host a

themed dinner party for the family that will have

your kids plotting their best outfits and waiting to

dazzle you in the kitchen at 5 pm!Themed dinner

attire can range from English royalty enjoying

a cup of tea before bathtime, adventure-driven

pirates who are eating a sit-down meal before

their trip off to adventure land, to even dressing

up as a character from your family's favorite TV

show or movie (Lion King here we come)!

Select a menu to suit your theme or

incorporate favorite foods to create

dishes your kids will love, like pirate

pizza or magic wand fruit kabobs!

lion necklace by gunner & Lux
---
Lifestyle

Virtual Kids

Club brings young

artists together

in lockdown

Children's fashion photographer

Emily Koryna shares how she

has been staying busy during

the pandemic - teaching kids

virtual photography classes!

When COVID-19 caused much of the business world

to shut down, Canadian-born now Berlin-based

photographer Emily Kornya designed to share her

love for photography with some eager students,

kids! Her virtual Zoom class has been bringing more

than just photography tips to children around the

world. Over the past few months, the sessions have

been boosting spirits and encouraging new (longdistance)

friendships.

We love this project and we were excited to chat

with Emily all about it in this interview!

PCM: How did you come up with the idea for the

After School Photography club?

Emily Kornya: Actually, my Dad first suggested that

I should do some photography classes for kids

virtually, as he was seeing a lot of people taking their

businesses online (he was mostly inspired by the Yoga

studio we go too, and how they started virtual classes).

We talked about the idea, and I thought I could do

something really fun with it, both benefiting the kids

and giving them something interesting, interactive

and social to do, while also giving the parents a short

break in the day.

Emily Kornya and some of her photography students.

Can you tell us a bit about the lesson plan?

The first lesson I gave them taught some basics, like

the rule of thirds (imaging a grid of 9 squares on a

photo, and aligning the important parts on that

grid), different ways and styles to take photos, and

also some tips on what not to do (like chopping off

limbs of people). We also went through different

editing functions. The kids use both cameras and

smartphones; most use smartphones though, as not

everyone has access to a camera. Each week we do

a new challenge of a style of photography. Here are

some of the activities we have done so far: making

a story with photos, a photo scavenger hunt (this is

a favourite, so I did one with riddles too), recreating

vintage photos, chalk drawing photography, creating

scenes with toys to photograph, texture, animals,

expression & eyes and a bird's eye view!

How many kids are participating?

Each class differs as some kids can't make all classes,

but, in the North American group, a lot of kids join,

usually around 7-12! The North America group has

been going on since the end of March/beginning of

April, and it's really cool as the kids have started to get

to know each other, and we have a little community

feeling going on. They talk with each other about

their interests and their photos. Some even ask, "Can

I screenshot that? It's so cool!"

What is the age range?

The typical age range is 6-10; however, if there is a

5-year-old who loves taking photos and also has the

38
---
patience, (as I do talk to the kids, and we go over each

other's photos at the end, some little ones may not have

the patience for all that talking) I am happy for them to join.

I am also happy for older kids to join. I just tell their parents

that there are younger kids in the group, so if they don't

mind being in a group with younger kids, they are welcome

to join.

And, from how many countries do you have kids

participating? I have two groups going right now, and

they both cover lots of places! My North America group

is with kids from the USA and Canada. I've had kids from

Toronto, LA, New York, Long Island, Atlanta & Nashville. In

the Europe/UK group (which also includes other countries

with a similar time zone), I've had kids from Madrid,

Barcelona, Valencia, London, Birmingham (England), Milan

and even from Pretoria, South Africa! It is really amazing for

these kids to get to meet and communicate with other kids

from around the world, or their own country. Now, since I

am back in Berlin (I was in Toronto when the self-isolation/

lockdown started), I will merge the two classes so it will be

even more international! Some of the kids I have worked

(photoshoots) with before, but others I really hope to work

with in the future!

photograph by Mia Age 8

Birmingham, England

photograph by Victoria Age 10

Valencia, Spain

Are you teaching in different languages?

I only teach in English, as I am only fluent in English.

Hopefully, I am fluent in more languages one day! However,

I have many kids doing the class who have English as a

second language, so I figure this is also a great opportunity

for them to practice in a fun environment.

Do you plan to continue for a summer photography

club? Yes, I do! I also would love to hold these in real life

once everything is back to normal! I hope to do that in

some of the cities where I've had a lot of popularity.

photograph by Everleigh Age 7

Los Angeles, CA

After learning about this awesome project, I'm sure our

readers would like to know if you are accepting more

students and what is required for kids to be involved!

I am always accepting new students! All you need is a

camera or smartphone and creativity to join; the class is for

everyone of all abilities!

If you are interested in having your child join the Emily's

"After School" Photography Club, find and follow

her on Instagram @emilykornya

photograph by Graeme Age 6

Atlanta, GA

photograph by Maya Age 9

Long Island, NY
---
Lifestyle

40
---
Manuela

and her enfants sauvages.

by stylist María Montané

photography by Manuela Franjou

When I met Manuela Franjou, four years

ago in Spain, her little daughter had just

started walking, and Cyan, her youngest

boy, wasn't even planned but, from early

on, I knew styling this family and becoming

a part of their story would be special.

Manuela and her partner decided

almost three years ago to raise their four

children in a natural environment with a

simple life, where they could enjoy their

interests, create and grow more freely.

They now live in Girona, a community

about one hour from Barcelona and near

the French border where they call an old

farmhouse home. From their property, all

that can be seen are trees and fields. But

the family enjoys their secluded lifestyle.

The moments when they find themselves

altogether, cooking, reading, taking care

of the garden, talking, ordering, painting,

building, weaving, inventing, playing...

living!

I would say that I'm not the type of person

who feels like I can live far from a big city,

but with every photo she shares, I wish I

had the opportunity to start all over and

live just like them.

As long as I've known Manuela, I've

been moved by how she captures her

family's bond. Cooking, dancing ballet

while wearing Little Creative Factory tulle

dresses, The Simple Folk onesies and Belle

Chiara shoes; the children stare at beautiful

candles and blow them. They spend time

brushing their hair, and they swing from

the tree in their huge backyard. Around

sunset, they read books altogether, and

at dinnertime, they will surprise you with

a new recipe they created. Home is the

heart of this family, and their place is cozy,

warm and invites you to take a sip of oat

milk while dipping chocolate chip cookies,

of course, homemade.

Committed to sustainable and

environmentally friendly garments,

Manuela has very clear ideas about what

her family wears. She won't use brands

that don't live up to these values. For

me, styling the family is not an easy task,

and it comes with its challenges; we

dress Manuela's children in mostly plain

garments, in bold and neutral colours

using a variety of natural fabrics. Manuela

knows what she wants to transmit through

her photos, all of which have her DNA. We

have now been working together since

2016, and the results are lovely.

The daily activities Manuela shares

transport you to their home and make

you want to live their life. Is it present?

Or is it just a storytale? Being at home

with Manuela during a pandemic doesn't

look like being in confinement. Instead,

it looks like joy and freedom and natural

childhood.
---
The Magic Of

Quarantine

Photography by Greer Rivera

Shot at home with her daughter, Tanzin.

42
---
MODEL'S OWN: POLKA DOT TOP BY ULTRA VIOLET KIDS, SNEAKERS BY LACOSTE

EVERLASTING: TIGER LEGGINGS

MERI MERI: ICE CREAM NECKLACE & BUNNY
---
SMILEY LEOTARD VIA EVERLASTING WARDROBE

FEATURED MERI MERI ACCESSORIES AND TOYS:

SEQUIN CAPE, WAND, HEART PILLOW, SUNSHINE BAG,

BUNNY, PEGASUS, RAINBOW WALL HANGING, TRIANGLE

BANNER

54 44
---
46

MODEL'S OWN: CAT EAR HEADBAND BY CREW CUTS,

SHORTS BY MAR MAR COPENHAGEN.

EVERLASTING WARDROBE: LIME T-SHIRT

MERI MERI: BUNNY
---
MODEL'S OWN: SET BY LULALAND
---
56 48
---
DRESS BY WYNKEN

MODEL'S OWN: DRESS BY EGG NEW YORK

58 48 50
---
52
---
MODEL'S OWN: SWIM SUIT BY CREW CUTS

EVERLASTING WARDROBE: FRIDA KAHLO SHORTS (PICTURED

MERI MERI: SUNSHINE BAG

AVA B WEARS: DRESS & JACKET BY MOLO
---
DRESS BY FINGER IN THE NOSE, BOW BY KNOT HAIRBANDS

54
---
Art Direction by Diana Tamayo & Mária Montané

Photography by Diana Tamayo

Syling by Mária Montané

Illustrations by Demet Özge Aykan
---
62 56
---
SWIMSUIT VIA HEYKIDDO.MX
---
58

SHIRT BY BONMOT ORGANIC, SHORTS BY BELLE CHIARA,

HEADBAND BY KNOT HAIRBANDS
---
SWEATSHIRT BY LONG LIVE THE QUEEN, SWIMSUIT BY BELLE CHIARA
---
60

TERRY SWEATSHIRT BY LONG LIVE THE QUEEN,

PANTS BY BONMOT ORGANIC
---
72 62
---
64
---
SHIRT AND PANTS BY BONMOT ORGANIC, SKIRT AS CAPE BY LITTLE

CREATIVE FACTORY, HEADBAND BY KNOT HAIRBANDS
---
76 66
---
VIRTUAL

SUMMER

Photography by Tenley Clark.

Shot at home with her daughter, Lila.
---
CLOUD DRESS BY SPLENDID, SHOES BY H&M

78 68
---
80 70

LUNA WEARS SUIT BY BALMAIN, BLOUSE BY

SIMONETTA, SNEAKER BY BALMAIN
---
ROMPER BY STELLA MCCARTNEY KIDS,

HAT BY H&M, SHOES BY H&M
---
82 72
---
DRESS BY MINI RODINI, SHOES BY ZARA KIDS,

SWEATBAND BY THE ANIMALS OBSERVATORY
---
84 74
---
ROMPER BY TINY WHALES, HAT BY ZARA KIDS,

SOCKS BY BANDY BUTTON, SANDALS BY ZARA KIDS
---
76

PHOTOGRAPHY & STYLING BY SHANNON WEIGHT

SHOT AT HOME WITH HER KIDS,

HENRY, IMOGEN & WILLIAM
---
LEFT TO RIGHT:

TOP BY FIN AND VINCE, SHORTS BY PIUPIUCHICK

TOP BY FIN AND VINCE. GLASSES BY VERY FRENCH GANGSTERS
---
78

LEFT TO RIGHT:

SHIRT AND SHORTS BY BOBO CHOSES FROM MARIGOLD MODERN

SHORTS BY BOBO CHOSES, TOP BY FRESH DINOSAURS.

SHIRT AND SHORTS BY ANDORINE VIA KODOMO BOSTON
---
ON HER: TOP BY FIN AND VINCE
---
80
---
ON BOYS: SWIMWEAR BY BOBO CHOSES

ON HER: TOP BY NICO NICO FROM MARIGOLD MODERN,

SHORTS BY CYRILLUS FROM MARIGOLD MODERN
---
82

SHIRT AND SHORTS BY BOBO CHOSES,

FROM MARIGOLD MODERN
---
SHIRT AND SHORTS BY ANDORINE FROM KODOMO BOSTON,

SHOES BY GOLDEN GOOSE, BICYCLE BY LINUS BIKE
---
84

(LEFT) DRESS BY JNBY, BLOUSE BY WOLF AND RITA, SHORTS BY CREWCUTS, TIGHTS BY H&M, SHOES: MODEL'S OWN

(RIGHT) BLAZER BY ENDLESS ROSE, KIMONO: VINTAGE, TOP BY H&M, CHOKER BY ROSEMARIE
---
86

TOP AND SHORTS BY FIN AND VINCE

GLASSES BY VERY FRENCH GANGSTERS

SHEET BY KIP AND CO USA
---
summer

staycation

PHOTOGRAPHY & STYLING BY JESSICA ZINDREN

SHOT AT HOME WITH HER DAUGHTERS STELLA & LILY

88
---
STELLA WEARS, SHIRT BY IKKS, PANTS BY

RYLEE AND CRU, BELT BY THE ANIMALS

OBSERVATORY, SANDALS BY ZARA
---
90

LILY WEARS SWEATER BY HUXBABY,

SHIRT BY CHASER KIDS, SKIRT DL1961
---
STELLA WEARS SHIRT BY BÚHO, SKIRT BY

MOLO, SANDALS BY ZARA
---
92

LILY WEARS SHIRT BY MINI RODINI,

SKIRT BY ANIMALS OBSERVATORY
---
94

LILY WEARS DRESS BY CAROLINE BOSMANS,SOCKS BY

MOLO, SNEAKERS BY ZARA, WATCH BY MINI KYOMO
---
STELLA WEARS HAT BY ANIMALS

OBSERVATORY, DRESS BY HUNDRED

PIECES, BELT BY BEAU LOVES
---
96

SHIRT BY ROMEY LOVES LULU, DRESS BY STELLA

MCCARTNEY, HAT BY HERSCHEL
---
LILY WEARS SHIRT BY NUNUNU, SHORTS BY BOBO CHOSES,

BOOTS BY OLD WEST
---
98

Photography: Liselotte Habets

Styling: Iris Meindertsma

Hair and makeup: Esther Steen

Models: Tensa, Aoki & Lena @Hip4Kidz
---
ON LEFT: TENSA WEARS DENIM BUCKET HAT BY ZARA, ZEBRA

BATHING SUIT BY MAED FOR MINI VIA ORANGE MAYONNAISE

ON RIGHT: AOKI WEARS YELLOW KNITTED TOP AND PANTS

BY MAED FOR MINI VIA ORANGE MAYONNAISE,

SANDALS BY DR. MARTENS, GLASSES BY CHLOÉ

LENA WEARS SHIRT AND SHORT BY MINI RODINI VIA

ORANGE MAYONNAISE, SNEAKERS BY ZARA

TENSA: WEARS SHORT BY MAED FOR MINI VIA

ORANGE MAYONNAISE, SNEAKERS BY ZARA
---
110 100
---
LEFT TO RIGHT:

AOKI WEARS STRIPED PLAYSUIT BY GRAY LABEL VIA

ORANGE MAYONNAISE, KNITTED CROWN BY OEUF NYC

VIA ORANGE MAYONNAISE, GLASSES BY CHLOÉ

TENSA WEARS TOP BY LES PETITS VANDALES VIA

ORANGE MAYONNAISE, SHORT BY PETIT BATEAU

LENA WEARS TOP AND PANTS BY MINI RODINI

VIA ORANGE MAYONNAISE
---
102

LENA WEARS BUCKET HAT BY MINI RODINI VIA ORANGE MAYONNAISE, SHIRT BY ZADIG & VOLTAIRE

KIDS VIA ORANGE MAYONNAISE, SHORT BY REPLAY, SOCKS BY THE ANIMALS OBSERVATORY VIA

ORANGE MAYONNAISE, BOOTS BY BERGSTEIN
---
TENSA WEARS SWEATER BY REPLAY,

PANTS BY TUMBLE 'N DRY
---
TENSA WEARS TSHIRT BY SHIRT ZARA

104

TENSA WEARS TWIST HEADBAND BY GRAY LABEL

VIA ORANGE MAYONNAISE, ZEBRA BLOUSE

AND SKIRT BY MAED FOR MINI VIA ORANGE

MAYONNAISE, JELLY SANDALS BY TINY COTTONS

VIA ORANGE MAYONNAISE,

AOKI WEARS DRESS BY MINI RODINI VIA ORANGE

MAYONNAISE, SOCKS BY HEMA, SNEAKERS BY

VEJA, GLASSES BY CHLOÉ
---
TENSA WEARS TSHIRT BY SHIRT ZARA
---
102 106

AOKI WEARS SHIRT BY IKKS, SWEATPANTS BY LES

PETITS VANDALES VIA ORANGE MAYONNAISE
---
AOKI WEARS YELLOW KNITTED TOP AND PANTS

BY MAED FOR MINI VIA ORANGE MAYONNAISE,

SANDALS BY DR. MARTENS, GLASSES BY CHLOÉ
---
108

AOKI WEARS JUMPSUIT BY THE

ANIMALS OBSERVATORY VIA ORANGE

MAYONNAISE, GLASSES BY CHLOÉ
---
TENSA WEARS DENIM BUCKET HAT BY ZARA,

ZEBRA BATHING SUIT BY MAED FOR MINI VIA

ORANGE MAYONNAISE
---
you'll never find a

rainbow if you're

looking down

PHOTOGRAPHY BY DAVE KENNEDY,

SHOT AT HOME WITH HIS DAUGHTERS TAYLOR & LOGAN

KOMMETJIE, CAPE TOWN, SOUTH AFRICA

TITLE QUOTE - CHARLIE CHAPLIN

110
---
112
---
114
---
116
---
118
---
120
---
LOCK DOWN

DRESS UP

PHOTOGRAPHY BY PAUL THORBURN

SHOT AT HOME WITH HIS KIDS LILY & THEO

122
---
124
---
126
---
124 128
---
130
---
LA PLANQUE

ART DIRECTOR: JULIE MERLE OF OPOS AGENCY

PHOTOGRAPHER: LAURIE BASSET OF LABO-OPOS

WARDROBE STYLIST: EMMANUELLE DELUZE OF OPOS AGENCY

HAIR STYLIST: ANITA BUJOLI OF BACKSTAGE AGENCY

MAKE UP: RIKA BITTON

MODELS: JULIE & LYLOU OF SUGAR KIDS

132
---
LYLOU (LEFT) WEARS HAT BY PETUSA, JACKET BY SANDRO HOMME,

SHIRT BY FIGARET, MARINIERE BY KILIWATCH SHOP, PANTS BY

BONPOINT, SOCKS BY BERLINGTON, SHOES BY DOC MARTENS

JULIE (RIGHT) WEARS VINTAGE GREEN HAT, BLACK HAT BY PETUSA,

VINTAGE JACKET, MARINIERE BY PETIT BATEAU, PANT BY REPETTO,

SWEATER BY ERIC BOMPARD, SHOES BY DOC MARTENS
---
134
---
LYLOU WEARS COAT AND SHIRT

BY HIPPY MARKET SHOP, PANT BY KIABI, BELT

FROM STYLIST, SHOES BY DOC MARTENS
---
LYLOU (BELOW) WEARS BERET AND TURTLENECK BY KILIWATCH SHOP

(BELOW) COAT BY BABY DIOR, DRESS BY REIKO,

136
---
138

JULIE WEARS COAT BY BABY DIOR, DRESS BY REIKO,

HAT BY BOBO CHOSES AT CENTRE COMMERCIAL KIDS PARIS.
---
LYLOU (LEFT) WEARS COAT AND SHIRT

BY HIPPY MARKET SHOP, PANT BY KIABI, BELT

FROM STYLIST, SHOES BY DOC MARTENS
---
140
---
LYLOU WEARS SWEATER BY MILK & BISCUITS,

PANTS AND SCARF BY HIPPY MARKET SHOP,

SOCKS BY JIMMY LION, SNEAKER BY PEPE JEANS
---
142

JULIE WEARS BLANKET BY HIPPY MARKET

SHOP, STRIPED JOGGING ATTIRE BY MINI RODINI

AT CENTRE COMMERCIAL KIDS PARIS
---
(BELOW) SHOE BY RIVIERAS

(RIGHT) LYLOU WEARS PANT BY THE CANPAMENTO,

SHIRT BY ERIC BOMPARD, JACKET BY SCOTCH AND

SODA, SOCKS BY JIMMY LION, SNEAKERS BY VEJAS
---
130 144
---
DRESS BY URBAN OUTFITTERS, SHIRT BY

NASTY GAL, HEADBAND BY ASOS
---
146

SHIRT BY LENNI THE LABEL, BELT AND

PANTS BY URBAN OUTFITTERS
---
SHIRT BY BEE & THE FOX,

JEANS BY THE GAP
---
148
---
150
---
152 98
---
Siblings

PHOTO: ANDRÉ GLUKHOV

MODELS: LORENZO, ALESSANDRO

& BETTA OF KIDS LONDON MANAGEMENT

AND B TALENT SCOUT

SHOT VIA FACETIME
---
100 154
---
156
---
KNIT ROMPER MEBI, SHIRT BY H&M, SHOES

BY EARLY DAYS, SOCKS BY STORY LORIS
---
158
---
160
---
Brand

Directory

ancient-greek-sandals.com

andorine.com

asos.com

atelieratsuyoetakiko.com

babeandtess.com

bandybutton.com

barilynn.com

beauloves.co.uk

bellechiara.com

bergsteinfootwear.com

Berlington (socks)

billiesmarket.fr

birkenstock.com

bobochoses.com

boboli.uk

bonmotbrand.com

bonpoint.com

bonton.fr

boonsupply.com

briati.us

bubobcn.com

carolinebosmans.com

catimini.com

centrecommercial.cc

chanel.com

chaserbrand.com

chloe.com

Ciao Charlie

cientashoes.com

cocovillage.ca

converse.com

creamie.eu

cyrillus.com

dior.com

dl1961.com

donsje.com

drmartens.com

earlydays.ltd.uk

egg-baby.com

endlessrose.com

ergopouch.com

eric-bompard.com

everlastingwardrobe.com

figaret.com

finandvince.com

fingerinthenose.com

freshdinosaurs.com

gapinc.com

giggle.com

goldengoosedeluxebrand.com

gonovesta.com

gosili.com

gray-label.com

gucci.com

gunnerandlux.com

hema.com

herschelsupply.com

heykiddo.mx

hippy-market.fr

hm.com

howtokissafrog.com

hundredpieces.com

huxbaby.com

ikks.com

ilgufo.com

Iloveplaytime.com

janod.com

jcrew.com

jeunepremier.be

jimmylion.com

jnby.us

junia-co.com

kadomoboston.com

kiabi.com

kidichicusa.com

kidsonthemoon.com

kiliwatch.paris

Kipandco.com

knothairbands.com

lacoste.com

lalikids.com

lenni-shop.com

les-gamins.com

lespetitsvandales.com

linusbike.com

littlecreativefactory.com

longlivethequeen.com

loveshackfancy.com

lulaland.net

maedformini.com

marigoldmodern.com

marmar.dk

merimeri.com

milkandbiscuits.com

milledeux.com

minikyomo.com

minirodini.com

molo.com

monnalisa.eu

mountainbuggy.com

munsterkids.com

nastygal.com

nessibyrd.com

niconicoclothing.com

nixon.com

noe-zoe.com

nununuworld.com

oeufnyc.com

olliella.com

omibia.com

orangemayonnaise.com

paperwing.com.au

pediped.com

pepejeans.com

petit-bateau.co.uk

petusa-paris.com

piupiuchick.com

polkadot-england.com

reikojeans.com

repetto.com

replayjeans.com

River and rosy

rivieras.com

romeyloveslulu.com

rosemariejewelry.net

ryleeandcru.com

sandro-paris.com

shop.hasbro.com

shopmelissa.com

simplekids.be

smallable.com

soniarykiel.com

splendid.com

stellamccartney.com

stfrank.com

stickybesocks.com

store.dolcegabbana.com

storyloris.it

theanimalsobservatory.com

thebeeandthefox.com

theciaobellacollection.com

thenicefleet.com

thewesterncompany.com

tiacibanikids.com

tinycottons.com

tinywhales.com

tocotovintage.com

tumblendry.com

ultravioletkids.com

urbanoutfitters.com

veja-store.com

veryfrenchgansters.com

vilac.com

wander-n-wonder.com

winkniks.com

withlovedarling.com

wolfandrita.com

zadig-et-voltaire.com

zara.com

zuluandzephyr.com

134