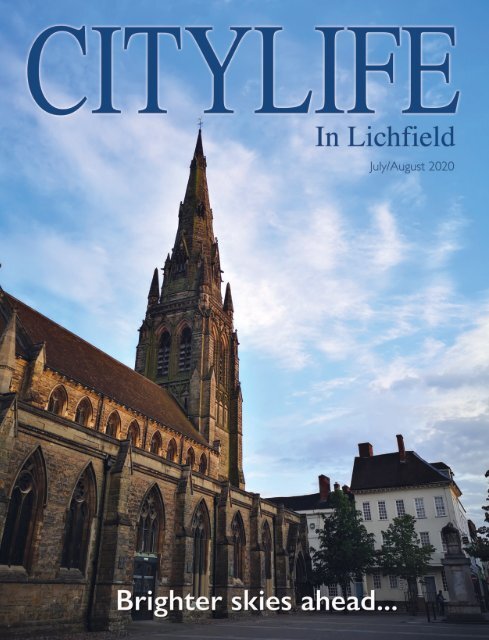 Citylife in Lichfield July and August 2020
Brighter Days Ahead! Our combined July and August edition will take you all the way through the rest of summer in lovely Lichfield and is packed with our usual mix of features, recipes, articles, local news, history features, competitions and much, much more!
Brighter Days Ahead! Our combined July and August edition will take you all the way through the rest of summer in lovely Lichfield and is packed with our usual mix of features, recipes, articles, local news, history features, competitions and much, much more!
SHOW MORE
SHOW LESS
You also want an ePaper? Increase the reach of your titles
YUMPU automatically turns print PDFs into web optimized ePapers that Google loves.
3
---
Welcome to

CITYLIFE

Welcome to CITYLIFE in Lichfield, a monthly magazine

bringing you our pick of the city's news, events and stories.

Each month CITYLIFE in Lichfield is delivered to 18,000

businesses and homes in Lichfield, Kings Bromley, Fradley,

Alrewas, Hill Ridware, Whittington, Stonnall, Shenstone,

Little Aston, Hammerwich, Burntwood and Longdon,

completely free of charge; bringing you the best that the

city has to offer.

Each issue features heritage stories exploring the rich

history of our area, plus competitions, interviews and the

latest in fashion and style.

Got a story or charity event you want to share with our

readership? Think you've snapped an image that captures

the spirit of the city? We want to hear from you!

Our business is bringing you Lichfield's city life.

CITYLIFE Contacts

Editor - Kristen Lackajis 07885 380632

kristencitylife@gmail.com

Features - Jono Oates 07785 757201 jonocitylife@gmail.com

Advertising -

Steve Brown 07740 166497 stevebrowncitylife@gmail.com

Rebecca Hill 07970 513144 rebeccahillcitylife@gmail.com

Production - Helen Smith 07967 154187

helencitylife@gmail.com

Citylife In Lichfield Ltd

PO Box 7126 LICHFIELD WS14 4JS

CITYLIFE in Lichfield and CITYLIFE in Rugeley magazines

are not connected to any other publication or publisher, and are

wholly owned by CITYLIFE in Lichfield Ltd.

Citylife In Lichfield

www.citylifeinlichfieldltd.co.uk

Citylife in Lichfield Ltd does not endorse any business or organisation

appearing in these pages, and the publication of any advertisement,

editorial, event listing or advertising editorial does not constitute an

endorsement by Citylife in Lichfield Ltd.

Your Local Magazine

Front cover courtesy of Jono Oates

Inside...

14 Dine in Style

A new section highlighting some of the city's

finest eateries

.............................

26 Postcards from the Park

The story of Beacon Park told in picture form

.............................

32 Plaques of Lichfield

Jono Oates takes us on a tour of local historical

buildings

.............................

38 Cutest Pets

Photos of your furred and feathered friends

Looking to the Future…

It feels so good to be back in printed form again after what seems

like forever. We're delighted to welcome back all of our dedicated

readers, and hopefully we've added a few new readers to the list

too following our overwhelming response with the digital version

of the publication.

We'd like to say a huge thank you to our readers and advertisers,

for your unwavering support over the last few months. And also,

we'd like to reassure people that, although we are back in print and

delivering our magazines once again, all necessary precautions are

being taken. Social distancing is still very much being adhered to,

and our dedicated team of distributers are following guidelines and

regularly sanitising hands.

As we emerge from the darkness into the light it certainly feels like

the world is a slightly different place. There have been changes, both

good and bad, however hopefully things will soon begin to even out

again and normal life as we once knew it shall begin to resume.

I believe one of the positive outcomes from the lockdown

experience is that many of us have a new-found respect for

keyworkers, who have helped carry us through the pandemic, so to

these people I would like to say, simply, thank you.

We also appear to be a more appreciative society, taking pleasure

in the little things in life that we had perhaps let slip by unnoticed.

A walk in the park, a meeting with friends, a face-to-face chat with

a loved one – these are all things we should never take for granted.

Once again, thank you to all for helping to bring Citylife in Lichfield

back!

Krissy
---
5
---
LOCAL NEWS

Lichfield Litter

Legends

Lichfield Litter Legends was initially conceived

in October 2019 by The Active Leisure Group.

It operates out of Curborough Community

Centre and meets every Tuesday with a group

of volunteers to litter pick around the

Curborough and Chadsmead wards.

Since the coronavirus however, the group has

been forced to work alone, in little pockets, all

over the Lichfield District. Just lately it has

opened up to include pairs of volunteers and,

recently to groups of up to six people working

at a social distance.

Last month, the group decided to spread its

wings and separate from Active Leisure to form

an unincorporated charitable association in

order to take it in other directions. There are

now 35 volunteers covering a much wider area

with most members litter picking at least twice

a week.

Since Christmas the group has cleared an

estimated 2.5 tonnes of litter from the streets,

parks and woodland.

Its mascot, little Lennie the hedgehog, has

recently become the subject of a children's

book that is about to go into publication. Once

back to normality, the group intends to

formulate an educational pack and offer this to

all the local schools to educate children about

litter.

If you wish to join, visit the Facebook page

@Lichfield Litter Legends or follow on Twitter.

St Giles Charity

Shops Opening

St Giles Hospice shop manager Nicola Downes (left)

and Shops Area Manager David Bush.

St Giles Hospice has begun a phased re-opening

of its shops, including the stores in Burntwood

and Cannock, in accordance with Government

guidelines, on reduced hours between 10am-

4pm, Monday to Saturday.

Only a limited number of customers will be

allowed into shops at any one time and

shoppers will be encouraged to pay by card

where possible. Intensive cleaning programmes

will be in place and there will be antibacterial

cleaning stations for customers at shop

entrances.

All donated items will be stored for 72 hours

Burntwood

Town Council

before being processed, and although changing

rooms will not be open there is a full refund

policy on anything that needs to be brought

back, with returned items being quarantined for

a further 72 hours.

Because some of the charity's 31 shops only

have limited space, further shops will re-open

only when social distancing guidelines allow.

Updates will be posted on social media and at

www.stgileshospice.com/shops.

.......................................................................................

Oxygen Tank Attracts

Crowds

A giant Air Liquide

tanker proved an

unlikely attraction,

and caused delays

to local roads, in

mid-June when a Photograph by Clive Read

40-metre long

medical grade oxygen cylinder journeyed

through Staffordshire.

Crowds lined the roads to catch a glimpse of

the police-escorted abnormal load, which

measured more than 6-metres wide, as it

skirted Shenstone and passed through Hints.

The tank's excursion, from Cheshire to

Warwickshire, took a total of five days to

complete due to being restricted to a low

speed.

In line with Government advice on easing the

lockdown Burntwood Town Council has been opening

up its services to the public. The following opening

hours are now in operation:

1. The Council Office is open to visitors from 9am to

5pm Monday to Friday. Unfortunately we are not yet

in the position to open up our meeting rooms.

2. Burntwood Cemetery is now open 9am to 5pm 7 days a week. As soon as the staffing

restrictions, caused by the Covid-19 pandemic, are resolved we will seek to return to normal

summer hours opening.

3. Church Street Car Park is now open 9am to 5pm 7 days a week to provide overspill parking

for visitors to Chasewater Country Park. This arrangement is for a temporary period until the

end of the summer to allow for any impact on local residents to be assessed.

A small ceremony led by the Chairman of the Council was held on Saturday 27th June to mark

Armed Services Day. The event has been scaled down to take account of Government advice

on social gatherings.

At its meeting on 29th July the Town Council is planning to launch this year's community grants

scheme. Re-named the Better Burntwood Fund the scheme will be focused on helping local

groups respond to problems in the community caused by the pandemic. Information about the

Better Burntwood Fund will be put on the Council's website after the meeting. In the

meanwhile please continue to use the website to get information on what support is available

in the town to help with Covid-19 related problems.

Reflecting on the impact of the pandemic on Burntwood the Leader of the Council, Councillor

Sue Woodward, said: "Burntwood has proved itself to be a strong and caring community during

this Covid19 crisis and we will do all we can, as a Town Council, to keep this going in the weeks

and months ahead. We believe in a #BetterBurntwood."

6
---
WWII Hero

Celebrates

Lockdown

Birthday

.........................

We featured George

Treadwell in our May

magazine, when he

was getting ready to

commemorate VE Day on 8th May.

George was awarded a number of

medals during service with the

Royal Navy during World War

Two, including a Russian Ushakov

medal presented to him in 2016 at

the Russian Embassy.

George recently celebrated his

95th birthday and a number of his

friends and neighbours gathered

outside his house in Lichfield to

sing Happy Birthday to him and enjoy a slice of birthday

cake – all safely, socially distanced of course!

Happy Birthday George from all at Citylife!

7
---
LOCAL NEWS

8

Outdoor Gyms in

Burntwood Parks

Work is now complete on outdoor gyms at

Redwood Park and Chase Terrace Park in

Burntwood following Lichfield District

Council's installation of new exercise stations.

The outdoor gym at Redwood Park features

magnetic bells, a cross trainer and a bench.

While Chase Terrace Park boasts an outdoor

gym with magnetic bells, a sports bike and a

bench.

Although complete, the fencing around both

exercise stations will remain in place until social

distancing measures have been eased and the

council can open the facilities to the public.

Once open, the council's sports development

team will hold activity sessions to show the

local community how the equipment works and

how to get the best use out of it.

To find out more visit

www.activelichfield.co.uk/outdoorgyms

.......................................................................................

Darwin Museum

Volunteers Receive

Award

Erasmus Darwin Museum volunteers in

Lichfield have been honoured with the Queen's

Award for Voluntary Service, the highest award

a voluntary group can receive in the UK.

Erasmus Darwin House was once the home of

Erasmus Darwin, grandfather of Charles

Darwin and a respected resident of Lichfield for

more than 20 years.

Restored and opened to the public as a

museum and education centre in 1999, the

house is run by the Erasmus Darwin

Foundation, an independent Charitable Trust

with the aim of promoting international

awareness of the life and achievements of

Erasmus Darwin.

The Queen's Award for Voluntary Service aims

to recognise outstanding work by volunteer

groups to benefit their local communities. It

was created in 2002 to celebrate the Queen's

Golden Jubilee.

Representatives of Erasmus Darwin Foundation

will receive the award from Ian Dudson CBE,

Knight of the Order of St John, Lord Lieutenant

of Staffordshire later this year. Furthermore,

two volunteers from the foundation will attend

a garden party at Buckingham Palace in May

2021, along with other recipients of this year's

Award.

.......................................................................................

Casting Call for

Local Retailers

Retailers and associated businesses across

Lichfield and Burntwood have an opportunity

to see their company included in a special video

project to entice shoppers back to the high

street.

A montage of 'selfie' style clips will be edited

into a one-off showcase, demonstrating how

people across the district can

#ShopSafelyInStaffs.

The project is part of a drive by Stoke-on-Trent

and Staffordshire Growth Hub, working in

partnership with Lichfield District Council, to

support residents returning to town centres as

the Government lockdown eases.

The #ShopSafelyInStaffs video will help inform

shoppers how they can stay safe and support

the businesses that trade on their doorstep. A

simple guide to creating a 'selfie' video clip for

inclusion in the showcase is available at

https://stokestaffsgrowthhub.co.uk/news/casting

-call-for-shopsafelyinstaffs.

Those taking part can submit their selfie video

clip, which should be no more than 30 seconds

long, via MailBigFile or WeTransfer to Becky

Parker, Stoke-On-Trent and Staffordshire

Growth

Hub:

businessenquiries@stokestaffslep.org.uk.

.......................................................................................

Keyworker

Competition Winner

In April, Allen Brown Jewellery, located at Heart

of the Country Shopping Village, started a

competition where an NHS hero or keyworker

could be nominated to win an 18ct white gold

sapphire pendant, set with 1.44ct of red, orange,

yellow, green and blue sapphires. There were

around 100 entries in total, all with wonderful

reasons as to why a specific person had been

nominated.

At the start of June, Allen Brown drew the

winning nomination and Elaine Hutchings was

picked at random. She had been nominated by

Mark Johnson. The gallery then discovered all

the amazing work Elaine and her team of

volunteers have been doing during lockdown.

Elaine initially started the group "Helping Each

Other - Lichfield and Surrounding Areas" as a

platform to share information during the crisis.

But it soon became clear to Elaine that there

was an urgent need in the community. Since

March, Elaine and her team of 25 volunteers

have provided in excess of 2,000 food parcels at

a cost of £84,000 and delivered on average 300

prescriptions on a weekly basis, six days a week.

The team at Allen Brown Jewellery were

delighted to present Elaine with her rainbow

pendant and the words from Allen below echo

what a worthy winner she is.

"Fate was obviously at hand when Elaine was

chosen randomly in the draw. I am delighted if

in some small way this helps to show the

appreciation and admiration that I and many in

the community feel for her selfless hard work

and that of 'Helping each other' thank you."

On winning the pendant Elaine said: "This

rainbow pendant will always be a reminder to

me of how people came together during such a

difficult time."

Elaine has also decided to keep the group going

indefinitely to suit the needs of the community.

For more information you can follow Helping

Each Other Lichfield and Surrounding Areas on

Facebook.
---
9
---
LOCAL NEWS

Lichfield Cathedral

Open for Prayer

Following the lifting

of Government

restrictions that

closed places of

worship at the start

of the Covid-19

lockdown, Lichfield

Cathedral, in line

with many other

English Cathedrals

and Parish Churches,

opened for private prayer on Monday 15th

June.

The Cathedral won't be resuming public

worship until the Government says it is safe to

do so. But, as a first step, the Cathedral

authorities are delighted to be able to offer a

welcome to all who want to come and pray and

light a candle. The building will be open from

2.30-4.30pm every day.

Social distancing measures, cleaning and hand

sanitisation arrangements have been put in

place. Staff and volunteers will be on hand to

ensure everyone is kept safe and all abide by the

distancing measures. Numbers entering the

Cathedral will be limited and everyone coming

to the Cathedral needs to be prepared to

queue if necessary.

The Cathedral asks that all prayer-visitors

observe all the arrangements in place and space

their visits across opening times, allowing as

many people as possible to gain entry. The

building will be kept quiet and hushed and

everyone is asked to respect the atmosphere of

prayer.

.......................................................................................

St Giles' Summer Raffle

It costs more than

£10 million to

provide the care St

Giles Hospice, based

in Whittington,

offers every year

and the hospice

needs to raise more

than £850,000 each

month to keep

services going,

especially in times of

crisis when there

has been a big increase in the number of people

needing palliative care.

Tickets for the hospice summer raffle are now

on sale at £1 each and goodies up for grabs

include a first prize of £8,000 or a brand new

Kia Picanto car from Burton Kia, £2,000 or a

10

luxury holiday and other cash prizes.

Anyone wanting to join the draw can find out

more or buy raffle tickets online until Monday

20th July at www.stgileshospice.com/raffle/ or

by calling the Lottery Office on 01543 434020.

The raffle draw will be made on Thursday 6th

August.

.......................................................................................

Grants Awarded to

Local Voluntary Groups

The outbreak of

coronavirus has

seen local voluntary

groups across

Lichfield District

stepping up and

adapting to give

invaluable support

to local people who

need help - from Lichfield Re:cycle received a

doing shopping, grant of £720

c o l l e c t i n g

p r e s c r i p t i o n s ,

gardening, giving out activity packs and

befriending services.

Lichfield District Council set up the

coronavirus relief fund to help the local

voluntary and community sector to continue

with the vital support it is offering.

Thanks to multiple donations, and a £11,500

boost from the council, the fund reached

£24,500 and in April it was opened up to

voluntary groups, charities and organisations

who were invited to apply for grants of up to

£1,000.

Working in partnership with We Love Lichfield,

more than £7,000 has so far been awarded to

eight applications agreed by the council,

including: Lichfield and District Live at Home;

Live at Home Burntwood; Kendall & Wall

Charitable Trust; Lichfield Re:Cycle; Burntwood

Be A Friend; Liberty Staffordshire CIC; South

Staffordshire Network for Mental Health; and

Lichfield Scrubbers.

To find out more visit

www.lichfielddc.gov.uk/relieffund.

.......................................................................................

Lichfield Looks

Forward Campaign

Launch

As the Government continues to ease Covid-

19 lockdown measures and Lichfield,

Burntwood and the rest of the district gets

backs to business, website Lichfield Live is

spearheading a campaign

to encourage everyone to

stay local.

The Lichfield Looks

Forward campaign, with

support from Fuse Events,

Nurture Community

CIC, Curborough

Community Association,

The Best Of Lichfield,

Citylife in Lichfield, Independent Lichfield and

others, aims to highlight the importance of

supporting local businesses and organisations.

The campaign urges residents to stay local for

shopping and for any type of business service,

support or advice required. The local

communities that make up this thriving district

showed during the last three months what can

be achieved and Lichfield Live wants that local

spirit to continue to thrive post-lockdown and

moving forward.

As part of the campaign, Lichfield Live will

provide a new section on its website

showcasing stories of how the community is

adapting and looking forward to life beyond

lockdown. It will also launch a new directory as

well as an events calendar to highlight what's on

in Lichfield as events start to happen again.

Finally, the first ever Lichfield Live Community

Awards, hosted by local comedian Chris

Purchase, will take place in September to

recognise exceptional people and their efforts

throughout the community.

.......................................................................................

Football Club

Seeks Players

Huthman Football Club is an amateur club

competing in the Staffordshire County Senior

League in 2020/21 and currently recruiting

players who are enthusiastic and passionate

about football.

Huthman's coaches are FA qualified and players

who join will be coached at a very high level and

given opportunities to play in the Staffordshire

County Senior League on Saturday afternoons.

Contact Yemi at team@huthmanfc.com. Find

out more at www.huthmanfc.com.
---
11
---
We spend decades filling our homes with furniture,

mementos and collections.

But – as has been brutally demonstrated by coronavirus – life is

full of uncertain twists and turns.

Perhaps you need to downsize for personal reasons or maybe

a loved one has passed away.

Things happen – and that's where our expertise is here to help.

Whatever the reason for the situation, having an entire

property to sort through can seem daunting to say the least.

Add to that an upsetting emotional backdrop and it can so

often become an overwhelming circumstance.

From the moment we receive that initial call or email, we never

forget that this is someone else's home and belongings.

Whether it's a house, bungalow, flat, office, school or indeed any

other building large or small, we offer a bespoke, sympathetic,

clearance service.

With more than 150 years of family experience, the 2020

pandemic has seen us evolve to incorporate COVID-19 secure

practises in everything we do.

Our stringently observed procedures include protective

equipment, social distancing measures, deep cleaning and sanitiser

to keep our staff and clients safe and our vehicles disinfected.

Whether you are an executor clearing a deceased estate,

investigating downsizing options, administering probate,

emigrating or just tired of clutter, we are happy to jump into

action.

Our team works at a variety of houses and flats every week and

we've recently handled the complete clearance and subsequent

auctions for properties as diverse as a double glazing factory, a

record shop and, of course, Abbots Bromley School.

Whatever the potential job, it's always worth checking with us

first – we'll give you an honest opinion and quotation up front.

We offer complete and part house clearance services, starting

with a free home visit to explain all costs.

All items pass through The Lichfield Auction Centre where our

regular sales feature anything from household ornaments and

cars to jewellery, fine art, coins, toys, medals and vintage whisky.

Anything which cannot be sold – for example items which do

not meet current fire or electrical regulations – are properly

disposed of and we will leave the property clean and ready either

for new occupants or to go on the market.

So why choose the auction process? Well, here's a great

example. At a local property we were clearing, the ceramics and

pots and pans were spread out and I spotted an unusual

crocodilian in one corner…

Our research team jumped into action and confirmed this

12

House Clearance Services Offer

Complete Peace of Mind

By Richard Winterton

..............................................................

unusual ceramic was a very

rare Royal Doulton 'Boy

On A Crocodile.' We sold it

at auction for £7,000 to the

absolute joy of our clients.

Unlike many auctioneers,

we do not cherry pick or

farm out items of lesser

value to other firms, we

handle the entire clearance.

And that's crucial to what

we do. We leave nothing to

chance and if it's there, we'll

find it.

'It' might not be – but it

stops that question in the

future: "Did we throw

something away that could

have been huge?"

But to us everything is

important. Instead of

throwing away items such

as fridge freezers, we sell

them at auction. Every

single thing sold, be it for a

tenner or tens of

thousands, is of benefit to our clients.

Be it lead statues in the undergrowth of a garden or tools in the

garage, sheds, cellars and attics are great hunting grounds for us!

I'd love to share an especially nice message we had recently

following a local clearance.

"Would you please pass on our thanks for the way in which the

cottage was cleared of all its varied, and sometimes awkward,

items.

"The team were obviously well-versed in tackling such

situations and we were really impressed with the obvious care

and attention which they gave to all they packed and moved.

"It was a pleasure to see such dedication, and the genuine

respect for items collected over many years by the occupants.

"What could have been a stressful situation was greatly eased

by the professional and caring team."

I can't tell you how proud this made me of our clearances team.

You cannot get better than to hear that from a client.

Contact The Lichfield Auction Centre on 01543 251081 or

email office@richardwinterton.co.uk
---
Advertising Feature

Would you like to talk to a local Financial Adviser?

In these difficult times do you have the correct amount of life assurance or critical illness cover?

Do you know how much your pension will pay you when you retire or pay your loved ones when your gone?

Have you been putting off talking to a Financial Adviser? Would you like a free initial one hour online meeting from a local

professional?

How about speaking to me online using Skype or Zoom to see if I can help you?

Are you going to put off speaking to a professional or do you think you should do it now?

Call my Office in Shenstone on 0121 323 20707 or me direct on 07968 504805 to book your free online meeting.

I feel that effective Financial Planning is about knowing your Clients and them knowing about you. There is no one size fits all approach and

all Clients are unique with differing circumstances, needs and requirements.

If you become a client I will find out enough about you to provide you with effective financial planning. I will speak in clear terms and do

my best to try and help you achieve your

goals.

Usually you can visit our office in

Shenstone or I can visit you at home to

discuss your financial needs which could

include Pensions, Investments, Savings,

Protection and Inheritance Tax. At the

moment, given the current circumstances,

I can arrange a telephone call or online

meeting if you prefer. The first

appointment will be at my cost and there

is no obligation to proceed any further.

Any future costs will be explained and

agreed with you before any work is

carried out on your behalf.

As part of the process I will carry out a

full fact find of your circumstances and

discuss with you your priorities, where

you want to be financially in the future

and how I may be able to help you get

there.

I am a member of a fourteen strong

Financial Adviser team at Four Oaks

Financial Services and am supported by

in-house research, client liaison and

administration teams.

As an experienced and fully qualified

Financial Adviser I work with clients to

help them achieve their financial goals. My

clients are mainly in the Burntwood,

Lichfield, Cannock and greater

Wolverhampton areas, although I do have

clients much further afield.

At Four Oaks Financial Services we

advise our clients on a range of

investments and are very proud to have

their trust and confidence to do so.

It is often said that people deal with

people so please give me a call or drop

me an email. We can have a chat and can

take it from there if you wish.

I hope to hear from you soon.

Robin Place DipFA, CeLTCI,

MLIBF

Financial Adviser

0121 323 2070, 07968 504805

robin@fouroaksfs.com

13
---
Dine in Style!

.............................

Welcome to our new Dining Review

section, filled with delectable dishes

and tantalising treats from some of

your favourite local restaurants and eateries.

Each month, we'll bring you a variety of different

tastes and flavours from all over Lichfield and the

surrounding area, to help you decide where you want

to eat, or drink, next!

Obviously, lockdown means that our latest reviews

have been enjoyed at home, but we've certainly not

been disappointed with the range and quality of food

available from Pizza by Goli, The Little Dessert Shop,

Staffordshire Distillery and Pizza at Home Kits. So

tuck into our reviews, enjoy and get those taste buds

watering!

Want to see your restaurant, pub or shop featured

in this section? Contact kristencitylife@gmail.com for

more information.

14
---
Dining Review

Experience Italy

at Home

By Rebecca Hill

...................

Pizza by Goli, located on Tamworth Street, is one of Lichfield's mostestablished

and well-loved eateries, having been in situ since 1987.

Serving authentic Italian cuisine, the restaurant still delights locals and

those further afield, with its vast array of mouth-watering dishes.

Lockdown has certainly not stopped business at the restaurant and, although not

able to dine-in, customers have been making use of the takeaway service provided by

the family-run establishment. So we were delighted to be able to sample a taste of

Italian heaven in the comfort of our own homes.

To begin with, I chose a firm favourite of mine – Gamberoni Salvatore, which is

delicious tiger prawns infused with chilli, garlic, tomato and white wine. Being a

regular customer, I knew that this starter would not disappoint and it certainly didn't!

In fact, it had the exact same taste and texture as if I had been eating in the restaurant

itself!

My partner enjoyed Funghi Ripieni, which is fresh portobello mushrooms filled with

goat's cheese, topped with breadcrumbs and lovingly adorned with Napoli sauce. It

was indulgent and smelt absolutely wonderful – needless to say, my partner was

impressed and not a crumb was left on his plate!

Being a pizzeria, it only felt right to have a pizza as a main course and so a Romana

it was! This is a slightly unusual pizza, topped with the usual tomato and mozzarella,

but also boasting smoked chicken and avocado. It was incredible! A sprinkling of basil

really brought out the flavour of the moreish avocado. I thoroughly enjoyed it and

was delighted I had opted for something a little different as a pizza topping.

Spigola al Vino Bianco was what my partner ordered as, despite the name, Pizza by

Goli serves so much more than just your classic pizza and pasta dishes. This was a

fresh fish dish of seabass enveloped in a light tomato sauce, infused with white wine

and mushrooms and topped off with tiger prawns. It was mouth-wateringly divine,

with the firm flesh of the fish melting in the mouth with every bite. Accompanied with

a side of rice, this went down extremely well!

If you're looking for food for a special

occasion, something romantic, or just a

Saturday night treat with a difference, I

cannot recommend Pizza by Goli highly

enough. Not only is the food out of this

world, but social distancing guidelines were

adhered to at all times making this the

perfect choice for a lockdown treat.

T: 01543 250916

www.pizzabygolilichfield.co.uk

15
---
Dining Review

The Sweetest

Thing!

By Rebecca Hill

...................

When I was a child there was no such thing as 'dessert

shops' around (I think if there had been, it may well

have been where all my pocket money got spent!) So

I was delighted to be invited to try just a few of the tantalising

desserts available at The Little Dessert Shop in Lichfield.

As with all eateries at the moment, the shop itself is closed for

customers to eat-in, however the takeaway service was

excellently executed, with social distancing in place, giving me

the opportunity to still enjoy some of my favourite sweet treats

in the comfort of my own home.

First up was the Milk Chocolate Chip Cookie Dough (shown

in the right hand picture). Made with Belgian milk chocolate it

was rich and delicious, literally melting-in-the-mouth and went

perfectly with a little vanilla ice-cream on the side. It certainly

whet my appetite and prepared me for the rest of my desserteating-extravaganza!

Next was the Endless Temptation Waffle and boy did this live

up to its name! Digging in were myself, my partner and my son

and this decadent dessert was a veritable feast which perfectly

served the three of us. The waffle was topped with hazelnut

chocolate, Kinder Bueno pieces and Cadbury's Flake chunks… It

was light in texture and luxurious in taste. Perfect as a dessert

for a family of four, or even to share between two if you're

feeling peckish!

The grand finale was the one my young son was particularly

enchanted by… The Rainbow Tower Cake (although some may

know it as a 'unicorn cake'). It consists of rainbow-coloured

layers of sponge, each divided with vanilla buttercream, and the

top covered with a smattering of white chocolate shavings and

adorned with hundreds and thousands. Light, sweet and so much

fun to eat, this is perfect for a kid's party or special occasion –

it's not only a delight to eat, but beautiful to look at too!

The Little Dessert Shop is offering all Citylife readers a 10%

discount with the code CITY10. Simply mention this code when

you place your order over the phone, or use it when you place

an order online.

1 & 1A Bore Street

Lichfield WS13 6LJ

Call us on 01543 257615

Order at www.LDSLichfield.co.uk

www.littledessertshop.co.uk

16
---
Gin Review

Gin,

Glorious Gin!

By Helen Smith

...................

Gin has, in recent times, become more and more popular and is

now, once again, one of the nation's favourite drinks. It also

happens to be mine, so when a surprise package containing

three 50ml miniatures courtesy of Staffordshire Distillery landed on my

doormat, I couldn't wait to get tasting!

Founded by Rachel Evans in 2018 and located at Overfields Farm

near Lichfield, Staffordshire Distillery is literally right on our doorstep -

who knew?!

The first gin I sampled was labelled Distilled Lemon Gin and sounded

quite interesting as I hadn't tried a lemon gin before. The distillery use

the London Dry recipe which is tweaked to include fresh lemon zest

which is steeped in the still for two days. The lemon rich alcohol is then

distilled through copper and a blend of herbs such as lemon verbena,

lemon thyme, and sweet clover, and blended with mineral water and

natural colours of lemon. This gin was fresh and zesty - the perfect

evening drink to enjoy in a sunny garden.

Next was the Fruits of the Forest gin which I was told was fairly new

the collection. I couldn't resist popping in some frozen berries and

'wow!' this really WAS summer in a glass with beautiful undertones of

raspberries, blackcurrants and blackberries. These are foraged when in

season at Overfields Farm itself and the overall taste was both fruity yet

subtle.

My third tipple was the 'Uisge' London Dry gin (pronounced 'oooshka'

from the Scottish Gaelic phrase 'Uisge - Beatha' meaning Water of

Life). This gin is blended from Scottish mineral water from the

Cairngorms which passes through rock for 50 years before it reaches

the spring in the Highlands, near Balmoral. Premium botanicals are

vapour-infused through copper for a smooth, clean taste that provides

a delightful balance of fruits, herbs and gentle spices. Perfect with a

wedge of lime, a plain tonic or even neat over ice.

Finally, I tried the newest member of the family: rhubarb with a hint

of ginger. The rhubarb is grown at Rachel's Grandad's allotment and

there's no sugar added to it so it's all natural flavours. The smell alone

was divine and with just a hint of

ginger, it provides the perfect

balance and doesn't overpower the

rhubarb flavour and allows the gin

presence to shine through.

All of these gins are priced at

£38.99 per bottle and available to

purchase on the website. I simply

couldn't choose a favourite as I

enjoyed four totally different gins

which were all exquisite in flavour

and taste. However, I would suggest

getting the miniature collection (a

sample of three priced at £15.99)

to try – you may even discover

your new favourite tipple!

17
---
Win Pizza at

Home Kits

................................

What better way to enjoy a Saturday night than in front of the TV with

a takeway pizza on your lap?! And there's no better pizza than a

traditional, freshly-made creation. Our editor, Krissy, was delighted to

be able to experience making and baking her own concoction, courtesy of Matt

and Gemma of Café Cigno in Burntwood and their new venture Pizza Kits At

Home!

Ordering is easy – you simply visit the Facebook page, select what you want

from the menu, and your pizza making kit is delivered to your door (with social

distancing in place) in real takeaway pizza boxes, for an authentic experience!

Making the pizza is lots of fun and a great idea for children who want to get

more involved with baking! Stretch and ply your dough with your fingers into a

delicious pizza base, and then pop it into a hot pan and add your toppings. Once

the base starts to turn a lovely golden brown, simply pop the pan under a hot grill

to cook the top of it and melt all that delicious cheese!

After it's cooked, you can transfer it back to the takeaway box and voila! You

have a fabulous, authentic takeaway pizza that you have lovingly created yourself!

Being a 'meat-feast' kind of girl, I went for the works – crispy bacon strips,

chicken, chorizo and pepperoni, along with red onions for my topping and it was

absolute perfection. The best bit being that it comes piping hot and superbly fresh

from the oven! Juicy and fresh, with a light crispy dough base, I was extremely

impressed and would highly recommend this to both parents wanting to entertain

the kids and adults wanting a bit of pizza-making fun!

Find out more about Pizza at Home Kits on Facebook at

www.facebook.com/pizzaathomekits or email Pizzaathomekits@gmail.com.

We've teamed up with Pizza at Home Kits to offer two

kits as a competition prize. All you have to do to enter is

correctly answer the question below and send us your

contact details.

Which cheese is commonly used as a pizza topping?

a) Stilton

b) Brie

c) Mozzarella

To enter, just send your name, contact details and answer to Pizza Competition at

competitioncitylife@gmail.com or post your entry to Citylife in Lichfield Ltd, PO Box 7126, Lichfield

WS14 4JS by the closing date of 20th August 2020. One entry per household. Multiple entries will

be disqualified. No cash equivalent. Please note you must be 18 or over to enter. All entrants'

information is processed in line with GDPR Data Protection Regulations and our Privacy Policy

(available at citylifeinlichfieldltd.co.uk). Full t&cs on page 49.

18
---
19
---
Making the High

Streets Safe

..........................

20

As more Lichfield and Burntwood retailers open,

Lichfield District Council is progressing with

plans for how it will help local businesses to

establish safe trading and how it will begin to use the

£92,501 it was awarded by the European Regional

Development Fund (ERDF), to reopen high streets

safely.

The Reopening High Streets Safely Fund provides

councils with additional funding to support their

business communities through four main strands of

activity.

As part of a district-wide response, the council will

employ a part-time information officer for six months.

They will work along with other council officers to help

local businesses implement safe working practices and

create a safe shopping environment for visitors.

The information officer will be on hand to visit

shopping areas across the district to welcome people

and help them to follow social distancing.

The council will also use the funding on a messaging

campaign that will include a suite of resources for shops

and businesses and information for residents and

visitors. This will include a shop local campaign.

This is just the first phase in making the district's

commercial areas covid-secure, and more measures will

come forward in the coming months.

In the lead up to more shops reopening, the council is

also working with Three Spires shopping centre, the

Lichfield BID and Staffordshire County Council to

monitor the use of streets, pavements and footpaths as

lockdown regulations are relaxed, to determine if

additional measures to support safe access and

movement are needed. Hand sanitiser stations will be

available and information on where people can safely

leave their bicycles has already been made available.

Council officers are on hand to help businesses. If you

need any extra help or support, please email

occupationals@lichfielddc.gov.uk.To find out more

about what you need to do to make your business

covid-secure, visit www.lichfielddc.gov.uk/covidsecure.
---
Affordable Housing

Work Continues

..........................

Housing association

Midland Heart has

restarted its work

to deliver much-needed

new affordable homes

following the relaxation of

lockdown restrictions.

The 33,000-home

landlord has worked with

developers across the

Senior Project Manager Wendy

Jones gets back on site

region to reopen 23 of its 28 active sites so far, which

together will provide more than 100 new homes across

the area, including a recently-started new retirement

scheme in Lichfield, as well as sites in Streethay and

Branston.

All sites that are back at work have put in place extra

safety measures including strict social distancing, to keep

workers safe.

Midland Heart has a published target of 3,000 new

homes to be built across the region by 2024. The

housing association is working with a number of quality

housebuilders to achieve this, including formal

partnership arrangements with high profile developers

Countryside and Partner.

21
---
In the Garden

...........................

Utilise your garden to create an extra 'room'

for you and your family to enjoy this summer!

Stylish paving is perfect for revamping

your patio or outdoor space and

creating something truly unique.

Anglia Range in Blanco 605mm x

605mm, priced at £39.85 per m2.

Available from www.Tippers.com.

With a large area of dual cooking

space, this barbecue is designed to

distribute heat evenly across the

cooking area. Searing as well as

smoking the unique Weber porcelain

enamel finish helps prevent cracking

and rusting.

Weber Smokefire EX6 GBS Wood

Fired Pellet Grill. Priced at £1449 and

available from www.pavingplace.co.uk.

A superb cooking ability, as well as the ultimate

in portability, makes this unique take on the

traditional kettle barbecue the perfect

companion for those long summer days.

Weber Smokey Joe Premium. Priced at £72.99

and available from www.pavingplace.co.uk.

This 12' x 8' Pent Garden Office building makes the

most of the garden, with soft furnishings and can be

used all year round thank to its thermal lining. It can

even be customised to feature an outside bar!

Priced from just £4995, delivered and fitted, and

available from www.roundpegoutdoorbuildings.co.uk.

22

A beautiful garden room can provide additional space

for home working all year round, with fully double

glazed windows and doors, and UPVC available if desired.

If space is at a premium these garden rooms can

be made as small as 8' x 6', which is still big enough to

house office equipment. Priced as low as £2995,

delivered and fitted, and available from

www.roundpegoutdoorbuildings.co.uk.
---
23
---
Your Garden in Summer

By Byron Lewis

So we're slowly returning to

normal after the lockdown - the

garden centre is now open (with

safety and social distancing in

mind of course) and we've had a

very busy time. July is normally

the start of the summer holidays

for many people but this year

may be a little different and you

might be enjoying your garden

for the next few months instead.

With that in mind, here are a few ideas for colour to make your

garden an alternative holiday destination.

Cottage Garden Perennials - Lots of these popular plants will

flower through the summer months and generally need a little

less looking after compared to some bedding plants. Look out for

plants like verbena bonariensis with tall stems of purple flowers.

Shasta daisies (leucanthemum) are also typical border plants with

large white or pale yellow daisy-like flowers which last for weeks

at a time. Agapanthus also flower in the summer, along with

rudbeckia - try these together for a combination of blue/purple

and yellow. Removing dead flower heads on all these plants will

encourage further flowering into the autumn.

If we have a heatwave, please remember to water your plants in

the morning or evening and NOT in the middle of the day when

the temperatures are at their highest. This can stress your plants,

and some flowers and leaves are also liable to become scorched.

While watering, think about adding some general purpose feed

to your watering can to add vigour to your plants. The better fed

they are, the better they will perform. The same goes for hanging

baskets and pots - there is no natural water source in these, so

the plants rely on you for water and food. Water daily in hot

weather.

Finally - it's been a very different spring/early summer season and

many plants and shrubs are not available. This is due to some

growers not planting and potting-on in lockdown, coupled with

the good weather and general public going garden-mad, although

I'm not complaining!

If the garden centre doesn't have what you need, try something

different - there are lots of alternative options in the plant world

which will look just as good. Let's hope we get back on track for

the autumn!

Byron Lewis runs Lichfield Garden Centre at

Curborough Countryside Centre.

Telephone 01543 254306 or visit the website at

www.lichfieldgardencentre.co.uk.

24
---
25
---
Postcards from

the Park

..................

The Museum Gardens in Beacon Park are one of the most

admired and visited attractions in Lichfield and these vintage

postcards show views of the gardens from the past. The

gardens opened in 1859 and although many of the features in the

postcards are very similar to how they are today there are also

some differences. At the end of the avenue going in to the main

park there used to be a bandstand, installed in 1893 and demolished

in the 1960s. There used to be a rose arch on the Swan Road side

of the gardens which provided an archway through to the James

Thomas Law fountain. Law, a major Lichfield benefactor, donated

the fountain to the city in 1871. The King George VII statue was

sculpted by the firm of Robert Bridgeman and Sons of Quonians

Lane off Dam Street, Robert Bridgeman presented the statue to the

city in 1908 when he was the Sheriff of Lichfield. The old Free

Library and Museum opened in 1859 and was only the second free

library to open in the whole of the country, it is now the Lichfield

Registry Office.

*From Jono Oates' private collection.

Avenue and bandstand

The James Law fountain and the arch of roses

The bandstand at the far end of the avenue

Recreation Gardens and statue of King George VII, dated 1949

The Old Free Library and Museum and Gardens, dated 1948

26
---
27
---
Tastes of the Season

Summer Dishes with a Difference!

By Simon Smith

While the weather juggles between tropical

downpours and heatwaves at the moment it's

difficult to decide what to cook but more

often than not the smoke from barbecues

wafts across the garden making me think it's

still a firm favourite. Also as people are allowed

to mix with others outside it's probably the

only way friends and family can eat together in

this ever-changing world.

I've decided to do a couple of easy recipes this

month but one of them may not necessarily be

to everybody's taste. Nonetheless I urge you

to try it as, once many people do, they come

to love it. When working in St Tropez this was

always a firm favourite of my client.

As with many jobs cooking in the

Mediterranean it's all about the fish and

fortunately the fish market in St Tropez was an

extravaganza of species and colour.

Tuna Tartare with Seaweed

Mayonnaise

onion and add half to the tuna. Zest and juice

the lime. Cut the chilli in half, remove the

seeds and finely dice. Finely chop the coriander

and parsley. Finely chop the capers. Mix all of

these together in a bowl but using as much

chilli as you personally like. Mix the

mayonnaise with a tbsp of nori sprinkle and

the rest of the chopped onion. Leave in the

fridge overnight so the lime juice cures the

tuna. This works equally well with salmon.

Form the tartare in a pastry ring and serve

with warm toast or sourdough crispbread.

BBQ Chicken with Mango and

Lime Salsa

Method

Finely chop the bacon and dry fry in a pan.

Add the vinegar, maple syrup, thyme and

rosemary and simmer quickly until reduced by

half. Add all the other ingredients and stir

together. Pass through a fine sieve. Brush this

on the chicken breasts before putting on the

BBQ. I always unfold the fillet under the breast

to open them out a bit more and make them

thinner for a BBQ.

Mango salsa

1 x ripe mango

2 x limes

2 x large tomato

1 x tbsp fresh chopped coriander

Chilli flakes

Maldon sea salt

Method

Peel and finely dice the mango. Cut tomatoes

in half, remove the seeds and finely dice. Zest

and juice the limes. Mix all the ingredients

together and allow to infuse for two hours.

Form in a pastry mould for equal portions.

This salsa works equally well with any fish or

lamb.

4 x tuna steaks

1 x red onion, peeled

1 x lime

1 x small chilli

1 x tbsp capers

1 x sprig coriander

1 x tbsp chopped parsley

2 x tbsp mayonnaise

1 x packet nori seaweed sprinkles (available

from Waitrose)

Maldon sea salt to season

Method

Finely dice the tuna steaks. Finely dice the red

28

4 x chicken breasts

BBQ Sauce

4 x tbsp red wine vinegar

4 x tbsp maple syrup

1 x tsp English mustard

1 x tbsp tomato ketchup

2 x rashers smoked bacon

1 x clove garlic, crushed

1 x sprig thyme and rosemary

1 x tsp cracked black pepper

Simon Smith runs a catering business from his

production kitchen in Lichfield, providing bespoke

private dinners plus wedding, corporate and event

catering. Simon also undertakes cookery

demonstrations around the country and with local

businesses such as Arthur Price and Tippers. During

the summer months Simon works for private clients

both on superyachts and in villas in St Tropez and

Europe. If you are looking for catering or a day of

cookery skills go to www.simonsmith-chef.com

*Please take extra care when preparing and

handling hot foodstuffs. Go to www.food.gov.uk for

further details.

**Small bones may be present in fish.
---
29
---
30

Greyhound Trust

Hall Green

By Lauren Hirst

................................

They say every cloud has a silver lining. Here at Greyhound Trust

Hall Green our silver lining during the Covid-19 crisis has been the

huge success of our foster placements. A gargantuan effort was made

by our volunteers to find suitable foster carers for about 30 dogs

before lockdown, taking extra care to match the right dogs and carers.

We don't often celebrate failure but most of our foster dogs are now

"failed fosters" and have been adopted by their foster families!

Fostering also helped us considerably reduce our kennelling bills

(around £4,000pcm) at a time when our funding streams dried up

overnight. All our events were cancelled, with donations from trainers

and adoption donations on hold, our volunteers put their collective

creative minds together and turned our fundraising into virtual events,

raising close to £2,000 via an online dog show, auction, birthday

sponsors, head shaves, virtual walks and individual donations! Thank

you to EVERYONE who helped us to stay afloat during these difficult

'We're Good to Go'

Industry Standard for

Lichfield

times.

Our homing kennels are now open for limited hours by appointment

only (we're sorry that due to limitations on numbers allowed on-site

we are not accepting applications for new volunteers at this time).

Lockdown has forced us all to re-evaluate what is important to us and

many have decided that having a dog will enrich their lives. Have a look

at our website for dogs looking for their forever sofas, plus see other

ways to support the Trust, at www.greyhoundtrusthallgreen.org.uk.

Image courtesy of VisitBritain.

..........................

Visit Lichfield is urging local tourism and hospitality businesses to

achieve the 'We're Good To Go' industry standard to reassure

customers they are Covid-secure.

VisitEngland, in partnership with VisitBritain, has launched a UK-wide

industry standard and consumer mark to provide confidence for

tourism as the sector works towards reopening.

The 'We're Good To Go' industry standard and supporting mark

means businesses can demonstrate they are adhering to government

and public health guidance, have carried out a Covid-19 risk assessment,

and checked they have the required processes in place.

The scheme is free to join and open to all businesses across the

industry.

Businesses must complete a self-assessment through the online

platform at https://goodtogo.visitbritain.com/ including a check-list

confirming they have put the necessary processes in place, before

receiving certification and the 'We're Good To Go' mark to display in

their premises and online.

The self-assessment includes specific guidelines for sectors including

accommodation, visitor attractions, restaurants and pubs, business

conference and events venues and tour and coach operators with

signposting to further industry and trade association guidance as

required.

In England businesses align with the UK government's official guidance

for the sector including 'Working Safely during Covid-19: Visitor

Economy'. An 'alert' system ensures that businesses signed up to the

standard are notified of any changes to the official guidance. A callhandling

service provides support and assessors would also carry-out

random spot-checks to ensure adherence.

The 'We're Good To Go' scheme is being operated by VisitEngland

who has been running assessment schemes for many years.

Alongside the industry standard, VisitEngland is also launching a Know

Before You Go public information campaign to support tourism in

England as businesses start to re-open, reassuring visitors as restrictions

are lifted by checking about what it is safe to do and when and signposting

to information about destinations and available services before

travelling.
---
J HOWELL &

DAUGHTERS

FUNERAL DIRECTORS LICHFIELD

LICHFIELD'S LONGEST ESTABLISHED INDEPENDENT,

FAMILY RUN FUNERAL DIRECTORS.

SECOND GENERATION BUSINESS HERE TO ASSIST YOU

AND YOUR FAMILY.

24 hours a day

We are proud to be Lichfield's longest established family run funeral directors offering a wide range of

choices to suit all requirements. Horse drawn hearse, non religious ceremonies, floral tributes and

memorials are but a few of the services we offer.

Pre-paid funeral plans are also available.

For a truly personal service please call

01543 255776

Private Chapel of Rest 116 Netherstowe,

Lichfield, Staffs. WS13 6TS

31
---
1 2

3

Plaques of Lichfield

By Jono Oates

............................

As the lockdown restrictions start to be lifted we are able to enjoy longer walks

outside and we can take a closer look at some of the history that is sometimes

right under our noses - but we are often too busy to notice!

There are many plaques dotted around the streets of the city centre which, in themselves,

tell a fascinating history of Lichfield and can also provide a lovely circular walking tour.

Start your tour at Donegal House, next to the Lichfield Guildhall on Bore Street (photo

1). The ornate clock was a gift to the city from Mrs Swinfen-Broun of Swinfen Hall. The

clock was gifted in 1928 and although the clock's internal goings-on have been replaced

over the years, it is still in working order!

Turn down Breadmarket Street and on the left is the birthplace of Elias Ashmole (photo

2). Ashmole was born in 1617. He was a collector of antiques and he donated his collection

to Oxford University, which formed the Ashmolean Museum in Oxford, founded in 1683.

Turn left up Market Street and stop by the City Arcade (photo 3). The plaque here tells

about another antiques collector, Richard Greene. Greene was born in Lichfield in 1716 and

was a surgeon and pharmacist. He also collected curiosities and antiques creating a museum

in his home on Market Street. He was a relation of Samuel Johnson and Johnson often

visited Greene's museum.

At the top of Market Street is Eleven Hair on Bird Street (photo 4), which was the former

home of Thomas Newton, Bishop of Bristol, whose brother Andrew gifted Newton's

College on Cathedral Close for widows of clergymen and their children to live in.

Turn right down Bird Street and there are plaques on the George Hotel (photo 5). One

of them tells of the 1910 Great Air Race between Frenchman Louis Paulhan and Englishman

Claude Graeme-White. Paulhan eventually won – but the English press claimed he had

cheated!

Walk down Bird Street and turn right along Minster Pool Walk, join Dam

Street and turn right. Probably the most famous plaque is on Brooke House

(photo 6), telling the story of how the Royalist John 'Dumb' Dyott shot and

killed the Parliamentarian general, Lord Greville Brooke, on 2nd March in

1643 from his position on the main spire of the cathedral – an amazing

story and an amazing shot!

Finally, stop and look at the plaque on the wall of Bridgeman House on

Dam Street (photo 7). Robert Bridgeman founded his stonemason's firm in

Quonians Lane in 1879 and produced many sculptures across Lichfield and

the rest of the country. This included many of the statues on the West Front

of Lichfield Cathedral.

Complete your plaques tour on the Market Square… where you should

be able to find your next set on the walls of St Mary's Church!

*If you would like to take a socially-distanced small group plaques tour

with Jono please email him at jonathan@jonotourism.co.uk or ring him on

07785 757201.

32

6 7

4

5
---
Win a Granite Chopping Board

in the Colour of Your Choice!

Just Granite Ltd, established in 2002, is a family-run business

with a combined experience of more than 60 years in the natural

stone industry, and it specialises in providing granite, quartz and

solid surface worktops to both the commercial and domestic

market.

Using the latest technology, making it unrivalled in the local

area, the firm operates from its head office in Penkridge and

works with a wide range of luxury kitchen manufacturers within

a 60-mile radius.

Just Granite takes great pride in offering its customers full

support, from the initial quotation right through to installation,

with all products being covered under a guarantee and offering

additional maintenance packages where suitable.

With the largest variety of natural stones in the Midlands, the

solid slabs are kept on-site and are available for viewing from

9am-5pm on Monday to Friday, and 9am-12.30pm on Saturday.

Located at The Stone Works, Pillaton Hall Farm, Penkridge, ST19

5RZ.

We've got a bespoke

Granite chopping board

(in the colour of your

choice) to give away! To

be in with a chance of

winning this magnificent

prize, simply answer the

following question correctly:

Where does the supply of granite come

from?

a) Spain

b) Italy

c) Germany

To enter, just send your name, contact details and answer to Just Granite

Competition at competitioncitylife@gmail.com or post your entry to Citylife in

Lichfield Ltd, PO Box 7126, Lichfield WS14 4JS by the closing date of 20th

August 2020. One entry per household. Multiple entries will be disqualified. No

cash equivalent. Please note you must be 18 or over to enter. All entrants'

information is processed in line with GDPR Data Protection Regulations and

our Privacy Policy (available at citylifeinlichfieldltd.co.uk). Full t&cs on page 49.

33
---
Cars, Fireworks

and Fountains!

By Jono Oates

..................

Lichfield is known as the City of Festivals and in recent years the

Food Festivals have brought thousands of visitors from all over

the Midlands and beyond to the city. Due to the Covid-19

lockdown most festivals have been cancelled, including two of the

most loved and longest running – the eponymous Lichfield Festival

and Cars in the Park.

Cars in the Park was first held in 1997 in Beacon Park and has become

the one of the most significant displays of cars, both vintage and modern,

in the Midlands. Organised by the Rotary Club of Lichfield, the classic car

show usually attracts well over 1,500 cars and vehicles and brings in

thousands of visitors to the city. Next year's event is scheduled for 3rd-

4th July 2021.

The Lichfield Festival has a longer history, dating back to 1982 and was

originally the brainchild of the Dean of Lichfield, the Rt Revd John Lang,

who proposed the idea of an arts festival in Lichfield in 1981.

The first Festival took place in July 1982, with the Halle and Royal

Philharmonic Orchestra's performing at Lichfield Cathedral and the

flamboyantly-suited, and controversial, jazz and blues singer George Melly

performing at the same time at the Lichfield Civic Hall (now the Garrick

Theatre). The Civic Hall was also the venue for the Cambridge Footlights

Revue, which featured Stephen Fry, Hugh Laurie, Emma Thompson and

Tony Slattery, all relatively unknown then, and well before the days of

Blackadder!

Over the next few years the Festival welcomed a number of wellknown

actors to Lichfield. In 1984 Renee Asherson, Honor Blackman,

Harry Andrews, Phyliss Calvert and Marius Goring all visited. Marius

Goring was a film and TV actor and had starred in The Expert TV series

about a forensic pathologist. During his time in Lichfield he visited The

Scales pub on Market Street and, after ordering a half pint of lager at the

bar, he proceeded to unpack his own salad sandwiches and started

munching away! When challenged by the landlady, the noted actor wolfed

down the remainder of his lunchtime snack and calmly walked out!

Lots of musicians, soloists, groups and orchestras appeared too, with

Canadian jazz pianist Oscar Peterson performing at the cathedral in 1985.

Ticket prices ranged from £8 to £15, a lot of money in those days, and

the Lichfield Mercury reporter hoped that his performance would be

legendary as his appearance fee had clearly hoisted the ticket prices! The

year 1985 also saw the conductor and pianist Andre Previn and the Royal

Philharmonic Orchestra, when hopefully they did not 'play all the right

notes… but not necessarily in

the right order…'. Guitarist

John Williams appeared in 1987,

deaf percussionist Evelyn

Glennie performed in 1990,

singer Cleo Laine and her

husband, saxophonist John

Dankworth, sang at the

cathedral in 1991 and twinklyeyed

Irish flautist James Galway

took to the stage in 1996.

In autumn 1983, director

David Clark had booked a littleknown

pop group, The Flying

Pickets, to make their first

appearance at the 1984 Festival

for a substantial fee of £300.

However, in December 1983,

the group had a massive number

one Christmas hit with their

acapella version of Yazoo's Only

You and their stardom was in

ascendancy… they pulled out of

the Lichfield Festival a couple of

months later as their

appearance fees rocketed from

hundreds to thousands of

pounds.

As well as music and arts, the

Festival also put on other events

and spectacles. In 1999 a

Medieval Market was hosted in

the Cathedral Close and a

Georgian theme was adopted in

2009 for the Samuel Johnson

300th birthday celebration. An

illuminated water fountain

spectacle in Stowe Pool was one of the highlights of the 1988 Festival,

with the water shooting 45 feet in the air, and the fountains cascading to

form the plumed feathers of the Prince of Wales emblem. In 1989, rather

bizarrely, a two-day horse show jumping event took place in Beacon Park

although readers of the Mercury were outraged at a sports event as part

of an arts festival! For many years the closing day finale always featured

the spectacular fireworks display in Beacon Park, which were

discontinued in 2012.

The Lichfield Festival may be taking an enforced break this summer but

it will return, hopefully bigger and better, in July 2021 – and I'm looking

forward to it already!

Sources: The British Newspaper Archive; www.lichfieldfestival.org;

www.carsinthepark.com

34
---
Citylife would like to assure readers

that all necessary precautions have been

taken during the printing, handling and

distribution of the magazine, in

accordance with Government

guidelines.

#StayAlert

A Hub for

Artisan Produce

..........................

As 'Midlanders', we are very lucky to have a variety of

food producers right here on our doorstep,

including farmers, cheesemakers, butchers and

more, all using local ingredients to create fresh, homemade

products. But getting to all these small businesses can be

hard work.

In 2018, artisan baker Ruth Redgate launched the Mercia

Food Hub. Her aim was to make it easier for the

community to find small producers by bringing all goods

together at one weekly collection point. From humble

beginnings, the Hub has grown to nearly 30 producers with

more than 100 products available weekly.

When lockdown forced many businesses to close and

supermarkets saw huge queues and empty shelves, the Hub

saw a 900% increase in customers in just one week.

Working tirelessly, Ruth and her team continued to deliver

orders direct to customers – an invaluable service when

many vulnerable people had no other option to find basics

such as fresh vegetables, milk and eggs.

Three months on, the Food Hub continues to grow. Ruth

says: "We're always expanding our range as new producers

find us. Some things, like our fresh fish, do come from

farther away if we can't get it locally. We'd like to thank

every one of our customers who helped all the small

businesses we use to keep going."

35
---
36
---
Café Prego

Celebrates in

True Italian style!

........................

Café Prego is celebrating its first birthday by

hosting an Italian Brunch event on Saturday 8th

August.

Located within the Creative Plants Garden Nursery

near Shenstone, Café Prego (literally meaning 'You're

Welcome' in Italian) opened in May 2019 and now the

Covid-19 restrictions have been lifted the team is ready

to welcome their customers back and celebrate in true

Italian style!

The café, and nursery, are open seven days a week, the

café operates from 10am to 4pm and serves morning

breakfast; lunches (including paninis, jacket potatoes and

soups) and afternoon teas with super-scrummy cakes and

a selection of hot and cold drinks.

The birthday celebration is an Italian Brunch which

consists of a tantalising platter of Italian olives, meats,

cheeses and breads and more, with a sparkling glass of

prosecco included and all for just £25.95 for two people.

Depending on the good old British, rather than Italian,

summer weather diners will be able to enjoy their brunch

'al-fresco', siting under the waving olive trees in the patio

areas. If the weather is not at its finest though they will be

able to sit under cover and enjoy their food in comfort.

Either way, safe social distancing will be employed, with

tables spaced accordingly, and plenty of hand sanitizers

will be available.

The Italian Brunch will have several sittings, from late

morning to mid-afternoon, and is sure to be very popular

so early booking is recommended to secure a table –

Ciao!

Telephone Café Prego on 01543 481640 for more

information or to book tickets.

37
---
Lichfield's

Cutest Pets

Thank you to everyone who has sent us pictures of

their pets. It's an incredibly hard job choosing

who to feature as we think all of your furry

friends are gorgeous!

Cutie of the Month

Sid

Sid, owned by Paul and Trudie Mason, is so

naughty, but he looks like butter wouldn't

melt!

Little teacup Yorkie

Alex is owned by Ellie

Gormley.

This is Saveloy. He is a long-haired

miniature dachshund who lives in Lichfield

and is owned by Bethany Spicer.

Marley is an 8-year-old

cavalier King Charles spaniel

and always sits with his legs

crossed!

Larry and Jacob owned by

Gemma Roberts from

Chasetown

Lisa Fenton sent in this photo of Gus and

Max peeking round the stairs!

Here we have Henry (left) and Martha, owned by Tracie. They live in near the

Cathedral and can often be found exploring the Erasmus Darwin garden and the Close.

38
---
This is Tia, owned by Sharron.

Sadly, after 18 years together,

Tia passed away earlier this

year. What a beautiful girl she

was!

Here is Coco a French bull

dog, owned by Lucy.

Coco's sister, Lolly, is

owned by Natalie May.

Here's rescue dog,

Monty, adopted and

loved for the past four

years by Dave.

This is the elegant

Madison, a 12-year-old

Bengal, sent in by owner

Debbie.

Gypsy, also owned by

Debbie, is a six-year-old

snow leopard Bengal.

Here we have Lily, owned and

loved by John.

Blossom is Alexa

Holgate's three-year-old

cockapoo.

Scott's girl is called

Kiki, she's a shiba inu

(love the hat Kiki!)

Meet Poppy, Hannah's

nine-year-old shih tzu

loving the sunshine!

Beautiful Rusty loves

the garden and is owned

by Jayne Kirk.

Here we have Marmite who is keeping an

eye on next door – nosey parker that she

is, says owner Esther Ashford!

We don't have the name of this black

beauty, but the owner is Grace Telford.

This beautiful fur baby is also

owned by Grace.

39
---
This is Wissage when he was a

kitten. He lives with Ann-Marie and

Jonathon.

Meet Rocky who is 6 years old and a little

busy on his phone! He is owned by Judith.

Here is Percy pug. His favourite past time

is going to his favourite coffee shop,

Melbourne, in Lichfield! You can find Percy

on Instagram (@percypug27).

This is Bailey looking

rather cool! Sent in by

Harry Grant.

Here we have Betsy Boo

owned by Charlotte Ashby.

Betsy has her own

Instagram account too

(@betsy_boo_and_louman).

Pluto is owned by 10-yearold

Mahari. He is pictured

here relaxing with his snack!

This is Jo Howell's

beautiful girl, Harley!

This is Pickles owned by

Catherine. She's a rescue from

Romania and Catherine has had her

for almost three years now, she's a

proper Diva!

Here we have Elvis. He's a bit crazy,

but very special to Louise as he was

her dad's cat, who sadly passed

way in 2017.

Please meet Manuel (black) and Margot

(ginger). They are the best of friends and are

always looking out for each other. They are

super loving and cuddly and enjoy nothing more

than a snooze together on the bed!

40
---
Garden Shed Auction Raises

Funds for NHS

..............................................

Acharity auction broadcast from a garden shed in lockdown

by TV personality Charles Hanson has raised £38,000 for

the NHS.

Charles, an auctioneer based in Derby, antiques expert and familiar

face on BBC Bargain Hunt and Antiques Road Trip, decided he just

had to do something to help health workers and patients battle

Covid-19.

He came up with the idea of running an online auction from his

garden shed for the NHS and in less than a week sourced more than

50 lots from members of the public and celebrities including Drew

Pritchard from TV's Salvage Hunters.

The sale made a final total of £29,270. That figure was enhanced by

public donations on a Just Giving page set up to support the sale,

plus a decision by Drew Pritchard to double his lot offer of a day

our salvage shopping. Every penny has been donated to Derby and

Burton Hospitals Charity Covid-19 Appeal.

The top selling lot was a day out salvage/antique shopping with

Drew Prichard which was contested to £3,700. His iconic cap

brought in another £480. Post-auction, Drew decided to offer a

second day out with him to an under bidder which meant his lots

alone raised £8,000.

Got a story or

charity event you

want to share with

our readership? Think

you've snapped an

image that captures

the spirit of the

region? We want to

hear from you!

Contact Citylife at

kristencitylife@gmail.com

41
---
Interior

Motive!

........................

Despite its obvious restrictions,

lockdown has for many of us presented

an opportunity for us to focus on

revamping and restyling the space around us.

When the sun shines, the garden has been

attended to, and when the rain has poured, it is

our interiors which have been in the spotlight.

Now that lots of local shops and businesses are

re-opening, there is even more choice available

to help give our homes a much-needed refresh!

Here's our pick of what's available in and

around the area.

A great talking point is this topical

signed limited edition piece by artist JJ

Adams entitled 'Stay Home, Save Lives'.

Priced at £540 and available from The

Courtyard Fine Art Lounge.

www.thecourtyardfineartlounge.co.uk

Artist: Kealey Farmer. Title: Spring

Medium: Original Wall Sculpture

Price: £645A beautiful original wall

sculpture by artist Kealey Farmer called

simply 'Spring'. Priced at £645 and

available from The Courtyard Fine Art

Lounge.

www.thecourtyardfineartlounge.co.uk

Update your bathroom with the

Villeroy & Boch Finnion suite. Available

from Tippers, by appointment only.

A great addition to the kitchen is this

Neff Slide & Hide Oven with Full

Steam. Priced at £1359 and available

from Cookers & Ovens at Tippers.

www.cookersandovens.co.uk

Bring nature inside with this Frith

Sitting Hare bronze model. Priced at

£105 and available from Paul Martyn

Furniture at Heart of the Country

Shopping Village.

Safety Screens for offices, restaurants, bars, cafes

and shops are affordable and reusable. Prices start

from £99, which excludes fitting. Stock is limited.

Available from Interior Choice.

www.interiorchoice.net

42

The Circles Roman Blind

starts from £90, excluding

fitting. Curtains Pencil heading

start from £165. Both

available from Interior

Choice.

www.interiorchoice.net

Store your latest copy of Citylife in

this oak magazine rack. Priced at £139

(was £159) and available from Paul

Martyn Furniture at Heart of the

Country Shopping Village.
---
A lovely example from the

Residence Collection with Flush

Finish outside and decorative

square finish inside. Available from

Leamore Windows.

www.leamorewindows.com

From the contemporary Solidor

range featuring a stainless steel pull

bar. Call Leamore Windows on

01922 473737 for a quotation.

www.leamorewindows.com

An unusual item, such as this

Seagrass Carver Chair, is a great talking

point. Priced at £157 and available from

Paul Martyn Furniture at Heart of the

Country Shopping Village.

This Barrat & Robinson upright piano is

overstrung and in excellent playing order, with

a reploished cabinet in a satin haig blue finish.

Delivery available. Priced at £950 from Lichfield

Piano Centre at Curborough Craft Centre.

READER OFFER!

Ellis Hyde is offering customers 10% off

any orders placed in July using the code

CITY10. To arrange your home visit call them

on 01543 481441 or pop down and see them

at Heart of the Country Shopping Village.

www.ellishyde.com

This 1000mm chimney breast fireplace has a

1200mm TV module added to the side. The

complete fireplace, including the TV module, is

priced at £2,238 but prices start from £1578.

Both floor standing and wall hanging options

are available and they are handmade in

Lichfield. Available from Rugeley Fireplaces &

Stoves. www.rugeleyfireplaces.com

43
---
The Burntwood

Asylum at

St Matthew's

By Jono Oates

..................

Today, St Matthew's at Burntwood is known as a housing

estate and a social club but its history lies in the world of

hospitals and patient's mental care as it was previously the

site of the Burntwood Asylum.

Public asylums started to be built after 1808 when the County

Asylums Act was passed and in 1845 it became compulsory for

counties to build them. There were three asylums in Staffordshire:

Burntwood; Cheddleton and at Stafford, the county town.

The Burntwood Asylum was designed by William Lambie Moffatt, a

Scottish architect who designed many churches, poorhouses,

workhouses and, from the 1850s onwards, many asylums. It was built

on a 94-acre site at Hobstone Hill, close to Woodhouses and

Christchurch and at an initial cost of £65,000.

The building was officially opened in December 1864 and had a

central block with two wings on either side, one for male patients

and one for female, with sufficient beds for 480 patients in total. The

site continued to expand and a churchyard was added, along with a

chapel which held a Mass for the local Roman Catholic congregation.

A bakehouse was also added and the site had its own gas and electric

supply, a fire brigade, a farm and gardens so that it eventually became

a fully self-contained unit, and community, in its own right.

A clock tower was built in 1921 which was provided by William

Worthington, whose family owned nearby Maple Hayes, now the

dyslexia school.

Due to its development the Burntwood Asylum became

recognised as one of the most efficient, and progressive, asylums and

soon patients were transferred from outside the local area, from

other counties including Worcestershire and Northamptonshire.

Following the First World War there was a new approach to the

issues, and treatment, of mental health and the asylum was renamed

as the Burntwood Mental Hospital. In World War II the hospital

added an additional emergency building which looked after casualties

from the frontline, many of whom were survivors from the Dunkirk

evacuation. After the war the emergency hospital was closed and the

Mental Hospital was renamed as St Matthew's Hospital in 1948 and

was part of the newly-founded National Health Service mental health

services.

During the 1980s the new 'Care in the Community' programme

was rolled out, which meant that many patients were transferred to

private organisations and become part of community initiatives.

Large sections of St Matthew's Hospital became abandoned and the

main building became vandalised and developed structural faults.

In 1995 St Matthew's Hospital was closed down and, eventually, the

site was redeveloped as a housing estate. Over 300 houses were built

and the only parts of the original buildings that remained were the St

Matthew's Social Club, along with the chapel and the administration

block, which was converted into apartments. In 2003 the chapel was

purchased by Busy Bees childcare and is now a children's nursery.

The Burntwood Asylum was recognised as a leading example of

mental health provision in the 1860s and provided mental health care

for its patients up to the 1980s. Today the name of St Matthew's still

provides a link to its past as one of only three asylums in the county

of Staffordshire.

Sources:

www.bfhg.org.uk (the Burntwood Family History Group);

The Staffordshire Asylum Records website

44
---
We are pleased to announce that we can now

recommence our onsite wedding viewings!

However, if you would like to see the venue but do not wish to attend an onsite wedding viewing

just yet, we have also created a virtual wedding tour.

This is a great opportunity to showcase Rodbaston Hall to you from the comfort of your own

home, using the new ways of communicating, in which we find ourselves becoming accustomed to.

During both your onsite or virtual wedding viewing, you will receive a private one-to-one session

with our wedding coordinator who will take you on a journey of the venue and will be directly on

hand to answer any questions you may have.

Rodbaston Hall is located in a stunning 180 hectare rural estate in Penkridge, the beautifully restored

19th century building is the perfect venue for your special event. With elegant banqueting suites and

tranquil gardens this charming venue is guaranteed to be the ideal place for you and your guests to

enjoy your special day.

To book a wedding viewing with us contact us today using events@rodbastonhall.co.uk

45
---
Just over seven years ago, on Saturday 8th June 2013,

the miner's statue was officially unveiled at Sankey's

Corner, Burntwood. The statue, of a miner leading a pit

pony, was the brainchild of the late Rob Bradbury, a

well-known Burntwood resident, historian and

councillor. Ron organised a successful fundraising

campaign, which took several years of hard effort and

commitment, and resulted in sufficient funds being

raised to complete the project. Peter Walker, the

Artist-in-Residence at Lichfield Cathedral, was

commissioned to carry out the work.

The statue, sculpted in bronze, clearly demonstrates

the long history and heritage of the mining industry in

the Burntwood area. The mines were developed

towards the end of the 19th century and both

Chasetown and Chase Terrace grew only because of

the mining industry.

The statue was given the nickname of 'Scamp' after

the initials of the project to install it: The Sankey's

Corner Arts Miner Project. Later the names of over

70 Burntwood miners were added to a plaque which

is placed alongside the statue. Hundreds of people

gathered at Sankey's Corner to witness the unveiling

and Councillor Ron Bradbury was quoted as saying "it

has given the town a heart".

For information on the Burntwood Family History

Group visit www.bfhg.org.uk.

The statue is part of the City of Sculpture Arts

Project in Lichfield District. More information is

available at www.thecityofsculpture.co.uk.

46

'Scamp'

The Miner and

the Pit Pony

........................

Lichfield

Council Cabinet

Roles Redefined

..........................

District Council has announced changes to the current

Cabinet structure to provide more executive capacity and

better align with the new strategic priorities and recovery

plans.

Councillor Iain Eadie will remain as Deputy Leader and takes up

a more focused portfolio as Cabinet Member for Visitor Economy

& the Local Plan.

A new cabinet role has been introduced with Councillor Liz

Little becoming the Cabinet Member for Major Projects &

Cllr Richard Cox

Economic Development. She will also retain lead role on Friary

Grange Leisure Centre.

Councillor Ashley Yeates becomes Cabinet Member for

Community Engagement and Cllr Cox joins Cabinet with responsibility for Leisure, Parks

& Waste.

Councillor Rob Strachan takes on additional areas as Cabinet Member for Finance,

Procurement, Customer Services, Revenues & Benefits while Councillor Angela Lax takes

on housing as Cabinet Member for Regulatory, Housing & Health. Councillor Andy Smith

becomes Cabinet Member for Innovation, Commercialisation and Corporate Services.

Cabinet appointments are decided by the Leader of the Council. The amendments to

the Cabinet structure will also lead to changes in the chairmanship of Scrutiny

Committees which will be detailed in reports to be sent to full council on 14th July.

Current committee membership can be found at www.lichfielddc.gov.uk/committees.

Young Volunteer

Celebrated at Hospice

....................................

Volunteers' Week, held from 1st-7th June,

was more poignant and meaningful than

ever for St Giles Hospice this year as a

result of the ongoing Coronavirus crisis.

Many volunteers have been forced to self-isolate or

stay at home during the lockdown, while others have

stepped up to take on new roles to keep the hospice

running.

Volunteers at St Giles Hospice take on a wide

range of roles from gardening, fundraising, working in

shops and complementary therapy to ward support,

transport and logistics. The hospice attracts

Rhys Thornett

volunteers of all ages such as 17-year-old student,

Rhys Thornett, who helps out on reception and hopes to follow a career in healthcare.

Rhys said: "The reception area at St Giles is actually a lynchpin connecting visitors,

patients, healthcare workers, deliveries and staff. I meet so many different people and have

to deal with a lot of different situations - and emotions. No two shifts are the same.

"I get to see all of hospice life from the reception, and that's definitely not something

everyone at my age gets the opportunity to experience.

"If anyone else reading this is considering a career in healthcare then I would definitely

encourage them to find out more. The training that is available and the investment they

make in you as a volunteer is amazing."

If you are interested in volunteering at St Giles Hospice visit

www.stgileshospice.com/volunteer for further information or to sign up to a virtual open

session.
---
The Rise and Rise

of Outdoor

Weddings

By Alice Higgins

................................

Over the past few years, the rise of people wanting to get

married in the gorgeous British countryside has been

immense. Whilst there will always be a place for the

traditional indoor wedding venue, whether that's a hotel or

stately home, more and more couples are wanting a relaxed feel

to their big day with more choices and flexibility than a traditional

venue can offer. There are some restrictions and challenges to an

outdoor venue but a lot more can be accomplished with a blank

canvas. Wedding planners love things that are a step outside the

norm and your guests will too. Everyone wants their wedding to

be special and to be remembered.

That said, every venue of any kind has its pros and cons so think

carefully about what matters to you before deciding on an outdoor

wedding.

The first thing is that many people think that a marquee in a field is

a cheaper option than a

hotel but it is not. A hotel

has everything in house –

tables and chairs, kitchen

equipment, electricity –

whereas an outdoor venue

needs to bring all that in.

Another thing to pay

attention to is what each

supplier is providing.

Outdoor weddings can be a

bit of a juggling act as there

are so many suppliers you

need to balance – structure,

caterer, toilet hire,

landowner etc. This is where

a coordinator can come in

handy so please do get in

touch if it is something you

want some help with. It can

be done on yourself but

make sure you know where

every element that you need is coming from. It is important that you

have enough power, water supply and tables, chair, plates etc. or the

wedding could get a bit awkward!

To summarise, outdoor weddings are amazing and really let a

couple's personality shine through. It is no surprise that they are

becoming much more popular and taking on a big market share when

it comes to venues. If you are thinking about having an outdoor

wedding but have any other questions about it, please get in touch for

an initial free chat on hello@theeventsexecutive.com or 07765067306.

47
---
Who knew so many people enjoyed baking their own bread? Or

exercising with their family? Or writing novels? 2020 has been

a year of people discovering things about themselves they never would

have. "Running is fun" was not something I thought I'd ever say, maybe

"Running is fundamentally against my principles" or "Running is

funnelling all the life out of my friends" then yes that does sound like

something I would have said in 2019, however it's become a huge part

of my 2020 coping mechanism.

My wife, in turn, has thrown herself avidly into cooking. When it

became clear that takeaways were about to be an even rarer treat, like

guilt-free birthday cake or silence in a household with children, my wife

made it clear to the universe that if we couldn't travel physically

internationally we would do it gastronomically. Every mealtime is a

voyage of discovery: Which country are we eating today? At one point

our youngest daughter, a notorious connoisseur of food, requested we

have blander fare, stating that while she enjoyed the regular curries,

stir fry, garlic-infused flatbread and salted caramel chocolate squares,

she wasn't appreciating them as much as she used to and please could

we just have some sausage and mash or maybe a slice of dry bread.

Our daughters as well have discovered new ways to enlighten

themselves during this time. When presented with the same four walls

our youngest, nearly thirteen, decided to cover them in paintings that

over the last fifteen weeks have gone from something a parent would

wince at, put on the fridge for a week then slip into a bin when

everyone was asleep, claiming ignorance of its location when

48

Honing New Skills in Lockdown

By Chris Purchase

..........................

questioned to

framed pieces we

have replaced art

we paid money for

with.

Finally our eldest

has discovered she

has green thumbs

but not just your

average planting

seeds, watering and

hoping they'll grow

kind

of

horticulture, no. She looked at the food waste we'd normally take to

the pigs at Heart of the Country and saw a cornucopia of future

ingredients. She took anything that could be regrown, constructed a

hanging garden made from recycled packaging in her window, nurtured

the plants and started providing my wife with home grown ingredients

for her multitude of dining experiments, much to the chagrin of her

little sister.

I know we're not the only family who have grown through this

incredibly difficult time, I've seen you run or ride past my window,

smelled the delicious cooking from my garden and smiled at the

artwork in your front gardens. We may have been very quiet but we've

all be very very busy!
---
District

Doodles'

Winners

..................

In May Lichfield District Council's visitor

economy service, Visit Lichfield, set children

and young people the task of creating a piece of

art featuring a local attraction they are looking

forward to visiting once lockdown restriction are

eased.

The competition came to a close at the end of May

and the judges met virtually to choose winners in

each of the three age categories.

District Doodles judges included Councillor Iain

Eadie, Peter Walker, artist in residence at Lichfield

Cathedral, and Mandy Billington, an artist whose

Lichfield illustrations appear on mugs sold at

Lichfield's visitor information centre.

They chose one-year old Isaac Jackson's finger

painting of Beacon Park's flowers and trees as the

winning entry in the 0 to 5 age group.

Nine-year-old George Lewis won with a rainbow

coloured drawing of Lichfield Cathedral. Ten-year-old

Ruby Neville scooped the position of runner-up with

her picture of the nursing memorial at the National

Memorial Arboretum.

Finally, 11-year-old Henry Epstein came first in the 11 to 15

age group with his picture of Lichfield Cathedral reflected in

Stowe Pool.

All four winning entries will be featured in The Hub at St

Mary's Letters from Lockdown exhibition, which is planned to

take place following lockdown. The children will also each

receive a family ticket to a choice of Visit Lichfield tours, to

enjoy when they are up and running again.

Find out more about Letters from Lockdown, visit

www.thehubstmarys.co.uk/letters-from-lockdown.

Competition and Prize Draw Terms and Conditions

1.Entrants' details will be held and processed in line with Citylife in Lichfield Ltd's

Privacy Policy, which in turn adheres to GDPR Data Protection legislation. For a

copy of our Privacy Policy please email josscitylife@gmail.com

2.By entering the prize draw/competition, you agree to the terms and conditions

stated.

3.The closing date is stated on each individual prize draw or competition.

4.Entrants' details will be securely held by Citylife in Lichfield Ltd in accordance

with our Privacy Policy. Details will be held only until the closing date of the

competition. After this date entrants' details will be securely destroyed/deleted.

Winners' contact details will be securely stored only until the winner has been

informed of their win/prize. After this details will be securely deleted/destroyed.

5.Entrants' details will never be shared with any third party. The only exception to

this is the name (and if the prize is to be posted) address of Competition/Prize

Draw winners that will be communicated to the competition partner to allow

winners to securely claim their prize, after which all details will be securely

destroyed. The initial and surname of winners will be printed in our magazines –

no other details will be published.

6.By entering the competition/prize draw, entrants agree to Citylife in Lichfield Ltd

using or publishing materials provided by the entrants (but not address or contact

details apart from initial and surname) in any of their publications and online.

7.Citylife in Lichfield Ltd accepts no responsibility for any breach of copyright or

breach of any other legislation entailed by entrants in their creation or submission

of materials.

8.Only one entry per prize draw/competition, per reader.

9.Except in the case of cash prizes, no cash equivalent will be offered and the

prize is non-transferable.

10.All prizes are subject to availability and the prize suppliers' terms and

conditions.

11.No purchase necessary.

12.Prize draws and competitions are only open to UK residents aged 18 years or

over (unless otherwise stated).

13.Competitions and prize draws may not be entered by any employee of

individual associated with any employee, agent or third party of Citylife in Lichfield

Ltd.

14.Winners will be selected at random in the case of applicable prize draws and

competitions, or by an independent judge in the case of photographic/art

competitions from all entries received.

15.Winners will be notified by Citylife in Lichfield up to 28 days after the closing

date of the competition/prize draw by the contact details provided by the entrant.

16.A list of the surnames and county of residence of the winners will be available

by writing to Citylife in Lichfield Ltd no earlier than six weeks after the competition

closing date.

17.When the prize draw/competition winner has been selected, this decision is

final and no correspondence will be entered into.

18.Citylife in Lichfield Ltd accepts no responsibility for the prize being lost,

damaged or delayed in transit. When the prize is provided by a third party, Citylife

in Lichfield Ltd accepts no responsibility for any change to the prize, or for the

quality of the prize provided.

19.Competitions may be amended or withdrawn at any time.

20.By entering the competition or prize draw, you agree to having your name,

(photograph, where stated) and city or county of residence published in any of

Citylife in Lichfield's publications and online.

21.Unless otherwise stated, the promoter is Citylife in Lichfield Ltd, PO Box 7126,

Lichfield, WS14 4JS.

22. Citylife in Lichfield Ltd do not express any warranty or endorsement of any

competition prize, information, service or product provided in connection with a

competition by printing or otherwise publicising any competition.

23.To the full extent of the law, Citylife in Lichfield Ltd shall not be liable for any

loss, claim, punitive, indirect, incidental or consequential damages of any kind

incurred as a result of entering this prize draw or competition.

24.By submitting photos, text or artworks as part of competition/prize draw entries

you agree that you own these photos text or artworks, that it is your original work

to which you own all rights to distribute, and that your entry is accurate, moral and

legal.

49
---
CLASSIFIED

To Advertise please

contact our classified

team on

07970 513144

This ad...

£40 plus VAT

50
---
51