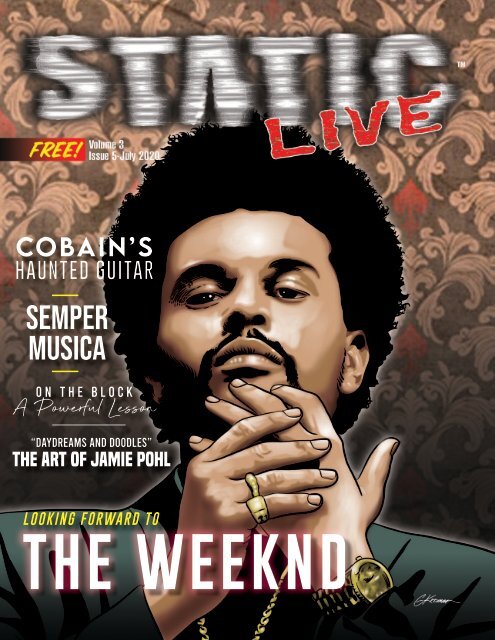 Static Live Magazine July 2020
STATIC LIVE Magazine is Central Florida's premier publication dedicated to celebrating music and culture. STATIC LIVE provides extensive, detailed community information from fashion to art, entertainment to events through noteworthy interviews, sensational photography and in-depth editorial coverage. STATIC LIVE is the only publication of its kind in Central Florida and reaches all target markets through wide distribution channels. Our staff includes highly accomplished contributors with award-winning backgrounds in music and entertainment; we know how much business is captured from the entertainment market. Our free full color publication can be found throughout Central Florida at key retailers, hotels and restaurants in high traffic areas. Our mission is to highlight the incredible talent, culture and lifestyle in Central Florida. With eye-opening profiles and coverage of the music and art community, STATIC LIVE readers will be positively influenced by our topical content and trending advertisers. STATIC LIVE Magazine is the most effective tool for branding connectivity with consumers in our area.
STATIC LIVE Magazine is Central Florida's premier publication dedicated to celebrating music and culture. STATIC LIVE provides extensive, detailed community information from fashion to art, entertainment to events through noteworthy interviews, sensational photography and in-depth editorial coverage. STATIC LIVE is the only publication of its kind in Central Florida and reaches all target markets through wide distribution channels. Our staff includes highly accomplished contributors with award-winning backgrounds in music and entertainment; we know how much business is captured from the entertainment market. Our free full color publication can be found throughout Central Florida at key retailers, hotels and restaurants in high traffic areas. Our mission is to highlight the incredible talent, culture and lifestyle in Central Florida. With eye-opening profiles and coverage of the music and art community, STATIC LIVE readers will be positively influenced by our topical content and trending advertisers. STATIC LIVE Magazine is the most effective tool for branding connectivity with consumers in our area.
SHOW MORE
SHOW LESS
Create successful ePaper yourself
Turn your PDF publications into a flip-book with our unique Google optimized e-Paper software.
COBAIN'S

HAUNTED GUITAR

SEMPER

MUSICA

ON THE BLOCK

A Powerful Lesson

"DAYDREAMS AND DOODLES"

THE ART OF JAMIE POHL
---
Oh My...Goddess

2

Colby

One of the many perks of modeling is international traveling! I have been

able to travel to places like Peru,Mexico and England. One of my favorite

international jobs was shooting for ASOS in London last year. Personally, it

was so exciting using the Tube to get to work and traveling around the city on

my own. I worked with an amazing team at ASOS and was able to do some

exploring as well, like seeing Buckingham Palace and riding the London

Eye. I also got to see the play, Hamilton, live after a day of work, which was

a dream of mine. Modeling has given me the experience to not only travel

around the world, but to meet amazing people I never would have. Thank

you ASOS!

A Day in the Life of a

Gigging Musician

By Adam Floyd

SPLASH! I jump into the deep end of my pool, not bothering to dip a toe first.

Helps me come to full consciousness when I get up, usually around 11 am. I don't

drink coffee so I use a wake-up swim to get going. Lots to do in the pandemic. Concerts

and festivals, clubs and bars - everybody is booking and I need to prepare for a full

summer schedule after a couple months of isolation. The time off was refreshing. The

opportunity to kick back and chill a little has brought some benefits but living life in

the frenetic world of performance is how I keep sharp.

Once more into the gap! I charge forward with new material. Cover songs to choose

for the bands I front. Pretty standard fare, as all I need is some taste and discernment.

The more challenging part is composing originals. It's time to get down to it but

creative juices flow to their own rhythm. You can't force it and expect good results.

I can get some not-so-good songs out of the way though. It cleans out the pipes so

the good stuff can come to the fore. Writer's block isn't a big problem since I've been

songwriting since I was a boy. The main approach I use is to come up with a melody

over some chords. Then the syllables reveal themselves and I fit in a story for the

lyric content. I also write the other way around. I'll come up with a story and write a

song to match or express the main idea. Bridges are tough for some but I lean on my

composing education to help me flesh something out.

Wedding gigs have been sparse. I guess people are doing a more intimate ceremony

with smaller events at home to avoid spreading the plague. I feel sure things will

pick up as the world finds the new normal. Love always finds a way. I usually do the

ceremony, not the reception anyway. I'll play violin or classical guitar during the vows

and that part isn't going away. Dates are starting to trickle in.

Touring from Florida up to the mountains of Appalachia is great fun and my annual

ritual. Orlando, Daytona and Jacksonville. Savannah, up the coast and across the

Carolinas to Asheville. Through the Gap and into Tri-cities. You get a nice cultural

exchange as drawl and twang overtake the easy coastal vibe. I go with the flow and

give the people what they want wherever I play. Makes no difference to me, I like

it either way. I haven't played out West in a while so am considering a tour across

Highway 10 to Cali next year. The only question is which band to bring. Coyotes and

Towndogs, my jump-jive act, is smooth and crowds love us. I'd also like to tour my jug

band, The Potlikkers. I'll have to work out which players want to and are able to tour

for a few months, before I decide which band to bring along. Either way we are sure

to make a SPLASH.

3

Photo Credit: Premiere Photographer Jonni Nicole
---
"I want to be remembered as iconic

and different" ~ The Weeknd

2

3

6

8

10

12

14

15

16

23

25

26

28

35

36

38

39

Oh My Goddess

A Day in the Life of a Gigging Musician

Looking Forward to The Weeknd

A Powerful Lesson

Musical Activism in 2020

Musician's Cookbook

A Word from the Throne

Semper Musica

Art Feature - Jamie Pohl

Cobain's Haunted Guitar

Runway Chronicles

Lights Out in C-Villa

Behind the Mic

Rocktails

Become a Music Critic

Rare Earth Reviews

Snap It

Static Live Media Group, LLC

STUDIOS

DREAM. CREATE.

927 S. Ridgewood Ave., Suite A5

Edgewater, FL 32132

386-847-2716 www.staticlivemag.com

Sean Impara, Publisher

Billy Chapin, Co-Publisher

Jenny McLain, Editor

Jamie Lee, Graphic Artist

Lindsay Kroman, Graphic Artist

COVER ART BY GARY KROMAN

© 2020, Static Live Media Group, LLC. All rights

reserved. No part of this publication may be

reproduced or transmitted in any form by any

means electronic, mechanical, photocopying,

recording or otherwise without the prior written

permission of the authors.

Making great music since 1999

For scheduling, Contact Sean at (386) 847-2716
---
By The RelucTanT Genius

6

With so much that is going on in today's world

it's nice to know that one of the things we have in

common is the love of music. Recently there's been

an influx of young talent that has proven that, for

the future, things are well in hand when it comes to

creating new and exciting beats and lyrics.

This month's featured artist has gained enormous

popularity, so when it comes to making hits

he has quickly climbed up the charts. Over the last 3

to 5 years he's proven that his words and music are

meant to be shared with the world.

Here's a little more about The Weeknd and why he

will be at the top of the charts for the foreseeable

future.

The Weeknd, born Abel Tesfaye on February 16,

1990. His parents had moved from Ethopia to

Canada, although his father left the family when he

was a toddler and he was raised in large part by his

grandmother. In a 2015 interview with Vanity Fair, he

described Michael Jackson's "Don't Stop 'til You Get

Enough" as the song that helped him find his voice. He

began recording while in high school. After dropping

out, he continued to pursue his music. He uploaded

several songs to YouTube anonymously and released

House of Balloons, a free download, in 2011. Tesfaye

initially had an air of mystery surrounding him and

used the aliases "Kin Kane" and "The Noise".

He began a tour of Toronto at a venue called Mod

Club. Drake was in attendance and approached him

about a potential collaboration. He was often the

opening act for Drake and they worked together on

the 2011 album Take Care, featuring several tracks

from House of Balloons. This landed him a deal with

Universal's Republic Records. His first US tour began

in April of 2012 at Coachella.

Tesfaye has collaborated with many artists, including

Justin Timberlake, Sia, Beyonce, Alicia Keys, Kanye

West, Kendrick Lamar, Lana Del Rey, Daft Punk and

Ariana Grande in addition to frequent collaborator

Drake. In September of 2015, he became the first

male artist to simultaneously hold the top three

spots on the Billboard Hot R&B chart with three

singles that preceded the release of the album.

Tesfaye grew up listening to a variety of music with

an admiration for the era before he was born. His

lyrics often express pain and include subject matters

such as partying and sex. He has launched his own

XO branded merchandise. In 2018, Marvel released

the comic Starboy, based on his chart-topping song

from the multi-platinum album of the same name.

Tesfaye has won three Grammy Awards, eight

Billboard Music Awards, two American Music Awards,

nine Juno Awards, and has been nominated for one

Academy Award. In April, he relaunched XO's nonmedical

cloth facemasks in an effort to raise money

for MusiCares Coronavirus Relief Fund, a campaign

launched by the Grammys to help musicians affected

by the COVID-19 pandemic, with 100% of the proceeds

from the sale of the masks to be donated to the relief

fund.
---
ON THE BLOCK

A Powerful Lesson

By Jenny McLain

On April 5, 1968 American school teacher Jane Elliott first

conducted her now famous "Brown Eyes/Blue Eyes" exercise for her

third grade class. It was the day after Martin Luther King Jr. was

assassinated. She decided after watching the madness that it was

time to try the eye color exercise she had thought about many times

but had not introduced to her students. She created a microcosm

of society in a third grade classroom. The local Iowa newspaper

published the compositions the students had written about the

experience and it put Ms. Elliott on the path of becoming a public

speaker as an antiracism activist.

The third time she held the classroom exercise with her third graders

in 1970, it was filmed and became the documentary "The Eye of the

Storm". This also inspired a retrospective fifteen years later called "A

Class Divided" on an episode of the PBS series Frontline, revisiting

the students at their High School Reunion. She has conducted the

exercise with college students, which is the subject of the 2001

documentary "The Angry Eye". In the episode of Frontline, she

conducted the exercise with a group of employees from the Iowa

Department of Corrections, which includes the "debriefing" of the

group at the end of the exercise.

If you are not familiar with it, Jane Elliott taught at a school in

Riceville, Iowa, a town with an exclusively white Christian population.

It must have been difficult for the people there, and especially the

school children, to understand what was going on in other parts

of the United States. She began the day by talking about what

kinds of people are treated differently and why, and she asked

the students if they could understand how it would feel if they were

treated differently based on the color of their skin. They quickly

said they could, but she wanted them to FEEL it. Then she asked

them what was different about them individually that might be used

to separate them into groups. They split the class according to eye

color. Since she, the teacher, has blue eyes, she decided that the

blue eyed people would be on the top first.

The kids with brown eyes were given collars by the kids with blue

eyes so they could be easily identified from a distance and the class

was told that blue eyed people were smarter, cleaner, and more

civilized than brown eyed people. They were given examples of bad

things that people who happened to have brown eyes had done

and good things that were done by people with blue eyes and she

made the argument that they behaved a certain way because of the

color of their eyes. For that day, the blue eyed people would have

5 extra minutes of recess; the brown eyed people could not use the

drinking fountain and had to use paper cups. The blue eyed people

could not play with the brown eyed people at recess, because the

brown eyed people were not as good. The blue eyed people sat at

the front of the room. The kids started owning the situation, treating

their classmates differently, coming up with punishments if the brown

eyed people got out of hand. Ms. Elliott says in the documentary

that the transformation happened within 15 minutes of beginning the

exercise. She called them "ghastly".

The tables were turned the next day and the brown eyed people

were on top. She again gave examples of bad things done by blue

eyed people and good things done by brown eyed people. The

collars were switched and the same privileges given to the blue

eyed people the day before were given to the brown eyed people.

The expressions on the faces of the children is agonizing; you can

see the frustration of feeling helpless when judged by the color

of their eyes by kids who were their friends the day before and

the euphoria of being considered superior. The kids who wore the

collars did worse during lessons but did better when not wearing

collars, simply because they were treated a certain way.

After the two day exercise, Ms. Elliott talks to the students about

how they felt while wearing the collars. One boy said he felt like a

dog on a leash and another said it was like he had been locked

in a prison. There is a powerful image of one of the blue eyed

kids taking his collar off and tearing at it with his hands and teeth.

In the end, they came together again as a class, with their arms

around each other because they were released from the idea that

they were better or worse based on the color of their eyes, each

understanding the feeling of being judged unfairly. During the

retrospective, they said they continue to feel a certain bond with

each other because of the lessons they learned over those two

days, fifteen years earlier.

Also during the Frontline retrospective, the employees from the Iowa

Department of Corrections talked about the frustration of being

labeled inferior. When asked why they let a few of the people

wearing collars stand up for themselves alone instead of joining

forces they said that if the attention was on those few, it would be

away from them. If those few had been successful, they would have

joined them in the protest, but they felt that resistance was pointless.

I first became aware of the exercise when I was working at Procter

& Gamble, a company that was very focused on teambuilding. My

job was to travel to various locations and conduct training classes

for sales reps who were being issued laptop computers. I had

worked as a district secretary before joining the IT department so

I was familiar with their jobs as sales reps. Most of them were

older and more experienced than me, except that they had never

used a laptop. For the most part, they didn't want the change that

was being forced on them and they especially didn't want a young

woman who looked even younger than she was to be a symbol of

the change. But, because of the teambuilding efforts of the company,

we understood our roles and I can honestly say that I always felt

respected, even if not always appreciated. And I was fine with that.

I didn't understand at the time what an impact it would have on my

life. It gave me confidence in myself, my knowledge, and my abilities.

Imagine how different the world would be if every third grader

were taught this lesson, however harsh. Now lament the fact that

no school today would be allowed to teach it.
---
MUSICAL ACTIVISM

"Songs can speak to a movement or an individual or even evoke a sense of community among a group but what does it do if we don't get out there and DO something

in 2020

By Candice Beu

"Let's take musicaL

activism to new heights

in 2020 and take some

reaL action rather than

simpLy repeating history."

with it? With the knowledge we have about the problems our society faces today there also comes a sense of responsibility. We must lean in and meet our

problems with a humility and openness to respond to humanity's actual needs, responses based in educated actions that back up our words or in this case, our

music. I do believe musical activism in the form of songwriting is a necessary tool."

Are you mad? Are you frustrated with the current state

of the world? Are you feeling the need to speak up,

make your voice heard and do your part to bring about

change? A lot of us are feeling this way. So what do we

do with overwhelming anger and upset? How do we use

these emotions more proactively? As civil rights activist,

memoirist and poet Maya Angelou said "You write it.

You paint it. You dance it. You march it. You vote it. You

do everything about it. You talk it. Never stop talking it."

She explains that we should be angry right now but we

must not let our anger turn bitter. She says "Bitterness

is like cancer. It eats upon the host." We can't push it

down or bury it, we have to use its energy productively,

as a propellant forward. Let us not merely burn with an

inner fire that could scorch us and everyone around us

but instead let this momentum fuel our creativity, spark

our inspiration and energize our motivation to repair

our world. Good art rarely comes from happy people.

Art is always an expression of our own questions,

experiences, insights and most often, our pain. So how

can we best use what we have to offer as Artists to move

society forward?

We could sit behind our screens, behind our instruments,

behind our keypads contemplating life from a distance

and channeling our feelings into a song, but I ask

you this…to what end will that song actually create

systemic change? I'm not denying that music can play a

pivotal role in activism. Songs can speak to a movement

or an individual or even evoke a sense of community

among a group but what does it do if we don't get out

there and DO something with it? With the knowledge we

have about the problems our society faces today there

also comes a sense of responsibility. We must lean in

and meet our problems with a humility and openness

to respond to humanity's actual needs, responses

based in educated actions that back up our words or

in this case, our music. I do believe musical activism in

the form of songwriting is a necessary tool. However,

currently there are a ton of amazing civil rights/protest

songs that have already been written by relevant

sources. There are so many Artists from all walks of life

who are supporting the Black Lives Matter movement

on the worlds stage. Black Comedians, Musicians and

Filmmakers are using their visibility to come out against

injustice hard right now. Hip Hop and R&B's response

to the death of George Floyd has been prolific. Songs

such as J Cole's "Be Free", Kendrick Lamar's "Alright",

Beyonce's "Freedom" (feat. Lamar), Jay Z's "Spiritual",

Public Enemy's "Fight the Power", "This is America" by

Childish Gambino and "Hands Up" by Daye Jack (feat.

Killer Mike) are all having viral revivals lately. Even

classics like Sam Cooke's "A Change is Gonna Come",

Bob Marley's "Redemption Song" and Marvin Gaye's

"What's Goin On" are finding new significance. The

emotional impact and relevance of these songs (and

many more like them) exude the power and credibility

of today's issues. Getting an unknown "protest song"

heard in this climate may be an uphill battle in an

already flooded market. Perhaps the musical efforts

and artistic skills of the rest of us may be better put to

use elsewhere, for the highest good, for the time being.

Sure it's awesome to write music and feel like we've

done our part, but right now that seems more like the

musical equivalent of saying "my thoughts and prayers

are with you". Let's not confuse sitting on a couch

writing a song with getting off the sofa and helping

someone. If we are honest with ourselves there are

probably more selfless ways we could use our talents

to join the cause and impact lives. What if we forged

ahead with a different kind of musical activism instead?

Lets go beyond aspirational or resonant songwriting

and venture into a new kind of ACTION based musical

reform that sets out to work from the ground floor

up, one on one, with real people, people who would

benefit from an interaction with someone who

knows music. If you have a stage and spotlight,

use it wisely to educate and disseminate accurate

information. Create new platforms that shine a light

on silenced voices so that they may bring awareness

and education to others through their stories and

experiences. Offer a price break to help someone

create tracks, record vocals, and produce their own

songs of protest and awareness. Better yet, try

teaching them how they can do that for themselves.

Raise folks up by helping them rise through the

ranks. Give a leg up. Offer a job or opportunity. Be a

connector to booking agents, managers and higher

ups. If you are 'in the know' then show someone the

ropes and how to make the real money in some of

the various entertainment industries. Start up music

programs for the young, old or underprivileged in

your area. Support music and art programs that are

already in progress. Anonymously donate to causes

that help the oppressed or to individuals you suspect

may be in need. Personally pay for music therapy

for someone by buying them an instrument and

lessons, getting them a vocal teacher, a producer or

a songwriting coach to work with. If you are artistic

and knowledgeable about racism, culture or social

psychology you could assist others in learning more

about the nuances of equality, privilege and history by

way of writing, music and art. There are so many ways

to aid in advancement, innovation and expression

while addressing the challenges of our time. Art in all

its forms can voice dissatisfaction and dissent within

any oppressive societal regime and it can also offer

fresh solutions, comfort and connectivity through

finding common ground.

Anyone who understands the power of music, who can

direct musical self expression, and support people in

telling their story would be beneficial to the cause.

It's the perfect time to model non-defensiveness,

humility, and selflessness by being open to learn from

and collaborate with diverse groups of youths and

adults while taking steps towards justice, equality

and healing together. I'm not saying not to write

or perform your own musical expressions, but in

addition to that we could also look for ways to back

up what we sing about. If you are going to create a

sonic experience about current events then perhaps

you can do what songstress Madison McFerrin did

with her evocative "Can You See". The proceeds from

this acapella masterpiece, which you can find on

bandcamp.com, go 100% towards Breonna Taylor's

Family GoFundMe. We can all figure out fresh ways

to reach out, donate, address real problems and help

real people. Dive in there, grassroots style, with eyes,

hearts, and minds wide open. Sure, it might be nice

to be seen as the next John Lennon but he already

wrote "Imagine", so now why don't we imagine what

else we can do and go do that instead. We can all find

ways to do better by this world, be it interpersonally,

individually or globally. Let's take musical activism to

new heights in 2020 and take some real action rather

than simply repeating history.

"I did then what I knew how

to do. Now that I know better,

I do better"

-Maya Angelou

11
---
MUSICIANS COOKBOOK

Let's face it – cooking can be troublesome. Most people have very busy

schedules and can't commit to frequent home cooked meals. Go to work,

participate in an activity, and then cook? No thanks. Getting busy in the

kitchen can be especially daunting for entertainers. Since we get a food/

beverage tab at most venues, we tend to favor that route instead… sometimes

we even enjoy a liquid dinner (I'm looking at you, 8 Bud Lights). Going

forward, the purpose of my articles will be to shed some light on the joys

of sautéing some veggies, perfecting your favorite meats, and entertaining

guests with good old-fashioned FOOD.

Before I begin, I can't say enough great things about having a stash of glass

or plastic Tupperware to store your creations. Pyrex makes quality, long

lasting storage options in all shapes and sizes. The freezer is your friend and

you should pack it full of everything you make. Always cook more than you

intend to eat in a single night. Why do the work and dishes twice or three

times or more?

Let's cook! Our first recipe is going to be Red Panang Curry. This is a superfast,

easy, and delicious meal that serves 2 – 4. You can easily double this

recipe and save yourself a bunch for later. Red Panang Curry has a lovely

level of spice and a sweet finish. If you don't like spicy food, this might

not be the one for you. To reduce the spiciness, simply use less Panang

Curry Paste. I used to order this dish ALL THE TIME from my local Thai

restaurant. During the initial response to the COVID19 crisis, they were

closed indefinitely. I desperately wanted the meal, so I decided to find

some recipes and combine attributes of my favorite ones to create my own

perfectly balanced curry. Not only does this taste amazing, but it's also a

fraction of the cost of eating out. Support your local Asian food stores and

you will find that they have the best authentic items and usually the best

prices as well.

Cooking Oil

INGREDIENTS:

1 Onion (Chopped)

2 Green Bell Peppers (Sliced)

2 Red Chili Peppers (Chopped)

1 4oz can Panang Red Curry Paste

1 13.5oz can coconut milk

1/4 cup fresh basil leaves

1 Head Cauliflower (Riced) or Frozen

1 Tbsp Peanut Butter

2 Cloves Minced Garlic

Optional Chicken (sliced into small bits)

Watch my full cooking video for this recipe on my

Facebook page

"Ian Opalinski Music"

or follow the link:

facebook.com/ianopalinskimusic

RED PANANG CURRY

Let's get to work! Heat your oil in a wok or pan on medium high heat.

I prefer to use an avocado oil for this dish, but any cooking oil will work

just fine. Sauté onions for 1 minute. Add peppers and garlic and sauté for

an additional 3 minutes. Stir frequently so the garlic does not burn. Push

your veggies aside because the magic is about to begin. Add curry paste

and peanut butter. Mix these two together and let fry up for a minute.

Now would be a great time to add chopped chicken if you'd like. Mix

everything together and add coconut milk slowly. Enjoy that slow pour

and watch the curry take shape. After stirring once more, bring it to a boil,

then simmer 15 minutes. Garnish your curry with chopped basil leaves. If

you don't already own a basil plant, get one next time you are at a grocery

store or home improvement store, it will be a good long term return on

investment. Basil rules the world. Chop your cauliflower and rice it using a

food processor or other blender. If you don't have these, buy yourself some

frozen riced cauliflower. You can also use traditional rice if you please.

Cook in separate pan for 5-10 minutes and taste to make sure it is the

right consistency. Pour a few scoops of curry into a large bowl and use a

separate small plate for the riced cauliflower.
---
Semper Musica

By Jamie Lee

It's fitting that the most mundane and least visible

component of any stage denotes the truly powerful nature

of a band's least heralded but most important member.

For most it is easy to assume that the drummer is simply

sitting on a stool in the corner, appendages flapping away,

adding onomatopoeia to otherwise musical moments

provided by the REAL MUSICIANS—we've all heard the

jokes. (What do you call a drummer without a girlfriend?

Homeless)

Well, Ladies and Gentlemen, it is my duty to help set the

public straight and help rehabilitate the image of music's

most important position. We'll start the reeducation with

simple semantics. A drummer doesn't sit on a chair, stool,

or bench although all work in a pinch. The place where a

drummer rests his or her booty is called a THRONE. The

drummer presides over any given evening with a list of

demands that can be difficult to balance. To righteously

command such a position is an immense responsibility.

Before we dive deeper we must make it clear that

restaurants, bars, night clubs, and all other venues hire

live musicians to create an enjoyable atmosphere for their

patrons. More enjoyment experienced by patrons equals

more time and money spent at the venue. A drummer is

in the perfect position to either facilitate or hinder that

dynamic. If the drummer is kind and just they will play at

an appropriate volume that allows for free communication

between all people in the building. If people have to shout

to each other across the table or—even worse—the bar,

overall enjoyment is decreased. In this way drummers

affect tips for bartenders, servers, busboys and gals, and

even the rest of the band. Time after time this idea has been

reinforced by nervous managers looking for reassurance

that I'll be quieter than I look.

To play at an appropriate volume is a choice to place other's

enjoyment over our own.

BY BILLY DEAN

To continue, it is important that we shed light on the true

social/musical role of the drummer. The most ancient

responsibility of the drum THRONE is the inducement of

dance. Dance is the natural effect of drumming and has

been since the first caveman started banging away at a log

in rhythm.

However, the drummer's setting dictates the level of kinetic

ecstasy that is possible. Unabashed dance is becoming

a thing of the past, at least in bars and restaurants.

Furthermore, prospects for dancing are reduced when

dining is the main purpose of an outing.

However, if a drummer does a good job at reading the

crowd even the table hiding in the back of the room will

be toe tapping or least chewing in time. We drummers

create a hypnotic pulse that bodies can't deny. We can gain

acceptance from even the most motion resistant, fun averse

folks. I've seen the transformation many times. A quiet

room of hungry statues loosens into their humanity after

30 minutes of good grooves and ultimately makes their way

to band stand for some rhythmic wiggling. By the second

set bodies are pulsing next to each other and drinks are

flowing—someone's night is going to end well.

Again, the drum THRONE is able to directly affect the

enjoyment of an entire room for the night and may turn

your first date into a second.

Drummers in their natural habitat are loud creatures.

Holding drumsticks is an invitation to hit something

HARD. To say there isn't tension between what we

drummers would LIKE to do and what we SHOULD

do would be a lie. I am always ready to break into a selfindulgent,

chop-laden tangent like an unhinged, impulsive

tweet. But, I respect the THRONE and choose to use my

powers for the greater good.

The next time you find yourself enjoying a night out take

note of the drummer and how they are making your night

better.

With our nation's Independence Day around the corner,

I wanted to talk about our country's providers of security,

the blanket of freedom we all live under - the United

States Military. I want to bring to light a non-traditional

part that most do not know about and only happened as

of last year. You have heard of the Marine Corps Band;

however - they have added an MOS (Military Occupational

Specialty - their daily job) of vocalist to be signed

on contracts in 2019. There have been vocalists in the

past but, last year a woman named Megan Lynn Browning

was the first to sign a Marine Corps contract with the

MOS 'vocalist' attached.

Lance Corporal Megan Lynn Browning has been a professional

singer since 2008, and has been a US Marine

since 2018. She was trying everything to supplement her

music career - working in amusement parks, etc but, it

wasn't fulfilling her as a complete person or giving her

the monetary means to be a success. She wanted more

and so she moved on to the Marine Corps. (Read all

about Megan Lynn Browning on her blogSemperVocalis.

com)

The Corps offered a Musician Enlistment Option Program

and, by no means are these talented people who

qualify any less of a Marine. First, you must audition and

qualify for a placement in the music program. Once you

are qualified for the program, you will then be required

to pass the Initial Strength Test - basic enlistment protocol

and then enter into the Delayed Entry Program,

during which, your recruiter will prepare you for recruit

training. You will then attend 13 weeks of recruit training

- you know-'boot camp' at Marine Corps Recruit

Depot Parris Island or San Diego, this is based on where

you live in the country, east or west, simple right? After

surviving and graduating boot camp, you will attend

your schooling, as Marines do, only in this case it is the

Naval School of Music where you will receive advanced

musical training; instrumental, vocal (if applicable) as

well as academics, all before you are assigned to one of

the 10 Marine Corps bands.

You see, music is truly everywhere and I am thankful

that they are starting to recognize that just because you

do not play an instrument, a voice is just as powerful in

the music community. You may think that this is a cushy

job for the Marine Corps however, they are still required

to hold the same physical and mental standards as any

Marine. I feel that the integration of music into

our military is vital to our

nation's security. I mean, has

anyone ever heard of Bob

Hope? The USO? For 200

hundred years the Marine

Corps (and the other

branches) have had music

within their elite walls,

following in the

footsteps of

legendaryMarine

musicians like John

Philip

Sousa to jazz musician

and Ellis Marsalis whom

was referred

by the mayor of New

Orleans, Mayor LaToya

Cantrell, "He was the

prototype of what we

mean when we talk about

New Orleans jazz."

Musicality brings hope,

a reminder, a feeling of

belonging, our freedom

fighters need talented people

around them to make sure

in the thick of it they

remember what they are

fighting for and to instill the

hope needed for them to

return home safely. Music

can heal and in the current

situation that our nation

faces the military are

not the only ones in

need ofthe power

of music.

Semper Musica
---
"DAYDREAMS AND DOODLES"

THE ART OF

Jamie Pohl

By Bartholomew Betelguese III

I think at one time or another all of us have doodled on a piece of paper,

most likely starting at an early age and then progressing. Human beings

have always liked to create art with just a simple pen and paper, or

charcoal and wall, or feather and paper, or pencil and paper, perhaps paint

and paper and so on. It's one thing we all have in common; at one time

or another, we like to doodle. This month's artist not only created some

unique pieces of art while doodling, but he was also talented in many

other aspects of the arts. We here at Static Live are not only proud to show

off Jamie.'s works of art, but we were also happy to know and have worked

with him during the last 10 years. As you can see in the pictures before

you, he was a creative soul and an inspiration to all that knew him.

"The flame that burns twice as bright burns half as long" Lao Tzu

Here's a little bit more about Jamie ...

Jamie Allyn Pohl was born November 18th, 1975 in New Brunswick,

New Jersey. As a young boy, Jamie's interests were piqued by many

things. He was a Cub Scout and played soccer for Tom's River Youth

Soccer. At the age of six, Jamie's grandmother bought him an acoustic

guitar for $19.95. As a result, Jamie fell in love with music and began

taking lessons right away.

Besides guitar, Jamie took an interest in other musical instruments. In

elementary school, he played saxophone and would virtually play any

instrument he got his hands on. Jamie was also an incredible artist and

created a comic strip called "Mushroom Pirates" for his little brother

Drew.

Jamie and his family moved to Florida in 1989. He attended Flagler

Palm Coast High School from which he graduated in 1994. While at

FPCHS, Jamie played bass in the jazz band and took part in forming

the band "Young Men of Jazz". He also performed in and designed

for the musical productions of "Bye Bye Birdie" and "Fiddler on the

Roof" when he wasn't out skateboarding.

Jamie's interest in music and the arts kept growing as he attended

FCC Jacksonville on scholarship. He soon left there to attend Full Sail

University in pursuit of a degree in music production and

recording in early 2000.

After graduating from Full Sail, Jamie started playing bass in

different rock bands throughout Central Florida. He was

always noticed for his high energy and playing style and was

never overlooked. With his distinctive sound, you could

hear many of Jamie's musical influences at the strike of a

note.

In 2002, Jamie became one of the original partners that

started Manta Ray Records, Radio and Studio. During that

time, Jamie used his talents and skills inside the studio

recording and producing different bands and hip-hop artists.

In Loving Memory

1975- 2020

In early 2005, Jamie crossed paths with a band known as Breaking

Ground. They were looking for a bass player. At the suggestion of the

band's lead singer, the group met up with Jamie, hung out and played

a few songs together; it didn't take long for them to realize it was a

perfect fit.

17
---
ARTIST FEATURE

Jamie Pohl

continued

By mid-2005, Jamie and the guys were ready to hit

the studio and record their first album. It was during

that time that the band changed its name from

Breaking Ground to Orange Avenue. Jamie is one of

the founding members of Orange Avenue and their

affiliated record label, Lovelamp Records.

Jamie and the band went on to release their first

record in 2006 followed by another full-length album

and 2 EP's up until 2014. Jamie played hundreds of

shows to thousands of fans while touring the country

with Orange Avenue. In his spare time, Jamie could

be found drawing, sketching, making funny videos,

listening to podcasts, watching YouTube, hanging with

friends and talking up any one of his many fans.

Jamie inspired and touched many lives through his

amazing talents, generous spirit and artful personality.

His untimely death on May 20th, 2020 was a shock to

all who knew and loved him. He is so very missed.

19
---
20

21
---
COBAIN'S HAUNTED GUI

COBAIN'S HAUNTED GUITAR

BY HANK HARRISON WITH CATRIONA WATSON

22

KURT COBAIN

BY HANK HARRISON WITH CATRIONA WATSON

If your daughter gets married and doesn't invite autistic spectrum… but he was also a g

If your daughter

you to the

gets

wedding,

married and

it doesn't

doesn't

mean

invite

you're autistic not spectrum… her music

but he

and

was

art

also

and

a genius,

blessed

gifted

with

in

good

you to the father. wedding, If your it doesn't son-in-law mean is you're murdered, not her even music though and you art and most blessed important with good guitar looks. just Now sold his for a bra

father. If your never son-in-law met him, is murdered, do you have even though a right you to mourn? most important If that guitar and just we must sold for ask a brain-buster ourselves why? price

never met same him, do son-in-law you have creates a right to a mourn? haunted If that guitar, and one we must that's ask ourselves why?

same son-in-law appraised creates for a more haunted than guitar, two one million that's dollars, are you First of all, what is the history of this g

appraised automatically for more than precluded two million dollars, from writing are you about First of it? all, I ask what is really the history knows of for this sure. guitar? Is Nobody it akin to Th

automatically precluded from writing about it? I ask really knows for sure. Is it akin to The Red Violin?

these questions because all of these things happened Many rumors have circulated since Kur

these questions because all of these things happened Many rumors have circulated since Kurt's passing. Is it

to Hank Harrison.

haunted by his spirit? Is it cursed? Bu

to Hank Harrison.

haunted by his spirit? Is it cursed? But whatever the

legend of your choice, the intrigue grow

legend of your choice, the intrigue grows.

In 1993, while

In 1993,

between

while

gigs,

between

Kurt Cobain

gigs,

popped

Kurt Cobain

into

popped into

Voltage Guitar Voltage at 7529 Guitar West at Sunset 7529 West Blvd., Sunset Hollywood Blvd., During Hollywood the MTV During Unplugged the show MTV in Unplugged New York, Kurt show in N

— they are — no they longer are selling no longer from selling that shop from — and that sang shop and — played and a sang song and on this played guitar a called song The on this Man guitar c

purchased purchased a 1959 Martin a 1959 Dreadnaught Martin Dreadnaught D-18E, one Who D-18E, Sold one the World, Who considered Sold the World, by many considered to be a by

of only 302 of copies only 302 ever copies made. This ever was made. not the This fancy was not reference the fancy to the famed reference dark to spirited the famed billionaire dark David spirited b

model like model the one like David the Crosby one David gifted Crosby to Phil Lesh gifted Geffen to Phil and Lesh the conflict Geffen between and the them. conflict between them.

of the Grateful of the Dead Grateful for playing Dead on for his playing 1972 solo on his 1972 solo

album, but it has a really nice folksy boom to it, and Cobain was probably murdered, but we won't go

album, but it has a really nice folksy boom to it, and Cobain was probably murdered, but

somebody did a great job installing the Bartolini into that here, except to say that, like the Kennedy

somebody did a great job installing the

3AV sound hole pickup. This was the guitar Kurt was assassination, Bartolini into that here, except to say that, like

the case is still in full flight decades

seen playing

3AV

on

sound

a famous

hole

and

pickup.

controversial

This was

MTV

the

Live

guitar after Kurt the death. was assassination, the case is still in full

Kurt, like Elvis and John Lennon, upset

Acoustic show seen playing which was on recorded a famous at and Sony controversial studios the MTV Hollywood Live apple-cart after the setting death. an Kurt, unprecedented like Elvis and John

in New York Acoustic City, November show which 18, 1993. was Almost recorded three at Sony standard studios for rebellion the Hollywood and causing apple-cart fans setting and an u

decades later, in New on June York 18th City, 2020, November that same guitar 18, 1993. sold Almost criminologists three alike standard to dig deeper for into rebellion the whys and causi

for more decades than 6 million later, clams on June before 18th an 2020, astonished that same wherefores guitar sold of showbiz criminologists and the details alike to of dig his death. deeper into

audience for of antiquarians, more than rock-and-roll 6 million clams journalists, before fans an But astonished money, angels wherefores and bad of karma showbiz aren't and the only the detail

and extended family. The price broke a world record things propelling this auction through the roof. There

audience of antiquarians, rock-and-roll journalists, fans But money, angels and bad karma a

for acoustic guitars and set an all time standard for is a cast of characters backstage fit to drive an oldschool

Shakespearian director to the madhouse. Let's

and extended family. The price broke a world record things propelling this auction through

haunted musical instruments of any kind.

for acoustic guitars and set an all time start standard with Hank's for is a cast of characters backstage fit to

Harrison's daughter, Courtney Love.

haunted musical instruments of any kind.

school Shakespearian director to the m

Any astute hipster might mention Charlie Parker's Everybody knows Courtney operates from somewhere

Selmer alto sax as a similar treasure but there are too left of center. When start Hank's with Hank's granddaughter, Harrison's Frances daughter, C

many to mention, Any astute one in hipster every junkie might pawn mention shop in Charlie Bean, Parker's married Isaiah Everybody Silva in knows 2014 Courtney freaked operates fro

every jazz Selmer town. Or alto you sax might as want a similar to mention treasure Harpo but there out, she are pretended too left to of be center. supportive When but Hank's she didn't granddau

Marx' famous many harp, to which mention, went one auction in every for a junkie bunch pawn like competition…from shop in Bean, future married babies? Isaiah Maybe Silva she in just 2014 Co

of money every many jazz years town. ago Or in an you estate might sale. want But to I mention couldn't Harpo deal with out, the concept she pretended of grandparenthood! to be supportive

doubt anything Marx' is famous going to harp, surpass which Cobain's went on haunted auction for a bunch like competition…from future babies?

Martin… unless another long lost Stradivarius comes But what the heck! Why would one more rock star in

of money many years ago in an estate sale. But I couldn't deal with the concept of grand

on the market.

the family make a difference?

doubt anything is going to surpass Cobain's Isaiah, haunted who's band the Eeries, a millennial grunge-like

Martin… unless another long lost Stradivarius

Cobain, lead singer for Nirvana, had a habit of sitting group out comes But what the heck! Why would one m

of Fullerton, California, was making waves

down before on the a performance market. and communing with his in Hollywood. Courtney the family didn't make see a difference?

way to control

angels. He called them angels, but actually they were them. Love's hipster Isaiah, cadres who's thought band the the Eeries Eeries, were a millenn

spirits of various Cobain, types. lead People singer who for knew Nirvana, him in had high a habit poseurs of sitting and the cool group suburban out of kids Fullerton, thought they California, were was

school think down he might've before been a performance autistic suffering and communing from all the with rage. his Anyway, in Hollywood. Isaiah and Hank's Courtney granddaughter didn't see a

Aspberger angels. syndrome He called or at least them somewhere angels, but in actually the got they along were swimmingly. them. It must Love's have hipster been a cadres love match thought t

spirits of various types. People who knew him in high poseurs and the cool suburban kids tho

school think he might've been autistic or suffering from all the rage. Anyway, Isaiah and Hank's
---
COBAIN'S HAUNTED GUITAR

from the start because Frances gave her new beau her

father's already famous Martin guitar as a token of her

love, and part of her dowry, when they got engaged in

2014.

Was it the fact that Frances would no longer be under

Courtney's control, or that Kurt's guitar (estimated even

then to be worth a fortune) would now be beyond

her reach? Perhaps both… In any case, Courtney

descended into a long-term and unrelenting rage

which only intensified when the marriage collapsed

after three years, leaving Silva with the guitar and

Courtney, still fuming, demanding it's return.

Despite all protests, the Martin was officially granted

to Silva under the terms of the divorce, apparently

causing Courtney to increase her efforts to redeem the

guitar whatever the cost.

Even though ownership was ruled no longer in dispute,

the court stipulated that Silva's continued ownership of

the Martin was contingent on his leaving the residence

he had shared with Frances Cobain. However, Silva did

not comply. Courtney saw this as a slap in the face to

her real estate fantasies.

Flash forward to June 2016. A black Escalade, with

tinted windows, pulls up outside Isaiah's West

Hollywood home late at night. Three men exit the

car and enter the home via the front door (we must

assume they were supplied with a key by somebody!)

and proceeded to bang on Isaiah's bedroom door,

claiming to be police. As soon as Isaiah recognized

Lutfi (controversial bodyguard of Britney Spears and

Courtney's current manager), he realized they weren't

police and had probably been sent by Courtney.

The trio, Osama (Sam) Lutfi, Ross Butler (remember

Ross the Intern from the Jay Leno Show?) and Yan

Yukhtman (a local thug), dragged Silva to the car all the

while yelling and threatening to kill him in a hideous

manner if he didn't tell them the whereabouts of the

guitar. It was then that the real police arrived, thanks to

a visiting friend who called 911, and Isaiah was set free.

(Rumors persist that the friend who called the cops was

in fact Silva's mother.) Fearing for his life, he agreed

to the Lutfi scenario that it was all a prank, but filed a

criminal complaint a few days later. This is the basis of

the ongoing criminal lawsuit.

However, this wasn't the only event of intimidation

recorded in the ongoing saga. Silva's ex wife and baby

mama, Jessica Sullivan, was also accosted by thugs of

a similar ilk, long before the Black Cadillac incident.

According to the complaint filed in Los Angeles

County, Courtney and Lutfi engaged in "stalking and

emotional distress." Following failed attempts to bribe

Sullivan to take Frances' side in the divorce, the duo

resorted to a barrage of abuse. Text messages, phone

calls and face-to-face verbal confrontation ensued,

mostly filled with foul language and sexist comments,

including death threats to Sullivan and Silva if the guitar

wasn't returned to Courtney. Comments like: 'your

daughter will be orphaned' that led Sullivan to fear for

her life. Some of the harassments were infantile, like

advertising her dog as "free" on Craigslist, listing her

private phone number.

So who will buy Kurt's Axe? Will it be an already

famous musician? An up-and-coming star who wants

to see his name in lights? A famous restaurant/

casino conglomerate well known for rock-and-roll

memorabilia? An eccentric private collector? A

museum in some far-off land? Will fraudulent clones be

made and offered for sale? Will it be heard once more

by adoring fans or forever be silenced as a monument

to what might have been?

It's June 2020 and a beautiful day on Canal

Street, downtown New Smyrna Beach.

Usually known for its local hustle and bustle...

but today three worlds will collide. Three

very different lives are coming together to

create an unbelievable fantasy of a future in

the fashion world.

It's a big day for Premiere Model Management,

the 27 year old local model agency. We are

polishing the windows and modern glass

furniture in the old brick, open beam wood

ceiling loft, at 137 Canal Street, above the

iconic Jason's corner restaurant. The agency

must look beautiful for our big casting. Today

we are expecting one of the world's top

modeling agencies Elite Model Management,

who is coming all the way to little New Smyrna

Beach to see our top 25 models, and consider

them for representation around the world.

We purchase fresh flowers, water bottles, and

mints to have out, get the clipboards ready

for the models to sign in, lights and music on

to create the ideal atmosphere in hopes this

global firm will offer a contract to one of our

local hopefuls!

It's also a big day for the new faces.. the day

most have been dreaming of. A chance for a

personal interview with the star makers of

our industry. It's like graduating from college

with a finance degree and being requested

for a personal interview with top Wall Street

investors. An opportunity that only knocks

once if you are lucky. The new faces are from

14- 22 years young, all tall, beautiful, lanky

figures, with the most beautiful faces and

fresh skin. Each one of them is getting ready

at home in their sleek black outfits and heels,

and applying only mascara, and lip gloss to

the most gorgeous sculpted faces you have

ever seen. Each model is on their way to be

early to the office and meet someone for

5 minutes that can possibly make dreams

come true!

For the third component, Elite Director of

new faces and CEO of the conglomeration

have decided to drive up from Miami, to our

little town in search of the next Supermodel.

It's imperative for these top world agencies

to always find the fresh new faces to develop

and groom to 10k earning daily booking

rate models. They have seen a proven track

record with Premieres models, and are happy

to make the trip. They sit inside the cafe with

myself and my daughter, who is in college

and training to run the agency in the future,

and watch the new beauties walk by as they

sip their cappuccino. A huge window seat in

the cafe ,perfect place to admire the beauties

strutting by to Premiere's front door to attend

the casting. "wow", they say, "You have so

many gorgeous new faces! How do you find

them?". I tell them I am blessed beyond

belief of a flow of referrals and incoming new

prospects.

The casting is about to start, and all three

parts of a future have come together to find

a new future star. This is how it all happens.

What a day we had, super successful, and

three contracts offered out of the 25 hopefuls.

What a fantastic day of business on the Canal

Street NSB.

25
---
Lights Out

in C-ViLLa

By Randy Pepper

On March the 11th my wife and I were on our way

to Asheville, North Carolina for a Guitar Show and a

weekend away. When we got 30 miles from Asheville

I received a call from the show promoter saying

that the show had been canceled due to the current

Coronavirus. We went on and checked into our

hotel and the next morning got up and we had an

impromptu guitar show with about 30 dealers getting

together in a small conference hall. We made the best

of what we had, knowing that this virus could go on

for months and months and could kill us as retailers.

But some others didn't have the luxury of a last minute

Guitar Show to make some very needed cash to ride

the storm out, Guitar shops and music stores all over

the country have now shuttered their doors because

of the virus and many didn't know how to adjust to

selling online to ride the storm out or they just said

"this is the last straw" and ended up closing.

Guitar sales have suffered the last few years (as well

as most music retail) as the decline of the rock star

persona has shifted to DJs and rappers, making most

musical instruments a thing of the past. Then the

C19 virus came and many thought this would be the

end for many shops, including the Guitar Center,

since they have been in deep debt for a while. They

have survived but many other small shops have not,

and every day we see a new store closing. Plus, many

more stores are saying they cannot survive any longer

and are throwing in the towel. I'm not saying it was

just music related places there were affected by the

coronavirus; there are many other forms of retail that

did not survive as well. You see, many places were

considered essential but unfortunately music was not

one of them. So while pawn shops and hobby stores

were able to stay open, guitar shops and music stores

were not. Local places like Z music in Flagler Beach

closed their doors, as well as McCabe music in Santa

Monica California both citing the pandemic as the

cause or the final blow. This makes it very important

to support your local small independent music shops

during this time because unfortunately the virus is still

out there and the longer it lives, the closer we are to the

end of brick and mortar music retail.

Randy Pepper is the owner of the Guitar Attic in Holly Hill

and a freelance guitarist for hire.
---
Behind the Mic: Riggs

95.7 the Hog, Daytona Beach

Just prior to starting in radio in the '90s, I listened

to Atlanta radio on a daily commute to the gridlocked

extended city. I was a writer/ producer for a

television production house and loved the job but

did little else. I had been dateless for over a year

following a bad live-in breakup, a key factor here.

I had seen Prince live from the front row a year

before, the most I've ever paid for a concert ticket. It

was worth every penny. So when my morning commute

soundtrack told me that Prince was playing

a private show and they had tickets, I knew I had

to make it happen. It was a morning radio dating

game, and Trixie selected me over the other single

dude callers. It was on. I was ecstatic! I won a blind

date to see Prince in a tiny club and then go on the

radio show after to discuss the details. Such a simple

formula, it seemed.

I worked all my contacts to help make this a special

night for my blind date. The crown jewel was a limo

company that I had produced some commercials for

offered to give me transportation for the night. So

I stocked that bitch with champagne and pizza, 'cuz

I've got CLASS. I dressed to impress, black suit and

shoes, open collar and a fistful of flowers. It's probably

fair to point you now to the picture of me on this

page as I was working a "unique" look at that time

in my life. After only two conversations, there she

was: Trixie. Attractive, intelligent. Perhaps it's also

important to point out that I picked her up from her

parents' house. That may explain some things later. I

was a nervous blabbering nerd as I poured her some

bubbly and offered her a choice of pepperoni or

veggie, 'cuz again… CLASS.

As the driver navigated Atlanta traffic, we talked

about our favorite Prince songs and more. It was

exciting and enlightening. As the limo exited the

interstate, her champagne flute slid from its holder

spilled on her shirt and the seat. I quickly attempted

damage control but I could tell she was off-put.

I apologized profusely as we rolled into what was a

jammed parking lot, a line hundreds of people long

snaking around the venue. She seemed even more

annoyed at the potential wait in the cold.

I saw the eyes of our driver and his partner in the

rear view as he shook his head and headed past the

barricaded area and into the backstage lot. An attendant

stopped the car and he spoke briefly to them,

then waved us around. My limo pals opened the rear

door and we stepped out, approached by a man with

a headset and clipboard. Now I know things are

getting official. And just then, the driver leaned in

toward my ear and murmured something… I asked

him to repeat what he said and he quietly whispered

back, "I told them you were Kenny G". Before

I could process those words that just slammed

into my gut, the headset dude steps up and says,

"Great to meet you, Mr. G" and shook hands with

me and Trixie. Yup…. "Mister G"! That's who I now

was expected to be on this night. We were whisked

through the backstage door and into the private VIP

balcony. I quickly realized that if I said I wasn't who

they think I was, we would be bounced. And that is

a bad impression on a first date. And perhaps they

would find a picture of Kenny G and realize I look

nothing like him, which also would end with us

missing the show. Another important note that this

was pre-smartphone, so there was no instant google

image search. Ahhh, the simpler times. So since I

am non-confrontational by nature, I rolled with it. I

was Kenny G.

A line formed outside this VIP area over the next 30

minutes, many of them women who were coming in

and getting wind of the "celebrity" in their midst.

I was terrified of being exposed, scared of losing

this dream date, and generally nervous about the

whole scene. But I channeled the energy into meeting

some of my "admirers", several very attractive

women who told me which album of mine was their

favorite, and I signed several autographs. I went

with a "K" and a tailing squiggle. It seemed the best

way to get through this uncomfortable situation.

Thankfully, I worked at Turtles Records for a dozen

years and was well-versed in Kenny G album knowledge.

There was even one beautiful woman who told

me what my music did to her during private hours

and handed me a hotel key card. I was overwhelmed

with nerves, excitement, and a desperate need to

see Prince. I thought certainly there was no way all

these people are looking at and talking to me and

were convinced that I was the saxophone legend.

Apparently I was mistaken. Then it all went south.

The headset/clipboard man returned and gently

interrupted, "Excuse me, Mr. G; The Artist would

like you to join him for the encore." Again, ZERO

exaggeration or enhancement in this story. It happened.

And I felt cold. I felt like the human embodiment

of the scene from THE SHINING when the

blood pours from the elevator doors. It seemed all

the blood had rushed out of my body and I was an

empty shell. I fumblingly told him that Trixie needed

to leave before the end of the show and turned to

her to get confirmation of this hasty lie that would

prevent me from having to jam with the greatest

musician of my time. But she was gone. Really gone,

like no sign of her, no one recalling seeing her, nothing.

Was she a mirage of my shitty dating world?

Did she bail after I got the hotel key? Perhaps the

ladies room? I checked the latter, but no dice. I had

nothing other than her home phone number and

with cell technology as huge and clunky as it was,

there was no accessing her whereabouts. I managed

to delay answering my headset/clipboard

friend long enough to race around the club looking

for her.

So now I am alone as the show begins. My mind

races between thinking of an escape plan and not

wanting to abandon this poor girl who, for all I

knew, could be trapped in a stairwell or something.

Also, Prince was awesome. Just killing it,

long ripping guitar solos, dancing, singing his ass

off, deep cuts, hits, it was an amazing set. And

the entire time I am thinking, "I've never played

a saxophone, I don't own one, I am about to puke

from nerves, I cannot possibly carry this charade

that I didn't create all the way to the damn

stage." So I called the limo guys between songs

but no answer. I now knew I had to leave before

the last song. But Prince doesn't like to tell

you the set is ending. And all of a sudden in the

middle of a song, I see him walk off stage. Panic

set in. I hustled to the door we entered through,

right next to the stage. Headset/Clipboard was

there and I made no eye contact as I scurried for

the exit, hoping he would figure that I was just

headed out to get my horn out of my trunk. My

giant cell rang and I answered to hear my limo

pals telling my they were out back and that Trixie

had her mom pick her up. I grabbed the door of

the white stretch and ducked in the back seat and

closed the door. Whew! Safe. Then I fixed my

gaze on what was in front of me… Prince and 2

women, sitting opposite of me in the limo.

28

29
---
CONTINUED...Behind the Mic: Riggs

The Weeknd Crossword

6

10

The following Tuesday morning I received a call from

the morning host asking me to come to the studio,

that Trixie was ripping me apart and they wanted my

side. I jumped out of work and headed to Atlanta. I

got a flat. I arrived late to the radio station frazzled,

nervous, dirty and sweaty with an audience of 20-30

loyal listeners who were in-studio looking on. The

morning hosts laughed hysterically at the details of

this absurd story and one took particular sympathy

on me as Trixie (she made up that name, go figure)

divulged her plan to ditch me as soon as she saw me. I

was cotton-mouthed dehydrated, nervous as hell and

embarrassed beyond reason. But the details of the

story served as radio gold. So good, in fact, that they

used it on their "Best Of " shows for 3 years after. I got

to relive it over and over.

3

1

9

5

7 8

2

4

He spoke a gentle "Hello" and I freaked out,

immediately apologizing and grabbing for the

door handle. I climbed out and saw my driver

waving his arms, just one car ahead. As the driver

and his pal laughed hysterically at the exploits

they presented, I hopped through the details, but

defaulted every minute or two to the stunning

feeling of being that close to Prince. How did his

security just let me jump into his car? Did they

think I was Kenny G? When he headed back into

the venue for the encore was he to be disappointed

at the lack of a jazz sax icon? Why were these

limo guys who set me up such dicks? Whatever. I

just wanted to hide and process it all.

I made a vow from the moment I got my first morning

show that applies today to The Morning HOG

show… NO dating game bits. So apologies to Kenny

G for the bad impersonation, to the lady with the hotel

key that I never used, to the late, great Prince, and

to Trixie, whom I hope thinks of me every time she

hears a Prince song.

CHEERS!

Catch RIGGS, GUY, & INTERN STEVE

The Morning HOG / 95.7 The HOG,

Weekdays 5-10 AM

& SATURDAY NIGHT LOUD 9- midnight

@saturdayloud on Twitter

The Morning Hog on FB

Riggs@TheHOG.com

ACROSS

1.What is his birth name?

2.Because his grandmother was

an Ethiopian native, __________

was the first language he learned

when he was a kid.

3.What was name of his secondalbum?

4.How many number one

singles came from his second

album?

5.In a 2015 September

photoshoot for GQ, he

modeled a preview of

Kanye West's new

collection of what?

DOWN

6.What day of the week did his Trilogy

album hit stores?

7.The 2015 Victoria's Secret Fashion

Show in NYC featured musical guests;

The Weeknd, Lady Gaga, and… ?

8.What was the first song he up

loaded to YouTube in 2011?

9.What hairstyle describes his

do?

10.Who is the featured artist

on his song "Sidewalks"?

31
---
ROCKTAILS

By Bekka A. James

1.1987 - The Grateful Dead's "__________"

LP was released.

2.In 1976 – who purchased Buddy Holly's

entire publishing catalog from Norman Petty?

3.For his 54th birthday, Lionel Richie receives

a special gift: a star on the Hollywood

Walk of Fame in what year?

4.In 2001The Cult return with their seventh

studio album, and first new recording in

seven years, what is the title?

5.1969 David Bowie records "

-_____________," which he wrote after seeing

the 1968 Stanley Kubrick movie 2001: A

Space Odyssey.

6.In 1987, Tiffany starts her Mall Tour at

the Bergen Mall in Paramus, New Jersey,

performing what in November will be her #1

hit, "I Think We're Alone Now," How old was

she?

7.In 2019, Dave Bartholomew, who cowrote

many of Fats Domino's hits,

dies at what age?

34

8.In 2006, Kevin Richardson of what band

leaves the group to pursue other interests?

9.In 1992, Barenaked Ladies release their

debut studio album?

10.In 1996, what bass player for Pennywise

dies from a self-inflicted gunshot wound at

age 28?

11.In 1985, What concerts take place in

Philadelphia and London to raise money for

the hungry in Africa? The Beach Boys, The

Four Tops, Paul McCartney, Tina Turner,

Elton John, David Bowie, The Who, Queen,

Eric Clapton and Bob Dylan all take part.

12.In what year was Glee star Cory Monteith

is found dead in a Vancouver hotel room

after accidentally ingesting a toxic combination

of heroin and alcohol?

13.In what year was a US patent is granted

to inventor Guglielmo Marconi for transmitting

electrical signals, leading to the invention

of radio?

14.In 1973, who released Pat Garrett &

Billy The Kid, the soundtrack album for the

Sam Peckinpah-directed movie of the same

name?

The 4th of July kickoff probably started already since the

4th falls on a Saturday but, even through this year is going

to be a bit different for the music and firework loving

people of the United States. One way we can get through

it is to tell the crazy 4th of July stories of the past and do

it over cocktails of the same color as the flag.

A stellar 4th of July was in Las Vegas, Nevada. I was

working as a cocktail waitress at the Hard Rock Casino

pool (yes, we wore purple bikinis to work... I really

miss that 6 pack I had...) anyway, being a holiday and

Las Vegas, the Hard Rock was packed and full of celebrities.

I was lucky enough to be catering to the nu band

Korn. They were in town for their Ballroom Blitz Tour

to support their ninth studio album, which they said was

"recreating their early sound."

The pools are open from 10am-6pm and Korn did the

celeb thing and got a cabana, food, alcohol, and more

alcohol later, mostly silver Patron being drunk by James

'Munky' Shaffer co-founder and guitarist of the band and

my new best friend. There was talk of all the places they

have been and all the wild concerts they have played and

a small mention that I had not seen them live and "poof "

four VIP tickets (box seats) to the show and backstage

passes.

After the work day and a quick change of wardrobe we

found ourselves (my date Jeff, the cabana boy for the

day, Jeremy and his date, and me) at the Pearl Concert

Theatre at the Palms Resort. We were greeted by clipboard

man and normal, 'halt who goes there?' But, after

looking at his notes he raised his head and changed his

expression and tone of his voice, welcoming us and stating

that we were special guests of the band.

Buffet tables with anything you wanted and all the alcohol

you could drink. We had some dinner and drinks

and chatted with the band, took our seats in our very

own box, (well, Jeff and I did, but Jeremy and his lady

stood stage-right the whole concert.

We could have but chose to have the box to ourselves if

you know what I mean...)

Opening acts included 2 Cent, Big Jay Oakerson, Dimmu

Borgir, Rise to Remain, and Shihad, and then Korn

hit the stage and killed it! I remember looking at Jeff and

saying, "I have no idea how Munky is even playing- as

much tequila as I served him today; it's a wonder he can

stand, let alone shred that guitar!"

The whole day was super killer and it was one one of the

best 4th of July holiday weekends ever! So cheers to you

and your yours this holiday and cheers to Munky and all

of Korn, remember to raise your glasses after you make

the delish red, white, & blue beauty to our nation's Independence

Day and have a fabulous 4th of July

The layered look of this vodka-based spritzer is perfect

on the fourth.

Pro tip: Pour each element over the back of a spoon so

they don't mix.

• 1 PART PINNACLE CITRUS VODKA

• 1 PART DEKUYPER BLUE CURACAO LI-

QUEUR

• 2 PARTS LEMON SODA

• 1 PART GRENADINE

• LEMON FOR GARNISH

• BLUEBERRIES FOR GARNISH

• MINT SPRIG FOR GARNISH

Lightly mix the vodka and lemon soda in a cocktail shaker

with ice and set aside. In a tall glass, add the grenadine

slowly to the bottom.

Fill the glass with crushed ice. Strain the vodka soda

mixture over the back of a bar spoon, followed by the

blue curacao. Garnish with fresh mint, lemon rind star

and berries (optional).

35
---
TRIVIA & CROSSWORD ANSWERS

1. 1987 - The Grateful Dead's "__________" LP was released. "In The Dark"

2. In 1976 – who purchased Buddy Holly's entire publishing catalog from Norman Petty?

Paul McCartney

3. For his 54th birthday, Lionel Richie receives a special gift: a star on the Hollywood Walk of Fame in what year?

2003

4. In 2001The Cult return with their seventh studio album, and first new recording in seven years, what is the title?

Beyond Good and Evil

5. 1969 David Bowie records " -_____________," which he wrote after seeing the 1968 Stanley Kubrick movie 2001: A

Space Odyssey. "Space Oddity"

6. In 1987, Tiffany starts her Mall Tour at the Bergen Mall in Paramus, New Jersey, performing what in November will be

her #1 hit, "I Think We're Alone Now," How old was she? 15

7. In 2019, Dave Bartholomew, who co-wrote many of Fats Domino's hits, dies at what age? 100

8. In 2006, Kevin Richardson of what band leaves the group to pursue other interests? Backstreet

Boys

9. In 1992, Barenaked Ladies release their debut studio album? Gordon

10. In 1996, what bass player for Pennywise dies from a self-inflicted gunshot wound at age 28? Jason

Thirsk

11. In 1985, What concerts take place in Philadelphia and London to raise money for the hungry in Africa? The Beach

Boys, The Four Tops, Paul McCartney, Tina Turner, Elton John, David Bowie, The Who, Queen, Eric Clapton and Bob Dylan all

take part. The Live Aid

12. In what year was Glee star Cory Monteith is found dead in a Vancouver hotel room after accidentally ingesting a

toxic combination of heroin and alcohol? 2013

13. In what year was a US patent is granted to inventor Guglielmo Marconi for transmitting electrical signals, leading

to the invention of radio? 1897

14. In 1973, who released Pat Garrett & Billy The Kid, the soundtrack album for the Sam Peckinpah-directed movie of

the same name? Bob Dylan

36

3

6 F

R

10K

I

B E A U T Y B E H I N D T H E M A D N E S S

N

A

D

9M 5

Y E E Z Y S

R O 7 B

8

W

I O R H

C S U A

K E N T

1

A B E L M A K K O N E N T E S F A Y E

A N M O

M T

2

A M H A R I C U

A L R N

R E S

4

F I V E

R

E

D
---
overkill by chris rajotte

teD nugent by the reluctant genius

R ARE EARTH REVIEWS

Darren Dowler (Paul revere anD the raiDers)

by ranDy PePPer

BY ANDY MINOR

jeff Pilson (foreigner) by ranDy PePPer

FLASHBACK TR ACK

RUN-D.M.C - "Tougher Than Leather"

R ARE EARTH RECORD

OF THE MONTH

LABEL - Profile Records

RELEASE DATE – May 17, 1988

PRODUCERS – (RUN-D.M.C.) Davy D., Rick Rubin INFLUENCES

– (Guitar Track) David Shulman (Artist)

I believe that we all have had certain musical tracks that

take us back in time when we hear them. To me, these

"Flashback Tracks" hold a very special place in our hearts

by tapping into those deep-rooted moments. One of

my personal favorite Flashback Tracks is RUN-D.M.C.'s

"Tougher Than Leather".

Released May 17, 1988, on Profile Records, it is considered

by many to be a very underrated album. The blend of

heavy guitar riffs mixed with '70s funk style has always

been my favorite aspect of this track. Daniel Shulman

nails the optimum tone for the mix, in my opinion. There

is also the fact that Rick Rubin co-produced this title

track. Rick Rubin, over the years, has become one of my

personal all-time favorite producers. His musical insight

can be heard on a multitude of recordings covering artists

such as Slayer, Johnny Cash, Beastie Boys and countless

others.

If one has not yet heard this track, do yourself a favor and

listen to it today!

R

RE – Metal Album of the Month:

**SLIPKNOT** "We Are Not Your Kind"

Release Date – August 9, 2019 (6th Studio Release)

Label – Roadrunner Records Producer – Greg Edelman/

Slipknot

Albums:

1. Slipknot (1999)

2. Iowa (2001)

3. Vol. 3: (The Subliminal Verses) (2004)

4. All Hope Is Gone (2008)

5. .5 The Grey Chapter (2014)

6. We Are Not Your Kind (2019)

Powerful, precise and on point is how I would describe

Slipknot's latest album "We Are Not Your Kind". Cory

Taylor and Slipknot, along with Greg Edelman, have

produced a heavy LP full of tightly honed arrangements.

There is no mistaking the diversity and depth displayed

on this album, the 6th studio release for these tried and

true counterculture counts of chaos.

Tracks such as "Nero Forte" along with "Critical Darling"

perked my ears up and are definitely worth checking out.

As a side note, kudos to Slipknot for releasing "We Are

Not Your Kind" on August 9th, which also happens to be

my date of birth.

blake anD jessica abbey

by the reluctant genius

russ Pahl by the reluctant genius

snaP

it

38

39
---
WED/THURS 5-9 PM

FRI/SAT 6-10 PM

SUN 2-6 PM

Live Music

JULY 2020

1st – Laree app

2nd – HannaH WiLson

3rd – casey picou

4tH – tHe cycLones

5tH – tHe vibe

8tH – Laree app

9tH – corey sHenk

10tH – jonny odis

11tH – mudd rooster

12tH - are friends eLectric

15tH – Laree app

16tH – casey picou

17tH – reed foLey

18tH – tHe WaverLys

19tH – jay paski

22nd – Laree app

23rd – corey sHenk

24tH – bradford buckLey

25tH – off tHe road trio

26tH – are friends eLetric

29tH – Laree app

30tH - cHuck moreL

31st - jeff WHite