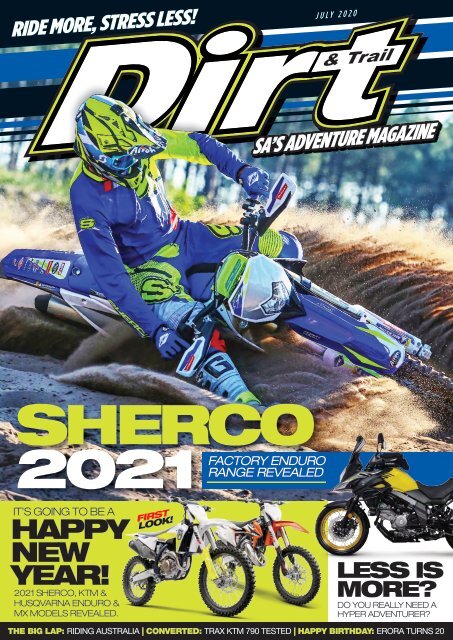 You also want an ePaper? Increase the reach of your titles
YUMPU automatically turns print PDFs into web optimized ePapers that Google loves.
RIDE MORE, STRESS LESS!

JULY 2020

SA'S ADVENTURE MAGAZINE

SHERCO

2021

FACTORY

IT'S GOING TO BE A

HAPPY

NEW

YEAR!

2021 SHERCO, KTM &

HUSQVARNA ENDURO &

MX MODELS REVEALED.

FIRST

LOOK!

ENDURO

RANGE REVEALED

LESS IS

MORE?

DO YOU REALLY NEED A

HYPER ADVENTURER?

THE BIG LAP: RIDING AUSTRALIA | CONVERTED: TRAX KTM 790 TESTED | HAPPY BIRTHDAY: ERORA TURNS 20
---
K&N Style Filters

Available sizes 28, 35, 39, 42, 48,

52, 54 and 60mm R125.00

8000Ma

Jump Starter & Power Bank R1299.00

18L / min

RAC610 Inflator R449.00 RTG5 Gauge R249.00

Bike and ATV Covers

Available sizes S - XL

From R270.00

Ring Globes

H7 150% Power R330.00

H4 150% Power R290.00

EMGO Top Box

R990.00

Diverse and S innovative filters –

S

S

S S S S S S

also for motorcycles.

The largest filter range for maximum workshop performance.

Our filters protect not only the engines, but also the people in the vehicle. With our comprehensive filter range in uncompromising quality and

with maximum market coverage, we ensure that the right product is available for every requirement to keep dirt, abrasion and the finest particles

away from the powertrain and the occupants. With MAHLE, your workshop delivers 100% performance, today and tomorrow.

www.mahle-aftermarket.com

DESCRIPTION PART NO. SRP Inc. Vat

SMART CHARGER 1 AMP DFC150 R599.00

SMART CHARGER 3.5 AMP DFC530 R899.00

SMART CHARGER 4 AMP PSA004 R999.00

SMART CHARGER 8 AMP PSA008 R1349.00

SAFE.

AFFORDABLE.

QUALITY.

SMART CHARGER 4 AMP PSD004 R1199.00

SMART CHARGER 8 AMP PSD008 R1499.00

R110.00 R465.00

Tubeless Puncture Kits

RRP R3299 incl

License Disc Holders

R168.00

RRP R4499 incl

Bar Ends

R100.00

Hand Guards

Various Colours available

ABS Plastic R470.00

Alloy R990.00

Scooter V Belts

From R110.00

Tyre Levers

From R95.00

Rim Locks Front and Rear

From R48.00

Jerry Cans

From R450.00

Fork Boots

from R120.00

RRP R4999 incl

AVAILABLE NOW FROM DEALERS BELOW.

PBA DEALER LISTING

PBA DEALER LISTING

PART NO. DESCRIPTION PRICE

50081406/L CARB CLEANER 400ML 50.00

50201414/L TERMINAL PROTECT RED 50.00

50201415/L TERMINAL PROTECT BLUE 50.00

50320400/L BRK,CLTCH,CHAIN CLEANER 44.00

50500192/L CHAIN LUBE 150ML 34.00

50500193/L CHAIN LUBE 400ML 69.00

50510403/L CHAIN WAX 400ML 71.00

50510404/L CHAIN WAX 150ML 34.00

51528262/L PETROL INJECTOR CLEANER 10.00

53203200/L AIR FILTER SPRAY 55.00

53203500/L AIR FILTER OIL 500ML 55.00

53204005/L BIO FILTER CLEANER 5l 325.00

53204400/L BIO FILTER CLEANER 400ML 47.00

53780300/L SPARK 300ML 44.00

55000314/L TYRE FIX 200ML 45.00

56000001/L FORK OIL SYN 5W 125.00

56000002/L FORK OIL SYN 10W 125.00

56000003/L FORK OIL SYN 2.5W 135.00

56000400/L MOUSSE LUBRICANT 100.00

Distributed by Autocycle Centre

GAUTENG

ZEEMANS GAUTENG MOTORCYCLES 011 435 7177

BIKING ZEEMANS ACCESSORIES MOTORCYCLES 012 011 435 342 7177 7474

FAST BIKING KTM ACCESSORIES 011 012 867 342 0092 7474

GAME FAST KTM MOTOR SERVICES 011 849 867 7000 0092

MOTO-MATE GAME MOTOR RIVONIA SERVICES 011 234 849 5275 7000

MOTO-MATE EDENVALE RIVONIA 011 234 027 5275 0545

MOTO-MATE KCR MOTORCYCLE EDENVALE FANATIX 011 027 975 0545 5405

PRIMROSE JUST BIKING MOTORCYCLES 011 016 828 421 9091 1153

RANDBURG KCR MOTORCYCLE MOTORCYCLES FANATIX 011 792 975 6829 5405

OFF-ROAD CYCLES 012 333 6443

PRIMROSE MOTORCYCLES 011 828 9091

MPUMALANGA

RANDBURG MOTORCYCLES

BIKE CITY

011 792 6829

013 244 2143

MPUMALANGA

BIKE CITY 013 244 2143

NORTHWEST

BIKERS NORTHWEST PARADISE 018 297 4700

INSANE BIKERS PARADISE BIKERS 014 018 594 297 2111 4700

MOTOS INSANE @ BIKERS KLERKSDORP 014 018 594 468 2111 1800

WATER MOTOS RITE @ KLERKSDORP MOTORCYCLES 018 468 771 1800 5050

WATER RITE MOTORCYCLES 018 771 5050

LIMPOPO

K.R.MOTORCYCLES LIMPOPO

015 297 3291

K.R.MOTORCYCLES 015 297 3291

KZN

ROCKET RACING PINETOWN 031 702 2606

PERRY'S M/CYCLES BALITO 031 110 0056

ROCKET RACING MARITZBURG 033 264 3240

ROCKET RACING PINETOWN 031 702 2606

RBS YAMAHA 031 701 1311

ROCKET RACING MARITZBURG 033 264 3240

UMPLEBY SUZUKI 031 303 8323

RBS YAMAHA 031 701 1311

UMPLEBY SUZUKI 031 303 8323

RIDE HIGH WITH YAMAHA 035 789 1851

RIDE PERRY HIGH M/CYCLES WITH YAMAHA GLEN ANIL 035 031 789 566 1851 7411

PERRY'S M/CYCLES UMHLANGA 031 566 7411

PERRY'S CAPE PROVINCE M/CYCLES HILLCREST

CRAIGS M/CYCLE FITMENT

031 765 2560

021 939 8944

CAPE TRAC-MAC PROVINCE BELVILLE 021 945 3724

CRAIGS TRAC-MAC M/CYCLE PAARDEN-EILAND FITMENT 021 939 510 8944 2258

TRAC-MAC BELVILLE WYNBURG

021 945 761 3724 4220

NEVES TRAC-MAC MOTORCYCLE PAARDEN-EILAND WORLD CC 021 930 510 5917 2258

TRAC-MAC WICKED CYCLES WYNBURG 021 510 761 2968 4220

MIKE HOPKINS MOTORCYCLES 021 461 5167

NEVES FREESTATE MOTORCYCLE WORLD CC

SALLEYS YAMAHA

FREESTATE

021 930 5917

051 430 3326

SALLEYS YAMAHA 051 430 3326
---
E D I T O R : R O L E Y F O L E Y

Motosport South Africa Vs Motomedia.

And Making good on a promise.

By Glenn Foley

As you all must be aware by now, we are not fond of

doom and gloom in our publications. Our intention is

always to promote motorcycles and the fun aspects

that they bring to everyday life.

We have no affiliation to any sporting body – and

thus owe nobody anything.

So – here is an interesting story about the behaviour

of South Africa's MSA – Motorsport South Africa

– who are effectively in charge of South Africas

national racing series. We have no problem or

opinion on the manner in which they run our

national race series, that is not our indaba. But we

do feel that in terms of basic common sense and

public relations, these guys could perhaps use a bit

of guidance…

Get out your popcorn and read on:

The Saga begins. The phone rings – it's Neil Smith

who has kids who race Karts…

Glenn – sorry to tell you this, but you have been

named in an incident at a Karting event as a

person who abused an official.

Karting Event?

They don't have handlebars. A clear case of

mistaken identity. No problem! I'll call MSA.

I mean for 20 years we have promoted all of their

national racing events at no charge to them in both

of our publications and we generally do a lot for the

racing fraternity.

No sweat we can clear this one up quickly.

A phone call to MSA "Hi guys – I am aware that

someone has identified me (From a facebook

photo), and I just need to tell you it wasn't me, I

was actually away on Quads 4 Quads, our four day

charity ride that runs from JHB to Richards Bay

raising funds for QASA."

That simple right? Well not really.

A follow up email was sent on that same day (This

was in NOVEMBER 2019) saying the same thing –

and then I promptly forgot about it and headed out

to the Honda Africa Twin launch.

(Here is a big sigh). The phone rings. It's Neil again.

"Sorry Glenn but they don't believe me, but I have

just been to the hearing and when I told them you

were not at the event – and they don't believe me,

so sadly, you are being dragged into this all."

Wow! OK. No problem. I have met one of the

judges, whatever who was at the hearing so I get

hold of him. "Hey just to let you know it is a case of

mistaken identity – I have NEVER been to a Karting

event."

The reply was somewhat vague to say the least – and

it was all promptly forgotten about again.

A couple of days goes by and my phone beeps. It's

a watsapp from an agency representing one of our

advertisers containing PDF document labelled court

of enquiry 12322 – with a single line: "Is this true?, I

found it on the MSA site"

I open the PDF to discover that they have published

my name as the person responsible for abusing an

official at a karting event… it reads like this – you can

go and look it up on facebook:

"An unidentified individual was present at the

National Rotax Karting event held at Zwartkops on

22 September 2019. This unidentified individual

used foul and abusive language towards the

Club Steward Mr Michael North. This individual

was later identified as Mr Glenn Foley by

eyewitnesses."

Please bear in mind that this is after telling MSA -

no less than 3 times that I was nowhere near the

race. This was published on their social media

pages.

The mind actually boggles – and to get these

findings from someone who advertises in our

magazines is downright embarrassing.

So now – as is normal we start getting a bit pissed

off. Phone MSA. Chat to the lady who I spoke to first.

Ask to speak to the boss – Adrian Scholtz. No sir

you cannot talk to him but a guy called Vic can chat

to you. Poor old Vic. He had no idea about the whole

thing, apparently having just started with MSA. His

suggestion – please drop us a mail so that we can

clear it all up.

Another mail is sent, this time a bit sterner in

tone something like: "Would you please be so

kind as to remove my name from your findings

and perhaps now you need to publish an apology."

And in Nov or was it early Dec, I offered to publish

the whole affair if nothing was received. We did

receive a very kurt reply from Mr Scholtz to the

effect that – we should not threaten them.

There was no threat, it was a promise.

And nothing happened on MSA's side. And we did

not publish this feature in December because

– well it's the holiday season, perhaps MSA has

more important things to do.

Lots of correspondence happened along with us

trying to be the nice guys – and we need to say

here that we spent some money and reached out

to legal people for advice. The advice was – "Sure,

let's sue this lot for defamation, potential loss of

business etc," but time and money and etc, and

we don't really have time for crap like that.

Incidentally, in January, MSA won a case against

a bloke forcing him to retract statements involving

MSA from his facebook page. They took him to

court and forced him to cease and desist and all

sorts – and then they published those judgements

on their pages. An interesting development given

that MSA can publish whatever they like…

More emails and a mail from Vic – "Help us to help

you (we liked that), send us an affidavit of your

whereabouts at the time of the event."

We decided to be the nice guys and sent MSA a

sworn affidavit stamped by the police, with letters

from eye witnesses who were at our event telling

the good people at MSA where we were at the time

of this incident.

The Silence was DEAFENING.

So see the timeline this started in NOVEMBER.

Fast forward. Brief flurries of mails to MSA all

ignored, more legal advice - and along came

lockdown.

Surely during lockdown, with NO racing or events,

MSA would have the decency to address this

problem… It also gave another advertiser time to

look at MSA's facebook pages and stuff – and the

phone rang again.

"Hey Glenn – have you seen what MSA has

published about you?"

This is the third person who we do good business

with to make us aware of the problem.

So anger bubbles again – and we send MSA

another mail – because their phone line is not

working:

Guys if you no not remove my name and publish an

apology, I will publish this whole saga. This is for

the JULY issue.

Hey presto – I get a response, and if ever there is a

half-baked response – they amended their findings

to the following:

"The Court heard evidence from all parties

present, and finds that:1.1. An unidentified

individual was present at the National Rotax

Karting event held at Zwartkops on 22 September

2019. This unidentified individual used foul and

abusive language towards the Club Steward Mr

Michael North. This individual was later identified

as Mr Glenn Foley by eyewitnesses.

Then they tag this under their findings in bright

red:

Note: Mr Glenn Foley, who was not present during

the hearing, subsequently denied that he had been

present at the karting event in question and that

he had therefore been incorrectly identified by the

eyewitnesses – see attached affidavit.

Is it an apology? I think not. A retraction? I think not.

From what I read – and I am no lawyer – this just

means that I am still guilty of the offence but I have

told them that I was not there.

So how do you like that?

We await our apology from MSA – and please rest

assured that we were NOT at the said karting

event.

We have even sent MSA the wording that we would

appreciate they use – and this was my last email

to them:

Dear MSA.

I would like to discuss this all but your phone lines

appear to be down.

Vic, Allison and etc

Ok I am back at the office and I have had time to

think about your response.

I find your amendment wholly unsatisfactory.

Basically your new finding still says it was me and

that I deny the charge.

Vic - this could have been resolved at the very

beginning and I invite you to read through all of you

mails up and down to us.

The saddest part of this and I quote:

Note: Mr Glenn Foley, who was not present during

the hearing, subsequently denied that he had been

present at the karting event in question and that

he had therefore been incorrectly identified by the

eyewitnesses – see attached affidavit.

But your findings still intimate that I am guilty of

the offence. It does not matter what I say - a crook

is innocent until proved guilty.

You found me guilty without any due diligence.

You have not acknowledged that you as MSA are

wrong in even associating my good name in all of

this.

You have not asked for a single witness to prove my

whereabouts on the date of this Karting event.

Astonishing! And you guys are charged to run our

national race series!

My suggestion to you- and bear in mind that I finish

the latest magazine tomorrow, is that you publish

the following:

We have found that Mr Foley was nowhere near the

event and we apologise for publishing his name in

our findings.

To date – no such apology has been sent or

published.

Our opinion – MSA very offside.

It is really sad – a simple apology would have

avoided a lot of frustration.

We don't like any form of negativity in our

magazines, but sometimes when there appears to

be no amicable solution – these are the measures

that need to be taken.

MSA – we look forward to your apology in this

matter – and we'll see you all at the races soon.

Piston and Gasket Sets

Cranks, Conrods and Camshafts

www.gameservices.co.za

Cylinder Kits, Rebores, Main Bearings and Clutch Plates

Email:G124@mweb.co.za

EMAIL:

no 4 Fifth avenue

Northmead

Benoni

011 425 1081/4

2 DIRT & TRAIL MAGAZINE JULY 2020

VALVES,STEM SEALS AND SPRINGS
---
The New home of

Katay Racing

The well known bike and marine shop out

on the west rand owned and managed by

the friendly Andrew and Heather Katay have

finally been able to move into their new and

permanent home after the Covid-19 lock

down delay. Yet, even with the delay they

have gone from breaking ground to moving

in in a mere 8 months, a testament to their

work ethic and drive.

The dealership showroom is really bright,

light and airy with a modern, well equipped

workshops for the motorcycle/ATV side

and the marine side. The Katays have also

surrounded themselves with experienced,

knowledgeable and passionate top notch

people to ensure that you the customer has

the best possible experience when visiting

Katay Racing.

Says Andrew Katay, "We have even bigger

plans for the future. I am already looking

at maximizing the space in the shop with

a mezzanine floor. I am chatting to a few

people about bringing in some very well

known names and brands from the industry

and adding to our range of products and

services on offer …… watch this space!"

Get down to 766 Bridal Veil rd, (on the

corner of Hendrik Potgieter rd), in Little Falls,

Roodepoort and check it out for yourself, or

give them a call on 011 475 4892.

SPECIAL FINANCE OFFER

KTM 390 DUKE

FROM R 1,600

PER MONTH*

Foto: R. Schedl

START NOW

YOUR ROCKET THROUGH EVERY CORNER.

Retail price

Monthly instalment

Interest rate

Term

Deposit

R 79,999

R 1,600

9.33%

60 months

R 8,000

Principal debt

Total cost of credit

Initiation (included in instalment)

Service fee (included in instalment)

R 73,207

R 96,024

R 1,208

R 69

*Finance offer valid from 1 June 2020 until 31 August 2020 on all new, in-stock 390 Duke 2020 models, while stocks last, at all

participating KTM dealers. All information with the proviso that mistakes, printing, setting and typing errors may occur. Please

consult your local dealer for further details and tailor made offers. Terms and Conditions apply. Finance is subject to approval and

client risk profile. Initiation fee and service fee may be applicable.

KTM Finance, a product of WesBank - a division of First Rand Bank Ltd. Registered Bank. An Authorised Financial Services

and Registered Credit Provider. NCRCP20.

4 DIRT & TRAIL MAGAZINE JULY 2020
---
Forma Terrain TX

The good people at DMD have added a really

sexy new colour to their FORMA TERRAIN TX

range, namely the Grey/White/yellow at a RRP

of R5745 incl VAT. The colour way is really very

modern and does look exceptionally good.

Here area couple of the technical points on the

boots so you can see that the beauty is not

only skin deep:

The outer construction consists of synthetic

material upper, personalized MX compound

double density rubber sole, stitched, F.C.S.

(Flex Control System), injection moulded plastic

protections, personalized rubber heat protector,

adjustable velcro closure, replaceable/

adjustable aluminium buckles and a steel toe

cap. The inner construction is a padded inner

lining, polyurethane nylon reinforcements, soft

polymer padding with memory foam, I.S.S.

(Incorporated Steel Shank) with anti-shock felt

mid-sole and an anti-bacterial replaceable footbed

with A.P.S. (Air Pump System).

Check out www.dmd.co.za for your nearest

stockist or for more info and many, many more

great products.

The West

Rand Biking

Mecca

That stretch of Hendrik Potgieter is

becoming quite the motorcycling

mecca, climb off the N1 at 14th avenue

and head down Hendrik Potgieter and

you will find Bike Man, (across from

Chamberlains), Honda Wing West on

the opposite corner, Then Katay Racing

a little further down on the left, followed

shortly by BMW West, (old Clearwater

BMW), then, just another 600m down

the road in the same centre you happen

upon Big Easy's customs, Clearwater

KTM and Husky West.

That is 7 top notch bike shops within

3 or 4 km's of each other... worth a

Saturday ride for sure!

6 DIRT & TRAIL MAGAZINE JULY 2020
---
Dunlop launches their

brand new Trailmax

Mission tyre with

Henderson Racing

Products and Bike

Tyre Warehouse.

We were invited to join Mark Henderson of

H.R.P. and Bruce deKock of B.T.W. for the

introduction and the first fittings in Africa of the

long awaited and highly anticipated Dunlop

Trailmax Mission a few days ago. A tyre that

has been 2 years in the making with a bunch

of very clever and revolutionary technology

chucked at it. Bruce and Mark say that the tyre

is aptly named for the times we find ourselves

in, as it has been a 'Mission impossible' just

about to get it out of customs during this

national lock down.

Off the mark, the Mission is a really good

looking tyre and will sell lots, we imagine,

just based on its looks. But, when you read

our May 2020 edition you would have come

across this tyre in our Tyre Tech Talk feature

on pages 28 and 29 where Bruce gave us all

the technical information on this tyre. Go have

a read at www.motomedia.com, it really is

extremely interesting and informative … and

just based on that we were very keen to try the

tyre out and we managed to get a set fitted to

our Triumph Tiger 800 XCX. Initial impressions

are good for the first50 KM's or so of fast

freeway (quiet and smooth up to the 180kph

mark), twisty back road (turns well, quiet and

grippy) and a short burst of rough gravel (Even

with tyres fully inflated we did not fall over)...

Feels like a really great choice!

Give us a little bit to test it out and we will report

back in the next issue, but by all accounts it

is going to be a really good tyre with excellent

of road grip, great on road grip and dual

compound technology for long life span and

distance.

Surf along to www.biketyrewarehouse.com or

give them a call on any of the following number

for more info about stock and pricing; 011 205

0216; 073 777 9269; 083 467 1349

8 DIRT & TRAIL MAGAZINE JULY 2020
---
Fire It Up!

Moves to new,

bigger, better

premises

A little further along William Nicol and Into Main

Rd on the corner of Halifax rd in Cramerview,

across the road from the Cramerview shopping

Centre. We popped in while they were still busy

fitting out the new premises and were blown

away. The shop is huge and it is gorgeous

and everything they are planning is just going

to enhance your customer experience when

visiting the shop.

They have outgrown their old premises and

want to keep growing, they will also be moving

their technical department, Performance

Technic, into the same building in the state of

the art workshop complex. They will have more

space for more bikes. A floor full of dirtbikes,

accessories, parts and most anything else you

can imagine including a really nice lifestyle coffee

shop where you can pop in for a light lunch and

just ogle the beautiful bikes on display while

enjoying a tasty bite to eat.

Kawasaki, SYM, MV Augusta, pre loved bikes...

Check out www.fireitup.co.za for more info.

The most

versatile

motorcycle

store in SA?

Did You know that Game Services, the

shop best known for always having stock of

everything and anything at very reasonable

prices is also one of the top suspension shops

in the country, as well as a top stockist of parts

for really old bikes as well?

Yeah!, you thought they only did stuff for dirt

bikes didn't you?

Well, they also stock carb kits, pistons, brake

bits and bob's and suspension parts for almost

everything from a dirt bike to an ATV and all

the way through to old road bikes, current

superbikes, cruisers and everything in between.

Boss Man Ken Somerville is somewhat of a

Guru in the biking world and has been racing

most anything with 2 wheels and an engine

for longer than most of us have been alive. He

does all the suspension work personally, carries

a huge amount of suspension parts in stock

and has applied his engineering background

to modifying unserviceable suspension into

serviceable suspensions, saving the biking

public out there huge chunks of money.

Ken also does all sorts of welding and brazing

and can generally repair most cracked engine

covers, casings and maybe even frames

(obviously within reason), and generally has

the gasket kits in stock to stop the same from

leaking. So if you are restoring an old bike,

building a Café Racer or custom bike and are at

your wits end on where to find some rare part,

give Ken a call on 011-425-1081/4 or mail him

on g124@mweb.co.za

10 DIRT & TRAIL MAGAZINE JULY 2020
---
EMD Off Road

Superstore opens

in Boksburg.

Yep! You read that right. Just around the

corner from Holeshot, Shimwells and

Powersport and in the same complex

as Enduro shop, EMD has opened a

new branch and have expanded into the

adventure market stocking a lot of cool stuff

for the Adventure Rider. The shop is well

stocked, well laid out and staffed with very

knowledgeable, experienced, efficient and

passionate staff. Marius Lombard is the

man at the helm and comes with 11 years

experience at EMD Centurion. His side

kick is Jaun Delport, a passionate rider of

anything that has two wheels and a lot of

horse power and a veteran appy of this here

magazine. They do not have a work shop as

such, but do have a fitment centre for tyres,

mousse's, brake pads, levers, exhaust and

the like. Go visit them at the N12 Business

Park, 27 Dr. Vosloo Rd, Bartlett in Boksburg

or give them a call on 087 086 3029

Yamaha unveil

Ténéré 700 Rally

Edition with '80s

Dakar paintjob

Yamaha have released a special edition

of their Ténéré 700 featuring an '80s rallyinspired

paintjob. The Ténéré 700 Rally

Edition takes its styling cues from the

Yamaha race bikes ridden by Serge Bacou

and Jean-Claude Olivier in the Paris Dakar

featuring blue and yellow paint alongside the

iconic Yamaha speedblock graphics.

You also get a few bits and pieces from

the Yamaha parts catalogue, including an

upgraded skidplate, Akrapovic end can, rally

seat and guards for the chain and radiator.

The indicators have been upgraded to

sleeker LED flashers and tank pad grips and

off-road handlebar grips come as standard.

The bike will be available globally from July

2020 but there's no word yet on price.

It feels like we are really missing out on a

cool bike in SA...

12 DIRT & TRAIL MAGAZINE JULY 2020
---
Coronavirus'

latest victim

2020 Intermot trade show to be replaced by

online industry event

The 2020 Intermot motorcycle trade show

has been cancelled in favour of a digital-only

event amidst coronavirus safety concerns.

Originally set to take place from October

6-11, in Cologne, Germany, the biennial

show draws thousands of industry workers

and motorcycle fans from across the globe

and has played host to a multitude of

exciting new model premiers from major

manufacturers - including the Suzuki Katana

in 2018, as well as the original exactly 38

years earlier.

Although other events will be returning

to the same venue this year, with limited

floor space and tens of thousands visiting,

Intermot organisers have been unable to

meet coronavirus guidelines, currently in

effect in the country.

In a joint statement, Chief Operating

Officer of Koelnmesse (the exhibition

centre housing the show), Oliver Frese,

and General Executive Manager of the

German Motorcycle Industry Association,

Reiner Brendicke, said: "An event that

depends on its appeal as an experience

and event cannot be held in this form at this

point in time and thus does not meet the

expectations and needs of the industry.

"Our customers' resources for 2021 are

already under heavy strain as a result of

the SARS/Covid-19 crisis. As an important

part of the motorcycle industry, however,

and particularly in difficult times, we want to

actively support our partners and are now

working full steam on a digital format."

The German spectacle will now play out

online before the end of the year. A date is

yet to be decided.

"With the digital Intermot news stream, we

are creating a communication platform that

will provide sustainable inspiration for the

industry and the motorcycle community

alike," the statement continued. "We

can then turn our full focus to the event

scheduled for 2022."

We will bring you more on this lot as it

becomes available.

NEW BIG BOY SHIPMENTS ARE HERE!

Zooka TTX125J

R14,699.00

For the full scooter, motorcycle and ATV range, visit our new website: www.samotorcycles.co.za

IMPORTED AND DISTRIBUTED BY

Swift 125/150

R16,599.00

Mustang 250

R35,999.00

Velocity 150

R15,999.00

Adventure 125/150RS

R17,999.00

Utility ATV 250

R55,999.00

Join Big Boy on

Prices include VAT and pre-delivery inspection only. Prices exclude licence, registration and any service costs unless specified. Prices are correct at the time of going to print and may

change without notice due to currency fluctuations or at dealers who are located in outer-lying areas. All advertised models are available at the time of going to print unless specified.

14 DIRT & TRAIL MAGAZINE JULY 2020
---
Ducati reveals

Hypermotard

950 RVE

Spyshots show

Ducati's Multistrada

V4 is almost ready...

If you read this here quality publication, you'll

know that Ducati's Multistrada is one of our all

time favourite motorcycles. New spyshots have

emerged that finally confirm Ducati are working

on a V4 Multistrada and it appears to be nearly

ready. As well as a new engine, the machine has

a new chassis and a full suite of electronics – but

let's start where it all happens and look at the

new motor.

The new engine appears to have been taken

straight out of the Streetfighter V4, suggesting it's

the 1103cc Stradale motor. Chances are they've

altered the tune a bit (just like they did when the

motor moved from the Panigale) but we'd still

expect peak power of nearly 200bhp and around

90ftlb torque.

Either way, the new Multi is likely to take the

crown of the most powerful adventure bike out

there. Paired with the new motor is a brand new

chassis. Gone is the steel trellis mainframe with

cast subframe, in favour of a cast mainframe with

a steel trellis subframe.

The subframe decision is likely for style as well

as strength, while the frame design supports that

motor as well as the new swingarm. Previous

spyshots have shown the bike with a singlesided

swingarm just like the current model,

however it's clear the new one has a doublesided

unit.

It's not obvious why Ducati would make such

a change however the most likely reason is

packaging – simply fitting a V4 motor, Euro5

catalytic convert plus electronic suspension into

an off-road friendly set-up could have been one

issue too many.

The other big new feature Ducati are testing is

radar cruise control. The big box stuffed between

the headlights enables the bike to speed up and

slow down with traffic. This was expected to

debut on numerous bikes this year but the delay

from every manufacturer suggests there was an

issue with the device from supplier Bosch.

We'd expect Ducati to unveil the finished

machine at the Eicma motorcycle show in

November but with the factory currently closed

because of coronavirus it may end up slightly

delayed...

Cant wait!!

We love Motards, but this... is something pretty

special!

The Ducati Hypermotard 950 RVE: an updated

standard Hypermotard 950, complete with

striking new graphics kit and an up-and-down

quickshifter.

Revealed earlier this month after copious social

media teasers, the twin-cylinder supermoto

sits between the standard machine and the

SP model, sharing the same attributes as

its cheaper sibling, with the added bonus of

Ducati's Quick Shift Up and Down EVO system.

This is also available as an optional extra for the

base bike.

Away from the electronics, the mid-spec motard

also gets a new 'Graffiti' livery, which uses ultrathin

decals in an attempt to mirror an air-brushed

finish. Characterised by its half-black-half-red

rims and 'Hyper' messaging along the tank,

it's wildly different to the more conservative

colourings of the other models in the range.

This colour scheme was originally conceived

for the 2019 Concorso d'Eleganza Villa d'Este

event, at which the livery took first place in the

'Concept Bikes: New Design and Prototypes by

Manufacturers and Independents' category.

A one-off replica of this was then also offered as

a prize as part of the Bologna firm's 'Join Ducati'

competition earlier this year. Won by Californian,

Jose Carlos Sagarminaga, the exclusivity of the

prize has been slightly dampened by this latest

release - although it is signed by the creator of

the colour scheme, Andrea Amato.

Powered by a 937cc V-Twin engine, the

Hypermotard produces 112.4bhp at 9000rpm.

Alongside that, you get a thick 70.9lb.ft of torque

– 80% of which is available at 3000rpm.

Designed for tigh short circuits and carving up

your favourite suburban streets , the upright

brawler is also bristling with tech as standard,

with even the base model receiving traction

control, wheelie control, cornering ABS and

more.

man it looks like it will be quite something...

16 DIRT & TRAIL MAGAZINE JULY 2020
---
It's going to be a

happy new year!

Some 2021 Models announced

Manufacturers have not allowed lockdown blues and the COVID

pandemic to mess with motorcycle development – and, true to form,

the Europeans are ahead of the curve with some delectable new

machines already in production for what can only be a better 2021…

18 DIRT & TRAIL MAGAZINE JULY 2020 DIRT & TRAIL MAGAZINE JULY 2020 19
---
SHERCO 2021

FACTORY &

RACING LINE

Sherco was first out of the gate, when their 2021 model

lineup was made public mid last month. This French

company certainly takes the fight to the big dogs

out there, with exciting new developments, bikes on

podiums and an incredibly loyal customer base.

Locally the brand is imported by Sherco South

Africa with their home base in Centurion near Pretoria.

2021 Sherco upgrades.

We have watched the Sherco brand grow steadily

locally– especially in the coastal regions of SA. We

often ask for demo models to ride and review – but

they seem to sell out so quickly that – well it's been

a while… the new bikes look pretty cool!

The innovative French firm has just released their

2021 models – at a time when, thanks to lockdown,

we have barely even seen the 2020's.

The factory in France is running at full strength,

the company expects 2021 to be the biggest year

yet in its 25 year history. Rather than a ground

up change, the bikes have undergone significant

upgrades…

The off-road bikes are divided into two ranges:

• The "Racing" line and the upgraded "Factory" line.

• Both include a 125 two-Stroke (the 125SE), a 250

two-stroke (250SE) and a 300 two-stroke (300SE).

• The four-strokes offered are the 250SEF, the

300SEF, the 450SEF and the 500SEF.

20 DIRT & TRAIL MAGAZINE JULY 2020 DIRT & TRAIL MAGAZINE JULY 2020 21
---
Details:

The big four stroke is offered in both 450 and

500 versions. The Racing model will come with

WP XPLOR suspension at both ends. There

are a number of motor changes that result in a

significant weight reduction for 2021.

The Factory version of the 450/500SEF is

upgraded with an Akrapovic exhaust and KYB

suspension. It also has an upgraded graphics

package and seat cover.

The 250SEF and 300SEF are the company's

four-stroke off-road machines with electric

start, fuel-injection and six-speed gearboxes.

They differ only in displacement.

Also new for 2021 are lighter cranks with a

plain bearing, lighter engine casings, a lower

compression ratio and a tip-over sensor.

The 250 and 300SEF Factory models get

all the same upgrades with the addition of

a new Akrapovic exhaust system and KYB

suspension.

The Factory model also gets upgraded

graphics and seat cover.

Two strokes:

The bread and butter of the Sherco line

remains its two-strokes.

The 250 and 300 are the same, aside from

displacement. They both have electronic

powervalves, six-speed gearboxes and

electric starters. New for 2021 is a counterbalancer

to reduce vibration. There are also

significant changes to the gearbox that results

in weight loss. The two-strokes get a new

cylinder, a new head, changes to the ignition

and a lower compression ratio.

The Sherco 300SE Factory is the model that

Cody Webb rides. Its upgrade includes KYB

suspension, an FMF exhaust, and Factory

graphics.

It also gets all the engine upgrades

including the counterbalancer.

Sherco has a 125 available in both Factory

and Racing configurations. It has a lighter

crankshaft among other upgrades for 2021.

2021 Two-Stroke Updates and Highlights

– New 2021 Racing graphics kit Inmold

– New Brake Spring: Larger diameter spring to

improve pedal return

– New crankshaft assembly design to increase

reliability (125 SE)

– Anti-vibration balancer has been designed

to reduce vibration and rider fatigue

(250/300SE)

22 DIRT & TRAIL MAGAZINE JULY 2020

Anti-vibration

balancer on the

two-strokes.

DIRT & TRAIL MAGAZINE JULY 2020 23
---
– New gearbox and selector

mechanism with new ratios.

Gearbox assembly is now lighter

by 600 grams (250/300SE)

– Total engine weight reduction of

1.2kg over last year (250/300SE)

– New lightened secondary

drive shaft + gearbox output

standardization (125-250-300 2T)

– New cylinder head with lower

compression (250/300SE)

– Updated ignition maps and new

ignition coil control unit. Two

selectable maps result in 5.5bhp

power difference.

2021 Four-Stroke Updates

and Highlights

– Connecting rod bottom-end

bearing has been changed to a

plain bearing to improve engine

life (250/300)

– Tilt sensor (motorcycle engine

shuts off in the event of a fall)

– New connecting rod, which

reduces low-speed stalling

– Revised machining of the engine

cases: Optimized for the new

connecting rod, which reduces

low-speed stalling. It also reduces

the overheating of the engine

oil. The lubricant has better

circulation inside the engine.

(250/300)

– The balancer is the same as

2020 but with a smaller axis

(250/300)

– Compression lowered (250/300)

– New intake and exhaust

camshaft profile (250/300)

– Sprockets of the anti-vibration

balancer lightened (450/500)

– Starter inner pinion has been

lightened (450/500)

– Oil pump gear has been

lightened (450/500)

– New 2021 Racing graphics kit

Inmold

– New Brake Spring: Larger

diameter spring to improve pedal

return

For more information

on the Sherco line visit

shercosouthafrica.co.za

24 DIRT & TRAIL MAGAZINE JULY 2020
---
2021 KTM

EXC ENDURO

MODELS

Remember that KTM does a massive model change

roughly every 3 years. Last year we saw basically all

new bikes hitting our shores – and we were blown

away by the changes. For 2021, KTM has revealed

that the 021 EXC Enduro line-up will have some

minor updates…

No international press launches or anything of the

sort…Covid-19 has made the introduction of this

year's 2021 KTM Enduro range to be a remote one. The

moment that the bikes get here – we are pretty sure

that we'll be invited along to take a ride.

KTM is massive in the world of Enduro bikes – so it's

always interesting to see what innovations they will

come up with year on year…

The 2021 KTM EXC range remains seven-strong in

stock form with the newest model, the 150 EXC TPI

standing alongside the 250 and 300 EXC TPI twostrokes,

and then the 250 EXC-F, 350 EXC-F, 450 EXC-F

and KTM 500 EXC-F four stroke.

Add to that the XC-W models in certain countries

(including North America).

The 2021 range also extends to the SIX DAYS models

and by very popular demand the 300 EXC TPI

ERZBERGRODEO special edition which will literally to

be like gold dust. These options are available despite

both the two major race events (ISDE and Erzberg) not

actually taking place in 2020.

26 DIRT & TRAIL MAGAZINE JULY 2020 DIRT & TRAIL MAGAZINE JULY 2020 2 7
---
2021 EXC model updates in a nutshell:

• WP XPLOR fork preload adjusters as standard

• New cast (not forged) piston in the 150 EXC TPI

• More reliable shift locker (shift drum) in 450

and 500 EXC gearboxes

• New graphics/colours including grey side panels

• ERZBERGRODEO XX6 limited edition model

kitted for Extreme Enduro

• SIX DAYS editions in all models (except 150 TPI)

Speaking about the new models to Enduro21,

KTM's off-road product manager, Joachim Sauer

says after major updates for MY20, 2021 is a

quieter one. "There are no big steps this year

after the major updates for model year 2020."

Explains Jochi. "We had positive feedback from

all nations about the 2020 models and we also

work with the R&D department on some small

changes this year but it is normal to maintain

a few changes and new colours for the second

year of a model."

You will remember that updates to the 2020 EXC

models were significant: new chassis', heavily

revised two and four stroke engines, upgrades to

the TPI models including the new exhausts, plus

some small but significant tweaks to details like

the length of the rear fenders and engine mounting

strength, which in reality made the bikes feel quite

different year-on-year. It is worth keeping that in

mind as we look at the MY21 bikes...

Fork top preload adjusters

The WP XPLOR front fork has received just

a minor update for 2021 largely based on

customer feedback. It is a small detail change to

the forks on the 2021 KTM EXC models, simply

the addition of a preload adjuster that allows for

easy setting changes out on the track or trail. It

is the simple things that matter.

2021 Engine updates

All the KTM EXC model engines arrived with a

wealth of changes in their respective capacities

last season. The TPI models received software

and hardware upgrades to improve their

performance while the four strokes received

power upgrades internally and a new centre of

gravity after KTM re-positioned the engines to

aid handling.

The KTM 150 TPI also made its debut in

the homologated EXC range last year (was

previously an XC, closed course model). For

2021 the 150 EXC has a new cast, instead of

forged, piston which KTM says will bring

increased durability.

28 DIRT & TRAIL MAGAZINE JULY 2020 DIRT & TRAIL MAGAZINE JULY 2020 29
---
Added to that the KTM 450 EXC-F

and KTM 500 EXC-F models have

a reworked gear shift mechanism

in their gearboxes. KTM call it the

"shift locker" but it is perhaps more

commonly known as a drum – in any

case the update is "just an evolution

for better reliability" says Sauer.

Grey is the new orange

Each model year wears a different

look and for 2021 each EXC

model dons orange, black and

grey 'clothing'. The impregnated

graphics in the plastics feature

new grey side areas and grey side

panels, plus there's a switch back

to orange handguards to mark

out the new bikes distinctly from

previous years.

Special Edition

SIX DAYS and

ERZBERGRODEO

models

KTM's flagship bikes, the SIX DAYS

models are joined again in 2021 by

the special edition, KTM 300 EXC

TPI ERZBERGRODEO.

"No chain is stronger than its

weakest link" KTM explains about

the 2021 SIX DAYS edition which

stands ready and waiting for ISDE

Italy – now to be held in 2021. The

six models (all except the 150TPI

have a SIX DAYS version) are

marked out from the standard EXCs

by their orange frames (black on

stand EXCs) and have an upgraded

list of components including

2021 spec WP XPLOR forks, CNC

machined triple clamps, a map

select switch and its own unique

set of ISDE Italy graphics.

We will make sure that we get our

mitts onto the new bikes in the

next few months and share our

thoughts with you…

For more information visit

www.ktm.com

30 DIRT & TRAIL MAGAZINE JULY 2020
---
2021

HUSQVARNA

ENDURO

The Husqvarna brand is doing so well in SA, with

a strong, dedicated Husqvarna network. You'll find

plenty of these machines on podiums and at events

all over the place…

After the introduction of the new bikes in 2020, for

2021, changes are incremental – making, they say,

great bikes, even better.

2021 Husqvarna Off-Road Lineup First Look:

Seven Models

The 2021 Husqvarna off-road lineup has seven models

to choose from for 2021.

There are two street-legal four-strokes (FE 501s and

the FE 350s), a pair of off-road only four-strokes (FE 501

and FE 350), and three fuel- and oil-injected two-stroke

off-road motorcycles (TE 300i, TE 250i, TE 150i).

New graphics adorn the seven Husqvarnas, with the

TE 150i getting a new piston. Otherwise, the FE and TE

ranges are unchanged from last year.

32 DIRT & TRAIL MAGAZINE JULY 2020 DIRT & TRAIL MAGAZINE JULY 2020 33
---
Although comparisons are made between the

brands,there are distinct differences between

Husqvarna and her orange cousin:

• Husqvarnas have a WP X-Act shock and

linkage.

• Husqvarnas have different suspension

damping settings.

• Husqvarnas have a two-piece polyamide

subframe with carbon fiber reinforcement.

• Husqvarna has ProTaper bars.

• You'll find GSK discs on the Husqvarnas.

More on this brand soon...

For more information visit

www.husqvarna-motorcycles.co.za

34 DIRT & TRAIL MAGAZINE JULY 2020 DIRT & TRAIL MAGAZINE JULY 2020 3 5
---
HUSQVARNA

2021

MOTOCROSS

RANGE

Husqvarna has just announced the launch of the

new MY21 motocross range – nine machines to

compete for the podiums. This is one company

that consistantly delivers quality motorcycles to

discerning riders...

For 2021 Husqvarna Motorcycles say that they have

focused on further improving suspension performance

and handling by adding a new mid-valve damping

system to the WP XACT forks with AER technology, for

increased rider comfort on landings as well as reducing

pressure peaks for consistent damping performance.

Additionally, new low-friction linkage seals offer refined

suspension response on the WP XACT shock.

Husqvarna Motorcycles' 4-stroke models feature

compact and modern engines with internal shaft

arrangements at the ideal centre of gravity to notably

benefit handling and manoeuvrability. Modern

electronics and launch control ensure perfect

acceleration.

36 DIRT & TRAIL MAGAZINE JULY 2020 DIRT & TRAIL MAGAZINE JULY 2020 37
---
Accompanying the launch of the 2021

motocross range is the new Husqvarna

Motorcycles app.

The Husqvarna Motorcycles app together with

the Connectivity Unit that needs to be mounted

on the machine will be available from 25th of

July 2020 onwards as a Technical Accessory

for MY21 4-stroke models and the 2020 FC 450

Rockstar Edition.

The app enables riders to adjust their engine

mapping and gives recommendations for the

optimum suspension setting, depending on the

condition of the track. Cool huh!

They tell us that it allows for precise

customisation and personalisation, while

improving the overall rideability.

Among the list of several adjustment options

the highlights are the two main Engine modes,

Prime and Advanced which allow riders of all

levels to fine-tune their engine's performance

according to their riding requirements and track

conditions.

Two Strokes:

Delivering minimal weight, ease

of handling and the highest levels

of performance, Husqvarna

Motorcycles' TC line-up features

Husqvarna's very latest 2-stroke

technology. Advanced ergonomics

and modern bodywork combine

to ensure all TC machines offer

comfort and control in all riding

conditions.

The latest motocross line-up

features all-new Swedish inspired

graphics, giving Husqvarna

Motorcycles' latest TC and FC

models a fresh and vibrant, threecolour

look.

TECHNICAL HIGHLIGHTS

MY21

• New Technical Accessory

Husqvarna Motorcycles app

allows to adjust engine mappings

and gives suspension set-up

recommendations on all FC models

• New mid-valve damping

system WP XACT forks with AER

technology

• New 10 mm shorter fork

cartridges and outer tubes

• The WP XACT shock features new

low-friction linkage seals

• New seat cover texture

• Striking new electric yellow and

dark blue graphics

• Progressive bodywork for optimal

ergonomics

• Chromium-molybdenum

steel frame featuring precisely

engineered flex characteristics

• Innovative 2-piece composite

subframe design

• Interchangeable airbox cover on

FC models for optimised airflow

• CNC machined triple clamps

• MAGURA hydraulic clutch system

offering perfect action in every

condition

• Brembo brake calipers and

high-performance discs combining

superior stopping power with great

control and confidence

• Traction and launch control with

advanced settings (4-strokes)

• Electric starter for easy starting

when time is critical

• Lightweight Li-ion 2.0 Ah battery

• ProTaper handlebar

• Progressive throttle mechanism

and ODI grips allow for adjustable

throttle progression and easy grip

mounting

• Laser engraved D.I.D. wheels

• Gearboxes produced by Pankl

Racing Systems

38 DIRT & TRAIL MAGAZINE JULY 2020 DIRT & TRAIL MAGAZINE JULY 2020 3 9
---
The Little guys: Breeding future

champions.

The TC 85, TC 65, TC 50 and EE 5 ensure

the highest levels of on-track performance.

Prioritising youth-specific ergonomics

and user-friendly aesthetics each model

inspires confidence, allowing youngsters

to focus on their riding while having fun.

TECHNICAL HIGHLIGHTS MY21

MINICYCLES:

• WP XACT forks with AER technology -

optimal performance and light weight

• Confidence instilling ergonomics thanks

to a broad, flat seat and one-piece airbox

covers

• Striking new graphics on the TC 85, TC

65 and TC 50 - showcasing Husqvarna

Motorcycles dynamic approach to offroad

motorcycling

• New, high grip seat cover for greater

comfort

• New roller actuated throttle assembly

for TC 85 - smoother throttle motion and

improved durability

• New Formula brake calipers, clutch and

brake assemblies for TC 85 - excellent

stopping power and improved reliability

• New NEKEN tapered diameter,

aluminium handlebars offer optimised

ergonomics for TC 65 and TC 50

For more information visit

www.husqvarna-motorcycles.co.za

Get The Gear: This from

Husqvarna:

"Delivering comfort, protection

and style, the Functional Offroad

Apparel Collection 2021 ensures

that riders of all abilities and

ages are fully prepared for their

next ride. A complete range

of protective equipment for

adults and kids that takes into

account the unique challenges

of offroad riding, all products

deliver durability and feature

many innovative technical

features. An extensive range of

engine upgrade options, for both

2-stroke and 4-stroke machines,

as well as wheels, suspension,

brakes and graphics are available

from the Technical Accessories

line-up, which allow motocross

riders to customise, protect and

further improve the performance

of all TC and FC models." Chat to

your Husqvarna dealer.

40 DIRT & TRAIL MAGAZINE JULY 2020 DIRT & TRAIL MAGAZINE JULY 2020 41
---
2021 KTM

MOTOCROSS &

SUPERCROSS

LINEUP

At another virtual launch, KTM introduced the world

to their range of 2021 Motocrosser. The biggest

news, of course, is that fact that KTM has joined

the electronic revolution via the myKTM App. Blue

tooth technology. You can now tune your bike at

the track – and the app even gives suspension setup

recommendations dependent upon the track you are

riding. Too cool…

Improvements for 2021 across the full-size range focus

on suspension and chassis modifications, Tweaks to

engine architecture to further enhance reliability, new

Dunlop tyres and a reworked graphics aesthetic.

• The WP XACT front forks and rear shocks have been

overhauled with new components as well as being

reconfigured with a slightly firmer standard setting to

increase confidence and comfort across a wider spread

of surfaces.

• Dunlop's Geomax MX-33 is the rubber of choice for

the KTM SX models.

42 DIRT & TRAIL MAGAZINE JULY 2020 DIRT & TRAIL MAGAZINE JULY 2020 43
---
• As the flagship model in the 4-stroke range,

the KTM 450 SX-F benefits from modifications

to the piston, crankshaft, engine casing, rocker

arms and shift locker to further hike the bike's

excellent reliability, shave more weight and aid

practicality in terms of general maintenance.

My KTM app:

The 2021 KTM 450 SX-F together with the new

KTM 350 SX-F and KTM 250 SX-F machines can

connect with the advanced myKTM app using

an extra Connectivity Unit kit – available in the

KTM PowerParts catalogue. With the bar-padintegrated

Connectivity Unit fitted and the

myKTM app installed, riders can personalize

their KTM SX-F according to their preferences

and track conditions without technical

assistance.

Offering the finest technical touch, the myKTM

app allows for a wide spectrum of adjustability

on the fly, a privilege that was limited to elite

KTM factory riders until recently.

Two Strokes:

• The two-strokes get two changes you won't

see in the four-strokes. Still working with

carburetors, the 250 SX, 150 SX, and 125 SX have

a new smoother roller-action throttle assembly.

Also, the inner clutch hub sleeves are thicker to

beef up reliability.

• KTM gives the 2021 125 SX a new piston. It is

made of a harder material to increase durability

while maintaining performance.

• The 2021 KTM 125 SX is boldened with a fresh

piston and clutch internals, with the treatment

extending to the 250cc-bothering KTM 150 SX.

The Mini's:

KTM says that it treats its Sportminicycle

roster with the same ground-up priority for

development as the full-size bikes.

• The KTM 85 SX, KTM 65 SX, KTM 50 SX

and KTM 50 SX MINI count on a new throttle

assembly for better and smoother throttle

action.

• For the KTM 85 SX, braking potential is much

higher thanks to larger discs and a completely

new front and rear brake system made by

FORMULA.

• All three junior motocrossers now have a

tapered handlebar allowing fitment of ODI lockon

grips.

• For the KTM 50 SX and KTM 50 SX MINI, the

new tapered handlebar allows fitment of thinner

grips.

Joachim Sauer (KTM's Product

Manager Off-Road):

"The development work never stops for our

engineers here in Mattighofen or over in

the USA. Gathering feedback from top-level

motocross and supercross racers from every

part of the world, for model year 2021 we

are proud to introduce the most technically

advanced line-up of motocrossers on the

market."

"Class leaders in terms of performance, the 2021

models enjoy detailed refinements combined

with updated racy looks across the range."

"For 2021, we are very pleased to introduce

the myKTM app for all 4-stroke models, an

advanced tool designed to help riders get the

best out of their potential."

www.ktm.com

44 DIRT & TRAIL MAGAZINE JULY 2020 DIRT & TRAIL MAGAZINE JULY 2020 45
---
Do you REALLY need a Hyper

adventurer?

These days, people are always looking for best bang for

their buck. Not everyone can afford the hyper Adventurers

on the market, but they also cannot afford to compromise

on quality and function. Luckily, the motorcycle

manufacturers pay attention and some of them offer

smaller bikes that are just as versatile as the big ones.

46 DIRT & TRAIL MAGAZINE JULY 2020 DIRT & TRAIL MAGAZINE JULY 2020 47
---
So – a 500 is a bit small, too

off-roady and maybe a bit

intimidating. An 850 plus is

out of reach – and maybe a bit

intimidating? Sadly, with our clever

regulators we have lost some great

entry level bikes in the last few

years – Kawasaki's KLR, Honda's

XL and Suzuki's DR 650 were all

affordable bikes for the masses.

Simplicity has been replaced by

bikes with more electronic trickery

than you'd find on top of the line

superbikes from a few years ago.

Two bikes came to mind when

we were considering this feature.

Both of these are relatively

affordable, every day comfortable,

practical and more than capable.

They are bikes that you can

use everywhere to explore SA's

astonishing network of gravel.

Suzuki's DL650 V-Strom and

BMW's F750GS are two great

motorcycles.

We grabbed both of them and

took off into the "Ver- Verlaate

Vlaktes" for a great day of riding –

Freeways, gravel – and even a bit

of rougher terrain where the bigger

adventurer we rode lost some

parts… but that's another story.

Do you really need a big

adventure?

Well yes you do, you cannot beat

the power! But these two proved

that – well you don't really.

Do you REALLY need a 21 inch

front wheel? Yes?

Well no, not really. A 21 inch

wheel does give better tyre

options – and it looks meaner –

and you get a bit more ground

clearance – but most normal

people will not do Dakar stuff on

bikes like these. Both the DL and

the Beemer are fitted with a 19"

front and a 17" rear. I'd say that we

rode them in some trickier parts

than most would – and they ate it

all up perfectly.

A big advantage of a smaller

front wheel, is the fact that the

bike is a bit lower, so "normal"

sized people can get their feet

onto the ground before they

tumble over.

A consideration between

these two is the fact that the

Suzuki has spokes and the GS

has mag wheels. Spoked wheels

are all but mandatory on off-road

bikes — dirt bikes, enduros,

scramblers and ADVS — for one

simple reason: Spoked wheels are

more durable than single piece

cast wheels. On the road and

on good gravel, you (hopefully)

don't encounter large rocks

or massive ruts — maybe the

occasional pothole, but nothing

as unrelenting as a gnarly singletrack,

that's for sure. Spoked

wheels can bend and flex to a

certain degree letting you tackle

the rougher terrain.

Because they are more rigid,

alloy wheels, handle higher

speeds and higher amounts of

horsepower and torque with

relative ease. The solid, unflexing

nature also makes the single piece

wheels more predictable in turns,

especially at higher cornering

speeds where stability and

consistency are paramount.

Modern suspension is generally

more than the average person can

use – in the terrain we took these

bikes, we have no complaints.

The fast gravel road we use had a

horrible runnel caused by the rain

and both riders smacked that at

speed – and came out the other

side without binning the bikes.

So that was good! The stock

suspension and brakes on both

of these bikes was better than the

skill of the riders.

Other stuff:

Engines:

The obvious difference between

these bikes is that Suzuki uses

their tried and tested, Bullet proof

645cc V-Twin engine, with a focus

on torque. It delivers usable power

in a wide variety of conditions and

puts out peak torque at 70 HP.

The BMW is powered by their

very smooth De- tuned 850 engine

to a reduced peak of 77HP (The GS

850 produces 95HP).

Why would they do that? Well

– they say that it is so that their

GS range will appeal to a broader

variety of riders.

Because it is marginally bigger

(100cc's), the Beemer is a bit faster

at the top than the Suzuki, but we

found the Zuk to be quicker off the

line and it easily holds its own up

to the top. It also seems to have

a lot more personality through

the rev range – but that's what a

V-Twin does for you.

Both house very versatile twin

cylinder engines, fuel Injection and

all the mod cons that discerning

buyers have come to expect from

a modern motorcycle.

48 DIRT & TRAIL MAGAZINE JULY 2020 DIRT & TRAIL MAGAZINE JULY 2020 4 9
---
oasts 15 litres, Suzuki gives you

an extra 5) and average modern

consumption of just over 4 litres

per 100KM's means that you get

good range between tanks. They

are supremely comfortable for

long distance or that epic road

trip – and they are a helluva lot

less intimidating than the super

adventures that are available on

the market.

So – what does this all boil

down to in the real world?

We rode both bikes equally and in

the same terrain – and guess what?

They were both really, really good.

Whilst we do enjoy the BMW's

electronics – and without boring

you – it all works really well, we do

find it all a bit distracting.

The 'Strom is more of a get

up and go kind of bike, there is

nothing complicated about it.

Physically, the BMW feels a

little bit bigger than the Strom, the

Suzuki feels quite small and nimble

by comparison. For a day to day

bike, a smaller machine like one

of these makes more sense than

many of the hyper adventures on

the market.

This is the fun part – which

would we buy?

If you are thinking with your wallet

– then Hands down, at 130 odd

k, the V-Stom represents some of

the best value for money on the

planet. But the lack of modern

tech might just become an issue.

If you have to have the latest

and greatest tech –and you are

looking for a really smooth ride –

then the R149 odd k Beemer is for

you. All of the technology explains

the higher price tag.

But either way – both of these

bikes prove that you do not need

a Hyper adventure in order to do

everything that you want to do.

You need to ride them both and

make up your own mind – they are

both excellent, fun to ride options.

The BMW came from Clearwater

BMW (Thank you guys!) From R

148850.00 (011) 761-3500

The Suzuki came from Suzuki

South Africa. Around R130.000

www.suzukisa.co.za

This is why we ride

motorcycles...

Ergonomics and electronics:

If we were to explain the

differences in ergonomics, you

seem to sit in the Suzuki – and

on the Beemer. Both bikes are

really comfy both for pillion and

for rider. The Suzuki has a slightly

lower stance so it's easier to get

your foot onto the ground.

In terms of build quality – both

are as expected, but the BMW

definitely has a more modern

appeal. The most notable

difference is BMW's state of the art

TFT display, while Suzuki has kept

their digital/analogue setup for

now. We like old school – because

we are just like that, but people

who want the latest and greatest

might prefer the latest TFT tech.

BMW also wins in the

electronics fight hands down.

They give you a smorgasbord of

standard features:

• BMW Motorrad ABS

• ASC (Automatic Stability

Control)

• Driving Modes Rain / Road

• Board computer Pro

• LED rear light

• Power socket 12 V

• Adjustable brake and clutch

levers

Suzuki gives you ABS and two

channel traction control, RPM

assist.

Suzuki's Easy Start System is

cool—just stab the button, and the

engine fires up. You don't have to

hold it in until the twin spark-plugs

in the heads light up. Also, the

Suzuki Low RPM Assist function

makes an accidental stall of takeoff

less likely by automatically

raising the revs from idle as the

clutch is released. That's it. We

love the simplicity.

The BMW has a teeny tiny

screen, but it is a designed work

of art and offers huge protection

on the road. The V-Stroms is

notably larger and is adjustable.

The V-Strom has a bash plate and

brush guards, the Beemer has

brush guards.

Both bikes are fast enough

to keep you ahead of any car,

comfortably hitting close to the

200KPH odd top speeds. They can

happily sustain touring speeds

around the 160 mark all day long.

The large fuel tanks (The Beemer

50 DIRT & TRAIL MAGAZINE JULY 2020 DIRT & TRAIL MAGAZINE JULY 2020 51
---
ERORA

TURNS 20

That's a milestone. A dirtbike and ATV track run by

the same family for 20 years…

A feature in Dirt and

Quad magazine

An early pic of the

quad rentals...

This was a PW initiative by the

guys from Centurion Yamaha.

In 2000, Xavier Arnold approached

comedian Barry Hilton and his kids

about starting a track where they could

race on the East Rand.

There was a perfect piece of vacant

ground being used by guys who used to

patrol the railway lines. They lost the

contract and Xavier and his family went

along to have a look.

It was perfect – 40 Hectares of unspoiled

ground that included a lekker Quarry,

small forests and a groot open section

perfect for MX lines.

The Arnolds approached the owners

and rather than having the ground

vacant, they agreed to a long, long

term lease. With lease secured, Xavier,

Mike Kok and Family and the Hiltons all

climbed in with TLB's and earth movers

and started what has become one of the

most famous Facilities in Gauteng.

Gates opened for the very first time on

the 1st July 2000.

Back then, you could rent a quad, take

your bakkie into the quarry and ride

very socially on the enduro track –

Aerial view back in the day...

The Arnold family has

run ERORA for 20 years

A very young

William

Sutherland

with a fan...

The Utility Quad

challenge was cool fun

when quads were huge...
---
which was actually scraped for

Toyota and Nissan motorsport

Rally and Off road Racing teams.

As things go, new sections were

added – in 2002, they put up

the clubhouse and toilets with

the assistance and funding from

riders and sponsors – and they

started on the MX track. Pretty

soon races were being hosted,

Quads, MX bikes, Flat track, MX,

you name it. The biggest series

at the time was Quad MX started

by Pierre VD Berg. Insane! If you

never got to see 300 Quads hitting

jumps and berms, you missed a

big part of the dirt scene in SA.

While that was going on, the

kiddies MX track went in.

In 2008, Wayne Norris and the

Supercross guys convinced the

Arnolds to convert the 4x4 track

– so that happened and pretty

soon the MX guys and girls were

playing with huge air…

And so it has continued unabated.

All 3 of the Arnold kids have

raced – and Chad went on to

become the national SA High

School Quad MX champ – and

he raced in Europe. 5th in the

European championship.

They now host what is arguably

the biggest MX series in SA, the

Inland MX championship – and

on any Sunday you'll find social

riders, Newbies and national

champions rubbing shoulders.

Xavier would like to take this

opportunity to thank the big boss

Amanda and his kids for all the

hard work over the 20 years.

He grins "How they've managed

to keep at it is beyond me! But

it's been a big Jol! Thanks to

everyone for the years of support

– let's go racing!"

ERORA – on the outskirts of

Kempton Park. Facebook.com/

eroraoffroad park

Building the braai

area circa 2000.
---
The New

Linhai

Rustler

300cc 2x4

The linhai range of quads is one of SA's best selling

brands. It is easy to understand why - they might

be fairly basic, but they have proved to be reliable,

reasonably priced and they have good parts and

service backup. The 300cc 2x4 is their latest offering.

Sean took a short ride and shares his thoughts...

What started out as a well priced entry

level ATV many, many years ago with

a 260cc 4 stroke engine and somewhat

plain looks has become the stalwart

of the market, particularly in the

agriculture and entry level leisure sector.

It is known for its "Kannie Dood Nie!"

reliability, easy cheap maintenance and

sensible fuel consumption. The earlier

models were okay as far as suspension

and comfort were concerned, but

the new model we rode recently is

significantly, much better.

Ergonomically, my 2 metre, 115kg

chassis fits on it really nicely and my

butt didn't even get sore on the wide

comfy seat after a good couple of hours

in the saddle. I must admit that I wasn't

really that enthusiastic about doing the

test, figuring I might be a bit bored on

it considering that my usual quad is a

somewhat highly modified, fire breathing

Yamaha Raptor 700 that tries to kill me

every time I ride it. However, swinging

my leg over the saddle I was quite

intrigued and eventually reasonably

happy to spend hours in the saddle.

I found it plenty fast enough over the

terrain we were riding and powerful

enough, especially in low range, to climb

up most steep hills - and dig its way out

of fairly thick mud, even though it is only

a 2x4. I think my age is starting to show,

because I especially enjoyed the smooth,

56 DIRT & TRAIL MAGAZINE JULY 2020 DIRT & TRAIL MAGAZINE JULY 2020 57
---
predictable power delivery,

automatic gearbox with the easily

reachable shift stick and plush

suspension. The handle bars are

nice and wide at the perfect height

so that your shoulders don't

get tired with almost everything

exactly where you would expect to

find it.

Why 'almost' I hear you ask?

Well, the one thing that did take a

bit of getting used to is big empty

space on the right hand handle bar

where the front brake lever should

be, I grabbed at … 'nothing'

more than a couple of times in

butt tensioning situations which

resulted in a couple of very loud

expletitives, making the boss's

young lads virgin ears burn.

It did take me a few minutes to

remember the lever on the left

bar and the foot brake. Riding at

speed down good gravel roads

is great fun, but as with any

ATV, charging down twee spoor

paths laid down by the local farm

bakkies does require a bit more

concentration as the wheel track

is about 40% narrower on an

ATV, but the suspension on the

Linhai 300cc Rustler is really good

enough to ride with one wheel on

the middelmannetjie and the other

on the outside of the track, you

just have to watch out for lurkers,

(where the extra concentration is

needed at speed).

The styling on the new Rustler is

great, aggressive modern looking

headlights, muscular body kit, foot

wells and bumper, chunky solid

black wheels and tyres and very

neat and sturdy carry racks front

and back, the tow hitch mount is

always a welcome feature on any

utility quad.

At the time of going to print

the importers were not able to

furnish us with a suggested retail

price as they had just landed in

the country and they were still

working out Lockdown exchange

rates vs. landed costs and etc, but

we imagine that they would still be

great value for money.

Hit www.linhaisa.co.za to

find out more about pricing and

availability.

Here are some of the

important technical spec's

on the all new Linhai

Rustler 300c 2x4:

• 275 cc Engine

• Liquid cooled

• 4 stroke

• Single cylinder

• Carburettor

• Electric start

• 2×4 Wheel Drive

• Hydraulic disc brakes

all around with all-wheel

hydraulic lock parking

brake

• Fuel Tank 14 litres

• Ground Clearance 170 mm

• Front wheels - 24 x 8-12

• Rear wheels - 24 x 11-10

• CVT/Automatic High

Range/Low Range/Neutral/

Reverse

• 2096 mm (L) x 1170 mm

(W) x 1170 mm (H)

Load capacities are as

follows:

• Rear Rack - 36kg,

• Front rack - 14kg,

• Tow capacity - 100kg

58 DIRT & TRAIL MAGAZINE JULY 2020
---
What

Sundays

are made

for.

The Husqvarna

701 Enduro

If ever there was a bike that could be described as a

Hooligan – the Husqvarna 701 is it. When Husqvarna

SA offered the bike to our sister publication RideFast,

we hopped on, used it to call on customers – and

undertook a mandatory trail ride to check it all out…

This bike is a "meneer" in every way,

big, bold, intimidating. The moment you

climb onto the saddle – you understand

that this one is not for sissies. It all starts

when you tickle that starter button. The

beasty rumbles to life and – even the

stock pipe emits a snarl that tells you

that it means business.

Snick her into gear and open the

throttle – things start to happen very

quickly. Naturally this one was mapped

to full power – so zero lag – It's like

mounting an old school 2-stroke – just –

this one has lots of manners.

It's been a while since we have ridden

one of these – and to be absolutely honest

– we'd forgotten just how much fun these

bikes are. It's insane to think how much

power a big bore single cylinder can put

to the ground – and Husqvarna has given

the heart of the beast a set of clothes that

match perfectly.

We blasted our way from the

Husqvarna headquarters out at Kyalami

and hurtled down the P91, flicking

through the gears with Husqvarna's Easy

Shift towards our base. The bike is large,

so you get to peer into the windows

of the taxi's as you tear past. And you

look down on everything. Luxury cars

– nothing - fancy SUV's actually feel

smaller than you.

60 DIRT & TRAIL MAGAZINE JULY 2020 DIRT & TRAIL MAGAZINE JULY 2020 6 1
---
Electronics at the

press of a button...

Blue anodised bits are

all from the catalogue...

Hills, Jumps, slippery sand… even a big river

crossing – who actually cares? Traction Control off,

throttle wide and the 701 does the rest. Much of the

time was spent with the front wheel facing skywards.

So much fun – with great trail manners to match.

A quick 2 hour ride turned into four (Ok - 5) as

the smile got wider and wider. The standard 13 litre

tank made sure that we did not need to sweat about

finding a fuel stop.

This is one Helluva bike. She's back in the garage

after a little shower now – just waiting to be spanked

by the road Crew from RideFast.

This is exactly what Sundays are made for.

Maybe this sounds like a bit of an advert – but

flip this bike is cool. And for once, we understand

and appreciate all of the electronic aids that are

incorporated. They work flawlessly and actually

enhance your road riding experience.

A very capable machine

out on the road.

Even more capable

on the dirt.

Proper WP

suspension.

We know plenty of short cuts – so pretty soon it was

into the dirt – around the back of Old Man Erasmus's

farm and onto the old railway line that leads off into

the great beyond. Bad ruts – mincemeat! The bike is

well suspended with enduro sized wheels, aggressive

dual tyres and brakes to match. If anything, you forget

that this bike is a serious weapon – and often you find

yourself going in just a bit too hot…

Getting dark now. The headlamp cuts a swathe of

light along the gravel. Sadly we point her towards the

tar – and open wide just to get a feel for the speel.

180kph comes up on the digital display in about 3

heartbeats. INSANE.

In no time at all the big beasty is securely locked up

in the garage just waiting for Sunday…

On Sunday, the garage was opened, the lunch box

packed into the neat removeable Rear back out back

and the day was spent looking for every bit of fun we

could find - and on this bike you don't need to look

very far…

Carry bracket with a

nifty clip off bag.

62 DIRT & TRAIL MAGAZINE JULY 2020 DIRT & TRAIL MAGAZINE JULY 2020 6 3
---
Capable, Nimble – and damn fine looking

too. That's the Husqvarna 701.

Exciting to ride is the understatement of the

century.

Chat to your dealer. Go and ride one.

This bike came with quite a few Husqvarna

extras – like the cool carry bracket and rear

bag, which is removeable. Bling anodized caps

on the brake and clutch reservoirs. Bits like

the oil cap, oil filter cap, ignition cover. Black

gear shifter aftermarket mirrors, GPS bracket.

All available in the Husqvarna parts

catalogue.

Here's some of the tech stuff:

For 2020, Husqvarna Motorcycles' 701

ENDURO models feature the latest cuttingedge

electronic rider aids. Cornering ABS, lean

angle sensitive traction control, ride modes

and easy shift are featured as standard. Fitted

with an advanced Engine Management System,

perfect power delivery, precise throttle

response and customisable control over the

motorcycle is ensured in all conditions.

For the first time the new machine has

its own unique progressive new graphics.

Strikingly individual, both models offer

impressive power and torque, together with

outstanding chassis agility and handling, for

inspiring, fun-filled adventures.

All three models are extremely wellbalanced,

offering outstanding levels of agility

and handling. The renowned, torquey, 74 hp

single-cylinder 692.7 cc engine features rideby-wire

throttle, offering a perfectly linear

power delivery.

2020 Husqvarna 701 Enduro Key Features

• Versatility A unique combination of street

and off-road capabilities.

• Fantastic power-to-weight ratio.

• Advanced electronics allow full control

over the motorcycle's performance.

• Advanced safety and controllability

thanks to Bosch ABS.

• Competition-level suspension front and

back.

• Extensive range of accessories to tailor

the motorcycle to each individual's needs.

MULTI-BRAND MOTORCYCLES...

"WE HAVE IT ALL, TAKE A TOUR" CLICK ON THE ICONS

HELMETS

BOOTS

GLOVES

www.husqvarna-motorcycles.com

JACKETS

TYRES

PARTS

ACCESSORIES

GEAR

64 DIRT & TRAIL MAGAZINE JULY 2020

Call Us: Whatsapp Us: Email Us:

011 795 4122 079 944 6135 sales@bikerswarehouse.co.za
---
The Big Lap

Rowland Vass took a quick 28 day solo trip all around Australia.

14077 KM's on the bulletproof little GS 650. We bribed him with coffee

and invited him to share his story. This is the whole reason that we ride

motorcycles. What an adventure! Rowland says:

In 2017, after a long corporate

career and at the age of 47, I was

retrenched.

After vacating my office, a

friend of mine called me and asked

me what I was planning to do.

Without thinking further, I said

to Gareth "Maybe we should buy

bikes and ride through Africa" His

response was, that's a good idea,

let's do it. 2 Days later, I bought

a BMW GS800 from Clearwater

BMW. The 20 km trip between

BMW and my house, took about 2

hours of total concentration just

to get the bike from point A to

point B, after having never actually

owned a road bike.

My friends called me the

"wobbler"

1 week later, my friend Gareth

and I, with no idea of the road

ahead, left on a 12 500 km journey

through Southern Africa. Riding

through South Africa, Namibia,

Botswana, Zambia, Malawi,

Mozambique and returning 2

months later. The bug had bitten.

I spent the next few months riding

South Africa and Mozambique

extensively. Come September

2019, the thought came into my

head, to do a solo trip of the

circumference of Australia, known

as "The Big Lap"

I started doing a bit of research

and quickly realised that it would

be too expensive and a custom's

nightmare to ship my bike to

My hotel for almost the entire trip...

Australia. So, I contacted a friend of mine

in Perth, and asked him to be on the

lookout for a 2nd hand bike that I could

buy. A few days later he informed me that

he had found one at an auction house for

AU$ 2 800. That afternoon, I was the proud

owner of a 2008 BMW GS650, with 50 000

km on the clock.

3 weeks later, I flew to Perth and

climbed onto a bike that I had never

ridden before, without any clue as to the

service history of my new investment.

Packed with a tent, a small gas cooker,

sleeping bag, some clothes and a few tools,

I headed north from Perth on my 14 000

km solo journey around Australia.

The 1st day of riding was with mixed

emotions, as all the Australians that I

have met have told me that it was utter

madness to attempt this trip during the

summer month of October because of the

high temperatures and expected annual

floods. But I have come this far and there

was no turning back now.

2 Days out of Perth, I started to

realise, that the route was becoming less

populated and the amount of road users

was starting to diminish. I continued

north along the beautiful coastline to

my turning point, 3000 km north of

Perth known as Broome. As I rode the 5

days north to Broome, marvelling at the

stunning western Australian coastline, I

started to realise how the temperatures

was rising. The days were getting hotter

and the beautiful beaches with their

tantalizing ocean was becoming more

and more difficult to resist. But I heeded

the warnings of the dangers of swimming

along the coastline with its riptides and

salt water creatures, just waiting for you to

enter so that they can bite, scratch, sting

or eat you.

I stopped to marvel at the most

beautiful view of a place called Shark Bay.

Arriving at the coastal town of Broome,

with its infamous stretches of white

powdery beaches, I was shocked, as well

as excited, to hear from a local police

officer that it was permitted to ride on the

beaches. So without much hesitation, I

spent my planned rest day riding km's and

km's on white sandy beaches, exploring

the coast, but also wary of the fact that the

tides do come in.

66 DIRT & TRAIL MAGAZINE JULY 2020

DIRT & TRAIL MAGAZINE JULY 2020 67
---
A 2nd rest day was spent at

Broome, rejuvenating in the

tropical waters.

I left Broome, with the

temperature at 43 degrees.

This was one of the hardest

motorcycle decisions I have had

to makebecause I had to head

across the north of Australia and its

famous Outback. I had 2 choices,

turn back and ride the 3000 km

trip back to Perth or continue the

4000 km journey from Broome,

on the West Coast of Australia, to

Townsville on the East Coast of

Australia. Leaving Broome, I was

still in high spirits, but when the

sun set on the 1st night of leaving

Broome, I set up camp on the

side of the road and prepared my

2-minute noodle and beef stew, in a

can, dinner.

I was 700 km's from Broome in

the middle of nowhere.

That night, as I climbed into my

tent, I realised just how vulnerable

I was. Here I was, lying in a tent, in

the bush, on my own, with nobody

for hundreds of km's around

me. It is then that I realized how

insignificant we actually are in the

bigger picture of things. I closed

my eyes and went to sleep. In

the early hours of the following

morning, at about 4 am, I was

awoken by the most horrendous

noise I have ever heard, I thought I

was being attacked by some kind of

creature.

Once I got to my senses, I

realised that the rumble was a road

train (massive truck rig) coming

past at a high speed.

Continuing along to the western

Australian/Northern territory

border, I realized just how remote I

was. The next few days was spent

riding through the outback, from

sunrise to sunset, it was miles and

miles of absolute nothingness.

Yet, the night sky is absolutely

magnificent. The stars are so

bright and appear so close, that it

feels as if you can touch them. At

night I just lay on my sleeping bag

looking up counting the hundreds

of satellites. The days were

becoming hotter, the nights colder

and the fuel more expensive and

further apart.

Whilst crossing the Outback, the

temperature was starting to reach

48/49 degree mark. I was carrying

extra fuel as the tank range was

insufficient to make it between the

At the halfway mark. Sydney.

Aus is not

all desert...

Dont ask

me - this

is the Big

Mango...

road houses for fuel stops. I remember

climbing off my bike to refuel and the soles

of my shoes were melting on the road

while I was busy.

It was so hot that I could have brewed a

nice cuppa tea from my hydration pack.

About a 1000 km's before the East Coast

of Australia, while sitting and enjoying a

muesli bar lunch, I noticed liquid on my

tyres. Iit looked as if a dog had marked its

territory. On closer inspection, I realised

that it was the bonding liquid that holds

the tyre onto the rim, was leaking out

from the heat, and that the front tyre was

deflating.

On leaving Perth, I had procured 3 gas

canisters for tyre inflation. Remembering,

at the time, how much I paid for them in

dollars and bitching to myself about the

price, I was now happy that I had acquired

them. The 1st one that I used worked, so

I could easily continue with my journey.

However, a few km's down the road, I

noticed the bike was shuddering and the

tyre had deflated again. It was so hot that

the tyres would not stay up.

The next 2 days was spent riding from

5 am till 8 am in the morning and then

parking underneath any tree that I could

find for the rest of the day. Until it was

cool enough, at about 4 pm, to ride again

till 7 pm at night.

The billions of flies, were constant

companions.

I remember leaving Perth when my mate

threw a face net at me with the words

"you're going to need this" and I was

irritated, knowing that I was packed to

capacity and now he was adding another

item, that I had to carry. Im sure glad that

I did.

Finally, +- a 160km's from Townsville, on

the East Coast Australia, the gas canisters

were finished and the tyre was no longer

sitting on the rim, it was flat.

I left the bike on the side of the road,

packed my most valuable items into my

backpack and proceeded to walk towards

Townsville. After about 5 km's a car came

past, stopped and offered me a lift.

I had a good laugh! Typical youngsters,

they were drinking bourbon mixed with

PowerAde. After about 40 km's we entered

a very small town and I noticed a vehicle

repair shop. The owner was very helpful,

68 DIRT & TRAIL MAGAZINE JULY 2020 DIRT & TRAIL MAGAZINE JULY 2020 69
---
I lost the flag but the Koala

hung in for the duration...

we drove back in his Ute, to where

the bike came to a stop. We loaded

and returned to his workshop.

It was already mid-day, so he

took the bike into his single garage

repair shop, closed the door and

went on lunch. There I was, in this

small little town that I cannot even

remember the name, population

of about 12, with nothing to do for

an hour. So I strolled across to the

local delicatessen, bought some

doughnuts and orange juice and

found an area where I could lie

down. By this time my butt was

completely numb, I found an area

around the side of the shop in the

shade.

You can just imagine how I

looked, I haven't showered for 2

days, my clothes were crusted with

dust and sweat. I haven't shaved

and I have spent the last 2 days

dealing with slime, mixed with

sand, on the side of the road, trying

to keep the tyre up.

Not long after I got into the 3rd

doughnut, a lady came walking

down the alley. She stopped next

to me and took a hundred dollars

out of her purse. I was shocked

with embarrassment; I was not a

homeless. I was just having a bad

few days. I tried to explain to her

that I was not homeless and that I

was actually riding a bike around

Australia. I pointed to the repair

shop so that she could see the bike

and realized that the shutter door

had been closed for lunch time.

The more I refused the offer, of

assistance, the more she insisted.

Finally, I had no choice, I had to

accept the hundred dollars as she

was not going to leave. As I took

possession of the hundred dollar

note, she asked me to use it by

booking into the local hotel and

eating a decent meal, but first made

me promise that I would not spend

it on beer.

So, after booking into the hotel,

as the bike would only be ready

the next morning, I had the most

amazing shower, went down to

the hotel's little restaurant and

devoured an awesome chicken

schnitzel and chips. Then I had to

deal with the waitress. She looked

at me with a blank expression on

her face, when I informed her that

I would like 2 bills, one for the

food and one for the 2 beers that I

enjoyed with the meal. As I wanted

to pay each separately…. anyway,

finally she obliged and just rolled

her eyes when I paid both bills

separately.

The next morning, the bike was

fitted with a tube and I continued

my journey arriving in Townsville,

on the East Coast of Australia,

later that afternoon. It was a

momentous occasion for me, as

I realised that I have just crossed

over from West to East of the

continent. You have no idea by

looking at a map as to just how

large this place is.

Heading south from Townsville,

I was now on my way to Sydney, +-

2500km away, to my sister.

The East Coast from Townsville

to Sydney is stunningly scenic,

however the problem is, it is

very populated, with small towns

dotting the coast line every 20 –

I met this gent - a sad story - his daughter commited suicide and he

was walking 5000kms to parliament pulling his dog on a trailer to

create awareness..

In the middle of

nowhere...

30 km's. You end up riding much

shorter distances every day and

there are traffic speed violation

cameras everywhere. At this

point I started to panic, as the

fires were starting to flare up and

communities and towns were

being shut off. I finally made it to

Sydney, literally riding through the

smoke. It was awesome to see my

family, my sister and my nephews

and I made it just in time to watch

the Boks win the world cup that

evening.

For the next 2 weeks, I enjoyed

a comfortable bed, amazing meals

and a blast with my family. Finally,

the day arrived that I would have to

leave on the 2nd part of my journey

from Sydney, back to Perth. After

postponing and postponing, day

after day, I packed the bike. The

Do not moan

about the fuel

prices in SA.

The Great

Australian Bight.

Incredible...

time finally arrived that I had to

leave or I would miss my flight out

of Perth.

Leaving Sydney, the 1st day

and heading south, was the most

difficult day of the ride. As I waved

goodbye to my family and headed

south, I became very depressed

and emotional. About 300km's

out, I stopped the bike, sat on a

bench and started considering

turning back and returning to

Sydney. However, I continued.

That night, I camped next to

the ocean and decided that the

next morning I would return to

Sydney, sell the bike, spend some

time with my family and then fly

to Perth. Waking up the next

morning, I climbed on the bike

and kept on going South. After

about 20 minutes, I realised I was

going in the wrong direction, I was

supposed to go back, but I was in

high spirits, so I kept on going. The

next few days took me through the

most beautiful farming country,

riding amongst the wheat and dairy

farms in remote South Australia. I

marvelled at just how large these

farms were.

One late afternoon, I was

stopped by a farmer and was

offered a nice ice cold beer out of

the cooler box on the back of his

bakkie. He was so amazed by this

GS650, packed to full capacity, with

me on it, riding around Australia,

he felt that I had to spend the night

on the farm with him and his family.

I politely declined when I heard

that his driveway was 60km's long

and I would be riding a 120km's offroad,

just to have a night's rest. So I

continued on, until it started to get

dark. Then pulled of the road, set

up my tent and ate more 2 minute

noodles.

At last the infamous, hot and

dusty, Nullobor Plain arrived.

1 400km's of straight roads and

absolute nothing as far as the eye

can see. Arriving at the gateway to

the "Nully", as affectionately known

by locals, it was pissing down

with rain, the wind was howling

and icy cold. I spent the next 3

days getting across the "Nully" in

the harshest riding conditions.

Every day was just a battle, riding

from the morning till the evening.

Being battered by rain, nearly

being blown off the bike, as well

70 DIRT & TRAIL MAGAZINE JULY 2020 DIRT & TRAIL MAGAZINE JULY 2020 7 1
---
as nearly freezing to death. Oh, how I missed

the dryness and heat of the North. I definitely

deserved the memento certificate that I bought,

hereby "certifies" that Rowland Vass has crossed

the Nullobor Plain.

Finally, crossing the South Australian border,

I was back in Western Australia. I had so many

momentous moments in the last 12 000 km's, but

the best was still to come.

I arrived at a deserted beach in South Western

Australia. Now you can imagine, I spent 12 000

km's without getting a decent picture of a kangaroo

or wallaby, as every time I stopped they bounced

off into the bush and I could not get a picture.

So there I am, sitting on this deserted beach,

with its stunningly white sand and turquoise

water, just admiring the beauty of the place, I

hear a sound next to me, there sits a wallaby at

arm's length away from me. With its head tilted,

like a dog, wanting me to scratch it. So I started

scratching it and it came closer. It was the most

amazing experience that I have ever encountered

in my life. This wild animal, that should be shit

scared of me, is literally standing next to me and

enjoying a head scratch. I slowly got up, went to

the bike, set up the delay on the camera, ran back

and waited for the photo's to be taken. During this

commotion of quick movements, the wallaby just

sat there and waited for me to return…I think it

knew it was a photo moment.

The next 3 days was spent riding along the most

beautiful coastline and finally arriving back at the

departure point in Perth, after 28 days on the bike

and 14 077 km's l.

What an amazing trip! I felt so proud of my ride

and achieving it solo.

A few days later, the new owner of my bike

arrived and handed me AU$ 2 200 for her.

I had thought of every scheme to import it into

South Africa, but was in the end forced to sell her.

She had been my companion for the trip. At night

I used to sit and chat to her and she had done so

well to take me around Australia, I was just so sad

to see her go.

As I write this article, I think of the amazing

people that I met on my trip. The man that was

walking 5 000 km's, with a trailer and his dog, to the

Australian parliament, to create suicide awareness

after his daughter committed suicide.

To the mental health patient, with his disability,

pushing a wheelchair across Australia, to create

mental health awareness. And all the other

travelers and locals who I met on the road, that

offered me support and help, a place to sleep, a

meal, a hot cup of coffee. I will never forget them.

Camping on the beach in Lucky Bay, a

Wallaby came to visit...

An old Iron mine

in Queensland.

72 DIRT & TRAIL MAGAZINE JULY 2020

Old meets new. NSW.
---
When Glenn asked me to write this article, he

asked that I put in a bit about what you would

need to take along on such a long trip and I

thought about this…..

A real

Giraffe in

Aus...

I think what everybody wants to hear is tools, spares, a

tent, sleeping bag, blow up mattress, food water, extra fuel

etc. etc. etc. The only advice that I can give is that unless

you're a BMW mechanic, the fancy spares and tools mean

nothing.

The best thing I ever done was to throw away the

massive bag of clothes that I had on the back and replace

it with a cooler box. A tent is important, as Australia has

lots of critters that like to bite or sting you. Definitely,

netting for your face to keep the flies away and long sleeve

shirts and pants. Extra fuel on the bike is a must and food

for a maximum of 2 – 3 days, as it is readily available.

After returning in December 2019, I realised my

passion is motorcycling adventure, after the last 3 years,

of adventure touring. And with that passion I started a

motorcycle adventure tour company called Adventure

Africa Motorcycle Tours (www.aamotorcycletours.com)

and then the Corona virus hit!

I will not give up and hope to continue someday soon in

the future to showcase South Africa and Africa to clients

on adventure bikes.

As I've stated in this article, adventure riding allows you

to meet so many people, so are much less fortunate than

what you are and that we are so insignificant in the bigger

picture of things. When you ride long distances solo, your

emotions play havoc with your mind. You get excited,

you get depressed, you get hungry, you get thirsty, you

get cold and sometimes you have no shelter from nature

and sometimes you must eat what you can get. Yet, it is

an adventure that we do because it is exciting, however,

these emotional factors and circumstances are some

people's daily lives. For this reason, I hope to make a

change in people's lives, by riding my next trip from Cape

Town to the Netherland's, to create awareness for people

that are less fortunate than myself.

About the Author:

Roland is the third half of the Adventure Africa

Motorcycle Tours outfit. He started riding in 2017 and the

bug bit him something fierce. He has travelled all over SA,

Namibia, Zambia, Bots, Zim, Malawi… and the Aus trip

was a lifelong dream.

In between, these guys are arranging trips locally

in and around JHB. Hook up with them@ www.

aamotorcycletours.com

He and some friends are planning a ride from Cape

Town to Cairo against poverty. Follow him at www.

facebook.com/rideagainstpoverty

www.aamotorcycletours.com

74 DIRT & TRAIL MAGAZINE JULY 2020

The flies in

the Northern

Territory

are unreal.

The net was

possibly

my most

important

item of gear.

The day the

Springboks

won the world

cup...

GET IT.

READ IT.

LOVE IT!

SA'S MOST LOVED

ROAD & TRACK

MOTORCYCLE

MAGAZINE.

READ IT AT www.motomedia.co.za
---
CONVERTED

KTM 790 Rider Review - First Impressions.

You'd have seen last month that we roped in the

talents of Barbara Muszinski to do some interesting

travel features for the magazine. When the guys from

Trax KTM got wind of that, they supplied her with

the beautiful KTM790 'S' Dirt Convert special that

they build to do the job. This moth, Mizz B shares her

thoughts on the bike and some lockdown travels…

The Bike

It has been just over a year since the

KTM 790 and 790R were first launched

at the Merzouga Rally in Morocco. Ever

since their launch these bikes have

been top competitors for the mid-range

adventure class crown, with the "R"

model often being the main focus of

most articles and reviews.

You can imagine my surprise when

Riaan, the owner at Trax KTM, asked

me whether I'd be keen in putting one of

their standard model KTM 790's through

its paces and testing its capabilities as an

all-round adventure bike. As an avid offroad

and adventure rider I simply could

not refuse and found myself leaving the

shop on a very special version of the

KTM 790 they had put together called

the "Dirt Convert".

This version makes it possible to leave

the tar in style with knobbly tyres, a high

front fender and a fdunky decal kit to set

you apart from the rest. The best part

about the conversion is that it can be

done at no extra cost with the purchase

of your standard model KTM 790 's'.

The Akrapovič exhaust system as well

as the "Rally Mode" software our featured

bike came installed with, can be added as

optional extras. The only thing that now

sets our standard model apart from the

"R" is the suspension. According to KTM,

the standard 790 Adventure is "the most

off-road capable travel bike," while the R

is "The most travel-capable off-road bike."

From a Standard 'S' to a

Trax Dirt Convert.

76 DIRT & TRAIL MAGAZINE JULY 2020 DIRT & TRAIL MAGAZINE JULY 2020 77
---
As there are numerous detailed

technical reviews available all over

the internet, I decided not to bore

everyone by copy pasting all the

specs and took to social media

instead to ask fellow adventure

riders what they would like to know

about this KTM 790.

The Ride

COVID 19 essential service permit

in hand, we left a not so bustling

Pretoria behind and made our way

through the empty streets towards

the Schurweberg Mountains. I'd be

trying the bike on one of our more

interesting adv-routes, with terrain

ranging from open dirt roads, to

tight twisty single track and even

some rocky climbs on a winding

mountain pass.

The first thing I have to mention

is the electronics as they make up

such an integral part of the biking

experience. The 790 features an

array of riding modes which you

can switch through on the clear

tablet-like display. Someone on

social media asked, "Aren't the

electronics intrusive"?

Coming from a pretty "old

school" biking background I found

myself using the "Offroad Mode"

with "Offroad ABS" (which allows

the rear wheel to lock) enabled and

MTC (traction control) switched off

during most of our dirt ventures. As

I got more acquainted with the bike

I played around with the added

"Rally Mode" software, which

makes things even more interesting

by adding nine new levels of

traction control as well as different

throttle response settings. The

riding modes do take a bit of time

to get used to, but are easy enough

to understand and once mastered

give you a better riding experience.

A notable improvement over other

bikes I've ridden is that you do not

need to stop to switch between

modes/settings as everything can

be done on the fly, making it quite

the user friendly system.

With all the right riding modes

selected we hit our first dirt road.

This is where I'd answer another

popular question that popped up

on social media. "Was the KTM

790's suspension up to scratch for

our African riding conditions?".

The standard model sports

WP Apex 43mm suspension with

Blazing the Trail on

the KTM 790

200mm of travel on both the front

and rear. The front is non-adjustable

and on the rear only the preload

can be set. Compared to its sister

bike, the 790R, the suspension

specs do seem a bit tame on paper.

After hitting our first dirt road

though, I wondered whether any

adjustment was needed at all, as

the bike handled the open dirt

roads very well, feeling planted and

stable, but also plush enough to

give an overall comfortable ride.

I also did my utmost best to hit

every hump, bump and rut on our

way at a higher than recommended

speed and again the bike soaked up

everything just fine. Look, this is not

the number one bike I'd recommend

to someone who would like to

clear the table tops at the mx track,

but for general adventure riding

conditions, it did what it needed to

do and it did it well.

While riding at higher speeds I

noticed that the taller windscreen

of the standard 790 offered a

fair amount of protection from

the wind, while at the same time

being unobtrusive when standing

and manoeuvring the bike on

dirt. I also didn't experience any

buffeting which was an issue that

was raised by a few riders on the

forums concerning the shorter

screen of the 790R.

As there were no breakfast

venues open, we stopped at the

Sasol garage near Broederstroom

for a quick COVID coffee break. We

weren't the only bikers there either

and we greeted a few fellow riders

who had slipped out to "fetch some

bread and milk".

From here on we pulled off

the tarmac again and hit some of

the single track trails which we

normally rode on our smaller bikes.

The low centre of gravity was really

noticeable here and the 790 felt

nimble in the tight turns. It was also

good to be able to get both feet

firmly planted on the ground as we

navigated our bikes through more

difficult terrain. To me this was

very confidence inspiring as with a

taller bike you would normally have

to think twice before attempting to

put your feet down.

Along the Crocodile River, we

encountered a steep rocky section

with plenty of loose rocks. Again

the KTM 790 managed to climb the

hill without any hassles, the ground

clearance sufficient to make it over

the big rocks without having to

78 DIRT & TRAIL MAGAZINE JULY 2020 DIRT & TRAIL MAGAZINE JULY 2020 79
---
e-think my lines. We were still busy

gazing over the Hartebeespoort

dam at the viewpoint when a

number of dirt bikers came along

the same trail. One of them stared

the 790 up and down and asked

me whether we really just came

the same way. I could only grin and

nod, yes believe it!

Next Time

As the COVID 19 regulations ease

up, I'll be taking the KTM 790 on an

extended trip to see how it fares

on the open roads. Being a travel

bike I'll also be looking at different

luggage options and goodies

that will make the 790 even more

adventure ready.

It has been fun answering

everyone's questions regarding

the 790 on social media, if there's

anything you'd like to know about

the bike drop me a line on my

page: https://www.facebook.com/

motominxy/

Special shout out to Trax KTM

for letting me use their "Dirt

Convert" KTM 790 Aventure to

bring you this story.

Testing the 790 on

rocky terrain

80 DIRT & TRAIL MAGAZINE JULY 2020
---
Storm in

a teacup?

The motorcycle world was

taken by surprise recently,

when a bunch of sidecar

motorcycles were sold to

the department of health

in the Eastern Cape. Most

reactions on social media

(our absolute favorite) were

scathing to put it mildly.

Rather than joining the fray,

we quietly went about our

business looking for the logic

behind the purchase…

Naturally, our concern is

the following: If this project

is a failure, it will cast

motorcycles in a bad light

with government and rural

communities. HOWEVER. If

it is a roaring success, it can

only be good for our industry.

If you have ever done a

ride with us into Rural areas

– you'll know that accessing

some of the places where

people live is a challenge to

say the very least. The best

possible solution in these

environments is a Side By

Side – but sadly, the costs

are often prohibitive.

This might just be a great,

affordable solution.

This from SABC News:

Eastern Cape launches

motorbike service to

fight COVID-19

Health Minister Dr Zweli

Mkhize has congratulated

the Eastern Cape

Department of Health for

the procurement of 100

motorbikes to transport

patients to clinics.

Speaking in East London,

Dr Mkhize expressed hope

that other provinces could

This is not a new concept. Here is an Indian

Motorcycle ambo during WW2.

follow the example and make use

of these scooters. He says they

appear to be a cheaper and more

efficient form of patient transport.

The initiative by the Eastern Cape

Department of Health is the first

of its kind. The department hopes

the 100 motorbikes will improve

its capacity to fight the COVID-19

pandemic in the province.

The province is largely rural

with many areas inaccessible with

standard ambulances.

"What I found to be quiet nice

is the innovation about it, that it

can in fact be converted into an

ambulance that can carry someone

who needs additional health to

be brought to an area where it is

easy to access ambulances and in

addition, it can also be used as a

mobile clinic for one person so it

could be a health worker, a nurse

or a public nurse who could be

walking around in various parts of

the country. Therefore they could

actually set up a small post where

they could look at people and

assist them," says Mkhize.

Possible expansion in semiurban

areas is also on the cards.

The manufacturer of the bikes

say their product is effective over

terrain where ambulances struggle.

Where We Are Working

Brian Harmse of FABKOMP says

there are different applications for

the motorbikes.

"There's a picture that was

taken somewhere in the Transkei

where an old man was in a

wheelbarrow to try and get him to

the clinic, so this is the solution to

that dynamic, the units are cheap

enough. We have the ambulance

version so the patient can lie down

and can be strapped down on the

mattress, there's a waterproof

cover so if it does rain you can

cover the patient completely,

there's also a drip holder on the

unit itself," says Harmse.

Minister

Zwele

Mkkhize

takes a ride...

82 DIRT & TRAIL MAGAZINE JULY 2020 DIRT & TRAIL MAGAZINE JULY 2020 83
---
This report met with MASSIVE

backlash on social media.

Questions poured in about

everything from the suitability

of the vehicles for the

intended application to the

purchase price of each unit.

Guys. These contraptions are

not a new thing. Similar vehicles

are operating with much success

all over the world – and they do

present a viable solution where road

infrastructures are often lacking.

Comments flew about patients

dignity, the unsuitability of the

bikes – and, understandably, the

skills of the people who need to

ride them.

We got in touch with the

manufacturer, FABKOMP, they

have invited us to go and have a

ride and to see where the bikes

are being used – and then – we

can give educated comment about

the purchase. We will load the

dirtbikes and use the opportunity

to go and check it all out – and

take a lekker ride as soon as

lockdown laws permit.

FABKOMP'S Brian Harmse, who

is an avid Adventure bike rider

returned our call and we posed a

few questions to him:

DT: We know that your bikes

are branded E-Ranger but are, in

fact Jailings. Why Jailing and not a

mainline brand?

BH: Mainline bikes are expensive

and over powered for the

application were these sidecars are

used. We need low torque and low

speed. High performance units will

be a disaster. Spare parts for the

Jailing are also available all over

Africa.

DT: Is there parts support for the

Jailing brand in SA?

BH: We bring in all the parts we

need to support units in the field.

We have stock and can get in stock

fairly easily.

DT: Tell us a bit about the

application – you guys have

obviously tested the hell out of

them. How do the wearing parts

like the clutch and so-on handle

the weight of a sidecar and a

passenger? And what kind of

suspension does the sidecar get for

passenger comfort?

BH: The Application is

"rural roads". Generally, the big

government ambulances would

work between Hospitals and the

rural Clinics. The sidecar unit is

targeted to be used between the

Clinics and the rural communities

where the people live bring health

care and support to the people.

The intention was never to replace

ambulance at all, it's just an

additional option a health care

worker has to help people.

DT: Understandably, in SA, we

are all very cynical when we see

the numbers.

Tendrepeneurs have stripped

our country of much needed cash

that could be used for so many

things.

At 85k plus VAT, the cost of your

units seem quite high – could

you please run us through the

composition of each unit, as well as

the support, warranty etc that you

guys offer.

BH: We all feel the same about

corruption taking place in the

country and it has to be challenged

and condemned. The only problem

is that whenever a contract is

awarded it is assumed some

backhands have taken place.

I don't necessarily want to give

all of our costing details to you guys

just incase you want to copy what

we do and place ads on Alibaba.

Only joking, we are busy with a

media house that asked if we do an

open book costing excise for them,

so it will be in the media soon.

Short overview of what goes into

a basic setup. We have to import

the bike and it's paid in US$; we

cover all shipping costs and once

received we need to assemble the

bike as it is supplied to us semi

knocked down. Once assembled,

we have to do a PDI and get the

84 DIRT & TRAIL MAGAZINE JULY 2020 DIRT & TRAIL MAGAZINE JULY 2020 85
---
ikes running. We then keep them

in stock waiting for an order from

who knows were to come in,

We normally try and keep 100

units in stock at any given time. We

are running a bit low and only have

85 currently in our system and

these are going to Health and we

have to bring in the additional 15 to

make up the full 100.

Once we get an order we

will start the full manufacture

process of the side car to the

ordered specification which can

vary from customer to customer.

We have a full design team that

design all the parts, make the

necessary jigs and fixtures and

work with local suppliers to get

the bought outs to the correct

specifications and colours etc.

Hopefully my team is negotiating

fair prices for both parties.

The Clinic version we quoted

Health includes the following:

Gazebo with full custom sides

covering all 4 walls for privacy; 2

Directors Chairs 100kg's plus; Jerry

cans for water and petrol; sharps

box and magnetic metal dish trays;

infant scales; adult scale to 150kg;

2 helmets; rain gear; reflective vest;

spare tyre & tubes; spare chains

and sprockets and a compressor

with puncture kit, tyre levers and

tools for basic maintenance.

We the offer to train the

operator to use the unit in the

rural setting that the bike is going

to be used in. We have to make

sure the "pilot" knows what the

limitations are and that they are

confidant in all situations.

We offer a full 12-month warranty

on parts and workmanship

included in this deal is an

additional 3 years full maintenance

contract.

I would like to what the guys

on Alibaba would charge for all of

this???

DT: Are the sidecars locally

manufactured or are they

imported?

BH: The complete side is

manufactured by us in our factory

in KWT and the sidecar rim is

cast inhouse from aluminum,

and then machined to the

correct specifications. The front

suspension system is machined

and made in house.

DT: As we see it – there are two

different models. One is a mobile

clinic used to go and visit rural

communities and set up a clinic.

A second model is used to collect

patients and transfer them to a

health facility. Is this correct?

BH: We can make any execution

that you can think off. There

is a guy in East London doing

pool maintenance using one for

years. Our biggest seller is the

ambulance as they are generally

used to help get pregnant moms

to clinics to assist with child birth

complications. The clinic version

is used to do testing within the

communities.

DT: Having ridden sidecars

and all that, we understand some

of the challenges with handling

characteristics. Are the pilots

formally trained? Is this your

responsibility or the Department of

Healths?

BH: It's the Department of

Health's responsibility to get the

riders licensed to be able to ride

a motorcycle. We have given the

department a proposal on how to

fast track this licencing process. We

get involved early on to train the

riders how to handle a side car. We

are really good at the training as we

send our trainers into projects all

over Africa to train the "Trainer".

This means that we empower

people to be able to train others

to ride the sidecar unit as part of a

bigger sharing of skills.

DT: Are the bikes all

homologated and roadworthy?

BH: Yes, they are Homologated

in South Africa and they have to be

roadworthy.

DT: If we understand the

application correctly – the bikes

are not for bundu bashing – more

for getting to the closest point of

access on a reasonably decent

rural road. Is that correct?

BH: That is correct. The sidecar

unit is not designed to go crashing

through the bush or to do serious

riding in hectic terrain. They are to

get to rural areas using the gravel

roads to get there and back safely.

DT: What is the spread of the

area where these bikes will be

operating and how does a rider get

his unit serviced and maintained?

BH: We are working with the

Dept of Health to keep the bikes

at an "Ideal Clinic" (Google this).

The ideal Clinic will have good

management and security etc.

They will be spread very thinly

across the whole Eastern Cape

and we will be able to support

the servicing of the bikes with

technicians at the "Ideal Clinic".

DT: We have to ask: Are these

the same units that are doing the

rounds on Ali Baba?

BH: Hell no!!! The people that

keep referring to the unit shown

on Ali Baba clearly are going to get

caught in a scam. Anyone on this

planet can copy a picture from our

website and create an ad. If you

are gullible enough to buy a unit

without confirming if it's genuine or

not than you will be out of pocket.

Like buying a Russian Bride online…

I actually knew a guy who

worked for the hawks who got

caught trying to buy the Russian

Bride a plain ticket. He sent "HER"

the cash to buy the ticket. So to

all the "informed" people referring

to the Ali Baba advert, I hope you

guys think twice before you share

stuff. Rather embarrassing if you

get it wrong.

DT: Would spoked wheels not

make more sense?

BH: No. The lateral forces on

the wheels on a sidecar are much

higher than on a motorcycle. The

sidecar is always upright whereas

a bike leans into the turn. Forces

applied are way different and if you

think about it, it does make sense.

We initially used spoked wheels

but the maintenance of the spokes

became a real challenge and we

lost rims due to spokes breaking.

The sidecar is to be ridden at no

more than 60km/h so the forces on

gravel roads make the alu rims way

more reliable.

So there you have it. Keyboard

warriors are a dime a dozen – and

that is the absolute beauty of social

media. We hope that this has shed

a bit more light on the topic. We

are absolutely not taking sides, but

as usual, there is one hell of a lot

more to the story than meets the

eye. Are the bikes safe for riders

and passengers? Are they able to

perform in a rural environment?

As soon as opportunity presents

itself – we will head down to EC to

take a spin and see the bikes and

the operation. We have high hopes

for these bikes.

A truly African solution with

much potential to improve

peoples lives.

86 DIRT & TRAIL MAGAZINE JULY 2020 DIRT & TRAIL MAGAZINE JULY 2020 8 7
---
BASEFIT

WHY YOUR BIKE

IS CAUSING YOU

BACK PAIN

Lower back –

Supermans

By Mandy Thomas, BASE FIT: Specialised in Fitness for Dirt Bike Riding

You are on the most

amazing ride with your

friends then that dull back

ache starts to kick in. What's

worse, is after the ride

your back goes into spasms

causing you to hobble

around like a cripple for a

few days. The thing that is

meant to give you pleasure

is causing you pain.

So the problem is not the bike,

nor is it you. It is your preparation

for the ride that needs fine tuning.

The very nature of riding has its

roots in endurance, which means

you need to prepare your muscles

to sustain endurance-based

activities. As your core is what

takes the most pounding when

you ride, it is important to do your

physical prep work off the bike so

you can endure long rides pain free.

When you ride you are mostly in

a static bent forward position over

an extended period of time. This

causes your glutes (butt muscles)

and your posterior deltoids and

trapezius (upper back muscles)

to become lengthened. While

simultaneously your hip flexors

and pectorals (chest muscles)

become shortened. Holding this

position over a long period of time,

repeated over and over again can

cause an imbalance between your

posterior chain and anterior chain.

This means your body becomes

rounded in a C-shape. This

unnatural position puts huge strain

on the entire back, lower, middle

and upper as your posture is

misaligned, similarly to those who

sit at in offices for most of the day.

Now, I don't have to explain the

difference between a bike and a

chair, but realizing that your back

is not supported in a hunched

over position so it does not take

much for the aggressive movement

of a bike to jolt the body into a

spasm. This is why your back is so

vulnerable when you ride.

Your solution is simple. You

need to do exercises which

counter act the C-shape caused

by the riding position. To open

your frame up you must lengthen

your chest muscles and stretch

out your hip flexors. Then you

need to strengthen your upper

back muscles and allow them to

shorten slightly by avoiding to

much stretching. You will also

need to strengthen your glutes

and lower back.

Below are some exercises which I

suggest you incorporate into your

weekly fitness regime.

1. Lower back – Supermans *

Strengthens lower back (primary)

and glutes (secondary) as well as

stretches out hip flexors.

2. Glutes – Glute bridge walk outs

* Strengthens glutes (primary) and

lower back (secondary) as well as

stretches out hip flexors.

3. Upper back - Overhead squats*

Tightens upper and middle

posterior chain while stretching

out chest.

4. Upper back – Rear delt

kickbacks* Tightens upper and

middle posterior chain while

stretching out chest.

As with any sport you need

to prepare. Just because you are

sitting or standing on a bike, does

not mean the bike is doing all the

work and you can just coast. The

bike is just an extension of you so

ensure your muscles that support

your spine, as well as the muscles

which attach to the spine are strong

and balanced.

If you need a program to assist

you in relieving back pain please

mail me on mandy@basefit.co.za

with the heading BACK PAIN

Mandy Thomas – Base Fit

Overhead

squats

Glute bridge

walk outs

Rear delt

kickbacks

88 DIRT & TRAIL MAGAZINE JULY 2020
---
BUYER'S GUIDE

SELLING

YOUR BIKE?

FIRE IT UP IS THE MOST TRUSTED PURCHASER IN SA!

WE PAY INSTANTLY, WE COLLECT, WE COME TO YOU!

www.fireitup.co.za

BMW

R nineT Scrambler R204,400

G 310 GS R81,400

F 750 GS R179,400

F 850 GS R188,900

F 850 GS Adventure R223,300

R 1250 GS R263,000

R 1250 GS Adventure R288,900

DUCATI

Multistrada 950 R207,900

Multistrada 950 S R253,200

Multistrada 1260 R232,000

Multistrada 1260 S R284,700

Multistrada 1260 Enduro R283,400

Multistrada Pikes Peak R345,300

Multistrada Grand Tour R312,900

Sixty 2 Scrambler R119,500

Icon Scrambler R144,900

Full Throttle Scrambler R172,900

Classic Scrambler R164,900

Desert Sled Scrambler R187,900

1100 Scrambler R199,900

1100 Scrambler Special R216,900

1100 Scrambler Sport R230,900

HONDA

Africa Twin 1100 Manual R210,000

Africa Twin 1100 DCT R229,499

Africa Twin 1100 AS Man R236,000

Africa Twin 1100 AS ES R269,000

XR190 R49,620

XR150L R32,960

XR125L R30,000

CRF250L R74,999

CRF250 Rally R77,999

CRF110F R34,400

CRF125F R42,900

CRF250RX 19 R105,999

CRF250RX 20 R116,600

CRF250R 19 R98,900

CRF450RX 19 R110,999

CRF450RX 20 R122,100

CRF450R 19 R109,999

CRF450R 20 R121,000

TRX250TM R98,000

TRX420FA R154,999

HUSQVARNA

TC50 mini R44,699

TC50 R44,699

TC65 R53,699

TC85 R66,699

TC125 R87,699

TC250 R99,699

FC450 R109,699

FC350 R113,699

FC450 R115,699

FC Rockstar 2019 POD

TE150i R107,699

TE250i R127,699

TE300i R133,699

FE250 R127,699

FE350 R129,699

FE450 R132,699

FE501 R134,699

701 Enduro R141,699

TX125 R94,699

TX300i R123,699

FX350 R126,699

FX450 R128,699

FS450 R122,699

701 Supermoto R141,699

KAWASAKI

Versys-X 300 19 R79,995

Versys-X 300 20 R85,995

KX65 R41,995

KX85 BW R54,995

KX250 R115,995

KX450 R119,995

Brute Force 300 R74,995

Mule SX 2×4 R145,995

Mule SX 4×4 R179,995

Mule PRO-MX 4×4 R209,995

Teryx 800 ESP LE R299,995

KTM

50 SX R43,999

50 SX Mini R43,999

65 SX R52,999

85 SX R65,999

SX-E 5 R58,999

125 SX R85,999

150 SX R89,999

250 SX R97,999

250 SX-F R106,999

350 SX-F R110,999

450 SX-F R112,999

450 SX-F FE R126,999

150 XC-W TPI R104,999

250 XC TPI R121,999

250 XC-W TPI R122,999

250 EXC Six Days TPI R130,999

300 XC TPI R126,999

300 XC-W TPI R127,999

300 XC-W Six Days TPI R136,999

300 EXC TPI ERZBERG R141,999

250 XC-F R122,999

250 EXC-F R122,999

250 EXC-F Six Days R129,999

350 XC-F R124,999

350 EXC-F R124,999

350 EXC-F Six Days R133,999

50 XC-F R127,999

450 EXC-F R127,999

450 EXC-F Six Days R135,999

500 EXC-F R129,999

500 EXC-F Six Days R136,999

FREERIDE 250 F R101,999

390 Adventure R85,999

790 Adventure R181,999

790 Adventure R R194,999

790 Adventure R Rally R273,999

1290 Super Adventure S R241.999

1290 Super Adventure R R249,999

690 Enduro R R159,999

690 SMC R R159,999

MOTO GUZZI

V85 TT Evocative E5 R234,850

V85 TT Travel Pack R249,850

PUZEY

EGL Madix 250cc R38,990

EGL Madix ATV 125cc R15,999

MXR 180 - MX R24,990

STX200-Enduro R26,999

STX200-Motard R26,999

STX250 - Enduro R32,999

Thumpa 70cc R9,499

Whiz Kid 70cc R9,499

XP 125cc R11,999

XP Stomper 125cc R12,999

SUZUKI

TF125K5 R33,550

DR200SEL5 R52,500

DL650XAMO R128,500

DL1000XAL9 R172,900

DL1050RCM0 R221,950

RM-Z250M0 R99,982

LT-F250L8 R76,950

LT-A400FM0 R131,750

LT-A750XL9 R160,700

LT-F400FM0 R131,855

SHERCO

SE 125 Racing 2T R99,000

SE 250 Racing 2T R129,400

SE 300 Racing 2T R132,700

SE 125 Factory 2T R109,900

SE 250 Factory 2T R137,300

SE 300 Factory 2T R137,900

SC Cross Country 125 2T R112,300

SC Cross Country 250 2T R135,400

SC Cross Country 300 2T R133,600

SE-F 250 Racing 4T R132,300

SE-F 300 Racing 4T R134,200

SE-F 450 Racing 4T R138,600

SE-F 500 Racing 4T R139,800

SE-F 250 Factory 4T R142,700

SE-F 300 Factory 4T R145,000

SE-F 450 Factory 4T R149,100

SE-F 500 Factory 4T R147,700

SE-F 455 Factory BAJA 4T R198,900

ST125 Racing R93,900

ST250 Racing R112,500

ST300 Racing R112,900

ST300 Factory R115,900

X-Ride 290 R90,700

All pricing correct as at time of publishing, but may vary due to exchange rates etc.

All pricing correct as at time of publishing, but may vary due to exchange rates etc.
---
SWM

SD 650T R132,572

SD 650 X R132,572

RS 300 R R111,198

RS 500 R R121,950

TRIUMPH

Tiger 800XCX R186,000

Tiger 800XCA R205,000

Tiger 900 Rally CN7 R192,000

Tiger 900 Rally Pro CS7 R215,000

Tiger 1200 XCX VN3 R226,000

Tiger 1200 XCA VS3 R260,000

SELLING YOUR BIKE? FIRE IT UP IS THE MOST TRUSTED PURCHASER IN SA!

WE PAY INSTANTLY, WE COLLECT, WE COME TO YOU!

www.fireitup.co.za

ACCELERATE YOUR

FITNESS FOR ENDURO

"I couldn't podium

without BaseFit"

– Bruce Viljoen

Bruce Viljoen #44

Multiple GXCC & Northern

Regional Champion

YAMAHA

PW50 R27,950

TTR50E R27,950

TTR110E R46,950

XT1200Z R209,950

XT1200ZE R239,950

YFM350 Grizzly 2x4 R114,950

YFM350 Grizzly 4x4 R124,950

YFM450 Kodiak 4x4 R149,950

YFM450 Kodiak 4x4 EPS R164,950

YFM700 Grizzly R214,950

YFM700 Grizzly SE R229,950

YFM90R R44,950

YFZ450R R179,950

YFM700 Raptor R199,950

YFM700 Raptor SE R209,950

YZ65 R66,950

YZ85 R72,950

YZ125 R84,950

YZ250 2 Stroke R99,950

YZ250F R119,950

YZ450F R134,950

YZ125X R84,950

YZ250X 2 Stroke R99,950

YZ250FX R119,950

YZ450FX R134,950

WR450F R139,950

www.basefit.co.za

THE AUTHORITY IN

FITNESS

FOR DIRT BIKERS

Contact us NOW at: info@basefit.co.za | 082-461-1443

Dirt & Trail ad 3 A6.indd 1 2019/03/15 07:16

Photo by: Chantelle Melzer Photography

ZONTES

ZT310-T R74,900

All pricing correct as at time of publishing, but may vary due to exchange rates etc.
---
S997