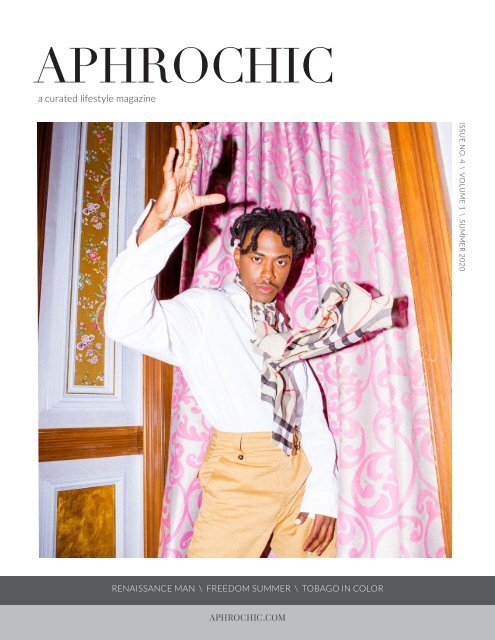 AphroChic Magazine: Issue No. 4
In this issue, we sit down with artist, Malik Roberts, who relates the experience of creating one of the few African American artworks to sit permanently in the Vatican collection. Fashion designer, Prajjé Oscar John-Baptiste introduces his latest collection — an ode to Haiti, and its goddesses. We head to South Carolina to experience the Gullah-inspired music of Ranky Tanky. And in New York, we watch a new world being born with photographer and journalist, Naeem Douglass, who takes us inside the city's Black Lives Matter protests, and economist Janelle Jones, who reminds us in these times that we are the economy. We are thrilled to share our cover with chef and musician, Lazarus Lynch. Inside, we talk with him about his cookbook, Son of a Southern Chef and his new album, I'm Gay.  From a house tour in Brooklyn to a travel piece in Tobago, this issue takes you all over the Diaspora. And we see how of the concept of Diaspora was first introduced in a look back at how Pan-Africanism led the way to how we think of international Blackness today. It is a showcase of our culture, our creativity, our resilience, and our diversity, our demands for the present and our hopes for the future. Welcome to our summer issue.
In this issue, we sit down with artist, Malik Roberts, who relates the experience of creating one of the few African American artworks to sit permanently in the Vatican collection. Fashion designer, Prajjé Oscar John-Baptiste introduces his latest collection — an ode to Haiti, and its goddesses. We head to South Carolina to experience the Gullah-inspired music of Ranky Tanky. And in New York, we watch a new world being born with photographer and journalist, Naeem Douglass, who takes us inside the city's Black Lives Matter protests, and economist Janelle Jones, who reminds us in these times that we are the economy.

We are thrilled to share our cover with chef and musician, Lazarus Lynch. Inside, we talk with him about his cookbook, Son of a Southern Chef and his new album, I'm Gay. 

From a house tour in Brooklyn to a travel piece in Tobago, this issue takes you all over the Diaspora. And we see how of the concept of Diaspora was first introduced in a look back at how Pan-Africanism led the way to how we think of international Blackness today. It is a showcase of our culture, our creativity, our resilience, and our diversity, our demands for the present and our hopes for the future. Welcome to our summer issue.
SHOW MORE
SHOW LESS
Create successful ePaper yourself
Turn your PDF publications into a flip-book with our unique Google optimized e-Paper software.
APHROCHIC

a curated lifestyle magazine

ISSUE NO. 4 \ VOLUME 1 \ SUMMER 2020

RENAISSANCE MAN \ FREEDOM SUMMER \ TOBAGO IN COLOR

APHROCHIC.COM
---
SLEEP ORGANIC

Avocado organic certified mattresses are handmade in sunny Los Angeles using the finest natural

latex, wool and cotton from our own farms. With trusted organic, non-toxic, ethical and ecological

certifications, our products are as good for the planet as they are for you. Shop online for fast

contact-free delivery. Start your organic mattress trial at AvocadoGreenMattress.com
---
We took this photo back in February, during a trip to Wilmington, North Carolina. We didn't

know it would be our only trip to the beach this year. Back then we imagined that the year

ahead would be full of adventure, travel, and new directions for the magazine. But suddenly

the world changed and all of those things were gone.

Our world is changing in profound ways. What seemed relevant even a few months ago, is almost hard to remember

today. Every two weeks, or sometimes two days, it feels like we wake up in a new reality. News of the virus is replaced by news

of how many Black people are being killed by the virus. That news is replaced by how many Black people are being killed by

the police, the virus, and the rush to reopen.

Somewhere in the middle of mourning all that we have lost this year — including a grandmother — our perspective

changed. We began to see the opportunities in the crisis, the clear lens that this catastrophe has offered on a broken society.

This clarity was demonstrated when people who'd never felt anguish over seeing a Black life extinguished on video before,

joined the fight to ensure they'd never see it again. It extends to an economy designed for the richest alone and a government

that would rather use taxpayer money to break protests than to provide safety and stability for taxpayers during a health

emergency. And it reminds us, a people strengthened by a culture forged in hardships, saved by music and the DJs that play

it, comforted by food traditions begun by people in bondage, inspired by elders, that these times have come and gone before

— and we have remained.

Our fourth issue is a celebration of the new world we are all entering. One that is intersectional, inclusive, just, and

focused on a full acknowledgment of the undeniable valuable of Black life. In this issue, we sit down with artist Malik Roberts,

who relates the experience of creating one of the few African American artworks to sit permanently in the Vatican collection.

Fashion designer, Prajjé Oscar John-Baptiste introduces his latest collection — an ode to Haiti and its goddesses. We head to

South Carolina to experience the Gullah-inspired music of Ranky Tanky. And in New York, we watch a new world being born

with photographer and journalist Naeem Douglass, who takes us inside the city's Black Lives Matter protests, and economist

Janelle Jones, who reminds us in these times that we are the economy.

We are thrilled to share our cover with chef and musician Lazarus Lynch. Inside, we talk with him about his cookbook,

Son of a Southern Chef and his new album, I'm Gay. In a moment where the intersections matter more than ever, Lynch's

multi-hyphenate talents and spirit of Black Gay Pride are exactly what the world needs right now.

From a house tour in Brooklyn to a travel piece in Tobago, this issue takes you all over the Diaspora. And we see how the

concept of Diaspora was first introduced in a look back at how Pan-Africanism led the way to how we think of international

Blackness today. It is a showcase of our culture, our creativity, our resilience, and our diversity, our demands for the present

and our hopes for the future. Welcome to our summer issue.

Jeanine Hays and Bryan Mason

Founders, AphroChic

Instagram: @aphrochic

editors' letter

With the amazing Danielle Brooks

Photo: Chinasa Cooper
---
SUMMER 2020

DEPARTMENTS

Read This 10

Visual Cues 14

It's a Family Affair 16

Mood 24

FEATURES

Fashion // A Spirit of Duality 28

Interior Design // Brooklyn Dreamscape 36

Culture // Freedom Summer 60

Food // Renaissance Man 78

Travel // Tobago in Color 84

Wellness // Plant Life 98

Reference // The Emergence of Diaspora 102

Sounds // Ranky Tanky 106

PINPOINT

Artists & Artisans 110

The Remix 116

Hot Topic 120

Who Are You? 122
---
CONTRIBUTORS

Cover photo: Lazarus Lynch by Anisha Sisodia

Publishers/Editors: Jeanine Hays and Bryan Mason

Creative Director: Cheminne Taylor-Smith

Contact:

AphroChic

Brooklyn, NY

AphroChic.com

info@aphrochic.com

Contributors (left to right below):

Patrick Cline

Chinasa Cooper

Janelle Jones

David A. Land

Tedecia Wint

issue four 9
---
READ THIS

Summer is so important to the book trade that summer reading lists always start appearing in early

May, offering ideas for beach reads and lazy days. But this is a summer like no other. With a pandemic,

economic instability, and worldwide protests for racial equality, light summer fiction seems to belong

to another era. But with great change comes great opportunity; in revolution there is evolution. Our

expanded reading list in this issue both celebrates Black culture and illuminates where we've been, and

where we are headed.

Misty Copeland

By Gregg Delman

Publisher: Rizzoli. $39.95

My Brother Moochie

By Issac J. Bailey

Publisher: Other Press. $25.95

City/Game: Basketball in New York

Edited by William C. Rhoden

Publisher: Rizzoli. $45

10 aphrochic

serenaandlily.com
---
READ THIS

Meals, Music, and Muses

By Alexander Smalls

Publisher: Flatiron Books. $25

The Third Reconstruction

By The Reverend Dr.

William J. Barber II

Publisher: Beacon. $25

River Hymns

Poetry by Tyree Daye

Publisher: Copper

Canyon Press. $23

Wild Interiors

By Hilton Carter

Publisher: Rizzoli. $24.95

12 aphrochic
---
VISUAL CUES

The U Street corridor in Northwest Washington, DC, could almost be a model for what happens to a

neighborhood when gentrification moves in. Once known as Black Broadway, home to thriving Black-owned

businesses in the early 20th century, U Street is now filled with the same chain stores and restaurants

that you might find on any other nameless road in any other city. But an intrepid group of students has

launched a project to showcase and celebrate U Street's history and impact. Led by Georgetown University

professor Ananya Chakravarti and students from both Georgetown and Howard University, the project is

creating a digital bank of photos, archives, and oral histories about U Street's past. "It's a layered history,"

says Chakravarti. "The community became really interested in the project, and are invested in it, which

means so much." The kickoff for the project, held in November 2019, featured events in 16 U Street venues

over two days, including neighborhood trivia with Dr. Bernie Demczuk at Ben's Chili Bowl, an iconic

restaurant that has been a pillar on the street since 1958. The students have just finished an app – with

work slowed by the pandemic and shutdown – that offers as a comprehensive digital library to celebrate

not only U Street, but Black history in the nation's capital. If you have photos or an oral history of U Street

that you would like to share, contact Ananya Chakravarti at ac1646@georgetown.edu. To learn more, go

to www.rememberingyoudc.org.

14 aphrochic issue four 15
---
IT'S A FAMILY AFFAIR

A Refuge

One of the more interesting functions that my family house has served over the years has been that of a

refuge for members of my family as they made the transition from one stage of life to another. My Uncle

Allen — my grandmother's brother — lived there for several months after leaving the Air Force. My

uncle Rodney did, too, having served in the Air Force as well. Other family members came and went for a

multitude of reasons. More than once the change in circumstances came after a fire had claimed another

home. For me, the house was my first home. I lived there for a year before my parents moved first into an

apartment, then into the house that I grew up in.

No matter where home was for me,

"The House," remained a constant, though

it was much emptier by the time I arrived.

In fact, for all of my life before 2005, the

family home was just "Mom-Mom's house,"

to me. My grandmother lived in the home

alone when I was a kid, and as the youngest

grandchild I had no grasp of how long it

had been in the family, how many of us had

lived there, or what it had meant.

It never occurred to me to wonder

what it was like for her to live alone in a

place that had once been full of so many

people she loved. Whether it felt a little

lonely or if she was grateful for the quiet

wasn't something she ever expressed to

me. Had I thought to ask, I suspect her

answer might've included a little of both.

But whatever her answer might have been,

it wasn't a question I considered when my

turn came to have the house (mostly) to

myself.

I moved into the house after college

along with my brother Andre. By the time

we took up residence, Mom-Mom, whose

health was dwindling, had moved to live

in my parent's home. After years of dorm

rooms and tiny apartments, it was good

to have an entire house with what felt like

massive spaces, more bedrooms than

we needed, and one of the tiniest, most

weirdly designed bathrooms either of us

had ever seen.

There's a reason why real estate

agents say that bathrooms and kitchens

sell houses — it's because in both cases,

bad ones will seriously impact the experience

of living there. This bathroom

had survived the coming and going of

many family members, but along the way

it had developed both structural and

aesthetic issues. The bathtub and shower

were separate, the latter consisting of

little more than a closet with an ill-fitting

curtain that kept all of the light out

but none of the water in. The sink was too

small, and the toilet was crowded in by the

massive radiator (painted an oppressive

dark green) that actually dominated the

space.

On the aesthetic side, the bathroom

had received a beautiful facelift about

15 years before we moved in. Time had

done its work on the very 1990s look,

It's a Family Affair is an ongoing series

focusing on the history of the Black family

home, stories from the Harper family,

and the renovations and restorations of a

house that bonds this family.

Photos by Chinasa Cooper

and from Harper Family Archive

Words by Bryan Mason

Bryan Mason's grandmother, "Mom-Mom," Alice Harper

16 aphrochic issue four 17
---
IT'S A FAMILY AFFAIR

Bryan Mason's Uncle Allen, left.

Allen with Bryan's maternal grandfather

Leroy, below.

The family home's bathroom, before the AphroChic renovation.

18 aphrochic issue four 19
---
IT'S A FAMILY AFFAIR

however, and by the time we were there the

wallpaper was peeling, tiles were cracking,

and pieces of the popcorn ceiling were frequently

on the floor.

It's not that the bathroom made life

there unbearable. I loved living with my

brother, and 22-year-old men are rarely

bothered by inconvenient bathroom architecture.

But even then it was easy to see

that there was room for improvement. So

when the opportunity came, years later,

to renovate certain parts of the home's

interior, there was one space that was definitely

at the top of my mind.

Smart renovation is about picking

your battles, and even then there are some

you win and some you lose. For us, that

meant accepting that there was a lot about

the bathroom's structure that we couldn't

change. There wasn't time or money, for

example, to bring the bathtub and shower

together. In fact, just changing the bathtub

would prove a nearly impossible task. After

starting the project we quickly learned

that not only was the cast iron tub original

to the house, but it had actually been built

into the structure of the home in a way that

made it impossible to remove in one piece.

The solution was a sledge hammer and a lot

of work for my brother-in-law Will.

For this iteration of the bathroom,

we wanted to create something with a

more timeless feel. We simplified the

color palette to a classic black and white,

expressed together in the large, dazzling

patterned tiles that replaced the earlier

speckled pink versions. As the centerpiece

of the room, we placed a larger vanity with

a marble top and black base that worked

with the lines of the new bathtub and toilet

to give the room a more modern feel.

Though Mom-Mom never got to see

the bathroom's redesign, we thought a

lot about her when bringing it to life. The

house was not just a refuge for those on

their way to something new. Mom-Mom

was young when the family first moved

into the house. She raised her daughter

and her grandchildren there. It was open

to everyone who needed it and when the

time came, she passed it on. It was her

house. We wanted to honor that by creating

a calm and relaxing space she would have

enjoyed. Hopefully it will last for as many

years, and offer as much comfort to the

family members who are there now and

those who will be there next. AC

20 aphrochic issue four 21
---
IT'S A FAMILY AFFAIR

"Though

Mom-Mom

never got

to see the

bathroom's

redesign, we

thought a lot

about her

when bringing

it to life."

22 aphrochic issue four 23
---
MOOD

Caribbean Queen

The Beanie Man and Bounty Killer Verzuz battle was

Blas One Piece $300

May Two Piece $230

Hama Two Piece $275

maygelcoronel.com

legendary. Even among the explosion of live social media

events in the last few months, this virtual concert stands

out for its huge reception. It was a moment for fans of

all kinds – DJs, dancehall queens, and hype men alike –

to honor the Jamaican cultural phenomenon that has

influenced music around the globe. You can bring a bit

of that same energy into your space with a few fresh and

Oroo Natural Tote $210

aaksonline.com

modern pieces that bring the queens of dancehall to your

dining table, pre-Colombian weaves to your outdoor

retreat, and woven pieces that reflect the colors of the

amazing Caribbean sea.

Lisa Braided Tassel

Earrings $85

lillianandjoan.com

La Perla II Armless $299

jaimeluisorganic.com

Sisters Lumbar $159

aphrochic.com

Dancehall Queen Salt and Pepper

Shakers by BAUGHaus Design Studio

$55 per pair

baughausdesign.com

Woven Necklace Pendant Lighting

in Cobalt $485

54kibo.com

24 aphrochic issue four 25
---
FEATURES

A Spirit of Duality | Brooklyn Dreamscape | Freedom Summer |

Renaissance Man | Tobago in Color | Plant Life | The Emergence

of Diaspora | Ranky Tanky
---
Fashion

A Spirit

of Duality

It is a tale of two sisters. One, the Rada Loa, Erzulie

Fréda Dahomey, is the goddess of love, beauty,

jewelry, dancing, and flowers. The other is Erzulie

Dantor, most senior of the Petro Loa and goddess of

motherhood, credited as the spiritual inspiration to

Haiti's famed revolution. Opposites in nature and

rivals for the love of Ogun, the two are traditionally

depicted as enemies. But for his SS20 collection,

Haitian-born designer Prajjé Oscar Jean-Baptiste,

painted a different story.

Photos courtesy of Prajjé Oscar Jean-Baptiste

Words by Jeanine Hays

28 aphrochic
---
Fashion

In Jean-Baptiste's new vision, the goddesses are reconciled, working together to bring

their people to freedom. Though their personalities may contrast, they work synergistically

towards a common goal. In Prajjé Oscar's ÈZILI collection, the legacy of these

goddesses is celebrated beautifully. The designer worked extensively in his native

country to acquaint himself with local manufacturers and techniques, determined to

create a collection that would benefit the nation by being manufactured locally.

Featuring an eye-catching palette, the collection is modern yet traditional, presenting a

mix of ready-to-wear pieces and stunning couture gowns. Bold hues evoke the natural

splendor of Haiti through beading and embroidery handmade by Haitian artisans. The

most special piece of all - a hand-painted jacket. A work of art, made for the people,

inspired by the gods. AC

32 aphrochic
---
Fashion
---
Interior Design

Brooklyn Dreamscape
---
Interior Design

The Whimsical Home

of Artist Paul Suepat

The interior world of an artist is a dreamscape full of wonders — improbable tricks

of physics that bend realities, alter perceptions, and open minds. To bring even a

fraction of what he or she sees into reality, the artist labors for a lifetime. For it to

ever be seen in full, the time, labor, and strain it would take to produce it would be

nearly impossible to accommodate. Which is why, for the most part, it stays inside

their heads — then there's the house where Paul Suepat lives.

Photos by Chinasa Cooper

Words by Bryan Mason

issue four 39
---
Interior Design

For 17 years, Paul Suepat has made his

home in the historic Stuyvesant Heights area

of Bedford-Stuyvesant in Brooklyn, New York.

The Jamaican-born artist has spent much of

that time in an effort to map the interior of his

mind onto the interior of his home. As a result,

his expansive and beautifully designed brownstone

is as much an art gallery as a home, showcasing

Paul's surrealist aesthetic while demonstrating

the clear overlap that he feels exists

between art and design.

"I don't want to be bored," he muses,

looking effortlessly Brooklyn in an outfit that

pairs a vest and button-down shirt with well

worn jeans, a broken-in "Camp Vibes" ball cap

and meticulously maintained white sneakers.

As we move through the house, his train of

thought doesn't so much move from topic to

topic as from sentence to sentence as he looks

for the combination of words that will best

convey the meaning he wants to offer. "I'm very

obsessed with art and design," he adds quickly.

"Growing up as a child I was really obsessed

with art and design, so I created this whole kind

of gallery that you can live in." Looking around

the amazing interior with its colors, oddities,

and what seems like a million tiny details, it's

hard to imagine where boredom could hide.

As an artist, Paul Suepat is a man driven

by contrasts. Focused constantly on the

nebulous space between ambiguity and definition,

his art moves between sculpture and

painting, whimsical figures and strong abstract

shapes, specific emotions and imaginative

contexts. Or perhaps the point is not so much

the contrasts themselves, but creating an

instance of connection between them, bridging

the gap so that for the moment in time that the

piece represents, "this" and "that" become indistinguishable.

It's a drive that fuels his design

aesthetic as well as his artistic approach.

"My design style and my art style are totally

connected," he reflects. "It's one of those things

where you can't stop and say, 'I'm doing art,' or

'I'm doing design.' I just do."

If someone were inclined to create their

own private wonderland, they could hardly

do better for a canvas than a brownstone in

Bed-Stuy. The two-story home has spacious

rooms, impossibly high ceilings, and impeccable

architectural details, including crown

moldings on just about every wall and every

ceiling. To step in through the front door is to

be greeted by the home's classic entryway,

complete with luxuriously tiled floors. The

effect is stunning, but the real attractions start

in the living room, which is just to the left.

There are two things a guest is likely to

notice about Paul Suepat's living room shortly

after they enter. The second is that it, like many

of the other rooms in the house, is decorated

to take full advantage of the terrific amount of

natural light that the home receives. The first is

that they entered the room between two beautifully

crafted pillars — painted a bright, electrifying

shade of blue.

"I didn't want to take it too seriously,"

Paul says about his playfully-colored throughway.

"Sometimes columns are so pretentious.

So I said let's play with it and put it in

blue and just have fun." Past the pillars, the

living room is the first space in the home to

give a full taste of Paul's theory of contrasts,

pairing mid-century modern classics with

a surfboard-shaped coffee table and a chair

painted in a screen-printed, rainbow camouflage.

Paul explains his combinations, saying,

"I think design is just design. Whether it's old,

it's mid-century, it's art-nouveau, it's art-deco,

it's Memphis, it's whatever it is. It's all one.

It's good design. It's just how you put them

together and make them work. I have too many

layers sometimes, and it's about how I put

them together." But what really helps it all hang

together is the fact that, visually, the furniture

is really just an accessory to the art.

Paul's art is very patient. It's surreal in

a way that seems to make sense the first few

times you walk past it, as it waits for you to

take a closer look. For example, one could walk

past the coffee table half a dozen times before

realizing that there's a six-pack of armed men

sitting on it in a convenient carrying case

42 aphrochic
---
Interior Design

marked "no deposit, no return." Or that the

beautiful painting of yellow flowers hanging

over the loveseat is actually three-dimensional

and thickly ribboned with texture. Or that

in place of wood, the fireplace has only a small

electric light with a neon filament spelling out,

"lamp." There's no end to the details, and no

standard on how long it takes to notice them.

But once noticed they become irresistible,

enticing you to stare and daring you to look for

more.

Past the living room, the dining room is

Paul's image of a dinner under the sea. One of

the first contrasts to be bridged here is the one

between form and function, as the lighting

over the dining table is a work of art in itself,

and the centerpiece of the concept. "I always

had this vision of people kind of living in art —

that art is around you — and so I wanted to have

this fantasy dinner where art is everywhere."

Beginning with the idea of eating underwater

with jellyfish all around, the light, which was

originally a single jellyfish, became several.

The form and function motif continues around

the table as, capped by mid-century bentwood

chairs at the head and foot, the seating along

the sides is equipped with back rollers to

keep guests comfortable as they sit and chat.

Because dinner beneath the sea is pointless

without any interesting creatures in attendance,

another of the artist's unique creations

stands sentinel at the far end of the room. With

only one of its two legs attached to the pedestal,

the piece was originally intended as a commentary

on balance. But when inspiration hit to

use rolled foam to add a larger head, something

new was born. It was the kind of spur-of-themoment

creativity that Paul relies on to keep

things interesting.

"You have to take risks to make art,

because sometimes it's the accident that makes

it great," he says. "The first thing is to be open

as an artist, open your mind to everything and

look at everything, and be curious. Examine everything

and pay attention to everything." It's

this openness that allows space for all of the

contrasts Paul builds into the decor of each

room on a small level, and between rooms and

floors on a larger scale. "I have a certain feel on

one floor and a different feel on another. Every

room is special to me in different ways."

Upstairs the decor takes a step away from

the sublime and into the realm of memory.

The library, one of Paul's favorite spaces in the

entire home, speaks specifically to the memory

of his godparents. "The library came from my

godparents, who I lived with when I first came

to New York," he remembers. "They were very

kind of radical, political, very Black Panther

kind of people. So when they passed away a

couple of years ago, I decided that I wanted

to remember them very, very much. So we

literally took the library out of their house, bitby-bit,

and we gently brought it all here and

put it all together and recreated that room and

the memory of them. That was really very, very

important to me."

Memory plays a role in the bedroom as

well. Amid the tropical colors and modern

lines that define one of the home's most resolutely

contemporary spaces, one playfully

designed art piece disguises a dresser as a stack

of "Pablo" (Paul's nickname) brand bananas.

The piece is a call-back to both the bodegas he

frequented after late nights of bartending in

his early days in New York and to his childhood

home in Kingston, Jamaica. This blending of

memories is another feature common to both

his art and his design.

"I question my existence a lot," he begins.

"And so, I look back at my past to get some of

why I do this, why am I attracted to texture,

why am I attracted to the earth. I grew up in this

area of Jamaica that had a lot of mango trees and

cherry trees and plum trees, and that's one of

the things I miss most about the Caribbean …

it's like you literally can wallow in the nature,

like it's all over you. That's more my aesthetic.

It's a mix of the nature of the Caribbean and the

man-made of New York. And I kind of mix that

together in a way, like blend it in a blender and

just kind of spit it out."

The outdoor spaces behind the house are

as much a fantasy as the rooms within it. The

first is an enclosed dining area that combines

modern seating with a table lined with an assortment

of Paul's sculpted characters. The

enclosure is perfect for those days when the

44 aphrochic
---
"You have to take risks

to make art, because

sometimes it's the accident

that makes it great."

issue four 47
---
Interior Design
---
Interior Design
---
Interior Design

artist wants to enjoy the outdoors, but the

weather is not cooperating.

Stairs from the enclosed dining room lead

down to the home's final surprise: a sculpture

garden. Perhaps the most fantastic part of this

fantasyland, the garden features wide open

spaces replete with sculpted tables, planters

and even oversized flowers.

A final figure stands on a raised platform

as the center of attention, between two chairs.

It's an oasis built to transport visitors far away

from the city to a place where Cheshire cats and

Mad Hatters might not be an unexpected sight.

It would be hard for someone walking by

to guess at the wonders that sit waiting inside

Paul Suepat's house, and that's probably by

design.

The home itself represents a meeting of

contrasts, the mundane world outside of it, and

the dream world inside. But as always, the point

is likely not to note the difference, but to make

a connection. Inside and outside, textured and

smooth, normal and abnormal, art and design

— Paul is open to everything and receives it all

in the same way. "It's all the same thing. It's fun.

I laugh, I smile every day I look at it. And that's

what I like about coming home."

Paul Suepat is the founder of 2AC Space

(www.2acspace.com), a gallery located in

Brooklyn, New York. AC

52 aphrochic issue four 53
---
Interior Design
---
58 aphrochic issue four 59
---
Culture

Freedom

Summer

An AphroChic interview

with Naeem Douglas, the

Brookladelphian

Interview by Bryan Mason

Photos by The Brookladelphian

60 aphrochic issue four 61
---
The summer of 2020 marks an incredible moment in history, seeing the birth of one of the

largest civil rights movements the world has ever known. After years of what seemed like an

endless cycle of Black death and white apathy, something new has happened. Cries of support

for Black lives have begun to come from places that were once deathly silent as the terrifying

immunity with which the police could kill Black people was proven over and over, one video at

at time. The outrage of a community used to suffering alone has been felt by others and together

they are beginning to stand up, not in one city or one nation, but all over the world.

The spirit of protest that promises to define this summer is

about more than any one person or one community, and certainly

more than one "bad apple." This is about every community that

has seen too many lost coming together to declare an end to a centuries-old

system that will terrorize, oppress, and kill to ensure

supremacy. It's a constitutional right being asserted by people

pushed too far by racist subjugation, economic exploitation, and governmental

apathy, and who will no longer be silent.

No matter how many words we throw at this historic moment,

they'll all fail to capture it: the weary grief of people so tired of

grieving that there's nothing left to do but explode; the sudden

awakening of those abruptly coming to realize that nothing costs

more than privilege and struggling to figure out what to do about

it; the optimism of seeing so many voices calling out together for

change; and the fear and outrage of those who champion the status

quo as they see it come crumbling down around them. When a

thousand words won't begin scratch the surface, there's only one

thing to do: take a picture.

AphroChic: What inspired you to go out and capture what's been

happening around Black Lives Matter in New York?

Naeem Douglas: The reaction to George Floyd's death was

unlike anything I've ever seen. It sounds absurd to say, but Black

people dying at the hands of police is something this country has

been okay with for a long time. This latest incident has seemed to

wake up America. Black people aren't the only ones upset. I wanted to

document what was happening.

AC: With a deadly pandemic going on, were you concerned

about going out to march?

ND: COVID-19 is definitely something I'm constantly thinking

about. You probably can notice none of my photos are particularly

close up. I try my best to stay out the fray but still take a photo. This

is history in the streets and I felt compelled to document it. I COULD

NOT STAY HOME.

AC: What was the spirit of the people that you saw marching

like? What was your own spirit like?

ND: Good spirits, but you could also sense a bit of exhaustion

from Black people. I think people really want police interactions with

Black people to change. In the streets of New York City, there's a lot of

support for this movement. People honk their horns in support as the

marches and protest move throughout New York City.

AC: Was there anything in particular that surprised you about

this moment?

ND: I was certainly surprised by white people's involvement. I

covered many protests in the past going back to the Sean Bell protest.

It's mostly a Black affair. But I've seen so many white people involved

in these recent protests. They're not taking leadership roles but I've

seen a few rallies that were 80% white.

AC: There have been many reports of police violence against

protestors here in the city. Did you witness any violence as you

captured this movement?

issue four 63
---
Entertaining
---
Culture

ND: I did see some on the first day. The

very first day of the protests I happened to

be in [Manhattan] and was riding my bike by

Foley Square and saw a rally. I always have a

camera with me so I started to make some

photos. Then the marchers started moving

north and the police were not having it.

They were really aggressive and definitely

initiated contact. It escalated fairly quickly.

It ended up being a little too much for

me. So I broke off the march and tried to

get myself situated. I was straddling my Citi

Bike trying to put my phone away, load film

in my camera and get a bearing on what was

going on. I was about a block away from the

protest. Suddenly I feel a tap on leg which

turned into pounding. I looked up and saw

a bicycle officer and he's hitting my leg with

his front wheel and yelling at me to move. It

was so bizarre and unnerving. I was the only

person on the street, between two parked

cars and clearly just trying to put myself

together. Before anything could really

happen, his fellow officer pulled him away

and he went back to the group.

AC: What role can photography play in

amplifying movements?

ND: Photography is pivotal because

one photograph can tell many stories. With

video, you have a lot going on. However,

a photograph is one moment in time. No

sound, no music, and in my case no color

(I mostly shoot black and white film). One

moment and one subject can sum up years

of frustration, ignorance, exhaustion, etc.

The simplicity of it is powerful to me. I'm

reminded of the photo from the late 1950s

of a Black student walking to school in

Arkansas and you see these white women

and students behind her screaming insults

at her. That one moment captured the vitriol

of racism during that time and the struggle

for us to be treated like humans.

AC: Which photographers have inspired

your work?

ND: I have to start with the greats,

Gordon Parks and Jamel Shabazz. I would

be remiss if I didn't mention Ernest Withers,

but his life as a FBI informant during the

civil rights movement leaves me conflicted.

I'm also a big fan of Andre Wagner, a Brooklyn-based

photographer who's doing incredible

work.

AC: Is there one moment or image that

stands out in your mind?

ND: One is a man praying at The

Barclays Center. He's so peaceful in his

prayer. It moved me in the moment and

when I saw the photo later. The second

photo is of a young Black woman leading a

march through Brooklyn. It was inspiring

to see her putting her voice to the rally, so

it was particularly moving to see her and be

able to document it.

AC: What do you hope will come out

of this moment? Could we see real police

reform, or something even bigger?

ND: I hope a real change comes from

this. America has had a hard time facing

its original sin (slavery) and the effects it

continues to have. This country definitely

needs to address it in a meaningful way.

Naeem Douglas is the Brookladephian, a photographer

and journalist based in Brooklyn, NY.

(www.naeemdouglas.com) AC

66 aphrochic issue four 67
---
Culture
---
Culture
---
Culture
---
Culture

"One moment and one subject

can sum up years of frustration,

ignorance, exhaustion. The

simplicity of it is powerful to me."

74 aphrochic
---
Culture

issue four 77
---
Food

Renaissance

Man

Lazarus Lynch Is

Freely Expressing

Himself and We're

Here For It!

Words by Jeanine Hays

Photos by Anisha Sisodia

Styling by Keeon Mullins

Assistant Styling by Windy Dias

78 aphrochic
---
Food

Lazarus Lynch is a rock star, a bona fide food star, an author and an all-around renaissance

man. And this summer, the chef-singer-songwriter is on a roll. His bold and energetic

cookbook, Son of a Southern Chef: Cook With Soul, continues to inspire those who are looking for

new ways to bring soul food to life. And on Spotify his recent release, I'm Gay, is a self-professed

Black Pride anthem, written and produced by Lynch himself. But before he was a multi-hyphenate

artist with irons in just about every fire, Lazarus Lynch was a young boy from Jamaica,

Queens, who grew up watching one of his favorite chefs make magic in the kitchen — his father,

the renowned restaurateur Johnny Ray Lynch.

To say that food was in Lazarus's blood would be an understatement.

His father was an inspiration to him from the start, but

the family's culinary roots ran even deeper. "[Dad] moved to New

York when he was pretty young. All the recipes that he cooked for us

growing up were inspirations from my grandmother Margaret Lynch,"

he recalls. "He inherited that gene watching her as a kid and I started

watching him. When my dad finally opened up Baby Sister's Soul Food,

I was like, 'I really love this.' I loved that my dad was cooking. I loved

going to the restaurant and watching him, helping him."

The cooking lessons didn't end when father and son left the

restaurant. Food was part of the family dynamic, and played a role

in just about everything they did. "Food was always central. It was a

cultural thing. It was how we gathered. I grew up in the church. Every

Sunday after service, there was dinner. Those dinners were shared

and oftentimes we would make things and bring it to the church."

The next major turn in his food career came during high school,

where Lazarus began to mix the art of cooking with the art of media.

"I had four years in high school just really developing my skills as a

chef," he remembers. Lynch is a graduate of New York City's Food

and Finance High School, the city's only culinary-focused public

high school. The rich environment provided incredible opportunities

to a young culinary mind, giving him access to coveted positions,

including interning and working in the test kitchens of The Food

Network, a brand he would later work for professionally.

Lazarus' own brand, Son of A Southern Chef, which he began

in 2014, is an homage to his father, his way of continuing the legacy

that his grandmother passed down. It's also a culmination of all of the

experiences that made food mean so much: the moments watching

his father in the kitchen, Sunday dinners after church service, and

gatherings with family were all translated into stunning dishes

that mix beloved tradition with bold innovation. Dishes like his,

Oh-My-Gah Green Beans with Crushed Peanuts, and Mother Soand-So's

Lemon Pound Cake are featured throughout his cookbook.

A colorful, energetic tour of the chef's philosophy of food and life,

the book is a collection of dishes culled from family recipes, many

which had only been passed down through stories or by watching and

learning, as Lazarus often did. "In our community a lot of the things

that are passed down are oratory, so nothing is documented. I started

watching my dad cook and then I started taking notes. Literally

notebooks of this is the potato salad, this is the macaroni and cheese."

Just a year after founding the brand, Lazarus'x father passed away

from cancer. "I was able to sit down with my dad. He and I talked for

several hours. I think he realized that I had a gift and that I was really

passionate about food. He also saw that there were a lot of opportunities

coming my way. It all was very exciting for him," he reflects. "One

of the things he said to me, which I'll never forget, was I want [you] to

take this to the next level. I've never forgotten it and it has been such

a grounding place for me. Almost a mantra for me to continue doing

80 aphrochic issue four 81
---
Food

this work because it's more than just the food and

the recipes. It's really about inspiring another generation

to own your story."

The young food star has certainly taken things

to the next level. A two-time champion of the series

Chopped, Lazarus is also host of the Food Network's

digital series Comfort Nation. With several shows

under his arm, and now a successful cookbook,

Lazarus is diving deeper into another love — music.

After finishing up his cookbook, Lynch decided

it was time to get back to other forms of creativity,

and took some time off to refocus his energy. It

was during that time that he began writing music.

Dozens of songs poured out of him, and by the end

of 2019, just months after his book had launched, he

was working on his first album. "The themes [are]

around identity, self-expression, spirituality and

allowing your spirit and your body to be the home

for you."

The centerpiece of his growing catalog is the

exploration of gay, Black male identity, I'm Gay.

Equal parts emotional ballad and defiant anthem,

the song is a conversation between Lazarus and

his younger self that ends in a joyous declaration

of self-acceptance, set against the backdrop of a

church organ. "I'm gay," he says simply. "It is an

anthem. It is jubilant. It is a freedom song."

While music might seem like an unexpected

turn in a burgeoning culinary career, it's not at

all surprising. For Lazarus, it's all about authentic

self-expression and creating work that helps him

speak his truth, whether in food, music or whatever

creative pursuit fits the moment and the emotion.

"I feel that ingredients are like clothes. It's like you

go into a store, into a closet and it's really about expressing

how you feel. It's like notes in music. The

arrangement of those notes. The arrangement of

those flavors. That's all a form of expression," he

reflects. "Cooking techniques are the accessories

— the glasses, the frames, a round toe versus a

pointed toe. That's how I think about food. What do

i feel like creating? What are the accessories? And

then ultimately how will it make me feel?" AC

I've Been Drinking Watermelon Cocktails

(inspired by Queen Bey)

Serves 2

Prep Time 5 minutes

Total Time 10 minutes

INGREDIENTS:

2 teaspoons kosher salt

2 teaspoons sugar

2 teaspoons chili powder

Zest of 1 lime, plus lime wedges for serving

2 cups fresh watermelon juice

4 ounces of tequila

2 ounces fresh citrus juice (any combination of orange, lemon, and lime)

1/2 ounce agave nectar

1 bunch fresh basil leaves, plus more for garnish

1 bunch fresh mint leaves, plus more for garnish

1 small jalapeño, sliced and seeded, plus more for garnish

Ice

INSTRUCTIONS:

Mix together the salt, sugar, chili powder, and lime zest on a small, shallow

plate. Use lime wedges to wet the rims of two glasses, then gently press the

rims into the salt mixture to coat.

Fill a cocktail shaker with watermelon juice, tequila, citrus juice, agave, 3

leaves each of the basil and mint, and jalapeño. Add ice and shake well, until

the outside of the shaker is cold, about 30 seconds.

Strain cocktail through a strainer and fill the prepared glasses with the

watermelon cocktail. Garnish each with basil, int and jalapeño.

Recipe excerpt from Son of a Southern Chef: Cook With Soul published by

Penguin Random House (https://bit.ly/37UASDD). Listen to I'm Gay on Spotify

(spoti.fi/37Mhoke)

82 aphrochic issue four 83
---
Travel

Tobago

in Color

The Island's Real

Treasures Are Its

People and Culture

Photos by David A. Land

Words by Bryan Mason

84 aphrochic
---
Travel
---
Travel

Tobago is beautiful. With lush rainforests, towering mountains and

endless beaches, it is beautiful in a way rivaled only by those few places

equally fortunate to be located somewhere in the Caribbean Sea. It's easy

to believe that when Christopher Columbus first set foot on the island in the

last years of the 15th century, that the beauty of the place was the first thing

he noticed. Despite all the harm he caused, and all that transpired after as

colonial powers struggled to control it, the island, which was conquered and

reconquered more than thirty times, remains beautiful. Linked to Trinidad

since the 1800s, the twin nations entered freedom together, liberated from

British control in 1962, becoming a joint republic in 1976.

At only 116 square miles, Tobago offers a startling variety of natural

terrains. In addition to rainforests, mountains and beaches, the island is

home to foothills, plains, mangrove swamps, waterfalls, and coral reefs.

Its historical imprint is wide as well as it shares with Trinidad the pride of

adding CLR James, Eric Williams, and Henry Sylvester Williams, among

others to the international college of thinkers, activists and politicians who

have shaped our collective notion of Blackness through their work.

The island's true treasures, however, are its people and culture. What

Tobago calls its own are its traditional dances — the salaka, the reel, and the

jig — and tambrin, the uniquely Tobagonian musical style that often accompanies

them. Festivals and celebrations commemorate the history of the

island and the culture of the people, highlighting what is uniquely their own

while honoring the connection to Africa that unites us all.

After centuries of colonization, the long fight for freedom and the work

of creating a new culture, through it all the beauty of the Tobago, its people

and heritage are plain to see. AC

88 aphrochic issue four 89
---
Travel
---
Travel

92 aphrochic issue four 93
---
94 aphrochic issue four 95
---
issue four 97
---
Wellness

Plant Life

Evann E. Webb, Social

Media Specialist for

Bloomscape, Talks to Us

About How Plants Can Aid

in Your Wellness Routine

Words by Jeanine Hays

Photos by Cyrus Tetteh
---
Wellness

Whether you're looking to be an expert home gardener growing your own salads and herbs,

or just a capable plant parent able to keep things green for as long as possible, the world of

plants has become one of the biggest home trends of 2020. Sustainable, affordable, and with

big benefits for health and wellness, plant life is attracting a growing number of homeowners

— especially millennials — who are looking to breathe new life into their spaces. And with so

many of us only able to watch the seasons change through our windows, who wouldn't love to

bring a bit of the outdoors in? Growing along with the trend, a whole new crop of brands have

sprung up, ready to help you not only find the perfect plants for your home, but care for them as

well. We sat down with Evann E. Webb, the woman who runs social media for the Detroit-based

brand Bloomscape to discuss all things plants and wellness.

AphroChic: The houseplant industry is thriving right now, especially

among millennials. Why do you think that is?

Evann E. Webb: Millennials aren't settling down or making super

heavy commitments at the same ages our parents were. And it's not

because we don't want to. It's because a lot of us can't right now. The

economy isn't set up in a way that makes starting a family or buying a

forever home ideal for us at the moment. So many of us have hundreds

of thousands of dollars in student loans, are still looking for jobs that

pay us reasonable salaries, and to put it more plainly — trying to

figure things out for ourselves. Buying plants still allows us to make

rental spaces feel like home, and gives us the opportunity to care of

something other than ourselves — without having to break the bank!

AC: What plants do you have at home and what does your plant

care routine look like?

EW: Right now, I have a ZZ Plant, a Bird of Paradise, and two

Philodendron Heartleafs. Since I've been working from home for

the past few months, I've been making it a habit to mist my Bird of

Paradise and Philodendron Heartleafs every day, and on the weekends

I check the plants' soil to see if they need to be watered. Being cooped

up in the house has definitely made me reevaluate my space, and I'll be

ordering some more plants and plant stands soon! I need all the green

I can get right now.

AC: The last few months have definitely been challenging with

an ongoing pandemic. As we physically distance and spend more time

inside, how can caring for plants be part of our self-care routine?

EW: Caring for plants is a meditative practice. It allows you to

take a step away from the computer, phone and television and focus

on the present. Turning on some relaxing music and taking an hour or

two each week to water, trim, mist or re-pot really is soothing.

AC: Part of the difficulty in caring for plants is the level of care

that some plants require. How does Bloomscape help those who might

be green thumb-challenged pick the right options for their lifestyle?

EW: Some of the easiest plants to care for that we offer are

the Bird of Paradise, our Tough Stuff Collection, the Monstera, the

Silver Pothos and the Hedgehog Aloe. With each order, we give every

customer detailed care instructions. Information can be found

right on the care card, and we have a series of blog posts that feature

different care tips and educational info from our resident Plant Mom

that are always available to read.

AC: Just as different plants require their own levels of care, they

can have different roles in the home. What are the best plants that we

can have at home with us right now that will help us have a cleaner,

healthier environment? Are there some you like best for decorating?

EW: I love how my four little plant babies have transformed my

space. It's so interesting how no matter what your style of decor is,

there's a plant that can help tie everything together. Some of the best

plants to have at home are the Sansevieria (it helps to purify the air),

the Money Tree, our Fur Friendly Collection (for all the pet parents out

there), the Red Pear Plant, and the Bamboo Palm.

AC: So many people we know (including us) who have tried

keeping plants in their apartment have horror stories about how hard

it is, and guilt over what happened to their little green friends. What

are the steps to being good plant parents?

EW: I'm still learning how to be a good plant parent myself. Lol!

To me, the first step is practicing patience. Plants are living things,

and some of them are quite sensitive. So understanding that, and

realizing that you're not going to see immediate growth overnight, is

really important. Also, give yourself some grace. It's a natural thing

to feel sad when your plant journey isn't going well (I have admittedly

killed my fair share of plants), but I'm learning that a lot of this is trial

and error. I know now that plants that require a ton of TLC aren't my

thing, so I try to stick to more low-maintenance ones. Learning what

works best for you and your everyday schedule or routine will definitely

be helpful in the long run.

AC: One last question. With so many companies offering plants

right now, what sets Bloomscape apart from other plant brands?

EW: The company's desire to see its customers succeed as plant

parents. When you order a plant from Bloomscape, you get detailed

instructions on how to care for it, from what kind of light it needs all

the way down to humidity and how often you should fertilize it. Plus,

we make it easy for customers to contact us if they need any extra help

or advice.

100 aphrochic issue four 101
---
Reference

The Emergence

of Diaspora

The world of Pan-Africanism in the 1960s was very different from the one into which

the Trinidadian lawyer Henry Sylvester Williams first introduced the term in 1900. Not

only had 60 years passed, but with them two World Wars that had depleted the empires

of Europe, loosening the stranglehold they once held on much of the rest of the world.

But the impact of time wasn't felt by Europe alone. Pan-Africanism had made its share

of strides in that time as well.

From Pan-Africanism To Diaspora

Five Pan-African Congresses had passed

since Williams' original conference, with

more to come. The New Negro Movement, The

Harlem Renaissance, and Negritude all came

and went in their time along with countless

other movements, organizations, journals and

groups. In the wake of their relentless pursuit

of liberation, cracks had begun to form in the

facade of colonial power.

Progress was also coming to internally

colonized nations like the United States. The

American Civil Rights Movement was reaching

its peak in a decade that would see the passing

of the Civil Rights Act of 1964, the Voting Rights

Act of 1965, and the Fair Housing Act of 1968. Yet

in the victories of Pan-Africanism lay the seeds

of its dissolution. Soon it too would fade away.

With many of its goals achieved, but so much

left to be done, the passing of Pan-Africanism

would prove a necessary step, paving the way

for something new — diaspora.

As a concept, the African Diaspora was

officially born in Dar es Salaam, Tanzania. in

1965. Two papers presented at the First International

Congress on African History -

convened under Tanzania's first president

Julius Nyerere — introduced the term to the

world. The first, The African Abroad or the

African Diaspora, by British historian George

Shepperson is often credited as the first use of

the term "diaspora" with regard to the historical

dispersal of Africans. Shepperson himself

preferred to share the distinction of this

milestone with the African American scholar

and author Joseph Harris, whose address,

Introduction to the African Diaspora, appeared

at the same conference. Though not himself a

member of the diaspora he helped to define,

Shepperson was an assiduous researcher and

theorist of Pan-Africanism and the African

Diaspora and remained so until his passing

early in 2020.

In a later essay, Shepperson would trace

the history of the diaspora concept to such

figures as Edward Wilmot Blyden, W.E.B.

Du Bois, and Lorenzo Dow Turner, marveling,

as so many have since, that so much time

should have passed before "diaspora" was

added to the arsenal of terms with which

people of African descent fought for their historical

position. In particular, he singled out

Blyden, whose work employed so many biblical

references, and revolved around a concept so

Dr. Edward Wilmot Blyden.

Sir Harry Johnston,

Liberia, (London: Hutchinson

& Co., 1906). General

Research and Reference

Division, Schomburg

Center for Research in

Black Culture, The New

York Public Library.

The Second Pan-African Congress. Special Collections & University Archives,

W.E.B. Du Bois Library, University of Massachusetts, Amherst.

W.E.B. Du Bois.

Photographs and Prints

Division, Schomburg Centers

for Research in Black Culture,

The New York Public Library.

Words by Bryan Mason

102 aphrochic issue four 103
---
Reference

near to diaspora, yet which never seemed to

openly connect the phrase.

The Politics of Pan-Africanism

Despite the lengthy progress of forbears

that Shepperson cited as constituting the long

march to diaspora, the conceptual point of

origin can be found earlier in his own work,

specifically in his wrestling with the meaning

and uses of the term, "Pan-Africanism."

In response to what he termed, "a most

inadequate section on African Nationalism,"

in the second book of the Tropical Africa series,

by George H. T. Kimble, Shepperson wrote the

concise but dense article, Pan-Africanism and

"Pan-Africanism": Some Historical Notes. In it,

Shepperson made it clear that he took issue

with Kimble's simplistic description of Marcus

Garvey's political and economic philosophies

as "the alloy of pan-Africanism … smelted into

the ore of Ethiopianism." In response, Shepperson

clarified his position on the proper

meaning and use of the term Pan-Africanism,

dividing it into two separate terms, one with a

capital "P," and the other a lowercase "p".

The distinction between the two confines

the overtly political "Pan-African" movement

to the wide sphere of influence of W.E.B.

Du Bois, whom he posits as the official center

of the movement. Meanwhile, the lowercase

"pan-Africanism," consists of all of the more

culturally-focused and less centralized

movements that were also happening at the

time — such as the Black Arts Movement —

along with any political movements with no

"organic relationship" to Du Bois' Pan-Africanism.

Shepperson placed Marcus Garvey,

whose enmity with Du Bois was well established,

somewhere between the two.

While we are free to debate the efficiency

of his approach to the problem (which also

included the addition of a third term: "All-African"),

Shepperson's struggle to contain

so many movements under a single term

demonstrates the emerging limitations of the

Pan-African concept. As Brent Hayes Edwards

observed:

On the one hand, Shepperson

rereads the term precisely to make

room for ideological difference and disjuncture

in considering black cultural

politics in an international sphere …

In Shepperson's view, it is crucial to be

able to account for the transformative

'sea changes' that Pan-African thought

undergoes in a transnational circuit.

Among the "sea changes" that Edwards

mentions were the issues associated with

communicating competing ideologies

between languages. The many differences that

separated the various forms of Pan-Africanism

together with the scope of activity taking

place on several continents, made the process

of Internationalism (a term employed here to

include both forms of Pan-Africanism) one of

continual translation. This difficulty added to

the already numerous gaps between groups —

gaps that were widening in importance at the

moment of Shepperson's reconsideration of

the term. His solution, Edwards reflects, was

to work, "toward a revised or expanded notion

of black international work that would be able

to account for such unavoidable dynamics of

difference, rather than either assuming a universally

applicable definition of 'Pan-African'

or presupposing an exceptionalist version of

New World 'Pan-African' activity."

Reconciling the needs of the quickly

changing landscape with any of the constructions

of Pan-Africanism available at the time

quickly proved to be more than the concept

could bear. Something new was needed. The

process of becoming a conceptual diaspora

therefore was not a simple one of connecting

the story of African dispersal to that of

Jewish dispersal as told in the Bible and other

histories. Instead, the African Diaspora

concept emerged as the result of a process of

outgrowing the unilateral vision of a single,

mono-centric Pan-African movement. Yet, the

transition away from Pan-Africanism didn't

come about because the strategies and efforts

that comprised its movements hadn't worked,

but because they had.

The Birth of Many Nations

The catalyst which would begin to

render obsolete what the celebrated anthropologist

St. Clair Drake called "traditional

Pan-Africanism", was the accomplishment

of the political liberation that the movement

had labored for so long to realize. As Drake

framed it, "[T]he period of uncomplicated,

united struggle to secure independence from

the white oppressor ended for each colony as it

became a nation."

With the gradual absence of a ubiquitous

force of oppression came the crumbling of

the amalgamated front that had been erected

to resist it. Africa was no longer the centerpiece

of an internationally-aligned struggle

for independence. Divergent national identities

emerged as political priorities diversified.

New African and Caribbean nations turned to

questions of self-governance, while those on

the American continent devoted themselves to

the fight for civil rights and equality at home.

Meanwhile, in Africa, a series of armed

coups led to what Drake termed "a parade to

the seats of power of military men who had no

allegiance to the kind of sentimental Pan-Africanism

[that their predecessors espoused],

and who were without any previous experience

in dealing with West Indians and Afro-Americans."

Yet despite this political parting of ways,

the sense of connection culturally, historically,

if not politically, remained and demanded new

modes of articulation.

New words, that would embrace the

legacy of Internationalism, support cultural

pan-Africanism, and yet loosen the bonds of

a Pan-African ideology based on a common

political destiny that stratified even as it was

being achieved. Shepperson's nomination of

diaspora filled that gap.

It's questionable whether Henry

Sylvester Williams envisioned Pan-Africanism

as a singular movement, or if he imagined the

number of activities, groups, and leaders that

would eventually be gathered under the term

— or all that they would accomplish. That it

was ultimately unable to contain the multitude

of ideas that grew under its umbrella was

perhaps the greatest mark of Pan-Africanism's

success.

The vision of what Black Liberation

was, what it would mean and how it could be

achieved was never truly singular, even within

a single organization. But there was a certain

unity of direction that became difficult to

maintain as African colonies became African

nations, and the restricted yet somewhat

generalized national identity of the "African

Abroad" became specifically "Trinidadian,"

"Jamaican," "African American" and so on.

The solidification of national identities

and the necessary separation of political goals

that attended it created a level of self-interest

that was antithetical to the "Pan" element of

"Pan-Africanism."

Diaspora, therefore makes a timely

entrance into a conversation that was just

beginning to turn from the politics of unity to

a deeper exploration of the meanings of difference

in the global Black community.

What remains of Pan-Africanism today

is largely culturally focused. Though it would

be inaccurate to ever categorize Black cultural

activity as apolitical, to the extent that any

unified Pan-African movement could be said

to exist today, it lacks much of the ability to

influence policy that Du Bois and other leaders

had at the height of their activity. Harris and

Shepperson introduced diaspora as, undoubtedly,

the more accurate description of

the amalgam of African and Africa-descended

cultures that cross the world today.

However, there is still much that the

focus and intensity of Pan-Africanism could

teach to its far less politically-inclined

successor.

And as the strength and support behind

the Movement for Black Lives and other

groups continues to grow, inspiring protests

across the world in response to the continued

murder of Black people by police in America,

the examples of Pan-Africanism's chief

leaders, strategists, and theorists may be

becoming more relevant by the day. AC

Marcus Garvey in Regalia, 1924. James VanDerZee. Copyright Donna Mussenden

VanDerZee. All rights reserved. Photographs and Prints Division, Schomburg Centers for

Research in Black Culture, The New York Public Library.

The Ethiopian World Federation. Photographs and Prints Division, Schomburg Centers for

Research in Black Culture, The New York Public Library.

104 aphrochic issue four 105
---
Sounds

Ranky Tanky

The Award-Winning Quintet's Latest Album Good Time Offers

the World s Taste of the Gullah Music of the Carolina Coast

There was a time when African

American culture was thought to be devoid of

"Africanisms," those unique cultural components

that are direct survivals of older, African

practices. The idea was that the form of

slavery practiced in the United States was so

complete in its extermination of pre-existing

culture among those it enslaved that no such

links remained. It was never true, of course.

Finding Africa in American culture is easy —

just listen to the music. Better yet, listen to

where it came from.

When Quiana Parler's voice comes in

on "Stand By Me," the first song off of Ranky

Tanky's Good Time album, you feel it. "Be my

redeemer. You'll be my healer. You'll be my

teacher. Oh Lord stand by me." It feels old,

even ancient. It doesn't feel like her voice

alone, but as if all of the ancestors are singing

along with her.

"Ranky Tanky loosely translated means

'work it get funky' in the Gullah language,"

says Parler. With each song you can hear the

roots of Black music — and by extension all

the music of America. Funk, jazz, country,

R&B, Soul, and Hip-Hop — it's all in there,

waiting to be rediscovered. Even such wellknown

folk songs as "Kum Bah Yah," have

Sea Island roots. "Gullah music is the root

of all [American] music. That's why we were

so excited to be celebrated at The Grammys.

It was the first time that Gullah music was

finally acknowledged."

When you first hear the group, with their

bluesy riffs and soulful harmonies, it's easy to

hear the history that they share. The quintet

has a natural facility with each other — a

language that they uniquely share that helps

create a whole that is more than the sum of its

parts. "The guys have been playing together

for 20 years," Parler remarks. "They went to

college together and they formed Ranky Tanky

before I came along. I've been friends with

some of them since I was nine years old. So

when they wanted to add a singer, here I was."

Parler's vocals are backed by percussionist

Quentin Baxter, bassist Kevin

Hamilton, guitarist Clay Ross, and trumpet

player Charlton Singleton. The five members

of the band, and the music they create, are all

connected through their Gullah roots. Each

member is from a different part of the Sea

Islands — an interconnected series of small

islands where many clear Africanisms still

survive today. "The Gullah language is deeply

rooted in our DNA," says Parler." This is what

we live every day. It's what we've always lived

and breathed. This is who we are."

The historical value of that DNA is on

full display in Good Time. A litany of songs

showcase new treatments of age-old traditions

derived from spirituals, work songs and

the Old Time Religion of the South Carolina

Lowcountry. There are playful songs like

"Green Sally," as well as gospel revelries and

original music like "Freedom" and "Stand By

Me," written by Parler herself.

"There's so many messages hidden in

these songs," the singer says, reflecting on the

importance of the music then and what it can

mean to us today. "They were written to help

free the slaves or tell the slaves to get ready to

escape. Some of the Gullah songs and spirituals

we sing in church are encoded songs that

had embedded messages in them. I'm still

learning what some of these songs meant."

Ranky Tanky has spent years taking

Gullah music beyond the Americas and

around the globe. Their success has brought

long overdue acknowledgment to the music

and the culture that sustains it. "Clay was

touring the world with his band Matuto, and

was seeing every culture celebrated, except

the Gullah culture and the Gullah community.

With Ranky Tanky what we wanted to do was

bring awareness to a beautiful culture that

wasn't known or being celebrated musically

outside of our region."

Good Time is a stirring introduction to

the roots of American music. The group not

only sings worldwide, but has introduced educational

workshops in various cities where

they teach music and history to both children

and adults. "People are hungry for history and

knowledge. We're the musical ambassadors of

our history." AC

Words by Jeanine Hays

Photo by Peter Frank Edwards

106 aphrochic issue four 107
---
PINPOINT

Artists & Artisans | The Remix | Hot Topic | Who Are You
---
ARTISTS & ARTISANS

Malik Roberts

On a nondescript stretch of Broadway in Bedford-Stuyvesant, Brooklyn, stands a print

shop empty of customers or seemingly anything to sell. It is a miracle establishment,

not unlike the neighborhood it sits in. You wonder how it has survived Amazon and

gentrification, and you wonder for how much longer.

It is a frigid day in mid-February, as,

above the print shop, I arrive at a large

warehouse full of artists' studios. I walk into

one and find myself surrounded by a majesty

of blues and grays and flashes of gemstone

colors. Bootsy Collins' tonal gyrations sing

out across the studio as I am greeted by

a slippered Malik Roberts, paintbrush in

hand, wearing his trademark hat and glasses

and a smile so warm and genuine that, for a

moment, I am genuinely taken aback.

This authenticity, a willingness to be

real, is most apparent in Roberts' work. BLK

& BLUE, his 2018 show at ABYX gallery, was

inspired by Picasso's Blue period. But more

poignantly, it is a telling description of what

it is to be Black in America — an exploration

of the damage wrought from a dueling

existence that demands our strength as

much it denies our pain. Using a palette of

blues and grays, Roberts pulls back the thin

veil that covers mental illness in the Black

community. Familiar scenes and tropes

of Black existence are contextualized in

classical forms and dismantled, bringing

into sharp relief the truth that was there all

along.

Recently, I asked Malik about his

current work as he sat in front of a piece

in progress, adding delicate inflections of

paint on a folded brown thigh.

AphroChic: You met the Pope — how

did you even get to the Vatican?

Malik Roberts: My mentor Domingo

(the artist Domingo Zapata), called me right

after BLK & BLU. He called me randomly,

"Papa I'm doing something with the Pope ...

give me a painting, give me any painting!" I

was like "ok", so I just sent him a picture of

a painting. Then he was like you're going to

have to pull up to the UN for a charity event.

So I was like cool, I pull up to the UN, and

that's how I ended up giving my speech at

the UN. [Then] after, he was like "Papa, if

someone buys your painting (at the charity

event) the Vatican will fly you and the person

who buys the painting out there." So time

passes by then he calls me up, "Are you ready

to go to the Vatican March 21?" That's pretty

much how it went down.

AC: Do you think about where that

painting is now?

MR: They said they were going to put it

into a little private thing called the archives.

So, in a hundred years when they are going

through the archives at The Vatican, they are

going to see some painting of a Black man on

the cross. They are gonna pull up a picture of

the artist and see a nigga with grills ... It was

a big moment.

AC: Your parents are from Trinidad

and Guyana, but you were raised in the US,

Words by Tedecia Wint

Photos by Sarah Tekele

Styling by James LaMar

110 aphrochic
---
112 aphrochic issue four 113
---
ARTISTS & ARTISANS

do you think that plays into how you view

Blackness, especially with these different

points of cultural reference?

MR: I feel that a lot — even just growing

up between New York and the South —

gave me a whole different perspective on

blackness. Because in the South, the racism

is more outward and up here it's a little

more hidden. So even the whole thing about

what it means to be Black in the South, is a

whole different thing than what it means to

be Black in the North. Which is funny to say,

because it sounds like we are talking about

some Civil War shit. But it's that way.

AC: You didn't go through any formal

training; you are essentially self-taught?

MR: Yeah, other than my family who

knows how to draw. I had an uncle who went

to college for art. I stayed with him for a

summer and he gave me a boot camp, if you

will. In the basement he had a little studio

setup. [In it] he had a stack of Playboys from

1960 to now; and a bunch of Double XL; a

bunch of Source Magazines and he would

tell me to go through all that shit and by the

time he [got] home to draw something from

it. I would go through the images and would

try to draw something. He would come

home [and] look at it … look at the original

picture and be like, "I don't like that. Do it

again." I'd be like … Ok," and then I would

do it again. Then he would come home the

next day — look at the picture — and be like,

"I don't know … Try it one more time." Then

the next day he would come home and he

would look at all three images and he would

[be] like, "Yeah, this is the one." Then he

would go across all three and [say] "Do you

see the difference between [them]? The nose

in this one was a little off; you fucked up the

eye on this one"… He did this to me for weeks

and weeks and weeks, and by the end I got

pretty good at looking and drawing. But that

was the only schooling I [had].

AC: Tell us about Glory. What inspired

this new work?

MR: Glory is like the new decade. We

are on the other side, we are understanding

ourselves more, we understand our

issues and our flaws, [and] we are on the

other side building to a more glorious presentation

within ourselves. There's more

than just Oprah. There's a lot of other people

in these boardrooms, and a lot of people

making decisions [who] are more relatable

to us. Black women are the number one

business owners. We are really taking a

hold of our future, and now everything is

televised, so you can't really do us like you

did [in] Black Wall St. So it's more of a scary

time for them because you can't really just

hush hush niggas like that. You can silence

one or two and try and get away with it, but

you can't silence niggas like that. So I believe

this decade is going to be the decade that

we really strive, and really prosper in a real

way. We are here and we have been here, but

now it's just on a grander scale. I just want

to be the artist that represents us as we [get]

to this grander scale, as we are making this

transition.

Black is beautiful, and can be seen in

this light: We can highlight our features,

we can highlight our hair, we can highlight

our noses, we can highlight our big lips. We

can show our style off. I feel like a lot of the

things they try to put us down about are

really just showing us our glory.

114 aphrochic issue four 115
---
THE REMIX

Sustainability Matters

A house is made up of many rooms. They all have their uses, and we love them all,

but the ones that help us relax, that give us an escape from everything else in the

world, do a little more to make us feel at home. For most of us, the bedroom is where

every day begins and ends. We need it to start us off in the right frame of mind every

morning. And when the day is done we return, looking for the peace of mind that will

let us slip off into a restorative sleep. There's nowhere else in the home where it's more

important to create a relaxing feel. So when it's time for a decorative refresh, there's

no better place to start.

For the second part of our home

makeover, Bryan and I started looking for

ways to update our bedroom sanctuary. I absolutely

love our bedroom the way it is now.

It's dark, moody, and laid back. But the one

place where it fails is the bed. It's time for

something more grown up and solid than the

discount bed we found online when we first

moved in.

Interior design by AphroChic

Photos by Patrick Cline

Words by Jeanine Hays

It isn't easy to update a room you already

love. But there's always room for improvement.

With so much attention on wellness at

home right now, it's the perfect time to look

for pieces that make the room healthier, in

addition to looking good. So for this part

of the project, we are focusing on finding

pieces that not only meet our aesthetic needs,

but are sustainable as well. "Sustainability

is something that needs to be talked about

more, especially in Black homes," Bryan

observed. "Many of the health issues that

Africans Americans suffer disproportionately

from — such as asthma — are linked to

the quality of what we put into our homes.

Things like paint, wallpaper, furniture and

rugs all off-gas — putting chemicals into the

air that we breathe in every day. Reducing

that means looking for pieces made from real

materials with low levels of VOCs. It can take a

bit longer, but it's worth it."

For the bedroom, we sat down with

Bernhardt to look at pieces that fit our

lifestyle. We also thought beyond the

furniture, and met with Avocado Green

Mattress, to discuss what we actually lay and

sleep on every night.

When designing a bedroom, people

think about the beds and dressers, of course.

But they forget things like the mattress. We

want something made with organic materials

that's environmentally friendly. Not only will

we be able to rest easy on a good mattress,

but we'll rest with peace of mind knowing it's

healthy for us.

Our current bedroom.

No matter which bedroom we choose (see the

next page), it was extremely important for us to

select the right mattress. On average, we spend

a third of our life in bed. That's hundreds of

thousands of hours spent on a mattress. Many

mattresses are made using harmful chemicals that

off-gas nightly while we sleep, contributing to a

multitude of health issues. We're choosing to work

with Avocado Green Mattress to sleep well on a

product that's green and sustainable.

(avocadogreenmattress.com)

116 aphrochic issue four 117
---
THE REMIX

Follow our journey as we makeover our Brooklyn

interior. Thank you to Bernhardt and Avocado Green

Mattress for partnering in this stage of The Remix.

Amur Wall Sconce

aphrochic.com

Rayleigh Acrylic Canopy Bed,

Bernhardt

Miramont Dresser,

Bernhardt

Flourish Rug in Cream

aphrochic.com

Leavitt Bunching End Tables,

Bernhardt

This is the grown-up bedroom we have

always dreamed of. We love mixing

modern and traditional pieces in a

space. This bedroom design offers the

best of both worlds, with an acrylic

canopy bed and a stunning, traditional

dresser.

This feels like the perfect New York loft

bedroom. Lots of hard, geometric lines to

keep things modern. And we can mix in

some of our favorite AphroChic pieces,

including our Batik pillows and Day Rug.

Batik Yellow Pillow

aphrochic.com

Pemberly Upholstered Bed,

Bernhardt

Linea Dresser,

Bernhardt

Day Rug in Black

aphrochic.com

Benson Hexagon Chairside

Table, Bernhardt

Gold Juju Hat

aphrochic.com

Bayonne Upholstered Bed,

Bernhardt

Clarendon Dresser,

Bernhardt

Ndop Black and Yellow Pillow

aphrochic.com

Clarendon Nightstand,

Bernhardt

For something sweet and pretty, we

looked at this fully upholstered bed. This

design allows us to keep things sophisticated,

but we couldn't resist adding some

bling. Mixing materials, like brass paneling

on the nightstand with a gold juju hat, just

feels fun!

ALL FURNITURE

DESIGNS BY BERNHARDT

(BERNHARDT.COM)

118 aphrochic issue four 119
---
HOT TOPIC

We Are The Economy: Building from the Ashes of COVID-19

There is an old saying that goes: when white people get a cold, Black people get the flu.

And unfortunately, the coronavirus outbreak has proved this to be true. More than

100,000 Americans have lost their lives due to COVID-19. And 40 million workers have

filed for unemployment benefits in the last 10 weeks as they continue to lose work hours

or lose their jobs altogether, affecting their wages and access to health care.

It's no secret that Black people have

without centering the needs of Black and

when they are empowered, when workers are

been disproportionately affected by this

brown workers. Because we are the economy.

supported, and when marginalized commu-

pandemic. Historically, Black workers tend

The virus shows no signs of stopping.

nities are not excluded or exploited.

to be the first laid off and the last re-hired

The number of cases and deaths across the

Our current economy is broken. Only

following an economic recession. Early data

nation continue to rise. Governors, legis-

a handful of wealthy individuals reap the

shows that once again Black workers have

lators, and the president have touted the

majority of benefits from work that everyone

been disproportionately laid off. This is not

narrative that we must reopen in order to

else does. Inequality is a major cause, and

surprising, given that our economy typically

"save" the economy. That's in direct opposi-

it has grown dramatically over the past 40

resorts Black workers to hold low-wage jobs

tion to public health officials and economists

years, creating a precarious and fragile

in industries heavily affected by stay-at-

who widely agree that it is premature and

economy prone to shocks and collapses.

to secure the common economic good for the

their benefit.

ly for marginalized and under-resourced

home orders. And we have already seen Black

dangerous to reopen.

What does a strong economy look like?

majority of Americans. Workers are central.

To counter the harmful narrative of

communities, and businesses compete

businesses disproportionately shut down

Do we really have to choose between

In a strong economy, everyone has security

Investing in workers, providing protections

trickle-down economics, we must instead

healthily without the presence of large mo-

as investors cut costs and investments into

saving the economy and protecting people's

and peace of mind in knowing that their basic

from exploitation and harm, preventing the

center the needs of everyday people to

nopolies. With all of these systems in place,

Black-owned brands.

health and lives? The short answer is no.

needs are met. They are able to afford the

exclusion of marginalized workers — elimi-

ensure a stronger and more resilient

living standards will rise and provide more

Black workers also disproportionate-

There is, in fact, no economy without workers,

things they need, from groceries and medical

nating margins altogether — and empower-

economy that works for everyone. To

economic security, dignity, and freedom

ly comprise the ranks of frontline essential

so from an economic as well as a moral per-

expenses to housing, utility bills, and other

ing workers to demand more rights through

begin raising living standards and increas-

for people to live happy, healthy, and secure

workers, many of which are low wage, blue

spective, our health and lives are paramount.

expenses. This means living standards rise

collective bargaining are some of the ways

ing well-being for everyday people, we can

lives.

collar jobs with no option to work remotely.

Here's the longer answer: Contrary

for everyone, especially those in the bottom

we can advocate for workers and worker

provide public investments in workers,

So what does this worldview mean in

As many of these workers are living paycheck

to popular belief, the stock market and the

and middle-income classes. It means racial

productivity. When entire communities are

families, and communities, such as public

our current moment, especially for Black

to paycheck, they face the difficult choice

economy are not the same thing. If the stock

and gender disparities decline in the short

exploited, disempowered, and underval-

schools, public health, and public housing. A

folks? Well, we have to remember that the

between going to work and risking exposure

market is performing well, it does not mean

run and are eliminated in the long run.

ued, it creates a fragile economy composed of

prosperous society invests in everyone, re-

coronavirus outbreak was the straw that

to COVID-19 or bringing home a paycheck.

that the economy is strong. Same goes for the

It means, above all, that the most mar-

exhausted workers.

gardless of race, gender, class, geography, or

broke the camel's back. Our economy was

And in many cases, if a worker decides not

number of wealthy individuals, the perfor-

ginalized communities, Black people and

Currently, our economy is producing

any other identity. Broadly shared prosperity

not prepared for an economic depression

to go to work for fear of infection, they will

mance of American corporations, the gross

Black women in particular, have fair wages,

more, but fewer people are benefiting. The

creates widespread stability so that everyone

and global pandemic. Our social safety net

be deemed ineligible for unemployment

domestic product (GDP), etc. None of these

can choose employment that fits their goals

key to ensuring economic benefits don't all

can actively participate in buying and selling

has been decimated and public infrastruc-

insurance benefits, since they technically have

are the best indicators of how the economy

and aspirations, can build wealth, and can

trickle up to the top 1% is an equitable dis-

goods, which will prompt the private sector

ture remains underfunded. Black people

the option to work. They may also get laid off

is doing because they gloss over widening in-

live longer and healthier lives. Because if

tribution of power. When power becomes

to invest in people and physical capital to

were struggling before this crisis, but we

as a result. This, in part, explains why and how

equality in this country.

Black women are living and thriving rather

concentrated in the hands of the few, they

meet the rising demand.

don't have to struggle in our recovery. We

COVID-19 has had disproportionate effects

The best economic indicator is us — your

than merely surviving, then it increases the

will use that power to hoard their economic

If anti-racist, power re-distribut-

must push for immediate relief now that

on the personal economics of Black people.

family, your neighbor, your colleague, you. We

likelihood that all Americans are thriving.

riches. This is exactly why "trickle down"

ing structures are set in place, then we can

also reorients our economic system to be

But we cannot ignore the structural racial in-

are the economy. The economy is composed of

When we center the most marginalized,

economics fail to deliver economic prosper-

ensure the economic gains are broadly

stronger and allows Black people to have the

equalities that have set the stage for increased

all the interactions and transactions between

everyone else also reaps the benefits.

ity: it ignores the role of power. And without

and equitably shared. This means workers

full, secure and prosperous economic lives

economic and medical vulnerabilities among

regular, everyday people. The economy can

How can we ensure rising and broadly

rules and regulations, the rich will shape

are able to bargain collectively with their

that we deserve.

Black communities. It's clear that we cannot

only thrive if everyone is able to participate,

shared living standards? Experience will tell

markets, bend rules, and implement systems

employers, public services and invest-

Janelle Jones is the Managing Director for Policy and Research

build a stronger and more resilient economy

and people can only meaningfully participate

us that we cannot count on the private sector

of exploitation — like structural racism — to

ments are widely available but especial-

at Groundwork Collaborative (groundworkcollaborative.org).

Words by Janelle Jones

120 Photos by Nappy

aphrochic issue four 121
---
WHO ARE YOU

Name:

Charles Harbison

Based In:

Los Angeles

Occupation:

Creative Director

Currently: Working on

new direction for his

eponymous fashion

brand, Harbison.

Photo by Genevieve Garruppo

"Black culture is tenacious!"

122 aphrochic