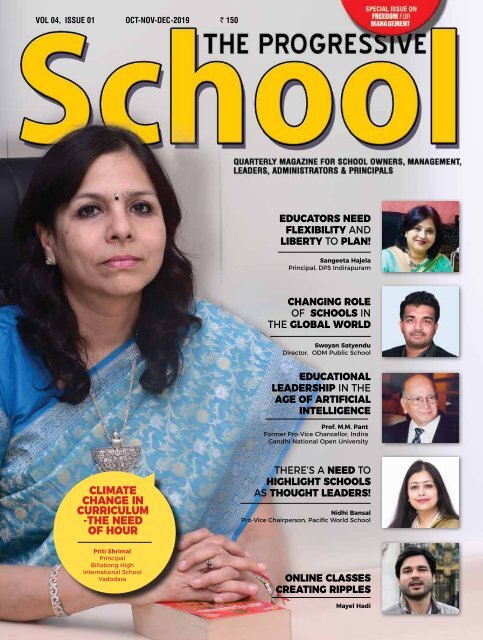 The Progressive School Vol 04 Issue 01
This issue of The Progressive School brings attention to the impact of Artificial Intelligence in School Education. The articles featured in the magazine are written by eminent school leaders, principals and owners for their contemporaries.
This issue of The Progressive School brings attention to the impact of Artificial Intelligence in School Education. The articles featured in the magazine are written by eminent school leaders, principals and owners for their contemporaries.
SHOW MORE
SHOW LESS
Do you know the secret to free website traffic?
Use this trick to increase the number of new potential customers.
VOL 04, ISSUE 01 Oct-nov-dec-2019 ` 150

Educators need

flexibility and

liberty to plan!

Sangeeta Hajela

Principal, DPS Indirapuram

Changing role

of schools in

the global world

Swoyan Satyendu

Director, ODM Public School

Educational

leadership in the

age of Artificial

Intelligence

Prof. M.M. Pant

Former Pro-Vice Chancellor, Indira

Gandhi National Open University

Climate

Change in

curriculum

-The Need

of Hour

There's a need to

highlight schools

as thought leaders!

Nidhi Bansal

Pro-Vice Chairperson, Pacific World School

Priti Shrimal

Principal

Billabong High

International School

Vadodara

Online classes

creating ripples

Mayel Hadi
---
E d i t o r i a l

Our next

issue would

focus on

BLENDED LEARNING

-THE SHAPE OF

THINGS TO COME

Send in your articles/case

studies along with your brief profile

and a hi-res image for publication.

Email us on: office@progressiveschool.in

The changing dynamics

of education…

Education has always been impacted by the socio-economic dynamics.

With a heavy share of technology in the economic designs of the

country, it is no wonder that the extended arms of technology are

reaching out to education to redefine its purposes and strategies. The

ongoing pace of technological changes has left the field of education

awe-struck. Both in terms of the content and competencies required for coping

with technology, the world of educators is indeed struggling, though they leave

no stone unturned to bridge the gap. In this scenario, the future of education

appears quite unpredictable and uncertain, though the fundamentals that define

the process and product of education will largely remain the same. However, the

psychological implications of such changes on the entire universe of stakeholders –

teachers, students, parents and the school leaders – is quite large. The nature of the

"Future school setting" is a point of concern that has been addressed in this issue.

Further, the recent advancements in technology, especially the impact of

Artificial Intelligence, is indeed quite exciting. The CBSE has already introduced

Artificial Intelligence, as one of the subjects in its curriculum. The scope of

Artificial intelligence in re-designing the existing technological infrastructure and

processes, its impact on the thought architectures in several of the industries,

business houses, corporates for newer visions, newer operational strategies and

conceptual designs offers an immense opportunity for a workforce in the future.

The current issue examines the scope of the impact of Artificial intelligence

by a renowned expert and technology leader in education - Dr. M.M. Pant. We

acknowledge his contribution.

Sustainable environment and other concerns of climate have always been

a matter of discussion at the global level. The need to create appropriate sensitivity among

Gen-Y learners on protecting the environment and bringing about changes that would help

nature restore its glory has been addressed adequately in this issue.

With the universe of learning expanding, learning through on-line systems, blended learning

inputs, flipped classrooms are finding their way as new pedagogies in several schools. While the

formal structured classrooms have both a historical and cultural relevance, one cannot ignore

the newer interventions to facilitate and empower the younger generation who are getting

adequately fascinated to the technologies. Views expressed by authors are indeed gateways

of learning to a large number of schools.

"The Progressive School Magazine" has always been on the frontlines to consider, evaluate,

address and offer not only opinions, but solutions to several academic and administrative issues

in education. In developing this positive work profile, we have always enjoyed the support

of Shri Himanshu Gupta, who has led the team with vision, courage and conviction. We are

profoundly grateful to him. Shri Sonal Khurana and his editorial team have played a significant

role in shaping out the ideas with relevance, purpose and context. I place on record my sincere

appreciation to the editorial team for their passionate work.

While we are looking forward to your suggestions and support, we are committed to

engage with education more closely and bring you the relevant information from time to time.

With best wishes,

G. Balasubramanian

oct-nov-dec, 2019 Vol. 04 Issue 01

Operations & Correspondence Office :

406 Sant Nagar,East Of Kailash

New Delhi-110065. INDIA

Ph: (91)11-26232482,26232684

Email : office@progressiveschool.in

www.progressiveschool.in

SCAN FOR MORE INFO

Editor-in-chief : G. Balasubramanian

Publisher

: Sonal Khurana

associate editor : Varsha Verma

ADVERTISING & Sales

VN Kutty : 09313480469

Karan Kumar : 07011784967

Annual Subscription:

Rs 600 (4 issues); Overseas US$ 100

The Progressive School is owned by International

Council for School Leadership, A-27, Mohan

Co-operative Industrial Area, New Delhi,

Delhi 110044

Editor : Dr Atul Nischal. Printed and Published

by Sonal Khurana on behalf of International

Printed at M/s Vikas Publishing House Pvt.

Ltd., 20/4, Site-IV Industrial Area, Sahibabad,

Ghaziabad, U.P.

We stand indemnified against any claims arising

directly or indirectly from the publication or

non-publication of an advertisement. All rights

reserved. No part of this magazine may be

reproduced without the written permission of

the publisher. All trademarks and tradenames

mentioned in this magazine belong to their

respective owners.

The Progressive School does not take the

responsibility for returning unsolicited

publication material. All disputes are subject

to the exclusive jurisdiction of competent

courts and forums in Delhi/New Delhi only.

Opinions expressed in the articles are of the

authors and do not necessarily reflect those

of the editor or publisher. While the editors/

publisher do their utmost to verify information

published, they do not accept responsibility for

its absolute accuracy.

Subscription / Missed copies

helpline: 08920636286

Managed by

Design 3 THE PROGRESSIVE

: Sanjeev Kandwal

Council for School Leadership

SCHOOL july-Aug-Sep 2019

www.progressiveschool.in

Owned by
---
t a b l e

3

Editorial

0812 6

FREEDOM FOR

MANAGEMENT

schools

16

32

FUTURISTIC

SCHOOL

AI in

1826

46

4850

58

CONFLICT

MANAGEMENT

CONCLAVE

ONLINE vs.

TRADITIONAL

TEACHING

CERTIFICA TION

TIPS & TOOLS

BACK TO

NATURE

opinion

TOOLS FOR

EDUCATION

06

FREEDOM FOR

MANAGEMENT

Educators need

flexibility

and liberty to plan!

08

CONFLICT MANAGEMENT

Changing role

of schools in the

global world

4 THE PROGRESSIVE SCHOOL oct-nov-dec 2019

www.progressiveschool.in
---
o f c o n t e n t s

Oct-nov-dec 2019 Vol. 04 issue 01 DELENG/2017/73326

18

FUTURISTIC SCHOOL

Towards

futuristic

school setting

Editorial

03 The changing dynamics

of education…

FREEDOM FOR MANAGEMENT

06 Educators need flexibility

and liberty to plan!

CONFLICT MANAGEMENT

08 Changing role of schools

in the global world

AI in schools

12 Educational leadership in the

age of Artificial Intelligence

CERTIFICATION

16 There's a need to highlight

schools as thought leaders!

FUTURISTIC SCHOOL

18 Towards futuristic

school setting

SMART SCHOOL POLICIES

24 Learning the skill

of conflict management

26

BACK TO NATURE

Climate Change

in curriculum

-The Need of Hour

BACK TO NATURE

26 Climate Change in curriculum

-the need of hour

SDG

28 Sustainable Development Goals:

making sense in classroom what

can you tell your students?

conclave

32 5th Edition of

The Progressive Teacher

Conclave 2019

SPOTLIGHT

38 Environmental studies – in

spotlight to save inheritance

POLICY DEVELOPMENT

44 Constructing smart

school policies

48

ONLINE vs.

TRADITIONAL

TEACHING

Online classes

creating ripples

OPINION

46 PISA: Can India uplift its

position in international

educational ranking?

ONLINE vs.

TRADITIONAL TEACHING

48 Online classes creating ripples

TOOLS FOR EDUCATION

50 EduBlog -an effective tool for

transforming pedagogy practice

viewpoint

52 Need for continued teacherparents

interactions

PSYCHO-SOCIAL PROSPERITY

54 Developing psycho-social

prosperity through education

58 TIPS & TOOLS

59 News & Events

www.progressiveschool.in

oct-nov-dec 2019

THE PROGRESSIVE SCHOOL

5
---
FREEDOM FOR MANAGEMENT

Educators need flexibility

and liberty to plan!

Keeping in view the cultural, social and economic diversity of India, it is difficult to have a rigid

set of rules and regulations for education administration as the human and material resources

available is sure to vary from situation to situation and region to region. So, educators must be

given the liberty and flexibility to plan programs and activities, make changes in the curriculum,

decide the method of teaching considering the human resources available and their socioeconomic

background.

Sangeeta Hajela, Principal, DPS

Indirapuram.

The journey towards seeking excellence

in education is full of challenges but

school management and educators

are trying their best. Here, Sangeeta

Hajela, Principal, DPS Indirapuram shares

her views on the need for freedom for school

management.

TPS: Do you think it is proper to have a set of

rules and regulations for the entire country

for educational administration especially in

the context of cultural, social and economic

diversities that exist in the country?

Sangeeta: It is quite apparent that education

administration needs integration and

coordination of all the physical and human

resources and educational elements. Besides

this, it requires human sympathy, understanding,

knowledge and skill. Keeping in view the cultural,

social and economic diversity of India, it is

difficult to have a rigid set of rules and regulations

for education administration as the human

and material resources available is sure to vary

from situation to situation and region to region,

for example the needs and circumstances of a

learner in the remote highlands of Ladakh will

naturally be different from those living in coastal

areas. In my opinion, the different processes

in education administration like, planning,

organizing, directing, coordinating, evaluating

etc. can be defined, but educators must be

given the liberty and flexibility to plan programs

and activities, make changes in the curriculum,

decide the method of teaching considering the

human resources available and their socioeconomic

background.

TPS: Do you think that schools and

educational institutes have adequate

freedom to manage their schools to infuse

creativity, innovation and novelty? If yes,

how do you think this is implemented?

If not, what steps should be taken by the

schools to address the area?

6 THE PROGRESSIVE SCHOOL oct-nov-dec 2019

www.progressiveschool.in
---
Sangeeta: It is true that schools have a regulated

environment in the Indian Educational System.

But even within the limits imposed by the

system, a lot can be achieved through optimum

utilization of all resources, human and otherwise.

I am really filled with awe and admiration for

the things this younger generation is capable of

doing and at our school we bring out the best in

each one by giving them an environment that

lets them experiment, innovate and learn to

manage things hands-on. The establishment of

various clubs and societies in schools is a step

in that direction. At DPS Indirapuram, we have

always realised and acknowledged individual

differences and we appreciate and nurture people

with different attitudes and attributes.

TPS: What kind of roadblocks are created

by educational administrators in terms

of regulations to hinder the growth of an

educational institution? How can these be

managed?

Sangeeta: The journey towards seeking

excellence in education will surely be full of

challenges and it is perhaps these, that make

it even more exciting. Certain regulations

defined by education administrators, especially

the structural pattern of the curriculum may

straight jacket the system, but these cannot be

considered as major roadblocks that hinder the

growth of educational institutions. It is for 'us' as

educators, to devise innovative ways to weave

creativity in the fabric of the present curriculum

and I can vouchsafe that there is enough scope

for it, if one has the passion to make a difference.

Moreover we must keep in mind that the

educational administrators and leaders have a

long term vision and the regulations devised

by them focuses on the larger picture which

implies quantitative expansion and quantitative

improvement of education.

TPS: Do you think 'mistrust' is one of the

key factors in administration, which calls

for continuous policing of the educational

institutions? How far the schools themselves

are responsible for this kind of a situation?

Sangeeta: Every educational organization has

certain goals or vision to fulfil and in order to

achieve it, the various programs and activities

are conceived and planned in accordance

with the national curriculum framework, with

the involvement of the Management and

all stakeholders. When the deliverable is so

important, 'Trust' is the key element which binds

the various stakeholders in this system.

There is no scope of 'mistrust' and the consequent

'policing'. As education is primarily a social

enterprise, the society keeps a close watch . May

be some ailing institutions are the reason why

many more are seen as not trustworthy !

TPS: How can schools which misuse

the provisions of the rules be made to

fall in line? Are there other methods of

streamlining their functions?

Sangeeta: The prime responsibility of all

schools is to nurture the children in its care,

to evolve them into academically sound and

good human beings, ready to take on the

world as 'Global Citizens' and most schools

would be working towards this, so somehow

l do not agree with the concept of making

schools 'fall in line.' Education administration

aims to ensure qualitative improvement in

education by integrating the appropriate

human and material resources through a

number of processes. The schools must

streamline their functions to fit the given

framework but to enable them to adapt to the

guidelines it is very important to create the

right kind of environment through motivation,

encouragement and cooperation.

The prime

responsibility

of all schools is

to nurture the

children in its

care, to evolve

them into

academically

sound and good

human beings,

ready to take

on the world as

'Global Citizens'

and most

schools would be

working towards

this.

www.progressiveschool.in

oct-nov-dec 2019

THE PROGRESSIVE SCHOOL

7
---
CONFLICT MANAGEMENT

Changing role of schools

in the global world

The schools have to play the role of mentor and facilitator, moderator and motivator, educator

and goal-setter while dealing with the young-learners for their character and career-building

and instilling the life skills in them to make them successful human resource with national and

global soul.

Swoyan Satyendu, Director, ODM

Public School shares his views on the

changing role of schools in the global

world.

TPS: With a fast-changing world and its

impact on family and lifestyles, there is

evidence of the change in the social psyche

of the students and the parents. What kind

of new challenges are seen by schools in

managing this changing social psyche?

Swoyam: The world now is in the phase of a very

critical transition with many potential changes

and challenges. First, the world has been a

global village with digital explosion and scientific

progression. Second, with ascending population

graph particularly in bigger nations like ours,

people now encounter struggle for existence

and survival of the fittest in socio-economical

and political spheres, employment avenue and

inter-personal relationship. The third is the

self-centric, competitive, shallow and hollow

mindset in many. The fourth is the inadequate,

insufficient, impractical, narrow and conservative

attitude and aptitude in many despite all our

booms and blooms in science and technology,

mass education and financial sector. Many

remain still uneducated; at the same time, many

educated and qualified degree holders remain

practically valueless despite their education and

qualifications. Again, very frequent and rapid

systemic changes in education in the name of

reformation too have affected our school system.

Nuclear families with individualistic mindset also

is a threat to society and education. All these

have made potential impact in the lifestyle and

psyche of the people including the students,

teachers and parents in the education-horizon.

They have resulted in a gloom of insecurity and

uncertainty, ambiguity and ambivalence in our

schools despite all our diligent and meticulous

advancements and reformations in curriculum

Swoyan Satyendu, is Director at

ODM Public School. An alumni

of Harvard University, London

School of Economics and Shri

Ram College of Commerce, DU,

Swoyan Satyendu, is the second

generation entrepreneur looking

after growth and expansion at

ODM Educational Group.

Swoyan is a renowned Career

Advisor and a motivational

speaker for children in the space

of education in Odisha.

8 THE PROGRESSIVE SCHOOL oct-nov-dec 2019

www.progressiveschool.in
---
and syllabus,

evaluation and

measurement,

teachers' orientation

and enrichment.

Moreover, parents' pressure,

peers' pressure, learninginefficiencies

and deficiencies,

numerous hazy attractions and

distractions, ambitions and competitions

also cause stress, anxieties, withdrawal

syndrome, rejection and dejection, physical

and mental deterioration among youngsters.

The schools at the ground level face many

such new challenges while managing such

changing lifestyle and psyche. They have the

Herculean responsibility to maintain parentsteachers

balance, school and competitive

coaching balance while removing the obstacles

like learning-deficiency and succeeding in their

pedagogical aims and objectives. They also have

the additional accountability of andragogical

guidance and counseling to the parents. They

now necessarily have to play the role of mentor

and facilitator, moderator and motivator,

educator and goal-setter while dealing

with the young-learners for their

character and career-building and

instilling the life skills in them

to make them successful

human resource with

national and global

soul.

TPS: Conflict

management is

becoming a vital life skill

for the younger generation

of today? This can be done only

with the support of the parents?

How do you think you can bring

synergy between the school rules and

regulations, parental expectations and

children's social needs?

Swoyam: As a modern miasma, young

generation is now potentially afflicted with

self-conflict, indecisiveness, helplessness,

hopelessness, doubts and confusions. Hence,

the conflict management of youngsters is a very

vital life skill to be inculcated in them primarily

www.progressiveschool.in

by the parents at

home and teachers in

the school. Meticulous

parenting-patronage right

from childhood providing the children

balanced diet, emotional balance, basic

needs, healthy and positive attitude, moral

oct-nov-dec 2019

Both parents

and teachers can

make a child a

good decisionmaker

and

conflict-manager

with knowledge

and information,

logic and reason,

confidence,

self-esteem and

social skills.

THE PROGRESSIVE SCHOOL

9
---
The parents need

to be regularly

apprised

of different

necessary

information

related to

scholastic and

coscholastic

happenings, be

guided time to

time regarding

child's proper

upbringing, be

invited to PTA

meetings for

discussions and

opinions, be

informed about

the system of

measurement

and evaluation,

learning barriers

etc.

courage, healthy family living, good hobbies

and habits, communication skills, self-esteem

etc. go a long way in empowering a child to

combat self-conflict. Teachers in school have a

substantial role in facilitating support to him in

his learning-while-doing experience, promotion

of inner talent and interest, balancing scholastic

and co-scholastic areas, child-centric joyful

teaching-learning, participatory and constructive

learning, activity and project based quest, social

zeal and zest make a child look at the world

with happiness and success. Thus, this way,

both parents and teachers can make a child a

good decision-maker and conflict-manager with

knowledge and information, logic and reason,

confidence, self-esteem and social skills.

TPS: Many schools have parent-teacher

associations which help in the growth profile

of the school as well as in ensuring smooth

transactions between the stakeholders.

However what are the challenges of

managing a parent-teacher association?

Swoyam: Parents-Teachers-Association is

one of the mandatory and foremost needs of

a successful school for maintaining a healthy

bridge between home and school, for sharing and

understanding each-other's views and problems

for the purpose of congenial and beneficial

solutions and resolutions in the interest of all

stake-holders.

However, there are formidable challenges too

in PTA management. Often, it has been bitterly

experienced that parents neither care for the

child at home, nor care for the school's advices

cooperatively. Some parents' personal family

problem causes lot of obstacles for the teachers

in achieving desirable growth of their children

but ultimately those parents find fault with the

school only. Many parents with their unilateral,

individualistic, selfish and domineering views

and opinions behave aggressively and negatively

with the school-management with potential

threats. Unfortunately, the schools are now

easy target for many parents and also so-called

non-parents-leaders to criticize, when actually

it should have been the opposite and there

should always be very healthy and cooperative

relationship among schools and parents with

sole goal of children's growth and development.

TPS: In the context of changing social

psyche, many children suffer serious

emotional problems, inadequacies and

10 THE PROGRESSIVE SCHOOL oct-nov-dec 2019

www.progressiveschool.in
---
need personal help? What could be an

institutionalized mechanism to facilitate

them on an on-going basis?

Swoyam: The changing social psyche of

the modern times has been stupendously

instrumental for many children's emotional

sufferings, physical and mental mal-nourishment,

depression, inferiority complex and frustration.

All schools need to establish institutionalized

mechanism of guidance and counseling cell to

deal with such children in distress and need. We

believe all teachers need be excellent counselors

and motivators. Adequate love and respect,

watchful freedom and liberty, sincere inspiration

and perspiration, opportunity and empathetic

affection will bring out a vivid and vibrant child

out of timid and frigid child, a proficient child

from an inefficient and pessimistic child.

TPS: Parental education is considered as

an integral part of school management

nowadays. What should be the key areas

you think parents need to be educated with

regard to empowering their wards?

Swoyam: All homes and parents need be

very conducive and supportive for a child to

grow healthily and happily. Parents' proper

education and knowledge of parenting skill is

equally important. But, unfortunately all parents

are not up to this expectation. Therefore, all

visionary schools and educators educate the

parents at regular intervals and orient them

on proper parenting. The parents need to

be regularly apprised of different necessary

information related to scholastic and coscholastic

happenings, be guided time to time

regarding child's proper upbringing, be invited

to PTA meetings for discussions and opinions, be

informed about the system of measurement and

evaluation, learning barriers etc. The principal

of the school should address the parents on

different properly planned and programmed

occasions to redress their grievances and

provide them influential and impressive inputs

how to manage their children at home. Good

Parenting is real wealth. The saying goes, "You

need not make wealth if your children are good,

you need not make wealth if your children

are bad." Good children are real wealth and

happiness, bad children will put wreath on

all your wealth and happiness. Therefore,

above all priorities, intelligent and wise

people always invest all their time, labor and

resources in making their children excellent

human resource with proper culture, values,

education, skill and attitude. Every father

and mother has the responsibility to grow and

develop, nourish and flourish the baby-sapling

right from its first stage of conception.

Adequate love

and respect,

watchful

freedom and

liberty, sincere

inspiration and

perspiration,

opportunity

and empathetic

affection will

bring out a vivid

and vibrant child

out of timid

and frigid child,

a proficient

child from an

inefficient and

pessimistic child.

www.progressiveschool.in

oct-nov-dec 2019

THE PROGRESSIVE SCHOOL

11
---
AI in schools

AI's effect on

educational

institutions will

not be limited

merely to

repetitive, routine

administrative

jobs. Increasingly,

it will also enter

the core of

the teachinglearning

activities

of educational

institutions.

Prof. M.M. Pant is a Ph.D. in

Computational Physics and an

academic with more than 50

years of post-doctoral teaching

and research experience both

in India and abroad. He has

taught in leading Institutions in

face to face, and distance and

online modes including MOOCs.

He is now exploring WhatsApp

delivered mobile lifelong

learning for future readiness

as a framework that is named

"Learning 321": real learning and

relevant education for the 3rd

decade of the 21st century.

His past roles include being the

Former Pro-Vice Chancellor,

Indira Gandhi National Open

University (IGNOU) and being

on the faculty of IIT, Kanpur,

MLNR Engineering College

and Faculty as well as Visiting

Professor, University of Western

Ontario, Canada.

He has been a visiting scientist

at European research centers

in Italy, England, Germany and

Sweden. Prof. Pant is the founder

of the LMP Education Trust,

an organization that supports

new age learning and under

privileged learners.

Educational

leadership in the

age of Artificial

Intelligence

Educational Leaders, including senior teachers, must make themselves

ready for the emerging impact of AI on education.

-Prof. MM Pant

Today's educational leaders face a

dilemma. Artificial Intelligence (AI)

will definitely play an enormous role

in the future of their organizations and

the social environment in which they operate,

but what effects will it have? There are wildly

different visions of the future it will create,

ranging from causing the extinction of humanity

to ushering in a Golden Age in which machines

provide all of humanity's needs and free us to

focus on altruistic service to one another.

AI's effect on educational institutions will

not be limited merely to repetitive, routine

administrative jobs. Increasingly, it will also

enter the core of the teaching-learning activities

of educational institutions.

It will also affect those who manage the

operations and ensure the smooth running of the

educational enterprises. AI likely will reshape

jobs all the way up to the office of the head of

the Institution. That doesn't mean, though, that

middle level managers and executives will no

longer be needed. They simply need to prepare

themselves for shifts in their work responsibilities.

Whether AI and the technologies it enables

will reach their full potential in transforming

education depends on the workforce that will

work alongside them. Yet the skills that workforce

needs to do this are in short supply. Rather than

debating what to do about massive job losses

from AI, discussion should focus on how best to

prepare workers for the types of jobs that they

will need to fill. Educational Leaders, including

senior teachers, must make themselves ready for

the emerging impact of AI on education.

Anthony Seldon in his recent book " The

fourth education revolution" has said that " AI

is the biggest challenge to education since the

12 THE PROGRESSIVE SCHOOL oct-nov-dec 2019

www.progressiveschool.in
---
printing press. It can

be compared to the

arrival of the internal

combustion engine in

the 1880s, except it

will change the world

far more subtly and

profoundly. If we can

take the right decisions,

we will see the biggest enhancement of human

fulfilment and happiness the world has seen. Get

it wrong and the quality of our life will suffer a

catastrophic loss."

Nothing matters more than education

if we are to see AI liberate, not infantilise

humanity.

Highly respected British educational scholar,

Sir Anthony Seldon, explores the most important

issue facing education (and humanity at large):

the fast approaching revolution in Artificial

Intelligence or AI. This book is a call to educators

everywhere to open their eyes so that we can

begin shaping the future of education around

the world.

Britain and the US have an excellent

education system in their schools and

universities… but it is tailored to the twentieth

century. The factory mass teaching methods of

the last educational era have failed to conquer

enduring problems of inequity and unfairness.

Students have to make progress at a set rate

which can demotivates and bore some. Will the

AI revolution be able to remedy these problems?

This extended thesis explores the history of

education, the many different styles of education

(with a particular focus on Britain and the USA),

and the different types of intelligence for which

current teaching methods are unable to provide

any support.

The final part of the book covers the

possibilities for how we can adapt our methods

to new technologies, using Sir Anthony's

innovative ten-part model of education as a

framework.

It will make educators familiar with the

vocabulary of the field, appreciation of the

key concepts, knowledge of the tools and

technologies. It enables them realistic

understanding of the challenges that remain

and become aware of a number of instances

of applications of AI/ML in diverse industries.

Armed with this knowledge, they will be ready

to be the agents of change in implementing

new pedagogies that deploy the power of these

technologies to achieve personalisation and

mastery learning for each of their students.

There is a need to empower teachers who

want to do so to become active users of these

technologies for their benefit, rather than being

passive consumers of the earlier so called

EdTech. In the age of AIEd, it is the teachers

who will be pivotal.

It is only when we recognize that the world

is rapidly changing and so are the needs of each

successive generation that we can work to ensure

that education remains relevant for the future.

It is only when

we recognize

that the world is

rapidly changing

and so are the

needs of each

successive

generation

that we can

work to ensure

that education

remains relevant

for the future.

14 THE PROGRESSIVE SCHOOL oct-nov-dec 2019

www.progressiveschool.in
---
CERTIFICATION

There's a

need to

highlight

schools

as thought

leaders!

Schools are the temples of knowledge

and school management strives its

best to meet the changing society

and technological standards. Audits

and certifications add value to the

reputation of the school.

Nidhi Bansal is Pro-Vice

Chairperson, Pacific World

School. Learn to adapt, adapt

to learn, that's the motto Nidhi

lives by. She has been exposed

to various cultures that enables

her to offer diverse ideas, posses

openness to new perspectives,

helps her link disparate ideas

to generate new ones. Various

forms of multicultural exposure

have strengthened her creativity

and enabled her to identify

the strengths and flaws of our

education system.

She has graduated as a

psychology honours student

from Delhi University and MBA

in human resources from Central

Queensland University, Australia.

Nidhi brings with her years of

rich corporate experience in

international firms in India and

abroad.

Certification generally helps in increased

credibility for school and furnishes

information about what steps are

being taken by other schools for child's

development. Here, Nidhi Bansal, Pro-Vice

Chairperson, Pacific World School, shares her

views on school certifications by government

bodies and ministries.

TPS: A number of organizations have

engaged themselves in certifying the quality

of a school through some standardized

systems. Do you think it is necessary for a

school to get certified for quality through

an external agency? How does it help the

school in real terms?

Nidhi: The schools are institutions of not only

providing knowledge to the students but also

teaching them its right application. While external

agencies are engaged in making standardized

systems to set out some common parameters for

comparison of different schools, the important

aspect to be taken into consideration is each

child's willingness. Every school has its own

set of methods to develop and nurture this

willingness. Certification by government bodies

and ministries is deemed to be mandatory,

however getting certified by external agencies

is an option for schools. Certification generally

helps in increased credibility for school and

furnishes information about what steps are being

taken by other schools for child's development.

TPS: Do you think that procedures

established through quality audit of the

schools are just time-specific for a given

period and do not get reflected in real terms

in the school activity profile?

Nidhi: A lot depends on the interval at which

quality audits are taking place. The school

evaluation frameworks are necessary to monitor

the developments in school as per changing

society and technological standards. The

procedures do get reflected in the school activity

profile if proper assessment and evaluation is

carried out.

TPS: Many institutions seek awards and

certifications through certain commercial

modes. Such references to quality of a school

normally appear to be fake. Do you think

such brandings last long? Do you think a

school needs branding for growth?

Nidhi: The effect of these brandings cannot be

16 THE PROGRESSIVE SCHOOL oct-nov-dec 2019

www.progressiveschool.in
---
completely declared null and void for school's

image, as they have short-term effects. Schools

do need support from branding as the parents

today are advanced in their search for schools

through digital medium. These branding

opportunities help us to some extent in gaining

attention and trust from the parents. Although,

the school's reputation majorly depends on the

nature of bond developed between students and

teacher and the students' increased learning

capabilities.

TPS: Advertising and Branding exercises

are being done by a number of schools just

www.progressiveschool.in

like a commercial enterprise. It also draws a

sizable investment. Do you think branding

and advertising interventions either for

promotion of a school or to increase its

strength necessary?

Nidhi: In the present scenario of cluttered

and abundant information, advertising and

promoting schools is necessary. It not only helps

the school in standing out from the rest, but is

also helpful in spreading the word about different

initiatives being taken by school for the students,

parents and teachers. Highlighting these efforts

is important for the schools presentation as

thought leaders in the welfare of all members

involved.

TPS: What are the key initiatives of a school

to ensure their quality and to spread the

message of quality through their own

students and teachers?

Nidhi: The key initiatives of a school to ensure

their quality through the audits we conduct

by the various teacher trainings, internal and

external. Also, we have associated ourselves with

a few external institutions to enrich and expand

the curriculum in academic and non-academic

subjects.

oct-nov-dec 2019

The key

initiatives of

a school to

ensure their

quality through

the audits we

conduct by the

various teacher

trainings, internal

and external.

Also, we have

associated

ourselves with

a few external

institutions

to enrich and

expand the

curriculum in

academic and

non-academic

subjects.

THE PROGRESSIVE SCHOOL

17
---
FUTURISTIC SCHOOL

Towards

futuristic

school

setting

In our journey to attain a glorious future....

let's begin...by radiating within.... "School is a

building which has four walls with tomorrow

inside" -Lon Walters

– by Kiran Sangeeta Murali

Kiran Sangeeta Murali is a

certified cognitive behaviour

therapist and an NLP practioner.

She is presently working in

Yadavindra Public School, Patiala

as the School Counsellor. She

has a master's degree in Applied

Psychology and a B.Ed. degree.

She also has the experience of

working as a centre head of a

popular pre-primary school. A

proud army wife, she is a beauty

with purpose.Being the crown

winner of Mrs India Globe

2016 and Mrs Universe finalist

2017(South Africa) and having a

genuine interest in psychological

wellbeing of children, she wishes

to educate parents and teachers

on effective employment of

life-skill lessons at home and

beyond to empower the citizens

of tomorrow.

Digitalisation, globalisation, integration,

innovation and research, the idea for

a school setting in future sure looks

luminous with such consequential

elements expressing the course ahead. With the

world shrinking day by day in terms of growth

and development of disparate industries, a school

hasn't been untouched and has been whisked

towards the ostensible interpretations of an

irradiant future.

Keeping pace with the changes…

Introduction of smart classes, inclusion of

smart boards, plethora of subject choices offered,

variety of activities to pursue, choices in terms of

experiences to broaden the horizon of a child via

exchange programmes, MUNs, trips,excursions,

certainly the list is endless on how schools

are bringing multifariousness to cherish and

encourage the spirit of a child. Schools today are

mirroring the emerging society also the world

in general, and it's important to keep pace.

Building up on the school resources, be it in

terms of the physical structures or encouraging

the talent pool with respect to the teaching

faculty, its essential to repair, prepare and fortify

the school infrastructure in all ways possible to

ensure the future of the country, the citizens of

tomorrow, the students get the best of facilities

and opportunities to forge ahead.

Mental health: an important aspect

However, the enchanting picture of a perfect

future eludes the true motive of the school

18 THE PROGRESSIVE SCHOOL oct-nov-dec 2019

www.progressiveschool.in
---
education edification. Though a six-hour day at

school has enough for the educational mental,

physical, cognitive invigoration for a child, Sadly

not much has been done exclusively for the

psychological and emotional welfare for a child

and adolescents.

The alarming rate of children's mental health

problem isn't a masked certitude anymore.

According to a recent study, the approximate

number of students with psychological disorders

have risen from 19% in 2007 to 34% in 2017.Three

decades back, 1 in 10 high school students could

be categorised having a mental health issue, now

the number is 1in 3. Stress and depression are the

most common phenomena plaguing youngsters,

with the institute of mental health classifying

www.progressiveschool.in

approx 25% of children between 13 to 18years

suffering from anxiety disorder.

The list proving this sentiment can keep

adding more attributes, but the veracity of the

mental health landscape pertaining to plans,

provisions, policies and methodologies in any

average school is at a dismal state and sadly

there aren't ample measures taken to curb

this downward spiral of a child's psyche. The

magnitude of this problem can't be ignored any

more and the time has come to recognise the

gargantuan status of this problem that is slowly

creeping and corroding the confidence of a teen.

Interestingly when one Googles 'Challenges

being faced by a school student,' the screen pops

up with the following notes: Disorganization/

oct-nov-dec 2019

The enchanting

picture of a

perfect future

eludes the true

motive of the

school education

edification.

Though a six-hour

day at school

has enough for

the educational

mental, physical,

cognitive

invigoration for

a child, Sadly

not much has

been done

exclusively for the

psychological and

emotional welfare

for a child and

adolescents.

THE PROGRESSIVE SCHOOL

19
---
The dawn of a

new tomorrow is

going to usher in

exigent demands

of steadfastness

and principled

young minds.

Let's make sure

our children are

prepared to take

on the call with

a firm grip over

themselves first.

The boons of

honouring their

own unique

persona shall

effortlessly pave

way for them

being a paragon.

feeling overwhelmed, poor grades, not resolving

relationship issues,wasting time, skipping

classes etc.

Ask Google for 'Top 10 issues facing the

youth today," the answer ranges from the

following: Failure to succeed in education

system, Issues related to body image, family

problems, Substance abuse, Pressures of

materialism, Negative stereotyping, Pressure of

24 hour social networking tops the list.

Each child is different and so is his/

her problem

Everyone can perceive that with the education

being provided at most of school presently, a

student can hardly scratch the surface of these

problems. The obstacles are very personal and

can vary in intensity and understanding of the

child. Two children within the same school of

the same class can anticipate their problems

dealing with the same issue, in distinct manners

and this, thus complicates the solution for them.

The quandary is not just about the ADHD and

learning disabled students. The challenges today

lie with children battling cyber addiction, social

media validation, celebrity Idolization,emotional

turmoil and identity crisis.

Making responsible citizens…

It is said that in about 70% of adults having

a psychological disorder, the symptoms begin to

surface in their teenage years. Imagine the world

of difference it would make for such children who

get the required intervention at the right time in

school to transform themselves into responsible

and contributing adults for tomorrow.

According to the World Economic Forum

Global survey, world's most serious problems

are Climate change/destruction of nature,

Large scale conflict/war, Inequality, Religious

conflicts,Government accountability and

corruption.

It doesn't take rocket science to

understand that the core human values of

empathy, understanding respect, honesty,

courage,integrity, perseverance and many more

are needed to deal with these.

While a child can turn to the internet to

understand a lesson in Maths, Sciences or

languages, it's near impossible to decode his/

her personal feelings, emotions and thoughts.

There is no such platform to give him an insight

into the why's and what's of his own persona.

Hence it is important to connect them with their

own 'thinking' and 'feeling ' part and ensure they

are in sync.

What a school should do?

While the result of a school depends on

the academic score card of a child, its even

so, more important for the society and nation

to emphasise on the harmonious and holistic

development of a child's thoughts, feelings,

morals ,values,personality and character. A

school's education policy and curriculum are

the primary agents to make a difference in the

standard of the succeeding mankind. Let a child

accept himself first, let a child acknowledge his

worth first, let a child be aware of himself first and

then let the process of transferring knowledge

20 THE PROGRESSIVE SCHOOL oct-nov-dec 2019

www.progressiveschool.in
---
egin. The confidence and motivation that comes

in from self awareness can provide a student a

strong platform to contribute in the betterment

of the world in a more benefiting way.

While the risks may not be completely

eliminated in children, due to time and resource

constraints in terms of an average school set-up,

but the relief measures can be administered to

screen out the students who can be assisted

to make better choices as and when they need

them. These may include:

• A guidance and counselling department

with a qualified counsellor to monitor all

the students in a school ensures the primary

setup to aid the ones who need the most.

• On an average 20 minutes a day should be

devoted exclusively for emotional and mental

introspection of a child(most importantly

teens).

• A well designed time table involving Yoga ,

Arts, S.U.P.W,wellness class, etc.

• Periodic screening through simple yet robust

psychometric tests to weed out students who

need assistance.

• SWAYAM (myself) classes for senior students

to acknowledge and ascertain their own

areas of weakness, emotional disturbances,

improvement and management or self

regulation of emotions.

• And most importantly workshops, talks,

lectures and activities to address the common

problems facing the youth today on a regular

basis by exemplary speakers who can

motivate and inspire youngsters to dwell

within.

• The role of the regular class and subject

teachers cannot be collated in their

potentiality to galvanize this process. They

have the ability to revolutionize the dayto-day

prosaic classroom proceedings

into something more exhilarating and

remunerative concerning the student's

psyche.

The dawn of a new tomorrow is going to

usher in exigent demands of steadfastness and

principled young minds. Let's make sure our

children are prepared to take on the call with

a firm grip over themselves first. The boons

of honouring their own unique persona shall

effortlessly pave way for them being a paragon.

As Aristotle rightly said "Knowing yourself

is the beginning of all wisdom. "Let's all say

'Amen'!

22 THE PROGRESSIVE SCHOOL oct-nov-dec 2019

www.progressiveschool.in
---
SMART SCHOOL POLICIES

Learning the

skill of conflict

management

Dr. Indu Khetarpal was the

Founder Principal of Salwan

Public School in Delhi NCR from

1997 to 2013 before taking up her

current appointment as Principal,

Salwan Public School, New Delhi.

She holds a PhD in Educational

Management and is an

active participant in various

innovative programmes of the

Education Board. A prolific

researcher having a long list

of papers presented at various

forums, she has wide interests

in the Whole Brain Learning

and has also written several

articles. She has been invited

to speak at many educational

conferences-nationally as well as

internationally. She is the Editor

of Navtika, a Journal on Early

Childhood care and Education

intended for parents, teacher

educators, research workers and

teacher trainees.

Dr. Indu Khetarpal was conferred

with the National Award for

Excellence in School Leadership

by President of India 2005. She

has also received Endeavour

Executive Award 2009 conferred

by the Australian Government.

She is also the Founder and

Executive member of CBSE

Sahodaya School Complexes,

Gurgaon Chapter.

Modern day lifestyle is a compendium of parental expectations and

preparing the student to deal with contemporary challenges in an

uncertain and ever changing world scenario. While designing our

educational approach, the question we need to answer is can they touch

the future?

–by Dr Indu Khetarpal

A

child's journey of growth and becoming

future ready is the combined outcome

of interlinked inputs from the parents

and school authorities. Family

relationships play a detrimental role in shaping

child behaviour and ensuring their emotional and

mental wellbeing. A key factor in determining

student achievement is the socio-emotional

support in the school and parental engagement

at home. Challenges in Education management

can be overcome when a synergy is established

between parental expectations and school

approach. This interdependence makes it

important that both the parent and school share

a common perspective and mutual respect.

Findings of a survey conducted among

students and parents on factors affecting

educational outcomes showed developing

interests among children as the primary

challenge. The prime responsibility of the school

is to develop academic interest and essential 21st

century skills among children. The parent- school

relationship plays an important role in ensuring

this outcome.

24 THE PROGRESSIVE SCHOOL oct-nov-dec 2019

www.progressiveschool.in
---
Factors affecting students

personality

It is important to understand the myriad

factors that influence the students personality:

- Exposure to modern technology

- Influence of social media

- New and contemporary job opportunities

- Parental expectations

- Conflicting interests

- Increased academic pressure

- Reduced time for pursuing a hobby or interest

Parent-school relationship

Why is inter-dependence of parent-school

relationship essential for student development?

Consider this example, during our student

days when we reached home, our parents' would

ask us whether we had been well behaved and

respectful towards our teachers. In today's

scenario we see a reversal in the reaction of the

parents. The parents take a complete feedback of

the day from their child. At times their interests

are misplaced and we sometimes see some

parents who are willing to take up arms against

schools for taking measures to discipline or reform

the child. The percentage of parents defending

their child's wrongful behaviour is on the rise.

With proper orientation of the parent they can

play a positive and structural role in grooming

today's child to deal with the complexities of

the 21st century global skills. Parents are highly

involved in their child's day-to-day learning

process. They are in fact co-learners. Therefore it

is important that the parent is onboard and plays

an important role in the school management

system. Parental involvement can be increased

through the following measures:

www.progressiveschool.in

- Regular parent teacher meetings to discuss

and plan the progress of the child

- Online parent interactive apps to keep them

updated of academic progress

- Orientation programmes for helping the

parent understand the schools' academic

vision for its students

- Parent interface, where the parents can

enter classrooms to better understand the

challenges of modern class rooms.

Role of a class teacher/counsellor

The role of the class teacher and counsellor

is also integral to the overall well-being of the

child. They are the first contact for a student in

the school and act as pillars of emotional support.

The class teacher takes the role of a parent in the

school acting as their guardian and guide.

The counsellor is a very important member

of the well-being tree of the school. They

help the child cope with

challenges of issues such

as

- peer pressure

- career choices

-anger and anxiety

management.

- bullying etc.

Conflict management

is not only about dealing

with challenges, it is a

combination of positive

and concerted efforts

made by all stakeholders

which can generate

curiosity among young

learners. The novelty

of combining past and

present learning by

creating an interesting

and balanced mix

encouraging learning is

what is required to ready

the child to face the

complexities of todays'

times.

oct-nov-dec 2019

The prime

responsibility

of the school

is to develop

academic

interest and

essential

21st century

skills among

children. The

parent- school

relationship plays

an important

role in ensuring

this outcome.

THE PROGRESSIVE SCHOOL

25
---
BACK TO NATURE

Climate Change

in curriculum

–The Need of Hour

You have stolen my dreams and my childhood with your empty words,'

climate activist Greta Thunberg has told world leaders at the 2019 UN

climate action summit in New York. In an emotionally charged speech,

she accused them of ignoring the science behind the climate crisis,

saying: 'We are at the beginning of mass extinction and all you can talk

about is money and fairy tales of eternal economic growth - how dare

you!'

–by Priti Shrimal

Priti Shrimal is Principal of

Billabong High International

School Vadodara.

Youth activist Greta Thunberg started a

movement when she began advocating

for climate change awareness,

encouraging students to take it upon

themselves to incite change because the youth

are not given adequate climate change education

in schools.

Climate change is a reality which impacts

each individual on this planet from a newborn to

an octogenarian. The sudden and unprecedented

changes in the climate from extreme cold spells

to excruciating heat waves to melting glaciers

to drastic temperature fluctuations are now

becoming norms rather than exceptions.

According to WeForum, "Students in

Cambodia experience climate change firsthand.

For the second time in four years, school hours

had to be reduced across the country, due to

record heat waves in the dry season. Now those

students are becoming part of the effort to find

solutions, a vanguard for the existential threat

of our time."

26 THE PROGRESSIVE SCHOOL oct-nov-dec 2019

www.progressiveschool.in
---
The educational institutions need to integrate

Climate Change as a subject to inform students,

sensitise them and empower them to be climate

warriors of the future. Climate change is not

merely an environmental phenomenon but has

far-reaching social, emotional, and economic

consequences. It can render families homeless,

ruin means of livelihood, render kids orphans,

cause loss of life and property. This is a subject

that needs to move out from global summits and

be discussed in the classrooms, among students,

educationists, environmentalists as a regular

phenomenon.

The need of the hour is to prepare students

to comprehend and contextualise this issue in

order to take up cudgels to combat and address

it. Change is the only constant hence the

curriculum planners have to revamp and include

Climate change as a scholastic subject to be

taught across all grades.

It is only when students like Greta Thunberg

are spurred on and do their part to drive the

change, kindle the fire to mitigate this global

crisis; can we dream of having a safe, secure and

healthy planet for the future generation.

According to certain studies - climate change

will increase the risk of infant and maternal

mortality, birth complications, lead to poorer

reproductive health, especially in tropical and

developing countries.

The effects of malnutrition, infectious

diseases, environmental problems, and direct

heat exposure on maternal health outcomes

will lead to severe health risks for mothers and

children. Thus, climate change will have a

substantial impact on the health and survival of

the next generation, especially among already

challenged populations.

The thought leaders, schools, policymakers,

politicians must reflect on this crisis which

looming large on human existence...The young

students thus need to be educated, take moral

responsibility and become climate activists. The

youth needs to be inspired to start a revolution

already gaining rapid momentum thanks to a

firebrand 14-year-old activist.

Climate Change as a curricular subject thus

gains greater currency. Costello stated that

'Climate change is the biggest global health

threat of the 21st century'. The spectre of climate

change as precursors of superstorms, massive

floods, and ominous weather patterns generate

fear and inhibit the need to learn, study and take

action. This fear-mongering mindset needs to be

dispelled and the students have to be encouraged

to think, brainstorm and take momentous steps

as a generation to manage climate change.

"The trouble is that today's students will

be tasked with managing tomorrow's climate

change impact – and jobs requiring science,

technology, engineering, and math (STEM)

skills already are on the rise. That demand will

only continue to expand as the effects of climate

change progress and more effort is needed

to create and execute mitigation tactics and

adaptation plans."

The spectre of

climate change

as precursors

of superstorms,

massive floods,

and ominous

weather patterns

generate fear

and inhibit the

need to learn,

study and take

action. This

fear-mongering

mindset needs

to be dispelled

and the students

have to be

encouraged to

think, brainstorm

and take

momentous

steps as a

generation to

manage climate

change.

www.progressiveschool.in

oct-nov-dec 2019

THE PROGRESSIVE SCHOOL

27
---
SDG

Educators can

cause a huge wave

of change. We

may not be able to

initiate a change

on our own but

each student in

our classrooms

is the next Greta,

with immense

potential to make

the world listen

when they speak,

and when they

speak, they will

spell GREATNESS,

for G-R-E-T-A is just

an anagram for

G-R-E-A-T.

Sustainable

Development Goals:

making sense

in classroom

What can you tell

your students?

Educators can cause a huge wave of change. We may not be able to

initiate a change on our own but each student in our classrooms is the

next Greta, with immense potential to make the world listen when they

speak, and when they speak, they will spell GREATNESS, for G-R-E-T-A is

just an anagram for G-R-E-A-T.

-Neha Singh

Neha Singh, a passionate

young educator, is Director at

two schools in Haryana. She

is also the Founder and Book

Depot Manager at the Delhi

chapter of Human Library. She

also spoke at a Tedx event on

the art of unjudging someone.

She is currently pursuing a

Program for Women Executives

by IIM Calcutta. She is a peace

ambassador and one of the

advisors to the NonViolence

Project Foundation, India.

In her short career span, Neha,

has focused on inclusion in

education, working with

underprivileged children,

setting up a pilot KPO run by

visually impaired and teaching

art to intellectually disabled

children. She also trains teachers

and school leaders on peace

education and managing

diversity in schools.

Sustainable Development agenda set by

the United Nations is a "universal call

to action in form of 17 actionable goals

to end poverty, protect the planet and

improve the lives and prospects of everyone,

everywhere."

This might sound quite overwhelming in

context of a classroom full of children or even

adolescents. The 17 goals for People, for Planet

are something that the nations and governments

should be contemplating on. How and why does

it all matter to me as a teacher and more so my

students?

Well, first of, it matters most not to us

as teachers, parents even to nations and

government. It matters most to the young

learners in our classrooms. They are the one who

would be the most impacted and affected by the

world as is and as it would become in the near

future. Our generation in the schools is next line

to be the decision makers of the world that we

shall leave them in.

But, what can they do? Can they really

participate in achieving any of the goals? Will

they be effective?

My answer to all the above questions is one

name- Greta Thunberg.

Our students can be the drivers of massive

and impactful change. Even if they can't vote in

our elections, they have a very powerful voice

that cannot be ignored.

For those who don't know Greta, she is a

Swedish, teen climate activist who went on

school climate strikes and later went on to

represent all the children and the teens in the

world at the UN Climate Action Summit.

If one young girl could make the entire world

listen to her, we can only imagine what all our

children combined could accomplish.

So, as teachers, what is it that we can

encourage them to do in their own circles on an

everyday basis?

Let's look closely at some of the Sustainable

Development Goals and understand how can we

make sense of them in our classrooms.

Goal 1: No Poverty: More than 10 percent of

the people on this planet live in extreme poverty.

This figure is staggering, more so, because

poverty affects children disproportionately. One

in every five children lives in extreme poverty.

Teacher action plan:

• Help your students make a list of toys, books,

clothes, stationery, etc they haven't used in

one year.

• Organize a donation drive.

• Help and encourage your students to create

28 THE PROGRESSIVE SCHOOL oct-nov-dec 2019

www.progressiveschool.in
---
a book or a toy bank at a local orphanage.

Goal 2: Zero Hunger: About 1/3rd of

World's food is wasted yet 821 million people

are undernourished. Poor nutrition causes nearly

half (45%) of death's in children under 5 ( 3.1mn

each year).

Teacher action plan:

• Discuss the importance of nutrition and not

wasting food.

• Help children make a tiffin meal plan and

discuss about meal portions.

• Talk about locally sourced seasonal produce.

• Help maintain a class kitchen garden.

Goal 4: Quality Education: about 617

million children and adolescents lack minimum

proficiency in reading and mathematics. It

means that these children and adolescent cannot

read or do math at the level that is desirable for

their age.

Teacher action plan:

• This is the one goal that empowers the

children most. This is where they pay forward

what they have received and share the

outcomes of their education with the other

children in their immediate vicinity. Here's

how a teacher can enable:

• Discuss how being able to have quality

education is empowering.

• Encourage and help your students identify

a buddy (a kid who has little or no access to

quality education) in their neighbourhood.

• Encourage students to share books to their

buddy and help them read or simply just help

with their homework (if they go to a school).

• Help your students create a community book

bank that caters to children who do not have

access to them.

www.progressiveschool.in

Goal 6 and 7: Clean water and sanitation,

affordable and clean energy: Half the world

is already experiencing severe water scarcity.

3Bn people lack access to clean cooking fuels.

The data points are many for these two goals

and the importance of these two cannot be

overemphasized.

Teacher action plan:

• You can initiate a green drive in the school.

• Start by engaging students to ponder over

the need to conserve water and energy.

• Help them audit the water and energy

requirements of the school building and

identify ways to cut down consumption.

• Designate volunteers (energisers/water

warriors/conservation specialists/energy

ambassadors) to check wastage of water at

water coolers, in toilets, etc and switching of

lights, fans and other equipment when not in

use.

• Help students convince the school

management to install energy efficient

equipment, consider solar powered building.

These are some of the things, teachers can

use in their classrooms. We don't necessarily

need to start big to initiate change. As teachers,

we may not realise but we hold a position that is

both powerful and valuable. Start small and work

your way up and around. There's so much more

we can accomplish in our classrooms than any

of the governments will do in their parliaments.

Suggestions for schools…

As a summary of action plans to the other

goals listed in the Sustainable Development

Agenda, I suggest doing following:

• Talk to your students about topics such as

oct-nov-dec 2019

We don't

necessarily need

to start big to

initiate change.

As teachers, we

may not realise

but we hold a

position that is

both powerful

and valuable.

Start small and

work your way

up and around.

There's so much

more we can

accomplish in

our classrooms

than any of the

governments

will do in their

parliaments.

THE PROGRESSIVE SCHOOL

29
---
Sustainable

Development

agenda set by the

United Nations is

a "universal call

to action in form

of 17 actionable

goals to end

poverty, protect

the planet and

improve the lives

and prospects

of everyone,

everywhere."

conservation, peace, diversity, inclusion,

sustainability, equality, etc. Value their

opinion and gently nudge them to be more

emphatic. Listen to them with your heart

and offer sincere perspectives.

• Discuss the need for conserving. Discourage

plastic in school and encourage them to use

greener and sustainable options.

• Stress upon the importance of using locally

grown and produces goods- food, clothes,

etc.

• You may organize a cooking class and

discuss nutrition and the concept of

minimising wastage in kitchen.

• Talk about the joy of owning less material

and more wisdom.

• Encourage community engagement and

impress upon the need and importance of

Socially Useful Productive Work.

• Consider creating the graded internal

assessments around the action plans. Do

involve the students ask for class consensus

on the same. After all, getting them to

participate is central to accomplishing the

goals.

Remember, we, educators can cause a

huge wave of change. We may not be able to

initiate a change on our own but each student

in our classrooms is the next Greta, with

immense potential to make the world listen

when they speak, and when they speak, they

will spell GREATNESS, for G-R-E-T-A is just

an anagram for G-R-E-A-T.

We know that, because we teach them that.

Be the change.

(All of the data, facts and figures

are quoted from The page on Sustainable

Development Agenda as given on United

Nations official website https://www.un.org/

sustainabledevelopment/development-agenda/)

30 THE PROGRESSIVE SCHOOL oct-nov-dec 2019

www.progressiveschool.in
---
CONCLAVE

5 th Edition

of The

Progressive

Teacher

Conclave 2019

300+ school educators from 75 cities/

towns across India attended

The Progressive Teacher Conclave

32 THE PROGRESSIVE SCHOOL oct-nov-dec 2019

www.progressiveschool.in
---
As a part of its mission to make India a global

superpower in school education, S Chand

Group organized The Progressive Teacher

Conclave for school educators. The conclave

delivered the pedagogical insights on the 7 most critical

domains of school leadership to the attendees. S Chand

Group's defined school leadership domains are

School Environment & Culture, Curriculum &

Content, People, Learning & Assessment, Finance,

Operations & Legal, Technology, and Leading

Organizational Change.

www.progressiveschool.in

oct-nov-dec 2019

THE PROGRESSIVE SCHOOL

33
---
The key objectives of the conclave are to:

• Ignite thoughts on how to improve the quality

of education in India.

• Spark debates, talks, and discussions on the

challenges in school education.

• Create a national knowledge-sharing

platform for schools/leaders.

Dr. Atul Nischal, Founder-Director, ICSL in

his welcome note, addressed the critical issues

of contemporary school education. The keynote

address was delivered by Vineet Joshi, Director

General – National Testing Agency.

The panel comprised of G. Balasubramanian,

Dr. Rajesh Hassija, Sangeeta D. Krishan, Suraj

Prakash, Vineeta Kher & Dr. Atul Nischal.

Saurav Ganguly, BCCI President & former

captain of the Indian cricket team, was the Guest

of Honor for the event. He spoke on Sports

Education & Leadership in India. He coached

the attendees on how to take forward the "FIT

India Movement" at their schools.

The conclave was followed by the S. Chand

Group Star Educator & Teaching Excellence

Awards 2019. A total of 39 outshining school

leaders were felicitated as Star Educators

for their contribution to education. Out of

2500+ nominations received for 15 different

categories for Teaching Excellence Awards

2019, 38 teachers were awarded.

Punam Kashyap was honored with

the Lifetime achievement award by Saurav

Ganguly for her outstanding contribution in

the field of education.

34 THE PROGRESSIVE SCHOOL oct-nov-dec 2019

www.progressiveschool.in
---
Name

Ms Sangeeta Puri

Mr Jameswar Mohanty

Mr Ramesh Nair

Ms Sheetal Ashish Christian

Ms Urvi Patel

Ms Rekha Shelke

Ms Ritu Khandewal

Ms Sonal Band

Mr Prashant Bukkawar

Mr Joel Edwin

Ms Geetha Lakshmi

Fr Bino Pattarkalam CMI

Sr Theophine SAB

Ms Tummala Radhika

Ms Vimala Nihil

Ms Radhika Unni

Ms Karuna Verma

Ms Sindhu Praseeth

SCG TEA Awardees (Teachers)

Award Category Name School

Innovative Teaching Strategies In English - Primary Ms Shraddha Khare Ashoka Hall Sr Sec School

Innovative Teaching Strategies In English - Middle Ms Anjana Ramachandran Swami Vivekanand International School

Innovative Teaching Strategies In Hindi - Primary Ms Rachna Sharma Nirma Vidyavihar

Innovation - Primary Ms Chitra Kumar Iyer Sri Ma Vidyalaya

Innovation - Middle Ms Rajni Jauhari Bharat Ram Global School

Innovation - Secondary Ms Monika Sachdeva Darshan Academy

Star Lead Teacher - Secondary Ms Swapna Nair Arwachin International School

Innovative Teaching Strategies in English - Secondary Ms Rakhi Jha Little Flowers Public Sr Sec School

Innovative Teaching Strategies in English - Secondary Ms Sudeshna Ghosh The BSS School

Use Of Multimedia/ICT - Secondary Ms Jyoti Lakhwani Sunbeam School

Use of Multimedia / ICT - Secondary Ms Sabita Tripathi Krishna Public School

Use Of Multimedia/ICT - Secondary Ms Chandni Khanna Nirmal Bhartia School

Use of Multimedia / ICT - Secondary Mr Rajesh Gautam Gurukul International Sr. Sec. School

Rising Star Ms Pappu Deepti M L Khanna DAV School

Rising star - Primary Ms Vandna Vedic Girls Sr. Sec School

Classroom Management - Primary Mr Bhisham Bhardwaj Drona Public School

Classroom Management - Middle Ms Rajni Sharma Rayat Bahra International School

Classroom Management - Secondary Ms Radha Chauhan Tarun Niketan Public School

Star CAT ( Curriculum & Training ) Team / Head Dr Sanjay Chugh Cambridge Convent School

Star CAT [Curriculum & Training] Team/Head Ms Mala Kapoor Salwan Public School

Innovative Teaching Strategies In Hindi - Middle Ms Shobha Sharma Sam International School

Innovative Teaching Strategies in Science - Secondary Ms Monika Sindhwani Bal Bharati Public School

Innovative Teaching Strategies In Science - Middle Ms Babita Verma Nirmal Bhartia School

Innovative Teaching Strategies In Science - Secondary Ms Nisha Sanga Bombay Scottish High School

Innovative Teaching Strategies In Science - Middle Ms Rinky Sharma Indirapuram Public School

Innovative Teaching Strategies In Other Languages - Secondary Ms Isha Verma Scottish High International School

Innovative Teaching Strategies In Other Languages - Secondary Ms Shashi Bhanotia Salwan Public School

Innovative Teaching Strategies In Other Languages - Middle Ms Karishma Sharma Ramjas School

Star Librarian Mr Anand Kumar Tripathi Sainik School

Innovative Teaching Strategies In Social Studies - Primary Ms Richa Chaubey Sunbeam School

Innovative Teaching Strategies In Social Studies - Middle Ms Ananya Bhattacharya Kalyani School

Innovative Teaching Strategies In Social Studies - Secondary Ms Maitreyee Bhattacharya Tagore International School

Innovative Teaching Strategies In Math - Primary Ms Jasleen Khot Kalyani School

Innovative Teaching Strategies In Math - Middle Ms Seema Bhatia Indirapuram Public School

Innovative Teaching Strategies in Math - Secondary Ms Divya Chhabra Ramjas School

Star Innovator Ms Gajalakshmi Chennai Public School

Star Lead Teacher Ms Divya Reddy SMP High School

Special contribution to K-12 education in India: Jury Nomination Ms Navita Puri Kundad Vidya Mandir Sr. Sec. School

Lifetime Achievement Award Ms Punam Kashyap Delhi World Foundation

SCG Star Educator (Principals)

School Name

Children's Academy Group of Schools

Delhi Public School

Muljhibhai Mehta School

Holy Redeemer English Medium School

Smt L P Savani Vidhyabhavan

Jay Ambe Group of Schools

R D Public School

Aaryan's World School

New Horizon Public school Panvel

The Bishop's School

Rani Public School

Christ Nagar Central School

St.Anne's Public School

Hindu Public School

Siakasinadars Matric School

SBOA School and Junior College

Sam International School

Joseph & Mary Public School

Name

Ms Pallavi Sharma

Ms Alka Kapur

Ms Neelam Kumar

Ms Rekha Sharma

Dr Sarita V. Singh

Ms Amita Mittal

Ms Harish Yadav

Ms H M Rawat

Mr C. R. Mahesh

Mr Yousuf Shareef

Ms A. Radha

Mr G. M. Manjunath

Mr Mujtaba Khan

Mr K. Suresh

Ms Madhavi. V

Mr Ravi K Manda

Ms Madhvi Chandra

Ms Bindu Bhatnagar

Ms Priyanka Gulati

School Name

Mamta Modern Senior Secondary School

Modern Public School

Masonic Public School

Alpine Convent School

R P S Senior Secondary School

The Learning Field

Suraj School

Deewan Public School

Camford School

Excellent Group of Schools

Raju High School

Sainik Public School

VIP's International School

Vivekananda E.M. High School

VSN Siddartha School

Fort City School

Gitanjali Devshala

S.N. Sidheshwar School

Evergreen Public School

36 THE PROGRESSIVE SCHOOL oct-nov-dec 2019

www.progressiveschool.in
---
SPOTLIGHT

There is a

paramount

need to create a

consciousness of

the environment.

It must permeate

all ages and

all sections

of the society

beginning

with the child.

Environmental

consciousness

should inform

teaching in

schools and

colleges. This

aspect will

be integrated

in the entire

educational

process.

Environmental

Studies –

in SPOTLIGHT to

save INHERITANCE

The Indian education system and schools can play a major role in igniting

young minds, connecting parents and all stakeholders, using schools

as incubators of change. Schools have powerful capacity to connect

human resource in the country, ensure change of mindset and promote

sustainable action.

–by Sonal Rawat

Sonal Rawat is a passionate

educator and likes to take a

deep dive in all areas central to

learning and teaching process.

With experience of over 23 years

in national and international

curricula, her key assignments

have been in Indus International

School, Hyderabad; Oakridge

International School, Bachupally;

Pathways School, Noida and

Ecole Globale International Girls

School, Dehradun. Her present

work assignment is of a Whole

School Principal of K-12 CBSE

school with a student strength of

2500 plus in Delhi NCR.

" If the world is saved, it will be saved by people

with changed minds, people with a new

vision. It will not be by people with old minds

and new programmes. It will not be saved

by people with old vision but a new programme"

– Daniel Quinn, The story of B

The death of a wild elephant in the state of

Kerala created a frenzy of petitions and emotional

outpouring when Mohan Krishnan, forestry

officer posted an emotional apology to the

elephant on May 30. The accident took place in

all probability, near farmland where locals place

fruit filled with firecrackers to discourage animals

from damaging crops.

The post on FB reached out to millions across

the world and grief poured in. My reaction was

of shock and grief and as a Head of School; I

wanted to reach out to the student community

to highlight the grave injustice meted out to

an animal and how as a community and an

intelligent compassionate being we have failed

in our duty. The outrage was compensated by

immediate action and public stand by various

government agencies. What could be done was

done and hence in the media the attention shifted

to another burning matter.

It led me to seek more information about

these incidents and it was horrifying to learn that

not only wild elephants, which stray but many

captive elephants also, die a shameful death.

In 1909, in his essay Tapovan ('Forest of

Purity'), Tagore writes: "Indian civilization

has been distinctive in locating its source of

regeneration, material and intellectual, in the

forest, not the city. India's best ideas have come

where man was in communion with trees and

rivers and lakes, away from the crowds. The

peace of the forest has helped the intellectual

38 THE PROGRESSIVE SCHOOL oct-nov-dec 2019

www.progressiveschool.in
---
evolution of man. The culture of the forest

has fuelled the culture of Indian society. The

culture that has arisen from the forest has been

influenced by the diverse processes of renewal of

life, which are always at play in the forest, varying

from species to species, from season to season, in

sight and sound and smell. The unifying principle

of life in diversity, of democratic pluralism, thus

became the principle of Indian civilization."

The communities in Indian sub continent

had a culture of living in harmony with their

surroundings for thousands of years.

Going back to the earlier example, poaching

for tusks is a large-scale phenomenon in spite

of the fact that the pachyderm is accorded

with the highest degree of protection in under

the Schedule-1 of the Wildlife Protection Act.

According to Project Elephant, three per cent

of India's land total surface is elephant country

and only 10 percent of this is affected by conflict.

With only 24% of the corridors being under forest

cover in 88 elephant corridors, the elephant

enroute gets lured to the food crops. According to

P. Aravindan, a wildlife biologist with expertise

on elephants based in Coimbatore, a fragmented

corridor for elephants is as good as no corridor"…

70 percent of the area falling under designated

elephant corridor is one kilometer or less. It is that

fragmented. How does the elephant travel, then?

This leads to conflict as the human settlements

in these corridors are primarily agrarian and

elephants are lured to the food crops."

Loss of inheritance…

This case of wild elephant dying due to

firecracker-infested fruit highlights the loss of

our inheritance-inheritance of culture and

values, inheritance of resources & indigenous

knowledge, inheritance of self-reliance.

It is evident that there is a shortfall in the

management, governance and advocacy. Apart

from this at macro level of governance the factors

mainly – emotional disengagement of the many

in village with their surroundings, more takers

for the philosophy to control and harness all

possible resources, uncontrolled excessive

consumption due to commercialization leading

to unsustainable production to generate revenue

at any cost, made the natives/villagers in our

country pay dearly.

www.progressiveschool.in

22 April was

proclaimed, as

International Mother

Earth Day by the

United Nations

General Assembly

2009, which felt that

it was necessary to

promote Harmony

with Nature so

as to cater to the

economic, social and

environmental needs

of present and future.

I believe that the Indian education system

and schools can play a major role in reversing

this by igniting young minds, connecting parents

and all stakeholders, using schools as incubators

of change. Schools have powerful capacity to

connect human resource in the country, ensure

change of mindset and promote sustainable

action.

History of EVS education

Empowering school education with

environmental protection and conservation

focus, National Policy on Education (1986)

states, "There is a paramount need to create

a consciousness of the environment. It must

permeate all ages and all sections of the society

beginning with the child. Environmental

consciousness should inform teaching in schools

and colleges. This aspect will be integrated in the

entire educational process".

In 2004, the NCERT undertook a massive

national consultation to review of the national

curriculum framework towards which 21

National Focus Groups were set up on various

problems and connecting subjects in school

education; Habitat and Learning was one of

them. National Curriculum Framework (NCF,

2005) supported that schools have a major role

to play in ensuring that socialization into a

culture of self-reliance, peace-oriented values,

resourcefulness and health. NCF incorporates

many curricular thrusts including Habitat

and Learning which emphasizes the need for

EE/EVS at the school level for moving towards

sustainable development.

The key elements of the thrust can be divided

into 3As –Approach, Action, Attainment.

The focus group 'Habitat and Learning'

advocated the need for

v Developing training modules

v Teacher empowerment/education

v Development of activities and projects

Goals of EVS integrated Curriculum

"I think young people really want to know

where they're living, what's around them, how

they're connected to it, and they want to know

how that fits into the bigger picture of the world."

- Mary Colwell

oct-nov-dec 2019

National

Curriculum

Framework (NCF,

2005) supported

that schools

have a major

role to play in

ensuring that

socialization into

a culture of selfreliance,

peaceoriented

values,

resourcefulness

and health. NCF

incorporates

many curricular

thrusts including

Habitat and

Learning which

emphasizes

the need for

moving towards

sustainable

development.

THE PROGRESSIVE SCHOOL

39
---
There is a

need to bring

the physical

environment

aspect of EVS to

centrestage and

class III learning

outcomes

as defined

in NCERT

publication 2017

would be used

to show that all

expectations can

be met.

Based on the NCF 2005, EVS for primary

classes deals with the study of our environment

(physical, biological, social and cultural) with an

emphasis on its preservation and conservation.

It is an integrated multi-disciplinary subject,

with insights from sciences (physical, chemical

and biological), social studies (history, geography,

civics, etc.) and environmental education

(protection and conservation). EVS in the

NCERT textbooks is woven around six common

themes – Family and friends, Food, Shelter,

Water, Travel and Things we make and do.

Each theme begins by helping children

explore their immediate 'self' to include his/

her family (environment), neighborhood, the

locality and also the country. It helps children

to use the contents and methods of science

and social sciences and environment to solve

environmental problems or issues in future. The

learning situations or experiences of EVS help

children to explore and connect with their natural

and human made surroundings.

There is a need to bring the physical

environment aspect of EVS to centrestage

and class III learning outcomes as defined in

NCERT publication 2017 would be used to show

that all expectations can be met. Approach

could also be divided into three types of

learning experiences for the learner/ curricular

expectations.

Learning About the environment:

This experience should be able to raise

awareness about natural and environment

from lived experiences. The learner should

understand natural systems and its complexity

and the impact of human activities upon these

systems .The learner should foster environmental

awareness and concerns. Appreciate the

diversity in nature –Plants and animals in

different countries as well as tribal life in various

places, community eating etc. and respect them.

Suggested pedagogical processes arev

Observe and explore the immediate

surroundings, i.e., home, school and

neighborhood for different objects/plants/

animals/birds for their concrete/ simple

observable physical features (diversity,

appearance, movement, places of living/

found, habits, needs, behavior etc.)

v Discuss with elders and find out from where

we/birds/animals get water, food (plants/

animals, which part of the plant we eat etc.)

v Show sensitivity for plants, animals

v Describe need of food for people of different

age groups; animals and birds, availability of

food and water and use of water at home and

surroundings

Learning Through the environment:

The experiential hand on approach gives

reality, relevance and practical experience

to learning through direct contact with the

environment and develops important skills of

data gathering and field investigations.

Suggested pedagogical processes arev

Identifying simple observable features (e.g.

shape, colour, texture, aroma) of leaves,

trunk and bark of plants in immediate

surroundings

v Identifying simple features (e.g., movement,

at places found/kept, eating habits, sounds)

Of animals and birds) in the immediate

surroundings critically think to guess/

estimate and

v Predict about the happenings, situations,

events and the possible ways to check, verify,

test them

Learning For the environment

The learner under this approach should

understand the need to conserve and protect

the natural resources such as fuel, food, water,

electricity at home along with forests and

animals and develops an informal concern

and sense of responsibility for the environment

40 THE PROGRESSIVE SCHOOL oct-nov-dec 2019

www.progressiveschool.in
---
and is motivated to improve it. Few Suggested

pedagogical processes are –

v Discuss with elders and find out from where

we/birds/animals get water, food (plants/

animals, which part of the plant we eat etc

v Shows sensitivity for plants, animals, the

elderly along with differently abled

v Describes the availability of food and

water and use of water at home and for

surroundings animals and birds

v Share experiences of their relationships with

pets and domestic animals or other birds and

animals in surroundings

v Articulates opinion on misuse/wastage of

food and water

in family and school

v Taking care of a plant(s), feed birds/animals,

things around them.

Moving to EVS of class V, the proposed

pedagogical processes become more focused

with

v Ability to connect terrain, climate, resources

(food, water, shelter, livelihood) and cultural

life to under it completely. (E.g., life in distant/

difficult areas like hot/cold deserts)

v Sharing views on issues observed/ experienced

and relates practices / happenings to larger

issues of society. (E.g., discrimination for

access/ownership of resources, migration/

www.progressiveschool.in

displacement / exclusion, child

rights)

v Proactive in providing solution/

plans to protect/save resources

(land, fuels, forests, etc.) and

shows sensitivity for the

disadvantaged/deprived.

The feeling is widely shared

that moving towards sustainability

lies in its strategy of unprecedented

mobilization of people's mind,

ideas, institutions and resources

to come up with a socially just

and environmentally sustainable

blueprint for survival (MOEF Report,

2002).

Actions FOR the Push

The Policy effective

implementation can be given

thrust through 3Bs.

BINDING on SCHOOL

Principal

a) The mandatory training as

being implemented by COE

cell, CBSE for Art Integration,

Artificial Intelligence, the same

should be extended to EVS.

The whole school Principal as

a pedagogical leader and an

important community member

should be expected to take

lead in ensuring promotion of

sustainable mindset. The school

should be a role model of the

environmental values. The school

needs to exemplify sustainable

environmental practices and

should communicate these

proactively to not only students,

but also to the community.

b) Principals as pedagogical

leaders look deeply into the

planning of the curriculum with

the extension of one theme of

water to include Forests and

Communities of forest.

Use Hubs of learning/School

Complexes as nodal agency for

action and utilize the resources

and neighborhood community of each school

for talks and activity-based experiences.

Digitization of the knowledge and sharing

rare interviews or expeditions/ visits or citing

of rare species with all school community

through VidyaDaan. The craft and other skills

and the practitioners of skills interviews too

would help generate awareness about the

diversity within the country.

Use Health and Physical education, SEWA

strand to reinforce the active experiential

learning and care of the environment. This

oct-nov-dec 2019

The whole

school Principal

as a pedagogical

leader and

an important

community

member should

be expected

to take lead

in ensuring

promotion of

sustainable

mindset. The

school should

be a role

model of the

environmental

values.

THE PROGRESSIVE SCHOOL

41
---
Tagore wrote,

in an Eastern

University:

"The time has

come for us to

break open the

treasure trove of

our ancestors,

and use it for our

commerce of life.

Let us, with its

help, make our

future our own,

and not continue

our existence

as the eternal

rag-pickers in

other people's

dustbins."

could include data gathering as well as

advocacy.

c) As a community leader, they could use PTMS

for community awareness and media to

create awareness about Habitat and learning

to live in Harmony with Nature.

BINDING on SCHOOLS to employ

EVS Trained Teacher

Teacher Education has been recognized to

play a central role in this odyssey. Realizing the

significance of introducing EE/EVS in teacher

education, the National Council of Teacher

Education has made an attempt to develop

a curriculum framework in Environmental

Education for the many levels of teacher

preparation- Early Childhood Care and Education

(ECCE), Elementary teacher training, Secondary

and Vocational

Teacher plays a central role in successful

implementation of Environment Education

in the classroom, as he/she would ultimately

be analyzing, interpreting and implementing

it. Teacher preparation in EVS has to be all

encompassing and competency based in

order to help teachers in effectively infusing

environmental perspective in their teaching. It

should include

1. Environmental studies competencies to be

imparted and its significance in elementary

teacher education;

2. 'Teaching-Learning of EVS' should be

mandatory paper in elementary teacher

education with connecting methodologies in

upper primary for science and social science

to trained graduate trainees learning the

approach.

3. Identifying and incorporate right content,

teaching-learning methodologies,

competencies, curricular expectations and

techniques supporting it.

Curriculum Framework for Quality Teacher

Education (NCTE, 2005b): Endorsing the need

for Environmental Orientation for Elementary

Teachers, objectives of EVS in teacher education

at the elementary level (unto upper primary) has

been re-iterated.

The teacher is either retrained through

refresher courses during summer break and

employability criterion mandate from NCERT

and CBSE affiliation Byelaws.

BINDING For SCHOOL

REGISTRATION

For a policy to take shape, on ground

execution is essential. To accept and realize

its full promise, the pre requisite for schools to

upload and share activities based on promoting

awareness about living with Harmony in Nature

would help in its fulfillment of the vision.

The FUTURE

Across the world, the sustained campaign

is there to remain focused on the need. The

changed stand is of not only promoting but also

looking at the evolution, in our case, going back

to our culture, of taking care of Mother Earth.

2019 December, the UN General Assembly, at

its 74th session, adopted the eleventh resolution

on Harmony with Nature (A/RES/74/224)The

resolution, among others:

1. Expect Harmony with Nature Knowledge

Network to carry out a study of the evolution

over the past decade of regional, local and

national initiatives on the protection of

Mother Earth

2. Acknowledge that not only protecting and

conserving ecosystems but also avoiding

harmful practices against animals, plants,

microorganisms and non-living environments

will only contribute to the stable coexistence

of humankind with Nature.

The draft of NEP 2019 has further given it an

impetus with P4.6.9.2 states "Inclusion of local

and tribal knowledge systems in the curriculum

and textbooks " and further P4.6.9.3 promotes "A

course on Indian knowledge systems (one such

has already previously been designed by NCERT)

will be available as an elective to students in

secondary school who may wish to delve deeper

into the subject. A course on Indian knowledge

systems (one such has already previously been

designed by NCERT) will be available as an

elective to students in secondary school who may

wish to delve deeper into the subject."

I do believe that we will be able to achieve

it. Our education system is sound enough to

contribute to transforming our nation sustainably

into an equitable and vibrant knowledge society.

Tagore wrote, in an Eastern University:

"The time has come for us to break open the

treasure trove of our ancestors, and use it for our

commerce of life. Let us, with its help, make our

future our own, and not continue our existence

as the eternal rag-pickers in other people's

dustbins."

42 THE PROGRESSIVE SCHOOL oct-nov-dec 2019

www.progressiveschool.in
---
POLICY DEVELOPMENT

Constructing

smart school policies

Here are prescribed procedures executed for instructor maintenance and fruitful maintenance key,

with their extensive investigation of expansive prints.

–by Dr Raj K Sangwaan

Dr. Raj Kumari Sangwaan has 18

years of experience in education.

She is presently working at Arya

College of Education. She was

also a principal at a BEd College.

She has 10+ research papers

published in various national &

international research journals.

She is a resource person on Life

Skills and Class Management

at Ace Vision Publications,

Lucknow. She is a recipient of

Acharya Alankar Award 2018

and Best Teacher Award 2006 by

Vaish Education Society.

The prime centre isn't to set up a lot

of formal standards yet to outline

adaptable systems arranged towards

the general prosperity of the teachers,

the information imparter and support of a

sound connection between the individuals

from showing organization for the general

development of educating learning process.

Attributes of smart school policies

Teachers are the spine, facilitators and light

bearers of any instructive arrangement. They

assume a significant job in the all-encompassing

advancement of understudies and assist them

with changing into future capable residents.

Customarily, teachers in our nation were held

in high regard and the vast majority of them

would keep working in a similar foundation from

their joining to retirement however changing

social maintenance strategy is the need of

great importance. This arrangement ought to

be dynamic and adaptable, covering a wide

scope of issues hostile to giving better chances

to teachers with the goal that they have a feeling

that they are a necessary machine gear-piece

in the working arrangement of the foundation.

A savvy maintenance strategy in schools

should cover all the five areas referenced

underneath extensively:

Development-oriented work

environment: classes and workshops: Regular

workshops/courses, on subject advancement,

character improvement, aptitudes upgrade and

so on ought to be led for the teachers. Likewise,

schools ought to support in-house programs

directed by staff individuals as a fundamental

piece of these enhancement programs. This

supports group building and holding.

Obligations and responsibilities: Teachers

ought to be given different duties according

to their ability and aptitudes. School pioneers

should take care that incessant change in

obligations and duties ought not go astray the

educators from their centre capabilities.

Proficient joint effort programs: Schools

should take further activities in proficient

cooperation, mentorship with the dynamic

support of educators and sharing normal vision

and qualities.

HR policies

Reasonable and straightforward HR policies

are the encapsulation of compelling maintenance

strategies. Schools ought to have devoted HR

department to viably actualize approaches on

an opportune premise.

• Appointment: At the hour of arrangement,

administration conditions and advantages to

educators ought to be referenced plainly and

the equivalent ought to be clung to.

• Acceptance: Induction process dependent

on vision, crucial point of the school,

encourages the association to acquire

devoted educators.

• Appraisal process: Appraisal is a device

for self-examination and contemplation for

individual and expert restorative regions. This

device ought to be utilized as an estimating

apparatus, to survey jobs and duties endowed

versus accomplished in a scholastic year. For

the smooth execution of this procedure:

- An evaluation can be isolated into half yearly

paperless action.

- SWOT investigation (Strengths, shortcomings,

opportunity and dangers) ought to be a

significant element of self-evaluation process.

- Mentors for evaluation procedure can help

educators in the powerful fair-minded

execution of this procedure.

- Annual motivating forces and advancement

ought to be a fundamental piece of the

evaluation procedure.

• Development and improvement plan:

A guide to profession progression with

development and advancement plan ought

to be planned in the strategy dependent on

instructor's capabilties, experience level, jobs

and obligations were taken.

• Incentives and facilities: Certain

advantages ought to be given including

44 THE PROGRESSIVE SCHOOL oct-nov-dec 2019

www.progressiveschool.in
---
arrangement of employment security,

protection strategies, benefits (pre and postretirement),

superannuation reserves driven

to PF, connected protection plans, staff

redressal councils and so on.

• Feedback reviews: School can lead

intermittent staff overviews to survey

commitment.

• Exit meetings ought to be led which gives

an unmistakable purpose behind leaving the

organisation. This will help with concocting

further remedial designs for maintenance.

Direct of such meetings ought to be fairminded

and private, at all levels.

• Relocation approach: In the event of a mate

move, the advantage of migration strategy

can be stretched out, for schools working

under a similar aegis.

• Social and cultural environment: Ethos

and culture of school ought to be a vital

piece of crucial vision of the school and the

equivalent must be instilled through everyday

working.

• Get together projects and staff clubs:

Standard staff social affairs/picnics/social

nights diminish the gap between the school

initiative group and the teachers. This gives

a stage to the teachers to know each other

better outside the workplace.

• Outbound visits programs: Such visits

encourage colleagues to cooperate outside

the organized condition giving a casual

stage to fortify the security and decrease the

progressive gap. In such free condition, they

get familiar with one another's qualities.

• Investigation and appreciation of

uniqueness and talent.

• Annual prizes and acknowledgment:

Based on execution in office or class level,

annual prizes and acknowledgement ought

to be made a piece of the maintenance

approach as a token of appreciation.

• Performance evaluation: Teachers

demonstrating an expansion in execution

level dependent on examination procedure

can have a session with school head as a

token of appreciation .

• Active involvement: The right to speak

freely and involvement in decision making.

• Open Forums: Open gatherings all the

time ought to be composed in type of

gatherings and dialogs with the school

authority. Such discussions other than

giving opportunity of articulation likewise

aid strategy arrangements/process

extemporization. School administration

issues can likewise be a piece of open

gatherings.

• Acknowledgment of innovations and

best practices: Inclusion of the thoughts

and investigations done by teachers ought

to be energized as it causes them to feel

esteemed and will urge them to investigate

further. A guide to vocation progression in

maintenance arrangements gives better

chances to educators.

At last, I might want to bring up that the

turn around which these approaches can work

effectively is 'a prepared initiative.' Their job is

significant in instructor maintenance.

Inclusion of the

thoughts and

investigations

done by

teachers ought

to be energized

as it causes

them to feel

esteemed and

will urge them

to investigate

further. A guide

to vocation

progression in

maintenance

arrangements

gives better

chances to

educators.

www.progressiveschool.in

oct-nov-dec 2019

THE PROGRESSIVE SCHOOL

45
---
OPINION

PISA: Can India uplift its

position in International

Educational Ranking?

"Rather than making our students learn different contents, it is important that

students should learn application of their content knowledge in different 21st century

contexts," says the draft mathematics framework for PISA 2021.

–by Prasanta Kumar Mahapatra

Prasanta Kumar Mahapatra

is Trained Graduate Teacher

(Mathematics) at Kendriya

Vidyalaya Kandhamal, Odisha.

He has 20 years of experience in

teaching and has mentored more

than 5000 students.

He has authored two poetry

collections in Odia and many

literary and educational articles

in newspapers and magazines in

English and Odia. He has been

awarded Regional Incentive

Award from Kendriya Vidyalaya

Sangathan, Bhubaneswar region

for his effective and

innovative teaching.

At a time when information is in everyone's

pocket digitally in mobiles, it is quite

irrelevant to continue with a system of

education which primarily focuses on

cognitive domain. In order to produce a comparable data

on education policies across countries Organisation for

Economic Cooperation and Development (OECD) has

been conducting tests, named as PISA – Programme

for International Students Assessment, among students in more than 70 countries focusing mostly

on the critical and creative thinking. It is a triennial test for evaluation of learning outcome and

application skill of 15 year old students who have completed free and compulsory education.

"Rather than making our students learn different contents, it is important that students should learn

application of their content knowledge in different 21st century contexts," says the draft mathematics

framework for PISA 2021.

How is PISA conducted?

Under PISA students are tested in three items like Reading Literacy, Mathematical Literacy

and Scientific Literacy which is interdisciplinary in nature. Students also complete an extensive

background questionnaire, and Principals complete a survey describing the context of education at

their schools, including resources, teachers' qualification etc. The data collected both from test and

survey are published which helps countries analyze where they stand in the international scenario

on a common testing criterion.

PISA in India…

After a very dismal performance in its first appearance in PISA 2009, conducted every three

years since 1995, India is again all set to take up this test again in 2021. Three major pace making

institutions like Kendriya Vidyalaya Sangathan, Navodaya Vidyalaya Samiti and The Union Territory

of Chandigarh have been assigned the responsibility to represent India in the forthcoming Test, for

which preparations are on in full swing. New curriculum transaction and assessment practices are

being implemented in these institutions so that students reason mathematically and use content

knowledge to describe, explain and predict phenomena. With the hope of significant improvement

in International Educational Ranking, India also aims to enable its students to brave out 21st century

challenges.

Need of the hour…

The rapid pace with which changes are happening around us, leads us to think how the

coming generation needs to prepare for the times to come. Critical Thinking, Problem Solving

and Conceptual Understanding are emerging as the key parameters of learning. The relevance of

information is losing value but the ways and means of processing that information are progressively

becoming relevant.

"We need to look at PISA as an intervention that will not only make our education more relevant

for current times but also make it future proof. Classroom transaction must focus on contextual

application of content learning and evaluation needs to be remodeled in a similar manner," says the

teachers' handbook prepared collaboratively by CBSE, KVS, NVS and Chandigarh administration.

Whereas the MHRD is optimistic about India, growing high in International education ranking,

Educationists are very much enthusiastic that PISA may provide substantial evidences about where

our students are lacking and how to make improvements in our education system.

46 THE PROGRESSIVE SCHOOL oct-nov-dec 2019

www.progressiveschool.in
---
ONLINE vs. TRADITIONAL TEACHING

Online classes may

have found its

space but there is a

meek chance that

it will disrupt the

education system.

To achieve the

goal of changing

education system,

parents need to

prioritize learning

more than

marks, problemsolving

should be

more important

than problem

remembering and

creativity must

triumph cramming.

Online classes

creating ripples

-but not drowning the centuries of

traditional teaching

Education through online classes will assist in reducing the gap as the

online content can be shared, forwarded or watched with others. This has

made education affordable to people from all socioeconomic classes as

well as people living in remote parts of the county.

-Mayel Haidi

Mayel Hadi has completed his

graduation and masters in social

work from Jamia Millia Islamia

and the University of Delhi

respectively. Although he started

his career in a multinational

corporate setup, he quickly

realised his true calling towards

the educational sector and went

to pursue his higher education

from Trinity College Dublin and

University College Dublin. Post

his education, he worked with

various organisations in the

education policy and delivery in

Ireland and India.

Traditionally, our education system

comes from years of strict "Gurukul" and

"Madarsa" teaching methods, which

the Britishers did not change except,

they introduced western scientific subjects. The

Britishers did not need "educated" Indians,

but "literate" ones, who could read, write and

speak the English language. This is why we

have an obsession with accountants, engineers

or doctors and not with scientists, teachers

and artists.

Even when kids have their parents' mobile

phones and can access it for rhymes, poems,

stories and lectures, India has seen little

advancement in its education delivery methods

on a larger scale. The interactive videos and

applications may have developed interests,

increased knowledge but their attachment

from school remains the same. In times when

technology has surrounded us, education is the

only sector that has kept its distance. Although

the current online classes may be a new wave

of transformation in developing a relationship

between educational delivery and technology,

48 THE PROGRESSIVE SCHOOL oct-nov-dec 2019

www.progressiveschool.in
---
yet blackboards and textbooks do not seem to

be a thing of the past.

Bridging the gap?

Education in India is filled with inequalities.

Haves and have nots go to separate schools and

have different perspectives on education. It is

more apparent in metropolitans, where merely

the school that a kid attends is suggestive of his

family's class, whereas small cities have fewer

school options, therefore, it doesn't leave much

room for class bias. Even access to education is

different and incomparable between urban and

rural India. This inequality does not reflect in just

the reception of education but has a butterfly

effect on the individual's personality as well as

the opportunities presented.

Education through online classes will assist

in reducing the gap as the online content can be

shared, forwarded or watched with others. This

has made education affordable to people from all

socioeconomic classes as well as people living

in remote parts of the county.

Currently, we use technology to upskill or

enhance ourselves but this online schooling

has changed the trend to teach from nursery to

K12. This not only will reduce the discrimination

amongst our next generation but will also be able

to provide equal opportunity to people belonging

to all classes and from all geographical locations

of the country.

Disrupting status quo?

Our education system is all about cramming

and being able to produce it on paper on the

day of the exam. It doesn't test students or

teachers; students because it does not engage

them in thought and teachers because it

doesn't test their skills. It doesn't matter if the

child remembers it even after the exam. The

education system is designed in a way to judge

learning by heart (read cramming) capabilities

rather than understanding. The current online

classes have not changed the system per se but

have certainly opened doors to a new world of

learning and resources. The online world is filled

with lectures on each subject from teachers

all over the world. They are designed for each

level of the student, so any student at any level

can choose their favourite content. The

focus has now changed from content

to education delivery, resulting in a

change in learning by heart method to a method

of understanding and applying. It has changed

the pace, level of teaching and options from all

over the world.

New dawn?

Optimists might say this will obviate our

classroom teaching methods completely but

I don't think this is going to happen anytime

soon. It is merely a dream as Indian parents may

allow educational technology for side learning

or an extra course, but replacing traditional

schooling seems like a far ahead dream. Another

issue with this education system is that the

Indian education system has Educational

Boards, primarily CBSE, ICSE and State Boards,

and these online educational methods are not

recognized by any of the boards, hence the

schooling system is yet to stay. Currently, the

maximum disruption can be in private tuitions

or coaching education but adjustments in school

education seem like a farfetched idea. `

India has inertia for our traditional classroom

teaching. Even when there is a frequent skill

change in the job market with technological

improvement, the school curricula have

remained the same for decades. There are

various applications and software for new and

creative learning but the backbone of education

remains intact. Parents keep reminding children

of "Board" exams quoting, "a good score is a

guarantee for a successful and happy life." It is a

dream for parents and a nightmare for students.

Preparation is based on cramming everything

and priority is the marks.

Online classes may have found its space

but there is a meek chance that it will disrupt

the education system. To achieve the goal of

changing education system, parents need to

prioritize learning more than marks, problemsolving

should be more important than problem

remembering and creativity must triumph

cramming. The technology in education is

merely an added source of learning whereas the

primary system is the traditional educational

teaching delivery. The classroom and traditional

education are here to stay!

The technology

in education

is merely an

added source

of learning

whereas the

primary system

is the traditional

educational

teaching delivery.

The classroom

and traditional

education are

here to stay!

www.progressiveschool.in

oct-nov-dec 2019

THE PROGRESSIVE SCHOOL

49
---
TOOLS FOR EDUCATION

EduBlog -an effective tool for

transforming pedagogy practice

EduBlogs can be used to communicate efficiently or as digitized instructional resources,

collaborative tools, and to present learner's educational activities like write up, assignment

and projects.

– by Wangyal Lhakpa

Wangyal Lhakpa, B.Sc, B.Ed,

M.Sc, and M.Phil, is PGT

Biology at Social Baluni Public

School, Dehradun, Uttrakhand,

India. In 2012, he started using

EduBlogs in the teaching learning

process. He has experience

of using EduBlogs for various

e-learning practices, instructional

purposes, as an assessment tool,

electronic portfolios, and platform

for lifelong networking with

students. He strongly believes

that EduBlog is an exciting new

approach of ICT with simple push

button based web publishing

technology for transformative

education.

In the light of need of engaging twenty

first century learners in online learning

environments (OLEs), Educational Blogs

(EduBlog) was found to offer new avenues

in development of social and cognitive aspects

of learners. EduBlogs are simple web publishing

technique that doesn't require expertise in

programming language. These online

applications enable educators and learners to

document data, post multimedia items like text,

photos, audios, videos, etc. Additionally, Edublog

offers networking features with readers and

allow readers to submit comments, feedbacks

or suggestions. Furthermore, EduBlogs foster

collaborative teaching-learning space by offering

hyperlink facility and provide scope for adding

web feed like Rich Site Summary (RSS) and Atom.

EduBlogs can be used to communicate

efficiently or as digitized instructional resources,

collaborative tools, and to present learner's

educational activities like write up, assignment

and projects. Moreover, Edublogs can be used

to post announcements notifications, suggested

reading, classroom instructions or schedules,

home assignment related hyperlinks or samples

for scaffolding learners.

In view of EduBlog as effective and

transformative tool, my journey of using EduBlogs

in teaching learning process was started in year

2012. Currently, I use EduBlogs for different

e-learning practices, instructional purposes,

assessment of overall development of students

(as assessment tool for assessing academic

performance, career plan evaluation, etc) and

teacher evaluation, as electronic portfolio and as

a platform for lifelong networking with students.

EduBlogs can be used as an economical, easy

to use, dynamic and a potential technology

by integration of emerging web tools like Rich

Site Summary (RSS), Atom, blog gadgets,

blogospheres, web links, iframe (embed), issue,

sound cloud, google map, google calendar,

google drive and its applications like google

form, google sheets, google documents, etc.

Additionally, EduBlogs can be transformed into a

domain attached educational web portal by using

basic coding languages like Hypertext Markup

Language (HTML) and Cascading Style Sheets

(CSS), without paying charges for hosting data

published in the blog.

EduBlogs for effective teachinglearning

process

In the era of information technology

with emphasis of ICT and digital media in

education, facilitators and learners are exposed

to cyber cultures. In their routine life, majority

of them proactively engage in internet and its

applications to learn and gain knowledge. Many

teaching strategies that were used earlier are not

applicable anymore. To supplement the need of

21 century techno savvy learners and educators,

EduBlog is an effective tool for archiving class

handouts, posting assignments or projects and

classroom instructions, offering online discussion

forum, and organising course content. Some

educationist explored the application of EduBlogs

for academic needs for knowledge and interests

such as need to gain expert advice and mutual

understanding, sharing information, to inform

news and updates. Furthermore, Edublog can

be used as a quick and efficient means for mass

communication, as an educational resource,

as a collaborative tool, and as a showcase for

student's projects.

EduBlogs can be also used for practicing

creative or reflective writing, enhancing

knowledge dissemination and submission of

assignment with scope of accessing archived

information 24 X 7, anywhere in the world.

With efficient integration of EduBlogs in

education system under constant scaffolding and

supervision would make EduBlog an essential

communicative tool for effective teaching and

learning processes.

The essence of educational is to equip

educators in formative and summative

assessment with option for self-assessment of

teachers. Self-reflection and assessment are

key to professional growth of any professional,

especially teachers. In addition to professional

development, EduBlog as a second generation

50 THE PROGRESSIVE SCHOOL oct-nov-dec 2019

www.progressiveschool.in
---
web service (i.e. web 2.0 based communicative

technique) facilitate learners to directly access

digital resources while developing the skill of

using information technology.

EduBlogs as a killer app in

e-learning

Active participation in cyber cultures using

personal computer, smart phone, internet

or wireless network for web surfing, email

and googling has been part of everyone's

routine life. Likewise, application of Information

Communication Technology (ICT) and e-learning

are now becoming integral part of education

system. Among various techniques of digital

media, EduBlog is one of the most preferred and

practiced techniques for educators. To many

educators, EduBlog was found to develop habit

of scouring, filtering, and posting information

by students. These activities facilitate students

to familiarise subject matters with exposure

to diverse perspectives -both in class and

outside the classroom. In that way, e-learning

experiences widen the scope of motivating and

developing interest in curriculum among learners

in due of reason of provision of accountability

to ownership of their learning by searching for

information.

As both education and EduBlogging are

processes of communication and construction of

knowledge in an interactive manner, EduBlogs

managed by learners allow learners to achieve

various objectives of education constructively

by receiving feedbacks in the form of comments

from teachers, their peers and other readers all

over the world with creation of big community of

learners. With such social interaction, students

are found motivated to use of EduBlog for

learning rather than use of traditional learning

resources.

As majority of educators and learners prefer

use of EduBlog in education other than other

web 2.0 services, EduBlog is now becoming a

killer app in e-learning. Effective use of EduBlogs

in e-learning opens gateway to knowledge and

construction of new knowledge in an economical

and fast way through web of blogosphere without

bound by space and time.

EduBlog for reflective activity

Reading, writing and use of languages are

foundation for success in school and in life.

These skills can be enhanced with support of

web based technology like EduBlogs. Successful

use of EduBlogs for practicing English language

skills in community learning was researched by

some educators and it was found as a potential

social media tool that motivates students

to learn language like English by practicing

creative or reflective writing in the community

of learners connected by blogospheres. Similarly,

studies were conducted on blog Assisted

Language Learning that gives the learners a

www.progressiveschool.in

platform to enjoy reading

and writing. With this new

channel for learning nonnative

language, there is

wide scope of building

community of learners and

to learn collaboratively.

Edublog allows learners

to update and post their

own ideas and reflective

thoughts. It also enables

learners to exchange ideas

with others by commenting

on other blog post. These

activities lead to enhanced

social construction

of knowledge. Social

interactions mediated by

language helps learner to

learn language efficiently.

Use of EduBlogs as computer assisted

communicative and collaborative technology

for training professional teachers in 21 century

of digital media was found to offer teacher

trainees a better reflective practice, and better

understanding of the pedagogical and learning

benefits offered. Likewise, Edublogging and

scaffolding found to improved pupil's narrative

writing skills better as compared to pen and

paper based narrative writing. Hence, unlike

conventional pen and paper based reflective

writing, use of easily editable, free and dynamic

EduBlog is found a better and life changing

experiences for learner and educators.

Limitations of EduBlogs

For effective use of EduBlogs, educators

have to challenge few solvable limitations

associated with it. Even though twenty first

century education has strong emphasis on

integration of ICT in education, some learners

and educators are not able to use it. Inability

to use ICT and internet are key hindrance to

integrate EduBlogging in education. Blogging

require easy and fundamental knowledge

of using computer application like simple

dragging and drop, multimedia posting and

use of applications associated with EduBlogs.

In contrast to EduBlogs as simple, easy to

use and a potential educational tool, its

accessibility and student safety are two major

challenge.

Many educational researches proved

blogging as a potential transformational

technology for teaching and learning. Many

literatures suggest that EduBlogs are a

powerful tool to enhance communication, foster

critical thinking, and encourage collaborative

learning automatically. These studies also

recommend instructors, facilitators or teachers,

educators, students or any other professionals to

utilize education blogs in technically sound way

for achieving the goals of education.

oct-nov-dec 2019

Many educational

researches

proved blogging

as a potential

transformational

technology for

teaching and

learning. Many

literatures suggest

that EduBlogs

are a powerful

tool to enhance

communication,

foster critical

thinking, and

encourage

collaborative

learning

automatically.

THE PROGRESSIVE SCHOOL

51
---
viewpoint

School staff

need a clear

understanding

of what parental

engagement at

secondary level

school level

is and how to

support that

engagement.

Need for continued

teacher-parents

interactions

There is a need of clear understanding of what parental engagement at

secondary level school level is and how to support that engagement.

-Nirmala Patro

Nirmala Patro is Teacher and

HOD, French department, DPS

Nacharam. With an experience

of teaching for the last 16 years,

she is passionate about learning

new languages and acquiring

new skills. Being a parent, she

strongly feels about parental

involvement in education.

Research and experience both tell us that

parents' interaction with schools drop

rapidly once their children advance to

secondary schools. This change is not

often welcomed by parents, who have described

it as the " safety net" or security blanket being

taken away.

There is an obvious reason for this decline

in interaction as students become young adults.

In this context, school staff need a clear

understanding of what parental engagement at

secondary level school level is and how to support

that engagement.

Involve the parents…

The first and most obvious thing to do is

to state the fundamental principle for working

together with parents. Everyone's involvement

results best for the young people. It is also

important for school staff to not only understand

but acknowledge the part parents still play

in the learning of their children at secondary

school. Parents may no longer be helping the

child with subject content but parents' interest

in and support for learning are still vital at this

stage. This needs to be understood, valued and

reiterated by the staff.

Many parents may feel that they are unable

to support the learning at this stage because

schooling has changed out of all recognition

since they were this age. It is important to

reassure the parents that they are not failing their

children if they can't help them in learning the

content as long as they are showing that learning

is valuable to them.

Let parents engage with children

constructively…

1. Conversation: According to a research,

secondary students place great value on

adults simply asking how things are going

– conversations on social media, about

music, about whatever the young people are

interested in – is correlated to young people's

engagement in reading.

2. Autonomy: At secondary level, it's important

that young people not only have the ability

to complete their work on their own but also

believe that they can do it. So parents offering

help when it is not requested, young people's

self-belief can suffer.

3. Facilitation: It does look like general

support for learning. So rather than offering

to help with homework, parents might ask

how homework or coursework is going or if

help is needed. They might provide a place

for homework, a set of household routines

that support it - such as quiet times (no TV)

or keeping younger siblings occupied.

4. Appreciation: While it's important that

parents don't intrude on young people's

work, it's also very important that parents

let the young ones know that they value their

work.

52 THE PROGRESSIVE SCHOOL oct-nov-dec 2019

www.progressiveschool.in
---
PSYCHO-SOCIAL PROSPERITY

Developing

psycho-social

prosperity

through

education

An egalitarian society should address to the development of psychosocial

prosperity of its people. One of the most powerful instruments of

achieving this goal is the process and the instruments of education.

–by G Balasubramaniam

G.Balasubramanian,

Editor-in-chief of The

Progressive School Magazine

is a leading educator in the

field of school education,

curriculum designer, author,

HR trainer and educational

administrator. Widely

traveled, he has authored

several books for schools,

educational administrators

and is a premier teachertrainer

both across the

country and abroad. He

has authored books like

Mindscaping Education,

Case Studies in Classrooms,

Quality Spectrum – A

School's Bandwidth and

Safety in Schools – Issues &

Concerns.

In a global study popularly known as Gallup

study covering over 1,36,000 people from

about 132 countries on the relationship

between wealth and happiness, the basic

question was: "Does money make you happy?"

Dr. El Deiner, Emeritus Professor of psychology

from the University of Illinois observes, "This

study shows that it all depends on how you define

happiness, because if you look at life satisfaction,

how you evaluate your life as a whole, you see

a pretty strong correlation around the world

between income and happiness," he said. "On

the other hand, it's pretty shocking how small the

correlation is with positive feelings and enjoying

yourself."

The most critical observation that came out

of this study says, "material prosperity predicts

life evaluation, whereas psychosocial prosperity

predicts positive feeling."

An egalitarian society should address to the

development of psycho-social prosperity of its

people. One of the most powerful instruments

of achieving this goal is the process and the

instruments of education. Over the years, the

objective of education has largely derailed in

this process and has focused on empowering

individual's personal goals and in ushering

an unhealthy competition depriving concern,

compassion and reach to the people. Psychosocial

prosperity is achieved only when the

individual is in synergy with the physical and

human universe in which one is placed.

As such, the term prosperity is presently

associated with the financial and other

immovable assets and possessions an individual

is able to acquire, hold, assimilate and expand. It

has triggered an insatiable greed for achievement

and assimilation resulting in progress at the cost

of the well-being of other stakeholders in the

community. Prosperity is deemed as a power of

one's social status and 'standards of living.' This

chase for 'improved standards of living' often is

compromised with the basics of 'the quality of

living.' Any social dynamics that moves on this

linearity of thinking will be detrimental to the

healthy growth of the society and ushering the

'psycho-social prosperity' which indeed is the

seed for holistic happiness of the members of a

community.

There appears to be a large-scale

misinterpretation of the term 'wealth' as a

reflection of 'material possessions.' "Wealth" in

its broader sense encompasses several facets of

human living and existence – health, knowledge,

skills, relationship, compassion, gratitude,

communicability, self-esteem, enterprise and

the like. In a chase for increasing our material

possessions aggressively, we seem to be losing

our touch with several of the inputs that would

increase the parameters of our wealth – in

turn our prosperity. Any progress, scientific,

technological, infrastructural, economical and

otherwise, will not be adequate enough for a

healthy society unless the system addresses to

the development of psycho-social prosperity.

How could education address to

developing this?

1. Understanding wealth

It is important to educate the younger

generation on the meaning and concept of

wealth. Wealth generation, wealth assimilation

and its management are directly related to

54 THE PROGRESSIVE SCHOOL oct-nov-dec 2019

www.progressiveschool.in
---
our relationship with the physical universe, its

innumerable components that sustain us – air,

water, land, flora and fauna, rivers and the

biological eco-system. In cosmic dynamics,

where there is a huge inter-dependency both

in the organic and non-organic systems, any

neglect of educating the wealth of nature would

not help in promoting the personal wealth of an

individual. As such this is the singular wealth,

one inherits and leaves both during the arrival

and departure from this planet. Education has

the prime responsibility of creating both an

awareness and sensitivity to this domain of

learning.

2. Understanding of human rights

Human rights are acquired by every individual

on birth and has a relevance in any eco-system

the individual is placed. It is not limited by colour,

race, religion, heritage, or other practices. It

ensures every individual to freedom of existence,

thought architecture, belief systems and a

set of practices. They are non-negotiable and

become the personal propriety of the individual.

At the same time, this freedom shall not inflict,

threaten or assault the similar practice of human

rights of other individual wherever they are. The

parameters of human rights as enshrined in the

articles of the United Nations and adopted by

all its member countries has to be an integral

part of the learning dynamics of the students so

that they can appreciate the concerns of others

and contribute adequately to psycho-social

prosperity.

www.progressiveschool.in

3. Understanding

constitutional values

The constitution of any country provides a

basic guideline for its people to follow certain

values and they become fundamental to any

healthy society. These values ensure equity and

equality to its constituent members and provides

legal provisions for social justice. Learning about

the constitutional values is only an insignificant

part of learning in so far as it is not imbibed into

social practices. Articulation of these values

into experiential learning practices would

indeed result in promotion of the psycho-social

prosperity of the individual and the community.

Developing a positive outlook towards the rights

and practices of other members of the community

is fundamental to develop the psychological

health of the society.

4. Developing social consciousness

All learning should result in identification

of the social problems and in tackling them

with a sense of fair-play and justice. Learning

institutions should provide platforms for both

formal and informal discussions and debates on

common social issues and provoking thinking

of the learners to solve such problems with

an outreach. Understanding the sensitivities

of issues related to the under privileged and

providing multiple alternatives to bring equity,

growth, progress and prosperity has to be

the nucleus of a vibrant educational process.

Social consciousness should help in not only

enabling the provisions of the law but to render

oct-nov-dec 2019

All learning

should result in

identification

of the social

problems and in

tackling them

with a sense of

fair-play and

justice. Learning

institutions

should provide

platforms for

both formal

and informal

discussions

and debates

on common

social issues

and provoking

thinking of the

learners to solve

such problems

with an outreach.

THE PROGRESSIVE SCHOOL

55
---
Psycho-social

prosperity is

vital for the

balanced growth

of any vibrant

society and to

have peaceful

co-existence

through

compassionate

considerations

for the

physical and

the biological

universe in which

one is placed.

justice to the causes for which they are being

debated.

5.Promoting ethical standards

Ethics is the core of any society for ensuring

social equity. It reflects the quality of living

of the people It prohibits dominance, undue

favours, unfair practices, the advantage of money

and power for the haves over have-nots and

celebrates the sublimation of human character

over compulsive needs and greed. It is an edition

of morality in action. It is important to bring home

to the learners the need for adherence to ethical

practices so that exploitation of human capital

can be addressed.

6. Promoting order and discipline

Order is an expression of a disciplined mind

and an acknowledgement of space, time, energy

and growth to all. It is a way of understanding

equity and fair-play in an interdependent society.

Order and discipline are formulated in any system

to ensure the health of the system and peaceful

co-existence of all stakeholders. Adherence

to a social order will promote communal

harmony and peaceful interactions between all

concerned. Education should help in promoting

self-discipline and orderly conduct both as an

individual as well as a member of a diverse

society. Following an order is not a deviation

from personal or social freedom. It is just an

acceptance of social equity. There are better

chances of enhanced psycho social prosperity

in an orderly society,

7. Promoting social intelligence

Enough research has been done in

understanding and developing social intelligence.

The factors that impact the human brain to be

more socially adaptable and engaged have

been discussed in many research platforms.

Social scientist Ross Honeywill observes,

"social intelligence is an aggregated measure

of self- and social-awareness, evolved social

beliefs and attitudes, and a capacity and

appetite to manage complex social change."

Understanding social intelligence will help

the learners for better understanding of social

needs, social relationships, conflict resolution

and management. Daniel Goleman has given

wide range of guidelines in promoting social

intelligences among all age groups. He focuses

on the ability "to adopt to adapt." It may be

relevant to incorporate some fundamentals

as a part of the learner's curriculum so that

they become compassionate, contributing and

connected individuals in the society. Further,

with the technology impacting, there is a larger

universe of social interactions leading to social

construction of knowledge.

8. Informalisation of learning

For long, curricular architecture has been

almost straight-jacketed leading to linearity

of thinking. Polarisation of knowledge and

experiences have hindered free intercourse

of social experiences. It may be relevant and

important to make learning more informal

with encouraging discussions, analysis and

debating of the concepts in the classrooms.

Further educational institutions should

encourage extended learning from non-textual

materials and from free resources so that

learners have a wide spectrum of perceptions

available for consideration and judgment.

Psycho-social prosperity is vital for the

balanced growth of any vibrant society and to have

peaceful co-existence through compassionate

considerations for the physical and the biological

universe in which one is placed.

56 THE PROGRESSIVE SCHOOL oct-nov-dec 2019

www.progressiveschool.in
---
TIPS & TOOLS

Perfect for teachers' toolkit!

Edtech is increasingly being used by teachers across the globe.

Here are a few education tools to add to teacher toolkits:

1. Teaching Channel: Get access to a huge library of best-inclass

videos, 10+ PD courses, downloadable materials, and

other tools to help self-direct your professional learning.

2. Wabisabi: Wabisabi

takes the complexity out

of planning, assessing,

and reporting. It makes

where you are at with

the curriculum and

where you need to go

next crystal clear so you

can focus on what matters—your learners.

3. A Web Whiteboard: A Web Whiteboard is a touch-friendly

online whiteboard app that makes drawing, collaboration and

sharing easy.

4. Coursera: Build skills with courses, certificates, and degrees

online from world-class universities and companies.

5. Edpuzzle: A big booster for flipped learning teachers. Make

any video your lesson. Choose a video, give it your magic touch

and track your students' comprehension.

6. EdX: Access 2500+ Online Courses from 140 Institutions.

7. Focus Booster: This is a time tracking and productivity app.

It is an improved, yet, simple way to track time and enhance

productivity.

8. Formative: This is an amazing formative assessment app.

Create an assignment and get live results from students.

Present them with real-time feedback in an instant, too.

9. Homeroom Mom: A community of room parents sharing tips

and tools for working with parents and teachers, along with

ideas for classroom parties, teacher appreciation, organizing

volunteers, and lots more!

10. Lightsail: Teachers can use LightSail to monitor their

students' reading in real time and in great detail. Teachers

and students can monitor students' per-page progress through

books in addition to students' performance on Common Corealigned

assessment tasks throughout the texts.

Top 5 teaching styles educators

use across the globe

T

hough every teacher has his own

style of teaching, but there are few

fundamental teaching styles which most

of them use:

1. The Authority or lecture style: This

is a teacher-centered model, where

teacher gives lengthy lectures and

students take down notes or absorb

information. This is relevant for large

group of students and most suitable

for subjects like history, which is full of

key facts, dates, names, etc. But, since

there is very little interaction with

teachers, it is not suitable for younger

children.

2. The Demonstrator or coach style:

It is similar to the Authority style but lessons might include

multimedia presentations, activities, demos, etc. It is mostly

used for subjects like Maths, Science, Music, Arts & Crafts,

etc. But, again, it is not an individual approach of teaching.

3. The Facilitator or activity style: Here, the teacher is a

facilitator, who promotes self-learning and help students

develop critical thinking skills and learn in a more relaxed way.

It encourages children to ask questions and explore answers.

It is best suited for teaching science.

4. The Delegator or group style: Best suited for subjects that

require lab activities, such as chemistry and biology, or subjects

that need peer feedback, like debate and creative writing.

Here, the teacher becomes an observer and inspires students

by working in tandem towards common goals.

5. The Hybrid or blended style: It is an integrated approach

to teaching that blends the teacher's personality and interests

with students' needs and curriculum-appropriate methods. It

is inclusive as teacher tries to tailor his/her style according to

his/her students.

teacher can use a mix of one or more style depending upon

the topic they are teaching in class.

58 THE PROGRESSIVE SCHOOL oct-nov-dec 2019

www.progressiveschool.in
---
news & events

The HundrED brightest sparks

in education for 2020

The countdown is on! The HundrED 2020 was released on November 6th at the 2019 HundrED

Innovation Summit. Here are various insights on the incredible innovations being implemented in

all parts of the world.

–by Chris Petrie & Katija Aladin

Christopher Petrie is Head of

Global Research @ HundrED.

Katija Aladin is Education

Specialist & Researcher.

With a focus on 21 st century skills and a wider global

perspective, we are proud to release the 100 leading

education innovations making change happen.

Read on for an overview of the collection from the

perspective of the HundrED Research Team!

Most experts in education agree that the world is changing

much faster than schools' ability to keep up – and the consequences

of this growing gap is getting alarmingly worse. For example, it is

projected that by 2030, around half of all young people globally will

reach adulthood without the basic secondary skills needed for the

modern world (The Education Commission, 2016). At HundrED,

we believe a large part of the solution to these growing problems

in education lie in making already proven and effective innovative

ideas much more globally accessible.

There is a rich field of research on innovation in business

related literature like management science and economics,

however, in regard to innovation in education, the field remains

poorly studied. Since 2016, HundrED has discovered from its

research that the world is already full of impactful and scalable

innovations in education. Unfortunately, most educators in the

world do not know about the best innovations on a global level,

especially the ones outside of their local area. We aim to help

change this through our Global Collection, which is renewed

each year.

Our research process can be distilled into three distinct

phases: stage 1 involves seeking leading innovations with our

www.progressiveschool.in

global community of ambassadors and youth ambassadors; at

stage 2 is where we review each innovation for its impact and

scalability; for stage 3, a shortlist of innovations that are worthy

of being selected are reviewed by our Academy Members, made

of over 150 experts in education including academics, education

consultants, school leaders, teachers, students, and innovators

from around the world. This year, we received over 2000 reviews

to help inform our selection process.

When asked about the importance of innovation in education,

Head of Research at HundrED, Chris Petrie states, "We believe

innovations in education should aim to allow us to do more with

less and provide ways for educators to mitigate against known

barriers (for example: time and resource restrictions). We think

the selected innovations in our HundrED 2020 Global Collection

do just this."

Seventy-three percent of the selected innovations are nonprofit

organisations and represent a range of categories within the

education field from holistic education to student entrepreneurship.

While there is a wide range of selections that cover the education

spectrum, we found there is a lack of innovation in particular

areas, such as school leadership and innovative ways to assess

21st-century skills. Nevertheless, this year's Global Collection

covers every continent and the innovations selected have already

spread to an average of 10 countries and impacted from forty-two

to 19 million students/users worldwide.

oct-nov-dec 2019

THE PROGRESSIVE SCHOOL

59
---
news & events

90th CBSE Foundation Day

celebrated

The 90th foundation

year of CBSE and

25th anniversary

of Sahodaya School

Complexes was celebrated

at Vigyan Bhawan in

New Delhi. Union HRD

Minister Ramesh Pokhriyal

'Nishank,' was the Chief

Guest on the occasion. Minister of State for HRD Sanjay Dhotre,

Secretary School Education and Literacy Amit Khare, and

Chairperson CBSE Anita Karwal graced the occasion.

Speaking on the occasion, the HRD Minister complimented

CBSE on bringing so many school leaders under one roof. It

appeared that the entire nation had come together to celebrate

education. The celebration of 150 years of Mahatma Gandhi's birth

anniversary, 90 years of CBSE and 25 years of Sahodaya is bound

to bring good outcomes for the nation.

Minister of State Shri Sanjay Dhotre, in his address,

complimented CBSE for the overall development of students'

physical, mental, academic and spiritual development through

its programmes and initiatives. He said that NaiTaleem rested

on the ideology of uplifting the weak and inclusive growth for all

and that moral development and character building is integral to

good education.

To commemorate 90th Year of CBSE, a Memoir on the Journey

of CBSE was released by the dignitaries. The Board also released

3 more Books for teachers and students to provide information

about different activities in CBSE.

Researcher from Queen's

University Belfast develops

algorithm to make artificial

intelligence fairer

Dr Deepak Padmanabhan, a

researcher from Queen's

University Belfast has developed

an innovative new algorithm that will

help make artificial intelligence (AI)

fairer and less biased when processing

data. Dr Padmanabhan has been

leading an international project, working

with experts at the Indian Institute of

Technology Madras (Savitha Abraham

and Sowmya Sundaram), to tackle the discrimination problem

within clustering algorithms.

Companies often use AI technologies to sift through huge

amounts of data in situations such as an oversubscribed job

vacancy or in policing when there is a large volume of CCTV data

linked to a crime. AI sorts through the data, grouping it to form

a manageable number of clusters, which are groups of data with

common characteristics. It is then much easier for an organisation

to analyse manually and either shortlist or reject the entire group.

However, while AI can save on time, the process is often biased in

terms of race, gender, age, religion and country of origin.

A researcher in the School of Electronics, Electrical Engineering

and Computer Science and the Institute of Electronics,

Communications and Information Technology at Queen's, Dr

Padmanabhan explains, "AI techniques for data processing,

known as clustering algorithms, are often criticised as being

biased in terms of 'sensitive attributes' such as race, gender, age,

religion and country of origin. It is important that AI techniques

be fair while aiding shortlisting decisions, to ensure that they are

not discriminatory on such attributes."

Over the last few years 'fair clustering' techniques have been

developed and these prevent bias in a single chosen attribute, such

as gender. However, Dr Padmanabhan has now created a method

that, for the first time, can achieve fairness in many attributes. Dr

Padmanabhan comments, "Our fair clustering algorithm, called

FairKM, can be invoked with any number of specified sensitive

attributes, leading to a much fairer process. "In a way, FairKM

takes a significant step towards algorithms assuming the role

of ensuring fairness in shortlisting, especially in terms of human

resources. With a fairer process in place, the selection committees

can focus on other core job-related criteria.

Noble Laureate, Kailash

Satyarthi facilitates 50

child prodigies

Children, sometimes,

astonish us with their

exceptional talent and

recognition encourages them

to do more. 50 such budding

talents were felicitated at the

Global Child Prodigy Award

2020 held in New Delhi. The

awards were presented by

Nobel Peace Laureate Shri

Kailash Satyarthi and Dr.

Kiran Bedi Hon'ble Lieutenant

Governor of Puducherry.

Addressing the gathering

Kailash Satyarthi said, "It is an

honor to award these young

prodigies today. I would want

to extend my congratulations

to the parents of these prodigies who have supported their children.

I would request the parents to not be an instructor to your children

but to be a guide to them. Parents should adopt the ideology of 3R,

Recognize, Respect and Reward towards their children instead of

the 3I, Imposition, Instruction, and Impeach."

A total 100 students were selected to be part of the list of

100 exceptional prodigies of the world 2020, out of those 100,

50 were felicitated. The selection committee has judged these

wonder children on various parameters and finally came up

with a list of 100 prodigies. The list includes talents from

myriad backgrounds showing core competency on their area

of interests such as Martial Art, painting, modeling, writing,

entrepreneurship, social work, acting etc. These children come

from countries like USA, UK, UAE, Spain etc.

Children from India have also shown a good presence in

the list. Kautilya Pandit from Haryana, Ishita Katyal-Author,

Aarit Gupta-Author, Ayan Gogoi Gohain-Author, Ayaan Zubair

Rahmani-Actor are some of the prodigies from India. They have

impressed with their extraordinary talents.

60 THE PROGRESSIVE SCHOOL oct-nov-dec 2019

www.progressiveschool.in
---
event

Mylestone School Leadership

Summit- U.P. Chapter

Mylestone organized 3rd School Leadership

Summit at the Renaissance Hotel,

Lucknow on 11th October 19 with the

Existing School Leaders as a part of the

Client engagement Workshop series.

The event began with an outlook on the S Chand's

development history and the growth of Mylestone

from its inception to the current stage. Following this,

a detailed information was given on the Mylestone

Pedagogy & alignment with NCF, New Education

Policy 2019, NCERT Pre-Primary curriculum and then

a brief information of the services and new initiatives

by Mylestone – new product launch was also given.

Two activities – Reflection activity & Audit Scale for

Self-evaluation – were conducted for the participants.

The next round was Panel Discussion with our

honourable guests, G.Balasubramanian (Chairman

ICSL, Ex CBSE Director), Srishti Srivastava (Principal,

Nav KanyaMahavidhalaya, Lucknow), and Atul

Nishchal (Director ICSL).

The Panel Discussion was focused on the following :

• Understanding and adhering to CBSE guidelines

and reforms

• Best practices in managing schools

• Importance of activity based and digital based

learning.

• How to facilitate and educate parents

• 3Ds – Dedication, devotion and discipline.

The participants were enlightened about the

information provided about the NCF and NEP

guidelines which was undoubtedly one of the most

remarkable takeaway for them.

62 THE PROGRESSIVE SCHOOL oct-nov-dec 2019

www.progressiveschool.in