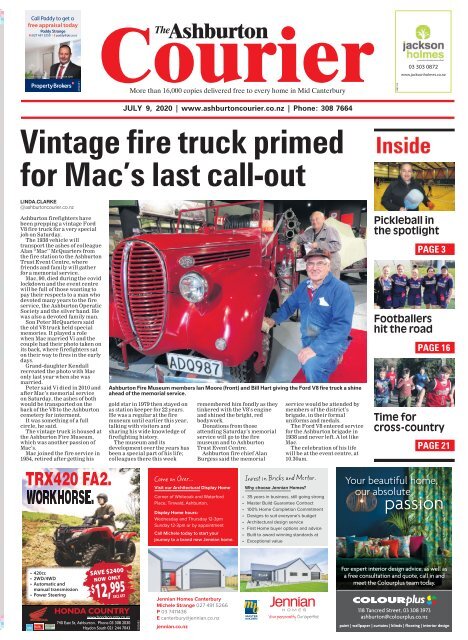 Ashburton Courier: July 09, 2020
Do you know the secret to free website traffic?
Use this trick to increase the number of new potential customers.
free appraisal today

03 3030872

www.jacksonholmes.co.nz

2292241

2281918

JULY 9, 2020 |www.ashburtoncourier.co.nz |Phone: 308 7664

Vintage fire truck primed

for Mac's last call­out

LINDA.CLARKE

@ashburtoncourier.co.nz

Ashburton firefighters have

beenprepping avintageFord

V8 firetruck for averyspecial

job on Saturday.

The1938vehiclewill

transport the ashes of colleague

Alan ''Mac'' McQuarters from

the firestation to the Ashburton

Trust EventCentre, where

friends and family willgather

foramemorial service.

Mac,90, died during the covid

lockdownand theevent centre

will be full of those wantingto

paytheir respects to aman who

devoted many years to the fire

service,the AshburtonOperatic

Societyand the silver band.He

wasalso adevotedfamily man.

SonPeterMcQuarters said

theold V8 truck held special

memories. It played arole

when Mac marriedViand the

couple had their photo taken on

itsback, where firefighters sat

on their way to fires in theearly

days.

Grand­daughter Kendall

recreatedthe photo with Mac

only last year when she was

married.

Peter said Vi died in 2010 and

after Mac's memorialservice

on Saturday, theashes of both

would be transported on the

back of the V8 to the Ashburton

cemeteryfor interment.

It was something of afull

circle, he said.

Thevintage truck is housed at

theAshburton Fire Museum,

which was another passionof

Mac's.

Mac joined the fire servicein

1954, retiredafter getting his

TRX420 FA2.

WORKHORSE.

Ashburton Fire Museum members Ian Moore (front) and Bill Hart giving the Ford V8 fire truck ashine

ahead of the memorial service.

gold starin1979 then stayed on

as station keeper for 22 years.

He was aregular at thefire

museum until earlierthis year,

talkingwithvisitors and

sharing his wide knowledge of

firefighting history.

The museumand its

development over the years has

beenaspecialpart of hislife;

colleagues there this week

Come on Over...

Visit our Architectural Display Home

Join us for the Grand opening of

Corner Jennian's of Whiteoak New Display and Waterford home

Place, Tinwald, Ashburton.

Display Home hours:

Wednesday and Thursday 12-3pm

Sunday 12-3pm or by appointment

Call Michele today to start your

journey to abrand new Jennian home.

remembered him fondly as they

tinkered with the V8'sengine

and shined the bright, red

bodywork.

Donationsfromthose

attending Saturday'smemorial

service will go to thefire

museumand to Ashburton

Trust EventCentre.

Ashburton fire chief Alan

Burgess said the memorial

Invest in Bricks and Mortar.

Why choose Jennian Homes?

• 35years in business, still going strong

• Master Build Guarantee Contract

• 100% Home Completion Commitment

• Designs to suit everyone's budget

• Architectural design service

• First Home buyer options and advice

• Built to award winning standards at

• Exceptional value

service would be attended by

membersofthe district's

brigade, in their formal

uniforms and medals.

The Ford V8 entered service

for theAshburton brigade in

1938 andnever left. Alot like

Mac.

The celebration of his life

will be at theevent centre, at

10.30am.

Pickleball in

the spotlight

PAGE 3

Footballers

hit the road

PAGE 16

Time for

cross-country

PAGE 21

Your beautiful home,

our absolute

passion

•420cc

•2WD/4WD

•Automatic and

manual transmission

•Power Steering

SAVE $2400

$12,995

NOW ONLY

EXCL GST

HONDA COUNTRY

www.hondacountry.co.nz

740 East St, Ashburton. Phone 03 308 2030

Haydon South 021 244 7043

2282082

Jennian Homes Canterbury

Michele Strange 027 491 5266

P 03 7411436

E canterbury@jennian.co.nz

jennian.co.nz

Forexpertinterior design advice, as well as

afreeconsultationand quote, callinand

meet the Colourplus team today.

118 Tancred Street, 03 308 3973

ashburton@colourplus.co.nz

paint |wallpaper |curtains |blinds |flooring |interior design

*
---
NEWS

2 Ashburton Courier, July 9, 2020

www.ashburtoncourier.co.nz

BUSINESS OWNERS

Build customers,

sales and profits

with us ...

Over 16,065

copies delivered to

EVERYhome,farm,

RD and lifestyle

blocks in

MidCanterbury

news

Linda Clarke

Editor

308 7664

linda.clarke@ashburtoncourier.co.nz

Reporters

Mick Jensen

mick.jensen@ashburtoncourier.co.nz

Toni Williams

toni.williams@alliedpress.co.nz

advertising

Jann Thompson

Sales Manager

308 7664

027 587 6351

jann.thompson@ashburtoncourier.co.nz

Karen Gane

Sales Account Manager

308 7664

021 510 804

karen.gane@ashburtoncourier.co.nz

getintouch

Editorial

linda.clarke@ashburtoncourier.co.nz

Advertising

info@ashburtoncourier.co.nz

Production

murray.thompson@ashburtoncourier.co.nz

Accounts

accounts@alliedpress.co.nz

Distribution/Deliveries

mary.summerfield@ashburtoncourier.co.nz

Office

office@ashburtoncourier.co.nz

03 308 7664

199 Burnett Street,Ashburton

www.ashburtoncourier.co.nz

2289788

Speed limits set to change

LINDA.CLARKE

@ashburtoncourier.co.nz

New speed limits on aswag of

AshburtonDistrict Council roads will

be recommended today,with new

school zones to be developed slowing

traffic to 40km/h outside town

schoolsand 60km/h outside rural

schools.

Councillorsdebated thenew limits

after hearing from more than 200

membersof the public,including Mt

Somers residents who wantedtheir

whole township to be 50km/h and the

main Arundel Rakaia Gorge Road to

be 70km/h. Theygot thefirst, but not

the second.

Other changes include 40km/h

speed limits at Lochlea, Braebrook

and some Tinwald subdivisons,not

30km/hasoriginally proposed.

At Lake Hood, the speed limit at

the start of Lake Hood Drive will be

60km/h, not80km/h as originally

proposed and residentsshould be

pleased.

All thenew speed limits must be

adoptedatafull council meeting,

after recommendation by the

infrastructure services committee

and that is expectedtohappentoday.

The 50km/h zone on Racecourse

Road will be extended to Allens

Road and it will be 60km/huntilafter

Farm Road.

All thechanges are contained in

the infrastructure committee's

Toilet lids down for pipe clean

LINDA.CLARKE

@ashburtoncourier.co.nz

Allenton residents are being asked to

close theirtoiletseats and put abrick

on top because the wastewater pipe

cleaners are in town.

Intergroup is cleaning the

undergroundpipes and usingspecial

cameras to look for tree roots and

fatbergs, whichare gooey massesof

solidified fat and wet wipes.

Ashburton DistrictCouncil service

delivery manager Neil McCann said

letterswere being deliveredto

residents in the Belt Road,

Racecourse Road and West Street

areas advising them about the work,

which includedcleaningwith ahighpressure

water jet.

People needed to keep toilet lids

down when not in use because on

rare occasionsthe air pressure used

in the cleaning process generated a

blow back of water.

''There is always aslight risk it

Mess free fun

for everyone

Speed limits around the district are set to change.

agenda, on council's website.

Schools were amongthose who

campaignedfor lower limits outside

their gates as did many other

individualsand groups.

Mt Somers CitizensAssociation

secretary SarahStanawaytook the

community'swishes for awider

50km/h limit throughoutthe

township. Shesaid the township was

growing andhad more permanent

residents.

But therewas alot of traffic

passing through on its way to the

could blow out of the

toilet.''

Aheavy object, like a

brickorbook, should be

placed on the toilet lid

to keep it down.

The cleaning and

inspectionprogramme

is part of council's

ongoingwork to survey

the conditionofthe

wastewater network,

which includes some

concretepipes 80 years

old.

Mr McCann said

cameras inserted into

the system allowed staff

to see the conditionofthe pipes,

which had alifespanof100 years or

more. Pipe renewalwas scheduled

based on the results.

He said tree roots sometimesgrew

into cracked pipes and snagged

objects like rags or wet wipes, which

people should not be flushing.The

Keep the lid down.

2for

$

15

212 East Street,Ashburton. Phone 308 8309

Ashburton Lakes area and locals

needed protection.

Shealso askedfor the 100km/h

speedlimit on Arundel Rakaia Gorge

Road to be reduced to 70km/hbut

councillors declined.They have

asked stafftoinvestigate road

treatmentoptionswith the citizens

association.

Ms Stanawaysaid she saw alot of

near misses as traffic turned off the

high speed main road into any one of

threeseparate entrances into the

township.

camerasalso looked for

fatbergs, which grew in

the colder weather as

fat solidified.

The wastewater pipes

carry water from

showersand

dishwashers as well as

sewerage from toilets.

Mr McCann said fat or

grease should not be

disposedofdown

household drains.

Businesses and other

commercial operators

have special grease

traps to make sure it

does not get into the

wastewater system.

He said there was an ongoing and

nationwide issuewith people

flushingwet wipes, and these could

cause big, expensive problems.

Contractors are only inspecting

council sewer mains,not individual

connections.

Kids can enjoyarange of exciting activities,

including characterreveals,seek-and-finds,

mazes and more, all of which come to life

when the MagicInk pen runs across the

page,revealing rainbows of colour.

PLUS

TheInkredible technology

keeps the magical,multicoloured

fun on the page

and off everything else!

2290756
---
www.ashburtoncourier.co.nz

NEWS

Ashburton Courier, July 9, 2020

3

Pickleball centre stage

Ruben Garcia at EA Networks Centre withthe paddle and wiffle

ball used in the game of pickleball.

MICK.JENSEN

@ashburtoncourier.co.nz

Ashburton will host the South

Island's first ever pickleball

tournament from tomorrow.

Across between tennis,

badminton and table tennis,

pickleball is played on a

badminton doubles­sized court

and uses paddles and ahollow,

plastic ball with holes in it.

The net is slightly lower than

atennis net.

The fast­growing sport began

in New Zealand five years ago

and is played regularly by

around 3000 people.

Some 75 to 80 players,

including alocal contingent,

will compete at the Mid

Canterbury Winter Classic at

EA Networks Centre, which

runs through until Sunday.

Pickleball Ashburton was

started alittle over 12 months

ago by American­born Ruben

Garcia, who was introduced to

the sport in his former

homeland.

Around 25 regulars now turn

out at thrice weekly sessions at

EA Networks Centre.

Mr Garcia, who is also

president of Pickleball New

Zealand, says ahigh standard of

play can be expected at the

tournament, which would

feature both singles and

doubles matches. Spectators

are welcome.

The tournament had been six

months in the planning and he

was excited that Ashburton was

hosting it. It was afirst for the

South Island, and an

opportunity to raise the sport's

profile.

''Pickleball is afun, sociable

game and it really is suited to

all ages. It's not hard on the

joints like some sports, yet it is

still competitive.''

Councillors still waiting for Tinwald traffic lights design

Ashburton district mayor Neil

Brown is disappointed he's not

heard fromthe national

transport agencyaboutnew

trafficlights at Tinwald and

West Street, despite both

projectsbeinggiventhe green

lightbygovernment in January.

Traffic lights aretobe

installedonState Highway 1

through Tinwaldatthe

intersection of Lagmhor Road

and Agnes Street, and at the

intersection of the highway and

Walnut Avenue.

Ashburton councillors talked

to NZ Transport Agency bosses

back in April; the agency said it

would consultwith council on

the finer details of both plans

and show them designs in May

for feedback.

Mr Brown said both sets of

lights were necessary to

improvetraffic flow around and

through town but council had

heard nothing more from the

agency.

It wasimportant they go

ahead as soon as possible.

Both projects have been on

the transport agency'sbooks

since 2015. Heavy traffic at

Tinwald makes it hard for

drivers on sidestreets to access

the highway, while the Walnut

Avenue roundabout is to make

way forlights andanew

entrance way to the Ashburton

Domain.

Mr Garcia said he was

pleased local businesses had

come on board to support the

tournament, even though

pickleball was anew sport and

new to Ashburton.

Among the local players

taking part is former tennis

player and regular badminton

player Karen Bishop.

Mrs Bishop will team up with

husband David and says

pickleball is fun.

It was similar to badminton

and tennis in some respects,

but needed different tactics.

The rules also differed, and

included no­go zones.

Pickleball was not about

power, but more about

placement, Mrs Bishop said.

''The good thing about

pickleball doubles is that there

is less running needed.'' Threeset

matches usually lasted

around 25 minutes.

The tournament runs until

3pm Sunday.

"I assumethey are planning

for it. Iwouldbehugely

disappointed if it didn't go

ahead."

There wasalso no word on

when SH1safety work between

Ashburton andDunsandel,

includingmedian barriers to

preventhead­on crashes, will

go ahead.

SPECIALIST

HEAT PUMP

Your Local

HEAT PUMP

HEAT PUMP

SALE

Prompt Installation!

WE STOCK THE

BY YOUR TRUSTED LOCALPROFESSIONALS

BRANDS

INTEREST FREE

TERMS AVAILABLE

FROM $8.79

HEAT PUMP FROM ONLY $1297

* WEEKLYPAYMENTS

BIG

*Unit only

Smith & Church will come to your home, measure

and advise you on the best size heat pump for the

area you wish to heat.

We'll also provide an obligation-free quote for the

supply and installation of your

heat pump.

FREE

IN-HOME

CONSULTATION

EXPERIENCE

AND ADVICE

Talk to your localheatpump experts

JackyorDean today.

Phone308 9019

"Wejustmakeiteasy for you"

PROMPT

INSTALLATION

FREE QUOTES

FORWINTER

FOR WINTER

COOLING FORSUMMER

COOLING FORSUMMER

*T&C'S APPLY. 12 MONTHS INTEREST FREE AVAILABLE.

2292278
---
NEWS

4 Ashburton Courier, July 9, 2020

www.ashburtoncourier.co.nz

Scooter fun on alpine pass

TheHigh Note

Reviewed byRowena Hart

Set inthe dazzling world ofthe LA music scene

comes the story ofGrace Davis, asuperstar whose

talent, and ego,havereached unbelievable heights.

Then thereisMaggie,Grace's overworked personal

assistant who's stuck running errands and

pandering over the star.

But her childhood dream is to become amusic

producer.

Graceisplayedbythe singer Diana Ross's daughter.

Ihaven't seen her in any other movie. She is awell

knowntelevision host in America.

Maggie is played byDakota Johnson the daughter

of actor Don Johnson who made his name in the

1980s.

She wasinthe three Shades Of Grey movies.

There's abig surprise near the end of the movie

worthwaitingfor.

If you like music and seeing into the workings of

making music youwill be interested in this movie.

bookings ph 307 1230

www.regentcinema.co.nz

2289029

2281845

MICK.JENSEN

@ashburtoncourier.co.nz

It's not hisusual preferred

mode of transport,but

AshburtonVintage Car

Club member David Oakley

will be jumpingonthe back

of an older model49cc

scooter when he tackles the

Tranz Alpine Scooter

Safari.

The1989Yamaha Riva

Razz has sat in Mr Oakley's

garage formuchofthe past

20 years, but it will be

cleaned up and givenafew

runs outahead of the

November 7safari.

Thebiennialscootertrek

takes 250 ridersfrom

ChristchurchtoHokitika

on ascenic 250km trip and

is afundraiser for the

Canterbury/West Coast

divisionofNew Zealand

CancerSociety.

Mr Oakleyhopes to raise

$1000 for the cause andhis

mates at the VintageCar

Club have already chipped

in $100.

''I agreed to do it in a

weak momentwhen fellow

car club member Danny

Symons suggested it.

''But, actually, Idothink

you do need to have abitof

fun andsense of adventure

in life, no matter how old

you are.''

Mr Oakley, who is 71, said

he expected better weather

and road conditions in

Novemberthanthe

original safari date of May.

He intended beingseen

on theroad andhad plans

to dress up as abright

yellow daffodil.

Mr Oakley's wife Marion

will act as his advanced

support crew, and an

officialsupport crew will

followthe processionover

to the Coast.

''I'm notsure how I'll go

over Porters Pass, but I

hope to complete the safari

in six to sevenhours.

''Luckily Idon't have to

scooterback as well.''

Mr Oakley's usual driving

pride and joy is a1926

Austin 12, an impressive

1800ccbeauty that he takes

on carclub drives and

longer trips.

To support his scooter

effort go to the

scootersafari.co.nz website

and search for his name

under the 'donate' page.

Right: David Oakley with

his 49cc Yamaha Riva Razz

and in the background his

1926 Austin 12.

Long journey to new skatepark

MICK.JENSEN

@ashburtoncourier.co.nz

A13­year journey will be

realisedonSaturday when

Methven's brandnew

skatepark is officially

unveiled.

Theimpressive park

featuresridewalls,skate

bowls and other challenges

and is located on council

land on thecorner of Bank

and McMillan streets.

The public openingtakes

places at 1pm.

Andspecialmemorial

tree willbeplanted at

11.30am in memory of the

late KenLowe, an early,

passionate supporter of the

project.

Theskate parkproject

has been adream driven by

Kidz Methven since 2007.

Kidz MethvenchairLiz

McMillan said the finished

project exceeded

expectations, but hadbeen

along timeinthe making.

''It's agreat facility and

somethingthat we as a

committee are reallyvery

proudof.''

Founding committee

members Sally­Ann

Kircherand Tania

Sheridanwere still

involved afterall these

yearsand deserved alot of

credit.

Shesaid the project had

lost momentum for awhile,

but fundraisinghad

ramped up three years ago

when an incorporated

society had been formed.

Ms McMillansaidaround

$130,000 has beenraised

for the project and the

builders had ''gone above

andbeyond''onit.

Therehad also been good

community support,

including at arecent

plantingday.

Donations for the project

have beenreceivedfrom

Advance Ashburton, New

Zealand Community Trust,

MidandSouth Canterbury

Trust, Mackenzie

Charitable Foundationand

MethvenLions.

In early 2000 there wasa

popular indoor skatepark

in Methven, but the

privately­owned venuewas

damaged in the 2011

earthquake.

KidzMethven later

securedasite on land near

The Dubliner, butitwas

decided it wasnot suitable

because it was too closeto

the mainroad.

Thealternate siteonthe

cornerofBankand

McMillan streets was

identifiedbyAshburton

District Counciland the

firstsod was turnedatthe

end of Augustlastyear.

KidzMethven will lease

the land from the council

for threeyearsandwill

haveafurther right of

renewal.

It's our

Birday

JAGERMEISTER

1L

$

48 99 ea

THIS WEEK'SSPECIALS

STOLEN DARK

RUM 1L

$

34 99 ea

STIHL 1L

$

33 99 ea

BEEFEATER PINK,

ABSOLUT FLAVOURS

JAMIESON 700ml

+COKE 1.5L

$

35 99 ea

GREY GOOSE

RANGE 700ml

$

63 99 ea

JIM BEAM 700ml

+COKE 1.5L

BUNDLE

$

34 99 ea

STEINLAGER

CLASSIC

330ml Bots 15s

$

26 99 ea

LION RED,WAIKATO

SPEIGHTS

330ml Bots 24s

$

34 99 ea

NEW

LONG WHITE 4.8%

320mls Cans Range

10pk incl.New Crisp

GiftRange

$

25 99 ea

JACK DANIEL'S 4.8%

&PARTTIME

RANGERS RANGE

6% 330ml Cans 10pks

$

23 99 ea

CODYS&KGB7%

250ml cans 12pk

$

19 99 ea

NEW

SEE INSTORE

FOR DETAILS

CODYSZERO

SUGAR 7%

250ml cans 12pk

LARIOS

ORIGINAL GNAL

1L

$

33 99 ea

TANQUERAY

1L

$

46 99 ea

JOHNNIE

WALKER RED

1L

JMBEAM JIM DEVIL'S CUT

1L

JACK DANIELS

&ELJIMADOR

&ELJMADOR

700ml Range

GORDONS G&T 7%

&GORDONS PNK PINK 4%

250ml Cans 12pk

CRUISER 5%

275ml Bots & 7%

250ml Cans 12pk

WOODSTOCK 7%

330ml Cans 6pk

JMBEAM JIM BEAM&

CANADIAN CLUB

4.8% 330ml Cans 18pk

$

39 99 ea

$

46 99 ea

$

39 99 ea

$

24 99 ea

$

21 99 ea

$

14 99 ea

$

33 99 ea

ASHBURTON

MSA

266 Havelock Street,Ashburton

Telephone 308 7149

www.ashburtonclub.co.nz

HOURS

Monday

Tuesday-Saturday

Sunday

10:00am -6:00pm

10:00am -8:00pm

10:00am -6:00pm

SPECIALS AVAILABLE

from July 9

to July 16

2292279
---
www.ashburtoncourier.co.nz

Keep the bread tags coming

Mid Canterbury's school

communities, scouting

groups, organisationsand

businesses may have got

behindthe collection of

bread tags to raise money

for wheelchairsin South

Africa,but so too have

pupils from Fox Glacier

School.

Abag of bread tags

(weighing around 2kg) from

the school,atthe southern

endofthe West Coast, was

dropped into the Courier

office this week.

The pupils,and their

schoolcommunity, had

been savingthe bread tags

for the past six months for

Ashburton ecowarrior

Nicci Glanville.

Mrs Glanville, amother

of six,who is also aKea

leader and abusiness

woman, is collecting the

district's bread tags, andis

alsogetting bread tags from

all of the South Island's

collection points.

The Courier office is a

collection point.

The recycling of the

plastic pieces is part of a

global recycling effort,

which was setupinNew

Zealand last yeartocollect

anything that looks likea

bread tag ­whetherits on

fruit, or potatoes ­can be

recycled.

Thehigh­impact

polystyrenehasagood

recycling value in South

Africa; 200kg ­or200bread

bags full of tags ­isneeded

to buy one wheelchair.

After sorting,Mrs

Glanville is storingthe

bread tags into banana

boxes, which once filled,

are collected by the

national co­ordinator of

Bread Tags for

WheelchairsNZ.

People can ''keepthem

cominguntilweare told

otherwise''.

While drop­offpoints

around theSouth Island

arelisted on thenational

Facebook page, bread tags

canbedropped off to any

scoutgroup, or locally

broughtintothe Ashburton

Courieroffice,Allenton

Four Square or Cafe

Mayfield.

Ready to put on her own short puppet show is nine­yearold

Masha Nel.

Recycling bread tags is part of aglobal recycling effort.

Puppets made

at craft session

run at library

Childrenmadetheir own

puppets and some puton

ashort show at Monday's

schoolholiday

programme at Ashburton

Public Library.

Youngsters beganthe

session by looking at the

structure ofstories and

key characters and

themestheycould use.

The craft element

followed,withchildren

using pens, glue and

glittertodesign and

colourpuppet shapes.

Lolly popsticks were

attached andthenthose

brave enough, stepped up

to performtheir ownmini

shows.

Children's librarian

Jonathan Nixon videoed

performancesand posted

themtothelibrary's

Facebookpage.

Thetwo week holiday

programme hasathemeof

OnceUponaTimeand is

co­ordinatedbyMrNixon.

Attomorrow's's session

youngsters will create

their own fairy themed

board games.

On Monday the focus

will be on amedieval fun

fair,onWednesday there

will be adress up and

fairytalephoto session.

Thefinalsessionon

Friday features afairy

tale themedquiz, followed

byamadhatter's tea

party.

NEWS

Ashburton Courier, July 9, 2020

5

Visas extended

DairyNZ and FederatedFarmers are

pleased the government has announced it is

extending employer assisted temporary work

visas duetoexpire by the end of 2020.

DairyNZ people teamleader Jane Muir

said thesix month extension was excellent

news for farmers and the estimated 3000

dairy farm employees on temporaryvisas

thatweredue to expire.

Now wasabusy time andthe certainty was

welcomed by thedairy sector.

PROSTATE

CANCER

SUPPORTGROUP

An established supportgroup in

Ashburtonfor men and their families

who areliving with adiagnosis and

treatmentfor prostate cancer.

Partners arealso welcome to attend

CO-ORDINATOR: John Waugh 03 308 3384

WHEN:

Tuesday, 14th July at 3pm

WHERE: Ashburton

Mackenzie Centre,122 Kermode St,Ashburton

Email: ashburton@prostate.org.nz

Formoreinformation call 0800 477 678

Organised by the Prostate Cancer Foundation of NZ

www.prostate.org.nz

Boutique DogGrooming

(Formally Barker &Suds)

Tori Pollard

Owner/Groomer

027 224 3808

bark_avenue@hotmail.com

www.barkavenuegrooming.co.nz

2292140

Visit @35Pages Road

Ashburton

Custom cuts from nose to butt

2283876

Mid/South CanterburyContinuous Spouting

TM

TM

TM

TM

Askabout our large capacityspouting for

commercial and farmbuildings

Residential –fascia, gutter and downpipes

Snowprotection our specialty

The Original

Spouting Specialists

Serving

Mid/South

Canterbury

for over

26 years

Your new spouting proudly installed by

Craig or Josh

John Tull ...providingoutstandingservice,

afterinstallation care and pricing requirements!

Phonehim on 021 288 8290

Email: john@canterburycontinuous.co.nz

www.continuous.co.nz Freephone 0800 50 1993

2263153

WE'VE

GONE

DIGITAL

For thesamegreat articles, recipes and

deals youlove, read ournew interactive

magazineonline today!

http://magazine.health2000.co.nz

ASHBURTON

The Arcade

(03) 308 1815

h2k11@xtra.co.nz

PLUS

WIN ATRIP

TO FIJI! *

*Terms and conditions apply. See in store for details.

Prices valid until 31st July 2020 orwhile stocks last.

www.Health2OOO.co.nz

Follow Health2OOOGroup on:

2290754
---
www.ashburtoncourier.co.nz

NEWS

Ashburton Courier, July 9, 2020

7

Local faces promote helpline

Local faces will soon be on

postersencouragingMid

Canterbury people who feel

liketalking, to call or text1737

for help.

Thenational 1737 number is

afreeservice for anyone

wanting to speak to atrained

counsellor andMid Canterbury

LivesWorth LivingcoordinatorsPup

Chamberlain

and Connie Quigleywantto

raise awareness of the lifeline.

They arecreatingposters

featuringlocal people to put up

around town andhelp spread

theword, or thenumber1737.

Theservice allowspeople to

obtain sound advice anda

listeningear at any time, 24

hours aday and 365 days ayear.

People canphone or textfree.

ThePakekeLions Club gave

$1500 recently to help printing

costs.

President Noel Lowe said the

club was pleased to be

supportingthe project.

LivesWorth Livingstarted10

months ago andConnie and

Pup workasateam in the field

of suicideprevention. Connie

has aprofessional mental

health background and

specialises in post­vention

while Pup has abackground in

policing and education and

focuses on prevention.

Post­vention work means

identifying and working with

peopletouched by suicide. This

includes suchworkas

navigation to appropriate

assistance and running

President Noel Lowe from the Pakeke Lions Club presents acheque to Connie Quigley and Pup

Chamberlain, of the Lives Worth Living project.

specialised help such as the

WAVESgrief programme.

Pup said the well­researched

programmeswere designedfor

helping peoplewho have been

impacted through loss.

''An importantpart of this is

based around understanding

grief,relationships, support

and trust.

''Prevention work means

focusing on the positive and

assisting peopletorecognise

their own moods andfeelings.

In doing this theycan then use

actionsand tools to help

themselves andothers.''

Like post­vention,prevention

also helps navigateindividuals

to appropriate services.

''Preventionisalso about

awareness andempowerment,

givingthe peopleskills on how

to recognisepeople that may

need supportand how to

give this support.''

Connie and Pupcan be

contacted at Lives Worth

Living,Safer Mid

Canterbury ­connie.

quigley@safermidcanterbury.org.nz

or phone 027

450 0742;paul.

chamberlain@safermidcanterbury.org.nz

or phone 027

382 6501

Voters asked to check their details

Around 22,200 Ashburton

district voters should receive

their voting packs this week

and the Electoral Commission

is asking them to check their

details so they can vote in the

general election in September.

The district has about 26,500

eligible voters and with the

biggest groups the 70 plus and

those aged 18­24 years. Only 69

per cent of the younger group

was enrolled at the end of June.

Nationally, personalised

enrolment update packs will be

sent to more than three million

enrolled voters to check their

enrolment details are correct.

Chief electoral officer Alicia

Wright said two referendums

would accompany the general

election on September 19.

"We've got some big decisions

to make and it's important to be

enrolled before you vote and

have your voice heard," she

said.

The Electoral Commission's

enrolment update campaign is

under way with advertising

featuring Orange Guy and his

new dog Pup.

People need to open the pack

and check their details are up

to date. There have been some

changes to the Rangitata

electorate boundaries, with

voters in the Rakaia area now

part the electorate (they were

previously in the Selwyn

electorate).

The pack will include

information on the two

referendums that will be held

alongside the election. People

can vote on whether the End of

Life Choice Act 2019 should

come into force, giving people

with aterminal illness the

option of requesting assisted

dying. They can also vote on

whether the recreational use of

cannabis should become

legal.

"This year, more than

ever, it's important to enrol

early so you get information

about the election and

referendums in the mail

along with an EasyVote card

which will make voting

faster,'' Ms Wright said.

People can enrol online at

vote.nz using aNew Zealand

driver licence, New Zealand

passport or RealMe verified

identity.

People can also enrol or

update their details by

filling in an enrolment form.

Forms are available at vote.

nz, by calling Freephone

0800367656 or texting their

name and address to 3676.

IN BRIEF

DAFFODIL DAY

Daffodil Daymarks 30 yearsthis

yearand the Cancer Society and

volunteers are alreadypreparing for

the big eventonAugust 28.

Many New Zealanders have

facedcancer over those30years

and manyNew Zealanders have

supported friends or whanauwith

cancer. In 1990 there were 11,942

people diagnosed with cancer.By

the endof2020it's estimated more

than 26,000 New Zealanders will be

diagnosed with cancereachyear.

With demand for services

increasing, the Cancer Society's

support is more vital than ever.

ANZ Bankwillagain be the main

Daffodil Day sponsor.

DOMAIN PLAN

Ashburton District Council staff are

collating over 150 submissions to its

domain development plan,put out

for consultation earlier this year.

The plan proposesahostof

changes,withthe proposed

relocation of the Ashburton Bowling

Clubdrawing mostcomment. The

submissions are likely to be heard

and debatedbycouncillors in

August.

CONSERVATIVES

New Conservativeleader Leighton

Baker will be in townonSunday to

speak about what thepartyis

offeringvoters ahead of the general

election. The meetingwill be in

Tinwald School's hall, startingat

2pm.The party hasalocal

candidate, Lachie Ashton.

CITIZENSMEETING

The Ashburton Citizens Association

will holdits annualgeneral meeting

on July 30. The meeting will be at

the AshburtonClub and MSA,

beginning at 7.30pm.Therewill be a

guest speaker and asupper

provided.

SKYDIVE CHALLENGE

AnnaTuffley has signed up to

support JumpToThe Rescue

SPCA, anational skydive

fundraising event. The18-year-old

has experiencedanxietyand

depressioninthe pastand is taking

on the jumpchallenge, in Ashburton

nextmonth,asaway to help

animals andpushherself outside

her comfort zone. ''I'm inspiredby

the loveIhavefor animals and

wantingtohelp out as muchasI

can,'' shesays,onthe fundraising

site.She wants to support the SPCA

by raisingasmuch money as

possible to help their work.

The page canbefoundathttps:/

/jumptotherescue2020.

everydayhero.com/nz/anna

2293035
---
NEWS

8 Ashburton Courier, July 9, 2020

www.ashburtoncourier.co.nz

Palliative care funds entrusted to Advance Ash

LINDA.CLARKE

@ashburtoncourier.co.nz

The business of dying is

different for everyone. People

who are terminally illoften

don't want to be abother, to

take up timeorresources;their

families are oftencaughtinthat

bubble too.

Small things,like money to

top up cellphones so families

can stay connected duringfinal

months, ormoney to buy special

foods more easily toleratedby

tummies upset from cancer

drugs, make aworld of

difference.

For thepast 30 years, the

Ashburton Palliative Care

Charitable Trust hasbeen

trying to ease those financial

loads on Mid Canterbury

people. But it is winding up its

affairsand handing the job over

to Advance Ashburton, along

with a$61,500 donation that

will be investedand used to

continue to help peoplein

palliative care.

TheAdvance Ashburton

Community Foundation

currentlyhas about $11 million

investedonbehalf of the

community andusesthe

interesttofundawide range of

projects and initiatives.

Executive officer Sandi Wood

said applications for financial

hardship grants forpalliative

care purposes would be

processed quickly,astimewas

often shortfor those who would

benefit.

Shesaid nine outof10

palliative care grants were

madebypeopleonbehalf of

palliative care patients

becausemany terminally ill

peopledidn't want to be a

bother.AdvanceAshburton

wants to grow theprofile of the

palliative care fund so more

peopleand their families

benefit.

Thegood work by the

Ashburton PalliativeCare

Charitable Trust beganback in

1996 when the trust beganto

promote the palliative care

Advance Ashburton executive officer Sandi Wood (back left) with

palliative care trustees Karen Hall and Brendon Adam and (front,

from left) Trish Davis, grants administrator Lucia Ghidoli and

Christine Dean.

philosophy, work done today by

HospiceMid Canterbury.

It is aboutsupportingpeople

at the end of their life,

providing equipment and

resourcesand advancing

palliative careeducation for

nurses and otherhealth

professionals.

There were early ideas about

ahospice building in

Ashburton, but the costsof

clinicalcare are too high.

AshburtonHospital provides

two hospice­typeroomsfor

patients and their families

when needed.

Members of the palliative

caretrust met recently to

officially hand over money it

had been bequeathed over the

years. Some $30,000 camefrom

awinterball andAshburton

Altrusa holds an annual Tree of

Remembrancefundraiser.

Trustee Christine Dean said

people have benefited from

grants to enjoy abetter quality

of life,families have felt

supportedwith less financial

pressure and in some cases the

dreamsofadyingperson have

beenrealised.

Christine said Advance

Ashburton wouldcontinue the

trust's work now by processing

the grant applications and

accepting anyotherbequests or

donations forthe palliative

carefund.

Teddy bears' picnic at Millstream

Youngsters with their teddy bears,

and armed with astash of honey

sandwiches, were ahive of activity

at Radius Millstream last week.

Adozen or so resthome residents

enjoyed the mayhem as eight preschoolers

chased bubbles, shared

their bears and scoffed the

sandwiches.

Organiser Sue­ann Carr said the

group met twice amonth, on the

first and third Friday, at the

resthome between 10.30am and

11.30am. The gatherings, which

sometimes had atheme, were

about generating interaction

between the residents and the

visitors.

Last week's teddy bears picnic

was only the second gathering

since Covid­19 restrictions eased

and both parties were keen to reestablish

connections. ''The focus

is on families coming together,

seniors with the young ones. There

are lots of health benefits.''

Ashburton

July 9, 10, 13 &14

August13, 14,17&18

2293373

Accreditation

Ashburton's commitment to helping

newcomers feelmoreaccepted and

celebrated in the community has been

recognised withanaccreditation from

Immigration New Zealand.

The district has become one of only seven

places in the country to be recognised as an

Established WelcomingCommunity,the

second stage of afour­level accreditation

model. Accreditation provides funding and

support opportunities for Ashburton council

to continue its Welcoming Communities

work.

www.auricelectrical.co.nz

• Domestic electrical services

• New house wiring

• House rewiring &maintenance

SUPPLIERS AND INSTALLERS OF LEADING BRANDS

• TV &Datawiring

• Solar installation

• HeatPumps

Call todayfor an obligation free quote

0800287 423

2291188

171ALFORD FOREST ROAD,ASHBURTON

0800 86 22 44

Chippers Generators Compactors Excavators Access Gear MotorVehicles

Trailers Forklifts PortableBuildings Toilets Mowers&More

2286699
---
NEWS

Ashburton Courier, July 9, 2020

9

Rising star Maddi

training with hub

AshburtonCollege cyclist

Maddi Lowry has been selected

to train with Cycling New

Zealand's Upper South

Performance Hub and has a

busy few months ahead of her.

Thehub offers world class

coachingand training facilities

forselected cyclists andinthe

past has helped the progress of

localriders Bailey O'Donnell

andJennaBorthwick in the

sport.

Maddi will travel to

Christchurch twice aweekto

train at thehigh performance

Apollo Projects Center.

Sessions will be ledbyhead

coachSteve Rickerbyand

strength and conditioning

coach Hayden Hall.

TheYear 11 studentalsohas

development camps that will

take place throughoutthe year.

Maddi will compete in round

oneofthe three­day National

TrackSeriesinCambridge

from tomorrow and has rounds

twoand three linedupin

September andOctober.

Theseries offers riders the

opportunitytodevelop

increasedtactical and

technical awareness, as well as

Top cycling prospect Maddi

Lowry.

furtherrelevanteducational,

coaching and workshops.

At the end of August Maddi

will represent Ashburton

College at the South Island

Schools Road Championships

in Blenheim.

$1.5m to be spent on

three RDR bridges

The Ashburton District

Council will spend $1.5million

on three newbridges over the

Rangitata Diversion Race

(RDR) to make it easier for

heavytrucks to cross the

irrigation canal.

Council is due to demolish

and replace three RDR bridges

on Arundel Rakaia Gorge Road

and will be closing them for

three months between August

and November forthe work to

go ahead.

The bridges arebetween

Surrey Hills Road and Lower

Downs Road, Moodies Road

and Prices Road, and

Ashburton StaveleyRoadand

SpringburnBushside Road.

Property ownerswill still be

able to access theirproperties,

but will not be able to drive

over the bridges whilethe

demolition andconstruction is

under way. Detour routeswill

be in place.

Mayor NeilBrown said the

new bridges would take the

weight of high productivity

motor vehicles carrying

maximum weights. Previously

those vehicleshad to carry less

to go over the bridges or find a

differentroute.

"The truck drivers have not

been able to go to full weights

to go over thesebridges."

Hunt on for hidden rocks

The hunt is on for 10 specially

decorated rocks hidden around

Mid Canterbury.

The rocks, hidden in outdoor

areas usually frequentedby

children, are the brainchild of

the team at PropertyBrokers

Ashburtonand part of adistrict

wide rockhunt with some cool

prizes up for grabs.

Realtor Kirsty Claysaid the

rock huntwas anovel activity

for children to take part in, for

free, and timed for the school

holidays.

It's something different and

interactive for the kids to do

over theschool holidays.

And it gets them outside, so

keep an eye out, she said.

Children whofind a

handpainted rock ­and they

will know one when they find

one ­can take them into the

Property Brokers Ashburton

office, on EastStreet, to claim

its correspondingprize.

There are movietickets, craft

activities, board games,

swimming vouchersand a

scooter to be won in the prize

Property Brokers's Meagan Bell

with siblings Benjamin and Zoey

claiming aprize in the realtor's

school holiday rock hunt.

PHOTO SUPPLIED.

pool.

Already acouple of prizes

have been collected,and the

Property Brokers team were

notrulingout dropping more

rocks aroundthe district in the

coming days.
---
DEATHS

MARLEY, Jeanette

Lillian: Has lost her battle

to cancer and passed

away on 2 July 2020,

at Coldstream Lifecare

Ashburton, aged 75.

Daughterofthe late Elaine

and Jack, daughter-inlaw

ofthe late Margaret

and Stan. Loved mother

and mother-in-law of

Jacqui and Bob, Lisa,

Bryan and Maria, Glenn

and Anita. Grandmother

and great-grandmother.

Your suffering has now

ended. Rest forever in

peace. Heartfelt thanks

to everyone involved

in Jeanette's care and

support in her final

months, especially Dr

Sue Fowlie and Pamela

Campbell and the team of

the Rakaia Medical Centre,

Dr Penny Holdaway of

Three Rivers Healthcare,

the incredible team at

Coldstream Lifecare, the

RuralHealth SupportTeam

from Ashburton Hospital,

Annie Bonifant of the

Cancer SocietyAshburton,

Annie Rhodes of Hospice

Mid-Canterbury, St John

Ambulance and Rakaia

First Response teams and

of course, Jeanette's dear

friends. Donations to St

John Ambulance or the

Cancer Society Ashburton

would be greatly

appreciated. A private

cremation has been held,

as were Jeanette'swishes.

Paterson's

Ashburton

FDANZ

03 3077433

SMITH, Roy Robert:

Peacefully at Ashburton

Hospital on July 2, 2020

aged 93 years.

Dearly loved husband of

the late May, much loved

Father of Les and Sandy,

and Neil and Patrice, loved

grandfather and great

grandfather of his four

grandchildren and three

great-grandchildren.

Special thanks to Roy's

caregivers, neighbours,

and the staff of Ward

One Ashburton Hospital

fortheir careand support.

Messages to: The Smith

Family, 118 Tarbottons

Road,Tinwald,Ashburton.

A service to celebrate

Roy's life has been held

in Ashburton, and the

intermentwill take placeat

The Hokitika Cemetery on

Tuesday, 14 July at 2.00pm.

0800 2MEMORY

027 637 1229

Family Notices

DEATHS

WHITE,OliveLouisa (nee

McDowell): At Rosebank

Hospital,Ashburtonon4th

July 2020, aged 97 years.

Loved wife of the Late

Cyril. Dearly lovedmother

of Denise and John, Karen

and Ken. Much loved

Nana of Emma, Tahnee,

and Alex. Great-nana of

Millie, Thomas, Harper,

and Maya. Thank you

to the staff at Rosebank,

and Cameron Courts

for their care of Olive.

Messages to The White

Family, C/- PO Box 472,

Ashburton7740. Aservice

to celebrate Olive's life

will be held at our Chapel

cnr East and Cox Streets,

Ashburton, on Friday

10 July commencing

at 11am, followed by

private interment at the

AshburtonCemetery.

Paterson's

Ashburton

FDANZ

03 307 7433

MEMORIAL SERVICE

McLACHLAN, Trevor (Trev)

1953 -2020:

Amemorial servicefor Trev

will be held at Activate

Church, 13 Watts Road,

Sockburn, Christchurch,

on Saturday July 11,

commencing at 11.00am.

For catering purposes

please RSVP to Andy

021395157.

McQUARTERS,

Alan

Albert "Mac"QSM, June 6

1929 ~April 82020. Alan's

family wish to advise thata

celebration of Mac'slifewill

be held at the Ashburton

Trust Event Centre, Wills

Street, on Saturday,

July 11, commencing at

10.30am. Donations may

be left at the venue for

his two passion projects.

The Ashburton Trust Event

Centre and the Ashburton

Fire Museum.

Paterson's

Ashburton

FDANZ

03 307 7433

ACKNOWLEDGEMENT

HENDRIKS, Harry: Truus

and family wish to thank

everyone for the cards,

flowers, phone calls and

visits following the sad

passing of Harry. We

were very grateful for the

kindness and support

shown to us.

Please accept this as a

personal thank you from

our family.

KNIGHT,Peter: Val, Tracey,

Annabel, and Tim wish to

thank everyone that has

supported them since the

sudden passing of Pete.

Thank you for all the food,

flowers, cards and visits,

it has been very much

appreciated and to all that

attended the service and

to all the Vintage Car Cub

members and his Rugby

boys who gave Pete the

GuardofHonour.

Thank you tothe Medical

team that cared for Pete,

and especially Jo from

Memory Funeral Services

who took such good care

of our family and was very

professional in her care

of Pete and also Bernard

Egan for officiating at the

service.

As many addresses

are unknown please

accept this as apersonal

acknowledgement from

the family.

WELSH, John: Noelene

and families cannot

thank you enough for

the visits, kind thoughts,

flowers and caring over

the months before and

afterJohn's passing.Itwas

deeply appreciated.

Thanks so much. Please

accept this as apersonal

acknowledgement.

Birth notices listed by

parents will continue

to be free in theFamily

Notices column.

Theinitial death notice

lodged by afuneral

directorwill be listed

without charge.There

will be asmall charge

of $15 forsubsequent

notices relatedtothe

same death, up to a

maximum of 35 words

and on aper-line basis

afterthat.

Thesamelow charges

apply to other

family notices,such

as engagements,

acknowledgments,

in memoriam notices

and anniversaries.

Supporting the

community

96 Tancred Street,Ashburton.

LREA2008

Phone 307 8317

MCRE

NEWS

10 Ashburton Courier, July 9, 2020

Expo to be live­streamed

MICK.JENSEN

@ashburtoncourier.co.nz

Ashburton's popularBack To Basics expo is

changing formats this year and insteadofbeing

awalk in event, it will be live­streamed on

Facebook.

Run since 2014, the annual expo focuses on

''natural savvy living'' and usually features a

dozensofstalls, information booths,

demonstrations and speakers.

The live streamevent can be watched on the

Ashburton BackToBasics Facebook page and

will feature interviewswith regular expo

participants. It will also promote other

community groups and projectsand will

includegiveaways.

Those following the July 18 stream will be

able to provide online feedback, whilethose

unabletowatch can review the video at

another time.

Event organiserJulia Crosson will be joined

by co­hosts KateWhite and Brad Raukawa for

the interviews and chat, whichwill run from

10.30amuntil 2.30pm.

Mrs Crosson said the new format was aoneoff

and the event wouldbeinits usual form

next year.

''Instead of abusy interactive day, people

can now sit back, relax and reflect on what

Back To Basics is all about,'' she said.

Mrs Crosson said those being interviewed

would include life long jam makerand food

preserver Trish McLaren, Kate White from

Mid CanterburyTimebank, Lesley Ottey from

Eco Educate, Danielle Guise from Ashburton

business Simply Eco,James Lamb from Civil

Defence and passionate soil advocate Sheryl

Aperfect venue for

Functions,

Funerals

and

Weddings.

Trott's Garden

371RacecourseRoad, Ashburton

www.trotts.co.nz |Email: info@trotts.co.nz

2258775

Family owned,

locally owned

22 MooreStreet,

Ashburton

0800 2636679

2289133

Back To Basics organiser Julia Crossonis

taking the expo to alive­stream platform

this year.

Stivens.

Interviews would vary in length,she

said.

''It won't be aquestion and answer

session, but rather passionate people

sharing their knowledge and journey

with others,'' said Mrs Crosson.

The live stream would also provide

information on community groups such

as the Menz Shed,Boys' Brigade, air

cadets, budget services,marae and

others.

Mrs Crosson said conversations on

sustainability, community resilience and

ideasonhelpingpeoplebecome better

stewards of the land and their own

resourceswere more relevant now than

ever.

Farmers happy with

milk powder price jump

Mid Canterbury dairy farmers

are happy with the increase of

whole milk powder (WMP),

which jumpedin price this week,

through the Global DairyTrade,

by 8.3 per cent ­its biggest

increase sincelate 2016.

Dairyfarmer Chris Ford, also

FederatedFarmers Mid

Canterbury provincial dairy

chair, said it was ''very, very

positive liftinmilk powder

(pricing).Wehope it'sasignof

things to come. With covid the

markets are very volatile and you

needed to be crystalball gazing

to actually understandwhat's

going to happeninthe nextsix

months, 12 months, two years.

''So, to effectively start off the

season with agoodlift, farmers

can look at it as apositive start to

the season.''

He said the forecastwas good

platform and ''quite asubstantial

lift''showing strongdemand for

New Zealand's single biggest

export.

The WMP prices­which have

the biggest bearingonFonterra's

farmgate milk price ­leapt by 14

per centtoUS$3208 atonne and

backtowherethey were in late

January of this year.

Prices for WMPwereupfor all

the contract periods, though the

liftswere strongest for nearer

dated contracts indicating strong

short term demand,NZX dairy

analyst Amy Castleton said in a

commentary.

~Additional reporting NZ

Herald

Cultural activities

Hakatere Multi Cultural Council has

resumedits normal activitiesprogramme.

It includes aparent'scoffee morning on

Wednesdays, aboard games cluband a

women's social group.

Thecouncil's newcomers network

programme is currently advertising for a

part­time co­ordinator, due to expansion.

Complete

Local Care

Since 1982
---
www.ashburtoncourier.co.nz

Snazzy Subaru

Impreza

MOTORING

Ashburton Courier, July 9, 2020

11

BOB NETTLETON

Motoring South

Subaru's Impreza hatch will

appealtothose afteramodel

that's not just one of the small

hatch crowd, dominated by

heavy hitters such as the

ToyotaCorolla,Ford Focus,

Hyundai i30 and Kia Cerato.

The major thing that sets it

apart from its rivals, is the

fact that none offer the

standard AWD system of the

Impreza, and in acountry like

ours with changeable roads

and weather, that provides

real peaceofmind driving.

Subaru's compact Impreza

has undergone acosmetic

overhaul and now facesthe

world with aredesigned front

bumper and grille, and rolls

with greater panache on

newly designed17" alloy

wheels. Anotable inclusion

on the safety front is Subaru's

eight­feature crash avoidance

Eyesight technology.

One feature that's missing

is the highly affordable sub

$30k price sticker.Since the

final quarteroflast year

Subaru's prices, like a

number of other Japanese

brands, have been steadily

creeping up across the model

range and the Impreza hasn't

been immune from this.It

had managed to hold its 2017

launchprice of $29,995 for

nearly three years.

With our dollar steadily

weakening against the

RATING OUT OF 10

Performance..........................................................6

Handling ................................................................7

Build quality and comfort.....................................7

Passenger and load space ....................................7

Fuel economy, Rightcar website rating...............

............................................................. 6.7L/100km

On road test average consumption .. 7.8L /100km

Value for money................................................... 6

Safety ..................... Five Star ANCAP crash rating

Overall points out of 10 ........................................7

Japanese Yen, this highly

attractiveprice was no longer

sustainable and the price tag

is now $32,490.

Don't get me wrongitstill

represents good value for

money, but the truthis

Impreza isn't the greatbuy it

oncewas.

Amodern115kw naturally

aspirated direct injection2.0

litre version of Subaru's

horizontally opposed

4­cylinderboxer engine isn't

the most vibrant or potent in

its class, and is comfortably

out muscledbythe Toyota

Corolla's 125kw 2.0 engine.

If you have to give it a

performance label adequate

about coversit. However,

while it failstomake a

statementwith its

accelerative abilities, it

definitelydoes with its

exceptional smoothness and

refinement.

In the pastSubaru's boxer

engines have been abit lumpy

and wheezy. Ilike the

effortlessthe way the engine

goes aboutits work and

responsiveness in the allimportantmid

rev range,

making it apleasuretodrive

around townand out on the

open road.

This Impreza is another

model helping Subarushed

its reputation for fairly

average fuel economy. It's

managed to turn the tables on

this front thanks to avery

efficient Lineartronic

QualityEuropean

Vehicle Servicing

•Advanced

Diagnostics

•Experienced

Technicians

Constant Variable

Transmission.

Roomier than many of

competitors, the Impreza has

loads of practical appeal,

especially when you factor in

the decent sized rear hatch

cargo area.

The easy to read

instrumentlayoutisaplus

along with the clean modern

fascia.Many will enjoy the

slightly elevated SUV­like

drivingposition that ensures

excellentforward and side

visibility. Afairly steep

tapering roofline that angles

off toward the back of the

vehicle restrictsyour view

when reversing. Thankfully a

good backing camera saves

any unwanted bangs.

Thisisacarthat feels right

at homeonthe huge variety of

road surfaces that make up

the unique New Zealand

drivingexperience.

There is always plenty of

controland grip when

needed. The suspension is

quick to react and effectively

manageunexpected bumps

and deviations in the road,

before they unsettledthe

vehicleand its occupants.

In the test car Ideliberately

soughtout afew gravel roads

to test the control and

tractionofthe Subaru's much

lauded symmetricalAWD

system.I'm glad Idid,

because it gave me an even

greaterappreciation of just

how good it is.

Bruce McIlroy Limited

309MethvenHighway, Ashburton 7776

Tel: 03 3087282 •E:bruce.mcilroy@xtra.co.nz

MTAAPPROVED

Call us for a

FREE

QUOTE

•Collection/Delivery

'Free of Charge'

in Ashburton

2291215

:: ROBBIE :: KYLE :: WILLIAM

Your safety is our concern!

Don't wait for your WOF toexpire ifyou think

there issomething wrong with your car!

•WOF •Servicing •Tyres •Suspension •Steering •Brakes

• Exhaust specialists •Batteries •Mechanical repairs

Cnr Cass and South Streets, Ashburton

P 03 308 9984 F 03 308 9910

M 0274 999 565

E undercars@robbies.co.nz

OPEN SATURDAYS FOR WOF, 8.00am to 12 noon

2291251

2290752

Restoration Rust repairs Insurance claims -Your vehicle your choice

Deal directly with the owner, Bill Johnson

Panel beating and painting on all vehicles, including horse floats, caravans and small boats

2291250

16 -18Cass Street, Ashburton l E: johnsons.panelpaint@gmail.com
---
NEWS

12 Ashburton Courier, July 9, 2020

Road trip for district councillors

www.ashburtoncourier.co.nz

Council grant used for

cool pool spruce-up

It was the middle of winter, but

Bert Oliverstarted the

lawnmower and gavethe grass

at the Mt Somerspool aquick

tidy­up last week.

He and wifeKate wantedto

make sure visiting Ashburton

District councillors saw the

well­used pool's best side, even

though its water is in winter

mode.

Council gave the pool

committee money last summer

to install ''fake carpet'' around

the pool's edge, buy anew pool

cover and carry out some

landscaping.

Bert said the community was

grateful for the financial boost

andthe pool was well usedby

locals and holidaymakers.

Abusycommitteeof

volunteers makes sure the pool

water is tested andkept

sparklinginsummer. Theyare

currentlytrying to findthe

source of aleak and have

commissioned an engineer to

take alook.

Council was also asked to

trim up somenearby trees in

the domain to stop nuisance

leaves adding to the volunteers'

work. Thepool needs lots of

sunlighttoheat thewater.

Councillors visited eight

district pools lastyear and gave

atotal of $50,460tohelp with

maintenance costs and health

and safety initiatives.

Ashburton District Councillors

donned sturdy walking shoes

and warm coats for aroad trip

around the district last week.

With Cr Leen Braam at the

wheel, the nine councillors,

plus mayor Neil Brown and

senior council staff visited

commercial properties around

Ashburton, then headed to the

countryside with stop­offs at

council's Ocean Farm and the

Cracroft intake at Rangitata

River, before heading to Mt

Somers to visit the town's water

plant and pool.

After finishing off their

packed lunch at the Mt Somers

hall, the group headed to

Staveley to see the work being

done with acouncil

biodiversity grant and then

moved on to Methven, where

stops included the Opuke

thermal pools under

construction and the soon­tobe­opened

skatepark.

Councillors also checked out

new footpaths, the dog park

and the wastewater plant.

Councillor Diane Rawlinson (left) and Liz McMillan with volunteer

Bert Oliver at the Mt Somers pool.
---
www.ashburtoncourier.co.nz

Hospicepopsup

Hospice Mid Canterbury is

staging its first pop­up shop to

help clear some of the many

items donated after lockdown

clean outs.

The pop­up shop will held in

the old Caroline Eve store on

East Street next Thursday to

Saturday.

For sale will be agreat

selection of furniture, linen,

clothing and homewares

donated before and during

lockdown.

Proceeds from the hospice

shop go towards the many

services that Hospice Mid

Canterbury provides to support

people throughout Mid

Canterbury dealing with alifelimiting

illness. All services are

provided free of charge to clients

and their caregivers and while

volunteers provide many of the

services, specialised services

and therapies are delivered by

independent professionals who

are contracted by Hospice Mid

Canterbury.

With no government funding,

hospice relies on sponsors,

donations, support for the

hospice shop and fundraisers to

offer these services. The pop­up

show will be open from 10am

until 4pm on July 16 and 17, and

from 10am to 1pm on July 18.

For locals who may have had a

clean­out over Covid­19

lockdown, hospice are accepting

donations and can do pick ups.

Contact Tracey at the hospice

shop on 3074458 or email

tracey@hospicemc.nz.

Tracey Fuller, manager of Hospice Shop

Mid Canterbury, and volunteer Jackie

Heffernan shifting items for the hospice

pop­up shop which opens next week, in the

old Caroline Eve Store next to Paper Plus

on East Street.

NEWS

Ashburton Courier, July 9, 2020

Lockdownpositives

forRuralco shoppers

Aspike in membership inquiries and

greaternationwide reach has come out

of lockdownfor Ashburton­based

Ruralco.

The company, which has just wound

up its annual instore days promotion,

traditionally runs theevent for members

over twodaysbut thisyear was forcedto

re­evaluate due to Covid­19.

Ruralco chief executive officer Rob

Sharkie said it was changed to an online

formatover alonger duration.

The event hadgonewellwith steady

streamsofpeople througheach of the

stores and online. Ruralco willlook to

review the format and look at howto

bring together the best of both worlds for

next year.

Mr Sharkie said thedecision made

over lockdowntoholdthe event online

was surprisingly helped by the

lockdown, giventhe amount of workit

took stafftoprepare for the change. Staff

were able to dedicate timetoupdating

the website and its online features to

include instore salepricingand buynow

options.

It wouldn't have happened withoutthe

time lockdown gave them,MrSharkie

said.

''The deals always good but (this year)

they have awider reach,'' he said.

Aprinted cataloguewas also available

and sent out with increased distribution;

it went to 30,000 ruralfarmersand

Ruralco members across the South

Island,aswell as to membersinthe

North Island. There was alsoanonline

push and increased newspaper

advertising.

Members who purchasedproduct and

13

Ruralco chief executive officer Rob

Sharkie with the 2.3L Ford Mustang.

suppliesthrough Ruralco were also able

to enter the competition to go in the draw

to winabrandnew 2.3LFordMustang,

worth$65,900. Awinner willbe

announced by the July 31.

The car was something abit fun,that

some people wouldn't normally buy if on

farm, Mr Sharkie said.

It was onsite at theAshburton storefor

peopletoview.

While the traditionalinstore days saw

scoresofsuppliers mixing with members

takingadvantage of discounts, thisyear

60 suppliers on site across thethree

Ruralco stores; Ashburton, Methven and

Rakaia, and the cooked lunchreplaced

with agourmet sausage.

YES

...if you are

listing your home

you should call

Stephen!

Stephen Watson

0274 339 695

stephen@renz.net.nz
---
www.ashburtoncourier.co.nz

Low­key golf club celebration

The Ashburton Golf Club has

decided on low­key

celebrations to mark 125 years.

Celebration organiser Neil

Macdonald said it was an

important milestone and the

club was hosting aspecial

round of golf on July 19 and a

social evening.

He said while the function

was small and in the shadow of

Covid­19, the club was very

proud of its long history and

widely­acclaimed course.

The 125th celebrations

would include the unveiling of

acommemorative plaque in

the newly­concreted area of

the flagpole, followed by a

round of golf and then asocial

evening with time for

speeches and shared

memories.

The club's history is

contained in acentennial book

and club member Jeff

Williamson has been tasked

with gathering highlights of

the past 25 years.

The club's Brandon course

is actually its fifth home. The

first golf course was at the

pound near South Street, then

the showgrounds, followed by

the racecourse and then on the

Tinwald side of the Ashburton

River.

The club moved to Brandon

in 1953 and has hosted many

major tournaments, including

interprovincial and pro am

events.

Neil has been amember

since 1970 and says he enjoys

the camaraderie of his golfing

mates, and the challenge of the

course, which has some of the

best greens in Canterbury.

The club is already working

towards hosting the 2021

interprovincial men's team

tournament, when the best

amateur golfers from around

the country will come to

Ashburton for aweek in

December that year.

Work had already started

around the course to ensure

the fairways and greens would

be in top shape.

NEWS

Ashburton Courier, July 9, 2020

15

Businesses team

up for new bridge

Adestroyed bridge on a

popularsection of mountain

bike and walkingtrack in

Ashburton has been replaced

thanks to the effortoftwo local

businesses.

Thebridge, over acreek on

the riverside section of track

near the Ashburtonrail bridge,

was damaged beyond repair by

whatisbelieved to be aquad

bike illegally using the track.

The damage meant cyclists

had to dismount to crossthe

creek,and walkers had to jump

acrossfor awhile.

Mountain Bike Ashburton

highlighted the damage on

Facebook soon after it

happened in late June, and

members vented their anger

and disappointment.

AdamGraham fromAG

Fencingand Matt Dellit from

Great SouthernAshburton

heard about the damage and

teamed up to build and fita

brand new wooden bridge last

week.

Mountain Bike Ashburton

president James Reid said the

club was very grateful for the

efforts of the twomen.

The club maintained and

built tracks,but had not been in

apositionto putinanew bridge

straightaway.

Adam Graham from AG Fencing

and Matt Dellit from Great

Southern Ashburton with the

new wooden bridge. PHOTO SUPPLIED.

''It's greattosee two local

businesses gettingbehindthe

workwedo.''

Mr Reid said signs on the

river track clearly indicated

that motorbikesand quadbikes

wereprohibitedinthe area.

THE 2020 GENERALELECTION

AND REFERENDUMS

Be aware of your speed

around school buses

Early mornings and midafternoons

we all need to be

mindful of stationary school

buses loading or unloading our

children; outside schools,

around our town and very

importantly in our countryside.

In Mid Canterbury, 20km/h

applies everywhere when

passing astopped school bus

that has its left blinker on or its

hazard lights or its 20 sign lit.

One afternoon, when

returning from teaching in

Timaru, Icrested the steep hill

just over the Rangitata River

and there, was the stopped

school bus all properly lit up. I

went from 100 to 20 in the

allowable 60m.

However the truck and

trailer behind me, but not too

close,had no chance and to

avoid me had to pull hard left

under fullbraking. He gave me

the truck's hornblast untilmy

arm, out the window, folded

over the roof and pointed out

the bus.

Had he beentailgating me I

would still havedefinitely

done the right thing with the

emergency near stop,but feel

the outcome for me may have

been awkward! Why did the

truckie, sitting up at least twice

my height not see the stopped

bus sooner?

Perhaps defensive driving

starts with leaving 25m clear

behind the car in frontofyou,

its theirsafety area after all.So

on the open road, leaving 50m

clearbehindthe car in front of

you, or one power pole,means

they could safely make an

emergency stop.

If you drivetokeep your

motorvehicle and passengers

accident free and the motor

vehicle in front of you also

accidentfree, Ican feela

smiley face comingon!

The General Election

and referendums on

End of LifeChoice

and cannabis willbe

held in September.

We'llhelpyou over

the coming weekswith

everythingyou need to

know to makevotingeasy.

Enrol. Vote. Be heard.

0800 36 76 56

vote.nz

ELE0163_Pre_Awareness_150x200
---
SPORT

16 Ashburton Courier, July 9, 2020

www.ashburtoncourier.co.nz

Footballers enjoying the game

MICK.JENSEN

@ashburtoncourier.co.nz

There might not be aMid

Canterbury women's football

team this season, but five keen

local players are travelling up

to Christchurchevery Sunday

to get their playingfix.

Ashburton College students

GemmaTaylor, LaurenTaylor,

Sapphire Kuruangi and

Darnell Lima, along with

Darnell's mum Christina, are

playingfor WaimakaririUnited

Black.

Playing numbers for alocal

travelling side were looking

good in earlyMarch, but with

the season shortened because

of Covid­19, interest dropped

off.

The Ashburtonquintetare

now halfway through a

guaranteed10week season and

play in the SundayWomen's

Division One league.

The WaimacBlack side has

had wins over Western

Princess, Ferrymead Bays and

Hornbyand losses against

Western Boom and Burnham

Bobcats. The side sits joint

❛We are committed and want to play.Wealways

give it our bestand are grateful to be playing.❜

third on the table.

ChristinaLima said the girls

were enjoying their football.

''We have blended into the

Waimac team reallywell,

mainly becausewe're all

versatile playersand play

wherewe're needed.''

She said the girls did not

train with Waimac, but instead

with the CCL men'sreserve

team in Ashburton.

Mrs Lima said the girls'

greatest asset was attitude.

''We are committed and want

to play.

''We always give it our best

and are grateful to be playing

with the Waimac team.''

Home games are played at

Kendall Park near Kaiapoiand

on an artificialpitch, while

away games are played on grass

at grounds around

Christchurch.

—Christina Lima

The bounce of the ball on

astroturf was consistent and

there was no mud, but players

had to be carefultostay on their

feet and not slide in for tackles,

said Gemma Taylor.

She and twin sisterLauren

haveplayed football since the

age of three and also play

rugby.

''We're just so happy to be

travelling and playing football.

''Chris is like an Aunty to us

and Darnell and Sapphire

sisters.

''As agroupwe've played

together for years and

hopefully for many moreto

come.''

Travelling footballers Lauren

Taylor, GemmaTaylor,

Sapphire Kuruangi,Darnell

Lima andChristina Lima.

Defending netball champs

aiming to bounce back

College old boy

in the spotlight

Defending champions

AshburtonCollege Awill be

looking to bouncebackwith a

strong performance against

United tonight, aftergoing

downinthe opening gameof

Mid Canterbury Netball's

premiercompetition last week.

College Alost 38­31tothe

team thatthey beat in last

year's final,Celtic Abut they've

alreadyput thatresult behind

them andnow have their

attentionfirmly on their next

opposition–United A.

United Aalso had atough

firstweek at the office, going

down30­20 to astrong­looking

Hampstead Aside,while Mt

Somerswerewell beaten by

Methven A41­25.

It was adominant

performance by Methven A,

and one they'll be lookingto

buildonwhen they takeon

Hampstead Atonight in what

couldbethe match of the night.

That gamewill be the night's

last one at 8.15pm, with CelticA

and Mt Somersset to kickthe

nightoff at 6.15pm,followed by

United Aand College Aat

7.15pm.

In premier2,Southern A

madetheirintentions clear

with astrong 47­16win over

Methven Blast Thursdaynight.

Southern Awould dearly

love to finish topofthe tableat

the endofroundone and earn

themselvesaspotinthe

promotion/relegation game

with the teamthatfinishes at

the bottominpremier 1, so

they'll be looking to notch up a

second wintonight when they

take on College B.

Hampstead Balso had abig

win to start their premier 2

campaignlast week,beating

College B39­22, andtonight

they'll take on aCelticBside

also coming offa45­22 win over

CelticC.Hampstead Band

CelticBwillplayinthe 6.15pm

gametonight,followed by

Southern Aand College B, with

CelticCandMethven Bthe last

on court.

Last week also saw the debut

of Mid CanterburyNetball's

new Thursdaynight premier3

gradewherethe young

Ashburton College Year10A

side and Southern Bpickedup

the firstpoints.

HampsteadUnder 18 had the

bye in round one, so they'll get

their first taste of premier 3in

tonight's 7.15pmroundagainst

Methven Shearmac, while

College Year10Ahas the bye,

meaning Southern Band

United Bwill playinthe

6.15pmround.

FormerAshburton College

first XV player Emerson

Sooa'emalelagiwas in the

spotlight thisweek, having

givenuphis regularfirst­five

spotfor Southbridge to

former All Black great Dan

Carter.

Carterran out for his home

club Southbridge in an

Ellesmere premier

competition match against

WestMelton.

He surprisinglyjoined the

Blues lastmonth for Super

Rugby Aotearoa and was

gettingsomegametime with

his boyhoodclub.

Carterkicked six

conversions andhad ahand

in two tries in Southbridge's

54­14victory.

It was workthat would

usually have beencarried

out by Sooa'emalelagi,who

played forAshburton College in

his younger years, as did

brothersRichard and Jasem.

Coachofthis year's combined

AshburtonCollege and Mount

HuttCollege first XV Shane

Enright said Emerson

Sooa'emalelagiwas part of his

previouscoachingjourneywith

the Ashcoll first XV.

''He wasagreat young kid,''

Enright said.

The 2020 Mid Canterbury

combined Spartansare up

against Rangiora HighSchool

thisSaturday, inagame at the

AshburtonCollege grounds.

They lostlast week to Christ's

College

Enright said captain Michael

Hennings, unable to play dueto

injury, washavinganMRI this

week on his injured knee and

thatwouldhelp planfurther

treatment.
---
www.ashburtoncourier.co.nz

RUGBY DRAWS

Saturday's draw:

Seniors –Watters Cup: Rakaia vHampstead,

Rakaia 1, 2:30pm HGrant, NForbes,

A McGirr. Southern v Methven, Hinds 1,

2:30pm KFaalogo, SBennett, JRobinson.

Celtic bye.

SeniorB–MichaelDuff Memorial Trophy:

Allenton v Celtic, Allenton 1, 2:30pm G

Jopson. Rakaia v Mt Somers, Rakaia 1,

12:45pm A McGirr, L Bell, C Marshall.

CYCLING RESULTS

Mid Canterbury Social Wheelers training

ride No 3—Home first Kristine Marriott 26m

02s, 2nd Doug Coley 27m 23s, 3rd Matt

Marshall 26m 03s, 4th Roger Wilson 28m 54s,

5th Don Morrison 27m 24s, 6th Michelle

Knight 27m 24s, 7th Emma Hudson 28m 55s,

8th Brian Ellis 31m 48s, 9th Nick Grijns 27m

16s, 10th Pam Harcourt 30m 07s, 11th Steven

Hands 24m 18s F/T, 12th Rob Hooper 24m

18s 2f/t, 13th Michael Gallagher 24m 18s 3f/t,

14th Kenny Johnston 32m 39s, 15th Paul

Sinclair 24m 24s 4f/t, 16th Gerard Morrison

24m 30s 5f/t, 17th Brent Hudson 31m 52s,

18th Debbie Skinner 32m 57s, 19th Colin

Teahan 31m 57s, 20th Alan Johns 32m 58s,

21st Andy Skinner 32m 46s, Dave Shurrock

DNF.

Tinwald Cycling U17 development July

5—Open Handicap: 1st Konrad Artz 8m 17s,

2nd Eliza McKenzie 8m 48s, 3rd Sarah Gould

8m 21s, 4th Logan McKnight 9m 04s, 5th

Tegan Marriott 8m 28s, 6th Tineke Artz 8m

29s, 7th Zoe Nicholls 8m 07s, 8th Amwolf Artz

7m 11s, 9th Daniel Gould 7m 12s.

Grades A: Amwolf Artz, Daniel Gould.

B: Konrad Artz, Sarah Gould, Zoe

Southern v Methven, Hinds1, 12:45pm S

Bennett. Collegiate bye.

Senior Women: Uni Canterbury vCeltic,

2:45pm, IIam Field3.

Combined Colts: Methven/Rakaia vCeltic/Southern,

Rak2, 12:45pm NForbes.

1st XVUCChampionship: MCCombined

vRHS, Ash Coll, 12:00 pm JO'Connor, G

Barr, JRobinson.

Under 18 -Under 6, no rugby.

Nicholls.

C: Eliza McKenzie, Logan McKnight,

Tegan Marriott, Tineke Artz.

Teams Girls vBoys: Boys Team Logan

McKnight, Konrad Artz, Daniel Gould, Amwolf

Artz, time 8m 41s. Girls Team, Tegan Marriott,

Tineke Artz, Eliza McKenzie, Sarah Gould,

Zoe Nicholls, time 8m 49s.

Grade time trial: A. Amwolf Artz 1m 23s,

Daniel Gould 1m 26s. B. Zoe Nicholls 1m 29s,

Konrad Artz 1m 32s, Sarah Gould 1m 36s. C.

Eliza McKenzie 1m 33s, Logan McKnight 1m

36s, Tineke Artz 1m 39s, Tegan Marriott 1m

40s.

Next week same place.

NEWS

Ashburton Courier, July 9, 2020

17

Glenda clocks up 25 years

working for The Warehouse

GlendaMcCarthy says the

opportunity to shakethe hand

of her boss Sir Stephen Tindall

and talkwith him hasbeen a

highlight of 25 years working

at The Warehouse Ashburton.

Glenda saidSir Stephen also

called her personally on her

20­year anniversary to

congratulate and thank her for

her loyal service.

The long­serving Ashburton

team member lovesher job

and considersworkmates and

customers friends.

Glenda startedthere in 1995

working nearly full­time;she

has scaledback to 20 hours to

allow more timewith retired

husband Wayne.

The day­to­daychallenges of

the job keep heronher toes,

along with trainingnew team

members andsupporting new

management.

''I have enjoyed getting to

knowcustomers over the years

while servingtheminstore.

You get to learn more about

their lives and build arapport

withthem.

''While Inowwork mainly

Glenda McCarthy has chalked

up 25 years as ateam member

at The Warehouse Ashburton.

behind the scenes,Ifindthat

when Iaminthestore or even

outsideof it,customers

approach me to share ajoke or

aquick story.I'm very grateful

for the customer friendships

I've developed over the years.''

Glendasays she prides

herself on getting thedetails

rightinher daily activities­

''dotting theIsand crossing

theTs''.

Sheisalso knownfor

reminding her team without

fail on the 25th of each month

that the Christmas countdown

is on.

Glenda said there had been

many technologicaladvances

over the past25years and

retail was everchanging.

Customers could make a

transaction in many ways,

using cash, eftpos, PayWave

andafterpay.

Sheisthe frequent recipient

of flowers delivered to her

workbyhusband Wayne on

special occasions, like

Valentine's Day and birthdays.

Shegot some too on her 25th

storeanniversary.

''Overthe years I've met

many teammates who Ishare

fond memories with. I'd like to

sayahugethank you to

everyoneI've worked with

over the years ­past and

present. I'm grateful for the

support that has been shownto

me over theyears.''

&

Health

Wellbeing

Wellness through self empowerment

OUR FOCUS

•Quality assured

•Comprehensive checks

•Personalised services

•Trendy styles

•Affordable pricing

Monday-Wednesday9:30am -4pm

Thursday&Friday10am -2:30pm

Saturdayand Sundaybyappointment

*Wetakeaerhoursby appointment

Helping people regain control oftheir lives is the goal of

Feminine Health&Wellness Coach.

Owner Annie Rhodes has returned to Ashburton after 13

years living in Christchurch, she has more than 20-years

experience helpingpeople in arangeofmodalities.

Annie is a complementary therapist with an on-going

passionfor personal-development.

Her training and experience has lead her on a journey

workinginthe healthand wellness industry.

Annie also worksinconjunctionwith otherhealth providers

and services to facilitate people's healthand wellness.

Specialising in aromatherapy relaxation/therapeutic

massage,vibrational energy healing and self-hypnosis,Annie

is excited to bring these modalities as well as some new

techniques to her business and shareher expertise.

She is keen to impart knowledge about self-hypnosis,

learned from training and her ownpersonal and client-based

hypnotherapysuccesses.

Self-hypnosis can help people strugglingwith issues such as

stress,anxietyordepression, or even weightmanagement.

''Self-hypnosis is highly effective inwhatever area people

want to work on.Theobjective is to teach people to empower

themselves,''she says.

'Onceyou learnself-hypnosis then youcan do it foryourself

at anytime.You don't require anyequipmentand this skill is

always with you when you need it. Learn itonce and you've

got it forlife.''

Annie says vibrational energy medicine healing in practices

such as the Tibetan singing bowl, chakra balancing, crystals

and hands on healing,can help release tension or stress and

assist the body to heal and to returntoabalanced state.

"It's about helping the body tofunction atits optimal level,

physically,mentally,emotionally and spiritually.''

Everyone is on their ownunique health journey,and wantsto

be in controloftheirlifetobeand,feel empowered, shesays.

Whether it be for recovery, rehabilitation, respite, rebalancing,

prevention, self-discovery, vitality, maintenance

or reflection,

Annie feels it's important towork alongside her clients and

provide supportthey need to establish their goals.

She would bedelighted tohear from anyone who may be

interested in finding out more about how she can help

people overcome difficulties being faced by using some of

these lifechanging modalities.

She iscurrently offering afree, no obligation, 15-minute

phone consultation.

• Reiki

• Massage

•Nutritionals

•Weight Management

Phone or text

027 282 1585

• Skin and Body Care

• Self Hypnosis

•Vibrational Energy Healing

•Spiritual Guidance

•Group Meditation

Annie

2290980

Injury Prevention

HolisticHealth

• Relief from

back/spinalpain

• Improvedhealth and

injury prevention

• Move, heal,rest,

digestbetter

• ACC registered

David Atkinson, Optometrist

65 Tancred Street,Ashburton

Phone: 307 8988

www.nzfocusoptometry.co.nz

03 308 9516

www.ashburtonchiropractic.co.nz

First Floor Smith &Church Building

Moore Street, Ashburton

2290976

2290973
---
Ashburton College

Individual Excellence in aSupportive Learning Environment

News

Issue 17

9July 2020

Message From ThePrincipal

School HolidayBreak

Formanyofusthis has felt like atwentytwo week

school term so the vacation will be very welcome.

I would like to acknowledge the combined

efforts of all College staff during this term, and

particularly interms ofteaching staff supporting

our students back onto the academic track whilst

at the same time supporting those who needit.

The exciting thing about this break isthat staff and parents can look

forward toamore traditional time out from normal school routines, so

please enjoythis break as much as your family and work circumstances

allow.

Challenges

In talking with our College Counsellors, itisapparent that anumber

of our students and whānau are struggling, particularly with either

concerns around immigration status or employment security. If you

or your child are feeling the pressure ofthe current challenges, please

ensure that you seek support from either an appropriate agency or

ourselves. Support can beprovided by either our Counselling team or

the Heads of School.

Looking Ahead to Term Threeand OpenNight

Our Term Three promises to be very busy. We are making decisions

about what events need to happen because it is impossible tohave

all the events deferred from last term added into next term's event

schedule.

Akey event for our Collegehappens in Week 1with our Open Night

on Thursday 23 July

This is targeted specifically at Year 8students who are considering

enrolling with us for2021. Itisachancetocome along and see classes

in action andtalk to anumber of our senior studentsand staff regarding

your child's future. There are two welcomes and guided tours, both

commencing in the Auditorium -one at 5:30pm and the other at

6:15pm. During the evening thereisthe opportunitytomix and mingle

in the staffroom where you have afurther chance toask questions and

meet staff.

Learning Options

One of ouradvantages is thesizeofour student population. This allows

us to offer two models of learning in Years 9and 10. Our Traditional

Stream is very similar tothe education that weexperienced, whereby

students attend classes and the emphasis is on subject content and

vocabulary.

Our other option is the Innovation Stream where subjects work in

collaboration to develop students' understanding ofconcepts. Staff

working with these classes plan in across-curricular manner and the

emphasis forthe students is developing their creativityand their ability

to connect and collaborate.

Sportfor College Teams

One of the pleasing aspects of agreater return tonormality isthe

reintroduction of school sport. We have alarge number of teams

competing in regular competition across numerous codes. My thanksto

all the members of our wider Ashburton community who are Coaches,

Managers and Taxi Drivers (transport executives!). Onbehalf of all our

studentscan Ithank youfor the giving of your time.

Enjoythe break.

Ross Preece

Principal •Tumuaki

Information

College Students'Art Work on Display

at the AshburtonArt Gallery

Ashburton College Year 9 and 10 students have responded to the Discover

Art in Ashburton, Intersecting Views Exhibition, currently showing at the

AshburtonArt Gallery.

HeadofArtsFaculty MillyBrown said that the ArtDepartmentstaff are

excited to be featuring the work of some of our very talentedYear 9and 10

students.Featured works

arebyFinn Brown,

MegFord, Steven Harris,

PoppyJemmett,

Molly Meehan, TalithaNel

andHannahWhite, with

arange of other Year 9

students' work also on

display.

Theexhibitionfeatures apaintedtime-capsule of placesaroundCollege and

the townofAshburton (pictured above), capturing amoment in our time.

Urbanscapes shift, rise and disappear, and our students responded to this

and some of the amazingartworksinthe ArtGallery collection by painting

some oftheirown, and capturing places in Ashburton which maynot exist

in the years to come.

Milly said they have enjoyedthe artisticjourney and the students have done

afabulous job.

(Pictured right): TheworkofHannahWhite

(upper) andFinn Brown (lower).

TheExhibition is open

until 19 July at the

AshburtonArt Gallery

327 West Street.

Phone 308 1133.

BoardofTrustees News ...

COVID-19 Impacts on Education

Nationwide,education has been hitveryhard

by COVID-19 through the lockdown ofour

borders. Statistics New Zealand estimated

that international students studying for fewer

than twelvemonths spent$3.9b in theyear to

March2019.

Ashburton College is not immune. Wehave

had an active programme ofshort and longterm

stays for both groups and individual

studentsfromall corners of theglobe.

Profits from our International Department Programme have been used

to support two extra teachers over and above Government funding,

enabling lowerstudent-to-teacher ratios,especially at Year 9. Feedback

from teachers andparents is that this hasbeen very successful. Withthe

International Programme onhold, wenow have more challenges than

ever to balancethe budget.

However, we are confident that wecan continue to fund the two extra

teachers and keep our books balanced, and the Board has made the

decision to continue this supportfor 2021. Ensuring Year 9students have

the extrasupporthas proven to be beneficial in the long-termregarding

results,and is showing when tracking studentlearning.

PropertyFace-lift

Ministry of Education funding has been approved to give parts of our

College aface-lift and tidy-up. The Board isconscious that areas of the

school are not in the best shape for our students and staff. Anamount

of funding has been released bythe Ministry through the 5YA property

funding entitlement and SIP (School Investment Package) funding

in order to catch uponsome urgent maintenance tosee our school

through to the rebuild, and to provide an acceptable environment for

the current five-year generation of students.

ALong Term One!

Ashburton College teachers and staff, along with all counterparts

of course, have just endured the longest term ever in their careers –

twenty two weeks. Teachers worked through the Easter break and

'school holiday' period getting ready to deliver on-line learning to

their students during the lockdown phase. This was followed upwith

apretty challenging period of teaching students in anew format and

with differing dimensions, while evaluating where each student was at

with their learning and well-being, on return. As for many workers this

timewas oftenwhile meetingthe needs and demands of family life with

theirown children.

Iamsureall will enjoyawell-earned break,and maybeable to take the

chance to be atouristinour ownback yard,asafepieceofparadise down

under.

JeremySavage,Chairperson

Events

StudentExecutive Football Challenge to Staff:

1-0 to Staff!

Further to the StudentExecutivevStaff Volleyball MatchonFriday20March,

prior to social distancing and lockdown times, last Friday saw aFootball

challenge take placeonthe Chessboard. This provided an entertaining,endof-term

lunch-hour in very pleasant weather, enjoyed byagood crowd of

spectators.

(Pictured above): Deputy Principal Jono Hay inhot pursuit of the ball,

fractionally ahead of Head BoyHenryChapman.

The keen and able footballers for both sides were out in force, and no

quarter given by the staff to the students or vice versa. Having won the

volleyball match, the staff teams are now in danger of believing their

invincibilityasthey came away with a1-0 win this time,offagoal scored by

football exponentLuke Martin.

(Pictured above): Theteams at the conclusion of the match.

(Front row, left toright): Harriet Leverton, Poppy Kilworth, Jane Cribb,

SapphireKururangi, Isaac Bazley,LiamSullivan, Kyle Cabangun.

(Row two, left to right): Tom Kitchen, Mike Pearce, Riley Vessey,

Joseph Collins,Maria Costas.

(Rowthree, lefttoright): Patrick Sandrey,Hayley Tallentire, Chelsea Stockdill,

Jason Vannini, James List,Jack Hanrahan, HenryChapman, Jono Hay.

(Back row, left toright): Ross Preece, Victor Ji, Jayne Cornelius, Luke Martin

(partly obscured), Pete Lee.

Information

Individual Excellence in aSupportive Learning Environment

OpenEvening

Thursday23July 2020, 5:30pm –7:30pm

TheAshColl Way

Quality Pride Respect

Futurestudents,parents/caregivers,whānau

and communitymembers are

warmly invited to attend our OpenEvening.

Aparticular welcome,and encouragementtoattend,

is extended to students who will be in Year 9in2021,

and family members

Duringthe evening youwill havethe opportunityto –

• Meet and talk with the Principal, staffand students.

• Hear and see whatthe Collegecan offer your child and family.

• View our facilities,and Innovation and Subjectdisplays.

• Meet with BYOD Retailers -College is aBYODschool

(Bring Your OwnDevice)

• Enjoyasausage sizzle,coffee, tea, juiceinthe staffroom.

To make decisions readyfor Enrolment Week (27-31 July)–

Therewill be information available on:

0 Innovation and Traditional Classes.

0 Option Subjects for2021 (Year 9students).

Option subjects: nine subjects to be takenfromtwelveavailable:

– Choose at leastone from TheArts: Art, Drama,Music.

– Choose at leastone from Languages: German, Japanese,Māori.

– Choose at leastthree from Technology: Agriculture,

Design and VisualCommunication,Digital Information

Technology,FabricTechnology,Foodand Nutrition,

HardMaterials Technology.

• Note: all Year 9students take English, Mathematics,

Physical Education and Health, Science, Social Studies.

• Additionallyavailable: English as an additional language for

students for whom English is asecond language.

Presentations startinthe CollegeAuditorium

at 5:30pm and6:15pm.

These arefollowedbyguidedtoursofthe College,

or youmay choose to self-tour by following the signs.

EVERYONE MOSTWELCOME

Transition Department–EventsUpdate

Year 13 Testimonials

Each Year 13 studenthas theopportunityto receiveaTestimonial (ahistory

of their time at AshColl) atthe end of the year.This process requires input

from teachers as well as students.

Students arecurrently completing an Achievement Statementtowardsthis,

and it is to be returnedtothe Transition Office by Friday24July

forthe Testimonialprocess to continue.

TertiaryStudy Information

We are atthe time of year where students going totertiary study in2021

are gathering information, making decisions, and beginning application

processes,asfollows:

Universityand Polytech HallsofResidence Applications

Halls of Residence applications open online on Saturday 01 August.

Year 13 students will receive information on the application process,

including deadlines,atAko timeatthe beginning of Term Three.

Datesknown so farare:

UniversityofCanterbury – 12August

Victoria University of Wellington – 09 September

Auckland University – 09September

2020University OpenDay in the schoolholidays –

Further Information AvailableontheirWebsite

• LincolnUniversity Virtual Open Day – Online: Friday17July

Coming Events

July

04-19 Studentterm break

11 Rugby–UCChampionship Round 4, MidCanterburyCombined v

RangioraHigh School (Ashburton)

17 1st XI Boys'Hockey,Christchurch

18 Rugby–UCRound 5, Lincoln Combined v

MidCanterburyCombined (Lincoln)

20 StartofTerm 3
---
Ashburton College

Individual Excellence in aSupportive Learning Environment

News

Issue 17

9July 2020

Congratulations

Awards Recognition forKarateExponent

Tayla Davidson

Year 9studentTayla Davidson has received twonotable awards recently.

Rakaia Outstanding Junior Sportsperson Awardfor 2018/2019

At the Rakaia SportsAward eveningonFriday26JuneTayla wonthe above

awardfor herimpressive Karate achievements, whichincludes twonational

titles won inthe 12-13 years category atthe National Championships held

in Auckland, July 2019. One title is in Kumite (Sparring), the other inTeam

Kata (Pattern of Movements).

(Pictured right): Tayla having

been presentedwith her

awards by MayorNeil Brown

(left) and Lions President

Mark Malcolm (right).

The week prior, Tayla was awarded the

Junior Team of the Year Orix Canterbury

Sports Awards Trophy (pictured left) for

Martial Arts.

This evening was scheduled tobeheld

on Friday03Aprilatthe WigramAir Force

base but the public event was cancelled

duetoCOVID lockdown.

Subsequently, the Awards were held online via streaming onsocial media,

from 17-19June.

Tayla has been aKarate participant for the past six years, training in

Christchurch at Kofukan Karate. Tayla started Karate when living in

Christchurch and afterthe earthquakes,aspartofincreasing her confidence.

With the lifting of COVID restrictions, training inChristchurch has resumed

and there is hope of maybe two regional competitions now being able to

be held. Tayla, with the New Zealand team, was scheduled to compete at

the Oceania Championships inNew Caledonia from 12-14 June this year.

However, this event also became aCOVID casualty, ashas the National

Championships. There ishope that the National Championships can be

held later inthe year and the Oceania Championship organisers are trying

to schedule anew date.

AshColl MathsCompetition

The AshColl Year 9 and Year 10 Maths Competitions took place at

lunchtimes during the last week of term.

The teams offour had twenty minutes to answer fifteen problem-solving

questions. Assistant Head of Faculty Liz Cabout said although there was

asmall number of entrants, they were keen and enthusiastic, with some

good outcomes achieved.

Results were -

Year 10 Competition

1st placed

Andreea Ciora, Angela Ciora,BradenLuxtonand

Cedrick Orena –with thirteen questions correctly answered.

2nd placed Mollie Elvy, BenRushton, Maddy Soal,Isabel Wall -

eleven questions correct.

(Pictured above,front and left): Twogroups of Year 10 students working on

their questions.

(Front group, clockwise from front right): Ben Rushton, Mollie Elvy, Isabel

Wall,Maddy Soal.

(Group back left, lefttoright): Cedrick Orena, Braden Luxton, Andreea Ciora.

(Right): At the Marker's Table (clockwise from back left): Angela Ciora

(delivering her team's answers) toGemma Taylor, Easterlin Faamausili

(obscured) and Mahina Pongia.

Year 9Competition

1st placed NicDalgety,StevenHarrisand Luke Hay–impressively with

all fifteen questions answered correctly in tenminutes!

2nd placed Ella Rickard, RubyRobinson, MelissaWilson -

thirteen questions correct.

(Pictured above): Threegroups of Year 9students working on their questions.

(Front, left and right): Luke Hay, Steven Harris(obscured) NicDalgety.

(Middle,clockwise from left): RubyRobinson, Ella Rickard, Melissa Wilson.

(Back group,lefttoright): Dante Mitchell,Maafala Faamausili, Jack Bull (back),

Ken De Lara.

Year 13 AshburtonCollege Academic Blues

and PerformanceAwardsAssembly

The second of our two recognition assemblies was held in the College

Auditorium on Wednesday 01July, with recipients acknowledged in

frontofthe year levelpeergroup and family members.

Again, this celebration of success wasaverypositiveoccasion.

DeputyPrincipal Jono Hayintroduced the assemblyand welcomedparents,

caregivers, students and staff to the occasion, and outlined the criteria for

the awards.

Principal Ross Preecespoke, saying he looked forwardtothisassembly with

pleasure. Therewas anoteofcaution forthe Year 13 students as he outlined

that the clock was ticking, and asked what significance there might bein

the number 70. Rightly answered was the fact thatYear 13 students have

70 school days remaining before NCEA exam time. Continuing this theme

Ross notedthere can be pressures, andstressedthe importanceofseeking

support–whether from the College Counsellingteam, Teachers,orfromthe

Careers Co-ordinator. He advised itwasn't wise to answer 'Yes, I'm fine' if

this wasn'tcorrect. Also reinforcedwas the importance of enjoyingchosen

pathways, employment ortertiary education, saying that aprobable fifty

year working lifeistoo long to be in anon-enjoyable occupation.

Jono Hay read the Performance Awards, and Abbey Bruce, Head of

Senior School, the Blues Awards; with all students receiving their

awards from the Principal.

Year 13 TopScholar and Colours Badge Recipient

The Top Scholar is the student who achieves the greatest number of

ExcellenceAwardsinthe Level22019 NCEA results. Top Scholars also

receiveaColours Badge.

Level2TopScholar

PennyStilgoe

Impressively, Pennywas TopScholaratLevel 1in2019.

Academic Blues AwardRecipients

To receive aBlues Award badge astudent has achieved 30ormore

Excellence Credits.

LevelTwo Academic Blues Recipients

Estēe Aiolupotea KyleCabangun HenryChapman

Eddie Davis Hayley Dickson WillowDiedricks

Brendan Fleming Shania Harrison-Lee PoppyKilworth

SamKuipers Lily Lyu Ivan Mangubat

Logan Moore Wendy Sheng Jonty Small

PennyStilgoe

DeputyHead Boy

Kyle Cabangun

and BoardStudent

Representative

WillowDiedricks

leave the stage with

their certificates

and Academic Blues

badges.

Academic PerformanceAward Recipients

To receive aPerformance Award Certificate astudent achieved atotal

of 50 or more Excellence and Merit Credits combined.

LevelTwo PerformanceAward Recipients

Josh Ackerley Sophie Adams Phoenix Andrew

Laurraine Aperocho Joshua Apoldo Marshall Ashdowne

IsaacBazley Crystal Brown MacBurdett

Jed Cameron SamChamberlain Joseph Collins

MariaCostas Shikarna Delore Bailey Gray

Ngakau Howell JayJung Dredgewell Madla

Brooke Miller Lucy Moore GeorgiaMuir

Kotiti Patea

George Rosevear

(Pictured above): Crystal Brownreceives heraward from Principal

Ross Preece, with Jono Hay (left) and Abbey Bruce (right).

(Above right): Dredgewell Madla receives his award.

Target Shooting NewZealand Successes

forCollege Students

Information suppliedbyShania Harrison-Lee

Waitomo Championships–June 2020

TheWaitomo Championshipswereheld as aPostalShoot, meaningShania

competed from her home range and then sent the scores away to be

evaluated incompetition against the rest of New Zealand.

This approach ensured that the championship was available to shooters

from all aroundNew Zealand, in factbroadening thecompetitivefield.

Results

Shania Harrison-Lee 1st place Open Championship,with 200.14.

2nd place MasterGrade,with 299.24.

Total score 499.38.

Charlotte McKenzie 1st place BGrade,two pointsahead of her

nearestcompetitor, withascore

Jack Jones

Jack McIntosh

MadisonTourle

of 295.13.

3rdplace CGrade,only 0.01 away from second

placing.

CGrade,only 1.04 points behind

JackJones.

2nd place DGrade,with 281.09 in this,her first

individual competitiveyear.

Shania said that gaining a1st place in the Open Grade was an astounding

achievementfor her,given she wascompeting against seniorshooters New

Zealand-wide,each with decadesofexperience.

This outcome is certainly evidence for Shania of her improvements as she

risesinthe ranksofNew Zealand'sbest current shooters.

Ashburton College's Junior shooters, Shania said, are just warming into

their year of shooting with phenomenal results at their first competition.

This puts College inhighspirits as they preparefor,and lookforwardto, the

SecondarySchools'PostalShootingCompetitionstarting as students return

in Term Three.

(Pictured above,leftand right): CharlotteMcKenzie and Shania Harrison-Lee

shooting indoors, last year).

Otago ProvincialChampionships Success for

Shania Harrison-Lee

The Otago Provincial event was ashoulder-to-shoulder match held atthe

Otago Range on 27 June, with twenty three shooters attending from all

around the lowerSouth Island.

First Placings andClose-to-PerfectResults for Shania

Shania gained first placings in both the Master Grade with 300.21, and the

Open Championship with 199.14, foratotal scoreof499.35.

This eventwas Shania's firstcompetitive300 match. From this herscore of

300.21 was only 0.09 away from aperfect score which was animpressive

outcome and one which Shania described as agreat achievement for her

so earlyinthe year.

Shania Harrison-Lee in action at the Outdoor Nationals,

2019.

Target ShootingNew Zealand2020 Season

TheTarget Shooting New Zealand Indoor Season is currently going ahead

almost as per normal, with competition dates pushed out to extend the

season by twomonths,intoOctober 2020.

Shooters are applauding this as a great development for their sport,

meaning thatcompetitors don't miss out on their full competitiveseason.

Information

AshburtonCollege Course Confirmation Evening

Tuesday04August,6:00pm -8:00pm,

HotelAshburton

Setthis nightasidetodiscussand confirmsubjectcoursesfor 2021.

This evening is forall our currentYear9–12 students,

parents and caregivers.

Further information availableatthe startofTermThree.
---
20 Ashburton Courier, July 9, 2020

www.ashburtoncourier.co.nz

Church looks to grow

Celtic rugby players and supporters (from left) Chris Reid, Thomas Reid, Hunter Bain, Ancois

Swanepoel and Phil Prendergast with donations for Ronald McDonald House.

PHOTO SUPPLIED

Rugby club gives food

Celticrugby playersand some of their

opposition have filled 20 bananaboxes with

non­perishable food items andtreatsfor

Ronald McDonald House.The rugby club

turned its club day into afood drive for the

charity that helps familiesneedingtotravel for

medical treatment to Christchurch.

Organiser Darion Gray said shewas

overwhelmed whenplayers turneduplast

Saturday with cannedfood and items like

toilet paper, but also withtoiletries andtreats

like chocolate biscuits and popcorn.

''People weren't walking in with justone

item, but bags of items.''

Andrew Falloon

MP for Rangitata

I'm availablethrough

my offices:

AshburtonOffice

81 Harrison Street, Ashburton

03 3087510

rangitatamp@parliament.govt.nz

Timaru Office

139Stafford Street, Timaru

03 6831386

rangitatamp@parliament.govt.nz

Youcan also contactmedirecton:

andrew.falloon@parliament.govt.nz

She said theRakaiaRugby Club, whose

senior and senior Bteams were playing Celtic

teams, alsocontributed a$300grocery

voucher.

Darion said the players'responsetothe food

drivehad been heartwarming and the club was

likely to repeat the gesture next year. Thefood

itemshave beensorted into boxes that will be

picked by local McDonald's ownerDave

Whalley.

Saturday was agood day for theCeltic senior

Bs, who won the Larry LangleyCup off Rakaia.

Larrywas aplayer at both clubs and the cup

honours his memory.

Coffee andcake

might be thelure,

but anAshburton

family planning to

plantanew church

hopetheir fresh

approach to faith

sharing will take

root.

Brendan and Amy

Abernethy, their

family andfriends

havebeenholding

smallgatherings of a

new Grace Vineyard

churchand hope to

grow numbersto

launch an Ashburton

campus next year.

They areholding

an interestgatheringonJuly 21

for people to comealong and

see whatthey are all about.

Brendan said the new church

wassimilarinstyle to

Ashburton Baptistand New

Lifechurches.

He saidpeople mayalready

be familiar with its approach if

they watched Shine television,

where Grace Vineyardhad a

presence. TheCovid­19

lockdown hadseenmore tune

Stay fit &earn $$$

at the same time

Spend a couple of hours

every Thursday delivering the

Ashburton Courier and Realty in

the Ashburton urban area.

Enjoy the fresh air, stay fit and

reap the health benefits!

The Abernethy family (from left) Neil,

Josiah, Amy, Lily and Brendan are

planning to launch an Ashburton branch of

the Grace Vineyard church.

in.

Ashburton­born Brendan and

his wifeAmy arepastorsand

Brendan said Grace Vineyard

provided asafe approach to

sharing faith.

People could embark on a

non­threatening journey ...

usuallyover coffee and aslice

of brownie.

The interest gatheringwill be

atEat café, at theEANetworks

Centre, at 7.30pm on July 21.

Mountain film festival

The Ashburton Youth Council

must behoping asurge in Kiwis

seeking adventure sports and

lifestylesintheir own back yard

will translate to good numbers

atits NZ mountain film festival.

The festivalonAugust 1isa

fundraiser for theyouth

council's annual Bite Nite;

films this year will feature the

BestofWanakaSelection and

Kiwi Made.

The festival captures jawdroppingsights

from around

NewZealand andoverseas.It

will be hosted at the Ashburton

Trust Event Centre.

Bite Nite thisyearwill be at

the EA Networks Centre on

October2.Upto500 young

peopleare expected to enjoy

the live music event.

Youth council chair Kavan

Faoagali said the mountain

film festivalwas agreat success

last yearand the team was

hoping for another standout

event.

''We'resoexcited to be

bringing theNZMountain Film

Festival back to Mid

Canterbury.

''It's an amazing showcase of

some of the best sightsfrom

here and around the world, and

really inspires youtoget out

and explore these pristine

places that areoften righton

our doorstep.

''Last year, we had areally

good turnout for the Kiwi Made

selection, so this time we're

adding theBest of Wanaka

selection to reallyfireupthat

sense of adventure.''

TheBest of Wanaka selection

will screenat 2pmon Saturday

1August, followedbythe Kiwi

Made selectionat7pm.

Tickets are now on sale at the

event centre: Adults $25or$40

for bothscreenings, children

(aged 14 and under) $15or$20

for bothscreenings.

Phone Mary todayon308 7664

to get startedoremail

mary.summerfield@ashburtoncourier.co.nz

Authorised by Andrew Falloon MP,

139 Stafford St,Timaru.

2292702
---
www.ashburtoncourier.co.nz

New pipe major

LINDA.CLARKE

@ashburtoncourier.co.nz

The Ashburton pipe band has anew pipe

major, dairy farmer Leighton Terry.

The Gore­raised piper is aformer

highland dancer and also pipes for dancers.

Leighton takes over from long­time pipe

major Peter Doak, who coaxed the band out

of recess five years ago. Five pipers afew

years ago has turned into 20 and the band

went to nationals in March for the first time

in 15 years.

Leighton said the group included pipers

ranging in ability and experience, and from

ages 80 to 13 years.

Since resuming practice after lockdown,

the band is concentrating on its first public

parade, at the Ashburton A&P Show at the

end of October. Aweek later it will perform

at the Hororata Games.

Aband's pipe major sets the music and

Leighton says his style is musical and

uncomplicated, designed to work for all

members of the band. He has been with the

band since October 2018 after moving north.

''I am the first piper in my family. Ihad a

history of highland dancing and it got me

interested in piping.''

He enjoys both the competitive and social

side of band life, and enjoyed playing and

helping others develop their skills.

The bagpipes were an emotional

instrument that had many fans, he said.

The Ashburton band is planning to step

out competitively against other bands at a

provincial championships in Dunedin in

Leighton Terry (right) has taken over as the

Ashburton band's pipe major from Peter

Doak.

PHOTO SUPPLIED

February.

Peter will now spend more time tutoring

younger pipers, with all working hard to

raise their national grading and their

profile.

Runners out at Tinwald School

Pupils fromTinwald School

tooktothe streets and

around the extensiveschool

grounds to take part in their

annual cross­countryday.It

wasafun day for thepupils

andapreludetothe Mid

Canterbury combined

schools cross­country at the

endofthe month.

Coloured clothing, facepaintedfaces

and dyedhair

were just someofthe

accessories pupils wore to

show their house colours.

The seniorpupils ran

around a2km course which

saw them pounding the

footpath around the school

block andacross obstacles

on the schoolsgrounds. The

juniorpupils,who

competed after aschoolwide

pizzalunch,justran

the course on the school

grounds.

The MidCanterbury

combinedschoolscrosscountry

willbeheldatthe

Ashburton Showgroundson

July 30,starting from1pm.

Alex Brown and Dylan Fell in action.

PHOTOS:TONI WILLIAMS

2276106

NEWS

Ashburton Courier, July 9, 2020

Extra valves on

Rakaia scheme

Rakaia'sdrinking water

scheme willbemore resilient

to future shutdown and repair

disruptions from this month,

whenthree new valvesare

installed on the infrastructure.

The valveswill help to keep

water flowing to as much of the

town as possible during

planned shutdowns, emergency

work andfuture development,

by localising affectedareas and

21

LPG Refills &Deliveries

• Domestic • Commercial • Industrial

ARTHUR

LPG Deliveries from the

Rangitata to the Rakaia –

From the

foothills

to the sea.

keeping the water on to the

remainder of the town.

AshburtonContracting

Limitedwill be installingthe

valvesovernight tomorrow

night (July10), as the work

requiresthe water to be briefly

switchedoff.

Lettershave been posted to

residentsinforming them of the

planned shutdown.

CATES

LIMITED

LPG Refills at:

26 McNALLYSTREET,

RIVERSIDE INDUSTRIAL

PARK,ASHBURTON

TEL 308 5397

www.arthurcates.co.nz

Jared Heney prepares to leap

over this course obstacle.

Kingston Dowthwaite and Travis Keen stride out.
---
22 Ashburton Courier, July 9, 2020

RURAL/LIFESTYLE

www.ashburtoncourier.co.nz

Spreading the good word about wool

Themeat andwoolindustry is

facing challenges, including a

shortage of shearers for the

comingsummer, says Mt

Somersfarmer David Acland.

The shearers, whoalternate

hemispheresinthe off­season,

are specialistmigrant workers

able to shear 250to300 sheep a

day.

They may notbeable to get

into New Zealand for the

upcoming shearing season due

to Covid­19 and restrictionson

migrantvisas.

Other challenges include the

low cost of wool products,

drought conditions in pockets

throughout the country and

growing regulation.

David,re­elected to the

Federated Farmers Meat and

WoolCouncil, farms Mt Somers

Station withhis wife, Kate.

The stationrunsfromthe

Ashburton River,atanaltitude

of 400m, to theboundary of the

Hakatere Conservation Park at

thebaseof Mt Somers, an

altitudeof700m. The family

property was previouslyrun by

David's parents Mark and Jo.

David and Kate have three

children;sons Leo and Otto,

and daughter Harrie, aged 9, 8

and 7respectively.

The couple have 12 full­time

staff andrun over 13,000

breeding sheep.

Annually the stationhas

around15,000lambs born,

whichare weaned and grown

outonpredominantly grass

pasture for market. The bulk of

thelamb is sentto export.

The Romneys cope well with

There is no substitute for wool, says David Acland.

highrainfall in the area and

stillhave fast growing

offspring.

They areshorn twiceayear

and the wool used for carpet

and heaviertextiles.

The Aclands also run deer,

dairy cows and beef cattle, and

400 beehives producing

Manuka, Honeydew and clover

honey from the lower terraces.

The honey is also used to make

SomertonsSparkling

Honeymead, made by Sugar

LoafWines,inMarlborough,

which was founded by Kate.

David, 44, hasbeenonthe

industry group executive for

the past few yearsand is vice

chairman.

He is also chairman of

Federated Farmers Mid

Canterbury meat andwool

section.

The national executive

generally meet once or twicea

year in Wellingtonand David

says it'sagood waytosee the

"Wellingtonbubbleatwork"

andbeabletoinfluenceit.

The scale of thefamily

business allows him time offfarmasheisnot

involvedona

day­to­day basis.

Therewerechallenges

around the low priceofwool

and the cost of premier

products such as lamb, venison

or grass­fed beef, which were

priced accordingly.

"Crossbred wool is at its

lowest ebb so there is

opportunity in it," he says.

There is also aglobal drive by

consumers whowant

sustainable,recyclable and

carbon neutral products,which

would also suit wool products.

Apushtouse more wool

products in New Zealand is the

aim of anationwide petitionby

Clinton farmerAmy Blaikie,

who is calling forgovernment to

use New Zealand wool carpet

and wool insulation in all

publiclyfunded buildings and

KiwiBuild homes or

refurbishments.

The petition, which runs until

July 31,has over 7100

signatures.

"It's cool," David says of the

petition, which was along the

samevein as an Federated

Farmers executive letter to

parliamentduringlockdown.

Thereisnosubstitute for

wool, David says. But it needs to

be aquality product.

Farmers need to make sure

they keep doing agood jobso

it's manufactured into things

like carpetsand wool batts.

"Farmers are conscious of

making sure their sheep are in

good nick andhealthy. You

don'tproducegood product

without animals that are happy

andhealthy."

Thedrought affecting the

North Island's Hawkes Bay and

upperSouth Island will have

an impact on therural economy

as next year's lambproduction

shouldbeset up this year. A

tough drought during mating

season means the ewes are not

in lamb, he says.

Farmers also face land and

water issues,costs around farm

environment plans,auditing

and making sure they arenot

"tick box" exercises.

David, always keento extend

his knowledge, studied

AgriScience degreesatLincoln

University over four years

before travelling overseas.He

returned to the family farm in

2002.

Cropping day goes ahead

New Zealand's largest oneday

croppingevent, hostedat

Chertsey for the past17years,

has beengiven the green light

to go aheadonDecember 2.

It willbeits 25th

anniversary of the event

known as CROPS.

Foundation for Arable

Research organiser Anna

Heslop said planswere on

hold duringlockdownand the

easing of gathering

restrictionsmeantitcould

now go ahead.

The annualCROPS is afullday

eventallowing farmersto

view demonstration plots

investigating everything from

cultivars to cultivation,and to

see and hear the latest

research findings from New

Zealand and international

experts.

It aimstoprovideattendees

withnew information to take

awayand applytotheirown

farming operation.

Mrs Heslop said although

planning had been on hold,

workonthe researchplots at

FAR's Chertseyarable site,a

13.5 hectare mixofirrigated

and non­irrigated land at

Chertsey, had goneaheadas

usual sincelockdown lifted,

althoughindustry

demonstration sites have

beenimpactedbythe delayed

decision.

"Many of the industry

demonstration sites would

usually have beensownin

autumn, but thisyear,they

willall be spring sownplots.

This has required our

sponsors to do somequick

thinking around crop types,

cultivars andtreatments."

The day will focusonthe

future of NewZealand

cropping, highlighting

sustainablenew technologies

and market opportunities.

Eiffelton pair among

dairy's elite workers

Ashburton farmersFleur and

Ralph Tompsettwereamong the

high calibre finalists in the 2020

New Zealand DairyIndustry

Awards.

The couple, who farm at

Eiffelton, were the Canterbury

representatives in theshare

farmer of theyear award.

It was wonbyHawkes Bay/

Wairapara farmers Nick and

RosemarieBertram but share

farmerhead judge Jacqui

Groves, from Westpac,said the

judgeswere impressed overallat

the high calibre of all this year's

finalists.

"We usually seeakey theme

coming through but this year the

finalists focused onall areas

across the board," MsGroves

said.

The judges noted that while

the world wasin pandemic

mode, it wasbusiness as usual

for thefinalists,while they also

looked afterthe wellbeing of

their staff.

"They demonstrated how to be

the backbone of New Zealand."

Ms Grovessaid the Bertrams

impressed the judges by

remaining true to their vision,

their mission and values inlife

and ''they were high achievers in

all areas''.

The Bertrams, along withBay

ofPlenty's Andre Meier(2020

New Zealand DairyManager of

the Year) and Waikato's Grace

Gibberd (2020 NewZealand

Dairy Trainee of the Year)

shared prizes from apool of over

$215,000.

Due to Covid­19 restrictions,

the traditional gala dinner did

not go ahead so the awards were

announced on national

television and airedon Country

TV on Saturday night.

2284074

2290750

AVAILABLE NOW...

BALE FEEDER

Heavyduty2.4m x1.4mwith

1.6mm steel sheetbase.

Competitiveprice–depending on quantity

We canrepair and service:

•Feed out wagons •Augers •Dairyyards •Palm kernel bins and more

Anddon't forget we repair rotaryboomirrigators

Phone 308 5903 weekdays l Email: agserve@xtra.co.nz

On call 7days: Doug: 027 282 2245, Matt (Tomo): 021 518 538

15 Malcolm McDowell Drive, Ashburton
---
www.ashburtoncourier.co.nz

RURAL/LIFESTYLE

Ashburton Courier, July 9, 2020

23

Scholar's global take on glyphosate

TONI.WILLIAMS

@ashburtoncourier.co.nz

Fifth generationarable farmer

Hamish Marr, of Methven, has

just ahandful of speaking

engagements to go beforehe

finishes his 2019 Nuffield New

Zealand Scholarship

commitments.

Amongthem is acombined

Women in Arable/ArableYs

meeting at the Hotel Ashburton

on July 21.

Hamish has spent the past

year immersed in study,

travellingacross countries to

research glyphosate use

around the globe.

His travels over 22 weeks

includedthe UnitedStates,the

UnitedKingdom, Asia and

Europe, where he spoke to

farmers, health professionals,

medical personneland rural

industry representatives.

Many issueswith glyphosate

were rooted in the United

States andtheir association

with genetically modified

organism (GMO) crops.

Science took the main

commodity crops like corn, soy,

cotton, lucerne and canola and

made them resistant to

glyphosate, he said, during his

online presentation, with

Mackenzie Charitable Trust's

Mary Ross.

The full presentation is

publicly available through the

FAR website.

''Glysophate is avictim of its

own success in many ways,''he

said.

It is achemical thathas low

toxicity, breaks downrapidly

when in contact with soil and

targets an enzymefound in

plants only as its mode of

action.

Usingitinsteadofharsh

chemistry should have been a

win/win but the amountused

now has increasedbyafactorof

15, he said.''And people are

alarmedbythis.''

Theroundup ready andBT

(Bacillus thuringiensis) crops

may have made farming easier

but they are more intensive

compared to days of old.

''There are glyphosate

residues foundinmost

commodity food crops in the

USA today.''

Althoughthere was no

scientific proof,there were

links to Coeliac Disease and

gluten intolerance, he said.

OnetoxicologistHamish

referred to said the problem

wasnot theproduct, butrather

thecumulativedose.

Manyof themedicalfinds

had led to restrictions in

Germany and France where it

will be outright banned from

2022 and farmers were caught

in the middle, between

agricultural science(used

appropriately)and medical

science (health issues).

There is no rightorwrong, no

good or bad, he said, but there

were trade­offs to changing a

system,suchasincreased fuel

burns.

Hamish Marr will be speaking about his Nuffield Scholarship

investigation into glyphosate.

Comparedtoothercountries,

NewZealandfarmersapplied

glyphosate to only sixper cent

of farmland, ''whichisvery,

very low'', he said.

''PersonallyIdo not believe

we have aproblem in New

Zealand but we must notbe

afraid to explain what we're

doingand whywe're doing it.

''And remind people that

farminginNew Zealand is

mainly aholisticexperience

with somescience on theway.''

When Hamish firstlearned

he wasaNuffield Scholar

recipient in late 2018, he was

prepared for the weeks of

international travel, but

concerned it had been 17 years

since he had done any formal

formal study when working

towards aBachelor of

Commerce(Agriculture) from

Lincoln University.

He also had responsibilities

including being dad to three

young children and family farm

duties.Sothe decisiontoapply

was not made lightlyand had

the backing of wifeMelanieand

parents Graham and Eleanor,

brother Stuart andsister­in­law

Desiccate.

The familyfarm,atMethven,

spans500 hectares of family

landwith arablecrops such as

grass seed,clover,wheat,

barley, oats, peas and radish

seed.

They specialise in small

seeds for sowing and also graze

up to 4000 lambs.

Hamish originally planned to

study Europe's new synthetic

agrichemicalregulations in the

control of weeds, pests and

disease ­and the implications

for New Zealand. Especially as

countries within Europe aimed

to reduce, andultimately ban,

products containingglyphosate

­but he realised the scope was

too broad.

He narrowed down the study

topic, knowing the court of

public opinion could impacton

NewZealand farming in the

future.

And, if glyphosatewas

removed from the market, he

wanted to know about

alternative options, andwhat

hisinternationalfarming peers

were using as alternative

practices.

Hamish was one of five 2019

Nuffield New Zealand

Scholars. Theothers wereBen

Hancock (Wellington),

Cameron Henderson(Oxford,

North Canterbury), Corrigan

Sowman (Golden Bay) and

Hamish Murray(Marlborough).

Is your farm consented?

It's timetocheck if youneed aland use consent.

Rulesinsomeparts of Canterbury have changed, and evenifyou didn't

need consent to farm in the past,you mayneed it now.

If your farming operation requires aconsent,then you'll need to act soon.

Visit the Environment Canterbury Farmers'Hub to find the rules

for your zone and how to apply for alanduse consent to farm.

ecan.govt.nz/farmers-hub
---
trusted

2020 GUIDE

trades &services

To book your spaceinthis guide,phone KarenGane 308 7664 or email karen.gane@ashburtoncourier.co.nz

Need storage?

we CAN STORE it!

Convenient, affordable

self storage solution

Interior and Exterior Painting

Interior Plastering

Wallpapering

2289510

2266285

Phone 307 0213

•185 Alford Forest Road •behind

2291039

RESIDENTIAL &

COMMERCIAL SPECIALISTS

Phone Quentin andPhil on

027 282 8908 or 027 2828909

2291026

Lubes WOF

Allmechanical repairs

TRIANGLE

GARAGE LTD

Victoria Street,

TheTriangle,Ashburton

Phone: (03) 308 6772

2291183

GODSELL

BRICKLAYING

•Houses

•Feature Walls

•Fences

•Blocklaying

Chris Godsell

027 274 2533

AH 308 7117

godsell@xtra.co.nz

2291204

FREE LEGAL HELP

Helpinperson by appointment

Thursday9.15am -1.45pm

Ph 0508 CANLAW

(0508 226 529) to makean

appointment.

Helpbyphone Infoline

03 371 3819 or 0508 226 529

215 Tancred Street,Ashburton

2291052

PROFESSIONAL

PORTRAIT AND

COMMERCIAL

PHOTOGRAPHER

PICTURE FRAMING

GALLERY &STUDIO NOWOPEN

179WEST STREET

027310 6521

emmily@emmilyharmer.co.nz

www.emmilyharmer.co.nz

2291084

Your Digital TVExperts

• Aerial/Dish installations and repairs

• Prewirefor TV/Audio and controlsystems

• TV wall mounting • Cell phone aerials

• Home theatreinstallation • Authorised SkyTVtechnician

Servicing

Ashburton Geraldine –Methven Rakaia

andeverywhere in between

ASHBURTON TV &AUDIO

PH 308 7332 /027 277 1062

ashburtontvandaudioltd.co.nz

2293268

Forall your tyre requirements,

see the localexperts

•Wheel alignments

•Wheel balancing

197 Wills Street,Ashburton l www.neumannstyres.co.nz

Phone 03 308 6737 (24 hrs –after hours call out applies)

2291137

PETER TAYLOR

B

S

UILDER

LTD

FOR ALL YOUR BUILDING REQUIREMENTS

• New homes • Alterations • Light commercial • Farm buildings

• General maintenance • Paths • Tiling

Fully qualified licensed building practitioner

No job toosmall! Phone Peteron:

308 7133 or 027 220 8257

taylorbuilt@xtra.co.nz

2291139

4WD Diesel &ElectricScissorlifts

Rough terrain and electric lifts available

On site collection or deliveryavailable

Nowat6Range 403 West Street St,Riverside

PO Box 60, Ashburton 7740

Phone: 03 308 8155

Mobile: 0273 529909

Email:sales@nee.kiwi.nz

2291143

GREAT

RATES

Need help with BOOKKEEPINGor

ADMINISTRATIONSUPPORT?

Youdidn'tgointobusiness to do the

books, butwedid!

Let'shaveachatovercoffee andsee howIcan help

NewPCs

and Laptops

forsale

PC Repairs, Set-up and Tutoring

Icome to youday or evening!

•PCRepairs/Sales •Networks/Servers

•Firewalls/Security •Spyware Clean-up •Training

20 YearsExperience Microso Cerfied Professional

NETWORKS FIREWALLS AND PCS LTD

Robin Johnstone 67 Aitken Street, Ashburton

P: 03 308 1440 C: 027 768 4058

robinbj@xtra.co.nz

2291109

2291153

2291175

Silvia Haddock 027 2169478

silvia@bradleyrural.co.nz l solutionsbusiness.co.nz

WILSONS

WINDSCREENS

WE WELCOME ZEK

FROM WINSTONES

TO JOIN OUR TEAM

We areyour one stop glass shop for

AUTO and HOUSE

REPAIR or REPLACE 152 Wills Street,

"Your placeorours"

2291191

2291172

Ashburton

Ph.308 8485
---
trusted

2020 GUIDE

trades &services

To book your spaceinthis guide,phone KarenGane 308 7664 or email karen.gane@ashburtoncourier.co.nz

Ashb

hbut

rton,R Rolles

leston

ton&Ch

Chrit

ist chu rch

•Paving •Irrigation •Lawns

•Planting •Fences •Pergolas

•Water features •Outdoor fires

•Raised planters •Decks

•Stonework•Brick &blockwork

•Artificial grass and more...

Email –Aaron@theoutdoorspace.co.nz

Phone0800 688 365 /021 542 402

www.theoutdoorspace.co.nz

2273646

"we clean to a

standard,

not aprice"

UNDER NEWAshburton

OWNERSHIP

Same exceptional CleaningServices

level of service

&quality cleaning

• regular full house cleans

• one off spring cleans

• farm houses

• builders cleans

•

100% LOCAL

03 307 2656

www.ashburtoncleaning.co.nz

2280970

Restoration

2287935

Modifications Repairs

03 308 0387

johnsons.panelpaint@gmail.com

Diamond Painters and

Decorators Ltd

Qualityinterior and exterior

painting and decorating

• Wall papering • Airless spraying

• Waterblasting • Residential and small commercial

• Roof painting • Freenoobligation quotes

Gutterguardinstallation and gutter cleaning

Phone Duncan 027 370 2453 l Jeanette 027 318 5055

email: diamondpaintersdecorators@gmail.com

ashburtoncranes2015@gmail.com

2291081

2291014

FOR ALL YOUR T-SHIRT PRINTING

NEEDS, phone Gasolo!

ClothingBrandsDesign

T-ShirtPrinting

Andmore...

9Hugh Street,Ashburton7700

027 953 5099

gasolos122007@gmail.com

LIV E

T O

PRINTED

-

HEAT PRESS &

SCREEN PRINTING

GASOLOSTSHIRT

Solar powerwhenyou need it most

We are experts at installing solar

power systems for motorhomes.

• SOLAR PANELS • BATTERIES • DC MANAGEMENT

• CAMERAS • TV SATELLITE • PUMPS • REFRIGERATION

AAA

Solar

&SUN POWERPLUS

South Island

4McGregorLaneAshburton

03 307 4777 -027 4423103

ashsolarpower@xtra.co.nz

aasolarsouthisland.co.nz

BY

HAND

IN

GARAGE,

CANTERBURY

S E R V E

O T H E R S

2291086

2290923

ALL THINGS CANVAS &PVC

*Awnings/Shade sails/Dropblinds*Auto seat covers &repairs

*Hay &bin covers *PVC covers &repairs

*Ute tonneau covers *Furnitureupholsteryrepairs

*Commercial

PHONE TRAVIS HOWDEN 027 922 4544

NEATGARDENS

Does your garden need monthly

maintenancetokeep it tidy and

looking good through the seasons?

Or perhaps just need aone off tidy

or pruning completed?

We can help!

Allgarden wasteremoved

ContactCAROLYN Phone: 027 2675403 or 3082333

Email: cccolt@xtra.co.nz

2291092

2291098

VISIT OUR STORE AND GET A

TREATFOR YOUR PET

Always in stock:

• Birdaccessories,food &treats

• Rabbitand guinea pig food,bedding &treats

• Cat accessories,collars &treats

• Dog collars,leads,toys, accessories &treats

• Aquarian accessories &food

• Dog crates &cat crates

• Raw,fresh &frozenpet food

• All sorts of dried products

EVERYDAY

SPECIAL

Dog

Rolls

HAVE CASH

FOR PETFOOD

COWS AND

UNWANTED

STOCK

2for

$

12

(3kgeach)

"Come andsee our friendlystaffin-store today"

We offer the following:

• Gutter and DownpipeCleaning • Weed Spraying

• Moss,Mouldand Lichen Spraying • Spider Proofing

• Gorse and BroomSpraying • FenceLineSpraying

• Chimney/Flue Cleaning $75 • Heat Pump Service$90

MENTION THIS AD WHEN BOOKING FOR A10% DISCOUNT

ON GUTTER AND DOWNPIPE CLEANING

Call Allan on 027 209 5026 an let us know howwecan help

We service and repair all makes and models

of sewing machines and overlockers

2290907

2291046

•

•

•

•New builds •Renovations

•All types of engineering

•Small or large projects

Rob021 124 4268 l Sam022 5428927

email: robsue@hotmail.com

Your local Bernina

service team

Phone (03) 307 8996

027 312 5756 l 99 Archibald Street,Tinwald

2293215

John Robbie Rachel

OPEN 7DAYS9.30am -4.30pm

Main South Road, Tinwald Ashburton | Phone 307 6277

www.anniesquilts.co.nz

2293205

115 Archibald Street,Tinwald,Ashburton

Phone /Fax: (03) 307 2354

Email tincanup@xtra.co.nz www.tinwaldcanvas.co.nz

2293200

Thinking of Selling -Think 3D!

Trevor Hurley

0275 435 799

Manu Otene

022 308 6885

Linda Cuthbertson

0274087965

Stephen Watson

027 433 9695

Julie Srhoy

021 354 885

Deborah Roberts

0210752180
---
NEWLISTING

NEWLISTING

open

homes

First Home Buyers From10% Deposit $310pw (Conditions apply)

First Home Buyers From 10%Deposit $293pw (Conditions apply)

First Home Buyers From 10%Deposit $302pw (Conditions apply)

First Home Buyers From 10% Deposit $268pw (Conditions apply)

view anyofour properties fromthe comfort of

your home in3D...becauseyou can!

28 Queens Dr (W702)

• Permanentmaterial,

renovatedproperty

•Desirable location,

close to school,

shops &domain

•Vendor to complete

some renovations

•Great opportunity

forthe astutebuyer

to add further value

Offers Over $419,000

Open Sat11July

11.00 -11.30am

3 1 1

103 Forest Dr (M100)

• Don'tmissout on

this cracker first

home or holiday

home!

•Wellpositioned for

the sun

•Three bedrooms plus

en suitewith walk in

shower

•Private &secure

$PBN BIR

$370,000 -$400,000

Open Sat11July

12.30 -1.00pm

3 2 1

4Andrew St (W695)

•Modernisedopen

plankitchen/dining,

large livingarea

•French doors into

spacious lounge

•Modern bathroom

with walkin shower

•Large bedrooms,

with French doors&

patios. Spa pool

$PBN BIR

$349,000-$379,000

Open Sat11July,

10.00 -10.30am

4 1 2

68 Cambridge St

(T307)

• This permanent

material is afantastic

first home option

•Large rumpus room

over thegarage

•Wellheated

Alloffers considered

after4pm, 17 July

2020 (USP)

$PBN BIR

$365,000 -$385,000

Open Sat 11 July

11.45 -12.15pm

3 1 2

5Rooms,Large

Section (E704)

•Permanentmaterial

home

•Two outbuildings

with their owntoilets

and showers (as is)

•Large 989m² section

with potentialfor

development

•Urgentinspection

advised

$PBN BIR

$319,000 -$329,000

View By Appointment

3 1 2

First Home Buyers From 10% Deposit $251pw (Conditions apply)

First Home Buyers From 10%Deposit $327pw (Conditions apply)

First Home Buyers From 10% Deposit $251pw (Conditions apply)

Proud supporters of the HeartFoundation of NewZealand! Wedonatefromevery property sold!

Trevor Hurley Real Estate Ltd LREA 2008 -MREINZ

11 TrentPl (LH070)

• Substantial,quality

home with stunning

waterfrontviews

•Well designed interior

with walk in pantry

•Superboutdoor

entertaining with

access to private

jetty&canals

$PBN BIR

$719,000 -$739,000

Open Sat11July

12.00 -12.45pm

4 3 2

154 McMurdo St (T305)

• Solid brick home,

•Renovated

throughout

•1/4 acresection

with potential for

subdivision

•Log burner with heat

transfer system

Alloffers considered

after2pm, 6th July 2020

$PBN BIR

$299,000 -$335,000

Open Sat 11July

11.00 -11.30am

3 1 1

46A EtonSt (E696)

•Openplankitchen/

dining,perfect for

entertaining

•Heatpump to keep

youwarminwinter&

cool in summer

•Double glazed

•Securefencing

forchildren, low

maintenance section

•Three gardensheds

OffersOver$389,000

Open Sat11July

12.30-1.00pm

3 2 2

47A Aitken St

Ashburtons Best Buy

(T306)

•Permanentmaterial

home with log burner

&heatpump.

•Compliantwith the

current residential

tenancyact &tenants

who want to stay

•Warmand sunny

Offers Over $290 ,000

View By Appointment

3 1 1

(E699)

•Modern, large

townhouse

•Extra spacious living

•Indoor outdoor living

paramount

•Qualitydesign&

privacy

SetSale:7July 2020 @

2PMUnless Sold Prior

$PBN BIR

$469,000 -$499,000

View By Appointment

3 2 2

Manager/Sales Consultant

Trevor Hurley

0275 435 799

Sales Consultant

Manu Otene

022 308 6885

Sales Consultant

Linda Cuthbertson

0274087965

Sales Consultant

Coming Soon!

Sales Consultant

Stephen Watson

027 433 9695

Sales Consultant

Julie Srhoy

021 354 885

Sales Consultant

Deborah Roberts

0210752180
---
SATURDAY 11TH JULY

17 GrayStreet, Hinds 10:00-10:30am 2 1 2 AHB22728

38 Cox Street,Ashburton 10:00-10:30am 3 1 2 AHB22811

147 McMurdo Street, Tinwald 10:00-10:30am 4 1 2 AHB22766

366A Burnett Street, Ashburton 10:00-10:30am 3 2 2 AHB22818

8Ascot Place, Ashburton 10:30-11:00am 3 1 1 AHB22712

70 Melcombe Street,Tinwald 10:45-11:15am 3 1 2 AHB22811

75 Bridge Street, Ashburton 10:45-11:15am 2 1 2 AHB22813

100 Princes Street,Ashburton 11:00-11:30am 3 1 2 AHB22836

12 Charles Street,Ashburton 11:00-11:30am 4 1 1 AHB22540

119a Racecourse Road, Ashburton 11:30-12:00pm 4 2 2 AHB22588

157 Wilkins Road, Ashburton 11:30-12:30pm 4 2 6 AHB22748

7McElrea Place, Ashburton 3:00-3:30pm 3 1 1 AHB22732

SUNDAY 12TH JULY

NO OPEN HOMES TODAY

Open Home

366a Burnett Street, Ashburton

3 2 2

-3Double bedrooms (master with ensuite &WIR)

-Spacious open plan living

-Modern functional kitchen

-Separate laundry

-Internal access &offstreet parking

-Sun drenched courtyard

-CCC 2014

ForSale

$489,000

View

Saturday10:00 -10:30am

Kim Miller

027 236 8627

Uncompromised style, well designed, well built and well

positioned forawide variety of purchasers.

rwashburton.co.nz/AHB22818

Mid Canterbury Real Estate Limited Licensed (REAA 2008)

View our listings online at: rwashashburton.co.nz

Open Home

147 McMurdo StreeTinwald

-4Bedrooms

-Separate Double Garage on 605m2 section

-Needswork, but alot ofhouse forthe money

-New Heat Pump

-Rental Appraisal $360.00 plus per week

ForSale

$270,000

View

Saturday10:00 -10:30am

4 1 2

ChrissyMilne

027 290 6606

rwashburton.co.nz/AHB22766

Mid Canterbury Real Estate Limited Licensed (REAA 2008)

Open Home

98 Pages Road, Ashburton

3 1 2

8Ascot Place, Ashburton

3 1 1

Vendors arewilling to consider genuine offers.

The next chapter of your life starts at 98 Pages Road

This beautiful home is asun catcher with 3large doubles

and asingle bedroom. Master is hugewith ensuite and

triple wardrobes.

ForSale

Price byNegotiation

View

by appointment

Lynne Bridge

027 410 6216

This is quite possibly the best opportunity foraFirst Home

Buyerinsome time. Located inavery popular and rare to

the market cul-de-sac and handy to schools, shops, town

and sporting fields. With the highly requested "permanent

material" cladding.

ForSale

$369,000

View

Saturday10:30 -11:00am

Armandvan der Eik

021 597 527

rwashburton.co.nz/AHB22698

Mid Canterbury Real Estate Limited Licensed (REAA 2008)

rwashburton.co.nz/AHB22712

Mid Canterbury Real Estate Limited Licensed (REAA 2008)

Jill Quaid

Manager

027 437 6755

RichardQuaid

Sales Consultant

027 454 4745

Kim Miller

Sales Consultant

027 236 8627

ChrissyMilne

Sales Consultant

027 290 6606

Margaret Feiss

Sales Consultant

021 751 009

ShirleyFitzgerald

Sales Consultant

027 220 1528

Denise McPherson

Sales Consultant

027 242 7677

Cheryl Fowler

Sales Consultant

027 461 2614

Armand vander Eik

Sales Consultant

021 597 527

Lynne Bridge

Sales Consultant

027 410 6216

Mike Grant ncre

Sales Consultant

021 272 0202

Mark Totty

Sales Consultant

021 664 113

BruceMcPherson

Sales Consultant

027 438 4250

JustinWaddell

Sales Consultant

027 437 1111

Jarrod Ross

Sales Consultant

027 259 4644

RogerBurdett

Sales Consultant

021 224 4214

96 TancredStreet, Ashburton 03 307 8317 Main Road,Tinwald 03 307 8317

rwashburton.co.nz

36 McMillan Street,Methven 03 303 3032
---
CLASSIFIEDS

32 Ashburton Courier, July 9, 2020

www.ashburtoncourier.co.nz

ENTERTAINMENT

PETS

SITUATIONS VACANT

2279571

BUSINESS OWNERS

Build customers,sales and

profits,with us ...

Over 16,065 copies delivered everyThursday

PRINT, ONLINE ANDMOBILE 24/7

CROSSWORD

QUICK PUZZLE NO. 8574

ACROSS

6. Painting(5-6)

7. Daze (4)

8. Gift (8)

9. Wrinkle (6)

10. Prefer (6)

12. Seat (6)

15. Harangue (6)

17. Number (8)

19. Finished(4)

20. All the same (11)

DOWN

1. Flag (8)

2. Card game (6)

3. Angle (6)

4. Wine (4)

5. Rut (6)

6. Liquid (5)

11. Pastry (8)

13. Quantity (6)

14. Happenings (6)

15. Sore (6)

16. Attire (5)

18. Skin (4)

CRYPTIC PUZZLE NO. 8574

ACROSS

6. Viewing the interior and finding out more about (7,4).

7. Prevent from returning the jars (4). 8. Seems about to

go, but doesn't go, to the meeting place (6,2). 9. Got up,

but the pride's taken afall (6). 10. Tried using sense! (6).

12. The more annoyed, the less sensible (6). 15. "A new

day," the German put in (6). 17. Supporter who's behind

one in everything one does?(8). 19. "Usually" written as

"sally" makes sense! (4). 20. What brawn has if you eat

it? (6,5).

DOWN

1. Though calm, created (8). 2. Didn't make ahit with a

female editor (6). 3. Appalled, turned the hag away(6). 4.

Iaim to trap her (4). 5. The bulk of the book (6). 6. Subsequently

tear off the number ontop (5). 11. The foreign

lady took the Scandinavians in (8). 13. Work up to atrick

in which an egg is concealed (6). 14. Having asquabble

and putting one in the wrong unfairly (6). 15. Monsieur

tries desperately to get the rewards (6). 16. It brings ablush

to ones cheek (5). 18. Fun that can't be had with akite!

(4).

SUDOKU

HARD No. 5226

HARD

No.5226

Solution to previous Sudoku

Howto

solve

Sudoku!

Fill the grid

so thatevery

rowand every

3x3 square

contains the

digitals 1to9

Solution to previous crossword

ContactJann Thompson 03 308 7664 jann.thompson@ashburtoncourier.co.nz

NetherbySchool

Requires an experienced Teacher Aide

to work with a

differentiatedneeds child forterms 3and 4.

Greatteam environment. Hours to be discussed.

Email office@netherbyschool.nz

with CV and twonominated

referees or phone 03 3085799

forfurther information.

PHOTOGRAPHS FOR SALE

Have youseenaphoto published

youlikeorhad your phototaken

by our reporters?

OrderaPhoto Today!

¼Page*

$6

*approx 6x4

Ph: 308 7664 199

A5

$8.50

A4

$16

Burnett St Ashburton

2290527

3 7 1

1 4 9 3

1 9 3

1 8

2 6 8 3 4 7

7 2

7 8 2

8 1 6 2

2 8 7

8 5 9 7 2 6 4 3 1

6 2 4 3 5 1 7 9 8

7 1 3 9 8 4 5 2 6

2 4 7 8 9 3 1 6 5

3 6 5 1 7 2 9 8 4

1 9 8 4 6 5 2 7 3

4 3 2 6 1 7 8 5 9

9 7 6 5 4 8 3 1 2

5 8 1 2 3 9 6 4 7

QUICK PUZZLE NO. 8573 -SOLUTIONS

Across -6,Forefather. 8,Ache. 9, Opal. 10, Seven. 11,

Know.12, Crossword. 16, Miniature. 20, Ball. 22, Eased.

23, Tote. 24, Saga. 25, Red herring.

Down -1,Copper. 2,Realise. 3, Warsaw. 4,Shiver. 5,

Frank. 7, Shoot. 13, Own. 14, Stature. 15, Banal. 17, Inside.

18, Indeed. 19, Rating.21, Learn.

CRYPTIC PUZZLE NO. 8573 -SOLUTIONS

Across -6,Stand in awe. 8, Lawn. 9, Limp. 10, Tan-go.

11,No-Ds. 12, Agreement. 16, Sol-it-AI-re. 20, Stew.22,

Rat-Ed. 23, Sole. 24, Og-RE. 25, Stream-line.

Down -1,St-ring. 2, Snapped. 3, Vic-Tim. 4, Cannon. 5,

Me-Lon. 7, Swede. 13, (w)Ee-l(ake). 14, Mar-sala (rev.).

15, Stage. 17, Out-cry.18, Ind-Ian. 19, Re-lent. 21, Wrest

(rest).

SITUATIONS VACANT

CATERER

TheAshburtonGolf

Club invites interested

persons to apply for

the position of selfemployedcaterer.

This includes catering

formen's and women's

club days,course

bookings and the option

of catering forlarge

tournaments.

Forfurther information

please contactthe club

on 03-308-6371 or

email your

CV to admin@

ashburtongolf.co.nz.

2293636

WHAT better place for a

public notice than Ashburton's

The Courier! Simply

clip the form for a run-on

advert like this or telephone

us on 308 7664 if you

require adisplay advertisement.

Mobile

groomer now

servicing

Ashburton

Call nowtobooka

pamper foryour pooch

Ph 0800454 654

Cleaner

PermanentPart-time

Mitre10MEGAhas avacancy foraCleaner. This

position is permanentpart-time for

2hours8am –10amonaSunday; Mondayand

Friday6hours (9am –3pm).

The successful applicant will require the

following skills:

• Cleaning needs to be ahigh standard and

experiencepreferred

• Reliable

If you think you are the person we are looking

for, please email your covering letter and C.V.

to: HR.Ashburton@mitre10.co.nz

Applications close on Tuesday14thJuly 2020.

2293769

HIRE

SCISSORLIFTS for hire.

4WD and slab lifts available

for daily or weekly hire.

Pickup or delivery. Phone

North End Engineering 308

8155 for abooking.

GARDEN SUPPLIES

PEA STRAW Medium straw

bales for sale $50 per bale.

Linseed medium squares

$50 per bale. ph

02040233792

GARDENERS specials.

Sheep manure $5 bag. Pea

Straw $5 bale. Medium

square Linseed Straw $35

bale. Call Alan 027 496

7136 or Ian 027 286 3697

with your order. A Hinds

Lion's project.

BRIDGE Street Nursery has

moved. Now trading as

Paul's Garden Nursery at

101 Harrison Street,

Allenton, Ashburton.

Entrance on Clark Street.

13 varieties of seed

potatoes and fresh free

range eggs available.

Phone Paul 0272 781 354.

Open 7days.

FRUIT &PRODUCE

POTATOES Nadine and

Agria. $1.50 per kilo. Phone

308 3195 or 027 531 9103.

81 Elizabeth Street.

WANTED TO BUY

METAL, heavy etc. Free

light-grade metal in-yard

dumping 9am-5pm weekdays

&9.30-11.30am Saturdays.

Ashburton Scrap

Metal Recyclers, 117 Alford

Forest Rd, (behind

PlaceMakers). Phone 03

308 8033 or 027 249 6625.

HOME SERVICES

ROOF COATINGS: All roof

types, specializing in

Decramastic and Long Run

Iron, Coloursteel etc, steep

roofs not a problem. —

Spraymaster 027-433-7780.

2293831

ServiceCoordinator

Ashburton

Permanent

Part-time (25 -30hours perweek)

CCSDisabilityAction is committed to including all

people within our communities; we highly value

diversityand promote difference. We areseeking a

like-mindedperson to work in our MidCanterbury

Area alongside disabled people astheir Service

Coordinator. This role is basedinAshburton.

This role offers you anexciting opportunity to

use and develop your service coordination skills

within the Mid Canterbury Community. Our work

is undertaken alongside disabled people, their

family/whanau,and thelocalcommunity.

CCS Disability Action builds our work around

three core documents; UN Convention of the

Rights of Persons with Disabilities, Te Tiriti o

Waitangi and the NZ Disability Strategy. Wework

within aHuman Rights framework and areanEEO

employer meaning wemake accommodation and

openly encourage people with lived experienceof

disabilitytoapply.

To be appointedthe successfulcandidatewill have:

• Anunderstanding of working with Families,

Youth and Adult and the ways to support

peopletocontinue togrowand develop

• Working knowledge of the Social Model

of Disability, including person directed

planning and community development

practices.

• A strong commitment toproviding quality

support and outcomes to disabled people

and theirfamilies.

• A willingness to be flexible and seek

opportunities to work in innovativeways

If you are passionate about supporting people

to live independently and engage in their local

community, wewant tohear from you. Please

contactour Business Supportteam (03) 365 5661 or

email Southern.Recruitment@ccsDisabilityAction.

org.nz or drop into the Ashburton Branch at 44

Cass Street,Ashburton, foranapplication pack.We

arecommitted to ensuring ourapplicationprocess

is accessible to everyone,please let us know if you

require an alternativemethod of application.

Applicationsclose: Monday13th July 2020, 5pm.

TwoSeasonal Positions

FixedTerm

Green Garden Department –16hours:

9am–6pm Friday and Saturday

(early August –28/2/2021)

Seasonal department (Outdoor Furniture,

Camping etc) –24hours: 9am –6pm Thursday,

Friday, Saturday(early August 2020 –28/2/2021)

These positions are tocover our busy seasonal

period in our garden departmentand seasonal

department.

The suitable applicants will need the following

attributes:

• Excellentcustomer service

• Reliable

• Physically fit and able to lift

• Have a passion for gardening and the

outdoors

• Abilitytoworkunsupervised

If you think you have the necessary skills

for either of these positions, please send a

covering letter stating which department you

areinterested in with your C.V.to:

HR.Ashburton@mitre10.co.nz

Applications close on Tuesday 14th July 2020

16,065 COPIES EVERYWEEK

2293610

2293404

1278047
---
www.ashburtoncourier.co.nz

SITUATIONS VACANT

CASUAL STORE PERSON

Ashburton

Luisetti Seeds is asignificant provider of grain and

seedboth nationallyand internationally.

Opportunityhas arisenforaCasualStore Person at

ourAshburtonsite.

Keyresponsibilitieswill include:

• Assistingwith theintake anddispatchfunctions

includinggeneralyardduties

• Operating modern seed cleaning, treating and

mixing plants

• Opportunity to progress into a peramanent

position forthe rightapplicant

You will have aproven history of: reliability and

punctuality, efficient time management skills,

working solo and inateam environment, being a

self-starter, able towork toadeadline, attention

to detail, working well under pressure and an

enthusiastic manner.

A willingness to work extended hours when

required and a friendly customer focused

personality would be desirable. Seed cleaning

experience, knowledge of agriculture and forklift

licencewould be an advantage butisnot essential.

On sitetrainingwill be provided.

Remuneration to reflect the applicants experience

and ability.

Applications should detail recent relevant

experience, qualifications and references.

Applications will be treated and viewed in

confidence. Please apply to:

Luisetti Seeds Ltd

PO Box77

Rangiora7440

Attention: KarenVan Staden

or admin@luisettiseeds.co.nz

MEETINGS

Ashburton Speedway Association (Inc)

THE ANNUAL GENERAL MEETING

WILL BE HELD AT THE CLUBROOMS

SEAFIELD ROAD –ASHBURTON

on Sunday 26th July 2020, 2pm

--- Business ---

•President's report

•Presentation of life members

•Financial report

•Changes toconstitution

•Election of officers and committee

•Setting subscriptions and fees for coming year

•General business

Nominations for officers and committee

to be received by the

Secretary at ashspeedway@gmail.com

by the 19th July 2020

Annual General Meeting

TheAGMofMidCanterbury

Aero Club Incorporated

will be held at theclubroomson

Thursday 30thJuly2020at7pm,

AshburtonAirport on Seafield Road.

AMERICAR ROD&

CUSTOM CLUB

AGM

Clubrooms

MaronanRd

Sunday, 12 July

at 10am

All welcome

Anyqueries,contactGreenie

021 267 4209

ASHBURTON Pony Club

Special Annual General

Zoom Meeting, Thursday

23 July 2020 @7.30pm to

accept Financial Report.

Meeting open to everyone.

Contact Sue 027 269 4025

2287114

2293021

2294047

2293533

PHOTOGRAPHS

FOR SALE

Have youhad your photo

taken by our reporters?

Order aPhotoToday!

¼Page*

$6

*approx 6x4

A5

$8.50

A4

$16

Ph: 308 7664

199 Burnett St,Ashburton

2279678

TRADE &SERVICES

BUILDER – specialising in

home renovations and

repair work. We also do

decks, fences and retaining,

plastering and painting,

gardening, landscaping

and tree removal. Call

Gavin 021 267 1979.

BUILDING and property

solutions. For your complete

alteration or renovation.

We project manage

the whole process. Home

and small commercial.

Qualified tradesmen.

Phone Kiwi Building &

Maintenance Ltd. Gary 308

4798, 027 207 1478 or

Cawte 027 418 7955.

CARPET cleaning. Powerful

equipment and fast drying.

Upholstery, mats and rugs.

Experienced owner/operator.

Phone John Cameron

at Supersucker. 027 435

1042 or 308 1677.

CARR'S Chimney Cleaning,

servicing Ashburton and

surrounding districts, $60

per chimney. Phone

Rodney on 03 324 2999

and leave amessage.

CHARLIE'S Blind Cleaning

Service -same day service

and repairs. Charlie can

supply new blinds and

tracks, will hang drapes.

Phone 03 307 1936 or 020

4169 0342.

CHIMNEY sweep - For a

professional service call

Dan McKerrow Chimney

Sweep and Repairs on 021

118 7580.

COMPUTER repairs, sales,

training, set up -wireless -

networks, spyware clean

up. On-site day or evening.

Low fees. Call Robin Johnstone,

Networks Firewalls

& PC's Ltd, 308 1440 or

027 768 4058.

CONCRETE pavers direct to

you - Best prices, many

sizes, textures and colours

- Paveco, 13 Robinson

Street, Industrial Estate.

DENTURES; Dr Peter

Rumping repairs existing

dentures and also provides

new dentures. Phone 027

220 9997.

ENGINEERING repairs, fabrication,

farm equipment

service and maintenance,

WOF repairs, machining

and welding. Odd jobs a

speciality. Mobile workshop.

Can collect. Phone

Malcolm 0274 754 241

FLY control and spider

proofing. For all domestic

and industrial pest control

needs phone AJ Kerr at

Ashburton Pest Control on

03 308 8147 or 027 432

5447.

FURNITURE removals. For

all your household removal

needs - urban, rural, lifestyle,

office relocations -

call Nudges Furniture

Removals, phone 027 224

0609.

GARDENING, mowing,

pruning, fertilising, projects

or general spruce ups? Call

Andrew at Spruce Gardens

to get the job done right.

027 765 2899 or 03 307 1693.

sprucegardens@xtra.co.nz

GUTTER cleaning. Book in a

clean now and tell me when

you want the job done. You

may have trees around.

Call Allan 027 209 5026

LEGAL work -Phone Peter

Ragg (Ashburton Law) for

house sales, purchases

and refinances. Will call at

home evenings for wills,

enduring powers of

attorney. Phone 308 0327.

MENTORING for emotional

support, guidance, optimism,

goal setting, resilience.

Professional supervision.

Call Pete Young, 307

7582/027 280 0889; email

plyoung@xtra.co.nz; web:

peteyoung.co.nz

PAINTER for all your painting

needs. No job too small,

inside or outside. Professional

friendly service.

Phone Pete 03 308 1672 or

027 200 1619.

FACTORY SPRAY LACQUER

A NEW LOOK

that lasts!

Existing kitchens, doors,

furniture &appliances

The Finishing Company

03 307 8870 2291357

PAINTING wallpapering,

plastering - No job too

small. Interior, exterior.

Professional, prompt, competitive

service. Phone

Tony Sivier at Paint It Ashburton

on 021 878 794 or

307 7289.

TINT-A-WINDOW, fade, UV

block, glare, heat control,

safety, security, privacy,

frosting films, solar protective

window films. Free

quotes, 20 years local service.

Phone 0800 368 468

now, Bill Breukelaar, www.

tintawindow.co.nz

TV Reception Specialists for

all your digital freeview

installations and repairs,

TV wall mounting, Smart

TV set-up, home theatre

installation. Call John at

Ashburton TV &Audio Ltd

03 308 7332 or 027 277

1062.

WINDSCREENS and house

glass. Qualified flat glass

glazier now in-house. Anything

glass, give us acall.

Your place or ours. Wilson

Windscreens, 152 Wills

Street, Ashburton. Phone

03 308 8485.

SELL

LPG

REFILLS

Small LPG cylinders

Off Street Parking

Available

Arthur Cates Ltd

26 McNally Street

Ph 308 5397

Riverside Industrial Estate

LPG REFILLS

9kg cylinders

$27.50

Askabout our

deliveryservice

Anysizecylinderfilled

17 Grey St,Ashburton

Phone 307 2707

2281802

2281955

HEALTH &BEAUTY

URGENT CARE CLINIC

WEEKEND DUTYDOCTORS

PHARMACIES

Wises Pharmacy,CountdownComplex,

East Street will be open on ...

Saturday from 9.00am until 1.00pm

Sunday from 10.00am until 1.00pm

At Geraldine: TheGeraldine Pharmacywill be open

normal trading hours during the week,and on

Saturdaymorning from 9.30am to 12.30pm.

Closed Sundays and Public Holidays

Forfree24hour Telephone Health Advice

Phone the healthline on 0800 611 116

Brought

toyouby

CountdownComplex, East Street, Ashburton

Phone: 03 308 6733 Fax: 03 308 6755

CLASSIFIEDS

Ashburton Courier, July 9, 2020

IN THE EVENT OF AN EMERGENCYPHONE 111

Forall othermedicalassistance outside of normal

hoursplease phone your generalpracticeteam,24/7,

to speak withahealth professional whowill giveyou

free health advice on what to do or where to go if you

need urgentcare.

If youdon't have aregular generalpractice, call any

GP team 24/7 forfreetelephone health advice.

All non-residents and visa holders please bring your

passporttoyour surgeryappointment.

New Zealanders'tobringsome form of ID.

TheAshburtonDutyPractice for ...

Saturday11th July is

Tinwald Medical Centre, 33 Archibald Street

Consultations will be by appointmentonly.

To make an appointmentcall your regular GP 24/7.

Sunday12th July is

MooreStreet Medical Centre,MooreStreet

Consultations will be by appointmentonly.

To make an appointmentcall your regular GP 24/7.

Methven and Rakaia: Formedical attention on the

weekend and public holidays please telephone

MethvenMedical Centre on 03 302 8105

or Rakaia Medical Centre on 03 303 5002.

Details foraccessing the afterhours services will be

on the answer phone.

FOCUS Optometry - good

honest eye care, support

local. Phone 307 898 865.

Tancred Street, Ashburton.

www.nzfocusoptometry.co.

nz

DebraCurtin

Chiropractor

03 308 9516

www.ashburtonchiropractic.co.nz

PROPERTIES FOR SALE

THE Courier is the best way

to advertise in Mid Canterbury.

Ask anyone who

regularly advertises with us

and they'll tell you, they get

results.

• Indoor/outdoor entertaining area with twodecks to the frontand rear and

aprivate spa pool enclosure. Separate lounge and dining areas,Yunca log

burner.Double internal access garaging,with plenty of parking.

• Two fenced paddocks and small sheep yards, large garden shed with an

attached woodshed,pluschicken coop and berry enclosureon1.25 acres.

• Established gardens arewell laid out foreasy care, with an established

orchard.

• Trade Me Listing 2611733786.

2280808

33

FOR LEASE

AWESOME office space for

lease, rent or hire. Parklike

setting. Indoor and outdoor

areas. North West

town boundary. Must view.

Phone 0274 754 241

RENT ME!

Ideal as an extra

bedroomoroffice.

Fully insulatedand

double glazed forwarmth.

Threeconvenientsizes:

Standard3.6m x2.4m,

Large 4.2m x2.4m

Xtra-large 4.8m x2.4m.

Visit our displaycabin

418WestStreet or callfor a

freebrochure.

www.justcabins.co.nz

2289121

0800 58 78 22

STORAGE and space leasing

for vehicles, motorbikes,

bicycles, boats,

motorhomes, caravans,

tractors, trucks, trailers and

containers. Indoor, outdoor

or under cover. Call Peter

027 333 3626.

STORAGE available, Ashburton.

Self storage, variety

of sizes. Phone Rainbow

Storage 03 307 0401.

STORAGE:Secure self storage

units available, long or

short term. Ashburton Storage

Facilities. Contact us

on 0274 362 636 or www.

ashburtonstoragefacilities.

co.nz

TO LET

TWO Bedroom Unit for rent,

East Side, 2minutes walk

to Countdown. Heatpump,

fresh paint, new carpet,

attached garage. Suit

mature persons. Phone

027 346 7800

WE value the service we

provide - The Courier for

advice on how you can

reach potential customers.

Call us today on 308 7664.

ARE you struggling to make

ends meet? Need extra

money? Why not sell your

unwanted items in The

Courier! Everything helps.

MAKE money selling your

unwanted items. Up to 24

words for only $8. Can't get

better than that. The Courier.

OPENHOME

Sunday12thJuly

1:30-2:30pm

1.25 acres

$815,000

2284896
---
CLASSIFIEDS

34 Ashburton Courier, July 9, 2020

www.ashburtoncourier.co.nz

14 Films from JulytoOctober •Wednesdays at 7:30pm

taking youfurther into film

www.dunedinfilmsociety.org.nz

Screenings held at the

Red Lecture Theatre (Scott Building),

260 Great King St

Half-Year Memberships:

Waged $35

Unwaged/Student $30

3-Movie Pass $25

ANOTHER WEEKLY

BEGINNER CLASS

with the

THE MID CANTERBURY

LINE DANCERS

Starts Monday13th July

1pm –2pm

EasyIntermediate/Interm.

from 2:30-4:30pm

ALSO WEDNESDAYS

Beginnersclass from 6:30pm

Easy Intermediate 8-9pm

At the Memorial Hall,

Grahams Rd,Tinwald

Inquiries ph Annette:

A.H. 0274 813 131

2293955

2262328

2290

290

94

40-

S

Peter Blacklow

HospiceMid Canterbury

Dealing

with alife

limiting

illness?

PUBLIC NOTICE

Doors open under Level2

PETE'S

PICK

Full rangeofengineering supplies and accessories forall your repairs

&maintenance. Kerrick hot &coldwaterblasters&industrial vacuumcleaners.

Essetiwelders &accessories. Stockistsand distributors of Trailer Equipment.

•Sittingand companionship

•Counselling and bereavement

support

•Biographywriting

•Massage,reiki and reflexology

•Activityand support

programmes

Phone 307 8387 or 027 227 8387

email manager@hospicemc.nz www.hospicemc.nz

FIND money in your bank

account each week if you

become adelivery person.

The Courier 308 7664.

We can help with:

Locally owned &operated family business for 67 years

ASHBURTON

South Street, Ashburton PHONE (03) 308-3147

Email office@blacklows.co.nz FREEPHONE 0800 452 522

Allservices

arefree

ADVERTISEMENT makeover!

From before to after.

You'll notice the difference

with The Courier, 308 7664.

BONUSHELMET

HURRYONLYWHILE

STOCKSLAST

XCEL-ARC

NEW! VIPER SYNERGIC

MIG120 XA MIG120V-SP

One knob control.

Easy operation forbeginners.

Small,compact, portable.

$312.17+GST

CGrade NZ Title

plus many supportgrades

SUNDAY 12TH JULY 2020

Funday out for the whole family!

Racingstarts 12:30pm

Gate prices

Adult -$15; Senior with gold cars -$10

Children 14yrs &under -Freewith paying adult

LocatedonSeafield Road,next tothe AshburtonAirport

Classified Deadline

Please note

Ourclassified deadlineis

4:30pm Tuesday

prior to Thursday

publication.

Phone 308 7664

Email: office@ashburtoncourier.co.nz

EDUCATIONAL

2294024

Forkliftand Dangerous GoodsCourses

NZTAApproved Course Provider,MITO&Competenz Assessor

Classes 2&4,Endorsements F&D

ForkliftF&OSH, Saturdays and other days as requested

Dangerous Goods Course,½day Mondaymornings

CommunityHouse,Ashburtonoryour work place

Forfurther information

Phone Christine 027 245 2563

TURN THE PAGE TO VIEW

MORE CLASSIFIEDS

2291234

2172815

2294038

ASHBURTON Society of

Arts Winter Show, Short

Street Studio. On now,

Guest Jo Loughnan, and 16

local members exhibiting.

Weekends 11am - 4pm,

and Mondays and Wednesdays

when the sign is out,

until 2nd August.

SPACE available for next

weeks Courier -bequick!

Talk to us about your advertising

requirements. Phone

308 7664 or call into our

office at 199 Burnett Street,

Ashburton.

TALK to us today about ways

you can improve your business.

Professional, reliable

service with a smile. The

Courier 308 7664.

Thurs 9th &Fri 10th

10.00 Trolls WorldTour

10.00 TheBig Trip

11.40 TheRotten Romans

11.50 RedShoes &the 7Dwarves

1.30 Trolls WorldTour

1.45 RedShoes &the 7Dwarves

3.15 Sonic

3.45 TheHighNote

5.05 Rosie

6.00 Love Sarah

6.40 TheWretched

8.00 TheHighNote

8.30 RockyHorrorPictureShow

Sat11th &Sun 12th

10.00 TheBig Trip

10.15 RedShoes &the 7Dwarves

11.40 Frozen

12.00 Sonic

1.30 Trolls WorldTour

2.00 TheHighNote

3.15 TheRotten Romans

4.10 Resistance

5.00 Trolls WorldTour

6.30 Love Sarah

6.40 Rosie

8.15 TheHighNote

8.30 TheWretched

Mon13th, Tues 14th

&Wed 15th

10.00

10.00

11.45

11.50

1.30

2.00

3.30

3.50

6.00

6.20

8.00

8.10

Trolls WorldTour

RedShoes &the 7Dwarves

TheRotten Romans

TheJungle Book

Trolls WorldTour

RedShoes &the 7Dwarves

Sonic

TheHighNote

Love Sarah

Rosie

TheHigh Note

TheWretched

G

PG

PG

G

G

G

PG

M

PG

M

R16

M

M

PG

G

G

PG

G

M

PG

PG

G

M

PG

M

R16

G

G

PG

PG

G

G

PG

M

M

PG

M

R16

NO COMPS

High Note, RedShoes &

the7Dwarves, TrollsWorld Tour,

Established 1885

Ashburton

Club &MSA

2020

ExecutiveElections

Polling in the Club

Elections will take

placeatthe club on the

following dates

Friday,July10th&

Saturday July 11th,

3pm -7pm

Please havemembership

cardsavailable

StuartGeddes,

General Manager

Being in business

and not advertising

is likewaving in the

dark....

....you know you're therebut

no-one else does!

Don't be left in the dark,

TheCourier Newspaper has the

key to your event, productor

business advertising.

Phone Jann or Karen on (03) 308 7664

Email: office@ashburtoncourier.co.nz

2292792

OUR newspaper goes into all

RD's so why not advertise

with us! The Courier, best

read in town.

2279682
---
Your

ONE STOP SHOP

When it comes to your farm machinery

parts, Palmer Agri Parts Direct Ltd has all the

knowledge,equipmentand suppliers needed to

get it done and get it right.

The agricultural engineering business operatesout

of 34 Robinson Street in the Riverside Industrial

Park, Ashburton and can manufacture and repair

almost anyon-farmmachinery.

Palmer's manufacuture a massive range of

cultivation and ploughing points and parts for

New Zealand and European implements - from

your common Clough or Duncan grubber to

your Sunflower cultivator and Kverneland, Kuhn,

Dowdeswell or Lemken ploughs.

We stock many plough parts, shares and points,

chisel plough parts, s tines, bale forks, plough

conversion kits, mouldboards, dale plough shares,

plough sharerebuilds,ploughnuts and bolts.

for

FARM MACHINERY

We also manufacture and supply combine crop

lifters, knives, fingers, mower and chopper blades,

From our Robinson Street yard, we have the space

and gear to make up, not only one single part, but

thousands if needed.

As New Zealand's sole agent and distributor of

Spaldings UK European agricultural parts and

accessories and importers of Spaldings Flatlift

Subsoilers, Palmer Agri Parts Direct Ltd can offer

clients almost any part required for any earthengaging

machine.

Spaldings are Europe's leading distributor of

agricultural replacement parts for soil and crop

engaging machinery.

We also undertake general engineering and

maintenance and repair work, stock Bare Coand

Sparex tractor parts and accessories, PTO shafts

and safety covers along with manufacturing

and stocking feeders, bird scarers, and much,

much more.

Hay

feeders

34 Robinson Street,Riverside Industrial Park,Ashburton. Phone 308 6509

• Various sizes and types

available

• Safe feeding while

eliminating as much wasted

hay as possible

• Longevity of the feeder

maximised

• Competitive prices

• Deer and sheep feeders

also available

34 Robinson Street,Riverside Industrial Park,Ashburton. Phone 308 6509

2292514
---
QUALITY

USED VEHICLES

@

AFFORDABLE

PRICES

WARRANTIES AA APPRAISED FINANCE BIGGEST YARD BEST SELECTION TRADE-INS

2016 MITSIBUSHI PAJERO SPORT VRX

2400 CC,TOW BAR,

CRUISE CONTROL,

FRONT/SIDE CAMERAS,

FULLYLOADED

81,000 KMS

2007 HONDACR-VZX

ABS,AIR CON,

SUN ROOF,

AUTO,

2400CC

2011 SUBARUFORESTER 2.0 XS

2000 CC,AIR CON, CLIMATE

CONTROL,REAR SPOILER,

TWIN AIR

BAGS,97,000KMS

$34,995

$11,995 $11,995

HONDA NISSAN TOYOTA

2006 HONDAINSPIRE AVANZARE, 3000 cc,4door,abs,air con, cruise

control, climate control57,500 kms................................................... $9,995

2006 HONDAINSPIRE,alloys, cruise control, reversecamera,2wheel

drive, 3000 cc,57,000 kms..................................................................... $9,995

2013 HONDA CR-V 24G, auto5door,ABS, cruise control, alloys,tow bar,

66,000kms,2400cc...................................................................................$22,995

2004 HONDA CR-V ZX, auto, petrol,5door,SUV,ABS, rear spoiler,78,100

kms, 2400cc....................................................................................................... SOLD

2007 HONDA ELYSIONPRESTAGESZ, auto, petrol,7seater, 5door,ABS,

foglights,105,000 kms, 3500cc, alloys,cruise control, newstyres,and

loaded........................................................................................................... $11,995

2007 HONDA STEPWAGON G, 5door,8seater, ABS, aircon, rear spoiler,

95,000 kms, 2000cc......................................................................................$7,995

2007 HONDACR-V 4WDZX, 2400 cc,ABS, air con, climate control, sun

roof,auto....................................................................................................$11,995

MAZDA

2009 MAZDADEMIO SPORT, 1500cc, ABS,air con, climate control, rear

spoiler,70,500kms.......................................................................................... SOLD

2008 MAZDADEMIO SPORT, 5door,ABS, climate control, air con, body

kit, 19,800 kms, 1500cc............................................................................... . SOLD

HOLDEN

2004 HOLDEN RODEODOUBLE CAB, 3500cc, air con, canopy, tow bar,

manual............................................................................................................. SOLD

2014NISSAN BLUEBIRD, 1800 cc,ABS, aircon, climate control,

49,000 kms.................................................................................................$10,995

2008 NISSANMICRA, 5speed,twin air bags,5door,ABS,

96,000kms .......................................................................................................$3,995

2006 NISSANCUBE 15M, 5door,petrol, air con, ABS, CD changer,42,300

kms, 1500cc.....................................................................................................$7,495

2014 NISSANLATIO B, auto, idling stop,twin air bags,ABS, 4door,petrol,

air con, 31,100kms........................................................................................$9,995

2001 NISSANCUBE, 1300 cc,5door,auto, 136,000 kms........................$3,495

2007 NISSANSKYLINE 350 GT,3500cc, auto, paddle shift, 18in alloys,

76,000 kms...................................................................................................$11,995

2013 NISSANBLUEBIRD, twin air bags,ABS, air con, 46,000 kms...$11,995

2003 NISSANMAXIMAST, 3000 cc,air con, ABS, rear spoiler ................ SOLD

SUZUKI

2007 SUZUKISX4 XG, 5door,petrol,ABS, air con, climate control, rear

spoiler,roof rails,alloys,97,200 kms, 1500 cc.....................................$8,495

SUBARU

2011 SUBARU LEGACYWAGON 2.5i –2500cc, air con, ABS............$10,995

2011 SUBARU FORRESTER,2000 cc,4WD,ABS, twin air bags,

97,000 kms.................................................................................................$11,995

2007 TOYOTAPRIUS STOURING, hybrid,alloys,reverse camera,air con,

rear spoiler, ABS, 1500cc,36,000 kms..............................................$10,995

2007 TOYOTA BLADEG,5door,ABS, air con, body kit, rear spoiler,push

button start, 70,500 kms, 2400cc.........................................................$10,995

2009 TOYOTA ESTIMAHYBRID X4WD, 5door,8seater, ABS, aircon, auto,

rear spoiler,cruise control, 133,450 kms, 2400cc, alloys..............$14,995

2013 TOYOTA PRIUS L, 5door,ABS, air con, petrol,parking sensors,rear

spoiler,auto, 71,810 kms, 1800cc.........................................................$16,995

1999 TOYOTA RAV4,3door,petrol,ABS, air con, rear spoiler,

1800cc...............................................................................................................$7,995

2006 TOYOTA RUSH G, 5door,petrol,ABS, air con, climate control, rear

spoiler,59,500 kms, 1500cc....................................................................$11,995

2008 TOYOTA WISHXLIMITED, 5door,petrol, ABS,air con, auto, climate

control, 72,500 kms, 1800cc......................................................................$9,995

MITSUBISHI

2016 MITSIBUSHI PAJEROSPORT VRX,2400cc, cruise control, reverse

sensors, tow bar,fully loaded ..$34,995

TRADE-IN SPECIALS

1992 FORD COURIER UTE, diesel flatdeck................................................. $3,995

2004 FORD FOCUS, 5door,5spped............................................................. $2,995

1996 NISSAN SUNNY, 5speed........................................................................ $3,995

2007 TOYOTA BLADE G

ABS,AIR CON, BODY

KIT,REAR SPOILER,

2400 CC,

70,500 KMS

2009 TOYOTA ESTIMA HYBRID X

ABS,AIR CON, 4WD

AUTO DOOR,

CRUISE CONTROL,

2400 CC,

8SEATER

2007 HONDASTEPWAGON G

2000 CC,ABS,

AIRCON,REAR SPOILER,

AUTO,94,400KMS ,

7SEATER

$10,995

$14,995

$8,995

Ph: 308 1396

Sellingnicecarstonicepeople!

ENQUIRE NOW

-about our range of rental vehicles

AUTOSLTD &RENTALS

470 West Street,

Ashburton

A/H Keith Drummond

0274 367 646

Family,Sports, School or Social Trips

We have 8, 10 &12seaterminivansavailable.

Cars and 3trucksforsmall or bigloads alsoavailable.

2290865