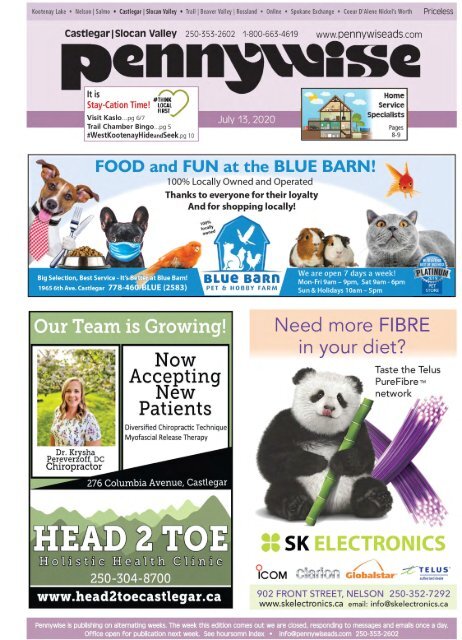 July 13, Pennywise – Castlegar, Slocan Valley
Total coverage of the City of Castlegar, Genelle, South Slocan, Crescent Valley, Thrums, Slocan Park, Winlaw and Slocan.
Total coverage of the City of Castlegar, Genelle, South Slocan, Crescent Valley, Thrums, Slocan Park, Winlaw and Slocan.
SHOW MORE
SHOW LESS
Create successful ePaper yourself
Turn your PDF publications into a flip-book with our unique Google optimized e-Paper software.
Let's

All Enjoy

Next Pennywise Publication Date: Monday, July 27

Ad Deadline Wednesday, July 22 • 3 pm • 1-800-663-4619

CLASSIFIED INDEX:

Animals/Pets ............................................................................................................... 14

Announcements .......................................................................................................... 13

Automotive .................................................................................................................. 14

Boats/Watercraft ......................................................................................................... 15

Building Supplies .......................................................................................................... 5

Bulletin Board ............................................................................................................ 2, 3

Business Opportunities ................................................................................................. 6

Classes/Workshops ............................................................................................... 13, 14

Computer Sales/Service ............................................................................................... 5

Commercial Rentals .................................................................................................... 16

Contractors/Trades ............................................................................................ 7, 10, 11

Events ............................................................................................................................ 3

Firewood ........................................................................................................................ 5

Free for Free .................................................................................................................. 6

Garage Sales ................................................................................................................. 4

Gardening/Landscaping ........................................................................................ 12, 13

General Services ................................................................................................... 11, 12

Health/Personal Care .................................................................................................. 12

Heavy/Farm Equipment............................................................................................... 15

Help Wanted .................................................................................................................. 7

Hiring ......................................................................................................................... 6, 7

Livestock ..................................................................................................................... 14

Lost & Found ............................................................................................................... 13

Markets/Fairs ............................................................................................................. 3, 4

Merchandise .............................................................................................................. 4, 5

Merchandise Wanted ................................................................................................ 5, 6

Motorcycles/ATVs/Snowmobiles ................................................................................. 15

Music Equipment/Service ............................................................................................. 5

Notices ........................................................................................................................ 13

Obituaries .................................................................................................................... 13

Real Estate .................................................................................................................. 15

Real Estate Agents ...................................................................................................... 16

Rentals......................................................................................................................... 16

Residential Resl Estate................................................................................................ 15

Rentals Wanted .......................................................................................................... 16

RVs/Campers .............................................................................................................. 15

Shared Accommodations ............................................................................................ 16

Sporting Goods ............................................................................................................. 5

Vacation Rentals .......................................................................................................... 16

Puzzles ......................................................................................................................... 6

Advertising Strategists

We're still open 7 days a week, regular hours, COVID-19 compliant.

Delivering into your home

Great Deals – Great Selection as always!

FURNITURE • MATTRESSES • HOME DECOR

MAJOR APPLIANCES

Come out and see us - We're looking forward to seeing you!

Karma Halleran

karma@pennywiseads.com

Kaslo Area - Ainsworth

250-353-2602

Gender Equal

Farmyard

July 13

Larger solution online

https://www.pennywiseads.

com/puzzle-solutions/

Adam Prisciak

adam@pennywiseads.com

Castlegar/Nelson/Trail Area

250-505-2921

This Week's Puzzle Answers

Larissa Scott

larissa@pennywiseads.com

WK Features/Sales Support

250-353-2602

Located halfway between

Trail and Castlegar

1790 HomeGoods Rd, Genelle BC

250-693-2227

Check out our website HomeGoodsFurniture.com and see us on Facebook!

Come and see our new

working kitchen

designed by JMK Kitchens

Kitchens & Custom

Woodworking Ltd

e: info@pennywiseads.com editorial@pennywiseads.com

Box 430, 604 Boundary Ave, Kaslo, BC V0G 1M0

Pennywise also publishes the Go & Do Regional Guide, Visit Kaslo Guide, 4 Seasons in Salmo

and the Central Kootenay Farm & Food Directory

Printed in Canada. All Rights Reserved. © 2020 by KS•Perry Publishing Ltd.,

Karma Halleran, Publisher. We reserve the right to edit or reject submissions or

advertising that are not within our guidelines, see at www.pennywiseads.com

Bulletin Board

*PROTECT YOUR PROPERTY

FROM WILDFIRE* Build a custom

strategy to maximize the value of

your property while protecting it

from the increasing threat of wildfi

res. Book a free assessment with

Loki Tree Service online at www.

lokitree.com or call 250-353-2405.

12-MILE STORAGE: LOCKERS,

BOXES, MOVING SUPPLIES

& "LEVEL 4" HIGH-SECURITY

SHREDDER. The area's only fully-staffed

facility, 7 days/wk...

the largest & most experienced

too! www.12milestorage.com, 250-

825-9666.

AA KASLO: Call 250-353-7737 or

250-353-3427 for information and

links to online Zoom meetings. We

may be able to help.

A C U P U N C T U R E

& TRADITIONAL CHINESE

MEDICINE & Chiropractic Care.

Head 2 Toe Holistic Health Clinic,

276 Columbia Ave, Castlegar. Call

250-304-8700 or book online www.

head2toecastlegar.ca

LOOKING FOR LANGHAM

EVENTS? Check out our display ad

in this issue or www.thelangham.ca

Bulletin Board

ACCEPTING NEW PATIENTS!!

KOOTENAY INTEGRATED

HEALTH is open and now accepting

new patients for Chiropractic

care, Registered Massage Therapy

and Acupuncture. Same day

appointments available for Dr. Tyler

Phillipson, DC. WORKSAFE,

RCMP, DVA AND ICBC accepted

without medical referrals. Laser

therapy and Orthotic prescription

also available. Call 250-365-3356

or visit www.kootenayintegrated.

com

ACUPUNCTURE AGAIN! KASLO

COMMUNITY ACUPUNCTURE

will be starting Friday, June 26,

1:00pm at a new location, 430 "B"

Ave, Kaslo Community Church,

back entrance. Extended hours

1-5pm, every 2nd and 4th Friday.

By donation or MSP. Only 4 allowed

at a time, no waiting space

at this time. Watch for posters &

Facebook for more details.

AFFORDABLE & SECURE

HOUSEHOLD STORAGE CON-

TAINERS: 20´ & 40´ units, for sale

or rent. Kootenay Containers, Castlegar.

250-365-3014.

Bulletin Board

ANGRY HEN BREWING: New

hours, Thursday-Saturday 12-

10pm and Sunday 12-8pm. 343

Front St, Kaslo.

ARE YOU AFFECTED BY SOME-

ONE ELSE'S DRINKING? Al-

Anon is for families and friends of

alcoholics. Call Maggie for info,

250-353-3427.

BIBLE STUDY: A study of The King

James Version Bible from Genesis

to Revelation; chapter by chapter,

verse by verse, making sure the

Bible is understood in completeness.

For more information please

contact Don at 778-877-0579.

OLD OR NEW, BORROWED OR

BLUE, you can find it in the Pennywise!

Call us today, we are happy

to help you compose your classified

ad! Call 1-800-663-4619

BOIL WATER NOTICE for Fletcher

Creek Improvement District water

users. Please inform all renters &

guests. FCID has a moratorium on

all connections until further notice.

Visit www.fletchercreekwater.com

Bulletin Board

BOOKKEEPING BY LOUISE:

Bookkeeping, payroll, GST. 250-

352-9858, bookkeepingbylouise@

shaw.ca

CANADIAN MADE HOT TUBS!

New & used softubs, service & spa

chemicals, including low CI Nature2.

Serving all the West Kootenay.

Call Kootenay Springs Softub,

limited tub supply so please call to

order, 250-354-8557 in Riondel.

www.softubcanada.com

CHIROPRACTORS ACCEPT-

ING NEW PATIENTS: Dr. Krysha

Pereverzoff & Dr. Nick DiCesare

have joined our team to help us

serve you better. Head 2 Toe Holistic

Health Clinic, 276 Columbia

Ave, Castlegar. Call 250-304-

8700 or book online www.head

2toecastlegar.ca

CONCRETE GRAVEL, sand,

drain, road and landscaping rocks.

Recommended by customers!

Yvon Couture, 250-355-2518.

CRAVING MORE CROSS-

WORDS? Sign up for weekly

puzzles! Freshly-crafted Classi-

Canadian Crosswords delivered

straight to you. Great gift! $19.99/

yr. www.ClassiCanadianXwords.ca

Bulletin Board

CUSTOM PICTURE FRAMING

IN SALMO: Artwork, documents,

textiles. Tara Books on Fourth St.

250-357-0022, www.tarabooks.ca

GET READY TO HUNT for the

2020 CFNKLS Treasure Box. The

rules and facts you will need are

already on our website at www.

nkltreasure.wordpress.com. The

hunt will start with the appearance

of the fi rst clues. The dates for the

appearance of each and all clues

will be posted a day or so before

the hunt begins. Watch for that fi rst

date!

HOSPICE SOCIETY NORTH

KOOTENAY LAKE: We provide

free of charge support to those in

the last phase of life, helping them

live as comfortably as possible.

www.hsnkl.org

In Truth: The word Hu will spiritualize

you. It's an ancient name

for God. Just sing Hu every day.

Take it to heart and then go about

your daily life. http://eckankarblog.

org/sound-of-soul

MIRROR LAKE WATER USERS

COMMUNITY: Boil water advisory

for all users. Inform renters and

guests.

2 July 13, 2020 Pennywise Publishing every 2nd week through the summer. picture online: www.pennywiseads.com
---
Nelson streetcar

back on track!

Okay folks… here's the news you've

been waiting for! We're happy to say that

we're back on track but with reduced

hours of operation: Monday to Friday 11

am to 2:30 pm, Sat., Sun., Holidays 11 am

to 4:30 pm.

Your fare is by donation or annual

pass. Sorry, we can't give change.

Ask your conductor for an annual

pass!

Adult $25. Senior / 6-12 years $15.

Family (max. 2 over 18) $50.

COVID-19 precautions:

• Maintain social distancing while

waiting for streetcar

• Bicycles, strollers, wagons, wheelchairs,

etc. Not accepted at this time

• Pets not accepted

• Use provided hand sanitizer upon

entry

• Seats will be assigned. We are operating

at 50% capacity (20 seats)

• Children to remain seated. Sorry, no

gong ringing.

Lonnie Facchina, Nelson Electric

Tramway Society

Photo contest

to support local

businesses

Share your love for local businesses

and products and enter to win one of

three amazing local gift baskets valued at

$200. To enter, share a selfie with your

recent local purchase on Instagram or

Facebook with the hashtag #mmmkootenaylocal.

Entries must clearly feature the

local company or business name in the

photo or post. All residents of the Nelson-Creston

riding are eligible to enter.

"Now more than ever, every dollar we

spend at a local business goes a long way

towards supporting our neighbors and

our communities" said Mungall. "So, let's

get out there and show off our local businesses

by buying local."

Winners will be drawn at random on

August 31, October 29 and December

17, 2020. If you don't have access to a

social media account contact the community

office of MLA Michelle Mungall

by phoning 1-877-388-4498 or emailing

michelle.mungall.mla@leg.bc.ca for

alternative ways to enter.

For more details on eligibility, how

to enter and deadlines please visit

http://michellemungall.ca/news/

mmmkootenaylocal-photo-contest/

Office of MLA Michelle Mungall

New Store!

Enhance your outdoor living space

• Interior and Exterior Blinds

• Hot Tubs, Swim Spas and Supplies

• Free Water Testing

• Barbeques & Outdoor Heaters

PHILIP KANIGAN BSc, DMD

Notary Public Inc. A Name You Can Trust

WE ARE OPEN FOR BUSINESS by appointment

Please call 250-365-2289. Ask us about our safety procedures!

2009 Columbia Ave, Castlegar, BC Tel. 250-365-2289 Fax 250-365-2275 www.castlegarnotary.com

Wills & Power of Attorneys

Representation Agreements

Real Estate Purchases & Sales

Real Estate Contracts

Mortgages/Refinances

Changes to Land Titles

Subdivisions

Easements

and more

SOLD

In store financing. Free in-home consults (West Kootenay)

Showroom at 295 Baker Street, Nelson, BC

778-463-1322 • Cell 250-509-0545

SEASONAL SERVICES INC.

2 FOR 1

Frames & Lenses

or 40% OFF 1 Pair

*Including prescription sunglasses. See in store for details.

Some restrictions apply. Sale ends July 31st.

701 Front St, Nelson

250.354.EYES (3937)

HELP PREVENT ANY FIRE RISK TO YOUR HOME

Have us clean your gutters of leaves, needles and debris

Window Cleaning • Pressure Washing

Eavestrough Cleaning & Repair

Moss Removal

250-354-7151 • clearwater.ss@gmail.com

JULY HOURS:

Tuesday-Friday 10am-5pm

Saturdays 10am - 4pm

CALL US to set up an appointment!

Free sight testing

both locations

Licensed

& Bonded

Free

Estimates

Good for 2 Prescriptions – Share the Savings.

And

more…

Unit 2, 688 18 th St, Castlegar 250.365.2026

Next to Common Grounds Coffee House

Slocan Valley

HOME HARDWARE

We've got

you covered!

INSULATION

DRYWALL

ELECTRICAL

PLUMBING

FENCING

FENCE POSTS

GARDEN

LAWN CARE

PAINT &

PAINT SUPPLIES

Now taking orders

for Westman Steel

Roofing

Pet Foods

Farm Animal

Feed

Chick Starter

Waterers and

Feeders

DUAL CHAMBER SEPTIC TANKS

Tanks of various sizes,

sewer pipe and accessories

5763 Hwy 6, Winlaw

250-226-7771

Open Every Day 10am – 4pm

4 customers in the store at a time. 6 feet distancing is mandatory.

Bulletin Board

ISIS HAS GOT YOU COVERED:

Our skin nourishing exotic Sunbutter

with outstanding UVA & UVB

protection is now ready! Plus our

famous Buzz Off to keep those nasty

pests at bay. 2 organic seasonal

formulas to keep you & your family

protected. Come on in or shop with

us online. Isis Essentials 582 Ward

St in Nelson. www.isis.ca

KASLO GOLF COURSE is open

to the public; $25/9 holes; $38/18

holes. Sorry, the restaurant is

closed. Please place $20 in honour

box when club house is closed.

MEDICAL APPOINTMENT IN

KELOWNA? RIDE with us & be in

Kelowna by NOON. Intercity Bus

www.fritztravels.com

MINUTE MUFFLER & CUSTOM

TRANSMISSION: Now offering

transmission repairs. Stop in today

for your free quote. 2929 Hwy

Drive, Trail.

NEED A RIDE? MONDAY-FRI-

DAY, destination KELOWNA. Intercity

Bus STARTING JULY 7 www.

fritztravels.com

Bulletin Board

NELSON HOME BUILDING CEN-

TRE HAS HUNTER DOUGLAS

CUSTOM BLINDS! Come in and

see us for your window covering

needs. 101 McDonald Dr, 250-

352-1919.

NEW STORE! SUNSET CUSTOM

BLINDS & SPAS Enhance your

outdoor living space. 295 Baker

Street, Nelson. 250-509-0545.

NEW! NATHALIE'S PRODUCE

offering FREE home deliveries.

New! Subscription boxes available

every week. 250-509-0373.

Now Offering WINE TOURS: In

The Kootenays to Kelowna, 1 &

2 Day Trips available. Book yours

now at www.fritztravels.com

OPEN FOR BUSINESS! The Kaslo

Hotel & Pub. www.kaslohotel.

com

PICKLING CUKES, TAKING

ORDERS NOW! $2/lb. Order

now! Nathalie's Produce, 250-

509-0373.

ROMANTIC COTTAGE GET-

AWAY: Wing Creek Resort. Kaslo,

BC, www.wingcreekresort.com

Bulletin Board

SAMURAI HARDWOOD FLOOR-

ING: 295 Baker St, Nelson. Open

Monday-Saturday. Flooring Sales

and Installation. Sanding and Finishing

services. Custom Stairs and

Millwork. Now offering financing.

778-463-5388.

SUMMER IS COMING... and our

sale continues all month. Open every

day. wwwfigmentscanada.com

250-353-2566.

THE SENTINEL IS NOW OPEN!

Please visit our website for our

new guest protocols, as well as upcoming

events. www.sentinelbc.ca

THIS SUMMER! Saturdays in

CRESTON. Offering Day Trips to

Farmer's Market & Wineries, back

by the evening. Book now www.

fritztravels.com

Bulletin Board

USA - DISTANT PLANET, the new

book by local author JF Howard, is

available in electronic and paperback

formats from amazon.com.

Jack has a new addition to his family,

Olive, the child of interstellar

visitors. Encompassing genres including

science fi ction, relationship

sagas and fantasy. Distant Planet

is a clean, fast-paced read.

USA - NEW AUTHORS WANT-

ED! Page Publishing will help you

self-publish your own book. FREE

author submission kit! Limited offer!

Why wait? Call now: 866-951-7214.

WE KNOW OUR STUFF! Mallard's

Source for Sports, Castlegar

& Nelson locations. 250-365-5588,

250-352-3200.

WOODBURY RESORT: Free

camping with boat rental, June 29-

July 31 only. Subject to availability.

Call for more details 250-353-

7717.

FLETCHER CREEK IMPROVE-

MENT DISTRICT'S AGM will be

held on Monday, July 27, 7:00pm at

4931 Fletcher Creek Frontage Road.

Social Distancing will be in place.

Events

FOURTH ANNUAL CFNKLS

HUNT may already have started!

This year's start date is part of the

mystery, thanks to Covid-19. But

the 2020 Treasure Box, with its

$250 cash prize inside, is somewhere

in hiding and waiting to be

found and possessed. Our same

Treasure Hunt website has all the

details. An announcement about

the fi rst clues could be appearing

there sooner than you think. Check

out www.nkltreasure.word press.

com. Do so daily. The early bird

gets the worm.

Markets/Fairs

CANADA GAP CERTIFIED

PESTICIDE-FREE FRESH

BLUEBERRIES: From Abbotsford,

$90/20lbs, or $5.50/lb for

less. Place order before July 26!

Nathalie, 250-509-0373.

FLEXY'S FRUIT STAND: Offering

farm fresh fruit and veggies, 7 days

a week, 323 Nelson Ave. across

from Hume school. Over 19 years

locally owned and operated.

picture online: www.pennywiseads.com Your local shopper • Pennywise C July 13, 2020 3
---
PENNYWISE

PENNYWISE

1/2 Page ODD Ad

1/2 4.7" Page x 6.75" ODD or 11.94cm Ad x 17.15cm

4.7" x 6.75" or 11.94cm x 17.15cm

New Recycling

Program Coming

to the RDCK!

We are moving to a new program in partnership with Recycle

We

BC,

are

a non-profit

moving to organization

new program

responsible

in partnership

for

with

residential

Recycle

BC,

packaging non-profit

and printed

organization

paper recycling

responsible

throughout

for

BC.

residential

Depot

packaging

launch dates

and

will

printed

be announced

paper recycling

as they

throughout

are confirmed.

BC. Depot

launch dates will be announced as they are confirmed.

Temporary closures are expected during the transition. Please

Temporary

visit our website

closures

for

are

program

expected

updates

during

before

the transition.

visiting a depot:

Please

www.rdck.ca/recycling.

visit our website for program updates before visiting depot:

www.rdck.ca/recycling.

What does this mean for you?

What

does

Sorting

this mean

recyclables

for you?

will be required (please pre-sort at

home).

Sorting recyclables will be required (please pre-sort at

home).

Main categories include:

Main

o Paper

categories

and Fibres

include:

(cardboard, box board)

o

Metal

Paper and

and

Fibres

Plastic

(cardboard,

containers

box board)

o

Others

Metal and

(film

Plastic

plastics,

containers

styrofoam, etc.)

New

o Others

hours of

(film

operation

plastics,

at

styrofoam,

most recycling

etc.)

depots

Educators

New hours

will

of operation

be on-site

at most

during

recycling

open hours

depots

to assist

residents

Educators

with

will

the

be

changes

on-site during open hours to assist

Residential

residents with

Packaging

the changes

and Printed Paper only will be

accepted

Residential Packaging and Printed Paper only will be

Commercial

accepted

cardboard accepted at Ootischenia, Crescent

Valley,

Commercial

New

cardboard

Denver,

accepted

Nakusp,

at

Nelson

Ootischenia,

(Lakeside)

Crescent

and

Creston

Valley, New

(Helen

Denver,

Street) depots

Nakusp, Nelson (Lakeside) and

Creston (Helen Street) depots

RDCK Environmental Services Department

RDCK Phone: Environmental (250) 352-8161 Services / Toll Free: Department 1-800-268-7325

Email: Phone: wastedept@rdck.bc.ca

(250) 352-8161 / Toll Free: 1-800-268-7325

Email: Web: www.rdck.ca/recycling

wastedept@rdck.bc.ca

Web: www.rdck.ca/recycling

Major community

investments

New Democrat MLA Michelle Mungall says that

people in Nelson-Creston will benefit from better

infrastructure, upgrades to local trails, and a new cultural

media arts centre at the Nelson Civic Theatre,

thanks to a new joint provincial-federal investment of

over $4 million in four local projects.

"This four million is a significant investment in

our region," said Mungall, MLA for Nelson-Creston.

Save Energy & Money Now

Choose FREE Energy Saving Products

Up to a $250 value

Visit rdcksavenow.ca to see if you qualify.

Select your free energy saving products.

Add to online cart, items are then shipped to your door.

Install * and start saving energy and money now!

*Ati tiptititi titi titititititi tititititititititititi titititititititititi titi titititititititititi

Regional Energy

Efficiency Program

"These four projects contribute to our communities'

wellbeing and opportunities for prosperity at a time

when we need them more than ever."

Projects in Nelson-Creston receiving funding

include:

Nelson Civic Theatre Society: Developing The

Civic Theatre into a Cultural Media Arts Centre

($2,717,000)

Nelson Cycling Club: Nelson and Area Trail Network

Enhancement Project ($118,956)

Central Kootenay: Woodbury

Village Water System

Treatment Upgrade Project

rdcksavenow.ca

($480,840)

Central Kootenay: RDCK

East Shore Connectivity

Project: installation of

fibre-optic infrastructure to

Riondel, Boswell, and Wyndel

($782,000).

This local funding is

part of over $228 million

in grants going to BC communities

through the first

intake of Community, Culture

and Recreation and

Rural & Northern Communities

streams of the Investing

in Canada Infrastructure

Program (ICIP), a provincial-federal

cost-sharing

program that makes investments

in community and

green infrastructure.

The second intake

for both streams was

announced on June 25, with

nearly $160 million in combined

funding available for

projects. Investments made

through ICIP are designed

to create economic growth,

sustain well-paying jobs,

build inclusive communities,

and support a low-carbon,

green economy.

Learn More: https://news.

gov.bc.ca/22557

Create Your

Dreams!

We are open for business! Offering outdoor quotes for

Solace Screens and Stobag Awnings.

THE

A whole new view.

MAN

We pay the PST! Book your free consultation.

250-352-3800 • 1-855-681-1123

www.theblindman.ca • Financing now available

Would your acreage benefit from soil amendment?

Mercer Celgar is looking for landowners with 2 or more acres within 55 km

that would benefit from using their Celgrow soil amendment. Pastures and

hay fields are good options.

Mercer Celgar will cover the costs of a Qualified Professional performing

soil sampling, obtaining government authorization and delivery costs of Celgrow

soil amendment based on access with a large truck/pup combination.

Acreage should be able to accommodate at least 6 truck/pup loads. The two

major components of Celgrow are individual wood fibres lost from the pulping

process and surplus bacteria from the wastewater biological treatment

facility. Wood fibres enhance soil moisture retention and bacteria are a good

source of soil nutrients. The landowner is responsible for spreading and incorporating

Celgrow into their soil.

If interested, please contact Len Hewat

Email: leonard.hewat@mercerint.com • Phone: 250-608-3513

Markets/Fairs

SLOCAN SATURDAY MARKET

featuring local farmers, food and artisans,

every Sat 10am-2pm, June,

July & Aug, Expo Park, Village of

Slocan. New vendors welcome. Call

Christina, 250-355-2635.

SLOCAN VALLEY BLACK AN-

GUS BEEF: Sides $4.99/lb; ground

beef special, $100 freezer packs;

50lb dog bones, $49.99, soup

bones and organs. Government inspected.

Home of the Happy Cows.

Wayne Savinkoff, 250-226-BEEF.

STRAWBERRIES & RASPBER-

RIES: Locally grown, pesticide/

herbicide free, vine ripened, $6/

lb. 250-226-7074.

TARZWELL FARMS: Top grade, locally

grown & naturally raised beef.

Grain & grass finished, available

year-round. Delivery to Nelson,

Castlegar & Trail available. 250-

428-4316 or find us on Facebook!

Garage Sales

GARAGE SALE: 873 9th Ave,

Castlegar, 8-4pm, July 17, 18, 19.

MULTI-FAMILY GARAGE SALE:

Saturday July 25, 9am-2pm, 245 A

Ave, Kaslo, (corner of 3rd St).

Garage Sales

ESTATE SALE IN WINLAW: Furniture,

pot/pans, nicknacks, Christmas

decorations and much more.

250-365-8081 or 250-687-1759 for

an appointment to view items. To

stem the spread of Covid-19, Provincial

health guidelines will apply,

please bring masks, sanitizer will

be available. Cash only.

SATURDAY, JULY 25, 9AM-1PM,

913 West Innes St, Nelson. Double

bed, bed frame, coordinated bedding,

stereo and stand, household

goods, etc. No early birds.

Merchandise

190 RARE VACUUM TUBES; 700

radio/TV knobs; Stark tube checker;

Bulbs, upholstery, etc; several

antique wood and plastic radios;

hand carved birdhouses; Atkin

crosscut saw sharpener, old, $25.

Call Len, 250-365-3554.

ACKLANDS AC 225 SIZZLER

WELDER: Hoods and rods, $100;

27 new, treated 5˝ fence-posts, +1

roll of new wire fi eld fencing, 300´,

$200; Powerease water-pump, Model#7,

2˝, 7hp, $225. 250-362-7751.

Merchandise

BEEKEEPING GEAR! Boxes, clothing,

etc. Kootenay Beekeeping Supplies.

250-365-5454, kootbees@

shaw.ca, www.kootenaybeekeep

ing.com

BLACK & DECKER LAWNMOVER:

18˝ electric, $60obo. 250-354-4055.

BLACK WALNUT LIVE EDGE

AND BURL BOWLS, $50-$130/

ea. Also Damascus handmade

knives. Hand carved birdhouses.

Call Len, 250-365-3554.

BRAND NEW TV: 32˝, in box, paid

$200, asking $100. 250-231-9588.

FIGMENTS IS OPEN TUESDAY

THROUGH SATURDAY, 10am-

5:30pm. Come see our new spring

collection of cards and pottery.

www.figmentscanada.com 250-

353-2566.

HOME GOODS FURNITURE: A

family business serving Kootenay

families since 1950. 1790 Home-

Goods Rd, Genelle, BC. www.

homegoodsfurniture.com and on

Facebook.

MEN'S JEANS: Levi and Wrangler,

sizes 36/32, 38/32, excellent

condition. 250-608-0402.

Merchandise

HOUSEHOLD STORAGE: Steel

shipping containers for sale/rent.

20´ & 40´ units. Kootenay Containers,

Castlegar. 250-365-3014.

INTEX EASY-SET POOL: 15´x48˝,

includes ground sheet, ladder, cover,

filter pump, and skimmer, $150.

250-226-7457.

JOHN DEERE RIDING MOWER:

Rebuilt deck, new built, 38˝, won't

start, $75. 250-365-7654.

KOOTENAY UPHOLSTERY VI-

NYL & FABRICS: Quality vintage

vinyl, marine vinyl and fabrics for

your DIY projects, $10-$20/per

metre, On facebook or email info@

flat-bags.com

LARGE WINE RACK: Can be broken

down to smaller ones, holds

over 220 bottles, $75obo. 250-

505-2921.

PORTABLE GARAGE, 8´Hx-

12´Wx24´L, new canopy w/rear

& front doors, still in box, $300;

Craftsman router, w/box, $25;

Rockwell oscillating saw, $50; 15

tote bins, variety of sizes, best offer.

250-777-2449.

Merchandise

SK ELECTRONICS: Family

owned and operated since 1967.

www.skelectronics.ca

USA - NEED SOME CASH? Sell

us your unwanted gold, jewelry,

watches & diamonds. Call GOLD

GEEK 1-844-209-9872 or visit

www.GetGoldGeek.com/nani BBB

Rated. Request your 100% FREE,

no risk, no strings attached appraisal

kit. Call today!

USED GALVANIZED ROOFING

SHEETS; 3 canopies, different sizes;

utility trailer, $500obo, tools &

furniture; bachelor size fridges &

microwaves. 250-352-7873.

VINCE DEVITO SHOES AND

ORTHOTICS: Your New Balance

headquarters! 411 Hall St.

Nelson. 250-352-6261. www.

vincedevito.ca

WE ARE OPEN! Face covering of

mouth & nose and hand sanitizing

mandatory Nelson Farmers Supply.

524 Railway St, Nelson.

YOUR FAVOURITE NEIGHBOUR-

HOOD HARDWARE STORE! Slocan

Valley Home Hardware, 5763

Hwy 6, Winlaw. 250-226-6748.

4 July 13, 2020 Pennywise Publishing every 2nd week through the summer. picture online: www.pennywiseads.com
---
Sheet #1 Cards - 1-5

Expand

Your Skills

to gain employment

or adapt your business.

Get up to $1,000 for training courses

Or up to $7,500 for specialized

skills training

Our Training Fee Support program helps you

gain the skills you need for the job you want.

Win by submitting your completed cards (just X out the

business or service after you use them) to the Trail Chamber

by email: info@trailchamber.bc.ca, Messenger or mail.

The main goal of #thinklocalfirst BINGO is to have fun and

support local businesses!

More details can be found at http://www.trailchamber.bc.ca

Proudly sponsored by the Trail & District Chamber of Commerce, and

Thank You Prize Sponsors!

Bear Country Kitchen

The Colander

DRC Management

Redstone Resort

Sarah Elizabeth Fibre Works

Shoppers Drug Mart - Trail

the donating businesses. Still accepting

prize donations - contact us!

Questions?

Phone 250-368-3144

Email info@trailchamber.bc.ca

Trail and District Chamber of Commerce

# 201 - 1199 Bay Avenue Trail, BC V1R 4A4

ourtrust.org/tfs

PROTECT YOUR INVESTMENT

with an engineered steel shelter

USES:

Cars/RVs/Boats

/Storage

Picnic Areas & more

• Single/Double/Custom

250-505-4703

1745 Hwy 3A Castlegar

solutions@mssteeldesign.com

LTD

FREE ESTIMATES

After winter is before winter!

mssteeldesign.com

Commercial, Industrial and Residential

Garage Door Sales, Service, Repair & Installation

bobsdoorserviceinc.com

bobsdoorservicerh@gmail.com

236-972-BOBS (2627)

24 Hour

Emergency

Service

Merchandise

WHITE 7´X9´ GARAGE DOOR,

good condition, all hardware, 3/4hp

motor, $200; multi-folding 13´ ladder,

$50; air framing nail gun, 3.5˝

nails, w/box of nails, $75; 1/2˝

socket impact drill, $50; drywall

lift, goes up to 13´, mudbox, stilts,

screw gun, 5/8hp drill, many hand

tools, $300/all. 250-777-2449.

Building Supplies

CASTLEGAR HOME HARD-

WARE: We have everything you

need to get your project done!

www.homehardware.ca/en/

store/52316

DOUBLE PANE GLASS SO-

LARIUM: New, 28´x8´, $14,000,

no reasonable offer refused. Call

250-229-5666.

SUNDECK RAILING GLASS:

5mm. thick. Eight at 66˝x31˝; three

at 36˝x31˝; two at 39˝x31˝; two at

62˝x31˝. 9 more in various sizes. $5/

sq.ft. Cash only. Queens Bay (Balfour)

pick up. Call 604-790-6657.

SURE LOCK CUSTOM METAL

ROOFING & SIDING: Call Duncan,

778-214-0911, for all your

metal needs.

Merchandise

Building Supplies

HARROP-PROCTER FOREST

PRODUCTS: Your local source for

sustainably harvested building materials.

A wide variety of cedar/fir

lumber for every project. We also

custom cut to order. Go green by

supporting BC's only Eco-Certified

Community Forest. Check out our

products at http://www.hpcommunityforest.org

Call 250-551-5452 or

email sales@hpcommunityforest.

org for a quote. Monday-Friday,

8am-4:30pm & Saturday, 9am-3pm.

Computers/Electronics

CONOR'S COMPUTER REPAIR:

Troubleshooting, network setup,

virus and Malware scans. Castlegar

and Nelson housecalls.

Courtesy computer available. 250-

608-1583.

HEXA-TEK REPAIR: Computer repairs,

upgrades, maintenance, diagnostics,

406 Baker Ave, Salmo.

250-357-9271, www.HexaTek.ca

WINLAW FINE COMPUTING.....

www.winlawtech.com, Windows,

Apple, Linux. Pat, 250-226-7215.

Merchandise

Firewood

DRY FIREWOOD: Discount on 4

cords or more delivered. Call for

details, 250-551-7347.

FIR/LARCH FIREWOOD: $300/

cord, COVID measures in place.

250-399-4834.

THE KASLO AND DISTRICT

COMMUNITY FOREST

SOCIETY is now taking reservations

for logging truck loads

of firewood. Logging starts in

August. The first-come, firstserve

lists are open to individuals

and businesses from within

Kaslo and Area D. Please email

request to: manager@kaslocommunityforest.org,

Subject:

"Firewood" and include your

contact information. You may

also call 250-353-9677 and

leave a message.

Furniture & Appliances

LEATHER CHAIR, $250obo; solid

wood dresser, $250obo; bookshelf,

$10; white cupboard, $10.

250-364-0084.

Merchandise

Musical Equipment

PIANO TUNER AVAILABLE:

Professional service, quality workmanship,

repairs, appraisals. Work

guaranteed. Call "Anything Piano",

250-354-8872.

Sporting Goods

1861 ENFIELD MUZZLE LOAD-

ER, CZ Bruno over under 7.57 on

to 12ga Smith & Wesson, model 17

PAL RQ. rhys.gerow@gmail.com

BOWFLEX MAX TRAINER M5:

Brand new, hardly used, $1700.

Call/text 250-357-2499.

BUYING, SELLING & TRADING

FIREARMS: BEST PRICES PAID.

Call Wally, 250-231-3721.

WETSUITS: Bare full combo, pink,

youth under 7yrs; Bare full wetsuit,

green, youth under 7yrs; Liquid

Force wetsuit, blue, youth under

8yrs; Bare wetsuit, red, small under

6yrs; Body Glove, goes to ankles,

black, youth size. All suits,

$50/ea. 250-505-2921.

Merchandise Wanted

$$$ COIN COLLECTOR LOOK-

ING TO PURCHASE COLLEC-

TIONS, Accumulations, Royal

Canadian Mint Coins & Sets,

Olympic, Gold and Silver Coins,

Paper Currency, etc. Please call

Chad, 250-499-0251, Kootenays.

FIREARMS: Call John Urquhart in

confi dence anytime. I will come to

your home. 250-367-7540.

I'M BUYING COMICS AND

SPORTS CARDS for collection.

Call/text Devo, 250-921-9876,

devo247247@gmail.com

LOOKING FOR 8 BOLT MAGS

OR NICE WHEELS for Chevy 201,

3/4T. 250-367-7819.

OLD BEER/POP SIGNS, wooden/metal

crates, old gas/service

station items, old Coke/pop machines.

250-231-9397.

WANTED: Cedar poles. Bell Lumber

& Pole, Rossland. Contact

Sean Fredrickson, 250-521-3031,

sean.fredrickson@blpole.com

WANTED: MEN'S ROLEX OR

OMEGA WATCHS, local Nelson

collector, cash paid. 250-551-3000.

picture online: www.pennywiseads.com Your local shopper • Pennywise July 13, 2020 5
---
Official Dealer for

The largest inventory

in the BC interior!

HARD COOLERS • SOFT COOLERS

BAGS • DRINKWARE

CASTLEGAR and NELSON

250-365-5588 ¦¦ 250-352-3200

THANK YOU

to all of our loyal

customers for supporting

us during these unusual

times. We are open for

business, with Covid -19

safety protocols in place.

Contact us for all your

lumber needs.

Boards by George Lumber Inc

209 Lardeau River Rd

Meadow Creek 250-366-4235

We gratefully accept

e-transfers to:

payments@pennywiseads.com

password: covid,

or cheques made to

Pennywise, Box 430

Kaslo BC V0G1M0

$3Annual

Voluntary

3Subscription

$

er, donation! A little bit of

grease keeps the wheel turning!

The local shopper where locals shop

Just A little bit from our readers will go far in helping Pennywise get through COVID. Thank you

SUDOKU

Sudoku puzzles are formatted as a 9x9 grid,

broken down into nine 3x3 boxes. To solve

a sudoku, the numbers 1 through 9 must fill

each row, column and box. Each number

can appear only once in each row, column

and box. You can fi gure out the order in

which the numbers will appear by using the

numeric clues already provided in the boxes.

The more numbers you name, the easier it

gets to solve the puzzle!

July 13

Solutions on Page 4 or

pennywiseads.com/local news/puzzles&solutions

ACROSS

1 Old Apple computer for

schools

5 Pox marks

10 Rock band whose lead

singer quit due to hearing

loss

14 It's new in an Atlantic

province?

15 Complaint of a stiffed

server

16 Something to aim for in

carpentry

17 __ before noon (no later

than 12:00)

18 Break down, as trust

19 "There ___ I in 'team'"

20 * Like a ______ (clumsy)

23 TV host who says "Thank

you, Johnny" on each show

24 '50s Ford flop

25 * As rare as ______

30 The ___ Gang of Idiots

("Mad Magazine" staff)

31 Words of speculation

32 5% levy in most of Cda.

35 Lighter alternative to

naan

38 Drink after blowing off

steam?

39 "With this ring ___..."

42 The Weeknd's genre

45 * You can't make a silk

purse ______

49 Put down new roots, in

a way

50 Strategic gain

53 * Three ______ (troll's

targets in a fairy tale)

57 Battery terminal buildup

58 Hang ___ (frequent)

59 Word-of-mouth

60 Northwest Territories'

official language

61 Mutual give-and-take?

62 Tulsa's state: Abbr.

63 One a-leaping in a song

64 Equally awful

65 Turn to mush

Level: Advanced

DOWN

1 Pass into law

2 Glider plane's lack

3 Firm arguer

4 Head on a quarter's tails

5 Arrives suddenly, with "on"

6 Alternative to "boeuf" or

"poulet"

7 Flip side intro, in a tweet

8 More mom-proof, as a

dorm

9 Isn't miserly with

10 Licorice liqueur source

11 Like most of Sweden's

retail now

For brand new puzzles by email, sign up at

www.ClassiCanadianXwords.ca

Gender Equal Farmyard

12 Pebbles' purple pet

13 Hoof-on-pavement sound

21 Trendy up-and-comers

22 ___ spumante (wine)

26 "The way" of the East

27 Ontario home of a

famous gorge

28 Mai ___ (cocktail meaning

"good")

29 Leg of a rt. triangle

32 PC pic file

33 Bering or Bosporus: Abbr.

34 More feather-ruffling

36 Cousin of .zip

37 Stuck to one's guns

Barbara Olson

© ClassiCanadian

Crosswords

40 Made more readable, say

41 Like physics for Einstein,

likely

43 Successor to Mao

44 Boozy brawl site, maybe

46 Colombia's capital

47 What the nose knows

48 Boxer-turned-actor Mickey

51 Take ___ (tumble)

52 C sharp equivalent

53 Pepper partner, to a

chemist

54 Bat beginner

55 Words after run or pay

56 "Look what I did!"

OPEN for Business

The health and safety of our

customers and staff are our

principal concern.

✔ We have increased social

distancing and reduced

capacity in our pub and on

our patio.

✔ We have installed

hand sanitizer stations

at strategic locations

throughout

✔ We have a very strict

sanitizing protocol in all

our public spaces and room

change procedures.

✔ All of our staff check

temperatures before

reporting to work. We use the best

sanitary practices.

✔ We still accept cash, but

credit or debit is preferred.

WELCOME BACK

430 Front St, Kaslo www.kaslohotel.com

In the centre of it all...

we have room.

• Pub Hours noon - 10pm

• Dine In Service noon - 8pm

• Take Out Service noon - 8pm

• Off-Sales Service noon - 10pm

All hotel guests are asked to complete a health questionnaire prior to check-in.

250-353-7714

T H E S E N T I N E L

We're back — better than ever!

1-866-823-1433

Elegant rooms, spectacular views,

hot tub, sauna, massage &

healing treatments — the perfect

Kootenay escape!

(250) 353-2246

www.sentinelbc.ca

K

It's

the

wh

bril

mo

ma

The

tain

pro

Kas

fron

Com

tion

or i

wee

Kas

villa

tho

Fes

(we

our

love

of f

bik

are

dle

W

W

This

buil

sho

offe

view

Be

W

T

In

M

n

Le

th

pi

hi

is

ac

tim

do

Merchandise Wanted

WANTED: Outdoor fire pit/

ring, price negotiable, call 250-

505-2921 or email pictures to

adamppp@hotmail.com

Free For Free

FREE BOSCH DISHWASHER:

436 Washington St, Kaslo, 250-

353-1781.

FREE CLIMBING MAGAZINES:

Box of about 50. 250-362-9670,

Rossland.

FREE EVENFLO BABY/TOD-

DLER CAR SEAT: Very good condition,

used only to transport grandson

to preschool. 250-399-4240.

FREE PIANO: Older but in good

shape, located in Bonnington. 250-

359-2996.

FREE, 1999 GMC YUKON SLT:

4x4, complete, needs motor, you

tow. 250-353-75126.

FREE, KITCHEN CUPBOARD

DOORS: 18 all wood, various

sizes, w/hinges and handles & 3

matching drawers. Good condition.

250-352-6718.

Business Opportunities

FREE BUSINESS COUNSELING

FOR BUSINESS STARTUPS.

Free appointments on Thursdays,

July 9 and 23. email: info@futures.

bc.ca to book a time for a counselor

to call you. Community Futures

offers business loans, business

workshops, resource library,

Self-Employment Program, 1 on 1

business counselling and the Basin

Business Advisors Program!

www.futures.bc.ca

WHEN YOU HAVE SOMETH ING

YOU NEED TO MOVE, SELL OR

ANNOUNCE, har ness the pow er

of the press with an ad in the classi

fieds. It's the most ef fec tive and

in ex pen sive way to get the word

out to thou sands of in ter est ed parties

right in your lo cal area. Call

1-800-663-4619 to day!

USA - COMMERCIAL embroidery

business. Two commercial

embroidery machines, two design

computers, fixtures, supplies,

manuals. Call 406-826-3596.

PENNYWISE,

the Kootenays' one stop

market place.

Business Opportunities

USA - HALF ROUND BAY basalt

rock quarry. Turnkey operation,

12.95 deeded acres with 3+/- mill

tonnes of rock left. Conditional ue

persmit valuid through December

2024. Motivated seller! Harrison, ID

.Presented by Clearwater Properties,

MLS #20-226, $499,000USD.

406-214-4056.

Hiring

CAREGIVERS REQUIRED for a

Senior Woman with some complicated

needs in Vallican, Slocan

Valley. Home support experience

an asset, will consider a combination

of education and/or experience.

Overnight shift may apply

sometimes. Email resume to, gray.

weiler@icloud.com or call 250-

226-7687.

CDA AND DENTAL RECEPTION-

IST required ASAP, to join our

busy, friendly Nelson dental practice.

No evenings or weekends.

Please email resume and cover

letter to drksmith@telus.net; info,

250-352-2616.

Hiring

DYNAMIC IS CURRENTLY LOOK-

ING FOR a reliable employee for

the office. 30hrs or more/wk, Monday-Friday,

8am-4pm. Applicants

are required to be organized, detail

orientated, have time management

skills, be proficient with Microsoft

word, excel and using internet

search engines, have professional

customer service skills, to multitask

and stay organized in a fast paced

environment. Applicants must have

reliable transportation and a valid

driver's license. Please email your

resume with references to dynamic.

timtaylor@gmail.com

GALENA CONTRACTORS LTD.

is looking for a driller/blaster, with

experience operating excavator

drills. Must have valid Work Safe

BC Blasting Certificate and provide

either a valid PAL (Firearms Licence

Possession & Acquisition) or

a current Police Information Check

for an Approval Letter for Access

to High Hazard Explosives through

Natural Resources Canada. Interested

applicants should email resume

to galenacontractors@telus.

net or fax to 250-265-3831, attention

Ray Hascarl.

Hiring

IMMEDIATE OPENINGS FOR RE-

LIABLE CLEANERS: Part-time,

long-term, must have own transportation.

Email: cleanteam73@

gmail.com

JANITOR POSITION: The Whole

School elementary is hiring a Janitor

for the 2020-21 school year.

8-10hrs/week, $25/hr. Required

qualifications: Grade 12 Graduation,

valid BC driver's license, criminal

record check, self-starter with

ability work independently and as

a member of a team, understand

and carry out verbal and written

instructions, meet deadlines, work

with minimal supervision and deal

effectively with interruptions, good

interpersonal and communication

(oral) skills, and physical ability

to perform assigned duties. Contact

Operations Manager, Joselin

Corrigan, for full job description at

wholeschool@gmail.com or leave

a message at 250-226-7737. Closing

date July 31 by 3pm.

NANNY/CHILD CAREGIVER RE-

QUIRED: 30hrs/wk, $14.60/hr.

Must have childcare training and/

or experience. Email resume/enquiries:

jodypom12@outlook.com

6 July 13, 2020 Pennywise Publishing every 2nd week through the summer. N picture online: www.pennywiseads.com
---
4

33

Kaslo's got great places to stay, eat and play!

It's an easy place to fall in love with;

the beauty of its setting is almost overwhelming

at first. Looking across the

brilliant clear water of Kootenay Lake at the

mountains opposite, the Purcells appear unmarked

by roads and man-made structures.

The forested slopes beckon hikers, mountain

bikers and explorers of all kinds, and

provide inspiration for musicians and artists.

Kaslo kids grow up with the lake as their

front yard and the bush as their back yard.

Come to Kaslo for a rest, a dose of inspiration,

or to get your pulse racing on the lake

or in the back country. Come for a day, a

week or forever – you'll be welcome!

Kaslo is famous for many things; it's the little

village that everyone should visit once. Although

our festivals, like May Days and Jazz

Fest and iDIDaRide, have been cancelled

(we are a covid responsible community)

our natural playground is open. A wild and

lovely beach skirts the lower town, all levels

of fabulous hiking, running and mountain

biking trails are steps away from where you

are staying. You can rent fishing boats, paddle

boards & kayaks. The golf course is open,

We are a lovely drive from all

West Kootenay communities.

This lakefront guesthouse motel is a beautifully restored heritage

building on Kaslo beach. Walk just one block to downtown Covid

shops and restaurants. The well appointed suites Compliant

offer privacy and comfort with spectacular

views of Kootenay Lake.

Beach Gables Guest House

as is our award winning, craft brewery, the

Angry Hen.

Book your room in the middle of it all, right

on Front Street at the Kaslo Hotel or Beach

Gables Guest house, or move out of town

a little and self care at Wing Creek Resort

north of town or the Sentinel to the south,

or stay lakeside at Woodbury Resort & Marina

where you can camp or rent a cabin.

Wherever you choose to rest your head, you

will find friendly caring people happy to

help make your visit the best it can be.

Angry Hen Brewing

We offer a small selection of locally made

snacks and light meals – some made with

our beers and all chosen to go well with a

pint of Shirley's finest. We also encourage

customers to bring their own food to enjoy

with our beer or to order in from our neighbouring

restaurants! 343 Front St. www.

angryhenbrewing.

com, 250-353-7746.

250-353-2111

www.beachgables.ca

#PicturePerfectKaslo

#VisitKaslo

Bluebelle Bistro

Whether you're fresh

off the mountain trail

or gearing up, fi ll up

the tank with a hearty

breakfast. Our lunch

and dinner menu is a

collection of comfort

foods meant to fill

the belly of a sojourn

traveller. Open 8:30 -

2pm, 7 days a week.

347 Front St, Kaslo,

www.bluebellebistro.

com. 250-353-7361.

Buddy's Front Street Pizzeria

Award winning Artisan pizza celebrating 10

years of business! Fresh organic salads and

pasta dishes to go, licensed, Espresso,

cappuccino.Open 3 - 8 pm Tuesday – Saturday

250-353-2282 417 Front St, Kaslo.

Chez Serge

Famous for our authentic Canadian poutine,

handmade fi sh & chips and pizza, ice cream

& more. Open every day 12 - 7pm. Corner of

4th and A Ave, at the Husky.

JB's Restaurant & Pub

Where visitors become locals! Bring your

friends and family for their world famous fish

and chips, flame broiled burgers, AAA steak

and piled high nachos all at a good value.

Please call ahead for seasonal hours. Located

just 4 km north of Ainsworth Hot Springs on

Hwy 31, 250-353-7716 or 250-353-7717.

Kaslo Hotel

Dine in the pub or on the patio with its

breathtaking view of Kootenay Lake. Enjoy

one of many craft beers on tap, or try one

of the many great dishes from the extensive

menu. Open daily from 12pm. Full menu

available until 8pm, appetizers only from 8 -

10pm. 430 Front St, Kaslo. 250-353-7714.

Taqueria El Corazon

Traditional Mexican fare with a modern flair,

craft cocktails, local brew & amazing tequilas

and mezcals. Open Thursday 4 - 8pm, Friday

& Saturday 4 - 9pm and Sunday 4 - 8pm.

4th & Front St, Kaslo 250-353-3440.

LARDEAU VALLEY

Meadow Creek Bar & Grill

Amazing food, regular specials, friendly service.

Take-away or dine on the deck. Check

our Facebook email meadowcreekstore@

telus.net, or call 250.366.4216 for hours and

more information.

Kaslo has a landmark in the

#WestKootenayHideandSeek

game! Pick up a copy of the West Kootenay

Stay and Play for details!

Office Open 8-8 | 24/7

Book Now!

FREE Camping

with Boat Rental

June 29 - July 31 Subject to availability

~~~~~~~~~~~~~~~

We offer:

✔ Boat Rentals & Tackle

✔ Quad & Hiking Trails

✔ JB's Restaurant & Pub

Open Thursday - Sunday 3-9ish

Woodbury Resort

& Marina,

Kootenay Lake's

Destination Resort

Hwy 31

Every day spent

lakeside is a

good day!

Vacation and

fi sh on magnifi cent

Kootenay Lake

The West Kootenay Lake Angler

Incentive Program is awarding BIG prizes

in 2020 for trout caught on the main lake

and lower Duncan River.

Turn the heads into Woodbury Resort

to be entered for the

prize draws. Ask us, it's cool!

Just minutes from the Village of

Kaslo which offers museums,

eclectic shopping, flying cars,

hiking, mountain biking,

the SS Moyie National

Historical Site... and more!

250-353-7717

250-353-7717

TF:1-877-353-7717

JB's 250-353-7716

Email: woodburyresort@netidea.com

www.woodburyresort.com

Time to discover your own

amazing backyard!

What's happening at the

The Japanese Canadian

Internment

Museum is

now open!

Learn more about

this fascinating

piece of Kaslo

history! Museum

is self-guided and

accessible any

time the front

door is unlocked.

CULTURAL

CENTRE

View Langham Arts Videos on-line!

The Langham has been busy producing several arts

videos about our Gallery exhibits. You can find

them on our website www.thelangham.ca

thelangham.ca langham@netidea.com

447 A Ave Kaslo, BC 250-353-2661

Check out our Staycation Specials

Respectfully COVID-19 compliant.

Contactless check in and out available

Romantic vacations for two

Luxury cottages

Private beach

On-site spa

Explore 20 acres of nature

5 mins north of Kaslo

Find out why guests from all over the world choose us!

WingCreekResort.com 250.353.2475

Hiring

PART-TIME CLEANER NEEDED

for Airbnb Guest House in Balfour

area, $30/hr. Reach out to charlotte.

matthews.e@gmail.com

THE BLUEBELLE BISTRO is

hiring one part-time server and

one part-time cook for weekday &

weekend day-time shifts. Send resume

to thebluebelle1894@gmail.

com or apply in person.

Help Wanted

PART TIME POSITION: (Continuous,)

reliable student or semi-retired

person w/own transportation

for local yard work and light equipment

maintenance. Average 15-30

hrs/wk. Send resume & references

to: chamroad@shaw.ca

Contractors/Trades

*LOKI TREE SERVICE: Certified

arborists, fallers and wildfire

experts. Tree removal, pruning,

land-clearing, chipping, burning. No

job too big or small. Call 250-353-

2405 or visit www.lokitree.com

BALFOUR BOBCAT SERVICES:

Grading, driveway repair, site prep,

etc. Experienced, efficient operator.

Free estimates. 250-509-0070.

Contractors/Trades

17D MINI EXCAVATOR W/PRO-

FESSIONAL OPERATOR FOR

HIRE: Landscaping, excavating,

trenching, grading and so much

more. Precision work. Dump trailer.

$75/hour, West Kootenays.

Save your back and call Mitch,

587-226-8603.

ACE BUILDING CENTRE KAS-

LO: Building for the future, while

preserving the past. Open 7 days

a week to help you with all your

projects. www.kaslobuilding.com

ALL TYPE ROOFING & REN-

OVATING: Serving the West

Kootenays since 1993. Roofing,

Framing, Concrete Work. No corners

cut. Work guaranteed. 250-

368-8857.

ALUMINUM RAILINGS AND VI-

NYL DECKING: Free estimates.

Call Royal Vinyl Decking at 250-

231-7905 or email royalvinyl@

shaw.ca

BILSKI MASONRY, serving the

Kootenays since 1992. For high

quality tile work, custom showers,

stone work, etc. Call Peter Bilski,

250-229-2157 or 250-505-3005

(cell).

Contractors/Trades

AMC PLUMBING AND HEATING:

Plumbing, Heating, Furnaces, Hot

Water Tanks, Gas Fitting, Air Conditioning,

Drain Cleaning and more.

250-608-3240, amcplumbing6@

gmail.com www.amcplumbing.ca

AVIS EXCAVATING, 250-226-

7849: Reliable and timely excavating.

KX040 Kubota with 6 way

blade, tandem dump truck for

gravel/sand & equipment hauling

needs. Excavating, land modification,

forest fire mitigation, ditching,

water lines, trail building and much

more. www.avisexcavating.com

SAVE TIME AND MONEY! Call

the Pennywise first for all your advertising

needs. 1-800-663-4619

or 250-353-2602.

Contractors/Trades

BOB ESSAUNCE, B.P. ESS.

HOLDINGS LTD: Quality Work on

Interior Finishing, Small Renovations

& Repairs. 250-365-9344.

CASCADIA ROOFING 250-354-

2999: Reroofing, new installations,

repairs. Roof inspections/reports.

Asphalt/fibreglass laminate shingles,

metal roofing & cedar shake

conversions. WSBC, Liability coverage.

Quality workmanship guaranteed.

Contracting 25 years in the

West Kootenays.

CHRISTINA LAKE BASED GA-

RAGE DOOR INSTALLER: Installs

& repairs on residential and

light commercial doors, 20+yrs experience.

Offering service throughout

the West Kootenays. Call Tim,

250-469-1331.

CRESTVIEW PAINTING: 25yrs+

experience, reliable/quality work

that lasts, new construction, residential,

repaints, certified journeyman.

Fully insured. 250-304-5197.

EDGEKO CONTRACTING: All

Type Decks, Paver Patios, Retaining

Walls, Concrete Work, Leaky

Basement Repair, Plumbing, Water

and Sewer, Demolition, Dump

Fee Deals. 250-231-4532.

Contractors/Trades

CLELAND ROOFING & RE-

PAIRS: 30yrs experience, 23yrs

certified. Certified roofers are the

only way to get your manufacturer's

warranty, 10yr transferable

warranty. Old-fashioned service.

Call 250-367-9380.

A&A PAINTING LTD. 32 YRS IN

BUSINESS: Professional and best

service guaranteed. Bonded, licenced

and insured. Call now 250-

354-9015 Nelson; 250-304-5237

Castlegar; 250-368-1044 Trail. office@aapainting.ca

www.aapainting.ca

ELECTRICIAN FOR HIRE: Licensed,

experienced, semiretired.

Furnace work, renos, small jobs,

serge protection. Reasonable

rates. Jim Rogan, 250-353-9638,

250-354-8910.

N picture online: www.pennywiseads.com Your local shopper • Pennywise July 13, 2020 7
---
#WestKootenayHideandSeek

Get out of the house and tour the West Kootenay!

There has never been a better time to visit!

Where is the CROSSWORD? Grab a copy of the West Kootenay

Stay & Play Regional Guide at businesses and infoCentres around the area,

or download the puzzle off the website gokootenays.com or email karma@

pennywiseads.com and we'll send you a copy.

Keep the sun at bay…in style!

Free installation Free consultation

250-352-3800 • 1-855-681-1123

www.theblindman.ca

Selkirk College is ready

for September. Are you?

Just down the road is your regional college,

a place where affordable tuition, straightto-career

programs and university transfer

options are at your doorstep. Your career

goals are attainable right here at home.

Start your remarkable future with us.

Visit selkirk.ca and get started today.

Questions? hello@selkirk.ca

selkirk.ca/september-2020

The West Kootenay Hide and

Seek starts with a crossword puzzle,

built by local puzzler - Barbara Olson

of Nelson.

1) Solve the crossword and make

a list of the 12 landmarks from 10

communities. The answers (if you

want to peek) can be found on the

#WestKootenayHideandSeek page

on the gokootenays.com website.

2) Visit each community you can get

to, and fi nd the landmark(s) then...

• take a selfi e with it, or

• a picture of your family in front of it, or

• a photo with your favourite shoes

beside it, or ...The possibilities are

endless! If you are selfi e-shy make your

photo signature unique and consistent

for your posts. BONUS POINTS for

posting additional photos of interest

from the area!!

Email photos to karma@pennywiseads.com

Subject: Stay-cation,

We'll email you back the hashtags and

tags of the Chambers & communities

to make it easy to post on Instagram &

Facebook. If you don't have an Instagram

account we can post them for you!

3) Participants will get an entry for

each community visited, photographed,

emailed and posted. The more correct

entries you submit, the more chances

you have to win! By submitting photos

you agree to them being published.

Send 1 or as many as 12 landmarks

and 20 BONUS points of interest!

These are the things you will see as you

explore the West Kootenay.

Enjoy your Stay-Cation in Heaven!

Thank you for supporting your

West Kootenay local businesses!

What will you win? Gift certifi cates

from West Kootenay businesses… and

bragging rights of course! Winners will

be notifi ed by email and in print. Your

photos may be published. The Grand

Prize winner is the one who has submitted

the most correct entries. The Grand

Prize winner will receive a Mini-Staycation,

including a night's accommodation

and dinner for two, in one of our

fabulous communities!

In the event that two or more entries have the

highest number of correct landmark photos,

those entries will be placed in a hat and the

Grand Prize winner drawn.

Random draws will take place

bi-weekly

and be announced July 27, Aug 10, Aug

24, Sept 7, Sept 21 in the Pennywise

with the Grand Prize winner announced

by email, and published in the October

5th edition.

Last chance to enter is Monday

September 28.

Questions?

email karma@pennywiseads.com

Photos: Gokootenays and Destination Castlegar

Contractors/Trades

GENERAL CONTRACTING: New

construction, renovations, additions,

siding, roofi ng, decking. Experienced,

energetic, reliable. Guy,

250-505-0709.

GERLITZ CONSTRUCTION:

35yrs experience, custom shower

& tile work, renovations, decks &

basement developments. Reliable.

Quality work. 403-678-7670, West

Kootenay.

HIGH TAIL MAINTENANCE: Specialize

in home repairs, finishing

carpentry and handyman services.

Reliable, polite and on time. Contact

Alan, 778-633-0199.

JM ROOFING: Asphalt, shingles/

metal installation. Knowledgeable,

professional service. Workmanship

guaranteed. www.jmroofi nghome.

ca, 250-231-5327.

HOOVER MASONRY, CERTI-

FIED EXPERIENCED MASON:

Stonework, Bricklaying, Tile Setting,

Custom Masonry Fireplaces,

Restoration, Chimney Re-pointing,

Stone Patios & Stairs, Retaining

Walls, Manufactured Stone. Communication...Service...Satisfaction!

250-551-3245, hoovermasonry@

gmail.com

Contractors/Trades

HIM N HER CONTRACTING:

Home renovation, maintenance &

repair, licensed and insured, over

32yrs in construction industry,

excellent references and photos

available, check us out on Facebook.

For fast, friendly and courteous

service please call, Vanessa

or Dusty, 250-212-2384.

JUSTHINK PAINTING: Serving

Kaslo & Area. Residential, commercial,

interior & exteriors. Seniors

discount. Free estimates.

25+ yrs experience. All work guaranteed.

Call Stephan, 250-353-

7128, 604-961-2042.

KULIC CONSTRUCTION: Formwork

to fi nishing, new construction/renovation/additions,

free

estimates. 250-551-9647.

Contractors/Trades

MONASHEE CONSTRUCTION:

Serving the community for over

30yrs. Home renovations, bathrooms,

kitchens, basements, etc.

Fully insured & licensed. 250-

362-5564.

MY PLUMBER: No job too small.

Maintain, service, install, plumbing

systems, blocked sewer lines. 250-

521-0206, 250-687-9041 (cell),

email columbiamyplumber@gmail.

com

PARADISE VALLEY PLUMBING:

Plumbing contractor serving the

Kootenay area, www.paradisevalleyplumbing.ca

250-226-7947, 250-

777-3588 (cell) or schaferspeare@

gmail.com

PGM INSTALLATIONS IS NOW

BOOKING for summer exterior

projects. Additions, covered decks,

carports, garages, and so much

more. Call today for a free quote

and consultation. 250-354-2873,

pgminstallations.com

R&S ROOFING: Call for free estimate.

WCB/insured, licensed,

workmanship guaranteed on labour.

Richard, 250-367-9404.

Contractors/Trades

R.J. EARTHWORKS EXCAVAT-

ING AND CONTRACTING: E50

Bobcat, dump trailer. Land development,

site prep, land clearing,

driveways, boulder walls, retaining

walls, basements, septic, underground

utilities, fencing, hauling.

Fully insured, fast, effi cient. Call/

text 250-551-7347, r.j.earthworks@

outlook.com

RENK MASONRY: High quality

stonework, tile, bricks, blocks, etc.

Call Brian Renk, 778-460-0028,

604-313-9374 (cell) or email brianrenk@shaw.ca

RNR ELECTRIC & CONTROLS:

Your local Kaslo & Area electrician

for residential, commercial and industrial

projects. Call Randy, 250-

366-0087.

Contractors/Trades

SALMO ROOFING: Certifi ed.

Serving the Kootenays for over

30yrs. All roofi ng types. Senior discount.

350-354-8548.

SAMURAI HARDWOOD FLOOR-

ING: Residential/Commercial Flooring

and Tiling Services, Professional

Installations, Custom Stairs,

Refi nishing Services, 295 Baker

Street, Nelson. 778-463-5388.

SUPERFORM wall system accomplishes

forming, framing and insulation

in one step! For further info and

a quote contact: wksuperform@

gmail.com.

THE BLINDMAN, A WHOLE

NEW VIEW! Nelson, BC. 250-

352-3800, 1-855-681-1123. www.

theblindman.ca

TRIXIES CLEANING AND JUNK

REMOVAL is now booking for junk

removals, including but not limited

to tearing down and getting rid of

sheds, rotting outbuildings, garbage

around the yard, etc. We are

also booking for Spring cleanings,

move-ins, move-outs and regular

cleanings. Licensed, insured, WCB

coverage. www.Trixiecleaners.ca

250-365-9313.

10 July 13, 2020 Pennywise Publishing every 2nd week through the summer. picture online: www.pennywiseads.com
---
Call for performers!

The Capitol Theatre is very excited to

announce a wonderful opportunity for local

and regional professional and emerging

performers!

This time of year the Capitol staff are usually

wrapping up the final touches in preparation

for the fall season launch that is made up

of professional touring artists from all over

the world.

This year is going to be different! They are

looking for local and regional performers to

participate in the brand new upcoming Capitol

Theatre Homegrown Season starting in

September 2020! Information and parameters

for submissions are as follows:

Live performances will take place on stage

in front of a limited audience. They must be

one act (approximately one hour in length).

Solo acts and up to a maximum of four performers

(safe grouping) will be accepted. This

call is open to both professional and emerging

artists in all genres. All submissions will

go through a juried selection process. Artist

fees will be negotiated.

Please email a description of your performance

to capitolnelsonbc@gmail.com

Images/links to videos can also be submitted.

to grade 7, was not the only

education programming they

transformed into an online

experience. Visit the Wildsight

website for an in-depth,

nine-lesson series from Know

Your Watershed educators,

which turned the overflowing

well of knowledge about

watersheds into compact lesson

plans.

If you're looking for sum-

Submission deadline is July 15. Th e a t r e ,

mer activities now for your

music, dance, comedy, readings, if you can do

own kids, check out the

it on our stage, you can send in a submission!

online offerings at https://

Nelson's cultural community hub, The wildsight.ca/programs/

Capitol Theatre, is working to develop alternate

ways to deliver performance-based cul-

education-at-home/

For Wildsight, this experience

proved the age-old adage;

ture. They are so looking forward to safely

sharing all of the talent right here in our own

when life hands you lemons,

back yard starting in September!

you truly can make something

Capitol Theatre, Nelson sweet out of it.

Monica Nissen, Wildsight

Join other local sailors

The local volunteer-run Kootenay Lake

Sailing Association (KLSA) hosts beer can

races weekly on Wednesdays and Sundays.

This is a fun time to get out on the water and

work on your sailing skills and race tactics!

Now, I know racing can be a bit intimidating

for some as there are many rules and

everyone appears to be sailing on top of one

another! However, it is a great time to hone

your skills and get to know your boat. Currently

the 2017-2020 race rules are in effect,

so with a bit of reading and a bit of confidence

you too can join KLSA members for

some fun on the water!

Find out more by emailing Sail Nelson at

sailnelson@outlook.com

Scuttlebutt News! Sail Nelson

Read it in Pennywise

Making the sour sweet

A barrel of lemons landed on the Wildsight

education team's heads when coronavirus

kicked traditional education to the curb

How to deliver education programming

when schools were closed and social distancing

was in place? The Wildsight team rolled

up their sleeves and started squeezing those

lemons into something as wonderful as a tall,

cool glass of lemonade on a hot summers'

day.

Wildsight created dozens of online lessons,

including activities, videos and more, that

simplified complex ideas and turned them

into fun educational experiences. But the

Education in the Wild program, geared for

students from Kindergarten

-

411 HALL STREET, NELSON

250-352-6261

TOLL FREE 1-800-337-1622

www.vincedevito.ca

BC families get

additional $450

In July, more than 80% of families and

individuals in British Columbia will automatically

receive an enhanced climate action

tax credit.

"Many British Columbians are still worried

about how they can cover costs such as transportation

so they can return to work, pay

for groceries and find day camps for their

children," said Carole James,

Minister of Finance.

Eligible individuals will

receive up to $218, children

will receive up to $64 in a

The Superform System TM System can replace can

conventionally poured concrete foundation walls

in residential replace and conventionally light commercial poured

construction

concrete foundation walls

• Rigid EPS in residential and

• Provides light both commercial the form for the retention construction of wet concrete

and thermal insulation for the exterior & interior walls.

• Rigid EPS

• EPS also provides superior sound barrier insulation for

interior • party Provides walls. both the form for the

retention of wet concrete and

thermal insulation for the exterior

AND building method.

& interior walls.

FOR • FURTHER EPS also INFO provides AND A superior QUOTE CONTACT: sound

wksuperform@gmail.com barrier insulation for cell: interior 250 304-9889 party

walls.

• Superform wall system accomplishes

forming, framing and

insulating in one step, providing

a SUPERIOR finished wall AND

building method.

• Superform wall system accomplishes forming, framing and

insulating in one step, providing a SUPERIOR finished wall

FOR FURTHER INFO AND A QUOTE

contact: wksuperform@gmail.com

cell: 250-304-9889

BLOWOUT!

40% OFF!

MMOR Fresh Foam

BELL

Select

Styles

one-time increase and a family of four will

receive up to $564. That is a $174.50 boost

for individuals, a $51.25 increase for children

and a lift of $451.50 for a family of four

– double the annual amount eligible households

would have received prior to B.C.'s

COVID-19 Action Plan.

To learn more about the supports and

services available for people, businesses and

communities through the pandemic, visit:

http://gov.bc.ca/covid19

Is there untapped value

in your land?

We buy

cedar poles

LUMBER & POLE

SINCE 1909

Contact us today

to discuss selling

your private timber.

Contact: Sean Fredrickson

250-521-3031

sean.fredrickson@blpole.com

Bell Lumber & Pole Canada, ulc Rossland, BC

Fresh Foam 1080v9

Contractors/Trades

TILE YOUR WORLD WITH

ADONIS TILE: Custom, quality

tile/stone installation, over 20yrs

experience. www.adonistile.ca,

250-357-2715.

TOM COTTON PAINTING &

DRYWALL: 30yrs+ experience,

specializing in small drywall jobs,

no GST. Call 250-354-7300.

WITH AN ACCENT FINE CAR-

PENTRY: Specializing in interior

finishing, built-ins and railings.

250-551-1842.

General Services

*SENIORS INDEPENDENCE

SERVICES: Renos, repairs, gardening,

snow removal, shopping,

driving, personal caregiving.

Friendly, dependable. 250-357-

2293.

A&A PAINTING LTD. 32 YRS IN

BUSINESS: Professional and best

service guaranteed. Bonded, licenced

and insured. Call now 250-

354-9015 Nelson; 250-304-5237

Castlegar; 250-368-1044 Trail.

www.aapainting.ca

General Services

ALL AROUND SEPTIC SER-

VICES LTD. Servicing the West

Kootenay. 250-354-3644, email

allsepticvac@gmail.com, www.

allaroundsepticservices.com

ALL THINGS VACUUM: Sales.

Service. Repairs. Built-in estimates.

Pick up/Delivery. Call 250-

231-6041. Trail, Rossland, Castlegar,

Fruitvale.

ALTERATIONS AND REPAIRS:

Clothing only, hemming, zipper

repair or replacement, etc. Call

Marg, 250-365-3943.

BEAVER'S SEPTIC TANK CLEAN-

ING SERVICE: Serving the Kootenays.

Goes the distance! 250-354-

3508 (cell) or 250-357-9724.

BOB'S DOOR SERVICE: 24hr

emergency service. Commercial,

industrial and residential garage

door sales, service, repair and installation.

236-972-2627.

CHARTERED PROFESSION-

AL ACCOUNTING SERVICES:

Kayle Grandy, CPA CGA. Bookkeeping,

Taxation, Advice, Estates.

Call 250-608-2677 www.

watershedaccounting.com

General Services

CLEARWATER SEASON-

AL SERVICES: Window/gutter

cleaning, pressure washing,

gutter repair, moss removal. Licensed

& Bonded, free estimates.

250-354-7151.

CLEANING GENIES: Professional

Clean Team. You've tried the rest,

now call the best! Fully insured,

WorkSafeBC. All employees on

payroll. Call Marilyn, 250-505-

8346. www.cleaninggenie.ca

GREY OWL MOVING SERVICE:

Ben & his truck are available in Nelson

and surrounding area for small

scale moves, waste removal and

furniture delivery. Will do a great

job for a reasonable price. Please

call/text anytime, 778-256-1201.

HANDYMAN FOR HIRE: For the

projects around the house. Reasonable

rates. 250-304-9960.

General Services

KERRY'S STITCHERY: Custom

sewing, alterations & repairs, including

denim, leather, canvas &

drapery. In Kaslo, 250-353-7722.

KOOTENAY CURRENCY EX-

CHANGE for all your foreign currency

needs. Better than bank

rates when buying or selling US

dollars. Canadian Gold and Silver

. Call 250-354-1441.

KOOTENAY PROPERTY MAIN-

TENANCE: Landscaping. Bobcat/

Earthwork. Junk Removal. Deck

Repairs/ Builds. Great Rates. Free

Quotes, 778-235-7142.

MS STEEL DESIGN: Protect your

investments with an engineered

steel shelter. Free estimates! www.

mssteeldesign.com

OLE BLUE DISPOSAL: Offering

residential and construction site

waste disposal services in the

Nelson area. Call today for a free

quote. 250-354-2873.

PASS CREEK TOOL REPAIR:

Air and electric tools, small compressors,

quality repairs, fair price.

250-304-4811.

General Services

PHILIP KANIGAN BSC. DMD, A

NAME YOU CAN TRUST: 250-365-

2289, www.castlegarnotary.com

PROFESSIONAL MOVING, Junk

Removal, Plumbing, Sewer Backups,

Dry Cleaning, Laundry Service,

Furnace/ Air Duct Cleaning,

Carpet Cleaning. 24/7 Emergency

Service. 250-231-8529, 250-

921-4356, 250-364-0145. www.

kootenaymoveandjunk.vpweb.ca

www.dirtbusters.vpweb.ca

RUBBISH REMOVAL & RECY-

CLE, LAWN MAINTENANCE,

estate removal, gutter cleaning/

sealing, moving, deliveries, building

demolition. 250-231-9397.

SILVER CITY WELLNESS on

Facebook. Massages starting at

$35hr. 250-364-1180.

SMALL ENGINE REPAIR: Lawn

mowers, rototillers, garden tractors,

etc. 250-368-5219.

THE DOCTOR IS BACK: All small

engine repair and service. 250-

365-0005.

picture online: www.pennywiseads.com Your local shopper • Pennywise July 13, 2020 11
---
2019 Montana

High Country 305

RL 5th Wheel

34.3 ft

Sleeps 4

Was $91,995

NOW ONLY $74,995

2018 Keystone RV

Hideout (West)

31 feet long

Queen size

walk around bed

Power awning

Sleeps six!

NOW ONLY $32,995

2019 Nitro Toy Hauler

Full winter package,

fuel station, generator,

electric jacks,

King size bed

Sleeps six!

Was $68,995

NOW ONLY $57,995

2016 Forest River

Sunseeker 2500

3 slides

Generator

Solar

Power awning

Navigation

NEW

VIN #42740

PLUS TAX

VIN #50837

PLUS TAX

2018 Hideout 26 RLSWE

Cold Mountain package

1 slide

power everything

Rear Living

Sleeps 6

NOW ONLY $79,995

Was $39,995

NOW ONLY $31,995

GET OUT THERE!

Explore BC under your

own roof this summer.

VIN #97555

PLUS TAX

VIN #U5435

PLUS TAX

VIN #50837

PLUS TAX

2007 Nu-Wa Hitchhiker

297 LK

30 feet

Sleeps 4

Full winter package

3 slides

NOW ONLY $25,995

VIN #U6327

PLUS TAX

2018 Cougar 29 RLDWE

2 slides

Full winter package

Loaded Inside

& Out

Was $54,995

NOW ONLY $44,995

2018 Cougar 268

5th Wheel

Winter package,

Loaded in and out,

Only 29 ft overall,

1 Slide

Was $59,995

NOW ONLY $49,995

2018 FR3 30 D-S

LIKE NEW

4000 km

31 ft

Sleeps 6

Ford chassis

Was $119,995

NOW ONLY $112,995

Outside entertainment

area, TV, 2 slides,

solid surface counter tops,

island kitchen, extended

seasons camping package

Was $51,995

NOW ONLY $41,995

VIN #10788

PLUS TAX

VIN #00391

PLUS TAX

VIN #U7689

PLUS TAX

2018 Passport Elite 31R

VIN #14735

PLUS TAX

2006 Snowbird

Truck Camper 96 GSO

VIN #U6885 . . . . . . . . . . $19,995

2019 Keystone RV

Passport Ultra Lite

VIN #16246 . . . . . . . . . . $29,995

2014 Keystone RV Bullet

Premier Ultra Light 22 RBPR

VIN #U8009 . . . . . . . . . . $23,995

2016 Forest River XLR

Hyperlite 29 HFS

VIN #97541 . . . . . . . . $57,995

2017 Jayco Redhawk 31XL

VIN #U0089 . . . . . . . . $82,995

2019 Northwood

Mountain Fox 235 RLS

VIN #49482 . . . . . . . . $57,995

2019 Dutchmen

Coleman Lantern 245 RK

VIN #32620 . . . . . . . . $29,995

2020 Keystone RV

Passport Grand Touring

(West) 2210 RBWE

VIN #14582 . . . . . . . . $35,995

2016 Forest River

Sunseeker 2500

VIN # u5435 . . . . . . . . $79,995

2019 Northwood Arctic

Fox Truck Camper 811

VIN #12962 . . . . . . . . $51,995

Find lots more at

rockislandrv.com

Financial assistance has

been authorized for major

flooding in the RDCK

Emergency Management BC (EMBC) has authorized

Disaster Financial Assistance (DFA) for major flooding in

the Southeast Region of British Columbia from May 18 to

June 1, 2020. This includes the Regional District of Central

Kootenay (RDCK) and all First Nations communities, electoral

areas and municipalities within the geographic boundaries

of the RDCK.

The RDCK experienced major flooding at the end of May

which resulted in a region wide Evacuation Alert and multiple

Evacuation Orders being issued. Damage throughout the

region included washed out roads, culvert blockage, erosion,

logjams, and property damage.

DFA is a provincial program to help individuals and local

governments recover from uninsurable disasters. The goal of

DFA is to provide assistance to individuals for their principal

residence and to help small business/farm owners when

their livelihood is at risk.

The following categories within the private sector are eligible

for DFA; homeowners, residential tenants, small business

owners, farmers, and charitable organizations. DFA can

compensate individuals for 80% of eligible claims, after the

first $1,000 to a maximum claim of $300,000. DFA is only

for uninsurable losses and for losses where there is no other

program offered by local, provincial, federal or international

government or agencies.

DFA is available for essential items only. It provides or

reinstates the necessities of life, including help to repair

Minute Muffler &

Custom Transmission

TRANSMISSIONS

• Remove & Repair

• Rebuild

• Service

Stop in today for your FREE estimate

"Your complete service automotive shop in the Kootenays"

BRAKES • OIL CHANGES • TIRES • SUSPENSION

2929 HWY Drive , Trail BC • 250-368-5228

I need

to be

fed!

THE CRUSHER

is here & hungry…

AND HERE

TO STAY!

Rock Island RV

250-364-2323 Parts 250-364-1267 Toll Free 1-888-817-2323

8023 Old Waneta Road, Trail www.rockislandrv.com DL#9096

1660 Airport Road

Salmo

250-357-2091

scrapkingauto.com

General Services

GARBAGE CAN DAN JUNK RE-

MOVAL: Full estate clean-outs

done quick! 250-608-7274, www.

garbagecandan.com

TREE SERVICE: Certified, Licensed,

Insured. Pruning to removal

of hazardous trees. Free

Estimates. 250-505-6114, www.

fallguy.ca

Health/Personal Care

$37-$47 MASSAGE TREAT-

MENTS: RMT Student Clinic, 781

Baker, Nelson. Monday-Saturday,

250-354-1995. Book online, http://

kootenaycolumbiacollege.janeapp.com

A C U P U N C T U R E

& TRADITIONAL CHINESE

MEDICINE: Registered Massage

Therapy, Chiropractic Care. Head

2 Toe Holistic Health Clinic, Castlegar.

www.head2toecastlegar.ca

Health/Personal Care

CEDAR AVENUE DENTAL CEN-

TRE: Restoring and rebuilding

healthy smiles with optimal function

and esthetics in Trail BC. www.

cedardentaltrail.com

GLASS HOUSE OPTICAL: 701

Front St, Nelson, 250-354-3937,

and Unit 2, 688 18th St, Castlegar,

250-365-2026. Free sight testing

at both locations.

KOOTENAY BORN MIDWIFERY

is now accepting new clients. Michelle

Cameron, RM, offers personal

midwifery care to women in

the West Kootenay region. www.

kootenaybornmidwifery.com 250-

551-2657.

REGISTERED MASSAGE THER-

APY: Joli Guthrie RMT, MSP available.

By appointment. 250-353-

7605, Kaslo.

SHADE TREE MASSAGE THER-

APY NOW WELCOMING new

and returning clients for therapeutic

and relaxation treatments.

Clean, quiet, professional office

located in Winlaw. Mobile available.

Jessica Coonen, RMT 250-

226-6887, shadetreemassage

therapy@fastmail.com

Gardening/Landscaping

*AAATREEWORKSNELSON.

COM BY WYLEE WORKS INC:

Serving the West Kootenay since

2005. Professional Tree Care and

Wildfire Protection. WCB Certified

Fallers and ITA Arborists. Work-

Safe & Commercially Insured.

Large Residential Removals, Selective

Harvesting and Wildlife/

Hazardous Tree Assessments.

15˝ Tree Chipper, Stump Grinder,

14´ Dumper Trailer and 4x4 John

Deere Loader w/12,000lb Winch.

Free estimates. Wylee Charbonneau,

250-551-4672.

BETTER LAWN & GARDEN:

Quality aesthetics for your home

or business. 250-352-7447. www.

BetterLawnAndGarden.com

CANADIAN GARDEN SUPPLY:

We now deliver to the entire West

Kootenay Region, indoor and outdoor

growing supplies! 250-304-

2911, www.canadiangardensupply.

com

COMPOSTED MANURE: Manure.

Garden Mix. Mulch. Huglekulture

materials. Slocan Valley, 250-226-

7883 or msg me on FB.

Gardening/Landscaping

COLUMBIA TREE SERVICES/

SIMS CONTRACTING LTD: Call

Pat Sims for a free estimate for 60´

bucket truck, chipping, climbing/

rigging, stump grinding, soil delivery.

Certified, Insured, WorkSafe.

Thousands of satisfied customers

since 1980. 250-367-7939.

GARDENING SALES: Four Seasons

Greenhouse has perennials

20% off; trees and shrubs 20% off;

all bedding plants 50% off. www.

fourseasonsgreenhouse.ca

GRASS BUSTERS YARD CARE:

Lawn mowing, weed trimming, light

duty landscaping, yard waste removal.

Other labor services as negotiated.

Services starting at $30.

Call/text for quote, 250-608-4748.

LANDSCAPING EXCAVATING,

parking lot line painting, asphalt

crack sealing and sealcoating.

250-368-7946.

Gardening/Landscaping

GW CONTRACTING: Rock/Allan

block, retaining walls, concrete

sidewalks/driveways, demolition,

leaky basements, plumbing, water,

sewer, decks, patios, fencing. 250-

231-4532.

KODIAK TREE SERVICE: Free

estimates for complete tree care.

Certified Arborists, 24yrs experience,

highly referred, Insured/

WCB. www.kodiaktreeservice.ca,

250-365-6664, or kodiaktreeservice@shaw.ca

NEED A RETAINING WALL, site

prep or topsoil? No job to big or to

small. Give us a call at 250-365-

5790 or email us at dynamic.timtaylor.com

NO TIME FOR GARDENING?

Allow me to help. Gardener offering

reasonable rates and seniors

discount. COVID precautions taken.

250-551-3279.

THE LAWN GUY: Mowing, trimming,

lawn & yard clean up. Servicing

Nelson, Salmo, Fruitvale,

Montrose, Trail & Castlegar. Commercial

& Residential. Call for estimate

& appointment. Cordell, 250-

354-7201.

12 July 13, 2020 Pennywise Publishing every 2nd week through the summer. N picture online: www.pennywiseads.com
---
and restore damaged homes, including

essential access to a primary residence

and to re-establish or maintain the viability

of small businesses and working

farms. Loss of land or damage to land

(except for some farm land) is not eligible

for DFA.

For more information about the DFA

program and specifics in regards to eligible

applicants, eligible losses and the

application process go to http://www.

gov.bc.ca/disasterfinancialassistance.

The site provides the DFA application

form and other helpful information. The

deadline for submissions is no later than

September 28, 2020.

st ay

&

play

Ready to get out

and explore a little?

A holiday at home will

heal the ❤ and soul!

Your local version of the Go & Do aka

Stay & Play

Is on stands now.

Pick up your copy at a local business,

your Chamber of Commerce or any

West Kootenay Visitor infoCentre.

We can each make a

difference to the local

economy by spending some

time and a little money in

our neighbouring

communities.

Celebrating

in the Kootenays

happy

50 years

clint and cory!

and Remember... For Towing, Hauling, Parts & Repair

250-354-4802 1-877-354-4802

Be a tourist in your own back yard!

&

For questions, please contact EMBC

Disaster Financial Assistance at 1-888-

257-4777, email at dfa@gov.bc.ca or click

here for more information.

To reach the RDCK Emergency Program,

call 250-352-1539.

Assistance

for Cannabis

Cultivators

To help prospective cannabis cultivators

and processors work their way

through the steps required to get their

regulated and approved products to

PHOTOS: Kootenay Lake - Tim Clegg; Holiday Trailer and Nelson Bridge, #gokootenays;

Little girl on Zuckerberg Suspension Bridge, Destination Castlegar

market, the BC government created The

Cannabis Production Regulatory Navigator,

a guide for businesses of all sizes for

cultivating (such as growing and harvesting)

and processing (including manufacturing

and packaging) for commercial

purposes in BC. The province recognizes

the important role that cannabis cultivation

plays in our local economies and

particularly in rural regions. Simplifying

the regulatory process will help more

producers get their businesses running

and create job opportunities across the

province. Visit: www.gov.bc.ca/growlegal

for more information.

Office of Michelle Mungall, MLA

Hawaii won't

have you,

but Castlegar

and Kaslo and

Trail and

Nakusp and

and Salmo and Nelson

and Balfour and Ymir and

Creston and Fruitvale and

all the little communities in

between sure will. :)

What a great weekend

adventure this will be!

To make it even more fun we've

made a game for you:

#WestKootenayHideandSeek

See page 43 of the Stay & Play!

The game starts with a crossword

on page 43 of the guide, made by

your favourite Puzzler - Barb Olson of

ClassiCanadianCrosswords.

Crosswords aren't your thing?

You can still play by using the

Clues and Solutions to make your

list of landmarks. There are lots of

local prizes to be won, right up till

September 28.

These businesses look forward to serving you and THANK YOU for supporting our West Kootenay communities.

Check Out These Hot Deals!

2019 Chevy Silverado 3500

HD/WT Crew Cab, 8' box, 6.0L,

44,367 km #MC0662

Our Price $49,995

2014 Chevy Express Cargo

Van AWD 5.3L V8, with racks &

cabinets, 65,507 km #PLO663

Our Price $22,930

Not exactly as shown, ladders not included!

2011 Ford Super Duty

250 XLT 6.2L V8 Flex-Fuel

175,312 km #9SD1315A

Our Price $19,777

2011 Chev Cruise Lt

Turbo, 100,247 km #PW0647

Price $9,995 Discount $2,034

Sale Price $7,965

2013 Ford Fusion SE

1.6L 138,233 km

#20RA1638A

Our Price $7,990

2019 Mitsubishi RVR SE 4x4

2.0L 14DOHC auto

25,514 km #MC0650

Price $26,995 Discount $5,183

Sale Price $21,812

2016 Honda Civic LX Sedan

6 spd manual, 82,460 km

#20RA49A

Our Price $12,935

2013 Ford F-150 XL Super

Cab 4x4 auto 5.0L V8

142,192 km #PW0661

Our Price $16,895

Prices are plus taxes & $699 admin fee.

Financing rates from 4.99% OAC

1.888.955.5528

Nelsonfordsales.com 250-352-7202

623 Railway Street, Nelson BC DL 28082

Gardening/Landscaping

PAVER INSTALLATIONS,

DECKS, fences, retaining/garden

walls, stone work natural/faux, and

yard maintenance. 250-505-6004,

www.CascadiaLandscaping.ca

TOPSOIL & BARK MULCH FOR

SALE: $55/yd. 250-365-1632.

TOPSOIL, RIVER ROCK, RIP

RAP, crush, rock wall material,

stucco/masonry/C-33 sand. 250-

365-2260.

Notices

KASLO & DISTRICT COMMUNITY

FOREST: Respected legacy - future

promise. www.kaslocommunityfor

est.org

STRIVING FOR SUCCESS? Put

our award-winning design team to

work for you. Pennywise 1-800-

663-4619

Notices

VILLAGE OF KASLO, NOTICE

OF APPLICATION FOR A TEM-

PORARY USE PERMIT: Notice

is given pursuant to section 494

of the Local Government Act, and

Village of Kaslo Land Use Bylaw

1130 that the Council of the Village

of Kaslo will consider a resolution

to approve a Temporary Use

Permit (File #TUP-01-2020) at its

meeting at 7:00pm, Tuesday, July

14, 2020, in Council Chambers at

Kaslo City Hall. If approved, the

permit would allow the property

owner, Mr. William Crookshanks,

to reside in a recreational vehicle

while constructing his residence

at 418 North Marine Drive, Kaslo

(Lots 2 & 3, District Lot 208, Kootenay

District Plan 9523), in compliance

with Bylaw 1130. Anyone

who believes that approval of TUP-

01-2020 will affect their interests is

invited to provide comments to the

Village at 250-353-2311 or cao@

kaslo.ca prior to the meeting.

GET THE RESULTS

YOU WANT!

Use the Pennywise to advertise!

Obituaries

WITH GREAT SADNESS Edwin

Peters passed away May 29,

2020. He is survived by his best

friend/partner, Linda Jennings, his

children & their wives Jason, Chad

& Jen,Tyler & Lindsay, extended

family Robert & Lou, Caralee

& Dean, Karen, sister Darlene &

husband Doug, grandkids, nieces

& nephews. Cremation has taken

place, Celebration of Life will take

place at a later time.

Lost

LOST BLACK AND WHITE CAT,

missing in Warfield! He's fixed, has

all his shots, and we miss him very

much. If seen, please text/call 250-

231-2456.

Found

FOUND, HAMMOCK: Near Nelson,

Svoboda Rail Trails. To identify

and claim, call 250-352-9479.

Found

FOUND, KEY WITH PHOTO KEY

FOB, possibly for British vehicle, in

Kaslo, Sunday, June 14. To identify

and claim, email theguy@pennywiseads.com

Announcements

IT'S MARY'S 95TH! Mary Johnson's

family is pleased to invite

you to a drive-by or walk-by celebration

of her birthday on July

30 from 2:30-3:30pm. Curbside

treats. Please remember social

distancing.

Classes/Workshops

INTRODUCTION TO TRADI-

TIONAL Chinese Medicine: Limited

students, 3 classes, w/work

books, $149. Slocan, 250-354-

9268, skroby1@yahoo.com

Classes/Workshops

COMMUNITY FUTURES SMALL

BUSINESS WORKSHOPS are

now online! Get your business noticed

on Instagram: "Instagram

for Business Beginner" with

Chris Holland, July 23, 9am-1pm,

$50 +GST. You will need a smart

phone or computer and decent

WiFi to attend via zoom. Email:

info@futures.bc.ca to register. Full

schedule: www.futures.bc.ca/

workshops/

RED CROSS SWIM LESSONS

at Glayco Beach, July 20-July 31.

Preregistration required. To register

contact Amanda, 250-353-8573 or

manager@lardeauvalleycommunity

club.ca

SAILING LESSONS FOR

ADULTS AND TEENS: Capt.

Dave, 40+ years experience. Certification

available, 2hr private lessons.

250-354-9268, Slocan Lake.

SELKIRK COLLEGE COMMU-

NITY EDUCATION & workplace

training. www.selkirk.ca/ce, 1-866-

301-6601 for information.

N picture online: www.pennywiseads.com Your local shopper • Pennywise July 13, 2020 13
---
cast realty

1761 Columbia Ave.

250 365 2166 • 1 877 365 2169

www.castlegarrealty.ca

PASS

CREEK

AMAZING INVESTMENT

OPPORTUNITY!

Charissa Hackett

250-304-4373

Florence Padilla

250-608-2104

Sheena Albrecht

250-608-2741

Marnie Pettit

250-304-3564

Connor McCarthy

250-304-4781

ENJOY THE EASY

LIFE!

Luke Walker

250-687-0855

Simon Laurie

250-365-1585

SUNNY

LOCATION!

PJ Poznekoff

250-365-4679

Tyler Gienger

250-304-7865

EMPLOYMENT OPPORTUNITY

Cedar Avenue

Dental Centre

Trail, BC

Registered Dental Hygienist

required for a full time/part time position

to start immediately

Email resume: odys46@hotmail.ca

or call for more info 647-459-5635

Nearly new build on a large usable acreage in

desirable Pass Creek! Located at the base of

Norns mountain range sits this large, openconcept/modern

style house with beautiful

finishings and endless potential.

$579,000

INVESTOR

ALERT!

Subdivision potential in one of Castlegar's

most desirable neighbourhoods.

$349,000

BUSINESS

OPPORTUNITY!!

Beautiful 2 bedroom, 2 bath half duplex

in sunny Ootischenia offering level entry,

hardwood floors, bright and open floor plan,

double garage, u/g sprinklers, heat pump,

electric fireplace, plenty of room for parking

and full unfinished basement.

$389,900

LOW MAINTENANCE

LIVING WITH A VIEW

A great 2 bedroom, 3 bath 1/2 duplex on

a .5 acre lot in Ootischenia. Level entry,

open concept bungalow offering hardwood

floors, bright modern kitchen, large master

bedroom with ensuite, double garage, heat

pump and plenty of gardens & fruit trees.

$405,000

OPPORTUNITY

KNOCKS

Give us

a break...

LES SCHULTZ

AUTOBODY AND GLASS

AND RECEIVE

NEW WIPER

BLADES

AT NO EXTRA

CHARGE!

• AUTO GLASS REPAIR • COLLISION REPAIR

• WINDSHIELD REPLACEMENT

Where friends meet by accident

Ph: 250-364-2639 • 8045 OLD WANETA ROAD,TRAIL

2.9 SUBDIVIDEABLE acres with a breathtaking

4 bed 5 bath 5000 sq ft home. Some of

the features include: high end kitchen,

hardwood floors, big windows, very large ensuite

bathroom, 3 car garage, underground

sprinklers, geothermal heating and cooling,

and much more.

$799,000

NEAT AS

A PIN!

Roots Modern Health Food restaurant and

all assets are up for sale! This is a successful

turn key business that has been in operation

since 2016 and already has a very strong

following in the community. All assets,

recipes, intellectual property including the

web site for online ordering ( kootsroots.ca )

are included in this sale.

$125,000

COMMERCIAL

DEVELOPMENT

PROPERTY

This home has tons to offer in the 55+

popular Grandview Heights subdivision! 2

bedrooms, 2 bathrooms, including master

with en-suite, open concept floor plan all on

1 level! Come enjoy features such as A/C, inground

sprinklers & breathtaking mountain

views.

$345,000

TWIN RIVER

ESTATES

Looking to build your dream home in the

mountains? Here is your opportunity to live

the Kootenay dream in Terra Vista Estates!

Enjoy waking up surrounded by 360 degree

mountain views yet with the convenience of

living only minutes from city limits!

$159,999

BRAND NEW

STRATA UNIT

Seniors can call

211 for help

There's a new service for BC seniors.

It's called BC 211. The new Safe

Seniors, Strong Communities' program

provides seniors with the support

they need free of charge during

the COVID-19 crisis. The program

matches seniors 65 and older who

need support with volunteers in their

community who are willing to help. Non-medical services

include help with grocery shopping, meal prep and prescription

pick-up or receiving a friendly check-in phone call.

To register for services or to volunteer call 211 or visit www.

bc211.ca

This cozy package has tons to offer inside &

out! On the main floor you'll find a well lit

kitchen, dining nook & spacious living room!

Tucked in towards the back of the house,

the main floor is complete with 2 large

bedrooms that can comfortably fit a king

size bed & 1 bathroom.

$299,900

This 0.83 acre property offers 3 titles and is

centrally located along Columbia Avenue

in close proximity to many businesses. The

property has recently received full servicing

from the City of Castlegar including a 6"

water connection and a 6" sewer connection

plus a dual sidewalk let down for access.

$739,000

This 4 bedroom, 3 full bath home was built in

2012 and offers gorgeous hardwood and tile

flooring, vaulted ceilings, master with full

ensuite and walk-in-closet, a high efficiency

heat pump all situated on a fully landscaped

lot with irrigation, mature trees and a fully

fenced back yard.

$469,900

This half duplex offers 2 bedrooms on the

main including master with ensuite and

walk-in-closet, vaulted ceilings in the great

room. Downstairs features 9 foot ceilings,

a 3rd bedroom, media/family room and 3rd

full bathroom.

$374,900

•

"If you have built castles in the air, your work

need not be lost; that is where they should

be. Now put the foundations under them."

Henry David Thoreau

•

Classes/Workshops

USA - COMPUTER & IT TRAIN-

ING PROGRAM! Train ONLINE to

get the skills to become a Computer

& Help Desk Professional now!

Now offering a $10,000USD scholarship

qualified applicants. Call

CTI for details! 888-449-1713 (M-F

8am-6pm ET).

Animals/Pets

A NICE FAMILY ATMOSPHERE

for your small dog at Willacres Dog

Boarding, Fruitvale. Joan, 250-

367-7706.

DOG BOARDING: Dogs love it at

Spirit of the North Kennels, Salmo.

250-357-9390, almagaw@telus.net

BLUE BARN PET & HOBBY

FARM: We strive to offer the best

food, supplies and service to pets

and their owners. www.bluebarnpet.com

or check us out on FB.

GROUP CLASSES IN PERSON

OR ONLINE: Agility, K9Nosework,

puppy and basic manner classes.

Private consultations for behavior.

Jeanne Shaw, CDBC. www.love

2play.ca, 250-359-6650.

Animals/Pets

SCARLET MACAW: 20yrs old,

$500; and breeding cage, $500.

250-921-4312, Robson.

Livestock

COW MANURE: Delivered by the

dump truck load; Straw, small and

large bales. Wayne Savinkoff, 250-

226-BEEF.

FOUR ACRES HEAVY ALFALFA/

ORCHARD GRASS standing hay,

available to cut in Shoreacres.

250-359-5911.

PREMIUM QUALITY HAY in large

bales. Many types. Always delivered.

Wayne Savinkoff, 250-226-

BEEF.

TWO REGISTERED MINIATURE

GELDINGS, price negotiable. 250-

354-4375.

Automotive

APALACHE TRAILER ON

WHEELS: Could sleep 6, awning,

propane stove/fridge/heat, 23´Lx-

8´3˝W $3000obo; 1969 Chev 350

truck, auto, 3/T $2500obo; 1981

Camaro Z28, 350 engine, 2dr,

$3000obo. 250-352-7873.

Automotive

2012 FORD SUPER DUTY

F-250 4X4 XLT and 2004 30´ JAZZ

5TH WHEEL, both one owner.

Truck: 44,000kms, no accidents,

almost new winter & summers (all

on rims), 5th wheel hitch, two tail

gates (regular w/step embedded),

payload capacity 24,500lbs. Trailer:

Propane stove/oven and heater,

microwave, TV, large fridge,

toilet, bathtub, basin, electric front

stabilizing jack, dining room and

livingroom electric slide, sleeps six,

12 and 120 power systems, water

and sewer holding tanks. Makes

an excellent summer/travel home.

All original manuals available. Go

to Kijiji for pictures. 250-551-7531.

CANADA'S BEST SELLING VE-

HICLE BRAND - FORD! Check

out Nelson Ford, 623 Railway St,

Nelson. 250-352-7202, www.nelsonfordsales.com

MINUTE MUFFLER & CUSTOM

TRANSMISSION: Now offering

transmission repairs. Stop in today

for your free quote. 2929 Hwy

Drive, Trail.

SELL IT IN THE PENNYWISE

TODAY!

Automotive

Cars

2009 FORD ESCAPE: Two sets of

tires, well maintained, $3500obo.

778-460-1918.

2009 MAZDA 3: 2.0L, 5spd, a/c,

ABS brakes, no rust, CD, p/w, p/l,

2 key fobs, 162,000kms, great on

gas, everything working, $4400.

250-777-2268 (leave message).

2010 PONTIAC VIBE: AWD, w/

winters on rims, well-maintained,

156,000kms, $7950. 250-354-4055.

2014 CAMARO 2SS:

31,000kms, 426hp, loaded, winter

stored, clean, powerful, new tires,

$28,556obo. 250-365-9825.

Trucks

2011 FORD 350: 6.7 diesel,

460,000miles, good condition, lots

of extras, price negotiable. 403-

540-5094.

Parts\Accessories/Service

4 SUMMER TIRES on alloy rims,

Hankook, 55r16 89h, tubeless,

80% tread, $700. 250-365-2372.

Automotive

Parts\Accessories/Service

BODY WORK AND PAINT SPE-

CIALS: Paint jobs, satin finish, base

clear, single stage and specialized

coatings. 40+yrs experience. Pick

up & delivery available. Can accommodate

major equipment and

motorhomes. 250-265-4419.

C & G TRANSMISSIONS: Your

local West Kootenay transmission

shop. Services all transmissions,

transfer cases & differential repairs.

Bonnington, 250-505-7632.

LES SCHULTZ AUTOBODY &

GLASS: Honest and professional

auto body and glass repairs

in Trail. 250-364-2639, www.less

chultzautobody.ca

SCRAP KING AUTO WRECKING

AND TOWING: Serving the Kootenays

since 1997. With a large fleet

and wide reach, we'll tow your troubles

away. www.scrapkingauto.com

14 July 13, 2020 C Pennywise Publishing every 2nd week through the summer. N picture online: www.pennywiseads.com
---
Culture

doesn't stop

One example of BC Culture Online

offerings is the Royal British

Columbia Museum series. Have

you ever wondered what it was like

to go to school in BC in the 1920s?

Travel back in time with archivist

Genevieve Weber to learn about

rural schools around the province.

This free offering from the museum

is scheduled for July 22. Photo:

Collection of royalbcmuseum.bc.ca

Even when the world

closes, culture doesn't stop.

CultureOnline.ca is British

Columbia's online directory

of province's rich arts, culture,

museum, and heritage

sector.

Whether you're a parent

looking for a way to spark

home learning, an educator

wanting access to new online

resources, or someone who

just love arts, culture, and

heritage, you'll find a world

of culture on CultureOnline.

ca. From musicians giving

free concerts from their living

rooms, to private online

tours through museums, BC's

culture sector is showing that

even when we can't leave our

houses, #CultureDoesntStop.

cultureonline.ca

Human/

wildlife

conflicts

Another summer is

upon us in the Columbia

Basin-Boundary region,

and some residents may be

tending their gardens and

orchards, or spending time

outside with their families.

These activities, along with

a number of other factors,

can cause unwanted encounters

between humans and

wildlife.

Although incidents

involving deer and cougars

are a concern in some

Columbia Basin-Boundary

communities, much of the

human-wildlife conflict in

our region is linked to bears

that are drawn into residential

areas as a result of improper

management of attractants

(e.g., garbage, fruit trees).

Unfortunately, hundreds of

bears are destroyed in British

Columbia each year because

of human behavior, particularly

when bears become

conditioned to human food

sources and therefore to

humans themselves.

The BC Conservation Officer

Service Report All Poachers

and Polluters program

collects data about observed

human-wildlife conflicts, and

provides the Columbia Basin

Rural Development Institute

with a custom dataset

about when and how Conservation

Officers respond

to conflicts with potentially

dangerous wildlife. This data

informs the Human-Wildlife

Conflict indicator tracked as

part of the State of the Basin

program and shows that, in

2019, a total of 63 bears were

destroyed by Conservation

Officers in the Columbia

Basin-Boundary region, up

from the 50 bears destroyed

in 2018. The vast majority of

these were black bears (88%

in 2018 and 90% in 2019).

Over the past decade, garbage

has been the primary

single attractant linked to the

highest number of incidents

resulting in destruction of a

bear. Livestock/livestock feed

and crops are other common

attractants.

Many

Columbia

Basin-Boundary communities

have worked collaboratively

with local WildSafeBC

programs to advance innovative

initiatives aimed at

reducing human-wildlife

conflict. For example, , the

Village of New Denver has

been designated as one of

eight Bear Smart communities

in British Columbia,

meaning governments, individuals

and businesses are

working together to achieve

a series of criteria related

to management of bear

attractants.

Visit the new State of the

Basin website to learn more

about trends in human-wildlife

conflict in the region: stateofthebasin.ca

LIKE US ON FACEBOOK TO KEEP UP TO DATE ON ALL THE LATEST HOMES ON THE MARKET:

www.facebook.com/PropertyGuys.comWestKootenays

For more info & free advice call (250) 304-2269 1402 Columbia Ave, Castlegar

(opposite Husky) Email: sajones@propertyguys.com Website: www.propertyguys.com

NEW DENVER 198917

1-778-738-1697

NAKUSP 198916

WATERFRONT

1-778-738-1697

WARFIELD 198478

1-778-676-3522

CASTLEGAR 198150

$139,000

Motivated Seller! Half acre lot on

quiet cul-de-sac. Cable, gas, power,

telephone and water at lot line.

1-778-738-1697

WYNNDEL 198458

$374,900

Split level entry, open concept 5

bed 2.5 bath home on 4.05 acres.

Walk in basement. Covered deck.

1-250-402-9865

WINLAW 198912

$849,995

8 acre fairly level farm with 2

houses. Water rights, underground

irrigation on garden area.

. 1-778-738-1697

PASS CREEK 196461

NEW PRICE

$209,000

Stunning 13.8 acre lot off scenic

Pass Creek Road in an upscale

residential subdivision.

1-250-399-4211

Blended modern and rustic

style 3 bed heritage home

with $50,000 in upgrades,

including roof, kitchen

and appliances, hardwood

flooring, furnace, cedar

deck, hot tub and paint.

Close to everything.

$574,900

3 bed 2 bath hip roof home

on nearly 4 acres. 600

feet of waterfront, sandy

beach. Wood stove in living

room deck. Double garage,

carport/RV port, gazebo,

woodshed, boat shed.

$345,000

3 bed 1+1 bath family

home on 2 lots. Brand

new roof, European style

windows that open 2 ways.

Open concept living/dining

area, sunroom. Creekside,

garden and fruit trees.

ROBSON 198877

$459,900

2 bed 1 bath straw bale house on

11.11 acres, many sustainable

living features, fenced garden.

1-778-738-1697

CHRISTINA LAKE 198911

$524,900

4 bed 3 bath home , open concept

living/kitchen/dining. Hot tub,

decks, finished basement.

1-778-738-1697

NELSON 198900

$789,000

Custom 3 bed 3 bath home plus

tiny home on nearly 3 acres.

Panoramic views, deck.

. 1-778-738-1697

BACK ON THE

MARKET

1-855-742-4539

ROSSLAND 198474

$674,900

Light and bright, private,

modern 3+1 bed 2 bath

home with open plan living

area. Covered veranda,

huge chef's kitchen, large

picture windows, gas fire in

living room. Garage.

1-250-362-5255

ARROW CREEK 198476

1-250-420-1106

CRESTON 198487

1-250-428-7042

$374,900

Over 47 acres with lake

views and mature trees

on end of no through road

near Creston. Multiple

building sites, well, 2 septic

systems approved. Crown

land on 3 sides.

$824,900

Recently renovated 4 bed 2

bath home with large deck/

patio, balcony. Landscaped,

flower & vegetable

gardens. 8.88 acres,

attached 6 car garage,

barn, shed, workshop.

250-304-2269

CHRISTINA LAKE 198910

$1,100,000

3 bed 1.5 bath waterfront home

with more than $80,000 in renos

and upgrades. Dock & boat lift.

1-250-488-7466

YAHK 198469

$124,900

12+ acres with old growth trees,

rolling hillside and cleared building

sites. Public paved road access.

1-778-738-1697

PROCTER 199022

$1,225,000

.6 acre waterfront property

with private beach and

dock on Kootenay Lake. 4

bed, 3+1 bath log home

includes huge deck, private

basement suite. Established

trees, flower gardens.

ARROW CREEK 198473

$374,900

Horse property. Open concept

3 bed 2 bath home and shop on

3.38 acres in Creston Valley.

1-250-402-8220

GRAND FORKS 198892

$220,000

72.18 acres with endless

possiblilities. Adjoins Crown

land, drilled well, power nearby.

1-778-738-1697

BACK ON THE

MARKET

1-250-352-0116

CRESTON 198472

$799,900

5 bed 3+1 bath home on

4.28 flat acres. Fruit trees,

outbuildings, fully fenced

yard. Open concept living

areas. Veranda. Attached

garage plus parking for

RVs, boats, etc. Large shop.

1-250-402-9977

ARROW CREEK 198475

1-250-420-1440

TRAIL 198477

1-250-304-9844

CHRISTINA LAKE 198913

$279,900

2 bed 1 bath home with 3

additions on .3 acre corner lot.

Shop, shed, garage, RV & hookup.

1-250-444-0851

CHRISTINA LAKE 198908

$349,000

2.5 acre horse property

with 6 bed 3 bath home

with gazebo, wrap around

covered deck and in-law

suite potential. Hay shed,

corral and 2 paddocks.

$324,900

Low maintenance 2

bed 1 bath half duplex

in a beautiful strata

neighbourhood. Breakfast

bar area in kitchen, gas

fireplace in living area.

Huge picture window.

CHRISTINA LAKE 198896

$349,900 $499,999

Low cost low maintenance 1 bed Renovated 4/5 bed 3 bath home

1 bath park model mini home by with turret and art studio.

the lake. Private beach, dock. Sauna, 2 carports, gazebo.

1-778-738-1697 1-778-738-1697

GRAND FORKS 198889 CASTLEGAR 198872

$515,000

Renovated 5 bed 3+1 bath home.

Brand new windows & skylights.

Hot tub, sunroof, shop, suite.

1-778-738-1697

NELSON 197513

$310,00

Upgraded 2 bed 1 bath

home on amazing .75 acre.

Patio, garage and workshop,

all new appliances. Creek,

fire pit, well established

gardens, very private.

CRESTON 198367

$539,000

2240 sq ft 3 bed 2 bath renovated

home on 1.8 landscaped acres

10 min to downtown.

1-250-428-8727

$479,900

Modern and renovated 3 bed 2

bath home in serene Pass Creek

is now available on 2.47 acres.

1-250-608-0842

GRAND FORKS 198880

NEW PRICE

$410,000

Idyllic river frontage! 4 bed 2 bath,

over 8 acres, multiple outbuildings,

detached 2 bed summer house.

1-250-442-8026

Legal disclaimers - propertyguys.Com inc. (Collectively 'us' or 'we') is a private sale marketing company and we represent neither the buyer nor the seller. We do not trade in real estate. We neither warranty nor make any representations as

to the outcome of a property sale. *Our pro approach may include services which are performed for our customers by third party service providers. Such services are not performed or provided by us. * "List now. Pay later." (Our "pay nothing

upfront" program) is a payment program offered through a third party provider, and is only available in participating franchise areas. The program is offered on approved credit, certain conditions do apply. The telephone numbers associated

with these listings are those of the private sellers or their personal answering service. Any amount of commission saved referenced above is for illustrative purposes only. It represents the potential money saved if the private seller had paid

commission to a real estate agent instead of using propertyguys.Com. *© 2015 Propertyguys.Com inc., All rights reserved.

Automotive

Parts\Accessories/Service

USA - AUTOMOTIVE LITERA-

TURE. Shop manuals, owner's

manuals and paint chips. Ron,

208-772-3163, 208-659-0644; idaholitman@aol.com

WESTERN AUTO WRECKERS:

Call us first when you need a lift!

1-888-354-4802.

Motorcycles/ATVs/

Snowmobiles

2010 HD ULTRA CLASSIC: Excellent

condition, very well maintained,

35,143 miles, $12,500.

Phone, 250-365-2722.

2016 125CC RED SPIDER: Kid's

tao ATV, low hours, good condition,

$800. 250-365-5857.

Boats/Watercraft

19´ CATAMARAN: Fiberglass

hulls need redoing, all sails dried

stored, first $550 takes. 250-265-

3200.

LOOKING TO PURCHASE

BOATHOUSE in Kaslo. E-mail

sgconway@hotmail.com

Boats/Watercraft

BOAT OR SMALL RV STORAGE

SPACE FOR RENT: 111 McDonald

Dr, Nelson, across from Home Hardware

Building Centre. Large covered

bay storage. 250-505-9132.

RVs/Campers

2014 WINNEBAGO TRAVATO,

22´, class B, FWD, V6, 22mpg

HWY, 68,000kms, $68,500. 250-

231-0626.

SERVING THE KOOTENAYS &

AREA FOR OVER 25 YEARS: Rock

Island RV, 8023 Old Waneta Rd,

Hwy 3B, Trail BC. www.rockislandrv.

com

Heavy/Farm Equipment

DITCH WITCH VIBRATORY

PLOW: 4x4, good for irrigation line

or underground wiring, 16hp Onan

motor, working order, $1400obo.

250-549-0558.

USA - 2015 DOOSAN 300

PROCESSOR with 624 Super

processing head, 8000 hours,

$230,000US. 208-582-2330.

Heavy/Farm Equipment

USA - 2017 DOOSAN 225

LOG LOADER. 1200 hours,

$230,000USD. 98 Linkbelt yarder,

high walker on tracks, 1500´

skyline capacity, 60´ boom, Detroit

powered. Comes with Eaglet

carriage, $75,000USD. 208-582-

2330.

Real Estate

THE SMARTER WAY TO SELL!

Sell faster and keep more of your

hard earned money. www.proper

tyguys.com

THINKING OF SELLING? Leverage

my experience and marketing

tools to turn 'Selling into Sold'.

Greg Gritchin, Fair Realty, 250-

365-9791.

USA - FLATHEAD LAKE 1+

ACRE lot, 200´ shared frontage,

ramp, dock, beach. Build or RV,

$189,000USD. Regent Realty,

George, 406-240-3016.

AFTER YOU'VE READ

the best bargains around,

please recycle the Pennywise

Real Estate

USA - HOPE, ID. INCREDIBLE,

defensible, sustainable 7.48 acre

mountain homesite. Private gated

road, power, 20 GPM well and

sensational lake views! 30 minutes

to Sandpoint, $447,000USD. 760-

578-6050.

USA - WATERFRONT LOTS on all

sport Lake Cocolalla south of Sandpoint.

One acre lots, underground

power, community septic, private

wells, priced from $170,000USD.

Will work with buyers agents. 208-

610-5605; tpt3150@hotmail.com

Residential Real Estate

MODULAR HOME, 3YRS OLD,

24x50´, at 55+ trailer park in Fruitvale,

3bdr, 2bath, large island &

covered deck. 250-364-8120.

WE ARE EASY 24/7! Our user

friendly website makes it possible

to, shop or place an ad... send a

picture... submit editorial, any time,

from the comfort of your home.

www.pennywiseads.com

DEADLINE FOR CLASSIFIEDS

is Wednesday at 3pm

Residential Real Estate

NELSON BEAUTIFULLY AP-

POINTED, ground level, 1287sq.

ft. condominium: 3bdr, 2bath, strata

fees $220/yr. Asking $389,999.

MLS 2452667. Julie Wilson, Realtor

eXp Realty Brokerage, 250-

777-4202. More listing info www.

juliewilson.ca

Land

ATTENTION DEVELOPERS:

Over 32 acres, not in ALR. 3 houses,

3 titles, about 8 more view lots

possible. Near Nakusp. For info,

250-265-3200.

Real Estate Agents

OUR DEDICATED AND HIGHLY

SKILLED AGENTS specialize in

offering an array of resources to

help you with all your real estate

needs. www.castlegarrealty.ca

N picture online: www.pennywiseads.com Your local shopper • Pennywise July 13, 2020 15
---
REAL ESTATE SERVICES ~ Castlegar, Nelson, Salmo, Kootenay Lake, Slocan Valley

Consulting • Market Evaluations • Buyer & Seller Agency • FULL MLS Services

15+ Years Local Area Real Estate Buying & Selling Experience.

Your Guide to the Kootenays Residential/Commercial/Recreational.

K O O T E N A Y S

Greg Gritchin • 250-365-9791 • KootenayConnection@gmail.com • KootenayConnection.ca

info@century21mountainvview.com

Mountainview Realty

1695 Columbia Ave., Castlegar

250-365-2111 • www.kootenayrealty.ca

A Slice Of Blueberry Pie

MLS 2452483 $348,200

Level living 3 bedroom 2 bath home with

multiple decks, fenced yard for critters or

kids, larger newer windows, quiet friendly

neighbourhood.

Paradise Found

MLS 2451467 $494,000

Fully finished, cared for 4 bed 2 bath home,

shop and grounds that will fulfill your serenity

needs. A fabulous buy!

Axe Barber Shop in Nelson

MLS 2452735 ONLY $29,900

Successful, turn-key barber shop. Price includes

chairs, sinks and everything you need to run the

shop as well as a list of 200-300 regular, repeat

clients! Be your own boss!

Three Island Resort

MLS 2452978 $1,250,000

In Summit Lake! 2 acre waterfront campground

with over 70 sites, full hook up RV sites and

excellent tent camping! Located only 16

km southeast of Nakusp. Absolute turn-key

campground ready for you to take over!

REDUCED!

Move-In Ready Home

MLS 2452203 $499,900

In Salmo! 6 bedrooms, 4 baths, 2010 built home

in spotless condition. Double garage plus a

double carport. Fully finished on all 3 levels

Custom Build

MLS 2452744 $849,900

4/5 bedroom custom design, high end finishes

throughout. A must see!

DEREK

SHERBININ

SOLD

FOR ASKING PRICE

IN 12 DAYS!

Woodland Park Home

MLS 2452257 $369,000

Walking distance to all amenities. Fully

landscaped yard offers great sun exposure and

the mature trees/shrubs offer amazing privacy!

Brand New South End Home

MLS 2451588 $649,900

Close to schools & parks, high-end finishes,

3 bay oversize garage, fully finished daylight

basement.

JAKE

SHERBININ

Real Estate

Condo Living

MLS 2452997 $249,900

Near new 2 bedroom, 2 bath, amazing views.

Stunning River View

MLS 2451562 $989,500

Custom two storey overlooking the Columbia

River. top notch finishes throughout, must be

seen!

HEATHER

KENTROP

Rancher

MLS 2451389 $589,900

3 bed, 2 bath, rancher, large kitchen, oversized

garage

Little Ole Castlegar Is Booming

MLS 2434889 $530,000

Nearly 9 acres of Rural Residential zoned

property quietly nestled at the end of Woodland

Drive. Opportunities abound as there is a long

list of possible uses with the RR1 zoning.

BRYAN

WILSON

RAND

WAYLING

Rentals

3BDR, 1BATH HOUSE: Slocan

Park Rd, Aug. 1, $1250/mo. +utilities.

250-226-0068.

Carefree Living

MLS 2450994 $319,900

Desirable Stellar Place, renovated 2 bed, 2 bath.

Sandalwood Court!

MLS 2452520 $359,000

In the heart of Castlegar, low maintenance

living, walking distance to all amenities. Unit #4

has the most privacy of any other units! Main

floor offers 2 bedrooms, 2 bathrooms, open

concept kitchen/dining room, covered deck,

living room with a natural gas fireplace!

Investors Wanted!

MLS 2451161 $264,900

A healthy dose of elbow grease will go a long way

to make this unassuming bungalow a comfy home

in a great location. Priced well under assessment.

CALL US to

discuss

Real Estate as

your retirement

income

BRIAN

EUERBY

Gorgeous Family Home

MLS 2452132 $489,900

Drive down the tree-lined driveway to come

to this private rural home just minutes from

town. Beautifully renovated and refreshed with

modern touches throughout. A must see!

Rentals

55+ Living

MLS 2451871 $349,900

2 Bed, 2 bath, spectacular views,

double garage.

New Price!

MLS 2451482 $575,000

Professionally landscaped with in-ground

sprinkling, plenty of room for the possibility of

RV parking, and incredible sun exposure.

This home offers it all!

ASHLEY

ALDRICH

Local Agents with WORLDWIDE Reach • $21 Donated per sale to a local charity

Real Estate Agents

RE/MAX HOME ADVANTAGE:

We take pride in having built a culture

of support, caring and complete

service for our clients. www.

kootenaysold.com

Rentals

2BDR FURNISHED LAKESIDE

COTTAGE, BALFOUR: Available

Sept. 1, 2020-May 30, 2021,

close to school/bus, ns/np, references

required, $900/mo. +utilities.

403-308-6901.

2BD HOUSE, NORTH CASTLE-

GAR: Fully furnished, 2 car parking,

$1750 dd & three references

required, 1yr lease min. utilities included.

403-863-0753.

LEMOEL ENTERPRISES BUILD-

ING IN TRAIL: Nice rooms, WiFi,

cable, a/c, furnished, utilities, laundry,

kitchen, 250-231-8529, 250-

512-7291 www.lemoelenterprises.

com

BEAVER VALLEY SENIORS

MANOR BACHELOR SUITES: All

applicants subject to approval of 3

references and in person interview.

Applications available on-line at:

findaffordablehousing.ca Lower

Columbia Region. 250-367-7612.

WARFIELD APARTMENT: 2bdr,

ns/np, $1000/mo. +utilities. 250-

231-3538.

JUBILEE PLACE:

Apartment Housing for

low-income seniors, 1651

Bay Avenue, Trail BC. Now

accepting tenant applications.

Phone 250-364-0331, email

info@jubileeplace.org, www.

jubileeplace.org

Commercial Rentals

PRIME COMMERCIAL SPACE

IN NAKUSP: 218 Broadway St,

1600sq.ft. www.westkootenayren

tals.com. 250-359-5021. info@

westkootenayrentals.com

Vacation Rentals

1BDR CONDO KASLO,

KOOTENAY LAKE: Short-term

rental, sleeps 2, hot tub, washer/

dryer. 403-949-3545.

JO-ANN

BURSEY

Whole School scholarship

winners!

The Whole School Board of Directors congratulates two student

graduates, Bruce Opp and Torin Graham, for winning the

Zack Harvey Memorial Scholarship Award towards training and

education. The fund was established in 2016 and is to support

secondary student graduates who were enrolled in The Whole

School's elementary program. Both

graduates will be attending Selkirk College

– Torin for the web development

certificate program and Bruce for the

digital arts program.

"I am very grateful that I had the

teachers and community that I did at

that time," writes Bruce. "Their influence

made me a much more confident,

creative person who always asked the

Bruce Opp

Rentals Wanted

MY SON AND I ARE LOOKING for

house to rent in Nelson/Castlegar.

Both on fixed income. Marie, 250-

505-5325.

big questions and never gave up."

Both Bruce and Torin credit The

Whole School's alternate approach and

focus on outdoor learning to their passion for being outdoors

and their appreciation of nature.

The Whole School was established

in 1972 and offers an alternative education

program focusing on artistic

expression, environmental stewardship,

outdoor leadership, experiential

learning, and social justice. Anniah

Lang continues to bring her expertise

to The Whole School as principal and

teacher using the Circle of Courage

model – a positive youth development

model based on the medicine wheel

and the universal principle that to be

emotionally healthy all youth need a

Torin Graham

sense of generosity, independence, belonging and mastery – and

the principals of Restorative Justice for conflict resolution.

"The Whole School combines

Shared Accommodation

TWO STUDENTS TO SHARE

2BDR APT in Trail, available

July 1, $250/ea month. 403-702-

3379(cell).

CANADA POST CONSIDERS THE

PENNYWISE AS A 'FLYER'. Thus,

if you have requested NO flyers, you

will not receive a Pennywise with

your home mail delivery. We have

various drop points so please give

us a call at 1-800-663-4619 and we

will let you know where you may

pick one up!

attachment theory and the Circle

of Courage with multi-age, small

classroom sizes to support each student

to excel at their own pace, and

we have never turned a family away

for lack of funds," said Anniah Lang.

The Scholarship was created in

memory of Zack Harvey, a student

at The Whole School. His life in

the school and our Slocan Valley

community will never be forgotten.

It has been nine years since Zack's

death. Folks who would like to

donate to the Zack Harvey Memorial

Scholarship Award can contact

Joselin Corrigan at The Whole

School for more information.

The Whole School is WiFi free

and strives to create a nurturing and

safe environment to enable learning.

For more information contact

the school at wholeschool@gmail.

com or call 250-226-7737.

16 July 13, 2020 C Pennywise Publishing every 2nd week through the summer. N picture online: www.pennywiseads.com